PM Modi inaugurated the first multi-modal terminal on the Ganga river in Varanasi on Nov. 12 under a project aimed at promoting inland waterways as a cheaper and more environment-friendly means of transport. The multi-modal terminals are being built as part of the central government's Jal Marg Vikas Project that aims to develop the stretch of the river Ganga between Varanasi and Haldia for navigation of large vessels weighing up to 1,500-2,000 tonnes. https://www.ndtv.com/india-news/pm-modi-to-inaugurate-1st-multi-modal-terminal-on-ganga-river-in-varanasi-1944924  (9 Nov. 2018)
Explaining the negative impact of waterways projects on Ganga River, Shripad Dharmadhikary in Hindi report titled जलमार्ग परियोजना बदहाल नदियों पर एक हमला writes that the projects lack public consultation "गंभीर बात है कि जलमार्ग विकास से सबसे ज्यादा प्रभावित होने की सम्भावना स्थानीय जनता को है। इसके बावजूद जलमार्ग के विकास से संबंधित ज्यादातर कामों के आयोजन और क्रियान्वयन के लिए न तो इनकी सलाह ली गई है, और न ही इनके बारे में जनता को जानकारी दी गई है। कुल मिलाकर इन जलमार्गों के सामाजिक और पर्यावरणीय प्रभावों का ठीक से आकलन नहीं हुआ है, ऊपर से इन्हें पर्यावरणीय मंजूरी के दायरे से बाहर रखा गया है और सारी प्रक्रिया में लोगों की सहभागिता का भी पूरा अभाव है। ऐसे में जलमार्गों के रूप में इतना बड़ा हस्तक्षेप हमारी नदियों पर एक और बड़ा हमला है जो पहले से बुरी हालत में हैं। https://www.downtoearth.org.in/hindistory/%E0%A4%A8%E0%A4%A6%E0%A5%80%E0%A4%B9%E0%A4%82%E0%A4%A4%E0%A4%BE-%E0%A4%AA%E0%A5%8D%E0%A4%B0%E0%A4%AF%E0%A4%BE%E0%A4%B8-62034  (5 Nov. 2018)
In another report, Rashme Shegal finds that the waterways are not the cheapest mode of transport as promised by Nitin Gadkari. In her article titled "Why Narendra Modi is allowing Nitin Gadkari to Destroy the Ganga" she reveals that RITES has done a comparative study, published as the Integrated National Waterways Transportation Grid 2014, comparing the IWT with rail and road transport. It found that pre-tax freight costs of the railways per tonne-km was Rs 1.36, highways per tonne-km was Rs 2.50 and IWT per tonne-km was Rs 1.06 respectively.
The report also emphasised that road transport may appear to be more expensive but it has an edge over the other two modes as it offers door to door services thereby reducing local terminal costs. It also stated that rails have its own operational advantages of carrying bulk cargo on longer leads.
The NTPC officials who have been using NW 1 to transport coal for its power plant at Farakka told the Parliamentary Standing Committee (PSC) members that "transportation costs through waterway is only slightly lesser compared to the railways since the cargo is transported one way only."
The reason for this is that there is a huge difference in costs on the waterways between upstream and downstream transport. "While it is Rs 0.74 per tonne-km for a 3,000 ton vessel downstream, it is Rs 2.00 per tonne-km for a 1,000 ton vessel upstream due to the intense current of the river," they informed PSC members. The other equally important observation pointed out by S.N. Upadhyaya, emeritus professor at IIT BHU, is that while the distance by road between Allahabad and Haldia in only 900 kms, the distance on the National Waterway 1 is 1600 km. So where is the question of the government saving money? https://thewire.in/environment/why-is-narendra-modi-allowing-nitin-gadkari-to-destroy-the-ganga  (22 March 2018)
Meanwhile in a tragic incident 2 labourers were killed due to suffocation inside the manhole of newly constructed sewage pumping station at Chowkaghat on Nov. 9 afternoon. The sewage pumping stations and Dinapur Sewage Treatment Plant (STP) has to be formally inaugurated by the PM Modi on Nov. 12. In view of the PM's proposed visit and inauguration of the 140 MLD STP at Dinapur the officials of Ganga Pollution Control Unit of UPJN were finalizing the preparations to make the STP operational.
As a part of same exercise the sewage pumping station constructed at Chowkaghat to forward Varuna areas sewage to the Dinapur STP was also being made operational to clean up the pipelines linked with this sewage pumping station UPJN officials arranged some labourers including Kivas Paswan his nephew Dinesh Paswan of Siwan district in Bihar. Companions of these two labourers alleged that the officials sent the duo inside the manhole without providing any safety gears. Due to the spread of poisonous gas inside the manhole the duo fell unconscious and drowned in sewage water. Other labourers went on rampage after the incident.  https://timesofindia.indiatimes.com/city/varanasi/varanasi-2-labourers-die-inside-manhole-of-sewage-pumping-station-to-be-inaugurated-by-pm/articleshow/66569221.cms  (10 Nov. 2018)  
The India River Week 2018 to be held at WWF India in Delhi during Nov 24-26 is also focusing on the Ganga river with the topic "CAN INDIA REJUVENATE GANGA?". 
Also see other development on Ganga Rivers 
GANGA New Book स्वामी सानंद के आत्मकथ्य पर आधारित शीघ्र प्रकाश्य हिंदी पुस्तक इस दस्तावेज़ को लेखक अरुण तिवारी द्वारा कलमबद्ध करने के वक्त स्वामी श्री सानंद के पांचवें ऐतिहासिक उपवास का समापन हुए दो वर्ष से अधिक समय बीत चुका था और अब पुस्तकाकार में प्रथम हिंदी संस्करण प्रकाशित करते वक्त अपने छठे और अंतिम अनशन के पश्चात् स्वामी श्री सानंद की आत्मा, देह का त्याग कर चुकी है। 
स्वयं स्वामी श्री सानंद के बलिदान के पश्चात लेखक ही नहीं, जैसे स्वयं स्वामी श्री सानंद से हुई बातचीत का भी धैर्य जवाब दे गया है। अतः लेखक ने इस बातचीत को पुस्तकाकार में समाज के सामने रखने का निर्णय लिया। संभव है कि स्वामी श्री सानंद के अनुभवों व निष्कर्षों से समाज, सरकार और गैर-सरकारी संगठन. तीनों ही समझ सकें कि क्या हालात हैं, जिनसे निराशा पनपती है और क्या हालात हैं, जिनका विकास कर हम आशा को बलवती कर सकते हैं।
स्वामी श्री सानंद के मरणोपरान्त उनकी गंगा तपस्या और उसकी महत्ता के मद्देनज़र यह दस्तावेज़ शीघ्र ही पुस्तकाकार में आपके हाथों में होगा। यह कार्य अब अपने अंतिम चरण में है। पानी पोस्ट को उम्मीद है कि यह पुस्तक पठनीय, संग्रहणीय और भारतीय वर्तमान की अनेक हक़ीक़तों से रुबरु कराने वाली साबित होगी। आशा है कि आप इसका स्वागत करेंगे।
SWAMI SANAND: A real son of Ganges:- The book is result of 6 sittings of 26 hours in 2 days conversation between Swami Ji and Mr. Arun Tiwari, a writer on water issues. This conversation had happened originally in Hindi on 110th and 111th day of Swami Ji's fast for Ganga Ji in 2013. The English version is under process of translation by Dr. Vineet Tiwari, an Ex-Asstt. Professor (Physics), Banasthali University, Rajasthan.  
National River Ganga (Rejuvenation, Conservation and Management) Bill, 2018 Proposed Ganga lacks focus on perennial flow The government has banned the construction of jetties, ports or "permanent hydraulic structures" in the Ganga, unless permitted by the National Ganga Rejuvenation Authority, according to a proposed 'Ganga Act', viewed by The Hindu.
The Bill is now being circulated for comments among several Ministries, and proposed to be tabled in Parliament during the Winter session, according to sources. Activists say that while the government's efforts have been largely on cleaning the Ganga — namely, by installing sewage plants in riverine cities such as Allahabad and Varanasi and Kanpur — but neglecting to take steps to ensure the river's natural flow is maintained through the stretch. https://www.thehindu.com/news/national/proposed-ganga-bill-bans-ports-jetties/article25439207.ece  (7 Nov. 2018)
Char Dam Highway Project Dumping of muck into Bhagirathi: NGT directs NHIDCL to deposit Rs 2 cr with CPCB NGT has directed state-run NHIDCL to deposit a sum of Rs 2cr with the CPCB for environment restoration after it found that the company was dumping muck into the Bhagirathi river in Uttarakhand.
The green tribunal passed the order after going through the report of a four-member committee headed by Additional Director of the MoEF. It also directed NHIDCL to conduct soil survey in respect of stability of soil and the geology structure of the areas before undertaking such projects. The direction came on a plea filed by Gaurav Jain who had alleged that NHIDCL was dumping muck into Bhagirathi river during construction of road in a reckless manner. https://indianexpress.com/article/cities/delhi/dumping-of-muck-into-bhagirathi-ngt-directs-nhidcl-to-deposit-rs-2-crore-with-cpcb-5435296/  (5 Nov. 2018)
No Highway to Heaven Considering the unmitigated environmental disasters which hit the state in the past, the government should have been more careful. Leave aside these pompous projects, no one has bothered to look into the sorry state of roads in the state which require immediate maintenance. This indicates the shallow development being projected by the state and the centre. While the nation is being geared towards sustainable practices, the Char Dham project shows implicit disregard for people and the environment in the name of development. http://www.indialegallive.com/special-story/char-dham-project-no-highway-to-heaven-56908  (4 Nov. 2018)
Uttarakhand Uttarkashi civc body pulled up for dumping garbage in Ganga tributary In gross violation of environment laws and negating efforts to clean Ganga, the Uttarkashi civic body on Oct. 29, was found to be disposing of garbage in a dumping zone located in the forest area. The Tekhla stream that flows alongside the pipe washes away the waste and dumps the load into the Ganga. Residents said that in the absence of a proper solid waste management system, the civic administration is destroying an ecologically sensitive zone.
As per municipal administrator and SDM of Bhatwari, Uttarkashi town generates around 4-5 tonne of garbage on a daily basis and finding a suitable spot to dispose this huge quantity is difficult. He added that tenders will be floated for installation of compacter machine and segregation unit.  https://timesofindia.indiatimes.com/city/dehradun/green-norm-violation-uttarkashi-civic-body-pulled-up-for-dumping-garbage-in-ganga-tributary/articleshow/66436304.cms  (31 Oct. 2018)
Uttar Pradesh: Ram Statue on Saryu River Bank Yogi proposes setting up of grand statue of Ram in Ayodhya A day after renaming Faizabad as Ayodhya, UP CM has announced to set up a grand statue of Lord Ram on the bank of Saryu under constitutional framework. He has also visited the spot proposed for the statue. The state govt has already kicked off the project by seeking presentations from some of the companies. Speculations are rife about the statue being 150 metres tall standing on a 50 metre pedestal.  https://timesofindia.indiatimes.com/city/lucknow/yogi-proposes-setting-up-of-grand-statue-of-rama-in-ayodhya/articleshow/66533856.cms  (7 Oct. 2018)
The Yogi government's ambitious project to install the tallest statue of Lord Ram in Ayodhya is facing opposition from Mahant Satyendra Das, the head priest of the makeshift temple at the disputed site. https://www.hindustantimes.com/lucknow/who-will-take-care-of-ram-statue-asks-ayodhya-priest/story-wMsNGBRkGcO4DDH2bEG3bI.html  (5 Nov. 2018)
The river was in the national spotlight around Diwali when a world record was created under the supervision of CM. But news reports from 2017 say that a few sadhus of Ayodhya are not at all happy with the health of the river. Media reports say that 20 small and big drains flow into the Sarayu. A PIL has also been filed in 2014 before the Lucknow Bench of the Allahabad High Court. The Sarayu originates from Lake Mansarovar in the Himalayas and is also known as the Ghaghra and the Manas Nandini. It merges with the Ganga in Bihar's Saran district. https://www.downtoearth.org.in/news/water/the-river-of-ayodhya-is-choking-to-death-62077  (9 Nov. 2018)
Gujarat Looking at legal aspects to rename Ahmedabad to Karnavati: CM  Taking a cue from UP Govt which has renamed Allahabad and Faizabad as Prayagaraj and Ayodhya respectively, the Gujarat government on Nov. 6 had expressed its interest in renaming Ahmedabad as Karnavati if there are no legal hurdles.
Historically, the area around Ahmedabad has been inhabited since the 11th century, when it was known as Ashaval. Chaulukya ruler Karna of Anhilwara (modern Patan) had waged a successful war against the Bhil king of Ashaval and established a city called Karnavati on the banks of the Sabarmati river. Sultan Ahmed Shah in 1411 A.D. had laid the foundation of a new walled city near Karnavati and named it Ahmedabad after the 4 saints in the area by the name Ahmed. https://indianexpress.com/article/india/looking-at-legal-aspects-to-rename-ahmedabad-to-karnavati-says-gujarat-cm-vijay-rupani-5437309/  (8 Nov. 2018)
YAMUNA NGT Haryana, UP to apprise NGT on status of Yamuna Committees NGT has directed the Haryana and Uttar Pradesh govts to inform it within 2 weeks on the status of setting up full time committees for cleaning of river Yamuna.
The tribunal on July 26 had formed a monitoring committee comprising retired expert member BS Sajwan and former Delhi chief secretary Shailaja Chandra on the cleaning of the Yamuna. It had also asked the Haryana and Uttar Pradesh govts to consult the members of the Monitoring Committee appointed by this tribunal for constituting their own full time committees.
The tribunal expressed displeasure that despite its specific order the status of the compliance was unknown, and said there appears to failure of the authorities in performing their duties, undermining the rule of law.
The direction came while hearing a plea filed by Ghaziabad resident Sushil Raghav and others alleging pollution of river Yamuna on account of polluted Sahibabad drain and Indrapuri drain. It alleged that UP State Industrial Development Corporation has failed to install common effluent treatment plant of adequate capacity to treat the polluted water. https://www.ndtv.com/india-news/haryana-up-to-apprise-green-court-ngt-about-status-of-committees-on-yamuna-1941349  (1 Nov. 2018)
Uttar Pradesh Mass Fish Death in Virandavan Countless number of fishes and other aquatic animals have been found dead in the Yamuna river in Vrindavan area following the discharge of effluents from Okhla Barrage, Delhi. Locals noticed dead fishes floating in the water on Nov. 1 near the Kesi Ghat of Yamuna.
Regional officer of UP Pollution Control Board in Mathura collected samples for tests and said that water appeared to be highly contaminated, as it had turned oily and black in colour. Environmentalists are also concerned as the water is also used for irrigation purposes by farmers alongside the river. https://www.youtube.com/watch?v=Zwp9fIfoO0Y  (3 Nov. 2018)
UP PCB official in Mathura said that untreated waste water, industrial effluents discharged upstream caused oxygen depletion resulted fish deaths. Activists blamed the Okhla Barrage authorities for releasing untreated water without advance information. https://www.firstpost.com/india/ahead-of-diwali-thousands-of-fish-found-dead-in-yamuna-in-uttar-pradesh-activists-in-agra-begin-cleaning-drive-5502311.html? (4 Nov. 2018)
Officials are also concerned as this has happened just ahead of Yam Dwitya on Nov. 9 when a large number of devotees are expected for a holy dip in the Yamuna.  https://www.ndtv.com/india-news/officials-fish-in-mathura-died-because-of-toxic-elements-in-yamuna-1942742  (4 Nov. 2018)
Meanwhile, experts rule out possibility of Delhi's pollution to be reason behind mass fish kill in Yamuna at Virndavan on Nov. 1 and Nov. 2.  "The water released in Delhi is no doubt filthy, but it won't be right to say it kills the fish in Vrindavan. The reason for this can be attributed to local factors like industries dumping effluent or the water that flows down Kosi drain," Manoj Misra, convener of Yamuna Jiye Abhiyaan said.
Himanshu Thakkar, of SANDRP echoed Misra's views and said it was unlikely that Delhi's dirty water was killing the aquatic populace at Vrindavan. "The distance and time are definite factors here. Essentially, fish die because of less oxygen or toxicity due to chemicals. In either case, the impact should be seen much earlier. The deaths may have occurred due to local sources," Thakkar said. https://timesofindia.indiatimes.com/city/delhi/far-fetched-why-delhi-cant-take-blame-for-dead-fish-in-vrindavan/articleshow/66503055.cms   (5 Nov. 2018)
Report of water samples collected by the UP PCB indicates high content of oil in it, which led to low levels of dissolved oxygen.  https://timesofindia.indiatimes.com/city/agra/test-shows-high-content-of-oil-in-yamuna-water-sample-mathura-pcb-official/articleshow/66515877.cms  (5 Nov. 2018)
At the same time, activists on Nov 8, expressed concern over the alarming pollution level in the Yamuna, worshipped by millions of devotees on the occasions of Govardhan Puja and Yam Dwitiya on Nov. 9, and demanded action to save the river.  https://www.outlookindia.com/newsscroll/activists-raise-alarm-over-high-pollution-levels-in-yamuna/1417949  (8 Nov. 2018)
See, devotees taking holy dip in Yamuna and offered prayers on the auspicious occasion of Bhai Dooj. https://www.oneindia.com/videos/bhai-dooj-special-devotees-take-holy-dip-in-yamuna-offers-prayer-357168.html  (9 Nov. 2018)
URBAN RIVERS
Madhya Pradesh Pollution of Kshipra river now a rallying point BJP holds all 7 seats in Ujjain district and the influential saint community of Ujjain the religious capital of MP. The Rs 432-crore project to clean Kshipra river was started in 2014 to bring water from the Narmada river by pipelines from Omakeshwar to Kshipra after the latter ran almost dry ahead of the Kumbh. The BJP claims this has helped clean and rejuvenate the river, along with plugging the sewage lines flowing into it.
In reality, however, Kshipra remains parched where it enters Ujjain and the extent of its pollution is evident from the colour of river water at Ram Ghat. The Rudra Sagar Lake behind Ujjain's revered Mahakaleshwar Temple is also in bad shape, with vegetation growing in large parts of it. https://economictimes.indiatimes.com/news/politics-and-nation/mp-assembly-polls-pollution-of-kshipra-river-now-a-rallying-point/articleshow/66484060.cms  (3 Nov. 2018)
Before Yamuna river on Nov 1-2, pollution caused mass fish and aquatic animal death in Kshipra river, Devas, MP. https://www.bhaskar.com/mp/indore/news/shipra-s-water-black-dying-turtles-and-fishes-01196359.html
Surprisingly similar incidents have taken place in April 2018 https://www.patrika.com/ujjain-news/death-in-water-for-the-queen-in-shipra-1-2725960/
and in June 2016 https://www.patrika.com/ujjain-news/dirty-water-in-shipra-river-dead-fish-1332200/  
RIVERS
Rajasthan Luni: the river with saline water that doesn't meet any sea Some important facts on the only river in the western desert region of India.
The little-known Luni is one of the few west-flowing rivers going towards the mostly desert land of western Rajasthan. Luni originates from the Naga Hills of the Aravalli Range in Rajasthan's Ajmer district from a height of 772 metres.  The river, which is called Sagarmati here, then turns south-west towards Gujarat through the hills and plains in the region. It flows through the Rajasthan districts Nagaur, Pali, Jodhpur, Barmer and Jalore covering a distance of around 495 kms.
The total catchment area of the Luni Basin is 37,363 square kilometres. The Dantiwada dam and Sipu dam are built on the Luni River. The Jaswant Sagar Dam in Pichiyak near Bilaara in Jodhpur district is one of the prominent landmarks along the Luni river. It was built in 1892 by Maharaja Jaswant Singh. The lake surrounding the dam is one of the largest artificial lakes in India. 
Since the river flows on a shallow bed, flash floods can occur as the riverbank soil is easily flattened by rushing waters. In 2006, the desert region received 601 mm of water instead of the usual 200 mm rainfall in a year, which turned it into a virtual sea.
The 2006 flash floods in Barmer district caused water levels to rise to as high as 15-25 feet submerging many parts along the river. A huge number of humans and animals died in the worst flood in Rajasthan in over 200 years. Yet another flood scare took place in 2010 though casualties were less. The heavy monsoon rains in 2017 caused floods as well, and made people throwback to the horrors faced in 2006. https://www.indiatoday.in/education-today/gk-current-affairs/story/luni-mysterious-indian-river-in-west-rajasthan-facts-html-1380307-2018-11-01  (1 Nov. 2018)
Punjab Himachal Thousands of fish found dead in Swan river Locals on the Punjab-Himachal border woke up to see thousands of dead fish floating in Swan river along 10 to 12 km stretch from Santokhgarh in Himachal to the point where the river merges with the Sutlej in Punjab on Aug. 3. Some villagers also noticed change in the colour of river water. After the alarm was raised by the villagers, a team of the Punjab PPCB reached the area and collected water samples.
There are two major industrial areas in Himachal, from where waste is released into the Swan river. These are in Tahliwal and Mehatpur. The HPPCB authorities maintained that they kept constant vigil on the effluents being released by the units in Himachal. The Executive Engineer said there was just one red category industrial unit in Himachal near the Punjab border — Rangar Brewery— which no longer released waste into the river as it has installed a plant. https://www.tribuneindia.com/news/himachal/thousands-of-fish-found-dead-in-swan-river/631572.html  (4 Aug. 2018)
RIVERS BIODIVERSITY
The vanishing forests of the river Riparian buffers are lands adjacent to streams where vegetation is influenced by presence of water. They follow the course of the stream or river and may range from thirty to a hundred feet wide on either side of the stream.
Among their several services these diverse and unique forest ecosystems nurture and moderate the flow of the stream, regulate water quality in agro-systems and act as corridors for animals like elephants, thus mitigating conflict with humans.
In his commentary, Gopakumar Marayil calls for a specific legislation to protect riparian forests, perhaps even reverting to their historic status as sacred forests. https://india.mongabay.com/2018/10/30/commentary-the-vanishing-forests-of-the-river/?  (30 Oct. 2018)
River otters show up in Vaduvoor lake River otters (Neer Naai), usually found in the Western Ghats and Moyar river in Tamil Nadu, have been spotted in the Vaduvoor Bird Sanctuary in Tiruvarur district. "This is the first time we have spotted them in this part of the State. Last year we found them and this year we have been able to photograph them. We have made a short video," Dr K. Arivoli, of Tiruvarur told. https://www.thehindu.com/news/national/tamil-nadu/river-otters-show-up-in-vaduvoor-lake/article25415226.ece  (3 Nov. 2018)
Western Ghats home to Eurasian Otter The report confirms that Western Ghats is home to Eurasian otters: "It has taken more than 70 years to confirm the presence of the elusive Eurasian otter — one of the least-known of India's three otter species — in the Western Ghats. Ironically, researchers found the dead otter after a vehicle ran over it near a fragmented rainforest in Tamil Nadu's Valparai.
Though the Eurasian otter has been recorded historically from the Western Ghats (Coorg in Karnataka and Tamil Nadu's Nilgiri and Palani hill ranges, according to zoologist R.I. Pocock in 1941), this is the first photographic and genetic confirmation of its presence here. While the species is widespread across Europe, northern Africa and several south Asian countries, it is not as frequently sighted as smooth-coated or small-clawed otters in India." https://www.thehindu.com/sci-tech/energy-and-environment/western-ghats-is-home-to-the-eurasian-otter/article25145259.ece?  (6 Oct. 2018)
But the delicate ecosystem today stands on the precipice of destruction as various linear projects are lined up for final approval from the state and central governments. As per available reports, more than 20 linear projects have been planned requiring cutting of more than 21 lakh trees in the region.
The projects, if given clearance, would unleash an ecological mayhem on the lines of Kerala and Kodagu, severely affecting the people of all riparian states. The dense vegetation in the region is attributed to bounteous monsoon in Karnataka and Tamil Nadu as they add a significant quantity of moisture to the southwestern winds.
However, putting at stake thousands of acres of pristine forests, the governments at both the state and the centre have not only been toying with the idea of development but also contemplating to cut through the dense vegetation terrain with several road projects. m https://www.deccanherald.com/exclusives/rapacious-projects-imperil-702439.html  (10 Nov. 2018)
A new study done in the Western Ghats has found that wind farms in biodiversity-rich areas can have deeper ecological consequences beyond already known impacts. The study has found that wind farms reduce the number as well as activity of predatory birds, which in turn, results in an increase in the density of vertebrates like lizard on the ground. And since lizards have less fear of being preyed by birds, they are becoming less stressful. It means wind turbines are acting as new apex predators in the food chain in the local ecosystem, says the study published in journal Nature Ecology & Evolution. https://www.thehindubusinessline.com/news/science/wind-turbines-are-impacting-ecology-in-western-ghats/article25434862.ece?  (5 Nov. 2018)
FISH, FISHERIES, FISHERFOLKS
MoWR Focus on improving hilsa population The National Mission for Clean Ganga has approved two projects worth Rs 50 crore for W Bengal, including for Hilsa fisheries improvement at Farakka barrage. "Implementation of the fishery project will increase the natural stock of Hilsa in the river Ganga, upstream of Farakka barrage through ranching of wild collected Hilsa seed/juveniles," the Ministry said. The project includes study and monitoring Hilsa migration across the barrage in the main river Ganga. https://www.tribuneindia.com/news/nation/water-resources-ministry-turns-focus-on-improving-hilsa-population/678754.html?  (4 Nov. 2018)
Assam CM launches flagship scheme for fish production CM Sarbananda Sonowal launched the flagship scheme of State Fishery Department, "Ghare Ghare Pukhuri, Ghare Ghare Maach" in Guwahati on Nov 2, 2018. The scheme is proposed to be implemented with loan assistance from NABARD and financial assistance from Chief Minister Samagra Gramya Unnayan Yojana Mega Mission Society.
With financial allocation of Rs. 186.13 crore, this scheme will be executed in all districts of the State with a target to benefit ten thousand beneficiaries. The scheme aims at digging 1,811 hectare areas of new pond in a bid to produce 6,350 MT fish additionally in Assam. Coinciding the launching ceremony, Chief Minister Sonowal also released a handbook on local fish production and conservation techniques titled, 'Kunhipaat'. https://www.sentinelassam.com/news/chief-minister-sarbananda-sonowal-launches-flagship-scheme-for-fish-production/?  (3 Nov. 2018)
Tamil Nadu MoEF rejects KPL's projects on Eastern bank of Ennore Creek Ennore Fishers scored an important victory after the MoEFCC Rejected the Kamarajar Port's proposal to locate port facilities on the eastern banks of the Kosasthalaiyar's backwaters in Ennore Creek. The fisherfolk however said their battle to declare all of Ennore Creek off limits for industrial projects will intensify. The port had planned to develop facilities like office, commercial buildings and parking terminals on the eastern part of the ecologically fragile intertidal salt pans.
Environmental and CRZ Clearance accorded to Kamarajar Port for its Phase III expansion dated 30th Oct. 2018 ordered to relocate these facilities. The environment ministry ruled, "The water bodies and wetlands are more important than the development activity." However, the union ministry has allowed Kamarajar Port to construct facilities like coal yards on the western part of the Ennore wetlands. https://dc.icsf.net/en/component/dcnews/articledetail/12563.html?  (5 Nov. 2018)
Meghalaya Govt. announces Rs 378cr investment in Aqua Mission 2.0 The Meghalaya government on Tuesday announced Rs 378 crore investment in the second phase of the state's flagship aquaculture mission aimed at cutting down fish imports into the hill state. The mission – Meghalaya State Aqua Mission 2.0 – was announced by Fisheries Minister Comingone Ymbon at the 5th state aqua festival held here at the U Soso Tham auditorium premises which was also attended by hundreds of fish farmers from across the state. https://www.india.com/news/agencies/meghalaya-announces-rs-378cr-investment-in-aqua-mission-2-0-3418404/?  (6 Nov. 2018)
MONSOON 2018
SANDRP Blog Monsoon 2018 Overview: Serious Anomalies Hidden by Macro Figures 2018 becomes fifth year in a row when India's south west monsoon has been below normal. In the beginning of monsoon season, Indian Meteorological Department (IMD) has forecasted rains to be normal with rainfall equal to 97 percent of the long term average.
However at the end of the season the overall rainfall turned out to be 91 percent, with deficit of 9 percent at national level. https://sandrp.in/2018/11/06/monsoon-2018-overview-serious-anomalies-hidden-by-macro-figures/?  (6 Nov. 2018)
Cyclone Gaja Heavy rainfall expected in Chennai on Nov 14-15 IMD issues warning of heavy to very heavy rain at a few places with extremely heavy rain  at isolated places likely over  Tamil Nadu & Puducherry and heavy rain at isolated places over Coastal Andhra Pradesh and Rayalaseema.
Gale wind speed reaching 80­90 kmph gusting to 100 kmph likely to prevail along and off north Tamil Nadu and Puducherry coast. Sea conditions very likely to become high along and off Tamil Nadu­south Andhra Pradesh coast and southwest Bay of Bengal.
Fishermen are advised not to venture into southwest & adjoining westcentral Bay of Bengal. Fishermen who are in deep sea are advised to return to coasts. http://www.imd.gov.in/pages/allindiawxwarningbulletin.php  (12 Nov. 2018)
As per Chennai regional weather office, a deep depression in the Bay of Bengal has intensified into a cyclonic storm and is likely to cross the North Tamil Nadu and South Andhra Pradesh coast between Cuddalore and Sriharikota on Nov. 15. The IMD however said the storm is likely to weaken gradually while crossing towards north Tamil Nadu and south Andhra Pradesh coasts as a 'cyclonic storm' during forenoon of Nov. 15. https://www.ndtv.com/tamil-nadu-news/cyclone-gaja-likely-to-intensify-in-north-tamil-nadu-south-andhra-in-next-24-hours-1945762  (12 Nov. 2018)
The IMD has issued a red alert for areas in coastal Tamil Nadu as Cyclone Gaja, a deep depression in the Bay of Bengal, is set to make landfall on Nov. 15.  The weather agency also said that the cyclonic storm Gaja, over west central and adjoining east central and southeast Bay of Bengal moved further westwards. As of 5.30 am on Nov. 12, it lay centered about 740 km east ­northeast of Chennai and 840 km east northeast of Nagapattinam district. https://www.thenewsminute.com/article/gaja-cyclone-red-alert-heavy-rainfall-expected-chennai-nov-14-and-15-91388  (12 Nov. 2018)
The administrations in the two states are on alert with both advising fishermen against venturing into the sea for the next 24 hours as the conditions are expected to deteriorate and get rough. The cyclonic storm is likely to intensify into a 'severe cyclonic storm' in the next 24 hrs and move west-northwestwards during next 36 hrs and west-southwestwards towards north Tamil Nadu and south Andhra Pradesh in the subsequent 48 hours, the department said. https://www.hindustantimes.com/india-news/cyclone-gaja-advances-likely-to-turn-severe-says-imd/story-4iki0F66KvOpPktJENc7RN.html  (12 Nov. 2018)  
FLOOD 2018
SANDRP Blog HFL crossing flood events during India SW Monsoon 2018 The floods in 2018 monsoon has been strange. Cauvery, the most celebrated deficit river of India, has the HFL breaching floods at the highest number of sites (8), while Ganga basin had none and even Brahmaputra had just two!
The full details of 25 monitoring sites of India where Highest Flood Level recorded earlier was crossed in SW monsoon 2018: Kerala (13), Karnataka (4), Tamil Nadu (4), Assam (2) and Tripura (2). Includes Hydrgraph of each of the sites. See for full details, read and share. https://sandrp.in/2018/11/08/hfl-crossing-flood-events-during-india-sw-monsoon-2018/?  (8 Nov. 2018)
Dam Flood Assam PILs filed against NEEPCO over Golaghat floods One PIL has been filed by Prasanta Kumar Dutta of Golaghat while another PIL has been filed by Bobrubahan Saikia, the son of Khumtai's BJP legislator Mrinal Saikia, both in Guwahati High Court, PIL No 58/18 and 60/18 respectively.
– "The sheer carelessness and casual attitude of the NEEPCO has caused the people of Golaghat district to suffer the wrath of the flash flood. Therefore, I have filed the PIL seeking adequate compensation from NEEPCO for the flood affected people," Saikia said. Saikia also lambasted NEEPCO for allegedly releasing water from its DHEP situated at Wokha district of Nagaland without giving prior warning to the Golaghat district administration. https://nenow.in/north-east-news/assam-pils-filed-against-neepco-over-golaghat-floods.html  (11 Nov. 2018)
Madhya Pradesh बांध के पानी से सड़क लबालब, रहवासी त्रस्त Water release in Kaliyasot dam canal on Nov. 2 choked with solid waste floods residential areas, roads in Bhopal: कलियासोत बांध से एक नहर शाहपुरा होते हुए मिसरोद से रतनपुर की ओर जाती है। यह नहर पिछले कुछ महीने से बंद थी। जिससे कई कालोनीवासी नहर में ही कचरा फेंकने लगे थे। सफाई न होने से उसमें कचरे का अंबार लग गया है।अचानक 2 नवंबर को बांध से नहर में पानी छोड़ा गया। पानी की निकासी बाधित होने से कोलार स्थित कंफर्ट एंक्लेव कॉलोनी की सड़क पर पानी भर गया। कई घरों के अंदर भी पानी जमा हो गया। इससे रहवासी तो परेशान हो ही रहे हैं, सड़क पर पानी भरने से वाहन चालको को भी आवाजाही में दिक्कत आ रही है। https://www.bhaskar.com/mp/bhopal/news/road-blocked-with-dam-water-resident-suffer-022716-3143304.html  (6 Nov. 2018)
Also see, Rajasthan  बांध के पानी से टूटी सड़क  https://www.youtube.com/watch?v=P7fWWOsin-w  (24 Aug. 2018)
Discovery Channel to premiere 'Kerala Floods 'Kerala Floods', which will be showcased on Discovery Channel on Nov. 12 at 2100 hrs, will take viewers through inspiring stories of people of Kerala who refuse to lose hope and are working tirelessly to restore everything that was lost. http://www.newindianexpress.com/states/kerala/2018/nov/11/discovery-channel-to-premiere-kerala-floods—the-human-story-on-november-12-1896766.html  (11 Nov. 2018)
DROUGHT 2018
National Rain deficit worsening drought in India A major deficit in the post-monsoon rain, i.e. rain received after Sept 30, has left parts of the country high and dry. In October, India got a paltry 44% of the month's average—the lowest since 1976. Despite the relief provided by the northeast monsoon, which arrived on Nov. 1, the country still faces a 50% post-monsoon rain deficit as on Nov. 4. https://weather.com/en-IN/india/news/news/2018-11-05-postmonsoon-deficit-worsening-drought-india? (5 Nov. 2018)
As many as seven major States, apart from many smaller States in the North-East, are threatened by a drought-like situation that would severely hit food production and livelihood, apart from drinking water availability in coming months, an expert has warned.
"The soil moisture deficit is under extreme to exceptional category in many states. If the condition doesn't improve, many parts of the country may witness a water crisis similar to that experienced in 2015-16," said Vimal Mishra, an associate professor in the Civil Engineering Department of the IIT, Gandhinagar.
According to one report, as many as 33 crore people in 2.5 lakh villages of 266 districts in 11 States were affected by the severe drought in 2015-16.
 "Excessive groundwater pumping may worsen the situation in coming months. The States may face both surface and groundwater crises in the near future," Mishra said. https://www.thehindubusinessline.com/economy/drought-conditions-persist-in-many-states/article25446380.ece  (8 Nov. 2018)
Also see, महाराष्ट्र, बिहार और कर्नाटक सूखा घोषित, अन्य क्षेत्र भी सूखे जैसी स्थिति में https://www.gaonconnection.com/samvad/drought-declared-in-maharashtra-bihar-karnataka-42505  (4 Nov. 2018)
Maharashtra Water released for parched Marathwada amid tight security For the 3rd time in 6 years, the drought hit regions of Marathwada will receive water released from dams in Nashik and Ahmednagar districts in Maharashtra.
Armed policemen were posted at strategic locations as water from 2 dams (2.04 TMC from Darna and Mukane dams) in Nashik and 1 in Ahmednagar (0.60 TMC from Gangapur dam) 2.64 TMC was released early on Nov. 1for the 150 km long journey to Jayakwadi dam in Aurangabad.
The move came a day after the Maharashtra govt declared drought in 42 per cent of the state, portending ill-tidings ahead of the election season and the winter session of the Maharashtra assembly starting in Mumbai on Nov. 19. https://timesofindia.indiatimes.com/city/aurangabad/water-released-for-parched-marathwada-amid-tight-security/articleshow/66460238.cms  (1 Nov. 2018)
According to the latest data compiled by the Maharashtra Water Resources department, the total live water storage in Marathwada's 965 small, medium, and large dam projects has dipped to 1,687 million cubic metre (mcm) on November 1, as compared to their total storage capacity of 9,229 mcm. Even after considering the dead storage levels, the current water level in these dams is down to 3,364 mcm. https://indianexpress.com/article/cities/mumbai/mumbai-water-level-in-marathwada-dams-down-to-23-per-cent-5433208/  (4 Nov. 2018)
Groundwater depletion to further aggravate drought condition caused by deficit monsoon in central Maharashtra and Marathwada: https://indianexpress.com/article/india/3000-villages-in-maharashtra-may-face-acute-drinking-water-shortage-by-year-end-5436651/  (7 Nov. 2018)
Comprehensive Op-Ed in Indian Express on Maharashtra Drought:
Maharashtra Govt.'s water management scheme are classic case of privatisation of profits and socialisation of losses argues RN Bhaskar: https://www.moneycontrol.com/news/india/maharashtras-criminally-reckless-water-management-and-its-industry-unfriendly-moves-3138561.html  (8 Nov. 2018)
The ongoing water crisis, which continued throughout the festive season, came as a boon for private water suppliers as tankers were in huge demand. Activists and residents have alleged that the water management is designed to benefit private suppliers. https://timesofindia.indiatimes.com/city/aurangabad/water-shortage-a-boon-for-private-suppliers/articleshow/66574374.cms  (11 Nov. 2018)
Gujarat Saurashtra farmers stare at a dry harvest Deficient monsoon rains have impacted the Kharif crop, while also raising doubts over Rabi sowing prospects.
Virvadarka is located near the mouth of the Machchhu River, where it meets the Little Rann of Kutch. While the village has abundant groundwater, it is salty and not suitable for irrigation. "Last, year, we lost our crop to floods caused by the waters discharged from the Machchhu-II Dam. This time, it has been drought", says Gadhvi, an economics graduate, who, in good years, harvests an average 25 quintals each of cotton and groundnut per hectare.
Farmers in many parts of Saurashtra have been submitting memoranda to the government, demanding that their areas be declared scarcity-hit. In Halvad taluka, farmers staged a three-day relay hunger-strike earlier this month, seeking an increase in the water flow to the Maliya sub-branch canal. https://indianexpress.com/article/india/drought-woes-saurashtra-farmers-stare-at-a-dry-harvest-5406574/  (18 Oct. 2018)
Tamil Nadu Just 15 days' water in reservoirs The water in the 4 reservoirs that serve the city could run out in 15 days if it does not rain soon in the catchment areas in Tiruvallur and Kancheepuram districts. In fact, Cholavaram and Chembarambakkam are almost dry, holding just 2% and 6% of their total storage. The combined storage in the four reservoirs on November 3 was 1,758 million cubic feet (mcft) against 2,114mcft recorded the same time last year.
The city currently received 675 MLD of water from Metrowater of which 520 MLD is for households. Generally, the supply was around 830 MLD. This year, 165 MLD was being pumped from Veeranam reservoir every day, 100 MLD from Nemmeli desalination plant and 100 MLD from Minjur desalination plant. https://timesofindia.indiatimes.com/city/chennai/just-15-days-water-in-reservoirs-chennai-could-face-crisis-if-rain-fails/articleshow/66518878.cms  (6 Nov. 2018)
HYDRO POWER PROJECTS
Meghalaya JICA To Provide Rs 315 Crore For Umiam-Umtru Power Station Upgrade Amazing that modernisation goes on for over 20 years? The Japan International Cooperation Agency (JICA) will provide Rs 315 crore for the project for renovation and modernisation of the Umiam-Umtru Stage III hydroelectric power station. "JICA has been supporting the renovation and modernisation of Umiam Hydroelectric power station since 1997″
– The 2X30 MW Umiam-Umtru Stage III hydroelectric power station started operations in 1979 but its performance has been deteriorating for more than 15 years because of breakdown of the runners and electro-mechanical equipment. The said project will contribute to avoid further deterioration of the capacity
-Earlier, it provided an ODA loan of 3,664 million Japanese yen (approximately Rs 200 crore) for the Umiam Hydro Power Station Renovation Project and the Umiam Stage II Hydro Power Station Renovation and Modernization Project. http://www.theshillongtimes.com/2018/11/10/jica-to-provide-rs-315-crore-for-umiam-umtru-power-station-upgrade/  (10 Nov. 2018)
Uttarakhand Residents force hydro developer to abandon hearing Residents of Uttarkashi distric have forced a company to abandon a public hearing over a hydroelectricity project (HEP) proposed at the edge of a wildlife reserve. Local residents allege that the public sector firm, Satluj Jal Vidyut Nigam, had not given affected people adequate notice of the hearing and failed to provide copies of the environment impact assessment in the local language: Hindi. They held a three-hour demonstration at the public hearing on June 12, forcing the administration to abandon the public hearing. https://www.downtoearth.org.in/news/governance/residents-force-uttarakhand-hydro-developer-to-abandon-hearing-61323  (7 Aug. 2018)
LANDSLIDES
Jammu & Kashmir Highway Closed After Fresh Landslides Jammu Srinagar Highway stretch in Ramban district is HIGHLY LANDSLIDE PRONE AREA: https://www.ndtv.com/india-news/jammu-srinagar-highway-closed-after-fresh-landslides-1942895?  (5 Nov. 2018)
Also see, SANDRP Blog on Why Jammu Srinagar Highway is so landslide prone?  (17 Feb. 2018)
EARTH QUAKES
Uttarakhand Earthquake of 5.0 magnitude hits Pithoragarh district An earthquake measuring 5.0 on the Richter scale struck Pithoragarh district around 12:30 pm on Nov. 11. As per news agency ANI, no loss of life or damage to property had been reported so far. According to the United States Geological Survey, the epicentre of the quake was in Nepal, a few km away from Dharchula in the Pithoragarh district of the state, with the quake affecting Nepal-India border region.
According to Hindi daily Amar Ujala, tremors were felt by residents in Pithoragarh twice on Nov 11 afternoon, initially at 12:38 pm and for the second time at 12:45 pm. However, the weather department has stated that the region was struck by the quake just once. As per the report, the effect of the quake was strong enough to make items fall inside houses at Dharchula and Askot, prompting people to rush out of their houses. The depth of the quake was nearly 10 km, as per USGS.  https://www.timesnownews.com/india/article/earthquake-in-uttarakhand-today-just-now-alert-news-pithoragarh-dharchula-dehradun-nepal-india-border-magnitude-5-richter-scale-himalayas-quake/312135  (11 Nov. 2018)  
The Garhwal-Kumaon segment of the north-west (NW) Himalayas is seismically the "most vulnerable section" of the region with a potential to generate great earthquakes, warns a new study by researchers from multiple institutions in the country.
Their findings, reported in the journal "Earth and Planetary Science Letters", is based on the analysis of five years (2013-2018) of continuous GPS measurements from 28 stations located in the Garhwal-Kumaon Himalayas and the adjoining Indo-Gangetic plains. https://www.tribuneindia.com/news/uttarakhand/garhwal-kumaon-segment-most-vulnerable-to-quakes/680694.html  (9 Nov. 2018)
INTERLINKING OF RIVERS
SANDRP Blog Ken River Yatra: Exploring A Threatened River When heading out on an adventure, it is standard practice to look at satellite imagery of the area to chart an informed plan of action.
However, when we were preparing for our walk along the Ken river, we couldn't access a reliable map of the watercourse all the way from source to mouth. https://sandrp.in/2018/11/08/ken-river-yatra-exploring-a-threatened-river-and-knowing-river-people/?  (8 Nov. 2018)
SAND MINING
Punjab Sand and gravel policy While the motive of the govt to make the sand mining business transparent is commendable, the new policy has some serious loopholes that need to be plugged. Auction of mining blocks through 'progressive bidding' is a good idea to secure maximum revenue for the govt. It may, however, create problems at two levels — the consumer may suffer from a spike in the prices of building materials, and a winner may not be able to operationalize the mine because of overenthusiastic bidding rates.
 Hopefully, the govt will take a lesson from the saga of previous 'progressive auctions' of mines that had raised their value disproportionately due to exuberant, competitive bidding and the winning contractors failed to operationalize these mines. This had led to a supply crunch, and consequently, a surge in the prices of sand and gravel. There is still no guarantee that big businessmen or consortia would not default.
The policy is ostensibly burdened with overregulation that leaves tremendous scope for unscrupulous bureaucrats to extort money from the miners and perpetuate the existent mafia culture. Hopefully, the government would be more insightful in the due course and amend the policy suitably to make it simpler and environment friendly. https://www.tribuneindia.com/news/editorials/sand-and-gravel-policy/670107.html  (19 Oct. 2018)
Despite policies and laws, no let-up in illegal mining The many sand mining laws are in place; the NGT forever vigilant against violations; mining is banned in riverbeds without clearance from a Central or state environment authority; competitive bidding is an established practice; licences are issued; the Punjab mines and minerals department exists; and yet brazenly, unauthorised mining goes on with impudence, in spite of raids across the state from time to time. The latest such activity has been reported from the Sutlej bank near Anandpur Sahib, where 40-ft-deep pits have been dug up to excavate sand.  https://www.tribuneindia.com/news/editorials/a-rope-of-sand/676255.html  (31 Oct. 2018)
Himachal Pradesh As water level depletes, illegal mining picks up in Beas With the depletion of water level in the Beas, illegal mining has picked up once again in Jaisinghpur areas, as there is no check from the state agencies. A dozen of tractor-trailers, trucks and dumper can be seen extracting mining material from different points of the riverbed.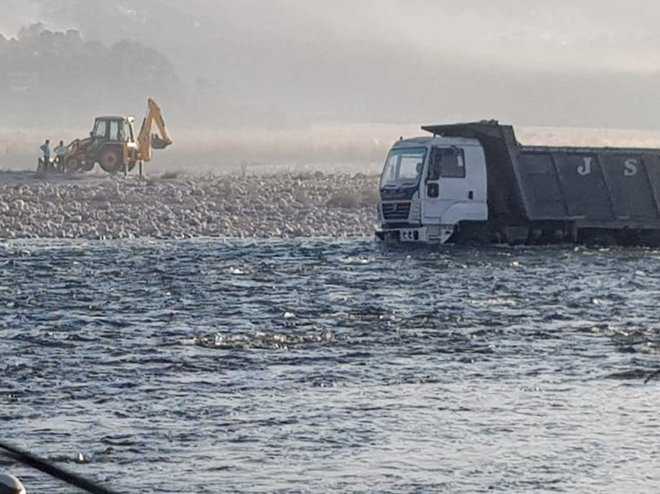 In fact, large-scale illegal mining in Jaisinghpur area has become a matter of concern. The High Court and the state govt have imposed a ban on all types of mining in the Beas here. Unfortunately, the state agencies have failed to implement the orders of the High Court. Illegal mining has not only caused loss to the state exchequer worth lakhs of rupees daily, but also resulted in large-scale environmental degrading. https://www.tribuneindia.com/news/as-water-level-depletes-illegal-mining-picks-up-in-beas/675611.html  (30 Oct. 2018)
Rajasthan Illegal Mining in Aravali Has Not Stopped Despite SC Ban The Rajasthan govt informed the Supreme Court last month that it receives Rs 5,000 crore in royalties from mining. The government does not receive any revenue from illegal mining, resulting in a huge loss to exchequer. In 2013, Alwar district forest officer P. Kathirvel had calculated that the state had lost around Rs 50,000 crore over 15 years in just Bhiwadi area. With assembly polls due on December 7, the issue of illegal mining is completely missing from political discourse because politicians from both parties BJP and Congress have a stake in the mining business, either directly or otherwise reveals Hridayesh Joshi. https://thewire.in/environment/illegal-mining-aravali-supreme-courts-congress-bjp  (8 Nov. 2018)   
Goa Centre rejects Goa miners' demand; no ordinance to resume mining In a letter to the PM on Sept 24, Goa CM Manohar Parrikar requested him to take appropriate steps to bring about necessary changes in the provision of the Mines and Minerals (Development & Regulation) Amendment Act so that the mining in the state can resume at the earliest. However, sources in the mining ministry said that the Centre was not considering to bring an ordinance, since mining is a state subject and the Centre really does not have much to interfere into the mining affairs of a particular state.
The mining industry in Goa has also faced stoppage of all activity earlier. Taking cognisance of the MB Shah Commission report, which claimed there was illegal mining worth Rs 35,000 crore in the state between 2005 and 2012, the apex court had in 2012 stooped all mining activity in the state as well. The industry remained shut for nearly 19 months from Oct. 2012 to April 2014, when the apex court finally allowed miners to operate, imposing several riders including the restriction of extracting 20 million tonnes of ore annually. After lifting of the ban, it took another 18 months for the industry to actually start the work as the first fresh extraction took place in Oct. 2015.
The SC in Feb. 2018 has quashed the state govt's 2015 order granting 'second renewal' of 88 iron ore mining leases in the state. The apex court had also directed to stop all mining operations, with effect from March 16, on the ground that the second renewal was given to those mines in violation of its previous directions. It also said that the order will prevail until fresh mining leases are granted and fresh environmental clearances given. https://www.financialexpress.com/india-news/centre-rejects-goa-miners-demand-no-ordinance-to-resume-goa-mining/1375755/  (8 Nov. 2018)
Karnataka Mining baron G Janardhan Reddy is absconding: Police The Karnataka Police on Nov. 7 said Ballari-based mining baron and former BJP minister Gali Janardhan Reddy is absconding, day after Reddy's confidante J Shantha – former BJP minister B Sriramulu's sister – lost the Ballari bye-election. The Congress won the seat, which had previously been the BJP's bastion. However, Additional Commissioner of Police (Crime) Alok Kumar told there was no connection between the Congress' victory and the inquiry. https://scroll.in/latest/901299/karnataka-mining-baron-g-janardhan-reddy-is-absconding-say-police  (7 Nov. 2018)
WETLANDS, LAKES, WATER BODIES
Tamil Nadu Saving wetlands from extinction Detailed report on role of Madras High Court in protection of wetlands in Tamil Nadu. The report also underlines the reluctance of State Govt. on the issue:
Not pleased with the State's action, the Madras High Court has now stepped in to save from extinction hundreds of wetlands, considered a vital part of the hydrological cycle and highly productive ecosystems that support rich biodiversity.
The status report filed by the Tamil Nadu State Wetland Authority, on behalf of the State government, showed that there was no consistency in the expenditure incurred towards upkeep of the 24 protected wetlands.
Though the Centre sanctioned ₹1.63 crore for their upkeep in 2015-16 and released only ₹65.94 lakh out of the sanctioned amount, the expenditure incurred during that year was nil.In contrast, the government had spent ₹4.43 crore on the protected wetlands in 2017-18 though the Centre had released only ₹4.37 crore as against the sanctioned amount of Rs.4.88 crore for that financial year. https://www.thehindu.com/news/national/tamil-nadu/saving-wetlands-from-extinction-tamil-nadu/article25415036.ece  (3 Nov. 2018)
When focus shifts to conservation of wetlands Singanallur Tank is touted as a model to be followed in other water bodies associated with Noyyal river system in the Coimbatore district. The tank is sprawling on 288 acres, bagged the biodiversity tag through consistent conservation efforts by the Centre for Urban Biodiversity Conservation and Education (CUBE), a voluntary organisation, backed by the civic body and Forest Department. Around 750, including 170 species of birds, 400 species of plants, and 70 species of butterflies were recorded by local researchers in and around the tank. https://www.thehindu.com/news/cities/Coimbatore/when-focus-shifts-to-conservation-of-wetlands/article25450569.ece  (9 Nov. 2018)   
Uttarakhand Nainital Lake water withdrawal limit cut to 8 MLD Over the years, Nainital Lake turning shallower with decreasing depth:
– Over the last century, the lake's depth has roughly gone down by 10-15 m.
– As per available records, it was 27 m in British era. 
– Kumaun University's study found the maximum depth to be around 23.7 m in 1976-77.
– GSI report recorded depth at 25 m in 1979.
– Irrigation Dept. reported it to be 17.25 m in 2016.
– According to officials of the irrigation department, the average depth of the lake at present is around 9 to 10 m although its maximum depth ranges in the 20 m.
– The kidney-shaped Nainital Lake, surrounded by hills, is situated at an elevation of 1,938 metres, with a width of 360 metres and a length of 1,442 metres at present. In 1839, a British sugar trader named P Barron is said to have stumbled upon this Himalayan lake while he was lost in the hills and was trying to find his way back. https://www.hindustantimes.com/india-news/nainital-lake-water-withdrawal-limit-cut-to-8-million-litres-per-day/story-G58u9Ad5NKTH5NEhlz7GnI.html  (7 Nov. 2018)
The Himalayan wetlands are under threat due to unregulated urbanisation and unsustainable tourism. Urgent attention at the policy level is the need of the hour. http://www.indiawaterportal.org/articles/unique-himalayan-wetlands  (3 Nov. 2018)
GROUNDWATER
Study Groundwater depletion alarming in northwest, central India Based on Central Ground Water Board (CGWB) data of nearly 5,900 wells which have long-term data (1996–2016), a team of researchers led by Vimal Mishra from the Department of Civil Engineering at IIT Gandhinagar found that a majority of districts in India experienced significant depletion in groundwater storage. The satellite data confirms the well data. The results were published in American Geophysical Union's journal Earth's Future.
– With 230 billion metre cube of groundwater drawn out each year for irrigation in India, many parts of the country are experiencing rapid depletion of groundwater. The total estimated groundwater depletion in India is in the range of 122–199 billion metre cube. The study also found that carbon dioxide emission from pumping groundwater and release of carbon dioxide into the atmosphere from the soil when groundwater is depleted is less than 2-7% of the total carbon dioxide emissions in India.
– With depletion occurring at a rate of 91 cm per year, Punjab has been witnessing a steep decline in groundwater table since 1996. More than 500 tensiometers to visually monitor soil moisture conditions in rice fields and irrigate the crops only when required were used in five districts in Punjab. Irrigation based on information provided by the tensiometers helped farmers in the five districts save 10–36% groundwater.
– The tensiometer is 2–3 feet long and has a ceramic cup containing numerous tiny pores at the bottom. It is inserted up to 8 inches into the soil, which is beyond the root zone of rice. The water inside the tensiometer reaches equilibrium with soil moisture, and rises or falls depending on the amount of moisture in the soil. "Farmers are advised not to irrigate the field when the water level in the tensiometer is in the green zone. When the soil gets dry the water level in the tensiometer drops and reaches the yellow zone in the device. Farmers should start irrigating the field at this time and never allow the water in the device to reach the red zone," Prof. Vatta explains. According to Prof. Vatta, the instrument is quite accurate in monitoring soil moisture. One device per farm would be sufficient, especially when the terrain is nearly flat. So far, over 22,000 tensiometers, manufactured by Punjab Agriculture University, have been given to rice farmers in Punjab. It costs just Rs.300 per piece. https://www.thehindu.com/sci-tech/groundwater-depletion-alarming-in-northwest-central-india/article25463716.ece  (10 Nov. 2018)
MoEF NOC must for using groundwater for infra projects MoEF has made it mandatory for infrastructure projects to seek 'no objection' certificate from the Central Ground Water Authority (CGWA) for using groundwater for project activities and state should refrain from issuing clearance to project in absence of certificate. The MoEF in a Nov. 2 official order has decided to include go-ahead from the CGWA as part of the Terms of Reference while prescribing environment clearance to development projects.
It further says that approval of the CGWA or state shall be obtained before drawing groundwater for the project. The State Pollution Control Board shall not issue consent to Operate till the project proponent obtain such permission. "The state pollution control board concerned shall not issue consent to operate till the project proponent obtain such permission," it added. Experts feel that there is an effort to ensure that the issue of groundwater withdrawal is addressed at the stage when Terms of Reference is granted for the preparation of an EIA (environment impact assessment) but the challenge continues to be at the level of compliance. http://www.newindianexpress.com/nation/2018/nov/10/noc-must-for-using-groundwater-for-infra-projects-1896259.html  (10 Nov. 2018)
Telangana Groundwater level drops in Hyderabad The rise in the groundwater (GW) levels in Hyderabad has evaporated as soon as it came into existence, the latest annual report on GE table that was released by the groundwater department is the indicator. As per the report, the levels have dropped in all the 16 mandals of Hyderabad district which are owing to great extraction of groundwater. http://www.thehansindia.com/posts/index/Telangana/2018-11-06/Groundwater-level-drops-in-Hyderabad/438392  (6 Nov. 2018)
Out of Eden Walk Walking on (Depleted) Water In India, a historic groundwater crisis threatens millions. A water inheritance amassed since the last Ice Age, across thousands of years, is being pumped out tirelessly by industrial agriculture, by the Green Revolution. The government's response? Build more large dams (India has 5,000 already) and re-channel the course of rivers to quench the thirst of parched regions. Meanwhile, the vital monsoon rains grow more erratic with changing climate. And demand for fresh water swells by 16 million new human beings a year writes journalist Paul Salopek on a multiyear, 21,000-mile walk across the world in the footsteps of our forebears. https://www.nationalgeographic.org/projects/out-of-eden-walk/articles/2018-10-walking-vanishing-water/  (18 Oct. 2018)
URBAN WATER
Hyderabad Water ATMs gone dry Just 11 months after 140 mineral water ATMs were installed across the city, most of them have gone dry. http://www.newindianexpress.com/cities/hyderabad/2018/nov/09/demonetisation-water-atms-launched-a-year-back-have-also-gone-dry-in-hyderabad-1895777.html?   (9 Nov. 2018)
WATER POLLUTION
Maharashtra Ambernath residents protest against industrial pollution The Residents protest against industrial air water pollution going on for yrs in Thane: Ambernath citizens' forum organised a protest march against the pollution spread by industries in the area. They also started a campaign called "Say No to Properties from Ambernath to Badlapur" claiming that the industries have made the entire area poisonous by polluting the air and water. https://indianexpress.com/article/cities/mumbai/thane-ambernath-residents-protest-against-pollution-spread-by-industries-5437152/  (7 Nov. 2018)
AGRICULTURE
Kerala Farmer collective to turn Idukki to fully organic farming district A collective of organic farmers has initiated a programme to help and rebuild the farms and livelihood of the farmers in Idukki, the hub of spice cultivation in Kerala, which was one of the worst affected districts in heavy rains and flood that hit the state in August. https://economictimes.indiatimes.com/news/economy/agriculture/farmer-collective-to-turn-idukki-to-fully-organic-farming-district/articleshow/66511775.cms?  (5 Nov. 2018)
Uttarakhand मुनस्यारी ब्लॉक के किसान करते हैं जैविक खेती पिथौरागढ़ ज़िला मुख्यालय से लगभग 127 किमी. दूर नेपाल और तिब्बत सीमा से लगे मुनिस्यारी ब्लॉक के गाँवों में किसान पूरी तरह से जैविक खेती करते हैं, वो किसी तरह के भी रसायनिक उर्वरक, कीटनाशकों का प्रयोग नहीं करते हैं। उत्तराखंड राज्य में जैविक खेती को संवारने के लिए केन्द्र ने 1500 करोड़ की योजना को मंजूरी दे दी है और इस योजना पर काम करने के साथ ही उत्तराखंड को देश के दूसरे जैविक राज्य की पहचान दिलाने की कोशिश की जाएगी। https://www.gaonconnection.com/desh/organic-farming-munsiari-pithoragarh-uttrakhand-farmers   (9 Nov. 2018)
SOUTH ASIA
India-Pakistan JNU report that echoes Pak concerns on Indus waters A study by researchers from JNU on the effect of climate change on the Indus Basin waters has got the PMO worried. The study has concluded that climate change would give India greater control of the Indus Basin waters, which could leave Pakistan vulnerable and has hence called for better management of the water budget between the two countries.
– The study has been published in the International Journal of Climatology, a highly reputed peer-reviewed journal on the environment. The PMO concerns stem from the fact that an Indian university is now "echoing Pakistan's stance on the Indus Basin waters", and that too on an international platform. The PMO has got in touch with Environment Minister Harsh Vardhan and asked him to get details about the study, fearing political and diplomatic ramifications. https://theprint.in/governance/modis-office-is-worried-about-jnu-report-that-echoes-pakistan-concerns-on-indus-waters/147033/?  (8 Nov. 2018)
India-Bangladesh Transboundary river dying due to graft in Jashore Many structures have been built illegally by encroaching both banks of Haor river, once linking Bangladesh and India border as authorities concerned are sleeping at the wheel. Local influentials constructed different establishments, including huge complexes, ponds and fish enclosures occupying the river banks that stopped the water flow on the river, turning it into a narrow canal and creating huge waterlogging in the country's biggest Benapole land port area. Locals alleged that the encroachers brought those lands under their possession showing fake deeds of the lands when opposed, clearing themselves from taking up the river's land at large. http://www.unb.com.bd/category/Bangladesh/bangladesh-india-transboundary-river-dying-due-to-graft-in-jashore/5994?  (8 Nov. 2018)
Many fishermen in the Lalmonirhat district are changing their ancestral profession because they are not able to continue doing it as all the small rivers and beels in the district have dried up, and the major rivers Teesta and Dharla are following. They are taking up jobs of rickshaw pulling, farm labourers or day labourers and other menial work for earning their livelihood. https://www.thedailystar.net/country/news/rivers-lalmonirhat-drying-1657087  (7 Nov. 2018)
ASIA  
Mekong River What does Chinese 'reciprocity' mean for Mekong's dams? China is exploring new ways to cooperate over water with Mekong countries, but any agreement must address civil society and environmental concerns, argues Carl Middleton. https://www.thethirdpole.net/en/2018/11/02/what-does-chinese-reciprocity-mean-for-mekongs-dams/  (2 Nov. 2018)
Gaza Boy death puts spotlight on pollution crisis The death of a little boy after swimming in polluted seawater has put the spotlight on Gaza's pollution crisis and the human impact of desperate electricity shortages in the Palestinian enclave. Mohammed al-Sayis, 5 year old, died late last month a few days after swimming in the sewage-polluted waters, with his brothers also hospitalised, his family and health ministry said. Dozens of others have been treated after swimming along the strip's filthy Mediterranean coastline in the past two months, a ministry spokesman in Gaza said. https://www.hindustantimes.com/world-news/gaza-boy-swimmer-death-puts-spotlight-on-pollution-crisis/story-VUJgi0RwaAps8UIYObCgeP.html  (26 Aug. 2017)
Malaysia River pollution nationwide increasing According to a study by the Department of Environment, Malaysia, the river pollution nationwide increased by 2 % in 2017 compared with 2013. Of the 189 main river basins in the country, 11 % were considered polluted in 2017. Water, Land and Natural Resources Minister Dr A. Xavier Jayakumar said the increase was likely caused by rapid development and lack of awareness on environmental conservation and preservation. https://www.thestar.com.my/metro/metro-news/2018/10/14/xavier-river-pollution-nationwide-increasing-due-to-rapid-development-lack-of-conservation/  (14 Oct. 2018)
THE REST OF THE WORLD
Study Large hydropower dams 'not sustainable' in the developing world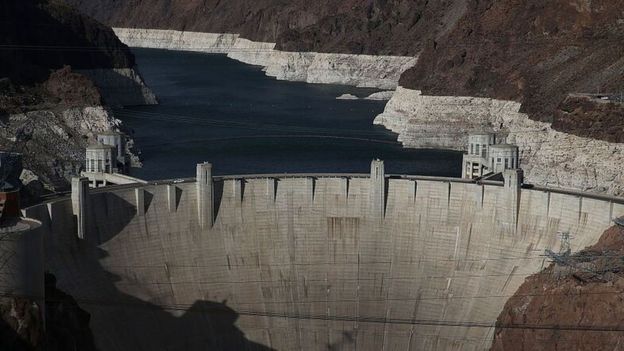 The new study also says that many large-scale hydropower projects in Europe and the US have been disastrous for the environment.
The paper studies the proliferation of large dams in developing countries and the importance of incorporating climate change into considerations of whether to build a dam along with some of the governance and compensation challenges:
North America Mississippi River Pollution Topic of Next Science Cafe Protecting the Mississippi River and preserving farming communities in the state is the focus of this month's Oxford Science Cafe. The monthly program, organized by the University of Mississippi Department of Physics and Astronomy, will feature Inoka Widanagamage, UM instructional assistant professor of geology and geological engineering. It is set for 6 p.m. on Nov. 13 at Uptown Coffee, 265 North Lamar Blvd. https://news.olemiss.edu/mississippi-river-pollution-topic-next-science-cafe/  (9 Nov. 2018)
Canada St. John River pollution, flooding and invasive species focus of summit Dozens of researchers, environmentalists and government agencies came together in Fredericton to discuss the future of the St. John River, known to First Nations as Wolastoq.  Now in its sixth year, the St. John River Summit was held on Nov. 7 on Fredericton's north side.
Pollution, flooding, dams and wildlife are all major topics of concern for those working closely with the waterway. The river and watershed make up the largest water system in New Brunswick, originating in Maine, with a northern branch crossing into Quebec. The size of the river makes it important these 70 experts meet and compare notes.   https://www.cbc.ca/news/canada/new-brunswick/st-john-river-summit-1.4896049  (8 Nov. 2018)
Brazil: Nov. 5, 2015 Samarco dam disaster Affected still waiting for compensation 3 years after the disaster, residents of the most impacted communities are all still living in temporary accommodation while the government dithers with construction of new settlements, and many others have found themselves pitted against corporate lawyers whose only imperative is to drive down costs: "… since the Renova Foundation and the Brazilian state have failed to provide affected communities with legal assistance, people in a situation of extreme vulnerability are reported to have paid 30% of their compensation in attorney fees".
People whose homes were buried under thousands of tonnes of mud are refused compensation unless they can produce purchase receipts of their personal belongings. People seeking to simply be formally recognised as affected are required to fill out a 600 page questionnaire.
The companies are still locked in endless legal disputes with Brazilian authorities and investors around the world, actions that could end up dragging out for years or decades. In the meantime, the greatest fear of the people subjected to the castastrophe in Brazil is that they will simply be forgotten, as the grass grows over the buried ruins of their communities. https://www.theguardian.com/commentisfree/2018/nov/03/it-was-a-disaster-on-an-almost-inconceivable-scale-then-the-world-moved-on  (2 Nov. 2018)
The worst environmental disaster in Brazil's history has triggered one of the biggest legal claims ever filed in a British court. The Anglo-Australian mining company BHP Billiton is being sued for about £5bn by Brazilian victims of the Samarco dam collapse in Mariana three years ago.
The class action case was filed in the Liverpool high court on Monday by the UK-based SPG Law on behalf of 240,000 individuals, 24 municipal governments, 11,000 businesses, a Catholic archdiocese and about 200 members of the Krenak indigenous community. https://www.theguardian.com/environment/2018/nov/06/bhp-billiton-facing-5bn-lawsuit-from-brazilian-victims-of-dam-disaster  (6 Nov. 2018)
The total impact of the disaster, including the reason for failure and the environmental consequences, are officially under investigation and currently still unclear. The owner of the Bento Rodrigues dam, Samarco, was subject to extensive litigation and government sanctions. In 2016, charges of homicide were filed against 21 executives of Vale and BHP Billiton, the companies that own Samarco as a joint venture. Controversy over the investigation grew after exposure of a 2013 report indicating structural issues in the dam. https://en.wikipedia.org/wiki/Bento_Rodrigues_dam_disaster
Ramsar Convention The Case of India's Disappearing Wetlands The 13th meeting of the Conference of the Parties to the Ramsar Convention on Wetlands was recently held in Dubai. It brought into focus one of the most pressing environment issues around the world– deteriorating wetlands. The meeting adapted 25 resolutions to stimulate wetland conservation with the theme 'Wetlands for a Sustainable Urban Future'. https://weather.com/en-IN/india/news/news/2018-11-08-the-case-of-indias-disappearing-wetlands (8 Nov. 2018)
CLIMATE CHANGE
Sundarbans Climate change making sea water in saltier Across South Asia's coastal deltas, fresh water is in ever-shorter supply as global warming brings wilder weather, more flooding and harsher droughts, and exposure to salty water is increasing, researchers say. In the Sundarbans – the world's largest delta, created by the confluence of the Ganges and Brahmaputra rivers in Bangladesh and India – the changing climatic conditions are particularly perilous for women, they say.
Worsening salinity in coastal areas may also become a major driver of migration, warns a report published this month by the International Food Policy Research Institute. It said salt intrusion linked to sea level rise is likely to force 2 lakh coastal Bangladesh residents to migrate at some point.  https://scroll.in/article/900558/climate-change-is-making-sea-water-in-the-sunderbans-saltier-putting-women-at-risk  (3 Nov. 2018)
Odisha Cyclones buffet Odisha as temperatures rise Basudev Mahapatra The southern coast of Odisha, with the small port town of Gopalpur at its centre, seems to have become a favoured destination for tropical cyclones occurring in the months of Oct.-Nov. in the Bay of Bengal. This year, coastal districts of Odisha and neighbouring Andhra on the east coast around Gopalpur faced two intense tropical cyclones — Daye in Sept. and Titli in Oct.
Gopalpur has been facing a constant threat of post-monsoon tropical cyclones since at least 1999 when it was badly hit by a devastating tropical cyclone 10 days before the super cyclone of 1999. That super cyclone hit near Odisha's port town of Paradeep in the early hours of October 29 and ravaged large parts of coastal areas, leading to at least 10,000 deaths. http://indiaclimatedialogue.net/2018/10/17/cyclones-buffet-odisha-as-temperatures-rise/  (17 Oct. 2018)
Andhra Pradesh WB loan for climate -resilient farming The Central Govt, Andhra Pradesh Govt and the World Bank on Nov 5 signed a loan agreement for a $172.20 million project to enhance agricultural productivity, profitability and climate resilience of poor and marginalized farmers. The Andhra Integrated Irrigation and Agriculture Transformation Project will be implemented in rural areas largely dependent upon rainfed agriculture. It will strengthen the resilience of poor and marginalized farmers against adverse climate events by improving access to irrigation, drought seed varieties and post-harvest technology that are aimed at improving soil health, water-use efficiency and crop productivity, according to a note from the World Bank. https://www.thehindu.com/news/cities/Vijayawada/world-bank-loan-for-climate-resilient-farming-in-ap/article25430402.ece? Nov. 2018)
Maharashtra Farmers undergo training for climate resilient agriculture World Bank, dept of agriculture impart dossiers in land preparation, techniques for minimum water use and so on. https://punemirror.indiatimes.com/pune/others/farmers-undergo-training-for-climate-resilient-agriculture-in-maharashtra/articleshow/66539649.cms? (8 Nov. 2018)
ENVIRONMENT
Kerala coastline faces serious threat This is the stark reality of Kerala today. A state situated on the southwest coast of India that consistently appears in the annual list of the must-see tourist destinations of Lonely Planet in Asia. This province blessed with beaches, backwaters and verdant forests also wears the tag of being God's Own Country. But now Kerala is losing its glory.
– Almost half of the state's coastline is endangered today and a large-scale displacement is inevitable. Mercy Kutty Amma, Kerala's Minister for Fisheries and Harbour Engineering, admits that her government faces a "big challenge" of relocating more than 30,000 families who live close to the coastline. Kerala is in a bad shape, as 45% of its coast is eroding.
– Scientists acknowledge climate change impacts and the phenomenon of sea level rise (SLR), but they don't believe it has got a direct role to play in coast erosion, at least for now. The sea level rose in last century by 40 cm and this report by the scientists of National Institute of Oceanography, Goa, says that the annual rise in sea level is less than 2 mm per year.
– One of the reasons for the coast erosion is the large number of dams built on almost every river of Kerala. Kerala has today 41 west flowing rivers and these rivers could have been great source of silt, sand and soil transportation towards the coast. This may have helped the accretion. But there are more than 50 dams on these rivers and these dams have blocked the flow of soil to the seashore. The Fifth assessment report of IPCC estimates that 75% of sediment flow is blocked by large dams. https://indiaclimatedialogue.net/2018/11/12/keralas-coastline-faces-serious-threat/  (12 Nov. 2018)
Madhya Pradesh Diamond mining: Panel defers green clearance for Panna to NMDC EAC panel has deferred environment clearance for diamond mining in Panna to the state-owned miner National Mineral Development Corporation (NMDC), after it received a complaint highlighting the site's proximity to a tiger reserve as well as a wildlife corridor.
In its meeting on October 23-24, the EAC looking after non-coal mining projects decided to postpone the two proposals of the NMDC for mining of 1 lakh carat of diamond annually. The NMDC had obtained the mining rights of Majhgawan Diamond Mine and a supplementary section till 2020 under the Environment Impact Assessment (EIA) notification, 1994. 
Notably, the NMDC is under the administrative control of the Ministry of Steel. It had to approach the Environment ministry afresh as a Supreme Court ruling in April 2018 stipulated that mining projects which got environmental clearance in 1994 are required to obtain the green nod under the EIA Notification, 2006. The Committee has now directed the Environment ministry to examine the issues and send details before the project be considered for approval.  http://www.newindianexpress.com/nation/2018/nov/12/diamond-mining-panel-defers-green-clearance-for-panna-to-nmdc-1896971.html  (12  Nov. 2018)  
Haryana Save Aravali Bio-Diversity Park In times of severe water crisis in Gurugram, with the groundwater depleting at 5m per year as the city pumps out 300% more groundwater than it recharges, the park serves to recharge over 320 million(32 crores) litres of water annually. https://www.change.org/p/save-aravali-bio-diversity-park-save-lungs-of-gurugram-save-the-effort 
Delhi Air Pollution Killer Delhi air is a water crisis in disguise Delhi's air pollution is at least partly a water crisis in disguise. Since 2008, the Punjab government has delayed sowing of rice by setting a mandatory start date. This year, it was postponed by another five days to June 20 to save 2.4 trillion liters of water. But later paddy sowing means even greater pressure after the harvest to clear the fields for wheat, and that's made Delhi's October-November air pollution even more concentrated, spoiling Diwali celebrations.  https://economictimes.indiatimes.com/news/politics-and-nation/killer-delhi-air-is-a-water-crisis-in-disguise/articleshow/66551110.cms  (9 Oct. 2018)
EPCA empowered to deal with air pollution crises not working Despite being vested with enormous powers, the Environment Pollution (Prevention and Control) Authority has been reluctant to proactively rein in the 'airpocalypse' in the National Capital Region writes Ritwick Dutta. https://thewire.in/government/epca-was-specially-empowered-to-deal-with-air-pollution-crises-is-it-working  (8 Nov. 2018)
Delhi could blame location, wind flow, Himalayas for its terrible air As winter sets in, North India's air is yet again severely contaminated by a combination of factors: crop stubble burning, garbage incineration, industrial pollutants, vehicular exhaust and dust from construction sites. https://scroll.in/article/901029/delhi-could-blame-location-wind-speed-himalayas-for-its-terrible-air-or-it-could-blame-itself  (8 Nov. 2018)
Bhalswa landfill exacerbate air pollution crisis in NCR Such landfill fires are a frequent occurrence in Delhi. According to government data, Delhi generates about 10,000 metric tonnes of garbage each day, the bulk of which goes to the city's three main landfills at Okhla, Bhalswa and Ghazipur, all of which have long exceeded their lifespan and capacity.  https://scroll.in/article/900227/photos-burning-mounds-of-garbage-at-delhis-bhalswa-landfill-exacerbate-air-pollution-crisis-in-ncr  (30 Oct. 2018)
The farming practices encouraged in the 1970s, during the Green Revolution, are one major facet of the annual crop-burning that adds to the pollution build-up in north India between mid-October to mid-November—the time period for harvesting the summer crop and sowing the winter crop.
Farmers claimed that there are multiple preventive measures that can bring down crop-burning and the scary statistics, but blamed the government for patchy implementation. The Green Revolution has also drained the water table, prompting the state to delay sowing the summer crop. https://caravanmagazine.in/environment/photo-essay-crop-burning-delhi-pollution-punjab-farmers  (11 Nov. 2018)
Punjab is expecting not more than 12,000 stubble burning incidents this season, a reduction of about 70 per cent compared to last year. In 2016, Punjab witnessed 80,879 stubble burning incidents, which came down to 43,814 in 2017, official data said.
So far in 2018, the state has recorded 1,212 cases of paddy stubble burning as against 3,141 and 6,733 in the corresponding periods in 2017 and 2016 respectively.
For promotion of agricultural mechanisation for in-situ management of crop residue, the Centre has sanctioned Rs 695 crore to Punjab and Rs 137 crore to Haryana.In addition to this, the two states are giving a 50 per cent subsidy on machines to individual farmers and 80 per cent to cooperative societies.
The two states annually generate 220 lakh tonne and 65 lakh tonne of paddy stubble, respectively. Punjab has so far earned Rs 10.77 lakh by penalising farmers who burnt paddy stubble. https://www.businesstoday.in/sectors/agriculture/delhi-air-pollution-punjab-expects-drop-stubble-fires-this-season/story/285706.html  (18 Oct. 2018)  
Study प्रदूषण से बढ़ रही है बीमारी फैलाने वाले बैक्टीरिया की प्रतिरोधक क्षमता  नये शोध से पता चला है कि भारी धातुएं, माइक्रो-प्लास्टिक (प्लास्टिक के कण) और स्वयं एंटीबायोटिक भी जीवाणुओं में एक से अधिक जैव प्रतिरोधी दवाओं के प्रति प्रतिरोधक क्षमता विकसित करने के लिए जिम्मेदार हैं। वैज्ञानिकों के अनुसार औद्योगिक एवं खनन अपशिष्ट, सीवेज प्रदूषण, कृषि और जलीय कृषि से प्रभावित पर्यावरण एंटीबायोटिक दवाओं के प्रति प्रतिरोधक क्षमता रखने वाले बैक्टीरिया के विकास के प्रमुख केंद्र बन रहे हैं।  https://www.gaonconnection.com/desh/increasing-pollution-is-the-resistance-to-disease-carrying-bacteria-heavy-metals-micro-plastics-42498  (2 Nov. 2018)
Compiled by SANDRP (ht.sandrp@gmail.com)
Also see: & DRP News Bulletin 05 Nov. 2018 & DRP News Bulletin 29 Oct. 2018
Follow us on: www.facebook.com/sandrp.in; https://twitter.com/Indian_Rivers