A try-out of the technique to grow paddy without puddling at village Chehlan of Ludhiana has resulted in higher yield in comparison to puddled fields, while saving water in the process. The crop was ready for harvest days before expected time, saving irrigation water otherwise to be used for another fourteen days. This trial was funded and supervised by ATMA, a central govt.  scheme under the Union Ministry of Agriculture.
Puddling is a traditional method of flooding paddy fields with running water, whereas in non-puddling technique, 'ridges and furrows' are formed in soil to let water store in spaces and let it stay, thus reducing irrigation frequency.
"Not paddy but puddling is the enemy of waters of Punjab. It is wastage of water to puddle fields as most of it just evaporates. We have saved 45-50 per cent of water in non-puddled fields. Our yield has been almost 30 per cent more from fields where crop was not puddled. Also, non-puddled crop matured very early, saving at least ten days of irrigation water," says Rupinder Singh Chahal (43) who along with his brothers Jasvir Singh (48) and Kulwinder Singh (52) experimented with 'non-puddling' technique on four acres this year.
Asked about stubble management, the farmer said," After chopping stubble with Super SMS, we further chopped it finely using a chopper and then mixed it within soil."
PR-126 variety of PAU gave a yield of 35.36 quintal/acre when grown without puddling against 26.88 quintal/acre grown with traditional puddling method- an increase of at least 30 per cent in yield, confirmed Dr Jaspreet Singh Khera, district project head, Agricultural Technology Management Agency (ATMA). The average yield for PR-126 is 30 quintal/acre. Similarly, another variety PR-121 gave a yield of 34.80 quintal/acre when grown without puddling against 29.57 quintal/acre grown with puddling. The average yield for PR-121 is 30.5 quintal/acre.
The state agriculture department has now written to Punjab Agricultural University (PAU) to study experiment in detail and give comments.
Explaining the experiment, Rupinder Singh Chahal said, "It is a kind of rainwater harvesting system in paddy fields. In puddling, we flood our fields with water but in non-puddling we have to create ridges/beds (locally called battey) using potato planters and then transplant paddy on ridges (battey). Then we need to fill furrows with water. So these furrows are the crux of entire technique. Here water will stay and percolate in soil instead of getting evaporated as in puddled fields. With water staying longer in furrows, you don't need to irrigate every two to three days. It can be done after gap of 8-9 days in fact, thus saving almost 50 per cent water," he says.
Asked about stubble management, the farmer said," After chopping stubble with Super SMS, we further chopped it finely using a chopper and then mixed it within soil."
Dr Daler Singh (74), retired district agriculture information officer who is the brain behind the experiment wants PAU and agriculture department to recommend this 'bina kaddu ton battan tey jhoney di bijaayi' (sowing paddy on ridges without puddling) technique to the farmers. https://indianexpress.com/article/india/less-water-better-yield-paddy-without-puddling-experiment-in-punjab-yields-encouraging-results-5415080/  (24 Oct. 2018)
It is worth to mention that System of Rice Intensification (SRI) SRI is a very important option that govt needs to push in Entire North West India, including Punjab, Haryana and UP.
Meanwhile in another positive development, concerning to the groundwater conservation and air pollution, there is report on 57 years old Gurbachan who has not  been burning stubble in his 40 acres farmlands almost of last two decades. This was long before stubble burning was recognised as one of the prime causes of the smog that blankets Punjab, Haryana and Delhi in October and November.
Instead of burning crop residue, Gurbachan has persuaded at least 40 farmers in the village to put it good use in the fields and his efforts have made him the poster boy for the Krishi Vigyan Kendra's anti-stubble burning campaign in the district.
Pointing to his fertiliser-free lush green paddy fields ready for harvest, Gurbachan says his own farms are proof of his convictions. For two years now, he says, the soil quality has improved so much that he has completely stopped using fertilizers and insecticide.
Interestingly, when his son got married last year, Gurbachan Singh told the bride's parents that there would be no baraat. He did not want to impose on his future in-laws the huge cost of entertaining the boy's side. But Gurbachan did have one condition: Satnam Singh, the father of the bride, had to stop burning paddy stubble. And Satnam had instantly accepted.
According to Gurbachan, Sikh preachers talk about the teachings of Sikh gurus, but there is hardly any mention about the farming done by Guru Nanak. He says he stopped burning stubble in 2000 because he got "Guruji's message".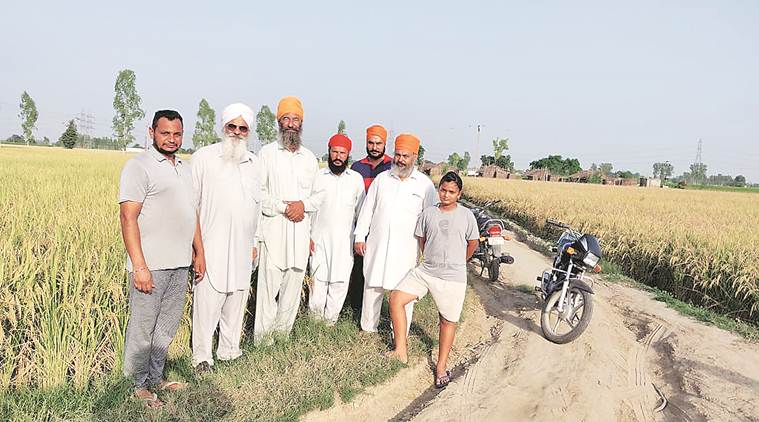 He also tells farmers that "if you don't burn stubble, you will save on fertilizers and insecticides costs and the yield will increase". From the first crop sown without burning stubble, he tells farmers, they will be able to save at least Rs 5,000 per acre on input costs.
The Krishi Vigyan Kendra has chosen two villages in Tarn Taran that accounted for the most cases of stubble burning in 2017 for a pilot project to make them 100 per crop fire free, and Gurbachan has been given a big role in this. The two villages — Booh Havelian and Jauneke — are just 2.5 km and 3 km from his village.
KVK district official Balwinder Kumar says that of a total 1,400 acres in both villages, farmers burnt stubble in more than 1,200 acres last year. In the coming days, scientists and officials will help farmers in Booh Havelian and Jauneke sow wheat and other crops without burning the crop residue. https://indianexpress.com/article/india/how-a-punjab-farmer-is-showing-the-way-in-crop-burning-fight-5402032/  (15 Oct. 2018)
The farmer efforts has been by Prime Minister in his monthly Mann Ki Bat, radio program which was aired on Oct. 28.
According to an Indian Council for Agricultural Research (ICAR) study, stubble burning directly impacts air quality in Delhi and the National Capital Region (NCR), increasing carbon dioxide levels by 70 per cent and carbon monoxide and nitrogen dioxide by 7 per cent and 2.1 per cent, respectively.
This year, Gurbachan says, it is the turn of his daughter to get married. And his gift to his son-in-law? A Happy Seeder, the machine that enables wheat to be planted on the field while simultaneously cutting the standing stubble and spreading it over the sown seeds as mulch cover. https://indianexpress.com/article/india/prime-minister-hails-farmers-campaign-against-stubble-burning-5422616/  (29 Oct. 2018)
Notably in a bid to save water, the govt. of Punjab and Haryana has enforced the Punjab\Haryana Preservation of Sub-Soil Water Act, 2009. The Act prohibits farmers from sowing paddy before notified dates resulting in a very short window, just two to three weeks, for preparing the farms for the next sowing operation. Earlier, the farmers used to get nearly 40-45 days of post-harvest time.
The strict implementation of the groundwater legislation led to farmers resorting to stubble burning in big numbers as the alternative straw management practices are expensive. However, in order to promote in-situ management of paddy straw, the Centre has approved over Rs 1,151 cr for Punjab, Haryana, Uttar Pradesh and Delhi for two years from 2018-20. https://timesofindia.indiatimes.com/india/punjab-haryanas-shot-at-water-conservation-triggered-air-pollution-crisis-in-northern-states/articleshow/66287792.cms  (19 Oct. 2018)
Also see NABARD Report Water Productivity Mapping of Major Indian Crops                  http://icrier.org/pdf/Water_Productivity_Mapping_of_Major_Indian_Crops.pdf    
DROUGHT 2018
Maharashtra State Govt. declares a 'drought-like situation' in 180 tehsils The Maharashtra govt.  on Oct. 23 declared a 'drought-like situation' in 180 tehsils , more than half the 353 of these administrative units in the state, in an acknowledgement of looming agrarian distress.
CM Devendra Fadnavis said after a cabinet meeting that his govt. would soon issue a govt.  resolution (GR) following which these tehsils would be entitled to relief measures, including water supply through tankers, waiver of land revenue, electricity bill for agricultural consumption and education fees. "These tehsils were selected after we strictly followed the scientific norms set by the govt. of India. Various mitigation measures will be implemented in these villages now," Fadnavis said. A central govt. team would soon visit these tehsils to make its own assessment and declare assistance, he said. https://www.livemint.com/Politics/6KYQBmYrMGDPFfNXGaJUFM/Devendra-Fadnavis-says-half-of-Maharashtra-facing-droughtli.html  (24 Oct. 2018)
The state govt. has also allotted Rs 1,000 cr to revive 40,000 water structures across state which are in a state of neglect or lay buried, under a plan that aims to promote low-cost, water-conservation techniques. The decision comes in the wake of a severe drought situation staring the state with 175 talukas out of Maharashtra's 355 talukas receiving less than 75 per cent rainfall during the monsoon.
A senior official in the water conservation department told, "We have identified 84,000 water conservation projects, which were built in the last six decades but are now non-functional and lying abandoned." https://indianexpress.com/article/india/low-cost-water-conservation-plan-govt.-allots-cr-to-revive-old-water-structures-5403647/  (16 Oct. 2018)
Meanwhile, a report by govt.'s forecasting agency, National Centre for Crop Forecasting has found that 32 of the state's 36 districts are staring at drought this year.  https://www.hindustantimes.com/mumbai-news/maharashtra-32-districts-face-drought-govt. -lists-179-tehsils-for-verification/story-ofSgFNzDCPmYBl4AWuBmzH.html  (16 Oct. 2018)
As per Nidhi Jamwal, while last year, the state's 14,679 villages were hit by drought, this time 20,000 villages are already facing drought-like conditions.   https://www.downtoearth.org.in/news/natural-disasters/maharashtra-heads-towards-a-drier-drought-61912  (22 Oct. 2018)
Different stakeholders from Aurangabad are raising their voice against water reservation for non-irrigation needs in Darna group of dams in Nashik district. The Bombay high court on Oct. 24 declined to immediately hear a petition on the issue of release of water from Jayakwadi dam. The petitioner was likely to move the HC again on Oct. 25 with the same plea.  https://timesofindia.indiatimes.com/city/aurangabad/chorus-grows-over-lifting-reservation-of-darna-dams/articleshow/66353086.cms  (24 Oct. 2018)
In Kamkheda, 266km from Aurangabad city, alarm bells started ringing when the retreating monsoon also failed this month and the village's water sources started drying up. Now, there is just one drinking-water well in the village, where supply threatens to run out any day now.
"The rainfall this year is 50% less than its annual average of 666.36mm. The total water storage in the district across all its big, medium and minor projects is down to 3.646%. The groundwater table in the district has depleted by 2.21m compared to the average of the last five years. While we have planned water usage until June next year, the scarcity is serious,'' said Chandrakant Suryavanshi, resident deputy collector of Beed.
All nine tehsils of Aurangabad district are facing drought after a rain deficit ranging from more than 20 to more than 50%. So far, cattle fodder camps have not been started by the administration anywhere in the region.
 "We have planned our water supply until June 2019 considering the requirement, evaporation losses, among other factors. Across 15 irrigation projects in the district, we have reserved water only for drinking purposes. So far, water has not been reserved in Jayakwadi as it still has 31% of live storage. But, we may stop water for irrigation soon,'' said Uday Chaudhari, collector, Aurangabad district.
"Taken with the dead-water storage, the stock is technically enough to supply water to the city, to industries and in fact the entire district, but we will have serious distribution, water management challenges,'' he added.
Chaudhari is referring to water losses in the supply schemes, non-existent schemes, as well as faulty planning where upstream dams on the Godavari River mean that water for Marathwada and even for Jayakwadi often doesn't come through. The Jayakwadi surplus water is released to Majalgaon dam for instance to irrigate an area further down in Beed district. This means that when the water stock in Jayakwadi drops, Majalgaon Dam gets nothing.
"The state may have planned in advance, but the reality is that with 8 to 9 months till next monsoon, the water-supply scenario is precarious. It is more serious than what we witnessed in 2014, 2015 or the summer of 2016. In 2016, people died after falling into wells in their scramble for water. This time it may get worse,'' said Pradeep Purandare, water expert and retired professor of Water and Land Management Institute (WALMI). He added, "This situation is solely because of shoddy water-management policies, cropping patterns and lack of drought proofing.'' https://www.hindustantimes.com/mumbai-news/scramble-for-water-begins-in-drought-hit-maharashtra/story-fLItbsrJFbN1XRE0eA3HeK.html  (29 Oct. 2018)  
After residents of South Mumbai protested over inadequate water supply last week, citizens from Juhu, Andheri (West) and Vile Parle protested at the local ward office on Oct. 23, complaining about inadequate and low pressure water supply in their area. However, officials from the hydraulic department assured that the water supply will be restored by October 28.
Though Brihanmumbai Municipal Corporation (BMC) maintained that there was no water cut in the city, it said that the entire city was facing the problem due to technical issues following the pipeline up gradation work on Sept 25-26. It had announced a two-day water cut in the western suburb then.
However, the corporators said that even after the up gradation work, there has been problem of inadequate water supply in the western suburb, especially Andheri and Jogeshwari. "The problem of inadequate water supply has been going on for a month now. But for last two days, there was absolutely no supply in Andheri (West) area," said Ameet Satam, member of the legislative assembly (MLA), Andheri (West) constituency. The city requires 4,200 lakh million litres of water daily while there is a supply of only 3,600 million litres every day. https://www.hindustantimes.com/mumbai-news/after-south-mumbai-andheri-juhu-and-vile-parle-face-water-shortage/story-6sMHaGCK2wVAi9nO51GmUK.html  (23 Oct. 2018)
Odisha State struggling to overcome excess rain, drought at same time Paradoxical though it may seem, Odisha is struggling to overcome the challenge of both excess rain and drought at the same time in the ongoing crop season.
Paddy crops in several rain-fed pockets of western Odisha districts like Sambalpur, Sundargarh, Balangir, Kalahandi, Jharsuguda and Bargarh have suffered moisture-stress due to deficient rain.
Coastal Odisha, which had received heavy rain during second week of October under the impact of severe cyclonic storm 'Titli', is staring at a deluge in the face of heavy rain forecast by the India Meteorological Department.
Sambalpur district administration said paddy in 36,000 hectares suffered more than 33% moisture-stress.  Similarly, deficient rainfall has hit farmers in Balangir district. Paddy in 12,551 hectares in Bongomunda, Muribahal, Tureikela, Kantabanji and parts of Deogaon blocks has been affected. https://www.thehindu.com/news/national/other-states/odisha-struggling-to-overcome-excess-rain-drought-at-same-time/article25355424.ece  (29 Oct. 2018)
In 2017 also Odisha witnessed curious coexistence of rain & drought. While on Nov. 17, 2017, IMD predicted rains in 6 coastal districts in the state, on the same day state govt.  added 4 more blocks of Sundergarh district to the list of drought-affected areas in the State. https://www.thehindu.com/todays-paper/tp-national/tp-otherstates/odisha-battles-rain-drought/article20548153.ece  (18 Nov. 2017)
Karnataka 86 taluks in 23 districts declared drought-hit The State govt. has declared 86 taluks across 23 districts in the State drought-hit and has estimated the crop loss owing to these conditions to run up to about ₹8,000 cr. This followed a meeting of the Cabinet sub-committee that reviewed the drought condition in the State.  
The 86 taluks, mostly in the north Karnataka region, met 3 important criteria fixed in the 2016 Central guidelines to consider taluks as drought-hit, Revenue Minister R.V. Deshpande told presspersons after the meeting. The taluks had 60% deficit rainfall, had a dry spell for more than three weeks, and reported crop loss of more than 33%.
While 114 taluks had experienced dry spell for more than 3 weeks, 44 reported less than 75% sowing, 115 had problems of deficient moisture, and 35 had their groundwater recede, a note from the Revenue Minister's office said. The Minister also said that of the 74.69 lakh hectares that should have been sown with kharif crop, only 62.88 lakh hectares were covered.  https://www.thehindu.com/news/national/karnataka/86-taluks-in-23-districts-declared-drought-hit/article24929347.ece  (11 Sept. 2018) 
As per IMD data, the cumulative seasonal rainfall across the southern state was minus 2 per cent from June 1 to September 12, with coastal areas recording 3 per cent above normal, and south interior region 7 per cent above normal, while north interior area posted 26 per cent deficit.  https://timesofindia.indiatimes.com/city/bengaluru/rain-deficit-23-districts-of-karnataka-declared-drought-hit/articleshow/65803488.cms  (14 Sept. 2018)
Andhra Pradesh 275 mandals declared drought-hit The State govt. on Aug. 8, declared 274 mandals as severe and one mandal as moderate drought affected in six districts including Prakasam, Nellore, Chittoor, Anantapur, YSR Kadapa and Kurnool. It declared 58 mandals in Chittoor, 50 in YSR Kadapa, 45 in Nellore, 44 in Ananthapuramu, 40 in Prakasam and 37 in Kurnool as severely affected during the kharif 2018. https://www.thehindu.com/news/national/andhra-pradesh/275-mandals-declared-drought-hit/article24636878.ece  (9 Aug. 2018)
 Nellore District facing drought following deficit rainfall for last 3 years: – The average water level has plummeted by 1.63 metres in the district following rainfall deficit to the extent 46.7 mm till September this year. The average water level was 9.74 metres in September 2017 and 11.37 metres in September 2018.
– The groundwater department has identified 48 critical villages, 204 overexploited villages and 109 semi-critical villages in the district in a recent study.
– Groundwater department officials have attributed the diminishing levels to poor rainfall during last 3 years.
– Referring to overexploitation of groundwater, a senior official of the department said the usage is 100 percent more than the recharge in several villages located in upland areas as well as a few villages close to seacoast.
– In case of villages near the coast, aquaculture is being blamed for the excess drawl of groundwater. https://www.deccanchronicle.com/nation/current-affairs/231018/nellore-groundwater-levels-at-worrisome-low.html  (23 Oct. 2018)
Gujarat Labourers head home as Saurashtra stares at crop failure Several dimensions of drought in Saurashtra including reduced crop yield of groundnut (50% reduction) and Cotton (33% reduction), impact even where there is 100% rainfall due to uneven distribution, seven of the eight district affected, migration and how Sardar Sarovar is not helpful. https://timesofindia.indiatimes.com/city/rajkot/labourers-head-home-as-saurashtra-stares-at-crop-failure/articleshow/66325619.cms  (23 Oct. 2018)
FLOOD 2018
Kerala Flood 2018 Govt. decision to open dams late, all together among reasons for flood: Report Now a report by Jawaharlal Nehru University's Special Centre for Disaster Research, in collaboration with the National Institute for Disaster Management, identified several points of govt. al failure that ostensibly contributed to the devastating magnitude of the flood and its consequent destruction in Kerala this year.
The committee's report found that although the Kerala State Disaster Management Authority (KSDMA) had been constituted in 2007, as mandated by the Disaster Management Act, 2005, it came up with only one disaster management plan in 2013, which was only approved by the chief minister and had already become redundant. The report stated, "The plan was to be updated every year but with zonation maps, landslides assessments and other estimated impact studies on risks made in 2010, the plan is outdated."
The report states that as a result of this, vulnerability mapping was outdated and preparedness and participatory dissemination were missing. The other major point the report flags is the lapses in dam management and late release of water from dams despite repeated warnings from the IMD about above-normal rainfall over the "extreme south peninsula" between August 9 and 15.
The report stated, "The dam safety authority during its press brief on August 7 defied any plan to open the dams and exactly one week later, when the rainfall was at its highest and people were already facing a highly water saturated ground, the authorities opened all 38 big dams in Kerala together". By this time, the study found, Idukki dam — the state's largest – had already reached its maximum capacity of 2403 square metres.
The report mentions that while the state govt. held three meetings with panchayat pramukhs in Idukki between July 18 and August 10, the pramukhs stated that the officials were unresponsive to their repeated demands for floodgates to be opened earlier, and also opened gradually. They reported that KSDMA never held workshops with them, and that early warnings were not issued.
The report also flagged that Fragile Land Act, 2003, was "dumped as outdated law which has lost its relevance" throwing open the Western Ghats for construction, while "river catchments, backwaters and estuaries providing mangroves…are subsequently eliminated". https://indianexpress.com/article/india/kerala-dams-flood-jnu-report-5420745/  (27 Oct. 2018)
Arunachal Pradesh Brahmaputra flood scare in Arunachal over There are a lot of questionable statements and assumptions here.  https://theprint.in/governance/brahmaputra-flood-scare-in-arunachal-over-but-india-must-watch-out-as-crisis-can-return/138639/  (24 Oct. 2018)
Meanwhile, concerned with unusual behaviour of the Siang river, the three federal units of All Arunachal Pradesh Students' Unio (AAPSU) from East Siang, Siang and Upper Siang districts on Oct. 24 organised a protest rally demanding a water treaty with China. https://timesofindia.indiatimes.com/city/itanagar/arunachal-rally-demanding-water-treaty-with-china/articleshow/66357794.cms  (25 Oct. 2018)
MONSOON 2018
SANDRP Blog Himachal Pradesh Monsoon 2018 Overview Himachal Pradesh has received 917.3 mm rainfall during South West Monsoon 2018. The amount is 11 percent higher than normal rainfall category of 825.3 mm. However at district level there is considerable variation in the distribution of rainfall.
Out of 12 districts in the state, rainfall departure has been in deficit in three districts namely Chamba, Kinnaur and Lahul & Spiti by 38 percent, 32 percent and 43 per cent respectively. All these three districts are in upper part of Himalaya, the origin of many rivers & where mountains are mostly snow covered. https://sandrp.in/2018/10/28/himachal-pradesh-monsoon-2018-overview/  (28 Oct. 2018)
HYDRO POWER PROJECTS
Himachal Pradesh Kinnaur villagers blow off HPPCL, police allegedly trying to fool them over hydro project On October 9, 2018, the HPPCL staff came to Lippa village with a heavy local police force to discourage villagers from protesting. What requires attention here that the district administration and the local police, thus the State Govt., are assisting the Corporation in its bid to violate the court orders. Moreover, as seen in the video, a local police official was also seen arguing in support of the Corporation with the villagers when it wasn't actually his job.
They definitely underestimated the villagers considering them mere bunch of tribals and tried to fool them. However, they faced severe protests and demonstrations from the locals, united under the banner Paryavaran Sanrankshan Sangharsh Samiti. Eventually, the HPPCL staff and police force had to retreat after villagers stopped and reasoned with them.
Another fact that needs attention here is that the villagers reasoned with them legally. They were aware of all proceedings of the court as well as its directions to the Corporation. The Corporation and the police tried their best but couldn't confuse villagers by flashing papers signed by the Deputy Commissioner of the Superintendent of the Police. https://himachalwatcher.com/2018/10/22/watch-tribals-in-kinnaur-village-blow-off-hppcl-police-allegedly-trying-to-fool-them-over-hydro-project/  (22 Oct. 2018)
Meanwhile, the Cabinet also decided to allot 780 MW Jangi-Thopan-Powari Hydro Electric Project in Kinnaur district for execution to the Satluj Jal Vidyut Nigam (SJVN). https://energy.economictimes.indiatimes.com/news/renewable/himachal-pradesh-cabinet-decides-to-allot-780-mw-kinnaur-hydro-project-to-sjvn/66334128  (23 Oct. 2018)
Industry Hydel sector needs full policy overhaul This makes a clear statement that the current policy changes being considered will not help revive hydro sector. Further concessions proposed here only shows how unviable hydro projects are. https://www.thehindubusinessline.com/news/hydel-sector-needs-full-policy-overhaul-experts/article25289698.ece  (22 Oct. 2018)
DAMS
SANDRP Blog Why Sardar may have been uncomfortable with the 600 feet statue With all the illegalities, injustices and wasteful expenditure and use of resources involved, why Sardar would have been uncomfortable with the 600 ft high Statue. Thanks to Janantik Shukla and Kshitij Patel for the photos. Please Read and Share.  https://sandrp.in/2018/10/29/why-sardar-may-have-been-uncomfortable-with-the-600-feet-statue/?  (29 Oct. 2018)  
On Oct. 31, when the world's tallest statue of Sardar Vallabhbhai Patel, standing 182 metres tall, will be unveiled by PM Modi, the tribal population in 15 districts of Gujarat is all set to observe a "black day".  On Oct. 25, one more tribal-dominated village — Mahupada in Narmada district — passed a resolution in gram sabha declaring that the residents will not take part in any activity related to the Statue of Unity, registering their protest against land acquisition by the govt. for the project. Earlier, two more villages — Paat in Sagbara taluka of Narmada district and Vyara in Tapi district — had passed similar resolutions. https://indianexpress.com/article/india/unveiling-of-statue-of-unity-tribals-gear-up-to-boycott-october-31-event-5419104/  (26 Oct. 2018)
Meanwhile, NBA has accused PM Modi of "undermining" the Adivasis' faith by seeking to dedicate on October 31 the 182-metre high Statue of Unity in the name of Sardar Patel to the nation on Sadhu Bet, which is known among them as Varata Baba Hill. According to NBA, the Adivasis' faith in the shrine has been "suppressed" by allowing 1,500 Chinese workers to build the Sardar Statue instead of employing local Adivasis. https://www.counterview.in/2018/10/statue-of-unity-undermines-adivasis.html  (28 Oct. 2018)   
Indeed, what will Gujarat govt. doing in name of Statue of Unity: Displace people, destroy river, violate laws, spend Rs 3000 crs, set up five star hotel, Tiger Park, Crocodile park….. https://timesofindia.indiatimes.com/city/ahmedabad/cost-of-statue-of-unity-may-touch-rs-3000-cr/articleshow/66338870.cms  (24 Oct. 2018)
Narmada Dam NAPM yatra pays tribute to India's first anti-dam campaigner Samvidhan Samman Yatra of the NAPM, which passed through Pune and Satara, paid tribute to Senapati Bapat, the revolutionary freedom fighter and leader of the first anti-dam movement in the country. He fought against the Mulshi Dam in 1921. It recalled the struggle of the 5 generations of the dam displaced people who travelled with the Yatra and supported their demand for return of the land occupied by the dam operators, Tatas.
The yatra, which began on Oct. 2 at Dandi and will reach Delhi on Dec. 10 after travelling the whole of India, comprises of 75 people from 15 states. Speaking at a public rally in Pune, Subhash Ware, eminent constitutionalist, said that Dr Ambedkar was aware of the fact that courts or Parliament alone cannot guarantee the rule of law. There is a need to struggle to achieve justice. https://www.counterview.in/2018/10/napm-yatra-pays-tribute-to-indias-first.html  (22 Oct. 2018)
Meanwhile, Gujarat govt. on Oct. 22 announced a compensation package for the six villages that were affected in Kevadia colony and the seven villages that will be submerged due to the Garudeshwar Weir. The Kevadia colony is near the Sardar Sarovar dam.
The govt. said per head compensation will be Rs7.5 lakh per hectare. The state said that it was rethinking the 2013 and 2015 notification for compensation after several projects affected made a representation that they needed land for their lost land and not money. It clarified that all other components of the package will remain the same as the 2013 and 2015 notification. Meanwhile, activists who have been helping the affected seek better compensation dismissed it as a poll gimmick. This is clearly aim to stem the tide of protest against the inauguration of the Statue of Unity on Oct 31, but this is unlikely to help. https://www.dnaindia.com/ahmedabad/report-gujarat-govt. -announces-land-cash-compensation-for-kevadia-colony-affected-2678150  (23 Oct. 2018)
Maharashtra Dam in Thane can end water woes: Gadkari BJP's BIG contracts manager Nitin Gadkari here talks about Rs 30 000 cr interlinking of river project between Maharashtra and Gujarat and admits here that in spite of three meetings between CMs of two states, consensus has been illusive. Gadkari's claim about the VERY BIG dam solving Thane or Mah's water problems is not only bogus, but also CRUEL. https://timesofindia.indiatimes.com/city/nashik/dam-in-thane-can-end-water-woes-gadkari/articleshow/66352802.cms  (25 Oct. 2018)
IRRIGATION
Gujarat Congress MLA held, police say he sought Rs 40 lakh from irrigation 'scam' accused Congress MLA from Gujarat's Dhrangadhra, Parsottam Sabariya, was arrested in Morbi on Oct. 28 for allegedly demanding Rs 40 lakh from the accused of an irrigation scam in return for not raising the issue at the local level or on the floor of the state Assembly. https://indianexpress.com/article/cities/rajkot/gujarat-congress-mla-held-police-say-he-sought-rs-40-lakh-from-irrigation-scam-accused-5422623/  (29 Oct. 2018)
INTERSTATE WATER DISPUTES
Tamil Nadu CM writes to PM Modi over Kerala proposal for new dam The Tamil Nadu govt.  Oct. 23 wrote a letter to PM Modi, opposing the Centre's nod to Kerala's proposal to conduct an Environmental Impact Assessment Study for construction of a new dam in place of the existing Mullaperiyar reservoir. Opposition parties too hit out at the Centre over the issue, with principal opposition party DMK urging the state govt.  to file a case against the Environment Ministry. https://indianexpress.com/article/india/tamil-nadu-cm-palaniswami-letter-pm-modi-kerala-proposal-new-dam-mullaperiyar-5416861/  (24 Oct. 2018)
RIVERS AS NATIONAL WATER WAYS
NW-1 Jal Marg: Killing the Ganga, from Varanasi to Haldia How the proposed 5369 cr Varanasi-Haldia water way project will affect Ganga River: https://www.nationalheraldindia.com/india/jal-marg-killing-the-ganga-from-varanasi-to-haldia  (21 Oct. 2018)
Goa NAPM refutes claims of govt. over river dredging Goa govt's explanation that the Captain of Ports (CoP) Department will continue to hold rights over dredging of six Rivers that are declared as National Waterways has been refuted by NAPM alleging foul play.  Several activists and civil society groups from across the country under the umbrella organisation have opposed the project arguing it was an attempt to allow coal transportation in the State.
Attended and supported by Goan activists, NAPM demanded that projects which are not in the welfare of Goan community should be scrapped. The organisation also alleged the   upgradation of Mormugao Port Trust was to convert it into a coal hub. The discussion comes in the wake of sustained campaign by several local groups in Vasco opposing coal activity.   
The National Fish workers Forum, also supporting the NAPM, has demanded scrapping of Sagarmala project. NAPM Convener Madhuresh Kumar referred to another concerning issue on declining agriculture, stating that fields are destroyed on false pretext of development.
The ill effects of casinos, expansion of roads and national highways, double tracking of railway lines, were among various other issues discussed during the day-long session after which the group, which is on All India Tour headed to Karwar. Indeed, claims of Goa govt. body are questionable.  https://www.heraldgoa.in/Goa/NAPM-refutes-claims-of-State-govt.-over-river-dredging/137892.html  (24 Oct. 2018)
URBAN RIVERS
SANDRP Blog Chandigarh Water Sources; Streams: The City Not So Beautiful Chandigarh is widely known for its well-designed urban areas and associated amenities. No doubt, the city is relatively congestion free and cleaner. The roads are wider, sideways have adequate space for walkers and cyclists and they are mostly covered under thick tree canopy earning its tag of 'City Beautiful'.
However less is known about and rivers. This pictorial account tries to throw some light on present day situation of water sources like wells, ponds and rivers in and around Chandigarh town. https://sandrp.in/2018/10/23/chandigarh-water-sources-streams-the-city-not-so-beautiful/  (23 Oct. 2018)
Pune Mula Mutha PMC plans to divert river cleaning fund for water payment Shocking Pune Municipal Corporation (PMC) plans diverting 65 cr of Mula Mutha cleaning fund for the payment of water bills sent by Irrigation Department: -1000 cr JICA approved fund for 11 new STPs to treat 396 MLD pollution lying unspent since Jan. 2016:
PMC's Standing Committee had in the last week approved the proposal of diverting Rs 65 cr meant for the river cleaning project for the payment of the water bill sent by irrigation department. This, according to the authorities, was done because there was no other option from which the money could be recovered and the bill was pending since 2012 and if left unpaid, would hamper the water supply of the city.
The JICA project was adopted by Union govt. and accordingly a loan agreement was signed with JICA on January 13, 2016. Japan promised a soft loan of Rs 1,000 cr to free Mula-Mutha of pollution. The money was to be used for installation of 11 new STPs, which would enable treatment of 396 million litres of water every day in addition to the existing treatment capacity of 477 MLD. The project was first stuck between the authorities trying to figure out the way to transfer the funds. Finally, when the funds have arrived, they were left unspent since for four months.  https://punemirror.indiatimes.com/pune/civic/as-pune-suffers-from-water-shortage-pmc-debates-whether-funds-should-be-diverted-to-pay-for-water-supply/articleshow/66321407.cms  (22 Oct. 2018)
RIVERS
Swami Sanand Death Press Note For Ganga, demands of Swami Sanand should immediately be fulfilled Ganga activists and followers of Swami Sanand demands cancellation of the hydropower projects on River Ganga and its tributaries and ban on mining in Hardwar be ensured immediately.   https://m.facebook.com/story.php?story_fbid=2302241326470194&id=315141265180220  (26 Oct. 2018) See, the press release in Hindi here.
Meanwhile, followers of Ganga activist Guru Das Agarwal have released a video, reportedly recorded about an hour before his death on Oct.11, showing the Swami Sanand on the hospital bed questioning the central govt's notification on the river's environmental flow. https://www.hindustantimes.com/india-news/ganga-activist-gd-agarwal-reportedly-criticised-centre-in-final-video-before-death/story-qAwLnyAP6yyyt9RR7U9GzI.html  (27 Oct. 2018)
Here is what Govt's version of E-flow lacks from what Swami Sanand had demanded:
| | | |
| --- | --- | --- |
| IDENTITY | NMCG Revision-2018 | Swami Sanand Revision- 2018 |
| Date-time | 2018 | 2018 |
| TITLE | National River Ganga Rejuvenation,  Conservation & Management Bill | National River Ganga Rejuvenation,  Conservation & Management Bill |
| Preamble | Do not acknowledge the adverse role of human intervention on the flow and water quality of Ganga. | Acknowledge the adverse role of human interventions and developmental projects that have had on the existence of river Ganga and brought her to her current state as a highly polluted, broken stream or manipulated flow.  Therefore, wholeheartedly embrace the changes and drastic measure called for to undo this damage without compromise to utilize modern technology to find sustainable alternatives. |
| Vision & Objectives | NMCG Revision-2018 | Swami Sanand Revision-2018 |
| | To MAINTAIN minimum and Un- interrupted flow and pollution free Ganga. Where uninterrupted flow is defined in scientifically compromised term. | To ACHIVE Aviral (Natural) and Nirmal (Pristine) existence and flow in a time bound and phased manner.  |
| Other Aspects | NMCG Revision-2018 | Swami Sanand Revision-2018 |
| Socio-Cultural aspects | Not addressed | Addressed comprehensively. |
| uniqueness  of Ganga "Jal" | Not given adequate importance | Addressed comprehensively. |
| Categorization of Activities | No category of prohibited and restricted activities specified. | Prohibited and restricted activities are well categorized as per specified zones. |
| Public participation in NGC | Not given adequate importance | Adequate and mandatory participation  and well defined organization in section 8(2) and schedule I . |
| Public participation in NRGA | Not given adequate importance. | Addressed through nomination of Director General and members as per schedule II and section 8 (2). |
In a shocking development, within hours of the Uttarakhand High Court ordering AIIMS Rishikesh to handover the body of environmentalist and Ganga activist Professor GD Agrawal to Haridwar-based Matri Sadan ashram for 72 hours "to enable his followers to pay last homage and also to perform religious ceremonies as per Hindu Religion," the Supreme Court on Oct. 26 put a stay on the order.
Supreme Court bench comprising Chief Justice Ranjan Gogoi and Justice Madan B Lokur, in an order said: "The order of the (Uttarakhand) High Court, if implemented, will make the organs of the deceased whose body has been embalmed in AIIMS, Rishikesh unfit for being transplanted to other human beings. In view of the above, we deem it proper to stay the order of the High Court." https://indianexpress.com/article/india/sc-stays-uttarakhand-hc-order-directing-aiims-rishikesh-to-handover-body-of-prof-g-d-agarwal-to-matri-sadan-5420425/  (26 Oct. 2018)
Jairam Ramesh on Namami Gange and Saint GD Agarwal Death: The Modi govt.  renamed Mission Clean Ganga as Namami Gange and took the Nirmal Ganga component forward. But many of its actions subvert the very objective of Aviral Ganga. This is what led Agarwal to recommence his agitation that led, most unfortunately, to his martyrdom very recently. And if Nitin Gadkari has his way, the future of the Gangetic dolphin, declared India's national aquatic mammal eight years ago, appears none too bright. https://www.hindustantimes.com/analysis/why-gd-agarwal-recommenced-the-agitation-that-ultimately-led-to-his-death/story-FAlhOibUx1gKISCrRkvDsJ.html  (26 Oct. 2018)
Char Dham All Weather Road SC stays NGT's order The Supreme Court on Oct. 22 stayed an order by the NGT giving clearance to the ambitious 'Chardham Mahamarg Vikas Pariyojna'. The order was passed by a bench of Justices RF Nariman and S Abdul Nazeer. The bench took serious exception to the NGT not obeying its earlier order passed on August 27 this year.  In that order, the SC bench had said that the petition filed by NGO "Citizens for Green Doon" should be heard by the same 3-judge bench which was hearing it by allotting one clear day for the case.
Contrary to this order, on Sept. 4, a new bench at NGT heard the matter. The NGO's counsel advocate Sanjay Parikh said that by doing so, NGT modified the top court order. The apex court took serious exception of the NGT's direction and stayed the order. The bench sought response from the Centre and Uttarakhand govt. while posting the matter for hearing on Nov. 15.
Again on Sept. 26, the NGT went ahead and constituted a committee headed by former Uttarakhand HC judge Justice (Retd) UC Dhyani to monitor implementation of Environment Management Plan (EMP) of the project. Directions were also issued to the state authorities to provide pedestrian pathways for devotees and regulate plying of old petrol and diesel vehicles along the projected road. https://www.dnaindia.com/india/report-supreme-court-stays-ngt-s-char-dham-road-order-2678120  (23 Oct. 2018)   
GANGA Kumbh 2019: Seems no consideration have been made on impact of mega gathering on floodplain and river ecosystem:
– The mega religious congregation that begins on January 15 and ends on March 4 is expected to draw 120 million pilgrims, twice the population of the United Kingdom.
– Kumbh Mela officer Vijay Kiran Anand says preparations are for a global audience and nearly 2 million foreign nationals are expected to arrive. A separate colony for non-resident Indians (NRI) is also on the anvil.
– The state information department has been allocated a budget of ~50 cr for a mega branding exercise in the print and the electronic media at the national and international levels.
– External affairs minister Sushma Swaraj and ambassadors of 192 countries will congregate at the Sangam in the third week of December to ensure a smooth visit for foreign nationals. https://www.hindustantimes.com/india-news/next-year-s-kumbh-mela-set-to-wear-different-hues-with-political-overtones/story-Sw0aZuRF9OUepWTTX48S6M.html   (25 Oct. 2018)
YAMUNA Uttar Pradesh
Hindi reports by Dainik Jagram highlighting encroachment of Yamuna floodplain in Mathura by Yamuna Mission NGO. यमुना के घाट और धारा के बीच 80 फुट चौड़ी, छह फुट ऊंची कच्ची सड़क बना दी गई है। ये यमुना मिशन संस्था ने कराया। इसकी कोई मंजूरी भी यमुना मिशन ने नहीं ली। पर्यावरण और यमुना बचाने के नाम पर कंसटीला से मोक्षधाम तक करीब नौ किलोमीटर यमुना की धार के किनारे ये सड़क बनाई गई थी। पौधारोपण भी कराया। सड़क का नाम भी यमुना मिशन रख दिया गया। दस नालों को मोड़ दिया गया। कंस टीला और कृष्णगंगा घाट के पास यमुना मिशन नाम का एक नया घाट विकसित किया गया। बच्चों के झूले और फिसलन बनवाई गई। महिला पार्क बनाया गया। इस मामले को दैनिक जागरण ने उजागर किया तो प्रशासन हरकत में आ गया। https://www.jagran.com/uttar-pradesh/mathura-yamuna-mission-asked-why-not-take-action-against-yamuna-18567976.html  (24 Oct. 2018)
यमुना मिशन का काम जिस रफ्तार और नियोजन से चल रहा है वह बिना किसी मोटी मदद के संभव नहीं है। मिशन का नारा है कि वह चंदा नहीं लेते। अगर यह सच है तो उनके पास यमुना में पोकलेन मशीन और ट्रैक्टर के साथ मजदूरों की एक बड़ी संख्या को मेहनताना देने को धन कहां से आ रहा है। काम केवल मानव श्रम से ही नहीं चल रहा है। यहां खुदाई के लिए पोकलेन मशीन, ढुलाई के लिए ट्रैक्टर, पानी के लिए टैंकर और पंपसेट हैं। बागवानी और अन्य कामों के लिए मजदूर लगे हैं।
This slideshow requires JavaScript.
यमुना में इसी बरसात आई बाढ़ से मिशन के पाथवे का एक हिस्सा बह गया। इस हिस्से को जिस तेजी से मिशन ने पूरा कराया उससे साफ है कि उनके पास काम तेजी से काम करने के संसाधन हैं। इस संसाधन के लिए धन कहां से आता है। यह सवाल जब यमुना मिशन के डायरेक्टर अनिल शर्मा से पूछा गया तो उन्होंने गोलमोल जवाब दिया। कहा कि प्रदीप बंसल से मिशन को सहायता मिलती है। वह जब आते हैं मदद करके जाते हैं। बाकी का काम किसी न किसी की मदद से चल जाता है। प्रदीप बंसल का कोई संपर्क नंबर उनके पास नहीं है। जब मिशन के कामों की जांच के लिए मजिस्ट्रेटी टीम यमुना किनारे पहुंची तो यमुना मिशन की ओर से कोई भी पदाधिकारी अपना पक्ष रखने के लिए नहीं आया। https://www.jagran.com/uttar-pradesh/mathura-yamuna-mission-work-18559863.html  (23 Oct. 2018)
In an interview, Satyapal Singh, State Minister, MoWR said that water ministry would initiate investigation in the works carried out by Yamuna mission. https://www.jagran.com/uttar-pradesh/mathura-river-vikas-yojana-to-investigate-encroachment-on-yamuna-18563384.html  (24 Oct. 2018)
SAND MINING
Rajasthan "Stop illegal mining in Aravallis in 48 hours": SC The Supreme Court directs Rajasthan govt. to stop illegal mining in a 115.34-hectare area in Aravalli hills within 48 hours. A bench comprising Justices Madan B Lokur and Deepak Gupta said it was compelled to pass the order because Rajasthan has taken the issue "very lightly".
The top court also referred to a central empowered committee report that 31 hills or hillocks have vanished in the state's Aravalli area. The disappearance of hills in Rajasthan could be one reason for the rise in pollution levels in Delhi, the court said. The bench directed the chief secretary of Rajasthan to file an affidavit regarding compliance of its order. https://www.ndtv.com/india-news/stop-illegal-mining-in-aravalli-hills-in-48-hours-supreme-court-tells-rajasthan-govt. -1936214  (23 Oct. 2018)
As per another report, the ban on sand mining has paved way for a new formidable mafia to spread its wing in the state. Risky though the new trade may be its lure of easy money and high profit has attracted old veterans of illicit liquor trade. The sources told that the ban has spawned many criminal careers ever since the ban was enforced on sand mining in Nov. 2017.
As per all Rajasthan Bajri Truck Operators Welfare Society, Prior to the ban the cost of sand was Rs. 600 per tonne but now it is between Rs. 1500 to 2000 per tonne. As per police liquor mafia which was earning Rs. 5000 on liquor smuggling can walk home with Rs. 10000 in sand transportation. The mining mafia's terror is to the extent that its henchmen have openly attacked deputy SP (DSP) rank officials in Dholpur.  https://timesofindia.indiatimes.com/city/jaipur/sand-mining-ban-spawns-new-mafia-in-state/articleshow/66369629.cms  (26 Oct. 2018)
Kerala Sand mining swallowing villages, displacing thousands The coastline between Chavara and Alappad in Kollam district of Kerala has a decades-long story of people's battle for survival against mining companies. On a journey through this coastal belt, one can spot abandoned houses, temples, schools and many more buildings where people once lived. Red coloured ponds and dried up mangrove forests are another painful sight.
This stretch in Kerala is where the extensive mineral beach sand mining has been happening since the 1960s. The abandoned buildings are the remains of people's failed agitations and indefinite strikes. One by one the villages in the area are vanishing from the map of Kerala. https://scroll.in/article/899319/sand-mining-in-coastal-kerala-is-swallowing-villages-and-displacing-thousands   (26 Oct. 2018)
Odisha Villagers rally against sand mining Villagers of Bholasingi under Chikiti block have demanded ban on sand mining from the bed of Bahuda river passing through the village. They took out a rally on Oct. 23, and submitted a memorandum demanding cancellation of sand mining lease, to the Collector through block officer of Chatrapur.
The Revenue Department has leased out a portion of the river for sand mining for five years from 2015 to 2020 in lieu of `22 lakh. The lessee has engaged hundreds of trucks to lift sand, which is going on unabated for the last three years. Villagers have been opposing it as they depend on the river for their water requirements. Besides, continuous sand mining has altered the river bed and eroded its bank. While the lessee stopped mining following the recent flood, it has now been resumed.
Apprehending that mining would lead to more ecological imbalance, the villagers blocked the village main road for five hours. The blockade was lifted after officials concerned assured the agitators that the matter will be placed before the District Collector. However, as no step was taken, villagers submitted the memorandum to the Collector. http://www.newindianexpress.com/states/odisha/2018/oct/25/villagers-rally-against-sand-mining-1889726.html  (25 Oct. 2018)
Tamil Nadu, Andhra Pradesh 4 sand mining firms raided, searches on in Andhra Four sand mining companies faced massive tax raids at nearly 100 locations in Tamil Nadu and Andhra Pradesh on Oct. 25, for allegedly exporting beach minerals and routing money abroad. News 7 Tamil, a channel owned by VV Mineral or VVM of S Vaikundarajan, was also raided. The other businessmen have been identified as Sukumar, Chandresan and Manikandan.
The tax officials said they raided the companies based on intelligence inputs that the miners have been exporting beach minerals despite a ban. The companies have also been routing money abroad, the officials said. Tax officials said illegal profit earned by the companies was subsequently added into investments in other businesses of these groups such as spinning and sugar mills and hotels. They said some overseas transactions by these companies, made in alleged violation of tax laws, are also under the scanner. https://www.ndtv.com/india-news/tax-raids-target-4-sand-mining-firms-at-100-sites-in-tamil-nadu-andhra-pradesh-for-allegedly-exporti-1937241  (25 Oct. 2018)
Uttar Pradesh Illegal sand minng: 15 trucks full of gravel seized A joint team of police and district administration seized 15 trucks full of gravel on Oct. 25. The driver of the truck failed to produce documents related to carry gravel legally and hence the trucks ere taken into custody by the police. An inquiry has been ordered in the matter. https://timesofindia.indiatimes.com/city/meerut/illegal-sand-mining-15-trucks-full-of-gravel-seized/articleshow/66368660.cms  (26 Oct. 2018)
GROUNDWATER
National NGT raps CGWA for failing to notify areas on basis of groundwater availability The NGT has rapped the Central Ground Water Authority (CGWA) for failing to notify areas here on the basis of groundwater availability. Taking strong exception to non-compliance of its order, a bench headed by NGT Chairperson justice Adarsh Kumar Goel directed the Secretary of Ministry of Water Resources to personally appear before it on Nov. 12 and show cause why action should not be taken for defiance and non-compliance.
The tribunal noted there was total apathy on the part of the CGWA in not preforming its statutory duties and in failing to notify the areas which are over exploited, critical and semi-critical; and also in not regulating such areas. https://www.outlookindia.com/newsscroll/ngt-raps-cgwa-for-failing-to-notify-areas-on-basis-of-groundwater-availability/1408698  (24 Oct. 2018)
SOUTH ASIA
Indus Water Treaty Pakistan to initiate campaign against India's violation of IWT Pakistan will launch an aggressive campaign against India to highlight its concerns over the 1960 Indus Water Treaty (IWT) after New Delhi failed to let Pakistani officials visit 1,000MW Pakal Dul and 48MW Lower Kalnai in Jammu and Kashmir in the last week of September hydropower projects in Jammu and Kashmir, a media report said Oct. 23.
Pakistan's Commissioner on Permanent Indus Water Commission Syed Mehr Ali Shah said the Indian water commissioner had promised on the conclusion of the August 29-30 annual meeting to arrange a visit to the 1,000MW Pakal Dul and 48MW Lower Kalnai in Jammu and Kashmir in the last week of September. https://www.outlookindia.com/website/story/would-initiate-campaign-against-indias-violation-of-indus-water-treaty-says-pakistan/318876  (23 Oct. 2018)
Meanwhile, Sindhi political activists in London have raised a strong voice against the construction of mega dams by Pakistan on the Indus River and abduction of activists who were raising voice against these projects. The World Sindhi Congress at its 30th Annual Conference on Sindh has requested the international community to intervene to save the cultural identity of the Sindhi people.
Lakhu Luhana, General Secretary of World Sindhi Congress said, "Sindh is in the face of unprecedented abuses of human rights which include enforced disappearances, the violence against religious minorities, the cavalier attitude of all the components of Pakistan's state machinery to pursue the construction of mega dams which Sindhi people have always refused and struggled against which will basically suffocate the life of Sindhi people".
The activists said the state is aggressively pursuing construction of mega projects China-Pakistan Economic Corridor (CPEC) and dams on river Indus without any consideration of rights of indigenous Sindhi people and the environment. https://www.business-standard.com/article/news-ani/activists-oppose-construction-of-dams-enforced-disappearances-in-sindh-118102700601_1.html  (27 Oct. 2018)
India-Bangladesh Govt. approves cruise plan to Bangladesh from Kolkata India and Bangladesh on Oct. 25 finailsed and accepted the standard operating procedure for movement of passengers cruise vessels, paving the way for starting a river cruise from Kolkata to Dhaka and Guwahati thrugh Ganga, Padma and Brahmaputra. Both sides have also reportedly agreed to allow private operators to run coastal cruise from Chennai to Cox's Bazar in Bangladesh.
After a secretary level talks between the two country, Indian shipping secretary Gopal Krishna said the two countries signed an agreement to use Chattogram and Mongla ports in Bangladesh for movement of goods to and from India to strengthen ties. As per Bangladesh shipping secretary Abdus Samsha, private players will be allowed to operate river cruise between the two countries covering about 1539 km journey. Sources said Kolkat-based Hertage Cruise which operates Ganga Voyager in India has proposed to run the first vessel on the river route in the last week of March 2019.  https://timesofindia.indiatimes.com/city/kolkata/soon-you-can-plan-a-cruise-to-bangladesh/articleshow/66371082.cms  (26 Oct. 2018)
ASIA
Cambodia Low-cost sonar kits helping villages prepare for floods The Tepmachcha system is an open-source project … The end product is a box containing a sonar detection system… The box is dangled over a stream (usually off of a bridge, to be in the middle of the stream), with the sonar pointing downward. It bounces that sonar off of the surface of the water to detect the water level; if the level rises too high for that particular stream, it sends an alert to People in Need, which sends out an IVR call. Within minutes, people downstream of a dangerous stream can get a warning they can understand.
– They currently have about 72,000 subscribers, and 16 Tepmachcha units in the field. More are coming. http://nymag.com/developing/2018/10/low-cost-sonar-tepmachcha-alert-hyperlocal-cambodia-floods.html  (22 Oct. 2018)
More information: https://github.com/DAI-Maker-Lab/tepmachcha/wiki (10 May 2017)  
Iraq Basra water pollution risks triggering disease outbreaks Doctors in the southern Iraqi city of Basra are worried that diseases like cholera and diarrhoea might spread through the city's unuseable water supply. Basra's canals are blocked by piles of rubbish and its sanitation system has collapsed. The Norwegian Refugee Council has warned that nearly 280,000 children could be affected by diarrhoea and rashes. https://www.aljazeera.com/news/2018/10/iraq-basra-water-pollution-risks-triggering-disease-outbreaks-181024191107041.html  (25 Oct. 2018)
Asia's Water Challenges Informative infograph: http://www.chinawaterrisk.org/the-big-picture/asias-water-challenges/
THE REST OF THE WORLD
Central Africa Inga 3 dam project: An Exclusive Development Deal for Chinese and European companies (International River Press Statement) On Oct. 16, the Democratic Republic of Congo (DRC) govt.  announced a 14 billion USD joint and exclusive development agreement with a consortium of Chinese and European developers to construct the Inga 3 hydroelectric dam, following years of delay and controversy. The Chinese consortium is led by China Three Gorges, alongside a European consortium, led by Actividades de Construcción y Servicios (ACS) of Spain. The govt.  of embattled DRC President Joseph Kabila signed the deal as national elections loom in December 2018.
While the Inga 3 project has emerged every few years with a different design and set of developers, its fundamental flaws remain: the risks of cost overruns, delays, cross-country grid transmission challenges, and overlooked environmental and social costs. In addition, the risk of corruption inherent in large investment projects in the DRC and political interference could amplify all these risks and potentially turn Inga 3 into a white elephant for the DRC." https://www.internationalrivers.org/resources/press-statement-inga-3-an-exclusive-development-deal-for-chinese-and-european-companies  (17 Oct. 2018)
South Africa Impact and fisherman resistance against sand mining in Mozambique In 2017 about 1 300 Nagonha villagers mostly belonging to fisher community had to resettle a km west of the village, after the village became prone to devastating floods.  As per locals everything began to change when Haiyu Mozambique Mining, a subsidiary of China-based Hainan Haiyu Mining, was awarded a concession in 2011 to mine heavy sand minerals such as ilmenite, titanium and zircon. Villagers also blame Haiyu's mining operations for contributing to the floods in 2015 that almost wiped out the village, destroying 48 homes and leaving 290 people homeless.
Nagonha residents are among the most impoverished in the world, living below the poverty line. Many were hoping that the arrival of the mining company would improve their lives, but this never happened. Nagonha has no school, health facility or clean running water. For drinking water, residents rely on dug wells, which are easily contaminated. There is no sanitation, which means residents are vulnerable to infectious diseases such as cholera and typhoid.
According to research by Amnesty International, which documented the effect of the flooding in a report released earlier this year, Haiyu's operations were likely to have contributed significantly to the 2015 flood. It also found that Haiyu did not conduct a proper environmental impact assessment or consult Nagonha's residents prior to establishing its business, despite local legislation requiring it to do so.
Amnesty said the Mozambican authorities must immediately rectify their failure to protect the most vulnerable and ensure that the residents of Nagonha are awarded reparations, including compensation, for their losses. The govt., it said, must also intervene to ensure that Haiyu's mining operations do not pose a danger of further catastrophic flooding that could wipe Nagonha off the map.  
Satellite images of the area between December 2010 and October 2014 show the build-up of mining-related sand deposits around Nagonha. The images also reveal the gradual change in the natural flow of water. By October 2014, the satellite imagery shows that about 280 000 square metres of wetland north of the village were covered by the sand, and that the channel connecting the lagoons north of the village to the sea had been blocked.
Not only did mining changes to the landscape put villagers at risk of being washed into the Indian Ocean, it also meant that Nagonha's residents were deprived of vital natural resources provided by nearby wetlands, including drinking water, medicinal plants, wild fruit, firewood and lagoons for fishing. Outraged by these losses, many villagers have joined forces with other villagers to challenge irresponsible mining activities and to demand justice from the Chinese mining firm. It is a classic case of David versus Goliath, but they said the battle was worth fighting because the abuses are too great to be ignored.
Meanwhile, the Chinese company has denied responsibility for the 2015 flood, citing a natural event on a scale not seen for 100 years. It rejected Amnesty International's assertion that its operations had a negative effect on the environment. https://mg.co.za/article/2018-10-16-they-have-taken-our-beautiful-sand-from-us-and-left-nothing  (17 Oct. 2018) 
Global Insatiable need for concrete leading to destructive mining around the world Some interesting information:- Up to 80 percent of the mass of concrete in sidewalks, foundations, and walls is made up of sand and gravel. Building a single detached home requires close to 400 tonnes of aggregate; a low-rise condominium could use 20 to 50 times that much. Asphalt used in roads and parking lots is 94 percent sand and gravel: two kilometers of a four-lane highway requires over 40,000 tonnes of aggregate. As historian Vaclav Smil, author of the 2013 book Making the Modern World: Materials and Dematerialization, put it, "The most important material in terms of sheer mass in our civilization, is cement made into concrete."
The global consumption statistics bear this out—and quickly get astronomical. After water, concrete is the second-most consumed substance on Earth. One 2016 estimate of the global aggregate industry for that year—called "a wild guess" by Jason Christopher Willett, Mineral Commodity Specialist with the US Geological Survey, since most countries don't track data on aggregate sales—was 43 billion tonnes. That's about the same weight as 130,000 Empire State Buildings, and worth an estimated US $350-billion.
In 2012, the world used enough concrete to wrap a 27 meter by 27 meter band around the equator; in that same year, China alone built 146,000 kilometers of roads. Increasing and rapid urbanization, particularly in countries like China and India, are causing demand to spike. For Smil, the most "stunning" fact he uncovered in his research was learning that in only three years—from 2011 to 2013—China used more cement powder than the United States used over the last century.
The Earth's crust is made of rock, so finding aggregate is relatively easy; finding it in places where local residents won't object to the noise of a quarry operation—and to a gaping hole in the landscape—is much more difficult. The equally challenging problem is transportation: getting it from the quarry to the worksite. https://www.hakaimagazine.com/features/sand-mine/  (13 Sept. 2017)
New South Wales Graziers digging deeper into debt, dams, to get out of drought Graziers in far-west New South Wales are using govt.  loans to prepare their properties for the arrival of rain. A common thread for both grazing families is a desire not to borrow more money than they can conceivably repay once the drought breaks. https://www.abc.net.au/news/rural/2018-10-21/graziers-dig-deeper-into-debt-to-drought-proof-properties/10392656  (21 Oct. 2018)  Also see, Drought aid: Where has the money been allocated and what difference is it making on-farm? https://www.abc.net.au/news/2018-10-16/where-has-drought-aid-been-allocated/10378278  (21 Oct. 2018)
California Trump threatens to cut federal aid to California over 'lousy management' of water & wildfires US President Donald Trump is taking California to task for the management of its forests and dams, blaming red tape for the devastating forest fires and drought plaguing the bluest of blue states, and threatening to withhold aid.
About half – 48 percent – of California's land is currently experiencing drought conditions, which – combined with high temperatures and strong winds – are largely to blame for the record-setting rash of fires in the state, according to state fire chiefs. Last week, Trump signed a memo geared toward improving "the reliable supply and delivery of water in California, Oregon, and Washington" by streamlining environmental review and approval for water infrastructure projects. https://www.rt.com/usa/442085-trump-fires-california-spite/  (24 Oct. 2018)
Canada While Nestlé extracts millions of litres from their land, residents have no drinking water Just 90 minutes from Toronto, residents of a First Nations community try to improve the water situation as the beverage company extracts from their land. The Six Nations are not the only First Nations community in Canada with a water crisis. There are currently 50 indigenous communities with long-term boil water advisories, which means an estimated 63,000 people haven't had drinkable water for at least a year – and some for decades.
But this may underestimate the size of the problem, since some indigenous communities, such as Six Nations, have a functional water plant but no workable plumbing. The lack of water has been linked to health issues in indigenous communities including hepatitis A, gastroenteritis, giardia lamblia ("beaver fever"), scabies, ringworm and acne. https://www.theguardian.com/global/2018/oct/04/ontario-six-nations-nestle-running-water  (4 Oct. 2018)
Research A device that can pull drinking water from the air just won the latest XPrize This X prize option does not seem really workable, it seems since in most cases better options exist. And full impacts of that option are not so apparent.  https://www.fastcompany.com/90253718/a-device-that-can-pull-drinking-water-from-the-air-just-won-the-latest-x-prize  (20 Oct. 2018)
Study A Closer Look at the Sustainability of Our Groundwater Aquifers Researchers use a new approach to assessing the world's largest aquifers in hopes of improving groundwater management during drought periods. https://eos.org/research-spotlights/a-closer-look-at-the-sustainability-of-our-groundwater-aquifers  (19 Oct. 2018)
CLIMATE CHANGE
Study Catchment areas in India used to be climate change proof, but not anymore An IIT-Indore study says human activities like deforestation, urbanization and conservation measures are taking away the resilience of natural water systems.  https://www.downtoearth.org.in/news/climate-change/catchment-areas-in-india-used-to-be-climate-change-proof-but-not-anymore-61952  (26 Oct. 2018)
ENVIRONMENT
Delhi NGT okays Pragati Maidan redevelopment despite lacking statutory clearances The National Green Tribunal found Pragati Maidan redevelopment project had been more than half completed without statutory environmental clearances. The law provides jail terms and penalties for such illegalities. But the tribunal gave the project a nod and left it to the erring authorities to do as they please. Setting a precedent it shrunk the citizen's legal space to challenge such violations. A precedent that could come in handy for other projects coming up without statutory clearances. On last count there were more than 400 such documented projects across India.  https://www.business-standard.com/article/current-affairs/ngt-okays-pragati-maidan-redevelopment-despite-lacking-statutory-clearances-118102501229_1.html  (26 Oct. 2018)
Delhi Air Pollution Experts on fallout of fire at Delhi's largest dumping site Bhalswa Some Useful Facts:- The Bhalswa landfill located near Mukarba Chowk at Bhalswa, G. T. Karnal road has been operational since 1994 and reached its saturation point back in 2009. Despite this, 2000 tonnes of waste is dumped at the landfill daily.
Video showing ongoing fire at Bhalswa landfill site on 22 Oct. 2018
– Because of this dumping, today, the mountain of garbage stands at 62 meters from the ground, giving tough competition to 73 meter tall Qutub Minar. Till today, 80 lakh metric tons of waste has been accumulated at this site. https://swachhindia.ndtv.com/experts-fallout-fire-delhis-largest-dumping-site-bhalswa-26904/  (23 Oct. 2018)
Meanwhile, a report by a research institute on Oct. 23 has found that the Tehri Hydro Development Corporation's proposed Khurja coal power plant in Uttar Pradesh will push up the cost of electricity and increase air pollution levels in Delhi. https://www.news18.com/news/india/delhi-likely-will-face-even-worse-pollution-levels-due-to-this-proposed-project-in-up-1917667.html  (23 Oct. 2018)
Haryana Gurugram's 1,200 residents protest to protect Aravali Biodiversity Park Over 1,200 residents of Gurugram and Delhi made their way to the Aravali Biodiversity Park early Sunday morning to protest against the National Highways Authority of India (NHAI) and Gurugram Metropolitan Development Authority's (GMDA) decision to construct a six-lane, 2-km expressway cutting through the eastern half of the forest cover.
The proposed two-part highway, plans for which were first floated by the NHAI in 2016, is set to link the Mehrauli-Gurugram Road to NH-8 and the Nelson Mandela Marg in Vasant Kunj to the Gurugram-Faridabad road, effectively using the biodiversity park as a short-cut to decongest traffic. https://theprint.in/governance/gurugrams-own-chipko-movement-1200-residents-protest-to-protect-aravali-biodiversity-park/141509/  (29 Oct. 2018)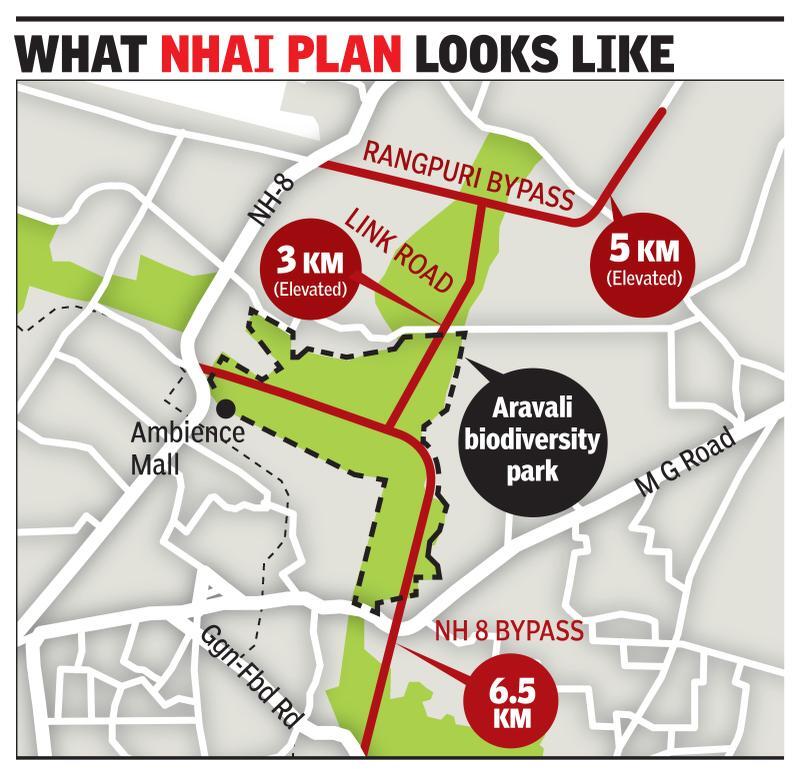 Vijay Dhasmana, an environmentalist who is associated with the park for many year, said, " I fail to understand why one govt. agency develops a park and the another destroys it. If they build the road through this park, it will endangers flora and fauna, which should be considered sacrosanct."  https://timesofindia.indiatimes.com/city/gurgaon/thousands-gather-to-protest-nhais-road-plan-in-aravali-biodiversity-park/articleshow/66407137.cms  (29 Oct. 2018)
Compiled by SANDRP (ht.sandrp@gmail.com)
Also see:  DRP News Bulletin 22 Oct. 2018 & DRP News Bulletin 15 Oct. 2018
Follow us on: www.facebook.com/sandrp.in; https://twitter.com/Indian_Rivers