There is a lot that Bihar and Union Govt that need to answer why did Patna go under water in spite of fully knowing its vulnerabilities. Why was the city not prepared to face this kind of situation? Some of the major man made reasons include: Sewage Pumps not working, drainage map not available, no emergency plan in place. Not too many people know that there is GANGA FLOOD CONTROL COMMISSION, sitting right in Patna, an organisation under Union Ministry of Water Resources, existing since 47 years now. WHAT HAVE THEY BEEN DOING is a mystery.
Its high time questions are asked if GFCC is doing any useful work. The government may like to brush aside the issues, saying its too high rainfall due to climate change, but that wont help. Patna is bang in the way of Ganga and it doing all kind of mindless activities including river front development, destruction of local water bodies and wetlands, and of course not knowing its drainage map. It shows abysmal failure of the World Bank funded flood management project that existed not so long ago, housed in Patna. And Patna was being funded under Smart city program to do all kinds of water unsmart activities. Over a week since the flooding started, parts of the city is still under water and now the city is facing fresh crisis in the shape of Dengue. The trouble is, there is no sign that the city, state or the country is doing anything to learn from this man made disaster.
ड्रेनेज नक्शा ही खो गया; अब पता ही नहीं पानी किधर से निकलेगा, इसीलिए 7 दिन से डूबा पटना नगर निगम में शहर के ड्रेनेज नेटवर्क का नक्शा नहीं है। वह 2017 के बाद से गायब बताया जा रहा है। नक्शा नहीं होने के चलते निगम को न तो नालियों की सही-सही जानकारी है और न कैचपिट-मैनहोल की। किसी को मालूम नहीं, पानी किधर से निकलेगा।
निगम का कोई अधिकारी यह बताने की स्थिति में भी नहीं है कि शहर में ड्रेनेज कितने किलोमीटर में है। शहर के कुछ पॉश इलाकों के सात दिनों से डूबे रहने और लगभग हर मुहल्ले में जलभराव के संकट का मूल कारण यही है। आलम यह है कि जलनिकासी के लिए अंडरग्राउंड नालियों की तलाश में निगम वाले पानी की पाइप तक तोड़ दे रहे हैं।
नक्शा न होने के कई कारण गिनाए जा रहे हैं। सबसे बड़ा कारण है कि शहर में नालों का निर्माण किसी एक एजेंसी से नहीं, एनबीसीसी, शहरी विकास विभाग, सांसद-विधायक निधि, बुडको, बिहार राज्य जल पर्षद व नगर निगम के माध्यम से कराया गया। निगम के पास खुद निर्मित नालों का नक्शा था पर वह गायब है। अंडरग्राउंड ड्रेनेज तो नक्शा के कारण साफ नहीं किया जा सका, लेकिन ओपन ड्रेन को भी साफ नहीं कराया जा सका। इसपर कोई कुछ बोलने को तैयार नहीं है। https://www.bhaskar.com/bihar/patna/news/patna-nagar-nigan-lost-the-drainage-map-01657493.html   (5 Oct. 2019)
Climate change may have led to the deluge, but the Bihar capital remains waterlogged due to corruption and failed urban planning. https://www.thethirdpole.net/en/2019/10/07/patna-drowns-as-climate-change-meets-corruption/  (7 Oct. 2019)
Another report provides some facts to clear the picture about why Patna was flooded the way it was. https://indianexpress.com/article/india/bihar-floods-why-dy-cm-patna-colony-went-under-broken-pump-no-drain-maps-6056910/  (7 Oct. 2019)
Bihar A Fiasco Built by Yrs of Central & State Inaction? Himanshu Thakkar, of SANDRP told Newsclick that the CWC must take responsibility for continuous floods in Bihar. He said,"Farakka Dam actually works like a bottleneck for a large river like Ganga. When Ganga swells during the monsoon, the water cannot drain out as per natural flow. Simultaneously, the tributaries too get swollen and water spreads along backwaters. When the question of silt caused by Farakka was brought for discussion by a committee of MoWR to resolve the situation, the CWC informed the committee that it has no data regarding silting, be it for the period before Farakka or sufficient data for the post construction period. So, the situation remains same every year in lack of data and resolution."  https://www.newsclick.in/floods-bihar-fiasco-built-years-central-and-state-inaction  (30 Sept. 2019)
Padma swells further as all Farakka gates open  Impact of opening all the gates of Farakka on Bangladesh: http://www.theindependentbd.com/post/217669   (1 Oct. 2019)
Dismantle Farakka barrage or increase water discharge: Minister Bihar State water resources department (WRD) minister Sanjay Kumar Jha on Oct. 1 said the Farakka barrage across the Ganga in West Bengal should either be completely dismantled or some viable solution is made to ensure increased discharge of water through it so that 12 districts in Bihar could be saved from annual floods. He said the situation in 12 districts along the Ganga in state would further worsen in future due to accumulated cumulative deposits of silt in the riverbed since the construction of the barrage over three decades ago in 1974. "The silt deposits are clogging the downstream flow of water between Patna and Farakka," he said. Jha said WRD secretary Sanjeev Hans has taken up the matter with the Madhya Pradesh water resources department for regulated discharge of water from Bansagar dam into the Sone river, which falls in the Ganga on the outskirts of Patna. https://timesofindia.indiatimes.com/city/patna/dismantle-farakka-barrage-or-increase-water-discharge-min/articleshow/71399042.cms  (2 Oct. 2019)
50 years ago, Bengal's chief engineer predicted that Farakka dam would flood Bihar But Kapil Bhattacharya was strongly against this proposal. He believed that the reason the Hooghly was silting was not because of sedimentation carried over hundreds of kilometres from the Himalayas by the Ganga. Instead, two dams on the Damodar and Rupnarayan rivers, western tributaries of the Hooghly, were responsible for it. These dams, he wrote in 1961, in his report, Silting of Calcutta Port, were built without "taking into consideration flood-tides and tide-borne silts" and had hence become choked.
– "As a result, the Calcutta Port has been killed and the main drainage channel choked, causing repeated flood-havoc on an ever-increasing scale," he added. "If my warnings against Farakka Barrage are not heeded, people will have to suffer consequences."
– Bhattacharya believed that the proposed barrage would only increase siltation in the river since in the dry season only half as much water would be available in the dam to divert towards the Hooghly, leading to more siltation. The barrage would also reduce water flow to what was then East Pakistan, which was of concern to the Pakistani government. Bhattacharya also said that the dam was designed to discharge too little water at times of floods, which would then lead to devastating floods upstream in Malda and Murshidabad in West Bengal and in several districts of Bihar through which the Ganga flows.
– All three predictions have come true since. "Bhattacharya had submitted a memorandum to everyone involved, but the government was not in a mood to hear him," recalled Sujato Bhadra, who worked closely with the engineer after he resigned from his government job. "The Nehruvian model was of large dams being the temples of modern India. Because of that his entire argument was dismissed by the government."  https://scroll.in/article/815066/over-50-years-ago-bengals-chief-engineer-predicted-that-the-farakka-dam-would-flood-bihar  (1 Sept. 2016)
Turning floods into disaster About 15 lakh people of more than 350 panchayats have been facing the devastation of floods mainly due to the surge in Ganga, Burhi Gandak and Punpun. Besides Patna, other districts reeling under the floods are Buxar, Bhojpur, Samastipur, Lakhisarai, Begusarai, Khagaria, Bhagalpur, Munger and Saran.
Seems this road project is being built in flood zone: Construction of Ara-Buxar road has been stopped at various spots as the floodwater from Ganga had overtopped it, affecting the vehicular traffic badly. https://www.hindustantimes.com/patna/flood-threat-looms-large-in-patna-other-districts-ganga-rises/story-NavrD0925dju77aIQGAolJ.html  (30 Sept. 2019)
Patna WHAT IF CHENNAI HAPPENED IN PATNA This Dec. 2015 article is so relevant in context of present flooding and water logging in the city:- Patna is a saucer-shaped receptacle bounded by four interlinked rivers that can be trusted to turn turbulent – the Ganga to its north, the Gandak to the west, the Sone to the southwest and the Punpun to the southeast. Overburdened by its populace (nearly two million people packed 2,000 to every square kilometre) and recklessly urbanised, it sits atop a rotten, or on places altogether absent, drainage system.
– Subjected to a downpour such as Chennai's earlier this year – about 235mm on the critical day – it may be neither alarmist nor unimaginable to see Patna capsize. Nature has rigged it to recurrently drown, man hasn't done enough to protect it from reversals.
– Could 1975 repeat itself in Patna? In the reckoning of experts, yes. "Accumulation of rainwater in case of a downpour is inevitable because of Patna's sunken shape," says Prof. Ashok Ghosh of the department of environment and water management at AN College, "On top of that, the development of the city over the past two decades has followed a totally unregulated manner … the southern portion of the city remains water-logged or flooded for major parts of the year anyhow."
– Barring the construction of a flood fence – 24 kilometres in length along the Ganga from Ranighat in the east to Danapur – no correctives followed the havoc of 1975. Over the last four decades, the population of Patna has exploded. The city has expanded haphazardly on its southern and western fringes with no due to civic planning. Most of these areas are low-lying and prone to accumulation of water. Hundreds of thousands have made new home here – in outlying Kankerbagh and along National Highway 16 – without bothering about streets or sewers, concrete bogs mounted upon marshy bogs.
– The inner city today is infinitely more congested and overcrowded. The pressure of that shows up everywhere in drains and sewers that have burst and spilled over. Since 1968, records show, no drains have been built, and existing ones don't get cleared regularly or effectively enough.
– And in the absence of the meanest required measures, Patna has continued to flirt with new and future peril. On the dry bed of the Ganga along the Bans Ghat-Kurji stretch, for instance, land-sharks have, in recent years, engaged in rampant reclamation and builders have erected apartment towers. True, the Ganga has changed course and receded 3km north from the Bans Ghat banks. But big tropical rivers are known to shift course without notice, as the Kosi did in 2008 causing wanton devastation in the northeastern districts of Bihar.
– By a 1996 order of the Patna Regional Development Authority, all high-rise construction beyond the flood fence stands banned. Yet, close to 20 multi-storeyed apartment blocks have come to rise on the Ganga bed. Nothing is to protect them from a future spate that could bring the Ganga hurtling to its old course.
– Within the municipal city itself, the arrangements for preventing or fighting off a deluge are either absent or in disrepair. A storm water drainage system is unknown to Patna; what exists in some parts is a sewage network that is meant to double as drainage. At the best of times, this network lies overburdened with unrelieved human effluence. Enquiries at the Patna Municipal Corporation reveal that it has no estimates about its installed capacity to drain out rain or flood water from the city. There are, on paper, 35 pumping stations in Patna, but monsoon after monsoon, they have been found wanting, their men and their machines. One expert speculated that at the current state of (non) preparedness, civic authorities in Patna will take no less than 48 hours to flush out the effects of a 65mm downpour. God forbid the likeness of a Chennai-like 235mm quantum. Chilly thought, but the relief is the monsoon's a fair bit away, there's yet time for some corrections. https://www.telegraphindia.com/india/what-if-chennai-happened-in-patna/cid/1472771  (28 Dec. 2015)
FLOOD 2019
SANDRP Blog Aftermath of Maharashtra Floods 2019 Photoblog 1: Homes in deluge This series of Photoblogs by Abhay Kanvinde takes you through Sangli, Kolhapur and Belgaum to look at what rivers left in their wake and how resilient communities are rebuilding their lives and livelihoods. Such photo documentation is crucial, lest we forget the human side of the natural disaster and the toll it took on rural communities. https://sandrp.in/2019/10/02/homes-in-deluge-aftermath-of-maharashtra-floods-2019/   (2 Oct. 2019)
SANDRP Blog Aftermath of Ghataprabha Floods 2019 Photo Blog (2) on Aftermath of Ghataprabha Floods 2019 in Karnataka. Stark photos help understand new dimensions of the dam induced flood disaster. Gokak Falls on the River Ghataprabha in Belgaum District of Karnataka epitomises epic water levels in Karnataka. At Gokak Falls, the past Highest Flood Level of the river was more than 553 meters and exceeded the earlier record by more than 5 meters!
Abhay Kanvinde visited Gokak Falls, Hidkal Dam and villages along the Ghataprabha and Hiranyakeshi Rivers in Karnataka to understand and photo-document the impact of raging water levels on communities and ecosystems. Some interesting facts were thrown up in this trip. Mainly that 2019 Flood levels exceeded not only the 2005 and 2006 levels, but even the historic 1914 Flood levels, which are carefully marked by the British at Gokak Hydropower Station. https://sandrp.in/2019/10/03/breaching-historic-flood-levels-many-times-over-aftermath-of-ghataprabha-floods-2019/  (3 Oct. 2019)
SANDRP Blog Impacts on cropland: 2019 Maharashtra Floods Photo blog 3 on Maharashtra Krishna basin floods by Abhay Kanvinde shows the impact of the floods on farmers. It also has a video. Please Watch and Share. https://sandrp.in/2019/10/04/impacts-on-cropland-2019-maharashtra-floods/  (4 Oct. 2019)
SANDRP Blog Overview of CWC's Flood Forecasting Sites 2019: North East India The CWC's FF website had in 2018 monsoon, information about 226 Flood Forecast Sites in the country comprising of 166 Level Forecast Sites and 60 Inflow Forecast Sites. It also monitors 700 Flood sites, information made available through List Based Exploration and Hydrograph View. As reported below, the number of sites have gone up during 2019 monsoon, which is welcome. However, most of the new sites, along with some old ones do not have key information. https://sandrp.in/2019/10/02/overview-of-cwcs-flood-forecasting-sites-2019-north-east-india/  (2 Oct. 2019)
SANDRP Blog East India: 2019 Overview of CWC Flood Forecasting Sites The CWC FF website has from the 5 states of East India namely Bihar (121), Jharkhand (46), Chhattisgarh (40), Odisha (84), and West Bengal (Ganga Basin) (57), 348 sites. These comprise of 61 Flood Forecasting, 255 Level Monitoring and 32 Inflow Forecasting sites. https://sandrp.in/2019/10/06/east-india-2019-overview-of-cwc-flood-forecasting-sites/  (6 Oct. 2019)
Maharashtra Floods: A man-made disaster? Activists blame the Maharashtra government for the recent deluge in Kolhapur, alleging that flood lines of the Panchganga river were redefined to provide benefits to the builders. The 2010 development plan of Kolhapur, Maharashtra, erroneously marked flood levels as floodlines, leading to the loss of crucial floodplains of Panchganga river to the real estate sector.  https://india.mongabay.com/2019/10/western-maharashtra-floods-a-man-made-disaster/  (4 Oct. 2019)
Jayakwadi dam gates open for fourth time Jayakwadi dam opens shutter for the fourth time this monsoon (Aug 15, Sep 15, Sep 26 and now Oct 6) to release excess water to downstream area. Ten gates were opened to release 5240 cusecs. http://www.uniindia.com/jayakwadi-dam-releases-excess-water-after-heavy-rains/west/news/1751316.html  (6 Oct. 2019)
Tamil Nadu Nilgiris admin sounds flood alarm as Avalanche dam brims Udhagamandalam district administration on Oct 2, 2019 sounded a flood alarm after the water level in the Avalanche dam neared the full capacity. The water will be released from the dam. Avalanche area has been receiving rain continuously for the past few days.
People living on the banks near Avalanche, Kundha and Pillur are advised to move to safer places as surplus water would be discharged at 8pm on Oct. 2, collector J Innocent Divya said in a press release. People are also asked not to venture near fringe areas of the dam during night hours. According to TNEB officials, power generation with full load is being carried out at Kundha power station for which the source is Avalanche dam. The brim level of the Avalanche dam is 6,515ft above MSL, while the water level, as of 7pm on Wednesday, is 6514.6ft above MSL. https://timesofindia.indiatimes.com/city/coimbatore/nilgiris-admin-sounds-flood-alarm-as-avalanche-dam-brims/articleshow/71413895.cms  (3 Oct. 2019)
Karnataka Unbelievable River Shimsha at Thoreshettahalli crossed HFL AGAIN only after 10 days. River Arkavathy at T 'Bekuppe has also touched HFL.
This slideshow requires JavaScript.
URBAN FLOODS
Hyderabad Channel, water body 'destroyed', resulting in flooding This report shows how water body has been destroyed in Hyderabad causing flooding in residential areas. https://www.counterview.net/2019/09/channel-water-body-destroyed-resulting.html  (30 Sept. 2019)
MONSOON 2019
SANDRP Blog Surplus 2019 monsoon in India proves IMD and Skymet Wrong Though South West Monsoon has not even started withdrawing from India, the IMD (India Meteorological Department) Press Release on Sept 30, 2019 has rather bureaucratically declared: "The 2019 southwest monsoon season comes to end with above normal seasonal (June to September) rainfall." Why should the monsoon shop be closed even as the monsoon has refused to start withdrawing? May be the IMD was not happy that the SW Monsoon 2019 proved it so wrong, again!  https://sandrp.in/2019/10/01/surplus-2019-monsoon-in-india-proves-imd-and-skymet-wrong/   (1 Oct. 2019)
SANDRP Blog Monsoon 2019: State wise rainfall The first blog on just concluded South West Monsoon 2019, gave the national picture and broad picture of month wise, state wise, sub division wise and river wise rainfall. This blog provides some details of rainfall in districts of each of the 36 states and Union Territories of India. https://sandrp.in/2019/10/04/monsoon-2019-state-wise-rainfal  (4 Oct. 2019)
From droughts to floods: India's tryst with climate extremes "We do not have mechanisms in place to use the rainwater efficiently. Only big dams are still viewed as storage structures in India at the policy level, while other storage options at the local level continue to be neglected", Himanshu Thakkar adds.  https://www.indiawaterportal.org/articles/droughts-floods-indias-tryst-climate-extremes  (1 Oct. 2019)
IMD Monsoon is officially over but likely to withdraw only after Oct 10 The southwest monsoon which triggered heavy rain across many parts of the country officially came to an end on Monday with "above normal" rain at 110% of LPA, IMD said on Sept. 30. But the monsoon's withdrawal is likely to begin only around Oct 10 – the most delayed withdrawal since 1961 (Oct 1) and 2007 (Sept 30).
– In spite of late onset of the monsoon on June 8 and that month ending with a deficiency of 33%, July, August and September received 105%, 115% and 152% of their LPA respectively. IMD had predicted a near normal monsoon at 96% of LPA in May. The prolonged monsoon season was not forecast by IMD.
– Climate scientists said IMD has not updated its withdrawal dates for decades. For the last ten years monsoon has been beginning its retreat after Sept 20. Mohapatra added "Northeast monsoon (winter rains in peninsular India) usually arrives in October. We don't have any update on northeast monsoon yet."
– Out of 36 meteorological subdivisions, two sub divisions received "large excess" (60% over LPA), 10 received excess (20% to 59% over LPA) and 19 sub divisions received normal monsoon (-19% to 19% over LPA) rainfall, 5 sub divisions however received deficient rainfall. In Haryana, Delhi and Chandigarh deficiency was 42%. "On an average, about 20% of area of the country receives deficient or scanty rainfall during the monsoon season," the statement said.
– The defining features of this monsoon were the high number of extreme rain events. For example, there were 1269 weather stations reporting very heavy and extremely heavy rain in August out of which 282 were extremely heavy rainfall events, highest in the past five years. The data on extreme events is yet to be compiled by IMD, Pune. https://m.hindustantimes.com/india-news/monsoon-is-officially-over-but-likely-to-withdraw-only-after-oct-10-imd/story-oaW8vulrhUwW0AaWR3fCjJ_amp.html  (30 Sept. 2019)
Amid wettest monsoon in 25 years, 1 in 5 districts had deficit rains However, amid all the rain, 154 districts in the country — more than one in every five for which data is available — received deficient or scanty rainfall in the season. These dry districts account for nearly 23% of the 678 districts for which IMD rainfall data is available. All but 12 of these districts are in north, east and northeast India.
Haryana had the highest number of dry districts, 19 out of 21, including three where rainfall was scanty. The overall monsoon deficiency in Haryana was 42%, which made it the driest state in the country in the season after Manipur (-56%). Delhi had five dry districts out of six for which data was available.
In fact, more than a third of the dry districts, 52, are in the high-output agriculture belt of Punjab, Haryana and west Uttar Pradesh, including Delhi. This is the region where the water table is falling alarmingly, and another season of poor rains will only add to the stress.
Across south India, there were just four districts that ended with deficient rainfall. In central India, that number stood at eight. Surprisingly, five of these districts were in Maharashtra, which was among the top four wettest states during the season and witnessed floods in some part or the other in July, August and September. https://timesofindia.indiatimes.com/india/amid-wettest-monsoon-in-25-years-1-in-5-districts-had-deficit-rains/articleshow/71414265.cms  (3 Oct. 2019)
Erratic Monsoon Damaged 25% Crops In Kaveri Basin Erratic rainfall this monsoon damaged 25% of the kharif (summer) crops sown in the districts along the Kaveri river basin of southern and interior Karnataka, according to a local farmer's collective. The farmers here had postponed the sowing of these crops to August because June and July, traditional sowing months, had reported scanty rainfall. But torrential rains in August destroyed a quarter of the crops, both young and mature. https://www.indiaspend.com/erratic-monsoon-driven-by-climate-change-damaged-25-crops-in-karnatakas-kaveri-basin/  (3 Oct. 2019)
Fallout of an (ab)normal monsoon This year, the monsoon is yet to retreat and has clocked 10% more rains when compared to the normal or 50-year average. Data from the IMD shows a little over half of India's area have received normal rains, and as much as 30% of area have seen excess rains of 20% or more compared to normal. https://www.livemint.com/news/india/the-fallout-of-an-ab-normal-monsoon-11570109839303.html  (3 Oct. 2019)
Nearly 1,900 Dead, 46 Missing Nearly 1,900 people lost their lives and another 46 were reported missing this monsoon season in rains and floods which affected more than 25 lakh in 22 states, Union Home Ministry officials said on Oct. 4.The highest 382 people died in Maharashtra, followed by 227 deaths in West Bengal in rains, floods and landslides that hit as many as 357 districts in the country.
According to the officials, 738 people were injured and nearly 20,000 animals were lost. The heavy rains and floods fully damaged 1.09 lakh houses, partially damaged 2.05 lakh houses and destroyed 14.14 lakh hectares of crops. A total of 1,874 people died, an official said.  During the four-month period, India recorded the highest rainfall since 1994, according to the India Meteorological Department. https://www.news18.com/news/india/nearly-1900-dead-46-missing-this-monsoon-as-heavy-rains-floods-batter-indian-states-2333601.html  (4 Oct. 2019)
Damage from floods – nature or poor planning? A 2017 global analysis by the World Resources Institute reported that India had the most GDP exposed to river flooding ($14.3 billion), a number that could rise 10-fold by 2030, as the economy continues to grow. The resulting catastrophes will disproportionately harm India's poor, who frequently settle along the low-lying floodplains of major cities. India ranks at the top in the list of countries which are at risk from natural disasters.
While record-breaking rain might be to blame for severe flood, poor planning and management are the culprits that led to major damage. The government spends more on compensation after floods than it does on precaution. https://timesofindia.indiatimes.com/blogs/poverty-of-ambition/damage-from-floods-nature-or-poor-planning/  (3 Oct. 2019)
Rains fill mines, coal production at 6 years low in Sept.  Coal India Ltd.'s monthly production dropped to a record low as the heaviest rains in 25 years flooded mines and hindered shipments. https://www.business-standard.com/article/companies/coal-india-output-sinks-to-6-yr-low-in-september-as-monsoons-flood-mines-119100200278_1.html   (2 Oct. 2019)
Gujarat Of total 204 dams in Gujarat, 114 are overflowing  The state's 204 dams have 14,557.42 MCM of water, against 8,648.28 MCM on September 30, 2018, which is about 5,909.14 MCM more  (41% more) water. https://timesofindia.indiatimes.com/city/ahmedabad/water-reservoirs-in-gujarat-now-at-92-of-capacity/articleshow/71396946.cms  (1 Oct. 2019)
Maharashtra 6 out of 9 major dams in Marathwada reel under water shortage Marathwada reservoirs are still far from full this year.  https://www.indiatoday.in/india/story/six-out-9-major-dams-in-marathwada-reel-under-water-shortage-1606248-2019-10-04  (6 Oct. 2019)
HYDRO POWER PROJECTS
Sikkim NHPC signs definitive Agreement NHPC Limited India's premier hydropower company has signed the Definitive Agreement for implementation of the Approved Resolution Plan submitted by NHPC for takeover and resolution of Lanco Teesta Hydro Power Limited, who was implementing the 500 MW (125 MW x 4) Teesta VI HEP on Teesta river in Sikkim. Janardan Choudhary, Director (Technical), NHPC signed the agreement in the presence of Balraj Joshi, Chairman & Managing Director, NHPC and Aniruddha Kumar, Joint Secretary, Ministry of Power at New Delhi on October 4 on behalf of NHPC with Huzefa Fakhri Sitabhkan, Resolution Professional, Lanco Teesta Hydro Power Limited and Secured Financial Creditors. https://www.dailypioneer.com/2019/business/business-corner-business-corner-2019-10-05.html  (5 Oct. 2019)
NHPC to get Rs 4,500-cr loan from PFC, REC to revive Lanco Teesta project NHPC is taking a loan of Rs 4,500 crore from state-owned lenders, Power Finance Corporation (PFC) and Rural Electricity Corporation (REC), for reviving the Lanco Teesta project in Sikkim. The company has also put in an expression of interest for Jal Power, another insolvent hydropower unit with a capacity of 120 Mw in Sikkim, said Balraj Joshi, chairman and managing director, NHPC.
– NO PPA, Unviable Price of Power: The project, however, does not have a power-purchase agreement (PPA) after Lanco decided to cancel sale of power to Maharashtra. The project had experienced cost escalation because of an earthquake in the state which made sale of power at Rs 2.3 a unit (kilowatt hour) unviable. "We are now looking at a levelised tariff of Rs 4.2 in the first year with 1-2 per cent escalation over a period of 20 years," said Mahesh Kumar Mittal, director, finance, NHPC.  https://www.business-standard.com/article/companies/nhpc-to-get-rs-4-500-cr-loan-from-pfc-rec-to-revive-lanco-teesta-project-119100401353_1.html (4 Oct. 2019)  
DAMS
SANDRP Blog  Dam Safety Bill 2019: Will it help prevent Dam Disasters in India? This article on Dam Safety Bill 2019 now before the Parliament analyses the bill and points our areas where the bill needs to be changed to achieve credible Dam Safety in India, both Structural and Operational Dam Safety.
1979 seems to be a watershed or may be bloodshed year about Dam Safety in India. That year, Central Dam Safety Organisation was for the first time set up in Central Water Commission. That was also a year in which over a 1000 delegates from all over the world gathered in Delhi under the aegis of ICOLD (International Commission on Large Dams). But most importantly, India's WORST ever and one of the World's Worst ever Dam Disaster happened on Aug 11, 1979.
We still do not know who was responsible for that disaster, because CWC and Gujarat government did not want that to happen. Same CWC is now in charge of Dam Safety under the bill now before the Parliament.  Plz Read and Share. https://sandrp.in/2019/09/30/dam-safety-bill-2019-will-it-help-prevent-dam-disasters-in-india/  (30 Sept. 2019)
Sardar Sarovar Dam PAF still left without rehabilitation The Narmada valley is an unbearable spectre of displacement today, the losses largely hidden from the rest of the country. To witness the process of forced displacement is like watching the beginnings of a terminal illness. It's ugly, and you know it's going to get worse.
– Worst of all, the devastation was entirely avoidable. The Supreme Court has repeatedly maintained that full rehabilitation must be completed six months before submergence.
– In a painful way, the deluge has given the lie to many of the calculations of the dam authorities. Every few years, the number of dam-affected has would vastly change — with technical tweaks, dam authorities would make thousands ineligible for rehabilitation. Villages like Katnera, which the officials marked on maps as being outside the submergence zone, are half under water today. Even some rehabilitation sites are touching water.
– Nisarpur, the biggest and richest village to be submerged, is now a ghost town. Three-storied buildings float like icebergs. Nearly all the houses are locked up. A few residents were lugging refrigerators, motorbikes and steel utensils across the dry patches. Tourists from a neighbouring Shani temple festival stopped their cars to gape at the disappearing of an era. https://www.thehindu.com/society/madhya-pradesh-villagers-displaced-by-sardar-sarovar-dam-wait-in-tin-sheds-for-new-life/article29596657.ece/amp/   (4 Oct. 2019)
Madhya Pradesh New dam project may affect 23 villages The proposed dam on Narmada and Ganjal rivers under the joint irrigation project may affect 23 villages in three districts of Madhya Pradesh. The dam, tenders for which have been invited, will submerge 2,371 ha forest across Harda, Hoshangabad and Betul districts. According to activists opposing the Morand-Ganjal joint irrigation project, the Environment Minister in 2017 had said the project would get the nod only after Forest Department"s permission. In 2012, the Shivraj Singh Chauhan government had estimated the cost of the project at Rs 1,434 crore, but in 2017 it increased to Rs 2,800 crore and the administrative sanction was also given to it. Now, tenders have been issued for Rs 1,800 crore, which is an estimated outlay for construction and the rehabilitation cost would be extra. https://www.outlookindia.com/newsscroll/new-mp-dam-project-may-affect-23-villages/1630860  (30 Sept. 2019)
Mekedatu Dam Karnataka pushes for approval, claims project does not need TN consent According to Karnataka's letter to the Centre dated October 4, the Cauvery Neeravari Nigama Limited responded to the observations of the Expert Appraisal Committee, which had opined that an amicable solution be arrived at between the governments of Karnataka and Tamil Nadu over the Mekedatu dam after which the grant of Terms of Reference will be reconsidered. "…Though it may be fully desirable for all the states to know about the developments of the other states but neither the law on the subject requires that a state even for utilisation of its own water resources would take the consent of other riparian states in case of an inter-Stateriver," the letter stated.
The Karnataka government, as a response to the observation of finding an amicable solution, pointed to the clauses XIII and XVIII in the Supreme Court judgment dated February 16, 2018, which stated that there is no legal requirement for a state to take consent of other states to utilise its own water resources, even in the case of an inter-State river. Further, the letter also quoted a portion of an SC order which said that the central government is not duty-bound to obtain the permission of the other states while sanctioning any project of any of the riparian states. This letter from Karnataka comes even as Tamil Nadu continuously opposed the construction of a new dam across Cauvery, stating that this would impact irrigation and agriculture in the state. https://www.thenewsminute.com/article/k-taka-pushes-mekedatu-approval-claims-project-does-not-need-tn-consent-110086  (7 Oct. 2019)
Maharashtra Irrigation Scam Balganga dam case stuck, while accused travel world 3 years after the ACB filed a 30,000-page charge sheet in August 2016, the trial against the accused has not inched ahead. In the meanwhile, the contractor, who stands accused in Balganga as well as the two other Konkan dam cases, has been successful in defreezing a majority of his bank accounts. Similarly, other four orders given in the case pertain to application moved by the contractor, FA Infrastructure, to defreeze accounts frozen by the ACB during the course of the inquiry. The ACB had initially frozen 536 accounts of FA Enterprises, having a total of Rs 473.58 crore. The state government, after conducting an inquiry, had defreezed around 262 accounts having Rs 206 crore. Through two other orders (January 12, 2017 and July, 1, 2017) in the court, the contractor succeeded in defreezing another Rs 120.46 crore of the remaining Rs 263 crore and then another Rs 25.86 crore were removed. The logic for defreezing the accounts is that the total loss pegged by the government in the scam is Rs 120 crore (Rs 92 crore in Balganga dam and Rs 30 crore in Kalu dam), said a senior ACB official.
– Another prime accused, a former superintendent engineer with Konkan Irrigation Development Corporation (KIDC), has got exemptions to travel the globe from Europe to Maldives. Former superintendent engineer with Konkan Irrigation Development Corporation (KIDC) RD Shinde, accused in the Balganga dam probe, got exemptions from the court to travel abroad through four orders issued by the additional sessions judge. The orders – January 10, 2017; December 12, 2017; March 23, 2018 and February 2, 2019 – show that Shinde sought exemption to travel to Sri Lanka, Maldives, Greece, Canada and Europe (Belgium, Barcelona, Amsterdam, Rome etc). Similarly, another accused former executive engineer with KIDC, Anand Kalukhe, was granted exemption to tour Europe through an order in February 2019. In each case for the past two years, these exemptions were granted as the investigation agency said the matter was not ready for trial yet and charge was yet to be framed against the accused.
– The last nine orders, issued in the special case filed by the ACB in the Thane district and sessions court, exposes the extent of the slow pace. "There has been no action in the irrigation scam case. In the past five years, in Konkan, only two charge sheets and one FIR has been filed. But 13 projects were to be investigated. The orders show that suspended officials had a good time and the contractor managed to defreeze his accounts with the state backing this,'' said social activist Anjali Damania, who exposed the Konkan irrigation scam. https://www.hindustantimes.com/mumbai-news/maha-corruption-check-balganga-dam-case-stuck-while-accused-travel-the-world/story-wgB1nhJxFllLRgReRNpV0I.html  (1 Oct. 2019)
BJP govt failed to act against irrigation scam The irrigation scam, which contributed in a major way to not just get the BJP to power, but also damage the credibility of the Opposition, is yet to see any concrete action. "The irrigation scam inquiry can go on infinitely. That's because of the way the investigation has have been done and FIRs have been filed allowing for loopholes that can then be challenged by the accused. The FIRs are not filed on the basis of extensive documents collated by us'' said Firdaus Mirza, lawyer for a non-government organization, Jan Manch. "From 2012 to 2019, the government has failed to take any action in this scam. The irrigation scam inquiry exposes the true face of politics, whether it is Ajit Pawar or Girish Mahajan (current minister). Whether it's the BJP, NCP, Congress or Shiv Sena, each party only wants a share in the pie. Allegations are made only to scare and silence," said social activist Anjali Damania, who exposed the Konkan irrigation scam and filed petition in the HC in the matter. https://www.hindustantimes.com/mumbai-news/maha-polls-how-did-govt-tackle-corruption/story-xuotQ5n3VFUtViMyObgpbP.html  (1 Oct. 2019)
Telangana Dam Gate Failure at Musi Project in Suryapet At around 6.45 p.m. on Saturday (Oct 5, 2019) the concrete beams of one of the 12 crest gates came off and the gate moved out of its lock position and 5000 cusecs water flowed down to Krishna River. The water level is expected to come down from 644.5 ft to 615 feet by by morning. The Musi Project commenced in 1954 was completed in February 1963. With 4.46 tmcft storage capacity, it provides irrigation in three mandals each of Suryapet and Nalgonda districts, total irrigation area of 30 000 acres. The gates were last operated on Oct 1. https://www.thehindu.com/news/national/telangana/rusted-crest-gate-of-musi-project-fails/article29606331.ece  (5 Oct. 2019) 
INTERLINKING OF RIVERS
Ken Betwa Interlinking Union Water Minister is clearly making grand understatement here about UP MP differences and all sanctions for Ken Betwa Project. It says a committee has been set up to resolve the differences.  https://www.thehindubusinessline.com/news/national/minor-tiff-between-mp-and-up-holding-back-ken-betwa-river-link-project-minister/article29558829.ece#  (30 Sept. 2019) 
INTERSTATE WATER DISPUTES
Inter-State River Water Disputes Bill- Watering-Down The Water-Federalism This analysis shows how the 2019 amendment to the Inter State Water Disputes Act is against the federal character of the constitutional provisions on water issues. https://www.livelaw.in/columns/inter-state-river-water-disputes-bill-watering-down-the-water-federalism-148575   (30 Sept. 2019)
Telangana- Andhra Pradesh Apex Council meet to resolve river water issues The Union Water Resources Ministry will soon convene a meeting of the Apex Council to resolve the pending river water issues between the sibling States of Andhra Pradesh and Telangana. MoWR  (Jal Sakthi) asked the governments of Andhra Pradesh and Telangana to send the agenda points for the Apex Council meeting to be held under the chairmanship of Jal Sakthi Minister Gajendra Singh Shekhawat shortly. As the officials of the two States used to frequently argue with each other over the construction of new projects, including Sitarama and Pattiseema projects, the Godavari River Management Board had log ago decided to approach the Apex Council to define what is a new project as there was no clarity on that subject in the AP Reorganisation Act.  http://www.newindianexpress.com/states/telangana/2019/oct/03/apex-council-meet-to-resolve-telangana-andhra-pradesh-river-water-issues-2042719.html  (3 Oct. 2019) 
URBAN RIVERS
Mula-Mutha; Pune Activists get anxious over rise in river pollution Members of Jeevitnadi NGO have been getting together over the weekends in the past few years to clear up the river banks on a regular basis. However, with the ongoing immersions, members are worried about the condition along the rivers. The members have come up with an action plan at immersion sites in Aundh and Vitthalwadi. https://timesofindia.indiatimes.com/city/pune/green-activists-get-anxious-over-rise-in-river-pollution/articleshow/71004138.cms  (6 Sept. 2019)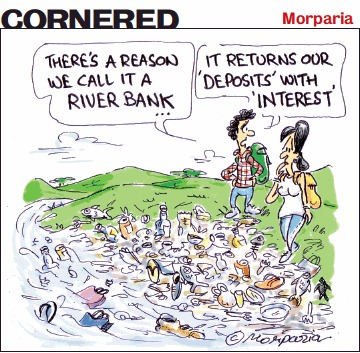 This cartoon in Mumbai Mirror 4, Oct. 2019 very aptly showing the problem of solid waste reaching in our rivers.  https://epaper.timesgroup.com/Olive/ODN/MumbaiMirror/#
Kadambrayar, Chitrapuzha Kochi Erring local bodies to come under scanner Local bodies sharing the banks of Kadambrayar and Chitrapuzha will be under the scanner of the district administration for their alleged role in the pollution of the river stretches. The move forms part of steps being taken to rejuvenate the rivers in accordance with the action plan submitted by the State PCB before the NGT.
Accordingly, notices will be served on the local bodies for any violation of the tribunal's directives. The District Level Monitoring Committee appointed by the NGT will oversee the implementation of the directives. According to the PCB, the local bodies along the rivers lack scientific and efficient waste disposal systems, resulting in the pollution of the waterbodies. https://www.thehindu.com/news/cities/Kochi/river-pollution-erring-local-bodies-to-come-under-scanner/article29435232.ece  (17 Sept. 2019) 
RIVERS
Punjab Capt meets Modi, proposes canalisation of major rivers In his proposal presented to PM Modi, the CM suggested construction of high-speed economic corridors on 985 km long river embankments, apart from river training works, flood protection measures and lining of internal side-slopes of the Sutlej, Ravi and Beas. The task may begin with a feasibility study that may be assigned to techno-economic experts of international repute, he suggested.
Underlining the need to increase water productivity through augmentation and strengthening of water management, control and regulation infrastructure, Captain Amarinder suggested launch of the cannalisation project with the Sutlej river, which would require an investment of about Rs.4000 cr over a period of 3 to 5 years, exclusive of external incentives such as commercial exploitation of Government and private land and waiver of taxes, duties and cesses, as relevant.
Captain Amarinder also underlined the need to harness the river water which was currently flowing into Pakistan during the monsoons. Pointing out that the three rivers as of now have kutcha (earthen) embankments, measuring 945.24 km; (Sutlej 484.12 km, Ravi 245.28 km and Beas 215.84 km), covering almost over 60 per cent of state's area, he observed that the 1/3rd of the state's population living in the riverfront areas was also suffering due to the flooding that occurs during the monsoon period. https://www.tribuneindia.com/news/punjab/capt-meets-modi-proposes-canalisation-of-punjab-s-major-rivers/842061.html  (3 Oct. 2019)
Himachal Pradesh Govt to rejuvenate Sutlej, Chenab, Beas Scientists expressed concern over the state of rivers. They said there was a need to take quick measures to protect the water bodies. It was observed that due to increasing human activity near the rivers, the pollution levels had assumed alarming proportions. Illegal mining, direct dumping of waste and soil erosion have disturbed the ecology of these rivers.
The Beas water has turned muddy due to the four-laning work between Mandi and Kullu-Manali. At many points, the construction material is dumped into the river. Due to poor garbage disposal in Kullu district, tonnes of garbage is being dumped directly into the Beas from the Manali and Manikaran side. The situation is no better in Lahaul-Spiti and Sutlej basin. The authorities are mum over the issue because a majority of offenders are associated with politicians. https://www.tribuneindia.com/news/himachal/govt-to-rejuvenate-sutlej-chenab-beas/834277.html  (28 Sept. 2019)
Two Beas tributaries turned into garbage dump The Bhiral and Mol khuds, two major tributaries of the Beas passing through Palampur town, are a major source of drinking water for people in the lower areas of Palampur. These water bodies have been turned into garbage dumps. The IPH Department lifts water from the Bhiral khud near Thural for its water supply schemes. Three days ago, a tempo owner was caught dumping garbage in the local Mol khud, a video of which went viral on the social media. https://www.tribuneindia.com/news/himachal/water-contamination-goes-unchecked-in-palampur/840334.html  (30 Sept. 2019)
Maharashtra Searching for the Buffaloes of the Hiranyakeshi – Part I The Hiranyakeshi is a small river (just 88 kms). It originates in the beautiful, hypnotic village of Amboli, and pours into the Ghataprabha river, which itself is a tributary of the Krishna river.
Small, slender and transboundary, the Hiranyakeshi snakes through the southern tip of Maharashtra, briefly tracing the Maharashtra-Karnataka border, into the northern slice of Karnataka. Important towns on its banks are Amboli, Ajra, Gadhinglaj and Sankeshwar. The river also has her own mini waterfalls, named Ramteerth, near Ajra.  https://thetilakchronicle.com/post/7e3c1c30-dc4a-11e9-a003-abf72917a17b   (22 Sept. 2019) See the link for part second of the report.
Chhattisgarh Lilanagar river flows into Dipka mine  The Lilanagar river in Korba district has changed its course due to heavy rainfall in the area, and filled the Dipka open cast mine. A video of the event was posted on Twitter by journalist Aruna Chandrasekhar and credited to Alok Shukla, a social activist and the convenor of the Chhattisgarh Bachao Andolan. The video has now gone viral. Dipka mine is one of the largest pit mines in India, cleared to extract 35 million tonnes of coal every year, the journalist said. https://scroll.in/video/939141/nature-has-its-own-plans-watch-the-lilanagar-river-change-its-course-and-flow-into-the-dipka-mine   (2 Oct. 2019)
Madhya Pradesh Ash DAM breach at NTPC Singrauli Plant. https://www.ndtv.com/india-news/ash-leak-from-madhya-pradesh-ntpc-plant-spills-on-farms-allege-villagers-2112858  (7 Oct. 2019) 
CAUVERY Rally for Rivers Empty Environmentalism of 'Rally for Rivers' 242 crore trees along Cauvery's banks translates to 900 trees an acre. That is 3 to 6 times denser than the Amazon rainforest. That is insane. https://thewire.in/environment/jaggi-vasudev-rally-for-rivers-isha-foundation-cauvery-riverbank-sand-mining  (1 Oct. 2019)
GANGA Uttar Pradesh  Scientists excavate 'ancient river' The "ancient buried river" as it was described at a conference organised by the Ministry, is around 4 km wide, 45 km long and consisted of a 15-metre-thick layer buried under soil.
According to Executive Director, NMCG, D.P. Mathuria, the newly discovered river, was a "buried paleochannel that joins the Yamuna river at Durgapur village, about 26 km south of the current Ganga-Yamuna confluence at Prayagraj. The genesis of the palaeochannel's discovery followed a 2016 report of a seven-member committee, headed by Professor K.S. Valdiya of the Jawaharlal Nehru Centre for Advanced Scientific Research (JNCASR), commissioned by the Water Resources Ministry. https://www.thehindu.com/news/national/scientists-excavate-ancient-river-in-uttar-pradesh/article29560057.ece   (1 Oct. 2019)
खोखरी नदी के अस्तित्व को तलाशने पहुंची सिंचाई विभाग की टीम जनपद सहारनपुर के लखनौती से यमुना से खोखरी नदी केरटू यमुना नदी में समाहित होती है। खोखरी नदी इस दिनों अपनें अस्तित्व की लड़ाई लड़ रही है। नदी की भूमि पर ग्रामीणों ने कब्जा कर रखा है। ग्रामीणों ने मिट्टी डालकर खेती कर रहे है। पैमाइश के लिए सिंचाई विभाग की आठ सदस्यीय टीम मुजफ्फरनगर से चौसाना पहुंची और पैमाइश की। टीम के अधिकारियों ने बताया कि पैमाइश के दौरान निरीक्षण नदी पर अवैध कब्जा होना पाया गया है। https://www.amarujala.com/uttar-pradesh/shamli/irrigation-department-team-reached-to-explore-the-existence-of-khokhari-river-shamli-news-mrt4454349121  (27 Sept. 2019)
Here is another interesting report on Katha river, another dried out tributary of River Yamuna in Shamli districts. https://www.thehindu.com/news/cities/Delhi/A-river-lost-and-found/article12874937.ece (12 May 2012)
Centre imposes Rs 50,000 fine on idol immersion in Ganga, tributaries The Centre has imposed a Rs 50,000 fine for immersing idols in the Ganga and its tributaries under a 15-point directive issued to states to check pollution of the river during festivals. District magistrates have been tasked with enforcing the directive dated September 16. https://www.moneycontrol.com/news/india/centre-imposes-rs-50000-fine-on-idol-immersion-in-ganga-tributaries-4502521.html  (4 Oct. 2019) 
YAMUNA Uttar Pradesh SC asks CPCB to submit report on river pollution in Mathura SC directed CPCB to depute an official to file a report on the status of pollution in the Yamuna river at Mathura and to submit a report containing suggestions within six weeks. The apex court was hearing a plea filed by UP PCB challenging the NGT's April 4, 2017 direction to pay Rs 5 lakh for causing pollution in the temple town.  https://www.news18.com/news/india/sc-directs-cpcb-to-provide-information-about-status-of-pollution-in-yamuna-at-mathura-2329699.html  (1 Oct. 2019)
Agra There are four activists from various backgrounds who spend about eight hours a day on the riverbank, collecting trash, segregating plastic and polythene from waste and engaging with the locals. https://www.hindustantimes.com/cities/activists-combine-art-with-effort-to-help-clean-yamuna/story-y7m5NIz0iHPAwC4RcsB1BM.html  (4 Oct. 2019)
Haryana Pollution in Panipat, officials pulled up Bhure Lal, Chairman, EPCA, on Oct. 6 found industrial waste water flowing on the roads of sector-29 part-2 and also found industrial waste water flowing on roads and green belts of the sector. He also sought report from the HSPCB over the CETP in Sector 29 part-2 within 4 days. It was his second meeting as he had also visited Panipat city in the wee hours in the last week of September secretly and found black smoke being emitted from industries. https://www.tribuneindia.com/news/pollution-in-panipat-officials-pulled-up/843734.html  (7 Oct. 2019) 
River Biodiversity
SAND MINING
Uttar Pradesh NGT slaps Rs 9.16 cr fine on leaseholder Cracking the whip on illegal sand mining and extraction of minerals from the Kosi river located in Swar area of Rampur district, the NGT has slapped a hefty fine of Rs 9.16 crore on the leaseholder identified as Neeraj Chaturvedi. The leaseholder has been accused of carrying out excavation beyond permissible limit using heavy machineries.
The tribunal further stated, "To assess the environmental damage caused by the leaseholder on account of mining activity in violation of the terms and conditions of the environmental clearance, thus, has been directed to pay requisite compensation for causing environmental damages." https://timesofindia.indiatimes.com/city/bareilly/illegal-sand-mining-in-rampur-ngt-slaps-rs-9-16-crore-fine-on-leaseholder/articleshow/71412410.cms  (3 Oct. 2019) 
CBI searches at 11 locations in UP, Uttarakhand, books two IAS officers  CBI Books 2 Secy-Ranked IAS Officers for Illegal renewal of Leases  CBI on Oct. 1 carried out searches at 11 locations in Uttarakhand and Uttar Pradesh after filing a fresh FIR in connection with a sand mining scam against 12 people, including two senior IAS officers serving as secretaries in the UP government, officials said. The FIR relates to alleged irregularities in the renewal of sand mining leases in Uttar Pradesh's Saharanpur district during the Samajwadi Party rule in the state.
In 2012, the state government under Akhilesh Yadav had floated a policy of e- tendering in the allocation and renewal of sand mining leases. The order dated May 31, 2012, also cancelled all its prior orders pertaining to the grant and renewal of sand mining leases under the UP Minor Minerals Concession Rules, 1963.
In a number of districts, officials allegedly colluded with contractors to renew and issue the lease for digging out sand from a riverbed in violation of the state government's policy of allowing such process only through e-tendering, sources said. http://www.newindianexpress.com/nation/2019/oct/01/illegal-sand-mining-leases-cbi-searches-at-11-locations-in-up-uttarakhand-books-two-ias-officers-2041742.html  (1 Oct. 2019)
Madhya Pradesh  Govt to allot sand mining lease for 3 yrs Sand mining lease in the state will now be allotted for three years — this is up from the one-year lease period effective until last year. After implementing the new mining rules, the state govt was likely to open the tender process from Oct. 4. With the new guidelines in place, the government expects to earn Rs600 crore revenue every year. In 2018-19, the state had earned Rs69 crore — almost one-eighth of Rs600crore — when the sand mines were with the panchayats. As many as 43 districts have sand mines.
Mines allotted this year would be renewed in 2022. Once allotted, the contractor would pay increased royalty of 10% per year and continue to operate the mines for three years. Officials said the decision to give lease for three years is meant to ease the sector from getting into the lease process every year. Earlier, the government withdrew mining rights from panchayats and local bodies, but till the new tender process is completed, the existing system would continue.
In the new mining policy, the government has banned storage and sale of sand within two kilometres from a mine. Moreover, the policy states only licenced contractors or ones having a mining lease would be allowed to sell sand within 50 kilometres from any sanctioned sand quarry. In quarries having an area of more than 5 hectares, the local labourers shall be given priority. As many as 1,438 mines have been identified in the state and of them 400 are new mines, officials said. https://timesofindia.indiatimes.com/city/bhopal/govt-to-allot-sand-mining-lease-for-3-years-tender-process-to-open-today/articleshow/71430913.cms  (4 Oct. 2019)
Punjab CPI activists begin dharna against illegal mining Communist Party of India (CPI) started an indefinite dharna in poll-bound Jalalabad segment today to protest "inaction" against the sand mafia by the state govt. Five activists of the party sat on dharna in the SDM court complex.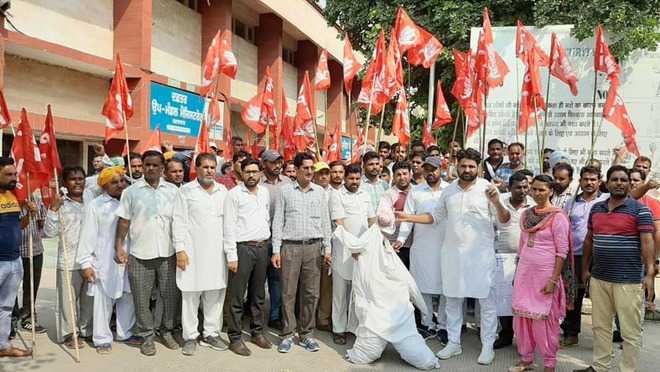 Earlier, over 100 activists burnt the effigy of CM Capt Amarinder Singh allegedly for not taking action against the sand mafia operating in Fazilka district. They alleged that the sand mafia, in connivance with the officials, had been minting crores from the black trade of white sand and residents have to pay exorbitant price for sand. https://www.tribuneindia.com/news/cpi-activists-begin-dharna-against-illegal-sand-mining/842188.html  (4 Oct. 2019)
Farmer, uncle thrashed by group involved in mining A group of people allegedly involved in illegal sand mining thrashed a farmer and his uncle at Butahari village. Farmer Balwinder Singh (45) alleged that a group of persons were stealing sand near his fields. He alleged that the accused used to pass their vehicles from his agriculture land. He tried to stop him several times. https://www.tribuneindia.com/news/ludhiana/farmer-uncle-thrashed-by-group-involved-in-sand-mining/840965.html  (1 Oct. 2019)
Tamil Nadu VV Mineral targets African assets after ban in India V.V. Mineral exported garnet to countries including the United States and Germany. The two countries' embassies lobbied the Indian government in 2017 to resolve an "impasse" over mining in the southern state of Tamil Nadu – a market controlled by the company – according to an Indian mines ministry document seen by Reuters.
– Tamil Nadu, where the company is headquartered, ordered companies to stop beach sand mining in 2013 to facilitate inspections into allegations of illegal mining in the region, and some independent parties filed cases alleging wrongdoing by V.V. Mineral. Vaikundarajan denies all such allegations. V.V. Mineral does not expect to restart mining in India in the next couple of years, but Vaikundarajan said he hoped to start operations in Africa soon. https://www.cnbctv18.com/energy/indian-rare-earth-miner-vv-mineral-targets-african-assets-after-local-ban-4435721.htm   (26 Sept. 2019)
WETLANDS, LAKES, WATER BODIES
National CMFRI teams up with ISRO to collect wetland data Mobile app developed to collect the complete datasets on smaller wetlands across the coastal region of the country. – The mobile app is aimed to generate a centralised digital database of the smaller wetlands (2.2 ha) across the country. Such smaller wetlands cover an area of more than five lakh hectares across the country, while Kerala is having as many as 2,592 smaller wetlands. The app will be used to collect field-level data of the wetlands that include geo-spatial profile, size, water and soil quality, farmed species, pollution status, illegal construction and other biodiversity specialities.
– The initiative of monitoring the wetlands is carried out by the National Innovations in Climate Resilient Agriculture (NICRA) project wing of the CMFRI. The data collected using the mobile app will be done by registered researchers, farmers and stakeholders while the experts associated with the task will validate the data and will be stored in the central database.  https://www.thehindubusinessline.com/economy/agri-business/cmfri-teams-up-with-isro-to-collect-wetland-data/article29557157.ece  (30 Sept. 2019)
Goa 'Cancel public hearing on coastal zone managenment plan, get new green report' Stating that the draft environmental impact assessment (EIA) was prepared without a Goa Coastal Zone Management Plan, Goenchea Raponkarancho Ekvott (GRE) and four other affected fishing organisations have demanded the cancellation of the public hearing on November 2 in a letter to North Goa collector. They also want a fresh EIA in accordance with the EIA notification 2006. GRE convener Olencio Simoes said several reports of the National Institute of Oceanography (NIO) and Indian Council of Agricultural Research (ICAR), Old Goa, stated that the entire Zuari estuary in which Nauxi bay is situated is rich in marine biodiversity which has to be demarcated in the coastal zone managenment plan (CZMP). https://timesofindia.indiatimes.com/city/goa/cancel-public-hearing-on-czmp-get-new-green-report/articleshow/71431570.cms   (4 Oct. 2019) 
Battle to save its low-lying lands from redesignation by the MoEF  The Goa government, farmers and activists are up in arms against the environment ministry for proposing re-designation of the state's low lying lands — locally known as khazans — that are used by farmers in the state's coastal areas for both used for agriculture and aquaculture. The National Centre for Sustainable Coastal Management (NCSCM), a scientific body under the environment ministry, has been entrusted with the job to define coastal areas under the Coastal Zone Management plan for the state. In its proposal, the NCSCM has re-defined these 'lands', instead marking them as tide-influenced water bodies, thus opening the door for uses other than agriculture and aquaculture. According to the NCSCM, a water body that has reported a salinity concentration of 5 parts per thousand (ppt) or more during the driest month of the year is considered to be influenced by tidal action. Consequently the land that surrounds such a water body will be considered under 'coastal regulation zone'.
– In a rare case where the Goa government is supporting the people, Goa's Environment Minister Nilesh Cabral rushed to Delhi to petition MoEF officials, said that the plan should be drawn up in such a manner "so that this can be put to use as was originally meant for." Cabral has said that his department has already written to the Ministry of Environment and Forests seeking that all these lands be demarcated as 'ecosensitive zones'. "We are losing the lands to the river. If these lands are re-designated we are opening these lands and making them available for uses that are alien to us like boating or even industrial use that requires water front like stacking coal. The government can automatically claim that being a water body, they are open to use it," Abhijit Prabhudesai, an environmental activist, said. "More than that it will bring a huge section of Goa's population under the coastal regulation zone, many of whom do not have the wherewithal to legally defend themselves against the government," he added. https://www.hindustantimes.com/india-news/goa-battles-to-save-its-low-lying-lands-from-redesignation-by-the-moef/story-xkLNCLVw65tMVS5BZuNO2M.html  (2 Oct. 2019)
Kerala 625 buildings along Vembanad Lake to face demolition The repercussions of the SC order to demolish four apartment buildings in Maradu municipality of Ernakulam district, are being felt on hundreds of other illegal constructions situated along the backwaters of Kerala.  About 625 constructions along Vembanad Lake in three districts – Ernakulam, Alappuzha and Kottayam – have been served notice to be demolished, the state govt stated in a report submitted to the Kerala High Court. The properties which are in violation of the Coastal Regulation Zone (CRZ) norms are mostly residential in nature.
The statement filed by the Local Self Government Department (LSGD) states among this, that the maximum number of violations have been found along the Vembanad Lake stretch of Ernakulam district. There are 383 such buildings in Ernakulam and only five of these are non-residential constructions, says a report of The Times of India. In Alappuzha district, notice has been issued to 212 buildings violating CRZ rules. Among these, only two are non-residential buildings. Meanwhile, demolition notice has been issued by local bodies to 30 buildings in Kottayam district. https://www.thenewsminute.com/article/after-maradu-625-buildings-kerala-along-vembanad-lake-face-demolition-109899  (3 Oct. 2019)
Chandigarh Law dept clears Sukhna as wetlands UT law department has cleared declaration of the Sukhna as a wetland, which will be the end of encroachment, industrial units, dumping, permanent structures, and discharge of untreated effluents within 50 metres of the lake. https://timesofindia.indiatimes.com/city/chandigarh/chandigarh-law-department-clears-sukhna-as-wetland/articleshow/71462729.cms  (6 Oct. 2019) 
Maharashtra Slow and Steady Struggle to Save the Bawkhal of Vasai-Virar People in Vasai-Virar region have been using water for irrigation, animal husbandry and drinking through a network of rain- and groundwater-fed lakes, wells and bawkhal. The actual age of these bawkhal is unknown but it ranges from 200 years to even a millennium. At the same time there is no doubt that they played an important role in supporting agriculture and maintaining groundwater levels in the region. Rapid development and urbanisation now presents a grave threat to these systems. https://thewire.in/environment/bawkhal-vasai-virar-groundwater-aquifers-hydrogeology  (2 Oct. 2019)
WATER OPTIONS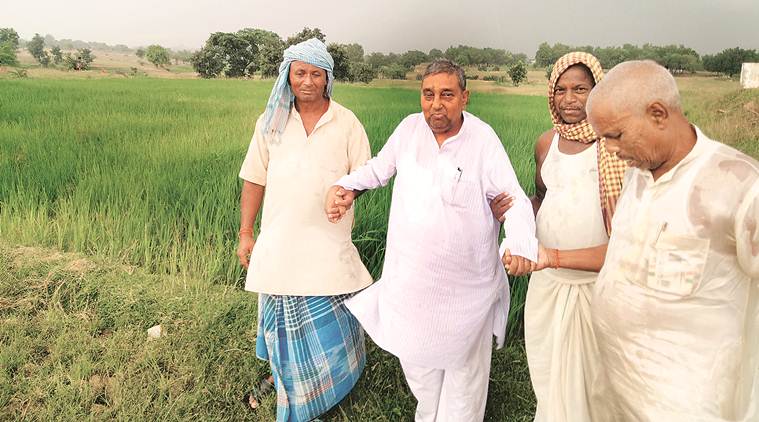 Bihar In parched Banka district, how farmers keep drought at bay Remarkable story of 70 year old farmer Anirudh Prasad Singh whose work in Katoria and Chandan blocks of Banka district in Bihar transforms rainfed arid area to two crop growing one, benefiting about 1000 farmers in 30 villages and about 10000 farmers of 200 villages have followed this model of rejuvenation of local water bodies including streams and ponds and irrigating using lift schemes and pipes extending to 1000 ft. https://indianexpress.com/article/india/in-this-parched-bihar-district-how-farmers-keep-drought-at-bay-6055673/  (6 Oct. 2019) 
GROUNDWATER
Centre "Atal Bhujal Yojana" be sent to Union Cabinet for approval The Atul Bhujal Yojana (ABHY), will soon be sent to the Union Cabinet for approval, Water Resources Secretary U P Singh said on Oct. 3. The Rs 6000 crore Atul Bhujal Yojana (ABHY) scheme, which was approved by the World Bank in August last year, has been pending since last three years. The scheme was announced in the 2016-17 Union Budget under which the funding was to be done on 50 per cent basis by the Centre as well as the World Bank. https://www.outlookindia.com/newsscroll/soon-atal-bhujal-yojana-be-sent-to-union-cabinet-for-approval/1633313  (3 Oct. 2019)
Report Uncovering the groundwater crisis in south India Most studies on rising groundwater levels in groundwater in south India contradict on-ground field reports and farm surveys that report increasing well failures. According to the study, traditional groundwater trend assessment methods are not suitable for hard rock aquifer systems that characterize south India. The study results highlight the problem of 'survivor bias'; studies so far have ignored dry or abandoned wells that can provide critical information on groundwater stress. https://india.mongabay.com/2019/09/uncovering-the-groundwater-crisis-in-south-india/?  (27 Sept. 2019) 
URBAN WATER
Chennai Wagon water supply expensive, unsustainable Initially, fifty wagons of the water train to Chennai were expected to carry 50,000 litres of water each, and make four trips per day, with 25 lakh litres of water being transported per trip. CM had allocated Rs 65 crore for the entire project. However, the officials have admitted that the quantity of water ultimately brought was only 5.4 MLD as opposed to the promised 10 MLD.
"It was also not worth the cost and effort. It was Rs 300 per kilolitre. Anyway, with the incoming Krishna water, the water storage levels are also up, so we can manage," said the official.  https://www.thenewsminute.com/article/krishna-water-reaches-chennai-water-train-vellore-be-phased-out-109975  (4 Oct. 2019)
Sewage recycling will save 50mld of Chennai's water With the addition of Metrowater's new tertiary treatment reverse osmosis (TTRO) plant in Kodungaiyur, industrial units at Manali, Ennore and Minjur in the city will soon get 50mld of treated sewage water. Metrowater executive director T Prabhushankar said the plant could treat 45mld of grey water through reverse osmosis.
– At present, Chennai generates 550mld of sewage a day. Of this, 45mld will be treated at the Kodungaiyur plant, and 45mld in the Koyambedu plant.  With the commissioning of the plant, Chennai would become the first city in the country to recycle and reuse 20% of sewage it generates in a day, the official said. https://timesofindia.indiatimes.com/city/chennai/sewage-recycling-will-save-50mld-of-chennais-water/articleshow/71367136.cms  (30 Sept. 2019)
Minister drinks treated sewage water at event to 'set an example'  Minister for Municipal Administration S.P.Velumani on Oct. 1 took everyone by surprise by drinking a glass of treated sewage water that came from the newly inaugurated TTRO plant in Kodungaiyur. The Rs 348 crore, 45 MLD TTRO plant will supply treated wastewater to the industrial units. Till now these industrial units were supplied with 40 MLD desalinated water. Chennai currently generates about 550 MLD of sewage per day and with the news plant in place, it could become the first city to reportedly reuse and recycle 20% of sewage generated in a day.  https://www.thenewsminute.com/article/tn-minister-drinks-treated-sewage-water-event-set-example-109828  (1 Oct. 2019) 
WATER
Centre Water-efficiency 'star' rating for washing machines, purifiers "Water efficiency is a good idea but it is tougher and more complex to have water-use rating on appliances than energy ratings. First and foremost, the unbranded market for water consuming devices is far bigger," said Himanshu Thakkar, coordinator, SANDRP. Secondly, according to Thakkar, electricity is a "purely human-produced commodity and has a fixed market value". He added: "Neither is true for water." https://www.hindustantimes.com/india-news/govt-plans-water-efficiency-star-rating-for-washing-machines-purifiers/story-0Wf7dRSyAXYk9qLI0QWT8N.html  (2 Oct. 2019)
India's 'grave' water crisis a result of misallocation, mispricing, mismanagement One wishes the author would have implemented these measures while in the government.  https://www.counterview.net/2019/10/indias-grave-water-crisis-result-of.html  (5 Oct. 2019)
Interview Decoding India's Water Crisis, With The Zenrainman Save Every Drop Series: S. Vishwanath tells you everything you need to know about the nation's water crisis and the urgent steps that need to be taken.  https://www.natureinfocus.in/save-every-drop/decoding-india-s-water-crisis-with-the-zenrainman  (29 Sept. 2019)
Goa 'Mismanagement of resources reason behind water pollution, scarcity' With water found at shallow levels, Goa is safe in terms of ground water availability, but water quality is a matter of growing concern, said hydrogeologist Manoj Ibrampurkar, addressing the general body of the Geological Society of Goa on Sept. 29. The quality of water is deteriorating mainly due to biological contamination, the Goa SPCB studies have already found faecal coliform in all rivers, Ibrampurkar said. The academic, speaking on 'Goa: Water Surplus or Water Deficit', also said that Goa's drinking water shortage issues are mainly due to mismanagement of resources rather than water availability. https://timesofindia.indiatimes.com/city/goa/deteriorating-water-quality-major-concern/articleshow/71366361.cms  (30 Sept. 2019)
Punjab New technique for water conservation in paddy cultivation There is not a word about impact of weedicide on soil or health of the people, its cost. The weedicide companies will of course be happy. https://timesofindia.indiatimes.com/city/chandigarh/new-technique-for-water-conservation-in-paddy-cultivation-in-punjab/articleshow/71456576.cms  (5 Oct. 2019)
DELHI WATER
Ammonia Levels Rise At 2 Water Treatment Plants This is happening during monsoon season when Yamuna usually flows with flood water upto December. As there has been huge monsoon deficit in Yamuna basin this year such events could be happening regularly in coming months. https://www.ndtv.com/delhi-news/delhi-stops-operations-as-ammonia-levels-rise-at-2-water-treatments-plants-arvind-kejriwal-2109391  (30 Sept. 2019)
AGRICULTURE
Maharashtra Satellite imagery, artificial intelligence to improve farm yields Interesting work. Though the report should have at least mentioned which six districts are covered. https://indianexpress.com/article/india/satellite-imagery-artificial-intelligence-to-improve-farm-yields-in-maharashtra-6056933/  (7 Oct. 2019) 
ENERGY OPTIONS
Gujarat Rooftop solar power scheme aims to cover 2 lakh families Govt's rooftop solar power scheme to cover 2 lakh households by March 31, 2020. https://economictimes.indiatimes.com/small-biz/productline/power-generation/gujarats-rooftop-solar-power-scheme-aims-to-cover-2-lakh-families/articleshow/71371981.cms   (30 Sept. 2019) 
DISASTER
Kerala Dave Petley on Kerala Landslides during 2019 SW Monsoon "These are typical landslides triggered by exceptional rainfall in hilly terrain.  The resultant flows along the channels can be devastating to anything in the path.
As rainfall intensities continue to increase, and the upland environment is further damaged by human activities, we will see increased occurrence of these types of mass movements across South Asia, with devastating effects." https://blogs.agu.org/landslideblog/2019/09/30/planet-labs-kerala/  (30 Sept. 2019) 
ENVIRONMENT
Maharashtra HC dismisses Aarey PILs "The greens (environmentalists) fail in the instant petition because they have lost touch with the procedure to be followed as per law. The clock cannot be put back. We do not make any comments thereon as the petitioner has to now swim or sink before the Supreme Court… The issue is pending before the SC & NGT. Hence, we are dismissing the petition on the principle of commonality and not on merits," a bench of Chief Justice Pradeep Nandrajog and Justice Bharati Dangre said.
Environmental activist Zoru Bathena, who filed the petition challenging a decision to allow the Mumbai Metro Rail Corporation Ltd (MMRCL) to cut 2,646 trees in Aarey, said he will approach the Supreme Court. The activist also wanted Aarey be declared a floodplain. https://www.ndtv.com/india-news/aarey-in-mumbai-not-a-forest-says-bombay-high-court-refuses-to-stop-cutting-of-over-2-500-trees-for-2111711  (4 Oct. 2019)
National India's target to combat land degradation and desertification While India has increased its target of restoring degraded land from 21 million ha to 26 million ha, what is the scale of the challenge and what do the new targets mean? One way to put the target of 26 million ha into perspective is to compare it with the scale of land degradation in India at the moment.  An ISRO report from 2016 estimates the extent of land degradation in India at 96.4 million hectares, representing around 30% of the country's total land area.  https://www.indiawaterportal.org/articles/indias-target-combat-land-degradation-and-desertification   (1 Oct. 2019)
Forest Rights Silent betrayal by Manshi Asher The political and bureaucratic class in Himachal Pradesh, a State which scores highly on several socio-economic indicators, has used the "our-people-are-better-off-compared-to-other-States" argument to dismiss people's eligibility as "forest-dwellers". It has done so by not just overlooking provisions of the law but also systematically de-legitimising the criticality of forest land in the lives and livelihoods of vulnerable communities. The onus of proving "eligibility" now lies with the actors of the State, whose job is to uphold the law and constitutional principles in favour of the people. Do they have what it takes to support people to access the FRA?  https://frontline.thehindu.com/social-issues/article29506771.ece  (27 Sept. 2019) 
प्राकृतिक जंगल उगाये नहीं जा सकते भारत में 10 करोड़ से ज्यादा आदिवासी हैं, जो ब्रिटेन या जर्मनी की आबादी से ज्यादा हैं. देश में जंगल सिर्फ वहीं बचे हैं, जहां आदिवासी रहते हैं. जंगल में रहने के उनके अधिकार की रक्षा होनी चाहिए. https://hindi.theprint.in/opinion/where-the-tribals-live-forest-will-be-saved/46937/  (9 Sept. 2019)
ODF Dealing With Shit: India's Toilet Story Does Not End at the Flush Mursida contacted a sludge machine operator to clean the pit and suck out all faecal matter. "He demanded Rs 2,000 to empty half the pit," she said. Spending one-fourth of the entire household income into cleaning toilets is an expenditure the family had never anticipated.
– On October 2, 2019, India's declaration to the world that its villages are open defecation free (ODF) only solves one of two problems. The fact that the country's sanitation coverage has doubled, if not scaled 100 per cent as claimed by the government, in itself is an achievement not many would have lived to see. However, what this mass campaign on toilet construction – more than 10 crore – also created is a bulk of faecal sludge in tanks and pits across the country. Managing and disposing this sludge is the next challenge to sustain the ODF status.
– To tackle this, on September 27, 2019 the government launched a 10-year national rural sanitation strategy to sustain India's 100 per cent ODF status. Key components of this strategy are the ODF-plus and ODF-plus-plus missions – both of which focus on the proper implementation of solid, liquid waste and faecal sludge management in rural areas. The ODF-plus guidelines have also incentivised the management of faeces. According to an advisory by the ministry, people can plan establishing new rural sewage treatment plants by determining the business model, identifying revenue source and determining operational cost. https://www.news18.com/news/india/dealing-with-shit-indias-toilet-story-does-not-end-at-the-flush-2330919.html  (2 Oct. 2019)
Proper decomposition of excreta a challenge The twin pit system is considered the safest. With the single pit system beneficiaries often get very deep pits dug, so that it doesn't need to be emptied soon, which can contaminate groundwater. The septic tanks are also often constructed without following BIS standards; tanks need to be emptied regularly. The twin pit system works thus—there are two pits, each measuring 3.5 feet deep and one metre in diameter; the distance between them is one metre. When twin pit toilets are used, fecal matter will be allowed to pass and settle in one pit only. When that pit is filled in about four to five years, the channel to the first pit is closed and the second opened for the fecal matter to pass into. After a one year rest period, the content of the first pit becomes manure.
"There is no analysis on how ODF has impacted Ganga water quality. The pollution from open defecation in Ganga is minuscule. The fecal matter from open defecation reaches the river only during monsoon. The highest load is from untreated sewage in big cities such as Kanpur, and waste from tanneries and textile industries. If you look at Delhi, 90% of the pollution load in Yamuna is from sewage while 10% is from industries. I don't think ODF can make a big difference to Ganga water quality," said Manoj Mishra, convenor of Yamuna Jiye Abhiyan. https://www.hindustantimes.com/india-news/proper-decomposition-of-excreta-a-challenge/story-EASGo4TKAQFAQpJA5TVB4H.html   (3 Oct. 2019)
National MoEF approves relaxing pollution norms for thermal plants MoEF has given in-principle approval for relaxing air pollution standards for coal-fired thermal power plants. The decision was taken on May 17, 2019 in a meeting chaired by the ministry's joint secretary, Ritesh Kumar Singh.
Authorised documents accessed by The Wire reveal that for a long time, the Union Ministry of Power has been demanding that the standard limit for air pollution set for thermal power plants be increased to 450 mg/Nm³ (mg/normal cubic meter) from 300 mg/Nm³. Although the CPCB had opposed this, the power ministry's demand has ultimately been accepted. https://thewire.in/government/pollution-norms-that-all-power-plants-except-adanis-were-complying-with-diluted  (3 Oct. 2019) 
CPCB may tweak waste treatment rules for pharma companies CPCB is examining a proposal to change effluent treatment norms for pharmaceutical companies after a submission by an industry body seeking tweaks to existing regulations that are acting as hurdles to manufacturing. The Indian Drug Manufacturers' Association (IDMA) had submitted a proposal to the government about two months back, seeking exemption for bulk drugs manufacturers from a fresh approval process for making changes to product mix at manufacturing facilities if the amount of effluents discharges is same or lower. The government soon also plans to hold a consultation with the industry, state pollution control boards, and the CPCB on what should be done to reduce the time taken for environment approval, a senior government official said, on condition of anonymity.
However, while industry bodies are seeking a reduction in the time for environmental processes to improve pharmaceutical production, there is also an equal clamour for not diluting the norms as India, according to various reports over the last one decade, is a hotbed for anti-microbial resistance. In 2018, the National Centre for Disease Control (NCDC), keeping in mind the environmental and health hazards from industrial waste from pharmaceutical companies, wrote to the ministry of environment asking them to keep a strict vigil on antibiotic manufacturing companies that are disposing of industrial waste without proper treatment and contributing to antimicrobial resistance.
A study published by a Swedish Institute in 2009 showed that 90 pharmaceuticals units in Andhra Pradesh, at Patencheru near Hyderabad, were pumping 21 different pharmaceutical ingredients into the stream, Agarwal pointed out. More recently in 2016, the European Public Health Alliance (EPHA) published a sombre report derived from on-the-ground investigation in India, revealing extremely high levels of antibiotic resistant microbial in water bodies near various pharmaceutical manufacturing sites. https://www.livemint.com/industry/manufacturing/cpcb-examining-proposal-to-tweak-effluent-treatment-norms-for-pharma-cos-11570341165914.html  (6 Oct. 2019)
Haryana MCG may hire another agency to tackle waste at Bandhwari landfill site The solution is being revived by the civic body after its pact with Eco Green company has not resulted in the desired results as of now. To review the problem of Bandhwari, Haryana Chief Secretary Keshani Anand Arora met with the officials to discuss the solution. It is believed that in the seven years from the time the waste is being dumped at the 30-acre landfill site over 25 lakh tonnes of waste from Gurugram and Faridabad has been accrued at the site.
Over 1,500 tonnes of garbage from Gurugram and Faridabad are being dumped at the site daily. Commissioned in 2008, Bandhwari landfill was created with an objective of segregation and recycling of waste generated from Gurugram and Faridabad. Set up with an investment of Rs 300 crore, the objective was to operationalise a power plant and plastic recycling at the site. http://www.millenniumpost.in/delhi/mcg-may-hire-another-agency-to-tackle-waste-at-bandhwari-landfill-site-378174   (6 Oct. 2019)
SOUTH ASIA
India- Bangladesh Part of the India Bangladesh Joint Statement on Oct 5, 2019, during visit of Bangladesh PM to India:– Both Leaders agreed to enhance cooperation in the area of Disaster Management. They welcomed the need for early completion of an MoU in the area of disaster management cooperation in a time-bound manner.
– Both Leaders expressed satisfaction at the discussions in August 2019 in Dhaka between the Secretaries of Water Resources of both the countries and the subsequent formation of the Joint Technical Committee as well as formulation of the Terms of Reference to conduct the Feasibility Study of the proposed Ganges-Padma Barrage Project in Bangladesh for optimum utilization of the water received by Bangladesh as per Ganges Water Sharing Treaty 1996.
– Both Leaders directed the Technical Level Committee of the Joint Rivers Commission to expeditiously exchange updated data and information and prepare the draft framework of Interim Sharing Agreements for the six rivers, namely, Manu, Muhuri, Khowai, Gumti, Dharla and Dudhkumar and to firm up the draft framework of interim sharing agreement of Feni River.
– Prime Minister Sheikh Hasina highlighted that the people of Bangladesh are awaiting early signing and implementation of the Framework of Interim Agreement for sharing of the Teesta waters, as agreed upon by both governments in 2011. Prime Minister Modi informed that his government is working with all stakeholders in India for conclusion of the Agreement soonest possible.
– Both Leaders appreciated the decision taken in the Water Resources Secretary level meeting in Dhaka for early start of the work on withdrawal of 1.82 cusec of water from Feni River for drinking purpose of the people of Sabroom town of Tripura. [An MoU on this issue was signed, Exchanged and adopted.]
– Both leaders underlined the immense potential of movement of cargo using the inland water and coastal shipping trade. Towards this, they welcomed the decision to operationalize the Dhulian-Gadagari-Rajshahi-Daulatdia-Aricha Route (to and fro) and include Daudkandi-Sonamura Route (to and fro) under Protocol on Inland Water Transit and Trade.
– Both sides welcomed the agreement reached at the 17th JSC meeting on Indo-Bangladesh cooperation in Power Sector held in Dhaka recently, to develop a 765kV Double Circuit cross-border electricity interconnection between Katihar (India), Parbotipur (Bangladesh) and Bornagar (India). While implementation modalities will be finalized, the Leaders noted that this additional capacity would enable more intra-regional electricity trade, including competitively-priced power generated from Hydro-electric power projects in India, Nepal and Bhutan. https://pib.gov.in/PressReleseDetail.aspx?PRID=1587295&fbclid=IwAR3lmW8FpZouW_6959rUGaht5xDU7XP-Ax8U2qiELWS6HtCTXvegCYKVzZM  (5 Oct. 2019)
Feni River: India's Water Withdrawal and 5 More Information According to India's new agreement with Bangladesh, India will be able to lift 1.82 cusecs of water from the Feni River. According to a press release from the Ministry of Water Resources, the average amount of water in the Feni River is 5 cusecs and the average water intake is about 3 cusecs during the dry season. It said that the withdrawal of water from the Feni river by 1.22 cusecs is only about 8.2 percent of the average water flow during the dry season.
However, in the first issue of the Bangladesh Water Development Board, published in the book "Bangladesh river-river", the Feni river has 1.5 cubic meters or 5 cusecs of water from the dry season ie February to April.
The Feni River has a significant impact on the lives of people on the two sides of the Feni river flow path on the hills and plains of Bangladesh on both sides of the river. Several tributaries have come over the Feni river from the hills and Khagrachari. Among these, the river Muhuri is notable. https://www.bbc.com/bengali/news-49953040 
India- Nepal Sand mafia flouts the laws
A study of mining in the Mahakali and Teesta rivers reveals how, at different scales, gaps are exploited despite the existence of environmental policies.  https://www.thethirdpole.net/en/2019/10/04/sand-mafia-flouts-the-laws-in-india-and-nepal/  (4 Oct. 2019)
THE REST OF THE WORLD
US Mining leaves scarred lands, polluted waters behind The Trump administration has revived several controversial mining proposals that previously were blocked or stalemated. Mining operations are major water pollution sources and can cause problems that persist for generations. Their global footprints also directly reshape significant portions of Earth's topography, leaving indelible evidence of human presence. https://phys.org/news/2019-10-powers-modern-life-scarred-polluted.html  (3 Oct. 2019)
Study Environmental flow limits to global groundwater pumping Study linking declining in the levels of groundwater that result from groundwater pumping to decreases in streamflow globally, and estimate where and when environmentally critical streamflows—which are required to maintain healthy ecosystems—will no longer be sustained. https://www.nature.com/articles/s41586-019-1594-4   (2 Oct. 2019)
We pump too much water out of ground—that's killing our rivers "Groundwater is the hidden scaffold propping up much of modern life. Globally, about 40 percent of the food we grow is watered with liquid extracted from below Earth's surface. But many of the aquifers from which this water is extracted took hundreds, or even tens of thousands of years to fill: The water inside may have percolated through cracks in the earth when giant ice sheets last covered New York City 20 thousand years ago." https://www.nationalgeographic.com/science/2019/10/groundwater-pumping-killing-rivers-streams/   (2 Oct. 2019)
Research Worldwide expertise for braided rivers study A five-year research programme has been launched to provide greater information on how much water is lost on braided rivers into groundwater. The rivers, mainly along the east coast of New Zealand, are gravel-bedded rivers with multiple channels that live within a corridor but the beds are constantly realigning and shifting depending on the flows and conditions.
Lincoln Agritech, which is wholly owned by Lincoln University, has been awarded $8 million for the project and it will work with other experts from this country and overseas, which include NIWA, Lincoln University, Canterbury University, Flinders University in Australia, Germany's Technische Universität in Dresden and Aarhus University in Denmark. https://www.rnz.co.nz/news/national/400353/researchers-draw-on-worldwide-expertise-for-braided-rivers-study  (5 Oct. 2019)  
Australia Water resources minister 'totally' accepts drought linked to climate change The drought and water resources minister, David Littleproud, has acknowledged he "totally" accepts that worsening droughts are linked to climate change, as he signalled more taxpayer support for regional communities was coming as Australia's big dry "escalates". https://www.theguardian.com/environment/2019/oct/06/water-resources-minister-totally-accepts-drought-linked-to-climate-change  (6 Oct. 2019)
Turkey Dam-Building Spree Continues, At Steep Ecological Cost Nearly 90 miles of the historic Tigris River will soon be turned into a vast reservoir as Turkey completes the massive Ilisu Dam. While the government touts the project as a source of carbon-free electricity, it will displace 80,000 people and threaten a host of species.  https://e360.yale.edu/features/turkeys-dam-building-spree-continues-at-steep-ecological-cost  (3 Oct. 2019)
Video Cancion del Atrato When a River Has Rights  (29 March 2019)
Compiled by SANDRP (ht.sandrp@gmail.com)
Also see: DRP News Bulletin 30 Sept. 2019 & DRP News Bulletin 23 Sept. 2019
Follow us on: www.facebook.com/sandrp.in; https://twitter.com/Indian_Rivers