Punjab Sand Mining 2018 Overview: SAD SAGA OF STATE FAILURE
Rajasthan: SC Banned Riverbed Mining through 2018: Centre & State Show No Concern
Gujarat Sand Mining 2018: Can Technology alone help Stop Illegal Sand Mining?
Uttar Pradesh Sand Mining 2018: Key NGT orders slap for MoEF
Madhya Pradesh Sand Mining 2018: Unprecedented Violence by Sand Mafia
Karnataka Sand Mining 2018: Hopeless, But Action Packed!
Tamil Nadu Sand Mining 2018: Story of Nexus exposed by a brave Journalists
Kerala Sand Mining 2018: How a 17 year Allapad girl became anti sand mining icon
Maharashtra Sand Mining 2018: Panegaon shows Way To stop Illegal Sand Mining
North East India Sand Mining 2018: Emerging threat to Rivers
East India Sand Mining 2018: Will NGT order help restore Subarnarekha River?
Sand Mining 2018: Telangana and Andhra Pradesh
Illegal Sand Mining Violence 2018: at least 28 People died across India
Sand Mining 2018: Is Illegal Sand Mining A National Menace?
SAND MINING Development This Week 
SANDRP Blog Illegal Sand Mining Violence 2018: at least 28 People died across India  MURDERS, DEATHS, VIOLENCE AND INFRASTRUCTURE DAMAGE DUE TO SAND MINING IN INDIA IN 2018. Plz do read this PAINFULL account and how little the Union and state governments are doing to stop this. Plz Share widely. https://sandrp.in/2019/02/28/illegal-sand-mining-violence-2018-at-least-28-people-died-across-india/    (28 Feb.2019)
Sand Mining 2018: Is Illegal Sand Mining A National Menace?  Is Illegal Sand Mining a National Menace? The final and the fifteenth blog of Sand mining review of SANDRP for 2018.  Feedback welcome.   https://sandrp.in/2019/03/01/sand-mining-2018-is-it-a-national-menace      (1 March 2019)
Sand Mining 2018: Telangana and Andhra Pradesh The overview lists several instances of illegal sand mining in Telangana. As per available information three people lost their lives in illegal sand mining related incidents in 2018. The govt is seen emphasizing on the use of technological solutions to curb illegal sand mining. The reports reveal that Telangana has taken a great leap towards manufacturing and use of M-sand as an viable alternative to river sand.
Similarly the available media reports highlight that Andhra Pradesh is experiencing all the common issues associated with sand mining. The demand is growing. Prices are looking up. Supply is inadequate. Illegal sand mining is affecting rivers and villagers.     https://sandrp.in/2019/02/26/sand-mining-2018-telangana-and-andhra-pradesh/     (26 Feb. 2019)
Supreme Court State can't prohibit transportation of legally excavated sand beyond its borders Supreme Court order on cross state border sand movement, upholding Gujarat HC order. Gujarat HC had struck down Gujarat Govt sand mining rules that prohibited movement of sand to outside the state. https://www.livelaw.in/top-stories/a-state-cannot-prohibit-transportation-of-legally-excavated-sand–143263  (1 March 2019)
Centre Govt amends rules, in effect, putting an end to private companies mining beach sand minerals Private beach sand miners can no longer mine the coasts of India, as per a Gazette notification by the Union Ministry of Mines which has just been made public.
In the notification dated 20 Feb 2019, the Centre has amended sections and rules which earlier allowed private companies to mine rare earth minerals found in the sands of India's coasts.
"All cases of Beach Sand Minerals and other placer deposits in association with monazite are notified as above threshold (i.e. the threshold is 0.00% monazite in Total Heavy Minerals), irrespective of monazite grade," said the notification.   https://thelede.co.in/exclusive-the-end/            (21 Feb. 2019)
Tamil Nadu HC seeks info on illegal sand mining cases The Madurai bench of the Madras high court has sought information from the state govt regarding the number of cases registered against illegal sand mining during the past five years.
The judges also sought whether sand mined from Tamil Nadu is being transported to other states and the number of cases registered in this regard. Further, the judges also queried whether steps were taken to establish a special court to provide speedy trial of such offences and adjourned the case to March 15 for further hearing.
When a similar petition was filed seeking to prevent illegal sand mining in a village at Sivaganga district, the judges issued notice to the concerned authorities, sought information from the state regarding fine collected in the cases of illegal quarrying and adjourned the case to March 18 for further hearing. https://timesofindia.indiatimes.com/city/madurai/hc-seeks-info-on-illegal-sand-mining-cases-in-state/articleshow/68225862.cms (2 March 2019)  
HC directs authorities to release earthmover after collecting Rs 75,000 from owner The Madurai bench of the Madras high court on 11 Feb. directed revenue authorities in Usilampatti to release a seized earthmover that was used for illegal sand mining, after directing its owner to pay a sum of Rs 75,000 and give an undertaking to the authorities that he would not indulge in similar activities in future. Earthmover owner Chinnaswamy moved the court after police seized the vehicle. He contended that false cases were registered against him.
"The petitioner shall completely desist from leasing out or using his earthmover for sand mining in future for any private party. If the petitioner is implicated in one more case and the vehicle in question is seized on one more occasion, the petitioner will not be entitled to claim interim custody of the vehicle pending," the court said and directed that the authorities shall release the vehicle on completion of these formalities. https://timesofindia.indiatimes.com/city/madurai/illegal-sand-mining-madras-high-court-directs-authorities-to-release-earthmover-after-collecting-rs-75000-from-owner/articleshow/67940703.cms (11 Feb. 2019)
Disappearance of environmentalist "suggests" police role S Mugilan has been a remarkable activist for many years. He has also been fighting against illegal sand mining, river pollution, among other issues. His disappearance is indeed worrying. https://www.counterview.net/2019/02/disappearance-of-environmentalist.html  (24 Feb.2019)
Haryana Illegal sand mining continues unabated at Ramgarh village Illegal mining continues unabated along Ghagar river at Shyamtu village in Ramgarh. The villagers have moved a complaint with the Ramgarh police post regarding illegal mining being carried in their area late every night. When the villagers asked the sand mafia to stop illegal mining, they threatened them of dire consequences. The police are yet to register a case.
Multiple cases have been registered on the complaint of farmers and sarpanches. On January 23, a farmer moved a complaint with the police regarding illegal sand mining carried out on his agricultural land near the river bed at Raipur Rani. Similarly, on January 6, a farmer alleged that the sand mafia accused threatened to kill him after brandishing weapons, including pistol and gun, when he stopped them from carrying out illegal mining in his fields.
Mining officer Rajiv Kumar moved a letter to Panchkula DCP, Kalka assistant commissioner of police (ACP), Panchkula forest officer, mentioning that the forest area of Panchkula was a reserved area and no one was allowed to carry mining. He also requested the officers concerned to keep a strict vigil in their respective areas.
Not only the villagers, but the sand mafia had also threatened the mining officer, Rajiv Kumar, on September 30, 2018. Kumar received a threatening call from the sand mafia to stop checking in his area, else they would damage his property or he could lose his life. https://timesofindia.indiatimes.com/city/chandigarh/illegal-sand-mining-continues-unabated-at-ramgarh-village/articleshowprint/68159509.cms (26 Feb. 2019)
– Yamuna Nagar, Haryana the basis of land mark Supreme Court Feb. 2012 verdict, again succumbing to illegal sand and stone mining menace in Yamuna river and adjoining Shivalik areas. Villagers and farmers are severely affected.
– First the mighty river Yamuna has been turned into a seasonal channel between Hathini Kund and Delhi stretch. Now sand which is critical for the recharge of shallow aquifers and ensuring some lean season flow in the river, is being mined mindlessly. How the river will survive.
Madhya Pradesh Section 144 imposed in sand mining areas of Chattarpur Suspecting violence and gangwar in the sand mines of Ken river in Bundelkhand, the district administration of Chattarpur has imposed prohibitory orders under section 144 in the mine areas. The administration has banned use of heavy machines in the mines.
Chattarpur district collector Mohit Bundus issued an order prohibiting mining from 9 pm to 7 am. It has also barred people from carrying arms in the mining areas of the district. Besides, the use of heavy machines to mine the mineral has been banned. The administration swung into action on February 26 after the leaders of the BJP and Congress traded charges of indulging in illegal sand mining in Ken river area. https://timesofindia.indiatimes.com/city/bhopal/suspecting-violence-section-144-imposed-in-sand-mining-areas-of-chattarpur/articleshow/68209418.cms (1 March 2019)
Goa CoP warns against illegal sand mining The Captain of Ports (CoP) has issued directions to refrain from indulging in illegal activities of sand mining without a valid license from their office and the directorate of mines and geology. They have also asked for strict compliance to be adhered, failing which action would be taken against illegal activities, including confiscating of the canoes and further action as per the Goa Port Rules in force.
"The Captain of Ports has directed all the owners of non-mechanised crafts/canoes which are registered or unregistered with the department and issued licenses to ply in the inland waters of Goa as inland cargo for transportation/extraction of sand by use of mechanized boats to refrain from indulging in illegal activities of sand mining without a valid license…," the CoP states. https://timesofindia.indiatimes.com/city/goa/cop-warns-against-illegal-sand-mining/articleshow/68159890.cms (26 Feb. 2019)
SAND MINING SOME GLOBAL DEVELOPMENTS OF THIS WEEK
Nepal Illegal sand mining, soil erosion threaten Sleshmantak forest The illegal mining of sand and soil in the eastern and northern parts of Vishwarup Temple, near the Sleshmantak forest, is proving to be a great threat to the area and to its status of being a Unesco World Heritage Site.
Illegally extracted sand was being used to build concrete walls for the reconstruction of the earthquake-damaged Vishwarup Temple. But after widespread criticism from conservationists, activists, and locals, the Pashupati Area Development Trust, who has undertaken the responsibility of reconstructing the temple, removed the concrete fills on February 12. However, sacks of illegally mined sands can still be seen in the premises of the Vishwarup Temple. 
The illegal mining has invited more problems. Because of the mining, numerous landslides alongside the Sleshmantak jungle—between Tilganga to Tamaraganga—have been taking place. However, despite the risks the landslides impose and despite the Supreme Court's order to shut down such operations in 2016, the extraction of sand has been rampant. http://kathmandupost.ekantipur.com/news/2019-02-17/illegal-sand-mining-soil-erosion-threaten-sleshmantak-forest.html (17 Feb. 2019)
Kenya – Ewaso Ng'iro is a river in Kenya. This picture (by Tim Jervis) shows sand mining (the sand is used to make concrete). The removal of sand reduces the river bed's ability to hold water which makes water shortage even greater for this drought stricken region. https://twitter.com/TimJarvisAM/status/1101570708818149376
USA Did sand mining exacerbate flooding during Hurricane Harvey? Sand Mining industry and local people, environmentalists strongly debating the benefits and negative impact of sand mining in San Jacinto river in the backdrop of Harvey flood 2018:- Some excerpts;
– In the wake of the devastating flood damage caused by Hurricane Harvey, politicians and community groups have criticised the oversight of the sand mining industry along the San Jacinto River. However, a white paper produced by the Texas Aggregate and Concrete Association has countered that the industry's activities have had the opposite effect. Which side has it right?
– The San Jacinto River is 45km long, running from Lake Houston all the way to Galveston Bay. As with any river it picks up sedimentation along the way and a study by the Texas Water Development in 2011 showed that Lake Houston had lost 21% of its capacity since it was impounded in 1954 due to sediment accumulating in the lake and San Jacinto River.
– Pinpointing the source of the sediments that clogged the San Jacinto and built up banks would be incredibly difficult. But it is clear that whatever the source of the sand, it contributed to the flood in the Lake Houston area and precautions need to be taken.
– Rehak argues that the sand mining industry in Texas still has a lot to learn about operating safely. In particular, in following best management practices and learning lessons from other states. "Louisiana has an excellent guide to best management practices for sand mining," says Rehak. "It's clear, concise, candid, well written and well-illustrated. It was developed by government and industry working together and clearly lays out the dangers if best practices are not followed."
– To reduce the effects of flooding, there should be best management practices that establish a minimum setback between a mine and a river and restrict mining at all in floodways. https://www.mining-technology.com/features/sand-mining-exacerbate-flooding-hurricane-harvey/ (9 Aug. 2018)
Study As Ice Melts, Greenland Could Become Big Sand Exporter By mining sand, "Greenland could benefit from the challenges brought by climate change," a team of scientists in Denmark and the United States wrote in the journal Nature Sustainability. The study, headlined "Promises and perils of sand exploitation in Greenland," said the Arctic island would have to assess risks of coastal mining, especially to fisheries.
Worldwide demand for sand totaled about 9.55 billion tons in 2017 with a market value of $99.5 billion and is projected to reach almost $481 billion in 2100, driven by rising demand and likely shortages, the study said. https://www.voanews.com/a/study-as-ice-melts-greenland-could-become-big-sand-exporter/4783921.html (12 Feb. 2019)
HYDRO POWER PROJECTS
SANDRP Blog Fighting Destructive Dams: Lessons from the masters In this Guest article, Chicu Lokgariwar discusses the lessons she learnt in interactions with the individuals and groups fighitng against distructive dams in four cases from three states (Sikkik, Arunachal Pradesh, Manipur) in North East India.
Very thoughtful and thought provoking. Plz do read and share if you find it useful. https://sandrp.in/2019/03/01/fighting-destructive-dams-lessons-from-the-masters/ (1 March 2019)
Jammu & Kashmir 3 videos of the same massive rock slope failure by Dave Petley Three different videos have been posted on Youtube showing a very large, very dramatic rockslope failure near to Thanpal Dam in the Indian controlled portion of Kashmir.
The landslide, which occurred on 2nd March 2019, has been associated with a period of heavy rainfall across the region, which has led to substantial damage.   https://blogs.agu.org/landslideblog/2019/03/04/thanpal-rockslide-1/ (4 March 2019)
– The strategic Jammu-Srinagar National Highway remained closed for the second straight day today following a major landslide triggered by continuous rains in Ramban district, officials said. https://www.ndtv.com/india-news/jammu-srinagar-national-highway-closed-for-day-2-after-major-landslide-1999547 (26 Feb. 2019)  
Also see,  New landslide   videos from the Himalayas 2 videos of recent landslides, one each in Himachal and Kashmir, put up by David Petley:
https://blogs.agu.org/landslideblog/2019/02/26/himalayas/  (26 Feb.2019)
MATU PR Violations in Jakhol Sankhari HEP Public Hearing जखोल साकरी बांध परियोजना की पर्यावरणीय जनसुनवाई  प्रभावित क्षेत्र से 40 किलोमीटर दूर मोरी ब्लॉक में कथित रूप से पूरी कर दी गई। 1 मार्च को जन सुनवाई का समय 11:00 बजे से शुरू हुआ किंतु उसमें खास जखोल गांव के लोगों को रोका गया। जखोल गांव इस बांध के लिए प्रस्तावित 9 किलोमीटर लंबी सुरंग के ऊपर आता है और जहां सुरंग के दुष्परिणाम संभावित हैं। प्रशासन ने चुनकर जखोल गांव के अलावा अन्य प्रभावित गांवों पांव तल्ला, मल्ला, सुनकुंडी और धारा के सैकड़ो लोगों को भी जनसुनवाई में जाने से मोरी जखोल मोटर मार्ग पर बैरिकेड लगा कर रोक दिया। https://www.facebook.com/sandrp.in/posts/2497662503594741  (1 March 2019)
जखोलगाँव के प्रधान सूरज रावत के नेतृत्व में लोगो ने ब्लॉक के दरवाजे पर धरना किया और लगातार तीखे नारे देकर बैठे रहे। कोट गांव के प्रधान सूरज दास, डगोली गांव की महिला प्रधान के साथ ग्राम प्रधान हडवाड़ी के मुंशीराम ने भी धरना दिया। मोरी बाजार की तरफ माटू जनसंगठन के साथी विमल भाई, रामलाल भाई, गुलाब सिंह रावत व राजपाल रावत को पुलिस ने यह कहकर रोका कि आपको लेने एस डी एम पूरणसिंह राणा आएंगे। लगातार निवेदन करने पर भी जबर सिंह असवाल कानूनगो और पटवारी अनिल असवाल ने नहीं जाने दिया।दोनों ही तरफ़ लोग लोगो को बाहर रोक कर अंदर जनसुनवाई की प्रक्रिया पूरी कर ली गई। http://cgbasket.in/?p=20985 (1 March 2019)
Himachal Pradesh Screening of Ho Gayi Hai Pir Parvat Si
Delhi Solidarity Group and Kriti Film Club, are organised a premiere of the film "Ho Gyi Hai Pir Parvat Si (The Mountains Agonized- English) on 2nd March, 2019 at Gulmohar Hall, India Habitat Centre, New Delhi.
Made by Independent Filmmaker, Subrat Kumar Sahu, it is a documentary on the impacts of hydropower development in the Satluj Valley, Himachal Pradesh. The 111 minute film, shot between 2010 and 2017, travels from village to village on the landscape that falls under Seismic Zone IV and V, capturing visuals of colossal disaster and resident testimonies of the already deleterious impacts of many ongoing hydro-power projects on the local farm-based economies, on their precious water sources, causing deforestation, health hazards, landslides, flash floods, leading to desperate situations for the local communities and also threatening to drive them into dispossession and perpetual deprivation.
DAMS
SANDRP Blog DEVASTATING DEVELOPMENTS IN AYODHYA HILLS  Eye opening guest article by Kaushik Mukherjee and Sourav Prokritibadi on Purulia Pump storage Project already built and now under construction Thurga Pump storage Projects and their impacts on environment and people of Ayodhya Hills in West Bengal. Do read and share.    https://sandrp.in/2019/03/02/devastating-developments-in-ayodhya-hills/      (2 March 2019)
Interview 'To write a history of water is to write a history of politics, of inequality' Sunil Amrith, author of UNRULY WATERS, is clearly critical of large water infrastructure projects, including inter linking of rivers. https://timesofindia.indiatimes.com/home/sunday-times/all-that-matters/to-write-a-history-of-water-is-to-write-a-history-of-politics-of-inequality/articleshow/68235274.cms (3 March 2019)
Guajarat PM to inaugurate 2nd phases of SAUNI Deja Vu? Before Dec 2017 Gujarat Assembly elections PM went on an inauguration spree in Gujarat, the consequences of which the state faced in following summer of 2018 with water scarcity and farmers denied SSP waters, while industries and urban areas got as much water as they wanted. Will it be the same again now? https://indianexpress.com/article/cities/ahmedabad/two-day-visit-begins-today-pm-to-inaugurate-iind-phases-of-sauni-5609420/ (4 March 2019)
Modi dedicated phase-III of the Saurashtra-Narmada Avataran Irrigation Yojana (Sauni).Phase-III will strengthen irrigation facility of two reservoirs, one each from Rajkot and Porbandar districts, four in Jamnagar district and three reservoirs in Devbhumi Dwarka.
This will provide irrigation water to 30,501 acres in Rajkot, 19,519 acres in Jamnagar, 41,509 acres in Devbhumi Dwarka and 8,281 acres land in Porbandar district. Jamnagar city will get Narmada water under the Sauni scheme in Ranjitsagar Dam. https://timesofindia.indiatimes.com/city/rajkot/start-campaign-to-save-water-pm/articleshow/68261591.cms (5 March 2019) 
HC seeks govt's reply on poor upkeep of Amipur Dam Gujarat High Court takes up the safety of the Amipur Dam in Porbandar district following a public interest petition. The High Court has sought a reply from the state government questioning the poor upkeep of Amipur Dam. The division bench of Acting Chief Justice AS Dave and Justice Biren Vaishnav, during the hearing of the petition on Feb 27, issued a notice to the Porbandar collector to file his reply by April 9. https://www.dnaindia.com/ahmedabad/report-gujarat-high-court-seeks-govt-s-reply-on-poor-upkeep-of-amipur-dam-2724870 (28 Feb. 2019)
Maharashtra Lower Painganga completion year now 2044 Vidarbha Irrigation Development Corporation says the Lower Painganga Project, supposed to be a national project, is likely to be finished in 2044.   https://timesofindia.indiatimes.com/city/nagpur/lower-painganga-completion-year-now-2044/articleshow/68209080.cms   (1 March 2019)
Telangana Tehri Dam expertise for State projects Tehri Hydro Power Development Corporation has agreed to cooperate with Telangana govt and extend the technical know-how required for the construction of rock-fill dam for Narlapur reservoir as part of the Palamuru-Rangareddy lift irrigation scheme.
At the two-day International Dam Safety Conference held at Bhubaneshwar on Feb. 13 and 14 and the National Committee on Dam Safety held on Feb 12, the Irrigation Department of Telangana submitted proposal for dam safety improvement for 33 major and medium projects in the State with an estimated cost of ₹665 crore. https://www.thehindu.com/news/national/telangana/tehri-dam-expertise-for-state-projects/article26273552.ece (14 Feb. 2019)
LOCAL WATER SYSTEMS
Kerala Demolish MLA's check dam: Panel An expert committee appointed by the district collector of Malappuram has recommended demolishing the illegal check dam constructed in ecologically fragile land (EFL) in Kakkdampoil before the onset of monsoon. In July last year, HC also had ordered to demolish the mini check dam co-owned by local MLA P V Anwar at Kakkadampoil near Nilambur. But the dam was not demolished and the court had sought an explanation from the government.
The alleged illegal construction of the dam and a boating centre in Cheenkannippali near Kakkadampoil hills began in 2015 by a private group co-owned by the CPM-backed MLA. In 2015, after divisional forest officer of Nilambur North K K Sunilkumar submitted a report to the Malappuram district collector that the construction in EFL land is illegal, then collector K Bhaskaran had stayed the works of the dam. https://timesofindia.indiatimes.com/city/kozhikode/demolish-mlas-check-dam-panel/articleshow/68159922.cms (26 Feb. 2019)
The state govt on Feb. 26 informed the High Court the expert committee has recommended the check dam owned by LDF MLA P V Anwar should be demolished before the next monsoon, as the area falls under medium hazard zone and four landslips and soil fall have occurred in the last monsoon.
The state filed the affidavit in response to a plea by C K Abdul Latheef, Anwar's father-in-law, challenging the decision to demolish the dam. The expert committee had submitted a report along with sketch and photographs. It concluded the area falls under medium hazard zone and the dam was posing threat to the public residing in the downstream, forest, wildlife and environment of the locality.
The report said the check dam was constructed by the petitioner without obtaining prior sanction from any of the govt departments concerned. It was also noticed there was seepage through the check dam on the downstream side, which might increase during the rainy season and when the reservoir is full. http://www.newindianexpress.com/states/kerala/2019/feb/26/expert-committee-recommends-to-demolish-check-dam-owned-by-mla-state-tells-hc-1943710.html (26 Feb. 2019)
Tamil Nadu Department of Atomic Energy building check dam  The Department of Atomic Energy (DAE) on Feb 25, 2019 said the Rs.32.5 crore, 1.19 km long check dam it has started building across the Palar river in Kancheepuram district will be ready by March 2020. The project that provides an additional storage capacity of 1,500 million cubic metres with two fillings will have height of 1.5 m above ground and about 8 m below ground and will benefit 330 ha land.   https://energy.economictimes.indiatimes.com/news/power/department-of-atomic-energy-building-check-dam-in-tamil-nadu/68156277   (25 Feb.2019)
The Rs 32.50 crore dam, designed to prevent intrusion of sea water, will be constructed at Vayalur, about 1.5km from the seashore, and the project is fully funded by the Department of Atomic Energy's general service organisation (GEO). Authorities said the 1,200m-long dam is the first to be constructed across the Palar in 161 years since the Anaicut was built across the river in Thirumalaichery village, Vellore district.
 "The structure will hold water up to 9km along the riverbed (upstream) and 5.5km across the river," collector P Ponnaiya said at the programme's inauguration. The govt has planned to construct 6 more check dams across the Palar at Venkatapuram, Vengudi, Ullavur, Pazhaveli and Esur-Vallipuram in Kancheepuram district, a PWD official said. The plan also covers the conversion of a subsurface dyke into a check dam.  https://timesofindia.indiatimes.com/city/chennai/rs-32cr-check-dam-to-be-built-across-palar-river-in-vayalur/articleshow/68160311.cms (26 Feb. 2019)
The check dam is being built by the Water Resources Department through funds provided by the General Services Organisation (GSO), Kalpakkam, of the Department of Atomic Energy.
To be built at a cost of ₹32.50 crore, the check dam has been designed by the engineers of IIT Madras. It will benefit the villages of Kadalur and Vayalur and also meet the drinking needs of the drinking needs of the region
CM Edappadi K. Palaniswami had announced 7 check dams during the Dr. MGR Centenary function in Kancheepuram district on Aug. 30, 2017. Of the 7 check dams, the State govt had started work on the one at Esur-Vallipuram at a cost of ₹30.95 crore and work on the second check dam is set to begin shortly at the Kadalur-Vayalur.
Villages located at the last mile of the Palar are affected by seawater intrusion. The proposed check dam would run 1.20 km across the Palar with the height being 1.50 metre. The proposed check dam would help harvest rainwater of up to one thousand million cubic (TMC) feet and help in storing 500 million cubic feet of sub surface water benefiting 4,000 acres of agricultural lands and ensuring drinking water supply to the IGCAR and Madras Atomic Power Station in Kalpakkam. https://www.thehindu.com/news/national/tamil-nadu/all-set-for-work-on-check-dam-across-palar/article26368394.ece (25 Feb. 2019)
Besides, the officials hope the check dam would supply 100 MLD water to meet Chennai's needs and also irrigate nearly 350 hectares of agricultural land at Lower Palar Basin.
The Water Resource department of the PWD will begin the construction of the check dam by this month end. "On Feb. 12, we got the formal letter from the Department of Atomic Energy about the approval of the allocation of funds. By March 31, 2020, we will finish the construction," added the official.
Officials said that the construction of the first check dam across Palar between Esoor and Vallipuram villages in Kancheepuram had commenced in January. 4 other check dams will be set-up at Venkatapuram, Palayaseevaram in Kancheepuram taluk and Palur and Alapakkam in Chengalpet. The govt is yet to give nod for them, a long-pending demand of  Kancheepuram residents. http://www.newindianexpress.com/cities/chennai/2019/feb/18/funds-approved-for-second-check-dam-across-palar-1940111.html (18 Feb. 2019)
INTERSTATE WATER DISPUTES
New Barrage on Krishna Telangana opposes Andhra's new barrage on Krishna  The Telangana govt has strongly opposed construction of a new barrage by Andhra Pradesh with a storage capacity of 10 tmc on Krishna river at Vaikuntapuram village in Guntur district. Telangana Engineer-in-Chief C Muralidhar wrote to the Member Secretary, Krishna River Management Board, seeking intervention to stop the barrage's construction. The barrage was taken up without the approval of the KRMB and the Apex Council as per section 84(3)(ii) of the AP Reorganisation Act, 2014. AP CM laid the foundation stone for the project on Feb 14. https://telanganatoday.com/telangana-opposes-aps-new-barrage-on-krishna     (26 Feb.2019)
URBAN RIVERS
Tapi River, Surat NGT asks govt to form committee How is a committee of govt officials set up by NGT for Tapi river destruction going on in Surat help, when all these officials have been part of the problem, not solutions: "The 5 person committee, NTG said, should comprise of "representatives" of the Secretary, Irrigation Department of Gujarat; Gujarat State Pollution Control Board (PCB); Secretary, Urban Development and Housing Department of Gujarat; district collector, Surat; and the Surat municipal commissioner "to review and coordinate" necessary measures."   https://www.counterview.in/2019/03/ngt-asks-gujarat-govt-to-form-committee.html   (1 March 2019)
Khan River; Indore Kanh water quality to be made fit for bathing The river is Kanh is also known as Khan. Despite 335 MLD STPs most of city's waste go straight in the river. Presently its BOD level is zero.
– Regional PCB plans to build 6 new STPs in 2019-20 & upgrade common effluent treatment plants in industrial areas. It also plans to bring in fresh water from other sources to increase the BOD to batheable level.
-The RPCB in a meeting on Jan. 29 submitted a detailed plan to improve quality of Kanh water, while Indore Municipal Corporation, MP ground water department, urban development and housing department have also been roped in. https://timesofindia.indiatimes.com/city/indore/mp-kanh-water-quality-to-be-made-fit-for-bathing/articleshow/67761565.cms (30 Jan. 2019)
RIVERS
Study Impact of unplanned development on river basins and catchment areas  A team of ecologists from Bengaluru studied the Kali river basin to determine interlinkages between water biodiversity, hydrology, ecology and the land cover. The Kali basin in the area is home to a tiger reserve, a hornbill reserve and wild elephants, while the Kali river estuary is home to 37 species of fish, as well as bivalves or molluscs. The river also has six major dams, built between 1980 and 2000.
The study shows that streams in the river sub-catchment areas turn perennial – that is, carry water all the year round – when at least 55% or more of the river catchment is covered with native vegetation, whereas there is water sustenance for only six to eight months in catchment areas dominated by monoculture plantations. Streams carry water for less than four months and turn seasonal when the catchment area is degraded, with less than 30% vegetation cover. The team's assessment of land use dynamics, using remote sensing data from 1973 to 2016, shows a decline in evergreen forest cover from 61.8% to 37.5% in the Kali river basin.
According to the study, unplanned developmental activities have altered the catchment integrity, which, in turn, has threatened regional water security due to the conversion of perennial streams to seasonal ones. Perennial streams are present in sub-catchment areas dominated by native vegetation, while catchment area dominated by human activities and monoculture plantations have only seasonal streams.
The findings of the study reveal the need for integrated watershed management on a priority basis in India to address water scarcity issues due to climate changes. This is especially crucial given that 156 districts in Karnataka were reeling under drought in 2018, said Ramachandra. Prudent catchment management strategies can also help maintain aquatic and terrestrial biodiversity and sustain water resources.
The IISc study is not alone in its cautionary note. A study by scientists at the Indian Institute of Technology, Kanpur, led by Rajiv Sinha, professor, department of earth sciences, on the upper Ganges basin also records the impacts of unbridled development activities along the river. Their 2017 report in the Journal of Hydrology: Regional Studies revealed the effect of dams, barrages and hydropower projects on natural water flow in the upper Ganga region.
Similarly, studies led by Jagdish Krishnaswamy, a senior fellow at the Suri Sehgal Centre for Biodiversity and Conservation at the Ashoka Trust for Research in Ecology and The Environment, Bengaluru, show a decline in soil water infiltration at the surface of degraded forests as result of human impact over decades and centuries in the Western Ghats.
Research by Krishnaswamy's team shows that groundwater recharge during the wet season in the coastal basins in the Western Ghats under natural forests, acacia plantations and degraded forests was estimated to be 50%, 46% and 35% respectively and in the Malnaad it was 61%, 55% and 36% respectively.
The researchers attribute the higher level of groundwater recharge in the first instance to the presence of natural forests. There is also a 10%-36% difference between natural and degraded forests' ability to buffer high-rainfall events. These events are predicted to increase due to global warming. https://scroll.in/article/914565/study-shows-the-impact-of-unplanned-development-on-river-basins-and-catchment-areas (28 Feb. 2019)        
National Are clean rivers a distant dream for India? This report clearly shows that the state of rivers in India has deteriorated under the current govt. "The exact details of the government's 2030 vision to have clean rivers is not yet out. But it could be similar to what is going on right now – to have more riverfront development plans, more dams, interlinking of rivers and waterways," said Himanshu Thakkar, coordinator SANDRP, a network of organisations and individuals working on issues related to the water sector, specifically associated to large dams. 
"The govt is taking up major interventions adversely affecting the rivers without so much as even pretence of environment or social impact assessments, independent appraisal or public consultations. This shows how little faith the govt has in informed or democratic decision making," Thakkar told Mongabay-India.   https://india.mongabay.com/2019/02/are-clean-rivers-a-distant-dream-for-india/         (25 Feb.2019)
Haryana Saraswati: Flowing Always in the People's Hearts C.P. Rajendran professor of geodynamics at the Jawaharlal Nehru Centre for Advanced Scientific Research, Bengaluru on Saraswati river:- The new findings don't believe there existed a perennial river in Harappan times in the Indus-Yamuna interfluve region of northwest India. Which then beggars the question: What is the need to dredge for a nonexistent river in desert sands for Rs 50 crore?
If the Centre wants to strengthen the people's faith, then a physical search for the Saraswati's course – or an attempt to 'revive' it by dredging – makes no sense. In fact, it could be counterproductive. And if the intention is to address the region's water scarcity by recreating a river, the project is still scientifically suspect. https://thewire.in/the-sciences/the-saraswati-is-a-river-that-never-was-and-flowed-always-in-the-peoples-hearts (26 Feb. 2019)
Punjab Kali Bein reserve to help groundwater conservation Kanjli is upstream of Harike wetland located in the Beas river basin. It is said that the erstwhile Maharaja of Kapurthala, Raja Randhir Singh, built the head regulator on the river Kali Bein, a tributary of Beas river to provide irrigation facility to local people, way back in 1870. The headworks resulted into creation of Kanjli wetland, which also subsumes the Kanjli lake.
Kali Bein feeds the Kanjli wetland which once used to be the habitat of ghariyal, critically endangered species. Since the state govt has already introduced ghariyal in Harike water system, which is ecologically quite similar to Kanjli , it is now considering Kanjli wetland as alternative site for reintroduction of ghariyal in near future.
As per forest officials there is 26 hectare of forest area created along the Kali Bein which provides an excellent habitat for both flora and fauna. Over the years, two more satellite wetlands have been formed around Kanjli wetland, which provide good habitat to the migratory as well as non-migratory birds. https://timesofindia.indiatimes.com/city/chandigarh/kali-bein-reserve-to-help-groundwater-conservation/articleshow/68192739.cms (28 Feb. 2019)
Odisha Health of rivers should be maintained for survival of human civilisation: CM Old but interesting statement by Odish CM:- Naveen Patnaik on Dec. 20 while inaugurating the 8th edition of Odisha Environment Congress at Regional Museum of National History, said the health of rivers should be maintained for the survival of human civilisation.
 "Rivers are integrally involved with the growth and development of human civilisation. It is thus the responsibility of society to ensure that the rivers live in good health and continue to serve the humanity in a sustainable manner," Patnaik said. The CM also said that the state govt has recently started an ambitious plantation programme for plantation of 2 cr trees within a radius of 1 km along both sides of the Mahanadi river and other major rivers for water and soil conservation. https://indianexpress.com/article/india/rivers-naveen-patnaik-odisha-water-disputes-4991927/ (20 Dec. 2017)
CAUVERY Cauvery not reaching Tiruchy, rue delta ryots Most representatives of the various farmers associations urged the district administration to ensure water in Cauvery and its branch canals to save the standing annual crops like banana plantations, sugarcane etc. at the monthly agriculturalists grievances day at Tiruchy on Feb. 28. https://www.deccanchronicle.com/nation/current-affairs/010319/cauvery-not-reaching-tiruchy-rue-delta-ryots.html (1 March 2019)
A fantastic collation of articles Celebrating the Cauvery…published in The Hindu in 2017. Treasure Trove. https://www.thehindu.com/society/history-and-culture/the-lifeline-celebrating-the-cauvery/article19637166.ece (7 Sept. 2017)
Also see,The Arjuna, a keystone tree in Cauvery's river – forest. https://www.thehindu.com/sci-tech/science/the-arjuna-a-keystone-tree-in-cauverys-river-forests/article26349116.ece   (23 Feb.2019)
GANGA Swami Atambodhanand Fast Free Ganga PR ( 28 फरवरी, 2019) 15 दिन की जांच समिति अस्वीकार मातृ सदन हरिद्वार में 26 वर्षीय उपवासरत आत्मबोधानंद जी का आज 128वां दिन है। देशभर में प्रदर्शनों, समर्थन में भेजे जा रहे पत्रों के बावजूद भी सरकार गंभीर नहीं नजर आती। हमारी जानकारी में आया है की सरकार ने सात निर्माणाधीन बांधो की ताजा स्थिति जानने के लिए एक समिति भेजी है। समिति में ऊर्जा मंत्रालय, जल संसाधन एवं गंगा पुनुरूजीवन मंत्रालय और वन एवम जलवायु परिवर्तन मंत्रालय के विशेषज्ञ गए हैं। प्राप्त जानकारी के अनुसार इसमें कोई स्वतंत्र विशेष के नहीं है।
1-मध्यमेश्वर व 2-कालीमठ यह दोनों ही 10 मेगावाट से कम की परियोजनाएं हैं जो की मंदाकिनी की सहायक नदी पर है। 3- फाटा बयोंग (76 मेगावाट) और 4-सिंगोली भटवारी (99 मेगावाट) मंदाकिनी नदी पर है 5-तपोवन-विष्णुगाड परियोजना (520 मेगावाट) का बैराज धौलीगंगा और पावर हाउस अलकनंदा पर निर्माणाधीन है। इससे विष्णुप्रयाग समाप्त हो रहा है। विश्व बैंक के पैसे से बन रही 6- विष्णुगाड- पीपलकोटी परियोजना (444 मेगावाट) अलकनंदा पर स्थित है। 7-टिहरी पंप स्टोरेज (1000 मेगा वाट) टिहरी और कोटेश्वर बांध के बीच पानी का पुनः इस्तेमाल करने के लिए।
यदि सरकार गंगा के गंगत्व को पुनः स्थापित करना चाहती है तो वह खास करके क्रमशः 4, 5 और 6 नम्बर की परियोजनाओं को तुरंत रोके।  फिलहाल है यही तीनों परियोजना अभी निर्माणाधीन है। पूर्ववर्ती मनमोहन सिंह जी की सरकार ने भागीरथीगंगा  पर 4 निर्माणाधीन परियोजना रोकी थी। तब गंगा के लिए अपने आप को समर्पित कहने वाली सरकार इन परियोजनाओं को क्यों नहीं रोक रही? जबकि केंद्र राज्य को होने वाली प्रतिवर्ष होने वाली 12% मुफ्त बिजली के नुकसान को ग्रीन बोनस के रूप में दे सकती है जोकि 200 करोड़ से भी कम होगा। http://matuganga.blogspot.com/ (28 Feb. 2019)
PIB PR Foundation stone for many STPs Nitin Gadkari has laid the foundation stone of sewerage projects worth Rs 2785.23 Cr in Chhapra on Feb. 28. These projects will reportedly prevent the flow of 32 Crore litres of sewage per day into the Ganga River from 13 towns.
-In Bihar, Namami Gange sewerage infrastructure projects have been sanctioned in 18 towns at a cost of over Rs. 5, 000 crores. The present sewage treatment capacity on Ganga towns is only 64 MLD which is being enhanced almost 10 times through all the Namami Gange projects upto 643 MLD. http://pib.nic.in/newsite/PrintRelease.aspx?relid=189115 (1 March 2019)  
Bihar Govt plans afforestation drive along Ganga river As per the report, authorities planned to launch a massive afforestation drive in villages located along the banks of the Ganga river with the twin objectives to prevent soil erosion and recharge groundwater in the Ganga basin. The plantation drive is being launched as part of the Namami Gange project under which a total of 5 crore plants are to be planted across India, with a total budget of Rs 100.12 crore. https://www.downtoearth.org.in/news/environment/bihar-plans-afforestation-drive-in-villages-along-ganga-river-63424 (1 March 2019)
PIB PR Namami Gange projects to be completed in 13 months: Gadkari Not clear how this will be achieved: "Listing some of the steps which have been taken for effective management of water in India, Shri Gadkari said that 400 MLD water from Okhla barrage will be treated and will be used for Delhi through Wazirabad barrage."  
While the shifting goalposts of Mr Gadkari keeps shifting, FM Mr Arun Jaitley made some shocking statements. The claim that govt is doing ANYTHING for aviral Ganga is of course without any factual basis.      http://pib.nic.in/PressReleseDetail.aspx?PRID=1566498        (27 Feb.2019)
Some of the statements that Mr Arun Jaitley made here are an indictment also for the 6 year rule of NDA led by Vajpayee, when he said: "all previous governments until 2014 had paid lip service to cleaning the Ganga."
The only difference Gadkari mentioned between previous Ganga program and Modi govt's Ganga program is that Modi govt is spending more money. Can Money alone make the Ganga Nirmal and Aviral? https://indianexpress.com/article/india/all-clean-ganga-projects-to-be-finished-in-next-13-months-nitin-gadkari/ (28 Feb. 2019)
Report Ganga 'Injurious To Health' Recently, a news report cited extremely poor achievement of the 'Namami Gange' Project. Nitin Gadkari had a counter response to it. The Minister has tried to demonstrate that work has been completed for numerous projects under this programme and many more have been recently tendered (hence progress will be visible later). However, the monthly status reports uploaded on the ministry's website are testament to the extremely laggard progress.  https://www.youthkiawaaz.com/2019/02/now-with-a-statutory-warning-lets-make-ganga-pure-again/ (23 Feb. 2019)
Uttarakhand NGT orders survey, restoration of hot springs NGT on Aug. 9 directed the survey of hot springs in Uttarakhand, observing that these springs should be restored. A petition was filed by Pratibha Naithani, stating that Wadia Institute of Himalyan Geology in its study has found that natural springs of Uttarakhand state are dying due to lack of attention from state govt as reduction of more than 40% in discharge of water is reported in the springs.
The study also shows that in last 50 years reduction of 25% to 50% of water supply of springs has occurred and there is a need of watershed management. The petition also alleged that despite the directions of the tribunal on Nov 7, 2017 regarding steps to be taken to protect natural springs, the state govt has done nothing to protect and conserve the natural springs of the hill state.
The petitioner sent a legal notice after non-compliance of the tribunals orders to the chief secretary of the state on Jan. 23, 2018 which was delivered on Jan. 29, 2018 but till date no response has been issued from the state govt on the notice. https://timesofindia.indiatimes.com/city/dehradun/ngt-orders-survey-and-restoration-of-hot-springs-in-uttarakhand/articleshow/65337743.cms (9 Aug. 2018)
World Bank Ganga basin States stare at 3 fold rise in crop failures by 2040 According to an assessment commissioned by the World Bank, the Ganga river basin could witness a three-fold rise in crop failures along with shortage in drinking water. The assessment further stated that Uttarakhand, Himachal Pradesh, Uttar Pradesh and Bihar are likely to see a deficit in irrigation water from 28 to 10 percent in 2040 as compared to the current levels.
Moreover, Madhya Pradesh, Delhi and Uttar Pradesh would see a deficit in drinking water from 39 to 22 percent during the same period. The report is based on a modelling study that simulates river flow, water quality and groundwater levels in different states and regions within the Ganga river basin. https://www.thehindu.com/news/national/ganga-basin-states-stare-at-three-fold-rise-in-crop-failures-by-2040/article26353826.ece  (24 Feb.2019)
Study Pollution in Ganga harming riverbed sediments too, says study The excessive amounts of human waste and toxic effluents that find their way into the Ganga river are not only polluting the water but also causing deficit of dissolved oxygen in the riverbeds in some of the most polluted stretches of the river, a new study has found.
Researchers measured sediment oxygen demand that includes the biological as well as chemical oxygen demanding processes occurring in the riverbed sediment. The study was done along the stretch of the river between Varanasi and Kanpur; and downstream to two major drains – Wazidpur in Kanpur and Assi in Varanasi. The research team included Deepa Jaiswal and Jitendra Pandey at Institute of Science, Banaras Hindu. https://www.downtoearth.org.in/news/water/pollution-in-ganga-harming-riverbed-sediments-too-says-study-63375 (26 Feb. 2019)
YAMUNA Uttar Pradesh Bone dry A woman carries potable water on the dry bed of the Yamuna, behind the Taj Mahal at Agra. The water table has gone down, leading to a water crisis in the city.  https://www.thehindu.com/todays-paper/a-river-ran-through-it/article26426749.ece  (4 March 2019)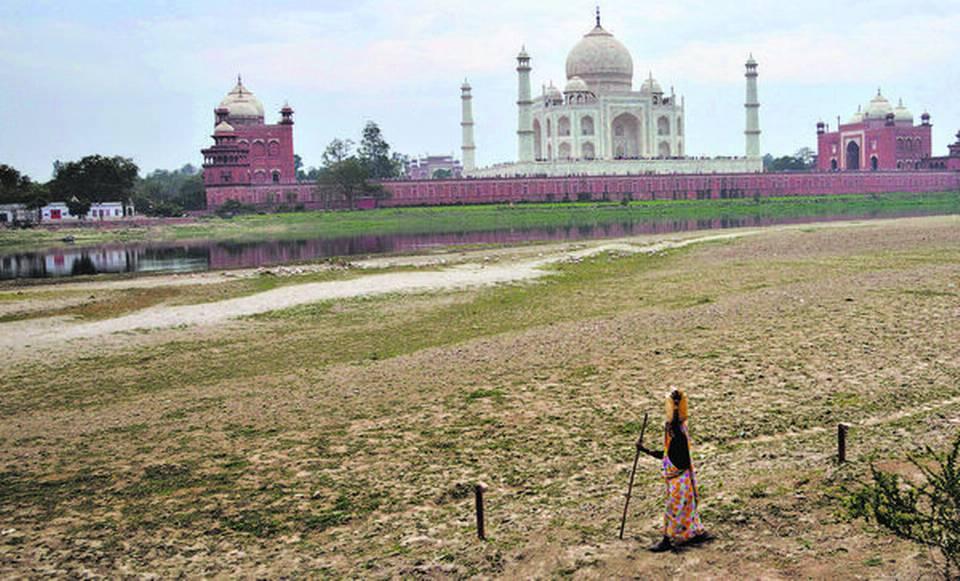 Notice to Luksar jail for improper waste management The UP PCB has issued a notice to the Luksar jail authorities for not maintaining the STP on campus and burning municipal waste generated within the premises. The notice was issued after a complaint was filed on the Integrated Grievance Redressal System (IGRS) to the department regarding pollution caused by the jail. The UPPCB has directed jail authorities to get both STP systems and the municipal waste management corrected within 15 days.
Meanwhile, jail authorities said the STP has been dysfunctional for several months and repairs have not been possible due to a lack of funds. The jail authorities have also asked for ₹26 lakh for the maintenance of the system several times, but the amount has not been sanctioned yet. https://www.hindustantimes.com/noida/notice-to-luksar-jail-for-improper-waste-management/story-H2Dekiwu38mIjC5q48YEgJ.html (2 March 2019) 
RIVERS BIODIVERSITY
Ganga Dolphin Census Only 1150 dolphins swim in various rivers of Bihar A comprehensive census on the population of dolphins in Bihar, conducted in collaboration with the Zoological Survey of India, Wildlife Trust of India (WTI) and Tilka Majhi University, Bhagalpur, revealed that there are only 1,150 dolphins in the various rivers of the state.
However, the experts could not decisively say whether the overall numbers of the endangered aquatic animals was increasing or decreasing due to the lack of previous extensive data of the same in the region. https://www.timesnownews.com/mirror-now/in-focus/article/only-1150-dolphins-swim-in-various-rivers-of-bihar-reveals-first-of-its-kind-census/369216 (20 Feb. 2019)
The survey traced 700 dolphins in the 300-km stretch of the Ganga from Mokama to Manihari, 300 dolphins in another 300 stretch of the Ganga from Buxar to Mokama, a 100 in the Gandak river and 50 in the Ghaghara river. Coordinator of Vikramshila Biodiversity Research and Education Centre, Bhagalpur, Sunil Kumar Choudhary headed one of the three teams of experts which conducted the survey in the 300 km stretch of the Ganga from Mokama to Mahihari, which reported the highest number of dolphins. https://www.downtoearth.org.in/news/wildlife-biodiversity/thriving-gangetic-dolphin-presence-in-bihar-reveals-census-63285   (19 Feb.2019)
Save Mahseer Project concept: Saving hump-backed mahseer Project Mahseer is a collaborative initiative to conserve the enigmatic and highly threatened mighty mahseers of the family Cyprinidae. In doing so, the project will contribute towards the protection and sustainable management of some of Asia's most iconic river systems.
The initial priority for Project Mahseer is the conservation and recovery of the hump-backed mahseer, a species endemic to the Cauvery river basin. Its population has plummeted since the turn of the century and it is now listed as Critically Endangered on the IUCN Red List of Threatened Species. Project Mahseer aims to deliver the necessary conservation actions to save this remarkable species and its habitat for future generations. https://shoalconservation.org/project/project-mahseer/
FISH, FISHERIES, FISHERFOLKS
WETLANDS, LAKES, WATER BODIES
Jammu & Kashmir Dal Lake facing a slow death by sewage Over the years, both state and Central govt leaders have made umpteen promises and allocated hundreds of crores to clean up the Dal Lake. In a nutshell, these are the main problems that successive governments have tried and failed to address.
In 2016, research by Dr Shakil Ahmad Romshoo, head of the Earth Sciences Department at University of Kashmir, found that 32 percent of the Dal Lake faced severe degradation, 48 percent medium degradation and 20 percent of the lake's water was relatively clean.
Various studies have pointed out that the lake faces multiple pressures from unplanned urbanisation, high population growth and nutrient load due to intensive agriculture that act as fertilisers for weed to grow in abundance. Experts say one of the main reasons for the deterioration of the lake's condition is the dumping of huge amounts of untreated waste.
"At least 44.2 MLD of sewage goes into the Dal Lake every day," said Tariq Ahmad Patloo, a houseboat owner. "Around 5 million litres of waste is generated from the inhabitants of the lake, while only 0.8 percent sewage is generated from houseboats. Why are only we (houseboat owners) blamed for the deterioration?"
According to a report by the Jammu and Kashmir State Pollution Control Board, Srinagar generates 201 million litres of sewage daily but has the capacity to treat only 53.8 million litres. "Disposal of untreated sewage into the Dal Lake and Jhelum river is one of the main reasons for the degradation of the quality of the water," the report explained.
The govt has also failed to upgrade the technology of the 3 STP around the lake, as recommended by scientists from the National Environmental Engineering Research Institute (NEERI) and promised by the govt in 2014. "We use old technology at STPs, which do not treat the sewage properly," admitted an official of the Lakes and Waterways Development Authority.
Over 50,000 people live on the Dal Lake, including houseboat owners, vegetable growers, and fisherfolk. Tourism, agriculture, and fishing form the backbone of the economy on the lake, and these are the activities that are facing the heat.
In 2007, the Jammu and Kashmir govt began a Rs 416-crore project to depopulate the lake and rehabilitate these families at a site called Rakh-I-Arth Bemina on the outskirts of Srinagar. It was meant to be developed with infrastructure like housing, roads, water supply, electricity, drainage, sewerage and other community facilities for the displaced. The project was supposed to be completed in three years, but even till 2018, authorities managed to allot only 2,600 of the proposed 10,500 plots. These exclude the fisherfolk families that were rehabilitated to Habak. Most of them are now involved in casual labour or drive taxis, while some sold the land they were given and went back to live around the lake to continue doing what they did before.
Over the past 16 years, numerous high-sounding lake-cleaning and preservation projects were launched, and over Rs 800 crore were spent on these but with no visible signs of effective implementation on the ground.
For instance, a National Lake Conservation Programme was launched in 2005 at a cost of Rs 298.76 crore. The PM's Reconstruction Programme' was launched in 2010 to acquire land and structures on the Dal and Nigeen lakes for Rs 356 crore. https://www.firstpost.com/india/dal-lake-in-distress-kashmirs-iconic-attraction-is-facing-a-slow-death-by-sewage-as-politicians-look-the-other-way-6143141.html (25 Feb. 2019)
WATER OPTIONS
Karnataka Drought brought Bhovi well-diggers back to centrestage After 15 years, Shankar and nine men of his team, all belonging to the Bhovi or Mannu Vaddar community of traditional well-diggers, are working full time in desilting, cleaning and reviving the giant well. "Because of the drought, the dhobi ghat has been buying water from private tankers and drawing from borewells that are fast running dry. So, the washermen's association approached us to revive the well," says Shankar. Bhovis belong to the Scheduled Castes and often face social ostracism.
-The history of the Bhovi or Vaddar community is not clear. Some claim Vaddars came from Odisha while others say their ancestors came from Andhra Pradesh, as their primary language is Telugu. The tradition of well-digging exists in Maharastra and Gujarat too. Vaddars are broadly divided into three groups: Mannu Vaddars work with soil; Kallu or Dagad Vaddars work with stone; while Ooru Vaddars grow ragi.
– Until piped Cauvery water came to the city in 1972, open wells were the main source of drinking water. Borewells came in the early 1980s, and the culture of open wells all but vanished, says S. Vishwanath, advisor, Biome Environmental Trust, which conducts research on water and sanitation.
– Today, 40% of Bengaluru is dependent on groundwater. As per the regulations of the Bruhat Bengaluru Mahanagara Palike and the water supply and sewerage board, all new and old buildings of a given size must harvest rainwater or face penalties. So, recharge wells, that collect rainwater and pump it into the ground, are becoming popular. https://www.thehindu.com/society/drought-has-brought-karnatakas-bhovi-well-diggers-back-to-centrestage/article26406902.ece (2 March 2019)
Haryana Submit compliance report on restoration of waterbodies NGT has directed the state govt to furnish a compliance report on the protection of over 1,200 waterbodies in the State within 3 weeks. Earlier, the green panel had directed the State govt to assign unique identification numbers to the 123 waterbodies in Gurugram and Faridabad within three months.
Noting that out of the 1,216 water bodies identified, around 123 were in Gurugram, a Bench headed by NGT Chairperson Justice Adarsh Kumar Goel said, "This application has been filed for compliance of directions of order dated July 2018, on the subject of protection of waterbodies which is necessary for groundwater recharge."https://www.thehindu.com/news/cities/Delhi/submit-compliance-report-on-restoration-of-waterbodies-ngt/article26369260.ece (26 Feb. 2019)
GROUNDWATER
Report Growing groundwater crisis Findings of new research by NGRI on groundwater. "From Delhi, Haryana, Punjab, Western UP and Rajasthan, 32 cubic km of water is being lost every year, which is much more than the usual, and it's only partially being recovered in successive monsoons," said Dr Virendra M Tiwari, director of National Geophysical Research Institute (NGRI), which conducted the research. In summers, the strain on underground aquifers is higher. "In a drought year, the extraction in northern India is going up to 100 cubic km," he said.
– Scientists say groundwater is being pumped out 70% faster than what the Central Groundwater Board of India estimated earlier. Some reports say around 172 cubic km of water was pumped out in the 1990s every year. "We have no clue how much ground water storage is left in the region. But what we clearly know is that the picture is very grim," said Tiwari. The level of water in underground aquifers in the region is falling by over 10 cm per year, research has shown.
– The top NGRI scientist also feared that drying up of the Indo-Gangetic basin, comprising some 2,000 km of land from Pakistan to Bangladesh, may also trigger moderate earthquakes. Drying up of groundwater by using bigger pumps from deeper borewells is also causing largescale contamination of water.
– Worried over the state of groundwater in India, the govt has entrusted NGRI to look for new aquifers in the country. Scientists here have used helicopter-borne electro-magnetic tools to find new fractures zones beneath the earth, containing untapped water in cities like Surat, Nagpur, Tumkur in Karnataka, among other areas."We have found new aquifers and now we have to upscale our work in those areas and ensure proper water management methods are followed while drawing water," Tiwari added. A huge success for NGRI has been in Surat, where Tiwari says they could locate new source of groundwater for the city using heli-borne technology. https://timesofindia.indiatimes.com/india/delhi-at-epicentre-of-global-groundwater-crisis-report/articleshow/68131980.cms (24 Feb. 2019)
Opinion Share of tubewells in irrigation rising by Radheshyam Jadhav – In 14 years (2001-02 to 2014-15), net irrigation in India increased just 20 per cent, with an alarming trend of massive groundwater extraction. Per data from the Ministry of Statistics and Programme Implementation, while 41 per cent of the net irrigated area in India got water from tube wells in 2001-02, tubewell irrigation increased to 46 per cent in 2014-15.
Interestingly, during the same period, irrigation based on canal systems came down to 24 per cent from 27 per cent and well irrigation declined to 17 per cent from 21 per cent. Not surprisingly, groundwater schemes are increasing, but surface water schemes are declining across India.
Other sources of irrigation have increased from 8 per cent to 11 per cent while use of tank irrigation has witnessed a minor decline (from 4 per cent to 3 per cent). https://www.thehindubusinessline.com/economy/agri-business/share-of-tubewells-in-irrigation-rising/article26366978.ece (25 Feb. 2019)
Khabar Lahariya Declining ground water levels add to the woes of farmers Decline in ground water levels has been very prominent in UP; a report by the CGWB in 2016 found that 89% of analysed wells in the state have shown a decline in water levels in the last ten years. Ground water development in UP was at 74%, which measures the rate of groundwater consumption to groundwater recharge, one of the highest rates in the country. This has resulted in 37 blocks in the state being overexploited and 13 blocks in state with critical groundwater level conditions, a majority of which lie in western UP.
Of the 15 wells analysed in the district of Lalitpur in August 2014 by the CGWB, ground water was found at a minimum of 0.86 meters below ground level (bgl) and a maximum of 6.42 meters bgl; most wells showed water at a depth between 2-5 meters bgl. But even just by November 2014, the maximum depth went up to 8.49 meters bgl; most wells showed water at the depth range of 5-10 meters bgl.
Although monthly fluctuations of water levels are influenced by the weather — primarily the monsoons recharging groundwater — decadal trends indicate that more than 50% of the monitored wells have shown a decline in the last ten years. https://www.firstpost.com/india/declining-ground-water-levels-add-to-the-woes-of-farmers-in-this-up-village-6155361.html (26 Feb. 2019)
Telangana Fall in groundwater hits rabi in many districts The depletion of groundwater table following uneven spread of rains during the last south-west monsoon season has impacted the cultivation of Rabi crops badly in several districts across Telangana with average fall in the water table below the surface recorded at 1.83 meters or over six feet this January compared to the same month last year.
Raising of Rabi crops has not been taken up even in one-third of the normal extent for the season in Medak and Ranga Reddy districts till February 5 although sowing/transplantation operations are in their last leg. Cultivation of crops this season has also been poor in nine more districts, where the extent covered so far has been less than two-thirds of the normal. The situation was far better last year, when the Rabi crops were raised in more than 100% of the normal extent for the season by now, February first week.
According to the Groundwater Department, the depletion of water table below the surface has been alarming in Sangareddy district at 7.49 meters (nearly 25 feet) in January this year compared to January last year. The rainfall statistics clearly indicate that although the State's average rainfall was only 8.09% lesser than the normal during the south-west monsoon period with 15 out of 31 districts recording a deviation ranging from 22.39% to 41.6%. Sangareddy had the highest deficit of 41.63% rainfall during the monsoon (June-September period) followed by 33.18% in Yadadri and 32.9% in Medak.
Agriculture Department officials stated that cultivation of Rabi crops has been taken up in 72% of the normal extent for the season so far, in over 9.66 lakh hectares against 13.38 lakh ha, with only Bengalgram crossing the normal barrier. The major pulses crop for the season has been sown in about 1.07 lakh ha against the normal of 95,000 ha. By now, Rabi crops were raised in 10.83 lakh ha in 2018 and 11.51 lakh ha in 2017. https://www.thehindu.com/news/national/telangana/fall-in-groundwater-hits-rabi-in-many-districts/article26187753.ece (6 Feb. 2019)
Opinion The incentive problem behind groundwater overuse By Nikita Kwatra Based on a study of the arid northern regions of India, including Punjab and Haryana, and parts of Rajasthan and Gujarat, the authors  find that generous electricity subsidies combined with a flat monthly electricity tariff, rather than a per unit charge for consumption, has incentivized the over-extraction of groundwater.
They argue that as groundwater levels fall, the structure of electricity tariffs mean that farmers face no additional charge for extracting more water. This allows farmers to invest in deeper wells and stronger pumps, pushing groundwater levels lower. Deeper wells do not just hurt the environment but can also increase the cost borne by farmers.
The authors estimate the annualized costs of repeated investment in deepening wells to be as high as 25% of the average annual net income from crops. The authors point out that over and above these efficiency losses, the over-extraction of groundwater is also associated with equity issues. As investment costs rise, some farmers are driven out of irrigated agriculture. They shift towards dryland agriculture, exit from agriculture, or migrate out of the region. https://www.livemint.com/news/india/the-incentive-problem-behind-groundwater-overuse-in-india-1551228889470.html (27 Feb. 2019)
Nagaland Ground water policy under formulation In order to monitor and regulate the haphazard development of ground water in the state, Ground water policy and Rules under State Water Policy is under formulation by the department, the report stated.
Being designated as nodal department for groundwater exploration and development in the state, the geology and mining department has carried out the ground water exploration and development through construction of a few tube wells in all district headquarters. http://morungexpress.com/ground-water-policy-under-formulation-in-nagaland/ (28 Feb. 2019)
URBAN WATER
Mumbai Woefully inadequate STPs need to be upgraded immediately ALARMING SITUATION OF MUMBAI SEWAGE Pune based Nitin Shankar Deshpande's case was that in its 2015 draft notification, the MoEF had laid down discharge norms of 10 mg/l of BOD and 20 mg/l of TSS as optimal for the health of water bodies, but relaxed the norms in the Oct 13, 2017 notification to 20 mg/l for BOD and 50 mg/l for TSS. He alleged the dilution of norms had left the water bodies at the mercy of increased pollution. The NGT ordered a stay on the notification on December 21, 2018 and asked experts from the CPCB, NEERI and IIT to prepare a report and submit it before March 31, 2019. The next hearing in the case will be on April 16, 2019.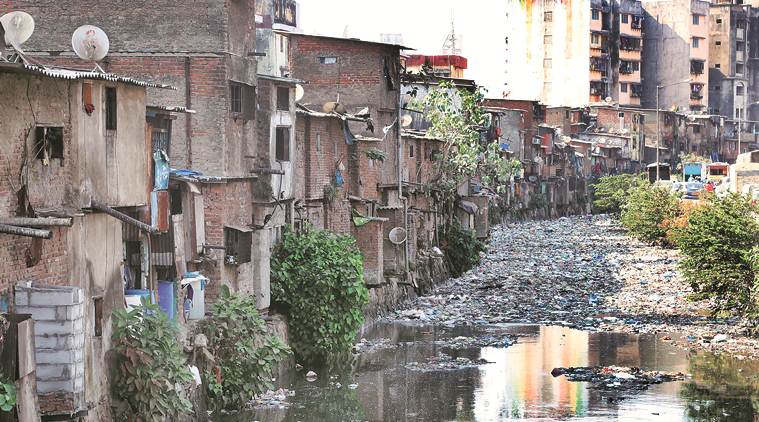 – For the BMC, that meant putting on hold its plan of awarding contracts for construction and upgradation of five STPs (Worli, Bandra, Versova, Ghatkopar and Bhandup) across the city out of a total seven plants. While work on upgradation of the Colaba STP had already begun, another proposed STP at Malad did not get environment clearance as it would require destruction of mangroves.
– Stalin D of Vanashakti said: "The BMC's argument that STPs with stringent norms carry a high financial cost is not right. Why is there reluctance when it comes to following pollution laws. You have Rs 60,000-70,000 crore for Metro, Rs 1 lakh crore for bullet train but you don't have money to lay proper sewerage lines."  https://indianexpress.com/article/cities/mumbai/mumbai-sewage-disposal-mithi-river-bmc-ngt-neeri-5599336/     (25 Feb.2019)
Chennai CMWSSB taps into quarries to meet water demand Chennai Metro Water Supply and Sewerage Board (CMWSSB) on March 2, started drawing water from the quarries in Sikkarayapuram resources since the water levels at the main reservoirs in the city's periphery have dropped to a bare minimum. Chembarambakkam's water level will last another week and will be tapped by CMWSSB until the turbidity causes problems, the report said.
CMWSSB could also reduce the supply of water to Chennai city in the coming days in an attempt to manage the existing water resources. The board, as on date, supplies around 550 million litres on alternate days. With new resources available in the 22 quarries identified in and around Sikkarayapuram, the plan is to draw 15 MLD from them, which could go up to 30 MLD per day as per the demand. This water will be transported to the treatment plant in Chembarambakkam, which will then be supplied for domestic use in Chennai. https://www.thenewsminute.com/article/chennai-metro-water-taps-quarries-meet-water-demand-97662 (3 March 2019)
Telangana Open land flooded with drain water An open land beside Turkayamjal road has been inundated with drainage water from a township located next to the road. Locals said that just a month ago a drainage system was built, and now they wonder how come the land was flooded with waste water. https://www.thehansindia.com/posts/index/Telangana/2019-03-01/Open-land-flooded-with-drain-water/504492 (1 March 2019)
IIT-D joins hands with UK body to work towards water security IIT-Delhi has entered a £20-million international collaboration with UK Research and Innovation to develop new approaches to tackle challenges and barriers to water security and sustainable development.
The project is funded by UK Research and Innovation (UKRI) through the Global Challenges Research Fund (GCRF). And the new UKRI GCRF Water Security and Sustainable Development Hub is one of the 12 hubs being set up to tackle some of the greatest challenges facing today's society.
Starting in March 2019, the Newcastle University-led GCRF Water Security Hub will run for five years and will bring together research partners from Indian Institute of Technology Delhi, School of Planning and Architecture Delhi and institutes from Colombia, Ethiopia, Malaysia, UK, and the International Water Management Institute. https://www.thehindu.com/news/cities/Delhi/iit-d-joins-hands-with-uk-body-to-work-towards-water-security/article26369271.ece (26 Feb. 2019)
Jamia Millia Islamia to study groundwater in Delhi, Mumbai  A study is being conducted at Jamia Millia Islamia University to analyze the impact of urbanization on groundwater depletion in the two largest cities in the country—Delhi and Mumbai. For this study at JMI, which is expected to be published by the end of the year, Shouraseni Sen Roy, a professor in the Department of Geography and Regional Studies, University of Miami, USA, has joined as Fulbright-Nehru Fellow. She is carrying out the study in collaboration with Professor Atiqur Rahman, Jamia Millia Islamia University. http://www.newindianexpress.com/cities/delhi/2019/jan/30/jamia-to-study-groundwater-in-delhi-mumbai-1931876.html (30 Jan. 2019)
WATER
MoWR Maharasthra awarded for water conservation National Water awards are given, but its not clear what is the Jury, Criteria, or process of selection (the details given on mowr website at http://mowr.gov.in/national-water-awards-2018  are clearly insufficient.) Awardees list is given at http://164.100.117.97/WriteReadData/userfiles/awardess%20list.pdf,  but not clear for what work the awards were given.
DELHI WATER
NGT panel recommends Rs 5 lakh fine on schools, colleges with non-functional RWH units  A committee headed by a former high court judge has suggested to the NGT that a fine of Rs five lakh be imposed on schools and colleges where rainwater harvesting systems are not functional. The panel has compiled a list of schools and colleges where either RWHS were inadequate or non-functioning and visited several education institutions and suggested steps for making RWHS functional. Besides, the panel has issued revised guidelines for recycling of water. https://www.dnaindia.com/india/report-impose-rs-5-lakh-fine-on-schools-colleges-with-non-functional-rain-water-harvesting-units-ngt-panel-2722662      (21 Feb.2019)
NGT seeks report on rainwater harvesting NGT on Feb. 5 directed the Delhi govt to submit within three weeks a report on the number of flyovers here having rainwater harvesting systems. Taking into account submissions made by the counsel appearing for the state government, the Bench headed by NGT Acting Chairperson U.D. Salvi said, "Learned counsel appearing on behalf of the NCT of Delhi seeks time to place on record detailed status report. Time is granted." Earlier, the NGT had rapped the State govt for not submitting the detailed report.
In October last year, the Bench headed by former NGT chairperson Swatanter Kumar had said, "Despite repeated orders, the status report has not been filed by the NCT of Delhi. By way of last opportunity report to be filed within one week from today. In the event of default the concerned secretary of NCT of Delhi shall be present before the tribunal."
The green panel had also directed the Centre and other public authorities to ensure that the rainwater harvesting systems are installed in every project including flyovers and bridges. The tribunal was hearing a plea filed by Mehrauli resident Vinod Kumar Jain who sought directions to make it compulsory for all govt buildings of 100 square metres and above to have rainwater harvesting systems. https://www.thehindu.com/news/cities/Delhi/ngt-seeks-report-on-rainwater-harvesting/article22683849.ece (8 Feb. 2018)
RWH: NGT summons govt officials NGT on Jan. 23 summoned senior officials of the Education Department after the Delhi govt failed to provide details on the number of institutions where rainwater harvesting systems have been installed.
During the hearing, the counsel appearing for the Delhi govt informed the tribunal that out of 1,600 private schools, 901 have installed while out of 742 govt schools, 528 have installed the rainwater harvesting systems. However, the govt was unable to provide data on the number of aided and unaided schools in the capital.
Meanwhile, the Delhi University informed the Bench that out of 65 colleges, six are in the process of installing the rainwater harvesting systems. The directions came while the green panel was hearing a plea filed by city resident Mahesh Chandra Saxena, who sought implementation of the November 2017 NGT order, which had directed institutions to install rainwater harvesting systems. https://www.thehindu.com/news/cities/Delhi/rainwater-harvesting-ngt-summons-govt-officials/article26074167.ece (24 Jan. 2018)
Govt proposes construction of reservoirs on Yamuna floodplain to store water In his budget speech Deputy CM Manish Sisodia announced several plans to make national capital self reliant for water: Announcing a slew of initiatives to augment water supply in the national capital in his budget speech, Sisodia announced an allocation of Rs 2,370 crore in 2019-20 for implementation of schemes, programmes and projects of Delhi Jal Board and Rs 467 crore for a 20 KL free lifeline water subsidy scheme.
He also proposed an outlay of Rs 215 crore for 2019-20 for implementation of various schemes and projects of the Irrigation and Flood Control Department.
"For improving ground water level and water sustainability in national capital construction of reservoir in Palla Yamuna Floodplain for storage of flood water in 1,000 acre of area and rejuvenation of irrigation minors, canals, abandoned for storage and harvesting of Flood water are proposed to be implemented," he said. Sisodia said consultants are being appointed for these projects.
Sisodia also proposed two new schemes — "Rejuvenation of Drains" with an outlay of Rs 100 crore for improving the ground water and 'rejuvenation or preservation and maintenance of water bodies" with outlay of Rs 25 crore. DJB in a pilot project, has taken up rejuvenation of 159 existing water bodies and creation of five new water bodies, he said.
In his budget speech, Sisodia said the govt has made a plan to make Delhi self-reliant for water.
Further, the project – "Rejuvenation of Najafgarh Supplementary, Shahdara and associated link drains" is also under process, he said.
To augment the water supply in Delhi, a new 50 MGD water treatment plant is proposed to be constructed at Dwarka, Sisodia said. The raw water for this plant shall be arranged through displacement by taking the treated effluent from coronation pillar to the 12 KM upstream of Wazirabad pond. Delhi would get additional 246 MGD water from these efforts and move forward to become self-reliant, Sisodia said.
Another Water Treatment Plant at Wazirabad at a cost of Rs 2,200 crore having capacity of 120 MGD is being constructed.
"Water pipeline has been provided in 406 unauthorized colonies in last 4 years and work is in progress in 142 unauthorized colonies. "Along with this, 127 km old distribution water pipeline network has been replaced in 2018-19 to prevent water contamination," he said.
For Yamuna cleaning, the innovative project of interceptor sewer has been completed to the extent of 92 per cent and about 110 MGD waste water flow have been trapped from the drains are now being treated at the Sewage Treatment Plants.
Further to improve the carrying capacity of the sewer lines, rehabilitation of around 167 Kms of peripheral sewer line have been taken up with trenchless technology to increase the life span of the old sewer lines by more than 50 years. "The work is in progress and 20 per cent of the work has been completed," he said.
"DJB has taken up Yamuna Rejuvenation scheme with a budget of Rs 75 crore provided in 2019- 20, under which, the drains flowing into river Yamuna are to be taken up for comprehensive cleaning and management of sewage, solid waste, sludge and septage," he said. https://www.outlookindia.com/newsscroll/delhi-govt-proposes-construction-of-reservoirs-on-yamuna-floodplain-to-store-water/1486354 (26 Feb. 2019)
Ambitious plan to provide 24×7 water supply in the capital Detailed report on how plugging leakages, and replacing pipelines ensured 24X7 water supply was made possible in South Delhi's Navjeevan Vihar, where Makhija lives, colonies after two years of work. -According to experts, basic requirements for a continuous water supply system are a robust pipeline that has no leakages, and the capability to maintain constant water pressure.
The idea of continuous water supply in India was discussed by the central govt in 2003 at a workshop by the Ministry of Urban Development: '24-Hour Water Supply for Urban India'. At the time, none of the 5,161 municipal bodies maintained a continuous water supply.
A project was started in three cities in Karnataka — Hubli-Dharwad, Belgaum, and Gulbarga. Since then, several other cities and towns have experimented with the project, with varying degrees of success.
In Delhi, the project was first discussed in 2011, with the DJB looking to start a pilot project in a handful of places. The contract was given to Suez India Private Limited in 2013. The project in the area, Malviya Nagar Water Services (MNWS), is a public-private partnership between DJB and Suez. After false starts, issues around water supply and leakages, and administrative delays, the project kicked off in two south Delhi colonies — Navjeevan Vihar and Geetanjali Enclave — in March 2017.
In Delhi, some pipelines are as old as 50-60 years. According to Delhi's budget in 2018, 46% of the water pumped through the pipeline is lost either to leakage or theft. This means that if a new and more robust pipe network is laid, providing enough water for a continuous supply can become a reality.
DJB supplies 900 MGD of water to all its citizens. The demand, according to official estimates, is 1,200 MGD. The remainder of the water supply is met by illegal borewells and private water tankers. In such a situation, 24-hour water supply looks like a distant dream.
So far, two colonies that the project has been implemented in — Navjeevan Vihar and Geetanjali Enclave, with a little over 600 houses — are upscale ones. The question remains whether this can be a reality in areas such as Sangam Vihar, Tughlakabad or water scarce regions of outer Delhi. In areas abutted by unauthorised colonies and JJ clusters, where water theft is common, the project will face new challenges.
While implementation in both areas has seen a mixed response, the pilot project has shown the ambitious project is not unachievable. The feasibility study will now tell the govt as well as residents how long the rest of the capital will have to wait to get water in their taps whenever they turn them on. https://indianexpress.com/article/cities/delhi/continuous-water-supply-delhi-jal-board-households-pipelines-leakages-5599397/ (25 Feb. 2019)
No Water Shortage, But Management Inadequate: Gadkari Listing some of the steps which have been taken for effective management of water in the country, the minister said 400 MLD water from Okhla barrage will be treated and used for Delhi through Wazirabad barrage. https://www.ndtv.com/india-news/no-water-shortage-but-management-inadequate-in-india-nitin-gadkari-1999145 (25 Feb. 2019)
3 years on, 'toilet to tap' project has no takers Its true that toilet to tap have few takers around the world. So the solution DJB has offered, to pump that water to Palla and release into Yamuna to be again picked up at Wazirabad and treated for supply will require both additional investment and continuous pumping energy costs. Another option could be recharge that into groundwater say via Delhi water bodies or directly through recharge pits. https://indianexpress.com/article/cities/delhi/delhi-jal-board-toilet-to-tap-project-5605767/     (1 March 2019)
50 machines in, so that men don't have to get into sewers Delhi govt has bought 50 machines and ordered 150 more to  end manual scavenging. https://timesofindia.indiatimes.com/city/delhi/50-machines-in-so-that-men-dont-have-to-get-into-sewers/articleshow/68209655.cms   (1 March 2019)
Great to see this from Delhi Govt. Hope max number of institutions will take this offer and set up Decentralised STPs. Plz share and spread the message https://www.facebook.com/sandrp.in/photos/a.400523369975342/2497074933653498/
AGRICULTURE
Punjab Alternative methods fail, Majha farmers go back to traditional crops Resorting to alternative farming methods has not been a profitable venture for farmers in Majha region. A few who had switched over to cultivation of crops like banana, papaya and strawberry have gone back to the traditional wheat-paddy cycle.
The depleting levels of groundwater and absence of incentives to farmers for growing alternative crops have been some of the reasons behind the switch back to wheat-paddy farming. More than three farmers in Gurdaspur and two in Pathankot region who began strawberry cultivation have returned to their original plantation. https://timesofindia.indiatimes.com/city/chandigarh/alternative-methods-fail-majha-farmers-go-back-to-traditional-crops/articleshow/68209939.cms (1 March 2019) 
Kerala Farmer suicides show 2018 flood relief measures haven't reached a large section of the populace The August flood in Kerala that washed away hazardous pesticides from rivers and water bodies and brought fertile silt to the farmlands was viewed by agricultural experts as a blessing in disguise to the famers who have been hit hard by steady fall in farm productivity as well as prices over the years.
However, suicide by eight farmers and one agricultural worker in the last two months shows that the curse of the flood continues to haunt a large section of the peasantry in the state even after six months. Analysis of the suicide cases reported since January first week reveals that the measures initiated by the govt to provide succour to the flood-hit have not reached a major chunk of the farmers. https://www.firstpost.com/india/kerala-farmer-suicides-show-2018-flood-relief-measures-havent-reached-a-large-section-of-the-populace-6184561.html (2 March 2019)
Report Farming crisis is crisis of ecological commons This ecological and social interconnectedness has now been fragmented. Ponds, tanks and community wells have been filled in and captured by large landowners. Common grazing areas – traditional charagah and gowmala lands – have vanished from many villages across India. Considered "wastelands" by the Government, many commons areas have been captured by state and private industries, used for biofuel plantations, social forestry or renewable energy plants. Forest access is largely lost, with forests cordoned off, fenced and guarded, and severe restrictions placed on traditional community rights to grazing and harvesting.
– The commons have been systematically plundered, captured and degraded to the extent that we have lost our collective memory of how farming was once part of an integrated system. Political attention is mostly focused on loan waivers, crop insurance and minimum support prices. While these economic measures are undeniably important to mitigate the current crisis, they will be inadequate unless they are supplemented with a widespread, systematic initiative across the country to document and restore the village commons, keeping in mind the link between pond and pasture, and field and forest. https://india.mongabay.com/2019/02/commentary-indias-farming-crisis-is-a-crisis-of-the-ecological-commons/      (25 Feb.2019)
DROUGHT
IMD-Skymet Too early to rule out drought Skymet's estimate doesn't constitute a formal monsoon forecast, Mr. Singh clarified. However the organisation's weather models as well as those of several other institutes, for now, agreed that the odds of a major El Nino (a temperature rise greater than a degree) were unlikely. "So we're confident on that front but a fuller forecast can only be made, at the earliest, by April," Mr. Singh told The Hindu.
The India Meteorological Department (IMD) too concurred that a strong El Nino is unlikely but said it's too early to rule out a drought. "The way we compute…we need weather conditions until March 30 to input into our models and only then we get a sense of the monsoon. However, the odds of a strong El Nino are low," said K.J. Ramesh, Director-General, IMD. https://www.thehindu.com/news/national/drought-less-probable-this-year-skymet/article26367730.ece (25 Feb. 2019)
Water & Climate Lab 50% of country in grip of drought, say IIT experts – "About 47 per cent of the country is facing drought — with 16 per cent facing extreme or exceptional category of drought," said Vimal Mishra, IIT-Gandhinagar scientists. The results of the simulations, prepared by the Water and Climate Lab at IIT-Gandhinagar, are available on the IMD website.
– "Arunachal Pradesh did not get good rain this year, and parts of Jharkhand, southern Andhra Pradesh, Gujarat, and northern part of Tamil Nadu are under drought," Mishra said. If these areas experience very hot summer before the onset of monsoon, it could lead to a crisis, he warned.
– According to him, continuing drought will further burden the already depleting ground water resources of the country. "We are not enhancing groundwater recharge. On the other hand, drought conditions are making us extract more and more water," he said. https://www.tribuneindia.com/news/nation/50-of-country-in-grip-of-drought-say-iit-experts/736262.html (1 March 2019)
Karnataka Drought situation 'grim' as 156 taluks in Karnataka face water crisis – The government has described the drought situation in the State as "grim and devastating" as 156 of the total 176 taluks have been reeling under severe water crisis owing to deficient rainfall during kharif and rabi seasons in 2018–19, worsening the condition of farmers.
It is estimated that loss owing to natural calamities, including floods/landslips and drought during both kharif and rabi seasons is ₹32,335 crore.
– The Centre so far has released ₹949.49 crore as against the NDRF norm of ₹4,460 crore, according to the Revenue Minister R.V. Deshpande.
– The State had suffered agricultural crop loss on about 19.46 lakh hectares of land while horticulture crops on 23,313.37 hectares too had dried up during the 2018–19 rabi season. The total estimated loss during rabi was about ₹22,384.47 crore, the Minister said.
– He said the deputy commissioners have over ₹647 crore at their disposal to take up drought relief works in their respective districts. Over 370 villages were being provided drinking water through 706 tankers and 401 villages through hired private borewells. In urban areas, 181 wards were being provided drinking water through tankers.
– About 10.68 lakh works have been provided and more than nine crore man-days have been generated till date under the Mahatma Gandhi National Rural Employment Guarantee Act. A total of 19.58 lakh households have been provided employment while 1.37 lakh households have completed 100 days of employment, Mr. Deshpande said.  https://www.thehindu.com/news/national/karnataka/drought-situation-grim-as-156-taluks-in-karnataka-face-water-crisis/article26412970.ece (2 March 2019) 
Drought brought Bhovi well-diggers back to centrestage – Until piped Cauvery water came to the city in 1972, open wells were the main source of drinking water. Borewells came in the early 1980s, and the culture of open wells all but vanished, says S. Vishwanath, advisor, Biome Environmental Trust, which conducts research on water and sanitation.
– Today, 40% of Bengaluru is dependent on groundwater. As per the regulations of the Bruhat Bengaluru Mahanagara Palike and the water supply and sewerage board, all new and old buildings of a given size must harvest rainwater or face penalties. So, recharge wells, that collect rainwater and pump it into the ground, are becoming popular. https://www.thehindu.com/society/drought-has-brought-karnatakas-bhovi-well-diggers-back-to-centrestage/article26406902.ece (2 March 2019)
Gujarat   55% dams less than 10% full  This report does not state that total water storage in Guj dams on March 1, 2019 is 9336 MCM, which is bout 638 MCM less than 9974 MCM on March 1 last year. Last year was bad year, this year could be worse.  https://timesofindia.indiatimes.com/city/ahmedabad/55-of-states-dams-less-than-10-full/articleshow/68225899.cms  (2 March 2019)
SOUTH ASIA
Pancheshwar Dam Key differences of Pancheshwar project unresolved  At the end of two days of official expert committee members of India Nepal on Pancheshwar Project, held in Kathmandu on Feb 27-28, 2019, Prabin Aryal, spokesperson for the Nepal Ministry of Energy, Water Resources and Irrigation says: "no concrete understandings have been made on different issues including the downstream benefits of the project, water sharing, consumption and price, investment, irrigation and energy production capacity of the multipurpose project." The meeting could not finalise the DPR of the project.
– On Water sharing, Nepal has been asking for 50%, but India has been saying the water from Sharda that India now uses should be considered prior use right and protected. https://thehimalayantimes.com/business/key-differences-of-pancheshwar-project-unresolved/     (1 March 2019)
Nepal-India Joint Experts Group held their third meeting to finalise the Pancheshwar DPR on Feb 27-28, 2019 in Kathmandu. Nepal feels that India is not providing the water to Nepal as promised earlier. There are a number of other pending issues. The extended deadline for finalisation of DPR expired in Dec 2018. https://thehimalayantimes.com/business/pm-oli-stresses-country-should-get-water-as-per-mahakali-treaty/      (27 Feb.2019)
More details of the issue here: http://setopati.net/social/140773 (27 Feb. 2019)
Nepal Cabinet approves Rs 1,236 cr investment for Arun-3 hydro project The CCEA of India chaired by PM on Feb 28, 2019 approved Rs 1,236.13 crore investment proposal for transmission component in Nepal portion of Arun-3 Hydro Electric Project by Sutlej Jal Vikas Nigam (SJVN). The Cabinet in its meeting held in February, 2017 had approved the investment proposal for generation component of Arun-3 HEP (900 MW) in Nepal for an estimated cost of Rs 5,723.72 crore at May 2015 Price Level. https://energy.economictimes.indiatimes.com/news/renewable/cabinet-approves-rs-1236-cr-investment-for-arun-3-hydro-project/68211448  (1 March 2019)
Kabeli A Hydropower Project work halted USD 102 M, 37.6 MW Kabeli Hydropower project work has come to a stop since two months due to quality concerns by Chinese contractor. The World Bank's International Finance Corp and Singaporean Infra Asia have also invested in the project. https://thehimalayantimes.com/nepal/kabeli-a-hydropower-project-work-halted/       (26 Feb.2019)
Pakistan Top auditor demands probe into Rs700bn hydel project losses The Auditor General (AG) of Pakistan has demanded detailed investigations to fix responsibility for losses of almost Rs700 billion caused to the exchequer due to mismanaged development of the Neelum-Jhelum hydropower project. In its performance audit of the 969-MW power project worth Rs 510bn submitted to the parliament on Feb 25, 2019, the AG reported that the project faced a cost overrun of Rs 389 bn, loss of non-accrued financial benefits of about Rs 237 bn and a delay of over 21 years.
This is on top of a series of irregularities committed by various governments, departments and officers resulting in more than Rs 60 billion losses besides annual recurring loss of Rs 5.15bn that the AG said warranted at least two dozen further investigations to fix the responsibility. https://www.dawn.com/news/1466056       (26 Feb.2019)
Water-stressed Pakistan looks for billions in donations to build hydropower dams  Hope Pakistan looks at the local water storage and aquifer storage as better options rather than more big dams.   https://energy.economictimes.indiatimes.com/news/renewable/water-stressed-pakistan-looks-for-billions-in-donations-to-build-hydropower-dams/68149220   (25 Feb. 2019)
China invests $2.7bn in Kohala Hydro project: officials China Three Gorges Corporation (CTGC) is set to construct USD 2.7 Bln,  1124 MW Kohala Hydropower project along the Neelum Jhelum, in PoK. The project promises to release 30 cumecs environment flow.  https://dailytimes.com.pk/359439/china-invests-2-7bn-in-kohala-hydro-project-officials/     (26 Feb.2019)
ASIA
Russia Flood Warning Issued as Atmospheric Rivers lashes North Bay Sonoma County officials ordered the residents from more than two dozens communities located along the rain-swollen Russian River on Feb. 26 to immediately evacuate their homes and find safety on higher ground.
– The Russian River at Guerneville reached flood stage of 32 feet at around 5:40 p.m. Tuesday, over an hour earlier than expected. The river is expected to crest at just over 46 feet Wednesday night, 14 feet above flood stage.
-According to KPIX 5 chief meteorologist Paul Deanno, it would be the sixth highest crest on record in Guerneville and the highest the river has been since 1997. https://sanfrancisco.cbslocal.com/2019/02/26/atmospheric-river-flood-warnings-russian-napa-rivers/ (26 Feb. 2019)
Europe Unambitious and ineffective: Member States' water report cards are in Europe's rivers are suffering. Despite the EU's strong water legislation, the European Commission's latest report on its implementation, published, paints a bleak picture. Although some progress has been made, Member States are not on track to bring Europe's rivers, lakes, wetlands, streams, groundwater, transitional and coastal waters to good health by 2027. http://www.wwf.eu/media_centre/ (26 Feb. 2019)
Study Drug pollution in rivers reaching damaging levels, scientists warn Medicines including antibiotics and epilepsy drugs are increasingly being found in the world's rivers at concentrations that can damage ecosystems, a study has shown. The study, published in Environmental Research Letters, focuses on two particular drugs: antibiotic ciprofloxacin and anti-epileptic drug carbamazepine.
Between 1995 and 2015 it found that rising concentrations of the drugs and the increasing number of water tables affected meant the risks to aquatic ecosystems are 10 to 20 times higher than two decades earlier. More worrying still, when Dr Oldenkamp and colleagues compared their predictions to samples from four river systems they found their model was underestimating the risk.
"There's little awareness of the role of the environment in this problem, even though it becomes increasingly clear that the environment functions as a source of resistance for various pathogens," said Dr Oldenkamp. There is also a risk to the natural world if drug concentrations build up and affect animal behaviour, or disrupt bacteria performing essential decomposition and oxygenation of the soil – processes which underpin life.
Europe and other developed regions have had long-term water-quality monitoring projects; but many of the areas most vulnerable to these impacts do not, and Dr Oldenkamp said this was where their study would prove most useful. https://www.independent.co.uk/environment/drug-pollution-in-rivers-reaching-damaging-levels-for-animals-and-ecosystems-scientists-warn-a8792566.html (23 Feb. 2019)      
Iran 97% of Iran affected by long-term drought: expert Based on the dada collected over the past decade approximately 97 percent of the country is affected by long-term drought, director of the national drought warning and monitoring center, Sadeq Ziaeian, has said.
The data released by the National Drought Warning and Monitoring Center stated that the whole country received 130 millimeters of rain since the beginning of autumn which almost triples last year's precipitation and also indicate a 23-millimeter increase compared to long-term averages. Despite the increase it is projected that dry spells are awaiting the country due to the adverse effects of the climate change in the near future. https://www.tehrantimes.com/news/432532/97-of-Iran-affected-by-long-term-drought-expert (1 Feb. 2019)  
THE REST OF THE WORLD
Africa Chinese dam project in Guinea could kill up to 1,500 chimpanzees Up to 1,500 chimpanzees could be killed by a new Chinese dam that will swamp a crucial sanctuary for the endangered primate in Guinea, experts have warned. The 294MW Koukoutamba dam will be built by Sinohydro, the world's biggest hydroelectric power plant construction company, in the middle of a newly declared protected area called the Moyen-Bafing National park.
The Chinese company is already facing similar criticism for building a dam in Indonesia that threatens the only known habitat of a newly discovered species of orangutan. Its executives signed a contract this week with local representatives eager to secure a power project that will bring energy and funds to one of Africa's poorest countries.
The flooding of swathes of the park is expected to force the displacement of 8,700 people. It will also increase the pressure on western chimpanzees, which have declined by 80% in the past 20 years, and are now considered critically endangered – the highest level of risk – by the International Union for Conservation of Nature. The highlands of Guinea are home to Africa's healthiest remaining population of about 16,500 western chimpanzees. In most other countries, this subspecies is either extinct or perilously threatened in populations of less than 100 individuals. https://www.theguardian.com/world/2019/feb/28/chinese-dam-project-in-guinea-could-kill-up-to-1500-chimpanzees (28 Feb. 2019)
DAM FLOODS IN USA OFFICIALS TRIPLE WATER RELEASES OUT OF KESWICK DAM Water releases out of Keswick Dam and into the Sacramento River in California have more than tripled to 35000 cusecs and may go upto 55000 cusecs. So why release more water if the river is already flooding? The Bureau of Reclamation says water levels at Shasta Dam are too high for this time of year and thought that through their process felt it was safe to release more water.  https://www.actionnewsnow.com/content/news/The-Bureau-of-Reclamation-plans-to-increase-water-releases-over-the-weekend-506550421.html     (1 March 2019)
TVA Says It Averts $1.6 Billion In Potential Damage During Feb Floods Is Tennessee Valley Authority (TVA) of USA a bit on defensive when it says: "During an average year, TVA's reservoir operations avert approximately $300 million in flood damage," officials said. TVA estimates it has averted more than $8.6 billion in flood damage since it completed its first dam, Norris Dam, in 1936.
– The TVA, through its integrated system of dams and reservoirs, says it averted more than $1.6 billion in flood damage along the Tennessee River and its tributaries in February 2019. TVA is using its 49 dams to store and then release water after what was the largest February recorded rainfall and runoff in TVA history. River flows on the lower Tennessee River, particularly around Pickwick Reservoir, have been the highest since the flood of 1973.  https://www.chattanoogan.com/2019/3/1/385694/TVA-Says-It-Averts-1.6-Billion-In.aspx       (1 March 2019)
Brimming TVA reservoirs will keep rivers high for days Detailed situation of TVA dams as floods remain high across the Tennessee valley, dams remain full with historic levels and rivers at high flood levels. https://www.knoxnews.com/story/money/business/2019/02/25/tva-reservoir-release-rivers-flooding-tennessee/2981811002/    (25 Feb.2019)
'You live here, you worry': Lake Cumberland levels raise fears of dam break, despite reassurances Dam Safety issues also plague US in this flood season in Kentucky. Heavy rains and flooding that have elevated Kentucky's Lake Cumberland to record levels are creating the biggest test yet for a dam once deemed the nation's most at risk of catastrophic failure before it was repaired five years ago at a cost of $594 million. The rain-swollen lake forced the U.S. Army Corps of Engineers on Feb 26, 2019 to again release 60,000 cusecs. Some residents fear the massive force of the water could again put it in danger of failing, particularly after a widely shared media post last week showed water spewing from the dam's concrete face.
– It now has a rating of 3 (it was the lowest 1 before repairs), deemed "significantly inadequate, or the combination of life, economic or environmental consequences where the probability of failure is moderate to high." Brown said no dam has a 5 rating, and Wolf Creek, while sitting atop limestone that can erode and form caverns, remains closely monitored and is showing to be "holding up" well. https://www.courier-journal.com/story/news/2019/02/26/kentucky-lake-cumberland-high-water-levels-from-flooding-rain/2983258002/      (26 Feb.2019)
Lot more about this dam in Mississippi basin here.
– the new record level for 101 mile long lake Cumberland is 756.51, Previous high level was 751.69 in May 1984. More than 80 percent of the flood control pool is full. The lake's hundreds of coves and more than 1,200 miles of shoreline are turned into a muddy sea. The level is higher than ever since the gates were closed in late December 1950 and the longest and deepest lake this side of the Mississippi River was impounded.
– An unidentified radio announcer proclaimed Wolf Creek Dam was about to break and advised residents below the dam to get ready to evacuate. The pronouncement was immediately declared totally false by the Corps. Social Media circulated a video showing water gushing through what appeared to be a hole in the dam. The Corps said it was a pressure relief valve.
– Under normal conditions, Lake Cumberland would operate on what is called a SEPA Curve, acronym for Southeastern Power Administration, the agency that buys hydropower produced by the six generators at Wolf Creek Dam. https://www.somerset-kentucky.com/news/lake-cumberland-levels-slowly-but-surely-start-to-fall/article_29fb0f5a-3c4f-11e9-981a-27b00e01dcd4.html (1 March 2019)
World Bank not immune from lawsuits Supreme Court has given its judgement with 7-1 majority that the IFC (International Finance Corporation, private sector arm of the World Bank) is not absolutely immune from lawsuits in U.S. courts. This was in the BUDHA ISMAIL JAM, ET AL., PETITIONERS v. INTERNATIONAL FINANCE CORPORATION matter related to the IFC funded project in Kutch. This is great news for the affected communities who filed the case and also for everyone else concerned. https://www.supremecourt.gov/opinions/18pdf/17-1011_mkhn.pdf   (Oct. 2018)
Brazil Senate okays dam safety bill after Vale disaster kills hundreds  Brazilian Senate committees on Feb 27 passed a bill to tighten dam safety in the country, after a mining dam owned by Vale SA burst and killed an estimated 300 people in the town of Brumadinho. The legislation, which tightens safety regulations on all types of dams, is similar to a regulation bill that failed to gain traction three years ago. It will now pass to the lower house for consideration, provided Senators do not file an appeal within five working days, which would require it to go to a vote of the full chamber.
The bill would ban upstream tailings dams similar to those that burst. The bill for regulation of all types of dams, not only those used in mining, will require more advanced monitoring technology and detailed emergency plans. It will give govt enforcers stronger legal standing and also make criminally liable those who certify the safety of a dam that later collapses. One provision will require dam operators to buy insurance to cover a possible disaster, with supporters counting on pressure from insurers to boost safety efforts. A committee amendment to the bill reduces the time limit for compliance to one year. Another amendment would raise the maximum fine for dam operators to 10 billion reais ($2.68 billion).   https://www.reuters.com/article/us-vale-sa-disaster-lawmaking/brazil-senate-okays-dam-safety-bill-after-vale-disaster-kills-hundreds-idUSKCN1QG2RR     (27 Feb.2019)
Australia Govt clears way for massive hydropower expansion  Australian govt approved a USD 1 B expansion plan for hydropower projects by Federal Govt owned Snowy Hydro out of total investment requirement of USD 3 B. Snowy will add 2,000 MW of power generation through pumped hydro. https://energy.economictimes.indiatimes.com/news/renewable/australia-clears-way-for-massive-hydropower-expansion/68161321 (26 Feb.2019)
Disappearing Lakes Disappear Even More In December 2016, the Menindee Lakes of New South Wales were nearly brimming with water. More than two years later, these Australian lakes are almost desiccated. These satellite images show the dwindling water levels of the Menindee Lakes, a chain of freshwater lakes located 110 kilometers (70 miles) southeast of Broken Hill.
The shallow natural depressions were developed into water storage by the Australian govt to manage river flows. The images were acquired by the Operational Land Imager on Landsat 8 on January 27, 2017, February 15, 2018, and February 2, 2019. (Click here to see an animation focused on Lake Menindee.)
Lake Menindee is the largest of the lakes. But river managers have been keeping as much water as possible upstream in Lake Wetherell and Lake Panamaroo, which supply water to Broken Hill and local communities.
Recent years have brought exceptional drought to the area. New South Wales has faced extremely hot temperatures and low precipitation, causing one of its worst droughts on record. The Lower-Darling River has been experiencing "extreme low inflows" of water from the Menindee Lakes since August 2018. As of February 18, 2019, the Lower-Darling's storage level was 1 percent. Water has stopped flowing in parts of the river. https://earthobservatory.nasa.gov/images/144577/australias-disappearing-lakes-disappear-even-more (27 Feb. 2019)
Sugar subsidy Brazil, Australia move WTO against India Brazil, Australia complaint to STO against Indian govt's subsidies to sugarcane farmers leading to sugar glut  and crashing of global sugar market prices. https://timesofindia.indiatimes.com/business/international-business/sugar-subsidy-brazil-australia-move-wto-against-india/articleshow/68229515.cms (2 March 2019)  
Report Poisoned and over-exploited, many rivers are in a parlous state The report highlights the pathetic constion of Yamuna, Ganga, Jordan, Yellow, Murray rivers. https://amp.economist.com/special-report/2019/03/02/poisoned-and-over-exploited-many-rivers-are-in-a-parlous-state(2 March 2019)
CLIMATE CHANGE
Report The Indus – a river of growing disasters  In the context of ICIMOD's HIMAP report. Tobias Bolch, from the University of Zurich's geography department and one of the contributing lead authors of the chapter on the cryosphere in the HKH region said, "The Indus glaciers span a large region. In the Karakorum range there is a mass balance [the glaciers are gaining as much ice as they lose], but that is a mix of melting and rapid advance of some glaciers. This increases the risk of GLOFs (Glacier Lake Overflow Floods). In Lahaul Spiti (in India), on the other hand, you have rapid glacier retreat, and this destabilises the land from where the glaciers retreat." He added that the cryosphere was not just the glaciers. The melting of permafrost – perennially frozen ground beneath the surface – as glaciers retreat will also destabilise the mountains.
– According to Arun Bhakta Shrestha, the regional progamme manager for river basins and cryosphere at ICIMOD, the Indus region is one of the areas of most concern for rainfall reasons as well. Although the science on the western disturbance which affects the South Asian monsoon remains unclear, it is already evident that rainfall patterns have become more uneven, with an increase in extreme weather events. https://www.thethirdpole.net/en/2019/02/04/the-indus-a-river-of-growing-disasters/                 (04 Feb.2019)
Report Amitav speaks on 'climate apocalypse' Acclaimed author of 'The Hungry Tide', 'Sea of Poppies' and most recently, 'The Great Derangement', Amitav Ghosh speaks at the India Today Conclave on "the unimaginable violence of climate change" and why we need to be afraid. https://www.indiatoday.in/science/story/amitav-ghosh-speaks-on-the-climate-apocalypse-and-how-india-is-already-feeling-the-effects-1468962-2019-03-02 (2 March 2019)
Opinion Smart farming in a warm world Investment and policy reform are needed on priority to help farmers cope with climate change says Feroze Varun Gandhi.
– The impact of climate change will affect India's food security, while reducing fodder supplies for our livestock. Prudent investments and policy reform can help make India resilient to climate change. Any adaptation to ongoing climate change will require that climate justice. This is not a blame game — this can be induced by expansion of joint research and development partnerships (like the U.S.-China Clean Energy Research Center), pairing India's emerging smart cities with green cities in the West. India needs to decarbonise, there is no doubt about that. But the West needs to pay its bills too. https://www.thehindu.com/opinion/op-ed/smart-farming-in-a-warm-world/article26379121.ece (27 Feb. 2019) 
Research Unprecedented biological changes in the global ocean  Current monitoring of marine biological systems only covers a tiny fraction of the ocean, which limits scientists' ability to confidently predict the expected effects of climate disturbances on marine biodiversity. Using a new computer model, an international team led by the CNRS and involving researchers from Sorbonne University has demonstrated that biological changes are accelerating, which has consequences for our use of marine resources. Their findings are published in Nature Climate Change.
In most cases, the model predicts an event one year before it occurs, making it possible to identify regions overlooked by current field observation programs where biodiversity is under threat. Though marine biodiversity provides humans with 80 million metric tons of fish and invertebrates annually, the changes revealed by this new computer model may redistribute ocean communities and species worldwide in ways that may benefit or harm mankind. https://phys.org/news/2019-02-unprecedented-biological-global-ocean.html (25 Feb. 2019)
ENVIRONMENT
FRA SC stays Feb 13 order to evict nearly 1.89 million tribals  This is the second time that SC has told Modi govt that it seems to be in slumber. First time it was on Ganga now it is on tribals. https://www.business-standard.com/article/current-affairs/supreme-court-stays-its-earlier-order-to-evict-forest-dwelling-tribes-119022800811_1.html       (28 Feb.2019)
Great to see conservationists opposing the evictions of tribals following erroneous Supreme Court Order and anti tribal attitude of central govt.      https://forestrightsact.com/2019/02/27/conservationists-speak-out-against-evictions-say-this-is-not-pro-conservation/     (27 Feb.2019)
Nitya Jayaraman: FORGIVE ME, MY LORDSHIPS, BUT YOU ARE WRONG
With all due respects, our lordships need to step out of their ivory towers from time to time. The Supreme Court's order giving a deadline for evicting more than a million adivasis and other forest dwellers assumes that the process of settling claims is a fair and just one, that all those whose claims have been rejected are aware of their rights as citizens of the Indian republic and have the means to pursue their rights. That is a delusional line of thinking. The Court's order is discriminatory, and cannot be enforced unless the Court decides to mobilise the military to evict the adivasis from their homeland at gunpoint. You do that and there will be nothing between the timber mafia and the forest, the coal mafia and what lies beneath the forests. You will find no elite wildlifer behind bars or accused of being a naxalite for fighting against a bauxite mine or coal mine. But the list of adivasis languishing in jail for standing in the way of India's unquenchable thirst for coal, minerals and land is long.
This petition is not an environmental case. It is a declaration of class war.
The Supreme Court has ruled that the several million tribal and other forest dwellers whose claims have been rejected should be evicted if their claims have attained finality. By law, people whose claims have been rejected can avail of a two-stage appellate process. If their claim is rejected at all these stages, they can go to the High Court and Supreme Court. But that is what the law allows. Reality does not allow this.
For an adivasi to avail of the legal provisions would require filing appeals in a language she does not know in front of people and officials that are hostile and that view them as illegitimate claimants to India's natural resources. Unlike Adani or Essar who can walk into the PMO to present their cases, adivasis and other forest dwellers have neither the means nor the stamina to pursue their cases. It is not enough if the law provides for an appeal. What about access to justice?
It is a fact that to get a fair shot with a judge in the Supreme Court, one needs to engage a Senior Counsel. This is not something that the average adivasi can afford even if she convinces all her clan members to sell their kidneys.
After 70 years, the Indian Republic has moved no further towards the ideal of democracy. Inequality — in terms of unequal access to resources and justice — has only widened. Democracy requires at least a notion of equality among citizens.
If our lordships really mean what they say about evicting people only after their rejections attain finality, then they should put in place robust mechanisms for the claimants to access justice and appeal their rejection in the face of a hostile bureaucracy and a wildlife elite that views itself as the saviours of India's forests and the adivasis as parasites.
The Hon'ble Court must ask how many of those whose claims have been rejected have appealed the decision. They must find out why those who have not appealed failed to do so. And then they will realise that courts are anything but places of justice, that justice cannot be served unless access to justice is ensured.   https://www.facebook.com/nityanand.jayaraman/posts/10156356576938925    (22 Feb.2019)
Also see, 1000s to join National Andolan for forest rights https://forestrightsact.com/2019/02/25/bjp-sarkar-jawab-do-tens-of-thousands-will-join-national-andolan-for-forest-rights/      (25 Feb.2019)
Haryana Assembly passes PLPA bill Amid vociferous protests and walkout by the Opposition, the Haryana Assembly on Feb. 27 passed amendments to Punjab Land Preservation Act, opening up thousands of acres to real estate and other non-forest activity that were protected under it for over a century.
The Punjab Land Preservation Act was enacted before pre-Partition by the then Punjab govt in 1900, as per statement of objects of the bill. It provided for the conservation of subsoil water and/or prevention of erosion in areas found to be subject to erosion or likely to become liable to erosion.
The orders and notifications issued under Section 4 and/or 5 of the act extend to approximately 10,945 sq km, accounting roughly for about 25-per cent area of Haryana. It covers, wholly or partly, 14 out of the state's 22 districts.
Congress member Karan Singh Dalal claimed that the amendment would also grant legitimacy to the Kant Enclave in Faridabad, built on the PLPA-notified land and which was ordered to be demolished by the Supreme Court.  "This is going to be biggest scam of five-year BJP government, which will favour builders and realtors, this bill should be taken back," Dalal said. https://realty.economictimes.indiatimes.com/news/regulatory/haryana-assembly-passes-plpa-bill/68193925 (28 Feb. 2019)
The 118-year-old legislation, introduced by the British in 1900, restricts all non-forest activity in thousands of acres of land along the Aravali and Shivalik foothills under Sections 4 & 5.
The amendment excludes municipal areas and those notified under master plans (effectively, all urban areas) from the ambit of the law. As a result, a city like Gurugram, which is notified under three master plans, will go entirely out of PLPA's purview.
So will most of Faridabad, where the Haryana govt recently said it wants to build a new city over an area of 55,000 hectares. The total area under PLPA in Gurugram is 6,869 hectares. In Faridabad, it's 4,227 hectares. The total area notified under PLPA in Haryana is 30,000 hectares.
Environmentalists said the bill wasn't an amendment but amounted to a cancellation of PLPA. "This bill is essentially a repeal of the PLPA. The bill has lifted the most important legal protection to the Aravalis in South Haryana and many parts of Shivaliks to open it for real estate development, mining, and whatever the state fancies," said Vivek Kamboj of Haryali, an environmental NGO.
"The bill is the most deadly assault on the Aravalis in the 52-year history of Haryana and is the darkest time for environmental conservation in the state. The numerous amendments combined will effectively nullify the PLPA itself. This is an attempt to give legal sanction to all construction, which have so far been prohibited under PLPA 1900," said Chetan Agarwal, a forest analyst. https://timesofindia.indiatimes.com/city/gurgaon/haryana-takes-legal-cover-off-30000-hectares-of-foothill-land/articleshow/68195213.cms (28 Feb. 2019)
According to Haryana government's forest department, the range acts as a barrier, preventing the advance of the desert towards the fertile soils of eastern Rajasthan and the Indo-Gangetic plain. It has played an important role in shaping the ecology and environment of the surrounding areas.
The forest department, while seeking interest for preparing a coffee table book on Haryana's Aravalli range, had also noted that conservation of forests in the Aravalli range is important to conserve the water resources (water streams, seasonal rivers and water bodies) in the area.
The important water resources like Badkhal lake, Kotla lake, Ujjina lake and Dumduma lake, have dried up, noted the department's expression of interest, which expressed the role of the range in checking the advance of desertification and in assisting water recharge in the NCR region. It added that the same is the situation of rivers in Aravallis — the Sahibi, Indravati, Dohan rivers were the important seasonal rivers flowing from Aravallis and have now become names of the past. "Unsustainable urbanisation has further aggravated the problem of depletion of water resources like natural drains and water bodies," it mentioned.
Even the forest department of Haryana last year had noted that the "ecological degradation in the Aravalli region is an alarming situation" and that "increasing urbanisation in districts like Gurgaon and Faridabad, increasing population of human and cattle, injudicious use of natural resources, unscientific mining activities in the past, uncontrolled grazing and felling of trees in the recent past coupled with unfavourable climatic conditions resulted in the present state of ecological deterioration."
"The groundwater table is decreasing day by day and in most of the region, there is an acute shortage of drinking water. Thus, the Aravalli region remains ecologically, economically and socially backward in comparison to other parts of the state," notes the forest department. https://india.mongabay.com/2019/02/no-aravallis-no-vote-people-want-haryana-government-to-spare-the-hills/ (28 Feb. 2019)        
Haryana Govt misleading on PLPA:- Though there is little doubt about the disastrous long-term ramifications of the amendments affected in the PLPA, 1900 for the ecologically fragile Aravalis, the Haryana govt has justified the need for the change in the law. They say that it had led to "unintended consequences adversely impacting the livelihood of millions of citizens", a claim vehemently denied by the environmentalists as "incorrect" and "misleading". https://www.thehindu.com/news/cities/Delhi/haryana-govt-misleading-people-on-plpa-amendments/article26425973.ece (4 March 2019)
SC warns Haryana of contempt:- The SC on March 1 threatened the Haryana govt with contempt if it goes ahead and implements a new law allowing massive scale of construction in the ecologically fragile Aravalli Hills.
A Bench led by Justice Arun Mishra told the Haryana govt counsel that amendments made in the PLPA of 1900 pulls the carpet from under a series of orders passed by the SC over the years to protect the Aravalli and Shivalik ranges from builders and indiscriminate mining. The Bench asked the State govt to place on record the details, including the provisions, of the new law.
Justice Mishra said any misadventure on the basis of the passing of the amendments by Haryana would be visited with "serious consequences" from the SC. The court made it clear that it could see through the veil of the legislation passed by the Assembly, and that the amendments were meant to circumvent the curbs put in place by the Supreme Court.
"The amendments favour builders and will destroy the forest. We had warned you [Haryana] earlier. It is shocking that you went ahead despite our warning. This is not permissible. It is sheer contempt," Justice Mishra told the Haryana lawyers. https://www.thehindu.com/news/national/sc-warns-haryana-of-contempt/article26412520.ece (2 March 2019) 
Report Email environmental issues to NGT NGT has recently come up with a new mechanism where people who cannot afford costs of litigation can simply write their grievances to the tribunal through email or post in a bid to improve access to justice for common citizens battling environmental issues. The grievances, once studied in-house and if found to be substantive, can be listed for hearing as original applications by the tribunal, officials said.
The initiative was launched in July 2018 with 1,961 letters and emails received by the NGT since then, until January 2019. Out of these, 321 have been admitted as petitions in the tribunal, 239 had been disposed of. Under these, actions has been taken in 70 cases. https://timesofindia.indiatimes.com/city/delhi/cant-afford-to-fight-legal-case-to-save-environment-you-can-write-to-ngt/articleshow/68192125.cms (28 Feb. 2019)
Himachal Pradesh Govt to get 7 highway projects Union Minister for Road Transport and Highways Nitin Gadkari will lay the foundation stones for seven National Highway projects worth over Rs 4,419 crore in Himachal Pradesh's Kangra on Feb. 24. The projects involve four-laning of highways, construction of all weather-roads, installation of crash barriers and more. https://www.timesnownews.com/business-economy/industry/article/himachal-pradesh-to-get-seven-highway-projects-check-details-here/371552 (24 Feb. 2019)
Compiled by SANDRP (ht.sandrp@gmail.com)
Also see: DRP News Bulletin 25 Feb. 2019 & DRP News Bulletin 18 Feb. 2019
Follow us on: www.facebook.com/sandrp.in; https://twitter.com/Indian_Rivers