The big hydro push that the Union cabinet passed on the eve of the National elections announcement surely won't help the destructive and unviable big hydro projects. Big Hydro is already highly subsidised, with no credible assessment of its massive social and environmental impacts. These costs are borne by local people and not by the project developers. The cost of destruction of rivers and fisheries are not even assessed. The increased disaster impact potential due to the project is again not even assessed.
On top of it, the hydro projects are known to increase the flood disaster risks as seen in Kerala in Aug 2018 among so many other instances. So there no case for big hydro projects getting more subsidies. If at all there is case of reducing subsidies. But even these unjustified additional subsidies are NOT going to help push the big hydro, even private sector has realised that big hydro is unviable. Govt should not continue to push big hydro with public money, we hope the people will realise the foolishness and reject them. In changing climate, putting more money on big hydro is certainly not unadvisable. The timing of the move though only strengthens the argument that big dams are essentially pushed for political economy reasons rather than their merit.
According to a report, 2018 saw massive 16% drop in tourist visits to Himachal Pradesh compared to previous year, largely due to water crisis and increasing incidents of landslides, both factors due to environmental degradation, in which hydropower madness has played big role. It is worth to mention, that the Chief Minister of Arunachal Pradesh was first person to welcome Central government decision of incentivizing the hydro projects.  
HYDRO POWER PROJECTS
Centre  Cabinet approves measures to promote Hydro Power sector This will NOT help push more big hydro, as they remain economically unviable. Big Hydro is already highly subsidised, with no credible assessment of its massive social and environmental impacts, and these costs are borne by others and not developers. The cost of destruction of rivers and fisheries are not even assessed. The increased disaster impact potential due to the project is again not even assessed.
On top of it, the hydro projects are known to increase the flood disaster risks as seen in Kerala in Aug 2018 among so many other instances. So the hydro projects should not be given more subsidies. But even this is not going to help push the big hydro, even private sector has realised that big hydro is unviable. Govt may continue to push big hydro with public money, but even there they will soon realise the foolishness. In changing climate, putting more money on big hydro is certainly not unadvisable. http://pib.nic.in/newsite/PrintRelease.aspx?relid=189300         (7 March 2019)
As expected, Hydro lobby is asking for more concessions. https://energy.economictimes.indiatimes.com/news/renewable/assocham-welcomes-centres-nod-for-hydropower-policy/68315652 (8 March 2019)
Jammu & Kashmir Cabinet approves Kiru HEP The Cabinet Committee on Economic Affairs, chaired by PM Modi has approved the investment sanction for construction of Kiru Hydro Electric Project (624 MW) by M/s Chenab Valley Power Projects Private Limited (M/s CVPPPL) in Jammu & Kashmir.
The project will be implemented at an estimated cost of Rs.4287.59 crore (at July, 2018 price level) which includes Interest During Construction (IDC)a nd  Foreign Component (FC) of Rs.426.16 crore and infusion of equity of Rs 630.28 crore by NHPC in M/s CVPPPL, for construction of Kiru HE Project (624 MW) including Rs.70 crore for pre-construction activities already approved by the Cabinet, while according the approval for execution of the Pakal Dul HE Project. Govt pours more money for big hydropower projects on the eve of the elections. http://pib.nic.in/newsite/PrintRelease.aspx?relid=189244    (7 March 2019)
Sikkim Cabinet approves Teesta Stage-VI HEP The Cabinet Committee on Economic Affairs chaired by the PM Modi has given its approval for the investment sanction for acquisition of M/s Lanco Teesta Hydro Power Ltd (LTHPL) and execution of balance work of the Teesta Stage-Vl HE Project by NHPC Ltd in Sikkim.
The project will be implemented at an estimated cost of Rs 5748.04 crore (at July, 2018 Price Level), which includes Bid amount of Rs 907 crore for acquisition of LTHPL and estimated cost of balance work of Rs. 3863.95 crore withincludes Interest During Construction (IDC)and Foreign Component (FC) of Rs. 977.09 crore. Govt decides to put public money into an unviable hydropower project that the private company Lanco abandoned.    http://pib.nic.in/newsite/PrintRelease.aspx?relid=189246       (7 March 2019)
Meghalaya NEEPCO handed over two hydro power projects The North Eastern Electric Power Corporation Limited (NEEPCO) would be executing two hydel power projects in Meghalaya, Power Minister said on March 6, 2019. The two power projects are Umja-ut Hydro Electric Power project with a capacity of 69MW (renamed as Wah Umiam Stage I) and Umduna Hydro Power Project of 57 MW (also renamed as Wah Umiam Stage II). NEEPCO is already implementing stage III Wah Umiam power project. https://energy.economictimes.indiatimes.com/news/renewable/neepco-handed-over-two-hydro-power-projects-in-meghalaya/68300285           (7 March 2019)
Karnataka Andritz receives contract to modernize Shivasamudram HEP  Andritz announces it has signed a contract with the Indian state utility company Karnataka Power Corporation Ltd. to refurbish and renovate the 345-MW Shivasamudram hydropower plant in the southern state of Karnataka. https://www.hydroworld.com/articles/2019/03/brief-andritz-receives-contract-to-modernize-345-mw-shivasamudram-hydropower-in-india.html (3 March 2019)
Himachal Pradesh Requiem for a people's river Review of documentary film, Ho Gayi Hai Pir Parvat Si by Omair Ahmad of Third Pole. Made over the years 2010 to 2017 by independent filmmaker Subrat Kumar Sahu, the film examines how local people in the region have experienced the hydropower projects in the state. It is a film seething with both frustration and a sense of hopelessness. In one scene, a local from the region of Kinnaur says, "We brought our deity, and they brought their god (the machines), and the villagers ran away, what could they do?"
Himanshu Thakkar, co-ordinator of the SANDRP interviewed in the documentary, said that Environmental Impact Assessments (EIAs) were project-based, but no cumulative impact assessment had been undertaken. Given the scale of the interventions, they had demanded this, and finally one was done, but somewhat secretly. A draft report of this was released in 2013.
Thakkar adds another few comments, namely that the people conducting the cumulative impact assessment are the same ones that did the EIAs, and there is an obvious conflict of interest. He further adds that the report contained a section that had suggestions, but it was not clear whether they had any legal standing. https://www.thethirdpole.net/en/2019/03/05/requiem-for-a-peoples-river/ (5 March 2019)
Comments on ICIMOD Hindu Kush Assessment Himalayan hydro developers wilfully ignore climate risks  – In the face of growing climate change risks, ICIMOD's new Hindu Kush Himalayas assessment overlooked disaster vulnerability and potentiality of planned and under construction dams and hydro power projects in the region writes Beth Walker:-
-The region has 500 GW of potential energy, and 550 projects underway are planned or are under construction in steep Himalayan valleys in China, India, Pakistan and Bhutan, according to ICIMOD's new HIMAP report. But there are unknown consequences for the rivers and incalculable potential for catastrophic hazards. These risks are strangely overlooked in the major new assessment of the impacts of climate change in the HKH region, carried out by leading scientists at ICIMOD.
The report calls for more water resources to be allocated to hydropower generation, by prioritising large scale projects and cross border infrastructure for regional trading of power through the grid. The potential impacts on fragile ecosystems, river flow, downstream flood plains are mentioned, but framed as necessary trade-offs. Large hydropower projects with well-defined benefit-sharing mechanisms are held up as the ideal energy solution. In this way, the assessment shirks questions of sustainable hydropower, climate and geological risks and impacts on local people.
The ICIMOD review also fails to look at the cumulative impact of the huge number of large dam projects underway or the major geological risks in what is the world's youngest and highest mountains and thus most seismically unstable. This silence in the HKH assessment report is reflective of a dangerous trend in the HKH region.
Dam builders and government regulators are strategically ignoring climate change and geological risks in a rush to make short-term profits, argues new research from Amelie Huber at the University of Barcelona. The findings are based on interviews with hydropower developers, government officials and donor agencies in northeast India and published in journal Water. They paint a disturbing picture of negligence and even conspiracy in the hydropower sector.
Large dams are not only vulnerable to disasters, they also contribute to them. In areas of the Himalayas where dams are built, cracks emerge on houses, landslides increase, slopes become unstable and springs and water resources dry up nearby. This can happen years after construction. Dam reservoirs may even trigger earthquakes. This is the most fiercely debated risk, since the 7.9-magnitude Sichuan earthquake in 2008, which killed around 70,000 people and left nearly 20,000 missing. Some scientists argue that the weight of water behind a dam can produce shearing stress strong enough to worsen, or trigger, an earthquake. https://www.thethirdpole.net/en/2019/03/04/himalayan-hydro-developers-wilfully-ignore-climate-risks/ (4 March 2019)
Minutes of meeting of FAC held on 21st Feb 2019  Minutes of FAC meeting held on Feb 21, 2019, made public on March 8, 2019. Some imp decisions.
– RECOMMENDED Diversion of 730.88 ha. of forest land in favour of M/s Chief Engineer, NTRTGP Tirupati for construction of Sri Balaji Reservoir, Mallemadugu Reservoir and Kailasagiri canal under GNSS phase-II in District Chittoor, Andhra Pradesh. [The area is close to wildlife area, there is no clearance from NBWL, no CAT has been submitted)
– RECOMMENDED Proposal for prospecting of Oil and Natural Gas for 1321.44 hectares of forest land in Damoh PML for drilling of 2753 shot holes of 04″ diameter in favour of M/s. GM Chief Geological Services Frontier Basin, ONGC Limited, Dehradun, in Damoh Forest Division of Madhya Pradesh
– RECOMMENDED Proposal for for prospecting of Oil and Natural Gas for 21978.00 hectares of forest land in Damoh PML for drilling of 5940 bore holes of 04″ diameter in favour of M/s. GM Chief Geological Services, Frontier Basin, ONGC Limited, Dehradun in Damoh Forest Division, Madhya Pradesh http://forestsclearance.nic.in/writereaddata/FAC_Minutes/31181225121811.PDF
DAMS
Jharkhand 18 Years On, Memories of Jharkhand's Adivasi Anti-Dam Struggle Endure Soma Munda of Koel Karo Jan Sangthan recollects the memories of decades long tribal struggle against Koel Karo dam:- The victory of indigenous residents across the Koel-Karo basin is a poignant story of survival. But it has cost them their lives, where, generations have come together to save their land in extraordinary unity. "This is a living example of how our sweat and blood has saved us," Soma Munda said.
Walking down the lanes, he points to the invisible structures, saying, "That would have been the longest canal joining the two dams, we'd have drowned with the water." The dam's structure might never have come up, but for Soma Munda, it is a living enemy. "They think we have weakened. They must know they are wrong. We are quiet until the dam is quiet, we shall wake up in rage if the dam comes, like we always have," he warns. https://thewire.in/rights/18-years-on-memories-of-jharkhands-adivasi-anti-dam-struggle-endure (6 March 2019)
Diversion of Indus Water Punjab govt demands Rs 412 cr to build dam on Ravi-Ujj rivers The Punjab government on Feb. 27 demanded Rs 412 crore from the Centre to construct a dam to stop flowing of India's river water share to Pakistan. The state government also urged the Centre to recognise the dam construction at Makora Pattan on the Ravi-Ujj rivers as a national project.
At a meeting with Nitin Gadkari, in New Delhi, Tripat Rajinder Singh Bajwa, Punjab's Minister for Rural Development and Panchayat, and Sukhbinder Singh Sarkaria, Water Resources Minister, said with the construction of the dam, about 600 cusecs of water flowing to Pakistan could be stopped.
They told Gadkari a 7-km long channel would be constructed to carry this water to the Kalanaur-Ramdas canal system to be used for irrigation of 1 lakh acres of land. With this project, the state government would also be able to provide clean drinking water to 100 villages and six townships. Gadkari has reportedly asked the state government to submit a detailed project report (DPR) for study of all the technicalities before going ahead with the construction. https://www.outlookindia.com/newsscroll/punjab-demands-rs-412-cr-to-build-dam-on-raviujj-rivers/1486841 (27 Feb. 2019)
As per Punjab CM, the project will be completed in 3 years. The Rs 2,700 crore Shahpurkandi dam project, being set up on the Ravi river, will generate 206 MW of power, besides having the potential to irrigate 5,000 hectares of land in Punjab and 31,000 hectares of land in Jammu and Kashmir's Sambha and Kathua districts.
Of the estimated cost, which is in addition to Rs 640 crore already spent till 2014, Rs 1,408 crore would be spent on the power component, with 100 per cent share of the Punjab government, and Rs 685 crore on the irrigation component, with a share of Rs 485 crore to be contributed by the central government and Rs 179.28 crore by the state government.
The Shahpurkandi dam project is being constructed on the Ravi river, 11 km downstream of the Ranjit Sagar Dam project and 7 km up stream of Madhopur Head works.
The Shahpurkandi dam project was described as a "national project" by the Centre in 2008. However, this project, which was initially a Punjab and J-K joint venture, was held up in year 2014. The work was stopped by J-K authority on August 30, 2014 on its side "under the guise" of the Punjab Termination of Agreements Act 2004, as per an official release.
After the intervention of the Centre, both Punjab and the J-K governments signed an agreement in Sept. 2018 to restart the work on the project. The project will be monitored by a team comprising a CWC member and chief engineers from the two states. The CM also said  as many as 230 families ousted as a result of the project were offered jobs and another 34 would be given jobs shortly. https://economictimes.indiatimes.com/news/politics-and-nation/shahpurkandi-dam-project-to-reduce-flow-of-river-water-to-pakistan-amarinder-singh/articleshow/68321438.cms (8 March 2019)
CM Capt Amarinder Singh on March 8 laid the foundation stone of the ambitious 206-MW Shahpur Kandi dam project to be built on the Ravi.  This is the second such ceremony. On April 20, 1995, the then PM, PV Narasimha Rao, had laid the foundation stone and had claimed that the project will be completed in 3 years. However, the venture hit a roadblock due to various reasons.
"The construction of the dam was initially approved by the Planning Commission in November 2001 but the work could not make much progress due to the fund crunch in the Punjab Govt. Later when the work began, it again got halted following a dispute between Punjab and J&K. A series of meetings held bilaterally and the Centre finally paved the way for an agreement between the two states," Jakhar said. https://www.tribuneindia.com/news/punjab/shahpur-kandi-project-stone-laid-again/740045.html (9 March 2019)   
Arjun Meghwal, Union Minister of State for Water Resources on March 10, said that 0.53 million acre-feet of eastern rivers which was flowing into Pakistan have been stopped. He said, "0.53 million acre-feet water has been stopped from going to Pakistan and has been stored. Whenever Rajasthan or Punjab needs it, that water can be used for drinking and irrigation purposes."
The share of water from the eastern rivers is around 33 million acres feet (MAF) that technically belongs to India. Nearly 95 percent of the water is used in the country following the construction of the main dams on the rivers, nearly 5 percent water or 1.6 MAF has been flowing to Pakistan for the last 60 years.  https://www.timesnownews.com/india/article/india-stops-indus-water-to-pakistan-indus-water-treaty-1960-india-pakistan-news-today-sutlej-ravi-beas-water-million-acre-feet-maf-water-pakistan/379884 (10 March 2019)
Maharashtra Water release for 2015 Kumbh Illegal: HC Setting aside Maharashtra chief secretary's January 2016 order, the Bombay high court has held that the water released for holy baths during Kumbh Mela 2015 from Godavari river was illegal. The court has also directed the state to amend its resolutions regarding the Jalyukta Shivar Abhiyan (JSA) and River Rejuvenation Programme using a scientific approach. The court has asked the state to consider recommendations of the expert committee which was formed to look into the matter and take a decision on its implementation.    https://thewire.in/law/release-of-water-for-2015-kumbh-mela-was-illegal-rules-bombay-hc          (28 Feb .2019)
Irrigation department may push Human dam site back by 1-2 km  At a meeting of the sub-committee of state board for wildlife (SBWL) consisting of top forest officials, board members, and irrigation department engineers, the irrigation officials showed readiness to revise the original proposal.
– Apart shifting the dam site 1-2 km away, the irrigation officials said it will bring down submergence area by reducing the height of dam by one metre. This will reduce submergence from 2,079 hectares to 1,536 hectares.
– The revised proposal is unlikely to match the recommendations made by the National Tiger Conservation Authority (NTCA) committee which asked to shift the project 5km upstream from the present site in Sirkada, 3.5km from Tadoba tiger reserve boundary.
– The project needs diversion of 1,926 hectares rich forest land which will destroy over 1.51 lakh trees. The committee was constituted 3 years ago but met on March 5 for the first time to push the project by claiming to provide irrigation and drinking water to 160 villages in Saoli, Pombhurna, Mul and Chandrapur. The irrigation department has also linked the project to reduce Naxal problem in Chandrapur.
– The NTCA panel had also asked to procure private land to restore structural corridor of 3-4km downstream and convert it into forest by planting native species. The panel had also suggested options to develop lift irrigation, barrage, small dams etc. However, the irrigation department is so far non-committal on these options. The irrigation department says the committee suggestions are unacceptable.
– "The project will open floodgates for poaching and illegal fishing in the dam waters. You cannot drive tigers from a specific area by creating an artificial corridor. No mitigation can compensate the damage that will be caused by the major dam. Such dams are generally planned to supply water to power plants and industries under the garb of irrigation," said Yogesh Dudhpachare, member of the Tadoba local advisory committee. https://timesofindia.indiatimes.com/city/nagpur/irri-dept-may-push-human-dam-site-back-by-1-2-km/articleshow/68276770.cms (6 March 2019)
Govt to restart Human dam project near Tadoba reserve "The project falls in forest minister Sudhir Mungantiwar's hometown, and the minister pitched hard for the dam but all the reports are against it. This seems to be a last-ditch effort to push the project," feel wildlife experts.
In October 26, 2016, when the project came up for discussion at SWBL meeting, board members unanimously opposed the dam, claiming it will submerge corridor between Tadoba and Navegaon-Nagzira. Then chief wildlife warden Shree Bhagwan too did not recommend the project.
Interestingly, a four-member committee, set up by the MoEFCC in 2014 at the behest of Mungantiwar, has already submitted a negative report about the project. "Human project at the existing site will reduce the width of structural corridor by 90%, thereby influencing movement of animals, especially tigers, which will escalate man-wildlife conflict in the area," the MoEFCC report says.
Yet, Mungantiwar had asked PCCF (wildlife) to constitute a committee of SBWL members to study the ground situation, stating that earlier studies were conducted by experts who were not locals, and did not have complete idea about the ground situation. He had asked PCCF (wildlife) to constitute a committee of NGOs, locals, officials and experts to study the ground situation.
"If this committee comes to the conclusion that the project should not come up, we will not pursue it," he had said three years ago. However, no meeting of the committee was held till now.
The project needs forest, environment and wildlife clearance. The proposed dam has been vehemently opposed by wildlife experts and environmentalists as submergence of 1,925.55 hectare of forest land includes submerging only effective wildlife corridor connecting TATR-Ghodazari-NNTR.
"Construction of left and right bank canals will further prevent animal movement from Tadoba in the areas downstream of the dam and TATR will become an island," says Suresh Chopne of Green Planet.
The project was conceived in 1983 and construction started in 1984-85, but was stopped because of violation of Forest (Conservation) Act of 1980. Conservationists have questioned the need for the project after 33 years, especially when 20-22 major and minor irrigation projects like Gosikhurd, Ghodazari, Asolamendha and Nalleshwar have already come up in Chandrapur district.
One of the aims of the project was to get water for villages in Mul tehsil. However, the tehsil also gets water through lift irrigation projects built over the last 20 years. https://timesofindia.indiatimes.com/city/nagpur/In-tiger-land-state-govt-revives-Human-project/articleshow/68260493.cms (5 March 2019)
Govt permits private company to construct dam For the first time after the independence, state government has given permission for construction of dam to a private company for private purpose. The Maharashtra Valley View Pvt Ltd (MVVPL) little known Mumbaibased company which is developing hill station in Mulshi taluka of Pune district has been granted permission to build a dam on Kundalika river to supply water to its hill station.
The MVVPL is developing private hill station on nearly 6,000 acres of land in seven villages of Mulshi Taluka by spending around Rs. 2,000 crore. The project was cleared by the state government in 2012 under its hill station policy.
Now the company will build 100 million cubic ft. dam on Kundalika river which originates in Western Ghats and flows towards Arabian Sea. The company will have to acquire around 70 hectares of land for the dam and will spend around Rs 50 crore on construction of dam, said sources in the state government's irrigation department.
The entire water will be used for the needs of hill station which is being developed by the MVVPL. The three dams were constructed by Tata Power before independence near Lonavala to generate hydro power which is supplied to Mumbai. The Tatas generate 447 Mw from its hydro power station. The water after being used for generating electricity is released in western flowing rivers including Kundalik.
Bombay high court is hearing the case demanding that western flowing water should be diverted to Bhima basin which is deficit basin even if it means shutting down hydro stations of Tata Power. The state government has also appointed a committee to investigate the issue in August last year. https://mumbaimirror.indiatimes.com/mumbai/other/state-government-gives-permission-for-construction-of-private-dam/articleshow/68052351.cms ( 28 Feb. 2019) 
Gujarat HC directs govt to repair earthen dam In response to a PIL, the high court has instructed the authorities for immediate action to save Amirpur dam which is Asia's largest earthen dam. Issuing notices to Porbandar district authorities as well as the Narmada and water resources, water supply and kalpsar department, the court has sought their reply by April 9.
– The PIL complained of inaction by local concerned authorities for proper upkeep of the dam since the dam was constructed in 1989. The earthen dam was commissioned in 1978 and it took 12 years to complete it. It is used for irrigation purpose for villages in Ghed area.
– The petitioner claimed that ever since the dam was constructed, the authorities have not bothered to maintain it. The gates are not functioning properly, and the dam walls have also started developing cracks. The authorities have not deployed anybody to manage the gates and during monsoon, villagers themselves have to manage them. The PIL complained that the canals of the dam are also not maintained. https://timesofindia.indiatimes.com/city/ahmedabad/hc-directs-govt-to-repair-earthen-dam/articleshow/68192705.cms (28 Feb. 2019)
Karnataka Tubachi-Babaleshwar project will be completed in 18 months: Patil Home Minister M.B. Patil has said that the ongoing work on Tubachi-Babaleshwar Lift Irrigation Project will be completed in 18 months. He made it clear that he had obtained permission from Water Resources Minister D.K. Shivakumar to inspect the works. Administrative approval has been obtained for the revised Rs. 3,572 crore project. In the first phase, head works worth Rs. 1,022 crore were on the verge of completion. Even Stage 2 works were under way at the cost of Rs. 533 crore. "All these will be over within 18 months," he asserted.
He added that while the Kolhar barrage height is being raised at the cost of Rs. 30 crore, Galgali barrage work has been taken up at the cost Rs. 32 crore. Both works were bring done through Karnataka Neeravari Nigam. https://www.thehindu.com/todays-paper/tp-national/tp-karnataka/tubachi-babaleshwar-project-will-be-completed-in-18-months-patil/article26491795.ece (11 March 2019)  
National World Bank provides $137 million to modernise 220 dams in 6 states The World Bank has provided additional financing of 137 million dollars (about Rs 960 crore) for the Dam Rehabilitation and Improvement Project (DRIP) to rehabilitate and modernise over 220 selected large dams in six states. The dams are located in Karnataka, Kerala, Madhya Pradesh, Odisha, Tamil Nadu and Uttarakhand. In 2010 too, the World Bank had approved 350 million dollars (about Rs 2,450 crore) to finance DRIP that has benefited 25 million primary beneficiaries from urban and rural communities.
In another development on Friday, India and Asian Development Bank (ADB) signed a 26 million dollar (about Rs 180 crore) loan agreement to provide additional financing for improving drainage infrastructure in Dibrugarh town of Assam under the ongoing Assam Urban Infrastructure Investment Programme. The ongoing loan of 51 million dollars (about Rs 360 crore) under the programme is helping to improve water supply infrastructure in Guwahati, and solid waste management and drainage infrastructure in Guwahati and Dibrugarh. https://www.timesnownews.com/business-economy/economy/article/world-bank-provides-137-million-to-modernise-220-dams-in-6-states/379495 (9 March 2019)   
INTERLINKING OF RIVERS
Out of Eden Walk Will diverting 30 rivers solve water crisis? Writer and National Geographic Fellow Paul Salopek's Out of Eden Walk is on a storytelling odyssey across the world in the footsteps of our human forebears. This is his latest dispatch from Banda in Bundelkhand India.
– Prem Singh's intermixed plot of mango trees, rows of garlic bulbs, and cow milking sheds loom in the heat waves like a lush oasis. He is debt-free—the dream of farmers anywhere on the globe—and turning a good profit. He has promoted the digging of more than 8,000 rainwater ponds during the past decade.
– Surprising to see the article having inaccuracies about some basic facts as to much land the Ken Betwa Project will flood (it says 23 sq kms, when the Daudhan dam alone will flood 35 sq miles or 90 sq kms). https://www.nationalgeographic.com/environment/2019/03/india-diverting-30-rivers-to-solve-historic-water-crisis/         (6 March 019)
Meanwhile Union Minister Uma Bharti on Ken Betwa Project: MP CM is meeting concerned officials this evening in Bhopal. I'll also be present at the meeting, as I've been authorized for it by the union minister (Gadkari). Once Kamal Nath gives his nod for the project, Nitinji will convene a meeting of the MP CM and UP CM to pave the passage for the project and it will be a matter of five minutes before the stalled project starts."
She said Gadkari is committed for the start of the project before the model code of conduct comes into force for Lok Sabha polls. There is a lot questionable here, including her statement that there are no financial or environmental hurdles to the start of the project. The project still does not have all the clearances and legal challenges remain, besides interstate agreement. http://www.newindianexpress.com/nation/2019/mar/07/digvijaya-singh-doubts-patriotism-of-muslims-he-must-visit-rss-shakhas-to-learn-nationalism-uma-bhar-1947682.html          (7 March 019)
As per the latest news the UP MP differences remains unresolved on Ken Betwa project as this report shows. In fact it shows how MP has over the years allowed UP to get away with more and more water share from the project over the years.   https://timesofindia.indiatimes.com/city/bhopal/-no-compromise-on-mps-share-of-water-in-ken-betwa-project/articleshow/68326918.cms       (9 March 2019) 
INTERSTATE WATER DISPUTES
Check Dams on Palar River TN govt to take steps to check AP from building dams cross Palar river CM Edappadi K Palaniswami told the Assembly that the government had been taking all legal measures to prevent construction of check-dams across the Palar river by the Andhra Pradesh government.
Responding to the issue raised by DMK MLA AP Nandakumar from Anaikattu constituency, the CM said that after press reports on Feb. 5 said the Andhra Pradesh government was intending to build 30 check-dams across the Palar river, the Tamil Nadu government had written to the neighbouring State not to proceed with their proposal until the case pending before the SC was disposed of. He also recalling that the Tamil Nadu government filed a petition before the SC on Feb10, 2006 against the proposal of the Andhra government to build a dam across the Palar river at Kuppam in Chittoor district. http://www.newindianexpress.com/states/tamil-nadu/2019/feb/13/govt-to-take-steps-to-check-ap-from-building-dams-across-palar-1938132.html (13 Feb. 2019)
RIVERS AS NATIONAL WATER WAYS
Opinion Brahmaputra: A new dimension to EIA Dr (Cdr) Arnab Das Director, Maritime Research Centre, Pune:- The ambitious water ways and river-linking project across north India, particularly in the Northeast, needs to recognize the importance of environmental impact assessment and its dynamics.
The CPCB being the nodal agency finds itself constrained to even reasonably articulate the broad nature of environmental impacts, given the complex dynamics of infrastructure requirement and technical knowhow.
The most significant species in the Brahmaputra is the fresh-water dolphin locally called "shihu". The river-linking project with its massive infrastructure investment will also bring in significant amount of anthropogenic noise into the acoustic habitat of these dolphins, thereby manifesting as severe acoustic habitat degradation. This fact is yet to be recognized by conservation experts and activists largely lead by biologists.
The second aspect is safety of the infrastructure being created with such high investments. The safety is with respect to natural calamities that may not be prevented, but early and automated warning could minimize the damage substantially. Such systems will be effective particularly in such known quake-prone areas.
EIA will have to be generated with primary and secondary environmental data over a long period using this acoustic infrastructure. The original EIA that was defined only addressed ecological aspects and its impact on socio-economic issues. However, here one needs to propose a more comprehensive environmental definition that encompasses the safety and security aspects as well, along with sustainable ecology to facilitate growth in the real sense. EIA is mandatory for any World Bank-funded project. However, in the absence of a strong legal framework along with lack of understanding of the broad environmental parameters, these critical aspects get lost in the pre-modern governance structure. https://www.sentinelassam.com/news/brahmaputra-a-new-dimension-to-environmental-impact-assessment/ (4 April 2019)  
Gujarat Officials protest waterway body's plan to repurpose Badhbhut Officials are opposing IWAI plans to make Naramda river navigable for class VII vessels and saying that it is feasible to ply on class III vessels. Detailed reasons are given for this. Strange for IWAI to insist for class VII vessels capability in a river stretch where this is no water downstream of SSP. https://timesofindia.indiatimes.com/city/ahmedabad/state-protests-waterway-bodys-plan-to-repurpose-badhbhut-barrage/articleshow/67934902.cms      (11 Feb.2019)
IRRIGATION
Sardar Sarovar Dam Fraud detected in laying pipeline in Narmada command area  Apparently, these were never installed in the villages! Irregularities in the laying of underground irrigation pipelines network — taking water from Narmada sub-minor canal to the farm — in the Narmada command area has raised major concerns. Seven surprise onsite inspections by Sardar Sarovar Narmada Nigam Limited's (SSNNL) Saurashtra division vigilance staff have found Rs 66.33 crore worth of pipelines missing, for which payments have been made.
– The SSNNL has on Feb 2 issued a recovery order to these contractors. After two months of investigations, SSNNL officials realised the scope of multi-fold irregularities, including fictitious trenches and pipelines, and therefore widened their net across Saurashtra region and other SSNNL divisions in the state. The scope of irregularities is huge considering 3.11 lakh hectares of farms are to be watered by this underground pipeline network especially in water scarce Mehsana and Rajkot sections. A copy of the Feb 2 order states that all payments made to the seven agencies under investigations have to be stalled and recovery be made till January 30. The order also asks to blacklist these errant contractors. https://timesofindia.indiatimes.com/city/ahmedabad/fraud-detected-in-pipeline-work/articleshow/68247603.cms  (4 March 2019) 
RIVERS
Punjab State fails to comply with NGT order As per the report, three months after the NGT asked the Government to pay Rs 50 crore for polluting state rivers, the latter has failed to ensure the same. Besides, it hasn't even penalised the officials responsible for the huge discharge of toxic effluents into the Sutlej and Beas rivers. The state government has also failed to ensure that the non-functional (33 of the 34) STPs — along the Buddha Nullah and Kala Sanghian drain — were made functional again.
The NGT had, in August 2017, appointed environmentalist Balbir Singh Seechewal one of the members of the monitoring committee. He too conceded that officials of the PPCB (or the respective corporations responsible for running STPs to cleanse rivers) had failed to take any stringent measures. While the environmentalist in the recent hearing had expressed reservations regarding the report submitted to the government, he is also, ironically, one of the signatories of the same report. https://www.tribuneindia.com/news/punjab/state-fails-to-comply-with-ngt-order/737664.html (4 March 2019)
Justice Pritam to head panel on pollution in Sutlej, Beas The NGT has appointed Justice Pritam Pal (former Punjab and Haryana High Court judge and former Haryana Lokayukt) who heads committee monitoring pollution in the Ghaggar sinc Sept. 2017, as the head of the monitoring committee looking into the pollution in the Sutlej and Beas. An order to this effect was passed by the NGT on Feb. 28.
Environmentalist Balbir Singh Seechewal is already a member of the same monitoring committee looking into the pollution of both the Punjab rivers. He said there was lack of seriousness in state's nodal bodies, whose heads were also part of the monitoring committee, to abide by its recommendations.  https://www.tribuneindia.com/news/punjab/justice-pritam-to-head-panel-on-pollution-in-sutlej-beas/736669.html (2 March 2019)
BARC to help check water contamination CM Capt Amarinder Singh on March 5 said the contamination of underground water had become a serious issue in the state and the scientists at Bhabha Atomic Research Centre (BARC) have agreed to work on the issue and help find out the cause of spread of cancer in Punjab.
The government has been building cancer hospitals, the report has information about three such hospitals. "The southern belt is affected the most and it now has a cancer hospital in Sangrur and another is coming up in Fazilka." CM on laid foundation stone of Rs 45- crore Cancer Hospital in Hoshiarpur. https://www.tribuneindia.com/news/punjab/barc-to-help-check-water-contamination/738094.html (5 March 2019)
CCTV cover to cut pollution in rivers CM statement in State Assembly on action being taken to save rivers from pollution, it mostly mentions of building new STPs, CETPs, ETPs, now the government plans CCTVs by Dec. 31, 2019 to monitor polluting industries:-
The CM has also announced a comprehensive action plan to check pollution in rivers Beas and Satluj. Online monitoring is one among several actions that the state government has planned to tackle the problem of river pollution. CM said that he had already constituted a committee under the chairmanship of the chief secretary for regular monitoring of the measures to control pollution of the river water.
According to the CM, urban and rural treated sewage will be used for irrigation and 3 CETPs for the dyeing industries in Ludhiana will be commissioned by Jan 31, 2020. Upgradation of existing CETPs of tanneries and leather complex in Jalandhar will be done by March 31, 2020. ETPs will also be set up for the dairy complexes of Ludhiana and Jalandhar, along with a bio-gas plant for the dairy complex at Jalandhar, by Sept 30, 2021. Modernisation of the existing slaughter house at Ludhiana will be completed by Sept 30, 2019.
CM informed the house that 11 STPs had already been installed in 19 towns and 12 new STPs will be installed in 10 towns by Dec 31, 2020 while measures undertaken for cleaning of river Sutlej, includes installation of 51 STPs in 27 towns to prevent sewage pollution, with 33 STPs to be installed in 31 towns by Dec 31, 2021. https://timesofindia.indiatimes.com/city/chandigarh/cctv-cover-to-cut-pollution-in-punjab-rivers/articleshow/68005158.cms (15 Feb. 2019)
70 Punjab industries threaten aquatic biodiversity of three rivers The Central Pollution Control Board (CPCB) report has found that 70 heavy industries in Punjab are threatening the aquatic biodiversity of Satluj, Beas and Ghaggar rivers.
The report, which has been put up before the NGT, states that there are 1,735 industrial units in Punjab which require ETPs. Out of these, 1,665 industrial plants have some kind of treatment plant. As per records, the PPCB had ordered the closure of 40 industries found releasing effluents in the river systems, while 10 industries have been served with showcause notices and action is yet to be taken against 20 units.
Even from among the 1,665 units with ETPs, only 1579 units comply with effluent standards, while 86 plants have been found to be lacking, suggesting that effluents from these were also draining into the river systems. Of these 86 units, four have been asked to shut down, while court cases have been filed against five units. The PPCB has served notices on 49, while the rest continue to operate, showing no concern for the state's rivers.
According to official records, Punjab has only 4 CETPs and of these only 3 are functional while the fourth, in a legal wrangle, cannot be run. The report found that of the 641 STPs in the state, only 570 meet the standards. 71 STPs are non-complying and show-cause notice has been served against 17.  As per the report, 120 additional STPs will be operational in the state by March 2020 and 4 under-construction CETPs would be running next month. https://timesofindia.indiatimes.com/city/ludhiana/70-punjab-industries-threaten-aquatic-biodiversity-of-three-rivers/articleshow/67924425.cms (10 Feb. 2019)
Maharashtra Mutha stream purified via natural vegetation As per the report few motivated youths are working on cleaning small stream which join the Mutha river near Vitthalwadi, Thane by bioremediation and plugging sewage outlets. The initiative taken up by these volunteers has ensured that clean water from the stream enters the river and also flourishes the ponds and plants on its way. The success has further motivated these volunteers to take up the cleaning of another stream, about 50 metres from the existing stream. https://punemirror.indiatimes.com/pune/civic/mutha-stream-purified-via-natural-vegetation/articleshow/68208980.cms (1 March 2019)
Madhya Pradesh Shipra may cease to exist when Ujjain holds Kumbh Mela in 2028 Part 1 of First Post series on what ails MP rivers, here on Shipra river. -The river suffers the most while crossing Ujjain, which has a population of over five lakh. Sewage and other types of wastewater start flowing in through the open drains and 13 nullahs of the town. A CPCB report in 2017 proved that water at the four ghats is not even fit for bathing.
According to a report prepared by the Municipal Corporation of Ujjain, the city discharges 110 mld into the river. While the city has several STPs with a total capacity of 92 mld but there are still many nullahs which are directly linked to the river and mix untreated water with the holy waters of Shipra.
Ujjain Municipality Corporation plans 400 crore STP projects to clean the river while 500 crore spent on Narmada- Kshipra link since 2012 has failed to yield any improvement. https://www.firstpost.com/india/drying-rivers-of-madhya-pradesh-awash-in-trash-shipra-may-cease-to-exist-when-ujjain-holds-kumbh-mela-in-2028-6204821.html (6 March 2019)
Rampant sand-mining sound death knell for Ken, Betwa rivers Part 2 of First Post series on what ails MP rivers, here on Ken and Betwa. Non-stop sand mining, development projects near rivers, deforestation in the catchment areas and unplanned dams are killing the major rivers of Madhya Pradesh. The state is now facing an acute deficit of water. Tapti and Shipra have almost died while the Narmada river is also facing dry spells.
According to the latest report of the CPCB, 3 rivers Chambal, Khan and Shipra (Kshipra) are the most polluted in the state and need to be cleaned on a priority basis. Khan river that originates from Indore and drains into Khispra at Ujjain was found to be the most polluted river of Madhya Pradesh.
Betwa river, which originates from near Bhopal, is a tributary of the Yamuna. It crosses through Jhansi, a prominent city in Bundelkhand and provides potable water, helps in irrigation and electricity generation in Bundelkhand. Industries situated near Mandideep and Raisen, industrial cities near Bhopal, pollute the river the most at the point of origin.
Besides pollution, the lack of flow of the river is also a concern for Betwa. Last year, the river had dried up in Feb. in Vidisha district. According to a report by a local newspaper, the river dried near Ganesh Mandir in the city and one can now cross the river on foot.
There are two hydroelectric projects —Matatila HEP in Lalitpur Jhansi and Rajghat HEP in Guna — on the river. According to a report by Madhya Pradesh Power Generation Company, the generation of power through hydro energy has fallen down rapidly to 1,485 MU in 2017-18 from 3,052 MU in 2006-07. https://www.firstpost.com/india/drying-rivers-of-madhya-pradesh-rampant-sand-mining-unabated-deforestation-sound-death-knell-for-ken-betwa-rivers-6214481.html (7 March 2019)
Dams, pollution, mining push Narmada on the cusp of extinction The 3rd part is on Narmada river. Shrinking every year, the water level in the Narmada is now so low that during a bad season you can even cross the river bed on foot and that too near its origin. In 2018, Narmada had dried up at many places for the first time in hundreds of years. With six big dams and power projects on it, the river has been facing environmental threats from illegal mining, deforestation, and now the river linking project.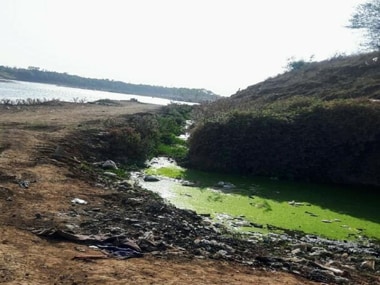 A report by the World Resources Institute (WRI) has categorised the Narmada as one of six major river basins in the world facing an existential crisis. The report says that in 2017 the river faced water crisis and as a result, the Gujarat govt had to stop using water from the Sardar Sarovar dam for irrigation. The International Water Management Institute points out that the scarcity of water is due to the increasing dependency on the Narmada basin.
–  "The Narmada is not a glacier river, but the source of the river is a forest. A large chunk of the green area store rainwater and release it in the Narmada. Deforestation ruins its source and as a result, the crisis is here in front of everyone," says Water expert Vinod Sharma, who works on the conservation of Narmada river. The forest cover of Madhya Pradesh has been decreasing year by year. As per the latest report released by the Forest Survey of India, in 2017 the total forest cover of Madhya Pradesh was 77,414 sq km against 77,462 sq km in 2015, 77,700 sq km in 2011, and 1,35,785 sq km in 1991.
– Another big challenge for the Narmada is the dumping of untreated industrial waste and civic sewage. A study conducted by the CPCB says that the 160-km-long flow of the river from Mandla to Bhedaghat and 80-km-long flow from Sethani Ghat to Nemawar are highly polluted. The CPCB has declared the entire stretch of the river flowing in Madhya Pradesh's Jabalpur district as polluted in its latest report.
– According to IIT Delhi doctorate student Kartik Sapre study, all the 41 tributaries of Narmada are facing difficulties in survival. The water level of the river is at an all-time low, said Sapre, who is also associated with Narmada Samagra. A white paper on Narmada river prepared by Vichar Madhya Pradesh has highlighted that there are 24 cities that discharge their polluted water without any treatment in the Narmada. A total of 102 nullahs have been discharging polluted water since years. The report also pointed out the use of chemical fertilisers in farmlands near the Narmada. Sand mining is also one of the major factors responsible for the plight of the Narmada. https://www.firstpost.com/india/drying-rivers-of-madhya-pradesh-narmada-on-the-cusp-of-extinction-with-six-big-dams-sand-mining-pollution-threatening-its-survival-6221291.html (8 March 2019)
GANGA Opinion The reality of Clean Ganga during Kumbh is unravelling: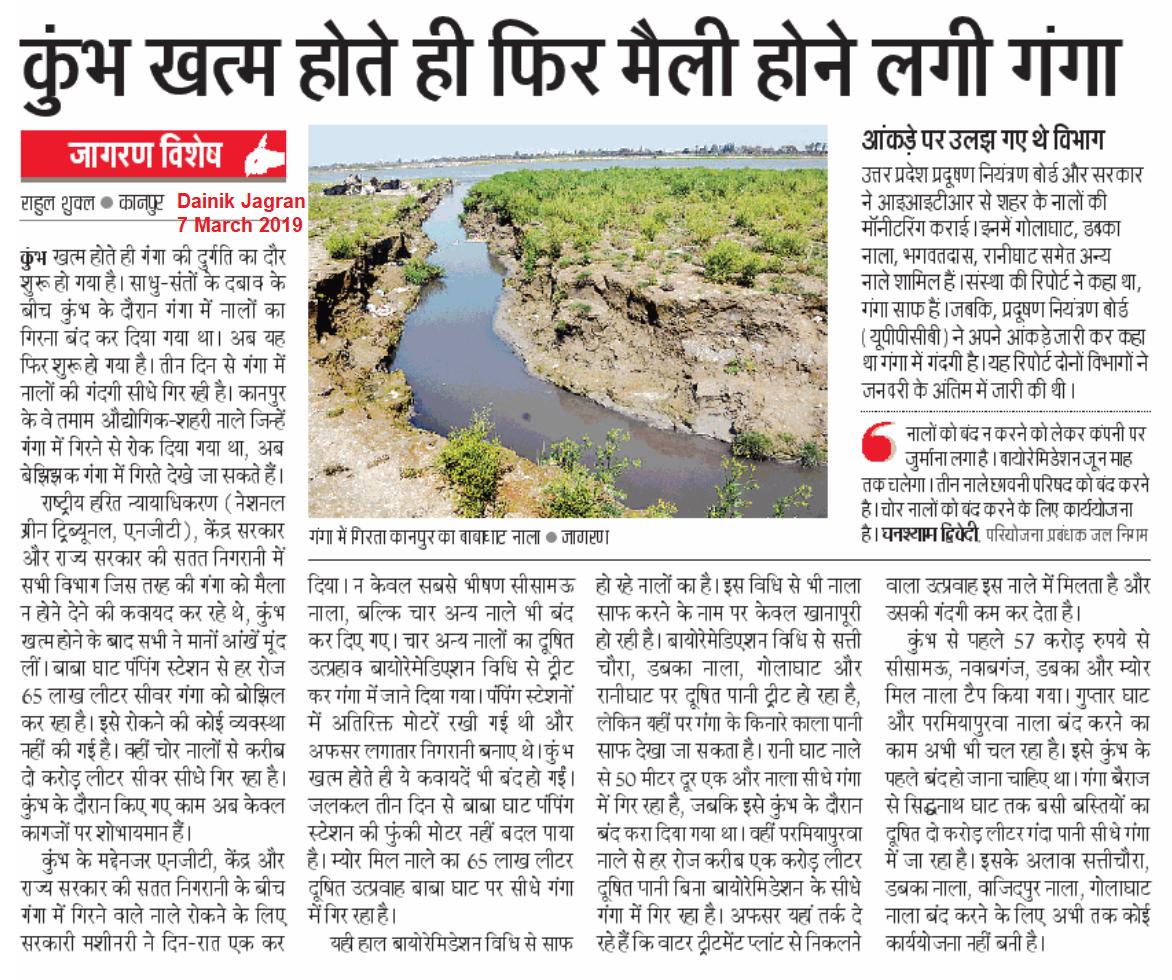 India Climate Dialogue Kumbh Mela clean up won't save the Ganga How did the Ganga run clean during the Kumbh? Reinforcing the anecdotes of salvation seekers, P.K. Agarwal, general manager of the Ganga Pollution Control Unit at Arail — a neighbourhood in Prayagraj — said not a single drop of untreated sewage was flowing into the Ganga and Yamuna following special efforts to treat the enormous amount of human waste generated by millions of pilgrims.
"We have laid sewer lines throughout the Mela grounds and have augmented our treatment capacity," Agarwal claimed. "We are treating 99% of the sewage, which is why the rivers are so clean this time." He attributed this achievement to the funds made available through the National Mission to Clean Ganga (NMCG) and the extra efforts by Jal Nigam, the government utility that manages water supply and sewage treatment in the city.
Agarwal however admitted that the release of extra water upstream at the Tehri dam in Uttarakhand and the temporary shuttering of heavily polluting tanneries in Kanpur have also helped keep the Ganga clean during the Kumbh Mela this year. This show of cleanliness is important to the ruling dispensations at the central and state levels led by the Hindu nationalist Bharatiya Janata Party (BJP) because India goes to the polls soon to elect a new Lok Sabha, the lower house of Parliament.
River experts and activists say that the transformation of the Ganga and Yamuna at Prayagraj amounts to "event management," as many experts termed it, and will unlikely be sustained over the long term. "It is an election period chimera at best. When an Ardh (half) Kumbh could be turned into a Kumbh for obvious reasons, anything and everything could be claimed. What they have done is to release 6-7,000 cusec (cubic foot per second) of water in Ganga from the Tehri dam in a period when normal flow in the river, with all dams and barrages upstream, does not exceed 1,000 cusec," said Manoj Mishra, Convenor of the Yamuna Jiye Abhiyan (Living Yamuna Campaign). "Obviously, with good dilution water in the river, it would appear rejuvenated. But for how long?"
"These are Band-Aid solutions and temporary at best," said river expert Himanshu Thakkar, of the SANDRP. Thakkar feels that unless there is an overhaul of the governance system, such attempts at keeping the river clean will prove futile. https://indiaclimatedialogue.net/2019/03/11/kumbh-mela-clean-up-wont-save-the-ganga/
Report गंगा सफाई के लिए बनी मोदी की अध्यक्षता वाली समिति की अब तक एक भी बैठक नहीं हुई गंगा सफाई के लिए बनी प्रधानमंत्री नरेंद्र मोदी की अध्यक्षता वाली 'राष्ट्रीय गंगा परिषद (नेशनल गंगा काउंसिल या एनजीसी) की आज तक एक भी बैठक नहीं हुई है. द वायर द्वारा दायर किए गए सूचना का अधिकार आवेदन से इसका खुलासा हुआ है. नियम के मुताबिक साल में कम से कम एक बार इस परिषद की बैठक होनी चाहिए.
अक्टूबर 2016 में राष्ट्रीय गंगा परिषद का गठन किया था. इसका उद्देश्य गंगा नदी का संरक्षण, सुरक्षा और प्रबंधन करना है. सात अक्टूबर 2016 को जल संसाधन, नदी विकास और गंगा संरक्षण मंत्रालय की ओर से जारी अधिसूचना में कहा गया है कि राष्ट्रीय गंगा परिषद अपने विवेक से हर साल कम से कम एक या एक से अधिक बैठकें आयोजित कर सकती है.
हालांकि 8 जनवरी 2019 को आरटीआई आवेदन के ज़रिये जल संसाधन, नदी विकास एवं गंगा संरक्षण मंत्रालय के अधीन संस्था राष्ट्रीय स्वच्छ गंगा मिशन (एनएमसीजी) से मिली जानकारी से खुलासा हुआ है कि इसके गठन के दो साल से ज़्यादा समय बीत जाने के बाद भी आज तक राष्ट्रीय गंगा परिषद की एक भी बैठक नहीं हुई है. गंगा सफाई की दिशा में हो रहे कार्यों को देखने के लिए राष्ट्रीय गंगा परिषद संभवत: सबसे बड़ी समिति है. http://thewirehindi.com/71842/clean-ganga-narendra-modi-national-ganga-council/ (11 March 2019)
With 1,109 industries discharging toxic effluents, it is a long way to go By RC Acharya:- GAP has managed to spend less than Rs 4,000 crore in three decades, the reconstituted body (NMCG) has already spent Rs 5,650 crore, and for year ending March 31, 2019, projects worth Rs 2,295 crore are expected to be completed. With an outlay of Rs 20,000 crores for the period 2015-20, NMCG is aiming big with 267 projects sanctioned so far costing Rs 26,360 crore, of which 82 have been completed.
About 80% of the pollution is contributed by municipality sewage, while industries located along the Ganga account for 20%. However, industrial effluents are the major cause for toxicity and health hazard. Over 400 tanneries in and around Kanpur, which discharge tonnes of toxic effluent into the Ganga, shall soon have a CETP of 20 mld capacity costing Rs 620 crore. https://www.financialexpress.com/opinion/namami-gange-takes-off-with-1109-industries-discharging-toxic-effluents-into-ganga-it-is-a-long-way-to-go/1507395/ (7 March 2019)
Study Pollution in Ganga harming riverbed sediments too A study conducted by the researchers at the Institute of Science, Banaras Hindu University, Varanasi has found that the excess pollution in the Ganga river is not only polluting the water but also causing a deficit of dissolved oxygen in the riverbeds in some of the most polluted stretches of the Ganga river.
The study was conducted during the summer months of 2016 to 2018 and was done along the stretch of the river between Varanasi and Kanpur and downstream to two major drains–Wazidpur in Kanpur and Assi in Varanasi. As per the study, the dissolved oxygen at the interface of sediment and water at the study points was lowest which suggests that the sediment oxygen demand is a major contributor to the low levels of dissolved oxygen in these regions.  https://www.downtoearth.org.in/news/water/pollution-in-ganga-harming-riverbed-sediments-too-says-study-63375        (26 Feb .2019)
Uttar Pradesh PM lays foundation stone for various Namami Gange projects in Kanpur  PM Modi on March 8 in Kanpur inaugurated and laid the foundation stone for a slew of projects worth Rs.73.8 crore, including those for the Namami Gange project, aimed at cleaning and safeguarding the river Ganga.
The newly inaugurated projects include the interception and diversion of the128 years old Sisamau Nala carrying 140 MLd of untreated sewage into the Ganga.  Five other drains have also been intercepted and diverted. The total cost of these projects amounts to Rs 63.80 crore. These projects will lead to Rs 23 crore litres of sewage/industrial effluent per day being prevented from flowing into the Ganga.
The work for 20 MLD Common Effluent Treatment Plant (CETP) at Jajmau near Kanpur for tannery units was given a green signal. The Jajmau project, estimated to cost Rs 617.02 crores, will prevent 2 crore litres of pollution load from the tannery pollutants from entering the Ganga.
Three other projects under the Comprehensive Sewerage Management Scheme (CSMS) received a nod by the government. It includes inauguration of a 30 MLD STP and rehabilitation of existing 130 MLD STP at Jajmau. 5 MLD STP was also inaugurated at Shuklaganj in Unnao district. Apart from this, the PM also inaugurated a 102-metre-long Atal Ghat, estimated to cost Rs 10 crores. Various projects of crematoria development, bio-remediation of drains, river surface cleaning, ghat cleaning, aforestation, rural sanitation and public outreach activities were also taken up in the city of Kanpur. https://www.deccanchronicle.com/nation/current-affairs/090319/modi-inaugurates-lays-foundation-stone-for-various-namami-gange-proje.html (9 March 2019)
Delhi Studies to check if vegetables from floodplain are contaminated NGT committee  has reportedly ordered studies to check whether vegetables grown in the Yamuna floodplains are contaminated by heavy metals and pesticides and directed the CPCB and the NEERI to conduct the studies.
But the Indian Agriculture Research Institute (IARI), in multiple reports, held that the concentration of pesticides in vegetables was within safe limits. Farmers said they were using groundwater and not the polluted river water for irrigation. Experts had said not all groundwater from the floodplains was contaminated. "It is a welcome decision because not all vegetables grown on the floodplains could be tagged as contaminated," said Manoj Misra, convener of the Yamuna Jiye Abhiyan, a group of non-government organisations and individuals working for the conservation of the river system. https://www.hindustantimes.com/delhi-news/studies-to-check-ifvegetables-from-yamuna-floodplain-are-contaminated/story-SzVeDjbNujrSgSEQZviLMO.html (7 March 2019)
Govt to dissuade farming on 'toxic' floodplains  The Delhi govt is planning an awareness campaign to discourage cultivation on the Yamuna floodplains, and citizens from consuming such produce. This comes 4 years after the NGT banned cultivation along the polluted river. The issue was discussed in a meeting held on Dec. 24, 2018 between the government and the NGT-appointed two-member Yamuna pollution monitoring committee.
In 2015, NGT issued the ban saying, "It is an established fact that presently, vegetables, fodder grown and allied projects at the flood plain of river Yamuna are highly contaminated." "The vegetables are regularly tested in the Indian Agricultural Research Institute (IARI) at Pusa and pesticide levels are safe. We know the river water is polluted. The crops would die and the yield drops drastically if we use contaminated river water," said Dalbir Singh, vice president of Delhi Peasants Multi-purpose Society.
Farmers warned that if agriculture here is stopped, then Delhi would have to depend on neighbouring states, which would not just lead to price rise, but also quality. A senior scientist from the IARI said, "The vegetables were tested for pesticides, not heavy metals. Pesticides were found to be below safe limits." https://www.hindustantimes.com/delhi-news/delhi-government-to-launch-drive-dissuading-farming-on-toxic-yamuna-floodplains/story-wD6hR1zRfhJ2WIkktFJtkO.html (4 Feb. 2019)
Sadak Se Sansad: How the Polluted Yamuna Remains Ignored In another special story from the East Delhi Lok Sabha constituency, The Wire's new series 'Sadak se Sansad' takes stock of the polluted waters of the Yamuna river.
With garbage and toxic waste continually being dumped in the waters of the river, is an effective solution to clean up the river a priority for East Delhi's Lok Sabha candidates? https://thewire.in/video/watch-sadak-se-sansad-how-the-polluted-yamuna-remains-ignored ( 8 March 2019)
Uttrakhand Yamuna river to be tapped to tide over Mussoorie's water crisis As per Mussoorie MLA Ganesh Joshi, the central government has sanctioned a mega drinking water scheme costing around Rs 124 crore in which water from Yamuna river would be extracted to meet the town's water requirements. "This scheme is expected to be completed within two years. Once operationlised, the town's water problems will be solved, at least for the next 30 to 40 years," Joshi claimed.
Over the years, the Queen of Hills has been facing acute shortage of drinking water, particularly during the summer months. During the peak season, the water demand touches 14.5 MLD, while the availability is only around 7.67 MLD, which results in a shortfall of nearly 7 MLD. The town derives its entire water supply from around 20 springs located around Mussoorie. https://timesofindia.indiatimes.com/city/dehradun/yamuna-river-to-be-tapped-to-tide-over-mussoories-water-crisis/articleshow/68338565.cms (10 March 2019)
MoWR Rs 5000 cr projects being set up to clean Yamuna: Gadkari Inaugurating a 4-lane flyover at the Dhaula Kuan on March 2, Nitin Gadkari said that projects worth Rs 5,000 crore are being implemented to check pollution in the river Yamuna. http://www.newindianexpress.com/thesundaystandard/2019/mar/03/projects-worth-5k-crore-being-set-up-for-clean-yamuna-1946064.html (3 March 2019)
RIVERS BIODIVERSITY
Bihar 2 gharials spotted in Kosi river after half a century A team of scientists spotted two gharials in Kosi river in Bihar for the first time in 50 years. The scientists from Vikramshila Biodiversity Research and Education Centre (VBREC) of Tilka Manjhi Bhagalpur University in Bihar said they saw an adult and a juvenile gharial during a survey.
The team spotted them in a 5.5-km stretch near Dhamara ghat in Saharsa district of the state, said Sunil Choudhary, director, VBREC. "Scientists from the research centre regularly conduct surveys in the river but gharials were found in this stretch of Kosi river for the first time in 50 years," said Choudhary.
These gharials appeared to be different from those found in Koshi Tappu Wildlife Reserve in Nepal and hence have not migrated downstream to where they were spotted, he added. "We strongly believe that these gharials are part of the resident population of the endangered species in the crocodilian family in that stretch," said the research centre's director. https://www.downtoearth.org.in/news/wildlife-biodiversity/two-gharials-spotted-in-kosi-river-in-bihar-after-half-a-century-63366 (26 Feb. 2019)
Uttar Pradesh विचित्र कछुए को देखने उमड़ पड़ी लोगों की भीड़ बहराइच वन प्रभाग के कैसरगंज रेंज के एक गांव में एक विचित्र आकार का कछुआ पहुंच गया। जिसकी पीठ पर सुनहरे रंग के छीटे थे। अंग्रेजी के यू, जे, टी आदि वाक्य भी सुनहरे रंग में बने हुए थे। यह खबर जंगल की आग की तरह फैल गई। देखते ही देखते लोगों की भीड़ उमड़ पड़ी। किसी ने इसकी सूचना कैसरगंज रेंज कार्यालय को दे दी। पुलिस तथा वन महकमे की टीम आनन-फानन में मौके पर पहुंच गई। कछुए को अपने कब्जे में लेकर वन महकमे की टीम ने उसे घाघरा की धाराओं में छोड़ दिया है। https://navbharattimes.indiatimes.com/state/uttar-pradesh/others/unique-shaped-tortoise-seen-in-bahraich/articleshow/68250077.cms (4 march 2019)
FISH, FISHERIES, FISHERFOLKS
Centre Dept of Fisheries, Ministry of Agriculture, Govt of India has come out with Draft Inland Fisheries and aquaculture policy on Feb 27, inviting comments in two weeks, that is by March 13 March, 2019. Comments are to be sent to: Dr. J. Balaji Joint Secretary (Fisheries), Department of Fisheries, Ministry of Agriculture and Farmers Welfare, Krishi Bhawan, New Delhi- 110 001. Email: jsfy@nic.in Fax: 011-2307O370   http://dadf.gov.in/sites/default/filess/NIFAP%20%28English%29%20%28merged%29.pdf      (27 Feb.2019)
SAND MINING
Kerala Trouble is brewing for sand extraction at Thottappally estuary The move to remove mineral-rich sand from the Thottappally 'pozhi' (estuary) has met with opposition. The State government last month decided to extract sand from the estuary and dredge the leading channel to ensure smooth flow of water from the Kuttanad region through the Thottappally spillway. It directed the Irrigation Department to sell the sand either to Indian Rare Earths Ltd. (IRE) or Kerala Minerals and Metals Ltd. (KMML).
However, environmentalists and local residents say the move is aimed at extending the mineral-sand mining along the Thottappally coast. The Thottappally coast is one of the prime locations for egg-laying Olive ridley turtles in the State. "The decision to remove sand from the estuary will spell doom for the ecology of the area. To remove sand, they will have to cut more than 350 casuarina trees. Besides, the area is also home to several species of reptiles, migratory birds, and a large number of butterflies," Saji Jayamohan, secretary, Green Roots Nature Conservation Forum told The Hindu.
The Purakkad panchayat authorities say that they were not consulted by the government before taking the decision to remove sand from the estuary. "In the case of the ongoing harbour dredging and recent decision to extract sand from the estuary, the local panchayat has been totally sidelined. The decision to take sand from the estuary in the name of floods is nothing but a blatant looting of rich mineral-sand deposits. We will stand with the people of the region and will not allow the government to remove sand," says an official with the Purakkad panchayat. https://www.thehindu.com/news/national/kerala/trouble-is-brewing-for-sand-extraction-at-thottappally-estuary/article26353875.ece (23 Feb. 2019)
Uttar Pradesh Govt official booked for aiding sand mining mafia An government official was booked by the police for aiding sand mining mafia, an official said March 10. Brijesh Gautam, an inspector with the state's mining department, was accused of being involved in the illegal lifting of sand from the Yamuna river in Shamli district. On the directive of District Magistrate Akhilesh Singh, the police registered a case against the inspector, Superintendent of Police Ajay Kumar Pandey said. The action was taken following several complaints of alleged corruption against the inspector, he added. https://www.thehansindia.com/posts/index/National/2019-03-10/UP-Government-official-booked-for-aiding-sand-mining-mafia/510817 (10 March 2019)
Madhya Pradesh रेत के अवैध उत्खनन से इस बार कैथन नदी की धार जनवरी में ही टूटी, दिखने लगे टापू रेत के अवैध उत्खनन के कारण क्षेत्र की सबसे बड़ी कैथन नदी सूखने लगी है। कैथन नदी पर घाट बमुरिया से कुम्हर्रा तक एक दर्जन से अधिक स्थानों पर रेत निकाली जा रही है। अवैध उत्खनन से नदी के मूल स्वरूप को नुकसान हो रहा है। इसके चलते साल भर पानी से भरपूर रहने वाली नदी अब गर्मी के मौसम से पहले ही सूखने लगी है। जबकि नदी के पानी को रोकने के लिए प्रशासन ने कई प्रयास किए हैं।
इसके बाद भी निरन्तर नदी के क्षरण के पीछे क्षेत्र के एक बड़े असंगठित गिरोह का नदी से रेत निकालकर लगातार बेचना बताया जाता है। हजारों एकड़ कृषि भूमि को सिंचित करने वाली इस नदी में अब गर्मियों के मौसम तक नहाने के लिए भी पानी नहीं बचता। जल्द ही जमीनी स्तर पर नदी को बचाने के प्रयास नहीं किए गए तो वह दिन दूर नहीं जब नदी का अस्तित्व खत्म हो जाएगा।
कई वर्षों से नदी में मछलियां पकड़ने का काम कर रहे मछुआरे बताते हैं कि पहले हाजूखेड़ी की देह और सुमेर गांव के नीचे दत्तया नामक स्थान पर नदी में सात-आठ फीट की मछलियां मिलती थीं, लेकिन अब ढूंढे से मछलियां नहीं मिलतीं। नदी में पाए जाने वाले कई प्रकार के जलीय जीव खत्म हो गए हैं। वहीं गर्मियों के मौसम में जब नदी में पानी कम हो जाता था तो रेत के मैदान निकल आते थे। https://www.bhaskar.com/mp/ashoknagar/news/mp-news-this-time-from-the-illegal-mining-of-sand-this-year-the-edge-of-the-river-keith-was-broken-the-island-began-to-appear-020117-3687882.html (18 Jan. 2019)
Also see, Hindi report on illegal Sand Mining in Bina River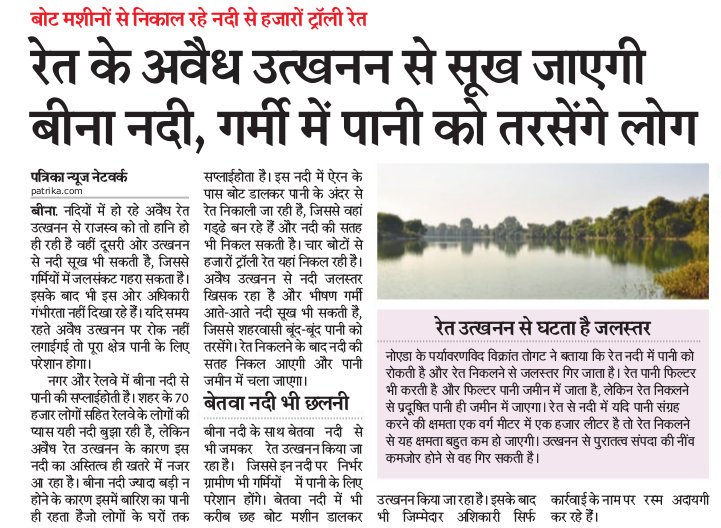 https://www.patrika.com/sagar-news/kind-illegal-quarrying-of-the-sand-the-city-will-craving-for-the-water-4228211/ (5 March 2019)
Rajasthan रेतम नदी से रेत निकालने के लिए पानी में उतारीं मशीनें, खनिज विभाग को नहीं दिख रहीं  खनन माफिया और खनिज विभाग के अधिकारियों की मिलीभगत से जिले में नदियों से रेत तथा खदानों से लाल पत्थर का अवैध खनन हो रहा है। माफिया आंतरी-कुंदवासा में नदी में मशीनें डालकर रेत निकाल रहे हैं। राजस्थान से रोज 70 से अधिक बालू रेत के डंपर जिले में आ रहे हैं। गांव से शहर तक जगह-जगह रेत के ढेर लगाकर स्टॉक किया जा रहा है।
जिले के रामपुरा, चचौर, देवरान, कुंडला, आंतरी, चंबलेश्वर बांध क्षेत्र, सेमली इस्तमुरार, हासपुर, डांगड़ी, मजीरिया, जन्नौद, दुरगपुरा, कुंडला, खान खेड़ी, कुंदवासा, मातारूंडी, कराडिय़ा, डोरिया खेड़ी, रायपुरिया, सिंगोली की ब्राह्मणी नदी, अठाना क्षेत्र में तुंबा नदी, पालसोड़ा के समीप रेतम नदी से रेत का अवैध उत्खनन होता है। https://www.bhaskar.com/news/latest-neemuch-news-040503-2012020.html (21 Jan. 2018)
WETLANDS, LAKES, WATER BODIES
Assam The Earth is not for humans alone: NGT over Deepor Beel During the hearing of a petition filed by RTI activist Rohit Choudhury on Deepor Beel, the NGT has remarked that the earth is not for humans alone and that all creatures, including wildlife, have a right over it. The tribunal observed that the railways had not reduced the speed of trains passing through the area and had also not synchronised the timing of the trains at the level crossings.
Further, the NGT took to notice the shifting of the municipal solid waste plant at the Beel which is causing a huge trash dump near it. The Assam government has been ordered to identify an alternative place for the plant, else it would be directed for a shut down in addition to the imposition of exemplary penalty.   https://www.downtoearth.org.in/news/wildlife-biodiversity/the-earth-is-not-for-humans-alone-says-ngt-over-deepor-beel-63428       (2 March 2019)
Karnataka Apex court sets aside NGT order on Bengaluru lakes The Supreme Court on March 5 set aside a 2016 NGT order that expanded buffer zone limits around lakes and water bodies in Bengaluru. The NGT had fixed the buffer/green zone of 75 metres in respect of lakes, 50 metres in respect of primary rajakaluves (storm water drains), 35 metres in case of secondary rajakaluves and 25 metres in case of tertiary rajakaluves with retrospective effect in Bengaluru.
The state government had challenged the 2016 NGT order, saying it had gone against the Revised Master Plan, 2015 for Bengaluru. The state government argued that if NGT order is implemented, it will result in demolition of 95% of the buildings in Bengaluru. The state said directions were against Karnataka Industrial Area Development Act, Planning Act, Karnataka Municipal Corporations Act, 1976, adding the buffer zone was already fixed as 30 metres. https://www.hindustantimes.com/india-news/apex-court-sets-aside-ngt-order-on-bengaluru-lakes/story-OsG0Ub8JC6vW8Ee6VqtOjM.html (6 March 2019)
The three-member bench of Justices AK Sikri, S Abdul Nazeer and MR Shah gave the judgement in response to appeals filed by the Karnataka government and a group of realtors questioning the NGT order. The SC set aside the order as the NGOs, who were respondents in the case, too did not object to the court's observation.
However, the court upheld the tribunal's order in the original case that had directed that the special economic zone project on Agara lake bed located in the Bellandur lake catchment area be shut down. The NGT had earlier ordered two private companies — Mantri Tech Zone and Core Mind Software Services — against continuing the SEZ project as it would harm the environment and ecology of the chain of lakes. The tribunal had also imposed a penalty of Rs 140 crore on two companies for commencing the work without obtaining required clearances and for causing damage to environment. https://economictimes.indiatimes.com/news/politics-and-nation/realtors-cheer-as-sc-overturns-ngt-order-on-lake-buffer-zone/articleshow/68281787.cms (6 March 2019)  
260-crore revival of TG Halli lake set to begin   Tippagondanahalli lake, once the source of piped water for the city, my come back to life nearly a decade after pumping was stopped as the water was deemed unfit for human consumption. On March 6, a ₹260-crore project to rejuvenate and revive the reservoir was launched by Deputy Chief Minister G. Parameshwara. The lake and the upstream Hasserghatta reservoir are likely to get water from Yettinahole river diversion project.    https://www.thehindu.com/news/cities/bangalore/260-crore-revival-of-tg-halli-lake-set-to-begin/article26449838.ece    (6 March 2019)
Bengaluru's Varthur lake froths again The infamous Varthur lake in Bengaluru is frothing yet again courtesy the presence of high amount of toxic pollutants in it. Located near Technology Park in Whitefield, Varthur and Bellandur Lake have earned a dubious distinction of being titled 'burning lakes' owing to the number of times the surface of these lakes have caught fire.
These latest developments come in the wake of an order by the NGT issued to the state government and the Bruhat Bengaluru Mahanagar Palike (BBMP) issued in Dec. of 2018. In its order, NGT had directed the concerned authorities, including the Karnataka State Pollution Control Board (KPCB) to ensure the removal of construction and demolition debris from the lakebed.
In addition, the NGT had also directed the state government and Bengaluru's civic body to deposit an amount of Rs 500 crore in an escrow account for the formation of an action plan to revive Bellandur and Varthur lakes among other deteriorating water bodies in the state. https://www.timesnownews.com/mirror-now/article/karnataka-bengaluru-bangalore-bellandur-varthur-froth-burning-lake-ngt-bbmp-kspcb/376812 (05 March 2019)   
Nurseries to be established on lake beds within Bengaluru While the BBMP and the Forest Department have several nurseries located in different zones like Yelahanka, Kudlu gate, HAL Airport and Bangalore University campus, water scarcity, as well as a space crunch, are resulting in extremely low yields with most nurseries faltering for lack of space.
In order to deal with the worsening situation of lack of space, the BBMP is now planning on establishing new nurseries, around lake beds, to help with water availability as well as space. Constructing a nursery requires at least two acres of land for a capacity of 2,00,000 saplings. An amount of Rs 2 crore has been allotted for the cause. Few lake beds have been identified in North and South Sub Division, such as Kalkere Lake, Hulimavu Lake, Kempambudhi Kere, Dasarahalli Lake, Mallathahalli Lake, Attur Lake and Bellandur Lake, for setting up the new nurseries.
Leveling of the land will be done and tanks will be constructed for storing water. Additionally, borewells will also be dug to ensure steady supply of water. The department is also planning on building watchman sheds to ensure that a person will be present there at all times. The aim is to create space for ten lakh saplings. http://www.newindianexpress.com/cities/bengaluru/2019/mar/06/nurseries-to-be-established-on-lake-beds-within-bengaluru-1947196.html (6 March 2019)
Lokayukta asks DC to act to protect city lakes Raising concern over encroachment of lakes in the city, Lokayukta Justice P Vishwanatha Shetty has directed the DC of Bengaluru Urban District to ensure protection of water bodies. The direction comes in the wake of Jayaprakash, Joint Director of Land Records, Bengaluru Urban District and Santhosh, Assistant Director of Land Records, Bengaluru Urban District, submitting the report after surveying three lakes based on directions of the Lokayukta. The Lokayukta is hearing the complaint filed by activist HS Doreswamy and others on encroachment of lakes.
In the survey report, it was stated that out of 37.14 acres of Horamavu Lake in Bengaluru East, 1.3 acres were encroached by the govt for road, 9.20 acres by 2 private layouts and more than one acres by landholders. Similarly, out of 51.34 acres of Agara Lake, 6.35 acres were found encroached by the govt for road, 7.25 guntas for BMTC bus stand and some of the land by locals for private buildings. As far as 17.11 acres of Mallasandra Lake are concerned, about 1.04 acres are being used for burial ground, 29 guntas for road, and a portion of the lake is encroached for a place of worship and building houses.
Over pollution at Chikkbanavara Lake, the Lokayukta observed that the encroached portion needs to be removed. "No construction or encroachments can be allowed to take place either in the lake area or in the lakebed," he said. Lokayukta has asked the DM to ensure that the tahsildar would take immediate effective steps for removal of encroachments by the end of June, 2019. It has also asked BBMP to take steps for rejuvenating the lakes. http://www.newindianexpress.com/cities/bengaluru/2019/mar/05/lokayukta-asks-dc-to-act-to-protect-city-lakes-1946806.html (5 March 2019)
Civic body to rejuvenate 59 lakes at one go at a cost of ₹ 348 cr  The BBMP will take up work on 59 city lakes in one go. It wants to develop major lakes in the city, such as Marathahalli lake, Hosakerehalli lake, Halagevederahalli lake, Hulimavu lake, Dorekere lake and Abbigere lake among others. Desilting, building walkers' paths, construction of inlets and other work will be taken up.
The BBMP recently received ₹ 348 crore for development of the 59 lakes, out of the total approved amount of ₹ 8,000 crore for various development projects, from the state government. The civic body will be provided the sanctioned ₹ 348 crore in three phases, with which the BBMP wants to take up the work under various phases in the next 3 years. http://www.newindianexpress.com/cities/bengaluru/2019/feb/28/civic-body-to-rejuvenate-59-lakes-at-one-go-at-a-cost-of-rs-348-crore-1944695.html (28 Feb. 2019)
₹ 2000 cr worth silt at Bellandur, Varthur lakes According to an IISc report – Bellandur and Varthur Lakes Rejuvenation Blueprint – Bellandur Lake has 6.60 million cubic metres of silt and at Varthur Lake, 3.87 million cubic metres. Professor T V Ramachandra of the Centre of Ecological Sciences, IISc and the co-author of the report said if the silt is converted into sand, it can fetch the BDA at least ₹  1,944 crore. According to the professor, if the silt is utilised by the brick industry it can fetch ₹ 2,061 crore.
BDA sources said the authority has planned to auction the silt to take up infrastructure works including partial funding of the Peripheral Ring Road or the renovation of the Hebbal flyover. However, the authority does not know where to take the silt at the moment. Recently, Mineral Enterprise Limited (MEL), a mining firm came forward to desilt a part of the Varthur Lake. But, the company agreed to remove the silt and dump it along the lake bed itself. At Bellandur Lake, nothing has transpired yet. https://www.deccanherald.com/city/rs-2000-cr-worth-silt-717962.html (12 Feb. 2019)
Chandigarh HC questions UT Admn on wetland status for Sukhna Just over six months after the UT Administration told the Punjab and Haryana High Court about its move to declare Sukhna Lake a wetland, the Bench has questioned it on the status. The Bench asked UT counsel Pankaj Jain to specify whether the lake had been notified as wetland. Once in place, restrictions would be imposed on constructions around the lake.
The Bench also questioned Jain on the progress since the constitution of an experts' committee in August 2017 for the purpose of wetland declaration. Making clear its intent to hear the case on a day-to-day basis from March 18, the Bench reiterated its earlier direction on "no construction, no demolition" in the catchment area of the lake. Amicus curiae or the friend of the court, Tanu Bedi, told the Bench that the UT had a wetland authority in place since Dec. 2017.
Addressing the Bench, the counsel appearing for the state of Haryana, Kharar MLA Kanwar Sandhu told the Bench that the check dams created to keep the silt away and hold up the water were required to be revisited.
Elaborating, he said out of the total 200 check dams, about 70 to 80 were functional. He added that too many check dams were holding up the water, preventing it from flowing into the lake. He also referred to three check dams in a particular area that held up water, while placing before the Bench its photographs. He added that the dams were required to be cleaned up or demolished.
Sandhu added choes, such as Patiala Ki Rao and another passing from the Sector 10 area right up to Mohali, was required to be linked to the lake besides changing the slope of the roads in the area for the rainwater to feed the water body. https://www.tribuneindia.com/news/chandigarh/hc-questions-ut-admn-on-wetland-status-for-sukhna/739126.html (7 March 2019)
Maharashtra 400-acre wetland becomes a dust bowl in 6 months A wetland habitat in Uran that drew a variety of birds, offering stunning views, has been completely flattened with dirt and debris, despite the Bombay High Court's order that such places should be left alone and intact.
Environmentalists, who have seen the destruction over a six-month period, accused the Jawaharlal Nehru Port Trust (JNPT) of carrying out illegal reclamation at the Dastan Phata wetland, which is spread over 400 acres near the site of the Navi Mumbai International Airport. The port trust plans to build homes for Project-Affected Persons (PAP) there. https://mumbaimirror.indiatimes.com/mumbai/cover-story/400-acre-wetland-becomes-a-dust-bowl-in-6-months/articleshow/68295106.cms (7 March 2019)
The destruction of wetland habitat in Uran, where dirt and debris have replaced a variety of birds, hasn't surprised environmentalists who have termed it as "the tip of the iceberg" while citing several such violations across the Mumbai Metropolitan Region (MMR).  https://mumbaimirror.indiatimes.com/mumbai/cover-story/green-brigade-cites-more-wetlands-that-are-now-destroyed/articleshow/68311585.cms (8 March 2019)
With no tidal water, Navi Mumbai loses 4.5 acres of wetland Complaints on massive mangrove destruction over the years did not yield any result and 4,600 mangrove trees have been completely destroyed in Uran. The patch of mangrove at CSF Punjab Warehouse dried as tidal water flow was stopped. Activists alleged that the road expansion work of NH-348 destroyed the 4.5 acres of mangrove patch. The land where the highway work is going on belongs to City and Industrial Development Corporation (Cidco). It has leased it to the highway authority.
Pramod Patil, nodal officer environment, Cidco, said, "On March 5, we asked the highway officials to allow tidal water to flow into the mangroves. They claimed to have done it. We will wait for 10 to 15 days and then decide on the course of action."
Environmentalist Nand Kumar Pawar said that Cidco's claims are hollow. "The dried-up mangrove trees are gone forever. Even if they allow tidal water in, we will not get back the green cover. The roots have dried completely and there is no hope for revival."
Based on complaints by environmentalists, wetland committee had issued instructions to the highway authority to allow tidal water to flow into the mangroves.  https://www.hindustantimes.com/mumbai-news/with-no-tidal-water-navi-mumbai-loses-4-5-acres-of-wetland/story-DZKai6C2HfI0LDBBJLd4LK.html (9 March 2019)
West Bengal Threats on Sundarban wetlands While the Indian Sundarban is a biodiverse preserve, over four million people live on its northern and northwestern periphery, putting pressure on the ecosystem. Concerns have been raised about natural ecosystems being changed for cultivation of shrimp, crab, molluscs and fish.
The Ramsar Information Sheet lists fishing and harvesting of aquatic resources as a "high impact" actual threat to the wetland. The other threats are from dredging, oil and gas drilling, logging and wood harvesting, hunting and collecting terrestrial animals. Salinity has been categorised as a medium and tourism as a low impact actual threat in the region. Experts believe that while the Ramsar status may bring in international recognition to the Indian Sundarban, the wetland, which along with anthropogenic pressures, is also vulnerable to climate change and requires better management and conservation practices. https://www.thehindu.com/sci-tech/energy-and-environment/protecting-the-sundarban-wetlands/article26482707.ece (9 March 2019)  
WATER OPTIONS
Odisha women usher in water revolution Women of Mangarajpur panchayat under Kujang block have ushered in a revolution by renovating water bodies in their locality. The women have undertaken tasks such as digging of ponds and erection of embankment on the river for creating pools of water to overcome the problem of acute water scarcity.
Mangarajpur panchayat, with a population of more than 5,000, comprises five revenue villages – Mangarajpur, Hasina, Santra, Krushanchandrapur, and Talapada. All the villages, including Taladanada of neighbouring Gopiakuda panchayat, are facing a severe water crisis. It is common for women of these villages to stage protests in front of the block office protesting against the crisis.  http://www.newindianexpress.com/states/odisha/2019/mar/04/women-usher-in-water-revolution-1946470.html (4 March 2019)
Gujarat Example set by a Vadodara building can be emulated by most govt buildings all over India. – water released as waste by RO water filter is stored in overhead tanks and used for cleaning and washing dishes. Not only that, even condensed water from air conditioners, considered the cleanest source of water, is collected and channelised into rainwater harvesting wells for groundwater replenishment.
– With four RO water tanks, 122 air conditioners and four rainwater harvesting wells, the 14-year-old three-storey building has been able to save approximately 14.5 lakh litre of water in a year. The office has been awarding 'Water Warrior' status to acknowledge the efforts made by staff members for water conservation. https://indianexpress.com/article/cities/ahmedabad/conservation-lesson-a-white-govt-building-goes-green-with-water-recycling-5619916/ (11 March 2019)
Maharashtra Chinchwad consultant design model to save water A Chinchwad-based ISO consultant Vinayak Parkhi, 49 has designed a simple model to save 20 per cent water in each household. He is a resident of Ruston Colony in Chinchwad and has received a patent from the government authorities for this design.
As per the model, water used by the top floor flat for bathing and washing clothes will be collected in a tank mounted above the toilet of the flat below.  A wire mesh will be fitted to filter out solid particles like hair and will be flown into the tank. The same water from the tank will be then reused by the residents of the flat below for flushing toilet. The same can be done for all flats in an apartment complex.
Parkhi had submitted this design to Pune Municipal Corporation (PMC) with an aim to save around 2.5 TMC of water annually in the city. Pune's annual requirement is 17 TMC, considering the per day consumption of 1350 MLD. However, at present the city gets only 11.5 TMC and has become a cause of concern.
As per the design suggested by Parkhi, every house requires 750 litres of water daily. Out of which, 300 litres are used for bathing and washing clothes, 200 litres for toilet, 150 litres for cooking and drinking and 100 litres for other use. Parkhi's design aims to save about 200 litres of water per day. https://punemirror.indiatimes.com/pune/civic/pmcs-draft-resilient-plan-to-mitigate-risks/articleshow/68224920.cms (4 March 2019)
GROUNDWATER
Editorial Groundwater at dangerous threshold New research shows that the largest groundwater depletion in the world is happening in northern India, with Delhi as the epicentre of the crisis, and water being pumped out 70% faster than estimated earlier. Such a state of affairs is wholly unsustainable. The way forward is to proactively address pressing issues in surface water and groundwater policy in a holistic, multidisciplinary approach.
Now, groundwater provides nearly two-thirds of our irrigation needs but a tipping point seems to have been reached. Over the last four decades, around 84% of the total addition to irrigation has come from groundwater, with investment in canal networks long neglected. It has led to over-exploitation and fast-depleting water tables. https://economictimes.indiatimes.com/blogs/et-editorials/groundwater-a-dangerous-threshold/ (7 March 2019)
URBAN WATER
Tamil Nadu Drinking water project to become functional by May: Minister Are such projects sustainable, water would be lifted and pumped multiple time to make supply possible in targeted area which will not only depend but consume significant electricity:- The combined drinking water scheme to supply water to 755 rural habitations in Virudhunagar district under execution at a cost of ₹234 crore could become functional by May 2016.
– The project sanctioned in 2010 was designed to cater to a maximum population of 6.51 lakh by the year 2042. Water from Thamirabarani will be drawn at Sivalaperi in Tirunelveli district and would be pumped using two motorpumps of 100 HP each.
– The water would be further pumped from the pumping stations at Rajapudhukudi and Savalaperi in Thoothukudi district. Water would be routed through the Uppathur junction pumping station to the main groundlevel water tanks at Naduvapatti and Pavali junction.
– Water would be further pumped to 159 sumps at various panchayats and then distributed through the existing overhead tanks. https://www.thehindu.com/news/cities/Madurai/drinking-water-project-to-become-functional-soon/article26440013.ece (5 March 2019) 
Maharashtra BMC plans new policy for water meters To achieve 100 per cent metering of water supplied to consumers across the city, the Brihanmumbai Municipal Corporation (BMC) has decided to review its existing policy on water meters and proposed to replace the current mechanical meters with upgraded electromagnetic and ultrasonic ones. The civic body is also planning to outsource the process of its procurement to a few empanelled manufacturers, from whom customers can purchase water meters directly.
Earlier, the BMC had decided to source the upgraded meters and install them. However, following a spike in complaints about faulty reading from mechanical meters, the civic body decided to outsource the entire process.
The BMC's move to replace mechanical meters comes after its decision to buy AMR meters stirred a major controversy due to alleged corruption and mismanagement. The Rs 300-crore project failed and inquiry was also instituted against some of its officials.
Currently, 4 lakh properties in Mumbai have water meter connections, of which 2.5 lakh are in slums, BMC data shows. On February 20, The Indian Express had reported that only 25 per cent water meters are working in the city. The proposed policy, the civic body hopes, will also boost the revenue of the Water Department by at least 25 per cent — currently, the department's revenue is over Rs 1,400 crore per year.
Official sources, however, told The Indian Express that the main focus of the proposed scheme will be to cover housing societies, commercial and industrial establishments. "The cost of the meters will range from Rs 7,000 to Rs 15,000, depending on their sizes — 15mm, 20mm and 25mm. https://indianexpress.com/article/cities/mumbai/bmc-plans-new-policy-for-water-meters-upgraded-electromagnetic-ultrasonic-water-meters-to-replace-existing-ones-5612799/ (6 March 2019)
NGT stay on effluent discharge norms A petition filed by Nitin Shankar Deshpande at NGT in Dec. 2018 alleged that the ministry had diluted the norms. NGT had stayed MoEF's notification and the next hearing will be on April 16. After the stay order, the civic body is being forced to put on hold the process of appointing contractors for upgradation of 6 STPs.
Under Sewage Disposal Project (MSDP) – II, the BMC has proposed to upgrade 7 sewerage zones to cater to the sewage discharge of the city for the next 25 years at a cost of Rs 15,000 crore. The stay granted by the tribunal on an Oct. 2017 notification issued by the Ministry of Environment, which allegedly diluted standards for effluent discharge, particularly from STPs, will cause further delay in project that was expected to start about a decade ago. Now, the BMC will have to wait till the stay is vacated or the final order comes.
The quality of Mumbai's sea water is steadily worsening, making it one of the most polluted shorelines in the world. Analysis of coastal water by the Maharashtra PCB shows that Water Quality Index of the city's beaches is worst, indicating the presence of high level pollutants. The city generates about 2,800 MLD of sewage of which about 1,800 MLD untreated sewage is discharged into the sea. https://indianexpress.com/article/cities/mumbai/ngt-stay-on-effluent-discharge-norms-bmc-sewage-disposal-project-faces-hurdles-5584756/ (15 Feb. 2019)
Punjab CM launches water projects for Amritsar CM Capt Amarinder Singh on March 4  laid the foundation stones of 3 surface water supply schemes, in addition to a domestic STP, for a total of Rs 197.69 cr for rural areas of Amritsar.
Launching a canal-based water supply projects worth Rs 154.15 crore, the CM said the schemes, with tapping point at Chiwindan Kalan in Chogawan block on the Upper Bari Doab Canal would help mitigate the problem of groundwater for 1.5 lakh people spread over 112 villages in four blocks in the region.
The project would be executed with assistance from World Bank on a design, build, operate and transfer basis, for which tenders have already been floated. The CM also laid the stone of an arsenic removal project for 102 villages of Amritsar worth Rs 21.97 crore. An ultra-modern water testing lab worth Rs 6 crore was also launched. https://www.tribuneindia.com/news/punjab/capt-launches-water-projects-for-amritsar/738089.html (4 March 2019)
DELHI WATER
DJB launches data acquisition centre as part of its water audit system The Delhi Jal Board on March 9 launched a data acquisition centre as a part of its water audit system, which officials claimed is one of the largest in the world. This data centre, along with more than 3,000 water flow meters to be installed over the next five years at various levels of the system, would help DJB to better manage supply and reduce wastage of water in summer.
In the first phase, at least 360 flow meters have been already installed. In the second phase, more than 2,700 meters would be installed at various levels of the supply chain – WTPs, primary reservoirs and secondary reservoirs. While Delhi needs around 1,100 MGD water, DJB supplies around 900 MGD, comprising 10 water treatment plants (WTPs), 120 primary reservoirs, 192 tappings and more than 600 secondary reservoirs.  https://www.hindustantimes.com/delhi-news/delhi-jal-board-launches-data-acquisition-centre-as-part-of-its-water-audit-system/story-t9ph3otKH5Ka5tzH4e4dYM.html (10 March 2019) 
MONSOON
IMD Map of Winter Rainfall upto 28 Feb. 2019
The-life-and-possible-death-of-the-great-asian-monsoon Sunil Amrith, the author draws fascinating connections from history, monsoon dynamics, how it is changing, and how India's water resources trajectory may also be affecting it. He should have also connected it with global consumerist society and better options that exist for India to convert what is still annual blessing to a bigger boon than it now is.   https://aeon.co/essays/the-life-and-possible-death-of-the-great-asian-monsoon
FLOOD
Centre The Union Cabinet chaired by PM Modi has approved the "Flood Management and Border Areas Programme (FMBAP)" for Flood Management Works in entire country and River Management Activities and works related to Border Areas for the period 2017-18 to 2019-20 with a total outlay of Rs.3342.00 crores.    http://pib.nic.in/newsite/PrintRelease.aspx?relid=189279     (7 March 2019)
DROUGHT
More than 40% of India is currently under drought with about 16% facing severe or above category drought. More on South Asia Drought Monitor: https://twitter.com/vmishraiit/status/1104710627556175872
Karnataka Cloud seeding to be back in Karnataka for two monsoons On March 8, the Rural Development and Panchayat Raj Department pushed a tender call for cloud seeding operations to enhance rainfall during the monsoons of 2019 and 2020. The project is expected to cost ₹50 crore each year.
Ideally, officials said, the tenders should have been out by February, giving enough time for preparation for the monsoon. However, the department managed to get the required approvals and sanction for work before the enforcement of model code of conduct on March 10. A contractor is expected to be chosen by April-end and, officials said, the cloud-seeding planes could take to the skies by June 20.
This time, the department has stipulated that cloud seeding has to be carried out over 90 days, instead of 60 as was done in 2017. The department is aiming to replicate the ₹35-crore 'Varshadhare' project two years ago that was called a success by an independent evaluation committee. Its report, submitted to the State government in 2018, estimated that a rainfall enhancement of 27.9% was achieved, apart from an extra inflow of 2.5 tmc into Linganamakki reservoir. Due to procedural delays and inconsistent monsoon season, the two planes used could only for 37 days. However, experts involved said the outcome addressed the scepticism behind the exercise.
Despite the positive response, the department could not obtain approvals in time for cloud seeding in 2018. Moreover, two key recommendations of the evaluation committee — that the State government should purchase three Doppler radars worth ₹10 crore each and that it should establish a division for cloud seeding — have seen no progress.
"The year 2017 was a success because of the coordination among the government, experts and private players implementing the project. The same team returns for monitoring and evaluation, and we hope things go well," said V.S. Prakash, former head of the Karnataka State Natural Disaster Monitoring Committee who was part of the 2017 monitoring panel. "Cloud seeding is being done in over 130 countries,and has had tremendous success in countries like China." https://www.thehindu.com/news/national/karnataka/cloud-seeding-to-be-back-in-karnataka-for-two-monsoons/article26489272.ece (10 March 2019)
Report finds cloud seeding increased rain In 2017, there was visible scepticism when the State government, fearing another year of drought, initiated Project Varshadhare, a ₹35-crore cloud seeding programme. Though the monsoon picked up, perhaps unconnected to the project itself, planes that flew around seeding clouds may have increased localised rain by over 27.9% leading to an increase in 2.5 tmcft of water, said an evaluation report that was submitted to the State government late in June 2018. The report notes that the State lost an opportunity as the delay in getting the project off the ground ate into the monsoon season.
– Independently, US-based Weather Modification Inc. has told the State government that the rainfall had increased by 26% in areas seeded, based on the cloud formations immediately after seeding. A five-member committee, which received data in April to evaluate the project, has called the project among the most successful cloud-seeding operations in the country.
– The team relied on rainfall data and used statistical models to find the 'enhancement' in rainfall as compared to precipitation that would have naturally occurred without seeding clouds.
Karnataka attempted cloud seeding in 2003 and 2009, the results are up for debate. The project, which had been allocated money in the February 2017 Budget, had a jittery start. There were fears that the project had been too delayed: first, with tenders and approvals and later, through logistical problems of setting up radars that were stuck in customs after the launch of the GST regime.
Just as monsoon clouds finally gathered in the State, between August and September, two planes sprayed sodium chloride, potassium chloride and silver iodide in the hope of condensing smaller particles into larger rain droplets. In all, the planes flew nearly 280 hours in 37 days. "There was definitely a missed opportunity to increase rainfall," says Mr. Kulkarni.
The evaluation report recommends that the State government purchase three Doppler radars, each costing around ₹10 crore, and set up permanent infrastructure for faster cloud seeding. Rural Development and Panchayat Raj Department officials said while the report and recommendations are being sent to the State government for further action, they have asked the evaluation committee to analyse increases in crop production in the seeded areas for better understanding of how cloud seeding can help agriculture. https://www.thehindu.com/news/national/karnataka/report-finds-cloud-seeding-increased-rain/article24489592.ece (22 July 2018)    
Despite the deluge, Kodagu's groundwater has dropped The "peculiar" position of the dwindling Cauvery reservoirs despite record-setting monsoon comes due to a failed monsoon. G.S. Srinivas Reddy, Director, Karnataka State Natural Disaster Management Centre, says the northeast monsoon brings with it nearly 55 TMC of water to the Cauvery reservoirs. This year, however, the deficiency has been 42.01% in these months.
Adding to this is the surprisingly low base inflows from catchment areas. "Normally, some of the monsoon rains seep into the hills and forests of the catchment areas, replenishes groundwater and the excess flows naturally in the months into the Cauvery. We are not seeing that this year at all," says Mr. Reddy.
Decades of deforestation as well as excessive rains have removed the top soil, reducing the capacity of critical areas in Kodagu from absorbing water instead of letting it run-off directly into the river, he says.
A look at groundwater levels in 2018 shows that in the Cauvery catchment area, only Kodagu has seen falls in levels in the past year. Virajpet and Madikeri taluks, which bore the brunt of the deluge in the 2018 monsoons, have lost between 2 and 4 metres of groundwater.
In perspective, Raichur, which received 56% deficient rainfall — the worst in the State — has seen similar drops in groundwater as Kodagu which recorded, on average, 43% excess rainfall between June and September.
The reservoir levels are on a four-year high, with 44.6 TMC in four reservoirs. KSNDMC's calculation shows that at least 12 TMC of drinking water is needed for urban centres till summer, while another 4 TMC is lost to evaporation or let off as natural flow of the river. With nearly 400 TMC released to Tamil Nadu, the State has released 150% of the amount mandated by the Supreme Court.
However, KSNDMC has told reservoir management committees that water cannot be used for agriculture. Paddy, for instance, would need another 70 TMC if a fresh crop needs to be grown. Committees have yet to take a decision on this. https://www.thehindu.com/news/national/karnataka/despite-the-deluge-kodagus-groundwater-has-dropped/article26231571.ece (11 Feb. 2019) 
CM H D Kumaraswamy on March 9 met PM Modi and sought early release of Rs 2,064.30 crore funds to provide relief to drought-hit farmers in the ongoing rabi season. Kumaraswamy tweeted that central assistance of Rs 949 crore has been approved against a memorandum seeking financial assistance of Rs 2,434 crore as per NDRF/SDRF norms. He added that the crop loss during kharif and rabi altogether was Rs 32,335 crore. https://indianexpress.com/article/india/karnataka-cm-hd-kumaraswamy-meets-prime-minister-narendra-modi-5618049/ (9 March 2019)  
Out of 176 taluks in the state, nearly 156 of them are reeling under severe water crisis owing to deficient rainfall during kharif and rabi seasons in 2018–19. The authorities have estimated that the loss due to natural calamities, including floods/landslips and drought during both kharif and rabi seasons are worth Rs 32,335 crore.
The state government has urged the Centre to immediately release funds as stipulated under the NDRF to the state. Meanwhile, the state has provided drinking water to over 370 villages through tankers and to 401 villages through hired private borewells. https://www.thehindu.com/news/national/karnataka/drought-situation-grim-as-156-taluks-in-karnataka-face-water-crisis/article26412970.ece         (2 March 2019)
After making headlines about severe water pollution in the lake, now the Karnataka's Bellandur area is reeling under severe water crisis. The borewells in the vicinity are drying up and the cost of water tankers have witnessed a massive hike in the past few days. https://www.timesnownews.com/mirror-now/civic-issues/article/dry-borewells-simmering-water-crisis-in-ktaka-residents-live-without-a-drop-for-16-hours-in-bellandur-area/380214 (11 March 2019)
Water mafia holding us to ransom: Bellandur Residents "Only 55% of water needs are being met. The tankers say that if we do not enter into a deal with them to take specific number of tankers, they would not supply water. Cauvery water supply dwindled in the first week of March. We are short of two tankers and the water tanker operator in my area does not allow other private tanker operator to supply in my area," a resident Mahadevapura said on condition of anonymity.
Jagadish Reddy, a lake warden,  said the crisis was predicted a decade ago and if  measures are not taken now, 2020 would be a year when tankers would reach only once a week. "Water depletion has gone beyond 1,500 ft and every day 70 lakh litres of water is pumped out of ground. While on the other hand the percolation rate stands at a dismal 0.75%. The senseless concretization of the Storm Water Drains (SWD) has brought us to this situation. Moreover, the water we receive is contaminated," he added. As illegal borewells mushroom, the residents wonder whether the BBMP and BWSSB are serious about dealing with the water mafia. https://www.deccanchronicle.com/nation/current-affairs/090319/bellandur-residents-water-mafia-holding-us-to-ransom.html (9 March 2019) 
The water tanker mafia seems to be milking the water crisis in Bellandur to the maximum. With borewells in most apartment complexes and houses in Bellandur having gone dry a fortnight ago, tanker operators despatch water only to the highest bidder. Helpless residents are now warring among themselves and are forced to quote higher than one another to ensure they get at least some water. The rate for 6,000 litres of water (one load) here has now touched Rs 1,500 from the earlier price of Rs 600 and could shoot up higher. http://www.newindianexpress.com/cities/bengaluru/2019/mar/10/bengaluru-water-crisis-in-bellandur-top-bidder-for-tanker-gets-water–1949110.html (10 March 2019)
Also see, Useful information about drought in Northern Karnataka district of Kalburgi. https://www.downtoearth.org.in/news/agriculture/drought-but-why-karnataka-s-water-woes-won-t-go-away-by-throwing-money-on-it-63390      (28 Feb.2019)
Tamil Nadu Water can price shoot up in Chennai as borewell sources dry up With most borewells in neighbouring districts going dry, water can manufacturers said the price per can is most likely to increase by a maximum of Rs 3. Though the hike looks like a small amount to pay for water, almost all small-scale businesses and other medium-scale eateries in Chennai, which are heavily dependent on water cans will face a severe backlash. In most places across the city, except for the ones located near the coast, water levels in borewells are rapidly decreasing. Hence, dependence on private water sources will be at an all-time high this summer.
As the distance increases, transportation charges will go up directly resulting in a price hike of water cans. Companies that process raw water will not change their rates as the competition among them is high. Only the distributor and transporter will hike their prices," said Ananthanarayanan, president of Greater Tamil Nadu Packaged Drinking Water Manufacturers Association. He also warned that as demand increases when water sources become sparse, quality gets compromised the most. "Some distributors will start selling water cans even at Rs 15 to make a profit.," he added. http://www.newindianexpress.com/cities/chennai/2019/mar/04/pricey-cans-to-pinch-pockets-1946269.html (4 March 2019)
Maharashtra In rain-shadow Marathwada, everyone loves tankers  The Tanker economy of Drought hit Marathwada:   https://www.downtoearth.org.in/news/natural-disasters/in-rain-shadow-marathwada-everyone-loves-tankers-63454        (5 March 2019)
The drought situation is likely to get severe as dams are left with only 32.88 % water stock of the total storage capacity as on March 6. Last year on the same day, the available water was 47.74%, as per data from the Water Resources Department.
The Aurangabad division which consists of Marathwada region is the worst hit and is left with only 7.27% water in its dams. Last year the total water available in Marathwada at this time was 42.67%. Nagpur division too is staring at a water problem with 16.74% water compared to 22.24% last year. Nashik division has 29.79% water stored compared to 49.91% in 2018. https://www.thehindu.com/news/national/other-states/drought-state-left-with-only-3288-water-in-dams/article26450595.ece (7 March 2019)
Uttar Pradesh Kanpur IIT planning artificial rain over Bundelkhand. https:/www.patrika.com/kanpur-news/artificial-rain-done-by-iit-kanpur-in-bundelkhand-4215086/ (2 March 2019)
ENERGY OPTIONS
Wind loses energy as policy paralysis blows through this renewable sector – From a euphoric 5,500 MW in 2016-17 — when wind energy companies rushed to commission their projects so as to get their foot in before certain incentives expired — capacity additions have plummeted, to 1,762 MW in 2017-18 and an estimated 1,600 MW in 2018-19. https://www.thehindu.com/todays-paper/tp-business/wind-loses-energy-as-policy-paralysis-blows-through-this-renewable-sector/article26491303.ece (11 March 2019)  
SOUTH ASIA
Centre The Union Cabinet chaired by PM Modi has approved Amendment to the Article 3 of the Agreement between India and Bhutan regarding Mandechhu Hydro Electric Project (MHEP) in order to extend the loan repayment tenure by two years extended by India to Bhutan, for implementation of the said Project in Bhutan from fifteen (15) to seventeen (17) years. India to buy surplus power from the project at the rate of Rs 4.12 per unit. http://pib.nic.in/newsite/PrintRelease.aspx?relid=189281    (7 March 2019)
Pakistan Protests bring CPEC's Kashmir dam to a halt The site of the 1,110 MW Kohala hydropower project in Kashmir lies forlorn and quiet without the usual humdrum noise of heavy machinery and vehicles. For the last eight months protests in Muzaffarabad have put a stop to work at the dam site, being built by state-owned China Three Gorges Corporation (CTGC).
– People in Muzaffarabad say the project will reduce their water supply, leading to severe environmental damage. "Diverting the river is inhuman, it's unnatural and we will not let this happen again," said social activist Faisal Kashmiri who is part of the local Darya Bachao Tehreek (Save the River Movement). "We want 60% of the river water as promised by WAPDA," said Kashmiri, the river movement's spokesperson.
– People in the villages surrounding Muzaffarabad are facing the problems that came with the last large water diversion. Three years ago, Rabia Arif's family migrated from their village of Chandra to Muzaffarabad after the springs near their homes dried up. She blames the tunnel, just three kilometres from her village, constructed to divert the waters of Neelum River to run the dam. But opposition in Kashmir is growing, with people now asking the government to drop the idea of large dams altogether and focus on micro hydro projects.
– But the backlash against big hydropower is not going away. The Neelum Jhelum dam has been a "financial and ecological disaster," said Zakaria. The government needs to ask serious questions about the social, environmental and economic costs and look at wind and solar power more keenly, he argued.
– Wind and solar pose considerably less risks (both geological and hydrological), said Khan, who has 26 years of experience in the power sector and is a member of International Hydropower Association. "Arranging the capital for hydropower plants is extremely difficult as there are few investors willing to wait seven to ten years before revenue starts rolling in," he added. https://www.thethirdpole.net/en/2019/03/07/protests-bring-cpecs-kashmir-dam-to-a-halt/ (7 March 2019)
India-Bangladesh The why and how of getting the Teesta Agreement signed By Gauri Noolkar Despite willingness at the highest political levels, the Teesta agreement has not been signed due to sustained opposition by the Indian state of West Bengal. A riparian state in the Teesta basin, West Bengal has maintained that acceding more water to Bangladesh would be detrimental to the interests of farmers in Northern Bengal, though probable political losses are also a compelling factor. Even though the Constitution of India vests the central government with powers to override West Bengal's opposition, geopolitical and domestic realities dictate otherwise and have ultimately come to cost Bangladesh a crucial portion of much-needed waters.
– Dams are also responsible for altering the flow of the Teesta downstream, affecting West Bengal as well as downstream Bangladesh. The central government needs to drastically revise its energy policy and promote economically and environmentally viable options such as solar energy in sunshine-abundant North India so as to ease the pressure off the Teesta. These steps would embark India on a smoother part towards signing the Teesta agreement. https://www.sadf.eu/the-why-and-how-of-getting-the-teesta-agreement-signed-by-india-and-bangladesh/ (5 March 2019)
India- Nepal  GANDAK WATERWAYS: Changing Rivers Nepal is showing interest in Ganga Waterways development through Gandak and other options (Kosi, Karnali) to connect with Bay of Bengal. But it seems rather far fetched as of now. https://www.spotlightnepal.com/2019/03/04/gandak-waterways-changing-rivers/    (4 March 2019)
Pakistan-Afghanistan With Kabul River flows controversy – Unclean and impure, the KR water serves over seven million people on both sides of the Durand Line, with the demand for it only expected to soar in the years to come. With rising populations, ambitious development initiatives, increased energy needs, but more importantly, to avert water conflicts, experts on both sides of the border are calling for legally binding transboundary basin management plan.
– According to a 2017 research paper by former federal secretary for water and power, Ashfaque Mahmood, the Kabul River Basin (KRB) is home to about 35% of the population of Afghanistan. The potential demand of water in the KRB is projected to increase to 3.14 million acre feet (MAF) by 2030, from an existing demand of approximately 1-1.5 MAF. The net impact on Pakistan, even if all the projected demand in Afghanistan is met, will be a reduction of 1.7—1.8 MAF/year. This, coupled with the projected decrease in precipitation due to climate change, will reduce water flow to Pakistan. http://tns.thenews.com.pk/kabul-river-flows-controversy/#.XIYkYSgzZPZ  (10 March 2019)
Nepal Water and Social/Environmental Justice in the Himalayas The Multiple Roles of Rivers Colorado Water (Jan-Feb 2019 issue) includes an article by George Taylor on Nepal rivers "Water and Social/ Environmental Justice in the Himalayas: the multiple roles of rivers" from page 28-30. http://www.cwi.colostate.edu/Media/img/newsletters/2019/CW_36_1.pdf
CHINA
What China Can Learn from New York City about Wastewater Management  All 14 wastewater treatment plants in New York City capture methane. At Newtown Creek Wastewater Treatment Plant, the city's largest treatment facility, methane is captured in giant digester "eggs." Thanks to a partnership with National Grid, the captured methane will soon be productively used as renewable natural gas (RNG), enough RNG to heat 5,200 homes and reduce greenhouse gas (GHG) emissions by 90,000 metric tons CO2 equivalent.
Millions of Chinese citizens are flooding into urban areas throughout the country, with 70 percent of the nation's population expected to reside in cities by 2030. As cities face an influx of residents, they also face an influx of wastewater and sludge.  Currently, 80 percent of sludge in China is improperly dumped-—an increasingly controversial environmental issue that has urban centers scrambling to decrease pollution by improving their wastewater treatment plants (WWTPs).
Data on the total amount of CSOs in the country is scarce, but combined sewers serve as the main drainage system in many of China's most populous cities, including the megacities of Guangzhou (which discharges 470,000 tons of sewage into the Liuxi River daily), Shenzhen and Shanghai.
As 12 percent of China's total population lives in low-elevation coastal zones, excessive groundwater pumping and construction are exacerbating threats from sea level, causing megacities like Shanghai to sink. These coastal cities face drainage challenges, saltwater intrusion into aquifers, and increased flooding. https://blogs.scientificamerican.com/observations/what-china-can-learn-from-new-york-city-about-wastewater-managemen    (8 March 2019)
ASIA
Iraq Dying Tigris, Euphrates Rivers  For thousands of years, two famous rivers, the Tigris and Euphrates, made Iraq one of the most fertile regions in the Middle East. Often called "the cradle of civilisation", the first urban settlers grew up on the lands between the two ancient waterways. But today, Iraq's ancient rivers and water resources have been seriously damaged by wars, economic sanctions, the construction of upstream dams, pollution and a fall in water levels.
The Tigris and Euphrates meet in Basra province, in the south of Iraq, where they form the Shatt al-Arab waterway. Tens of thousands of Iraqis live in marshes, like Abu Haider and his wife who rely almost entirely on fishing to survive.  "Fishing income isn't like a regular salary," explains Abu Haider. "There are days when there are no fish. You spend $17 on petrol and oil but your catch is only worth $8."
https://players.brightcove.net/665003303001/SJg0bzqkZ_default/index.html?videoId=5998531209001&usrPersonaAds=false
In Sept. 2018, Iraq's Ministry of Water Resources said the levels and rivers like the Tigris in Baghdad have dropped up to 40 percent in the last 20 years. Partly to blame are dams and reservoirs being built in Turkey to the north that has restricted the flow of water southwards, causing a shrinkage in farmland each year. "There aren't any fish in the river. Our nets always come out empty," laments retired Euphrates fisherman, Karim Kadhem who lives in Nasiriyah city, where people cannot drink the water from the Euphrates because the drop in water level has increased its salinity.
The wrestle for control of the Shatt al-Arab waterway was one of the causes of the long, costly and bitter war between Iraq and Iran throughout most of the 1980s. That border dispute is still not settled. Kuwait and Iraq have also yet to agree on a sea border in negotiations which have been going on since Saddam Hussein's invasion of Kuwait in 1990. Many fishermen at the docks say Iraqis are viewed with hostility by Iranians and Kuwaitis who are still bitter over their conflicts with Iraq in the 1980s and '90s.
Today's crisis means that Iraq, once so abundant in water resources, now imports 60 percent of its fish. But above all, it threatens the roots of Iraq's identity as the land between the two ancient rivers, the Tigris and Euphrates, on which the country and its people have depended for thousands of years. https://www.aljazeera.com/programmes/aljazeeraworld/2019/02/iraq-dying-rivers-190204063305182.html (6 Feb. 2019)
MEKONG Damming the Upper Mekong How new dams in southwest China are displacing upland peoples –excerpt from Brian Eyler's new book Last Days of the Mighty Mekong.
But in a surprising turn, in 2016 the Yunnan provincial government announced a moratorium on damming the mainstream of the Nu River and unveiled a plan to develop the Nu Valley for mass tourism. Apparently the Beijing government became concerned about the high instance of earthquakes in the Nu Valley and forced the Yunnan government to change plans for damming the Nu. The Nu Basin runs adjacent to the Mekong, but an argument over seismic concerns is not stopping damming there.
Construction on China's Upper Mekong dams continues, but the generation capacity of its existing dams on the Mekong is highly underutilized. Despite recent reductions, coal will still account for more than 60 percent of China's power generation into the coming decades. It employs magnitudes more people than hydropower plants. If too much power from Yunnan is transmitted to Guangdong, this will put tens of thousands of unemployed laborers on the streets.
This translates into wasted economic benefits for Yunnan Province and dams that make little commercial sense for their owners. To illustrate, between 2013 and 2015, wasted hydropower capacity in Yunnan Province rose tenfold. During 2014's monsoon season, because China's power grid could not absorb all hydropower generated from the battery of Yunnan's dams, hydropower firms like Hydrolancang were losing more than 100 million yuan ($12 million) per day.
In 2016, Yunnan's dams reportedly wasted 300 terawatt hours of electricity. In the same year, Thailand consumed half that amount. The glut of power is attracting new customers to plug directly into power generated by these underperforming dams. Recently cryptocurrency miners have set up facilities in the Upper Mekong to take advantage of the dirt-cheap electricity. Of greater concern, however, is the breaking of the decades-old pact between Yunnan and the coastal provinces that kept Yunnan clean and green. Now, heavy industries are relocating from the coastal provinces to Yunnan where they can access cheap power, and lax regulations in Yunnan Province allow them to pollute freely.
China's dam developers have now joined the ranks of China's offshore oil companies as some of the world's most powerful and wealthiest energy firms. These developers are rapidly expanding their activities abroad, driven by the global demand for "green" energy and access to cheap financing from China's government-sponsored banks.
Because of widely documented detrimental environmental and social impacts of large dams, multilateral financing institutions like the World Bank and Asian Development Bank have set a high bar for issuing loans to support dam projects around the world. This has created a space for Chinese financial institutions which have lower standards and often issue loans to curry political favor, particularly in the developing world. As is discussed in later chapters, Chinese dam developers are not the only game in town for damming the Lower Mekong, but they are certainly leaders among a pack of developers whose projects are slowly strangling the Mekong ecosystem and displacing hundreds of thousands of people.  https://chinachannel.org/2019/03/01/mekong/ (1 March 2019)
THE REST OF THE WORLD
Study  The hidden costs of hydro: We need to reconsider world's dam plans A new study finds that the true socio-environmental and cultural costs of dams are rarely evaluated before construction, as thousands of hydroelectric dams are planned worldwide.
"In a review paper, recently published in Proceedings of the National Academy of Sciences of the United States of America (PNAS), researchers argue that the true costs of hydropower projects are often underestimated, with harmful financial, social, and environmental consequences resulting in a wellspring of hidden costs.
Worldwide, approximately 472 million people have been negatively affected by dam construction over the last century. Downstream, river-dependent communities may be displaced, be deprived of their food security and livelihoods, and suffer immeasurable cultural losses." https://www.eco-business.com/news/the-hidden-costs-of-hydro-we-need-to-reconsider-worlds-dam-plans/        (7 March 2019)
Women River Congress Women rights and river protection Maureen Harris of International Rivers writes on the eve of world women day:- The role of female activists and environmentalists in addressing threats to rivers is spanning the globe. In Chile, women are playing a critical role in advancing legal protection for some of the world's most pristine, scenic, and free-flowing rivers. Such legislation would set significant regional and global precedent in pre-emptively protecting rivers, as well as the ecosystems and communities that depend on them.
This type of progress stands on the shoulders of female environmental defenders like Berta Caceras, who was murdered in 2016 in the struggle to prevent the Agua Zarca dam in Honduras. Berta's fight to prevent the degradation of ecosystems sacred to the indigenous Lenca people remains a disturbing reminder of the perils women face in advocating for greater say in decision-making around natural resources.
In spite of these threats, women are rising to the challenge. This week, women from around the globe are converging in Nepal to chart a new course as part of the first-ever international Women and Rivers Congress. At issue for those attending is the irreconcilable fact that while women play a primary role in defending and stewarding water and other natural resources, they are woefully under-represented when it comes to their governance.
A scant 7% of all ministers of water and natural resources globally are women. Women are also under-represented in the private and financial sectors, and therefore in investment decisions affecting rivers. In the hydropower industry, women comprise less than 20% of the workforce globally, with few women holding senior management roles. The Congress aims to set a new direction for the future and empower women to raise their voices on behalf of our globally beleaguered freshwater resources.
'Our success has shown that one woman can influence policy. Moreover, in civil society in China, women can sometimes be more influential than men. The river is flowing freely due to nature; it became colorful and spiritual because of women'.
The tide is turning, but change requires new ways of valuing rivers and other natural resources. For example, the Nu-Salween River, originating from the same source as the Mekong on the Tibetan Plateau, is one of the last remaining free-flowing rivers in Asia. In 2016, plans for a 13-dam cascade project on the Nu River (Nujiang) in China's Yunnan province were shelved after a sustained campaign spearheaded by journalist and environmentalist Wang Yongchen. https://www.asiatimes.com/2019/03/opinion/womens-rights-and-river-protection/ (7 March 2019)\
World Women Day The untapped potential of women in water resource management While women are making progress in many sectors and taking leadership roles, in terms of water resources and rights, they still lack a major voice. Women play a critical role in providing, managing, and safeguarding water resources and yet their participation in water governance is not visible. Poor understanding of the distinct roles and contributions of men and women often leads to a lack of recognition of their needs and interests in policies and programmes linked to water management.
The good news is that despite being faced with all these odds, women in South and South East Asia are coming forward to address water governance issues and raising their voices to demand their water rights. https://www.thedailystar.net/lifestyle/perspective/news/the-untapped-potential-women-water-resource-management-1712362 (9 March 2019)
Global Dam Watch is an international collaboration between an expanding group of researchers who are passionate about understanding the costs and benefits of dams to our world. It brings together information about where to find the world's most comprehensive dam datasets, currently. The Global Dam Watch team combines efforts to maintain up-to-date versions of established core datasets. GRanD v1.3 is the first of our planned major updates. GRanD v1.3 expands on the established GRanD v1.1 by introducing more than 400 reservoirs and dams to the initial dataset. These records, which capture dams built mainly between 2000 and 2016, add more than 600 km3 to global reservoir storage. http://globaldamwatch.org/
Environmental regulations may have unintended consequences in energy production This article with convoluted title and logic makes so many unfounded assumptions. For example  it seems to assume that govts have actually passed regulations to improve ecosystems and have actually implemented them! The whole thing raises suspicion if this is industry driven research.  https://www.sciencedaily.com/releases/2019/02/190204124200.htm (4 Feb. 2019)
USA Design  Flaw Caused Hidroituango  Tunnel Collapse  Medellin-based multinational electric power giant EPM on March 1 unveiled a long-awaited consultant's report on the causes behind the April 2018 tunnel collapse that has resulted in a three-year delay in power output from the 2.4-gigawatt "Hidroituango" hydroelectric plant in Antioquia.
"The results determine that the hypothesis of greater probability is that the obstruction of the auxiliary diversion tunnel (GAD) was due to the 'progressive erosion of areas of weakness of the rock,' located on the floor of the tunnel," according to EPM, quoting the report from Norwegian-Chilean engineering consulting firm Skava Consulting.
"The zones of weakness of the rock were not treated properly, due to a deficiency in the design during the advisory stage," which was undertaken by Ituango Generation Consortium (Integral – Solingral), according to EPM's summary of the study.
A full copy of the study is available here:https://www.epm.com.co/site/estudio-causa-raiz-hidroituango/.  https://www.epm.com.co/site/estudio-causa-raiz-proyecto-ituango/ (2 March 2019)
Ohio city votes to give Lake Erie personhood status over algae blooms This week Toledo voters passed the Lake Erie Bill of Rights, a unique charter amendment that establishes the huge lake as a person and grants it the legal rights that a human being or corporation would have. The final results weren't even close, as it passed by a 61% to 39% margin.
– The new law will allow the people of Toledo to act as legal guardians for Lake Erie – as if the citizens were the parents and the lake were their child – and polluters of the lake could be sued to pay for cleanup costs and prevention programs. It is one of the first of its kind in the US, as it grants human rights to a body of water that is 10,000 sq miles in size, provides drinking water for 11 million people and has four states and two countries along its 870 miles of shoreline.
– Many in the business and agricultural community think "that its passage means Ohio farmers, taxpayers and businesses now face the prospect of costly legal bills", and that the measure would "likely be found unconstitutional and unenforceable", according to a statement by the Ohio Farm Bureau this week. The first petition challenging the law has already been filed within 12 hours of its passage, but a farm owner.     https://www.theguardian.com/us-news/2019/feb/28/toledo-lake-erie-personhood-status-bill-of-rights-algae-bloom                 (28 Feb.2019)
Atmospheric Rivers California faces flood risk as atmospheric river returns The atmospheric river caused one band of heavier rain to set up in areas south of San Francisco and just north of Los Angeles March 5 night, while a separate area of heavy rain targeted areas north of San Francisco. This heavy rain is also likely to stream across part of the San Joaquin Valley and into the western foothills of the Sierra Nevada into March 6.
In addition to flooding, mudslides are a concern. Residents in areas prone to both of these hazards and near burn-scar areas should remain extremely vigilant and heed all evacuation orders by local officials. Some road closures are also possible. Mudslides and flash flooding can occur anywhere in the region due to the excessive amount of rain that has occurred in recent weeks. https://www.accuweather.com/en/weather-news/california-faces-flood-risk-burying-mountain-snow-as-atmospheric-river-returns-by-midweek/70007597 (6 March 2019)
Atmospheric river to continue drenching Northern California Northern California will remained in the swath of a brief atmospheric river with heavy rain and the risk of flooding, as well as heavy snow in the mountains, into Feb. 27 evening. While the worst of the rain and mountain snow has already occurred, moisture will continue to stream in from the Pacific Ocean into. This latest round has already caused trouble in terms of flash flooding and mudslides. https://www.accuweather.com/en/weather-news/atmospheric-river-to-continue-drenching-rain-mountain-snow-over-northern-california/70007539 (27 Feb. 2019)
Atmospheric river fuels torrential rain in California A storm is bringing life-threatening flash flooding, mudslides and an avalanche risk across California as it is loaded with subtropical moisture from an atmospheric river.
An atmospheric river is a term to used to describe a plume of tropical moisture in the atmosphere that can result in heavy rainfall or snowfall in a narrow swath. Use of the term is most common along the West Coast of the United States, but the setup can occur anywhere that persistent winds can transport moisture from the tropics to a mid-latitude location. https://www.accuweather.com/en/weather-news/atmospheric-river-fuels-torrential-rain-in-california-unleashing-flash-flooding-mudslides/70007433 (15 Feb. 2019)
Atmospheric river has soaked California A massive, gushing river in the sky — a mile high, more than 300 miles wide, and carrying up to 15 times the amount of water in the Mississippi River — has drenched huge swaths of the West Coast. This phenomenon, known as an atmospheric river, brought more snow to northern California in a day than parts of New England have seen all winter. Redding, a city in California's Central Valley, got more than 13 inches of snow.
Over the long term, researchers expect that atmospheric rivers will grow more intense as the climate changes. As average temperatures go up, more water evaporates and the atmosphere can hold on to more moisture to dish out in storms. "There is now emerging evidence that these atmospheric rivers, at least along the West Coast of the US, have become more intense over the last few decades, and there's certainly an expectation that they will become more intense as the climate continues to warm," Daniel Swain, a University of California Los Angeles climate scientist, told Vox last year. https://www.vox.com/2019/2/14/18224912/california-weather-atmospheric-river-flood (15 Feb. 2019)
James River flooding wipes out 100s of feet of trail When the James River crested at its highest level since 2010 last week, flooding caused thousands of dollars worth of damage to popular trails near the river, officials said. About 250 feet of trail on Belle Isle and 300 feet at Pony Pasture washed out and must be repaired. On February 25th, the river levels at the Richmond-Westham gorge increased at 16.2 feet. The last time the James was higher than that was January 2010, when it reached 18.1 feet. https://wtvr.com/2019/03/05/james-river-flooding-wipes-out-hundreds-of-feet-of-trail-causes-thousands-of-dollars-in-damages/ (5 March 2019)
Report finds widespread contamination at nation's coal ash sites The vast majority of ponds and landfills holding coal waste at 250 power plants across the country have leaked toxic chemicals into nearby groundwater, according to an analysis of public monitoring data released March 4, 2019 by environmental groups. The report, published jointly by the Environmental Integrity Project and Earthjustice, found that 91 percent of the nation's coal-fired power plants reported elevated levels of contaminants such as arsenic, lithium, chromium and other pollutants in nearby groundwater. In many cases, the levels of toxic contaminants that had leaked into groundwater were far higher than the thresholds set by the Environmental Protection Agency, the groups said.
– The report relies on data that was made public starting in March 2018 as required by a 2015 regulation known as the coal ash rule. The information was collected by a variety of environmental groups including the Sierra Club and Prairie Rivers Network. The data covers 265 coal plants and includes more than 550 coal ash ponds and landfills that were monitored by over 4,600 groundwater wells. About a quarter of coal plants did not register data because they either closed their coal ash dumps before the regulation took effect or because they received extensions or exemptions.
– If this is the situation around Coal Ash contamination in US, imagine what would be the situation in India.   https://www.washingtonpost.com/national/health-science/report-finds-widespread-contamination-at-nations-coal-ash-sites/2019/03/03/d80c82e6-3ac8-11e9-aaae-69364b2ed137_story.html        (4 March 2019)
America uses 322 bl gallons of water each day Fantastic piece with some eye opening graphics about how a country uses water. https://ensia.com/articles/water-use/        (22Feb.2019)
Brazil dam collapse prosecutors investigate collusion Story of collusion between mining companies, dam safety inspecting consultancies and regulators. https://www.thechemicalengineer.com/news/brazil-dam-collapse-prosecutors-investigate-collusion/  (7 March 2019)
Australia Flinders  river swells to 60 km wide due to flooding, creates its own weather system NASA satellite images show that the Flinders river one of Australia's longest waterways has gone from thin and dry to 60 km (37 miles) wide at some points in northeast Australia over the past month, with flooding there at its worst in more than half a century.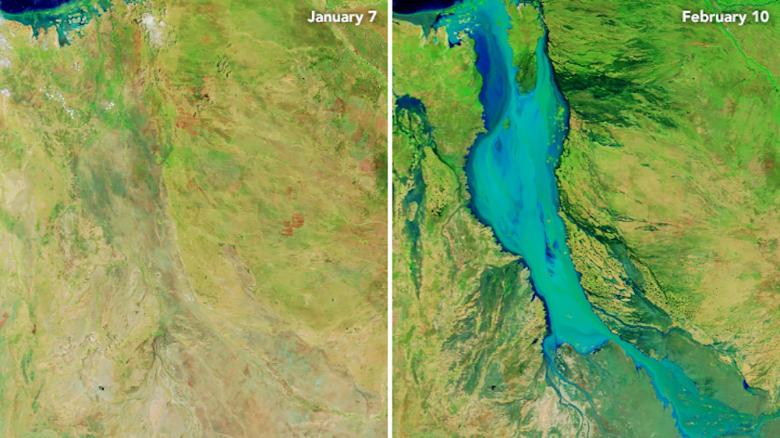 The Queensland Bureau of Meteorology (BOM) said extra moisture from the flooding helped create a thunderstorm on Feb. 14. Australia's billion-dollar beef industry is expected to sustain heavy losses due to the storms. About 500,000 cattle are believed to have died in the flooding, estimated to be to be worth about $213 million, CNN affiliate Seven News reported. Many of the cattle carcasses remain, and will pose a health hazard if not buried or burned,
"People have gone through drought, they have come out of years and years of drought, and they have now gone smack-bang into a natural disaster the likes of which no one out there has seen before," Queensland Premier Annastacia Palaszczuk said. https://edition.cnn.com/2019/02/14/australia/australia-flinders-river-intl/index.html (14 Feb. 2019)
Floodwater swells Queensland's Flinders River into a 60km-wide 'mega river'  "The amount of rainfall has been staggering. Above 500mm of rain spread across a vast region 300km across and 200km north. A year's worth of rain fell in one week and that's a record flood event for the Flinders River.
"The Flinders River system is now a flood plain. This is a mega river making its way up to the gulf." If you were to pick up the area affected and dump it on populated New South Wales, it would stretch from Sydney, west as far as Bathurst and south to Yass, near Canberra, Mr Sharpe said.
But unlike in NSW, where the water would likely run to multiple rivers lessening the overall impact, the geography of northern Queensland means the vast majority of the water is being funnelled in one direction through the Flinders system.
At 1000km long, the Flinders is the longest river in Queensland and drains a vast area of some 108,000sq km. On its way it passes by towns including Richmond, Hughenden and Julia Creek, many of which have been affected by the floodwater. Only the final 70km of the river, as it nears the Gulf of Carpentaria close to the small town of Karumba, holds water all year round. The river crosses a large flat clay pan, and much of its surrounds are ideal for raising cattle. One of the reasons so many have died was the river grew exponentially in size so quickly.
"All that water, half a metre of rain, has flowed into one basin combining into one giant river," Mr Sharpe said. "The Flinders River basin has now spilt over to the next basin, the Norman River, and that is exceptional.
The new Flinders "mega river" will shrink back to its regular size once the remaining floodwater drains its way to the gulf, but that could be well into next week, Mr Sharpe said. https://www.news.com.au/technology/environment/floodwater-swells-queenslands-flinders-river-into-a-60kmwide-mega-river/news-story/f7adf2e8850b05fc084764d3767c88a3 (14 Feb. 2019)
Study Murray-Darling Basin could be missing billions of litres of water, study claims An Australian National University (ANU) study claimed the Federal Government had grossly exaggerated the amount of water being returned to the system via water savings.  Co-author Professor John Williams said the lack of water may be a contributing factor in ecological issues affecting the river.  Professor John Williams says the government has not based their irrigation efficiency policies on the best science available. The study authors are calling on the Government to stop water infrastructure efficiency subsidies until a proper water accounting system was in place in the basin. https://www.abc.net.au/news/2019-03-06/billions-of-litres-of-water-missing-from-murray-darling-basin/10873782 (6 March 2019)
This research doubts the claims of Australian Govt in achievements of increased flow in the streams after massive subsidies (USD 3.5 Billion) for increasing irrigation efficiencies and 2007 Water Act.
– We use published water balance data from irrigated cropping to show that water entitlements acquired for environmental purposes through water infrastructure subsidies in the Murray–Darling Basin, Australia, have resulted in smaller increases in net stream and river flows than is estimated by the Australian Government, and may even have reduced net stream and river flows. Two key policy implications arising from our results are: (1) subsidies to improve irrigation efficiency so as to increase stream and river flows must employ water accounting so that the effects on return flows are known and the volume of water extracted for irrigation is adjusted to achieve desired stream and river flows; and (2) if the net increases in stream and river flows in the MDB are much less than estimated by the Australian Government, water infrastructure subsidies to increase irrigation efficiency may have compromised the delivery of key objects of the Water Act (2007).  https://www.tandfonline.com/doi/full/10.1080/13241583.2019.1579965   (4 March 2019)
Millions of fish have been dying in Australia's major rivers Poor management, excess upstream irrigation and drought led to three mass deaths of endangered fish species during December and January in the Murray-Darling Basin. These deaths included Murray cod fish that were decades old, according to an investigation by the Australian Academy of Science that was published last week.
Craig Moritz at the Australian National University in Canberra, who chaired the investigation, says the sight of millions of dead fish should be a wake-up call. He described the mass fish deaths as a mainland equivalent of the coral bleaching events that have been hitting the Great Barrier Reef.
Much of Australia's economy and food security depends on the Murray-Darling Basin, a complex river system with 2.6 million nearby residents, including more than 40 Aboriginal nations. The government-commissioned interim report highlighted role of "exceptional climactic conditions" in exacerbating the situation. But Moritz's report said the drought hadn't been unprecedented, and that excess upstream irrigation led to a lack of water and a "catastrophic decline" of the system's condition through dry periods. https://www.newscientist.com/article/2194929-millions-of-fish-have-been-dying-in-australias-major-rivers/ (26 Feb. 2019)
New Zealand 'Their birthright is being lost': New Zealanders fret over polluted rivers AMAZING CONCERN FOR RIVERS IN NEW ZEALAND: – Dozens of beaches, rivers and lakes have been closed to the public owing to pollution from farming. According to the environment ministry, two-thirds of all rivers are now unswimmable and three-quarters of New Zealand's native freshwater fish species are threatened with extinction. New Zealanders are now encouraged to check their local council websites for public health warnings before heading out for a day on the water.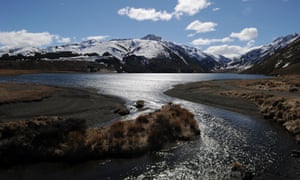 Declining water quality has coincided with a boom in New Zealand's dairy industry – it is the largest exporter of dairy in the world. Cow effluent and fertiliser run-off are significant polluters of inland waterways, as are beef, sheep and deer farming. Mass deforestation and the extensive clearing of native wetlands has also played a significant role.
According to the National Institute of Water and Atmospheric Science (Niwa), there is no doubt that the growth in pastoral farming, particularly dairy farming, is the main culprit for declining river water quality over the last 20 years. Rivers and streams in dairy country such as the Waikato, Southland and Canterbury are the most polluted in the country, Niwa says.
In 2016, four people died and 5,000 fell ill as a result of a gastroenteritis outbreak in the North Island town of Havelock North. The probable cause was sheep faeces contaminating the town's water supply, a government inquiry found.
The Labour coalition government, led by the prime minister, Jacinda Ardern, has pledged to make the country's rivers and lakes swimmable within a generation, describing it as a "birthright" for New Zealanders. It is a more ambitious goal than that of the previous National government, which promised only to make them "wadeable". But action has been slow, and experts say it has taken a back seat to housing and entrenched social welfare issues. https://www.theguardian.com/environment/2019/mar/04/their-birthright-is-being-lost-new-zealanders-fret-over-polluted-rivers (4 March 2019)
Africa Tanzania threatens Acacia with closing North Mara over water pollution Tanzania has given Barrick Gold-subsidiary Acacia Mining (LON:ACA) until March 30 to stop waste water pollution at its North Mara mine or face a shutdown, but the country's No.1 gold producer said March 8 a brief spill affecting the operation has already been halted. The miner says the spill happened because sections of a pipeline used to carry water to a tailings storage facility were either vandalized or stolen.
The African miner, fined over the incident in January, said the spillage happened after sections of a pipeline used to carry waste water from the North Mara mine to a tailings storage facility (TSF) had been either vandalized or stolen. As a result, it said, the pump used to move tailings was switched off, causing water levels in the pond to rise and subsequently overflow. http://www.mining.com/tanzania-threatens-acacia-closing-north-mara-water-pollution/ (8 March 2019)
DISASTERS
Uttarakhand A video of a small but spectacular rockslide by Dave Petley– A video has been posted onto Youtube showing a reasonably small but undeniably spectacular rockslide. In the comments section the location is described as being Uttarakhand, but no further details are provided. 
This appears to be to be as good an example as one could wish to find of a rockslide caused by discontinuities (joints) aligned with the slope – take a look at this still from the start of the video:- https://blogs.agu.org/landslideblog/2019/03/11/uttarakhand-1/ (11 March 2019)  
ENVIRONMENT
FRA Rework method to assess forest cover, panel tells environment ministry An expert committee report has recommended that the Union environment ministry rework the methodology to determine forest cover by mapping areas under various monocultures plantations. These include teak, sal, chir, bamboo, tea, coffee, cashew, mango orchards and others. The report on developing a 'strategy to create an additional carbon sink of 2.5 and 3 billion tons of carbon dioxide (CO2) from forest and tree cover' was released by environment minister Harsh Vardhan on March 8, 2019.
– A study by the Indian Institute of Science, published in the journal Current Science in 2014, had said at least 87,910 sq km or about 12.7% of the total forest cover could be plantations or orchards. https://www.hindustantimes.com/india-news/rework-method-to-assess-forest-cover-panel-tells-environment-ministry/story-CL5U9bAfgNhuqn10Bxsq3M.html (10 March 2019)
Aravalli SC warns Haryana on damage to Aravalli range The Supreme Court on March 8 cautioned the Haryana government against doing "anything" to harm the ecologically fragile Aravalli range.
A Bench, led by Justice Arun Mishra, was responding to a submission by Solicitor General Tushar Mehta that he would prove that the State has not introduced amendments in the Punjab Land Preservation Act (PLPA), 1900, in order to give a leeway to illegal mining or builders.
 "We are concerned with Aravalli. If you are doing anything with Aravalli or Kant Enclave (where the top court had ordered demolition of buildings due to illegal constructions in forest area) you will be in trouble. If you are doing anything with forest, you will be in trouble. We are telling you," the bench told Mr. Mehta.
On March 1, the court had threatened the Haryana government with contempt if it went ahead with the amendments virtually allowing massive scale of construction in the Aravalli Hills. The court had said the amendments pull the carpet from under a series orders passed by the Supreme Court over the years to protect the Aravalli and Shivalik ranges from builders and indiscriminate mining.
The court had pointed out how the once-lush Aravalli region was devastated after years of indiscriminate and illegal mining. "The entire Aravalli area is devastated and entire flora and fauna there has gone," the court had said in a hearing on February 4. In October last, the court had expressed shock over 31 "vanished" hills in the Aravallis and had asked Rajasthan to stop illegal mining in 115.34-hectare area. https://www.thehindu.com/news/national/other-states/supreme-court-warns-haryana-on-damage-to-aravalli-range/article26476637.ece (9 March 2019)  
Aravallis in Faridabad deemed forest, rules NGT The NGT has held that Aravallis in Faridabad district will be considered as deemed forest. The NGT was hearing a plea against the Haryana govt permitting felling of more than 7,000 trees for a group housing project, to be undertaken by Bharti Land Limited.
A Bench headed by NGT Chairperson Justice Adarsh Kumar Goel said, "It is difficult to uphold the stand of Haryana with which the Ministry of Environment agreed that the area in question is not a forest area. Once it is so, mere fact that the area is included in [relevant section] in the Master Plan is not conclusive to hold the same to be not covered by the definition of 'forest' in terms of law laid down by the Supreme Court."
Observing that the MoEF&CC had "mechanically upheld Haryana's stand by ignoring" the enquiry report of the northern regional office of the Ministry, the Bench said, "If such a report was to be disagreed, it was necessary for MoEF&CC to have given reasons. The report was based on valid factual and legal basis which was brushed aside in agreeing with the erroneous view of Haryana."
The State government had contended that the 52-acre land in question was not "recorded as forest land" and hence, it should be considered as "non-forest." However, the green panel held this view as "erroneous in law" while citing previous judgments where it has been said that the "status of land is to be seen not only on the date of enactment of Forest (Conservation) Act, 1980, but also with reference to subsequent status." https://www.thehindu.com/news/national/other-states/aravallis-in-faridabad-deemed-forest-rules-ngt/article26483388.ece (9 March 2019)
Compiled by SANDRP (ht.sandrp@gmail.com)
Also see DRP News Bulletin 6 March 2019 & DRP News Bulletin 25 Feb. 2019
Follow us on: www.facebook.com/sandrp.in; https://twitter.com/Indian_Rivers