As about 500 global financiers meet in London on March 5-7, 2019, one of the items on agenda pushed by Big Hydro lobby is criteria to include Big Hydro as climate solution. As following Comment in Nature shows, this is completely based on lobbying efforts and not based on merit of the case. If the merits of large hydro were to looked at objectively, there is absolutely no case of inclusion of Large Hydro as climate solution. In fact, the article does not attempt to list the severe, widespread and long lasting adverse social and environmental impacts of large hydro. Today when there is BIG question mark over even economic viability of large hydro, such attempts are clearly uncalled for. Hope the global financiers will see through this lobbying effort. 
The World Hydropower Congress will meet in Paris during May 14-16, 2019. Their program says:
Following over two years of discussions with industry, academia, governments and international NGOs, the Climate Bonds Initiative, an investor-focused not-for-profit is due to launch a consultation later this year on proposed green bond criteria for hydropower. This criteria is seen as key to fully unlocking the market to the hydropower sector, as to date it has been held back a lack of clarity over appropriate standards. https://congress.hydropower.org/2019-paris/programme/green-bonds-for-hydropower/
This shows that the Congress, essentially a Hydropower Lobby meeting, is also interconnected with the Climate Bond Initiative on Hydropower. 
Grid-connected electricity generation from renewable sources This is good news: "Hydropower investment is floundering. Large hydropower projects can take a decade to build, and require large up-front investments (typically, around US$1 billion per 1,000 mw) before they can recoup costs by producing power. Many financial institutions are reluctant to lend money, citing reputational risks and delays likely to be caused by environmental objectors. From Brazil to Laos, grass-roots campaigns to stop hydropower projects now cite the facilities' negative effects on climate change. Brazil's ambitious hydropower programme is being opposed on the basis that emissions generated as a result of its 18 dams supposedly exceed those from electricity generation based on fossil fuels.
Environmental groups have lobbied to restrict finance for hydropower projects under the United Nations Framework Convention on Climate Change (UNFCCC) Clean Development Mechanism (seego.nature.com/2ernyhc). In 2017, a coalition of 282 organizations wrote to the Green Climate Fund and its advisers to express concern about methane emissions from hydropower projects. The Climate Bonds Initiative, which encourages financiers to lend billions of dollars to activities that mitigate climate change (and which I advise), has found it difficult to define science-based sustainability standards for hydropower that will be both practical for developers and acceptable to environmentalists."
But the author is trying to reverse this. His bottom line is at the bottom of the article: "Finally, financiers should fund hydropower to help mitigate climate change. Standard-setting organizations need to develop and promote evidence-based standards that recognize hydropower's potential contribution to emissions reduction. Certainly, hydropower should be on the table on 5 March, when 500 global financiers meet in London to discuss investing in climate-friendly infrastructure through the Climate Bonds Initiative."
Strangely, the author even once does not provide a list of massive environmental and social negative impacts of hydropower projects. That says a lot.
The author Mike Muller, among others, is also: adviser to Mozambique's Hidroelectrica Cahora Bassa company. That too says a lot. https://www.nature.com/articles/d41586-019-00616-w (19 Feb. 2019)
The link to the meeting details: https://cbi19.climatebonds.net/
Also see: https://www.climatebonds.net/hydropower, one can see that the author of above NATURE piece, Mike Muller is a member of panel on climate bonds. The whole affair, thus seems biased. 
All this shows how interconnected is the Hydropower lobby and Climate Bonds Initiative. This further discredits any move to include Big Hydro in Climate Bonds Initiative. 
HYDRO POWER PROJECTS
Agenda of EAC meeting on RVP to be held on Feb 27, 2019:
Cumulative Impact Assessment and Carrying Capacity Study (CIA & CCS) of Teesta River Basin in West Bengal. Presentation of draft report before the EAC for recommendation of the Study.

Cumulative Impact Assessment and Carrying Capacity Study (CIA & CCS) of Yamuna River Basin in Uttarakhand. Presentation of draft report before the EAC for recommendation of the Study

Eastern Rajasthan Canal Project (ERCP) at Sawai Madhopur, Rajasthan by M/s ACE WR Zone Jaipur, Rajasthan- reg. Fresh ToR

Transfer of Rajasthan share of Yamuna Water at Tajewala Headworks to Churu and Jhunjhunu districts of Rajasthan by Underground Conveyance System. – reg. Fresh ToR

Construction of Barrage for Securing the Foundation of Taj Mahal Improvement in Water Level, Beautification & Navigation at 1.50 km D/S of Taj Mahal, Agra, U.P. – reg. Fresh ToR

100 MW Malana II HEP, Kullu, Himachal Pradesh by Everest Power Private Limited at Himachal Pradesh.reg Amendment in Environmental Clearance

Saundatti HEP (1200 MW) Integrated Renewable Energy with Pumped Storage Project by M/s Greenko Solar Energy Pvt Ltd. at village – Karlakatti, Tehsil – Saundatti, District – Belgaum, Karnataka. – reg. Fresh Environmental Clearance.

Kaleswaram Lift Irrigation Scheme near Kannepally village, Mahadevpur Mandal, Jayashankar Bhoopalpally district, Telangana. – reg. Fresh Environmental Clearance

Improvement of drainage path of Kalisindh river near Balinda Ghat for prevention of floods in Jhalawar town by Water Resources Kalisindh Project Division, JHALAWAR, Rajasthan – reg. Fresh ToR

Jamrani Dam Multipurpose Project by Irrigation Department, Uttarakhand. reg. – reconsideration of Environmental Clearance.

Karchham – Wangtoo Hydro Electric Project (1000 MW) by Jaiprakash Power Ventures Ltd. reg.- Transfer of Environmental Clearance. http://environmentclearance.nic.in/writereaddata/Form-1A/Agenda/210220191HBKXW7L22thEACAgendafinal.pdf
Minutes of the EAC held on Jan 28, 2019 is just uploaded. Decisions of the EAC:
Cumulative Impact Study of Sutlej Basin: SUGGESTIONS MADE BY EAC.

Asthi LIS in Mah for EC: DEFERRED (Chief Eng absent)

Banda Nala PSP: TOR OK

Brutang Irrgn Project Odisha EC Extns: APPLY AFRESH

Nardev Irrgn P Mah: EC: MORE INFO SOUGHT

GImliang HE: 88.5 MW Anjaw ArP: TOR Ext: OK

Jeera Irrgn Project Odisha: EC Extn: OK

Majhgaon IP Panna, MP. EC: OK

PVNRao Kanthanapally Project. Telangana. EC. MORE INFO SOUGHT

Tapti Chillure IP. MP. TOR. OK

Raigam HEP 195 MW Anjaw ArP. TOR ext. OK

Upper Krishna III: Karnataka: EC. OK

Banda IP Sagar, MP. TOR Modification OK

A. CIA CCS of Beas OK

Lakhar (NGT directions). MORE INFO, SITE VISIT http://environmentclearance.nic.in/writereaddata/Form-1A/Minutes/19022019VNI1HYP521MoMRVP_final.pdf
DRIP WB approves Rs 11K cr for improving safety of hydro power dams The World Bank has accepted a proposal to provide Rs 11,000 crore to India to improve safety and operational performance of its 733 large dams across 18 states over the next 10 years in Ph II and III of DRIP (Dam Rehabilitation and Improvement Program) beginning 2020. The major dams which are to be covered under Phase-II & III of the DRIP include Bhakra dam (Himachal Pradesh), Srisailam (Telangana), Koyna and Jayakwadi (Maharashtra), Matatila, Ramganga and Raj Ghat (UP), Pong dam (HP), Ukai (Gujarat), Rana Pratap Sagar and Mahi (Rajasthan), Hirakud and Rengali (Odisha) and Umiam (Meghalaya). https://energy.economictimes.indiatimes.com/news/power/world-bank-approves-rs-11000-cr-for-improving-safety-of-hydro-power-dams/68049691 (18 Feb. 2019)
Film Premier Ho Gyi hai Pir Parvat Si Delhi Solidarity Group and Kriti Film Club, are organising a premiere of the film "Ho Gyi Hai Pir Parvat Si (The Mountains Agonized- English). The film is directed by Subrat Kumar Sahu. "Ho Gayi Hai Pir Parvat Si (The Mountains Agonized- English)" is his 8th documentary movie. The screening would be followed by a discussion with the filmmaker & his team.
The screening will start at 7:00 PM sharp, and the programme will end by 9:00 pm. 
Venue: Gulmohar Hall, India Habitat Centre
Date and Time: 2nd March, 2019; from 7:00 PM to 9:00 PM
Brief synopsis: Ho Gayi Hai Pir Parvat Si – Hindi (The Mountains Agonized), made by Independent Filmmaker, Subrat Kumar Sahu, is a documentary on the impacts of hydropower development in the Satluj Valley. The 111 minute film, shot between 2010 and 2017, travels from village to village on the landscape that falls under Seismic Zone IV and V, capturing visuals of colossal disaster and resident testimonies of the already deleterious impacts of many ongoing hydro-power projects on the local farm-based economies, on their precious water sources, causing deforestation, health hazards, landslides, flash floods, leading to desperate situations for the local communities and also threatening to drive them into dispossession and perpetual deprivation. https://www.youtube.com/watch?v=1qY3V_iLLes
DAMS
Andhra Pradesh Agenda of FAC meeting to be held on Feb 21, 2019 includes diversion of 730.88 Ha forest land for this irrigation project(s) from Andhra Pradesh: "DIVERSION OF 730.88 HECTARES OF FOREST LAND (I.E.594.75 HA. IN KARAKAMBDAI RF, KRISHNAPURAM RF OF WLM DIVISION TIRUPATI FOR CONSTRUCTION OF SRI BALAJI RESERVOIR AND MALLEMADUGU RESERVOIR (FOR ALIGNMENT OF BUND, FORESHORE SUBMERSION), AND 136.13 HA. IN RAMAPURAM RF, ADAVARAM RF AND NAGALAPURAM RF OF CHITTOOR EAST (WL) DIVISION, CHITTOOR FOR CONSTRUCTION OF KAILASAGIRI, CANAL) IN FAVOUR OF EXECUTIVE ENGINEER, GNSS DIVISION, RENIGUNTA, TIRUPATI UNDER GNSS PHASE-II PROJECT" http://forestsclearance.nic.in/AgendaDetail.aspx?id=215!dis1
Farakka Dam New plan to 'unlock' for hilsa recalls old debate on fish passes The key message: The new fish pass on the Ganga will cover only 8 metres, a tiny fraction of the Ganga's width at Farakka. A small number of the hilsa might well sneak through, but it is doubtful if the new fishway will allow large shoals of the fish to return to their former spawning grounds further upstream.
– Among the longstanding gastronomy debates in the subcontinent is the one on the relative merits of the hilsa that comes from the Padma river in Bangladesh versus the variety that is found in the Ganga in India. The advocates of both varieties underline the distinctive sweet-salty flavour of the silver-scaled fish. While those in the east vouch for its fleshy texture, aficionados in the west rest their claims on what the fish does to the taste buds — that sweet-salty flavour is apparently more pronounced in the Ganga hilsa. Like many other debates in gastronomy, the one on the hilsa, too, is about the seamlessness of legend and myth, ecology, history, and culture. https://indianexpress.com/article/explained/why-new-plan-to-unlock-farakka-for-hilsa-recalls-old-debate-on-fish-passes-5593626/ (19 Feb. 2019)
Gujarat Centre gave Rs 2K cr less to Gujarat govt for Narmada Project The Central Govt gave grants of Rs 4,699.50 crore (1643 + 2100 + 955 Crores in three years) in last three years to Sardar Sarovar Project. WHY SHOULD CENTRE CONTINUE TO FUND THIS PROJECT, NOW GOING ON FOR OVER TWO DECADES? Guj Govt spent in all Rs 10757 Cr in these three years on the project. Work pending: 113.28km of branch canals, 237.40km in distributory canals, 1,884.10km in minor canals and 9,219.27km in construction of sub-minor canals. The Gujarat minister also said in the assembly that 9.28 lakh hectare area got irrigation water in Kharif and Rabi seasons in the year 2018-19, about half of the projected command area. https://www.dnaindia.com/ahmedabad/report-centre-gave-rs-2k-cr-less-to-gujarat-government-for-narmada-project-2722357 (21 Feb. 2019)
Tamil Nadu Govt seeks Rs 1,064 crore from World Bank for dam safety Tamil Nadu has sought Rs 1,064 crore funding under the dam rehabilitation and improvement project (DRIP) of the World Bank. After taking up 89 dams in phase I in 2012 at a cost of Rs 745 crore, the state is pinning hopes on subsequent phases. Tamil Nadu PWD and Tangedco submitted proposals for 59 dams under phase II and phase III of DRIP.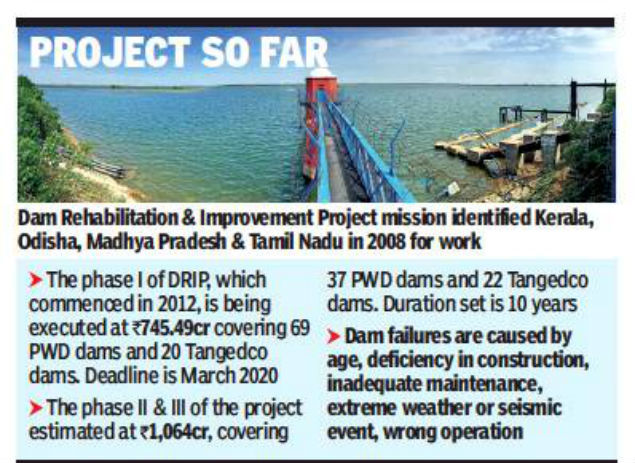 Ministry sources said the state will have to reconstitute dam safety review panel according to the latest guidelines with a minimum of 50% membership from outside the state. Country has witnessed failure of 36 dams in the last century, Kodaganar, an earthen dam, is the only one reported from TN. The 12.75m high dam breached because of floods in 1977, the year it was built. https://timesofindia.indiatimes.com/city/chennai/tn-seeks-rs-1064cr-from-world-bank-for-dam-safety/articleshow/68055281.cms (19 Feb. 2019)
Opinion More and more dams planned, but where is the water? By Radheshyam Jadhav:- With 2,069 large dams already dotting its landscape, Maharashtra is building another 285 big dams, notwithstanding the fact that hardly any dam has fulfilled even half of its projected irrigation potential. Not surprisingly, Maharashtra has one of the worst irrigation records in the country, with a mere 19 per cent of the net irrigated area — just ahead of Jharkhand, Manipur and Sikkim.
As the State gears up to face another drought, the alleged ₹70,000-crore irrigation scam, relating to alleged corruption and irregularities in approval and execution of various irrigation projects, has not reached its logical conclusion.
But this is not the only case. Madhya Pradesh has 899 big dams, followed by Gujarat ( 620), Chhattisgarh (248), Karnataka (230) and Rajasthan (209). However, among these States, except Madhya Pradesh, which has a net irrigated area of 62 per cent, no other State has achieved even 50 per cent net irrigation.
"We have invested ₹4,00,000 crore in major and medium irrigation projects since Independence. Vast storages of water are not reaching the farmers. We have focused only on construction of dams and main canal systems, not on enduring outcomes," observed a government-appointed committee in its report, titled 'A 21st Century Institutional Architecture for India's Water Reforms.'
The committee observed that the average cost over-run is as high as 1,382 per cent in major irrigation projects and 325 per cent in medium projects.
But States continue to look at big dams to resolve their water crises. According to CWC data, presented by the Ministry of Water Resources in December 2018, there are 5,701 large dams in India of which 5,264 are completed and 437 are under construction. https://www.thehindubusinessline.com/economy/agri-business/more-and-more-dams-planned-but-where-is-the-water/article26323057.ece (20 Feb. 2019)
Hirakud Dam The wounded Mahanadi Climate change and the tussle between industry and agriculture over decreasing amount of water from the Hirakud dam on the Mahanadi River in Odisha is a recipe for repeated disasters and perennial unrest writes Cheryl Colopy. https://indiaclimatedialogue.net/2019/02/20/the-wounded-mahanadi/ (20 Feb. 2019)
INTERLINKING OF RIVERS
Ken Betwa Link Project  MoEF has issued stage I FC for Lower Orr Project, part of Ken Betwa Project, for diversion of 968.24 Ha in Madhya Pradesh on Feb 12, 2019: http://forestsclearance.nic.in/writereaddata/RO_App_Inprinciple/1302201918082016.pdf
RIVERS AS NATIONAL WATER WAYS
NW 1 Circumventing Environmental Regulations Shripad Dharmadhikary, Avli Verma The National Waterways Act, 2016 declared 111 rivers as National Inland Waterways. Even as these waterways open up for commercial shipping and navigation, and for interventions like dredging, river training, construction of terminals, and land acquisition, the legally binding regime of environmental clearance is evaded. https://www.epw.in/journal/2019/8/commentary/circumventing-environmental-regulations.html (23 Feb. 2019)
IRRIGATION
Gujarat Interim Budget Irrigation schemes in tribal belt to defuse crisis Gujarat govt announces irrigation projects in interim budget as election sops in tribal areas neglected for decades. Will it help? https://indianexpress.com/article/business/gujarat-interim-budget-irrigation-schemes-in-tribal-belt-to-defuse-crisis-5592092/ (20 Feb. 2019)
Report A 19th-century plan involving the Godavari was designed to 'throw open all of India to all China' This excerpt from Sunil Amrith's 'Unruly Waters' also gives an account of the formation of the Ganges Canal.
To make India productive, to integrate it more fully with the global capitalist economy that was in formation, to exploit more effectively its natural resources to feed Britain's industrialisation, British engineers and investors and administrators looked to master the unevenness of water, its extreme seasonality in India; and they sought to conquer space. Both of these quests unfolded between the 1830s and 1870.
Half a century after Roxburgh's time, the Godavari delta was still "entirely without any general system of irrigation, draining, embankments or communications." This was the verdict of Arthur Thomas Cotton (1803-1899), the museum to whose memory opened this chapter. Like Roxburgh's before him, Cotton's problem was the distribution of rainfall across the landscape. His task: "counteracting the irregularity of natural supplies of water." https://scroll.in/article/912937/a-19th-century-plan-involving-the-godavari-was-designed-to-throw-open-all-of-india-to-all-china (18 Feb. 2019)
Maharashtra Govt plans pipeline from Gunjawani dam to farms The state govt's Krishna Valley Development Corporation (MKDVC) has initiated steps to execute the first project wherein water for farms will be supplied through a network of pipelines instead of the open canal system.
Gunjawani will be the first dam in the state to supply water through pipelines for irrigation. Gunjawani dam is located in the western part of Pune district while its command area is spread in parts of Velhe, Purandar and Bhor talukas and adjacent areas. The project will benefit over 21,392 hectare cultivable command area (CCA) with a total estimated spending of about Rs 1,016 crore.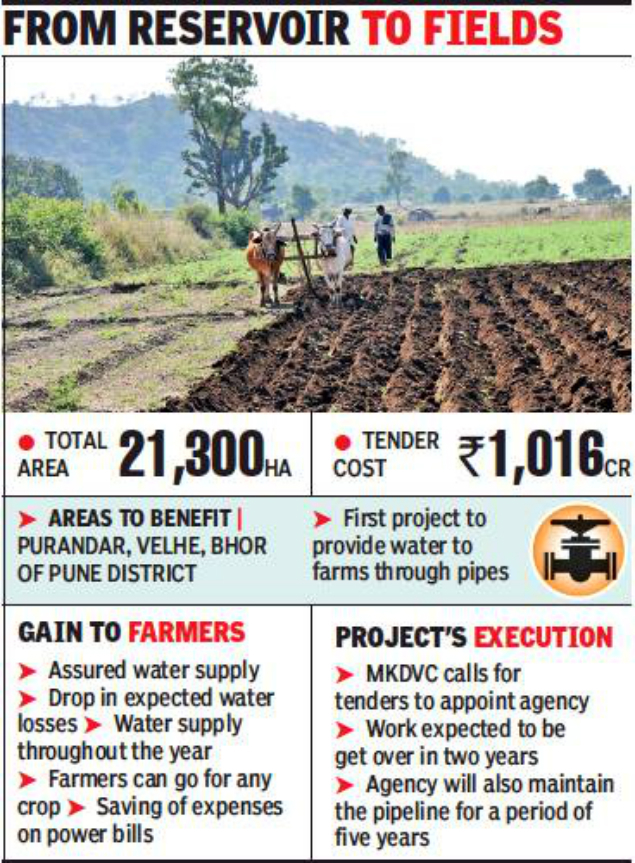 The corporation has initiated the process of calling for tenders to appoint an agency which is expected to execute the pipeline project in two years. The work will include engineering, procurement and construction of piped distribution network including Narayanpur lift irrigation scheme and operation and maintenance of the entire system for five years. Sources in the MKDVC said the main pipeline of about 2,400mm diameter will be laid. https://timesofindia.indiatimes.com/city/pune/state-plans-pipeline-from-gunjawani-dam-to-farms/articleshow/68055411.cms (19 Feb. 2019)
RIVERS
SANDRP Blog Ozhukanam Puzhakal unto her we shall return KERALA is celebrating in memory of our friend of Latha. And HOW. Touching blog by Dr Manju Vasudevan on some amazing celebrations. Plz do read, share widely.  https://sandrp.in/2019/02/23/ozhukanam-puzhakal-unto-her-we-shall-return/ (23 Feb. 2019)
Cauvery Coffee pulp water being let into River Cauvery Residents of Siddapura in Kodagu district of Karnataka have alleged that coffee pulp waste is being let into the Cauvery River through the canal built to let rainwater run into the river. The estate flagged by residents is located next to the Siddapura-Nelliyahadikeri bridge. According to environmentalists, coffee pulp waste can be hazardous to marine ecology. https://www.thenewsminute.com/article/coffee-pulp-water-being-let-river-cauvery-kodagu-residents-allege-probe-96950 (18 Feb. 2019)
Chhattisgarh 
GANGA SANDRP Blog  Citizens write to PM to take Urgent Action on Ganga Environment Groups and Citizens from across India write to Prime Minister, Union Water Resources Minister and Uttarakhand Chief Minister to take Urgent Action on Ganga in view of Sacrifice of Prof G D Agarwal and ongoing fast unto death by Atmabodhanand ji since Oct 24, 2018, now in 119th day. But the govtis yet to credibly respond to the demands. The letter urges the govtto act urgently. Plz share widely and hope more people can write to the Prime Minister. https://sandrp.in/2019/02/19/env-groups-citizens-write-to-pm-to-take-urgent-action-on-ganga/ (19 Feb. 2019)
Ganga Walk 23 Feb. 2019 In support of Swami Atambodhanand's 123 days long fast demanding free flowing ganga a Save Ganga walk and meeting was organized today at Jantar Mantar:
YAMUNA Centre Rs. 1387.71 Cr projects approved under Namami Gange In its 20th Executive Committee meeting held on 15th Feb, 2019, sewerage infrastructure and other projects worth Rs.1387.71 Cr focusing on towns along river Yamuna have been approved. The projects involve construction and renovation of STPs, online monitoring systems of sewage treatment plants and other infrastructure projects. http://www.pib.nic.in/Pressreleaseshare.aspx?PRID=1565017 (18 Feb. 2019)
Among the projects cleared is the setting up of a new STP for treatment of 200 MLD capacity in Meerut, interception and diversion of existing sewer lines and development of rising mains at a cost of ₹682 crore. In Agra, the projects cleared included online monitoring of six STPs, automation and renovation of existing sewage pumping stations and maintenance work at a projected cost of ₹317 crore.
The NMCG also cleared sewage infrastructure projects worth ₹ 140.6 crore in Etawah. They include interception and diversion of Tixi Nala, upgradation of existing STPs including chlorination systems, a new STP of 21 MLD and online monitoring system of three STPs. The project also includes the operations and maintenance of the approved projects at a cost of ₹50 cr.
The NMCG also gave its go-ahead to projects worth ₹51 crore in Firozabad, ₹ 77 cr worth works in Baghpat and a faecal sludge management project in Chunar, to be implemented with the help of CSE. https://www.thehindubusinessline.com/news/national/ganga-mission-clears-1388-cr-projects-on-yamuna/article26305746.ece (18 Feb. 2019)  
Another project is to be taken up by UP Forest Department focuses on development of captive breeding infrastructure by procurement of more breeding turtles & Gharials and also conduct post release monitoring to investigate survival rate of Gharials and turtles as well as carry out education, awareness and training Programmes. unit. http://www.pib.nic.in/Pressreleaseshare.aspx?PRID=1565017 (18 Feb. 2019)
Delhi NGT committee launches website Complaints and suggestions regarding pollution of the Yamuna River can now be lodged with the NGT appointed monitoring committee at its newly launched website. The website promises to be a one-stop destination for all information related to the river.
It will have various NGT orders related to Yamuna, the monitoring committee's action plans and reports, notes on flood plain rejuvenation and improvement of 'e-flow', information regarding wetlands, relevant laws, reports of expert committees, minutes of important monitoring committee meetings and links to various stakeholder agencies. https://www.thehindu.com/news/cities/Delhi/website-to-curb-pollution-of-yamuna-launched/article26325303.ece (21 Feb. 2019)
Urban forest developed at marshland of sewage near Barapullah drain The initiative is the second part of the Union government's Department of Biotechnology (DBT) and Delhi Development Authority (DDA)'s project to clean the Barapullah drain. A total of 2,281 native saplings of 44 different species have been planted in this piece of land over the past six months.
The tiny forest is open to the public and the two departments plan to cover the entire patch spread across 750 square metres with saplings. The 12.5km-long Barapullah drain carries a huge amount of domestic sewage, including human excreta, and is responsible for about 30% of the pollution in the river Yamuna. https://www.hindustantimes.com/delhi-news/marshland-of-sewage-near-barapullah-drain-turns-into-urban-forest/story-wgMC6dwE4uGpDUxEz1S6ZN.html(6 Feb. 2019)
NGT seeks action plan to stop discharge of polluted water in Yamuna The NGT has sought an action plan from a committee headed by CPCB to stop discharge of polluted water in the Kondli drain which originate in Delhi and joins river Yamuna at Noida Sector 168. The court directed various authorities CPCB, Delhi PCB, DJB, EDMC, Noida and UP PCB to hold a joint meeting on the issue within a month. The report of the action taken be furnished to this tribunal within two months by e-mail. The matter is posted for consideration on May 20.
As per Abhisht Kusum Gupta, the petitioner, sewer waste coming from villages situated near Sector 137, Noida, is being drained into the irrigation canal. The tribunal had earlier directed the Noida and the UP PCB to submit report on dumping of waste in an irrigation canal. https://www.livemint.com/news/india/ngt-seeks-action-plan-to-stop-discharge-of-polluted-water-in-yamuna-1550670785621.html (20 Feb. 2019)
BNHS Yamuna Tour & Great Flamingo Census Tours for children, birders Bombay Natural History Society (BNHS) would conduct tours of Delhi wetlands on Yamuna. The matter came up for discussion during a meet organised by an NGT-appointed committee to showcase its newly launched website. The committee has been formed to check pollution levels in the river. https://timesofindia.indiatimes.com/city/delhi/tours-along-yamuna-for-children-birders/articleshow/68087281.cms (21 Feb. 2019)
Flamingos spotted in good numbers at Okhala barrage On Feb. 23 morning, birders and bird enthusiasts gathered in Okhla Sanctuary in search of one particular avian species, the greater flamingo. Organised by the Bombay Natural History Society (BNHS) as part of the first coordinated flamingo count across the country, the exercise is also taking place in other birding hotspots of NCR like Dhanauri, Najafgarh and Sultanpur. The exercise continued on Feb. 24, after which the total number of flamingos in the city and the country will be found out.
Even though there have been recent reports of decline in numbers of migratory birds in the city, this particular species of avian visitors has made some spots in the capital its seasonal home and can be sighted in large numbers, birders said. Sohail Madan, centre manager at BNHS and in-charge of the count in Delhi and Uttar Pradesh, said 124 greater flamingos were spotted on Feb. 23, which was zero last year. "They have a niche in their feeding grounds. Unlike last year, this time the water level is good at Okhla. In the past couple of months, a fluctuating population of 100-300 is there in Okhla," Madan said.
The greater flamingo (Phoenicopterus roseus) is a popular resident of west Africa, sub-Saharan Africa, Mediterranean regions, southwest and south Asia (especially Pakistan, Bangladesh, Sri Lanka, coastal belt of Maharashtra, Gujarat, and Odisha in India). It migrates to the wetlands of Rajasthan, NCR, Uttar Pradesh and Madhya Pradesh (Chambal) and feeds on crustaceans, worms, insect larvae and seeds of marsh plants. Another species, lesser flamingo, on the other hand, doesn't come to NCR. https://timesofindia.indiatimes.com/city/delhi/at-least-they-arent-giving-up-on-yamuna-greater-flamingos-continue-to-wing-in/articleshow/68132349.cms (24 Feb. 2019)
RIVERS BIODIVERSITY
GANGA Bihar Thriving Gangetic dolphin presence, reveals census A comprehensive census conducted along nearly 1,000 km of the river Ganga and its two tributaries, the Gandak and the Ghaghara, in Bihar have found about 1,150 Gangetic dolphins. Environmentalists say it is a sign of a 'healthy river ecosystem' as the dolphins can survive only in clean and fresh water. The state govt-funded census was conducted by ZSI, Wildlife Trust of India and Tilka Manjhi University, Bhagalapur between November 18 and December 10, 2018.
During the extensive survey lasting for 23 days, a huge number of 700 dolphins were traced in the 300-km stretch of the Ganga from Mokama to Manihari, 300 dolphins in another 300 stretch of the Ganga from Buxar to Mokama, a 100 animals in the Gandak river and 50 in the Ghaghara river, authorities informed. They also said they could not confirm whether the dolphins' numbers had increased or decreased since this was the first time such an extensive survey had been conducted.  https://www.downtoearth.org.in/news/wildlife-biodiversity/thriving-gangetic-dolphin-presence-in-bihar-reveals-census-63285 (19 Feb. 2019)
FISH, FISHERIES, FISHERFOLKS
National Fish Workers Forum Month long campaign launched against CRZ 2019 regulations National Fish workers Forum (NFF) has declared a month-long national campaign from  February 23rd to March 23rd , 2019 in all coastal states against the new Coastal Regulation Zone (CRZ) Notification 2019  issued by the Government of India on January 19  2019.
The CRZ 2011 in section V(3) clearly stated the Government of Goa shall notify the fishing villages by which reconstruction, repair works of the structures of local communities including fishermen community would have been permissible in CRZ . The eco sensitive low-lying areas which are influenced by tidal action known as khazan lands shall be mapped. The mangroves along such as khazan land shall be protected and a management plan for the khazan land prepared and no developmental activities shall be permitted in the khazan land.
Sand dunes, beach stretches along the bays and creeks shall be surveyed and mapped. Corals and coral reefs and associated biodiversity, Mudflats, Salt Marshes, Turtle nesting grounds at Mandrem, Morjim, Galgiba and Agonda, Horse shoe crabs habitats, Sea grass beds, Nesting grounds of birds, Areas or structures of archaeological importance and heritage sites all this eco sensitive areas which had to be mapped and surveyed  in the Coastal Zone Management Plans (CZMPs) will be now  open for haphazard development in the CRZ notification 2019. https://www.heraldgoa.in/Goa/Month-long-campaign-launched-by-National-Fish-workers-Forum-against-CRZ-2019-regulations-/143002.html (22 Feb. 2019)  
Maharashtra Fishermen fear solar project at Ujani lake will affect livel   The fisherman are opposing the plan to set up floating solar project on Ujani lake as their livelihood is likely to be affected.   https://punemirror.indiatimes.com/pune/civic/fishermen-fear-solar-project-at-ujani-lake-will-affect-livelihood/articleshow/68070358.cms  (20 Feb.2019)
Meanwhile CM announces a number of decisions including fishing rights  for farmers in village ponds.  https://indianexpress.com/article/cities/mumbai/maharashtra-devendra-fadnavis-announces-bonus-of-rs-500-for-paddy-farmers-5598444/ (24 Feb. 2019)
SAND MINING
SANDRP Blog Maharashtra Sand Mining 2018: Panegaon shows Way To stop Illegal Sand Mining The most striking highlight of MAHARASHTRA SAND MINING REVIEW OF 2018 is the remarkable achievement of Panegaon Village in stopping sand mining in their village to protect their river and water. Thats fascinating.
Maharashtra has highest number of cases of non-compliance of sustainable sand mining management guidelines, 2016. Plz Read, Share and send comments. https://sandrp.in/2019/02/18/maharashtra-sand-mining-2018-panegaon-shows-way-to-stop-illegal-sand-mining/  (18 Feb. 2019)
North East India Sand Mining 2018: Emerging threat to Rivers There are fewer reports about illegal sand mining from north eastern statesely less affected by illegal sand mining. However with the increase in urbanization, the trend is slowly picking up in these region also. The Thoubal river in Manipur and rivers of southern Assam appear particularly affected by the extraction of sand. https://sandrp.in/2019/02/19/north-east-india-sand-mining-2018-emerging-threat-to-rivers/ (19 Feb. 2019)
East India Sand Mining 2018: Will NGT order help restore Subarnarekha River?  In 2018, the green tribunal passed several orders for Odisha and West Bengal states regarding illegal sand mining case in Subarnarekha River. The concerned local administration was seen taking some actions on the issue only after the NGT orders. But the reports detail how the large scale illegal sand mining in past few years, has already caused massive destruction to river system apart from affecting the dependent communities. https://sandrp.in/2019/02/21/east-india-sand-mining-2018-will-ngt-order-help-restore-subarnarekha-river/ (21 Feb. 2019)
Tamil Nadu HC suggests use of drones to check illegal sand mining While hearing a contempt petition against Karur district authorities for failing to act against illegal sand miners, the Madurai bench of the Madras high court has suggested the use of unmanned aerial vehicles (UAV) or satellite imagery to curb illegal sand mining in the state.
The petitioner, C Rajkumar of Velayuthampalayam in Karur had filed a petition before the court to direct the authorities to take appropriate action against a person who indulged in illegal sand quarrying in Cauvery river at Thotakurichi village in Manmangalam taluk in Karur district. https://timesofindia.indiatimes.com/city/madurai/hc-suggests-use-of-drones-to-check-illegal-sand-mining/articleshow/67876167.cms (7 Feb. 2019)
Disappearance of environmentalist "suggests" police role against anti-Sterlite protestors S Mugilan has been a remarkable activist for many years. He has also been fighting against illegal sand mining, river pollution, among other issues. His disappearance is indeed worrying.  https://www.counterview.net/2019/02/disappearance-of-environmentalist.html (24 Feb. 2019)
Uttrakhand No mining within 10 km from boundaries of national parks The high court on June 13 directed the state government to ensure that there was no mining within 10 km from boundaries of national wildlife parks in the state without nod of the National Wildlife Board. The direction was given by the division bench of justices Rajiv Sharma and Lokpal Singh while disposing of a public interest litigation (PIL) filed by Ayub from Haridwar in 2014. Chetan Joshi, counsel of the petitioner, said the petition had raised the issue of mining of minor minerals within 10 km of Rajaji National Park.
According to the petitioner, the areas adjoining Rajaji national park that have been leased out fall within 10 km range. Some even falls under the buffer zone of the park. The leased areas in Motichur Elephant Reserve also fall within 10 km range. The petition alleged that authorities concerned had granted environmental clearance within 10 km range of the park without making it compulsory to the lessees to seek the permission of the National Wildlife Board. https://www.hindustantimes.com/dehradun/no-mining-within-10-km-from-boundaries-of-national-parks-hc-to-u-khand-govt/story-ucqSVkjIY7OBVDJLiWSHZN.html (13 June. 2018)
Chhattisgarh New Govt takes away mining rights from local bodies The state govt has reversed the decision of previous govt that entrusted sand mining rights with the local bodies. Replying to a call attention notice CM Bhupesh Baghel on Feb. 20 announced to entrust sand mining rights with the state mineral development corporation. He said the decision to take away the rights from panchayat bodies is a step aimed at check illegal sand mining in the state. CM also said that there are 11 sand mines in the area which are operating with environment clearance and 72 cases were registered over illegal sand mining in Balrampur district during 2016-17. https://timesofindia.indiatimes.com/city/raipur/baghel-govt-takes-away-sand-mining-rights-from-local-bodies/articleshow/68087384.cms (21 Feb. 2019)
On more report confirming the same:- https://www.india.com/news/agencies/panchayats-in-chhattisgarh-lose-rights-over-sand-mining-3583508/
Uttar Pradesh CBI questions persons in illegal sand mining As per CBI sources a team in Hamirpur had questioned persons concerned in connection with its investigation into illegal sand mining case. The remarks came a fortnight after the CBI registered a case against 11 people including B. Chandrakala, then Hamirpur DM, Ramesh Kumar, a Samajwadi Party leader, and others.
The CBI had registered separate cases into the alleged irregularities in grant of licences between 2012 and 2016, in violation of the Allahabad High Court order which had ratified an e-tender policy in Kaushambi and Shamli districts in 2018. Then CM Akhilesh Yadav had granted the mine's leases to 14 people in 2013 in Hamirpur district against the High Court's order. https://www.business-standard.com/article/news-ians/cbi-questions-persons-in-illegal-sand-mining-119012801377_1.html (28 Jan. 2019)
Centre Private companies barred from coastal sand mining for rare earth The Centre has banned beach sand mining by private companies for extraction of rare earth minerals as part of a crackdown on widespread corruption and stop erosion of sea shores and ecosystem in four coastal states.
Coastal areas in Kerala, Tamil Nadu, Andhra Pradesh and Odisha where sand is laced with rare earth minerals have been suffering erosion, damaging ecosystems and particularly affecting livelihood of fishermen as a result of unscientific and largely illegal mining of beaches. The latest notification has changed the threshold of the presence of rare earth minerals in sand to 'zero'. Sand mining was allowed through a 2016 notification, which had set miniscule level of rare earth mineral presence in sand. https://timesofindia.indiatimes.com/india/private-companies-barred-from-coastal-sand-mining-for-rare-earth/articleshow/68120161.cms (23 Feb. 2019)
Environmentalists fighting against rampant illegal sand mining have hailed the gazette notification by the Union ministry of mines changing the rules that earlier allowed private companies to mine rare earth minerals found on beach sand. They said the notification was much awaited and would help save the coastal treasures.
However, the notification has disappointed private players in the industry. They said they were left with no option but to wait for a change of decision or formation of a new government. https://timesofindia.indiatimes.com/city/madurai/private-firms-jolted-by-notification-of-centre-banning-beach-sand-mining/articleshow/68143476.cms (25 Feb. 2019)
WETLANDS, LAKES, WATER BODIES
Punjab Govt approves Kanjli wetland as Kali Bein Conservation Reserve The govt decides too declare Kanjli wetland as Kali Bein Conservation Reserve for protection of many flora and fauna species which are facing survival battle in this habitat. Kali Bein feeds the Kanjli wetland which once used to be the habitat of ghariyal, critically endangered species. Since the state govthas already introduced ghariyal in Harike water system which is ecologically quite similar to Kanjli. Thus the wildlife department is now considering Kanjli wetland as alternative site for reintroduction of ghariyal in near future. https://timesofindia.indiatimes.com/city/chandigarh/punjab-cm-approves-kanjli-wetland-as-kali-bein-conservation-reserve/articleshow/68037235.cms (17 Feb. 2019)
Uttar Pradesh SC notice to Centre, UP on plea against NGT order refusing to declare Surajpur as wetland The Supreme Court has sought responses from the Centre and the Uttar Pradesh govton a plea challenging the NGT's order which refused to declare the low lying areas in and around Surajpur reserve forest in Gautam Budh Nagar as protected wetlands.
The top court was hearing a plea filed by environment activist Vikrant Kumar Tongad against Sept. 14, 2018 order of NGT which had disposed of his plea seeking declaration of area in and around Surajpur reserve forest in Gautam Buddh Nagar as protected wetlands on the ground that there is no revenue record corroborating the fact that other six low lying areas are wet land. In his plea in the apex court, Tongad said that the tribunal has failed to take note that he placed on record map prepared by Space Application Centre, Indian Space Research Organisation which mapped around 2,01,503 wetlands in the country. https://www.outlookindia.com/newsscroll/sc-notice-to-centre-up-on-plea-against-ngt-order-refusing-to-declare-surajpur-as-wetland/1482361 (20 Feb. 2019)
Despite pollution impacting water table levels, the number of migratory birds at the wetlands has spiked from 1,920 birds of 31 species in 2017-2018 to 3,034 birds of over 40 species in 2018-19. https://indianexpress.com/article/cities/delhi/new-migratory-bird-joins-ever-increasing-flock-at-surajpur-wetlands-5570971/ (6 Feb. 2019)
WATER OPTIONS
Eco-san modal of toilets saves water but remains ignored The Ecosan is a dry toilet built on a raised platform, listed in the Swachh Bharat Mission's (SBM) guidelines as suitable for dry areas with scarce water supply, coastal and flood-prone areas with high water tables, and rocky areas.
Excreta are not flushed out, but stored in sealed chambers to be used as farm manure later. Ecosan toilets return the nutrients to soil, preventing pollution and reducing expenditure on farm chemicals. https://www.indiaspend.com/a-revolutionary-toilet-saves-water-money-but-it-is-ignored-by-target-obsessed-swachh-bharat-mission/ (19 Feb. 2019)
Goa Lost knowledge on water management The 'laat' is a traditional system devised to lift water out of ponds called 'honde' that meet irrigation needs. https://timesofindia.indiatimes.com/city/goa/goas-lost-knowledge-of-water-management/articleshow/68030349.cms (17 Feb. 2019)
GROUNDWATER
National Industries using ground water without NOC after March 31 will be slapped with fine of Rs 5000 per day The Central Ground Water Authority (CGWA) has directed the all groundwater users including industrial, infrastructure and mining projects to submit applications for No Objection Certificate (NOC) to CGWA through NOCAP latest by March 31, 2019. In case any industry does so without the NOC then a penalty of Rs 5000 per day will be levied on it.
It further clarified that the industries/projects drawing ground water without a valid NOC or in violation of prohibitory directions of NGT are liable to pay Fine/Environmental Compensation/ Damages as may be decided by NGT, New Delhi on first conviction.
The industries or projects which have already been convicted by NGT are also liable to pay fine at the rate of Rs 5000 per day for continued violation after first conviction. The cases of NOC under specific orders/directions of NGT shall be dealt with in accordance with the directions of NGT, said the notification.The detailed directions, existing guidelines etc., are available on the web link: http://www.cgwa-noc.gov.in/LandingPage/GroundWater.htm/cgwb.gov.in https://knnindia.co.in/news/newsdetails/msme/industries-using-ground-water-without-noc-after-march-31-will-be-slapped-with-fine-of-rs-5000-per-day (30 Jan. 2019)
Madhya Pradesh Only 372 companies applied for ground water NOC in 3yrs As per CGWA Bhopal, in 2017 and 2018, the authority received just 220 and 81 applications respectively while in 2019 so far, 19 applications have come. In reference to orders passed by NGT in 2015, industries, infrastructure, mining projects have been brought under the purview of NOC from CGWA.
– Pithampur, state's largest industrial belt, alone is house to around 1,500 industries, Dewas has 800 industries while small industrial belts like Sanwer, Polo Ground, Palda and others have presence of over 1,000 units, according to industry experts.
– As per the mandate, penalty for non-compliance is Rs 5,000 per day after first conviction, as per notification by ministry of water resources, river development and Ganga rejuvenation. The date for filing application for availing NOC has been extended to March 31, 2019.
– Association of Industries Madhya Pradesh (AIMP) president Alok Dave said, "The process to get NOC is very tedious and lengthy and this discourages industries. The authority should make the process smooth and friendly for users for full compliance." The cumbersome and lengthy procedure to get NOC from department has prompted offers between Rs 50,000 to Rs 1 lakh from consultants to get the work done, industry participants said.https://timesofindia.indiatimes.com/city/indore/only-372-mp-cos-applied-for-ground-water-noc-in-3yrs/articleshow/67967003.cms (13 Feb. 2019)
Andhra Pradesh New software to help assess groundwater data in State State Govt has come out with a pioneering software to assess groundwater data and use it to efficiently plan recharge strategies and exploitation of water resources.
The software, developed by the Andhra Pradesh Centre for Financial Systems and Services (APCFS), was used for groundwater-related data collection for 2016-17 (done in 2017-18), and awaits the approval of the State and Central governments. The software is called A.P. Groundwater Resource Assessment, Categorisation and Evaluation (APGRACE). https://www.thehindu.com/news/national/andhra-pradesh/new-software-to-help-assess-groundwater-data-in-state/article26334131.ece (22 Feb. 2019)
Study Industrialisation triggers ground water contamination in Guntur  "The physico-chemical analysis of groundwater quality in industrial areas of Guntur city reveals that groundwater is largely affected by various types of contaminants from industries. Total dissolved solids, total hardness, total alkalinity and chlorides are very high in groundwater in peripheral regions around industrial locations in Guntur," warns a research study by the department of environmental sciences, Acharya Nagarjuna University.
The study spanned two years and covered the summer and monsoon seasons. Samples were taken from three places for analysis – Autonagar, the Masjid Omar site near Autonagar and Acharya Nagarjuna University campus – to check if groundwater in industrial areas was fit for human use. "The results revealed that the water quality failed to meet drinking water standards. Groundwater samples were found unfit for drinking purpose, and hence can be graded as non-potable," warned the study, published in the recent issue of the International Journal of Engineering Science Invention (IJESI). https://timesofindia.indiatimes.com/city/vijayawada/industrialisation-triggers-ground-water-contamination-in-guntur-study/articleshow/68142591.cms (25 Feb. 2019)
Telangana Drainage water seeps into groundwater Residents of Block 1 and 3 of Vinayak Nagar have been facing severe inconvenience as the drainage water from damaged pipelines is seeped into borewells polluting the groundwater. Despite several complaints to authorities concerned, the laying of drainage pipelines, the works for which were inaugurated six months ago, were never started. Although the pipes required for the work were brought to the site, the works were kept pending, the residents lamented. https://www.thehansindia.com/posts/index/Telangana/2019-02-01/Drainage-water-seeps-into-groundwater-/485927 (1 Feb. 2019)     
URBAN WATER
Chandigarh City to get extra water from Kajauli project Chandigarh will get 29 MGD extra water from Phase 5 and 6 of Kajauli water pipeline. Mohali residents will have to wait for at least one more year to get its share (5 MGD) from it because of incomplete work.
So far, the tricity, including Chandimandir Cantonment, have been getting 80 MGD water through Phase 1, 2, 3 and 4 pipelines. The water has been shared between Chandigarh, Mohali, Panchkula and Chandimandir Cantonment as per the arrangement of sharing water, decided at a meeting chaired by the then Union Home Minister on July 6, 1983. Now, with the starting of the Phase 5 and 6 pipelines, there will be an additional 40 MGD of water to the current water supply. https://www.tribuneindia.com/news/chandigarh/chandigarh-all-set-to-get-extra-water/731641.html (20 Feb. 2019)
People forced to pay for water tankers Residents were forced to pay for water tankers as the city witnessed a water crisis for the third consecutive day due to work undertaken at the Kajauli waterworks to bring in additional water. Besides southern sectors, residents of northern sectors also faced a water shortage. https://www.tribuneindia.com/news/chandigarh/people-forced-to-pay-for-water-tankers/732182.html (21 Feb. 2019)
Tankers in place to deal with water crisis The local Municipal Corporation has made elaborate arrangements to deal with any water crisis during the next two days. https://www.tribuneindia.com/news/chandigarh/tankers-in-place-to-deal-with-water-crisis/730567.html (18 Feb. 2019)
WATER
Gujarat Govt launches 2nd edition of water conservation scheme CM inaugurated the second phase of water conservation work on Feb 23, 2019 at Tarnetar in Surendranagar district. State govt has increased its share of money in this phase to 60%, the rest to come from communities or private sector or voluntary contributions. In Phase I the govt claims to have increased water storage capacity to the extent of 31.15 million Cubic meters by deepening 13000 water bodies. https://ahmedabadmirror.indiatimes.com/ahmedabad/others/gujarat-launches-second-edition-of-water-conservation-scheme/articleshow/68130962.cms (23 Feb. 2019)
DELHI WATER
Economic survey 83% households have access to piped water  Piped water supply has reached to over 83.42 per cent households in the national capital covering around 18 million people, says Delhi's Economic Survey 2018-19 report tabled in the Assembly on Feb. 23. The Delhi Jal Board (DJB) recorded consecutive working surplus during 2013-14 to 2015-16, although the 2018-19 (budget estimates) indicated a deficit of Rs. 133.78 crore, the report said.
"Water production during the summer season is being maintained at 895 MLD covering about 18 million population of Delhi through existing water supply network comprising 14,355 km long pipelines and more than 107 underground reservoirs," it said.
Water supply was available to 1,318 unauthorized colonies up to October 2018. Based on the norm of 60 Gallon Per Capita per Day (GPCD), the total requirement of water in March 2011 was 1,020 MGD.
According to the report, the Master Plan of Delhi (MPD) – 2021 prepared by Delhi Development Authority(DDA) proposed water requirement with the norm of 80 gallon per capita per day (GPCD), out of which 50 GPCD is for a domestic requirement and 30 GPCD for non-domestic purposes. The domestic water requirement of 50 GPCD comprises 30 GPCD for potable needs and 20 GPCD for non-potable water.
The estimated demand of water in Delhi based on the norms of MPD 2021 will be around 1,140 MGD based on the norm of 60 GPCD to meet the requirement of a projected population of 190 lakh up to March 2018, the report stated.  https://www.ndtv.com/india-news/83-per-cent-households-in-delhi-have-access-to-piped-water-economic-survey-1998288 (23 Feb. 2019)  
DROUGHT 
Study Worst droughts, famines in India due to lack of moisture A study that reconstructed droughts and famines across India over the last 146 years says lack of moisture in the soil for extended periods of time can be linked to some of the most devastating famines. The latest study — by Indian Institute of Technology, Gandhinagar (IIT-Gn), University of California, and the India Meteorological Department, Pune — for the first time links decline in soil moisture to droughts and famines.
– The study found that between 1870 and 2016 India witnessed seven major soil moisture droughts or agricultural drought periods (1876-1882, 1895-1900, 1908-1924, 1937- 1945, 1982-1990, 1997-2004, and 2011-2015) based on their analysis of severity, area, and duration. Three droughts in 1877, 1896, and 1899 were linked to El Nino when warm temperatures in the Pacific Ocean cause below-normal rains, but barring the famine of 1943, five major famines during 1873-74, 1876, 1877, 1896-97, 1899 were caused by large-scale and severe soil moisture droughts driven by June-September monsoon failures. The study, Drought and Famine in India, 1870-2016, was published in Geophysical Research Letters in January. https://www.hindustantimes.com/india-news/worst-droughts-famines-in-india-due-to-lack-of-moisture-says-study/story-ibuzatJXVRhXrW47auWRRM.html (16 Feb. 2018)
Maharashtra Over 500 villagers rely on tankers WORSENING DROUGHT IN NASHIK:  – The numbers of villages and hamlets being fed drinking water by tankers has crossed the 500-mark. The count was reached by the middle of February. The total number of tankers providing water to villages and hamlets has now reached 131 tankers.
– Sinnar taluka has been the worst hit so far, with 33 tankers providing drinking water to a total of 185 villages and hamlets. Yeola taluka has the second highest number of tankers, providing water to 76 villages and hamlets. Baglan has 21 tankers feeding 29 villages; Nandgaon has 15 tankers for 124 villages; Deola has six tankers and Chandwad has two tankers providing water to villagers. Overall, residents of seven talukas out of the district's total of 15 talukas are currently reliant on tankers for their water supply. https://timesofindia.indiatimes.com/city/nashik/now-over-500-villages-rely-on-tankers/articleshow/68038736.cms  (18 Feb. 2019)
Tamil Nadu Chennai's water scarcity self-inflicted Key conclusion: Chennai's water scarcity is largely self-inflicted. The crisis exposes dubious water-management practices in the city. The worst part of Chennai's water governance is that it is chaotic. It is the scarcity of ideas, innovation, and governance that is keeping the city water-starved. https://www.thehindubusinessline.com/opinion/chennais-water-scarcity-is-self-inflicted/article26305385.ece (18 Feb. 2019)
Opinion Challenge of water in peripheral areas Unless gated communities follow certain procedures for water conservation, they may face problems this summer, says S. Vishwanath https://www.thehindu.com/life-and-style/homes-and-gardens/the-challenge-of-water-in-peripheral-areas/article26279668.ece (15 Feb. 2019)
Gujarat Deputy CM ask for judicious use of water As Assembly debates water scarcity in state this summer, Deputy CM said: "The winter season is almost over and the situation may worsen in summer. People in scarcity-hit areas will have to make judicious use of water… but we all have to face a tough situation in days to come". https://www.dnaindia.com/ahmedabad/report-make-judicious-use-of-water-says-gujarat-deputy-cm-nitin-patel-2723071 (23 Feb. 2019)
Farmers in South Gujarat are facing water crisis issues. There has been inadequate rainfall due to which there has been lack of water. The irrigation department too has refused to supply water. https://www.youtube.com/watch?v=2IO_3RV16aE (24 Nov. 2018)
Karnataka As parties fight for seats, water crisis stares State Natural Disaster Monitoring Centre (KSNDMC) said the rain received between September 1 and February 20 was less than 40-60 per cent in 2017-18 and this points towards severe water scarcity in the peak summer. GS Srinivasa Reddy, director of KSNMDC, also warned of crisis for the state in the impending summer than what it had to bear in 2017-18.
According to the Karnataka water resources department, as of February, reservoirs of large projects have only 20-30 per cent water. Last year, same time, they were 30-40 per cent full.North Karnataka seems to be the worst affected and the situation is no better in other districts of north interiors of Karnataka. Already more than 500 villages are dependent on tankers to meet their drinking water requirement. Even Kodagu, which faced an unprecedented flood and drought during monsoon last year, is facing drinking water problem because of long dry spells. https://timesofindia.indiatimes.com/city/bengaluru/as-parties-fight-for-seats-water-crisis-stares-ktaka/articleshow/68103110.cms (22 Feb. 2019)
As per latest report, the govt has strictly instructed all dam authorities to store water for drinking, it will be given for irrigation only if there is excess water. Around 47 towns and 625 villages are completely dependent on the river Cauvery for the daily water needs as the water level in reservoirs are lower than required. https://www.timesnownews.com/mirror-now/civic-issues/article/karnataka-water-crisis-due-to-deficit-rainfall-state-saves-water-for-drinking-irrigation-goes-for-a-toss/371411 (24 Feb. 2019)  
FLOOD
KERALA DAM FLOODS CWC for scientific approach Some Sense here:- The safe operating level at Idukki dam in the event of a rainfall of high magnitude that led to flooding in August last year should be in the order of 725.39m or 74% of full reservoir level (FRL), a latest report by the central water commission (CWC) said. Prepared by the flood management organization (FMO) under the CWC and submitted to the state govtrecently, the report has come out with suggestions that could help in flood management and flood forecasts from 2019 onwards. It will also help making a three-day advisory forecast to state govtbased on IMD and near realtime satellite rainfall estimates till actual real-time rainfall data is available.
– "In case of Idukki dam, though it has been built across Periyar, the spillways open to Cheruthoni, which is a small river and does not have the holding capacity like Periyar. That's why it is often said that Idukki dam should not be allowed to its maximum capacity. We will have to put in place a team of highlevel experts from the water management, dam safety, KSEB, govtofficials who should take over the decision-making process if there are such indications in the monsoon season," said Dinesan  V P, senior principal, scientist & head, geomatics division.
– The report said that the CWC had requested various state governments to identify additional flood forecasting stations so that the flood forecasting network of CWC can be expanded to uncovered areas as well. Many states requested to either establish or expand the new/ existing flood forecasting network. There was no request from Kerala for any flood forecasting network. The committee constituted to study Kerala floods has tried to study the feasibility of the opening of flood forecasting network in various river basins in the state. https://timesofindia.indiatimes.com/city/kochi/central-water-commission-for-scientific-approach/articleshow/68041374.cms (18 Feb. 2019)
ENERGY OPTIONS
Gujarat Govt to set up 100 MW solar power project atop Narmada canal "Installation of solar panels for 100 MW power generation would cover nearly 40-km canal. As per experts' calculation, an area of 4-km branch canal required for solar panel in order to generate 10 MW power." Said Sardar Sarovar Narmada Nigam source.
– Gujarat has set up a canal-top solar project in Nov 2014, a 10 MW canal-top solar photovoltaic grid-connected power plant on Vadodara Branch Canal. Later, another 25 MW canal-top solar power generation capacity was installed by SSNNL near Vadodara in 2017.
– At the greenfield project of Dholera Special Investment Region, the Gujarat govtis developing India's largest solar power park of 5 gigawatt capacity. At present, Gujarat's installed solar power capacity stands at 1.7 gigawatts but the state govtis envisaging to augment the capacity at 8.8 gigawatts by March 2022. https://www.financialexpress.com/india-news/renewable-future-gujarat-govt-to-set-up-100-mw-solar-power-project-atop-narmada-canal/1494866/ (22 Feb. 2019)
SOUTH ASIA
Indus Water Treaty India wants to use water as a weapon against Pakistan Washington Post Quoted SANDRP: To squeeze Pakistan, India would have to build dam-like infrastructure on the western rivers, violating the treaty. "These are not temporary projects to do for a few days until Pakistan behaves," said Himanshu Thakker, coordinator of the South Asian Network on Dams, Rivers and People. "Any project to divert, use or stop water takes decades, and decades are not a canvas on which political tensions between the two nations last." https://www.washingtonpost.com/world/2019/02/22/indias-threats-pakistan-offer-hint-future-water-wars/?utm_term=.123b9d7c9747 (22 Feb. 2019)
India Cannot Afford to Fight Fire With Water Excellent from Maya Mirchandani: "To have spun Gadkari's tweets as action against Pakistan in the aftermath of the Pulwama attack, as several prominent BJP leaders and subsequent media reports did, required a kind of mental gymnastics that defies both research and reason… It assumes that the Indian public – eager to see a strong response against Pakistan for its support to terror groups like the Jaish-e-Mohammed that claimed responsibility for Pulwama – would be so easily fooled into believing that using 'our share of water' more effectively was actually a strong act of retaliation… In fact, it was nothing but wrapping in a bow and recycling a two-year-old announcement of an even older decision and presenting it as, not only new, but strong international action." https://thewire.in/diplomacy/indus-treaty-why-india-paksitan-water-sharing (22 Feb. 2019)
The Huffington  Post has also quoted SANDRP and Manthan on the issue: https://www.huffingtonpost.in/entry/modi-government-announcement-on-restricting-water-to-pakistan-is-misleading-experts-say_in_5c6ec728e4b0f40774ccf45e (22 Feb. 2019)
MoWR, GOI comes out with PR on Indus Basin projects that Mr Gadkari tweeted on Feb 21: – Shahpurkandi project: This project will help in utilizing the waters coming out from powerhouse of Thein dam to irrigate 37000 hectares of land in J&K and Punjab and generate 206 MW of power. The project was scheduled to be completed by September 2016. However, following a dispute between the state of J&K and Punjab, the work on the project had been suspended since 30.08.2014. Consequent upon agreement reached on 8 September 2018 between J&K and Punjab. The cost of the project is. 2715.70 Crore. Government of India vide order dated 19 December 2018 has approved the Central Assistance of Rs. 485.38 crore towards balance cost of works of irrigated component of the project. The construction work has now resumed by Govt of Punjab under monitoring of Govt of India.
– Ujh multipurpose project: This project will create a storage of about 781 million cu m of water on river Ujh , a tributary of Ravi for irrigation and power generation in India itself and  provide a total irrigation benefits of 31,380 ha in Kathua, Hiranagar and Samba district of J&K apart from providing water for the district Kathua of J&K. The DPR of the project has been technically approved for the total estimated cost of Rs.5850 crore (July, 2017). This project is a National Project and the Central Assistance of Rs. 4892.47 crore on works portion of irrigation component as well as the special grant is under consideration. The implementation of the project will be 6 years from beginning of the implementation.
– The 2nd  Ravi Beas link below Ujh: This project is being planned to tap excess water flowing down to Pakistan through river Ravi, even after construction of Thein Dam, by constructing a barrage across river Ravi for diverting water through a  tunnel link to Beas basin. The project is expected to utilize about 0.58 MAF of surplus waters below Ujhdam by diverting the same to Beas basin for benefits of other co-basin states. Govt. of India declared this project as National Project. http://pib.nic.in/PressReleseDetail.aspx?PRID=1565906 (22 Feb. 2019)
Three projects, in the works for some time now, are to exploit this unused 6-%7%: the Ujh dam, meant to be a hydroelectricity and irrigation project in Jammu's Kathua district, the Shahapur Kandi Project on the Ravi and a second Ravi-Beas link, fiercely opposed by Punjab for years. These projects were reportedly put on a fast track after Uri, a claim which Gadkari has now repeated. These are supposed to supply India's drinking water needs, feeding into the Renuka Dam project in the Yamuna River Basin. In January this year, the Centre signed a memorandum of understanding with six states for the project. None of this would affect Pakistan significantly, neither does it violate the terms of the treaty.
Pressures on both countries have increased as rivers run dry and water shortages grow more acute. Pakistan may be much more dependent on the Indus river system than India is. It covers 65% of the country's area compared to 14% of India's. The Indus Basin Irrigation System is the source of water for most of its agriculture, accounting for rain and groundwater. Last year, shortages in this system delayed the sowing of the country's main cash crops. Cutting off this precious, dwindling source of water would mean terrible human costs for millions living there. https://scroll.in/article/914294/india-should-not-use-indus-waters-treaty-to-quench-thirst-for-action-against-pakistan-after-pulwama (23 Feb. 2019)
Mohan Guruswamy is blunt: "Thus, the somewhat exasperated suggestion seemingly made by the Modi government that it would take a relook at the treaty. It can take a relook it till kingdom come, but the reality remains the same… The fact is that the IWT works because it suits both countries by making a virtue of the geography." https://thelogicalindian.com/opinion/indus-water-india-pakistan/ (24 Feb. 2019)
Not concerned if India diverts water: Pakistan  Secretary of Pakistan's Ministry of Water Resources Khawaja Shumail said: "We have neither concern nor objection if India diverts water of eastern rivers and supplies it to its people or uses it for other purposes, as the IWT (Indus Waters Treaty) allows it do so." Mr Shumail said Pakistan did not see India's decision as worrisome in context with the Indus Water Treaty.    https://www.ndtv.com/india-news/indus-water-treaty-pakistan-not-concerned-if-india-diverts-water-from-3-eastern-rivers-1997617      (22 Feb.2019)
Pakistan Neelum Jhelum Hydropower Company rejects new tariff The 969 MW Neelum Jhelum Hydropower Project whose cost is USD 4.825 B has demanded levelised Power Tariff of Rs 13.24 (INR Rs 6.73) as against Rs 5.918 offered. Another example of unviable Hydro? https://www.thenews.com.pk/print/435892-neelum-jhelum-hydropower-company-rejects-new-tariff (24 Feb. 2019)
Nepal-India-Bangladesh Trilateral PPA on cards Minister of Energy, Water Resources and Irrigation Barsha Man Pun said the govtexpected a trilateral Power Purchase Agreement between Nepal, India and Bangladesh on the Upper Karnali Hydropower Project during the upcoming investment summit slated for March 29 and 30 for export of 500 MW from the project to Bangladesh.
"The Indian side told me the draft PPA to be signed between GMR and Bangladesh govtwas in the final stage and that they were ready to sign a trilateral agreement, including Nepal," he said. Pun said he also floated an alternative proposal in Delhi that if GMR was not able to develop the project, Nepal govtwould build it by allocating shares in the project to GMR equivalent to its investment so far. "Haryana govthas agreed in principle to buy 300MW electricity from GMR," Pun said. GMR has been holding the project since 2006 when it won the contract through global biding. As per the contract agreement, Nepal Electricity Authority will get 108MW energy for free and 27 per cent equity share.
– Pun said Nepal had already started exporting surplus energy to India under the energy banking system. He said the exports amounted to Rs 160 million so far this fiscal, while last year's exports stood at Rs 70 million. "We will export energy worth billions of rupees from next year after Upper Tamakoshi project starts generating 456MW electricity. We are not very far from becoming self-reliant in energy" He said. He said the govtwas working to ensure generation of 3,000MW energy in the next three years, and complete projects generating 5,000MW in five years. The govtplans to generate 15,000MW in 10 years. https://thehimalayantimes.com/nepal/nepal-india-bangladesh-trilateral-ppa-on-cards/ (18 Feb. 2019)
Afghanistan Research Reveals Severe Lack of Water Along Harirod River A research by Afghan Institute of Strategic Studies shows that water level has dropped by 50 percent in Harirod River water zones, affecting many areas around the river in Herat province in the west of Afghanistan. Experts who have worked on the research said excessive use of water by neighboring Iran is a key element to drop in water levels in the river. 
The research titled Review of Harirod Water Basin indicates that Iran has established 28 dams along the Harirod River, one dam is under construction, and studies are ongoing to establish 11 other dams by using the Harirod water while Afghanistan has only one dam along the river.
The river is flowing 1,100 km from the mountains of central Afghanistan to Turkmenistan, where it forms the Tejend oasis and disappears in the Karakum Desert. In Turkmenistan, it is known as the Tejen or Tedzhen river and passes close to the city of Tedzhen.  The river originates in the Baba mountain range, part of the Hindu Kush system, and follows a relatively straight course to the west. Still some 200 km upstream from Herat the river meets the Jam River at the site of the Minaret of Jam, the second tallest ancient minaret in the world at 65 meters.
"The one who has the history of using the water has the priority. Historical articles about Harirod River show that Herat deserts were the first areas where the Harirod water was used and it continues until now," said Sayed Ali Hussaini, an AISS researcher.
"If we do not build a national authority, neither we will be owning our water neither our country nor we will be able to bargain about it in [international] negotiations. This is one of the problems we face practically while we don't have a simple solution to the problem," said Najib Aqa Fahim, Minister of State for Disaster Management.
The research shows that with the expansion of the agriculture sector in Iran, the utilization of water from the Harirod basin has significantly increased while Afghanistan faces severe drought along the basin.
But, from the legal perspective, the Harirod River water zone is one of the fourth stressful rivers in the world, the study shows.  "This is an invisible crisis which we see today. It will destroy the things in ten years and several regions of the world have already been eliminated because of lack of water," said Ali Ahmad Osmani, former Minister of Energy and Water.
Based on statistics by Ministry of Energy and Water, Afghanistan's water resources have declined to 49 billion cubic meters from 57 billion cubic meters due to climate change in the last 40 years, which shows a 14 percent decline. https://www.tolonews.com/index.php/afghanistan/research-reveals-severe-lack-water-along-harirod-river (22 Feb. 2019) 
Bangladesh Stop stone extraction from Sangu, Matamuhuri Rivers: HC The High Court on Feb. 24 directed the authorities concerned to stop stone extraction from Sangu and Matamuhuri Rivers and their adjacent reserved forest areas in Bandarban district.
A bench of Justice Moyeenul Islam Chowdhury and Justice Md Ashraful Kamal passed the order after hearing a writ petition. Environment and Forests secretary, Director General of Department of Environment, Deputy Commissioner of Bandarban, Superintendent of Police and six other respondents were asked to  comply with the order and submit a report within one month. The court also issued a rule seeking explanation as to why inactivity of authorities regarding the stone extraction from those places should not be declared illegal. 
The writ was filed jointly by Bangladesh Environmental Lawyers Association (BELA), Bangladesh Poribesh Andolon (BAPA), Bangladesh Adibashi Forum, Nijera Kori, Kapaeeng Foundation, Association for Land Reform and Development (ALRD) and Mong Soipru Khaiyam, a local resident. http://www.unb.com.bd/category/Bangladesh/spot-stone-extraction-from-sangu-matamuhuri-rivers-hc/13322 (24 Feb. 2019)
Sri Lanka Sand-mining rocks Trinco Detailed report on huge ruckus by villagers including assault on Navy personnel on death of two illegal sand miners during a raid in Trincomalee district: Over the years the Mahaweli river has faced the constant assault of sand racketeers as it coursed through the Trincomalee district on its final journey to the sea. Despite causing irreversible damage to the environment the illegal sand miners have only become more brazen in recent times, continuing unafraid and unabated in their illegal venture.
A lucrative business for the powerful, the large scale racket has also benefited the economically downtrodden in the area allowing them to make a quick buck in the process. While the police along with the Special Task Force (STF) and the Sri Lanka Navy has been fighting a tough battle against what can be called the 'Illegal Sand Mafia,' on Jan. 26 tensions flared between villagers and the Navy during a raid conducted on illegal sand mining by Naval Officers in Kinniya. http://www.sundayobserver.lk/2019/02/03/news-features/sand-mining-rocks-trinco (3 Feb. 2019)  
THE REST OF THE WORLD
DAM  FLOODS IN US Officials plan to release historic amount of water from Wolf Creek Dam A press release from the U.S. Army Corps of Engineers says that, with Lake Cumberland levels rising, the Wolf Creek Dam will step up releases to historic levels, with the potential for flooding in low-lying areas downstream, especially in the Cumberland River reach in Kentucky from Rowena to Burkesville are expected. Wolf Creek Dam is currently discharging water at 36,200 cubic feet per second (cfs.) Now, engineers plan to increase discharge to 40,000 cfs as early as Sunday (Feb 24), and up to 45,000 cfs 48 hours after that. The largest amount of water ever released from the dam is 40,000 cfs, back in Jan 1974. 70 percent of the flood control pool is being used. https://www.wkyt.com/content/news/Wolf-Creek-Dam-increasing-releases-to-historic-levels-506266981.html (23 Feb. 2019)
US TVA to release minimal amounts of water at South Holston Dam due to record rainfall This shows how TVA (Tennessee Valley Authority) is managing dams. It has reduced outflow to minimum as downstream is facing heavy rainfall and floods and hopes to start releasing water once the rainfall starts. It also keeps in mind the downstream thresholds values and the releases will not go beyond those thresholds. https://www.heraldcourier.com/news/tva-to-release-minimal-amounts-of-water-at-south-holston/article_c81f668a-78e7-5a05-a428-da89db05d88e.html (22 Feb. 2019)
LA aiming to recycle all wastewater by 2035 The city of Los Angeles is aiming to recycle all of its wastewater by 2035. To achieve this, the facility will need to undergo a $2 billion improvement effort that will take 16 years to complete. Mayor Eric Garcetti noted that about two decades ago, a major wastewater reclamation project in Los Angeles was killed because of its name.
https://abc7.com/video/embed/?pid=5149992
"It was unfortunately named toilet-to-tap," Garcetti said. "Immediately it was killed off by people who were scared that water that would be coming out of their faucets might have once been in their toilets. Well I've got news for you: That's already what happens. Nature does that. https://abc7.com/politics/la-aiming-to-recycle-all-wastewater/5149992/ (21 Feb. 2019)
$8 billion project will take 16 years to complete and provide as much as one-third of the city's supply. Currently, recycling provides only 2% of the city's water. The key to L.A.'s water recycling ambitions is the Hyperion plant near Dockweiler State Beach. It processes 81% of the city's sewage and discharges an average of 190 million gallons a day into a five-mile outfall pipe in Santa Monica Bay. The city wants to upgrade Hyperion with advanced treatment technology, pipe the purified water inland and inject it into the aquifers that underlie much of the L.A. Basin.
– Currently, it is against state policy to put recycled water directly into municipal systems. It must first spend some time in aquifers or reservoirs and mix with other sources. But the state is considering new standards that would allow agencies to skip that step. If that happens, Harasick said DWP would use some of the scrubbed wastewater for groundwater recharge and would send some directly into the city's distribution system. As L.A. strives to capture more of the torrents of urban runoff that drain to the ocean during winter storms, it could also divert stormwater into the sewer system, treat it and add it to groundwater reserves. https://www.latimes.com/local/lanow/la-me-water-recycling-los-angeles-20190222-story.html (22 Feb. 2019)
Australia New concept of Cultural Flows "Governments need to buy back water for the environment and support First Nations to acquire water for cultural flows, in addition to environmental water." The call comes in the wake of the SA royal commission finding gross maladministration, negligence and unlawful actions in the multibillion-dollar plan to save Australia's largest river system
Traditional owners have been calling for an end to "aqua nullius" for some time, raising the concept of cultural flows, defined as "water of a sufficient and adequate quantity and quality to improve the spiritual, cultural, environmental, social and economic conditions of those Indigenous nations."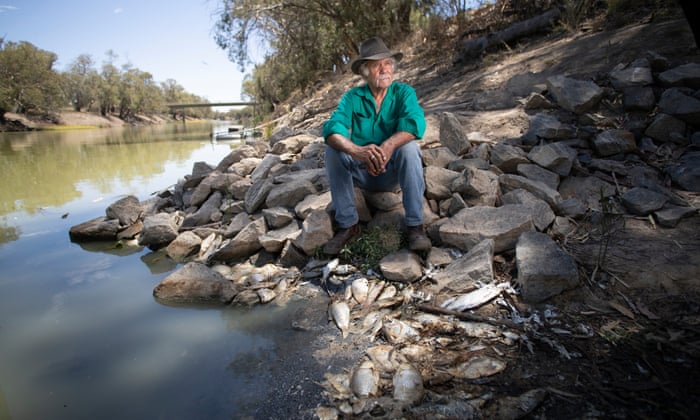 The royal commission report, released Thursday, said it "appeared unconscionable that cultural flows have been put at the bottom of the pile.
Traditional owners have also suggested the establishment of an independent Indigenous water fund or trust to allow Indigenous nations to participate in the water market and allocate water to meet self-determined objectives.
The royal commission report supported these concepts but said the "elephant in the room for all basin states: where will water for cultural flows come from, in a largely over-allocated system? Or, perhaps more accurately, who will pay for it?" https://www.theguardian.com/australia-news/2019/feb/03/we-can-help-save-the-murray-darling-indigenous-nations-say  (3 Feb. 2019)
Mass fish death in Darling river caused by over extraction, drought   It's also good to see a committee constituted so soon, immediately working on fish kills and which can talk of water for riverine ecosystems even in this drought. No time is late.
A scientific panel investigating the causes of three mass fish deaths at the Menindee lakes has pointed the finger squarely at those managing the Murray-Darling river system, saying the lack of flows was caused by a combination of drought and over-extraction, leading to the environmental disaster. Up to one million native fish, including hundreds of thousands of small bony bream Murray cod, up to 20 years old and silver perch were killed in the three events. While there had been other fish kills during droughts, these were on an unprecedented scale, the report found.
"The conditions leading to this event are an interaction between a severe (but not unprecedented) drought and, more significantly, excess upstream diversion of water for irrigation," the panel of scientists convened by the Academy of Sciences said. "Prior releases of water from Menindee Lakes contributed to lack of local reserves."
""As a result of water resource development in the Barwon-Darling and its tributary catchments, maximum dry periods between low flow events have doubled and are sometimes 10 times longer, severely stressing ecosystems." https://www.theguardian.com/australia-news/2019/feb/18/the-darling-will-die-scientists-say-mass-fish-kill-due-to-over-extraction-and-drought    (17 Feb.2019)
Report Small streams, wetlands key parts of river networks need protection  River Scientist Ellen Wohl succinctly explains the importance and interconnectedness of small streams and wetlands with rivers and the impact of President Trump's proposed changes to Clean Water Act.  Its also great how some scientists are engaging with real time issues, without caring about further funds, papers, committees and delegations:
Streams: The fact that something is unseen does not make it unimportant. Think of your own circulatory system. You can see some veins in your hands and arms, and feel the pulse in your carotid artery with your finger. But you can't see the capillaries – tiny channels that support vital processes. Nutrients, oxygen and carbon dioxide move between your blood and the fluids surrounding the cells of your body, passing through the capillaries.
And just because something is abundant does not reduce each single unit's value. For example, when we look at a tree we tend to see a mass of leaves. The tree won't suffer much if some leaves are damaged, especially if they can regrow. But if it loses all of its leaves, the tree will likely die.
These systems resemble maps of river networks, like the small tributary rivers that feed into great rivers such as the Mississippi or the Columbia. Capillaries feed small veins that flow into larger veins in the human body, and leaves feed twigs that sprout from larger branches and the trunk. https://phys.org/news/2019-01-small-streams-wetlands-key-river.html (30 Jan. 2019)
Study Pharmaceutical residues in fresh water pose a growing environmental risk Over the past 20 years, concentrations of pharmaceuticals have increased in freshwater sources all over the world, as research by environmental experts at Radboud University has revealed. Levels of the antibiotic ciprofloxacin have reached the point of potentially causing damaging ecological effects.
The research is the first to examine the risks of two particular medicines in global freshwater sources, and is being published in Environmental Research Letters on February 22nd. "The study calls for more widespread data gathering to measure the problem around the world." https://m.phys.org/news/2019-02-pharmaceutical-residues-fresh-pose-environmental.html (22 Feb. 2019)
Maps track land change over 750 ml yrs This tool can be so useful and interesting!
https://www.smithsonianmag.com/smart-news/map-lets-you-plug-your-address-see-how-neighborhood-has-changed-over-past-750-million-years-180971507/ (15 Feb. 2019)
Also see Science journalist Alok Jha investigates why water is so incredibly weird. https://www.bbc.com/reel/video/p06y2c9k/why-water-is-one-of-the-weirdest-things-in-the-universe (21 Feb. 2019)
CLIMATE CHANGE
Indus Water Treaty Challenges of Indus treaty The IWT is silent addressing the effects of climate change on water availability in the Indus Basin:- India and Pakistan also share an important aquifer – essentially a vast pool of underground water covering an area of 16.2m hectares across both countries. This "groundwater" helps support the huge population in the Indus region, accounting for 48% of all water withdrawals in the basin. But far more water is being taken out each year than is replenished by rain and other recharge sources. One recent study said the Indus was the most overstressed major aquifer in the world, thanks to population growth and development pressures in both countries. Despite this, the 1960 treaty also does not have any clause to deal with transboundary aquifers, and there are no agreed rules for the allocation and management of shared groundwater.
– Pakistan and Afghanistan have no water sharing agreement for the Kabul River, an important tributary of the Indus which supplies up to 17% of Pakistan's total water. As Afghanistan strives to develop its hydropower, with the help of Indian finance, this could instigate a whole new conflict on the Indus itself.
– These new challenges require all countries in the basin to acknowledge their dependence on each other and discuss joint solutions. Expanding the water sharing agreement to include Afghanistan and China would be a start. https://www.downtoearth.org.in/news/water/how-india-and-pakistan-are-competing-over-the-mighty-indus-river-63321 (21 Feb. 2019)
India Country's 1st climate change study centre in Bengaluru completes a decade This year marks a decade of the establishment of the Divecha Centre for Climate Change at IISc Bangalore, the centre is dedicated to study climate change and was the first of its kind in India. It has since been researching melting glaciers, glacial lakes, photovoltaic panels for trains, renewable energy, changing monsoons and impact of global warming on forests and biodiversity at Western Ghats. Professor J Srinivasan was the founder chairman and Prof S K Satheesh is current chairman. https://energy.economictimes.indiatimes.com/news/renewable/countrys-1st-climate-change-study-centre-in-bengaluru-completes-a-decade/68136107 (24 Feb. 2019)
ENVIRONMENT
FRA 'Govt Cares for Neither Tribals Nor Forests' Ritwick Dutta's key message is clear: "Now, if you look at the Ministry of Tribal Affairs, it, repeatedly, on affidavit (not just in SC but in the Green Tribunal too), has clearly said that it has no role in the implementation of the FRA, or verification of the claims by tribals. So, although the law considers this ministry to take a proactive role as the authority for the implementation of the FRA, the former has said that it does not have control over these issues, and it is ultimately up to the state governments. And the state governments, on their own, still do not have the mechanism to implement the law, because ultimately it goes back to the forest department; the tribal departments are almost spineless, and as a result, the recognition (of tribal rights) process is just not happening across the country."
– "It would have been better for the court to have asked for the status of implementation of the FRA in each state rather than directing for eviction without ascertaining how many appeals are pending, how many objections have been raised, how many of them have attained finality in terms of proceedings. It seems that no government wants to implement the FRA . There is a huge vested interest – while the government(s) want everyone to get land "rights" (and thereby win votes), they don't want to give rights to the genuine adivasis. The government neither cares about the people nor for the forest. The government wants the people to stay, but without rights. Because if the people have rights, they'll have to be asked for permission before diverting land for other purposes, and the government does not want to do that."
– "I have reason to believe that this whole thing is a conspiracy of the central government… before the elections… it has been silent so far… but it may come in with an ordinance or something, to act as a saviour of the (tribal / forest-dweller) community." https://www.thequint.com/news/india/supreme-court-tribal-forest-land-eviction-order-2019-general-elections#gs.iz8E4qpg  (22 Feb. 2019)
Bhumi Adhikar Andolan Statement from Forest Rights Alliance Supreme Court Verdict on Forest Rights Act is a Continuation of Historic Injustices over Adivasis and Other Forest Dwelling Communities.
The recent order of the Supreme Court on a petition filed by the Wildlife Trust of India, Nature Conservation Society and Tiger Research and Conservation Trust evicting of more than a million forest dwellers whose claims under the Forest Rights Act has been 'rejected', is in line with the sustained attack by the pro corporate and conservation lobby since enactment of the Act in 2006 in the name of public interest. By blocking the process of claiming and reclaiming of forest rights of the forest dwellers this order will make the process of implementation of FRA 2006 dysfunctional.
Forest Rights Alliance – Bhumi Adhikaar Andolan will appeal this order and will not be mute spectator to the spectre of terror to be unleashed in the forest areas. We urge political parties to oppose this and not fall victim to the malicious propaganda of the wild life groups and rather engage in effective implementation of FRA. As the General Elections approach, there is a need for open political debate on intentional non-implementation of FRA by the govtagencies, in connivance with Corporate forces and so-called wild life protection groups.
 It is to be noted that as per the provisions of the Act under section 12 that Gram Sabha has Supreme Power over a number of Committees and their recommendations along with that of the Forest Rights Committees have precedence over the technical 'rejections' by the district and other committees. Other committees at Sub-Division or District level can only ask for reviewing these claims. The Court seems to have overlooked this critical point. In absence of the Union government's lawyer in various hearings the details and processes of recognition and rejection of Claims has been overlooked and the affidavits filed by the State governments have not been thoroughly discussed and looked into.
The absence of the government's lawyer during the hearings only reinforces the predominance of colonial mindset against forest people in this legal process and how the govtviews their rights and welfare. This order, if followed, can become a pretext for forest officials to attack lakhs of forest dwellers across the country, preventing which was the very purpose for enacting the law. This Act was enacted in order to remedy the historical injustice committed by the colonial rulers as well as after independence against the country's forest dwellers.
The last time country-wide evictions took place was in 2002-2004, by an order issued by the MoEF, under the Bharatiya Janata Party led National Democratic Alliance government,  [that too with a passing reference to a non-existent Supreme Court order of  23 November 2001] in  giving a wrong impression that evictions had been ordered by the Supreme Court to all the state and union territories, stating that approximately  12.50  lakh  hectares  of  forest  land  is under encroachment and that  'all  encroachments which are not eligible for regularisation should be summarily evicted in a time bound manner and in any case not later than September 30, 2002.
Is another historic injustice about to be committed against them yet again? At least two thirds of the country's forest lands are tribal lands under the Vth Schedule of the constitution. The implementation of this order will definitely see more unrest in various parts across India which will be leading to the impoverishment of the tribals and the other forest dwelling communities. With this draconian order even the status of right holders, who have already received the rights will be endangered. In all probability they would also be attacked by Forest department and by the mafias engaged by the companies.
It needs to be noted that the historic Kisan Long March to Mumbai undertaken by farmers and adivasis last year and happening even now, as we write this, also raised the large scale irregularities in the settlement of claims under FRA. Communities across the country are still struggling to ensure proper implementation of the Act since governments have not shown any political will and made every attempt to dilute the law and also violate it in name of development and conservation.
Forest Rights Alliance and Bhumi Adhikar Andolan condemns the lackadaisical attitude of the NDA govtand demands effective implementation of the Forest Rights Act and subvert any attempt at diluting the law and stop from proceeding to forced evictions in light of the current Supreme Court law. We also demand that govtissue an Ordinance in larger interest of protecting rights of forest dwellers to stop any evictions in the name of implementing the Supreme Order and prevent attempts of further harassment.       https://www.facebook.com/sandrp.in/posts/2485742361453422 
SC orders forced eviction of more than 1 ml tribals, forest-dwellers Supreme Court orders forced eviction of more than 1 million tribal and forest-dwelling families. Modi govt went missing from the case as apex court orders arguably the largest mass-scale "legally-sanctioned' eviction of tribals in independent India. https://www.business-standard.com/article/current-affairs/sc-orders-forced-eviction-of-more-than-1-million-tribals-forest-dwellers-119022000855_1.html  (21 Feb. 2019)
NGT has no general power of judicial review akin to HCs  The Supreme Court on Feb. 18 set aside the order of the National Green Tribunal, which permitted the re-opening of the Vedanta-Sterlite plant at Tuticorin. The bench comprising Justice Rohinton Fali Nariman and Justice Navin Sinha, in these appeals filed by Tamil Nadu Pollution Control Board dealt with jurisdiction of NGT in matters arising out of various provisions of Air Act and Water Act.
One of the impugned orders (before the NGT), which rejected renewal of consent to operate was made under Section 27 of the Water Act and Section 21 of the Air Act. An appeal remedy is available against such an order (under both Acts) before the appellate authority under Section 28 of the said Act.
In fact, there was an appeal pending before the appellate authority. The Apex court bench observed that while an appeal was still pending before the appellate authority, the NGT took up a matter directly against the original order which was challenged before the appellate authority even before the appellate authority could decide the same.
Justice Nariman observed that these are akin to 'leapfrog appeal' provided under several Acts of United Kingdom if a point of law of general public importance is involved.
Another set of impugned orders were passed by the TNPCB under Sections 33A and 31A of the Water Act and Air Act respectively. Statutory scheme is that the directions issued under Section 33A of the Water Act are appealable to the NGT, directions issued under Section 31A of the Air Act are not so appealable. In this context, the bench said: "This being the case, all the aforesaid orders, being composite orders issued under both the Water Act and the Air Act, it will not be possible to split the aforesaid orders and say that so far as they affect water pollution, they are appealable to the NGT, but so far as they affect air pollution, a suit or a writ petition would lie against such orders…it is not possible for us to provide an appeal where there is none in the guise of making an appellate system workable in practice."
Another order which was impugned before NGT was made under Section 18 of the Water Act. Such an order is not appealable to the NGT either under the Water Act or under the NGT Act. The court said that such order can only be set aside in a suit by a Civil Court or under Article 226 of the Constitution of India by a High Court. https://www.livelaw.in/top-stories/ngt-has-no-general-power-of-judicial-review-no-leapfrog-appeal-jurisdiction-143001 (18 Feb. 2019)
Report How Modi weakened green laws to aid real estate lobby  In a nutshell, Prime Minister Modi's obsessive quest to get India ranked as one of the World Bank's top 50 most convenient countries to do business in, meant his office pushed for the so-called streamlining of building bye-laws and environment clearance processes. This resulted in the dilution of safeguards meant to curb air and water pollution caused by large-scale building construction projects.
"The Govtmust decide if it wants to improve its ranking before a Bank or endanger the lives of its citizens due to lax environmental norms," said Ritwick Dutta, an environmental lawyer who successfully argued against these measures at the NGT.
"What is the use of improved ranking in ease of doing business if the people are sick and dying because of air pollution and poor quality water?" Dutta asked. "India today may figure in the top 100 in ease of doing business, but then it ranks at the bottom at 177 out of 180 countries in terms of environmental health." https://www.huffingtonpost.in/entry/modi-govt-s-obsession-with-world-bank-ranking-led-to-weaker-green-laws_in_5c61ab7fe4b0910c63f39ced (12 Feb. 2019)
Bullet Train Mumbai set to lose more forest India's forests are quietly disappearing to accelerated infrastructure development. During the past three decades, approximately 15,000 sq km of forests have been diverted for development projects. Among them, 5000 sq km for mining, 1,600 sq km for defence projects and 1400 sq km for hydroelectric projects (http://data.gov.in).
As of 2019, govtdata shows that 15,19,167.19 hectares of forest land have been diverted for non-forest use cumulatively across all states and union territories of India, with the greatest losses incurred in Madhya Pradesh, Assam, and Karnataka since the enactment of the Forest Conservation Act, 1980. Presently, forest cover constitutes only 21.34% of India's land area. But this includes plantations and monoculture, which cannot replace diversity-rich natural forests.
Now, the proposed Bullet Train project from Mumbai to Ahmedabad is set to fragment the Sanjay Gandhi National Park (SNGP), the Tungareshwar Wildlife Sanctuary (TWS), and the Thane Creek Flamingo Sanctuary (TCFS). This project, a collaboration between the governments of India and Japan, will be India's first step towards increased high-speed connectivity between major cities.
Approximately 115 hectares of forestland has been approved for diversion from SNGP, TWS, and TCFS (DNA India, 2019). This will reportedly involve the uprooting/destruction of 1.5 lakh mangrove trees, as well as the degradation of 5.5 hectares of the eco-sensitive zone in SGNP and 97.6 hectares of the eco-sensitive zone in TCFS (Gangan & Chatterjee, 2018, Hindustan Times). Recommendations by the Chief Wildlife Warden of Maharashtra State to minimize negative impacts on the forest and its denizens include constructing underpasses for wildlife, restricting vehicle movement to existing roads and tracks, and the provision of funds for compensatory afforestation (DNA India, 2019).
The question is, can we afford to lose more of Mumbai's green lungs to development? As it is, our Protected Areas are increasingly hemmed in by widespread urbanization and the conversion of forestland to agriculture. http://www.conservationindia.org/articles/a-bullet-to-the-lungs-mumbai-set-to-lose-more-forest-to-high-speed-railway-line (9 Feb. 2019)
Report Wasted effort: half of India's waste-to-energy plants defunct  Since 1987, 15 WTE plants have been set up across the country. However, seven of these plants have since shut down. Apart from Delhi, these include plants at Kanpur, Bengaluru, Hyderabad, Lucknow, Vijayawada and Karimnagar. The key reasons for closure are the plants' inability to handle mixed solid waste and the high cost of electricity generated by them that renders it unattractive to power companies.
This track record, however, has not stopped the govtfrom betting big on WTE. The NITI Aayog, as part of the Swachh Bharat Mission, envisages 800 megawatt from WTE plants by 2018-19, which is 10 times the capacity of all the existing WTE plants put together. It also proposes setting up a Waste-to-Energy Corporation of India, which would construct incineration plants through PPP models. Currently, there are 40-odd WTE plants at various stages of construction.
About 1.43 lakh tonnes per day of (TPD) municipal solid waste (MSW) is generated across the country. Of this, 1.11 lakh TPD (77.6%) is collected and 35,602 TPD (24.8%) processed. In addition India generates close to 25,940 TPD of plastic waste of which 15,342 remains uncollected, according to the CPCB. As per MoEF, MSW generation will reach 4.5 lakh TPD by 2031 and 11.9 lakh TPD by 2050.
The WTEs have also triggered widespread opprobrium among citizens. For instance, there has been a continuous protest against the Okhla WTE plant for polluting the environment. In 2016, the NGT slapped environmental compensation fine of ₹25 lakh on the plant. Moreover, the plants are expensive because they produce power at nearly ₹7 per unit, which is more than the ₹3-5 offered by thermal as well as solar sources. https://www.thehindu.com/news/national/wasted-effort-half-of-indias-waste-to-energy-plants-defunct/article26273068.ece (14 Feb. 2019)
Delhi economic survey Green cover up but very dense forests thinning The total forest and tree cover in the capital increased to 305.4 sq km in 2017 from 299.8 sq km in 2015. The green cover has increased from around 20.2% during 2015 to 20.6% in the two years However, both "very dense" forest cover and "medium dense forest" cover has declined.
According to the report, the very dense forest cover has declined from 6.9 sq km to 6.7 sq km, while the medium dense forest cover has dropped from 57.1 sq km to 56.2 sq km. "Very dense forest cover has more than 70% canopy, medium dense forest cover has a canopy of 40% to 70%. Only the open forests with a canopy cover of 10% to 40% has increased from 124 sq km to 129 sq km," it said.
Goa topped the list with tree cover of 8.7% of total area, while Delhi has 7.6%. The survey report also showed that in 19 years, particulate matter pollution has more than doubled in the city. While PM10 average in 2001 was 150, in 2018, till Nov, it was 314. However, carbon monoxide levels have more than halved and have reached below the standards. While in 2001, it was 4183; in 2018, it was 1880, below the standard figure of 2000.
"Unprecedented scale and speed of urbanisation in Delhi, and consequent pressure on physical and social infrastructure has created damaging stress on the living environment and resulted in an increased level of pollution," the report stated. https://timesofindia.indiatimes.com/city/delhi/delhi-economic-survey-green-cover-up-but-very-dense-forests-thinning/articleshow/68132252.cms (24 Feb. 2019)
Out of Eden Walk In a land of many rivers, clean water is out of reach FASCINATING SLOW JOURNALISM. In 2013 Paul Salopek began what he calls "an experiment in slow journalism," a 21,000-mile storytelling walk along the pathways of the humans who first explored Earth in the Stone Age.
As he travels, he's covering the major stories of our time by giving voice to the people who inhabit them every day. https://www.nationalgeographic.com/magazine/2019/03/paul-salopek-out-of-eden-walk-india-water/ (March 2019)
Compiled by SANDRP (ht.sandrp@gmail.com)
Also see: DRP News Bulletin 18 Feb. 2019 & DRP News Bulletin 11 Feb. 2019
Follow us on: www.facebook.com/sandrp.in; https://twitter.com/Indian_Rivers