Bihar Unsustainable sand mining causing floods in West Champaran The sand mining in the rivers of West Champaran was causing unmitigated floods in the region, year after year but the govt failed to respond.
– West Champaran district also sees many floods in the non-monsoon months, many of which go unreported, and often, ignored by flood-relief schemes. The natural explanation for the flash floods is that the region is at the foothills and rivers from the hills of bordering Nepal flow through it. But the floods are not entirely a result of natural phenomena. Over the years, excessive sand mining in the river beds has led to ecological imbalances, making rivers and streams flood and even change their course, wreaking havoc in the villages along their banks.
– Kataiya river is one of the sites identified under the 2015-2020 Sand Mining Project in West Champaran. The district has a mining lease area of 90.67 ha. Champaran is also one of the top five districts in the state with the maximum sand mining sites. Residents of Bakhri and nearby villages tried approaching the contractors but were threatened by them who said that it's their job to extract sand under their agreement with the government.
– Sithi ghat, the mining site close to Bakhri, does have environmental clearance (EC) for sand mining. However, the EC given to the project is of the B2 type, which means that it does not require an Environment Impact Assessment (EIA) report. As a result, unrestricted mining activity continued, and villages along the river bear the brunt. Excessive mechanised sand mining has also affected existing embankments in Champaran and citizens' groups have taken the matter to the police and the courts.
– While sand mining contributed to the highest revenue collected by the Mining Department of Bihar in 2016-17, as well as in the preceding years, a Down to Earth study published in 2015 found that "in the past one decade, over 300 labourers have been killed in the fights to control sand mining." In East Champaran and West Champaran, sand mining is a known menace, not only flattening homes and fields but also lives. The environmental damage, and the consequent destruction of property and livelihoods, however, seems to have gone unaccounted for. https://www.videovolunteers.org/sand-mining-in-bihar-an-industry-a-mafia-an-environmental-disaster/  (Aug. 2018)
4 kids dead after falling into illegal mining pit 4 children in age group 8-10 drowned allegedly after falling into a pit created by illegal sand mining from Morhar river in Gaya district on Aug. 28. The children, including 3 girls, had gone to take bath in the river near Chitab Khurd village under Amas police station areas. They slipped into deep water and drowned, police said. Local people, however, alleged that the 4 died after falling into a pit created because of excess and illegal sand mining. https://www.ndtv.com/cities/4-children-dead-after-falling-into-illegal-sand-mining-pit-in-bihar-river-1907652  (28 Aug 2018)
Sand shortage spurs wage & construction crisis Sand prices in Bihar doubled since the state govt's ban on large-scale sand mining in July 2017, reaching an all-time high. This is despite the govt's claims of adequate sand availability.
Sand, which was being sold earlier at Rs 2,800-3,200 for 100 cubic feet (cft) in the free market, was being sold now at Rs 6,500-7,000 for 100 cft. https://thewire.in/government/sand-shortage-spurs-wage-and-development-crisis-in-bihar (22 March 2018) 
Sand crunch, pricing crisis over: Govt The mines and geology department claimed it had ended the sand crunch that broke out in the state in 2017, limiting sand supply, while the govt had succeeded in curbing price manipulation by traders. With the advent of new rules, the department undertook e-tendering of sand deposits on the river beds to ensure better regulation of procurement & fixed prices to end the practice of demanding high prices for sand.
In the meanwhile, Bihar Minor Minerals Rules, 2017, prompted enforcement agencies to come down heavily on illegal mining. A total of 2,692 cases were registered and 2,889 people arrested for violation of the law in 2017-2018. As per Minister Vinod Kumar Singh, the revenue had not exceeded substantially in 2017-18, but govt fixed a target of Rs 1,600 crore for 2018-19. He said around Rs 1002.02 crore was generated during the period against the targeted Rs 1,350 crore.
For 2018-19, the department pledged to initiate eco-friendly mining under the proposed Bihar Minor Mineral rules, 2018. Considering the negative impact of mining, such as water contamination and loss of top soil, the govt will undertake geo-fencing of minerals and sand deposits and 3D mapping to ensure mineral extraction does not make the environment unsustainable. Also, installation of GPS in vehicles carrying sand loads will check illegal sand mining and its transportation. https://www.telegraphindia.com/states/bihar/sand-crunch-pricing-crisis-over-says-govt/cid/1442566 (24 May 2018) 
Mining in Ganga जुल्म देखकर रूह कांप जाती है, फिर भी अपने दम पर जिंदा है गंगा पत्रकारिता के इतिहास में पहली बार दैनिक भास्कर टीम ने गंगा के बीच में जाकर गंगा की स्थिति जानी। स्थिति चौंकाने वाली निकली। कदम-कदम पर गंगा बिलखती हुई नजर आई। कहीं आस्था का कचरा तो कहीं अवैध खनन, फरक्का बराज ने तो जैसे सांसें ही रोक दीं। बालू-माफिया गंगा के हर घाट पर रोज जख्मों को कुरेदते नजर आते हैं। चौसा से नदी मार्ग से देखें तो 554 किलोमीटर (झारखंड और बंगाल सीमा समेत) की गंगा का अब तक हवाई सर्वे ही हुआ है। कहावत है-नदी की गहराई देखनी है तो उसमें उतरकर देखिए। भास्कर ने ऐसा ही किया। भीषण ठंड-कोहरे के बीच पहली बार 17 दिन तक हमारी टीम नाव में गंगा के बीच में रही। https://www.bhaskar.com/news/c-268-LCL-special-report-on-ganga-river-in-bihar-pt0171-NOR.html(19 January 2018)
NGT asks Govt to form team to check mining in Ganga In Aug. 2018, NGT asked the Bihar govt to constitute a team to check illegal sand mining being carried out during the Monsoon season in Son and Ganga rivers at Koilwar and Patna. The court directed the Secretary, Mines and Mineral, Bihar to constitute a team comprising an officer of the Mines and Mineral Department, the District Magistrate and the SSP Patna to look into the issue and take action in accordance with law within a month.
The tribunal was hearing a plea filed by Bihar resident Amarshakti against illegal sand mining during the monsoon season in rivers Son and Ganga at Koilwar and Patna in Bihar. "According to the applicant, mining during the monsoon is in violation of Sustainable Sand Mining Management Guidelines, 2016, further as laid down in Deepak Kumar vs State of Haryana, no mining is permissible without proper planning and management and Environmental Impact Assessment." https://www.ndtv.com/india-news/form-team-to-check-sand-mining-in-ganga-green-court-to-bihar-government-1908084 (29 Aug. 2018)
Illegal mining causing air pollution in Gaya Participating in a workshop on air pollution in Gaya by Centre for Environment and Energy Development, Rai Madan Kishore, a retd. Special secretary in state govt said that the greater contributor to air pollution is suspended particles released by unregulated building construction activities and sand mining.
Gaya was listed as fourth most polluted city in the world by WHO. In the meeting, Central Bihar Chamber of Commerce president Kaushalendra Pratap said water retention in Falgu river bed was a must to prevent upward movement of Falgu sand dust that significantly added to Gaya's air pollution. https://timesofindia.indiatimes.com/city/patna/illegal-sand-mining-causing-air-pollution-in-gaya-say-experts/articleshow/64966442.cms  (13 July 2018)
Environment body to take call on banning Falgu sand mining The demand for complete ban on sand mining in Falgu river between Bodh Gaya and Bitho village was referred to the State level EIA Committee.  https://timesofindia.indiatimes.com/city/patna/dm-environment-body-to-take-call-on-banning-falgu-sand-mining/articleshow/65059941.cms  (20 July 2018)
Jharkhand Detailed report on brutal murder of 3 villagers by sand mafia in Jatpura village, Garhwha district in May 2017.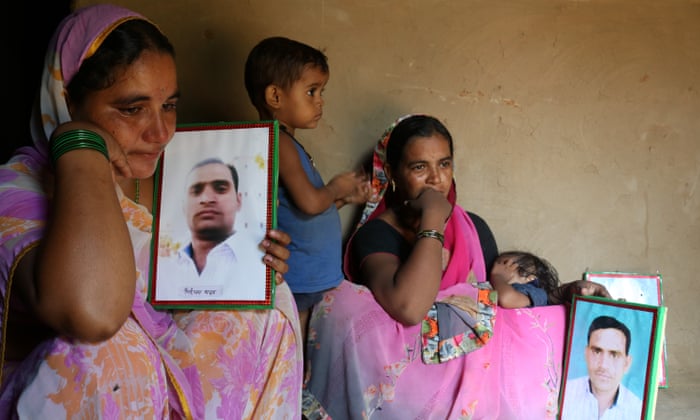 https://www.theguardian.com/world/2017/dec/30/india-sand-mining-conflict-deaths-building-boom-environmental-damage (30 Dec. 2017)
Illegal sand mining, transportation continue in Garhwa Despite the continued action by the joint team of police and mining department, illegal mining and transportation of sand did not stop in the Garhwa district. Sources revealed that the sand from the district was being sold in big cities of Uttar Pradesh and Maharashtra and the mafia were making a lot of money.
Following the instructions of DC and SP, the Department of Mining and Police, started Joint campaign against sand mafia and during their 10 days campaign one Poklan machine, 7 JCB machine, 38 trucks and 6 trackers were seized. FIRs were lodged against 37 people and 19 people were arrested and sent to jail.
Apart from this, the illegal storage of about 20,000 cubic feet of sand is also sealed. All the action has been taken in the night.  In the last six months, the department had caught 150 illegal vehicles and handed over to the concerned police station. 63 FIRs were lodged against the vehicle operators. https://www.dailypioneer.com/2018/state-editions/illegal-sand-mining-transportation-continue-in-garhwa.html (13 Jan. 2018)
1st state owned sand mine comes up in Khunti The Jharkhand State Mineral Development Corporation (JSMDC) opened its first state owned sand ghat in Khunti district. As per state mines commissioner A B Siddique 3 more ghats are expected to be opened within the next 2 weeks in and around Garhwa district. He further said that they are targeting to open 100 plus state owned sand ghats across all the 24 districts in the current fiscal.
The Jharkhand state sand mining policy 2017, which got the cabinet nod in Aug. 2017 was drafted in sync with provisions prescribed by NGT, Siddique informed. He also said that at present the state has prepared a mining plan for 20 ghats, developed them and have applied for environmental clearance.
As per JSMDC records, around 560 sand ghats currently existed in the state. Of these, 400 were auctioned to private parties in the past and are nearing expiry of lease terms. Siddique said as and when the auction periods end, JSMDC will take over the process under the new sand mining policy, which also aimed to rationalise the ghats. As per him the govt has prepared mining plan for 20 ghats. https://timesofindia.indiatimes.com/city/ranchi/first-state-owned-sand-mine-comes-up-in-khunti/articleshow/66508489.cms  (5 Nov. 2018)
'SAIL workers at risk for lack of sand mining leases' The Ministry of Steel requested the Ministry of Coal to arrange sand mining leases for Steel Authority of India Limited (SAIL) in Jharkhand as sand's absence was affecting the "coal productions as well as safety of workmen" in company's underground mines, which were situated in Chasnalla and Jitpur.
According to a steel sector executive, sand was required to fill up the empty area in an underground mine so that the surface does not cave in. "Sand is mixed with water and then this mixture is flown down to the empty area of the underground mine. The water then comes up and the sand remains at the bottom. This way the mine is filled up and this process is called "backfilling" or "stowing". This process was done to avoid the surface to cave in," he added. Chasnalla & Jitpur mining areas come under Dhanbad district. https://indianexpress.com/article/business/sail-workers-at-risk-for-lack-of-sand-mining-leases-in-jharkhand-5394515/  (10 Oct. 2018)
Odisha Villagers rally against sand mining Villagers of Bholasingi under Chikiti block demanded ban on sand mining from the bed of Bahuda river passing through the village. They took out a rally on Oct. 23, and submitted a memorandum demanding cancellation of sand mining lease, to the Collector through block officer of Chatrapur.
The Revenue Department has leased out a portion of the river for sand mining for five years from 2015 to 2020 in lieu of Rs 22 lakh. The lessee has engaged hundreds of trucks to lift sand, which is going on unabated for the last three years. Villagers were opposing it as they depend on the river for their water requirements. Besides, continuous sand mining had altered the river bed and eroded its bank. http://www.newindianexpress.com/states/odisha/2018/oct/25/villagers-rally-against-sand-mining-1889726.html  (25 Oct. 2018)
Illegal sand mining under scanner Revenue officials on Nov. 16 visited the villages situated on the banks of Bahuda river to take stock of the illegal sand transportation which has assumed alarming proportions in the area. Rampant excavation of sand from the bed of Bahuda, which passes through several villages of Chikiti block, has caused extensive erosion besides posing danger for locals. Despite restrictions, the illegal excavation continues on the banks due to growing demand for sand in neighbouring Andhra Pradesh. http://www.newindianexpress.com/states/odisha/2018/nov/10/illegal-sand-mining-under-scanner-1896184.html  (10 Nov. 2018)
Sand loot rampant in Budhabalanga; govt losing crs The riverbed of Budhabalanga in Badasahi block of Mayurbhanj district has turned out to be safe haven for sand mafia. Due to rampant illegal sand mining, the state government has been losing revenue crores of rupees annually.
Worse, sand mining has caused banks to erode every year, posing danger to the riparian villages, a report said. Transit passes issued by tehsil authorities are being misused by sand transporters while lease holders in some cases resort to excess mining and allegedly browbeat villagers who oppose them. Aggrieved villagers have alleged that the ongoing illegal and excessive sand mining is the fallout of an unholy nexus between the sand mafia and the teshil officials.
The sand mafia has engaged excavators and truckloads of sand are transported from Sakua Ghat of the river daily. As per norms, use of machines in sand mining is not permitted, but the sand mafia continues to violate the norm. In the past, locals and lease holders had fights while cases have landed in police stations. Transit passes are being tampered with by sand miners and used again and again. http://www.orissapost.com/sand-loot-rampant-in-budhabalanga-govt-losing-crores/ (15 Dec. 2018)
Crackdown on illegal sand mining As part of its drive against illegal sand mining, a team of Rasulpur tehsil administration, led by its tehsildar, raided two ghats on the banks of Brahmani and Kharasrota rivers and seized six tractors and four trucks. Fearing an attack from illegal sand mining mafia, Rasulpur tehsildar Saroj Kumar Panda had taken a posse of policemen during the surprise raids. Panda said several complaints had been received by his office about illegal sand mining at several places on the banks of Brahmani and Kharasrota rivers under his tehsil. http://www.newindianexpress.com/states/odisha/2018/dec/17/crackdown-on-illegal-sand-mining-1912641.html (17 Dec. 2018)
Villagers block road over illegal sand mining Illegal sand mining has caused resentment among the people living in Pundal under Nilagiri block in Balasore district. Angry over the issue, the locals staged a road blockade and demanded enforcement of CrPc Section 144 at the mining site. Locals alleged the mafia has been mining sand from Pundal ghat of river Sona. Truck and tractor loads of sand are being transported to various areas on a daily basis.
They pointed out that though officially, four ghats have been leased out for sand mining, Pundal ghat has not been leased. Locals fear that rampant sand mining at the ghat would erode the banks and finally cause diversion of the river during floods.
Though villagers had drawn the attention of the administration, sand mining has not been curbed. So, locals, in a determined bid to make the administration focus on the issue, blocked the Mitrapur-Udala road, leaving vehicular movement stopped for hours. The villagers lamented that the persistent sand mining has caused erosion of the riverbank, posing a threat to the village. They said the administration has not been able to curb the illegal act despite repeated complaints. https://m.dailyhunt.in/news/africa/english/orissa+post-epaper-orisapos/villagers+block+road+over+illegal+sand+mining-newsid-108349713 (9 Feb. 2019)
West Bengal Backward districts lead Bengal in mining revenue The highest land and mining related revenues in Bengal come from two backward districts West Midnapor and Birbhum. Among the state's 11 backward districts, they have contributed Rs 109.46 crore and Rs. 98.09 crore respectively to the Rs 947.40 crore state earnings this year on this account. After West Midnapor and Birbhum come East Burdwan.
The maximum income came from cess on minor minerals (ordinary sand, stones, used in buildings, stone chips and limestone), adding up to Rs. 351.83 crore a year and accounting for 37% of the state's land revenue. District land revenue officials said the income under the minor minerals head comes from sand mining in riverbeds, production of stone chips and other building materials from licensed stone quarries and from mining of limestone in parts of North Bengal's Aliurduar.
Even as revenues increased from licensed sand mining, locals point to a huge spurt in illegal sand mining in West Midnapor and Birbhum dirstricts. Motorist on the way to Santiniketan in Birbhum come across trucks and excavators on the Ajay riverbed lifting and loading sand. Similar activities go on in full swing on the Damodar riverbed at Kamalpur Ghat and the Barakar riverbed at Chakri Ghat in Purba Burdwan.
According to a district land official digging the riverbed beyond 200 cubic feet is illegal. "Local sand mafias, with patronage from political parties and a section of police, use excavators on the riverbed, throwing rules to the wind. They overlaod trucks with sand and make a fast buck. Illegal sand mining has become a money spinner in rural Bengal," the officials said. https://timesofindia.indiatimes.com/city/kolkata/backward-dists-lead-bengal-in-mining-revenue/articleshow/64579998.cms (14 June. 2018)
Illegal sand mining in Asansol https://www.youtube.com/watch?v=i4sfON6vjv8 (6 Dec. 2018)
Subarnarekha River Illegal Sand Mining in Odisha and West Bengal
Sand mining blocks Subarnarekha's flow Illegal sand mining in Subarnarekha river in Balasore, Odisha was choking the normal flow of the river, adding to the woes of farmers in the area. The sand mafia was using pumping machines and lifting sand from deep inside the riverbed. The activity hit the flow of water, there was little water left for farmers to irrigate their land. It was alleged the mafia from both Orissa & W Bengal were carrying out the illegal activities in collusion with the district & local administrations. http://www.orissapost.com/sand-mining-chokes-subarnarekhas-flow/ (March 2018)
NGT defers hearing In May 2018, the principal bench of the NGT deferred its hearing of a case related to illegal sand mining from the bed of river Subarnarekha in Jaleswar block of Balasore district to July 3.
The mafia was plundering sand with impunity from the riverbed at Bilashpur, Rajnagar, Makidia, Kuanrpur, Dakhina Praharajpur, Beherasahi, Makarpur and other areas while the state govt loses crores of rupees towards revenue every year. Hundreds of high-powered pump sets were engaged to lift sand from deep under the bed causing cracks in houses in the riparian region, apart from leading to collapse of riverbanks. Acres of land had already vanished into the river.
Taking serious note of the impacts of rampant sand mining on the ecology, life and property of people, social activist and convenor of Jaleswar Bikash Manch, Sudarshan Das, had moved the NGT-Kolkata against the Collector & the SP of West Midnapore district about a year ago. The NGT had directed the Collector and the SP to seize the machines of the mafia and take steps to stop sand quarrying. Despite the NGT order, the Collector and the SP of West Midnapore had not taken any step to put curbs on illegal sand mining.
Upset, Das appealed to the principal bench of NGT in Feb, 2018 for quick hearing of the case. The NGT had fixed May 9 as date of hearing, but the West Bengal administration moved time petition, citing its preoccupation with upcoming panchayat elections. It urged the NGT to defer the hearing to another date. The court approved the appeal and decided to hold hearing of the case on July 3. https://m.dailyhunt.in/news/bangladesh/english/orissa+post-epaper-orisapos/illegal+sand+mining+ngt+defers+hearing+to+july+3-newsid-87492335 (9 May 2018)
NGT asks West Bengal to submit reply on original petition In Aug. 2018, the green tribunal heard the Subarnarekha Sand Mining matter. The NGT earlier had passed an order asking the Collector and SP of West Midnapore district to stop all illegal sand mining and take action against the sand miners including seizure of vehicles, equipment, machineries etc.
Ritwick Dutta, advocate for the petitioner, Sudarsan Das, argued that the West Bengal govt had not implemented the NGT's order in true spirit. The action taken report submitted by the DM, West Midnapore district was inadequate and the imposition of fine on illegal mining activities by the district administration is based on the Motor Vehicles Act and not under environment protection laws, he added.
The bench asked the govt Counsel of W Bengal to submit a reply on the original petition. The matter was decided to be heard on video conferencing on Sept. 4. The Odisha govt was also asked to file a reply. http://www.odishabytes.com/subarnarekha-sand-mining-case-ngt-asks-west-bengal-submit-reply-original-petition/ (7 Aug. 2018)
NGT directs Odisha, WB to file ATR  On Sept. 4, the Green Tribunal directed Odisha & W Bengal to file action taken report in connection with illegal sand mining in Subarnarekha River. The matter was heard through video conferencing by a bench comprising NGT Chairperson AK Goel, Judicial member SP Wangadi and Expert member Nagin Nanda.
Earlier, during the hearing, the counsel for petitioner said the two state govts had not seized the vehicles used by miners. Ritwik Dutta, the counsel for the petitioner, said that gorges have been formed in the entire area due to the 30-40-foot excavation and there is no plan to restore it. "We requested the court to direct study of the area and following that compensation should be paid to the people," he said.  https://m.dailyhunt.in/news/bangladesh/english/orissa+post-epaper-orisapos/sand+mining+ngt+directs+odisha+wb+to+file+atr-newsid-96187056 (5 Sept. 2018)
NGT raps Odisha, Bengal for illegal mining in Subarnarekha  On Sept. 4, the NGT asked the chief secretaries of the two states to from a committee, comprising experts drawn from the CPCB the Indian School of Mines in Dhanbad and the respective state pollution control boards within a month to prepare the restoration plan.
The NGT, in its order, said the proposed committee should get the ecological damage caused by sand mining assessed by the Indian Council of Forestry Research and Education in Dehradun and find the cost of riverbed material and ecological restoration. Besides, the panel will also assess the damage suffered by inhabitants around the river.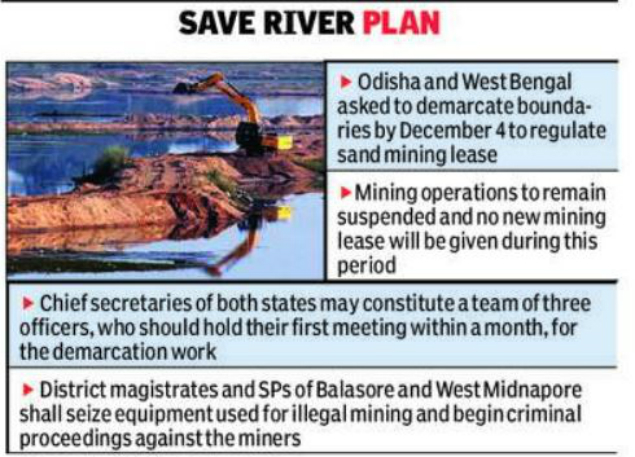 The NGT has asked the district magistrates and the superintendents of police of Balasore and West Midnapore to begin criminal proceedings against the illegal miners and imposed exemplary penalty on them within three months to recover the cost of environment restoration and compensate people who suffered because of the illegal activity. The NGT said "there has been complete failure of law with regard to the prevention of such illegalities…"
The NGT asked the MoEF to come out with an effective mining surveillance system in consultation with the National Remote Sensing Centre (NRSC) in Hyderabad for sand and gravel mining across rivers in the country. It asked for institutional mechanism to deal with mining done without any environmental clearance (EC) and those done in violation of conditions stipulated in the EC. Complainant Das termed the judgement a 'landmark' one and said it could prevent the ruin of rivers from mindless and greedy sand mining. https://timesofindia.indiatimes.com/city/bhubaneswar/ngt-raps-odisha-bengal-for-illegal-sand-mining-in-subarnarekha/articleshow/65868083.cms (19 Sept. 2018)
Collector orders to check illegal sand mining Illegal sand mining in Subarnarekha river has emerged as a major cause of concern for the locals. Sand mafia from West Bengal are engaged in lifting sand from the river bed even as the local administration remains a mute spectator, sources said. Locals said the tributaries and distributaries of the river need to be renovated. If Subarnarekha dries up, the region will have to face ingress of sea water which will affect agriculture and human habitations. They also accused the State and Central govts of being callous towards executing the river renovation project.
Earlier, the NGT had directed Odisha & W Bengal govts to come up with a joint restoration plan for damages inflicted on the river. The NGT order had asked the chief secretaries of the two states to form a committee to prepare the plan. http://www.newindianexpress.com/states/odisha/2018/nov/20/collector-orders-to-check-illegal-sand-mining-1900653.html  (20 Nov. 2018)
Stop sand mining on Subarnarekha: NGT  In Jan. 2019, the NGT directed the DM of Balasore to ensure that all illegal activities on the Subarnarekha River and its banks are stopped. "The allegation in this application is that illegal sand mining is being carried out on the banks of the Subarnarekha River. The specific area mentioned is Sekhsarai Mouza in Jaleswar tehsil of Balasore district. The illegal sand mining on the banks of the Subarnarekha River is being examined comprehensively by a committee…" The NGT said in its order.
The plea filed before the NGT complained about local authorities' inaction in curbing illegal activities and the violation of pollution norms by private parties mining sand on the banks of the river in the Jaleshwar tehsil of Balasore district. The petitioner complained that sand mining in the area went against SC orders and that of the NGT as mining was being carried out using machines when permission was given only for manual mining.
Excessive mining was being carried out beyond permissible limits, and also in areas beyond the permissible area. Uncovered sand transport vehicles were creating air pollution in the area. It also said that mining was obstructing the free flow of the river by creating artificial sandbars, and that sand mining was being carried out near the river's embankment violating safety zone regulations. http://www.orissapost.com/stop-sand-mining-on-subarnarekha-ngt-to-balasore-dm/ (17 Jan. 2019)
Summary The ban on sand mining in Ganga river, reportedly led to sand crunch and soaring prices in Bihar in 2018. Taking notice of illegal sand mining still rampant, the NGT has now asked the state govt to form a committee. While the video volunteers report on illegal sand mining in West Champaran revealed how it was making the flood more destructive, the report on Gaya also added one more negative impact of sand mining which was air pollution. At the same time the death of four kids by drowning into sand mine pits was shocking.
The Garhwa district of Jharkhand where 3 villagers were murdered in 2017, continued to be sand mining affected in 2018. The SAIL asking Coal Ministry of sand mining leases tells us that sand is also being used to fill up the empty mines and the process known as "backfilling" or "stowing". This makes one think that at a time when sand is getting scarcer and illegal mining is damaging the river and biodiversity, should not SAIL look of other alternative for this.
This year, illegal sand mining was seen taking place in Bahuda river of Odisha reportedly to meet the growing demand of Andhra Pradesh. The Brahmani and Kharasrota rivers were also affected by the sand mining.
Video report on Nilgiri villagers protesting against illegal sand mining. (31 Jan. 2019) 
The West Bengal report shows that mining in backward districts of West Midnapor and Birbhum was fetching good revenue for the government. However the government was seen doing nothing to check the illegal sand mining in these districts.
This year, the green tribunal passed several orders for Odisha and West Bengal states regarding illegal sand mining case in Subarnarekha River. The concerned local administration was seen taking some actions on the issue only after the NGT orders. But the reports detail how the large scale illegal sand mining in past few years, has already caused massive destruction to river system apart from affecting the dependent communities.
The inactions on part of Odisha and West Bengal governments in save Subarnarekha river from sand mining in timely manner only show the prevalent reluctance and ignorance among most of state governments in India as how the unsustainable sand mining ruins a river ecosystem. The NGT order though has come very late, hope would be able to restore the damages done to Subarnarekha river in 2019.
Compiled by Bhim Singh Rawat (bhim.sandrp@gmail.com)
End Note:- As part of annual exercise since 2015, SANDRP is presenting year end overview on the issue of impact of sand mining in India's rivers. This year we have been publishing these reports in a state wise format. Before East India, we have uploaded illegal sand mining overview for following states:
Punjab Sand Mining 2018 Overview: SAD SAGA OF STATE FAILURE
Rajasthan: SC Banned Riverbed Mining through 2018: Centre & State Show No Concern
Gujarat Sand Mining 2018: Can Technology alone help Stop Illegal Sand Mining?
Uttar Pradesh Sand Mining 2018: Key NGT orders slap for MoEF
Madhya Pradesh Sand Mining 2018: Unprecedented Violence by Sand Mafia
Karnataka Sand Mining 2018: Hopeless, But Action Packed!
Tamil Nadu Sand Mining 2018: Story of Nexus exposed by a brave Journalists
Kerala Sand Mining 2018: How a 17 year Allapad girl became anti sand mining icon
Maharashtra Sand Mining 2018: Panegaon shows Way To stop Illegal Sand Mining
North East India Sand Mining 2018: Emerging threat to Rivers