As this report narrates, a great volunteer effort is underway in Mumbai to clean up Mithi river. What they have achieved is just about 350 m of clean river, after labouring over weekends for several months. But this is such a daunting task to even venture to start. They have not only started, but made visible progress. Let us hope it will achieve all its objectives.
GREAT REPORT ABOUT A GREAT EFFORT TO CLEAN UP MITHI RIVER IN MUMBAI: The youngsters are among half-a-dozen local residents who team up with lawyer Afroz Shah to clean the river every weekend. After spearheading the Versova beach clean-up in October 2015, which won him international acclaim, Mr. Shah has moved on to a more intense challenge: the Mithi river clean-up. And he hopes local participation will help bring the river back to life. "I hope to create core teams of local residents for every one-kilometre patch along the river. They can sustain the clean-up in their patch as we move forward." He says it will take about five years for him to cover the river's course.
– Over the past three months, Mr. Shah and his dedicated band of volunteers have removed over 1 lakh kg of plastic and a similar amount of water hyacinth from the 350-metre patch near Filter Pada. By March-end, he hopes to clear the first kilometre of the river. For the liquid waste, the volunteers are trying a bioremediation method by placing activated charcoal in the soil below the nullahs flowing through the slums into the river, and growing vetiver grass, a natural purifier. "This method of treating liquid waste is successful worldwide. We have tried this in four nullahs flowing from Best Nagar," says Mr. Shah.
– Soon after the (July 2005) floods, a government resolution (GR) was passed and an independent Mithi River Development and Protection Authority (MRDPA) was formed. The role of this authority was to set development plans, rehabilitate people living on the banks, etc. In the past 13 years, over ₹1,000 crore has been spent to revive the river but precious little has changed on the ground. But there is little impact on ground. https://www.thehindu.com/news/cities/mumbai/how-the-mithi-was-destroyed/article26298525.ece  (18 Feb. 2019)
HYDRO POWER PROJECTS
Arunachal Pradesh State summons NEEPCO CMD as Panyor turns turbid following RHEP shutdown EXCELLENT report by Tongam Rina: The CMD of the NEEPCO has been summoned by the state govt after the Panyor (Ranganadi) river downstream of the 405 mw Ranganadi hydroelectric project (RHEP) turned extremely turbid following the start of maintenance work at the project located in Yazali in Lower Subansiri district.
The shutdown of the RHEP for maintenance began on 9 Feb, following which the downstream of the Panyor turned turbid, resulting in loss of aquatic life. In the entire downstream stretch, fishes have turned up dead on the banks of the river, while domesticated animals that depend on the river are not seen in the area. Arunachal Env Minister Nabam Rebia visited the area and met the RHEP Gen Manager. Intriguingly, no one from the NEEPCO has visited the downstream areas after the maintenance work started.
"There is acute technical lacuna, and the NEEPCO should have anticipated that the downstream would turn turbid," the minister said. He also questioned the NEEPCO as to why a dumping site was not finalized before the maintenance work started.
The shutdown started before the finalization of a dumping site. Burman said the radial gates were opened on 9 February, and that they had not anticipated that so much silt would go with the water as the plant was maintaining the natural flow of the river.
He assured that the turbidity would not last long, but it failed to convince the representatives of the Lichi-Cher Ranganadi Project Affected Area Management Committee (LCRPAAMC), a downstream organisation which had been protesting the shutdown till a dumping site was finalized. https://arunachaltimes.in/index.php/2019/02/16/state-summons-neepco-cmd-as-panyor-turns-turbid-following-rhep-shutdown/ (16 Feb. 2019)
Jammu & Kashmir Kishtwar remains in dark despite generating power Dulhasti cannot provide power to Kishtwar, where it is located. It is a paradox that the District that is home to 390 MW capacity Dulhasti Hydroelectric Project of NHPC fails to provide electricity to the populace of Kishtwar & adjoining areas when it's requirement is the most, that is, during the winter months. The cause for this is a technical short-sightedness.
– This effectively means that the power is exported from Dulhasti Project to Kishanpur Sub Station first over the 400 KV Lines & then it is wheeled back to Kishtwar on a 132 KV line. This line was constructed in 1985/86 for supplying construction power to Dulhasti Hydroelectric Project. Speaking simply, it means that power from Dulhasti project travels 117 km first, over a robust 400 KV power network to reach the Northern Grid & then has to travel back to Kishtwar for feeding power to Kishtwar & adjoining areas on a weak & singular 132 KV single circuit line. http://www.dailyexcelsior.com/avoid-perennial-power-crisis-in-kishtwar/ (11 Feb. 2019)
Tamil Nadu Govt should reconsider Kolli Hills hydroelectric project  Recurrent severe issues with unregulated mini hydel project development in biodiversity rich areas: Bending almost all the rules in the book: Ecological destruction, huge infrastructure development for measly gains, legal hassles, appropriating tribal lands. The list goes on. This time, its a 20 MW Mini Hydel Project in Kolli Hills, Tamilnadu.
For a negligible quantum of 20 MW of power (as against the state's demand for more than 1,000 MW) the TN govt has revived a project that was stayed by the Madras High Court in 1996. This will not only degrade the most ecologically rich and sensitive part of the Kolli Hills, but also threatens to permanently alter or disturb the natural livelihood systems of local tribal communities.
The Rs 338.79 crore project was inaugurated on December 22, 2018 by the State Electricity Minister KV Thangamani almost 75 days after the work had begun, in a classic example of putting the cart before the horse when it comes to project plan and execution. This also implies that the project has largely bypassed crucial development questions and concerns of public accountability.
Officials in Namakkal District say they were unaware that the very same project was stayed by the Madras High Court in 1996, after environmentalists and development experts raised serious concerns. While the concerns raised then still remain, the norms for getting mandatory clearances for hydroelectric power projects have changed over the years, enabling the state govt to push forward its agenda. https://www.thenewsminute.com/article/ecological-storehouse-risk-why-tn-should-reconsider-kolli-hills-hydroelectric-project-96703 (14 Feb. 2019)
Centre Parliament panel recommend faster clearances to HEPs  Despite growing evidence of environmental unviability and mounting financial cost which makes hydro power costlier and less preferred, the parliamentary panel on hydro projects has now asked the Indian govt to streamline and fast track the process of green clearances given by the environment ministry.
– The parliamentary committee also called for the creation of a special cell to monitor and expedite the hydropower projects related cases in the SC and NGT. The committee also recommended that all renewable power projects irrespective of their size should be declared as renewable power projects.
– The report by parliament's standing committee on energy was presented in January 2019 and examines the issues leading to the "slow pace" of the hydropower sector. The panel observed that having only 45,399.22 MW of installed capacity of hydropower against the total potential of 241,844 megawatt "speaks volumes".
– As per the data of the Central Electricity Authority (CEA), at present, the hydropower sector accounts for about 13 percent (45,399.22 MW) of India's total installed power capacity (thermal, nuclear, hydro and renewables) of 349,288.22 MW. In 1947, when India got independence, it had a total of 508.13 MW of hydropower installed. https://india.mongabay.com/2019/02/12/give-faster-clearances-to-hydropower-projects-parliament-panel/ (12 Feb. 2019)
Op-Ed Free flowing Ganga will bring benefits for all By Dr Bharat Jhunjhunwala  The Union govt must be congratulated for taking a decision not to make new hydropower projects on the Ganga River. The issue of four under-construction hydropower projects on the Mandakini and Alaknanda, however, remains unresolved. About Rs 5,000 crore has been spent on these projects.
The Indian Institute of Technology, Roorkee has estimated that people of India would draw a benefit of Rs 23,255 crore per year if the Ganga flowed freely. The benefit to the people of India would be Rs 2,325 crore per year if we attribute a mere ten percent of this value to the four under-construction projects. About Rs 5,000 crore has been spent on these projects till date.
The cost incurred by the country in scrapping these projects at this stage, therefore, would be a onetime payment Rs 5,000 crore while we will get a benefit of Rs 2,325 crore per year. This translates to a return of whopping 46 percent. That is good business.
Hydropower is on the way out anyways. The cost of electricity from new hydropower projects is about Rs 7-11 per unit against Rs 3-4 per unit from solar power. According to the head of the CEA, solar power can be stored and used in the morning and evening when the demand is more at a cost of mere 40 paise per unit. It is for this reason that many hydropower projects are in financial trouble today.
The Union govt is spending about Rs 20,000 crore in building STPs on the Ganga. However, scrapping the four hydropower projects can reduce the expenditures on the STPs.  https://www.thehansindia.com/posts/index/Editorial/2019-02-17/The-case-against-hydropower-on-the-Ganga/496932 (17 Feb. 2019)
Industry CERC pushes for 100% power sale in spot market CERC has begun consultations on the proposal on market-based economic dispatch of electricity. The mechanism proposes to pool all electricity generated in the country, including from projects which have signed power supply pacts with discoms. The buyers and sellers will place their bids for required quantities and a settlement price will be discovered, as per the normal practice on power exchanges.
– Of the pooled capacity, economical power stations will get to sell their produce ensuring their optimum utilisation. The costly plants, which have power purchase agreements (PPAs), get fixed costs from distribution companies, as is the practice even today when discoms backdown from purchasing the contracted amount of electricity. The pilot run will start from April for six months after the required software upgradation.
– "The way contracts are structured today, we have some costly generation which is operating and some low cost generation that remains unutilised because discoms operate in silos. If we pool all electricity together, we can break this silo or wall. Then the dispatch will happen based on merit and low-cost electricity will get consumed fully, reducing part of the costly power generation," CERC joint chief SK Chatterjee said. While adequate transmission capacity is an enabler, it may face resistance from some states and costlier plants. https://energy.economictimes.indiatimes.com/news/power/cerc-pushes-for-100-power-sale-in-spot-market/67843826 (5 Feb. 2019)
DAMS
CAG Chhattisgarh began building Mohar reservoir without green clearances As per CAG report tabled in Chhattisgarh state assembly on Jan. 10, 2019,  the Water Resources Department (CWRD) commenced the work on Mohar Reservoir Project in Balod district without ensuring the land required was acquired and obtaining environment and forest clearances adding that the non-compliance led to an "unfruitful expenditure" of Rs 9.28 crore in the Rs 228.23-crore project.
CAG found that instead of securing the necessary environment clearance, the CWRD, entrusted the task of preparing the Environment Impact Assessment (EIA) report and Environment Management Plan (EMP) to the same contractor who was to execute the construction work. The contractor was also entrusted with the responsibility to obtain clearance from MoEF for diversion of forestland for non-forest purpose.
The auditors also found that the department did not draw any programme to acquire 315.66 hectares of forest land, 310.69 hectares of revenue land and 653.53 hectares of private land required for the project. Consequently, though the required revenue land and private land were acquired between June 2013 and June 2017, the executive engineer inordinately delayed the identification of revenue land for afforestation due to non-compliance to revised govt norms. https://www.downtoearth.org.in/news/governance/chhattisgarh-began-building-mohar-reservoir-without-green-clearances-cag-63203 (12 Feb. 2019)
Farakka Dam An 8m long fish-pass inadequate to sustain hilsa's mass migration Valid questions on utility of the navigation lock at Farakka for Hilsa: "The trouble, however, is that the fish-way will span no more than eight metres of the Ganga's nearly 2 km width at Farakka. It's anybody's guess if that is enough to sustain the hilsa's mass migration… US ecologist John Waldman's study in 2013 showed that only 3 per cent of a shoal use a pass to get past a dam.
In what should be of salience to the ministry's new project, one of the fish studied by Waldman is the American shad, a species closely related to the hilsa. A few silver-coloured fish may still sneak in through the new pass. But that is unlikely to undo the culinary damage caused by the Farakka barrage." https://indianexpress.com/article/opinion/editorials/way-of-the-fish-hilsa-mass-migration-bay-of-bengal-5578928/ (12 Feb. 2019)
Himachal Pradesh Construction of dam will start this year Replying to a question in the Assembly, CM Jai Ram Thakur on Feb. 13 said that construction of Renuka dam would start this year and the state would take care of the project-affected people.
The CM also said that the CWC had cleared the project cost at Rs 4,596.76 crore as per the estimate in 2015. "Now on the directive of the MoWR, another estimation is being done and it is estimated to cost around Rs 7,000 crore. This estimation is under the perusal of the CWC," he said.
After the cost estimation is over, the project will be sent to the technical advisory committee for approval. Finally, the project proposal will be cleared by the Cabinet Committee on Economic Affairs. The Central govt will allocate funds for the project only after that, he said.
Currently, the land acquisition process is on and the state has challenged the enhanced land compensation awarded by a lower court in the state High Court. The matter is still pending. Gathered under the banner of the Renuka Bandh Jan Sangharsh Samiti, the project-affected villagers told that the govt had not taken them into confidence before starting the land acquisition process. They are claiming that more than 700 families from 37 villages will be affected. The project had hit roadblocks repeatedly since an agreement was signed on May 12, 1994. https://www.outlookindia.com/newsscroll/construction-of-himachal-dam-will-start-this-year-cm/1478071 (13 Feb. 2019)
International Dam Safety Conference  World Bank approves Rs 11,000 cr for improving safety of dams "The World Bank's country director confirmed the acceptance of the proposal to provide Rs 11,000 crore to rehabilitate over 700 dams during Phase-II & III of the DRIP while speaking at the International Dam Safety Conference, concluded in Bhubaneswar," said S Masood Husain, CWC.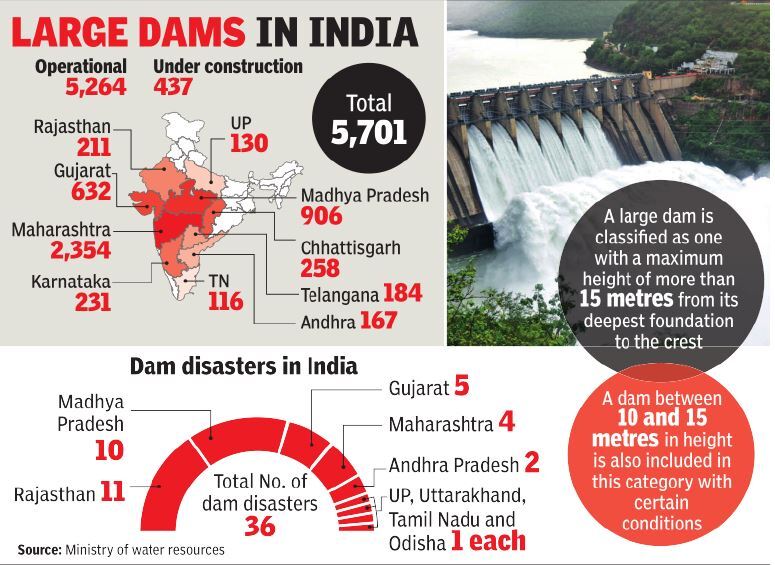 The major dams which are to be covered under Phase-II & III of the DRIP include Bhakra dam (Himachal Pradesh), Srisailam (Telangana), Koyna and Jayakwadi (Maharashtra), Matatila, Ramganga and Raj Ghat (UP), Pong dam (HP), Ukai (Gujarat), Rana Pratap Sagar and Mahi (Rajasthan), Hirakud and Rengali (Odisha) and Umiam (Meghalaya) .
The govt had initially proposed Rs 7,000 crore for the subsequent phases of the DRIP. But, later it revised it to nearly Rs 11,000 crore after getting estimates from states and central agencies including CWC.
India has currently 5,264 operational large dams, but 80% of them are over 25 years old and in need of maintenance and safety upgradation. As many as 213 large dams in India are over 100 years old.  https://timesofindia.indiatimes.com/india/world-bank-approves-rs-11000-cr-for-improving-safety-of-dams/articleshow/68040542.cms (18 Feb. 2019)   
'Restoration of dams in 7 states to be over by June 2020' As per Pramod Narayan, Project Director of DRIP in CWC, work on 100 of the 223 dams has been completed, the rest will be over by end of June 2020.
Started in April 2012, the project took up restoration of 26 dams in Odisha. Almost 90 per cent works of the dams have been completed, except Hirakud which will take three more years as the State Govt is building an additional spillway," Narayan told.
The Centre has approved the revised cost of DRIP amounting to Rs 3,466 crore along with 2 years extension of the project which was initially scheduled to be completed in April 2018. The second phase of the project is expected to begin from April 2020 and it would take up rehabilitation of 733 dams from 18 States at an estimated cost of Rs 11,487 crore.
Upgradation and restoration of dams taken up under DRIP in 7 States is likely to be completed in the next one year. As many as 223 dams in Kerala, Madhya Pradesh, Odisha, Tamil Nadu, Karnataka, Jharkhand and Uttarakhand are being repaired and restored in the first phase. http://www.newindianexpress.com/states/odisha/2019/feb/10/restoration-of-dams-in-7-states-to-be-over-by-june-2020-1936904.html (10 Feb. 2019)
Capacity boost for Hirakud dam Speaking at the International Dam Safety Conference-2019, UP Singh Secretary, MoWR said that the water retention capacity of Hirakud dam will be increased to 24 lakh cusec from the existing 15 lakh cusec.
– Built over Mahanadi river, the 5 km long dam has 98 gates, 64 sluice and 34 crest. He also said that Hirakud is biggest beneficiary of DRIP. The gates, which are now being operated manually, will be made automatic. In Odisha, 26 large dams have been taken up under DRIP. Apart from its rehabilitation, an additional spillway is being built at Hirakud dam at a cost of `600 crore to address issues pertaining to hydrological safety.
– The two-day international conference was jointly organised by the Centre, Odisha Govt and World Bank assisted DRIP. 3 important national guidelines, 16 emergency action plans and 5 operation and maintenance manuals were released on the occasion. http://www.newindianexpress.com/states/odisha/2019/feb/14/capacity-boost-for-hirakud-dam-1938712.html (14 Feb. 2019)
Kerala Peruvannamoozhi dam restoration nearing completion The Irrigation Department will complete the ongoing strengthening work of the Peruvannamoozhi dam in Kozhikode district DRIP in three months. Some drilling, underwater pointing and grouting works remain for the ₹13.13-crore undertaking, launched on the basis of a safety study conducted by the CWC that pointed out stability issues.
– A major portion of the allocated fund, about ₹10 crore, has already been spent for carrying out important works. The restoration works carried out in the area has also covered all the 13 saddle dams and the auxiliary mud dams constructed to confine the reservoir created by the Peruvannamoozhi dam.
"On completion of the strengthening work which was launched in 2016, there is a plan to start the construction of another support dam for the mother dam. The tendering procedures are going on to execute the same at a cost of ₹32.8 crore," said Assistant Executive Engineer (Kuttiyadi Irrigation Project) C. Sahadevan. With the construction of the support dam, the Department would be able to address all the major safety challenges pointed out by the CWC.
– The Peruvannamoozhi reservoir, commissioned in 1973 by damming the Kuttiyadi river, is now a major source of irrigation and drinking water for Kozhikode district. The canal system of the reservoir comprises 246 km of main canal and 600 km of distributaries to meet the water requirements of the district. It comes under the medium size reservoirs and meets the water requirements of 25 grama panchayats, Kozhikode Corporation and Koyilandy municipality. https://www.thehindu.com/news/cities/kozhikode/peruvannamoozhi-dam-restoration-nearing-completion/article26273861.ece (15 Feb. 2019)
Tamil Nadu Funds approved for second check dam across Palar River Series of check dams being built and proposed on Palar river without any EIA: – The Department of Atomic Energy, which is funding the project, has recently approved transfers of Rs 32.5 crore to the Tamil Nadu govt for the construction of the check dam across Palar River at Vayalur in Kancheepuram district. As per a senior official from the Water Resource department, the structure will be 1190m long and 1.5m in height. A subsurface wall of eight metres will help in preventing seawater intrusion in the aquifer. The Vayalur check dam, located close to the mouth of the Palar River, would be the last of the series of check dams planned across the river, which runs dry for the most part of the year.
– The Department of Atomic Energy is funding the project since a portion of water from the check dam would be diverted to manage the water needs of the nuclear power plant at Kalpakkam, which is about 10 kilometres away from Vayalur. Besides, the officials hope the check dam would supply 100 MLD (Million litres per day) water to meet Chennai's needs and also irrigate nearly 350 hectares of agricultural land at Lower Palar Basin. http://www.newindianexpress.com/cities/chennai/2019/feb/18/funds-approved-for-second-check-dam-across-palar-1940111.html (18 Feb. 2019)
Himachal Pradesh Govt to pursue matter of returning surplus land State Govt to ask BBMB to return the surplus, unused land acquired for the Sutlej Beas Link project. http://www.uniindia.com/govt-to-pursue-matter-of-returning-surplus-land-under-bbmb-project-cm-thakur/north/news/1496241.html    (11 Feb.2019)
Gujarat  Tribals protest in Ahmedabad demanding implementation of FRA Most of these tribals are adversely affected by the dams and related deforestation. https://www.business-standard.com/article/news-ians/tribals-protest-in-ahmedabad-demanding-implementation-of-fra-mnrega-119021200066_1.html (12 Feb. 2019)
INTERSTATE WATER DISPUTES
Report Dam safety, Inter state water dispute bill not passed   With last session of 16th Lok Sabha ending, following bills have lapsed and will need fresh introduction during 17th Lok Sabha: The Inter-State River Water Disputes (Amendment) Bill, 2017, which was introduced in Lok Sabha on March 14, 2017; the Standing Committee submitted its report on August 10, 2017. The Dam Safety Bill, 2018, which was introduced in Lok Sabha on December 12, 2018. https://indianexpress.com/article/explained/explained-why-the-citizenship-amendment-bill-is-dead-for-now-5582573/         (13 Feb.2019)
RIVERS AS NATIONAL WATER WAYS
SANDRP Blog Debate on Ganga Waterways: Disagree on all counts    Manoj Misra replies to Sri Pravir Pandey (Vice Chairman, Inland Waterways Authority of India)'s article The Hindustan Times (24 Jan 2019) on GANGA WATERWAYS, on the claimed merits of the Inland Waterways Transportation (IWT) project. While welcoming IWAI's presumed willingness to debate the matter, it rejects Sri Pandey's contentions in their entirety as having been made on rhetoric and 'confidential' assessments rather than on sound and convincing facts.
There are two key considerations which require attention in case of a potentially impactful project like the IWT: Financial viability and environmental impacts. IWT and IWAI Vice Chair's article fails on both counts. Please read, share and send feedback.     https://sandrp.in/2019/02/15/debate-on-ganga-waterways-disagree-on-all-counts/          (15 Feb.2019)
Centre Shipping giants Maersk to start using Ganga waterway  As per shipping ministry Feb. 11 statement, world's largest container shipping company Maersk Line was supposed to move 16 containers on the Ganga river from Varanasi to Kolkata on Feb. 12. Earlier firms like PepsiCo, Emami Agrotech, IFFCO Fertilizers, Dabur India, had moved their containers on river Ganga, it added.
On Nov. 12, 2018, PM Modi dedicated India's first riverine multimodal terminal on river Ganga (National Waterway-1) at Varanasi to the nation. The govt is developing NW-1 under from Haldia to Varanasi with the technical and financial assistance of the World Bank at an estimated cost of ₹5,369 crore, the ministry said. https://www.livemint.com/companies/news/shipping-giants-maersk-to-start-using-ganga-waterway-from-tuesday-1549897768730.html (11 Feb. 2019)
RIVERS
Tamil Nadu Rs100cr fine for not controlling pollution in Chennai's rivers  In the strongly worded order on Feb. 13, the NGT not only criticised the state govt for failing to take action against entities responsible for polluting the waterways, but also accused them of complacency and colluding with the polluters.
"It has been brought to our notice that it is widely reported that Adyar and Cooum are two of the most polluted rivers to flow through any major urban agglomeration anywhere in the world. Bearing the brunt of garbage, discharged sewage, defecation and encroachments on the banks, the Adyar river, once a thriving waterway, has been reduced to a stinking watercourse, with govt agencies turning a blind eye to the damage meted out," the order states.
"In view of consistent failure of the State so far, we are tentatively inclined to require the State of Tamil Nadu to pay a sum of Rs 100 Crores as compensation for damage to the environment with the CPCB for the past failures in preventing damage to environment," the order directs.
Further, the NGT ordered for the setting up of a joint committee "comprising of representatives of CPCB, Indian Institute of Sciences, Bangalore, Madras School of Economics, NEERI and the State Pollution Control Board." This committee has been tasked with assessing the causes and damage to the environment and the steps needed to be taken for its restoration that are not covered in the action plan. The committee will have to submit its report within three months; and the CPCB will be the nodal agency to coordinate and ensure compliance with NGT's orders.
The state has been asked to prepare a performance guarantee to finish the work within the stipulated time period. The guarantee, which must be to the CPCB's satisfaction, has to be submitted within a month.
The NGT has also summoned the Tamil Nadu Chief Secretary to be present before the Tribunal on April 24, 2019. "We direct the Chief Secretary to be ready with the progress in the present matter as well which is impacting large number of inhabitants living in the catchments of these river systems," the NGT said.
The NGT pointed out that the state authorities have had a history of non-compliance on the issue, even though the NGT has been making several observations and giving directions to restore, conserve and remove encroachments from the waterways since 2014. Pointing out that while Rs 600 crore were made available for the restoration of the project, the NGT noted that it has made negligible progress since the time of its launch in 2015.
The NGT went on to even accuse the TN govt of colluding with the polluters due to their complacency and failure to take action against them. "… [The principle of] 'Polluter Pays' which applies not only to actual polluters but also to those who collude with polluters or enable pollution to be caused and also for the negligence of public duties, adversely affecting the citizens," the NGT order stated.
The order names the institutions identified as polluters in 2016. The five educational institutions in this regard are Dr MGR University Research & Educational Institute in Maduravoyal, the Thai Moogambigai Dental College & Hospital in Mugappair, the Thai Moogambigai Polytechnic College in Nerkundram Village in Tiruvallur District, the gents and ladies hostels in phase II of Dr MGR University Educational and Research Institute University Phase II as well as its 1st year block in Adyalampattu Village in Tiruvallur district. The educational institutions were found to have been polluting up to 26 years, and authorities had taken no action. Further, 12 industries were identified as well. https://www.thenewsminute.com/article/rs-100-cr-fine-slapped-tn-govt-not-controlling-pollution-chennais-rivers-96827 (16 Feb. 2019)
Maharashtra Two sides of Mutha river In a bid to create awareness about river pollution, a programme to revive the Mutha river through the Amchi Mutha Amchi Narmada campaign was organised on the river bed on Feb. 12. But while the initiative was aimed at creating awareness about the river, an activist has alleged that the organisers and PMC have flouted norms by erecting a pandal on the riverbed. https://punemirror.indiatimes.com/pune/civic/two-sides-to-same-river/articleshow/67967130.cms (13 Feb. 2019)
Punjab After NGT rap, govt comes up with action plan to clean River Sutlej More than two months after NGT slapped Rs 50 crore fine on the Punjab govt over river pollution (on Nov 15, 2018 – following the report of NGT-appointed Monitoring Committee led by PPCB member and environmentalist Baba Balbir Singh Seechewal. The committee was formed in a 2014 case of Sobha Singh of Rajastan and others versus Punjab state.
Sobha Singh had taken the plea that due to pollution created by Punjab state in river Sutlej, the people of several districts of Rajasthan were forced to drink highly contaminated water.), the state has come up with its 'Clean River Sutlej 2019' plan — a blueprint for action to be taken to clean the river over the next two years.
As part of the plan, the govt has identified 42 places, including around 30 major towns, where there is utmost need of installing STPs as waste is being released into Sutlej directly from here. It is also identified that there is need to upgrade Common Effluent Treatment Plants (CEPTs) at Ludhiana and Jalandhar as industry is releasing industrial untreated water into river. To keep the water quality good — which is currently 'C', 'D' and 'E' category at most places and is highly unfit for drinking purpose — the need of releasing fresh water has been given utmost priority.
– In the action plan, it has been mentioned that there are 65 towns, which are directly and indirectly discharging their wastewater into river Sutlej and a total of 101 STPs are need, out of which only 59 STPs are there. Also 30 major drains/nullahs, which carry the waste of 84 sub-drains, and 11 local bodies/ villages are directly discharging waste in the river, are to be connected with the proposed STPs. https://indianexpress.com/article/cities/chandigarh/after-ngt-rap-punjab-government-comes-up-with-action-plan-to-clean-sutlej-5578851/ (11 Feb. 2019)
Plan to check water pollution Expressing concern over the growing river water pollution in the state, CM Capt Amarinder Singh on Feb. 14 announced a comprehensive action plan to check pollution of waters in Rivers Beas and Satluj, besides steps to restore the water quality of the state's rivers.
Reiterating his govt's commitment to restore the water quality of the state's rivers, the CM said that he had already constituted a committee for monitoring of the measures to control pollution of the river water. He assured the House that the state govt would make all our efforts to check river pollution in a result-oriented and effective manner. https://www.tribuneindia.com/news/punjab/plan-to-check-water-pollution/729055.html (15 Feb. 2019)
Kerala Portion of the Periyar momentarily runs black A small stretch of the river Periyar, downstream of the Pathalam regulator-cum-bridge, ran black after a shutter of the regulator was opened on Feb. 12. The source of pollution was unknown.
An official of the Irrigation Department claimed that the opening of shutter was a routine process. "We open the shutter three times a week, depending on several factors such as high tide and water flow from the Bhoothathankettu dam," said Balu Varghese, assistant executive engineer. "Sometimes, there is a colour change, and sometimes not". https://www.thehindu.com/news/cities/Kochi/portion-of-the-periyar-momentarily-runs-black/article26252830.ece (13 Feb. 2019)   
Vellore women resurrected a river that once served as their lifeline Eco India video report about a small group of women in Vellore, who have built more than 600 recharge wells, ensuring the revival of a once-dead river.
https://scroll.in/brandstudio/ecoindia/913418/eco-india-how-an-army-of-women-in-vellore-resurrected-a-river-that-once-served-as-their-lifeline (15 Feb. 2019) 
Op-Ed India's rivers crying out for legal protection by raveen Bhargav India has several laws to curb water pollution but our revered rivers are not comprehensively protected by a law. That India must conserve its river ecosystems is non-negotiable now. India can, in fact, devise a reasonable legal protection mechanism for its river ecosystems even under existing statutes.
In a 2017 interview with The Hindu, the eminent ecological hydrologist Jagdish Krishnaswamy warned, "Embarking on huge transformations like linking rivers which could reduce the flow of rivers into oceans and seas is as good as signing the death warrant of our estuarine and coastal ecosystems, from the Sunderbans to the mangroves of the Krishna delta or others along the west coast. We need to really rethink the value of rivers reaching the sea, economically and ecologically."
Clearly then, promoting unscientific ideas such as the interlinking of rivers, the diversion of rivers flowing into the ocean and the disastrous Inland Waterways project are an antithesis to PM Modi's emotive call to protect the Ganga. Indeed, the Namami Gange project will prove futile unless we adopt knowledge-driven policies and devise a legal protection regime to secure river ecosystems.
India's decision-makers, in the polity and the bureaucracy, apparently think "water flowing into the ocean is a waste". It is a sad testimony to their lack of knowledge about the scientific and socioeconomic importance of rivers reaching the sea. It is similar to the myopic idea that planting trees can compensate for the loss of forests which is being aggressively peddled. https://scroll.in/article/911430/river-ecosystems-indias-most-precious-national-asset-is-crying-out-for-legal-protection (11 Feb. 2019)
GANGA Bill Needs Modification In Sept 2018 the MoWR shared a draft bill for the protection and conservation of River Ganga with the fasting Swami Sanand at Matri Sadan, Haridwar. It was an attempt by the GoI to dissuade Swami Sanand from continuing with his fast-unto-death seeking firm action by the GoI for the conservation of the National River Ganga.
Swami Sanand carefully reviewed the draft but was deeply disappointed as it did not accept any of the basic principles recognized in earlier draft that Swami Sanand had helped prepare under the aegis of Ganga Mahasabha. He had been campaigning for its immediate adoption by India's Parliament.  https://gangatoday.com/en/articles/217-ganga-bill-modification.html (5 Feb. 2019)
Study पिघल रहे हैं गंगोत्री के सहायक ग्लेशियर, गंगा के प्रवाह पर पड़ सकता है असर एक ताजा अध्ययन में पता चला है कि गंगोत्री का सहायक ग्लेशियर चतुरंगी तेजी से पिघल रहा है. गंगोत्री गंगा के जल का मुख्य स्रोत है, जिसके सहायक ग्लेशियरों के पिघलने का असर गंगा नदी के प्रवाह पर पड़ सकता है. अध्ययनकर्ताओं का कहना है कि करीब 27 वर्षों में चतुरंगी ग्लेशियर की सीमा करीब 1172 मीटर से अधिक सिकुड़ गई है. इस कारण चतुरंगी ग्लेशियर के कुल क्षेत्र में 0.626 वर्ग किलोमीटर की कमी आई है और 0.139 घन किलोमीटर बर्फ कम हो गई है. https://hindi.firstpost.com/india/gangotri-subsidiary-glaciers-are-melting-may-affect-flow-of-river-ganga-climate-change-no-191267.html (11 Feb. 2019)
Uttrakhand Spring-fed rivers in the Himalayas drying up GREAT story from Hridayesh Joshi about how the Himalayan springs, the lifeline of local communities are under threat and how they are being protected and revived at some places. https://indiaclimatedialogue.net/2019/02/04/multimedia-spring-fed-rivers-in-the-himalayas-drying-up/ (4 Feb. 2019)
YAMUNA Delhi CS seeks urgent steps for restoration of Yamuna Delhi Chief Secretary Vijay Dev on Feb. 9 convened a meeting with members of a panel formed for restoration of the Yamuna on the direction of the NGT. The panel members include former chief secretary Shailaja Chandra and former NGT member BS Sajwan.
The chief secretary urged all departments concerned to take urgent steps in line with this objective. He also said all officials, field officers and engineers concerned would held accountable with regard to strict compliance with the order on preventing dumping of solid waste and industrial waste into the river. The chief secretary said all officials concerned will be hauled up if his order to prevent solid and industrial waste from being dumped into the Yamuna is not complied with. http://www.newindianexpress.com/cities/delhi/2019/feb/10/chief-secretary-seeks-urgent-steps-for-restoration-of-yamuna-1936887.html (10 Feb. 2019)
NGT forms committee to ascertain impact of steel pickling units The NGT constituted an expert committee comprising senior scientists from the CPCB, NEERI and IIT Kharakpur. The green panel said the CPCB will be the nodal agency and the committee may visit the site and furnish a report to this tribunal. The report may be furnished as far as possible within two months from Feb. 6 by e-mail, it said.
The green panel also said that steel pickling industries are part of prohibited list and the power of the Delhi govt is limited to only determine whether a particular activity is part of such prohibited list and not to ignore or modify the said list. The matter is listed for next hearing on May 27.
The tribunal had earlier fined the Delhi govt Rs 50 crore for its "failure" to take action against steel pickling units in residential areas as they fall under the prohibited list of industrial activity. The bench had said that discharge of untreated effluent directly or indirectly in the river has caused serious damage to the environment and the Polluter Pays Principle needs to be invoked to compensate the damage caused.
The NGT had also directed the AAP govt to shut these units with immediate effect and directed the Delhi chief secretary to constitute a three-member team to identify persons responsible who may be liable to be prosecuted and punished for violation of law. It had sought a report within four months.
The order had come on a plea filed by an NGO, the All India Lokadhikar Sangthan, seeking the execution of its order by which the green panel had directed the DPCC to take action against stainless steel pickling industries in residential areas as they fall under the prohibited list of industrial activity as per the Delhi Master Plan, 2021. The plea had alleged that such units functioning at Wazirpur discharged effluent in open drains which ultimately met the Yamuna river. It had contended that under the pretext of decision making "time is being taken by the Delhi govt and the environment is made to suffer continuously".https://www.outlookindia.com/newsscroll/ngt-forms-expert-committee-to-ascertain-impact-of-steel-pickling-units-on-air-quality-yamuna-river/1474386 (7 Feb. 2019)
Drones can be used to monitor Yamuna Based on NGT monitoring committee report:- To check encroachment on its vacant land, the DDA tied up with the ISRO's Regional Remote Sensing Centre (RRSC) to put a computerised system in place to detect encroachment using satellite images. If successful, the satellite imagery can also be used to monitor the Yamuna floodplains, according to a report by the monitoring committee established by the NGT to monitor Yamuna cleaning operation.
"In addition, artificial intelligence, aerial mapping or drones can also keep a track of quantum and location of debris being dumped," the monitoring committee recommended. DDA has reported that an agreement has been signed on July 6, 2018, and will become operational by July 6, 2019. https://www.thehindu.com/news/national/drones-ai-can-be-used-to-monitor-yamuna-ngt-constituted-panel/article26166999.ece (3 Feb. 2019)
Haryana  Delhi contributes 79% to Yamuna pollution, Haryana tells HC Haryana Govt is reportedly citing 2006 CPCB study whereas the fact is that the pollution load from Yamuna Nagar, Karnal, Panipat and Sonipat has also increased significantly in Yamuna river.
– Haryana govt has removed the 'bundh' as alleged by Delhi Govt but state that it is releasing 1030 cusec water to Delhi regularly however the petitioner has claimed that the water being released by Haryana to Delhi is 300 cusec that too through Kutcha canal which is resulting in 50% seepage losses as a result -Delhi is getting only 170-180 cusec.
– Citing DJB reports the Haryana govt has also told the HC that … "Therefore Delhi should take urgent measures to reduce their losses which are alleged to be 10 per cent in treatment and 30 per cent post treatment. Some treatment and post-treatment loses are inevitable, but losses to the extent as projected by DJB are unpardonable and can be termed as criminal wastage of precious raw water.
– The court was hearing a plea, filed by advocate S.B. Tripathi, who has sought direction to the DJB to provide 100 per cent sewage facility in the entire city and the Central govt to provide financial assistance to the DJB for the work. The plea said that in 2016, the DJB had told the court that only 55 per cent of the Delhi population was covered with sewage facility and there was no sewage facility available to the remaining 45 per cent. The case would be heard on March 13 now.     https://timesofindia.indiatimes.com/city/delhi/delhi-contributes-79-to-yamuna-pollution-haryana-tells-hc/articleshowprint/67857269.cms (5 Feb. 2019)
CM expresses concern over release of 'polluted' water into Yamuna Haryana CM Manohar Lal Khattar on Feb. 5 wrote to his Delhi counterpart Arvind Kejriwal expressing serious concern over the release of "highly polluted" water into the Yamuna river and Gurugram canal. He urged Kejriwal to direct all the departments concerned of Delhi govt to ensure that no untreated or partially treated effluent is released into the river and the canal.
"During this course, more than 60 drains having partially treated or untreated effluent of industrial or domestic sources, outfall into it. This causes severe pollution of the river before its re-entry into Haryana," he wrote in the letter. Besides, it also badly impacts agricultural productivity of the farmers of these districts, he wrote. https://zeenews.india.com/india/haryana-cm-khattar-writes-to-kerjiwal-expresses-concern-over-release-of-polluted-water-into-yamuna-2177520.html (5 Feb. 2019)
FISH, FISHERIES, FISHERFOLKS
Gujarat Mystery over Narmada water contamination Suspecting that there is a danger of a quake hitting the dam in the long run, activists demand Narmada Control Authority to disclose the reasons behind the sulphide contamination and decrease in dissolved oxygen levels which led to the mass death of fishes in Narmada dam.
The seismic activity explanation raises a very fundamental question about safety of the dam in the longer run, says Vadodara-based environment activist Rohit Prajapati demanding thorough investigate by authorities to find out the real cause behind the disaster. https://www.thestatesman.com/india/gujarat-mystery-over-narmada-water-contamination-1502732147.html (13 Feb. 2019)
See the letter by citizens of Gujarat asking authorities to reveal the reasons behind the incident of fish kill and pollution of Narmada waters. https://www.facebook.com/sandrp.in/posts/2468571946503797?__tn__=K-R (12 Feb. 2019)
West Bengal Coastal development is impacting fishing A deep-sea port is to be constructed in Tajpur and 8 more jetties are to come up in an already industrialised Haldia. CM Mamata Banerjee recently took back control of the proposed deep-sea port in Tajpur in East Midnapur district, saying the state will develop the project without the Centre. The local fishing community has not been apprised about the port project or told how their lives will be affected by it. https://www.downtoearth.org.in/news/governance/tajpur-and-haldia-how-coastal-development-is-impacting-fishing-in-west-bengal-63212 (13 Feb. 2019)
SAND MINING
SANDRP Blog Tamil Nadu Sand Mining 2018: Story of Nexus exposed by a brave Journallist The compilation shows that Tamil Nadu is leading state affected by illegal sand mining. In the year 2018, the sand mining incidents, govt actions and court orders kept taking place concurrently. There were incidents where villagers protested illegal sand extraction from rivers and lakes. There are reports candidly exposing involvement of concerned department's official in illegal sand extraction activities.
There were also incidents where govt was seen carrying illegal mining despite protests from local people. The mining in Kollidam river and Kosasthalaiyar riverbed were among the examples. There were reports holding unsustainable sand mining responsible for collapse of 185 year old regulator on Kollidam river. https://sandrp.in/2019/02/17/tamil-nadu-sand-mining-2018-story-of-nexus-exposed-by-a-brave-journalists/ (17 Feb. 2019)
Kerala Sand Mining 2018: How a 17 year Allapad girl became anti sand mining icon The main highlight of this KERALA SAND MINING REVIEW OF 2018 is the ongoing struggle of Allapad region and how a video from a 17 year of girl had such far reaching implications. The impact of unsustainable sand mining on the Kerala floods 2018 and how the unsustainable sand mining started in earnest soon after the Aug 2018 floods is another highlight. PLZ READ, SHARE and  SEND COMMENTS. https://sandrp.in/2019/02/17/kerala-sand-mining-2018-how-a-17-year-allapad-girl-became-anti-sand-mining-icon/ (17 Feb. 2019)
Karnataka Sand Mining 2018: Hopeless, But Action Packed!    Karnataka is one of the leading states to witness the devastating effects of rampant sand mining. Between 2015 and 2018, the state has officially registered 20,779 cases of illegal sand mining, and 9,599 FIRs. The state govt is receiving approximately Rs 150 crore per year as royalty from legitimate sand mining. As per estimates, the state govt is losing around Rs 200 crore per year due to illegal sand mining. https://sandrp.in/2019/02/13/karnataka-sand-mining-2018-hopeless-but-action-packed/     (13 Feb.2019)
Rajasthan Sand worth Rs10 crore, high-tech boats seized from Dungarpur Miners using high tech boats fitted with dredging implements to mine sand illegally from the middle of Som river in Dungarpur. Police have sized 12 high tech boats. Locals claim at least 50 such boats in use in three districts of Dungarpur, Chittorgarh and Udaipur.
– Dungarpur SP said besides causing environmental damage by dredging the river, the people involved in the illegal business were also responsible for some road accidents. "They press on the gas when they see police. In 2018 alone, 50 people were killed in road accidents involving vehicles carrying illegal river sand," he said. https://www.hindustantimes.com/jaipur/illegal-river-sand-mining-sand-worth-rs10-crore-high-tech-boats-seized-from-dungarpur/story-kE4GwsFQyJRSKnfGyKihWI.html (15 Feb. 2019)
Uttar Pradesh NGT raps Baghpat DM for refusing to receive uncertified order The Green Tribunal has rapped the Baghpat District Magistrate for refusing to receive an uncertified copy of its order and slapped a fine of Rs 10,000 on him for "slackness" in stopping sand mining in the area.
The DM tendered an apology to the green panel, which said the tribunal's order are uploaded on the internet to immediately bring it to the knowledge of the officer concerned. The compliance of the order, in letter and spirit, is the duty of officer and he should not ignore the information given by the party or advocate, it said.
Few Points:- Order issued in July 2018 but fine for non-compliance imposed in Feb 2019.
– Between this & (except monsoon months) even now illegal mining happening in UP stretch of  Yamuna u/s Delhi. So how revenue losses vl b recovered let alone damages to river? https://www.outlookindia.com/newsscroll/sand-mining-ngt-raps-baghpat-dm-for-refusing-to-receive-uncertified-order-slaps-fine-of-rs-10k/1479490 (15 Feb. 2019)
Himachal Pradesh Illegal mining causing damage to fisheries Illegal mining has been causing damage to fisheries and aquifer. The govt has admitted this in a written reply during the ongoing budget session of the state Assembly. Fisheries Minister Virender Kanwar said, besides illegal mining in rivers, unscientific dumping of road construction debris in the rivers is also responsible for destroying the fish breeding grounds. https://www.tribuneindia.com/news/himachal/illegal-mining-causing-damage-to-fisheries-admits-himachal-minister/728400.html      (13 Feb.2019)
Karnataka Illegal sand extraction unit raided in Mangaluru An illegal sand extraction unit in a village near here was busted on Feb. 12 following information that sand was mined from the banks of Phalguni river, police said. Sand and equipment worth Rs 5 lakh and two boats were seized, the police said. The raid was conducted by the personnel of the police department and the mines and geology department, they said. The sand mining was on with the assistance of boat owners, the police said. https://www.business-standard.com/article/pti-stories/illegal-sand-extraction-unit-raided-in-mangaluru-119021200638_1.html (12 Feb. 2019)
Maharashtra Illegal mining at Mahim Causeway Sand mining at Mahim Causeway is once again raising concern among residents and environmentalists, who say the illegal activity puts lives at risk and is also harmful to the ecosystem. The space along the creek, which was empty some time back, is now dotted with pakka houses, constructed with sand mined from the causeway.
Mahim Causeway is a vital link that connects South Mumbai to its northern suburbs. The Mithi River meets the Arabian Sea at Mahim Creek. The river actually divides the city and the suburb of Bandra at this point. On the left hand side of Mithi is an old locality. The mining takes place in this area during low tide. https://mumbaimirror.indiatimes.com/mumbai/crime/illegal-sand-mining-at-mahim-causeway/articleshow/67968202.cms (13 Feb. 2019)
Karela Mineral sand-mining row at KMML resolved The issues related to mineral sand-mining from the premises of the Ponmana Kattil Mekkathil temple have been solved at a meeting chaired by Minister E.P. Jayarajan, Kerala Minerals and Metals Ltd (KMML) managing director K. Raghavan has said.
In a statement here on Feb. 12, Mr. Raghavan said: ''It has been decided to continue mining keeping a distance of 125 metres from the well in the temple yard and 100 metres from the banyan tree. The area can be used for temple purposes without affecting the work of KMML after filling it and the Minister has agreed to consider this. https://www.thehindu.com/news/national/kerala/mineral-sand-mining-row-at-kmml-resolved/article26256023.ece (13 Feb. 2019)
Tamil Nadu Officials swing into action on illegal sand mining Following a report in The Hindu over rampant illegal sand mining in Rayapalayam panchayat in Tirumangalam taluk, allegedly with the tacit support of officials and police, the district administration initiated action on Feb. 15. When the issue came up in the monthly farmers' grievance redressal meeting, Collector S. Natarajan said that he had already instructed officials to take swift action on the issue.
However, alleging that the issue in Rayapalayam panchayat was only a tip of the iceberg, a section of farmers appealed for Collector's intervention in illegal mining activities going on in several pockets of the district. Meanwhile, a group of people from Rayapalayam panchayat petitioned Collector and the Superintendent of Police demanding stringent action against those involved in illicit mining activities. https://www.thehindu.com/news/cities/Madurai/officials-swing-into-action-on-illegal-sand-mining/article26283273.ece (15 Feb. 2019)   
WETLANDS, LAKES, WATER BODIES
Punjab Govt to declare Shalla Pattan Wetlands protected area Govt has decided to declare 50 acre of land at Shalla Pattan wetlands as protected area for critically endangered species common crane. The state govt will compensate farmers to keep their crops fallow for the winter months to restore the natural ecosystem of the wetland when common cranes descend here in good number. This marshland or swamp area of floodplain of river Beas provided conducive atmosphere for the survival of waterfowls.
According to wildlife officials, the habitat of the area was severely impacted with the efforts of irrigation department to drain of waterlogging from the area and make it dry to bring vast track under agriculture expansion.
It was in year 2007 that the presence of over 1000 common cranes with their juveniles along with Bar headed geese and sarus cranes at Shalla Pattan had drawn attention of wildlife lovers. This is the last refuge for them in the whole of Punjab. As per the statistics of the Punjab wildlife department, the number of sarus crane too came down over the years from hundred plus in 2007 to 596 in 2018 and mere 493 in January this year at Shalla Pattan because for the similar reasons of tempering with existing habitat. https://timesofindia.indiatimes.com/city/chandigarh/punjab-govt-to-declare-shalla-pattan-wetlands-protected-area-for-conservation-of-common-crane/articleshow/68037283.cms (17 Feb. 2019)
Uttar Pradesh Govt to preserve 1.23 lakh wetlands State Wetland Authority (SWA) has identified 1.23 lakh wetlands across the state for conservation and protection. Of the 1.23 lakh wetlands, as many as 26,000 water bodies are spread over 2.5 hectares each and 97,000 are smaller than that.
The order to preserve and protect wetlands was issued by principal secretary, forest, Kalpana Awasthi and SWA chief executive officer Vibhash Ranjan during a video conferencing with senior forest officials on Feb. 13. Ranjan, who is also chief conservator of forest of Gorakhpur forest zone, said the plan was primarily aimed at increasing the fast depleting groundwater in almost every part of UP.
The govt has, meanwhile, entrusted forest officials with the task to file a 25-point comprehensive field report on the status of the identified wetlands and their supporting features for further action. According to Ranjan, at present, Ramgarh Tal in Gorkahpur— spread over 749 hectares — is the only notified wetland in the country.
In the first phase, SWA will focus primarily on wetlands stretched over 2.5 hectares in 10 districts, six in the Ganga basin and four in eastern UP, which have maximum number of wetlands lined up for conservation. As per Field director, Pilibhit tiger reserve, H Rajamohan SWA has identified a total of 303 wetlands spread over 2.5 hectares or above in Pilibhit district through satellite imagining and remote sensing. https://timesofindia.indiatimes.com/city/bareilly/up-to-preserve-1-23-lakh-wetlands-to-replenish-fast-depleting-groundwater/articleshow/67999107.cms (14 Feb. 2019)
Telangana Govt constitutes wetland Authority Formation of the authority was due since the Central govt notified the Wetlands (Conservation and Management) Rules in September 2017.  Apart from the minister in charge of the environment department as its chairman, the SWA will have 16 officials as its ex-officio members from the environment, forest, urban and rural development, water resources, fisheries, irrigation, among other departments.
The govt on Feb. 15 formed the Telangana CAMPA which shall be responsible for the management of the State CAMPA Fund and its utilisation for the purpose of the Compensatory Afforestation Fund Act, 2016. http://www.newindianexpress.com/states/telangana/2019/feb/16/ts-constitutes-wetland-authority-1939541.html (16 Feb. 2019)
Assam Brahmaputra wetlands drying up A new survey found waterfowl numbers are dropping in Kaziranga national park due to climate change and human activity. The survey held December 19-20 2018 came up with a count of 10,412 birds of 80 species, a significant decline, compared to the 479 species found between 1993 and 1999.
As per the report, the drying up of wetlands has led to an increase in areas of tall grass and a reduction in areas of short grass. This gradual change will have important ecological implications in the future, experts warn. Scientists say that vanishing wetlands means not only loss of water bodies – the loss could add to climate change by releasing a large amount of the trapped greenhouse gas methane. https:/www.thethirdpole.net/en/2019/02/13/brahmaputra-wetlands-in-assam-drying-up/ (13 Feb. 2019)
Karnataka Fruit peels to clean Bellandur lake water  An engineering student Pawan, claims that he has devised a filtration process using fruit peels which can be used to filter the water in polluted lakes. ​According to what Pawan, his discovery was tested at the Karnataka State Pollution Control Board (KSPCB) lab and yielded positive results. One litre of water taken from Bellandur lake when treated with this filtration process was deemed fit for domestic use except as drinking water. The PH levels of the water also came down considerably after being treated.
A survey done by the Horticultural department of the govt of India has stated that as many as 3.98 tonnes of fruit peel waste is generated every day in this country. "We can install 7-6 filter beds which can be changed every 5-6 days," said Pawan adding that the used-up filters can be recycled and used as manure.
However, certain questions regarding the filtration process including its effect on the biological and chemical demand of oxygen in the lake water are yet to be answered. Since the filtration process is a tertiary treatment of water, its quality to rid the water of nitrogen and sulphates is yet to be established. https://www.timesnownews.com/mirror-now/society/article/karnataka-bengaluru-bangalore-bellandur-varthur-lake-engineering-student-fruit-peels-filtration/366556 (15 Feb. 2019)
WATER OPTIONS
Karnataka Invisible Water Wizard Conquers World Prize Sikandar Meeranayak, the founder of a non-profit called Sankalpa Rural Development Society (SRDS) based in Hubli, , is one of those working tirelessly and silently to assist farmers to understand the importance of sustainable water management. Meeanayak's silent crusade caught international eyes and he was awarded the Energy Globe World Award- 2018 in the Category- Water for his innovative development of the twin ring method of rain water harvesting through bore well recharge   at the international award ceremony at Yazd in Iran,   on   28th January this year.
– The SRDS method of borewell recharge uses a catchment pond that can collect and store up to three lakh litres of rainwater. The catchment pond is a 10x10x10 foot pit that acts as a primary filter around the borewell and has a casing pipe with tiny holes to allow water to percolate in and out without any loss to the borewell. A pit is dug around the borewell casing.
The bottom of the pit is lined with filtration material to a depth of 2 ft. Then, slits are cut into the borewell casing using a cutting machine and the casing is wrapped with nylon mesh so that solids cannot enter.
At this stage, cement rings are placed around the borewell casing and the spaces between are filled with cement to seal them. This 'false well' is then filled with stones. Another 'false well' is made of cement rings which are placed next to the first and the gaps between are filled with cement. A cover is placed on it to stop rubbish from falling in. A three-inch feeder pipe is fitted, coming from the pond to a hole in the first cement ring of the empty well. This brings in the water from the pond. During the rainy season, the water flows from the pond into the first empty well where it percolates down through the filtration material and subsequently up into the second well around the borewell casing. It then enters through the slits and filters down into the underlying aquifer where it is stored for the following dry season. https://countercurrents.org/2019/02/09/indias-invisible-water-wizard-conquers-the-world/ (9 Feb. 2019)
Tamil Nadu Plan to convert 260 MLD sewage into fresh water Chennai Metropolitan Water Supply and Sewerage Board (CMWSSB) has come up with a proposal that assures regular supply of 260 MLD (million litres per day). The plan is to recycle sewage into potable drinking water by setting up tertiary treatment plants, costing over `1,000 crore!
The treated water will be released into identified water bodies for recharge and pumped back into city's water distribution network. A total of seven lakes and water bodies, namely Perungudi lake, Narayanapuram lake, Kovilambakkam lake, Kilkattalai lake, Porur lake, Ayanambakkam lake and Rettai lake, will benefit from the project.
On a pilot scale, Metro Water has invited bids to set up dedicated 10 MLD STPs, followed by tertiary treatment plants at Nesapakkam and Perungudi. The treated water is to be pumped to the nearby lakes. Also, tenders will be issued for four 10 MLD and a 6 MLD capacity modular prefabricated water treatment plants at many lakes.
Currently, raw sewage is sent to  STP for primary and secondary treatment, which at best can be used for industrial purposes. On most occasions, the treated water is released into Buckingham Canal, Adyar and Cooum rivers with TDS ranging from 800-1,000 mg per litre and faecal coliform measuring 5,500 MPN per 100 ml. Besides, there are two tertiary treatment reverse osmosis (TTRO) plants at Kodungaiyur and Koyambedu having a combined capacity of 90 MLD. Again, the water from TTRO is meant for industrial use.
"We made a conscious attempt not to use reverse osmosis membrane in new plants, which totally kills all the useful minerals in the water. Also, 4 kilo watts of power is consumed to produce 1,000 litres of water using RO technology while new plants will  only use 0.6 kw," an official said. For instance, Nesapakkam STP to Porur lake 10 MLD project is being designed and engineered without chemical additions and smart nitrogen removal control system following tertiary treatment plant, which consists of ozonation, sand filter, ultra filtration, activated carbon filter and ultraviolet at Nasapakkam. 
IIT-Madras has already successfully demonstrated the model. Its 4 MLD plant receives and treats the entire sewage the campus generates. Two groundwater wells dug up in a pond receive the treated water after ultra filtration and mix it with lake water. A water treatment plant at the lake treats water and it has been supplied inside the campus since 2017.. http://www.newindianexpress.com/states/tamil-nadu/2019/feb/17/recycle-and-reuse-plan-to-convert-260-mld-sewage-into-fresh-water-1939734.html (17 Feb. 2019)
GROUNDWATER
Maharashtra Central board study indicates depletion of groundwater  In a recent assessment of pre-monsoon water level for 2018 — the data for which has been compared with the decadal average (2008-2017) water level — the CGWB has found a decline in Maharashtra's groundwater level in around 53 per cent of the monitored wells. There has been a rise in the water level in the remaining 47 per cent of the monitored wells. The national average stands at a rise in 48 per cent of monitored wells and decline in 52 per cent.
The CGWB monitored a total of 1,632 wells in Maharashtra, of these 774 showed an increase, while 857 showed a decline in groundwater level over the decades average. In one, the level remained unchanged.
The study also noted nitrate contamination in at least 30 districts and presence of lead in about 19 districts across the state. Nitrate makes its way into groundwater primarily from fertilizers, septic systems and manure storage or spreading operations. Ingestion of such metals can damage the brain and nervous system and cause learning disabilities in children.
Studies have also indicated severe over-extraction of water in the state. As per the fourth Minor Irrigation Census, conducted in 2006-07, there were over 21.5 lakh wells and borewells across Maharashtra. The number of such wells, as per the first Census conducted in 1986-87, was just 5 lakh — indicating a four-fold increase in a period of less than 30 years. https://indianexpress.com/article/india/central-board-study-indicates-depletion-of-groundwater-presence-of-lead-and-nitrate-5581092/  (13 Feb. 2019) 
Telangana Groundwater overexploited in 65 villages– The groundwater department has identified 65 overexploited villages in the districts of Nagarkurnool, Jangaon, Siddipet, Karimnagar and Sangareddy where groundwater has been extracted by more than 100 per cent of the recharge capacity.
The department is now developing about 181 recharge shafts in five districts in the state. Of the 181 shafts proposed, 42 have been completed. Proposals have been sent to the govt for constructing 700 recharge shafts across the state in the second phase. Recharge shafts send the water directly into the ground making absorption easier.
According to recent reports for the month of December, 2018, 9.3 per cent of the state's area has groundwater reserves available at 20 metres depth from the bed ground level. In only 13.7 per cent of areas is the groundwater found at less than five metres depth. Attention is thus concentrated on the 9.3 per cent area for the recharge shafts. https://www.deccanchronicle.com/nation/current-affairs/130219/groundwater-overexploited-in-65-telangana-villages.html (13 Feb. 2019)
Uttar Pradesh Well's water turned white Khabar Lahriya report says that the well is the primary source of drinking water for the residents of Chitrakoot's Baktakhurd village, but local administration has not made a visit to investigate the matter. https://thewire.in/government/in-up-a-wells-water-turned-white-but-official-says-its-too-cold-to-inspect (15 Feb. 2019)
URBAN WATER
Kerala New pumpsets for Aruvikkara water plant The capacity of the 86 MLD water purification plant at Aruvikkara, which caters to the drinking water requirements of a large swathe of the Thiruvananthapuram city, is expected to be enhanced by August this year. Once the work is over, the pumping capability of the plant is expected to rise from 86 MLD to 96 MLD, catering to the increasing requirements of the city regions. The State govt had sanctioned ₹10 crore in the 2016-17 budget for the modernisation of this plant which meets the requirements of about 35 per cent of the city.
The renovation of the 72 MLD purification plant at Aruvikkara and the 36 MLD plant at Water Works, Vellayambalam, will also be completed by the end of this year, KWA said. By March, the 72 MLD plant is also expected to get dedicated power supply with underground power cables, reducing the chances of water supply disruptions due to power outages.
Every day, the city region requires approximately 270 MLD, according to the KWA. However, the demand is expected to rise in the coming years with the arrival of major infrastructure projects. Last week, Water Resources Minister K. Krishnankutty had announced KWA's plans to commission a new 75 MLD plant at Aruvikkara by 2020 and a permanent 100 MLD water treatment plant at Neyyar by March 2021. https://www.thehindu.com/news/cities/Thiruvananthapuram/new-pumpsets-for-aruvikkara-water-plant/article26298760.ece (18 Feb. 2019)
Karnataka Urban Water Challenge Workshop Hello Science Lab organizing one day workshop (27 & 28 Feb. 2019)  on Urban Water Challenges in Bengaluru: https://www.indiawaterportal.org/events/urban-water-challenge-workshop (13 Feb. 2019)
DELHI WATER
Delhi Delhi Govt planning 16 'natural STPs' to treat sewage entering Yamuna The report says that after positive results of a STP in Bawana which treats about 10 lakh sewage water daily through natural processes, the govt is planning to build 16 more such plants:-
– The STP, which is around 300m long and around 5m wide with concrete walls, comprises of a sedimentation tank where the sewage is allowed to stand for the total suspended solids to settle down. Water is then passed through four chambers and multiple compartments, which have beds of pebbles of various sizes. This stage filters the sewage. At least four species of fastgrowing aquatic plants feed on the organic matter in the water. Engineers are now planning to add another section to the STP — activated charcoal.
– "What goes into the STP is black-coloured highly polluted sewage water. And what comes out is clean water with a reduced level of BOD. The water isn't be potable though," said a senior irrigation and flood control department (I&FC) official.
– Water treated in the Bawana project is routed back into the Bawana escape drain. In the future, the engineer said, they could route it to a nearby water body from where it could be used for horticulture or recharging ground water. "We will float tenders soon to get Request for Proposal from consultants to come up with at least 16 such plants for as many drains," said the I&FC official.
– Out of the 40 STPs with an installed capacity of 607 MGD only 34 are reported to be functioning some with capacity utilisation as low as 14%," read the report submitted to the NGT. https://www.hindustantimes.com/delhi-news/delhi-government-planning-16-natural-stps-to-treat-sewage-entering-yamuna/story-KDuI10gvC2A0kqkm7wWkoO.html ( 12 Feb. 2019)
AGRICULTURE
SANDRP Blog Feb 2019 Hailstorm, Snowfall Affects Life in Northwest India This tries to capture the implications of Feb and Jan 2019 hailstorm and rain on farmers in Northwest India states. Feedback is welcome. https://sandrp.in/2019/02/12/february-hailstorm-snowfall-affects-life-in-northwest-india/ (12 Feb. 2019)
Hailstorm has impacted Wheat, Fenugreek, Black Gram, Coriander, Mustard and Lentils crops in the areas of Mandsaur, Neemuch, Dewas and Ujjain. https://www.skymetweather.com/content/agriculture-and-economy/in-pictures-rain-hailstorm-in-madhya-pradesh-damages-crops/ (14 Feb. 2019)
Andhra Pradesh In soil-stressed India, it's time to swap chemical pesticides for natural farming During the 1,600+ crop-cutting experiments conducted on ZBNF fields across Andhra Pradesh after the summer crop season in 2017, the average output per acre was higher in ZBNF fields for all major crops. Maize output per acre was 10 per cent higher, as was cotton's. Guli ragi output rose by almost 40 per cent and groundnut, chilli and black gram all by more than 20 per cent.
Anecdotal evidence from the farms showed better soil porousness and deeper root penetration, lower demand for water, formation of natural soil humus and a return of beneficial fauna. Further evidence of the benefits of natural farming came during Cyclone Titli and Phethai, which struck Andhra Pradesh's coast at over 100 kmph. Photos from ZBNF and non-ZBNF fields showed ZBNF crops withstood the storms better, resulting in better climate resilience both for the field and the farmer. https://www.eco-business.com/opinion/in-soil-stressed-india-its-time-to-swap-chemical-pesticides-for-natural-farming/ (8 Feb. 2019)
Farmers or corporates: Who benefits from Andhra Pradesh's natural farming project?  Legitimate questions about AP's Natural farming project.      https://scroll.in/article/909759/farmers-or-corporates-who-benefits-from-andhra-pradeshs-natural-farming-project       (14 Feb.2019)
Report Reseachers get AI help to map ecosystem, wildlife conservation Some interesting applications of Artificial Intelligence in environment and agriculture related areas. https://www.hindustantimes.com/environment/reseachers-get-ai-help-to-map-ecosystem-wildlife-conservation/story-ySwKqr2rAC4bmkR9JQVdyM.html (12 Feb. 2019)
FLOOD 2018
SANDRP Blog Can floods lead to drought? After the flood, severe drought looming over Kerala   Guest blog by: Madhusoodhanan C.G. and Sreeja K.G The state of Kerala experienced extreme precipitation events during the 2018 South West monsoon period with multiple episodes culminating in devastating floods across the state during 14th-18th August 2018.
This year, with an early onset of monsoons that dovetailed with strong summer showers, the state received about 41% excess rainfall (2394 mm against the normal of 1700 mm) during the period June 1st to August 22nd. The authors show that this is an example of failed disaster preparedness in Kerala in managing floods and droughts even with prior warnings.  Please read and share this path breaking analysis.  https://sandrp.in/2019/02/13/after-the-flood-severe-drought-looming-over-kerala/       (13 Feb.2019)
DROUGHT 2018
Study Worst droughts, famines in India due to lack of moisture A study that reconstructed droughts and famines across India over the last 146 years says lack of moisture in the soil for extended periods of time can be linked to some of the most devastating famines.
Previous attempts to study 18th and 19th century droughts have been limited to meteorological droughts caused by failure of rains. The latest study — by Indian Institute of Technology, Gandhinagar (IIT-Gn), University of California, and the India Meteorological Department, Pune — for the first time links decline in soil moisture to droughts and famines. It is important because groundwater, which can improve soil moisture during drought, is being depleted rapidly.
The study found that between 1870 and 2016 India witnessed seven major soil moisture droughts or agricultural drought periods (1876-1882, 1895-1900, 1908-1924, 1937- 1945, 1982-1990, 1997-2004, and 2011-2015) based on their analysis of severity, area, and duration. Three droughts in 1877, 1896, and 1899 were linked to El Nino when warm temperatures in the Pacific Ocean cause below-normal rains, but barring the famine of 1943, five major famines during 1873-74, 1876, 1877, 1896-97, 1899 were caused by large-scale and severe soil moisture droughts driven by June-September monsoon failures.
"Over exploitation and changing rainfall patterns have led to the depletion of groundwater, which is a threat to food and freshwater security. Lean-density rain over India, which is favourable for recharging groundwater, has declined in the last 30-40 years, and high intensity rainfall has increased," said Mishra. "Historically ground water has been the saver in times of droughts in most regions of India," said Mishra.
India is the world's largest user of groundwater extracting 250 cubic kilometres every year – more than one-fourth of the world total. The SANDRP estimates that ground water is vital for two-thirds of irrigated area, 85% of rural population and more than half of urban and industry. https://www.hindustantimes.com/india-news/worst-droughts-famines-in-india-due-to-lack-of-moisture-says-study/story-ibuzatJXVRhXrW47auWRRM.html (16 Feb. 2019)
Maharashtra Dry days ahead as Mumbai's water stocks down to 42% Even after implementing a 10 per cent water cut across the city, water stock in Mumbai's lakes is down to 42 per cent. As of Feb. 17 2018, it was 57 per cent. The summer is yet to even begin and already the available water is less than half. All of which means the possibility of more water cuts in the coming months is very real.
The city gets its water from seven lakes and dams, which have a collective storage capacity of 14.50 lakh million litres. If the lakes are full by October 1, the city, which uses 10 per cent of the stock each month, will get uninterrupted supply till July. However, as of October 1, 2018, the lakes only had 93 per cent water, forcing the Brihanmumbai Municipal Corporation (BMC) to declare a 10 per cent water cut. https://www.dnaindia.com/mumbai/report-dry-days-ahead-as-mumbai-s-water-stocks-down-to-42-2721211 (17 Feb. 2019)  
Fall in dam water levels raises concern Major and minor dams in Nasik district are now left with water at only 40 per cent capacity in storages across 23 structures. "The entire district had 26.146 thousand million cubic feet (TMC) of water in store, which is 40 per cent of 65.814 TMC capacity of the 23 storage structures put together. The situation is worrisome, but under control," a source at the water resources department (WRD) said.
In 2018 the availability of water at this time was 58 per cent (38.485 TMC) largely due to the district received 85% of annual rain against 106% in 2017. https://timesofindia.indiatimes.com/city/nashik/fall-in-dam-water-levels-raises-concern/articleshow/67947774.cms (12 Feb. 2019)
Tamil Nadu Is Chennai prepared for summer ahead? Drawing a bleak picture of water resources in Cheenai presently, the report warns of impending water crisis for the city, if timely actions are not taken:- 8 out of the 24 monitored wells have run dry in the first week of January, according to data from The Rain Centre. Water levels in 16 other wells in arterial corners such as Koyambedu, Saligramam, Chetpet, Kotturpuram, Chamiers Road have fallen by 5 feet (to 11 feet), adding to the ominous picture. 
The population of Chennai requires 830 MLD of water. However, the supply has been cut down to 550 MLD now, said a spokesperson of CMWSSB.  The four lakes/reservoirs  reported a combined storage of 893 mcft on 11 February, against 4,969 mcft recorded on the same day last year and 1542 mcft recorded on 11 February 2017, as per Chennai Metro Water records.
Chennai is blessed with hundreds of water bodies that can hold the key to recharging ground water. But, these lakes are encroached by various govt and private players, seriously affecting the water handling capacity of these water bodies. The current lake levels are 5.5 times lower than last year, and 1.7 times lower than 2017. Lack of a dedicated govt authority to maintain lakes within the city limits is seen as the biggest setback.
Rather than frantically opting for external sources such as Krishna water from Andhra, Chennai water authorities should look at strengthening the urban water bodies, say experts. "There are 1400 irrigation tanks in the newly proposed Chennai Metropolitan area of 8800 sq km. There is huge potential to tap water from these tanks by giving them a fresh lease of life," said S Janakarajan, retired professor, MIDS. http://chennai.citizenmatters.in/chennai-water-crisis-groundwater-lakes-rain-conservation-8797 (13 Feb. 2019)
Karnataka This summer, brace for a major water crisis A report from the State Govt shows that the live reservoir storage in Krishna and Cauvery basins is only 38 per cent and 44 per cent respectively, as on January 31. This has forced the State Govt to take a decision to use existing water in the reservoirs for drinking water purpose as the first priority, the report submitted by Revenue Minister RV Deshpande to the Union Agriculture Minister revealed.
The report stated that out of 3,611 minor irrigation tanks (MI) in the state, 43 per cent of tanks either have traces or are completely dry, and the remaining 57 per cent tanks have storage of about 30 per cent of their respective capacity. The poor storage in MI tanks due to persistent drought conditions has resulted in significant depletion of ground water in about 70 per cent area of the state also adversely affecting the water quantity and quality. https://bangaloremirror.indiatimes.com/bangalore/others/this-summer-brace-for-a-major-water-crisis/articleshow/67874023.cms (7 Feb. 2019)
ENERGY OPTIONS
Report 'Inkjet' solar panels poised to revolutionise green energy New, possibly game changer revolution in solar power: https://energy.economictimes.indiatimes.com/news/renewable/innovation-inkjet-solar-panels-poised-to-revolutionise-green-energy/67814756 (3 Feb. 2019)
SOUTH ASIA
India-Pakistan India shares with Pakistan data of 3 HEPs India has shared the design data of its three planned run-of-the-river hydropower schemes with Pakistan under the Indus Water Treaty. A few days ago, the Indian authorities shared the data with its Pakistani counterparts about Balti Kalan, Kalaroos and Tamasha hydropower projects which are planned to be constructed at Balti Kalan Nullah and Kalaroos Nullah at the Jhelum basin and Tamasha, a sub-tributary of the Indus river, respectively.
"These 5MW to 12MW projects are run-of-the-river projects that will be constructed in the bed of the rivers. The data they shared with us will be examined. If we find any objections, we will convey it to the Indian authorities within 90 days," Pakistan's Commissioner for Indus Waters Syed Mehr Ali Shah explained. https://www.dawn.com/news/1464148/india-shares-with-pakistan-data-of-three-hydropower-projects (16 Feb. 2019)
India-Nepal India proposes to construct Lower Arun Hydro Project Indian Power Minister has proposed to Nepal that India can develop the 400 MW Lower Arun hydropower project in Nepal on the same conditions as the development of 900 MW Arun III project is now being developed by SJVN. Nepal is yet to decide. https://thehimalayantimes.com/nepal/india-proposes-to-construct-lower-arun-hydro-project/  (12 Feb. 2019)
This report provides details of the outcome of the India Nepal meeting on sharing water resources and power. https://www.spotlightnepal.com/2019/02/09/nepal-india-water-resources-meet-trust-deficit/ (9 Feb. 2019)
International Rivers Report on Free flowing rivers of South Asia.  https://www.internationalrivers.org/sites/default/files/attached-files/free-flowing_rivers-the_soul_of_south_asia_0.pdf
Another International Rivers report on free flowing rivers across the world.  https://www.internationalrivers.org/sites/default/files/attached-files/free-flowing_rivers-sustaining_livelihoods.pdf
ASIA
Ayeyarwady River  'Our land is collapsing around us': Ayeyarwady at risk from rampant sand mining  Myanmar: Irresponsible sand mining in the Ayeyarwady River is destroying the livelihoods of farmers and fishers and placing environmental stress on the nation's rice bowl.
The farmers and fisher-people have been protesting before the Shwedaung Township office of the Directorate of Water Resources and Improvement of River Systems (DWIR). Detailed account.      https://frontiermyanmar.net/en/our-land-is-collapsing-around-us-ayeyarwady-at-risk-from-rampant-sand-mining  (16 Jan. 2019)
Cambodia Traditional fishing ceremony highlights empty nets syndrome Upstream dams lead to less fisheries…even traditional fishing festivals spreading joy feel the heat.   http://sea-globe.com/traditional-fishing-ceremony-highlights-empty-nets-syndrome/            (11 Feb.2019)
THE REST OF THE WORLD
HIDROITUANGO Dam update from Colombia Water slowly returns to 2nd largest river, but fears of dam break persist While Londoño has publicly insisted that the hydroelectric dam will be fully functional in two years, the reality is that the company could be forced to dismantle the $4 billion project if engineers find that the provisional operations of the last year have weakened the dam to the point it could collapse over time. Both the prosecutor General's Office and environmental authorities have begun investigations to determine whether corruption and mismanagement caused the emergency, the multi-billion losses and the environmental disaster.
– Tens of thousands of fish died on the dried-up banks of the Cauca River after Medellin energy company EPM shut the dam's water discharge last week before water in the reservoir had reached the height that would allow water to flow through the spillway. Many of the locals successfully rescued more than 400,000 fish after they were left on dry land. https://colombiareports.com/water-slowly-returns-to-colombias-second-largest-river-but-fears-of-dam-break-persist/ (11 Feb. 2019)
The politicians behind the Hidroituango dam debacle This report giving history of the Hidroituango dam in Colombia narrates how compromises have been made so many times to push the dam.   https://colombiareports.com/the-politicians-behind-the-hidroituango-dam-debacle/        (13 Feb.2019)
US Phoenix Prepares for a Future Without Colorado River Water How Phoenix with a population of  4.5 million in arid Arizona (Arizona population is 7.2 million) in US is preparing for the prospects of drying  up of water supplies from Colorado River (source of 40% of Arizona water supply through Central Arizona Project, Salt river provides the remaining 60% water), as lake Mead likely to hit dead storage, as early as in 4 years in a worst case scenario, as the most severe drought since 13th century time has gripped the region.
– This is the region where in 13th century, similar crisis destroyed the whole community: Then in 1276, tree ring data shows, a withering drought descended on the Southwest, lasting more than two decades. It is believed to be a primary cause of the collapse of Hohokam society. The people who had mastered farming dispersed across the landscape.
– Kathryn Sorensen, Phoenix's water services director is ready with emergency measures and thinks can survive on dead pool for generations.
– The Salt and Gila rivers also may someday be severely impacted by climate change. "They could be affected by a mega-drought," said Andrew Ross, a sociology professor at New York University and author of Bird on Fire: Lessons from the World's Least Sustainable City. "They are in the bullseye of global warming, too." Perennial streams could dry up and snowfall in Arizona's White Mountains could dwindle, as it has done in the Rockies, further depriving the rivers of a steady supply of water.
– Arizona was not using its full allotment of 2.8 million acre-feet from Colorado. So the water bank, a unique system of underground storage, was created in 1996 as a way to store Colorado River water that the state couldn't use. Arizona has since created seven water banks, largely in empty underground aquifers. A series of large pools has been built above the aquifers and, as water is pumped into them, it slowly leaches through a layer of gravel and rock and fills the aquifer. So far the water banks have cost the state $330 million, storing 3.6 million acre-feet in 28 sites across three counties — more than a year's worth of Colorado River water.
– One of the largest water banks is 40 miles west of Phoenix near the tiny town of Tonopah, Arizona. The nearly $20 million facility has 19 infiltration basins covering more than 200 acres. It was constructed alongside the Central Arizona Project canal, and a pipe delivers 300 cubic-feet-per-second of Colorado River water a day to fill the basins.
– Other things that have been done: Treated sewage is partly recycled (e.g. 20 Billion Gallons a year goes as cooling water for nuclear power plant) and partly sold to farmers and farmers in turn send 30000 acre feet of good quality water to the city; city has reduced per capita water use by 30% in 20 years (by charging more for the water use in summer). The city is preparing for a toilet to tap technology.
– But the city continues to grow and develop more big cities… the day, the experts say, is not  far when ZERO day a la Cape Town hits it. https://e360.yale.edu/features/how-phoenix-is-preparing-for-a-future-without-colorado-river-water  (7 Feb. 2019)
Bringing new life to Colorado Detailed report on some efforts being made by U.S. and Mexico to revive sections of Colorado river and restore vital riparian habitat for native plants, fish, and wildlife. https://e360.yale.edu/features/restoring-the-colorado-bringing-new-life-to-a-stressed-river
A toxic crisis in America's coal country The BBC story on how coal mine affected areas in US are suffering due to water pollution. Even US's environment governance and regulation can fail so spectacularly for US citizens. https://www.bbc.com/news/world-us-canada-47165522 (11 Feb. 2019)
Australia India Water + wisdom Australia India Catalogue   Parineeta Dandekar of SANDRP participated in this: The exhibition water+wisdom: Australia India (RMIT Gallery, 1 December 2017 – 10 March 2018) looked at the importance of natural waterways in our everyday lives, and explored how artists, writers, researchers and filmmakers in both countries continued to tell the story of the stewardship of water through creative activities.
You can listen to the podcast of the symposium where Parineeta spoke here: https://rmitgallery.com/digital/water-wisdom-australia-india-2/ ; https://issuu.com/rmit610/docs/20190201_water_wisdom_issuu
Report How drought affects freshwater fish Very informative piece on how fresh water fish species are getting affected and will respond to the rapid climatic changes which is making droughts more common and severe.
– In the face of climate change we are frequently witnessing almost entirely dry river beds with barely enough water to support fish and other aquatic life. Dry conditions and water removal are leaving little space for the animals that depend on these freshwater systems.
– We still don't know what the long-term effects of this newly drought-stricken world will be. If fish are repeatedly challenged by droughts, how will they respond? In many places we need to start studying the fish communities now to establish a starting point so that we can make effective comparisons when drought does come.
– But by the time we have the information, it may be too late to change the way we manage our rivers, streams and lakes. Agencies and people that manage these bodies of freshwater must be proactive to protect flows and water levels. Protecting fish means protecting livelihoods and food security for the many people that rely on fisheries.
– Climate change will challenge our ability to maintain healthy freshwater ecosystems, but it must be one of our most ardent priorities. Managing flows in rivers with the goal of maintaining ecological flows is critical to mitigating the impacts of drought. Researching drought and maintaining healthy freshwater fish communities will go a long way towards ensuring that we are protecting this resource even through this turbulent new era. https://theconversation.com/how-drought-affects-freshwater-fish-109781 (4 Feb. 2019)
Australia Scientists say mass fish kill due to over-extraction, drought Its also good to see a committee constituted so soon, immediately working on fish kills and which can talk of water for riverine ecosystems even in this drought. No time is late.
A scientific panel investigating the causes of three mass fish deaths at the Menindee lakes has pointed the finger squarely at those managing the Murray-Darling river system, saying the lack of flows was caused by a combination of drought and over-extraction, leading to the environmental disaster.
Up to one million native fish, including hundreds of thousands of small bony bream Murray cod, up to 20 years old and silver perch were killed in the three events. While there had been other fish kills during droughts, these were on an unprecedented scale, the report found.
"The conditions leading to this event are an interaction between a severe (but not unprecedented) drought and, more significantly, excess upstream diversion of water for irrigation," the panel of scientists convened by the Academy of Sciences said. "Prior releases of water from Menindee Lakes contributed to lack of local reserves."
""As a result of water resource development in the Barwon-Darling and its tributary catchments, maximum dry periods between low flow events have doubled and are sometimes 10 times longer, severely stressing ecosystems." https://www.theguardian.com/australia-news/2019/feb/18/the-darling-will-die-scientists-say-mass-fish-kill-due-to-over-extraction-and-drought (18 Feb. 2019)
Rivers dry, elders despair  Indigenous People in Australia and their Rivers. This is what a drought looks like: In Australia, in Marathwada, in Vidarbha, in Mexico.
"For a lot of my people here, when we've got no water in our rivers, it feels like we're drained as well."
"It's like a library. The river is a quiet space. Those trees are like books, full of stories of the place, it's a place of knowledge. It's where you look for quietness."
""The river has a responsibility not just to us, but to plant and animals. It has a right to connect up to other waters."
"These veins off the Murray-Darling are just as important as the river. The water has got a memory. It lives in a cycle. Everyone's pulling the water out, so it's just not coming here."https://www.theguardian.com/australia-news/2019/jan/22/murray-darling-river-aboriginal-culture-dry-elders-despair-walgett (22 Jan. 2019)
Slovenia Minister Moves to Cancel 8 HEP along the Mura River Slovenian Minister of the Environment Jure Leben's decree will create long-term protection for the Mura River running along the Slovenian-Austrian border. http://wwf.panda.org/knowledge_hub/where_we_work/black_sea_basin/danube_carpathian/ (16 Feb. 2019)
Switzerland Zurich voters veto water supply privatisation Zurich votes reject proposal to privatise water utilities: https://www.swissinfo.ch/eng/cantonal-votes_zurich-voters-veto-water-supply-privatisation-/44744208 (10 Feb. 2019)
CLIMATE CHANGE
Report Another Looming Climate Disaster: Dam Collapses  Expect MORE DAM DISASTERS in changing climate. What is said here about California dams is also applicable to dams around the world, and dams in India.
– Major dams in California are five times more likely to flood this century than the last one due to global warming, a new study finds, possibly leading to overtopping and catastrophic failures that threaten costly repairs and evacuations. That means Californians can expect more disasters like the Oroville Dam, whose overflow channel failed in 2017 after days of flooding had filled state reservoirs to 85% of their capacity, leading to the evacuation of more than 180,000 people and losses of around $300 million.
– In June, an analysis led by UCLA researchers concluded the Oroville Dam spillway overflow was worsened by climate change. The results of the new Geophysical Research Letters study suggest that there are at least six other major dams in California that have an even higher potential flood risk than the Oroville Dam did, study author Amir AghaKouchak of the University of California, Irvine, said. "The Oroville Dam shows what the chances of these failures look like, and might become the new normal." https://www.buzzfeednews.com/article/danvergano/california-dams-climate-change    (13 Feb.2019)
Sundarbans Climate change could wipe out Bengal tigers in 50 years Sundarbans the iconic Bengal tiger's last coastal stronghold and the world's biggest mangrove forest – could be destroyed by climate change and rising sea levels over the next 50 years, scientists say.
– "Beyond climate change, the Sundarbans are under growing pressure from industrial developments, new roads, and greater poaching," said Bill Laurance, a professor at the James Cook University in Australia. "So, tigers are getting a double whammy – greater human encroachment on the one hand and a worsening climate and associated sea-level rises on the other," he said.
Spanning more than 10,000 sqkm, the Sundarbans region of Bangladesh and India is the biggest mangrove forest on Earth, and also the most critical area for the endangered Bengal tiger, researchers said. https://timesofindia.indiatimes.com/home/environment/flora-fauna/climate-change-could-wipe-out-bengal-tigers-in-50-years/articleshow/67985277.cms (14 Feb. 2019)
Karnataka Wetland invasion is a reason for climate change   The invasion of wetlands is one of the reasons for the climate change, according to K Umamaheshwara Rao, Director of National Institute of Technology Karnataka (NITK). Inaugurating a workshop on 'wetlands and climate change', jointly organised by the College of Fisheries, Mangaluru, and the Karnataka Science and Technology Academy, Bengaluru, in Mangaluru on Feb 12, 2019, he said that nearly 0.5 per cent of the fresh water is captured in wetlands in the earth.
– Referring to the flood-like situation in Mangaluru on last year May 29, G Santhosh Kumar, Assistant Commissioner (Revenue), Mangaluru, said some stretches of storm-water drains in the city were closed due to encroachment and other factors. That was one of the reasons for the flood-like situation on that day. https://www.thehindubusinessline.com/news/wetland-invasion-is-a-reason-for-climate-change/article26252132.ece         (12 Feb.2019)
Study Himalayas hold less water than previously estimated  A new study on ice thickness of glaciers has estimated that glaciers in the Hindu Kush Himalayas might contain 27% less ice than previously suggested. Not just this, the region is expected to lose half of its present-day glacier area by 2060 and not 2070 when calculations are made based on the new thickness estimates. The warning comes in an international study on the world's glaciers published in journal Nature Geoscience.
In the new study, researchers used a combination of five thickness estimation models to provide an estimate for the ice thickness distribution of 215,000 glaciers outside the Greenland and Antarctic ice sheets. "Our results indicate that High Mountain Asia hosts about 27% less glacier ice than previously suggested, and imply that the timing by which the region is expected to lose half of its present-day glacier area has to be moved forward by about one decade," the study has concluded. https://weather.com/en-IN/india/news/news/2019-02-13-himalayas-hold-less-water-than-previously-estimated-study (13 Feb. 2019)
ENVIRONMENT
National SC seeks report on action taken against tribals who lost claim to forests The Supreme Court has ordered states to report what action they have been taken against tribals and forest-dwellers whose claims to forestlands have been rejected under the Forest Rights Act. The court's February 13 order came in a case filed by wildlife groups demanding that people whose claims have been rejected under the law be treated as encroachers and evicted from forestlands.
If the court accepts the plea of petitioners, state governments would have to undertake mass evictions. The union ministry for tribal affairs estimates that by the end of November 2018, out of the 4.2 million claims received, 1.94 million claims have been rejected. As many as 1.89 million claimants have actually got titles over their traditional forestlands. https://www.business-standard.com/article/current-affairs/sc-seeks-report-on-action-taken-against-tribals-who-lost-claim-to-forests-119021401242_1.html (14 Feb. 2019)
Report  India and China greening faster  The word greening is clearly misleading, as most of the additional area is crop land, some of it in fact would have come at the cost of forests, wetlands and water bodies.
https://www.thehindubusinessline.com/news/science/surprise-india-and-china-are-greening-faster-than-rest-of-the-world/article26248172.ece    (12 Feb.2019)
Compiled by SANDRP (ht.sandrp@gmail.com)
Also see: DRP News Bulletin 11 Feb. 2019 & DRP News Bulletin 4 Feb. 2019
Follow us on: www.facebook.com/sandrp.in; https://twitter.com/Indian_Rivers