GOVERNMENT EFFORTS
Auction in, 185 mining applications cancelled in Rajkot With the Gujarat Minor Mineral Concession Rules, 2017 coming into force, paving the way for public auction, the Rajkot District Collector, in Feb. 2018 declared 185 applications seeking lease concessions for mining sand, black trap and building limestone in the district ineligible.
As per Avinash Akolkar, in-charge geologist of Rajkot, these applications were received over the last two years, but were pending for various reasons, including opinion of revenue authorities. In the meantime, the state government notified the Gujarat Minor Mineral Concession Rules, 2017. These new rules provide for allocation of blocks of minor minerals also through public auction and thus confirm to Supreme Court directions. Therefore, the applications which sought allocation of lease concessions on first-come-first-serve basis but were pending have been declared ineligible. https://indianexpress.com/article/cities/ahmedabad/auction-in-185-mining-applications-cancelled-in-rajkot-5056855/ (9 Feb. 2018) 
Sabarmati River Bee-eater habitat being devastated by sand miners In May 2018, the sand miners were found destroying large habitat and nesting site of the blue-cheeked bee-eaters (Merops persicus), along the Sabarmati River banks behind Indroda Fort in Gandhinagar. Tractor trailers were frequently visiting the spot, which was just a few hundred metres behind the ministerial enclave and governor's bungalow. https://timesofindia.indiatimes.com/city/ahmedabad/bee-eater-habitat-being-devastated-by-sand-miners/articleshow/64101442.cms (10 May 2018)
CM launches 'Trinetra' a drone surveillance project In order to keep a tab on illegal sand mining activity happening on 60 km of "sensitive" Sabarmati riverbed in the districts of Ahmedabad, Gandhinagar and Sabarkantha, CM Vijay Rupani, in May 2018, launched a drone surveillance project. This is the first time the state govt is using drones with "night-vision" to check illegal mining. The official said that the drone can fly at a speed of 50 km per hour, can zoom in on vehicle numbers and persons driving the vehicles.
"Silicon IT Hub Pvt Ltd will be providing us with the surveillance services and we will paying Rs 10.50 lakh per month for 50 hours of surveillance. It is a one year project," said Roopwant Singh, the Commissioner of Geology and Mining department while inaugurating the project. Sand-mining on the stretch between Ahmedabad and Gandhinagar was stopped since 2016 and declared as a sensitive zone, officials said.
The project will gradually cover the state's entire geographical area of about 200,000 sq. km, beginning with sensitive zones. It will be gradually extended to water supply, roads and buildings and other departments. Rupani said the pilot project will first be introduced for surveillance of riverbed sand mining on the riverbeds of bigger rivers like the Sabarmati, Orsang, Tapi and Bhadar. He also said that performance evaluation of various departments was done by the state govt and it was found that illegal sand mining was a huge menace. https://www.news18.com/news/india/trinetra-gujarat-cm-rupani-launches-drone-based-surveillance-to-check-illegal-sand-mining-1755161.html, http://indianexpress.com/article/india/drones-with-night-vision-launched-for-surveillance-against-illegal-mining-on-sabarmati-river-bed-5185768/, https://www.livemint.com/Politics/JAvd7hfEpyAfPvJzUTFKhI/Gujarat-govt-deploys-drones-to-keep-tabs-on-illegal-mining.html, https://timesofindia.indiatimes.com/city/ahmedabad/gujarat-cm-launches-trinetra-drones-to-track-illegal-mining/articleshow/64260044.cms (21 May 2018)
Govt keen on drones with night-vision to track illegal sand mining  8 months after its launch, the government's UAV (Unmanned Aerial Vehicle) surveillance project to track illegal sand mining across the riverbeds has reported 48 per cent success. However, with most of the missions returning unsuccessful due to difficulty in operating after dusk, the Geology & Mining Department is now looking to source drones with infrared capability. In the 22 successful missions, the dept has imposed a penalty of Rs 13.96 crore and filed four FIRs.
According to officials, the UAV missions were flown after the department received "intelligence" about illegal mining happening on the river-beds. However, most of the missions returned without success, especially from the Sabarmati riverbed, as most of the mining activity is happening during the night, officials said. To combat these issues, the department is planning to get drones with infrared vision. Apart from surveillance of the river beds and mines, the department is planning to conduct a volumetric analysis of the pits that have already been dug by illegal miners in the rivers. Sabarmati river will be the first where such a volumetric analysis is being planned. https://indianexpress.com/article/cities/ahmedabad/government-keen-on-drones-with-night-vision-to-track-illegal-sand-mining-5536206/  (13 Jan. 2019)
Govt's claims of drone surveillance fall flat The detailed report by First Post revisits the attack on RTI activist Nayan Kalola in June 2018 and reveals illegal sand mining in Bhadar, Orsang rivers by sand mafia in connivance with govt officials.
Jawahar Chavda and Lalit Vasoya, two Congress MLAs in Gujarat, alleged that the illegal sand mining is the result of a nexus between various departments of the govt, including the police, the mining and geology department and the road transport wing.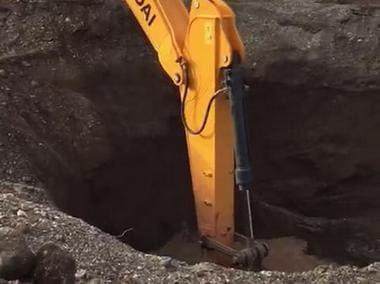 Vasoya, the MLA from Dhoraji in Rajkot district, who is running a campaign against pollution and illegal sand mining in Bhadar river said that despite raising the issue in the state Assembly and on other forums, the menace was going unabated due to nexus between police and other departments and the sand mafia. "From Bhadar alone as per our estimates at least 400 trucks loaded with at least 40 tons of sand is illegally mined and transported every day," he alleged.
Local reporters in tribal dominated Chhota Udepur district reports of same situation in Osrang river. "The sand mafia is very powerful. They threaten those that oppose them with death or implicate them in legal proceedings, including cases under Prevention of SC/ST Atrocities Act. Nobody speaks against them because the police hardly ever does anything. For a tractor load of sand, they pay roughly Rs 2,000 and earn Rs 5,000-6,000. This costs the state govt hundreds of crores" he alleged. https://www.firstpost.com/india/illegal-sand-mining-part-ii-gujarat-governments-claims-of-drone-surveillance-deterring-mafia-fall-flat-5992381.html (30 Jan. 2019)
Attack on Activist Farmers' tempers soar in Vanthli The farmers' protest against sand mining from Ojat River near Vanthli in Junagadh district turned violent on June 4 after their leader was abducted, brutally thrashed and dumped by the roadside.At least 3 policemen were injured in stone-pelting even as 7 teargas shells were lobbed as the situation spiralled out of control. Angry farmers jammed the Rajkot-Somnath highway, burnt tyres on the road and targeted a state transport bus too. The mayhem continued for nearly 2 hours in the morning.
Everything was normal till the morning even as the farmers' group had given a call for Vanthli bandh to demand cancellation of leases given for sand mining from the river. However, trouble began when Nayan Kalola, a farmer leading the agitation, was abducted in full public view from the place where he was sitting on dharna by four persons who came in a car.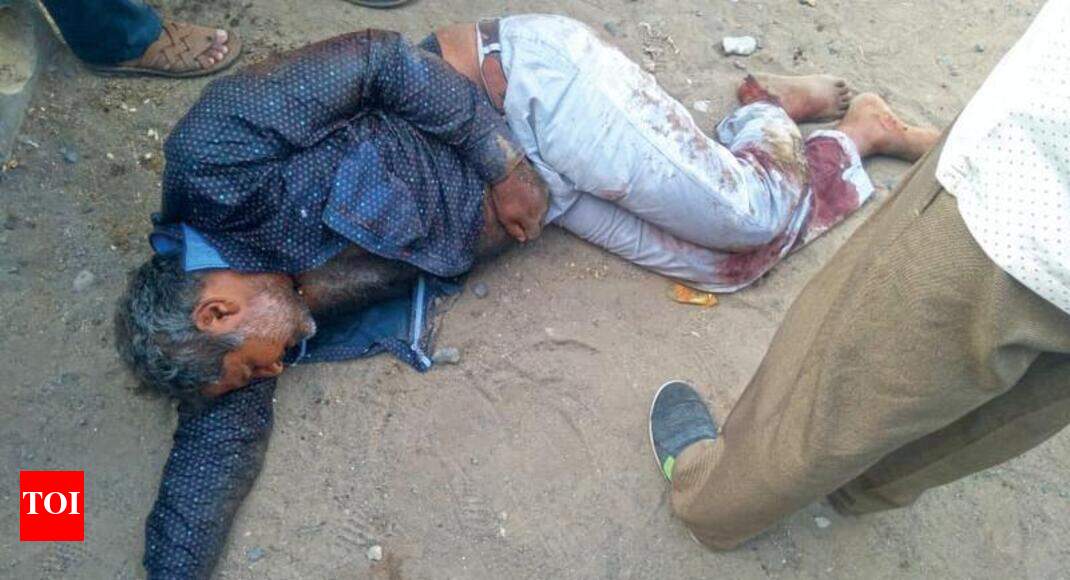 Kalola was brutally thrashed and then dumped by the roadside near Shapar village adjoining Vanthali. He was rushed to a private hospital in Junagadh and he is reported to have suffered a fracture in the leg and hand. The issue over sand mining had been raging in this area for quite some time now. Farmers claimed that their fields were affected due to constant digging in the river. They had represented to the mamlatdar and govt geologists two months ago but to no avail.  https://timesofindia.indiatimes.com/city/rajkot/farmers-tempers-soar-in-vanthli/articleshow/64453811.cms (5 June 2018)
Day after violent farmers' protest, Vanthli town of Junagadh district observed a complete shut down even as a company of SRP was deployed to avoid escalation of tension. The bandh had evoked wide response as all the markets in the municipality town and the marketing yard remained closed. The local traders had also extended support to the bandh call. Collector Junagadh Saurabh Parghi had by an interim order stopped the sand mining day on June 4. The bandh continued on June 5 demanding the arrest of attackers of Kalola. The protesters have given an ultimatum of group suicide in the collector office on June 29 if the sand mafias were not taken to task and the sand mining not stopped completely. http://deshgujarat.com/2018/06/06/life-in-vanthali-return-to-normalcy-after-bandh-against-sand-mining/, https://timesofindia.indiatimes.com/city/rajkot/total-bandh-in-vanthli/articleshow/64470731.cms (6 June 2018)
The Local Crime Branch of Junagadh police nabbed 2 persons on June 7 and 3 persons on June 8 in the case of abduction and attack on RTI activist Nayan Kalola. http://deshgujarat.com/2018/06/08/3-more-accused-of-anti-sand-mining-rti-activist-abduction-and-attack-case-nabbed/ ( 8 June 2018)
Orsang River Sand Mining Mining leases around Orsang River suspended The district administration of Chhota Udepur in Feb. 2018 suspended 11 sand mining leases in Orsang River at Ahladpura village in Bodeli taluka as the mining activities in the river had posed danger to aqueduct of main Narmada canal passing from there. The Narmada Nigam authorities had written to the district collector to cancel the mining leases in the Orsang River as the activities had increased the depth of the river bed, exposing the foundation piles of the aqueduct, which passes over the Orsang River. https://timesofindia.indiatimes.com/city/vadodara/sand-mining-leases-around-orsang-river-suspended/articleshow/63071768.cms (26 Feb. 2018)
Sand excavating machines seized in Orsang river In April 2018, mines and minerals department of Chhota Udepur raided an illegal mining site in the riverbed of Orsang at Bamroli village in Bodeli taluka. Seeing the officials of the department, the operators of the machines fled away. The machines were seized and taken to Bodeli police station where a complaint was given by the department officials. https://timesofindia.indiatimes.com/city/vadodara/sand-excavating-machines-seized-in-midnight-raid/articleshow/63672663.cms (9 April 2018)
Illegal sand mining racket busted in Chhota Udepur District collector of Chhota Udepur raided sand mines in Bodeli in the early hours of Dec. 18 and seized six excavating machines for illegal mining activity and held one person. This was the third raid within a week by the team led by district collector on illegal sand mining activity that is rampant in the Orsang riverbed. On Dec 14 & 15 too raids were conducted at Puniyavant and Jabugam villages in the wee hours, seizing thirteen trucks and one sand excavating machine. https://timesofindia.indiatimes.com/city/vadodara/illegal-sand-mining-racket-busted-one-arrested/articleshow/67152413.cms (19 Dec. 2018)
Sand mining even damaged aqueduct of Narmada canal The mining activities did not stop even in Jan. 2019, posing danger to the aqueduct of Narmada main canal that crosses over the Osrang river in Bodeli. The depth of riverbed had increased due to which some of the foundation pillars were even damaged in 2018.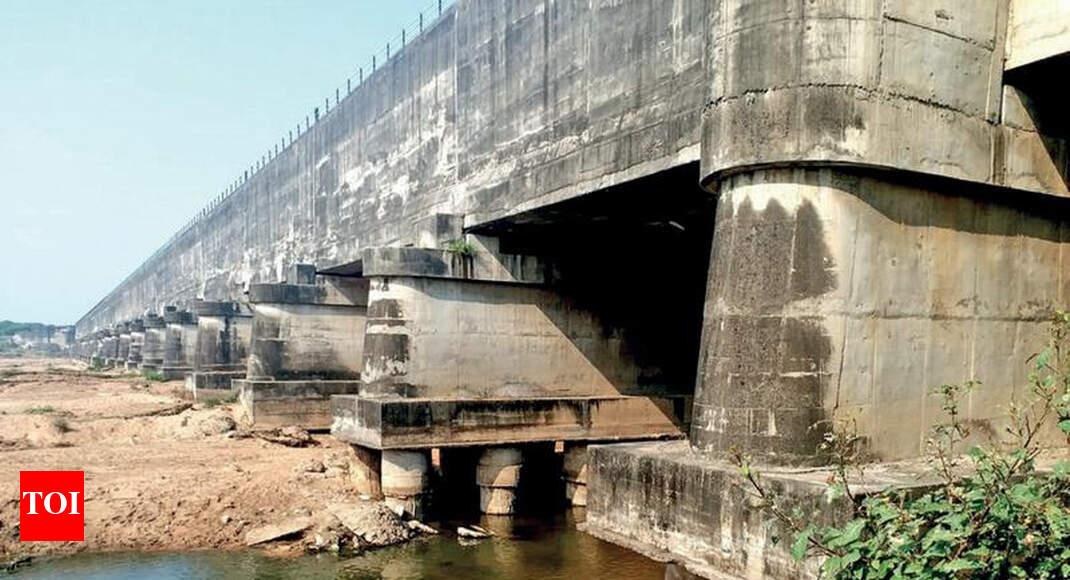 The Sardar Sarovar narmada Nigam Limited (SSNNL) had then asked Gujarat engineering Research Institute to undertake study about the feasibility of building a weir or boulder wall in the riverbed to protect the aqueduct from any damage. It was surprising that instead of curbing illegal sand mining, Govt planned building weir in Osrang river to protect Narmada canal. https://timesofindia.indiatimes.com/city/vadodara/sand-mining-even-damaged-aqueduct-of-narmada-canal/articleshow/67355928.cms  (3 Jan. 2019)
Vadodara man shot dead over sand mining dispute A 45-year-old man was shot dead over dispute related to sand mining late on Jan. 1, 2019 night. According to complainant, Zabeer Rathwa, villagers of Motikanas village and Khadakwada village close to Madhya Pradesh-Gujarat border in Chhota Udepur have been at loggerheads with each other regarding the limits of the river bed of Orsnag river, cutting through both the villages. https://indianexpress.com/article/cities/ahmedabad/vadodara-man-shot-dead-over-sand-mining-dispute-5520845/ (3 Jan. 2019)
Tapi River Vehicles seized carrying mining in Tapi river On June 23, 2018, a team of ACB carried out surprise checking of sand mining from Tapi River near Ghasiyameda village and seized vehicles suspected to be involved in unauthorized mining. https://timesofindia.indiatimes.com/city/surat/acb-carries-out-surprise-inspection-at-sand-mining-site/articleshow/64578515.cms  (23 June 2018)
6 arrested for illegal sand mining ACB team in Surat has arrested former royalty inspector of geology and mining department in Tapi district for causing a loss of over Rs 1 cr to the govt exchequer in an unauthorized sand mining from the river. Police booked five others along with royalty inspector Bhavesh Korat for adding the racket of illegal sand mining.  https://timesofindia.indiatimes.com/city/surat/acb-books-six-for-illegal-sand-mining-from-river-tapi/articleshow/65234982.cms  (2 Aug. 2018)
The Hindi report of 7 Jan. 2019 shows illegal sand mining in Tapi river was recorded by the drone. https://hindi.oneindia.com/videos/in-gujarat-drone-deployed-for-monitoring-of-sand-and-miningmafia-at-tapti-river-basin-372760.html (7 Jan. 2019)
Mahi River 2 booked for illegal sand mining  In July 2018, 2 persons were booked for illegal sand mining on a private land in Desar taluka.  The department officials seized the excavating machine and got the case registered against Parmar and Lala. Police said that although the mining activity was taking place in a private land, the duo had violated Gujarat Mineral (Prevention of Illegal Mining, Transportation and Storage) Rules. https://timesofindia.indiatimes.com/city/vadodara/two-booked-for-illegal-sand-mining-on-pvt-land/articleshow/64847604.cms (4 July 2018)
Goma River 4 labourers killed in Vadodara district after embankment collapses  Four labourers were killed when an embankment collapsed on them near the bank of the Goma river in Vadodara district in July 2018. They were allegedly loading illegally mined sand when the embankment gave way, a police official said.
The incident took place in Savli tehsil. The police have filed a case of accidental death and conducted an autopsy. A village sarpanch named Jayesh Bakrola claimed that he had complained about illegal excavation being carried out at the farm last week, but no action was taken. https://scroll.in/latest/883704/gujarat-four-labourers-killed-in-vadodara-district-after-embankment-collapses (22 July 2018)  
Dhatardi river Massive mining racket busted in Amreli  Amrelli police busted a massive illegal sand mining in the middle of the corridor for Asiatic lions along the Dhatardi river in Rajula Taluka in July 2018. Following this, 7 persons were arrested for lifting sand from this eco-sensitive zone. The racketeers had approximately mined sand worth at least Rs 52 crore over the last 7-8 months. The collector had assigned survey work to a team of geologists, based on whose report this emerged.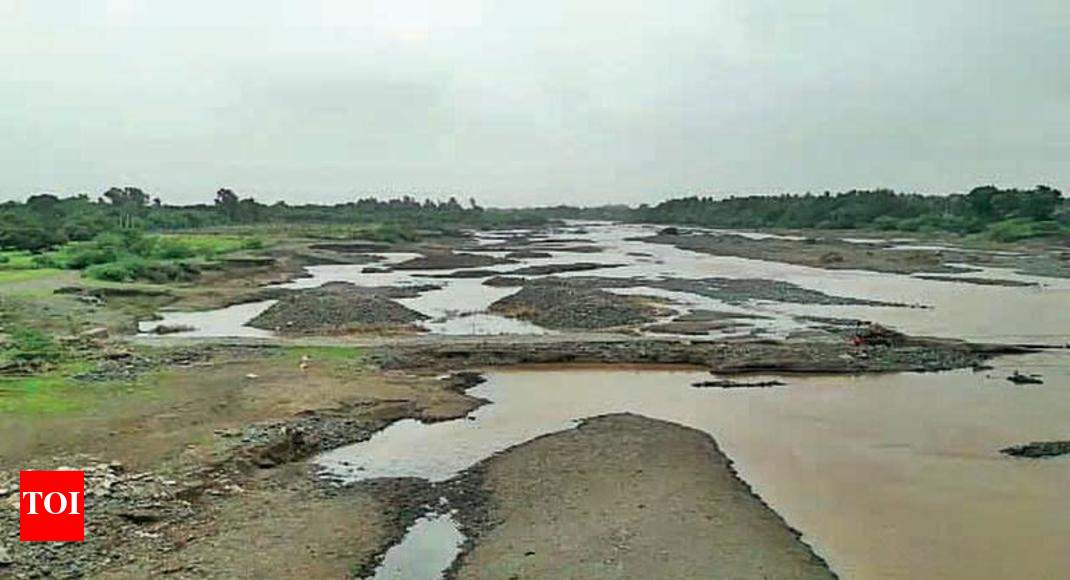 During the survey by the geologists on July 4-5 on the stretch from Vad to Khakhbai villages, they found that sand had been illegally excavated from an area of 7.68 lakh sq metres. Nearly 22 lakh metric tonnes of sand, valued at Rs 240 per tonne, had been mined. Amreli's top police officer said that this was the biggest sand mining scam unearthed in state in the recent past. As per the police, this was only the tip of the iceberg, as many more people are likely to be arrested during the course of investigation. Police suspected the mining mafia was flourishing in many other places in the district.  https://timesofindia.indiatimes.com/city/rajkot/massive-sand-mining-racket-busted-in-amreli/articleshow/65170364.cms  (28 July 2018)
9 held for illegal sand mining of Rs 52 cr Police in Amreli arrested nine persons and seized five vehicles in connection with illegal sand mining in Dhatarvadi river. Dashrath Chaudhary, a local supervisor in Mines and Mineral Department, had filed a complaint with Rajula police station alleging illegal sand mining from Dhatarvadi river. https://indianexpress.com/article/cities/rajkot/gujarat-nine-held-for-illegal-sand-mining-of-rs-52-crore-5282283/  (30 July 2018)
Auranga River Raids at Valsad dam site reveal rampant illegal sand mining  The Mines and Mineral Department officials of Valsad on Dec. 29 carried out raids at Valsad Nagar Palika-run water works and found that sand-mining activities were in progress near the dam built on Auranga river. The officials demanded documents from a person present at the spot, Kalidas Mangela, who failed to submit the necessary papers following which they seized six pipes, two boats, and other equipment, all worth Rs 3 lakh. Valsad Nagar Palika had given contract to a private agency a few days ago to carry out cleaning work of the dam and water works so that the water-carrying capacity of the dam increases. https://indianexpress.com/article/cities/ahmedabad/ahmedabad-raids-at-valsad-dam-site-reveal-rampant-illegal-sand-mining-equipment-seized-5515451/ (30 Dec. 2018)
Summary The above media reports suggest that there were many incidents of illegal mining in the rivers of Gujarat state including Sabarmati, Orsang, Tapi, Auranga, Mahi, Dhatardi and Gama Rivers.
The illegal sand mining in the Orsang river has even damaged the aqueduct of Narmada canal in Bodeli taluka. The violent incident over sand mining in same river led to murder of a villager in Chhota Udaipur in Jan. 2019. Similarly in July 2018, the collapse of embankment of Goma river also killed four labours in Vadodara district while carrying illegal sand mining.
In 2018, on one hand, the rampant sand mining incidents in Sabarmati river posed threat to Bee Eater birds' habitats and on the other, the organized sand mining rackets have been destroying Asiatic Lions habitats along Dhatardi river.
To curb the illegal sand mining the state government is seen relying on technology alone. In the May 2018 the Chief Minister himself launched the Trinetra a drone surveillance project to monitor illegal sand mining initially in Sabarmati, Orsang, Tapi and Bhadar. Government plans to expand the project over entire state, beginning with sensitive zones. The latest report shows that the drone project have not been much successful in checking illegal mining in Sabarmati river as most of the mining activity was happening during the night. However, the govt is planning to get the drones with infrared vision to tackle the issue.
The repeated illegal sand mining in Orsang river shows how little the government has done to stop such activities, even when it is damaging the Narmada canal aqueduct.
Compiled by Bhim Singh Rawat (bhim.sandrp@gmail.com)
You may also like to see
Punjab Sand Mining 2018 Overview: SAD SAGA OF STATE FAILURE
Rajasthan: SC Banned Riverbed Mining through 2018: Centre & State Show No Concern
Uttar Pradesh Sand Mining 2018: Key NGT orders slap for MoEF
Madhya Pradesh Sand Mining 2018: Unprecedented Violence by Sand Mafia