Madhya Pradesh is one of the worse affected states as far as illegal sand mining is concerned. Over the years unsustainable sand mining has caused great damage to Narmada and its tributaries. The Ken, Betwa, Sindh, Chambal and Son rivers which join Yamuna and Ganga rivers has also been facing severe threats from ongoing illegal sand extraction.
Even in 2018, there was no significant improvement in this regard. There were attacks on govt officials and media persons for exposing illegal sand mining. The state govt failed to stop the illegal sand extraction. 
Sand mafia tries to kill IFS officer in Chhattarpur In Feb. 2018, the sand mafia tried to kill an Indian Forest Service (IFS) officer Abhishek Tomar in Chhattarpur district. The mafia first tried to crush him under tractor, but when he escaped, he was fired at.
This was not an isolated incident and policemen were routinely attacked. Only a week earlier, in Chhattarpur, sand mafia tried to kill a tehsildar who stopped them from carrying out illegal mining in Urmil river. In Dec. 2017, sand mining gangsters fired over 100 rounds at a task force, and a constable was run over by a dumper and killed in April 2015. In 2016, a forest guard was crushed to death under a sand-laden tractor in Gwalior. https://timesofindia.indiatimes.com/city/bhopal/sand-mafia-tries-to-kill-ifs-officer-mps-chhattarpur/articleshow/62844747.cms (9 Feb. 2018)
Journalist probing illegal sand mining cases mowed down by truck On March 26, 2018, a journalist Sandeep Sharma investigating illegal sand mining cases in Bhind was run over by a truck. The 35-year-old stringer had even complained to the police about a threat to his life before the incident occurred.
Sharma had filed a story with a national news channel, accusing the officer in question of being involved with the sand mafia. The incident took place near Kotwali police station, but the police still took 15 to 20 minutes to respond. https://www.firstpost.com/india/madhya-pradesh-journalist-probing-illegal-sand-mining-cases-mowed-down-by-truck-shivraj-singh-chouhan-vows-action-4406047.html (26 March 2018)
Police work hand in glove with illegal miners This report describes the ordeal of a village youth from Sitapur village in Anooppur district, who objected to illegal sand mining in Son river. He was threatened and beaten by the people involved in the mining and the local police instead of helping, also threatened the youth for raising his voice.  https://www.thelallantop.com/news/anuppur-police-misbehaved-with-shantanu-who-tried-to-expose-illegal-mining-in-son-river-of-madhya-pradesh/ (9 May 2018)
Sand mafia attacks NBA activists, cops refuse to act In June 2018, stone pelting greeted activists associated with, Narmada Bachao Andolan (NBA), on the Badwani – Nisarpur state highway, near Rajghat, when they tried stopping 3 tractors filled with sand, allegedly being smuggled from the Narmada river. The incident happened soon after two of the activists, Rohit & Raja, tried calling the Badwani police station to visit the spot. https://www.counterview.net/2018/06/sand-mafia-led-by-bjp-corporator-attack.html (13 June 2018)
Forest ranger mowed down in Morena A Deputy ranger Subedar Singh Kushwaha was crushed to death when he tried to stop a tractor laden with illegally-mined sand in Morena district on Sept. 7. He was on duty at the forest department post near Ghirona temple in Morena, when the incident took place.
The mining mafia in Chambal region have often targeted police, forest or revenue officials who try to stand in their way. In 2017, IAS officer Sonia Meena was threatened at gun point by illegal miners when, as a SDM in Chhattarpur district, she made a bid to check illegal mining in Betwa river. Later, she faced a death threat and complained to chief secretary BP Singh.
In 2016, Narender Sharma, a forest guard who had tried to stop a tractor trolley, was run over by the vehicle. In 2015, a constable Dharmendra Chauhan was run over by another vehicle carrying illegally mined sand when he tried to stop it. In March 2012, IPS officer Narendra Kumar was crushed to death by a tractor-trolley carrying illegally mined stone in Banmore in Morena when he tried to stop the vehicle. https://www.hindustantimes.com/india-news/forest-officer-crushed-to-death-while-trying-to-stop-tractor-with-illegally-mined-sand-in-mp/story-TRtxbmX6HQtkCGjp0ald8M.html  (7 Sept. 2018)
A 35-year-old man was arrested for allegedly running over and killing the Forest Department officer. Police managed to zero in on accused Devendra Gurjar after scouring the CCTV footage of the area. Gurjar even opened fired at the police in an attempt to escape when they reached Dhanala village to nab him.
Officials said sand mafia was active in the region and illegal mining on the Chambal riverbed was threatening the endangered gharial population. It was damaging eggs laid in the sand by these gharials, a fish-eating species of the crocodile family, they added. https://www.outlookindia.com/newsscroll/illegal-sand-mining-tractor-driver-held-for-killing-mp-forest-officer/1379121  (8 Sept. 2018)
2 forest guards shot at in Gwalior After allegedly killing the deputy ranger in Morena, the sand mafia– ferrying illegal mined stones in Gwalior allegedly shot at two forest guards on Sept. 12, evening. In a critical condition, the victims, identified as Harivallabh Chaturvedi and Harishchandra Chouhan, were admitted to a private hospital in Gwalior.
The forest department had impounded two tractor trolleys loaded with illegally mined stones from Jikhrikho in Ghatigaon under Tighri police station area. When they were taking these trolleys to their office, they were ambushed and fired upon from hillocks and ravines. https://www.newsclick.in/two-forest-guards-shot-gwalior-hunt-sand-mafia-continues (13 Sept. 2018)
MP hotbed of illegal sand mining In March 2018, the murder of journalist Sandeep Sharma in Bhind put the spotlight on illegal sand mining in the state. This was not the first such incident. In fact in the past too journalists have borne the brunt of the sand mafia's threats and violence. In Dec. 2017, at least 6 journalists were attacked and injured, in Chhatarpur district while they were covering illegal mining.
As per officials, reports about police, revenue and forest officials being threatened or attacked from across the state are common. Even former state home minister Babulal Gaur accepted that during his tour to Gwalior-Chambal region in 2013, many police officers requested for a transfer because they couldn't manage the impunity of illegal sand mining in the area and associated political pressure. "Illegal mining cannot flourish in the state without a political patronage irrespective of the party in power," he added.
As per a reply given in Rajya Sabha on Feb. 7, 2018, Madhya Pradesh saw the most attacks against media person in 2015 and 2016 with 19 and 24 cases, respectively. A total of 42,152 cases of illegal mining for major and minor minerals were registered in the state during 2009- 2015. As per Sudhir Sapra, a Gwalior-based environmentalist, when it comes to Chambal and Sindh rivers only there is business of approximately ₹ 25 to ₹30 lakh per day in illegal mining. https://www.hindustantimes.com/india-news/madhya-pradesh-still-hotbed-of-illegal-sand-mining/story-rVxmANOTLoizImqcX4BnyJ.html (27 March 2018)
Illegal sand mining is never an election issue This report throws some light on the issue of illegal sand mining in Narmada, Chambal, Ken, Betwa, Sindh, Son, Tapti Rivers in Madhya Pradesh. The bottom line is same illegal sand mining business is being owned and controlled by politicians of both BJP and Congress. True for villagers its source of livelihood, but it can't go in unsustainable & unrestricted manner damaging rivers ecosystem & dependent aquatic and terrestrial wildlife. https://timesofindia.indiatimes.com/city/bhopal/a-mine-of-votes-why-illegal-sand-mining-is-never-an-election-issue/articleshow/66271579.cms   (18 Oct. 2018)
Development affected by illegal sand mining Rampant illegal sand mining is affecting development works in hundreds of villages along Chambal River in Morena.  All six Assembly constituencies of Morena were affected by illegal sand mining for the past one decade.
Illegal sand mining was not an issue till 2003 election but it was in 2006, since the SC imposed a ban on sand mining in Chambal River to protect flora and fauna in the region. After that, the mafia became active here. https://www.hindustantimes.com/bhopal/development-sinking-in-illegal-sand-mining-quagmire/story-sWewFC6bE5fEBjIEPXxtdO.html  (27 Nov. 2018)
Govt changed, but illegal mining continues Large scale illegal sand mining through heavy machines is happening in Ken river in Panna and Chhattarpur districts of Bundelkhand since last week of Dec. 2018. Sources said that ever since the Congress has come to power, its local leaders are keen to get their share of sand. It is taking place at Banjari and Hinota sand mines in Ken river and in Luvkush Nagar tehsil of Chhatarpur. 
Incidents of firing are being reported thick and fast in these areas, which is also witnessing a new trend- of armed private security guards of mafias opening fire before mining sand. A sand mining company has also registered a complaint of loot of more than Rs. 2 lakh. https://timesofindia.indiatimes.com/city/bhopal/illegal-sand-mining-continues-unabated/articleshow/67427582.cms  (8 Jan. 2019)
Illegal sand mining major challenge for the new Govt Before the 2018 Assembly elections, the Congress went hammer and tongs after BJP led govt over rampant illegal sand mining. But it appears that the new govt has done nothing to stop the menace.
In 2012 and 2013, most of the anti-mining judgments the NGT passed were against the state of Madhya Pradesh. As per NBA activist Medha Patkar, MP was the only state that challenged NGT's August 2013 order, seeking an exemption from the ban imposed on the mining of minor minerals, including sand, without environmental clearance from the MoEF.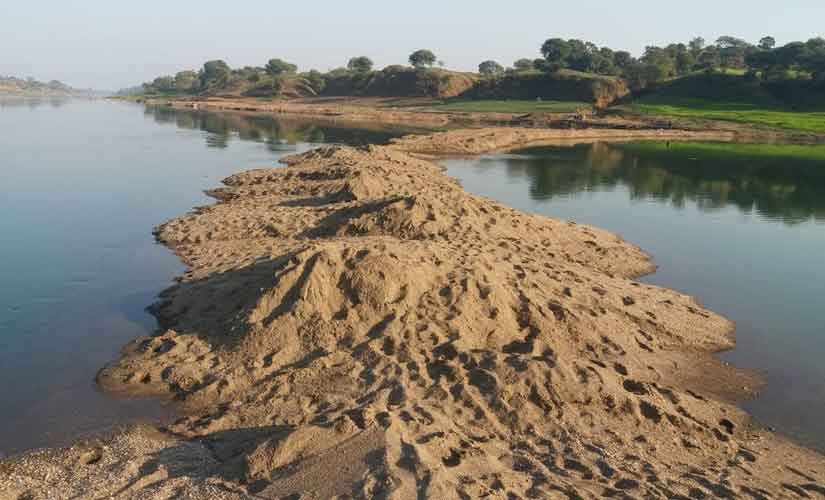 Activist Vinayak Parihar assessed: "The recent CAG report estimated a revenue loss of Rs 600 crore due to illegal sand mining. It's just a sample report. The actual loss may be hundredfold. According to our assessment, the state has lost over Rs 2 lakh crore in the last 10 years, which is more than the debt burden on the MP govt," he said, claiming that 90 percent of sand mining sites in the state is illegal. As per the latest figures released by the govt, in 2016-17, the state earned Rs 240 crore royalty from sand mining.
The new Minister for Mineral Resources Pradeep Jaiswal agreed that illegal sand mining is the biggest challenge for the govt. "A few big companies enjoy a monopoly in this activity. We plan to focus on eliminating that along with illegal mining. We are planning to empower the local bodies and strengthen them to give permits for excavation of sand."
Minister said the govt was working on a new policy, to be named 'Navin Khanij Kar Evam Ret Niti' (New Minerals and Sand Policy). "The govt is trying to double the revenue from sand mining by minimising the role of middlemen. We are also planning to restore the powers of mining officers to make the system simpler," he said. https://www.firstpost.com/india/illegal-sand-mining-congress-govt-in-madhya-pradesh-fails-to-address-menace-despite-tall-pre-poll-promises-state-rivers-suffer-5981611.html (29 Jan. 2019)
GOVERNMENT EFFORTS
Actions against officers colluding with illegal sand miners The Sidhi police took action against nearly 50 police personnel by either suspending them, instituting departmental inquiry against them or removing them from service in the last two months for their involvement in illegal sand mining.
In Nov. 2017, the govt had passed a proposal in the state cabinet under which 821 of the 1,266 sand mines in the state would be handed over to the panchayats, while the remaining 445 would be given through auction. http://www.hindustantimes.com/bhopal/madhya-pradesh-cracks-the-whip-on-officers-colluding-with-illegal-sand-miners/story-73d72SJeYTUbbldgwCZz2H.html (25 Dec. 2017)
CAG Report 'DMF's implementation half-hearted'  by Himanshu Uppadhaya, In a report on revenue receipts, tabled in the state assembly on Jan. 10, 2019, the Comptroller and Auditor General of India (CAG) has indicted the Madhya Pradesh mineral resources department for the "half-hearted implementation" of District Mineral Foundation (DMF).
While the new sand mining policy announced in Dec. 2017, prescribed that Rs 50 per cubic metre out of the royalty on sand shall be paid to the DMF, the state govt did not prescribe any contribution to the DMF in respect to other minor minerals until April 2018. CAG auditors also highlighted that the department was working with insufficient manpower and doesn't have an Internal Audit Wing or Departmental Manual.
The performance audit highlights the failure of the department to monitor compliance to the conditions laid down by the State Environmental Impact Assessment Authority while granting environmental clearances for sand mining. Auditors further highlighted the abysmal state of affairs on the implementation of environmental management plans, since the department failed to ensure submission of quarterly returns prescribed for monitoring the same. Thus, the department exhibited scant commitment to assess the impacts of sand mining activities on the environment.
CAG auditors flagged that instances of illegal mining cannot be ruled out since the department has so far, not evolved any system or module for submission of quarterly returns by mineral carriers, although the same was envisioned more than a decade ago as per Rule 5A of Madhya Pradesh Minerals (Prevention of Illegal Mining, Transportation and Storage) Rules, 2006 — which was amended in 2012. It's important to note that former CM Shivraj Chouhan's govt kept sitting on this CAG audit report—which was sent to the govt on Aug 3, 2018—deliberately, and did not table any of the CAG audit reports that should have entered public domain in 2018. https://www.downtoearth.org.in/news/mining/-district-mineral-foundation-s-implementation-in-mp-half-hearted—62933 (23 Jan. 2019)
Summary In 2018, there were multiple attacks on Govt officials and journalists by sand mining mafia. In some cases the violent attacks has led to death. In 2018, 1 journalist and 1 govt official lost their lives to sand mafia attacks. While reporter Sandeep Sharma was mowed down in March 2018 in Bhind district, Deputy ranger Subedar Singh Kushwaha was crushed under tractor in Sept. 2018 in Morena district. In Feb. and Sept. 2018 there were several attacks on govt officials causing grievous injures to them. In June 2018, sand mafia intimidated and attacked NBA activist for objecting to illegal sand mining in Badwani.
Despite being the election year, the previous govt could not check the illegal sand mining business. In fact the Shivraj Singh Chauhan led BJP govt did not table in assembly (and thus did not make it public) the CAG report disclosing govt carelessness and inefficiency in controlling illegal sand mining. Though, the new Congress govt has promised to curb the menace. But so far it too has done nothing significant. On the contrary media reports allege involvement of politicians affiliated with current govt in illegal extraction of sand. 
Compiled by Bhim Singh Rawat  (bhim.sandrp@gmail.com)
You may also like to see
Punjab Sand Mining 2018 Overview: SAD SAGA OF STATE FAILURE
Rajasthan: SC Banned Riverbed Mining through 2018: Centre & State Show No Concern
Gujarat Sand Mining 2018: Can Technology alone help Stop Illegal Sand Mining?
Uttar Pradesh Sand Mining 2018: Key NGT orders slap for MoEF