Brave Journalists exposes the Nexus supporting illegal sand mining in Tamil Nadu
Reporter honoured for exposing illegal mining On January 4, 2019, Sandhya Ravishankar was conferred Ramnath Goenka Excellence in Journalism Award for her reportage on illegal beach sand mining in Tamil Nadu. https://www.thenewsminute.com/article/news18-editor-m-gunasekaran-becomes-1st-tamil-journalist-bag-ramnath-goenka-award-94522 (5 Jan. 2019)
Journalist stalked after reports on sand mafia Sandhya Ravishankar, Chennai-based journalist alleges multiple attempts to stalk and intimidate her in the recent past after she wrote a series of reports on the sand mafia. She is also fighting defamation cases. https://www.firstpost.com/india/chennai-based-journalist-sandhya-ravishankar-alleges-stalking-intimidation-after-reports-on-sand-mining-mafia-5295131.html  (1 Oct. 2018)
Explosive reports on illegal beach sand mining in Tamil Nadu by Sandhya Ravi Shankar: Her report first person singular on Jan 31, 2017 provides blow by blow account of how the nexus involved in illegal sand mining was exposed. (https://thewire.in/culture/beach-sand-cartel, https://thewire.in/tag/beach-sand-mining)
Reporters arrested for exposing illegal sand mining In Nov. 2018, journalists Arthur Bouvart and Jules Giraudat arrived in Chennai. They belong to a French organisation, Forbidden Stories, which travels the world to complete investigations by local reporters facing 'threats, prison or murder' – which many Indian reporters have faced for investigating illegal sand mining. Ironically, the visit ended with the duo accused of spying – and two reporters from the area, D. Anandhakumar and M. Sriram, held and interrogated by police. https://thewire.in/media/french-journalists-spies-tamil-nadu-sand-mining (3 Dec. 2018)
OFFICIAL REPORTS
Sandhya Ravishankar: How officials made up report to aid illegal sand mining The report reveals how mining lobby and a set of bureaucrats can conspire to hood wink the govt, the judiciary and everyone else to continue illegal sand mining in Tamil Nadu. The case continues, but the details revealed here are frightening.  A joint-inspection team from the MoEF&CC and various departments of Tamil Nadu, including the mining department, prepared a report in four days to allegedly exonerate the state's powerful sand-mining lobby.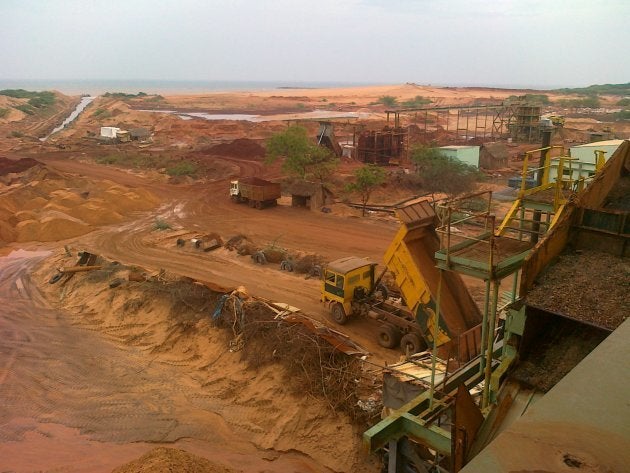 The investigations disclosed that the "Joint Inspection Report" was an effort to derail a high-stakes state govt investigation into illegal beach sand-mining cartels. The sand-mining companies obtained this report via the Right to Information Act and used it to contradict the government's stance in the Madras High Court. The report's conclusions were so surprising, that the amicus curiae– a court-appointed lawyer overseeing the case – questioned if officials had played "a collusive role to ensure that the mining companies escape liability for the innumerable illegalities committed by them."
In August 2013, the Collector of Tuticorin, Ashish Kumar, raided sand quarries in his district on the suspicion that some of the quarries were operating without licenses. He was transferred 8 hours after the raid, prompting an outcry in the media.

Chief Minister Jayalalithaa stopped all sand mining on Tamil Nadu's beaches and constituted a special team, led by Revenue Secretary Gangandeep Singh Bedi, to produce a report on illegal sand extraction in five districts. His report would come to be known as the "Bedi Report".

On 22 July 2016, when the court-appointed amicus curiae, asked for a copy of the report, the court was told "the report of Mr. Gagandeep Singh Bedi's special team is stated to be non-existent at present."

When Somayaji, the state's advocate general, stepped down from his position in August 2016, his successor R. Muthukumaraswamy told the court that the Bedi report did in fact exist. The Bedi report was submitted in a sealed envelope to the Madras High Court sooner after.

But even as Bedi toiled over his investigation, a section of the bureaucracy was working to undermine his efforts by producing a report that would directly contradict his eventual conclusions. This controversial report was called the "Joint Inspection Report".

JIR was prepared in 4 days and said there was no illegal mining in the state. It was also an attempt to negate the Bedi report.

The report was used in the High Court by the mining lobby, who obtained it under RTI. However, a government affidavit responded that this was an unauthorised report. The Then Chief Minister Jayalalitha suspended eight officials, including Chief Secretary who were involved in making the report.

However, many of these officials were later on reinstated.
https://www.huffingtonpost.in/2018/05/06/revealed-how-tamil-nadu-officials-made-up-a-report-to-aid-illegal-sand-mining_a_23428131/ (7 May 2018)
The dark depths of sand mining Despite restrictions and court order, mining of river sand in Tamil Nadu thrives illegally due to the nexus between the establishment and the sand mafia.
Public outcry, court intervention and govt action, at best, only slowed down the plunder along rivers such as Tamirabarani, Nambiyar, Vaigai, Cauvery, Kollidam and Palar. It is the growing demand for sand, both in Tamil Nadu and neighbouring Kerala that has transformed this minor mineral into gold. For example, Chennai has a daily demand of 6,000 loads of sand but only 10- 20% of it is supplied. One load of river sand is being sold at ₹35,000 to ₹40,000.
NGOs and farmers have been crying hoarse over "excessive sand mining" even from approved quarries in the Cauvery since the mid-1990s. They have been complaining that mining beyond the permitted depth has led to extensive environment damage, including depletion of groundwater table. https://www.thehindu.com/news/national/tamil-nadu/the-dark-depths-of-sand-mining/article23867892.ece  (12 May 2018)
Over 1 cr tonnes of beach sand illicitly mined: Probe report An 1170-page report on mining activity in Southern districts, two years after being submitted in court, revealed that over 1 cr tonnes of beach sand have been illicitly mined in Tamil Nadu's southern districts. The report also pointed out a litany of irregularities in transport permits, environmental clearances and pollution control board permissions, and large-scale violations missed during previous inspections.
It all started in August 2013 when the Commissioner of Geology and Mines had recommended the formation of a Special Team comprising state bureaucrats and govt officials from the revenue, forests, environments and geology and mining departments to probe into allegations of large scale illegal mining activity done by companies that has won leases to mine sand in the southern districts of Tirunelveli, Thoothukudi, Kanyakumari and neighbouring districts.
Its recommendation was based on a letter from the Thoothukudi district collector Ashish Kumar registering that inspection into mining of minerals such as Garnet, Ilmenite, Rutile in some of the mining areas showed irregularities. The team headed by Revenue Secretary Gagandeep Singh Bedi, originally set up to look into Thoothukudi district, was later asked to inspect and verify leases in other districts.
The team had 8 core members and 120 members across districts; the inspections were carried out in Oct. and Nov. 2013. Notwithstanding the rivalry between business groups that had operated in these districts – led by S Vaikundarajan of VV minerals and Dhaya Devadas of Indian Garnet Sand Company – behind the leases in these districts, the team concluded that "there are major allegations of environmental violations and illicit mining on all of them. https://economictimes.indiatimes.com/industry/indl-goods/svs/metals-mining/over-1-crore-tonnes-of-beach-sand-illicitly-mined-in-tamil-nadu-probe-report/articleshow/65120174.cms (24 July 2018)
About 90% of the illicit mining of rare minerals took place in Tirunelveli, where companies including Beach Minerals Sands, Trans World Garnet and V V Minerals, besides a couple of individuals were operating. The remaining 10% of illicit mining was found to be in Tuticorin, which accounted for the bulk, followed by Kanyakumari.
In Tirunelveli, the report pointed out that V V Minerals had exploited natural resources to the core and illicitly mined 33,62,799 tonnes at 17 sites (lease area), while four other lessors had illicitly mined 56,67,039 tonnes of minerals from 21 sites. The report also exposed violations of rules and the failure of officials of the department of mines and minerals, Tamil Nadu Pollution Control Board (TNPCB) as well as the revenue department in checking illicit mining.
The report also flagged off the irreversible impact on the coastal eco-system and shed light on mining activities in the CRZ, without obtaining necessary environment clearances from the ministry of environment and forests. The lessors violated depth criterion of 20cm and the rule of using only manual methods to scoop out sand by mining till a depth of 80cm using machines. Mining operations were carried out without getting consent to operate under the provision of Water and Air Acts from TNPCB.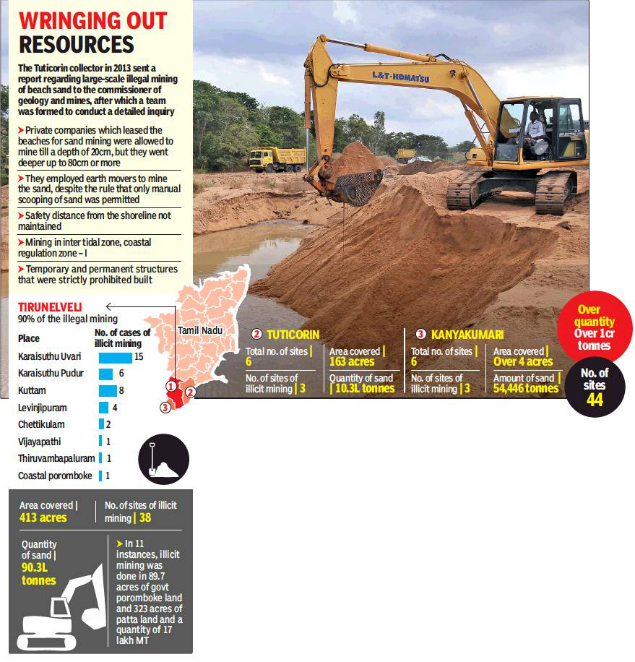 To drive home the extent of loss to the exchequer by way of royalty payments, by undervaluing the sale price, the report cited data published by the Indian Bureau of Mines (IBM) in August 2013 that indicated the sale price of garnet was ₹377 per ton in Tamil Nadu, but ₹8,833 per ton in Andhra Pradesh and ₹5,500 per ton in Odisha. Around this time, the export price of the rare mineral ranged between ₹15,000 and ₹18,000 per ton, the report pointed out. While the IBM raised the sale price of garnet to ₹5,600 per ton in Tamil Nadu, it was still much less than the sale price of the mineral in AP (₹8,295 per ton) and Odisha (₹6,775 per ton).
The report also highlighted that despite minerals like ilmenite, rutile, zircon and monazite being classified as 'prescribed substance' under Atomic Energy Act 1962, permission was granted to 31 of the 52 leases to mine these along with garnet and sillimanite, grossly violating the Minerals Concession Rules 1960. Some of the lease holders were also dealers of the minerals and did not reveal the actual turnover to the commercial taxes department to camouflage export sale. https://timesofindia.indiatimes.com/city/chennai/licence-to-exploit-how-firms-used-permits-to-mine-1cr-tonnes-of-sand/articleshow/65110462.cms (24 July 2018)
CBI probe sought into irregularities in beach sand mining Following this, DMK working president M K Stalin sought a CBI probe into the irregularities in mining beach sand for rare minerals in the southern districts, brought to light by a special team headed by senior bureaucrat Gagandeep Singh Bedi.
The 1,170-page report was based on inspections carried out by the special team in Tirunelveli, Tuticorin and Kanyakumari districts. The exports were valued at around Rs 1,80,000 crore, Stalin said in a statement. https://timesofindia.indiatimes.com/city/chennai/stalin-seeks-cbi-probe-into-irregularities-in-beach-sand-mining-in-tn/articleshowprint/65119188.cms (24 July 2018)
Govt says pending cases on sand mining won't affect new leases  State govt, in Aug. 2018, took a stand that a batch of cases pending in the Madras HC since 2015 in connection with illicit beach sand mining in Thoothukudi, Tirunelveli, Kanniyakumari, Madurai and Tiruchi districts did not preclude the govt from granting fresh mining leases. The shift in stand was made to bring to end a five-year-old ban imposed by the govt on beach sand mining in 2013, when it formed a team to probe allegations of large-scale illicit mining of beach sand minerals by the lessees in the five districts.  https://www.thehindu.com/news/cities/chennai/pending-cases-on-sand-mining-wont-affect-new-leases-govt/article24699004.ece  (16 Aug. 2018)
SAND MINING IN RIVERS AND OTHER WATERBODIES
NAMBIYAR RIVER
Police constable murdered A Special Branch constable S. Jegadish Durai (33), of Chinthamani was brutally murdered by illicit sand miners near Nanguneri in the Tirunelveli district in the early hours of May 7, 2018 after he tried to arrest them for illegally lifting sand from the Nambiyar riverbed near Puducherry. After the incident, about 100 relatives of Jegadish Durai staged road roko near the Collector's Bungalow demanding immediate arrest of the illicit sand miners who murdered the constable. Two of the attackers were arrested, but the kingpin is absconding.
Rampant sand mining along Nambiyar river bed came to a halt in 2003 after the then MLA of Radhapuram M. Appavu approached the Madras HC. According to him, Dhas of Kannanallur in 2000, Kumar of Mittadharkulam in 2012, Chellappa of Karunkulam in 2017 and Viyagappan of Perunkulam in April 2018 had been run over by vehicles and cases of accidents were subsequently registered to bury those "murders".  https://www.thehindu.com/news/national/tamil-nadu/illicit-sand-miners-brutally-murder-police-constable-near-nanguneri/article23802916.ece (7 May 2018)
Illicit mining leads to one more murder near Nanguneri In July 2018, a youth was hacked to death by two brothers with whom he had enmity over lifting sand illegally from Nambiyar riverbed and adjacent areas. It was in the same sub-division – near Vijayanarayanam – that a police constable attached to the Special Branch, S. Jegadish Durai, was gruesomely murdered when he tried to nab illicit sand miners in the early hours of May 7, 2017.
Illicit sand miners, with the clandestine support of a few officials, were making huge money in the district. As several rivers, including the Tamirabharani, were running across the district, illicit sand miners, after marking their areas of operation, were freely lifting river sand. https://www.thehindu.com/news/cities/Madurai/illicit-sand-mining-leads-to-one-more-murder-near-nanguneri-tirunelveli/article24380942.ece  (10 July 2018)
KOLLIDAM RIVER
Sand mining begins in Ariyalur, police keep locals at bay Officials from the district administration went back on their assurance made to residents of Thirumanur during peace meetings, as the PWD commenced mining sand from Kollidam river amidst heavy deployment of police personnel.
The residents of Thirumanur and Kollidam as also activists were confident that the project would be scrapped as the excavators were removed a few days back. But, they woke up to the clamour of excavators, trucks, and fire ambulance accompanied by nearly a hundred police personnel.
The project was proposed over 16 ha to mine at least 3.76 lakh cubic metres for a period of two years at an expenditure of Rs 2.22 crore. The proposed project had already made the people from Thirumanur, Manjamedu, Thirumazhapadi, Thoothur, Elakkurichi, and Kulamanickam anxious that the mining will reduce groundwater levels in Thirumanur and surrounding villages, which will affect their drinking water and irrigation. The pumping stations and collector wells in Kollidam river are reportedly supplying water to thousands of households in several villages in at least eight districts.
The villagers and activists were conducting a series of protests, condemnation meetings, and human chains against the sand mining projects before a couple of peace meetings where a solution could not be reached. http://www.newindianexpress.com/states/tamil-nadu/2018/may/05/tamil-nadu-sand-mining-begins-in-ariyalur-police-keep-locals-at-bay-1810642.html (5 May 2018)
Mining led to Mukkombu dam regulator collapse The absence of periodic maintenance were cited as the main reason for the collapse of the 182 year old regulator at Mukkombu. The yearly maintenance covers only painting work and greasing of shutters and chains, and the officials concerned had failed to examine the strength of the regulators. Meanwhile, farmers blamed indiscriminate sand mining for the collapse. 
The state secretary of Senior PWD Engineers Association, A Veerappan said that the continuous heavy flow in Kollidam river for more than 10 days as a reason for the collapse. However, environmentalist A Ganapathi said that sand mining was the reason for the deterioration of the structures. He also said that due to sand mining Cauvery and Kollidam rivers were losing water retaining capacity.  https://timesofindia.indiatimes.com/city/trichy/lack-of-periodic-maintenance-sand-mining-lead-to-collapse-experts/articleshow/65522506.cms  (24 Aug. 2018)
Illegal sand mining led to the damage of the Mukkombu regulator and Kollidam bridge in Trichy, said some political leaders at Thiruthuraipoondi in Tiruvarur district. https://timesofindia.indiatimes.com/city/trichy/raja-collapse-of-regulator-bridge-due-to-sand-mining/articleshow/65546425.cms  (25 Aug. 2018)
Man killed for informing police about sand mining 50 year old Murugan Marudhavanan of Sathangudi was murdered by three men near Manalmedu in Nagapattinam district on Nov 29 night after they came to know that he had been informing police about their illegal sand mining activities on the Kollidam riverbanks. The suspects R Kanagaraj of Sathangudi, S Jayakumar of S Jayakumar of Sithamalli and Ranjith of Kurichi were involved in illegal sand mining, police said. As per Mayiladuthurai deputy superintendent of police S Venkatesan, illegal sand mining was common in the area. https://timesofindia.indiatimes.com/city/trichy/man-killed-for-informing-police-about-sand-mining/articleshow/66889081.cms  (1 Dec. 2018)
KOSASTHALAYAR RIVER
Villagers oppose sand mining in Tiruvallur In June, people of Lakshmivilasapuram and nearby villages in Tiruvalangadu union in Tiruvallur district were up in arms against sand mining in Kosasthalayar river. The villagers, most of them dependent on agriculture for their livelihood, have been on a hunger strike for three days demanding stopping of sand mining in the river.
The villagers wanted the govt to cancel the license given to mine sand in the area.  "Nearly 300 women with children went to the MLA's office and brought Rajendran to the mining spot on June 9. Subsequently, heavy machinery used for mining was removed from the river bed," said T Charumathi of Pennankulam. https://timesofindia.indiatimes.com/city/chennai/villagers-oppose-sand-mining-in-tiruvallur/articleshow/64526467.cms (10 June 2018)
Sand mining on Kosasthalaiyar riverbed sets off alarms The Tiruvallur Collector's permission to mine sand from Kosasthalaiyar riverbed was based on reports from govt departments analysing the feasibility of operations. The Collector quoted a letter from Tamil Nadu Water Supply and Drainage Board dated August 31, 2017. The permission order claimed that the board had found that groundwater was available at a depth of four metres.
The executive engineer of TWAD, Tiruvallur said he wasn't sure when the reports were taken and that he would check. However, a senior official in the Geology and Mines department confirmed that the reports were prepared in 2016. Experts claim the floods could have had an effect in the surge in groundwater levels. The permission order also claimed that TWAD found sand to a depth of five metres at the site. However, the report found that nearly half of the 14-acre mining site was covered in shrubbery and has only clay soil at the top. Officials from the mining department also conceded that half the area was not viable for mining. http://www.newindianexpress.com/specials/2018/jun/18/chennai-sand-mining-on-kosasthalaiyar-riverbed-sets-off-alarms-1829650.html (18 June 2018)
Kosathalaiyar riverbed mining: Govt violating its own norms? The PWD appeared to be violating govt norms in mining sand from the Kosasthalaiyar river bed. This could affect Chennai's water security as the city depends on groundwater from the basin.
The order said the 14-acre mining zone can be excavated only to a depth of one metre. But the report on June 14 & 15, found mining being done to a depth of two metres in multiple places. There were sections that could hide a six-footer. Officials claimed mining to lower depths in other sections would compensate.
The order said only two-unit lorries could be used to transport the 12,584 loads of sand that could be mined. But, villagers claimed six and eight-unit lorries are used. PWD officials concede bigger lorries are used, but claim the rules apply only for dispatching sand from godown to customers. PWD, then, could be mining three times the amount of sand permitted by the order. http://www.newindianexpress.com/cities/chennai/2018/jun/18/kosathalaiyar-river-bed-sand-mining-is-government-violating-its-own-norms-1829654.html (18 June 2018)
VASISHTA RIVER
Farmers want illegal sand mining stopped in River Vasishta Farming community and the local people urged the govt to take steps for protecting River Vasistha by checking unauthorised sand mining and water tapping. Named after the Hindu sage Vasishta, the river originates in Arunootrumalai near Vazhappadi and passes through Attur, Thalaivasal, Sitheri. The farmers of the River Vasishta irrigation system were complaining that indiscriminate sand mining, illegal tapping of water using motors have hit their interest in a big way. https://www.thehindu.com/todays-paper/tp-national/tp-tamilnadu/farmers-want-illegal-sand-mining-water-tapping-stopped-in-river-vasishta/article24429538.ece  (16 July 2018)
Farmers of Pethanayakkanpalayam block urged the district administration to form special village level monitoring committees to check the illegal sand mining activities in River Vasishta. The official machinery, following repeated complaints of indiscriminate sand mining in River Vasishta by people with vested interests, convened a tripartite meeting of revenue and police officials and farmers' representatives of Pethanayakkanpalayam block at Ethapur police station.
The farmers' representatives led by Thumbal Baskaran, leader of the district Uzhavar Mandra Koottamaippu, participated in the meeting. The meeting decided to issue a warning to the people indulging in the illicit mining of sand in rivers Vasishta and Vellar in Pappanayakkanpatti; Panamadal; Thumbal; Idayapatti; Panamadal and Ethapur.  https://www.thehindu.com/todays-paper/tp-national/tp-tamilnadu/plea-to-check-illegal-sand-mining/article24674026.ece  (13 Aug. 2018)
KORAIYAARU RIVER
Sand mining racket busted, 4 trucks seized Revenue officials busted an illegal sand mining racket and seized four sand-laden trucks near KK Nagar in Trichy around midnight on May 16. The officials brought the vehicles to the Srirangam tahsildar office with the help of drivers of the department. Tahsildar Shanmugam said each truck was loaded with three units of river sand. It was found that the sand was stolen from Koraiyaaru river in the area.
The tahsildar also recalled few other incidences of raid and the seizure of sand dumped in the area. The officials said that they were looking for the owners of the trucks. The collector asked the tahsildar to lodge a complaint with the police. https://timesofindia.indiatimes.com/city/trichy/sand-mining-racket-busted-4-trucks-seized/articleshow/64212584.cms (18 May 2018)  
13 trucks used for illegal sand mining seized In June, revenue officials have seized 13 sand-laden trucks and 10 bullock carts in three different incidents in Pudukottai district over the past two days, in a crackdown on illegal sand mining rackets. According to Viralimalai police, the sand was stolen from Koraiyaaru River near Viralimalai. The seized trucks were handed over to the respective police stations. https://timesofindia.indiatimes.com/city/trichy/13-trucks-used-for-illegal-sand-mining-seized/articleshow/64579853.cms (14 June 2018)
Aavur villagers lay siege to trucks mining sand illegally Irked over continuous illegal sand mining activities in Koraiyaaru river, villagers in Aavur, lay siege to four trucks and damaged their wind shields during a protest on July 11. The villagers said that they had been lodging repeated complaint for the past few days on the violation but no actions were taken. The incident happened on July 11 when over 50 trucks from other districts were lined up in the river bank and loading sand in an illegal manner. https://timesofindia.indiatimes.com/city/trichy/aavur-villagers-lay-siege-to-trucks-mining-sand-illegally/articleshow/64953214.cms (12 July 2018)
CAUVERY RIVER
6 arrested for illegal sand mining Six people were arrested in two different places of illegal sand mining on July 14 night in T Pettai and Sarkarpalayam in Thiruverumbur. The arrest were made during late night inspection by a police team and the village administrative officer of T Pettai following repeated reports of illegal sand mining in the Cauvery riverbed. https://timesofindia.indiatimes.com/city/trichy/six-arrested-for-illegal-sand-mining/articleshow/65001974.cms  (16 July 2018)
Cop having nexus with sand miners suspended, booked In a crackdown on illegal sand mining, Trichy rural police placed a sub-inspector under suspension for conniving with 3 sand thieves and attempting to murder a police inspector for stopping their truck carrying stolen sand from Cauvery river. The police also detained 1 more sand thief under the goondas act.  https://timesofindia.indiatimes.com/city/trichy/cop-having-nexus-with-sand-miners-suspended-booked/articleshow/65015878.cms  (17 July 2018)
Sand mining resumes on dry Cauvery bed With water flow gradually going down from the Stanley Reservoir at Mettur, the PWD authorities resumed the sand mining work in Cauvery river at Kunnipalayam and Sarkar Manappalli village panchayats near Mohanur.
The people of Kunnipalayam and surrounding villages were opposing sand mining in the river and the setting up of the sand quarry. Police pickets were posted in the area. https://www.thehindu.com/todays-paper/sand-mining-at-cauvery-quarry-resumes/article24887521.ece  (7 Sept. 2018)
Fishermen asks for actions gainst illegal mining The inland fishermen of the villages along the banks of River Cauvery near Kumarapalayam in Oct. 2018, urged police to initiate action against people indulging in illegal sand mining in the river as it affected their livelihood. https://www.thehindu.com/todays-paper/tp-national/tp-tamilnadu/initiate-action-against-illegal-sand-mining/article25107445.ece  (3 Oct. 2018)
Case against 24 activists quashed The Madurai bench of the Madras HC has quashed proceedings against environmental activist, M Mukilan and 23 other members of the Cauvery River Protection Movement for their protest rally against sand mining in Thavittupalayam in Karur district in Nov. 2016. Justice N Anand Venkatesh, before whom the petition came up for hearing quashed the proceedings against the activists. Incidentally, the same judge had recently ruled that police cannot register cases against public under IPC Section 188. The same judge had also observed that booking people for unlawful assembly is against democracy.  https://timesofindia.indiatimes.com/city/madurai/sand-mining-case-against-24-activists-quashed/articleshow/66437370.cms  (31 Oct. 2018)
PALAR RIVER
Ban on sand mining in Palar ends, govt yet to decide on extn The ban on sand mining in river Palar in Kancheepuram district ended on Nov. 12 and there is no word from the district administration if it will be extended, sparking fears of unregulated loot of the natural resource.  A complete ban has been in force since 2013 following Madras HC order. Though illicit mining has been on even during the past 5 years, environmentalists fear it could become rampant in the absence of regulation and impact groundwater recharge in the area. The Tamil Nadu State Sand Lorrry Owners' Federation's S Yuvaraj said the govt should not reinstate the ban.  https://timesofindia.indiatimes.com/city/chennai/ban-on-sand-mining-in-palar-ends-govt-yet-to-decide-on-extn/articleshow/66612272.cms  (14 Nov. 2018)
Plea seeks cancelling of permission for PWD to mine sand from Palar A PIL petition was filed in the Madras HC to cancel the permission given to Public Works Department to mine sand from Palar river at Pattu village in Vellore district. In his petition, a resident of the village contended that the Vellore Collector, by an order dated July 27, 2017, granted permission to the Public Works Department to quarry sand subject to certain conditions. However, the department executive engineer mined vast quantity of sand violating all conditions, day and night.
When the matter came up before a division bench of Justices M Sathyanarayanan and P Rajamanickam on Dec. 21, Additional Govt Pleader sought time to file a status report with supporting documents with regard to petitioner's allegations as well as the steps taken for the removal of the said trees in the water-body. The division bench posted the matter for Jan. 22, 2018. http://www.newindianexpress.com/states/tamil-nadu/2018/dec/22/plea-seeks-cancelling-of-permission-for-pwd-to-mine-sand-from-palar-1914902.html (22 Dec. 2018)
TANK BED MINING
Villagers protest against 'illegal sand mining' In Feb. 2018, hundreds of residents of coastal Vedalai panchayat thronged the Collectorate and staged a 'sit-in dharna', protesting against 'illegal sand mining' on the pretext of desilting an oorani (waterbody) in the village. The villagers opposing deepening of the 'oorani ' waterbody as it would lead to ingression of seawater. http://www.thehindu.com/news/national/tamil-nadu/villagers-protest-against-illegal-sand-mining-ramanathapuram/article22799368.ece (19 Feb. 2018)
Madurai villagers seek action against sand miners Villagers of Pothumbu village in Madurai have submitted a petition to the district collector demanding that action be taken to prevent illegal mining of sand from the two tanks in their village.
They alleged that the removal of silt from the tanks was allowed by an order of the collector which said that the silt should be removed to the depth of three feet, but the contractors were illegally removing the sand which was beyond the permissible limit. Machines were being used to remove the sand, beyond the silt level.
This was depriving them of their ground water resource. They had complained to the revenue inspector of the village about a month ago and the contractor was warned. But, the illegal sand mining continued. https://timesofindia.indiatimes.com/city/madurai/villagers-seek-action-against-sand-miners/articleshow/64548648.cms (12 June 2018)
Villagers allege illegal sand mining Around 30 residents of Poonchuthi village near Melur petitioned Assistant Collector K.J. Praveen Kumar seeking action against a local construction company which was allegedly mining sand from a tank illegally. In the grievance, the villagers said Raja kanmoi, the main tank of the area, was being exploited by the construction company. V. Chandramohan, one of the petitioners, said sand had been removed from the tank beyond permissible levels using earthmovers. https://www.thehindu.com/todays-paper/tp-national/tp-tamilnadu/villagers-allege-illegal-sand-mining/article24438555.ece  (17 July 2018)
Illegal sand mining stopped Illegal mining of sand from Alathur kanmoi (tank) near Kaathakinaru in Madurai North taluk, which was going on for a week with pits dug for more than 15 feet, was stopped by officials in July.
They also asked the violators to level the pits dug during mining with the top layer of soil taken from remaining part of the tank. https://www.thehindu.com/news/cities/Madurai/illegal-sand-mining-stopped/article24369537.ece (9 July 2018)
HC ordered EIA into illegal sand mining In an interim order, the Madras HC on Aug 11 directed the govt to stop sand mining in the Puzhal and Kannigaiperu lakes. While Puzhal lake was a drinking water source for Chennai, the Kannigaiperu provides water for irrigation.  The HC also directed authorities to assess the environmental impact of the illegal quarrying, and directed the Inspector of Police to provide police protection to the petitioner, who said he was threatened by the sand mining mafia.
The petitioner alleged that by using 30-40 pumps, each of 5 Horsepower, water was pumped out of the North Western part of Puzhal lake, enabling quarrying. Advocate M. Purushothaman, who appeared on behalf of the petitioner, said that the govt should allow desilting only in the summer and not in the monsoons. https://www.thehindu.com/todays-paper/tp-national/tp-tamilnadu/stop-sand-mining-in-puzhal-and-kannigaiperu/article24668789.ece    (12 Aug. 2018)
OTHER SAND MINING INCIDENTS
Govt mute spectator to illegal sand mining Alleging that the state govt has remained a mute spectator to the illegal sand mining by influential people from the ruling party, Tamil Nadu sand lorry owners association charged the public works department and police officials for conniving with the politicians across the seven government-run sand quarries and rivers. It asked the govt to take a decision on filing an appeal in the SC against the Madras HC ban on sand mining in the state. https://timesofindia.indiatimes.com/city/trichy/state-mute-spectator-to-illegal-sand-mining-alleges-tn-sand-lorry-assn/articleshow/62716264.cms (31 Jan. 2018)
Problems due to sand mining done in Vaigai river beds  The video report highlights problems due to ongoing sand mining in Vaigai river. (7 March 2018)
One monsoon can't replenish sand stocks in rivers Amid monsoon mining industry hoped that flood spell would replenish mining affected pits in riverbed with sand. However former professor of MIDS, S Janakarajan said that sand may be replaced from one location to another on the river course. But it may not increase the existing (sand) stock. He further said that floods will partially refill the pits, where sand was mined in the past. Sand will not get replenish with just a rain or excessive inflow, he clarified, adding, "it takes centuries for the process."
Tamil Nadu State Sand Lorry Owner's Federation urged the govt to open sand quarries on dry river courses. As per the federation, the state required 20,000 loads of sand for construction activities every day. Of these, 7,500 loads were meant for real estate activities in Chennai, Kancheepuram and Tiruvallur districts. https://timesofindia.indiatimes.com/city/chennai/rising-rivers-gladden-hearts-of-sand-mining-industry/articleshow/65479889.cms  (21 Aug. 2018)
Increase in water level halts illegal sand mining in River Noyyal Illegal sand mining, which was rampant along the dry riverbeds of Noyyal, regarded as the lifeline of Coimbatore, was temporarily stopped with the river witnessing heavy flow of water in monsoon. Riverbeds that were dug up by sand smugglers in places such as Alandurai, Madhvarayapuram, Iruttupallam, Narasipuram, and Karunya Nagar went under water.  https://www.thehindu.com/news/cities/Coimbatore/increase-in-water-level-halts-illegal-sand-mining-in-river-noyyal/article24428019.ece  (16 July 2018)
Illegal mining continues in forest land In Dec. 2018 visuals of illegal sand mining in forest area emerged in which a sand miner was seen driving away a herd of elephants, including resorting to stone pelting. https://www.timesnownews.com/videos/news/india/illegal-mining-continues-in-forest-land-in-tamil-nadu/18716 (22 Dec. 2018)
Gang opens fire on villagers over alleged sand mining A bull was injured on Dec. 30 after unidentified persons opened fire on a group of villagers. It was alleged that the villagers were illegally lifting sand from a lake at Kedar near Gingee in Villupuram district.
According to reports, Krishnamoorthy, 43, a bullock cart owner from Kedar along with four others was illegally lifting sand from Veeramur lake without permission from the revenue officials. https://timesofindia.indiatimes.com/city/chennai/gang-opens-fire-on-tn-villagers-involved-in-illegal-sand-mining-bullock-injured/articleshow/67308744.cms (30 Dec. 2018)
Vast amounts of illegally mined atomic mineral found Approximately 37,000 tons of monazite, an atomic mineral found in the state's coastal sands, is sitting in godowns belonging to a clutch of miners in Tamil Nadu. It appears to have been mined illegally, and over 777 tons appears ready for export – which is against the law. The data about the quantum of illegal monazite has been drawn from the report of the Sahoo Committee, a special team led by IAS officer Satyabrata Sahoo. The report was submitted to the Madras high court in April 2018.
The monazite has been found mixed with other beach-sand minerals – classified as raw sand, semi-processed minerals and processed minerals. The report makes a detailed argument that all of the stocks were illegally mined, subsequent to the 2013 ban. https://thewire.in/business/illegal-sand-mining-monazite-tamil-nadu (12 Jan. 2019)
GOVERNMENT ACTIONS AND EFFORTS
DSP held for promoting illegal sand mining Deputy superintendent of police (DSP) of Ambur, P Thanarajan and a sub-inspector of police, Lourdu Jayaraj, were arrested by the sleuths of the directorate of vigilance and anti-corruption (DVAC) on 8 Feb for forcing people to indulge in illegal sand mining and extracting Rs 1.45 lakh bribe from them. Thanarajan is the 3rd DSP to be arrested by DVAC in Vellore district since Dec 2016. https://timesofindia.indiatimes.com/city/chennai/tamil-nadu-ambur-dsp-si-arrested-in-graft-case/articleshow/62841624.cms (9 Feb. 2018)
14 arrested for illegal sand mining Nanguneri sub division police engaged in special patrolling to check illegal sand mining in the district arrested 14 persons on May 16 and seized two tippers and the sand they had smuggled. The police said that nine persons were arrested after they were caught red handed while mining sand from Pachaiyar River at Keezha Devanallur near Kalakkad. In another incident the same police team arrested five persons who were illegally mining sand in the same river bed near Padmaneri. The sand was seized and the gang arrested. The 14 persons were produced before the court and remanded to judicial custody. https://timesofindia.indiatimes.com/city/madurai/14-arrested-for-illegal-sand-mining/articleshowprint/64197485.cms (17 May 2018)
Govt to finalise contractor for importing sand The state govt was all set to import sand with the govt finalising on a contractor to ferry river sand from overseas. The contractor will supply five lakh tonnes of imported river sand every month, which was to be marketed by the PWD. PWD official sources said the proposal of the bidders were under evaluation. Industry sources said the sand was likely to be procured from Malaysia.
"While Cambodia has banned export of sand, the quality of sand in the Philippines, which is volcanic in nature, does not meet the standards of the construction industry," a sand importer said. At least 10 vessels from Malaysia had delivered river sand in various ports across south India including Krishnapatnam in Andhra Pradesh, Mangaluru, Kochi and Goa in the past 9 months.
The PWD had invited tenders in March to supply imported sand with a condition that the consignment must be delivered only to Kamarajar Port at Ennore, Adani Kattupalli Port at Kattupalli and V O Chidambaranar Port in Tuticorin. While the value of the work for the initial 6 months of the contract was ₹548.75 crore, the selected contractor was asked to provide five lakh tonnes from overseas every month.
More than 1 lakh tonnes of river sand imported from Malaysia was lying idle at V O Chidambaranar Port in Tuticorin and New Mangalore Port in Karnataka. Both consignments could not be taken out of the stockyard at the ports as the Tamil Nadu and Karnataka govts had not issued permission.
A litigation over the sand at Tuticorin was pending in court. While about 50,000 tonnes of river sand was delivered at the Tuticorin port in Oct. 2017, another 58,000 tonnes was diverted from V O Chidambaranar Port to Mangalore in Jan. 2018, after TN issued guidelines making the PWD, the sole agency to procure and sell sand from overseas. https://timesofindia.indiatimes.com/city/chennai/tn-to-finalise-contractor-for-importing-sand/articleshow/64421234.cms (2 June 2018)
'Rs. 120 cr fine imposed for illegal sand mining' Penalties to the tune of Rs. 120 crore had imposed and collected from around 48,000 lorry operators involved in illegal sand mining across the State over the last 6 years. During a debate on the issue of illegal sand mining, CM Palaniswami said the fine imposed during the erstwhile DMK regime was only Rs. 50 crore, and only 18,000 lorries were seized. http://www.thehindu.com/todays-paper/tp-national/tp-tamilnadu/rs-120-cr-fine-imposed-for-illegal-sand-mining/article24140333.ece (12 June 2018)
3 fined for sand mining in Coimbatore Three persons were fined for alleged illegal mining of sand that was dug from the elephant proof trench near Periyanaickenpalayam range in Coimbatore forest division. The gang has also taken sand from a nearby patta-land belong to one Kanappan. They were presented before the district forest officer Venkatesan and were fined Rs 10,000 each. https://www.deccanchronicle.com/nation/crime/070918/three-fined-for-sand-mining-in-coimbatore.html  (7 Sept. 2018)
Govt. says it is serious about illegal mining The State govt on Oct. 3 informed the Madras HC of having issued a Govt Order instructing all public officials as well as policemen that they would also be detained under the Goondas Act if they were found to be involved in illegal mining of river sand or abetting the offence of sand smuggling.
Justices S.M. Subramaniam and S. Ramathilagam closed a case, in which they had directed the govt to issue such instructions, after recording the contents of the G.O. produced by State Public Prosecutor C. Emalias. The direction had been issued to the Home Secretary on May 8 along with a rider to report compliance. https://www.thehindu.com/news/cities/chennai/govt-gets-serious-in-fight-against-illegal-sand-mining/article25116741.ece  (4 Oct. 2018)
Campaign against illegal sand mining Revenue Divisional Tiruchi carried out an awareness campaign explaining the damage that could be caused to nature due to illegal sand mining and smuggling. Police officers of Tiruverumbur sub division besides officials from the Public Works, Revenue and Mines and Minerals departments were part of the drive.
They explained that lifting sand from the Cauvery and Coleroon without permission was a crime and habitual offenders would be detained under the Goondas Act. They emphasised the need to protect water resources and river sand as they were key in improving ground water table. https://www.thehindu.com/todays-paper/tp-national/tp-tamilnadu/campaign-against-illegal-sand-mining/article25185992.ece  (11 Oct. 2018)
Govt puts M Sand policy on hold Even as stakeholders in the construction sector complain over adulterated Manufactured Sand (M Sand) reaching the market, the govt was dragging its feet on a policy to regulate the manufacture of the building material which serves as an alternative for river sand. Although PWD began drafting the policy in July, officials said it may not be released this year.
Though 320 crusher units are operating across Tamil Nadu, the PWD approved hardly 60 which adhere to the norms of the assessment committee to ensure quality and standards. More than 60% of the construction sector in Chennai, Kancheepuram and Tiruvallur districts has shifted to M Sand. The demand in the 3 districts is around 10,000 loads, with each load measuring an average of 15 tons. https://timesofindia.indiatimes.com/city/chennai/govt-puts-m-sand-policy-on-hold/articleshow/66437651.cms  (31 Oct. 2018)
CAG Google Maps expose illegal sand mining activities Google Maps application was used by Comptroller and Attorney General (CAG) to expose irregularities in river sand mining in the southern state of Chennai. According to CAG report submitted on 9 July, the State Level Environment Impact Assessment Authority (SEIAA) had given environmental clearance for about 19 hectares for a quarry at Neyvasal.
However, when the CAG saw the latitude and longitudinal coordinates of the approved area on Google Maps, it realised that the mining was actually done in a different area. Only about 4.23 hectares of the actually used land was under the river bed. The rest of the area was private lands. https://www.businessinsider.in/indian-authorities-used-google-maps-to-expose-illegal-sand-mining-activities/articleshow/64945513.cms  (11 July 2018)
JUDICIAL INTERVENTIONS
HC confirms order to close down all sand quarries  In a hard-hitting judgment, a Division Bench of the Madras HC on Jan. 19, 2018 held the State govt squarely responsible for having failed in its duty to protect riverbeds from indiscriminate sand mining and confirmed a single judge's Nov. 29, 2017 order directing the State govt to impose a blanket ban on sand mining within six months.
The Bench also confirmed other directions issued by Justice R. Mahadevan, who had directed the State govt to permit the sale of imported river sand either by way of executive instructions or by enacting a law. Further, to ensure that local sand dealers do not continue to exploit the rivers by misusing the permission granted to them to sell imported sand, the judge had ordered strict vigilance by establishing permanent check posts and equipping them with closed circuit television cameras, besides subjecting the guilty to severe punishment.
Concurring with this, the Division Bench said policy decisions on export and import were within the domain of the Centre, which had already permitted import of river sand, and therefore, the State government could not have any objection. Besides, Sections 15 and 23C of the Mines and Minerals (Development and Regulation) Act of 1957 empower the State governments to frame statutory rules for preventing illegal mining, transportation and storage of only domestic and not imported river sand.
The judgment was delivered on a writ appeal preferred on behalf of the State Govt challenging the single judge's order. The government contended that the judge had traversed beyond the scope of the writ petition by ordering a ban on sand mining. Rejecting this, the Bench said, "The court (single judge) was able to see that the actions of the State were not only [not] in accordance with law but also not in the interest or welfare of the State and rather are in the nature of suiting individual commercial interests [of local sand dealers]. More particularly, when alternate source is available, the court felt it could be used to preserve the ecology of the State."
Authoring the judgment, Mr. Justice Kalyanasundaram pointed out that the State has a long history of illegal mining and the government was unsuccessful in curbing it. Rejecting the government's contention that imported sand with 81.6% silica content may not be fit for civil constructions, the Bench agreed with senior counsel M. Vallinayagam and Isaac Mohanlal, representing the importer and the subsequent purchaser, that only sand with above 95% of silica content could not be used for construction.
The judges also noted the fact that Karnataka had imported river sand from Malaysia and that many sky scrapers in Malaysia had been built only with its river sand. Experts in Malaysia and India had certified the quality of the sand that had been imported by the petitioner firm. The single judge had directed the govt to also close down, in a phased manner, quarries where minerals such as granite were mined and the Bench confirmed this direction too. https://www.thehindu.com/news/national/tamil-nadu/hc-confirms-order-to-close-down-all-sand-quarries/article22475828.ece (20 Jan. 2018)
Citing several judgments of the Supreme Court, the bench said it is clear that the courts have stepped in to protect the environment by curbing mining activity, wherever the state has failed in its duty under Article 48 A and 51 A. Also from the various reports of the authorities concerned, it is evident that the direction and the orders of the apex court and this court have been violated and the illegal mining activity has not been curbed, the bench added.
Writing the judgment for the bench, Justice Kalyanasundaram said, "If the ecology is not protected, there is no doubt that it will endanger the very existence of human life and we might not even have a future generation. It is the duty of this court to ensure that environment is protected and is not subjected to degradation when the authorities have failed".
Even after all the committee's reports and frequent intervention of this court in many cases, the illegal mining in the state has not stopped and the same was evident from the number of cases filed in 2017 for the release of a vehicle. Under this background, when the directions issued by the single judge were examined, this court was of the view that the directions were not legislative directions, but only directions issued for non-compliance of statutory provisions and for failure to safeguard the environment and the ecology", the bench added.
The bench said it was the duty of the state to ensure that the fundamental right to life guaranteed in the Constitution was safeguarded. The maintenance of ecology by preserving the river and river beds go a long way in not only preserving them for future generations or inhabitants in the vicinity but also will have a global impact, the bench added. https://www.deccanchronicle.com/nation/current-affairs/200118/madras-high-court-upholds-order-directing-govt-to-halt-sand-mining.html (20 Jan. 2018)
SC stays HC order on sand mining In Feb. 2018, the SC stayed a Madras HC order to freeze sand quarrying in the State within 6 months besides a ban on opening of new quarries. A Bench led by Justice Madan B. Lokur agreed with the State's point of view that the HC order did not take into consideration the "demand and supply position" of material while passing the stay order.
The state govt, represented by senior advocate Mukul Rohatgi and Yogesh Kanna, said a complete end to sand quarrying was a recipe for disaster. They also said that importing sand would be a major drain on funds and would impact the construction industry and the end-buyer. http://www.thehindu.com/todays-paper/tp-national/tp-tamilnadu/sc-stays-hc-directive-on-sand-quarrying/article22663645.ece (6 Feb. 2018)
Sand mining case kicks up dust The Madras HC on March 22, 2018 witnessed utter chaos as the counsel for a couple of beach mineral exporters, the Centre, the State govt and an amicus curiae appointed by the court were at loggerheads over the issue of the entire industry having come to a grinding halt due to multiple cases pending in the court.
When a Division Bench of Justices M. Sathyanarayanan and N. Seshasayee heard the case through video conferencing senior counsel AR.L. Sundaresan and advocate Srinath Sridevan, representing V.V. Minerals, insisted on permitting export of quarried mineral for which royalty had already been paid.
Senior counsel N.L. Rajah, representing another exporter, also echoed similar sentiments and said the State government could not continue with the blanket ban without any end in sight especially when the exporters had taken huge amount of loans from various financial institutions and hundreds of workers dependant on the industry too had been rendered jobless.
However, amicus curiae V. Suresh objected to their plea for permitting exports until the ongoing probe by IAS officer Satyabrata Sahoo, with respect to the content of monazite in the quarried mineral, was completed. He claimed that around 86 lakh tonnes out of 1.51 crore tonnes of mineral, lying in the godowns of the beach sand exporters, had been mined illegally.
Thereafter, since the AAG sought four weeks' time for Mr. Sahoo to file a report on the basis of the conclusions arrived at by the AMD, the judges adjourned further hearing to April 18. Though the counsel for mineral exporters sought an interim order permitting them to carry on with their business in the meantime, the judges refused to pass such an order and asked them to prepare a synopsis of the cases along with a timeline in order to enable the court to commence final hearing at the earliest. https://www.thehindu.com/news/national/tamil-nadu/sand-mining-case-kicks-up-dust/article23326765.ece (23 March 2018)
HC against release of vehicles involved in illegal mining Taking cognisance of indiscriminate illegal sand mining taking place in the State and a number of petitions being filed against such activities, the Madurai Bench of the Madras HC on Sept. 24 suo motu impleaded the Home Secretary in the case and directed the Collectors in the State not to release any vehicles involved in illegal sand mining. However, in the case of bullock carts, the bulls could be released and the carts be retained. The court also added that no courts should entertain request from owners seeking release of their vehicles.
The court said that in most of the cases the action initiated towards such transportation amounted to only imposing fine. The indiscriminate mining had led to destruction of riverbeds. The case was adjourned to October 11. The Division Bench had earlier directed status quo be maintained against establishment of sand quarry in Pudukottai district. The petitioner, N.K. Pandiyaraman of Pudukottai, said the proposed sand quarry on the banks of Vellar river which flowed through Manamelkudi taluk in Pudukottai district would affect agricultural activities in the region, where most of the people were agriculturalists. He also claimed that quarrying operations could lead to depletion of groundwater. https://www.thehindu.com/news/cities/Madurai/hc-against-release-of-vehiclesinvolved-in-illegal-sand-mining/article25034346.ece (25 Sept. 2018)
HC issues notice on illegal sand mining On Nov. 1, the Madurai Bench of Madras HC took suo motu cognisance of a letter written by residents of Nerinjikudi to the Registry, who complained of illegal sand mining in Pudukottai district. A Division Bench of Justices M. M. Sundresh and N. Sathish Kumar ordered notice to the Pudukottai district authorities. The Bench also directed them to look into the issue immediately. https://www.thehindu.com/todays-paper/tp-national/tp-tamilnadu/hc-orders-notice-on-illegal-sand-mining/article25396960.ece  (2 Nov. 2018)
Install CCTV cameras at quarries to prevent illegal sand mining In Dec. 2018, the Madurai bench of the Madras HC laid down a set of guidelines which have to be followed by licensed quarry operators mining gravel in Virudhunagar district, after concerns were raised about indiscriminate and illegal mining in Gundaru river sand before the court. 
The court observed that quarrying cannot be below two metre depth and periodic inspections have to be conducted by the authorities, adding that mining will be done only between 11 am and 4 pm. The license holders have also been ordered to email details of the trucks ferrying the savudu sand every day before 11 am the concerned authorities. https://timesofindia.indiatimes.com/city/madurai/install-cctv-cameras-at-quarries-to-prevent-illegal-sand-mining-hc/articleshow/67237446.cms (25 Dec. 2018)
SUMMARY The compilation shows that Tamil Nadu is leading state affected by illegal sand mining. In the year 2018, the sand mining incidents, government actions and court orders kept taking place concurrently. There were incidents where villagers protested illegal sand extraction from rivers and lakes. There are reports candidly exposing involvement of concerned department's official in illegal sand extraction activities.
There were also incidents where government was seen carrying illegal mining despite protests from local people. The mining in Kollidam river and Kosasthalaiyar riverbed were among the examples. There were reports holding unsustainable sand mining responsible for collapse of 185 year old regulator on Kollidam river.
In the year, 1 government official and 2 citizens were lost their lives in illegal sand mining related incidents. 2 reporters were arrested. The Sandhya Ravi Shankar who revealed the gross violations of norms and irregularities in beach sand mining faced defamation cases, threats and stalking. Similarly 2 French reporters working on illegal sand mining in the state were accused of spying and the administration arrested 2 local reporters.
The Government efforts to promote of M-sand and imported sand as viable alternative to river sand could not materialized in the year. While, in Oct month, M-Sand policy was put on hold over quality issue and the imported sand from Malaysia was remained stuck at ports due to legal hurdles.
The Gagandeep Singh Bedi probe report disclosed that over 1 cr tonnes of beach sand was illegitimately mined in southern districts. The story of how that report was initiated, how the probe happened is fascinating. A nexus of officials that possibly involved MoEF officials, unauthorisedly prepared a Joint Inspection Report to negate the Bedi report, which was then procured by the mining lobby through RTI and sought to be used in the Court. However, the TN govt under Jayalalitha suspended the officials involved in creating the unauthorized report, but some of those officials got reinstated later on. This whole murky details were exposed by some brave reporters, including Sandhya Ravishankar, who got Ramnath Goenka award for this expose.
In the year, there were several judicial interventions on the issue. In the very first month of the year, the HC Madras banned riverbed mining. The ban was later upheld by SC. It seems the issue is still sub-judice.
In Oct. the HC quashed the legal cases against 24 activist of Cauvery River Protection Movement. They were booked for carrying out protest march against sand mining in the river.
At the end of the year, the 2013 HC ban on sand mining in Palar river also came to an end. The state government is planning to resume mining. However, the local people are opposing this, claiming the mining a threat to water sources.
Will the year 2019 be more promising for the illegal sand mining affected rivers and people in the state? Let us wait and see.
Compiled by Bhim Singh Rawat (bhim.sandrp@gmail.com)
End Note:- As part of annual exercise since 2015, SANDRP is presenting year end overview on the issue of illegal sand mining in India's rivers. This year we have been publishing these reports in a state wise format. Before Tamil Nadu we have uploaded illegal sand mining overview for following states:
Punjab Sand Mining 2018 Overview: SAD SAGA OF STATE FAILURE
Rajasthan: SC Banned Riverbed Mining through 2018: Centre & State Show No Concern
Gujarat Sand Mining 2018: Can Technology alone help Stop Illegal Sand Mining?
Uttar Pradesh Sand Mining 2018: Key NGT orders slap for MoEF
Madhya Pradesh Sand Mining 2018: Unprecedented Violence by Sand Mafia