Across the country, many government officials were killed while taking action against illegal sand extraction in 2018. So were the lethal attacks on reporters and citizens for exposing illegalities and objecting to illegal mining activities. Many innocent people lost lives in accidents related to illegal sand mining related incidents which could have been avoided. This compilation of sand mining related incidents also highlights how illegal sand mining was damaging the infrastructure providing essential services.
NORTH INDIA
Uttrakhand A 115 years old British era bridge on Tons river in Birpur, Dehradun collapsed on Dec. 28 reportedly due to overloaded sand trucks. Two people were killed[1] in the accident. The single lane bridge was damaged during 2013 floods and opened for public after repair. 
As per reports sand laden trucks and other heavy vehicles were using the single lane bridge on daily basis.
Through the year, Matri Sadan kept protesting against illegal Ganga riverbed materials excavation in Haridwar. Swami Ghyan Swaroop Sanand aka GD Agarwal who died on Oct. 11, had also raised the issue of Ganga mining during his 111 days long hunger fast. A saint Atamboudhanand from the religious organization is still on fast unto death since Oct. 2018 demanding cancellation of dams and no mining in Ganga at Haridwar.   
Punjab In Nov. 2017, Tehal Singh Sekhon, the General Manager (GM) with the Mohali and Patiala mining department, was beaten up by members of the mining mafia[2]. In his police complaint GM also accused Kulwinder Singh SHO, to be involved in illegal mining and manhandling him including keeping him and his family under unlawful detention.  
The GM also accused the mining mafia men of trying to run the truck over him. The official said it was not possible to carry out his duties under such circumstances, adding that he was being pressured to strike compromise with both mining mafia and the SHO.
As per another report, in Jan. 2018, even after two months of the attack on GM, no action[3] was taken against the attackers or the erring SHO. On the worse side, it was learnt that the allegations by the mining officer were being verified by the same SHO whom he had accused of being hand in glove with the mafia.
In a similar incident in March 2018, an audio clip released by the sarpanch of village Boothgarh of Ludhiana, of a purported telephonic conversation between him and Inspector Jarnail Singh (ex-SHO Meharban police station who was suspended in another case), in which the police officer can be heard threatening the sarpanch[4] when he complained about illegal sand mining in his village.
Then on June 20, 2018 the Aam Aadmi Party's (AAP) legislator in Roopnagar, Amarjit Singh Sandoa was allegedly attacked by members of the sand mafia[5] near Nurpur Bedi in Ropar district and admitted to a hospital in Chandigarh. The MLA and two of his security personnel were reportedly attacked when he went to check if illegal mining was going on in the area.
This incident occurred 3 days after five to seven assailants, suspected to be members of the sand mafia, attacked employees of the state forest department[6] with sticks and sharp-edged weapons near Seonk village in Mohali.
On July 30, 2018, two journalists were injured[7] after being allegedly attacked by the sand mafia in Jalalabad sub-division Ferozepur, while reporting on illegal mining. The journalists had received information that illegal mining was active in village Tharewala. As they reached the site and began recording, a group of unidentified people thrashed them and broke their video camera. Bleeding[8] profusely, the journalists managed to escape the spot and got themselves admitted to a private hospital for treatment.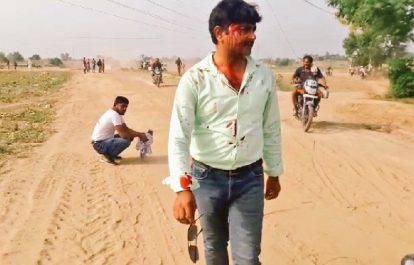 Haryana On Aug. 19, sand mafia threatened[9] two guards who seized vehicles found doing illegal mining at Belwali village in Panchkula's Chandimandir. The mafia gang members freed their seized vehicles from the mining guards forcefully.
On Jan. 1, 2019, a farmer of Jalouli village in Panchkula was threatened by sand mafia[10] for objecting to illegal sand mining.  The farmer alleged that the accused threatened to kill him after brandishing weapons including pistol and gun.
The report also mentioned that earlier on Sept. 30, 2018, mining officer Panchkula received a threatening call from the sand mafia[11] to stop doing checking in his area otherwise the mining officer and his team will face dire consequences.
Illegal sand mining was cited as main reason behind breach in Western Yamuna Canal[12] embankment at Karnal on Sept. 2 submerging about 2000 acre crop land belonging to adjoining 8 villages. 
Similarly in May 2018, a whistle blower who exposed illegal sand mining on Air Force land along Yamuna in Faridabad district reported of facing threat to his life[13] and appealed HC Delhi for his relocation to Delhi from Haryana where the case was going on.
Uttar Pradesh In an attempt to draw the state govt's attention towards the illegal sand mining, a man on Dec. 29, 2017 jumped in front of[14] CM Yogi Adityanath's convoy in Lucknow. The man identified as Shyamji Mishra wanted to draw the attention towards the illegal river bed mining being done in Sonebhadra "under the patronage of BJP's legislator and BJP's district president." He had earlier tried to meet the CM Yogi Adityanath a couple of times, but unable to convey his message the man was compelled to take this step.
On March 29, 2018, a sand trader was tied to a cot and set on fire[15] allegedly by sand smugglers after he objected to the illegal mining in Trans-Ganga area under Handia police station limits during the early hours. The trader in a critical condition was admitted at a private hospital.
In June 2018, sand mafia at Kosi river in Rampur attacked the police team[16] and tried to throw them into the river. The article also detailed such attacks by mafia in 2018.
A BJP worker was brutally murdered[17] by the sand mafia in Sitapur district on Oct. 20, 2018. The deceased was actively working against the sand mafia and was regularly complaining the authorities about the overloading and illegal mining by the sand mafia, however, the locals said that no probe was being conducted on the complaints.
Bundelkhand (UP)  The Dec. 2018, Khabar Lahriya report, republished by First Post details the violence and murder cases occurred due to illegal sand mining in UP. As per the report, in April 2018, a woman was killed by a sand mining truck in Mahoba.
Similarly on May 30, a boy on cycle was run over a sand laden truck[18] in Chilla Bazar, Banda district. The boy died on the spot. Following the incident, the villagers blocked the road and stopped the movement of sand mining trucks.
A labour was crushed to death[19] by a sand laden speeding truck on Nov. 20 in Banda. The poor man family even could not raise voice for fair compensation when the Thekedar offered just Rs. 10 lakh to settle the incident.
Bundelkhand (MP)  On Feb. 7, 2018, the sand mafia tried to kill[20] Abhishek Tomar, an Indian Forest Service (IFS) officer in Chhattarpur district. The attacker first tried to run over tractor on him, when he escaped they fired at him.
This was another of many such violent incidents in Ken Betwa area. Only a week earlier, in Chhatarpur, sand mafia tried to kill a tehsildar who stopped them from carrying out illegal mining in Urmil river.
In Dec. 2017, sand mining gangsters fired over 100 rounds at a task force. In 2016, a forest guard was crushed to death under a sand-laden tractor in Gwalior. Similarly, a constable was run over by a dumper and killed in April 2015.
CENTRAL INDIA
Madhya Pradesh On March 26, 2018, a journalist Sandeep Sharma investigating illegal sand mining cases in Bhind was run over by a truck[21]. The 35-year-old stringer had even complained to the police about a threat to his life before the incident occurred. The incident took place near Kotwali police station, but the police still took 15 to 20 minutes to respond to the incident.
Sharma had in July 2017 exposed an illegal sand mining nexus[22] between the police and the sand mafia in the area and had claimed that he was on the hit-list of the mafia. The police officer was transferred after the news channel had aired an audio conversation of him.
In June 2018, Narmada Bachao Andolan activists were attacked[23] when they tried to stop 3 tractors filled with sand, allegedly being smuggled from the Narmada river near Rajghat. As per NBA activists, the police, even as registering an FIR with "mild" clauses, refused to act[24], even though they had submitted all photographs and videos of the incident to police officers, and also identified many of those involved in stone pelting.
On September 7, 2018, a Deputy ranger Subedar Singh Kushwaha was crushed to death[25] when he tried to stop a tractor laden with illegally-mined sand in Morena district.
He was on duty at the forest department post near Ghirona temple in Morena, when the incident took place. Forest guards took him to the hospital but he had already died by then.
In 2017, IAS officer Sonia Meena was threatened at gun point by illegal miners when, as SDM in Chhattarpur district, she made a bid to check illegal mining in Betwa river. Later, she faced a death threat and complained to chief secretary BP Singh. In 2016, Narender Sharma, a forest guard who had tried to stop a tractor trolley, was run over by the vehicle. In 2015, a constable Dharmendra Chauhan was run over by another vehicle carrying illegally mined sand when he tried to stop it.
Officials said sand mafia was active in the region and illegal mining on the Chambal riverbed was threatening the endangered gharial[26] population. It was damaging eggs laid in the sand by these gharials, a fish-eating species of the crocodile family, they added. 
The sand mafia ferrying illegally mined stones in Gwalior shot at two forest guards on Sept. 12, 2018 evening. In a critical condition[27], the victims, identified as Harivallabh Chaturvedi and Harishchandra Chouhan, were admitted to a private hospital in Gwalior.
Chhattisgarh Video report over Illegal sand mining in Prangal river highlighted how it was causing huge loss to govt's revenue. When a man raised his voice against illegal sand mining in his area he received a threat letter[28] from the mafias. When he showed the letter to Police they asked him to keep quiet if he wanted to save his life. The report also said that illegal mining had led to collapse of a bridge in the area.
WEST INDIA
Maharashtra In June, Babban Bartade, daily wager involved in mining sand, died accidently[29] at Vasai Creek, one of the two main distributaries of the Ulhas River. Manual sand dredging from the bottom of the creek had become a deadly trade that fuelled the booming construction industry.
Despite official crack down it continued at several places in Mumbai. About 75,000 men, many from poor areas, were risking their lives and health by spending up to 12 hours a day diving 40 feet into pitch-black waters with iron buckets to fill with sand.
Rajasthan A 50-year-old sarpanch died after he was attacked[30] by suspects involved in illegal sand mining at Bowli village in Sawai Madhopur district on Feb. 14, 2018. Raghuveer Singh Meena, a sarpanch of Hathdoli village, had gone to Bowli after he learned that several trucks were being loaded with sand (bajri). The suspects armed with sticks and stones attacked Meena and others. As Meena ran, he fell to the ground and was beaten up.
In March 2018, a deputy superintendent of police (DSP) in Dholpur district had a close shave[31] when suspects involved in illegal sand mining opened fire at his patrolling vehicle and pelted stones at him. The officials said that it was a third attack on Yadav in ten months. He had faced similar attacks on his life In May 2017 and in Jan. 2018 for trying to stop their illegal business. As per the report Tonk, Sawai Madhopur and Dholpur parts had witnessed multiple incidents of violence by sand mining mafia in recent past.
In a similar attack in April 2018, another DSP and his driver were critically injured[32] after they were attacked by the mining mafia in Dholpur on April 22 morning. The DSP's car was rammed near Bijollia by tractor-trolleys illegally transporting banned sand (bajri). Injured severely, the officials were rushed to the nearest hospital.
In May 2018, sand mafia tried to kidnap[33] two inspectors of mining department and three constables of Rajasthan Armoured Constabulary on their way back to the police station. The two dumpers were carrying sand.
As per July 2018, electronic media report there was one more attack by sand mafia on police personnel in Dholpur district during a raid by government officials.
As per Dungarpur SP, besides causing environmental damage by dredging the river, the people involved in the illegal business were also responsible for some road accidents. "They press on the gas when they see police. In 2018 alone, 50 people were killed[34] in road accidents involving vehicles carrying illegal river sand," he said.
Gujarat The farmers' protest against sand mining from Ojat River near Vanthli in Junagadh district turned violent on June 4, 2018 after their leader Nayan Kalola was abducted, brutally thrashed[35] and dumped by the roadside. At least 3 policemen were injured in stone-pelting even as 7 teargas shells were lobbed as the situation spiralled out of control. Angry farmers jammed the Rajkot-Somnath highway, burnt tyres on the road and targeted a state transport bus too.
After attack Kalola was rushed to a private hospital in Junagadh with a fracture in the leg and hand. The issue over sand mining was raging in this area for quite some time now. Farmers said that their fields were affected due to constant digging in the river. They had represented to the mamlatdar and govt geologists two months ago but to no avail. 
Four labourers were killed[36] when an embankment collapsed on them near the bank of the Goma river in Vadodara district on July 22, 2018. They were allegedly loading illegally mined sand when the embankment gave way, a police official said. The incident took place in Savli tehsil. A village sarpanch named Jayesh Bakrola claimed that he had complained about illegal excavation being carried out at the farm last week, but no action was taken.
A 45-year-old man was shot dead[37] over dispute related to sand mining late on Jan. 1, 2019 night. According to complainant, Zabeer Rathwa, villagers of Motikanas village and Khadakwada village close to Madhya Pradesh-Gujarat border in Chhota Udepur were at loggerheads with each other regarding the limits of the river bed of Orsnag river, cutting through both the villages.
The mining activities was posing danger to the aqueduct of Narmada main canal[38] that crosses over the Osrang river in Bodeli. As per the report, the ongoing sand mining had increased the depth of the river bed, exposing the foundation piles of the aqueduct.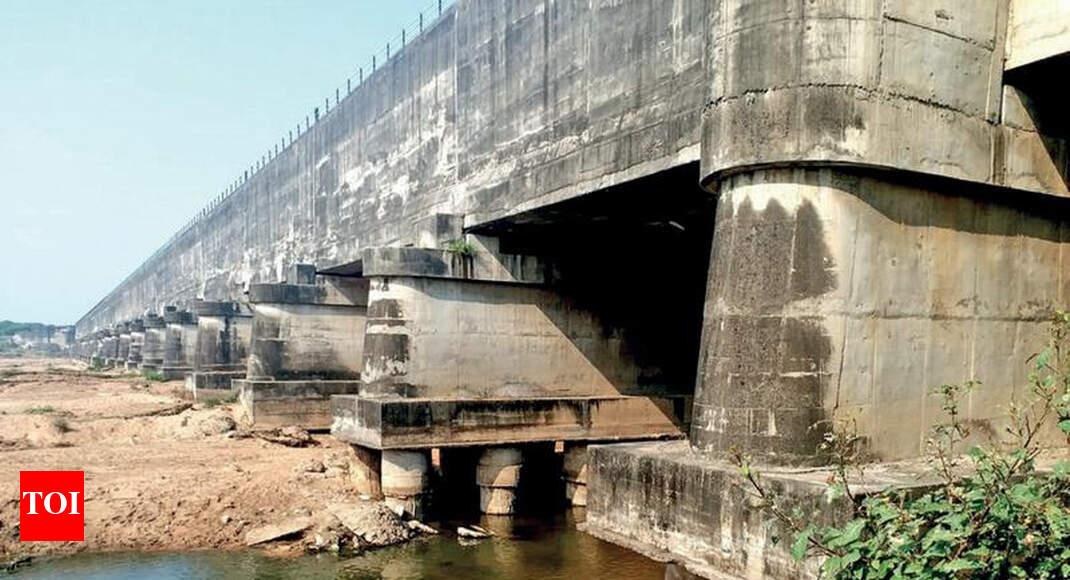 The depth of riverbed had increased due to which some of the foundation pillars were even damaged in 2018. It was surprising that instead of curbing illegal sand mining, Govt planned building weir in Osrang river to protect Narmada canal. 
EAST INDIA
Bihar 4 children aged between 8 to 10 years.  died[39] after drowning into a pit created by illegal sand mining from Morhar river in Gaya district on Aug. 28. The children, including 3 girls, had gone to take a bath in the river near Chitab Khurd village under Amas police station areas.
They slipped into deep water and drowned, police said. Local people, however, said that the 4 died after falling into a pit created because of excess and illegal sand mining from the river.
Jharkhand Detailed report on brutal murder of 3 villagers by sand mafia in Jatpura village, Garwha district Jharkhand in May 2017. https://www.theguardian.com/world/2017/dec/30/india-sand-mining-conflict-deaths-building-boom-environmental-damage (30 Dec. 2017)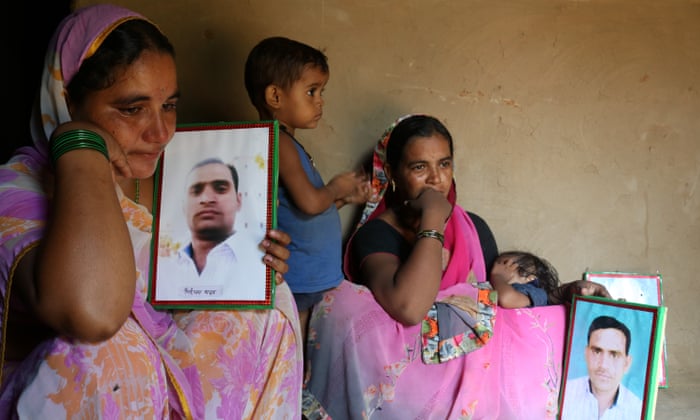 SOUTH INDIA
Telangana On Jan. 4, 2018, a Village Revenue Assistant (VRA) was allegedly killed by sand mafia[40] in Kamareddy district. The VRA identified as Boyini Sailoo was working at Kambapoor village of Pitlam Mandal.
He had recently made a raid after receiving information about illegal sand mining which is rampant in district. He informed his higher officer too before leaving to the Kakivagu stream where the sand mafia were present. But he never made it back home and later, his dead body was found by the villagers.
A youth lost his life[41] on April 23, and the condition of another one was critical after falling in one such pit in Musi river at Jajireddy Gudem village in the Suryapet district.
A native of Parsayapally village, Biraboina Srinivas (25), who went to lift sand fell in a pit near Gangadevamma temple near Musi. Another youth, Merugu Madhu, who also fell into the pit was rescued by other workers.
The illegal lifting of sand by mafia continues unabated in Musi at Jajireddy Gudem village as it fetched good money. Each person earned more than Rs 500 per day for lifting sand.
As per report, in the last 2 years, at least 6 youths from the village lost life by falling into these pits.
Andhra Pradesh Illegal and indiscriminate sand mining was posing a threat[42] to drinking water schemes in Nagavali river which were source of potable water for 62 villages in Regidi and Rajam mandals. As per guidelines, sand shall not be excavated from the river less than 500 m from the wells and filtration galleries. But in violation, mining was going on at even leas than 100 m distance.
Karnataka A bridge built across the Phalguni river at Mullarapatna connecting Mangaluru and Bantwal collapsed[43] on July 2, 2018 due to rampant sand mining. As per local people sand mining is being carried out since several years close to the bridge. The bridge was instrumental in connecting Bantwal to various places.
The media had in Aug. 2017 reported that pillars of the bridge at Mullarapatna were visible from their base because of unchecked sand mining. Though mechanised extraction of sand was banned in the district, miners were deploying excavators and other machineries to remove sand in both Nethravati and Phalguni rivers, considered the lifelines of the people.
As per the report, a youth had died in this area during a police raid. In a bid to escape the police, the youth jumped into the river thinking he could swim towards safety. However,he fell into a pit that was created in the river due to excess sand mining and died. 
On July 27, 2018, renowned Uttara Kannada advocate Ajit Nayak was hacked to death[44] by unidentified people near his office in Dandeli town while he leaving out his office.
The 57-years old Nayak was vocal about several environmental[45] causes including the Kali river rejuvenation. He was an active member of the Kali Bachao Andolan- a movement for the protection of Kali river from damming, rampant sand mining and pollution.
As per the report, over the past 6 months there has been more than 6 incidents of citizens being murdered for raising their voices against illegal sand mining. Many more are routinely facing death threats, attacks, and harassment by mafia-politician-admin nexus.
In May 2018, Hanumantha Bhangi, a social activist in Raichur was attacked by the mafia[46]. He had visited Krishna riverbed at Kolooru village in Shahapur taluk, on receiving information about illegal extraction and transportation of sand. A known activist in the district, Hanumantha was soon identified and the perpetrators pounced on him. They kicked him and attempted to drown him in the river. When he tried to film the illegal loading of sand, the perpetrators snatched his mobile phone and money.
A man who participated in the protest in front of the DC's office died on Oct. 25 evening. It is said that the health of Mohammed Haneef (42) deteriorated after participating in the protest that was held to press the demand for allowing sand removal activities in both CRZ and non-CRZ areas.  Haneef had borrowed Rs 6 lakh and had purchased two boats to remove sand in Hejamady area.  But due to the blanket ban on sand removal activities in the district by the NGT, he suffered huge loss.
Residents of greater Bengaluru's Sarjapur locality who planned to organise an awareness march for the community on Oct. 29, 2018 regarding the illegal sand mining in the region alleged of death threats from sand extractors[47]. Over the past month, the rampant sand mining in the lakes in the region, including the largest water body in the Bellandur-Sarjapur region – Doddakere Lake, was exposed by concerned residents.
In Dec. 2018, a village official was killed in broad daylight[48] while he was conducting a raid against the same in a village in the Raichur district.
The accountant was conducting a survey when he suspected a lorry to be carrying illegal sand from Tungabadra River. He tried to stop the vehicle when he was run over by the driver.
In the recent past, there had been multiple cases of illegal sand mining near the Krishna and Tungabadra rivers and officials had often been attacked on duty. In 2017, the Deputy Commissioner and the then Assistant Commissioner were assaulted by a gang of people while they were raiding illegal sand mining activities in Kandlur village. In 2016, the sand mafia was suspected to be involved the incident where 13 crest gates of the Hingani barrage were broken and a large amount of water saved for irrigation and drinking had gone to waste.
Tamil Nadu  On May 7, 2018 S. Jegadish Durai (33) a police constable with special branch of Chinthamani was brutally murdered by illicit sand miners[49] near Nanguneri in the Tirunelveli district in the early hours of May 7, 2018 after he tried to arrest them for illegally lifting sand from the Nambiyar riverbed near Puducherry.
Rampant sand mining along Nambiyar river bed came to a halt in 2003 after the then MLA of Radhapuram M. Appavu approached the Madras HC. According to him, Dhas of Kannanallur in 2000, Kumar of Mittadharkulam in 2012, Chellappa of Karunkulam in 2017 and Viyagappan of Perunkulam in April 2018 had been run over by vehicles and cases of accidents were subsequently registered to bury those "murders". 
In same region, in July 2018, a youth was hacked to death[50] by two brothers with whom he had enmity over lifting sand illegally from Nambiyar riverbed and adjacent areas. Illicit sand miners, with the clandestine support of a few officials, were making huge money in the district. As several rivers, including the Tamirabharani, were running across the district, illicit sand miners, after marking their areas of operation, were freely lifting river sand.
It is worth to mention that in March 2012, a village youth was crushed to death[51] while trying to stop lorry ferrying illegally mined sand from Nambiyar river affecting supply of water to in the Kottaikarunkulam village panchayat in Tiruneveli.
In July farmers blamed indiscriminate sand mining a reason behind the collapse[52] of 182 year old Mukkombu regulator.
Environmentalist A Ganapathi also said that sand mining was the reason for the weakening and damage of Mukkombu Barrage and British era Kollidam steel bridge in Trichy.  He also said that due to sand mining Cauvery and Kollidam rivers were losing water retaining capacity.   
In Oct. 2018, Sandhya Ravishankar, Chennai-based journalist alleged multiple attempts to stalk and intimidate[53] her in the recent past after she wrote a series of reports on the sand mafia. 
On Nov. 29, 2018, Murugan Marudhavanan, a 50 year old man of Sathangudi was murdered[54] by three men near Manalmedu in Nagapattinam district after they came to know that he had been informing police about their illegal sand mining activities on the Kollidam riverbanks. The suspects were involved in illegal sand mining, police said.
Puducherry In March 2018, Sathish Kumar, a class 12 student of the Govt Higher Secondary School in Korkadu, died[55] when Sankarabarani riverbed caved in while he was lifting the sand. The incident brought to light the illegal practice of the sand mafia employing schoolboys in a bid to find cheap labour.
According to a teacher of a government school in Villianur, "a number of children from government schools in Villianur and Kanuvapet in the age group of 14 to 17 were used by the mafia to lift sand from the riverbeds to make easy money and meet their personal expenses. These children from poor families are lured by wages ranging from ₹200 to ₹300 a day," she said. The children accepted work to meet the needs of their parents or for pocket money. This practice has been going on for long.
Summary Key information about deaths, other incidents of violence or threats related to illegal sand mining activities in India in 2018.
| | | | | | |
| --- | --- | --- | --- | --- | --- |
| States/ UT | Murder | Deaths | Incidents of violence | Threats  | Infrastructure damage |
| Uttrakhand | | 2 killed in accident  | | 1 Marti Sadan saint | 1 Bridge on tons river, Dehradun |
| Punjab | | | 7 people (5 govt employees, 2 reporters)  | 1 Village Sarpanch | |
| Haryana | | | | 4 (1 Govt official, 2 Gaurds, 1 farmer) | Western Yamuna Canal breached at Karnal submerging vast cropland areas in Sept. 2018 |
| Uttar Pradesh | 1 | 3 (people) | 2 | 2 | |
| Madhya Pradesh | 2 | | 5 | | |
| Maharashtra | | 1 | | | |
| Rajasthan | 1 | 50* in road accidents as per Dongarpur SP statement | 6 | | |
| Gujarat | 1 | 4 (labours) | 1 | | 1 (Narmada canal aqueduct on Orsang river) |
| Bihar | | 4 (kids) | | | |
| Chhattisgarh | | | | 1 | 1 Bridge on Prangal river |
| Telangana | 1 | 2 | | | |
| Andhra Pradesh | | | | | Water schemes |
| Karnataka | 2 | 1 | 1 | 2 | 1 Bridge on Phalguni |
| Tamil Nadu | 3 | | | 1 | 2 Kollidam old steel bridge & barrage |
| Puducherry | | 1 | | | |
| Total | 11 | 18 | 22 | 12 | 4 Bridges, 1 Barrage, 1 Aqueduct, 1 Canal and Water Schemes   |
According to available media reports 11 people were murdered including government officials, police personnel, reporters and citizens in 2018 for opposing illegal sand mining, while 18 people died in related activities. Also 22 people faced attacks by sand mafia while 12 were threatened of grim consequences. At least 4 bridges, 1 barrage  across India collapsed and there were significant damages to other essential infrastructures including Narmada canal aqueduct in Gujarat, Western Yamuna Canal, in Haryana and potable water supply schemes in Andhra Pradesh.
These numerous incidents of deaths, violence, threats and damages show how fearless is sand mafia in India and why there is need to take strict actions against illegal sand mining cases. Most of these deaths and losses could have been avoided. Also there is lack of information and studies about the adverse impact of unsustainable sand mining on rivers, riverine communities and aquatic ecosystems.
Compiled by Bhim Singh Rawat (bhim.sandrp@gmail.com)
End Notes:- As part of annual exercise since 2015, SANDRP is presenting year end overview on the issue of impact of sand mining in India's rivers. This year we have been publishing these reports in a state wise format. Before this report, we have uploaded illegal sand mining overview for following states:
Punjab Sand Mining 2018 Overview: SAD SAGA OF STATE FAILURE
Rajasthan: SC Banned Riverbed Mining through 2018: Centre & State Show No Concern
Gujarat Sand Mining 2018: Can Technology alone help Stop Illegal Sand Mining?
Uttar Pradesh Sand Mining 2018: Key NGT orders slap for MoEF
Madhya Pradesh Sand Mining 2018: Unprecedented Violence by Sand Mafia
Karnataka Sand Mining 2018: Hopeless, But Action Packed!
Tamil Nadu Sand Mining 2018: Story of Nexus exposed by a brave Journalists
Kerala Sand Mining 2018: How a 17 year Allapad girl became anti sand mining icon
Maharashtra Sand Mining 2018: Panegaon shows Way To stop Illegal Sand Mining
North East India Sand Mining 2018: Emerging threat to Rivers
East India Sand Mining 2018: Will NGT order help restore Subarnarekha River?
Sand Mining 2018: Telangana and Andhra Pradesh
End Notes:
[1] https://hindi.news18.com/videos/uttarakhand/dehradun-tons-river-bridge-collapse-ground-zero-dehradun-uttarakhand-news-ukrd-1634064.html
[2] https://www.hindustantimes.com/punjab/attack-on-mining-officer-patiala-dc-ig-told-to-submit-reports/story-fmOIPNW8JdVrHds33uPxHP.html 
[3] https://www.tribuneindia.com/news/punjab/two-months-on-probe-yet-to-start-in-officer-assault-case/526281.html
[4] https://indianexpress.com/article/cities/chandigarh/in-audio-clip-cop-threatens-sarpanch-who-complained-against-sand-mining-5096787/
[5] https://scroll.in/latest/883596/punjab-aap-mla-allegedly-attacked-by-sand-mafia-opposition-asks-cm-amarinder-singh-to-step-down
[6] https://www.indiatoday.in/pti-feed/story/punjab-to-arm-forest-officers-after-attack-by-sand-mafia-minister-1265250-2018-06-20
[7] https://www.ndtv.com/india-news/two-journalists-attacked-by-sand-mafia-in-punjabs-ferozepur-1891742
[8] https://www.ifj.org/media-centre/news/detail/category/press-freedom/article/tv-journalists-attacked-by-illegal-sand-miners-in-punjab-india.html
[9] https://www.hindustantimes.com/punjab/sand-mafia-assault-guards-in-panchkula-s-chandimandir-flee-with-mining-equipment/story-jPeODYhL1BJVWUfYehRAMK.html
[10] https://timesofindia.indiatimes.com/city/chandigarh/told-to-stop-illegal-mining-armed-men-attack-farmer/articleshow/67412904.cms
[11] https://timesofindia.indiatimes.com/city/chandigarh/mining-mafia-remains-active-in-panchkula/articleshow/66600128.cms
[12] http://epaper.bhaskar.com/detail/112586/09040152370101/cph/map/tabs-1/2018-09-04%2000:00:00/194/5/image/
[13] https://www.business-standard.com/article/pti-stories/hc-agrees-to-hear-pil-on-illegal-mining-on-defence-land-118050901330_1.html
[14] https://indianexpress.com/article/india/watch-video-man-jumps-in-front-of-uttar-pradesh-cm-yogi-adityanath-convoy-in-lok-bhawan-lucknow-5005359/
[15] http://htsyndication.com/htsportal/ht-mumbai/article/up-sand-trader-set-on-fire-for–opposing-illegal-mining-/26622289
[16] https://navbharattimes.indiatimes.com/state/uttar-pradesh/others/sand-mafia-tried-to-kill-police-team-in-uttar-pradesh/articleshow/64502356.cms
[17] https://www.newsx.com/national/uttar-pradesh-bjp-worker-killed-by-sand-mafia-in-sitapur-say-reports
[19] https://www.firstpost.com/india/illegal-sand-mining-how-a-few-deaths-are-mere-collateral-damage-to-bundelkhands-thriving-sand-mafia-5690841.html  
[20] https://timesofindia.indiatimes.com/city/bhopal/sand-mafia-tries-to-kill-ifs-officer-mps-chhattarpur/articleshow/62844747.cms
[21] https://www.firstpost.com/india/madhya-pradesh-journalist-probing-illegal-sand-mining-cases-mowed-down-by-truck-shivraj-singh-chouhan-vows-action-4406047.html
[22] https://www.newslaundry.com/2018/03/27/killed-in-accident-bhind-scribe-sandeep-sharma-sdop-indravir-bhadauria-sand-mining
[23] https://www.counterview.net/2018/06/sand-mafia-led-by-bjp-corporator-attack.html
[24] http://epaper.bhaskar.com/detail/73854/06130230460652/cph/map/tabs-1/2018-06-13%2000:00:00/194/8/image/
[25] https://www.hindustantimes.com/india-news/forest-officer-crushed-to-death-while-trying-to-stop-tractor-with-illegally-mined-sand-in-mp/story-TRtxbmX6HQtkCGjp0ald8M.html 
[26] https://www.outlookindia.com/newsscroll/illegal-sand-mining-tractor-driver-held-for-killing-mp-forest-officer/1379121 
[27] https://www.newsclick.in/two-forest-guards-shot-gwalior-hunt-sand-mafia-continues
[28] https://www.youtube.com/watch?v=NMnJUboVIDg
[29] https://www.ndtv.com/india-news/sand-miners-risk-injuries-and-even-death-for-a-few-100-rupees-more-1899429 
[30] https://timesofindia.indiatimes.com/city/jaipur/sarpanch-escorted-by-rajasthan-cops-beaten-to-death-by-sand-mafia/articleshow/62941154.cms
[31] https://timesofindia.indiatimes.com/city/jaipur/illegal-sand-mining-close-shave-for-cop-in-dholpur/articleshow/63538565.cms 
[32] https://timesofindia.indiatimes.com/city/jaipur/2-cops-injured-as-sand-mafia-strikes-again-in-dholpur/articleshow/63875980.cms
[33] https://www.indiatoday.in/india/story/six-arrested-for-trying-to-kidnap-inspectors-from-mining-department-1241110-2018-05-25
[34] https://www.hindustantimes.com/jaipur/illegal-river-sand-mining-sand-worth-rs10-crore-high-tech-boats-seized-from-dungarpur/story-kE4GwsFQyJRSKnfGyKihWI.html
[35] https://timesofindia.indiatimes.com/city/rajkot/farmers-tempers-soar-in-vanthli/articleshow/64453811.cms
[36] https://scroll.in/latest/883704/gujarat-four-labourers-killed-in-vadodara-district-after-embankment-collapses
[37] https://indianexpress.com/article/cities/ahmedabad/vadodara-man-shot-dead-over-sand-mining-dispute-5520845/
[38] https://timesofindia.indiatimes.com/city/vadodara/sand-mining-even-damaged-aqueduct-of-narmada-canal/articleshow/67355928.cms
[39] https://www.ndtv.com/cities/4-children-dead-after-falling-into-illegal-sand-mining-pit-in-bihar-river-1907652 
[40] https://www.indiatoday.in/india/story/telangana-vra-mowed-down-killed-by-sand-mafia-1122987-2018-01-05
[41] https://telanganatoday.com/1-dead-one-injured-after-falling-in-illegal-sand-mining-pits-in-suryapet
[42] http://www.thehansindia.com/posts/index/Andhra-Pradesh/2018-09-01/Sand-mining-posing-a-threat-to-water-schemes-/409092 
[43] https://timesofindia.indiatimes.com/city/mangaluru/karnataka-bridge-built-across-phalguni-river-collapses/articleshow/64736771.cms
[44] https://sabrangindia.in/article/lawyer-behind-save-kali-river-murdered-karnataka
[45] https://newsclick.in/lawyers-and-activists-condemn-uttar-kannada-activist-ajit-nayaks-murder 
[46] https://www.deccanherald.com/exclusives/illegal-sand-mining-wrecking.html
[47] https://www.thenewsminute.com/article/rampant-sand-mining-lakes-b-luru-activists-allegedly-warned-against-awareness-march-90749 
[48] https://www.timesnownews.com/mirror-now/crime/article/karnataka-shocker-official-mowed-down-by-truck-for-trying-to-stop-sand-mafia/335981
[49] https://www.thehindu.com/news/national/tamil-nadu/illicit-sand-miners-brutally-murder-police-constable-near-nanguneri/article23802916.ece
[50] https://www.thehindu.com/news/cities/Madurai/illicit-sand-mining-leads-to-one-more-murder-near-nanguneri-tirunelveli/article24380942.ece 
[51] https://www.thehindu.com/news/cities/Madurai/village-awash-with-tears-at-son-of-the-soils-murder/article2988699.ece
[52] https://timesofindia.indiatimes.com/city/trichy/lack-of-periodic-maintenance-sand-mining-lead-to-collapse-experts/articleshow/65522506.cms 
[53] https://www.firstpost.com/india/chennai-based-journalist-sandhya-ravishankar-alleges-stalking-intimidation-after-reports-on-sand-mining-mafia-5295131.html
[54] https://timesofindia.indiatimes.com/city/trichy/man-killed-for-informing-police-about-sand-mining/articleshow/66889081.cms 
[55] http://www.thehindu.com/news/cities/puducherry/schoolboys-employed-in-sand-mining/article22912454.ece