RIVERBED MINING REPORTS
Disturbed by mining, man jumps in front of CM convoy One can just imagine the distress and anguish building against State Govt inactions over illegal sand mining in common people. In an attempt to draw the state govt's attention towards the illegal sand mining, a man on Dec. 29, 2017 jumped in front of CM Yogi Adityanath's convoy in Lucknow.
The man identified as Shyamji Mishra wanted to draw the attention towards the illegal river bed being done in Sonebhadra "under the patronage of BJP's Sardar legislator and BJP's district president." He had earlier tried to meet the CM Yogi Adityanath a couple of times, but unable to convey his message the man was compelled to take this step. http://indianexpress.com/article/india/watch-video-man-jumps-in-front-of-uttar-pradesh-cm-yogi-adityanath-convoy-in-lok-bhawan-lucknow-5005359/ (30 Dec. 2017)
Sand Mafia in Allahabad sets opponent on fire On March 29, 2018, a sand trader was tied to a cot and set on fire allegedly by sand smugglers after he objected to the illegal mining in Trans-Ganga area under Handia police station limits. The trader underwent reatment at a private hospital where his condition was critical. Trans-Ganga SP Sunil Kumar Singh said an FIR has been lodged against Brahm Dev Mishra, Munna Singh and Dharam Singh based on a complaint filed by the victim's wife. http://htsyndication.com/htsportal/ht-mumbai/article/up-sand-trader-set-on-fire-for–opposing-illegal-mining-/26622289 (30 March 2018)
Illegal sand mining raise flood threat Large scale illegal sand mining in Ghaghara river (Basti) caused significant damage to embankments thus increasing the risk of flood during monsoon.  https://www.jagran.com/uttar-pradesh/basti-threat-to-safety-of-embankments-with-sand-mining-18028919.html (1 June 2018)
Police team attacked by sand smugglers In June 2018, sand mafia at Kosi river in Rampur attacked the police team and tried to throw them into the river. The report also detailed such attacks earlier in 2018. https://navbharattimes.indiatimes.com/state/uttar-pradesh/others/sand-mafia-tried-to-kill-police-team-in-uttar-pradesh/articleshow/64502356.cms (8 June 2018)
Villager beaten in sand mining dispute On June 23, 2018 a dispute was reported between the Pradhan of Pakrari Gram Panchayat and a villager over illegal mining in Kanhar river in Sonabhadra's Kadamganj police station area. As per report the villager was beaten and after the assault, both of them were taken to the police station.
Gram Pradhan said that the tractor and trolley were sent to the river Kanher to wash. At the same time Krishna Kumar was accusing illegal sand mining. The youth said that the illegal mining of sand was going on endangering the river's existence. https://www.jagran.com/uttar-pradesh/sonbhadra-illegal-sand-mining-18113744.html (23 June 2018)
Also see, the 29 March 2018, video report, explaining the reasons behind illegal sand mining in Uttar Pradesh. https://www.youtube.com/watch?v=ZWl8SoURVZ4
Farmers protest against illegal sand mining in Ken river In Nov. 2018, over 300 farmers including around 50 women, started 'Jal Satyagrah' by entering the waters of the Ken river to protest against sand mining in the area due to which their crops are getting damaged," in Ken river near Kolawal Raipur in Girwan area of the Bundelkhand region. As per Naraini SDM Awadhesh Kumar Srivastava, the company involved in the sand mining deviated from the allotted place and has also made a temporary bridge on the river to make passage for the sand-laden trucks. https://www.business-standard.com/article/pti-stories/jal-satyagraha-against-sand-mining-in-ken-river-118110100758_1.html (1 Nov. 2018)  
Yamuna Caught for illegal mining, Bajrang Dal men threaten to shut-down Pinhat In Jan. 2018, a unit of Bajrang Dal threatened to close down Pinhat block, after their men arrested for illegal sand mining from Utangan River in Chambal sanctuary. CO Pinhat Mohammad Khan said, "The gang was engaged in illegal sand mining for many years with the help of few local cops & right-wing group."
"After a strong input, our team waylaid vehicles convoy & arrested sand-mafias. During operation, they even tried to attack police team." According to police, the hatchback in which Raghvendar Singh alias Wale was escorting the sand-laden truck to Agra city, was black-listed in 2012 by Delhi police after a road accident. https://timesofindia.indiatimes.com/city/agra/bajrang-dal-men-caught-for-illegal-sand-mining-right-wing-group-threatens-to-shut-down-pinhat/articleshow/62572257.cms (19 Jan. 2018)
At Delhi, Haryana, UP trijection sand mining goes on The report revealed the state of a flowless Yamuna river at the entry point of Delhi. It also mentioned of sand mining activities picking up along the river. Dozens of trucks and JCBs were seen lifting valuable sand and digging the riverbed hollow just opposite shank no 8, in Nauraspur side of Yamuna in UP. https://www.indiatoday.in/mail-today/story/yamuna-river-reduced-to-a-trickle-due-to-illegal-mining-1202536-2018-04-02 (2 April 2018)
Bundelkhand Police-Politicians-Mafia nexus silences everyone with money or might This detailed report by Khabar Lahriya reveals how the nexus between sand mafia, police and politicians has been looting the sand from the rivers. Media persons who object to this are either paid money or killed for not falling in line. Having no choice left, the reporters also are helpless and become part of illegal nexus.
The poor people and villagers are worst affected by the illegal sand trade who are not allowed to take sand from rivers even for their personal works. They are often caught and punished for doing this.  https://scroll.in/article/876156/in-bundelkhands-illegal-sand-mining-ecosystem-journalists-and-others-are-paid-for-their-silence (12 April 2018)
Murders mere collateral damage to thriving sand mafia Banda is particularly rich in sand because of the rivers Ken, Bagen and Yamuna that flow through it. The 2017 district survey report of minor mineral excavation recognised 7688 ha as potential sand mines. The report stated that 1408.13 ha land was being used as mines or had already been proposed for mines, 4653.35 ha land was left to be capitalised on.
According to the same report produced in conjunction with the UP Environmental Impact Assessment Authority and Department of Geology & Mining, although sand production has seen a decline from 11,36,260 cubic metres in 2014-15 to 61,250 cubic metres in 2016-17, the last year raked in Rs 62 lakh in revenue just from the district of Banda.
Although official records state that sand production has actually fallen, this data actually belies the facts. While there is no official data on illegal mines, obviously, former Minister of Mines Piyush Goyal had said in a Lok Sabha session that the number of illegal mines have increased from 6,777 in 2014 to 11,350 in 2016.
Crackdowns over the years have consistently run dry the poor man's pockets. Police have been randomly seizing bullock carts and cycles that are used to carry sand needed to build toilets. Whether the larger nexus of the sand mafia has suffered any blows is unclear; but the continuous movement of trucks overladen with sand throughout the night in Bundelkhand definitely tells a different thing. https://www.firstpost.com/india/illegal-sand-mining-how-a-few-deaths-are-mere-collateral-damage-to-bundelkhands-thriving-sand-mafia-5690841.html   (7 Dec. 2018)
GOVERNMENT EFFORTS
Govt book 3 of its officers for sand mining in name of 'eco-restoration' Following May 2018, Hindustan Times report, the state govt lodged a police complaint against three top forest officials for calling tenders for mining sand in reserved forests, which can't be done without the Centre's permission. As per the FIR, lodged by state's special secretary (forest) Om Prakash, the Uttar Pradesh Van Nigam (forest corporation) without taking the approval of the state and the central government and in violation of norms sought e-tenders for sand mining in the name of eco-restoration of forests along the rivers.
An official of the Uttar Pradesh forest dept said the corporation had no right to issue tenders without the permission of the forest department and without analysing if eco-restoration was needed. The investigation was on and statements of the accused were being recorded. https://www.hindustantimes.com/lucknow/up-govt-book-three-of-its-officers-for-sand-mining-in-name-of-eco-restoration/story-FOC5w2w6kD0lZNekwzTlFI.html (18 May 2018)
15 trucks full of gravel seized A joint team of police and district administration seized 15 trucks full of gravel on Oct. 25. The driver of the truck failed to produce documents for carrying gravel legally and hence the trucks were taken into custody by the police. An inquiry has been ordered. https://timesofindia.indiatimes.com/city/meerut/illegal-sand-mining-15-trucks-full-of-gravel-seized/articleshow/66368660.cms  (26 Oct. 2018)
55 people booked for illegal sand mining  55 people were booked for illegal sand mining, police said. Based on a tip-off that illegal sand mining was taking place at the Ganga canal, several raids were conducted, but the miners managed to escape, said Circle Officer Ram Mohan Sharma. Meanwhile, authorities in Shamli district conducted raids and seized 14 trucks loaded with sand on Nov. 4. The raids were conducted at Baseda village which comes under the jurisdiction of Kairana police station. http://www.newindianexpress.com/nation/2018/nov/05/55-people-booked-for-illegal-sand-mining-in-uttar-pradesh-1894524.html  (5 Nov. 2018)
Yamuna Illegally mined sand put back in Yamuna It was very interesting that to save ancient Sujawan Dev Temple, illegally mined sand was put back in the river Yamuna.
Govt needs to apply the same yardstick when its about saving Rivers, Natural Heritage, Aquatic Life & Mining Affected Villagers. https://www.hindustantimes.com/lucknow/saving-heritage-with-sand-mining-on-check-bhita-gets-back-glory/story-GHXbOL7cmaiUJcJrZLKHQI.html (23 Jan. 2018)
15 arrested for sand mining on Yamuna riverbed near Noida A joint team of officials from the Gautam Budh Nagar district administration, police and UP PCB on Feb. 19 arrested 15 persons for illegal sand mining on the Yamuna riverbed. They also seized 15 tractors, three earth movers, two grinders, two motorbikes and an SUV.
Officials of the joint team said they arrested these 15 persons from the stone crushing units that are operational along the Yamuna riverbed in the villages of Rampur Khadar, Asgarpur, and Agahpur Jahangir. https://www.hindustantimes.com/noida/15-arrested-for-sand-mining-on-yamuna-riverbed-near-noida/story-lKmElLJyLvEEaiHoNgq7zN.html (19 Feb. 2018)
17 sand dumper seized The state police in Aug. 2018, caught 17 sand mining dumpers entering from Haryana side. The police warned of strict action against any illegal mining activities. The trucks were ferrying sand from Haryana state and were stopped by police personnel at Shahjahanpur.  https://www.livehindustan.com/uttar-pradesh/saharanpur/story-17-dumpers-from-the-sand-mining-coming-from-haryana-2119926.html (11 Aug. 2018)
Illegal sand mining operation busted, excavator machine seized  In April, 2018, police raided an illegal sand mining operation along the banks of the Yamuna in Shamli district and seized an excavator machine. The raid was conducted after police received a tip-off regarding the sand mining mafia operation in the area falling under the Jhinjhana police station in Shamli.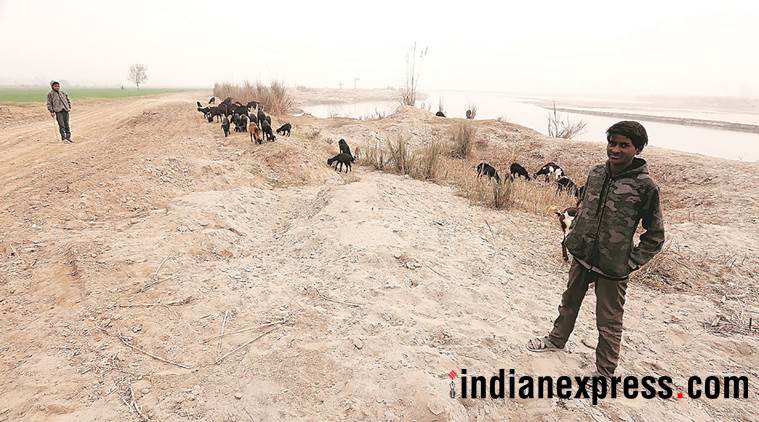 A team of police and revenue officials, led by Sub-divisional Magistrate V K Singh, rushed to the spot and seized an excavator machine. One person, Naresh, Haryana, was arrested while others managed to escape. https://indianexpress.com/article/india/illegal-sand-mining-operation-busted-excavator-machine-seized-in-uttar-pradesh-5138419/ (15 April 2018)
In a first, NSA invoked against mining mafia In Aug. 2018, the Gautam Buddh Nagar district administration passed an order invoking the stringent National Security Act (NSA) against the kingpin of a sand mining mafia who had built a dam on the Yamuna river. The order, the first of its kind against the sand mafia, was passed to press charges under section 3(2) of the NSA against Sanjay Momnathan (48), DM Brajesh Narayan Singh said. https://thewire.in/law/nsa-sand-mining-mafia-yamuna-noida  (28 Aug. 2018)
As per DM the decision was taken after Sanjay Momnathal allegedly tried to create a dam with sand and soil to stop the flow of the Yamuna that was in spate after the rain in Momnathal village. Sanjay's son Bhupendra was also booked in the case in July 2018. https://timesofindia.indiatimes.com/city/noida/sand-miner-builds-a-dam-on-yamuna/articleshow/65585422.cms (29 Oct. 2018)
DM announced NSA against Bhupendra Singh also, who along with his father allegedly killed power department employee at Dhoom Manikpur substation. SP (rural) Ashish Srivastava said that the arrest of Bhupendra will break the backbone of the illegal sand mining in the area. However, within two hours of the announcement of the arrest, Bhupendra got bail from the district court. As per sources, the administration had been planning to invoke the NSA against Bhupendra too but the bail order proved as a setback for the administration's efforts.
Bhupendra whose father is well known as one of the oldest sand miners in Greater Noida has four cases lodged against him under the Mines and Minerals (Development and Regulation) Act along with three cases for attempt to murder under IPC 307 and two under criminal law amendment act. https://timesofindia.indiatimes.com/city/noida/sand-miner-arrested-gets-bail-within-two-hours-of-announcement/articleshow/64996284.cms (15 July 2018)
Bhupendra Momnathal was also identified as the key person behind the murder conspiracy against gangster Dharmendra alias Dharmi. The Noida STF on Jan. 9, 2019 arrested two main accused Vivek and Gyanendra and identified Bhupendra Momnathal—whose father remains in jail after his arrest and subsequent invoking of NSA against him—as the main conspirator in the murder case. As per the report, he was still absconding. https://timesofindia.indiatimes.com/city/noida/police-link-sand-miner-to-dharmis-murder/articleshow/67478875.cms (11 Jan. 2019)
Public Hearing Notice on sand mining proposal in Yamuna Public Notice has been issued by UPPCB regarding Environment Public Hearing of sand mining proposal at Belakalan village on Yamuna bank in Gautambudh Nagar, to be held on 5 Oct. 2018.
Surprisingly instead of providing relevant documents among concerned citizens and villagers, it just informs that they are available at DM & Tehsil Sadar office, Gautambudh Nagar, MoEF regional office Lucknow, UPPCB office, Lucknow & Greater Noida etc.
As per the rule all the executive summary is to be given to all concerned in local language. Soft copies of all the documents are also to be provided on Pollution Control Board website, among others. https://epaper.jagran.com/ePaperArticle/04-sep-2018-edition-Delhi-City-page_9-3768-7189-4.html  (4 Sept. 2018)
Bundelkhand 372 trucks carrying illegally-mined sand impounded In one of the biggest actions against mining mafia, around 372 trucks and dumpers carrying illegally mined sand and stones have been impounded by the police in coordination with regional transport office (RTO) and mining department on UP-MP border in Etawah on Dec 29. In 6 hours operation, nearly 1.24 crore of revenue was earned. https://timesofindia.indiatimes.com/city/kanpur/372-trucks-carrying-illegally-mined-sand-impounded/articleshow/62303383.cms (30 Dec.2017)
CBI Role of former UP CM Akhilesh in illegal mining to be probed After conducting raids at 12 locations in Uttar Pradesh and Delhi, the Central Bureau of Investigation (CBI) said that the role of former UP, CM Akhilesh Yadav would be examined in connection with an illegal sand mining case. The case was taken over by the CBI on directions of the Allahabad HC.
The residences of senior officers, including IAS officer B Chandrakala were also raided in connection with the case. The search was spread across multiple districts, including Jalaun, Hamirpur, Lucknow and also in the national capital. Adil Khan, B.Chandrakal, then mining officer Moinuddin, SP MLC Ramesh Mishra and his brother, mining clerk Ram Ashray Prajapati, Ambika Tiwari (Hamirpur), mining clerk Ram Avatar Singh, his relatives and Sanjay Dikshit are accused in the case.
The agency said that the role of all those who were ministers during the period of 2012-16 would be examined in the case. Akhilesh was the CM during the same period. It is alleged that the public servants allowed illegal mining during 2012-16 and illegally renewed licences despite a ban by NGT on mining. Allegedly, the officers also allowed theft of minerals, extort money from leaseholders and drivers. https://indianexpress.com/article/india/akhilesh-yadav-sp-up-illegal-sand-mining-case-cbi-5524640/ (5 Jan. 2019)
Sand Mining Scam: ED files 2 new cases The ED registered two more cases of money laundering in its ongoing probe into the illegal sand mining cases in Kaushambi and Shamli districts. The cases were registered under the Prevention of Money Laundering Act (PMLA) against several officials, as per senior probe agency official. https://www.ndtv.com/india-news/in-up-sand-mining-scam-probe-agency-files-2-new-cases-1982841 (24 Jan. 2019)
ED files money laundering case The ED registered an Enforcement Case Information Report (ECIR) against politicians and bureaucrats for allegedly laundering proceeds of crime earned through illegal allotment of sand mining licences in Hamirpur between 2012 and 2016. The ED case is based on a CBI FIR where the latter said it would also examine the role of ministers who held the charge of the mining ministry during the period of the alleged scam. https://indianexpress.com/article/india/up-sand-mining-ed-files-money-laundering-case-5543911/ (18 Jan. 2019)
COURT ORDERS
NGT seeks response on illegal mining in Ken & Betwa Rivers The Green Tribunal on May 8, 2018 sought responses from the Centre and the state govt over a plea alleging illegal sand mining in Ken and Betwa rivers in four districts of Uttar Pradesh. The tribunal was hearing a plea filed by Hamirpur resident Prem Singh Yadav alleging large scale unscientific sand mining in Ken and Betwa rivers in the districts of Banda, Hamirpur, Jalaun and Jhansi in Uttar Pradesh in violation of the conditions prescribed in the environmental clearance (EC) as well as the mining lease deed.
The plea contended that although the people involved in sand mining have started obtaining permissions, the situation on the ground has not changed, as the project proponents are not complying with the conditions of the EC and the concerned authorities were not taking any action against any of the violators. "One of the respondents is violating the conditions prescribed under the EC by carrying out in stream mining using heavy machinery (pockland) and conducting mining operations even during night hours which is strictly prohibited as per the conditions of the EC," the plea said. https://www.business-standard.com/article/pti-stories/ngt-seeks-centre-up-govt-response-on-petition-alleging-illegal-sand-mining-in-ken-betwa-rivers-118050800632_1.html (8 May 2018) 
NGT asks Govt to conduct surprise visits along Betwa In May 2018, the green tribunal directed "periodical inspections and surprise visits" along Betwa river banks in Jalaun and Hamirpur districts of Uttar Pradesh to keep a tab on illegal sand mining in the area. A bench headed by Justice Raghuvendra S Rathore asked the district magistrates to look into the issue of illegal mining and keep a constant vigil over the area.
The NGT had earlier directed authorities to immediately stop illegal sand mining in the area and issued notices to Union Ministry of Environment, Uttar Pradesh govt and state pollution control board. The tribunal was hearing a plea filed by NGO Jan Sashaktikaran seeking action against alleged illegal sand mining on Betwa river. https://www.outlookindia.com/newsscroll/conduct-surprise-visits-along-betwa-river-to-stop-illegal-sand-mining-ngt-to-up-govt/1318026 (28 May 2018)
Stop illegal mining in 2 months In July 2018, NGT ordered the govts of Uttar Pradesh and Madhya Pradesh to strictly prohibit illegal mining in both the states. It also ordered the release of ongoing investigations related to it within two months. With this final order, NGT cleared the hearing on petitions going on for the last 5 years. Many people, including Banda's social worker Braj Mohan Yadav, had filed petitions against illegal mining in the NGT.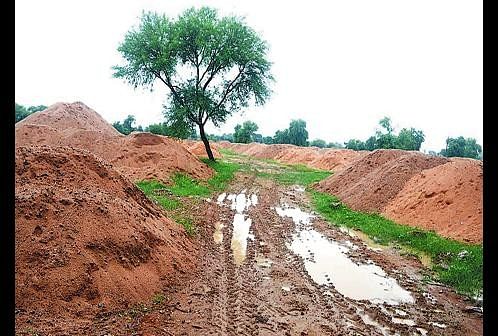 The petitions had highlighted large scale illegal mining in Ken and Baghen rivers of Banda and consequential damage to the environment. The NGT was continuously hearing these writ petitions and had issued a notice to 710 persons involved in illegal mining involving the govts in both states. It also had imposed a penalty of Rs 25000 on many. NGT had served notices seeking clarification including from the the Central Govt. https://www.amarujala.com/uttar-pradesh/banda/ngt-orders-illegal-mining-in-two-months  (26 July 2018)
Only govt can permit sand mining: NGT The Green Tribunal in Sept. 2018 prohibited any permission for mining of sand and minerals at the district level, which was touted as a landmark order by environmental activists. Instead, all such permissions will now have to be procured from the state govt directly. The NGT's principal bench, headed by chairperson AK Goel, issued the order in the wake of a petition by Greater Noida-based environmentalist Vikrant Tongad in 2016 that said sand mining on river beds was done mainly for the purpose of construction. "The tribunal has noted that extraction of alluvial soil from within or near a stream bed has a direct impact on the stream's physical habitat characteristics including bed elevation, substrate composition and stability, in-stream roughness elements, depth, velocity, turbidity, sediment transport, stream discharge and temperature," Tongad told media.
In its order, the tribunal took back the rights of District Level Environment Impact Assessment Society (DEIAA) in granting permission for any kind of mining activity in a land area ranging from 0-5 ha. The order stated that permission for any kind of mining would now have to be secured from the state-level Environment Impact Assessment Society (SEIAA), saying that the DEIAA did not have the expertise or scientific knowledge necessary to assess environmental implications and had been conferred with "excessive and uncanalized power devoid of any guidelines". https://www.masterbuilder.co.in/only-uttar-pradesh-govt-can-permit-sand-mining-ngt/ (27 Sept. 2018) 
NGT overruled govt order easing mining rules In Sept. 2018, the Green Tribunal overruled the Union environment ministry's 2016 notifications that exempted mining of minor minerals like sand in up to 25 ha area from prior public consultation and the environmental impact assessment (EIA). The court also said that the exemption for minor minerals violated a 2012 SC order, which held that all mining leases depending on their size would need to obtain environmental clearance. The bench noted that the ministry's notifications were in conflict with the 2016 sustainable sand mining guidelines, which said an EIA should address the environmental impacts of minor mineral mining.
The ministry had amended the 2006 EIA notification and put mining of minor minerals in an area up to 25 ha in B-2 category. An environmental clearance is required under the category. But it is exempted from public hearings and EIA. The notification bypassed any detailed environmental study and only asked for basic project information. A district environment impact assessment authority was granted powers for environmental clearance for mines spread over an area up to 25 ha. Petitioner Vikrant Tongad had contended that the district level assessment authority had no scientific expertise in assessing environmental impacts. He had alleged that the 2016 notification provided an exemption of the "rigours of the necessity of EIA and EMP" for 5 – 25 ha areas which previous notifications made necessary.
NGT directed public hearings and EIA for minor mineral mines with 5 to 25 ha area. It added state environment impact assessment authority would evaluate smaller mines of up to 5 ha instead of district level body. The bench ordered the ministry to incorporate a procedure to calculate the annual rate and timeframe for replenishment after mining is stopped in an area and frame guidelines for calculation of the cost of restitution of damage caused to mined out areas. https://www.hindustantimes.com/india-news/ngt-junks-government-order-easing-mining-rules/story-Bs2HBuCGoGBGqcs8mgCdjJ.html  (27 Sept. 2018)
Red flag against 36 sand mining projects In Dec. 2018, the NGT withheld the environmental clearance (EC) given to at least 36 sand mining projects in Uttar Pradesh on the ground that it was obtained in violation of rules specified in the EIA notification of 2006. The mines, located in the floodplains of the Ken, Yamuna and Betwa rivers, had got a "Regional EIA" (REIA) done by a private consultant. Based on the REIA, many projects were granted environmental clearance by the SEIAA.
But in the EIA 2006 notification, there is no concept called REIA. Each sand mining project is required to submit an individual EIA report, which is to be appraised individually by the SEIAA. Some lawyers & competitors of the private EIA consultant who did the REIA had noticed the aberration & informed SEIAA about it. https://www.pressreader.com/india/hindustan-times-st-mumbai/20181223/281840054779503 (23 Dec. 2018)
NGT seeks response on sand mining in Yamuna NGT has sought response from the Divisional Commissioner, Allahabad, after a committee headed by the officer failed to submit a report on the alleged illegal sand mining in the area. The officer has been directed to be present before the Tribunal on January 22.
In Sept. 2018, the green panel had directed constitution of a committee to be headed by the officer and sought a report on the allegations of illegal mining. Petitioner Atul Singh Chauhan had challenged the ongoing sand mining in the Yamuna riverbed in Allahabad without the requisite environmental clearance. https://www.thehindu.com/news/national/other-states/ngt-seeks-response-on-sand-mining-in-yamuna/article25893989.ece (3 Jan. 2019)
Summary:- The above narrated reports show that several violent incidents involving illegal sand extraction took place in Uttar Pradesh in 2018. The Chief Secretary's complaint in May 2018 resulted in FIR against three Forest Dept officials including the director of Van Nigam for inviting sand mining tenders in rivers inside reserved forest. It was a remarkable development.
Invoking of NSA against dreaded illegal sand miner Sanjay Momnathal, by the district administration of Gautam Budh Nagar was unprecedented, it was first time that NSA was invoked against a sand mafia. The police was also trying to book his son Bhupendra Momnathal under same charges.
There was no significant improvement in the situation of Ken and Betwa rivers which flow through the Bundelkhand region comprising Uttar Pradesh and Madhya Pradesh. Sand mafia kept damaging these rivers along with their small tributaries round the year. It continued even after imposition of a ban by NGT.
However, the NGT passed several important orders to control the illegitimate extraction of riverbed minerals in UP. In a remarkable decision, in Sept. 2018, the NGT disallowed DEIAA from issuing sand mining permission observing that the body lacks required expertise.  In a way, the decision rendered MoEF's 2016 notification ineffective which exempted sand mining upto 25 ha from EIAs and public consultation. Further to this, in Dec. 2018, the green tribunal withheld EC given to about 36 sand mining projects in violation of EIA notification 2006.
As 2018 ended, CBI got into action by conducting raids and beginning the probe against several govt officials including former mining minister Gayatri Prajapati and DM Hamirpur in connection with   illegal sand mining scam that took place in the state between 2013-16.
Compiled by Bhim Singh Rawat (bhim.sandrp@gmail.com)
You may also like to see
Punjab Sand Mining 2018 Overview: SAD SAGA OF STATE FAILURE
Rajasthan: SC Banned Riverbed Mining through 2018: Centre & State Show No Concern
Gujarat Sand Mining 2018: Can Technology alone help Stop Illegal Sand Mining?
Madhya Pradesh Sand Mining 2018: Unprecedented Violence by Sand Mafia