We have presented through separate articles, overview of sand mining issues of Punjab, Uttar Pradesh, Madhya Pradesh, Rajasthan, Gujarat, Maharashtra, Tamil Nadu, Karnataka, Kerala, Telangana-Andhra Pradesh, East India and North East India, in addition to one on murders, violence, threats and infrastructure damages due to illegal sand mining. This compilation tries to throw some light on the sand mining related issue of 2018 in remaining states with the help available media reports.
Jammu & Kashmir Illegal sand mining in the name of dredging in Jhelum river In Feb. 2018, the residents of Shilwat-Sumbal area Ganderbal district expressed concern over the illegal sand mining in the name of dredging with heavy machines in the river Jhelum by some influential people of the area.
Locals also accused officials of Irrigation and Flood Control Department of being hand in glove with sand-miners that were allowing them to carry out sand extraction at various spots on the stretch. The illegal sand extraction was making Shilwat-Sumbal area vulnerable to floods due to the weakening of the embankments of the Jhelum river. https://kashmirreader.com/2018/02/04/illegal-sand-mining-in-ganderbal-threatens-lives/ (4 Feb. 2018)
Demand to lift ban on sand extraction from river bed In Sept. 2018, the tractor trailer owners and drivers demanded lifting of the ban on the extraction of sand and gravel from the Tawi river bed. Alleging that carrying material from far-off sites for construction projects in the city was costing them dearly, they urged the authorities to come to the rescue of miners as they were rendered jobless due to the ban. Sources in the department said despite the ban, unabated mining was going on which had not only been causing a huge loss to state exchequer but also damaging strategic bridges, causing soil erosion and impacting the course of the river.
The J&K High Court (HC) had 2 years ago imposed a ban to keep a check on the uncontrolled extraction of minerals from local rivers like the Tawi, the nullah near Sidhra bypass bridge, Jajjar nullah and Kattal Battal. Though the ban was imposed to save the Tawi riverbed on which four bridges are constructed, other sites of mining in the peripheries were not brought under the prohibition. https://www.tribuneindia.com/news/jammu-kashmir/demand-to-lift-ban-on-sand-extraction-from-river-bed/649341.html  (8 Sept. 2018)
Illegal mining in Kupwara under the nose of authorities Despite a ban by J&K HC, Kupwara district administration is allowing sand & bajri excavation from Mawar Nallah by influential people who deploy earthmoving machines at the riverbed, locals alleged.
The mining was allowed by govt's Geology and Mining Department at some designated points but some private companies continued with their illegal ways to maximise profits. Local complained of civic agencies taking no action and feared that the act was making the area vulnerable to flooding. The illegal sand extraction had caused low flow of water in Mawar Nallah affecting farmers whose agriculture fields depend on irrigation from it.  https://greaterkashmir.com/news/kashmir/illegal-sand-mining-in-kupwara-under-the-nose-of-authorities/309365.html (13 Jan. 2019)
Police launches crackdown on illegal sand mining  Tightening noose against sand mafia operational in Tawi area and many other adjoining streams, police on Dec. 24 seized many trolleys in violation to HC PIL no 19 of 2012 against illegal extraction of sand. Police spokesman said that from the last few days many raids were conducted by different squads of police in which more than 50 trolleys were seized under different sections of law. http://www.uniindia.com/~/jammu-police-launches-crackdown-on-illegal-sand-mining-seizes-trolleys/States/news/1447810.html (24 Dec. 2018)
Himachal Pradesh Kangra villagers put united efforts to fight illegal mining The villages of Kangra district sharing borders with Punjab were feeling the heat because of the unscientific mining practice prevalent on the banks of Ravi river. The illegal mining had not only caused revenue loss to the state, but it had also taken a toll on natural resources. Farmers claimed that the use of heavy earth moving machinery for mining had changed the course of water, causing several problems for them.
Importantly, farmers living in these villages took upon themselves to put up a fight against illegal mining as the authorities failed to act.  More than 200 farmers of Riyali, Rey, Bogrwan, Mand Indora, Khanpur and Milma villages in this district formed an outfit- Mand Kshetra Paryavarn Sanrakshan Samiti to fight their cause. The samiti reportedly also filed cases with National Green Tribunal (NGT) raising their plight. https://timesofindia.indiatimes.com/city/shimla/illegal-mining-comes-to-haunt-border-area-villages-in-kangra/articleshow/63852199.cms (21 April 2018)
As water level depletes, illegal mining picks up in Beas With the depletion of water level in the Beas, illegal mining has picked up once again in Jaisinghpur areas, as there was no check from the state agencies. A dozen tractor-trailers, trucks and dumpers were seen extracting mining material from different points of the riverbed.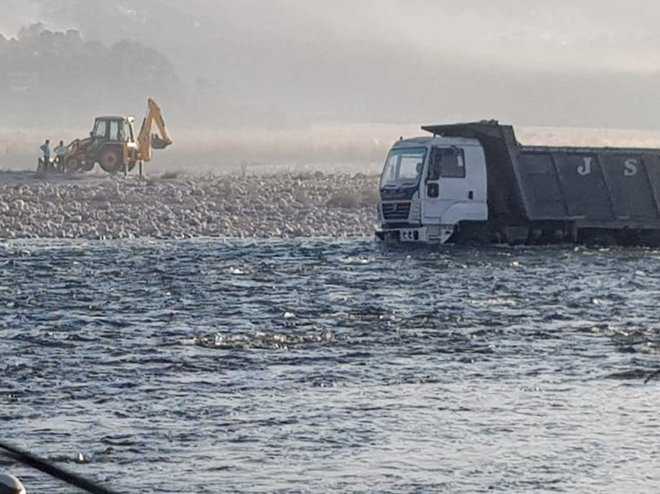 Illegal mining had not only caused loss to the state exchequer worth lakhs of rupees daily, but also resulted in large-scale environmental degradation. The HC had imposed a ban on all types of mining in the Beas. The state agencies failed to implement the HC orders. https://www.tribuneindia.com/news/as-water-level-depletes-illegal-mining-picks-up-in-beas/675611.html  (30 Oct. 2018)
Areas not earmarked  Rivers and khuds in Jaisinghpur of Kangra district were affected by illegal mining. As a result, natural water resources were drying up, water level in khuds also went down, rivers were changing course leading to floods in the remote subdivision of Kangra.
As per the directions of the NGT and the state govt, the mining authorities were supposed to earmark the area allotted for mining with flags so that no illegal mining was carried out outside the leased area. In absence of proper demarcation of the land leased out to stone crushers, the administration failed in checking of illegal mining in the Beas and other rivulets. https://www.tribuneindia.com/news/himachal/areas-not-earmarked-illegal-mining-goes-on-in-jaisinghpur/686989.html  (22 Nov. 2018)
Uttrakhand Seer on a protest against mining, forcefully hospitalized In Jan. 2018, a Nigmanand like episode unfolded in Haridwar when another saint of Matri Sadan who was on fast against illegal mining for 5 weeks was forcefully hospitalized. He feared that like Nigmanand he would be poisoned to death. State Govt imposed section 144 on Matri Sadan. It was later stayed by HC.  http://www.hindustantimes.com/dehradun/matri-sadan-moves-court-against-haridwar-district-magistrate/story-hGYFu8EZkZEBVX7pqOynsJ.html (3 Jan. 2018)
Hindi news report on heroic struggle of Matri Sadan saints to stop illegal and river destroying mining in Ganga at Haridwar.  
Cop suspended for being involved in illegal sand mining In Feb. 2018, the police suspended constable Ashwini Sharma who was allegedly trying to facilitate passage of a truck loaded with illegally mined sand in Vikasnagar area in Dehradun. When a jawan of the Provincial Armed Constabulary (PAC) tried to stop him, he reportedly got into a scuffle with him. Following this, the PAC jawan fired at Sharma but the bullet missed the target. The PAC is a reserve force and has been deployed in certain parts of the state to check illegal sand mining. https://www.hindustantimes.com/dehradun/cop-suspended-for-being-involved-in-illegal-sand-mining/story-Hhu16tS8LpDzuks0qnk7jK.html (18 Feb. 2018)
Illegal mining rampant, Govt. taking no action Illegal extraction of sand and stone was taking place across the state, but the govt was taking no action. The areas of Doiwala, Raipur and Pachawadun were affected by illegal mining. Interestingly Doiwala area falls under the CM's constituency. The report also mentioned that when it came to controlling the mining both previous and present Govt have failed and administration simply shifts the blame on contractors. https://www.navodayatimes.in/news/khabre/why-does-not-the-government-take-such-a-tough-step-as-amarinder-singh-in-the-illegal-mining-case/75772/ (3 March 2018)
5 vehicles involved in illegal mining in Doiwala, seized  Conducting a raid in Raiwala area, the district administration seized 3 dumpers and 2 tractor trollies found involved in illegal mining. https://www.livehindustan.com/uttarakhand/rishikesh/story-five-wheels-in-illegal-mining-in-doiwala-1960840.html  (16 May 2018) 
NGT bans quarrying in Ganga, its tributaries In March 2018, following NGT direction state govt banned quarrying in Ganga and its tributaries. The ban came after an interim order by the NGT and will remain in effect till the green body passes final order. Before this, in March 2017, the Nainital HC had banned mining in the state for four months. Then in July 2017, NGT had directed state govt to ensure no illegal quarrying was carried out on floodplains of river Ganga. https://www.hindustantimes.com/dehradun/post-ngt-order-uttarakhand-bans-quarrying-in-ganga-its-tributaries/story-X8exkJPuV0Aa0yR46LHGuO.html (4 March 2018)
Govt welcomes SC order removing stay on mining In May 2018, Supreme Court (SC) stayed Nainital HC order banning sand mining in the state. Welcoming the SC order, state finance minister Prakash Pant said that it would help govt meet its revenue target of Rs. 550 crore through mining activities in this financial year.
He also added that the govt will through a new mining policy, ensure "complete transparency and take strict action against illegal mining." The state has given 339 mining licenses, including 200 given to private firms, which had fetched Rs. 350 crore in 2017. https://timesofindia.indiatimes.com/city/dehradun/uttarakhand-govt-relieved-after-sc-order-allows-mining/articleshow/58114774.cms (6 May 2018)
Song, Suswa, Jakhan ravaged by illegal mining  Large scale illegal mining in Suswa, Song, Jakhan rivers was happening despite a ban by Nainital HC in Oct. 2018.
As per Virandar Pengwal the petitioner in the case, the local administration kept the order secret for one month helping the sand extractors and only ordered closer of mining when he sent a copy of decision to them. The petitioner alleged involvement of govt officials in the matter. https://thesundaypost.in/uttarakhand/docked-on-government-revenue/  (14 Dec. 2018)
NGT bans quarrying on Nandhaur river In Dec. 2018, the NGT put a stop on quarrying on the Nandhaur river citing its proximity to the Nandhaur Wildlife Sanctuary in Nainital district, barely a month after the process of extracting sand and gravel for construction purposes had begun for the current season. The Forest Development Corporation (FDC) had in late April allowed the quarrying following the state govt's repeated attempts at seeking necessary clearances from the Union environment ministry after the 10-year lease for quarrying had ended in 2016.
But the NGT, which was looking into a plea challenging the quarrying on the banks of the river, accepted the petitioner's contention that the site of quarrying was within 10km of the sanctuary, whose boundaries establishing the limits of eco-sensitive zone had still not been determined by the state govt. Petitioners Nandan Singh and Bahadur Singh of Chorgaliya also said that the government must define the eco-sensitive zone of the wildlife sanctuary, which was created in 2012.  https://www.hindustantimes.com/dehradun/ngt-bans-quarrying-on-nandhaur-river-in-uttarakhand/story-HkelUksjB2m7wDvRtpueoK.html (20 Dec. 2018)
Forest Corporation to resume mining in Ganga As per the Forest Development Corporation NGT has disposed of Ganga riverbed mining case allowing it to start riverbed mining after getting Environmental Clearance from MoEF on the basis of FRI study. https://naidunia.jagran.com/national-mining-issue-cleared-in-ganga-and-its-tributaries-in-haridwar-2725945 (24 Dec. 2018)
Villagers protest against stone crushers in Bhagirathi  In Dec. 2018, the residents of Matali village in Uttarkashi staged protest against stone crushers in Bhagirathi river. The crushers were operating even during night, causing noise pollution. They also feared of accidents by speeding stone laden trucks through crowded areas. https://epaper.jagran.com/epaper/26-dec-2018-105-garwal-edition-garwal.html (26 Dec. 2018)
Bridge on Tons river collapsed, 2 killed  A 115 years old British era single lane bridge on Tons river in Birpur, Dehradun collapsed on Dec. 28 morning killing two people. The incident occurred while overloaded sand truck was passing through it.
The bridge connecting around 50 villages was damaged during June 2013 floods and was opened after repair. Sand laden trucks & other heavy vehicles were using the bridge daily. https://epaper.jagran.com/epaper/29-dec-2018-105-garwal-edition-garwal.html  (29 Dec. 2018)
Haryana 3 illegal mining incidents surfaced in Panchkula With the start of new year, sand mafia became active in the Panchkula district. In first 10 days of 2018, three cases of illegal sand mining of illegal mining were registered at Chandimandir police station. https://timesofindia.indiatimes.com/city/chandigarh/within-10-days-three-illegal-mining-cases-surface-in-pkl/articleshow/62451457.cms (11 Jan. 2018)
4 cases of illegal mining registered in Naraingarh Officials have discovered illegal mining activities in Roon river in Naraingarh area. The mining officials found these sites while inspecting Toka, Taparia, Mianpur and Sangrani villages in Naraingarh block. They found that machines have dug up huge pits and extracted a large quantity of minerals from the river. Acting on a complaint by mining officials, the Ambala district police have registered four cases of illegal mining. https://timesofindia.indiatimes.com/city/gurgaon/four-separate-cases-of-illegal-mining-registered-in-naraingarh/articleshow/65326020.cms   (8 Aug. 2018)
Cops detect illegal sand mining, chase 5 trucks in Raipur Rani A month after more than 22 people were booked for illegal mining, Panchkula police in a raid on May 11, evening booked a person for carrying out illegal sand mining at the riverbed of Rampur village near Raipur Rani. Cops found five heavy vehicles stationed near the riverbed. All of them sped away. Cops, however, managed to catch one truck driver.
Police registered a case against Neeraj under Sections 188 (disobedience to order duly promulgated by public servant) and 379 (punishment for theft) of the IPC, Section 21 (4) of the Mines and Mineral Act in Raipur Rani police station. The maximum number of cases in 2018 was registered in April so far (7). https://timesofindia.indiatimes.com/city/chandigarh/cops-detect-illegal-sand-mining-chase-five-trucks-in-raipur-rani/articleshow/64141785.cms (13 May 2018)  
YAMUNA River  माफिया ने विधवा की जमीन पर कर डाला खनन, खतरे में 30 गांव दो साल पहले पति की मौत हो गई। परिवार के गुजार के लिए सिर्फ जमीन है। जमीन भी अब खनन माफिया के निशाने पर है। माफिया ने अवैध तरीके से खोदाई कर डाली। इसकी शिकायत खिजराबाद थाना (यमुनानगर) पुलिस को कई दफा दी गई, मगर पुलिस ने कोई कार्रवाई नहीं की। जमीन पर इतनी गहरी खोदाई कर डाली कि बाढ़ आने पर तटबंध टूट जाएगा। तटबंध के टूटने पर साथ लगते 30-40 गांवों में पानी घुस जाएगा। यहां पर खेती की जमीन भी खराब हो जाएगी। विरोध करने पर मारने की धमकी मिल रही है। आरोपितों पर कार्रवाई कर जमीन बचाने की गुहार रझेड़ी निवासी निशा रानी ने सीएम को भेजी शिकायत में लगाई है।
जनवरी में कुरुक्षेत्र सांसद राजकुमार सैनी की जमीन को माफिया ने खोद डाला था। सैनी के भतीजे ने खनन विभाग को शिकायत दी थी। उस पर भी कोई ठोस कार्रवाई नहीं की गई। इसी तरह इस एरिया में दर्जनों ऐसे लोग हैं, जिनकी जमीन को खनन माफिया ने कभी रात के अंधेरे में तो कभी दिन के उजाले में खोद डाला। डर के कारण ये लोग शांत रहते हैं। ध्यान रहे 2012 में इस एरिया में आई बाढ़ ने तबाही मचाई थी। https://www.jagran.com/haryana/yamunanagar-mining-mafia-displaced-women-s-land-illages-in-danger-17616308.html (6 March 2018)
विभाग की जमीन पर माफिया ने किया पत्थर का स्टॉक ताजेवाला, अराईयांवाला व खैरी बांस में अवैध खनन माफिया सिंचाई विभाग की जमीन में ही पत्थर व रेत का स्टाक कर मोटी कमाई कर रहा है। खनन माफिया के हौसले इतने बुलंद होते जा रहे हैं कि वह बेपरवाह दिन रात यमुना नदी का सीना चीरने में लगा है। यमुना नदी में जाने वाले रास्तों को छोड़ कर सिंचाई विभाग की खाली पड़ी जमीन में बेरोक-टोक अर्थमूवर मशीन से खनन कर रहे हैं। स्थानीय लोगों का कहना है कि खनन विभाग की ओर से जिन घाटों को ठेका दिया गया है वही पर रेत, बजरी व गटका निकाला जा सकता है इसके अतिरिक्त किसी भी जगह से खनन करना कानूनन अपराध की श्रेणी में आता है। लेकिन खनन माफिया बेखौफ अपने कार्य को अंजाम दे रहा है। https://www.jagran.com/haryana/yamunanagar-mafia-did-rock-and-stock-stock-on-the-land-of-the-department-17616335.html (6 March 2018)
माफिया दे रहे धमकी – चै तो जमीन ठेके पै दे द‌्यो, न्हीं हमनै तो लेणी आवै सै पानीपत जिले में रेत खनन पूरी तरह बैन है, फिर भी जीटी रोड से 11 किमी दूर यमुना किनारे रक्सेड़ा खनन के लिए चर्चा में है। गांव की तरफ बढ़ने पर असहज करने वाले संकेत मिलते हैं। बार-बार ओवरटेक कर रहे लोग पहचान की तस्दीक करते हैं। दहशत की ये तस्वीर तब और साफ हो गई, जब भास्कर टीम गांव में पहुंची। ग्रामीणों से बात शुरू ही हुई थी कि चार लोग अनायास ही आ गए। कुछ देर बाद उनके जाने पर ग्रामीणों ने बताया कि डर के कारण वे अब तक अपनी बात नहीं कह पा रहे थे। धीरे-धीरे जमीन छिन जाने की कहानी जुबां पर आने लगी। बीच में कई बुजुर्गों की आंखें नम हो गईं। सरपंच पंडित जयप्रकाश ने बताया कि रेत खनन के लिए जमीन ठेके पर देना नहीं चाहते, पर माफिया के डर व धमकी के कारण देनी पड़ती है। कोई न दे तो खेतों के आसपास से रेत उठाकर इतना मजबूर कर देते हैं कि जमीन देनी ही पड़ती है।
यमुनानगर में आलम ये है कि रेत के लिए माफिया यमुना की धार को मोड़ देते हैं। ग्रामीण वेदीराम, कुलवंत, जयभगवान नंबरदार, सांवर त्यागी, राममेहर, पवन व हरदीप ने कहा कि गांव में बच्चों की पढ़ाई व लोगों की सेहत सब चौपट है। सस्ते श्रम के चक्कर में युवाओं को माफिया नशे में फंसा रहे हैं। गांव में शराब निकालने की भट्ठियां लग गई हैं। रेत ढुलाई के लिए दिन-रात दौड़ रहे डंपर, ट्रैक्टर-ट्रॉलियों से घरों में दरारें आ चुकी हैं। सड़कें-गलियां टूट चुकी हैं। किसी को टीबी हो गई तो किसी की आंखें जा चुकी हैं। त्वचा के रोग तो लगभग सभी को हैं। साथ लगते सिम्भलगढ़ व बुढ़नपुर के किसान भी पलायन को मजबूर हैं, पर पैसे व विकल्प न होने के कारण नहीं कर पा रहे।
रेत खनन से प्रभावित 157 गांवों में हर दिन खेती की जमीन कम हो रही है। गहरी खुदाई से यमुना का दायरा गांव की तरफ बढ़ता जा रहा है। रेत उठाने और उड़ने से फसल खराब हो रही है। विभिन्न कारणों से यमुनानगर में 7000, करनाल में 3200, पानीपत में 2500 व सोनीपत में 3500 एकड़ खेती प्रभावित है। यहां अब रेत की खेती हो रही है।
1 मजबूरी: जब माफिया रेत उठाते हैं तो वो आसपास के खेतों के नीचे से रेत निकाल लेते हैं। खनन के कारण ठोकरें खत्म हो गई हैं और हर साल ज्यादा जमीन कटती जा रही है। खेती योग्य जमीन भी रेतीली हो जाती है और अगले वर्ष मजबूरी में उसे रेत के लिए देना पड़ता हैं।
2 विवशता: ग्रामीणों के अनुसार खेती के लिए जमीन दी जाए तो हर साल 10 से 15 हजार रुपए मिलते हैं। रेत उठाने के लिए उसी जमीन के माफिया एक वर्ष के 35 से 40 हजार रुपए देते हैं। इसके बाद यहां कभी खेती नहीं हो पाती। इसलिए हर साल माफिया को जमीन देना विवशता है।
3 …और माफिया की चालाकी: वैध पॉइंट्स पर रेत उठाने की मंजूरी 10 फीट तक होती है। पर माफिया जेसीबी लगाकर 30 से 40 फीट गहरी खुदाई कर रहे हैं। उन्हें यह भी पता है कि इतनी खुदाई के बाद जमीन खेती योग्य नहीं रहेगी और अगले वर्ष भी उन्हें सस्ते में रेत के लिए मिल जाएगी।
यमुनानगर के नजदीक रणजीतपुर, जो कि हरियाणा-हिमाचल का बार्डर एरिया है, वहां कुरुक्षेत्र सांसद राजकुमार सैनी के खेत हैं। खनन माफिया ने उनके खेतों को भी नहीं बख्शा और यहां के करीब 4 एकड़ खेतों से खनन जनवरी माह में किया गया। जब इस बात का सांसद को पता चला तो उन्होंने प्रेसवार्ता कर अपनी पीड़ा सुनाई।
4 गांव में नशे का काम: इन गांवों में कुछ लोगों ने नशे काे कारोबार बना लिया है। बाहर से चरस, गांजा और अफीम लाने लगे हैं। घरों में शराब भट्ठी लग गई हैं। 60 प्रतिशत युवा नशे में फंस कर गुलामी करने काे मजबूर हैं।
5 नशे के बदले काम: रेकी से लेकर खनन के लिए स्थानीय युवाओं की जरूरत पड़ती है। माफिया फायदे के लिए बेरोजगार युवाओं को नशे की लत लगा रहे हैं। माफिया युवाओं से नशे के बदले में काम कराते हैं।
6 रेत व नशे ने बढ़ाया क्राइम: नशे के कारण इन गांवों में क्राइम बढ़ रहा है। चोरी, मारपीट और लूट की घटनाएं होती रहती हैं। गांवों में कई-कई गुट बन गए हैं। खनन कार्य काफी लोग करते हैं और उनमें झगड़ा होता रहता है। जिससे फायरिंग आदि की घटनाएं होती रहती हैं। क्षेत्र में लोग दहशत में रहते हैं। https://www.bhaskar.com/harayana/sonipat/news/HAR-SONI-MAT-latest-sonipat-news-041504-1334576-NOR.html (26 March 2018)
Illegal mining The opposition alleged involvement of ruling party leaders in illegal sand mining. The Congress chief had earlier estimated a mining scam of Rs 3 lakh crore in the state. Putting forth videos and RTI documents to corroborate his claims, he had said, "The practice of illegal mining was rampant in Yamunanagar and other parts of Haryana." https://www.dailypioneer.com/2018/state-editions/illegal-mining-still-prevalent-in-haryana-over-892-cases-noticed.html (2 April 2018)
बरसाती नदी भी खनन माफिया ने नहीं बख्शी, पुलिस व खनन विभाग बैठा है हाथ पर हाथ धरे यमुनानगर: पुलिस और खनन विभाग की लापरवाही के चलते अवैध खनन माफिया का हौसला बुलंद है। खनन माफिया अवैध खनन का कोई भी मौका नहीं छोड़ रहा। संबंधित विभाग कार्रवाई करने के बजाए हाथ हाथ धरे बैठे हुए है। इसी का नतीजा है कि माफिया बरसाती नदियों को भी नहीं छोड़ रहे। बरसात के दिनों में अवैध खनन लोगों पर भारी पड़ेगी। इस ओर किसी का भी ध्यान नहीं है।
हिमाचल की सीमा पर बसे भगवानपुर गांव की ओर लोहगढ़ से होते हुए बरसाती नदी आती है। यहां पर खनन की साइट है। मगर नियमों को ताक पर रखकर खनन हो रहा है। सरकार लोहगढ़ में जाने के लिए एक करोड़ की लागत से सड़क बना रही है। निर्माणाधीन सड़क से कुछ ही दूर पर खनन माफिया ने बरसाती नदी को खोद डाला। अवैध खनन से सड़क के अलावा उपजाऊ जमीन और गांव को भी खतरा है। ये एरिया हिमाचल की सीमा से सटा हुआ है। यहां पर आने का रास्ता भी खस्ताहाल है। इसकी लाभ खनन माफिया उठा रहा है।जहां पर मौका मिलता है वहां पर खोदाई कर लेते हैं। https://www.jagran.com/haryana/yamunanagar-sand-mafia-did-not-spare-rain-fed-river-18124169.html (26 June 2018)
अवैध खनन से किसानों की जमीन यमुना में समा गई कागजों में जमींदार, हकीकत में करनी पड़ रही मजदूरी यमुनानगर/जठलाना  गांव संधाला के कलीराम। राजस्व रिकॉर्ड में वह 10 एकड़ जमीन के मालिक हैं। हकीकत में उनके पास एक इंच भी जमीन नहीं। यमुना में अवैध खनन की वजह से नदी की क्रीक बदली और जमीन पानी में समा गई। कलीराम बताते हैं कि कुछ जमीन तो 2013 में बाढ़ के कारण समा गई थी। जो बची थी वह इस बार फसल समेत बह गई। किसान के मुताबिक उनकी जमीन के आसपास रेत ठेकेदारों ने अवैध खनन किया। इस बारे छह बार खनन विभाग, प्रशासन और सीएम विंडो पर शिकायत की। कोई कार्रवाई नहीं हुई। पांच बेटियां व दो बेटे। आज पूरा परिवार मजदूरी कर घर का खर्च चला रहे हैं।
सिर्फ कली राम नहीं बहुत से किसानों की एेसी कहानी है। यमुना में अवैध तरीके से माइनिंग के कारण भूमि कटाव के चलते फसलें व जमीन गवां चुके किसान बुधवार को गुमथला अनाज मंडी में महापंचायत करेंगे। मंगलवार को गांवों में ढोल बजाकर मुनादी करवाई। किसानों का कहना है कि प्रशासन को बातचीत के जरिए मामला सुलझाने के लिए दो दिन का अल्टीमेटम दिया गया था, कोई सुध नहीं ली गई। अब उन्होंने झंडा व डंडा दोनों उठा लिए हैं। https://www.bhaskar.com/harayana/yamunanagar/news/land-of-the-farmers-from-illegal-mining-the-landowners-in-the-yamuna-the-landlord-the-wages-to-be-made-in-reality-033151-2702890.html (12 Sept. 2018)
Illegal mining caused breach in Yamuna canal Illegal sand mining was cited as main reason behind breach in Western Yamuna Canal embankment at Karnal on Sept. 2 submerging about 2000 acre crop land belonging to adjoining 8 villages.https://www.tribuneindia.com/news/haryana/karnal-farmers-blame-illegal-mining-for-canal-breach/647830.html (4 Sept. 2018)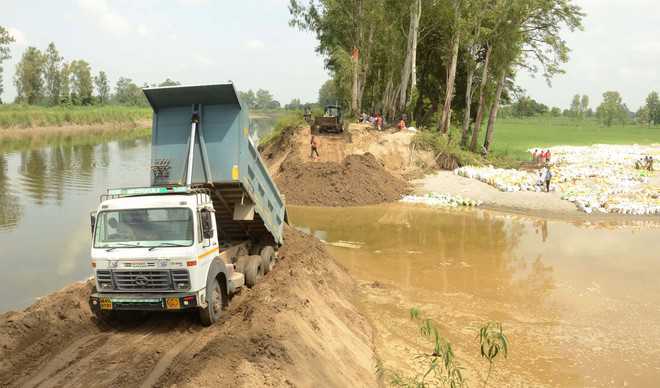 खनन माफिया ने श्मशान घाट की भूमि खोद डाली, ग्रामीणों में रोष बिलासपुर: घाड़ क्षेत्र में खनन माफिया ने मानवीय संवदेनाओं को ताक पर रख दिया है। सोम नदी में अवैध खनन का लालच इस कदर बढ़ चुका है कि अब माफिया ने श्मशान घाट की भूमि को भी खोद डाला है। रणजीतपुर के पास खनन माफिया ने श्मशान की भूमि को खोद डाला। जिससे ग्रामीणों में रोष बना हुआ है।
ग्रामीण दलीप कुमार, इरफान, राम जतन, प्रीतम कुमार, राजेश कुमार ने बताया कि खनन माफिया अधिकारियों की मिली भगत से पूरे कार्य को अंजाम दे रहा है। बस स्टैंड के समीप ही रणजीतपुर चौकी लगती है, उनके सामने से ही माफिया यहां से रेत, बजरी व पत्थरों से भरे डंपर लेकर निकल रहे हैं। रणजीतपुर में सोम नदी के पास लगभग एक एकड़ श्मशान भूमि पड़ती है। इस भूमि को भी खनन माफिया ने खोद डाला है। उसे खोदकर पांच से छह फुट कर दिया गया है। इस वजह से अब ग्रामीणों को संस्कार करने में भी दिक्कत आ रही है।
खनन करने वालों का लालच इतना बढ़ गया है कि एक दिन पूर्व संस्कार की जगह को भी नही छोड़ते हैं। परिजनों के जाते ही संस्कार करने वाली जगह पर भी खुदाई आरंभ कर देते है। इस बारे में जब खनन के ठेकेदार के कारिंदों से बात करते है तो वे मार पिटाई व लड़ाई झगड़े पर उतर आते है।ग्रामीणों ने चेतावनी दी है कि यदि जल्द की अवैध खनन पर रोक ना लगाई, तो आंदोलन किया जाएगा। https://www.jagran.com/haryana/yamunanagar-mining-mafia-dug-the-land-of-cremation-grounds-18876311.html (21 Jan. 2019)    
NGT raps govt over mining in Sonepat  In May 2018, the green panel rapped the Haryana govt over rampant illegal mining of minor minerals in Sonepat district, saying it was surprised at the violations. A bench set by the tribunal has appointed advocate Abhishek Atrey as the court commissioner and directed him to conduct an inspection on May 3, itself.
Irked at the approach of the authorities, the bench headed by Justice Raghuvendra S Rathore stated, "We are extremely surprised to see that despite all specific orders passed by the tribunal to State of Haryana that no mechanised mining is to take place in the river bed, the same is not being adhered to by them. As a matter of fact, the environmental clearance issued by the state reflects a situation otherwise regarding the machines to be used for mining." It further said, "In these circumstances and before proceeding further, we deem it just and proper to immediately have inspection of the present status of the site. Therefore, we request advocate Abhishek Atrey to be a court commissioner and visit the site today." The matter was posted for next hearing on May 4.
The green panel was hearing a plea filed by Vikas Kumar, a Haryana resident, who had sought action against illegal and unauthorised mining of minor minerals including gravel and sand in the district. The plea said despite stringent conditions being imposed, mining of sand and minor minerals on river bed was being done by using heavy machinery contrary to the terms and conditions of environmental clearance. https://indianexpress.com/article/india/haryana-ngt-raps-state-government-over-mining-in-sonipat-appoints-court-commissioner-5162259/ (3 May 2018)
Illegal mining on Air Force Land HC agrees to hear PIL The Delhi HC on May 9, agreed to hear a PIL alleging illegal mining on a defence land situated at the Tilpat Ranges 1 and 2 on the banks of river Yamuna in Faridabad and Noida. A bench of Acting Chief Justice Gita Mittal and C Hari Shankar said it would hear the plea on May 16.
The petitioner said he has made representations to various authorities including PM Modi, who forwarded it to the Ministry of Defence and to the Indian Air Force (IAF). He said the illegal activities caused loss of over Rs 29 crore to the exchequer. The plea also sought a direction  to the CBI to enquire into serious offences of corrupt practices in compliance with a letter issued by the PM's Office in October 2016.
It said the whistle-blower had earlier filed a petition in the NGT against the illegal mining activities of sand mafias on the defence land and the tribunal had in 2013 prohibited mining activity which was being carried out in Faridabad. The man had earlier also approached the HC seeking his relocation to the national capital from Haryana where he was allegedly facing threat to his life for raising the issue of illegal sand mining. https://www.business-standard.com/article/pti-stories/hc-agrees-to-hear-pil-on-illegal-mining-on-defence-land-118050901330_1.html (9 May 2018)
Is IAF protecting its land from sand mining asks HC The Delhi HC on May 16, issued notice to the Centre and the IAF on a plea alleging illegal mining on defence land on the banks of the Yamuna river in Faridabad and Noida. The bench asked the respondents to file a response on the plea and listed the matter for Sept 19. The HC asked the Centre whether the IAF was protecting its land on the banks of the Yamuna from illegal sand mining. The query was posed by a bench of Acting Chief Justice Gita Mittal and Justice C Hari Shankar while issuing notice to the Ministry of Defence and IAF on a PIL seeking a CBI probe into alleged collusion by officials of the local authorities and the air force with the sand mafia.
The court said it will decide whether to order a CBI probe after seeing what the IAF has done to protect its land. "We will ensure that IAF protects its land," the bench said. Central government standing counsel Anurag Aluwahlia said that 90 per cent of a wall around the site was completed. https://www.business-standard.com/article/pti-stories/is-iaf-protecting-its-land-on-yamuna-banks-from-sand-mining-hc-asks-118051600866_1.html (16 May 2018) 
Goa Mines department renews 200 permissions for sand extraction Mines department has renewed 200 permissions for sand extraction from operators.
270 applicants had paid fees and arrears. https://digitalgoa.com/mines-department-renews-200-permissions-for-sand-extraction/ (23 Jan. 2018)   
Protect ecology while mining for sand: DMG With a view to protecting the state's riverine and in-stream systems, the directorate of mines and geology (DMG) directed sand extractors not to disturb turbidity, velocity and flow-pattern of rivers or estuaries during extracting. Any violation could result in cancellation of permits, the directorate said.
"The permit holder shall not interfere or cause any damage to bunds, river banks, agriculture fields, eco-sensitive zones, fish, migratory birds and breeding grounds," the directive, aimed at mitigating likely ecological impact caused by sand extraction, stated. The department also sought permit-holders help in fighting illegal extraction, storage and transportation of sand. https://timesofindia.indiatimes.com/city/goa/protect-ecology-while-mining-for-sand-dept/articleshow/62907832.cms (14 Feb. 2018)
Sand mining season begins Mining in state rivers began after permission from DMG. The sand permits were granted for a period of one year with ban during monsoon period. The legal sand extraction was permitted in River beds of Mandovi, Chapora, Terekhol, Macazana R, Rivona, Loutolim and Talaulim.
The extraction activities were banned between 6.00pm to 6.00am. An annual cap of 1400 cubic meters sand extraction per permit is been fixed. http://theneutralview.com/goa-sand-mining-season-begins-200-permits-granted/ (24 April 2018)  
Camurlim objected to sand extraction activities Villagers of Camurlim objected to the sand extraction during the gram sabha held on May 13, 2018, demanding the cancellation of sand extraction zones and to declare the mangroves along the river side as reserved forest. Locals fear that constant sand extraction at this zone would lead to soil erosion.
Locals further informed that the Kodo Katar Bhand had become weak and could collapse at any moment, resulting in the salty water entering the fields of Vagalim, Muddawado and Khairat, further affecting the livelihood of farmers, as they are totally dependent on the farming activity.
Fishermen who have their houses located along the marked zone expressed concern saying due to sand extraction their houses too were at risk as they may collapse. They also pointed out that the sand extraction activity was affecting the breeding area of fish. https://www.heraldgoa.in/Goa-News/Camurlim-objects-to-sand-extraction-activities-/130755.html (4 May 2018)
Ban do little to curb sand mining in Tiracol Despite the govt having recently constituted a patrol-cum flying-squad to monitor and crack down on illegal sand mining, a large number of canoes were seen extracting sand on Sept. 16, 2018 in the Tiracol river, from the mouth till the border touching Patradevi in Maharashtra. Unofficial estimates suggest extraction in the Tiracol river constitutes about 35% of the total sand extracted from rivers across the state. https://timesofindia.indiatimes.com/city/goa/flying-squad-ban-do-little-to-curb-sand-mining-in-tiracol/articleshow/65825804.cms  (16 Sept. 2018)
Goa Sand miners stop trucks from Maharashtra at border Angry sand miners from Keri and Paliem stopped 15 Maharashtra registered sand laden trucks entering Goa at Kiranpani border on Oct. 12. They were upset that sand mining has been stopped by the state govt, but sand extracted in Maharashtra is allowed to freely enter Goa. They demanded that the govt stop entry of sand from Maharashtra and instead immediately restart legal sand mining in the state. https://timesofindia.indiatimes.com/city/goa/sand-miners-stop-trucks-from-mrashtra-at-border/articleshow/66188635.cms  (12 Oct. 2018) 
Chhattisgarh Illegal sand mining in Ong riverbed Ong river a tributary of the Mahanadi, flows through Sambalpuri village bordering Odisha and Chhattisgarh under Jagdalpur district police limits. The river was once a bed of sand but had seen wild growths replacing the sandy bed reflecting the massive sand mining on the riverbed. Ironically, rampant illegal sand mining was being carried out by the sand mafia from Chhattisgarh 24X7 while authorities kept looking the other way resulting in huge loss to the State exchequer.
The illegal sand mining was being carried out in Chardapali, Sambalpuri, Luhurakot and Sareikela. Excavators and heavy commercial vehicles such as trucks were engaged in illegal sand mining which was transported to Chhattisgarh. Miners gradually extended the area of sand mining and proper motorable road were laid on the riverbed to ensure smooth movement of the heavy vehicles carrying sand. A 4 km forest stretch was cleared for construction of road.
Although it was stopped for sometimes after locals protested, things were back to square after a few days. While some villagers allege local administration to be hand in glove with the sand mafia, some others claim that the local authorities refused to visit the spot out of fear for their lives. Allegations of sand mafia misbehaving with womenfolk of villages going to river have also been levelled resulting in escalation of tension in the area. Locals, who dared to raise their voice against illegal sand mining, are threatened with dire consequences. http://www.newindianexpress.com/states/odisha/2018/mar/23/chhattisgarh-sand-mafia-have-field-day-on-ong-riverbed-1791289.html (23 March 2018)
People get no help, as mafia continue to plunder the mineral Video report over Illegal sand mining finds that it is causing huge loss to govt's revenue. When a man raised his voice against illegal sand mining in his area he received a threatening letter from the mafias. When he showed the letter to Police they asked him to keep quiet if he wants to save his life. https://www.youtube.com/watch?v=NMnJUboVIDg (3 April 2018)
MLA conducted raid at midnight Acing upon number of complains of illegal sand mining from Mahanadi river ghat, local MLA, Manoj Mandvi conducted a raid and directed police officials to seize the heavy vehicles. As per the MLA, an outside contractor was carrying mining in the river even during nights which was against SC order. The administration failed to act on complains hence he had to conduct the raid.
The MLA also stated that the illegal mining activity had been damaging the national highway due to which commuters were facing great difficulties and incidents of road accident had also increased. He also accused state govt for supporting the illegal mining. https://naidunia.jagran.com/chhattisgarh/kanker-chhattisgarh-kanker-sand-mines-raids-mla-mandavi-2571993 (16 Sept. 2018)  
New mining policy benefiting panchayats The district collector was authorised to clear a mining plan at the district level on the recommendation of a mining official. The applicant need not to visit office of Directorate mining dept which was locate in the capital.
The change in sand mining policy was benefiting the gram panchayat and so far about 20 gram panchayats had sent the proposals. Last year 7 mines were being operated by panchayats and 7 by Mining Corp. https://www.patrika.com/katni-news/why-chhattisgarh-rule-is-adopted-by-mp-in-sand-mining-case-1-3501568/ (12 Oct. 2018)
Puducherry  Death of a schoolboys employed in sand mining In March 2018, Sathish Kumar, a class 12th student of the Govt Higher Secondary School in Korkadu, died when Sankarabarani riverbed caved in while he was lifting the sand. The incident brought to light the illegal practice of the sand mafia employing schoolboys in a bid to find cheap labour. Poverty and proximity to riverbeds have been weaning away a number of children studying in government schools and pushing them into sand mining.
According to a teacher of a government school in Villianur, "a number of children from government schools in Villianur and Kanuvapet in the age group of 14-17 have been used by the mafia to lift sand from the riverbeds to make easy money and meet their personal expenses. These children from poor families are lured by wages of ₹200-300 a day," she said. This practice has been going on for long. http://www.thehindu.com/news/cities/puducherry/schoolboys-employed-in-sand-mining/article22912454.ece (3 March 2018)
LG discusses steps to curb illegal sand mining Lieutenant Governor Kiran Bedi on May 15, chaired a meeting of senior revenue and police officers at the Raj Nivas to discuss steps to be taken to curb illegal sand mining and the transport of river sand from waterbodies. The meeting was held in the wake of the increase in incidents of smuggling by the sand mafia from the Sankarabarani and Thenpennaiar riverbeds. https://www.thehindu.com/news/cities/puducherry/meeting-discusses-steps-to-curb-illegal-sand-mining/article23897135.ece (16 May 2018)
Central Government
Ministry of Mines Mines Ministry pushes through sand mining framework On March 20, 2018, the Ministry of Mines launched draft Sand Mining Framework. On a very short notice, it invited comments on the draft on Feb. 15. The last date for which was March 2. http://mines.gov.in/writereaddata/UploadFile/sandmining16022018.pdf. The main objective of the framework was to help states deal with the issue of sand mining, including demand-supply deficit and illegal extraction.
Launching the framework at the 3rd national Conclave on mines & Minerals in New Delhi, the Union Minister of Mines Narendra Singh Tomar claimed that it has been prepared after intensive consultations with the state govt officials and other stake holders.
The framework addresses the issues of state objectives, demand-supply assessment, and measures to sand availability, allocation model, transportation and monitoring mechanisms. Besides, it also includes suggestions for faster clearances /approvals and using its interventions in complete process chain of sand mining. The framework also lays emphasis on the possible alternatives of sand, including its import. https://www.thehindu.com/business/Economy/government-launches-sand-mining-framework/article23302652.ece (20 March 2018)
Mines & Minerals 4th National Conclave Sand mining most discussed issue now a days: Mining Minister India begins sand import: According to officials present at the 4th national conclave on mines and minerals held in Indore, sand (also known as 'baalu or reti or gitti')  as new item had just been added on India's import list.  Officials also told a shipment of sand had arrived from Oman – a development that should worry the policymakers and judiciary alike.
There was no shortage of items on India's import list that was worth $460 billion in 2017-18. Speaking at the conclave, Narendra Singh Tomar said the issue of sand mining occupied the agenda for discussion wherever he went these days. As per the minister, iron-ore and manganese were not on agenda but sand mining was. https://www.moneycontrol.com/news/business/economy/as-india-now-begins-import-of-sand-minister-says-baalu-most-discussed-item-these-days-2709621.html   (13 July 2018)
Summary:- It is clear that the people and rivers in the states of Jammu & Kashmir, Himachal Pradesh, Uttrakhand, Goa and Chhattishgarh were greatly suffering from illegal sand mining activities while the respective governments more or less remained a mute spectators. The reports also show that the concerned administrative officials were in many cases involved in facilitating plundering of finite natural resource.
In Jammu & Kashmir illegal extraction was reported in Jhelum (in the name of dredging) and Tawi river, while in Himachal Pradesh Beas and Ravi rivers were affected by the menace apart from some smaller streams in both states.
In Uttarakhand, instead of checking illegal extraction in National river Ganga, the government appeared more keen to resume it amid the protests from Matri Sadan. In terms of judiciary, while NGT allowed quarrying in Ganga after EC from MoEF, the SC stayed Nainital HC mining ban order. Towards the end of year, NGT banned mining in Nandhaur river in Nainital district finding it in violation of rules.
Similarly in Haryana, NGT has reprimanded the government for turning blind eye to large scale illegal mining. As per sources it's still going on. The HC of Delhi has also admitted petition complaining of illegal sand mining in Yamuna floodplain lying between Noida and Faridabad. As per report the land actually belonged to IAF. Notably the Greater Noida administration in Aug. 2018 had invoked NSA for the first time after independence against sand mining in the same stretch.
In Goa, despite efforts, mining was happening illegally. While the farmers and fishermen of Camurlim objected to sand mining citing threat to livelihoods, Keri villagers demanded legalized mining and a ban on Maharashtra sand trucks entering the state at Kiranpani border. It seems the Tiracal river of Maharashtra is worst affected by mining. 
Likewise the Ong river in Chhattishgarh was bearing the brunt of large scale illegal excavation. It seemed that the mafia was fearless and openly threatening the villagers as administration also looked away.
If we talk of deaths and infrastructural losses, a bridge in Uttrakhand on Tons river collapsed killing two people and Yamuna canal part in Karnal was damaged reportedly due to illegal mining activities. There was report of bridge collapse & violence in Chhattishgarh also. And a school boy employed in sand mining in Puducherry also died of drowning in the river.
On part of Central Government, the ministry of mines in 2018 brought out sand mining framework to help states in solving the supply and illegal extraction related issues. The year also saw two national conclave on the issue revealing that sand mining was highly debated issue in the country and sand has been added in the list of imported items.
Compiled by Bhim Singh Rawat (bhim.sandrp@gmail.com)
End Notes:- As part of annual exercise since 2015, SANDRP is presenting year end overview on the issue of impact of sand mining in India's rivers. This year we have been publishing these reports in a state wise format. Before this report, we have published illegal sand mining overview for following states:
Punjab Sand Mining 2018 Overview: SAD SAGA OF STATE FAILURE
Rajasthan: SC Banned Riverbed Mining through 2018: Centre & State Show No Concern
Gujarat Sand Mining 2018: Can Technology alone help Stop Illegal Sand Mining?
Uttar Pradesh Sand Mining 2018: Key NGT orders slap for MoEF
Madhya Pradesh Sand Mining 2018: Unprecedented Violence by Sand Mafia
Karnataka Sand Mining 2018: Hopeless, But Action Packed!
Tamil Nadu Sand Mining 2018: Story of Nexus exposed by a brave Journalists
Kerala Sand Mining 2018: How a 17 year Allapad girl became anti sand mining icon
Maharashtra Sand Mining 2018: Panegaon shows Way To stop Illegal Sand Mining
North East India Sand Mining 2018: Emerging threat to Rivers
East India Sand Mining 2018: Will NGT order help restore Subarnarekha River?
Sand Mining 2018: Telangana and Andhra Pradesh
Illegal Sand Mining Violence 2018: at least 28 People died across India