Delhi Chief Minister Arivind Kejriiwal led govt seems to be now proposing privatisation of Delhi water supply.
Delhi DJB to hand over water, sewage lines to private companies In its board meet on Thursday (Sept. 24), DJB approved the 'One Zone, One Operator' policy to enable private firms to take over the care and management of pipelines after the city is divided into 7-8 zones. These private firms will be appointed for 10 years. The operation, management and maintenance of water and sewage lines in Delhi will be handed over to private operators by Delhi Jal Board (DJB).
Ankit Srivastava, technical adviser to DJB, described the step as "not at all akin to the privatisation of distribution of electricity in the power sector". All work entrusted to the private companies will also remain under DJB's supervision and no board employee will be laid off. Officials disclosed that notices calling for the new operators will be issued around October 1. The zones will be determined based on the hydraulics of the regions.
DJB manages around 14,500km of water pipelines and 9,000 km of sewer lines to ensure water supply and sewage services to 20 million people in Delhi. The board is responsible for the procurement of raw water, its treatment and the supply. "DJB currently takes wastewater from New Delhi Municipal Council and Delhi Cantonment Board areas, both of which are responsible for the provision of local sewer networks within their own territories," the official said.
The board has cleared the proposal to install 200 tubewells in the floodplain at Palla in a phased manner to extract raw water supply. An official added that the board also discussed the implementation of the polluter-pays principle as directed by NGT. https://timesofindia.indiatimes.com/city/delhi/delhi-jal-board-to-hand-over-water-sewage-lines-to-private-companies/articleshow/78306641.cms (25 Sept. 2020)
Delhi CM also said that the government is in talks with "water-rich" states such as Uttar Pradesh, Himachal Pradesh, Haryana and Uttarakhand to explore the possibility of water-sharing pacts. https://www.hindustantimes.com/delhi-news/delhi-to-appoint-consultant-for-24×7-water-supply-cut-leakages-kejriwal/story-q3E4MBVUnvwhqjxmtZ50PL.html (26 Sept. 2020)
HYDRO POWER PROJECTS
Sikkim Rivers for Life ACT, an organization of the indigenous Sikkimese citizens to protect the land and people from the threat to the Biodiversity Hotspot (Khangchendzonga Biosphere Reserve), endangering the demographic profile of the indigenous primitive Lepcha tribes and the right to live in one's homeland with dignity and security due to implementation of numerous mega hydro-electric power projects in one go. https://www.youtube.com/watch?v=rgOhDXpQJek&feature=youtu.be (27 Sept. 2020)
Himachal Pradesh 'Ensure minimum flow of water downstream' -NGT has observed that no business or commercial interest can override the requirement of maintaining riverine ecology, while hearing a petition seeking enforcement of releasing minimum water downstream by the hydroelectric projects in Himachal Pradesh. It has held that every hydel project, irrespective of the date of its commissioning, is under an obligation to release minimum water downstream.
-Saying this is a mandate for sustainable development, which is part of right to life, NGT has accordingly directed compliance by all the HEPs, including in Uttarakhand, Sikkim, Arunachal Pradesh, West Bengal, Assam and Jammu & Kashmir.
-"Unfortunately, no report has been filed by the ministry of jal shakti, even though nine months have passed," said principal bench of NGT headed by its chairperson, Justice Adarsh Kumar Goel in a recent order. It said the report of the state pollution control board, Sikkim, dated March 23 is to the effect that e-flow meter has been installed or is to be installed or the power project was 'under establishment'. NGT also observed that NHPC Limited, through an application, has sought exemption from releasing water to maintain 15% e-flow during the lean period.
-It said even though none appeared during the hearing, telephonic contact was made with the counsel who stated that he was not in position to add anything as he had missed the list. It said NHPC has annexed notice issued Himachal Pradesh pollution control board on February 5 and by the J&K pollution control board dated February 6, directing maintenance of eflow and the hydel projects.
-Principal bench said it has gone through the applications. Only reason given in para 9 (of IA 294/2020) is that it is practically and structurally not feasible to release water to maintain the requisite e-flow in projects commissioned earlier. https://timesofindia.indiatimes.com/city/shimla/ensure-minimum-flow-of-water-downstream/articleshow/78250138.cms (22 Sept. 2020)
Uttarakhand, Himachal Pradesh Over 75 hot springs identified for power generation Kalachand Sain, director Wadia Institute of Himalayan Geology (WIHG) Dehradun said they have identified around 40 hot springs in Uttarakhand and 35 in Himachal Pradesh, where thermal energy from the springs can be used to generate electricity.
Sain said of the 40 hot springs in Uttarakhand, around 50% have electricity generation capabilities and further studies are being conducted on the rest of the hot springs. Similar is the status of power generation potential of hot springs identified in Himachal Pradesh. There are around 600 geothermal springs with varying temperature and chemical conditions in the Himalayas, according to the department of science and technology (DST).
The WIHG director said this is first of its kind exercise to explore the power generating capacity of hot springs at such a scale here; which will also help in understanding practical challenges of plugging the release of carbon dioxide from these hot springs by condensing it back into the water. WIHG's study of gas emissions from Himalayan geothermal springs has shown that they discharge a significant quantum of Carbon dioxide (CO2) rich water. https://www.hindustantimes.com/india-news/over-70-hot-springs-identified-in-uttarakhand-and-hp-for-power-generation/story-bjJX2H9EHfaFVKeycOiOJP.html (27 Sept. 2020)
DAMS
Polavaram Project NGT directs Telangana SPCB to submit status report on muck dumping The NGT has directed the Telangana State Pollution Control Board (TSPCB) to submit status report on a plea alleging that muck was being dumped illegally at the Polavaram dam in Andhra Pradesh. A bench headed by NGT Chairperson Justice Adarsh Kumar Goel directed the pollution control board to submit report by January 11 2021. The NGT had earlier ordered a four-member committee to conduct an inspection near the Polavaram dam and submit a report. https://www.outlookindia.com/newsscroll/muck-dumping-at-polavaram-dam-ngt-directs-telangana-spcb-to-submit-status-report/1939883 (21 Sept. 2020)
Tamil Nadu Water level in Mettur dam crosses 100ft The water level in the Mettur dam crossed the 100ft for the first time in 102 days on Friday (Sept. 25). Subsequently, the quantity of water released to the delta districts for irrigation purposes from the dam was increased to 20,000 cubic feet per second (cusecs) from 18,000cusecs. PWD officials performed a special puja as the water level crossed the 100ft-mark for the 66th time in the dam's 87-year-old history.
Last year, the official said, the water level in the dam had touched 100ft on August 13 and reached its full capacity of 120ft on September 7. After that, the water level in the dam was maintained above 100ft for nearly 308 days.
Earlier, the dam had maintained water level above 100ft for nearly 427 days from August 4, 2005 to October 4, 2006. "After that, it was only in 2019-20 that the dam could maintain water above 100ft for a considerable long period," the official said. He said the dam was likely to reach the full capacity of 120ft in the next few days. "For that to happen, catchment areas in Karnataka and the river pathways should receive continues rain." https://timesofindia.indiatimes.com/city/coimbatore/water-level-in-mettur-dam-crosses-100ft-delta-dists-to-get-more-water/articleshow/78324386.cms (26 Sept. 2020)
Uttarakhand More Than 3 lakh trees will be submerged due to Pancheshwar dam As per partial counting reported so far, Pancheshwar dam to lead to destruction of 3.69 lakh trees in the forest area of Champawat and Pithoragarh district. The trees in private land etc will be additional, if the project goes ahead. The number of trees in Nepal will be additional. https://www.indiatimes.com/news/india/more-than-3-lakh-trees-in-uttarakhands-champawat-will-be-submerged-due-to-pancheshwar-dam-523321.html (21 Sept. 2020)
INTERLINKING OF RIVERS
KBRL PIB PR on the Ken Betwa related meeting taken by Union WR Ministry Key message: "During the meeting, the draft MoA for the implementation of KBLP was discussed at length. Both the States conveyed their observations on the draft MoA, particularly onthe issue of sharing of water during the lean period. It was decided that the draft MoA for the implementation of KBLP shall be firmed up in next few days, duly incorporating the views/suggestions of both the States.The Chief Minister level meeting can then be convened at the earliest to finalize and sign the MoA for the implementation of KBLP." https://pib.gov.in/PressReleasePage.aspx?PRID=1658193 (23 Sept. 2020)
Study 5 new amphibians found in PTR A study conducted by researchers from Wildlife Institute of India, Dehradun, on amphibians in the central Indian Panna Tiger Reserve has come up with a list of five species hitherto undocumented in this region.
The researchers, apart from compiling an entire amphibian inventory of this region, have recorded a call library of eleven species and also have obtained molecular confirmation (through DNA) of the cryptic species – a term used to refer to species that appear the same but show up a difference when their DNA is examined. https://www.thehindu.com/sci-tech/science/field-study-adds-five-amphibians-to-madhya-pradeshs-fauna-list/article32704116.ece/amp/ (26 Sept. 2020)
RIVERS AS NATIONAL WATERWAYS
INTERSTATE WATER DISPUTES
Mahadayi River Water Dispute Goa naps as waters of River Mhadei flow the other way While Goa is struggling to cope with the rising Coronavirus cases and deaths, in neighbouring Karnataka the River Mhadei that flows to Goa appears to have been diverted during the lockdown, which would be a matter of contempt of the directions of the Supreme Court of India and the Mhadei Water Dispute Tribunal.
The river that Goans call the Mandovi or Maai Mhadei, and is said to be the lifeline of Goa has already changed its course and is now flowing towards the Malprabha basin. Herald saw this first hand, when the canal flowing towards Goa is relatively dry despite the heavy rains. As a result stagnant water can be seen at many places in the canal which leads to Goa. What can be seen are rocks, sand and mud blocking the natural flow of water. https://www.heraldgoa.in/Edit/Goa-naps-as-waters-of-River-Mhadei-flow-the-other-way/165714 (26 Sept. 2020)
Not right time to study river salinity: Ramkrishna Dhavalika Raising questions over the hydrology study being conducted in the Mhadei basin, former deputy chief minister and senior MGP functionary Ramkrishna 'Sudin' Dhavalikar said that the timing is not proper and that salinity study in monsoon could lead to another backdoor plan to allow Karnataka in diverting Mhadei water.
-"Goa witnesses one of the highest rainfalls in India, and just when we are at the end of this rainy season, there is no doubt that salinity in Mhadei river will be lowest if compared throughout the year," Dhavalikar said.
– Marcaim MLA said if this salinity report is considered by the ministry of Jal Shakti to give any NOCs (like they did in the past) for river diversion, then it will be a catastrophic disaster. "I request the chief minister to keep a watch on the developments after this report is submitted," Dhavalikar further said. He also said that salinity study have to be started from March 15 and to be conducted in various intervals upto May 15 which will give exact situation of rise in salinity in the Mhadei. https://timesofindia.indiatimes.com/city/goa/not-right-time-to-study-river-salinity-dhavalikar/articleshow/78196198.cms (19 Sept. 2020)
Mekedatu Dam DMK urges PM not to sanction Karnataka's dam plan In his representation, which was handed over to Modi by a delegation of DMK MPs led by its parliamentary party leader T R Baalu, the DMK leader expressed his disappointment over Karnataka chief minister B S Yediyurappa's request to the PM for early approvals for the project despite strong opposition from Tamil Nadu.
-"It is completely detrimental to the interest of the farmers and the drinking water needs of the common people," Stalin said, adding that the farmers and people of Tamil Nadu had been consistently opposing the project across the Cauvery river.
-The state assembly also passed a unanimous resolution disapproving the project against all the norms of the inter-state river. A civil appeal filed by the Tamil Nadu government against the project is pending before the Supreme Court and the matter is sub judice, Stalin said.
-The reservoir, in the guise of a drinking water scheme, would irreparably and irreversibly affect the flow of water to the lower riparian states, particularly Tamil Nadu, and threatened the very existence of many combined water supply schemes catering to lakhs of people, he said. It would also drastically affect the water supply to Tamil Nadu as per gazetted order, the DMK leader added. https://timesofindia.indiatimes.com/city/chennai/dmk-urges-pm-modi-not-to-sanction-karnatakas-mekedatu-dam-plan/articleshow/78254614.cms (22 Sept. 2020)
WORLD RIVERS DAY 2020
SANDRP Blog WRD 2020: Celebrating Rivers across the world On the World Rivers Day 2020 falling on Sept 27 (4th Sunday of Sept), we have put together positive river stories from India and elsewhere. We really enjoyed putting it together and are very happy to see so many positive stories about rivers from around the world. Plz Read, Share. It makes fascinating reading. https://sandrp.in/2020/09/26/world-rivers-day-2020-celebrating-rivers-across-the-world/ (26 Sept. 2020)
Webinar Rivers as scared spaces On World Rivers Day, 27th September, the final session of the week delves into how and why rivers are revered. From sacred groves that ensure groundwater, through community sanctuaries to protect fish, with songs of devotion to life-giving flows and tales of how people 'understand' rivers, Parineeta painted a picture of human love and respect for India's mighty watercourses and tiniest streams. https://www.youtube.com/channel/UC9AQ7cR3PRe8hRv0oE-S_zg
A virtual dialogue on World Rivers Day – Sustainable Rivers for Sustainable Life, organised by Focus Odisha. Speakers included Himanshu Thakkar-SANDRP, Shrishtee Bajpai-Kalpavriksh. https://twitter.com/IndiaRiverForum/status/1310096835210481666?s=20
URBAN RIVERS
Mithi, Mumbai BMC to prepare master plan to create tourism facilities around Mithi river The plans are in consonance with BMC's budget for 2020-21 that had proposed for a separate allocation for tourism. The civic body had set aside Rs 183 crore to boost tourism in Mumbai.
-A BMC official conceded that the waste discharged illegally in to the river would be a challenge, but plans are afoot to divert sewage into municipal pumping stations and block the ingress from where the pollutants enter the river in line with the suggestions of a Swedish consultant.
-The artificial holding pond plan was mooted by the BMC last year on the lines of Japan. The holding pond will be used to store the excess rainwater from the Vehar, Tulsi, and Powai lakes, instead of discharging into the river that overflows during monsoon.
-Environmental and civic activists are sceptical of the BMC's ambitious plan. Nikhil Desai, a civic activist from Mumbai, said, "Mithi river is filthy. A reveller, who wants to go there for a boating excursion, will fall unconscious, unless there is a major transformation. The civic body's priority must be to stop the sewer and industrial waste entering the river and polluting it. Navigation in the river is only possible, if wanton pollution of the river can be stopped at the earliest. Though crores have been spent on the exercise, the results have not been encouraging to date."
Zeeshan Usman, a ferry owner from the Gateway of India in Colaba, said, "On paper, it appears to be an ideal plan. However, nothing can be done unless encroachments are removed & there're concerted efforts to prevent indiscriminate dumping of waste in the river."
Both the Maharashtra govt and the BMC authorities have come under fire several times over their shoddy handling of industrial waste being consistently dumped into the river, especially after the 2005 deluge, when the river overflowed and Mumbai was marooned for days on end. https://www.hindustantimes.com/mumbai-news/bmc-to-prepare-master-plan-to-create-tourism-facilities-around-mithi-river/story-owKlxYzQyEn9lPAHtp4CzH.html (25 Aug 2020)
Ulhas, Waldhuni Rivers polluted despite repeated orders: SC The Supreme Court( SC) on Monday (Sept. 8) chided the Maharashtra government, the state pollution control board and local bodies for their inability to check pollution in Ulhas and Waldhuni rivers despite repeated orders for urgent preventive measures.
-A bench of Justices D Y Chandrachud and K M Joseph asked the state government, the pollution control board and local bodies of Ulhasnagar, Kalyan-Dombivli, Ambernath and Kulgaon-Badlapur about the steps taken to implement the SC orders to keep these two rivers clean. The SC has been attempting through various orders since 2017 to rid the two rivers of industrial effluents.
-Importantly, the bench appointed the Central Pollution Control Board (CPCB) and the National Environmental Engineering Research Institute (NEERI) to inspect and assess the water quality of Ulhas and Waldhuni rivers, identify the polluting industrial units and recommend the course of action. "Despite successive orders, nothing has happened on the ground," it said.
-The court said immediately after the CPCB and NEERI carry out joint inspection of the two rivers and suggest the future course of action, including remedial measures against polluting industries, the Maharashtra government and municipal corporations/councils will take immediate action. The bench sought a report on the issue within four weeks. https://timesofindia.indiatimes.com/city/mumbai/maharashtra-ulhas-and-waldhuni-rivers-polluted-despite-repeated-orders-says-sc/articleshow/77988362.cms (08 Sept. 2020)
Musi; Hyderabad Rivers drying up despite plenty rains: Experts Stating that more than 60 per cent of the Musi watershed basin has been urbanised, and that HMDA possesses 6,600 sq ft area of its basin area, V Subba Rao, Convenor of the Convergence for Sustainability, said, "We are undermining the hydrological sustainability of watersheds and waiting for a disaster to occur."
-During a Webinar on 'Dry despite Rain: Fate of River Musi and Gandipet' on Sunday, environments highlighted that industrial effluents, mainly let out by pharmaceutical and bulk drug companies, over the course of the years have destroyed our rivers. "Most industries have diverted their waste towards the Musi basin. Multiple GOs which were issues to protect our water bodies have been violated, resulting in the killing of our rivers and lakes," said activist, Narasimha Reddy Donthi. https://www.newindianexpress.com/cities/hyderabad/2020/sep/07/hyderabad-rivers-drying-up-despite-plenty-rains-experts-2193480.html (07 Sept. 2020)
RIVERS
Tamil Nadu Reviving Shivganga river The long lost rivers in Sivaganga district have been dredged recently through a coordinated effort by the district administration with the help of an NGO and farmers. People had encroached upon the rivers over the past 35 years and some of them have dried up due to illegal sand mining and overgrowth of shrubs.
The district administration desilted hundreds of waterbodies using 20 JCBs it bought for ₹4.5 crore. District collector J Jayakanthan said the excavators had helped them finish the work faster, without having to send proposals for funds and tenders. The entire 43-km stretch of the Vaigai River, which flows through this district, has been desilted. Of a total 576 km length of rivers in the district, over 400km has been desilted. https://timesofindia.indiatimes.com/city/madurai/reviving-rivers-the-sivaganga-way/articleshow/78248333.cms (22 Sept. 2020)
GODAVARI Maharashtra Pollution unlocked again The pollution in the Godavari river, which had become cleaner during the lockdown, has once again started increasing after the state government decided to ease the lockdown norms and start the "unlock" process. During lockdown, the industries, which are major contributor to the river pollution, were shut down. There were also fewer devotees visiting the banks of the Godavari.
-"As industries have resumed operations, the effluents are once again flowing into the river through the nulahs. The disposing of solid waste into the river is still under control," an official from Nashik Municipal Corporation (NMC) said. "A Common Effluent Treatment Plant (CETP) is being constructed for the industries by Maharashtra Industrial Development Corporation (MIDC). The discharge of the effluent will be zero once this CETP Plant is operational. We want the MIDC to speed up the construction of the project and make it operational at the earliest to make the river free from industrial pollution," he added. https://timesofindia.indiatimes.com/city/nashik/godavari-pollution-unlocked-again/articleshow/78024190.cms (09 Sept. 2020)
Gujarat Vapi's industries use lockdown as a licence to pollute Industries in Vapi, which continue to release huge quantities of effluents into the Damanganga river, are seeking exemption from pollution control norms citing economic losses following the lockdown. Rohit Prajapati of the PSS said: "We have informed the authorities concerned repeatedly that the stretch of the Damanganga river along the Vapi Industrial Cluster is polluted 24×7 due to "treated effluents" from the cluster. Actually, we should not allow any discharge of even so-called treated effluents and sewerage into the river stretch where the river does not have adequate water."
– The VIA said: "We propose to abolish the norm of getting individual EIA studies done for industries situated within an industrial estate and discharging their treated wastewater through the CETP. Instead, the EIA report of the CETP of that estate should be submitted for establishment of new units or expansion of existing units." https://frontline.thehindu.com/environment/vapis-industries-use-lockdown-as-a-licence-to-pollute-the-damanganga-be-damned/article32642781.ece (09 Oct. 2020)
GANGA CPCB Ganga's water did not improve during lockdown The Ganga's compliance with primary water quality reduced from 64.6 % to 46.2% during the lockdown. The report suggests that this may also have been because of negligible seasonal flow, which increases the concentration of pollution, and no freshwater discharges from the upstream. Compliance also reduced in the Beas, the Chambal, the Sutlej, and the Swarnarekha. The Baitarani, the Mahanadi, the Narmada, and the Pennar were 100% compliant with outdoor bathing water quality criteria. https://www.hindustantimes.com/india-news/ganga-s-water-did-not-improve-during-lockdown-less-flow-may-have-deteriorated-quality/story-c4dBziGjlhrsnooE5naW3H.html (23 Sept. 2020)
5 Major Rivers' Water Quality Deteriorated During Lockdown -The water quality of Ganga, Beas, Chambal, Sutlej and Swarnarekha did not comply with the primary water quality criteria for outdoor bathing, the pollution watchdog said in a report released on the occasion of its 46th Founders' Day.
-According to the report, Assessment of Impact of Lockdown on Water Quality of Major Rivers, the quality of water in 7 of the 19 rivers monitored by State Pollution Control Boards (SPCBs) improved during the lockdown period.
-The CPCB said it had asked the SPCBs to assess the water quality of Ganga, Yamuna, Godavari, Krishna, Narmada, Beas, Brahmaputra, Baitarani, Brahmani, Cauvery, Chambal, Ghaggar, Mahanadi, Mahi, Pennar, Sabarmati, Sutlej, Swarnarekha and Tapi. Twenty SPCBs participated in the assessment.
-According to the report, river water samples from 387 monitoring locations were collected during the pre-lockdown period and 77.26 per cent of them complied with the primary water quality criteria for outdoor bathing.
-During lockdown, 365 samples were collected and 75.89 per cent of them complied with the criteria, "which implies that there is no significant improvement in water quality of major rivers monitored in the country, during the lockdown period".
-Four rivers — Baitarani, Mahanadi, Narmada and Pennar showed 100 per cent compliance with the Primary Water Quality Criteria for Outdoor Bathing during the pre-lockdown and lockdown period.
-The water quality of river Ghaggar did not comply with the criteria. The water quality of Sabarmati and Mahi rivers remained unchanged at 55.6 per cent and 92.9 per cent, respectively. Improvement was seen in the water quality of Brahmani, Brahmaputra, Cauvery, Godavari, Krishna, Tapi and Yamuna. https://www.ndtv.com/india-news/5-major-rivers-water-quality-deteriorated-during-lockdown-pollution-watchdog-2300091 (23 Sept. 2020)
No improvement in rivers in lockdown "The greatest flaw in [Namami Gange] and similar programmes is that we set out to clean a river system that already works well, just that we keep polluting it with industrial effluents, sewage and plastic. Instead of protecting rivers by blocking pollutants from entering them, we decided to continue polluting them and cleaning them at the same time." https://science.thewire.in/environment/cpcb-says-no-significant-improvement-in-water-quality-of-rivers-during-lockdown/ (20 Sept. 2020)
8 different exotic fish species recorded in Ganga river Statement of Rattan Lal Kataria, Minister of State in the Jal Shakti Ministry, said on Thursday (Sept. 24). In a written response to a question in the Lok Sabha, Kataria said under the Namami Gange Programme, a project of "Assessment of fish and fisheries of the Ganga River System for developing suitable conservation and restoration plan" was sanctioned to Central Inland Fisheries Research Institute (CIFRI) for Rs 7.067 crore.
"The studies carried out under the project revealed a total of 190 fish species from the main stem of river Ganga. The project has addressed evaluation of native fish species, out of which, 15 near threatened, 2 vulnerable and 2 endangered have been found under the IUCN (International Union for Conservation of Nature) Red List. Eight different exotic fish species have also been recorded."
Another project of "Fish stock enhancement including Hilsa and livelihood improvement for sustainable fisheries and conservation in river Ganga" has been recently sanctioned to CIFRI for expanding the work of fisheries development for the whole Ganga basin, Kataria added. https://www.outlookindia.com/newsscroll/eight-different-exotic-fish-species-recorded-in-ganga-river-kataria/1937717 (17 Sept. 2020)
Centre trying to replicate Ganga Mission-like rejuvenation of other rivers There is no clarify as to what is planned and what lessons are learnt. https://www.business-standard.com/article/current-affairs/centre-trying-to-replicate-ganga-mission-like-rejuvenation-of-other-rivers-120092201487_1.html (22 Sept. 2020)
NMCG Organic farming to be promoted in villages along Ganga to curb pollution The project was launched during the lockdown month of May under which the agriculture depts of the states where the Ganga flows will work on promoting organic farming in the villages situated along the river with funds from NMCG. https://www.hindustantimes.com/india-news/organic-farming-to-be-promoted-in-villages-along-ganga-to-curb-pollution-under-namami-gange/story-Del4rC9zxargjMHr3O124I.html (22 Sept. 2020)
Uttarakhand Char Dham Project high risk engineering exercise Driven by an unrealistic fast-paced schedule, the Pariyojana implementers have thrown caution to the winds. They have continued furiously, brazenly chopping trees and cutting slopes, unaffected by gruesome accidents and fatalities due to the project. Local communities pay an extended price as landslides block access to basic needs and essential services for days at end and cause irreversible loss of the invaluable natural resources, water sources, and of the pristine environment. In complete violation of the existing laws and the regulations in place, the Char Dham Pariyojana is an act of blatant implementation of a project even when it is visibly unviable and detrimental. https://www.theindiaforum.in/article/char-dham-pariyojana-high-risk-engineering-exercise (25 Sept. 2020)
The Char Dham Pariyojana has been dedicated by PM to the Uttarakhand flood victims of 2013. Ironically, its construction has been exacerbating the same destruction of the Himalayas that caused the 2013 mishap. http://www.greenhumour.com/ (27 Sept. 2020)
Uttar Pradesh Kanpur to have a Ganga riverfront project: CM Directing officials to immediately prepare a plan for the riverfront development, the CM also said that projects under Namami Gange under each district should also be implemented at the earliest.
On Sep 24, while reviewing development projects being implemented in the Kanpur division, comprising Kanpur Nagar, Kanpur Dehat, Kannauj, Farrukhabad, Auraiya and Etawah, the CM said that public representatives should be consulted for all development projects and if they were ignored, action would be taken against officials. https://timesofindia.indiatimes.com/city/lucknow/like-gomti-kanpur-to-have-a-ganga-riverfront-project-yogi/articleshow/78305720.cms (25 Sept. 2020)
The central govt had approved the project in Nov. 2014. Riverfront project was prepared by IIT Kanpur and estimated cost of it is Rs 330 crores. Under it, four spots have been selected for new ghats. These are between Ganga Barrage and Rani Ghat, behind Elgin Mill, Parmat and after Massacre Ghat. Toilets, change rooms pathway lights and parking facilities are proposed there. Construction of a modern crematorium is also proposed. Under this project, development of ghats upto two kms long is proposed with all entertainment facilities. https://timesofindia.indiatimes.com/city/kanpur/Central-govt-approval-to-KDAs-riverfront-development-project/articleshow/45304859.cms (28 Nov. 2014)
YAMUNA Delhi NGT panel asks UP to probe disappearance of waterbody on noida mod Based on SANDRP complaint, NGT panel asks UP to investigate and file report by Sept 28. https://www.news18.com/news/india/ngt-panel-asks-up-to-probe-disappearance-of-water-body-on-noida-morh-2897041.html https://www.outlookindia.com/newsscroll/ngt-panel-asks-up-to-probe-disappearance-of-water-body-on-noida-morh/1940348 (21 Sept. 2020)
Tales of Yamuna So many fascinating aspects of Yamuna revealed here by author Manoj Misra. https://turnslow.com/yamuna-river-braj-where-radha-and-jamuna-rule-the-roost/
Haryana Build dam to increase flow of water: NGT com This strange and objectionable statement by NGT committee led by a former Punjab and Haryana High Court Judge.
Haryana government has been asked to release at least 10 cubic metres per second (cumec) of water through the year in order to maintain the environmental flow of the Yamuna. In a report submitted to NGT, the committee further directed Haryana to construct a storage dam by 2025, which can store excess rain water and ensure the flow of water can be increased even further. https://timesofindia.indiatimes.com/city/delhi/increase-flow-of-water-into-yamuna-haryana-told/articleshow/78271499.cms (23 Sept. 2020)
Bundelkhand Adivasis being targeted for the industrial-scale tree felling along Betwa The loss of forests along the Betwa has contributed to soil erosion and weakened the riverbanks. Rameshwar lives in Baswa village in Uttar Pradesh and owns two acres of land. A clump of jamun trees once separated the Betwa from his land, but has been cut down. Without the protective buffer of these trees, the banks are being eroded during the monsoons by the fast-flowing river. "I have lost around three feet of topsoil, while the river has eaten away some 6-8 feet of the bank… The trees would have kept the banks intact," Rameshwar said. "Now, the soil crumbles so easily."
This year, a copious monsoon means the Betwa breached its banks, flooded farms & homes multiple times. Discussion with about 150 farmers within 1-km of the riverbank revealed that nearly all had lost crops during the monsoon. https://scroll.in/article/973992/adivasis-are-being-made-the-scapegoat-for-the-industrial-scale-felling-of-trees-along-betwa-river (26 Sep 2020)
RIVERINE BIODIVERSITY
Uttar Pradesh Yamuna new abode for gharials? A 150km stretch of Chambal river in UP between Agra and Etawah is protected as National Chambal Sanctuary, the biggest abode of ghariyals in the world. However, for the past two years, conservationists have been spotting nests outside the sanctuary along the Yamuna in Etawah. The sanctuary ends at Bhare estate in Etawah where the Chambal merges with Yamuna. The confluence stretches for about 35km. Ghariyal's nests and hatchlings are seen between February and June.
According to a study by conservationists on nesting of ghariyals, Yamuna is generally devoid of ghariyals in the upstream of Chambal confluence for most parts of the year. In 2019, a nest was spotted near Etawah about 80km from the confluence of Chambal and Yamuna and 40km from the boundary of National Chambal Sanctuary. In June this year, a nest with 28 hatchlings and a female was spotted about 102km from the confluence point of two rivers and 62kms from the boundary of the sanctuary in Bhaupura village. Only one nest each was seen on both the occasions.
Earlier, ghariyal nests were seen along Yamuna in 2011 but it was within the boundary of the sanctuary about 12km upstream in Yamuna. The change is significant as the confluence of Chambal and Yamuna in Etawah had reported about 110 ghariyal deaths between December 2007 and March 2008. Though Chambal is a clean river, pollution in Yamuna was said to be the cause of deaths.
Population of ghariyals has increased in Chambal over the years. In 2008-09, there were 309 ghariyals in the river and the number went upto 785 in 2012-13. Currently, there could be around 2,000 ghariyals in the river which could be one of the reasons for improvement in their count. "No study has been conducted to establish the reasons behind ghariyals nesting along Yamuna but improvement in water quality may be one of the reasons," said Rajiv Chauhan. https://timesofindia.indiatimes.com/city/lucknow/up-yamuna-new-abode-for-gharials-nests-sighted/articleshow/78115915.cms (15 Sept. 2020)
Indian fresh water eco-system Very interesting discussion on rivers, odonates and water plants. https://www.youtube.com/channel/UC9AQ7cR3PRe8hRv0oE-S_zg (27 Sept. 2020)
Odisha Rare fish found Bhargavi river A fisherman caught a rare fish on Sept. 2 from Bhargavi river in Brahmagiri area of Puri dist. https://www.indiatvnews.com/science/odisha-rare-fish-found-in-puri-s-bhargavi-river-647008 (03 Sept. 2020)
FISH, FISHERIES, FISHERFOLKS
Maharashtra 'Soil pollution from Kanjur landfill killing fish less than 500m from flamingo sanctuary' Leachate from Kanjurmarg dumping ground and stagnant water have killed fish over a two-hectare mangrove forests' area in the eastern suburbs of Mumbai between Bhandup and Kanjur, an environmentalist group has said.
Shree Ekvira Aai Pratishthan (SEAP), the group, on Sept. 22 filed complaints with various state bodies and the Bombay high court-appointed wetland grievance redressal committee after a visit of the site near the Eastern Express Highway and the Thane Creek Flamingo Sanctuary. According to the Brihanmumbai Municipal Corporation (BMC), Mumbai generates 5,400 tonnes of solid and approximately 24 tonnes of biomedical waste. Of this, 60% of the waste is sent to Kanjur while the remaining to Deonar.
Waste disposal is undertaken at the 121 ha Kanjurmarg dumping ground. It is adjacent to the 1,690 ha sanctuary but has been left out of the proposed eco-sensitive zone (buffer area). Until earlier this year, the sanctuary was spread across 68.5 ha but the BMC expanded the size of the landfill by acquiring an additional 52.5 ha. The move was challenged in the high court. The petitioners argued it was done in violation of Coastal Regulation Zone norms and threatened the safety of the sanctuary. https://www.hindustantimes.com/mumbai-news/soil-pollution-from-kanjur-landfill-killing-fish-less-than-500m-from-flamingo-sanctuary/story-D2JTlJsPWYZp3qeBChF6eK.html (16 Sept. 2020)
SAND MINING
Chhattisgarh Scribe writing against sand mafia thrashed
Kamal Shukla, the editor of Bhoomkaal a regional newspaper who had led a campaign for a journalist protection law was dragged down a street, beaten and slashed with a sharp weapon barely 100 metres from Kanker police station, in Bastar division, on Sept. 26 morning. Bleeding from the head, 53-year-old Kamal Shukla was rescued by other journalists and taken to hospital.
Shukla had himself gone to cover an assault on a young journalist who has been filing RTIs on illegal sand mining and was beaten up and dragged to the police station by a group of people. Police issued a statement that it was a "brawl between two groups of journalists" and an FIR was lodged under the IPC for voluntarily causing hurt, criminal intimidation and obscene acts. "I have been writing against the sand mafia and raising my voice against the district administration and collector. Journalists of Kanker plan to go on a 'jail bharo aandolan' on October 2. This attack was meant to foil our campaign," Shukla alleged. https://timesofindia.indiatimes.com/india/scribe-writing-against-sand-mafia-thrashed/articleshow/78342426.cms (27 Sept. 2020)
Rajasthan Illegal sand mining claims lives The illegal sand mining has become a major law and order problem as it has led to deaths, arson and firing at police across state in the last two days.
On Sept. 3, a trailer – loaded with sand and driven fast to escape authorities – crushed two to death before it overturned, killing two more on Gogunda-Pindwara highway near Udaipur. The driver and cleaner in the truck escaped after the accident. In Bharatpur, persons in tractor trolleys, carrying sand, fired at cops at three places before escaping. In Bhilwara, two factions fought over the sand and set a vehicle on fire. https://www.indiatoday.in/india/story/rajasthan-illegal-sand-mining-claims-lives-leads-to-clashes-and-firing-at-cops-1718780-2020-09-05 (5 Sep 2020)
Himachal Pradesh Mandi mining officer summoned in illegal mining case High Court on Sept 22 directed the mining officer of Mandi district to file an affidavit and remain present in court during the next date of hearing on Sept. 25 for a case of alleged illegal mining. It said that a division bench passed these orders on a petition highlighting the issue of rampant illegal mining in various rivulets/khads of Mandi and its harmful impact on the environment, roads, water schemes etc. https://indianexpress.com/article/india/illegal-mining-case-himachal-hc-summons-mandi-mining-officer-6606532/ (22 Sept. 2020)
Tamil Nadu 'Stop illegal sand mining near archaeological sites' The Madurai Bench of the Madras High Court on Thursday (Sept. 24) ordered notice to the State on a public interest litigation petition that sought a direction to the government to restrain illegal sand mining near archaeological sites in Sivaganga district. https://www.thehindu.com/news/national/tamil-nadu/stop-illegal-sand-mining-near-archaeological-sites-madurai-high-court/article32688701.ece (24 Sept. 2020)
Punjab Mohali villagers protest against illegal sand mining Residents of Abhipur village allege that despite bringing the issue to the notice of the administration, no action has been taken against the illegal miners. They continue to hold protest against illegal sand mining going on in the area alleging that despite bringing the issue to the notice of the administration, no action has been taken against the illegal miners.
Bhag Singh, an Abhipur resident, said that they have been holding the protest since September 14 after they found that tipper trucks were moving in their village. He added that there was no legal sand mine in the area. Ranjodh Singh, another resident of the village, said that the villagers had been holding the protest for the past six days under constant fear of the mining mafia. He added that in the past the residents who were carrying out the protest against illegal mining were attacked.
To keep a check on illegal sand mining in and around Abhipur village, the village residents have also installed CCTV cameras in the area. The villagers had captured the movement of sand laden tipper trucks in the area in the installed CCTV cameras. The area is notorious for illegal sand mining and in the past, several local residents have reported about the illegal activities to the administration. https://indianexpress.com/article/cities/chandigarh/mohali-villagers-protest-against-illegal-sand-mining-allege-inaction-by-administration-6604080/ (21 Sept. 2020)
Andhra Pradesh APMDC excavating 40,000 MT sand a day The rivers in the State are in spate, but the AP Mineral Development Corporation (APMDC) is managing to excavate 40,000 to 50,000 metric tonnes of sand on a daily basis. As the demand for sand has reduced following the decline in construction activity owing to the monsoon, officials say the quantity of sand they are mining is enough to meet the demand.
-With over 45 lakh metric tonnes of sand in storage points, the officials are confident of supplying the same even if there was an increase in demand for the construction material. Speaking to TNIE, a higher official of the APMDC said that though almost all the rivers are flooding, they are excavating sand through boatmen's societies in East Godavari, Srikakulam, Nellore and from patta lands.
-"Even as the demand on an average stood at 80,000 MTs a day during the last summer, we excavated more than 1.5 lakh MTs a day and succeeded in reserving more than 55 lakh MTs by the onset of monsoon and now we are in a position to supply sand," an official said. https://www.newindianexpress.com/states/andhra-pradesh/2020/sep/21/apmdc-excavating-40000-mt-sand-a-day-2199793.html (21 Sept. 2020)
WETLANDS, LAKES, WATER BODIES
Maharashtra Re-verify status of wetlands: HC panel The Bombay high court (HC)-appointed committee, which is looking after the protection of mangroves and wetlands in Maharashtra, on Monday (Sept. 21), directed all district collectors (DCs) along the Konkan coast and municipal commissioners to undertake a fresh survey to re-verify the status of all wetlands and submit their reports within 15 days to the panel.
The committee, which met for the first time after six months, has directed state authorities not to differentiate between human-made and natural wetlands during its latest assessment and consider all wetland areas identified in the National Wetland Inventory Atlas (NWIA), Maharashtra, while undertaking the exercise. https://www.hindustantimes.com/cities/re-verify-status-of-wetlands-in-maharashtra-ordrers-bombay-high-court-panel/story-zuEWh3pMIegIWaTw0RSAeJ.html (22 Sept. 2020)
Goa Ten water bodies closer to wetland status The State Wetland Authority, at its 17th meeting held on Sept. 18 week, approved the "brief document" on these ten water bodies, which will now be sent to the state government for their draft notification as per the wetland rules of the Union environment ministry.
The water bodies that have been identified include, in North Goa, the Carambolim lake, Tollear lake in Chimbel and Batim lake in Tiswadi taluka, the Dhasi lake in Revora and Saulem tollem in Pilerne in Bardez taluka. In South Goa it is the Sarzora lake and Durga lake in Chinchinim, Xeldem lake and Nanda lake in Quepem and Cottambi lake.
After the state government receives the document, a draft notification will be issued and kept open to the public for 60 days. In the case of Bondvol lake, this process was already carried out, but it was later found that some survey numbers were not incorporated in the draft notification. After adding these survey numbers, the draft notification has recently been kept open again to the public. https://timesofindia.indiatimes.com/city/goa/ten-water-bodies-closer-to-wetland-status/articleshow/78305651.cms (25 Sept. 2020)
WATER OPTIONS
Rajasthan Irishman helping preserve Jodhpur historic stepwell Video: The city of Jodhpur in the northern Indian state of Rajasthan is known for its ancient step-wells. These are storage pools with flights of steps leading to the water. Many of them lay disused and decrepit until Irishman Caron Rawnsley stepped into action. https://thewire.in/history/watch-irishman-jodhpur-stepwell (24 Sept. 2020)
GROUNDWATER
Centre Revised groundwater guidelines notified Centre on Sept. 25 issued revised guidelines for groundwater use, prohibiting new industry and mining projects in 'over-exploited' zones and making it mandatory for existing industries, commercial units and big housing societies to take 'no objection certificate' (NOC) under 'expanded compliance conditions'. http://www.egazette.nic.in/WriteReadData/2020/221952.pdf
Under the new conditions, such NOC holders will now have to pay groundwater "abstraction and restoration charges" based on the quantum of extraction unlike old provision where they had to just pay a nominal lumpsum amount.
Though these guidelines will have pan-India applicability, states may be at liberty to suggest additional conditions/criteria based on the local hydro-geological situations. Violation of NOC conditions will attract a penalty from Rs 2 lakh to Rs 10 lakh. Industries and mining projects will also have to pay an 'environmental compensation charge', fixed by the Central Pollution Control Board (CPCB), for not obtaining NOCs under the new conditions.
Residential societies will have to install sewage treatment plants (STPs) for getting NOCs if their groundwater requirement is more than 20 m3 /day. Under the condition, water from STPs will be utilised for toilet flushing, car washing, gardening, etc. NOCs will, however, be granted to the housing societies only in such cases where the local government agency is unable to supply the requisite amount of water. The NOC will be valid for a period of five years or till such time local government water supply is provided to the area. https://timesofindia.indiatimes.com/india/centre-notifies-revised-guidelines-for-ground-water-use-prohibits-new-industries-mining-projects-in-over-exploited-zones/articleshow/78326470.cms (26 Sept. 2020)
Narasimha Reddy on FB post comment "This revision seems to be almost a annual phenomenon, on ground water, with no effect on the usage pattern. With no institutional mechanisms, GW is no ones concern administratively."
Andhra Pradesh Free bore wells for farmers with land holdings in arid regions CM YS Jagan Reddy Government is planning to drill nearly two lakh bore wells in non-irrigated farm lands for free under the YSR Jala Kala scheme. Inaugurated by CM Jagan Reddy on Monday (Sept. 28), the YSR Jala Kala scheme will bring 5 lakh acres of arid and dry lands under cultivation. The government will spend Rs 2,340 crores in the next four years to drill bore wells in the lands which do not have any water source at present. https://indianexpress.com/article/cities/hyderabad/free-bore-wells-for-andhra-farmers-with-land-holdings-in-arid-regions-6619140/?53454354354 (28 Sept. 2020)
Chhattisgarh Paradox of summer paddy: high-yielding but water-intensive While the paddy crop, a kharif crop grown usually in monsoon, has been able to generate surplus yield in the recent years, farmers' proclivity to growing paddy as a rabi crop has alerted experts and even the government because of the impact it can have on the water table. https://india.mongabay.com/2020/09/summer-paddy-is-a-new-trend-in-cg/ (23 Sept. 2020)
Opinion Securing Groundwater Access in Urban India By Mayukh Dey Groundwater is the primary source of drinking water. In recent years, the exponential growth of packaged drinking water has expanded the demand for groundwater. Concerns of contamination and waterborne infections through municipal/water boards supply has only fuelled this demand. These packages are priced between 30 and 50 rupees per 20 litres. Their production grew significantly enough for the NGT to take notice in 2018, when it questioned the legality of its production operations and sought an estimate of groundwater levels in Delhi from the Central Ground Water Authority.
Indeed, notwithstanding the abundant supply, there continues to be little transparency over how these companies negotiate their operations with state-level bodies and how they might be regulated. And although almost all cans come with an 'ISI' stamp, concerns remain over how drinking water standards are maintained and checked by external regulators. https://science.thewire.in/environment/securing-groundwater-access-in-urban-india/ (24 Sept. 2020)
URBAN WATER
Delhi All households will have to pay sewage charges DJB has approved a proposal to collect annual sewage pollution charge from all households, irrespective of whether they are located in areas with or without sewer network.
The DJB has 25.20 lakh active water consumers, of which 19.94 lakh come under areas with sewage connection. Sewage charges are levied in their water bills. Officials said there are areas where DJB does not have water pipelines and sewer networks, such as unauthorized colonies and JJ clusters. In such areas, land-owning agencies are responsible for collecting sewage charges.
According to the proposal approved by the DJB at a board meeting recently, annual sewage pollution charges for all households — based on the categories of colonies — will be levied and collected from domestic and non-domestic consumers. There are eight categories of residential colonies in Delhi – A, B, C, D, E, F, G, and H.
Domestic consumers in A and B categories of colonies, such as Maharani Bagh and Andrews Ganj, will have to pay Rs 5,000 a year as sewage pollution charges. Households in C and D categories of colonies will have to pay Rs2,000 and Rs 1,000 a year respectively. Those in E and F categories of colonies will be charged Rs 200 per year, while consumers in G and H categories will be required to pay Rs 100 annually. According to the proposal, sewage charges will be collected through power distribution companies. https://timesofindia.indiatimes.com/city/delhi/all-households-will-have-to-pay-sewage-charges-delhi-jal-board-approves-proposal/articleshow/78348086.cms (27 Sept. 2020)
Raota village sinks under wastewater -A village in outer Delhi is sinking in wastewater overflowing from the Najafgarh drain. That's because of construction over a wetland, which has blocked the natural water channels. Extreme rainfall has worsened the crisis. https://www.downtoearth.org.in/news/waste/raising-a-stink-delhi-s-raota-village-sinks-under-wastewater-73465 (24 Sept. 2020)
Chandigarh CAG flags design defects, financial viability of water treatment plant Pointing out lapses in the set-up and function of the 10 MGD tertiary water treatment plant to treat out from the STPs, built by the Chandigarh municipal corporation (MC), the comptroller and auditor general (CAG) has in its report stated that the plant suffers from design defects, while raising questions over its financial viability. The treated sewage was to be supplied for irrigation purposes, replacing the potable water being used otherwise.
– The civic body, it said, did not ensure the required BOD level, that is below 5mg/l in the output, at the treatment plant, which likely led to the non-acceptance of treated water among the consumers. Moreover, the MC could not recover the 43% of the operational and maintenance cost of the project as planned. The report states, "Treated water was supplied for free to the green spaces being maintained by the MC's horticulture wing. The civic body also did not bill the tertiary water connections. An audit revealed that the intended results could not be achieved even after six to seven years post-project completion, and the audit could not assure itself of the viability of the project." https://www.hindustantimes.com/chandigarh/cag-flags-design-defects-financial-viability-of-chandigarh-s-water-treatment-plant/story-fTW8bFclKOyMeZdfpfU0VO.html (25 Sept. 2020)
Bengaluru Lakes are drying up even during monsoons Traditionally, Bengaluru's lakes stay dry for a couple of months, and fill up during the monsoons. This made it easier for potters, brick makers and farmers to collect silt from lakes. But due to climate change, rapid urbanisation and unplanned development, more lakes have been drying up for longer periods of time. https://bengaluru.citizenmatters.in/bengaluru-lakes-dry-even-in-monsoon-reasons-rainfall-sewage-siltation-borewells-solutions-52597 (28 Feb. 2020)
Chennai Ecological History of city The proposed system of setting aside NUS should include wetlands. Chennai's wetlands have played a major role in sustaining aquatic biodiversity and in flood mitigation. Unfortunately, the last 30 years have witnessed the most drastic transformation of Chennai's wetlands where many have suffered degradation due to solid waste disposal and others completely lost to infrastructure development. https://science.thewire.in/environment/chennai-ecological-history/ (26 Sept. 2020)
JJM/ RURAL WATER SUPPLY
Gujarat All habitations not fully covered with water supply A performance audit conducted by the CAG of rural drinking water supply programme in Gujarat has revealed that large proportion of the 35,996 habitations in the state were not fully covered with water supply, contrary to the state govt's claim.
The audit conducted between March-August 2018, covering the period from 2013 to 2018, found out that as of August 2018, out of 17,843 villages in the state, 8,947 villages had been covered under Narmada canal-based projects and 3,893 villages under the source-based water supply projects.
The CAG report on implementation of rural drinking water supply programme in Gujarat, under Narmada water resources, water supply and Kalpasar department states, "Out of 2,352 villages covered under 91 rural water supply schemes in 8 test checked districts, only 1,587 villages were getting water through rural water supply schemes. Of the remaining 765 villages, 258 had no access to water due to insufficient water at source, non-creation of internal distribution networks, damaged pipes etc. There were underreporting of non-functional water supply schemes even many of the non-functional schemes were not in the knowledge of the department."
Busting another claim by the state government, the audit reported that state government's claim that there were no quality-affected habitations in the state was not correct. About 10 per cent habitations in the state had no source of potable water. "The claim of government of Gujarat was not correct as 20,906 out of 1,30,857 samples (15.98 per cent) failed in the chemical examination conducted by the laboratories of Gujarat Jalseva Training Institute during 2015-16. Similar trend continued in 2016-17 and 2017-18 when 19,171 (15.6 per cent) out of samples 1,22,909 samples and 36,427 19.54 per cent) out of 1,86,431 samples failed in chemical examination," it states. https://indianexpress.com/article/cities/ahmedabad/all-habitations-not-fully-covered-with-water-supply-in-gujarat-cag-6615458/ (26 Sept. 2020)
Govt claims on water contamination incorrect The CAG report also found that the government's claim that there was no chemical contamination of drinking water anywhere in the state was "not correct". In its report tabled in the state Assembly, the CAG cited laboratory reports and mentioned that over 20,000 out of 1.30 lakh samples, that is 15 per cent, "failed the chemical examination conducted by government laboratories in 2015-16".
The report further stated that a similar trend of contamination was found in tests conducted in subsequent years. The CAG's performance audit report on 'Rural drinking water supply programme in Gujarat' for the financial year 2017-18 was tabled on Friday (Sept. 25), the last day of the state Assembly's Monsoon session. https://www.news18.com/news/india/cag-disputes-gujarat-govts-claim-about-water-contamination-2908531.html (25 Sept. 2020)
The CAG cited laboratory reports and mentioned that over 20,000 out of 1.30 lakh samples, that is 15 per cent, "failed the chemical examination conducted by government laboratories in 2015-16". The report further stated that a similar trend of continued in subsequent years. The CAG's performance audit report on 'Rural drinking water supply programme in Gujarat' for the financial year 2017-18 was tabled on Sept 25, 2020. Citing government lab reports, the CAG noted that "out of 6.29 lakh water samples tested in the state during 2013-18, around 1.15 lakh samples, that is 18.30 per cent, were found chemically unfit, having excess content of fluoride, nitrate and TDS". https://www.deccanherald.com/national/north-and-central/cag-rejects-gujarat-govts-claim-about-water-contamination-892876.html (25 Sept. 2020)
WATER POLLUTION
Report NGT directs states, UTs to address gaps in treatment of sewage NGT has directed all states and union territories (UTs) to address gaps in generation and treatment of sewage or effluents by ensuring setting up of a requisite number of functional Effluent Treatment Plants (ETP), Sewage Treatment Plants (STP) and Common and Combined Effluent Treatment Plants (CETP).
The NGT bench headed by its chairperson Adarsh Kumar Goel observed that the timeline for commissioning of all STPs fixed by the Supreme Court, March 31, 2018, has long passed and the top court directed that the State PCBs must initiate prosecution of the erring Secretaries to the Governments, has also not happened.
The NGT, which was directed to monitor compliance and in the course thereof, said: "We direct that compensation may be recovered in the manner already directed in earlier orders, which may be deposited with the CPCB for the restoration of the environment." The NGT also directed that the unutilized capacity of the existing STPs may be utilized expeditiously and the states/ UTs may ensure that the CETP, ETPs and STPs meet the laid down norms and remedial action be taken wherever norms are not met. https://in.news.yahoo.com/ngt-directs-states-uts-address-122306625.html (27 Sept. 2020)
Karnataka Experts worried about Algal bloom in Coastal area As reports of certain areas of the sea turning green emerge, experts are worried about Algal bloom, reported in various parts of the coast. Harmful algal blooms (HABs) is feared to affect marine populations, especially bivalve mollusks and some species of fishes. The bloom is due to an increase in the nutrients like nitrate and phosphate in the seawater received from river water intrusion by monsoon rain. This algal bloom resulted in water turning green in various beaches from Kasaragod in Kerala and Coastal Karnataka.
-Dr K Arun Kumar, head, department of Plant Science, Central University of Kerala, located in Kasaragod said that it has been a week since he noticed the algal bloom in the beaches of Kasaragod and Kanhangad of Kerala. The intensity has decreased on Monday (Sept. 21). "It is known as green tide mainly because of the presence of green alga Hornelia marina which could directly harm the perna viridis (Asian green mussel) as well as certain fish. Another common algae are dinoflagellate Noctiluca scintillans,'' he said adding this green bloom has been reported in the past too. This bloom may have an impact on the fish population. The green tide could cause a threat to some of the fish species. The experts are examining the algal bloom, "he added. https://timesofindia.indiatimes.com/city/mangaluru/experts-worried-about-algal-bloom-in-coastal-karnataka/articleshow/78234508.cms (21 Sept. 2020)
AGRICULTURE
Hon'ble Union Agriculture Minister releases the publication of NRAA "Prioritization of Districts for Development Planning in India – A Composite Index based Approach" in the "National Conference on Agriculture for Rabi campaign 2020" on 21st September, 2020. https://www.nraa.gov.in/Interface/Data/Prioritization%20of%20Districts%20for%20Development%20Planning%20in%20India%20A%20Composite%20Index%20Approach.pdf
MONSOON 2020
Telangana 46% excess rainfall this year, highest since 2011 With nearly 108 cm rainfall received so far this monsoon, 2020 will go down as the wettest year in the decade for Telangana, according to IMD, Hyderabad. The state has received 46% excess rainfall this year from June 1 till date, highest since 2011.
After a timely onset and relatively weak start in June, the monsoon activity picked up pace in August as heavy rainfall lashed the state. In a span of 10 days, between August 10 and August 20, the southwest monsoon dumped 270.4 mm of rain as against the normal of 77.2 mm, resulting in reservoirs brimming over, submerging large tracts of agricultural land.
So far, Telangana has received 1082.5 mm (approximately 108 cm) rainfall as against normal of 742.1 mm from June 1 till date, a level not witnessed since 2011 when the state received 13% lesser rain than usual for the monsoon. Barring Nirmal, all districts have received excess rainfall between two and 134% this year. Meteorologists have attributed the heavy rainfall activity to higher number of weather systems developed over Telangana this year. https://timesofindia.indiatimes.com/city/hyderabad/46-excess-rainfall-this-year-highest-since-2011/articleshow/78340602.cms (27 Sept. 2020)
Mumbai Season's heaviest rain, second-highest 24-hour Sept spell in 26 years Mumbai's suburbs witnessed an incessant downpour between Tuesday evening (Sept. 22) and Wednesday morning (Sept. 23) with 286.4mm rain, categorised as extremely heavy rainfall. This is the heaviest rain the suburbs received this season and the second-highest 24-hour September spell in 26 years (1994-2020). This is also the fourth-highest 24-hour September spell recorded during 1974-2020.
-On Sep 20, 2016, Mumbai had recorded 303.7mm rain. Prior to that, 312.4mm rain was recorded on September 23, 1993 and 318.2mm rain on September 23, 1981. IMD classifies 15.6-64.4mm as moderate rain while 64.5-115.5mm rain as heavy, 115.6-204.4mm as very heavy, over 204.5mm as extremely heavy rain, and over 300mm as exceptionally heavy rain. https://www.hindustantimes.com/mumbai-news/mumbai-suburbs-experience-second-highest-24-hr-sept-rain-in-26-yrs/story-QmRciWGBKykNTpDwfSFVJN.html (23 Sept. 2020)
Delhi Dry September The capital has seen a dry spell as the Safdarjung weather station last recorded rain on September 8. Normally, the city, on an average, receives 96.2 mm of rainfall in September but this year, it has recorded only 20.9 mm. https://www.thehindu.com/news/cities/Delhi/rain-and-thunderstorm-likely-this-week/article32655300.ece (20 Sept. 2020)
Boys fishing in Yamuna on a hot Wednesday (Sept. 23) afternoon. There has been no rain in Delhi for two weeks, and the city has recorded only three rainy days this September – lowest since 2016. IMD has forecasted that precipitation is unlikely in the Capital till the withdrawal of the monsoon at the end of the month. (Photo: Sushil Kumar Verma) https://www.thehindu.com/todays-paper/tp-national/tp-newdelhi/choppy-waters/article32682215.ece (24 Sept. 2020)
FLOOD 2020
SANDRP Blog Khanda Dam Breach in Chhattisgarh in Sept 2020 The Khanda dam in Koriya district in Chhattisgarh's Mahanadi basin breached around 6.30 hrs on Wednesday, Sept 23, 2020, damaging lands and crops of a number of farmers, full numbers are not available.
Local farmers alleged negligence by the Water Resources Department officials, who were informed about the dilapidated condition of the dam. They alleged that if they had reduced water storage and instead opened the two canal gates, this situation may not have come. https://sandrp.in/2020/09/24/khanda-dam-breach-in-chhattisgarh-in-sept-2020/ (24 Sept. 2020)
Gujarat Sardar Sarovar dam causing floods Sarvodaya Press Service published this article (Translator: Rehmat of Manthan Adhyayan Kendra) on Sardar Sarovar Dam induced floods in Gujarat. https://www.spsmedia.in/dam-and-displacement/instead-of-flood-control-floods-would-have-been-caused-sardar-sarovar-dam/ (13 Sept. 2020)
Soil Erosion due to Sardar Sarovar Dam Water Release in Downstream Gujarat Soil Erosion of Narmada River Bank lands due to sudden release of over ten lakh cusecs of water from Sardar Sarovar Dam during Aug 29-Sept 2, 2020, brining avoidable disaster. reported by Gujarat Channel Narmada Samachar. https://www.youtube.com/watch?v=v9q8mCTr7l0&feature=youtu.be (27 Sept. 2020)
Ukai ready for heavy rains in Maharashtra, MP Good to see this advance action by Ukai dam operators: According to SR Mahakal (SE, Ukai), the discharge of water till 3pm was maintained at 1.73 lakh cusecs since the morning hours of Tuesday (Sept 22, 2020). However, the discharge was deceased to 52,000 cusecs in the evening and again it was increased to one lakh cusecs at 6pm. Meanwhile, the Tapi river continued to flow bank to bank while low-level weir-cum-causeway bridge connecting Rander and Singanpore has been closed for vehicular traffic. Sources in the Surat Municipal Corporation (SMC) stated that there is no threat of waterlogging in the low-lying areas so far. If the discharge from Ukai crosses 2 lakh cusecs, it may then result in flooding of the low-lying areas due to the closure of the flood gates. https://timesofindia.indiatimes.com/city/surat/ukai-ready-for-heavy-rains-in-maha-mp/articleshow/78262502.cms (23 Sept. 2020)
Shocking state of CWC flood forecasting: Three sites are suddenly shown above HFL, when none of them are even above warning level: https://www.facebook.com/sandrp.in/posts/3833678359993142 (26 Sept. 2020)
Bihar Embankment broken, 20 villages submerged In Gopalganj's Devapur, due to heavy rains and the rapid flow of flood water, the Chharakki (embankment) has broken flooding about 20 villages. The embankment was also broken in July, submerging about 201 villages, but the government took no concern about the safety of these villages.
In July 2020, 4 lakh cusecs of water was released from the Gandak barrage. Due to which the embankment of Devapur and the main dam of Saran was broken. Later a temporary ring dam was added to that main dam. On Thursday evening (Sept. 24), 4.12 lakh cusecs of water was released from the Balmiki barrage located at Gandak raising water level of the Gandak River significantly. https://www.aajtak.in/elections/bihar-assembly-elections/photo/bihar-election-gopalganj-villages-submerged-in-flood-as-embankment-broken-tstb-1135408-2020-09-25-6 (25 Sept. 2020)
Newly constructed bridge collapsed A newly constructed bridge has washed away ahead of its inauguration in Kishanganj following a rise in the water level of Kankai river. The bridge was built at a cost of Rs 1.42 crore. The incident took place in Goabari village on Sept. 17. The construction work of the bridge was completed recently and it was slated for the inauguration, however, it collapsed all of a sudden due to an increase in the water level of Kanakai river.
-The villagers have now alleged that there has been massive corruption in the construction of the bridge and that is the reason why the bridge has collapsed. Due to the rapid flow of the river, erosion began to increase in the surrounding area, which also affected the bridge and a part of the bridge fell before the inauguration.
-Earlier in July, a portion of a new bridge connecting Gopalganj and East Champaran in Bihar collapsed after heavy rainfall in the region, just 29 days after it was inaugurated by CM Nitish Kumar. The 1.4km Sattarghat Mahasetu bridge on Gandak River was thrown open to commuters on June 16, eight years after work on it started in April 2012. It was built by the Bihar Rajya Pul Nirman Nigam Ltd at a cost of Rs 264 crore. https://www.timesnownews.com/india/article/newly-constructed-bridge-collapses-ahead-of-inauguration-in-bihar-s-kishanganj-was-built-at-cost-of-1-42-cr/654352 (18 Sept. 2020)
Assam Infrastructuring Floods in the Brahmaputra River Basin The effects of infrastructural projects in Assam that lead to floods in the Brahmaputra river are discussed. These projects play a prominent role in "engineering" floods, thereby creating hazardscapes and precarious conditions for the riverine communities. A people-centric approach involving these communities in the decision-making process is needed to curb the recurrent floods and their aftermath. https://www.epw.in/journal/2020/39/commentary/infrastructuring-floods-brahmaputra-river-basin.html
Third Flood Wave After over a month-and-a-half, fresh floods in five Assam districts have affected 1.79 lakh people besides killing one person, officials of Assam State Disaster Management Authority (ASDMA) said on Sept. 26. The ASDMA official said that in the third wave of floods, around 1.79 lakh people were affected in 155 villages while one person died in Nagaon district.
26,000 domesticated animals were also affected in Dhemaji, Lakhimpur, Morigaon, Nagaon, and West Karbi Anglong districts, all of which have become marooned. The floods also inundated 6,437 ha of crop land besides submerging the low-lying areas and many roads. The mighty Brahmaputra was flowing above the danger level at Neamatighat in Jorhat district, while two of its tributaries, Jia Bharali and Kopili, crossed the danger mark in northeastern Assam's Sonitpur and Nagaon districts respectively. https://weather.com/en-IN/india/monsoon/news/2020-09-27-assam-floods-179-lakh-people-affected-one-dead-northeast-wave (27 Sept. 2020)
Tamil Nadu Fear of flood grips areas downstream of Kabini Dam Farmers and locals in areas downstream of the Kabini reservoir in Cauvery basin are none too pleased with opening of dam floodgates to release over 35000 cusecs for the second time this season on Sept 20 without any warning or a siren to alert them. Residents of localities in Nanjangud taluk and Chamarajanagar district downstream of the Kabini Dam said that the sudden release of water from the reservoir resulted in blocked roads. Residents admitted to feeling afraid of being caught in a flood. https://timesofindia.indiatimes.com/city/mysuru/fear-of-flood-grips-areas-downstream-of-kabini-dam/articleshow/78224943.cms (21 Sept. 2020)
Andhra Pradesh Crops washed away as water tank breached Earthen bund of a tank in Prakasham district breached on Sept 25 night, for the second time in one month. There is 150 acres of land under it and in a large part of it crop got destroyed. Farmers are alleging the fault of the engineer who repaired it. https://telanganatoday.com/crops-washed-away-as-water-tank-breached-in-andhra-after-heavy-rainfall (26 Sept. 2020)
Telangana Flood alert for Musi river in Hyderabad as Himayat and Osman Sagar lakes swell A flood alert has been sounded for Musi river as the water levels in the two reservoirs upstream reached to the brim following heavy rains in catchment areas in Hyderabad. The IMD on Saturday (Sept. 26) night issued an orange alert, asking district officials to be prepared for more rainfall.
With huge inflows into Himayat Sagar and Osman Sagar, the authorities are likely to release the excess floodwater into Musi, which passes through Hyderabad. On Saturday (Sept. 26) night, officials said that Osman Sagar is full and is receiving an inflow of 20,000 cusecs (cubic foot per second). "Gates may be opened any time," they said. The Full Tank Level (FTL) of Osman Sagar is 1,753 feet. https://www.thenewsminute.com/article/flood-alert-musi-river-hyderabad-himayat-and-osman-sagar-lakes-swell-133999 (27 Sept. 2020)
10 crest gates of Nagarjuna Sagar dam opened after rise in water level According to the officials, the inflow of water is 1,27,444 cusecs and the outflow is 1,27,444 cusecs. The current storage of the dam is in its full capacity of 312.04 thousand million cubic feet (TMCs) and the water level is at 590 feet. Due to the rise in water level, 10 gates have been opened at Nagarjuna Sagar dam in Nalgonda District of Telangana. https://timesofindia.indiatimes.com/city/hyderabad/telangana-10-crest-gates-of-nagarjuna-sagar-dam-opened-after-rise-in-water-level/articleshow/78333383.cms (26 Sept. 2020)
Heavy rains lash Telangana Heavy rains lashed on Sept. 25-26 under the influence of a very vigorous south-west monsoon. Fifteen places recorded rainfall in excess of 10 cm. Revenue authorities of the Hyderabad and Rangareddy districts have been kept on high alert on Sept. 26, owing to the possibility of lifting the flood gates of the Himayatsagar reservoir, letting out huge quantities of water into Musi river.
Hyderabad Metropolitan Water Supply & Sewerage Board officials in charge of the twin reservoirs in Hyderabad have informed that there have been continuous inflows into Himayatsagar even while Osmansagar (Gandipet) has not received much water. "Any more rains in the catchment area could necessitate release of surplus water from Himayatsagar into Musi. As the Meteorology department has predicted more rains, we have kept the Revenue authorities on alert," said a water board official. Reservoir levels have reached 1756 feet by 9 pm on Sept 26, against the full tank level of 1763.5 feet. Flood gates will be operated when water level reaches 1760 feet, an alert from the water board said. https://www.thehindu.com/news/national/telangana/heavy-rains-lash-state-govt-puts-collectors-on-alert/article32704264.ece (27 Sept. 2020)
https://www.siasat.com/hyderabad-rains-water-level-rises-in-hussain-sagar-lake-1984132/ (26 Sept. 2020)
https://www.youtube.com/e7%20Sept.%20mbed/kS6GJDxQneY
– Heavy rains continued to lash Hyderabad and other parts of Telangana for the second consecutive day on Saturday (Sept. 26), inundating low-lying areas, disrupting vehicular movement, and throwing normal life out of gear. Rivulets, ponds, streams and other water bodies in different parts of the state were overflowing, cutting off road connections to villages in some districts.
In the state capital Hyderabad, incessant rains since Friday evening (Sept. 25) have flooded roads, throwing normal traffic out of gear. Rainwater entered dozens of houses in low-lying areas, damaging household articles and causing severe inconvenience to residents.
The India Meteorological Department forecast more rains in the state over the next three days. It issued an impact-based heavy rainfall warning. Nandigama in Rangareddy district received the maximum rainfall of 18.9 cm while Ellanthakunta in Rajanna Sircilla recorded 18.6 cm rainfall till 7 a.m. on Saturday (Sept. 26). https://weather.com/en-IN/india/monsoon/news/2020-09-27-heavy-rains-lash-hyderabad-areas-telangana-normal-life-disrupted (27 Sept. 2020)
Gates of all projects on Godavari, tributaries opened The gates of all the irrigation projects on Godavari and two of its tributaries were lifted on Sept. 16 following heavy rains in the catchment and the upper reaches of the river right up to Jaikwadi project in Maharashtra. Starting from Sriramsagar (SRSP) project at Pochampad, then Yellampally and further down to barrages of Kaleswaram project at Sundilla, Annaram and Medigadda, the gates were kept open to discharge lakhs of cusecs of water into the river as it flowed menacingly. Forty gates of Sriramsagar were lifted in the morning, but fourteen of them were shut down as the flow of water slowed down later.
The Chief Engineer-SRSP B. Shanker said that there was no respite in flooding at SRSP as the gates of projects on the Godavari in Maharashtra at Babli and further up at Balegaon, Nanded, Madalgaon & Jaikwadi were open. The Babli gates were to be kept open till Oct 28 every year as per Supreme Court directions. The SRSP was full to its capacity at 1,091 ft, storage of 90 tmc ft on Sep 16. https://www.thehindu.com/news/national/telangana/gates-of-all-projects-on-godavari-tributaries-opened/article32623774.ece (16 Sep 2020)
Maharashtra Heavy discharge from dams swells Godavari The water level of Godavari river notched above 348m by Monday evening—which is few inches below the alert level of 351m. Six major irrigation projects in the region, including Jayakwadi dam, have been directly releasing water after having reached its capacity, thereby leading to the swelling of Godavari river. Jaisingh Hire, assistant engineer with Command Area Development Authority (CADA), Aurangabad, said, "With the possibility of more rain in Marathwada as well as in Nashik and Ahmednagar districts, more discharge from different dams in the region is likely. The release can further raise the water level of Godavari river. Thus, we have issued an alert to the flood-management systems." https://timesofindia.indiatimes.com/city/aurangabad/heavy-discharge-from-dams-swells-godavari/articleshow/78244614.cms (22 Sept. 2020)
Karnataka 2 people washed away in Tungabhadra They had gone to the river along with a bullock cart in the early hours of Monday (Sept. 21) to collect sand. The water level in the river had suddenly increased while they were lifting sand, and both were washed away between 6 and 7am. "The rescue team is still searching for them. We have informed villagers who are living on the river bank in Haveri and Ballari districts to move to safer places," said Ranebennur rural CPI Bhavati Banthi. https://timesofindia.indiatimes.com/city/hubballi/two-people-washed-away-in-tungabhadra/articleshow/78243467.cms (22 Sept. 2020)
Odisha A tightrope walk for river-crossing in Kandhamal Farmer Prusty Pradhan of Brindapada village said, "Crossing the river on a rope is a nightmare for us. We carry agricultural & other sundry goods while crossing. At times we carry a patient across the river to the nearest healthcare centre. The govt instead of removing the ropes, should build a bridge near our village as we can't travel long distances to reach the gram panchayat office & hospital".
Housewife Lubang Pradhan said she is afraid of crossing the swelling river by holding on to ropes in both her hands. "There have been several incidents of people falling and being swept away while crossing the river. We are always scared," she said. https://www.hindustantimes.com/india-news/a-tightrope-walk-for-river-crossing-in-odisha-s-kandhamal-video-is-viral/story-aLGm0Mdeb7TnD4kkZBGXwK.html (24 Sept. 2020)
Report Using cloud computing for better flood inundation mapping Maps showing where flooding may occur or flood inundation maps can help in better flood risk preparedness. Using openly accessible satellite data and a cloud computing platform, an international team has now developed a powerful tool for a near real-time mapping of flood extent. The paper published in PLOS ONE notes the new flood inundation maps showed an accuracy of over 94%. Space-based sensors known as synthetic aperture radar (SAR) have been used widely for monitoring and mapping of floodwater inundation. SAR is capable of acquiring data in all-weather condition, making it useful for mapping and monitoring flood inundation areas. https://www.thehindu.com/sci-tech/science/using-cloud-computing-for-better-flood-inundation-mapping/article32704054.ece (26 Sept. 2020)
URBAN FLOODS
Why Cities flooding every year Shivani Khandekar on increasing Urban flooding and solutions. https://www.cnbctv18.com/infrastructure/why-do-indian-cities-flood-every-year-6973431.htm (21 Sept. 2020)
Mumbai River fury strikes back at Navi Mumbai airport site where diversion work is on A natural retribution of a river provoked could be seen during Sept. 23 heavy rains at the Navi Mumbai International Airport site, where the water diversion work is being carried out at Ulwe. The vastly swelled up Ulwe river submerged several JCBs, a dumper truck and various workers' tools at the site, leading to extensive property damage.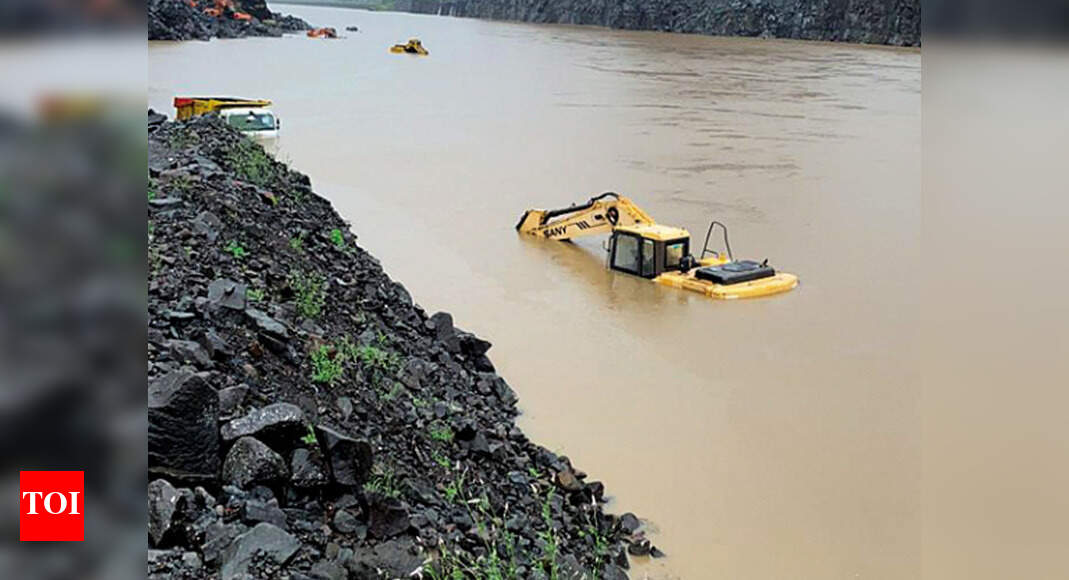 The green activists have reiterated that destroying the local wetlands, mangroves, cutting of hillocks, river diversions at the airport site is bound to cause floods in the future, even after the airport is built. In a latest letter written to the Expert Appraisal Committee (Infra 2) of MoEF & Climate Change, environmentalist Debi Goenka of Conservation Action Trust has pointed out that it is alarming that five local rivers (Ulwe, Gadhi, Taloja, Kalundri and Kasadi) have to be diverted for the airport construction. More flood zones will be created in Panvel, Ulwe, Dronagiri areas as a result, he pointed. https://timesofindia.indiatimes.com/city/navi-mumbai/river-fury-strikes-back-at-navi-mumbai-airport-site-where-diversion-work-is-on/articleshow/78300986.cms (24 Sept. 2020)
Four JCBs and three dumper trucks were submerged by the flooded Ulwe River at the Navi Mumbai Airport Site, where the job of diverting this river is going on. Green activists reiterated that destroying local wetlands, mangroves, cutting of hillocks, river diversions at the airport site is bound to cause floods in future, even after the airport is built.
Environmentalist D Stalin of Vanashakti, an NGO, and member of the high court-appointed wetlands grievance redress panel, said: "Various wetland birds used to visit the area where the airport is being planned. It is worrisome to see how this project will shape up, and its effect on local environment." Navi Mumbai activist B N Kumar of NatConnect Foundation said, "Our wetlands and mangroves offer natural flood resistance. But manic reclamation and diversion of rivers are dangerously playing with nature, and there is bound to be an eco-backlash… We need to think of the reaction to our current actions.'' https://timesofindia.indiatimes.com/city/navi-mumbai/river-fury-hits-back-at-navi-mumbai-airport-site-drowns-4-jcbs-3-dumpers/articleshow/78308033.cms (25 Sept. 2020)
Coimbatore Surplus water enters houses Surplus water from the Muthannankulam entered a couple of houses in Sri Shanmuga Nagar and water from the Selva Chinthamani tank flowed onto the road on early Friday (Sept. 25)morning before the Coimbatore Corporation and Public Works Department's Water Resource Organisation (WRO) officials intervened to clean choked channels.
The water overflowing through the channel that served as inlet to the Selva Chinthamani tank got stagnated, flowed onto the road and into the compound of a couple of houses in Sri Shanmuga Nagar. Sources in the WRO said bushes and lotus stalk arrested the flow under a culvert near an apartment in the area. Similarly, water from the Selva Chinthamani tank flowed onto the road because of a block. https://www.thehindu.com/news/cities/Coimbatore/surplus-water-from-muthannankulam-enters-houses-in-sri-shanmuga-nagar/article32698750.ece (25 Sept. 2020)
LANDSLIDES
Meghalaya 2 killed, 3 missing as landslide buries houses Two women cricketers were killed and three others went missing after a massive landslide triggered by incessant rainfall hit their houses at Mawnei in East Khasi Hills district on Friday (Sept. 25), officials said. Meanwhile, incessant rainfall since Monday (Sept. 21) has left a trail of devastation across the state, a state disaster management authority official told PTI. Two workers engaged by the police in clearing the debris at their quarters in Shillong died on Thursday, officials said.
Landslides were reported from several areas across the state and PWD workers were pressed into service to clear the debris. A portion of the Riangdo-Bamil road, at Mawshynrut- Thaiem and the Mawshynrut-Hahim road were damaged affecting traffic movement in West Khasi Hills district. South Garo Hills was cut off from West Garo Hills Thursday after the Dumnikura timber bridge located on NH-62 directly connecting the two districts got washed away. Landslides have also destroyed several village roads and national highways across the state. NH 44E was partially damaged and debris has blocked the road leading to Nongstoin Civil Hospital in West Khasi Hills district. https://www.thehindu.com/news/national/other-states/2-women-cricketers-killed-3-missing-as-landslide-buries-houses-in-meghalaya/article32701132.ece (26 Sept. 2020)
Total 12 deaths reported in 4 days due to incessant rain Meghalaya disaster management minister Kyrmen Shylla on Friday (Sept. 25) informed that since September 22, a total of 12 unnatural deaths have been recorded. In another incident in Nongstoin, West Khasi Hills, two deaths were reported and one missing due to the heavy rain. He also updated that several instances of landslides, uprooted trees and flooding have been reported from various parts of the state with few people left injured. https://www.eastmojo.com/meghalaya/2020/09/25/meghalaya-total-12-deaths-reported-in-4-days-due-to-incessant-rain (25 Sept. 2020)
COASTAL REGULATION ZONE
Chennai Olive beach bungalows to be razed The plush bungalows built in the unauthorized Olive beach layout in Muttukadu are likely to be demolished on Saturday (Sept. 26). Official sources told Express that notices were issued to five bungalow owners to pull down the structures by themselves before Saturday (Sept. 26) failing which the authorities will execute the demolition.
Last month, Madras High Court has directed concerned authorities to carry out the demolition of the super structures, as expeditiously as possible and also remove the boulders that were put-up by owners to protect the property from sea erosion. https://www.newindianexpress.com/cities/chennai/2020/sep/25/olive-beach-bungalows-to-be-razed-on-september-26-tn-government-takes-note-of-fresh-violations-2201547.html (25 Sept. 2020)
West Bengal CAG raps Kolkata Port for dredging deficiencies The Comptroller and Auditor General of India has rapped the Kolkata Port Trust, rechristened as the Syama Prasad Mookerjee Port, for its dredging deficiencies that may have resulted in a loss of Rs 278.61 crore during the 2013-2018 period. The CAG said it was seen that a quantum of 81.68 million cubic metre (MM3) was dredged during the period from 2013-14 to 2018-19, involving an expenditure of Rs 1,857.37 crore. "A quantum of 12.25 MM3 of dredged material happened to come back into the shipping channel", considering a rate of 15 per cent recirculation, the auditor said. It increased "the cost by Rs 278.61 crore by KoPT," the CAG said in a report submitted to the government recently. https://www.outlookindia.com/newsscroll/cag-raps-kolkata-port-for-dredging-deficiencies/1942210 (24 Sept. 2020)
ENVIRONMENT
Draft EIA 2020 Unique Text That Places Violators Front and Centre Ritwick Dutta brilliantly exposes MoEF: This is the sad reality. The draft, in the final analysis, is a step towards ensuring India's environment ministry legally becomes a single-window clearing house to facilitate the destruction of our natural environment, and legitimise illegality. https://science.thewire.in/environment/draft-eia-notification-2020-environment-ministry-ease-of-doing-business/ (25 Sept. 2020)
Karnataka PIL challenges EIA exemption to National Highway widening projects A PIL has been filed in Karnataka High Court challenging the exemption of Environmental Impact Assessment (EIA) for all national highway widening projects up to 100 km. Following this, a division bench headed by Chief Justice Abhay Shreeniwas Oka issued notice to the MoEF&CC and National Highway Authority of India (NHAI). The petition filed by United Conservation Movement and Charitable and Welfare Trust, Bengaluru, contended that as per the office memorandum issued by the MoEF and CC dated August 28, 2013, expansion of national highways up to 100 km, involving additional right of way or land acquisition up to 40 meters on existing alignments and 60 meters on re-alignments or bypasses are exempted from the purview of EIA.
The petition stated that the amendment issued by the central government was in violation of the provisions under the Environment (Protection) Act and Environment (Protection) Rules. The implication is that a National Highway, up to a length of 100 km, widening can be established irrespective of the ecological sensitivity of the area. Such an exemption is not only contrary to law, but has serious adverse impact on the environment in general and specifically on ecologically sensitive areas, the petition stated. https://www.deccanherald.com/state/top-karnataka-stories/pil-challenges-eia-exemption-to-national-highway-widening-projects-893452.html (26 Sep 2020)
Tamil Nadu Nilgiris district collector says, environment before development "When we destroy something created by man, it is called vandalism but when we destroy something by nature we call it progress and development". https://india.mongabay.com/2020/09/a-district-collector-in-the-nilgiris-says-environment-before-development/ (23 Sept. 2020)
Western Ghats Habitat loss puts lion-tailed macaque in IUCN endangered list for the sixth time As per the technical report, the total wild population of the lion-tailed macaque (LTM) could be about 4,000 individuals consisting of less than 2,500 mature individuals, made up of 47 isolated sub-populations in seven different locations in the three States.
The population is expected to suffer an estimated decline of over 20% in the next 25 years due to varied reasons including hunting, roadkills and habitat loss, it said. Though the conservation status of the LTM had improved from 'endangered' in the first assessment in 1990 to 'vulnerable' in 1994, its status has remained endangered since 1996. https://www.thehindu.com/news/cities/Coimbatore/habitat-loss-puts-lion-tailed-macaque-in-iucn-endangered-list-for-the-sixth-time/article32698840.ece (26 Sept. 2020)
CLIMATE CHANGE
Study Rapid worldwide growth of glacial lakes since 1990 In the largest-ever study of glacial lakes, researchers using 30 years of NASA satellite data have found that the volume of water in these lakes worldwide has increased by about 50% since 1990. The findings, published in the journal Nature Climate Change (https://www.nature.com/articles/s41558-020-0855-4), will aid researchers assessing the potential hazards to communities downstream of these often unstable lakes.
– "We have known that not all meltwater is making it into the oceans immediately," said lead author Dan Shugar of the University of Calgary in Canada. "But until now there were no data to estimate how much was being stored in lakes or groundwater." The study estimates current glacial lake volumes total about 156 cubic kilometers. https://www.nature.com/articles/s41558-020-0855-4 (31 Aug. 2020)
Hiding behind climate change Parineeta Dandekar's article (Marathi) in Loksatta on Sept 19, 2020 on why authorities are using climate change to hide behind their failures: https://www.loksatta.com/bara-gaoncha-pani-news/article-on-hiding-behind-climate-change-abn-97-2279090/ (19 Sept. 2020)
WII Climate change may cause 26% habitat loss for snow trout in Himalayan rivers Snow trout, the iconic cold-water fish species found in Himalayan rivers, would lose its habitat by 16% over the next 30 years and more than 26% by 2070, according to a new study on climate change by the Wildlife Institute of India. https://www.bollyinside.com/news/technology/climate-change-may-cause-26-habitat-loss-for-snow-trout-in-himalayan-rivers/ (27 Sept. 2020)
Study Many freshwater fish species have declined by 76% in less than 50 years Around the world, migratory freshwater fish numbers are dropping faster than migratory species both on land and in the ocean, a new study finds. https://www.nationalgeographic.com/animals/2020/07/migratory-freshwater-fish-decline-globally/ (27 Sept. 2020)
Indonesia Komodo Dragons Might Soon Become Extinct Scientists have been warning us about the consequences of climate change for a long time. A lot of animals have already faced the brunt of deteriorating climate. According to a recent study, if drastic actions are not taken soon, the Komodo dragon will be the next victim of climate change.
The study was published in the journal Ecology and Evolution and based on research and observation of many years. According to Dr Jones, the current conservation efforts are not optimum to ensure the species' survival on the planet. Especially when the climate change effects are not integrated with conservation efforts, they cannot have substantial effect.
Climate change, human interference, and loss of habitat has put a lot of stress on most of Indonesia's native species. At least 20 native species are counted as endangered. https://www.news18.com/news/buzz/komodo-dragons-might-soon-become-extinct-due-to-climate-change-induced-rise-in-sea-level-2911077.html (26 Sept. 2020)
SOUTH ASIA
Bangladesh Integrated policy approach needed for management of Barak-Meghna River Basin Experts at a webinar have shared their views on implementing governance instruments to build trust and cooperation between India and Bangladesh to benefit all stakeholders in the Meghna Basin. The International Union for Conservation of Nature (IUCN) and Asian Confluence co-hosted the webinar on "Bringing People and Institutions Together for a Living Meghna River," the final instalment of the Meghna Conversations series. Meghalaya is the source of many transboundary tributaries of Barak-Meghna river system, such as the Umngot and the Myntdu, flowing from Jaintia hills into Bangladesh. "Recognising the interconnectedness of water and the need to strengthen community engagement in integrated water resource management, the state government created the Meghalaya Basin Development Authority," said Sampath Kumar, Chief Executive Officer, Meghalaya River Basin Development Authority, Shillong, India.
– "River governance should be guided by an approach centered on conserving the ecosystems rather than the current anthropocentric approach," suggested Syeda Rizwana Hasan, Chief Executive, Bangladesh Environmental Lawyers Association, Dhaka. On expanding the scope of transboundary cooperation in the Meghan basin, she stressed, "Bangladesh and India Joint River Commission has mainly representation from the engineering sector, there is a need to revise the composition to include a broader range of experts from other sectors such as from the civil society." https://www.dhakatribune.com/bangladesh/2020/09/19/integrated-policy-approach-needed-for-management-of-barak-meghna-river-basin (19 Sept. 2020)
Bangladesh turns to China to transform Teesta river The Bangladesh government is considering a proposal from China on the management and restoration of the Teesta river, the fourth longest river in the country that flows down from India.
The Chinese proposal comes as Bangladesh has spent almost a decade trying to finalise a water sharing deal with India on the Teesta river. The signing of the deal was postponed at the last moment in 2011 due to opposition from Mamata Banerjee, the CM of West Bengal, India. Bangladesh has made no progress through negotiations with India since then. Meanwhile, Bangladesh has seen water levels in the Teesta drop dramatically in recent years during the dry season, due to dam construction and irrigation canals upstream and the impacts of climate change – further straining relations with India. https://www.thethirdpole.net/hi/2020/09/28/to-indias-chagrin-bangladesh-turns-to-china-to-transform-teesta-river/ (28 Sept. 2020)
Pakistan TBM risk assessment for hydropower projects TBM design and construction methodology for long and deep hydropower tunnels should be carefully evaluated during the early stages of a project. All relevant information should be assessed in terms of applicable risks.
– The most important aspects to be considered for the risk assessment and application of a TBM for the construction of a hydropower tunnel are the geological, geotechnical, and hydrogeological conditions. The various rock units and types to be anticipated, especially the total number and conditions associated with geological faults – including their expected locations, are of critical importance to understand. The durability of the rock units is also important to appreciate in case of non-durable conditions that warrant the use of a tunnel lining to prevent excessive erosion during operations. The potential for squeezing at the intersection of geological faults or within low strength rock units as well as the potential of overstressing including rock bursting should be fully evaluated to identify such possible risks that can have a significant impact on TBM productivity and worker safety. There was damage to a TBM after a rockburst at the Neelum Jhelum project in Pakistan. https://www.waterpowermagazine.com/features/featuretbm-risk-assessment-for-hydropower-projects-8143943/ (22 Sept. 2020)
Pakistan PM's dream of a city by Ravi may be an illusion PM Imran Khan is determined to address three challenges: low-income housing, vertical expansion, and the creation of millions of jobs. In August 2020, he linked all three to what is soon to become his party's pet project, the Ravi River Urban Development Project (RRUDP), that runs along the Ravi River from a northeast to southwest direction. According to the plan, it involves the construction of a 40,000 hectare (1,000 square kilometre) planned city on either side of the river, while also channeling and rehabilitating the river into a perennial freshwater body.
The PM hopes that the Ravi City project costing PKR 5 trillion (USD 30 billion) will create millions of jobs as at least 40 industries are connected to the construction sector. He said the project would be completed in three phases, and the wealth created from this project would be spent on education and health. His government, too, said that the project will "save Lahore by stopping the spread of unplanned urban sprawl, raise the water table and revive the river Ravi, preventing it from becoming a sewerage nala". https://www.thethirdpole.net/hi/2020/09/28/pakistans-dream-of-a-city-by-the-ravi-may-be-an-illusion/ (28 Sept. 2020)
CHINA
Three Gorges dam sees largest flood peak since its construction The Three Gorges Dam has seen the largest flood peak since the construction of the reservoir, reaching 75,000 cumecs at 8 am on Thursday, Sept 17, 2020. Eleven of the reservoir's spillway holes have since been opened, discharging a record 49,200 cumecs.
– The water level detected at Cuntan Port Station in Chongqing, located at the upper reaches of the Yangtze River, reached 191.55 meters on Thursday morning, 8.05 meters above the "safety" line, the highest point since the station was established in 1939. Days of heavy rain in some parts of Sichuan Province have also caused waters to rise. In Leshan, floods have reached the toes of the famous towering Leshan Giant Buddha statue for the first time in 70 years, drawing attention from domestic and international netizens. https://pinevillevoice.com/three-gorges-dam-sees-largest-flood-peak-since-its-construction/ (20 Sept. 2020)
THE REST OF THE WORLD
USA Hurricane Sally's Major Flooding Exposes Flaws in FEMA Maps Tens of thousands of homeowners in USA face financial losses because they were not considered to be in a flood zone and were not required to have insurance as category 2 Hurricane Sally hit US coast on Tuesday, Sept 15, 2020. Flash flood watches were in effect from northern Georgia through the Carolinas into southeast Virginia. Roughly 500,000 customers remained without power in the Southeast.
– Near Pensacola, Fla., in the small town of Molino, more than 16 inches of rain fell in a 24-hour period, according to a U.S. Geological Survey gauge. That's a problem, said Jeremy Porter, chief researcher at the First Street Foundation, a New York City nonprofit that gained national attention this year by creating high-definition floods maps for the nation. FEMA flood maps don't account for all of the flooding caused by major rainstorms such as Hurricane Sally, which means that FEMA's flood zones exclude properties vulnerable to rain-induced "pluvial" flooding, Porter said.
– FEMA maps account for rainfall only to the extent that rain causes rivers and larger streams to overflow. The maps don't include rainfall that causes flooding outside of streams, Porter said. "They don't take into account small creeks, tributaries and heavy pluvial events," Porter said. "Unfortunately for homeowners in this area, that's going to drive a lot of the [recent] flooding, because it's heavily pluvial."
– FEMA flood maps are crucial because many property owners who live in a high-risk flood zone are required under federal law to have flood insurance. People outside flood zones have no requirement and typically do not buy flood coverage. Flood insurance is sold separately from homeowners' insurance policies, which do not cover flood damage.
– The result was that First Street found 14.6 million U.S. properties face a 1% annual chance of being flooded. FEMA maps show only 8.6 million properties facing a 1% annual chance of flooding. In the area hit by Hurricane Sally, nearly 250,000 properties are in First Street's flood zones but not in FEMA's flood zones.
– FEMA has acknowledged shortcomings with its flood maps and said publicly that the maps give many people a false sense that they are protected from flooding if they are shown to be outside a flood zone. The agency is refining the maps to capture flood risk more accurately.
– In a statement FEMA Deputy Associate Administrator David Maurstad, who runs the agency's mapping program, said: "The (FEMA's) flood maps are not predictions of where it will flood, and they don't just show where it's flooded in the past. The flood maps are snapshots in time of risk designed to show minimum standards for floodplain management and the highest risk areas for flood insurance." https://www.scientificamerican.com/article/hurricane-sallys-major-flooding-exposes-flaws-in-fema-maps/ (18 Sept. 2020)
Texas city declares disaster after brain-eating amoeba found in tap water A Texas City (City of Lake Jackson, County of Brazoria) in US has called emergency, disaster and asked residents not to use tap water till further notice due to contamination of the water by brain eating amoeba naegleria fowleri. https://www.cbsnews.com/news/brain-eating-amoeba-houston-area-tap-water-brazosport-water-authority/ (26 Sept. 2020)
Report Dams exacerbate the consequences of climate change on river fish River ecosystems are frequently fragmented by dams and weirs. As a result, native fish are often restricted in their movement along the river course and are unable to colonize new habitats. Thus, barriers impede native species from adjusting their distributions in response to the effects of climate change such as changes in water temperature and quality.
On the other hand, river fragmentation might also limit the further spread of invasive alien species. Using the Ebro River in Spain as an example, the research team has investigated how habitats of native and alien fish species change under different climate scenarios and how dams mediate habitat accessibility.
"The Ebro River is particularly vulnerable and threatened by climate change and species invasions. In addition, the Ebro River is fragmented by over 300 dams and many smaller barriers, which makes it even worse for the native fish species", said Emili García-Berthou, Professor at the University of Girona and co-author of the study. https://www.fv-berlin.de/en/info-for/the-media-and-public/news/staudaemme-verschaerfen-auswirkungen-des-klimawandels-auf-fische (14 Sept. 2020)
Compiled by SANDRP (ht.sandrp@gmail.com)
Also see: DRP News Bulletin 21 Sept. 2020 & DRP News Bulletin 14 Sept. 2020
Follow us on: www.facebook.com/sandrp.in; https://twitter.com/Indian_Rivers