The World Rivers Day[i] (WRD) is celebrated annually on the fourth Sunday of September. The event strives to highlight the invaluable ecological, hydrological services and cultural, recreational values offered by the rivers. Indeed, the most of the once wild, scenic, free flowing rivers across the globe are facing existential crisis on account of various anthropogenic activities hastened over the past century.
However, there are small but significant steps being undertaken by individuals, organizations and governments to restore some of the flowing eco-systems. This account attempts to compile some such positive developments that have taken place in the one year.
We have already published a compilation of the positive river stories of India on the occasion of International Day of Actions for Rivers being held on March 14 2020. In addition to Indian rivers, this compilation also covers some remarkable development concerning river conservation worldwide. There could be many more stories and developments happening, we invite readers to send us such stories they know about.
Resistance against destructive projects In Himalayas
Arunachal Pradesh Save Dibang Valley May-June 2020 saw wide range of digital and social media protests by locals, academicians, researchers, experts and scientists against dam projects in Dibang Valley particularly against 3097 Mw Etalin HEP when the matter came up for forest clearance before Forest Advisory Committee (FAC). Touted as the largest HEP of India, the project would submerge more than 5000 ha of bio diverse rich forest land, apart from displacing native Idu Mishmis tribe in large number. About 2.7 lakh trees would be cut to make way for the project.
The project is being pushed in a climatic sensitive region where threats of glacial lake bursts, earthquakes and landslide dams are looming but still not fully assessed by project proponents. Similarly, the Environment Impact Assessment (EIA) of the project done by Wildlife Institute of India (WII) has not honestly studied the impacts on several species including hornbills, tigers and biodiversity of the region.
Given the cost of electricity, the project is even economically unviable. The people have started demanding a stop of all such projects the in North East.
Sikkim Rivers for Life ACT, an organization of the indigenous Sikkimese citizens to protect the land and people from the threat to the Biodiversity Hotspot (Khangchendzonga Biosphere Reserve), endangering the demographic profile of the indigenous primitive Lepcha tribes and the right to live in one's homeland with dignity and security due to implementation of numerous mega hydro-electric power projects in one go. (Added post script)
Manipur Let rivers flow freely The Kangoi Khullen and Kangoi Khunnou village authorities along with activists observed International Rivers Day, demanding halt in hydro projects and to let the rivers flow free. The day was observed with an aim to create awareness about the importance of rivers in sustaining lives of the communities and ecosystem in Manipur.
As per Jiten Yumnam, fighting for rivers and dependent communities, the Khuga dam, Khoupum dam and others dams in Manipur are just lying without serving any purpose despite huge investment and scarifies made. He urged the government to withdraw its plan to build more than thirty dams in Manipur. He has finished his first book, "Dams and Indigenous Peoples Rights in Manipur".
Himachal Pradesh Exposing myths of compensatory afforestation The latest study by Himdhara Collective, a civil group advocating the rights of rivers and dependent communities has revealed that compensatory afforestation being undertaken on forest land as mitigation measure are myth.
The tribal youth of Kinnaur have been opposing the proposed 780 MW Jangi Thopan Power hydropower project on Sutlej River. There have been already back to back dams on the river in geologically sensitive and disaster prone region. The growing adverse impacts on rivers, forest and tribal people clearly show that hydro is not a green, clean or climate friendly energy source.
The National Green Tribunal (NGT) in third week September 2020, has observed that every hydel project, irrespective of the date of its commissioning, is under an obligation to release minimum water downstream, including in Uttarakhand, Sikkim, Arunachal Pradesh, West Bengal, Assam and Jammu & Kashmir.
Uttarakhand Pancheshwar dam to be environmental disaster The latest Uttarakhand State of Environment Report released in July 2020, has found that the controversial Pancheshwar Dam project on Indo-Nepal border would put over 300 species of flora & fauna in danger. The report pointed out that the dam would have an adverse impact on around 43 mammals and 193 varieties of flora along with 30 species of fish and 70 species of birds found in the region.
As per partial counting reported so far, the dam would also lead to destruction of 3.69 lakh trees in the forest area of Champawat and Pithoragarh district. The trees in private land etc will be additional, if the project goes ahead. The number of trees to be cut in Nepal will be additional.
Matri Sadan keeps fighting for Ganga The agitation of Matri Sadan saints to protect the National River continues in 2020. On August 3, 2020, Swami Shivanand Saraswati sat on indefinite hunger strike demanding scraping of proposed hydro power projects on Ganga river and main tributaries. The saint ended the month long fast on written assurance by National Mission for Clean Ganga director general to positively look into the demands. Last year, other saints of the Matri Sadan Swami Atmabodhanand and Padmavati had observed 194 days and one month long fast respectively with same demands. Before this, the Professor GD Agarwal had died after observing 111 days fast for protection Ganga in October 2018.
Madhya Pradesh Maheshwar dam PPA terminated In a major victory for the 35 years long movement by Narmada Bachao Andolan (NBA) the state government in April 2020 terminated the power purchase agreement for the Maheshwar hydropower project, holding it as against public interest. Along with this, the escrow agreement and the rehabilitation agreements for the project have also been terminated. The termination of the PPA will save Rs. 42,000 crores of public money. In 2014, the Comptroller and Auditor General (CAG) had criticized the government for not terminating the project despite undue delay in its completion. The project was also marred by controversies related to financial irregularities.
Chhattisgarh Tribals oppose Bodhghat dam In May 2020, the Central govt gave in-principle consent to carry forward the study for the Bodhghat dam project on the Indravati river in Bastar region. Following this, the tribal activists raised objection to state govt's move to conduct a survey demanding that the discussions about the projects must be done at gram-sabha level. In 1980s the project was stalled for its adverse ecological impacts on Indravati Tiger reserve and the Bhairamgarh wildlife sanctuary. Now estimated Rs. 22, 653 crore project would displace 42 tribal villages. The irrigation claim by the project are also doubtful.
Kerala Athirappilly project In a disturbing trend of reviving unviable and destructive dam projects, the Kerala govt in June 2020 planned to resume work on Athirappilly hydel project on Chalakudy river in Western Ghats. The move invoked wide spread criticism from public and political parties.
Finally the Chief Minister (CM) Pinarayi Vijayan had to clarify that that there was no decision to take the project forward and termed the NOC granted as a routine procedure. In the past, the Western Ghats Ecology Expert Panel, headed by Madhav Gadgil, had mentioned in its report that the hydel project was undesirable. Gadgil is of the opinion that the project is also financially unviable as there won't be enough water to generate electricity.
Rivers Restoration and Revival Efforts
Maharashtra Godavari de-concretized One of the most significant development concerning revival of rivers in urban areas this year, has taken place in Nasik city where the Municipal Corporation (MC) used riverfront development funds to undo concretization of the Godavari riverfront, following a High Court order.
The action has been taken following 4 years long efforts by Devang Jani, of Godapremi Seva Samiti. The riverbed and banks were choked with concrete during 2003 Kumbh. In the process 17 ancient natural springs, locally called kund in Godavari bed were destroyed by dynamiting and then concretized. As a result the river was found totally dry during 2015 Kumbh. Such initiatives are required for all the riverfront development projects which have been cementing the rivers.
Citizens say no to concretization About 20 citizen groups and NGOs in Feb 2020 raised serious concerns over a proposal by the Pune Cantonment Board (PCB) to concretise the Bhairoba nallah (stream) and sought an audience with PCB to discuss the effects of the proposal.This objection happened after the PCB proposed to the Principal Directorate of Defence Estates of Southern Command in Nov 2019, to concretise the bed of the nallah to avoid flooding during the monsoons. The concretisation proposal following the flash floods in Pune in September 2019.
Legal fight for Ulhas, Waldhuni going on In Sept 2020, the Maharashtra Pollution Control Board accepted that illegal discharge of effluents by industrial units and absence of proper vigilance allowed violations to continue. These are the main reasons behind the high pollution levels of the Ulhas and Waldhuni rivers in the Mumbai Metropolitan Region. The admission comes after the SC highlighted the failure of state bodies to discharge their duties in improving the water quality of the rivers, despite repeated orders by the apex court in a plea by Vanashakti NGO.
Delhi Protecting Yamuna floodplains Since Feb 2020, SANDRP has been raising the issue of encroachment and abuse of Yamuna floodplains in Delhi by various developmental agencies. SANDRP informed Yamuna Monitoring Committee (YMC) of NGT regarding this and also assisted Delhi Pollution Control Committee and Delhi Development Authority (DDA) to inspect the locations.
As a result construction debris in huge amount has been removed from riverbed and floodplain. The removal is still happening and SANDRP has been monitoring the process. It has also highlighted the plight of riverbed farmers demanding they must be part of restoration work and should not be displaced from the floodplains during pandemic. SANDRP recently wrote to YMC regarding adverse impact of ongoing construction work at Noida mode on a water body, YMC has asked UP irrigation Department to respond with action taken report. SANDRP has also requested YMC, objecting to the compensatory afforestation work on the Yamuna floodplain.
EXPLORING RIVERS
Moving Upstream Learning rivers by heart & foot Moving Upstream initiative by Siddharth Agarwal of Veditum India has been facilitating young Indians in trekking along stretches of rivers, spending time among the local communities and documenting the journey. In the past year, through their Moving Upstream fellowship program – 8 young people walked along River Betwa for months, creating documentation about the river and river communities.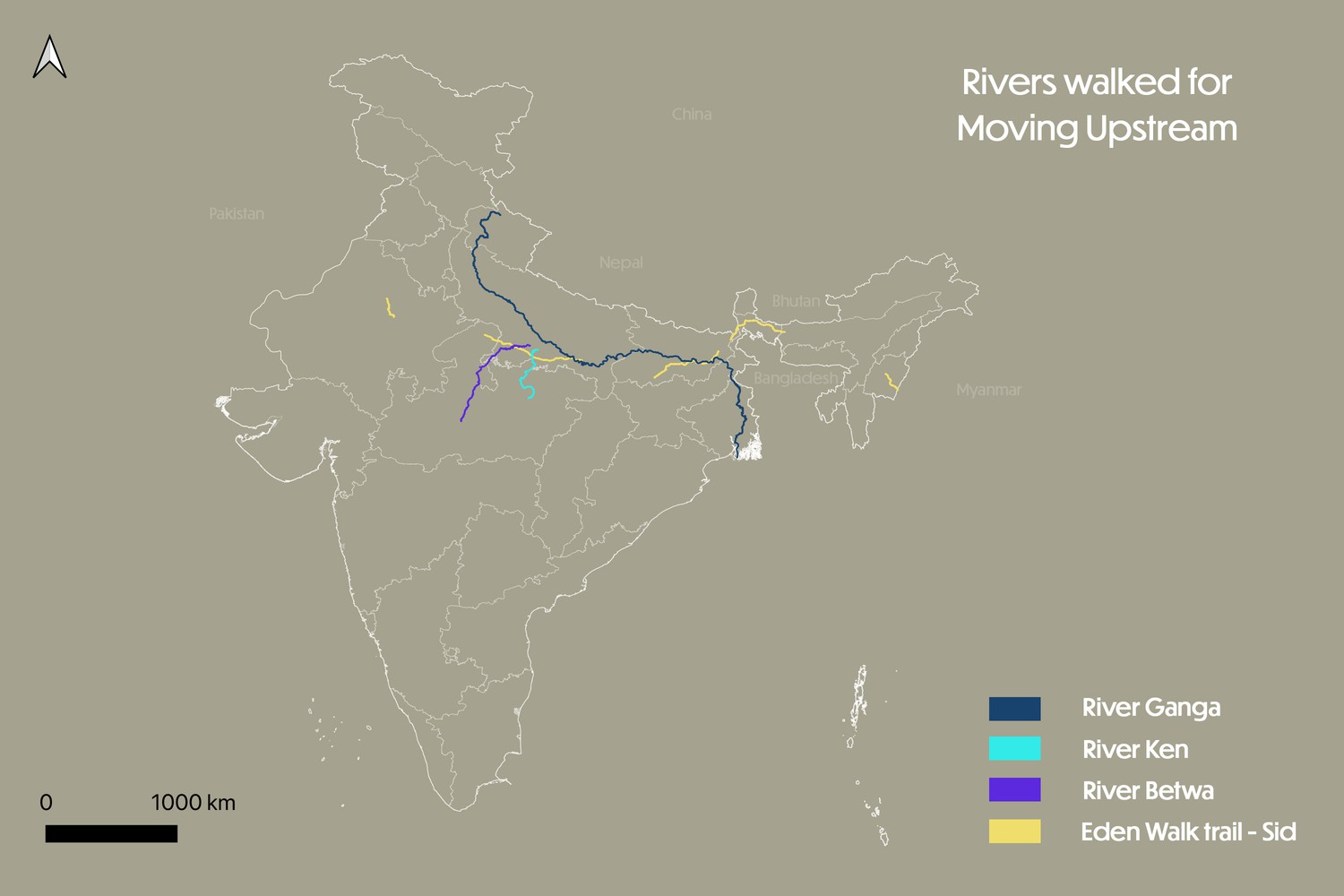 Here are some brilliant photos by Siddharth Agarwal of the rivers, he crossed during the months walking East across India with Paul Salopek on the Out of Eden Walk. This is part-2 of photo blog for SANDRP, covering 400 km walk spread over 18 days in Bihar between Bodh Gaya and Purnea.
Veditum has also hosted 3 webinars on rivers so far. The details of the first one co-hosted with SANDRP on Ken river walk can be seen here. Here is fascinating account of a walk along the Betwa river in Bundelkhand in Madhya Pradesh.
Exploring Dahisar through informative walkThe Go Hallu Hallu initiative of photographer Aslam Saiyad has been organizing river walks for the residents of Mumbai to explore the Dahisar, Poisar, Mithi and Oshiwara rivers in a slow and revealing motion.
SAVING RIVER BIODIVERSITY
Bihar Saving Gharials This is video report of a conservation group who with the help of local community has been safeguarding the vulnerable nests of Gharial in remote places along the Gandak river.
Understanding rivers, fishers In Save Every Drop Series the ecologist Nachiket Kelkar shows us the world of river fishers and riverine animals across the Gangetic plains and the delicate space between conservation and livelihoods.
Kerala Forest streams as butterfly highways! Every year during the month of January, one of the most amazing wildlife spectacles happen in Aralam Wildlife Sanctuary in northern Kerala. They do follow single file and fly close behind one another, Hundreds and thousands (sometime millions) of Common albatross butterflies fly over a large stream. Video courtesy – Vkchandrasekharan Lic
Protecting rivers otters India has three Otter species and they are becoming increasingly rare outside protected areas (PA), especially in the Himalayan region. Human-caused disturbance such as the construction of hydropower projects, sand mining and boulder collection harm the riverine habitats of otters that extend beyond PAs. According to wildlife biologists, connectivity between aquatic habitats outside PAs and involving communities in conservation are urgently needed.
Uttar Pradesh Protecting dolphins In Kishanpur block of Fatehpur district, a village level community group from Ekdla known as Panchdev Yamuna Nadi Mitra Mandli (NMM) is active in protecting the Yamuna river biodiversity. The NMM has been creating awareness about the importance of dolphins and keep a watch on illegal hunting activities of National Aquatic Animal and turtles.
It has also been advocating sustainable fishing practices and raising its voice against sand mining, plastic pollution and drains polluting the river. The NMM also ensure cleanliness around riverbanks and has been running a dolphin watch centre in the village to promote river based tourism.
Indian fresh water eco-system Very interesting discussion on rivers, odonates and water plants. https://www.youtube.com/channel/UC9AQ7cR3PRe8hRv0oE-S_zg  (Post script)
SANDRP Blog articles
SANDRP has published several thought provoking and pictorial blogs on the issue of river conservation. Some of them are listed here.
Demystifying rivers health In two part blog series Manoj Misra of Yamuna Jiye Abhiyaan makes some very interesting, path breaking propositions as to how we need to see and understand rivers and river health. In part-2 he describes key components of the river stream, which he calls FLUMEN and suggests a way forward. Certainly thought provoking and more.
Water Worship around the World Parineeta Dandekar, while participating in JOYFUL Jan Joao festival on June 24, 2019 inadvertently starts an AMAZING journey of discovery of similar traditions connected on that day with water, wells and rivers around the world. She describes that FASCINATING journey here that takes us to Iran-Iraq to Sweden-Denmark-Norway-Germany-England to Mexico to Peru to Arizona and so on. It connects her to Jordon to Rhine to Amazon to numerous other rivers.
People of free-flowing Aghanashini Through his photos, Abhay Kanvinde shows us the glimpse of a living estuary and its people. Aghanashini is truly a gem: A river that needs not only protection, but celebration for performing multiple tasks at the local and the global scale!
Urban Rivers as Public Spaces Another photo blog by Abhay Kanvinde looking at the most polluted and populated stretch of Mutha River in Pune and astounds us with the life that abounds here. He has been a silent observer of the people who come by the river and shares their stories with us. These photos urge us to imagine a clean, flowing urban river and green riverbanks where people come together.
Bringing life back to Champa This is third and final part of the three part series on Champa river by Dr. Ruchi Shree where she discusses the river rejuvenation efforts and models.
Save Narmada from plastic waste In this Hindi guest blog, Jubin Mehta as a Narmada Parikramavasi appeals to the Parikramavasis to avoid using plastics and also avoid allowing the Narmada river to be used as dumping ground for all kinds of waste.
Narmada Parikrama Jubic Mehta also shares his experience of Narmada Parikrama, walking 3500 km around the Narmada River, a traditional spiritual journey.
Understanding small transboundary rivers In this Guest Blog Eklavya Prasad, Megh Pyne Abhiyan (Bihar) narrates the little known but rather big problem of Indo Nepal small trans-boundary rivers that are not part of any discussions, agreements or cooperation between the two governments. Narrating in detail the case of Pandai river that flows from Parsa district in Nepal to W Champaran district in Bihar, he shows how people of Bhikhna Thori (& many other villages) have been suffering.
ARTS, BOOKS, SONGS, FILMS
O Majhi Re, Apna Kinara Nadiya ki Dhaara Hai! Rivers & Love are magical, transcendental. One has always been fascinated by the old love songs from Bollywood, some of the lyrics actually include rivers. The normal word used for river in Hindi is Nadi, but there is another beautiful word used for rivers in Hindi, Dhaara. Once I heard a song that used both the words Nadi and Dhaara in the same line: "Tu Dhaar hai Nadiyaa ki, mai tera Kinaara hu". It led to a series of lovely accidents.
River lapse music Filmed while on a 6 month walk along River Ganga, part of Veditum's Moving Upstream project. A mix of intimate moments with the river, flirting gently while absorbing the riverscapes. A collaboration, mixed together with a beautiful track by Zahaan and delicate sound design by Shivajee. (Added post script)
Rivers go slow A beautiful poem by Pramod Tiwari narrating the life of rivers and human. Sadly the senior journalist and lyricist from Kanpur passed away in March 2018. The poem was uploaded on you tube in April 2020.
Review Essay on Unruly waters In this Guest blog Dr. Ruchi Shree essays critical commentary of now famous book "Unruly Waters: How Mountain Rivers and Monsoons Rains Have Shaped Asia's History" (by Sunil Amrith (2018), Penguin/ Allen Lane, New Delhi) as the book unfolds the mysteries of monsoon in countless ways. It is written by Sunil Amrith, a historian and professor at Harvard University and the book has much more to offer to numerous other disciplines ranging from geology to ecology and political economy to name a few.
Ganga: Human controlled river The review of Hindi book Mati Manush Choon by well-known writer and journalist Abhay Misra presents worrying situation of Ganga river in future. The writer has travelled along Ganga and sees that on account of dams, barrages the river would gradually dry up and would not flow through Banaras.
Yamuna: Musical dance A wake-up call to nurture our rivers, the life force that sustains us.
Rivers Remember Krupa Ge, the author of 'Rivers Remember', talks about surviving the 2015 Chennai floods and making sense of its chaos by Sharmila Vaidyanathan.
Rivers of Memory: India The rivers of the Indian subcontinent bear witness to forces that shaped them over millennia – and a recent publication in the Journal of International Geosciences traces the evolution of India's river systems at different time scales.
India's misunderstood rivers This episode of Planet Outlook looks at rivers beyond channel of water.
GOVERNMENT ACTIONS
Uttar Pradesh Digging out Kalyani river Adarsh Singh, District Magistrate (DM) in Barabanki has engaged villagers in digging out the 2 km stretch of lost channel of Kalyani river in Mawiya village of Fatehpur block. In past the river was a source of irrigation for local farmers. But over the years, the course of the river was silted up and at places had become totally untraceable.
The pilot project to demarcate the course with revenue records and recover the lost river was started last year. The work was abandoned lacking man power. However, in lockdown several migrants returned to the villages and they were employed under MNREGA to dig out the river course. The initiative has cost Rs. 59 lakh providing employment to 800 villagers. As per the DM the pilot project aims to revive the 171 km long stretch of the river.
Kerala to ensure E-flow of rivers The Water Resources Department (WRD) in July 2020 planned to carry out a scientific study to facilitate environmental flow in the 41 rivers in the State. The Chief Engineer – Irrigation and Administration and Irrigation Design and Research Board – were tasked with submitting an action plan. The government order dated July 7, 2020, cited that there were hydrological and holistic methods of ensuring E-flow and that a hydrological data base was required.
Tamil Nadu Reviving Sivaganga river The long lost rivers in Sivaganga district have been revived recently through a coordinated effort by the district administration with the help of an NGO and farmers. People had encroached upon the rivers over the past 35 years and some of them have dried up due to illegal sand mining and overgrowth of shrubs.
The district administration, in a novel way, revived hundreds of waterbodies with the help of 20 JCBs it bought for ₹4.5 crore. District collector J Jayakanthan said the excavators had helped them finish the work faster, without having to send proposals for funds and tenders. The entire 43-km stretch of the Vaigai River, which flows through this district, has been cleaned. Of a total 576 km length of rivers in the district, over 400km has been cleaned so far.
SOUTH ASIA
Rights of Rivers Dialogue The dialogue was jointly organized by Kalpavriksh, International Rivers and LIFE in March 2020 to gain insight and discuss possible opportunities evolving from the Uttarakhand HC order granting Ganga and Yamuna a Living Entity status. Recently similar developments professing Rights of Nature have also taken place in few other South Asian countries namely Bhutan, Nepal and Bangladesh.
After thorough discussion, the collaboration felt the need of more dialogues among river groups to comprehend the significance of these developments for conservation of rivers in South Asia. It was also realised that the problematic procedural and executional challenges of such orders required more deliberation to envisage future discourse on the issue.
Bangladesh Treat Rivers as living entity In a historic judgment, the HC of Bangladesh has declared Rivers as living entities and the NRPC (National River Protection Commission) as the legal guardian of all rivers. The HC said that river encroachers cannot run in any elections or get bank loans. The HC delivered the judgment in response to a writ petition (WP No. 13989/2016 filed on Nov. 7, 2016) by Human Rights and Peace for Bangladesh. The HC also ordered the govt to make a list of every grabber in the country and publish the list in the media to expose them to the public. The grabbers include powerful individuals, businesses and, ironically, government offices. The landmark verdict comes when river grabbing by influential groups seems unstoppable. Often, grabbers return to steal river land soon after being evicted.
Plans to revive small rivers In May 2020, the Bangladesh government has taken a massive plan to recover canals, wetlands and small rivers across the country and re-excavate those to increase their navigability and water reservation capacity, groundwater recharge and thus preserve the biodiversity. According to an official document, some 4,086.622 km of 88 small rivers, 352 canals and eight wetlands will be re-excavated under 561 packages in 375 upazilas and two city corporations. The amount of excavated soil will be 15.15 crore cubic metres, 62.32 square metres of turfing while that of plantable tress 13.41 lakh.
Panel to protect Halda dolphins The HC has also formed a committee headed by the DC of Chattogram in order to protect biodiversity, environment, fishes and dolphins of Halda river. The lawmakers elected from the areas near the banks of the river will act as advisers of the DC-led committee, and the committee will work with advice from the members of parliament, the HC said in the order.
'Jungla dams' to prevent land erosion Over the years, the Meghna river has eroded entire villages, and displaced thousands of people in Bangladesh. To arrest land erosion, villagers have built 'jungla dams' with wood and bamboo as a temporary, but effective measure.
Pakistan Diamer-Bhasha dam's impact on climate change Warning about the impact of the dam on climate change, Fazila Amber, Advocate of Pakistan High Court, in June 2020 wrote in his Op-ed in Daily Times: "Water storage worsens the impact of climate change by releasing greenhouse gases, depriving ecosystems of nutrients, destroying habitats, increasing sea levels, wasting water, and displacing poor communities. If poorly maintained, it increases flood risk endangering lives and putting a significant financial strain on local governments and industry".
Experts oppose dams on Indus Social activists, water experts and politicians on June 25, 2020 staunchly opposed the construction of dams on Indus River, maintaining that the move would cause further damage to the already dying Indus Delta. As per Pakistan Fisherfolk Forum chairperson Muhammad Ali Shah stopping the flow of the Indus River by constructing dams had pushed the communities residing along it to the wall, both socially and economically.
Protest against dam On Aug 24, 2020, hundreds of local people including members of political parties and trade unions, students, and activists joined a torch-bearing rally in Muzaffarabad against the diversion of two rivers flowing through the city. The Save the Rivers Campaign that organized protest blames the changes in river flow on a hydropower project, the Neelum-Jhelum Hydroelectric Project, that diverted one of the two rivers that flow through the city to a tunnel to generate electricity.
Nepal People object to ADB, European bank funding Indigenous communities affected by the Tanahu Hydropower Project In Feb 2020, filed complaints with independent watchdogs of the Asian Development Bank (ADB) and the European Investment Bank -two co-financiers of the project – requesting an independent mediation process. The communities also alleged failure to uphold free, prior and informed consent and inadequate compensation for loss of lands and livelihoods.
ASIA
Cambodia No new dams on Mekong till 2030 A Cambodian Ministry of Energy official said on March 17, 2020 that new master plan for energy needs included no planned dam construction along mainstream Mekong River for the next decade till 2030. Victor Jona, a spokesman of the Ministry of Mines and Energy, however said the govt will study the potential construction of small & medium-sized dams on Mekong tributaries and other sources of water.
Thailand Cabinet terminates rapids blasting project In Feb 2020, the Thai cabinet formally called for the cancellation of a project to dredge and blast the Mekong river into a year-round highway for 500-tonne freighters. The project had been in consideration for two decades. The blasting project would have progressed if not for allies like Niwat Roykaew of the Chiang Khong Conservation Group, who welcoming the step, termed it as hard-fought victory for people's movements in Southeast Asia and the world. "In the early days, locals asked how ordinary people like us could fight to protect the Mekong, but this proves we can do it", says Roykaew.
Here is video report on a community who has been fighting to protect the Yuam river from a dangerous dam project.
River museum This is at the origin of Chao Phraya River. The King's 80th Birthday Anniversary Bueng Boraphet Aquarium was established on 5 Dec, 2007. The building is in the shape of a boat after those that carried goods along the Chao Phraya River in the past. The Aquarium exhibits over 100 kinds of fish and includes a 105-metre giant tunnel of fresh-water fish; such as, giant freshwater whipray, Mekong giant catfish, giant feather back, black giant gourami, red-eyed white striped catfish, Java barb, tinfoil barb, Apollo shark, and Boese man croaker to name but a few.
Myanmar Loud call to leave rivers in peace A nearly nine minutes short video podcast of Karen Environmental and Social Action Network and Karen Human Rights Group showed that on the International Day of Action for Rivers approximately 1,700 villagers from Hpa-an and Hpapun or Mutraw districts came together, including other ethnic nationalities, at Hatgyi proposed dam site to protest against the dam projects on Salween River in Karen and other ethnic states.
Lebanon People saved Bisri Valley Facing severe public criticism, the World Bank in the first week of Sept 2020 cancelled $244 million in undisbursed funds for the Bisri Dam project." As usual the World Bank failed to identify major environmental and social risks associated with the project and for years was reluctant to listen to citizen activists protesting the dam construction. Initially approved by Lebanon's govt in 2015 at a total cost of $617 million, the dam had long sparked criticism from environmental activists, who said that many cheaper and less destructive ways to supply water to Beirut have not been assessed by dam proponents.
THE REST OF THE WORLD
UK Ireland SC holds dam operator responsible for 2009 floods In a landmark, trend setting judgement, the Ireland Supreme Court delivered an important ruling that the dam operator ESB (Electricity Supply Board), was guilty of negligence in operation of its two dams leading to extensive flood damage to buildings on the campus of UCC in Nov 2009. The Supreme Court verdict came after earlier High Court ruling had also held the dam operators responsible for negligence in operation of the dams.
'Stop building homes in floodplain' The Welsh Government is toughening rules but some blame ministers and the assembly for overruling councils. While applications to build 2,159 homes on flood plains were granted by councils in Wales over the past three years, plans for just 246 were rejected. In addition, more than 3,000 acres of land were also approved for non-residential use in these areas – with more to be requested. There are talks of project to return Thames its floodplain back. Healthy flood plains also bring other benefits, as they are a natural habitat for many species and act as a carbon sink.
People press bath able rivers In the spa town of Ilkley a grassroots campaign has uncovered the regular and routine dumping of untreated sewage by Yorkshire Water – with the approval of the Environment Agency – into the River Wharfe. The movement aims bathing water quality in UK rivers and create a public pressure to achieve that.
USA Landmark bill to protect Gila river In May 2020, New Mexico Senators Martin Heinrich and Tom Udall introduced the M.H. Dutch Salmon Greater Gila Wild and Scenic Rivers Act, which would protect nearly 450 miles of the Gila and San Francisco Rivers and their tributaries under the Wild and Scenic Rivers Act, the premiere federal river protection legislation in the United States. The act has provided the opportunity to protect this amazing, historic watershed.
River transformed after dams removal The Edwards Dam on the Kennebec River (Central Maine) came down in 1999 after the federal government ordered its removal, saying the ecological costs outweighed the benefit of the power it provided. Gail Wippelhauser is a fisheries biologist with Maine's Department of Marine Resources, and has been working in the Kennebec watershed since 1995. She's had a river-level view of the recovery. Wippelhauser says in some places, it looks like this river is paved with fish, just like in historical accounts from before the Industrial Revolution.
Elwha's steelhead rise from the ashes As documented in Trout Unlimited's new film Rising from the Ashes, one river, Washington's Elwha, has been an outlier. The river was a long time mantle piece of dam removal advocates and, since the last pieces of its two dams were removed in 2014, it has become a living laboratory for hydrologists, marine and fish biologists, river morphologists and anyone else interested how dam removal aids river restoration.
Wetland project to mitigate flooding The Harris County Flood Control District is expected to begin construction of a new wetland mitigation bank near Katy Hockley Road in Cypress by the summer of 2020. The new wetland area will serve as a natural flood mitigation tool while meeting the U.S. Army Corps of Engineer's requirements for nature preservation, according to Rick Howard, Project Manager and Ecologist for the HCFCD.
Restoring Oyster in Lafayette river The Elizabeth River Project and Naval Support Activity (NSA) Hampton Roads worked together to install the 500 castles along the shoreline at the Navy's Lafayette River Annex in Norfolk. These concrete "castles" are made for oysters to live in as part of the large-scale oyster restoration efforts on the Lafayette River. Oyster castles are interlocking concrete blocks that mimic oyster reefs by offering a hard surface for spat (baby oysters) to attach to. Once placed in the water, castles also reduce erosion and preserve the shoreline while the oysters clean and filter the water.
Oysters brought in to restore a river! Billion Oyster Project and Brooklyn-based developer Two Trees Management have teamed up to implement Oyster Research Stations at Domino Park and River Street to clean, restore, and protect the local ecosystem.In June 2020, the organization welcomed over 1,000 juvenile oysters to the Williamsburg waterfront reefs at Domino Park. The Billion Oyster Project, along with local school and community groups, will monitor the oysters' health, keeping tabs on water quality and associated marine organisms that are attracted to the cage.
Chile Wild Rivers Law Initiative to protect the rivers Only 1% of the rivers in Chile are protected as a Flow Reserve, a figure of protection that can only be decreed by the President of the Republic.
In search of a legal framework that focuses on the more comprehensive and effective protection of rivers against existing threats, the Wild Rivers Law initiative emerged. This project seeks to promote the restoration and conservation of rivers in Chile.
Cuba Clean rivers show the benefits A study has found that Cuban rivers are cleaner than the mighty Mississippi. Because Cuban farmers practice organic farming and conservation agriculture to reduce soil erosion and nutrient loss. Cuba is doing a better job than the U.S. at keeping farming from hurting its rivers, and its results offer useful lessons.
Africa Kariba dam falling The Kariba Dam is failing. Since the late 1950s, it has sat on the Zambezi River, on the border between Zambia and Zimbabwe, in one of the zigzagging gorges that ripple the land there. For the last decade, scientists and reporters have issued warnings about the dam's potential to cause ecological disasters — of opposite kinds.
The dam was built on gneiss and quartzite and is made of concrete — 80 feet at its thickest point. But over six decades of the waters' rushing through it, tumbling over it and crashing down on its other side have eroded the dam's foundations and carved a pit at its base. Its plunge pool is now a 266-foot-deep crater. Water overflowing or flowing through spillway is not safe.
Namibia Tribals fighting against Epupa dam on Kunene river The debate around Epupa dam garnered much attention nationally, with the Ova Himba tribe being very vocal in their opposition. With international resistance also mounting, the project was shelved and caused the two govts to consider alternative power supply arrangements, such as a new 400kV power line built to supply Namibia with additional power from South Africa.
Film DAMNATION: "Problem with hydropower" This film explores the evolution of USA National attitude from pride in big dams as engineering wonders to the growing awareness that our own future is bound to the life and health of wild rivers.
Compiled by SANDRP (ht.sandrp@gmail.com)