International Hydropower Association (IHA) is essentially global leader of hydropower lobby. So when IHA President Roger Gill speaks about the problems hydro industry is facing, it becomes very interesting for all concerned.
In this interview the Roger Gill makes it clear that Hydro investments have been slowing down in last five years when compared with investments in immediate earlier decades. It has further slowed down in 2019 and has been further majorly affected by Covid-19 pandemic. Gill also accepts that the hydro is perceived as much more risky compared to solar and wind. The claim he makes of low levelised cost of electricity from hydro projects is a bit of fiction, since cost of any under construction or new hydro will be hugely costlier than solar and wind power projects. The IHA president is catching at the straws when he takes encouragement from investments in existing hydro projects and pump storage, though he keeps making it clear that market is still unclear as far as pump storage tariffs are concerned. A friendly interview also reveals a lot!!
It is high time that the Indian hydropower lobby led by NHPC and power ministry takes due note of the realities and would not push unjustified, unviable and destructive hydropower projects down the throats of reluctant states and people, using scarce public resources.https://energy.economictimes.indiatimes.com/news/power/hydro-power-requires-100-bn-investment-annually-roger-gill-international-hydropower-association/78131561 (17 Sep 2020)
Arunachal Pradesh Development Dawns on Dibang: Jindal Jittery, Govt Persists This detailed report traces the Dibang Valley developments and notes: Back in 2007, many Idu Mishmis and various Student Unions were protesting against the Dibang dams. They wrote to various ministries and undertook marches throughout the valley. When it was clear during government-organised public hearings that more than 99% of the concerned population was against the project, the government deployed paramilitary troops. In 2011, even after incidents of open firing by Special Forces, hurting mostly minors, the protests did not die down.
– The State machine then turned to the most reliable tool in its arsenal, formulated almost a century earlier by another oppressive authority, desperate to develop the territory for itself. This tool is used as freely today as it was used before independence. The protests were declared "anti-national", the influence of foreign nations was hinted at, and the threat-word "Maoist" was casually thrown around. Fear of imprisonment or murder grew in the valley and the protests died down, but now as the same evil takes shape in another project, many are resisting again.
– Recently, while in conversation with a local student activist about the social impact of the Etalin Project, it was clear that the state of terror created by the government years ago still persists. And it isn't just the State people fear these days. Learning from the Dibang disaster, this time large amounts of compensation have been given to some members of the local community, who are now aggressively in favour of the Etalin dam. https://www.thecitizen.in/index.php/en/NewsDetail/index/13/19302/Development-Dawns-on-Dibang–Jindal-Jittery-Government-Persists (02 Sept. 2020)
Uttarakhand Work at Singoli-Bhatwari hydro plant continues without 'environment nod' The environmentalists in Uttarakhand are saying that the work of the Singoli Bhatwari HEP on Mandakini river is going on without valid Env clearance since Aug 23, 2020. The reservoir rim is witnessing landslides, houses are cracked and one of the Adit has developed huge leak.
– The company had made changes after the Kedarnath tragedy and this came to the fore when the environmentalists got hold of the document — "Minutes of the meeting of presentation held on April 29, 2019 on 'memorandum of design changes' proposal in respect of Singoli-Bhatwari HE project in Uttarakhand by L&T UHL." The minutes has 11 points of changes made in the project. The construction company was asked about the reason for non-submission of MoC of proposal for design changes during the planning state or before the actual execution of these project components. The minutes read, "L&T accepted the delay in submission and confirmed that such issues shall be taken due care of in future." While a drop shaft of 47.5 metre was added, length of pressure shaft increased from 358 metre to 419 metre. "These increases have led to the reported leakage in the head race tunnel," reads the communication to ministry. https://timesofindia.indiatimes.com/city/dehradun/work-at-singoli-bhatwari-hydro-plant-continues-without-environmental-nod-activists-write-to-environment-ministry-about-impending-threat-to-lives-of-200-families/articleshow/78133020.cms (16 Sept. 2020)
DAMS
DEBATE ON SANDRP WEBSITE ON ROLE OF DAMS IN 2018 KERALA FLOODS

A lively, interesting debate is going on the SADNRP website on the article by IIT-M professors and researchers, published in Current Science in March 2019 at: https://www.currentscience.ac.in/cs/Volumes/116/05/0780.pdf. The article controversially claimed, among other things: "The analysis suggested that reservoir operations could not have helped in avoiding the flood situation" and thus attempted to exonerate the dam operators and sided with Central Water Commission's dam operator supporting report. Incidentally, KP Sudheer, lead author of the report is also "Ex Officio Principal Secretary S&T Department & Executive Vice President of Kerala State Council for Science, Technology & Environment": https://kscste.kerala.gov.in/1221-2/. Supporting the Kerala govt position becomes a necessary part of this job and this also implies a conflict of interest with his role as a scientist.
1. J Harsha (Director, CWC) wrote (in his personal capacity) an article analysing Sudheer et al (2019) [He had send it to CURRENT SCIENCE, without assigning any reasons, from any scholarly and scientific peer review, CS declined to publish it after sitting on it for 6-7 months.], which was published by SANDRP, see: https://sandrp.in/2020/08/25/role-of-dams-in-kerala-floods-distortion-of-science/. Harsha conclusions included: "the authors Sudheer et al., (2019) had made fallacious assumptions, errors in their methodology, adopted poor data quality and they have arrived at erroneous inferences and conclusions such as exonerating the role of dams in Kerala floods but indicting the nature as the cause of floods. This review article therefore, using RS & GIS (Remote Sensing and Geographical Information System) techniques challenges their inferences that is based on fallacious assumptions, accumulated errors in their methodology and the poor data quality fed into the hydrological model." The article by Harsha provides detailed analysis for this and other stronger conclusions.
2. SANDRP invited authors of Sudheer et al (2019) to the above commentary by J Harsha. They accepted the invitation and the response they sent has been published here: https://sandrp.in/2020/09/19/response-of-sudheer-et-al-to-the-comments-by-mr-j-harsha-on-the-article-role-of-dams-on-the-floods-of-aug-2018-in-periyar-river-basin-kerala/. Sudheer et al agree to some of the concerns raised by J Harsha, but conclude: "The authors discuss and illustrate below that there is no flaw in the methodology, modelling, results and analysis presented in Sudheer et el. (2019), and reiterate that the inferences outlined in the conclusion section of the article by Sudheer et al. (2019) were clearly based on the results presented and discussed in different sections of the article."
3. Rejoinder of Shri J Harsha (in his personal capacity) to the response of Sudheer et al was published here: https://sandrp.in/2020/09/19/role-of-dams-in-2018-kerala-floods-rejoinder-of-j-harsha-to-the-response-by-sudheer-et-al/. Harsha rightly concludes after scientifically analysing Sudheer et al response, "Therefore, the role of dams during any floods needs non-partisan diagnosis with more of region specific methodologies … This non-partisan diagnosis is essential in order to rectify the cause before another flood strikes and cause devastation. In contrast, it has become a pattern of sorts in India that whenever floods strike across downstream of series of reservoirs, the dam managers are quick to assign the responsibility on the nature. This is partly done to escape accountability and/or the eventual shame it brings not only to the specific dam managers but to their entire organization. So, the vested interests unite to thwart such accountability due to any probable accusation regarding the role of dams in any flooding across India however miniscule the role is. And this is where the scientific misrepresentations, manipulations and scientific frauds come in handy to help exonerate the role of dams in the cause or accentuation of floods."
4. On Sept 21, 2020 SANDRP has published brilliant analysis by Dr CG Madhusoodhanan [He is Principal Investigator, Project on Kerala Floods 2018, for the Centre for Disaster Management, LBSNAA & National Disaster Management Authority, GoI] after providing deeper analysis of Sudheer et al claims in the context of the hydro-geodynamic situation in Kerala Western Ghats, concludes: "The application of inappropriate models and methods and intentional/ unintentional errors in the input data make these studies highly unreliable. Studies on disasters such as the Kerala floods have wide-ranging repercussions and should be conducted with sound scientific understanding and dependable data. The experts and apex institutions like CWC should take the responsibility to conduct a transparent assessment after presenting all data in the public domain… A thorough scientific assessment of the role of dams in various flood disasters across India is urgently required to arrive at climate-resilient dam management measures in the country." See: https://sandrp.in/2020/09/21/role-of-dams-in-kerala-floods-2018-what-are-we-missing/
The debate will continue. SANDRP has invited Sudheer et al to send their response to the analysis by Dr CG Madhusoodhanan and also rejoinder by Shri J Harsha. 
Sardar Sarovar Dam Gujarat govt externment order to grassroots leader meant to 'silence' Narmada adivasis Shocking move by Gujarat government. Several senior human rights and environmental activists, protesting against the Gujarat government decision to order externment of Lakhan Musafir from five South Gujarat districts, have said the charges against a grassroots activist fighting for tribal and forest rights in the area around the Sardar Sarovar dam are "ridiculously false."
Under the order, Musafir is not allowed to enter Narmada, Bharuch, Tapi, Chhota Udepur and Baroda districts. The signatories of the statement are Jyotibhai Desai, Daniel Mazgaonkar, Rajni Dave, Swati Desai, Anand Mazgaonkar, Mahesh Pandya, Dev Desai, Parth Trivedi, Rohit Prajapati, and Krishnakant Chauhan.
The statement said, there is "no evidence, no witnesses, no arguments, no cross-examination, no proper hearing and yet the Narmada district sub-divisional magistrate thought it fit to pronounce his order wholly swallowing the lies presented by the police in their complaint." https://www.counterview.net/2020/09/gujarat-govt-externment-order-to.html (18 Sept. 2020)
जगन्नाथ काका का निधन : नर्मदा बचाओ आंदोलन की अपूरणीय क्षति -नर्मदा बचाओ आंदोलन के संस्थापक सदस्यों में से बड़वानी में कुंडिया गाँव के जगन्नाथ काका का अल्प‍ बीमारी के बाद 17 सितंबर 2020 को सुबह निधन हो गया है। वे करीब 90 वर्ष के थे। उनके पार्थिव शरीर का अंतिम संस्कार आज दोपहर 1 बजे मलवाड़ा स्थित नर्मदा तट पर किया गया।
-जगन्नाथ काका नर्मदा घाटी के किसान-आदिवासियों की लड़ाई के हर पड़़ाव के साक्षी रहे तथा वृद्धावस्था के बावजूद वे अपने अंतिम समय एक युवा की तरह सक्रिय बने रहे। वे हमेशा किसानों को जमीन दिए जाने के पक्षधर रहे हैं। सभी के न्यायपूर्ण पुनर्वास की माँग करते हुए उन्होंने अब तक न तो अपने घर का सर्वे करवाया है और न ही सरदार सरोवर से डूबी अपनी करीब 20 एकड़ जमीन का मुआवजा स्वीकार किया। खेती की जमीन की माँग वाला उनका केस सर्वोच्च न्यायालय में अभी भी विचाराधीन है। https://www.spsmedia.in/current-news/jagannath-bhai-dies-irreparable-loss-of-narmada-bachao-andolan/ (17 Sept. 2020)
Telangana Water leaking from Kondapochamma reservoir Water has been leaking from Kondapochammasagar reservoir located at Markook Mandal headquarters. The leakage has been taking place near Beerappa temple in the village. It is part of Kaleswaram Lift Irrigation Project (KLIS) in Gajwel Assembly constituency represented by Chief Minister K. Chandrasekhar Rao.
-The locals observed water leakage from the reservoir and tried to arrest it by arranging boulders and sand bags. The flow is like small stream and locals are worried that any damage to the reservoir will put the Markook's existence in question.
– By the time last reports came in, officials have not reached the site of the breach. When contacted, an official told The Hindu, on condition of anonymity, that 'seepage' from any reservoir is quite natural and there is nothing to worry. "We can not arrest the seepage from reservoirs and the number of seepages will be high for the first three months and they settle down gradually. Even at Nagarjunasagar you can find seepage and it was healthy sign of any project. We will construct drains with metal filters and sand filters to remove the seepage water," he explained.
-This is the third incident that took place involving the Kondapochamma reservoir in the recent past. Few weeks ago, the walk-way bridge leading to Sangareddy canal off take gates collapsed and officials attributed it to the faulty design. Exactly a month before that on July 30, a canal that carries water to Gandhamalla reservoir in Yadadri- Bhongir district breached resulting in water entering into houses at Shivaru Venkatapur village in Markook mandal. Luckily closing the gates averted a major catastrophe. https://www.thehindu.com/news/national/telangana/water-getting-leaked-from-kondapochamma-reservoir/article32600716.ece (14 Sept. 2020)
Uttarakhand 'Pancheshwar Dam Will Resolve Flooding In Bihar, UP, Jharkhand' Gadkari's imagination is touching new levels. Pancheshwar solving Bihar and Jharkhand flood problems? Why not that of Assam and Tamil Nadu? But for a change he says there are problems in taking the project forward. https://www.republicworld.com/india-news/general-news/pancheshwar-dam-will-resolve-flooding-in-bihar-up-jharkhand-gadkari.html (13 Sept. 2020)
INTERSTATE WATER DISPUTES
Parliament Session Water bills in Parliament's monsoon session Among the bills that the Parliament session that started on Sep 14, 2020 will consider passing include: The Inter-State River Water Disputes (Amendment), Bill, 2019 as passed by Lok Sabha and The Dam Safety Bill, 2019 as passed by Lok Sabha. The session will end on Oct 1. https://www.livemint.com/news/india/parliament-s-monsoon-session-begins-tomorrow-will-have-18-sittings-till-1-oct-11599991711186.html (13 Sept. 2020)
Mekedatu dam Karnataka to seek nod for Mekedatu project Speaking after visiting the proposed reservoir site near Kanakapura in Ramanagara district, Major and Minor Irrigation Minister Ramesh Jarkiholi said that with additional ground reports and data, he would meet Union Minister for Environment and Forests Prakash Javadekar either on September 16 or 17. https://www.thehindu.com/news/national/karnataka/karnataka-to-seek-nod-for-mekedatu-project/article32604579.ece (15 Sept. 2020)
Tamil Nadu CM Edappadi K. Palaniswami asserted in the State Legislative Assembly on Tuesday (Sept. 15) that the state government would not allow Karnataka to construct a dam across the Cauvery at Mekedatu in any way. https://www.thehindu.com/news/national/tamil-nadu/tn-will-not-allow-dam-at-mekedatu-in-any-way-asserts-cm/article32611504.ece (15 Sept. 2020)
Mullaperiyar Dam T.N. rubbishes claims on disaster for Mullaperiyar dam The Tamil Nadu government has rubbished averments made in the Supreme Court that 16th century French clairvoyant, Nostradamus, predicted a disaster linked to the Mullaperiyar dam in Kerala. "The averment that media is anticipating disaster as per the directive of the world famous French astrologer Nostradamus is anyway a propaganda to mislead and to create fear psychosis among the people living in the downstream area of Mullaperiyar dam," an affidavit filed by the Tamil Nadu government said. Besides, the State said the court itself had on multiple occasions found the dam to be "hydrologically and structurally safe."
Tamil Nadu was responding to averments made in a petition filed by Idukki resident Russell Joy, who said the 125-year-old dam is a source of constant fear of people who live in downstream areas at the time of floods and earthquakes. Mr. Joy wants the water level to be maintained at 130 feet in the monsoon season. But Tamil Nadu debunked Mr. Joy's claim that the area saw 62 earthquakes between January and May. It said there were only 21 very minor tremors. "Further, the Mullaperiyar dam is a masonry gravity dam founded on hard rock with a broad base and will not suddenly burst like an arch dam as imagined by the petitioner [Mr. Joy]," the State, represented by advocates G. Umapathy and Yogesh Kanna, reasoned. https://www.thehindu.com/news/national/tn-rubbishes-claims-on-disaster-for-mullaperiyar-dam/article32555767.ece (08 Sept. 2020)
RIVERS AS NATIONAL WATER WAYS
Cartoon on impact of water ways on dolphin -Project Dolphin was launched by the PM this year on Independence Day (15th August) with the aim of conserving our national aquatic animal, the endangered Gangetic Dolphin. But another government endeavour, the National Waterways Project, threatens the species, which will involve dredging and development of the rivers that are the dolphin's last remaining strongholds. Is Project Dolphin actually designed to bear fruit or simply as a greenwashing measure for the ecologically destructive National Waterways Project? http://www.greenhumour.com/ https://www.facebook.com/sandrp.in/posts/3813831128644532
URBAN RIVERS
SANDRP Blog NAJAFGARH JHEEL – SAGA OF A FORGOTTEN RIVER In this Guest Article Ritu Rao narrates the sad story of Najafgarh Jheel or Sahibi River and its journey from a River to a Nala now. There is hope with efforts of INTACH, Ritu and others, and hope many others join this fight. Plz Read and Share. https://sandrp.in/2020/09/16/najafgarh-jheel-saga-of-a-forgotten-river/ (16 Sept. 2020)
NGT asks Haryana, Delhi to prepare plan for Najafgarh lake Ones hopes NGT will take this to its logical conclusion soon. https://indianexpress.com/article/cities/delhi/ngt-asks-haryana-delhi-to-prepare-plan-for-najafgarh-lake-6602076/ (19 Sept. 2020)
RIVERS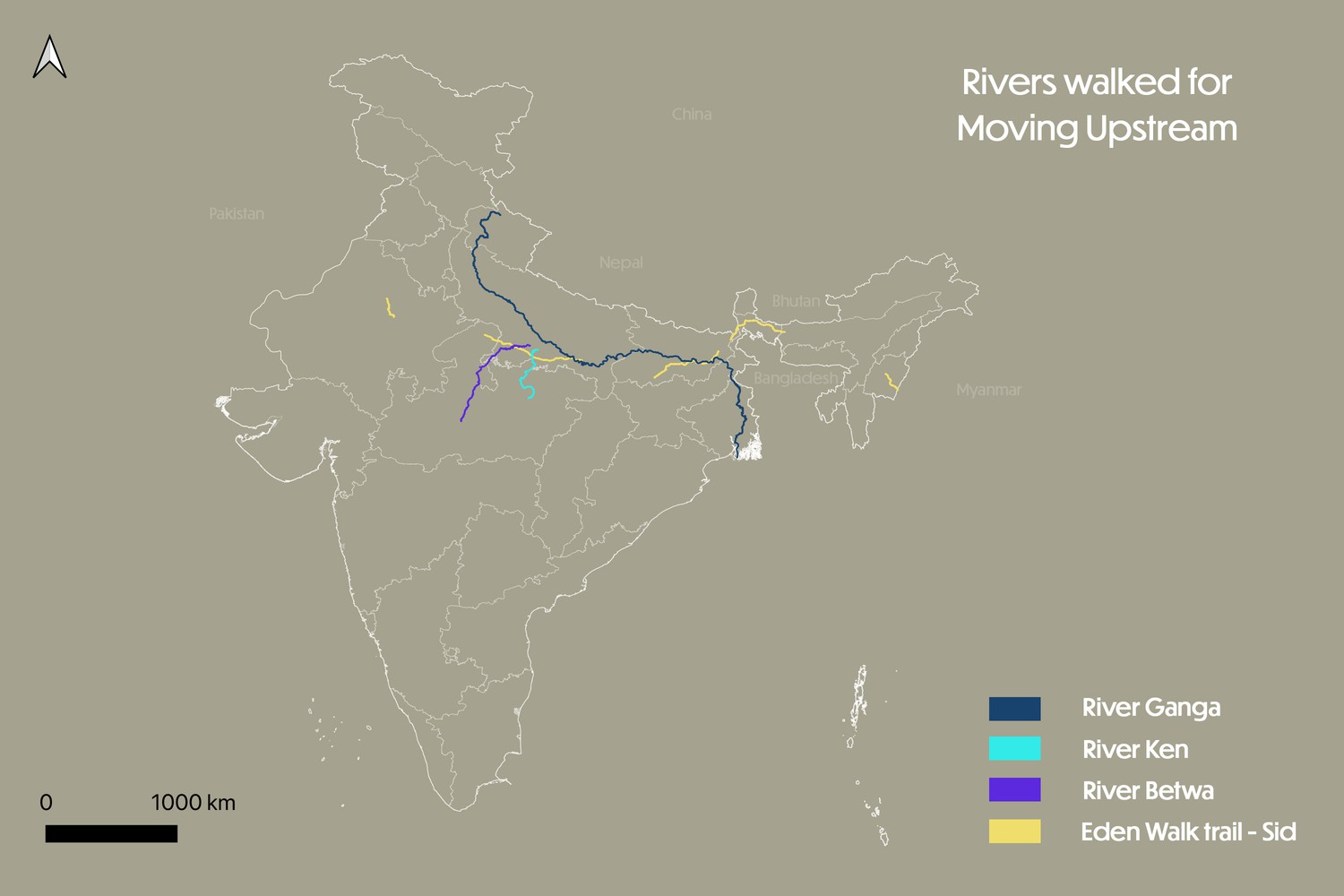 Moving Upstream Learning rivers by heart and foot Moving Upstream supports young Indians in trekking along stretches of rivers for up to two weeks, living among the local communities and documenting what they learn in the medium they choose. https://www.nationalgeographic.org/projects/out-of-eden-walk/blogs/lab-talk/2020-09-learning-rivers-heartand-foot/  (16 Sept. 2020)
Announcement from the organisers: We are pleased to announce the CALL FOR ENTRY for the 1st competitive edition of Nila International Folklore Film Festival of India. NIFFFI is an annual festival that aims at showcasing films based or emerging from indigenous cultures and folklore from around the world.
It also says: "Since the river Nila (Bharathapuzha) has been the basis for much of our work, we would also like to offer a special invitation for filmmakers whose narratives are based around rivers." https://www.nifffi.com/
Report Apathy of pharma industry and its effects on surface water ecology India is known as 'Pharmacy of the World' and over 30 per cent of 5,000 pharmaceutical units operating in India are located in the two Telugu states, mostly in and around Hyderabad, the joint capital of Telangana and Andhra Pradesh. Telangana government aspires to leverage the life sciences and pharmaceutical sector and create a USD 100 billion industry in the coming decade. Hyderabad city has no outlet for sewage and wastewater disposal other than Musi, Hyderabad city discharges about 600 million litres of untreated sewerage water into Musi River per day converting it into a sewage canal, with a very grave river ecology, and a source of contamination for the ground waters around the areas of Musi.
According to estimates, about half of the global wastewater from pharmaceutical industries is released without any recommended pre-processing. Inadequately treated, wastewater discharged into the aquatic environment causes severe pollution that adversely impacts aquatic ecosystems and public health. https://www.theweek.in/news/biz-tech/2020/09/20/apathy-of-pharma-industry-and-its-effects-on-surface-water-ecology.html (20 Sept. 2020)
Maharashtra Godavari deconcretization: A 5 year long battle Devang Jani, a Nashik-based environmentalist, living on the banks of the Godavari River in Nashik, Maharashtra has succeeded in pushing authorities to revive several natural springs flowing through the river. https://www.thebetterindia.com/238029/devang-jani-nashik-remove-concrete-court-case-river-godavari-riverbed-environment-activist-inspiring-him16/ (16 Sept. 2020)
Punjab Upcoming Industrial Park Threatens Mattewara Forest and Sutlej River The park, as per the cabinet decision in July, will be set up on 955.67 acres, out of which 207.07 acres belong to the Animal Husbandry department, 285.1 acres to the Rehabilitation Department (Potato Seed Farm), and 416.1 acres of Sekhowal Gram Panchayat, 27.1 acres of Salempur Gram Panchayat and 20.3 acres of Sailklan Gram Panchayat.
CM Captain Amarinder Singh on July 18 released a statement saying that the state will not take an inch of forest land to develop the park and it will have proper common effluent treatment plant (CETPs) to deal with industrial waste. But the questions raised by leading environmentalist Baba Balbir Singh Seechewal voices concerns of scores of environmentalists opposing the project. "The state government may not be using forest land but can it guarantee that the flora and fauna of the forest will not be disturbed from the noise pollution, air pollution and heavy human activity once the industrial park comes up there?" said Seechewal.
A group of 70 nature lovers and NGOs like Eco-Sikh have already served a legal notice to the state government on July 20, asking it to halt the project since it will disturb the area's ecological balance. "Our petition in Punjab and Haryana High Court against the project is expected within two weeks. The procurement of some relevant documents delayed the filing of petitions last month [August]," said Rohit Mehta, counsel representing them.
Another concern of environmentalists is that part of the proposed project touches the bank of the Sutlej River — a fact confirmed by Ludhiana Deputy Commissioner Varinder Kumar Sharma in his media statement on July 14. This reminds environmentalists of the 2018 industrial accident when the release of chemical fluid from a sugar mill situated on the bank of Beas river polluted water and killed countless fish and aquatic animals.
The then chairman of the Punjab Pollution Control Board (PPCB), Kahan Singh Pannu had said that there was no policy of not permitting industries close to water bodies, but this episode would make way for such a policy. Meanwhile, in Sekhowal village, which is about 20 km from Ludhiana town, has refused to hand over its share of project land – about 416 acres. Former sarpanch Dhira Singh told Mongabay-India that a gram sabha called by present sarpanch, Amrik Kaur passed a resolution on the 22nd of July against the industrial project on the village land. https://science.thewire.in/environment/punjab-industrial-park-mattewara-forest-sutlej-river/ (19 Sept. 2020)
Gujarat No Environment Nod, Work Starts on Seaplane Service Between Sabarmati, Statue of Unity The beginning of work on the floating jetty in Ahmedabad, the suggestion that the seaplane service will be inaugurated on October 31 and the stated cost of a ticket for the seaplane all hide a certain fact: none of these things are legitimate at this point, because neither the seaplane service nor the two water aerodromes at either end have as yet obtained the environmental clearances they require. https://thewire.in/environment/gujarat-aerodrome-sabarmati-statue-of-unity-clearance (19 Sept. 2020)
GANGA May take decades to clean Ganga water: Experts Himanshu Thakkar, coordinator of South Asia Network of Dams, Rivers and People (SANDRP) and water expert, said that the bigger issue than improvement in water quality is the flow of the river.
"If the flow of the river improves in all seasons, the water quality will improve significantly. But, the reality is that the flow is decreasing and it will have huge implications for people living in the Ganga river basin even if water quality improves," he said.
-Thakkar acknowledged that work has happened in building sewage and industrial treatment plans but the real challenge was its monitoring and efficiency. "The state pollution control boards (who are responsible for water quality management) need to ensure that plants don't give false reports and work at their maximum capacity," he said. https://www.hindustantimes.com/india-news/may-take-decades-to-clean-ganga-water-say-experts/story-jlafKgSUMi8h3EF6E9qQ6J.html (15 Sept. 2020)
YAMUNA Delhi Demolishing Nurseries to Plant Trees As recently as 4th August 2020, the DDA and SANDRP carried out joint inspections at different sites along the Yamuna. At Signature Bridge, they found that owing to heavy construction, huge amounts of debris had been dumped in the river. Shockingly, they also found that the Delhi Metro Rail Corporation (DMRC) had raised, filled, levelled, and enclosed 4,800 square feet of the riverbed for the upcoming Majlis Park-Maujpur Metro line—all in complete violation of the 2015 NGT order.
-"This kind of vision that the DDA has for rejuvenation and other developments on the floodplain seem to fit well for infrastructural projects like the Commonwealth Village and Akshardham Temple [which are also situated on the same floodplain]. But farmers, agricultural workers, and those tending the nurseries do not seem to have a place in this same vision," says Bhim Singh Rawat, an associate coordinator, SANDRP.  https://thebastion.co.in/politics-and/demolishing-nurseries-to-plant-trees-on-the-banks-of-the-yamuna/  (15 Sept. 2020)
Haryana Govt told to expedite work on sewage plants The Yamuna Monitoring Committee (YMC), in a review meeting of the Yamuna Action Plan held via video conferencing last week, told senior Haryana officials to "compress the timelines of the said projects" and find alternative ways to reduce the toxic discharge from entering the Yamuna.
-"Though substantial progress had been made in decision making connected with the construction of STPs/CETPs, the timelines of awarding of work and construction need to be compressed. Temporary alternatives be found to make a substantial difference to the huge pollution entering the river Yamuna," the YMC stated in the minutes of the meeting drafted on September 10.
-The committee said of the 14 existing CETPs, 11 are either not functioning because of design fault or are not functioning to capacity and need to be upgraded. "Presently, 521 MLD (million litres per day) untreated effluent is being discharged into the Yamuna from different towns of Haryana. This is huge and there has been no reduction over the last two years," it said.
-During the Covid lockdown, there was no discharge as industries were shut, which was one of the major reasons for a cleaner Yamuna during that time. Now with the gradual opening of industries in Haryana, the drains are again carrying high levels of untreated effluents that finally go into the river, adding to its pollution load.
-The committee said work on 30 new STPs in several towns has been much delayed. Major cities like Faridabad do not have functional STPs. Besides, the laying of sewerage network in major cities has been delayed by almost a year and hence untreated sewage is being discharged into the drains.
-The YMC said the increasing pollution load in the Yamuna is caused by mixing of discharge from Haryana's drain no.6 and a channel carrying effluents from the Kundli CETP into drain no. 8 at Sonepat. "This mixing of discharge is affecting the water treatment plant in Delhi's Wazirabad, because of which potable drinking water is polluted and the plant needs to be shut down at times," the committee said. https://www.hindustantimes.com/cities/yamuna-pollution-haryana-told-to-expedite-work-on-sewage-plants/story-mJDDBdUHL5PLzRsW9GfkeO.html (14 Sept. 2020)
Uttar Pradesh After a brief respite Hindon has gain turned into black stinking drain. Industrial as well domestric pollutants being dumped in the river in huge volume from areas upstream has been severely affecting land & lives of dwonstream villagers for past many decades. (17 Sept 2020 Video) https://www.facebook.com/sandrp.in/posts/3804134662947512
A small waste water drain choked with solid waste polluting Yamuna in Gokul, Mathura. Number of such drains has gradually been increasing in cities and towns along river. There are several optional to treat and reuse the waste water locally including bio-remedial techniques. (16 Sept 2020 Video) https://www.facebook.com/sandrp.in/posts/3804145946279717
RIVERS BIODIVERSITY
Forest streams as butterfly highways! Every year during the month of January, one of the most amazing wildlife spectacles happen in Aralam Wildlife Sanctuary in northern Kerala. I have been there quite a few times and witnessed myself this amazing butterfly migration.They do follow single file and fly close behind one another, Hundreds and thousands (sometime millions) of Common albatross butterflies fly over a large stream.They start their journey from the top of the mountain where they do breed in large numbers. Early morning they start descending from the mountain and fly to the lower valley following the stream in to the evergreen forest then congregate and mud puddling and eventually disappear into the jungles and after that nobody knows where these butterflies are gone.
If there is a choice I would go to this place every year and sit on the bank of this stream and watch these amazing butterflies!
Video courtesy – Vkchandrasekharan Lic https://www.facebook.com/sandrp.in/posts/3808845192476459
Biodiversity Stressed From Loss of Freshwater Systems, Agricultural Waste -Until 1970, humanity's ecological footprint was smaller than Earth's rate of regeneration but this changed in the 21st century – when, according to the authors, humans overused the planet's capacity to sustain life by at least 56%. So what do we need to do? "As a country, we need to map all the last remaining free-flowing rivers and ensure they have legal protection" so we don't lose connectivity, said Suresh Babu, the director of the rivers, wetlands and water policy, WWF India.
-Flows of water, nutrients, and sediment through freshwater ecosystems are important processes that regulate biodiversity. But dams "fragment longitudinal connectivity and, through flow alterations, also affect lateral, vertical and temporal connectivity," according to Babu. Embankments and other flood management structures also separate rivers from their floodplains. For fragmented rivers, Babu suggested the targeted removal of obsolete dams, reconnecting floodplains and rivers, wetland conservation for aquifer recharge and vertical connectivity. https://science.thewire.in/environment/wwf-living-planet-report-india-freshwater-biodiversity-agricultural-waste/ (17 Sept. 2020)
Delhi The Yamuna suffers from an unfortunate throes As per the comprehensive survey conducted by the Central Inland Fisheries Research Institute (CIFRI) from headwaters of river Yamuna at Delhi, the catch composition of 93 native fish species including Golden Mahseer, Snow trout, Kalaban, Calbasu carp, etc. belonging to 23 families that occur in the river has significantly declined due to the increase in pollution levels.
-The Gharial Reptiles, one of the largest freshwater crocodiles are essential for the rich heritage in the Yamuna. Due to the consumption of these contaminants, Gharials have endured a reduction in population. They are critically endangered species and if not taken care of, can face extinction as per the report of India Environment Portal.
-River Yamuna was once a habitat for the national aquatic animal Platanista gangetica (Gangetic dolphin). As a result of massive pollution, these dolphins have not been sighted in the river since 2003 and the last dolphin seen in Delhi was in 1967. Amongst other endangered animals native to the river are Chitra indica, soft head turtles, spoonbills, etc. https://letmebreathe.in/2020/09/14/the-yamuna-suffers-from-an-unfortunate-throes/ (14 Sept. 2020)
Hyderabad Crocodile spotted in Musi river -Authorities believe that crocodiles were washed away in floodwaters from the Himayat Sagar and strayed in Musi river. https://www.siasat.com/hyderabad-crocodile-spotted-in-musi-river-1976021/ (17 Sept. 2020)
FISH, FISHERIES, FISHERFOLKS
World Bank pushing privatisation in fisheries sector through Blue Revolution Program ? One of the projects in pipeline for approval of USD300 million from the World Bank is the Blue Revolution Program. In 2017, the GoI rolled out an umbrella scheme – "Blue Revolution" to ensure more focused development and management of the fisheries sector. Blue Revolution was expected to close in 2020-21, but the government of India has announced a continuation and expansion of the Blue Revolution program, being established under a new name, the Prime Minister's Fisheries Resources Program (PMMSY). During 2017-20, the Blue Revolution program had already spent about US$900 million (including contribution from both the central and state governments) and has a budget of US$200 million during 2020-21.
The program also facilitated an additional indicative investment level of about US$990 million from the private sector (including from leveraging the Fisheries and Aquaculture Infrastructure Development Fund, FIDF). Total estimated cost of PMMSY (2021-25) public investments is approximately US$2.17 billion with an additional indicative investment level of about US$760 million from the beneficiaries, over a five-year period. The proposed project seeks to support India to achieve increases in fisheries sector productivity with due consideration to resource efficiency and sustainability. But it seems from the project document the agenda of privatisation in the fisheries sector is embedded in the project.  https://www.cenfa.org/international-finance-institutions/if-snippets/   (09 Sept. 2020)
SAND MINING
Report Sand mining underrated threat According to a United Nations Environment Programme (UNEP) report, sand has been mined at rates greatly exceeding natural replenishment rates. While 85 to 90 per cent of global sand demand is met from quarries and sand and gravel pits, the 10 to 15 per cent extracted from rivers and seashores gives rise to environmental and social impacts. These extractions result in coastal depletion; soil erosion; threats to freshwater and marine fisheries and aquatic ecosystems; instability of river-banks leading to increased flooding; and lowering of groundwater levels. The UNEP report also indicates that China and India are major hotspots for sand extraction impacts in rivers, lakes and coastlines. With its accelerating urbanization, the Indian Peninsula ranks second in the world's sand consumption.
– The Ministry of Environment, Forest & Climate Change introduced the 'Sustainable Sand Management Guidelines 2016'. These guidelines failed to end rampant illegal sand mining across the country. The 2020 guidelines for sand mining aims to protect rivers and species habitats. It calls for such sensitive areas to be declared "no-mining zones." The new guidelines suggest the use of effective technologies like drones with night vision for surveillance of sand mining sites; procedures to replenish sand; post environmental clearance monitoring of sand mining sites; steps to identify sources of sand; a procedure for environmental audit of such areas; and steps to control illegal mining. https://www.thestatesman.com/opinion/sand-mining-underrated-threat-1502924283.html (17 Sept. 2020)
MoEF Javadekar asks States to impose and enforce strict laws to curb illegal Sand Mining The Union Minister stated that despite the new sustainable sand mining rules and regulations being passed, many states and regions are not abiding by the rules. A forest home guard Kewal Singh was mowed down by a tractor when he along with his colleague tried to stop suspected members of a mining mafia inside the Sariska Tiger Reserve in Alwar.
-The Minister appealed to the state governments to take the issue of sand mining mafias seriously and impose strict laws to bring an end to the practice. He appeals that sustainable sand mining must be practiced so as to prevent the depletion of natural resources from river beds. In order to prevent the river beds from drying completely, sustainable sand mining must be practiced and killings of foresters or revenue staff working towards the initiative of sustainable sand mining is completely unacceptable and that steps will be taken to make sure the offenders are punished. http://24x7newsworld.com/prakash-javadekar-asks-states-to-impose-and-enforce-strict-laws-to-curb-illegal-sand-mining/ (11 Sept. 2020)
Tamil Nadu "Nothing but an organised crime against society": Madras HC Apart from expressing anguish that the State's efforts to control illegal mining/quarrying through legislation has not produced any fruitful results, the Bench went on to condemn illegal mining as nothing short of organised crime. The Court said,
-"It is an open secret that various mafias are controlling the illegal business at various locations. By this cartelisation, not only the State's exchequer, the entire society is affected. In a way the illegal business is nothing but an organised crime against the society and each individual offender plays an active role in the organised crime. As stated earlier it is not that the individual offender is not aware about the rippling effect the illegal act causes to the environment and ecology. The greed and selfish attitude of the offenders are increasing day by day. The Courts cannot keep the eyes and ears closed."
-Reports of offenders being allowed to roam scot-free, despite the seizure of their vehicles for illegal mining offences also drew the Court's criticism. The Judge opined that it is apparent that there seemed to be no will on the part of the enforcement agencies to act on the Court's orders in letter and spirit. https://www.barandbench.com/news/litigation/madras-hc-takes-serious-view-of-illegal-mining-dismisses-batch-bail-pleas (08 Sept. 2020)
Haryana In a tragic incident on Sept 15, 2020 six members of a family got drowned in Yamuna river in Jalmana area. This report links the death to deep sand mine pits and also mentions that apart from this 17 kids have died after drowning in Yamuna river since 2019 and most of these are due to deep illegal sand mining. https://www.facebook.com/sandrp.in/posts/3804156162945362
https://www.tribuneindia.com/news/haryana/six-drown-in-yamuna-near-jalmana-village-of-panipat-three-dead-bodies-fished-out-141554 (15 Sept. 2020)
Uttar Pradesh Four members of a family were injured on Tuesday (Sept. 15) in Yakubpur village after they were allegedly shot at by another family from Dalelpur village who was trying to take sand in an illegal mining operation. https://www.hindustantimes.com/noida/noida-four-injured-in-shooting-during-illegal-sand-mining/story-KJm7geLIiFvDffB0XzK9LK.html (16 Sept. 2020)
Himachal Pradesh Forest Advisory Committee meeting on Sept 21, 2020, relevant agenda:
1. 54.67 Ha. SAND, STONE AND BAJRI MINING PROJECT BY RANDEEP SINGH. from bed of river Yamuna. Paonta Forest div, Dist Sirmour. A representation has been received from BNHS (Bombay Natural History Society) wherein it has been highlighted that the Asan Barage Conservation Reserve (in Uttarakhand state) is about 6 km from the proposed mining area and the proposed mining would have adverse impact on it.
2. 275.16 ha forest land. For SHAHPURKANDI DAM PROJECT in Punjab. (Project is under construction for many years.) http://forestsclearance.nic.in/AgendaDetail.aspx
Andhra Pradesh Vigilance squad busts illegal mining racket in Vizag The regional vigilance squad of the mines and geology department slapped Rs 12.78 crore worth of penalties on two leaseholders found to be carrying out illegal mining at Kamabalabailu tribal village in G Madugula mandal in Visakhapatnam district. The vigilance officials further found out that while the quarries, being located in a tribal area, are supposed to be operated by two leaseholders Duru Eswar Rao and K Rambabu, the quarries were actually being operated by a K Venkatesh Chowdhary, a non-tribal. According to vigilance officials, Venkatesh Choudhary runs most of the illegal mining racket in the area and owns the Modamamba Stone Crusher unit.https://timesofindia.indiatimes.com/city/visakhapatnam/vigilance-squad-busts-illegal-mining-racket-in-vizag-dist/articleshow/78113351.cms (15 Sept. 2020)
WETLANDS, LAKES, WATER BODIES

Assam Oilfield Fire: Wildlife Institute Wants Review of Eco Clearances, RTI Shows Report on Wildlife Institute of India's final assessment of the oil well blowout & fire at Baghjan, Assam. The 178-page assessment shows extensive damage not only on wildlife but also on water and air pollution and impact on local communities. The Institute has also called for a review of EC granted to OIL in April, 2020 and a cumulative assessment of ~50 wells (including those planned) in Assam. https://www.indiaspend.com/assam-oilfield-fire-wildlife-institute-wants-review-of-eco-clearances-rti-shows/ (16 Sept. 2020)
WATER OPTIONS
Gujarat Adivasi communities restore common wells during lockdown When repeated requests for better access to drinking water failed, members of a women's collective convinced returned migrant youth to restructure community wells during lockdown. https://www.villagesquare.in/2020/09/14/adivasi-communities-restore-common-wells-during-lockdown/ (14 Sept. 2020)
Uttar Pradesh In drought-prone Jhansi, 325 ponds revived under MGNREGS The revival of the water bodies will help improve the groundwater level in the Bundelkhand region which is prone to drought, according to the district administration. https://indianexpress.com/article/india/bundelkhand-jhansi-one-village-one-pond-initiative-6593174/ (12 Sept. 2020)
Water from sewage plant to nurture 36-acre Rajghat lake The water from the upgraded 15 MGD Delhi Gate STP would be used for creating a 36-acre lake near Rajghat. A senior DJB official said the area where the lake would be developed used to be the fly ash pond of the now decommissioned Rajghat power plant. "The plant was shut around five years ago and shrubs and weeds now occupy the abandoned pond. This will be the biggest waterbody in the area and serve as another recreational spot in the heart of Delhi," he added. The cost of creation of the lake was fixed at Rs 36.5 crore, its capacity would be 50 Million Gallons.
– Earlier, DJB had said that creation of the lake would help in improving biodiversity of the Yamuna floodplain, while also reducing organic load pollutants flowing into the river. Another official said that a high-level tertiary purification process would be done at the STP before water was flown into the lake. "The treated water will undergo an ozonation process with activated carbon filters before being sent into the lake. Aerators will be used to increase the dissolved oxygen levels," he added.
The waterbody would also help in supplying water for maintenance of Rajghat where borewells are currently being used. Last year, DJB had announced a deadline of three years for the completion of the project. https://timesofindia.indiatimes.com/city/delhi/water-from-sewage-plant-to-nurture-36-acre-rajghat-lake/articleshow/78195445.cms (19 Sept. 2020)
MNREGA helps a village in Bihar become flood proof United action of locals, wisdom of the village head and MNREGA help to deal with waterlogging in a village in Bihar. https://www.indiawaterportal.org/articles/mnrega-helps-village-bihar-become-flood-proof (20 Sept. 2020)
GROUNDWATER
Goa State likely to get norms for groundwater usage On Tuesday (Sept. 15), the first meeting of the state-level committee for re-estimation of Goa's groundwater was held in Panaji. The meet was chaired by state secretary for water resources and IAS officer Sanjay Gihar, representatives from the Bengaluru office of the central ground water board, chief engineer of Goa's water resources department Shrikant Patil, as well as representatives from different other related departments in Goa.
-The NGT's order in July had stated that permits issued for groundwater usage have to be for specified quantity of water and cannot be valid for perpetuity. Usage of water permitted should be monitored with digital flow metres and audited every year by third parties, the NGT had said. Swift action, including blacklisting and prosecution, should be taken against those who fail the audit, stated the order.
-The central ground water board in its report last year had stated that the overall groundwater availability scenario in Goa remains safe, but a 'negligible to moderate' fall in water level was recorded during the premonsoon season. The board report showed that groundwater consumption has gone up in Goa. This report was, however, based on groundwater re-estimation up to March 2017.
-Now, a more recent review of the groundwater situation in Goa is being carried out. Increase in population, tourism and commercial activities is a concern. The central board's report had agreed that the loss due to the natural discharge is 40% for Goa as against the recommended figure of 5%. This was because in case of Goa the terrain is highly undulating and laterite formations are highly porous. https://timesofindia.indiatimes.com/city/goa/goa-likely-to-get-norms-for-groundwater-usage/articleshow/78135697.cms (16 Sept. 2020)
Punjab State tops country in over-exploitation of groundwater In Punjab, 79 per cent of the assessment units showed the annual groundwater extraction to be more than the assessed annual extractable groundwater resources, according to information placed by the Department of Water Resources, River Development and Ganga Rejuvenation in the ongoing session of the Rajya Sabha. This figure was 76 per cent last year.
-Punjab is followed by Delhi with 65 per cent and Rajasthan with 63 per cent. In Haryana, 61 per cent of the assessment units were being over-exploited. While over-exploitation of groundwater is the highest in this region, there are many states and union territories where there is no over-exploitation.
-Irrigation accounts for over 96 per cent of groundwater use in Punjab. A major reason for over-exploitation of groundwater is the largescale cultivation of paddy in Punjab, which is water-intensive and the dependence on groundwater over canal or river water in many parts of the state.
-Monsoon is an important factor in recharge of groundwater. The rains in Punjab this season have been 10 per cent below the long period average so far. From June 1 to September 14, the state received 391.3 mm against the normal of 437.2 mm, according to the India Meteorological Department.
-The Ministry of Jal Shakti has constituted a committee under the Central Ground Water Board (CGWB) for fresh assessment of dynamic groundwater resources in the country for 2020 in collaboration with the states and UTs. Earlier, such assessments were done in 2013 and 2017. https://www.tribuneindia.com/news/punjab/punjab-tops-country-in-over-exploitation-of-groundwater-141539 (15 Sept. 2020)
URBAN WATER
Bhopal Medical college on pond land https://www.facebook.com/sandrp.in/posts/3793903957303916
Ahmedabad Prahladnagar lake raises stink, authorities can't smell it The residents of Prahladnagar area are complaining that the water in the AUDA (Ahmedabad Urban Development Authority) lake next to Vraj Vihar Society is stinking and it appears drainage water is being dumped into the lake. The residents complain that the water level in the lake has been rising though it has not rained in the area for the past couple of days. https://timesofindia.indiatimes.com/city/ahmedabad/ahmedabad-prahladnagar-lake-raises-stink-authorities-cant-smell-it/articleshow/78214835.cms (10 Sept. 2020)
WATER POLLUTION
Andhra Pradesh PIL seeks probe in sea water pollution In their petition, Rajendra Singh and Satyanarayana mentioned that plastic waste, sewer and toxic effluents from pharmaceutical companies are flowing into the sea at Lawson's Bay near Rishikonda area in Visakhapatnam. While the sewer and plastic waste is from Megadhrigedda through Visakhapatnam city, untreated chemical waste is coming from Parawada which also known as Parawada Pharma City.
-The petitioners said the Greater Visakhapatnam Municipal Corporation (GVMC) has failed to protect the beach, Mudasurlova Reservior, Chillapeta tank at Bhimili and other water bodies from pollutants. They alleged that the Parawada Pharma City has been violating the Environment Protection Act, Water Act, Andhra Pradesh Water, Land and Trees Act.
-They argued that various forms of pollution that is being caused amounts to violation of the right to life of the fishermen. The incident of large numbers of dead fish washed up on the shore at Rishikonda in the third week of August speaks volumes about the effects of toxic effluents on the marine life. The lives of 20,000 fishermen is also getting affected with large number of fish dying because of sea water contamination. https://timesofindia.indiatimes.com/city/vijayawada/pil-seeks-probe-into-sea-water-pollution/articleshow/78176055.cms (19 Sept. 2020)
JJM/ RURAL WATER SUPPLY
Maharashtra Rs 96,337 ml spent under Jalyukt Shivar failed to drought-proof state: CAG report According to Pradeep Purandare, former associate professor with Water and Land Management Institute (WALMI), Aurangabad, an autonomous body under the state government's department of soil and water conservation, Jalyukt Shivar was "conceptually incorrect" and was a convergence of certain existing schemes which was equated with nullahs openings and deepenings only. "The excess widening and opening of the nullahs led to a change in the hydraulic gradient. Instead of water flowing from rivers to wells, it started flowing in a reverse direction in certain places," he told Gaon Connection. https://en.gaonconnection.com/high-and-dry-rs-96337-million-spent-under-jalyukt-shivar-failed-to-drought-proof-maharashtra-finds-cag-report/ (15 Sept. 2020)
MONSOON 2020
IMD Study Palghar shows significant increase in rainfall trend over 30 years  Of the 36 districts in Maharashtra, only Palghar has shown significant increase in rainfall trend, both seasonally as well as annually, over 30 years, a study has found. The study, spearheaded by climate experts at India Metereological Department (IMD), observed rainfall patterns, trends and variability across the state as an impact of climate change for the period 1989-2018. The annual rainfall variability observed over the state was 14 per cent, which is very less, the report noted. It also found an increase in both "rainy" and "heavy rainfall" days, as well as "dry days" in Nandurbar, Jalgaon, Raigad, Kolhapur and Bhandara during both the monsoon season as well as annually.  https://indianexpress.com/article/cities/mumbai/palghar-shows-significant-increase-in-rainfall-trend-over-30-years-imd-study-6593778/  (13 Sept. 2020)
Monsoon veers off forecast This monsoon has been characterised by several unique features , such as no low-pressure areas forming in July, resulting in the monsoon trough (line of low pressure) oscillating to the Himalayan foothills very frequently bringing rains mainly to the peninsular region and northeast India in July while leaving northwest India dry.
– Five low pressure systems formed in August which brought excess rains to the central and western region but not much to the north-western region again.
-This year, IMD's extended range forecast shows extensive and heavy rains along the west coast between September 11 and 24 and then until October 1 over several parts of central India.
-"We haven't got any indication as yet of monsoon withdrawal from northwest India. Another low-pressure area is likely to develop over Bay of Bengal around August 17 but we need to assess the models further to be certain. Monsoon withdrawal can begin only once anti-cyclonic flow is established and moisture reduces significantly over the region," said K Sathi Devi, head, national weather forecasting centre. https://www.hindustantimes.com/india-news/monsoon-veers-off-forecast/story-KrJQKirqqzUourMhX8tdiL.html (16 Sept. 2020)
Extremely heavy rains up 100% in last three years The number of rain gauge stations recording 'extremely heavy rainfall' in the country has increased by more than 100% in the past three years — from 261 in 2017 to 554 in 2019 – while the ones which recorded 'very heavy rainfall' increased by over 67% during the same period. The IMD's data for the past three years, shared by Union minister of earth sciences Harsh Vardhan in Rajya Sabha on Tuesday (Sept. 15), shows a similar trend for number of cyclones in Arabian Sea and Bay of Bengal. Collectively, the number of cyclones increased from three in 2017 to eight in 2019.
– Though it's not a long-term trend as there are many years in the past that have recorded a decrease in the number of extreme weather events, the three years' events could lead to "unexpected increase in natural disasters" during the 2017-19 period. Attributing the reasons to climate change, IMD chief Mrutyunjay Mohapatra told TOI on Wednesday that it's an established fact that 'extremely heavy rainfall' has been increasing in tropical regions, including India. "This trend is, however, not meant for the entire country. If you look at our analysis of rainfall patterns based on the data of the last 30 years, you will find that there are states which have witnessed significant decreasing trends of annual rainfall," he said.
-The ministry of earth sciences had early this year come out with a report, 'Observed Rainfall Variability and Changes', analysing rainfall patterns over 28 states and the Union Territory of J&K based on 1989-2018 data. The report shows that seven states — Uttar Pradesh, Bihar, West Bengal, Himachal Pradesh, Arunachal Pradesh, Meghalaya and Nagaland — have shown "significant decreasing trends" in annual rainfall in the last 30 years. https://timesofindia.indiatimes.com/india/extremely-heavy-rainfall-events-up-100-in-3-years/articleshow/78158286.cms (17 Sept. 2020)
Forecasts of heavy rains raise concerns about kharif crops Rains have been 17% above common in June however July rains have been 10% under common. The monsoon picked up once more in August and have been 27% above common. Heavy rains in August broken some cotton, pulse and soybean crops in just a few pockets. In the absence of any official estimate, commerce, business and authorities officers say the rains had localised impression and the harm was not widespread. But heavy rains might trigger intensive harm this month when crops ripen. https://www.thehindu.com/business/agri-business/forecasts-of-heavy-rains-raise-concerns-about-kharif-crops/article32614985.ece (15 Sept. 2020)
Flash floods surge in Himalayas due to extreme rain In the first scientific analysis of observed data, a team of researchers from the Indian Institute of Technology Bombay (IITB) and National Institute of Hydrology (NIH) found that between 1980-91 and 1992-2003, extreme rainfall events in the Sutlej river basin in Himachal Pradesh and the Ganga headwaters in Uttarakhand have more than doubled. https://indiaclimatedialogue.net/2020/09/11/flash-floods-surge-in-himalayas-due-to-extreme-rain/ (11 Sept. 2020)
Karnataka Coastal Karnataka receives 793% excess rainfall in last 24 hours According to rainfall data maintained by the Karnataka State Disaster Monitoring Centre, Malnad as a whole received 367% excess rainfall for the period of 24 hours, between 8.30 am on Saturday and 8.30 am on Sunday. For the same duration, coastal Karnataka received excess rainfall of 793%. Kodi station in Udupi received the highest rainfall with 414.5 mm rainfall followed by Irodi station (in Udupi) at 411.2 mm of rainfall.
-Taluk-wise Udupi in Udupi district received the highest rainfall in the state in the last 24 hours with 399 mm rainfall, followed by Kapu (296 mm) and Karkala (293 mm) in the same district.
-Among the districts, too, Udupi received rainfall of 197 mm (1541% excess) rainfall, followed by Dakshina Kannada at 135 mm (1142% excess) rainfall. The coastal Karnataka received excess rainfall throughout the past week.
-As a whole, for the last seven days (September 14-20), Udupi (396 mm, 395%), Dakshina Kannada (283mm, 316%) and Uttara Kannada (115mm, 111%) — the three districts that form the coastal belt — have together received 212% excess rainfall. https://www.thenewsminute.com/article/coastal-karnataka-receives-793-excess-rainfall-last-24-hours-133491 (20 Sept. 2020)
According to Ventusky,areas around Goa, Balgaum, Khanapur and surrounding areas marked in these maps may get some very heavy rainfall starting around 11 tonight and continuing for next 15 hours. https://www.facebook.com/sandrp.in/posts/3813202308707414
FLOOD 2020
SANDRP Blog North India; CWC Flood Forecasting Sites 2020; New Website Old Problems In 2020, the North India region comprising of 5 states and 4 UTs have 295 sites of which 83 are Level Forecasting, 203 are Level Monitoring and 9 are Inflow Forecasting sites.
The number of sites have come down in J&K, Himachal while there is no site in Ladakh, Chandigarh and Punjab. In Uttarakhand and Uttar Pradesh number of Level Forecasting sites have been increased. New Level Monitoring sites have also been added in both states while old one removed.
There are several sites still without complete HFL details while many sites which have breached HFL in recent years have not been updated accordingly. The Udi on Chambal river is one such site. Overall the overview shows that there is decrease in flood monitoring sites in Indus and Sutlej basin while increase in Ganga basin. https://sandrp.in/2020/09/16/north-india-cwc-flood-forecasting-sites-2020-new-website-old-problems/ (16 Sept. 2020)
Report Fighting floods with insufficient warning Advanced countries like USA, EU and Japan have already shifted towards "Ensemble forecast" coupled with "Inundation modelling" whereas India has recently shifted towards "Deterministic forecast". However, the shortcomings with Indian flood forecast are glaring. The advancement of flood forecasting technology therefore depends on how quickly rainfall is estimated and forecast by IMD and how quickly CWC integrates the rainfall forecast (also known as Quantitative Precipitation Forecast or QPF) with the flood forecast and how quickly CWC disseminates that to user agencies. But the advantage of deploying advanced radars or any advanced technology by IMD becomes infructuous because the reality is that most of the flood forecasts at several river points across India are based on statistical methods that possess lead time of less than 24 hours. Yes, just 24 hours! Although radars extend lead time up to three days, statistical methods limit that to just 24 hours. According to a scholarly study by NIT, Warangal, only recently, India has shifted towards using hydrological (or simply rainfall-runoff models) capable of coupling with QPF. So, lead time of third days is sporadic in India and at only select river points. USA being twice the size of India has deployed 160-180 next generation S-band Doppler weather radars called NEXRAD with a range of 250-300 km. So, India needs at least 80-100 S-band radars to cover its entire territory for accurate QPF.
– Although, IMD has begun testing and using ensemble models for weather forecast through its 4-6 teraflop supercomputers called "PRATYUSH" and "MIHIR", the flood forecasting agency has to catch up with this advanced technology and achieve technological parity with IMD in order to couple the ensemble forecasts to its hydrological models. It has to modernize not only the telemetry infrastructure but also raise the technological compatibility with river basin specific hydrological, hydrodynamic and inundation modelling. https://www.thestatesman.com/opinion/fighting-floods-insufficient-warning-1502924062.html (17 Sept. 2020)
New Recommendations for a Proactive Flood Policy in India -India's current flood management strategy largely focuses on structural measures such as embankments and dykes. A mixed approach that includes nonstructural measures such as flood forecasting and community participation in flood risk management would help, researchers concluded.
-The IIT team divided India's flood-prone areas into four river regions: the Brahmaputra, the northwest, the Ganges, and central India and Deccan. Each region has its own flood patterns, and the team recommended flood management approaches tailored to fit each.
-Overall, the flood-carrying capacity of India's huge river network is rapidly decreasing because of bank erosion and a rise in sedimentation in the streambed. Both phenomena trigger breaches of flood dykes, said Nayan Sharma, an adjunct professor of water resources at IIT Roorkee who was not involved in the study. Compounding the problem are rapidly shrinking wetlands in India's floodplains, which would have absorbed water, he added.
-Sharma also pointed out that flood detention measures are absent "in most of the 5,500 dams in India," concepts of embankment construction are "outmoded," and the country lacks the latest forecasting systems.
-The IIT Bombay researchers recommended that India's flood management policy should shift from a "passive response" that relies mainly on structural measures to a "progressive response" that emphasises nonstructural measures such as forecasting, land use planning, warning outreach, and floodplain mapping.
-Researchers also recommended a greater role for community leadership in management policy, especially in the Brahmaputra and Ganges regions. Goswami, too, emphasises the need to shift from engineering restrictions to a "holistic, sustainable, and people-friendly" river management system. https://science.thewire.in/environment/new-recommendations-for-a-proactive-flood-policy-in-india/ (20 Sept. 2020)
Gujarat Second year in row when in the morning of Sept 17, (birthday of PM Modi), dam touches the Full Reservoir level of 138.68 and then they open the spillway gates (power generation not happening at optimum level at SSP generators, so that is WASTE OF ELECTRICITY) and SSNNL MD and Gujarat CM etc wish the PM and PM happily responds! https://timesofindia.indiatimes.com/city/vadodara/sardar-sarovar-brims-over-overflowing-dam-rejoices-all/articleshow/78174163.cms (18 Sept. 2020)
Protests in SSD affected villages in Madhya Pradesh's Barwani district. https://www.newsclick.in/narmada-valley-homes-submerged-villagers-protest-flood-water (14 Sept. 2020)
Around 6,000 people of 21 villages of Bharuch district were shifted to safer location as water level at Golden Bridge crossed 35.75 feet mark on Tuesday night. The level however reduced to 29 feet late on Wednesday (Sept 2, 2020) evening. https://timesofindia.indiatimes.com/city/surat/flood-waters-recede-near-bharuch/articleshow/77897653.cms (03 Sept. 2020)
This PTI story of Sept 2, 2020 about Gujarat floods particularly in Bharuch, Narmada and Vadodara districts actually talk about heavy rains, intensity of showers. There were very little rains in those districts in those days. The floods were due to wrong operation of the Sardar Sarovar, not rains. "The intensity of showers decreased during the day, but in the last three days, rain-related accidents claimed 12 lives in the state, said Commissioner of Relief Harshad Patel." "We have shifted 9,794 persons from 49 villages in these three districts so far," the relief commissioner said. https://www.hindustantimes.com/india-news/floods-in-3-gujarat-districts-over-9-000-shifted/story-yJYMhmLAxfoUQqe6lEkPiO.html (02 Sept. 2020)
Several areas of Ankleshwar town in Bharuch district were inundated on Tuesday including many residential societies that witnessed heavy waterlogging. Low-lying areas of Ankleshwar town were inundated on Tuesday with 500 people evacuated to safer locations. Juna Diva village in Ankleshwar was heavily waterlogged and the administration shifted several people to local government schools-turned-relief shelters. https://indianexpress.com/article/india/narmada-dam-to-see-cutback-in-inflow-areas-of-ankleshwar-flooded-500-evacuated-6579523/ (02 Sept. 2020)
Twenty three gates have been opened up to 7.56 m and water level in the dam was 132.88 m on Monday evening, said PC Vyas, director, Sardar Sarovar Narmada Nigam Limited (SSNNL). In Bharuch town, low-lying areas like Dandia Bazar, Furza, Dholi Kui, Pirkanthi witnessed heavy waterlogging and 1,347 people were shifted from these areas. round 669 residents of Mangleshwar, Nikor, Shuklatirth, Kadod Beyt, Dashan Beyt, Tavra and 812 from Sarfuddin, Dhanturia, Borbhatha, Haripura, Kansia, Chaapra and Khalapia villages of Ankleshwar were evacuated. Around 2,00 people were also shifted to safer locations from Vagra and all were taken to temporary camps set up.
– Narmada collector Manoj Kothari told TOI: "The famous Shiva temple in Garudeshwar and the ancient Dutt temple at Garudeshwar are flooded. The raod connectivity between Garudeshwar and Kevadia Colony has been snapped and around 260 people from nine villages have been shifted to safer place. " https://timesofindia.indiatimes.com/city/surat/heavy-discharge-causes-deluge-in-narmada/articleshow/77858703.cms (01 Sept. 2020)
Maharashtra The floods also brought back the question on dam management. The Central Water Commission had issued notices to three dam operators for not following the reservoir operation schedule, but the latter claim it was as per schedule and their actions helped contain the extent and intensity of flood. https://india.mongabay.com/2020/09/to-dam-or-not-to-dam-floods-in-eastern-vidarbha-raise-the-perennial-debate/ (18 Sept. 2020)
Bihar किशनगंज में टूटा पुल, चुनाव से पहले थी उद्घाटन की तैयारी इस पुल को बनाने में करीब 1.42 करोड़ रुपये की लागत आई थी. यह 26 मीटर स्पैन का पुल था. पुल टूटने की घटना 16 सितंबर यानी मंगलवार रात की है. बताया जा रहा है कि लगातार दो दिनों से हो रही बारिश की वजह से नदी की धार बदल गई. धार उस इलाके से निकली जहां पर निर्माणाधीन पुल था. पुल के पास 20 मीटर का डायवर्जन बनाना था लेकिन यह नहीं बनाया गया. इसकी वजह से नदी की धार घूम गई और पुल टूट गया. डायवर्जन बना होता तो नदी की धार नहीं बदलती और पुल नहीं गिरता. लेकिन टूटने के बाद मलबा पानी में बह गया. https://www.aajtak.in/india/bihar/photo/under-construction-new-bridge-collapse-in-kishanganj-before-inauguration-bihar-tstr-1131510-2020-09-18-3 (18 Sept. 2020)
URBAN FLOOD
Guwahati Experimental flood warning system In August, the Energy and Resources Institute (TERI) in New Delhi, along with the National Disaster Management Authority (NDMA), launched a fully automated web-based flood warning system for Guwahati. Currently at an experimental phase, the Flood Early Warning System (FEWS) has been designed to alert local authorities about flash floods, heavy rainfall and waterlogging, which will help them take measures to prevent untoward incidents and prepare for flood conditions. If successful, the tool will be replicated by other cities across India.
– FEWS has been developed to deal exclusively with urban drainage, river and overland flow combined. It uses advanced hydrological models to provide warnings with a lead time of 72 hours. It uses the India Meteorological Department's (IMD) hourly forecast data of precipitation to simulate a hydrodynamic model to predict the water level, and generate spatial flood maps.
– For this study, 11 sub-catchments were created, based on the 11 streams of Guwahati's river system, vis-à-vis tributaries of the Brahmaputra. Based on the forecast precipitation, the model calculates the runoff volume and hydrodynamics of the flow from these river channels and predicts the water level. Once the water level crosses its threshold, the system sends out alerts through text and email to the concerned authorities. The urban stormwater drainage setup of the system has been linked with the river modelling system to provide the water level in the stormwater drains and on the road networks.
– "It was evident that the city doesn't get flooded from the main channel of the Brahmaputra, but from its tributaries. These assessments provide a background to design a system which can model a complex and dynamic nature of interactions altogether," Singh said, adding that TERI has also signed a memorandum of understanding with the IMD to be a partner institute, as it is the only authorised agency to provide forecasts.
– TERI is also developing a similar warning system, with the support from Royal Norwegian Embassy, for the city of Jorhat in Upper Assam. The system is expected to go online by the end of September.
– Earlier in June, a similar system was launched in Mumbai. According to The Indian Express, Mumbai is the second city in the country after Chennai to get this system, and similar systems are being developed for Bengaluru and Kolkata. https://www.thethirdpole.net/hi/2020/09/07/guwahati-gets-an-experimental-flood-warning-system (07 Sept. 2020)
Hyderabad Roads flooded, vehicles washed away As a result of 10 cm rainfall in a couple of hours in Hyderabad, roads were flooded in posh areas like Banjara Hills and Jubilee Hills and commercial centres like Ameerpet, Koti, Dilsukhnagar, LB Nagar, Abids, Basheerbagh, Begumpet, Khairatabad and Secunderabad. Bahadurpura and Gandipet received the maximum rainfall over 10.9 cm. According to Telangana State Development Planning Society, the rainfall at Rajendranagar was 10.4 while it was 9.7 cm in Shaikpet.  https://www.indiatoday.in/india/story/rain-batters-hyderabad-flooded-vehicles-washed-heavy-rainfall-life-out-gear-1722612-2020-09-17  (17 Sept. 2020)
Incredible scenes of a flooded Hyderabad after torrential rain. https://scroll.in/video/973340/watch-incredible-scenes-of-a-flooded-hyderabad-after-torrential-rain (17 Sept. 2020)
Mumbai Coastal Road: Making land in a drowning city Great, detailed piece on Mumbai flooding. "Our cities urgently need progressive environmental action rather than schemes that help some people profit from crises. Ecological planning, environmental restoration, investment in basic infrastructure, retrofitting for climate mitigation: these are some steps that may help us cope and endure. But the "window of opportunity" is shrinking." https://scroll.in/article/971791/mumbais-coastal-road-making-land-in-a-drowning-city (31 Aug. 2020)
– At a time when Mumbai authorities are reclaiming portions of the sea for big ticket infrastructure projects, the sea has come into a 2,000 square metre strip of the foreshore land at Juhu on the west coast.
While senior officials from BMC, which is implementing the highway project, argued that the work was being done following a social impact assessment and that mitigation measures will be taken up, Wagh claimed the "so-called" assessment report "neither acknowledged the existence of traditional fishing zone nor the customary use of the nearshore and foreshore areas for artisanal fishing activity". Pimenta demanded that fishermen be seen as "project-affected people" for reclamation projects. https://indianexpress.com/article/cities/mumbai/amid-coastal-reclamation-2000-sq-metre-foreshore-off-juhu-beach-goes-under-water-6597648/ (16 Sept. 2020)
DISASTER
Uttarakhand 7 years of Kedarnath disaster, govt is going to look for missing bodies Following orders of Nainital High Court, new search operation has been launched to find the remains of the at least 3322 missing persons in Uttarakhand flood disaster of June 2013. https://indianexpress.com/article/explained/uttarakhand-kedarnath-disaster-rescue-6600097/ (18 Sept. 2020)
LANDSLIDES
Houses, crops damaged by flashfloods, landslides in Leparada Around 15 private residences and large areas of paddy fields were damaged during cloudburst-triggered flashfloods and landslides which occurred at around 9-9:30 am here in Leparada district in Arunachal Pradesh on Thursday, Sept 17, 2020. Overflowing waters of the Hie and the Kidi rivers entered houses, damaged properties, and submerged paddy fields in the low-lying areas. https://arunachaltimes.in/index.php/2020/09/18/houses-crops-damaged-by-flashfloods-landslides-in-leparada/ (18 Sept. 2020)
ENVIRONMENT
MoEF&CC Ministry allows virtual public hearings, email submissions The Union environment ministry on Monday (Sept. 14) issued guidelines on holding public consultations for various large infrastructure projects like mining or industry which were on hold since March. Environmental experts have red-flagged certain clauses in the environment ministry's office memorandum because they could dilute the consultation process in remote areas where local people have no access to internet or other means of submitting responses in writing.
-The guidelines state that 100 people can gather for a hearing while maintaining social distancing as per the home ministry's order under Unlock 4. If more than 100 people are required to gather then hearings can be staggered to more than one hearing. The guidelines have also provided the option of holding online or virtual hearings in addition to physical public hearings. The guidelines also state that state pollution control boards can obtain responses from local communities in writing "from concerned persons having plausible stake in the environmental aspects of the project or activity, through electronic means". The guidelines do not clarify if the written submissions are in addition to physical hearings. On completion of the virtual or physical hearing the pollution control boards will submit a summary of the issues raised during the hearing in person or virtually or through email along with a response of the project proponent along with a certificate of the district magistrate or his authorised representative to the ministry or other regulatory authority, the guidelines, seen by HT state.
-"For the ministry or project proponents, public hearings may be just one step closer to the grant of an environment clearance. For affected people, these are not just platforms for receiving information but a rare and critical opportunity for a direct interface with their government. The guidelines are designed to push through public hearings and not take socio-ecologically informed decisions. Those who choose to attend them will do so at a grave health risk and for many others, particularly in remote areas the hearings will be efficiently wrapped online or offline, even before people can wrap their heads around these new guidelines," said Kanchi Kohli, legal researcher at the Centre for Policy Research. https://www.hindustantimes.com/india-news/environment-ministry-allows-virtual-public-hearings-email-submissions-on-hold-since-march/story-tPpyzoXfR934D95M11zAMI.html (14 Sept. 2020)
Report How solar farms fuel land conflicts India's solar dreams require large tracts of land. As a result, in the shadow of many upcoming solar projects, local communities, which are mostly landless and marginalised, demand titles over the lands, and compensation if they are displaced. They say that the land belongs to them because they use it. Some of them have begun to approach the courts; others protest or break solar equipment in their quest for compensation.
In the absence of a legal framework to resolve these disputes, conflicts rage on. The problem is now showing up more prominently in the government's bid to promote solar parks because they need large tracts of land. https://www.livemint.com/news/india/how-solar-farms-fuel-land-conflicts-11600612526037.html (21 Sept. 2020)
CLIMATE CHANGE
Retreating Glaciers and Water Flows in the Himalayas: Implications for Governance ORF brief about implications of melting glaciers on the water governance in Hindu Kush Himalayas and the downstream regions. https://www.orfonline.org/research/retreating-glaciers-and-water-flows-in-the-himalayas-implications-for-governance/ (15 Sept. 2020)
The ORF study indicators are further highlighted here. The impact on springs is already felt. Also in the flows in Indus basin since contribution of glacier melt is highest there at 41% compared to 16% in Brahmaputra and 13% in Ganga. The spring impact needs immediate attention. https://indianexpress.com/article/india/glacier-retreat-in-himalayas-to-cause-water-crisis-study-6601814/ (19 Sept. 2020)
SOUTH ASIA
Indus Water Treaty at 60: why there is a need to give it a fresh look Happy Birthday Indus Water Treaty! 60 is not age for retirement for a water treaty! Uttam Kumar Sinha pleads for modification here, he knows that is non starter since both party has to agree to any change and it is unlikely that Pakistan would agree for any modification. The World Bank may be continuing to take pride in the treaty, not everyone is happy with its role. https://indianexpress.com/article/explained/indus-water-treaty-at-60-why-there-is-a-need-to-give-it-a-fresh-look-6601741/ (19 Sept. 2020)
Opinion Transboundary Cooperation… The response to flooding has largely centred on flood-control mechanisms such as construction of dams and embankments. Proposals for riverbed dredging and construction of reservoirs for storage of excess water have been floated. However, these measures have been successful only to some extent. At other times, embankment breach and release of excess water from reservoirs during monsoons have added to the severity of floods. https://www.news18.com/news/india/transboundary-cooperation-a-step-necessary-to-pull-flood-prone-parts-of-india-out-of-troubled-waters-2878977.html (15 Sept. 2020)
India-Nepal Nepal exports electricity worth a billion Nepali rupees to India in last fiscal Nepal has exported electricity worth almost one billion Nepali rupees to India in 2019-20, according to a Nepal Electricity Authority (NEA) report. Nepal was able to export electricity worth 95 crores 70 lakhs Nepali rupees to India as per a power deal signed by the two countries. Nepal was able to send 10.7 crores units last year. In 2015-16, Nepal exported 31 lakh units of electricity, 26.9 lakh units in 2016-17, 29.4 lakh units in 2017-18, 3.47 crore units in 2018-19. Nepal and India previously had a capacity to ferry 350 MW electricity using the trans-border connectivity line, which has been expanded to 1,500 MW. https://energy.economictimes.indiatimes.com/news/power/nepal-exports-electricity-worth-a-billion-nepali-rupees-to-india-in-last-fiscal/77865229 (01 Sept. 2020)
Nepal Micro hydro plants destined for oblivion in rural Nepal Strange to know that Nepal has stopped operating even existing micro hydro plants. https://kathmandupost.com/money/2020/09/02/micro-hydro-plants-which-lighted-up-rural-nepal-destined-for-oblivion (02 Sept. 2020)
Dozens Feared Dead as Landslides Wipe Out Homes Landslides set off in hilly Sindhupalchok district of Nepal by heavy rainfall this weekend killed at least 11 people and left many more missing in a hilly region of Nepal that borders Tibet, officials said, bringing a renewed crisis to an area that was hit hard by a devastating 2015 earthquake. As many as 20 people from the village of Barhabise were missing on Sunday after the landslides, which washed away 28 homes in the region on Saturday night, leaving rescuers racing to find survivors and dig them out.
– "Cracks developed by the previous earthquakes are now reactivated after this season's rainfall," said Basanta Raj Adhikari, an assistant professor of geology at Tribhuvan University of Nepal. "Because of this, people living in risky areas like Sindhupalchok are losing their lives to landslides." Mr. Adhikari said that fragile mountain geography had been destabilized in the earthquakes and that the use of heavy equipment to build roads on steep slopes had exacerbated the problem.
– In mid-August, 36 people died after being buried under a huge landslide in the nearby village of Lidi. Thirty-seven homes built on steep slopes were wiped out. https://www.nytimes.com/2020/09/13/world/asia/nepal-landslides.html (13 Sept. 2020)
A landslide caused in part by unusually heavy rain in a district of Nepal bordering China buried dozens of homes early Friday, killing at least 11 people and leaving 27 others missing, officials said. Some of the homes lost had been rebuilt after Nepal's devastating 2015 quake. Thirty-seven homes in the village, which consists of about 150 houses built on a steep slope, were buried, and a few were swept away.
– But officials said that both the amount of rain and the death toll from landslides so far this season had been unprecedented. Nearly 200 people are known to have been killed this year, with more than 40 missing. The district of Sindhupalchok, which includes Lidi, sees frequent landslides.
– "But we cannot just blame nature — the way we developed our infrastructures, particularly roads in quake-destabilized fragile landscapes, is causing frequent cases of landslides," said Anil Pokhrel, chief executive of the National Disaster Risk Reduction and Management Authority. https://www.nytimes.com/2020/08/14/world/asia/nepal-landslides.html (14 Sept. 2020)
Pakistan Fishers of Sindh forced into destructive practices -The poverty-stricken people of Sindh's coastal belt in southern Pakistan have turned to 'trash fishing', an illegal practice that is pushing native species to extinction. https://www.thethirdpole.net/hi/2020/09/15/fishers-of-sindh-forced-into-destructive-practices/ (15 Nov. 2020)
'Karachi flash floods caused due to climate change' Chairman Federal Flood Commission Ahmed Kamal says cyclonic activity in coasts along Karachi and Balochistan has gradually increased due to rising sea levels caused by global warming, resulting in heavy downpours. In an interview with the Radio Pakistan on Sept 2, 2020, he said the coast of Karachi was impacted by cyclonic activity in 2007, 2010, 2011 and 2014. He said incidents of urban flooding are rising in Karachi due to heat generated by unplanned urbanization. Ahmed Kamal attributed the outdated water sewerage system as another reason of recent flooding in Sindh metropolis. He said the streams of Layari and Malir have shrunk from their width of around 500 feet in 1947 to almost 80 feet now due to illegal encroachments, putting additional strain on flow of sewerage water. He said sewerage water streams have also been chocked by hard materials like plastics and other household items. The Federal Flood Commission, set up in 1977, provides advisory services to the Ministry of Water Resources. http://www.radio.gov.pk/02-09-2020/karachi-flash-floods-caused-due-to-climate-change-chairman-ffc (02 Sept. 2020)
Google bolsters its A.I.-enabled flood alerts for India and Bangladesh Sella Nevo, a senior software engineer at Google who leads the flood forecasting project, said part of its improvement in forecasting in India has involved working with the Indian government to improve how it collects data on water levels. This has reduced both erroneous water-level readings and delays that hampered forecasting in the past.
– Google, instead, took an approach largely based on A.I., in which software analyzes historical flood data taken from several different river basins in different parts of the world and trains itself to make accurate predictions for almost any river basin. "One assumption that was presumed to be true in hydrology is that you cannot generalize across water basins," Nevo said. "Well, it's not true, as it turns out." It is also providing people with more information about exactly how far the water is likely to rise in their specific village or area at specific times, based on the Google forecast. https://fortune.com/2020/09/01/google-ai-flood-alerts-india-bangladesh/ (01 Sept. 2020)
CHINA
Three gorges dam to face historic flood peaks The latest hydrometeorological forecasts estimated the inflow flood peak of the Three Gorges project will reach 73,000 cubic meters per second at 8 am on Thursday (Sept 17, 2020), the largest volume since it was built in 2003. To confront the peak, dams in the upstream of the Yangtze River — including the Wudongde, Xiluodu and Xiangjiaba dams, also managed by the Three Gorges Corp — will work together under an "elaborate deployment and operation" plan to jointly retain the flood, the Three Gorges Corp said in a statement it sent to the Global Times on Wednesday, Sept 16. https://pinevillevoice.com/three-gorges-dam-to-face-historic-flood-peak/ (18 Sept. 2020)
Taiwan 2 dead, two missing after "abnormal" water release at Taipower dam floods campsite Due to accidental opening of a sluice gate for less than an hour at a hydropower project, four people got washed away and died on Sept 12, 2020. https://taiwanenglishnews.com/one-camper-dead-three-missing-after-abnormal-water-release-at-taipower-dam/ (13 Sept. 2020)
THE REST OF THE WORLD
USA Canada: Insurers must consider climate change when tackling flood risk 2020 flood events including dam floods. In April 2020, an ice jam roughly 25-kilometres long on the Athabasca River in northern Alberta triggered a once-in-a-century flood, forcing nearly 13,000 residents of Fort McMurray from their homes and causing around $522 million in insured damage, according to the Insurance Bureau of Canada. A few months later, residents of southern Manitoba faced a once-in-1,000-year event, when the rivers dam spilled over following a few days of torrential rain in July. Add to that multiple micro-floods in Toronto, a series of water-triggered mudslides in British Columbia, storm surge and coastal flooding in the Atlantic provinces, and the ever growing problem of catastrophic hail in Alberta, and it's fair to say that 2020 is shaping up to be a very active catastrophe season from a water standpoint.
– The provinces of Alberta, New Brunswick, Newfoundland and Labrador, Prince Edward Island and Yukon have all declared they've incorporated the impacts of climate change into their floodplain mapping initiatives.
– However, there's a lot of reliance across Canada on civil infrastructure and dikes for limiting flood risk, but like some of the floodplain maps and models, a lot of this infrastructure is outdated and built to different standards that are not suitable for the current changing climate. https://www.insurancebusinessmag.com/ca/news/commercial-liability/insurers-must-consider-climate-change-when-tackling-flood-risk-233363.aspx (11 Sept. 2020)
Floods Hurt Basin Croplands In early August, the second phase of a trial concluded in the U.S. Court of Federal Claims in Washington, D.C. Both sides submitted post-trial briefs just days ago. Based on expert estimates filed in the plaintiffs' brief, Ideker could receive anywhere from about $23.9 million to $26.2 million in compensation for damage on his 1,493-acre tract of land.
– Judge Nancy B. Firestone ruled in 2018 that, in five of the six years in question dating back to 2007, the Corps of Engineers violated the Takings Clause in the Fifth Amendment of the U.S. Constitution by not compensating farmers for flood-damaged land. She disallowed flood claims from 2011.
– Firestone allowed the federal government to present new evidence to show the Corps of Engineers has implemented measures to reduce flood risks that occurred after 2014. Firestone ruled in 2018 the Corps deprioritized flood control in 2004. In 2004, the Corps instituted the Missouri River Recovery Program to accelerate changes to the river to enhance wildlife habitats.
– In her 259-page opinion in 2019, Firestone said evidence establishes the Corps' changes to the river "had the effect of raising the Missouri River's water surface elevations in periods of high flows." The court found that, since 2007, flooding has been among the worst in the history of the river, and the Corps' changes in management either caused or contributed to the flooding.
– In the summer of 2016, the U.S. Government Accountability Office issued a report saying the Corps is falling short on the system in place to update water-control manuals. Corps regulations state water-control manuals should be reviewed at least every 10 years. https://www.dtnpf.com/agriculture/web/ag/news/world-policy/article/2020/09/01/federal-judge-considers-missouri (02 Sept. 2020)
Wall Street is set to start trading in a new commodity: Water The contracts are the first of their kind in the U.S. and are being created by CME Group Inc., the world's largest futures exchange. They are intended, CME says, to both allow California's big water consumers — like almond farms and municipalities — to hedge against surging prices and can act as a benchmark that signals how acute water scarcity is becoming in the state and, more broadly, across the globe.
Water supplies have been tight for years in California, and large parts of Asia and Africa also face the potential of scarcity as temperatures rise. Almost two-thirds of the world's population is expected to face water shortages by 2025, according to the CME. https://www.livemint.com/market/commodities/wall-street-is-set-to-start-trading-in-a-new-commodity-water-11600405068065.html (18 Sept. 2020)
Sudan Deadly masses of water: Sudan experiences flood of the century E.t is the worst flood in more than three decades – large parts of Sudan are under water after weeks of rain. According to the government in Khartoum, more than 100 people have already drowned. 730,000 people were affected by the floods and almost 150,000 houses were destroyed. All 18 Sudanese states are now said to be affected. Such masses of water last attacked the state in northeast Africa in 1988, when around one million people were affected by the disaster.
– The situation is particularly devastating on the banks of the Nile, the tributaries of which the Blue and White Nile meet at Omdurman. By far most of the water comes from the Blue Nile from the highlands of Ethiopia, where there is currently a rainy season that is expected to last until October. The Sudanese authorities said that the water level on the Nile had never been as high as this, after a level of 17.58 meters had been reported in the capital Khartoum. The government has now declared a state of emergency. https://pledgetimes.com/deadly-masses-of-water-sudan-experiences-flood-of-the-century/ (19 Sept. 2020)
Brazil Vale's mining dams are still too risky, Brazil's prosecutor says Despite two major deadly mining disasters since 2015, Brazilian iron ore miner Vale SA has not complied with a number of commitments signed with authorities to prevent a third disaster, federal prosecutor Edison Vitorelli told Reuters News Agency.
Twenty-nine dams that Vale uses to store mining waste still present elevated safety risks, according to Vitorelli, who forms part of a task force of about two dozen federal and state prosecutors who pressed charges against the company after the most recent disaster which killed 270 people in January 2019. https://www.aljazeera.com/ajimpact/vale-mining-dams-risky-brazil-prosecutor-200918201522448.html (18 Sept. 2020)
Report Science-policy interface on water scarcity in India: Giving 'visibility' to unsustainable virtual water flows (1996–2014) How can science regarding water scarcity be reflected in informative indices to advance evidence-based water policies? Our research aimed to explore this by linking the water scarcity and virtual water (VW) flows assessments with the water policies in India. The novel contribution of the research is establishing the link between the hydrologic-economic use-institutions aspect of water scarcity. On a national scale, the assessment revealed an increase in net VW-imports embodied in food grains from 89,235 × 109 L, i.e., GL (1996–2005) to 207,452,974 GL (2005–2014).
There was a shift from net VW-exports (−2124 GL) to net VW-imports (84,504 GL) embodied in oilseeds. Zooming into the sub-national scale we found that water scarcity is being concentrated in highly water-scarce zones due to their VW-exports to other highly water-scarce zones. A concerning finding was that states with highest net VW-exports lack governance of scarce water resources through a state-specific water policy, e.g. Punjab, Haryana. Our research concludes that the virtual nature of embodied water necessitates water policies to be reflective of the visible evidences of unsustainable VW-flows. It also points out an urgent need to rethink current water policies in the context of a science-policy interface, to inform decisions and actions on the mitigation of water scarcity. https://www.sciencedirect.com/science/article/abs/pii/S0959652620341044
Annual plastic water pollution could reach 53 million tonnes by 2030 Researchers say modelling shows the strategies currently in place to reduce plastic waste, such as bans on certain products and continuous clean-up of litter, are 'not enough to keep plastic pollution in check'.
As much as 53 million tonnes of plastic could end up in rivers, lakes and oceans every year by the end of the decade, even if global commitments to reduce plastic pollution are met, experts have warned. In a new modelling study published in the journal Science, ecologists monitoring pollution in aquatic ecosystems have voiced their concern, saying more needs to be done to reduce emissions. https://www.sciencefocus.com/news/annual-plastic-water-pollution-could-reach-53-million-tonnes-by-2030/ (18 Sept. 2020)
Compiled by SANDRP (ht.sandrp@gmail.com)
Also see: DRP News Bulletin 14 Sept. 2020 & DRP News Bulletin 07 Sept. 2020
Follow us on: www.facebook.com/sandrp.in; https://twitter.com/Indian_Rivers