Five months have passed of 2019. There is apparently no reduction in illegal sand mining activities which are continue to  ruin rivers, kill people and damage public infrastructure across the country.
In North India, the Ghaggar, Yamuna, Ken, Betwa and Chambal rivers have been severely affected. The Narmada, Krishan, Godavari and Cauvery are prominent rivers bearing the burnt of unsustainable extraction.
There are reports hinting that uncontrolled mining menace is also aggravating the drought situation. On one hand it is causing siltation of reservoirs thus reducing storage capacity while on the other it is inhibiting recharge of shallow aquifers supplying base flow to rivers during lean season. This is one of the main reasons many of perennial rivers like Cauvery, Narmada, Yamuna, Ken, Betwa and Godavari at many places are running dry this year.
The violence and fatalities due to growing illegal sand mining activities has also not stopped. So far there have been four fatal events involving illegal sand extraction that has led to death of 5 people and causing grievous injuries to 2 persons. These incidents are also being reported from across the country. The latest incident happened in Odisha where, a journalist on May 29 was violently attacked while returning of home. He reportedly had worked on illegal sand mining going on in Subarnarekha river which was banned by the National Green Tribunal (NGT).
Talking of infrastructural damages, the massive mining activities going on unabated for past two years in Yamuna Nagar, Haryana has damaged a large portion embankment of the Yamuna at Tajewala village creating flood threats. The mining activities has also posed threat to Hathini Kund Barrage. Similarly the Dak Pathar Barrage again on Yamuna River in Vikas Nagar Dehradun has been impacted by unsustainable mining operations. The latest is the bridge on Ken River in Bundelkhand facing collapse threats due to illegal sand mining in the river.
The new Govt of Madhya Pradesh have failed to rein in sand mafia. It is working on new sand mining policy proposing ban on mechanized mining in Narmada. It has also removed authorities of village Panchayat in issuing sand extraction and again gone back to the auction system.
The newly elected CM of Andhra Pardesh Jagan Mohan Reddy has also made tall claims to stop illegal mining in Krishna and other rivers in state during election campaign. However will he deliver on his promises is uncertain.  
SAND MINING
Odisha Journalist allegedly attacked by sand mining mafia in Balasore A journalist of an Odisha daily in coastal Balasore district was grievously injured after illegal sand miners allegedly attacked him on May 29 night while he was returning home from office. Pratap Patra told the police that he had reported about the sand mafia in Balasore a few days ago which angered some people. Police said the journalist received threats over last few days. The journalist later told the local press that he knew the attackers and handed over a list of names to the police.
NGT in January had passed an order asking the Balasore district administration to stop illegal sand mining near the Subarnarekha river. Due to heavy demand of sand in different parts of Odisha for developmental and welfare projects and demand of quality sand in neighboring states, the mafia reportedly scooped away tonnes of sand causing severe damage to embankments and roads. https://www.hindustantimes.com/india-news/odisha-journalist-allegedly-attacked-by-sand-mining-mafia-in-balasore/story-9qfEVK6JnLKtjxJaAIE8KJ.html  (31 May 2019)
Haryana Mining mafia back to work in Yamuna riverbed After one and a half months, the mafia has restarted illegal mining in the Yamuna riverbed at Tajewala village in Yamunanagar district. Haridev Kamboj, Executive Engineer, Water Services Division, Dadupur, had written to the district mining officer, Yamunanagar, on May 16, requesting him to keep a check on the unlawful activity.
The mining mafia has already damaged a large portion of the 19,600-feet right lower downstream embankment of the Yamuna at Tajewala village by carrying out massive illegal mining. Excessive illegal mining on the right side of the embankment in agriculture fields has led to the possibility of damage to the Hathnikund barrage, about 3.5 km upstream of the old Tajewala headworks, and wreaking havoc in the area. https://www.tribuneindia.com/news/haryana/mining-mafia-back-to-work-in-yamuna-riverbed/775149.html  (19 May 2019)
Madhya Pradesh Govt bans mechaninsed sand mining from Narmada In its first cabinet after the Lok Sabha elections and end of model code of conduct, the Kamal Nath government on May 27 decided to change the existing mining policy by banning mechanised mining from Narmada.
"No machinery can be used for mining sand from the Narmada," said minister for law PC Sharma briefing the media after the cabinet meeting. "Authority to local panchayats for mining sand has been withdrawn. Mining lease will be given to companies via auction. No company will be given mining lease for more than two years at a time," he said.
 "While mining rights are being withdrawn from panchayats, payment of royalty will continue to them. Instead of their share of Rs 50 per cubic metre, panchayats will now get Rs 75 per cubic metre," he said.
"In the last financial year, the former state government received just Rs 69 crore as revenue from royalties. This is because of rampant theft of sand through illegal mining. Our estimates are that this government's policy will increase revenue to Rs 900 crore," the minister added. https://timesofindia.indiatimes.com/city/bhopal/mp-govt-bans-mechaninsed-sand-mining-from-narmada/articleshow/69528584.cms   (28 May 2019)
Illegal sand mining threatens bridge on Ken river The day government was planning a new policy to check illegal sand mining in the rivers of the state, two government report sighting threat to the existence of a bridge on Ken river in Panna district created a sensation.
The interstate bridge on Ken river bridging the gap between Uttar Pradesh and Madhya Pradesh may be washed away if the mining continues, reports said. Excessive mining adjacent to its pillars has exposed its plinth endangering the structure. The bridge connects Mahoba and Bandaa districts of Uttar Pradesh with Panna in Madhya Pradesh. A spot inspection by engineers of Rural Engineering Department – an SDO- revealed that sand was mined to the depth of 3 meters to 4 meters right beneath the pillars of the bridge. https://timesofindia.indiatimes.com/city/bhopal/mp-illegal-sand-mining-threatens-bridge-on-ken-river/articleshow/69527679.cms  (27 May 2019)
UP police these days is busy guarding KEN river from illegal sand miners and also those diverting river for river bed vegetable cultivation.  https://www.policenewsup.com/police-of-banda-deployed-in-the-guarding-of-the-ken-river-22814/  (17 May 2019)
Also see the detail here https://www.jansatta.com/editorial/the-up-police-engaged-in-saving-the-ken-river-of-bundelkhand-armed-police-personnel-deployed/1032951/  (28 May 2019)  
Karnataka Dakshina Kannada goes online to rein in illegal sand mining In an attempt to curb illegal sand mining in Dakshina Kannada, authorities in the coastal district have set up an online sand booking and monitoring system for delivering sand. The website, SandBazaar (www.dksandbazaar.com), launched about a month ago and has listed over 100 licensed sand miners alongside the tariff chart and their modes of operation.
With the message, 'From shore to every door', buyers can book, track and get the sand delivered. The portal, which can also be accessed through an app, is operated by the District Sand Monitoring Committee (DSMC) and the sand is transported either from Mangaluru or Bantwal in Dakshina Kannada district. To get sand delivered, buyers have to visit the website, secure the login credentials with Aadhaar, which in turn will generate a six-digit OTP. Subsequently, the buyer has to specify the quantity, quality and the address where the sand has to be delivered.
While at present Google play store hosts PermitHolder-SandBazaar and VehicleOwner-SandBazaar, two separate platforms for stakeholders, officials say there is a plan to integrate the two on the same platform, along with a separate panel for 'buyers'.  At its pilot stage, this has been implemented in the Mangaluru CRZ limits. The service will be expanded across the district soon. https://www.thenewsminute.com/article/dakshina-kannada-goes-online-rein-illegal-sand-mining-and-transportation-102626  (29 May 2019)
Tamil Nadu Rampant sand mining alleged in Sholavandan A group of youngsters from Sholavandan petitioned Madurai Collector's office on May 27 alleging rampant sand mining on Vaigai riverbed near their place. They alleged no action was being taken by the local revenue and police officials despite taking the issue to their notice. According to the petitioners, the sand mining was happening despite an interim order issued against a public interest litigation by Madurai Bench of Madras High Court on April 3, which imposed a ban on sand mining on Vaigai riverbed across Vadipatti taluk.  https://www.thehindu.com/news/cities/Madurai/rampant-sand-mining-alleged-in-sholavandan/article27266286.ece  (27 May 2019)
Andhra Pradesh Is Jaganmohan Serious About Ending Sand Mining? Y.S. Jaganmohan Reddy swept the elections with promises of a corruption-free and environmentally-friendly government. While campaigning for the elections, Reddy had promised that he would introduce a law to check illegal sand mining if he came to power. This is a task he must undertake the earliest if he wants to save the rivers, in contrast to Naidu who was known to flout environmental laws with impunity. Reddy admitted to being shocked at these developments and is reported to have informed his party workers that he is determined to stop illegal sand mining.
In one of his election speeches, Reddy said he would not hesitate to destroy the extravagant Rs 40 crore CM bungalow built on the Krishna flood plain as it controverted the existing law that says flood plains are sacrosanct and must be left in their pristine state. Whether he takes such extreme measure is yet to be seen, but activists believe he must act fast against illegal sand mining. And soon.  https://thewire.in/environment/jaganmohan-reddy-sand-mining-andhra-pradesh  (30 May 2019)
– A small mud path is laid downstream of Manjeera Reservoir near Sangareddy in Telangana for a vehicle to pass into the river bed and lift sand illegally. Owing to the scorching heat the inflows have totally dried up. Photo credit Nagara Gopal, The Hindu  https://www.thehindu.com/todays-paper/tp-national/tp-andhrapradesh/smuggling-it-out/article27403761.ece   (2 June 2019)
Sarpanch attacked for opposing illegal sand mining Denduluru MLA Chintamaneni Prabhakar followers allegedly abducted and thrashed a former sarpanch and YSR Congress leader for raising voice against illegal sand mining from Polavaram canal in West Godavari district. According to sources, some irrigation department officials, who received a complaint from the former sarpanch, passed on the information to the MLA.. http://www.newindianexpress.com/states/andhra-pradesh/2018/nov/16/chintamanenis-men-bundle-ysrc-leader-into-car-thrash-him-for-opposing-illegal-sand-mining-1898858.html  (16 Nov. 2018)
Rajasthan ACB exposes sand mining racket operating from police station Anti-Corruption Bureau (ACB) on May 30 night unearthed a major sand mining racket operating from Manoharpur police station in Jaipur rural. According to ASP Narottam Lal Verma, the sleuths arrested one foreman of mining department and an eatery owner for their involvement in the graft case.
"The unauthorized recovery agents would stop any truck on the highway and inform the police and the mining department. The syndicate would demand bribe from the truck drivers for the release," he said. The sleuths said that SHO, a constable and a head-constable of Manoharpur police station are currently on the run. "Their involvement in the case has come to the fore, the nexus was operating for a very long time. The mining department foreman would sign the release order without even investigating if the truck was indeed transporting banned sand (bajri)," Verma said.  https://timesofindia.indiatimes.com/city/jaipur/acb-exposes-sand-mining-racket-operating-from-police-stn/articleshow/69589209.cms  (31 May 2019)
HYDRO POWER PROJECTS
Sikkim NHPC's takeover plan of crisis-hit Teesta-VI hydro power unit faces hiccups NHPC's takeover plan of Lanco Teesta Hydro Power's beleaguered hydro power unit in Sikkim Teesta-VI (500 MW) is facing hiccups, after approval from the Cabinet. A senior executive said the plant suffered damages during the course of matter in the NCLT. "The amount totals to Rs 9 crore which is not that much but changes the offer amount. So, NCLT will hear the case again and approve the revised cost in July," he said. "The cost is estimated at close to Rs 11 crore per MW but due to abundant water, the tariff would turn out to be Rs 4.7 KwH," Balraj Joshi, chairman and managing director, NHPC, had claimed.
– NHPC executives said Bihar, West Bengal and Jharkhand have given in-principle nod for buying power from Teesta-VI. However, an earlier agreement with Maharashtra is also posing a problem. Maharashtra State Electricity Development Corporation (MSEDCL) moved the state electricity regulator to terminate its power purchase deal with Teesta-VI. "The case doesn't stand as Lanco had terminated the contract already before the project landed in NCLT," said an NHPC executive.
– NHPC is also looking at more stressed hydro units but only through the NCLT route. "JAL Power in Sikkim and Demwe in Arunanchal Pradesh are some of the projects which the company is looking at. Demwe is in NCLT and we are looking at it. We will evaluate JAL whenever the expression of interest is issued by the insolvency professional," said executives. https://www.business-standard.com/article/companies/nhpc-s-takeover-plan-of-crisis-hit-teesta-vi-hydro-power-unit-faces-hiccups-119053101652_1.html  (31 May 2019)
BBMB Dam Floods 81 buffaloes washed away as BBMB releases water 81 buffaloes were washed away when the Bhakra Beas Management Board (BBMB) released water into the Sutlej river near Kalitran village on June 2 causing a loss of more than 50 lakh to the owners.  Kalitran village sarpanch said said the village panchayat was not informed about the release of water by the authorities concerned. SDM Tanu Garg claimed prior information was received and claimed that all village panchayats were informed about this in advance and even announcements were made in the areas adjoining the banks of the Sutlej in the area. https://www.tribuneindia.com/news/punjab/81-buffaloes-washed-away-as-bbmb-releases-water/782123.html  (2 June 2019)
Water level in Bhakra, Pong, Thein above normal  The pre-monsoon rainfall in Himachal Pradesh has been significantly deficient, but water levels in the three major dams in the region are 66-91 per cent above normal. Such high pre-monsoon levels at the far end of the reservoirs' depletion period, officials say, have rarely been experienced.
The flip side is that the dam authorities are reworking the daily release of water, letting go more than the demand from states to cater for inflows that would increase during the monsoon. There is also a chance of freak weather conditions, such as a cloudburst, that may result in a flood situation, bringing in more water than normal.
At present, the Bhakra reservoir is filled up to 45 per cent of capacity, which is nearly double than normal and more than seven times the quantum of water available at this time last year. Last year, due to historic low inflows because of climatic vagaries, the storage had plummeted to just 6 per cent of the total capacity. While the situation had turned critical in the summer of 2018, unprecedented rainfall in the upper regions of Himachal during autumn resulted in reservoirs filling up to the brim. A flood situation had emerged downstream, causing heavy damage.  https://www.tribuneindia.com/news/nation/dams-filled-may-offset-weak-monsoon/782226.html  (3 June 2019) 
Punjab Dam safety award for BBMB chief Chairman of the BBMB DK Sharma was conferred with the "Award for Dam Safety – Individual Professional Excellence" in recognition of his significant contribution in the field of design, construction and operation and maintenance of dams for more than 37 years.   https://www.tribuneindia.com/news/punjab/dam-safety-award-for-bbmb-chief/781244.html  (1 June 2019)
DAMS
Kerala Monsoon overhead yet dam management plan not fully in place Kerala Dam Safety Authority (KDSA), official, who did not wish to be named, said that the new, updated Emergency Action Plan (EAP) Guidelines for each dam is still in the process of being finalised. This even as the IMD predicts the onset of the southwest monsoon by June 6.
– "Every dam engineer prepares the EAP for the respective dams. There are 16 dams under the Irrigation Department. This year, as part of monsoon preparedness, we have formulated EAP guidelines for 13 out 16 dams so far, although it is yet to be approved by the Central Water Commission (CWC). It has to be presented before the relevant stakeholders and then issued as a Government Order; that is the standard procedure," the official said.
– The team is in the process of revising the guidelines to be modelled around the dams at Cherrapunji in Meghalaya, as directed by the CWC. "We hope this will be completed in one or two months. Until then, we have requested the government to use our model of EAP during the course of the monsoon," added the official.
– In addition to the EAP, every reservoir must have a dam specific rule curve – which specifies the water level or empty space to be maintained in a dam at different points of the year. However, according to the amicus curiae report, the affidavit filed by the government and other departments did not mention if the dams were operated as per rule curve during floods. It only recommended reviewing the rule curves for conservation and operations during floods. 
– The official at the DSA department admitted that "the dams under the Irrigation Department did not operate based on the rule curve last year but based on certain warning levels". The official also said that the dams in Kerala are conservation dams and don't have the provision for flood cushion (the storage space in dams marked to absorb unexpected high flows), another flaw underscored in the amicus curiae report. "The dams are always kept full to conserve water. Last year, they were filled during the onset of the monsoon and opened when there was a warning alert," added the official. 
– With the rule curve model in place this year, during the initial period of monsoon, the water level should be maintained below the Full Reservoir Level – this the highest storage level when the dam is no longer in a position to hold inflow of water. "When the northeast monsoon subsides, we do away with the cushion (empty space) and let the level rise – that is the fundamental principle to the rule curve," added the official.
– On the other hand, an official from Kerala State Electricity Board (KSEB), which manages more than 50 dams to meet the electricity demand in the state, said that there are no specific directives for the rule curve. "Generally, 10 to 15 days of water is maintained for power generation. If the summer rains are heavy, accordingly the demand for electricity is also high. Only then the rule curve is followed," explains the KSEB official. https://www.thenewsminute.com/article/monsoon-days-away-dam-management-plan-kerala-not-fully-place-102681  (30 May 2019)
KSEB proposes new dam at Peringalkuthu KSEB has submitted a proposal to the state government to construct a new dam at Peringalkuthu, located under Vazhachal forest division, which, according to the board, will save the Chalakudy river basin. The dam will submerge more than 500 hectares of deciduous and evergreen forests, which is home to hornbills, elephants and over 200 animal species.
"Restrictions have been imposed on de-reservation of forests or use of forest land for non-forest purpose under the Forest Conservation Act, 1980. But we have to think what happened to the Athirappilly project and Anakkayam project which were given clearance by the Forest Department. The 163 MW Athirappilly project was accorded sanction and the 54 MW Anakkayam project was cleared in 2014. While we all agree that steps should be taken to protect the life of people living downstream, we have to consider the environment factor also. It is for the government to take a call," said Vazhachal DFO S V Vinod. http://www.newindianexpress.com/states/kerala/2019/jun/02/kseb-proposes-new-dam-at-peringalkuthu-1984845.html  (2 June 2019)
Kerala to float global tenders to desilt 2 dams Water Resources Minister K Krishnankutty confirmed the process to desilt the Mangalam and Chulliyar dams is in the final stages. Though there had been plans to desilt the state's dams since the 90s, this is the first time the state is experimenting with desilting an entire dam on a commercial basis. Based on the progress of the work in the two dams, the state government would take a call on desilting other dams and barrages in the state.
Irrigation Department officers said the desilting work would be awarded as 'work contract' and 'turnkey' mode. The silt removed from the dams would be provided to farmers for enhancing the fertility of their land, the clay would be given to industries, while the sand would be exploited commercially. The cost of desilting Chulliyar dam is estimated at Rs 60.2 crore which would be awarded on 'work contract' basis. The desilting of Mangalam dam would be carried out via 'turnkey' mode and its cost will be decided through competitive bidding.
A study by the National Centre for Earth Science Studies and Kerala Engineering Research Institute had found the silt had reduced the storage capacity of Chulliyar dam by 8.22 per cent. The storage capacity of Mangalam dam reduced by 11.7 per cent due to accumulation of silt. In Chulliyar dam, 55 per cent of the accumulated sediment is fine sand, while 43 per cent is clay residue. In Mangalam dam, 34.6 per cent of the sediment is fine sand, while 60 per cent is clay content. http://www.newindianexpress.com/states/kerala/2019/jun/02/soon-kerala-to-float-global-tenders-to-desilt-2-dams-1984854.html  (2 June 2019)
Madhya Pradesh 2,500 people hit as portion of Bargi Dam canal collapses Collector Deepak Saxena informed that about 20-feet left portion of left bank canal of Rani Avanti Bai Sagar Pariyojana (Bargi Dam) of NVDA (Narmada Valley Development Authority) at about 63 km from the dam collapsed at Latgaon village in Gotegaon tehsil of Narsinghpur district collapsed on May 28, 2019 due to continuous leekage.
The gushing water affected doznes of villages and swept away pulse crops at more than 150 acres and entered Gotegaon. Rescue teams were sent to shift people to safer places. https://www.thehitavada.com/Encyc/2019/5/29/2-500-people-hit-as-portion-of-Bargi-Dam-canal-collapses.html  (25 May 2019)
Maharashtra Protesters threaten suicide over PMC project Pune City Police decided to deploy two squads of the State Reserve Police Force (SRPF) and cordon off the Bhama Askhed dam when the Pune Municipal Corporation (PMC) restarts work on a project to draw water from the dam and supply it to the eastern parts of Pune. The move comes after protesters threatened to commit suicide by jumping into the dam water if the civic body started work on the stalled project.
Instead of the monetary compensation offered by the civic body, the protesting villagers have been demanding equal amount of land in return of the land they have lost for the project. They have also demanded that the pipeline which will be constructed for the project must supply water to their villages as well.
The project has been delayed by years — it was started in 2014 but was stalled due to protests by local villagers — and the civic body has missed both the original deadline for its completion, July 2017, as well as the extension granted to it till March 2019. The project was estimated to cost Rs 380 core but the delay has escalated the cost to Rs 600 crore. https://indianexpress.com/article/cities/pune/srpf-squads-to-guard-bhama-askhed-dam-after-protesters-threaten-suicide-over-pmc-project-5732053/  (17 May 2019)
Jharkhand Dalit rights activist arrested for "opposing" Mandal dam Naresh Bhuiyan's is involved in protests against the Mandal Dam that is to be constructed on the North Koel river. Despite protests by people of villages that will be submerged, the Prime Minister laid the foundation stone of the Dam on January 5, 2019. This project will submerge 46 villages that will lead to displacement and loss of livelihood to thousands of Dalit and PVTG families. Lakhs of trees will be felled and the project will have huge adverse impact on the environment affecting the locals for all times to come. Having realised the harm caused by the proposed dam, the residents of the affected 46 villages have started agitating.
– Naresh Bhuiyan is an active member of the Bhartiya Bhuiyan Vikas Parishad and has been working for the rights of Dalits and Adivasis since decades. He is associated with several peoples' movements like the Adim Janjati Parishad and the Visthapan Virodhi Jan Vikas Manch. On May 14, 2019, the local police arrested Jharkhand's Dalit activist Naresh Bhuiyan from his home in Bhandar village (Dhurki block, Garhwa district). The police told Bhuiyan's family members that he was being taken to the local thana for certain enquiries and would be released immediately.
But when he did not return by 15 May, the family members went to the thana to inquire. They were not allowed to meet Bhuiyan. He was illegally kept in the thana and was not produced in the court for several days. The civil rights organization Jharkhand Janadhikar Mahasabha (JJM), describing the recent arrest of Naresh Bhuiyan, an active member of the Bhartiya Bhuiyan Vikas Parishad and currently involved in protests against the Mandal Dam, as "unlawful", has demanded that the state government should "immediately" initiate an independent enquiry into efforts to brand him as a Maoist.   https://www.counterview.net/2019/05/maoist-links-jharkhand-dalit-rights.html         (29 May 2019)
Sardar Sarovar Dam Dry Gujarat wastes water inflows from Madhya Pradesh The water level in Sardar Sarovar is increasing constantly, as consistent inflow of 10,000-20,000 cusecs per day is being released from the upstream dam — Indira Sagar Project in Madhya Pradesh. The water level in Sardar Sarovar has already reached 120m and expected to cross 121m by first week of June.
Experts fear that most of this water, if not released immediately to recharge the state's water bodies through the canals and pipelines, may have to be released into the sea in monsoon — though the state is battling a water crisis.
– A state government officer said, "In spite of being aware of all facts and forecasts, the Sardar Sarovar Narmada Nigam Ltd (SSNNL) authorities are denying commencement of use of the Sujalam-Sufalam pipelines, and also not releasing the water into rivers (through escapes) of Chhota Udepur, Panchmahals and Banaskantha districts." https://timesofindia.indiatimes.com/city/ahmedabad/dry-gujarat-wastes-water-inflows-from-mp/articleshow/69569289.cms  (30 May 2019)
Andhra Pradesh ₹21,370-crore irrigation works may be cancelled Nearly 25 irrigation projects that require ₹21,370 crore for completion are likely to be dropped by the Jagan Mohan Reddy government. Irrigation works took a lead in the list of engineering works for which the erstwhile Chandrababu Naidu Government gave administrative sanction, but for which it could not release even a single rupee during its tenure. The new government has informally asked officials to prepare a list of all major engineering works so that it would take a fresh decision on them. The longest list of works came from the Department of Water Resources which listed over 20 projects that needed over ₹20,944.90 crore for completion.
The department also submitted a smaller list of seven major irrigation works that were less than 25% complete, but require another ₹8,500 crore for completion. Top on the list of works that have been started but need huge revenues for completion was the Galeru-Nagari Sujala Sravanti project on which ₹254.17 crore had been spent, but a total of ₹3,626.82 crore was needed for completion.
In yet another such project the erstwhile government spent ₹12.67 crore on the Uttara Andhra Sujala Sravathi scheme, which requires a total ₹2,022.20 crore for completion. The other big projects that are on the list and the estimated cost for completion are Vamsadhara-Bahudha River linkage ₹6,326 crore, Gundrevula reservoir ₹2,890 crore, Vaikuntapuram Barrage ₹2,169 crore, Rajolibanda Diversion Scheme ₹1,985.42 crore, Vedavati Lift Irrigation scheme ₹1,942.8 crore and a Lift scheme from Chitravathi Balancing Reservoir to Handri-Neeva ₹1,796.99 crore and a host of other smaller schemes.  https://www.thehindu.com/news/national/andhra-pradesh/21370-crore-irrigation-works-may-be-cancelled/article27394905.ece  (1 June 2019)
Polavaram Dam New govt stops all work on Polavaram dam The newly-formed YSR Congress government on May 31, 2019 suspended all works at the Polavaram Project site. As chief minister YS Jaganmohan Reddy was not in favour of the state government meeting the project construction expenditure, the government directed contractors and officials to stop the ongoing works. The officials have started looking into the bills paid by the state government in the last four years and the progress of the works at the project site. The work is likely to resume only after the officials clear the verification of bills. Moreover, the officials have also asked the water resources department to submit the reports on the bills paid to the contractors.  It is also being said that the government is planning to change the contractor if there are any irregularities reported in the work.
– Meanwhile, the Polavaram Project Authority, which is visiting the project area and the rehabilitation area, visited the project site on May 31. PPA chief executive officer RK Jain along with senior officials inspected the project work, including the coffer dam, diaphragm wall, gates and other activities of the project. They also enquired about the rehabilitation and resettlement completed so far for the displaced families in the project area. The PPA had directed the officials to stop work on the coffer dam construction till further orders. https://timesofindia.indiatimes.com/city/vijayawada/ysrc-govt-stops-all-works-on-polavaram/articleshow/69604114.cms  (1 June 2019)
Temporary halt to coffer dam work  The Polavaram Project Authority (PPA) has ordered that work on the upstream cofferdam for the Earth-Cum-Rock-Filled Dam at the project site be stopped temporarily keeping in mind the flood expected in the river towards the end of June. https://www.thehindu.com/todays-paper/tp-national/tp-telangana/temporary-halt-to-cofferdam-work/article27403856.ece  (2 June 2019)
Karnataka Mekedatu Dam Will Worsen Human-Tiger Conflict The Karnataka government's proposed Mekedatu multi-purpose balancing reservoir project will spell death-knell for protected wildlife and also possibly kick off another water sharing dispute with Tamil Nadu. While the project on river Cauvery is being touted as a solution to Bengaluru's crippling water crisis, experts warn that the resultant ecological impact would be devastating.
Himanshu Thakkar of SANDRP, says, "This project is unnecessary, costly and destructive. It is a lazy proposal and will further destroy the already battered Cauvery River. In the context of climate change, the appropriateness of such a project is further diminished."
Experts on Water have also stated that there are better options to deal with the water crisis in the state. Bengaluru-based water conservationist, Vishwanathan Srikantaiah, says, "The project is not a good idea ecologically. While in terms of water sharing between the states, this can work, the impacts outweigh the benefits. Decisions like water sharing should be looked at with a larger ecological perspective and the river should not be treated like a water drain." https://www.news18.com/news/india/amid-opposition-from-tn-experts-warn-karnatakas-mekedatu-dam-would-worsen-human-tiger-conflict-2162421.html  (28 May 2019)
Yettinahole Project Yettinahole won't quench thirst but will destroy environment Yettinahole diversion project will not help either the people living in arid regions in Karnataka (Chikballapur, Kolar, Tumkur) or local people in Gundia river basin. Those who reside around the Yettinahole catchment would be deprived of their right to water, while people in the arid regions would only get to see dry canals, etc. Implementation of the project would lead to water scarcity in Hassan and Mangalore, and will not benefit Chikkballapur, Kolar, etc. Livelihood of those living around the Yettinahole and Gundia catchments would be severely affected due to a decrease in agricultural and fisheries yield, similar to the residents of Nellore district with the implementation of  Telugu-Ganga project."
According to the 2015 report by the High Level Working Group in Western Ghats (HLWG), Yettinahole falls under the Ecological Sensitive Zone (ESZ) and as per the recommendations there shall be no developmental activities.
Kshitij Urs, faculty at the National Law School of India University, Bangalore, says the NGT has not lived up to the true spirit of the Act. The Yettinahole project is a shining example of how they have gone wrong. The Supreme Court must stop the project and the petitioners have made it clear that they will appeal at the apex court.    https://www.deccanchronicle.com/nation/current-affairs/290519/yettinahole-wont-quench-thirst-but-will-destroy-environment.html          (29 May 2019)
The Daksin Kanda (BJP) MP Nalin Kumar Kateel declared that the Yettinahole river diversion project by destroying the Western Ghats has caused the worst-ever water crisis in the district. "The Yettinahole project is the biggest scam and was implemented years ago not out of love for in Kolar district but for money," he alleged. In response to a query, Kateel asked activists to challenge the NGT order on the Yettinahole project by filing a petition in the Supreme Court. "I have maintained that the agitation against the Yettinahole project should remain apolitical and I am willing to extend all help to activists in filing a case in the Supreme Court," he promised. https://www.deccanherald.com/state/mangaluru/thokkottu-flyover-to-open-from-june-10-mp-737000.html  (30 May 2019)
Uttrakhand Can barrage on Kosi river save Nainital lake? Realising the dangers of over-extraction of water from the lake, last year administration decided to curtail withdrawal of water from the Lake to 8 MLD from the earlier 18 MLD. But now as summer is here and water requirement has increased, the administration has again decided to increase the water intake from the lake incrementally by half a MLD after every 15 days for the coming few months.
Strange, To meet Nainital city's water demand authorities are also planning to lift water from Kosi River near Khairna, nearly 30 km from Nainital, by creating one-kilometre long barrage in the river. The project is estimated to cost around ₹575 crore, according to preliminary estimates. Experts and some geologists had come earlier this year to Nainital for checking pre-feasibility of the project. https://www.hindustantimes.com/dehradun/overexploitation-of-water-resources-threatening-nainital-s-ecology/story-bGP1fX5M9r5X5sVRq0gvkN.html  (27 May 2019)
Tamil Nadu March to demand dam construction The third day of Siddeswaram weir 'Praja Padayatra' concluded on May 30, 2019, after completing 75 km of the 100 km march. The Rayalaseema Saaguneeti Samithi has marched through eight villages covering 27 km. Speaking with farmers, samithi president Bojja Dasarathi Rami Reddy blamed the past governments for neglecting the Siddeswaram weir. He said that plans were made by the British to construct the weir and supply water to Rayalaseema as well as Tamil Nadu. He alleged that due to the politicians of Guntur district the construction of the weir had not yet begun. "For their benefits, they halted the Siddeswaram project and gave way to the Nagarjuna Sagar Project," alleged Mr. Reddy.
– The samithi marched across three constituencies, five mandals and 25 villages from Nandyal to Sangameswaram demanding construction of the Siddeswaram dam. https://www.thehindu.com/news/national/andhra-pradesh/march-for-rayalaseema-water-project-covers-27-km-on-third-day/article27358014.ece  (31 May 2019)    
INTERLINKING OF RIVERS  
Godavari-Krishna-Penna-Cauvery Interlinking  Godavari-Cauvery linking not feasible: PWD ex-chief engineer  Retired Chief Engineer of Tamil Nadu Public Works Department and a veteran expert in water issues, A Veerappan has termed the Godavari-Cauvery river linking project being proposed by Union Minister Nitin Gadkari, as an 'unworkable' idea, given the prevailing situation across the country. Instead, Veerappan has asked CM Edappadi K Palaniswami to fully focus on implementing irrigation schemes within Tamil Nadu expeditiously to tap surplus water from various water resources.  http://www.newindianexpress.com/states/tamil-nadu/2019/may/30/godavari-cauvery-linking-not-feasible-pwd-ex-chief-engineer-1983570.html  (30 May 2019)
NGT restricts Andhra govt from working on river-linking project NGT has issued an order restraining Andhra Pradesh from proceeding further with the Godavari-Krishna-Penna river-linking project till the requisite environmental clearances and other permissions are taken under the Environment (Protection) Act, 1986.
The Tribunal in its order said that the project would fall under the Environment (Protection) Act, 1986. The river valley projects require environmental clearance and also consent under the Water (Prevention and Control of Pollution) Act, 1974 and the Air (Prevention and Control of Pollution) Act, 1981. The project could not be allowed till the requisite environmental requirements were met.
The NGT order directed the Regional Office of MoEF&CC at Chennai to undertake inspection of the project along with the Central Pollution Control Board and SPCB and furnish a factual report in the matter within one month by email at judicial-ngt@gmail.com. The CPCB will be the nodal agency for coordination and compliance. https://www.thehindu.com/news/cities/Hyderabad/ap-river-linking-project-work-restrained/article27394020.ece  (31 May 2019)
On the other hand Pattali Munnetra Katchi (PMK) founder S. Ramadoss on May 27 urged that the first cabinet meeting of the incoming central government should accord sanction for Godavari-Cauvery river linking project. He also said the project could be implemented with loans from the World Bank or the Asian Development Bank. According to Dr. Ramadoss the linking of two rivers was mooted way back in 1970 but no action has been taken on that. He said Godavari is one the perennial rivers of India and about 1,100 tmc of water goes to the sea. If the two rivers are linked then Tamil Nadu will get 200 tmc water.  https://www.thehindu.com/news/national/tamil-nadu/ndas-first-cabinet-meet-must-sanction-godavari-cauvery-linking-project-ramadoss/article27260144.ece  (27 May 2019)
INTERSTATE WATER DISPUTES
Cauvery River Water Sharing Dispute CWMA directs Karnataka to release 9.19 tmcft water to Tamil Nadu for June The Cauvery Water Management Authority (CWMA) on May 28 ordered Karnataka to release 9.19 tmcft of water for the month of June from the Biligundlu reservoir to the Mettur Dam in Tamil Nadu.
This is the third meeting of the CWMA since June 2018, when it was first constituted, and it is expected to meet once in 10 days from June to October. The CWMA meeting was scheduled for a fortnight ago but had to be postponed following a request by Karnataka, Mr. Hussain added. He said representatives from all riparian States attended the meeting. The quantum of water to be released is in line with the SC's order on Feb. 16, 2018. https://www.thehindu.com/news/national/cauvery-authority-directs-karntaka-to-release-919-tmcft-water-to-tamil-nadu/article27273651.ece  (28 May 2019)
RIVERS AS NATIONAL WATER WAYS
National Waterways-1 भूमि अधिग्रहण के विरोध में ग्रामीणों ने किया प्रदर्शन Demanding land acquisition to be done only after proper rehabilitation of all affected, local people in Varanasi protested against port extension work proposed by IWA: –  भारतीय जलमार्ग प्राधिकरण की ओर से रामनगर के पास गंगा नदी के किनारे बनाए गए बंदरगाह के विस्तारीकरण का ग्रामीणों ने May 28 को विरोध किया। अधिकारियों को समझाने के बाद भी ग्रामीण नहीं माने वे पुनर्वास की व्यवस्था करने के बाद ही जमीन अधिग्रहण की मांग पर अड़े रहे। https://www.amarujala.com/uttar-pradesh/chandauli/155907015716-chandauli-news83  (29 May 2019) 
URBAN RIVERS
Ulhas, Waldhuni Mumbai No waste treatment plan for Ulhas, Waldhuni Taking note of non-compliance of the Supreme Court's (SC) orders on the restoration of Ulhas and Waldhuni rivers, the Maharashtra Pollution Control Board (MPCB) has issued notices  to Ulhasnagar Municipal Corporation (UMC), Kalyan-Dombivli Municipal Corporation (KDMC), Ambernath Municipal Council (AMC), and Kulgaon-Badlapur Municipal Council (KBMC).
On July 17, the Maharashtra government was supposed to submit the status report on the progress of the restoration work but so far, none of the targets has been met by the civic bodies tasked with restoring the rivers. The inspection of river stretches earlier this month, showed a grim picture of the restoration efforts as none of the four STPs along the Ulhas have been fully constructed and there was also froth development in some stretches of the river. https://www.hindustantimes.com/mumbai-news/no-waste-treatment-plan-for-ulhas-waldhuni-4-civic-bodies-face-heat/story-3N8jgxnu4KHUOdZS2cWX2J.html  (28 May 2019)
Poisar; Mumbai Blanket of trash falsifies BMC's tall claims of desilting work While BMC claims to have completed over 85 per cent of nullah cleaning work, a survey of Poisar river tributary carried out by members of citizen group River March, which has been campaigning for the revival of four rivers in the city, paints a conflicting image. https://www.dnaindia.com/mumbai/report-mumbai-blanket-of-trash-on-poisar-falsifies-bmc-s-tall-claims-of-desilting-work-2754714  (29 May 2019)
Ramnadi; Pune Campaign to restore Ramnadi, lake to be launched Mayor Mukta Tilak will inaugurate Mission Ramnadi Restoration', a campaign to restore Khatpewadi Lake on June 4. The campaign has laid out a roadmap to restore the lake. They will rope in schools, colleges and residents of the river basin to create awareness and water literacy, and then undertake cleaning programmes with the help of volunteers and PMC to make the river free of solid waste and sewage.
They will undertake bi-monthly surveys of the river basin and map the mythological, cultural, natural, and historical elements. A 'health card' of the Ramnadi river will be published and monitored. This will be followed by conducting awareness sessions on managing domestic waste and sewage among residents, training on foster organic farming in the river stretch and connecting consumers with organic farmers. https://indianexpress.com/article/cities/pune/pune-campaign-to-restore-ramnadi-lake-to-be-launched-on-june-4-5759583/  (1 June 2019)
Sabarmati; Ahmadabad AMC to dedicate clean Sabarmati river on Gandhi Jayanti   The Ahmedabad Municipal Corporation (AMC) will fill the Sabarmati river with treated sewage water (Narmada water is no longer made available to Ahmedabad from June 5) and dedicate it to Mahatma Gandhi on Gandhi Jayanti to mark the 150th birth anniversary of the Father of the Nation. 178.5 MLD of treated sewage water will be discharged at close to a dozen discharge points within the city limits. Some untreated sewage still gets released into the river.    https://www.dnaindia.com/ahmedabad/report-ahmedabad-municipal-corporation-to-dedicate-clean-sabarmati-river-on-gandhi-jayanti-2754646        (29 May 2019)
RIVERS
SANDRP Blog Ramganga a Ganga tributary turning into a garbage river Ramganga and Nayaar are non-glacial river systems. They are rich in aquatic biodiversity and feeds the national river Ganga, also known to be spiritually, culturally important. The dumping of solid waste in these river ultimately reaches Ganga river. But we do not see action from any of the concerned, either from the governments or from media or from civil society or from judiciary or from the religious-cultural organisations. Needless to mention, if steps are not taken at the soonest to address these issues, there is little hope for the Ganga.
The newly appointed Union Water Resources or Jal Shakti minister Shri Gajendra Singh Shekhawat has said now the govt is focus on Ganga tributaries. Will the ministry look into the state of Ramganga west? https://sandrp.in/2019/06/02/ramganga-west-a-ganga-tributary-or-a-garbage-river/  (2 June 2019)
India Rivers Forum My Memories of the River A river moving through space and time, floods the deep pockets of our hearts – sprouting stories. Like the earth that gives birth to new life from freshly deposited silt by a flooding river. We're looking for such memories connected to the river, to showcase them on its website: www.indiariversforum.org 
Do you have a story, personal memory, or an emotional connection with a river that you would want to share with India Rivers Forum? If yes, please Share Story via https://indiariversforum.org/my-memories-of-the-river/  
Op-Ed Damming, interlinking would kill rivers SHOCKING. But should it be in these times? This author says rivers should be dammed and interlinked to save them! What can we say about such authors and publishers? http://www.merinews.com/article/save-the-rivers-for-avoiding-a-grave-water-crisis/15935199.shtml  (2 June 2019)
Punjab Rivers NGT Panel concerned over deteriorating water quality of rivers NGT committee to monitor progress of implementation of Action Plans for Clean River Sutlej, Beas & Ghaggar with stakeholder departments, during a review meeting, took a serious note of deteriorating water quality of rivers on account of non-functioning of STPs, CETPs and ETPs. The Committee also reviewed the timelines for setting up of new STPs, CETPs & ETPs for the treatment of dairy waste. https://timesofindia.indiatimes.com/city/chandigarh/panel-concerned-over-deteriorating-water-quality-of-rivers/articleshowprint/69614924.cms  (1 June 2019)
Maharashtra Chief secy issues order on river regulation policy State chief secretary Ajoy Mehta on May 28 directed the principal secretary of the Urban Development department (2), Manisha Patankar-Mhaiskar, to look into the issue of formulating river regulation policy.  The directive comes after environmentalist Rajesh Pandit, one of the petitioners who had filed a public interest litigation on Godavari pollution in the Bombay high court, sent a reminder about non-compliance of the high court order by the government. https://timesofindia.indiatimes.com/city/nashik/chief-secy-issues-order-on-river-regulation-policy/articleshow/69548648.cms  (29 May 2019)
GODAVARI Telangana Godavari goes bone dry in Dharmapuri town Even before the mercury levels have shot up in the State, the water in one of the lifeline rivers of the State, Godavari has gone bone dry in the temple town of Dharmapuri with receding water levels and river bed exposing itself to the skies.
Forget about washing away sins after taking a holy dip in Godavari waters at the ancient Sri Laxminarasimha Swamy temple in Dharmapuri town, one is sure of acquiring disease due to the murky and polluted waters in the river. The drainage water of Dharmapuri goes into the river causing pollution.  http://www.newindianexpress.com/states/telangana/2019/may/26/godavari-goes-bone-dry-in-dharmapuri-town-1981833.html      (26 May 2019)
NARMADA Madhya Pradesh Politicos disregard declining water levels, impact of sand mining and deforestation The once fabled river is virtually the lifeline of Madhya Pradesh. Around 29 cities get their drinking water from the Narmada water, like the state's commercial capital Indore, which is served by a 70-kilometre pipeline to bring Narmada water. Besides, the irrigation needs of almost every part of the state are met by the Narmada. With every passing election, more and more political leaders promise to bring the river water to their area, and do so. Thus, the number of cities and people dependent on the river keeps increasing exponentially.
Bhopal derives its name from Bhoj Tal ("Bhoj's Lake"), constructed by Raja Bhoj in the 11th Century. Today, that lake is the Upper Bhopal Lake (Bada Talab), which is connected to the Lower Bhopal Lake (Chhota Talab) by an aqueduct. The two lakes not only supply water to the city, but are also popular recreation spots.
Bhopal also has four major reservoirs: Halali, Kaliyasot, Kerwa and Hathaikheda. But despite the availability of these water sources, and experts' assertions that the city was designed to be able to survive on their local water sources, 30 percent of the city's water needs are met via an 80-kilometre pipeline from the Narmada.
In Bhopal, virtually every corner is being dug up for the Narmada pipeline. Officials of the Bhopal Municipal Corporation said only 70 percent of the city's needs are fulfilled from local sources. "Earlier we used to take 30 Millions of Gallons per Day (MGD) from the Upper Lake," said MP Singh, Additional Commissioner, Bhopal Municipal Corporation. "But due to lack of availability, we cut this down by 19 MGD. Now, we are using 36 MGD of Narmada water and are working to use its full capacity of 40 MGD.
"The Rs 415 crore allocated for the Narmada connection has been utilised successfully," said Bhopal mayor Alok Sharma, who is with the BJP. "About 80,000 to 90,000 households are getting Narmada water and another 60,000 households will be added in the next six months. Narmada water has reached most parts of the city and we will increase connections as needed."
Experts and activists working to conserve the Narmada say pipelines, irrigation and power projects are exploiting the river and damaging its natural flow. "Excessive and unscientific sand mining and deforestation have ruined the Narmada," said Medha Patkar. The veteran activist of the Narmada Bachao Andolan has dedicated her life to defending the river.
Decreasing groundwater levels is another cause of worry that is being ignored in the heat of the campaign. According to a recent report of the Central Ground Water Board, groundwater is dropping four metres every year in some regions, including Bhopal.
A report by the World Resources Institute (WRI) identified the Narmada as one of six major river basins in the world facing an existential crisis. The report said that the 2017 water crisis in the river basin forced the Gujarat government to stop using water from the Sardar Sarovar dam for irrigation. Also, the April 25, 2019, storage bulletin of the Central Water Commission pointed out that the Bargi and Indirasagar dams on the Narmada have just 42 and 35 percent of its respective capacity. https://www.firstpost.com/india/busy-selling-narmada-dreams-mp-politicos-disregard-declining-water-levels-impact-of-sand-mining-and-deforestation-6529091.html  (28 April 2019)
GANGA NGT Tribunal fines Bihar, Jharkhand, WB govts for inaction NGT noted that in Bihar there is practically no progress as not a single sewage infrastructure project has been completed. Similarly, in West Bengal only three projects out of 22 have been completed and even for Jharkhand progress is not adequate, it said. "The States of West Bengal, Bihar and Jharkhand are not represented in spite of orders of this tribunal by which we recorded strong disapproval to such attitude of the said States. Such insensitivity in a serious matter is a matter of concern.
– "State of Uttar Pradesh may provide funds to the CPCB for remediation of Chromium dumps at Kanpur Dehat, Khanpur, and Rakhi Mandi. Proper e-flows may be ensured from the Narora Barrage by the NMCG and the State of UP and compliance status may be furnished. UP may also take expeditious action for removing encroachments, identifying and notifying flood plains on the pattern of State of Uttarakhand," it said.
– For the remaining work the timeline is proposed extending up to December 2021, the tribunal noted and said that such progress can hardly be held to be satisfactory. "We record our dissatisfaction with the progress particularly after all prescribed timelines are over and no adequate action has been taken against identified polluters, law violators and officers responsible for the failure for vigorous monitoring, encroachments, and pollution are undisputed. Orders of this tribunal remain uncompiled," it said.
– Failure of the authorities is posing a danger to the environmental rule of law, NGT said, adding that continued failure is not only resulting in damage to the environment but also to public health. "Unless prompt and stringent action to control pollution of Ganga is stopped, the tribunal may be left with no option but to recover the cost of restoration from officers responsible for the failure and also require their prosecution," the tribunal said.
With regard to flood plains, the NGT clarified that distance for no construction zone is to be measured from the Highest Flood Line (HFL) at least in the last 25 years. "Such flood plains may be identified with longitude and latitude and no activity may be allowed therein except raising of plantations and setting up of bio-diversity parks. The concerned states in Ganga river basin may examine whether the responsibility of plantations and administrative control of areas beyond HFL can be handed over to the Forest Department exclusively," the tribunal said. https://www.firstpost.com/india/national-green-tribunal-raps-bihar-jharkhand-wb-govts-for-inaction-over-damage-to-ganga-slaps-penalty-of-rs-25-lakh-6735451.html  (31 May 2019)
CPCB Ganga river water unfit for direct drinking, bathing A map released by the CPCB shows high level of coliform bacteria in the river. Only 18 spots have been found to be fit for bathing. The Ganga river water is absolutely unfit for "direct drinking" and only seven (Bhagirathi at Gangotri, Rudraprayag, Devprayag, Raiwala- Uttarakhand, Rishikesh, Bijnor and Diamond Harbour in West Bengal) spots (out of 86 monitored) from where it passes can be consumed after disinfection, the CPCB has said. According to the latest data with the CPCB, most of the Ganga river water in the Uttar Pradesh-West Bengal stretch is unfit for drinking and bathing. https://www.indiatoday.in/india/story/ganga-river-water-unfit-for-drinking-bathing-1538183-2019-05-30  (30 May 2019)
UPPCB Bacterial pollution in Ganga highest in Kanpur, Varanasi: Report   According to April 2019 survey report of the UPPCB, the top five most critical level of twin forms of bacteria in the Ganga was detected in Kanpur, Varanasi, Ghazipur, Kaushambi and Prayagraj. The level of faecal and coliform bacteria in the Ganga river in Varanasi measured by the UPPCB is several hundred times more than the permissible limit.
– The survey report revealed as against permissible limit of 50 most probable number (MPN)/100ML of total coliform bacteria for drinking purpose and 500 MPN/100ML of the bacteria for outdoor bathing, Kanpur recorded 46000 MPN/100ML of total coliform bacteria and 32000 MPN/100ML of faecal coliform bacteria in the Ganga last month. Varanasi reported second highest level of both the forms of bacteria in Ganga in the state. The level of total coliform bacteria was measured at 34000 MPN/100ML while the level of faecal coliform bacteria was 22000 MPN/100ML in the Ganga water.
– Environmentalist and amicus curiae in River Ganga pollution case in the Allahabad high court Arun Kumar Gupta said during Kumbh mela, he had submitted an application in the Allahabad high court carrying a list of 83 drains in the city. Forty-six of these drains remained untapped during the Kumbh Mela and dumped untreated sewage water in the Ganga and the Yamuna, he said. https://www.hindustantimes.com/lucknow/bacterial-pollution-in-ganga-highest-in-kanpur-varanasi-report/story-7MZDlfqvaksd0sWXrw7mBP.html       (28 May 2019)
Jal Shakti Central Govt forms Jal Shakti as new water ministry The Jal Shakti Ministry has been created by reorganising the earlier Ministry of Water Resources, River Development and Ganga Rejuvenation, which was steered by Nitin Gadkari in the previous government. Ministry of Drinking Water and Sanitation has also been added to it.
– The new minister Mr Shekhawat made a surprising statement that the Ganga river has been cleaned to a large extent under the Namammi Ganga project and now the priority will be to clean its tributaries and sub-tributaries. So now Ganga is supposed to be sufficiently cleaned up? https://www.ndtv.com/india-news/jal-shakti-ministry-formed-by-narendra-modi-government-what-it-does-2046133  (31 May 2019)
This report puts question marks of Jal Shakti with priority of Inter Linking of Rivers: https://thefederal.com/elections-2019/2019/06/01/jal-shakti-stares-at-depleting-groundwater-lack-of-infrastructure/   (1 June 2019)
Here is allocation of portfolios in new Modi govt. Some relevant portfolios:
– Prakash Javdekar is again Environment minister.
– Gajendra Singh Shekhawat – Minister of Jal Shakti, possibly again renamed MoWR; Rattan Lal Kataria – Minister of State.
– Raj Kumar Singh – Minister of State (Independent Charge) of the Ministry of Power.
– Amit Shah is Home Minister (also dealing with NGOs related issues).
– Giriraj Singh – Minister of Animal Husbandry, Dairying and Fisheries. https://www.ndtv.com/india-news/cabinet-portfolios-pm-narendra-modis-new-cabinet-ministers-and-their-portfolios-see-full-list-here-2045883  (31 May 2019)  
YAMUNA Delhi DTTDC fined Rs 5.5 lakh for choking Yamuna The Delhi Pollution Control Committee (DPCC) has imposed an environment compensation of Rs 5.5 lakh on the Delhi Tourism and Transportation Development Corporation Ltd (DTTDC) for choking the Yamuna's flow with debris from the Signature Bridge.
A private agency, appointed by the DTTDC for construction of the bridge, has already deposited the amount. "During inspection, DPCC had found that around 3,500 tonnes of construction and demolition debris was lying on the river and choking the flow of the water. To date, around 2,500 tons of debris had already been removed. The rest is being removed," Hussain said. https://www.hindustantimes.com/delhi-news/dttdc-fined-rs-5-5-lakh-for-choking-yamuna/story-ZOeWp671CdfFTf7KsI7IaI.html  (31 May 2019)
Delhi-Haryana Water Sharing Row Delhi owes Rs 100 crore arrears for Yamuna water: Haryana CM – Since 1995, Haryana has been supplying water to Delhi, Haryana CM said. "As of now, we are supplying 1,039 MGD water from Yamuna against the contractual supply of 719 MGD per day. Excess water has been supplied on humanitarian grounds as well as on the directions of the SC of India. The top court had categorically directed us to supply additional water to Delhi on cost. In total, Delhi was billed Rs 120 crore and of that amount Haryana has only got Rs 20 crore so far," said Khattar.
Khattar also expressed concern over depleting water levels that have resulted in 60 dark zones in the state, which include 21 critical ones in the 10 districts of Haryana. As of now, nine districts have been identified as critically-exploited water zones.  https://timesofindia.indiatimes.com/city/chandigarh/delhi-yet-to-pay-haryana-rs-100cr-arrears-for-yamuna-water-khattar/articleshow/69436603.cms  (22 May 2019)
Uttar Pradesh Yamuna dust pollution creating pockmarks on historical monuments Environmentalists on June 2 claimed that the dust emanating from the drying Yamuna river is creating pockmarks on historical monuments and demanded arrangements be made to ensure minimum flow of water in the river. River Connect Campaign activists held a protest here against the "deplorable" condition of the Yamuna. https://www.outlookindia.com/newsscroll/dust-emanating-from-drying-yamuna-is-creating-pockmarks-on-historical-monuments-environmentalists/1547055  (2 June 2019)
'Sand bath' on dry Yamuna riverbed to protest apathy Environmental activists here held a symbolic 'sand bath' to draw attention to the plight of the polluted and drying Yamuna river. The activists on June 3 evening joined a mass community event to draw the government's attention to the sewage canal that the river has been reduced to without water. The activists 'pretended' to swim and jump on heaps of sand collected from the dry riverbed. They said if there was no water in the river, they would naturally have to bathe in the dry sand. The event drew large crowds on the riverbank at the Etmaddaula View Point Park. https://www.outlookindia.com/newsscroll/sand-bath-on-dry-yamuna-riverbed-to-protest-apathy/1547082   (3 June 2019)
Ken River केन नदी को बचाने के लिए शुरू हुआ 'मैं भी भगीरथ' कैंपेन बांदा जिले की प्रमुख जीवनदायिनी नदी केन को बचाने के लिए किसानों के आंदोलन के बाद अब सामाजिक कार्यकर्ता, पत्रकार और बुद्धिजीवी आगे आए हैं। सोशल मीडिया पर 'मैं भी भगीरथ' मुहिम शुरू करके केन नदी के प्रति लोगों में जागरूकता फैलाई जा रही है। बता दें कि एक समय पर कई गांवों को सिंचित करने वाली केन लगभग सूख चुकी है।
फेसबुक, वॉट्सऐप, ट्विटर के अलावा चौपाल के जरिए 'मैं भी भगीरथ'मुहिम शुरू करने वाले एक स्थानीय पत्रकार अजय सिंह चौहान ने बुधवार को कहा, 'केन नदी बांदा जिला ही नहीं, बुंदेलखंड की एक प्रमुख नदी है। बालू माफियाओं के अवैध खनन से नदी की दशा और दिशा बदल गई है। यह वही नदी है, जिसके पानी से जिला मुख्यालय के अलावा करीब 50 गांवों के किसान अपनी प्यास बुझाते थे लेकिन आज खुद नदी प्यासी एक-एक बूंद पानी को तरस रही है।'  https://navbharattimes.indiatimes.com/state/uttar-pradesh/others/people-of-banda-have-started-mai-bhi-bhageerath-campaign-to-save-river-ken/articleshow/69448536.cms  (22 May 2019)   
RIVERS BIODIVERSITY
Assam River dolphins are in distress Kulshi river, one of the few remaining habitats of the endangered Ganges river dolphins, is under threat. As if illegal and unscientific sand mining on the river bed was not enough, the construction of a boundary wall at the integrated consumer goods manufacturing and logistics facility of ITC Ltd located at Bortejpur in Assam's Kamrup (rural) district is leaving the aquatic mammals gasping for breath, quite literally. https://www.eastmojo.com/documentary/2019/05/31/assams-river-dolphins-are-in-distress-but-whos-to-blame  (31 May 2019)
FISH, FISHERIES, FISHERFOLKS
Goa Monsoon trawl ban from June 1 The annual monsoon trawling ban in Goa will come into effect from June 1. The ban will go on for 61 days, ending on July 31. The seasonal fishing holiday is meant to facilitate breeding of fish during the season. The State Fisheries Department has issued an order banning trawling through mechanised boats during the period. However, the registered motorised canoes using gill nets have been exempted.
Nearly 1,500 trawlers in the coastal State would be anchored till July 31 as the annual trawling ban will be implemented along the western coast in Goa, Maharashtra and Karnataka. A notification from the State asserts that the government of Goa prohibits fishing by vessels fitted with mechanical means of propulsion and by means of trawl-net and purse-seine net. The fishing ban in Goa has been enforced since 1981. https://www.thehindu.com/news/national/other-states/monsoon-trawl-ban-in-goa-from-june-1/article27385210.ece  (1 June 2019) 
WETLANDS, LAKES, WATER BODIES
Tamil Nadu All encroachments on wetlands must be removed: Madras HC The Madras high court has directed the Chairperson, State Wetland Authority (SWA) to ensure that all encroachments on the Wetlands are removed without showing any indulgence or sympathy to them by showing the order of the court.
A division bench comprising Justices M.Venugopal and S.Vaidyanathan said, "The initial step is to disconnect the Water Supply and Electricity supply by informing the Chairman, TNEB, Chennai and CMSSSB and any such other authority supplying water and no civil court shall grant any interim order without invoking Order 18 Rule 18 of CPC (which provides for the legal leniency to the court to personally inspect the property or thing in question and prepare a memorandum of such inspection, which can then be taken upon the records of the case matter) and the inspection needs to be videographed and photographed".
The bench directed the authorities to stop further constructions, if any carried out on these lands and relocate the buildings, if any constructed on the lands to some other permitted area within one year and in that process, they must ensure that the debris were removed from the lands properly without causing any damage to the adjacent lands. The buildings so constructed should not be in a prohibited area, the bench added. https://www.deccanchronicle.com/nation/current-affairs/020519/all-encroachments-on-wetlands-must-be-removed-madras-high-court.html  (2 May 2019)
Maharashtra Hutments, mangroves eat into 70% of Bhandup bird habitat: BNHS study Spread across approximately 3,500 hectares (ha) and home to 30 different bird species, the wetland has witnessed a rise in sedimentation which has helped mangrove cover increase by 53%, from 652ha in 1973 to 999.61ha in 2018. During the same time, human settlements increased from 132ha to 787ha over a period of almost five decades. According to the report,  this has resulted in a 70% drop in the wetland area (mudflats) from 344ha in 1973 to 100.3 hectare in 2018. The study stressed that BPS should be made part of the Thane Creek Flamingo Sanctuary, but also warned that the entire creek could be facing a similar fate due to excess siltation. https://www.hindustantimes.com/mumbai-news/hutments-mangroves-eat-into-70-of-bhandup-bird-habitat-bnhs-study/story-79lg2xNJEiFW57kxQBwSxL.html  (30 May 2019)
Thane creek wetlands need to be saved -The Thane creek wetland and the adjacent Flamingo Sanctuary are globally significant, serving as a stop for migratory birds using the Central Asian Flyway which stretches across Asia, Europe and the Arctic and Indian Oceans. There are four near-threatened bird species and 14 migratory ones in the area, which fall under schedule I of the Wildlife Protection Act, 1972, giving these birds a high grade of protective status. Significantly, it is the second-largest natural area in Mumbai, next to the Sanjay Gandhi National Park (SGNP), spread over 59 square km, according to the Forest Survey of India.
In May 2018, the Maharashtra government had announced the creation of the Thane Creek Flamingo Sanctuary on 1,690.5 hectare (1.6 sq km). Additionally, the state government recently has proposed to create a 34 sq km buffer zone around the sanctuary. Despite its status as a protected sanctuary, the creek is threatened by pollution and encroachments. Research by Ryerson University, Toronto had reported that a third of the mangrove forests in the Mumbai Metropolitan Area has been lost to urbanisation since the 1970s. https://www.hindustantimes.com/mumbai-news/thane-creek-wetlands-need-to-be-saved/story-TjSgkOi6JCBulmoG6twZnO.html  (2 June 2019)   
Uttar Pradesh Forest dept to notify only 25ha of Dhanauri wetland Along with a proposal to notify 25 ha (when the area of the wetland is 100 ha as per the Space Application Centre report in 2006-07) of Dhanauri in Greater Noida (UP) under the Wetlands (Conservation and Management) Rules, 2017, the proposal from forest dept states that the International Crane Foundation will initiate a documentation of annual variation in numbers and distribution of sarus Cranes. The reasoning given is strange: land is costly and value of real estate is high! https://www.hindustantimes.com/delhi-news/uttar-pradesh-forest-department-to-notify-only-25ha-of-dhanauri-wetland/story-rVFMioBNqZ0oq3EEKkWWAP.html      (28 May 2019)
Restoration of wetland prompts return of endangered fowls A host of wetland birds, including the threatened black-headed ibis, have recently been sighted in an area being revived and restored by the Noida Authority in Sector 91. The sector 91 area is also being developed as a 144-acre green lung of Noida, which will include a 75-acre bio-diversity park, 25-acre medicinal park, 32-acre green belt and a 12-acre natural wetland. http://www.newindianexpress.com/cities/delhi/2019/may/30/restoration-of-wetland-prompts-return-of-endangered-fowls-1983686.html  (30 May 2019)
Jammu & Kashmir Famed Shalbugh wetland fast losing its sheen Encroachment, unabated pollution and lack of conservation measures have drastically affected the eco-system of Shalbugh wetland in Ganderbal district. The famous wetland in central Kashmir's has virtually turned into a 'wasteland' due to the lackadaisical approach of the concerned department.  Spanning over 14 kilometers, Shallabugh, which mainly receives its waters from Aanchar lake in Srinagar, spreads from Takenwari Srinagar to Sangam Ganderbal. https://www.greaterkashmir.com/news/kashmir/famed-shalbugh-wetland-fast-losing-its-sheen/     (30 April 2019)
WATER OPTIONS
Andhra Pradesh Groundwater levels look up in Srikakulam district  Eight villages from the district figure in the list of 100 villages in the State with groundwater levels of less than depth of 3 metres. Groundwater levels have significantly improved in the district due to a variety of factors. Groundwater levels that were 27.5 metre-deep in the Seetampet and LN Peta mandal are now at a depth of 9.26 metres.
Also, the water management works taken up under MGNREGS, groundwater levels have tremendously improved in the district. Under the impact of the cyclone Titli, many tanks are brimming with water — this has also contributed to increase in the groundwater levels.
Besides the water development works such as tank works, soak pits, farm ponds, Neeru-Chettu and last year's cyclone Titli filled up the tanks, Srikakulam Groundwater Department Additional Director P Kodanda Rao said. He also said that the farmers did not go in for the second crop this year. These are the main reasons for increase of groundwater levels in the district, he added. http://www.newindianexpress.com/states/andhra-pradesh/2019/may/01/groundwater-levels-look-up-in-srikakulam-district-of-andhra-pradesh-1971299.html  (1 May 2019)
Tamil Nadu Chennai's Chitlapakkam lake revival campaign bears some fruit Residents of Chitlapakkam lake, whose water was contaminated with sewage and plastic will soon bid adieu to their water crisis after Chitlapakkam Rising, a volunteer organisation was given the green signal by the Water Resources Department (WRD) on May 28 to desilt the lake, bringing an end to the 40-year-old crisis.
Chitlapakkam Rising, formed in 2014, is a 5000-strong volunteer group that works on civic programmes such as cleaning up of roads and lakes, Right to Information (RTI) queries and monitors government projects. With a core team of 25 people, the group operates chiefly through Facebook, which is where news of the lake restoration drive was first shared.
Chitlapakkam Rising will formally launch the project on June 2 at 7 am, a launch which several politicians, municipal authorities, NGOs and residents of the neighbouring towns are expected to join. The NGO also said that a Chitlapakkam Lake Protection Committee will be formed soon to execute the project and ensure that it is completed ahead of deadline.
Although the WRD has finally given into the demands of the residents, most of them have mixed feelings about the decision. "Ideally, this project should have been undertaken by the PWD. Instead, we are being made to carry out the work. Given the water crisis in Chennai, we have decided to proceed with the project now lest we raise unnecessary questions and bring the project to a halt", said Dayanand. https://indianexpress.com/article/cities/chennai/chennais-chitlapakkam-lake-revival-model-holds-key-to-fight-water-crisis-5758223/  (31 May 2019)
Gujarat Toilet-linked biogas plants tackle faecal sludge problem While poor faecal sludge management in India remains a concern, a few hundred households in Valsad district of south Gujarat have shown the way by linking their toilets to biogas plants.
A toilet-linked biogas (TLBG) system eliminates the task of frequent emptying of faecal sludge from septic tanks or twin pits and dumping it in drains or landfill sites. https://www.downtoearth.org.in/news/waste/toilet-linked-biogas-plants-tackle-faecal-sludge-problem-in-gujarat-s-villages-64713     (28 May 2019)
Telangana Magic of farm ponds  Digging farm ponds under NREGS was taken up on a large scale over the last couple of years. https://telanganatoday.com/farming-comes-alive-in-narayanpet-thanks-to-the-magic-of-farm-ponds    (27 May 2019)
Report Start up to solve water crisis About work of Vasser labs that SANDRP highlighted earlier. https://economictimes.indiatimes.com/small-biz/startups/features/a-water-crisis-looms-over-india-this-startup-may-have-some-answers-vassar-labs/articleshow/69571869.cms    (30 May 2019)
GROUNDWATER
Tamil Nadu Tannery waste blamed for contamination of groundwater Residents of Sastri Nagar and surrounding areas at Moolakadai near Madhavaram complain of groundwater pollution allegedly caused by tannery units located nearby. They say ever since the leather industry was set up 40 years ago, water obtained from bore wells is contaminated as an oily layer forms on top. Also, the water is black sometimes.
In 1997 the estate commissioned a common plant to treat 4.5 lakh litres of effluent daily. But, residents alleged that before the plant was set-up effluent waste was let into a small makeshift pond near the tanneries, which directly affected the groundwater table. A member from the management wing of the estate said that only prior to 1990, effluents from the tanneries were buried underground and after the Supreme Court order banning this they had switched to using treatment plants. http://www.newindianexpress.com/cities/chennai/2019/may/12/tannery-waste-blamed-for-contamination-of-groundwater-1975710.html  (12 May 2019)
Haryana Groundwater in villages bordering Bandhwari landfill site to be tested Taking cognizance of a complaint lodged by a local activist, the CPCB on May 20 commissioned a survey of groundwater in four villages near the city, whose residents fear that their reserves have been contaminated due to pollution from the Bandhwari landfill. Testing will be done by the NEERI Environmental Impact & Risk Assessment division. While no deadline has been set for completion of this survey, HSPCB officials said they are working together with scientists from NEERI to expedite it.  Notably, CPCB in 2017 report, hasalready declared Bandhwari's groundwater unsafe for consumption.
On May 13, in a case pertaining to groundwater contamination by industries near Chirhada village in Rewari, the NGT ordered that the CGWB and the HSPCB conduct an assessment of the region's groundwater. The district administration was also ordered to supply drinking water to affected areas. https://www.hindustantimes.com/gurugram/groundwater-in-villages-bordering-bandhwari-landfill-site-to-be-tested/story-6IxM8HOAio1e9c5hic4dpN.html  (26 May 2019)
GURUGRAM FISH FARMING A THREAT TO FISH FARMING -THIS ACTUALLY NEEDS IMMEDIATE INTERVENTION FROM WATER MINISTRY, FISHERIES MINISTRY AND NGT.
-PRECIOUS GROUNDWATER BEING POURED IN FISH PONDS IN NAME OF BLUE REVOLUTION.
– MEDIA IGNORANTLY GLORIFYING CRISIS IN MAKING.
– HARYANA GOVT SUBSIDIZING GW DEPLETION IN STATE WITH 37 DARK ZONES.
"Dr K K Vijayan, director, Central Institute of Brackish Water Aquaculture, noted that shrimp farming is lucrative but can be counterproductive if the government doesn't plan ahead for sustainability. "Government needs to carry out detailed ground surveys for resource mapping. It looks all hunky-dory initially, but as more farmers join and groundwater starts depleting rapidly, it could be environmentally unsustainable," he said.
Farmland across Haryana has turned fallow as a result of excessive usage of surface water, thanks to canal irrigation. Depleting groundwater and wasteful irrigation has now made farming difficult and non-profitable across much of the state." https://timesofindia.indiatimes.com/city/gurgaon/how-farmers-turn-fallow-land-into-shrimp-farms-strike-gold/articleshow/69589291.cms   (31 May 2019)
Gurugram admin to seal 560 borewells Taking into consideration the depleting groundwater level in the city, MCG is drawing up a plan to seal 560 borewells in the city. "These 560 borewells are fragmented across the city in areas where either the canal water supply hasn't reached or isn't enough to meet the demand. I have asked my team to draw up a plan to provide canal water in all these areas," said MCG commissioner Yashpal Yadav. He added that as part of the plan, they will build tanks and provide boosters in these areas to help officials store canal water and supply them to the households. Once the residents start receiving canal water, the borewells will be sealed. https://timesofindia.indiatimes.com/city/gurgaon/to-check-fall-in-gurgaons-groundwater-table-mcg-to-seal-560-borewells/articleshow/69192332.cms  (6 May 2019)
हरियाणा में 128 ब्लाक्स में से 78 ब्लॉक एरिया में भू-जल की स्तिथि काफी खराब है. इनमें से 14 ब्लॉक्स क्रिटिकल जबकि 11 सेमी क्रिटिकल हैं. 2013 में 119 ब्लॉक्स में से 64 डार्क जोन में थे. बादरा, टोहाना, गुरुग्राम, गुहला चीका, लाड़वा, पिहोवा, बपौली, रनियां, फरीदाबाद और बल्लभगढ़ समेत 21 ब्लॉक्स में ट्यूबवेल कनेक्शन पर पहले ही रोक लगाई जा चुकी है.
1995 में अम्बाला में 8.30 मीटर तक पानी मिल जाता था लेकिन 2018 के सर्वेक्षण के मुताबिक पानी 11.44 मीटर तक पहुंच चुका है. महेंद्रगढ़ में 29 मीटर से पानी करीब 49 पहुंच चुका है. भूमिगत जल स्तर घटने के चलते पानी में कई तरह से प्रदूषित भी हो रहा है. कई जिलों में आयरन, नाइट्रेट, फ्लोराइड, खारापन, आर्सोनिक और हेवी मेटल जिनमें लेड और कैडमियम जैसे तत्व शामिल हैं, पानी में पाए जा रहे हैं.
घटते ग्राउंड वाटर की सबसे बड़ी वजह ट्यूबवेल से फसलों की सिंचाई मानी जा रही है. धान की खेती में पानी सबसे ज्यादा लगता है. हरियाणा गठन के समय धान का रकबा 1 लाख 92 हजार हेक्टेयर था जो पिछले साल 14 लाख 22 हजार हेक्टेयर को पार कर गया. एक एकड़ धान में करीब 26 बार पानी लगाने की जरूरत पड़ती है. एक रिपोर्ट के मुताबिक एक किलोग्राम चावल पैदा करने के लिए करीब 5389 लीटर पानी की खपत होती है. https://www.etvbharat.com/hindi/haryana/city/chandigarh/water-crisis-in-haryana/haryana20190531135323850  (31 May 2019)
Telangana High levels of groundwater pollution raise alarm in Hyderabad industrial area Last-ditch attempts are being made at Gaddapotharam and Kazipally industrial areas with technical help from National Geophysical Research Institute (NGRI) to contain the extremely-polluted groundwater from spilling over onto the surface. For over three decades, bulk drug companies recklessly polluted the groundwater in Gaddapotharam and Kazipally, located just outside the Greater Hyderabad area in Dundigal, Sangareddy district. With the groundwater severely-polluted, its use by local residents and industries ceased completely, as a result, the groundwater has now come close to the surface. http://www.newindianexpress.com/cities/hyderabad/2019/may/30/high-levels-of-groundwater-pollution-no-space-for-rainwater-raise-alarm-in-hyderabad-industrial-area-1983546.html  (30 May 2019)
Uttar Pradesh Groundwater in 40 districts has high arsenic levels A new study has found that as many as 2.34 crore people in rural areas are exposed to high levels of arsenic in groundwater. A total of 40 districts in the state are exposed to a high concentration of arsenic in groundwater.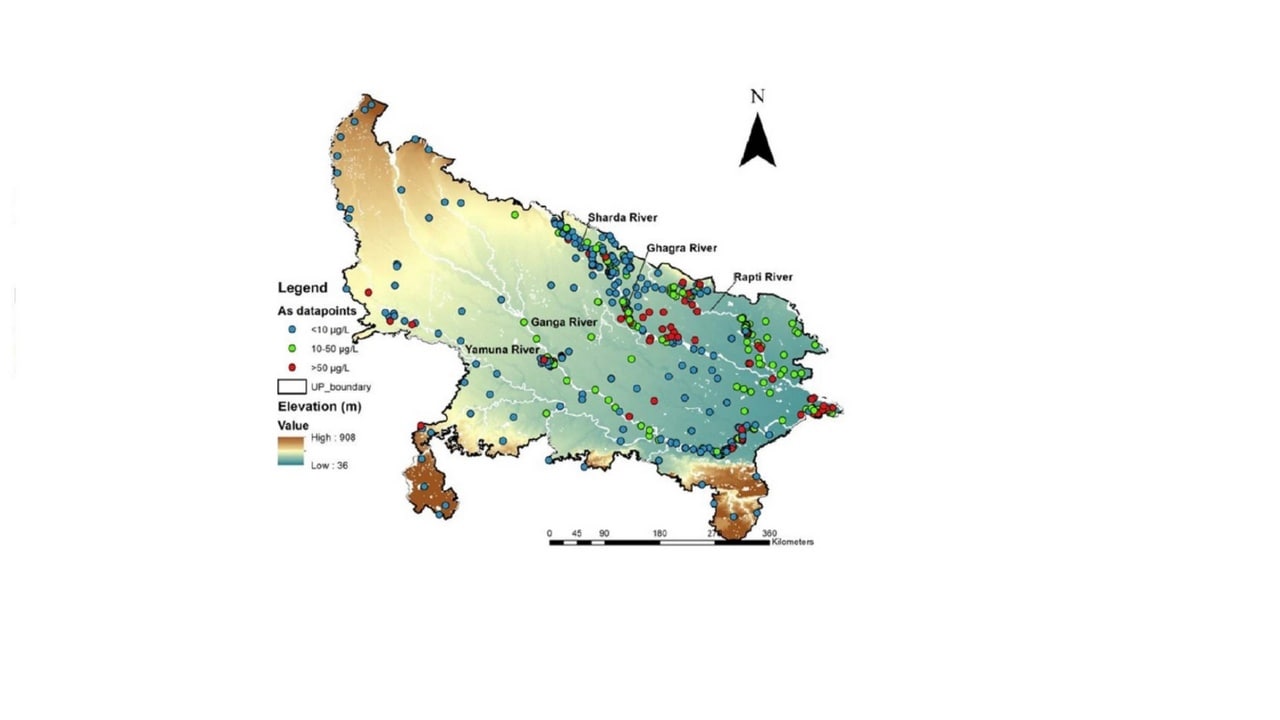 Balia, Barabankhi, Gorakhpur, Ghazipur, Gonda, Faizabad and Lakhimpur Kheri are the worst affected districts. Majority of them are in the floodplains of Ganga, Rapti and Ghaghara rivers. Ten other districts with a moderate risk of arsenic contamination are Shahjahanpur, Unnao, Chandauli, Varanasi, Pratapgarh, Kushinagar, Mau, Balrampur, Deoria and Siddharthnagar. https://www.firstpost.com/tech/science/groundwater-in-40-districts-of-ups-rural-areas-have-high-levels-of-arsenic-6735751.html  (31 May 2019)   
Tamil Nadu To recharge groundwater, civic body looks to maintaining two tanks Madurai Corporation plans to improve the storage in both the Palanganatham and the Narayanapuram tanks in order to recharge groundwater in both the areas for a sum of ₹5 crore each under the Atal Mission for Rejuvenation and Urban Transformation (AMRUT) Scheme. The Corporation has engaged a consultant to assess the feasibility of improving storage and beautifying the two tanks.
Corporation Commissioner S. Visakan said that though the main focus would be to quickly implement the ₹1,120 crore Mullaperiyar Drinking Water Project, the Corporation is looking to achieve self-sustenance in wards where there are ancient tanks.
Currently, citizens receive 115 mld of water from Vaigai dam through two drinking water pipelines. Apart from this, 11 mld of water is supplied to added wards through the Cauvery Integrated Drinking Water Project. The Corporation also extracts 44 mld of water from the riverbed in areas like Melakkal and Tachampathu. Despite the listed sources, the Corporation is unable to supply water daily to the residents. Most residents in the added wards receive water once in four days. https://www.thehindu.com/news/cities/Madurai/to-recharge-groundwater-civic-body-looks-to-maintaining-two-tanks/article27110500.ece  (13 May 2019)
URBAN WATER
Chennai Largest Source Of Drinking Water Dries Up Chennai's largest source of drinking water, Chembarambakkam lake, is bone dry with parched and cracked bed all over. The 3,500 million cubic feet capacity reservoir is left just with storage of silt and slush in the middle largely due to deficit monsoon last year. It was this very lake that overflowed and flooded Chennai in December 2015. https://www.ndtv.com/chennai-news/chennais-largest-source-of-drinking-water-dries-up-residents-hit-hard-2045155  (30 May 2019)
Chennai's Piped Water Supply Cut By 40% Amid Severe Water Crisis  Two years after Chennai suffered the worst drought in 140 years, the capital city is once again parched, facing an acute water crisis with a 40 per cent cut in piped water supply. Along with the shortage of water, residents in several areas claim that the water they receive has a foul smell almost as if it was "mixed with sewage".
The groundwater in Chennai and its surrounding areas is replenished by five lakes — Puzhal, Sholavaram, Kaliveli, Pulicat and Maduranthakam — all located within a 60-km radius of the city. An old plan to build a new reservoir outside Chennai is yet to take off. Although lakes had overflowed due to unseasonal rains, causing devastating floods in Chennai in 2015, little was done to prevent water from flowing into the sea. In addition, government has not fast tracked the plan for an extra desalination plant. https://www.ndtv.com/tamil-nadu-news/chennais-piped-water-supply-cut-by-40-per-cent-amid-water-crisis-2044502  (29 May 2019)
Chennai Metro turns off AC in trains due to city's water crisis Chennai Metro Rail Limited (CMRL) has reportedly begun turning off its air-conditioning during non-peak hours— between noon and 5 pm.to reduce water consumption. The CMRL has resorted to the extreme measure as summer temperatures have been soaring across the state and the water levels in the four lakes in Chennai's periphery have recorded one of the lowest in 70 years.
One Chennai Metro official told the newspaper, "We switch on the AC system once in an hour to make sure we maintain 26 deg C at both platform and concourse levels. By switching off, we are able to save around 30% of water at every station. https://www.thenewsminute.com/article/chennai-metro-turns-ac-trains-due-city-s-water-crisis-102515  (28 May 2019)
Hostels and mansions ration water Hostels for working women and mansions in the city have begun rationing water to inmates as the looming water crisis has put them in a fix. While many manage with groundwater despite its high saline content, a few have downed shutters due to absence of adequate water, forcing inmates to explore other accommodations with water facility.
Chennai and its suburbs have 5,000 hostels and mansions. Of these, 2,000 are hostels for working women. The bachelors paradise Triplicane alone has more than 400 mansions and lodges for men dotted across the locality. Each mansion has a capacity ranging from 10 to 50 rooms, with an average occupancy rate of 60%. Apart from domestic use, drinking water should also be provided for the occupants operating on monthly and daily rental basis. https://timesofindia.indiatimes.com/city/chennai/hostels-and-mansions-ration-water-some-shut-shop-as-crisis-looms-large/articleshow/69500559.cms  (26 May 2019)
To tackle Chennai's water crisis, govt sanctions Rs 233 crore In an attempt to tackle the severe water crisis in Chennai, the government has sanctioned Rs 233 crore for getting water projects in the city up and running.
At present, the two desalination plants at Nemmeli and Minjur supply 100 MLD of water each. Water is also tapped from stone quarries in Sikkarayapuram to the extent of 30 MLD and soon quarries in Erumaiyur will also join the supply.
Works are also underway to bring water from Retteri, Ayanambakkam and Perubakkam tanks and also to tap water from 126 borewells in the city's periphery. The minister also said that a a work order for a third desalination plant at Nemmeli with a capacity of 150 MLD was issued on May 25. https://www.thenewsminute.com/article/tackle-chennai-s-water-crisis-tn-govt-sanctions-rs-233-crore-102792  (1 June 2019)
Mangalore Construct more vented dams to improve water supply to Udupi: Shanbhag Ravindranath Shanbhag, president of the Human Rights Protection Foundation (HRPF), said that it was better to construct six to 10 vented dams across the Swarna to provide water to Udupi city during summer rather than get water through pipelines from the Varahi.
Dr. Shanbhag also said that the project to bring water from the Varahi to Baje dam during summer was not just costly but also not properly thought out. Instead, the construction of six or 10 vented dams against the Swarna would be cheaper. More importantly, it would increase groundwater in the area, he said. https://www.thehindu.com/news/cities/Mangalore/construct-more-vented-dams-to-improve-water-supply-to-udupi-shanbhag/article27073546.ece  (9 May 2019)
Bangalore BWSSB puts off hike in water tariff The Bangalore Water Supply and Sewerage Board (BWSSB), which was working on effecting a 30% to 35% increase in water tariff, has deferred the hike and asked its officials to rework the proposal after factoring in employees' salaries and interest on procured loans, among other things. The board felt that other options should be considered without further burdening consumers. The board is expected to discuss the topic again on June 24. The last revision was over four years ago, on October 20, 2014. Before that, the board had previously revised the tariff on January 1, 2005. https://timesofindia.indiatimes.com/city/bengaluru/bwssb-puts-off-hike-in-water-tariff/articleshow/69590366.cms  (31 May 2019)  
Pune Metro project seeks five lakh litres every day Amid growing scarcity, the ongoing Pune Metro project has sought five lakh litres of water every day from the civic body to operate the airconditioning units of the five proposed underground stations that will be built as part of the Metro network in the city.
The Metro project's request comes at a time when the tussle over the quota of water drawn by the Pune Municipal Corporation (PMC), between the civic body and the state Irrigation Department, has reached the Bombay High Court. While the PMC has said it needs to draw more water to cater to the increasing population in the city, the regulatory authority has repeatedly asked it to slash the amount. https://indianexpress.com/article/cities/pune/pune-metro-rail-project-water-shortage-municipal-corporation-5759580/  (1 June 2019)
Himachal Pradesh Solan residents to get purified water Irrigation and Public Health (IPH) Department installing state's first UV system at the lift water supply scheme of the Ashwani Khud. It will have the capacity to disinfect 5 million litres of water per day which will benefit about 22,000 people. About Rs 85 lakh is being incurred initially for its installation which will be undertaken in June. The firm, engaged to install it, will also provide a comprehensive annual maintenance for 5 years after the completion of 2-year warranty period. The system can also be replicated in other schemes which are vulnerable to contamination. https://www.tribuneindia.com/news/himachal/solan-residents-to-get-purified-water/779163.html  (28 May 2019)  
WATER
North East Workshop on springshed management calls for its holistic development Useful work happening in Nagaland on springsheds development: The need to put a concerted effort to embark a comprehensive mechanism for holistic development of springshed in the country, has been stressed at the state level workshop on "Springshed management in the North-Eastern states of the Indian Himalayan Region" held in Khoima at Capital Convention Centre. Inventory of 2,361 springs have been completed in 1,025 settlements in all the 11 districts covering both physical and water quality parameters, he said. He said the department is in the process of publishing a "Springshed Atlas of Nagaland" in the line of Watershed Atlas of Nagaland published by the Department in 2012, which will be the basis for all future springshed related programme in the state.
– He said that in Nagaland, Springshed pilot project was started in 11 districts covering 1 village each during 2016-17 in technical partnership with People's Science Institute (PSI), Dehradun and ACWADAM, Pune. He informed that the department has initiated creation of spring inventory covering all settlements and villages in the state of Nagaland where the springs provide drinking water to the communities.
– The workshop was supported by Swiss Agency for Development and Corporation; National Mission for Sustaining the Himalayan Ecosystem, Department of Science & Technology, GOI and Indian Himalayan Climate Adaptation Programme.  https://morungexpress.com/workshop-on-springshed-management-in-ne-calls-for-its-holistic-development/    (29 May 2019)
National Ban ROs where dissolved solids in water below 500 mg/litre: NGT  In a bid to regulate the use of RO purifiers, NGT has directed the government to prohibit them where TDS in water are below 500 mg per litre and sensitise public about the ill effects of demineralised water. The tribunal has also asked the government to make it mandatory to recover more than 60 per cent water wherever RO is permitted across the country. The order was after perusing a report of a committee formed by it, and gave the directions to the MoEF. https://www.moneycontrol.com/news/india/ban-ros-where-dissolved-solids-in-water-below-500-mglitre-ngt-tells-govt-4033311.html  (28 May 2019)
Gujarat Babu Navalawala: State's water security planning erroneous "The report by Pathey Budget Centre states that the Gujarat government spent Rs 1,25,172 crore from 2006-07 to 2018-19 on new canals, pipeline networks, and other water distribution facilities through the Narmada, water resources, water supply and irrigation departments. The report states that despite spending large sums of money, the state is struggling to provide drinking water to several areas.."     https://timesofindia.indiatimes.com/city/ahmedabad/navalawala-states-water-security-planning-erroneous/articleshow/69529197.cms     (28 May 2019)
DELHI WATER
SANDRP Blog Perennially non functional Common Effluent Treatment Plants in Yamuna Basin The Kundli CETP is classical example of how the infrastructure set up in the name of pollution control is not delivering and the legally empowered pollution control mechanisms have failed, at the cost of public health and also health of the river.
And there are 4 such CETPs in Sonipat alone and 15 in entire Haryana allowing 2254 industries consume 137399 KLD of fresh water and flush 124489 KLD of industrial effluents in Yamuna.  https://sandrp.in/2019/05/28/common-problems-of-a-common-effluent-treatment-plant-in-yamuna-basin/  (28 May 2019)
Wall in Haryana can help solve Delhi's water woes The wall is already constructed hardly making any difference. Construction of embankment is unfeasible and may cause flooding risk as both DN 6 & 8 drain out a large area of Haryana. CPCB has asked Haryana irrigation and flood control department to construct a wall or embankment between drains number 6 and 8 within six months (Nov. 30) to ensure that "any possibility of wastewater mixing with freshwater is eliminated".
CPCB said it is evident from the CSIR-NEERI study that the embankment separating the two drains is not adequate and there is always a possibility of wastewater mixing with freshwater. Apart from raising the embankment or construction of a wall between the drains, the Haryana irrigation and flood department has been asked to ensure that the treated effluent of CETP-Kundli complying with effluent discharge norms is discharged into the recipient drain via closed conduit pipeline. https://timesofindia.indiatimes.com/city/delhi/rising-ammonia-wall-in-haryana-can-help-solve-delhis-water-woes/articleshow/69604749.cms  (1 June 2019)
SANDRP has recently highlighted the problem of mixing of industrial effluents into Delhi potable water supply. Kindly see the report here. 
Landfill sites poisoning groundwater Dozens of hand pumps in this unauthorised habitation at Bhalswa landfill in north Delhi were uprooted, but poverty has driven the thousands living there to continue to draw up the yellow-orange water from the aquifers contaminated by leachate from the mountain of garbage nearby. The mess in managing the three sanitary landfills at Bhalswa, Okhla in south Delhi and Ghazipur in east Delhi means they continue to grow well past their lives, insidiously contaminating the groundwater with the viscous, toxic leachate.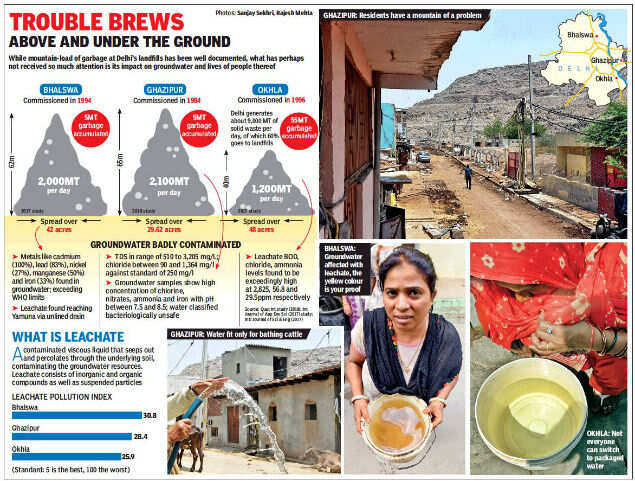 – Many recent research studies have highlighted their destructive effect on the sub-surface water in the areas. Bhalswa logged the highest leachate index, followed by Ghazipur and Okhla. In the three places, the biological oxygen demand, a measure of pollution, ranged from 2,825 ppm to 3,300 ppm against acceptable levels of 3-5ppm for potable water. The chemical oxygen demand, another measure, varied between 4,400 ppm and 5,840 ppm against WHO's recommendation of 10 ppm for drinking water. The groundwater samples from Bhalswa also show a high level of dissolved solids and a concentration of heavy metals exceeding WHO's permissible limits. In Ghazipur, the total dissolved solids were recorded as being from 510 mg/l to 3,205, against the standard of 250 mg/l. https://timesofindia.indiatimes.com/city/delhi/below-mountains-of-trash-lie-poison-lakes/articleshow/69510311.cms  (27 May 2019)
Country's largest sewage plant to come up at Okhla DJB has cleared the proposal to set up a 124 MGD STP in place of the existing units, apart from a new water treatment plant at Chandrawal.The Okhla plant is being constructed under the last phase of Yamuna Action Plan at a cost of Rs 1,162 crore with a deadline of three years.  https://timesofindia.indiatimes.com/city/delhi/countrys-largest-sewage-plant-to-come-up-at-okhla/articleshow/69568803.cms  (29 May 2019)
DJB approves new water treatment plant DJB has approved the construction of a drinking water treatment plant in Chandrawal at a cost of ₹598 crore. The plant, which is expected to be completed in three years, will have a capacity of 477 MLD. It will augment the total drinking water production capacity by 11%.
The new plant will cater to about 22 lakh people living in Old Delhi, Civil Lines, Karol Bagh, Rajender Nagar, Naraina, parts of Delhi Cantonment area and NDMC areas among others, according to the DJB. The city needs 1,120 MGD of water. But the average water production is about 900 MGD and on certain days, it peaks to 935 MGD. https://www.thehindu.com/news/cities/Delhi/djb-approves-new-water-treatment-plant/article27299272.ece  (30 May 2019)
DJB to turn abandoned Rajghat fly ash pond into 40-acre lake DJB has planned to turn the abandoned fly ash pond behind Rajghat into a lake, spread over 40 acres in the next three years. This is the sixth artificial lake that the Delhi government has planned to come up with after the ones that has proposed at Timarpur, Rohini, Nilothi, Dwarka and Najafgarh.
The area once used to be a fly ash pond when the Rajghat power plant was operational. But since the plant was shut in mid-2015, the pond has been abandoned. It is a low-lying area, which has been infested with weeds over the years. https://www.hindustantimes.com/delhi-news/jal-board-to-turn-abandoned-rajghat-fly-ash-pond-into-40-acre-lake-in-three-years/story-6XnvBhsj0qwYiSW5V8nz4K.html  (1 June 2019)
DJB water supply doesn't need RO treatment: Govt tells NGT Delhi Jal Board has claimed that water supplied by the agency does not need to be treated by RO purifiers since the TDS level of water treated by its plants is between 350 to 400 mg/l.
– Total dissolved solids or TDS is the measure of all organic and inorganic substances in a sample of water. While a TDS level less than 300 mg/l renders the water as 'excellent to drink', a range of 300 to 500 mg/l is considered 'good' and from 600 to 900 mg/l is taken to be 'fair', water samples with TDS levels ranging from 900 to 1200 mg/l falls in the 'poor' category, succeeded only by a TDS level of over 1200 mg/l which is considered 'unacceptable'. In its statement before the tribunal, DJB said that there is no need for use of RO purifiers except in places where the supply of water is being mixed with borewell water or where only borewell water is being used. https://www.timesnownews.com/mirror-now/civic-issues/article/water-supplied-by-us-does-not-need-ro-treatment-delhi-jal-board-tells-national-green-tribunal/427985  (30 May 2019)
NGT seeks action-taken report on Narela, Bawana industrial units NGT has directed the DPCC to furnish an action-taken report on the recovery of compensation from polluting plastic units in Narela and Bawana industrial areas. An October 2018 report submitted by a joint committee comprising of representatives from the CPCB and the DPCC had indicated that drains in the area were choked due to open dumping.
"…in the absence of collection of waste generated by industries, untreated waste water from industries being directly discharged into the drains in Narela as well as Bawana industrial areas," the report said. The committee further informed the tribunal that compensation was recovered from various units while some which failed to pay the amount was issued closure orders. https://www.thehindu.com/news/cities/Delhi/ngt-seeks-action-taken-report-on-narela-bawana-industrial-units/article27280029.ece  (29 May 2019)  
कारखानों का प्रदूषण नरेला और बवाना के लिए बन रहा है जहर नेशनल ग्रीन ट्रिब्यूनल ने दिल्ली के नरेला बवाना के औद्योगिक क्षेत्रों में चल रहे 101 कारखानें बंद करने के आदेश दिए हैं और इसके बाद इन इलाकों की तस्वीर कैसी बनेगी यह कहना अभी जल्दीबाजी होगी, लेकिन प्रदूषण की वजह से क्षेत्र की जो हालत है वह किसी से छिपी नहीं है। नालियों में बहता प्लाष्टिक का कचरा और रासायनिक तत्वों की मौजूदगी यहां के लोगों को बीमार बनाने के लिए काफी है। इतना ही नहीं खेत और खाली प्लाटों में रासायनिक कचरे को जलाने की घटनाएं भी लोगों के स्वास्थ्य के साथ खिलवाड़ है।https://epaper.jagran.com/epaper/28-may-2019-240-outer-delhi-edition-outer-delhi-page-21-page-21-page-1.html#  (20 May 2019)
MONSOON 2018
Skymet June is going to be the worst month with very little rainfall: GP Sharma In this interview, GP Sharma Vice President of Meteorology, Skymet Weather Services says that the onset of monsoon is not only going to be late by a few days, it is going to be very weak also. It is not going to progress significantly at a faster pace. Rainy pockets are going to be only in northeast India and that too scattered rains over there and in some pockets in south interior Karnataka. https://economictimes.indiatimes.com/markets/expert-view/june-is-going-to-be-the-worst-month-with-very-little-rainfall-gp-sharma-skymet/articleshow/69561812.cms   (30 May 2019)
Report Deficient pre-monsoon rains put almost half of India on drought alert Indeed, S and W India face serious drought, but there is VERY LITTLE contribution of pre monsoon rainfall in this. It's more the deficiency in SW Monsoon, Post monsoon and also winter rainfall that is playing bigger role. https://www.business-standard.com/article/current-affairs/deficient-pre-monsoon-rains-put-almost-half-of-india-on-drought-alert-119052900067_1.html   (29 May 2019)
IMD Monsoon FORECAST UPDTE dated May 31 2019 – Quantitatively, monsoon season rainfall for the country as a whole is likely to be 96% of the LPA with a model error of ±4%. This was prepared using a 6-parameter Statistical Ensemble Forecasting System (SEFS). Forecast probability: 41%: Normal (96-104% of LPA, this is UP from 39% on Apr 15), 32% below normal (90-96%), 15% deficient (below 90%, down from 17% on Apr 15)),  10% (above normal (104-110%) and 2% excess (110+).
– The latest experimental forecast based on the ESSO-IMD-IITM coupled dynamical model suggests that the rainfall during the 2019 monsoon (June-Sep) averaged over the country is likely to be 97% ± 4% of LPA. The CFS model had forecast on Apr 15 that the rainfall will be 94 +/- 4%, so this seems like an improvement.
– Region wise, the season rainfall is likely to be 94% of LPA over North-West India, 100% of LPA over Central India, 97% of LPA over South Peninsula and 91% of LPA over NorthEast India all with a model error of ± 8 %.
– The monthly rainfall over the country as whole is likely to be 95% of its LPA during July and 99% of LPA during August both with a model error of ± 9 %.
– The current weak El Niño conditions over Pacific are likely to continue during the monsoon season with some possibility of these conditions to turn to neutral ENSO conditions during the latter part of the monsoon season.
– IMD will issue forecast for the rainfall during the second half of the season in the end of July 2019. http://www.imd.gov.in/pages/press_release_view.php?ff=20190531_pr_480  (31 May 2019) 
DROUGHT
https://sites.google.com/a/iitgn.ac.in/high_resolution_south_asia_drought_monitor/home  (25 May 2019)
Anti-drought projects under rural job scheme incomplete, abandoned According to the data collated by the Ministry of Rural Development, a total of 790,000 anti-drought works, worth Rs 417 crore, under MGNREGA are either incomplete or have been suspended across the country in the past few years. This trend is more noticeable in states prone to aridness. Like in Karnataka, only 371 drought-proofing works are complete while 19,965 are still incomplete and in Maharashtra, 2038 works were complete while 79,788 remain incomplete. Additionally, the data has revealed that little focus is given to anti-drought measures including water conservation, revival of traditional water bodies, plantations and micro-irrigation works, despite grim forecasts by meteorologists. https://www.hindustantimes.com/india-news/anti-drought-projects-under-rural-job-scheme-incomplete-abandoned/story-t7q6RFWbi8aoHs1MzmhycM.html  (29 May 2019)
India must focus on crop-suitability This edit article in FE says right things about cropping pattern, but WRONG things about storages. Big dams are not the only or even the best storage option, but they seem to the only option for the authors of this note.  https://www.financialexpress.com/opinion/getting-drought-ready-india-must-add-storage-capacity-focus-on-crop-suitability/1592926/      (30 May 2019)
Karnataka Govt banks on cloud seeding to overcome drought The government on May 27 set aside ₹91 crore for cloud seeding, a process that uses chemicals to aid precipitation in clouds, to help increase the chances of rain and some relief to the drought-hit population of the state.
Gowda said that the cloud seeding done in 2017 did show good results. He said that there was roughly 27% enhancement of precipitation in the areas covered. While quoting experts, he said that the cloud seeding is believed to have added 2.5-5 tmcft of water in the state. Though public sector aircraft maker, Hindustan Aeronautics Limited (HAL) has offered its services, the state government said that it had already finished the tender process and will continue with the private bidder. 
As Karnataka has faced at least 15 droughts since 2000, the state has continued its focus on short-term remedies for the water problems the state has been facing. Since 2002, the state's irrigation allocation has steadily increased from a little over ₹1,600 crore to around ₹16,000 crore in 2018-19. But its pursuit of pumping in money to fund large irrigation projects has had little impact on the total irrigated area that has seen only a marginal increase from around 2.45 million hectares in 2002 to around 3.1 million ha in 2016-17 from all sources, including canals, tanks, lift irrigation, tube and borewells. But this is still below 30% of the total agricultural area of around 10.7 million ha, which leaves most of the state's farmers at the mercy of unpredictable rainfall. https://www.livemint.com/politics/news/karnataka-banks-on-cloud-seeding-to-overcome-drought-acute-water-shortage-1558983536512.html  (28 May 2019)
Maharashtra Govt mulls floating solar panels on reservoirs to combat drought Welcome development In Maharashtra itself, a 1000 MW floating solar power plant is in the process of being constructed on the Ujani dam in Solapur. Proposals to install floating solar panels on other water bodies like the Irai dam were shelved due to the high cost involved, according to officials. Among other things, the floats carrying the solar panels need to be imported which inflates the cost of the project.
– Floating solar power plants, officials say, would have helped reduce evaporation in the 749 minor irrigation projects in Maharashtra's drought-prone Marathwada district.
– "This year more than 350 of the reservoirs have gone completely dry," says an official from the state irrigation department. Estimates prepared by the Maharashtra government indicate that as much 46 TMC or 17 per cent of the live storage capacity in Marathwada's dams are lost to evaporation every year. "Evaporation can be reduced by as much as 70 per cent by installation of solar power plants," says an official    https://www.tribuneindia.com/news/nation/maharashtra-mulls-floating-solar-panels-on-reservoirs-to-combat-drought/779046.html       (27 May 2019)
Govt allocates ₹30 cr for cloud seeding  The State Cabinet on May 28 cleared the proposal to implement the aerial cloud seeding procedure to tackle drought. The State has allocated ₹30 crore for the project.
According to the government, foreign countries have witnessed a rise in rainfall ranging from 28% to 43%. The process will be implemented in Marathwada, Vidarbha and parts of western Maharashtra. The Sea band doppler radar and a plane will be kept ready at Aurangabad for the purpose. The experiment will be carried out only if this year's monsoon is below average. It will also help areas where the Jalyukta Shivar works have been completed, said the official. https://www.thehindu.com/news/national/other-states/maharashtra-allocates-30-crore-for-cloud-seeding/article27279370.ece  (29 May 2019)
Drought-free plan by 2019 comes a cropper  Jalyukt Shivar Abhiyan launched in 2016 aimed at making Maharashtra a drought-free state by deepening and widening streams as well as constructing cement and earthen stop dams, nullahs and digging farm ponds. Its objective was to make Maharashtra Drought free. But in 2019 the state is facing unprecedented drought. https://www.business-standard.com/article/economy-policy/devendra-fadnavis-drought-free-maharashtra-plan-by-2019-comes-a-cropper-119053000043_1.html  (30 May 2019)
No bathing, washing in drought-hit Beed The day for many in the district's 22 lakh population, of which 2.4 lakh resides in Beed city, starts by searching for water from borewells. Those who don't have borewells have to plead with their neighbours for water.  https://www.hindustantimes.com/pune-news/no-bathing-washing-in-drought-hit-beed/story-dIO0FVGCqMSA8gzBrEF2qN.html  (31 May 2019)
Agri dept warns farmers not to sow crops early The Agriculture department has advised farmers to delay their sowing operations as the onset of monsoon is likely to be delayed in the state. If the onset of the monsoon is delayed beyond the second week of June, the crops of udit (urad) and moong are likely to be hit as farmers normally finish sowing operations by then. https://indianexpress.com/article/cities/pune/pune-agriculture-dept-warns-farmers-not-to-sow-crops-early-5753631/  (29 May 2019)
The bitterest truth about sugarcane Sugarcane farming is the main reason for low coverage of irrigation in Maharashtra though the state has the largest number of major and medium irrigation projects. While it is true that a water-scarce state like Maharashtra has significant area under sugarcane and also a large number of sugar factories, to understand the crop-water-use linkage, it is important to go beyond knee-jerk reactions and understand the larger changes happening in the farm sector here. https://www.firstpost.com/politics/the-bittersweet-truth-of-sugarcane-in-maharashtra-6735001.html 
Gujarat Severe drought in Bani grassland The Banni region in the Kutch district of Gujarat is shivering through the worst drought of past 3 decades. It's high time that communities as well as administration should take call a on the carrying capacity of the grassland, restoration of the landscape and bring the traditional water sources to the life. https://paaniwalibaat.wordpress.com/2019/05/30/distress-of-today-disaster-of-tomorrow-drought-in-banni-grassland/  (30 May 2019)
Andhra Pradesh Chittoor 4,000 villages reel under acute water shortage Nearly 4, 000 villages in the tail-end parts of Chittoor district are reeling under acute shortage of drinking water. It has become difficult to feed cattle as fodder too is in short supply. More than 20 mandals in West Chittoor were the worst hit. To deal with the situation, the district administration had deployed 80% of the water tankers there, while the rest were catering to eastern mandals, said Rural Water Works (RWS) Superintending Engineer G. Venu.
Though the RWS department had pressed hundreds of water tankers into service, several hamlets were out of their coverage; women bear the brunt and have to trek long distances to fetch water. As an alternative, villagers are relying on private tankers that cost around ₹500 per supply. https://www.thehindu.com/news/national/andhra-pradesh/4000-villages-reel-under-acute-water-shortage-in-chittoor-district/article27268108.ece  (28 May 2019)
Tamil Nadu Delta reels under drought despite getting 400 tmcft of Cauvery water After realising a record quantum of over 400 thousand million cubic feet (tmcft) of the Cauvery waters last one year, Tamil Nadu is in a paradoxical situation staring at an acute water shortage, especially in the delta region.
– The Mettur dam, considered the mainstay for farmers in the central parts of the State, now has a storage of less than 16 tmcft against the capacity of 93.47 tmcft. This has forced the authorities not to open the dam on the scheduled date of June 12.
– Considering that the State's realisation exceeded the 400 tmcft for the first time since 1981-82, the question on many people's mind is whether the State wasted the water and if it could have done anything to reduce the wastage. Around 130 tmcft of water, which is nearly one and a half times what the Mettur dam can hold, flowed into the sea, particularly during July-August period last year, through the Lower Anicut in Cuddalore district which is at the tail of the Cauvery system.
– An explanation given by water managers is that Tamil Nadu, with its plain terrain downstream the Mettur dam, does not have scope for storing any huge quantum of water. Some check dams can be built but they would not be, in any way, a substitute for a massive reservoir.
– Notwithstanding these reasons, S. Ranganathan, veteran farmer from Mannargudi, says one of the important factors for the State not being able to utilise the water it received was the "mindless mining of sand" on water courses of the Cauvery basin in the State. https://www.thehindu.com/news/national/tamil-nadu/delta-reels-under-drought-despite-getting-400-tmcft-of-cauvery-water/article27358089.ece  (31 May 2019)
ENERGY OPTIONS
Terawatt-scale photovoltaics: Transform global energy  Global installed solar photovoltaic (PV) capacity exceeded 500 GW at the end of 2018, and an estimated additional 500 GW of PV capacity is projected to be installed by 2022–2023, bringing us into the era of TW-scale PV. Two years ago, we focused on the challenges of achieving 3 to 10 TW of PV by 2030. Here, we envision a future with ∼10 TW of PV by 2030 and 30 to 70 TW by 2050, providing a majority of global energy. PV would be not just a key contributor to electricity generation but also a central contributor to all segments of the global energy system. We discuss ramifications and challenges and summarize what is needed in research in PV performance, reliability, manufacturing, and recycling. https://science.sciencemag.org/content/364/6443/836/tab-pdf   (31 May 2019)
Cost of onshore wind, solar PV by 2020 At the beginning of 2018, IRENA's analysis of auction and PPA data suggested that the global weighted-average cost of electricity could fall to just under five US cents per kilowatt-hour (USD 0.049/kWh) for onshore wind and five and a half cents per kilowatt-hour (USD 0.055/kWh) for solar PV in 2020. A year later, the potential value for onshore wind in 2020 has dropped a further 8 per cent, to four and a half cents per kilowatt-hour (USD 0.045/kWh), while that of solar PV drops 13 per cent, to less than five cents for kilowatt-hour (USD 0.048 /kWh). https://energy.economictimes.indiatimes.com/news/renewable/infographic-cost-of-onshore-wind-solar-pv-by-2020/69562912  (29 May 2019)
Within the IRENA database, over three-quarters of the onshore wind and four-fifths of the utility-scale solar PV project capacity that is to be commissioned next year shows lower prices than the cheapest new coal-fired, oil or natural gas options. These cost reductions, particularly for solar and wind, are set to continue into the next decade. The report also states that new solar and wind installations will increasingly undercut even the operating-only costs of coal-fired plants. https://energy.economictimes.indiatimes.com/news/renewable/solar-pv-and-wind-energy-costs-dropped-13-per-cent-in-2018-slump-to-continue/69562430  (29 May 2019)
Further, the costs of setting up solar PV projects were found to have dropped at the fastest pace – 80 per cent – in India between 2010 and 2018. The country-wise average for the total installed costs of utility scale solar PV in 2018 ranged from a low of $793 per Kilowatt (Kw) – around Rs 5.5 crore per Megawatt — in India (27% lower than in 2017) to a high of $2,427 per Kw in Canada, the International Renewable Energy Agency (IRENA) said in a detailed report titled "Renewable Power Generation Costs in 2018" released on May 30, 2019. https://energy.economictimes.indiatimes.com/news/renewable/india-becomes-lowest-cost-producer-of-solar-power/69565769  (30 May 2019)  
CLIMATE CHANGE
Study Assam, Mizoram Least Prepared For Climate Change Among Himalayan States Of India's 12 Himalayan states, Assam, Mizoram and Jammu and Kashmir (J&K) are the most vulnerable to climate change, a new study has concluded. High vulnerability leaves a region with low capacity to anticipate, resist, cope with or recover from the impact of a climate hazard.
– Around 50 million Indians reside in IHR and depend on the Himalayan ecology for water, food and energy. In these regions, glaciers feed up to 70% of agriculture. With climate change affecting the Himalayan landscape and weather patterns causing longer summers and shorter winters, the livelihoods and survival of these communities are threatened, IndiaSpend reported on October 12, 2018.
– A rise of at least 0.5°C in the temperature has been recorded in the upper Himalayas, accompanied by an almost 10% variation in humidity levels. The temperature variation is causing the Himalayan glaciers, a part of the larger cryosphere–the part of the earth system that stores 75% of all frozen freshwater on earth–to melt. This has pushed up the odds of extreme events such as avalanches.
The changing temperature pattern poses a threat to the water security and sustainability of the Himalayan river basins. With an increase in water flow in high-altitude lakes, the chances of floods also increase, IndiaSpend reported. https://www.indiaspend.com/assam-mizoram-least-prepared-for-climate-change-among-himalayan-states/  (29 May 2019)
Study Indian forests may be able to withstand climate change better than feared According to new research by the IIT, Kharagpur, most forests in India are highly resilient to impacts of climate change on rainfall.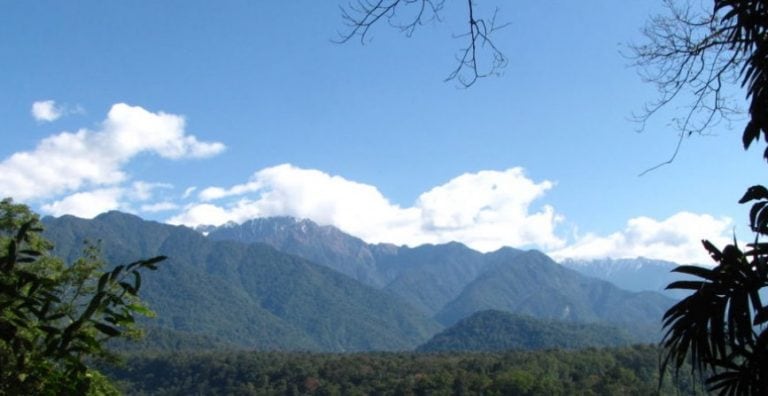 The study which compared long-term trends in the spatial distribution of Indian forests against corresponding rainfall records found that while the wetter forests in India are resilient to large rainfall changes, forests in drier landscapes, such as the Deccan peninsular region, are most vulnerable to significant climate change. The research has generated a forest cover resilience map. https://india.mongabay.com/2019/05/indian-forests-resilient-to-climate-change/  (27 May 2019)
Study Melting glaciers may add 10 inches to sea levels by 2100  Melting glaciers worldwide could result in almost 10 inches of sea level rise by the end of this century just from smaller glaciers, a study warns. The research, published in the Journal of Glaciology, indicates that the smaller glaciers could play a much larger role in sea level rise than researchers had previously thought.
The review is the most comprehensive global comparison of glacier simulations ever compiled, researchers said. It estimates that glaciers worldwide are likely to lose lose anywhere from 18 to 36 per cent of their mass by 2100. The study compared 214 glacier simulations from six research groups around the world and "all of them paint the same picture," Hock said. Researchers examined the mass changes for over 200,000 glaciers worldwide, totalling an area equal to the size of Texas.     https://economictimes.indiatimes.com/news/environment/global-warming/melting-glaciers-may-add-10-inches-to-sea-levels-by-2100-study/articleshow/69516251.cms      (27 May 2019)
Photo Essay The Missing Zangti The Himalayan region is highly sensitive towards changes in global climate, and more than half of glaciers in Satluj Basin are set to vanish by 2050.
Satluj — which before merging with Spiti River at Khab, originated from Tibet's Mount Kailash enters India at Sipki La. It cut across Great Himalayan Range in Kinnaur, where it is better known as 'Zangti' or the 'Golden Water'. Currently it hosts 945 glaciers with an estimated ice reserve of 94.45 cubic kilometres — all of which is under grave threat. https://www.downtoearth.org.in/gallery/photo-essay-the-missing-zangti-64861  (31 May 2019) 
DISASTERS
Uttrakhand  2 CLOUD BURSTS INCIDENTS STRUCK STATE AMID FOREST FIRES SAD BUT AMID FOREST FIRE EVENTS, PROBABLY THE FIRST INCIDENT OF CLOUD BURST TOO HAS STRUCK THE UTTRAKHAND STATE. The incident occurred on June 2, 2019 around 4.30pm in border area of Chamoli and Almora in Ramganga basin. The area is known as Maithan and Pachuaban and upstream Choukhatiya Ganai town. NO human causality is reported but livestock is killed in large number and heavy damaged has been caused to some houses, cowsheds and roads. 
Recieved this message/video on whatsapp and crossed checked it with local people there:- ग्राम पंचायत खीडा में आज शाम लगभग 4:30 साढ़े चार बजे बादल फटने से भारी नुकसान हुआ है। जिसमें एक व्यक्ति श्री राम सिंह अपने बैलों को बांधने गौशाला गया था के मिसिंग की खबर है।
श्री चन्दन सिंह की गौशाला बहने तथा मकान का हिस्सा दबने व खाने पीने की सामाग्री बहने तथा अन्य तीन लोगों की गौशाला बह गये हैं। खीड़ा तोक जुकाणी में प्रेम सिंह पुत्र त्रिलोक सिंह हर सिंह पुत्र नारायण सिंह बहादुर सिंह पुत्र बालम सिंह नैन सिंह पुत्र दीवान सिंह कमल सिंह पुत्र खीम सिंह के मकान में पानी तथा कीचड़ घुस गया है त्रिलोक सिंह पुर केसर सिंह का मकान पूरा दब गया है तथा उसी मकान रमेश सिंह नेगी की दुकान थी सारा सामान बह गया है। https://www.hindustantimes.com/india-news/one-dead-in-cloudburst-in-uttarakhand-s-chamoli-district/story-GfcPYNkGMdekEIKo6UJv3M.html  (3 June 2019)
Some detail is given here. https://www.business-standard.com/article/pti-stories/cloudburst-kills-one-in-u-khand-119060200743_1.html  (3 June 2019)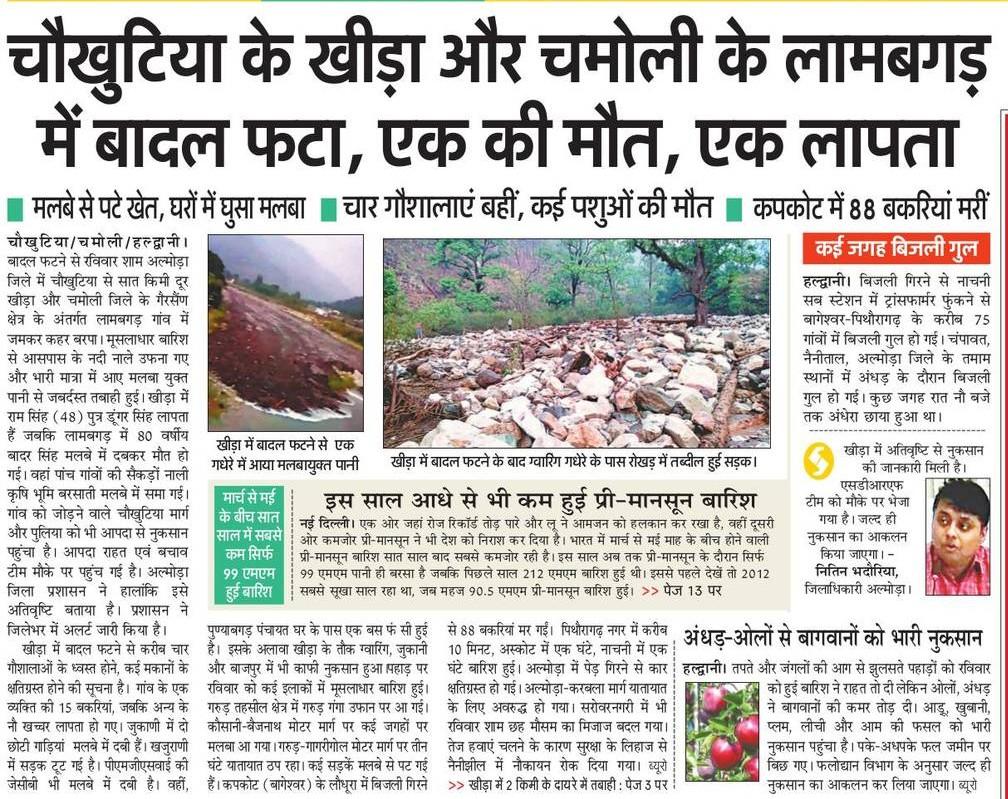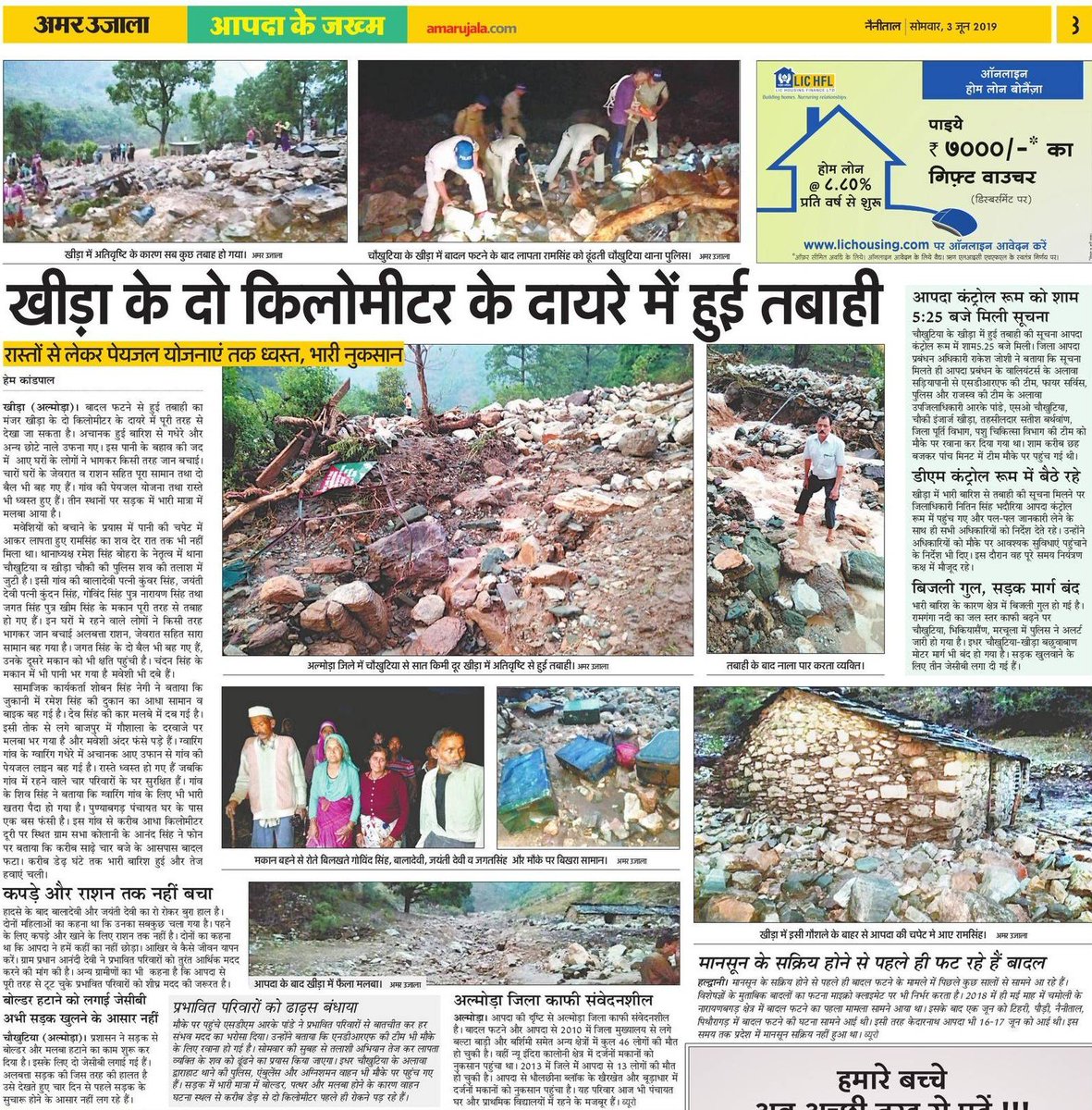 -In 2018 overall there were about 13 such cloudburst events across the state, beginning from May 2 & going on till July 7. Killing at least 10 people apart from massive infrastructure destruction: https://sandrp.in/2018/07/21/uttrakhand-cloudburst-incidents-2018/ 
धू–धू कर जल रहे जंगल, उत्तराखंड के जंगल एक बार फिर धू-धू कर जल रहे हैं. इस साल जंगल में आग लगने की 1400 से ज्यादा घटनाएं हो चुकी हैं. तकरीबन 2000 हेक्टेयर जंगल स्वाहा हो गए हैं. पिछले कई सालों से लगातार गर्मियों में उत्तराखंड के जंगलों में भयानक आग लग रही है और इसके लिए एक संगठित आपदा प्रबंधन तंत्र या प्रशासनिक योजना की कमी स्पष्ट रूप से दिख रही है.
– पिछले एक महीने से उत्तराखंड के कुमाऊं और गढ़वाल दोनों इलाकों में जंगल में आग की दर्जनों घटनाएं हुईं हैं. जिसकी सूचना हर रोज वन विभाग और प्रशासन को मिल रही है. जंगल में आग के लिए ग्रामीणों की लापरवाही, चीड़ के पेड़ों का ज्यादा होना और उनकी ज्वलनशील पत्तियों का बिखराव एक बड़ा कारण है. किसी भी लापरवाही से लगने वाली आग चीड़ की पत्तियों के साथ बहुत तेजी से फैल जाती है. पहाड़ों में चिलचिलाती धूप और पानी की कमी इस वक्त आग में घी का काम कर रही है.  https://hindi.thequint.com/videos/news-videos/every-year-uttrakhand-faces-fire-problem-who-to-blame  (1 June 2019) 
ENVIRONMENT
MoEF Govt tweaks afforestation norms for forest land acquisition  The new MoEF guideline notes that states with more than 75% of their total land as forests shall not be required to provide non-forest land for compensatory afforestation and this can now be carried out in another state. The issue was discussed in detail during the April meeting of the environment ministry's Forest Advisory Committee after which the ministry on May 22, issued an order to all states. All states in NE India, except Sikkim, Assam and Tripura have  over 75% land under forests.
– Environmentalist and organisations working on forest issues emphasise that the practice of compensatory afforestation is not sustainable, its implementation has not been effective and it has not been successful in the country so far, almost four decades since it was introduced. https://scroll.in/article/925453/government-tweaks-afforestation-norms-for-forest-land-acquisition-worrying-environmentalists     (1 June 2019)
Gujarat Airport proposed near statue of unity More displacement and disruption for tribal people and environment near Narmada dam: now an airport being planned near Rajpipla for tourists to come visit statue of Unity. https://www.financialexpress.com/infrastructure/airlines-aviation/soon-fly-to-statue-of-unity-airport-to-come-up-near-the-worlds-tallest-statue-details-here/1593154/  (30 May 2019)
Chandigarh Environment dept to ban all single-use plastic In a bid to make Chandigarh completely plastic-free, the Department of Environment, Chandigarh, has mooted a proposal to ban all plastic products that can only be used one time. These items include disposal plates, small spoons, water bottles, straws and other such products that cannot be reused after being used once. The proposal has been sent to the UT Administration for final approval and the decision in the matter is likely to be taken on or before International Environment Day, observed on June 5.
Chandigarh Administration is already facing wrath from NGT for not submitting its respective action plan on systematic disposal of plastic waste to the CPCB despite the passing of deadline of April 30, set by the NGT. Chandigarh is among 25 states/UTs that failed to submit the action plan and may have to pay environmental compensation of Rs 1 crore. https://indianexpress.com/article/cities/chandigarh/ban-all-single-use-plastic-says-chandigarhs-department-of-environment-5753798/  (29 May 2019)
SOUTH ASIA
Bhutan 3,460 acres of forest lost to hydropower projects Bhutan lost about 3,460 acres of forest cover due to construction of three hydropower projects – Punatsangchhu-I, Punatsangchhu-II, and Mangdechhu. A study by Department of Forest and Park Services (DoFPS), "Forest Cover Loss Due to Hydropower Projects and Transmission Lines", observed that forest cover loss was more due to the establishment of transmission lines than from the construction of infrastructure development. A total of about 3, 67,052 trees were removed due to three projects construction activities. About 84,504 trees were removed because of various construction activities for PHPA-I project; 86,380 trees removed for PHPA-II, and 1, 96,168 trees for MHPA project. The study found that the impact on forests and other ecosystems was undeniable. http://www.kuenselonline.com/3460-acres-of-forest-lost-to-hydropower-projects/  (31 May 2019)
Chamkharchhu project out of government's plan Minister of economic affairs, Loknath Sharma in responding to whether Chamkharchhu project will be on track within five years, said that looking at the current scenario of hydropower projects in Bhutan, the government will not consider the construction of Chamkharchhu Hydro project. However, he clarified that if there happens to be a positive change in the scenario, the government may consider building Chamkharchhu. Low return on investment and financial viability were attributed for not taking up Chamkharchhu project. The hydro committee submitted a report that recommended leaving Chamkharchhu and applying a brake on building hydro projects.
– The minister said that the current focus was on Sunkosh hydropower project and to complete the ongoing hydropower projects that are delayed. "It has been three years since Kholongchhu was started, but there is no progress," he said. Kholongchhu was the first joint venture (JV) hydropower project.  "Bargaining the tariff and exporting electricity at our rate is difficult." it was better to consider the current scenario – excessive hydropower debt.   http://www.kuenselonline.com/chamkharchhu-project-out-of-governments-plan/       (28 May 2019)
Nepal Budhi Gandaki project plans to complete compensation distribution by next fiscal year The government is planning to complete the compensation distribution for those affected by the construction of the 1,200MW Budhi Gandaki Hydropower Project in the next fiscal year. The Ministry of Energy has asked the Finance Ministry to allocate Rs 18 billion of the next budget for compensation payments for people affected by the $2.5 billion Budhigandaki Hydropower project in the next fiscal year.
The storage-type project is located in Gorkha and Dhading districts. The budget ceiling for the Energy Ministry set by the National Planning Commission for the next fiscal year is Rs88.45 billion. The government has already spent around Rs20 billion to acquire land from 27 settlements in Gorkha and Dhading districts. And now, the Finance Ministry has also advised Energy Ministry to go for a competitive bidding by reducing the cost of the project. Chinese has found the project difficult to develop. Why is Nepal govt pushing such a project?    http://kathmandupost.ekantipur.com/news/2019-05-26/budhi-gandaki-project-plans-to-complete-compensation-distribution-by-next-fiscal-year.html      (26 May 2019)
Delineation of spring recharge zones using environmental isotopes to support climate-resilient interventions in two mountainous catchments in Far-Western Nepal  This study marks the first attempt to combine environmental isotopes analysis with hydrometric and hydrogeological measurements to identify dominant recharge zones for springs in two mountainous catchments—Banlek and Shikarpur—in Far-Western Nepal. In total, 422 water samples collected from rainfall, springs and streams between March 2016 and March 2017 were analyzed for their isotopic composition (δ18O and δD). Isotopic composition of rainwater shows seasonality, suggesting that different sources of water vapor cause rains in monsoon and in dry season.
Rainfall responses of individual springs were used to identify connections to unconfined and deeper groundwater strata. Altitudinal isotopic gradients suggest mean recharge elevation of 2,600–2,700 m asl for springs in Shikarpur, which lies beyond the surface-water catchment, and a recharge elevation of 1,000–1,100 m asl for Banlek, which partially extends beyond the surface-water catchment. The demarcated recharge zones will be used by government agencies to implement recharge interventions to increase the resiliency and reliability of springs.   https://link.springer.com/article/10.1007%2Fs10040-019-01973-6     (25 May 2019)
Bagmati flood menace in Rautahat ends Construction of a water channel in the Bagmati River has all but finished, with people living on the river front in Badaharwa village in Durga Bhagawati Rural Municipality, Rautahat, feeling relieved that they won't have to worry about floods this year. https://thehimalayantimes.com/nepal/bagmati-flood-menace-in-rautahat-ends/  (29 May 2019)
Bangladesh Factory fined Tk 2.27 lakh over river pollution Department of Environment (DoE), Chattogram zone, fined Tk 227,800 on a factory and closed it down for not implementing Effective Treatment Plant (ETP) in a hearing. The factory's negligence resulted in pollution of the river Karnaphuli through releasing unrefined oil-waste. https://www.thedailystar.net/city/news/factory-fined-tk-227-lakh-over-river-pollution-1750306  (29 May 2019)
Monu embankment under threat, needs immediate repair A vast tract of land is under threat of being flooded by the Monu river during this rainy season as its embankment in Moulvibazar Sadar upazila has started to breach at two locations and 65 other locations remain vulnerable. Despite drawing attention to local office of Water Development Board (WDB) a number of times, no repair work was conducted as yet, alleged locals.   https://www.thedailystar.net/country/news/monu-embankment-under-threat-needs-immediate-repair-1750480  (29 May 2019)     
THE REST OF THE WORLD
Study Powering the world and saving rivers with low carbon, low cost and low conflict energy grids Welcome conclusion: "These studies show that countries can develop electricity systems powered by a sustainable mix of renewable energy technologies — including solar, wind, storage and existing or low-impact hydropower – that are low carbon, low cost and low conflict with communities, rivers and other ecosystems. The vast pool of low-impact wind and solar, described above, suggests that these types of solutions should be in reach of most countries, including India… It would be a great tragedy if the full environmental benefits of the renewable revolution arrived just a few years too late to safeguard the world's great rivers and all the diverse benefits they provide to people and nature."  https://energy.economictimes.indiatimes.com/energy-speak/powering-the-world-and-saving-rivers-with-low-carbon-low-cost-and-low-conflict-energy-grids/3592     (27 May 2019)
US FLOODS Historic flooding breaches levees and threatens communities Besides Arkansas, other states along the Mississippi River are experiencing their own threats from the rising water levels. In fact, 80 flood gauges running through 10 states — from North Dakota to Louisiana — are indicating major flooding, the highest category.
In Missouri, a levee failure along the Mississippi caused a mandatory evacuation in the West Quincy area, the Marion County Sheriff's Office said. The Mississippi in St. Louis is expected to crest June 4, 2019 around 46 feet — the second-highest level on record behind the 1993 floods. It would also be the second Top 7 crest of all time this year — with the previous being 41.7 feet on May 6. Portions of northern Oklahoma through central Kansas have seen 15 to 20 inches of rain this May, which is 300% to 400% of the normal amount.
– The Army Corps of Engineers' New Orleans district announced it plans to open the Morganza Floodway on June 6 — later than expected. The floodway is designed for emergency flooding, and when operated, it diverts excess floodwater from the Mississippi to the Atchafalaya Basin, according to the Corps. The Mississippi is expected to reach 60 feet at the spillway on June 9, instead of an earlier forecast of June 5. The operation of the floodway can cause damage to properties surrounding it, the Corps said. It was only operated twice before: in 1973 and in 2011. https://edition.cnn.com/2019/05/31/us/arkansas-levees-flooding-friday-wxc/index.html  (31 May 2019)
There's never been a wetter 12 months (May 1 2018 to Apr 30 2019) than the period that recently ended, reported the National Weather Service, which has been keeping such records for 124 years. The US continent averaged 6 inches of precipitation above average during the one-year period, with 36.2 inches tallied. That blew away the previous record, set in 2015 and 2016, by almost half an inch. https://edition.cnn.com/2019/05/30/us/wettest-12-months-continental-us-wxc-trnd/index.html  (30 May 2019)
Additional rainfall has the potential to exacerbate the situation, especially at Lake Oahe where the water level was 1,618.41 feet Friday with a projected level of 1,619.3 feet by Tuesday. Spillway level at Lake Oahe is 1,620 feet. Lake Oahe's exclusive flood control zone of 1,617 to 1,620 feet is nearly 90% full.
– The water level of Sakakawea (Garrison Dam) was 1,847.61 feet Friday (May 31) morning and, according to the latest available projections, was expected to climb to 1,850.8 feet by June 20 with inflow still exceeding outflow. Lake Sakakawea's flood control zone begins at 1,837.5. What is considered the exclusive flood control zone for Lake Sakakawea is 1,850 to 1,854 feet, or spillway level.
– Total flood storage remaining in all six Missouri River reservoirs was listed at 33% by the Corps Friday with 10.9 million acre feet of 16.3 maf of designated flood control storage filled. https://www.jamestownsun.com/news/science-and-nature/4620544-lake-sakakawea-rising-holding-back-water-corps-engineers-aims  (31 May 2019)
US FLOODS-2 Army Crops under fire from flood victim amid storm surge  The Army Corps of Engineers has been struggling on two fronts — taming America's rain-swollen rivers, and taming the fallout from mass water releases and breached levees. On May 31, surging floodwaters breached levees on three major rivers in two states, flooding the town of Dardanelle, Ark., where 160 homes had to be evacuated.
– Mike Abate, the chief of civil works in the Corps's Tulsa District, was asked why had the Corps not emptied the reservoir months ago, before the deluge hit?
– Reservoirs in Kansas, Nebraska and Oklahoma are filled to capacity, with the Corps recently forced to start releasing water in several states. Water had been flowing out of Keystone Dam here in Oklahoma at more than double the rate at Niagara Falls. The Corps next week was scheduled to take the rare step of opening a flood-control structure near Morganza, La., to divert the Mississippi River, inundating 25,000 acres of rural Louisiana in the hope of preventing even worse flooding in Baton Rouge and New Orleans.
– Homeowners in flooded Oklahoma communities say the agency should have released water from behind Keystone Dam earlier in the year, creating room for the runoff and rain that could be expected during the spring. Corps officials say it is not that simple: They need to wait until actual rainfall occurs, because a precautionary release could be disastrous if heavy rain occurred downstream at the same time.
– "We make tough choices that can allow some flooding to avoid a catastrophic, uncontrollable release of water that would threaten massive property damage and loss of life," the agency said in a statement. "Although Keystone also provides water supply, hydroelectric power, navigation and fish and wildlife habitat, flood-risk mitigation is its primary purpose."
– The issue of whether the Corps is sufficiently prioritizing flood control was front and center last year when a federal judge in Washington handed the agency one of its most significant courtroom defeats in years, in a lawsuit brought by hundreds of farmers, landowners and businesses along the Missouri River in Iowa, Missouri and other Midwest states. The case is now in its second phase as Judge Nancy B. Firestone of the United States Court of Federal Claims determines how much compensation to award flood victims on the Missouri River. Lawyers for the farmers said the federal government could be facing a flood damages payout of more than $340 million. "They're not proactive — they're reactive," R. Dan Boulware, the lead lawyer for the farmers and other plaintiffs, said of the Army Corps. "There's no question that there's extraordinary weather, extraordinary rain this year. But to simply say that all the flooding that's taking place is solely attributable to weather is an exaggeration. The lower river is like a sluggish drain in your bathroom: It just doesn't drain as fast and it doesn't have the carrying capacity. That's all man-made."
– The opening of the Morganza Spillway in Louisiana has spread worry throughout the region, not only among farmers concerned about damaged crops, but also wildlife advocates. It was supposed to happen Sunday, but was pushed back to Thursday. The last time the Corps opened the spillway's floodgates, in 2011, an epic flood inundated nearly 100,000 acres of agricultural land, forced a cattle evacuation.  https://www.nytimes.com/2019/05/31/us/army-corps-engineers-midwest-floods.html  (31 May 2019)
Levees break, upstream releases continue for waterlogged Missouri  Releases of water into the Missouri River from Gavins Point Dam in South Dakota remain at 75,000 cubic feet per second (cfs), more than double the 30,000 cfs that is normal for this time of year. Reservoirs upstream from Gavins Point are approaching their limits on the amount of water they can hold back.
– Levees in central Missouri are overtopping and breaching, causing mandatory and voluntary evacuations, releases from area dams, and rising river levels throughout the region. In all, 34 levee systems in Missouri have overtopped or breached in the past few days, according to the corps.
– In Chariton County, residents of Brunswick are under a voluntary evacuation order as levees there fail rapidly. "I can't think of any that haven't failed," said Mayor Cindy Collier. Collier places much of the blame for the widespread flooding in Missouri squarely on the management of the Upper Missouri River Basin and the releases from Gavins Point Dam. Federally-administered levees there began overtopping and breaching early May 31 afternoon, according to John Remus of the U.S. Army Corps of Engineers. Collier said many of the levees in Chariton County are private levees and are also overtopping and breaching. https://krcgtv.com/news/local/levees-break-upstream-releases-continue-for-waterlogged-missouri        (1 June 2019)
US Use of treated waste water growing in California Wastewater agencies produce highly treated water that is increasingly being reused as a water supply. While it's still only a small portion of overall water use, the use of recycled water has nearly tripled since the 1980s―and is continuing to rise.
– Expanding use of recycled water may reduce flows of treated wastewater in rivers, streams, and estuaries. Treated wastewater is an important water source for some ecosystems and downstream water users. Managing recycled water so that it avoids harm to ecosystems and downstream users will require additional collaboration and thoughtful planning. https://www.ppic.org/blog/californias-growing-demand-for-recycled-water-has-ripple-effects/  (28 May 2019)
Egypt Researchers examine the age of groundwater in Egyptian aquifers Groundwater in Egypt's aquifers may be as much as 200,000 years old, and that's important to know as officials in that country seek to increasing the use of groundwater, especially in the Eastern Desert, to mitigate growing water stress and allow for agricultural projects.
Most of the water used by people in Egypt comes from the Nile River, which originates from precipitation over mountainous areas in the Ethiopian highlands. In areas far from the Nile River Valley, however, where water is scarce and the population is growing, groundwater is the only available freshwater resource. https://www.sciencedaily.com/releases/2019/05/190523111410.htm  (23 April 2019)
Brazil Dam Disaster A Vale Employee Predicted the Dam Would Fail. He Died When It Collapsed Mr. Coelho was having lunch at the mine's busy canteen when the dam collapsed on Friday, Jan. 25. He enjoyed the camaraderie at the mine and often regaled co-workers with stories about his granddaughters. He likely didn't see the mud as it rushed down the valley at 50 miles an hour. It took firefighters nine days to recover his corpse from the putrid, dark orange mud.
Several of the mine's workers warned their bosses the dam was about to collapse, an investigation by The Wall Street Journal has found. The disaster killed 270 people, mostly Vale employees or contractors. Mr. Coelho was among them. https://www.wsj.com/articles/he-was-ignored-workers-at-brazils-vale-predicted-dams-tragic-collapse-11559228132  (30 May 2019) 
Compiled by SANDRP (ht.sandrp@gmail.com)
Also see: DRP News Bulletin 27 May 2019 & DRP News Bulletin 20 May 2019
Follow us on: www.facebook.com/sandrp.in; https://twitter.com/Indian_Rivers