Uttrakhand is a disaster prone State. Earthquakes, Forest Fires, Flash Floods and Landslides keep occurring here round the year. The cloud burst events have also made entry to the disaster list. During past many years, local people have gradually become familiar with the term CLOUD BURST. The freak weather incident seems striking the state in increased number and frequency year after year.
Midway through the 2018 monsoon, there have already been about a dozen cloud burst events across the state. 
May 2, 2018, Chamoli
On May 2, the first incident of cloud burst was reported from Mona Chida area of Narayan Bagar block in Chamoli district. There was no information of any human casualty. But in the Jeet Singh market area, several vehicles were seen trapped in the debris and mud flushed down through Talla Gadera (seasonal stream) on Karnprayag-Gwaldam Highway blocking the road for about half an hour.  
The locally made videos viral on social media also showed water streams gushing out from human habitation lined along road at the base of hillock. The debris and deluge also reportedly entered in few shops and damaged few houses. Incidentally the same day, there was huge dust storm in plains of north India.   
June 1, 2018, Tehri, Pouri, Uttarkashi, Nainital, Pithoragarh
On June, 1 a series of cloud burst events unfolded at multiple locations of five districts in Himalayan state leaving a trail of disaster. In Bhilangna area of Tehri distict many fields and a Ghrat (water mill) along Nalas (seasonal stream) were swept away by flash floods following a cloud burst around noon. The incident also left water supply lines and access ways to many villages disrupted. The Badrinath highway was also closed for 8 hours due to landslide. 
In Paithani area of Thailisain block in Pouri, two cowsheds were damaged after a cloud burst hit the region early in evening killing four cattle. On same day, a similar cloud burst incident was reported from Uttarkashi district in which a couple with 8 years old girl child fell in a flooding stream while crossing it. The couple was somehow rescued but the girl died in the accident. 
Then there was another cloud burst in Betalghat area of Nainital district causing significant damage in Katmi Gjar village. The cloud burst caused flooding in Muskeet Gadera which in turn dumped rubble and muck inside homes and over fields of the village. Flooded with torrential rain, the Mandakani river (this Mandakani is in Kosi river basin, it seems) swept away a bridge in the area. The road connecting to Ramnagar was closed following a land slide.
The heavy down pour in Jauljibi area of Pithoragarh resulted in heavy floods in Gori Ganga causing damage to many houses and shops.
July 2, 2018, Pithoragarh, other locations
Seraghat Hydro Power Project was significantly damaged by the incident in Balati area of Munsiari in Pithoragarh district on July 2 morning however, there was no information of human toll.
Here is a video showing impact of cloudburst. Rishikesh-Gangotri route on NH-94 was closed following landslides occurring near Kunjapuri Devi Temple, Rishikesh since July 1. 
Continuous heavy rains also caused landslide in Mussoorie city on same day burying a tourist car under debris in Kempty fall area.
There were more landslide incidents on the same day in Chamoli and Dehradun.
July 11, 2018; Dehradun
A cloud burst incident occurred in FRI area of Dehradun around 05:30 am. This led to flood in a Nallah invading two houses in Seemadwar area. The houses collapsed killing 4 people. Two others were injured in the same incident.
Three other people were drowned in floods of Rispana and Sheetla river in Charba, Balbir Road and Bhagat Singh Colony areas. As per police official, excess water in the drain damaged the embankment of these rivers leading to the incident. According to meteorological department, parts of the state capital received 87 mm rains within one hour.
July 16, 2018; Chamoli
The most fatal cloud burst incident of the season so far took place in Tharali and Ghat areas of Chamoli district. The cloud burst stuck the Kunda Sera and Mokhmalla villages of Ghat damaging about 15 houses with muck and rubble.
The incident also damaged houses in Dhadharbagad village under Tharali Tehsil. As per villages there was sudden flash flood in Pranmati river around midnight sweeping away about a dozen shops, around 10 vehicles. 3 ropeway bridges and 1 motor bridge were also washed away by the incident. As per reports, many small hydro power projects of Uttarakhand Renewable Energy Development Agency were also damaged.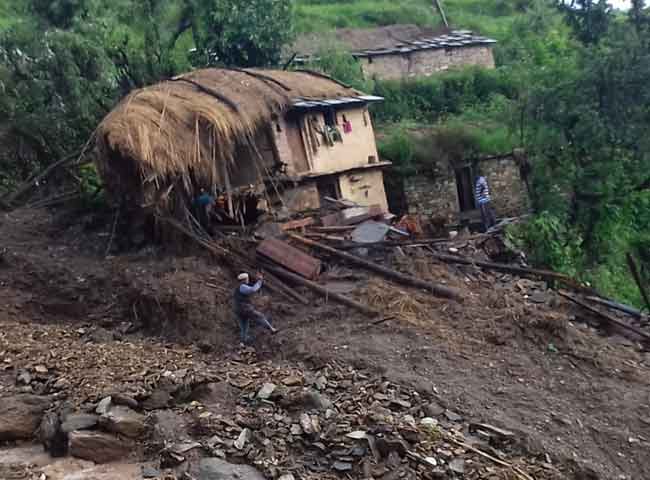 Heavy rains also caused landslides in Dhurma-Kundi village in Ghat area where muck and rubble swept away five cowsheds and as many houses. Here is a photo and a video report showing the destruction. There was a lightening event around Bisudi Tali some 22 km away from Biruva village of Ukhimath killing about 250 goats and injuring 2 shepherds.
July 17, 2018; Uttarkashi
A cloud burst event devastated the Yamnotri shrine in Uttrakashi district around 2:30 am on July 17.  The foot bridge connecting to the shrine was washed away. Half of the Kali Kamli Dharamshala was also damaged. The hot water bath Kunds were filled with debris. As per reports the pilgrims had narrow escape and had to run for their lives. About 50 meter of walking track was also washed away. The swollen river engulfed about five shops on the bank of Yamuna river at Janaki Chatti.
As per local sources, the cloud burst occurred at the Saptrishi Kund the origin point of Yamuna river. The VIP hall, two guest room and two stores were also blown away in the deluge.
There was huge landslide at Dabarkot area few km downstream Janaki Chatti. The District Magistrate and Sub-District Magistrate were reportedly injured while returning from the inspection of the shrine. There have been at least three earlier cloud burst incidents  (2004, 2007, 2013) at Saptrishi Kund in last 14 years. As per reports, the Trivani lake (GOLF) was burst in 2004 and 2007 following cloud bursts and caused significant damage in downstream areas.
There was one more cloud burst incident in the Mori tehsil of the district around same time. The flash flood in Alniya Nulla caused huge damage in Bari village where 2 rope way bridges, 7 Ghrats were washed away. The incident also dumped debris and rubbles on several fields along the stream. As per officials, the incident has made four villages in the area landslide prone.
July 19, 2018; Chamoli
In the latest incident of cloud burst and the third one in the Chamoli district so far, two people died and five others are feared trapped after a cloudburst in Malari village of Niti Ghati in Joshimath tehsil late on July 19 night.  
The seven people are reportedly labourers working with the Border Roads Organisation. They were sleeping by the hillside when a portion of the hill collapsed during the downpour.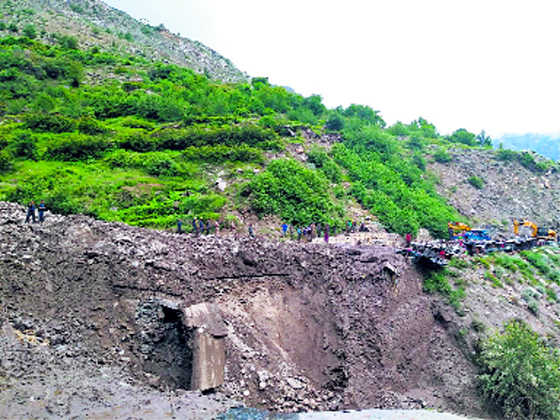 The seasonal streams are in spate following the incident. The flash floods in Tamak Nullah has disconnected about a dozen villages from rest of district. Around 30 Nali farmland of Tamak village is washed away. There is fear of landslides in several villages.
The debris were dumped along 200 meter road length of Joshimath-Mallari highway. Reports also say that about 150 meter long highway stretch is washed away obstructing Army access to China border.
Summary table of Cloud Burst incidents in 2018 monsoon season so far.
SN
Date
Place
Human Toll
Damages

1

2 May

Naryanbagar, Chamoli

No reports

Several vehicles damaged, debris rubble entered in several homes, shops

2

1 June

Tehri, Pouri, Uttarkashi, Nainital, Pithoragarh

1 girl died in Barkot Uttarkashi 

Farmlands damaged, a Ghrat, access way to villages washed away, water supply disrupted in Bhilangna, Tehri

Houses damaged in Betalghat, Nainital                                          

2 cowsheds damaged, 4 cattle died in Thailisain, Pouri

Farmlands washed away in Munsiari

3

2 July

Munsiari, Pithoragarh

No reports

Sheraghat Hydro Power Project damaged

4

11 July

Seemadwar, Dehradun

7 people died,              2 Injured

2 houses collapsed

5

16 July

Tharali, Ghat, Chamoli

No reports

15 houses, 10 vehicles damaged

2 ropeways, 1 Road bridge washed away, 2 cattle died

Several mini hydro projects affected

6

17 July

Yamnotri, Uttarkashi

No reports               DM,   SDM injured

1 ropeway bridge, 5 shops, 50 meter walking track washed away, Yamnotri shrine damaged hugely

Several fields damaged, 2 ropeways, 7 Ghrats washed away in Mori Tehsil

7

19 July

Joshimath Chamoli

2 people died

5 people trapped in debris, Several farmlands damaged, many villages disconnected from district,

150 meter Joshimath highway washed away

Total

10 people have died so far

At least two incidents of hydropower projects getting damaged.
Uttarakhand Rainfall Till July 20, 2018, Uttarakhand has received 374.3 mm rainfall since June 1, as per IMD's daily rainfall figures, the rainfall is in fact 13% below normal. The Highest Rainfall of 608.8 mm (5% below normal) among all districts of the state has been received by Pithoragarh, the lowest rainfall of 135 mm has been received by Almora, which is 57% below normal. However, highest deficit rainfall has been received by Pauri Garhwal district with rainfall of 136.4 mm, a deficit of 66%. The Highest surplus rainfall has been received in Bageshwar district, with rainfall being 73% above normal, Chamoli has received 466.5 mm, which is 65% above normal.
Events of high rainfall During the monsoon season so far, some of the events of high rainfall, as reported by IMD's daily district rainfall figures are given below. We can see that some of these events happened on the cloudburst/ landslide days mentioned above, but not on all such high rainfall events, have such cloudburst/ landslide/ flood disaster  been reported.
District

Rainfall, mm

Date

Rudrapayag

69.6

77.7

46.2

27.5

0606

2906

1607

1707

Bageshwar

83.3

116.7

56.7

0907

1007

1307

Uttarakashi

61.5

40.9

26.6

0606

1607

1707

Chamoli

52.4

39.1

37.9

1307

1707

1807

Pithoragarh

65.8

47.6

0207

0307

Dehradun

51.9

48

1107

1207

Champawat

75

0207

Nainital

65.8

0207

Haridwar

53.4

0307
Figures in bold in above tables are the dates on which there has been reports of cloudburst/ landslide/ flash floods. It may be noted that in many cases since structures and buildings are constructed encroaching on riverbeds/ floodplains, these are in any case invitations to disaster and in spite of repeated orders from judiciary, no necessary action has followed from the government.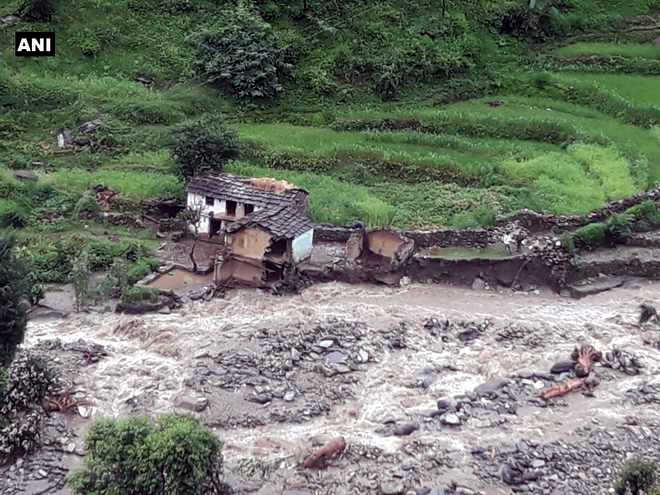 Houses damaged in cloud burst event on July 16 in Chamoli (Image source: ANI)
Complied by Bhim Singh Rawat, SANDRP (bhim.sandrp@gmail.com)