(Feature image from Hindu file photo of a kalyani filled with weeds in the vicinity of Devanahalli Fort near Bengaluru.) 
Even as the Union government is AGAIN busy changing the name plate of Ministry of Water Resources, some real water solutions emerge from Bihar, Karnataka and Punjab.
Punjab Many takers for 'Phagwara technique' of paddy direct seeding Some farmers had experimented last year with a direct seeding technique of paddy, developed by a Phagwara-based farmer, which reduces water requirement by 90%. Seeing the results — low water usage and high yield — many more farmers have signed up for the same this year. As they require much less water for the first two to three weeks, these farmers have also managed to sow paddy much before the schedule fixed by the Punjab government.
Avtar Singh, a post-graduate in applied chemistry, but who chose to become a farmer, had developed the technique. According to Avtar, the "paddy puddle", the reason why the crop consume a lot of water, is required to create anaerobic conditions. But with the technique developed by him, he said the anaerobic sowing of rice (ASR) is achieved by planking the soil repeatedly and heavily before and after using the drill machine for seeding. "Already 300 farmers have adapted the technique and they are happy with results," he told TOI on June 9.
Avtar and a few hundred farmers of Punjab, Haryana and UP are already experimenting to reduce input costs while keeping the yields high by bringing in symbiotic diversification where crops compliment each other and now several are going ahead with the 'Phagwara technique' of direct seeding of paddy.
Explaining the consumption of water required under 'Phagwara technique' of direct seeding and conventional method of puddle on the basis of practical observations in fields, former agriculture department deputy director Dr C R Vashisht said that on an average they use 43,000 litres of water on one acre with the technique while conventional puddle consumed around 5.76 lakh litre water per acre. "Saving is even more than 90%," he said.
Explaining the direct seeding technique creating anaerobic conditions without creating puddles in fields, Avtar said that a field should be levelled using laser leveller. "Pre-irrigation is done three days before date of sowing. When tractor can move in fields then planking with suhaga (solid wooden plank) with extra weight on it should be done six times. Idea is to push air out of moist soil using pressure. Then with zero drill machine 8kg paddy seeds per acre should be sown and immediately after that planking should be done twice with extra load. First irrigation is required after 21 days and then second after 10 days. Usually, by this time it already starts raining and we don't need to use subsoil water," he said.
Studies say direct seeding of pre-germinated rice has resulted in reduced methane emissions due to a shorter flooding period and decreased soil disturbance compared to transplanting rice seedlings. In Asia, transplanting is the most common method for rice production, whereas direct seeding is common in Australia and the United States. In traditional rice cultivation, rice is sprouted in a nursery; sprouted seedlings are then transplanted into standing water. With direct seeding, rice seed is sown and sprouted directly into the field, eliminating the laborious process of planting seedlings by hand and greatly reducing the crop's water requirements.  https://timesofindia.indiatimes.com/city/chandigarh/many-takers-for-phagwara-technique-of-paddy-direct-seeding/articleshow/69717917.cms  (10 June 2019)
Punjab finds a source of water: rejuvenated village ponds Farming had been a difficult proposition for Kans Ram. A resident of Nasirewal village in Sultanpur Lodhi sub-division of Kapurthala district, Ram is a marginal farmer owning 2.5-acre land. He doesn't own a tube well – the boon and the bane of the farming community in Punjab.
Till last year, he had been dependent on the other farmers for water to irrigate his fields. The water, however, came at a cost and with a precondition that he won't sow a crop that requires too much water.
"I was not able to sow the crop of my choice because water was not available to me. Those who used to provide me water used to put a condition that I'll sow only that crop, which needs less water," says Ram who used to pay Rs 3,000 to Rs 4000 for irrigating his fields every crop season.
A pilot project launched by the state soil conservation department, however, has been changed all that. Ram can now grow any crop of his choice on his land and never worry about the availability of water. A 2-km underground pipeline network now supplies water to his farm free of cost from the rejuvenated village pond. Sandeep Singh, a former sarpanch of Manak Dheri village in Hoshiarpur district, too now irrigates his three acre farm with water from the village pond.
"The water is good and we don't need to put too much fertilizer to improve the crop quality," says Sandeep Singh. The underground pipeline network in his village stretches over 3.5km.
Saranjit and Sarwan Ram, both marginal farmers with around two acres of land at Nasirewal village, have a similar story to tell. So does Surinder Singh, a small farmer from Jalandhar's Rurka Kalan village, who now doesn't have to plead before other fellow farmers to let him use their tubewell.
These farmers are among hundreds across Punjab who are beneficiaries of the pilot project through which the soil conservation department has rejuvenated 54 village ponds in the over-exploited blocks of eight districts in state. These ponds now irrigate 1,139 hectares (2813 acres).
In Punjab, 83 per cent of total land is cultivable and there is huge demand of water, which if not checked, may turn the state into a desert in the next 25 years. With 80 per cent of the agricultural blocks in Punjab coming under overexploited category, the state has been looking at alternate sources of irrigation. The pilot project is a step towards achieving that, especially for the small farmers and those who don't have their own tube wells. There are over 13,000 villages in the state with around 15,000 ponds and other water bodies.
The waste water from the village households flow into these ponds. With piped drinking water supply system making its way to the village households, the water flowing into these ponds has increased considerably over the years.
"Under the project, the ponds were renovated and rejuvenated to increase the water holding capacity and to ensure that water quality was fit for use in agriculture. Underground pipelines were laid from these ponds to take the water to agricultural fields.
Solar Photovoltaic (SPV) Pump sets were installed for pumping the water through the pipelines," said Map Officer, office of chief conservator of soils, Punjab, Gurvinder Singh Dhillon. The stagnant water in these ponds had often led to various health hazards in the villages besides numerous other environmental, economic and social impacts, he added.
"For instance an area with a population of 500,000 and a water consumption of 120 litres per day per person produces about 48,000 m3/day of waste water (assuming 80 per cent of the water used reaches the public sewerage system). If this waste water were to be used in carefully controlled irrigation at a rate of 5000 m3 per hectare per year, it could irrigate some 3500 hectares".
"If all the water bodies or ponds in the state are utilized in agriculture, it will not only help in checking ground water exploitation but will also provide farmer an assured irrigation water source besides avoiding drought incidences in agriculture as household water flows into ponds regularly irrespective of climatic variability's," he said.
"Besides it also helps in recharging of ground water. The projects are self sustainable with no operational costs," said Naresh Gupta Gupta, Divisional Soil Conservation Officer, Hoshiarur.
Sub-divisional soil conservation officer, Jalandhar, Lupinder Kumar, said that in Ruruka Kalan, 2.4 lakh litres of pond water is lifted through solar pump and supplied in 2 km long area through underground pipeline system.
In Nasirewal and Rurka Kalan villages, the ponds are providing water to 60 farmers to irrigate over 100 acres of land. The project was launched under Pradhan Mantri Krishi Sichayee Yojana (PMKSY) in Jalandhar, Hoshiarpur, Ludhiana, Patiala, Kapurthala, SAS Nagar, Faridkot and Gurdaspur districts of Punjab. 1580 hectare area is to be brought under these 54 ponds. https://indianexpress.com/article/india/parched-punjab-finds-a-source-of-water-rejuvenated-village-ponds-5770045/  (7 June 2019)
Karnataka Reviving traditional harvesting systems can unlock 6,000 crore litres of water In an era of borewells and large engineering projects involving water diversions and hundreds of kilometres of pipelines, traditional water systems that were once the backbone of village economies have been left to dry out.
Nearly three-quarters of the over 13,000 traditional water systems have either dried up or been encroached upon, according to a survey by the Karnataka State Council for Science and Technology (KSCST). For more than two years, a team of over 60 field assistants physically analysed the conditions of kalyanis (temple tanks), kuntes (tanks of less than 2 hectare size), and gokattes and kattes across 30 districts.
"We found that 10% to 15% were encroached upon, while at least another 10% stored sewage water from nearby houses, industries and even discharge from RO water purifying plants. Lack of maintenance was the single biggest reason for the disuse of kalyanis. Over 90% of dried tanks were found to be choked with weeds and silt," said U.T. Vijay, project investigator and scientist at KSCST.
The project is expected to be completed by June and all traditional water systems will be Geographic Information System-tagged and uploaded. As of now, 25 district administrations have been given detailed catalogues of these systems and ways to revive them. In Budnahatti village, for instance, the cost of reviving kattes is just ₹3.5 lakh, according to the report for Chitradurga district.
For the drought-prone Malur taluk in Kolar, the cost of ensuring storage of 36.6 crore litres of water is just ₹2.35 crore — or, half of annual expenditure of the MLA's Local Area Development Fund. For the parched Bengaluru Rural district, 126.5 crore litres of rainwater can be stored in 351 traditional rainwater harvesting structures at a cost of ₹12.58 crore.
For the entire State, the estimated cost to unlock over 6,000 crore litres, or 2.11 tmcft, of water is ₹300 crore. "It doesn't take much effort or time to revive these water harvesting systems. What is also key is to provide for their maintenance. Each village has barely one or two of these systems, and local panchayats and local groups should be encouraged to remove silt and weeds periodically," Mr. Vijay said.
The reports also highlight the ecological aspects of these systems: providing space for plantation of trees and shrubs for birds, the need to strengthen tank bunds, and distributing fishlings that provide income and ensure purity of small waterbodies. https://www.thehindu.com/news/national/karnataka/reviving-traditional-water-harvesting-systems-can-unlock-6000-crore-litres-of-water/article27699648.ece  (9 June 2019)
Bihar Pond revival, cap on groundwater use to tackle water crisis A meeting on June 4, held under the chairmanship of the Bihar chief secretary and attended by the principal secretary and secretary-level officers of various departments — public health engineering, panchayati raj, urban development and housing, and minor irrigation — agreed to adopt a three-pronged strategy to revive the dying water sources.
First and foremost, the state government will come out with a regulation to put a cap on the use of groundwater after a certain limit. "The regulation is in final stages," said an official. The meeting also decided to revive and rejuvenate ponds. Even according to official records, 12,027 water bodies (including ponds) out of 199,000 have been encroached upon. This was revealed in May 2018, after the Patna High Court pulled up the state government in this regard.
Though the impact is not immediately visible, scientists say that the indiscriminate exploitation of groundwater from deeper aquifers, once water becomes scarce in the upper aquifer, could create a grim situation in the future. https://www.hindustantimes.com/patna/pond-revival-cap-on-groundwater-use-to-tackle-bihar-s-water-crisis/story-ZbtxzB2DCNVOwOJlahNaMO.html  (30 May 2019)
MORE FARMER SOLUTIONS: In recent years things have begun to change. In Ozar, 20 km from Nashik, the Shri Sant Savta Shetkari Gut (SSSSG), which is a farmer producer organisation (FPO), has found a way out of this quagmire. It spots a glut in the market and signals farmers to divert their crops into processing. The vegetables are dehydrated with solar dryers and then packed and sold to markets beyond Nashik where they fetch a better price. The farmers have even coined slogans to promote their products, like 'Smart kitchen ki smart bhaji' and 'Avoid non-veg, try dry veg'. https://www.civilsocietyonline.com/business/solar-dryers-giver-farmers-market-clout/
Just Organik was launched in 2013, by Pankaj Agarwal and his wife, Richa in Uttarakhand, procuring produce from small farmers. At that time organic products were still seen as expensive boutique products. A robust market had yet to develop. But the couple was clear from the start that they needed a "triple bottom line" on the balance sheet of their enterprise, Treta Agro Pvt Ltd, that owns the brand. The Just Organik brand of organic foods includes pulses, millets, cereals, spices, sweeteners, oils and tea. https://www.civilsocietyonline.com/business/just-organik-goes-to-small-farmers-in-uttarakhand/
This April, for the first time, the Kunbi tribal community in Joida (Uttar Kanada district in Karnataka) will harvest their crop of pickling mangoes without a trace of nervousness. They now have a cold storage right in their village where they can keep their mangoes before taking the fruit on a long journey to the nearest market. The mangoes, a local wild variety called appe midi, have to be harvested at a tender stage else they lose their value.  https://www.civilsocietyonline.com/business/cold-storages-for-villages-a-mini-answer-from-coolcrop/
When Chaitanya Malik graduated from the Goa College of Engineering with a specialisation in computers, he mapped out a surprising future for himself. Instead of computers he decided he was going back to his ancestral village, 32 km from Panaji, to practise organic farming. Five years later, he has a four-acre farm where he grows cluster beans and lady's finger or bhindi. He also has a dairy, which sells 100 litres of desi or superior A2 milk a day. The farm and the dairy make a profitable enterprise. https://www.civilsocietyonline.com/agriculture/goan-dream-comes-true-with-gir-cows/
HYDRO POWER PROJECTS 
MATU PR NGT sought report on threat from Srinagar HEP power channel NGT has asked the Uttarakhand Government for a report on the leakage in the power channel and the resulting problems. The tribunal has sought this report on a petition filed by Uttam Singh Bhandari and Vimal Bhai.
In the petition, it is stated that the power channel (open canal) of the Srinagar Hydro-electric project, which is on the bank of river Alaknanda in Uttarakhand, is 4 kilometers long. This channel takes Alaknanda's water to the powerhouse to generate electricity. In 2015, there was a serious breach in the canal, and this resulted in damage to crops and houses in Mangsu, Surasu and Naur Thaapli villages in Tehri Garhwal district.
After this, an inquiry was done by the Wadia Institute in Dehradun, which submitted its report on 30th December 2015. The report recommended re-strengthening of the power channel and an investigation into the structural design. However, due to lack of requisite action, there was another breach in December 2018.
The order has been sent to the three agencies via email so that they can immediately follow it. In addition, the applicants have been asked to furnish a copy of the petition to the three agencies. We have delivered the papers ourselves to all three places. http://matuganga.blogspot.com/2019/06/7-2019.html  (7 June 2019)
DAMS
Tamil Nadu Mettur dam unlikely to be opened on June 12 The prospects of a 'kuruvai' paddy crop appear bleak in the Cauvery delta this year too, as the Stanley reservoir in Mettur is unlikely to be opened for irrigation on the customary date of June 12. 2019 would be the eighth consecutive year that the short-term crop has been affected in the State due to insufficient water in the dam. The last time the waters flowed for 'kuruvai' cultivation was in 2011, when the dam was opened ahead of schedule on June 6, recalled farmers.
"The monsoon has not set in yet and the inflow [into Mettur] is not good. We can wait till end of June or first week of July and if the level crosses 60 feet we can take a chance with kuruvai. If not, the best thing will be to go for a good samba crop," said Mannargudi S. Ranganathan, general secretary, Cauvery Delta Farmers Welfare Association.
Usually, kuruvai paddy is raised on an estimated 1.4 lakh hectares in the delta districts of Thanjavur, Tiruvarur, Nagapattinam and a few parts of Tiruchi and Cuddalore districts. This apart, farmers in filter point areas raise the crop using borewells and over the past few years, the State government has been implementing special 'kuruvai' packages to aid such cultivation. A similar package is expected to be implemented this year too.
But with canal irrigated farmers keeping their fingers crossed, Mahadhanapuram V.Rajaram, working president, Cauvery Delta Farmers Welfare Association, demanded that the State government come out with a clear announcement on whether the dam would be opened for 'kuruvai' crop this year or not. Several other farmers' organisations have called upon the State government to mount pressure on Karnataka to release water as per the final award of the Cauvery Water Disputes Tribunal and the Supreme Court verdict. https://www.thehindu.com/news/national/tamil-nadu/mettur-dam-unlikely-to-be-opened-on-june-12/article27257155.ece  (27 May 2019)
The districts of Tanjore, Trichy, Thiruvarur and Nagapattinam, which span 1,400,000 acres of the delta region of the Cauvery, account for 47% of river and canal irrigation. These are also home to the paddy cultivators of Tamil Nadu.
– The eight Cauvery delta region districts make up for 45.4% of the state's paddy production, with Thiruvarur and Tanjore contributing the highest – 10.7% and 9.9%, respectively – making them the chief rice suppliers to the state granaries and responsible for food security.
– But cultivation is drastically hit as the delta regions suffer from an inadequate flow of water from the Mettur dam, which is the only source for paddy. The inactive South West monsoon broke the agricultural calendar, and ruined the plantations of 90-day crops, say experts.
– With a shortage of surface water, farmers in Thanjavur are skipping the Kuruvai crop. Groundwater level depletion is a problem as bore-wells go up to or above 500 metres. The Public Works Department (PWD) says the average groundwater level in Thanjavur has declined to 3.58 metres in April 2019 from 3.1 metres last year.  https://thewire.in/agriculture/short-duration-crops-take-a-hit-as-water-crisis-strikes-tamil-nadu  (3 June 2019) 
INTERLINKING OF RIVERS
Godavari-Cauvery Link Godavari does not have surplus water  Professor S Janakarajan of the MIDS said that river-linking is not like plumbing work. "It's not about disconnecting and connecting a pipe. Since the river linking project would amount to changing geography, ecological implications would be huge for the present and more so for the future generations," he cautioned.
He also questioned the methodology used for the calculation of the supposed surplus, asking, "Surplus in the Godavari basin is reported to be 1,100 TMC ft. This raises questions: who calculated this surplus, when, where and using what methodology? Even if this surplus exists today, it may vanish tomorrow given the increasing demand for water. Surplus is not going to stay forever, it is a dynamic concept." In addition to these questions, the professor said that the lifting and pumping involved in the project would demand a lot of energy which may not be feasible to provide. https://www.thenewsminute.com/article/explainer-what-godavari-krishna-cauvery-river-linking-project-all-about-103003  (4 June 2019)
IRRIGATION
Andhra Pradesh New CM lifts curbs against CBI, orders review of contracts  Among the contracts Jagan has ordered to be reviewed are the contract to Navayuga Engineering Company Ltd to execute Polavaram Project, Megha Engineering and Infrastructures Limited for the Pattiseema Lift Irrigation project, contracts to various firms for work relating to the new capital and sand mining contracts awarded in all districts.
The YSRCP government has also cancelled several contracts signed after April 1, 2019. "The contracts were worth thousands of crores and even a cursory glance reveals a lot of irregularities. We have cancelled all those projects signed after April 1 which are yet to be grounded. The works that have already started are under scrutiny,'' senior YSRCP leader Botsa Satyanarayana said. The company is at present executing worth worth Rs 3,400 crore under the Polavaram project. It is learnt that Jagan is of the opinion that since the project is centrally-funded, it should be handed over to the Centre to be constructed under its supervision.  https://indianexpress.com/article/india/andhra-pradesh-jagan-reddy-lifts-curbs-against-cbi-orders-review-of-contracts-5763433/      (4 June 2019) 
LOCAL WATER SOURCES
Chandigarh 3 village dams to be destroyed for road project People from at least 120 countries visited Sukhomajri village in Panchkula district in the 1980s and learnt skills in community management of forest and water from villagers, something which helped in the transition of the villagers from poverty to self-reliance. Three dams were also created during that decade. But now, two of them have been destroyed for the Pinjore-Baddi 7.3-km long bypass project and water supply has been cut off for the third dam.
The ground water level also increased in the village due to construction of the dams. The village was named Sukhomajri for it being 'sukha' (dry and water deficient). Water has now started receding in the village. The farmland has also shrunk and those that are left are turning dry and barren. Only 14 hectares of the land is under farming in comparison to 51 hectares in 1999-2000. The development has not only taken a toll on the dams, but six other villages, where the same project was replicated around the same time, have also been affected. https://timesofindia.indiatimes.com/city/chandigarh/panchkula-once-famous-this-village-is-now-dying-a-slow-death/articleshow/69660034.cms  (5 June 2019)   
URBAN RIVERS
Mula-Mutha 70% of cleaning project completed: Javadekar Terming the Mula-Mutha river cleaning project as a "gift from the Centre" to Pune, Union Minister for Environment Prakash Javadekar on June 10 said about 70% of the first package of the project has been completed. Mr. Javadekar said, speaking to reporters after reviewing the progress of the ambitious ₹990-crore project for pollution abatement in the Mula-Mutha river.
He said the project had been hanging fire for a decade — from 2004 to 2014 — and it was cleared only when he took over as Environment Minister in 2014. A loan agreement was signed between the Centre and JICA in January 2016 to clean the river under the National River Conservation Plan. The government of Japan has committed to provide a soft loan of JPY 19.064 billion (around ₹990 crore) to the Centre at an interest rate of 0.3% per annum. The project cost is to be shared between the Centre and the PMC, which is the implementing agency, in the ratio of 85:15 respectively. The loan is to be repaid by the Centre over a 40-year period. The project is scheduled to be completed by January 2022.
Major components proposed under the project include the construction of 11 new sewage treatment plants, laying of 113.6 km of sewer lines for collection of untapped sewage, and renovation of four existing intermediate pumping stations. These measures are to help increase the city's sewage treatment capacity from 477 MLD to 873 MLD, enabling Pune to cater to its sewage treatment requirements till the year 2027.  https://www.thehindu.com/news/cities/mumbai/pune-will-see-clean-mula-mutha-soon-javadekar/article27707358.ece  (10 June 2019)      
RIVERS
Author advocates damming and river linking to save rivers! This author says rivers should be dammed and interlinked to save them! What can we say about such authors and publishers?  http://www.merinews.com/article/save-the-rivers-for-avoiding-a-grave-water-crisis/15935199.shtml    (2 June 2019)
Rajasthan Industrial effluents choke Jojari river Till a few years ago, one had to wait for the rainy season to enjoy watching water flow in the Jojari river, but now water can be seen throughout the year, though it stays stagnant and is coloured. The coloured water in this river testifies pollution caused by industrial effluents.
Jojari flows from the north-east to south-west, 83 km from the hills near Pondlu village in Nagaur district. Before it meets the Luni river near Khejalda Khurd in Jodhpur district, small streams join the Jojari in the upper part.
Textile and steel rerolling units operating in the Jodhpur industrial area have been releasing untreated polluted water into the Jojari river for the last several years. A CETP with 20 MLD capacity is in place for the treatment of the polluted water but the plant is not working with its full capacity. Besides industrial effluents, domestic sewage makes way to the river, adding to pollution of groundwater in surrounding areas. https://www.hindustantimes.com/jaipur/industrial-effluents-choke-jojari/story-DXtm0rH65ysFza36pUThZO.html  (9 June 2019)
KRISHNA Andhra Pradesh Water quality of Krishna River deteriorating "The water quality of Krishna River has deteriorated with the polluting parameters doubling in the last decade. The pollution levels have increased phenomenally days after when the river is the focus of activity such as pushkarams and auspicious days when thousands take holy dip in it," suggest the findings by Acharya Nagarjuna University scientists.
"The micro-crustaceans which are important feed for fish have come down drastically. As a result, the catch and the size of fish too have come down drastically, affecting the livelihoods of thousands of fishermen. "The Krishna Wildlife Sanctuary has now a small population of endangered Fishing Cats which prey on fish species. These mammals that are on the top of the food chain will perish if the fish population in the river keeps diminishing," the scientist observed. https://www.thehindu.com/news/national/andhra-pradesh/water-quality-of-krishna-river-deteriorating-says-anu-review/article27474296.ece  (5 June 2019)
NARMADA Gujarat Narmada downstream stretch now a thin stream The dry riverbed of Narmada, the largest west-flowing river of the country, has turned into a parking lot for cars carrying pilgrims who frequent Chandod in Gujarat's Vadodara district to pay homage to the dead. With little water being released from Sardar Sarovar dam built upstream, the perennial river that once had an expanse of 300 m is now reduced to a 20-feet stream.
The 150-km of the river downstream from the dam might turn dry well before 2032, a timeline by which dam authorities expect to completely halt the release of water downstream. "Yesterday, the water level was so low that one could easily walk and cross the river. They have released more water today; so there is enough for our boats to ply," said Raju Machchi, 31, who awaits his turn to ferry pilgrims. For five days till the new moon, Gujarat government had decided to release 1,500 cusecs water to counter the tide at the mouth of the river that opens in Gulf of Khambhat.
In January 2005, all states concerned got together and decided to release 600 cusecs in Narmada to maintain an "environmental flow". The Gujarat government moved a proposal to increase this flow to 1500 cusecs in 2017. "The approval is yet to come. The 1,500 cusecs currently being released is from Gujarat's quota and will be stopped after New Moon," the official stated.  https://indianexpress.com/article/india/gujarat-narmada-downstream-stretch-now-a-thin-stream-may-hit-local-livelihoods-5767418/     (6 June 2019)
– According to a study by scientists of Kolkata-based Central Inland Fisheries Research Institute, the annual production of fishes from the estuary reduced from 15,889 tonne in 2006-07 to just 1,618 tonne in 2014-15. During the same period, Hilsa catch reduced from 5,180 tonne (2006-07) to 419 tonne in 2014-15.
– Fishermen cite low river flow coupled with salinity ingress, and industrial effluents as the main reasons for the disappearing catch. The annual flow in Narmada, which was 23 MAF (million acre feet) in 1990, has reduced drastically. Currently, only 600 cusecs of water is released from the Sardar Sarovar dam. https://indianexpress.com/article/india/once-a-hilsa-trove-this-gujarat-village-now-struggles-to-find-catch/  (7 June 2019) 
People of Bharuch city have launched a campaign to save Narmada River, the lifeline of Gujarat, which is facing a slow death in its downstream stretch due to seawater ingress, untreated sewage, industrial effluents and solid waste pollution.
Men, women and children belonging to several families held a 15-minute protest at 16 places in Bharuch city on Wednesday night to wake up the state government with regard to serious condition of Narmada River. Vijay Shah, member of Maa Reva Nirmal Pravah Samiti, said, "Seawater has already caused irreparable damage to our fertile lands and the river ecosystem. We will continue to hold similar programmes in future too." https://timesofindia.indiatimes.com/city/surat/bharuch-citizens-ask-govt-to-save-narmada/articleshow/69696624.cms  (8 June 2019)
GANGA अस्तित्व : कितनी सुधरी गंगा ?  गागर में सागर को समेटता लोकसभा अस्तित्व कार्यक्रम में अभिलाष खांडेकर, अरुण तिवारी, हिमांशु ठक्कर के बीच जानकारीपूर्ण, रुचिकर वार्तालाप का सार. 
केवल एसटीपी निर्माण से साफ़ नहीं होगी गंगा। दावों के विपरीत प्रदुषण में इज़ाफ़ा। वादों के बावजूद बाँधो पर सरकार का रुख अस्पष्ट। अवैध रेत खनन रोकने में सभी सरकारें, विभाग असफल। जलमार्ग, चारधाम परियोजना का गंगा व सहायक नदियों पर बुरा असर, पर सरकार बिना अध्ययन, रायशुमारी के बढ़ा रही आगे। अविरलता, निर्मलता के साथ साथ, भूजल, वर्षा जल संरक्षण गंगा को बचाने के लिए अतिआवश्यक।
Discussion on the state of Ganga river after 5 years of Modi Govt rule on LSTV's Astitva program anchored by Shri Abhilash Khandekar and panel of Arun Tiwari and Himanshu Thakkar of SANDRP. https://www.youtube.com/watch?v=9lPIjxOCu5I&feature=youtu.be    (5 June 2019)
Centre Why PM won'talk to Sanyasis About Ganga?  "Professor Agrawal would have broken his fast if the prime minister had personally assured him," said Suresh Raikwar, a close aide of the Ganga activist and another leading member of the Ganga Sadbhavana Yatra.
…when Modi was CM of Gujarat, he had persuaded Agarwal to give up his fast as he did with Anna Hazare, asking him to withdraw his agitation demanding legislation on the Lokayukt. In retrospect, all this was done merely to create the impression that Modi was sympathetic to such causes. He had even promised both Agarwal and Hazare that if he came to power at the Centre, he would ensure environmental protection of the Ganga within a time-bound period of three months.
Modi visited both Kedarnath and Badrinath after his election campaign ended. He did not have a word to say about the environmental pitfalls of the ambitious 900-km double-lane express highway connecting the four dhams of Yamunotri, Gangotri, Badrinath and Kedarnath. The debris of this ambitious road expansion will all be dumped into the Bhagirathi, Alaknanda and Mandakini rivers. It has been well established that this project is passing through 529 landslide-prone areas. The project has gone ahead without the mandatory environmental impact assessments.
The rail link between Rishikesh and Karnprayag, and expected to be extended up to Sonaprayag and Joshimath, will see massive tree cutting and tunnelling and here again will result in massive dumping of debris in the catchment area of these rivers. It was the debris in these rivers that caused the maximum amount of damage in the Uttarakhand disaster of 2013. https://thewire.in/environment/narendra-modi-kedernath-sanyas-ganga  (20 May 2019)
Jal Shakti Ganga will be cleaned in two years: Minister New Govt, New Ministry (name changed again from MoWRRD&GR to Jalshakti), New Minister and New Deadline. The only thing seems changing is smartly shifting the goalposts now as govt unable, law unable and public responsible. Reacting to criticism over 'Namami Gange' project failing to show results, Union Jal Shakti Minister Gajendra Singh Shekhawat on June 5 said the capacity building programmes were underway and visible changes will be seen in the next two years. https://economictimes.indiatimes.com/news/politics-and-nation/ganga-will-be-cleaned-in-two-years-union-jal-shakti-minister/articleshow/69662761.cms  (6 June 2019)
Uttar Pradesh Biodiversity parks to be developed in districts along Ganga banks Biodiversity parks on the lines of Yamuna biodiversity park in New Delhi will be developed in all districts situated on the banks of the Ganga. The project aims to revive degraded eco-systems, preserve and protect wildlife and recharge water bodies and recycle treated water. The initiative is being undertaken under the Namami Gange project. In Bijnor, the park will be developed on a 10 hectare plot near Vidurkuti Ashram. Another one will be developed in Muzaffarnagar's Haidarpur wetland.    https://timesofindia.indiatimes.com/city/meerut/biodiversity-parks-to-be-developed-in-districts-along-ganga-banks/articleshow/69696446.cms      (8 June 2019)
Uttrakhand जमीनें कब्जाने के लिए सहस्रधारा की नदी राजस्व रिकार्ड से गायब सहस्रधारा में सरकारी जमीनें कब्जाने को ऊंचे दर्जे का खेल हो रहा है। वहां जमीनें कब्जाने के लिए नदी को ही राजस्व रिकार्ड से गायब कर दिया है। हैरानी की बात यह है कि सहस्रधारा में बहने वाली बाल्दी नदी चामासारी गांव के राजस्व रिकार्ड में नहीं है। जबकि उससे नीचे और ऊपर दोनों गांवों के नक्शों में ये नदी दिखाई गई है। हाल में सहस्रधारा में चल रहे सर्वे के दौरान ये चौंकाने वाला तथ्य सामने आया है।
यही नहीं, चामासारी में बाल्दी नदी होने का सबूत सर्वे आफ इंडिया के डिजीटल नक्शे में भी मौजूद है। ऐसे में राजस्व की भूमिका पर बड़ा सवाल उठा है। सूत्रों का कहना है कि सरकारी जमीनों पर अवैध कब्जे के चलते नदी के खसरा नंबर को नाम खेतों में दर्ज कर दिया गया। ताकि कब्जाई गई जमीनों को एडजेस्ट किया जा सके। इससे भी ज्यादा ताज्जुब की बात ये है कि राजस्व अभिलेखों में इतनी बड़ी गड़बड़ी की शिकायत आज तक किसी पटवारी या तहसीलदार या अन्य कर्मचारी ने डीएम या राजस्व अभिलेख अधिकारियों से क्यों नहीं की। http://www.dainikjayantnews.com/jameene-kabjane-ke-liye-sahastardhara-ke-nadi-rajasva-record-se-gayab/  (8 June 2019)
Industry Wabag gains after signing agreement under Namami Gange Shares of VA Tech Wabag gained 1.5 percent intra-day on June 6 after signing a concession agreement under the Namami Gange programme. The city-based water treatment player has signed a Rs 575-crore concession agreement under the Namami Gange programme, which integrates the efforts to clean and protect the Ganga in a comprehensive manner.
The pact was signed recently between the National Mission for Clean Ganga (NMCG), Kolkata Metropolitan Development Authority (KMDA) and senior officials from WABAG, the company said. The scope of the contract includes engineering, supply and construction of new sewage treatment plants, renovation and upgradation of existing sewage treatment plants, rehabilitation of pumping stations in Bally, Arupara and Baranagar areas of Kolkata, it said. The recent order would help WABAG cumulatively purify over 100-crore litres of sewage every day, which used to get discharged in the Ganga and its tributaries. https://www.moneycontrol.com/news/business/markets/va-tech-wabag-gains-after-signing-concession-agreement-under-namami-gange-programme-4069571.html  (6 June 2019) 
YAMUNA Delhi Yamuna taxi project According to reports, Central govt will spend Rs 28 crore for this project – this includes the cost of building terminals and that of vessels. In the first phase, the service will be provided in the upstream portion of the Wazirabad Barrage, including three other locations – Sonia Vihar, Jagatpura and Tronica City. The ferry ride will cover the 16-kilometre stretch from Sonia Vihar in Delhi's Wazirabad to Tronica City in Ghaziabad, in about 45 minutes.
IWAI chairman Prabir Pande also said, "The Principal Committee of the NGT gave a No Objection Certificate to the project. The land acquisition with the Uttar Pradesh and Delhi governments is in an advanced stage. It will take a few months, and after the acquisition, we will start the trial of the vessel." https://www.indiatimes.com/trending/environment/soon-you-ll-be-able-to-travel-from-delhi-to-uttar-pradesh-in-a-water-taxi-on-yamuna-river-368752.html  (7 June 2019)
Yamuna up close and personal  Time line on Yamuna river pollution holding unplanned urbanization among root cause for present day messy situation. While pollution load in the river is up manifold, amount of fresh flowing water has gone down drastically. The sad part is that basin states and central govt are pushing projects which are aiming at more water extraction from the river.
"In the 1990s, the population in Delhi outstripped the development. The number of unauthorised colonies spiked and with no sewage network and waste was dumped in the Yamuna," said Manu Bhatnagar, principal director, INTACH.
In 1994, the SC took cognisance of a newspaper article "Quiet Flows Maily (dirty) Yamuna" and summoned CPCB to explain. Later on, different stakeholders, including the Delhi government, DJB, civic bodies, Uttar Pradesh and Haryana government became part of the case.
Later, the government came up with three actions plans to clean the river — Yamuna Action Plan 1, 2, 3. The third plan is currently being implemented. For the first two phases, ₹1,514.7 crore was spent.
In a judgment on January 13, 2015, on a case filed by Mr. Misra, the NGT formed the 'Maily se nirmal Yamuna' Revitalization Plan, 2017, which was set to be completed by March 31, 2017. But that did not work out and the NGT in July 2018 formed the MC, headed by two retired bureaucrats, to primarily implement the 2015 judgment.  https://www.thehindu.com/news/cities/Delhi/yamuna-up-close-and-personal/article27476811.ece  (5 June 2019)
Second part of the report:- The DJB has missed deadlines of June 2019 for setting up of STP, to increase utilisation of the existing STPs to 99%, plugging of four drains which fall into the river and setting up of an Interceptor Sewer Project (ISP) to treat sewage in areas without sewer lines.
– Delhi generates 720 MGD of sewage whereas the STPs have a capacity of 617 MGD. However, of the total capacity, only 500 MGD is utilised, according to the DJB, leaving about 220 MGD of untreated sewage into the river.
The DJB had informed the monitoring committee that they would increase the sewage treatment capacity to 657 MGD by June 2019, by starting a 40 MGD plant at Coronation Pillar. However, they missed the deadline.  https://www.thehindu.com/news/cities/Delhi/sewage-chokes-yamuna-as-djb-continues-to-miss-deadlines/article27530026.ece   (6 June 2019)
Third and concluding part on Yamuna:- The NCMG had last year ordered the National Institute of Hydrology, Roorkee, to conduct a study on the minimum flow needed in the river. It set a deadline of April 30, 2019, but the study is nowhere near completion. "The study is being done in several phases; the first-phase report will be submitted in a few months," said Sharad K. Jain, NIH director.
The 2015 NGT order, which had a deadline of March 31, 2017 for cleaning the Yamuna, had also made reviving waterbodies a priority. But not much has moved on that front. The Delhi Jal Board has made a list of 159 waterbodies to be rejuvenated and is working on the project. There are hundreds of such waterbodies in the city; only one has been rejuvenated so far, but tenders have been invited for 19 others and for the creation of two artificial lakes. https://www.thehindu.com/news/cities/Delhi/ebb-in-the-yamuna-flow/article27585262.ece  (6 June 2019)
This report says that floodplain encroachment is chocking Yamuna river. Considering track record, its doubtful if any effective action will be taken. This is about Yamuna in Delhi, particularly near Jamia Nagar/ Okhla. https://timesofindia.indiatimes.com/city/delhi/construction-choking-river-epca-to-tell-sc/articleshow/69717398.cms  (10 June 2019)
Uttrakhand – Contrary to CM, Uttrakhand claims of special attention to cleanliness efforts during CharDham Yatra. Video clips from Jankichatti, Uttarkashi shows solid & liquid waste entering river Yamuna right at its origin place.
– When world environment day was being held, villagers in Vikas Nagar, Dehradun were raising voices against illegal stone crusher being run for last one year at Vyasi HEP site. In past 1 month they petitioned district administration, pollution control board and NGT but nothing happened. Ultimately they had to resort to protest. Local politician are hand in gloves. The stone crusher is violating all norms so is the muck dumping practice by developer which is ultimately reaching the river.
Its shocking people raising voices against illegal stone crusher, mining activities being punished by Uttrakhand govt and not the culprits.
Uttar Pradesh -Momnathal villagers at Hindon, Yamuna river confluence are complaining of severest pollution load in the river. Last month they raised issue with CPCB. Things went normal only get worse this time. Few days ago a baffalou died allegedly by drinking water from Hindon by mistake.
While Hindon pollution remains unaddressed NOW Yamuna is filled wth toxic effluents in Greater Noida. Many battling serious health issues due to growing industrial pollution in both ivers. Thanks CPCB for responding to villagers plea. However, they demand timely actions to restore rivers & their faith in government agencies.
Like Ganga in Patna, Yamuna river in Etawah, UP is also shifting away from traditional ghats. Increasing solid, liquid waste has disconnected villagers common cultural connection of having bathing rituals during summer like Ganga Dashara. Yamuna Action Plan has failed to make any difference.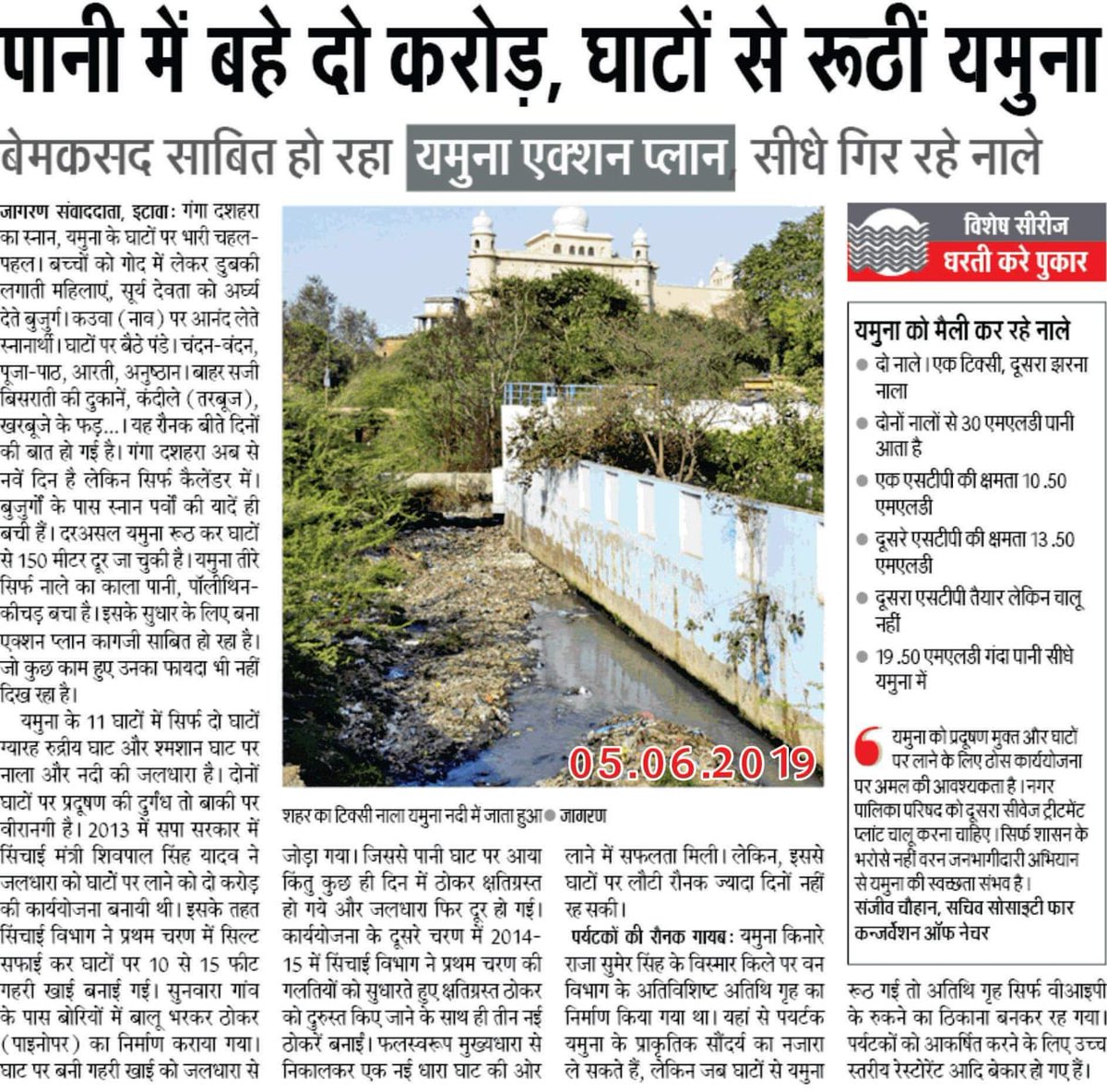 RIVERS BIODIVERSITY
Sanctuary Asia on presence of otters in Central India forest The Satpura hill-forests are home to mammals that glide across treetops – squirrels, and mammals that swim its rivers… otters. While the smooth-coated otter, found throughout south and Southeast Asia, has been well documented in Satpura, the other two species known from India – the Asian small-clawed and the Eurasian – had never been reported from central India. Moreover, there was no photographic evidence of the presence of the Eurasian otter in India until October 2016.
– "Ek choti si, alag si udbilao dikhti hai kabhi kabhi," a forest guard revealed to researchers from the Wildlife Conservation Trust (WCT), who were installing camera traps as part of the yearly tiger estimation exercise in the Satpura Tiger Reserve in December 2015. While installing camera traps, they had come across signs of otter presence along the rivers and streams – footprints and spraints (otter dung). https://www.sanctuaryasia.com/magazines/conservation/10869-otters-in-tiger-country.html   
FISH, FISHERIES, FISHERFOLKS
Telangana Inland fisheries production tops 31 tones Telangana achieved another milestone in the inland fisheries sector as the production crossed three lakh tonnes for the first time during 2018-19. It is about 37,000 tonnes more than the last fiscal's fish production. Further, the fish production is said to have already gone past 70,000 tonnes since April during 2019-20.
Officials said due to decreasing water levels in reservoirs, the fishermen were able to ensure a good catch during summer. About 3.7 lakh fishermen are getting direct employment and another 27 lakh fishermen are receiving indirect employment. The fish production has increased from an estimated 1.93 lakh tonnes in 2016-17 to 2.94 lakh tonnes in 2018-19, catapulting the State to secure a spot among top five inland fish producing States in the country. https://telanganatoday.com/inland-fisheries-production-tops-3l-tonnes-in-telangana  (8 June 2019)
Report Mighty Small Indigenous Fresh water Fish Species About 450 of the fresh water fish species have been classified as small indigenous fresh water fish species (SIFFS). Although there is a lack of clear definition, but in general SIFFS are those which grows up to a maximum length of 25 – 30 cm. Around 216 SIFFS have been recorded from North East, 196 SIFFS have been recorded in the Western Ghats and 120 have been recorded from the Central India. NBFGR has identified about 100 SIFFS not only as an important source of food and nutrition security but also supporting local livelihoods.    http://www.rainfedindia.org/wp-content/uploads/2019/06/The-Mighty-Small-Indigenous-Fresh-water-Fish-Species.pdf    (4 June 2019)
Himachal Pradesh Fishing ban till July 31 Ban on fishing in Himachal reservoirs till July 31. Fisher-folks to get Rs 3000 per month for the closure compensation. What about rivers?   https://www.tribuneindia.com/news/himachal/fishing-ban-till-july-31/781490.html      (1 June 2019) 
SAND MINING
Andhra Pradesh 2 revenue officials end up in hospital chasing sand mafia in Kadapa, Two revenue officials were injured when they tried to stop illegal sand transportation from River Penna in Siddavatam mandal, exposing the thriving sand mafia in Kadapa district. While chasing a sand-laden tractor, the officials' two-wheeler was hit from the rear by the driver.
Sand mafia is thriving in the State and there have been several instances of officials, who muster courage to stop the illegal activity, being attacked by unscrupulous elements with impunity. Crores of rupees reportedly change hands in the sand business. http://www.newindianexpress.com/states/andhra-pradesh/2019/jun/10/two-revenue-officials-end-up-in-hospital-chasing-sand-mafia-in-kadapa-1988230.html  (10 June 2019)  
Before this in May 2019, 2 VROs were injured as sand mafia attacked them at Naira village in Srikakulam rural mandal when they were trying to prevent the illegal excavation of sand from Nagavali river sand mafia gangs along with tractor drivers attacked. The injured VROs admitted at government RIMS hospital Srikakulam. https://www.thehansindia.com/andhra-pradesh/2-vros-injured-in-sand-mafia-attack-in-srikakulam-529570  (15 May 2019)
Despite restrictions illegal mining and transportation of sand goes unabated in the district. The illegal mining continues in several areas of Vamsadhara, Nagavali, Bahuda and Mahendratanaya rivers. https://english.sakshi.com/andhrapradesh/2019/05/15/vros-attacked-by-sand-mafia-in-srikakulam  (15 May 2019)
Odisha Locals detain trucks protesting sand mining  Irate residents of Sikharpur village in Balasore district on June 6 detained more than 100 trucks and tractors which were engaged in lifting of sand illegally from Subarnarekha river bed. The villagers also staged a road blockade protesting the district administration's failure to check the activities of sand mafia who have been looting the resource from the area with impunity.
Laxmikant Giri, a villager, said instead of labourers, JCBs are being used during sand mining which led to formation of craters on the river bed. This has adversely affected flow of water in the river and also caused erosion of its embankments, he added. "The traders lift more sand than permitted in connivance with the local administration," Giri alleged. As per guidelines, miners should dig only up to five feet for lifting sand. But they often dig more than 15 feet, said the villagers. The villagers said if no action is taken against the errant miners, they will intensify their protest. http://www.newindianexpress.com/states/odisha/2019/jun/07/locals-detain-trucks-protesting-sand-mining-1987064.html  (7 June 2019)
Illegal sand mining hits construction activities in Jagatsinghpur Sand mining ban but not for govt contractors, mafia robbing Mahanadi, Daya, Prachi rivers with heavy machinery in Odisha. Traders busy with illegal stocking creating man made shortage. Of course the rivers, fishermen are ultimate losers.  The district administration's failure to check illegal sand lifting from Mahanadi and Devi river beds is not only leading to loss of revenue but also hampering construction activities in different areas of Jagatsinghpur. Illegal sand mining is rampant in different tehsils of the district where the directives of the NGT are flouted with impunity. This has led to shortage of sand, which is used in construction activities, and as a result of which its price has skyrocketed.
Inadequate number of quarrying sites and restriction on quarrying on Devi, Prachi and Mahanadi river beds have also affected construction activity in the district. Thousands of people residing in riverside villages in Kujang and Tirtol blocks  largely depend on the river ecosystem.  Over the years, their livelihood has been marred by the activities of sand mafia, who use political intimidation and administrative apathy to rob locals of the sand. While the use of illegal machines has been banned under Minor Minerals Act, 1963 and NGT orders, they are used extensively by the mafia.
Sources said contractors working on road and other projects in Paradip have been violating the NGT directive with regard to use of such machines, including JCBs.  Locals said sand traders have illegally encroached upon the river bed of Mahanadi  in Tirtol where they have hoarded huge quantity of sand to sell it at a premium ahead of monsoon. Sand lifted from the river bed is also transported to other places. http://www.newindianexpress.com/states/odisha/2019/jun/05/illegal-sand-mining-hits-construction-activities-in-jagatsinghpur-district-of-odisha-1986257.html  (5 June 2019)
Tamil Nadu Gang involved in illegal sand mining attacks woman village assistant A gang involved in illegal sand mining attacked a woman village assistant when she tried to catch them near Kulithalai in Karur district on June 6 night. Pushpalatha, the village assistant of Marudhur North – 2, suffered injuries in the attack and was admitted to Government Hospital in Kulithalai. Acting on a tip-off, Pushpalatha and a few others patrolled the banks of the Cauvery river on Thursday night to check illegal sand mining. She intercepted seven men who tried to escape on motorcycles carrying sand mined illegally. They attacked her and fled the scene. https://timesofindia.indiatimes.com/city/chennai/gang-involved-in-illegal-sand-mining-attacks-woman-village-assistant-in-tamil-nadu/articleshow/69693117.cms  (7 June 2019)
Man who opposed 'illegal sand mining' found dead  A 45-year-old man, who was among a group of villagers who tried to stop "illegal mining" of 'savudu' soil in the Puzhudhikulam tank in Ramanathapuram district, was found dead on June 2. The deceased has been identified as B Mohan of Ilamanur. https://timesofindia.indiatimes.com/city/chennai/man-who-opposed-illegal-sand-mining-found-dead-in-tamil-nadu/articleshow/69635324.cms  (3 June 2019)
Madurai collector told to submit status report on sand mining The Madurai bench of Madras high court directed the district collector to submit a status report on a PIL which sought action against illegal sand mining activities inside the waterbodies at Usilampatti in Madurai district. In his petition, M Kanagaraj, stated that though no license has not been given for sand mining in Usilampatti taluk in the district, it is done in a large scale in the rivers and channels. He claimed that the people who have involved in the mining activities have a syndicate with the revenue and police officials due to which most of the waterbodies are in a bad shape. He stated that a large scale of sand mining is prevalent at the Aswamandhai Odai and Petchiamman Kovilpatti Odai. He stated that sand is being mined at both these waterbodies up to 15-feet depth. https://timesofindia.indiatimes.com/city/madurai/madurai-collector-told-to-submit-status-report-on-sand-mining/articleshow/69682770.cms  (7 June 2019) 
Haryana Four firms booked for making bundhs on Yamuna river Four mining companies have been booked for causing blockage in the Yamuna by constructing unauthorised bundhs on the river at Gumthala, Sandhali (Nagli), Pobari and Model Town Karera villages to undertake mining activities on the riverbed.
Four FIRs were registered under Section 431 (commit mischief by injury to river or channel) of the IPC and Section 45 of the Canal and Drainage Act, Haryana, at Jathlana police station on June 5. Vinod Kumar, XEN, said that the representatives of the mining companies were asked to remove the bundhs immediately. Sources said that illegal mining on a large scale is being undertaken in the Yamuna and one of its tributaries Somb river. https://www.tribuneindia.com/news/haryana/four-firms-booked-for-making-bundhs-on-yamuna-river/784448.html  (7 June 2019)
– Panipat villagers, farmers appeal to CPCB, Haryana CM  to stop illegal sand mining going on in Yamuna river since May 2019. Against MoEF rules deep instream mining is happening there with heavy machinery.
– In gross violation of rule, mining company has also created bunds across river section prohibiting flow of river. Video of May 19, 2019 shows 1 of JCB sunk in river when a such illegal bund breached.
– Mining was approved by UP Govt. But contractors r illegally using embankment on Haryana side in Sanoli to carry heavy truckloads of sand. It's already weak & vulnerable & has repeatedly breached in past spcly in 2010 flood causing huge losses to farmers.
-Farmers & villagers have been opposing this multiple violations since then as they believe that this act would damage embankment & lead to breach during coming monsoon floods which will endanger their lives, livelihoods & properties during onset monsoon flood.
– Worried villagers approached local admin for help, while admin failed to take action, opposition by villagers infuriated mining contractors who in turn threatened them with dire consequences if they continue to object.
-As per media reports farmers, villagers were given life threats by mining companies for raising legitimate demand. For past several yrs, area has been infested with illegal mining activities which villagers say is key reason behind frequent breach & flooding.
-When villagers resisted collectively & reportedly complained to NGT fearing court action, mining operations were stopped & miners left the area over night. Reports also mention that illegal mining affecting farming activities, ghats, crematoria & pathways.
– But this relief was temporary, over past 1 week illegal mining operations has resumed defying all legal provisions. Again for farmers, villagers it is turning a nightmare who r fearing damage to embankment & resultant flood threats & NOW forced to stop sand trucks.
– Worst part of this brazen violations of rules is that instead of arresting mining company & operations Haryana Police as per locals has threatened to file false cases against villagers & farmers including a local reporter for objecting to & exposing this illegalities.
-With no way left, now all affected farmers request CPCB, CM Haryana, Haryana Police, NGT take note of it and initiate, strict actions against illegal sand mining operations in Yamuna river & do justice to affected villagers ASAP. https://twitter.com/Indian_Rivers/status/1137790896060141568
WETLANDS, LAKES, WATER BODIES
Uttar Pradesh Centre offers green bounty for Greater Noida wetland MoEF has written to the state government to submit a proposal to declare Dhanauri, a large wetland in Greater Noida that sees thousands of birds every season, as a Ramsar site and Sarus sanctuary.Dhanauri meets at least 2-3 of the nine criteria listed under the Ramsar Convention for a wetland to hold international protection status. Once approved, it will be the 28th wetland in India, and only the second from UP (after the Upper Ganga river), to be declared a Ramsar site.
The forest department pegs the Dhanauri wetland area at 25 hectares, while environmentalists claim the total area, including the buffer zone, is over 40 hectares. However, Dhanauri does not have formal wetland status or protection. The forest department had sent a proposal last year to the state government to declare it a wetland, but no response has been received yet. https://timesofindia.indiatimes.com/city/noida/dhanauri-to-get-legal-wetland-shield-ramsar-site-protection/articleshow/69668677.cms  (6 June 2019)  
Maharashtra Mumbai's 2nd-largest natural area Thane Creek needs to be saved About serious threats and risks that Thane creek is facing. – BNHS report warned about the shrinking wetlands along Thane creek. The study which looked at wetlands around the Bhandup sewage pumping station (BPS), said that sedimentation and encroachments have shrunk its area from 3.5 square km in 1973 to just over one square km in 2018.
Thane creek, located between Mumbai harbour — with two shipping hubs, the Mumbai Port and the Jawaharlal Nehru Port on its south the Ulhas river on its north — is 26 km long and its narrower upper areas have mudflats, salt pans and diversity-rich mangroves forests. Studies by groups like Salim Ali Centre for Ornithology and Natural History and BN Bandodkar College of Science, Thane and BNHS have found that the creek is home to more than 160 bird species and nine species of mangrove trees, besides fish, crustaceans and insects. These species and phytoplankton, single-celled plants that form the basic lifebuilding block in aquatic systems, providing food for shrimp, snails and fish, are important for sustaining the local fishing industry.
Despite its status as a protected sanctuary, the creek is threatened by pollution and encroachments. Research by Ryerson University, Toronto had reported that a third of the mangrove forests in the Mumbai Metropolitan Area has been lost to urbanisation since the 1970s. https://www.hindustantimes.com/mumbai-news/mumbai-s-2nd-largest-natural-area-thane-creek-needs-to-be-saved/story-j77a3obWcx4Bm9OhudHXoL.html      (3 June 2019)
GROUNDWATER
Punjab State to run out of groundwater in 20 years Different national and state level agencies have predicted a grim scenario for Punjab, with over a majority of the state — 79% to be precise — over-exploiting its sub soil water, the water found immediately below the top soil. If the annual rate of fall in sub soil water, currently 51 cm per year, continues, the state would empty all its water reserves in 22 years turning the country's food bowl into a desert. From being food producer, the state would become a consumer.
According to a 2017 study by the CGWB 10 districts are the worst affected, including Bathinda, Hoshiarpur, Jalandhar, Moga, Pathankot, and Patiala. There, the fall is most acute, at nearly one metre a year. The fall is evident from the fact that tubewells in these districts are dug as deep as 300 feet to get water fit for irrigation. Only 16% of the state is in a safe zone. Out of the 138 blocks mapped, 109 blocks or 79% over exploit their sub-soil water, and 17 blocks or 16% of state's area fall in the safe zone.
According to figures provided by the National Aeronautics and Space Administration of the United States of America, the groundwater level in the state is depleting at an average of one metre every three years.
However, the state agriculture department's figures show that of 35.78 billion cubic metre water extracted from the ground, 96.65% water is used to grow paddy, while 0.53% is used by industry, and 2.82% is used for domestic purposes.
In fact, the Government of Punjab enacted a law, titled Preservation of Subsoil Water Act in 2009, which mandated delayed paddy nursery and sowing activities by farmers in Punjab. The state agriculture department forecasts that if the rate of fall continues, water up to the depth of 100 m will finish in 12 years while the water available at 300 m will finish in 20-25 years. https://www.hindustantimes.com/india-news/punjab-stares-at-a-parched-future/story-9Kr3CpL2zsDoPthp0XqKmN.html  (5 June 2019)
Groundwater scarce, 2 districts in dark zone All blocks in Sangrur are in the dark zone, while two of three blocks in Barnala are in the dark zone due to over-exploitation of groundwater. However, farmers are still adamant to sow paddy on their maximum land as they claim that the state government has failed to offer required help to them to switch over to other crops. Blocks like Bhawanigarh, Andana, Dhuri, Dirba, Malerkotla-1 and 2, Sherpur, Sangrur, Amargarh and Ahemdgarh are in the dark zone.
Despite the tall claims of the state government and their campaigns to convince farmers against paddy cultivation, merely 10,000 hectares will be diverted to non-paddy crops this year in the district. "Last year paddy was sown in 2.87 lakh hectares, but this year we are hopeful to divert 10,000 hectares toward maize and cotton. Farmers will sow paddy over 2.77 lakh hectares," said Sushil Kumar, Chief Agriculture Officer, Sangrur.
However, efforts by the Agriculture Department have shown little impact as only 1,000 hectares have been diverted towards non-paddy crops. During the current year, farmers will sow paddy over 1.13 lakh hectares against the last year's figures of 1.14 lakh hectares. "Every year the water table is going down by around 1.14 meters. We are organising special camps in villages to spread awareness to convince farmers to opt for non-paddy crops," said Jaswinderpal Singh Grewal, Chief Agriculture Officer, Barnala. https://www.tribuneindia.com/news/punjab/groundwater-scarce-2-districts-in-dark-zone/785091.html  (9 June 2019)
Karnataka ₹450 cr. to fill 250 tanks under phase II of KC Valley project The State Cabinet on June 6 approved in principle a ₹450-crore project for filling 250 tanks in Chickballapur and Kolar districts through supply of treated waste water from Koramangala–Challagahtta Valley (KC Valley) in Bengaluru, as the second phase of the project.
Tanks would be filled only to improve the groundwater table in these districts and not for drawing water for agriculture and other purposes. In the second phase, 250 tanks would be filled by supplying treated water from the valley.
In the first phase, 121 tanks in the parched Kolar district and five tanks in Chintamani taluk of Chickballapur district were identified and only 20 tanks were filled with treated waste water, Minister for Rural Development and Panchayat Raj Krishna Byre Gowda told reporters here after the Cabinet meeting. The former CM Siddaramaiah had launched the ₹1,342-crore project on May 30, 2016. It is aimed at increasing the groundwater level, which sunk to more than 1,200 feet. https://www.thehindu.com/news/national/karnataka/450-cr-to-fill-250-tanks-under-phase-ii-of-kc-valley-project/article27584488.ece  (6 June 2019)
Haryana Badshahpur drain's concretisation: NGT seeks impact report on groundwater recharge NGT asked Gurgaon Municipal Corporation, Haryana State Pollution Control Board and the Irrigation Department to submit a report in a month about the impact of concretisation of the Badshahpur nullah on groundwater recharge and natural flow of water in the drain. The Haryana State Pollution Control Board will be the nodal agency for coordination and compliance, the NGT said.
The tribunal was hearing a plea filed by Gurgaon resident Vaishali Rana Chandra and others alleging illegal concretisation of the Badshahpur drain. The plea said that concretisation was being carried out in violation of environmental norms affecting rain water harvesting and obstructing the natural flow of water.  https://www.business-standard.com/article/pti-stories/badshahpur-drain-s-concretisation-ngt-seeks-impact-report-on-groundwater-recharge-119060301107_1.html  (3 June 2019)
Act against 65 units drawing groundwater:CPCB The Central Pollution Control Board (CPCB) has directed the Haryana State Pollution Control Board (HSPCB) to ensure action against 47 industrial units in Panipat, 13 industrial units in Sonepat and five in Faridabad for drawing groundwater without obtaining no-objection certificate (NOC). It has issued the directions on the basis of Central Groundwater Board (CGWB) reports.
In its order, the CPCB mentioned, "As per the CGWB report, 47 out of 55 units in Panipat, 13 of 34 in Sonepat and five of eight in Faridabad drawing groundwater have not even applied for obtaining the NOC." The CPCB also directed the HSPCB that it should verify compliance to the conditions of the consent issued under the Water Act, 1974, in eight industrial units at Panipat and Sonepat and 38 units in Faridabad within 15 days.
Besides, the HSPCB should consider disposal of effluents of all industries located in Sonepat, Panipat and Faridabad through dedicated conveyance systems to the nearby existing common effluent treatment plants. The HSPCB should direct the municipal authorities in the three districts to reassess the quality of groundwater used for supply and to review its present policy for the renewal of consent as well as periodic inspection of the industries for compliance verification as directed by the NGT. https://www.tribuneindia.com/news/haryana/act-against-65-units-drawing-groundwater-pollution-board-told/778845.html  (27 May 2019)
Maharashtra PMC to go slow on concrete road construction – While the Pune Municipal Corporation (PMC)'s road department was busy constructing cement roads in every corner of the city for the past few months, it has now decided to go slow on this development aspect owing to a commentary by an expert, informing that concretisation was affecting groundwater recharge. https://punemirror.indiatimes.com/pune/civic/pmc-to-halt-all-road-concretisation-works-will-form-new-policy/articleshow/69682218.cms   (7 June 2019)
Study 'Non-ODF areas 13 times more prone to ground water pollution' Villages where people still defecate in open face nearly 13 times higher risk of faecal contamination of ground water as compared to open defecation free (ODF) villages, says a study by United Nations Children's Fund (UNICEF). The assessment has also found that risk of ground water contamination in Bihar, one of the states which is yet to be declared ODF, is maximum at nearly 36%.
The study also established how both soil and food are not spared from contamination. While soil in non-ODF villages were found to be facing 1.1 times more risk of human faecal contamination in the case of food it was more than double. https://timesofindia.indiatimes.com/home/environment/pollution/non-odf-areas-13-times-more-prone-to-ground-water-pollution/articleshow/69669151.cms  (6 June 2019)
URBAN WATER
Himachal Pradesh IPH Dept issues water bills after 3 yrs Kasauli residents got a rude shock when they received water bills worth thousands for the period of September 2016 to March 2019. Though the Irrigation ad Public Health staff is supposed to disburse bills after every six months, no bills had been provided to the rural consumers since 2016. As rural consumers are billed on a flat basis, there is no meter reading involved, which could delay the distribution of bills. The incident has exposed the laxity of the field staff, residents alleged.
Sources said this delay of three years has also caused loss of revenue to the department as people who resided as tenants might have moved to other places in this duration. It was surprising that though the bills were duly audited on an annual basis, the senior officials failed to detect this laxity, which the field staff said was on account of staff shortage.
Notably, the shortage of field staff was also causing hardships in the smooth supply of water and one person was attending to several schemes. The staff, therefore, failed to distribute water on a daily basis and residents living in the precincts of Kasauli received water after three days round the year. Though this arrangement has been going on for years now, no one has bothered to address the problem. https://www.tribuneindia.com/news/himachal/iph-dept-issues-water-bills-after-3-yrs/785106.html  (9 June 2019)
Ranchi 6 injured in knife attack over water dispute At least six people sustained injuries after being stabbed by a man on June 8 over water dispute in Ranchi. Residents of Kishoreganj area of Ranchi had lined up in front of a tanker to fill water as there is water shortage in the area. They got irked with a man from a neighbouring village, who was seen filling water in large barrels, leaving a lesser amount of water for the residents of that area. https://www.ndtv.com/cities/ranchi-man-injures-6-in-knife-attack-over-water-dispute-2049895  (8 June 2019)
Tamil Nadu Man Is Murdered Over Drawing Water From Public Tap One such tragic incident has been reported from Trichy in where a 33-year-old activist who also operated an overhead tank was beaten to death by four members of a family in Thanjavur. His only fault was his objection to their drawing water in huge plastic barrels from a public tap. The accused have been arrested by the police and investigations are on. https://www.indiatimes.com/news/india/water-crisis-in-tamil-nadu-takes-deadly-turn-as-a-man-is-murdered-over-drawing-water-from-public-tap-368761.html   (8 June 2019) 
Hyderabad City running out of packaged water With groundwater levels on a rapid decline, purified bottled water stocks too have taken a severe beating, leaving residents high and dry. The groundwater level in Marredpally has dropped 11.44 metres below ground level (MBGL). https://timesofindia.indiatimes.com/city/hyderabad/city-running-out-of-packaged-water/articleshow/69682818.cms  (7 June 2019)
Kolkata KMC tries to find out source of water contamination The Kolkata Municipal Corporation (KMC) is trying to find out the exact source of contamination of water in Baghajatin and adjacent areas, two days after preliminary test reports from the KMC laboratory found coliform bacteria in 12 out of 14 waters samples collected in the area following the outbreak of jaundice and Hepatitis-A in which nearly 60 persons have been affected so far. https://timesofindia.indiatimes.com/city/kolkata/kolkata-municipal-corporation-working-to-find-out-source-of-water-contamination/articleshow/69637070.cms  (3 June 2019)
Gurugram Virat Kohli fined for using drinking water to wash car India cricket captain Virat Kohli has been fined Rs. 500 by the Gurgaon Municipal Corporation for wastage of drinking water at his house in the city. The fine was imposed after a domestic help was found cleaning a car with running water from a pipe outside Kohli's DLF Phase 1 residence. https://indianexpress.com/article/sports/virat-kohli-fined-rs-500-for-using-drinking-water-to-clean-car-at-his-gurgaon-house-5770498/  (9 June 2019)
WATER POLLUTION
Chennai 3 of 13 lakes identified to fetch drinking water too polluted in Chennai How unchecked industrial pollution of water sources is aggravating water crisis fueled by drought:- Dumping of industrial waste and sewage, over the last 20 years, have rendered water in Korattur, Ayapakkam and Thiruneermalai lakes unfit for consumption, as per tests done by the agency. 
– Locals and residents at Thiruneermalai allege that large quantities of chemical waste from electroplating industries and tanneries find their way into the lake. "Both private and government industries are notorious for dumping their untreated effluents into Adyar river and Thiruneermalai lake. This has been happening since they were opened. A month ago, I saw some lorries discharging a dark purple colour liquid into the lake" said Pughal V, a local activist.
– Officials said the present condition is mainly due to constant discharge of chemical waste and sludge from heavy polluting industries and tanneries in and around Korattur and Ambattur. "Thankfully, the channel from Korattur to Retteri lake has been completely blocked by encroachments. Because of this, polluted water from Korattur does not come to Retteri. If it does, we will not be able to draw 10 MLD daily from Retteri," an official said. http://www.newindianexpress.com/cities/chennai/2019/jun/10/3-of-13-lakes-identified-to-fetch-drinking-water-too-polluted-1988167.html  (10 June 2019) 
WATER
Can a new ministry fix our water emergency? Experts feel redefining the role and mandate of the Water Ministry rather than restructuring the existing system needs to be top priority. Supply – side management to provide water, particularly for irrigation is considered a major role. There is no evidence to suggest that more spending has increased the net area under irrigation or done any good for farmers. The immediate priority, analysts argue, is to make a paradigm shift to demand side management at least for a decade. There are tools, technology and science to ensure efficient water management. But little is being done.
– Madhya Pradesh is mulling 'right to water' – legislation aimed at ensuring adequate water for every person in the urban areas in the state is to be introduced in the monsoon session of the legislative assembly. https://www.indiatoday.in/india-today-insight/story/india-water-crisis-new-ministry-1541181-2019-06-03     (3 June 2019)
The Modi-led central government has merged departments to create one single ministry to address water-related issues. But Experts are sceptical and believe a change in name and integration of existing ministries alone won't make a difference.   https://thewire.in/environment/water-stressed-india-management-rivers   (6 June 2019)
When the prime minister inaugurated Telangana's ambitious Rs 53,000 crore Mission Bhagiratha initiative to provide piped water to the 23,000 villages of the state in August 2016, it was only a matter of time before the programme was replicated in the rest of the country. Prime Minister Narendra Modi's 'Nal Se Jal' (Water from Tap) scheme, which aims to ensure piped water for every household by 2024, is a laudable one. However, given the alarming water scarcity in the country, it may be difficult to achieve. Telangana scheme is already facing a number of problems including scarcity, sustainability and cost.  https://thewire.in/environment/nal-se-jal-water-scarcity  (9 June 2019)
Government forms 'Jal Shakti' Ministry A new 'Jal Shakti' Ministry, in which the erstwhile ministries of Water Resources and Drinking Water and Sanitation will be merged, has been formed with Gajendra Singh Shekhawat at its helm. The minister said as promised in the party manifesto, the priority will be to provide clean drinking water to everyone.
The ambit of the ministry will encompass issues ranging from international and inter-states water disputes, the byzantine Namami Gange project, the flagship initiative to clean the Ganges, its tributaries and sub-tributaries and provide clean drinking water. https://economictimes.indiatimes.com/news/politics-and-nation/government-forms-jal-shakti-ministry-by-merging-water-resources-and-drinking-water-ministries/printarticle/69596516.cms  (31 May 2019)
PM's new project Piped Water for All by 2024  PM Modi's pet new project "Piped Water for All by 2024" faces an acute nationwide water crisis challenge even before the government finishes the task of amalgamating nearly half a dozen departments that used to deal with surface and groundwater to form the Jal Shakti Ministry announced on May 31. https://www.indiatoday.in/mail-today/story/narendra-modi-piped-water-for-all-by-2024-nationwide-water-crisis-1544123-2019-06-07    (7 June 2019)
Uttrakhand Road projects affecting natural water sources "People did some survey here for the route. We told them about our water stream, on which the entire settlement was dependent but the people who were involved in the construction did not care about it. They had no way to dispose the debris from the construction." says Kharak Singh (62), a resident in the area.
– The taps which were running for more than 35 years, providing the mineral-rich water for drinking, suddenly became useless. The muddy water is only used for the kitchen garden by most of the people now. If their only source of drinking water is polluted, where do these people go to fetch water now? It is the century-old system of science and ecology that has still kept the understanding about the environment alive in the conscience of people. The traditional depression aquifers or 'The Naulas' have become the primary source of drinking water again, the way it used to be before the taps and the pipelines.   https://www.qweed.in/ghost-villages-of-himalayas/   (1 June 2019)
National Sports pitches aggravating water crisis – It requires 15,000-20,000 litres of water daily to maintain a cricket pitch — a fact which earned the BCCI and the IPL the censure of the Bombay High Court given that Maharashtra routinely battles water scarcity and drought.
– Traditionally, a hockey field requires a little over 15,000 litres of water daily, not counting the watering required for the run-off area around the field of play — based on the requirement of 3 litres per square metre, with a hockey field measuring 91.40 metres in length and 55 metres in width. A soccer or a football field consumes a lot more — up to 100,000 litres of water daily.
– DDCA and other sports bodies could probably borrow a leaf from stadia around the world — such as the Rabobank Arena in California, the Lord's and the Melbourne Cricket Ground in the UK and Australia respectively — which are using recycled water for irrigation of the playing field area and reducing water consumption in the ancillaries like toilets, urinals and showers.https://economictimes.indiatimes.com/news/politics-and-nation/how-much-water-do-sports-fields-really-drink/the-holy-water/slideshow/69630566.cms  (3 June 2019)
DELHI WATER
NGT set up panel to study groundwater recharge methods  NGT has directed a committee comprising representatives from the CPCB, DPCC and CGWB to take groundwater samples and study the methodology of recharging it and submit the report within a month after a plea alleged that rainwater harvesting structures built by the municipal corporations and other civic bodies were contaminating water.
The tribunal was hearing the plea, filed by a city resident Mahesh Chandra Saxena, alleging that groundwater recharge by DJB, DDA, PWD, NDMC, SDMC through rain water harvesting structures is not scientific and is resulting in pollution of groundwater. https://www.ndtv.com/india-news/panel-to-study-methods-to-recharge-groundwater-national-green-tribunal-2047364  (3 June 2019)
Comment by Leo Saldanha "The most unscientific method of recharging groundwater was proposed by an NGT Bench headed by its past Chairman Justice Swathenter Kumar, when they directed that the entire Bellandur lake in Bengaluru would have to be transferred elsewhere to clean the lake. That order was unimplementable. So next came the order to divert the lakes water to downstream areas and lakes, including in Kolar district, so the farmers could at least farm their parched lands with the city's sewage. Did not anyone then tell the NGT that the waters are so contaminated that they would end up in ground water aquifers and permanently contaminate them? It gets worse with the Supreme Court endorsing the idea.
So the question is, what are these committees worth of even specialised Courts advocate irrational ideas?
What should be done to ensure Bellandur and every other lake sends clean water into our groundwater aquifers is to ensure watersheds are kept clean. Municipal laws combined with Water Act and other envtl laws have sufficient teeth to get this done. It really boils down to implementing the law, and punishing those who don't comply."
Despite subsidy, revenue up as more pay for water The Economic Survey noted that the revenue of Delhi Jal Board saw a jump despite the subsidy being provided under the 20,000 litres free water scheme. While DJB claims to have collected over Rs 1,719.8 crore in 2017-18, the previous year's survey had indicated a collection of Rs 1,615.8 crore. The water utility officials have attributed the increased revenue to the usemore-pay-more tariff structure and a 10% increase in the cost of water beyond the free 20,000 litres per month. The introduction of the free water scheme also helped revenues by bringing a large number of city homes into the formal metering system.    https://timesofindia.indiatimes.com/city/delhi/delhi-economic-survey-despite-subsidy-revenue-up-as-more-pay-for-water/articleshow/68132150.cms   (24 Feb.2019)
City thirsts and tanker mafia rules DJB is supplying 900 MGD (million gallons a day) of water, against a peak demand of 1,200 MGD, resulting in a massive shortage. And it's not just that. https://www.indiatoday.in/mail-today/story/delhi-city-thirsts-and-tanker-mafia-rules-as-politicians-play-blame-game-1544667-2019-06-08  (8 June 2019)     
Badarpur to get Ganga water in a weekCM Arvind Kejriwal June 6 took out a foot march in the Badarpur Assembly constituency and told the residents of the area that they will start getting Ganga water in their taps within a week. The area gets water from the Bhagirathi and Sonia Vihar treatment plants that receive water through the upper Ganga canal. https://www.moneycontrol.com/news/india/badarpur-to-get-ganga-water-in-a-week-arvind-kejriwal-4071391.html  (6 June 2019)
MONSOON 2019
This slideshow requires JavaScript.
IMD cumlative rainfall map for State, Sub-divisional, River Basin from 1-10 June 2019
IMD says monsoon arrived in Kerala In view of the enhanced cloudiness, strengthening of westerlies and persistent cyclonic circulation in the lower & mid-levels over Lakshadweep area and neighbourhood, the Southwest monsoon has further advanced into some more parts of South Arabian Sea, most parts of Lakshadweep area, some parts of Kerala & south Tamil Nadu, remaining parts of Comorin – Maldives area, some more parts of Southwest, Southeast & Eastcentral Bay of Bengal and some parts of Northeast Bay of Bengal. Thus the Southwest monsoon has set in over Kerala, today, the 08th June 2019, against the normal date of 1st June. It also claims: "Fairly widespread rainfall occurred over Lakshadweep area and parts of Kerala, during the past 3 days."
– However, in 48 hrs ending on 8th June morning, Kerala saw rainfall deficit exceeding 72% and 75%, with hardly 2-4 districts having deficits below 70%. On 6th June, the deficit was lower at around 16%. In 24 hrs ending on June 9, Kerala suffered 66% rainfall deficit. http://www.imd.gov.in/pages/press_release_view.php?ff=20190608_pr_485      (8 June 2019)
Officials of the India Meteorological Department (IMD) said heavy to very heavy showers are expected over Kerala, parts of Tamil Nadu and coastal Karnataka over the next 48 hours, but the progress of rains over the rest of the country could be interrupted by a cyclonic circulation in the southeast Arabian Sea around the Lakshadweep islands. "There will be a delay of five days to a week in monsoon reaching Central India. A low pressure system is forming over the west coast. Monsoon rains will depend on the progress of this low-pressure system," said DS Pai, senior scientist at IMD Pune.
– The system, the IMD had said earlier in the week and reiterated on Saturday, could sap moisture from the monsoon winds entering the southern peninsula, making rains less likely till at least the third week of June.
– While the onset was announced, IMD officials said it did not meet all of the parameters that are must before monsoon arrival can be declared. For example, the key criteria that at least 2.5mm rainfall is recorded for two consecutive days from 60% of the 14 weather stations in Kerala was not met. "Only 7 of the 14 or 50% stations reported more than 2.5 mm rainfall. But other synoptic features like cyclonic circulation, deepening of westerlies were met which is why monsoon has been declared," said Sunita Devi, senior scientist at IMD.  https://www.hindustantimes.com/india-news/a-week-late-monsoon-finally-hits-kerala-coast/story-bf3a1ycic8yj8TlskNZr8N.html  (8 June 2019)
BBMB Dams filled, may offset weak monsoon  The pre-monsoon rainfall in Himachal Pradesh has been significantly deficient, but water levels in the three major dams in the region are 66-91 per cent above normal. Such high pre-monsoon levels at the fag end of the reservoirs' depletion period, officials say, have rarely been experienced.
– At present, the Bhakra reservoir is filled up to 45 per cent of capacity, which is nearly double than normal and more than seven times the quantum of water available at this time last year. The available storage in the reservoir at Pong on the Beas, which had fallen to only 9 per cent last year, is 39 per cent at present. The situation at Thein Dam that lies on the Ravi is also comfortable. The reservoir is filled up to 66 per of its capacity as compared to just 25 per cent last year.    https://www.tribuneindia.com/news/nation/dams-filled-may-offset-weak-monsoon/782226.html      (3 June 2019)
FLOOD 2019
Bihar Govt seeks to redefine danger levels in its rivers After a long time, the Bihar govt is going to undertake a massive exercise to revise the danger mark level of all major rivers in the state to make flood-fighting work more effective and reduce chances of false alarm of impending floods in case of rivers in spate in flood-prone districts.
The Bihar State Disaster Management Authority has recommended the idea of redefining the danger level of all major as well as small rivers after a study done on the subject over the last one year.
Experts said the primary reason for revising the danger level of rivers in the state is siltation that has caused the river beds to rise, a reason why the current danger level of rivers measured decades back are not so accurate.
"As the river bed of all majority of rivers has risen over the past many decades due to siltation, the danger level indicators are not so accurate. It often leads to false alarm of impending floods when in reality the river is flowing much below the danger mark. So, a reassessment of the danger level of major rivers is imperative," said Vyasji, vice-chairman of the state's disaster management authority.
Sources said the state's disaster management authority had already directed the water resources department and written to the Central Water Commission (CWC) to start the work, which is going to be a time-consuming exercise. Sources said the government had been given the time to complete the exercise in next couple of months so that the new system comes in place before the rivers go in spate in the state.
The gauge readings of rivers is different from one point to another. Like in Patna district, the Ganga's gauge reading is different at Hatihdha, Gandhi ghat and Digha, said Vyasji. To elaborate, the highest flood level (HFL) of Ganga in Patna was 50.27 metres but was revised to 50.52 metres in 2016.
"The gauge readings are different at many points of rivers and it has to be examined based on different parameters. Besides, the siltation of the rivers will be also taken into account in assessing the danger mark," he said.
"Whenever a river gets swollen either due to heavy rains or heavy discharge from upstream, panic grips people residing nears the rivers and the administration also starts gearing up resources for flood fighting. But in reality, such alarms are false many a time. So a revision of danger mark of rivers is need of the hour," said Vyasji.
In Bihar, there are 12 major river basins, including Ganga, Mahananda, Kosi, Bagmati, Sone, Karamnasa, Kamla, Chandan and Gandak, besides a large number of small rivers and their tributaries. https://www.hindustantimes.com/patna/bihar-seeks-to-redefine-danger-levels-in-its-rivers/story-rbZ4sdDdMoo0eBWOAeDwDL.html  (5 June 2019) 
Dam Floods Uttar Pradesh बैराज गेट बंद कर दिये जाने से शारदा घाट में अस्थाई तटबंध टूटे शारदा नदी में June 6 को पानी का स्तर बढ़ते ही बैराज गेट बंद कर दिये जाने से शारदा घाट में अस्थाई तटबंध तोड़कर पानी घाट की तरफ आया। बाद में सिंचाई विभाग के अनुरोध के बाद एनएचपीसी ने गेट खोले लेकिन तब तक पानी अपना काम कर चुका था। बंध तोड़कर पानी के निर्माणाधीन बाढ़ सुरक्षा कार्य स्थल तक आने से पहले ही गेट खोल दिये जाते तो नुकसान नहीं झेलना पड़ता। इधर लोगों का कहना है कि बाढ़ सुरक्षा जैसे अहम कार्य मानसून से दो तीन माह पूर्व शुरू होने चाहिए थे।उधर पानी बढ़ने से खुद एनएचपीसी को भी नुकसान झेलना पड़ा।
मानसून आने से पूर्व बाढ़ सुरक्षा कार्य को पूरा करना संबंधित विभाग के लिए चुनौती बन गया है। उधर शारदा घाट के आस पास रह रहे लोगों ने बरसात से पूर्व काम पूरा न होने पर विभाग के खिलाफ आन्दोलन की चेतावनी दी है। दूसरी ओर नेपाल की ओर से महाकाली नदी का रुख भारत की ओर मोड़ने की खबरें भी आ रही हैं। पिथौरागढ़ जिले में बहने वाली नदियों का पानी शारदा नदी में ही पहुंचता है जिसे देखते हुए नदी के जल स्तर में लगातार बढ़ोत्तरी होने की संभावना व्यक्त की जा रही है। सिंचाई विभाग के एई आरके यादव का कहना है कि 25 मई तक हर हाल में कार्य पूरा कर लिया जाएगा।   http://www.dainikjayantnews.com/barrage-gate-band-kar-diye-jane-se-sharda-ghat-mein-asathayi-tatbandh-toote/  (8 June 2019)
Kerala EAPs for Idukki, Cheruthoni yet to be approved Seventeen of the 24 emergency action plans (EAPs) submitted by KSEB have been approved by central water commission's (CWC) central project management unit. An EAP for a dam is a written document prepared by the dam owner or dam operator, describing a detailed plan to prevent or lessen the effects of a failure of the dam and related structures. A CAG report in 2017 had stated that none of the dams in state had an EAP. The need for EAPs was emphasized by the Dam Safety Bill, 2010.      https://timesofindia.indiatimes.com/city/kochi/emergency-action-plans-for-idukki-cheruthoni-yet-to-be-approved/articleshow/69698677.cms   (8 June 2019) 
DROUGHT 2019
Maharashtra Drought turns Beed villagers in water refugees Half of Beed's 800,000 cattle have been moved to more than 600 cattle camps because of lack of fodder. More than 40,000 people have taken up work under a jobs for work scheme, and officials are opening it up for others to prevent people from going into penury. The drought hasn't spared people living in towns: the 250,000 residents of Beed town are getting piped water only once a week or sometimes a fortnight.
The main Godavari river is running dry. Nearly all of the 140 big and small dams in Beed are out of water, as are the 800-odd wells. Two of the major dams now have what officials call "dead water" – low lying stored water, contaminated with sediments and mud. This is the water which is being pumped into ponds from where nearly a thousand tankers pick up supplies, spike them with chlorine and transport them to 300-odd thirsty villages.
Hatkarwadi is a speck on the map of Beed, where more than a million people have been hit by the drought. Deforestation has reduced forest cover to a bare 2% of the total area of the district. Only 16% of the farms are irrigated. There's nothing to feed the animals, so 300 buffaloes have been moved to a fodder camp uphill where the animals live with their owners under tarp. Some 75 new toilets built under a federal government programme to end open defecation lie unused because there's no water. Most villagers borrow drinking and bathing water from well-to-do neighbours who own borewells.
P Sainath, the founder and editor of the online PARI, says the lack of water is an "explosive problem". But drought alone has not contributed to the crisis, he says. It also has to do with the appropriation of water by the well-to-do at the expense of the poor, and the skewed allocation of water. "The transfer of water from the farms to the industry, from food crops to water guzzling cash crops, from rural to urban areas, and from livelihood to lifestyle purposes for multiple swimming polls in urban high-rises has also led to this situation." https://www.bbc.com/news/world-asia-india-48552199  (10 June 2019)
Tanker mafia earning Rs 8,000-10,000 cr annually from water biz in Mumbai In Mumbai alone, the tanker business generates revenues of well over Rs.1,000 crore each year. The NRW is pegged in Mumbai at around 30 percent. The state government has set a target to bring this down to 15 percent. Even then, the NRW is quite high. The most efficient states have an NRW of not more than 5 percent.
At 15 percent, the NRW accounts for around 2,407 MLD. That is enough water for 240,740 truck trips. Assuming the lowest charge that trucks charge per trip for delivering 10,000 litres of water (Rs.2,000), the trucks could be making as much as Rs.48 crore per day. That means annual earnings of Rs.17,574 crore. Discount this number further the way you want, and still you end up with numbers that exceed around Rs.8,000 crore to Rs.10,000 crore. And, this is from Mumbai alone. https://www.moneycontrol.com/news/eye-on-india/videos/tanker-mafia-earning-rs-8000-10000-crore-annually-from-water-biz-in-mumbai-4057001.html  (5 June 2019)
Only 0.7% water left in dams in Marathwada, 7.7% in Maharashtra With no sign of the monsoon hitting India yet, the dam water level in the arid region of Marathwada is down to a mere 0.7% of capacity. Across the drought hit state, the level of live water storage in dams is just 7.7%, the lowest in a decade at this time of the year, said officials.
As many as 32 of the state's dams are now at dead storage level. This means that water from the dams cannot flow out of the sluice gates, but has to be lifted. The drought has swept across 42% of the state and is the third such calamity in the last five years. It has affected 60% of the state's farmers. The state received only 76% of normal rain last year. https://timesofindia.indiatimes.com/city/mumbai/only-0-7-water-left-in-dams-in-marathwada-7-7-in-maharashtra/articleshow/69641569.cms  (4 June 2019)
Sugarcane farming is the main reason for low coverage of irrigation in Maharashtra though the state has the largest number of irrigation projects.   https://www.firstpost.com/politics/the-bittersweet-truth-of-sugarcane-in-maharashtra-6735001.html   (9 June 2019)
In Aurangabad, construction industry continues to use groundwater even as city faces scarcity and sewage remains untreated, not recycled for construction work. https://timesofindia.indiatimes.com/city/aurangabad/activists-push-for-recycled-water-for-construction/articleshowprint/69717060.cms   (10 June 2019)
The dams and storage facilities which supply water to Mumbai have only 10 per cent storage left in it, which is much lesser as compared to last year. https://mumbaimirror.indiatimes.com/mumbai/other/mumbaikars-save-water-only-10-per-cent-left-in-dams/articleshow/69628613.cms   (3 June 2019)
People in Melghat, who have been facing severe water crisis, are forced to go as deep as 40 feet inside wells to fetch drinking water. https://www.aninews.in/news/national/politics/in-this-amravati-village-people-have-to-go-40-feet-down-to-fetch-drinking-water20190608235302/  (8 June 2019)
Donkeys are being used to supply potable water 51 families of Koilidabur hillock hamlet in Nandurbar district of Maharashtra about 10km from the Gujarat border after the well ran dry.  https://indianexpress.com/article/cities/ahmedabad/gujarat-dry-wells-rocky-paths-this-hillock-hamlet-counts-on-donkeys-for-water-5771620/  (9 June 2019)    
Tamil Nadu Satellite images on drying up of dams over the year  Sentinel Hub Data images of 2018-2019, processed by Raj Bhagat Palanichamy shows drying of various dams. https://www.thenewsminute.com/article/pictures-how-dams-and-reservoirs-across-tamil-nadu-have-dried-summer-102993    (4 June 2019)
Chennai Farmers against groundwater extraction by tankers Around 100 farmers in Nemam village of Tiruvallur district are steadfast in not handing over their agricultural lands to private tankers for extracting water for commercial purposes. For the past few weeks, tankers too are finding it very difficult to source water due to rising resentment among villagers. Farmers and locals fear that if tankers continue tapping water incessantly, groundwater will cease to exist and so will agriculture.  In some villages, while one section of farmers resent extraction, they are unwilling to antagonise the other section that sells water, which is also powerful. This has helped private tankers to gain traction.
Protests by villagers in Tiruvallur district opposing private tankers again throw light on the urgent need for the government to regularise this activity. Majority of tankers that ply in the city and neighbouring districts do not have permits as the state is yet to pass regulations for tapping groundwater. Due to this, there is no fixed upper limit on the amount of water that could be drawn. Sources privy to the issue said that a government order pertaining to regularising groundwater extraction is being prepared but there is uncertainty over when it will be passed. A senior official from the Public Works Department said that by July a government order will be passed to regulate extraction of water which will be applicable for the whole state. http://www.newindianexpress.com/cities/chennai/2019/jun/02/areas-in-and-around-chennai-hit-by-acute-water-crisis-1984796.html  (2 June 2019) 
In less than a week, Chennai will stop getting water from three of its four primary reservoirs as the quantity of water has plummeted below dead storage levels.  http://www.newindianexpress.com/cities/chennai/2019/jun/03/water-in-chennai-tanks-down-to-one-per-cent-of-capacity-1985263.html  (3 June 2019)
Chennai water crisis worsens, residents shift home to avoid inconvenience As the reservoirs supplying water to Chennai nearly go empty, the city residents have started to move out of the city or shifting to other locations hoping to get better water supply. The state government declared nearly 17 districts including Chennai and Kancheepuram as drought-hit earlier this month.
Bengaluru also faces similar water crisis. According to reports, groundwater in Bengaluru will not be available by the year 2020. Once known as the Garden City of India, Bengaluru is now struggling to provide water to its residents. TV Ramachandra, a professor at (IISc), blamed 88 per cent reduction in green cover and 79 per cent reduction in water bodies to be the root cause of the ensuing water crisis. https://www.timesnownews.com/mirror-now/in-focus/article/chennai-water-crisis-worsens-residents-shift-home-to-avoid-inconvenience/430338  (3 June 2019)
In less than a week, Chennai will stop getting water from three of its four primary reservoirs as the quantity of water has plummeted below dead storage levels. Meanwhile, residents of Ambattur have not received piped water supply from Metro Water for a week now. Locals said supply had been erratic as water levels at Red Hills had decreased. But, since last week, supply had been completely cut-off.  http://www.newindianexpress.com/cities/chennai/2019/jun/03/water-in-chennai-tanks-down-to-one-per-cent-of-capacity-1985263.html  (3 June 2019)
Karnataka With Tunga dam which provides water to Shivamogga city reaching a dead storage level, the city may likely face acute water shortage in the near future, officials said. The city which has a population of about 3.60 lakh is dependent on the dam water for its everyday water supply; however, the intense summer season has led to dip in the present water level in the dam.  https://www.timesnownews.com/mirror-now/in-focus/article/alarming-dip-in-water-level-of-tungda-dam-in-karnataka-may-lead-to-acute-water-crisis-in-shivamogga/429394  (1 June 2019)
Udupi Only 2 more days' worth of water The situation in Udupi has reached a tipping point with the water at the Baje reservoir, built on the Swarna river, set to run out in the next two days. Mangaluru City Corporation (MCC) executive engineer KS Lingegowda told that the water at the Thumbe reservoir, built on the Nethravati river, is set to last one more week.
A lack of pre-monsoon rainfall led to unprecedented levels of water scarcity in the two districts prompting authorities to begin rationing water supply to its residents. In Mangaluru, water is being supplied for four days followed by a three-day break. In Udupi, water is being supplied once in three days since the start of April.
The lack of water availability has even forced some schools to postpone reopening for the new academic year while other schools have decided to send students back home after the morning session. https://www.thenewsminute.com/article/only-2-more-days-worth-water-udupi-residents-wait-monsoon-103180  (7 June 2019)
Vishakhapatnam Groundwater table falls, but borewells mushroom Groundwater levels have fallen to rock bottom, while Mudasarlova, Gambhiram Gedda and the Gosthani have almost dried up, forcing the GVMC to pump from the dead water storage of the Raiwada reservoir for the first time by spending about ₹2 crore.
The depth to which the wells are sunk has also gone up considerably. Against the average of the earlier 120 to 200 feet in the past, the bores are now going beyond 300 feet and up to 400 feet. The increase in the number of borewell rigs is also an indication of the growing demand. There are presently 70 to 100 rigs, almost a 50% increase compared to last year, according to Mr. Raju. https://www.thehindu.com/news/cities/Visakhapatnam/groundwater-table-falls-but-borewells-mushroom/article27706833.ece  (10 June 2019)
Bihar Districts Grapple with Drinking Water Crisis Flood-prone Bihar is known for an abundance of water resources. However, several districts are facing an acute water crises this summer due to mismanagement of water bodies and a population boom. The water table has gone below 250 feet from the ground level and hand pumps and tube wells, the main sources of water for drinking and irrigation in most villages, have also dried up.
Even as locals are struggling to cope with this crisis, farmers are the worst affected. Given the non-availability of irrigation water and intense heat, their crops are fighting for survival. Their livestock does not get required quantities of drinking water either. The Jal Nal Yojana (water and tap scheme) devised to provide potable water to every household in the state has failed due to improper implementation and deep-rooted corruption. The scheme has also seen wastage of water. https://www.news18.com/news/india/known-for-abundant-water-resources-dry-bihar-districts-unable-to-cope-with-new-crisis-2178009.html  (8 June 2019)
Rajasthan Residents of Jaipur bank on water tankers as taps run dry Areas at the tail end of the colonies in Jaipur do not get regular water supply and when it comes, the pressure is so low that it is not even possible to fill a bucket, residents said.
Water is supplied in Jaipur from Bisalpur dam and tube wells. The water level in Bisalpur dam is going down. The dam's capacity is 32 thousand million cubic feet (tmc ft), while the usable water is 24.2 tmc ft; at present 3.4 tmc ft water is available, officials said.
People use coolers at homes in summers; each cooler on an average consumes more than 100 litres of water. As many people have 2-3 coolers at home, water consumption has increased during the summer. "At present 496 million litres per day (MLD) is supplied to Jaipur, of which 330 MLD is supplied from Bisalpur dam and 166 MLD from tube wells. On an average the demand of water per day in the city is around 550 MLD. Last year the supply was around 560 MLD as there was water in Bisalpur dam." Solanki said.
The government has sanctioned digging of 279 tube wells in city areas, of which 254 have been dug up. Out of the 254 dug-up tube wells, 203 have been commissioned. In tail-end areas of the colonies and uncovered areas in the city, 453 tube wells were sanctioned, of which 271 have been drilled. Out of them 210 tube wells have been commissioned. https://www.hindustantimes.com/jaipur/residents-of-jaipur-bank-on-water-tankers-as-taps-run-dry/story-tj9o0T1pQDhJfGU1l2f8BI.html  (8 June 2019)
Bhilwara residents lock water containers to prevent theft Faced with acute water shortage and an unstable supply of drinking water, residents of Parasrampura village in Hurda panchaya are keeping their water containers locked to prevent theft of drinking water.Residents claim that drinking water is supplied through water tankers which come only once every 10 days. https://www.indiatoday.in/india/story/shortage-water-bhilwara-residents-lock-containers-theft-1542042-2019-06-04  (4 June 2019)
ENERGY OPTIONS
Floating solar power project in Idukki hydel dams At a time when Kerala is facing a serious power crisis, the Kerala State Electricity Board (KSEB) is looking to implement a floating solar power project in the hydel dams located in Idukki district.
As part of the project, a preliminary study was conducted at Idukki, Cheruthoni, Chenkulam, Anayirankal and Kallarkutty dams in the district. The project will be implemented in association with the National Thermal Power Corporation (NTPC). The preliminary study, which was jointly conducted by NTPC and KSEB, revealed that the extensive catchment area of the hydel dams is favourable for the installation of the floating solar power project.
NTPC senior managers Abhilash Kumar, Ashique Thomas, Sathish Yadav, KSEB executive engineer (electrical) Vincent Varghese, and KSEB executive engineer (dam safety) VS Balu led the team that conducted the preliminary study. https://www.thenewsminute.com/article/floating-solar-power-project-idukki-hydel-dams-preliminary-report-awaited-103165  (7 May 2019)
Spot electricity price drops to Rs 1 at power exchange on higher supply Spot electricity prices have on June 4, 2019 fallen to Rs 1 per unit after a gap of nearly two years because of higher supply from renewable energy sources as well as conventional plants as they have adequate fuel stocks. On Tuesday, prices at the exchange between 6:45 am and 9 am hovered between Rs 1.05 per unit and Rs 1.09 per unit. Power traded between 8 am and 8:15 am was sold and bought at 99 paise per unit, he said. Power prices have remained subdued since April, when short-term power prices declined 19.1 per cent year-on-year to Rs 3.22 per unit.   https://energy.economictimes.indiatimes.com/news/power/spot-electricity-price-drops-to-re-1-at-power-exchange-on-higher-supply/69660645   (6 June 2019) 
DISASTERS
Jammu & Kashmir Cloudburst kills two brothers in Jammu and Kashmir's Anantnag Two brothers were May 14 killed due to a cloudburst in Anantnag district of Jammu and Kashmir, officials said. The deceased were identified as Arif Ahmad Lone and Sameer Ahmad Lone. The officials said the police have not been able to reach the spot to recover the bodies yet as the water level in the stream has risen sharply. https://timesofindia.indiatimes.com/city/jammu/cloudburst-kills-two-brothers-in-jammu-and-kashmirs-anantnag/articleshow/69321649.cms  (14 May 2019)
ENVIRONMENT
NGT Pollution no less an offence than murder or rape  – Compare all NGT world environment day sermons with just one statement from Gujarat CM of planting 10 crore trees and laying a "deep-sea" pipeline to carry effluents from Ankleshwar, Vadodara, Ahmedabad, Vatva and Jetpur.  "The world is taking it (pollution) so seriously. We are not. I am sorry to tell you that no state in the whole country is compliant with the rules and regulations of waste management. No shortage of funds can be given (as an excuse)," Justice Goel said at an event organised by the Gujarat government to mark the World Environment Day celebrations in the state. He also pointed out that cities like Ahmedabad have huge garbage dumps.
Speaking in the presence of Gujarat CM Vijay Rupani and his two cabinet colleagues who handle the environment portfolio, the NGT chief said, "Six lakh people die every year in India due to diseases caused by air pollution, ranging from asthma to cancer, of which 50,000 are from Gujarat." CM Vijay Rupani said the state government plans to plant 10 crore trees and is laying a "deep-sea" pipeline to carry effluents from Ankleshwar, Vadodara, Ahmedabad, Vatva and Jetpur. https://indianexpress.com/article/india/ngt-chief-justice-adarsh-kumar-goel-gujarat-pollution-5767253/  (6 June 2019)
Odisha Govt assesses Cyclone Fani destruction – A total of 20,367 villages in affected 14 districts are part of the assessment, he said, adding, the cyclone-affected 1.6 crore of people and 1.88 lakh hectares of crop area. A total of 5,56,761 houses have either been fully or severely or partially damaged in the cyclone. The total death toll due to Fani was 64 while 12 people received grievous injuries. Besides, 2,650 large animals, 3,631 small animals and 53,26,905 poultry birds have been lost in the natural calamity, the SRC said.
– As power infrastructure was the worst affected due to Fani, the loss of the energy department is in the top position with Rs 1,159. 77 crore. The loss incurred by water resources department was Rs 370.90 crore, public works department Rs 868.26 crore, rural development Rs 435.77 crore, housing and urban development Rs 498.22 crore and Panchayati Raj and drinking water Rs 475.98 crore.
In April, when Fani was declared a 'severe cyclonic storm', the Centre had released an advance financial assistance of Rs 1,086 crore to four states – Odisha, West Bengal, Andhra Pradesh and Tamil Nadu — for preventive and relief measures. Of the total Rs 1,086 crore, Andhra Pradesh got Rs 200.25 crore, Odisha got Rs 340.875 crore, Tamil Nadu received Rs 309.375 crore and West Bengal Rs 235.50 crore. https://www.firstpost.com/india/odisha-estimates-rs-9336-cr-loss-due-to-cyclone-fani-seeks-assistance-of-rs-5500-crore-from-centre-6774011.html  (7 June 2019)
CLIMATE CHANGE
Shrinking of Indus glaciers need urgent attention  A team of Bengaluru-based glaciologists have prepared a scientific brief to predicts that a disastrous decline in glacial melt feeds to the three channels of Ravi, Beas and Sutlej, as compared to the three rivers of Indus, Jhelum and Chenab. They have predicted that by 2090, the three Indus basin rivers flowing into Pakistan — Indus, Jhelum and Chenab — will have a combined water volume of 1,178 cubic kilometres, compared to just nine cubic kilometres for the India-flowing rivers — Ravi, Beas and Sutlej. In 2010, the corresponding figures were 1,993 cubic km and 110 cubic km, respectively. The glacial melt run-off that feeds the Indus, Jhelum and Chenab in Pakistan will be 125 cubic km per year in 2090, compared to just 34 cubic km per year for the India-flowing rivers (Ravi, Beas and Sutlej).
– The scientists explain that this is because 37 per cent of the glacial area feeding the Pakistani rivers is above the equilibrium line altitude (ELA) of 5,500 metres, while the stable glacial area feeding the Indian rivers is only 21 per cent. The ELA is the altitude at which accumulation of snow is exactly balanced by the removal of snow and ice from a glacier by melting or evaporation (ablation) over a period of a year. "This results in more negative mass balance for the eastern river basin (India-flowing), where the river discharge peaks early in 2030; while for the western rivers with lesser negative mass balance, the river discharge peaks in 2070," the researchers say.
– Even the number of glaciers feeding the western and eastern Indus river systems will have drastically reduced, with Indian river-feeding glaciers reducing to a mere 89 while Pakistan's Indus basin rivers will have 3,747 glaciers feeding water to them. Using a predictive climate modelling system developed by the US's National Oceanic and Atmospheric Administration's Geophysical Fluid Dynamics Laboratory, called GFDL-CM3 (climate modelling version 3), the researchers arrived at the predictive conclusion that the western rivers' basin would be 14,004 sq km in 2090, while that of the eastern rivers would be 360 sq km. http://www.newindianexpress.com/nation/2019/jun/09/climate-wars-major-india-pakistan-conflict-predicted-over-water-1987768.html    (9 June 2019) 
SOUTH ASIA
Bangladesh A major threat to the environment It makes absolutely no sense as to why illegal stone extraction in Sylhet, Bandarban and other hilly regions in the country would continue despite directives from the High Court and calls from environmentalists and the local people to stop this dangerous practice. This daily published a picture on June 4 of a tila in Sylhet's Companiganj upazila which has now become a mining site where many workers are involved in stone-mining—risking their lives. https://www.thedailystar.net/editorial/news/major-threat-the-environment-1754101  (9 June 2019)  
THE REST OF THE WORLD
Op-Ed SHP is not green energy source Jeff Opperman on misconceptions of small hydro as climate friendly and green energy soure:- Growing global results and trends suggest that much greater caution and consideration is needed to guide planning and policy for small hydropower.
– Though small hydropower may be appropriate for some situations—and there is considerable potential for innovation for small hydropower added within existing infrastructure—policies that promote the proliferation of small hydropower with limited oversight will likely produce significant cumulative impacts for insignificant increments of additional generation, while potentially diverting resources away from more effective solutions. Failure to improve policies that govern small hydropower risks the loss of tens of thousands of kilometers of healthy streams and rivers with very little electricity to show for it. https://www.forbes.com/sites/jeffopperman/2018/08/10/the-unexpectedly-large-impacts-of-small-hydropower/#6884da6a7b9d  (10 Aug. 2018)
This is second part in the series on common misperceptions about hydropower that can interfere with transparent assessment and decision making. https://www.forbes.com/sites/jeffopperman/2019/06/06/crocodiles-are-not-geckos-the-realities-of-run-of-river-hydropower/#408b4c3e6371  (6 June 2019)
US Floods Great Lakes are overflowing with record amounts of water Lake Erie and Lake Superior broke records for average water levels in May, as did Lake St. Clair on Detroit's eastern edge, according to the U.S. Army Corps of Engineers. In May, Lake Erie also reached its highest level on record for any month. The outlook from the U.S. Army Corps of Engineers indicates monthly mean water levels for June are likely to meet or surpass record highs for that month.     https://www.washingtonpost.com/weather/2019/06/06/great-lakes-are-overflowing-with-record-amounts-water/        (6 June 2019)
Missouri River flood risk to continue for months  The U.S. Army Corps of Engineers says the amount of water being released from Gavins Point Dam on the Nebraska-South Dakota border will remain at 75,000 cubic feet per second for at least a month because of all the recent rain. "The 75,000 (cubic feet) level is going to be having water above the banks at a number of places for a very long time," said John Remus, who oversees water management for the reservoirs along the river.
"Those areas that have been flooded will continue to be flooded to some degree." During the March flooding that caused at least $3 billion in damage in Nebraska, Iowa, Missouri and Kansas, the Corps held back some water in the upstream dams after heavy rains and snow melt in Plains states caused the flooding. The Corps predicts 50 million acre-feet of water will flow through the reservoirs along the Missouri River this year. That would be the second-highest total ever behind only the 61 million acre-feet seen during the massive flooding in 2011. "They don't leave any room in the pool up there to hold anything so it looks like 2011 all over again," Bullock said. "The water isn't going down enough for us to get any levee repairs done. We will be flooded all summer."   http://www.newstribune.com/news/local/story/2019/jun/07/missouri-river-flood-risk-to-continue-for-months/781878/    (7 June 2019)
Floodwaters from the nearby Mississippi River have enveloped the Anheuser Estate, south of St. Louis. The famed house was owned by Fred Anheuser, one of the great-grandchildren of beer businessman Eberhard Anheuser. Eberhard owned E. Anheuser & Co. and later partnered with son-in-law Adolphus Busch.
– According to the CNN affiliate newspaper the St. Louis Post-Dispatch, the Mississippi River near the St. Louis area is expected to crest near record levels (about 46 feet) on June 6. https://edition.cnn.com/2019/06/05/us/missouri-flooding-anheuser/index.html  (5 June 2019)
Also see, this interactive maps of Netherland rivers. https://www.riversnetwork.org/rbo/index.php/river-blogs/west-europa/itemlist/category/674-belgian-netherland-coast  
Study Mapping groundwater's influence on the world's oceans Researchers at The Ohio State University have created high-resolution maps of points around the globe where groundwater meets the oceans—the first such analysis of its kind, giving important data points to communities and conservationists to help protect both drinking water and the seas.
In a study published June 3 in the journal Geophysical Research Letters, the team showed that nearly half of fresh submarine groundwater discharge flows into the ocean near the tropics. They also found that regions near active fault lines—the area around the San Andreas Fault in California, for example—send greater volumes of groundwater into the ocean than regions that are tectonically stable. And, they found that dry, arid regions have very little groundwater discharge, opening the limited groundwater supplies in those parts of the world to saltwater intrusion.
The study found that in some parts of the world, groundwater could be polluting oceans and lakes with nutrients and other chemicals. The study also found that climate heavily influences groundwater flow, and that cities in dry areas are especially vulnerable to saltwater contamination of aquifers.
"This study draws attention to the idea that surface water and groundwater are all connected, and if you start to extract groundwater, you're affecting that connection to our surface water bodies, and that can affect surface water quality, too," Sawyer said. "There is competition between the outward push of groundwater towards the coast and the saltwater that wants to come in, and if we don't have as much of an outward push because we're taking that fresh groundwater out of the ground instead of letting it flow to the coast, it puts us in a more vulnerable position. It's not that we can't use groundwater, but we need to monitor our impact and remember that groundwater is not an inexhaustible resource."  https://phys.org/news/2019-06-groundwater-world-oceans.html  (3 June 2019) 
Compiled by SANDRP (ht.sandrp@gmail.com)
Also see DRP News Bulletin 3 June 2019 & DRP News Bulletin 27 May 2019  
Follow us on: www.facebook.com/sandrp.in; https://twitter.com/Indian_Rivers