In 2019 overview, we saw the state of Andhra Pradesh experiencing all the key problems associated with sand mining; growing demand and prices, inadequate supply, illegal excavation affecting rivers and villagers and inactive govt bodies. Reports revealed Krishna and Vamasdhara rivers facing large scale mechanized mining while indiscriminate mining in Nagavali river affecting drinking water schemes in Regidi mandal. Srikakulam district and beaches particularly suffered.
There were reports showing political parties involved or facilitating illegal mining. Like other states, the Andhra govt was seen rallying on technological solutions to manage the mining. https://sandrp.in/2019/02/26/sand-mining-2018-telangana-and-andhra-pradesh/
The following overview since then show a whole range of developments. Unsustainable excavation of riverbed minerals & mismanagement show no end.
Judicial Interventions
NGT imposes Rs 100-cr penalty In April 2019, National Green Tribunal (NGT) slapped an interim penalty of Rs 100 crore on the state govt for inaction to prevent illegal sand mining, which was to be deposited with the Central Pollution Control Board (CPCB) within a month. Commenting that it was the duty of the govt to provide complete protection to the natural resources as a trustee of the public at large, the tribunal directed the chief secretary to forthwith prohibit all unregulated sand mining. The NGT bench also found fault with the heads of the departments concerned.
It constituted a committee comprising CPCB, Ministry of Environment, Forest (MoEF), National Institute of Mines-Dhanbad, IIT Roorkee and Madras School of Economics to undertake environment damage assessment within 3 months and furnish a report. The direction came on a plea filed by AP resident Anumolu Gandhi, alleging illegal sand mining was causing damage to Krishna, Godavari & their tributaries.  https://indianexpress.com/article/india/andhra-pradesh-illegal-sand-mining-national-green-tribunal-5663692/  (7 April 2019)
Illegal sand mining rampant: CPCB The irregularities in sand mining in Krishna & Guntur districts came to the fore in joint inspections by Central & State pollution control boards. As per the directions of the NGT in response to the petition by Anumolu Gandhi and others regarding illegal sand mining near the CM's residence in Undavalli, the AP Pollution Control Board (APPCB) and CPCB carried out inspections on Jan 17-18, 2019 & submitted a report to NGT. The inspections were carried out at Penumaka, Venkatapalem, Uddandarayunipalem, Lingayapalem and Rayapudi of Guntur district, and Surayapalem, Guntupalli and Ibrahimpatnam in Krishna. All these places are within 15 km distance of the CM's residence. 
In accordance with the free sand policy of the State govt, collectors of Krishna and Guntur districts had permitted desiltation for extraction of river sand; permission for extraction of 24.55 lakh T in Guntur and 9 lakh T in Krishna districts were granted. It was found that sand was being dug from a depth of 25 feet; 34,650 T per day was being mechanically extracted and transported in 2,500 trucks and tractors throughout the year. During the inspection, the officials discovered that the excavation at the river bank in Lingayapalem was being done without permission; unpaved ramps and narrow roads resulted in dust emissions during movement of vehicles. http://www.newindianexpress.com/cities/vijayawada/2019/apr/06/illegal-sand-mining-rampant-in-district-pcb-1960885.html  (6 April 2019)
NGT censures govt The NGT asked the govt to penalise violators & 'impose exemplary costs on environment damage'. https://timesofindia.indiatimes.com/city/vijayawada/ngt-censures-ap-govt-over-water-pollution-sand-mining/articleshow/69064224.cms (27 April 2019)
NGT not responsible for dearth Blaming NGT for creating sand scarcity, a report in The Hindu wrote that the order had severely impacted the construction industry & development projects. As per the report, Vijaywada required 750-1,000 lorries of sand every day.
The Dept of Mines and Geology Joint Director V. Koteswara Raju said that about 70 sand reaches that have environmental clearances across the state were running. The NGT order was "primarily about desiltation" caused by sand reaches. After the order, 3 reaches in Vijayawada & 5 in Guntur were closed. https://www.thehindu.com/news/national/andhra-pradesh/green-tribunal-order-hits-sand-availability-in-the-state/article26926524.ece  (24 April 2019) Media should not look at the issue this way. It was failure of govt which failed to control illegal sand mining. Nexus between govt officials, politicians and sand mafia isn't a new thing. Judicial interventions become imperative when situation become out of control.
SC suspends NGT order to pay Rs 100 Cr On May 12, 2020 citing interest of natural justice, the Supreme Court (SC) suspended the NGT order directing the state to deposit Rs 100 crores for inaction to prevent illegal sand mining. The apex court permitted the govt to move an appropriate application before the NGT within two weeks after the govt had claimed that it was not granted an opportunity to be heard by the green tribunal before the order was passed. "….We clarify that we have only suspended the direction of the NGT to the above extent. We have not expressed any opinion on the merits of the appeal," the bench said.
"Even a policy to give free sand as welfare measure cannot justify unregulated mining unmindful of impact on environment. If in the course of mining, damage is caused, the same must be recovered from such violators. Authorities cannot avoid their duty under the environmental law to restore the damage which is a duty to future generations," the NGT had said. https://www.outlookindia.com/newsscroll/illegal-sand-mining-sc-suspends-ngt-order-asking-ap-to-deposit-rs-100-cr-with-cpcb/1533796  (13 May 2019)
SC issues notice The apex court in last week of July 2019 issued notice to the Centre and five states including Andhra Pradesh seeking response on the petition which claimed there was severe environmental degradation due to aggressive illegal mining. The plea said "no Environment Clearance would be accorded to any sand mining project without a proper Environmental Impact Assessment (EIA), Environmental Management Plan (EMP) and Public Consultation, and appraisal as per the EIA Notification 2006."
The petitioner sought directions to the Centre to implement and enforce Sustainable Sand Mining Management Guidelines, 2016, Minor Minerals Conservations and Development Rules, 2010, and the mining plan to be approved under the MMDR Act, 1957. https://www.livemint.com/news/india/sc-issues-notice-to-centre-five-states-in-plea-against-illegal-sand-mining-1563968685554.html  (24 July 2019)
Govt denies illegal mining YSRC govt on July 23, 2019 contrary to its earlier stand, said no illegal sand mining had taken place in River Krishna near the residence of former chief minister N Chandrababu Naidu at Undavalli. Presenting his argument before the NGT, senior advocate Venkataramani, while denying any illegal sand mining upstream of the Prakasam barrage, said only desilting exercise was carried out in the river.
The govt's contention was the same as the one presented by the previous Chandrababu Naidu's regime. The senior counsel for the State said the desilting was carried out for the National Inland Waterway project & that no clearance was needed for the purpose. Further, he argued that the sand thus extracted was used in the Amaravati capital city projects. Seeking information on EC and comprehensive study, the tribunal directed govt to file a comprehensive report with all details in two week time and the case hearing was adjourned to Sept 2.
Expressing shock, one of the petitioners in the case, stated that in recent collector's conference, CM Jagan Mohan Reddy had alleged rampant illegal mining upstream of the Prakasam barrage. "The committee constituted by the govt in its report said illegal sand mining was happening. What more evidence do they need? We will continue our battle to protect river Krishna," he said. http://www.newindianexpress.com/states/andhra-pradesh/2019/jul/24/ysrcp-government-denies-illegal-sand-mining-in-krishna-river-belt-2008586.html  (24 July 2019)
Experts panel to verify govt report NGT in Feb 2020 constituted a team of experts to verify the report submitted by the state govt on the damage to the ecosystem of the Krishna due to free sand mining. The report defended de-silting (dredging) from the river, and sought dismissal of the petition against it.
The NGT's principal bench, however, constituted the committee, comprising representatives of the Expert Appraisal Committee of the MoEF, CPCB, & IIT Dhanbad & Bangalore. The NGT gave the committee 2 month to verify the report, validate the observations. Next date May 13. https://www.thehindu.com/todays-paper/tp-national/tp-andhrapradesh/expert-panel-to-verify-govt-report-on-sand-mining-in-the-krishna/article30826527.ece  (15 Feb. 2020)
GOVT STEPS
Probe ordered into illegal mining Acting on the complaints received over illegal sand mining in the downstream of Krishna river, District Collector Md Imtiaz ordered a departmental inquiry on May 7, 2019. The Collector further instructed officials concerned to file cases against errant sand miners for trespassing and illegally occupying govt lands. The issue of encroachment and illegal sand mining recently came into notice of the Collector during cleanliness drive 'Krishnamma Suddhilo Nenu Saitham' when revenue officials found bulldozers excavating sand from Krishna river during their inspection and land survey.
During their investigation, the revenue officials found that some unidentified people, claiming to have land pattas in survey number 95 were excavating sand with dredgers for the past two years without any requisite permission.  http://www.newindianexpress.com/cities/vijayawada/2019/may/08/probe-ordered-into-illegal-sand-mining-1974198.html   (8 May 2019)  
Illegal mining busted in Krishna On May 13, a joint team of Nandigama and Kanhikacherla police busted illegal sand mining at Raghavapuram village in Krishna district and seized 78 tractors owned by a contractor. http://www.newindianexpress.com/cities/vijayawada/2019/may/14/illegal-krishna-sand-mining-busted-78-tractors-seized-1976708.html  (14 May 2019)
171 booked for illegal mining, transport Guntur Rural District Police booked 171 persons and charged them under various sections besides imposing a fine of ₹1.32 crore. https://www.thehindu.com/news/national/andhra-pradesh/171-booked-for-illegal-sand-mining-transport-in-guntur-district/article28453460.ece  (16 July 2019)
Illegal mining in East Godavari Peddapuram revenue division authorities on a tipoff conducted raids at Ramesampeta Metta village in Peddapuram Mandal in East Godavari district on Aug 31, 2019 and seized 2 JCBs and 12 loaded trucks ready to carry red gravel to various destinations. The case has been transferred to East Godavari district mining department for further action. https://www.thehansindia.com/andhra-pradesh/illegal-sand-mining-2-jcbs-12-sand-filled-trucks-seized-in-east-godavari-559908  (31 Aug. 2019)
Govt busts online fraud Many brokers were accused of smuggling sand in bulk bookings with different addresses. An investigation by the police and mining authorities revealed that Kishore, a Guntur hub, was involved in fraud on sand mining. About Rs 1.27 lakh worth of sand was discovered from Kishore with fake IDs. The mining authorities seized 27 tonnes of sand and seven tractors that were ready to be smuggled.
Also identified as Durgara Rao of Gannavaram. Under Benami Names, Rs. 3.80 lakh worth of sand was found booked online by Durga Rao. Officials confirmed that Durga Rao, a service operator, was involved in the fraud. Criminal cases have been registered against Kishore and Durga Rao. https://www.thehansindia.com/andhra-pradesh/andhra-pradesh-govt-busts-online-fraud-on-sand-mining-police-arrests-the-culprits-575705    (25 Oct. 2019)
First illegal mining conviction In Nov 2019, the first conviction in illegal sand transportation case was reported from Kadapa, CM Reddy's home district. One Nandyala Subbarayudu (20) was sentenced to 3 years imprisonment and a fine of 10,000 by the first class additional judicial magistrate of Kadapa on charges of illegal sand mining and transportation, and causing damage to Papagni riverbed. The state govt had decided to impose hefty fines and jail term on those indulging in illegal storage, sale/resale and transportation of sand to curb illegal sand mining. https://timesofindia.indiatimes.com/city/vijayawada/man-gets-3-yr-jail-in-first-illegal-sand-mining-conviction-in-ap/articleshow/72191045.cms  (23 Nov. 2019) 
Amid Covid-19, govt begins mining Sand mining was restarted on April 1 to ensure adequate sand reserves for the ensuing rainy season, according to M Madhusudan Reddy, Vice-Chairman and Managing Director, AP Mineral Development Corporation (APMDC). Sand mining is being taken up while ensuring there's no disruption to the measures being taken to tackle Covid-19, he said.
The objective is to build up about 6 Mil T of sand stockyards as decided by CM YS Jagan Mohan Reddy. The construction sector requires about one lakh T sand per day at normal pace of construction. About 30 lakh registered workers are dependent on the sector. Andhra Pradesh is a sand-deficit state, with only 12 MCM sand available against the demand of 20 MCM. https://www.thehindubusinessline.com/news/along-with-covid-19-control-ap-begins-sand-mining-to-set-economy-rolling/article31224845.ece  (01 April 2020)
UNFULFILLED PROMISES AND BACKLASH
May 2019
Is Jaganmohan serious about ending illegal mining? While campaigning for the elections, Y.S. Jaganmohan Reddy had promised that he would introduce a law to check illegal sand mining if he came to power.
In one of his election speeches, Reddy had said that he would not hesitate to destroy the extravagant Rs 40 crore CM bungalow built on the Krishna flood plain as it violated the existing law that says flood plains must be left in their pristine state. After winning election, he admitted large scale illegal mining, he told party workers that he was determined to stop illegal mining. https://thewire.in/environment/jaganmohan-reddy-sand-mining-andhra-pradesh  (30 May 2019)
June 2019
New CM orders review of contracts After taking charge as CM, Jagan ordered to review the contract to Navayuga Engineering Company to execute Polavaram Project, Megha Engineering & Infrastructures Ltd for the Pattiseema Lift Irrigation project, contracts to various firms for work relating to the new capital and sand mining contracts awarded in all districts. https://indianexpress.com/article/india/andhra-pradesh-jagan-reddy-lifts-curbs-against-cbi-orders-review-of-contracts-5763433/ (4 June 2019)
Govt imposes ban on mining Assuring about a new sand mining policy from July 1, 2019, the state govt on June 11, 2019 imposed a ban on mining and transportation of sand for a fortnight. With this, the controversial free sand mining policy introduced by the previous TDP regime came to an end.
As per DM&G Peddireddy Ramachandra Reddy, 20-25 % of state govt's income comes from mining alone and steps were being taken to curb illegal mining and increase the revenue. The district officials would be held responsible in case of mining and transportation of sand until the new policy comes into effect. http://www.newindianexpress.com/states/andhra-pradesh/2019/jun/12/andhra-pradesh-government-imposes-ban-on-sand-mining-new-sand-policy-by-july-1-1989096.html  (12 June 2019)
The Minister also said that the mineral wealth was brazenly looted during the TDP govt. The State suffered due to the free sand policy but the TDP leaders benefited. An MRO who opposed the illegal sand mining was attacked by the TDP leaders. The TDP candidates lost the election wherever illegal mining was reported, he asserted.  https://www.thehindu.com/news/national/andhra-pradesh/govt-bans-sand-mining-for-15-days/article27820528.ece  (12 June 2019)
Reacting on the development, former BJP Floor Leader in the Assembly P. Vishnu Kumar Raju said that the total ban on sand mining and transportation sought to be imposed up to July 1 and invoking the PD Act for violation appeared to be a harsh decision and would cripple the construction sector. https://www.thehindu.com/news/national/andhra-pradesh/reconsider-ban-on-sand-mining-transportation-bjp-leader/article27892588.ece  (13 June 2019)
Fresh orders issued for quarrying in Kadapa Following directions of the govt the district administration issued temporary circular related to the mining of sand from seven reaches which were having environmental pollution permission in the district. In this circular issued on June 19, 2019, collector CH. Harikiran specified quarrying of sand was being permitted in these sites. https://www.thehansindia.com/andhra-pradesh/fresh-orders-issued-for-quarrying-of-sand-in-kadapa-district-539253  (19 June 2019)
July 2019
Activist demands action against illegal mining, officials Activist and former energy secretary E A S Sarma urged the state govt on July 24, 2019 not to delay action against illegal sand miners and officials responsible for illegal sand mining in the Krishna river catchment. Sarma observed that the NGT had imposed a fine of Rs 100 crore on the state govt, urging it to collect the sum from erring miners and officials responsible for the illegal activity. But the state govt had instead filed an appeal in the SC challenging the NGT's decision.
He said that the previous govt had aided and abetted the miners, by claiming that they had only conducted de-silting work, "This was their argument when they filed the petition in the SC," Sarma added. https://timesofindia.indiatimes.com/city/visakhapatnam/activist-demands-action-against-illegal-sand-mining-officials/articleshow/70369442.cms  (25 July 2019)
Mining ban & jobless thousands With construction activity coming to a halt due to the ban on sand quarrying, thousands of workers in Nellore district were left in the lurch after losing their source of livelihood. Workers from other parts of the State had also migrated to Nellore, where development picked up pace after it was declared a tier-II city and received funds under the Centre's Amrut (Atal Mission for Rejuvenation and Urban Mission) scheme. Its nearby areas such as Kavali, Gudur, Sullurpeta and Atmakur also witnessed rapid development.  
Explaining that the situation, Srinivasulu a real estate developer added works at around 75 % of the ventures were stopped. The realty industry provided employment to nearly three lakh workers 30 % were women in Nellore. http://www.newindianexpress.com/states/andhra-pradesh/2019/jul/18/ban-on-sand-mining-renders-thousands-jobless-2005692.html (18 Jul '19)
Building workers protest against ban Krishna District Building Workers' Union, under the aegis of CITU, staged a protest in Vijaywada city against the govt's 15-day ban on the sand mining. There were 73 sand reaches in the district that could not be touched due to the ban. The union leaders said that over two lakhs labourers engaged in sand mining were severely affected by the ban. The onset of monsoon had added to their grief. They demanded govt to resume the mining operations under the supervision of the DM&G.
The union demanded that the new sand policy to be implemented from Sept 5 should ensure a secured livelihood to the workers of these sand quarries. In addition, the union leaders along with the workers who gathered in large numbers, demanded that a welfare board be instituted so as to ensure that the workers get a steady pension and a subsidy in education for their children. https://www.thehindu.com/news/cities/Vijayawada/building-workers-protest-against-ban-on-sand-mining/article28717673.ece  (26 July 2019) 
August 2019
Will the new policies help? The govt felt that the free sand policy was resulting in a revenue loss of ₹500-600 crore. In comparison, the Telangana State Mineral Development Corp (TSMDC)'s sales went up to ₹886 crore in 2018-19 from a mere ₹10 crore in 2014-15 and ₹374 crore in 2015-16. Hence, extract and despatch of sand from the allotted sand-bearing area to an approved stockyard would be done by the AP Mineral Development Corp (APMDC).
The policies so far benefited neither consumers nor the exchequer. As per the free sand policy, the sand would have to cost ₹750-850 per T depending on the distance of the sites from where it was extracted, but in reality, it was sold at prices ₹1,500-1,800 a T. A truckload of sand that used to cost ₹4,000 just before the NGT order touched ₹15,000. The price used to be ₹12,000-13,000 per lorry due to shortage in 2014.Now, with the ban on sand mining, a truckload is estimated to cost around ₹20,000. https://www.thehindu.com/news/cities/Vijayawada/shifting-sands/article28808287.ece  (3 Aug. 2019) 
Capital works pushed up demand The sand reaches across the Krishna river have met the needs of construction industry in Guntur, Krishna, Prakasam and also in Hyderabad since the year 2000. Hundreds of trucks carrying sand used to ply on the national highway and reach Hyderabad before dawn. As the business grew, sand became a precious commodity.
Post-bifurcation, the demand for sand reached unimaginable heights. The massive construction works taken up in the Capital area by the govt and the private builders in Guntur and Vijayawada had created a surge in demand for sand. The sand reaches in Rayapudi, Amaravathi upstream of Prakasam Barrage witnessed a surge in demand.
An estimated 2.08 lakh cubic metres of sand was made available in Guntur district. The Mining Dept identified five reaches downstream of Prakasam Barrage in Kollur and Kollipara mandals. https://www.thehindu.com/news/cities/Vijayawada/capital-works-push-up-demand/article28808351.ece  (3 Aug. 2019)
Curbs on illegal mining hits Bengaluru builders Due to curb in illegal mining in Andhra, Karnataka and surrounding areas were reeling under severe shortage of sand, 0.3 MT of imported sand from Malaysia was piled up at Mangaluru and Krishnapatnam ports. The neighbouring state faced a shortage of 2-3 MT of sand, with the demand close to 33 MT.
Several construction companies temporarily stopped works following poor availability of sand in Bengaluru, a builder from Kengeri area said. In fact, quality sand would be available from reaches closer to riverbeds of Anantapur which had huge demand in Bengaluru city that had poor sources of sand in Karnataka. https://www.deccanchronicle.com/nation/current-affairs/160819/curbs-on-illegal-sand-mining-in-ap-hits-bengaluru-builders.html  (16 Aug 2019)
Resolve sand mining issue in Vizianagaram The construction workers demanded the govt to resolve the sand mining issue as it had badly affected the hundreds of workers. The workers on Aug 29, 2019 staged Bhikshatana as part of protest demonstration in Parvathipuram town of Vizianagaram. https://www.thehansindia.com/andhra-pradesh/resolve-sand-mining-issue-in-vizianagaram-559429  (30 Aug. 2019)
September 2019
New policy The State govt on Sept. 4, 2019 issued an order introducing the Sand Mining Policy-2019. The new policy aimed at addressing the issues of indiscriminate mining of sand, black marketing, hoarding, skyrocketing sand prices, artificial supply shortage and cross-border transportation. The APMDC Ltd would undertake sand quarrying and supply sand to the customers on behalf of the govt. The plan was to achieve sustainable sand mining by ensuring compliance with environmental regulations. It also aimed at supplying sand at affordable prices and generating more revenue through its sale.  http://www.newindianexpress.com/states/andhra-pradesh/2019/sep/05/andhra-pradesh-government-introduces-sand-mining-policy-2019-2029207.html  (5 Sept. 2019)
New policy overlooking green issues: EAS Sharma  Former Union Govt Secretary and activist EAS Sarma said, "The principle of sustainable sand mining is that the quantity of sand mined from a stretch in a year should not exceed the quantity deposited. In the absence of scientific studies, whatever policy adopted in a hurry is not going to help." He also said that EIA should be conducted before allowing the quarrying or excavation, as per the SC's past order, stating, "EIA should be done based not only on the likely impact of sand mining in a river stretch on the local environment but also on the basis of a scientific assessment of how much sand can be mined." https://www.thenewsminute.com/article/explainer-all-you-need-know-about-andhras-new-sand-policy-108788  (12 Sept. 2019)
October 2019
Sand mining restricted to streams due to floods As floods in all major rivers made sand mining difficult, the govt has resolved to concentrate on streams of 1st to 3rd order along with de-casting of patta lands to ease the shortage. There were floods in the Godavari at Dowleswaram for the last 55 days, the Krishna was in spate at Prakasam barrage for 71 days and a record rainfall of 400-500 mm was recorded in the Tungabhadra dam region. Other rivers such as Vamsadhara and Penna were in spate too. It has been decided to concentrate on the streams and de-casting of the patta lands. The excavation and transportation of sand from the streams would be governed as per Rule 23(1) (a) of WALTA Act, 2004. The transportation would be for local use by means of bullock carts and tractors within the district concerned. https://www.thehindu.com/news/national/andhra-pradesh/sand-mining-restricted-to-streams-due-to-floods/article29780738.ece  (24 Oct. 2019)
Sand mining in ponds, lakes CM directed the district collectors to identify sand reaches at local ponds, lakes, canals, streams and rivulets in the villages. The sand mining at the reaches was to be conducted under the supervision of village secretariat employees and sand will be transported in tractors for not more than 20 km. The govt issued an order allowing sand mining in the new sand reaches. The decision was taken at a review meeting held by the CM on sand scarcity. Though the govt rolled out the new sand policy on Sept 4, scarcity of sand was continuing across the State due to floods in major rivers.
During the meeting, the officials informed that sand was being supplied from only 69 reaches against the identified 200 reaches. The CM instructed the collectors to identify the areas where sand mining was possible. http://www.newindianexpress.com/states/andhra-pradesh/2019/oct/24/sand-mining-in-ponds-lakes-2052275.html  (24 Oct. 2019)
Sand scarcity According to Confederation of Real Estate Developers Association (CREDAI-AP) data, the construction sector in Andhara Pradesh requires about one lakh tonnes of sand every day, but the current availability was almost zero. This was mainly due to the delay in the roll out of a new sand policy announced by the Jagan Mohan Reddy govt. Under this policy, the govt took over all aspects of sand mining, including its supply, with the APMDC as the nodal agency. The floods worsened the situation by delaying work at the sand reaches.
An APMDC official said that every day about 40,000 T sand were available but this got sold out in minutes due to the huge demand and stockpiling by some. https://www.thehindubusinessline.com/news/national/sand-scarcity-in-ap-janasena-leader-pawan-kalyan-plans-long-march-on-november-3-to-highlight-the-issue/article29822467.ece  (29 Oct. 2019)
Shortage persists With flooding of major rivers extending the shortage, despite the govt's ad-hoc measures to manage supply, the price of a truck-load of sand (10-12 tonnes) rose to over Rs 50,000 in the black market, forcing many people to postpone construction work at their houses and residential projects.
"People engaged in sand mining were used to piling up sand in dump yards before rivers and rivulets would become inaccessible due to rains and flooding. However, the new govt clamped down on this informal mining as soon as it came to power. Rivers were already in spate by the time alternative steps for making river sand available were announced," said V Uma Maheshwar Rao, president of the AP Building and Construction Workers Union. However, the govt claimed it had made available 5-6 min T sand through alternative measures.
In Aug 2019, the govt announced an alternative plan under which APMDC would set up and maintain stock points and sell sand at Rs 375 per T on a first-come-first-served basis. However, trucks and tractors waited in queue for their turn for days together at stock points while authorities struggled to meet the demand.
To ease the situation, the govt announced another ad-hoc plan by authorising every Gram Panchayat to sell sand available under its jurisdiction. The ground situation remained more or less the same, even as the govt tried to take control of sand mining from the private players. https://www.business-standard.com/article/economy-policy/more-pain-for-andhra-pradesh-construction-sector-as-sand-shortage-persists-119102901315_1.html  (29 Oct. 2019)
Sand politics claimed lives Ever since the new policy came into effect, the authorities could not make more than 40,000 T of sand available on any given day while the daily demand was around 1.50 lakh T. People complained that the stocks made available online were getting exhausted in no time. There were allegations that the sand was being diverted from stockyards to cities like Bengaluru, Chennai and Hyderabad and being sold for Rs 80,000-1 lakh per truck.
Sand shortage in Andhra has led to the deaths of three construction workers. A tipper truck of sand from APMDC stockyard in Visakhapatnam costs Rs 20,000 but due to severe shortage, builders were sourcing sand from neighbouring Odisha at a cost of Rs 45,000. https://www.thenewsminute.com/article/explained-how-politics-around-sand-has-claimed-three-lives-andhra-111422  (30 Oct. 2019)
Prakasam admin seeks permission for mining To act on the sand scarcity in the district, the Prakasam administration sought permission for mining at 22 sand reaches. Mining in rivers was presently not possible at many places due to continuous rains.
As per the new sand policy, 50 T sand would be supplied for construction of a house in 1,000 sqft. The consumer would have to enter details of their house and the system would automatically generate bill, along with details of quantity to be supplied. The consumer could book only 20 T sand for 72 hours. The consumer needed to pay 1,675 for one sand-filled tractor, excluding the transportation cost. http://www.newindianexpress.com/states/andhra-pradesh/2019/oct/31/prakasam-administration-seeks-permission-sought-for-sand-mining-at-22-locations-2055153.html  (31 Oct. 2019)
November 2019
New mafia taking control of mining According to CPCB's report of 21 Jan 2019, 34,000 T of sand were extracted daily from seven points in the river Krishna near Vijayawada and 2500 truckloads of sand were being transported per day.
If the value of sand per truck is estimated to be just Rs 5000, the court calculated that the value of the total extracted sand from the river bed would be Rs 1.25 crore per day, or Rs 450 crore per year. This convinced the NGT to slap an interim fine of Rs 100 crore on the state govt. It also directed the state to recover the amount from the "persons responsible for illegal mining or the colluding erring officers."
As per Anumolu Gandhi, the petitioner in the case, the illegal sand mining mentioned in the case took place at a distance of just 8-12 km from the residence of the then CM N Chandrababu Naidu, who lived in a mansion built on the banks of river Krishna near Vijayawada. But the change of govt was unlikely to alter the status quo. https://www.thelede.in/environment/2019/11/02/jagans-ban-on-illegal-sand-mining-falters (2 Nov 2019)
Govt policy failed to address the problems Although the govt had set the price at Rs 375 /T, the black-market price had gone upto around Rs 3850 /T. Even suicides by some construction workers were linked to job losses.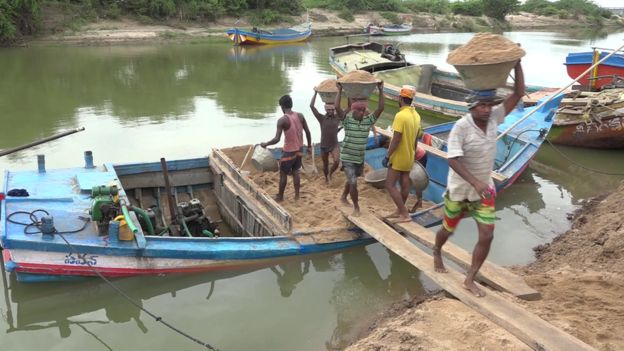 Opposition parties blamed govt for exacerbating the problem by introducing new regulations for the extraction and sale of sand. But because of the shortage, the govt appeared unable to meet the demand. Its daily output didn't exceed 40,000 tonnes, according to reports, while demand was often nearly four times that much. https://www.bbc.com/news/world-asia-india-50386515  (13 Nov. 2019)
WRD proposes sand excavation from Godavari According to an engineer of WRD, a detailed special survey was needed to get the actual sand stocks in the Godavari river and as per barrage security committee the dredging or digging cannot be taken up downstream three km of the barrage. The dept had not taken up dredging operations as tenders were not finalised by that time. The quality of sand accumulated in the river is 2.5 Fideness Modues Value (FMV). The sand was rough, and was in a good demand. The dept had already sent proposals for dredging operations in the river and waiting for approval. Meanwhile, the daily usage of sand in the district was 22,000 to 24,000 T and only 19,000 T sand was being made available a day. https://thehansindia.com/andhra-pradesh/rajamahendravaram-wrd-proposes-to-excavate-sand-from-river-godavari-582809  (20 Nov. 2019)
Shifting sands  Environmentalists cautioned that new sand mining policy still had a long way to go from being "legal" and "scientific", as the govt claimed. The policy violated the Sustainable Sand Mining Management Guidelines of 2016. While the Nagavali and Vamsadhara riverbeds are the major sources of sand, there are other smaller ones too. In the Srikakulam and Vizianagaram districts, there are about 90 reaches that have been identified by the govt.
Only a scientific study on the actual availability of sand in river beds, specifying the volume which can be mined and from which parts of the riverbeds, can help the govt counter allegations of violations. https://www.thehindu.com/news/national/andhra-pradesh/shifting-sands-in-andhra-pradesh/article30118547.ece  (30 Nov. 2019)
Illegal Sand Mining Reports
Tribals oppose mining near Kalyana Lova reservoir Mining along the embankment of Kalyana Lova (Kalyanapulova) reservoir was an issue since last one year. The tribal people were demanding the suspension of mining on the hills that have been part of the catchment area. Apart from mining activity, which was hurting the bunds, the stone revetment, which protected the water logging area, was coming off. Kalyana Lova reservoir and dam was the first medium irrigation project in Visakhapatnam district. It has been serving the people, especially the farming community since 1978, and irrigating close to 5,000 acres for about 5,000 farming families. The main source of water is from Varaha river that flows from hills in the Agency between G. Madugula and Chintapalli mandal. https://www.thehindu.com/news/national/andhra-pradesh/tribal-people-oppose-mining-near-kalyana-lova-reservoir/article28365154.ece  (11 July 2019)
'Mining near Andhra's Kalyanapulova dam illegal, must be stopped' In July 2019, the Human Rights Forum (HRF) took note of the alleged illegal granite mining in the catchment area of the Kalyanapulova reservoir in Visakhapatnam district and issued a statement on demanding that the quarries be shut down.
"The reservoir and its environs, which are a livelihood source for farmers and adivasis in the area, is in a perilous state due to granite mining in its catchment area. The govt is constitutionally obligated to stop all mining in the area and ensure that the catchment and local ecosystem is not further pillaged. A comprehensive investigation must be launched to identify and prosecute all officials who facilitated this brazen illegality," the statement said.
"It is evident that granite mining was permitted several years ago in the catchment of Varaha river that feeds Kalyanalova reservoir by a nexus of revenue, forest and mining officials. These corrupt officials suppressed the cardinal fact that the various mine quarries were located bang in the catchment area of the reservoir," it adds.
HRF also alleged that the mining licenses were accorded on land located in 'Scheduled area', in violation of statutes like the Forest Rights Act (FRA) and the Panchayats (Extension to Scheduled Areas) Act (PESA). The activists also urged the Collector to initiate a comprehensive enquiry by the Joint Collector at the earliest in order to get to the bottom of the issue. https://www.thenewsminute.com/article/mining-near-andhras-kalyanapulova-dam-illegal-must-be-stopped-say-activists-105636  (18 July 2019)
Save Kalyanapulova dam from mining operations: EAS Sarma Former Union Energy Secretary EAS Sarma on Oct. 19 demanded the State govt to abolish mining permits given in the catchment area of Kalyanapulova dam to save it from the pollution. Speaking at the public hearing session of 'Save Kalyanapulova Reservoir-Declare the catchment area as no mining zone', he said despite writing many letters, he did not get positive response from the govt.
Social activist K Sajaya said that she has visited the Kalyanapulova area to understand real situation. "The situation of women is pitiable as they have to fetch water from long distance as mining is destroying natural water body. The cashew plantations are destroyed due to pollution and adivasi houses developed cracks." https://www.thehansindia.com/andhra-pradesh/save-kalyanapulova-dam-from-mining-operations-eas-sarma-574193  (20 Oct. 2019)
Sand mining leads to water scarcity in villages With the excavation of sand in Tungabhadra going unabated, the villages on the banks of the river were facing drinking water shortage. A villager, stating the reasons behind the supply of water once in a week by panchayat, said the borewells dug in the river were taking 2 to 3 days to be filled. After the borewell was totally filled then the panchayat officials would supply water. He urged the officials concerned to stop the illegal sand mining at least in summer.
When questioned about the illegal sand mining, Circle inspector Chalapathi Rao of Taluka police station said, "We have caught more than 100 tractors & all cases pertaining to the seizure are pending in the court." The Police department despite knowing about the illegal transportation of sand was turning blind eye on it. One can know how many tractors were plying every day with CCTV cameras installed at 'Y' junction in Munagalapadu. https://www.thehansindia.com/andhra-pradesh/sand-mining-leads-to-water-scarcity-in-villages-528154   (10 May 2019)
Illegal sand mining in Srikakulam Nine sand reaches were allowed officially to excavate sand from Vamsadhara and Nagavali rivers by the district level sand committee (DLSC). The nine reaches are Muddada, Singuru, Ponnam, Dusi, Purusottapuram, Muddadapeta, Butchipeta, Chenulavalasa and Pothayyavalasa located in Amudalavalasa and Narasannpeta Assembly segments. Due to lack of supervision of police and revenue officials, mining officials were allowing excavation of more than approved quantity of sand. Previously DLSC planned to install CC cameras at sand ramps to record mining and transportation of sand.
For this purpose, it entered into an agreement with a company, Blue Frag. But the sand mafia influenced the officials with the support of MLAs as a result, CC cameras were yet to be installed. As a result, sand quantity was not measured at ramps which is a boon to mafia to mine and transport more quantity. https://www.thehansindia.com/andhra-pradesh/illegal-sand-mining-rampant-in-srikakulam-522194  (19 April 2019)
Fearing flood threats, Srikakulam residents seek intervention Shantinagar colony, with more than 400 households was facing threat of floods due to excessive sand mining that was happening for over two months. Sand excavation is being done near human habitation from the riverbed of the Nagavali river which passes through the town. https://www.thenewsminute.com/article/residents-ap-s-srikakulam-allege-illegal-sand-mining-seek-official-intervention-112544  (19 Nov. 2019)
Illegal procurement of sand a threat to groundwater table in Chittoor The illegal procurement of sand and its transport was going on unabated in V.Kota mandal of Palamaner Assembly constituency. Farmers of a dozen villages abutting rivulets & streams expressed concern that indiscriminate lifting of sand and leaving huge pits in the rivulet beds would endanger the groundwater table.
Farmers at Pamuganipalle observed that almost all the villages in V.Kota mandal were facing the problem of depletion of groundwater. While most of the district saw good rainfall during the north-east monsoon, it was either nil or deficient in V. Kota and surrounding mandals, up to Kuppam. Several farmers and household members dug borewells till more than one thousand feet, but in vain.
The illegal sand operators are said to be active at the areas of Pamuganipalle, Peddavanka, Gangamma Yeru, Enumula Cheruvu, Gonumakula Palle, Jetivanka, and rivulets connected to Palar river, apart from small rivulet and stream beds. Poor surveillance has enabled them to deploy tippers and private workers at their convenience to lift sand round the clock.
The sand material from V.Kota mandal is finding its way through the markets in Karnataka. Though some of them had brought it to the notice of the DM&G officials and the local police, no tangible steps were to be seen, they complained. https://www.thehindu.com/news/national/andhra-pradesh/illegal-procurement-of-sand-continues-unabated-in-chittoor/article30727418.ece  (03 Feb. 2020)
Illegal mining in Kadapa Seizure of 560 tones of sand on January 31, 2020 at Amritha Nagar area in Prodaturu town showed the intensity of the situation. "Twice week sand is being illegally transported to Bangalore and Chennai but no one feels responsible" said BJP Proddatur town convener G. Srinivasulu.
"We are spending sleepless nights due to illegal quarrying of sand day and night from Penna river. There are several instances that villagers being manhandled by sand mafia when tried to stop the illegal quarrying" said A.Prathap Reddy of Mudhunuru mandal said. https://www.thehansindia.com/andhra-pradesh/illegal-quarrying-and-transportation-of-sand-is-rampant-in-kadapa-district-603368  (07 Feb. 2020)
Sand mining in Thungabhadra Indiscriminate sand mining was going on in Tungabhadra river during night hours. People of Panchlingala, Ulchala, Nidzur and other villages were excavating sand and dumping at some secrete places. Later, the sand was being supplied to assignees. It is alleged that the police are being bribed to carry on illegal sand mining. It was also learnt that the sand was being transported in the district and also places in Telangana. Restricting sand mining by the state govt had become advantage to the sand traders. Panchalingala village had become hub for the transportation of sand. https://www.thehansindia.com/andhra-pradesh/sand-mining-goes-unabated-in-thungabhadra-554144  (11 Aug. 2019)
Sand mining sparks row between border villagers Mining of sand in Tungabhadra river near Gundrevula in C Belagal mandal of Kurnool district led to a row between people of border villages of Andhra Pradesh and Telangana, which are already locked in a controversy over sharing Krishna river waters.
People of border villages levelled allegations against each other that sand was being illegally mined in their respective territory.  https://www.newindianexpress.com/states/andhra-pradesh/2020/may/14/sand-mining-sparks-row-between-andhra-pradesh-telangana-border-villagers-2143157.html  (14 May 2020)
Illegal mining going on http://www.newindianexpress.com/states/andhra-pradesh/2019/jul/13/illegal-sand-mining-in-andhra-pradesh-five-held-tractors-seized-2003304.html  (13 July 2019)
FATALITIES  
2 revenue officials in hospital chasing sand mafia in Kadapa Two revenue officials were injured when they tried to stop illegal sand transportation from River Penna in Siddavatam mandal, exposing the thriving sand mafia in Kadapa district in June 2019. While chasing a sand-laden tractor, the officials' two-wheeler was hit from the rear by the driver.
http://www.newindianexpress.com/states/andhra-pradesh/2019/jun/10/two-revenue-officials-end-up-in-hospital-chasing-sand-mafia-in-kadapa-1988230.html  (10 June 2019) 
2 VROs injured in Srikakulam 2 VROs were injured as sand mafia attacked them at Naira village in Srikakulam rural mandal when they were trying to prevent the illegal excavation of sand from Nagavali river. https://www.thehansindia.com/andhra-pradesh/2-vros-injured-in-sand-mafia-attack-in-srikakulam-529570  (15 May 2019)
https://english.sakshi.com/andhrapradesh/2019/05/15/vros-attacked-by-sand-mafia-in-srikakulam  (15 May 2019)
Sarpanch attacked for opposing illegal mining Denduluru MLA Chintamaneni Prabhakar followers allegedly abducted and thrashed a former sarpanch and YSR Congress leader for raising voice against illegal sand mining from Polavaram canal in West Godavari district. Some irrigation department officials who received a complaint from the former sarpanch, passed on the information to the MLA. http://www.newindianexpress.com/states/andhra-pradesh/2018/nov/16/chintamanenis-men-bundle-ysrc-leader-into-car-thrash-him-for-opposing-illegal-sand-mining-1898858.html  (16 Nov. 2018)
Questions over suicide of construction workers TDP leader Nara Lokesh alleged that two workers were killed for the artificial sand dumping. https://www.thehansindia.com/andhra-pradesh/sand-mining-row-former-minister-nara-lokesh-questions-jagan-govt-over-suicide-of-construction-workers-576006  (26 Oct. 2019)
Summary
The overview shows that the sand mining state of affairs have further worsened in Andhra Pradesh. While the illegal and excessive riverbed mining continued to affect rivers, dependent communities & even aggravating the surface and groundwater crisis in Tungabhadra river villages in Kurnool and Palar tributaries in Chittoor. Mining in Varaha river and in the catchment of Kalyanapulova dam in Vishakhapatnam has been severely affecting tribal population and farmers by creating water scarcity.
The unsustainable mining practices in Nagavali, Krishna, Godavari and other rivers have not stopped. In fact, with new govt which made it an election issue and won has failed to reverse the trend. First it abruptly cancelled the existing policy and then delayed the much hyped new one for five months. The 15 days ban & then non-availability due to floods hit the construction sector severely rendering about 35 lakh sand and construction workers of which nearly 30 per cent were women- jobless. The crisis also reportedly led to suicide incidents of four labours.  
In between the govt could make available only 40,000 T sand a daily against the demand of about 1.50 lakh T. The online booking mechanism proved ineffective leading to shortage & exorbitant price rise in the black market thus creating a new mafia. With availability of 12 MCM sand against the demand of 20 MCM annually, APMDC officials say Andhra Pradesh is sand-deficit. Govt also says that due to illegal mining state was losing Rs 500-600 crore revenue annually. Criticising free sand policy the govt promised to avail sand at Rs 375 per T through APMDC but the non-availability led to about 10 times price rise in black market. 
In a face saving move, it allowed more mining in smaller rivers, village level water bodies and even explored more mining opportunities in already over-exploited rivers and Kadapa and Prakasam districts. However the policy changes have not helped stop unsustainable exaction and plug illicit mining operations. It is surprising that despite this riverbed minerals were being transported to Bengaluru, Chennai and Telangana while given short supply, the builders in state were seen buying sand from Odisha. Reports also show that the state govt has failed to install CCTV cameras and has not taken other measures recommended by MoEF&CC to check illegal sand mining. 
In an unexpected U-turn, the Jagan Mohan Reddy govt has denied illegal mining in Krishna river by submitting same affidavit which was presented by previous govt in NGT. The TDP govt had maintained that it allowed dredging and desliting which was out of EIA ambit. Thus the present govt has further betrayed the mandate and trust of people affected and concerned about the brazen mining operations.
"The findings of CPCB's report reveal that previous govt had permitted extraction of a total of 24,55,333 tonnes of sand in Guntur and 9 lakh tonnes in Krishna districts are quite shocking. It also found that the Krishna river was dug to a depth of 25 feet and 34,650 T per day was mechanically extracted and transported in 2,500 trucks and tractors daily throughout the year.
Even if the value of sand per truck is estimated to be just Rs 5000, the NGT calculated that the value of the total extracted sand from the river bed would be Rs 1.25 crore per day, or Rs 450 crore per year inviting a fine of Rs 100 crore. Again SC has stayed the order and has not taken any action on state govt's failing to respond to its notice on illegal sand mining. Thus legal remedies have not been of any help so far."
The root cause of sand vortex in Andhra Pradesh is undoubtedly war footing construction work in nine cities including capital Amravati undertaken post bifurcation of state driving up the land prices and sand demand. The cities cannot be called smart if their construction is being done by unsustainable extraction of riverbed mineral which is essentially leading to destruction of rivers and water sources.
Talking of violence, five people including four govt officials and a village representative faced violent attacks for acting against illegal mining activities and four labours reportedly committed suicide following sand scarcity in the state.
The efforts by water activist Rajendra Singh, Vikram Soni, Anumolu Gandhi and Bolisetty Satyanarayana in exposing the illegalities in Krishna river sand mining are appreciable. However, the present govt has taken no lesson from the failure of previous govt and more or less marching on the same path when it comes to mining practices. In absence of scientific replenishment studies and EIA scrutiny the new sand mining policy has not helped the govt, rivers or people.
Bhim Singh Rawat (bhim.sandrp@gmail.com)
Please also see SANDRP annual overview for the year 2019-20 for following states:
J&K Riverbed Mining 2020: Rivers exposed to mechanized mining
Himachal Pradesh sand mining 2020: No Replenishment study, district foundation
Uttarakhand Riverbed Mining 2020: Rivers, People, Revenue Robbed
Punjab Sand Mining Overview 2019: Story of Political Patronage & Goonda Tax
Haryana Riverbed Mining 2019: Yamuna Robbed of Minerals, Flows
UP riverbed mining overview: NGT, CBI, Govts cannot stop the menace
Rajasthan River Sand Mining Overview 2019: SC Ban Remains, Police-Mafia Gang Rules
Madhya Pradesh River Sand Mining 2019: Rivers mined Dry; Govt not bothered
Maharashtra Riverbed Mining Overview 2019: Mining Posing Bigger Threats As Government Fails To Act
Goa Riverbed Mining Overview 2019: Civil Societies Form Network To Curb Mining Menace
Kerala 2020 Sand Mining: Don't forget floods, fisherfolks & vanishing villages
Karnataka Sand Mining 2020: Active Collector, Destruction of fish sanctuary & calm collection
Tamil Nadu Sand Mining 2020: Persistent Court can't shake indifferent govt
Andhra Pradesh Riverbed Mining 2020: Quicksand of mismanagement
Telangana Riverbed Mining 2020: Tribals, Godavari robbed