Unsustainable, unscientific excavation of riverbed minerals has been having significant impact on river eco-system and riparian communities for past several years. Since 2016, to develop better understanding and highlight the problems SANDRP has been preparing state wise annual overview of riverbed minerals (RBM) mining activities. Having putting together year end round up for Gujarat, Maharashtra, Goa, Rajasthan, Madhya Pradesh, Punjab, Haryana states, this compilation attempts to cover prevailing situation in Jammu & Kashmir (J&K) over the last one year. The link of 15 overviews in 2018 can be see here.
December 2018
Illegal mining costing Rs 300 crore revenue loss annually Despite a ban, illegal riverbed quarrying was taking place from unauctioned sites in the state. Facing revenue losses of about Rs 300 crore annually due to illegal extraction from rivers by "politically well-connected" mining mafia, the government had approved an ambitious plan to establish 100 check posts with Closed-Circuit Television (CCTV) cameras.
Department of geology and mining (DG&M) planned to establish two dozen check posts by March 2019 and the entire project was expected to be completed by mid-2019, for which the department had approached the respective district administration and the revenue department to get the required permissions for setting up of posts and for land.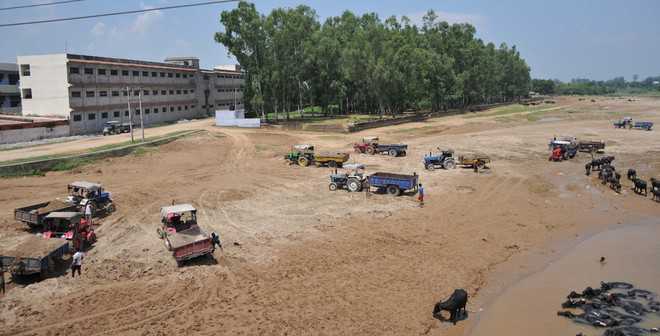 Farooq Khan, director, DG&M said the proposal was finalised but the department was facing manpower shortage to keep a check on illegal extraction. He hoped that the check posts — 50 in Jammu division and 50 in Kashmir would give them some edge.
There is also lack of coordination between the police, district administration and DG&M despite the auction of sites. The DG&M blamed police department for inaction on illegal extraction of minor minerals. It also said that against permission of 1 truck, miners were mining 10 trucks. The DG&M accepted that unabated extraction was causing big damage to strategic bridges, triggering floods and impacting course of various rivers across the state. https://www.tribuneindia.com/news/archive/j-k/100-check-posts-to-tackle-mining-mafia-696536  (10 Dec. 2018)
January 2019
Illegal mining in Kupwara under the nose of authorities In spite of a ban by J&K High Court (HC), Kupwara district administration was allowing sand and bajri excavation from Mawar Nallah by influential people who continued to deploy earthmoving machines at the riverbed and the authorities were looking the other way.
The DMG had allowed sand extraction at some designated points but some private companies continued with their illegal ways to maximise profits. "We are fed up with this issues and many times conveyed to the concerned officials, but it seems they are helping them (sand extractors)," said Mushtaq Ahmad of Mawer. "And due to the illegal sand extraction the area is now become vulnerable to flooding."
The police was inspecting the illegal mining sites once in a month but the involved people were fleeing the sites only to resume operations soon after inspection was over. The locals alleged the district authorities being hand in gloves with miners and informing them about the raids beforehand. The illegal sand extraction had caused low flow of water in Mawar Nallah affecting farmers. https://www.greaterkashmir.com/news/kashmir/illegal-sand-mining-in-kupwara-under-the-nose-of-authorities/  (13 Jan. 2019)
May 2019
Illegal extraction on In April 2019, the district administration of Pulwama issued a blanket ban on illegal extraction and unlawful mining from all sorts of riverbeds, nallahs, water bodies, tributaries, and soil from karewas in any form and by any method. The order was issued in compliance with orders of the Supreme Court (SC) and J&K HC. The administration, however was unable to implement the orders as extraction continued across southern Kashmir districts.
People complained that the indiscriminate extraction from the streams had left the nearby residential areas more prone to floods and had damaged the adjoining roads, streets and bunds besides causing noise pollution. Alleging a nexus between "mafia and some govt agencies, locals said that illegal miners were using heavy machinery to extract stones on daily basis endangering the embankments.
The also complained that govt had failed to reconstruct bunds damaged during 2014 floods. The authorities had not bothered to assess the scale of damage. Farmers said that persistent extraction had weakened protection of their orchards and farms which were located close to the embankments. DG&M said that the extraction of sand, stones and boulders was not only causing loss to mineral deposits but also changing the bed levels of these streams thus changing their courses in wake of a floods.
Showing helplessness, the police officials said that they were arresting many load carrier drivers in connection with the illegal extraction but they were approaching politicians for their release. The Irrigation and Flood Control Department (I&FC) also showed inability to stop the illegal extraction unless people, police and other concerned departments cooperate with the I&FC department. https://www.greaterkashmir.com/news/kashmir/illegal-extraction-of-construction-material-goes-on-unabated-in-southern-kashmir/  (17 May 2019) 
Flood threat complaints dismissed Residents of villages in Phallian Mandal block of Marh constituency alleged that the govt's ban on lifting of minor mineral, including sand and gravel, from the Tawi had raised the water levels, which could result in floods. A cluster of 45 villages under Phallian Mandal was surrounded by river from all four sides.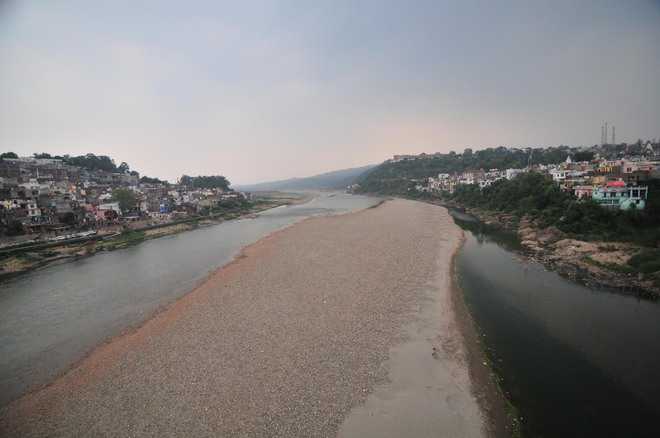 2 years ago, the J&K HC had imposed a ban on mining to keep a check on uncontrolled extraction of minerals from local rivers, including the Tawi, a nullah near Sidhra bypass bridge, Jajjar nullah and Kattal Battal. Though the ban was imposed to save Tawi riverbed, on which four bridges are constructed, the other mining sites in the periphery were not brought under prohibition.
However, JS Jamwal, deputy director, DG&M, dismissed complains saying that the ban was directed by HC and they could not go against it. He also said that the villages were above flood level and illegal encroachments on banks of Tawi were a matter of concern. https://www.tribuneindia.com/news/archive/j-k/mining-ban-raised-tawi-level-flood-threat-looms-villagers-775925  (21 May 2019)
July 2019
Illegal RBM threatens trout fish habitat In violation of the JK Fisheries Act, illegal extraction of sand and boulders from various trout streams including Arin, Papchan in Bandipora and adjoining areas, was threatening the already endangered habitat of the famed fish. This raised questions over governance in Kashmir.
The local people were against the illegal mining (sand and boulders) activities but could not protest strongly as the violators involved were powerful individuals, allegedly carrying "an official stamp". They called it an "organised cartel at play" who were flouting the HC ban on extraction of materials in Trout Reserved Rivers.
The illegal extraction could make the famous Kashmiri fish go extinct as the act was creating craters in trout filled rivers affecting their breeding. Villagers also said that the stone-crushers located in the area were using these boulders for free, as they were also greasing the hands of the officials.
As per a report by Feroz Ahmed Bhat, Senior Assistant Professor at Faculty of Fisheries (SKUAST), the fish catch per unit had decreased over the years in most water bodies of the Kashmir Valley. The report revealed that the degradation in the habitat of these fish mostly due to lifting of sand & boulders from these reserved riverbeds had affected fish population over the years.
Riyaz Ahmed Sofi, Assistant Director Fisheries Bandipora said that the contracting firm by the name of M/S Kasana Brothers was given permission by the Deputy Commissioner to extract material from Arin Nallah towards the embankments but the contractor didn't follow the orders and he was barred. The contractor was only given permission to extract material from a dry land near Papchan Bridge but found violating the norms confirmed Shahbaz Ahmed Mirza, Deputy Commissioner, Bandipora. https://freepresskashmir.com/2019/07/23/how-illegal-pursuit-of-riverbed-material-is-threatening-the-habitat-of-kashmirs-trout-fish/  (23 July 2019)
Ban fails to check illegal mining, mafia controls supply There is contrasting situation post HC ban. On the one hand, the illegal mining in many rivers, streams and nullahs of Jammu region in connivance with police and DG&M agencies was continuing, on the other, many govt projects and the general public were badly suffering as the rates of the building material like sand, gravel and stones had more than doubled in one year.
The HC had banned the mining activity from Sidhra bridge to fourth Tawi bridge in the river but it was going on during night and early morning hours. Even the stone crusher operators in the vicinity were using their machines during night hours clandestinely.
While the district administration was seen imposing huge fine on vehicle resulting in decrease in supply of RBM and rise in its prices, there were mining activities going on in connivance with the govt agencies. In the new trend many people connected with mafia had created huge illegal dumps of material and fixed rates of material which the District Administration, Legal Metrology Department and the DG&M authorities failed to control leading to a total chaos.
In Jammu district alone, hardly 60% of the rivers/ streams/nallah blocks were auctioned but the mafia was controlling the entire area illegally. The govt had cancelled the open auction process as the District authorities had avoided 'e-auction' mode to facilitate some blue eyed people, but those influential people went to the court and brought stay and again continued their activities.
In Pargwal area of river Chenab was auctioned since long but there also the same mafia was controlling the affairs illegally besides blocks in Akhnoor and Khour. The officers sitting at the top were well aware of this but had maintained silence. The same situation prevailed in Udhampur, Reasi, Rajouri, Samba & Kathua districts besides some other areas. https://www.dailyexcelsior.com/mafia-controls-illegal-sand-gravel-trade-doubles-material-charges/  (24 July 2019)
October 2019
Illegal mining unchecked amid lockdown in Kashmir After removal of special status for the state on August 5, 2019, the sand mafia was seen exploiting the situation for excessive mining by installing the sand excavation machines in Jhelum. The unpredictable situation that developed proved conducive for the sand mafia to carry out illegal act and all this was being done with the connivance of some officials.
Sand diggers installed the excavating machines on the Jhelum banks at various spots from Awantipora in Pulwama district to Rajbagh in Srinagar district. These machines were running for 2-3 hours and excavating over hundred truckloads of sand which was ferried after dusk to their stores.
HC had banned mechanical excavation of sand on the plea that excessive mining was leading to degradation of rivers and the ecosystem but these machines had also weakened the banks of Jhelum thereby making Kashmir vulnerable to floods. Admitting the situation an official said before 5th August the I&FC carried raids but nothing had happened after retraction of article 370 & it was very hard to check mining activities. https://www.dailyexcelsior.com/illegal-sand-mining-unchecked-amid-lockdown-in-kashmir/  (29 Oct. 2019)
December 2019
Illegal extraction from Jhelum continues in Baramulla The illegal sand extraction from river Jhelum and transportation through scores of vehicles continued in Baramulla. Experts cautioned the illegal practice had the potential to damage river embankments and could make several low-lying areas including Jahama, Chakla, Ladoora, Sheeri and Delina as well many areas of apple town Sopore vulnerable to floods.
The I&FC division of Baramulla had procured two dredgers in 2012 to carry out dredging of the water body downstream to minimize chances of flood in upstream areas. The department sold the extracted sand for more than Rs 14 crore and had filed more than 40 cases against people involved in illegal sand extraction.
However an official said that the action in the cases could have served as deterrent and prevented the illegal practice but nobody knew about the fate of those cases. Since Aug 5 people involved in the illegal practice had taken advantage of the prevailing situation and were extracting the sand unhindered from the river beds.  https://www.greaterkashmir.com/news/kashmir/illegal-sand-extraction-from-jhelum-continues-in-baramulla-admin-in-slumber/  (02 Dec. 2019)
January 2020
Despite ban, illegal mining unabated in Ravi belt Despite the ban, the illegal mining continued unabated in Ravi basin in Kerrian Gandyal area of Kathua district resulting into public outcry as the illegitimate action by mining mafia has posed a grave threat to the newly constructed Rs 160 crore bridge over the river Ravi as well as flora and fauna. A team of senior officials of DG&M who visited the Ravi belt in Kerrian Gandyal area to take action against the illegal mining were threatened by the mafia after they chased some dumpers and tippers extracting stones and Bajri from the river belt fled towards Punjab.
As the vehicles loaded with stones and Bajri entered Punjab territory, the mafia having the patronage of an influential local politician who also runs a crusher in the area, tried to attack the officials of DG&M and threatened them, forcing them to beat a hasty retreat and call police from district Headquarter Kathua for help.
With the abolition of Toll Plaza on Jan 1, 2020, the J&K Excise Toll Post lying in the area was also lifted and the mining mafia had a field day since then as there is no check on the vehicles involved in illegally lifting of sand, stones and Bajri from Ravi basin from J&K side. Earlier these vehicles were subjected to Toll Tax on the check post and they were hesitating to pass through the area due to threat of paying heavy toll. Ravi River Action Committee led by its president, Mohinder Paul Sharma has been protesting against the illegal mining and some people had also submitted complaints with the Dept. https://www.dailyexcelsior.com/despite-ban-illegal-mining-unabated-in-ravi-belt/  (29 Jan. 2020)
E-auctioning of minor mineral blocks initiated For the first time in the Union Territory of J&K, e- auctioning of minor mineral blocks was initiated and about 173 blocks across various districts were notified for the e-auctioning. The department was also considering to issue 'short term permit' only in case of Govt and emergent nature of works, which are facing impediments in execution owing to shortage of material following strictness against illegal mining and National Green Tribunal (NGT) directions over environmental issues.
The e-auction notifications were issued in respect of Districts of Jammu, Samba, Kathua, Udhampur, Reasi, Srinagar, Bandipora, Baramulla, Budgam, Ganderbal and Pulwama with more in pipeline. These blocks were supposed to become operational after mandatory clearances in next 3-4 months.
As per Vikas Sharma, Director DG&M, the geo-referenced with defined coordinates and boundaries, would help in checking illegal mining, regulate mining activities and generating revenue. He also said that the environmental concerns are paramount and there shall be no compromise on the same. https://www.dailyexcelsior.com/for-transparency-e-auctioning-of-minor-mineral-blocks-initiated-for-first-time-in-jk/  (06 Jan. 2020)    
Locals lose majority bids for sand extraction in Kashmir With the move to abrogate Article 370 and the bi-furcation of the erstwhile state of Jammu and Kashmir into two Union Territories, the change in the "special status" of the region opened the Jhelum to exploitation by non-state businessmen or outsiders.
After January 18, 2020 the govt announced auctions of land banks across the Kashmir valley, except Baramulla, for nearly a month. Over 150 land banks have been auctioned for extracting sand, stones or other minerals. Most of these land banks are in South Kashmir's Pulwama area, where 36 banks have been earmarked for auctioning.
About 260 identified mineral blocks are along the Jhelum. The river emerges from Anantnag, flows through Kulgam, Shopian, Budgam, Pulwama, Srinagar, Bandipora & Baramulla. It is a lifeline for lakhs of households here. Aside from fishing, people in Awantipora, Kakapora, Bijbehara and Sangam of Pulwama almost entirely depend on sand extraction. Many from the dozens of villages earn by working as labourers, as most of the extraction is manual.
In Pulwama the bidding amount in most blocks crossed crores and most local businessmen have been just put out of work as most blocks slipped from their hands. For 12 land blocks auctioned in Pulwama, the amount reached Rs 17.82 crore.  As per the officials from the DG&M in Srinagar, where auctions were not held the last time, the highest bid crossed Rs 1.62 crore and the total amount spiked to Rs 5.08 crore for less than a dozen blocks.
Within the dept, many have raised concerns about the use of heavy machinery equipment on the Jhelum. As per an official locals know about the ecological sensitivity of the river and wherever miners have used machinery for extraction of sand, huge damage in river bank and loss in biota have been witnessed. With an increase in the bidding prices, the prices for construction material is likely to skyrocket. https://www.newsclick.in/Article-370-Gone-Locals-Lose-Majority-Sand-Extraction-Kashmir  (05 Jan. 2020)
Sand miners protest against allotment of contract to outsiders Scores of sand miners demanded revocation of the mining contracts. The move would snatch livelihood of hundreds of people associated with the business. They alleged that the authorities excluded them from tendering process by inviting tenders during internet shutdown.
They demanded authorities to give opportunity to all the stakeholders to participate in the process. They repeatedly raised the issue with the concerned authorities but they feigned helplessness. They appealed Lt. Governor, G C Murmu, to intervene in the matter. https://www.dailyexcelsior.com/sand-miners-protest-against-allotment-of-contract-to-outsiders/  (29 Jan. 2020)
February 2020
Outside firms enter mining race in J&K For the first time companies from Punjab, Uttar Pradesh and Rajasthan participated in public auctions and won leases to mine the union territory's reserves of coal, marble and limestone, among other minerals. The increased competition yielded up to 60% higher returns for J&K, say officials in the administration. However, the local business community felt that it was placed at a disadvantage competing against bigger players who made bids they just were not able to match.
The special status of J&K had barred non-J&K businesses from leasing or renting local mineral blocks. However, this changed as the Modi govt scrapped Article 370 and Article 35A and opened the territory to outside players. Individuals and private companies from outside J&K were allowed to participate in mine auctions through an order in Sept 2019. The auctions began in Jan 2020.  Kashmir remains under partial internet restrictions six months after it saw a complete lockdown ahead of the scrapping of Article 370 and Article 35A. Partial 2G connectivity was only restored late in January 2020, with broadband still unavailable.
This is the first time auctions to J&K mines were held online, in line with a 2019 HC order aimed at making the process fairer. However, local miner said the e-auction was a death blow to his business. They feared that the move would impact both ecology and livelihood in Kashmir as they used to mine manually by employing local labours but the big companies would use heavy machines that would dig up the entire earth, damaging environment.
There are around 554 mineral blocks in J&K, of which 261 are in the 10 districts of Kashmir. Of these 261 blocks, each of which measures a maximum of 10 ha, leases to 150-160 are being auditioned. A significant number of the mineral blocks are situated along the banks of river Jhelum, considered a lifeline in J&K. The blocks primarily contain sand deposits but also host an abundant supply of minerals such as limestone, gypsum, bauxite and borax, besides fossil fuel coal, and granite and marble. The local administration has also identified gemstones such as sapphire, garnet and tourmaline. https://theprint.in/india/outside-firms-enter-mining-race-in-jk-lease-earnings-touch-crores-from-lakhs/360175/  (06 Feb. 2020)
Outside companies earn 100% mining rights Bidders from outside Kashmir have earned 100 % sand mining (& other minerals) rights in Srinagar & Budgam dists, over 60 % in Pulwama & 67 % in Baramullah. Bidding for other dists yet to start. Amid low internet services, many local contractors managed to submit the forms at the internet touch points set up by the govt while some preferred moving to places outside the valley (to avoid the crowds at internet touch points in Kashmir) for submitting applications online.
Locals who exclusively used to do sand mining and mining of other minerals in River Jhelum and its tributaries, said that they were not allowed a level playing field during the process. Official figures available at Kashmir's DG&M suggest that sand worth around Rs 250 million used to be extracted from Kashmir's water bodies by locals, particularly from River Jhelum and its tributaries, through organized and unorganized sectors in a calendar year.
Even when sand mining and mining of other minerals was done by Kashmiri contractors, there were always environmental costs associated with the mining. Scientific research has shown that mining in rivers has environmental and other consequences. As per an engineer in I&FC, when massive exploitation of minerals is done in tributaries of Jhelum, it would increase the velocity of river flow, which, in turn, could result in instant flooding and over siltation in water bodies such as Wular. https://kashmirobserver.net/2020/02/10/in-a-first-outside-companies-earn-100-percent-mining-rights-in-kashmir/  (10 Feb. 2020)
Sand Storm As per locals there are around 100 sites along Jhelum from Qazigund in south Kashmir to Boniyar in north Kashmir where around 100 boats extract sand manually. Each boat has four labourers who extract sand from river, four more labourers load it on tippers and two labourers are hired for the cleanliness of the shoal and the bund in the area as per the guidelines of Pollution Control Board (PCB).
"Around 1 lakh people who extract sand and around 50,000 tippers that ferry this sand, would be directly affected now making around 1.5 lakh people to go jobless in one blow. Apart from this, thousands of people who earn from fishing, also depend on the river for their livelihood.
It was after Supreme Court order in 2015, the officials say, that the extraction of minor minerals including sand, boulders and muck, was to be regulated like major minerals. Under this order, all the states of India were asked to frame guidelines to regulate the extraction of minerals. Rules were drafted for the mining of minerals from Jhelum, Sindh and their tributaries and in the first instance at least 260 mineral blocks were identified for auctioning on Jhelum alone.
Under the guidelines, the govt of India formed four-member committees that will work as State environment impact assessment authority (SEIAA) which will be assisted by an 18 member committee of state environmental assessment committee (SEAC). After the demarcation of blocks, the committees decided to go for tendering and online auctions.
Ajaz Ahmad, the executive engineer in I&FC department for district Srinagar says they received an order from the district commissioner in early 2019 to stop all mining. This was followed by a government order which says a committee will be formed involving four departments; I&FC, Fisheries, Environment and DG&M, which would supervise the mining.
As per the report, out of the 20 blocks in Bandipore, tenders for 14 blocks were cancelled by the chairman of the supervising committee as the minimum reserve bids money had come from a single bank account.
Any defaulter, as per the rules, would be banned for five years in case the contract winners fail to fill formalities. In Bandipore case, the insiders found the same people had participated in the bidding process of Budgam, Srinagar and Pulwama districts. If they are defaulters in Bandipore then how can they be given tenders in other districts asked Javed Ahmad a local bidder.
An official of DG&M said they would do re-auction mining blocks in Budgam also. He refused to comment on why the same contractors were allowed to bid in Srinagar and Pulwama but a local miner asserted that rules are unclear if the contractor has to be banned by the government or the district commissioner in case of unfair means. He added that any Deputy Commissioner doesn't want to take any harsh decision against these contractors because the auction process is being monitored directly from high offices.
Shakeel Ramshoo, a noted environmental expert, said the likely mechanization of the sand mining would not only wreak havoc with the livelihood of locals but also the fish diversity. He has recommended the identification of river sanctuaries to save Jhelum.
Another environmental expert from University of Kashmir said that most of 150 contracts approved in Jammu region alone were bagged by relatives of a known contractor. But the environment appraisal committee did not approve any of contracts. Wining a bid does not mean that the contractor can start his work but he has to pass through environmental guidelines.
An expert said that only three contracts (two from Lethpora and one from Jhelum) reached the committee and they too were turned down. In Kashmir, there is no big lobby but because of political uncertainty some people are pushing non-locals to enter this region. Shahnawaz Ahmad, chief engineer, I&FC affirmed that no mechanical mining would be allowed. He further added that mining has to be done manually inside the river as decided to put it as a condition in the project plan.  https://kashmirlife.net/sand-storm-issue-45-vol-11-223571/  (12 Feb. 2020)
Mining expands on Kashmir rivers despite dire warning In 2018, the department of I&FC had asked the Central Water and Power Research Station (CWPRS) to do a detailed technical report covering a host of issues. This was also cited by a World Bank supported study for the Jhelum and Tawi Flood Recovery Project.
"The dredging de-silting/sand mining of the main channel of Jhelum from upstream to Asham is not advisable and may cause difficulties for the flood management. Re-sectioning by increasing the waterway width may possibly be taken up at few places only as recommended in the tour report of CWPRS officers," the technical report concluded.
The World Bank supported study also noted: "In addition to the works to be included in the interim scheme, CWPRS also recommended that further consideration be given to: Cessation of dredging of Jhelum River between Sangam and Asham; Dedication of low lying areas on the left bank of the Jhelum River near the start of the Flood Spill Channel to form detention basins of 49 km2 & 44 km2) – uncontrolled development in these areas will preclude their utility for flood retention in the future."
The reports recommending the limitation of mining were largely conducted during the time that the former state of Jammu & Kashmir was under Governor's Rule, meaning that the central government is going against the very recommendations that were prepared under it. Imtiyaz Ahmad Khan, joint director of DG&M in Jammu and Kashmir said that his department has received written permission from I&FC. However, an official of the I&FC alleged that the I&FC faces a lot of pressure from the government to grant such approvals.
I&FC department is strongly against this extensive mining in Jhelum and its tributaries, particularly in south Kashmir as it can have huge consequences on flood management in Kashmir but we are not able to assert our authority before the government an official said. As per the Water Resources Act of Jammu and Kashmir, "The control of the bed and banks of all water sources, navigation channels, intake channels, city channels and flood spill channels together with all works that affect the hydraulic conditions in the State shall be under the I&FC."
But a member of Environmental Appraisal Committee (EAC) of Jammu & Kashmir, which gives environmental clearance to such projects, said that he had advised the government during a meeting in December 2019 that no mining should be allowed in Jhelum and other rivers till there is a basin-wise scientific mining plan as to which area should be declared feasible for mining and which areas should be declared as river sanctuaries."
"Any mining has to be done in a way so that it doesn't cause problems in flood management or functionality of water bodies," he added. Recently, he said, some 160 cases of mining from Jammu region had come to the committee for clearance, "but we didn't find even a single case worth clearance." He said that the committee faces a lot of pressure to give clearances. Now that close to 200 blocks are being formally thrown open for mining of minerals in Kashmir, there are apprehensions that large scale mining for sand and other minerals from the Jhelum and its tributaries can lead to severe environmental consequences. Given that the miners will be operating with the permission from the govt, it would be hard for environmental activists & media to question them.
Engineers in Kashmir's I&FC department are aware of the consequences they are going to face in coming years because of large-scale mining in Kashmir's rivers. In recent years, Kashmir has faced many floods notably the devastating floods in 2014 which killed hundreds of people in parts of Kashmir controlled by India and Pakistan and caused losses worth billions of rupees.  https://www.thethirdpole.net/en/2020/02/17/mining-expands-on-kashmiri-rivers-despite-dire-warnings/  (17 Feb. 2020)
Environmental hazards of sand mining wars In 2010, the I&FC department had sent a report to Union Water Resource Ministry warning of "massive flood may engulf" J&K in next five years. The department had also sent a project report worth Rs 2,200 crore to develop infrastructure to deal with the floods. Nonetheless, in 2014, the flood struck J&K leaving nearly 200 people dead and damaged property involving crores.
People also fear about the noise pollution by heavy machinery movement used for extraction and transportation of sand. They now lamented the involvement of non-local firms would prove costlier to their local resources, with the embankments protecting paddy fields and orchards would also face the brunt of heavy mining.
Sand mining, the research reveals, generates additional vehicle traffic, which negatively impacts the environment. Where access roads cross riparian areas, the local environment may be impacted. A senior engineer of Dept of I&FC argued that due to entrance of non-local firms there are mounting fears of floods, especially in the areas lying close to rivers and streams.
A retired executive engineer in I&FC, Sartaj Singh said as per Flood and Water Management Act 2010, no activity could be performed in any tributary unless permitted by I&FC department but the government bypassed the department and issued the mining rights to non-local firms.
Despite the govt provided regulations and multiple checkpoints-cum-depts' issuance of certificates, the reality for a senior Environmental Science professor at University of Jammu is that the implementation process falls flat in India. He says firms can easily manage to get NOCs from different departments and the corruption can easily throw unscrupulous elements into the competition that would destroy the ecology of J&K.   https://thekashmirwalla.com/2020/02/environmental-hazards-of-sand-mining-wars/  (25 Feb. 2020)
Cement manufacturing units face closure: BBIA After the abolition of the toll on goods at Lakhanpur, the gateway to J&K, the Bari Brahmana Industrial Association (BBIA) cement industry has been feeling the threat of bigger competition from manufacturers in other parts of the state.
The BBIA held a meeting under the chairmanship of Lalit Mahajan to discuss the issue in respect of the ban imposed on the extraction of limestone, sand and bajri by the DG&M due to which the industrial units engaged in the manufacturing of cement tiles and other related products were facing an acute problem.
The BBIA urged the, Girish Chandra Murmu, LG, J&K to intervene in the matter and issue necessary directions to the DG&M to provide at least six-month period to the owners of limestone mines and stone-crusher units for obtaining the necessary permission from the authorities concerned to provide relief to industrial units & public.  https://www.tribuneindia.com/news/j-k/cement-manufacturing-units-face-closure-bbia-42256  (15 Feb. 2020)
March 2020
E-auction of sand blocks to non-locals triggers stir Thousands of labourers in Kashmir valley, from South to North Kashmir protested against govt decision of e-auctioning  hundreds of sand blocks along the river Jhelum and its tributaries & the contracts given to non-locals.
Before this, hundreds of sand diggers protested in Srinagar and approached local media, questioning the intentions of the authorities as they could not understand why they were in a hurry to e-auction the sand blocks at the peak of the clampdown with no internet facility in J&K.
For generations, thousands of families are dependent on sand extraction along river Jhelum. They dig the sand and transport them in hundreds of boats during the winters when the water level remains low in the river and its connecting tributaries. As per the sand diggers' association, this move of the govt will render about one lakh families without livelihood, as police & authorities have recently banned them from extracting sand & were informed that the contract has been given to many non-locals.
In 2019, the District Development Commissioner of Srinagar issued an order to all concerned wings of the govt to stop all mining in river Jhelum. Local contactors of sand contradict the govt claim and say that it was a "conspiracy" to bring outsiders in this business. As the season for extraction of sand is Sept-March, locals are angry that the govt ban on sand extraction in the middle of the season had left them without work. Police recently booked dozens of youths for allegedly illegal extraction of sand. The DG&M, which used to take royalty from hundreds of tippers for transportation of sand, has also refused to help them. https://www.sundayguardianlive.com/news/e-auction-sand-blocks-non-locals-triggers-stir  (07 March 2020)
April 2020
Illegal mining poses threat to Uri's oldest power project Illegal sand mining on Jhelum River poses a grave threat to 105 MW Lower Jhelum Hydro Project (LJHP). Abdul Rashid Bhat, executive engineer of the project said that the mafia is extracting the sand near the project which is posing a serious threat to the power project and the dam as well which can lead to catastrophic damage to the project anytime. He said though they have blocked the passage leading to the project, the mining still continues on the riverbed.
In Oct 2019, the dept took up the matter with Baramulla deputy commissioner following which the DC issued the orders of banning the illegal extraction of sand and directed the police and I&FC department to keep a close vigil on the illegal activities. In Dec 2019, sub-divisional magistrate Uri constituted a 3-member committee to investigate mining of illegal sand & riverbed material from 3 villages of Uri close to the project. In Feb 2020, the SDM again issued a letter to Tehsildar Boniyar saying they have seized the extracted sand from the miners.
The mafia took away the seized sand worth ₹15 lakh from the spot taking the advantage of Covid-19 however the DG&M Baramulla estimated the cost of the seized 8,000 tonne sand to be ₹22 lakh. https://www.hindustantimes.com/chandigarh/illegal-sand-mining-poses-threat-to-uri-s-oldest-power-project/story-uUID4m1yqv5bM0YrG2FqgM.html  (12 April 2020)   
Summary The story of riverbed mining in J&K continues with a different situation now past Aug 2019. Before Aug 2019 when the special status for the state was revoked, illegal RBM was taking place on different stretches of rivers Rawi, Tawi, Jhelum, Chenab and their tributaries including perennial streams despite complete ban on mechanized mining by HC.
The reports clearly mention of lack of coordination among concerned departments of DG&M, Revenue, Police, Fisheries, Environment and I&FC. While mining and flood control departments blame administration of inaction and corruption as main reason behind unhindered illegal mining operations, the police department underlines interference by influential people with political connections proving their efforts ineffective.
The mining department is also facing human resource crunch. The mafia managed to create scarcity affecting construction works of government and public and then supplying building materials from their stocks at increased rates while administration acted helpless. The officials accepted illegal mining causing a revenue loss of Rs. 300 crore annually.
The mechanized mining in wild streams Arin and Papchan in Bandipora has been affecting native fish trout and fishermen. At the same time the villagers and farmers have also been paying the prices of excessive mining in terms losses of lands and crops due to riverbank collapse, embankment breach and damages to bridges.
Mining ban leading to increase in Tawi riverbed level and creating flood threats as claimed by villagers are some other dimension to the story. The state has seen dispute with neighbouring Punjab where miners were taking refuge to escape action against illegal activities.
With govt sponsored entry of outsiders in mining field, the scenario has become grimmer post Aug 2019. While authority claims moves like action on local miners, and introduction of e-auctioning of blocks for the first times in the state are as per legal guidelines, there are several valid questions raise by govt officials and experts hinting that the initiative would impact livelihoods of locals and river ecosystem across the state.
Beginning of the bidding process amid low internet connectivity, allocation of majority of blocks to outsiders which are later found to be connected with single enterprises show that the move was not impartial and deliberate. Similarly the fact that several outsiders failed to deposit 50% of bidding amount within stipulated time of 48 hours and rejection of over 150 proposals submitted with incorrect information suggest that there was nexus to deprive local miners of level playing field. On the one hand the govt bypassed its own rules by excluding I&FC dept during the process, on the other the administration seems running away from legal actions against wilful defaulters thus precisely weakening the governance system.    
There is little doubt that if affairs are not checked, Jhelum river eco-system and dependent communities would be at receiving end of unsustainable mining exploitation. While concerned claim of taking up measures to deter mechanized mining by properly scrutinizing the proposals, demanding fish conservation reserves, others accept growing pressure from high offices.
Amid this livelihoods of about 1.5 lakh sand miners, diggers, boat and tipper owners mainly belonging to local community is under threat. The fate of fish, river eco-system, fishermen and farmers remains out of official consideration.
The large protests by mining dependent people show that they are forced to struggle for survival. The unabated mining endangering Uri's oldest hydro project on Jhelum river is glimpse of what thoughtless mining activities could lead to.
Lastly, all this is happening despite scores of governmental reports and credible studies warning against impact of large scale, mechanized mining projects on rivers and people, is evident enough that the valley seems to be knowingly pushed into disasters by none other than the custodian of natural resources.  
Bhim Singh Rawat (bhim.sandrp@gmail.com)
Please also see SANDRP annual overview for the year 2019-20 for following states:
J&K Riverbed Mining 2020: Rivers exposed to mechanized mining
Himachal Pradesh sand mining 2020: No Replenishment study, district foundation
Uttarakhand Riverbed Mining 2020: Rivers, People, Revenue Robbed
Punjab Sand Mining Overview 2019: Story of Political Patronage & Goonda Tax
Haryana Riverbed Mining 2019: Yamuna Robbed of Minerals, Flows
UP riverbed mining overview: NGT, CBI, Govts cannot stop the menace
Rajasthan River Sand Mining Overview 2019: SC Ban Remains, Police-Mafia Gang Rules
Madhya Pradesh River Sand Mining 2019: Rivers mined Dry; Govt not bothered
Maharashtra Riverbed Mining Overview 2019: Mining Posing Bigger Threats As Government Fails To Act
Goa Riverbed Mining Overview 2019: Civil Societies Form Network To Curb Mining Menace
Kerala 2020 Sand Mining: Don't forget floods, fisherfolks & vanishing villages
Karnataka Sand Mining 2020: Active Collector, Destruction of fish sanctuary & calm collection
Tamil Nadu Sand Mining 2020: Persistent Court can't shake indifferent govt
Andhra Pradesh Riverbed Mining 2020: Quicksand of mismanagement
Telangana Riverbed Mining 2020: Tribals, Godavari robbed