Following large scale illegal mining incidents in Yamuna, Chambal, Ken, Betwa and many other rivers in Uttar Pradesh, the National Green Tribunal (NGT) in past few years has issued significant orders. Towards the end of 2018, the Central Board of Investigation (CBI) had also started inquiry into illegal mining case in Betwa river in Hamirpur district which involved the then Mining Minister Gyatri Prajapati and the district magistrate among others. The raids regarding the issue kept taking place throughout 2019. So far the case has not reached the conclusion.
With the help of available media & other reports SANDRP tracks the illegal sand mining incidents of Uttar Pradesh during past one and half years. The 2018 sand mining overview in UP can be seen here.
CBI Inquiry
Role of former CM to be examined in illegal sand mining case: CBI In first week of January 2019, the CBI carried out searches at 12 locations in Uttar Pradesh and Delhi and said that the agency would examine the role of former Chief Minister (CM) Akhilesh Yadav in connection with Hamirpur illegal sand mining case. The case was taken over by the CBI on the instructions of the Allahabad High Court (HC).
Earlier, residences of senior officers, including IAS officer B Chandrakala, famous on social media for her anti-corruption crusade, were also raided in same case. CBI named 11 persons in the case. It is alleged that the public servants allowed illegal mining during 2012-16 and illegally renewed licences despite a ban by NGT. Allegedly, the officers also allowed theft of minerals, extort money from leaseholders and drivers. https://indianexpress.com/article/india/akhilesh-yadav-sp-up-illegal-sand-mining-case-cbi-5524640/ (5 Jan. 209)
CBI officer investigating mining scam transferred In same month, DIG Gagandeep Gambhir, the CBI officer who was investigating former CM Akhilesh Yadav's role in the illegal sand mining scam was reportedly transferred to anti-corruption ACIII from special crime unit SCII. In his place, Anish Prasad, who was deputy director of CBI, was given the charge of the sand mining scam. https://www.timesnownews.com/india/article/cbi-officer-probing-akhilesh-yadavs-role-in-sand-mining-scam-transferred/347767  (15 Jan. 2019)
ED files 2 new cases Later in the month, the Enforcement Directorate (ED) registered two more cases of money laundering in its ongoing probe into the illegal sand mining cases in Kaushambi and Shamli districts. The cases were registered under the Prevention of Money Laundering Act (PMLA) against several officials according to a senior probe agency official.
The development came a week after the probe agency filed a case based on an FIR by the CBI into the role of bureaucrats and politicians in Hamirpur district. https://www.ndtv.com/india-news/in-up-sand-mining-scam-probe-agency-files-2-new-cases-1982841 (24 Jan. 2019)
CBI questions persons in illegal sand mining A CBI team in Hamirpur had questioned persons in connection with its investigation into illegal sand mining case. This was a fortnight after the CBI registered a case against 11 people including B. Chandrakala, then Hamirpur DM, Ramesh Kumar, a Samajwadi Party leader, and others. The CBI had registered separate cases into the alleged irregularities in grant of licences between 2012 and 2016, in violation of the Allahabad HC order. Then CM Akhilesh Yadav had granted the mine's leases to 14 people in 2013 in Hamirpur district against the HC's order. https://www.business-standard.com/article/news-ians/cbi-questions-persons-in-illegal-sand-mining-119012801377_1.html (28 Jan. 2019)
CBI raids Gayatri Prajapati's residence The CBI in June 2019 raided 22 locations across Uttar Pradesh and Delhi, including three residential premises of former Minister Gayatri Prasad Prajapati in connection with the illegal mining scam. https://indianexpress.com/article/india/sand-mining-case-cbi-raids-former-up-minister-gayatri-prajapatis-residence-5776761/  (12 June 2019)
4 IAS Officers Transferred as CBI Investigates Mining Scam In July 2019, the govt transferred four IAS officers, including those whose premises in the state were searched by the CBI in connection with a mining scam. The central probe agency had registered two cases in mining scam, naming former minister Gayatri Prajapati and four IAS officers including then principal secretary in the geology and mining department Jiwesh Nandan, special secretary Santosh Kumar, then district magistrates Abhay and Vivek as accused. https://thewire.in/government/four-ias-officers-transferred-as-cbi-investigates-up-sand-mining-scam  (11 July 2019)  
CBI searches at 11 locations in UP, Uttarakhand, books two IAS officers  In Oct 2019, the CBI carried out searches at 11 locations in Uttarakhand and Uttar Pradesh after filing a fresh FIR in connection with a sand mining scam against 12 people, including two senior IAS officers serving as secretaries in the UP govt.
In 2012, the govt had floated a policy of e- tendering in the allocation and renewal of sand mining leases. The order dated May 31, 2012, also cancelled all its prior orders pertaining to the grant and renewal of sand mining leases under the UP Minor Minerals Concession Rules, 1963. In a number of districts, officials allegedly colluded with contractors to renew and issue the lease for digging out sand from a riverbed in violation of the state government's policy of allowing such process only through e-tendering. http://www.newindianexpress.com/nation/2019/oct/01/illegal-sand-mining-leases-cbi-searches-at-11-locations-in-up-uttarakhand-books-two-ias-officers-2041742.html  (1 Oct. 2019)
Lockdown affects mining scam investigation The national wide lockdown has also affected the investigation into illegal sand mining scam which was moving at snail's pace. Fearing the infection, the officials have stopped conducting raids and avoiding calling those involved for investigation. https://navbharattimes.indiatimes.com/metro/lucknow/other-news/quarantine-check-team-corruption-not-coming-out-of-offices/articleshow/75561201.cms  (06 May 2020)
NGT Interventions
NGT seeks response on sand mining in Yamuna In Jan 2019, the NGT sought response from the Divisional Commissioner, Allahabad, after a committee headed by the officer failed to submit a report on the alleged illegal sand mining in the area. The officer was directed to be present before the Tribunal on Jan 22.
In Sept 2018, the green panel had directed constitution of a committee to be headed by the officer and sought a report on the allegations of illegal mining. Petitioner Atul Singh Chauhan had challenged the ongoing sand mining in the Yamuna riverbed in Allahabad without the requisite environmental clearance. https://www.thehindu.com/news/national/other-states/ngt-seeks-response-on-sand-mining-in-yamuna/article25893989.ece (3 Jan. 2019)
NGT raps Baghpat DM for refusing to receive uncertified order The tribunal in Feb 2019 rapped the Baghpat DM for refusing to receive an uncertified copy of its order and slapped a fine of Rs 10,000 on him for "slackness" in stopping sand mining in the area.
The DM tendered an apology to the green panel, which said the tribunal's order are uploaded on the internet to immediately bring it to the knowledge of the officer concerned.  https://www.outlookindia.com/newsscroll/sand-mining-ngt-raps-baghpat-dm-for-refusing-to-receive-uncertified-order-slaps-fine-of-rs-10k/1479490 (15 Feb. 2019)
NGT asks CPCB to submit report on illegal mining damages In April 2019, the NGT  directed the Central Pollution Control Board (CPCB) to submit a report on the environmental damage caused due to illegal mining. An NGT appointed joint committee comprising members from the apex pollution monitoring body and the Union Environment Ministry in its report had revealed environmental damage caused due to illegal mining.
Taking note of the report dated Jan 2018, a Bench headed by NGT judicial member Justice Raghuvendra S. Rahore said, "A perusal of the [report] reveals the excavation done by mining beyond permissible depth, in stream mining and the damage caused due to mining done by using machines." https://www.thehindu.com/todays-paper/tp-national/tp-newdelhi/ngt-seeks-report-on-damage-due-to-illegal-mining/article26833323.ece  (14 April 2019)  
The Moradabad police confiscated 20 vehicles including 17 bullock carts, 2 earth-movers and a loading vehicle, while they were being used to illegally mine sand from the Ramganga riverbed. https://timesofindia.indiatimes.com/city/bareilly/illicit-sand-mining-in-ramganga-busted-20-vehicles-confiscated/articleshow/72061886.cms  (15 Nov. 2019)
NGT seeks report over illegal mining in Ghaziabad In May 2019, following a plea alleging illegal sand mining in Yamuna river in the Nauraspur village in Ghaziabad, the NGT sought a report from a joint committee comprising representatives from various agencies under the state govt. The plea alleged that sand mining was being done by Omkar Lakshmi Shubham Pvt Ltd in violation of relevant conditions under the mining lease, consent to operate and the terms of the environment clearance issued.  https://www.thehindu.com/news/cities/Delhi/ngt-seeks-report-over-illegal-sand-mining-in-ghaziabad/article27052926.ece  (7 May 2019)
Stop illegal mining in Loni: NGT to Ghaziabad DM In Sept 2019, NGT directed the Ghaziabad DM to stop illegal sand mining in Loni area. A bench headed by NGT Chairperson Justice Adarsh Kumar Goel perused a report filed by the UPPCB which found irregularities in mining operations and for which a penalty was imposed twice under the relevant minor mineral rules. The NGT noted that mining lease was given without any assessment by the State Environment Assessment Authority (SEIAA), a violation of the tribunal's order. The bench was hearing a plea filed by Ghaziabad resident Vinod Kumar Tyagi seeking action against illegal sand mining by Omkar Lakshmi Shubham Pvt Ltd. https://timesofindia.indiatimes.com/city/ghaziabad/stop-illegal-mining-in-loni-ngt-to-ghaziabad-dm/articleshow/71314453.cms  (26 Sept. 2019)
The residents of Indirapuram in Nov 2019 complained of illegal sand mining on the banks of the Hindon, raising questions on the administration's claim that they had swooped on pollution violators. https://timesofindia.indiatimes.com/city/gurgaon/ban-what-ban-illegal-sand-mining-continues-unabated/articleshow/71962733.cms  (8 Nov. 2019)
NGT slaps Rs 9.16 cr fine on leaseholder Cracking the whip on illegal sand mining and extraction of minerals from the Kosi river located in Swar area of Rampur district, the NGT in Oct 2019 slapped a hefty fine of Rs 9.16 crore on the leaseholder identified as Neeraj Chaturvedi. The leaseholder has been accused of carrying out excavation beyond permissible limit using heavy machineries. The tribunal stated, "To assess the environmental damage caused by the leaseholder on account of mining activity in violation of the terms and conditions of the environmental clearance, thus, has been directed to pay requisite compensation for causing environmental damages." https://timesofindia.indiatimes.com/city/bareilly/illegal-sand-mining-in-rampur-ngt-slaps-rs-9-16-crore-fine-on-leaseholder/articleshow/71412410.cms  (3 Oct. 2019) 
NGT asks authorities to stop illegal mining in Shamli  In Dec 2019, NGT directed authorities in Shamli district to ensure that no illegal sand mining is carried out. The orders came after the Shamli DM told the tribunal that the illegal mining activity being carried out by a private lease holder was stopped and the temporary bridge made by him was removed.
The green panel also noted that a cumulative environmental compensation of Rs 20.45 lakh was assessed to be imposed on the sand miner for non-compliance of environment clearance conditions and for not seeking required consent from the state pollution control board under the notified provisions. https://www.outlookindia.com/newsscroll/ngt-asks-authorities-to-ensure-no-illegal-sand-mining-is-carried-out-in-ups-shamli-district/1675715  (2 Dec. 2019)
Before this in July 2019, 2 people were arrested for illegal sand mining from the Yamuna river bank in Shamli district. Mahaveer and Umer Mohammad, were nabbed from near Bidoli village under Jhinjhana police station limits. As per Circle Officer Rajesh Tiwari this was the third case of illegal mining registered against the two accused. In a similar incident, a case of illegal sand mining was registered against 12 people here on July 22, 2019 he said. https://www.outlookindia.com/newsscroll/two-held-for-illegal-sand-mining-in-shamli/1586813  (31 July 2019) 
Despite the NGT directions, there are several reports of illegal, mechanized and in-stream mining being done in Yamuna river in Shamli district amid lockdown. https://sandrp.in/2020/05/17/yamuna-facing-illegal-in-stream-mining-during-lockdown/  (17 May 2020)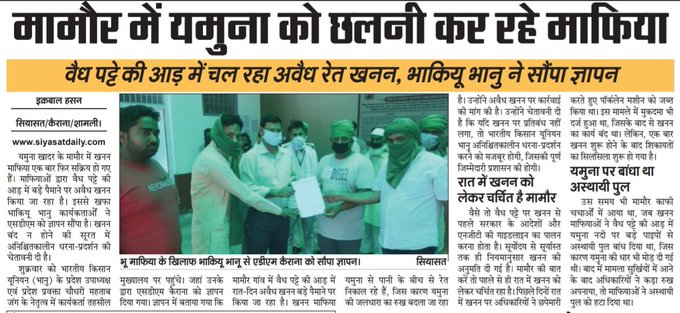 Fearing flood threats, impact on groundwater and farming lands farmers in the area have objected to illegal mechanized mining in Yamuna river at Mamor. https://www.livehindustan.com/uttar-pradesh/shamli/story-illegal-sand-mining-under-the-guise-of-a-valid-lease-in-mamaur-3231514.html  (22 May 2020)
Similarly illegal, mechanized mining in Yamuna river has also been reported from Behat area, Saharanpur. Villagers said despite complaints admin took no action. Involvement of police officials is reported. https://www.amarujala.com/uttar-pradesh/meerut/illegal-mining-is-going-on-in-lockdown-in-saharanpur-sand-mafia-mining-yamuna-in-broad-daylight  (19 May 2020)
There was police raid following drone images revealed large scale illegal mining and corruption by local officials. https://www.amarujala.com/uttar-pradesh/meerut/saharanpur-police-raid-in-yamuna-river-for-illegal-mining-eight-arrests-case-field-against-seventeen  (20 May 2020)
Nexus, Actions and Violent Incidents
Sand Mafia build illegal bunds on Ken river In 2019, several media reports revealed large scale mechanized and illegal mining in Ken river in Bundelkhand area spreading across Madhya Pradesh and Uttar Pradesh.
There were attacks on government officers and media persons. The Google earth images further showed river flow being impounded at several locations leading to water scarcity in Banda district. The brazen mining activities also threatened a bridge structure in Chhatarpur district while impacting farmers all along the river. https://sandrp.in/2019/07/13/sand-mafia-build-illegal-bunds-in-ken-river/  (13 July 2019)
Agra IG seeks reports from SSP after whistleblowers share videos Unhappy over the unchecked illegal activities of sand mining mafia in Chambal ravines allegedly with the assistance of cops of police stations located along the Uttar Pradesh-Rajasthan border, the IG (Agra range) in Nov 2019, sought a detailed report from Agra SSP. This came after local whistle-blowers shared videos and CCTV footages, in which illegal sand laden tractor-trolleys could be seen moving in the presence of local cops.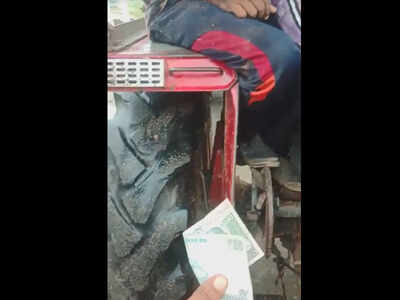 As per a whistle blowers, "Most of the mining activities are carried out between 1am and 4am on the banks of Chambal and Yamuna, and local cops use their private cars to escort the tractor-trollies and trucks loaded with sand into the city." He further revealed that the entire illegal business of sand mining was controlled by local influential politicians. Police were paid Rs 3,000 per tractor for sand which was being distributed among the police ranks. In a day, up to Rs 4 lakh was given to local cops and men of district administration.
According to police sources, illegal sand mining practice and trade was prevalent in Saiyana, Kheragarh, Kagraul, Pinhat, Mansukhpura, Jagner, Iradatnagar and other police jurisdiction adjoining to the border areas. https://timesofindia.indiatimes.com/city/agra/illegal-sand-mining-agra-ig-seeks-reports-from-ssp-after-whistleblowers-share-video-clips/articleshow/71858756.cms  (1 Nov. 2019)
Probe begin in mining scam in irrigation dept  A team of govt officials physically inspected the DB feeder canal in Amaria block in Dec 2019, where over 2.5 lakh cubic metre sand had been illegally mined in just the past month in nexus with senior irrigation dept officials. It followed orders of district magistrate Vaibhav Shrivastav to probe the scam, which allegedly evaded govt royalty of around Rs 10 crore.
The dept had invited online tenders for removal of 2.57 lakh cubic metre sand from a 21 km-long stretch of DB feeder canal, between Nov 1 and 6, 2019. The source revealed that in a well-coordinated move, first, no contractor applied in response to the dept's mandatory tender advertisement, allowing the tendering process to lapse. This way, they averted filing tenders, and then directly registered with the irrigation dept. https://timesofindia.indiatimes.com/city/bareilly/probe-begins-in-mining-scam-in-irrigation-department/articleshow/72875654.cms  (19 Dec. 2019)
Govt official booked for aiding mining mafia A govt official was booked by the police for aiding sand mining mafia in March 2019. Brijesh Gautam, an inspector with the state's mining dept, was accused of being involved in the illegal lifting of sand from the Yamuna river in Shamli district. On the directive of DM Akhilesh Singh, the police registered a case against the inspector. https://www.thehansindia.com/posts/index/National/2019-03-10/UP-Government-official-booked-for-aiding-sand-mining-mafia/510817 (10 March 2019)
Sand mining 'mafia' leader granted bail Nine months after Sanjay Momnathal was booked under the stringent NSA Act for illegal sand mining, he was granted bail from Luksar jail in June 2019. As per Gautam Budh Nagar SSP Vaibhav Krishna, the mafia was granted bail by the Allahabad HC on procedural grounds stating that his notice of NSA extension "did not reach him on time".
In Aug 2018, the district administration had slapped Section 3(2) of the NSA Act against Sanjay for being involved in illegal sand mining in the GBN district as he had tried to change the natural course of the Yamuna river by building miniature dams near Tilwada village.
Sanjay was booked in over 17 cases under the Mines and Minerals Act, Gangster Act and multiple cases of theft, attempt to murder, assault on govt official and extortion in different police stations of Greater Noida. The NSA was invoked after the irrigation dept and police claimed that Sanjay's activities had the potential to disrupt the flora & fauna of west Uttar Pradesh & affect the livelihood of thousands of people. https://timesofindia.indiatimes.com/city/noida/sand-mining-mafia-leader-granted-bail/articleshow/70150537.cms  (10 July 2019)
Farmers allege illegal mining in Yamuna Farmers of Dostpur Mangroli Bangar in June 2019 alleged that despite complaints about illegal sand mining, contractors continue to mine sand on Yamuna floodplains not allotted to them.
The Gautam Budh Nagar administration refuted claims made by the farmers. https://www.hindustantimes.com/noida/farmers-allege-illegal-sand-mining-in-yamuna-floodplains-administration-denies-claim/story-Px89eQZTd8fA9dWTPruP4L.html  (1 July 2019)
Sand Miner held A sand miner, accused of opening gunfire on a deputy collector in 2006 was arrested in Jan 2020 by the Special Task Force (STF). Brajanad Nagar (53), is a native of Faridabad in Haryana and was held at around 4 pm in Sector 168 by the Noida unit of the STF with the support of the local force from Expressway Police Station, a senior officer said.
"Nagar works for the Randeep Bhati gang and was previously booked under the Gangsters Act. He was also accused of illegal sand mining on the banks of the Yamuna river," Deputy Superintendent of Police, STF, Raj Kumar Mishra said. https://www.outlookindia.com/newsscroll/gangster-who-once-shot-deputy-collector-over-illegal-sand-mining-held-stf/1706795  (12 Jan. 2020)
MLA lodges complaint of illegal mining SP MLA from Mohanlalganj, Ambrish Singh Pushkar, in Jan 2019 lodged a complaint at PGI police station, alleging illegal sand mining from his agricultural land in Kalli Pashchim area under Sarojni Nagar tehsil. https://www.hindustantimes.com/cities/sp-mla-lodges-complaint-of-illegal-sand-mining/story-65nC4QLZYdaduzRcsM1d6H.html  (6 Jan. 2020)
Sand mafia killed in encounter In Oct 2019, a man involved in illegal sand mining was killed in an encounter on the intervening night of October 5-6 in Gursarain area of Jhansi district. SSP, Jhansi, OP Singh said Pushpendra Yadav was involved in illegal sand mining and was annoyed at the station officer as he had seized some of his sand-laden trucks on Sept 29, 2019. https://timesofindia.indiatimes.com/city/kanpur/sand-mafia-killed-in-encounter-soon-after-attacking-jhansi-so/articleshow/71470973.cms  (7 Oct. 2019)
IAS officer attacked In April 2019, vehicle of Kumar Harsh, SDM Mugalsarai was attacked by sand mafia when he was conducting raids against illegal sand mining. https://www.policenewsup.com/sand-mafia-has-attacked-an-ias-kumar-harsh-21102/  (5 April 2019) 
Reporter thrashed In June 2019, a reporter was thrashed by sand miner for exposing illegal sand mining in Ganga in Kaushambi district. For months illegal mining was going on at Alawarpur ghat in the river in connivance with local police officials.  When the report was published and police took action, the people involved physically assaulted the reporter. His mobile phone was snatched. A video report on the incident has been removed from the You Tube.  https://www.amarujala.com/uttar-pradesh/kaushambi/police-arrest-two-sand-mafia  (20 June 2019)
Similarly, mafia tried to mow down police team while it was taking action against illegal mining activities in Yamuna river in Mathura.   
In a similar incident mining mafia had hit mining official vehicle and man handled a home gourd in Amorha in Dec 2019. https://www.livehindustan.com/uttar-pradesh/amroha/story-police-in-search-of-mining-mafia-brothers-in-amroha-could-not-be-arrested-2929798.html  (30 Dec 2019)
Sand Mining Affect River Flows, Groundwater
Police Guard Ken River 24X7 Police in Banda mounted a round-the-clock-vigil on the Ken River. Such vigilance has been made necessary due to illegal sand mining that is rampant across the almost dry river. A few days ago miners diverted the last remaining stream of water in the river to take out more sand. Water supply to the Banda town, already infrequent, was totally cut off. https://www.ndtv.com/india-news/uttar-pradesh-police-mount-24-hour-vigil-over-ken-river-as-illegal-miners-rob-banda-district-of-wate-2055078   (18 June 2019)
In May 2019, Banda town had faced severe water crisis. Illegal sand mining in Ken river going on for past 6 months had made the situation worse. At places sand mafia had obstructed river flow. People even started protesting with NO WATER, NO VOTE banners in town.
It is important to stop the highly destructive sand mining on Ken river, where powerful and corrupt mafias threaten locals and openly violate court directives. Mining activities invariably break sustainability norms. https://www.newsclick.in/Bundelkhand-UP-MP-Water-Crisis-Climate-Change-Ken-River  (03 May 2020)
Kabrai battles dry period due to illegal sand mining In June 2019, the Kabrai area declared a grey zone by the administration, In 2018 too it was facing severe water crisis which was compounded by large scale illegal mining. The illegal mining had affected the groundwater level forcing the residents to fight and stake their life for it. https://www.firstpost.com/india/ups-kabrai-battles-year-long-dry-period-due-to-illegal-sand-mining-parched-residents-turn-on-each-other-for-water-6815351.html  (14 June 2019)
Sand Mining and Livelihoods
Workers launch stir against ban on sand mining in boat Sand mine workers of Prayagraj and Kaushambi under the banner of All India Kisan Majdoor Sabha (AIKMS) in Nov 2019 launched a massive campaign against the state govt's order dated 24 June 2019 stopping sand mining by boats from river ghats, informed Suresh Nishad, vice president, AIKMS, Prayagraj. He said they would launch a massive agitation if the order was not withdrawn. "Even then if the govt refuses to withdraw this illegal order the sand workers will be forced to defy the order and start mining by boats," he said.
Raj Kumar Pathik, general secretary, AIKMS, Prayagraj, said despite massive protests by the workers and explaining in detail the incoherent basis for such an order was passed unilaterally by the director, geology and mining, the Prayagraj administration had failed to make any move to get the order rectified.
"The Allahabad administration has been arguing that it is NGT which has ordered that mining by boats be disallowed but there is no such order by the NGT nor is this a condition in the NGT bye laws for granting no objection certificate," he said. "The order clearly states that this has been passed on the basis of rule 41 G of the 1963 mining rules. Rule 41 G states that while mining in the riverbed the miner is permitted to dig up to 3 metres depth or where water level is reached, whichever is less. Obviously this applies to dry river beds. The director geology and mining has applied this to in-stream mining in flowing rivers and has snatched the livelihood of more than 1 lakh sand mine workers," explained Pathik.  https://www.hindustantimes.com/cities/workers-launch-stir-against-ban-on-boat-in-sand-mining/story-PIeDQrPA3Wy4NhxQTqbx1K.html  (18 Nov. 2019)
With halt in authorized, illegal sand mining during lockdown, Hamirpur villagers have taken  over Betwa riverbed land to grow vegetables. https://www.pressreader.com/india/hindustan-times-lucknow/20200428/281595242684471 (Hindustan Times, 28 April 2020) 
Summary Despite multiple raids, arrest the CBI inquiry into illegal mining scam is yet to reach the conclusion. The frequent transfers of official involved and sluggish pace suggest that it is being languished for vested political reasons. The NGT has been issuing several directions however reports reveal large scale illegal mining still going on in different parts of state including all through upper segment of Yamuna river even during lockdown.
The reports on fearless mafia and gangsters show that the local administration is helpless in dealing with them.     
Sadly the corruption in concerned departments including irrigation, revenue, mining and police have become a routine affair. Similarly the brazen attacks and violence on officials, media persons are becoming normal incidents.
The impact of illegal sand mining activities on river flows, structures, groundwater table in Bundelkhand and in Ken river are evident enough why unsustainable and illegal mining operations are significant threats to water security and flood safety.
Amid this seemingly unending riddle, river sand is crucial for riparian bio diversity and riverbeds are source of survival for riverine communities, whose plight and voices are continuously being ignored by the central and state governments.
Bhim Singh Rawat (bhim.sandrp@gmail.com)
Please also see SANDRP annual overview for the year 2019-20 for following states:
J&K Riverbed Mining 2020: Rivers exposed to mechanized mining
Himachal Pradesh sand mining 2020: No Replenishment study, district foundation
Uttarakhand Riverbed Mining 2020: Rivers, People, Revenue Robbed
Punjab Sand Mining Overview 2019: Story of Political Patronage & Goonda Tax
Haryana Riverbed Mining 2019: Yamuna Robbed of Minerals, Flows
UP riverbed mining overview: NGT, CBI, Govts cannot stop the menace
Rajasthan River Sand Mining Overview 2019: SC Ban Remains, Police-Mafia Gang Rules
Madhya Pradesh River Sand Mining 2019: Rivers mined Dry; Govt not bothered
Maharashtra Riverbed Mining Overview 2019: Mining Posing Bigger Threats As Government Fails To Act
Goa Riverbed Mining Overview 2019: Civil Societies Form Network To Curb Mining Menace
Kerala 2020 Sand Mining: Don't forget floods, fisherfolks & vanishing villages
Karnataka Sand Mining 2020: Active Collector, Destruction of fish sanctuary & calm collection
Tamil Nadu Sand Mining 2020: Persistent Court can't shake indifferent govt
Andhra Pradesh Riverbed Mining 2020: Quicksand of mismanagement
Telangana Riverbed Mining 2020: Tribals, Godavari robbed