Himachal Pradesh is a hilly state where large scale, mechanized mining of riverbed minerals has been going on for past many years. The damaging impacts on rivers, streams and dependent communities are evident and on the rise. However the state government has failed to bring any change in the scenario as can be seen in this overview covering the related developments during 2019-20.
December 2018
Illegal mining damaging rivers According to 'River Stretches for Restoration of Water Quality', a report prepared by the Central Pollution Control Board (CPCB), seven river stretches in the hill state are "critically polluted". The report released in Sept 2018, said that these rivers include Sukhana, Markanda, Sirsa (these three are worst polluted), Ashwani, stretches of the Beas, Giri and Pabbar.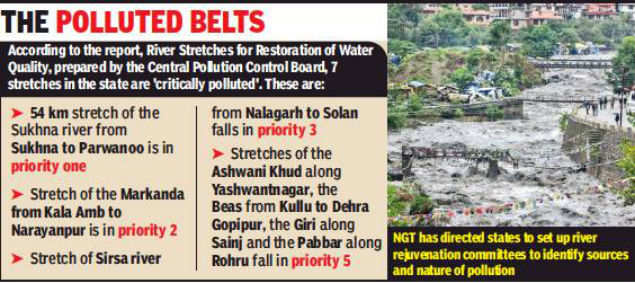 Following the report release, the National Green Tribunal (NGT) issued an order to the states, directing them to form river rejuvenation committees to identify sources and nature of pollution of rivers and prepare a time-bound action plan for reviving them. The NGT said that known causes of river pollution are dumping of untreated sewage and industrial waste, garbage, plastic waste, e-waste, bio-medical waste, municipal solid waste, diversion of river waters, encroachments of catchment areas and floodplains, over drawl of groundwater, river bank erosion on account of illegal sand mining. https://timesofindia.indiatimes.com/city/shimla/7-river-stretches-in-hp-critically-polluted/articleshow/67316207.cms  (31 Dec. 2018)
January 2019
Palampur faces threat from rampant mining Deforestation is a major problem here. Deodar trees are slowly disappearing without any systematic plantation. Moreover, uncontrolled mining and the extraction of sand, stone and gravel threaten important roads and housing colonies.
The banks of the Neugal, Bhiral and Mol streams have widened due to rampant mining. People are encroaching on forest land. Erosion in cultivated land and even landslides have become a common feature. https://www.tribuneindia.com/news/himachal/palampur-faces-threat-from-rampant-mining-deforestation/707666.html (3 Jan. 2019)
February 2019
River activists demand free flowing rivers More than 100 activists staged a dharna and observed a token fast in Dharamshala, demanding clean and free flowing Himalayan rivers. In 10 points memorandum to Chief Minister Jairam Thakur, activists said hydroelectric power projects, dumping of industrial waste, unregulated urbanisation and tourism and illegal sand and stone mining are going on near the rivers without any planning, environment impact assessment and carrying capacity studies.
"Thriving fish farms on the river, small home-based eco-tourism initiatives and cultural preservation, all become possible in such an environment. These need to be declared as a 'no-go zone' not just for hydro projects but also for large scale sand mining, polluting industries and unplanned construction of both roads and buildings and rising burden of tourism," the memorandum says. https://www.downtoearth.org.in/news/water/ensure-development-doesn-t-go-against-the-flow-of-himachal-rivers-activists-ask-govt-63129  (06 Feb. 2019)  
Illegal mining causing damage to fisheries In a written reply during the ongoing budget session, the state govt admitted that Illegal mining has been causing damage to fisheries and aquifer. Fisheries Minister Virender Kanwar said, besides illegal mining in rivers, unscientific dumping of road construction debris in the rivers is also responsible for destroying the fish breeding grounds. https://www.tribuneindia.com/news/himachal/illegal-mining-causing-damage-to-fisheries-admits-himachal-minister/728400.html      (13 Feb.2019)
March 2019
NGT pulls up PCB member While hearing a matter related to illegal sand mining in Kangra district, the NGT pulled up member secretary, Himachal Pradesh State Pollution Control Board (HPSPCB), for submitting that the matter did not fall under its purview. The tribunal said that the statement showed lack of knowledge of environmental law on the part of member secretary. Disposing of the matter, the tribunal directed the chief secretary, to appropriately counsel the member secretary so that he could acquire minimum knowledge required for performing his duties.
Mand Area Environment Conservation Committee had written to the NGT against illegal mining in Kangra district. The allegation was that illegal stone mining was taking place and stone crushers were being operated in Indora and Fatehpur tehsils in Kangra.
Vide order dated Dec 21, 2018, HPSPCB and district collector Kangra were directed by the tribunal to furnish a factual and action taken report in the matter within a month. Accordingly, a report on March 6, 2019 was filed by member secretary, stating that stone crushers were found to be compliant. In the affidavit, it was further submitted that issues of alleged illegal mining did not fall in the purview of the HPSPCB and illegal mining was to be checked by the geological wing of industries department under the Mines and Mineral Act, 1957.
The principal bench further observed that the mining department may mainly oversee the compliance of mining laws. The HPPCB cannot disown the responsibility of overseeing the monitoring and compliance of environmental norms, it added. https://timesofindia.indiatimes.com/city/shimla/ngt-pulls-up-hp-pollution-control-board-member/articleshow/68629136.cms  (29 March 2019)
June 2019
CCTVs, drones fail to check in illegal mining The pilot project started in 10 districts of CCTVs and drones based monitoring to tame illegal mining activities failed in the initial stage. The mining department had made installation of CCTVs at mining sites but there were complaints of the cameras being stolen and broken.
Similarly drone tech was used in Baddi area but the officials said the instrument was covering less area and often run short of battery. Seeing the limitations, the dept had asked govt to recruit more field staff. https://www.amarujala.com/shimla/cctv-camera-and-drone-plan-to-stop-illegal-mining-failed-in-himachal  (13 June 2019)
Illegal mining in Swan river A survey on the Swan riverbed has revealed that despite ban, mechanical mining was going unabated at various places in Una and the Santoshgarh areas. Big machines are being used and sand is being exported to Punjab. Huge dumps of sand can be seen at various places along the Swan. Even as mechanical mining in riverbeds has been banned, many tippers and big truck can be seen carrying sand.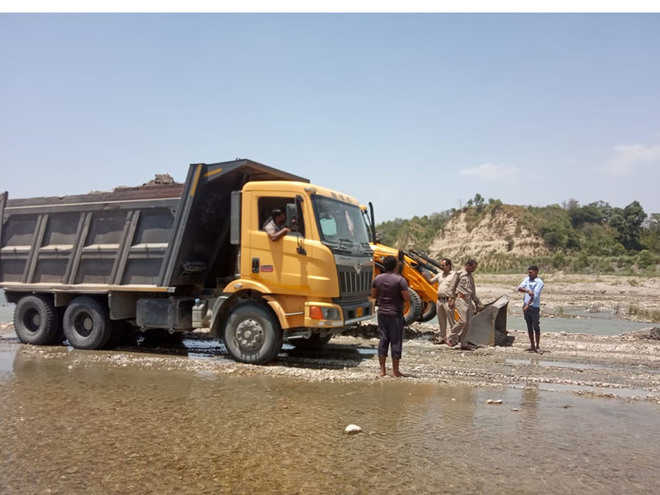 After coming to power, the present government had brought in several rules to curb illegal mining. Under these, the maximum fine for illegal mining has been increased from Rs 25,000 to Rs 5 lakh. However, not even a single offender has been fined up to Rs 5 lakh. The Centre has spent more than Rs 1,000 crore on the channelisation of the Swan and illegal mining is threatening it. The Swan is the lifeline of Una district as it recharges the groundwater through its wetlands. https://www.tribuneindia.com/news/himachal/illegal-mining-change-of-govt-does-no-good-for-swan-river/789414.html  (18 June 2019)
Villagers protest Swan River illegal mining at Haroli village The residents of Kangar village in Haroli assembly constituency have protested against the illegal mining. The members of Kangar panchayat went to the Swan river bed and stopped the JCB machines engaged in illegal mining. The panchayat officials later submitted a complaint to the police officials to take action against people resorting to illegal mining.
As per Shashi Bala, pradhan of the village, the illegal mining of sand was threatening Swan river canalisation work. In case the bundhs constructed along the Swan river breach in the monsoon, it would cause heavy damage. https://www.tribuneindia.com/news/himachal/villagers-protest-illegal-mining-at-haroli-village/793607.html  (27 June 2019)
July 2019
Swan river miners from Punjab 'threaten' Una police A police team, led by Haroli DSP Dhan Raj Singh, was allegedly threatened by illegal miners from Punjab late last night on the Swan riverbed near Santoshgarh where the police had gone to check the illegal mining. In a complaint to the Una SP, the DSP alleged that the miners were supported by a Punjab Police party, which was seen on the spot along with their official vehicle.
SP Devakar Sharma said he had received information about some illegal mining activity going on in the Swan river near Santoshgarh. He ordered the DSP Haroli to look into the matter. He said the DSP, along with police personnel reached the river side and saw a heavy duty excavator machine filling a tipper with sand, while five other tippers were awaiting their turn.
The SP said the sand filled tipper bearing registration number PB12T 7799 was impounded on the spot. Suddenly, about 20 to 25 men, armed with swords, axes, iron rods and batons surrounded them. He said they were threatened and asked to leave since the area fell in Punjab. A Punjab Police vehicle and some uniformed police personnel were present to support illegal miners. While the government has leased pockets of the Swan, large-scale illegal mining of sand, gravel and stone continues unabated in the Swan river and its major tributaries with the help of heavy machinery. https://www.tribuneindia.com/news/archive/himachal/miners-from-punjab-threaten-una-police-800256  (11 July 2019)
Illegal mining taking toll in border areas Unscientific extraction of sand from the three major rivers – Ravi, Beas, Swan – and their catchment is being done. Sand, boulders and Bajri are the main materials extracted. In 2016-17, the number of cases was 783, increased to 1753 in 2017-18. The number for 2018-19 till July is 590, but the situation is worse in many areas.
In Kangra district, Beas River and its rivulets are being targeted for mining. In recent time, few villagers of Dehra area have sent 10,000 postcards to the Prime Minister's Office to register their resentment on mining. The district authorities came into action after that.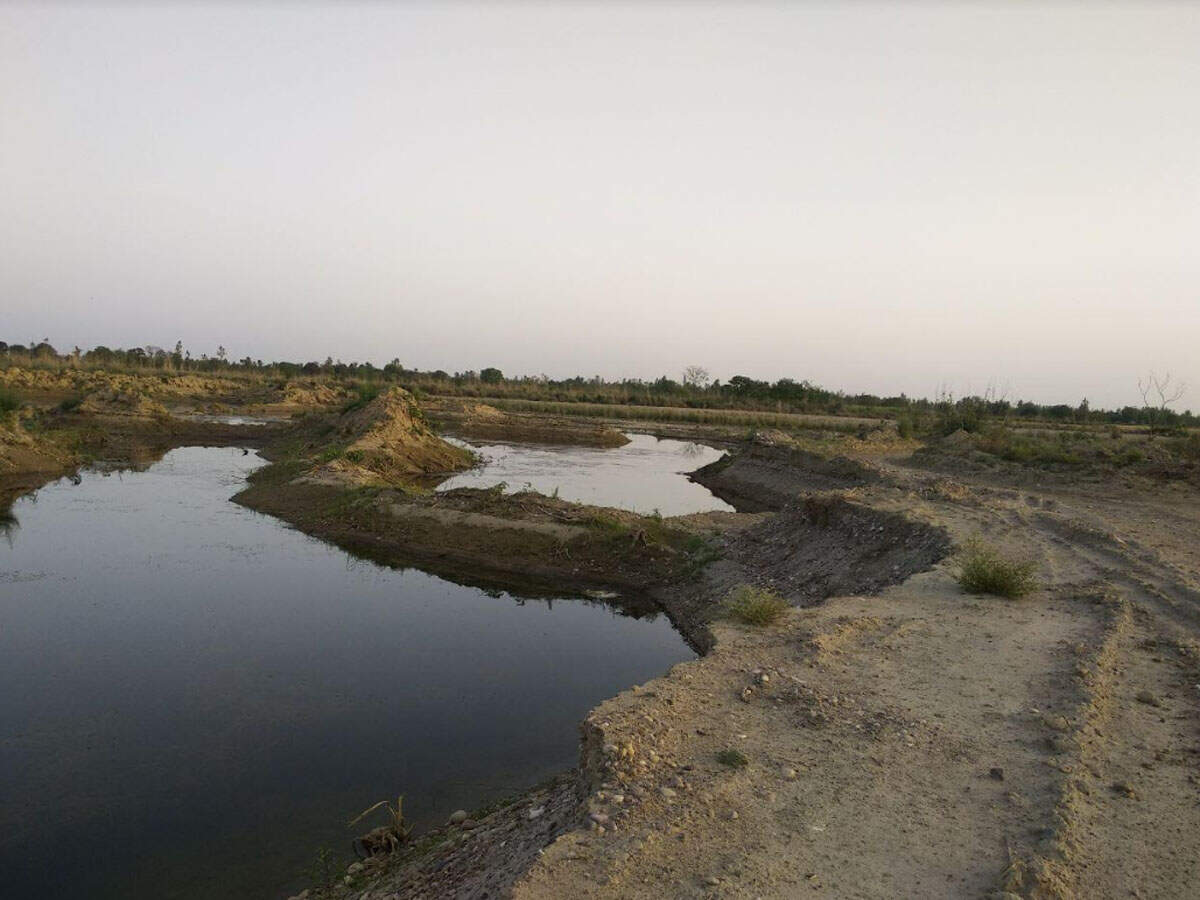 In Una district Swan River is extracted for minerals. In Santohgarh and Basal areas, dumps have come up along the riverside for the first time. In Chamba district river Ravi and its catchment areas are on target for mining. There are many areas near Chamera dam which are good source of minerals. The people in this business usually work during night hours. https://timesofindia.indiatimes.com/city/shimla/himachal-pradesh-illegal-mining-rampant-taking-toll-on-natural-resources/articleshow/70306364.cms  (20 July 2019)  
August 2019
Illegal mining on during monsoon  Even during monsoon illegal riverbed mining activities were going on in Bata, Giri and Yamuna river around Rampur Ghat in Ponta Sahib area of Sirmaur district. During a raid the mining officer seized three vehicles carrying illegal mining. A fine of Rs 9000 was imposed on two vehicles while the third one was confiscated and case was filed. https://www.amarujala.com/himachal-pradesh/sirmour/illiagal-mining-four-arrested-in-poanta-sahib-nahan-news-sml304785330  (22 August 2019)
Illegal mining damaging streams in Mandi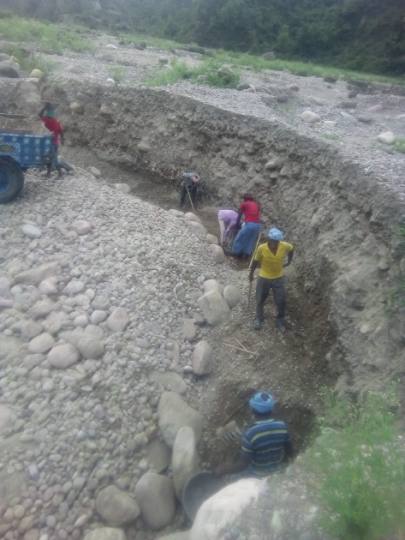 Villagers raised concerns over rampant illegal mining going on in Balyana, Son and Seer streams in Sarkaghat and Dharmpur. They said that it was affecting water levels & vegetation in & around the streams apart from damaging farming land. Villagers complained to mining dept but no action was taken. They also wrote to CM demanding action failing which they would start protest. https://www.jagran.com/himachal-pradesh/mandi-illegal-mining-in-sarkaghat-and-dharmpur-19452229.html  (01 August 2019)
Groundwater table falling in Indora As per Central Groundwater Board report the groundwater table has fallen in Indora area of Kangra district. Blaming illegal mining for this, the local  MLA Rita Dhiman raised the issue in assembly. But no action has been taken by the govt. The area is located along Beas river bank & has rich fertile land which is affected by the mining. There area already 18 stone crushers and 30 more are proposed. Demand Mand area to be declared a no mining zone and no approval to more stone crushers, the MLA said as the water table has been falling and agricultural land is turning barren due to excessive mining. The interior roads with capacity of 9 tons have been damaged by heavy vehicles carrying 50 tons while the govt cite lack of weighing bridge.  https://himachal.punjabkesari.in/himachal-pradesh/news/mla-reeta-dhiman-1046334  (29 Aug 2019)
September 2019
Kullu villagers along Beas fear flood threat  The Beas river and its tributaries were being mined with heavy machines by companies involved in construction of highway between Raison and Manali. The local people alleged the use of heavy machines and large scale mining was weakening the river bank and damaging the environment. They feared that mechanized mining would lead to flood disaster.
Two heavy machines belonging to a minister had stuck in the river when the water level increased suddenly. Blaming mining dept for double standards, the villagers alleged that the mining dept was taking action against manual mining by villagers for local use but was silent on mechanized mining due to political pressure. https://www.amarujala.com/himachal-pradesh/kullu/mining-kullu-news-sml3059714100  (01 Sept. 2019)
Illegal mining causing erosion along Beas river  Local villagers raised the issue of illegal mining in Beas river by Gabar company near Raison in Kullu district leading to river bank erosion. The river mineral in large quantity were being mined for last 4 years to provide construction material for roads. As a result the villagers were facing loosing farming land to erosion.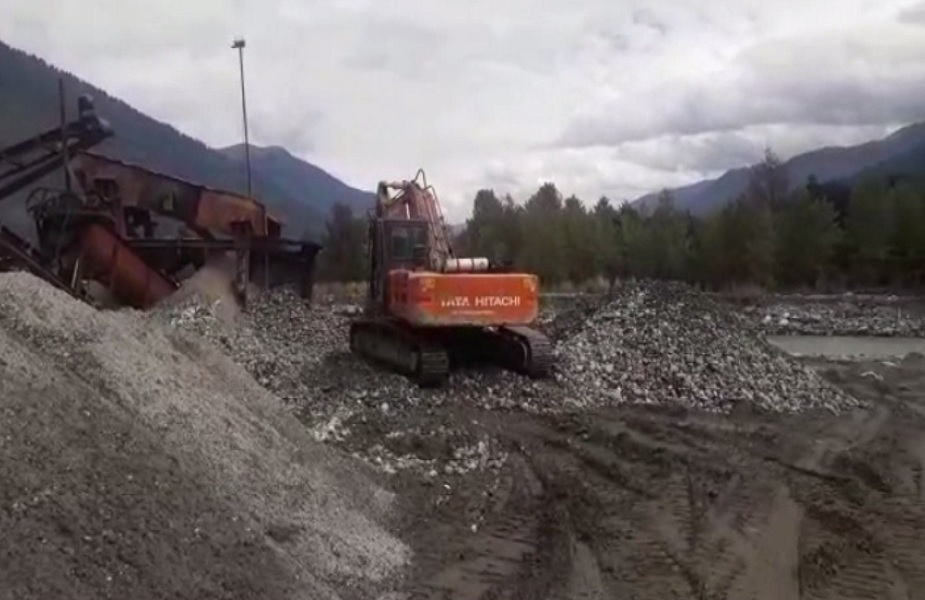 Seeing the impact, the NGT had banned illegal mining but the district admin was not taking any action despite repeated complaints. Warning of a indefinite strike, the villagers blamed administration for turning blind eye on the situation. https://hindi.news18.com/news/himachal-pradesh/kullu-illegal-mining-in-beas-river-continues-unabated-administration-inactive-villagers-affected-by-land-erosion-hydsk-2445190.html  (22 Sept 2019)
Government to auction 100 mining leases The state government decided to auction 100 mining leases in six districts of Sirmour, Bilaspur, Kangda, Hamirpur, Chamba and Una in Nov 2019 which would get Rs 100 crore revenue. The govt had already auctioned 300 mining leases earning Rs. 300 crore in revenue. The mining dept had selected 10 sites in tribal districts of Kinnaur and Lahul-Spiti but could not auction it as the miners are supposed to get NOC from the respective Panchayats in these areas. https://www.amarujala.com/shimla/auction-of-hundred-mining-sites-by-himachal-pradesh-government  (26 Sept 2019)
Take action on illegal mining: DC Sandeep Kumar, DC, Una asked the admin to take strong action against illegal mining including demarcation of mining areas, allowing no mining near bridges, irrigation, water supply structures & forest. https://himachal.punjabkesari.in/himachal-pradesh/news/dc-una-in-meeting-1057249  (20 Sept 2019)
Govt official attacked The SDM Palampur was reportedly attacked by a truck driver in Dattal village when a vehicle bearing no number was stopped for inspection. This is suspected to be related to illegal mining. https://himachal.punjabkesari.in/himachal-pradesh/news/tipper-driver-attack-on-sdm-palampur-1053344  (12 Sept. 2019)
October 2019
NGT finds mining project in Yamuna valid   A 3-member NGT bench dismissed an application filed against green clearance granted by a state-level Environment Impact Assessment Authority for mining of sand, stone and bajri in Yamuna. One of the key reservations against giving the clearance was that the project fell within an eco-sensitive zone and that stream sand mining activities would have adversely impacted the river's water quality. Another argument was that the proposed mining site was an important wildlife habitat and wildlife corridor as it was surrounded by national parks, sanctuaries and conservation reserves. NGT said after a joint inspection that the project proponent had got clearances from various authorities & had an approved mining plan. http://www.indiaenvironmentportal.org.in/files/file/Yamuna-minor-minerals-HP-NGT-order.pdf  (1 Oct. 2019)
Illegal mining in Sarsa river Several tractors without number plates were reported involved in mining activities from Sarsa river in Baddi area. On condition of not publishing names villagers alleged that the illegal mining was being carried out by some influential people who were targeting villagers for raising the issues. https://himachal.punjabkesari.in/himachal-pradesh/news/tractors-doing-mining-work-in-sarsa-river-without-number-plates-1066936  (11 Oct. 2019)
November 2019
Guards attacked by mafia in Sainj While taking action on illegal mining of white stone in Sainj area of Kullu district a mining staff and a forest guard were attacked with stones. They also found a long tunnel and some explosive from the site. The guards were threatened on phone to leave the area, however they informed their dept. As a result the involved person ran away from the spot. There have been several incidents of such attacks on the govt officials in the district. https://www.jagran.com/himachal-pradesh/kullu-mining-mafia-attack-on-mining-guard-in-kullu-19779534.html  (22 Nov. 2019)
44 sites to be auctioned in four districts The govt decided to auction 44 mining sites in the district of Shimla, Kangda, Sirmaur and Bilaspur in Dec 2019 & Jan 2020. The govt has also sought approval of 31 other sites in Hamirpur, Chamba & Una districts. After allotment of sites, the miners have to deposit 25% of bidding amount in advance. The miners are given 2-yr time to get environmental clearance. https://www.amarujala.com/shimla/44-mining-leases-auctioned-in-four-districts-of-himachal-pradesh-on-28th-december  (30 Nov. 2019)
December 2019
HC angry over illegal mining Expressing its anger over illegal mining in Beas river the High Court directed inspection of Lohara, Kansa and Suketi streams in Mandi town within three weeks. While fixing January 6, 2020 as next day of hearing, the court also directed district administration to take strict action against people found involved in illegal riverbed excavation. The concerned dept of mining, revenue, irrigation and public health and respective village panchayat were also asked to be present at sites during inspection.
The directions was given by Justice Dharam Chand Chaudhary & Anoop Chitkra on a petition that alleged unauthorised mining in Mohal Tavan area under Balh tehsil with the involvement of revenue, police dept and local administration for five years resulting in revenue loss wroth crores. It was also alleged that the dept was leaking information to miners before a raid. The court further directed the administration to assess damages on groundwater table, forest land, rivers due to unauthorised mining. https://www.amarujala.com/shimla/himachal-pradesh-high-court-angry-over-illegal-mining-in-mandi-in-himachal-pradesh  (12 Dec 2019)
Illegal mining in Pabbar river About 1.5 km long stretch of Patsari river in Rohru was found severely affected by mining during nights. In a joint raid by administration and police dept 1000 tonne of sand dump were seen lying along the river.
However, the miners got the information of action and had left the spot. Two vehicles were impounded by the dept. The sand was to be auctioned later. https://www.amarujala.com/shimla/illegal-mining-police-raid-in-pabbar-river-rohru-shimla-himachal-pradesh  (21 Dec. 2019)
January 2020
Thural villagers protest land lease for mining Hundreds of villagers in Thural protested the decision of the state govt for allotting a part of the Neugal for mining saying that it would be a health hazard. Villagers in a large number assembled at Thural and threatened dharna if the authorities would not cancel the site inspection conducted by the SDM a day earlier.
Later, a deputation of residents of Thural, headed by ex-MLA Jagjivan Pal, called on DC, Kangra, Rakesh Prajapati and submitted him a memorandum, demanding the cancellation of land lease for mining. They told the DC that if mining was allowed, it would result in large scale environmental degradation and pollution. It would also damage the water supply schemes, water-running saw mills and cremation ground. The DC assured them that he would respect public sentiments and no mining would be allowed.
NGT had banned mining in the Neugal for three years. Therefore, no part of the river could be leased for mining. Besides, the HC had also directed the govt that no land could be leased without public auction. https://www.tribuneindia.com/news/thural-villagers-protest-land-lease-for-mining-19995  (1 Jan. 2020)
Swan River: DIG asks for action against unscientific mining Following an official visit to a dozen mining areas in Swan river in Una and Haroli areas, Santosh Patiyal, DIG North Circle directed the district administration to demarcate mining sites and dumping areas. He also asked the officers to act against unscientific and illegal mining. For long, the opposition party has been protesting against illegal mining. The opponent also blamed police to be involved in increasing illegal mining in the district. https://hindi.news18.com/news/himachal-pradesh/una-dig-santosh-patial-gave-instructions-to-ban-illegal-and-unscientific-mining-hydsm-2761831.html  (11 Jan. 2020)
24 sites to be auctioned in March  The govt had auctioned 185 mining sites in the state in two phases and was planning to auction 24 more sites in Hamirpur and Chamba in the first week of March 2020. Before this the govt had approved 40 sites in Kangda, Sirmaur, Bilaspur districts.  https://www.amarujala.com/shimla/24-more-mining-sites-in-himachal-will-be-auctioned  (15 Jan. 2020)
HPSPCB accepted damage by illegal mining In the case regarding illegal mining and sand crushing using mobile stone crushers, HPSPCB report acknowledged violation of law. The NGT directed the HPSPCB to assess and recover compensation for the damage to the environment on 'Polluter Pays' principle, after following due procedure of law. http://www.indiaenvironmentportal.org.in/files/file/sand-crushing-Himachal-Pradesh-NGT-order.pdf  (28 Jan. 2020)
Illegal mining threaten Pathankot crusher industry Owners of stone crusher industry in Pathankot, Punjab alleged that large scale illegal and mechanized mining of riverbed materials in Chaki river in neighbouring Kangra district was helping Himachal stone crushers unit produce cheaper construction material which was then being transported to Punjab thus causing huge economic losses. They said that crusher industry in Himachal was not paying royalty, sale and income taxes whereas crushers units in Pathankot were allotted at huge prices apart from these taxes. They alleged the mechanized mining was banned in Himachal but govt was paying no heed to it. https://punjab.punjabkesari.in/gurdaspur/news/pathankot-s-crusher-industry-suffers-from-illegal-mining-in-himachal-1109227  (10 Jan 2020)
February 2020
Crusher owners protest against illegal tax by Punjab mafia The Stone Crusher Owners Association of Kangra district sought the Punjab govt's intervention to end the practice of mining contractors imposing illegal tax on the tippers carrying finished goods from stone crushers of Himachal Pradesh. The president of the association Ranveer Singh Nikka said that the mining mafia of Punjab was making quick bucks by collecting the 'gunda tax' and hurting the business of Himachal crusher industry. Materials being produced by stone crushers go for sale to Punjab. The owners sent their material with all requisite documents, bills, M Form and GST invoice and still their vehicles were being targeted, he said.
He said that the stone crusher owners of Himachal had moved the Punjab & Haryana high court against the illegal tax. The court had barred the mining lobby of Punjab from imposing the tax. Still, the practice is unabated and the Punjab mining dept has turned a blind eye to it. The association further said that despite ban, mining was happening in Punjab part of Chakki river. https://www.hindustantimes.com/cities/hp-stone-crusher-owners-up-in-arms-against-illegal-tax-by-punjab-mining-mafia/story-yzYj5cQUsdUBfqPNdWN6tO.html  (23 Feb. 2020)
No mechanized mining Issuing several directions to stop illegal mining activities, the govt during budget session asked the miners to create dumping sites at least one km away from mines and remove the existing dumps by March 25, 2020. Miners were also asked to place board providing details of mining work at the site.
The districts admin was directed to take strict actions against mechanized mining by seizing vehicles, imposing fine, cancelling the lease and cancelling licences in case the repeat in violation & filing of FIR. Similar action were sought against unauthorized mining.
The districts administration was asked to check overloading and set up check points at mining infested sites and ensure protection of river channels. The mining dept was directed to submit environment management report to governing council of district mineral foundation (DMF) before March 31, 2020 apart from monthly progress report from mining sites.  https://hindi.news18.com/news/himachal-pradesh/shimla-no-illegal-mining-through-jcb-and-poklane-machine-himachal-hpvk-2901886.html  (28 Feb. 2020)
Despite ban illegal mining unabated in Balh Earlier the HC the administration had claimed that illegal mining had been stopped in Balh valley. However in a raid the police seized 27 vehicles including heavy machines involved in illegal excavation of riverbed material. Illegal miners got alerted about the raid and had fled the area. The incident exposed not only the claim of admin but the effort by police too. https://www.bhaskar.com/himachal-chandigarh/shimla/news/police-took-action-on-illegal-land-mining-mafia-in-balh-area-and-captured-several-vehicles-126783633.html  (18 Feb. 2020)
HC had banned mining in Kansa, Suketi, Loharadi streams. The illegal mining was taking place during nights in Kargil and Bhyarta streams. https://www.jagran.com/himachal-pradesh/mandi-mandi-police-action-against-mining-mafia-at-balh-valley-20041394.html   (18 Feb. 2020)
Earlier in the month, a video showing forceful extortion of Rs 100 from a tipper driver in Balh area went viral. The report claimed that it was Gunda Tax being reclaimed by unknown persons. The incident exposed admin claim of taming illegal mining in Kansa & Suketi stream. https://www.jagran.com/himachal-pradesh/mandi-video-viral-in-sundernagar-20015559.html  (09 Feb. 2020)
Locals phoned to inform SP, Kullu about large scale illegal mining in Gadsa valley with the help of heavy machines. https://www.jagran.com/himachal-pradesh/kullu-sp-kullu-listions-problems-20005936.html  (06 Feb. 2020)
Taking action on illegal mining, the forest team, travelling in private vehicles Nahan seized three dippers and recovered a fine of Rs. 21,000 https://bit.ly/2S2Y3ES  (07 Feb. 2020)
Protest against illegal mining The local Congress party office bearers and supporters protested against mining activities in Una district.
There had been two accidents involving overloaded vehicles carrying mining material. Villagers also complained of air pollution in the area on account of mining activities. https://hindi.news18.com/news/himachal-pradesh/una-illegal-mining-in-una-congress-protested-hpvk-2850325.html  (10 Feb. 2020)
Action on illegal mining The SP, Una instructed strict action on illegal mining following this challans were issued against three dozen vehicles including heavy machines. The administration also collected fine of wroth Rs. 3 lakh. In 2018 also similar action was taken on 310 vehicles resulting in recovery of Rs. 28.31 lakh while in 2019 a total 507 vehicles were challaned fetching a fine of Rs. 45.51 lakh. https://himachal.punjabkesari.in/himachal-pradesh/news/sp-in-action-mode-invoice-of-3-dozen-vehicles-and-collected-fine-of-millions-1126711  (19 Feb. 2020)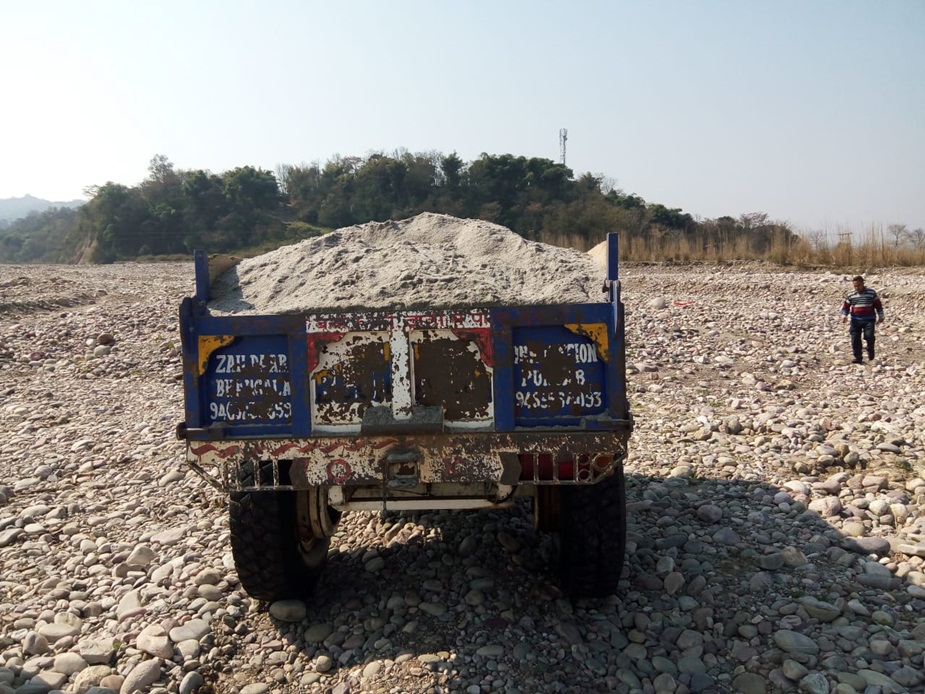 On an inspection the SDM of Sujanpur in Bilaspur dist found a person with tractor carrying illegal mining in Beas river. A fine of Rs. 10,000 was imposed and case was handed over to mining dept. https://hindi.news18.com/news/himachal-pradesh/hamirpur-illegal-mininig-in-hamirpur-sdm-fined-tractor-owner-hpvk-2899306.html  (27 Feb 2020)
March 2020
Illegal mining threatens ancient temple Illegal riverbed mining in the Binwa at Baijnath posed threat to the existence of the Shiva temple at Baijnath. Despite claims by the Baijnath administration and the mining dept, a large number mules were carrying the extracting sand stone and bajri from the river. Locals complained that if the mining activities in the Binwa is not checked it could damage the Baijnath temple, built in 1204 A.D. Illegal mining had also damaged the railway bridge and another bridge on the Pathankot-Mandi NH. https://www.tribuneindia.com/news/illegal-mining-threatens-ancient-temple-at-baijnath-49529  (2 March 2020)
The temple area was under ASI hence mining was prohibited in its proximity. Similar mining activities was reported happening in Kheer Ganga causing damage to protection wall of another temple. https://www.jagran.com/himachal-pradesh/kangra-illegal-mining-in-baijnath-threatens-historic-shiva-temple-again-20069661.html  (28 Feb. 2020)
Illegal mining in Sutlej river The Satluj river in Povari area of Kinnuar district was facing threats from illegal mining. The administration had not allotted any lease in the district despite this there was large scale mechanized mining taking place in the river causing losses to revenue.
https://himachal.punjabkesari.in/himachal-pradesh/news/mining-mafia-in-satluj-river-1134142  (07 March 2020)
Precious stone mined from Tons area Illegal mining of some precious stones known as Galena was taking place from Tons river in Siyasu area of Sirmaur. The mined material was being transported to Uttarakhand which was sharing its boundary with the district.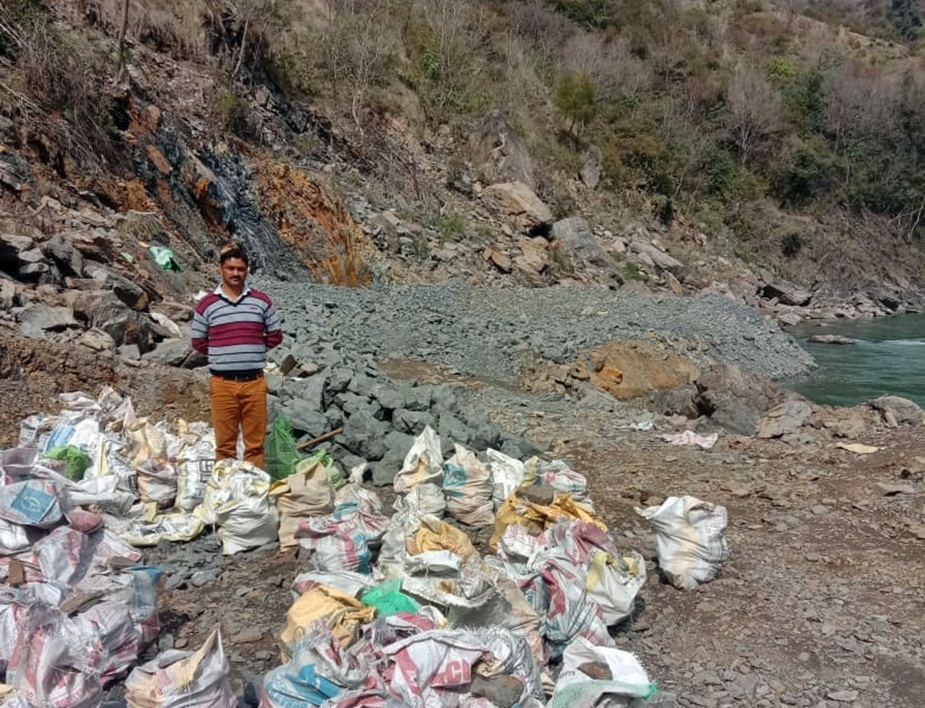 There was apprehension that stones were rich in silver mineral and also used in making explosives hence sample were sent to lab.  When police reached the spot, the miners had fled leaving behind mined material packed in sacks, a bike and a digging machine. https://hindi.news18.com/news/himachal-pradesh/nahan-illegal-mining-in-sirmour-galena-peddlers-ran-away-hpvk-2908399.html  (02 March 2020)
The issue was raised in the state assembly. https://mbmnewsnetwork.com/politics/241751/mla-harsh-vardhan-chauhan-tried-to-surround-the-state-government-on-various-issues-including-illegal-mining/  (3 March 2020)
Police extorting Rs. 700 for mining in Giri river? There was viral video revealing recovery of Rs. 700 as extortion money by policy official against illegal mining from Giri river in Sirmaur. Later it was claimed that the allegations were made on Uttarakhand police and not on Hiamchal Police in the video. As per report, there was correspondence between both states' police officials after the video surfaced.  https://mbmnewsnetwork.com/himachal-pradesh/243137/hp-not-uttarakhand-police-does-rs-700-per-truck-recovery/  (13 March 2020)
Reporter threatened A reporter was threatened by mining mafia in police presence for covering illegal mining in Kotla area of Solan dist. https://bit.ly/34ZoWia  (1 March 2020) 
Vehicle seized In Dabla village of Bilaspur a tractor was seized for carrying illegally mined river minerals from Karyalag stream. When the SDM reached the spot the four persons involved in mining fled the spot leaving behind the tractor. https://www.jagran.com/himachal-pradesh/bilaspur-hp-sdm-inspection-20128730.html  (20 March 2020)
Similarly, the admin seized vehicles involved in illegal mining in Kariyalag stream in Bilaspur district. However four persons carrying on the mining managed to escape. The mining area was under land related work under MNREGA but there was no register maintaining record of villagers engaged in the activity raising suspicion among women beneficiaries that illegal mining was done behind MNREGA work. https://www.amarujala.com/himachal-pradesh/bilaspur/crime-bilaspur-news-sml3280840172  (19 March 2020)
Power supply to stone crushing unit snapped Following the recommendation of the mining dept, the Himachal Pradesh State Electricity Board Ltd. (HPSEBL) disconnected the power supply of Shivam Stone Crusher at Mand Bogharwan in Indora subdivision for allegedly indulging in illegal mining activities beyond the mining lease area. The owner of the unit had been granted mining lease besides requisite permission by the state govt.
The Mining Officer (MO), Nurpur, had served 15 days' notice to the owner on Feb 17, directing him to suspend operations immediately. In the notice, the crusher owner was accused of carrying out mechanical mining with chain-mounted excavators beyond his legalised mining lease, absence of lease boundary pillars in the lease area, non-payment of royalty to the state exchequer and keeping unaccounted stock of finished minerals like sand and grit. The mining authorities had served a notice under Rule 71 and 71(A) of HP Minor Minerals Rules-2015. https://www.tribuneindia.com/news/himachal/power-supply-to-stone-crushing-unit-snapped-60862  (25 March 2020)
5 held for beating cops Five persons, including a woman, were arrested for beating policemen who had tried to stop them from mining sand illegally in Kinnaur district during a lockdown. A police team found Phool Devi, Sahil, Shekhar, Ashok and Satish were mining sand in Katgaon area and tried to stop them. But the five attacked the policemen with shovels, sticks and stones. Three policemen were injured. The accused then fled but were later arrested and booked under various charges including for injuring public servants and disobeying the curfew order. https://www.outlookindia.com/newsscroll/woman-among-five-held-for-beating-cops-during-curfew-in-himachal/1782414  (27 March 2020)
Mandi tops illegal mining cases All 12 districts in state are suffering from illegal mining. The state govt has auctioned about 450 sites barring Kinnaur and Lahul Spiti districts; despite that illegal sand mining has been taking place resulting in revenue losses. The govt has acted against 8360 illegal mining incidents of which 1911 are from Mandi district where as only 205 cases have been reported in Solan district. In overloading cases, only the owner is fined while the driver and vehicle is left.  The state assembly committee had submitted report on illegal mining in Una after which several raids have been conducted in the district. https://www.amarujala.com/shimla/illegal-mining-cases-in-last-year-in-himachal-pradesh-mandi-on-top-of-the-list  (02 March 2020) 
After government notification to control illegal mining, the district administration Kangra decided to create barriers at 12 spots and install weighing bridge. https://www.jagran.com/himachal-pradesh/kangra-mining-department-make-barrier-near-khad-and-rivers-in-himachal-20087083.html  (05 March 2020)
Una farmers support new notification Mentioning damages being done to local streams, flood protection walls and adjoining farming land, the farmers from several villagers asked govt to ignore pressure from mining lobby & implement the new notification. https://www.jagran.com/himachal-pradesh/una-mining-police-20097469.html  (9 March 2020)
On the other hand protesting against the new notification, the crusher owners closed their units resulting in scarcity of construction material. https://www.jagran.com/himachal-pradesh/kangra-stone-crusher-units-and-tipper-union-strike-against-govt-new-orders-20095906.html  (8 March 2020)
As a result the various govt and private development work came to a standstill in the state. https://hindi.news18.com/news/himachal-pradesh/una-contractor-meets-as-mining-banned-in-una-hpvk-2919439.html  (6 March 2020)
They demanded change in rules. https://www.amarujala.com/himachal-pradesh/kangra/stone-crusher-kangra-news-sml3266662192  (5 March 2020)  
Following the move, the mining dept warned the owners to resume production within a week or they would be declared defaulters apart from cancelling of lease and seizing of machinery.  https://www.jagran.com/himachal-pradesh/kangra-mining-department-give-notice-to-crusher-owner-for-start-work-in-week-20123589.html  (19 March 2020)
Summary Himachal Pradesh has seen no significant improvement in situation of illegal and mechanized quarrying of riverbeds. Round the year, protests by villagers, activists kept taking place demanding strict actions against unsustainable mining practices in the wake of increasing in damages to river channels, groundwater level, farm land and forest areas. 
As per a report, the state has seen unprecedented growth in infrastructure, real estate sector including roads, buildings and hydro power projects resulting in increased pressure on rivers for supply of sand, gravel and boulders and as per 2016 figures, the state was extracting  nearly 35 lakh tonnes of riverbed materials annually. Destructive mining has become one of the main reasons behind degradation of river eco-system apart from destruction to flood protection structures, bridges, water and irrigation schemes, fisheries.
The farmers and villagers in Indora area along Beas river are severely affected by excessive mining and stone crusher industries which is stated to be causing fall in groundwater table apart from damaging the fertile lands. The HPSPCB member secretary's ignorance about its responsibility of monitoring & checking the impact of quarrying activities on rivers shows how ill-prepared the govt depts are in controlling the menace.
There is hardly a district or river stretch in HP that is not bearing the brunt of illegal mining. The Mandi district is most affected while least cases are reported from Solan. The situation is complex & problematic in Kangra, Una & Sirmaur districts which share borders with neighbouring states of Punjab & Uttarakhand where Beas, Chaki, Swan, Giri, Bata and Yamuna rivers have seen brazen and organized mining operations by stone crusher industries of both states who also keep blaming each other for illegal mining. The plight of Sutlej, Tons like big rivers and Pabbar, Neugal, Binwa, Sainj, Kansa, Suketi like perennial streams is not much different.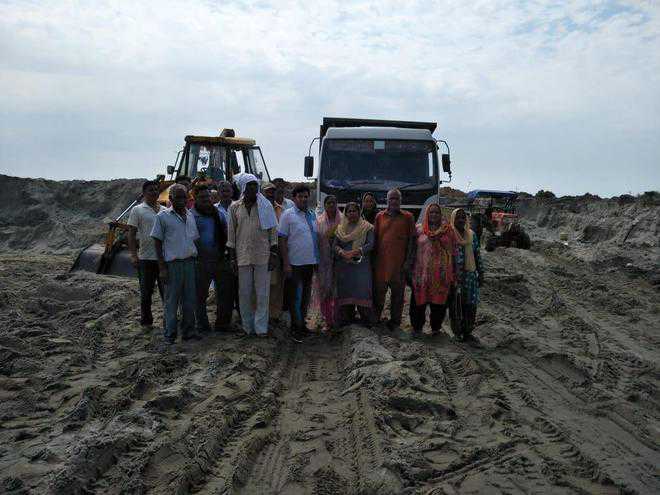 The main objective of state govt seems generation of revenue. Without assessing carrying capacity the riverbed materials are being mined and even transported to outside the state. The HP govt has selected over 450 mining sites most of which have been auctioned. There is an attempt to allow mining activities even in Kinnaur and Lahul Spiti and the mining dept sees mandatory consent from panchayat as hindrance in these tribal districts.
The failure of technological intervention in form of CCTVs and drones have been accepted.  The mining dept is also facing shortage of field staff. There has been incidents of threats and attack on govt officials and a reporter. It is also evident that the NGT rules, HC directions have not made much impact. The reports of extortion and gunda tax brings forth the corruption in which govt depts are also involved. It is surprising that the district administration carried so many raids but in most cases the mafia got alerted in advance and managed to escape.
Given the scale, intensity and impact of mining activities, there are fewer reports in English media on the issue while the local Hindi outlets lack necessary depth and details.
The issues has been raised in the state assembly. The opposition party has also staged protests. Finally the govt has come up with a new notification banning illegal practices and mechanized mining. In a response, the miners and stone crusher owners have stopped operation demanding change in the notification. The current status is not known as since March 25 the state has been under lockdown which prevented all mining work. However, on April 20, the govt is learnt to have allowed resumption of mining.
Geological Wing The website of Geological Wing a department of industries mandated to manage mining operations, has some valuable information on the issue including Geological maps and district survey reports. The reports have not been updated for long time. Similarly an email sent to the department on April 18, 2020 by SANDRP seeking information on replenishment study, status of district mineral foundation and utilization of fund has remained unanswered so far.
Bhim Singh Rawat (bhim.sandrp@gmail.com)
Please also see SANDRP annual overview for the year 2019-20 for following states:
J&K Riverbed Mining 2020: Rivers exposed to mechanized mining
Himachal Pradesh sand mining 2020: No Replenishment study, district foundation
Uttarakhand Riverbed Mining 2020: Rivers, People, Revenue Robbed
Punjab Sand Mining Overview 2019: Story of Political Patronage & Goonda Tax
Haryana Riverbed Mining 2019: Yamuna Robbed of Minerals, Flows
UP riverbed mining overview: NGT, CBI, Govts cannot stop the menace
Rajasthan River Sand Mining Overview 2019: SC Ban Remains, Police-Mafia Gang Rules
Madhya Pradesh River Sand Mining 2019: Rivers mined Dry; Govt not bothered
Maharashtra Riverbed Mining Overview 2019: Mining Posing Bigger Threats As Government Fails To Act
Goa Riverbed Mining Overview 2019: Civil Societies Form Network To Curb Mining Menace
Kerala 2020 Sand Mining: Don't forget floods, fisherfolks & vanishing villages
Karnataka Sand Mining 2020: Active Collector, Destruction of fish sanctuary & calm collection
Tamil Nadu Sand Mining 2020: Persistent Court can't shake indifferent govt
Andhra Pradesh Riverbed Mining 2020: Quicksand of mismanagement
Telangana Riverbed Mining 2020: Tribals, Godavari robbed