A for Athirapally, B for Bodhghat, C for Cauvery, D for Dibang, E for Etalin, seems to be the new growth alphabets from the Prime Minister's Office. With the economic growth in negative territory, depression in the corner, the old and trusted Big Dams as major infrastructure to push up expenditure and hope for the growth was a formula used even in 1930s by US president Franklin D Roosevelt to bring the US economy out of the Great depression of 1929. It started with the Tennessee Valley Authority Act of May 1933, which then was pushed as growth model to other countries. In India it came in the form of Damodar Valley Corporation (DVC) Act of 1948.
However that 20th century model was a failure even then, as the first CEO of the DVC, Sudhir Sen wrote. That model is no longer relevant in 21st century except possibly as an easy route to corruption and kickbacks. These dams and hydropower projects are no longer even economically viable and better options are now available for irrigation and power. In the changing climate scene they are even less relevant places of worship (temples). Dams and hydropower projects are seeing slow down across the globe, not just in India.
Hence it would be best if the PMO were to not push down reluctant states' throats this old alphabet wine with new brand names. It won't help the cause of growth and it will bring huge negative impacts on people, environment, rivers and future generations. It will certainly bring bad publicity to the government.
Kerala Govt approves Athirappilly power project Shocking decision: Kerala govt has said KSEB can go ahead with the controversial Athirapally HEP, which has been suspended for over two decades for various protests and High Court and MoEF decisions. CPI continues to oppose and in 2018 the govt had said they have dropped it.  https://english.manoramaonline.com/news/kerala/2020/06/10/kerala-government-approves-athirappilly-power-project.html  (10 June 2020)
CR Neelakandan, prominent environmental activist, remarked that he was 100 per cent confident the project will not become a reality.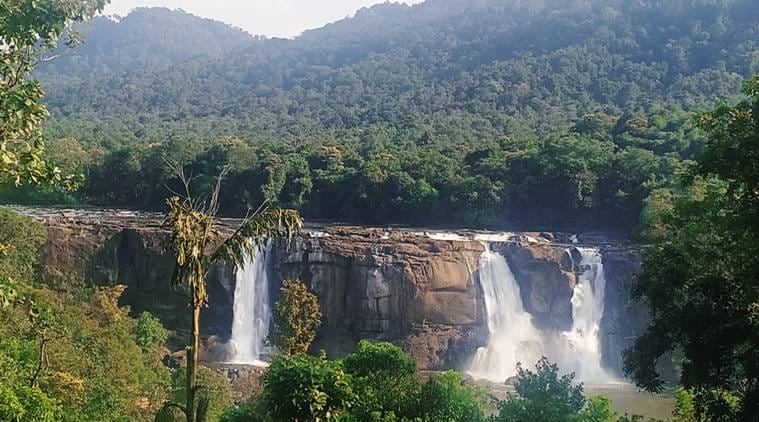 -"It is very difficult for the project to get an environmental clearance. The EIA studies have been dismissed in the past, even by the High Court. The project will not only bring ecological losses, but it will also be an economic failure. At a time when alternative energy sources like solar are available, building a large dam is a remote possibility," he said.
-As to what the government's latest sanction could mean, he said: "For a state that underwent back-to-back floods, it's surprising how the government could take such a decision. After the floods, the government had said that it would be very careful, but we cannot see any policy changes."
-"So this could be a move to satisfy a few contractor lobbies. Or it could be a diversionary tactic to take the attention away from real issues. This may enrage the people and the activists, but in its shadow, a few negative projects may get cleared," he added.  https://indianexpress.com/article/india/kerala/kerala-govts-nod-to-controversial-athirappilly-hydel-project-triggers-ecological-concerns-6452620/  (10 June 2020)
Leader of Opposition Ramesh Chennithala on June 10 said that the CM was trying to rush through the project using Covid-19 as a cover. "In the present Kerala Assembly, State Electricity Minister M. M. Mani had categorically said that this project has been shelved. When things are like this, how come suddenly this has again surfaced. The Congress-led UDF will oppose this tooth and nail and will go to any extent to prevent this from moving forward," said Chennithala.
– Former State Forest and Environment Minister and presently CPI Rajya Sabha MP, Binoy Viswan said "This particular project will do no good for Kerala in any aspect. The ruling Left Democratic Front had ruled out this project earlier, and now I do not know who are behind this project and how this has surfaced again."
– Former Union Minister for Environment and Forests and senior Congress lawmaker Jairam Ramesh, who all along has opposed this project tweeted, "After the devastating floods of 2018, I would have thought that the Kerala government would have got some environmental sense, but obviously contractor lobby is powerful and this should not be allowed to happen."
– Incidentally, this project when first mooted by Pinarayi Vijayan was shot down by the then LDF government when he was the Power Minister in the cabinet of E. K. Nayanar (1996-2001). Now this project has surfaced again when Vijayan is the CM.  https://energy.economictimes.indiatimes.com/news/power/cpi-cong-up-in-arms-in-kerala-over-athirapally-power-project/76299677  (10 June 2020)
"Chalakudi river already has many big and small dams. It can't withstand more. Preventing natural course and storing water led to many disasters in the past. In Chalakudy, we don't want pristine forests to be submerged and many tribals evacuated," said VS Vijayan, an environmental scientist. "It seems the state has failed to learn a lesson from two consecutive floods (in 2018 and 2019) that claimed many lives…Votaries of the new dam should think about the future generation also," Vijayan said. Tribal families living in the forests, too, are apprehensive. "They will have to kill us before building the dam. It is a ploy to plunder green cover and destroy the serene waterfall," said Kadar tribe leader P Kaliappan.  https://www.hindustantimes.com/india-news/kerala-govt-faces-criticism-for-nod-to-hydel-project/story-zBMH3Nf6tt3Nbw9KBwWkNM.html  (10 June 2020)
Chhattisgarh Central, state govt pacifying construction of Bodhghat dam on Indravati river without any EIA.  https://www.cgkhabar.com/bodhghat-of-chhattisgarh-20200609/  (09 June 2020)
Tamil Nadu Opposes Mekedatu dam project Tamil Nadu has used the Cauvery Water Management Authority's first meeting during the current water year to reiterate its opposition to the Karnataka government's Mekedatu project, which has come to a standstill.
At a meeting on June 10 through video-conferencing, the State made it clear that it remained firm in its opposition to the proposal for the Mekedatu Balancing Reservoir and Drinking Water Project. As a matter of principle, it was opposed to any project being proposed in the upper riparian unless it was approved by the Supreme Court, an official in the Public Works Department said.
Last July, the EAC for River Valley and Hydroelectric Projects called for an "amicable solution" between the two States so that it could reconsider the project for the grant of terms of reference for the Mekedatu project. https://www.thehindu.com/news/national/tamil-nadu/tn-opposes-mekedatu-project/article31808274.ece  (11 June 2020)
Arunachal Pradesh How consent for Dibang dam was manufactured by terrorising the people  Both Congress and BJP governments have pursued a vision of development in the North East that deprives people of a say in how their rivers are managed. https://scroll.in/article/931504/how-consent-for-dibang-dam-was-manufactured-by-terrorising-the-people-of-arunachal-pradesh  (25 July 2019)
Analysis of Etalin HEP by Ashwini Chitnis & Shripad Dharmadhikary finds there is no economic / financial rationale for project. Analysis has been submitted to the MoP requesting to consider this for its response to the FAC.
– Pwr tarrif of Etalin is likely to be Rs 7-9/ unit, though DPR claims levelised tariff at Rs 4.32 (2013 prices). Recent study estimates pwr price from solar PV system + battery storing 25% of PV energy ₹ 3.94/kWh (2020), ₹ 3.32/kWh (2025), ₹ 2.83/kWh (2030). ETALIN IS UNVIABLE.
– Existing Hydro is not utilised effectively for Peaking. All hydro suffer huge cost and time over runs, making their cost even more unviable. No discom will sign PPA for such costly power when cheaper options are available. Etalin is not part of National Electricity Plan for 2027.
Read PR & Submission: https://www.manthan-india.org/submission-to-the-ministry-of-power-regarding-the-financial-viability-related-issues-for-the-proposed-etalin-hydro-electric-project-ehep/
HYDRO POWER PROJECTS
Karnataka Can Sharavathi river survive another hydropower project? Heavily dammed Sharavathi river contributes to 40 percent of the total hydropower generation in Karnataka. Now, a new underground pumped storage project is planned on the river by the Karnataka Power Corporation Limited (KPCL).
Environmentalists fear a new infrastructure in the heart of the Sharavathi valley that demands diversion of 360 acres of pristine forest land would spell doom to the valley, one of the last existing habitats of the endangered lion-tailed macaque species endemic to the Western Ghats.
– While the KPCL argues that the new project requires very little construction work (and hence minimum environmental damage), since the two reservoirs – Talakalale and Gerusoppa – that would be used to transport water for power generation, already exist, environmentalists and activists call the project myopic. They emphasise that it would impact the rich biodiversity that the river basin and the Sharavathi valley hold.
– "It is an absurd project," says Sagar-based environmental activist Akhilesh Chipli, a member of a non-governmental organisation SWAN and Man (Save-Wild-Atmosphere-Nature and Man).
– The Sharavathi river, originating in the central Western Ghats, runs through the districts of Shivamogga and Uttara Kannada of Karnataka. The river, with a catchment area of about 3,600 square kilometres, takes birth at Ambuthirtha in Thirthahalli taluk and flows northwesterly for 130 km to join the Arabian Sea at Honnavar in Uttara Kannada district.
– A study on the cumulative impact of all hydroelectric projects on the Sharavathi basin showed that Linganamakki reservoir when it was built in 1948, submerged 326.34 sq. km. resulting in the full or partial submergence of 99 villages in Sagar and 76 villages in Hosanagar taluks of Shivamogga district and displaced 12,000 people. About 7.77 sq. km. was submerged by Talakalele resulting in the full or partial submergence of three villages. While Gerusoppa (reservoir) didn't submerge villages or cause displacement, 5.96 sq. km. of evergreen to semi-evergreen forests were submerged. For the Sharavathi tailrace project, 4.72 sq. km. of forest and 0.08 sq. km. of other lands were acquired for the land, townships etc. Activists point out that all these have resulted in the extensive fragmentation of the forest and the river basin and increased anthropogenic activities here.  https://india.mongabay.com/2020/06/can-sharavathi-river-survive-another-hydropower-project/  (11 June 2020)
Himachal Pradesh Mandi MP smells scam in Uhl-III hydropower project Mandi MP Ram Swarup Sharma said that a scam had taken place in the purchase of steel pipes for the Uhl-III hydropower project, constructed by Beas Valley Power Corporation Limited, in the Jogindernagar sub-division of Mandi district. He said that a panel of experts organised seven meetings to decide on the purchase of steel pipes but surprisingly awarded the contract to Steel Authority of India Limited (SAIL) in 2008.
He added that the state had already faced huge losses in four other power projects after installing the pipes purchased by the company. He has strongly demanded the state government to take disciplinary and punitive action on the expert committee constituted by the electricity board. https://www.hindustantimes.com/cities/mandi-mp-smells-scam-in-uhl-iii-hydropower-project/story-iN5Q2M4r4v3D6vsdqbLxBK.html  (12 June 2020)   
DAMS
Kerala Interstate panel to synchronise opening of dams A meeting of the District Collectors of Wayanad and Mysuru through a videoconference on Monday decided to constitute an interstate coordination committee to synchronise the opening of dams across the Kabani river to avert floods during the monsoon. There are three dams across the river – Karapuzha and Banasura Sagar in Kerala and Kabini at Beechanahalli – and lack of coordination in opening the shutters of the dams had caused floods in Wayanad in the past.
– Wayanad District Collector Adeela Abdulla, Mysuru Deputy Commissioner Abhiram G. Sankar, dam research and safety division executive engineer K. Sreedharan and dam research and safety subdivision assistant executive engineer P. Manoharan attended the meeting.  https://www.thehindu.com/news/national/kerala/interstate-panel-to-synchronise-opening-of-dams/article31724467.ece  (01 June 2020)
Gujarat 3rd phase of SAUNI scheme to be completed by 2021 CM Vijay Rupani on June 09 announced that the phase 2 and phase 3 of the Saurashtra Narmada Avtaran Irrigation (SAUNI) scheme to fill Saurashtra"s 115 dams with Narmada water will be completed by August 15 and March, 2021 respectively. CM said "SAUNI is to provide drinking and irrigational waters to 737 villages and 31 cities of 11 districts of Saurashtra region. The first phase of the scheme is completed and now filling of 16 dam reservoirs is possible."
The second phase works involves 547 kms pipelines to fill 57 reservoirs. In 3rd phase 42 dam reservoirs needs to be filled through 457 kilometres of pipeline through 3 links. The state government has spent Rs 14,707 crore in four links of the scheme where Rs 6,854 crore have been spent to finish the first phase and Rs 6,973 crore have been utilised for the second phase which is nearing completion.  https://www.outlookindia.com/newsscroll/3rd-phase-of-sauni-scheme-to-be-completed-by-2021-to-fill-saurashtra-dams/1861125  (09 June 2020)
Here is Nitin Gadkari statement is full of inaccuracies regarding stopping India's share of water to Pakistan https://www.newindianexpress.com/nation/2020/jun/15/centre-working-to-stop-water-of-indias-share-into-pakistan-union-minister-nitin-gadkari-2156604.html  (15 June 2020)
INTERLINKING OF RIVERS
Compelling Reasons for Dropping Wasteful Projects  The River-Links scheme starting with Ken-Betwa link is one such scheme whose basic ecological sanity has been very seriously questioned by very senior experts but which goes on getting extension and expansion. Apart from its huge social and ecological costs, financially also this is going to impose a huge burden in the coming years.
Stopping this will make available huge resources for small water conservation projects which will bring immediate income (in terms of wages) and irrigation and water conservation benefits to a very large number of villages. A similar case can be made for stopping other large dam projects which involve high costs of displacement and/or ecological /safety disruption, and diverting these funds to small-scale, decentralized river-protection and water-conservation projects. For example attempts to rejuvenate many drying small rivers and streams can be made by afforestation and catchment protection works.   https://thewire.in/economy/indias-resource-crunch-provides-compelling-reasons-for-dropping-wasteful-projects  (07 June 2020)
Thriving nests of 160 vultures near PTR The site is located 1 km from Panna Katni NH75, near a perennial water stream (name or river basin not mentioned), in protected forest (not protected area), near Chandaa Ghati, about 60 km from PTR says the report.  https://timesofindia.indiatimes.com/city/bhopal/found-thriving-nests-of-160-vultures-near-panna-tiger-reserve/articleshow/76290623.cms   (10 June 2020)
INTERSTATE WATER DISPUTES
Cauvery River Water Sharing Dispute Cauvery panel orders Karnataka to release water  The Cauvery water management authority on June 10 directed Karnataka to release 9.19tmcft of water for June and 31.24tmcft for July as per the tribunal award later modified by the Supreme Court. It also deferred the Karnataka government's proposal to construct a multi-crore reservoir at Mekedatu across river Cauvery, after vehement protests from Tamil Nadu and Puducherry governments.
-CM Edappadi K Palaniswami had shot off a letter to Prime Minister Narendra Modi last week, requesting him to instruct the Jal Shakti ministry to not bring in the agenda for the authority meeting since the matter was sub-judice.
-The 6th meeting of the authority, ever since it was constituted in 2018, following the Supreme Court order, took place via video conferencing with the representations of all riparian states.  https://timesofindia.indiatimes.com/city/chennai/cauvery-panel-orders-karnataka-to-release-water/articleshow/76314898.cms  (11 June 2020)
Krishna, Godavari Rivers Water Sharing Dispute Centre to take stock of Krishna and Godavari water utilisation At a video-conference on June 9, 2020, U.P. Singh, Secretary, Department of Water Resources, Union Ministry of Jal Sakthi, asked the Chairpersons of the Krishna and Godavari River Management Boards to procure the details of the irrigation projects in Maharashtra and Karnataka, too, and submit them to the Centre in a month.
The main objective of the exercise appears to be to assess whether surplus water will be available for the new projects in the light of the disputes. The two States (AP and Telangana) share stretches of the Krishna and the Godavari and own their tributaries. They have embarked on several new projects without getting clearance from the river boards, the Central Water Commission and the apex council comprising the Union Water Resources Minister and the CMs, as mandated by the Andhra Pradesh Reorganisation Act, 2014.  https://www.thehindu.com/news/national/centre-to-take-stock-of-krishna-and-godavari-water-utilisation/article31790230.ece  (09 June 2020)
Maharashtra-Telangana Maharashtra constitutes panel to look into Medigadda barrage project In a development that should worry the Telangana government, the Maharashtra government on June 12, 2020 constituted a committee to look into the Medigadda barrage project built on the Maharashtra-Telangana border. The state govt through a Government Resolution has decided to form a six member committee to look into how the Medigadda project was conceived and whether the Telangana government submitted a different design and mode of construction to Maharashtra while in reality doing a different kind of construction that has led to a lot of villages on the Maharashtra side being submerged. The issue came up in the State cabinet meeting held on the 19th of February as several villages in Maharashtra's border adjoining Telangana were being submerged. The report is to be submitted in a month.
– The Maharashtra government has noted that while the barrage was being constructed the Deputy Forest officer had made certain objections, however they were ignored by the then District Collector. The Maharashtra government has said that the six member committee will also probe under whose instructions did the then District Collector had ignored the objections of the Deputy Forest office against the project.  https://economictimes.indiatimes.com/news/politics-and-nation/maharashtra-constitutes-panel-to-look-into-medigadda-barrage-project/articleshow/76364134.cms  (13 June 2020)     
RIVERS AS NATIONAL WATER WAYS
Uttar Pradesh कछुआ सेंक्चुरी के लिए जल्द होगा सीमांकन गंगा जलमार्ग को लेकर दो-तीन साल पूर्व से ही वाराणसी के रामनगर स्थित कछुआ सेंक्चुरी को स्थानांतरित करने का प्रयास किया जा रहा था। राज्यपाल की मुहर लगने के बाद अब वह भदोही, प्रयागराज जिलों के 30 किमी परिक्षेत्र में शिफ्ट हो गया है । रिपोर्ट के मुताबिक वन विभाग की टीम एक सप्ताह के अंदर सर्वे शुरू करेगी। सर्वे में यह तय किया जाएगा कि किस इलाके तक बालू खनन, नौका संचालन और मछली मारने पर रोक रहेगी। बनने वाले कछुआ सेंक्चुरी में 10 से 12 प्रजाति के कछुए छोड़े जाएंगे।  https://www.amarujala.com/uttar-pradesh/bhadohi/soon-there-will-be-demarcation-for-turtle-century-bhadohi-news-vns5298011192  (12 June 2020)
इतना सब इस जलमार्ग के लिए जबकि वाराणसी को इससे कोई लाभ अब तक नहीं मिला – रामनगर के राल्हूपुर में मल्टी मॉडल टर्मिनल जरूर शुरू कर दिया गया लेकिन उसका फायदा व्यापारी नहीं ले पा रहे हैं। अब तक मात्र 281.8 मीट्रिक टन ही माल आया और गया।  https://www.jagran.com/uttar-pradesh/varanasi-city-multimodal-terminal-waiting-to-ship-from-last-year-in-varanasi-20084215.html  (04 March 2020)
Gujarat Centre set to take over beleaguered Ghogha-Dahej ferry service project The Deendayal Port Trust (DPT), formerly Kandla port, will construct a roll-on roll-off (Ro-Ro) jetty at Hazira, in what is being seen as a serious attempt to revive the ambitious Ghogha-Dahej ferry service that has run into choppy waters for several reasons since its beginning in 2017. A tender to invite players for construction of the jetty at Hazira, a location that was always considered more feasible than Dahej, will be issued soon.
The Gujarat government has decided to hand over this dream project of Prime Minister Narendra Modi to the union shipping ministry as the Gujarat Maritime Board (GMB) is besieged with operational problems that are becoming a drag on its finances. GMB requires to spend at least Rs 100 crore on maintenance dredging to keep the navigation channel free of siltation. https://timesofindia.indiatimes.com/city/rajkot/centre-set-to-take-over-beleaguered-ghogha-dahej-ferry-service-project/articleshow/76348035.cms  (13 June 2020)
IRRIGATION
Karnataka Greens oppose canal work in blackbuck conservation reserve In a press launch on June 08, Shreedev Hulikere of WildCAT-C, D.V. Girish of Bhadra Wildlife Conservation Trust, and S. Girijashankar, former member of State Board for Wildlife, urged Visvesaraya Jala Nigam Ltd., the company implementing the challenge, to realign the canals avoiding wildlife habitats. They have additionally written to senior officers of the State authorities on this situation.
-The company had sought forest clearance for 31.57 ha of Basur Kawal and 15.three ha of Bilwala Kawal in Kadur taluk to put canals to hold water from Bhadra reservoir to dry areas.
-The environmentalists stated the State authorities had declared Basur Kawal as Blackbuck Conservation Reserve as per suggestion of the Karnataka State Wildlife Advisory Board in 2012. Besides that, defending the grasslands could be important contemplating the wildlife endemic to those areas.  https://www.thehindu.com/todays-paper/tp-national/tp-karnataka/greens-oppose-canal-work-in-blackbuck-conservation-reserve/article31783393.ece  (09 June 2020)
URBAN RIVERS
Godavari, Nasik Fantastic news! Some concrete from Godavari channel in Nashik being removed!
This slideshow requires JavaScript.
Kukrail, Lucknow About how Kukrail river turned into a drain and its restoration plan. Its tributary of Gomti in Lucknow.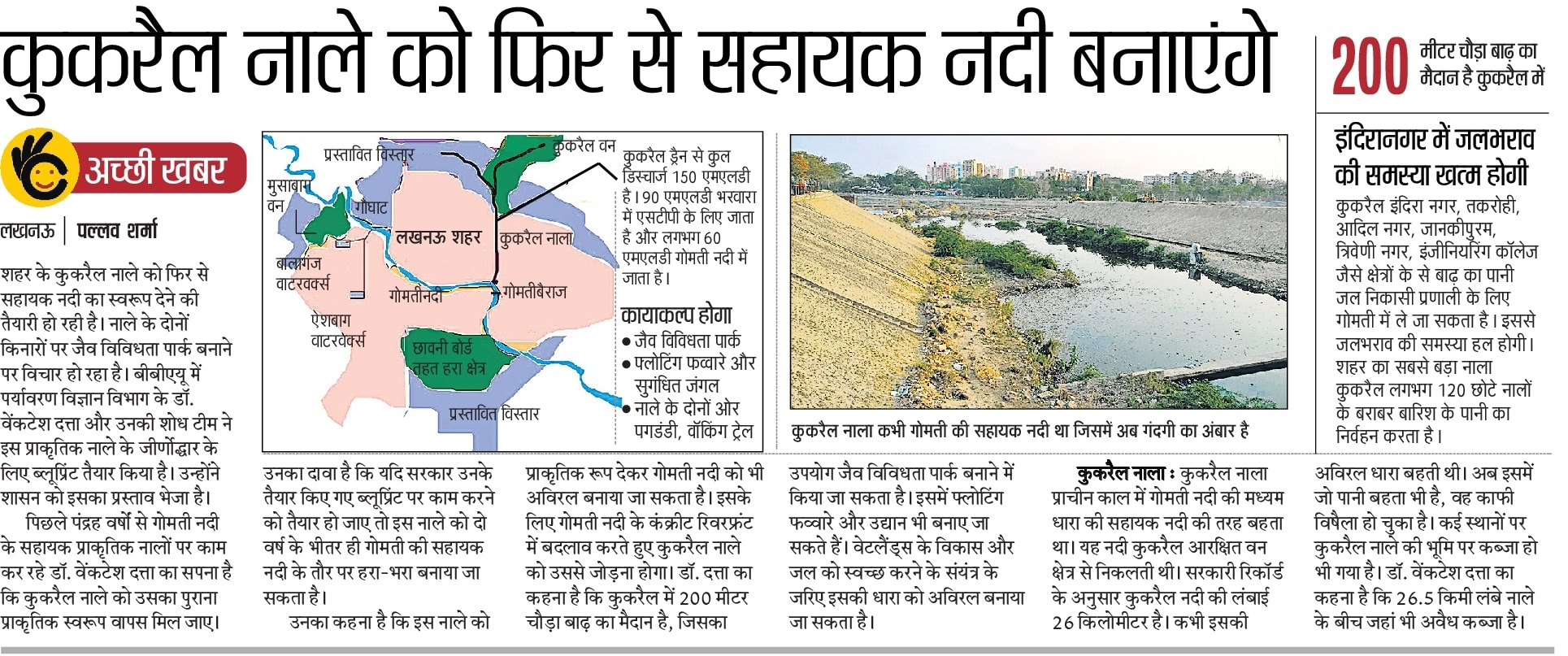 Patiala Ki Rao, Chandigarh:- 15 years old Sahil Bhandari has shared these images of Patiala Ki Rao a stream emerging from Shivalik hills saying that "नदी का बुरा हाल है, बहुत कूड़ा गिरा रखा है". (River is in really bad shape & filled with lot of solid waste. Stagnant pool of water are seen in the stream which has been turned season now primarily because of degradation of catchment and encroachment along the stream.
RIVERS
Assam Baghjan oil well fire: why it's tough to plug, and what threat it poses Since the morning of May 27, natural gas has been continuously flowing out of a gas well following a blowout — or a sudden, uncontrolled release of gas/oil. With authorities unable to control it, experts from a Singapore firm reached Assam on June 08. Meanwhile, people from surrounding villages have been evacuated, while a variety of fish and an endangered Gangetic dolphin have died.  https://indianexpress.com/article/explained/assam-gas-leak-why-its-tough-to-plug-and-what-threat-it-poses-to-area-6447810/   (08 June 2020)
It looks blowout at Oil India's Baghjan Oilfield in Tinsukia district has caught fire now. https://www.facebook.com/niranta.goniah/videos/3140112052720918/
Natural gas continued to flow uncontrollably after the blowout. As per OIL statement attempts were being made, over a week after the blowout was first reported, to contain the outburst. Singapore-based firm Alert Disaster Control is being mobilised which is expected to reach the site shortly. https://www.thehindubusinessline.com/companies/oil-india-continues-to-battle-blowout-at-baghjan-well/article31749383.ece  (04 June 2020)
2 fire fighters of Oil India Ltd who had been missing were found dead at a wetland near the site of a massive oil well fire in Assam, officials said today. The fire was so intense that it could be seen from as far as 10 km away.
-"Their bodies were recovered from a wetland near the site. Prima facie it looks that they jumped in the water and got drowned as there is no mark of burn injury. The exact cause will be ascertained only after a post mortem," Oil India spokesperson Tridiv Hazarika told news agency PTI.
-Officials said the fire has been contained in a 50-metre radius around the site of the incident, but it is still burning as the oil well continues to feed gas. https://www.ndtv.com/india-news/2-firefighters-die-in-fire-at-assam-oil-well-that-had-been-leaking-gas-for-days-2243715  (10 June 2020)
Detailed piece on the OIL's Gas well disaster.  https://india.mongabay.com/2020/06/fire-at-oil-well-after-gas-leak-threatens-life-livelihood-and-biodiversity-in-assam/  (10 June 2020)
This slideshow requires JavaScript.
Ashim K Mitra and Sachin Bharali share NASA sattelite and drone image of Baghjan oil well fire area. Arunabh Saikia details what led to the blowout and why OIL struggling to douse it off.  https://scroll.in/article/964362/the-story-of-the-assam-gas-leak-and-the-intricate-operation-to-plug-it  (11 June 2020)
A PIL has been filed at Guwahati HC in regards to the gas well blowout at Baghjan by a local resident and an environmental activist of Baghjan, Tinsukia, Niranta Gohain against Oil India Limited, Gujarat based firm, John Energy Limited and other parties basically seeking compensation for the affected people, compensation to take protective measures of Dibru Saikhowa Natation Park and Maguri Motapong wetland and adjacent rivers, a high-level investigation by an investigating agency deem fit by the Guwahati HC. https://www.youtube.com/watch?v=LF86Y939y_E  (12 June 2020)
The gas well blowout has polluted the Lohit river and adjoining eco-sensitive Maguri-Motapung wetland and toxic pollutants may have killed fish, insects as well as pose risk to endangered Gangetic dolphins in the region, a preliminary Wildlife Institute of India (WII) survey report has said. It has cited interviews with locals and said the Oil India Limited (OIL) did not have a mitigation plan for such accidents. WII has hence suggested a comprehensive impact assessment of entire OIL field operations in the biodiversity-rich area.
– WII scientist Qamar Qureshi said the region's lowland forests are unique and they have found other wells are also leaking which can have long term impacts. WII, which carried the survey from May 29 to June 4, has recommended that the approved new wells and further exploration in the area be put on hold until OIL has disaster handling capabilities. It found the presence of at least five Gangetic dolphins in the 20 km stretch of the Lohit river it surveyed and indicated that they will be at grave risk from the ongoing spill.
– Residents of the area reported severe breathing difficulty, headaches, and nausea to WII. Even the WII survey team experienced similar symptoms due to the heavy presence of oil. The entire landscape, including the wetland, is coated in layers of oil, WII said.  https://www.hindustantimes.com/india-news/assam-gas-well-blaze-endangered-wetlands-several-species-survey/story-FdodXVaGmoMKD7swakjOvL.html  (12 June 2020)
-"The company is carrying out an internal inquiry and we have placed two officials responsible for the well under suspension. Once the probe is over, we will take a final decision on their role," OIL official said.
Earlier, OIL Chairman and MD Sushil Chandra Mishra said a five-member inquiry committee was formed and actions would be initiated on employees of the company if there was any prima facie evidence of human error. It has also issued a show-cause notice to John Energy Pvt Ltd, the outsourced private operator of the gas well, Mishra said.  https://www.tribuneindia.com/news/nation/2-oil-india-officials-suspended-for-assam-gas-well-blowout-97439  (11 June 2020)
Also see, क्या है असम में लगी आग का गुजरात कनेक्शन? https://www.youtube.com/watch?v=Wrc6R1QRjzU  (11 June 2020)
Odisha 500-yr-old temple rises from Mahanadi There can be a series of historically important places being submerged by dams and emerging in drought. (This particular Temple was not affected by dam but changing course of Mahanadi)
In the past, Padmabati village was part of Satapatana which is a combination of seven villages. However, with Mahanadi changing its course, the entire place was submerged in the 19th century and villagers along with deities of all the temples were moved to higher lands. The present day temple of Lord Gopinath at Padmabati village has the original idol of the presiding deity.
-Locals said there are around 22 temples in the area which are under water but only 'mastaka' of Gopinath Deba temple was visible for some years as it was the tallest. The last time the 'mastaka' was seen was 11 years back. " In the last one year, it was seen for 4 to 5 days due to changing water level," said Rana.
-The finding is the part of INTACH's Mahanadi Valley Heritage Sites Documentation project, which is being undertaken by historian Anil Dhir. The temple may date back to 15th to 16th century considering its construction style of the 'mastaka' and materials used. The submerged temple is facing west having a Mukhashala of Pidha order and Vimana of Rekha Deula style. The temple may have been 60 feet in height.  https://www.newindianexpress.com/states/odisha/2020/jun/09/500-yr-old-temple-rises-from-mahanadi-water-2154161.html  (09 June 2020)
Rajasthan लॉकडाउन से नदी, नहरों में बेहतर हुई पानी की गुणवत्ता प्रदुषण नियंत्रण के चीफ एनवायरमेंटल इंजीनियर डॉ. विजय सिंघल से 'गांव कनेक्शन' ने इस सर्वे के संबंध में बात की। सिंघल ने बताया, "पांच पैरामीटर्स पर हमने अपने जलाशयों की गुणवत्ता मापी है और 2019 के आंकड़ों से तुलना की। नतीजे काफी सुखद आए हैं। हमारी नहरों में कारखानों का पंजाब से आने वाला गंदा पानी लॉकडाउन के कारण आना बंद हुआ तो नहरें साफ हुई हैं। इसी तरह कोटा, धौलपुर में चंबल नदी, सागवाड़ा में माही नदी, खाटोली में पार्वती नदी पर सैंपल लिए गए।" सिंघल आगे बताते हैं कि इंसानी गतिविधियों और इंड्रस्टीज का पानी नहीं आने से जलाशयों में पानी की गुणवत्ता अच्छी हुई है, हालांकि सीवरेज का पानी लॉकडाउन के दौरान भी आया है, लेकिन आंकड़ों से स्पष्ट हुआ है कि सीवरेज से ज्यादा प्रदूषण इंड्रस्टीज का वेस्ट करता है। https://www.gaonconnection.com/desh/rajasthan-lockdown-improves-water-quality-in-river-canals-47680  (10 June 2020)
CAUVERY Calling Karnataka HC Seeks Govt Explanation On Involvement Of 'Isha Foundation' & 'Isha Outreach'.  https://www.livelaw.in/news-updates/cauvery-calling-project-karnataka-hc-seeks-govt-explanation-isha-foundation-and-isha-outreach-158171  (11 June 2020)
GANGA Uttarakhand Forest dept restoring bugyal The forest department is using eco-friendly engineering to ward off soil erosion that's devastating Dayara Bugyal — ecologically precious pastures in Himalayas. Former dean of Wildlife Institute of India and technical advisor to the committee, G S Rawat, said it was important to arrest soil erosion in meadows in time else it could lead to floods as well as loss of Himalayan biodiversity. "Alpine meadows are extremely important as all streams and rivers in the Himalayan region originate in the meadows. Their conservation should be a top priority."
– Sandeep Kumar, divisional forest officer of Uttarkashi, said coir mats were also stuffed with pine leaves and used as check dams to prevent streams from eroding soil when they are in full flow during monsoon.  https://timesofindia.indiatimes.com/india/in-a-first-uttarakhand-is-restoring-its-meadows/articleshow/76365273.cms  (14 June 2020)
Uttar Pradesh 
YAMUNA; Uttar Pradesh No insect swarm in Taj Mahal Midges or Goeldichironomus, the insects which spawn in the polluted Yamuna river flowing behind the Taj, would invade the 17th century white marbled monument every summer for the last five years but this has not been the case so far this year, said Superintendent Archaeologist (chemical) in ASI Agra circle MK Bhatnagar. "The insects used to swarm the walls of the Taj and cause stains on its structure, which we used to clean up every year," he said.  https://www.thedailystar.net/india/news/india-lockdown-cleaner-yamuna-ensures-no-insect-swarm-taj-mahal-1902886  (15 May 2020)
RIVERS BIODIVERSITY
WESTERN GHATS Dragonfly endemic to WG photographed for the first time  "Though the species is also there in the checklist of dragonflies in Kerala, nobody photographed it. The species was never reported seen in Tamil Nadu after British entomologist F.C.Fraser. The species was identified by experts at Odonata of India and other parts of the country," says Mr. Krishnan who also photographed the dragonfly.
-According to Kalesh Sadasivan of Thiruvananthapuram-based Travancore Natural History Society, Fraser has described sighting of the species in 1931 and 1934 at Boluvampatti, Walayar (Kerala-Tamil Nadu border) and Kallar.
-Vinayan Nair, another odonates expert from Kerala, adds that the sighting and photographing of Megalogomphus superbus at Kallar gain significance as this happened after a gap of nearly nine decades. https://www.thehindu.com/news/cities/Coimbatore/dragonfly-endemic-to-western-ghats-photographed-for-the-first-time/article31823689.ece  (13 June 2020)
Kerala With monsoon, African snails come back to Kochi Residents of Fort Kochi and Ayyappankavu areas too complained about the presence of the snails. In some parts of Fort Kochi, snails were seen crawling along the walls of buildings. However, the intensity of its infestation is less when compared to previous years, said K.J. Antony, a councillor from the West Kochi area. In the central city, the presence of the snails was reported from Mangalavanam and Ayyappankavu areas.
-Earlier, the Kerala University of Fisheries and Ocean Studies was requested to look into the issue and suggest some solution when the city areas were infested. Hibi Eden, who was then representing the Ernakulam Assembly Constituency, took the initiative to find a solution to the menace, said Deepak Joy, councillor from the Ayyappankavu region.
-However, the project did not progress much. People used to control the molluscan population by sprinkling common salt over it. The spraying of larvicides also turned out to be useful in controlling the population to some extent, Mr. Joy said. https://www.thehindu.com/news/national/kerala/with-monsoon-african-snails-come-back-to-kochi/article31775968.ece  (08 June 2020)
June 2018: This snail makes a regular appearance every monsoon and often reaches alarming numbers in Fort Kochi.  https://timesofindia.indiatimes.com/city/kochi/giant-african-snails-make-a-comeback-this-monsoon-too/articleshow/64724593.cms  (25 June 2018)
FISH, FISHERIES, FISHERFOLKS
Policy Brief Rainfed Fisheries: It is high time to invest on this 'Sub-Sector' Fisheries Development is not only about statistics of production and exports! In large stretches of rainfed areas of India – from semi-arid to humid tropics, numerous water bodies of varying sizes and seasonality dot the landscapes. Fisheries are integrated with these water systems, livelihoods and household nutrition. With MGNREGS and Watershed Development, many such water bodies are developed and many more are rejuvenated, expanding the scope for local production and consumption of fish. Its time that this is recognized as a "Sub-Sector" that requires dedicated public investments and institutional service delivery to realize its potential for local people. http://www.rainfedindia.org/wp-content/uploads/2019/08/Paper-RRA-FIsheries-Policy-Brief.pdf 
Maharashtra Mumbai's fishers adapted in the lockdown, kept their sales alive A fishing cooperative society has joined hands with a data analytics firm to educate fishers about various aspects of sustainable and smart fishing.
Fish are being sold to customers with QR codes on the packaging, bearing information about when, where and by whom they were caught. Fishers are being educated about the marine ecosystem and encouraged to let fish breed — and not overexploit the resource.  https://india.mongabay.com/2020/06/how-mumbais-fishers-adapted-in-the-lockdown-kept-their-sale-alive/   (08 June 2020)
Madhya Pradesh Traditional Fisherfolk Turn to Farming to Survive Lockdown, Monsoon
Without access to markets across the country, the Nishad community of the Narmada river have no place to sell their catch.  https://thewire.in/labour/traditional-fisherfolk-in-madhya-pradesh-turn-to-farming-to-survive-lockdown-monsoon  (10 June 2020)
Himachal Pradesh Dead fish found in Sirsa river Another failure of the Himachal Pollution Board:  A large number of dead fish were found in the Sirsa river near Sainimajra village in the Nalagarh industrial cluster in the district on June 9 morning. Residents said that the quality of river water had started improving during the lockdown when only a few industries were operational.
But now when most of the industries were functioning, untreated industrial effluents were being callously discharged into the river, causing stench and water pollution. The river water not only emanated a foul odour but has also become a health hazard for people residing nearby. The residents said that fish died in the river every year during the rainy season, as some erring industries dispose of toxic effluents into it.  https://www.tribuneindia.com/news/himachal/dead-fish-found-in-sirsa-river-at-nalagarh-industrial-cluster-96812  (10 June 2017)
Rajasthan Dead Fish In Jodhpur Pond Raise Water Scarcity Concerns A school of dead fish was seen floating in a drying pond at a Jodhpur village, evoking concerns about water security as western part of state is currently experiencing heatwave conditions and monsoon is about a fortnight away. A revenue officer in Soyla village said the fish died because hardly any water was left in the pond.
-Villagers have pooled money to hire a water tanker to refill the pond in the hope that it may allow at least some fish to survive till the monsoon arrives. "There's no rainfall, so water level went down and fish died. We arranged water tanker after contributing Rs. 300 each. Water is being transferred into the pond so that fish that are alive can live," the tehsildar said. https://www.ndtv.com/india-news/dead-fish-in-jodhpur-pond-raises-water-security-concerns-2245738  (13 June 2020)
SAND MINING
SANDRP Blog Karnataka Sand Mining 2020: Active Collector, Destruction of fish sanctuary & calm collection 2019 Karnataka sand mining overview showed that the incidents of illegal sand mining were on the rise, state was reportedly consuming around 70 MT (Million Tons) sand annually while the govt was able to produce 30 MT.
The govt was losing about Rs 200 crore to illegal sand mining, while about 29,000 cases of illegal stone quarrying and sand mining were detected in past 3 years. Towards the end of 2018, the govt was seen working on 4 separate mining policies for sand, granite, building material and stone crushers to stop the revenue losses. https://sandrp.in/2020/06/11/karnataka-sand-mining-2020-destruction-of-fish-sanctuary-calm-collection-active-collector/  (11 June 2020)
Gao connection republished SANDRP blog on Kerala sand mining.  https://en.gaonconnection.com/the-disappearing-fisherfolk-and-the-vanishing-villages-of-kerala/  (13 June 2020)
Tamil Nadu Sand Mining 2020: Persistent Court can't shake indifferent govt From Jan 2019 so far, there is significant increase in numbers of reports where farmers, villagers & dependent communities have cited adverse impact of excessive sand mining on water sources including rivers, groundwater and water bodies. It appears that all the major and small rivers in the state have been suffering from unsustainable riverbed quarrying.
The Madras HC has been issuing directions to district administration seeking information on actions & measures taken to regularise rampant illegal mining activities. This includes deployment of drones, imposition of Goonda Act and departmental actions on officials involved. There have been some action by police dept but they are highly inadequate. https://sandrp.in/2020/06/14/tamil-nadu-sand-mining-2020-persistent-court-cant-shake-indifferent-govt/  (14 June 2020)  
Odisha NGT forms panel to probe into sand mining in Subarnarekha The sand mining covering over 26 acre was resulting in depletion of water level, change in the course of the river and obstruction of the natural flow by wooden bridges and approach road within the river. Besides, villagers of Panchughanta are being exposed to severe air pollution due to transportation of excavated sand in open trucks through the village.
-NGT's Principal Bench said, "Having regard to the seriousness of the allegations, we deem it essential to constitute a committee comprising District Magistrate, Balasore, the SEIAA, Odisha SPCB and Regional Office of the MoEF&CC, who shall jointly inspect the area in question, verify on the factual aspects set out by the applicant in the application."The tribunal directed for inspection of the site within 15 days and listed the case for further hearing on July 30.  https://www.newindianexpress.com/cities/bhubaneswar/2020/jun/11/ngt-forms-panel-to-probe-into-sand-mining-in-subarnarekha-2154978.html  (11 June 2020)
Sand mafia causes Udala Rs 50k loss daily As the administration has lowered its guard due to preoccupation in the fight against COVID, the sand mafia has taken it as an opportunity and become active in Udala of Mayurbhanj and in Nilagiri tehsil of Balasore. Udala tehsil is incurring loss to the tune of Rs50,000 daily.
-Reports said: sand mafia has hundred of trucks and is transporting sand from Bhimtali sand ghat, only two kilometres away from Udala tehsil office. The lease period of the sand ghat has expired, but sand is being extracted outside the lease area.
-Villagers alleged that wanton sand mining has caused collapse of river banks in the area. The Bhimtali river has been changing its course due to wanton sand mining. Over the years, about 50 acres of land have vanished into the river, the villagers said.
-Sand is routinely transported in 70 trucks every day under the nose of the administration. The government is losing lakhs of rupees towards revenue. Locals demanded a high level probe into the sand loot in broad day light and action against the sand mafia.  https://www.orissapost.com/sand-mafia-causes-udala-rs50k-loss-daily/  (12 June 2020)
Maharashtra MPCB's sand mining public hearings on Zoom challenged Vidarbha Environment Action Group knocked the judiciary's doors through its convener Sudhir Paliwal contending that public hearings are being conducted all over the state via Zoom app during lockdown period with a view to prevent the "poor and affected persons" from rural areas to raise objections.
-Arguing on petitioner's behalf, counsel Tushar Mandlekar assisted by Mahendra Limaye stated that online hearing was in violation of Environmental Rules 1986. "The widest possible participation of affected persons and stakeholders is not possible on Zoom App as most rural citizens are not literate and techno savvy. A large number of them will lose their fundamental right to raise objections and give suggestions to sand mining projects across region," they said.
-While refusing any interim stay, a division bench of Justices Ravi Deshpande and Amit Borkar on June 9 issued notices to the Maharashtra govt chief secretary, State Revenue Department, and MPCB asking them to reply by June 30. The judges however made it clear that as four hearings through online mode are still remaining all proceedings would be subject to HC's final decision. Government pleader Sumant Deopujari pleaded for the respondents while Ravi Sanyal held brief for the MPCB.  https://timesofindia.indiatimes.com/city/nagpur/mpcbs-sand-mining-public-hearings-on-zoom-challenged/articleshow/76292144.cms   (09 June 2020)  
Rampant mining along Godavari takes toll on drought-hit village Sangam Jalgaon village in Gevrai takuka of Beed district has been suffering from drought for four consecutive years because of alleged indiscriminate sand mining from the Godavari river basin. The villagers say that worse still, the school dropout rate is high, besides youths getting hooked by drugs, as many of them are lured with money to drive tractors carrying sand.
-According to the elderly locals, Sangam Jalgaon was once had sufficient water, but it has to rely on water tankers during summer now even as the Godavari passes through it. "Around 30 tractors are seen carrying sand from the river daily," said a villager. According to the villagers, the sand mafia uses mechanical excavators and when the water level is high, drums are attached to the excavators to be able to extract high quality sand.
-Environment activist Kishore Pathak said, "Aggressive mining of sand from the river, beyond the government prescribed limits, affects the sedimentation process and leaves the river basin with only silt, which reduces its water holding capacity and impacts percolation.  https://timesofindia.indiatimes.com/city/aurangabad/rampant-sand-mining-along-godavari-takes-toll-on-drought-hit-village-in-beed/articleshow/76238099.cms  (07 June 2020)
Uttar Pradesh On June 5, two miners involved in illegal mining in Ken river at Khaptiha Kalan in Banda have been fined 1.25 crore. On June 6 there was attempt to level deep mine pits. Meanwhile, Ashok Kumar Mourya, observer and in charge of Banda district appointed by High Court Lucknow has been dismissed for not performing his duties. Illegal mining also happening in Baghen river in the district with the involvement of police.
This slideshow requires JavaScript.
Uttarakhand People in Srinagar and Kotdwar have been protesting against illegal riverbed mining activities and stone crushers impacts on roads traffic. Nainital High Court stays stone crusher activities and asks govt why it has allowed use of heavy machines in riverbed mining against MoEF&CC rules.  
This slideshow requires JavaScript.
Wildlife board calls for study on impact of sand mining The National Board for Wildlife (NBWL) has raised concerns about extensive sand and boulder mining projects in Uttarakhand and their impact on river ecology and wildlife. As per the minutes of an NBWL meeting on June 11, it has recommended a study of the cumulative impact of the mining for consideration of future projects. There are over 100 sand mining leases operational in the state, according to its geology and mining department. NBWL had received three proposals for sand mining along the Asan Wetland Conservation Reserve and five along the Rajaji National Park's boundary near Haridwar. https://www.hindustantimes.com/india-news/wildlife-board-calls-for-study-on-impact-of-sand-mining-in-u-khand/story-BZVSUqRi4wBOAzQtGgQBCL.html  (14 June 2020)
Mining permission extended till June 30 Govt on June 04, got permission for sand mining and extraction of other minor minerals till June 30 this year to tide over the crisis. This year in March and April, minor minerals extraction and sand mining could not be conducted and on May 31 the rivers were officially closed for mining. CM TS Rawat on May 29 had requested the Union environment ministry to allow mining beyond the permissible date, keeping in mind the plight of the state.
-The permission has been given for mining at seven river stretches, out of which four are in Nainital (Gaula, Kosi, Dabka, Nandhaur/Kailash) and one each at Haridwar (Kotawali), Pauri (Malan) and Chamapawat (Sharda). "Citing it as one-time relaxation, the ministry has extended the duration of mining for Uttarakhand," said Parag Madhukar Dhakate, CCF, Western Circle, Uttarakhand. https://timesofindia.indiatimes.com/city/dehradun/uttarakhand-govt-gets-permit-for-sand-mining-extraction-of-other-minor-minerals-till-june-30/articleshow/76202897.cms  (05 June 2020)
Rajasthan Tractor with illegally mined sand runs over SDM's driver In a shocking incident in Rajasthan's Bhilwara district, the sand mafia mowed down the driver of a local Sub-Divisional Magistrate (SDM) who was chasing a tractor loaded with illegal mined sand in broad daylight.
-Kuldeep was rushed to Jahajpur Hospital, but doctors there pronounced him dead. Jahajpur police station arrested the tractor owner Manraj Meena and driver Rakesh Meghwanshi late at night. Both are being questioned. The SDM late-night filed a case of illegal gravel exploitation and murder. The driver was a resident of Jakhara in Rehni tehsil of Alwar district, the police said. He was appointed as SDM's driver barely 10 days ago. https://www.newindianexpress.com/nation/2020/jun/10/tractor-with-illegally-mined-sand-runs-over-sdms-driver-2154644.html  (10 June 2020)
Jharkhand Illegal sand miners pelt stones at cops Bermo sub-divisional officer Nitish Kumar Singh and his team had a close shave on June 4 night as miscreants engaged in illegal sand mining on the banks of Damodar river pelted stones in a bid to thwart a surprise raid. Singh and other officials had visited the river bank after a tip-off on illegal sand mining and its transportation. Though the miners escaped, eight tractors loaded with sand were seized from near Khetko village.
-An FIR was filed at Petarwar police station against seven named and 20 unidentified persons while three were detained for questioning. Though four of the units are licensed while the fifth has applied for one, the team found they are running without proper documentations of stocked stone chips and boulders. https://timesofindia.indiatimes.com/city/ranchi/illegal-sand-miners-pelt-stones-at-cops-in-bermo/articleshow/76224716.cms  (06 June 2020)
Himachal Pradesh Illegal mining picks up in Jaisinghpur Even in broad daylight, a number of trucks, tippers, poclain and JCB machines could be seen on the Alampur–Jaisinghpur highway along the Beas extracting sand and stones from the river. Dust from stone crushers has made the lives of villagers residing nearby miserable.
-Besides, illegal mining was also underway in other rivers and rivulets in the area, where small tractor-trailers had been pressed into service. The mafia was supplying mining material to more than 10 stone crushers situated on the banks of the Beas.
-In Jaisinghpur, it is free-for-all in the absence of any check by the Mining Department. The department has also failed to follow the directions of the NGT and the state government with regard to earmarking the area allotted for mining so that no illegal activities are carried out outside the leased area.
-Jaisinghpur MLA Ravinder Ravi Dhiman said despite opposition by local residents, there was no let-up in the illegal activity. The MLA said he had apprised the authorities concerned of the situation several times. Though the work stopped for a while, it resumed again after some time. He said natural water resources were drying up and level in the local rivulets had also gone down. Rivers in the area were also changing their course, leading to floods. "Most stone crushers work 24×7, making the lives of villagers miserable. Students cannot study and elders cannot sleep", he added. https://www.tribuneindia.com/news/himachal/illegal-mining-picks-up-in-jaisinghpur-95472  (06 June 2020)
Punjab Mining mafia still active in Indora belt Sand miners have been mining in Chhonchh Khad in Indora area, building illegal approach roads under the under construction bridge. The roads were destroyed twice in a week, but within hours the miners rebuilt them each time, also taking out material from the river bed.  https://www.tribuneindia.com/news/himachal/mining-mafia-from-punjab-still-active-in-indora-belt-96359  (09 June 2020)
Haryana Villagers in Panipat have opposed and file plea in High Court against sand mining in Yamuna river at Nangla Rai which is across the river in Kairana. 
Also see, incident from Gurgaon district where illegal miners attack police team on June 11, 2020.  https://www.hindustantimes.com/cities/two-held-for-attacking-policemen-during-a-mining-raid/story-ip9XuZwWSH83B8plEsDmCO.html  (13 June 2020)
Madhya Pradesh 6 killed in Shadol mine collapse Six persons, including two women and three minors, were killed and three critically injured when a village limestone quarry caved in on June 13 morning in Shahdol district. The victims were working in a 5-6-ft-deep quarry in Papredi village, the likes of which are common in these parts, to excavate limestone.
-Around 10 villagers had entered the mine when it collapsed around 8am. "It was the farm of a local farmer. Extracting such minerals is allowed for local villagers. There is normal soil for 5-6 feet and below it there is white soil, like limestone," collector Satendra Singh told TOI. https://timesofindia.indiatimes.com/city/bhopal/mp-3-kids-among-6-dead-in-shahdol-mine-collapse/articleshow/76366002.cms  (14 June 2020) 
बताया जा रहा है कि निजी जमीन पर यह खदान अवैध रूप से चलाई जा रही थी। गांव वाले यहां से मिट्टी खोद कर जमा करते थे। इसके बाद अवैध रूप से व्यापारियों इसे ले जाते थे। छुई का इस्तेमाल पेंट बनाने में किया जाता है।  https://www.bhaskar.com/local/mp/news/six-madhya-pradesh-villagers-killed-as-mining-accicent-today-in-shahdol-127405334.html  (14 June 2020)
Report 6 things to know about sand mining Informative, also suggesting some alternatives including recycling of debris, glass and plastic to reduce growing dependence on rivers, water sources:
– Despite forming the bulk of mining activity, and being one of the top traded commodities by sheer volume, aggregates are highly unregulated. A 2014 report by the UNEP estimated annual sand consumption somewhere between 47 and 59 billion tonnes, but that figure is based on a proxy: we can track cement production far more easily, and every ton of cement requires between six and seven times that amount of sand to produce.
-Scientists estimate that the weathering of mountains and rocks by rivers and glaciers delivers 12.6 billion tonnes of sediment to oceans each year. By the most conservative approximation, we are extracting sand more than three times faster than nature can replenish it.  https://www.mining-technology.com/features/six-things-sand-mining/  (07 May 2020)
Scientists adjust how grains measured -Published in the Nature journal Scientific Reports, Associate Professor Vila-Concejo's team has shown that standard engineering models also overestimate transport of carbonate sands on the seafloor by more than 20 percent and underestimate suspended transport of this sand by at least 10 percent.
"This means we are not accounting for sand correctly," she said. "While this has impact on construction and manufacturing, it could also have a big effect on the management of coastal areas impacted by climate change."
-Nature last year reported that illegal sand mining is happening in about 70 countries and hundreds of people have been killed in battles over sand in the past decade.  https://phys.org/news/2020-06-sand-scientists-adjust-grains.html  (11 June 2020)
WETLANDS, LAKES, WATER BODIES
West Bengal Creating Resilient Livelihoods in the Sundarbans, Sans Embankments Cyclone Amphan has reportedly incurred a financial loss of ₹1 lakh crore in West Bengal, which also includes the breaching of the river embankments–or concrete structures that prevent saline water from entering crop fields. Not only is their reconstruction expensive, it also impacts agriculture for years to come. But as climate scientists warn, cyclones will be frequent visitors in this region. Can the Sunderbans continue with this viciously expensive cycle of construction of embankments, destruction by cyclones, and reconstruction? Or can it be reimagined to make livelihoods resilient?  https://thebastion.co.in/politics-and/creating-resilient-livelihoods-in-the-sundarbans-sans-embankments/  (10 June 2020)
Sundarban Delta Are Dying A Slow Death Sundari trees, after which the mangrove forest is named, are on the brink of extinction due to excessive logging in the past for its high value wood and now with seawater rise.  https://www.outlookindia.com/website/story/india-news-sundari-trees-in-sundarban-delta-are-dying-a-slow-death-is-anyone-listening/354131  (04 June 2020)
Maharashtra Lonar lake turned pink overnight Color of water in Lonar lake in Buldana has changed possibly because low water level, high salinity could bring change in algae behaviour.  https://www.ndtv.com/india-news/maharashtra-lonar-lake-turns-pink-experts-say-not-the-first-time-2244325  (11 June 2020)
-Harish Malpani, head, department of microbiology, RLT College of Science, Akola, however, said the phenomenon needs to be probed further. "Halobacteria is not harmful to humans but its presence needs to be established. Sudden change in colour of water is strange. It might be because of microbial activities or could even be human interference. Research should be conducted before making any comments," he said. https://timesofindia.indiatimes.com/india/why-a-56000-year-old-lake-has-turned-pink/articleshow/76317876.cms  (11 June 2020)
WATER OPTIONS
Madhya Pradesh Migrants return to become water warriors Ahead of monsoon, a large number of migrants who reached their villages in the Bundelkhand region from different parts of the country, have started working on water conservation, which incidentally is one of their major reasons for their migration.  https://timesofindia.indiatimes.com/city/bhopal/mp-migrants-return-to-become-water-warriors-in-parched-bundelkhand/articleshow/76254719.cms  (08 June 2020)
GROUNDWATER
Telangana HC hauls up pollution board over fluoride in groundwater  The high court on June 10, 2020 warned authorities of the pollution control board that they will be held accountable for the presence of fluoride in groundwater in and around Jeedimetla industrial area. The bench said it would appoint a technical expert to assist the court in the matter. "Only three industries are being prosecuted by PCB in Medchal court. From 2018 to 2020 May, the PCB did nothing to launch fresh prosecutions," the bench said. Referring to the inspection of 200 hazardous bulk drug units in Hyderabad by PCB after the gas leak in Visakhapatnam, the bench pointed out that the PCB did not narrate the outcome of its inspection. "How many errant industries were actually closed? How many prosecutions you have launched are important. Brief us (on) these things by June 24 in your next report," the bench said while adjourning the case to June 26.  https://timesofindia.indiatimes.com/city/hyderabad/hc-hauls-up-pollution-board-over-fluoride-in-groundwater/articleshow/76310181.cms  (11 June 2020)
Punjab Let down by direct seeding tech, Malwa farmers replant paddy Attack by rodents and rainwater filling up furrows created by raised beds are the main reasons for the failure of direct seeding at many places. Dejected farmers have had to hire labour (both local as well as migrant labour by ferrying them from Uttar Pradesh) so that the paddy can be transplanted in the fields.  https://www.tribuneindia.com/news/punjab/let-down-by-direct-seeding-tech-malwa-farmers-replant-paddy-99116  (15 June 2020)
Amid paddy sowing, power demands crossed 10,000 Mw The power utility has made the provision for additional power generation to meet the growing demand by making one unit of Guru Gobind Singh Termal Power Plant at Ropar (Unit VI), which was supplying nearly 150 MW, operational today.
-Officials of Punjab State Power Corporation Limited (PSPCL) have indicated that in the coming days when paddy sowing would peak and industrial/business activity would pick up, the total daily demand for power could grow by 50 per cent. They said to some extent the situation could go out of hand given the fact that the total availability of power to the state from all sources was to the extent of around 13,900 MW.   https://www.tribuneindia.com/news/punjab/amid-paddy-sowing-power-demand-soars-98355  (13 June 2020)
Labour crisis, mechanised sowing picks up Direct sowing machines and transplanters are being pushed for paddy due to labour shortage, and it is said to be cheaper than labour cost, which is 3000 per acre this year.  https://www.tribuneindia.com/news/punjab/labour-crisis-mechanised-sowing-picks-up-in-punjab-97340  (11 June 2020)
Experts estimate that by the time sowing ends around 22 per cent to 26 per cent of the total targeted area of paddy will be brought under DSR technique – a method that saves water and is not labour intensive.  https://indianexpress.com/article/india/labour-shortage-8-fold-rise-in-direct-sowing-of-rice-in-punjab-6452052/  (10 June 2020)
Officials say state has succeeded in crop diversification target, cotton has been sown on 4.9 L ha, up from 3.5 L ha last year. Partly due to labour shortage and late harvesting of wheat due to Covid.  https://www.tribuneindia.com/news/punjab/cotton-sown-on-4-9l-hectares-in-punjab-97343  (11 June 2020)
Haryana 49,000 farmers agree to give up paddy cultivation Some success of govt, how is it going to sustain is a question. https://www.tribuneindia.com/news/haryana/49-000-farmers-agree-to-give-up-paddy-cultivation-96418  (09 June 2020)
Rajasthan Plan for groundwater recharge through dried-up tube wells? It is not the first time that knowledge of IAS officers would prove emancipating for the thirsty people of Rajasthan. Earlier Manohar Kant, an IAS officer, had spent lakhs of rupees and hired an Ahmedabad-based firm to recharge groundwater near Jaipur through geological crevices directly into the ground. Manohar Kant was heading the Jaipur Municipal Corporation with Rs 1,000 crore annual budget at that time. The study by Ahmedabad -based firm had found 50 geological crevices around Jaipur. But Jaipur continues to be unsustainable as far as its water need is concerned and fully dependent on piped water supply from Bisalpur dam.
-Expert says that tube well and hand pumps are dug up to supply drinking water for an immediate need. These are no sustainable method of ensuring drinking water to people in cities or villages. "The first question is from where water will come as we are getting lesser rains. Secondly, without geological suitability, such plans will remain a pipe dream. Groundwater recharge is done by studying the watershed of the local area and suitability of tube well to help in recharge based on geography and geology," MS Rathore Director of Center for Environment and Development Studies (CEDS) said. A committee of an expert would be better suited to recommend the location of groundwater recharge, he added.  https://www.timesnownews.com/mirror-now/in-focus/article/fancy-ias-instructs-dept-to-prepare-plan-for-groundwater-recharge-through-dried-up-tube-wells/603648  (09 June 2020)
URBAN WATER
Chennai With minimal commercial and industrial activity being clocked during the lockdown, Chennai has recorded an improvement in its groundwater levels.  https://www.newindianexpress.com/good-news/2020/jun/10/minimal-commercial-activity-leads-to-rise-in-groundwater-levels-in-chennai-2154592.html  (10 June 2020)
The data from Andhra Pradesh Water Resources Information and Management System (APWRIMS) show that the groundwater table in coastal Andhra Pradesh Region (nine districts) increased from 13.77 meters below ground level (bgl) on June 9, 2019, to 10.81 meters (bgl) on June 9, 2020. The average increase in the water table was 2.96 meters.   https://timesofindia.indiatimes.com/city/visakhapatnam/positive-side-groundwater-levels-rise-across-state-amid-lockdown/articleshow/76290371.cms  (10 June 2020)
Delhi DJB offers sops to encourage recycling of treated water To encourage use of treated water, DJB makes it freely available and stops charging Rs 7 per KL that it was charging. DJB is producing 500 MGD of treated water, of which 90 MGD is being reused.  https://www.pressreader.com/india/the-times-of-india-new-delhi-edition/20200613/281741271660872  (13 June 2020)
Agra Heavy metal presence in water takes toll on health The problem has been traced to consumption of groundwater which has excessive heavy metal content like calcium, fluoride, sulfate and iron. Scores of villagers of this Agra village suffer from arthritis, fluorosis, teeth pigmentation, blurred vision, anaemia, renal problem and other ailments.
– A recent groundwater toxicology study in nine districts of west UP by CSIR-IITR, Lucknow, has found that Agra's groundwater in 23 villages/urban areas has excessive calcium and 19 others have heavy iron content. The fluoride content is also beyond the desirable limit in all the 25 locations of Agra from where water samples were taken for tests. Furthermore, 10 locations in the district (the highest in West UP) have excessive sulfate up to 513.83 mg/l against the desirable limit of 200 mg/l. https://timesofindia.indiatimes.com/city/agra/up-heavy-metals-in-water-takes-toll-on-this-agra-villages-health/articleshow/76370461.cms  (14 June 2020)
WATER
Article (Marathi) by Parineeta Dandekar on June 13, 2020 on Water Rights for the Dalits, Tribals and lower caste and class people, among others.  https://www.loksatta.com/bara-gaoncha-pani-news/article-on-racism-in-burning-water-issue-abn-97-2185936/  (13 June 2020)
Jal Shakti Returning labourers may be deployed for Jal Jeevan Mission A revalidation exercise of households and status of tap water found that out of 19.04 crore rural households in the country, 3.23 crore households had tap connections and 15.81 crore households had to be provided functional tap connections. "Apart from the ₹11,000 crore in the budget, ₹12,000 crore has been allocated from extra budgetary allowances, not to forget that 50% of the ₹60,750 crore allocated by the 15th Finance Commission for rural local bodies is tied to grants for water bodies and sanitation, some of the key goals of the mission," said a senior official in the ministry. The total allocation to the scheme is over ₹3 lakh crore. UP has funding of Rs 3382 Cr and Bihar 2090 Cr under the scheme.  https://www.thehindu.com/news/national/returning-labourers-may-be-deployed-for-jal-jeevan-mission-work-jal-shakti-ministry-tells-states/article31819391.ece  (13 June 2020)
After MGNREGA, govt to pump in ₹ 30K cr under Jal Jeevan mission Rs 6430 Cr is opening balance of states, Rs 11500 Cr is budgetary allocation and Rs 12 000 Cr is extra budgetary resources.  https://economictimes.indiatimes.com/news/politics-and-nation/after-mgnrega-govt-to-pump-in-30000-cr-under-jal-jeevan/articleshow/76376214.cms  (15 June 2020)
Gujarat Govt's water plan keeps out SC/STs, displays 'apathy', says ministry Saying its plan displays "apathy of the State towards weaker sections", the Jal Shakti Ministry has asked Gujarat to review its proposal to cover only 5.84 per cent of the 10.62 lakh SC/ST households in the state without tap connections in the current year as part of the Central government's Jal Jeevan Mission (JJM).
– This was conveyed on June 8 by top officials of the Mission, which comes under the Jal Shakti Ministry, to senior state officials. The Central officers also asked the state to revise its plan and upload it on the portal within 10 days for final consideration and approval.
– The minutes of the meeting tells Guj: "Otherwise, it will show apathy of State towards weaker sections… Even after months of launching of such a life-changing Mission for rural people, especially the poor, SCs, STs and marginalized people, especially women and girls, progress in providing FHTCs is less than satisfactory in the State… despite several meetings with the State. In villages where piped water system is in place, tap connections to households is not given at all." In the last financial year, Gujarat had set a target of providing tap water connections to 5.57 lakh households, but only 1.05 lakh households were covered.  https://indianexpress.com/article/india/6453257gujarat-government-water-plan-sc-sts-out/  (11 June 2020)
ORF 50% Households Share A Water Source, 41% Share Toilets Nearly 600 million people face "high to extreme water stress" in India. About 94 million live without a source of clean water, at a time when access to water and sanitation is essential to protect people from COVID-19 or any other health risk.  https://www.indiaspend.com/as-india-fights-covid-50-households-share-a-water-source-41-share-toilets/  (11 June 2020)
AGRICULTURE
Book Rainfed Agriculture in India Rainfed areas are the habitat of the ecologically and economically disadvantaged small holders, landless and the poor. This book is an attempt to highlight the importance of rainfed agriculture in India.  https://www.flipkart.com/rainfed-agriculture-india-research-development-scenario/p/itmdhv7xhy8h8evb 
Study Shift to cash crops, deficit rainfall to blame for agrarian crisis in Marathwada A gradual shift towards cash crops at the expense of food crops and deficit rainfall over the years are the primary reasons behind the agrarian crisis in Maharashtra's Marathwada region, according to a study by the Indian Institute of Technology-Bombay.  https://www.hindustantimes.com/mumbai-news/shift-to-cash-crops-deficit-rainfall-to-blame-for-agrarian-crisis-in-marathwada-iit-b-study/story-p8O4vrrF4W5lR06jRWdagO.html  (10 June 2020)
"We report a complex interplay among rainfall, temperature and cropping choices, with a focus on the drought-prone Marathwada region in Maharashtra. Our analysis based on observations, as well as statistical and process-based modelling experiments, and temperature projections of 1.5°C and 2°C warmer worlds show that for the two major cropping seasons, rainfall deficit is the primary cause of crop failure, as compared to rising temperatures. The gradual shift from drought-resilient food crops, such as sorghum and pearl-millet to water-intensive cash crops such as sugarcane in recent years, is seemingly responsible for aggravating this crisis. Our findings warrant strategies promoting drought-resilient food crops, that will be useful, not only for mitigating the immediate agrarian crisis, but also for curbing impending threats to food security in the region under future climate change." Read more https://iopscience.iop.org/article/10.1088/1748-9326/ab93fc/pdf  
MONSOON
IMD, Mumbai, had predicted heavy rainfall in Kolhapur and Sangli districts till Sunday (June 14). The IMD Mumbai has issued an orange alert for both districts as well as the coastal regions of Ratnagiri and Sindhudurg districts. A senior official of the WRD department said, "Compared to last year, the water level in the dams is very high this time. We have started discharge from the barrages to bring down water level of the river so that if water is released from the dams, it does not lead to floods. We have set up systems to monitor the water levels in dam and the rainfall in the catchment systems per hour."
– Currently, the water level of Panchganga river at Rajaram barrage is 12.9ft, much below the danger mark of 43ft. Around 4,158 cusec of water was discharged on Thursday (June 11).  https://timesofindia.indiatimes.com/city/aurangabad/heavy-rain-in-kolhapur-sangli/articleshow/76327982.cms  (12 June 2020)
Drought-prone Parbhani in Marathwada received a record 190mm rain in 24 hours, becoming the wettest spot in the country on June 11 and crossing its monthly rainfall quota for June in one day. The last time Parbhani received so much rain was over a century ago: in June 1914 Parbhani had recorded 401.3mm rain in 24 hours.  https://timesofindia.indiatimes.com/city/mumbai/maharashtra-monsoon-late-in-mumbai-100-year-record-rain-in-parbhani/articleshow/76331423.cms  (12 June 2020)
FLOOD
Maharashtra Flood warning system launched for Mumbai CM Uddhav Thackeray Friday inaugurated the Integrated Flood Warning System (I-FLOWS) developed by IMD and IITM functioning under the MoES. It has been built using city's data pertaining to its topography, drainage system, elevation, population, infrastructure, land use, water bodies including rivers like Mithi, Dahisar, Oshiwara, Poisar and Ulhas located in and around Mumbai. These details along with real-time rainfall inputs will be collated onto a Decision Support System, that will be used by the civic body authorities. IMD will be providing flood warning alerts through this system anywhere between six hours up to three days in advance.
– This monsoon season, a C-band radar will be deployed for Mumbai, informed Rajeevan. Currently, there are two weather radars scanning the skies of Mumbai and, with the addition of four C-band radars, meteorologists believe it will be the first-of-its-kind radar network installed over a small area in India. He said, "We had placed order for four new radars for Mumbai but due to Covid-19 situation, the procurement process has been delayed. Within the next three to four months, a C-band radar will be installed. Once all the radars are operational, weather information can be relayed every 15 minutes covering an area of 500 meters of Mumbai." https://indianexpress.com/article/cities/mumbai/flood-warning-system-will-be-saviour-for-mumbai-cm-uddhav-thackeray-6455640/  (12 June 2020)
BBMB 'Warn before releasing water' Vulnerable areas prone to landslides and floods should be identified and the PWD should be proactive in positioning men and machinery so that the general public do not face any difficulty. https://www.hindustantimes.com/cities/warn-people-before-releasing-water-from-dams-himachal-chief-secretary/story-F4nxbVT724cxO7xbrKPAdM.html  (10 June 2020)
Water released from Pandoh dam Authorities on June 11 warmed people, especially tourists, against going to the Beas river as huge water was released from the Pandoh Dam in Mandi district in view of the alarming situation of the silt in the reservoir due to heavy rain. The mighty Beas flows through the districts of Kullu, Mandi, Hamirpur and Kangra and ultimately its water goes into the Pong Dam. https://www.tribuneindia.com/news/himachal/water-released-from-pandoh-dam-warning-issued-to-tourists-97726  (11 June 2020)
Gujarat 5,000 cusecs of water discharged from Ukai dam Ukai dam on Tapi river in Surat released 5000 cusecs water on June 12 for utilisation downstream, as water level reached 318.5 ft, the rule curve says it can be at 321 ft, the FRL is 345 ft. The dam already filled close to 50% capacity even before the onset of monsoon.  https://indianexpress.com/article/india/5000-cusecs-of-water-discharged-from-ukai-dam-6456406/  (13 June 2020)
Telangana Mallannasagar feeder channel overflows The Mallannasagar canal started overflowing at Erravalli, in Kondapaka mandal, in the early hours of June 12 creating panic among the locals. The canal continued to overflow for about four hours from 5 a.m. to 9 a.m. when the officials intervened to stop it. The water was being pumped from Akaram pumphouse to Murkook pumphouse as part of filling up of Kondapochammasagar . https://www.thehindu.com/news/national/telangana/mallannasagar-feeder-channel-overflows/article31815366.ece  (12 June 2020)
ENERGY OPTIONS
Rajasthan Villagers move to save sacred grove from solar power companies There has been a flurry of activities to promote solar power in the country. But green energy cannot be promoted on the cost of local ecology and critical habitat of flora and fauna.
Villagers in Fatehgarh tehsil in Jaisalmer have now started efforts to save their sacred grove spread across twelve villages for their future generations. They have submitted a memorandum to the district collector of Jaisalmer to register 37000 Bigha (One Pucca Bigha = 27,225 sq ft) of land belonging to the sacred groves in the name of Degrai Mata Temple trust. The area is located around 50 Km from the district headquarters of Jaisalmer on Barmer road. https://www.timesnownews.com/mirror-now/in-focus/article/jaisalmer-villagers-move-to-save-sacred-grove-from-solar-power-companies/606698  (15 June 2020)
ENVIRONMENT
India's environment performance index With a score of 27.6 out of 100, India secured 168 rank in the 12th edition of the biennial Environment Performance Index (EPI Index 2020) — that measured the environmental performance of 180 countries. The global index, which is released by Yale University on June 4, 2020, considered 32 indicators of environmental performance, giving a snapshot of the 10-year trends in environmental performance at the national and global levels. All South Asian countries, except Afghanistan, were ahead of India in the ranking.  https://www.downtoearth.org.in/test/news/india-must-redouble-sustainability-efforts-environment-performance-index-71603  (07 June 2020)
CLIMATE CHANGE
Infrastructure being built of climate already gone Stationarity is the idea that, statistically, the past can help you predict and plan for the future—that the variations in climate, water flow, temperature, and storm severity have remained and will remain stationary, or constant. Nearly all the infrastructure decisions (including dams, flood management works, storm water drains, bridges, among others) with which we live have been made with the assumption of stationarity. Those assumptions are increasingly invalid.
– "Stationarity has been the foundational concept used in the design of water infrastructure for as long as knowledge of the past has been around," said Chris Milly, a research hydrologist at the U.S. Geological Survey. In 2008, an international group of scientists (including Milly) announced in the journal Science that "stationarity is dead," and that it was time we accept we're living on a non-stationary planet. And "stationarity cannot be revived," the Science paper declared.
– All of this doesn't mean completely disregarding the past. "We need somehow to blend what we know from the past with what we can infer about the future," Milly said.  https://www.vice.com/en_in/article/jgx8y8/our-infrastructure-is-being-built-for-a-climate-thats-already-gone   (03 June 2020)
Understanding the new language of the Warming World New research reveals a creeping, permanent dryness expanding across the United States. It's much more than "drought," and researchers hope more accurate descriptions will spur critical action.  https://therevelator.org/megadrought-aridification-climate/  (08 June 2020)
CHINA
More than 1.45 mln people affected by floods In Guangxi, over 1.45 million people have been affected by floods since June 1. Six people were killed and three went missing after days of downpours, according to the Ministry of Emergency Management.  http://www.xinhuanet.com/english/2020-06/12/c_139133215.htm  (12 June 2020)
Floods have caused major mudslides and damage across southern China to villages already affected by coronavirus. Hundreds of thousands of people have been uprooted from their homes according to official state news agency Xinhua.  https://www.indy100.com/article/house-collapse-video-china-floods-river-9563446  (13 June 2020)
ASIA
Turkey Ancient church reappears An ancient church, that has been submerged beneath the Turkish lake for more than 1,600 years, is now visible due to a sharp decrease in water pollution. The nationwide lockdown triggered by the coronavirus pandemic cleared up the water pollution in the region. Now, aerial photo clearly shows the Roman-style church beneath the clear water of the lake. The pictures, taken by a drone, show the huge walls of the structures and the ruins that appear to be beneath a layer of algae.
-According to reports, the ancient ruins of the church were discovered in 2014 and regarded as one of the top 10 discoveries of the year by the Archaeological Institute of America. The church – known as Basilica – was built around 390 AD when Istanbul was called Constantinople, according to archaeologists. https://www.timesnownews.com/the-buzz/article/ancient-church-submerged-under-turkish-lake-for-1600-years-reappears-after-decrease-in-water-pollution/604730  (11 June 2020)
THE REST OF THE WORLD
USA HEINRICH AND UDALL INTRODUCE LANDMARK BILL TO PROTECT THE GILA RIVER AS WILD AND SCENIC If there ever was a river deserving of inclusion into the national Wild and Scenic Rivers system, the Gila River in Southwestern New Mexico is it. Thanks to the leadership of New Mexico Senators Martin Heinrich and Tom Udall, we have the opportunity to protect this amazing, historic watershed, permanently. Late last week, the Senators introduced the M.H. Dutch Salmon Greater Gila Wild and Scenic Rivers Act, which would protect nearly 450 miles of the Gila and San Francisco Rivers and their tributaries under the Wild and Scenic Rivers Act, the premiere federal river protection legislation in the United States.
I have traveled amazing wild rivers from Alaska to Florida, Maine to Arizona. One look at the Gila and you recognize the magic of its natural flow and exceptional beauty. The Gila is precisely what the framers of the Wild and Scenic Rivers Act, including Senator Udall's father, Stewart Udall, had in mind when they set out to create a national system of protected rivers. In addition to passing the scenic eye-test, the Gila and its tributary, the San Francisco River, are full of other outstanding values. Geologically rich, the Gila is home to amazing box canyons, pinnacle rock formations, and numerous caves that supported the Mogollon culture – providing the rich cultural history still evident today through extensive rock art panels and intact cliff-dwellings.
Ecologically, the area is renowned for its high-quality bird habitat and populations of unusual species like the endangered Southwestern Willow Flycatcher, threatened Yellow-billed Cuckoo, Common Black Hawk, Montezuma Quail, and Elf Owl. The watershed is also a stronghold for the rare Gila trout and a major conservation strategy is underway to protect the fish from other, non-native species. American Rivers is working with the Senators to enable agencies to protect and restore Gila trout while preserving the free-flowing nature of the river. https://www.americanrivers.org/2020/05/heinrich-and-udall-introduce-landmark-bill-to-protect-the-gila-river-as-wild-and-scenic/  (15 May 2020)
Could the Answer to Groundwater Resources Come From High in the Sky? Now a new computational approach developed by scientists at the Department of Energy's Lawrence Berkeley National Laboratory (Berkeley Lab) offers a high-tech yet simple method: it pairs high-resolution images derived by satellite with advanced computer modeling to estimate aquifer volume change from observed ground deformation. The method could help streamline groundwater tracking across a region.  https://newscenter.lbl.gov/2020/06/11/could-the-answer-to-groundwater-resources-come-from-high-in-the-sky/  (11 June 2020)
Anderson Dam: Plans released to drain Santa Clara County's largest reservoir Federal dam regulators have ordered Anderson Reservoir, the largest reservoir in Santa Clara County, to be completely drained starting Oct. 1 due to earthquake collapse risk.  https://www.mercurynews.com/2020/06/08/anderson-dam-draining-to-start-oct-1-could-take-six-months-to-empty/  (08 June 2020)
Lack of Water Fuelled COVID-19 in Navajo Nation "Wash your hands" and "stay home" have been the biggest public-health directives of the novel coronavirus pandemic. But what if you can't? What if you have to leave home to draw water from a public tap that's hours away just to have enough to drink and cook with? Or if you're trying to draw from a well that's drying up from overuse and climate change and might also be tainted by uranium mining?
That's the reality across much of the Navajo Nation, according to Cindy Howe, a project manager for the Navajo Water Project, which brings wells, water trucks, and plumbing to the reservation. The pandemic has hit the Navajo Nation, which covers a 25,000-square-mile swath of the Four Corners region of the Southwest, with deadly force: by May 24, there were 4,658 reported cases and 165 deaths in a population of 173,000, the highest known infection rate anywhere in the country, including New York City.
The Navajo Nation is particularly vulnerable to the coronavirus because it lacks sufficient resources and infrastructure that most of the U.S. takes for granted: roads, electricity, internet to help spread public-health information, and hospitals. The crisis has been exacerbated by tight living quarters, and there are high rates of health issues, like asthma, cancer, and cardiovascular disease, among residents. All of those problems are tied on some level to federal neglect or exclusion from resources and stalled or missing funding. Most recently, $600 million in COVID-19 relief aid was delayed by more than a month; the money finally arrived in early May.
In the Navajo Nation, access to water is a big piece of both the COVID-19 crisis and long-standing historical injustice. More than a third of the population doesn't have access to running water, thanks to a combination of American water management that doesn't respect tribal water rights and a widespread lack of the infrastructure necessary to bring water to everyone on the reservation. The average American uses 88 gallons of water a day, but some on the Navajo Nation get by on just two or three gallons a day for eating, cooking, and cleaning. As the coronavirus spreads through their lands, the need for clean water—always a matter of life or death—has become even more life-threatening."
The Navajo Nation has the highest known rate of coronavirus in the country. The scale of the tragedy can be traced to a long history of denying the tribe's legal right to water access. https://www.outsideonline.com/2413938/navajo-nation-coronavirus-spread-water-rights  (28 May 2020)
Cuba Clean rivers show the benefits of reducing nutrient pollution In a recently published study, we show that Cuban rivers are cleaner than the mighty Mississippi. Why? Because Cuban farmers practice organic farming and conservation agriculture to reduce soil erosion and nutrient loss. In sum, Cuba is doing a better job than the U.S. at keeping farming from hurting its rivers, and its results offer useful lessons.
– Cuban farmers use about half as much fertilizer for each acre of farmland than their U.S. counterparts (3 versus 6 tons per square kilometer per year in 2016). As a result, rivers in central Cuba contain much lower concentrations of dissolved nitrogen than the Mississippi River, which drains more than 1 million square miles of America's agricultural heartland. On average, the Cuban rivers we analyzed contained 0.76 milligrams of nitrogen per liter of water, compared to 1.3 milligrams per liter in the Mississippi River from 2012-2019.
– Cuba's rivers do contain other pollutants. We found high levels of bacteria and sediment in most of the rivers we sampled. DNA analysis suggests that at least some of these bacteria were from the guts of cows. We saw many cows during our field work in central Cuba, and those animals had free access to local streams.   https://theconversation.com/cubas-clean-rivers-show-the-benefits-of-reducing-nutrient-pollution-131357  (10 June 2020)
Research Plastic rain is the new acid rain "Writing today in the journal Science, researchers report a startling discovery: After collecting rainwater and air samples for 14 months, they calculated that over 1,000 metric tons of microplastic particles fall into 11 protected areas in the western US each year. That's the equivalent of over 120 million plastic water bottles. "We just did that for the area of protected areas in the West, which is only 6 percent of the total US area," says lead author Janice Brahney, an environmental scientist at Utah State University. "The number was just so large, it's shocking."
It confirms: Microplastics are blowing all over the world, landing in supposedly pure habitats, like the Arctic and the remote French Pyrenees. They're flowing into the oceans via wastewater and tainting deep-sea ecosystems, and they're even ejecting out of the water and blowing onto land in sea breezes. https://www.wired.com/story/plastic-rain-is-the-new-acid-rain/   (11 June 2020)
Compiled by SANDRP (ht.sandrp@gmail.com)
Also see: DRP News Bulletin 08 June 2020 & DRP News Bulletin 01 June 2020
Follow us on: www.facebook.com/sandrp.in; https://twitter.com/Indian_Rivers