In 2019 overview, we found at least three people had died in Telangana due to illegal sand mining related incidents amid growing number of cases of illicit excavation of riverbeds. The state govt was seen laying stress on technological solutions to curb illegal sand mining and even reportedly had taken significant steps towards manufacturing and use of M-sand as a viable alternative, while its viability and impacts on environment during production remain to be fully studied and understood.  https://sandrp.in/2019/02/26/sand-mining-2018-telangana-and-andhra-pradesh/ Here we track the key developments in the state since then.
Top Development
Sand mining policy unscientific In Sept 2019, the inspection report by Central and State Pollution Control Boards on desiltation conducted by the govt in sand reaches along the Godavari River, highlighted the lack of scientific validity and ecological sustainability.  
During inspection, it was found that although the thickness of sand in the Godavari River was between 1.5-3 metres, sand was being extraced till a depth of 3 m everywhere, with no scientific basis. This is harmful to the river's ecology. The inspection report emphasises the need for the govt to review its sand mining policy and align it on par with the Sustainable Sand Mining Guidelines of Ministry of Environment, Forest (MoEF).
The inspection was conducted along the 39 km stretch of the Godavari, where the State govt had been excavating sand as part of the 'desiltation' process, over an area of 1,400 hectares in 28 sand reaches under the submergence areas of Annaram and Medigadda barrages. As of June 2019, 3.35 crore cubic metres of sand had been excavated from there.
This was also a violation of State govt's own law, the WALTA Act, which restricts extraction of sand beyond 2 metres' depth. The Centre's sand mining guidelines restricts extraction of sand to a depth of 3 metres or up until the thickness of the river whichever is less. The report further pointed out how the sand was being sold for a price of ₹600 per cubic metre, which was almost eight times the offset price of ₹83-85, agreed between the State Mineral Development Corp & contractors. https://www.newindianexpress.com/states/telangana/2019/sep/09/telanganas-sand-mining-policy-unscientific-says-report-2030936.html  (9 Sept. 2019)
NGT displeased with govt reply Dissatisfied over the reply submitted by the state govt in a case regarding sand mining and desiltation in river Godavari, the NGT in Feb 2019 ordered that a report be submitted on the issue within two months by a joint committee, which would include officials from the IIT-Roorkee, the CPCB and the Expert Appraisal Committee of the MoEF. The NGT also held that it would consider imposing a penalty on the state govt in the next hearing fixed for May 13, 2020. Earlier, the CPCB report had pointed out the unscientific nature of sand excavation taken up by the govt and the lack of comprehensive environmental impact assessment (EIA) before taking up desiltation. The NGT also pulled up the State govt for not obtaining environmental clearances (EC) for desiltation. https://www.newindianexpress.com/states/telangana/2020/feb/16/ngt-unhappy-over-telangana-mining-sand-in-godavari-river-2104114.html  (16 Feb. 2020)
Govt Steps
TSMDC earns high revenue As per a TSMDC press release, the revenue from sand mining stood at ₹886.42 cr in 2018-19, compared to ₹678.35 cr in 2017-18, an increase of more than 30 per cent. The total sand sales after formation of the state was ₹2,415.35 crore.
TSMDC claimed that it was able to provide uninterrupted sand supplies to all irrigation projects, Mission Bhagiratha, Mission Kakatiya, and the 2BHK housing programme, besides, supplying sand to the Hyderabad city at reasonable rates. TSMDC is to venture into granite mining, quartz and feldspar mining in future, and is in the process of obtaining necessary clearances. https://www.thehindu.com/news/cities/Hyderabad/tsmdc-earns-high-revenue-through-sand-mining/article26714995.ece  (2 April 2019)
Govt to push sand mining With increasing construction activity, the TSMDC aimed to excavate 10 Million Tonnes sand 2019-20. The mining of about 6 million T sand had already been completed and stocked in the corp's stockyards across the State for usage during the rainy season and beyond. According to a govt estimate, sand consumption in the State was about 25.6 M T per annum with the TSMDC supplying around 17.6 M T. The remaining sand requirements were being met through M-sand supply or sand from the neighbouring States.
TSMDC was extracting sand from over 27 reaches. About 80 per cent of the sand was being obtained through desiltation of reservoirs. Accordingly, the corp had built about 369 stockyards near these reservoirs to store the sand and supply the same as per the requirements of consumers. 6 new stockyards were being established, including three on the outskirts of Hyderabad at Abdullahpurmet, Bowraram and Vattinagulapalli. https://telanganatoday.com/telangana-to-push-sand-mining  (09 June 2019)
Govt to identify 33 new reaches to tide over scarcity To ensure sand availability for 2019-20, TSMDC decided to identify new 33 sand reaches in addition to 27 existing reaches and make efforts to get EC from the State Environment Impact Assessment Authority (SEIAA) for these reaches mostly located in Mulugu and Bhadradri Kothagudem districts.
Dr Malsur, managing director of TSMDC said, "Because of desiltation, we don't know how much of the area will be available for the next year. Some 8.9 MCM of sand will be available after these reaches become operational." In the existing 27 sand mining areas, about 5 MCM sand is available, which is extracted in summer. The sand reach areas are in Bhupalpally, Sirsila, Jagtial and other districts. However, in the rainy season, sand gets deposited in other areas, while officials take up extraction in summer season.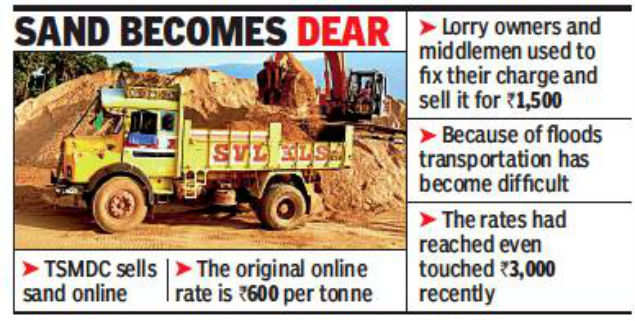 Unofficial estimates say that on a daily basis, about 30,000 T sand was required in the state, of which Hyderabad consumes 70 %. It is currently being sold at ₹1,700 per T as against earlier rate of around ₹1,000. "At one point, the rates had even reached ₹3,000 per T," said officials. https://timesofindia.indiatimes.com/city/hyderabad/state-to-identify-33-new-sand-reaches-to-tide-over-scarcity/articleshow/72116982.cms  (19 Nov. 2019)
Govt to look at mining sector for resource mobilisation For additional resource mobilisation, the State would be looking at the mining sector, especially sand and granite mining, and ensure that the govt earned the bulk of revenue. The focus would be on streamlining the process and ensuring that the govt got maximum revenue. The CM made it clear that the mining should benefit the govt and the end-user. The contractor would get the percentage due to him legally. https://www.thehindu.com/news/cities/Hyderabad/ts-government-for-realistic-2020-21-budget/article30951588.ece  (29 Feb. 2020)
Sand mining gets exemption During lockdown, the Ranga Reddy district administration gave exemption to 16 industries to operate during the lockdown. The industries include stone crushers, brick kilns, sand-mining among others. https://telanganatoday.com/16-industries-get-exemption-to-operate-during-lockdown-in-ranga-reddy  (29 April 2020)
Illegal riverbed mining, impacts, protests reports
June 2019
Villagers foil illegal mining Villagers foiled the attempt of unknown people, who tried to excavate sand from the local tank in Korviched village under Basheerabad mandal in Vikarabad district. Some people reached the tank with excavator, tippers, tractors and workers and started mining the sand.
Villagers opposed their action and demanded proper permission for the mining. They did not show any credentials but referred some names of the ruling party. But the villagers did not allow them to dig and objected to mining. The miners returned with their vehicle without creating any scene. https://www.thehansindia.com/telangana/villagers-foil-illegal-sand-mining-537174  (12 June 2019)
Illegal mining serious threat to water bodies Illegal sand mining was going on unabated in the Medak district. Though the High Court had issued a stay on the transport of sand, miscreants kept indulging in sand mining.
The uncontrolled mining of sand resulted in rivers and water bodies losing their shape. On the other hand, sand was being sold at high price, hitting hard the commoners. https://www.thehansindia.com/telangana/illegal-mining-a-serious-threat-to-water-bodies-in-medak-537895  (15 June 2019) 
Terror in Narayanpet The sand mafia had once again embarked on the path of violence and attacking villagers and farmers if they raised their voice against illegal sand mining in Poosalapadu village under Marikal mandal in Narayanpet district. According to a villager from Poosalapadu village, the illegal sand mining was being carried out from a rivulet passing by the village. The sand mining had led to groundwater level in the village fall drastically and the bore wells and open wells drying up. An acute shortage of drinking water and water for irrigation had arisen. https://www.thehansindia.com/telangana/sand-mining-mafia-unleashes-terror-in-narayanpet-540039    (22 June 2019)
July 2019
No water, only sand in Godavari With Godavari River totally dried up without sufficient rains, Sri Ram Sagar Project (SRSP) and Kandakurti Triveni Sangamam associated with the Godavari, were dried up and looking like desert. https://www.thehansindia.com/telangana/nizamabad-no-water-only-sand-in-river-godavari–547981   (19 July 2019)
September 2019
Illegal mining unabated in Bomraspet Even while the govt brought in new system to supply sand through online booking, in Bomraspet mandal of Kodangal constituency in Vikarabad, the sand miner was carrying out its business giving scant regard to govt's sand regulation system and openly violating WALTA Act and going ahead with sand mining from Seema Vaagu flowing through Burri Thanda, Botloni Thanda and Manddimadugu Thanda in the mandal.
Usually, the Seema Vaagu is a dry rivulet however, in the past few days heavy rains lashing the region, had deposited large dunes of sand on its bed. As the region was not under the scanner of the revenue officials, there was no supervision of this area. Taking this as an opportunity, the sand miner with the support of local leaders and a few people in the Tahsildar's office, was openly digging the sand from the rivulet during day and transporting it using tractors and dumping the same in the secluded places away from the eyes of general public. In the nights, the sand smugglers were filling truckloads of sand and transporting the same to Hyderabad and making quick bucks by causing huge loss to the exchequer. https://www.thehansindia.com/telangana/illegal-sand-mining-goes-unabated-in-bomraspet-565755  (21 Sept. 2019)
October 2019
Illegal mining in Asifabad Illegal sand mining was rampant in Kumram Bheem Asifabad district, causing huge loss of revenues. The smugglers, mostly belonging to political parties were excavating sand from streams and rivers without permission, and earning a quick buck. The excavation and transportation of sand crept into the district, which did not see such practices earlier. The offenders were also reportedly bribing police and other officials. They were able to do so in broad daylight due poor vigilance by the Mines and Geology Dept.
The sand was being mined from streams in Asifabad, Bejjur, Dahegaon, Kagaznagar, Sirpur (T), Rebbena, Chintalamanepalli and Penchikalpet mandal centres. It was also being extracted in large quantities from Peddavagu, a tributary of the Pranahita river near Kagaznagar town. The menace was rampant in other major gram panchayats, abutting streams.
The smugglers were reportedly threatening authorities, citing their proximity to certain public representatives. They were cashing in on the absence of reaches, which was not identified by authorities concerned so far. A royalty inspector said they were unable to curb the menace mainly due elected representatives backing the smugglers. https://telanganatoday.com/illegal-sand-mining-goes-unchecked-in-asifabad  (23 Oct. 2019)
January 2020
Tribal co-operative society gets ₹3.4 crore GST T Sammakka, a tribal woman who survives as a farm labourer in Mulugu district's Eturunagaram town, got shocked when GST intelligence officials slapped ₹3.4 crore tax evasion notice on the Eturu Grama Prajala Isuka Quarry Labour Contract Cooperatie Society (EGPIQLCCS) Ltd which she was heading. The director-general of GST intelligence for Hyderabad zone in its notice told her that the cooperative society had mined sand worth ₹24.5 crore and had a tax liability of ₹3.4 crore. According to the authorities, the society had received money from TSMDC towards sand excavation services.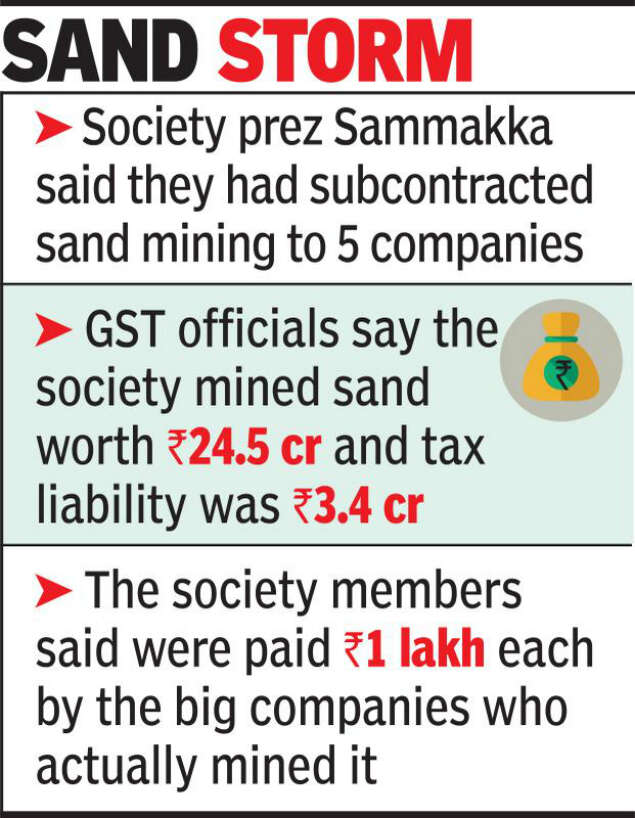 The rules stated that any sand mining contract and related activity in scheduled tribal areas must exclusively be given to local, scheduled tribal persons only. Sammakka and other members of the society said they had subcontracted the sand-mining to larger companies for which they received around ₹1 lakh each into the bank account. Also, they had no clue of the vast transactions that were taking place in their name.
Investigation in this tribal region on the banks of Godavari found out that most cooperative societies getting sand excavation contracts were immediately subcontracted the work to construction and infrastructure companies in Hyderabad and Warangal. It was likely that the society members were given a pittance compared to the earnings from the sand mining.
Sammakka, from Koya tribe, further said: "For every meeting that we attended, they paid us ₹500 each and we signed the documents. All the accounts of the society are taken care of by officials of Euturunagaram Integrated Tribal Development Authority (ITDA). In three villages, there are 600 members of the society, each getting between ₹80,000 and ₹1 lakh."
TSMDC had agreed to pay ₹150 per cubic metre to the sand societies for excavation work. The Society had given subcontract. As per the subcontract, the scope of the work included excavation of sand and transportation it to nearby stock yard and loading the sand into the truck as specified by TSMDC. It was estimated that around 6.75 MCM at Eturu and around 5.6 MCM sand at Thupakulagudem was available as per contract.
ITDA officials said that ₹80 was being paid to subcontractors per cubic metre by the societies and they got a profit of ₹70 per cubic metre. It also said 18.1 lakh cubic metres of sand had been sold by the Eturu society for which around ₹27 crore was paid to the society in which ₹140 Million was paid to subcontractors and society got ₹12.7 M profit. https://timesofindia.indiatimes.com/city/hyderabad/tribal-co-op-society-gets-rs-3cr-gst-shocker-over-sand-mining/articleshow/73563761.cms  (24 Jan. 2020)
Contractors fill own coffers in the name of sand societies Contractors, infra companies and politicians seem to be filling their own coffers from sand mining in the name of tribal sand societies. In Mulugu district, which has around 60 tribal sand societies, sand mining works are being given to sub-contractors in almost all cases. As per govt rules, rights to sand quarrying have to be exclusively given to tribals in tribal areas.
In Eturu, despite legal notices being served to offenders and complaints being lodged against irregularities, both collector and cooperative society have turned a blind eye to the problem. Moreover, it is learnt that the district cooperative society has failed to maintain audits of sand societies and except for one or two, none of the societies have filed financial statements.
In the case of Samakka of EGPIQLCCS, it was found that there was no elected committee when the sand mining license was issued. On March 10, 2015, G Samaiah, a Koya tribal of Kamalapur in Mangapet mandal of Warangal district had sent a notice to the collector and TSMDC on irregularities in sand mining, however, no action was taken by authorities.
"The mining of sand in Godavari river has become a business in the hands of persons with money & muscle power. They are saying that because adivasis do not have machinery, the licence was granted to the contractors, but as per river conservation rules, no machine can be used in the excavation of sand from rivers. AP Panchayat Raj Act 1998 says that mine license has to be granted to tribals only. EGPIQLCCS had no committee when the license was granted in Feb 2015. They said that a meeting of society members took place in the collector's chamber, but it is impossible to accommodate hundreds of members in the chamber," the complaint said, adding that environment & forest clearances were not obtained in many cases. "In the name of the welfare of tribals, mining mafia is destroying forests & rivers," he said.
Furthermore, the cooperative society had served a legal notice to Sri Sai Constructions on Oct 25, 2015 in which it alleged that it had given a contract to the company for loading, excavation and transportation of sand, but that the ITDA is recognising unauthorised persons of Sri Nidhi Construction for the purpose of raising contract.'
A petition was filed in 2018 with Jayashankar-Bhulapalli district officials regarding Sri Saralamma Tribal Isuka Moram Quarry Labour Contract Cooperative Society. The petitioner alleged that for more than two years, sand was being mined without the consent of the members and that the work was given to construction companies.
Madhu Babu, a tribal from Kanthanapally alleged that a former TRS leader's son was actively involved in sand mining in the area. "There is too much competition among sub-contractors. Each politician ropes in his own sub-contractor. We don't have machinery so we depend on contractors," he said. https://timesofindia.indiatimes.com/city/hyderabad/contractors-fill-own-coffers-in-the-name-of-sand-societies/articleshow/73563059.cms  (24 Jan. 2020)
Sand storm hits Bodhan Tahsildar office Farmers of Bodhan in Nizamabad staged a protest in front of Tahsidlar office alleging that a sand quarry run by TSMDC on Manjira River in Mandarna village, Bodhan mandal, has drastically reduced groundwater levels. Later, the farmers of Mandarna, Hunza and Khajapur villages submitted a memorandum to Tahsildar demanding the closure of the TMDC sand quarry. Following this, the mining department Assistant Director (AD) Satyanarayana was summoned to the tahsildar office. Along with Tahsildar Gapar Bogdan and Rural CI Shakir Ali, the AD held talks with the farmers.
Villagers recently had told the quarry organisers to stop sand mining. The villagers Hunsa even sat on hunger strike for several days demanding closure of sand quarry. Movement of sand laden vehicles was blocked. As a result, the miners, revenue dept officials & police had a heated argument with the farmers. The officials warned the farmers of registering cases against them. https://www.thehansindia.com/telangana/nizamabad-sand-storm-hits-bodhan-tahsildar-office-600967  (29 Jan. 2020)
MoEF wants other states to learn from Telangana MoEF in its new guideline 'Enforcement & Monitoring Guidelines for Sand Mining' suggested that state govts can consult the Telangana govt for understanding the 'indirect monitoring' mechanism of sand consumption. This technique involves using the cement consumption data for deriving an estimate of sand consumption, as cement sale data is better organised and is readily available.
In new guidelines, the MoEF has listed out various levels of monitoring that needs to be put in place, including indirect monitoring. The guidelines also mentioned that states can consult the Telangana govt to understand the best practices for sand mining enforcement, in order to frame their own enforcement measures. The guidelines mention, "It is suggested that state govts may consult with the concerned dept of Telangana & Tamil Nadu to have better understanding of their experience & knowledge in adopting best sand mining enforcement provisions & monitoring practices & frame their own regulatory regime & monitoring framework." https://www.newindianexpress.com/states/telangana/2020/jan/31/sand-mining-moef-wants-other-states-to-learn-from-ts-2097024.html  (31 Jan. 2020)
February 2020
Sand mining in Karimnagar Sand mining was thriving in various mandals in the district right under the nose of revenue & mining depts. Instead of keeping a check to illegal mining & transporting of sand, the revenue & mining depts were turning a blind eye & not taking any measures to contain it. Especially in Bommakal, Erukulla, Mugdhampur, Chegurthi, Gollaepalli, Baopet and Nugunur mandals, sand mining was rampant where hundreds of tractors and lorries transport the sand illegally in the night hours.
Recently, the villagers of these mandals had stopped the vehicles carrying sand in the night and passed on the information to the police for necessary action. Further, a villager, B Anil, complained to the Collector during the Grievance Day programme about the illegal mining and transporting of sand from Manair rivulet in Erukulla of Karimnagar rural mandal. In his complaint, Anil stated that after mining the sand from Manair rivulet, the smugglers were dumping the sand at some other places and transporting it in lorries to other regions.
The sand miners by luring innocent minors with money was employing them for mining sand. They were even providing them vehicles though they lack the licences. The govt has given permission to use sand from Moyathummeda rivulet in Ramancha village of Chigurumamidi mandal for works taken up under Smart City project in Karimnagar by paying a meagre sum of ₹ 200 per vehicle of sand to the Ramancha village panchayat. For a total number of 4,540 vehicles that transported sand, the village panchayat just earned the revenue of ₹9.08 lakh, while the smugglers made crores. https://www.thehansindia.com/telangana/sand-mafia-rules-the-roost-in-karimnagar-605935  (18 Feb. 2020)
May 2020
Farmers against mining Over 300 farmers in Mahbubnagar protested against the govt's decision to mine sand from the Dundubhi river for construction of 2BHKs. With no perennial rivers or any lift irrigation project in the region, the farmers of Byrampally in Midjil mandal, Ammapalli in Jadcherla mandal and Nekkonda depend on the river & groundwater for irrigation. Illegal sand mining was rampant.
Now, with the govt deciding to trasport sand, the farmers feared that it would dry up around 300 borewells & affect farming. They said the govt, instead, should construct check dams & warned of leaving their villages if mining commenced.  https://www.newindianexpress.com/states/telangana/2020/may/06/farmers-in-telanganas-mahbubnagar-up-in-arms-against-states-sand-mining-decision-2139714.html  (6 May 2020)
The farmers demanded immediate reversal of the decision. If not, they threatened to stop any vehicle coming to their village for filling sand. They alleged that the district admin has taken unilateral decision without consulting them. https://www.thehansindia.com/telangana/villagers-protest-against-sand-mining-in-dundubhi-river-620797  (05 May 2020)
Row between border villagers Mining of sand in Tungabhadra river near Gundrevula in C Belagal mandal of Kurnool district led to a row between people of border villages of Andhra Pradesh & Telangana, which are already locked in a controversy over sharing Krishna waters.
People of border villages levelled allegations against each other that sand was being illegally mined in their respective territory.  https://www.newindianexpress.com/states/andhra-pradesh/2020/may/14/sand-mining-sparks-row-between-andhra-pradesh-telangana-border-villagers-2143157.html  (14 May 2020)
June 2020
Illegal mining under guise of supply for KLIP Illegal sand mining on the pretext of transporting it for Mallannasagar project is dealing a serious dent to the State exchequer and harming the environment in the catchment areas of Moyathummeda rivulet in Bejjanki mandal. The sand mafia is moving sand illegally to the real estate ventures in Hyderabad & Karimnagar. Villagers are against the illegal transportation of sand, but the 'sand mafia' is threatening to kill them under the speeding wheels of tractors and trucks.
Already, the sand mafia completed lifting sand from Gagillapur village and presently sand is being transported from Devakkapalli and Thotapalli villages. Every day hundreds of huge trucks and tractors transport the sand illegally from the rivulet in collusion with the local representatives, police and revenue officials. Several hundreds of trucks and tractors are seen waiting in serpentine queues adjoining Rajiv Rahadhari near Thotapally to load the sand and transport it illegally to Hyderabad, Siddipet and Karimnagar.
Janardhan Reddy, a villager from Bejjanki mandal, said that they were scared of stopping illegal sand mining in the Moyathummeda rivulet as the sand mafia was in collusion with the authorities concerned. "The online booking of sand is a farce as the sand mafia is supplying the material at the doorsteps of the realtors. In the wake of monsoons the sand is being stored at various locations and dumps illegally in Karimnagar town and other places," he alleged. Ironically, it is being done right in front of the LMD police station on Rajiv Rahadhari in Thimmapur mandal, said Bhaskar Reddy. The govt is losing several crores through illegal sand mining in the region, he added. https://www.thehindu.com/news/cities/Hyderabad/illegal-sand-mining-rampant-under-guise-of-supply-for-klip/article31845897.ece  (16 June 2020)
Violence
Farmer beaten to death In a shocking incident, a farmer was beaten to death in Yadadri Bhongir district allegedly for reporting illegal sand mining to police. The victim was identified as D Pandu, 45, active with the Madiga Reservation Porata Samithi. He was on his way back when he was attacked from behind allegedly by two men.
Following this, two people, both drivers by profession, were arrested. They were hired at Lingarajupally village to transport sand from the Musi river banks with Revenue Dept permission. But after the duo had collected the permitted amount of sand, they had attempted to smuggle out more sand from the river bed last year, police said.
Pandu had alerted Revenue Dept officials and made the duo dump the sand back onto the riverbed. "Since then both men had a grudge against Pandu," said Narayana Reddy, Deputy Commissioner of Police, Bhongir. On the night of Jan 30, 2020 "the two men saw Pandu, about 6 kms away from his village under the Valigonda police station limits and attacked him with logs," the official added. https://www.thenewsminute.com/article/telangana-farmer-activist-beaten-death-allegedly-reporting-illegal-sand-miners-117483  (4 Feb 2020)
Labour officer found murdered The Assistant Commissioner of Labour of Khammam and Kothagudem districts, Mopu Anand Reddy, 39, was found murdered in the forest near Gollabuddaram village in Bhupalapalle district on March 10, 2020.
Anand Reddy was allegedly kidnapped from Hanamkonda three days ago by Pradeep Reddy and three other persons in a car on March 7, 2020. They were suspected to be responsible for his murder and the motive was assumed to be that Anand Reddy was demanding re-payment of ₹1.2 crore, which was allegedly taken by Pradeep Reddy against promise of help in transfer of official from Khammam to Warangal. Pradeep Reddy hailed from Shanigaram in Warangal Urban district and was into the sand mining business in Khammam district. https://www.newindianexpress.com/states/telangana/2020/mar/11/telangana-labour-officer-found-murdered-in-forest-area-2115156.html  (11 March 2020)
As per another report, Pradeep Reddy was ex-TRS functionary. It was about four months ago that the official had requested Pradeep to help him get a transfer from Khammam to Warangal. "Pradeep promised him a transfer using his influence & asked him to pay ₹1.2 crore in instalments. He also promised Anand a share in his sand mining business. The entire money was paid to him over a period," said a senior Warangal police officer probing the case.
When his transfer did not materialise, Anand started asking Pradeep to return his money. "But after the local body polls, the party expelled Pradeep due to alleged negative propaganda and he no longer held any influence in the party," the officer said. As the official continued to pester him for money, Pradeep planned to murder him.  https://timesofindia.indiatimes.com/city/hyderabad/ex-trs-man-took-rs-1-cr-to-transfer-labour-officer-then-murdered-him/articleshow/74567687.cms  (11 March 2020)
Illegal miners attack forest staff Illegal sand miners attacked 4 forest officials when they try to prevent illegal sand mining in Parmalla stream in Gandhari mandal of Kamareddy district. Gandhari FRO Anuradha said that following tips, their staff conducted inspection on March 24, 2020 night against ongoing illegal mining activities in Parmalla stream of Parmalla tanda. A team of 4 members led by Section Officer, 2 beat officers and a home guard visited the spot. Seeing them, 7 people belonging to Parmalla village snatched the lathis from the forest staff and attacked them with the sticks and ran away from the spot. The team got seriously injured in this incident. https://telanganatoday.com/llegal-sand-miners-attack-forest-staff-in-kamareddy  (25 March 2020)
Summary
Its clear from this overview that Telangana govt has not been managing the sand mining affairs efficiently as is being projected by govt itself and cited by some other state govts including Punjab and Andhra Pradesh. The inspection report by central and state pollution control board has termed the mining policy of state govt as unscientific and unsustainable. The team has found more than 1,400 ha river stretch running between submergence of Annaram and Medigadda barrages on Godavari river was excessively mined in the name of de-silting which was against central and state govt's rules and without any EIA, EC.
As of June 2019, 33.5 MCM sand had been excavated there 39 km stretch of Godavari river there.  The mined sand was sold at hefty prices of ₹600 per cubic metre which the team found was almost eight times the offset price of ₹83-85, agreed between the TSMDC and contractors. The state govt had not submitted satisfactory response before the NGT following which the tribunal has set up another expert committee with two months deadline. The time limit and scheduled date of hearing of the case have already expired in May 2020 and there is no update available on the issue.
Ironically while NGT inspection report has stressed state govt to review and align the ecologically destructive policy on par with MOEF latest guidelines; the MoEF on the other hand has itself lauded the objectionable policy by asking other state govts to consult Telangana and Tamil Nadu for better monitoring practices and best enforcement provisions. In fact, Tamil Nadu state too has totally failed to control illegal riverbed mining practices as shown by the latest overview for the state by SANDRP. Please see links given at the end of the blog.  
Obviously, the govts of Telangana and Andhra Pradesh have officially and deliberately adopted to illegal dredging and desilting operations in Krishna and Godavari rivers to dodge the law and defy rules while robbing rivers of lifeblood at an unprecedented scale. Undoubtedly the TSMDC has been increasing revenue at the cost of damages being inflicted on riverbeds, dependent communities and water resources. The govt is preparing for 33 more excavation reaches having potential of 8.9 MCM sand in addition to the existing 27 such sites with about 5 MCM availability which in true sense is short term gains with long lasting consequences. 
Telangana is consuming 25.6 MCM sand annually of which TSMDC is able to supply around 17.6 MCM. The gap is reportedly being filled by M-sand and other states. The claim that about 80 per cent of the river sand supply is being met through desiltation of reservoirs, needs examination. Apparently the state govt has been milking the rivers to mobilise resources for other infrastructural purposes. Unofficially the daily demand of sand in state is mentioned to be about 30,000 T, of which 70 % is being consumed by Hyderabad only. During monsoon the state seems facing scarcity thus leading to significant rise in price.
Witnessing and suffering from adverse impacts on surface, groundwater sources, all through 2019-20 so far the farmers and villagers have been strongly objecting to illegal, mechanized mining operations by staging protests, submitting petitions to relevant authorities even blocking sand vehicle movements, but their plight have not been given due attention or response. Local influential politicians are neck deep in illegal quarrying business of streams, rivulets and rivers however the administration too either become complicit in the act or finds itself helpless to take actions under law. The same administration does not think twice before threatening villagers, farmers objecting to illegal mining activities.
The curious case of sand societies in Mulugu district in whose name Godavari river minerals have been excavated endlessly, aptly depicts systematic corruption in Telangana govt. The tip of sandberg of Telangana reveals collusion among politicians-contractors-administration in planned plundering of tribals rights and minerals in River Godavari. The scam warrants wider public, media attention and high level independent probe.
Again the unplanned urbanization post bifurcation is root cause behind ever increasing sand demand in the state which is being met by mining rivers unsustainably. The brazen murder of whistle blower farmer D Pandu in Yadadri Bhongir district in Feb. 2020, abduction, the killing of Mopu Anand Reddy, Assistant Commissioner of Labour of Khammam and fatal attack on four forest staffs from Gandhari mandal of Kamareddy district in March 2020 only underline the impunity the illegal sand mafia enjoys in Telangana.   
Bhim Singh Rawat (bhim.sandrp@gmail.com)
Please also see SANDRP annual overview for the year 2019-20 for following states:
J&K Riverbed Mining 2020: Rivers exposed to mechanized mining
Himachal Pradesh sand mining 2020: No Replenishment study, district foundation
Uttarakhand Riverbed Mining 2020: Rivers, People, Revenue Robbed
Punjab Sand Mining Overview 2019: Story of Political Patronage & Goonda Tax
Haryana Riverbed Mining 2019: Yamuna Robbed of Minerals, Flows
UP riverbed mining overview: NGT, CBI, Govts cannot stop the menace
Rajasthan River Sand Mining Overview 2019: SC Ban Remains, Police-Mafia Gang Rules
Madhya Pradesh River Sand Mining 2019: Rivers mined Dry; Govt not bothered
Maharashtra Riverbed Mining Overview 2019: Mining Posing Bigger Threats As Government Fails To Act
Goa Riverbed Mining Overview 2019: Civil Societies Form Network To Curb Mining Menace
Kerala 2020 Sand Mining: Don't forget floods, fisherfolks & vanishing villages
Karnataka Sand Mining 2020: Active Collector, Destruction of fish sanctuary & calm collection
Tamil Nadu Sand Mining 2020: Persistent Court can't shake indifferent govt
Andhra Pradesh Riverbed Mining 2020: Quicksand of mismanagement
Telangana Riverbed Mining 2020: Tribals, Godavari robbed
Bihar Sand Mining 2020: Ruining rivers; aggravating floods