In the ongoing debate on forest clearance for the controversial Etalin Hydropower project in Dibang Valley in Arunachal Pradesh between the Forest Advisory Committee, The Hindustan Times's consistent reporting and Sanctuary magazine launching a campaign along with others, one (of the many) key question that remains unanswered is: for whom this economically (in addition to socially, environmentally and from climate change perspective) unviable, massively expensive project being pushed in a power surplus country?
Electricity from hydropower projects is no longer economically viable, since cheaper options are available. Some misguided people are claiming virtue in hydropower project claiming it provides peaking power. The fact is India is today not only power surplus, the peak power deficit has been just around 1% or less for long time. This when there is no attempt to either monitor as to how much of the electricity produced from existing hydropower projects provides peaking power, nor is there any attempt to achieve optimisation of operation of existing hydro projects to produce maximum possible hydropower. Nor is there any attempt to even manage the peaks either through pricing or other policy measures. In such a situation there is clearly no justification for more hydro for peaking. Moreover, the storage option is becoming increasingly cost effective, reducing the peaking power needs. So then for whom this project whose cost won't be less than Rs 30000 crores at most conservative estimates, being pushed? The contractors, the equipment suppliers, the hydro lobby, the consultants, the timber lobby, the dam lobby, or the kickbacks?
HYDRO POWER PROJECTS
Arunachal Pradesh 2.7 lakh trees to be felled for Etalin HEP A FAC sub-committee report on the eve of Earth Day 2020 recommended the 3,097 MW Etalin Hydroelectric Project be allowed with a condition that the developer deposits money for wildlife conservation in the area. The Union environment ministry's Forest Advisory Committee (FAC) will on day after the earth day 2020 take a call on granting clearance to a hydroelectric project in one of the most biodiverse Himalayan zones in Arunachal Pradesh's Dibang Valley. The project will involve diversion of 1150.08 ha of forest land and felling of 2.7 lakh trees in what FAC's documents call "subtropical evergreen broad-leaved and subtropical rainforest".
– The FAC in October said the seven-member sub-committee will visit the project site to check if the land requirement for the project can be reduced after the ministry's regional office in Shillong raised several concerns about the diversion of a large area as well as potential biodiversity loss and conservative estimation of trees to be felled. The sub-committee was asked to look into tree enumeration for felling and the project's biodiversity impact.
The sub-committee, which visited the site in February, found that the project lies in a remote area, and hence infrastructure facilities will have to be planned over a large area. A Wildlife Institute of India (WII) study has documented 413 plant, 159 butterfly, 113 spider, 14 amphibian, 31 reptile, 230 bird and 21 mammalian species within the project area.
– The proposed project location is at the junction of the Paleo-arctic, Indo-Chinese, and Indo-Malayan bio-geographic regions having luxuriant forests and a plethora of flora and fauna. Activist Jorjo Tana Tara underlined the proposed project is located in an extremely eco-sensitive area. "There have been local protests."  https://www.hindustantimes.com/india-news/2-7-lakh-trees-to-be-felled-for-hydropower-project-in-arunachal-s-dibang-valley/story-i0GVuHt8nHF4JbxeM4birM.html  (22 April 2020)
This is shocking that a senior member of FAC who didn't want to be named said that though a decision on granting forest clearance to the project is yet to be taken, most members have a favourable view of the project because it is a large "clean energy project" which can replace dirty energy. How is the Etalin HEP a clean project when it will bring so much destruction and when really clean options of solar are available and when India is surplus in power and on a day when MP govt cancelled the PPA for 400 MW Maheshwar hydro project since it was going to be too costly power?  https://www.hindustantimes.com/india-news/fac-members-favourable-to-hydro-project-in-dibang-valley/story-qUaazlvv4le06y1Q1qAWrJ.html  (23 April 2020)
– Scientists sought a cumulative impact assessment of all the hydropower projects in the region, including the 3,097 MW Etalin and 2,880 MW Dibang multipurpose projects — two of the country's biggest hydel ventures in the same region. "We respectfully submit that the impacts of multiple projects placed in close proximity on the same river limb must be assessed together because these impacts will be cumulative and not independent," they wrote.  https://www.hindustantimes.com/india-news/more-scientists-write-to-fac-about-treading-carefully-on-hydropower-projects-in-dibang-valley/story-ikGnHIt843sVrLI1aAtmlJ.html  (25 April 2020) 
Sanctuary Asia's press note on the mounting public pressure to scrap the Etalin Project. If this project is granted forest clearance by India's Forest Advisory Committee, it would mean the destruction of 2,70,000 trees in the highly biodiverse Dibang Valley.  https://www.sanctuarynaturefoundation.org/article/public-pressure-to-scrap-destructive-etalin-project-mounts 
The title Tree loss to be reimbursed with plantations in Dibang Valley is totally misleading and so is some of the other stuff. The project destruction will be much worse and the report does not highlight them in sufficient detail. However, good to see this consistent reporting and attempt to highlight the futility of compensatory afforestation proposals.  https://www.hindustantimes.com/india-news/tree-loss-to-be-reimbursed-with-plantations-in-dibang-valley/story-I3EldUENtAlPTL9x9WXooJ.html  (27 April 2020)
MoEF Relevant agenda of the Forest Advisory Committee meeting to be held on Apr 23, 2020: – DIVERSION OF 1165.66 HA (INCLUDING 91.331 HA UNDERGROUND AREA) OF FOREST LAND FOR CONSTRUCTION OF ETALIN HYDRO ELECTRIC PROJECT (3097 MW) IN DIBANG VALLEY DISTRICT OF ARUNACHAL PRADESH
– NON-FORESTRY USE OF 98.05 HA OF FOREST LAND IN FAVOUR OF TILAIYA CANAL DIVISION, WATER RESOURCE DEPARTMENT, GOVERNMENT OF BIHAR FOR CONSTRUCTION OF GANGA WATER LIFT SCHEME IN GAYA AND BODHGAYA DISTRICT OF BIHAR. http://forestsclearance.nic.in/AgendaDetail.aspx?id=233!dis1
Opinion Power purchase agreements as an albatross India is now an electricity surplus country with an installed capacity of 369,000 megawatts (MW) against its peak demand of 183,804 MW. Independent power producers in the private sector now account for 47% of overall capacity—48% of thermal and 43% of renewable. By 2017-18, the country had around 334,000 MW of installed capacity, of which 291,000 was under long-term PPAs. In several states, contracted capacity is 30% in excess of peak demand. Maharashtra, for example, has deals for 37,896 MW of supply, while its peak demand is 22,516 MW. The figures for Tamil Nadu are 26,975 MW and 14,223 MW respectively. https://www.livemint.com/opinion/online-views/opinion-power-purchase-agreements-as-an-albatross-11587489054847.html  (21 April 2020)
Why Is the Centre Pushing a New Electricity Bill in the Midst of the COVID-19 Crisis? In the midst of a pandemic that has forced even the highest court to suspend its proceedings except for very urgent cases, the Government of India has thought it fit to start, on an urgent basis, the process of enacting the Electricity Act, 2020. The Electricity Bill, 2020 requires the elimination of subsidies and cross-subsidies, and if enacted, electricity will become a luxury commodity.
– The Constitution puts power under the concurrent list. However, with the enactment of the Electricity Bill, 2020, whatever is left under the purview of the state governments would be taken away. The new Bill would create an independent contract enforcement authority and empower load dispatch centres to oversee the payment-security mechanism before scheduling the dispatch of electricity and to be made mandatory. https://thewire.in/government/why-is-the-centre-pushing-a-new-electricity-bill-in-the-midst-of-the-covid-19-crisis  (21 April 2020)
DAMS
NBA (Khandwa) PR on Apr 23 2020: Historic victory and vindication for Narmada Bachao Andolan
Exploitative agreement of Maheshwar power project terminated
42,000 crore rupees of public money saved from loot
In a very significant development, the Government of Madhya Pradesh has terminated the power purchase agreement for the Maheshwar power project, holding it as against public interest. Along with this, the escrow agreement and the rehabilitation agreements for the project have also been terminated. This is a historic victory for the affected people of the Maheshwar project, who have been persistently fighting this destructive project for the last 23 years under the aegis of the Narmada Bachao Andolan. The termination of the PPA will save Rs. 42,000 crores of public money.
Termination Order:
On 18th April, 2020, the Madhya Pradesh Power Management Company Limited, an agency of the State government, issued a Termination Order to the project promoter Shree Maheshwar Hydel Power Company Limited owned by the S.Kumars group terminating the Power Purchase agreement executed between the State Government, MPSEB, and the project promoters in 1994. The Order states that the cost of Maheshwar power is abnormally high, above Rs. 18 per unit, thus the project is unviable. The Order further states that since the cost of purchase of this expensive power from the Maheshwar project will be passed on to the public, expensive power purchase from this project is against public and consumer interest, thus the PPA is being terminated in public interest. The Termination Order also states that the PPA is being terminated with immediate effect because of repeated failures of the S.Kumars to comply with crucial financial and technical deadlines and milestones, including ensuring timely commissioning of the project and infusion of monies by the S.Kumars, and breach of the manifold provisions of the PPA.
The Termination Order dated 18.04.2020 also cites the judgment dated 12.03.18 of the National Company Law Appellate Tribunal (NCLAT) directing the Central Government to carry out a forensic audit of the Shree Maheshwar Hydel Power Corporation Limited under the supervision of the CAG of India in order to unearth fraud and to punish those responsible. The Termination Order dated 18.04.2018 states that it is clear from the direction for investigation and forensic audit that some serious fraud has been committed with regard to the public funds infused in the Maheshwar project.
The escrow and rehabilitation agreements for the project were terminated vide Orders dated 20th and 21st April 2020.
Maheshwar project:
The 400 MW Maheshwar power project on the river Narmada, in District Khargone, Madhya Pradesh slated to submerge lands/homes/livelihoods in 61 villages with a rich land and riverine economy, is one of the 30 large dams built or proposed to be built in the Narmada valley. It was privatised in 1994 and handed over to the S.Kumars group. The Power Purchase Agreement required the Madhya Pradesh government to pay the S.Kumars crores of rupees of public money every year, for 35 years from the date of the commissioning of the project, whether or not the electricity was purchased by the Government.
Determined struggle of affected people of Maheshwar for the last 23 years
For the last 23 years, people of the Maheshwar area have been persistently struggling against the destruction to be wrought by the Maheshwar project, under the leadership of the Narmada Bachao Andolan and senior activists Alok Agarwal, Chittaroopa Palit and the people of the Maheshwar area. On the basis of facts and documents, from the very beginning the Narmada Bachao has demonstrated that very little and very expensive electricity will be produced from the unviable Maheshwar project. However, because of the anti-people PPA with S.Kumars, the State government would be forced to purchase or pay for this electricity, which would destroy the economy of Madhya Pradesh and thus the project must be terminated in public interest. The Andoaln exposed the financial irregularities of several hundred crores. The NBA also demonstrated on the basis of facts and the ground reality that there were no arrangements for the rehabilitation and resettlement of 60,000 farmers, workers, Kewats and Kahars affected by the project as per the Rehabilitation policy.
Raising the aforementioned issues thousands of project affected women and men repeatedly sat on dharnas, demonstrations, fasts, and faced brutal lathi charges and assaults, arrests and jail. The State government and the project promoters instituted hundreds of false cases against the affected people and the activists in Mandleshwar, Khargone, Bhopal and Mumbai including defamation cases. The NBA and the affected people also filed petitions on the issue of rehabilitation and submergence before the National Green Tribunal and the High Court which directed the completion of rehabilitation before any submergence. It is noteworthy that even after 23 years, more than 85 percent of the rehabilitation of the affected people remains to be done.
Maheshwar project always surrounded by scams: Indicted for default and financial irregularities in 5 CAG reports
From the very beginning, there were many financial irregularities and defaults surrounding this project, because of which the work of the project stopped many times, and the work of the project has remained stopped for the last 10 years. Whether Congress or BJP, all governments have attempted to benefit the project promoters at the cost of the public. The apex organisation, the Comptroller and Auditor General of India (CAG) have in as many as 5 of its reports of the years 1998, 2000, 2003, 2005 and 2014, recorded various grave financial irregularities related to the project. In its 2014 report, the CAG of India had clearly questioned as to why the government has not terminated the PPA.
Apart from this, in 2001, the erstwhile head of the lenders Consortium, the IFCI had clearly stated in its report that the S.Kumars had diverted Rs 106.4 crores of public funds meant for the Maheshwar project to other entities, including its sister concern from the same group. Since the year 2001, the Narmada Bachao Andolan has repeatedly demanded forensic audit of the thousands of crores of rupees of public funds raised by the Shree Maheshwar Hydel Power Corporation Limited for the Maheshwar project. It is noteworthy, as stated in the Order dated 18.12.2020 that the National Company Law Appellate Tribunal has directed a forensic audit of the SMHPCL under the supervision of the officials of the CAG of India, thus vindicating the long term concerns vociferously by the NBA about financial irregularities, fraud and corruption in the Maheshwar project.
PPA termination stops loot of Rs 42,000 crores of public money
The 400 MW Maheshwar project is slated to generate a mere 80 crore units at over Rs 18 per unit, whereas after meeting the entire demand of Madhya Pradesh surplus power of 3000 crore units is available. Also today power is available at Rs. 2.5 per unit. But as per the PPA for the Maheshwar project, even if the State government does not purchase the abnormally expensive Maheshwar power, it would still have to pay around Rs 1200 crore rupees per annum, or a whopping Rs 42,000 crores in 35 years. Thus, it is clear that Rs. 42,000 crores belonging to the public of Madhya Pradesh would have been looted due to the PPA even without purchase of electricity from this project, a situation which has been rectified by the termination of the PPA.
Stop loot of public money in the name of privatisation of public infrastructure
The Maheshwar project is a blatant example of the loot of public money in the name of privatisation. The real object of starting this unviable project was loot from the word Go, which NBA opposed with all its strength, in the face of repression. The stated basis of the privatisation of the project was that the project promoters would get substantial private funds from their own sources, and the cost of power to be sold in the open market would be competitive and low. However, the reality is that the Maheshwar project has been financed mostly by money belonging to the Indian public, raised from Indian banks and financial institutions, and the cost of power has been very high due to the financial irregularities, and the anti-people power purchase agreement. After taking thousands of crores of public money in the name of building the Maheshwar project, the promoters diverted monies to their own group companies among others. When S Kumars defaulted from paying the bondholders who had extended debt to the project, the State government was forced to pay them Rs 102 crores. All governments were part of this loot. It is clear that privatisation neither is a guarantee of competitiveness or efficiency nor does it bring in additional private resources into the development process. All that it does is bring thousands of crores of the money saved by ordinary people into the hands of a few corporates who use the corporate veil to misuse the public funds, and shield themselves from transparency and public accountability.
The NBA calls on the governments to bring back all the public money and stop the privatisation of public infrastructure,
Media Cell, Narmada Bachao Andolan
Govt scraps Maheshwar hydel power project Prior to the sudden termination order issued on April 18 this year, in 2014, the comptroller and auditor general had criticized the government for not terminating the project despite undue delay in its completion. The project was also marred by controversies related to financial irregularities. Citing " breach of clauses 16.4(a), 16.4(b )and 16.4( c) of the PPA dated November 11, 1996 and breach of clauses of A&RA( amendatory and restated agreement)" , a five-page order issued by Madhya Pradesh Power Management company limited on April 18 terminated the PPA" with immediate effect". Along with this, the escrow agreement and the rehabilitation agreements have also been terminated.
– Alok Agrawal of Narmada Bachao Andolan, who had been relentlessly raising the issue of this project's expensive PPA and alleged irregularities, said, "Our stand is vindicated. A monument should be created at the concrete structure near dam site symbolizing the monumental waste of public money".  https://energy.economictimes.indiatimes.com/news/power/madhya-pradesh-govt-scraps-maheshwar-hydel-power-project/75367245  (25 April 2020)  
Singrauli flyash dyke breach Dave Petley on Singrauli Fly Ash Dam Breach of April 10, 2020, quotes SANDRP blog on this event. https://blogs.agu.org/landslideblog/2020/04/23/a-major-fly-ash-failure-and-release-at-singrauli-in-india-planet-labs-images/  (23 April 2020)
Telangana Villagers Forced Out of Homes for Ranganayaka Sagar Project As residents in Kochaguttapalli village, Siddipet district retired to bed on Sunday night (April 19), they awoke to a rude shock. Revenue officials of the govt, along with the police, had arrived at their doorstep — amid the nationwide lockdown, in the middle of the night — to evict 30 families and destroy their homes.
– "We pleaded with them for time till morning so that we could go and get our stray animals. But they put all our luggage and material in vans, damaging them," recounts Ramanaji, a resident of the village in Chinnakodur Mandal.
– For over three years, the villagers have been battling authorities over their land, which is being sought for the Anantagiri (Annapurna) Project, a 3.5 tmc feet reservoir that would potentially submerge their village. Located between the two districts, the project to fill the reservoir with water from the Godavari river impacts Anantagiri in Rajanna-Siricilla and Kochaguttapalli and Chelukaluripalli villages in Siddipet. https://www.thequint.com/news/india/telangana-villagers-forced-out-of-homes-for-reservoir-project  (24 April 2020)
Hypocrisy of govt, "Information and Technology minister KT Rama Rao said unique feature of the Ranganayaka Sagar Project, was that not one house was submerged for its construction. He recalled how his grandmother had lost her house when it was submerged under Mid Manair project and his grandfather's under Upper Manair. "After that, we had moved to Chintamadaka village in Siddipet mandal," Rama Rao said." https://www.newindianexpress.com/states/telangana/2020/apr/25/telangana-will-now-see-green-revolution-says-ktr-as-godavari-water-reaches-siddipet-2134906.html  (25 April 2020)
Here again, ""Our family knows the fate of land oustees. My grandparents from both sides had lost their lands in Upper-Manair and Mid-Manair in the 40s and they migrated. Hence we can understand the problems of oustees," said Information Technology Minister K.T. Rama Rao adding that the sacrifices made by oustees can never be repaid." https://www.thehindu.com/news/national/telangana/godavari-water-reaches-siddipet/article31427662.ece  (24 April 2020)
The case is in High Court, but there is little hope from them except some directions for rehabilitation.
Kerala Private players to free up space in 10 dams A government empowered committee has decided to open up 10 dams of the state, including Malampuzha, Karappuzha and Walayar dams, to private sector for desilting.
– As per the available figures with the irrigation department, there would be at least 52.26 million cubic metre silt in five among the ten dams according to a primary assessment conducted by the department.
– A study on desiltation was conducted in Malampuzha, Meenkara, Karapuzha, Walayar and Pazhassi dams by the irrigation department from 2009 to 2016. Taking into consideration the study figures that a dam would on an average be filled with silt equivalent to 0.2 to 0.5% of its storage capacity, at present, these dams are projected to have at least 52.26 million cubic metre of silt. From the figures alone, it is evident that one fourth of storage space of Malampuzha dam is filled with silt.  https://timesofindia.indiatimes.com/city/thiruvananthapuram/pvt-players-to-free-up-space-in-10-dams/articleshow/72430318.cms  (09 Dec. 2019)
Rahul Banerjee on FB post comment And what about afforestation and catchment treatment to prevent further siltation in future?
IRRIGATION
Micro-irrigation development in India: challenges and strategies In the context of climate change, micro-irrigation (MI; drip and sprinkler systems) has the potential to address problems like water scarcity and emission of greenhouse gases from agriculture. The central and state governments promote MI through heavy subsidies, but without much consideration to supply-side factors like water harvesting, socio-economic factors, including affordability of upfront capital cost and agronomic factors like extant farming system. Despite heavy investments, MI coverage is less than 15% of the potential. This article contextualizes MI development in India and proposes alternative policies to achieve the twin objectives of water harvesting and its efficient usage. They include developing affordable systems, small farm orientation of technology, popularizing MI in canal commands, prioritization and water budgeting, harnessing circular economy in water usage, and developing institutional mechanisms. MI has the potential to serve both as an adaptation and mitigation strategy against climate change. https://www.currentscience.ac.in/Volumes/118/08/1163.pdf
URBAN RIVERS
SANDRP Blog Brining life back to Champa In this third and final part of the three part series on Champa river, Dr. Ruchi Shree discusses the river rejuvenation efforts and models. The lockdown gives hope that river can be rejuvenated, though a lot of efforts will be needed. Please Read and share. https://sandrp.in/2020/04/22/bringing-life-back-to-champa-river/  (22 April 2020)
Periyar, Kochi HC initiate suu moto case The Bench said, "We are spurred to suo motu address this issue since the pollution of river Periyar can cause extremely deleterious consequences to our state – it being the one with the largest discharge potential, providing water to major towns and cities." The court issued a notice to the secretary, Environment Department, Thiruvananthapuram; the District Collector, Ernakulam; Kerala Water Authority, Executive Engineer, Irrigation Department; and Kerala State Pollution Control Board (SPCB). https://www.newindianexpress.com/cities/kochi/2020/apr/22/periyar-pollution-hc-initiates-suo-motu-case-2133497.html  (22 April 2020)
An official with the SPCB told that comparative studies were being conducted on pollution along the Pathalam-Eloor stretch during pre-lockdown and lockdown periods. "Results are yet to be out," the official said. "But the recent sampling has revealed a high coliform presence. Direct consumption of water is dangerous. Even for bathing, water has to be chlorinated." https://www.newindianexpress.com/cities/kochi/2020/apr/22/even-bathing-harmful-in-periyar-2133496.html  (22 April 2020)
 "The residents, environmental activists and everyone here are at their wits end. It is absolutely maddening that despite years of activism and hardships faced by people because of river pollution, the PCB has not been able to stop the damage being done to the river," said Mohanan, an environmental activist. "In the last one-and-a-half months, the stretch witnessed several incidents of fish death. Some people have now made a business out of selling these fish," said Mohanan.
– The PCB had asked the irrigation department to maintain average lean flow in the river after their tests found extremely low-levels of DO downstream. But the PCB has currently suspended onsite visits to the lockdown regulations and would resume the same after April 24. "We do make site visits and collect samples if there is a complaint," said a senior PCB official. https://timesofindia.indiatimes.com/city/kochi/even-under-lockdown-dark-flows-the-periyar/articleshow/75238971.cms  (20 April 2020)
Chennai Cleaner Rivers The city's water bodies including the Adyar, the Cooum and the Buckingham canal are cleaner than they were a fortnight ago, with no industrial effluents flowing in from closed factories. However, PWD officials say, domestic sewage flowing through illegal inlets continues to sully the water bodies.
– The Adyar, which flows 42.5km from Thiruneermalai to the Bay of Bengal, is now free of effluents from tanneries and industrial units in Chromepet, Tirumudivakkam, Madras Export Processing Zone (MEPZ) that are all shut. "The channels that used to carry the effluents into the river have gone dry," said an official. The river now carries 70 cusecs of relatively clean water and no froth is being noticed anywhere along the course due to the absence of chemicals.
– The Buckingham canal, which in January was getting about 20 cusecs of water mixed with industrial waste and domestic sewage, now gets just 3 to 4 cusecs, mainly containing domestic sewage illegally let in. A few tankers also discharge untreated grey water illegally, said the official. The effluent-filled water flowing from the various units at the industrial estate at Kakalur in Tiruvallur district into the Thanneerkulam, sparking protests from residents in the area, has now stopped.
– The flow of 60 cusecs of grey water from the units has now come down to 10 cusecs. Water from Thanneerkulam tank will flow in to the Kosasthalayar basin, said the official.
– It is not just the industrial units that are to be blamed for releasing untreated effluents. The scores of automobile service centres, hotels and small eateries along the various water bodies are also responsible for letting out liquids such as used oil. Now, the lockdown has put a temporary end to the flow of all untreated grey water into water bodies, he added. https://timesofindia.indiatimes.com/city/chennai/pollutants-down-citys-rivers-cleaner/articleshow/75260485.cms  (21 April 2020)
RIVERS
SANDRP Blog Earth Day 2020: Can we sustain the Collateral Benefits of Covid Lockdown? EARTH DAY 2020 musings: The Covid 19 lockdown has delivered a lot of benefits to the Earth: Cleaner Rivers, Clearer air, reduction in greenhouse gases, reduced consumption of fossil fuels, to name just a few. There is little doubt that these are indirect fall out of man made Covid-19 crisis. But this healing of the earth was long overdue. It has in fact brought people closer to the nature. Naturally, question arises, how can we sustain these collateral benefits of this crisis? Please Read, Share. https://sandrp.in/2020/04/22/earth-day-2020-can-we-sustain-the-collateral-benefits-of-covid-lockdown/  (22 April 2020)
Editorial Don't squander lockdown gains GREAT to see TOI editorial on April 21, 2020 making right conclusions on Clean Flowing River during lockdown: "But that doesn't mean we have to pollute our rivers again. Several countries have been implementing industrial wastewater treatment strictly for half a century now and India needs to join their ranks at the soonest. It needs to protect rivers from untreated domestic sewage as well… It has shown that reviving the hydrology of our rivers is not just necessary but doable." Unfortunately, there is no suggestion HOW to achieve that. Cannot TOI think through that?  https://timesofindia.indiatimes.com/blogs/toi-editorials/river-flows-clean-lockdown-has-done-wonders-from-ganga-to-cauvery-dont-squander-the-gains-afterwards/  (21 April 2020)
Telegraph Editorial Cleaner rivers, albeit briefly The rivers' rejuvenation, unfortunately, is going to be temporary. The renewal of industrial and human activity would threaten them, once again. But the temporary relief should be an occasion to hold politicians and industry accountable for their culpability in the poisoning of India's rivers and other natural resources.
– Even the Namami Gange, Narendra Modi's flagship enterprise, is progressing at a snail's pace, with only 37 per cent of the projects completed. What allows governments to get away with such lapses is the tepid nature of public concern about the depredations on a fragile environment. Interventions by courts have not resulted in urgent changes, either in policy or in the public consciousness.
– But an indifferent people and government are only a part of the problem. The bigger dilemma seems to be an existing paradigm that continues to view the demands of development and ecology to be conflicting. https://www.telegraphindia.com/opinion/coronavirus-the-covid-19-pandemic-and-lockdown-has-resulted-in-claener-rivers-like-ganga-yamuna-and-cauvery/cid/1767251  (23 April 2020)
Maharashtra Jeevitnadi requests Prakash Javadekar sir to direct regulatory authorities to monitor surface water bodies across India. Photos of cleaner rivers need to be verified with scientific data. This is a rare chance to set and assess pollution levels!
Punjab Beas cleaner, no improvement in Satluj Data sourced from the PPCB revealed that Sutlej water was in Class B category, which is designated as best use classification, at five locations out of 12 from Nangal to Kiratpur Sahib (Ropar district) and it was recorded 'C','D','E' categories at seven locations. At Ropar headworks it turned into 'C' class and remained the same upstream Budha Nullah in Ludhiana.
– At Budha Nallah confluence it turns into 'E' category and then it becomes 'D' class at Boat Bridge, Dharamkot in Nakodar road (Jalandhar) and then again turns into 'E' category at East Bein, a water rivulet, and finally its water becomes 'C' class at Harike where it meets with Beas river.
– Dr. S S Marwaha, chairman, PPCB said that it is clear from the results of river monitoring of Sutlej that the Biochemical Oxygen Demand level (high BOD indicates severe pollution) during lockdown has not reduced downstream of Buddha Nallah and downstream of East Bein despite industrial activities coming to a near total halt. Buddha Nallah, which flows into Sutlej in Ludhiana, has a BOD of 190 mg/litre in April, against permissible 30 mg/litre. It was 180 mg/per litre in February.
– "These days, only domestic waste water is flowing in the Budha Nullah, which is the carrier of wastewater of Ludhiana city. Due to lockdown, all the industrial, commercial, institutional activities of Ludhiana city are shut and no wastewater is being discharged by them.
– Accordingly, the flow in Budha Nullah has also decreased from 600 MLD to 475 MLD," said PPCB Member Secretary PPCB Engineer Krunesh Garg. He added that there results show marginal increase of BOD in April as compared to February.
– Dr. Marwaha said Beas remains cleanest in the state and has shown further improvement in water quality in April. Water quality of river Beas remains 'B' category at all the locations in the month of March and April. The TDS level of Beas water remains between 149 mg/litre to 181 mg/litre at all the 10 locations of monitoring. According to WHO, TDS level less than 300mg/liter is considered as excellent. https://indianexpress.com/article/cities/chandigarh/lockdown-impact-beas-cleanest-in-state-little-improvement-in-sutlej-downstream-from-ludhiana-6379130/  (25 April 2020)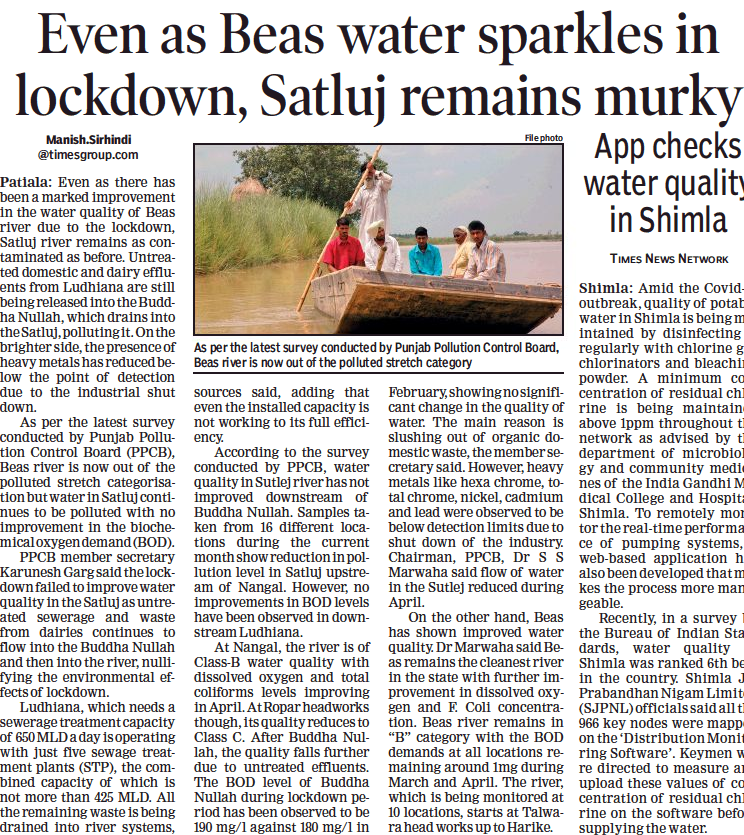 – PPCB member secretary Karunesh Garg said the lockdown failed to improve water quality in the Satluj as untreated sewerage and waste from dairies continues to flow into the Buddha Nullah and then into the river, nullifying the environmental effects of lockdown.
– Ludhiana, which needs a sewerage treatment capacity of 650 MLD a day is operating with just five STP, the combined capacity of which is not more than 425 MLD. All the remaining waste is being drained into river systems, sources said, adding that even the installed capacity is not working to its full efficiency.
– According to the survey conducted by PPCB, water quality in Sutlej river has not improved downstream of Buddha Nullah. Samples taken from 16 different locations during the current month show reduction in pollution level in Satluj upstream of Nangal. However, no improvements in BOD levels have been observed in downstream Ludhiana.  https://timesofindia.indiatimes.com/city/ludhiana/punjab-even-as-beas-water-sparkles-in-lockdown-satluj-remains-murky/articleshow/75385580.cms  (26 April 2020)
Villagers relieved as waste in Buddha Nullah reduces Now that industrial waste has been visibly reduced, villagers are seeking from the government to direct concerned departments to take the required measures to stop dumping of untreated dairy waste and sewage water into the nullah.
– Residents also want the government to collect water samples from various nullah points in the village as they have complained that overflowing of nullah water had damaged crops in the fields located near the drain last year as well. https://www.tribuneindia.com/news/ludhiana/villagers-relieved-as-waste-in-buddha-nullah-reduces-76398  (26 April 2020)
Gujarat Lockdown gives life to Sabarmati Though DO levels have increased all along the Sabarmati's course in Ahmedabad from Hansol, at the Vasna-Narol sewage outfall the DO levels dip below the desired levels.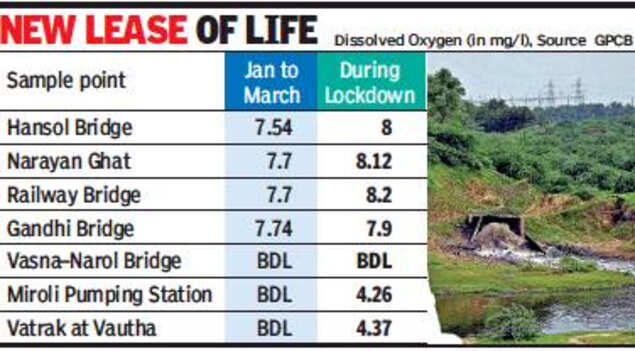 But here is the miracle. At the tail end of the Sabarmati near Vautha and Vatrak — which was the seventh most polluted river stretch in the country — the river resurrects with a fourfold DO level spike at 4.37 milligram per litre (mg/l). And at Miroli petrol pump, the DO level rises to 4.26 mg/l. These figures have been revealed in the latest CPCB report. https://timesofindia.indiatimes.com/city/ahmedabad/gujarat-lockdown-gives-a-lifeline-to-sabarmati-high-do-levels/articleshow/75385102.cms   (26 April 2020)
Jharkhand
Improved state of Suvarnarekha and Kharkai Rivers. https://www.bhaskar.com/jharkhand/jamshedpur/news/kharkai-subarnarekha-water-in-lockdown-has-been-cleaned-with-clean-bathing-and-washing-as-well-as-safe-for-aquatic-organisms-070121-7070858.html  (22 April 2020)
CAUVERY Karnataka River water quality improves For the last few years, the water quality of the river had reached 'C' category from 'B' category during the summer. However, the quality has remained in 'A' category this April. According to officials from Karnataka SPCB, the quality of water was tested at Bhagamandala, Napoklu, Dubare and Kushalnagar. https://www.deccanherald.com/state/mangaluru/coronavirus-lockdown-water-quality-improves-at-river-cauvery-828138.html  (21 April 2020)
Karnataka PCB to study water quality of all rivers SPCB has started the study of polluted river stetches and lakes in Karnataka, an official said. "We have given a direction during the COVID-19 related lockdown to assess the water quality. We have asked our Research Scientists, chief environment officers and environment officers of all the districts including Bengaluru to furnish lab analysis report before the lockdown is over," SPCB member secretary Basavaraj Patil told PTI.
– The KSPCB has identified 17 river stretches as polluted and want to study them. "We have 17 polluted river stretches, which are Tungabhadra, Cauvery, Kabini (Kapila), Krishna, Bhadra, Ghataprabha, Malaprabha, Arkavati, Shimsa, Bhima, Hemavati, Lakshman Teertha, Kaali, Netravati, Manjira, Kumaradhara and Kagina," the officer added.
– According to Patil, the water quality has improved in the rivers flowing in the state. However, the KSPCB wanted to analyse the extent of improvement of water quality. The officers in all the districts have been asked to collect water sample of all the rivers and furnish the report before the lockdown is lifted.
– In Bengaluru, the officers will collect water sample in three lakes such as Bellandur, Agara and Varthur using Personal Protective Equipment. In its latest study on the lockdown effect on air quality, the KSPCB found that the pollution level has come down by 65 to 70 per cent. https://www.outlookindia.com/newsscroll/ktaka-pollution-control-board-to-study-water-quality-of-all-rivers-in-state/1808502  (20 April 2020)
GANGA Uttarakhand River water at Haridwar is 'fit for drinking Ganga water is found to be of drinking water quality (after disinfection/ chlorination) at Haridwar/ Rishikesh for the first time in recent history and for the first time since Uttarakhand was formed in 2000.  https://timesofindia.indiatimes.com/india/lockdown-filter-ganga-water-at-haridwar-is-fit-for-drinking/articleshow/75243386.cms  (20 April 2020)
"One of the primary reasons for this could be no industrial activity in the region" environment activist and water expert Himanshu Thakkar said.  https://www.businessinsider.in/india/news/ganga-is-much-cleaner-now-but-it-will-take-more-than-a-lockdown-for-people-to-be-able-to-drink-from-indias-holiest-river/articleshow/75253203.cms  (21 April 2020)
राज्य पर्यावरण एवं प्रदूषण नियंत्रण बोर्ड की ओर से जारी आंकड़ों के मुताबिक हर की पैड़ी में बायो ऑक्सीजन डिमांड करीब 20 प्रतिशत कम हुई है। इसका मतलब यह भी है कि यहां जीवाणुओं को अब जैविक कणों को तोड़ने के लिए बीस प्रतिशत कम ऑक्सीजन की जरूरत हो रही है। साथ में देवप्रयाग से लेकर हरकी पैड़ी तक हानिकारक जीवाणु (कोलीफार्म बैक्टीरिया) भी काफी कम हुआ है। हरकी पैड़ी में इस जीवाणु की उपस्थिति मार्च 2020 में 26 प्रतिशत पाई गई थी जो घटकर 17 प्रतिशत रह गई है। वहीं, लक्ष्मणझूला ऋषिकेश में कोलीफार्म बैक्टीरिया में करीब 47 प्रतिशत तक की कमी मिली है। बोर्ड का मानना है कि यहां अब पानी क्लास ए का है और पानी को क्लोरीन के साथ पीने के उपयोग में लाया जा सकता है। https://www.amarujala.com/dehradun/uttarakhand-lockdown-ganga-river-water-seen-very-clean-from-devprayag-to-hari-pauri  (25 April 2020)
https://epaper.livehindustan.com/imageview_60361_136768962_4_137_27-04-2020_4_i_1_sf.html (Hindustan Hindi, 27 April 2020) 
सीपीसीबी को नमूनों की जांच के आधार यह नहीं मालूम है कि 20 जनवरी, 2020 के बाद से गंगा बहाव के अहम हिस्सों में वाकई कोई बदलाव आया है या नहीं। दरअसल राज्यों की ओर से सीपीसीबी को महीने में एक बार किया जाने वाला अपडेट 21 जनवरी, 2020 से अभी तक अपलोड नहीं किया जा सका है। सीपीसीबी के सदस्य सचिव प्रशांत गार्गव ने डाउन टू अर्थ से बातचीत में कहा कि उन्होंने राज्यों को आदेश दिया था कि वे एक बार गंगा के नमूनों को एकत्र कर उसकी जांच करें। कुछ जगहों पर जांच हुई और कुछ जगहों पर जांच नहीं हुई। 80 बिंदुओं पर रीयल टाइम आंकड़ों का संग्रहण भी हो रहा है। हालांकि गंगा नमूनों की जांच ऑनलाइन क्यों नहीं मौजूद है, इसके लिए वह प्रयास करेंगे। नमूने कब और कहां से लिए गए? जांच रिपोर्ट में क्या पता चला और क्यों नहीं उन्हें 20 जनवरी के बाद से अपडेट किया गया ? इन सवालों के जवाब नहीं मिल सके। https://www.downtoearth.org.in/hindistory/river/ganga/ganga-river-clean-or-unhygienic-in-lockdown-cpcb-has-not-received-samples-report-from-states-for-last-three-months-70604  (22 April 2020)
This slideshow requires JavaScript.
Higher reaches including shrines still covered under snow which is to be manually removed to facilitate Char Dham pilgrim though opening dates for same have been changed to May 15. This image is of Badrinath shrine area. https://epaper.jagran.com/mepaper/21-apr-2020-105-garwal-edition-garwal-page-2.html  (21 April 2020)
This slideshow requires JavaScript.
Badrinath Nation Highway blocked following landslip at Radang band due to Char Dham Road widening work. (DJ, April 24, 2020) The debris generated in huge volume in the process is apparently dumped in the rivers.
Forest Dept Proposes 'Temporary' Use of Rajaji National Park for Kumbh Mela The park is a tiger reserve and its use for non-forest purposes is in clear violation of Wildlife (Protection) Act, 1972 and Forest (Conservation) Act, 1980. https://thewire.in/government/uttarakhand-rajaji-national-park-kumbh-mela  (26 April 2020)
Uttar Pradesh Lockdown meant to curb the spread of the coronavirus appears to helping river.  https://www.bbc.com/news/av/world-asia-india-52290522/india-coronavirus-lockdown-cleans-up-ganges-river  (21 April 2020)
West Bengal Report claiming more Dolphin sightings around Kolkata ghats needs credible data before arriving at such conclusion. https://timesofindia.indiatimes.com/city/kolkata/with-decreasing-pollution-dolphins-make-a-comeback-to-kolkata/articleshow/75279420.cms   (22 April 2020)
YAMUNA Delhi Water quality improves during lockdown: govt. report As per DPCC report, an increased flow of water in the river has also contributed to less pollution, the report said. But the report noted that the Yamuna has still not met the "water quality criteria".
– "In April 2019, the average flow was 1,000 cusecs compared to the average flow of 3,900 cusecs in April 2020. Therefore, the dilution is also contributing to the improvement of water quality," the report noted. https://www.thehindu.com/news/cities/Delhi/yamuna-water-quality-improves-during-lockdown-govt-report/article31392030.ece  (20 April 2020)
This attributes dilution due to higher water flow in the river for the reduction in Yamuna pollution. https://www.bbc.com/news/av/world-asia-india-52290522/india-coronavirus-lockdown-cleans-up-ganges-river  (21 April 2020)
– Ankit Srivastava, technical advisor to DJB and consultant for the "City of Lakes" project, said: "In March 2020, more than 2,600 MGD clean water diluted the 450 MGD Najafgarh drain water daily. It was the 700% more dilution that improved the water quality in the river. The lockdown has a minor role but environment-flow is the hero," https://timesofindia.indiatimes.com/city/delhi/release-of-more-water-played-its-part-in-cleanng-the-yamuna-djb/articleshow/75261682.cms  (21 April 2020)
More details about DPCC report on Yamuna river pollution levels in Delhi. Palla and Surghat — the first two locations the river flows through after entering Delhi — marked no improvement, but both met the water quality criteria of bathing standards (Class C), the report said, adding that no other locations met this criteria. Khajuri Platoon Pool was the only location that saw an increase in the pollution levels at 42%.  https://timesofindia.indiatimes.com/city/delhi/oxygen-levels-in-yamuna-up-nearly-33/articleshow/75261663.cms  (21 April 2020)
However, no significant change was observed at Qudesia Ghat, while an increase in pollution level of up to 42% was found at Khajuri Paltoon pool. Meanwhile, the waste water quality of the major drains too saw a reduction in pollution levels, including Najafgarh drain (22%), Barapulla drain (32%), ISBT drain (68%), Shahdara drain (33%) and Civil Mill drain (80%).    https://www.hindustantimes.com/delhi-news/yamuna-water-quality-improves-by-up-to-33-but-it-is-still-not-satisfactory/story-SEs1U0dE3Cbumd7rPHOxSP.html  (21 April 2020)
This report is about CPCB analysis of Yamuna water quality in lockdown, following Yamuna Monitoring Committee directions. It says: The report has attributed the post-lockdown overall improvement in the water quality to various factors, including release of abundant fresh water from Wazirabad Barrage and availability of dilution in the river; no industrial effluent discharge (only about 35.9MLD); good penetration of solar radiation in water body, owing to the washing out of bottom sediments and colloidal form of pollutants; and reduced human activity such as throwing of religious offerings, materials and solid waste; bathing and washing of clothes in the river.  https://www.hindustantimes.com/delhi-news/yamuna-water-improves-during-lockdown-period-cpcb-analysis-shows/story-4v49aV6ywKvHVHXT4V6vOI.html  (21 April 2020)
Haryana CM visits Hathnikund Barrage for dam possibility Manohar Lal Khattar visited Hathnikund barrage in Yamunanagar district on March 17 to explore the possibility of constructing a dam on the Yamuna river and use its water for irrigation. The CM and officials of the Haryana irrigation and water resources department, including additional chief secretary (ACS) Devender Singh, considered construction of the dam on the upper side of the barrage. The site would fall under the limits of Khara Pan powerhouse, Madhobans and Banjarabans villages.
Khattar said, "Some water can be stopped near the barrage. The possibility of constructing a large dam on the Yamuna river near Madhobans and Banjarabans is being explored. Technical information will be taken from officials of the irrigation department and the government could work on building a big dam on the upper side of the barrage. Officials have explained that it is possible to establish a dam and stop water near this barrage in Yamuna." https://timesofindia.indiatimes.com/city/gurgaon/haryana-cm-visits-hathnikund-barrage-for-dam-possibility/articleshow/74689862.cms  (18 March 2020)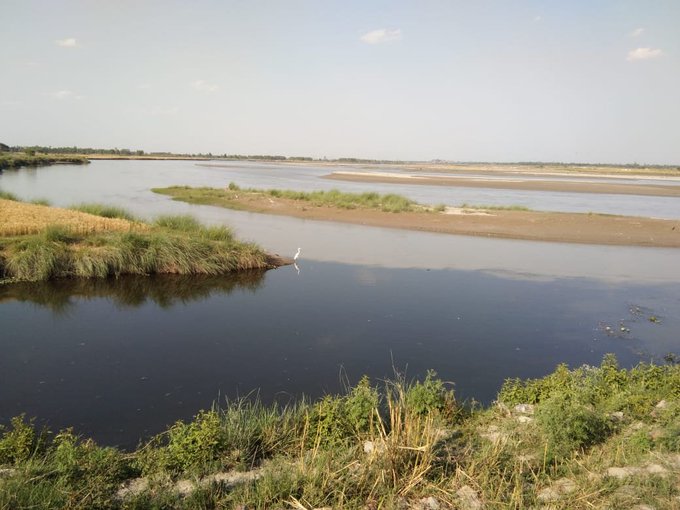 Contrast in water colour at confluence of Drain number 2 and Yamuna river at Khojkipur, Panipat. The polluted water of drain seems blocked by Yamuna river current. (Balraj Bapoli, 22 April 2020)
This slideshow requires JavaScript.
– For Somb it has hardly anything to do with lockdown. Somb is seasonal stream and regularly flushed by Western Yamuna Canal water from Dadupur barrage. No industrial pollution there except farming chemical runoff. Excess water diversion for canal based Hydro projects is eroding Somb river banks, depriving Yamuna of flows downstream Hathini Kund Barrage apart from facilitating large scale mechanized river and floodplain mining.
Uttarakhand This report says Naugaon block in Uttarkashi receiving rains regularly for past one and half week leading to damages on water supply pipelines, irrigation channel, houses and cash crops. The local road was also blocked following debris falling over it.
FISH, FISHERIES, FISHERFOLKS
Maharashtra Of scared streams and grooves Documentation of some fish sanctuaries
– Tekpowale kund is located in Mangaon village near Pune, upstream of the Panshet reservoir, on a mountain stream called Kadkuna Nadi. Tekpowale villagers zealously protect the mahaseer fish in it as they consider it sacred. The source of the stream is also considered sacred (devasthali).
– Walen kund on River Kali in the Mahad region of the Konkan is about 100 yards long and is flanked by a rocky gorge on top of which is located the temple of Goddess Vardayini. The kund houses many indigenous and endangered species of fish like shindas, kolas and the Deccan mahaseer.  https://round.glass/sustain/book/sacred-streams-groves/
SAND MINING
SANDRP Blog Himachal mining 2019-20: No Replenishment study, district foundation Himachal Pradesh is a hilly state where large scale, mechanized mining of riverbed minerals has been going on for past many years. The damaging impacts on rivers, streams and dependent communities are evident and on the rise. However the state government has failed to bring any change in the scenario as can be seen in this overview covering the related developments during 2019-20.  https://sandrp.in/2020/04/25/himachal-pradesh-sand-mining-2020-no-replenishment-study-district-foundation/  (25 April 2020)
Tamil Nadu HC directs to stop mining in Vaigai The Madras high court on March 2 appointed an advocate commissioner to inspect and submit a report on illegal sand mining on the Vaigai riverbed in Dindigul district.
In his petition, V Manikandan stated that the authorities had granted permission to a person to quarry sand in a few survey numbers at Rengappanaickenpatti in Dindigul district. He stated that using the licence, the person was involved in illegal sand mining on the Vaigai riverbed at in the village. Hence, the petitioner moved high court seeking to cancel the licence granted to the person and sought to prevent illegal sand mining.  https://timesofindia.indiatimes.com/city/madurai/madras-high-court-moved-to-stop-illegal-sand-mining-on-vaigai-riverbed/articleshow/74459062.cms  (03 March 2020)
Madhya Pradesh Man shot dead in gang war The incident seems relating to illegal mining in Mahanadi river on December 13, 2019.
– One person was killed and two injured in a gang war between two groups involved in illegal sand mining at Umeria district. Incident took place at Kherwar sand mine located under jurisdiction of Chandia police station. Police said the clash took place over a territorial supremacy on a closed mine. Three people involved in the shooting have been identified. Case has been registered against them. https://timesofindia.indiatimes.com/city/bhopal/madhya-pradesh-man-shot-dead-in-gangwar-over-sand-mining-in-umeria/articleshow/72585482.cms  (14 Dec. 2020)
Andhra Pradesh Mining allowed for govt works  According to Deputy Director of Mines and Geology S K V Satyannarayana, total approved sand reaches are Karajada, Chenulavalasa, Gopalapenta, Tamaram, Killipalem, Kallepalli, Lukalam and Purusottapuram and these eight reaches are meant for Naadu-Nedu and MGNREGS works in Srikakulam, Vizianagaram and Visakhapatnam districts. Makivalasa reach is meant for works of NH-16 in three districts.
– "Till Friday (April 24), sand mining is started in nine reaches out of 16 approved reaches in the district and mining will start soon in remaining seven reaches at Annavaram, Parlam, Madapam, Pothayyavalasa, Thalada, Thamarapalli and Kandisa," district sand officer of AP Mineral development corporation G Pratap Raju told. "With the relaxation for sand mining and for government works, at least some of the workers would get employment works and wages," said Construction Workers Federation of India district president M Adinarayana. https://www.thehansindia.com/andhra-pradesh/sand-mining-permitted-for-andhra-pradesh-government-works-619254   (26 April 2020)
Shruti Devi on FB post comment "I've shared this on my wall with the following comment: According to this report, in Andhra Pradesh, they have just approved the mining of sand from Vamsadhara and Nagavali river beds.
The excuse that has been given is that it will create employment for MNREGA.
My contention is that this is not the only way to generate employment, and that that cannot be a reason to approve this.
The next excuse is that the sand is needed in other urban areas.
My contention is that we need to focus on the rights of urban construction workers (short-term, as well as long-term), but not by making sand available from the areas mentioned, in the manner mentioned.
Furthermore, the enormous intangible cost to locals, from such sand mining has not been adequately comprehended or calculated.
This is sheer opportunism, and needs to be challenged.
Also remember that the general impression is that the sand mining lobby can be ruthless."
WETLANDS, LAKES, WATER BODIES
Maharashtra Concerns over eco destruction during lockdown Environmentalist D Stalin, who is also member of the high court-appointed Mangroves Protection Committee, commented: "There have been reports about a 25% increase in the number of flamingos along the Sewree coast and also Navi Mumbai. However, due to large-scale destruction of wetlands in other parts like Mira-Bhayendar, Uran and Kharghar, I too feel that many coastal birds are now concentrated in the surviving wetlands. There is still some time for the government to save the environment."
The Navi Mumbai-based environmentalists have also once again reminded the state authorities about the promised Flamingo Sanctuary on the Seawoods site, where the earlier plan was to build an Integrated Golf Course Project. The golf course plan has already faced severe criticism from nature lovers who have also shot photos and videos of hundreds of wetland birds present on this very site during the lockdown.
Kumar also expressed the apprehension that the various project proponents and their contractors could find the on-going lockdown period and the absence of official surveillance as an opportunity to continue with their destruction of nature. In this context, he recalled the impact on biodiversity due to the reckless burial of wetlands and blocking of free flow of tidal waters in eco-sensitive Uran region across Mumbai harbour.
Now, with the burial of wetlands, migratory birds like flamingos have gone in search of alternative destination at Talawe in Navi Mumbai, said Nandakumar Pawar, head of Shri Ekvira Aai Pratishtan. Pawar lamented that despite the directives from the high court appointed mangrove committee, tidal water flow to the area is being restricted with Panje wetland going dry off and on. Water has to be constant for the bird food such as algae to grow and this is being cruelly denied to flamingos, he said.
While the large number of pink birds flocking Talawe is a feast to the eyes of the bird watchers, the flamingos' absence at Panje and other places spells doom for the bio-diversity of eco-sensitive Uran, Pawar said. The environmentalists have already cautioned the government against the destruction of natural wetlands in Uran as birds which used to visit the region would be compelled to find another destination and that will be detrimental to aircraft movement at the upcoming Navi Mumbai International Airport.
Despite the Bombay high court-appointed wetlands committee orders to restore the wetlands at Pagote and Bhendkhal in Uran, action has not been taken by authorities on the pretext that the areas have been handed over to a private conglomerate long ago. The FIR filed against NMSEZ has also just remained on paper, Kumar said.
NatConnect Foundation and Shri Ekvira Aai Pratishtan have also called for careful examination of the MMRDA plans to expand the MMR and not to repeat the past mistakes of rapid urbanisation of Kalyan-Dombivili and Navi Mumbai. The disappearance of mudflats, scrapping of river regulatory zone, apart from destruction of mangroves and wetlands have already led to massive floods during the last monsoon, the green groups pointed out. https://timesofindia.indiatimes.com/city/navi-mumbai/as-bird-numbers-rise-in-mmr-wetlands-greens-concerned-over-eco-destruction-during-coronavirus-lockdown/articleshow/75329378.cms  (23 April 2020) 
WATER OPTIONS
Odisha Tribal people bring water to their two villages Through their collective effort, tribal people of two remote, adjacent villages in Chitrakonda block in Malkangiri district have built a water supply project that has saved them from the rigours of water collection in the lockdown during this summer.
– Motivated by the grassroot-level activists of the Communist Party of India (Marxist), around 100 tribal families of Tantaguda and Panaspunji under Gajalmamudi panchayat of Chitrakonda block decided to alleviate the water crisis on their own. The tribal people did not wait for any financial support from the government in the project.
– "We never knew it will be a saviour during the lockdown," said Balaram Golari and Raghunath Hantal, the CPI(M) activists of the area. These two played a key role in uniting the local tribals for the project. Construction of the water supply project started on January 2 and got completed in first week of March.
– Now, the tribal women of these two villages are saved from walking over two kms to collect water from a mountain stream. An amount of around ₹3 lakh was spent on the project. The money was contributed by around 100 tribal families of the two villages. Every family contributed as per its financial condition. But all of them provided free labour for its construction.
– The project includes a top covered concrete tank at a hill top in which water of the perennial stream gets collected. An over 2 km-long pipeline transports water from this tank to the two villages. The project uses no pumps and gravity makes the water flow downstream. The localites designed the whole project without taking any technical support.
– According to Mr. Golari, they are planning to extend the water supply to three more nearby villages through similar community effort. Odisha secretary of CPI(M) Ali Kishor Patnaik lauded the party workers and tribals. "This project is an eye-opener for the administration that several remote villages in Malkangiri district are yet to get proper water supply." https://www.thehindu.com/news/cities/kolkata/tribal-people-bring-water-to-their-two-villages/article31428247.ece  (24 April 2020)
URBAN WATER
Bengaluru Lakes cleaner With major pollutants like industries shut down and minimum human interference, the lockdown is having a profound impact on the city's environment. These pleasant changes have caught the attention of the NGT as well as the expert committee on Bellandur and Varthur lakes. Keeping this in mind, the expert committee members are planning to request the government to restart the stalled works on rejuvenating the lakes soon after the lockdown is lifted, giving no scope for pollutants to enter the water bodies.
– According to a committee member, desilting works of the lakes was suspended on March 24 when the lockdown was enforced. "At least some desilting works need to be done so that monsoon rains have little or no impact on the polluted water bodies," the member told TNIE. The member also pointed out that minimum or no pollution in the Vrushabhavathi river and Koramangala—Challaghatta (KC) valley has helped in reducing pollution in the two water bodies.  https://www.newindianexpress.com/cities/bengaluru/2020/apr/22/with-people-indoors-industries-shut-nature-works-its-magic-on-bengaluru-lakes-2133538.html  (22 April 2020)
Chennai Less pollution seen in 2 lakes Officials of the WRD said it was noticed that the waste water discharge into the Ambattur and Korattur lakes has reduced to one-fifth of the earlier amount over the past one month. The decrease in flow of industrial effluents could probably be due to the closure of industrial units around the lake owing to the lockdown. However, the lake was receiving domestic sewage from surrounding localities. Results are awaited and they will help ascertain the water quality and the pollution level. The Department would be able to take measures to mitigate pollution based on the results, the official added. https://www.thehindu.com/news/cities/chennai/sewage-flow-into-two-lakes-in-chennai-reduces-following-covid-19-lockdown/article31422006.ece (24 April 2020)  
Muktsar Sewage overflow irks residents Overflowing sewage and contamination of drinking water are the major issues being faced by residents, who are even raising their voice from the past many years but situation largely remains the same.
– Notably, the water supply and sanitation department had recently bought a robot to clean the manholes. "The robot too takes time and it needs awareness among locals as well, who keep throwing solid waste into drains and streets," said some locals.
– The situation is similar in some parts of Malout town as well. They have even lodged a number of protests against the Water Supply and Sewerage Board officials. Notably, in Malout town, sewerage system comes under the local bodies department. https://www.tribuneindia.com/news/bathinda/sewage-overflow-irks-residents-48335  (28 Feb. 2020)
WATER
India Water Portal Conservation measures such as rainwater harvesting and recharging of groundwater need to be generally well established in both rural and urban areas. https://www.indiawaterportal.org/articles/facing-water-crisis  (24 April 2020)
National More water-related MGNREGA works cause for concern for officials Concern runs deep in the government that single-minded focus on water-related projects under MGNREGA can lead to rushed works without commensurate respect for technical requirements of the job hurting the cause of conservation of the vital resource as summer sets in and monsoon approaches.  https://timesofindia.indiatimes.com/india/social-distancing-means-more-water-related-works-under-mgnrega-and-thats-cause-for-concern-for-officials/articleshow/75298991.cms  (22 April 2020)
Gujarat Govt to deepen water bodies under MNGNREGA scheme In order to create jobs under the Mahatma Gandhi National Rural Employment Guarantee Act (MGNREGA), the Gujarat government on Tuesday announced that it will begin the Sujalam Suflam Jal Abhiyan, where 14694 water conservation works worth Rs 414 crore will be taken up till June 10.
– "CM Vijay Rupani has announced that the Sujalam Suflam Jal Abhiyan will immediately begin and extend up to June 10. Under this programme, water bodies including check dams, rivers and ponds will be deepened," said Ashwini Kumar, Secretary to the CM.
– The government will allow the excavated soil and silt to be taken away free of cost by farmers for their farms before the Kharif season. Kumar said that during the last couple of years, 23,500 lakh cubic metres of soil has been excavated. https://indianexpress.com/article/cities/ahmedabad/gujarat-govt-to-deepen-water-bodies-under-mngnrega-scheme-6372789/  (21 April 2020)
Himachal Pradesh There was burst in the 32 inch pipeline of a irrigation project in Rathaun village in Dharmpur area of Mandi district on April 23 injuring two women. Villagers in protest demanded removal of the pipeline while the assistant engineer of Jal Shakti said that the incident happened due to a wielding patch coming off which will be repaired.  https://himachal.punjabkesari.in/himachal-pradesh/news/flood-due-to-pipeline-burst-in-dharampur-of-mandi-1157329  (23 April 2020)
AGRICULTURE
Opinion Farmers can keep economy running in Covid crisis Yogendra Yadav This is the moment to thank farmers. You don't need thali or taali for that, you just need to ensure they get a fair price. Then we can kickstart India's economy. https://theprint.in/opinion/india-farmers-can-keep-economy-running-in-covid-crisis/406642/  (22 April 2020)
Himachal Pradesh Hailstorm hits mango, veggie crops in Nurpur Hailstorm destroyed mango and vegetable crops in Chhatrolli, Nagabari, Baduee and Thohra gram panchayats comprising 16 villages in Nurpur. The ongoing threshing of wheat crop was also affected, causing concerns among farmers, who were expecting a better yield.
– This year, a bumper mango crop was expected but winds and hailstorm have shattered all hopes of farmers. The standing wheat crop was also damaged. https://www.tribuneindia.com/news/himachal/hailstorm-hits-mango-veggie-crops-in-nurpur-76493    (27 April 2020)
महाराष्ट्र के किसान धन सिंह का मार्मिक संदेश
इसके समाधान के सुझाव जरूर दे।
प्रिय धर्मेन्द्र जी, आप ने किसानों की समस्या के बारे में पुछा बहुत खुशी हुई| यहाँ के हालात बहुत ही दयनीय है, खासकर फल, फुल और सब्जी की खेती पुरी तरह से बरबाद हो गई है | लाकडाउन के पहले अंगुर 50 रुपये बिक रहा था वो 3 से 4 रुपये बिक रहा है| अनार 150 रुपये प्रति किलो बिक रहा था वो अब 20 रुपये किलो बिक रहा है, पपीता 25 रुपये किलो बिक रहा था वो अब 5 रुपये किलो बिक रहा है| फुल का खरीददार है ही नहीं| सब्जी का भी यही हाल है| केला 2 रुपये किलो बिक रहा है| रबी में हमारे यहाँ मकेकी की पैदावार होती है, ऊसका खरीददार है ही नहीं | कूल मिला कर हमारे यहाँ किसान पुरी तरह से बरबाद हो गया है|
2018 में यहाँ पर भयानक सुखा था | 2019 में यहाँ पर अतिवॢष्टी हुयी|2020 में कोरोना ने पुरी तरह से किसान को बर्बाद कर दिया | कुल मिलाकर यहाँ पर किसान पुरी तरह से खतम हो चुका है| पहले आसमानी संकट की मार कम होती थी और सुलतानी जादा होती थी, लेकिन अब ऐसा हो रहा है कि सुलतान और आसमान में किसान को बबाॆद करने की होड़ लगी है|सुलतान का मतलब केंद्र और राज्य सरकार से है| आने वाले समय में महाराष्ट्र में रिकॉर्ड तोड़ आत्महत्या ये होगी|अब तक कृषी इस देश में घाटे का सौदा रहा है लेकिन आने वाले समय में यह किसान के लिए शारीरिक, मानसिक, आर्थिक विनाश का सौदा बनेगा |
किसान को बचाने के लिए हर एक किसान को जगाना होगा, सरकार के खिलाफ एक सशक्त लढाई लढनी होगी| हर संघठन को साथ लेकर दादा छोटु राम, चौधरी चरण सिंह जी और बाबा टिकैत की तरह संघर्ष करना पडेगा | जय जवान जय किसान की घोषणा को कब सार्थक रूप मिलेगा?
आप का भवदीय धनसिंह सरावत, नरडाणा, मालेगांव, नासिक, महाराष्ट्र|
MONSOON 2020
SANDRP Blog IMD's 1st Long Range forecast for SW monsoon 2020  IMD's Forecast for SW Monsoon 2020 on Apr 15, 2020 says: Rainfall will be normal (100% of LPA: Long Period Average of 88 cm). But these forecasts are generally politically correct. Just last year, the forecast was huge 14% off the mark. This year IMD has also made a number of changes, including change in LPA and the onset and withdrawal dates for monsoon.
Its important to keep track of this as monsoon is the most important event in India's and Bharat's life. https://sandrp.in/2020/04/20/imds-1st-long-range-forecast-for-sw-monsoon-2020/  (20 April 2020)
Weak La Nina, negative IOD will together underwrite normal monsoon "Normally, during a season when neither the Pacific nor the Indian Ocean is unable to exert its influence on the monsoon, factors deciding intra-seasonal variability assume more importance," explains DS Pai, Head, Climate Research and Services, IMD, Pune. For instance, the number of low-pressure areas or depressions, or the movement of the rain-driving Madden-Julian Oscillation (MJO) waves across the Indian Ocean.
– "These are not predictable at this point in time. Neither can we say with confidence whether a low-pressure area will form on June 1 or July 15, or that it would become a depression. But these are the main factors deciding the rainfall pattern," said Pai who has authored many of the Indian monsoon long-range forecasts.
– Significantly, Pai said that researchers have found an increasing trend in rainfall over Central India, but not along Kerala and Karnataka. "If at all, we've picked a slight decreasing trend in rainfall in the latter. But these things can change year after year. So these States always have to be prepared for heavy rainfall events."
– The disasters witnessed here in the past few years have more to do with the urbanisation, deforestation, land use pattern and overall development, than heavy rainfall events.
– "Maybe absence of such events as witnessed more recently in 2002, 2004, 2009, 2012, 2014, and 2015 — all below-normal or drought years — encouraged people to encroach floodplains and settle in large numbers. During a heavy rainfall event, it is normal for the river to claim its original space, causing floods and claiming lives and property. If we take the 30-year average, we are still in the below-rainfall period with 2019 being an exception. This will not change overnight. But if we're lucky, there's a chance that this will change to favour us. It might happen over a 5-10 year period marked by more number of above-normal monsoon years." https://www.thehindubusinessline.com/economy/agri-business/weak-la-nina-negative-iod-will-together-underwrite-normal-monsoon/article31413410.ece  (23 April 2020)
– According to the IMD, due to continued moisture incursion, strong wind convergence and conducive upper level features, fairly widespread rains will continue over parts of east and northeast and also West Bengal, Odisha, Jharkhand and Bihar.
– Rain activity is also expected to increase over Kerala, Andhra Pradesh, Telangana and Tamil Nadu over the next five days. While rains are expected to continue beyond April 30 as well, many parts are reporting above normal temperatures. Also according to IMD, from April 30 to May 6 cumulatively rainfall is expected to be normal to above normal across Western Himalayan Region and maximum temperatures increase by 1-2 C in most parts.  https://www.tribuneindia.com/news/nation/imd-predicts-wet-days-ahead-as-studies-show-correlation-between-covid-19-and-hot-humid-weather-75608  (24 April 2020)
ENVIRONMENT
India's National Board for Wildlife Is a Big Threat to India's Wildlife Ritwick Dutta writes straight and right: "One thing is clear: if there is anything the species inhabiting India's protected areas need to fear, it's the members of the NBWL. A poacher may be able to kill a few animals, a person may cut down a few dozen trees, villagers may graze their animals or collect firewood – but at the end of the day, the protected areas retain their identities as 'protected areas'. They still have a healthy chance to regenerate and repopulate themselves with the poaching and the removal of firewood and fodder. Only the NBWL has the power – when improperly exercised – to decimate the entire habitat."
– He adds: "Additionally, despite the NBWL's standing committee's illegal manner of functioning, there has been little effort to question its actions. One reason is the lack of any independent environmentalists and conservationists in the committee. Another is that the committee is expected to work under the overall control of the National Board for Wildlife, and the national board, which is headed by PM Modi, has never met in the last six years."
– "The reason is again not difficult to locate: India's environment minister is also India's industry minister, specifically the Minister for Heavy Industries and Public Enterprises – a clear conflict of interest if there ever was one."  https://science.thewire.in/environment/national-board-for-wildlife-prakash-javadekar-environment-ministry-destruction-protected-areas/  (26 April 2020)
CLIMATE CHANGE
Editorial Covid, climate change both curves need flattening TOI has rightly linked the two crisis by talking about need to flatten both curves. It says about climate change: "The second is neglected because it burns much slower. But it will wreak greater havoc for generations ahead. And unlike the first, there is no vaccine or therapy that can be conceived once it hits us… Once we are hit by the deluge, it will be too late. No lockdowns will work at that point."
However, the editorial does not see the link beyond that and does not conclude that when lockdown is lifted, we should not strive to go back to yesterday's normal, but go for a greener, cleaner, sustainable tomorrow different than yesterday.  https://timesofindia.indiatimes.com/blogs/toi-editorials/covid-climate-change-world-really-needs-to-flatten-both-curves-though-only-one-danger-feels-immediate/  (24 April 2020)
SOUTH ASIA
India Bangladesh Forty Years Ago, April 27, 1980: Ganga Dialogue "The Joint Rivers Commission of India and Bangladesh, currently in session in Delhi, is about to throw up its hands in despair over failure to resolve the differences between the two countries on the sharing of the Ganga waters. Rather than going into the pros and cons of the positions of the two countries, the Commission was busy discussing whether the issue of augmentation of the Ganga waters should be remitted back to the two governments for resolution. The Indian delegation virtually made it clear to the Bangladesh delegation that the commission was not in a position to bridge the gulf separating the positions of the two governments and as such it was better the two governments themselves took up the task."  https://indianexpress.com/article/opinion/editorials/joint-rivers-commission-india-and-bangladesh-sharing-ganga-waters-forty-years-ago-6380591/   (27 April 2020)
Pakistan Share of hydropower in energy mix likely to decline sharply: report According to a plan submitted to the National Electric Power Regulatory Authority (Nepra), the share of cheaper hydropower in the national power mix is likely to decline to about 20 per cent from 30pc at present by the fiscal year 2040 due to the negligible role played by private sector as the government attempts to renegotiate terms of contracts with thermal power producers.
– Because of low economic growth forecast for the coming years, the government has slashed estimates for electricity demand by 2040 to 390,240 gigawatt hours (GwH) from about 458,000Gwh estimated in June last year. Accordingly, the National Trans­mission and Dispatch Company (NTDC) has estimated that power generation capacity will have to be increased to about 62,000MW by 2040 instead of about 98,000MW under the previous plans. https://www.dawn.com/news/1552568/share-of-hydropower-in-energy-mix-likely-to-decline-sharply-report    (27 April 2020)
ASIA
MEKONG Thailand Proposes Joint Study with China, Neighbors on Mekong River Drought Thailand on April 17 called for a joint study with China and neighboring countries to determine what caused a devastating drought in the Lower Mekong Basin last year, after a U.S.-funded report indicated that Chinese dams had restricted the flow of water downstream.
– The Mekong River Commission (MRC), a Lao-based inter-governmental organization, said April 16 that the study released earlier this week by American firm Eyes on Earth did not prove that the withholding of water from 11 Chinese dams upstream had caused the drought. The Thai government's water-resources chief said investigations were needed to find out what caused the drought.  https://www.benarnews.org/english/news/thai/Mekong-River-04172020162514.html  (17 April 2020)
Thailand  A community is fighting to protect the Yuam river from a dangerous dam project. https://www.youtube.com/watch?v=NtLJhYB08J0&feature=youtu.be  (21 April 2020)
THE REST OF THE WORLD
US Knowledge of Spencer Dam's history could have prevented 2019 disaster, investigator says The lack of knowledge about past failures of Nebraska's Spencer Dam caused by ice and flood damage was a critical blind spot in possibly averting a tragedy, a national dam safety expert said on Apr 24, 2020. The 92-year-old dam collapsed in March 2019 after being battered by a torrent of floodwaters and ice chunks — some weighing more than 2 tons and measuring 2 feet thick and 20 feet across. The chunks blocked the spillways of the dam in the early morning hours of March 14, 2019, causing water to back up and overtop the earthen and concrete structure, eventually washing it away. the Niobrara River tore holes in the Spencer Dam, creating two new river channels.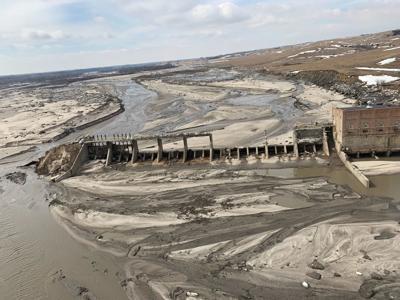 – The dam's past history included a breach caused by a spring "ice run" in the 1930s and damage by two similar events in the 1960s. Mark Becker, a spokesman with the Nebraska Public Power District, the current dam owner, said that dam records were swept away by a flood in 1966, which was before the utility owned the hydroelectric dam. The officials could have reconstructed the history.
– The report also said the dam's potential risk had been underestimated by the state and NPPD, which assumed no one would die if the dam failed. Baker said that he did not know why state regulators had not noted the existence of a house just below the dam, which would have elevated the dam's rating to a "high hazard." That would have led to better warning systems and possibly, removal of the house.
– Becker said that such classifications are done by the state. Tim Gokie, who heads Nebraska's dam safety program, said that "multiple" engineers and organizations had reviewed the risk classification of Spencer Dam over the years, and none had recommended the "high hazard" rating. https://www.starherald.com/news/regional_statewide/knowledge-of-spencer-dams-history-could-have-prevented-2019-disaster-investigator-says/article_7ead6cd2-fb13-54ef-ac6d-6425241c0e2b.html  (23 April 2020)
The remains of Spencer Dam — a skeleton of concrete and steel amid a sea of sand — became one of the iconic images of the March 2019 "bomb cyclone" flood that caused billions of dollars in damage across Nebraska and took four lives.
– The dam's failure was the first caused by an "ice run event" in the database of 380 dam failures kept by the national dam safety group.
– The report was done by the same group that investigated the failure of a spillway at the Oroville Dam in California in 2017. It included a dramatic recounting of the demise of Spencer Dam in a segment entitled "An Adverse Convergence of Factors."
– Subzero weather had left ice 2 feet thick on the Niobrara River upriver from the dam. Then came a thaw, increasing flows into the river threefold, followed by a storm that turned into a "bomb cyclone," with 2 inches of rain, followed by snow and blinding winds. An ice jam a half-mile long and 3,000 feet wide formed upriver at the Nebraska Highway 11 bridge south of Butte. That jam likely broke, the report said, sending a surge of ice and water downstream that might have jammed again, before releasing a torrent toward the 3,200-foot-wide earthen and concrete dam "with catastrophic results."
– Two operators described how the catwalk above the dam's spillway was shaking from the pounding of ice chunks, and how they were unable to open all the dam's "stoplog" spillways because they were frozen shut. With water rising and the catwalk impassable, the operators fled the powerhouse about 4:30 a.m. and drove around to the other side of the spillway.
– The dam breached in two places at about 5:15 a.m., according to the report, which surmised that ice had clogged the spillway, causing a 10-foot rise in the water/ice level in about 37 minutes. Spencer Dam, the report said, should have been rated as a "high" risk of causing casualties instead of a "significant" risk. A high-risk rating would have required an emergency action plan and possibly modifications to the dam to increase its capacity to handle floodwaters and ice run events. Such a rating also might have led to the removal of imperiled properties or a warning system for dam operators and downstream residents. https://www.omaha.com/news/state_and_regional/unprecedented-ice-flow-caused-fatal-failure-of-spencer-dam-investigators-say/article_fd33d6ac-e505-52f6-9752-f6c06c7b9734.html  (21 Feb. 2020)
Judge cancels permit for Keystone XL pipeline from Canada Judge Brian Morris said the U.S. Army Corps of Engineers failed to adequately consider effects on endangered species such as pallid sturgeon, a massive, dinosaur-like fish that lives in rivers the pipeline would cross. https://apnews.com/89e3f21d344db86b8743665ea66b892c  (16 April 2020)
Germany Important rivers drying out Typically one of the wettest months, Europe's biggest economy has received just 5% of its normal April rainfall so far, according to Germany's federal weather service. It's on course to be the driest month since records began in 1881.
– In addition to yellowing vegetation that's usually a lush green in this season, the dry spell has depressed water levels on the Rhine River, a conduit for barges delivering everything from steel to oil and coal to Germany's factories. The river is now at its lowest level for April since 2011.
– With its source high in the Swiss Alps, the Rhine snakes more than 800 miles (1,300 kilometers) and carries cargo barges through some of Europe's most important industrial zones before greeting the North Sea at Rotterdam.  https://www.bloomberg.com/news/articles/2020-04-26/rhine-waters-dwindle-as-germany-s-april-showers-fail-to-show  (26 April 2020)
NILE Divisions run deep as filling of Nile dam nears Despite Egypt's fears of 'hydro hegemony' and concerns it will worsen water shortages in Sudan, Ethiopia's controversial dam project is close to fruition. https://www.theguardian.com/global-development/2020/apr/23/itll-cause-a-water-war-divisions-run-deep-as-filling-of-nile-dam-nears  (23 April 2020)   
Brazil Govt Mulls Dam Flush to Protect Ally's $20 Billion Exports Argentina is asking neighbor Brazil to release water from the giant Itaipu Dam into the Parana River, where low levels are stymieing a $20 billion-a-year crop export business. Diplomats from the South American neighbors held fresh round of talks on April 17, according to an official at Argentina's Foreign Ministry. Brazil depends on Itaipu, one of the biggest hydroelectric facilities in the world, for its energy needs but has shown willingness to help, the official said.
A drought during the southern hemisphere summer means the Parana is at its lowest level since 1989, costing Argentina's crop traders money at a time when the soybean harvest is starting to roll in. The country is the world's biggest exporter of soy meal and soy oil.
Brazil sometimes releases water from Itaipu when it's dry to top up the Parana as part of a longstanding deal with regional ally Argentina, said Joao Carlos Mello, head of Thymos Energia, a consulting firm in Sao Paulo. But that can weaken Itaipu's supplies to Brazil's energy grid. The dam provides 11% of Brazil's energy needs, according to its website. "It's a sensitive issue," Mello said. "But there's always room for an agreement." https://www.bloombergquint.com/technology/argentina-brazil-in-talks-to-flush-dam-water-into-dry-soy-river   (16 April 2020)
Film Problem with hydropower https://www.youtube.com/watch?v=laTIbNVDQN8
Compiled by SANDRP (ht.sandrp@gmail.com)
Also see: DRP News Bulletin 20 April 2020 & DRP News Bulletin 13 April 2020
Follow us on: www.facebook.com/sandrp.in; https://twitter.com/Indian_Rivers