Zilla man, students revive check dams For the first time in decades this February, Sundara Gowda, a 55-year-old farmer in the Dakshina Kannada district, doesn't have to spend Rs 6,000 to mine water. In the past he has had to hire an earthmover to do the digging because the rivulet that runs by his farm would dry up. This year, to his surprise, the rivulet, a tributary of the Phalguni river, didn't dry up. Miraculously, it had plenty of water. A check dam had been built upstream at Paldyaru.
The check dam was one of many such structures built by Paljal Dharanendra Kumar, a zilla parishad member from Venoor village, with the help of student volunteers. The check dams have resulted in water in the river rising six feet for a distance of 2.5 km. The river now has 90 million litres of water and rivulets which used to run dry have come back to life. Dharanendra and his student volunteers have been zealously building check dams, called kattas, from December to February. The dams have been built at absolutely no cost to the exchequer.  https://www.civilsocietyonline.com/environment/zilla-man-students-revive-check-dams/  (24 March 2020)
HYDRO POWER PROJECTS
Arunachal Pradesh State plans Very misleading piece from title onwards. It just does not look at the viability, track record of ground realities.  https://www.thethirdpole.net/en/2020/04/07/arunachal-pradesh-poised-to-restart-dam-building-spree/  (07 April 2020)
Work on the Subansiri project restarts, residents fear downstream impacts The article should have highlighted the major gains of the movement and also underlined the duplicity of the authorities rather than saying that the anti dam movement is demoralised.  https://www.thethirdpole.net/en/2020/04/06/mega-hydel-project-in-himalayas-steamrollers-objections/  (06 April 2020)
Himachal Pradesh Construction of Tidong and Los Lagos projects halted due to COVID-19 The work on the 100 MW Tidong HEP on hold due to Covid 19 crisis. https://www.waterpowermagazine.com/news/newsstakraft-temporarily-halts-construction-of-tidong-and-los-lagos-projects-due-to-covid-19-7866058   (09 April 2020)
Uttarakhand Tehri Dam producing less power with reduction in demand in lockdown Tehri Hydro Development Corporation General Manager Shailendra Singh, said, "Generally during this period, 9 million units (MU) of electricity is produced but due to lack of demand, the production has reduced to 6.5 MU." "The water is stored so that when the demand increases, electricity production can be done accordingly. As of now, the water level of Tehri Dam is at 773 reservoir level and 132 cusec water is released from the dam," he added.  https://energy.economictimes.indiatimes.com/news/power/uttarakhand-tehri-dam-producing-less-electricity-due-to-reduction-in-consumption-amid-lockdown/75103171  (12 April 2020)
https://epaper.livehindustan.com/imageview_33893_107242660_4_137_11-04-2020_0_i_1_sf.html  (11 April 2020)
Electricity demand fell by 50 to 55 %. Before lockdown demand was 35-37 MU which decreased to 16-18 MU. The state has 24 lakh electricity consumers of which 55 % are industrial and commercial users who are not consuming the power now. The state is getting around 25 to 26 MU from central pool and forced to sell remaining 8 to 10 MU back to Central pool at reduced price which is causing financial losses to the state. UPCL annually gets around Rs 1200 crore from bill payment is able to collect around Rs 580 crore so far.  https://epaper.livehindustan.com/imageview_27820_106335644_4_137_07-04-2020_2_i_1_sf.html  (7 April 2020)
DAMS
SANDRP Blog Singrauli Fly Ash Dam Breach: Who regulates these dams in India? On April 10, 2020 evening, the huge dam holding the millions of litres of toxic & Carcinogenic coal ash slurry breached and the slurry flowed down, killing six people, destroying the downstream rivers, fields and houses and ultimately ended up in the Rihand Dam reservoir, polluting the reservoir and destroying its storage capacity. And the Reliance, the company that owned the dam, said we do not know why this has happened! It's the THIRD such incident in just one year in that district.
While large number of village people are at the receiving end of these man-made disasters the responsible companies seem to operate without any change in the way such ash dams are designed, constructed and operated. Who regulates design, construction and operation of such dams? Questions that have no answers currently. Its a disturbing situation. https://sandrp.in/2020/04/12/singruali-fly-ash-dam-breach-who-regulates-these-dams-in-india/  (12 April 2020)
Two days after a breach in the ash pond of ReliancePowerPlant in Singrauli, MP, which buried alive local villagers, a magisterial investigation has been ordered. And notice issued to the power company to respond in three days.  https://www.gaonconnection.com/desh/singrauli-reliance-ash-dam-accident-order-of-magisterial-inquiry-notice-to-plant-ceo-sought-reply-in-three-days-47352  (12 April 2020)
Here is detailed Gaon Connection multimedia report on breaching of ash pond of Reliance Power Plant in Singrauli. https://www.gaonconnection.com/desh/reliance-ash-dam-broken-in-singrauli-many-people-missing-wheat-crop-ruined-47342  (11 April 2020)
Chhattisgarh SECL Kusmuda coal mines has been discharging polluted water in Hasdeo river for past few days, affecting villagers, livestock but the authority has not responded and remedied the situation.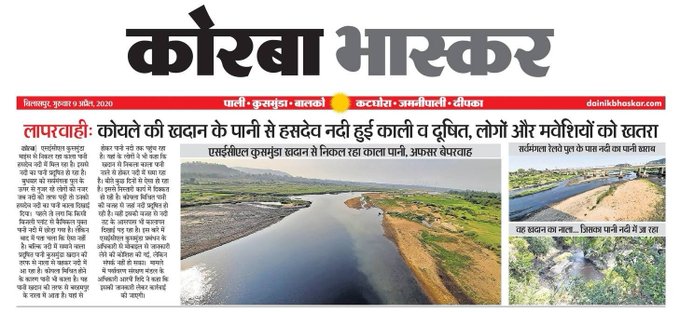 https://www.bhaskar.com/news/chhattisgarh-news-negligence-hasdev-river-blackened-and-contaminated-due-to-coal-mine-water-threat-to-people-and-cattle-071107-6996433.html  (9 April 2020)
In October 2019, Hasdeo's subsidiary river Lilagar changed its course and entered the open cast coal mine of South Eastern Coalfields in Dipka town of Korba district. https://timesofindia.indiatimes.com/city/raipur/river-changes-course-falls-into-coalmine-in-chhattisgarhs-korba/articleshow/71403265.cms  (02 Oct. 2020)
Telangana Do not displace villagers: HC Wondering why the revenue and irrigation authorities are taking up activities at the ground level that disrupt social distancing, the Telangana high court has directed the government to not inundate the areas of nearly a hundred families in Mulugu mandal that fall under the purview of Kondapochamma Sagar reservoir and Anantagiri reservoir in Rajanna Sircilla district.
A bench of Chief Justice Raghavendra Singh Chauhan and Justice T Amarnath Goud was hearing pleas from the residents of three villages charging the authorities with disconnecting power, road network and inundating their areas by releasing water from the newly-constructed reservoirs. The petitioners' grievance was that the government wants them to go away without insisting on what the law had promised them. They contended that the government had conceded before the court in the past in respect of rehabilitation and quantum of compensation. https://timesofindia.indiatimes.com/city/hyderabad/do-not-displace-villagers-hc-to-t/articleshow/75089204.cms  (11 April 2020)  
Some villagers of Bahilampur and Mamidyala in Siddipet district got a relief with Telangana High Court instructing the government not to release water resulting in inundation of their localities under Kondapochamma Reservoir. A bench of Chief Justice Raghvendra Singh Chauhan and Justice T. Amarnath Goud, passing the interim direction, said the order would continue till Monday when it resumes hearing on the matter. Kondapochamma Reservoir, being constructed as part of Kaleshwaram project, is nearing completion.  https://www.thehindu.com/news/national/telangana/high-court-directs-government-not-to-inundate-two-villages/article31311905.ece  (10 April 2020)
Authorities set to complete Kondapochamma bund Even while the entire State is busy arresting the spread of coronavirus, the district administration is trying to complete the bund work of Kondapochamma reservoir. The work began on April 5 and is expected to take about two weeks. Kondapochamma reservoir is coming up in Gajwel constituency with 15 tmcft capacity, it will submerge three villages and one tanda — Bahilampur, Mamidyala, Thanedarpally and Thanedarpally tanda. "Some of us have not sold our assets to the government. We have filed cases in the court and they are pending. How can the authorities close the bund when cases are still pending?" asked Venkataram Reddy, former MPP from Mulugu and one of the oustees from Bahilampur.  https://www.thehindu.com/news/national/telangana/authorities-set-to-complete-kondapochamma-bund/article31273871.ece  (06 April 2020)
Work on major irrigation projects slows down The civil work taken up by the Telangana Irrigation Department has not been stopped completely, but are progressing at a slow pace owing to the lockdown in the State.
– Meanwhile, the civil work with regard to Kaleshwaram Lift Irrigation Scheme (KLIS) in several districts and Palamuru-Rangareddy Lift Irrigation Project in the erstwhile Mahbubnagar district has not been hindered because of the Covid-19 outbreak.
– However, work on over 1,200 check-dams has been stopped owing to insufficient labour force. According to a senior official in the Irrigation Department, for major projects such as Kaleshwaram, Palamuru-Rangareddy, Devadula and Sitarama Lift Irrigation Scheme, labourers were hired by the agencies on contract basis.
– Even since the lockdown was imposed, they have stayed put at the camps at their respective work sites. Owing to the contract, they cannot leave for their native places even if the work is stalled.  https://www.newindianexpress.com/states/telangana/2020/apr/05/work-on-major-irrigation-projects-slows-down-in-telangana-2125991.html  (05 April 2020)
Maharashtra Lockdown shuts industries, lifts storage in dams The cumulative storage in different dams in Marathwada stands at over 46% which is more than twice the average stock in the past five years. "The daily requirement of industries in Aurangabad and neighbouring Jalna district has come to almost 20 MLD currently from 75 MLD earlier. The drop is attributed to the lockdown which is applicable to industries too, barring those into essential services and continuous supply," he said. T
he demand for irrigation sector as well as domestic needs was almost unchanged. "Both right and left bank canal systems of Jayakwadi major irrigation projects are discharging water currently for irrigation needs towards current hot weather season of crops, which is scheduled to have four rotations of water till arrival of the next rainy season. On the other hand, the demand for domestic sector is also unchanged. While hotels and other such establishments are closed resulting into saving of water, people constrained to remain at homes during the current lockdown have been utilising more water," he said.  https://timesofindia.indiatimes.com/city/aurangabad/lockdown-shuts-industries-lifts-storage-in-dams/articleshow/75036860.cms   (08 April 2020)
Tamil Nadu PWD releases water from Kunderipallam reservoir Following heavy downpour in Kunderipallam dam's catchment areas, the public works department (PWD) released surplus water from the dam from Apr 7, 2020 morning. The department also sounded flood alert in 10 villages in the district. "The water level in the dam reached its full capacity of 42ft ," a senior official from PWD said. Considering the satisfactory water level in the dam, collector C Kathiravan ordered the PWD to release the surplus water for irrigation purpose. According to PWD, nearly 2,500 acres across 10 villages, including Kadambur, Gundri, Vilankombai, Kembanur and Malliyadurgam, will benefit from the water release.  https://timesofindia.indiatimes.com/city/erode/pwd-releases-water-from-kunderipallam-reservoir/articleshow/75037392.cms  (08 April 2020)
INTERLINKING OF RIVERS
Ken Betwa Interlinking BNHS director here argues for conservation of vultures in India and how in the last 15-30 years, the numbers have drastically reduced. He should have also mentioned that projects like Ken Betwa river link are also major threat to vulture habitat, he knows about it since he was member of the NBWL committee that wrote the report on this.  https://timesofindia.indiatimes.com/blogs/the-interviews-blog/vultures-are-often-misunderstood-they-play-a-key-ecological-role-providing-society-with-health-benefits/  (10 April 2020) 
RIVERS AS NATIONAL WATER WAYS
2 barges carrying flyash to Bangladesh capsize in Hoogly River: Concerns about Impact on River Ecology On 9th April 2020, two barges carrying flyash from thermal power plants in W Bengal to Bangladesh  capsized on the Hoogly river in W Bengal. One sunk in Kulpi and the other one in Kachuberia, Sagar Island, South 24-Parganas. Earlier, on 12th March 2020, another barge capsized near Uludanga, Maheshtala, South 24 Pargana. Last year on 22nd February a Fly ash Barge capsized in Gadakhali near Budge Budge.
The increasing accidents involving barges carrying flyash is a cause of concern given the fact that the transport takes place through the Sundarbans and through areas involving large number of fishing communities. Flyash is highly toxic substance and contains arsenic, chromium, lead, mercury and radioactive substances. According to studies, coal ash is more radioactive than nuclear waste. No Immediate action such as quick clean-up of oil, other spills was undertaken in any of the above instances. The shipping route to Bangladesh passes through the Sundarbans, almost bordering the Sundarbans Tiger Reserve which is also a World Heritage Site. https://www.impactnews.in/two-barges-carrying-flyash-to-bangladesh-capsize-in-hoogly-river-raises-concerns-about-impact-on-river-ecology/  (13 April 2020)
Is inland water transport in India sustainable? Strange that this article by WRI colleagues on water transport in India uses the word sustainable in the title, but there is noting here about the environmental or social impacts of what is being done in the name of waterways in India currently.  https://www.urbantransportnews.com/inland-water-transport-in-india-is-it-sustainable-green-and-connected/  (10 April 2020)
URBAN RIVERS
SANDRP Blog Champa's Angpradesh to Champa Nala of Bhagalpur In this part 2 on Champa River Guest Blog Dr. Ruchi Shree provides historical and mythological background to the Champa River near Bhagalpur, Bihar. It includes some very interesting stories, connecting to the current day situation of the River. Please Read and Share. https://sandrp.in/2020/04/12/champas-angpradesh-to-champa-nala-of-bhagalpur/  (12 April 2020)
Pimpri Chinchwad ECA studying impact of Covid-19 lockdown on river pollution Environment Conservation Association (ECA) is collecting water samples of all three rivers, Pavana, Mula and Indrayani, passing through Pimpri Chinchwad city to study impact of 21-day lockdown on river pollution.
– Giving details of the drive, Vikas Patil, president, ECA said, " Now due to 21 day nationwide lockdown industries have closed and people are staying at home. We want to study this impact on river pollution in the city." https://timesofindia.indiatimes.com/home/education/news/eca-studying-impact-of-covid-19-lockdown-on-river-pollution-in-pimpri-chinchwad/articleshow/75039812.cms  (08 April 2020)
Musi, Hyderabad River reduced to stinking slurry As per a CPCB report on June 28, 2019, only 49% of the sewage generated by the city is treated while 51% untreated sewage from drains and nalas is discharged directly into the river.
– Of the 22 STPs in the city, 13 are not operating to full capacity. Out of 20 STPs, 5 were found to be not complying with discharge norms. The city generates estimated sewage of 1,400 MLD. Of this, the Pollution Control Board estimates that 592 MLD is treated and rest is untreated sewage turning the river into a foul stinking slurry that flows through the city. https://www.thehindu.com/news/cities/Hyderabad/sea-of-sewage-musi-reduced-to-a-stinking-slurry/article30497395.ece  (07 Jan. 2020)
Charging the state with lacking the will power to clean Musi river that has now turned into a central abode for pollution and mosquitoes, the Telangana high court on Dec. 2, 2019 sought an action plan from the state government within four weeks to clean the river. https://timesofindia.indiatimes.com/city/hyderabad/telangana-high-court-slams-state-government-over-musi-river-pollution/articleshow/72337144.cms  (02 Dec. 2019)
RIVERS
SANDRP Photo Blog Walking Upstream the River Betwa and its people Guest Blog by Mohit M Rao makes a FASCINATING READ. It's collection of photo stories from a 270 km long walk along the Betwa river in December 2019. The impetuous flow of River Betwa is the lodestar for Astha Choudhary and Mohit M. Rao, who for the first 14 days of December 2019, walk from the historic city of Orccha to the confluence of Betwa and Bina rivers.
The walk, as part of Veditum's Moving Upstream fellowship, traverses through forests, endless fields of florescent-green wheat fields, overflowing streams and the rocky banks of the river. https://sandrp.in/2020/04/07/photo-blog-walking-upstream-the-river-the-betwa-and-its-people/  (07 April 2020) 
Photoblog: Mangroves of the Aghanashini: Linking the River, Land and the Sea  This Amazing photoblog by Abhay Kanvinde takes us up and close to mangroves of Aghanashini River Estuary in Kumta Taluk of Uttar Kannada, Karnataka. This is a very special place as Aghanashini is a free flowing river with good forest cover in its entire catchment. This means that the mangroves get unhindered supply of freshwater as well as nutrients from the riverine system. This has resulted in the highest area under mangroves in Honnavar Forest Division at 169.4 ha. https://sandrp.in/2020/04/10/mangroves-of-aghanashini-linking-the-land-and-the-river/  (10 April 2020)
Cleaner rivers in lockdown: Lessons we can learn In this blog Bhim Singh Rawat has put together some 13 videos and several photos and reports to show how rivers like Ganga, Yamuna, Hindon, Sutlej, Buddha Nullah, Ulhas, Waldhuni etc are flowing much cleaner in this lockdown period. It also shows us way forward for river rejuvenation. https://sandrp.in/2020/04/11/cleaner-rivers-in-lockdown-lessons-we-can-learn/  (11 April 2020)
India's Rivers Appear Cleaner in Lockdown: What Can We Learn? https://www.youtube.com/watch?v=z1F4RPAHy5I&feature=youtu.be
Punjab Wildlife Dept to study lockdown impact on ecology In a letter to the Punjab Pollution Control Board (PPCB), Environment and Climate Change Department director Kahan Singh Pannu stated that the board wanted "to conduct a detailed study of the current pollution level scenario, status of various pollutants and their impact in reducing the pollution load". The lockdown has resulted in a drop in the pollution levels across the world. As the pandemic continues to halt industrial activities, it has given people some time to breathe. https://www.tribuneindia.com/news/punjab/wildlife-dept-to-study-lockdown-impact-on-ecology-66053   (06 April 2020)
In Ludhiana, clean-up with scrutiny by residents This provides some details about the effort to bring transparency in spending Rs 650 for Buddha Nala cleaning in Ludhiana. Seems incomplete. https://www.civilsocietyonline.com/cities/in-ludhiana-clean-up-with-scrutiny-by-residents/  (24 March 2020)
NARMADA An amazing and unique website that provides authentic grassroots voices about the history of Narmada movement. Great work, Nandini Oza.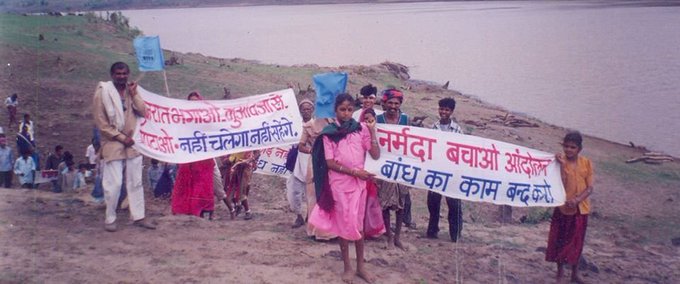 https://oralhistorynarmada.in/
GANGA River gets cleaner due to lockdown.  https://news.abplive.com/videos/news/silver-lining-ganga-gets-cleaner-due-to-lockdown-master-stroke-1191474  (06 April 2020)
Uttarakhand Even after 4 days Gangotri highway closed following landslide near Dharasu band.
Another mishap at Chardham highway project at Badkot, Uttarkashi. The road widening work caused a landslide at Kharadi damages a building partially.
YAMUNA Delhi Unless the river has abundant flow to retain its self-cleansing ability and industries are strictly mandated to become zero-liquid discharge, such fleeting improvement in the health of the river is, at best, a mirage too good to last.  https://en.gaonconnection.com/yes-the-yamuna-river-is-clean-now-but-for-how-long/  (07 April 2020)
Haryana This says TDS in Yamuna river water fell from 1960 to 134 at Sonipat.
Uttar Pradesh Bateshwar an ancient town of Yamuna and old temples Bateshwar is a feast for the eyes for its river ghats dotted with several temples. Many of these shrines have retained their lovely frescos in their original form painted with traditional vegetable dyes. The journey to Bateshwar involves coursing through the sand dunes of Chambal that offers amazing views, more so, during the monsoon.  https://timesofindia.indiatimes.com/travel/destinations/beyond-agra-visiting-bateshwar-the-ancient-town-of-yamuna-and-old-temples/as75013690.cms  (07 April 2020)
SAND MINING
Odisha Despite lockdown, illegal sand mining continues With police and the administration busy in managing the lockdown, sand mafia and unauthorised brick kilns have stepped up their activities not only robbing the rivers but also raising the threat of coronavirus spread in the district.
– While illegal sand mining is rampant on the banks of Mahanadi, Kathajodi, Chitrotpala, Luna, Devi and Birupa rivers in the district, several unauthorised brick kilns are operating in Cuttack Sadar, Nischintakoili, Mahanga, Kantapada and Niali blocks by the mafia in gross violation of the State Government's lockdown order.
– The sand mafia are lifting sand secretly at night and transporting the minor mineral in trucks and tractors to different parts of the district. Locals alleged that though they have brought the matter to the notice of police and revenue officials, no action has been taken against them. In some cases, even police, revenue officials and social activists are being assaulted by the mafia.
– On April 1, a social activist Sanjay Routray sustained serious injuries after being attacked by a mafia for raising voice against illegal sand lifting from the bank of Devi river at Andeisahi under Kantapada tehsil. Earlier, Sanjay had lodged a complaint with the Tehsildar, Collector, Chief Secretary and Chief Minister.
– In another incident, a 32-year-old mechanic died after a sand-laden tractor tyre burst at his garage near Kanpur police station on Friday night. Mechanic Laxmidhar Sahoo was checking tyre pressure when the accident took place. People of these blocks have urged the district administration to stop the illegal sand lifting and brick kiln operation immediately. https://www.newindianexpress.com/states/odisha/2020/apr/06/despite-lockdown-illegal-sand-mining-continues-unabated-2126375.html  (06 April 2020)
WETLANDS, LAKES, WATER BODIES
Jammu & Kashmir Revoke new policy: Houseboat owners Owners of houseboats in Dal Lake in J&K have opposed the new houseboat policy, saying it has been formulated without consulting the houseboat owners.  https://www.tribuneindia.com/news/j-k/revoke-new-policy-houseboat-owners-68916  (09 April 2020)
The Administrative Council (AC) which met under the chairmanship of Lieutenant Governor, G C Murmu approved policy guidelines for registration/renewal/operation of houseboats in Dal and Nigeen Lake. The Administrative Council decided that the guidelines should conform to the overall framework of Dal conservation framed by the Lakes and Waterways Development Authority (LAWDA) besides, an appropriate legal framework would be also instituted for enforcing the policy. https://thekashmirhorizon.com/2020/04/09/houseboat-policy-approved-for-dal-nigeen-lake/  (09 April 2020)
Lockdown impact on lake based tourism and associated livelihood for locals from Tehri Jheel, Uttarakhand and Pushkar lake, Rajasthan.
GROUNDWATER
Alarming dip in groundwater of Ganga basin as dry days rise: Official – The groundwater situation as well as the availability of surface water for irrigation have become alarming due to increasing number of dry days during Southwest monsoon, a top Ministry of Earth Sciences official has told a parliamentary panel. The official testified to the panel that Delhi, Uttar Pradesh, Bihar and West Bengal have been witnessing decreasing number of low-intensity rainfalls which is not favourable for the groundwater recharge and agriculture.
– "The situation for agriculture and water recharges in the Ganga basin states of Delhi, Uttar Pradesh, Bihar and West Bengal and some other states in extreme south peninsula is alarming, as the number of dry days during southwest monsoon is significantly increasing. The frequency of rainfall of lower intensities (less than 7 centimetres), favourable for soil and ground water recharges, is also decreasing over these regions," MoES Secretary M Rajeevan told the panel. The parliamentary report was tabled in the Rajya Sabha in March first week.
– Rajeevan said the MoES has prepared a report on 'Observed Rainfall Variability and Changes' to find out recent changes in the rainfall pattern over 28 states and one Union Territory of Jammu and Kashmir. He added that Bihar, Meghalaya, Nagaland, West Bengal, Uttar Pradesh Arunachal Pradesh and Himachal Pradesh have shown significant decreasing trend in annual rainfall in the last 30 years.
– The MoEs also informed the panel that there had been significant changes in the frequency of dry days, rainy days (daily rainfall of 2.5 mm or more but less than 7 cm) and heavy rainfall events (greater than or equal to 7 cm).  https://www.business-standard.com/article/pti-stories/groundwater-situation-alarming-in-ganga-basin-states-due-to-rising-dry-days-official-120030901369_1.html  (10 April 2020)
Himachal Pradesh To save groundwater, govt to ban hand pumps  The state government has banned installation of hand pumps across the state. Neither the Irrigation and Public Health (IPH) Department, nor any private individual can now install hand pumps even at their private properties without the permission of the Engineer-in-Chief Office in Shimla.
– Earlier, the ban on the exploitation of underground water was limited to just a few zones where the water level was going down alarmingly. The decision has put in a quandary many projects to install hand pumps in rural areas for which MPs have given grants from their MPLAD funds. Sushil Jasta, Chief Engineer, IPH, Dharamsala, confirmed: "The government is implementing the Jal Jivan Mission, which will cover the state and there will be no need to install private hand pumps," he said.
– Balbir Singh, a resident of Dehra, said: "People generally draw just about 2,000 to 3,000 litres of water from hand pumps for their personal consumption. It is not going to affect underground water in any way. The government should regulate the commercial exploitation of underground water rather than banning small hand pumps in rural areas".  https://www.tribuneindia.com/news/himachal/to-save-groundwater-govt-bans-hand-pumps-25019   (12 Jan. 2020)
नए हैंडपंप पर रोक के अलावा बेकार एवं बंद पड़े हैंडपंपों का भी सरकार पूरा ब्योरा जुटाएगी। सिंचाई  एवं जन स्वास्थ्य मंत्री महेंद्र सिंह ठाकुर ने शिमला में पत्रकारों से बातचीत में यह जानकारी दी। मंत्री ने कहा कि प्रदेश में करीब 40 हजार हैंडपंप लगाए गए हैं। इनमें से कितने काम कर रहे हैं और कितने बेकार पड़े हैं, इस संबंध में सरकार अध्ययन करा रही है। अब सरकार वर्षा जल संग्रहण को बढ़ावा देगी, जिससे पानी की बूंद-बूंद का सदुपयोग किया जा सके।  उन्होंने कहा कि प्रदेश में 40 हजार हैंडपंपों में से कितने काम कर रहे हैं और कितने खराब हैं, इसका पता लगाने के लिए सरकार 16 हाइड्रोलाजिस्टों की मदद लेगी। उन्होंने कहा कि कई हैंडपंप कई सालों से काम नहीं कर रहे हैं। ये हैंडपंप किन कारणों से खराब हैं, यह भी पता लगाया जाएगा।  https://www.amarujala.com/shimla/ban-on-installation-of-new-hand-pumps-in-himachal  (02 July 2019)
URBAN WATER
Chennai Sharp drop in Krishna water supply The flow of Krishna water from Andhra Pradesh into Poondi reservoir, one of the major drinking water sources of the city, saw a sharp dip on April 6. However, it is temporary, according to the Water Resources Department. On April 6, the inter-State border of Kandaleru Poondi canal at Uthukottai, Tiruvallur district received only 65 cusecs (cubic feet per second). On an average, about 650 cusecs was received till a few days ago. Water travelled an additional distance of 25 km to Poondi reservoir where it is stored and distributed to Chennai.
– Krishna water from the Kandaleru reservoir played a significant role in boosting the storage in the city reservoirs, including Red Hills and Chembarambakkam this year, noted officials. Chennai has so far received 7.525 million cubic feet of water, one of the highest volume received in recent years.
– Officials of the WRD said the authorities concerned in Andhra Pradesh have given an assurance there will be an increase in water discharge from Kandaleru reservoir in a couple of weeks. "Water was being released from Kandaleru reservoir only for drinking water needs of places en route, such as Nellore and Tirupati before reaching Chennai. It is being decreased temporarily to discourage drawal for irrigation in areas en route," said an official. https://www.thehindu.com/news/cities/chennai/sharp-drop-in-krishna-water-supply-to-city/article31274921.ece  (06 April 2020)
Thiruvananthapuram Rights panel orders to provide uninterrupted water supply at Kowdiar The State Human Rights Commission has ordered the Kerala Water Authority (KWA) to take measures to address the long-standing drinking water shortage problem at Kowdiar in the capital. In his order, the commission chairman Justice Antony Dominic said that 42 families at SS Kovil lane at Kowdiar are at the receiving end as they receive drinking water supply for a maximum period of 3-4 hours.
– He said in the order that the residents were told by KWA that they need to wait till May for uninterrupted water supply, but this is not acceptable. Two years ago, this place received water round the clock and KWA should investigate about the shortage. In a report from KWA, it is said that there is insufficient water in Peroorkada reservoir. The water from PTP Nagar is being utilised for supply to Vellayambalam, Sathamangalam and Kowdiar. It further said the water shortage in the city will be resolved once the new water supply unit at Aruvikkara is complete in May. The commission has instructed KWA to ensure water supply to the said region using an alternative arrangement until May.  https://www.newindianexpress.com/cities/thiruvananthapuram/2020/apr/07/rights-panel-orders-to-provide-uninterrupted-water-supply-at-kowdiar-2126672.html  (07 April 2020)
Chandigarh Tertiary treated water supply halted Municipal corporation has stopped the supply of the tertiary-treated water, which is used for gardening and other non-potable purposes, to the city, said a senior civic body official on April 10. The said decision has been taken in consultation with the UT health department.
– "Medical experts say since Covid-19 virus is present in the stool of infected persons, it will move with sewage. From there, it can travel to the main sewer line, which goes to the sewage treatment plants (STPs), where it can survive for long. Therefore, we have decided not to supply tertiary-treated water in any part of the city till Covid-19 fear is there," said the official, who is dealing with the subject.
– Sources in the corporation's public health department said since majority of the tertiary-treated water connections have been given to big houses having big lawns, supplying such water in the current situation can be risky. For few days, they can water their lawns and plants with normal water, they said. Besides residential areas, government and private schools, some clubs with big lawns also have tertiary-treated water connections from the Chandigarh municipal corporation.  https://timesofindia.indiatimes.com/city/chandigarh/tertiary-treated-water-supply-halted-in-chandigarh/articleshow/75092745.cms  (11 April 2020)
Report How sewage could reveal true scale of coronavirus outbreak Sewage monitoring can help detect and give advance information about coronavirus out break even before symptoms appear. This can be useful in a number of ways.  https://www.nature.com/articles/d41586-020-00973-x  (03 April 2020)
WATER
Uttarakhand Kritinagar villagers complain of drinking water problems due to lack of coordination between Peyjal Nigam and Sansthan of Devprayag. While the main pipe line has been handed over to Sansthan the distribution work is still village level committees which lack resources to manage the supply.
They ask govt either to hand over entire distribution work to Peyjal Sansthan or to Village committees by providing them funding. Villagers also say that a liquor factory in Daduwa has been given connection from the Lachmoli-Hadimdhar Drinking Water Project which has also created water scarcity in the project dependent villages.  https://epaper.livehindustan.com/imageview_33898_107458458_4_137_11-04-2020_6_i_1_sf.html  (11 April 2020)
AGRICULTURE
Centre 'Farmers suffered huge loss in sudden rains' Agriculture Minister S Niranjan Reddy on April 8 said that due to the sudden rains and hailstorm, paddy and mango farmers across the State had suffered heavy losses due to damaged crops at a time when they were ready for harvesting. He assured that the State govt would determine how many farmers were covered under crop insurance scheme, stating that it would represent to the Centre regarding compensating those not covered under insurance, by utilizing the National Disaster Relief Fund to shore-up those farmers who lost their crops.  https://telanganatoday.com/farmers-suffered-huge-losses-in-sudden-rains-niranjan-reddy  (08 April 2020)
Pre Monsoon sowing of Kharif begins, paddy acreage up by 27% – As per the latest data, farmers have sown paddy in 32.58 lakh hectare as on April 10, up 27 per cent, from 23.81 lakh hectare in the corresponding period of last year. Kharif season is from June to September.
– The sowing area has been reported mainly from W Bengal (11.25 lakh ha), Telangana (7.45 L Ha), Odisha (3.13 L ha), Assam (2.73 L ha), Karnataka (1.64 L ha) and Chhattisgarh (1.50 L ha), Tamil Nadu (1.30 L ha), Bihar (1.22 L ha), Maharashtra (0.65 L ha), Madhya Pradesh (0.59 L ha), Gujarat (0.54 L ha) and Kerala (0.46 L ha).
– Area sown to pulses has increased to 3.97 L ha from 3.01 L ha. Of which, greengram has been planted in 2.59 L ha and blackgram in 1.23 L ha and other pulses in 0.15 L ha. Similarly, area under coarse cereals has increased to 5.54 L ha in the current kharif season from 4.33 L ha a year-ago. Of which, maize has been planted in 2.81 L ha and bajra in 2.51 L ha.
– In case of oilseeds, the sowing area has increased to 6.66 L ha from 5.97 L ha. Of which, groundnut has been sown in 4.08 L ha, sesamum in 2.13 L ha. Total area planted under all kharif crops has increased to 48.76 L ha as against 37.12 L ha in same period last year.
– The government has advised farmers to maintain social distancing during sowing of kharif crops besides wearing face masks and using hand sanitizer to avoid any infection. Meanwhile, the government has also called a national-level video conference on April 16 for chalking out a strategy for sowing the kharif crops, such as rice, and ensuring safety of farmers in the wake of COVID-19 outbreak. https://economictimes.indiatimes.com/news/economy/agriculture/pre-monsoon-sowing-of-kharif-crops-begins-paddy-acreage-up-27-per-cent/articleshow/75081485.cms   (10 April 2020)
Horticulture pile-up: Farmers' losses seen at Rs 15000 crore – The pile-up of harvested or un-harvested perishables may have caused farmers a loss of around Rs 15,000 crore. Market arrivals of fruits and vegetables have sharply fallen since the imposition of the lockdown (see chart), and if it is extended by another month, losses could swell to Rs 40,000-Rs 50,000 crore, if not more, traders and economists say. https://www.financialexpress.com/market/commodities/horticulture-pile-up-farmers-losses-seen-at-rs-15000-crore/1926416/  (13 April 2020)
Punjab Crop diversification plan faces stiff challenge – Even as Punjab has planned wheat harvesting in phases due to covid-19, the state's plans to ramp up diversification of crops by replacing the water-guzzling paddy with water conserving cotton and maize faces challenges. These are timely arrangement of seeds and to ensure farmers can sow these crops within the optimum time frame. Seeds for these crops are to be bought and transported from southern states. For cotton, sowing begins immediately after wheat harvest, expected to be from April 20 to May 31. Maize is sown in June. Paddy comes later and the state allows its transplantation from June 20. Increase in area under the two crops means fall in area under paddy crop.
– "If we miss sowing cotton, there's no option but to shift to paddy," said Satwinder Singh, a Mansa farmer. Cotton is grown in Bathinda, Mansa, Faridkot, Muktsar, Abohar and Fazilka districts. Maize is grown in Kapurthala, Jalandhar, Nawanshahr, Ropar and Amritsar.
– "For diversification, the area under cotton is to be increased to 5 L ha this year (from last season's 3.9 L ha); maize to 3.25 L ha (from last season's 1.6 L ha). We are focusing our work on ensuring that there is no shortage of seeds," says state agriculture secretary, Kahan Singh Pannu. Baldev Singh, a farmer form Bajak village in Bathinda district, said that the next few days were critical for cotton growers because all arrangements such as seeds, fertilisers and pesticides needed to be made in advance. "I am not blaming the government, but as of now things seem out of control," he said, adding the earlier the cotton is sown, the better it was.
– For the area planned to be cultivated this year, 27 lakh packets of cotton seeds (which come in 200 grams packing) and 3.2 lakh kilogram maize seed is needed. "We are in touch with companies in Andhra Pradesh and Gujarat that supply BT seeds for cotton and companies in Tamil Nadu and down south for maize seeds," said Pannu, adding that the government gives 50% subsidy on seeds.
– Punjab Agricultural University vice-chancellor BS Dhillon said the varsity advocated that cotton sowing should begin from April 1, but crop sown till April 15 was also within the ideal time frame. "Further delay in sowing leads to challenges for farmers," he said. "I am sure maize sowing would be easy, because, hopefully, by then the covid-19 situation would ease out," he added.  https://www.hindustantimes.com/cities/punjab-s-crop-diversification-plan-faces-stiff-challenge/story-gLWHzyeSyJYTNEHQGt4pmJ.html  (09 April 2020)
Uttar Pradesh Farmers Worried About Big Machines, Transport The unprecedented lockdown over the coronavirus pandemic has come at a very bad time for the country's agriculture sector – this is the season of harvesting and selling the Rabi or winter crop, and by next month farmers will start preparing for planning the summer crop – paddy, pulses being the important ones. Farmers are very worried.   https://www.ndtv.com/india-news/coronavirus-india-in-rural-up-farmers-worried-about-big-machines-transport-as-harvest-season-starts-2207743  (07 April 2020)
MONSOON
IMD Data Spring colder than usual this year The average maximum temperature for March was similar in both years around 28.2 C, 1 degree below normal. But in the first week of April the average maximum temperature this year is 32.7 C compared with 36.61 C last year. The highest maximum temperature recorded last year till April 7 was 39.3 C compared to 35.8 C this year. The weather continues to be nippy in April.
– Interestingly, nights also continue to be mildly chilly. The highest minimum temperature recorded in March last year was 21 C on March 31 compared to 19.6 C recorded on March 27 this year. The average minimum temperature in the first week of April is 16.8 C this year compared to 19.7 C last year.
– "We had four WDs last April but more than six WDs this year. The WDs brought a lot of rain this year. In March we got 109.67 mm rain this March which is the highest since 1901. Wind speed has also been moderate at about 20 to 30 kmph. This is why maximum temperature hasn't risen as it should have. On April 7 also many neighbouring parts of Delhi received rains due to a WD once again bringing down maximum and minimum temperatures," said Kuldeep Shrivastava, head, regional weather forecasting centre. https://www.hindustantimes.com/india-news/spring-colder-than-usual-shows-imd-data/story-wDh6ZhgmGa7CPQennVwllK.html  (09 April 2020)
THERMAL POWER
National Drop in spot power purchase rates helps State discoms, utilities  The all-India demand data related to spot market prices shows the average price between March 15-April 10, 2020 has gone down to ₹2.40 per kwh versus ₹3.18 per kwh in 2019.  https://www.thehindubusinessline.com/economy/drop-in-spot-power-purchases-rates-helps-state-discoms-utilities/article31305469.ece  (10 April 2020)
ENVIRONMENT
MoEF New environmental public hearing policy soon While (misleadingly) emphasising that no public hearings should be planned during lockdown period, the MoEF is working on public hearing policy for post lockdown period. Its feared that it will further dilute the already compromised public hearing process. https://www.hindustantimes.com/india-news/new-environmental-public-hearing-policy-soon/story-2gZMioXbH1WV9Eua43UpbO.html  (11 April 2020)
CLIMATE CHANGE
India Economic decline due to Covid-19 will not help govt tackle climate change The economic decline because of the Covid-19 pandemic is likely to give governments an idea of the magnitude of transformations needed in the coming decades to deal with climate change, scientists said. "Covid-19 pandemic created an unprecedented and unplanned social experiment … I don't have any doubt that in the next UN negotiations, citing the Covid-19 situation, most of the big carbon emitters will request to defer the target and continue to use their existing fossil fuel resources," said Pradip Swarnakar, associate professor of sociology at IIT Kanpur.  https://www.hindustantimes.com/india-news/economic-decline-due-to-covid-19-will-not-help-govt-s-tackle-climate-change/story-oxFEsrHxQd2qbU2gHIRwYN.html   (04 April 2020)
SOUTH ASIA
Nepal Climate migrant struggle to survive Pushed out of their village by a drought and lack of food, a group of Nepalis are fighting to amplify the voices of those forced to relocate by the planet's warming. Climate change is remaking the Himalayan region, putting at risk millions of South Asians who depend on its water resources and pushing mountain dwellers in northern Nepal, home to the world's highest peaks, to build new settlements at lower altitudes.
– Glacial melt has accelerated in the 1,500-mile-long Himalayas. Land once used for growing vegetables has become barren. Yak herders say they are struggling to find grazing patches for their animals. Scientists have found that rising temperatures could spread malaria and dengue to new areas of the Himalayas, where mosquitoes have started to appear in the highlands. If we overlay significantly changed rain and river flow patterns, it will be a mess for people depending on Asia's big rivers for irrigation and drinking water.
– Ayshanie Medagangoda-Labé, the United Nations Development Program's representative for Nepal said: "Nepal is ground zero for the impacts of climate change. As a country with one of the most fragile ecosystems — the Himalayas — and an economy that is heavily reliant on favorable climate conditions, Nepal is probably one of the most exposed." The number of climate change migrants in Nepal's Himalayas is unknown, though local officials in mountain towns estimate it to be in the thousands.
– More than a decade ago, the village's families gathered for a meeting to ponder a heavy question: Should they stay? By the end of the meeting, 17 of 26 families, about 90 people, vowed to leave. The leavers have trickled out of Dhye in groups over the past few years. They strapped bundles of food and clothing to their backs and hiked nearly a mile down to the banks of a still-flowing stream. They called their new community Dhye Khola, a local name for the water body.  https://www.nytimes.com/2020/04/05/world/asia/nepal-himalayas-glacier-climate.html   (05 April 2020)
Bangladesh Coronavirus serves up a surplus of hilsha in the market this Baishakh The price of four pieces of hilsha — weighing more than one kilogram each — is now Tk 4,500-Tk 5,000 at the wholesale level, according to Hossain. "Because of coronavirus effect, the price is unlikely to increase ahead of the Pahela Boishakh." And they are sitting on surplus of the fish, which is native to the region. "There is a good stock of fishes in the cold storages. Besides, we have also seen good catches of hilsha this year compared with previous year," Hossain said.
The main hilsha catching season begins in May and ends in the first week of October. And catches of the fish have increased in recent years thanks to the government's restriction on hooking young hilsha, termed jatka, for eight months, ban on catches in five breeding grounds for two months, curb on fishing in seas for 65 days as well as two-day restriction on catches during breeding season.  https://www.thedailystar.net/business/news/coronavirus-serves-surplus-hilsha-the-market-baishakh-1891174  (09 April 2020)
Sri Lanka This says that drought has set in which may turn worse in coming months.  https://sites.google.com/a/iitgn.ac.in/high_resolution_south_asia_drought_monitor/  (05 April 2020)
ASIA
Russia Spilled Molybdenum tailing dams are spreading pollution in Amur river basin On March 28 2020, a tailings spill contaminated water sources in Heilongjiang Province, China. The largest molybdenum mine in China, operated by Yichun Luming Mining Co, released 2.53 million cubic meters of tailings into the Yijimi River. The way in which this dam was recently raised, the specific dewatering technology installed and selection of location for a tailings dam above the valley with human settlements -all are likely technological choices not corresponding with the highest industry standards.
– The Yijimi River is the main water source for the area, which includes the town of Tieli with a population of over 200,000. The response plan included closing a water plant and providing alternate water sources for affected areas. Starting from March 31 environmental agencies publish daily bulletin on status of pollution in 13 different points along Yijimi River and Hulan River where it empties. Public needs to be informed about possible environmental consequences of this contamination, likelihood it will affect larger rivers downstream (Songhua and Amur) and efforts the company and authorities should undertake to minimize damage before next flood season.
– So far information is lacking even on immediate casualties resulting from the accident. The imagery shows that toxic sludge poured through nearby village affecting at least 35 out of 40 households. (See fragment of the previous satellite image below). Are those people alive? Is their health affected by toxins? Are those houses still livable in cold early spring in Small Xina'an Mountains? Have they experienced damage to their vegetable gardens, livestock, stores of food, anything else? No answers.  http://www.transrivers.org/2020/3037/
Indonesia Sinking Jakarta Forty per cent of the city now lies below sea level and it is sinking at different rates in different places, from 1cm a year up to 25cm in the worst affected northern areas, near the coast. The problem is so severe that it is one of the reasons that Indonesian President Joko Widodo announced the capital would be relocated to a new site in East Kalimantan, on Borneo, last August, with construction possibly due to begin this year. Even so, many people believe Jakarta will remain Indonesia's business and financial hub.
– Jakarta is not the only coastal city in trouble. Also facing rising sea levels, more frequent rains and stronger storms are the likes of Bangkok, Dhaka, Houston, Lagos and Venice. But Jakarta is sinking fastest.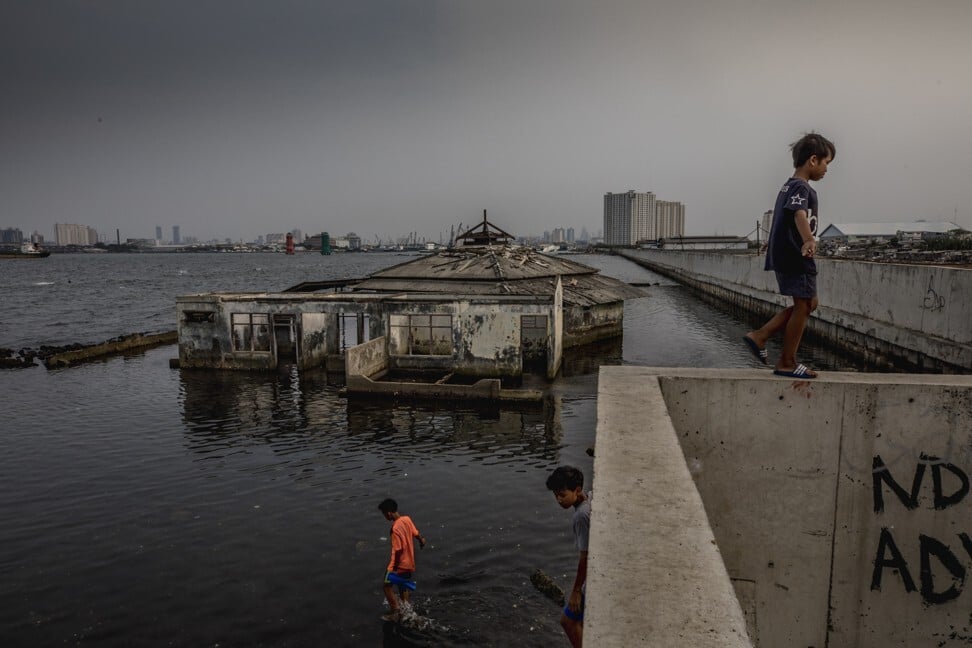 – The city's plight is not just a consequence of climate change, however. It is also due to a lack of clean water. According to the central government's statistics agency, about 60 per cent of Jakarta's residents lack access to clean water. Less than half have access to any water pipes at all. So many people extract water through illegal pumps that the natural aquifers are being emptied, leading to consolidation of the formerly porous soil beneath the city.
– Magnifying the problem, the marshland and mangroves that once absorbed excess water have been largely replaced by shopping malls and high-rises. Torrential rain pours off the asphalt and concrete, flooding the city and putting ever more pressure on its 13 rivers. Over the past two decades, parts of Jakarta – mainly in the north – have submerged by up to four metres, making it nearly impossible to drain the water from places such as Kampung Teko. https://www.scmp.com/magazines/post-magazine/long-reads/article/3079146/jakarta-sinks-and-indonesian-government-prepares   (10 April 2020)
THE REST OF THE WORLD
USA TVA Says Rainfall This Year Breaks 131-Year-Old Record The Tennessee Valley Authority in a release said 24.61 inches in Jan-March have helped fill TVA's 49 dams with about 2.2 trillion gallons of water, breaking the recorded rainfall record set in 1891, when the basin saw 23.95 inches. That water eventually flows into west Kentucky, through Kentucky Lake and Lake Barkley, and into the Ohio River.  https://www.wkms.org/post/tva-says-rainfall-year-breaks-131-year-old-record  (06 April 2020)
Report Fibre optic sensing for dam monitoring
Michael Mondanos & Sam Johansson from Silixa explain how distributed fibre optic sensing enhances dam safety by providing early alerts of potential problems.   https://www.waterpowermagazine.com/features/featurefibre-optic-sensing-for-dam-monitoring-7859412/  (6 April 2020)
Compiled by SANDRP (ht.sandrp@gmail.com)
Also see: DRP News Bulletin 06 April 2020 & DRP News Bulletin 30 March 2020
Follow us on: www.facebook.com/sandrp.in; https://twitter.com/Indian_Rivers