The Prime Minister finally found time to have the first ever meeting on National Ganga Council, over three years after the Ganga Notification of Oct 7, 2016. The meeting happened at Kanpur, where the NGT recently fined the state government for continuing to release untreated effluents into the Ganga. In fact NGT in recent weeks have taken several decisions that also shows how abysmally the govt has failed on Ganga front. And now after the first NGC meeting, the Prime Minister, in an effort to divert attention from Namami Gange failure, is proposing the new slogan of Arth Ganga, which basically seems to suggest focus on Money, which is Exactly what is not going to help the cause of Ganga. The Ganga is still on the lookout for the Ganga putra that promised a clean Ganga in May 2014.
First meeting of NGC in last three years NGC was formed in Oct. 2016 and supposed to meet once in a year:- NGC headed by PM Modi, is set to meet for first time at Kanpur on Dec. 14 with a proposal to save and enhance the population of the Gangetic Dolphin, to discuss the concept of 'River Cities' and an action plan to provide sewer connection to every household in towns along the Ganga and its tributaries.
The body, which is responsible for cleaning the Ganga, may also ask states to demarcate floodplains and strictly prevent the encroachment and dumping of waste in the same, said sources. According to sources, the council will also discuss the concept of River Cities based on the urban river management plans to be prepared by the respective states.
– CMs of all states along the Ganga are expected to attend the meeting. However, West Bengal CM Mamata Banerjee and Bihar CM Nitish Kumar will not be able to attend, sources said. While Bihar Deputy CM Sushil Modi will represent Nitish at the meeting, there is no confirmation about participation of West Bengal. https://indianexpress.com/article/india/ganga-council-meet-today-river-cities-dolphins-on-the-agenda-6165967/ (14 Dec. 2019)
PM Modi chaired the first EVER meeting and reviewed the ambitious Namami Gange project at the Chandra Shekhar Azad Agricultural University in Kanpur. Later, accompanied by CMs and other dignitaries, Modi visited Atal Ghat near the Ganga barrage to assess works done under the project. In a cruise for half-an-hour, PM Modi waved at people standing on the river bank. https://www.business-standard.com/article/pti-stories/pm-chairs-meeting-of-ganga-council-in-kanpur-119121400558_1.html  (14 Dec. 2019)
Chairing the meeting, PM said a digital dashboard should be set up for collating data on water quality from villages and urban bodies and this can be monitored by Niti Aayog and Jal Shakti ministry. He said districts bordering the Ganga should be monitored as 'focus areas' under Namami Gange.
PM directed governments of five Gangetic states — UP, Bihar, Uttarakhand, Jharkhand and West Bengal — to focus on promoting religious and adventure tourism on the river to generate sustainable income to clean the Ganga. The focus should shift from Namami Gange to Arth Ganga, which would prop up a sustainable development model through economic activity, he said. https://timesofindia.indiatimes.com/india/focus-on-arth-ganga-model-pm-modi-to-5-states/articleshow/72638370.cms  (15 Dec. 2019)
A document presented at meeting, shows that as on Sept 30, the existing sewage capacity is 1,957 MLD, much lower than the treatment capacity required to treat the 2,953 MLD sewage that was generated by 97 towns along the Ganga in 2016 – the last year of assessment. Sewage generation is expected to reach at 3,603 MLD in 2035, shows the document.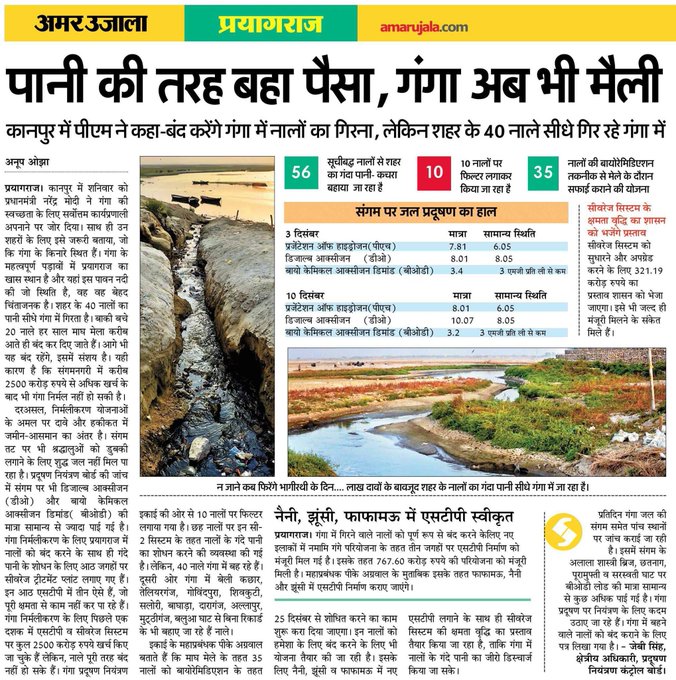 Meanwhile, a project status report prepared by the NMCG shows that till the end of the October 2019, under Namami Gange, 150 sewage infrastructure projects have been taken up on Ganga and its tributaries, of which 51 sewage projects were approved before the May 13, 2015 – the day Namami Gange was approved by the Union Cabinet. https://indianexpress.com/article/cities/four-years-into-namami-gange-high-volume-of-sewage-still-flows-into-river-6167483/  (15 Dec. 2019)
NGT in Nov. had fined UP Govt for failing to check sewage discharge containing toxic chromium into Ganga at Rania and Rakhi Mandi in Kanpur and imposed a penalty of 280 crore on 22 tanneries for causing pollution. It also held the UP government liable and charged a penalty of Rs 10 crore on it.
The green panel said the problem has not been tackled for the last 43 years and it has resulted in contamination of ground water affecting the health and life of the inhabitants. The environment compensation of Rs 280.01 crore was assessed by the state pollution control board.
The NGT said that for this failure, under the "Public Trust Doctrine", the state government is liable to deposit the said amount in an ESCROW account for restoration of environment and the public health in the area. The deposit may be made within a month, the tribunal said. It also held UPPCB liable and directed it to pay Rs 1 crore for ignoring illegal discharge of sewage and other effluent containing toxic chromium directly into Ganga. https://www.ndtv.com/india-news/green-court-fines-uttar-pradesh-tanneries-rs-280-crore-for-polluting-ganga-with-sewage-toxic-dischar-2134579  (17 Nov. 2019)
Organic farming proposal was deliberated upon in the meeting as part of a larger agenda to promote sustainable agriculture in the Indo-Gangetic plains by promoting organic clusters in a 5km stretch on both sides of the Ganga basin in the five states. "It is a good policy-move, considering the cumulative use of pesticides has doubled in last one decade and most of it, runs off in our rivers. For short-term, 5kms stretch was fine, but the government should eventually plan to stretch it to cover more area in the basin. Entire riverbed agriculture should be organic," said Dr Venkatesh Dutta, an expert working on river restoration in Lucknow.
However, experts also voiced concerns over the regulatory aspects of the move. "Plans are made, but they fail to get implemented on the ground. Ganga is in a dire state and if we do not fix accountability, we would gain nothing. Even after the plan is launched, it usually lacks any kind of monitoring, which is what happened in parts in Bihar," said Dinesh Mishra, a noted senior authority on river networks in Bihar.
In 2016 too the Ministry of Water Resources, Agriculture had signed a memorandum of understanding to promote organic corridors in the Ganga basin. The proposal was initially expected to cover 136 villages under the programme by providing incentives to farmers for input procurement like biofertilizers and biopesticides. As on June, 2019, as many as 4.53 lakh farmers were practicing organic farming under participatory guarantee scheme of the government, mostly in the north-eastern states. https://www.livemint.com/news/india/government-renews-push-for-organic-farming-in-ganga-basin-11576400748902.html  (15 Dec. 2019)
NGT directs 100 pc treatment of sewage entering rivers The Green Tribunal has on Dec 6, 2019 ordered local bodies and concerned departments to ensure 100 percent treatment of sewage entering rivers across the country, by March 31st 2020. In the case of non-compliance, the NGT has warned authorities that they will be liable to pay Rs 5 lakh a month per drain in the Ganges and Rs 5 lakh for default in commencement of setting up of sewage treatment plant. The NGT has also ordered for the setting up of an institutional mechanism to ensure compliance.
– "For the above purpose, a meeting at central level must be held with chief secretaries of all states and UTs at least once in a month (option of video conferencing facility is open) to take stock of the progress and to plan further action."NMCG will be the nodal agency for compliance who may take the assistance of CPCB and may give its quarterly report to this tribunal commencing April 1, 2020," the bench said. https://www.financialexpress.com/lifestyle/science/water-pollution-situation-grim-in-india-ngt-directs-100-pc-treatment-of-sewage-entering-rivers/1786746/   (6 Dec. 2019)
Submit plan to stop discharge of sewage, industrial effluents in sea: NGT to coastal states, UTs The Green Tribunal has also ordered all coastal states and Union Territories to submit action plans to the Central Pollution Control Board (CPCB) to prevent sewage and industrial effluents from being discharged into the sea. As per the tribunal orders, the relevant information should be provided to the CPCB within one month of the direction, failing which defaulting states and Union Territories will be liable to pay Rs 10 lakh each month until they comply. The tribunal has also ordered CPCB to submit a comprehensive status report with regard to coastal pollution by way of classification of coastal areas in priority-I to V within three months positively.  https://www.business-standard.com/article/pti-stories/submit-plan-to-stop-discharge-of-sewage-industrial-effluents-in-sea-ngt-to-coastal-states-uts-119120300657_1.html  (3 Dec. 2019)
The Hindustan Times editorial has on Nov 27, 2019 has put said the following about "a recently-released citizen's report, Rejuvenating Ganga, by the India Rivers Week, a consortium of seven NGOs".
"A key reason for the failure of the river cleaning projects (Ganga and Yamuna action plans), says a recently-released citizen's report, Rejuvenating Ganga,by the India Rivers Week, a consortium of seven NGOs, was their single-point focus on the main stem of the river, while the Ganga basin actually has eight major rivers (Yamuna, Son, Ramganga, Gomti, Ghaghra, Gandak, Kosi and Damodar). The majority of the funds were spent on pollution-abatement measures on the main stem of the Ganga and on the upper Yamuna basin, which constitute just 20% of the Ganga basin."
"Some other issues that have been affecting the health of the river system include: there are at least 1,000 dams in the Ganga basin, which obstruct the natural flow of the tributaries; diversion of water for various purposes; ruthless sand and boulder mining; indiscriminate extraction of groundwater and loss of flood plains and wetlands. If the Centre is keen to rejuvenate the river, it's important to see it as a holistic system and not just focus on the main stem, escalate planning and decision-making to the basin level, stop all further construction on the rivers, implement strict regulation of sand and boulder removal, and define "river space" so that its banks are free from encroachment. Last, but not the least, the Namami Gange programme must define the desired flows in the Ganga main stem and its tributaries to allow the rejuvenation of the river." https://www.hindustantimes.com/editorials/to-clean-the-ganga-take-a-holistic-approach-ht-editorial/story-U0xxKgVWqfV7W2W9d8qCjK.html  (27 Nov. 2019)
https://www.indiawaterportal.org/articles/holistic-approach-needed-clean-ganga  (6 Dec. 2019)
The Citizens report is available at following links: https://indiariversforum.org/wp-content/uploads/2019/11/rejuvenating-ganga-citizen-report.pdf
https://www.indiawaterportal.org/sites/indiawaterportal.org/files/rejuvenating_ganga_-_citizen_report_by_india_rivers_forum_2019.pdf
Ganga Activist to hold press conference on Dialogue on fundamental aspect of Ganga Act on Dec. 10 at 05:00 pm, Constitutional Club, Rafi Marg Delhi. https://twitter.com/MallikaBG/status/1203220074649096192
चार दिसंबर साध्वी पद्मावती ने प्रधानमंत्री नरेंद्र मोदी को पत्र लिख कर कहा है कि यदि गंगा की स्वच्छता और अविरलता के लिए किए गए वादों को पूरा नहीं किया गया तो वह 15 दिसंबर से अनशन शुरू कर देंगी https://www.downtoearth.org.in/hindistory/river/ganga/now-sadhvi-padmavati-announce-fast-for-ganga-68326  (7 Dec. 2019) 
RIVERS
CWC Study Heavy metals contaminating rivers – Samples taken from two-thirds of the water quality stations spanning India's major rivers showed contamination by one or more heavy metals, exceeding safe limits set by the Bureau of Indian Standards. The findings are part of a report, which is the third edition of an exercise conducted by the Central Water Commission (CWC) from May 2014 to April 2018.
-Samples from only one-third of water quality stations were safe. The rest, or 287 (65%) of the 442 sampled, were polluted by heavy metals. Samples from 101 stations had contamination by two metals, six stations saw contamination by three metals. Iron emerged as the most common contaminant with 156 of the sampled sites registering levels of the metal above safe limits. None of the sites registered arsenic levels above the safe limit.
– The other major contaminants found in the samples were lead, nickel, chromium, cadmium and copper. The study spanned 67 rivers in 20 river basins. Lead, cadmium, nickel, chromium and copper contamination were more common in non-monsoon periods while iron, lead, chromium and copper exceeded 'tolerance limits' in monsoon periods most of the time. "Arsenic and zinc are the two toxic metals whose concentration was always obtained within the limits throughout the study period," the report noted. Arsenic contamination is a major environmental issue that affects groundwater. However, the CWC exercise was restricted to surface water.
– Not all the rivers are equally sampled. Several rivers have only been sampled at a single site whereas others such as the Ganga, the Yamuna and the Godavari are sampled at multiple sites. Marked variation was found in contamination levels depending on the season. For instance, iron contamination was persistent through most of the Ganga during monsoon but dipped significantly during the non-monsoon periods.
– Samples were collected in three different seasons: pre-monsoon (June 2012), monsoon (September 2011, October 2012 and August 2013) and post-monsoon (February 2012 and March 2013). The main sources of heavy metal pollution are mining, milling, plating and surface finishing industries that discharge a variety of toxic metals into the environment.
– "Over the last few decades, the concentration of these heavy metals in river water and sediments has increased rapidly," the report noted, while recommending more intensive monitoring. The reasons for contamination, according to the authors of the report, were "population growth and rise in agricultural and industrial activities". https://www.thehindu.com/news/national/heavy-metals-contaminating-indias-rivers/article30279681.ece  (12 Dec. 2019)
Sikkim
Kerala 'Clean Baveli': Small but giant step by residents to rejuvenate a dying river The Baveli river is the drinking water source for the residents of ⁠Peravoor town in Kannur district of Kerala. Originating from the Western Ghats, it flows through forests and even nourishes acres of lands along its course. Considered a sacred river, devotees of Kottiyoor Shiva temple in Kannur take a dip in Baveli as part of their religious ritual. Today, however, the water from Baveli has become unusable, thanks to heaps of garbage that have polluted the river. The residents, however, are not ready to sit around and wait for the government to save the river.
– Baveli's journey to rejuvenation began in a small village named Manathana in Kannur. The river flowed through the village and the residents relied heavily on Baveli for agriculture. As the river has been affected due to pollution, the residents of the village decided to revive it. They started a movement called 'Clean Baveli' under the banner 'Manathanakoottam. The movement, the group says, is not a mere process to clean a polluted river, but a comprehensive and long-term plan that includes awareness drives, study tours, street plays, competitions and river study programmes.
While the cleaning process is scheduled to begin only on January 11, 2020, the group has been constantly engaged in implementing the first phase of 'Clean Baveli' movement, that is, creating awareness on the importance of cleaning and protecting the river. As part of 'Clean Baveli', 35-km stretch of the river — starting from Chekuthanthode in Wayanad district to Palappuzha in Kannur district — will be cleaned, the organisers say. About 7,000 people will participate in the cleaning process.  https://www.thenewsminute.com/article/clean-baveli-small-giant-step-residents-rejuvenate-dying-river-kerala-113793  (10 Dec. 2019)
Tamil Nadu 
Haryana Evidence of river Saraswati's existence found? Analysing sand from 3-10 metres below modern Ghaggar, researchers estimate the date and source of the river.  https://www.thehindu.com/sci-tech/science/evidence-of-river-saraswatis-existence-found/article30306789.ece  (14 Dec. 2019)
GANGA Uttarakhand India's first hybrid annuity model, a 14 MLD STP costing Rs. 41.40 crores was inaugurated on Dec. 5 in Sarai, Haridwar under the Namami Gange project of NMCG. In Uttarakhand, 34 projects of sewerage infrastructure works have been taken up at a cost of approximately Rs 1,144.77 crores for creating treatment capacity of 165.50 MLD and for laying sewerage network of 152 km. https://aninews.in/news/national/general-news/indias-first-hybrid-annuity-model-based-stp-inaugurated-in-haridwar20191205231801/  (5 Dec. 2019)
Uttar Pradesh VDA to act tough against illegal constructions along Ganga Varanasi Development Authority (VDA) has decided to take stern steps to check illegal construction along the Ganga and near ASI-protected zones. While a survey of over 6,000 buildings within 200m from the banks of river Ganga has been completed to identify illegal structures, areas protected by the Archaeological Survey of India in the vicinity of Dhamekh and Chaukhandi Stupas of Sarnath will be surveyed from Dec. 9. After the assessment, appropriate action will be initiated against illegal structures.
Meanwhile, a team of junior engineers has been engaged to identify illegal constructions near the banks of the Ganga which require punitive action. VDA vice-chairman Rahul Pandey said, "Any construction in 100m area in the vicinity of ASI-protected zones is completely banned. However, constructions can be done in 200m area falling beyond the 100m restricted zone but only after seeking permission from ASI. Six teams of VDA officials have been formed to assess the situation within this 300m area. The survey will begin on Dec. 9." https://timesofindia.indiatimes.com/city/varanasi/vda-to-act-tough-against-illegal-constructions-along-ganga/articleshow/72429220.cms  (9 Dec. 2019)
Bihar Champa River Restoration efforts in Bhagalpur district.
YAMUNA Uttarakhand
Uttar Pradesh 'हम जानते हैं नदी का पानी हमें मार देगा, लेकिन हम कर ही क्‍या सकते हैं' How pollution in Hindon, Krishna and Kali is affecting villagers in western districts of state.  https://www.gaonconnection.com/desh/story-of-toxic-rivers-of-western-uttar-pradesh-hindon-kali-and-krishna-46801  (10 Dec. 2019)
Part 2 प्रदूषित नदियों से कम हो रही बच्‍चा पैदा करने की क्षमता  https://www.gaonconnection.com/desh/polluted-rivers-of-western-uttar-pradesh-turning-people-infertile-46810  (12 Dec. 2019)
Haryana Bridge to be built over Yamuna to connect Palwal with Aligarh, Khurja CM Manohar Lal on Dec. 15 said that a bridge would be constructed at a cost of ₹110 crore over Yamuna river near Hasanpur in Palwal to connect with Uttar Pradesh. He said that four bridges would be constructed on the river Yamuna, including Hasanpur, to strengthen connectivity between Haryana and Uttar Pradesh. While the construction of the bridge connecting Manjawali in Faridabad to Noida by the National Highways Authority of India has been almost completed, work is in progress on projects in Panipat and Yamunanagar, he added. https://www.thehindu.com/news/cities/Delhi/bridge-to-be-built-over-yamuna-to-connect-palwal-with-aligarh-khurja/article30314941.ece  (16 Dec. 2019)
Delhi
RIVERS BIODIVERSITY
Odisha Mahanadi bird population took a hit due to Cyclone Fani, says study Extreme weather events like cyclones can have severe impacts on bird populations of a region, a recent study on the impact of super cyclonic storm Fani on a stretch of 40 km along the Mahanadi river has revealed. https://www.thehindu.com/news/national/other-states/mahanadi-bird-population-took-a-hit-due-to-cyclone-fani-says-study/article30308622.ece  (15 Dec. 2019)  
URBAN RIVERS
Pavana, Indrayani Pimpari-Chinchwad MC rapped for untreated sewage MPCB on Dec. 9 issued a show-cause notice to PCMC asking it to submit a time-bound program it plans to implement to contain the pollution in 10 days or face prosecution. The notice was sent after an MPCB survey, which pointed at the death of several fish in Pavana river. It also said that 19 sheep had died after consuming water from Indrayani river in Chikali. The pollution has resulted due to 47 MLD of water flowing untreated in both the rivers.
– Moreover, 312 MLD sewage water is generated every day of which 265 MLD is being filtered. The rest pours into the rivers directly. Counter-measures, the board has said, are the need of the hour and to ensure that they are implemented strictly, PCMC has been asked to pay the pending bank guarantee of Rs 5 lakh. https://punemirror.indiatimes.com/pune/civic/pcmc-rapped-over-untreated-sewage/articleshow/72463579.cms  (11 Dec. 2019)
Musi, Hyderabad About 854 MLD of sewage is dumped into the Musi river, making it eighth-most polluted amongst 46 metropolitan Indian cities.
https://www.deccanchronicle.com/nation/current-affairs/111219/musi-river-needs-more-oxygen-to-break-up-organic-matter.html  (11 Dec. 2019)
Kahn, Kshipra; Indore, Ujjain Kahn river Indore pollution reaching Kshipra river in Ujjain due to malfunctions of STPs and leakage in Kahn river diversion pipeline at Raghopipliya dam site.
– Devotees would not be able to take a bath in Kshipra on Gurupurnima. Same happened this year on Jan. 5. At that time admin arranged some tubewell water but that too was contaminated with mud.  https://www.bhaskar.com/mp/indore/news/shipra-became-dirty-not-a-dip-in-the-fountain-bath-on-the-full-moon-today-that-too-with-tubewell-water-126265141.html  (12 Dec. 2019)
So devotees on Dec. 12 on occasion of Guru Purnima had to take bath twice. Once in polluted Kshipra and then with fountain water to remove filth. Admin failed to arrange clean flow, though it advised against bathing in river. Kahn river needs revival. Narmada Kshipra link defunct.  https://www.bhaskar.com/mp/indore/news/double-bathing-at-mellie-shipra-first-dipped-in-black-water-then-bathed-in-fountains-126273451.html  (13 Dec. 2019)
Gomti, Lucknow Life giving rivers gasping for life The Gomti river has become intermittent in its upper and middle reaches. Once a perennial river, now gets dried up during summer months at several stretches. During drying episodes, fish and turtles struggle the most. The rate and extent of their re-colonization upon rewetting during the monsoon depends upon their resilience against the drying episodes. During our several river expeditions, we met communities of fishermen along the riversides who have changed their job due to the extinction of major carps from the river.
– Around 19 species of fish were found in the Gomti River in the upstream of Lucknow at Ghaila during 2010 which is an un-channelized stretch, but the number reduced to 12 in 2017. In the channelized section, fish diversity reduced drastically with only six species reported after the riverfront project. In the downstream of the riverfront site, eight species were found. The total fish biomass in the downstream site was about 85% less than in the natural channel in the upstream. We also found principally juvenile and smaller species, compared to the undisturbed channel in the upstream.
– Studies have indicated in the past that the rate of recovery of the fish population from the effects of channelization is extremely slow, with some stretches showing no sign of significant recovery even after 30 to 40 years.
– The riverfront projects and associated land-use conversion of the heterogeneous habitats may cause future habitat homogenization followed by a fish-fauna homogenization on a regional scale, resulting in the overall decline in fish diversity.
– Thanks to our 'reductionist civil engineering thinking', rivers are just confined to small channels – the connected ecosystems have been wiped out from the riverscape and make no sense to our planners. With shrinking natural wetlands and encroachments on river corridors; fishes, turtles, birds and frogs would become the biggest ecological refugees of our time.  https://en.gaonconnection.com/water-bodies-in-india-are-struggling-to-get-adequate-flows-that-severely-affect-the-overall-habitat-suitability/  (14 Dec. 2019)
DISASTER
 
SANDRP Blog Uttarakhand Cloud Burst in Monsoon 2019: No Doppler Radar Six Years Sinc 2013 Disaster With the beginning of south west monsoon season 2019, many Himalayan states started witnessing exceptional rainfall events known as Cloud Bursts. The extreme weather event – like previous years- caused large scale destruction in ecologically sensitive and remotely located vulnerable hilly areas. This account compiles the available information about such incidents in Uttarakhand in 2019 SW monsoon.  https://sandrp.in/2019/12/11/uttarakhand-cloud-bursts-in-monsoon-2019-no-doppler-radars-six-years-since-2013-disaster/  (11 Dec. 2019)
SANDRP Blog Cloud Bursts in Himachal Pradesh in Monsoon 2019 This compilation for Himachal Pradesh state shows that the state is suffering even bigger destruction of infrastructure including roads, buildings, bridges and hydro projects due to increasing cloud burst events. At the same time the monitoring and mitigation efforts are totally insufficient and inadequate. https://sandrp.in/2019/12/15/cloud-bursts-in-himachal-pradesh-in-monsoon-2019/  (15 Dec. 2019)
Himachal Pradesh Frequent landslides in Kullu forest area damage houses Residents of Chhinjra village in Kullu district have been suffering because of frequent landslides in the Kayali forest area in the last one year. Massive landslides and shooting boulders had damaged residential houses in the region in February this year. Now, villagers are apprehensive that during the winter, landslides may occur again due to rain and snowfall and damage their houses again. So, there is need for preventive measures to check the property loss.
Angel Chauhan, DFO of Parvati circle, says, "The department has sent an estimate of Rs 20 lakh for approval to the higher authorities for the construction of check dams and walls in the region to prevent landslides. Forestation will be done in damaged areas for the purpose". He adds that the department had spent Rs 13 lakh to construct check dams and walls in the area last year. https://www.tribuneindia.com/news/archive/frequent-landslides-in-kullu-forest-area-damage-houses-872412  (9 Dec. 2019)
Jammu and Kashmir Doppler Radars installation delayed by 1 year 4 Doppler Radars installed by IMD in Jan. 2019 were scheduled to be made operational till end of this year, however the radars will now be tested and commissioned in one year from now.
As per IMD officials, out of the 10 sanctioned Doppler radars for the Himalayan region, while 4 will come up in Jammu and Kashmir; Himachal Pradesh and Uttarakhand will get 3 each. https://www.greaterkashmir.com/news/kashmir/jammu-and-kashmir-getting-4-doppler-radars-by-2021/  (6 Dec. 2019)
Uttarakhand Earthquake of Magnitude:4.4, Occurred on:13-12-2019, 16:56:48 IST, Lat:30.5 N & Long: 79.6 E, Depth: 14 Km, Chamoli. https://twitter.com/Indiametdept/status/1205458293012828160
HYDRO POWER PROJECTS
Assam/Arunachal Pradesh  NHPC's Lower Subansiri Hydroelectric Project I just got an information that the water diverted through the tunnels in left bank (eastern side) hit the right bank for years which resulted in river bank erosion. The right bank too is a hill of sedimentary rock. The water gravely eroded the lower portion of the hill and the hanging portion of the high hill has now serious crevices. The labourers are deployed in this hazardous work.
Himachal Pradesh Villagers rise against Luhri II HEP, reject half-baked SIA report Calling the Luhri II Hydropower Project a farce, residents of Nanj village in Karsog have rejected the Social Impact Assessment (SIA) report prepared as part of the rules preceding the land acquisition process during a public hearing. As per the villagers, they were not given sufficient notice or complete information about the dam project prior to the public hearing.
Moreover, they alleged that the SIA report did not include any details about the impact of the project and were sketchy and half-baked. Luhri II is one of the three projects being built on the last free-flowing stretch of the Sutlej river. The project will impact eight villages and submerge 119.79 hectares of land spread over 7.5 kilometres.   https://www.hindustantimes.com/cities/villagers-rise-against-luhri-ii-hydropower-project-reject-half-baked-social-impact-assessment-report/story-nchgzmPhzYiwjUzIHyG5zO.html  (8 Dec. 2019)
https://www.tribuneindia.com/news/archive/kinnaur-tribals-protest-seek-fra-implementation-872422 (10 Dec. 2019)
Jammu & Kashmir Many tunnels, no water Construction of tunnels to connect what will be the world's tallest railway bridge in Jammu and Kashmir's Reasi district (Bhomag block) has left scores of villages without water. It has also meant stoppage of Water powered floor mill, wood & stone mill. All fresh water sources in the surrounding villages have disappeared.
– "When the construction work started, we were told that the bridge, which they say will be higher than the iconic Eiffel Tower in Paris, would bring prosperity to the village. But right now, it has brought us disaster. How can one live happily without water?" asks Jagjeevan Ram, 45, a resident of Sermeghan near Tunnel 5.
– "Had the work executing agencies followed the recommendations of the geologists or hydrologists, this crisis could have been avoided. The engineers should have factored in the underground water courses before and during the excavation work," GM Bhat, a geologist, and rector at the Bhaderwah campus of the University of Jammu asserts. https://www.thehindubusinessline.com/specials/india-interior/many-tunnels-no-water/article30300012.ece  (13 Dec. 2019) 
Uttarakhand Opposition to Vishnugad Pipalkoti HEP funded by the World Bank. http://himalayauk.org/vishnugad-peepalkoti-hydropower-project/ (14 Dec. 2019)
Scrap Singoli-Bhatwadi & Vishnugad-Pipalkoti projects: Jhunjhunwala To protect the environment and biodiversity of the Himalayan state, noted environmentalist and economist Bharat Jhunjhunwala said that the Government should scrap the Singoli- Bhatwadi hydro-electric project on Mandakini river and Vishnugad-Pipalkoti hydro electric project on the Alaknanada river. The Uttarakhand Government had entered into agreements with L&T Uttaranchal (LTU) and THDC India Limited (THDCIL) to make these two projects. According to Jhunjhunwala, a study of these projects shows that both are in utter loss and the nation will suffer heavy losses if they are not scrapped as soon as possible. https://www.dailypioneer.com/2019/state-editions/scrap-singoli-bhatwadi—vishnugad-pipalkoti-projects–jhunjhunwala.html  (12 Dec. 2019)
BHEL to uprate Chilla hydropower plant BHEL to modernise 4X36 MW Chilla Power project on Ganga near Rishikesh to 4X39 MW project at a cost of Rs 200 Cr. The 35 year project will see life extension of equipment's and renovation. BHEL is executing the R&M of 3X25 Kutiyadi HEP in Kerala to 3X27.5 MW capacity. It is also executing 2900 MW capacity HEPs in India and 3184 MW outside India including 2200 MW in Bhutan and 900 MW in Nepal.  https://www.waterpowermagazine.com/news/newsbhel-to-uprate-chilla-hydropower-plant-india-7545911  (9 Dec. 2019)
MoEF Minutes of the FAC meeting held on Nov 28, 2019, a relevant decision: Re-diversion of 3.574 ha. of forest land (already diverted 41,111.97 ha. of forest land) for Pamkhedi Micro Irrigation Project lifting of water from Narmada Sagar Multipurpose Project, District Khandwa Madhya Pradesh: APPROVED.  http://forestsclearance.nic.in/writereaddata/FAC_Minutes/121111121612151Minutes28thNovember20191.PDF 
DAMS
Sardar Sarovar Dam Near the Narmada, a Village Withers in the State's Blindspot Excellent report on how farmers, villagers, cattle herders are suffering in several ways due to submergence of villages, farmlands, grasslands in the the dam. Worse thing is that they have not been compensated and rehabilitated so far.
Bhai used to own 40 buffaloes, 11 cows and eight or 10 goats. But when the village went under, so did over 200 acres of grazing land. "Since the cost of raising dairy cattle has doubled, most families from our community have sold off the majority of their stock of animals," Bhai told The Wire. "As a result, the village that used to boast of 1,080 livestock, of buffaloes, cows, goats, sheep and calves, is now left with less than half of this number."
The dairy cattle used to feed on grazing land, in the forests and hills, at no cost. After Chikhalda lost its grazing land, cattle-herders did the next best thing and took their cows, buffaloes, calves, sheep, lambs, goats and their kids to the cotton fields, after the cotton flowers had been plucked. But the bollworms that often infect these plants, together with the pesticides and insecticides, give cattle acute diarrhoea. Kalubhai (44), another resident of Chikhalda, lost over 100 of his animals this way.
Now, the cattle eats dry fodder, whose price in the last few months has increased from Rs 500 per quintal to Rs 850-900. A little under a score quintals of dry grass used to be able to sate Bhai's 40 buffaloes and 11 cows, but now he has to spend on 30 quintals for 15 buffaloes and seven cows, as well as on khal, a dried cottonseed cake that helps the buffaloes produce milk. Each buffalo needs 6-7 kg of khal on average, and it costs Rs 42 per kg.
The Dhanghar's cattlers used recover some of their costs by selling dried dung, useful as manure. But without grazing land, they have no place to dry the dung now, and it lies rotting in and around their houses.  https://thewire.in/environment/narmada-valley-sardar-sarovar-dam-dhanghar-community-cattle-narmada-bachao-andolan-nisarpur  (15 Sept. 2019)
Sarovar dam-hit fishermen grapple with altering breeding patterns Hundreds of farmers, potters and fishermen from 178 villages that were submerged by the backwaters of the Narmada, marched to the office of the Narmada Valley Development Authority in Bhopal demanding rehabilitation and alternative employment on 16 Nov.
Ever since the Sardar Sarovar dam downstream was filled to the brim, the Narmada has developed an erratic current and an unstable course, posing a challenge to fishermen in Madhya Pradesh. "When the backwaters swelled, the catch dwindled dramatically. And now, several species have become extinct in the river," says Mansarovar Verma, 53, a fisherman of Chikhalda village in Barwani district.
"We don't want contractors from outside to take over water bodies. Local fishermen have a traditional right to them," said Medha Patkar, of the Narmada Bachao Andolan, who led the rally and then staged a dharna with the protesters. "Water has entered forests, and dead leaves are detrimental to fish. Furthermore, garbage from submerged villages has caused a large-scale pollution of the river," said Mr. Verma.
He now catches 2-4 kg of fish a day, earning only up to ₹400 a day. Three months ago, he netted 8-10 kg, bringing home ₹1,000 a day. "We want compensation or land for the loss incurred. We don't want to work for a fishing contractor, who'll set terms for us," he said. Earlier, a drop in the water level after the monsoon gave them an opportunity to cultivate muskmelon and watermelon on the river banks around the month of January. After the water level rose, this too became impossible. Several species, including 'mahseer', has gone extinct. https://www.thehindu.com/news/national/other-states/sarovar-dam-hit-fishermen-grapple-with-altering-breeding-patterns/article29994056.ece  (17 Nov. 2019)
Jharkhand Ichagarh's dam-damned in focus once again Thousands of families were displaced for Chandil dam, which was constructed under Subernarekha Multipurpose Project in 1980s. They r yet to receive proper compensation & rehabilitation.  "Before displacement everyone had a few acres of land but everything was lost after the submergence threat by the Chandil Dam, forcing us to shift to rehabilitation land. But life is miserable," said Inderjit Sonar, 50, a resident of Khukru rehabilitation centre under Khukru block of Ichagarh constituency.
"There is no proper electricity nor drinking water. We are yet to get a suitable job which was promised by the government. We had hopes from the 'double-engine sarkar' but nothing happened even under this government," Sonar added.  https://www.telegraphindia.com/states/jharkhand/ichagarhs-dam-damned-in-focus-once-again/cid/1726043  (12 Dec. 2019)
Punjab GSI to assess landslide threat around Bhakra Faced with increasing freak weather events and large-scale deforestation in the region, the Bhakra Beas Management Board (BBMB) has asked the Geological Survey of India (GSI) to carry out landslide assessment studies on the periphery of the Bhakra Dam and its massive reservoir. "In the recent past, we have witnessed frequent weather events that have drastically increased inflows in a very short time. With heavy deforestation, many slopes have become increasingly prone to erosion or landslides," BBMB official said. Numerous rivulets emptying into the Sutlej or flowing directly into the reservoir are particularly vulnerable points.
Landslides can be triggered by earthquakes of weather events such as cloudbursts or torrential rains. The Gobind Sagar, as the dam's reservoir is known, is spread across the districts of Bilaspur and Una in Himachal Pradesh which fall in seismic zones with highest vulnerability. The 90-km reservoir is spread over 168 sq km area and at many places is surrounded by steep slopes.
Landslides are defined as the mass movement of dislodged rock, debris or earth down a slope under the influence of gravity. The regions around the Gobind Sagar are identified as landslide-prone areas of Bilaspur. As per the landslide hazard zonation atlas of India, 216 sq km area of Bilaspur district falls under severe to very high risk landslide category and another 842 sq km under high risk category. https://www.tribuneindia.com/news/archive/gsi-to-assess-landslide-threat-around-bhakra-865679  (25 Nov. 2019)
Kerala Landslip near Anathodu dam triggers concern A minor landslip that occurred a week ago on the service road leading to the Anathodu dam of the Sabarigiri hydroelectric project is posing threat to the safety of the Anathodu-Kakki twin reservoirs of the Kerala State Electricity Board. Around eight feet of road has caved in. Cracks have developed on the tar road surface. The fact that the dam lies hardly 400 metres from the caved-in portion of the service road makes the situation alarming.
The employees of the KSEB had reported the caving in of the service road and the cracks on the service road to the board authorities on December 10. The KSEB cordoned off the damaged portion with a plastic wire. Executive Engineer Prasanna Kumar said the board would strengthen the damaged portion. He said the Anathodu-Kakki reservoirs had 79.03% storage on Dec. 8 morning.
A major portion of a hill in the immediate downstream of the dam was washed away when water was released from the dam in August 2018, leading to a deluge that wreaked havoc in the districts of Pathanamthitta and Alappuzha.
Meanwhile, experts said that the extent of damage and the epicentre of the landslip could be assessed only after inspecting the foothills. The caved-in portion of the service road has soft soil and is prone to more damaging landslips during rain, posing a real threat even to the dam, they said. Anathodu dam was commissioned on August 26, 1967 by the then Electricity Minister M.N. Govindan Nair.
Padmalal, senior scientist and head of Hydrological Process Group of the Centre for Earth Science Studies (CESS) in Thiruvananthapuram, said that in recent times, Kerala had been witnessing an increase in larger rainfalls which could also trigger landslips in weak areas. Experts say that KSEB and the Kerala Dam Safety Authority should inspect the affected area near Anathodu dam and take urgent corrective steps. https://www.thehindu.com/news/national/kerala/landslip-near-anathodu-dam-triggers-concern/article30314430.ece (16 Dec. 2019)
Tamil Nadu Kottarai dam construction on hiatus in Perambalur Construction of Kottarai dam across the Marudaiyaru in Perambalur district has ground to a halt due to a shortage of funds. Farmers and the public have urged for work to be resumed at the earliest. The project was announced by former CM J Jayalalithaa following popular demand on April 4, 2013. At the time, the budget for the project was Rs 108 crore and approved on October 21, 2013.
Work started in 2016 and officials said over 70 per cent of the project had been completed. However, there has been no progress in the past four months. This has worried residents and farmers of neighbouring villages, especially those from Kottarai, Adhanur, Gudalur, Sathanur, Kuthur, Pujangarayanallur, Nochikkulam and Thondappadi, who would benefit most from the dam. https://www.newindianexpress.com/states/tamil-nadu/2019/dec/16/kottarai-dam-construction-on-hiatus-in-tamil-nadus-perambalur-2076822.html  (16 Dec. 2019)  
Check dam found broken near upcoming Udangudi Power Plant in Thoothukudi After the area earmarked for the upcoming Udangudi Super Critical Thermal Power Plant was inundated, officials who were awarded the contract allegedly attempted to break a check dam to remove the stagnant water. The dam is on a channel that diverts water to the Kulasekarapattinam tank.
Activist V Gunaselan said, "These check dams were built a decade ago to protect groundwater from becoming saline. The tanks in Udangudi fills only twice in a decade, so it is necessary to manage the rainwater to improve groundwater table. After breaking the dam, the authorities are trying to break another check dam and the district administration should not remain silent."
A petition seeking to quash licence for the construction of restoring the waterbody was dismissed by the Madurai Bench of the Madras High Court in January, 2019. The Court directed the petitioner to approach the NGT. However, NGT also refused to entertain the case citing that the petitioner should have approached within six months after the licence was given to the firm. https://www.newindianexpress.com/states/tamil-nadu/2019/dec/15/check-dam-found-broken-near-upcoming-udangudi-power-plant-in-thoothukudi-2076443.html  (15 Dec. 2019)
Maharashtra 'Ensure discharge of dams to prevent growth of water hycainth' Kolhapur District collector Daulat Desai has asked the water resources department (WRD) to implement multiple measures, one of them being ensuring the continuity of discharge from upstream dams, to keep the Panchaganga river flowing and preventing the growth of water hyacinth. As per him, water is not flowing properly into Krishna river, which has led to the growth of hyacinth in the downstream parts of the rivers.
Water hyacinth has grown unabated at several stretches of the river. The household and industrial waste being discharged into the river is the main reason for growth of the hyacinth, which further takes a toll on the acquatic flora and fauna. Currently, Kolhapur Municipal Corporation (KMC) successfully treats a certain amount of the waste water generated in the city. The Ichalkaranji municipal council and villages along the banks of the river have not taken any steps to treat the waste water being discharged into the river.
The WRD stops the discharge estimating the need of water in future especially in the summer season. This monsoon, there was adequate rainfall and the dams are filled to their capacity. The district administration claims that the water in the dams is adequate during crisis, especially for drinking and irrigation purposes. https://timesofindia.indiatimes.com/city/kolhapur/ensure-discharge-of-dams-to-prevent-growth-of-water-hycainth/articleshow/72628403.cms  (15 Dec. 2019)
INTERLINKING OF RIVERS
Misleading report on ILR  Another ill informed (or planted?) periodic report on ILR. The author clearly does not know anything about clearances or may be does not want to know.  https://wellstonjournal.com/indias-grand-plan-to-create-worlds-longest-river-set-to-go.html  (14 Dec. 2019)
Gujarat Narmada, Sabarmati, Mahi and Tapi waters fed 41 rivers: Govt  In the past five years, while the waters from river Narmada were diverted to 29 rivers across the state, the waters of Mahi, Sabarmati and Tapi rivers fed an additional 12 rivers in the state, the state government told the Gujarat Assembly recently.
– Of the 185 rivers, 29 were fed with waters from the Narmada river in the past five years and that includes 10 rivers of Saurashtra region where water was diverted through the link canals of the SAUNI (Saurashtra-Narmada Avartaran Irrigation) Yojana.
– The rivers in Saurashtra that were fed with Narmada waters diverted through the SAUNI project were Macchu, Demi, Bangavadi, Aji, Und, Bhogvo, Vansal, Goma, Ankadiya and Hiren. The state government also stated that it spent Rs 175.11 crore between 2015-'16 and September 30, 2018 in transferring water through various link canals built under the SAUNI yojana.
– The other rivers that were fed with Narmada waters are Khari, Rupen, Pushpavati, Saraswati, Banas, Jhiliya, Chikariyo, Dev, Heran, Kun, Saudak, Vatrak, Mehor, Meshwo, Sakra, Falku and Brahmani among others.
– Apart from the massive transfer of water from Narmada to other rivers during this five year period, rivers of Mahisagar flowing through central Gujarat were diverted to 10 rivers. The waters of Mahi river have been diverted using the Sujalam Sufalam canals to rivers like Shedi, Lavari, Mahor, Dhamani, Varanshi, Vatrak, Majam, Meshwo, Khari and Sabarmati, the state government said in its written reply.
– During this five-year period ending on August 30, 2018, the waters of Sabarmati river was diverted to Saraswati river, while the water from Tapi river in South Gujarat was diverted to Auranga river, the government said adding that the waters were diverted for "irrigation purposes". https://indianexpress.com/article/india/narmada-sabarmati-mahi-and-tapi-waters-fed-41-rivers-gujarat-govt-6161129/  (11 Dec. 2019)
INTERSTATE WATER DISPUTES
Mahadayi River Water Dispute  Solution soon on Mhadei letter to Karnaaka: CM after talk with Javadekar On October 17, almost two months before the crucial Karnataka bypolls in 15 assembly constituencies, the Javadekar-led ministry had given permission to Karnataka's Rs 841 crore Kalasa-Bhanduri dam project, which ostensibly aims to divert water from the Mhadei river basin to the water-deficit basin of the Malaprabha river, claiming the project is for drinking water purposes.
After the Goa government and opposition parties collectively pressurised the MoEF&CC to withdraw the clearance, claiming the project would cause ecological devastation in Goa, Javadekar had first sent a letter to Chief Minister Sawant that his ministry has constituted a committee to examine the issue and later sought 15 days' time on November 20 to address the concerns.  http://www.navhindtimes.in/solution-soon-on-mhadei-letter-to-ktaka-cm-after-talk-with-javadekar/  (12 Dec. 2019)
IRRIGATION
Gujarat Only 19% of area created for irrigation purposes utilised: CAG report Pointing out that the maximum utilisation of the 18.88 lakh hectares CCA during any season in 2012-13 was just 18 per cent (3.48 lakh hectares for Rabi season, 2.12 lakh hectares for Kharif and 0.63 lakh hectares for hot season (summer crop)) and a tad higher at 19 per cent in 2016-17 (3.64 lakh hectares for Rabi season, 2.8 lakh hectares for Kharif season and 1.66 lakh hectares for hot season), CAG stated that it "indicated sub-optimal utilisation of irrigation potential created in the state as a whole".  https://indianexpress.com/article/cities/ahmedabad/only-19-of-area-created-for-irrigation-purposes-utilised-in-gujarat-cag-report-6163368/  (12 Dec. 2019)
The CAG report on 'Economic Sector' for the year that ended on March 31, 2018 was tabled in the state Assembly on Dec. 11, the last day of the session.  http://www.millenniumpost.in/nation/cag-flags-deficiencies-in-canal-maintenance-projects-in-gujarat-390777  (12 Dec. 2019)
Rajasthan जालोर में पानी की मांग को लेकर किसानों का नौ दिन से धरना जारी जालोर जिले के चितलवाना में नर्मदा मुख्य नहर के किनारे सिंचाई के लिए पानी की मांग को लेकर किसानों का धरना पिछले नौ दिनों से जारी है. धरने के आठवें दिन कांग्रेस प्रदेश उपाध्यक्ष हीरालाल बिश्नोई व नर्मदा विभाग से एक्सईएन व एईएन धरना स्थल पर पहुंचे और किसानों से समझाइश की, लेकिन किसान धरने से उठाने को तैयार नहीं हैं. किसानों ने दो टूक शब्दों में कह दिया है कि जब तक हमे सिंचाई के लिए पानी नहीं मिलेगा तब तक हम धरना जारी रखेंगे.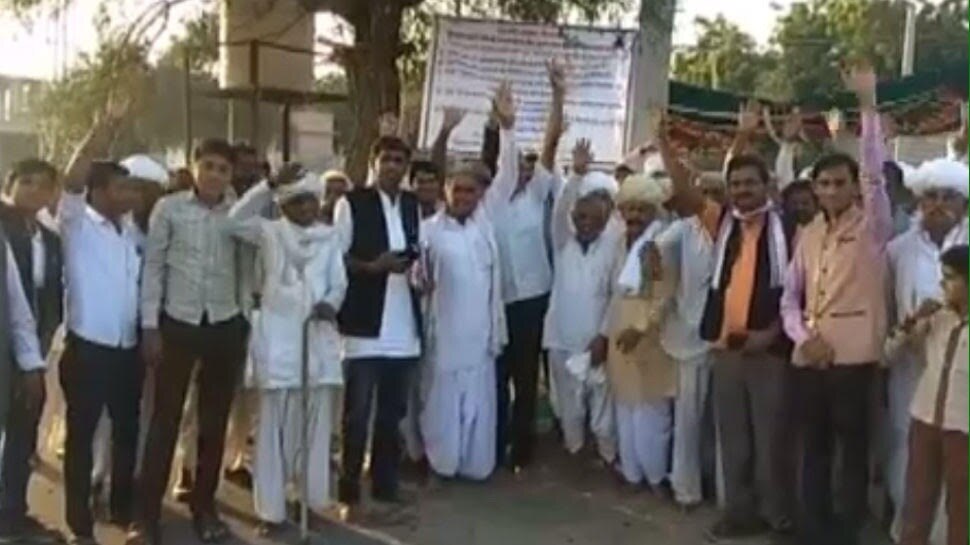 https://zeenews.india.com/hindi/india/rajasthan/jalore-farmers-on-strike-for-water-demand/608371  (11 Dec. 2019)
West Bengal Improved Irrigation Services and Reduced Flooding for 2.7 Million Farmers  The World Bank Board of Executive Directors on Dec 10, 2019 approved a $145 m project that claims to improve irrigation services and flood management in the Damodar Valley Command Area (DVCA) in West Bengal. The West Bengal Major Irrigation and Flood Management Project is supposed to benefit about 2.7 million farmers from five districts of West Bengal across 393,964 ha area with better irrigation and protection against flooding. The total value of the project is $413.8 m, co-financed between IBRD ($145 m), the Asian Infrastructure Investment Bank ($145 m) and the Government of West Bengal ($123.8 m).
– Between 2005 and 2017, the number of semi-critical blocks increased from five to 19 (out of a total of 41 blocks). The Lower Damodar basin area is historically flood-prone. On average, 33,500 hectares of the cropped area and 461,000 people are affected annually.  https://reliefweb.int/report/india/improved-irrigation-services-and-reduced-flooding-27-million-farmers-india-s-west  (10 Dec. 2019)
FISH, FISHERIES, FISHERFOLKS
Jharkhand Meet the social entrepreneur who is revolutionising the Indian inland fisheries industry Neelkanth established The Center for Aquatic Livelihood (Jaljeevika) with the vision of legitimising the (Inland fisheries) sector and transforming it into one where farmers could access the resources and support they need for a sustainable livelihood.
At the core of this vision is the insight that access to shared aquatic resources needs to be placed in the hands of farming communities, such as cooperatives and women's self-help groups (SHGs).  https://yourstory.com/socialstory/2019/12/social-entrepreneur-inland-fisheries-farmers  (11 Dec. 2019)
SAND MINING
Tamil Nadu  HC notice to govt on sand mining Madras high court issued notice to the state government in a PIL which sought to prevent illegal sand mining in waterbodies at Thogamalai union in Karur district, on Dec. 13. The petition filed by P Soundara Pandiyan, a resident of Karur district, stated that several people have been illegally mining sand from Ariyar river in Vadaseri village and a pond in Poovaipatti village. He stated sand mining is being done up to 10ft depth and this would affect the groundwater level. If such illegal sand mining is permitted to continue, then the villagers would face acute water shortage in the future, he added. He said that the people have staged a protest and submitted several protests seeking to stop the illegal sand mining, but no steps have been taken. https://timesofindia.indiatimes.com/city/madurai/hc-notice-to-govt-on-sand-mining/articleshow/72555069.cms  (14 Dec. 2019)
Madhya Pradesh After rivers, govt to auction dams for sand mining If dams are auctioned for sand mining, MP would be the first state in the country to do so. Earlier, Maharashtra had decided to auction dams for sand mining, but stepped back after initiating the process.
The MP government has proposed sand mining contracts in Bargi Dam, Tawa Dam, Indira Sagar Dam and Bansagar. It has been cleared at the secretaries' committee level and had to go to the cabinet for final clearance. This is the second major step by the cash-starved Congress govt after auctioning sand mines last month, taking it back from gram panchayats allotted by the earlier BJP government.
Dams in the state are full due to the bountiful rain this year. The government has calculated the amount of sand that can be mined from the dams. It would keep the base price and invite the interested parties for auction.
Till last year, the lease used to be for one year only. Mines allotted this year would be renewed in 2022. Once allotted, the contractor would pay the increased royalty of 10 per cent per year and continue to operate the mines for three years. Officials said the decision to give lease for three years is meant to ease the sector from getting into the lease process every year. However, the lease in reservoirs is expected to be on yearly basis initially.
The government earned around Rs 1,234 crore in auction of river sand mines in 36 districts. Tenders for six districts, including Shahdol, Ujjain, Guna, Rajgarh, Shahjapur and Agar Malwa, were floated again on Dec. 13. In 2018-19, the government had earned just Rs 223 crore when the sand mines were with panchayats. The new mining policy has continued with the earlier government's directive for a complete ban on mechanized mining from the quarries along Narmada river. As many as 1,438 mines have been identified in the state and of them 400 were new mines, officials said.  https://timesofindia.indiatimes.com/city/bhopal/after-rivers-mp-govt-to-auction-dams-for-sand-mining/articleshow/72553315.cms  (14 Dec. 2019)
Goa  NGT orders regular vigil of Chapora river Disposing of the petition regarding illegal sand-mining in the Chapora river, the NGT has directed state departments, including the police, to ensure that regular vigil is maintained at the river and necessary action is taken against violators based on CCTV footage. Earlier, the tribunal had directed that CCTV cameras be installed at specified locations along the river.
The case pertaining to illegal mining in the Chapora river was filed in 2015. During the course of the proceedings, the NGT had issued directions from time to time to deal with the violation. The tribunal said records have shown that the state has been taking various steps, including constitution of a district committee, to deal with the grant of permits for manual sand extraction and its monitoring.
A report following a joint inspection by government departments had specifically mentioned that the area in and around 'Zuvom de Tuyem' island in the Chapora river was a no sand extraction zone. It was also recorded that a public notice had been issued by the director of mines and geology stating that mining in the said zone around the island would attract a fine of up to Rs 5 lakh per canoe and Rs 1 lakh per extractor without further notice, as per Rule 62 of the Goa Minor Mineral Rules, 1985. https://timesofindia.indiatimes.com/city/goa/sand-mining-ngt-orders-regular-vigil-of-chapora-river/articleshow/72627617.cms  (15 Dec. 2019)
WETLANDS, LAKES, WATER BODIES
Goa NIO takes up assessment of 35 wetlands on priority Out of 550 wetlands spread across the state, the National Institute of Oceanography (NIO) has prioritised 35 water bodies for notification and initial reports have been prepared. Goa's lush environs are home to around 213.8 sq km of known wetlands.
– The 35 wetlands were prioritised as per the administrative and statutory jurisdiction, and primary preference was given to the water bodies having potential for protection and conservation under the wetland rules, NIO said. NIO said that the water bodies falling under CRZ rules and those existing in protected areas (wildlife sanctuarys and national parks) will be dealt with later, as stated in the wetland rules 2017. Nanajkar said that NIO would require at least one year's time to achieve their aims and complete work in holistic manner. Accordingly, the remaining water bodies of the state will be assessed and mapping work will be done.
-When the case came up for hearing before the NGT in August this year, the Goa state wetland authority had requested the NGT for time for consultation with the concerned persons and stakeholders before notification of the wetlands, in order to determine 'pre-exisiting rights' over the land, if any. https://timesofindia.indiatimes.com/city/goa/nio-takes-up-assessment-of-35-wetlands-on-priority/articleshow/72356262.cms  (4 Dec. 2019)
NGT questions move to engage NIO for wetlands task Green Tribunal has pulled up government authorities for "abdicating their responsibility" in identifying wetlands in the state, and questioned the rationale behind engaging National Institute of Oceanography (NIO) for the task. "We get the distinct impression that the regulatory authorities in the state like the wetland authority, biodiversity and environment department are abdicating their responsibilities," NGT said.
While stating that the progress made by NIO in the matter is "grossly inadequate", the tribunal said that NIO, which has been engaged by Goa State Wetland Authority (GSWA) for carrying out the task of identifying wetlands and preparing 'brief documents' along with the activities mentioned in Rule 7 of the Wetland (Conservation and Management) Rules, 2017, has commenced with the work and has also submitted a report. "Considering the nature of the task regarding which guidelines already exist either in the Central Wetlands Rules, 2017 or similar rules of the state, we are unable to understand as to why NIO should be engaged for the purpose of identification of wetlands," NGT remarked.
"In view of the above, besides directing submission of further reports in respect of the exercise being undertaken, we direct the personal presence of the member secretary of the state biodiversity board, state wetland authority and the director of the state environment department on the next date of hearing," the tribunal said. https://timesofindia.indiatimes.com/city/goa/green-tribunal-questions-move-to-engage-nio-for-wetlands-task/articleshow/72431075.cms  (9 Dec. 2019)
Gujarat Birds give Nalsarovar a miss Excess water in Nalsarovar has meant this season that the migratory birds have given it a miss:- Forest department officials said that the birds usually start arriving by October and remain at the lake till March. This year the birds have given the lake a miss, as monsoon lasted till mid-November longer, leading to higher-than-optimal water levels.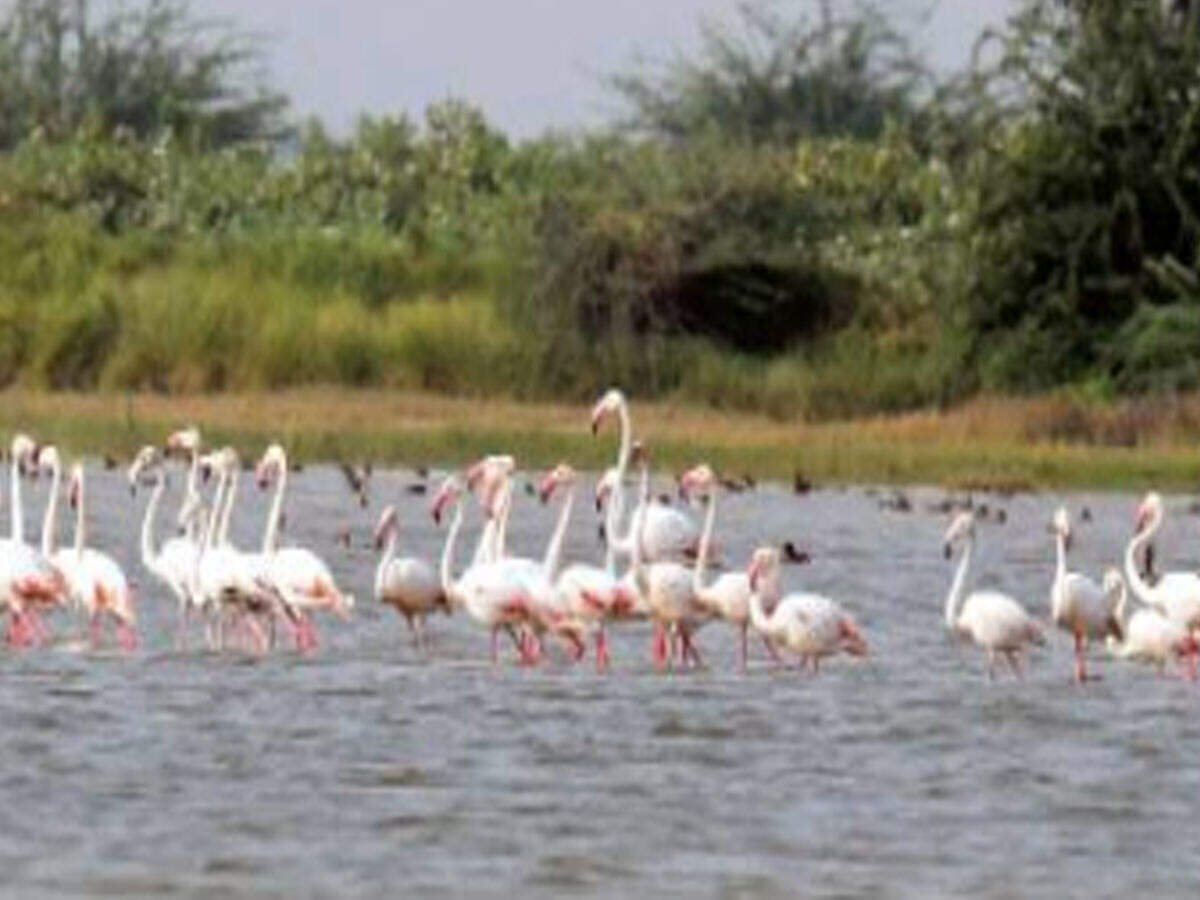 Officials said the lake had more than nine feet of water in October and has about 5.2 feet now, which is unsuitable for migratory birds. The need about 3 to 3.5 feet of water for optimal foraging conditions. The lake is now brimming because of the higher than normal rain in the catchment area and overflowing water from the Narmada canal. Officials said the birds have slowly started arriving, but can only be seen on the banks as of now. The high water level are keeping birds away just the lack of it did last year. In 2018, the lake had dried up. Officials said this was because the state government did not release excess Narmada water into it 2017 and 2018, as water was diverted to farms for rabi crops due to the water crisis.
A senior forest officer on condition of anonymity said that Narmada water, released for irrigation, often flows into the lake taking the lake water level to 5 feet. Officials said Nalsarovar, spread over 120 sq km, is a natural freshwater lake and there are fears that inflow from the Narmada may turn it into an artificial one. Before 2018, Nalsarovar had gone completely dry for a long period in 2002. https://timesofindia.indiatimes.com/city/ahmedabad/problem-of-plenty-birds-give-nalsarovar-a-miss/articleshow/72430995.cms  (9 Dec. 2019)
Karnataka Bellandur lake clean-up: NGT fixes Sept 2020 deadline to build STPs In yet another hearing on the Bellandur lake at the NGT, officials of the Bruhat Bengaluru Mahanagara Palike (BBMP), Bangalore Development Authority (BDA), Bangalore Water Supply and Sewerage Board (BWSSB) and the Karnataka State Pollution Control Board (KPSCB) were pulled up for failing to take action.
– At Dec. 11 hearing, Justice Adarsh Kumar Goel expressed his reservations over the delay in building STPs and pulled up the BWSSB chairman Tushar Girinath for seeking two more years of time to build STPs, while the experts say it can be done in nine months. The NGT asked the state government to complete the construction of STPs by September 2020 to prevent entry of sewage water.
– It also noted that there is a colossal waste of money as treated water goes into the lake, mixing with untreated water and then getting treated again. It also noted that desilting process, which was started, did not finish as part of due process. https://www.thenewsminute.com/article/bellandur-lake-project-ngt-fixes-sept-2020-deadline-build-sewage-treatment-plants-113945  (12 Dec. 2019)
Maharashtra Mangrove destruction led to flooding in 20 villages in Uran The Raigad district administration has disclosed that 20 villages in Uran, Navi Mumbai, were flooded during monsoon, affecting 1,236 families, as a result of mangrove and wetland destruction. It is the first time that the administration has released this information in response to a RTI query. The administration has also said that floods of such magnitude have never been witnessed in Uran. https://www.hindustantimes.com/mumbai-news/mangrove-destruction-led-to-flooding-at-20-uran-villages/story-H2kD3DmCWxlFqrd5foJ1vM.html  (8 Dec. 2019)
Odisha December 10 date for government over protection of wetland High Court on Dec. 2 set December 10 as deadline for the State Government to file an affidavit indicating the steps taken so far to ensure protection of Chilika Lake and Bhitarkanika National Park.
The division bench of Chief Justice K S Jhaveri and Justice K R Mohapatra was taking stock of the progress made by the high-level committee constituted on its order issued on January 21 in this regard. The bench set the deadline after it found that no report had been filed. https://www.newindianexpress.com/states/odisha/2019/dec/03/december-10-date-for-government-over-protection-of-wetland-2070707.html  (3 Dec. 2019)
Punjab 2 months on, revival work at Kanjli wetland yet to begin As part of the 550th Parkash Purb celebrations of Guru Nanak, the government had made the announcement in September to develop this neglected park into a proper picnic spot. However, the local administration is yet to allot the contract for the work to any firm so far. As per the announcement, Rs 275 crore will be spent on the construction of a 2-km road in the wetland area, developing a cycle track, a walking track, besides repair of Kanjli head regulator; Rs 59.10 crore will be spent on renovation of restaurants, a reception centre and a boating point and Rs 57.75 crore on horticulture and landscaping. Also, power infrastructure will be developed at a cost of Rs 46.81 crore and Rs 10.12 crore will be spent on water supply channels and renovation of washrooms.
Hundreds of migratory birds used to visit the wetland in the past, but only a few winged visitors have arrived this time due to its neglected condition. The wetland, spread over 183 hectares, holds religious significance as it is part of the Kali Bein, a holy rivulet associated with Guru Nanak. The wetland came into existence in 1870 with the construction of headworks on the rivulet. It was once famous for the annual Baisakhi fair, but it has now been years since the fair was organised here. https://www.hindustantimes.com/chandigarh/2-months-on-revival-work-at-kanjli-wetland-yet-to-begin/story-pBhFq6jKkxUmCU87ToKWFJ.html  (15 Dec. 2019)
Chandigarh No respite for vendors from SC Vendors of Sukhna Lake, who had challenged UT's decision to relocate them, got no relief from the Supreme Court on Dec. 9. – The lawyers who appeared before the SC said their pleas were disposed of by the apex court, asking them to put up their grievances before the Punjab and Haryana HC. Earlier in November, a similar petition was moved before the apex court, challenging the HC's order on the vendors' eviction. At that time also, they were told to approach the HC. It was in October when the HC had directed the municipal corporation (MC) to start shifting registered vendors to the designated vending zones within four weeks. https://www.hindustantimes.com/chandigarh/no-relief-to-sukhna-lake-vendors-from-supreme-court/story-V2taOsoHSVVjKq9MMDBeDI.html  (10 Dec. 2019)
Punjab Pond of sewage water in Patiala village poses serious health, life threat Story of multiple locations in North India whr common land, waterbodies now seen as waste land r being diverted for 'dev work'. Wth new technologies, changing lifestyle water consumption, resultant wastage increased manifold leading to such situation.
A pond of sewage water near the Government Senior Secondary School at Ullana village in Ghanaur block, Patiala is posing serious health and life threats to over 540 students. Over one acre land near the school premises has turned into a pond of waste water and a dumping ground.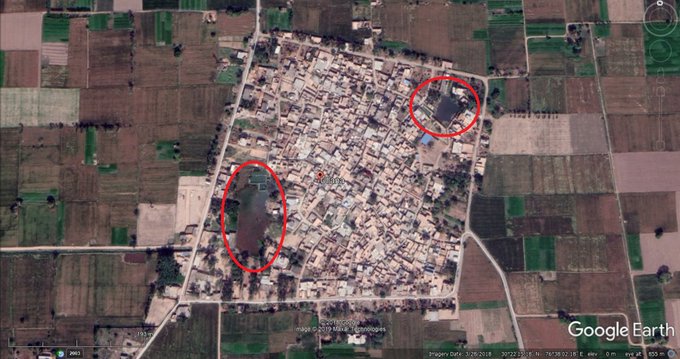 The pond water emits foul smell and has become a breeding ground for mosquitoes and snakes, thus posing threat to lives of residents. The pond is situated outside the schools on an adjoining land. A broken wall, which used to separate both the lands, has further increased the risk. https://www.hindustantimes.com/chandigarh/pond-of-sewage-water-in-patiala-village-poses-serious-health-life-threat/story-IF2dnh6cHLsiw5wYFy7HrL.html  (11 Dec. 2019)
GROUNDWATER
Punjab Govt to set up regulatory authority to check depletion of ground water To check groundwater depletion in the state, the Punjab Cabinet has given its approval to create the Punjab Water Regulation and Development Authority. Although the authority will be empowered to issue directions on water extraction, it will not be authorised to impose any restrictions or tariff on extraction of water for drinking, domestic and agriculture purposes. With no power to regulate tariff, the new version of the authority is being seen as bypassing the Central Ground Water Authority's guidelines that provides for every state to have its own authority to ensure stringent steps to limit groundwater extraction. For drinking, domestic and agriculture purposes, the authority would be guided by the policy of the state government. It would, however, be required to issue tariff orders for use of water for industrial and commercial use.
– The Dynamic Ground Water Estimation Report 2017, published in 2019, the number of blocks falling under over-exploited category — where groundwater abstraction exceeds recharge — stood at 109 out of the 138 study blocks in the state. The groundwater level is depleting in about 85 per cent of the state with an average yearly rate of fall of about 50 cm per year.
– The legislation also provides for a state council for water management and development, to be headed by the chief minister. The council would be tasked to approve the State Water Plan, which would be based on integrated water plans to be prepared for every block.  https://www.business-standard.com/article/pti-stories/punjab-to-set-up-water-regulation-authority-to-check-depletion-of-underground-water-119120401088_1.html  (4 Dec. 2019)
Chhattisgarh Mines, power plants causing pollution in Tamnar-Gharghoda region: NGT team  NGT inquiry team to Tamnar-Gharghoda region of Raigarh district, where operations in another two coal mines will begin soon, has found that the area is close to exceeding its environmental carrying capacity. The team also highlighted the negligence by the existing power plants and mines there causing pollution. The five-member team has found green belts developed by projects offering only token protection against pollution, trucks carrying coal causing large-scale air pollution, and at least 27% of the fly ash from power plants being dumped in low-lying areas in a highly unscientific manner, destroying agricultural fields.
– The team, which recently submitted its report to the NGT, was set up in May after two cases were filed by residents of 52 project-affected hamlets in Tamnar block, flagging mining's impact on groundwater and air quality, fires in coal mines and stockpiles, and blasting that results in damage to houses.
– As for water pollution, the report said the projects had dug garland drains, meant to prevent discharge of silt in surface water, only in temporary forms, and settling tanks were often not built. By not disposing of fly ash generated by the power plants through overburden dumps and back-filling, at least 27% of it was being dumped in low-lying areas, the report said.
– According to a report of the National Environmental Engineering Research Institute, the team said, high level of arsenic was found in drinking water in villages. "The source of this arsenic is clearly geogenic; the process by which it is now being mobilised is unclear," the team said. https://www.thehindu.com/news/national/other-states/mines-power-plants-causing-pollution-in-tamnar-gharghoda-region-ngt-team/article30308398.ece  (15 Dec. 2019)
Goa Rising consumption causes dip in groundwater: Study The overall groundwater availability scenario in Goa remains safe, but a 'negligible to moderate' fall in water level was recorded during the pre-monsoon season. It shows that groundwater consumption has gone up in Goa, states the report, released on Dec. 10, of the Central Ground Water Board's (CGWB) south western regional office in Bengaluru on Goa's groundwater resources.
To learn the decadal trend during the pre-monsoon season, mean groundwater level for May from 2006 to 2015 was compared with the groundwater level in May 2016. Of the stations (observation wells) analysed, 54% showed a fall in water level, while 46% showed a rise in water level. The CGWB also tested water for quality and found it to be suitable for drinking in most parts of the state, except for samples from Pomburpa-Palmar, where the water was found high in chloride content.
The board is maintaining 96 dug wells and 45 piezometers under National Hydrograph Network Monitoring Stations in Goa. The hydrographs stations are spread over different lithological and administrative units of the state. Data from these stations were used for assessing the pre-monsoon and post-monsoon water levels, fluctuations and decal trends. The methodology envisages that groundwater assessments has to be carried out once every three years and groundwater resources were re-estimated for Goa up to March 2017. The report was approved at a meeting with state officials this year. https://timesofindia.indiatimes.com/city/goa/rising-consumption-causes-dip-in-groundwater-study/articleshowprint/72464024.cms  (11 Dec. 2019)  
URBAN WATER
Is quality of urban water getting any better? The absence of credible information on water quality in the country was another challenge, experts said. "Quality of surface-level and ground water has been going down but there is no comprehensive data or monitoring of pesticides in water," said Himanshu Thakkar of SANDRP.
Thakkar said that compiling data was the first step toward better governance of water resources. The second challenge, he said, was about accountability. "How often do we hold those industries accountable for polluting water resources?" he said.  https://scroll.in/article/945306/water-pollution-is-the-quality-of-piped-water-in-urban-india-getting-any-better  (11 Dec. 2019)
Mumbai Viruses found in lakes; scientists claim no major threat Less than a month after a survey said that tap water in Mumbai is safe for drinking and it is compliant with Indian standards, a mega virus has been found in various water storage facilities in the city. The pathogens, which have been identified by the scientists are named as 'Bandra Megavirus', 'Kurla Megavirus', Powai Lake Virus, Mimivirus Bombay. The scientists have also claimed that these viruses are growing rapidly compared to others, however, there is no major threat from them.
– Similar pathogens were found in England's Cooling Tower in 1992, following which researchers from across the globe started working on them. A team under Kiran Kondabagil, a scientist from IIT Mumbai began researching on it and found evidence after five years of research. https://mumbaimirror.indiatimes.com/mumbai/other/mega-virus-found-in-mumbais-water/articleshow/72469383.cms  (13 Dec. 2019)
Nagpur Groundwater status in city 'poor': Report Latest data of state pollution control board reveals that the city has the highest concentration of most pernicious groundwater in the state. Moreover, the iconic Nag River is the second-most polluted one after Mithi river in Mumbai. This has come to fore through the report 'Water quality status of Maharashtra 2018-19'. Prepared by TERI, the report comprises statistical analysis of water quality monitoring data recorded at 294 monitoring stations in the state between April 2018 to March this year.
According to data, the stretches of Nag River near Bhandewadi bridge and Asoli bridge in Bhandara road have a water quality index of 35 and 34, respectively, which falls under 'heavily polluted' category. Average WQI of samples collected from stretches of Pili river flowing through Kamptee Road and Koradi Road are 44 and 42, respectively, which falls under the category of "polluted". As per activists, discharge of sewage in local rivers is the biggest reason behind heavy pollution.
The report highlights that out of the 66 groundwater monitoring stations in the state, Nagpur has the maximum number of water quality monitoring systems falling under 'poor to very poor' category. Out of 14 monitoring stations in the city, the water quality index (WQI) of 12 stations is highly polluted. The WQI for groundwater is calculated on the basis of 11 parameters — pH, total hardness, calcium, magnesium, chloride, TDS, fluoride, nitrate and sulphate.
As reported earlier, environment activists have been complaining about severe groundwater pollution in Bhandewadi and surrounding areas due to unscientific dumping of city's municipal solid waste. Leachate, which is the liquid containing innumerable organic and inorganic compounds generated from solid waste, percolates through the soil and reaches the groundwater. https://timesofindia.indiatimes.com/city/nagpur/groundwater-status-in-city-poor-report/articleshow/72322758.cms  (2 Dec. 2019)
Chennai Copious flow from Krishna in Poondi reservoir for first time in 5 years A large quantity of Krishna river water from Andhra Pradesh has reached Chennai this year, for the first time in nearly five years, to the relief of water managers. With the meteorological department forecasting more rain in the city next week, the authorities hope the reservoirs at Chembarambakkam and Cholavaram will receive significant inflow.
– Earlier, senior officials of PWD, Metrowater and TWAD board met their counterparts in Andhra Pradesh on two occasions and requested them to release at least 8 tmcft this time. "Though the AP officials agreed, there is no guarantee it will be released. This depends on rainfall in AP," the official said. https://timesofindia.indiatimes.com/city/chennai/copious-flow-from-krishna-in-poondi-reservoir-for-first-time-in-5-years/articleshow/72481519.cms  (12 Dec. 2019)
Restoration of water bodies Of the 3,000 water bodies in Chennai city, the process to restore 210 is already underway. The work entails desilting as well as removing water hyacinth and garbage in the water bodies. From the photos in the story, it seems the water bodies are shrinking and the surroundings are being concretised, both seems to be against the interest of the water bodies. https://india.mongabay.com/2019/12/chennai-water-restoring-chennais-water-bodies/  (10 Dec. 2019)
Forest officials revived a dried-up lake Due to sustained efforts of the forest officials, 17-acre Otteri lake inside the Vandalur Zoo or the Arignar Anna Zoological Park gets revived. Otteri Lake is situated on the western side of the park premises in Vandalur Zoo. Every year, after the monsoon, the lake attracts aquatic migratory birds.
The zoo authorities also draw water for the animals in the zoo from Otteri lake, besides from the water taken from Tamil Nadu Water Supply and Drainage Board (TWAD) as well as open wells and borewells on the premises. https://www.thenewsminute.com/article/water-birds-are-back-how-forest-officials-revived-dried-lake-chennai-zoo-113915  (11 Dec. 2019)
A disproportionate increase in the built-up area points to rampant flourishing of illegal constructions. Builders, planners, and academicians have faulted the lack of review of the Second Master Plan, since 2010. The plan should be reviewed every five years as per norms. But planners in Chennai Metropolitan Development Authority have hardly followed the procedure, which in turn raises the question if the plan is flawed. https://www.newindianexpress.com/cities/chennai/2019/dec/12/master-unplanned-whats-killing-our-waterbodies-2074860.html  (12 Dec. 2019)
Madurai Vaigai water reaches Teppakulam after 40 years Water from Vaigai river gushed into the Mariamman Teppakulam tank on the eastern end of Kamaraj Salai through Panaiyur channel after 40 years. Water is being released into the tank through the channel since Wednesday on a trial basis.
Executive Engineer of Periyar-Vaigai Basin Division T. Subramanian said that 10 cusecs of water is being released to the Teppakulam. "Gradually we are planning to release around 30 cusecs of water and fill the tank," he said. "With the construction of a check dam near Albert Victor bridge, we can ensure that the Teppakulam can have water throughout the year," he added. The tank, which is spread across 22 acres, has a capacity of eight million cubic feet (mcft).
– Over the course of 40 years, the Vaigai riverbed level went down and down and the channel could not carry water as it was on a higher plane. Now that two RCC pipelines have been laid to bridge the mismatch in height, Vaigai water could flow into the channel and reach tank after so many years. Previously, water was pumped into the tank by Hindu Religious and Charitable Endowments Department officials using motors. When water was released into Teppakulam on Wednesday, froth and foam floated on the surface of the tank. Corporation officials said froth formed because water passed through the defunct channel after decades. https://www.thehindu.com/news/cities/Madurai/vaigai-water-reaches-teppakulam-through-defunct-panaiyur-channel/article30292573.ece  (13 Dec. 2019)
Noida Sector 143 green belts turn to sewage ponds in absence of pipelines Struggling to get a sewer connection from the Noida Authority despite being given an occupancy certificate four years back, the residents of Gulshan Ikebana, residential society in Sector 143, have said that the society is force to discharge excessive effluents to the green belts in the area, in absence of sewer lines. Residents claimed that with the waste water filling up the nearby greenbelts, some of which share boundaries with the society, residents face health hazards such as mosquito menace. They added that a total of 23 cases of dengue from the society were reported this season alone.
Meanwhile, the authority, accepting that the drains coming out of residential societies are yet to be connected with the dedicated sewer-line situated about two kilometres from the society, said that a plan is underway to resolve the issue soon. According to residents, they have been getting assurances from the authority since September 2015 when they first approached them but to avail, to which officials said that a sewer line will soon be put in place in the area.
Officials, however, added that high-rises are supposed to treat and reuse their sewage water, and only excessive waste should be discharged and fed to sewer lines for further treatment by the authority's STPs. They said however the norms ask each high-rise to ensure that their STPs are working in full capacity and the wastewater is reused for horticulture purposes, and only the excessive wastewater is released in the drains. According to the Noida authority officials the high-rise was recently fined for discharging the excessive water and overflowing drains. https://www.hindustantimes.com/noida/noida-sector-143-green-belts-turn-to-sewage-ponds-in-absence-of-pipelines/story-cLoRqCJnfMyDaJcli8QRMP.html  (15 Dec. 2019)
WATER
Opinion Not many lessons learnt from water planning failures J Harsha, a CWC director points out problems with the assumptions and approach of the Jal Shakti Abhiyaan of Union Water Resources Ministry. https://www.thehindu.com/opinion/lead/not-many-lessons-learnt-from-water-planning-failures/article30289651.ece  (13 Dec. 2019)
Centre Uranium in Nalgonda water is above safe limit Ministry of jal shakti on Dec. 12 informed the Lok Sabha that uranium levels in water samples in Lambapur-Peddagattu of Nalgonda is beyond safe limit. https://timesofindia.indiatimes.com/city/hyderabad/uranium-in-nalgonda-water-is-above-safe-limit-centre/articleshow/72500759.cms  (13 Dec. 2019)
3 lakh rural habitations lack quality drinking water supply Over three lakh rural habitations across the country continue to be deprived of the government's minimum prescribed provision of 40 lpcd of potable drinking water with assured quality.
With the ambition to now achieve a service level of 55 lpcd by 2024, the data presented by the Ministry of Jal Shakti in the Lok Sabha this past week notes that Rajasthan, West Bengal, Assam top the list where the coverage is facing quality issues or seeing diminished supply. Bihar, Punjab, Karnataka and Uttarakhand are the other States which too are battling the problem. https://www.thehindu.com/news/national/three-lakh-rural-habitations-lack-quality-drinking-water-supply/article30307539.ece  (15 Dec. 2019)
– हमारे देश में ज्यादातर ग्रामीण आबादी पीने के पानी के लिए भूजल के स्रोतों पर ही निर्भर है, ऐसे में लाखों ग्रामीण हर साल गंदे पानी से होने वाली बीमारियों का शिकार हो रहे हैं.  https://www.gaonconnection.com/desh/drinking-water-rural-areas-contaminated-46742  (28 Nov. 2019)
RO purifiers: Less of a solution, more of a problem Not only are RO water purifiers not needed in most places, but using the process to treat water when it is not called for also spells environmental havoc. https://www.deccanherald.com/opinion/ro-purifiers-less-of-a-solution-more-of-a-problem-785488.html (14 Dec. 2019)
Access and availability.
MONSOON
Delhi Highest December rain in 22 years Capital recorded highest 24-hour December precipitation in 22 years. The Safdarjung Observatory, figures of which are considered official for the city, recorded 33.5 mm rainfall, the second highest after 70 mm in December 1997, till 5:30 pm. The all-time high of 75.5 mm was recorded on December 3, 1923. Meanwhile, the Palam weather station registered an all-time December high of 40.2 mm in the last 24 hours. It had gauged 33.7 mm rainfall on December 3, 1967, officials said. Delhi recorded a low of 12.8 degrees Celsius and a high of 21.5 degrees Celsius, which was two notches below normal. https://www.tribuneindia.com/news/delhi-records-highest-december-rain-in-22-years-on-friday-10924  (14 Dec. 2019)
Wettest Dec. day in 50 years The heaviest December rain in decades turned on the chill in the capital, sending maximum temperatures plunging to below 20 degrees Celsius for the first time in the season and substantially cleaning up the air, even as widespread snow and rain lashed north India.
Palam recorded 40.2mm of rain in 24 hours till 8.30am on Dec. 13, the highest single-day rainfall in more than 50 years in December. The IGI Airport saw an intense thunderstorm on Dec. 12 night that led to 47 flight diversions, the highest for a winter rain-related event at the airport in 25 years. https://timesofindia.indiatimes.com/city/delhi/delhi-records-wettest-december-day-in-50-years/articleshow/72570212.cms  (14 Dec. 2019)
Pune Warmest Dec. nights in a decade Pune has recorded its warmest December nights till now in a decade, India Meteorological Department (IMD) data revealed on Dec. 13. Unlike past Decembers, the city's night temperature has not dipped below 14 degrees celsius this December when the average daily minimum temperature is around 12 degrees celsius.
– The average December night temperature so far till date in Pune has been 17.3 degrees C, the highest since 2009. IMD data showed that from December 1-12 in the last 10 years, the lowest average night temperature was experienced in December 2016 at 11.5 degrees C. But never in the past decade has the average night temperature in Pune been so high. https://timesofindia.indiatimes.com/city/pune/warmest-december-nights-in-a-decade-says-imd/articleshow/72555405.cms   (14 Dec. 2019)
Uttarakhand State recorded the season's heaviest snowfall as an intense cold wave gripped the hill-state, leading to closure of schools in several districts, the Met office said. https://www.ndtv.com/india-news/uttarakhand-receives-seasons-heaviest-snowfall-schools-closed-2147994  (12 Dec. 2019)
Tamil Nadu Mettur at full capacity for over 50 days The bountiful rain in the last few weeks in Tamil Nadu and Karnataka has kept Mettur reservoir in Salem, the lifeline of the Cauvery delta, brimming for more than 50 days. The storage has remained at its full capacity of 93.7tmcft since October 23, bringing cheer to farmers who call it historic.
For the second consecutive year, the Karnataka has released surplus water from the Cauvery reservoirs. Monsoon remains active in the catchment areas. The latest data reveals that the upper riparian state has released 93tmcft over and above the quantum of water stipulated by the tribunal, later modified by the apex court. "Karnataka has released 252.32tmcft until December 11, which is 92.8tmcft more than the prescribed quantum. It continues to release water as all their reservoirs across the Cauvery are nearing full level and continue to get good inflow. The combined storage of all four reservoirs including Krishnarajasagar and Kabini is 92tmcft against the full capacity of 114.5tmcft," said an official. https://timesofindia.indiatimes.com/city/chennai/tamil-nadu-mettur-at-full-capacity-for-over-50-days-farmers-elated/articleshow/72661610.cms  (15 Dec. 2019)
FLOOD 2019
NHRC to Centre Establish central monitoring agency to manage water resources In connection with the floods in Maharashtra and Karnataka in August this year, the National Human Rights Commission (NHRC) has asked the Centre to look into the issue of establishing a central monitoring agency to manage and control water resources that are shared by two or more states within specific time limit. The order has come following a petition filed that blamed the 'careless attitude' of two state governments and the Centre for the flood which led to loss of over 40 lives, thousands of livestock, and large scale destruction of crops and property. https://indianexpress.com/article/india/establish-central-monitoring-agency-to-manage-water-resources-nhrc-to-centre-6157426/  (9 Dec. 2019)
ENERGY
Top ten clean energy start ups One of the ten energy related start ups that have been selected to be supported by Govt of India and Tata Trusts include: Stallion Vortex: It is a small scale hydropower solution, a run-of-the-river type hydro power plant, which requires low head and very less civil structure, reducing the installation and operation cost by a great extent. https://energy.economictimes.indiatimes.com/news/power/indias-top-10-clean-energy-start-ups/72443921  (11 Dec. 2019)
Rooftop solar Slowdown is affecting renewable energy's bright spot Economic slowdown hits rooftop solar power installation:- The slowdown has hit installation of rooftop solar systems. Rooftop solar installations dropped 43.6% in the September quarter from the year-ago period, shows data from Mercom Capital Group, a clean energy communications firm.
Installations are down 35.5% in the nine months to September. This follows the general sluggishness in the renewable energy sector. The pace of capacity additions has slowed in both wind and solar installations. From an average quarterly addition of 400 megawatts (MW) in 2018, rooftop installations have dropped to below 300MW per quarter this year. https://www.livemint.com/market/mark-to-market/slowdown-is-affecting-renewable-energy-s-bright-spot-rooftop-solar-11575817655098.html  (9 Dec. 2019)
Electricity demand falls for four straight months India's power demand fell 4.3 per cent in November from a year ago, representing the fourth straight month of decline, government data showed. In October, the country's power demand fell 13.2% from a year ago, its steepest monthly decline in more than 12 years. Electricity demand fell to 94.60 billion units in November, from 98.84 billion units during the same period last year, data compiled by the Central Electricity Authority (CEA) showed. https://energy.economictimes.indiatimes.com/news/power/indias-electricity-demand-falls-for-fourth-straight-month/72465783  (11 Dec. 2019)
ENVIRONMENT
Western Ghats Scientific seer "Gadgil is one of the sanest and most prophetic voices of our times," says Himanshu Thakkar, of SANDRP. "He stands out among conservationists because of his rare combination of wisdom, understanding, experience and hope. It is this rare combination of virtues that he is trying to pass on to future generations." https://www.theweek.in/theweek/cover/2019/12/06/the-scientific-seer.html  (7 Dec. 2019)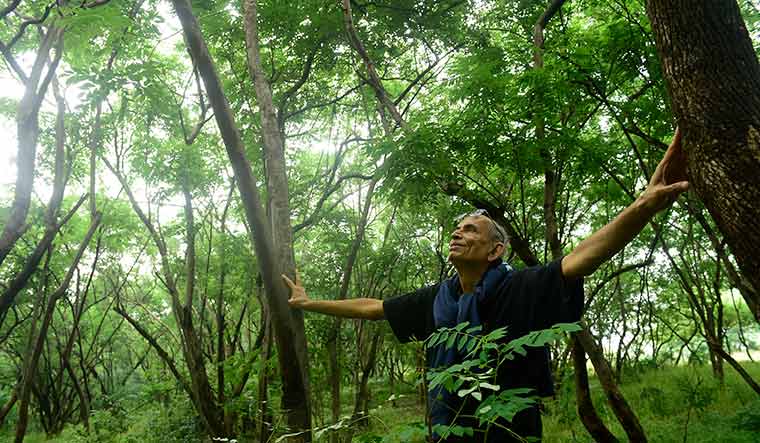 Man in love with mountains There is a lot of fascinating stuff here, but these opening lines are the best: "In his epic poem Raghuvamsa, Kalidasa conjures up an enchanting image of the Sahyadri, describing the mountain as "a comely young maiden". A young boy in Pune read the poem many times over 15 centuries later and fell hopelessly in love with the comely young maiden. He would stand on the terrace of his house, gazing at her for hours as she, clothed in majesty, lay stretched across the horizon. The boy in love, Madhav Gadgil, was barely ten years old then."  https://www.theweek.in/theweek/cover/2019/12/06/man-in-love-with-mountains.html  (7 Dec. 2019)
Kerala People's biodiversity registers in place for all local bodies Kerala has become the first state to prepare people's biodiversity registers (PBRs) – a grassroots-level record of bio-resources and their traditional knowledge – for all its 1,034 local bodies. The feat was achieved last week, much ahead of the Jan. 31, 2020 deadline set by NGT.
– V Balakrishnan, member secretary of Kerala State Biodiversity Board, said these registers – mandated under Section 41 of the Biological Diversity Act, 2002 – would be validated and updated on a regular basis. "Many panchayats have started using them. As many as 58 biodiversity management committees (BMCs) in the state have implemented conservation projects by taking inputs from them," he said.
– Though most local bodies in the state are yet to make full use of such registers as a planning tool, PBRs of three local bodies, accessed by TOI, showed they are comprehensive. For instance, the PBR of Muppainad panchayat in Wayanad, where plantations and forests make up for over 60% of the total land area, records 35 rice varieties that were in use there.
It says at least 23 of them are not cultivated now, and these include native varieties like Kalladiyan, Thonnuramthondi, Modan etc. It has also recorded their unique characteristics, cultivation season and the like.  https://timesofindia.indiatimes.com/city/kozhikode/peoples-biodiversity-registers-in-place-for-all-local-bodies-in-kerala/articleshow/72483539.cms  (12 Dec. 2019)
Madhya Pradesh Govt May Soon Return Land to Owners if Projects Fail to Take off or Make Little Headway Govt has proposed an amendment in the land pooling Act, withdrawing land from projects which either failed to take off in past years or could only make progress of less than 10%. Following a Cabinet meeting in Bhopal, Urban Administration and Development Minister Jaivardhan Singh said, "We are proposing an amendment in the Land Pooling Act (Development and Regulation of Urban Areas Act 1975) to make sure that owners whose land was acquired for any particular project get at least 50% land returned in the form of plots."
– The projects that have failed to kick off in all these years or could make less than 10% progress would be cancelled and land would be returned to farmers, said the minister adding there are 84 such projects in the state. "Till now, landowners used to get 20% of the total acquired land returned, but now, we are proposing that of the total land, 20% would be used for the project, 5% each for parks/playgrounds, 20% for residential or commercial purpose and 50% of the land would be returned to original landowners in the form of land plots," said Principal Secretary (Urban Administration) Sanjay Dubey, who was also present on the occasion.
– Of the 84 projects that have failed to take off or made very little progress, 14 are in Bhopal, 19 in Indore, 12 in Gwalior, 14 in Jabalpur, 6 in Ujjain, 12 in Dewas and 7 in Special Area Development Authority Gwalior. There are 66 projects where no work has been done or the work completed is less than 10%, said Dubey. Where less than 10% work has been done, the land would be returned to original owners but some charges would be recovered in lieu of the expenses made in the project.
– The land returned would be put to use by owners and the state government plans to earn huge revenue from the usage, said Dubey. The amendment also proposes fresh timelines for the fresh schemes to take shape, said the officer, adding the amendment has been proposed for the first time in the last 46 years since the Act came into being. https://www.news18.com/news/india/mp-govt-may-soon-return-land-to-owners-if-projects-fail-to-take-off-or-make-little-headway-2420803.html  (11 Dec. 2019)
Uttarakhand CAG finds financial irregularities of over Rs 2200 crore The government has lost Rs 2,271 crore till 31 March 2018 due to the negligent actions of various departments and public sector undertakings of the state government. This disclosure has been made by the CAG which was placed on the floor of the House on Dec. 10. The biggest financial loss has been revealed in the Forest and Environment Department. The department incurred financial loss of Rs 901.34 crore in different cases. Add to this the irregularity of the State Forest Development Corporation, then the loss of the entire department reaches 905.82 crore. https://uttarakhandnewsnetwork.com/2019/12/cag-finds-financial-irregularities-of-over-rs-2200-crore-in-uttarakhand/  (11 Dec. 2019)
Karnataka Bengaluru's garbage mess persists as BBMP delays awarding waste collection tenders It looks like Bengaluru's garbage mess is here to stay for longer, as the city's civic body, Bruhat Bengaluru Mahanagara Palike (BBMP) has not found the best way to deal with waste management. Despite multiple warnings from the Karnataka High Court over the waste management issue the city is facing, there have been delays one after another, in awarding new tenders for doorstep waste collection. https://www.thenewsminute.com/article/bengalurus-garbage-mess-persists-civic-body-delays-awarding-waste-collection-tenders-114060  (14 Dec. 2019)
Rajasthan Preventing Desertification, One Common Land at a Time Interesting story of how a village on the edge of the desert greened common lands and thus stopped march of the desert. https://thebastion.co.in/politics-and/environment/preventing-desertification-one-common-land-at-a-time/  (28 Oct. 2019)
CLIMATE CHANGE
Climate Bonds Initiative must abandon its misguided attempt to greenwash hydropower   On behalf of 276 civil society organizations from around the world, we are calling upon the Climate Bonds Initiative (CBI) to abandon the certification of destructive hydropower projects as climate-friendly. The proposed hydropower criteria developed by CBI and its technical working group fall far short of acceptable standards and practice, and their adoption would pose a significant threat to rivers and the communities and freshwater species that depend on them.  https://www.internationalrivers.org/sites/default/files/attached-files/cbi_statement_final.pdf  (10 Dec. 2019)
On December 10, 2019 eighteen civil society organizations (including SANDRP) from 12 countries of Asia, Europe, Africa and the Americas submitted to the AIIB initial comments with a hope to start meaningful consultations on key environmental and social issues specific to river basin management and water infrastructure development. http://www.transrivers.org/2019/2937/
Submission to Consultations on the AIIB "Draft Water Sector Strategy".  http://www.transrivers.org/2019/2937/  (10 Dec. 2019)
Carbon offsets have patchy human rights record. Now UN talks erode safeguards From 2020, projects such as hydropower dams and sustainable forestry and agriculture will be able to sell credits for carbon emissions reductions on a new global market. Indigenous and local community groups say the rules, which are being negotiated at the Cop25 meeting in Madrid this week starting Dec 9, 2019, must include safeguards that ensure projects do not harm the people who live nearby.
But new draft rules released on Dec 7, 2019 removed the requirement for parties to "respect, promote and consider their respective obligations on human rights", replacing this language with a much weaker placeholder text. They also failed to include further processes that are considered norms in international development finance. https://www.climatechangenews.com/2019/12/09/carbon-offsets-patchy-human-rights-record-now-un-talks-erode-safeguards/  (12 Dec. 2019)
Indonesian dam raises questions about UN hydropower carbon loophole This Indonesian project, showcased at Madrid COP25, shows how problematic is the contention that hydropower is carbon neutral or green source of power.  https://news.mongabay.com/2019/12/indonesian-dam-raises-questions-about-un-hydropower-carbon-loophole/  (12 Dec. 2019)
India's tryst with climate change Dr Aradhana Yaduvanshi, a hydro meteorologist at W-CReS (The WOTR Center for Resilience Studies) talks to India Water Portal about her study on the implications of global warming for India titled 'Impacts of 1.5 °C and 2 °C global warming on regional rainfall and temperature change across India' published in the journal Environmental Research Communications and what can be done to cope with these changes.  https://www.indiawaterportal.org/articles/indias-tryst-climate-change  (6 Dec. 2019)
Impacts of 1.5 °C and 2 °C global warming on regional rainfall and temperature change across India This paper has examined the annual and seasonal impacts of 1.5 °C and 2 °C global temperature rise (GTR) on temperature and rainfall change over all the states of India under two Representative concentration pathways, RCP 8.5 and RCP 4.5, using all Coupled Model Inter Comparison Project CMIP5 Models. Rainfall is projected to increase over all the states with very low change in the western part of the country and highest change in the North eastern and southern region of the country under RCP 8.5. 35% of the country is projected to witness a temperature change equal to or lesser than global mean temperature of 1.5 °C and 2.0 °C whereas 65% is expected to show a greater rise in temperature. The most severe temperature change is expected to be witnessed by the presently colder Northern most states of India such as Jammu and Kashmir, Himachal Pradesh and Uttaranchal (2.0 °C to 2.2 °C at 1.5 °C and 2.5 °C to 2.8 °C at 2.0 °C) in both RCPs.  https://iopscience.iop.org/article/10.1088/2515-7620/ab4ee2  (4 Nov. 2019)
Study 1.9 billion people rely on natural 'water towers' In a unique study, scientists have assessed and ranked the importance of Earth's great "water towers". These are the 78 mountainous regions that are able to generate and then store vast quantities of water. They deliver it in a controlled way to major populations living downstream. The Dutch-led team finds Asia's Indus basin – fed by the Himalayan, Karakoram, Hindu-Kush, and Ladakh ranges – to be the most valuable, important storage unit on the planet, supporting 200 million people across Afghanistan, China, India and Pakistan. A warming world will disrupt precipitation patterns and denude glaciers of their storage capacity.
– The team assessed five most relied-upon, natural water tower systems in those regions:
Asia: Indus, Tarim, Amu Darya, Syr Darya, Ganges-Brahmaputra
Europe: Rhône, Po, Rhine, Black Sea North Coast, Caspian Sea Coast
North America: Fraser, Columbia and Northwest United States, Pacific and Arctic Coast, Saskatchewan-Nelson, North America-Colorado
South America: South Chile, South Argentina, Negro, La Puna region, North Chile
– What's clear from the study is just how much more vulnerable the Asian towers are compared with the rest of the world. "What we recommend in our study is that we should really recognise mountains as global assets of the Earth system, and that means mountain ranges should be at the top of political agendas, and dedicated policies should be developed," co-team leader Prof Walter Immerzeel from Utrecht University said. In these water towers, we're talking about the supply to about 1.9 billion people. That's more than 20% of the world's population.
– For more details see: https://www.nationalgeographic.com/environment/perpetual-planet/ and see full paper: https://www.nature.com/articles/s41586-019-1822-y   https://www.bbc.com/news/science-environment-50707138  (9 Dec. 2019)
1.9 billion people at risk from mountain water shortages The study by 32 scientists, which was published in the Nature journal on Dec. 9, confirms Asian river basins face the greatest demands but shows pressures are also rising on other continents.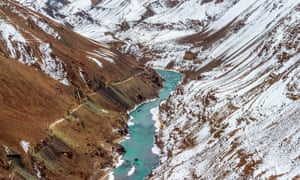 – The first inventory of high-altitude sources finds the Indus is the most important and vulnerable "water tower" due to run-off from the Karakoram, Hindu Kush, Ladakh, and Himalayan mountain ranges, which flow downstream to a densely populated and intensively irrigated basin in Pakistan, India, China and Afghanistan.
– The authors warn this vast water tower – a term they use to describe the role of water storage and supply that mountain ranges play to sustain environmental and human water demands downstream – is unlikely to sustain growing pressure by the middle of the century when temperatures are projected to rise by 1.9C (35.4F), rainfall to increase by less than 2%, but the population to grow by 50% and generate eight times more GDP.
– Strains are apparent elsewhere in the water tower index, which quantifies the volume of water in 78 mountain ranges based on precipitation, snow cover, glacier ice storage, lakes and rivers. This was then compared with the drawdown by communities, industries and farms in the lower reaches of the main river basins.
– "It's not just happening far away in the Himalayas but in Europe and the United States, places not usually thought to be reliant on mountains for people or the economy," said one of the authors, Bethan Davies, of Royal Holloway University. "We always knew the Indus was important, but it was surprising how the Rhône and Rhine have risen in importance, along with the Fraser and Columbia."
– This buffering capacity is weakening as glaciers lose mass and snow-melt dynamics are disrupted by temperatures that are rising faster at high altitude than the global average. "Climate change threatens the entire mountain ecosystem," the report concludes. "Immediate action is required to safeguard the future of the world's most important and vulnerable water towers."
– As well as local conservation efforts, the authors say international action to reduce carbon emissions is the best way to safeguard water towers. Citing recent research by the UN Intergovernmental Panel on Climate Change, Davies said 75% of high-altitude snow and ice would be retained if global warming could be kept within 1.5C. However, 80% would be lost by 2100 if the world continued on a path of business as usual. https://www.theguardian.com/environment/2019/dec/09/billion-people-risk-water-supply-rising-demand-global-heating-mountain-ecosystem  (9 Dec. 2019)
Victoria Falls Water flow hits lowest level in decades Low-water levels are seen after a prolonged drought at Victoria Falls, on Dec 4. The worst drought in a century has slowed the iconic Victoria Falls to a trickle, fueling fears that climate change could kill the tourist attraction on the border between Zimbabwe and Zambia. While they typically slow down during the dry season, officials said this year had brought an unprecedented decline in water levels. https://gulfnews.com/photos/news/photos-water-flow-at-iconic-victoria-falls-hits-lowest-level-in-decades-1.1575893890341  (9 Dec. 2019)
SOUTH ASIA
Pakistan SINDH'S MAN-MADE CHOTIARI RESERVOIR IS AN ENVIRONMENTAL DISASTER, STUDY FINDS A fresh study jointly done by Pakistan and the United States has said that the conversion of the Chotiari wetlands into a reservoir has ultimately turned into a disaster due to the resultant water logging, soil salinity and negative vegetation in the adjacent areas of the structure. https://www.firstpost.com/long-reads/sindhs-man-made-chotiari-reservoir-is-an-environmental-disaster-study-finds-7767861.html 
Nepal Thirsty Kathmandu waits for water that never arrives One of the most rapidly urbanising cities on the planet, the capital city of Nepal is struggling with old projects sabotaged by controversies and bad strategies as its people go thirsty.
– According to Kathmandu Upatyeka Khanepani Limited (KUKL), a public private entity managing Kathmandu's water supply, water demand reached 377 million litres per day in 2017 while the supply was just 120 million litres per day in wet season and only 73 million litres per day in dry season. As a consequence, the mineral water business has increased massively. There is no reliable data on the figures because much of it is not regulated. Hundreds of water tankers trundle every day in the city, there are tube wells in every other house, leading to the ground water table declining and traditional stone spouts fed by springs dying out. https://www.thethirdpole.net/en/2019/12/13/thirsty-kathmandu-waits-for-water-that-never-arrives/  (13 Dec. 2019)
Bangladesh Once untameable Gumti River, now ceases to flow According to Comilla City Corporation sources, almost 258.74 acres of the river stretching from the Sadar upazila to Comilla municipality are now under the grasp of 522 listed land grabbers. https://www.dhakatribune.com/bangladesh/nation/2019/12/13/once-untameable-gumti-river-now-ceases-to-flow  (13 Dec. 2019)
Fresh onslaught on Meghna During a recent visit to the Meghna — which today is a hapless prey to ruthless grabbing — in Munshiganj, about half a dozen unloading dredgers were seen dumping sand into the river in broad daylight to reclaim land from river foreshores and floodplains.
The yet-to-be identified land claimants have embarked on the encroachment at a point where the Meghna meets its tributary Menikhali channel in Islampur (Ganganagar) in Char Betagi mouja of Gazaria upazila. The grabbing is taking place with facilitation of the Munshiganj district administration and Bangladesh Inland Water Transport Authority (BIWTA) — the two foremost custodians of the river. https://www.thedailystar.net/frontpage/river-grabbing-in-bangladesh-1837273  (8 Dec. 2019
Ichhamati now a trickle The Ichhamati, the once vibrant river that features prominently in several Bangla literary works, has turned into a narrow channel filled with garbage, thanks to rampant encroachment and indiscriminate dumping of waste. At some places in Pabna town, the river looks like a dying canal with the riverbed silting up, while at some other points, garbage chokes the water flow.
Originated in the Padma in Pabna's Shibrampur, the Ichhamati runs an 84km course across the district before meeting the Jamuna in Bera upazila. Today, the river is hardly visible in Banglabazar area, near the point of its origin, because of roads, commercial and residential buildings, and business establishments. Reckless encroachment even forced the river to change its original course, said Kabir Mahamud, the deputy commissioner of Pabna.
According to the government's Cadastral Survey (CS) records, published in 1922, the 9km section of the river that flows through Pabna municipality had 88.58 acres of riverbed. But the area dropped to only 54.53 acres as shown in the most recent Bangladesh Survey (BS) record map in 2013, said Md Mostak Ahmed, the district settlement officer, who has recently been transferred to Dhaka. https://www.thedailystar.net/backpage/news/ichhamati-now-trickle-1828042  (17 Nov. 2019)
THE REST OF THE WORLD
Atmospheric Rivers How Much Damage Do Atmospheric Rivers Cause?  Researchers found that flooding has caused nearly $51 billion in damages to western states in the last 40 years. More than 84 percent of these damages were caused by atmospheric rivers (ARs), long narrow corridors of water vapor in the atmosphere capable of carrying more than twice the volume of the Amazon river through the sky. https://www.sciencedaily.com/releases/2019/12/191204152842.htm   (4 Dec. 2019 https://www.nytimes.com/2019/12/05/us/atmospheric-rivers-damage.html  (5 Dec. 2019)
Many urban rivers are hidden underground – 'daylighting' them would bring nature back to cities  "Daylighting" is the action of returning a culverted river to open water. At its simplest it is taking the lid off the culvert, but most designs aim to create a more natural river shape and re-introduce ecological habitats.
It makes sense to do this now that the benefits of Victorian-era culverting have given way to modern problems of old age, pollution, capacity and blockage, and the loss of the pleasure of water. No engineering structure will last for ever – culverts have to be maintained and eventually replaced if the buildings and infrastructure above are to be safe.
Victorian culverts were built when cities were smaller and less of the ground was paved. Nowadays flood runoff is much greater even before we consider climate change, but the culverts' flood capacity has not increased. This can have serious consequences, as in Newcastle a few years ago when an overwhelmed culvert collapsed and washed out the foundations of two blocks of flats built over it. An open river will have a higher flood capacity than a culvert, and a slight overflow certainly won't have the catastrophic consequences of a blockage or collapse. https://theconversation.com/many-urban-rivers-are-hidden-underground-daylighting-them-would-bring-nature-back-to-cities-128441  (10 Dec. 2019)
Compiled by SANDRP (ht.sandrp@gmail.com)
Also see: DRP News Bulletin 9 Dec. 2019 & DRP News Bulletin 2 Dec. 2019
Follow us on: www.facebook.com/sandrp.in; https://twitter.com/Indian_Rivers