The Hindustan Times editorial on Nov 27, 2019 has rightly said the following about "a recently-released Rejuvenating-Ganga River – A Citizen-Report, by the India Rivers Week, a consortium of seven NGOs".
"A key reason for the failure of the river cleaning projects (Ganga and Yamuna action plans), says a recently-released citizen's report, Rejuvenating Ganga,by the India Rivers Week, a consortium of seven NGOs, was their single-point focus on the main stem of the river, while the Ganga basin actually has eight major rivers (Yamuna, Son, Ramganga, Gomti, Ghaghra, Gandak, Kosi and Damodar). The majority of the funds were spent on pollution-abatement measures on the main stem of the Ganga and on the upper Yamuna basin, which constitute just 20% of the Ganga basin."
"Some other issues that have been affecting the health of the river system include: there are at least 1,000 dams in the Ganga basin, which obstruct the natural flow of the tributaries; diversion of water for various purposes; ruthless sand and boulder mining; indiscriminate extraction of groundwater and loss of flood plains and wetlands. If the Centre is keen to rejuvenate the river, it's important to see it as a holistic system and not just focus on the main stem, escalate planning and decision-making to the basin level, stop all further construction on the rivers, implement strict regulation of sand and boulder removal, and define "river space" so that its banks are free from encroachment. Last, but not the least, the Namami Gange programme must define the desired flows in the Ganga main stem and its tributaries to allow the rejuvenation of the river." https://www.hindustantimes.com/editorials/to-clean-the-ganga-take-a-holistic-approach-ht-editorial/story-U0xxKgVWqfV7W2W9d8qCjK.html  (27 Nov. 2019)
https://www.indiawaterportal.org/articles/holistic-approach-needed-clean-ganga  (6 Dec. 2019)
The Citizens report is available at following links: rejuvenating-ganga-citizen-report
Click to access rejuvenating-ganga-citizen-report.pdf
https://indiariversforum.org/wp-content/uploads/2019/11/rejuvenating-ganga-citizen-report.pdf
https://www.indiawaterportal.org/sites/indiawaterportal.org/files/rejuvenating_ganga_-_citizen_report_by_india_rivers_forum_2019.pdf
Ganga Activist to hold press conference on Dialogue on fundamental aspect of Ganga Act on Dec. 10 at 05:00 pm, Constitutional Club, Rafi Marg Delhi. https://twitter.com/MallikaBG/status/1203220074649096192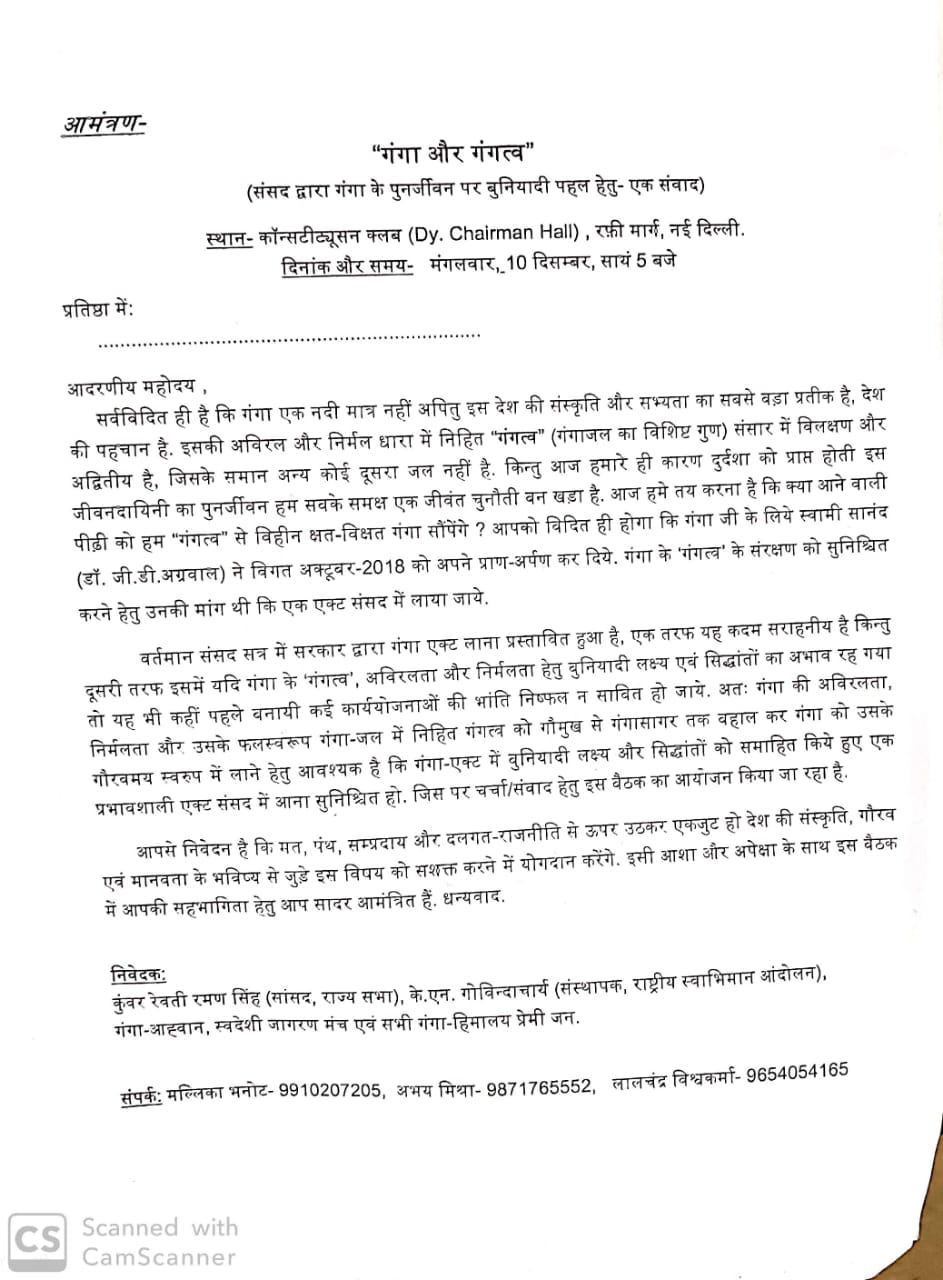 इस दौरान चार दिसंबर साध्वी पद्मावती ने प्रधानमंत्री नरेंद्र मोदी को पत्र लिख कर कहा है कि यदि गंगा की स्वच्छता और अविरलता के लिए किए गए वादों को पूरा नहीं किया गया तो वह 15 दिसंबर से अनशन शुरू कर देंगी https://www.downtoearth.org.in/hindistory/river/ganga/now-sadhvi-padmavati-announce-fast-for-ganga-68326  (7 Dec. 2019) 
HYDRO POWER PROJECTS
Subansiri HEP Why costly, unviable dam is being built? The electricity tariff would be more than double the average cost in India, an RTI query has revealed. The 2,000-megawatt dam, proposed to be built over a tributary of the Brahmputra river, stands at the heart of India's hydroelectricity ambitions. But a fierce people's movement – and subsequently a legal impasse – meant that the project never quite took off. As many as nine committees of varying mandates failed to resolve the stalemate.
– Observers say the shifting contours of the project – the conflicting "expert" opinions on its safety and viability, the ebbs and flows of the legal trial, the many closed-door meetings to arrive at a middle-ground, the changing loyalties of stakeholders – is telling of many truths. Of not just the Lower Subansiri Project, but of the political economy of many big projects in India, particularly of the hydroelectric variety.  https://scroll.in/article/944565/subansiri-dam-will-produce-costly-power-and-wont-control-assam-floods-why-is-it-still-being-built  (4 Dec. 2019)
Jammu & Kashmir Speedy development of hydro projects? The article quotes only two persons, both usual suspects, supporting more hydropower projects in J&K.
– However, 2006 Union Minister for Shipping and Transportation, T R Ballu had declared that it was not possible to open Jhelum for navigation as there was not sufficient draft (depth) in the River.
– Director of Kubernein Initiative, an India-based geopolitical advisory group Ambika Vishwanath said it may be better to have a scientific review done that reflects the present ground realities taking into account changes in climate, flows and ecological balance of the river basin itself.  https://energy.economictimes.indiatimes.com/news/renewable/indus-water-treaty-india-must-focus-on-speedy-development-of-hydro-projects-say-experts/72361873  (4 Dec. 2019)
Power woes continue, despite excess production Kashmir continues to suffer power cuts despite NHPC generating excess power from J&K power projects and exporting the electricity to other states.  http://www.risingkashmir.com/news/power-woes-to-continue-in-kashmir  (6 Dec. 2019)
Sikkim CM Submits Urgent Teesta-III HEP Refinancing Need CM tells Union Power Minister that if the Union Govt does not provide financial restructuring package for the 1200 MW Teesta-III HEP in Sikkim it may fall into NPA category by Dec 27, 2019. https://www.sentinelassam.com/north-east-india-news/sikkim-news/teesta-iii-hep-chief-minister-p-s-golay-submits-urgent-refinancing-need-to-union-power-minister/  (7 Dec. 2019)
Centre NTPC to buy hydel plants, expand its renewables capacity On Nov. 20, the Cabinet Committee on Economic Affairs approved a number of key decisions on divestment. Among them was the strategic disinvestment of the Centre's entire stake in Bharat Petroleum, Shipping Corp, THDC India Ltd and NEEPCO Ltd, and most of its stake in Container Corp, relinquishing management control in these companies at the same time.  https://www.business-standard.com/article/companies/power-play-ntpc-to-buy-hydel-plants-expand-its-renewables-capacity-119120301480_1.html  (4 Dec. 2019)
Industry Economic slowdown hits India's peak power demand by 4% in Nov: IEX  All India peak power demand in Nov this year declined by 4% to 156 GW over demand of 162 GW in the same period of the corresponding year. This trend is likely to continue during the winter months, said IEX. November 2019 also witnessed a 20 per cent decline in average price of power traded through Day-Ahead contracts at the spot exchange at Rs 2.85 per unit as compared to Rs 3.58 per unit in the same month last year. This is after Oct seeing 13% drop in power demand. https://energy.economictimes.indiatimes.com/news/power/economic-slowdown-hit-indias-peak-power-demand-by-4-per-cent-in-nov-iex/72387031  (5 Dee. 2019)
DAMS
Kaleshwaram Dam Project sets new record, cost to cross Rs 1L crore  Cost of Telangana's Kaleshwaram project to reach 105000 crores or more, the highest ever of any irrigation project. "It will cost Rs 14,000 crore to enhance the capacity from two tmc ft to three tmc ft for lifting water from Yellampally to Mid Manair and Rs 11,000 crore for one tmct to two tmcft (Mid Manair-Mallannasgar)," KLIP managing director Bhookya Hariram said.
He said following the directions of the chief minister, tenders would be floated soon. The sources said the government had already taken about Rs 45,000 crore loan from various financial institutions and another Rs 14,000 crore loan was sanctioned by the Rural Electrification Corporation (REC). It would have to raise another Rs 11,000 crore to take up the additional works.  https://timesofindia.indiatimes.com/city/hyderabad/kaleshwaram-project-sets-new-record-cost-to-cross-rs-1l-crore/articleshow/72420317.cms  (8 Dec. 2019)
Telangana govt has decided to construct another multi-purpose irrigation project on the river Godavari with the capacity to reserve 37 Thousand Metre Cube water. It will be built at Dummugudem of Bhadradri Kothagudem district, will have 320 MW hydro capacity. It will cost Rs 13-14,000 crores. KCR has asked the irrigation department officials to prepare proposals, detail project reports and call for tenders as soon as possible.  https://www.news18.com/news/india/telangana-govt-to-construct-another-multipurpose-project-on-godavari-river-2414897.html  (6 Dec. 2019)
Video suggests 'leak' at Mid Manair dam A video of an alleged 'leak' at Mid Manair Dam in Rajanna Sircilla district, which is a part of the state govt's flagship Kaleshwaram Irrigation project, has triggered a row. The video shows water oozing out from under the ground, close to the edge of the bottom of the dam, next to the earth bund, close to Kandikotkur village. Locals, who saw the water, called up officials of the Irrigation Department immediately.
In a statement on Dec. 1, Telangana Pradesh Congress Committee Working President Ponnam Prabhakar alleged large-scale irregularities in the construction of the structure by the ruling TRS and sought a detailed judicial enquiry into the safety of the dam. He alleged that the bund had already weakened, which was causing the problem.
However, G Ashok, Executive Engineer of Mid Manair, with the state's Irrigation Department said, "The video being spread on social media is misleading. As per convention, we place filters close to the dam, downstream. There is a system in place for a small amount of water to travel through, and for the seepage to collect at particular points." https://www.thenewsminute.com/article/video-suggests-leak-telanganas-mid-manair-da m-cong-alleges-shoddy-construction-113316  (2 Dec. 2019)
Polavaram Dam Project Naidu-led govt made Rs 2,346 cr surplus payment in hydro project: Union Jal Shakti minister The Polavaram project is generating fresh political heat for TDP boss N Chandrababu Naidu. In a reply to YSRCP MP V Vijayasai Reddy's query in Rajya Sabha on Dec. 2, Union Jal Shakti minister Rattan Lal Kataria said that the earlier TDP government led by Naidu had made a surplus payment of Rs 2,346 crore to the previous contractor.
– The rehabilitation and resettlement (R&R) work has been completed for only 3,922 families so far as against the identified project disabled families (PDFs) of 1,05,601. https://energy.economictimes.indiatimes.com/news/renewable/naidu-led-govt-made-rs-2346-cr-surplus-payment-in-polavaram-hydro-project-union-jal-shakti-minister/72341425  (3 Dec. 2019)
The ongoing mega irrigation project will be completed by December 2021 as per the revised tender floated by the state government, Union Jal Shakti Minister Gajendra Singh Shekhawat said in Rajya Sabha. Responding to queries during Question Hour, the minister, however, said the completion of this project will depend on how fast the state government settle the issue of R&R.  https://www.news18.com/news/india/polavaram-project-completion-expected-by-dec-2021-but-depends-on-rr-settlement-centre-2409153.html  (2 Dec. 2019)
Pancheshwar Dam Tenure of 'team of experts' extended by one year High-level officials from Nepal and India have agreed to extend the tenure of the team of experts of the Pancheshwar Multipurpose Project by one year, this was decided at a meeting of the Nepali and Indian officials of Pancheshwar Development Authority (PDA), the project developer, which was held in New Delhi during Nov 27-28. Finalising the DPR along with downstream benefits and further geological investigations were also discussed during the meeting. The next meeting of team of experts will be called before Jan 15, in New Delhi at a mutually convenient date.  https://thehimalayantimes.com/business/tenure-of-pancheshwar-team-of-experts-extended-by-one-year/  (3 Dec. 2019)
Why Kala Pani bone of contention between India and Nepal? In essence, the source of river Mahakali is at the heart of the dispute between the countries.
– Kalapani is a 35 square kilometre area, which is claimed by both India and Nepal. River Mahakali, earlier known as river Kali, flows through Kalapani, which is situated on the eastern bank of the river. Both India and Nepal claim Kalapani as an integral part of their territories — India as part of Uttarakhand's Pithoragarh district and Nepal as part of the Darchula district.
Kalapani is also a tri-junction point, where the Indian, Nepalese and Tibetan (Chinese) borders meet. The region has been manned by the Indo-Tibetan Border Police since 1962.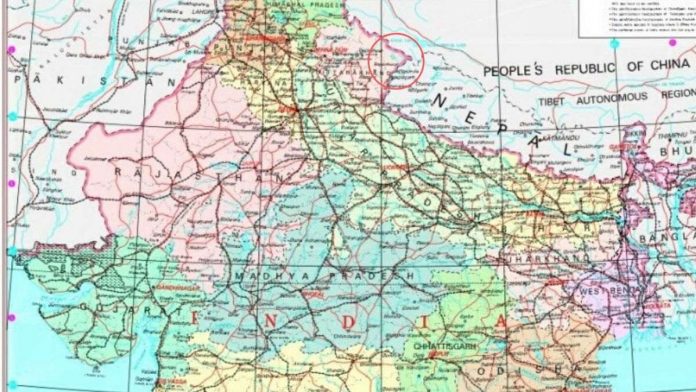 – The 1816 Treaty of Segauli, signed between British India and Nepal, defined river Mahakali as the western border of Nepal. River Mahakali has several tributaries, all of which merge at Kalapani. India claims that the river begins in Kalapani as this is where all its tributaries merge. But Nepal claims that it begins from Lipu Lekh Pass, the origin of most of its tributaries.
– "Nepal has laid claim to all areas east of the Lipu Gad — the rivulet that joins the river Kali on its border, a tri-junction with India and China," writes scholar Alok Kumar Gupta for Institute of Peace and Conflict Studies. Lipu Gad is one of the major tributaries that merge into the main river at Kalapani. "The Nepalese contention is that the Lipu Gad is, in fact, the Kali river up to its source to the east of the Lipu Lekh Pass," adds Gupta. The Indian side contends that river Mahakali begins where Lipu Gad meets the Kalapani springs.
– In its effort to back its territorial claims, India has presented administrative and tax records dating back to the 1830s. According to New Delhi, these records show that since then Kalapani was part of the Pithoragarh district. India has also shown surveys of the upper reaches of river Mahakali conducted by the British Indian government during the 1870s. They presented a map from 1879, which showed Kalapani as a part of British Indian territory. Nepal has presented similar maps from 1850 and 1856, showing that river Mahakali begins in Kalapani.
– While the origin of the dispute goes back to the early 19th century, politically it emerged as a contentious issue between India and Nepal after the two countries signed the Treaty of Mahakali in 1996. This is when the Nepalese government was forced to take up the issue given the pressure from rising Nepali nationalism, according to Leo E. Ross of the University of California, Berkeley. The two countries had formed the Joint Technical Boundary Committee in 1981 to resolve the dispute. Though the committee managed to resolve a large part of the dispute, they failed to reach a final settlement. Eventually, the issue was referred to the foreign secretaries of the two countries and they have been trying to find a resolution to the dispute.  https://theprint.in/theprint-essential/why-kalapani-is-a-bone-of-contention-between-india-and-nepal/317926/  (11 Nov. 2019)  
Tamil Nadu Faulty sluices of Chinnamuthur check dam hinder water release Farmers in the Tiruppur district were upset on Nov. 5 as the public works department failed to open sluices of the Chinnamuthur check dam after they developed snags two days ago. They pointed out that the sluices of the dam in Muthur along the Tirupur-Karur border were renovated at a cost of Rs 7 crore only in 2017.
The Chinnamuthur check dam, which was constructed in 1992, has been brimming with water thanks to the northeast monsoon. The PWD authorities diverted water from the 18ft-high check dam to the Athupalayam reservoir at Karvazhi panchayat in Karur district for the past three weeks. As the 235-mcft Athupalayam reservoir attained its full capacity on Nov. 4 evening, the authorities downed two sluices of the main canal which takes the water from Chinnamuthur to the reservoir. But they could not open nine sluices of the check dam as the main shaft got stuck, said a 57-year-old farmer. "The state government had renovated the sluices at a huge cost only around two years ago. How quickly the sluices developed problems," the farmer said. https://timesofindia.indiatimes.com/city/coimbatore/faulty-sluices-of-chinnamuthur-check-dam-hinder-water-release/articleshow/71930194.cms  (6 Nov. 2019)
Canal breach following water release from Vaigai dam A day after 100 cusecs of water was released from Vaigai dam in the 58-village irrigation canal, a breach was reported at T. Pudur near Andipatti in neighbouring Theni district in the early hours of Dec. 6.
After a series of protests by people of Usilampatti, the Public Works Department released water from the dam on Dec. 5 as the water level crossed 68 feet. The main canal which runs for a distance of 27.6 km was built at a cost of ₹86 crore and the work was completed last year. The canal carries water to 35 tanks in Usilampatti taluk of Madurai district and Nilakottai taluk of Dindigul district.  https://www.thehindu.com/news/cities/Madurai/canal-breaches-on-receiving-water-from-vaigai-dam/article30228584.ece  (7 Dec. 2019)
Odisha NGT order probe into ash pond near Hirakud dam It was also said that the ash pond was close to Hirakud reservoir violating the minimum distance criteria of 500 metres from the High Flood Level of reservoir prescribed under the environmental clearance mandate. It was further alleged that the ash pond was close to human habitation being only about 48 metres causing threat to the life of the villagers.  https://www.orissapost.com/ngt-orders-probe-into-ash-pond-near-hirakud-dam/  (6 Dec. 2019)
Kerala MLA and his illegal dam The check dam constructed by MLA P V Anwar in Malappuram district is a classic case of subversion of the system through a combination of money and political power. The government claims the dam has been demolished and whatever water still contained by the structure can't pose any danger to the nearby residents. Not convincing. The dam must be removed completely and the stream must be allowed to flow freely. The MLA and all others responsible for the structure must be made to face the law. After two back-to-back monsoon-related disasters, the state can't afford to let such violations go unpunished. https://www.newindianexpress.com/opinions/editorials/2019/oct/18/a-kerala-mla-and-his-illegal-dam-2049252.html  (18 Oct. 2019)
RIVERS AS NATIONAL WATER WAYS
Gujarat Vessel that ferried PM in 2017, up for sale PM Modi inaugurated and travelled in a RoRo vessel in Oct 2017 between Dahej and Gogha in Gujarat. In less than two years the venture came to a halt in Sept 2019 and now the vessel in which the PM travelled is up for sale. Was there any credible feasibility study done? Was it not known that sedimentation will happen? The viability of the whole venture is in doubt now.  https://timesofindia.indiatimes.com/india/in-troubled-waters-vessel-that-ferried-pm-in-2017-up-for-sale/articleshow/72354252.cms  (3 Dec. 2019)
IRRIGATION
Maharashtra Barrages built on Marathwada rivers hold 11.3 TMC water A total of 38 barrages built on major rivers in Marathwada — which currently have collective live storage of nearly 74% — are set to be of great to the farmers during the rabi season. The Godavari river, considered Marathwada's lifeline, has 13 barrages built on it, and they hold around 9.6 TMC water. Terna, Manjra and Rena rivers together have 25 barrages — holding 1.71 TMC water. The collective storage in these water bodies stands at 11.3 TMC.
"The barrages on different rivers passing through Marathwada hold more than 5% of the total water stored in different reservoirs in the region. This includes major, medium and minor irrigation projects. These barrages experience relatively lower transition loss of water in distribution and can be considered handy for rabi crops," officials from the Water Resources Department (WRD) said.
As far as water release from irrigation projects is concerned, the sorry state of different canal systems in the downstream areas causes a considerable amount of transmission losses while releasing water every year. Given the conditions of these canal systems in several sections, experts and activists predict around 50% losses in water in transit to destination points. Besides wide cracks, the canal systems are often found infested with weed and bushes among other unwanted vegetation, especially after the monsoon.
Farmer activist Deepak Joshi, from Paithan taluka, stressed on the need for framing distinct norms for utilization of water from barrages. "The farmers whose fields are located near the barrages are the ones mainly drawing the benefits. There is a need for equitable distribution of water from barrages — along the lines of major dams and other projects," he said.
Another farmer activist Jayaji Surywanshi said farmers must be given an option to choose between either water from barrages or canal system of dams. "Canal systems by-and-large pass near the bed of the Godavari and other rivers. A section of farmers receive water from both barrages and canals, while farmers in the tail-end are kept waiting," he said. Godavari Marathwada Irrigation Development Corporation (GMIDC) authorities said the demand for framing additional rules for water use from barrages would be considered. https://timesofindia.indiatimes.com/city/aurangabad/barrages-built-on-marathwada-rivers-hold-11-3-tmc-water/articleshow/72420836.cms  (8 Dec. 2019)
URBAN RIVERS
Mula-Mutha; Pune  Rs 2,619 cr riverfront project approved by state committee PMC ambitious Rs 2,619 crore riverfront project along the rivers of Mula, Mutha and Mula-Mutha sangam river beds, has got approval the State government's State Environment Assessment (SEA) committee. The committee has recommended the project to the Union environment ministry and the civic body now awaits a formal clearance from the state environment department which it expects will come soon. The riverfront project of the civic body is on the lines with Gujarat's Sabarmati riverfront project. The project is spread across 44 km length of the rivers and widths varying between 80 metres to 250 metres.
– The project envisages construction of 11 new sewage treatment plants to cover sewage generation till 2027, laying of 1,13.6 km of sewage lines connected to houses in city, construction of 24 community toilets in slum areas to stop open defecation along the river banks, monitoring of flow of effluent water, facilitation of public awareness programmes and the overall objective of rejuvenation of the Mula-Mutha.
– In a report released in June this year, the Maharashtra Pollution Control Board (MPCB) said that the Mula-Mutha river, that flows along a 22-km stretch through Pune city, is Maharashtra's second-most polluted river. As of 2018, it contained human and animal excreta three times the permissible limits, MPCB said. Mumbai's Mithi river ranked as the most polluted river in the state as per the MPCB's water quality assessment of eight major rivers in the state in 2018, published in the Maharashtra Economic Survey report 2018-19. https://www.hindustantimes.com/cities/pune-s-rs-1-000-cr-riverfront-project-approved-by-state-committee/story-yD1qHCexDDFrBo3c6jxkkN.html  (12 Nov. 2019)
Pavana, Pimpri Chinchwad One more mass fish kill incident A mass fish kill has been observed in the Pavana river at the Kejudevi bund in Thergaon. Experts believe a sudden increase in pollution to have caused the fish deaths. An Indian soft-shelled tortoise was also found dead in the area. This is the second time in the year that a mass fish kill has occurred due to pollution in the area. The increasing pollution in Pavana river due to the chemical waste released from industries or commercial establishments is said to be leading to fish deaths in the river.
– Thergaon Social Foundation (TSF), "Alongwith MPCB officials, we conducted an inspection of between the bund and Walhekarwadi today. About 3-4 nullahs flow into the river from Tathawade village in this area. Another nullah from Walhekarwadi also joins the river. A reddish foam was found in the water of the nullahs joining the river but not elsewhere in the river."
– According to Sanjay Kulkarni, executive engineer in Pimpri Chinchwad Municipal Corporation's environment department, some residents informed the civic employees that they suspect a tanker carrying chemical effluents may have unloaded into the nullah flowing through Walhekarwadi. "This could have caused the fish kill. The suspicion arises since the locals observed the nullah water to be black, which is unusual," said the civic official.
– Some laundry units located near Thergaon were found to be responsible for releasing untreated effluents that caused the fish kill in May. In addition, some untreated domestic sewage was released by houses located along the nullahs that merge into the river. However, Kulkarni pointed out, "Domestic sewage may not be responsible for the fish kill."
– An official from the Maharashtra Pollution Control Board said, "The water and fish samples have been collected today from Pavana river and sent to the laboratory for analysis. The exact cause of death will be known after we receive the analysis report." https://timesofindia.indiatimes.com/city/pune/pavana-river-sees-one-more-mass-fish-kill/articleshow/72391612.cms  (6 Dec. 2019) 
Musi; Hyderabad HC says govt lacks willpower to clean river While the HC is justified in pushing the Telangana and Hyderabad authorities to clean up Musi river, the statement by the judges that Gujarat and Rajasthan have cleaned up Sabarmati and Drvyawati is clearly factually wrong. The judges have clearly been misled.  https://timesofindia.indiatimes.com/city/hyderabad/ailing-dirty-hc-ticks-off-telangana-govt-on-musi-says-no-willpower-to-clean-river/articleshow/72341159.cms   (3 Dec. 2019)
NGT sets deadline for Musi river clean up NGT has told the state govt and respective civic agencies to ensure that 100 per cent of the sewage entering the Musi river is treated by March 31, 2020. Failure to do so would make the state government liable to payment of Rs 5 lakh per month per drain for default in in-situ remediation and Rs 5 lakh per STP for default in commencement of setting up the STP.
A total of about 1,400 MLD of sewerage is discharged into the catchment area of the river from either of the banks through nalas. STPs with a capacity of treating 592 MLD have been built along the river. DPRs have been prepared at a cost of 1,200 crore for creation of additional STPs at 10 locations, to treat the total amount of sewage.
The NGT based its order on a report published by the CPCB in August this year which had noted that there are 24 STPs in and around the Musi River. Two of them — Lingamaiah Kunta and Gopanpally — that have the capacity to treat 8 MLD are under construction. Out of the 22 STPs that were monitored by the CPCB, two STPs — located at Krishnakanth Park and Pragathinagar — which can treat 3 MLD, were not in operation. No officials and operators were present at the site during inspection. Of the remaining 20 operational STPs, 17 are 'operational without consent'.
It was found that only 49 per cent of the sewage generated by the city is being treated in the existing STPs. Around 51 per cent of untreated sewage is thus discharged into the River Musi directly or through drains. And out of 22 STPs, 13 units are not operating to their full designed capacities. https://www.deccanchronicle.com/nation/current-affairs/091219/national-green-tribunal-sets-deadline-for-musi-river-cleanup.html  (9 Dec. 2019)
Adyar, Chennai Raw sewage reason behind foaming: TNPCB Pollution Board in its report has indicated that illegal letting out of untreated sewage into Adyar river has led to 'toxic' algal bloom. This, in turn, resulted in accumulation of phosphates which possess foaming properties under wave action.
– For long, scientists of Indian Institute of Sciences (IISc) are recommending a ban on phosphates in detergents. This follows scientific studies of water quality in lakes, which established that frothing was caused due to high concentration of phosphates. https://www.newindianexpress.com/cities/chennai/2019/dec/05/raw-sewage-leads-to-toxic-foaming-of-beaches-tnpcb-2071735.html  (5 Dec. 2019)
Vellar, Thettagudi Nagar Panchayat trucks seen dumping waste in river A video shot by residents on Dec. 4 shows 3 trucks belonging to the Thittagudi Town Panchayat dumping garbage into the Vellar river which has come to life again after the recent monsoons.
– The video shows the garbage being tipped into the water body, and flowing away in the current. This Vellar river in Thittakudi has been dry for five years and residents in the district had only just started rejoicing, when this video emerged. According to district authorities, degradable, non-degradable and medical waste has been dumped in the water body for over four days now. This water feeds the groundwater system, wells and finally even drains out into the Wellington lake in Cuddalore. https://www.thenewsminute.com/article/video-tn-town-panchayats-truck-illegally-dumps-garbage-river-2-suspended-113488  (5 Dec. 2019)
RIVERS
NGT Treat all sewage before it enters rives Water pollution situation is grim in the country, the Green Tribunal said Dec. 6 and directed 100 per cent treatment of sewage entering the rivers across the country by March 31 next year. The NGT warned that if this is not done, the local bodies and concerned departments of the states and Union Territories (UTs) will be liable to pay compensation of Rs 5 lakh a month per drain in the case of river Ganga and Rs 5 lakh for default in commencement of setting up of sewage treatment plant.
– While directing that an institutional mechanism be evolved for ensuring compliance of its directions, the NGT asked the chief secretaries of all the states and UTs to monitor the progress of the work, and at national level by the Secretary, Ministry of Jal Shakti with the assistance of National Mission for Clean Ganga and Central Pollution Control Board. "NMCG will be nodal agency for compliance who may take assistance of CPCB and may give its quarterly report to this tribunal commencing April 1, 2020," the bench said.
– The NGT said it is the duty of the state to ensure access to clean drinking water which was part of right to life and added that pollution of water in any form was required to be prevented. The NGT had earlier formed a Central Monitoring Committee to prepare and enforce a national plan to make over 350 river stretches across the country pollution free. The tribunal had said that there has been deterioration in quality of water in rivers in spite of the Water Act which was enacted way back in 1974 which was intended to bring about improvement. https://economictimes.indiatimes.com/news/politics-and-nation/ngt-says-situation-of-water-pollution-grim-directs-100-treatment-of-sewage-entering-rivers/articleshow/72402666.cms  (6 Dec. 2019)
Odisha Death of Sukapaika river Sukapaika is one of the several distributaries of the mighty Mahanadi river in Odisha. It branches away from the Mahanadi at Ayatpur village in Cuttack district and flows for about 40 kilometres (km) before rejoining its parent river at Tarapur in the same district. In the process, it drains a large landmass comprising over 425 villages under 26 gram panchayats in three blocks — Cuttack Sadar, Nischintakoili and Raghunathpur. Sukapaika is being choked to death gradually due to government apathy.
– The problem has its roots in 1952, when the state government blocked the starting point of the Sukapaika with an embankment to save the villages around it from floods. Subsequently, in 1957, two major projects — Hirakud Dam in Sambalpur district and Naraj barrage at Cuttack — were built upstream on the Mahanadi, ostensibly to control floods in it. However, the embankment on the Sukapiaka was not removed. This left the distributary totally dependent on rainwater. The neglect has hit the 0.5 million people residing in the villages over the next half a century.
– The residents allege that as Sukapaika started drying, encroachments began along its course at several places. At Teldia village, a government building has encroached the riverbed, while a pond has been dug up in it at an expenditure of Rs 6 lakh at Bodhapur.
– "The idea is to erase the memory of the Sukapaika river from people's mind before large scale land grab," says journalist Basanta Rath. Residents are now trying to revive the lost river. They have been writing petitions to the government since 2016 demanding the removal of the embankment at Ayatpur.The residents have also launched the Sukapaika Bachao Abhiyan (save Sukapaika campaign or SBA). P C Rath, cardiologist, is the convenor of the SBA.  https://www.downtoearth.org.in/news/water/sukapaika-death-of-a-river-68283  (4 Dec. 2019)
Chhattisgarh Lilagar river flooding Dipka coal mine issue raised in Parliament Coal Minister answer to the question in Lok Sabha on Dec 4, 2019 on the issue of flooding of Dipka coal mine of SECL due to the flood in Lilagar river in Korba district on Sept 29, 2019. The Union Minister Prahalad Joshi said: "There was heavy rainfall started from 03.00 AM on 29.09.2019 and continued till evening. At about 3.00 PM, there was a sudden increase in water level of Lilagar river, located about 60 mtrs. from the mine boundary in Surbhondi-Renki side.
The sudden increase of water was so high and heavy that it over flew its banks in the mine side and breached the embankment to enter the mine at a width of about 30 to 40 mtrs. Power supply was also got disrupted due to damage of Poles and Switches/Cables. The inrush of water gradually diminished and embankment by dumping of earthen material with the help of Dozer was made against River which was further strengthened. The pumping operation was restored on 01.10.2019 and presently 24,000 GPM pumping is being done. About 60% of water has been dewatered."
– The minister added: "To prevent recurrence of the incidence, following steps have been taken:
New HFL (Highest Flood Level) has been physically demarcated and embankment above the new HFL has been made with earth material.

Scientifically designed structured embankment with stone pitching will be constructed and construction work will be completed before onset of next monsoon."
– It means the flood water is still not been emptied from the mines, over two months after the floods. Secondly, there is no move the assess the possible flood level in view of changing rainfall pattern due to climate change, only marking of new flood level. http://164.100.24.220/loksabhaquestions/annex/172/AU2614.pdf  (4 Dec. 2019)
Haryana  Scientists find evidence of Saraswati's existence A new research — led by the Physical Research Laboratory (PRL), Ahmedabad, in collaboration with IIT-Bombay — has reported "unequivocal evidence" that there existed a perennial river on the plains of northwestern India. The river, according to the researchers, flowed roughly along the course of the modern Ghaggar. Researchers say that this river was the Saraswati mentioned in the Rig Veda. Later epics such as the Mahabharata describe the Saraswati's diminishing flow till it disappeared completely. The research has been published in the latest issue of the journal "Scientific Report" of Nature Publishers and is in the public domain.
The researchers provide evidence that the Saraswati was perennial and had flowed from the Higher Himalayas between 7,000 BC and 2,500 BC, and that the Harappans had built their early settlements along this powerful river between 3,800 BC and 1,900 BC. The research posits that the decline of the Saraswati had led to the collapse of the Harappan civilization. The demise of the river and the civilization approximately coincide with the beginning of the Meghalayan Stage — the current dry phase in the global climate that began about 4,200 years ago.
The scientists behind the study — Anirban Chatterjee, J S Ray and Anil Shukla of PRL, and Kanchan Pande of IIT-Bombay — say that the Saraswati had sources in the glaciated regions of the Higher Himalayas, similar to the Ganga, Yamuna and Sutlej. The modern Ghaggar has no direct connection to the Higher Himalayas and originates from the foothills of the Himalayas — the Siwaliks. Ray explains, "The only likely path for the glacier-melt water for the ancient course of present-day Ghaggar (Saraswati) could have been through the distributaries of the mighty Sutlej River."
The scientists reached this conclusion by determining the depositional ages of the coarse-grained white sand layers that occurred 3-10 metres below the modern alluvium of the Ghaggar's floodplain. The dating was done with radiocarbon and optically stimulated luminescence methods at the PRL. "We found that the perennial river had uninterrupted flow starting 80,000 years ago; that flow continued till 20,000 years ago," says Ray. "It then diminished due to the extreme aridity of the last glacial period. However, the river revived its strength about 9,000 years ago and flowed for the next 4,500 years."
Ray says the duration coincides with the flourishing of the Pre-Harappan and Early Harappan cultures along the river's banks. "The river later lost its perennial strength again," he says. "The final decline of the Ghaggar was probably due to the rapid drying up of the Sutlej-fed channels that had fed the Saraswati in the ancient times," Ray adds. https://timesofindia.indiatimes.com/india/scientists-find-evidence-of-saraswatis-existence/articleshow/72431394.cms  (9 Dec. 2019)
SUTLEJ Punjab Effluents in Kala Sanghian drain leave residential areas polluted Residents said ahead of the NGT team visit, the repair work on one of the tanks routing sewage water into the drain was also undertaken, though the rest of the time, the sewage from the tank goes into the drain.
In their memorandum to the NGT, residents wrote that the Focal Point of Jalandhar was developed in 1992 under the scheme of the Punjab State Industrial Export Corporation (PSIEC) and manufacturing units were installed in the area. For the discharge of the industrial water, which contains hazardous chemicals and other toxic substances, a treatment plant was sanctioned for which every industrial units were charged separately every month by the PSIEC. Now, residents say the waste from these 800 manufacturing units – functional in the area – fall into the drain, throwing life in colonies of banks into disarray and leaving a trail of diseases. https://www.tribuneindia.com/news/jalandhar/effluents-in-kala-sanghian-drain-leave-residential-areas-polluted/870026.html  (4 Dec. 2019)
– Despite repeated notices and reprimands, the Jalandhar Municipal Corporation has failed to make the plant functional. Officials informed the NGT team that 75 MLD of waste was flowing into the twin drains of Kala Sanghian (50 MLD) and Garha (25 MLD). Additionally, sources said effluents from industries, households and a solid waste treatment project at the Wariana dump made a substantial contribution to pollution in water bodies. Environmentalist Balbir Singh Seechewal, who accompanied the team, said the collective effluent discharge into the drain neared 100 MLD.  https://www.tribuneindia.com/news/punjab/ngt-finds-jalandhar-sewage-treatment-plant-dysfunctional/869719.html  (4 Dec. 2019)
PPCB to install 3 CETPs of 105 MLD effluent treatment capacity to protect Ghaggar, Beas and Satluj rivers एनजीटी के डंडे से बचने केे लिए पीपीसीबी घग्गर, ब्यास व सतलुज दरिया काे पानी काे स्वच्छ करने के लिए 3 काॅमन इफ्फलुएंट प्लांट लगाने जा रहा है, जिसकी गंदा पानी साफ करने की कैपेसिटी 50 एमएलडी, 40 एमएलडी व 15 एमएलडी हाेगी। घग्गर, ब्यास व सतलुज दरिया काे स्वच्छ करने के लिए एक्शन प्लान बनाया है। यह प्लांट ताजपुरा राेड स्थित 15 एमएलडी स्माॅल व मीडियम स्केल डाइिंग इंडस्ट्रइज, राहोन रोड, फोकल प्वाइंट डाइंग इंडस्ट्रइज क्लस्टर और बहादुर के रोड ड्राइंग इंडस्ट्री क्लस्टर, लुधियाना में स्थापित किए जा रहे हैं। प्राेजेक्ट 31 दिसंबर तक पूरा हाेने की उम्मीद है। https://www.bhaskar.com/punjab/patiala/news/ppcb-will-purify-punjab39s-contaminated-water-from-3-common-effluent-plants-of-ghaggar-beas-and-sutlej-darya-084103-6083574.html  (3 Dec. 2019)
Earlier the NGT team on Nov. 2 inspected Kala Sanghian drain and Basti Peerdaad Sewerage Treatment Plant (STP). The NGT monitoring committee has decided to impose a penalty on the civic body for causing heavy damage to the drain due to the non-functional STP.  This was the first visit of the NGT team to Jalandhar after a green panel, on Nov. 2, sought concrete measures to check river pollution (Sutlej and Beas). The team observed the spot from where water from the Basti Peerdaad STP is discharged into Kala Sanghian.
Finding the 50 MLD Basti Peerdaad STP not functioning as per prescribed norms and remaining non-functional due to non-payment of dues, the team said after a damage assessment, a heavy penalty shall be imposed on the MC. https://www.tribuneindia.com/news/civic-body-to-pay-for-polluting-drain-ngt/855401.html  (3 Nov. 2019)
BRAHMAPUTRA Interview The Unquiet River – In an interview with Firstpost, Dr Arupjyoti Saikia historian and author of 'The Unquiet River' spoke of his connection with the Brahmaputra, what brought about the idea of the book, the river's role in the history of Assam, its likely influence on the geo-political future of the North-East, and how geology, geography and nature continue to shape the mighty Brahmaputra.
-The book is a comprehensive biography of the Brahmaputra. Official narratives about the Brahmaputra largely see the river from a very narrow and short-sighted prism of floods and flood relief programs. But such ideas hardly take into account the centrality of the river in the ecosystem and landscape of Assam.  https://www.firstpost.com/india/with-the-unquiet-river-historian-arupjyoti-saikia-plays-biographer-to-the-brahmaputra-charts-its-ever-shifting-course-7717491.html  (5 Dec. 2019)
CAUVERY Tamil Nadu Declare Cauvery delta protected zone: S Ramadoss Sources said that the Oil and Natural Gas Corporation has decided to wind up its shale exploration programmes, stating that India may not have enough commercially extractable shale reserves. PMK leader S Ramadoss stressed the need for announcing the entire Cauvery delta region a protected agriculture zone.  https://energy.economictimes.indiatimes.com/news/oil-and-gas/declare-cauvery-delta-protected-zone-s-ramadoss/72276013  (28 Nov. 2019)
YAMUNA Himachal Pradesh Govt to Sell Yamuna Water at Rs 21 Cr Per Annum  In a meeting chaired by CM Jai Ram Thakur on Dec. 2, the state Cabinet gave its consent to sign the MoU to sell the water of Yamuna from the state's share at Tajewala corridor, the spokesperson said. However, the spokesperson did not provide details of whom the water would be sold to and with whom this MoU would be signed. The state government would earn Rs 21 crore per annum from this decision. https://www.thequint.com/news/india/hp-govt-to-sell-water-river-yamuna  (3 Dec. 2019)
Delhi NGT panel seeks last five years water quality reports The NGT-appointed Yamuna Monitoring Committee has asked the Delhi Pollution Control Committee to submit a report by Dec 31 on the river's water quality citing data from the last five years to assess if there has been any improvement in it. "…it will be desirable if the DPCC also prepares a comprehensive report based on monthly tests carried out at 9 stations and the trend analysis over the last five years," the panel told the pollution control body during a meeting on November 27. The report should be based on sound professional and technical analysis and not on surmises and conjectures. The DPCC should also, while giving trend analysis, spell out reasons for changes in water quality.
– The DPCC also informed the panel that 19 of the 33 sewage treatment plants run by the Delhi Jal Board do not meet permissible water quality standards. On this, the panel directed DJB officials to personally visit the STPs in their jurisdiction, rectify deficiencies and submit a compliance report by December 10. At the meeting, it also asked the Delhi State Industrial and Infrastructure Development Corporation Ltd. to prepare an action plan to increase the use of treated waste water. The common effluent treatment plants of DSIIDC generate about 50-50 million litres of treated waste water per day, of which only 2 MLD is being used.  https://timesofindia.indiatimes.com/city/delhi/ngt-panel-asks-pollution-body-to-give-report-on-yamuna-water-quality-over-last-5-years/articleshow/72354423.cms  (3 Dec. 2019)
Uttar Pradesh Scores of villagers in Baghpat district continue to battle adverse impacts of Hindon river pollution and resultant groundwater contamination ruining health and crops in the area.  https://twitter.com/GaonConnection/status/1202606462851108864  (5 Dec. 2019)
FISH, FISHERIES, FISHERFOLKS
Meghalaya New fish species found A group of scientists from Assam and Meghalaya has discovered an ornamental fish species, Schistura syngkai, from Wahblei river in Meghalaya. The new species was spotted adjacent to a paddy field in the river's lower stretch with a muddy bottom in June 2017. The fish has been named Syngkai, which in Khasi means a loach-like fish. An article on the discovery has been published in the latest edition of Zootaxa, a scientific journal. According to the article, with more than 210 valid species, the genus Schistura McClelland is the most diverse group of Nemacheilid loaches, distributed throughout Indo-China and Southeast Asia.
– The Wahblei is a south-flowing northern tributary of the Surma-Meghna drainage that originates near Mawkhar-Pyrden area of Meghalaya's West Khasi Hills district. Several streams and rivulets traversing dense tropical forests form the river. Before flowing into Bangladesh, the Wahblei widens as it approaches its confluence with Kynshi river, flowing from the east.
– As per Prof. Dandadhar Sarma of Gauhati University's zoology department scientists' team from University has found four new species from the Brahmaputra drainage system since 2016. The unique fresh water fish resources of the Northeast makes it a potential hub of economy and it should be tapped efficiently, he added. "Ecological environment with high humid conditions resulted larger speciation and genetic diversity of plant and animal species, thus adding to high endemicity of the flora and fauna of the region," he added.
– In eastern Himalaya, the most diverse fish fauna is exhibited in the region's Brahmaputra drainage system. Northern Bengal and the Himalayan foothills between Bihar and Nepal harbour a total of 520 fresh water species, of which, five are critically endangered, 15 endangered, 50 vulnerable, 46 near threatened, 263 least concerned and 141 data deficient. The Northeast alone harbours 300 fish species under 100 genera and 30 families. https://www.telegraphindia.com/states/north-east/new-fish-found-in-meghalaya/cid/1724538  (6 Dec. 2019)
Goa The struggle of fishers in Goa's Zuari river continues in Nov 2019: Some features and insights. https://dc.icsf.net/en/component/dcnews/articledetail/15056.html  (5 Dec. 2019)
Himachal Pradesh State becomes major trout fish producer Trout Fishery in state has been introduced in 600 kms river beds at higher altitude of cold water streams in snow fed rivers of Beas, Sutlej and Ravi which are most conducive for trout farming in hill state. Presently, there are 7 trout fish production district of Kullu, Mandi, Shimla, Kinnaur, Chamba, Kangra and Sirmaur.  http://www.punjabnewsexpress.com/sports/news/himachal-pradesh-emerges-major-trout-fish-producer-99325.aspx  (30 Nov. 2019)
SAND MINING
Uttar Pradesh NGT asks authorities to ensure no illegal mining is carried out in Shamli  NGT has directed authorities in Shamli district to ensure that no illegal sand mining is carried out in the area. The orders came after the Shamli District Magistrate told the tribunal that the illegal mining activity being carried out by a private lease holder has already been stopped and the temporary bridge made by him has also been removed. The green panel said that since illegal sand mining by project proponent has been suspended, it may be ensured that no illegal mining is done by anyone else in the district.
The green panel also noted that a cumulative environmental compensation of Rs 20.45 lakh has been assessed to be imposed on the sand miner for non-compliance of environment clearance conditions and for not seeking required consent from the state pollution control board under the notified provisions. https://www.outlookindia.com/newsscroll/ngt-asks-authorities-to-ensure-no-illegal-sand-mining-is-carried-out-in-ups-shamli-district/1675715  (2 Dec. 2019)
Tamil Nadu Plea against granting nod to sand mining The Madras high court has issued notice to the state government on a PIL which sought to prevent the authorities from granting permission for sand mining activities at Kollidam river across Trichy and Thanjavur districts.
T Shanmugam, president of Kollidam Aaru Padhukappu Nala Sangam, in his petition said that Kollidam branches from the Cauvery. Water from the Kollidam is used for drinking water and agricultural purposes by the people of Trichy, Thanjavur, Nagapattinam, Ariyalur and Cuddalore districts. For the past 15 years he has been fighting to prevent illegal sand mining at Kollidam and Cauvery rivers. In 2018, he came to know that the government is planning to permit sand quarrying at Kollidam river across Trichy and Thanjavur districts. https://timesofindia.indiatimes.com/city/madurai/plea-against-granting-nod-to-sand-mining/articleshow/72339895.cms  (3 Dec. 2019)
Andhra Pradesh Previous and present govt policy failed to address the problems resulting in sand crisis in the state. https://www.bbc.com/news/world-asia-india-50386515  (13 Nov. 2019)
Uttarakhand Illegal stone crushers mushrooming in Pindar valley but district administration is clueless.
Rajasthan Illegally mined sand confiscated by department to be released back in the rivers बजरी के अवैध खनन काे राेकने में विफल खान विभाग ने अब जब्त बजरी की नीलामी नहीं करने का फैसला किया है। पुलिस कार्रवाई में जाे भी अवैध बजरी पकड़ी जाएगी उसे जुर्माने के बाद नदी में उसी जगह खाली करना होगा, जहां से माफिया उसे लेकर आए। यह कार्रवाई पुलिस की निगरानी में हाेगी। इससे पहले जब्तशुदा वाहनाें में भरी बजरी काे खान विभाग के अधिकारी एक हजार रुपए प्रति टन के हिसाब से नीलाम करते थे। https://www.bhaskar.com/rajasthan/jaipur/news/illegal-gravel-vehicle-caught-gravel-will-have-to-be-emptied-into-the-river-after-fines-auction-will-not-be-done-126191805.html  (3 Dec. 2019)
WETLANDS, LAKES, WATER BODIES
Arunachal Pradesh Decrease in state's wetlands area Quoting Forest Survey of India Report 2017, CM said that state has witnessed a decrease of 195 sqkm in the water body coverage within forests as compared to 2005. He said the cause for decrease in water bodies within forest cover has been attributed to degradation of catchment areas of many rivers/water bodies due to "jhum" (slash-and-burn) cultivation, landslides, encroachment, deforestation and other developmental activities while addressing the 2nd State Wetland Authority (SWA) meeting on Dec. 4.
– Though, the State Remote Sensing Application Centre report of 2010-11 noted that Arunachal Pradesh has 852.54 square kms of total geographical area under water, which includes 790.012 sqkms of rivers and 62.53 square kms of lakes and ponds, the CM, however, said, these water bodies are yet to be officially identified and mapped in line with the provisions of the Wetland (Conservation and Management) Rules. https://www.outlookindia.com/newsscroll/arunachal-cm-concerned-at-decrease-of-states-wetland-areas/1677935  (4 Dec. 2019)
Chandigarh Construction on Sukhna wetland illegal: Court Less than a month after the Tata Camelot case judgment, the Punjab and Haryana High Court on Nov. 26 made it clear that any construction on the Sukhna wetland would be considered unauthorised. https://www.tribuneindia.com/news/chandigarh/construction-on-sukhna-wetland-illegal-court/866202.html  (26 Nov. 2019)
Both Punjab and Haryana want to enjoy all the benefits of joint capital Chandigarh but none of the two wants to contribute for its development, the HC said on Dec. 2 during the resumed hearing of the case related to Sukhna Lake and its catchment area.
Various residents of Kansal have moved the court for a stay on demolition notices issued by the Punjab government. However, no relief to make alternative arrangement was granted. The court adjourned the matter till Dec. 5. https://timesofindia.indiatimes.com/city/chandigarh/punjab-haryana-do-not-want-to-work-for-city-development-high-court/articleshow/72340877.cms  (3 Dec. 2019)
WATER OPTIONS
Chennai Citizen-led RWH improves ground water level Residents of Muthulakshmi Nagar in Chitalapakkam have seen a stark increase in their groundwater levels after the recent rains due to the newly installed recharge wells in all streets of their locality, they were able to save almost every drop of rainwater. This comes as a major relief for residents as a month ago, the entire locality was dependent on private tankers for drinking water as borewells had completely dried up.
To ensure that this situation doesn't repeat in the future, residents decided to install recharge wells on every street in Muthulakshmi Nagar after consulting water management experts. Since last month, they have installed 8 such wells using funds pooled in by residents. These common wells installed at every street corner helped largely in conserving run-off rainwater that otherwise stagnates on the roads. Each recharge well is 8 feet deep and 3 feet wide and cost only about Rs 8,000 each.
Residents said this was much cheaper than installing a rainwater harvesting structure on the terrace by which only rainwater stagnant on the terrace can be tapped. The association plans to install 15 more such structures, such that there is at least one recharge well in all 23 streets. Moreover, a separate team is given the responsibility of getting the concrete lids made which are used to cover the wells. https://www.newindianexpress.com/cities/chennai/2019/aug/27/citizen-led-rainwater-harvesting-improves-ground-water-level-in-this-chennai-suburb-2025130.html   (27 Aug. 2019)
GARV Toilets Toilets with sensors to stay clean GARV toilets have many pluses. The toilets run on solar power and come installed with bio-digesters. Recently, they have begun installing a decentralised sewage system that converts sewage into charcoal. They can be easily produced in a factory.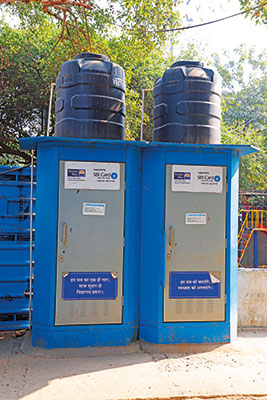 Second, they need less water to clean and don't require chemical cleaning agents. Operational and maintenance costs, as compared to conventional public toilets, are also lower. The toilets have an auto-cleaning system that uses micro controllers. After 10 to 15 people have used the toilet, it cleans itself. A piping system is laid on three sides of the bathroom and the micro controllers are able to detect if the toilets haven't been flushed, thereby activating the flush. There are also biosensors that detect malodour in the toilets.
– The sewage systems of GARV toilets are self-sustaining which is important as demand for their toilets comes from places that are not connected to sewage systems. GARV toilet complexes are equipped with a bio-digester which breaks down all the waste, using bacteria, and discharges treated water which can be used for horticulture or in the toilet itself. https://www.civilsocietyonline.com/business/toilet-has-sensors-to-stay-clean/  (19 Nov. 2019)
GROUNDWATER
Is Farakka Barrage Responsible for Arsenic Poisoning? This post is made on the basis of discussions with Shri Tapas Das of Nadi Bachao Jibon Bachao Andolan, West Bengal. https://gangatoday.com/articles/273-farakka-arsenic-poisoning.html  (30 Oct. 2019)
Punjab Cabinet to revise charges for use of river, canal water Cabinet on Dec. 4 has decided to revise water charges levied on industries, municipal corporations and private thermal plants except agriculture for the use of river, canal water for purposes. It remains to be seen if municipal corporations would pass the burden to domestic consumers.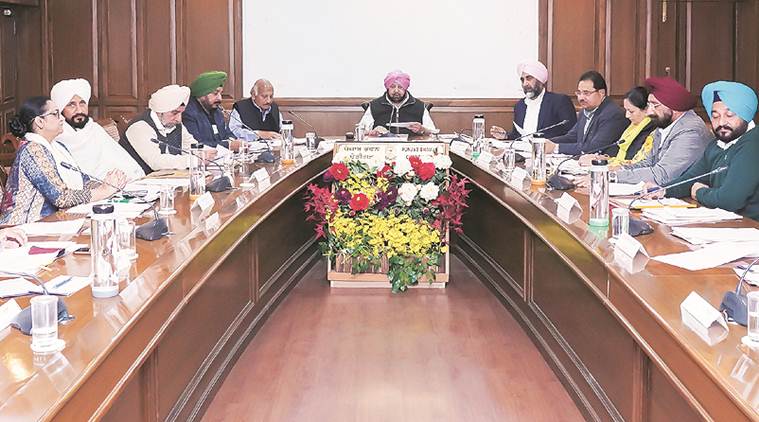 – A government statement said the proposed rates are at par with neighbouring state of Haryana, and the revision is expected to increase the revenue generated from water charges from the existing Rs 24 crore per annum to Rs 319 crore per annum. The decision was taken in view of the fact that the state government needed to mobilise additional resources, including for maintenance of canal network, which is spread along 14,500 km across the state and has deteriorated with passage of time, \the statement said. It added that most of the distributaries and minors were lined 30 to 40 years back during 1980s, and regular cleaning, twice a year, is required to run the canals efficiently so as to ensure authorised discharge at tail ends.
– Apart from Irrigation, the canal network supplies water in bulk to various institutions such as thermal power plants, industries, municipal corporations through canals and rivers. Likewise, beverage and bottled water industry, drinking water supply (including railways and army), fish ponds, brick making and water for construction work also utilise bulk supply of water for operations. https://indianexpress.com/article/india/to-fill-empty-coffers-punjab-to-revise-charges-for-use-of-river-canal-water-cabinet-meeting-6152799/  (6 Dec. 2019)
State nod for groundwater authority with no power to regulate tariff Cabinet on Dec. 4 gave its approval for creation of a rather diluted version the Punjab Water Regulation and Development Authority (PWRA) that would not be empowered to issue tariff order or issue directions on groundwater extraction for domestic and agriculture use of water.
– The authority would only be able to issue tariff order and directions on groundwater extraction for only industrial and commercial use. Most of the underground water is being used for providing drinking water in cities and rural areas besides for agriculture use. Over 14 lakh tubewells extract water from aquifers in the state. Fears have already been expressed that Punjab would go dry in 20 years.
– The new version of authority is being seen as bypassing of CGWA's guidelines that provides for every state to have its own authority that could ensure stringent steps to limit use of water in view of acquifers drying up fast due to over exploitation. https://indianexpress.com/article/india/punjab-state-nod-for-groundwater-authority-with-no-power-to-regulate-tariff-6152802/  (6 Dec. 2019)
Rajasthan MoU on participatory groundwater management With an aim to recharge groundwater, an MoU for project MARVI (Managing Aquifer Recharge and Sustaining Groundwater Use through Village-level Intervention) was inked recently in New Delhi by CGWB, department of Water Resources, Western Sydney University, Australia and others. It is focussed on engaging village communities to monitor, use and manage groundwater at village level, said Anil Mehta, principal of Vidya Bhawan Polytechnic College.
MARVI partners have been working collaboratively for participatory groundwater management and livelihood improvement in India since 2012. As a part of this project, a smartphone app called MyWell was developed to enable collection and sharing of monitored data of well water levels, rainfall, water quality and check dam water levels to help local communities to better manage scarce groundwater reserves. Based on MARVI experience, 'Jaldoots' (water messengers) programme has been initiated by the Jal Shakti ministry for implementation across India. Jaldoots are local volunteers involved in development of village level science for community engagement and participatory water management.  https://timesofindia.indiatimes.com/city/udaipur/memorandum-signed-for-participatory-groundwater-mgmt/articleshow/72213994.cms  (25 Nov. 2019)
Gujarat State got 1593 MCM in aquifer recharge The prolonged monsoon this year has severely damaged crops. But it has rejuvenated the state's groundwater table. The water table has been recharged with 1,593 million cubic metres (MCM) of water, the best condition in several years. The fact is borne out by the data released by the ministry of Jal Shakti till Nov. 25, 2019. A senior state government official said that the water table level has increased by between 1 and 4 metres in all districts of Gujarat, final figures to be known by January.
– The official, however, conceded that with better planning, the state could have succeeded in recharging groundwater levels better. "If provisions of the central government's 2013 master plan were implemented better, more groundwater could have been recharged," the official said. The Gujarat water minister Kuvarji Bavaliya was not even aware of the master plan. https://timesofindia.indiatimes.com/city/ahmedabad/state-got-1593mcm-in-aquifer-recharge/articleshow/72356034.cms  (4 Dec. 2019)
'Unsafe uranium levels in groundwater in many parts of Ahmedabad district' Union Minister has informed the Parliament that Uranium contamination was found to breach the WHO limits of 30 micrograms per litre in several parts of Ahmedabad district. Today, high levels of uranium in drinking water is believed to be a reason behind the rise of chronic kidney disease (CKD), as uranium is known to have nephrotoxic effects. The study raised alarms for 6 of 9 locations studied in Ahmedabad, three of 20 in Sabarkantha, three of 37 dug well sites tested in Patan and one site in Gandhinagar.
At all these places, uranium levels either breached the 30 microgram per litre mark or are getting worse, with levels crossing the 15 to 20 microgram per litre mark. This was based on on joint research by R C Jain, advisor to the Gujarat Water Resources Development Corporation, Avner Vengosh and Rachel Coyte of Nicholas School of the Environment, Duke University, US, in association with the Central Ground Water Board. https://timesofindia.indiatimes.com/city/ahmedabad/unsafe-uranium-levels-in-groundwater-in-many-parts-of-ahmedabad-district/articleshow/72375000.cms  (5 Dec. 2019)
Uttar Pradesh About 2.15 lakhs villagers in 110 villages of Hathras district suffering from brackish groundwater affecting crops and health of villagers. Villagers plan petition to all parliamentarians. https://twitter.com/col_jaivir/status/1201363671093411840  (2 Dec. 2019)
URBAN WATER
KC Valley Project Kolar villagers raise red flag over quality of treated water Villagers from Kolar district have raised concerns over the quality of treated sewage water that is being pumped from Bengaluru to their lakes under the KC Valley Project. They are now alleging that water in the Lakshmisagara tank in Kolar taluk, which is the first one to receive the treated water, has turned dark and is emanating foul smell.
R Murugesh, a resident of Lakshmisagara village, said they first noticed the change in water colour five days ago. "The stench of chemicals still hangs in the air near the waterbody. Initially, there was also some frothing. A similar incident had happened about three months ago. We seriously doubt the efficiency of the treatment plants," he added.
R Anjaneya Reddy, president of Shashvatha Neeravari Horata Samiti, which has been opposing the way the project has been executed, said the entire initiative needs a proper scientific evaluation. "Why should the government wait for the farmers to alert them whenever there is a problem? Why isn't there any quality monitoring at source? Agencies involved in the project like the minor irrigation department, BWSSB and KSPCB have to be made accountable," he said. https://timesofindia.indiatimes.com/city/bengaluru/kolar-villagers-raise-red-flag-over-quality-of-treated-water/articleshow/72359626.cms  (4 Dec. 2019)
NOIDA Builder should be fined Rs 3.28 cr for illegal water extraction: NGT  A compensation of Rs 3.28 crore should be imposed on Perfect Probuild Private Ltd in Noida for illegally extracting ground water and discharging untreated sewage in green belt area, a committee told the NGT on Dec. 2. The committee, comprising officials from the UP Pollution Control Board and CGWA, told a bench headed by NGT Chairperson that ground water is being extracted without obtaining a 'NOC' from CGWA.
"As per intimation given by applicants, the builder commenced the project on January 29, 2011 and started giving possession of flats from December 2014. The builder has installed two bore wells. The provision of RWH has been made but it is not operational," the committee told the bench. Besides, there is no sewage treatment plant arrangement for 560 flats with 475 families residing in the apartment, it said. The tribunal took note of the report and sought compliance report while posting the matter for hearing on Fe. 11. https://www.hindustantimes.com/noida/noida-builder-should-be-fined-rs-3-28-cr-for-illegal-water-extraction-ngt/story-6N59hqlykFXYw5piIHN6QK.html  (3 Dec. 2019)
Chennai GCC to try out new rainwater harvesting method The Greater Chennai Corporation has asked its contractors across the city to employ a new technology to harvest rainwater, where water go through a filtration process. It has been implemented in some parks. Known as 'ecobloc' infiltration wells, the structure can be installed at various locations, sizes, shapes and depths to meet specific project requirements. Stormwater drains, landscape and roofs can be used as catchment areas to meet specific requirements.
These structures are being funded by German agency KfW and are likely to be installed in the Kovalam river basin. "In this method, four layers of filtration are provided before the water enters the soil," said an official. "The layers can be cleaned by pressure wash or removal of the filter layer. The structure is modular and can be stacked one above the other. It does not need any steel or cement reinforcement like the existing ones," said an official. The new structure has a volume of 2,500 litres which is 500 litres more than the cement ring wells that the corporation now uses. https://timesofindia.indiatimes.com/city/chennai/greater-chennai-corporation-to-try-out-new-rainwater-harvesting-method/articleshow/72325803.cms  (2 Dec. 2019)
Tamil Nadu ADB to provide $206 mn credit for water supply and sewerage infrastructure The Asian Development Bank and the Centre on Dec. 2 signed a $206 million loan to develop water supply and sewerage infrastructure in five cities and strengthen capacities of urban local bodies for improved service delivery.
This is the second project loan for the ADB-supported $500 million multi-tranche financing for Tamil Nadu Urban Flagship Investment Programme, which was approved in September 2018. The programme will overall develop climate-resilient water supply, sewerage, and drainage infrastructure in ten cities of the State. The first project under the programme with $169 million financing is currently under implementation, says a press release from ADB.  https://www.thehindubusinessline.com/news/national/adb-to-provide-206-mn-credit-for-tamil-nadu-water-supply-and-sewerage-infrastructure/article30139561.ece  (2 Dec. 2019)
Kochi 'Set up more supply points or face problems': Tanker lorry associations In order to ensure the supply of clean drinking water to the residents of Kochi, Kerala State Assembly Committee on Petitions recently directed the district administration to launch 'Operation Pure Water'. This proposed project assigns the responsibility of distributing clean drinking water in the city to the state's Kerala Water Authority (KWA) and regulates tanker lorries in the city.
The new proposed project, which will be implemented within two weeks, lays down certain directives for tank lorries, including that they must collect water only from KWA and not from private wells or other random water sources. However, these directives have caused concerns among the drinking water suppliers, who say that these regulations are "impractical".  https://www.thenewsminute.com/article/kochi-will-face-water-crisis-if-more-supply-points-not-set-tanker-lorry-associations-113695  (8 Dec. 2019)
Vadodara PSUs to get treated water from VMC In Vadodara a Special Purpose Vehicle to be set up in partnership with industries like GSFC, GIPCL, GACL to set up STP to supply treated Waste Water to industries.  https://timesofindia.indiatimes.com/city/vadodara/psus-to-get-treated-water-from-vmc/articleshow/72374782.cms  (5 Dec. 2019)
Hyderabad 77 cr litres water wasted daily in the city Around 70 crore liters of water is wasted everyday in the city, says Dana Kishore, managing director, HMWSSB. "The water supply to the ORR is about 472 MGDs, which is approximately 214 crore liters of fresh water. It is said that 170 MGDs of water is being consumed every day for house chores, sweeping and cleaning, washing of animals and vehicles and also for watering plants and the water used for all these works are precious drinking water. It is hoped that, this walk-through program will reduce the water supply by 5 per cent if we could control wastage of fresh water," said Dana Kishore, MD, HMWSSB. https://www.thehansindia.com/telangana/hyderabad-77-cr-litres-of-water-wasted-daily-in-city-587837  (7 Dec. 2019)
Shifting Jawahar Nagar dump yard not a solution – The smell emanates from the Jawaharnagar dumpyard, the city's main dumping ground where an estimated 7,000 metric tonnes of waste generated by the city is transported daily by the Greater Hyderabad Municipal Corporation (GHMC). However, the dumpyard only can process 5,500 metric tonnes of waste a day. The result? A mountain made entirely of garbage that only grows bigger with each passing day.
– Studies also suggest that the landfill has caused significant groundwater contamination. "The tap water is so polluted that we are not even supposed to brush our teeth with it. But we don't have a choice. The water makes our nerves and bones weak and leaves us with rashes and skin allergies. Even RO water purifiers don't work here," another resident, Shiva, says.
– The GHMC also admitted this. In a recent press note after Diwali, the municipal authorities said that they collected a staggering 8,200 metric tonnes of garbage in a single day, shifted them to 18 transfer stations across the city and later moved all of it to Jawaharnagar.
– That is not all. The dumpyard's location brings several other problems, which has a cascading effect. The animals here are weak and cattle give very little milk, experts say. Crops have also failed to grow, and all waterbodies nearby have been polluted due to the leachate (liquid discharged by the dumpyard).  https://www.thenewsminute.com/article/hyderabads-jawaharnagar-dumpyard-bursting-merely-shifting-it-not-solution-113415  (4 Dec. 2019)
Jalandhar 2 yrs on, solid waste project yet to take off  The landfill is sitting next to a  canal:- In Jalandhar city, it has been nearly two years since the plan to set up a bio-mining project was finalised but it remains in files till date. It was in state-level meeting of the Local Bodies Department in Chandigarh that the Rs 73-crore project got a final clearance under the Smart City project. The project is to be started at the Wariana landfill site where nearly 7.3 lakh metric tonnes of waste is lying dumped for over two decades now. The DPR for the project had been finalised at Rs 934 for processing of every tonne of solid waste. City generates 500 tonnes of waste per day, the Municipal Corporation (MC) authorities are still planning to start processing waste in a ward-wise manner.
MC Commissioner Diprava Lakra says, "We intend to start the tendering process in 10-15 days. We may be able to start the project by March. Once started, the huge mounds of old waste can get cleared in three years. For small bio-composting units to be set up in the city, we have identified 20 sites and work orders have been issued for 11 units."
The MC had about two months back started a pilot project of starting small compost pits for wards starting from the Nangal Shama area. Agitated at garbage from four wards accumulating at one site of his area, councillor JP Shamsher Khehra had lodged a protest, putting up locks on the gates of the dumping site. The project lies withheld as a builder who is constructing flats near the site has moved the court. The councillor insists that such projects can work only if there is a separate pit for each ward. "There are eight dumping sites in my ward which should be cleared if such a plant is to be set up," the councillor makes his point telling that the project in his ward was lying held up as of now due to the court case.  https://www.tribuneindia.com/news/punjab/2-yrs-on-jalandhar-solid-waste-project-yet-to-take-off/865056.html  (24 Nov. 2019)
Gurugram Sewage flows out of drain, inundates 5km stretch Malodorous water gushing out of sewage lines has occupied a major chunk – about 4 km to 5 km – of the Sector 56 road. A blockage in the sewer line originating at Sector 56 and 57 dividing road affected the flow of sewage water. Two motor pumps installed to channelize the water down the drain have also been impacted, causing the spill-over. People complained that walking is very difficult, especially at night because most of the streetlights on this stretch do not work. Furthermore, the pool of dirty water runs over crater-sized potholes. Locals cited instances of bikers skidding on this road as they failed to see the potholes.  https://timesofindia.indiatimes.com/city/gurgaon/gurugram-sewage-flows-out-of-drain-inundates-5km-stretch/articleshow/72342524.cms  (3 Dec. 2019)
Mumbai BMC announces 10% water cut Brihanmumbai Municipal Corporation has announced a 10 per cent water cut across the city between Dec. 7 and 13 on account of major repair works to be undertaken at the water filtration plant in Thane district. A BMC release said that the water cut became imperative due to the repair works which will be undertaken to reinforce the breaches in the pneumatic gate system at the water treatment plant. During the repair period, the supply water pressure would be less, as compared to the usual force, the release added. https://mumbaimirror.indiatimes.com/mumbai/civic/mumbai-bmc-announces-10-percent-water-cut-across-city-from-december-7-to-13/articleshow/72336157.cms  (2 Dec. 2019) 
WATER
Opinion NITI Aayog Isn't Doing Enough to Make India More Water-Use Efficient The CWMI is necessary but not sufficient for effective water management in the country. It is high time that the Centre and states effectively take steps to improve water governance in the country by filling the gaps mentioned says S.K. Sarkar former Secretary, MoWR. The CWMI has not given due importance to the Centre's 'Nal se Jal' programme, whereby every household is to be connected to piped water supply by 2024. In contrast, the index considered only 24×7 water supply to rural villages as a target.
Second, the theme on policy and governance under the index deals with only legislative and policy frameworks of rainwater harvesting, protection of water bodies, charging of water supply and positioning separate data centres for water resources. It did not talk about the framing of state water policies, positioning state water regulators, enacting a revised ground water regulation bill, etc. The index also does not present the legislative and policy scenario at the Central level. For example, the National Water Framework Bill, the river basin management Bill of the Centre, etc. have not been discussed in the document.
Third, the index does not discuss institutional reforms at the state and Central levels. Discussions such restructuring the Central Water Commission (CWC) and the Central Ground Water Board (CGWB), and similar reforms at the state levels, did not find any place in the index.
Fourth, the index is silent on undertaking steps for increasing water use efficiency in all sectors. SDG 6 stipulates that by 2030, all sectors should substantially increase water use efficiency. Water use efficiency in all sectors is very low; for example, in agriculture it is only about 38%. The current efforts of NITI Aayog are partial, as it has neglected the domestic and industrial sectors' abilities to improve water use efficiency.  https://thewire.in/government/niti-aayog-isnt-doing-enough-to-make-india-more-water-use-efficient  (2 Dec. 2019)
Interview 'Most crucial on Swachh Bharat agenda next is to sustain the momentum' Some key statements from interview of Parameshwaran Iyer, Secretary, Drinking Water and Sanitation:– The focus now is to sustain ODF and prevent any slip backs, said Iyer, adding that challenges are threefold — lack of infrastructure to make toilets unavailable, lack of water in toilets, and public attitude towards the usage of toilets. The newly constructed toilets are shaped such that they require only 1.5 litres of water to flush completely.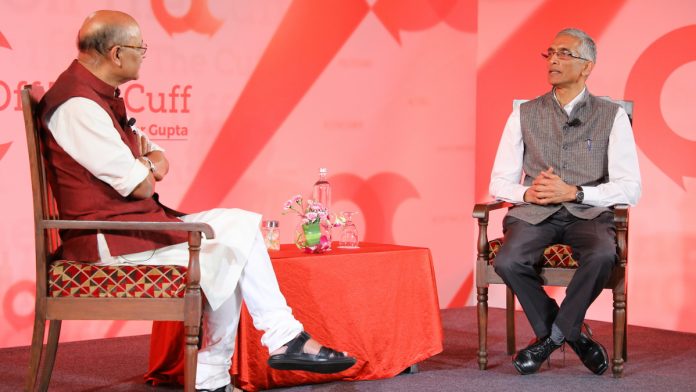 – He said sewage treatment today is primarily done through about 100,000 "honeysucking trucks" — both regulated and unregulated — and fewer than 30 per cent of households have a piped sewage system. Instead of regular septic tanks, Iyer said, the government now encourages twin pits where liquid waste leaches into the soil and solid faecal waste gets converted into compost.
– The Swachh Bharat mission was split into rural (population of 550 million) and urban (50 million, with more floating homeless population), and the focus has primarily been on the former. Urban areas have not yet been declared ODF.
– "The Jal Shakti Abhiyan focuses on five major aspects: rainwater harvesting, rejuvenation of traditional water bodies, reuse and recharge of ground water, afforestation, and watershed conservation," he explained. "It ran for four months and concluded on November 1. It is now going to be scaled up."  https://theprint.in/theprint-otc/most-crucial-on-swachh-bharat-agenda-next-is-to-sustain-the-momentum-parameswaran-iyer/330619/  (5 Dec. 2019)
Report MoEF reluctant to impose RO ban for purifying water While SC and NGT have asked MoEF to come up with a notification by Dec. 31, the MoEF official said that issuing such a notification may not be possible. "We may work on issuing guidelines to consumers on what happens when water is purified in RO, and whether there is a loss of minerals like calcium and magnesium in the process. But at the same time we are being asked to comply with NGT and SC. We will have to be prudent," said the official.
The MoEF official added that under the Environment Protection Act, 1986 the Ministry is responsible to check the quality of effluents and discharge, but not impose any bans. "The CPCB is mandated to ensure that the discharge (including that of RO water) complies with standards set for domestic and industry purposes. If it does not, CPCB takes action," said the official. NGT will hear the matter, and the progress made, on January 10 next year. https://www.thehindubusinessline.com/news/moef-reluctant-to-impose-ro-ban-for-purifying-water/article30137708.ece  (2 Dec. 2019)
Rajasthan Rs 96.49 cr for 25 rural water supply schemes approved The state govt has approved Rs 96.49 crore for the implementation of 25 rural drinking water schemes in the first phase under the Jal Jeevan Mission in the state. Additional Chief Engineer PHED (Projects) Dinesh Goyal said under the Jal Jeevan Mission piped drinking water had to be provided in all households including rural areas of the state by the year 2024. He informed that in addition to the above approval, it has also been decided to issue domestic water connections in 12 ongoing schemes and 11 large projects of the department. About eight lakh families located in 3700 villages and 7200 hamlets will be benefited from Jal Jeevan mission executed at a cost of Rs 2000 crore. https://timesofindia.indiatimes.com/city/jaipur/rs-96-49-crore-for-25-rural-water-supply-schemes-approved/articleshow/72339521.cms  (3 Dec. 2019)
From Pani Haq Samiti The Preamble to the Constitution States Liberty of thought, expression, belief, faith and worship. What does liberty mean to the 20 lakh citizens of India who remain without access to legal water due to fear of raising the demand for it? The nexus of the politicians, police and local goons keep them afraid of demanding a just right. They instill in them fear of demolitions and violence so that they can continue profiting from the grey markets for water.
Shanti tai, a resident of Kaula Bunder, and a volunteer at the Pani Haq Samiti, has had to brave threats from goons and politicians. They wanted her to stop mobilising the people of her settlement to demand legal access to water. She was threatened that her whole community would be demolished if she did not stop her activism. She, along with her neighbors, has been physically prevented from organising and attending protests and marches for Pani Haq Samiti.
How do you stay strong in such circumstances? When people in power meant to protect citizens connive with the goons, who will safeguard the liberty of the poor?
The fight for water is also a fight for all the things our Constitution stands for. The Bombay High Court, in response to the PIL by Pani Haq Samiti, passed the landmark judgment that Right to Water was inherent to the Right to Life and denying water was unconstitutional. This judgement was on account of the Right to Life guaranteed by the Constitution.
The fight for universal access to water is not a standalone, single minded pursuit. It contains within itself a fight for all the elements that support a life of dignity.
We must unite and tip the scales of power back where it belongs – in the hands of the people. 
MONSOON 2019
IMD Forecasts for Pune's Pashan and Lohegaon areas, first since 1928  Even though IMD records and maintains temperature, rainfall, humidity and other key weather parameters measured at Pune, Lohegaon and Pashan stations of the city, the office until now would issue forecasts for overall Pune city only. A five-day advance weather forecast would also be issued using weather information mainly gathered from its Shivajinagar weather observatory.
– All weather-related data collected on a daily basis from across the country are collated and archived at the Pune's Met office's National Data Centre that was established in 1977. The Pune office is a treasure trove of weather data, with a digital repository of charts and maps available since 1900.  https://indianexpress.com/article/cities/pune/imd-commences-forecasts-for-punes-pashan-and-lohegaon-areas-first-since-1928/  (3 Dec. 2019)
– In a dramatic turn of events on Dec. 4, the MD has issued a twin-cyclone alert in the Arabian Sea for the second time during this North-East monsoon. Earlier, in October-end and early November, the literally boiling waters of the Arabian Sea had hosted Kyarr, the first super cyclone after Gonu in 2007, as well as very severe cyclone Maha concurrently for a few days.  https://www.thehindubusinessline.com/economy/agri-business/records-may-tumble-with-imd-issuing-twin-cyclone-alert-in-arabian-sea/article30163445.ece  (4 Dec. 2019)
-The calendar year 2019 has witnessed the highest number of cyclonic disturbances — seven — over the Arabian Sea in the last 127 years, the IMD said on Dec. 4. In 1998, there were six cyclonic disturbances (CDs), as per the IMD records. Yearly average for the area is 1.7. "The recorded last such activity was in 1982 and 2011 when four CDs were observed in the post-monsoon season," an IMD official said. https://www.news18.com/news/india/2019-saw-maximum-number-of-cyclonic-disturbances-over-arabian-sea-in-a-century-2412313.html  (4 Dec. 2019)
From Roxy Mathew Koll FB Post The ocean and atmosphere have played together this time in brewing four simultaneous storms in the Indian Ocean. While IMD is closely watching if the eastern Arabian Sea storm is developing or not, the Joint Typhoon Warning Centre categorizes all four as cyclones.
The west Indian Ocean is warmer than usual this year. This is largely due to a phenomenon called Indian Ocean Dipole, and also due to the rising temperatures associated with global warming. Cyclones draw their energy from the ocean and hence such an environment is quite favorable for an increased number of cyclones.
Interestingly, another weather phenomenon called the MJO (Madden Julian Oscillation) is also currently active in the Indian Ocean. MJO provides conducive atmospheric conditions for cyclogenesis. So the recipe is right for a stormy Arabian Sea—the ocean and atmosphere has played together this time in brewing the ongoing storms.
FLOOD 2019
ORF China-India data sharing for early flood warning in the Brahmaputra: A critique Using hydro-meteorological data, this brief assesses the arrangement and identifies its limitations, primary of which is the wrong choice for the location of measuring stations on the upstream of the Brahmaputra (or the Yarlung Tsangpo in the Tibetan plateau), whose contribution to total flows of the Brahmaputra in India during monsoon is of little significance.
In the process, the brief questions the perception that upstream intervention within the basin in the north of the Himalayan crestline can have a negative impact on downstream nations of India and Bangladesh. It calls for a more comprehensive advanced warning system, utilising data from measuring stations in the greater endowed rainfall areas within the south aspect of the Himalaya up to the China-India border, downstream of Mêdog.  https://www.orfonline.org/research/china-india-data-sharing-for-early-flood-warning-in-the-brahmaputra-58330/  (4 Dec. 2019)
Tamil Nadu Flood alert issued for western districts as Bhavani Sagar dam fills up A flood alert has been issued to people living on the banks of the river Bhavani in western districts even as the Bhavani Sagar dam, built across it, has surplused in the wake of copious rains in catchment areas, officials said on Dec. 2.
The dam has filled up for the sixth time this year following heavy rains in the catchment areas in hilly Nilgiris district and Mettupalayam in neighbouring Coimbatore district. Meanwhile, various farmers associations appealed for the release of water for irrigation of second turn crops in the Lower Bhavani Project ayacut areas. Several parts of state have been lashed by the northeast monsoon rains in the past few days.  https://www.thenewsminute.com/article/flood-alert-issued-western-districts-tn-bhavani-sagar-dam-fills-113306  (2 Dec 2019)
Heavy discharge from dams triggers flood in Tamirabharani After a not so impressive south-west monsoon, the sustained and decent precipitation in catchment areas of Papanasam dam, which had only nine feet water against the maximum capacity of 143 feet on May 28, took the water level to the maximum. While the dam touched 142.60 feet and the reservoir was receiving over 1,700 cusecs of water, the water level in its 'sister' Servalar dam rose to 150 feet against the maximum storage level of 156 feet. Hence, a collective discharge of just over 3,000 cusecs of water from both dams was maintained since Nov. 28 morning that triggered a flood in the Tamirabharani. https://www.thehindu.com/news/cities/Madurai/heavy-discharge-from-dams-triggers-flood-in-tamirabharani/article30113212.ece  (29 Nov. 2019)
Of the 17 major water bodies in Kancheepuram and Chengalpattu districts, nearly 15 have reached their capacity. Thenneri in Walajabad taluk, one of the largest with storage capacity of 1,900 million cubic feet, is brimming with water. Some of the other lakes that are full, include Manimangalam, Manamathy, Thaiyur and Kodangi in Tiruporur taluk.
– The department expects the lakes in Kolavai, Chengalpattu district and Madurantakam to surplus in a few days. The check dam in Vayalur and Esur Vallipuram built across Palar river have turned into tourist spots as people throng to witness water overflowing. Similarly, nearly 153 of the 576 water bodies in Tiruvallur district have filled up. Kovilpathagai and Ponpadi lakes are among them.  https://www.thehindu.com/news/cities/chennai/several-water-bodies-in-chennais-neighbouring-districts-have-touched-their-storage-capacity/article30150125.ece  (3 Dec. 2019)
Having breached HFL, River Kallar at Odenthurai level forecast site in Coimbatore is still flowing above danger level.
AGRICULTURE
National Just 3% of pulses, seeds targeted under PM-AASHA,  scheme, procured  – Less than 3% of this season's sanctioned amount of pulses and oilseeds have actually been procured so far under the once-hyped PM-AASHA scheme, Agriculture Ministry data show. Arrivals of these crops began in October and will end by February.
– A total of 37.59 lakh metric tonnes of procurement had been sanctioned under the Centrally funded scheme. However, only 1.08 lakh tonnes have been procured so far, according to data placed in the Lok Sabha on December 3. In fact, of the eleven States that opted for the scheme this season, procurement has not even started in Uttar Pradesh, Madhya Pradesh and Odisha.  https://www.thehindu.com/business/agri-business/government-procured-just-3-of-pulses-seeds-targeted-under-pm-aasha-scheme/article30169667.ece  (4 Dec. 2019)
Uncertain future of sugar cane industry The Indian govt might be aiming to increase fuel ethanol capacity to be able to divert as much as 5 million mt in sugar equivalent to ethanol, when needed. Two convictions: 1. The country has reached a new production threshold above consumption, meaning it will remain a net exporter in the medium term; and 2. ethanol is increasingly part of the fuel mix but it won't resolve the sugar glut.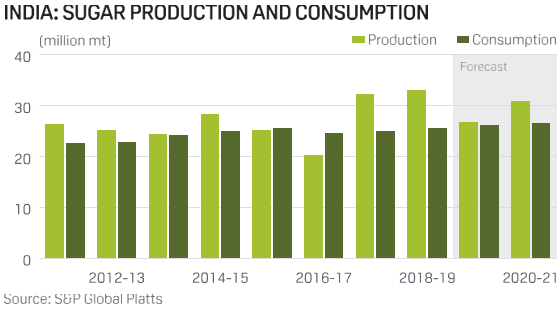 – Sugar production will most likely remain above 30 million mt, unless severely adverse weather conditions hit agricultural yields, planting and/or cause diversion to fodder. This exceptional set of conditions happened this year, which is why for 2019-20 (October-September) sugar production forecasts range between 26 million and 28 million mt (we are at 26.6 million mt). For 2020-21, everyone is expecting a recovery in sugar production to above 30 million mt. It is safe to expect that India could remain a net exporter over the next five years. However, exporters would need government support to be competitive on the international market and really manage to export the forecast surplus because Indian production costs are well above current market prices.  https://energy.economictimes.indiatimes.com/energy-speak/what-might-the-future-hold-for-india-s-sugarcane-industry/3890  (26 Nov. 2019)
ENERGY OPTIONS
Plan to bring rooftop solar scheme with KfW: Gadkari "We are trying to reduce power cost. We are bringing a rooftop solar scheme with KfW, with the help of which the cost of power will be Rs 2.5 per unit at maximum," Gadkari said at a FICCI Summit on MSME ecosystem.  https://energy.economictimes.indiatimes.com/news/renewable/plan-to-bring-rooftop-solar-scheme-with-kfw-says-nitin-gadkari/72358123  (4 Dec. 2019)
ENVIRONMENT
Uttarakhand New definition of forest sparks outrage The Uttarakhand state government framed new definition of 'deemed forests' as 'a land patch of 10 hectare or above with 60 per cent canopy density and 75 per cent native plant species' paving way for acquisition of forest land for various purposes including industrial and mining say, environmentalists, conservationists. The letter dated Nov. 21, 2019 by state forest department states that a land patch of 10 hectare or above with 60 per cent canopy density and 75 per cent native plant species will be considered as deemed forests other than notified ones.  Shekhar Pathak, a Padam Shree awardee activist based in Nainital said, "This is clear attempt to dilute Forest Conservation Act 1980. This law has protected the Indian forests and clipped the rights of the government to misuse and abuse forest land. There are chances that this will have more negative impact than positive".
A senior state forest official on the condition of anonymity said that the state governments have always had problem with the FCA as this tends to deprive them of exercising any rights to forest lands. "By this change, the state government will be able to divert land without requiring any approval from the central government, especially MoEF. Another side of the country is that the land will be diverted indiscriminately for government-funded projects as well as private enterprises such as mining, resort-hotels and housing projects raking crores," said the official. https://www.newindianexpress.com/nation/2019/dec/01/uttarakhands-new-definition-of-forest-sparks-outrage-2069871.html  (1 Dec. 2019)
Centre objects to Uttarakhand's definition of forest The MoEF's Forest Conservation division said in a note on December 5 that the Uttarakhand order was in "contravention" of the Supreme Court's orders. The Forest (Conservation) Act, 1980 would be applicable to all areas recorded as forest in any government records….the State should not issue any communication that is violative of any order passed by the Supreme Court, the Ministry said. The note, was signed by Brijendra Swaroop, Deputy Inspector-General of Forests.
The freedom to define which tracts of vegetation qualify as forest has been the prerogative of States since 1996 and forests have to be understood in the "dictionary definition" of the term, the Supreme Court ruled in the Godvarman judgment that year.
Uttarakhand's Principal Chief Conservator-Forests Jai Raj told The Hindu that his department would soon reply to the Centre's objections. He maintained that the State was correct in its interpretation of the Supreme Court order and that protected forests would remain inviolate. Deemed forests, which comprise about 1% of India's forest land, are a controversial subject as they refer to land tracts that appear to be a "forest", but have not been notified so by the government or in historical records. Environmentalists say Uttarakhand's criteria paves the way for large parts of forestland to be captured by builders and industrialists.  https://www.thehindu.com/news/national/other-states/centre-objects-to-uttarakhands-definition-of-forest/article30220072.ece  (7 Dec. 2019)
Opinion The Idea That 'Green Technology' Can Help Save the Environment Is Dangerous By Godwin Vasanth Bosco, ecologist & author.  Industrialists around the world have been extracting a wide array of minerals and metals to build electric vehicles and 'cleaner' batteries, simply replacing one injustice with another. Instead of resorting to industrial or, more broadly, techno-optimistic alternatives, we need to immediately reduce our industrial footprint by more than half and adopt alternative ways of living and working. This is also possible and will likely benefit Earth more than everything else we seem to be trying.https://thewire.in/environment/the-idea-that-green-technology-can-help-save-the-environment-is-dangerous   (2 Dec. 2019)
CLIMATE CHANGE
SANDRP Blog German Watch Report: Can India not assess its Climate Risk & Vulnerability? On GermanWatch report on Climate Risk Index that ranks India fifth in terms of 2018 impacts. The report has some glaring errors. But why can't India not produce such report on annual basis?  https://sandrp.in/2019/12/05/germanwatch-report-can-india-not-assess-its-climate-risk-vulnerability/  (5 Dec. 2019)
Report India's rain pattern getting affected In a report published on Nov 27, 2019, climate scientists pointed out that the Indo-Pacific warm pool, a stretch of ocean where the temperature remains above 28°C in the winter months, has doubled in size between 1981 and 2018. This, in turn, has "warped" the Madden-Julian Oscillation (MJO), a band of rain clouds that moves eastwards over the tropics and is responsible for most weather variations in the region — including the south-west and north-east monsoons. It is causing droughts in some regions across the world and extreme floods in others.
– The study found that MJO clouds now remain in Indian Ocean for four fewer days (from an average of 19 days to 15 days). In turn, they have spilled over to the west Pacific region, where they linger for five more days (from an average of 18 days to 23 days). MJO travels 12,000-20,000km mainly over the Indo-Pacific warm pool and modulates the El Niño Southern Oscillation, tropical cyclones and the monsoons, contributing to severe weather events over Asia, Australia, Africa, Europe and the Americas.
– The changes to MJO have a cascading effect that triggers extreme weather events across the globe. The MJO season begins in October and lasts till April, and the report contends its "warping" has a direct link to lower rainfall in the winter months in north India. Experts separately say the effects also spill over to the summer monsoon,which is crucial for India's agriculture and economy.
– "The MJO location-specific changes in terms of their lifespan has altered weather patterns across the globe because it changes atmospheric circulation that can enhance or suppress tropical rainfall variability, modulate or trigger extreme weather events including hurricanes, droughts, flooding, heat waves and cold surges," said Roxy Mathew Koll, principal investigator and climate scientist, IITM. Koll said changes in MJO can affect western disturbances that bring rain to north India and may also reduce the span of summer monsoon rains and cause extreme rainfall events in short duration.
– Raghu Murtugudde, professor of atmospheric and oceanic science and earth system science at the University of Maryland, who was not involved in the study, said the report is critical for the Indian monsoon because the MJO season (October to April) dovetails the monsoon season, also known as the Monsoon Intraseasonal Oscillation or MISO season (May to September). "The monsoon is all about MISOs or active/break periods. Since the variability and change in the monsoon are all manifest in active/break periods and our agriculture depends on active/breaks, this MJO story raises new questions about how MISOs are responding to the Indo-Pacific warm pool changes," said Murtugudde. "Now the question is to see how MJO changes are related to the MISO changes and what it means for the future of the monsoon."
– It is published in the journal Nature and authored by scientists from Pune's Indian Institute of Tropical Meteorology (IITM), United States's National Oceanic and Atmospheric Administration, University of Washington and University of Tokyo.  https://www.hindustantimes.com/india-news/india-s-rain-pattern-getting-affected-by-global-climate-crisis/story-oS7BeGBoSIOsyDFAVWyHmL.html  (28 Nov. 2019)
Mr. Koll said, the change in the MJO could drift warmer surface water towards the Bay of Bengal and increase cyclones. "The MJOs haven't been as extensively studied as say the El Nino. This study shows that we need better observation of the Indian Ocean and improve forecasts that can warn us about a cyclone."
– The changes in MJO behaviour have increased the rainfall over northern Australia, west Pacific, Amazon basin, southwest Africa and southeast Asia (Indonesia, Philippines and Papua New Guinea). At the same time these changes have brought a decline in rainfall over central Pacific, along the west and east coast of U.S. (e.g., California), north India, east Africa and the Yangtze basin in China. The frequent California fires, droughts in Africa and East Asian floods and cyclones in the Bay of Bengal may be linked to these changes in global weather, the study noted.  https://www.thehindu.com/sci-tech/energy-and-environment/global-warming-alters-rainfall-rhythm-finds-study/article30099781.ece  (27 Nov. 2019)
Synthesizing the science behind the changing oceans, poles, and high mountains, the authors including Roxy Mathew Koll prepared the IPCC Special Report on Oceans and Cryosphere in a Changing Climate. Now, here is a video highlighting the salient points in the report.  https://www.facebook.com/IPCC/videos/2681856898539603/?t=18
Report India saw world's highest death in 2018 India has accounted for the highest fatalities in the world due to catastrophic climate events which took away lives of 2,081 people in the country last year. It also witnessed the second-highest economic losses of over $37,000 million, which is equivalent to nearly four times the country's annual budget for the health sector. The Global Climate Risk Index 2020, released by the environmental think-tank Germanwatch on Wednesday during the ongoing COP 25 meet in Madrid, ranks India as the fifth-most vulnerable country in the world in terms of experiencing extreme weather events. https://timesofindia.indiatimes.com/city/nagpur/india-saw-worlds-highest-climate-deaths-in-2018-report/articleshow/72374119.cms  (5 Dec. 2019)
THE REST OF THE WORLD
Research Rivers could generate thousands of nuclear power plants worth of energy A new membrane could unlock the potential of "blue energy," which uses chemical differences between fresh- and saltwater to generate electricity. If researchers can scale up the postage stamp–size membrane in an affordable fashion, it could provide carbon-free power to millions of people in coastal nations where freshwater rivers meet the sea.
– Rivers dump some 37,000 cubic kilometers of freshwater into the oceans every year. This intersection between fresh- and saltwater creates the potential to generate lots of electricity—2.6 terawatts, according to one recent estimate, roughly the amount that can be generated by 2000 nuclear power plants.
– In water, these positive and negative ions detach and can move independently. By pumping the positive ions—like sodium or potassium—to the other side of a semipermeable membrane, researchers can create two pools of water: one with a positive charge, and one with a negative charge. If they then dunk electrodes in the pools and connect them with a wire, electrons will flow from the negatively charged to the positively charged side, generating electricity.
– In 2013, French researchers made just such a membrane. They used a ceramic film of silicon nitride—commonly used in industry for electronics, cutting tools, and other uses—pierced by a single pore lined with a boron nitride nanotube (BNNT), a material being investigated for use in high-strength composites, among other things. Because BNNTs are highly negatively charged, the French team suspected they would prevent negatively charged ions in water from passing through the membrane (because similar electric charges repel one another). Their hunch was right.
– The charge imbalance between the two sides was so strong that the researchers estimated a single square meter of the membrane—packed with millions of pores per square centimeter—could generate about 30 megawatt hours per year. That's enough to power more than 400 homes.
– But creating even postage stamp–size films has proved impossible, because no one has figured out how to make all of the long, thin BNNTs line up perpendicular to the membrane. Until now.
– At the semiannual meeting of the Materials Research Society here yesterday, Semih Cetindag, a Ph.D. student in the lab of mechanical engineer Jerry Wei-Jen Shan at Rutgers University in Piscataway, New Jersey, reported that their team has now cracked the code.
– When the researchers placed their membrane in a small vessel separating salt- and freshwater, it produced 8000 times more power per area than the previous French team's BNNT experiment. That power boost is likely because the BNNTs they used are narrower, and thus do a better job of excluding negatively charged chloride ions. And they suspect they can do even better. "We're not exploiting the full potential of the membranes," Cetindag says. That's because only 2% of the BNNTS were actually open on both sides of the membrane after the plasma treatment. Now, the researchers are trying to increase number of open pores in their films—which could one day give a long-sought boost to advocates of blue energy. https://www.sciencemag.org/news/2019/12/rivers-could-generate-thousands-nuclear-power-plants-worth-energy-thanks-new-blue  (4 Dec. 2019)
Blue New Deal Campaigners call on new EU Commission to end "hydropower madness" Environmental campaign groups urged the new European Commission on Nov. 28 to stop the expansion of hydropower projects and address their development in accession negotiations with countries seeking to join the European Union.  https://energy.economictimes.indiatimes.com/news/renewable/campaigners-call-on-new-eu-commission-to-end-hydropower-madness/72278719  (28 Nov. 2019)
Study 2/3 of the longest rivers no longer flow freely—and it's harming us A new study warns that many of the benefits rivers provide, from water to food to flood control, are increasingly at risk thanks to dams and diversions. https://www.nationalgeographic.com/environment/2019/05/worlds-free-flowing-rivers-mapped-hydropower/  (8 May 2019)
Opinion The Problem with Levees  By Nicholas Pinter  They can be very valuable tools for managing flood risk—but we learned a century ago that relying on them exclusively won't work. https://blogs.scientificamerican.com/observations/the-problem-with-levees/  (1 Aug. 2019)
California Sinking canal Case of a 68 year old canal sinking due to excessive groundwater pumping, needs repair but its uncertain who will pay for it. https://www.sacbee.com/news/california/article238001964.html  (4 Dec. 2019)
NILE River Egypt, Ethiopia, Sudan resume talks over disputed GERD dam The irrigation ministers of Egypt, Ethiopia and Sudan have met in Cairo for a new round of talks aimed at resolving a dispute over Grand Ethiopian Renaissance Dam multibillion-dollar dam being built by the Ethiopian government on Nile river. The two-day meeting, which got under way on Dec. 2 in the Egyptian capital, comes almost a month after the three sides agreed to work towards resolving the issue at a US-brokered meeting in Washington, DC. Talks had previously broken down over rules regulating the dam's filling and operations, necessitating foreign mediation.  https://www.aljazeera.com/news/2019/12/egypt-sudan-ethiopia-resume-talks-disputed-nile-dam-191202142434965.html  (2 Dec. 2019)
Mississippi River Hidden history, uncovered by lasers
Using hyperprecise LiDAR data, a cartographer maps the river's bends and channels over time with mesmerizing results. https://www.nationalgeographic.com/science/2019/11/mississippi-rivers-hidden-history-uncovered-by-lidar/  (7 Nov. 2019)
Compiled by SANDRP (ht.sandrp@gmail.com)
Also see: DRP News Bulletin 2 Dec. 2019 & DRP News Bulletin 25 Nov. 2019  
Follow us on: www.facebook.com/sandrp.in; https://twitter.com/Indian_Rivers