With the beginning of south west monsoon season 2019, many Himalayan states started witnessing exceptional rainfall events known as Cloud Bursts. The extreme weather event – like previous years- caused large scale destruction in ecologically sensitive and remotely located vulnerable hilly areas. This account compiles the available information about such incidents in Uttarakhand in 2019 SW monsoon.
June 2019
Even before beginning of monsoon, two cloud burst incidents were reported from Mehalchauri and Chaukhatiya areas at the border of Chamoli and Almora districts. They occurred late in the evening on June 2, at a time, when many places were reeling under a heat wave and forest fires were rampant.
The first incident was reported from Lam Bagar areas in Mahelchouri killing an 82 years old shepherd after flash floods in local Gangani stream. Damages to agricultural lands were also reported. In past too, several cloud bursts incidents have taken place in this area of upper Ramganga basin.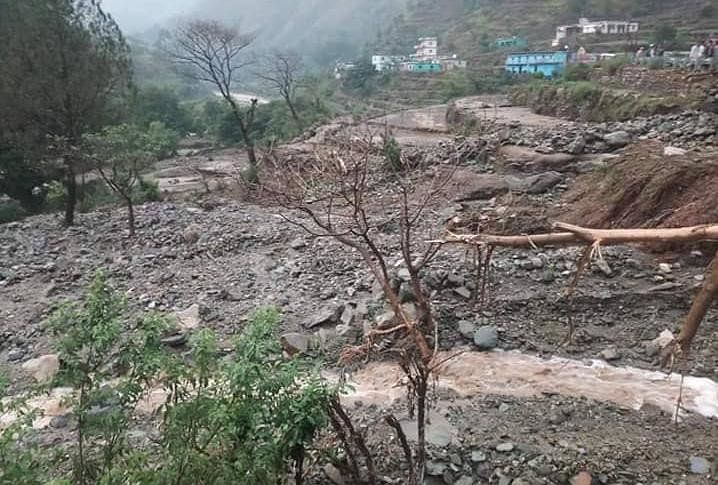 The second incident on same day, around same time was reported from Khira village in Chaukhatiya block. Several houses, cowsheds, main roads and local bridges were damaged in both incidents. A person was missing and some cattle also washed away apart from large scale destruction in Gangnahar, Lambagad, Ramgaderi, Bisht Bhankhli and Negi Bankhali villages.  The Mahelchouri-Chaukhatiya highway was blocked by the debris. On same day around 90 sheeps were reported dead following a lightening incident at higher altitude in the area.
This slideshow requires JavaScript.
Bikram Singh, Director, Meteorology Department, Dehradun told local media that cloud burst incidents generally occurs during monsoon and these events happened while even pre monsoon season is not fully active. He said that heavy down pour exceeding 60 millimetres rain in an hour over a limited area are qualified to be labelled as cloud burst event and also revealed that there was no observatory in the area.
On June 21, the Mori market area in Uttarkashi district saw very heavy rainfall as a result of cloud burst causing flash flood in the area. One person was reported dead and four other injured due to the incident. The flood water also entered in some of the houses and shops apart from damaging trees and blocking the main road for a couple of hours.  
On June 23, a localized extreme rainfall event unfolded around Mansari and Kanadi villages in Chauthan Patti area of Thailisain block, Pouri district washing away cattle and damaging homes. The incident caught the district disaster management officials off guard which reported it as no rainfall day. Villagers living downstream were surprised to see flash floods in Binnu river under sunny weather.
Around the same time, scientists warned of increase in melting of glaciers and formation of water bodies on high altitude in the state which could lead to another Kedarnath like deluge. Concerns were also raised on the haphazard manner in which work of Char Dham Highway Project was being carried by cutting hundreds of trees, dumping of debris in the rivers. Environmentalists were afraid that under such situation cloud burst events would unleash severe disaster.
July 2019
The next cloud burst incident was reported in Sari Chamshil village of Augustmuni block in Rudra Prayag district on, July 4. Farm lands, a 40-metre part of main road and water supply pipe line were damaged. On the same day, heavy rainfall was reported in many parts of state resulting in multiple landslides at several locations.
Quoting officials, another news report revealed that, weather department terms these events as excessive rainfall exceeding 100 mm/hour caused by collision between monsoonal winds and western disturbance currents. The report further revealed that the weather department lacks monitoring of excessive rainfall events in interior areas of the state. Meanwhile experts blamed global warming responsible for increase in numbers of cloud bursts in the state.
August 2019
In August multiple could bursts event were reported in different parts of state all through the month. First, in early hours of Aug. 6, a cloudburst struck Gairsain area of Chamoli district damaging 4 cowsheds, 5 bridges and a school building. The cloud burst took place around 4 am in Pathar Katta village. Heavy rainfall led to flash floods in Chad a local nullah causing severe damages to properties.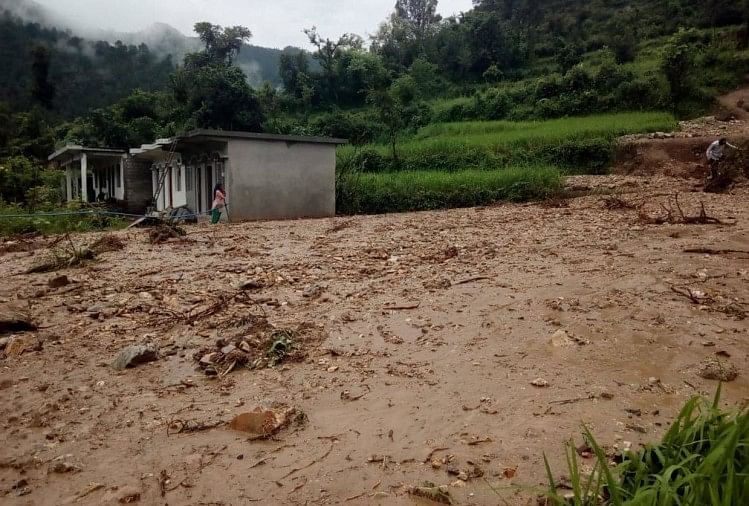 This was the second incident of cloudburst in Chamoli district this monsoon. Thousands of visitors were left stranded after 6 bridges collapsed on due to rains triggered by cloud burst. Due to heavy rainfall and landslides across state, Rishikesh-Badrinath highway at Lambagad was blocked apart from several other motor roads in Chamoli, Uttarkashi and Pauri districts. 
On Aug. 6, a cloud burst struck the Mayali-Tehri road area in Rudra Prayag district causing landslide and blockage of the road.
In the intervening night of Aug. 8 and 9, there were four cloud bursts incidents reported in different parts of Chamoli, Tehri and Rudra Prayag districts killing about 4 people, 42 cattle and damaging 30 houses, 24 cowsheds. More than 200 houses and 750 Nali agricultural land were also damaged due to flash floods apart from washing away of more than two dozen local foot bridges and about 60 connecting roads. 
Destruction after the cloud burst in Padamalla village area. (Image: WhatsApp)
The first incident was reported in Dewal block of Chamoli, where a cloud burst in the forest area of in Padmalla, Faldiya, Ulangra, Tailore and Bamanbera villages led to killing a woman and a kid. About 12 houses, two dozen cow sheds, 6 foot bridges, 10 water mills, water supply lines and agricultural lands were also damaged following flash floods in a local nulla.
In the second incident on same night, about two dozen houses, several cowsheds were damaged in Saikot, Maithana, Ghudshal villages of Dasholi block apart from death of more than a dozen cattle. Landslides and flash floods in Kanda and Kothiyalsain villages of the same block caused severe destruction to roads and bridges.
Two villagers died and five other severely injured in the third incident of cloud burst that occurred in Soud Tok of Tharthi village in Bhilangana block of Tehri district. The cloud burst led to flash floods in the Nailchami nullah damaging scores of houses, cowsheds in the area. A similar incident was reported from the Kulethi village in Kirti Nagar of the district resulting in significant damage to houses and roads. A woman was injured and several cattle and hens were washed away in an overflowing local rivulet.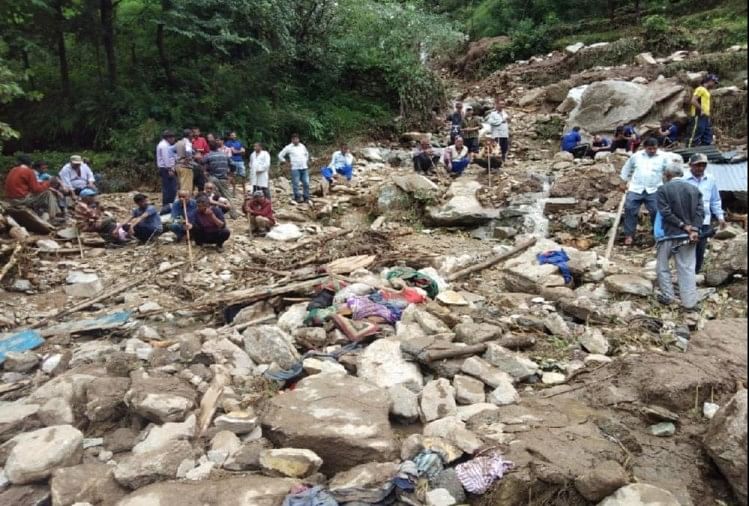 The debris after flash floods in local nullah invaded about 120 houses and 50 shops in Augustmuni Nagar Panchayat of Rudraprayag district. More than 250 goats died due to lightening incident in Purola area of Uttarakashi district. Similarly a youth was washed away in the flash floods in Alaknanda river in Pouri district. The Char Dham pilgrimage was also severely affected due to heavy rainfall, cloud bursts and landslides at several locations.
In a tragic incident, again followed by three back to back cloud burst events, about 6 people lost their lives in Ghat block of Chamoli district in early hours of Aug. 12. The first incident took place in the village of Banjba Gad in which a woman and her daughter were buried under the rubble inside their house.
At the same time, another incident occurred in Aali village triggering landslide in which a villager was killed. The third incident took place in Lankhi village in which three persons of a family were killed in landslides after cloud burst.  On the other hand, two houses and three shops were washed away following flash floods in Chufla Gadera.
Badrinath highway in the district has became dangerous due to the ongoing construction of All Weather Road. A series of landslides had brought debris on the road. A part of the hill fell in Kodiya on Aug. 11 evening.
There was one more cloud burst incident reported from Garud tehsil of Bageshwar district on Aug. 12. The cloud burst occurred in the forest area of Hawel Kulwan causing sudden floods in Rajpani stream of the village. Following this there was flash flood in Gomati river destroying farm lands, drinking water pipelines in Katyur valley. Several houses and cowsheds were washed away in the incident while cracks appeared in several other homes.
The most destructive cloud burst incident in the state happened on Aug. 18 in which 17 people were killed and several went missing in Mori Block of Uttarakashi district. The unprecedented flash floods in Tons river wreaked havoc in Arakot, Sanel, Makudi and Tikochi villages, flattening number of houses and uprooting trees.
There was landslide after the cloud burst causing damages to around half a dozen villages and killing five people in Makudi village. There was floods in Pabbar river also. Houses were damaged in Khakwadi, Chinwa, Gokul and Makudi villages. Tikochi and Tyuni market areas suffered due to landslide and floods.
Several vehicles, bridges and a primary school were washed away. A helipad submerged in flood water and national highways were blocked due to debris. Many people were injured and had to run to higher locations to save their lives. Large scale destruction to farmlands and cattle was also reported due to the incident.
The Mason village in Chauthan Patti area of Thailisain block in Pouri district saw another excessive rainfall event on Aug 18, causing flash floods in a local stream. About half dozen homes and cowsheds were damaged apart from wide scale damages to roads, farm lands. There were a couple of landslide incidents also after the cloud burst. However this incident was not covered in media reports. And there could be several more such incidents of cloud bursts in the state going unreported for various reasons.
SEPTEMBER 2019
On Sept. 2, a cloud burst incident was reported from the Jajar village in Dhauladevi block of Almora district. A house collapsed in the incident injuring few persons and cattle.  
In the intervening night of Sept. 6 and 7, there were three cloud burst incidents reported from three different areas of Pithoragarh and Chamoli districts. In the first incident from Timtia village of Nachni area in Munsyari tehsil, a man was killed and three other injured in landslides, flash flash floods in Rasiyabagag nullah and Ramganga river.
More than a dozen houses, cowsheds were damaged due to landslides and flash floods. About half a dozen cattle were killed under debris. Several roads including 60 metre stretch of Thal-Munsyari highway were damaged. There were reports of vehicles being washed away in the flash floods.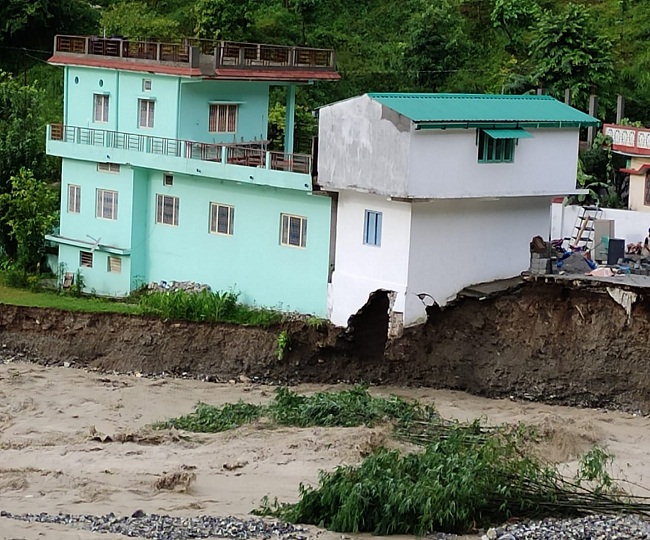 The second cloud burst incident occurred in Govind Ghat area of Chamoli district. There was a cloud burst early in the morning, causing flash flood in a local stream and washing away about 30 metres stretch of Badrinath highway. In a landslide following the incident about 40 vehicles were buried under debris. As a result of disaster, thousands of pilgrims were stranded at different locations.  The electricity and communication services were disrupted.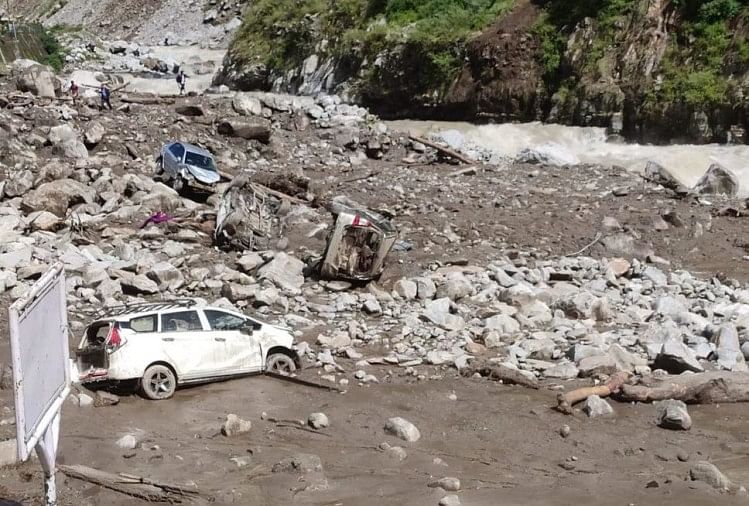 The third cloud burst incident was reported from Gundam village of Tharali Tehsil in Chamoli district. There was very heavy rainfall and thundering in Gundam village forest area in Pindar valley early on Sept. 7 morning causing flash floods in local nullah. As a result, Gudam, Thala and Lalti villages were flushed with debris. Couple of houses and cowsheds were destroyed. Also few villagers and cattle received injuries. As per villagers several acres of farm lands was damaged and Tharali Karan Prayag highway got blocked.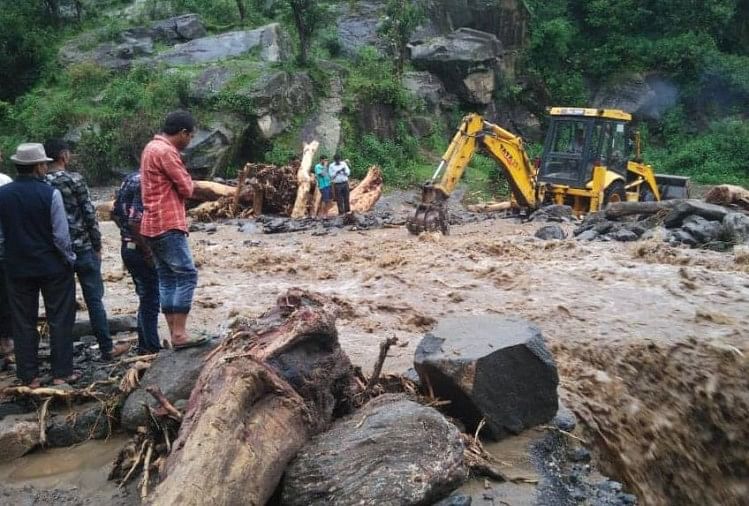 In the intervening night of Sept. 7 and 8, another cloud burst incident was reported from Ghat block of Chamoli district. This incident occurred around 2 am, in Furfadi Tok of Dhurma village causing flash floods in Rikhpadpna nullah. A house was washed away, while 6 others were damaged following the incident. The report also says that a portion of inter college was damaged and two water mills were washed away. The drinking water pipeline, irrigation canals and fields were affected by the debris.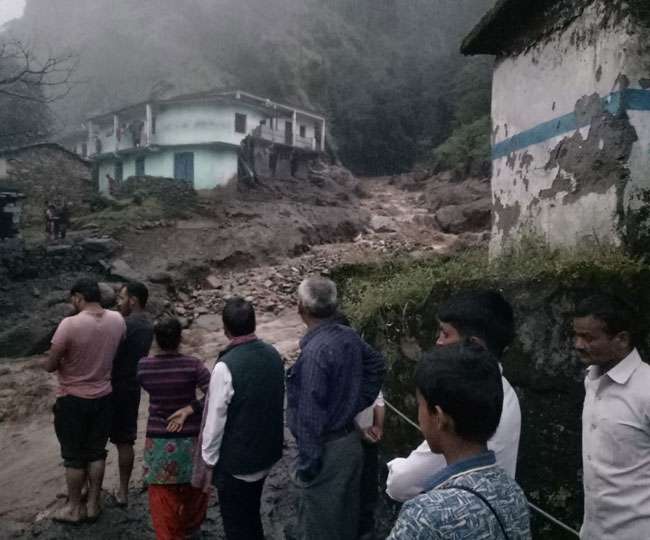 Probably the last incident of cloud burst of SW monsoon in Uttarakhand was reported from Clement town in Dehradun district on Sept. 27. The area received about 115 mm rains in an hour leading to flood like situation. All rivers, rivulets and drains swelled dangerously following heavy rainfall. About 15 houses were damaged. Locals said such situation was earlier faced in 2013 only.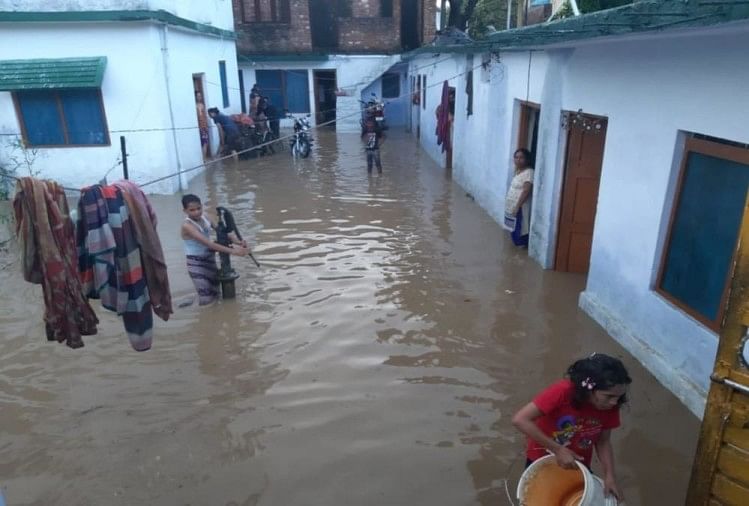 Uttarakhand Cloud Bursts Events in 2019 Monsoon
| | | | | |
| --- | --- | --- | --- | --- |
| SN | Date | Village, Block/Tehsil | District | Human Death |
| 1 | 02 June | Lam Bagar, Gairsain | Chamoli | 01 |
| 2 | 02 June | Khira, Chaukhatiya | Almora | 01 |
| 3 | 21 June | Market area, Mori | Uttarkashi | 01 |
| 4 | 23 June | Mansari, Thailisain | Pouri | 00 |
| 5 | 04 July | Sari Chamshil, Augustmuni | Rudraprayag | 00 |
| 6 | 06 Aug. | Pathar Katta, Gairsain | Chamoli | 00 |
| 7 | 06 Aug. | Mayali Tharali Road | Rudraprayag | 00 |
| 8 | 08-09 Aug. | Padmalla, Deval | Chamoli | 02 |
| 9 | 08-09 Aug. | Saikot, Dasholi | Chamoli | 00 |
| 10 | 08-09 Aug. | Tharthi, Bhilangna | Tehri | 02 |
| 11 | 08-09 Aug. | Kulethi, Kriti Nagar | Tehri | 00 |
| 12 | 12 Aug. | Banjba Gad, Ghat | Chamoli | 02 |
| 13 | 12 Aug. | Aali, Ghat | Chamoli | 01 |
| 14 | 12 Aug. | Lankhi, Ghat | Chamoli | 03 |
| 15 | 12 Aug. | Hawel Kulwan,  Garud | Bageshwar | 00 |
| 16 | 18 Aug. | Makudi, Mori | Uttarkashi | 17 |
| 17 | 18 Aug. | Chauthan, Thailisain | Pouri | 00 |
| 18 | 02 Sept. | Jajar village, Dhauladevi | Almora | 00 |
| 19 | 06-07 Sept. | Timtia, Munsyari | Pithoragarh | 01 |
| 20 | 06-07 Sept. | Govind Ghat, | Chamoli | 00 |
| 21 | 06-07 Sept. | Gudam, Tharali | Chamoli | 00 |
| 22 | 07-08 Sept. | Dhurma, Ghat | Chamoli | 00 |
| 23 | 27 Sept. | Clement | Dehradun | 00 |
| | | | | 31 |
Union Minister's worrying Answer in Parliament On July 19, 2019, Union Minister of Earth Sciences replied to a parliamentary question on cloud bursts in Uttarakhand[i]: "Cloud burst events are mostly reported to occur around the southern rim of the Himalayas generally between elevation range of 1000 m and 2500 m within a small geographic area of 20-30 km having rainfall greater than 100 mm / hour. In Garhwal region, cloud bursts are taking place in many parts. One recent incident of cloud burst was reported on June 2, 2019 in Lambagad village, Gairsain region, in Chaimoli district and another on July 4, 2019 in Charnsig village, Agustmuni region, in Rudraprayag district, in Garhwal region. Due to relatively smaller region in which occurrences of cloud burst events take place within the Himalayas, it is very difficult to get their record/ report."
The minister than revealed: "A recent compilation from different sources, like newspapers recording etc., 30cloud burst events have occurred over the southern rim of the Himalayas during 1970-2016, and around 17 cloud burst events among them occurred in Garhwal region of Uttarakhand." If newspaper reporting is the only or main source of information about cloud burst, that should be worrying.
The minister also said: "Losses do take place due to the cloud burst events. However, details of losses are not available with India Meteorological Department." There should be a more systematic effort to record such events including losses from them.
In response to a question about technology to predict such events, he said: "To help detecting cloud bursts and nowcasts, IMD will be installing 10 X-band radars over NW Himalayan states of Jammu and Kashmir, Uttarakhand and Himachal Pradesh." The minister provided no time line for this. This is very worrying, this means that even after the 2013 Uttarakhand flood disaster where the June rainfall was the cause of the disaster, no radars existed to predict the high unseasonal rainfall and six years down the line, there is no change in the situation.
This was confirmed by a media report[ii], which quoted IMD official saying the first radar may be set up after six months: "officials of the regional met centre at Dehradun said that they were in the process of installing two Doppler radars both of which will become functional in the next six months. "Our radar at Mukteshwar will become functional in the next three months while the other one at Surkanda Devi will become functional by the end of the year or early next year. These will help in predicting cloudbursts and minimising the damage," said Bikram Singh, regional met director." It's almost five months since that promise now, but it is still not known if the Doppler radar has become functional.
Summary Thus there were at least 23 cloud burst incidents in the south west monsoon season 2019 in Uttarakhand. The events started in pre monsoon season from June 2 and kept occurring till last week of Sept. In 2018, about 13 such incidents[iii] were reported in the hilly state between May 2 and July 20.  There could be more such events possibly going unreported for various reasons like the events that happened in Chauthan Patti of Thailisain tehsil in Pouri.
The IMD terms these incidents as excessive rains and finds them unusual in pre monsoon season. As per IMD heavy rainfall exceeding 100 mm/ hour in a limited area could be labelled as cloud burst. Though it refrains naming the excessive rains as cloud burst but accepts that most of such events are going unmonitored and in possible likelihood there seems no improvement in the prevailing scenario in near future.
It is surprising that despite so many cloud bursts incident the state has received -18%[iv] less rainfall than average in the south west monsoon season of 2019.  At many occasions, the incidents were so severe but limited to small areas thus the flash floods in rivers under sunny weather took downstream villagers by surprise. 
The disaster has struck all most all the hilly districts of the state, with 10 cloud burst events, Chamoli is the most affected district. Similarly 12 of the total incidents occurred in a single month of Aug Itself.
About 31 people including kids, women and elderly have died due to aftermath of cloud burst events. It seems that cattle would have succumbed to disasters in much larger numbers. Similarly destruction of homes, cowsheds, foot bridges, schools, farmlands, common lands, water mills, roads, bridges, vehicles, government buildings, water supply lines and irrigation structures were reported in many of the incidents.
The landslides and flash floods have become common features associated with the cloud burst events increasing the fatalities and destruction by many folds. Similarly multiple cloud bursts and back to back cloud bursts in short span over a limited area seems new increasing trend making these incidents more destructive.
The infrastructure along the rivulets, seasonal nullas and rivers have particularly become a sure invitation to the disasters which was clearly signalled out by experts post 2013 Kedar Nath deluge, yet there seems no let-up in construction activities in disaster prone areas.
July 2019 media clips show that the Char Dham road work was going on even during monsoon and debris were being dumped in nullas, khads, rivulets aggravating flash flood situation post cloud burst. 
Ignoring the fragile eco-system and indulging in violation of norms being exercised in Char Dham Highway Project work, have significantly aggravated the already precarious situation of roads and highways in the state, thus increasing avoidable destruction of environment and loss of lives and properties. The manner in which the present central & state governments are destroying the hills, forests, rivers to facilitate influx of tourists, pilgrims through the sensitive and pristine hilly terrains, it is sure that a bigger calamity is in the making. If the governments do not wake up to the reality of cloud bursts, we must be ready to face many more Kedar Nath like deluge.
Bhim Singh Rawat (bhim.sandrp@gmail.com)  
Post Script:-
As per Vikram Singh, Director IMD, Dehradun the number of rainy days are reducing in the state and rain months are also getting concentrated ton July and August instead of June to September.  Prof. Vishambhar Prasad Sati in his study paper mentioned drastic changes in rainfall intensity and frequency in the state due to climate variability. Environmentalist Jay Singh Rawat blames unequal distribution of forest outside the state leading to increase in excessive rainfall events.
Dr. Shusil Kumar of Wadia Institute states that the cloud burst incidents have increased in the state for past one decade. He also said that earlier these incidents were happening rarely but now even multiple cloud burst events are also being reported causing severe damages. Citing Tehri dam example he claims that the water impounded in the reservoirs is leading to increase in cloud burst incidents.
Demanding study of Tehri dam on the local environment, Dr. Anil Prakash Joshi of HESCO says that the govt wants to build more dams in the state hence it is not acknowledging the cloud burst calamities.
Referring to IPCC report, Dr. SP Sati says that the state is facing floods and droughts due to climate change. He also blames unsustainable road construction aggravating the flood disasters. As per him, in last 20 years, fifty thousand km roads have been made in the state and construction of one km road on an average generates 40 sqkm debris. Thus in last two decades the activity has resulted in production of 2 billion square metre derbies which is disposed along the slopes instead of looking for scientifically sound management methods.  The debris reaches the water streams, rivers worsen the flood situation.
As per the report, the first reported incident of cloud burst was from Dudhatoli area of Pouri district in 1952 causing flash floods in Nayaar river which devastated the Satpuli town. Then in 1954, Daduwa village in Chamoli was buried under landslide debris which was caused by excessive rain. The report also says that after 1975 the incident of cloud burst have increased in the state and now annually 15-20 cloud bursts are taking place here. https://www.downtoearth.org.in/hindistory///what-is-the-reasons-of-cloudbursts-in-uttarakhand-66103    (16 August 2019) 
END NOTES:
[i] https://moes.gov.in/writereaddata/files/LS_US_4480_19072019.pdf
[ii] https://timesofindia.indiatimes.com/city/dehradun/30-cloudburst-incidents-in-southern-rim-of-himalayas-since-1970-over-50-took-place-in-garhwal/articleshow/70320783.cms
[iii] https://sandrp.in/2018/07/21/uttrakhand-cloudburst-incidents-2018/
[iv] https://sandrp.in/2019/10/04/monsoon-2019-state-wise-rainfall/