Cloud burst incidents are emerging as a major threat for the Himalayan states. Of late, the extreme weather event have been causing large scale destruction in ecologically sensitive and remotely located vulnerable hilly areas. In 2018 between May 2 and July 20, the Uttarakhand state saw around 13 cloud bursts event which have increased to 23 in 2019 monsoon season resulting in wide scale damages.
This compilation for Himachal Pradesh state shows that the state is suffering even bigger destruction of infrastructure including roads, buildings, bridges and hydro projects due to increasing cloud burst events. At the same time the monitoring and mitigation efforts are totally insufficient and inadequate. 
Probably the first cloud burst incident during 2019 monsoon in was reported on June 12 in which Jhangi village area in Mahela block of Chamba district was severely affected. Flash floods invaded houses, shops. A primary school campus was filled with debris, while several fields were washed away, it also blocked Pathankot-Bharmour highway.
There was no media report available online showing cloud burst incident in July 2019. However in the month August several such incidents were reported from different parts of the state.
First on August 6 night, there was a cloud burst in Badgra nullah near Halan village flooding homes while people were asleep in Patlikuhal area in Manali. A trout farm was damaged and a local bridge in Solang village was reportedly washed away in the resultant flash floods. Locals had to run for their lives and the market area was also evacuated to escape the wrath of flood.  The area was also flooded in Sept. 2018.
On August 7, another cloud burst incident took place in New Sabzi Mandi area in Kullu district. A car was washed away in the flash floods and two people were rescued from the incident. The landslides and flash floods in Badhagran nullah near Patlikuhal 16 km from Manali following heavy rainfall damaged several government and private properties.  The Beas was also in spate.
On August 8, three cloud burst incidents took place at Kannam, Morang and Tangling Nullah in Sangla Valley of Pooh sub division, Kinnaur district triggering widespread destruction.
After heavy down pour, the local nullahs Kanam and Labrang flooded dangerously washing away two houses, a car and dumping derbies in several houses. The Hindustan-Tibet NH 5 was blocked at two places and the area also witnessed landslides. Some orchards were also damaged in Kannam area. The Poorvani-Tangling bridge and another bridge on Ribba Nullah were also washed away.
There was an alarming rise in the water level of the Sutlej river and its tributaries due to flash floods triggered by  multiple cloudburst. Following this, Satluj Jal Vidhut Nigam Limited decided to shut down the production at 1500 MW Nathpa-Jhakri, 412 MW Rampur HEPs. The 1,000 MW Karchham- Wangtoo, and 300 MW Baspa hydel projects were also shut down due to the sudden increase in silt level after cloud burst along India-China international border.
In the morning of August 9, another cloud burst incident occurred in Katalaga village in Manikarn valley of Kullu district resulting in severe damages to roads and properties. Flash flood in the local nullah following the incident washed away two bridges and destroyed couple of houses, a cowshed and large agricultural area including horticulture crops. The drinking water supply was also snapped in the aftermath. The same village was subjected to cloud burst destruction on August 12, 2018.
On August 16 night a cloud burst incident was reported from Dhauladhar area in Palampur causing flash floods in rivulets including Nyugal and Baner. There was panic among local people as the gushing water submerged several habitations, a temple and cremation area.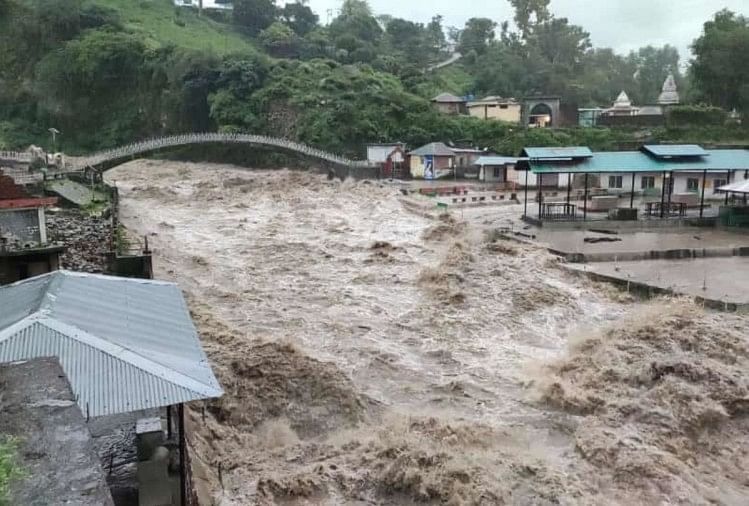 The Om hydel project in Bandla on Baner river was shut down following the incident. The six workers of the project were surrounded in flash floods and later rescued by police. There was large scale destruction in the state following heavy rainfall. The Sihunta Chowari road was washed away along with a retaining wall near Phina Singh Dam irrigation project at Ladwara in Kangra district.
Four cloud bursts incidents were reported from Bilaspur and Kinnaur district on August 17. Two cloud burst events took place in Swarghat and Karyalag and Dharkanshi area in Swarghat subdivision of Bilaspur district on August 17. Around 7 houses were damaged in the incident.
In Kinnaur, the cloud burst on Panwi hills caused flash flood in local Panwi nullah significantly damaging the trench weir of 4 MW under construction Panwi hydro project of Ascent company. Similarly NH 5 was blocked due to landslide following cloud burst on Runang hills.
All the rivulets, streams in the district were in spate including Tangling khad emanating from Kinnar Kailash. Following increase in Satluj river water level, 2 gates of Karchham- Wangtoo HEP were opened. 
Another cloud burst incident was reported from Ghumarvin area. The machinery of Gharholi hydro power project was washed away causing losses of millions of rupees.
At least 22 people were killed and 12 others injured in rain-related incidents on August 18. An official said the total loss to the state property amounted to Rs 490 crore. A SJVNL official said that the gates of the Pandoh and the Nathpa Jhakri dams were opened due to floods in Beas and Sutlej rivers.
As per a report, a total of 175 lives were lost since July 1 to August 17, including those due to accident, drowning and house collapse. The PWD and Irrigation Department suffered a loss of Rs 290.64 crore and Rs 167.82 crore. The total loss was pegged at Rs 474.37 crore.
According to Indian Meteorological Department the state received 102.5 mm rainfall on August 18 which was highest-ever rainfall and 1,065 per cent more than normal for a 24-hour period, since records began almost 70 years ago. Earlier, 74 mm was highest rainfall in a day recorded on August 14, 2011. The screenshot of the daily district wise rainfall of Aug 18 2019 shows the district wise rainfall of Himachal Pradesh that day and actual vs normal departure %.
On August 18, formation of a landslide dam was also reported on Jabbar khad a tributary of Chakki khad which feeds Beas river. Around same time, most parts of Kangra and Chamba received heavy rainfall, resulting in substantial rise not only in the water level in the rivers but also in the local nullahs and water channels. More than 90 percent (200) roads, including highways, were blocked at several places due to massive landslides triggered by rain. The landslide disrupted road traffic and caused a heavy jam.
On August 21, a cloud burst was reported in Sanel area of Rohu region in Shimla district along the border with Uttarakhand state. Local roads were severely damaged and several vehicles were trapped in the debris following flash floods in Pabbar river. Four people of Nepal were also missing after the incident.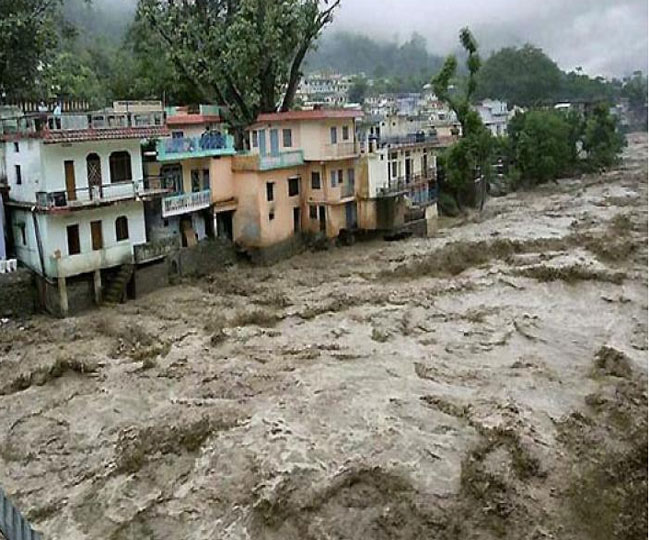 On August 26 morning, the forest area in Badhal panchayat suffered huge damages by a cloud burst incident. About a dozen vehicles got stuck in mud and houses were flooded with debris following flash flood in Dharali khad. As per the report the culvert on the main road was blocked and as a result the market area along the road was flooded with rubbles. There was damages to agricultural land also. Locals were terrified after the incident.
As many as 200 landslides have been triggered during the current monsoon season from July 1 till August 25 and 8 cloud bursts were reported. The state incurred a loss of Rs 867.97 crores and 74 persons had died in rain related incidents (landslides and house collapse (42), cloud burst (92), heavy rains (4), lightening (1) and drowning (25). Normally construction works are closed during the monsoon season but this year they were continuing and construction activities aggravated the situation.
The Gadsari village of Kharshali Panchayat in Chirgaon tehsil, Shimla faced the cloud burst destruction on August 31. One bridge, two foot bridges and two water mills were washed away following flash flood in the Gadsari nullah. A govt building was damaged and primary school campus filled with the debris. Three villages were disconnected from roads. Flood water also swept away the fertile private land besides damaging the apple orchards.
Disaster Prone Parvati Valley Facing Govt's Indifference
Flash floods and cloudbursts are a common phenomenon in the state and the damage caused is more as people in majority villages or townships live very near to rivulets or rivers. The state faced worst ever flash floods in Sutlej River in the year 2000, wherein 100 people were reportedly washed away downstream, mainly in Rampur. However, for lack of any data, no precaution has been worked out by the state authorities even in that area. 
The memories of the devastation caused by unprecedented flash floods of 11 July, 1994, which had washed away 27 lives in just a few seconds, is fresh in the memories of people in Shat, a little known village in Parvati valley. However, 25 years on, they are as much exposed to floods as they were earlier, with the government not having done any intervention on ground, which can lessen the risk or devastation of flash floods in this vulnerable area in Kullu.
According to study conducted by Indian Himalayas Climate Adaptation Programme on climate change effect in Kullu, Parvati valley was identified as major risk spot for Monsoon floods, cloudburst events and potential Glacial Lake Outburst Floods (GLOFs).
The study revealed an increase in formation of supra glacial lakes from 12 (1989) to 77 (2014) in Parvati valley catchment. Associated with retreat of glaciers, these lakes can pose threat to downstream areas, road infrastructure, agricultural land & hydro projects. https://www.thestatesman.com/cities/shimla/flash-floods-fail-warn-hp-1502826040.html  (24 Nov 2019)
Mustafa Ali Khan, team leader of IHCAP said, "Kullu was selected for the pilot study as it emerged as the hotspot for climate change impacts such as floods. Nearly 40% of all flood events over the time period between year 1950 to 2014 happened in Kullu. Around 66 floods took place in Beas, Parvati, Sainj and Tirthan rivers in Kullu district since 1965."
On August 18, 2015, seven people were killed and many injured after a massive landslide hit famous Manikaran gurudwara on Parvati river. The experts are of the view that the situation is not likely to improve even in future due to developmental pressure, related land use changes with regard to urbanization, tourism and impacts of climate change and extreme events.
The tell-tale signs of tragedy are still palpable around the center point of disaster-area around sub-tributary of Parvati river which flows through the village. Mohinder, another local had seen his uncle and two cousins getting washed away when he was standing under a rock on a hill top overlooking the river for shelter. "Each affected family got Rs 75000 as compensatory amount over death of an adult and Rs 56000 of a child but no monetary compensation was ever given to any for displacement of land," he complained.
Locals like Meghraj Singh also holds the man-made reasons such as number of hydro power projects operating in the area. "Rampant deforestation and mountain blasting to create tunnels for the hydro-power projects and indiscriminate river mining have exacerbated the impact of erratic rainfall for short duration in the past few years". https://timesofindia.indiatimes.com/city/shimla/parvati-valley-in-himachals-kullu-awaits-early-warning-sensors/articleshow/71453303.cms  (5 Oct 2019)
The installation of the EWS as a preparedness measure is one of the main recommendations of the IHCAP study. But the Rs 20 crore proposal for Early Warning System (EWS) with last mile connectivity to community is gathering dust with Union Environment Ministry since 2015.
The locals too voiced their concern demanding timely intervention. "Even though cloud bursts with such severity have not occurred in the last 25 years, there is no guarantee that it would not happen in the future," apprehended inhabitants of Shaat and Ladari villages of the Valley. In fact, they said that the 1994 cloudbursts provided a demonstration of what could be expected in the future and the need for preparedness to deal with such a situation. https://www.dailypioneer.com/2019/india/flash-flood-prone-kullu-s-parvati-valley-in-himachal-pradesh-awaits-alert-warning-system.html  (30 Sept 2019)
Preparedness Missing
In the first week of Sept., an Inter-Ministerial Central Team led by joint secretary, Disaster Management, Ministry of Home Affairs paid a four-day visit to Himachal Pradesh for an on-the-spot assessment of situation in the wake of cloud burst, flash floods and landslides during the monsoon. While interacting with the team, the CM revealed that the state has suffered losses of about Rs 1,200 crore during the current monsoon season as per the initial assessment.
As per the Oct. 2019 report, the monsoon saw longest delayed withdrawal in the state since 1982, though there was reduction of 10 percent in average rainfall. Chairing a meeting in Shimla, CM Jai Ram Thakur said 33 incidents of cloud burst and 391 incidents of landslides took place during monsoon season and the state had suffered a loss of Rs 1,217.29 crore due to excessive rain, flash floods and cloudburst.
During the south west monsoon season 2019, the state has suffered total loss of 256 people and 450 animals in flash floods, cloud bursts and landslides. 78 pacca & 120 kaccha houses were fully damaged while 349 pacca & 1060 kaccha houses were damaged partially.
Summary This account compiles 16 cloud burst incidents in Himachal Pradesh in south west monsoon 2019. A media report counts 8 such disasters by August 25 while the CM statement in Oct. 2019 claims 33 cloud burst incidents hitting the state.
Almost 15 of the cloud bursts took place in the month of August 2019, 1 cloud burst was reported in June whereas no such incident was reported during July and September months. Most of the cloud bursts have taken place in Kullu, Kinnaur, Kangra and Shimla districts.
Even in August, all the 15 cloud bursts occurred in eight days between August 6 to 9 (6 cloud bursts), between August 16 to 18 (6 cloud bursts) and on August 21, 26 and 31 one each.
More than 250 people and 450 cattle were reportedly killed in the cloud bursts, flash floods and landslide incidents and the state faced economic loss of about 1200 crore.
Generally heavy rainfall spells were accompanied by cloud burst incidents. All the cloud bursts incidents resulted in flash floods and landslides causing severe damages to roads, bridges, houses, cow sheds, farmlands, horticulture crops, fisheries, water mills, drinking water supply and irrigation infrastructures.
The unplanned development, construction of infrastructure close to the rivers, streams and deforestation for development projects including hydro power projects is fuelling the flash floods and landslide events during cloud bursts thus increasing the disaster toll.  
The hydro power projects were particularly affected by the cloud burst events. While the 4 big hydel projects (Nathpa-Jhakri, Karchham- Wangtoo, Rampur and Baspa) were forced to stop functioning due to increase in silt level in rivers, three small existing and under construction hydro projects including a hydel project of Om company on Baner river in Palampur, 4 MW Panwi hydro project in Kinnaur, Gharholi hydro project (more detail not available) received significant damages due to flash floods. The retaining wall of Phinna Singh was washed away resulting in massive damage to long awaited irrigation project.  
Several reports reveal that the Parvati valley has been severely affected by the cloud bursts, flash floods disasters in the past including in July 1994. Still state govt has not acted upon the mitigation steps as recommended by IHCAP study. It seems the Central Govt is also equally reluctant in helping the state govt to cope with the disaster and has not released fund for the installation of EWS in Parvati valley since 2015. Similarly, like Uttarakhand, the state has not got the Doppler Radars system to predict the cloud burst incidents in advance.
The monsoon is turning abnormal and even more unpredictable. Despite so many cloud bursts, heavy rainfall events the state has received 10 percent deficit rainfall during 2019 SW Monsoon. The numbers and toll of cloud burst incidents is also on the rise. However, the monitoring and mitigation efforts by both state and central govts are clearly inadequate and insufficient.
Bhim Singh Rawat (bhim.sandrp@gmail.com)