In a number of ways the Supreme Court order this week that the municipal commissioners and chief officers can be prosecuted for releasing untreated pollutants from the cities to the rivers and other water bodies is path breaking. Can it help fix accountability of release of such untreated sewage? Can it help ensure that cities stop doing this and cities not only have adequate sewage treatment facilities, but also that cities have to ensure that the STPs function to ensure that no untreated sewage ends up the rivers and other water bodies?
Municipal Commissioners Can be Prosecuted Under Water Pollution Law: SC Clearing the decks for action against a few former senior bureaucrats in Bengaluru, the Supreme Court has ruled that municipal commissioners and chief officers can also be prosecuted under the Water (Prevention and Control of Pollution) Act over pollution of water bodies in their jurisdictional areas.
– Clarifying the law on this point, a bench headed by Justice Ashok Bhushan held that municipal bodies shall be deemed to be 'body corporate' and 'company' for the purposes of the Act, and that their heads could be prosecuted for polluting water. The top court noted an ambiguity in this regard for want of a precedent as to whether a municipal commissioner can be considered as head of a government department, liable to be prosecuted under the Water Pollution Act.
– Discussing the objectives of the Act as also various other provisions, the bench noted that city municipal council and city municipal corporation are created or incorporated by the state and entrusted with the municipal functions, which includes ensuring clean environment to the residents, to control pollution. It went on to conclude that offences by body corporate like city municipal council and corporations are covered under Section 49 wherein a complaint has to be initiated by a pollution control board, treating it to be offence as by 'company'.
– With the clarification of the law on this point, the bench also paved way for prosecution of at least three former municipal commissioners in Bengaluru, against whom the Karnataka State Pollution Control Board had sought to initiate action.
– In 2006, the Board had filed a complaint against municipal commissioners Krishnarajapuram, Kengeri, Rajarajeshwari Nagar and Mysore Road before a judicial magistrate in Bengaluru. The complaints stated that the officials had not only failed in setting up sewage treatment plants within the stipulated time but the accused persons have continuously been discharging the untreated sewage into the water bodies like ponds, lakes, natural valleys etc.
– Some of these approached the High Court, which quashed the complaint after holding that commissioner of municipal council, chief officer of council cannot be termed as head of the department and they cannot be prosecuted under the Water Pollution Act. But the Supreme Court, following its ruling, set aside this order and ordered that the magistrate may proceed with the complaints in accordance with law. https://www.news18.com/news/india/municipal-commissioners-can-be-prosecuted-under-water-pollution-law-rules-supreme-court-2405025.html  (29 Nov. 2019)
Punjab Civic body to pay for polluting drain: NGT A team of NGT Nov. 2 inspected Kala Sanghian drain and Basti Peerdaad Sewerage Treatment Plant (STP). The NGT monitoring committee has decided to impose a penalty on the civic body for causing heavy damage to the drain due to the non-functional STP.  This was the first visit of the NGT team to Jalandhar after a green panel, on Nov. 2, sought concrete measures to check river pollution (Sutlej and Beas). The team observed the spot from where water from the Basti Peerdaad STP is discharged into Kala Sanghian.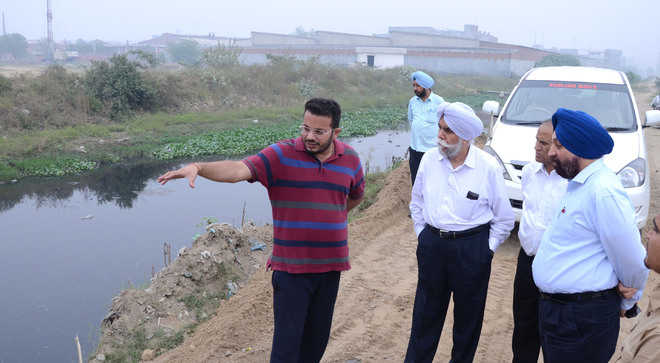 Finding the 50 MLD Basti Peerdaad STP not functioning as per prescribed norms and remaining non-functional due to non-payment of dues, the team said after a damage assessment, a heavy penalty shall be imposed on the MC.
Justice Jasbir Singh (retd) said, "Our impression is that the Basti Peerdaad STP was non-functional and was started only some time before we reached. The STP has also not been paid its dues by the government for the past one year. In the absence of a properly functioning STP, untreated effluents are falling into Kala Sanghian. We shall be filing a detailed report to the Central Pollution Control Board. We will also get a damage assessment done on the basis of which penalty shall be out on the MC for damages caused." He said, "Penal action has been taken against Ludhiana officials in the past. If culpability is established, action will also be taken here."
While pending repairs was cited as the cause for effluent discharge, Justice Jasbir said, "Even in case of repairs, they can't discharge water straight into the drain. They have to store it at a place first and then treat it. Not a drop of untreated water should be discharged into the drain."  https://www.tribuneindia.com/news/civic-body-to-pay-for-polluting-drain-ngt/855401.html  (3 Nov. 2019)
HYDRO POWER PROJECTS
Industry Hydropower capacity addition plan in Limbo This report acknowledges that hydropower projects are on hold in India and there is going to be no capacity additions for next 3 years or more. https://www.businesstoday.in/current/corporate/indias-hydropower-capacity-addition-plans-in-limbo/story/390942.html  (25 Nov. 2019)
Falling electricity generation dims GDP growth outlook Electricity generation, tracked by many to gauge the momentum in the economy, saw its biggest fall in more than five years in October. To be sure, the government and many on the Street see the 12.9% drop in October power generation as an aberration, attributing it to a combination of high base, an extended monsoon and an economic slowdown. Even then, there is no denying the fact that electricity generation so far this fiscal is the slowest in at least a decade. Importantly, the deceleration in power generation has intensified in recent months. Data for November is not available. But daily generation data till 25 November shows a 6% decline.
The demand-side story is even more worrying. According to Moody's Investors Service, power demand grew 1.5% till October, compared to an average growth of 4.9% in the past five years. "For the past 10 years, the ratio of power demand growth to real GDP has been around 0.8. This implies that the sharp decline in power demand is symptomatic of a slowing economy," Moody's said on 18 November.
Analysts fear the readings for October may deteriorate. "Power generation fell an unprecedented 12% in October and remains weak so far in November too, likely suggesting manufacturing (IIP) may fare even worse than it did in September," Jefferies India said in a 14 November note.
The impact of a continued slowdown in electricity demand from industrial and manufacturing sector will be first felt by power distribution companies (discoms). Industry and commercial consumers pay higher tariffs helping discoms recoup part of their losses from selling power at below the cost for households and agriculture sector. A sustained fall in power offtake from the industrial sector will impact the cash flows of discoms, which in turn can curtail electricity purchases.
Thermal power generators are already feeling the heat. Utilization levels dropped below 50% in October. Thermal power plant utilization levels at India's largest power producer, NTPC Ltd, dropped to a 13-year low in October, points out Elara Capital. The situation is no better at private utilities. Generation volume dropped at CESC Ltd, JSW Energy Ltd, Reliance Power Ltd and Adani Power Ltd. This comes on the back of reduced power offtake that many of these companies saw in the September quarter. The economy is low on power and the worry is things could get worse. https://www.livemint.com/market/mark-to-market/falling-electricity-generation-dims-gdp-growth-outlook-11575222112301.html  (1 Dec. 2019)
THDCIL, Neepco acquisitions  Together, the firms will add close to 3 gigawatts (GW) of operating power plants to NTPC. Around 2GW of power plants are under construction and several more are in the pipeline. But these projects are predominantly hydropower plants. NTPC, on the other hand, has a proven track record in building and running a large portfolio of thermal power plants efficiently.
The company runs an 800 MW hydropower plant efficiently. But as demonstrated by another listed hydropower producer NHPC Ltd, hydro projects are susceptible to execution delays. Inordinate delays in the construction of NHPC's hydropower projects have resulted in sub-optimal returns.
THDCIL and Neepco are also facing similar problems, though at varying degrees. Neepco's 600MW Kameng hydropower project in Arunachal Pradesh is delayed for several years now. THDCIL has around 1.4GW of power plants under construction. Most of them are expected to be commissioned in FY23. With significant amount of funds in capital work in progress (CWIP), timely execution and commissioning is crucial. According to analysts, the reported return on equity (RoE) of Neepco is impacted by high CWIP in recent years. While RoE of THDCIL is relatively better, the firm also has high CWIP, says analysts.
Further, as SBICAP Securities Ltd points out, performance of the operating power plants of both the firms is not up to the mark either. THDCIL's plants are seeing high operations and maintenance costs, while Neepco's plants are facing availability issues, which is impacting cost recovery. https://www.livemint.com/market/mark-to-market/thdcil-neepco-acquisitions-will-test-energy-firm-ntpc-s-execution-prowess-11574702516330.html  (26 Nov. 2019)
Arunachal Pradesh Fresh EIA for Etalin HEP FAC had advised caution in pursuing the proposed 3,097 MW Etalin Hydroelectric Project since it falls under the 'richest bio-geographical province of the Himalayan zone" and would be located at the junction of the Palaearctic, Indo-Chinese and Indo-Malayan bio-geographic regions. The panel has also sought the views of the National Tiger Conservation Authority as the area is a big cat habitat with 12 tigers and 8 clouded leopards having been spotted.
– The project, estimated to cost Rs. 25,296.95 crore, is proposed to be completed in seven years but would entail felling 2,80,677 trees and threatens the existence of 6 globally endangered mammal species. The area also has 680 species of birds, which is about 56% of the total avian species found in India. https://www.thehindu.com/news/national/other-states/fresh-biodiversity-study-of-proposed-dam-sought/article30080984.ece  (26 Nov. 2019)
New snake species found Underlining that forests across northeast India have not been well-explored for their biodiversity, especially reptiles, amphibians and most invertebrate groups, the authors have said that "anthropogenic pressures like road widening, construction of dams and hydropower plants threaten the forest and biodiversity across Arunachal Pradesh".  https://www.thehindu.com/sci-tech/energy-and-environment/new-snake-species-found-in-arunachal/article30099823.ece  (27 Nov. 2019)
Jammu & Kashmir Black outs under the shadow of hydropower projects is a norm rather than exception: "The irony is that Kishtwar is home to the Dulhasti power station with installed capacity of 390 MW to "harness the hydropower potential of river Chenab" yet it has failed to provide electricity to the people living the area."  https://www.newsclick.in/Jammu-Doda-Kishtwar-Electricity-Blackout-Residents-Protests-Ignored  (27 Nov. 2019)
Western Ghats 'Finalize Ecosensitive Zones in Western Ghats or else….', NGT warns MoEF Angry at repeated delays in finalising the Ecosensitive Zones (ESZ) the NGT has set a fresh deadline of March 2020 for the MoEF&CC and warned that any further delay would mean that the Advisor would not get any salary till the notification was finalized. Hearing a petition filed by the Goa Foundation the principal bench of the NGT warned that the finalization was becoming an unending exercise.
– In August 2018, the Green Tribunal while frowning upon yet another delay had barred Western Ghats states from altering any changes made to the ecologically sensitive areas as any such changes "may seriously affect the environment" especially in view of the floods in Kerala.
– Environmentally destructive activities like mining and quarrying, thermal power plants, red category industries residential complexes exceeding 20,000 square metres, etc are to be prohibited in areas that are notified as ESAs. However, hydropower projects, orange category industries and other existing activities were to be allowed. https://www.hindustantimes.com/india-news/finalize-ecosensitive-zones-in-western-ghats-or-else-ngt-warns-moef/story-UjJ6SLT4GfAR38RldyozqJ.html  (27 Nov. 2019)
Drastic fall in forest cover A recently published study revealed that the evergreen forest cover in the Western Ghats is set to decrease drastically and will touch an abysmal 10 per cent in 10 years. The study highlighted the urgent need to conserve the last remaining core forest areas in the region, it also warned Kerala against the backdrop of state facing floods and landslides in two consecutive years.
Reportedly, the researchers have made a detailed study on the change in forest cover over the past 23 years. The Western Ghats region had 16.21 per cent evergreen forest cover in 1985, which was reduced to 11.3 per cent in 2018. Now, the region has 17.92 per cent plantation area, 37.53 per cent agriculture and 4.88 per cent mining and built-up area. https://www.timesnownews.com/mirror-now/in-focus/article/paradise-lost-drastic-fall-in-forest-cover-of-western-ghats-only-10-to-remain-in-coming-decade/519180  (25 Nov. 2019)
Minutes of the MoEF's Expert Appraisal Committee meeting for River Valley Projects held on Oct 31, 2019; Key Decisions:
Cumulative Impact Assessment and Carrying Capacity Study (CIA & CCS) of Satluj River Basin Study: DEFERRED

Upper Kolab Pumped Storage Project (2×160 MW) in District-Koraput, Odisha by M/s Odisha Hydro Power Corp Ltd-ToR: PP ABSENT

Balimela Pumped Storage Project in dist Malkangiri, Odisha by M/s Odisha Hydro Power Corp Ltd-ToR: PP ABSENT

Jakhol Sankri Hydro Electric Project (44 MW), in district Uttarkashi, Uttarakhand by M/s SJVN Ltd- Env Clearance: DEFERRED: MORE INFO

Saundatti HEP (1200 MW) Integrated Renewable Energy with Pumped Storage Project by M/s Greenko Solar Energy Pvt Ltd at village Karlakatti, Tehsil-Saundatti, Dist-Belgaum, Karnataka–Env Clearance: DEFERRED: MORE INFO

Sillahalla Pumped Storage Hydroelectric Project Stage-I (4×250 MW), in dist Nilgiris, Tamil Nadu by M/s Tamil Nadu Generation and Distribution Corp-ToR: OK, but sub com to visit site and finalise TORs

Kundah Pumped Storage Hydro Electric Project in tehsil
Udhagamandalam, dist the Nilgiris, Tamil Nadu by Tamil Nadu Generation and Distribution Corp-ToR: OK, but sub com to visit site and finalise TORs. http://environmentclearance.nic.in/writereaddata/Form-1A/Minutes/28MoM.pdf 
Agenda of the MoEF's next meeting of Expert Appraisal Committee on River Valley Projects, to be held on Dec 5, 2019:
Cummulative Impact Assessment and Carrying Capacity Study (CIA & CCS) of Satluj River Basin Study – reg. reconsideration of draft report

Jakhol Sankri Hydro Electric Project (44 MW), in district Uttarkashi, Uttarakhand by M/s SJVN Limited- Regarding reconsideration of Environmental Clearance

Shanti Sagar Standalone Pumped Storage Project, District: Davanagere, Karnataka by Cerulean Energy Solutions Private Limited- Regarding Fresh ToR

Sukhpura Standalone Pumped Storage Project, District: Chittorgarh, Rajasthan by M/s Greenko Energies Private Limited- Regarding Fresh ToR

Mhaismal Standalone Pumped Storage Project, District: Aurangabad, Maharashtra by M/s Greenko Energies Private Limited- Regarding Fresh ToR

MP 30 Gandhi Sagar Standalone Pumped Storage Project, District Neemuch, Madhya Pradesh M/s Greenko Energies Private Limited- Regarding Fresh ToR

Upper Kolab Pumped Storage Project (2×160 MW) in District-Koraput, Odisha by M/s Odisha Hydro Power Corporation Limited- Regarding ToR

Balimela Pumped Storage Project in district Malkangiri, Odisha by M/s Odisha Hydro Power Corporation Limited-Regarding ToR http://environmentclearance.nic.in/writereaddata/Form-1A/Agenda/29112019MP7L9R9D29th_EACAgendadraft.pdf
DAMS
SANDRP Blog NSW Supreme Court holds dam operators responsible for Australia's Brisbane 2011 floods Earlier today, in a landmark judgment, New South Wales Supreme Court held the dam operators responsible for the Brisbane (Australia) floods in January 2011. Here is an article on key issues from the case. Plz Read and Share.  https://sandrp.in/2019/11/29/nsw-supreme-court-holds-dam-operators-responsible-for-australias-brisbane-2011-floods/  (29 Nov. 2019)
Dam Safety Bill Central govt to hold Dam Safety Bill in abeyance after TN's persistent opposition Tamil Nadu has been at the forefront, opposing the Dam Safety Bill since it affects the state's rights on the dams owned, operated and maintained by Tamil Nadu but located in other states; the Mullaiperiyar dam in Kerala, for instance. The Dam Safety Bill provided for the establishment of a National Dam Safety Authority, which would act as a regulatory body to implement the policy and guidelines specified in the Bill. In addition to this, the Authority will also act as a State Dam Safety Organisation, which will aim to eliminate conflicts between the states involved in the location, ownership and maintenance of dams. https://www.thenewsminute.com/article/central-govt-hold-dam-safety-bill-abeyance-after-tn-s-persistent-opposition-112906  (25 Nov. 2019)
Rajasthan Dams to under go rehabilitation State water resources department is set to rehabilitate and increase the holding capacity of 189 large dams, including some of the country's oldest functional dams — Udaisagar (1585 CE), Rajsamand (1671 CE), Jaisamand (1730 CE) and Swaroop Sagar (1795 CE). The estimated cost of the 'Dam Rehabilitation and Improvement Project (DRIP) is Rs 965.65 crore, which is supported by the World Bank. The project will start from April 1, 2020. DRIP is divided into two phases of six years each and will be completed by 2030. This is for the first time that dams in the state will undergo rehabilitation on a large scale. Rajasthan has the sixth highest number of dams in the country.
– "The aim is to strengthen the dams' capacity, repairing, slope protection, checking of seepage, enhancing safety using the modern technology and automation. It also aims to review the design as per the changing rainfall and inflow of water to make it sustainable for the next 100 years," said Naveen Mahajan, principal secretary of water resources department.
– Officials informed that rainfall pattern had changed over the last few decades, which has impacted the performance of dams. Every year, some areas receive abundant rain leading to flooding and overflow of dams. This year, Rana Pratap Sagar, Jawahar Sagar and Kota Barrage in Kota region overflowed leading to flooding has demanded its reviewed design flood. "It is incumbent to increase the capacity of these dams in order to hold excessive water and to ensure the safety of the dam structure and people," said Mahajan. Over the years, dams have been subjected to siltation reducing its holding capacity. "De-siltation process is also a component of this project with the modern methods like undersluice. The project also has a provision to develop these areas as tourist spots.
– Udaisagar Dam, the architectural marvel: Udaisagar Dam built by Rana Udai Singh (1522-1572), father of Maharana Pratap, is considered an architectural marvel and much ahead of its time. It had the highest holding capacity until the eighteenth century. Construction started in 1559 and was completed in 1565 as per records. The dam is constructed on Berach river aimed at supplying water in this governed region. Several historical accounts say that Maharana used the expertise from Kingdoms in down south. Its drainage area is close to 500 km and extended from 4 km in length to 2.5 km width spread in 10 km of area in its full capacity. https://timesofindia.indiatimes.com/city/jaipur/raj-dams-to-undergo-rehab-modernize-and-sustainable/articleshow/72301073.cms  (30 Nov. 2019)
Jharkhand Assembly Elections: Mandal Dam to displace tribals More than 100 tribal families from Bhajna and Kutku villages of Garhwa district leave their villages each year for the upper reaches of the forest to survive during rainy season. From a distance, they see their houses washed away, and poles erected to support their homes. If the wood is not wet, they manage to prepare rice meals, and return home once the water recedes, knowing well that they will have to repeat the drill the next year.
– The villagers have been compelled to leave their lands each year since 1987, when the dam walls were constructed, as the water swells up during rains at the stalled Mandal Dam Project, also known as the North Koel Reservoir. However, they now face complete displacement. Eight villages, including Kutku and Bhajna, will be completely submerged, affecting more than 3,000 tribals, once the project, which recently received clearances from the Union forest ministry and the state forest department, is fully functional.
– The dam spanning Garhwa and Latehar districts was conceived in 1970 by the erstwhile Bihar government on Koel — a tributary of river Son — with an aim to boost irrigation in Gaya, Aurangabad and Palamu (now in Jharkhand), and to generate 24 MW electricity. Construction began in 1972 but the project was stalled in 1993 after the Bihar forest department raised concerns.
– After the project was revived in 2016, it was agreed to restrict the water capacity at a level lower to reduce submergence of villages. At his first rally ahead of Assembly polls in Jharkhand, PM Narendra Modi, who laid the foundation stone for the project earlier in January, sought a mandate to continue development work under the state BJP government while the Jharkhand Mukti Morcha promised to reconsider the project if elected to power.
– Dr D S Srivastav, secretary of the Nature Conservation Society that prepared and submitted a wildlife management plan for the project before the 43rd Standing Committee meeting of the National Board of Wildlife, said that villagers must be rehabilitated before construction begins. "Construction should not be started till the villagers are re-settled outside of Palamu Tiger Reserve area… The conflict with wildlife will be extreme because of regular presence of elephants, tigers, leopards and other wildlife in the vicinity," he said.
– However, Aftab Alam, the Executive Engineer of the Water Resources Department, overseeing the revival of the dam, said all displaced families had received compensation three decades ago under the Bihar government's rehabilitation policy. "However, for smooth implementation, we have identified around 800 families who currently stay in the villages and will give them one-time financial package comprising Rs 117 crore," Alam said, adding that, "The dam will facilitate irrigation and various other projects like fishing, tourism will be started." https://indianexpress.com/article/india/jharkhand-elections-mandal-dam-project-gets-forest-clearance-8-villages-face-threat-of-displacement-6141883/  (29 Nov. 2019)
Maharashtra Irrigation Scam 9 Irrigation Scam Cases Closed 3 days after Nationalist Congress Party (NCP) leader Ajit Pawar's switch helped the BJP's Devendra Fadnavis take power in Maharashtra, investigation has been closed into some cases linked to the irrigation scam in which he is an accused.  https://www.ndtv.com/india-news/nine-irrigation-scam-cases-closed-none-related-to-maharashtra-deputy-chief-minister-ajit-pawar-says-2138325   (29 Nov. 2019)
INTERLINKING OF RIVERS
Lok Sabha discussion on the issue. https://twitter.com/gssjodhpur/status/1199931883372478464  Link for question answers. http://loksabhaph.nic.in/Questions/QResult15.aspx  held on Nov. 28.
Here is Gaon Connection report covering this. https://www.gaonconnection.com/desh/gajendra-singh-shekhawat-speaks-on-ken-betwa-river-linking-project-46749  (29 Nov. 2019)
RIVERS AS NATIONAL WATER WAYS
Manipur Inland waterways project will destroy Loktak Lake's biodiversity: fishing community The fishing community residing in and around the Loktak Lake area has strongly objected to the Inland waterway project to be developed on the water body claiming it will destroy its biodiversity and the livelihood of fisherfolks.
Mansukh Mandaviya, minister incharge for Shipping and Chemical and Fertilizers, last Thursday informed the Parliament that the Ministry of Shipping has approved a project for the development of Loktak inland waterways. The estimated cost of the project is Rs 25.58 crore.
Some people have already raised a red flag for the proposed project on the grounds that it will be harmful to biodiversity. O. Rajen, secretary Loktak Lake Area Fishermen's Union Manipur (ALLAFUM), contended that the project could spell disaster for both the fishing community and sensitive biodiversity. He claimed that people residing in and around the lake have been eking out their living from the water body since time immemorial and fishing is their main occupation. At least 4,000 fisherfolks reside in and around the lake.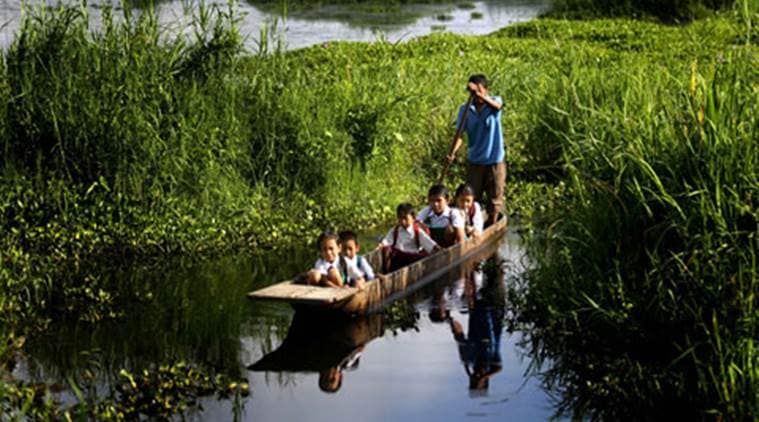 "Uses of motorboats will greatly disturb the eco-system of the Lake. It will only affect the breeding of fish but also disturbed the annual migratory birds that visit the lake," said Rajen. Accordingly, the MoEF has also put a ban on uses of motorboats on the lake, he added. Rajen further pointed out that the project is also against the order passed by the Manipur High Court on August 7, banning new project or development programme in the Lake asking the authority concerned to furnish a status report on the conservation of the Lake.
Environmentalist Ram Wangkheirakpam said the project goes against the idea of conservation of the lake which has international importance under the Ramsar Convention. Moreover, the project has also ignored the National and State Wetland rules, he asserted. "How can the ministry give approval to a project of such scale without even conducting a proper environmental impact assessment of an eco-system which is very sensitive. This is not a wise decision?" questioned Wangkheirakpam.  https://indianexpress.com/article/north-east-india/manipur/manipur-inland-waterways-project-will-destroy-loktak-lakes-biodiversity-says-fishing-community/  (30 Nov. 2019)
IRRIGATION
Rajasthan खेत से नहर निकलने के बाद भी सिंचाई के पानी के लिए तरस रहे जालोर के किसान सिंचाई विभाग नहर से सिंचाई के लिए पानी ले रहे किसानों के पाइप काट रहा है. इससे परेशान होकर किसानों ने आत्मदाह की चेतावनी ही है. इन किसानों के खेतों के बीचों-बीच से नर्मदा मुख्य नहर निकाली गई लेकिन ये किसान नहर का एक बूंद भी पानी उपयोग में नहीं ले पाएंगे क्योंकि इन किसानों के खेत इस क्षेत्र से असिंचित क्षेत्र रखे गए हैं. https://zeenews.india.com/hindi/india/rajasthan/narmada-canal-water-is-not-available-for-irrigation-in-jalore/601074  (25 Nov. 2019)
URBAN RIVERS
SANDRP Blog Shivalik streams going going…? Several streams of Ghaggar and Sutlej river basins originate from Shivalik foothills lying in Haryana, Punjab state and Chandigarh union territory. These rivulets along with main rivers have been facing threat from ever increasing industrial effluents and sewage loads. Moreover the degradation of catchment has transformed them from perennial to seasonal rivers.
Here is a short pictorial report showing pathetic situation of Markanda, Tangri, Sukhna, Kaushalaya and Patiala Ki Rao, Sukhna Choe, Nepali Choe, Faida Pina Nala, Singh Nala, Kaushalya, Sarsa streams feeding Ghaggar and Satluj rivers which over past few decades are abused as dumping ground of untreated industrial and domestic waste. https://sandrp.in/2019/11/26/shivalik-streams-going-going/  (26 Nov. 2019)
Adyar, Cooum; Chennai Anna University lets out sewage in Adyar  It has now been found that Anna University in Kotturpuram and Metropolitan Transport Corporation headquarters off Anna Salai nonchalantly let out grey water into the Adyar and the Cooum.
A visit to the stretch of the Adyar flowing behind the university campus on Nov. 26 showed untreated sewage draining into the river. The flow was not heavy, but was continuous. At a spot behind MTC headquarters on Pallavan Salai, off Anna Salai, water with a lot of grease and oil was seen flowing into the Cooum.
– Authorities of Chennai Metropolitan Water Supply and Sewerage Board (CMWSSB), or Metrowater, recently sent a notice to the university, asking it to take necessary action to treat sewage before it is let out. Tamil Nadu Pollution Control Board (TNPCB) officials had earlier pointed out this violation to university authorities. Metrowater Sources said more dangerous practices that could change the very ecosystem of the city's precious water bodies are in vogue in many other paces. https://timesofindia.indiatimes.com/city/chennai/anna-varsity-lets-out-raw-sewage-into-adyar/articleshow/72248435.cms  (27 Nov. 2019)
Froth washes onto Chennai shore Residents near Foreshore Estate in Chennai, near the Adyar Estuary were in for a shock on Nov. 29, when the sea water began to froth as it reached the shore. Similar to scenes observed on the lakes of Bengaluru, what seemed to be foam, flew onto the beach from the sea, leaving a bed of white pollutants behind.
– Environmentalists tell TNM that this is a yearly phenomenon during the monsoons. The frothing occurs during the rainy season due to the presence of non-biodegradable and detergent-like effluents coming from municipal and industrial wastes. Last year too, there were multiple reports of foam forming thick blankets on the city's coast from Ennore to Tiruvanmiyur.
– While the Tamil Nadu Pollution Control Board (TNPCB) has collected samples from the frothing water every year, they are yet to release any information on the pollutants in the water and suggest an action plan to prevent it. Environmentalists, however, have pointed out in the past that the froth is a result of illegal outfalls along the Adyar river which are discharging sewage. However, the TNPCB alleges that agricultural activity is responsible for the pollution. https://www.thenewsminute.com/article/video-froth-washes-chennai-shore-tnpcb-blames-agricultural-activity-113175  (29 Nov. 2019)
RIVERS
SANDRP Blog India Rivers Day 2019: Mustaqueem Mallah Awarded Bhagrirath Prayas Samman  For Mustaqueem Mallah, restoration of Katha River is sole aim of his life. And the 30 years old has been making steady and solid efforts to achieve this for past over 8 years. Belonging himself to Mallah (boatman) community, Mustaqueem has been witnessing the degradation of Yamuna river, flowing close to his village Ramra in Kairana block of Shamli district, Uttar Pradesh.  https://sandrp.in/2019/11/28/india-rivers-day-2019-mustaqueem-mallah-awarded-bhagrirath-prayas-samman/  (28 Nov. 2019)
काठा नदी को जिंदा कर रहा है 'पानी का दोस्त' मुस्तकीम मल्लाह, इन्हें मिला है 'भगीरथ सम्मान' http://twocircles.net/2019nov29/433485.html  (29 Nov. 2019)
India Rivers Day 2019 1000s dams on Ganga, obstructing flows in tributaries  "Rejuvenating Ganga — a citizen's report" released during ongoing India Rivers Week, has put together an analysis of why flows in most rivers of the Ganga basin are dwindling, and recommended that the Centre make environmental flows mandatory for the entire basin and not just the main stem of the river. https://www.hindustantimes.com/india-news/study-1-000-dams-on-ganga-basin-obstructing-tributaries/story-o5pJFesbqQdZ59VGkcuKlJ.html  (26 Nov. 2019)  
River Dialogue at IIC, Delhi at 6.30PM, 29 Nov. 2019.
Interrogating Cauvery Calling The highlights from the final session of the national seminar on "Interrogating 'Cauvery Calling' – Issues of Ecologies, Cultures and Livelihoods".
The session, which discussed the "Ways Forward", featured N Ram, Chairman of The Hindu Group Publishing and Leo F Saldanha, Coordinator of Environment Support Group as well the chairpersons of other panels – P S Easa, former Director of Kerala Forest Research Institute, Bhargavi S Rao, environmentalist, Dhanya Rajendran, Editor of The News Minute, and Viju B, journalist and author. https://www.facebook.com/ACJofficial/videos/2537666146320598/
Karnataka Forestry project to revive Krishna, Cuvery  S.C. Gairola, Director General of the Indian Council of Forestry Research and Education (ICFRE), on Nov. 20, said the ICFRE is preparing a DPR for forestry intervention in 13 major river basins of the country:- "The ICFRE will work on the main tributaries of the Krishna across Maharashtra, Karnataka, Telangana, and ending with the Bay of Bengal. The Institute of Forest Genetics and Tree Breeding (IFGTB), Coimbatore, is working on the regeneration of the Cauvery. The preliminary stages for both the rivers have begun," officials said. Mr. Gairola also said the forests of India are facing problems owing to adverse climate change, global warming, and land degradation. To address these, projects focussed on bamboo, sandalwood, tree improvement, forest fires, forest ecosystem services, and other emerging areas are being implemented, he said. https://www.thehindu.com/news/national/karnataka/a-project-to-rejuvenate-krishna-cauvery-rivers/article30030119.ece  (20 Nov. 2019)
Tamil Nadu Can check dams revive Palar river? Though only two of the nine check dams planned by the state have been built, the results are already showing, say farmers. These check dams are the first such structures to be constructed across the Palar in 160 years after the Palar Anaicut came up.
– The state government proposed to construct 9 check dams across Palar river from Avarankuppam till Vayalur, the tail-end of the river in Kancheepuram district, to store water during flash floods in the otherwise bone-dry river. It is aimed at preventing seawater intrusion and to resolve water issues in the drought prone district. The structures are part of the riverine reservoir system, being created as part of the comprehensive flood mitigation programme.
– Annually, around 6 thousand million cubic feet (tmcft) of water drains into the Bay of Bengal from the Palar. "By constructing a series of riverine reservoirs, we can store 3.2tmcft of water. The stored water will last more than six months and rejuvenate the aquifers," says G R Radhakrishna, assistant executive engineer of Chengalpet sub-division of PWD. https://timesofindia.indiatimes.com/blogs/tracking-indian-communities/how-check-dams-bring-a-sea-change-to-palar-river/  (19 Nov. 2019)
Maharashtra Hindi report on why rivers in state are so polluted. https://www.lokmatnews.in/maharashtra/in-most-rivers-of-maharashtra-at-pollution-level-know-what-the-cpcb-report-says/  (1 Dec. 2019)
Opinion Antibiotics are contaminating rivers and posing health risks Recent reports on the presence of high amounts of myriad pharmaceutical residues in water bodies in Hyderabad only highlight the sordid state of affairs with the country's handling of urban and industrial waste, and the consequent pollution of water bodies. Indeed, several rivers in the world, including those in India, have been reported to have high concentrations of antibiotics such as ciprofloxacin, norfloxacin, oxytetracycline and ofloxacin.
– The English physician John Snow was the first to correctly suggest that the cause of London's "Broad Street cholera outbreak" in 1854 was the leakage of sewage full of faecal bacteria into a public well. But it is not just the consumption of contaminated water that is a health hazard. In 2000, Cifuentes et al identified irrigation as a link between water pollution and health, while Carr in 2001 highlighted bathing, food and person-to-person contact as modes of disease transmission from polluted water. In 2010, Ebenstein reported that a one-grade deterioration in Chinese river water quality was associated with a 9.7% increase in digestive cancer incidence. In 2011, Brainerd and Menon reported that pregnant women being exposed to a 10% increase in agrichemical levels in Indian rivers during their first month of conception was associated with an 11% increase in the likelihood of one-year mortality among newborns. https://www.livemint.com/opinion/columns/opinion-antibiotics-are-contaminating-rivers-and-posing-health-risks-11574878217623.html  (27 Nov. 2019)
GANGA Surya Ganga, documentary on energy, environment, hydroprojects and Ganga issue is available on Netflix now. https://www.netflix.com/in/Title/81217749
Uttar Pradesh Hindi report on Kali River revival. 
YAMUNA Uttar Pradesh Govt to draft 30 years plan to revive protect rivers State govt on Nov. 22 approved a 30-year plan to revive the Yamuna river basin and prepare similar plans for other rivers that flow through the state. The State Water Resources Agency (SWRA) has been directed to create a roadmap to deal with water scarcity and address water quality. It will look at the ways for sustainable development, management and conservation of the river basin.
– The agency has conducted preliminary surveys in Noida and Ghaziabad and the west UP cities of Agra and Mathura to identify points where wastewater is entering the river basin and the private consultant hired to help, WWF, has started collection information on the Yamuna river basin.
– Another contributor to the pollution has been illegal mining of sand in Saharanpur, changing the river's geomorphology. The consultant will be asked to recommend ways in which this can be restored, along with the river's hydrology — its runoff and detrital processes — and ecology – living organisms in the water body.
– The revival programme will also look at seven other rivers – Ganga, Gomti, Rapti, Ghaghra, Gandhok, Ramganga and Son. The private agency has been asked to make sure there are no overlaps in financial allocation. https://timesofindia.indiatimes.com/city/noida/hope-for-yamuna-up-to-draft-30-yr-plan-to-revive-protect-its-rivers/articleshow/72192005.cms  (23 Nov. 2019)
Yamuna dries, Agra facing water crisis The city needs at least 1800 cusecs of water from Gokul Barrage in Mathura but with only 1100 cusecs being discharged in the river, the water level has decreased in the river in the city, said a senior Jal Sansthan official. On Nov. 23, the water level in the river was at 480.5 feet, which is just 0.5 feet above the minimum level.
– According to the official, treatment plants are not working properly due to poor quality of raw water. In case the water level dips below the minimum level, motor pumps will stop lifting raw water to the intake well and major parts of the city will suffer from a water crises.
– Demanding an immediate increase in water discharge from Gokul Barrage, general manager of Jal Sansthan RS Yadav has sent a letter to the chief engineer of the irrigation department. Meanwhile, thousands of litres of water is wasted every day as supply pipelines maintained by Jal Sansthan have over two dozen leakages. It is estimated that around 50 million litres a day is wasted in the city due to pipeline leaks. The number of leaks has increased over the past two years. https://timesofindia.indiatimes.com/city/agra/as-yamuna-level-dips-12-localities-thirst-for-water/articleshow/72201621.cms  (23 Nov. 2019)
Delhi Household main water main reason for forth High phosphate concentration, largely from household waste water, was the major contributor to the layers of froth seen at some ghats of river Yamuna during the Chhath festival earlier this month, the Yamuna pollution control committee was told.
"The presence of phosphate compounds in the river is largely from household waste water. This (the froth) is not seen for most part of the year, however, when there is turbulence in the water downstream, there is a churning effect and these pollutants are thrown up resulting in froth," a DPCC committee member, who did not wish to be named, said.
When the river is at its normal flow, the phosphoric compounds settle on the river bed, however, when more water is released to reduce the pollution load in it, the turbulence causes a churning of water, which throws up these pollutants thus forming layers of froth, the report said. https://www.hindustantimes.com/cities/household-waste-water-main-contributor-to-yamuna-froth-report/story-qxi5wMSklsM9xoimQ3SJoN.html  (27 Nov. 2019)
RIVERS BIODIVERSITY
1,275 Gangetic dolphins in UP, another 962 in Assam rivers At last count, the rivers of Assam and Uttar Pradesh respectively had 962 and 1,275 Gangetic dolphins, India's national aquatic dolphin. These numbers were tabled in Parliament recently by Minister of State for Environment and Forest Babul Supriyo. The population assessment in Assam was done between January and March 2018, while the UP count of 1,272 is for 2015, up from 671 in 2012.
In Assam, the assessment was carried out in three rivers, with the Brahmaputra accounting for 877 of the 962 dolphins. In addition to the species being India's national aquatic animal, the Gangetic dolphin has been notified by the Assam government as the state aquatic animal, too. Silting and sand lifting from rivers in Assam has been stopped to maintain its population.
According to the WWF, the main threat to the Gangetic dolphin is the creation of dams and irrigation projects. The ministry reply said the Conservation Action Plan for the Gangetic Dolphin, 2010-2020, identified threats to these dolphins that include the impact of river traffic, construction of irrigation canals and depletion of their prey-base. https://indianexpress.com/article/explained/telling-numbers-1275-gangetic-dolphins-in-up-another-962-in-assam-rivers-6146041/  (2 Dec. 2019)
FISH, FISHERIES, FISHERFOLKS
Rajasthan आनासागर में सैकड़ों मछलियां मरी मिलीं, 10 मृत कौवे किनारे पड़े मिले राजस्थान के सांभर झील के किनारे हजारों पक्षियों की मौत के बाद अब अजमेर में आनासागर झील में Nov. 30 को बड़ी संख्या में मछलियां मृत मिलीं। इससे पहले Nov. 29 को झील किनारे बारादरी के पास एक साथ 19 कौवों की मौत से हड़कंप मच गया। हालांकि, प्रारंभिक तौर पर कौवों की मौत जहरीला दाना खाने से माना जा रहा है, लेकिन इस मामले को गुपचुप तरीके से हैंडल करने के प्रयास से यह बात साफ हो गई कि एक साथ इतने कौवों की मौत से अधिकारियों में भी हड़कंप मचा है।
पशु चिकित्सकों ने कौवों का पोस्टमॉर्टम किया है और अब इसका विसरा आदि भोपाल लैब में जांच के लिए भेजा जाएगा। वन विभाग शनिवार को कौवों दफनाने की प्रक्रिया पूरी करेगा। पशु पालन विभाग के सूत्र ने बताया कि Nov. 29 को सुबह करीब साढ़े नौ बजे सूचना मिली कि आनासागर के किनारे कई कौवे मृत हैं। फिलहाल जहरीले दानों को ही मौत का कारण माना जा रहा है। जांच का विषय यह भी है कि यह जहरीले दाने कौन और कैसे डाल गया? https://www.bhaskar.com/rajasthan/ajmer/news/anasagar-lake-hundreds-of-thousands-of-found-dead-in-126175057.html  (30 Nov. 2019)  
SAND MINING
Punjab Political patronage of illegal sand mining  Successive regimes in Punjab, whether the current Congress government or the previous coalition of the Shiromani Akali Dal and the Bharatiya Janata Party, have not penalised a single officer, despite prolonged litigation and allegations of patronage by ruling-party legislators. On 26 January 2018, the Indian Express reported that over thirty ministers in the state government had been found to be involved, either directly or indirectly, in sand mining. Kanwar Pal Singh, the speaker of the state legislature, is the most recent example of a high-profile politician coming under the scanner for patronising illegal mining.
– Technically, not a single quarry in Punjab is functioning legally, because the 2017–18 auctions were annulled by the beginning of this year. The quarries for which e-auctions were notified on 30 May 2019 still await the environmental-assessment reports required by the Punjab Minor Mineral Rules, 2013.
– With the large potential for mining and the scale of illegal excavation—trucks carrying illegal consignments move freely across the state—the question that arises is why the state government has not auctioned more quarries or identified those running the mining mafia. https://caravanmagazine.in/reportage/punjab-government-looks-away-illegal-mining-unabated  (31 Oct. 2019)
Haryana Local media report showing large scale impact of unsustainable riverbed mining on Yamuna river in Yamuna Nagar.
This slideshow requires JavaScript.
Riverbed mining has become synonymous to corruption. This is from Sonipat, where despite CAG report, administration failed to take action. Hindi media reports on illegal, unsustainable mining in Yamuna river in Yamuna Haryana, Kairana, Uttar Pradesh.
Andhra Pradesh Shifting sands Detailed report on illegal sand mining and impact of new sand mining policy in the state. https://www.thehindu.com/news/national/andhra-pradesh/shifting-sands-in-andhra-pradesh/article30118547.ece  (30 Nov. 2019)
Maharashtra In Thane reserved forest, 3 arrested for sand mining The forest department arrested three people for illegal sand mining inside a reserved forest, near Tansa Wildlife Sanctuary, in Thane district on Nov. 25. In a seven-hour operation, a team of 15 forest officers from Shahpur division nabbed Gurunath Vagh, 32; Khandu Vagh, 23; and Dnyaneshwar Mukane, 26, from Khardi territorial forest zone. The officers seized three tractors and 2.5 brass sand (approximately 10,000 kg) during the operation.
"This is a large seizure from a territorial reserved forest zone where sand mining is completely prohibited," said Prashant Deshmukh, range forest officer, Khardi. "While the confiscated sand is worth ₹20,000, the tractors are worth ₹2.5 lakh." Several Supreme Court, Bombay high court orders and the coastal regulation zone (CRZ) notification make it clear that sand mining using machines is prohibited across the country. https://www.hindustantimes.com/mumbai-news/in-thane-reserved-forest-three-arrested-for-sand-mining/story-BEsKLJ278Ap6cHWRcooWtM.html  (27 Nov. 2019)
WETLANDS, LAKES, WATER BODIES
Supreme Court 'Water Bodies can not be diverted to industries The Supreme Court has asked the Greater Noida Industrial Development Authority to stop diverting water bodies for industrial activities. The landmark judgment can go a long way in reclaiming and reviving water bodies across that country that are being lost to reckless development.
– The Supreme Court judgement on Nov 25 overturns NGT order that dismissed Jitendra Singh's petition which asked water bodies should not be diverted for industries. NGT rejected the petition after Greater Noida Industrial Development Authority assured that they would recreate alternative water bodies that would be bigger in size. The apex court, however, observed, "It might be possible to superficially replicate a water body but there is no guarantee that the adverse effect of destroying the earlier would be offset". It added that destroying the lake at Khasra Nos 552 and 490 would "kill the vegetation", prevent seepage of groundwater and compel people living around the lake to move at least 3 kms away. https://www.downtoearth.org.in/news/water/water-bodies-cannot-be-diverted-for-industries-supreme-court-68054  (29 Nov. 2019)
Chandigarh Construction on Sukhna wetland illegal: Court Less than a month after the Tata Camelot case judgment, the Punjab and Haryana High Court on Nov. 26 made it clear that any construction on the Sukhna wetland would be considered unauthorised.
As the case came up for resumed hearing, senior standing counsel for the UT Administration Pankaj Jain told the Bench of Justice Rajiv Sharma and Justice Harinder Singh Sidhu that the UT, in 1988, had declared a 2.7-km area from Sukhna Lake's boundary a wetland. The Bench was also told that the Centre, too, in 2017, had declared the area an eco-sensitive zone. As such, no construction activity was permissible in the area.
The state of Punjab, on the other hand, submitted that some area of the wetland was included in its master plan. However, the argument failed to find favour with the Bench. The case will now come up for hearing on December 2. https://www.tribuneindia.com/news/chandigarh/construction-on-sukhna-wetland-illegal-court/866202.html  (26 Nov. 2019)
Karnataka State govt to frame wetlands policy A new wetland policy is being chalked out by MoEF and the state forest department after taking inputs from 100 odd countries, from where migratory birds start their journey to India. To chalk out the policy, the Central Asian Flyway meeting will be held in Gujarat in Feb. 2020. Experts from BNHS are also working on the policy with the ministry. Officials and experts from 100 countries such as China and Cambodia and even African countries will participate in the meeting. The Indian states that are going to take part are those where migratory birds come and halt – Karnataka, Himachal Pradesh, Madhya Pradesh, Uttarakhand, Gujarat, Rajasthan and Maharashtra.
– Sanjai Mohan, Principal Chief Conservator of Forests, Wildlife, told TNIE that though a meeting is held once every three years in other countries, this is the first time that it is being held in India. All stakeholders are being involved in formulating the policy. Experts and officials also added that the policy will propose getting the Ramsar site tag for Ranganathittu Bird Sanctuary, Magadi lake in Gadag and backwaters of Krishna in Bagalkot district and of Tungabhadra in Balari district.  https://www.newindianexpress.com/cities/bengaluru/2019/nov/28/karnataka-joins-hands-with-100-nations-to-frame-wetland-policy-2068254.html  (28 Nov. 2019)
Hulimava lake breach Lokayukta takes action on Hulimavu lake breach on Nov 24, 2019.  https://timesofindia.indiatimes.com/city/bengaluru/lokayukta-to-pull-up-officials-for-breach-in-hulimavu-lake-bund/articleshow/72229096.cms  (25 Nov. 2019) and has ordered investigation.  https://indianexpress.com/article/cities/bangalore/bengaluru-hulimavu-lake-breach-probe-on-to-identify-culprits-restoration-work-underway-bbmp-bwssb-police-lokayukta-6136535/  (25 Nov. 2019)
GROUNDWATER
MoU on participatory groundwater management MoU between Central Ground Water Board (CGWB), department of Water Resources and Western Sydney University, Australia and others. The MoU for project MARVI (Managing Aquifer Recharge and Sustaining Groundwater Use through Village-level Intervention), system approach is focused on engaging village communities to monitor, use and manage groundwater at village level, said Anil Mehta, principal of Vidya Bhawan Polytechnic College. MARVI partners have been working collaboratively for participatory groundwater management and livelihood improvement in India since 2012. As a part of this project, a smartphone app called MyWell was developed to enable collection and sharing of monitored data of well water levels, rainfall, water quality and check dam water levels to help local communities to better manage scarce groundwater reserves.  https://timesofindia.indiatimes.com/city/udaipur/memorandum-signed-for-participatory-groundwater-mgmt/articleshow/72213994.cms  (25 Nov. 2019)
NSO Survey Hand pumps a major source of drinking water in rural areas  As much as 42.9% of households in rural areas use hand pumps as the principal source of drinking water, while 40.9% of households in the urban areas use piped water as the principal source, according to National Statistical Office (NSO) survey.   https://www.livemint.com/news/india/hand-pumps-a-major-source-of-drinking-water-in-rural-areas-shows-data-11574727669034.html  (26 Nov. 2019)
Only 71% of rural households had access to toilets at a time the Centre was claiming 95% The latest National Statistical Office (NSO) survey on sanitation debunked the claims of an open defecation-free or ODF India made by the Centre's flagship Swachh Bharat scheme, although it did record great progress in toilet access and use in rural areas. https://www.thehindu.com/news/national/open-defecation-free-india-national-statistical-office-survey-debunks-swachh-bharat-claims/article30070689.ece  (24 Nov. 2019)
Punjab Patiala University to promote Maize as alternative to rice At a meeting over the weekend, Punjab Agricultural University (PAU), Ludhiana, decided to strengthen maize — the most important alternative to rice — by working towards narrowing the gap in economic returns between the two crops. The idea is to nudge farmers towards increasing the area under maize.
– Of the 42-odd lakh hectares under cultivation in Punjab, maize was grown on 1.60 lakh hectares this year — just 3.8%. Since 2000, the area under maize has varied between 1.09 lakh and 1.63 lakh hectares every year. The area under maize in Punjab is only 1.6% of the total area under the crop in India (98 lakh hectares). Nearly 46% of India's maize area is in the pensinsular states of Karnataka, Telangana, and Andhra Pradesh. Madhya Pradesh and Maharashtra too, have large areas under maize.
– Experts say the area under non-basmati paddy must be cut by at least 12 lakh hectares, and maize, basmati, and cotton must be grown on this land — besides increasing the area under agro-forestry and vegetables. Non-basmati paddy is currently grown on 23-26 lakh hectares.
– Unlike paddy and wheat, which are procured by the government, maize is sold in the open market and is subject to the actions of private players. Maize is one of 24 crops for which the government fixes a minimum support price, but procurement is not its responsibility; this is because maize is primarily a "feed" crop — of the 28 million tonnes produced in India, only 13% is consumed as food.
– Over 70% of blocks in Punjab are in the dark zone on underground water stocks, according to central government estimates. At current rates of depletion, Punjab's entire subsurface water resource could be exhausted in a little over two decades. A very large number of tubewells (more than 14 lakh in 2015-16) running on free power pump out virtually endless amounts of water across the state. https://indianexpress.com/article/explained/punjab-groundwater-crisis-what-it-will-take-to-move-from-paddy-to-maize-6140351/ (28 Nov. 2019)  
Jharkhand Contaminated water becoming 'silent killer' Consumption of contaminated water in Chukru village resulted in many people being disabled. Hundreds are suffering from fluorosis. Nearly half the residents have gnarled bones, stooped backs and deformed teeth. It is a major cause of physical disabilities since decades. https://timesofindia.indiatimes.com/videos/news/contaminated-water-becoming-silent-killer-in-this-jharkhand-village/videoshow/72260009.cms  (27 Nov. 2019)
https://tvid.in/1xwrmfeug9/toi
URBAN WATER
SANDRP Blog Faidan Pind drain shows ugly side of 'City Beautiful' On July 9 and August 20 2019, Faidan Pind Nala created flood havoc in the area. The administration had to vacate more than a dozen houses. People lament that about four houses along the drain collapsed. Some even blamed that excess run off from City area was diverted into the drain though a huge canal like structure. https://sandrp.in/2019/11/29/chandigarh-faidan-pind-drain-shows-ugly-side-of-city-beautiful/  (29 Nov. 2019) 
KC Valley Project How Bengaluru's Domestic Wastewater Is Helping Parched Kolar Laxmisagar lake is where treated domestic sewage water from Bengaluru first enters Kolar, to eventually fill 126 lakes and improve groundwater levels. The project envisages transferring 440 million litres a day under the Rs 1,342 crore Koramangala-Challaghatta Valley project. The purpose of the project is to rejuvenate the depleted groundwater in the drought-hit Kolar region by allowing the treated water to percolate down from these lakes and tanks. It launched in May 2016 was inaugurated in June 2018 and currently, 40 lakes have been filled. "This can be a model for the country for sharing wastewater for agricultural use," S Vishwanath, Bengaluru-based water conservation expert said. On concerns of toxic contamination, the Supreme Court stopped it in Jan 2019 and lifted the stay three months later.
– Need to further treat the secondary-treated wastewater, before replenishing the groundwater basin with it. A retention period of a few months (in the grounds) is necessary before the reuse.  https://www.indiaspend.com/how-bengalurus-domestic-wastewater-is-helping-parched-kolar/  (22 Sept. 2019)
Karnataka Lakhs of people still have no access to safe drinking water Grim drinking water situation in state in a surplus monsoon year and yet the government is pushing for big projects rather than focussing on rains.  https://timesofindia.indiatimes.com/city/bengaluru/lakhs-of-people-still-have-no-access-to-safe-drinking-water-in-karnataka/articleshow/72326537.cms  (2 Dec. 2019)
Pune PMC to extend 24-hour water supply project to 11 newly merged villages In its proposal, the PMC said it was planning to implement the existing 24-hour water supply scheme in the newly-merged villages, and will also prepare a project report for the proposed merger of 23 additional villages. The source of water supply for all these villages will be Khadakwasla dam and the three dams upstream. An additional source of 2.6 TMC is also available from the Bhama Askhed dam and 0.33 TMC from the Pawana dam.
– The proposal stated that in many villages, the current water supply was through open well or the existing water supply system of the PMC. Thus, the private agency will have to study the sources, suggest improvements and design the complete water supply system. The agency will have the liberty to discard the existing water distribution system and propose a new one. Similarly, some existing reservoirs can be proposed for strengthening the water supply scheme, the proposal stated.
– The feasibility report and detailed project report will be prepared along with raising funds for the project to be implemented in 11 villages of Lohagaon, Shivane, Mundwa, Hadapsar, Satra Nali, Ambegaon (Kd), Undri, Dhayari, Ambegaon (Bk), Uruli Devachi and Fursungi. https://indianexpress.com/article/cities/pune/pmc-to-extend-24-hour-water-supply-project-to-11-newly-merged-villages-6139604/  (27 Nov. 2019)
Chennai Project to rejuvenate 3 lakes into drinking water sources gains impetus The Water Resources Department has submitted fresh proposals to restore the water bodies in Korattur, Ambattur and Retteri.  https://www.thehindu.com/news/cities/chennai/project-to-rejuvenate-three-lakes-into-drinking-water-sources-gains-impetus/article30074899.ece  (25 Nov. 2019)
A collaborative effort of Environmentalist Foundation of India, Corporation and local residents has revived several smaller waterbodies in the western and southern suburbs, which were neglected and considered almost non-existent in the city map.  https://www.thehindu.com/news/cities/chennai/neglected-waterbodies-spring-to-life/article30126893.ece (1 Dec. 2019)
Chembarambakkam lake contaminated with sewage? The presence of water hyacinth is a strong indicator of sewage contamination in any waterbody. Most lakes and ponds in Chennai suffer from this problem. But for the first time, one of the city's largest reservoirs, Chembarambakkam lake has been affected by this issue.
– Most of the natural inlets of the reservoir are contaminated with domestic sewage from surrounding houses and even small scale industries. Inlets which are meant to carry run-off water to the reservoir have become sewage carriers over the years. The effects of this are for everyone to see.
– Satellite images showed that for a radius of three kilometres, hyacinth has covered the waterspread area of the reservoir right in the middle. Raj Bhagat Palanichamy, a remote sensing expert, who constantly monitors waterbodies in Chennai found this abnormal growth of invasive weeds spread over the lake since last month.
– Locals from the suburbs who frequent the area also said that this weed cover was spreading at an alarming rate. A senior Public Works Department (PWD) official said that mixing of sewage in the reservoir has been happening for quite long now. "Water hyacinth is a strong indicator of presence of sewage. It is hard to detect where it is coming due to the vast size of the lake. But we plan to set up modular STPs near all waterbodies in Chennai soon to curb this menace," added the official. https://www.newindianexpress.com/cities/chennai/2019/nov/28/chennais-largest-water-reservoir-chembarambakkam-lake-contaminated-with-sewage-2068057.html  (28 Nov. 2019)
Faridabad NGT fines housing society NGT on Nov. 27 slapped an interim penalty of Rs 10 crore on a Faridabad builder for violating environmental norms and causing pollution, observing that "environment is priceless". The green panel directed Haryana government and the state pollution control board to black list the project proponent – Smart Housing Pvt Ltd – from undertaking such projects in future till environmental norms are fully carried out.
The NGT also asked them to seal and take possession of public utility spaces in the 'Vesta Heights' project besides sealing and taking over of vacant flats.
– The tribunal's order came on a plea filed by Mukund Dhote alleging that housing project 'Vesta Heights' Baselwa village in Sector-86 of Faridabad was in violation of conditions of Environmental Clearance and the Water (Prevention and Control of Pollution) Act, 1974.
– The tribunal held that it is a clear that there is blatant violation of conditions of environmental clearance apart from disposal of sewage through tankers at unauthorised locations, illegal extraction of ground water and not operating DG sets as per norms. https://realty.economictimes.indiatimes.com/news/regulatory/ngt-slaps-rs-10-crore-penalty-on-smart-housing-for-violating-environmental-norms/72269175  (28 Nov. 2019)
Ahmadabad High rises consume half of city's groundwater Ahmadabad high-rise apartments consume maximum 239.9 Million Litres per Day (MLD) ground water out of 400 MLD used daily in the city. This is over and above the regular supply of surface water by civic bodies. During the summer of 2019, highrises across the city consumed 51% of the total ground water.
– According to experts, the ground water level in Ahmedabad has dipped drastically in the last 20 years with increase in vertical and horizontal growth. The average ground water level in the city, which was 150-200 meter two decades ago, has fallen to 300-350 meter today. These facts were revealed in the study 'Understanding the city' by Faculty of Planning of the CEPT University.
– The city-wide study conducted by the CEPT students revealed that in summer of 2019, citizens of Ahmedabad spent Rs 108.4 crore for pumping ground water to meet the demand which is over and above the amount spent by AMC. The figures are estimated based on the survey data from 130 sq km area of the city.
– Goswami said, "If the consumption of ground water increases at this rate, it will put tremendous stress on ground water resources and a point will come when accessing it will become unaffordable. Right now, the focus of the state government and the city governments is on the supply side. It is high time that the focus shifts to consumption side. We have almost no control on consumption of ground water by the citizens. While we may continue to spend energy and resources on awareness campaign, time is ripe to take high impact policy decisions and use stringent legal instruments to reduce ground water consumption."
– R N Shukla, a retired superintending geohydrologist who has worked with the government of Gujarat for several years, opined, "Ground water is depleting at rate of 3 metres per year. Around 20 years ago the depth of borewell used to be 150-200 meter. We are better off than other cities like Bengaluru and Chennai, but the upper aquifer has already been exploited and we are facing depletion at a fast rate."  https://ahmedabadmirror.indiatimes.com/ahmedabad/cover-story/high-rises-guzzle-half-of-amdavads-ground-water/articleshow/72215094.cms  (25 Nov. 2019)
AGRICULTURE
Government has no clear definition of farmer  Agriculture Minister Narendra Singh Tomar failed to answer that question when it was asked in Parliament last week. The government's ambiguity has serious implications for the design and beneficiaries of the schemes meant to help them, including its flagship PM-KISAN (Pradhan Mantri Kisan Samman Nidhi). In a written response, the Agriculture Minister evaded giving any definition of a farmer and instead said agriculture is a State subject. He provided data on the number of agricultural landholdings and noted that the Centre provides income support to all farmer families who own cultivable land, that is, via the PM-KISAN scheme.
In the discussion that followed, MPs pointed out that the number of land holdings do not necessarily equate with the number of farming households. It was noted that dairy farmers, fisherfolk, fruit and flower growers, as well as landless agricultural workers who cultivate the land belonging to others, would not fit into a narrow definition where farmers are linked to ownership of land alone.
In fact, there is a clear and comprehensive definition available in the National Policy for Farmers, which was drafted by the National Commission of Farmers headed by M.S. Swaminathan and officially approved by the Centre in 2007 following consultations with the States. It says, "For the purpose of this Policy, the term 'FARMER' will refer to a person actively engaged in the economic and/or livelihood activity of growing crops and producing other primary agricultural commodities and will include all agricultural operational holders, cultivators, agricultural labourers, sharecroppers, tenants, poultry and livestock rearers, fishers, beekeepers, gardeners, pastoralists, non-corporate planters and planting labourers, as well as persons engaged in various farming related occupations such as sericulture, vermiculture and agro-forestry. The term will also include tribal families / persons engaged in shifting cultivation and in the collection, use and sale of minor and non-timber forest produce."
The policy emphasises the need to substantially increase the net income of farmers and develop support services for them, using that comprehensive definition. Farmer leaders and researchers point out that the definition of a farmer is not merely a philosophical or semantic question, but rather has practical implications. According to Census 2011, there are 11.8 crore cultivators and 14.4 crore agricultural workers. https://www.thehindu.com/sci-tech/agriculture/who-is-a-farmer-government-has-no-clear-definition/article30131511.ece  (2 Dec. 2019)  
FLOOD 2019
Tamil Nadu Papanasam, Servalar reach maximum capacity As the north-east monsoon continues to drench the Western Ghats, most of the dams in Tirunelveli and Tenkasi districts have storage sufficient for 'pisanam' paddy cultivation likely to be taken up on over 35,000 acres this year. While the Papanasam and the Servalar Dams, the two prime reservoirs of the district, are about to overflow within next 24 hours, the Manimuthar dam, the largest reservoir of the district has only 45% water now. In other words, the dam has 2,028 million cubic feet water against its maximum capacity of 5,511 mcft.  https://www.thehindu.com/news/cities/Madurai/papanasam-servalar-dams-reach-maximum-storage-level/article30098807.ece  (27 Nov. 2019)
CWC, Chennai has issued an advisory forecast for higher inflows into dams/lakes in Kosasthaliyar, Adyar Lower_Ponnaiyar, Lower Vellar Basins in Thiruvallur, Kanchipuram Cuddalore, Villupuram and Kallakurich Dist. https://twitter.com/CWCOfficial_FF/status/1200658104829874177
On Dec. 2. CWC Coimbatore also issued advisory for Bhavanisagar dam. CWC tweet reads "Since dam is very near FRL releases from Bhavanisgar may create flood like situation in River Bhavani at Satyamangalam Bhavani in Erode District. Maximum Precautions may be taken in view of very heavy rainfall."
River Tamiraparani at Kallidaikurichhi level forecast site in Thirunelveli District almost touched the HFL on Nov. 30. http://india-water.gov.in/ffs/hydrograph/ 
Kallar river at Odenthurai level forecast site in Coimbatore district has breached HFL 329.95 M attained on Aug. 16, 2018 and flowing at 330.86 M with rising trend. Flood forecast and cumulative rainfall information is not given by CWC.
Also see, Daily Flood Situation Summary for Dec. 2. http://cwc.gov.in/sites/default/files/cfcr-cwcdfb-02122019_1.pdf
Bundelkhand With Crops Destroyed in Floods and No Compensation, Farmers Struggle to Survive In Sept. 2019, the water level of Yamuna increased, resulting in floods in over 50 villages situated on its banks in Chitrakoot. In Mawai kala, houses had literally upended with the force of the river water. With most families living in makeshift shelters, the situation grows dire with the loss of crops and the subsequent loss of most resident's only source of income. Agriculture is the mainstay for most of the residents of this area.
– Chitrakoot's soil and peculiar climate already put farmers at a disadvantage as compared to other regions. With the floods, the kharif crops are now decimated and the rabi season continues to look equally hopeless with no signs of the farmland recovering in time. About 20 villages have been severely affected and there seems to be no signs of help from the government till now. The situation worsens for those who have rented their farmlands. https://www.news18.com/news/india/with-crops-destroyed-in-floods-and-no-compensation-farmers-in-mp-struggle-to-survive-2405859.html  (30 Nov. 2019)
ENVIRONMENT
Mizoram Video of clouds floating through Aizawl is going viral A video that highlights the scenic beauty of the city of Aizawl is going viral after it showed clouds flowing off a height like a waterfall. Many on social media described the scene as "mesmerising".
The stunning visual comes from a phenomenon known as orographic clouds that are commonly known as "waterfall clouds". These clouds are generally associated with a moist airflow over mountainous areas. It usually occurs when stable air encounters a mountain, and is lifted upward, cooling as it rises. Water vapour in the moist air could condense, making it visible as a cloud. So when orographic clouds flow down from the tops of mountains, it often looks like a waterfall. Another video of the same phenomenon from China's Mount Lu in 2017, had also taken social media by storm. https://indianexpress.com/article/trending/viral-videos-trending/video-of-floating-clouds-down-slope-in-mizoram-is-going-viral-6137672/  (26 Nov. 2019)  
CLIMATE CHANGE
Study Climate changed monsoon rainfall "Global warming has destroyed the concept of the monsoon. We have to throw away the prose and poetry written over millennia and start writing new ones!" said Raghu Murtugudde, an atmospheric scientist at the University of Maryland.
– Since 1950, annual rainfall has declined by 15 percent across Marathwada, according to an analysis by Roxy Mathew Koll, a monsoon specialist at the Indian Institute of Tropical Meteorology. In that same period, cloudbursts have shot up threefold.
– Bizarrely, the taxpayers of India, one of the most water-stressed countries in the world, have aided sugar producers handsomely. The government subsidizes electricity, encouraging farmers to pump groundwater for their sugarcane fields, as well as fertilizers, which are used in vast quantities for sugar. State-owned banks offer cheap loans, which are sometimes written off, especially when politicians are courting farmers' votes. This year, the government has approved nearly $880 million in export subsidies for sugar mills.
– With all those perks, sugar cane production has grown faster than any other crop since independence from British rule in 1947, making India the world's biggest sugar producer. Three-fourths of irrigated sugar cane production takes place in areas under "extremely high water stress. https://www.nytimes.com/interactive/2019/11/25/climate/india-monsoon-drought.html  (25 Nov. 2019)
Global warming changing rainfall rhythm Global warming has altered a key weather system and that may be whetting cyclones in the Bay of Bengal, decreasing winter rain in north India and altering global rainfall patterns, a study by a team of Indian and U.S. researchers has found.
– The study, led by Roxy Mathew Koll, a researcher at the Indian Institute of Tropical Meteorology, Pune doesn't delve into the impact of the MJO during the monsoon months. However, Mr. Koll said, the change in the MJO could drift warmer surface water towards the Bay of Bengal and increase cyclones. "The MJOs haven't been as extensively studied as say the El Nino. This study shows that we need better observation of the Indian Ocean and improve forecasts that can warn us about a cyclone." https://www.thehindu.com/sci-tech/energy-and-environment/global-warming-alters-rainfall-rhythm-finds-study/article30099781.ece  (27 Nov. 2019)
Include Tibetan plateau in UN discussions: Climate researchers Central Tibetan Administration (CTA) climate researchers on Nov. 7 urged the world leaders to recognize the global ecological importance of the plateau and make Tibet central to any discussion on global climate change.
– Known as the water tower of Asia, it directly sustains over 150 million people and affects the lives of several billion downstream dwellers mainly in India, Pakistan, Myanmar, Cambodia and Vietnam.
– The researchers urged the world leaders to recognize the global ecological importance of the plateau and make Tibet central to any discussion on global climate change. Studies conducted by the Tibetan administration in exile, based in this northern Indian hill town, say the Tibetan plateau is staring at ecological destruction. https://www.indiatoday.in/amp/world/story/include-tibetan-plateau-in-un-discussions-climate-researchers-1616466-2019-11-07  (27 Nov. 2019)
Maharashtra Mumbai dwellers at the mercy of sea level rise Already at risk from rains, flooding and open sewers, slum-dwellers who live by the ocean in the financial capital Mumbai are vulnerable to rising seas caused by global warming and say the government should help them move to safer locations.   https://www.hindustantimes.com/mumbai-news/mumbai-slum-dwellers-by-the-sea-live-at-the-mercy-of-climate-change/story-rDxqVwZIGbR3qDCDsxmcGK.html  (30 Nov. 2019)
Marathwada women tackle climate emergency through sustainable farming Swayam Shikshan Prayog (SSP) has enabled more than 70,000 women farmers in Marathwada to shift to what it calls the one-acre model, an innovative way of practising climate-resilient agriculture. Instead of the traditional approach of focusing on cash crops, these women have placed nutritional needs of their families first by growing mainly food crops and vegetables.
Under the one-acre model, multiple crops are grown to boost nutritional security, soil fertility, farm biodiversity and income viability. The women use sustainable methods such as hydroponics, bio-pesticides, organic fertilisers and water conservation techniques like drip irrigation, sprinklers, farm ponds, recharging of bore wells and tree plantation to boost scarce groundwater and improve soil fertility.
The most innovative aspect of this model is that it places rural poor women, who are traditionally treated as mere labourers, at the centre-stage as farmers and decision-makers. It empowers and recognises rural women as farmers, changemakers and mentors for innovation, knowledge transfer and replication.
Despite such dry conditions, cropping patterns paint an alarming picture. Water-guzzling sugarcane is cultivated widely, leading to an ever increasing water scarcity. Such unwise farming practices have led to a loss of more than two million farmer livelihoods, according to a 2015 study by the SANDRP, an advocacy group.
Marathwada farmers planted sugarcane on 230,530 hectares of land in 2013, SANDRP found, which required 4,322 million cubic metres of water to grow. Another 23 million cubic metres of water was needed while crushing the cane to extract sugar. "The region has already seen a rise in extreme weather events and unseasonable episodes," the study said. "In such a situation, a more diverse cropping pattern is imperative." https://www.firstpost.com/long-reads/marathwada-women-tackle-climate-emergency-through-sustainable-organic-agriculture-7707201.html 
IMD Winter will be warmer than usual this year In its statement for the Seasonal Temperature Outlook issued for the period Dec. to Feb., the IMD said that the seasonal average minimum temperature would remain above normal by over one degree Celsius. "…Greater solar penetration due to lesser cloud cover that would prevail over the most parts of the country would also contribute towards keeping the minimum temperatures, especially during the night hours, above normal," D Sivanand Pai, who heads the Climate Research and Services at IMD, Pune, told The Indian Express.
– Earlier this week, Ministry of Earth Sciences secretary M Rajeevan had said that 2019 is set to be the second hottest calendar year recorded. Meteorologists have been attributing the overall warming to climate change. Overall, winter temperatures have been on the rise. Since 2016, the IMD had forecast warm winters for all years except 2017. https://scroll.in/latest/945365/winter-will-be-warmer-than-usual-this-year-says-india-meteorological-department   (30 Nov. 2019)
Pakistan Climate change leaves women in Skardu facing disaster Women villagers have had to make drastic changes in the face of unpredictable weather patterns that have upended traditional ways of life in the mountainous region. https://www.thethirdpole.net/en/2019/11/28/climate-change-leaves-women-in-skardu-facing-disaster/  (28 Nov. 2019)  
SOUTH ASIA
Opinion Linking, damming are not smarter strategies for sharing South Asia's rivers Shockingly, Prof Ashok Swain seems suggest that all these River linking and dam projects would have been ok only if India had not taken them up unilaterally. The article does not address if these are viable for desirable or optimum or necessary projects. Or if they are taken up after informed and democratic decision making process. https://www.eastasiaforum.org/2019/11/30/smarter-strategies-for-sharing-south-asias-rivers/  (30 Nov. 2019)
ICIMOD Challenges in Indus basin Experts from Afghanistan, India, China and Pakistan took part in this two-day meeting organized by the ICIMOD which currently holds the secretariat of the Indus Forum Working Group. https://www.thenews.com.pk/print/575739-challenges-of-the-indus-basin  (29 Nov. 2019)  
Nepal South Asian countries join forces to destroy the last free-flowing river In November 2019 Bangladesh and Indian Company GMR have moved closer to signing a power purchase agreement to pave the way for the Indian developer to build the 900 megawatt Upper Karnali scheme in western Nepal and sell 500 megawatt to Bangladesh, officials say. According to GMR Chief Operating Officer Harbinder Monocha, a cabinet meeting of Bangladesh has allowed the company and energy authorities of Bangladesh to go ahead with an agreement on the purchase rates.
The project cost is estimated by dam proponents to hover around $1.1 billion (judging from experience with such dams and average cost of construction in Nepal above 2000 USD/kW it will be at least twice more expensive -RwB). The GMR company has plans to collect 15 per cent of investment through Nepali banks and financial institutions. "We are also in negotiations with Indian Exim Bank, Chinese Exim Bank, Asian Development Bank, World Bank and Netherlands Development Finance Company (FMO) and other multilateral lenders for the remaining financing for the project"- said GMR representative.  http://www.transrivers.org/2019/2915/?fbclid=IwAR3BoU-EZVRr6lYZJ1hEeboYiVcGHXWbdZCtjiNoRSg5vKeG4X178z96rgE  (28 Nov. 2019)
Springs are rapidly drying Despite their importance, the springs across Nepal are drying and disappearing, causing distress to people and geographical regions, and forcing some villages to relocate entirely. Experts believe haphazard road development, increasing population, and erratic rainfall patterns influenced by climate change are adding stress to groundwater reserves, causing springs to dry—a phenomenon that could destabilise the country, even the entire Himalayan region. Yet, springs are insufficiently mapped and hardly researched, and there are few efforts to understand and address the issue. According to an individual study carried out in 2016, 150 water sources vanished in Sindhupalchok after the 2015 earthquakes.
– Across the mid-hills, there are approximately 60 climatological observatories maintained by the Department of Hydrology and Meteorology that collect information on localised rainfall patterns. This information is used to get a preliminary understanding of spring systems, but these systems are very complex; just the sheer number of springs–estimates say there are around five to seven springs per square kilometre across the mid-hills–is overwhelming.
– Upadhya says there's a simpler solution, but it requires whole communities to come together. "You have to pepper these hills with ponds. The ponds will collect the water that would otherwise flush down hills as runoff and over a duration of time refill the groundwater reserves," he said. https://kathmandupost.com/37/2019/11/29/once-gushing-with-water-nepal-s-springs-are-rapidly-drying-up  (29 Nov. 2019)
Pakistan Worst water managers: Experts Pakistan is the worst at its water governance and management. Capacities of institutions dealing with water are exhausted and need to be enhanced". This was said by Sardar Muhammad Tariq, a water expert, CEO Pakistan Water Partnership (PWP), former member (water) WAPDA and former regional chair GWP – South Asia while addressing an informative session on "Water Security in Pakistan: Present Situation & The Way Forward" organized by the Council of Pakistan Newspaper Editors (CPNE) Editors Club here at its secretariat. https://www.urdupoint.com/en/pakistan/pakistan-has-worst-water-management-says-exp-774007.html  (28 Nov. 2019)
ASIA
From International Rivers: Thousands of people lost their homes when faulty construction led to the devastating dam collapse of the Xe-Pian Xe-Namnoy hydropower project in southern Laos in July 2018. Now well over a year later, no one has been held accountable and the victims have already waited too long for redress. The background and details have been documented in a report, Reckless Endangerment.
International Rivers and Inclusive Development International are engaged in a campaign to hold those responsible for the Xe Pian Xe Namnoy dam collapse accountable through demanding that the developers, financiers and insurers of the project ensure that real compensation is provided to the survivors in Laos and Cambodia.
As part of the campaign, people are urged to sign their names to a letter that will be sent directly to the project backers. The idea is to increase public pressure on these companies to do the right thing. For more information and to sign on to the campaign, go to http://xpxnaccountability.net/take-action/
We encourage you to consider signing on through the above link. Please also share this widely among your networks!
The full report, Reckless Endangerment: Assessing Responsibility for the Xe-Pian Xe-Namnoy Dam Collapse, is also available on this website: https://xpxnaccountability.net/
THE REST OF THE WORLD
FROM INTERNATIONAL RIVERS CSO sign-on: Keep hydropower out of climate bonds! Please consider endorsing the attached civil society statement calling upon the Climate Bonds Initiative (CBI) to abandon its plans to finance destructive hydropower projects through climate bonds. Note the deadline for sign-ons is December 9. Please indicate your organizational endorsement at the following link: http://intlrv.rs/climatebonds. Some brief background about CBI and our concerns are below.
Our apologies that the statement is only available in English at the moment – translations are forthcoming. Also please share this note with your networks!
Background: The Climate Bonds Initiative (CBI) is a UK-based entity established to channel private finance toward addressing climate change by certifying projects as aligned with the Paris Agreement. It has created a number of sector-specific standards currently in use, but its proposed hydropower criteria would risk channeling scarce climate dollars to destructive dams that fail to address the climate crisis.
CBI's proposed criteria rely almost exclusively on tools designed and promoted by the influential International Hydropower Association (IHA), an industry lobby created to promote the sector's "green" credentials. In practice, this would mean:
Environmental and social impacts would be covered only in a cursory way using the IHA's own risk tool. This amounts to largely a box-ticking exercise where there are no requirements for assessors – who would themselves be accredited by the IHA – to even consult with affected communities.

Greenhouse gas emissions from dam reservoirs (primarily methane) would be calculated using the IHA's own tool, which systematically underestimates GHG emissions from dams. Meanwhile, CBI's proposed criteria set such a low bar that even high-emitting dams would qualify.

Most fundamentally, the proposed criteria, if adopted, would permit institutional investors like pension funds to invest in hydropower with no real limits. Not only would it incentivize and make hydro projects more profitable for operators, it would sanction investment and count toward meeting climate change objectives without achieving any meaningful climate benefit.
If you're interested please see a more detailed critique of CBI's hydropower criteria from International Rivers.  https://docs.google.com/forms/d/e/1FAIpQLSddllDGWnC2xBGbLO0KotzMQNq5PnsalTzZUyinLAHriLDADQ/viewform 
Europe  New generation of hydroelectric dams 'threaten rivers' The study, which claims to be Europe's first inventory of hydropower, found that 8,507 new plants are planned for the coming years, adding to the 21,387 on the continent. A further 278 plants are already under construction, according to the research, which was commissioned by four NGOs.
– "We are facing nothing less than the end of free flowing rivers in Europe, if we don't stop this dam craze," said Ulrich Eichelmann, the chief executive of RiverWatch, one of four environmental NGOs that commissioned the study. "Under the label of "green energy", the hydro lobby and political decision makers are about to destroy Europe's last remaining rivers and streams, and with it an enormous amount of plant and animal species," he said. "We don't need any additional new hydro dams in Europe."
– Eichelmann said the quality and diversity of rivers in the Balkans was "unparalleled", while in central and western Europe hydropower dams have already had a huge impact "to the extent that many of us don't know what a living river looks like". He described the Vjosa river, which runs from Greece to the Adriatic Sea as "the last big wild river in Europe" and said it was "highly threatened" as a result of hydropower projects planned in Albania.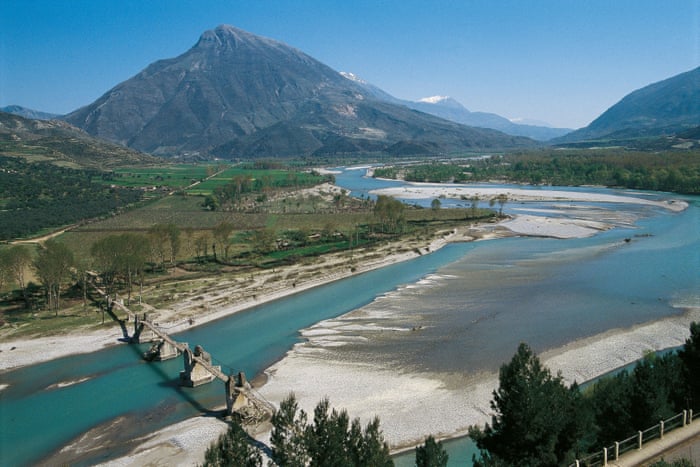 – Academic research has found that up to 30 freshwater fish species in the Balkans face extinction if all planned hydropower projects in the region go ahead. At risk are the Greek brook lamprey, the marble trout and a variety of zingels, a fish that thrives in fast-flowing waters. "We must understand that the already high demand for water resources, especially in southern Europe will be exacerbated by such large-scale hydropower exploitation, resulting in a deadly combination for freshwater diversity," said Steven Weiss, an associate professor at the Karl-Franzens university of Graz. Weiss, who has carried out separate research into the threat to wildlife posed by dams, provided a comment to the NGO team.
– The report was published as new European Union leaders prepare plans for a "European green deal" that will lead to an expansion of renewable energy, with the aim of reducing greenhouse emissions to net zero by 2050. The NGOs argue that Europe is already "saturated" with dams and insist hydropower should not be considered as a form of green energy.
– Even small dams can have a dramatic impact on wildlife, by preventing fish from migrating to spawning grounds. Hydropower dams have been linked to a decline in salmon, trout, eel and sturgeon by the European Environment Agency. According to the agency, dams and reservoirs also trap sand in certain places, fuelling coastal erosion or flooding elsewhere.
– The NGO study highlights that many planned plants will produce relatively little electricity. "Small hydropower plants come with a large ecological impact because they are numerous and disrupt river continuity, whilst contributing minimally to electricity production."
– Hydropower is growing more slowly in western Europe, including in Scotland and Norway. In Switzerland, which makes intensive use of the technology, operators want to harness melting glaciers to create a new model of "periglacial hydropower plant". But the most rapid expansion is forecast for south-eastern Europe and Turkey. https://www.theguardian.com/environment/2019/nov/28/new-generation-of-hydroelectric-dams-threaten-europes-rivers  (28 Nov. 2019)
England Dam Burst fears in Derbyshire: Facing the deluge: Peak District town could be wiped off the map as police order 6,500 inhabitants to flee before collapse of crumbling dam holding back 300million gallons of water.  https://dentondaily.com/whaley-bridge-police-evacuate-up-to-6500-people-as-dam-looks-set-to-burst/  (24 Nov. 2019)
Compiled by SANDRP (ht.sandrp@gmail.com)
Also see: DRP News Bulletin 25 Nov. 2019 & DRP News Bulletin 18 Nov. 2019
Follow us on: www.facebook.com/sandrp.in; https://twitter.com/Indian_Rivers