As can be seen from the news reports from Jammu & Kashmir, Assam, Arunchal Pradesh, Karnataka, among others, the opposition to Large Hydro Projects and Big Dam is growing all over India. These projects are neither economically viable, nor Socially-environmentally sustainable. There are much better options exist and hope the governments takes informed, democratic decisions. Going by the agenda and minutes of the recent Expert Appraisal Committee on River Valley Projects and other decisions, this hope seems far fetched at the moment.
Jammu & Kashmir Opposition to dam project in Chenab valley In Kishtwar, a remote region of Kashmir, the Save Marwah Movement stiffens struggle against building of Bursar dam. The Save Marwah Movement has held over 100 protests and hunger strikes over the last two years, both in Marwah and outside the Deputy Commissioner's office at district headquarters Kishtwar. https://www.thethirdpole.net/en/2019/10/28/growing-opposition-to-dam-on-chenab-tributary/  (28 Oct. 2019)
HYDRO POWER PROJECTS
Karnataka Despite stiff opposition, govt okays Sharavathi hydel project Presently, the state government is seeking the Centre's approval to enter the Sharavathi Valley Lion Tailed Macaque Sanctuary to carry out geotechnical investigations in 877.507 hectares of forest land in Sagar and Honnavar forest divisions. Only after this survey can it be ascertained whether such a project can be taken up in this area.
– The proposed project site falls within the core area of an expanded sanctuary. Spread over an area of 902 sqkm, the Sharavathi Valley LTM Sanctuary is one of the few remaining habitats for the critically endangered macaques and the Myristica Swamps, that are endemic to this region. Local forest officials said that this project would ruin hundreds of acres of evergreen forests in Gersoppa Wildlife Range and Kargal Range.
– Environmentalists said that the area was so remote that nobody has ventured to enter these forests. Environmentalist Akhilesh Chipli from Sagar said, "A mega project in the river valley will sound the death knell for the Sharavathi River which is the lifeline of Karnataka. The government should address the issue of transmission losses and reduce it from 18 to 8 per cent. This will meet the power needs during day time. They should make it mandatory for people to go for solar, LED and other energy-efficient devices."
– According to analysts from the power sector, this project is both economically and ecologically unsustainable. Analyst Shankar Sharma said, "To produce 100 MW of power, 124 MW of power will be spent to pump water from a lower to an upper reservoir. In fact, pumped storage power plants are meant to generate additional power required to meet demands during peak hours of the day only. Such a scheme will consume about 25 per cent more electricity than it generates. The state will suffer a net loss of power."
– Forest officials who are not in favour of this project say that Section 29 of Wildlife Protection Act says any kind of destruction in a sanctuary is prohibited unless it is necessary for the improvement and betterment of wildlife. However, the Karnataka State Wildlife Board, under BSY's chairmanship recommended the project without any discussion. With the matter resting with the National Board of Wildlife, activists from Karnataka have appealed to the members not to give any permission for entry or survey. http://www.newindianexpress.com/states/karnataka/2019/oct/23/despite-stiff-opposition-from-greens-ktaka-okays-sharavathi-hydel-project-2051701.html   (23 Oct. 2019)
Assam NEEPCO Pipeline Burst Accident Was Avoidable: CM  The high-power team constituted by Chief Minister Sarbananda Sonowal has said that the NEEPCO water pipeline burst incident on October 7 at Kopili Hydro Project Powerhouse near Umrangso "could have been avoided", and also that the "negligence on the part of the NEEPCO authority is apparently visible".
The high-power committee headed by the Hill Areas, Mines and Minerals Minister Sum Ronghang was formed on October 11 this year for an on-the-spot inspection of the pipeline blast incident. The team visited the spot on October 13 when they met various parties and organizations, including social and students' organizations, affected families, senior citizens, the NEEPCO management, Dima Hasao district and police administrations and others.  https://www.sentinelassam.com/top-headlines/neepco-pipeline-burst-accident-was-avoidable-sarbananda-sonowal/  (24 Oct. 2019)
Arunachal Pradesh Group accuses NHPC of betrayal Stating that it would fight for the right of the families, the Dibang Multipurpose Project Affected Families (DMPAF) said it has resolved to follow a 'no compensation, no dam' policy; oppose pre-construction activities or floating of tender, online or offline, for the project until the compensation issue is resolved; demand immediate withdrawal of the case pending before the Gauhati High Court (HC); and seek "disbursement of compensation amount as per awarded." The NHPC had earlier filed a petition in the HC, challenging the implementation of compensation for land acquisition for the construction of the DMP in Dibang Valley district, claiming that the 1732.45 hectares of land is "a part of un-classed state forest area that does not belong to any individual, as it is not a private land."  https://arunachaltimes.in/index.php/2019/10/22/group-accuses-nhpc-of-betrayal/  (21 Oct. 2019)
Also see, Lot of misleading statements from NHPC here.  https://www.indiaspend.com/only-hydro-projects-can-feed-indias-24×7-power-needs/  (27 Oct. 2019)
Uttarakhand Hydropower projects violating norms may be shut The e-flow notification specifies that the upper stretches of the Ganga — from its origins in the glaciers and until Haridwar — would have to maintain: 20% of the monthly average flow of the preceding 10-days between November and March, which is the dry season; 25% of the average during the 'lean season' of October, April and May; and 30% of monthly average during the monsoon months of June-September.  https://www.thehindu.com/news/national/hydropower-projects-could-face-closure/article29760644.ece  (22 Oct. 2019)
AHC takes Ministry to court over e-flows notification Alaknanda Hydropower Company (AHC) says that it is only required to release 15% flows as "environmental flows" according to an Uttarakhand High Court order in June 2018. The NMCG, in a counter affidavit to the petition, avers that from May 15-21, 2019 only "5% of daily inflows are being released [by AHC]." This when it should have been releasing 25% of the average of last ten daily flows for May.
– An NMCG official, who did not want to quoted, said that GVK had claimed losses of nearly ₹4,000 crore, adding, "We have had some meetings at the Prime Minister's Office and the government is considering making good the losses. We will have to see how the case proceeds." AHC filed its petition in July but has not been reported on. Future dates on the case hearings are unavailable.  https://www.thehindu.com/news/national/power-company-takes-water-ministry-to-court-over-ganga-notification/article29770384.ece  (22 Oct. 2019)
MoEF Agenda for the 28th meeting of  Expert Appraisal Committee for River Valley Projects to be held on Oct 31, 2019: 1. Cumulative Impact Assessment and Carrying Capacity Study (CIA & CCS) Satluj River Basin.-reconsideration of draft report.
Upper Kolab Pumped Storage Project (2×160 MW) in District-Koraput, Odisha by M/s Odisha Hydro Power Corp for ToR

Balimela Pumped Storage Project in district Malkangiri, Odisha by M/s Odisha Hydro Power Corp For ToR

Jakhol Sankri Hydro Electric Project (44 MW), in district Uttarkashi, Uttarakhand by M/s SJVN For Env Clearance.

Saundatti HEP (1200 MW) Integrated Renewable Energy with Pumped Storage Project by M/s Greenko Solar Energy Pvt. Ltd. at village Karlakatti, Tehsil – Saundatti, District -Belgaum, Karnataka. For Environmental Clearance.

Sillahalla Pumped Storage Hydro-Electric Project Stage-I (4×250 MW), in district the Nilgiris, Tamil Nadu by TN Generation and Distribution Corp: ToR

Kundah Pumped Storage Hydro Electric Project in tehsil Udhagamandalam, district the Nilgiris, Tamil Nadu by TN Generation and Distribution Corp for ToR. http://environmentclearance.nic.in/writereaddata/Form-1A/Agenda/22102019R7P6P4P328th_EACAgenda.pdf
 DAMS
One Day National Workshop on Management of Floods: Reservoir Management NDMA Himanshu Thakkar, Coordinator, SANDARP: Increasing frequency of wrong reservoir operation is contributing to floods. There are many dams which needs strict monitoring. https://twitter.com/ndmaindia/status/1185067308965756928  (18 Oct. 2019)
Sardar Sarovar Dam Without tribal consent? 1,000 of 1,700 acres 'acquired' off Statue of Unity, Narmada dam The Gujarat government has already acquired 1,100 acres out of 1,700 acres of the tribal land of six villages – Navagam, Limdi, Gora, Vagadia, Kevadia and Mithi – for developing tourism next to the 182-metre high Statue of Unity, the world's tallest, putting at risk the livelihood option of their 8,000 residents, and is all set to acquire rest of the land, representatives of the villagers have alleged in Ahmedabad. Talking with media persons Lakhan Musafir, who has been involved the tribals downstream of the Narmada dam over the last six years, said, "The government promised to the tribals that they would be involved in the tourism project by encouraging them to open restaurants and become tourist guides, and that tourists could stay at their houses as paying guests."
– Asserting that they have been "deceived", as none of this has been realised, a tribal activist, Ramakrishna Tadvi, said, "The tribal farmers were first turned into hawkers, now then they were reduced to jobless workers. The only job they are now randomly offered is to clean up toilets and roads, for which they are offered a mere Rs 170 per day, which is less than the minimum wage."   https://www.counterview.net/2019/10/without-tribal-consent-1000-of-1700.html  (22 Oct. 2019)
SC asks CMs of 4 states, Centre to 'review' Narmada submergence  The Supreme Court has refused to accept the report of the Sardar Sarovar Reservoir Regulation Committee dated October 14, 2019, submitted by the Union of India and the Narmada Control Authority (NCA). The apex court refusal came after senior counsel Sanjay Parikh, appearing for the Sardar Sarovar dam affected persons, argued that the committee "illegally" decided on accelerated filling of water in the dam's reservoir, leading to submergence of 176 villages in the Narmada valley. The court, following a hearing on the matter on October 24, directed that the Review Committee, consisting of four chief ministers of the beneficiary states Gujarat, Maharashtra, Madhya Pradesh and Rajasthan, and the Union minister of water resources, should meet and decide the question of water level in the Sardar Sarovar dam as well as the question of rehabilitation "expeditiously".
– Tushar Mehta, solicitor general, appeared for Union of India, NCA and the State of Gujarat. NBA said, he did this "in spite of the fact that all the three parties are independent, and NCA especially is supposed to be an interstate impartial authority to guide and direct states within the legal framework."  https://www.counterview.net/2019/10/apex-court-asks-chief-ministers-of-4.html  (24 Oct. 2019)
Gujarat 1,500 mcft Narmada waters pumped into Shetrunji dam through SAUNI The volume of water Shetrunji received, 1500 mcft, is the largest volume of Narmada waters pumped to a single reservoir through SAUNI pipeline in a single instalment. The Bhavanagar irrigation circle had started lifting water from Limdi Bhogavo-II dam in Wadhwan taluka of Surendranagar district to fill up dams in Botad and Bhavnagar districts through Link-II pipeline canal of (Saurashtra Narmada Avtaran Irrigation Yojana (SAUNI) on August 9. Officials of the irrigation department say that by October 9, they managed to pump 3,000 mcft water and fill up six major dams of the twin districts. https://indianexpress.com/article/india/gujarat-1500-mcft-narmada-waters-pumped-into-shetrunji-dam-through-sauni-6090057/  (27 Oct. 2019)
Madhya Pradesh Khandwa villagers, NBA Chief start Jal Satyagrah At a time when the entire country is preparing for Diwali celebrations, villagers from Kamankheda village started 'Jal Satyagraha' along with Narmada Bachao Andolan' Alok Agrawal from Friday, Oct 25, 2019. Villagers tabled their demands before the state government which includes lowering of Omkareshwar Dam height to 193 metres as well as complete rehabilitation of 2,000 families from different villages and only after that authority can fill the water in the dam. Authorities started filling dam from October 21 as a result of that many villages turned into islands and connectivity got snapped. https://www.freepressjournal.in/indore/khandwa-nba-chief-villagers-start-jal-satyagraha  (25 Oct. 2019)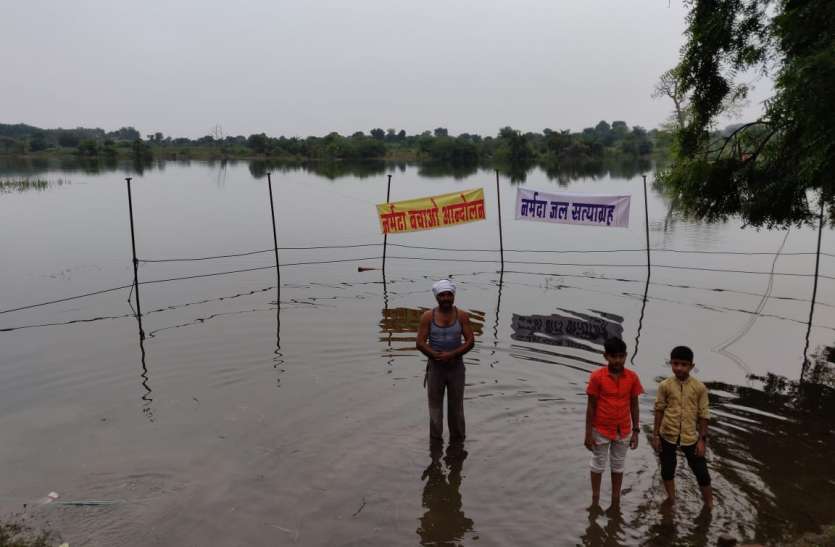 Jal Satyagrah against state govt plans to fill Onkareshwar dam without addressing compensation and rehabilitation issues of project affected people despite apex court order.  https://www.patrika.com/khandwa-news/water-satyagraha-to-protest-against-filling-water-in-omkareshwar-dam-5271063/  (25 Oct. 2019)
Rajasthan Villagers demand new lease of life for Ramgarh dam An agitation for protection of catchment area of the historic Ramgarh dam near here, once considered the lifeline of Jaipur, has revived with the villagers and farmers of the region staging a sit-in near the dam demanding immediate removal of encroachments. The dam, which earlier supplied drinking water to the city, has dried completely in the last decade.
– Local villagers, who participated in the agitation on Monday, said that the Ramgarh lake had hosted rowing events during the 1982 Asian Games. Numerous encroachments which came up in the catchment area have halted free flow of water to the dam. Its construction was completed in 1904 during the reign of erstwhile Jaipur ruler Sawai Madho Singh II.  https://www.thehindu.com/news/national/other-states/villagers-demand-new-lease-of-life-for-ramgarh-dam/article29772295.ece  (23 Oct. 2019)
INTERLINKING OF RIVERS
Jharkhand seeks Odisha approval The Jharkhand Govt has requested Odisha to give consent for intra-linking its river South Koel and Barakar-Damodar with river Subarnarekha. The Jharkhand wants to intra-link of three rivers Sankh, South Koel and Barakar. Besides, it has planned to link South Koel with Subarnarekha and Barakar with Subarnrekha as well. Barakar is the tributary of river Damodar and it will be linked with Subarnarakha river. As Damodar is flowing in W Bengal, it has requested cooperation of the West Bengal also.
– However, it will be difficult for the Odisha to agree with such proposal. The Subarnarekha is covering 80 km in Baleswar district before meeting the sea at Talsari. The river is not surplus in water and the basin of the Subarnarekha is smaller than most multi-State river basins in India. The river covers a drainage area of 18,951 square kilometres in Jharkhand, West Bengal and Odisha. Odisha is going ahead with an all-weather port of Subarnarekha on it.
– Meanwhile, constitution of National Interlinking of Rivers Authority (NIRA) is being considered and a Bill for setting up the NIRA has been prepared. Once the NIRA will be in place, ILR would gain momentum, said official sources.   https://www.dailypioneer.com/2019/state-editions/jharkhand-seeks-odisha-approval.html  (22 Oct. 2019)
INTERSTATE WATER DISPUTES
Mahadayi Water Sharing Dispute Centre's go ahead to Karnataka's water diversion project sparks outrage in Goa  Javadekar announced that on account of the follow up of his cabinet colleague Pralhad Joshi, (who hails from Karnataka) the Kalasa Banduri project has been granted environmental approval. He later deleted the tweet but it was enough to rile Goa chief minister Pramod Sawant.
– Sawant said that no such environmental clearance can be granted without hearing the Goa government first. "The Mhadei is more than mother to us. We shall protect it at any cost. Officially the government of Goa is not aware of any EC having been granted to Karnataka affecting Mhadei river. According to us such EC can't be granted without hearing the Goa government and without considering the case of State of Goa. In case such EC is issued without hearing State of Goa, we shall challenge the same before appropriate forum including the NGT," Sawant tweeted.
– The river diversion project, which was stalled due to opposition by the Government of Goa, led to the creation of the Mahadayi Interstate Water Disputes Tribunal. Among the issues that Goa had raised before the tribunal was the fact that Karnataka had begun work on the project to divert water without any environmental clearance that were mandatory under the law.
– The Kalasa and Bhandura Nala diversion scheme allegedly for drinking water supply involves diversion of west flowing streams/nalas in the Mahadayi basin to water deficit Malaprabha basin by construction of three diversion dams across Haltara Nala, Kalasa Nala and Bhandura Nala. All three rivers which originate in the Western Ghats in northern Karnataka and flow in to Goa as the River Mandovi that irrigates more than half the state. https://www.hindustantimes.com/india-news/centre-s-go-ahead-to-karnataka-s-water-diversion-project-sparks-outrage-in-goa/story-LBRpUwIMWvHNqQ07Kapg4I.html  (24 Oct. 2019)
In spite of opposition from GOA, Union Minister Prakash Javadekar on Wednesday (Oct 23, 2019) said that the Centre has given environmental approval for the Kalasa-Banduri (or Bandura) drinking water project in Karnataka, which plans to transfer water from Mahadayi river basin of Goat to Malaprabha river basin in Karnataka, even as Malaprabha is facing one of the worst floods right now. The project aims to facilitate drinking water 13 towns of Dharwad, Belagavi, Bagalkote and Gadag that is part of the northern parts of Karnataka, but it also is expected to transfer water for water intensive sugarcane cultivation.
– "SHOCKED and OUTRAGED. This is no drinking water project. This is 'Kill Mahadayi River' project. A plan we, as a party and as partners in Govt, fought tooth and nail. The diversion of water from Mahadayi is inexcusable, unjustified and an affront to all goemkars," the Goa Forward Party posted on Twitter.  https://www.livemint.com/news/india/karnataka-centre-gives-environmental-nod-for-kalasa-banduri-water-project-11571849332715.html  (23 Oct. 2019)
Goa CM Pramod Sawant has shot off a letter to Union Minister of Environment and Forests Prakash Javadekar questioning the basis of the MoEF's conclusion that the project does not require an environmental clearance.
– "Mahadayi river is the lifeline of Goa and the Mahadayi basin constitutes almost half of the territory of the state. There are five wildlife sanctuaries and one bird sanctuary within the Mahadayi basin. The Mahadayi basin area is ecologically fragile and a hotspot of biodiversity," Sawant said in his letter.
– "It seems vide their letter the MoEF has conveyed to the state of Karnataka that the Kalasa Banduri project being a drinking water project does not need environment clearance. It is not understood on what basis the ministry reached this conclusion, that the said project is purely a drinking water project," Sawant said.  https://www.hindustantimes.com/india-news/how-can-a-800-crore-river-project-not-need-an-environmental-clearance-goa-shoots-of-letter-to-centre/story-CiLBj1NpG1UZjfte9vO3IK.html  (26 Oct. 2019)
IRRIGATION
Gujarat Rajkot: Nov 1 meet to discuss Bhadar dam water-supply deal In the memorandum, the farmers demanded that the agreement the irrigation department signed with RMC in 1989, which expired on June 16 this year, should not be renewed. They contended that Rajkot city was already getting Narmada waters to meet its drinking water requirement and therefore, waters of Bhadar dam should be made available exclusively to farmers. They underlined the fact that Bhadar dam was conceived as a major irrigation project and that diverting waters for non-irrigation usage defeated its purpose.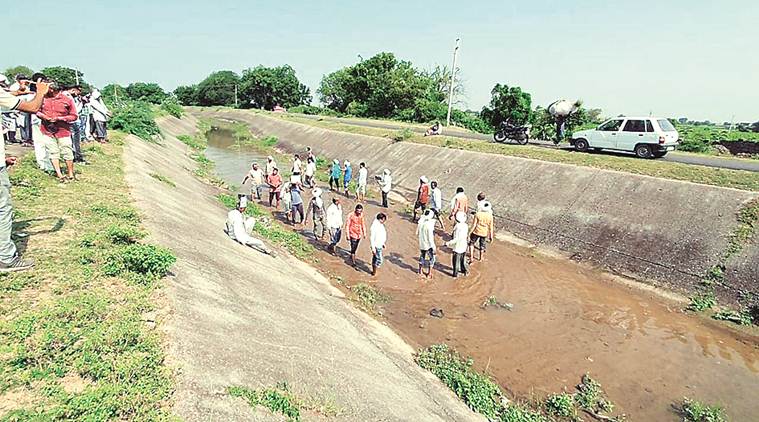 Farmers allege that every year, more and more water is being diverted for non-irrigation purpose. "Initially, when the agreement was signed in 1989, the agreement was to reserve 10,000 million cubic feet (mcft) water of Bhadar for Rajkot. But this quota has been progressively revised upwards and now they are reserving around 20,000 mcft every year. This quota is cutting into the water originally meant for farmers to help th em irrigate their crops," Manoj Marwaniya, a farmer from Zanzmer village in Dhoraji taluka of Rajkot, said.
A top irrigation officer of Rajkot circle admitted this is the first time in 30 years that farmers have protested. "Technically, their demand is just and we have taken cognisance of it. But it being a policy decision, we shall escalate it to higher levels of government before the agreement is renewed," an officer said on condition of anonymity. RMC officers say they have sought a meeting with the irrigation department on November 1. Rajkot district collector is also expected to attend the meeting.  https://indianexpress.com/article/cities/rajkot/rajkot-nov-1-meet-to-discuss-water-supply-deal-6090590/  (28 October 2019)
Chhattisgarh An IISc scientist joins hands with remote Indian tribals to gently harness a river Interesting story of how ramp up pumps can irrigate remote areas in Chhattisgarh using local perennial streams.  https://qz.com/india/1733868/sustainable-development-lessons-from-indian-tribals-iisc-mentor/  (23 Sept. 2019)
Hathi Nahar – 500 years and flowing! Just accidentally stumbled upon this amazing site that provides visit reports of some fantastic water related architectures of the past:
The 500 old Hathinagar at Rao Jodha Rock Park that harvests rainwater and stores it to provide Mahendragarh its year round supplies.

The Chasme Shahi Mughal Garden near Dal Lake in Srinagar, built by Shah Jahan some 387 years back, still serving the spring water to local people.

Fabulous step well Chand Baori dear Dausa in Rajasthan built in 8th Century AD.

Sabarmati River Front Development Project. https://architecturelive.in/hathi-nahar-500-years-and-flowing-story-by-design-dalda/
URBAN RIVERS
Dahisar River Walk Mumbai For years, Aslam Saiyad and his buddy Gopal MS have been documenting the rivers of Mumbai and the people living around it. They have now set up Halluhallu, a walking experiences service with a focus of discovering the city through slow, off-beat trails and walks.  https://www.mid-day.com/articles/once-upon-a-river/21933166  (19 Oct. 2019) Link to register for The Dahisar River Walk 3:-  https://gohalluhallu.wordpress.com/next-walk/
RIVERS
SANDRP Blog The floods of Jiadhal River in Assam Sazzad Hussain in this guest blog narrates the floods that Jiadhal river brings in Assam and how that is changing in recent years. Plz do read and share.  https://sandrp.in/2019/10/26/the-floods-of-jiadhal-river-in-assam/  (26 Oct. 2019)
National Govt working on a national framework to have e-flows in all  major rivers  The Centre is working to have a national framework for implementation and monitoring of e-flows in all major rivers in the country. "We have been working on guidelines for such national framework, keeping international experts on board under existing India-European Union (EU) water partnership," Rajiv Ranjan Mishra, director general of the National Mission for Clean Ganga (NMCG).
Under the plan, detailed studies are currently being carried out in three different hydro-climatic regions as pilot study projects for evolving appropriate methodologies for assessment of e-flows in rivers across the country. These three regions include Ramganga (perennial Himalayan river), Mahanadi delta (Peninsular river) and Bharatapuzha river (Western Ghats). There are 784 dams, 66 barrages, 92 weirs and 45 functional lift schemes located in the river basin with over 75% of them being fall in upper Ganga river basin. (The current E flows notification applies to only 11 structures, including hydropower projects and four barrages.)  https://timesofindia.indiatimes.com/india/govt-working-on-a-national-framework-to-have-e-flows-in-all-major-rivers/articleshow/71694626.cms  (21 Oct. 2019)
Andhra Pradesh Flourishing port 2,000 years ago A maritime trade centre based out of a fortified settlement near the banks of the Swarnamukhi river in Gottiprolu may have had a trade guild with its own army to protect its interests around 2,000 years ago, according to Archaeological Survey of India officials involved in the excavation of the site.
– ASI superintending architect T. Sreelakshmi said the second round of excavations at the site that is near Naidupeta, about 80 km from Tirupati and Nellore, would start in November or December. The first round of excavation at the site, which started in December last year and ended in September, unearthed a huge settlement surrounded by a brick enclosure that may have had a moat around it.  https://www.thehindu.com/news/national/ap-likely-had-a-flourishing-port-2000-years-ago/article29794922.ece  (25 Oct. 2019)
Punjab 3 dolphins found in Beas river survey Three Indus river dolphins were spotted in a post-monsoon survey conducted in the 185-km stretch of the Beas river, from headworks in Hoshiarpur district to Harike headworks in Tarn Taran by a joint team of Punjab department of forest and wildlife and the WWF-India at 25km upstream of Harike headworks, near village Gadka in Beas river. Next survey would be conducted in December 2019 to estimate the population size of dolphins in lean flows in the Beas conservation reserve. The last one was conducted in June 2019 and four dolphins were spotted, including a calf.
– There are about 2,000 Indus river dolphins that exist in Punjab, India and Pakistan. According to officials, their population in the Beas is between 8 to 10 and are found only in Beas conservation reserve and Harike wildlife sanctuary in India. https://timesofindia.indiatimes.com/city/chandigarh/3-dolphins-spotted-in-beas-conservation-reserve/articleshow/71730292.cms   (24 Oct. 2019)
GANGA Catastrophic events carry forests of trees thousands of miles to a burial at sea The Ganges–Brahmaputra (G-B) River system transports over a billion tons of sediment every year from the Himalayan Mountains to the Bay of Bengal and has built the world's largest active sedimentary deposit, the Bengal Fan. Article on wood burial in this fan over the millennia.  https://phys.org/news/2019-10-catastrophic-events-forests-trees-thousands.html  (21 Oct. 2019)
Dave Petley writes how the wood from the mountains reached the bottom of the sea hundreds of miles away: due to breach of landslide floods during massive floods. Dr Sarah Feakins (associate professor of Earth sciences at USC Dornsife College of Letters, Arts and Sciences) described how this might happen:
"The trees likely were uprooted during the last ice age by a massive release of water from the breach of a natural dam created by a glacier, landslide or similar land feature. In what must have been a surge of water, the trees rode rivers thousands of miles from Nepal through Bangladesh and into the Bengal Fan." https://blogs.agu.org/landslideblog/  (24 Oct. 2019)
YAMUNA Delhi From new year, pay for sewerage charges The Supreme Court has upheld the earlier NGT order and ordered the Delhi government to levy sewerage charges on all households in the capital within two months. This will be an "environmental compensation" based on the "polluter pays" principle to stop the discharge of untreated sewage into the Yamuna and help in its rejuvenation. In a judgment on Thursday, a bench of Justices L Nageswara Rao and Hemant Gupta upheld a September 11 order by a full bench of the National Green Tribunal. That bench headed by NGT chairperson Justice Adarsh Kumar Goel had directed the Delhi government, Delhi Jal Board and the municipal corporations to introduce a tax regime within two months.
– The NGT had based its order on a May 27 report filed by a two-member Yamuna Monitoring Committee comprising retired expert member B S Sajwan and former Delhi chief secretary Shailaja Chandra. It had requested the green panel to issue directions to enforce its own May 8, 2015 order.  https://timesofindia.indiatimes.com/city/delhi/delhi-from-the-new-year-you-will-have-to-pay-sewerage-charge/articleshow/71781383.cms  (27 Oct. 2019)
Uttar Pradesh बरसाना से शरूराधारानी ब्रज 84 कोसी परिक्रमा के दौरान हसनपुर के निकट यमुना नदी का पानी पीने से दो श्रद्धालु की मौत हो गई जबकि 25 की हालत बिगड़ गई। इन्हें नौहझील, वृंदावन और कोसीकलां के अस्पतालों में भर्ती कराया गया है। प्रशासन ने यमुना के पानी का नमूना लेने के साथ ही पदयात्रा के पड़ाव स्थल पर उपलब्ध खाद्य पदार्थों का नमूना लेकर जांच के लिए भेजा है।  https://www.amarujala.com/uttar-pradesh/agra/two-devotees-died-after-drinking-yamuna-water-in-mathura  (24 Oct. 2019)
Polluted Yamuna posing risk to the devotees at Mathura and Vrindavan on the occasion of Yama Duuj. https://www.deccanherald.com/national/north-and-central/devotees-face-health-scare-from-polluted-yamuna-771336.html  (26 Oct. 2019)
Uttar Pradesh NGT forms new panel to check Hindon river pollution 3 months after former Allahabad HC judge S U Khan resigned as chairman of a committee formed to monitor clean-up operations of Hindon River, NGT on Oct. 21 constituted a new three-member panel. The panel would not only monitor Hindon River pollution in western Uttar Pradesh, but also contamination of water bodies in Gorakhpur and solid waste management in the state.
– The new committee will be headed by former Allahabad HC judge S K Singh. Former UP chief secretary Anup Chandra Pandey and an expert will assist Singh. The new committee will also look into remedial action against contamination the Ramgarh lake, Ami River, Rapti River and Rohani River in and around Gorakhpur.
– In July this year, Khan resigned as chairman of the Hindon monitoring committee, citing "non-cooperation" from the UP government. "Authorities majorly responsible for compliance of the (NGT) directions are not assisting this monitoring committee and their approach is lackadaisical, which frustrates the basic project of the committee," the S U Khan-led panel had told the NGT in February. https://indianexpress.com/article/cities/lucknow/three-months-on-ngt-forms-new-panel-to-check-hindon-river-pollution-6082805/  (23 Oct. 2019)
FISH, FISHERIES, FISHERFOLKS
DMF PR: Oct 22, 2019: After 2 Years of Submission of Appeals made by 10 Gram Panchayats WBPCB Comes Up with A Plan to Rejuvenate River Vidyadhari Pledges to Hold Meeting with the Fishing Communities and Panchayet Representatives. 
Tamil Nadu Will silted Ponaniyar dam be conducive for breeding fish, fishers wonder  After almost five years of being jobless, a community of 25 registered fishers in the Ponaniyar dam area now senses an opportunity. The Fisheries department is planning to release fish seeds into the dam. This would promote fishing, using the increased amount of water stored in the dam. However, fishermen feel the amount of uncleared silt in the dam storage area may hinder fish breeding.
– Ponaniyar dam was built in 1975 to store water from the Ponaniyar river to irrigate several thousand acres of farmlands and also for breeding fish. Rainfall in the Kadavur mountain region is the main water source for the dam. As the area received poor rainfall, the dam storage limits have not reached anywhere near the shutter heights of 40 feet.
– As the dam on average contained 30 feet of water, the Fisheries department, to provide job opportunities to people close to the area, started breeding fish for commercial sales till 2013. However, as water levels dropped below 20 feet, fisheries operations were halted from 2014, leaving local fishers jobless. As a result, most fisheries facilities close to the dam area and equipment have not been maintained for these years. Locals are now urging the department to restore the fisheries buildings and storage facility and are also seeking aid to purchase equipment.  http://www.newindianexpress.com/states/tamil-nadu/2019/oct/21/will-silted-ponaniyar-dam-be-conducive-for-breeding-fish-fishers-wonder-2050772.html  (21 Oct. 2019)
Meghalaya Govt Peon Builds Fish Ponds With His Hands, Sells 800kg of Fish/Year  "If we had more people like him, we would have already achieved our target to become self-sufficient in fish production," says East Garo Hills Deputy Commissioner Swapnil Tembe.  https://www.thebetterindia.com/201047/how-to-make-fish-pond-techniques-sales-profits-meghalaya-rithson-marak/  (23 Oct. 2019)
Gujarat Fishermen to be compensated for saving smooth coated Otters The forest department has launched a programme for the conservation of smooth-coated otters in the Diamond City. For the first time, a compensation scheme has been started for the fishermen. They are being gifted fishing nets in lieu of those destroyed by otters in Tapi River. Several studies have highlighted the presence of smooth-coated otters in Surat, Bharuch and Narmada districts.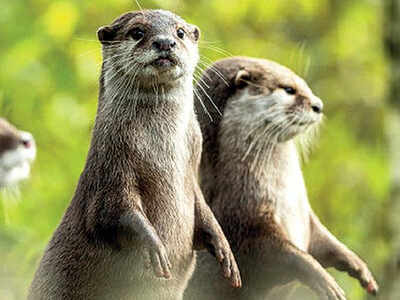 Every morning, fishermen are greeted by torn nylon nets left overnight in the river by them to collect fish. The trapped fish is a food for the otters, thus stealing the catch of the fishermen. Frequent loss of a net worth Rs1,500 forced fishermen to adopt aggressive methods against otters and they began installing trap cages, using poisoned fish as bait etc. This has begun to affect the thriving otter population in Surat.  https://timesofindia.indiatimes.com/city/surat/fishermen-to-be-compensated-for-saving-smooth-coated-otters/articleshow/71747191.cms  (25 Oct. 2019)
SAND MINING
Andhra Pradesh Sand mining restricted to streams due to floods As floods in all major rivers made sand mining difficult, the government has resolved to concentrate on streams of 1st to 3rd order along with de-casting of patta lands to ease the shortage. .. there were floods in the Godavari at Dowleswaram for the last 55 days, the Krishna was in spate at Prakasam barrage for 71 days and a record rainfall of 400-500 mm was recorded in the Tungabhadra dam region. Other rivers such as Vamsadhara and Penna were in spate too and more heavy rain was forecast in the coming days. It has, therefore, been decided to concentrate on the streams and de-casting of the patta lands.
Besides, as stated by the Director of Mines and Geology (DMG), the excavation and transportation of sand from the streams would be governed as per Rule 23(1) (a) of WALTA Act, 2004. The transportation would be for local use by means of bullock carts and tractors within the district concerned. https://www.thehindu.com/news/national/andhra-pradesh/sand-mining-restricted-to-streams-due-to-floods/article29780738.ece  (24 Oct. 2019)
Sand mining in ponds, lakes CM YS Jagan Mohan Reddy has directed the district collectors to identify sand reaches at local ponds, lakes, canals, streams and rivulets in the villages. The sand mining at the reaches will be conducted under the supervision of village secretariat employees and sand will be transported in tractors for not more than 20 km. The government issued an order allowing sand mining in the new sand reaches. The decision was taken at a review meeting held by the Chief Minister on sand scarcity. Though the government rolled out the new sand policy on September 4, scarcity of sand is still continuing across the State due to floods in major rivers.
During the meeting, the officials informed that sand is being supplied from only 69 reaches against the identified 200 reaches. The CM instructed the collectors to identify the areas where sand mining is possible. Village secretariat employees should monitor the whole process — mining and transportation. Jagan directed the authorities to ensure corruption-free practices, without harming environment. Orders have been issued to collectors to identify the sand reaches village-wise.  http://www.newindianexpress.com/states/andhra-pradesh/2019/oct/24/sand-mining-in-ponds-lakes-2052275.html  (24 Oct. 2019)
Questions over suicide of construction workers TDP leader Nara Lokesh once again criticized AP CM YS Jagan Mohan Reddy. Lokesh in his tweet alleged that YS Jagan is creating the hurdles to the construction workers by imposing a ban on the sand mining, he said that two workers were killed for the artificial sand dumping. TDP national secretary wrote that YCP is collecting J tax for the sand mining in Guntur and reminded of Brahmaji and Venkatrao's suicide in Guntur. On the other hand, Jana Sena also held protests at ministers' houses in the morning in support of the construction workers who have lost the works due to shortage of sand in the state. https://www.thehansindia.com/andhra-pradesh/sand-mining-row-former-minister-nara-lokesh-questions-jagan-govt-over-suicide-of-construction-workers-576006  (26 Oct. 2019)
Tamil Nadu Plea to stop illicit sand mining in cultivable lands Urging Collector Sandeep Nanduri to take immediate steps to stop illegal sand mining in cultivable lands in Perur area near Srivaikundam, a group of farmers submitted a petition to him during the weekly grievance redressal meeting held at the Collectorate on Oct. 14.
Since sand mining would seriously affect farming operations on 1,400 acres and groundwater would go down alarmingly, the Collector should take immediate action against the illicit sand miner and the officials, who were supporting this illegal activity that would trigger serious law and order issues in the region. https://www.thehindu.com/news/cities/Madurai/plea-to-stop-illicit-sand-mining-in-cultivable-lands-thoothukudi/article29681492.ece  (14 Oct. 2019)
Bihar E-tendering of sandmining ghats on hold The state mines and geology department on Oct. 24 suspended the e-auctioning of sand mines following an order by the NGT on Oct. 23. Senior state government officials said the suspension of e-tendering of sand ghats will not affect the ongoing mining of ghats.
"The existing mining rights of sand ghats in the state are set to expire on December 31, 2019. The e-tendering was being done for fresh allotment of the mining rights as per new sand mining policy, which came into effect in September. However, some people have challenged the new sand mining policy in NGT on the plea that it is not consistent with the Supreme Court guidelines related to the same. The state government is defending its case with all supportive facts and arguments," a senior official said. Sources said there are around 400 sand mining ghats across the state.  https://timesofindia.indiatimes.com/city/patna/e-tendering-of-sandmining-ghats-on-hold/articleshow/71767327.cms   (26 Oct. 2019)
Haryana Makeshift passages removed According to information, during an inspection on October 15, the authorities of the Hathni Kund Barrage (HKB) division, Jagadhri, a wing of the Irrigation and Water Services Department, found that some unknown persons were constructing an illegal passage by laying pipes and sand bags on the Yamuna. The authorities directed them to remove the makeshift bridge immediately.  https://www.tribuneindia.com/news/haryana/makeshift-passage-removed-from-yamuna/852342.html  (26 Oct. 2019)
Madhya Pradesh  Former MLA Chhattarpur protesting against illegal sand mining in Ken river.  https://www.facebook.com/khabarlahariya/videos/698778187286814/  (25 Oct. 2019)
WETLANDS, LAKES, WATER BODIES
Manipur Loktak Lake gasping for breath due to haphazard planning Famous for its floating islands (phumdis) and picturesque landscape, the condition of the Loktak Lake in Manipur is, sadly, deteriorating. Researchers blame changes in the hydrology due to the construction of dams, blockage of migratory routes for fish, drying up of wetlands from siltation and exploitation for declining indigenous fish variety in the lake.
A study funded by Society of Wetland Scientists indicated that the highest loss of land used class was in phumdis with thin vegetation (49.38 sq km) followed by phumdis with thick vegetation (8.59 sq km), while there was an overall increase in open water bodies (27 sq km) in the past 38 years. https://www.eastmojo.com/in-depth/2019/10/26/manipur-loktak-lake-gasping-for-breath-due-to-haphazard-planning   (26 Oct. 2019)
West Bengal Satellite maps massive loss of EKW lands A substantial portion of sewage farms and agricultural land in the East Kolkata Wetlands has been converted into residential land, a committee constituted by the National Green Tribunal has submitted in its report.
– The change seen between the 2002 satellite map of EKW and the 2016 map was "dramatic" and clearly demonstrated the massive extent of encroachment and conversion, which threatened the very existence of the Ramsar site, a member of the committee told TOI. "The report is so dismal that I fear Ramsar may even remove the internationally prestigious tag that EKW now enjoys," the official said.
– The committee, alarmed by the disappearing wetlands after its designatation as a Ramsar site, has recommended that a task force be set up immediately to tackle cases of violation. It has also urged the National Green Tribunal to direct relevant agencies to intervene and impose suitable action and asked for the EKWMA's "deep intervention" to preserve and maintain the ecological balance of wetlands.
– Environmentalist Subhas Datta, whose petition to the NGT in April 2019 led to the formation of the committee, said the report was cause for "extreme alarm" and the developments could sound the death knell for Kolkata as EKW naturally treated the city's sewage and produced a significant portion of fish and vegetables consumed in Kolkata. "Not only the 1lakh people, who live off the EKW, but the entire city of Kolkata is dependent on it. There has been no attempt to restore even a single encroached bheri despite massive conversion over the years. The BMC was fined Rs 10 lakh for not adhering to orders on containing the spill at Mollar Bheri. But it has done nothing and faces another penalty of Rs 15 lakh," Datta said.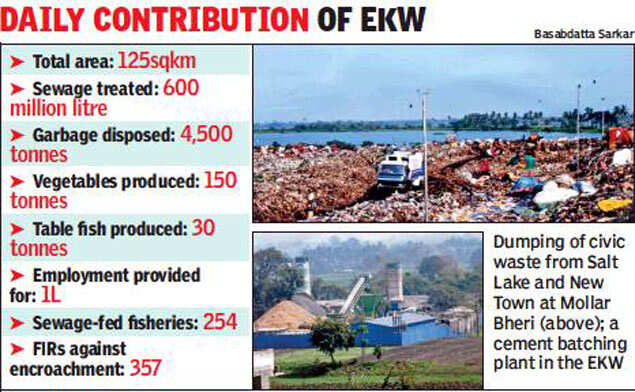 – Former state pollution control board law officer Biswajit Mukherjee, who had ordered the demolition of two housing projects and an automobile service centre that had come up in EKW (the orders were upheld by Calcutta High Court and the Supreme Court), said: "There are bridges and roads being built and flyovers being planned, citing infrastructure improvement. What they are actually doing is paving the way for the construction machinery to roll into EKW and wipe it off. It will be disastrous for the entire city if the wetland goes."  https://timesofindia.indiatimes.com/city/kolkata/sat-maps-show-massive-loss-of-east-kolkata-wetlands/articleshow/71714072.cms  (23 Oct. 2019)
National Several lakes shrinking at alarming pace: GSI survey According to Geological Survey of India, the Salt Lake area, on the eastern fringes of Kolkata, is shrinking at an alarming rate. The data recorded over the past two-and-a-half years by the global positioning system (GPS) station at GSI's Salt Lake office has revealed that the area is subsiding at a rate of nearly 19-20mm per year. Moreover, the report has informed that along with the lake, the adjoining areas in Kolkata are also shrinking and a similar pattern is observed in Jaipur, Dehradun, Hyderabad and Bangalore. GSI is yet to find out whether the land subsidence is occurring due to groundwater withdrawal or tectonic movement.  https://www.indiatoday.in/india/story/salt-lake-geological-survey-of-india-1611239-2019-10-20  (20 Oct. 2019)
Also see, Neha Sinha and Panchami Manoo Ukil in conversation about wetlands: https://www.youtube.com/watch?v=mPcY8q52Vkk&fbclid=IwAR2CYzELcO3ali82xcBj9329_Kd-hnSB_URniTD1w_i8BMGa6pi5fJmM5Bg  (31 May 2019)
Chandigarh How wetlands status will help Sukhna lake Sukhna Lake was declared a wetland more than 30 years ago as well. A status report placed before the Punjab and Haryana High Court recently stated that the UT administrator had issued such a notification on July 6, 1988, as well. The new notification will include the public's suggestions and objections as required under the 2017 rules.
– Sukhna Wetland is spread over 565 acres.The catchment area of Sukhna Wetland spreading over 10,395 acres as finalised by the Survey of India includes 2,525 acres of Haryana and 684 acres of Punjab. With this, various activities will be prohibited/regulated/ promoted both in the wetland as well catchment areas.  https://indianexpress.com/article/explained/how-wetland-status-will-help-chandigarhs-sukhna-lake-6083887/  (23 Oct. 2019)
GROUNDWATER
National Govt's groundwater data is grossly underrated: Expert  Researcher PN Ballukraya said the measurements by groundwater departments of most states take measurements from a few monitoring wells. These wells are old and, he claims, are not representative of the picture even in their own surroundings.
– "Any borewell has many joints across its depth that laterally fill it up with water. When there was no over-exploitation in the past, the entire matrix would get recharged during the year and there were no problems," he says. "But today, due to overexploitation, many of these lateral points are dry and do not feed the well anymore. In wells where none of the points contribute to the well, the water at the bottom is just leftover, stagnant water," Ballukraya said. Such a well should not be considered active. At this location, one would have to dig deeper to hit another point which can feed the well. This would ultimately be the real groundwater level. But at these monitoring wells, this point will never be hit and water will appear to be higher than it actually is.
– The research also threw light on some borewells that defy expectations and appear active for several years at a stretch. These wells are usually fed by 'highways of water' called 'preferred pathways.' Almost all water falling in such regions end up in these channels and re-charge these wells. "This would explain why a well dug just a few metres away from such a borewell will not yield water even at great depths," he said.
– Ballukraya believes there is an urgent need for an overhaul in how groundwater tables are measured. "In the current scenario, we cannot depend solely on monitoring wells. We have to use only active wells, fed by water-producing joints and that don't have stagnant water. If we think, for an area, the groundwater utilisation is only 100 per cent, with accurate data, it could even 500 per cent," he says.  https://www.deccanchronicle.com/nation/current-affairs/161019/govts-groundwater-data-is-grossly-underrated-expert.html  (16 Oct. 2019)
India has a groundwater problem Himanshu Kulkarni of ACWADAM throws light on groundwater situation in India.  https://idronline.org/india-has-a-groundwater-problem/  (24 Oct. 2019)  
BHUJAL Year on, World Bank-funded scheme to save groundwater yet to take off  Aimed at checking depletion of groundwater in the country, the World Bank-funded Atal Bhujal Yojana (ABHY) is still waiting for the Union Cabinet's approval more than a year after the World Bank board approved it in June 2018. As per original plans, the ambitious scheme was to start from the 2018-19 financial year.
– The Expenditure Finance Committee under the chairmanship of Secretary, Department of Expenditure, Ministry of Finance, cleared the proposed scheme in March 2018. The government allocated a token sum of Rs 40 lakh in 2018-19, and Rs 1 crore in 2019-20 for ABHY. Proposed as a Central sector scheme, ABHY's estimated total cost is Rs 6,000 crore, of which Rs 3,000 crore is World Bank assistance and an equal amount is to be contributed by the Union government as Budgetary support.  https://indianexpress.com/article/india/year-on-world-bank-funded-scheme-to-save-groundwater-yet-to-take-off-6090610/  (28 Oct. 2019)
URBAN WATER
Ahmadabad West part of city depends more on groundwater, borewells The study found that housing apartments used the maximum amount of water – in Juhapura, the water consumption was 6.5 million litres per day (MLD), whereas the figure was 4.4 MLD for Motera, 4.2 MLD for Shastrinagar, 2.6 MLD for Paldi and 2.5 MLD for Parimal Garden.
– But what set the two halves of the city apart was its water mix – several areas in the west reported significant dependence on groundwater borewells despite having access to piped water. For example, in Juhapura, the ratio of surface water (piped water) to groundwater was nearly 50-50 whereas in Motera, groundwater (borewell) usage was nearly three times that of surface water.
– Prof Subhrangsu Goswami, one of the faculty members from Cept University, who was part of the team that conducted the study, said that while the civic authority has shifted from groundwater to surface water over the years, citizens are still using huge amounts of groundwater. "This increasing dependency on groundwater is dangerous. However, it's extremely difficult to exercise any kind of command and control on this – given the current system of monitoring. Unless AMC starts exercising stringent policy and regulations, over-exploitation of groundwater will continue," he said.   https://timesofindia.indiatimes.com/city/ahmedabad/citys-west-depends-more-on-groundwater-borewells/articleshow/71668929.cms  (20 Oct. 2019)
Hyderabad Water scarcity grips Secunderabad Cantonment Board areas again SCB is buying water at a high rate for Rs 13.50 per kiloliter from the Water Board. Rs 7 per kilolitre was decided in the last Board Meeting with Municipal Administration and Urban Development Minister KT Rama Rao. The minister had said that they would make the rate equal with GHMC but still, it has not been fulfilled, Shashank said.  https://www.thehansindia.com/news/cities/hyderabad/water-scarcity-grips-secunderabad-cantonment-board-areas-again-574967  (22 Oct. 2019)
Chennai A return to the past could help water woes Remembering the Chola Kingdom offers solutions to Chennai city's water woes. Chennai's 200 Feet Radial Road, a highway that trudges through Kilkattalai Lake, cuts it into two unequal chunks. Care Earth Trust is working to restore it.
A wedding hall, an ad for smart TVs, an Indian Oil petrol bunk, and a dusty Maruti driving school… all these were built by forgetting the water bodies. Deepening the lake is beginning of reengineering natural relationship between cities and the water that flows through them. https://www.thenewsminute.com/article/lessons-cholas-return-past-could-help-chennai-s-water-woes-111110  (24 Oct. 2019)
WATER POLLUTION
NCRB Report Delhi Had Zero Cases of Air or Water Pollution in 2017 – No case air or water pollution was registered in Delhi in 2017, even as Rajasthan topped the list with 16 of the total 36 cases lodged in India, according to the National Crime Records Bureau (NCRB) report.
– 3 cases were lodged in Haryana under the air and water acts, while none were registered in Uttar Pradesh or Bihar, said the NCRB's 2017 report. A single case under the air and water acts was lodged in Maharashtra and Gujarat, none in Assam, added the NCRB.
– In 2016, 25 cases were registered under the Air (Prevention and Control of Pollution) Act and 11 under Water Prevention and Control of Pollution Act. Unlike the 2016 report though, the NCRB has clubbed the 2 acts together and has not given a separate break-up.  https://www.news18.com/news/india/ncrb-says-delhi-had-zero-cases-of-air-or-water-pollution-in-2017-while-nation-saw-only-36-such-incidents-2356373.html  (22 Oct. 2019)
WATER
Earth Talks — with Himanshu Thakkar, SANDRP Is the government serious about water conservation? "The first input we need for better water governance is better water information," says Himanshu Thakkar of the South Asia Network on Dams, Rivers and People. https://www.youtube.com/watch?v=Zrz8G2Y_iEE&feature=youtu.be&fbclid=IwAR0WmwqPiqWDf42revcWJ08AQdTGGrmYnlMLZLY72rlHA4xXiBO3cdvzCIc  (23 Oct. 2019)
Uttarakhand Govt approves new water policy The Uttarakhand government on Oct 23, 2019 approved a new water policy designed to deal with the impact of climate change on the state"s rich water resources and improper distribution. The state Cabinet gave its approval at its meeting chaired by Chief Minister Trivendra Singh Rawat in Almora.  https://www.outlookindia.com/newsscroll/ukhand-govt-approves-new-water-policy/1647244  (23 Oct. 2019)
National CBSE makes mandatory for schools to become water-efficient in next three years Taking note of the looming water crisis in the country, the Central Board of Secondary Education (CBSE) has made it mandatory for the schools to become water-efficient within the next three years by adopting a policy of water management and conducting regular water audits. As per the water conservation guidelines drafted by the board, all its affiliated school will have to replace old fixtures and appliances with water-efficient models, installing automatic taps with sensors and double flush tanks on priority, ensuring regular check-ups for leakages and their prompt fixing. Also, CBSE has asked schools to constitute school water management committee that would be responsible for efficient use of water in the school.   https://indianexpress.com/article/education/cbse-makes-mandatory-for-schools-to-become-water-efficient-in-next-three-years-6072004/  (16 Oct. 2019)
FLOODS 2019
Tamil Nadu Mettur dam reaches capacity for third time in two months  The water level at the Stanley reservoir reached capacity at 6.15 a.m. on Oct. 23, touching 120 ft. This is the third time in two months that the Mettur dam has attained the FRL.  Officials of the PWD said the dam previously reached FRL on September 7 and 24. https://www.thehindu.com/news/national/tamil-nadu/mettur-dam-reaches-capacity-for-third-time-in-two-months/article29781244.ece   (24 Oct. 2019)
Andhra Pradesh Srisailam crest gates to be lifted again Lifting of the spillway gates of Srisailam for the eighth time this season has become imminent following heavy rains in the catchment areas of Krishna and its tributaries for the last three days and increase in the release of flood from projects such as Ujjani, Almatti, Narayanpur, Tungabhadra and others in the upstream.  https://www.thehindu.com/news/cities/Hyderabad/srisailam-crest-gates-to-be-lifted-again/article29761547.ece  (22 Oct. 2019)
Maharashtra Belated rains, beleaguered farmers in Bhandara This district in Vidarbha, which for long had adequate water resources, is seeing new rainfall patterns. Now listed as a 'climate hotspot', the changes in Bhandara are bringing uncertainty and losses for paddy farmers. https://ruralindiaonline.org/articles/belated-rains-beleaguered-farmers-in-bhandara/  (23 Oct. 2019)
Retreating monsoon helps Latur to overcome immediate crisis. https://timesofindia.indiatimes.com/city/aurangabad/monsoon-withdrawal-cheers-latur/articleshow/71728325.cms  (24 Oct. 2019)
Bihar floods How Delhi, Kolkata, and Dhaka betrayed Patna  Bihar water resource minister writes about how Farakka barrage is proving double whammy for the state:- It defies logic how the Central Water Commission (CWC) has persisted with its stand on the issue despite several submissions by the Bihar government and expert group estimations pointing to the need for a rethink on Ganga water sharing and decommissioning of the Farakka barrage.
– Repeated submissions by the Bihar government for a review of international and inter-state water-sharing arrangement, and optimising the Farakka barrage's discharge capacity to meet the changed hydrology of the river, have been systematically downplayed by CWC. The momentum generated by two high-level expert meetings in Patna and Delhi in 2017 has not produced anything productive. Reviving the discourse has become imperative once again.  https://www.hindustantimes.com/analysis/bihar-floods-how-delhi-kolkata-and-dhaka-betrayed-patna/story-60G74DcD2JN1oeQeHj5h4J.html  (22 Oct. 2019)
Maharashtra Villagers boycott polls to protest flooding 'as a result of' Narmada dam Why Manibeli village boycotted the recent Maharashtra polls.  https://www.counterview.net/2019/10/maharashtra-villagers-boycott-polls-to.html  (22 Oct. 2019)
Andhra Pradesh Tungabhadra river in spate, inundates historic temples Flood in the Tungabhadra river again inundated historic structures and temples in Hampi all the way till Mantralayam in Kurnool district for the second time this season.
– Tungabhadra reservoir has 97.74 tmc ft of water as against its capacity of 100.86 tmc ft. On Thursday, the inflows were recorded of 1,09,471 cusecs and officials released 1,18,486 cusecs into the river in anticipation of more water coming to the reservoir.  https://www.deccanchronicle.com/nation/in-other-news/251019/tungabhadra-river-in-spate-inundates-historic-temples.html  (25 Oct. 2019)
Prakasam barrage level rises  About 2,000 families living near the Krishna river banks in the city had to be relocated as areas like Taraka Rama Nagar were inundated after a heavy outflow from Prakasam barrage. First warning was issued at the barrage on Thursday afternoon after water level touched the mark of 4 lakh cusec. Water may reach the mark of 6 lakh cusec by Friday morning.
– "It's the third time that our houses have been flooded this year. We faced similar problems in 2009. Political parties and governments promise us pakka houses at safe areas but ignore us after the flood recedes. We request chief minister YS Jaganmohan Reddy to tour our area and give a permanent solution for the flood victims," said M Rosamma, a resident of Taraka Rama Nagar. https://timesofindia.indiatimes.com/city/vijayawada/prakasam-barrage-level-rises-2000-families-relocated-due-to-flood-scare/articleshow/71747057.cms  (25 Oct. 2019)
Gujarat Heavy inflow from catchment worries Ukai dam authorities Ukai dam is full and is receiving inflows of 1.3 lakh cusecs, unprecedented during this part of the annual cycle. The dam authorities are worried.  https://timesofindia.indiatimes.com/city/surat/heavy-inflow-from-catchment-worries-ukai-dam-authorities/articleshow/71747149.cms  (25 Oct. 2019)
DROUGHT
Study 41-month-long Dry Spell From 2015-18 Was Longest in 150 years A report published this month that reconstructed meteorological and hydrological droughts in India from 1870-2018 has found that the 41-month-long dry spell from 2015-18 was the longest. And, although not the deadliest, it had a "remarkable impact on reservoir and groundwater storage" suggesting that such long-term droughts could impact "water security in one of the most populous regions in the world".
– The study, "Long-term (1870-2018) drought reconstruction in the context of surface water security in India", published in the Journal of Hydrology on October 14, was conducted by Vimal Mishra, associate professor in the civil engineering department at IIT Gandhinagar. The report identified "18 meteorological and 16 hydrological droughts". The five most severe or "deadly" meteorological droughts occurred in 1899, 1876, 2000, 1918, and 1965, while the five major hydrological droughts occurred in 1899, 2000, 1876, 1965, and 1918, the study found. It added, "The meteorological and hydrological drought of 1899 was the most severe in the entire record of 1870-2018."
– The study also confirmed that each of the top five "meteorological droughts" were caused by the "positive SST (sea surface temperature) anomalies over the Pacific" and that "ENSO remains the major driver of the monsoon season precipitation in India". It added, "The role of SST variability in Indian and Atlantic Oceans has increased during the recent decades (1980-2018)."  https://www.news18.com/news/india/indias-longest-drought-41-month-long-dry-spell-from-2015-18-was-longest-in-150-years-finds-study-2358355.html  (23 Oct. 2019)
ENERGY OPTIONS
Busting the myth: Increased penetration of rooftop solar power benefits discoms  A power discom in Delhi rather gains 22 paise for every unit of electricity generated from a rooftop system, outweighing the revenue loss, according to a new analysis. The gain accrues through a combination of benefit parameters including the avoided generation capacity cost, power purchase cost (PPC), transmission charges, distribution capacity cost, renewable energy certificate cost and working capital requirement. The sum total of these benefit parameters exceeds the sum of cost parameters like revenue loss, administration cost and distribution service cost by around 22 paise for every unit of power generated in the rooftop system, the study found.  https://energy.economictimes.indiatimes.com/news/renewable/busting-the-myth-increased-penetration-of-rooftop-solar-power-benefits-discoms/71740381  (24 Oct. 2019)
A report by KPMG revealed that solar power is a strategic need for the country as it can save $20 billion in fossil fuel imports annually by 2030 and domestic manufacturing can save $42 billion in equipment imports by 2030. Solar manufacturing, it said, can also lead to the creation of employment for more than 50,000 in the next 5 years. However, there is a huge gap between intent and action. At a recently organized round table by ETRise with players from the solar sector, participants said at the heart of issues is the continued reliance on China to meet our solar hardware requirements. India, currently, does not manufacture solar panels and depends on Chinese imports to meet demand.
– According to Crisil, India's installed capacity in renewable energy (RE) could increase by just 40 GW to 104 GW by fiscal 2022 from 64.4 GW in fiscal 2019, because of enduring policy uncertainty and tariff glitches. That would be a good 42% short of the government's target of 175 GW. This should be alarm bells for all stakeholders in the sector. https://energy.economictimes.indiatimes.com/news/renewable/solar-revolution-far-from-it-says-industry/71734439  (24 Oct. 2019)
Power demand at IEX falls 26% in the last eight days Demand for power at the Exchange was 13.51 million units last Saturday. It dropped 26% to 9.97 million units a week latter. Sell bids on the other hand increased 31.62 per cent to 34.34 million units bringing down prices by 23% from Rs 3.03 per unit last Saturday to Rs 2.34 per unit. All-India thermal plant load factor – capacity utilisation, fell to 51.1 per cent in September 2019 (September 2018: 59.8 per cent) as central, state and private sector capacity utilisation decreased to 57.8 per cent (69.1 per cent), 43.2 per cent (55.2 per cent) and 52.3 per cent (56.1 per cent), respectively. https://energy.economictimes.indiatimes.com/news/power/power-demand-at-iex-falls-26-in-the-last-eight-days/71782133  (27 Oct. 2019)
ENVIRONMENT
Western Ghats 6 New Lizard Species Discovered 6 new lizard species of "Dravidogecko" family have been identified in the Western Ghats by a group of scientists, who claim this to be a significant development as only one species of the genus was known so far.
The study indicates the importance of Western Ghats, the world heritage mountain range traversing Kerala, Tamil Nadu, Karnataka, Goa, Maharashtra and Gujarat, as a "biodiversity hotspot", the researchers said.  https://www.ndtv.com/india-news/biodiversity-hotspot-6-new-lizard-species-discovered-in-western-ghats-2120721  (22 Oct. 2019) 
Mizoram Rejects Centre's Proposal To Amend Indian Forest Act The Mizoram government has "rejected" the centre's proposal to amend the Indian Forest Act, 1927, as the proposed amendments are in "conflict" with the special provisions the state enjoys under Article 371G of the constitution, an official said on Oct. 25.
Mizoram Environment, Forest and Climate Change department secretary Ajai Saxena in a letter to the Director General and Special Secretary in the Union Ministry of Environment, Forest and Climate Change said the state government has "rejected" the proposed amendments to the Indian Forest Act, the official said.
The letter dated October 21 was written after a consultation meeting was held in Aizawl last week. The meeting was chaired by state Forest minister TJ Lalnuntluanga and was attended by leaders of the civil societies, political parties, student bodies and churches. https://www.ndtv.com/india-news/mizoram-rejects-centres-proposal-to-amend-indian-forest-act-2122622  (25 Oct. 2019)
Jal Shakti Ministry Audits UP's Swachh Bharat Data to Map Thousands of Toilet-less Households This story shows how still has over 14 lakh households without toilets in spite of the contrary claims. https://www.news18.com/news/india/jal-shakti-ministry-audits-ups-swachh-bharat-data-to-map-thousands-of-toilet-less-households-2359837.html  (23 Oct. 2019)
CLIMATE CHANGE
Study Climate change making stronger El Ninos  Scientists examined 33 El Ninos — natural warming of equatorial Pacific that triggers weather extremes across the globe — since 1901. They found since the 1970s, El Ninos have been forming farther to the west in warmer waters, leading to stronger El Ninos in some cases. Before 1978, 12 of the 14 El Ninos formed in the east. After 1978, all 11 were more central or western, according a study in Monday's Proceedings of the National Academy of Sciences. There have been three "super" El Ninos, starting in 1982, 1997 and 2015 and all started in the west. During each of those El Ninos, the world broke new average temperature records.  https://www.pressdemocrat.com/news/10204559-181/climate-change-making-stronger-el  (21 Oct. 2019)
SOUTH ASIA
Bangladesh Nepal Bangladesh keen on funding 20 hydropower projects in Nepal  Bangladesh has expressed willingness to invest in 20 hydropower projects in Nepal during bilateral trade talks held in Kathmandu on Tuesday (Oct 22, 2019) in the fourth meeting of the Nepal-Bangladesh Technical Committee for promotion of trade. The Seventh Joint Steering Committee meeting on Nepal-India Cooperation which concluded last week had decided to hold a tripartite meeting within three months to materialise the issue of using Indian transmission grid for BD importing power from Nepal.  https://www.thedailystar.net/world/news/bangladesh-keen-funding-20-hydropower-projects-nepal-1818160  (24 Oct. 2019)
Nepal Austria interested in investing in Dudh Koshi hydro project, say officials Austria has expressed interest in assisting Nepal technically and financially to build the proposed 635-megawatt Dudh Koshi Storage Hydroelectric Project and 100-megawatt Tamakoshi V, said Energy Ministry officials. The Energy Mechanism meeting was held in Kathmandu on Oct 21, 2019, five months after the energy ministers of the two countries signed an accord on technological assistance in hydroelectric infrastructure in Vienna in May. The total cost of the project has been estimated at $1.523 billion excluding taxes and other financial costs.
– The updated feasibility study for the Dudh Koshi Storage Hydroelectric Project recommends building a main underground powerhouse near the Sunkoshi River with four units generating 150 megawatts each and a small 35 megawatt hydro unit near the toe of the dam. The reservoir type project will produce 3,443 gigawatt hours per year, higher than the expected annual output of 3,383 gigawatt hours of the proposed Budhi Gandaki scheme. The snowmelt-fed Dudh Koshi River originates in the foothills of Everest, allowing the plant to perform efficiently even in the dry season. The report shows that 162 households will be severely impacted while 1,150 households will be partially affected.  https://kathmandupost.com/money/2019/10/22/austria-interested-in-investing-in-dudh-koshi-hydro-project-say-officials  (22 Oct. 2019)
Bhutan Quest for energy security and development in a changing climate On August 6, 2019, a flash flood caused by an intense monsoon event swept through a side stream of the main Punatsangchhu River in the district of Wangdue Phodrang. The flood took down bridges, houses, rice paddies, and a hydropower equipment storehouse.
– In the southern part of Bhutan, where the Punatsangchhu river flows through the lower-lying district of Dagana, a site has been assessed for a reservoir project that has double the electrical generation capacity of the largest current plant. Called Sunkosh, this USD 2.8 B project might start by the end of 2019—as Modi hinted during his visit—and will be financed, of course, by India.
– Bhutan experts have assessed sites for solar and wind projects, but with hydropower electricity being as cheap as it is, "we see these projects being more as a Plan B". https://india.mongabay.com/2019/10/unstoppable-rivers-bhutans-quest-for-energy-security-and-development-in-a-changing-climate/  (28 Oct. 2019)
Bangladesh Oil spill threatens rare dolphin breeding zone An oil spill on Karnaphuli river near Chittagong port in southeast Bangladesh has threatened the breeding ground of the critically endangered Ganges dolphin, environmentalists said Sunday (Oct 27, 2019), describing it as a "major disaster" for the mammal. A tanker carrying 1,200 tonnes of diesel collided with another ship.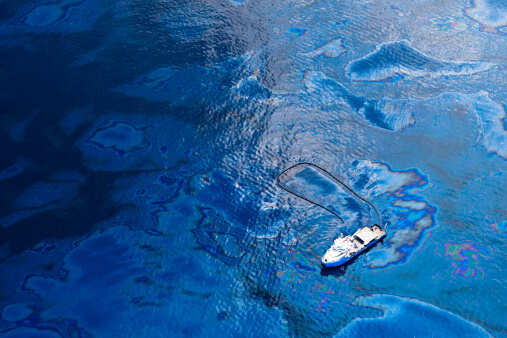 At least 10 tonnes of diesel spread across an area of 16 kilometres, but local media said the amount spilled was likely to be far higher. Environmentalists said the spillage posed a "serious threat to the marine biodiversity in the river", particularly for some 60 freshwater dolphins who use the area as their breeding ground.  https://energy.economictimes.indiatimes.com/news/oil-and-gas/disaster-oil-spill-threatens-rare-bangladesh-dolphin-breeding-zone/71788685  (28 Oct. 2019)
THE REST OF THE WORLD
Europe One of Europe's last untamed rivers is threatened by dams  "A natural river is a dynamic river … a living river," says Nika of EcoAlbania. "It's living day by day and it changes its face. After each flood, you could never see the same scenery." https://www.washingtonpost.com/national/energy-environment/one-of-europes-last-wild-rivers-is-in-danger-of-being-tamed/2019/10/17/2f09f61a-f116-11e9-bb7e-d2026ee0c199_story.html  (22 Oct. 2019)
Australia Thirst turns to anger as mighty Darling river runs dry  Reduced to a string of stagnant mustard-coloured pools, fouled in places with pesticide runoff and stinking with the rotting carcasses of cattle and fish, the Darling River is running dry. The parched earth of Australia's longest waterway, if tributaries are included, is in the grip of the continent's most severe drought in a century.  https://economictimes.indiatimes.com/news/international/world-news/thirst-turns-to-anger-as-australias-mighty-river-runs-dry/australias-longest-river-runs-dry/slideshow/71760368.cms  (25 Oct. 2019)
US 'The smell will knock you off your feet': mass mussel die-offs baffle scientists  "Mussels are the backbone of the river ecosystem because they control silt levels and filter water. And they are facing a mysterious affliction in hotspots in the US and abroad. If we have one of these die-offs, the river will never look the same, even to a casual observer," Goldberg said. "The bottom will be different. The fish and other wildlife will be different. It'll smell and look different. It'll be cloudier. It's just not going to be the same river."  https://www.theguardian.com/environment/2019/oct/14/the-smell-will-knock-you-off-your-feet-mass-mussel-die-offs-baffle-scientists  (14 Oct. 2019)
AI is helping secure water for your future Use of Artificial Intelligence in water management: https://news.microsoft.com/on-the-issues/2019/10/22/ai-water-scarcity-technology/  (22 Oct. 2019)
Compiled by SANDRP (ht.sandrp@gmail.com)
Also see: DRP News Bulletin 21 Oct. 2019 & DRP News Bulletin 14 Oct. 2019  
Follow us on: www.facebook.com/sandrp.in; https://twitter.com/Indian_Rivers