With work on NHPC Ltd's 2,000-MW Lower Subansiri hydro power project restarting after a wait of almost eight years, anti-dam organisations led by the All Assam Students' Union (AASU) and Krishak Mukti Sangram Samiti (KMSS) vowed to launch an intense resistance movement to stop further construction of the project. AASU, in a statement, alleged that work on the Lower Subansiri project at Gerukamukh along the Assam-Arunachal Pradesh border has been started 'treacherously', risking the lives and property of people living in the downstream area. AASU said a scientific study on the possible impact of the dam in its downstream areas besides a cumulative impact study must be completed before expediting work at the dam site.
– KMSS adviser Akhil Gogoi said NHPC's announcement to resume work on the Lower Subansiri dam is not acceptable. "If the NHPC doesn't stop the work, we will be forced to launch an agitation. In 2011, work at the Lower Subansiri project site was brought to a halt after several dam experts from Assam raised concern over its design. The NHPC is going ahead with its previous plan to construct the dam without even a dialogue with all the stakeholders," Akhil said, cautioning the NHPC and government to not play with lives and property of the people of Assam.
– AASU said when talks were held between the Centre and anti-dam groups from Assam, the then Union power minister, Piyush Goyal, had promised that work would only resume when experts come to a scientific conclusion after studying various technical aspects. The students' body, however, accused the government of 'betraying' the anti- groups' trust. https://energy.economictimes.indiatimes.com/news/power/assam-anti-dam-bodies-threaten-stir-to-stop-subansiri-dam-work/71630094  (17 Oct. 2019)
Almost after eight years works has started in the NHPC Limited's 2000 MW Lower Subansiri hydro power project along Assam-Arunachal Pradesh. Work at the project site came to halt since 2011 following protest of anti-dam groups. A senior official associated with the project who do not want to be named told ET, "Ceremonial work started on Tuesday. First we have to take up massive repairing works at the site. Contractors for the project are yet to arrive. We are expecting to complete the project in next four years." The revised cost estimate of the project is Rs 17,000 Crore, making it economically unviable.  https://energy.economictimes.indiatimes.com/news/renewable/works-starts-nhpcs-2000-mw-lower-subansiri-hydro-power-project-along-assam-arunachal-pradesh/71610383  (16 Oct. 2019) 
In the last week of Sept. 2019, unanimous opposition to the project was strongly echoed in the public interaction programme held in Lakhimpur. Over 30 speakers, taking part in the event organized by Namoni Subansiri Bandh Birodhi Aikya Mancha on Saturday at Basudev Kalyan Trust of North Lakhimpur town, opposed the setting up of the big river dam project by NHPC Limited at Gerukamukh in Dhemaji-Arunachal border area which is a highly seismic zone.
Notably, the Namoni Subansiri Bandh Birodhi Sangrami Aikya Mancha, the common forum of over 20 anti-big-river dam activist organizations, organized the event on SLHP covering Lakhimpur, Dhemaji and Majuli districts with a view to collect public opinion for the motion or against the project. The event, which was chaired by environmental activists Keshab Krishna Chatradhara, began with a booklet release programme.
The dignitaries of the partner organizations of the forum released a booklet titled Amar Kobologia regarding SLHP. Taking part in the event, all the speakers expressed vehement resentment over the Union and State government as well as NHPC's move taken to resume the construction works of the SLHP. They alleged that the governments and the NHPC had attempted to impose tremendous threat upon the people of Lakhimpur, Dhemaji and Majuli at a time when the Ranganadi Hydro Electric Plant (RHEP) operated by NEEPCO, located at Yazali in Arunachal Pradesh, was ravaging Lakhimpur since 2008. They condemned these attempts and warned the government not to treat public sentiment politically and not to use the big river dam as an electioneering issue.
Expressing his opinion, advocate Arup Kalita strongly opposed the construction of the SLHP and sharply criticized Chief Minister Sarbananda Sonowal, who was once the president of AASU, alleging him of bowing down to big river dam lobbies and turning his back to public interest. Writer and social activist Nripen Phukan explained the enormous proportion of the possible devastation of SLHP along with the past destruction caused by Ranganadi flood due to release of excess water from RHEP. "NHPC will suffer no loss if the people of Lakhimpur and Dhemaji are washed away by flood caused by SLHP," he remarked. https://www.sentinelassam.com/north-east-india-news/assam-news/subansiri-lower-hydroelectric-project-in-lakhimpur-faces-unanimous-opposition/  (30 Sept. 2019)
HYDRO POWER PROJECTS
Assam KOPILI HEP Disaster No trace of bodies  Sources said loose earth in the basement of a two-storey pump house of the project is causing hindrance and it might take more time to recover the trapped persons. The earth blocking the entrance of the pump house has been cleared and excavators put into service to dig out the mud inside.
Assam Hills Minister Sum Ronghang said the state government should order an independent inquiry by a team of experts to bring out the truth behind the rupture in the pipeline. Local residents said Neepco should stop blaming the coal mining authorities for the disaster. https://www.telegraphindia.com/states/north-east/no-trace-of-bodies-at-pipeline-burst-site-at-kopili-hydro-power-station/cid/1711694   (15 Oct. 2019)
There was no trace on Oct. 14 of the four employees of NEEPCO who were feared to have been trapped inside a pump house of Kopili Hydro Electric Plant in Assam's Dima Hasao district since its pipeline burst eight days ago. The flood not only submerged several office buildings, but also damaged more than 90 per cent of the machineries of the project, besides washing away the approach bridge of the plant. Massive pressure in the tunnel created a water fountain rising up to several hundred feet into the sky. https://thenortheasttoday.com/no-trace-of-neepco-employees-search-on-by-ndrf/  (14 Oct. 2019)
NEEPCO CMD VK Singh on Oct. 15 said that properties worth Rs 600 crore (approx) have been damaged in the tragedy. https://nenow.in/north-east-news/kopili-project-pipeline-burst-causes-rs-600-crore-loss.html  (15 Oct. 2019)
Ten days after a pipeline at Kopili Hydro Electric Plant in Assam's Dima Hasao district burst, flooding vast stretches of the project, four employees of the plant are yet to be located, officials said on Wednesday (Oct 16, 2019). Dima Hasao SP Sreejith T said that the four missing employees are yet to be located. "It is expected to take a few more days," he said. NEEPCO general manager and head of Kopili Hydro Electric Project, Debotosh Bhattacharjee, said, "We are trying to open approaches to the underground sections where the employees are trapped. The sludge left after the waterlogging is causing obstacles in reaching the location."   https://indianexpress.com/article/north-east-india/assam/assam-pipeline-burst-10-days-on-no-trace-of-four-employees-6072653/  (17 Oct. 2019)
Jammu & Kashmir Govt works on formula for sharing electricity between J&K and Ladakh Centre is looking to suitably divide free electricity generated from hydropower assets between both UTs. Govt has to divide power generated from hydro projects run by JKSDCL and NHPC.  https://www.livemint.com/news/india/govt-works-on-formula-for-sharing-electricity-between-j-k-and-ladakh-11571336358243.html  (17 Oct. 2019)
Uttrakhand Uma Bharti opposes hydro power project on Ganga "I am against the revival of Lohari Nagpala hydro power project which was scrapped during UPA government led by then PM Manmohan Singh in 2010. Lal Krishan Advani had also played a pivotal mediator role along with some seers who were on protest," said Bharti. https://www.hindustantimes.com/india-news/uma-bharti-opposes-hydro-power-project-on-ganga-plans-march-from-gangotri/story-cX8oioQlabzPWS891e4CzK.html  (21 April 2019)
MoEF Decisions of EAC on River Valley Projects held on Sept 23, 2019, just uploaded on website: 1. Rongnichu Hydroelectric Project (96 MW, EC granted on Apr 4, 2007) in East Sikkim district of Sikkim, under development by M/s. Madhya Bharat Power Corporation Ltd. – Regarding fresh ToR for increasing capacity to 115 MW: GRANTED.
Khairibhandan Barrage Irrigation Project of Odisha Water Resources Dept, at Jashipur block of Mayurbhanj District, Odisha- Regarding Fresh EC: More Info Sought.

Lingampalli Reservoir Project, Tehsil Chilpur, District-Jangaon, Telangana –Regarding Fresh ToR: GRANTED

Jamrani Dam Multipurpose Project by Irrigation Department, Uttarakhand – Environmental Clearance: GRANTED

Nardave Medium Irrigation Project Tal: Kankavali, Dist.:
Sindhudurg by M/s Water Resources Department, Konkan Irrigation Development Corporation, Maharashtra – Environmental Clearance: GRANTED.
P.V. Narasimha Rao Kanthanapally Sujala Sravanthi Project (PVNRKSSP) Jayashankar Bhupalapally District, Telangana Environmental Clearance: GRANTED

Channaka-Korata (Rudha) barrage on Penganga River-Interstate Irrigation Project, Adilabad district of Telangana Environmental Clearance: GRANTED http://environmentclearance.nic.in/writereaddata/Form-1A/Minutes/15102019495QPJ2L27.pdf
Agenda of FAC meeting to be held on Oct 17, 2019, put up only on Oct 16, 2019 includes these major projects:
PROPOSAL FOR DIVERSION OF 1165.66 HA INCLUDIND (91.33 HA UNDER GROUND AREA) OF FORESTLAND FOR CONSTRUCTION OF ETALIN HYDRO ELECTRIC PROJECT (3097 MW) IN DIBANG VALLEY DISTRICT OF ARUNCHAL PRADESH BY M/S ETALIN HYDRO ELECTRIC POWER COMPANY LTD.,

DIVERSION OF 1024.44 HA OF FOREST LAND IN FAVOUR OF WATER RESOURCE DEPARTMENT NO. – II, SAGAR FOR CONSTRUCTION OF BINA JOINT IRRIGATION AND MULTIPURPOSE SCHEME IN SAGAR DISTRICT IN THE STATE OF MADHYA PRADESH.-REGARDING REVISED STAGE-II APPROVAL UNDER FCA, 1980. http://forestsclearance.nic.in/AgendaDetail.aspx?
DAMS
Madhya Pradesh Local people protesting against twin dams Moran-Ganjal on Morand and Ganjal rivers in Narmada Valley.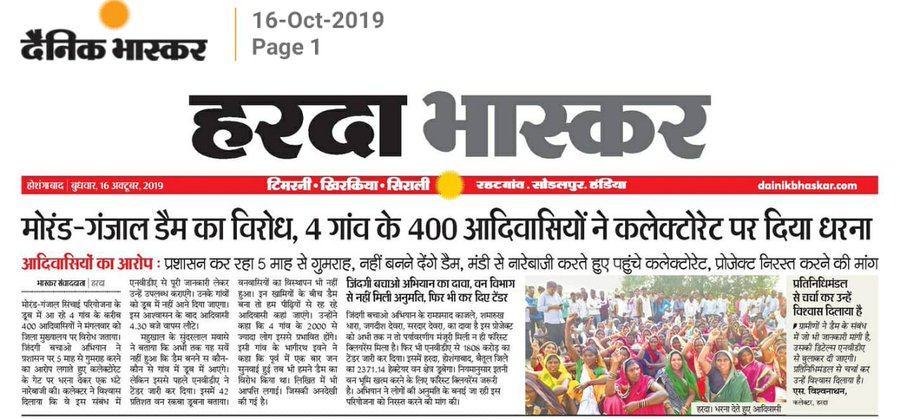 Tribal Resistance Gains Momentum Against Ganjal Moran Dam Despite the change of guard in Madhya Pradesh, development projects that threaten the lives of the indigenous population of the state are still going strong. In its latest attempt, the Congress government has shown a green flag to the Ganjal Moran dam project.  https://www.newsclick.in/Tribal-Resistance-Gains-Momentum-Ganjal-Moran-Dam-MP  (24 June 2019)
Sardar Sarovar Project SC asks Union water resources secretary to submit report  Supreme Court on illegal submergence due to Sardar Sarovar Dam. https://www.counterview.net/2019/10/narmada-dam-submergence-sc-asks-union.html  (16 Oct. 2019)
Polavaram Project  Delhi HC asks Centre to act on complaints of irregularities The Delhi High Court has ordered the Ministry of Jal Shakti to consider the writ petition filed by economist and writer Pentapati Pulla Rao on the implementation of the Polavaram Irrigation Project (PIP) as a representation and take necessary action after duly hearing his plea on illegalities, corruption and deviations in the project execution. Also, the Court sought the Centre's response on why the Ministry was not taking action on the allegations, rejecting the argument over jurisdiction. As per the plea, Andhra Pradesh government officials increased the project budget from Rs 16,100 crore to Rs 58,000 crore without any consultation.  https://www.thehindu.com/news/national/andhra-pradesh/polavaram-delhi-hc-asks-centre-to-act-on-complaints-of-irregularities/article29630314.ece  (10 Oct. 2019)
Tamil Nadu After MLA's threat of protest, govt sanctions Rs 16.37 cr for dam repair  To restore the damaged (before 2017) shutters of Shenbagathope reservoir, the Tamil Nadu government has sanctioned Rs 16.37 crore to take up the repair works. An order sanctioning the fund was issued on October 15, 2019. The reservoir was constructed across Kamandala Naga Nadhi at Shenbagathope in 2006, with a storage capacity of 287 million cubic feet (would to up to 487 MCFT once repaired), to benefit 7500 acres in Polur, Arni, Cheyyar and Vandavasi in Tiruvannamalai district and Arcot in Vellore district. The reservoir feeds 48 tanks in the five taluks, but is able to currently provide water to only 16 tanks. https://timesofindia.indiatimes.com/city/chennai/after-mlas-threat-to-stage-protest-tamil-nadu-government-sanctions-rs-16-37-crore-for-dam-repair/articleshow/71662582.cms  (19 Oct. 2019)
Uttrakhand Jamrani dam gets EC Jamrani dam on Gaula river gets environmental clearance. CM claims govt has already invested Rs 90 crore in the initial works related to the project which will be 9-km-long, 130-metre-wide and 485-metre-high dam. The dam would cost 2584 crore and was proposed 1970s. https://timesofindia.indiatimes.com/city/dehradun/jamrani-dam-on-gaula-river-gets-centres-green-nod/articleshow/71620222.cms  (17 Oct. 2019)
जामरानी बांध परियोजना की कुल लागत 2584 करोड़ रुपये है। परियोजना की तकनीकी स्वीकृति केंद्रीय जल आयोग द्वारा फरवरी 2019 में दी जा चुकी है।बांध निर्माण के लिए वन विभाग ने 351.49 हेक्टेयर जमीन दी है। शासन से इसके लिए शुरूआती तौर पर 89 करोड़ रुपये की स्वीकृति दी है।  https://navbharattimes.indiatimes.com/state/uttarakhand/dehradun/environmental-clearance-to-jamrani-dam-multipurpose-project-in-uttarakhand/articleshow/71608455.cms  (16 Oct. 2019)
Goa WRD plans to study state's dams for nat'l hydro project As part of the National Hydrology Project (NHP), the water resources department (WRD) plans to undertake a hydrographic and topographic survey of the Selaulim and Anjunem irrigation projects. The NHP is a $175 million World Bank project that aims to assess India's water situation and to create real-time flood forecasting systems across the country. The WRD is also planning to install automatic weather stations (AWS) and automatic rain gauge real time data acquisition systems at various locations across Goa. The department is looking for an agency or consultant to take up the survey. https://timesofindia.indiatimes.com/city/goa/wrd-plans-to-study-states-dams-for-natl-hydro-project/articleshow/71588341.cms  (15 Oct. 2019)
Maharashtra Irrigation Scam Ajit Pawar's reply in irrigation scam under scrutiny: ACB to HC Is this part of election show? ACB about irrigation scam. https://timesofindia.indiatimes.com/city/nagpur/ajit-pawars-reply-in-irri-scam-under-scrutiny-acb-to-hc/articleshow/71586956.cms   (15 Oct. 2019) 
INTERSTATE WATER DISPUTES
Interview In conversation with KJ Joy In this interview, Joy talks about his work as an activist working in rural Maharashtra, and how he came to work on water conflicts in India. https://www.indiawaterportal.org/articles/conversation-kj-joy-soppecom   (18 Oct. 2019)
Tamil Nadu- Kerala Govts forms two panels for holding discussions on sharing of waters CMs of both the states met in Kerala capital Thiruvananthapuram last month over the issue. They decided to form two panels with the participation of five members from each side to hold talks on sharing of waters through two of the major water-sharing projects between the two neighbouring states. http://www.newsonair.com/News?title=Tamil-Nadu-forms-two-panels-for-holding-discussions-with-Kerala-on-sharing-of-waters&id=373113  (17 Oct. 2019)
Andhra Pradesh- Telangana 3,891 tmcft water has gone into sea from rivers The three major rivers that flow through Andhra Pradesh and join the Bay of Bengal had discharged a cumulative quantum of 3,890.75 tmcft water into the sea since the beginning of the season on June 1. As per the statistics available with the Andhra Pradesh Water Resources Information and Management System (APWRIMS), the Godavari discharged 3,247.71 tmcft, the Krishna 559.85 tmcft, and the Vamsadhara 83.19 tmcft. https://www.thehindu.com/news/national/andhra-pradesh/3891-tmcft-water-has-gone-into-sea/article29739483.ece  (19 Oct. 2019) 
IRRIGATION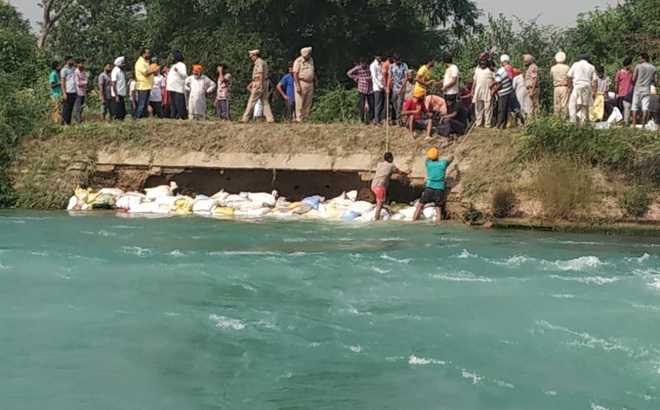 Punjab Canal breach triggers panic Breach in Bhakra cana in Sehjadpur plugged by alert villagers:- Villagers said the poor condition of the canal embankment had been causing panic in the surrounding villages as a breach could inflict a great damage on life and property. They said they had been informing the district administration about the dilapidated state of the canal embankment, but to no avail. https://www.tribuneindia.com/news/canal-breach-triggers-panic/846761.html  (14 Oct. 2019) 
RIVERS
BRAHMAPUTRA Pushkaram River gets ready for Pushkaram About Pushkaram Preparation:-  Said to be the only male river, the Brahmaputra has its origin in the Himalayas, flows through Tibet and enters Assam as Pushkaravahini. Many stories are connected to the river. It was a bath in the river, which washed Parasurama of the sin of killing his mother. The axe, which had stuck to his hand, fell into the massive Brahamputra. The blood mixed in the water and is said to account for the red colour of the river at some places.
– "Sind and Brahmaputra are the two rivers associated with Dhanur Rasi. Since only a small part of Sind is in India and at a high altitude, Brahmaputra has been chosen," explains a release from the Pushkara festival committee. "The country's heritage of worshipping Nature, especially rivers, which are the land's lifelines, is showcased during these festivals. They serve as reminders of this land's precious tradition," it adds. https://www.thehindu.com/society/history-and-culture/river-brahmaputra-gets-ready-for-pushkaram/article29724703.ece  (17 Oct. 2019)
RIVER DIALOGUES "The three speakers dealt with the cultural essence of rivers, and their various meanings across space and time. The stakes of riverine communities who engage with rivers in multiple ways as well as the processes of disengagement of a large section of city people from the river were discussed."  https://www.indiawaterportal.org/articles/river-cultural-mosaic  (2 Oct. 2019)
Himachal Pradesh Baddi CETP fined Rs 1 cr An environmental compensation of Rs 1 crore has been levied on the Common Effluent Treatment Plant (CETP) operating at Kenduwal village in the Baddi industrial area by the chairman of the State Pollution Control Board (SPCB) for failing to comply with the laid norms and causing water pollution to Sarsa river. The action follows a visit by the monitoring committee of the NGT on September 9 when it had detected irregularities in the functioning of the CETP.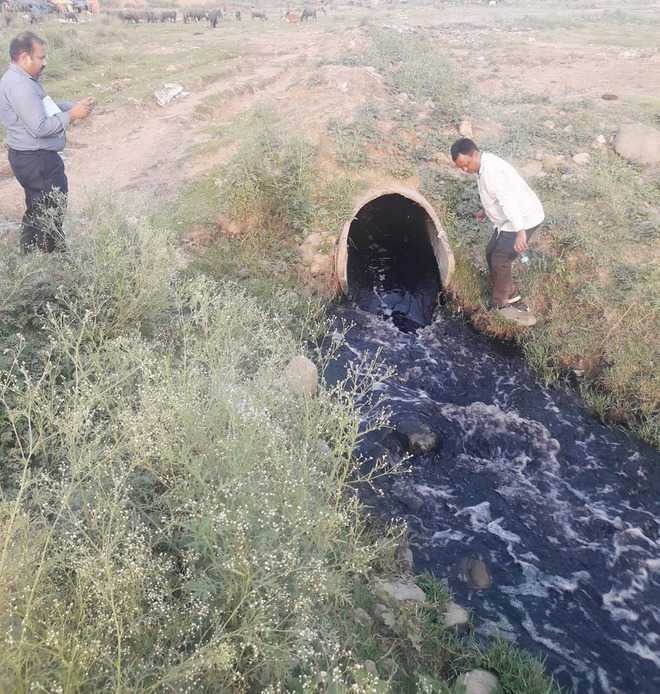 Notably, the CETP was treating effluent of 435 units such as textile, food, pharmaceuticals, soap, detergent, metal surface finishing, etc., and as against the designated capacity of 25 MLD it was treating only 16.8 MLD effluents. The notice assumes significance in view of the fact that Baddi industrial cluster has been rated adverse in the water index by the CPCB prompting the NGT to direct the state board to tighten the noose on polluting units. This is the first stern action on this plant ever since it became operational though slew of irregularities had been hitting headlines every now and then. https://www.tribuneindia.com/news/himachal/baddi-effluent-treatment-plant-fined-rs-1-crore/849412.html  (19 Oct. 2019) 
Madhya Pradesh Intake well construction threatens Chambal ecosystem A move is afoot for allowing the construction of an intake well for drawing water from MP's National Chambal Sanctuary to Sheopur district despite concerns raised by the State Chief Wildlife Warden and Wildlife Institute of India (WII) that such a structure not only threatens the survival of gharials, crocodiles and turtles located on both sides of the river bank but also the fragile ecosystem.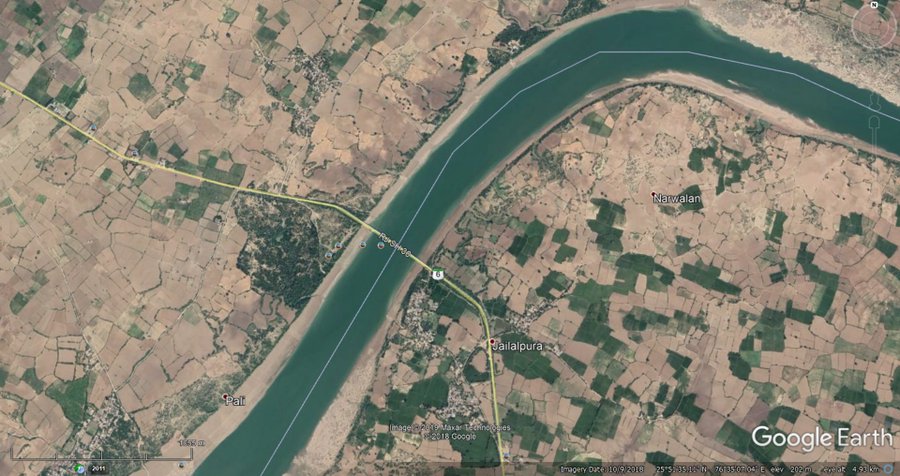 However, ignoring the warnings, the MP State Wildlife Board last year gave green signal to the proposal and has forwarded it to the Standing committee of the National Board of Wildlife  (NBWL) of the Union Environment Ministry for its approval. During discussion, the members of the NBWL's Standing Committee in its recent meeting noted that State Chief Wildlife Warden had not recommended the proposal on the ground that it was in the close proximity of the habitat of crocodile, gharial, Indian skimmers, turtle and dolphin and that it will adversely affect natural habitat, nesting and basking sites of the aquatic species.
In fact, the WII in its study conducted in 2011 too had suggested that the minimum flow required to sustain the ideal habitat for gharial in Chambal river is 151-165 m3/ sec and for the dolphin the minimum flow required to sustain the ideal habitat is 266.42 – 289.67 m3 / sec. In December 2017, when WII again monitored the discharge of the Chambal river, it found that the  flow has declined to 67 m3/sec. According to a study by the WII in 2010, "The construction of pillars, the intake well and the jack well will adversely affect the river bed and the sand bar directly; are likely to change the river morphology, which will affect the gharial nesting beaches and enhance sedimentation in the downstream. https://www.dailypioneer.com/2019/india/intake-well-construction-threatens-mp-ecosystem.html  (9 Oct. 2019)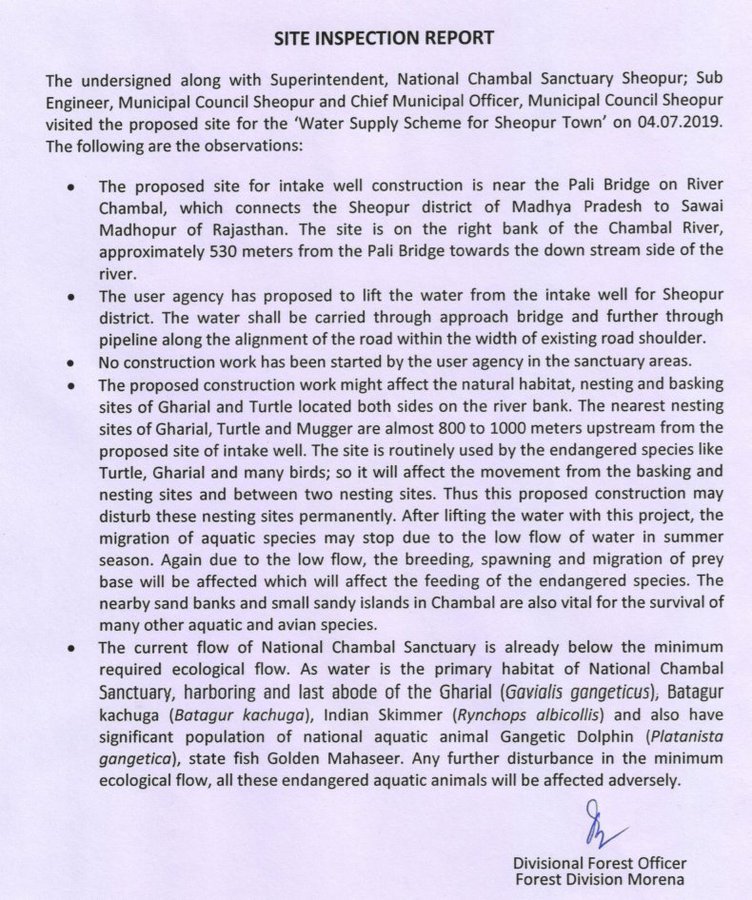 See the link for site inspection report of the area done on 4 July 2019. http://forestsclearance.nic.in/writereaddata/0_0_08_Jul_2019_125910837_siteinspect_SiteInspectionReport.pdf
GANGA NMCG Ganga likely to have necessary e-flow by Dec 15 NMCG Director General Rajiv Ranjan Mishra said the CWC submitted a report in July recommending that all the existing projects have a provision for releasing the mandated environmental flow through controlled gated spillways or water ways, and that structural modifications in the body of the project may not be required. Accordingly, a fresh notification was issued last month. It asked the hydropower and irrigation projects to start releasing the water by December 15.
CWC is the designated authority for supervision, regulation of flows and reporting on quarterly basis to the NMCG. There are 11 major projects from Uttarakhand to Uttar Pradesh that have the capacity to modify the flow and the NMCG had specified release of water from all of them.https://timesofindia.indiatimes.com/india/ganga-likely-to-have-necessary-e-flow-by-december-15/articleshowprint/71601709.cms  (15 Oct. 2019)
The notification can be seen here. https://nmcg.nic.in/writereaddata/fileupload/15_eflowam.pdf 
In 5 years, CGM sees 15-fold hike in govt spend "Based on current liabilities and sanctioned projects we expect the actual expenditure under Namami Gange to reach Rs 3,000 crore. This will be the highest ever amount spent in a year to clean the Ganga," said Rajiv Ranjan Mishra, DG NMCG. The amount will be spent on schemes and projects for the Ganga and its tributaries, including on rehabilitation and upgradation of existing STPs besides commissioning of new STPs, Mishra said.
– Namami Gange scheme was lauched in 2014-15 by the Modi govt. The actual expenditure rose from Rs 170.99 crore in the first year to Rs 2,626.54 crore in 2018-19. So far, 298 projects, including 40 related to STPs, have been sanctioned under the scheme. https://indianexpress.com/article/india/in-5-years-clean-ganga-mission-sees-15-fold-hike-in-govt-spend-6058379/  (8 Oct. 2019)
IITR team to examine water quality across 2,500 km stretch of Ganga A team from the Indian Institute of Toxicology Research (IITR) is accompanying the 2,500 km rafting expedition in the Ganga from Devprayag to Gangasagar to examine the water quality of the entire stretch. The expedition is part of Ganga Aamantran Abhiyan which was flagged off by minister of Jal Shakti, Government of India, Gajendra Singh Shekhawat on October 7. The expedition is being led by Wing Commander Paramvir Singh of the Indian Air Force. The data collected by the IITR team will be complied in a report which will be shared by the Jal Shakti ministry to be worked upon. https://www.hindustantimes.com/cities/iitr-team-to-examine-water-quality-across-2-500-km-stretch-of-ganga/story-EfOHaV0Gs93MMHnSUKVvfL.html  (10 Oct. 2019)
Uttar Pradesh  Ganga's floodplain set to be demarcated for first time In the first phase, the river stretch from Haridwar till Unnao has been covered. At least 200 metres from the embankment in the city and 500 metres from the embankment in rural areas might be marked as the river's floodplain.
– After the floodplain demarcated, it would further be divided into 'no-development' and 'restrictive' zones. The activities for each of the zones would be defined by the Centre and state government. If any activity is allowed in the 'no development' zone, it would be agriculture but on the condition that no fertilizer would be used, said sources in the state government.
– The river Ganga enters UP at Bijnor and it flows through Bulandshahr, Hapur, Meerut, Muzaffarnagar, Aligarh, Kasganj, Sambhal, Amroha, Badaun, Shahjahanpur, Hardoi and Raebareli before it reaches Unnao. In the entire state, Ganga flows through 27 districts covering 1,140km. The other districts that it drains are Farrukhabad, Kannauj, Kanpur, Chandauli, Prayagraj, Kaushambi, Fatehpur, Pratapgarh, Bhadohi, Mirzapur, Ghazipur, Varanasi and Ballia.  https://timesofindia.indiatimes.com/city/lucknow/gangas-floodplain-set-to-be-demarcated-for-first-time/articleshow/70877778.cms  (28 Oct. 2019)
Bihar Govt to pipe Ganga water for three cities State govt will pipe Ganga water to Gaya, Rajgir and Nawada, which face a severe drinking water crisis, an official said. All three cities are in central Bihar. The first two attract hundreds of thousands of tourists because of their Buddhist heritage. "Our concept has been approved by the government. We will soon lay pipelines to these cities," Sanjeev Kumar Hans, secretary, water resources department (WRD), said on October 16, 2019. The collected Ganga water will be stored in separate reservoirs at these towns before being supplied to the residents after proper treatment. Each reservoir will have a storage capacity of 90 million cubic metres.  https://www.downtoearth.org.in/news/water/bihar-to-pipe-ganga-water-to-three-cities-67279  (16 Oct. 2019) 
RIVERS BIODIVERSITY
Uttar Pradesh Ganges dolphin population up to 36: Census A majority of these aquatic mammals were found in Hastinapur Wildlife Sanctuary that stretches from Bijnor Barrage to Garh Mukteshwar in Hapur, showing a marked shift in its habitat upstream. A few were also spotted in country's only Ramsar site earmarked for dolphin conservation, stretching from Garh Mukteshwar to Narora. This is the northern most reach in the country where this mammal exists today.  https://timesofindia.indiatimes.com/city/meerut/with-3-calves-ganges-dolphin-population-up-to-36-in-up-census/articleshow/71603650.cms  (16 Oct. 2019)
SAND MINING
Goa How Shameless Can the Goa Government Get with Miners? Last week, Khandepar river – which supplies drinking water to Ponda, Panjim and bulk of areas in Tiswadi in Goa – was found to be red with mud from a mining pit located at Codli.
The first email communication to the Goa Pollution Control Board was made by Sandeep Parkar from Ponda on 8th October, that their taps had red water. He called the Board on 9th October morning and also recorded the phone conversation where the officer who took up the call said she was informing the member secretary for necessary action.
He filed another complaint on 11th October, saying the pump that was found to be pumping out slurry from the mining pit at Codli was still active and the Board should come and see what was going on. Still nothing happened. The Board may have gone into a coma, a chronic condition of this body set up to look after the "wholesomeness of water and air."
Parkar called the Goa Foundation finally on 12th October, but we were unable to call the Board till the 15th due to the weekend. But when we did, the Board said they had not received any complaints either from Parkar or anyone else! So the Foundation sent the Board a fresh copy of all of Parkar's complaints and videos.
Two weeks after the slurry was dumped into the river (a criminal offence), the Board was yet to visit the site! Goa 365 (a TV station) in fact ran a news report on the slurry dumping.
People blame crooked politicians – a commodity of which we have a surfeit and sufficient to export – for Goa's steady descent into hell. But the complicity of scientists, technicians, bureaucrats, engineers and others including advocates and architects in the destruction of governance is now so overwhelming, it is difficult to ignore. They are all now to be found in the same basket, looking after each other. Forget "global warming". These people will drive us into the dust quicker and without a blimp on their conscience.
So, in Ponda last week, a mining company pumped out thousands of litres of mine pit slurry into Goa's water supply, an action banned by the Supreme Court of India. They did it trespassing on a mining lease that now belongs to the government of Goa, ever since all mining leases were cancelled by the Supreme Court. But none of the guardians of our natural resources – the Directorate of Mines & Geology, the Collector, the Pollution Board, the Mines Minister – were aware, or pretended they were aware, of what was happening. As in all these cases, one heroic individual made an effort to sound the alarm. But that alarm fell to deaf years. That's why we do not weep for the people of Kashmir. We need to weep for ourselves.
(Please share with Goa lovers)  https://www.facebook.com/GoaFoundation/photos/a.353485981421588/1958068147630022/?type=3&theater  (15 Oct. 2019)
Relax ban on sand mining, issue new licences: Sardinha Expressing concern over the shortage of sand in the state, South Goa MP Francisco Sardinha on Oct. 17 suggested that the restrictions on sand extraction be relaxed by giving licenses for the purpose at certain locations after conducting a survey. Sardinha also decried the delay in resumption of mining in the state. In his letter to the PM, Sardinha said he stressed on the urgent need for "conceiving a legally sustainable solution to resume mining in Goa without any further delay."  https://timesofindia.indiatimes.com/city/goa/relax-ban-on-sand-mining-issue-new-licences-sardinha/articleshow/71640085.cms  (18 Oct. 2019) 
Andhra Pradesh Save Kalyanapulova dam from mining operations: EAS Sarma Former Union Energy Secretary EAS Sarma on Oct. 19 demanded the State govt to abolish mining permits given in the catchment area of Kalyanapulova dam to save it from the pollution. Speaking at the public hearing session of 'Save Kalyanapulova Reservoir-Declare the catchment area as no mining zone' at Public Library here, he said despite writing many letters, he did not get positive response from the government on the issue.
Social activist K Sajaya said that she has visited the Kalyanapulova area on Oct. 17 to understand real situation. "The situation of women is pitiable as they have to fetch water from long distance as mining is destroying natural water body. The cashew plantations are destroyed due to pollution and adivasi houses developed cracks."
She wondered as to why the government which is destroying the illegal constructions to protect Krishna river bund area, is allowing illegal mining in Kalyanapulova dam. Several farmers attended the hearing spoke about their problems due to mining in the area. "Due to mining, our agricultural operations are adversely affected," said Gadabari Raju, a farmer from Jogumpeta vilage, Cheemaplapadu panchayat. https://www.thehansindia.com/andhra-pradesh/save-kalyanapulova-dam-from-mining-operations-eas-sarma-574193  (20 Oct. 2019)
Odisha Illegal sand mining: NGT wants action against Collector and SP Restraining sand mining along Brahmani river bed in Kendrapara district without environment clearance, the NGT has directed the Chief Secretary to take appropriate action against Kendrapara Collector and SP for filing incorrect affidavit before it.
The petitioners had alleged that several persons were illegally mining sand on Brahmani river bed at Charenarendrapur, Alva, Nimapur and Srirampur by violating the Environment (Protection) Act, 1986 and order of the Supreme Court. They also stated that the illegal mining was disturbing the natural sand dunes and threatening the river embankment. http://www.newindianexpress.com/states/odisha/2019/oct/19/illegal-sand-mining-ngt-wants-action-against-collector-and-sp-2049946.html  (19 Oct. 2019)
Tamil Nadu Farmers allege sand mining in irrigation channels Farmers from the district have alleged that illegal sand mining is taking place in the Cauvery and Arasalaru rivers near Kumbakonam with the help of bullock cart owners and have asked the revenue department to check this activity. Farmers have alleged that after the high court banned sand mining in the state, illegal sand miners shifted their focus from Cauvery and Kollidam rivers to irrigation channels. "The illegal activity has been continuing with the help of officials from mining, revenue and police departments,"said Swamimalai S Vimalnathan, secretary of Thanjavur District Cauvery Farmers Protection Association. https://timesofindia.indiatimes.com/city/trichy/farmers-allege-sand-mining-in-irrigation-channels/articleshow/71588808.cms  (15 Oct. 2019)
Gujarat Illegal sand mining racket busted in Naswadi A scam of illegal sand mining using duplicate royalty pass was unearthed by the mines and minerals department of Chhota Udepur district. The scandal came to light while conducting primary investigation in a suspicious royalty pass found from a truck driver in Naswadi on October 17. Nine persons including three from Surat were booked for theft, forgery, criminal breach of trust, criminal conspiracy and under The Gujarat Mineral (Prevention of Illegal Mining and Transportation and Storage) Rules at Naswadi police station. Police said that the scam was to load sand from any lease or non-lease area in the district and issue a forged royalty pass so that there will not be any hurdles from the mines and minerals department. https://timesofindia.indiatimes.com/city/vadodara/illegal-sand-mining-racket-busted-in-naswadi/articleshow/71678807.cms  (21 Nov. 2019)
Sand mining racket busted A sand mining racket operating in Samakhiyali town of Kutch was busted by police on Tuesday. Those involved in the racket were illegally mining sand from Adhoi riverbed. Police also seized one tractor, four dumper trucks and one earthmover from the site. The case has been handed over to state mines and minerals department for further action and valuation of the mined minerals.  https://timesofindia.indiatimes.com/city/rajkot/sand-mining-racket-busted/articleshow/71604493.cms  (16 Oct. 2019)
WETLANDS, LAKES, WATER BODIES
Kerala CRZ: illegal structures near wetlands, riversides to be listed in govt. report  The illegally constructed commercial buildings and residential apartments near reclaimed wetlands, rivers, estuaries and creeks which are influenced by tidal action within the defined Coastal Regulation Zone (CRZ) will be included in the report being prepared by the government in the wake of the latest Supreme Court verdict. The secretaries of various three-tier panchayats, municipalities and the city Corporation are likely to be designated for the timely collection of details about such non-regularised constructions within four months.
– According to Kerala Coastal Zone Management Authority (KCZMA) sources, even some of the large-scale commercial constructions along the Canolly Canal, Korapuzha and Kallayi river can be listed in the illegal category if the State government wants a flawless list to be submitted to the Supreme Court and initiate follow-up action. https://www.thehindu.com/news/cities/kozhikode/crz-illegal-structures-near-wetlands-riversides-to-be-listed-in-govt-report/article29592618.ece   (4 Oct. 2019)
Alfa Ventures towers encroaches on 17% of Vembanad Lake: Crime Branch The special investigation team of Crime Branch probing the illegal constructions told the twin towers of Alfa Ventures apartment buildings has been built encroaching 17 cents of Vembanad Lake. Authorities also told that Jains Coral Cove apartment was built on a wetland.
The Crime Branch has already arrested Sany Francis, MD of Holy Faith Builders and Developers Pvt Ltd, in connection with the probe, along with two former officials of Maradu panchayat. According to investigating officers, the three are currently under judicial custody, but they will ask the court to release them to police custody for further questioning. https://www.thenewsminute.com/article/alfa-ventures-towers-maradu-encroaches-17-cents-vembanad-lake-crime-branch-110792  (18 Oct. 2019)
Chennai Red Hills lake catchment area may be reclassified At a time when the State government is pushing for water conservation on all fronts, Chennai Metropolitan Development Authority (CMDA) is likely to reclassify 54 acres of catchment area of Red Hills reservoir to allow industries to come up.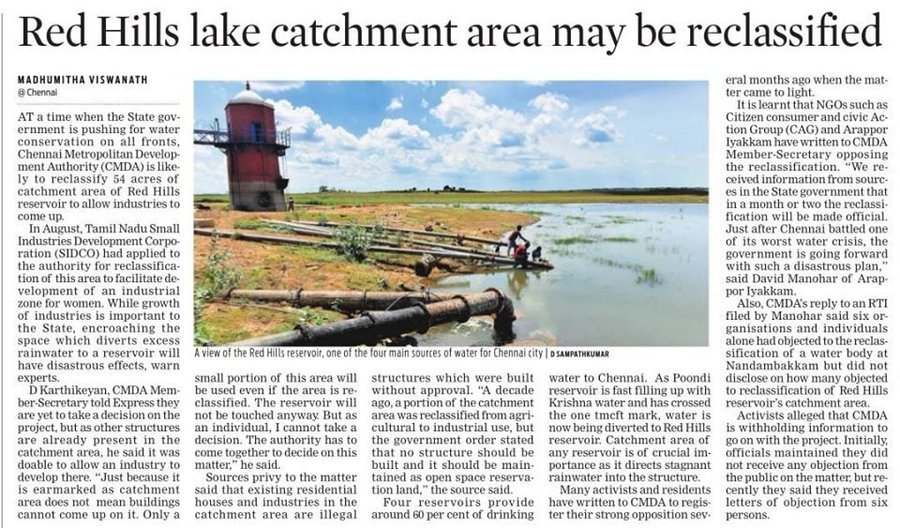 In August, Tamil Nadu Small Industries Development Corporation (SIDCO) had applied to the authority for reclassification of this area to facilitate development of an industrial zone for women. While growth of industries is important to the State, encroaching the space which diverts excess rainwater to a reservoir will have disastrous effects, warn experts. Sources privy to the matter said that existing residential houses and industries in the catchment area are illegal structures which were built without approval. http://www.newindianexpress.com/cities/chennai/2019/oct/14/red-hills-lake-catchment-area-may-be-reclassified-2047114.html  (14 Oct. 2019)
Bengaluru Residents complain about sewage water entering into Rachenahalli Lake Though the Bruhat Bengaluru Mahanagara Palike (BBMP) revived the Rachenahalli Lake only a few years ago with the help of citizens, they seem to have failed to keep a check on the storm water drains. Every time it rain, the sewage from the nearby drain overflows onto the road, right in front of the lake and the sewage water engulfs over 500 metres. Residents have complained of the sewage water entering the lake too.
Residents have also complained about the lack of maintenance at the lake. "The authorities are working on the beautification of the lake but are completely ignoring the water body itself. The storm water drain around the Rachenahalli Lake overflows onto the road and then into the lake. When it rains, the entire lake is flooded with sewage. Despite paying taxes for the maintenance of the for the maintenance of the water bodies, the BBMP has failed to do its job. This will soon result in the death of the lake. https://bangaloremirror.indiatimes.com/bangalore/civic/the-failure-of-revival/articleshow/71656329.cms  (19 Oct. 2019)
Haryana NGT seeks status report over plea on Najafgarh lake Following INTACH plea seeking the declaration of Najafgarh lake as a waterbody or wetland, the NGT has directed the Gurugram Deputy Commissioner to furnish a status report by Dec 20. The NGT passed the directions following a doubt on whether the area concerned is a private land or wetland. https://www.thehindu.com/news/cities/Delhi/ngt-seeks-status-report-over-plea-on-najafgarh-lake/article29669030.ece  (13 Oct. 2019) 
WATER OPTIONS
Decentralised wastewater solutions the need of the hour  Decentralised wastewater management approach can be considered as a sustainable and cost-effective alternative as it treats, discharges or reuses the effluent in the relative vicinity of its source of generation. Like other systems, decentralised systems must be properly designed, maintained, and operated to provide optimum benefits. A decentralised wastewater treatment system at Delhi Jal Board headquarters at Varunalaya has been built, where the treated wastewater is used for horticulture purposes.  https://www.downtoearth.org.in/blog/water/decentralised-wastewater-solutions-the-need-of-the-hour-for-india-67218  (14 Oct. 2019)
Innovation Architect Created Algae Wall To Purify Polluted Water Shneel Malik, a Barlett doctoral candidate, has created Indus — a modular wall system that is created to clean water polluted using dyes and chemicals with the help of ceramic tiles and algae. The ceramic tiles used to create this modular wall is layered with microalgae and seaweed-based hydrogel. The water passes through it, with the wall working its magic and eliminating water with all of the toxins in a cost-effective way.
The tile has leaf-like channels carved inside. Made with algae hydrogel, the water gets cleared of its toxins thanks to algae's natural bioremediation capabilities. When the water is added through an inlet, the water passes through these channels and gets cleansed. One can pass the water through multiple times, depending on the toxicity in the water.  The project's end goal is to take down water and soil pollution through textile dyes with the help of cost-effective and less-technical infrastructure. https://www.indiatimes.com/technology/news/indian-architect-has-created-an-algae-wall-to-purify-polluted-water-without-harmful-chemicals-377848.html  (17 Oct. 2019)
Madurai Corpn converts unused wells into groundwater recharge structures In recent survey Madurai civic body, has found 478 borewells lying unused and has also identified 10 open well to be used for recharging groundwater. While it has been decided to convert all 478 borewells into recharge structures, the civic body completed works in around 230 borewells. The work is in progress to convert the rest.
– A total of 153 recharge structures will be built at public places where water stagnation happens often. It was conceived for dual purpose of recharging underground and to address water losing issue. As many as 95 structures have been constructed and work is under way for the rest, officials said.  https://timesofindia.indiatimes.com/city/madurai/corpn-converts-unused-wells-into-groundwater-recharge-structures/articleshow/71622411.cms  (17 Oct. 2019) 
GROUNDWATER
Maharashtra Groundwater extraction double in 9 years finds study A survey conducted by the Advanced Center for Water Resources Development and Management (ACWADAM) with assistance from the Centre for Environment Education (CEE) and Mission Groundwater, reveals that groundwater extraction in Pune has doubled from around 2 TMC in 2011 to 4 TMC in 2019-19.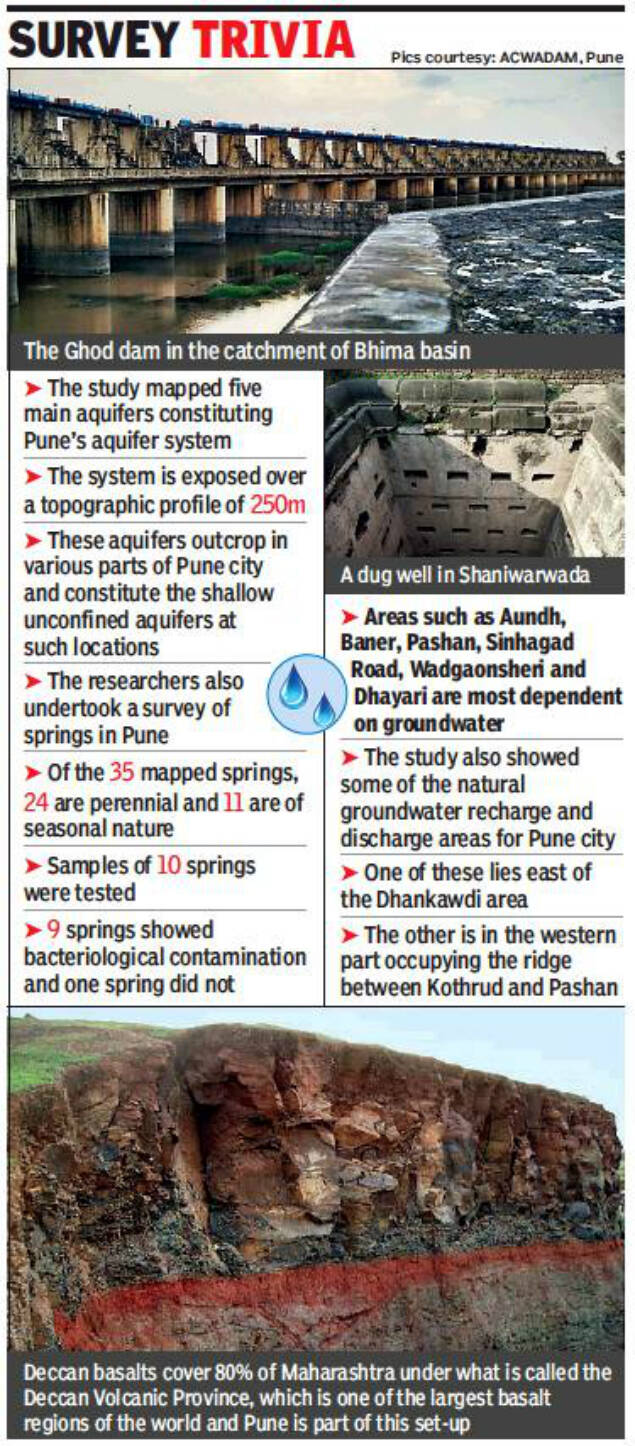 The survey was done for around 423 dugwells and nearly 51 borewells spread over about 30,000 hectare of areas under the limits of the Pune Municipal Corporation (PMC) and slightly beyond. As per the study, 25 percent of the city's total demand of water was met through groundwater and the city's peri-urban areas such as Aundh, Baner, Pashan, Sinhagad Road, Wadgaonsheri and Dhayari, were most dependent on groundwater. https://timesofindia.indiatimes.com/city/pune/groundwater-extraction-doubles-in-9-years-study/articleshow/71587635.cms  (15 Oct. 2019)
Uttar Pradesh Illegal groundwater extraction punishable offence  The illegal extraction of groundwater will be a punishable offence under the UP Groundwater Management and Regulation Act 2019, which came into force on Oct. 18. Under the act, installing a rainwater harvesting system at government offices and departments is necessary.
VK Upadhyay, Director, Uttar Pradesh Groundwater Department elaborated that under the law, provisions have been made for groundwater management in risk-prone areas. Besides, the law will ensure that no individual or institution pollutes groundwater, rivers or ponds. Upadhyay said that a list of regulations is being made for the time-bound implementation of several provisions of the Act. https://www.outlookindia.com/newsscroll/illegal-groundwater-extraction-punishable-offence-in-up/1643252  (18 Oct. 2019)
Haryana Chemical fertilisers polluting groundwater table in Sohna area of Gurugram: Survey Groundwater contamination in rural areas under the Sohna Municipal Council (MC) has exceeded beyond the permissible limit, due to heavy use of chemical fertilisers by farmers in the area, revealed a recent report on integrated water resources management of Sohna division by GuruJal and the TERI School of Advanced Studies. Of the samples collected from 10 different locations in Sohna, the quality of groundwater has depreciated in Ward 7, which is primarily a rural area. It includes Lakhuwas village under the Sohna MC.
– Going by the study, currently, 23 villages in the Sohna MC area are fluoride-affected. According to Tarannum, certain contaminants, such as high fluoride levels, are geogenic, but the rest can be attributed to man-made activities in the region.
– The data collected from Sohna MC shows that 13% of the population is extracting water from private bore wells, 6% from public taps, 4% from public bore wells and 77% from the Public Health Engineering Department (PHED) supply. "Before the 27 MLD water treatment plant, which became operational in 2016, the water in the area was sourced from bore wells installed in the PHED premises," Tarannum said.  https://www.hindustantimes.com/gurugram/chemical-fertilisers-polluting-groundwater-table-in-sohna-area-of-gurugram-survey/story-vPOiQWMW2Wq1qALDub901K.html  (15 Oct. 2019)
Andhra Pradesh Groundwater table position discouraging despite rains Despite good rains in all areas, the situation has worsened compared to last year. Rayalaseema as a region also showed a fall of 2.78 metres compared to October 12, 2018. Except for Kurnool where the groundwater is available at 8.63 metres, in the other three districts of the region it is between 23.69 metres and 25.44 metres.
Anantapur city will continue to heavily depend on Penna Ahobilam Balancing Reservoir for drinking water needs despite groundwater rising marginally in the city limits, but showing no promise of increase on its outskirts.
Anantapur city that got its name from Anantasagaram, a big tank, which means 'endless ocean' has got no inflows at all despite good rains in its catchment area of Rapthadu and Ramagiri mandals. This old reservoir occupies an area of 10,161,656.5 sq. m. A filled tank would save the day for the municipal corporation as it keeps the groundwater level within reach and caters to more than 30% of the city's needs. https://www.thehindu.com/news/national/andhra-pradesh/vram-velvet-carpet/article29676025.ece  (14 Oct. 2019)
Hyderabad Groundwater levels rise Residents of Secunderabad, Marredpally, Trimulgherry and Musheerabad mandals are likely to see an end to their water woes with the Ground Water Department (GWD) on Oct. 10 revealing a substantial rise in the groundwater table. "The groundwater should be sufficient to cater the needs of residents in the four areas till next monsoon," said a senior GWD hydrologist.
The hydrologist confirmed that the heavy showers received by the twin cities in recent months are largely responsible for the rise in the groundwater table. The department observed a rise by two to nine metres in groundwater levels in the four areas.  https://timesofindia.indiatimes.com/city/hyderabad/relief-in-sight-for-residents-as-groundwater-levels-rise/articleshow/71530720.cms  (11 Oct. 2019)
Telangana Rainfall normal, but groundwater level dropping  Telangana received normal rainfall in July and August, but this failed to have any positive impact on the state's groundwater levels. According to a report released by the state groundwater department on Saturday, 672 of the 932 (72%) observation wells monitored in the state saw a fall in groundwater levels, while just 260 wells (28%) witnessed a rise in levels in August.
Overall, the average groundwater levels in the state fell by 1.38 m this August. They dropped from 9.77 metres below ground level (mbgl) in August, 2018, to 11.15 mbgl this August. The deepest groundwater level in Hyderabad was 21.7 mbgl at West Maredpally, a decline of 3.5 m from last year's reading. Last year in June, the first month of the southwest monsoon, the state recorded 150 mm rainfall, whereas in June this year, only 87 mm was recorded, which is 33% below normal.
One of the many reasons for the fall in levels is the poor start of the monsoon in the state this year, groundwater department officials said. Another reason, officials pointed out, was the skewed pattern of the monsoon in Telangana.
As per the weekly monsoon rainfall data maintained by the Telangana State Development Planning Society, in the 9 weeks from the start of the monsoon till the end of August, rains were deficient in as many as six weeks. Of the remaining three weeks, two saw excess rainfall, and one saw normal rainfall, resulting in reduced percolation and more run-off. Groundwater department officials also pointed out that this year, the area under paddy cultivation in the state increased by 2.5 lakh hectares. http://www.newindianexpress.com/states/telangana/2019/sep/22/rainfall-normal-but-groundwater-level-dropping-in-telangana-2037282.html  (22 Sept. 2019)
URBAN WATER
Chennai Work on a third desalination plant in Nemmeli to begin by October-end The ₹1,259.38-crore project, partly funded by KfW, the German Development Bank, will be completed by December 2021. While the production cost for treated water at the 100-mld Nemmeli plant is ₹36 per kl, it will work out to ₹42 per kl in the new plant. Metrowater is purchasing water at a rate of ₹55 per kl from the Minjur desalination plant as per an agreement. The existing Nemmeli plant produces 93 mld on an average now and the issues related to white fibrous particles choking the filtration process have been sorted out. It took nearly six years for the construction of the plant to begin since the announcement was made in April 2013.
The water agency has also obtained administrative sanction for building another desalination plant within a distance of 1 km in Perur on ECR to treat 400 mld of seawater. The ₹6,078 project would serve nearly 23 lakh people in the southern suburbs and areas such as Virugambakkam and Porur. Officials said the tender is under evaluation for choosing a project management consultant. Metrowater is also exploring new technologies such as containerised desalination plants. These would be of small capacity and could be used as buffer sources during drought. On the conditions laid by Union Ministry of Environment and Forests related to environmental impact, officials said the consultant would have to suggest solutions to mitigate ecological issues. https://www.thehindu.com/news/cities/chennai/work-on-a-third-desalination-plant-to-begin-by-this-month-end/article29729178.ece  (18 Oct. 2019)
Water train ends journey after 159 trips As the water situation in Chennai continues to improve, water train services that had been bringing water from Jollarpettai in Vellore district over the past three months, have been stopped. The water wagaon made 159 trips since its operation in July and has transported nearly 420 million litres of water to the city. Chennai Metro Water paid Rs 8.60 lakh per trip to the Southern Railways and two such trips were arranged per day by the railways. After the rains, groundwater levels in the city have improved and even water from the Krishna river started filling the Poondi reservoir. https://www.indiatoday.in/india/story/water-train-ends-journey-after-159-trips-as-situation-improves-in-chennai-1607531-2019-10-09  (9 Oct. 2019)
Madurai Desalination plant to address water requirement in SIPCOT Managing Director of SIPCOT J. Kumaragurubaran has informed that a desalination plant with a capacity of 60 million litres a day will be established on an outlay of ₹634 crore to assuage the drinking water problem prevailing in SIPCOT complex housing good number of industrial houses. https://www.thehindu.com/news/cities/Madurai/desalination-plant-to-address-water-requirement-in-sipcot/article29738673.ece  (18 Oct. 2019)
Mumbai Case Against 6 Men For Stealing Water Worth Over 73 Crores  Sureshkumar Dhoka lodged a complaint with Azad Maidan police about water being stolen from wells, which have been dug inside the compound of Pandya Mansion without necessary permits, an official said. Readings of these illegal metres revealed that between 2006 and 2017, the accused had allegedly stolen lakhs of litres of water worth Rs. 73.18 crore, he said. The complainant has collected all the information related to these wells through RTI Act, the official said.  https://www.ndtv.com/india-news/case-against-6-men-for-stealing-water-worth-over-73-crores-in-mumbai-2117993  (16 Oct. 2019)
DELHI WATER
Video report on how viable is this eco-friendly wastewater management technique called 'toilet-to-tap' that uses vermiculture, ozonation and specially-customized membranes?  https://scroll.in/video/940962/eco-india-treating-sewage-water-to-make-it-drinkable-could-hold-the-answer-to-delhis-water-woes  (21 Oct. 2019)
WATER
Op-Ed Water needs interdisciplinary governance Although groundwater now provides more than two-thirds of India's water, the more it has grown in significance, the weaker groundwater departments have become at the Centre and in the states.  https://www.business-standard.com/article/opinion/water-needs-trans-disciplinary-governance-119101701504_1.html  (17 Oct. 2019) 
NGT Water for drinking top priority Important decision, let us see this is implemented: https://timesofindia.indiatimes.com/city/delhi/water-for-drinking-top-priority-ngt/articleshow/71658263.cms  (19 Oct. 2019)
Jal Shakti Panchayats, local bodies to decide water charges The Centre has decided that it will not prescribe a price structure for water usage under its flagship scheme to state governments. Instead, it will give 'full flexibility' to local bodies and gram panchayats to run the scheme. At present, only 18% of India's rural households (approximately 3.2 crore) have access to piped water.
The Centre hopes to take this figure to 100% in five years under the Jal Jeevan Mission. Villages will be asked to contribute up to 10% of the capital cost towards laying the piped water supply. Villages in tribal areas and difficult terrains are likely to be asked to contribute up to 5%. A sum of Rs 3.35 lakh crore has already been approved for the 'Nal Se Jal' project.
"We do not want a contractor-driver project. Water is best managed locally. We strongly feel that we must have panchayats and village bodies as active financial and implementation partners for the 'Nal se Jal' plan to make it successful," a senior official told ET on condition of anonymity. Government funding will also be tied to performances. https://economictimes.indiatimes.com/news/politics-and-nation/panchayats-local-bodies-to-decide-water-charges/articleshow/71497735.cms  (9 Oct. 2019)
Govt To Train Women To Test Water Quality, Says Smriti Irani Women in villages across 256 water-scarce districts will receive training to ensure clean water supplies, Smriti Irani, the federal minister for women & child development, said. The program will be expanded to cover all of India's 750,000 villages, Ms Irani said.  https://www.ndtv.com/india-news/smriti-irani-says-government-to-train-women-to-test-water-quality-2117117  (15 Oct. 2019)
Andhra Pradesh Govt plans Rs 46K cr drinking water scheme State govt plans to take up a massive water grid project with an estimated cost of 46,675 crore to provide drinking water to about 47,000 habitations in the state. The government will seek the assistance of Asian Development Bank (ADB) for the project.
The cabinet sub-committee has already directed officials to ready a comprehensive project report availing all the available resources. It also asked the officials to ensure that the water grid is implemented without compromising the water needs of agriculture and industrial sectors. The cabinet sub-committee, asked officials to ready the proposals fast so that the project can be completed by 2022. https://timesofindia.indiatimes.com/city/amaravati/andhra-pradesh-plans-rs-46000-crore-drinking-water-scheme/articleshow/71549690.cms  (12 Oct. 2019)
Rajasthan Govt's Free Water Scheme Benefits Neither Consumers nor the Exchequer After the announcement, the Public Health and Engineering Department of Rajasthan (PHED) decided, in a meeting held on June 18, that the scheme would be made applicable to only those consumers who had a metered connection. The idea behind this was to monitor the water consumption levels through the meter and subsequently check whether the consumer fell into the exempted categories and be billed accordingly.
– This would leave a substantial number of consumers out of the benefit of the scheme. As per the latest data of the PHED department (up to August 2019) on the total consumers and functional metered connections of Jaipur, there are about 1,91,689 consumers in the capital alone who don't have a metered connection. Even months after the free water scheme was implemented, the Rajasthan government has made no attempts to install water meters across the state.
– The free water scheme is bound to put a financial burden on the PHED department that has traditionally undertaken losses. As per the progress report of the department, revenue and expenditure have shown huge gaps over the years. For instance, in the last financial year (2018-19), the revenue generated was Rs 390.07 crore while the expenditure stood at Rs 2,412.98 crore. A similar trend was seen in the past few financial years, so much so, that the revenue never exceeded the expenditure.
– As elaborated in the progress report, the department in 2018-19 had to spend Rs 1,146.14 crore on electricity charges, Rs 1,453.18 on salary, Rs 24.62 crore on maintenance and repair, Rs 48.50 crore on contract charges, Rs 41.29 crore on improvement in the delivery system and Rs 12.31 crore on chemical charges, while, the only source of revenue generation had been billing. https://thewire.in/government/rajasthan-ashok-gehlot-free-water-scheme  (11 Oct. 2019)
MONSOON 2019
SANDRP Blog River basin wise rain in Monsoon 2019 Indian media never seems to report this, but IMD (India Meteorological Department) also provides river basin wise rainfall figures for South West Monsoon, also for other seasons. This article provides key highlights of river basin wise rainfall during South West Monsoon 2019. Plz Read and Share. https://sandrp.in/2019/10/15/river-wise-rainfall-in-monsoon-2019/   (15 Oct. 2019)
Interview Global warming is behind extreme rains: IMD chief Another informative interview by IMD Chief:– On average, we get 13-14 low pressure systems in the season from north Bay of Bengal. The number of low-pressure systems was normal this season. However, they persisted for longer, leading to excess rain.
– There were just three low pressure systems in September, but they persisted for longer and travelled from north Bay of Bengal to Rajasthan and Gujarat. So, both the central part of the country and the southern peninsula received surplus rain. September recorded 52% excess rain, the highest ever. The seasonal rainfall was above normal. However, long-term studies show that both frequency and intensity of heavy rainfall events (>15 cm in 24 hours) is increasing, especially in central India, including UP and Bihar. The atmosphere is becoming more unstable because of global warming.
– The use of dynamical coupled models along with statistical models has greatly improved our forecasts. This season, we could predict extreme rain events at sub-divisional levels 24 hours in advance with an accuracy of 74%. However, such events occur in pockets on a scale of 10 to 100km, typical of a district. Thus, there is a need to increase our observational network at regional levels so we could detect these convective activities. We plan to increase the number of automated weather stations and automated rain gauges, use more satellite data and bring the entire country under a network of radars. The data will be supported by GPS to improve the quality of the forecast.
– The monsoon withdrawal is getting delayed against the normal withdrawal date of 1 September. This is a trend we have observed. Also, this monsoon had no breaks, but rather continuous formation of low-pressure systems. Long-term studies also show an increase in the number of days with heavy rainfall and reduction in days with less to moderate rainfall. Such heavy rainfall is more concentrated in urban areas than in rural areas.
– Climate change impacts: Our forecasting difficulties will increase. For example, now if we issue a forecast three days in advance, in future it may be just 1.5 days. That means forecasters will have less time to inform people about a heavy rainfall event. We need a denser observational network, hourly updation of models, real-time data, and more frequent forecasts. If we do not take these measures, climate change will limit our predictability. We need impact-based forecasts and risk-based warnings. https://www.livemint.com/news/india/global-warming-is-behind-extreme-rains-imd-chief-11571157861949.html  (15 Oct. 2019)
IMD to launch app on weather forecasts Seeking to fill a critical information delivery gap, IMD will come out with its own mobile App to provide round-the-clock weather forecasts and warning on the model of the US-based AccuWeather, which is among the most popular Apps in the field. The IMD App will be ready in the next 2-3 months.
Though the IMD's App will be an India-centric weather info platform, it will cover all relevant weather parameters such as temperature, humidity, rain, wind speed and wind direction among other forecasts besides flashing warnings and advisories on users' mobile screens.
Admitting that the dissemination process at IMD were "very poor", Rajeevan said, "We do lot of good works and generate lot of forecasts, but the final delivery to the people is not very good. We don't communicate what actually people want. Basically, we tell them what we (weather agencies) know." Referring to these gaps, Rajeevan said the IMD would have to change its strategy of communicating with the people.
The IMD currently has exclusive mobile App, called Meghdoot, for farmers. It brings high resolution weather forecast based district and crop wise agro advisories to farmers in vernacular every Tuesday and Friday. "We have already reached nearly 42 million farmers with agro advisories. Our target is to reach 100 million farmers in next two years," said Rajeevan. https://timesofindia.indiatimes.com/india/imd-to-launch-app-on-weather-forecasts/articleshow/71679350.cms  (21 Oct. 2019)
Weather forecasts should include possible error margins: E experts The success of weather forecasts depend not just on model accuracy but also on how they are communicated to stakeholders. Forecast skills have to combine with effective dissemination cemented by mutual trust and understanding, consistency, and effective coordination, say experts.
Calculations, especially in earth sciences, should always include an estimate of the possible error, the existence of some error being a basic assumption. According to experts, this applies equally to weather forecasting and considerations of future climates. Weather and climate forecasting is perhaps the most demanding computationally, yet the least certain of scientific trades. https://www.thehindubusinessline.com/news/weather-forecasts-should-include-possible-error-margins-say-experts/article29749760.ece  (20 Oct. 2019)
Monsoon retreating 5 times faster This year monsoon withdrawal is unusually quick. It normally takes 45 days. This year between October 9 and 14, monsoon has already withdrawn from most parts of northwest India, central India, Chhattisgarh, Bihar, Konkan, Goa etc. Wind patterns changed very quickly to northwesterly from easterly due to formation of an anti-cyclone over western parts of Rajasthan," said Mahesh Palawat, vice president, climate change and meteorology, Skymet Weather.
– IMD scientists admit the pace of withdrawal has been unusual. "The criteria for monsoon were not applicable anymore to these regions in northwest India and central India so we have announced that monsoon has withdrawn from these places. We had earlier said withdrawal will be quick. It is likely to withdraw completely by October 17. This is climate variability," said M Mohapatra, director general, IMD.
– "Monsoon flow of air has stopped and with that all monsoon activity has also stopped abruptly. It is indeed quick," added Pulak Guhathakurta, head, Climate Application and User Interface, Climate Research and Services at IMD, Pune.
– Experts say it is too early to relate the quick withdrawal to climate change. "The main synoptic feature of this year's monsoon is the widespread rain in September which is very unusual. Lots of low pressure systems formed over the Bay of Bengal. I also think western disturbances which start forming in winter formed early in September this year, blending with monsoon rains. Climate change cannot be ruled out but it cannot be linked definitely (with the withdrawal) . Some people have contended that IMD should have declared the onset of withdrawal earlier," said SK Dash, climate scientist, IIT Delhi. https://www.hindustantimes.com/india-news/gone-in-9-days-monsoon-retreating-5-times-faster/story-32w9GQ41XJd0t6fOOtB5ZI.html  (15 Oct. 2019)
Arrival of northeast monsoon coincides with retreat of southwest monsoon It is for the first time in last five years, that north-east monsoon arrived on the same day when the four-month southwest monsoon completely withdrew from the country. "The last, it happened was in 2014, when both the withdrawal of southwest monsoon and arrival of northeast monsoon took place simultaneously on October 18. A similar pattern was observed in 2013," said one of the senior scientists at IMD.
A longer monsoon season is also shrinking the gap between the southwest monsoon and arrival of north-east monsoon, which usually makes its onset over the southern coast on October 18. "2010 onwards, the shift is clearly visible. The monsoon season is getting longer, and withdrawal is getting pushed to a later date. It is mostly because, more low pressure systems are forming over Bay of Bengal which are keeping the monsoon active and bringing rains in September," said Dr K J Ramesh, former Chief of Indian Meteorological Department (IMD), New Delhi.
While the shift could be seen as a manifestation of climate change, scientists say, it is also leading to a sudden arrival of winter with lowering of temperatures."The current monsoon season was unique in several ways, especially the way it departed. Normally, if the withdrawal begins around September 1, it takes roughly about 45 days to completely retreat from the country, this year, it withdrew from the country within eight days," said S Hosalikar, Deputy Director General, Western Region, IMD. https://www.livemint.com/news/india/first-time-in-five-years-arrival-of-northeast-monsoon-coincides-with-retreat-of-southwest-monsoon-11571400335775.html  (18 Oct. 2019)
The secondary monsoon: On rainfall behaviour This EDIT in THE HINDU stresses a few points in the context of NE Monsoon just set in: There is possibility of Urban flooding if the NE monsoon is surplus. There is need to study the impact of Indian Oceans on Indian monsoons. Need to study the NE Monsoon too like the way SW Monsoon is studied. Important points. https://www.thehindu.com/opinion/editorial/the-secondary-monsoon/article29728648.ece  (18 Oct. 2019)
Gujarat Monsoon withdraws IMD on Oct. 14 announced that the southwest monsoon has withdrawn from entire Gujarat state and north Arabian sea. After 2013, this year recorded the maximum rainfall in absolute terms and second-highest rainfall percentage against long period average (LPA). The year 2013 had recorded 1175 mm rainfall and it was 147% of the LPA. This year, the state has recorded 1159 mm rainfall and it was 142% of the LPA. This year, June has recorded 109 mm, July 222 mm, August 446 mm, September 338 mm and October 43 mm rainfall. All 33 districts have recorded more than 100% of seasonal rainfall whereas out of 251 talukas, only 7 recorded 251-500 mm rainfall. All other taluka recorded more than 501 mm (19.7 inches) rains. https://timesofindia.indiatimes.com/city/ahmedabad/monsoon-withdraws-from-gujarat/articleshow/71586638.cms  (14 Oct. 2019)
Telangana Srisailam gates lifted for 6th time this monsoon season 4 gates of Srisailam dam were opened on Oct 12-13, 2019 to release 1.12 lakh cusecs of water. This is the 6th time during current flood season that the dam gates have been opened. Irrigation authorities stated that the current water year, June-May, is proving to be the among the best during the last couple of decades, the fourth-best in terms of volume of inflows into Srisailam as it has received over 1,375 tmc ft of water till 6 a.m. on Oct. 13 from June 1 this year. "The current water year is different from 2005-06 to 2007-08, the top three years in terms of volume of flood received into Srisailam, as the number of flood days are more and are spread across August, September and October," a flood monitoring engineer explained.
– Meanwhile, over 1.5 lakh cusecs of flood was also being discharged from the 10 crest gates of Nagarjunasagar project as at 9 p.m. on Oct. 13 by lifting them for 10 feet height each. Another 32,400 cusecs was also being let into the river course after power generation. https://www.thehindu.com/news/national/telangana/srisailam-gates-lifted-for-sixth-time-this-monsoon-season/article29675119.ece    (13 Oct. 2019) 
FLOOD 2019
SANDRP Blog South India Overview of CWC Flood Forecasting Sites 2019 In 2019, CWC has added 48 more sites in these states which includes 18 Level Forecasting, 30 Level Monitoring sites. Now, these 5 sates [Tamil Nadu (74), Karnataka (67), Kerala (41), Andhra Pradesh (52), Telangana (28)] have 266 sites including 38 Level Forecasting, 177 Level Monitoring and 47 Inflow Forecasting sites.  https://sandrp.in/2019/10/18/south-india-overview-of-cwc-flood-forecasting-sites-2019/  (18 Oct. 2019)
ENVIRONMENT
Op-Ed Not green but Greenwash There isn't much evidence that when a Metro arrives in a city or the bus system gets better, car sales drop. If the Metro really replaces cars, Metro infrastructure should take up the space that cars take up in the city's landscape. But instead, the Metro consumes trees, soil and aquifers, even as we keep getting new flyovers and expressways.
Are these going to be our 'solutions' to the ecological crisis? If so, let us prepare for new problems, especially air quality worsening further and the contribution towards climate change becoming yet greater. thehindu.com/opinion/op-ed/not-green-but-greenwash/article29717161.ece   (17 Oct. 2019)
Maharashtra MoEF wants to disband the protector of ecologically-sensitive Dahanu  Interestingly, this is the second attempt by the environment ministry to disband the Dahanu Authority. In 2002, the ministry had lost a case in Supreme Court when the latter passed an order directing for the continuation of the DTEPA. The latest move by the environment ministry is interesting since it comes just ahead of the Maharashtra legislative assembly elections on October 21.
– Now, to protest against the environment ministry's move, community-based organisations representing farmers, fisherfolk and tribal people have come forward protesting the move of the environment ministry to scrap the Dahanu authority.
– Predominantly a rural region and known for its forest cover and scattered tribal communities, Dahanu's landscape includes a pristine coastline, meandering estuaries and large areas under agriculture and horticulture. Famous for its chiku fruit, Dahanu's horticultural economy also includes coconuts and mangoes to the surrounding areas. Besides the forest-dependent tribals, it is also home to a large fishing community living along its 35-kilometre long coastline. https://scroll.in/article/940444/indian-government-wants-to-disband-the-protector-of-ecologically-sensitive-dahanu  (15 Oct. 2019)
Haryana Aravallis battle against Garbage Disposal In Pali, Faridabad, the Municipal Corporation plans to demarcate a waste disposal site in the village's ecologically fragile forest in Aravallis. https://thebastion.co.in/politics-and/it-has-become-acid-aravallis-battle-against-garbage-disposal-and-more/  (5 Oct. 2019)
Report RTI amendments regressive, why is Centre not making rules? asks Justice Lokur  State of RTI. https://www.counterview.net/2019/10/rti-amendments-regressive-why-is-centre.html  (17 Oct. 2019) 
CLIMATE CHANGE
Study Himalayan glaciers melting at alarming rate, spy satellites show Now the first complete study of the Himalayan region reveals that its glaciers lost billions of tons of ice—equivalent to more than a vertical foot and half of ice each year—from 2000 to 2016. That's double the amount of melting that took place from 1975 to 2000, revealing that the ice loss is accelerating with rising temperatures. This melting means runoff is 1.6 times greater than if the glaciers were stable, resulting in seasonal flooding and the creation of many glacial lakes that create a risk of catastrophic outburst floods. In May 2012, one such flood killed over 60 people in villages near Pokhara, Nepal.
– This is the first comprehensive look at what's happened to glaciers in the Himalaya over a 40-year time span, said lead author Joshua Maurer at Columbia University's Lamont-Doherty Earth Observatory. The study was published on June 19, 2019 in Science Advances. As much as quarter of the region's ice has been lost over the last 40 years, he estimated. The US spy satellite photos from 1973-1980 and latest satellite images enabled researchers to study the changes to 650 of the largest glaciers, representing 55 percent of the glacial ice in the region over the past 40 years.
– The study did not include the huge adjoining ranges of high-mountain Asia such as the Pamir, Hindu Kush, or Tian Shan, but other studies suggest that similar melting is underway there as well. https://www.nationalgeographic.com/environment/2019/06/himalayan-glaciers-melting-alarming-rate-spy-satellites-show/  (19 June 2019)
Prof Subimal Ghosh of IIT Bombay awarded Shanti Swarup Bhatnagar Prize 2019 Prof. Ghosh's work focuses on the areas of hydro-climatology and hydrology. Hydro-climatology is the study of how climate influences the water cycle and hydrology is the study of water on and beneath the surface of the Earth. It also includes studying the different forms of water in the water cycle, like water vapour, moisture and oceans, their movement and their chemical and physical properties.
The water cycle has multiple components and processes—atmospheric processes, land processes and oceanic processes. Perturbations in any of these affects the entire cycle. For example, the leaves of plants return water vapour to the atmosphere through a process called transpiration, which is essential for the proper functioning of the water cycle. Due to deforestation, there is a significant decrease in this process, which affects rainfall over that region.
Prof. Ghosh and his group are using theoretical and experimental knowledge of climate studies to solve today's climate crises of floods and heatwaves. He led a major project to design the first-ever 'expert system' to forecast floods after the 2015 Chennai floods. This system was developed in a record time of one and a half years, and it can be adapted to other cities like Mumbai and Kolkata. https://researchmatters.in/news/prof-subimal-ghosh-iit-bombay-awarded-shanti-swarup-bhatnagar-prize-2019  (18 Oct. 2019)
SOUTH ASIA
India- Bangladesh India's river water withdrawal causes encroachment, pollution The national river conservation commission in its latest annual report has identified indiscriminate withdrawal of waters from the trans-boundary rivers upstream by India as a cause for accelerating the rate of river grabbing and river water pollution in Bangladesh.
– The report scheduled to be placed at the Jaitya Sangsad in the next session of parliament reads that indiscriminate withdrawal of waters of cross-border rivers by India is depleting water levels in Bangladesh alarmingly resulting in the increase of pollution level for enhancement of density of the biochemical and chemical pollutants in river waters.
– The commission report  identifies increase of salinity in river waters in Bangladesh as another adverse impact of the arbitrary withdrawal of river waters by India. http://www.newagebd.net/article/86350/indias-river-water-withdrawal-causes-encroachment-pollution  (2 Oct. 2019)
India Pakistan PM Modi's empty and ill-informed threat to stop flow of water to Pakistan Mohan Guruswamy, on Water situation of Pakistan in the context of recent statement by Indian PM: As its founding father poet Allama Iqbal wrote: Watan Ki Fikar Kar Nadan! Musibat Ane Wali Hai/Teri Barbadiyon Ke Mashware Hain Asmanon Mein. https://www.nationalheraldindia.com/opinion/pm-modis-empty-and-ill-informed-threat-to-stop-flow-of-water-to-pakistan  (15 Oct. 2019)
ASIA  
MEKONG 'Our River Was Like a God': How Dams and China's Might Imperil the Mekong  'Our River Was Like a God': How Dams and China's Might Imperil the Mekong As plans for damming the lower Mekong gathered force in the early 2000s, the Mekong River Commission predicted that its four members — Laos, Thailand, Cambodia and Vietnam — would reap $30 billion in benefits. But a reassessment years later by the same commission, which China has refused to join, produced a far different forecast: The economies of the lower Mekong countries will take a $7 billion hit if the planned hydropower projects go ahead.
– Already, water levels this July reached their lowest recorded height, according to the commission. A survey by the commission found that if all the dams planned for the Mekong network go forward, 97 percent of the sediment that once flowed to the river's mouth could be blocked by 2040, starving the land of nutrients needed for agriculture.
– Environmental activists were alarmed last year when a Chinese company report on the cross-border impact of a major dam project in Laos, supposedly the product of months of rigorous research, turned out to have passages that were lifted from an earlier report about another Chinese project.
– "The people who depend most on the Mekong have the least control over what happens to the river," said a researcher on natural resource conflict in the region. "I have not seen a single case in which people have been compensated fairly for the disruptions to their lives caused by dams," said Ian Baird, a Southeast Asia expert at the University of Wisconsin-Madison who studies the social effects of dams.
– "Our river was like a god to us," said In Chin, a resident. "It makes me sad that we killed it."  https://www.nytimes.com/2019/10/12/world/asia/mekong-river-dams-china.html  (12 Oct. 2019) 
THE REST OF THE WORLD
Japan; Typhoon Hagibis Online backlash after dams discharge water during night Typhoon Hagibis hit  Sequence of events how six dams in Japan released water on the night between Oct 12-13, 2019 at short notice, following heavy rainfall during Typhoon Hagibis. https://mainichi.jp/english/articles/20191014/p2a/00m/0na/008000c   (14 Oct. 2019)
After a typhoon's record-breaking rains breached dozens of levees, the country is wondering whether even the costliest systems can be future-proofed for the age of climate change. 70 deaths, 55 levee breaches and 10 000 homes submerged.
– When the levee on the Chikuma River in Nagano Prefecture, NW of Tokyo broke past midnight, it submerged homes and swept away anything in its way.
– Yasuo Nihei, a professor of river engineering at the Tokyo University of Science, said that in places around Japan, "we're observing rain of a strength that we have never experienced. When we look at the costs, I think it's clear that flood control programs need to be accelerated… Even so, "realistically, there will be rains you can't defend against."
– The changes have forced local governments to revise how they prepare for disasters. Instead of planning for 100-year storms, they are now thinking about more destructive once-in-a-thousand-year disasters. Last summer, Nagano city, which administers Naganuma, where Mr. Ogawa's house was inundated, redrew its flood maps. The old maps, drawn up in 2006, imagined a situation in which Naganuma could be covered with up to 16 feet of floodwater.
– But planners now imagine a much worse scenario: 16 inches of rain over two days, resulting in more than a dozen levee breaches and leaving Naganuma drowning under 65 feet of water. Even that might not be pessimistic enough. Last weekend, when Typhoon Hagibis hit Hakone, a mountain resort town south of Tokyo, 39 inches of rain fell in 48 hours.
– "A lot of societies in North America or Singapore or Japan have become fixated on the idea that we'll engineer our way out of this problem," he added. "We'll build floating buildings or better sensors, which is all well and good, but what do you do if your cellphone doesn't work? Or you don't have access to electricity?" https://www.nytimes.com/2019/10/16/world/asia/japan-typhoon-hagibis.html  
Russia 13 People Die In Dam Failure At Russian Gold Mine: Ministry 13 people were killed as a result of a dam failure at a gold mine in the Siberian region of Krasnoyarsk early Oct. 19, the Russian emergencies ministry said.
The workers died when a dam on the Seiba River collapsed in the early hours of Saturday and flooded several cabins where they lived, authorities said. Investigators said they opened a criminal probe into the violation of safety rules.  https://www.ndtv.com/world-news/13-people-die-in-dam-failure-at-russian-gold-mine-ministry-2119380  (19 Oct. 2019)
At least 15 people have died and 13 others are missing after a dam collapse at a gold mine in Siberia. The dam, on the Seiba river in the region of Krasnoyarsk, burst after heavy rain on Oct. 19, flooding cabins where workers lived. Russia's health ministry said 14 miners were taken to hospital, including three with severe injuries. A criminal investigation has been opened over allegations the dam violated safety regulations. "The hydro-technical facility was self-constructed and, I believe, all rules I can and cannot think of were violated," Yuri Lapshin, the head of the Krasnoyarsk regional government, was quoted by RIA news agency as saying.  https://www.bbc.com/news/world-europe-50108413  (19 Oct. 2019)
Study Antibiotic resistant genes prevalent in groundwater Adam Smith, Assistant Professor in the Sonny Astani Department of Civil and Environmental Engineering at the University of Southern California, and a team of researchers including Moustapha Harb, an Assistant Professor at Lebanese American University and USC Viterbi School of Engineering Ph.D. students Phillip Wang and Ali Zarei-Baygi, studied and compared samples from an advanced groundwater treatment facility in Southern California and groundwater aquifers to detect differences in antibiotic resistant genes (ARGs)  concentrations. While they found that the advanced groundwater treatment facility reduced nearly all targeted ARGs to below detection limits, groundwater samples had a ubiquitous presence of ARGs in both control locations and locations recharged with water from the advanced water treatment facility. https://phys.org/news/2019-10-antibiotic-resistant-genes-prevalent-groundwater.html  (4 Oct. 2019)
Compiled by SANDRP (ht.sandrp@gmail.com)
Also see: DRP News Bulletin 14 Oct. 2019 & DRP News Bulletin 7 Oct. 2019
Follow us on: www.facebook.com/sandrp.in; https://twitter.com/Indian_Rivers