Indian Express, one of the India's leading and most respected National Newspapers, has an editorial on the above subject on June 17, 2019. The Edit has some rather dire warnings: "If current conditions persist — the US Climate Prediction Center has forecast an 81 per cent chance of El Nino, the abnormal warming of the equatorial eastern Pacific Ocean waters known to adversely impact rainfall in India, continuing till July and 66 per cent up to August — kharif crop production will take a hit."
The monsoon, after its rather reluctant entry into Kerala, so far is already 43% deficit till June 17. Out of 36 meteorological divisions, 18 had large (over 60%) deficiency and 13 more had 20-60% deficiency, so 31 of 36 sub divisions already faced over 20% rainfall deficit. If the El Nino prediction of US Climate Centre comes true, we could be in for meteorological, agricultural and even hydrological drought, considering our water management situation.
This is most starkly apparent in the way over 2000 Million Cubic Meters or 2000 Billion litres of water was allowed to flow away without much use from Bhakra, Pong and Ranjit Sagar dams on Rivers allocated to India under Indo-Pak Indus Water Treaty of 1960. We are unable to raise the debate as to WHY was the Punjab, Haryana, BBMB, CWC and Central government NOT PREPARED to use the bounty of water that was available in this region that is already seeing scary groundwater depletions for decades. Same is the situation in most other areas. Are we even ready to use the bounty that monsoon provides, to what ever extent, wherever and whenever it provides? In the answer to that question is hidden success or failure of our water resources development and management.
As per another report, the overall monsoon deficiency in the country has reached 43% due to its sluggish pace. IMD's central division — which covers Madhya Pradesh, Odisha, Chhattisgarh, Maharashtra and Goa — has recorded 59 per cent of rainfall deficiency while east and northeast India has recorded 47% deficiency. Rainfall deficiency in meteorological subdivisions west and east Madhya Pradesh, Chhattisgarh was 75, 70 and 72%, respectively. Deficiency in Vidarbha is 87%.
According to the Central Water Commission, the water level in reservoirs of south Indian states and Maharashtra is lesser than the average of last ten years. Several parts of the country are reeling under intense heatwave, especially the east Indian states of Jharkhand, Bihar and Odisha. https://www.thehindu.com/news/national/rainfall-deficiency-hits-43-monsoon-progress-likely-in-the-next-2-3-days-imd/article27955688.ece  (16 June 2019) 
HYDRO POWER PROJECTS
Arunachal Pradesh Locals oppose Nyamjang Chu HEP unanimously The Wildlife Institute of India (WII)'s report on the possible impact of the proposed Nyamjang Chu hydro-electric project on the Black-necked crane habitat in Arunachal Pradesh's Zemithang Valley said that all the locals interviewed during an assessment at the project site were opposed to construction of the dam. The field study was conducted between July 2017 and February 2018. The report's socioeconomic survey section said that all the 46 people who were asked with the several questionnaires on the proposed project were categorically against construction of the dam.
– WII's report has categorically said that the construction of the dam would "eventually submerge the entire habitat of vulnerable black-necked crane in Zemithang." The WII report is an outcome of a 2016 order by the National Green Tribunal (NGT) that suspended the environmental clearance given to the project and asked the environment ministry to conduct a study on the environmental impact of the project. In 2012 SMRF challenged in NGT the environmental clearance granted to Nyamjang Chhu on the ground that the project developer did not reveal the wintering site of black-necked crane in the environment impact assessment (EIA) report commissioned by the project developer.  https://timesofindia.indiatimes.com/city/itanagar/locals-oppose-arunachal-pradesh-mega-dam-unanimously/articleshow/69721261.cms  (10 June 2019)
Sikkim Indigenous communities united in their anti-dam movement Territoriality through traditional self-governance played a key role in successful and sustained anti-dam protests by two indigenous communities in Lachen and Lachung in the eastern Himalayas.
While many anti-dam protests have not been successful in northeast India, they worked in Sikkim's Lachen and Lachung because of the deployment of notions of identity.
The consequences of resisting hydropower development have not been easy for the Lachungpas and Lachenpas but have strengthened their resolve to not allow any hydropower projects. https://india.mongabay.com/2019/06/how-two-indigenous-communities-in-north-sikkim-united-in-their-anti-dam-movement/  (17 June 2019)
Himachal Pradesh How good hydroelectric really is? Himdhara report alleges ecological costs, falling revenues, oversight in Himachal hydel projects. It flags environmental hazards and additional threats such as risks posed by the construction of power plants in fragile terrains, especially in Himachal Pradesh. The report has studied risks associated with hydropower construction, especially in regions like the northern hill states. https://www.downtoearth.org.in/news/energy/how-good-hydroelectric-really-is-non-profit-s-report-calls-out-sector-65052     (13 June 2019)
The large hydropower projects of Parbati II, Karccham Wangtoo, Kashang and Bajoli Holi illustrate how landslides, drying up of springs, damages to houses, farms and forests have made difficult the lives and livelihoods of the people in the project area.   https://hillpost.in/2019/06/hidden-costs-of-hydropower-himdhara/111770/    (11 June 2019)
Full report can be seen here. http://www.himdhara.org/wp-content/uploads/2019/06/The-Hidden-Cost-of-Hydropower_2019.pdf 
Ignoring admn's warning, tourists venturing near Beas Sources said dams built on the river at Larji and Pandoh were overflowing, forcing the authorities to release water on a regular basis. In view of this, the administration has been cautioning locals and tourists against going close to the river, as this could put their lives at risk. However, ignoring the warning, tourists could be seen parking their vehicles on the roadside on the Mandi-Manali route and going towards the river to get photos or selfies clicked.
The sources said sand mafia had constructed road links to the Beas, making it easier for the tourists. They said these needed to be closed at the earliest. An 11-year-old child from Rajasthan recently drowned in the Beas near Manali. Mandi SDM Sunny Sharma said the water level of the Beas had been increasing by the day, Therefore, tourists and local people were advised to refrain from going near it. https://www.tribuneindia.com/news/himachal/ignoring-admn-s-warning-tourists-venturing-near-beas/788951.html  (17 June 2019)
Film Review Surya Ganga: Is hydropower really green? Hydropower is seen as clean in terms of air pollution, but the ecological impact of any dam on a river is immense, irreparable and long lasting. The government just sees the direct cost-benefit ratio in terms of money invested and the revenue generated and assumes all negative impacts can be mitigated through technology. 
The film, through its protagonists, provides a peek into just how "clean" hydropower energy, in reality, is when they visit the Maneri Bhali hydropower project in Uttarakhand. "The dried up stretches of the Ganga are being subjected to intensified damming in the Himalayas and there are anything between 80 to 600 projects slated to be constructed in the belt," says Himanshu Thakkar, SANDRP in the film speaking on whether hydropower can meet energy deficit. https://www.indiawaterportal.org/articles/surya-ganga-film-review  (14 June 2019)
In a nutshell, Surya Ganga is a refreshingly told tale with a poignant message, about the pursuit of power and the havoc caused in its wake. It shows the indiscriminate and ill-conceived use and abuse of our rivers in the form of big hydro and coal mining projects. It talks about the social, human and environmental cost of imposing such mindless policies.
It is about the epic conflict staged between development and conservation, power and people, with rivers, forests and social life at stake. But most importantly the movie also talks about the alternatives and sustainable solutions. In fact its most refreshing part is in the storytelling, which is done in a sensitive and innovative manner.  https://www.thecitizen.in/index.php/en/NewsDetail/index/16/17093/Surya-Ganga—Of-a-Dying-River-and-an-Epic-Struggle  (11 June 2019)   
Report India eyes regional ambitions through energy trade This report basically depends on ORF and Carbon Copy reports to suggest that cross border energy trade is desirable, when it is clear that such trade is dependent on seriously problematic big hydro projects, which are now even economically unviable, besides being socially disruptive and environmentally destructive.   https://www.thethirdpole.net/en/2019/06/10/india-eyes-regional-ambitions-through-energy-trade      (10 June 2019)
RECOMMENDATIONS IN THE MEETING OF FAC Some relevant decisions of FAC meeting held on May 22, 2019, the minutes have just been uploaded.
Diversion of 54.87 ha of Forest Land for Hiran Medium Tank Project of Water Resources Department, Jabalpur District of Madhya Pradesh. RECOMMENDED.

Proposal for diversion of additional area of 4.2 ha of forest land (PH & Barrage Quarry of 0.5 ha and Muck Access road of 3.7 ha) for Heo Hydro Project (240 MW) in West Siang Dist of Arunachal Pradesh. MORE INFO SOUGHT.

Diversion of 52.80 ha of forest land (surface forest land-47.1 ha, reiverbed-2.3 ha & underground area-2.8 ha) for Tato-I Hydro Electric Project (186 MW) in West Siang District of Arunachal Pradesh. MORE INFO SOUGHT. http://forestsclearance.nic.in/writereaddata/FAC_Minutes/61114122121711.pdf
DAMS
SANDRP Blog BBMB & Punjab ill prepared to use water flows to Bhakra dams in 2019 summer Even as Punjab and India stare at water crisis, Bhakra dams are releasing millions of Cubic Meters of India's share of Water that flows away from India. This raises lot of serious questions. Please Read, share and send your feedback. https://sandrp.in/2019/06/12/bbmb-punjab-ill-prepared-to-use-water-flows-to-bhakra-dams-in-2019-summer/    (12 June 2019)
Punjab CM confirms that water is being released from both Harike and Ferozepur barrages to Pakistan. The water release from Ferozepur barrage, going on since 24 days, has so far come to 511 MCM, the quantum from Harike barrage is not known. THIS CONFIRMS WHAT SANDRP WROTE TWO DAYS BACK.   https://www.news18.com/news/politics/amarinder-singh-says-accusation-on-excess-water-release-to-pakistan-is-politically-motivated-2185603.html                             (13 June 2019)
This report in a National media raises the issue SANDRP raised earlier, even if without referring to what SANDRP wrote. It shows clearly that Punjab and Haryana were ill prepared to use the additional water from Bhakra, Beas and Ranjit Sagar Dams. https://indianexpress.com/article/india/brimming-reservoirs-gush-to-pakistan-but-not-to-taps-in-parched-punjab-5781778/  (15 June 2019)
Cotton Farmers of Punjab are alleging that the closure of Sirhind canal in this hot weather in the name of maintenance is to stop paddy farmers from transplanting before June 13, but is affecting the cotton farmers and diversification adversely. https://www.tribuneindia.com/news/punjab/canal-closure-may-hit-cotton/785518.html  (10 June 2019)
Almost 14,000 cusecs water is being released into Pakistan from Hussainiwala, which the farmers term as total wastage of the natural resource. Karan Singh Dhaliwal, secretary, Border Kisan Union, said while some districts like Sangrur had been placed in the dark zone due to exploitation of groundwater, the release of water was unwarranted. Punjab Ekta Party leader Sukhpal Khaira had raised his concern over release of excess water. Earlier, the capacity of Hussainiwala headworks was about 4.5 lakh cusecs but due to presence of hyacinth and encroachment at some places along the Sutlej, the capacity had come down to almost one lakh cusecs over a period of time, which had compounded the problem.
– All three dams, including Bhakra, were filled to the brim. At Bhakra, while the inflow was recorded at 27,298 cusecs on Monday, the outflow was 35,000 cusecs. HS Chahal, Superintendent Engineer (Canals), Ferozepur, said water was being released into Pakistan as a preventive measure ahead of the monsoon season to avoid any untoward situation later.  https://www.tribuneindia.com/news/punjab/release-of-water-into-pakistan-riles-farmers/786099.html     (10 June 2019)
Out of 4, 25,000 acres under paddy cultivation in Jalandhar, mere 40,000 acres would be irrigated by Bist Doab Canal (BDC) which gets water supply from the Ropar Headworks.
While tributaries of local drains and rivers had dried up and polluted with industrial waste, the BDC has been the only active source of surface water left in the district to provide water for irrigation purposes. However, due to the absence of rainwater harvesting projects and surface water sources, less than one per cent of the land would be irrigated by the BDC. Irony is that the BDC has been clogged with garbage for most part of the year. https://www.tribuneindia.com/news/jalandhar/bist-doab-canal-irrigates-mere-4-per-cent-paddy-area-in-jalandhar/785582.html  (10 June 2019)
Report अब बड़े बांध के बजाय छोटी जल परियोजनाओं पर जोर Will MoWR really implement this? It seems doubtful… केंद्रीय जल शक्ति मंत्रलय के एक उच्च अधिकारी ने दैनिक जागरण से कहा कि मोदी सरकार की महत्वाकांक्षी 'नल से जल' परियोजना की सफलता के लिए जल संरक्षण बेहद जरूरी है। इसके तहत जल भंडारण और वितरण में क्षेत्रीय संतुलन सुनिश्चित करने के लिए छोटी-छोटी जल संचय परियोजनाओं पर जोर दिया जाएगा। इसके तहत रेन वॉटर हार्वेस्टिंग की विकेंद्रीकृत परियोजनाएं तैयार की जाएंगी।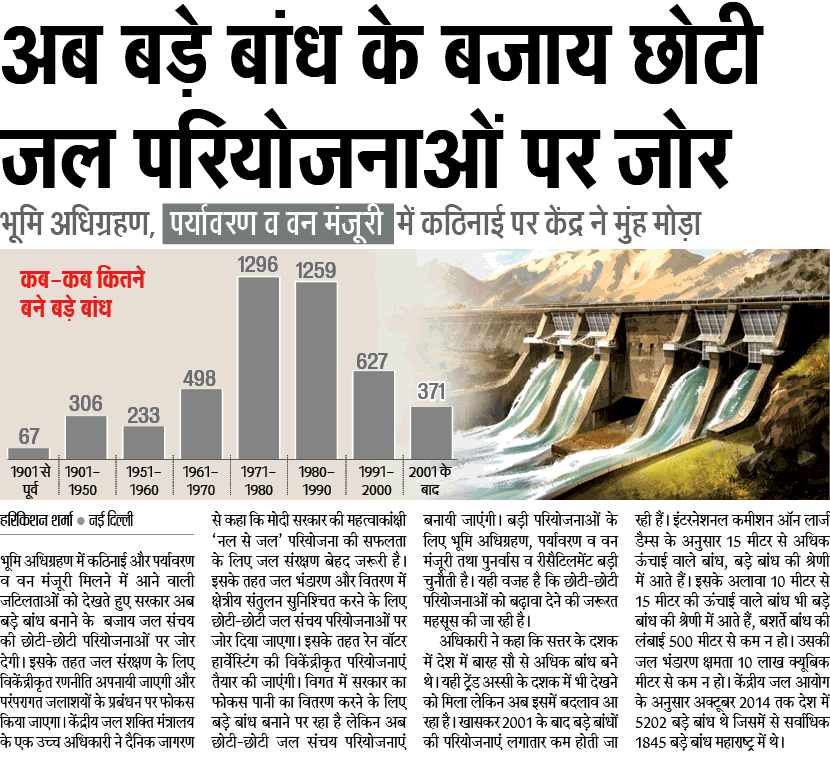 विगत में सरकार का फोकस पानी का वितरण करने के लिए बड़े बांध बनाने पर रहा है लेकिन अब छोटी-छोटी जल संचय परियोजनाएं बनायी जाएंगी। बड़ी परियोजनाओं के लिए भूमि अधिग्रहण, पर्यावरण व वन मंजूरी तथा पुनर्वास व रीसैटिलमेंट बड़ी चुनौती है। यही वजह है कि छोटी-छोटी परियोजनाओं को बढ़ावा देने की जरूरत महसूस की जा रही है। https://epaper.jagran.com/epaper/13-jun-2019-4-delhi-city-edition-delhi-city-page-12.html#  (13 June 2019)
Study Pancheshwar dam vulnerable to earthquakes in current form India has been actively pursuing the proposed 5,040-megawatt Pancheshwar dam project on the India-Nepal border despite objections to the large-scale project in the geologically sensitive Himalayan area. A latest study published by a team of Indian researchers has cautioned that if executed in its present format, the project would face a serious risk from seismic activity and sediment mobilisation. The researchers also note that the project will be vulnerable to extreme weather events and shrinking glaciers in the Himalayan region.  https://india.mongabay.com/2019/06/pancheshwar-dam-vulnerable-to-earthquakes-in-current-form-finds-study/?fbclid=IwAR3qEACGSqelN5YwDpEJSY1-NfasMpgrmEoqpMCyL_9uA30o0jX1KIgccDY  (13 June 2019)
Tamil Nadu Mettur dam remains shut for 8th year in a row TRAGIC STORY OF CAUVERY DELTA FARMERS WHO THINK BEING A FARMER HAS BECOME A CURSE FOR THEM. AS METTUR DAM WILL REMAIN SHUT FOR CONSECUTIVE 8 YEARS, MANY FORCED TO BECOME LABOUR IN FACTORIES. PROPOSED HYDRO CARBON EXPLORATION PROJECT ADDING SALT ON THEIR MISERIES:
– Kuruvai crops gave farmers one assured crop every year to make a living. Elaborating the water scarcity and the emotions of the farmers right now, Varatharajan a farmer said that since this was the first year after the Indian government set up the Cauvery Water Management Authority (CWMA), the farmers had believed that they would get water from Cauvery for their crops as per the scheduled release. But they never received water from the river.
In fact, the CWMA, in its latest meeting held on May 28, had ordered the government of Karnataka to release 9.19 tmcft water to Tamil Nadu in June. However, there has been no action on the order to date.
 "It makes us lose faith in the legal system since we believed that the government is giving us legal assurance when CWMA was formed. Our situation has not really changed in any manner now," he points out.
Varatharajan says that this lack of agricultural output in the delta districts has pushed people, who would otherwise be occupied with farming, to move out of their towns in search of other means of livelihood. https://www.thenewsminute.com/article/mettur-dam-remains-shut-8th-year-row-delta-farmers-hopes-blocked-103618  (14 June 2019)
Goa Villagers questions 'sacrifice' for state's first dam  Very moving note about Kurdi villagers of South Goa who lost their prosperous village to state's first dam on  Salaulim river believing the scheme but even after four decades of displacement are deprived from basic facilities of water, power and health care. 
Talk of project started in 1965. Nobody among the 3,000-odd inhabitants of the village protested. Construction of the dam started in 1977 and by the time it was complete in 2000, it was powering the drinking water supply of almost all of south Goa.
Having waited for over four decades for basic amenities, anger is now simmering among the displaced families. In Vaddem, where at least 350 families were shifted, none of the houses have piped drinking water supply. Residents said that they were tired of empty promises and felt betrayed.
It is ironical that people who sacrificed their identity so that Goa could have access to clean drinking water, do not have a drop of it for themselves. They depend on water tankers to get our daily share of water.
Jagannath Prabhudessai, who hails from a family of landlords which owned 1,700 acres of land and lucrative sugarcane, cashew and coconut plantations in Kurdi, said, "We lost not just our plantations but also our way of life. Kurdi was a self sustainable village with agriculture as the mainstay of its economy. Today, youths are leaving Vaddem in search of jobs." https://timesofindia.indiatimes.com/india/under-water-for-11-months-a-year-goa-village-questions-sacrifice-for-dam/articleshow/69794562.cms  (15 June 2019)
Maharashtra Govt to promote tourism on dams area Hundreds of acres of vacant land owned by the water resources department near 3,255 dams in state will now be opened up for tourism and development of recreational facilities. The policy, which was cleared in a state cabinet meeting on June 11, also allows privatisation of guest houses, resthouses and bungalows near dams and reservoirs for tourism purposes through a public-private-partnership (PPP) model. This is a first-of-its-kind policy, as, so far, development was restricted in these areas.
The water resources department has 138 big dams, 255 medium and 2,862 minor dams, and each of them have open plots admeasuring five to 400 acres. According to officials, these plots will now be used for water sports, sailing, windsurfing, amusement park and theme park. https://www.hindustantimes.com/mumbai-news/water-sports-sailing-maharashtra-has-dam-good-plans-for-you/story-2YayvYQtnqc0VprFtfHRKP.html  (12 June 2019)
Govt of Maharashtra to hand over dams and reservoirs, vacant land around them, rest houses etc to private players for developing tourism. This is NOT DONE. Its a scam on local people, from whom these lands were forcibly acquired under land acquisition act at very low rates for "public interest". Private tourism is not public interest. Let these lands be returned to the local people, and let them negotiate and benefit from the higher prices, or partner in tourism projects.    https://www.loksatta.com/mumbai-news/dam-private-developers-handover-1910273/     (12 June 2019)
Move to interlink dams in Marathwada The government has decided to finalise the detailed project report for interlinking of dams to fight the perennial drought in Marathwada. CM  Devendra Fadnavis said that dams would be interconnected with pipelines and water supply network would be created across the region. The plan will be implemented with the help of the Jalshakti Ministry at the Centre.
– "We are working to develop a Marathwada water grid. Five detailed project reports are ready and the work on the final one is on. We are going to connect all dams in Marathwada," Fadnavis said in Aurgangabad recently. He added that the next generation in the drought-prone areas of the State would not face any water crisis. Major dams, including Jayakwadi, Majalgaon, Lower Dudhna, Yeldari, Vishnupuri, Manjara, Mannar and Sidhdheshwar along with several medium and minor irrigation projects cater to the Marathwada region. The creation of the Marathwada water grid was discussed at the special Cabinet meeting held in Aurangabad in 2016. https://www.thehindubusinessline.com/economy/agri-business/move-to-interlink-dams-in-marathwada/article27765679.ece     (10 June 2019)
Govt Stops Dam Water Diversion To Baramati Till now, some water from the Nira Deoghar dam in Pune was being diverted to Baramati and Indapur (a part of Baramati Lok Sabha constituency). During the recent Lok Sabha poll campaign, BJP leader Ranjit Naik-Nimbalkar raised the issue of distribution of "additional" water to Baramati. Naik-Nimbalkar, who switched over from the Congress and won the Lok Sabha election from Madha seat in Solapur district on BJP's ticket, claimed that Baramati and Indapur were outside the Nira Deoghar dam's "command area".
– Due to diversion of water to sugarcane farms in Baramati from the dam's left bank canal, the neighbouring districts of Solapur and Satara were not getting adequate drinking water, he had said. The state government on June 12, 2019 issued an order which said that diversion of water to Baramati and Indapur from the dam's left bank canal will be stopped and the supply will be moved to the parched areas of Satara, Solapur and Sangli, which fall under the dam"s command area.
– The Nira Deoghar dam, having a storage capacity of 11.73 TMC, was constructed in 2006. Since 2007, around 60 per cent of water from the dam"s left bank canal was moved to Baramati and Indapur while only 40 per cent of the water was supplied to places located in the dam"s command area on the right bank side, the official said. The left bank of Nira Deoghar dam is 11-km long and is not covered in its command area, while the 208-km right bank has several drought-affected areas falling under it. https://www.ndtv.com/india-news/sharad-pawar-maharashtra-government-decides-to-stop-diversion-of-water-dam-to-punes-baramati-2052533   (13 June 2019)
Nimbalkar has long alleged that Baramati — a Pawar bastion — is illegally lifting water from the dam meant for a drought-prone area. He claimed the contract for distribution of water got over in 2017, despite which supply continued. Following this, irrigation minister Mahajan announced that a decision on the issue would be taken soon.
Accordingly, the irrigation department released an order stating that the supply of additional water to Baramati will be stopped. Sixty per cent of the water currently being supplied to Baramati will now be diverted to Madha thorough a canal. https://punemirror.indiatimes.com/pune/civic/nira-deoghar-dams-water-to-baramati-to-stop-irrigation-dept/articleshow/69762633.cms  (13 June 2019)
Govt to move tribunal to stop Rs 287-crore loss to exchequer Facing the prospect of paying a sum of Rs 287 crore to a private contractor and getting quashed its crucial resolution of terminating the Balganga construction contract, the Maharashtra Government will belatedly file an appeal before Raigad district court on Monday, challenging the ruling given by a Bombay High court-appointed Arbitration Tribunal in favour of a private firm. https://www.dailypioneer.com/2019/sunday-edition/maha-to-move-tribunal-to-stop-rs-287-crore-loss-to-exchequer.html  (16 June 2019)
Kerala KSEB formulates rule curves for dams Kerala State Electricity Board (KSEB) has formulated 'rule curves', fixing strategic water levels to be maintained on each date during the six-month-long monsoon period. The KSEB has formed a group to update the operational strategy for major reservoirs by reviewing the rule curves. The rule levels for major dams, including Idukki, Idamalayar, Kakki, Banasurasagar and Sholayar, were finalised by the committee based of the recommendations of the CWC.
The board has also developed an Emergency Action Plan (EAP) for 17 dams which have spillways for discharging excess water. The KSEB has devised a three-colour alert system which will be issued by the dam manager on detecting distress in the dam according to the nature of the emergency level.
The KSEB had suffered a loss of around `150 crore during the 2018 flood as flood water entered the powerhouses of many projects, including Lower Periyar, Peringalkuthu, Ranni-Perunadu, Vellathooval and Adyanpara Small Hydro Electric Project, causing damage to the generators.  http://www.newindianexpress.com/states/kerala/2019/jun/09/monsoon-preparedness-kseb-formulates-rule-curves-for-dams-1987765.html  (9 June 2019)
More details of the plan in this report published a day earlier. https://www.livemint.com/news/india/kerala-took-lessons-from-2018-floods-all-set-to-manage-any-disaster-this-monsoon-1560133462593.html    (10 June 2019)
Kerala was caught napping when the southwest monsoon in June 2018 burgeoned over several weeks into high-intensity rainfall by August. The heavy rainfall, the fast-filling dams and unplanned release of dam water culminated in floods and landslides across the state. A year later, as the southwest monsoon is set to begin by June 6, how prepared is Kerala to handle the rains? https://www.thenewsminute.com/article/lessons-2018-how-kerala-preparing-monsoon-102679    (30 May 2019)
This describes a number of interesting steps Kerala govt has taken to avoid the dam induced flood disaster like the one in Aug 2018.   https://indianexpress.com/article/india/after-2018-floods-kerala-govt-prepares-for-monsoon-5774310/    (11 June 2019)
Dam safety team chairman continues to deny role of dams in creating floods A team led by Dam Safety Authority chairman C.N. Ramachandran on May 21 visited the Idukki and Cheruthoni dams to review their safety prior to the monsoon season. Talking to media persons, Mr. Ramachandran said that there was no point in the amicus curiae report that the floods in August last year was the result of opening the dam shutters. It was not a report based on scientific reasons, he said, adding that the flood was caused by heavy rain.
Mr. Ramachandran visited the Malankara dam. Following the increased power generation at the Moolamattom power house of the Idukki hydroelectric project, the Malankara dam, to which the tail water from the Moolamattom power house is diverted, was in full capacity. Leakages were found in two of the five shutters. However, repairs would be delayed as the dam was in its full capacity, said KSEB sources.
Mr. Ramachandran said the leakages were not serious and would not affect dam safety. He said that the repair work would be completed in August. The team was to visit the Banasura Sagar dam on May 28.  https://www.thehindu.com/news/national/kerala/dam-safety-team-visits-idukki-cheruthoni/article27202935.ece  (22 May 2019)
HC order to demolish illegal check dam High Court on June 12 held that the check dam co-owned by LDF MLA P V Anwar in Cheenkannippalli region of Kakkadampoyil hills, Nilambur, should be demolished before May 30. An expert committee had suggested demolishing the dam before the onset of monsoon as the area falls under medium hazard zone and four landslips and soil erosion had occurred there during the last monsoon. The court issued the order on a petition filed CK Abdul Latheef, father in law of the MLA, challenging the decision to demolish the dam.
Issuing a warning to the MLA for delaying the demolition of the dam, the court told him not to force it to initiate action. "The deluge has taught us a hard lesson. We should not create another disaster," the court said. When the petition came up for hearing, the state government informed that the parties have cut open the central portion of the check dam allowing water in the reservoir to flow downstream. http://www.newindianexpress.com/states/kerala/2019/may/23/no-respite-to-mla-order-to-demolish-check-dam-1980562.html  (23 May 2019)
IDRB team visits Pattissery dam A high-level team of officials of Irrigation and Design Research Board (IDRB) visited the Pattissery dam in Kanthallur to begin the reconstruction work which was stopped after it got embroiled in a row. S.Rajendran, MLA, who accompanied the team said that the reconstruction work is planned to start at the earliest. The reconstruction of the dam was started with the aim to supply water to irrigate the cool- season vegetable cultivating areas of Kanthallur. The old dam was demolished three years back to start the construction of a bigger dam there. However, the reconstruction got indefinitely delayed. https://www.thehindu.com/news/national/kerala/idrb-team-visits-pattissery-dam/article27179430.ece  (19 May 2019)
Talengana Govt to inaugurate ₹80,000-cr Kaleshwaram project on 21 June  Telangana CM to inaugurate country's most expensive irrigation project, inviting AP and Mah CMs: Designed to bring drinking water and irrigation to the state, a total of about 225 thousand million cubic feet (TMC) of water will be drawn through the Rs 80 000 Cr project, including 180 TMC from the Godavari river basin and the rest through other projects. The project is expected to irrigate 18.24 lakh acres of land in the state, provide 56 TMC of drinking water and another 10 TMC for industrial purposes.
– Among all the reservoirs being constructed under the project, the biggest is the 50-TMC Komuravelli Mallanna Sagar reservoir, which in fact had become a bone of contention with farmers from Vemulaghat village in Siddipet district refusing to give up their lands for the project. Various cases with the High Court and the NGT had put a brake on the project. Farmers from Vemulaghat, which will be submerged (along with others) for the project, had insisted that the state government follow the 2013 Land Acquisition, Rehabilitation and Resettlement Act (LARR) and refused to take compensation under G.O. (government order) 123, which was passed in 2015 to acquire land from whoever was willing to give it up for public works. G.O. 123 was, however, struck down by the High Court in August 2016, based on a petition against it by farmers. The issue was finally settled and people started giving up their lands.  https://www.livemint.com/news/india/telangana-govt-to-inaugurate-rs-80-000-crore-kaleshwaram-project-on-21-june-1560347280043.html        (12 June 2019)
The project is expected to supply water to 70 per cent of districts in the state for irrigation, drinking water and industrial purposes. The mega lift irrigation project was completed in three years. Foundation stone was laid at Kannepally  on May 2, 2016. Water will start flowing to the targeted districts from July this year. The government has spent so far around `80,000 crore for the construction of the project.
The project was designed to lift in six stages the water from the Godavari River at Medigadda, which is about 100 m above sea level, and supply it to Kondapochamma Sagar, which is 618 m above sea level. The pump houses will lift 2 TMC of water every day this year. https://www.deccanchronicle.com/nation/current-affairs/130619/kaleshwaram-project-to-be-inaugurated-on-june-21.html  (13 June 2019)
Telangana CM K Chandrasekhar Rao has extended an invite to Maharashtra CM Devendra Fadnavis for being the chief guest for the inauguration ceremony of the Kaleshwaram Lift Irrigation Project (KLIP), which is being billed as the costliest irrigation projects to be undertaken in India. On June 14, 2019, the Telangana Rashtriya Samiti (TRS) leader flew to Mumbai to extend the invitation. The two Chief Ministers later also held a meeting to improve water sharing between the two states.   https://indianexpress.com/article/india/k-chandrasekhar-rao-devendra-fadnavis-meet-in-mumbai-to-improve-water-sharing-ties-5781591/     (15 June 2019)
Karnataka Govt. plans additional vented dam near Dharmasthala This is in addition to the existing one across the Netravathi at 'snana ghatta' (bathing ghat), about 3 km away from Dharmasthala, supplying water to the Lord Manjunatha temple and the town.
On the instruction from the Chief Secretary, Selvamani R., Chief Executive Officer (CEO), Dakshina Kannada Zilla Panchayat, with a team of engineers and officials visited Dharmasthala on Monday to inspect the site for building the new dam. The team visited Neriya Hole, a tributary of the Netravathi, about 5 km away from Dharmasthala and also the snana ghatta.
Mr. Selvamani told he has also instructed the officials to make way for stagnant water, on the upstream of the snana ghatta, to flow to the existing dam. In addition, all illegal irrigation pumpsets on the Netravathi on the upstream of the snana ghatta will be removed. https://www.thehindu.com/news/national/karnataka/water-crisis-govt-plans-additional-vented-dam-near-dharmasthala/article27189925.ece  (20 May 2019)
Narayanpur dam water stopped The release of water from Narayanpur dam in Yadgir district to Jurala reservoir in Jogulamba-Gadwal district, which commenced on the night of May 8, to meet the drinking water needs of combined Mahabubnagar district was stopped on May 11 morning.
It may recalled that the state govt, Krishna Bhagya Jala Nigam Limited, in its order dated May 9 approved release of 2.5 tmcft water to Telangana from Almatti through Narayanpur. Accordingly, water release from Almatti to Narayanpur was commenced on May 4.  https://www.thehindu.com/news/national/telangana/narayanpur-dam-water-stopped/article27110232.ece   (12 May 2019)
INTERLINKING OF RIVERS
Opinion Dr Bharat Jhunjhunwala's article on Inter Linking of Rivers is erroneous on Ken Betwa LInk. It is an interstate project between UP and MP with costs, benefits and impacts shared between the two. Not MP alone project.    https://www.thehitavada.com/Encyc/2019/6/13/River-Interlinking.html  (13 June 2019)
River linking: Good in logic, bad in science Good article on Bad Science of ILR    https://thefederal.com/the-eighth-column/2019/06/11/river-linking-good-in-logic-bad-in-science/     (11 June 2019) 
INTERSTATE WATER DISPUTES
Karnataka- Maharashtra Residents up in arms against the Maharashtra govt For the past two months, residents in Athani and nearby areas, have been requesting the Maharashtra government to fill up the tanks at Krishna basin (in Karnataka) so that drinking water is available to them.  
The Maharashtra government used to release 4 tmc of water by the first week of March to Karnataka. The Maharashtra government also releases water from Koyna dam. The situation has worsened this year due to the Maharashtra govt's demand to have water in exchange of water, unlike in the last few years.
In 2013, the Karnataka government had paid Rs 4.5 crore for one tmc of water from the Koyna reservoir. Now, the value of 1 tmc of water stands at Rs 5.5 crore. In 2016-17 and 2017-18, Karnataka government had demanded 2 tmc and 4 tmc of water, respectively. The state government is yet to release Rs 33 crore to Maharashtra government.
Although, the Karnataka government had agreed to release water to Sollapur from Almatti reservoir in 2017, the technical process is not yet completed. Now, the Maharashtra government is adamant that the release of water only takes place after the agreement on water to Sollapur and Sangli areas from Almatti reservoir, claim officials from the Water Resources department.
Karnataka Neeravari Nigam Limited (KNNL) is arguing that water from the Tubachi Babaleshwar lift irrigation project has already been assigned to various projects and that it needs to store more water if it has to release it for the Maharashtra government. Moreover, the Karnataka government has to lay 140 km-long pipeline up to Maharashtra border to allow water to flow. Considering all these challenges, the Karnataka government has sought to study feasibility before releasing the water. But the neighbouring state has not yet responded to these issues. https://www.thenewsminute.com/article/water-crisis-why-residents-karnataka-city-are-arms-against-maharashtra-govt-103433  (11 June 2019) 
Karnataka-Tamil Nadu 2 dams in Karnataka may go dry as Tamil Nadu builds dams The Chikkahole and Suvarnavathi minor irrigation reservoirs on the Karnataka-Tamil Nadu border are likely to go dry, with the neighbouring state constructing dozens of check dams and mini-dams in the catchment area falling under Talwandi of Erode district there. This has worried the farming community in the backward Chamrajnagar district as they fear that the drying-up of the reservoirs will severely affect drinking water supply and irrigation activities.
The farmers want the authorities to take up the issue with Tamil Nadu to stop it from further construction of tanks and check dams in the catchment area. An irrigation department official said there were attempts to visit and study the construction of mini-dams in the catchment area and its impact on Chikkahole and Suvarnavathi reservoirs, but this did not happen due to non co-operation of officials of Tamil Nadu. 
Karnataka built the reservoirs in 1977 taking into consideration the inflow from the catchment area of Talwandi.  The construction of the reservoirs across the National Highway between Chamarajnagar and Sathyamanagalam also improved the groundwater table and expanded irrigation activities as rain in Dimbam, Thalamalai and Talawadi regions in Tamil Nadu filled up both reservoirs.
As the Cauvery water-sharing dispute strained relations between the riparian states, the Tamil Nadu government constructed dozens of check dams and mini dams in Kodipura, Thalamali, Nithapura, Egalur, Chikkahalli, Marur, Malajanapura and other villages in drought-hit areas. Tamil Nadu completed construction of check dams quietly to ensure that water is stored there instead of reaching the Chikkahole and Suvarnavathi reservoirs. http://www.newindianexpress.com/states/karnataka/2019/jun/10/two-reservoirs-in-karnataka-may-go-dry-as-tamil-nadu-builds-dams-1988203.html  (10 June 2019)
Farmers want dam to be constructed at Rasimanal The Tamil Nadu Cauvery Vivasayigal Sangam and the Anaithu Vivasaya Sangamgalin Kootamaippu led by its general secretary P.R. Pandian, installed a 'plaque' to declare their intent to construct a dam at Rasimanal here off Biligudulu to counter Karnataka's 'apathy' to the woes of the farmers of Tamil Nadu. Farmers also took out a rally from Hogenakkal in Dharmapuri, and crossed into Krishnagiri to reach Rasimanal near Biligudulu.
Rasimanal, was once proposed as a site for a hydel dam project, but it never took off lest it would violate the inter-state water sharing agreements between Karnataka and Tamil Nadu in the past. However, the Tamil Nadu Cauvery Vivasayigal Sangam has been vociferous in its demand for the dam at Rasimanal in the wake of Karnataka's project for a dam across River Cauvery at Mekadatu. https://www.thehindu.com/news/cities/Tiruchirapalli/farmers-want-dam-to-be-constructed-at-rasimanal/article27894970.ece  (13 June 2019)
Rajasthan-Punjab CM Ashok Gehlot on June 12, 2019 asked his Punjab counterpart Capt Amarinder Singh to start the relining work of the Ferozepur feeder at the earliest. In his letter to Capt Amarinder, Gehlot said the relining work would get enough water for farmers from the Ganganagar and Bhakra canal systems. Recalling old bilateral ties, Gehlot said the Ferozepur feeder was constructed in 1960s and since then with ageing, the canal got damaged at many places, resulting in lowering of its water carrying capacity.   https://www.tribuneindia.com/news/punjab/repair-canal-r-sthan-cm-tells-capt/787104.html  (13 June 2019)
IRRIGATION
Punjab To tide over water crisis, farmers turn to pipelines for irrigation Some experts claim that with 42 lakh ha under cultivation, including 30 lakh ha under rice, the state govt needs to do its best in bringing more area under the scheme. https://indianexpress.com/article/cities/chandigarh/punjab-water-crisis-farmers-turn-to-pipelines-for-irrigation-5777797/        (13 June 2019)
URBAN RIVERS
Banglore Story of the Vrishabhavathi by Nakul Mohan Heble Once a seasonal stream, the river's ailing heart beats through the year as it feeds on several million litres of untreated domestic and industrial wastewater flows. It regurgitates all this into a large irrigation tank designed to supply farmlands outside the city with water. The froth generated at the irrigation talk does not attract the same attention as it does in Bellandur. I suppose it's for the best. In the absence of clean waters for irrigation, sewage will do. But this does have consequences on the farmer's health. Her skin has a million stories written on it. Do you want to hear them? https://indiariversforum.org/story-of-a-river-that-flows-out-of-a-city/
Vrindavan A visit to the river side by Ash JJ A visit to the river side and dip your feet in the river.. you feel the peace emerging from the darkness around. Upon one visit to River Yamuna in Vrindavan, I saw so much chaos and filth around , and the noise smuggled my heart away to a corner …. upon my arrival there, I saw this magnificent romance of the glorious sunset on the sizzling river that rippled echoes of love and peace in to my parched soul.  https://indiariversforum.org/a-visit-to-the-river-side/
RIVERS
SANDRP Blog Abuse of remaining Yamuna Floodplain continues The stretch of Yamuna River & its floodplain lying between Palla and Wazirabad Barrage in Delhi is still in reasonably good state. Though bisected by an embankment, the floodplain is free of too many recent major encroachments.
The River keeps meandering between physical boundaries of Delhi and Gaziabad district of Uttar Pradesh on the other side. The average width of floodplain from embankment to embankment is 2 kilometres. https://sandrp.in/2019/06/14/abuse-of-remaining-yamuna-river-floodplain-in-delhi-continues  (14 June 2019)
YAMUNA Haryana Raise wall between drains to stop pollution in Yamuna, dept told The Central Pollution Control Board (CPCB) has directed the Haryana Irrigation Flood Control Department to raise the dividing wall between drain numbers 6 and 8 in Sonepat district to stop the mixing of waste with the Yamuna waters within six months. The direction has been issued on the recommendations of the Yamuna Pollution Monitoring Committee appointed by the National Green Tribunal (NGT).
In compliance with the directions of the committee, a joint team, comprising officials of the CPCB and the CSIR-NEERI, monitored the water quality of the Yamuna at Wazirabad, Palla village in Sonepat, Panipat and Yamunanagar and drains (ditch drain, Panipat drain and drain numbers 8 and 2) between December 24 and 27 last year to assess and identify the sources of pollution in the Yamuna. https://www.tribuneindia.com/news/haryana/raise-wall-between-drains-to-stop-pollution-in-yamuna-dept-told/785721.html   (10 June 2019)
Video of Drain No. 6 intersecting Drain No. 8 at Akbarpur Barota, Sonipat outskirt. A wall is already separating both drains which more than often intermixes for both man-made or natural reasons. A new wall won't effectively resolve problem better to let it flow through river.
Delhi Government plans water taxi service on Yamuna To develop tourism in the National Capital Region (NCR) the Ministry of Shipping and Inland Waterways Authority of India (IWAI) is taking various measures to launch a "water taxi" project on the Yamuna. The service would run from Delhi's Wazirabad barrage to Fatehpur Jat in Uttar Pradesh. The 16-kilometre stretch from Sonia Vihar to Tronica City is expected to be covered by the water taxi in about 45 minutes.
The central government would spend Rs 28 crore, including the cost of building terminals, dredging and also the cost of vessels. IWAI chairman Prabir Pande said, "The Principal Committee of the NGT gave a No Objection Certificate to the project. The land acquisition with the Uttar Pradesh and Delhi governments is in an advanced stage. It will take a few months, and after the acquisition, we will start the trial of the vessel." https://www.indiatoday.in/mail-today/story/govt-plans-water-taxi-service-on-yamuna-1544118-2019-06-07  (7 June 2019)
Plastic ban remains on paper while river bears brunt Two years ago, the NGT banned single-use plastic bags less than 50 microns. A year ago, PM Modi pledged to phase out single-use plastics by 2022. And yet, a walk through two localities on the banks of the Yamuna — the markets in Sonia Vihar and the fruit and vegetable market in Okhla — shows the challenge the capital is up against.
According to records, Delhi produces 2,51,674 tonnes of plastic each year — 50% of which is single-use. That's roughly 63,000 elephants worth of plastic. The NGT, in a 2017 order, had also banned single-use plastic, such as straws, cups and cutlery, in Delhi. plants.https://indianexpress.com/article/cities/delhi/in-markets-along-the-yamuna-plastic-ban-remains-on-paper-while-river-bears-brunt-5777878/  (13 June 2019) 
Uttar Pradesh New bridge to come up between Mathura-Agra UP State Bridge Corporation has sent a revised proposal for the construction of a bridge on the river Yamuna near Renuka Dham in Runkata, Agra to the government. The bridge, which will be constructed at an estimated cost of Rs. 28 crore, will connect many villages near the Yamuna banks between Mathura and Agra. It will reduce the distance between Renuka Dham and Dauji to 18 km.
At present, there is a temporary bridge near Akbara and Kailash villages in Agra that was built for laying the Gangajal Pipeline. The narrow structure does not support cars and heavy traffic. The proposed bridge, which will be cleared soon according to the UP State Bridge Corporation, will be 500 metres long and 7.5 metres wide, thus allowing smooth flow of two-way traffic and heavy vehicles. https://vrindavantoday.com/new-bridge-on-yamuna-to-facilitate-tourism-and-business-between-mathura-agra/  (11 June 2019)
– Pradeep Bansal, a businessman from Mathura under Harit Yamuna Mission is greening the vast stretch of waste-land, land-fills, garbage dump-yards, along the Yamuna, using sewer and drain water and it has started yielding result also says this report.  http://www.newindianexpress.com/nation/2019/may/22/mathura-mans-mission-to-save-yamuna-1980445.html  (22 May 2019)
GANGA Uttrakhand 75 lakh litres of polluted water dumped into Ganga everyday: Official Sumit Agarwal, senior project manager at RK Engineers Sales Limited, said the pollutants being dumped into the river will be capped after the sewer treatment plant is constructed here.
"75 lakh litres of polluted water that is being dumped into Ganga per day will be stopped after the construction of sewer treatment plant is completed," he said after he accompanied Minister of Jal Shakti Gajendra Singh Shekhawat on an inspection of the STP in Rishikesh. https://www.ndtv.com/india-news/75-lakh-litres-of-polluted-water-dumped-into-ganga-everyday-official-2052932  (13 June 2019)
Bihar Gadkari nod for new bridge Union minister Nitin Gadkari has reportedly approved a new four-lane bridge across the Ganga on June 13 along with several other infrastructure development works. The bridge will come right next to the Mahatma Gandhi Setu. Centre has given its nod to begin the bidding process within the next 15 days. Also, the NHAI will carry out a spot inspection for a four-lane road parallel to the Vikramshila Setu in Bhagalpur within 15 days.
Apart from this, the bidding process for construction of a four-lane bridge connecting Phulaut Ghat in Naugachia to Madhepura district across Kosi river will commence in August. As per report the bridge will be built over a period of three years and has an estimated outlay of Rs 2,900 crore. https://timesofindia.indiatimes.com/city/patna/gadkari-nod-for-new-bridge-over-ganga-in-patna/articleshow/69779029.cms  (14 June 2019)
CAUVERY Tamil Nadu CM Edappadi K. Palaniswami on June 15, 2019 appealed to Prime Minister Narendra Modi to launch a special programme called "Nadanthai Vazhi Cauvery" on the lines of "Namami Gange" to clean and rejuvenate the river. The project cost would be Rs 7000 to Rs 10 000 crores. https://www.thehindu.com/news/national/tamil-nadu/cm-urges-centre-to-launch-special-project-for-cauvery/article27952484.ece  (16 June 2019)
Karnataka 15 Rivers not fit for even bathing, let alone drinking, warns pollution board  The KSPCB assessed the waters of Arkavathy, Lakshmantirtha, Malaprabha, Tungabhadra, Bhadra, Cauvery, Kabini, Kagina, Kali, Krishna (in two locations), Shimsha, Kumaradhara, Netravati, Tunga and Yagachi. The Bhima river was not part of the assessment. KSPCB Member Secretary Manoj Kumar said the findings were alarming. "The water colour of most of these rivers is brown or even black due to soil erosion and pollutants. The waters are not even fit for bathing. These findings are from January to March, 2019," he said.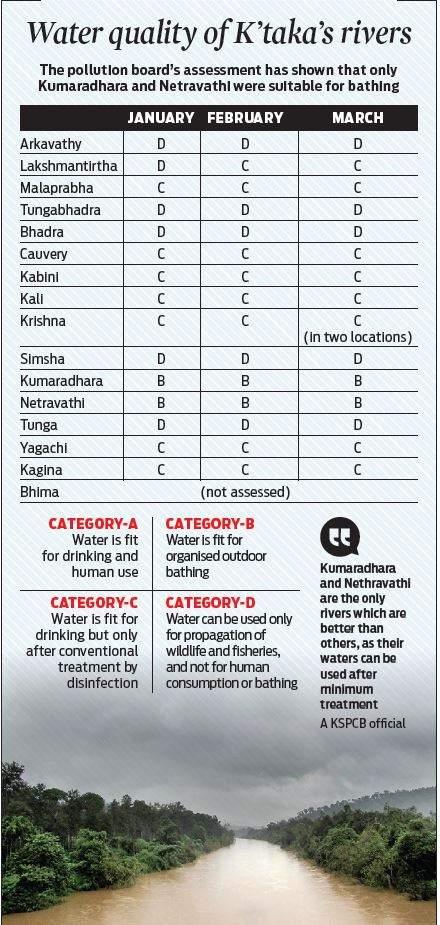 Only the Kumaradhara and Nethravathi rivers were placed under category B, which meant these two rivers were fit for organised outdoor bathing. According to the report, Arkavathy and Bhadra are at the bottom of the list. They have been listed under Category D from April 2018 to March 2019. Waters of Yagachi, Cauvery, Kabini and Kali have remained in the C category for the past one year.
However, in the case of all other rivers, their category fluctuated between C and D. The report also noted that the water quality of Simsha, when measured in Maddur town, fell under category E (fit for irrigation, industrial cooling and controlled water disposal) from October to November 2018, after which it improved to D category. http://www.newindianexpress.com/states/karnataka/2019/jun/17/states-rivers-not-fit-for-even-bathing-let-alone-drinking-warns-pollution-board-1991116.html  (17 June 2019)
Arunachal Pradesh CM asks to restore Tamin bridge on war footing CM Pema Khandu on June 11 directed the PWD Commissioner to restore the Tamin bridge, near Ziro on war footing which reportedly has been partially collapsed due to the impact of a heavy overloaded vehicle crossing over it in the midnight of June 10. The bridge connects Lower Subansiri with Kamle and Upper Subansiri districts.
Despite Kamle DC had put up sign boards on the both side of bridge approaches with a permissible load capacity of 9 MT for heavy vehicles inclusive of vehicle weight, the instant vehicle which was weighing more than the permissible limit had crossed over the bridge leading to the damage, reported Chief Engineer (Highways) PWD. https://www.sentinelassam.com/news/restore-tamin-bridge-on-war-footing-arunachal-cm-pema-khandu/  (12 June 2019)
Gujarat Sabarmati riverfront dinner, show planned for SBM  The Sabarmati riverfront in Ahmedabad is likely to be the venue from where PM Modi could announce the completion of the Swachh Bharat Mission on October 2, the birth anniversary of Mahatma Gandhi. A celebration with 25,000 people in attendance is being planned to be held on the riverfront, complete with a world-class laser show in the evening, said people aware of the matter.
The programme has been completed 99.22% so far, with nearly 100 million toilets built in villages across the country in the past four and a half years, and only the states of Odisha and Goa left to achieve their goals. So far, 30 states and union territories, 618 districts and 565,000 villages have been declared open-defecation free in the country. https://economictimes.indiatimes.com/news/politics-and-nation/sabarmati-riverfront-dinner-show-planned-for-swachh-bharat-success/articleshow/69796665.cms   (15 June 2019)   
SAND MINING
Karnataka Illegal sand mining deepens parched Karnataka's water pain For the first time, several villages and towns situated near major river basins in Karnataka are facing acute water shortages. Experts and officials blamed the powerful sand mafia for the problem, saying excessive dredging in and around rivers had contributed to the problem. Illegal dredgers have been scooping up huge quantities of sand from riverbeds to satisfy the construction industry's ravenous hunger for the humble commodity.
"This [water scarcity around river basins] is unheard-of. It's happening largely because of the indiscriminate sand mining, which has put many drinking water schemes in the upper reaches of river basins in dire straits," said a senior official of the state ecology and environment department.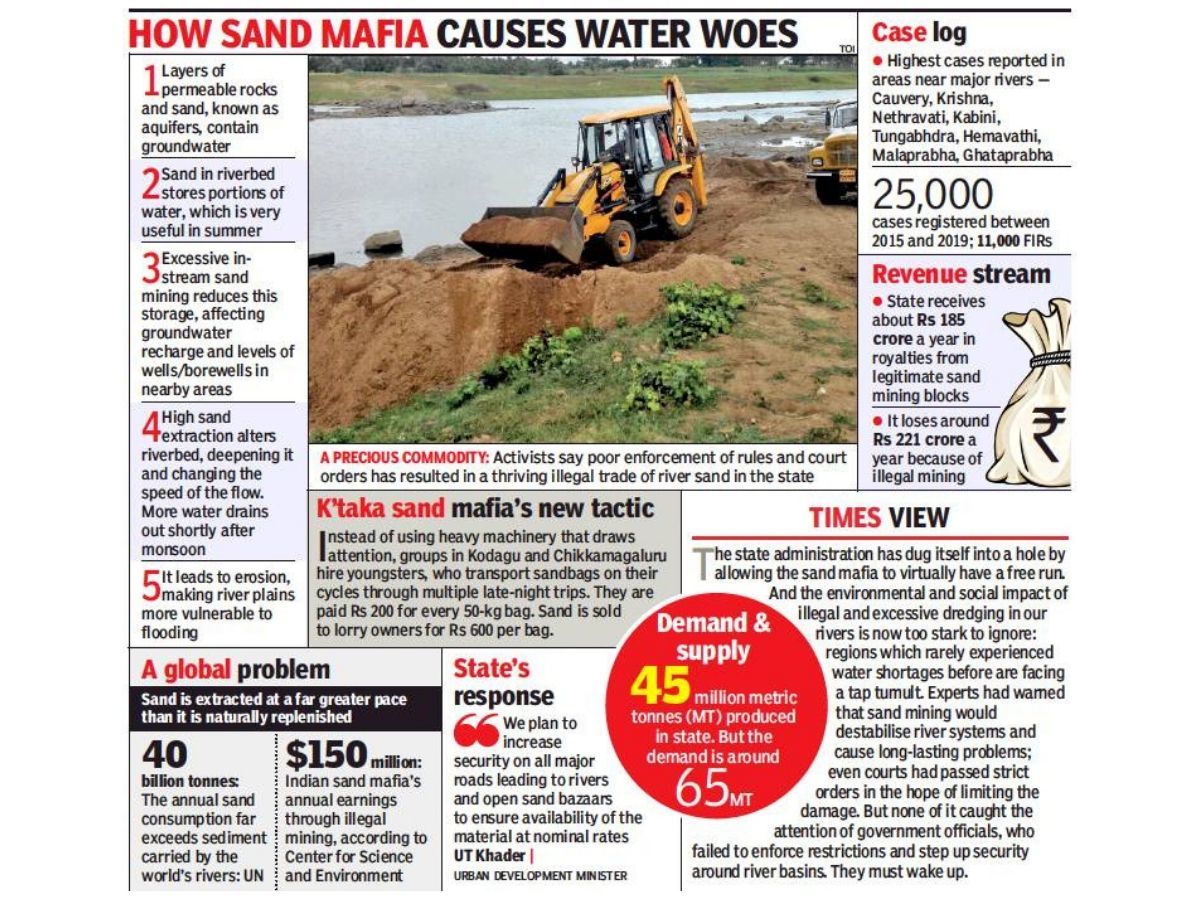 Stringent rules and restrictions, including orders by the SC, HC and NGT against excessive sand mining, have failed to curb the number of incidents. Activists say poor enforcement, thanks to a nexus between the sand mafia, police and local politicians, has resulted in a thriving illegal trade of river sand. The state government's decision to import the material from other countries and promote manufactured sand, or M-Sand, has failed to reduce the demand for this variety.
According to an official at the Centre for Water Resources Development and Management, sand in the riverbed acts as an aquifer, storing a portion of the river water, which can be used in summer through infiltration wells. "When this sand is removed or reduced through mining, summer flows in rivers decrease, affecting groundwater levels in borewells and wells on the banks," he said.
According to a former police officer, who had a brush with the sand mafia, every illegal operator pays Rs 10,000 per lorry load to local officials, and quarrying limits are routinely flouted. "If 25 lorry loads is the permitted limit at a place, over 100 are carried out. This cannot happen without the tacit support of local legislators and officials," he claimed. Police and state revenue officials rejected the allegation of collusion. https://timesofindia.indiatimes.com/city/bengaluru/illegal-sand-mining-deepens-parched-states-water-pain/articleshow/69763906.cms  (13 June 2019)
Andhra Pradesh Govt imposes ban on sand mining The State govt on June 11 imposed a ban on mining and transportation of sand for a fortnight. It announced that a new sand policy would be unveiled by July 1. With this, the controversial free sand mining policy introduced by the previous TDP regime has come to an end.
As per Mines and Geology Minister Peddireddy Ramachandra Reddy, 20 to 25 per cent of  state government's income comes from mining alone and steps are being taken to curb illegal mining and increase the revenue. The district officials would be held responsible in case of mining and transportation of sand until the new policy comes into effect. http://www.newindianexpress.com/states/andhra-pradesh/2019/jun/12/andhra-pradesh-government-imposes-ban-on-sand-mining-new-sand-policy-by-july-1-1989096.html  (12 June 2019)
The Mines and Geology Minister said that the mineral wealth was brazenly looted during the TDP govt. The State suffered due to the free sand policy but the TDP leaders were benefited. An MRO who opposed the illegal sand mining was attacked by the TDP leaders. The TDP candidates lost the election wherever illegal sand mining was reported, he asserted.  https://www.thehindu.com/news/national/andhra-pradesh/govt-bans-sand-mining-for-15-days/article27820528.ece  (12 June 2019)
Former BJP Floor Leader in the Assembly P. Vishnu Kumar Raju said the total ban on sand mining and transportation sought to be imposed up to July 1 and invoking the PD Act for violation appeared to be a harsh decision and would cripple the construction sector. https://www.thehindu.com/news/national/andhra-pradesh/reconsider-ban-on-sand-mining-transportation-bjp-leader/article27892588.ece  (13 June 2019)
Telangana Illegal mining a serious threat to water bodies in Medak Illegal sand mining is going on unabated in the district. Though the High Court has issued a stay on the transport of sand, miscreants keep indulging in sand mining. The uncontrolled mining of sand has resulted in rivers and water bodies losing their shape.
On the other hand, sand is being sold at high price, hitting hard the commoners. In the wake of the huge demand for sand, the State Mineral Development Corporation has initiated an action plan and set up a sub-stock yard in Medak. If anyone is in need of sand, they can book online and can pick up sand from the yard that the company sells. https://www.thehansindia.com/telangana/illegal-mining-a-serious-threat-to-water-bodies-in-medak-537895  (15 June 2019) 
Villagers foil illegal sand mining Villagers foiled the attempt of unknown people, who tried to excavate sand from the local tank in Korviched village, on June 12. Some people reached the tank with excavator, tippers, tractors and workers and started mining the sand. Villagers opposed their action and demanded proper permission for the mining. They did not show any credentials but referred some names of the ruling party. But the villagers did not allow them to dig and strongly objected the mining. The people returned with their vehicle without creating any scene. https://www.thehansindia.com/telangana/villagers-foil-illegal-sand-mining-537174  (12 June 2019)
Odisha Brick kilns spur illegal sand mining Scores of illegal brick kilns operating in Samana and Habaleswar panchayats under Hatadihi block in Keonjhar district have spurred illegal sand mining from riverbeds. The result is the state government is losing crores of rupees towards revenue. The mafia has encroached upon government and pastureland and set up brick kilns without sanction of the Odisha State Pollution Control Board.
Locals were upset with the mushrooming growth of brick kilns almost everywhere – by road sides, near schools and near villages. Brick kilns contribute to warming up the atmosphere in summer, locals said. Such illegal brick kilns consume a huge quantity of sand. Truckloads of sand are illegally excavated from riverbeds and supplied to the brick kilns. The illegal sand mining that feeds the brick kilns has caused huge revenue loss to the state exchequer, the locals said. Various outfits have demanded necessary steps towards curbing both illegal brick making and sand mining. http://www.orissapost.com/brick-kilns-spur-illegal-sand-mining/  (18 May 2019)
Maharashtra In Nanded, an eye in the sky to mind illegal sand miners Aurangabad divisional commissionerate has deployed an unmanned aerial vehicle (UAV) to verify complaints of illegal extraction of sand from the Godavari river at Nanded. While in 2016, the Nagpur administration had used a drone for surveillance of sand ghats, an official from the Nanded collectorate said this was the first instance where a drone was used to crack down on illegal mining. He added that this use of drones was now likely to be replicated across Maharashtra.
Another official said the Marathwada region had around 200 sand ghats, where mining was allowed but more sand that the permitted quantity was extracted and that illegal mining also took place on river banks and water bodies. According to the state government's 2018 sand mining policy, illegal extraction is penalised with the stocks being seized and e-auctioned and the monies being deposited in the state treasury. For over-extraction, miners are penalised with five times the market value of the extra quantity. In Nanded, the market value of sand is Rs 4,175 per brass. Maharashtra earns around Rs 1,200 crore annually from sand auction. Nanded has around 35 authorised sand mining spots, largely on the banks of the Godavari.  https://www.dnaindia.com/india/report-dna-special-in-nanded-an-eye-in-the-sky-to-mind-illegal-sand-miners-2760577  (14 June 2019)
Gujarat Sand mining scam at Statue of Unity site A massive illegal sand mining scam has been unearthed at the site of the world's largest statue. About 4.85 lakh metric tonnes of sand has been siphoned off from the land allotted to build the Tribal Museum at the Statue of Unity site in Kevadiya, which is 100 km from Vadodara, police said. The sand stolen from the site is worth more than Rs 7 crore at first estimate. However, this amount could go higher as more details emerge in the investigation.
After the police received a complaint from the land revenue department in Narmada district regarding a whole hillock meant for the construction of the museum to be dedicated to lesser-known tribal freedom fighters disappearing due to illegal sand mining, Gujarat police launched an investigation into the matter. https://ahmedabadmirror.indiatimes.com/ahmedabad/crime/sand-mining-scam-at-statue-of-unity-site/articleshow/69731923.cms  (11 June 2019)
Bihar New policy set to redraw state's sand mine map The state government is drafting the Bihar State Sand Mining Policy 2019, a move required to incorporate the new rules of the NGT and the MoEF. The new policy will also be tailored after taking into account the problems faced by the state government while handling leased out sand ghats in the past five years. The last time a Bihar sand mining policy was made was in 2013. After Jharkhand was carved out of Bihar in 2000, the latter has been left with only a few commercially valuable minerals.
Besides stone quarrying, royalty from sand mining gives the state government a handsome income. The state mines and geology department has set a target of earning Rs 900 crore in 2019.  
Sources said that in the new sand mining policy, the mines and geology department, in order to drive up earnings, proposes to increase the number of sand mining units in Bihar. At present, out of 38 districts, the department has divided the state into 25 districts, according to mining units of sand. However, under the new draft policy, there is a proposal to cut the sand mining 'districts' number to 15, but increase the sand mining sites within each unit. "Suppose a district has seven rivers, mining permission at each river will be given to different parties," they added. https://www.hindustantimes.com/patna/new-policy-set-to-redraw-bihar-s-sand-mine-map/story-FNqzHWM8VOcAzBU320X7zH.html  (12 June 2019)
Rajasthan Truck involved in illegal transport of gravel mows down Ganga Vihar colony president in Kardhani A 65-year-old man, identified as Kishore Singh Juliasar, was mowed down by a truck allegedly involved illegal transport of gravel in Kardhani area of the city on June 12. Kishore was the president of Ganga Vihar Colony. He had stopped the truck when it entered the colony. The driver issued a threat and left. The truck returned after delivering gravel. Kishore tried to stop it again. The driver allegedly mowed him down. He died on the spot. The incident infuriated the colony residents who demanded an immediate arrest of the truck driver. The police officials said that efforts were being made to nab the driver.
The colony residents said that the transport of illegal gravel in trucks is a common sight in the area. The trucks are escorted by other vehicles including an SUV. They alleged gravel mafia is involved and the police aren't taking any action in the matter despite repeated complaints. https://www.pinkcitypost.com/truck-involved-in-illegal-transport-of-gravel-mows-down-ganga-vihar-colony-president-in-kardhani/  (13 June 2019)
Despite SC ban, sand mining rampant The murder has thrown a light on how illegal mining is growing rampantly in the state and to the extent mining mafias can go to remove obstacles that come their way. Rights groups complain that successive governments have failed to solve the problem of illegal mining that takes place across river belts and mountainous regions in the state.
A CAG report tabled in Rajatshan Assembly in February last year revealed that the SC orders on mining are violated. CAG observed that illegal mining activities were rampant in the state and there were inadequacies in preventing illegal mining.
According to the report, a scrutiny of the records of nine superintending mining engineers (SME) or mining engineers (ME) in five districts – Alwar, Jaipur, Sikar, Rajsamand and Udaipur – revealed that these offices registered 4,072 cases of illegal mining, transportation and storage of minerals during 2011-12 to 2016-17.
"Around 98.87 lakh metric tonnes of minerals were found to have been illegally excavated (during 2011-12 to 2016-17). The department, however, could recover only ~ 25.57 crore against the recoverable amount of ~204.50 crore," the CAG report on the economic sector for the financial year ended March 31, 2017 said.
Mining mafias are also using the best technologies to dig out sand from river beds. Recently, in February, in a crackdown against illegal river sand mining in Dungarpur's Som river, police seized 12 high-tech boats fitted with dredging implements.
According to official data of mines department between year 2014 and 2017, 2514 cases of illegal mining were registered across the state by the mining department. The top five states with maximum number of cases were Bhilwara(261), Nagaur(180), Sikar(167), Jaipur (167) and Jhunjhunu (156).
The police department also registered 7,905 cases of illegal transport of river sand. Maximum number of cases were registered in Alwar (2421), Bikaner (1388) and Dhaulpur (811) under different sections of the Indian Penal Code, the Mines and Minerals (Development and Regulation) Act and Rajasthan Mining Rules. https://www.hindustantimes.com/jaipur/despite-sc-ban-sand-mining-rampant-activists-blame-government/story-Zz91n8lLfrDjQAj7eUl7EP.html  (14 June 2019)
Large sand mine leases will address shortage, illegal mining The state government is in the process of issuing about a dozen large sand mining leases, to overcome the shortage of sand and to tackle the issue of illegal sand mining, which has become a law and order problem.
Sources in the mining department said sand mining leases for river beds would be issued in Tonk, Ajmer, Bhilwara, Jhunjhunu, Pali and Jodhpur in the coming days. The department is processing the leases on a war footing to ease the pressure on the supply of sand. As per the apex court directive, top mining research institute is conducting the environmental study.
He said the Central Institute of Mining and Fuel Research, Dhanbad, has conducted the replenishment study of the mines and would be sent to the union ministry of environment for its approval.  Officials said the draft mining policy is also in the pipeline. The draft of the mining policy is ready and once the draft is approved by the government it will be uploaded on the website for inviting suggestions from the stakeholders before the policy is finally announced, he said. https://timesofindia.indiatimes.com/city/jaipur/large-sand-mine-leases-will-address-shortage-illegal-mining/articleshow/69779588.cms  (14 June 2019)
Sand worth Rs10 cre, high-tech boats seized from Dungarpur In a massive action against illegal river sand mining in Dungarpur's Som river, police seized 12 high-tech boats fitted with dredging implements on Feb. 14. Police swooped down on different locations in the basin of Som Kamla Amba dam and seized around 6,000 tonnes of river sand, the street value of which is Rs 10 crore, said a police officer.
Police said they were taken aback to find implements-fitted boats in the middle of the river. "The boats have 250mm pipe to dredge fine sand from the river. After draining water from it, the sand is shifted to another boat with another pipe. Each of these other boats had the capacity to load 10 tonnes of sand," said Dungapur's superintendent of police Shankar Dutt Sharma, who supervised the operation.
The high-tech boats were so heavy that police called a team of State Disaster Relief Force (SDRF) from Udaipur to bring them to the riverbank. Sharma said this was the first time that boats fitted with such equipment have been seized. Locals said it was common knowledge that at least 50 such boats were in use in three districts of Dungarpur, Chittorgarh and Udaipur.
According to a local, it costs about Rs 70,000 -80,000 to prepare each of these boats for dredging sand. The sand mined through these machines is three to five times finer from normal sand and therefore fetch more price. One tonne of this costs between Rs 15,000 and Rs 18,000, he said. https://www.hindustantimes.com/jaipur/illegal-river-sand-mining-sand-worth-rs10-crore-high-tech-boats-seized-from-dungarpur/story-kE4GwsFQyJRSKnfGyKihWI.html  (15 Feb. 2019)  
Uttar Pradesh Kabrai battles dry period due to illegal sand mining The Kabrai area was declared a grey zone — the second-worst level to denote a drought-like situation — by the administration in 2018; yet, the work to fill up water bodies for replenishing the groundwater, which the irrigation department was supposed to carry out, hasn't started. The reason is that there is no water to work with! Whatever supply is coming in tankers can either be put in the dried up water bodies or given to residents for drinking.
But it's not the season that is to be blamed for the water crisis here. The real culprit is illegal sand mining, which this area of the Bundelkhand region is infamous for. The illegal mining has affected the groundwater, forcing the residents to fight and stake their life for it. https://www.firstpost.com/india/ups-kabrai-battles-year-long-dry-period-due-to-illegal-sand-mining-parched-residents-turn-on-each-other-for-water-6815351.html  (14 June 2019)
CBI raids Gayatri Prajapati's residence The CBI on June 12 raided 22 locations across Uttar Pradesh and Delhi, including three residential premises of former Minister Gayatri Prasad Prajapati in connection with the illegal mining scam. The case pertains to the violation of norms in awarding mining leases in various districts of the state between 2012 and 2016. https://indianexpress.com/article/india/sand-mining-case-cbi-raids-former-up-minister-gayatri-prajapatis-residence-5776761/  (12 June 2019)
Haryana – Local reporter in Panipat implicated in fabricated charges for exposing illegal sand mining in Yamuna and adverse impact on river, farmland, farmers, village pathways which was also endangering embankment. False cases also registered against farmers who claim illegal sand mining of unprecedented scale going on in connivance of concerned officials and big politicians, ministers.  https://www.youtube.com/watch?v=smZdyavqksE&feature=youtu.be  (10 June 2019)
WETLANDS, LAKES, WATER BODIES
Goa Declare Bondvoll lake as wetland, reiterate locals Interesting at a special hearing on June 13 attended by State Wetland Authority, over 350 villagers of Santa Cruz unanimously reiterated their demand to declare Bondvoll lake a wetland. The villagers and also asked for a buffer zone to be set up around the lake so that no developmental activities come up in this region, protecting the water body from contamination and other such threats.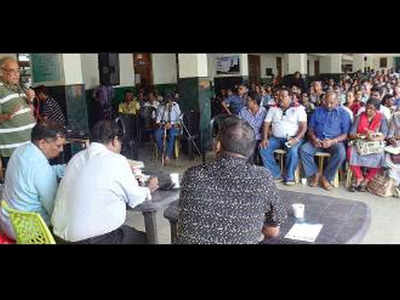 Access to Bondvoll lake has been restricted for villagers in recent years by a private property owner. Residents said that the lake is the village heritage and was declared a public utility project by the then governor general of Goa in 1908.
Pradeep Sarmokadam of Goa State Wetland Authority said that the demand to declare Bondvoll lake a wetland will be kept for suggestions and objections online. Villager Antonio Lourenco said that the objections received should also be displayed on the church and panchayat notice board so that the villagers can learn of the objections and counter them.
Villagers also raised the issue of the water resources department failing to preserve the age-old bundhs in the Bandh area of Santa Cruz. They said that some are destroying the bundh network in this lowlying area, which is leading to salt water ingression and making the fields here uncultivable. https://timesofindia.indiatimes.com/city/goa/declare-bondvoll-lake-as-wetland-reiterate-locals/articleshow/69763580.cms  (13 June 2019)
Karnataka NGT panel on lakes to hold public meeting on June 21 A committee appointed by the NGT to oversee the work to protect and rejuvenate Bellandur, Agara and Varthur lakes will conduct a public meeting on June 21. The NGT, which held a meeting on June 11, directed the State government to set aside ₹500 crore towards the work.
The State government is yet to identify an agency that will be vested with the task of carrying out the rejuvenation. Sources who attended the meeting said government agencies had submitted action plans on how they would improve the lake. Sources said both the BWSSB and the BDA had submitted estimates.
The citizens who attended the meeting requested senior officials to have a meeting to decide on accountability and disbursing resources to enable rejuvenation work. Farmers have been asked to be prepared with alternatives when Bellandur and Varthur lakes are dredged. The dredging is expected to commence in September. A STP has been set up at Mahadevapura lake by Mphasis under its corporate social responsibility initiative. The STP will be launched later this week. https://www.thehindu.com/news/cities/bangalore/ngt-panel-on-bellandur-varthur-lakes-to-hold-public-meeting-on-june-21/article27821477.ece  (12 June 2019)
Maharashtra Panje wetlands dry again, greens suspect blockage Around 60 per cent of Panje wetlands in Uran area have dried despite the continuous high tides since last month, claimed environmentalists. The green activists suspect that the sluice gates at one side of the wetland are being deliberately closed as the other side is flourishing with tidal water. However, the City and Industrial Development Corporation (CIDCO) of Maharashtra have claimed that the development body has not closed sluice gates. Meanwhile, the officials also suspect that the blockage has been done by local villagers for playing cricket matches at the site. https://www.asianage.com/metros/mumbai/100619/panje-wetlands-dry-again-greens-suspect-blockage.html  (10 June 2019)
Bihar Wasted wetlands ring alarm bells for birds Once a haven for migratory birds, Bihar's vast tracts of wetlands, like Kanwar lake in Begusarai, Kusheshwar Asthan in Darbhanga, Baraila in Hajipur and Gogabil in Katihar, are rapidly shrinking due to the impact of climate change and unbridled human activities. These were the spots where a large variety of local birds, as also some species from abroad, flocked. But with water not reaching those places, birds have turned away.
The Bihar government has plans to revive and rejuvenate Kanwar lake, Baraila and Kushshwar Asthan bird sanctuaries and various other water bodies, but time is running out fast. Sharma said Bihar had 412 listed species of birds, out of which four had become critically endangered. https://www.hindustantimes.com/patna/bihar-wasted-wetlands-ring-alarm-bells-for-birds/story-8KvQmWvED9Z2JkfzTvevjM.html  (5 June 2019)
Uttar Pradesh Noida starts work to restore 5,000 sqm wetland in Sector 85 "The wetland is being cleaned and will be restored with vegetation, grass and plants," said Rajeev Tyagi, general manager, Noida Authority. The authority has promised an eco-hub with herbal, medicinal and biodiversity park, along with the animal bridge and wetland restoration in Sector 91. Tyagi adds that they will restore all possible wetlands and wetland patches in the city.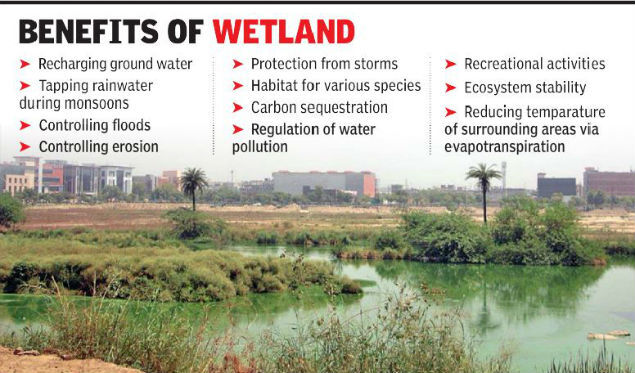 Last month, after taking up the cause of reviving the 1.8-hectare pond in Sector 91, Noida Authority had begun work to restore the entire 12-acre wetland, which is adjacent to Sector 137 metro station. While the restoration of these wetlands is being taken up on ecological lines, the work entails widening of channels, planting grass, and flora and fauna, etc.  https://timesofindia.indiatimes.com/city/noida/noida-starts-work-to-restore-5000-sqm-wetland-in-sec-85/articleshow/69717871.cms  (10 June 2019)  
WATER OPTIONS
Tamil Nadu Govt announces Rs 499.68 cr for restoration of water bodies This is the third sanction by the Edappadi K Palaniswami govt towards kudimaramath (traditional restoration of water bodies) scheme to strengthen tank bund, desilting of supply channel, surplus course, repair and reconstruction of sluices, weirs, repair and renewal of shutters, rehabilitation and desilting of canals.  It is implemented through farmers' organisations and ayacutdars (users), and 10% of the estimated cost is borne by them in the form of labour or material or cash.
The restoration of water bodies was launched with participatory approach on a pilot basis in January 2016 at Rs 100 crore. Two months later, the government sanctioned 1,519 under the scheme in Chennai, Trichy, Madurai, and Coimbatore regions.
The scheme was extended to 29 districts at a cost of Rs 328.95 crore in May 2018, revising the already sanctioned projects of the previous year. So far, 979 identified projects have been completed. This year, Madurai region tops the list with 681 completed projects, followed by Trichy, Coimbatore and Chennai https://timesofindia.indiatimes.com/city/chennai/tamil-nadu-govt-announces-rs-499-68-crore-for-restoration-of-water-bodies/articleshow/69787039.cms  (14 June 2019)
Rajasthan Digging ponds effective way to control water crisis  Mojhiram, 51, who lives in a village called Sapere Ka Pura in Mashalpur Tehsil, has dug up a large pond in front of his house with the help of other villagers to collect rainwater. Though the pond has dried up in this prolonged hot summer, the hand pump is still providing water to his family and other villagers. "The villagers decided to combat the scarcity of water by community efforts. During long summers these ponds help irrigate the fields and perform daily needs. When they (ponds) dry up, we can turn to the hand pumps until the rain refills our ponds," says Mojhiram.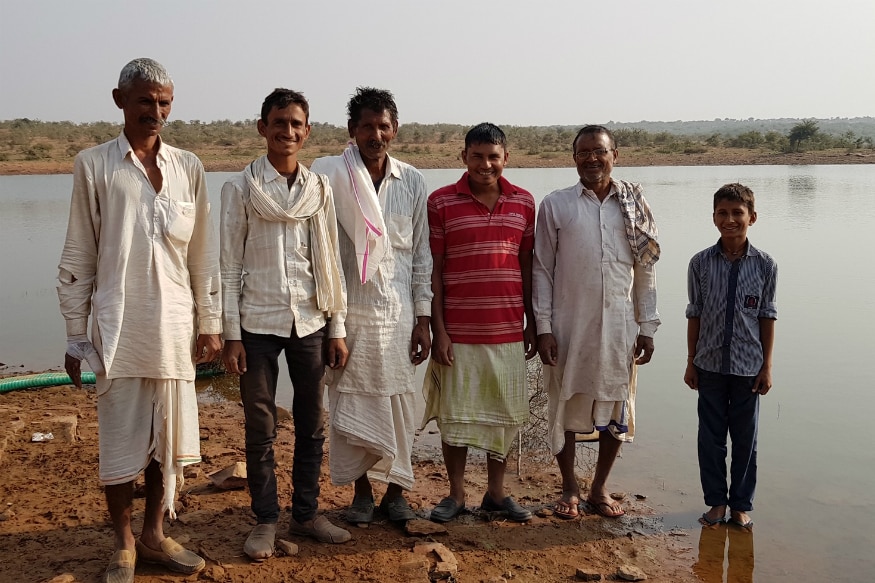 In Mardaikalan, a few kilometers from Mojhiram's village, more than 100 villagers erected a 60 feet-high mud wall in 2012 to harvest rainwater. This worked well and the pond slowly kept spreading. Today, even in this summer, the reservoir has water to serve the villagers and cattle. "When the rain comes, this ponds extends to an area of 50 acres. It helps us get water for all our needs," says 47-year-old Ranveer Singh. Such ponds have helped to recharge the ground water and helped the agriculture. https://www.news18.com/news/india/in-parched-rajasthan-digging-up-ponds-the-only-way-to-control-water-crisis-and-a-death-trap-2183021.html  (12 June 2019)
Madhya Pradesh – Residents of Kalyanpur village have been working day and night to restore the local lake. Around 200 people, including women, start their day digging at the spot. The village has 196 households and an approximate population of 900.  https://www.firstpost.com/india/in-mps-panna-district-villagers-launch-initiative-to-restore-local-water-bodies-as-successive-droughts-give-rise-to-malnutrition-migration-6793591.html   (11 June 2019)
Gujarat Surat implements plan to save 5,000 million litres of water for crisis situation   Surat administration has deepened 38 ponds at a cost of Rs96.95 lakh to store additional 3,000 million litres of water across the district. Surat Municipal Corporation (SMC) too plans to use the 333 rainwater harvesting systems developed in the past six months to store additional 2,000 million litres of water, 598.72 million litres of water have already been collected. https://timesofindia.indiatimes.com/city/surat/surat-implements-plan-to-save-5000-million-litres-of-water-for-crisis-situation/articleshow/69747826.cms   (12 June 2019)
Karnataka 100 recharge wells to come up in Lalbagh With the construction of 65 recharge wells in Cubbon Park close to completion, stakeholders behind the project have decided to build 100 such wells in Lalbagh Botanical Garden. Experts, who could see the benefits of the recharge wells in Cubbon Park, have now decided to make the best use of Lalbagh. "The recharge wells at Cubbon Park are proving to be a boon, and we can see great results. The same project was done two years ago, and back then too, the results were good," said Dr Yellappa Reddy, chairman of Lalbagh and Cubbon Park Committee. Rotary Club of Bangalore, who is sponsoring the recharge wells, is likely to start work soon. http://www.newindianexpress.com/cities/bengaluru/2019/may/29/after-cubbon-park-100-recharge-wells-to-now-come-up-in-lalbagh-1983163.html  (29 May 2019)
Delhi RWA fought and won its water battle Nizamuddin East has set an example by setting up water harvesting facilities in the colony, which not only improved the water quality but also increased the water levels in the society. "The community members came together and installed 17 structures in parks, which are regularly cleaned and maintained. When the rain water falls into collection chambers and storm (water) drains, the perforated filter cleans it and gets mixed with ground water. Thereby, recharging ground water which was earlier consumed, and adding required minerals to it,"
The locals had contributed Rs two lakh for the project years ago, and now they are enjoying the much needed respite. "We cumulatively experienced a water rise from in the past years. We harvested the rainfall and recharged the ground water, which residents use for all purposes, including drinking. Compared to blackish water in some areas in Delhi and NCR, our locality receives much clean water," added Menon. https://www.indiatoday.in/mail-today/story/delhi-nizamuddin-east-fought-water-scarcity-1548527-2019-06-14  (14 June 2019)
How Hauz Khas Lake got a new lease of life Hauz Khas Lake is located inside the beautiful landscaped lush green Hauz Khas Park in South Delhi. An initiative started by Tarun Nanda, an environmental engineer has given a fresh lease of life to a dying lake which used to give a pungent smell.
"In 2017, I managed to raise over `20 lakh through crowd funding and a corporate sponsor. Then we got permission from Delhi Development Authority to go ahead with the project. Since then I have carried out the construction of the largest wetland system in Delhi that has the capacity to purify over 2 million litres of water per day," said Nanda. Hauz Khas is a 14th century water body that was dug up to serve as a tank during Alauddin Khilji's reign. https://www.indiatoday.in/amp/mail-today/story/how-hauz-khas-lake-got-a-new-lease-of-life-1546331-2019-06-11    (11 June 2019)
GROUNDWATER
Maharashtra NMC to charge for groundwater too In a bid to curb wastage of water and earn revenue too, the Nagpur Municipal Corporation (NMC) proposes to charge citizens for using groundwater, on the lines of tap water. A system to measure the groundwater usage is being prepared and the rates to apply will be finalized soon. If implemented, this will be for the first time the citizens will be paying for groundwater. Many commercial establishments, builders, industries and few residences, especially those situated on the city's outskirts, utilize groundwater through wells or borewells.
Chairman of water works consultative committee Vijay Zelke said target is to take action on all illegal water connections within a year. "There are around 30,000 illegal water connections. Drive has been started to either disconnect or regularize illegal water connections. As of now, 812 illegal water connections have been regularized, while 118 disconnected. We have also relaxed norms to give new water connection. Now, anyone can get connection by submitting an affidavit, copy of aadhaar and power bill," he said. Stressing on the need to curb use of tap water for non-potable use, Zelke said the NMC has launched Save Water Helpline (8888822700).
Zelke said the situation on raw water front is worsening hence there need is to construct barrage on Kanhan-Kolar rivers. "Estimated cost of the barrage is around Rs500 crore and we will require funds from the government. We are also planning to take up work to lay pipeline from Pench reservoir to Kanhan water treatment plant (WTP) to curb huge loss of water," he said. Banerjee said the number of water tankers has increased to 342 in non-network areas and 150 in network areas.  https://timesofindia.indiatimes.com/city/nagpur/nmc-to-charge-for-groundwater-too/articleshow/69656020.cms  (5 June 2019)
Uttar Pradesh Stringent law on the cards to regulate ground water extraction Uttar Pradesh will soon have a special legislation to manage and regulate extraction of ground water with the provision of heavy penalty on industrial and commercial consumers if they do not recharge water back into the ground. The law will also make it mandatory for all users, including domestic and agriculture, to seek prior registration of their submersible pumps, tube wells etc.
"A proposal for making a law to put an effective check on the overexploitation of ground water has already been sent to the Cabinet for its nod and the government will table a bill in the next session of the state legislature after the Cabinet approves the proposal," people familiar with the matter in the government said.
Currently, only a dozen states have made a law in this regard in light of the Model Act that the Centre has circulated. Based on the assessment made in 2012-13, in UP there are 172 dark zones, comprising 113 overexploited and 59 critical development blocks, while another 45 of the total around 850 blocks have been categorized as semi-critical. The dark zones are areas where more ground water is pumped out than recharged.  https://www.hindustantimes.com/lucknow/stringent-law-on-the-cards-to-regulate-ground-water-extraction/story-rhjXsH4Fc5Tcc7aOxVX4OK.html  (4 June 2019)
Haryana 12 more 'Dark Zones' crop up According to an unpublished report by Central Ground Water Board (CGWB), these dark zones have showed up across the state in the last five years. The last such exercise in Haryana was carried out in 2013. As many as 119 blocks in 21 districts were assessed at the time, and 64 of the blocks were found to be 'over-exploited' or dark zones. In 2017, the whole exercise was performed again in 22 districts (Charkhi Dadri was carved out in 2016) and it was revealed that 78 out of the 128 blocks in the state were 'over-exploited' — 12 more dark zones than in 2013.
The depleting groundwater water level in Haryana can be mainly attributed to extensive paddy farming in the state. At the time of Haryana's formation as a separate state, around 1.92 lakh hectares of land was under paddy cultivation, which went up to 14.22 lakh hectares last year — a seven-fold hike in 50 years.
Haryana's total water requirement is 20 million acre feet (MAF). The state receives around 2.3 MAF water from the Yamuna River and Bhakra systems, while 12 MAF water is extracted using 8.47 lakh tube-wells and around the same number of diesel pumps. The state still faces a shortage of 5.7 MAF water annually. https://www.news18.com/news/india/12-more-dark-zones-crop-up-in-haryana-as-ground-water-dries-up-rapidly-2184857.html  (13 June 2019)
Punjab State to run out of groundwater in 20 years As predicted by different national and state level agencies, Punjab is staring at a grim future with 79 percent of the state over-exploiting its subsoil water, the water found immediately below the topsoil. Currently, the annual rate of fall in subsoil water is 51 cm per year. If the rate of fall continues, water up to a depth of 100 m will finish in 12 years while the water available at 300 m will finish in 20-25 years and in 22 years, the state would empty all its water reserves. The state agriculture department's figures show that despite the enactment of the Preservation of Subsoil Water Act in 2009, over 96 percent of groundwater extracted is used to grow paddy.    https://www.hindustantimes.com/india-news/punjab-stares-at-a-parched-future/story-9Kr3CpL2zsDoPthp0XqKmN.html  (5 June 2019)
Utilise abandoned borewells for groundwater recharging: Dept The issue has been flagged at a time when the Punjab government is seeking Centre's help to replenish its drained aquifers through rainwater harvesting. Israeli experts have also been roped in for the purpose.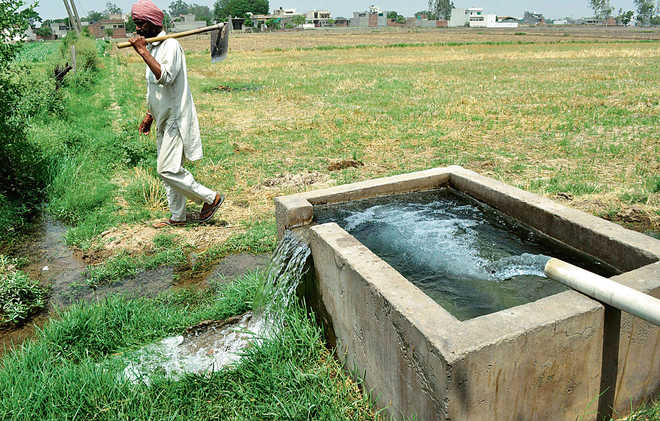 Tejdeep Singh, a senior scientist with Central Ground Water Board (CGWB), said there were already guidelines from the board to convert abandoned borewells into recharging wells. "It is the need of the hour and it won't cost much," he pointed out. But, it should be ensured that water being drained in borewells should not be toxic or containpesticides, he stressed.
Under Mission Tandarust, all deputy commissioners have been asked to undertake immediate measures to fill and plug abandoned borewells in the state. "While identifying such borewells, it is easy for the agriculture department to initiate the move as it is going all out to save water," a senior government official said. https://www.tribuneindia.com/news/punjab/utilise-abandoned-borewells-for-groundwater-recharging-dept/788841.html  (17 June 2019)
Andhra Pradesh Free borewells for farmers switching to drip irrigation Farmers interested in going for drip irrigation will soon be assisted by the district administration to get borewells sunk free of cost, said district Collector S. Satyanarayana. https://www.thehindu.com/news/national/andhra-pradesh/free-borewells-for-farmers-switching-to-drip-irrigation/article27902888.ece    (14 June 2019)
URBAN WATER
Report Peri-urban villages shrivel in expanding rings of dryness The rapidly expanding cities in western and peninsular India are soaking up water from the surrounding countryside for their own needs, leaving peri-urban villages drier in an already water-scarce region.     https://www.villagesquare.in/2019/06/12/peri-urban-villages-shrivel-in-expanding-rings-of-dryness/       (12 June 2019)
Pune PMC to halt all road concretisation works After being informed by experts that concretisation was affecting groundwater recharge, the Pune Municipal Corporation (PMC) has decided to go slow on constructing cement roads. The city authorities have stated that the PMC will soon finalise a policy to stop the rampant concretisation of city streets which had been ongoing due to a number of potholes plaguing the city's roads. To tackle the water crisis this year, PMC initiated the campaign called Jalayukta Shahar that focuses on replenishing the groundwater reserves and it was during one of the campaign meetings that the experts came up with the issue.     https://punemirror.indiatimes.com/pune/civic/pmc-to-halt-all-road-concretisation-works-will-form-new-policy/articleshow/69682218.cms    (7 June 2019)
Chennai Idea of drawing water from Kandaleru dam through pipelines back on charts With poor realisation of Krishna water for Chennai being the norm, the idea of drawing water from the Kandaleru dam in Andhra Pradesh through pipelines is gaining currency again among water experts.
As part of the Krishna Water Supply Project (KWSP), Chennai is to get 12 thousand million cubic feet (tmc ft) annually. Laid over a distance of about 150 km, the Kandaleru-Poondi Canal can carry 1,000 cubic feet per second (cusecs). But, ever since the project was commissioned in September 1996, Chennai had never received the assured quantum of 12 tmcft in any year and the highest ever received was 8.2 tmcft in 2011-12.
Even at the time of the launch of the Krishna Water Supply Project in 1983, Tamil Nadu demanded that the transfer of water from Kandaleru to Poondi be done through pipelines but the neighbouring State did not agree to it. Tamil Nadu did not press its suggestion as it was more keen on getting water anyhow. As per the present arrangement, the Kandaleru dam, among others, takes care of water supply requirements for Tirupathi and Kalahasthi towns. https://www.thehindu.com/news/cities/chennai/idea-of-drawing-water-from-kandaleru-dam-through-pipelines-back-on-charts/article27892855.ece  (13 June 2019)
What have you done to address city's water crisis: HC The Madras HC on June 12 called for details from the State govt on steps taken by it to fulfil the daily water requirements of people in the city. The court directed Additional Government Pleader E. Manoharan to make sure that the details were submitted by June 17, when cases filed against commercial exploitation of groundwater from the suburban localities of Chennai had been listed for hearing. The judges broached the subject during the hearing of a PIL filed by a resident of Vellore alleging letting out of sewage into a water channel. Expressing concern over such acts, the judges wanted to know from the counsel regarding the number of STPs in existence. https://www.thehindu.com/news/cities/chennai/what-have-you-done-to-address-citys-water-crisis-high-court-asks-state/article27892490.ece  (13 June 2019)
ADB ready to help Chennai combat water crisis The Asian Development Bank (ADB) will be happy to share its knowledge to deal efficiently with water scarcity problems in Chennai, said Ramesh Subramaniam, director general (Southeast Asia department), ADB. He said India needs at least USD 150 billion over the next few years for development of urban infrastructure.  ADB has so far committed $35.9 billion to India. It has supported even the preparation of a master pan for the Chennai-Kanniyakumari industrial corridor. http://www.newindianexpress.com/cities/chennai/2019/jun/12/adb-ready-to-help-chennai-combat-water-crisis-1989130.html  (12 June 2019) 
No water, work from home, IT firms tell staff Sources said around 5,000 techies of 12 companies have been directed to work from home for the next 100 days. It has not rained for almost 200 days in the city and Chennai may not get sufficient rain to tide over the water crisis for the next three months. "Last time IT companies asked employees to work from home was during a strike called by private tankers four years ago," a source told TOI.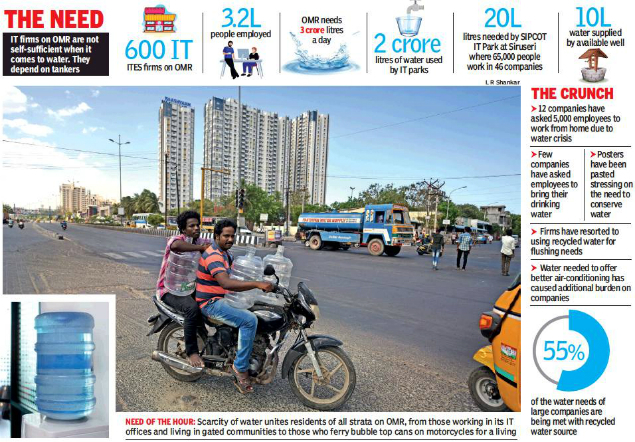 – OMR requires about 3 crore litres of water a day in summer, most of this is sourced from outside. Of this, 60% is used by IT firms and other offices. Representatives of IT firms from OMR approached Metrowater seeking support. Officials made promises but did not keep them. The crisis has hit the SIPCOT IT Park hard. Its 46 companies require 2 million litres of water a day and this was sourced from the 17 wells within the park. "But now only one million litres is sourced from the wells. The rest is provided by tankers," a SIPCOT official said. https://timesofindia.indiatimes.com/city/chennai/no-water-work-from-home-it-cos-tell-staff/articleshow/69763283.cms  (13 June 2019)
Concerns arise over quality of tanker water Private water tanker companies are tapping water from unidentified and abandoned sources compromising on quality. In the Keerapakkam stone quarry, a 22-year old murdered body of a man found four months ago. Now, private tankers are pumping water from the same quarry and supplying to households. Even from a quarry near Thiruporur, a body was fished out in January and tankers pump water from there too. https://timesofindia.indiatimes.com/city/chennai/concerns-arise-over-quality-of-tanker-water-in-chennai/articleshow/69718267.cms  (10 June 2019)
City may get 25 mld water a day from Vellore via wagons As per officials talks were held with Southern Railway to  bring 25 million litres per day (MLD) to the city, which is less than 5% of what Metrowater supplies now. "The plan is to transport treated water from Jolarpet in Vellore to Villivakkam in Chennai. It is estimated to cost Rs 154.3 crore towards hiring charges for the wagons and pumping, treatment and distribution," said an official. Fifty wagons will be employed, each carrying 50,000 litres per trip (2.5 million litres). Officials hope to arrange 10 trips a day.
The Tamil Nadu Water Supply and Drainage Board (TWAD) studied its water supply schemes in Kancheepuram, Tiruvallur, Tiruvannamalai and Vellore for possible diversion of surplus water to Chennai. It identified the Vellore scheme that was launched in 2015 to cater to the local corporation, which was found to have a surplus of about 30MLD. https://timesofindia.indiatimes.com/city/chennai/city-may-get-25mld-of-water-a-day-from-vellore-via-wagons/articleshow/69640925.cms  (4 June 2019)
Southern Railway brings water in trains On June 9, 4.5 lakh litres was brought from Chengalpattu by a special train, to meet the needs of coach maintenance depot at Basin Bridge and Central Station. According to officials, the yard in Basin Bridge has an average daily requirement of 12 lakh litres of water mostly for the primary maintenance of 300-320 trains everyday. The requirement at MGR Central Station, which handles about 65,000 passengers everyday, is a staggering 10 lakh litres.
About 3.5 lakh of water generated by the recycling plant at Basin Bridge is used for cleaning coaches. However, supply of water to trains is the problem. Every coach has four tanks mounted on roof with capacity of 450-600-litres. A coach requires about 1,500 to 2,000 litres of water per trip. A train has to be supplied about 40,000 litres of water to fill tanks. About 55 trains originate at the MGR Chennai Central Railway Station and 33 trains leave the Chennai Egmore Station on a daily basis. http://www.newindianexpress.com/cities/chennai/2019/jun/10/s-railway-brings-water-in-trains-1988172.html  (10 June 2019)   
Chennai water problem has many serious dimensions.  https://indianexpress.com/article/india/water-crisis-in-tamil-nadu-clashes-erupt-in-chennai-it-firms-cut-down-operations-5783705/  (17 June 2019)
The malls in the city have started rationing water, while restaurants have cut down their business hours, The water shortage is slowly crippling the hospitality industry. A popular mall in South Chennai has reduced its water consumption by 30%.
Approximately 8,000 restaurants with different seating capacity ranging from 100 to 300 are operating in Chennai and suburbs. The total volume of water required by these restaurants is 156 million litres a day.
Chennai Hotels Association president M Ravi said water tankers have tripled their charges. "A 36,000-litre capacity tanker, which used to supply for ₹3,000, has now increased the price threefold. In a bid to reduce the dependence on water, several restaurants have shifted to disposable cups and plates," he said. https://timesofindia.indiatimes.com/city/chennai/chennai-malls-resort-to-rationing-hotels-down-shutters-as-water-crisis-intensifies/articleshow/69818511.cms  (17 June 2019)
Bengaluru Proposal to supply water draws flak There is already a proposal to draw 30 tmcft of Sharavati water from Linganamakki dam for Bengaluru. Amidst this, CM H D Kumaraswamy has reportedly asked Water Resources Department officials to frame another plan to draw 18 tmcft of water from Tunga and Bhadra rivers too. Activists have hinted that the decision is going to rake up another controversy, which may also take a political colour. http://www.newindianexpress.com/states/karnataka/2019/jun/13/proposal-to-supply-water-to-bengaluru-draws-flak-1989478.html  (13 June 2019)
"The engineers proposed 18 TMC supply from Thunga and Bhadra rivers and 30 TMC from the Linganamakki dam to Bengaluru and surrounding districts. The Chief Mininster of Karnataka has asked the department officers to prepare a detailed project report," said sources. This new project will become yet another project as the same as Yettinahole, said authorities. "Already this entire region is hit by drought. There is no water in any of the rivers of the Malnad region. In such a scenario, the engineers want these kinds of projects to loot the state exchequer," alleged an officer from the same department. https://www.newskarnataka.com/shimoga/state-govt-proposes-to-pump-water-from-thunga-bhadra-to-bengaluru  (12 June 2019)
WATER POLLUTION
Karnataka Over 400 industries fall foul of pollution norms A recent inspection drive by the Karnataka State Pollution Control Board (KSPCB) has found that over 400 water and oil-based industries in the state, most of them in Bengaluru, are not adhering to pollution control norms. These are small scale industries, including electroplating, cloth dying and washing, power coating, among others that release harmful chemicals.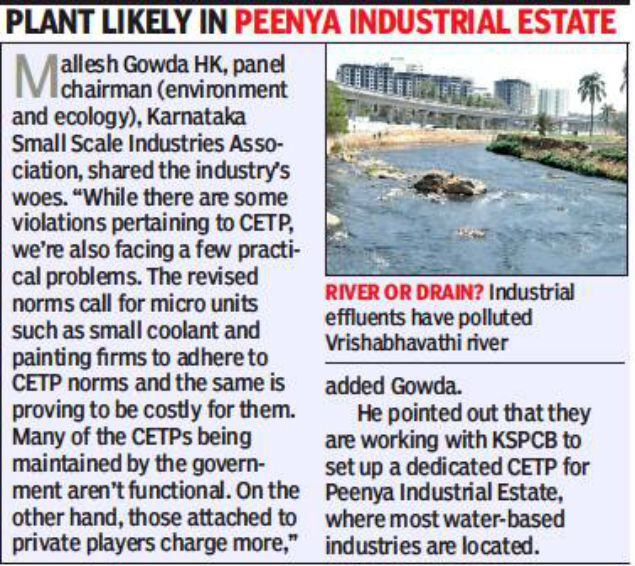 A senior KSPCB official said there are 10 CETPs in and around Bengaluru, which take effluents from water and oil-based industries. "They are located in places like Malur in Kolar, Doddaballapur, Veerasandra industrial estate along Hosur Road, one along Tumakuru Road and another along Mysuru Road," he added. https://timesofindia.indiatimes.com/city/bengaluru/over-400-water-based-industries-not-adhering-to-pollution-control-norms/articleshow/69731503.cms  (11 June 2019)
WATER
National Piped water at every rural home in 5 years With more than 80% rural households yet to get piped water supply, the government on June 11 announced to roll out "Nal se Jal" (water from the tap) for each house in villages in the next five years as promised in BJP's election manifesto. Union Jal Shakti minister Gajendra Singh Shekhawat said the Jal Jeevan Mission will be launched to cover 14 crore households. The minister said in the coming years there will be a deficit of 43% between water availability and requirement.
Officials said the focus of the scheme will be to recharge groundwater through point recharge sources, basic treatment and re-use of grey-water for agriculture, de-silting minor irrigation tanks and rejuvenation of water bodies. "There will be a huge focus on the campaign for creating awareness and behaviour change for the conservation of water," an official said. https://timesofindia.indiatimes.com/india/centre-announces-scheme-to-supply-piped-water-to-every-house-in-villages-by-2024/articleshow/69746832.cms  (12 June 2019)
Centre convenes meeting of states on water crisis on June 11 Alarmed by the water levels in reservoirs and the severe drought in several parts of the country, the Centre will convene a meeting of Water Resources Ministers of states on June 11 to discuss the issue of water conservation, drinking water, and sanitation. New Jal Shakti Minister Gajendra Singh Shekhawat, will chair the meeting.   https://www.business-standard.com/article/news-ani/centre-convenes-meeting-of-states-on-water-crisis-on-june-11-119060900430_1.html       (9 June 2019)
PM Modi writes to village heads to conserve rainwater, desilt ponds, build check dams.  https://timesofindia.indiatimes.com/india/pm-modi-writes-personal-letter-to-village-pradhans-on-saving-rainwater/articleshow/69798669.cms  (15 June 2019)
OPINION The political response to India's water emergency is tepid Kumkum Dasgupta draws Priorities in  WATER sector for the new Union Govt. First, the water sector is confronted with the lack of credible "water information", that is, information about water storage, groundwater, water flows and, in some cases, even rainfall and snowfall levels. This problem has also been acknowledged by the NITI Aayog. "Access to accurate water information could help one understand the risks and urgency of the situation and steer towards informed decisions," writes Himanshu Thakkar, coordinator of the South Asia Network on Dams, Rivers and People, in Economic & Political Weekly (Challenges in Water Governance, April 13, 2019). https://www.hindustantimes.com/opinion/the-political-response-to-india-s-water-emergency-is-tepid/story-SeC6UmBQhn0XUJcvKF0qkK.html     (14 June 2019)
A wish list on water from parched India Fixing India's water crisis will need saner policies, meticulous strategy and a massive amount of public participation. https://www.livemint.com/news/india/a-wish-list-on-water-from-parched-india-1560265588046.html   (11 June 2019)
Uttrakhand Why a land of forest, rivers, glaciers, natural streams Uttrakhand is increasingly suffering from water crisis. Forest fires, cloud bursts and now water scarcity all going side by side in the state.
DELHI WATER
Make policy to curb illegal groundwater extraction: NGT Following a plea seeking remedial action against illegal extraction of groundwater by private water tankers, the National Green Tribunal has directed the Delhi Pollution Control Committee (DPCC) and the Delhi Jal Board (DJB) to formulate a policy against illegal withdrawal of groundwater. Taking note of a report furnished by the DJB, a Bench headed by NGT chairperson Justice Adarsh Kumar Goel directed authorities to take action against those involved.
The Bench also said that authorities should "dismantle and seize equipment so as to prevent any reopening of the seal", to curb illegal extraction of the groundwater by the private water tankers. The directions came when the green panel was hearing a plea which alleged that private water tankers were illegally withdrawing groundwater by installing unauthorised tube wells, in order to sell the water. The NGT had earlier directed the DJB to provide a report on the allegations made in the plea.  https://www.thehindu.com/news/cities/Delhi/make-policy-to-curb-illegal-groundwater-extraction-ngt/article27402751.ece   (2 June 2019)
AGRICULTURE
Tripura Lack of milling facility forces paddy-surplus to spend crores on rice imports   While procurement has become popular among farmers, the insufficient collection is forcing the government to shell out hundreds of crores every year for rice imports while they have got all the rice right at home.   https://indianexpress.com/article/north-east-india/tripura/lack-of-milling-facility-forces-paddy-surplus-tripura-to-spend-crores-on-rice-imports-5773444/      (10 June 2019) 
FLOOD
SANDRP Blog Will Cyclone VAYU bring floods in Saurashtra, Kutch and South Rajasthan? Will prolonged exposure to heavily moisture laden winds for over 48 hours lead to floods in parts of coastal Saurashtra, Kutch and South Rajasthan? There is some possibility of that it seems, though there is no such specific warning from IMD or other Indian sources, but Ventusky.com seems to suggest it. Please share and spread the word. Feedback is welcome   https://sandrp.in/2019/06/13/will-cyclone-vayu-bring-floods-in-saurashtra-kutch-and-south-rajasthan     (13 June 2019)
BBC Gujarati carried interview of SANDRP coordinator on the possibilities of heavy rains and floods in Gujarat due to cyclone VAYU.    https://www.bbc.com/gujarati/india-48623065   (14 June 2019)
Jammu & Kashmir Flashfloods, windstorm wreak havoc across Kashmir Incessant overnight rains, thunderstorms and flashfloods triggered havoc across Kashmir on Wednesday with the water level at Jhelum breaching the flood alarm mark, even as three people were killed in rain-related incidents in past 24 hours.
– Meanwhile, residents of Kaloosa village blocked Bandiproa-Sopore road to protest against the authorities after water inundated several residential houses in the locality.
They said water seeped through the bund constructed alongside Nallah Madhumati and entered into several residential houses in Ganai Mohalla locality of Kaloosa.
Locals alleged that the authorities have used substandard material for the construction of bund alongside Nallah Madumati through which Kishenganga river flows from Gurez. Waters of Kishenganga river that flows through Gurez Valley had been diverted to Bandipora for the construction of 330 MegaWatt Kishenganga Hydroelectric power project (KGHEP). The water flows through Nallah Madumati and construction works including construction of protection walls were carried out alongside the Nallah. Several villages including Kaloosa, Watrina, Muslim Abad, Sonerwani, Dachigam and Nathpora are situated on the banks of Wular lake. Fear has gripped the residents of these localities after water increased in the Nallah and seeped through the bund to inundate several residential houses of Kaloosa locality. http://brighterkashmir.com/flashfloods-windstorm-wreak-havoc-across-kashmir  (13 June 2019) 
DROUGHT
National Water-level in reservoirs dips to 18% Only five sub-divisions – Karnataka, Nagaland, Sikkim and Tripura have received normal rains until June 16. Delhi has been the only sub-division to have recorded no rains this monsoon season so far, with a deficiency of 100%.
While the rains remain scarce, the water levels in 91 CWC monitored reservoirs of the country has also gone down. As per the latest report from the Central Water Commission (CWC), the live storage available in these reservoirs has gone down to 18% of total live storage capacity of these reservoirs and stands at 29.189 BCM. The total storage capacity of these reservoirs is 161.993 BCM.  https://www.livemint.com/news/india/water-level-in-reservoirs-dips-to-18-as-rainfall-deficit-widens-1560679143836.html  (16 June 2019)
Govt expecting allocation of Rs 10,000 cr for MGNREGS with drought looming The rural development ministry is expecting an additional allocation of Rs 10,000 crore towards its flagship MGNREGS with a drought looming in several parts of the country. The ministry was allocated Rs 60,000 crore in this year's interim Budget of which more than Rs 25,000 crore has already been disbursed to the states.
The 2019-20 labour budget of the rural development ministry has set a target of 2,582.1 million person days of which 640 million will be through the rural housing programme. Drought proofing and water conservation activities will continue to be the main focus areas of the scheme.
The ministry is monitoring drought-related works such as renovation of traditional water bodies, micro-irrigation and water harvesting on a daily basis. For 2019-20 so far, the employment guarantee scheme had 115.2 million active workers and generated a total of 592.7 million person days of work. https://www.business-standard.com/article/economy-policy/govt-expecting-allocation-of-rs-10-000-cr-for-mgnregs-with-drought-looming-119061300021_1.html  (13 June 2019)
Villages lie empty as drought forces thousands to flee Hundreds of Indian villages have been evacuated as a historic drought forces families to abandon their homes in search of water. The country has seen extremely high temperatures in recent weeks. On June 10 the capital, Delhi, saw its highest ever June temperature of 48C. In Rajasthan, the city of Churu recently experienced highs of 50.8C, making it the hottest place on the planet.
Further south, less than 250 miles from the country's commercial capital, Mumbai, village after village lies deserted. Estimates suggest up to 90% of the area's population has fled, leaving the sick and elderly to fend for themselves in the face of a water crisis that shows no sign of abating. The village of Hatkarwadi, about 20 miles from Beed in Maharashtra state, is almost completely deserted.
Wells and handpumps have run dry in the 45C heatwave. The drought, which officials say is worse than the 1972 famine that affected 25 million people across the state, began early in December. By the end of May, Hatkarwadi had been deserted with only 10-15 families remaining out of a population of more than 2,000.
With 80% of districts in neighbouring Karnataka and 72% in Maharashtra hit by drought and crop failure, the 8 million farmers in these two states are struggling to survive. More than 6,000 tankers supply water to villages and hamlets in Maharashtra daily, as conflict brews between the two states over common water resources. https://www.theguardian.com/world/2019/jun/12/indian-villages-lie-empty-as-drought-forces-thousands-to-flee    (12 June 2019)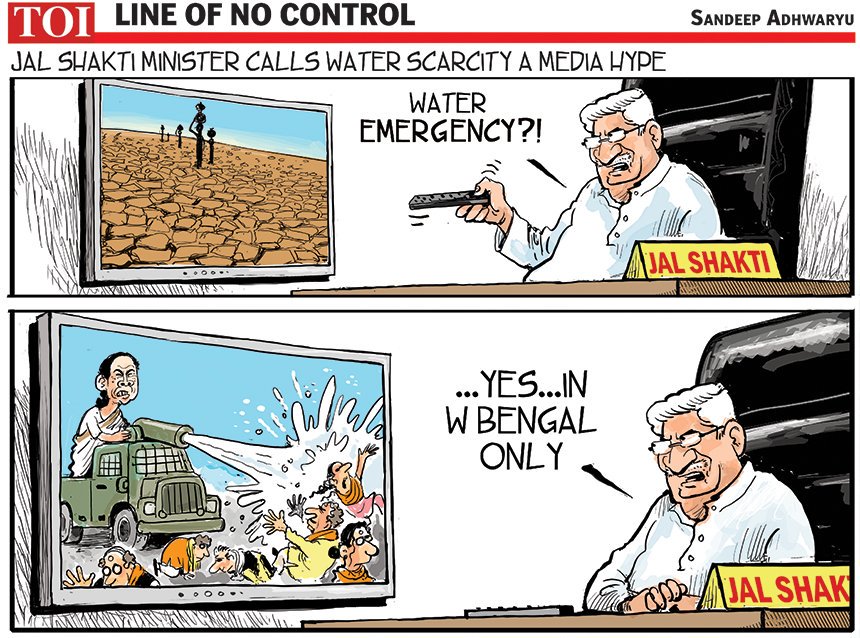 Strange statement from Union Jal Shakti Minister that water scarcity is a media hype! https://www.indiatoday.in/india/story/india-water-scarcity-drought-jal-shakti-minister-gajendra-singh-shekhawat-1546948-2019-06-11    (11 June 2019)
Maharashtra Water lifting banned in Kolhapur district The irrigation department on June 6 banned use of water from four major rivers in the district for any purpose other than drinking till further instructions. The department took the decision in view of the alarming decline of storage in five major and medium dams in the district.  Known for good rainfall, Kolhapur district is facing ban on river water use for the first time in the recent past.
Officials said storage at Radhanagari, Tushi, Kumbhi, Kasari and Kadwi dams has fallen due to evaporation, lack of pre-monsoon showers and inadequate rainfall last year.  Bandiwadekar has warned all the stakeholders to use the water judiciously. He has suggested farmers to use micro or drip irrigation system for farming and asked industries to avoid pollution of the river. Through the same order, the department has banned lifting of water from Warna dam. It has already imposed ban on lifting of water from Warna and Krishna rivers earlier this week.
Kolhapur district has five big, 12 medium and 60 small water reservoir projects, which has a total storage capacity of 87 thousand million cubic feet (TMC). However, the current storage is just 9 TMC.  The data from the district disaster management cell showed that most of the dams have less than 30% usable water stock. The water level in Radhanagari dam is 1.34 TMC against its original capacity of 8.361 TMC. https://timesofindia.indiatimes.com/city/kolhapur/dam-levels-decline-water-lifting-banned-in-kolhapur-district/articleshow/69700187.cms  (8 June 2019)
Record number of tankers are sole source of water in large parts of Maharashtra. Behind the crisis, late monsoon following a deficit year, depleting groundwater in 279 talukas, under 10% live storage in 13 key reservoirs.   https://indianexpress.com/article/explained/simply-put-5000-dry-villages-in-maharashtra-6500-tankers-5777789/          (16 June 2019)
In Maharashtra – the epicentre of the drought gripping the country – farmers abandon dying crops and people struggle to find enough water to survive https://www.thethirdpole.net/en/2019/06/13/surviving-indias-drought-people-have-stopped-expecting-a-decent-life/      (13 June 2019)
Only five per cent water left in dams in Nashik Fifteen out of 24 water reservoirs in Nashik district have gone dry and the overall water stock in reservoirs has dwindled to five per cent of the capacity, officials said on June 14. The Gangapur dam, the main water source for the Nashik city, has only 11 per cent water stock left, the officials said. The total water stock across 24 reservoirs is 1,146 mcft at present. The pre-monsoon rainfall in the district from June 1 to June 14 was 292.1 mm, compared to 436 mm during the same period last year, officials said. https://www.indiatoday.in/india/story/only-five-per-cent-water-left-in-dams-in-nashik-1549015-2019-06-14  (14 June 2019)
Woman Dies After 40-feet Fall Water scarcity in Maharashtra's Yavatmal district claimed the life of a 45-year-old woman, who fell into a well in search of water, police said on June 11. The incident took place at Malewadi in Mahagaon tehsil on June 10 evening, an official said. Vimal Rathod had entered the half-dry well, the official said. While trying to descend further, she slipped and fell 40 feet on the rocky surface and died on the spot, said Damodar Rathod, incharge of Mahagaon Police Station. Her body was shifted to a state-run hospital in Yavatmal for post mortem, he said. After the incident, villagers of Malewadi staged a protest at Gunjphata and demanded drinking water for the village, the official said. https://www.news18.com/news/india/killer-thirst-maharashtra-woman-enters-well-in-search-of-water-dies-after-40-feet-fall-2182267.html  (11 June 2019)
Gujarat  Little rain, just one key river Some useful information here: 96 of the state's 250 tehsils, spanning 17 districts, having been declared either drought-affected or scarcity-hit, a majority of these in Saurashtra and North Gujarat. This year, though the availability of Narmada water for Gujarat has increased to 6.6 MAF. Saurashtra constitutes 33% of land area of Gujarat, Kutch 22%. This 55% has 20% of Gujarat's water, 17% in Saurashtra and 3% in Kutch. The SSP is designed to irrigate 5.15 lakh hectares in Saurashtra and 1.12 lakh hectares in Kutch. This is about one-third of the 18 lakh hectares that is the total culturable command area of the Dam project.
– The Rs 16,000-crore SAUNI project envisages filling up 115 major dams of Saurashtra by channeling floodwaters of Narmada to Saurashtra through existing canals and pumping it to these 115 dams by laying a 1300-km network of pipelines. The project is still incomplete.
– The state government has declared 51 tehsils drought-affected and 45 tehsils scarcity-hit. The first 51 have received less than 250 mm rainfall, and the other 45 have received rain in the range 251-400 mm. The government is providing tankers to areas short of drinking water, with 850 tankers making 3,800 trips every day.
– In March, Prime Minister Narendra Modi laid the foundation stone of 100 million-litres-per-day Rs 800 Crore seawater desalination plant at Jodiya in Jamnagar, to be commissioned in 2021. https://indianexpress.com/article/explained/gujarat-water-crisis-rainfall-monsoon-drought-narmada-river-5775964/  (12 June 2019)
Karnataka 88.6% Area Under Drought As Govt Admits Design Flaw in Water Schemes   Dhondiram Tukaram Sutar, 68, a farmer and social worker from Pandegaon village in Athani taluka of northern Karnataka, has 2.5 acres of farmland on which he grows jowar (sorghum) every year. Jowar is a dry-land crop that can be grown in both rabi (winter) and kharif (monsoon) cropping seasons. Last year, Sutar's entire crop failed due to scanty rainfall, and he has been unable to sow another crop ever since. https://www.indiaspend.com/88-6-of-karnatakas-area-under-drought-as-govt-admits-design-flaw-in-water-schemes/    (14 June 2019)
Drought worsens as water level dips rapidly in Almatti reservoir About 22 tmcft of water is available in the Almatti dam at present of which 18 tmcft is considered "dead storage'' which can't be utilised. Of the 4 tmcft available, dam authorities release 220 cusecs of water daily to a power generation plant, sources said adding that water for drinking is being released from the dam regularly to Vijayapura, Bagalkot, Ron, Basavana Bagewadi and surrounding areas. http://www.newindianexpress.com/states/karnataka/2019/jun/11/drought-worsens-as-water-level-dips-rapidly-in-almatti-reservoir-1988690.html       (11 June 2019)
DISASTERS
Uttrakhand The Makings of a Disaster According to officials, last year in the entire Yatra season about 27 lakh tourists had visited Uttarakhand but this year, the number of such visitors crossed 17 lakh within a month of the Char Dham shrines being reopened to the public.  In about a month's time 3.5 lakh people visited Kedarnath while the number of visitors in the corresponding period last year was about 1.5 lakh. One wonders whether many lakhs of people consistently visiting Uttarakhand will leave the peace and rich environment as it is in a State where even an efficient garbage disposal system is not in place.  https://www.dailypioneer.com/2019/state-editions/the-makings-of-a-disaster–.html  (15 June 2019)
Himachal Pradesh Landslide in Karsha Area in Kullu NH 305 Aani To Luhri Blocked in Kullu District after Landslide in Karsha Area in Kullu-HP, posted on June 6, 2019     https://www.youtube.com/watch?v=GI-XlER74xA&feature=youtu.be    (16 May 2019)
ENVIRONMENT
Report LEGISLATIVE IMPACT ASSESSMENT: Undertaking an Impact Assessment on legislation provides analysis of the potential effects and effectiveness of a legislative proposal before its enactment. An LIA could have the following benefits among several others: improve quality of legislation; increase the productivity of legislature; improve governance; help make informed choices; identify potential effective alternatives and reduce redundant legislation.
Following are the essential elements or parts of the LIA:
Identification and statement of the policy problem

Identification of potential legislative/policy options

Comparative analysis of potential legislative/policy options with each other and also with a "do nothing" scenario

Stakeholder consultation

Selection of preferred legislative/policy option

Impact Analysis of preferred option

Identification of impact mitigation measures required (if any)

Cost-benefit analysis of the preferred option

Reporting
An LIA may be carried out by a civil society organisation (CSO) or non-governmental organisation (NGO) or private entity if private parties or citizens propose a bill, it can also be carried out by a legislator or any private/public consulting entity appointed by the legislator or by a parliamentary committee or any private/public consulting entity appointed by the house. https://thewire.in/environment/legislative-impact-assessments   (10 June 2019)
Uttarakhand From polluted Ganga to drying springs Report on environmental issues in the hilly state. The HC has repeatedly expressed its concern on pollution in Ganga and other rivers like Kosi, Rispana, and Bindal. Rispana, once a gurgling river that passed through Dehradun, has now been reduced to a drainage for the heavily populated town. There is also problem of some polluting industries. State pollution control board has been directed by high court to shut most polluting industries based on the report of the CPCB, which has listed 323 polluting industries under red category in the state.
According to rough estimates by experts, roughly 12000 springs have dried up in Uttarakhand over the decades of total 60,000. The NITI Aayog report in December 2017 pointed out that there are three million springs are in the Himalayan region, stressing that significant part of drinking water supply in Uttarakhand was spring based. According to this report, nearly half of the springs in the Indian Himalayan region (IHR) were drying up, empathising for "preventive and corrective measures".
One of the major challenges is to understand the overall impact of climate change on the environment, agriculture, weather patterns, wildlife and agricultural practices in the Himalayan state. According to one estimate over 5000 people have died in landslides in the state in the last 18 years or so.
Forest officials claim that over 90% forest fires in the state are man-made. Over 44,554 hectares of forest area or roughly 61000 football grounds worth area been damaged in forest fires in Uttarakhand since its formation in 2000, accruing a loss of over Rs 185 lakh, according to the reply to an RTI query of the Haldwani based RTI activist Hemant Gauniya. https://www.hindustantimes.com/dehradun/from-polluted-ganga-to-drying-springs-5-environmental-challenges-before-uttarakhand/story-pQUi7aCpgcpxhIGd0dUadM.html  (5 June 2019)
CPR Namati report titled Making the Law Count covering 10 environment justice stories by community paralegals in India.  https://namati.org/wp-content/uploads/2018/03/Making-the-Law-Count-Final.pdf 
CLIMATE CHANGE
Jammu & Kashmir Rare snowfall in June The upper reaches of Kashmir on June 12 received rare snowfall and heavy rain leading to flooding in some areas even as plains of North India are reeling under an intense heat wave. Rain and fresh snowfall in the upper regions of the Valley, especially in Sonmarg and Gurez led to a drop in day temperature. However, weather department officials termed the snowfall in June as a "rare" meteorological event that was "not unusual".
Sonum Lotus, director of India Meteorological Department (IMD) office in Srinagar, said widespread rain and snow was recorded in Drass, Kargil, Zojilla and Zanskar. "Snow in June in the upper parts of the valley is not unusual but a rare event. It has happened in the past and will happen in future as well,'' he said. "Since the department has not an observatory in Zanskar so they don't have written record when the snowfall was recorded in June."
Apart from Kashmir, snowfall in higher reaches have also been reported from Himachal Pradesh, Uttarakhand and Sikkim in June. https://www.hindustantimes.com/india-news/as-heat-wave-sweeps-north-india-kashmir-gets-rare-snowfall-in-june/story-xu89LqfPOVjGYhkpwDi2xI.html  (12 June 2019)
Retreat of Kashmir's glacier hits local communities Himalayan glaciers – which feed the major rivers of Asia – are the fastest shrinking in the word, but conditions among them vary considerably and rates of decline are often unknown. One of the most affected basins will be the Indus – which the Kolahoi glacier feeds into – and which is shared by China, India, Pakistan and Afghanistan. The Energy and Resources Institute (TERI) has been monitoring the Kolahoi glacier over the past decade and has found the glacier lost 18% of its ice volume between 1990-2018 – and the rate of loss is increasing rapidly.
Piercing the blue sky at an elevation of 5,425 metres, Mount Kolahoi harbours one of the important glaciated zones of Western Himalaya. Kolahoi glacier sits about 35 kilometres upstream from Pahalgam, at the head of the West Lidder Valley in Kashmir. Known locally as the 'Goddess of Light', the glacier boosts the rural economy and tourist industry. It is the major source of the Lidder River, which flows into the Jhelum, a tributary of the Indus. https://www.thethirdpole.net/en/2019/06/11/retreat-of-kashmirs-glacier-hits-local-communities/  (11 June 2019)
Rethinking India's Approach to International and Domestic Climate Policy Paper on compliance of environmental regulations.     https://cprindia.org/latest-policy-challenges/tid/1686V    (7 June 2019)
Experts Find New Way To Remove Trillion Tons CO2 Not clear if this will work, to what extent, though this is worth the effort. HOWEVER, this should NOT mean that status quo in emissions is an option. https://www.ndtv.com/science/environmental-experts-find-new-way-to-remove-trillion-tons-carbon-dioxide-2052406 (13 June 2019) 
SOUTH ASIA
AIIB approves first investment in Nepal The Asian Infrastructure Investment Bank (AIIB)'s Board of Directors has approved a loan of up to 90 million US dollars for the 216 MW Upper Trishuli-1 hydropower project in Nepal, its first project in the country, to be developed under BOOT model.
– The AIIB has also provided Nepal with 900,000 US dollars for the proposed Tamakoshi V Hydroelectric Project and one million dollars for the proposed Power Distribution System Upgrade and Expansion Project from its Project Preparation Special Fund which provides grants to support the preparation of projects in eligible AIIB members.    https://www.indiablooms.com/world-details/SA/20340/aiib-approves-first-investment-in-nepal.html    (10 June 2019)
THE REST OF THE WORLD
Europe Biggest dam removal in european history started Biggest Dam removal in EUROPE's history started on June 12 in France: the 36 metre high Vezins Dam. Along the Sélune River in Normandy, the removal of two old, obsolete dams over the next two years – the Vezins and La Roche Qui Boit— will open up 90 km of river, improving water quality, allowing migratory salmon to return to their ancient spawning grounds and benefiting people and nature all along the river.   https://www.ern.org/en/france-biggest-dam-removal-in-european-history-started/   (12 June 2019)
US An image of the state of the Hidtroituango powerhouse
The photo of the Hidroituango power house in June 2019 shows the damage, the debris and water/ moisture along the walls of the controversial Colombia power house.   https://blogs.agu.org/landslideblog/2019/06/10/hidroituango-powerhouse/        (10 June 2019)
EPM clearing rubble from Colombia hydro project Colombian utility EPM is hauling out rubble from around the devastated powerhouse at its 2.4GW HidroItuango project. The main equipment casualties are two turbines and 19 of 24 transmission units that had been installed in an adjacent underground chamber, according to William Giraldo Jimenez, EPM vice president of generation projects and head of HidroItuango. But he noted that the roof of the powerhouse remains intact.  https://www.argusmedia.com/en/news/1918848-epm-clearing-rubble-from-colombia-hydro-project     (10 June 2019)
Court orders study to define future of Colombia's largest dam project A Bogota judge ordered Medellin energy company EPM to repair damages caused to both the environment and locals by Colombia's largest hydroelectric dam and study the viability of the Hidroituango project. Victims of the disgraced dam project had requested the case to be heard in Bogota, as Medellin's judicial system was too closely affiliated with the local elite suspected of illegally constructing the dam. The judge agreed with locals from the north of the Antioquia province that EPM broke environmental law and committed fraud as it began construction work in 2015, "10 months before having been granted a license." The judge asked the prosecution to investigate and prosecute whoever ordered the illegal construction of the dam that has devastated the environment and the lives of tens of thousands of locals near the project in northern Antioquia. Criminal investigations against former EPM executives and prominent members of Antioquia's political and economic elite are already underway.
– To investigate this risk and other possible damages to the communities and the environment, the judge ordered the formation of a commission that includes victims that must inform the public about its findings regularly. This commission must hire independent experts "to analyze the rock structure of the place where the hydro-electric project is located as well as its stability." Locals and an influential geologist from the Medellin branch of the National University has already said that the stability of the dam and the supporting mountains have become so weak because of construction failures that the dam ought to be dismantled.  https://colombiareports.com/court-orders-study-to-define-future-of-colombias-largest-dam-project/      (13 June 2019)
Levees 'overwhelmed' as river levels stay high While the Missouri River's banks look to stay below the historic crests reached earlier this year, the waterway has persistently stayed above flood stage. With no substantial receding relief in sight, officials fear that more breaches are likely along the river's waterlogged levee system. "At some locations we have topped the 1993 rivers levels," said Tom Waters, president of the Missouri Levee and Drainage District Association. "It's starting to look like (the Flood of 1993) more and more as these levees continue to fail."
– Statewide, Waters said, close to 70 levees along the river already have had some sort of structural failure. "Levees are saturated and the prolonged water against them is dangerous," he said. Hydrologists measure and compare wet stretches of weather by looking at the overall amount of precipitation that has fallen over a water year, an October-to-October liquid total. With more than three months to spare in our current water year, Watson said, the region is already at historic precipitation levels, exceeding both 1993 and 2011. "We are running this period of the water year on record for rainfall across the area," said Watson, the National Weather Service hydrologist assigned to this region. http://www.newspressnow.com/news/local_news/levees-overwhelmed-as-river-levels-stay-high/article_7101a4b2-8b15-11e9-828f-b3b82c7f7f84.html   (10 June 2019)
Garrison Dam to use spillway gates to meet release goals Spillway gates at Garrison Dam are scheduled to be raised Monday (June 17) as the Corps of Engineers evacuates rising water from Lake Sakakawea. It will mark only the third time in the history of the reservoir, which reached operational level in 1955, that the release gates will be utilized. "As for the gates themselves, we opened them in the high water year of 2011 and we used them again last year," said Todd Lindquist, Corps of Engineers project manager at Riverdale. "Using the spillway doesn't mean you are going to flood." On Thursday (June 13) Lake Sakakawea reached 1.850.30 feet. Exclusive flood control for the reservoir is 1,850 to 1,854 feet, which is overflow level. Current runoff forecasts show the reservoir topping out at 1,851.8 feet.
– "This is just a different event than last year," explained Lindquist. "It is our second highest runoff on record if it comes to fruition, but very different because most of the runoff into the system is below us, dams without much flood control." The use of the spillway gates is one of three options to regulate water levels in Lake Sakakawea. Water can also be released into the Missouri through the five hydroelectric turbines at Garrison Dam or through any of three release tunnels immediately adjacent to the power plant.
– "We shouldn't impact people downstream," stated Lindquist. "Last year at 60,000 cfs we were in people's yards and boat ramps." The release rate of 46,000 cfs is scheduled to last through August with decreases beginning in September. Total runoff into the Missouri River system, above and below Lake Sakakawea, is forecast to be 50.0 million acre feet of water. The historic average, covering 121 years of record keeping, is 25.3 maf.  https://www.minotdailynews.com/news/local-news/2019/06/garrison-dam-to-use-spillway-gates-to-meet-release-goals/     (14 June 2019)
Paralysis on America's Rivers TOO MUCH water in American Rivers has led to paralysis of waterways: Even if the rivers reopen to barges in the next few weeks — and that is uncertain, with water levels still near record heights in some places — the effects on the economy could linger. Never has so much of the river system been closed for so long at such an important time of year.  https://www.nytimes.com/2019/06/10/us/flooding-river-shipping.html                (10 June 2019)
South Africa Ugandan critics oppose Nile river power plant plan A plan by Bonang Power and Energy to develop a 360 MW power plant on Uganda's River Nile has met resistance from critics who say the project will destroy the popular tourist attraction of Murchison Falls. Located on the Nile between the Ugandan lakes Kyoga and Albert, the Murchison Falls also lend their name to a 3,900 sq km national park, one of Uganda's biggest, where visitors can view lions, hippos, elephants, buffalos and giraffes.
The announcement of the project has stoked outrage from private tourism operators, nature enthusiasts and even the government's own wildlife protection agency. Earlier this year a 183 MW dam on the same river, built with a Chinese loan was commissioned. Another with 600 MW capacity, also China-financed, is due for commissioning later this year. https://energy.economictimes.indiatimes.com/news/power/ugandan-critics-oppose-nile-river-power-plant-plan/69740469     (11 June 2019)
Australia Adani's North Galilee Water Scheme – Federal Judicial Review On 12 June 2019, the Federal Minister for the Environment agreed to court orders conceding the case against her by our client Australian Conservation Foundation over Adani's controversial North Galilee Water Scheme project. The result is a massive win for ACF and the result of more than 1000 hours of painstaking legal work by the EDO Qld team.
ACF successfully challenged the Federal Minister for the Environment's referral decision on Adani's North Galilee Water Scheme under the Environment Protection and Biodiversity Conservation Act 1999 (Cth) (EPBC Act). The Minister and Adani both ultimately agreed with ACF that the Minister's delegate's failure to properly consider thousands of public comments when making the decision was an error of law.  This error was only uncovered as the case progressed. https://www.edoqld.org.au/case_explainer_adani_s_north_galilee_water_scheme_federal_judicial_review
Court win over Adani's North Galilee Water Scheme In a huge win for our client the Australian Conservation Foundation, the Federal Government has conceded the case brought against it over Adani's North Galilee Water Scheme. This is a massive outcome not just for our clients but for the broader community, who raised grave concerns about the effect this project would have on Australia's precious water resources.
In conceding the case, the Federal Environment Minister has admitted the Federal Government failed to consider all of the thousands of valid public submissions about if and how Adani's project should be assessed, in direct breach of the Environment Protection and Biodiversity Conservation Act 1999.
Those people were denied their right to a voice in this process. This win will ensure their voice is heard. Now the Government will need to go back to the drawing board and open up assessment of the project for public comment again. It's a big moment in the Adani story.   https://www.edoqld.org.au/breaking_news_ngws_win   (12 June 2019)
UK Can England's water companies clean up its dirty rivers? Detailed report on sewage pollution of England rivers. https://www.ft.com/content/5c1a33e4-8939-11e9-97ea-05ac2431f453  (12 June 2019)
Compiled by SANDRP (ht.sandrp@gmail.com)
Also see: DRP News Bulletin 10 June 2019 & DRP News Bulletin 3 June 2019  
Follow us on: www.facebook.com/sandrp.in; https://twitter.com/Indian_Rivers