June 21 seemed like a new day with all the national newspapers carrying full front page advertisements about Kaleshwaram project of Telanagana, advertised with more than usual share of superlatives: Lifeline of Telangana, record breaking projects, the world's highest lift project completed in fasted time and so on. At three (Maharashtra – the upstream state- Andhra Pradesh – the downstream state and Telangana the project state) Chief Ministers and one governor gathered on the banks of Godavari river in Jayashankar Bhupalpally district to inaugurate a project that opposition mocked, saying it is just 20% completed.
But there were many serious unanswered questions and problems around the costliest irrigation project of India from a region and sector that is infamous for corruption. Water availability itself is in doubt, the impact assessments are hardly done even in name sake, public consultations non existent. Even statutory clearances are being questioned. If this is the best or even least cost option for the Telangana is not even debated, for a project that may need over 5000 MW of power for lifting the water to over half a km height. That too in a state where no district has below 500 mm rainfall.
There is no doubt that Telangana CM, in getting both the upstream and downstream chief minister of Godavari river to come for the inaugural has sought to keep the interstate disputes far away, but question is only how long. The absence of any person from the centre for the project which is darling of the CWC's big dam ideologues raises more questions, particularly when the Chief Minister wants the project to be declared a national project.
Polavaram-Kaleshwaram Godavari: sifting fact from fiction The amount of water that the Godavari River discharges into the sea on an average in a year is over 2,500 tmcft. This is the figure that is being quoted by all to show the "wastage" of water. CM K. Chandrasekhar Rao too has made this point said on several fora. But in reality, only a limited amount of water is available at Polavaram in the non-monsoon season.
According to readings of CWC gauge stations collected over 47 years, the availability from November to May was low. While only an average 75.2 tmcft was available in November, in the subsequent months it is even lower – December 42.2 tmcft, January 29.8 tmcft, February 21.7 tmcft, March 22.3 tmcft, April 17.6 tmcft and May 18.4 tmcft.
Former Irrigation Superintending Engineer (Polavaram) K. Haranath told that the allocation of 1,486 tmcft of Godavari water to combined Andhra Pradesh by the Godavari tribunal was based on yield available of 75% dependability, but not on average yield of 2,631 tmcft.  "The Telangana CM has in several speeches said that he is going to construct a number of barrages, a few authorised, but most unauthorised," Mr. Haranath said.
Godavari delta requires 265 tmcft and the requirement of the Polavaram project would be 325 tmcft. Its reservoir would have to be filled eight times to cater to the ayacut. If the proposed barrages were constructed, the water available to fill Polavaram would be two or three times only.
Kharif lasts five months and the river is in spate during three months, but with Telangana tapping water during the remaining two months, the standing crop would wither, Mr. Haranath said. With Telangana pumping water all through the year, there would be no water for the rabi crop in Godavari delta. When it comes to kharif, only 50 tmcft would be available for the first three months and 25 tmcft for the last two months, he said.
AP irrigation experts say that no impact assessment of the Kaleshwaram project on the Polavaram project was conducted by the CWC. Telangana was claiming 950 tmcft and out of the total 1,486 tmcft allotted by the tribunal. As a result, AP would get only 536 tmcft as its share.
There was duplicity in the claim for 950 tmcft because the same ayacut was being shown for two schemes. One clear example was the Kaleswaram Lift Irrigation Scheme with a new ayacut of 18 lakh acres. But some of the ayacut being shown as new was already covered by SRSP, Flood Flow Canal, Devadula, Yellampalli, Pranahita-Chevella, Nizamsagar, Singur, Kanthanapalli and Ichampalli. https://www.thehindu.com/news/national/andhra-pradesh/godavari-sifting-fact-from-fiction/article28089989.ece  (21 June 2019)
Some basic information about Kaleshwaram project. https://indianexpress.com/article/explained/explained-what-is-telanganas-kaleshwaram-water-project-5792156/  (22 June 2019)
Inauguration of Kaleshwaram Telangana CM K Chandrashekar Rao on June 21, 2019 inaugurated the Kaleshwaram irrigation project, termed the "world's largest multi-stage, multipurpose irrigation project". Andhra Pradesh CM Jagan Reddy and his Maharashtra counterpart Devendra Fadnavis were among the VIP guests at the grand event. The project, built on the Godavari river, will lift the water to a height of half-a-kilometer and is expected to irrigate 45 lakh acres for two crops a year and take care of 70 per cent of the drinking water needs of the state. The Kaleshwaram irrigation project was inaugurated with the three Chief Ministers, and Telangana and Andhra Pradesh Governor ESL Narasimhan participating in a series of programmes at the project site in Jayashankar Bhupalpally district, near the borders with Maharashtra and Chhattisgarh.
– BJP leader Bandaru Dattatreya mocked KCR for "inaugurating a project when it was only 20 per cent complete". He also said the government has not released a detailed project report. The former union minister has demanded a white paper on the expenditure involved in the irrigation projects in the state, pointing out that the cost of the Kaleshwaram project has doubled from its projected cost. The Congress in Telanagana, meanwhile, did not want Jagan Reddy at Friday's event, since Jagan's father and former AP CM from Congress, YSR started a different, much cheaper project in place of Kaleshwaram.    https://www.ndtv.com/telangana-news/kaleshwaram-irrigation-project-at-kcrs-irrigation-project-launch-in-telangana-jagan-reddy-devendra-f-2056847      (21 June 2019)
Both Telangana and Andhra Pradesh governments have decided to work in tandem and "you will see the results in all fields shortly. The decision was unanimous," CM K. Chandrasekhar Rao declared after a marathon meeting of his Cabinet on June 18, 2019. Mr. Rao said the two States had already initiated the process of mutual cooperation not only in the case of Secretariat buildings, but irrigation sector to exploit water available to them in Krishna and Godavari rivers.
Eager to take water to all dry land areas in Andhra, its CM Y.S. Jagan Mohan Reddy has deputed a delegation of senior irrigation officials from the State to meet their Telangana counterparts in Hyderabad on June 27 and 28 to discuss water sharing. The next meeting between two States will take place in Vijayawada. If required, the States will conduct joint inspection of the river basins, he added. https://www.thehindu.com/news/national/telangana/ts-ap-cooperation-to-cover-more-areas/article28068056.ece     (19 June 2019)
Telangana CM argued that the 500 TMC of water requirement of Andhra Pradesh would be met by Polavaram irrigation project from July to October and by Sabari-Sileru from October to April.
In a media interaction here on Friday, Nagendranath pointed out that Telangana could tap approximately 475 TMC of Godavari water through the three lift irrigation projects — Kaleshwaram (350 TMC), Devadula (70 TMC) and Sita Rama (55 TMC) — in a year. "The Godavari water allocation to Telangana and AP is 936 TMC and 550 TMC. So, even if 475 TMC is tapped through the three lift irrigation schemes, it will be well within its allocation, as neither AP nor Telangana is able to draw even half of its allocated water.
"In AP, we can draw about 300 TMC from Polavaram and 272 TMC from Sabari-Sileru between July and October. Between October and April, another 225 TMC will be available in Sabari, as per the data of the last 36 years, to meet the irrigation needs of our State. So, Kaleshwaram will not pose any problem to us," he argued, adding that he was open to debate with those who claim otherwise. http://www.newindianexpress.com/states/andhra-pradesh/2019/jun/22/kaleshwaram-will-not-affect-interests-of-andhra-pradesh-1993742.html  (22 June 2019)
Chief Ministers of Telangana and Andhra Pradesh are likely to meet here on June 28 and 29 to discuss the strategy on better utilisation of Godavari water for both the States. According to sources, a team of irrigation officials including special Chief Secretary (Irrigation)  of AP and other officials too would attend the meeting. In the preliminary meeting, both the Chief Ministers come to a broad agreement to utilise 1,480 tmcft of Godavari water and 811 tmcft of Krishna water allocated to the combined AP. http://www.newindianexpress.com/states/telangana/2019/jun/23/telangana-cm-kcr-andhra-cm-jagan-to-discuss-sharing-of-river-waters-on-june-28-29-1994090.html  (23 June 2019)
The absence of T Harish Rao, nephew of KCR and driving force behind the Kaleshwaram project at the inauguration function has set tongues wagging. https://www.indiatoday.in/india/story/telangana-kaleshwaram-lift-irrigation-project-kcr-telangana-rashtra-samithi-trs-k-chandrasekhar-rao-1553838-2019-06-21  (21 June 2019)
The Telangana govt has sought national project status for Kaleshwaram project. https://timesofindia.indiatimes.com/india/telangana-government-seeks-national-status-for-kaleswaram-project/articleshow/69907328.cms  (22 June 2019)
But not everyone has welcomed it – and the BBC spoke to one woman who says her husband killed himself because of it. https://www.bbc.com/news/av/world-asia-india-48705293/this-ambitious-water-project-killed-my-husband  (23 June 2019)
HYDRO POWER PROJECTS
Jammu and Kashmir Governor terminates contracts for Lower Kalnai hydro-power project    Jammu and Kashmir Governor-led administration June 20 terminated the contracts of the construction of 48 megawatt (MW) Lower Kalnai hydro-electric power (HEP) project in Doda district due to poor progress of work, an official spokesman said. "The State Administrative Council (SAC) which met here under the chairmanship of Governor Satya Pal Malik accorded sanction to the termination of the EPC (Engineering Procurement Construction) and PMC (Project Management Consultancy) contracts for the 48 MW Lower Kalnai HEP, updation of the DPR (detailed project report) and re-tendering of the balance works of the Project under EPC mode," the spokesman noted.
– The project was awarded on EPC basis in September 2013 to Coastal Projects Pro Limited and was scheduled to be completed in September, 2017. He said due to poor progress work and listing of coastal projects in the insolvency list of the RBI, the termination of the contract and encashment of performance bank guarantees (PBGs) was recommended. The PMC contract of the project was awarded to ICCS-Rodic Consultants Consortium which was to be completed within 48 months, he said. He said the SAC accorded sanction to the termination of EPC contract with Coastal Projects Limited and termination of PMC contract with ICCS-Rodic Consultants Consortium, as per the provisions of the contract agreement.
– In another decision, the spokesman said, the SAC accorded sanction to the annulment of the bid process of 93 MW New Ganderbal HEP and initiation of the procurement process for the project afresh by JKSPDC. The project was conceived as a run-of-the river scheme on Sindh Nallah in central Kashmir"s Ganderbal district. All the requisite clearances for the project have been obtained and compliances for clearance of the project by Indus Commission (Government of India) made, the spokesman said. The Central Electricity Authority (CEA) has accorded Techno Economic Clearance (TEC) to the project at an estimated cost of Rs 965.87 crore. The appraisal was valid for a period of three years. The CEA has been approached for revalidation of the appraisal, the spokesman said. Earlier, a two stage bidding process was adopted for the selection of the EPC contractor for construction of the project in which HCC emerged as the successful bidder with a negotiated cost of Rs 819.18 crore. However, for various reasons, HCC failed to implement the project, the spokesman said. https://www.outlookindia.com/newsscroll/jk-terminates-contracts-for-lower-kalnai-hydropower-project/1558917     (20 June 2019)
Assam Agitation against Subansiri project Assam's leading peasants' organization, the Krishak Mukti Sangram Somiti (KMSS), and the Asom Jatiyotabadi Yuva Chatra Parishad (AJYCP) have resumed their movement against construction activities for the 2000 mw Subansiri Lower Hydroelectric Project (SLHP) in Gerukamukh near the Assam-Arunachal boundary.
The KMSS staged statewide protests in Assam on June 17 and submitted a memorandum to the prime minister through the respective deputy commissioners, demanding immediate closure of the mega dam project in Gerukamukh for the safety of the people living in downstream Assam.
The agitation by the protesting organizations has resurfaced in the wake of the central government's recent decision to restart mega dam works in Gerukamukh without having settled the issues pertaining to a mitigation policy for the project affected people living downstream. Recently, the AJYCP's Dhemaji district unit also resumed its protest against the project. https://arunachaltimes.in/index.php/2019/06/19/assam-organizations-resume-agitation-against-subansiri-project/   (19 June 2019)
The leaders of protesting organisations warned the government not to play any game with the lives of the people by going ahead with the mega dam project, which they have been opposing since long.  https://nenow.in/north-east-news/assam-organisations-resume-movement-against-lower-subansiri-hydel-project.html       (18 June 2019)
Arunachal Pradesh Deputy CM discusses Kameng hydropower project with Union power minister Union Minister assured all his support and cooperation for robust development of power system in Arunachal Pradesh. He said that two machines of Kameng Hydro-power project will be made functional soon and the rest two machines after the six months. He also assured for early start of Dibang Multi-Purpose project. https://energy.economictimes.indiatimes.com/news/renewable/arunachals-deputy-cm-discusses-kameng-hydropower-project-with-union-power-minister/69867424      (20 June 2019)
Report Will new categorisation of hydropower plants NOT lead to sector's revival? This shows that declaring large hydro as renewable is not going to help the hydro sector or the renewables.  https://www.downtoearth.org.in/news/energy/will-new-categorisation-of-hydropower-plants-lead-to-the-sector-s-revival–65074   (20 June 2019)
DAMS
BBMB Brimming reservoirs gush to Pakistan This report in a National media raises the issue SANDRP raised earlier, even if without referring to what SANDRP wrote. It shows clearly that Punjab and Haryana were ill prepared to use the additional water from Bhakra, Beas and Ranjit Sagar Dams.   https://indianexpress.com/article/india/brimming-reservoirs-gush-to-pakistan-but-not-to-taps-in-parched-punjab-5781778/     (15 June 2019)
Another admission that Bhakra dam water was highest in all months from Jan to June compared to the respective levels in last 38 years and a lot of water was released from the dams in summer, which flowed away to Pakistan. The question is, why was it not used for groundwater recharging in Punjab. https://indianexpress.com/article/chandigarh/jalandar-bhakra-dam-water-level-highest-in-jan-june-period-in-38-years-5794244/      (22 June 2019)
Sardar Sarovar Dam Gujarat denying 700 MW power to MP Gujarat has stopped generating power from the river bed power house (RBPH) at Sardar Sarowar dam, thus denying Madhya Pradesh almost 700 MW of energy every day. MP is also apprehensive that following Gujarat's decision to store water upto 138 meters in the dam, it may face the issue of submergence as large number of project-affected families are still living in the valley awaiting compensation.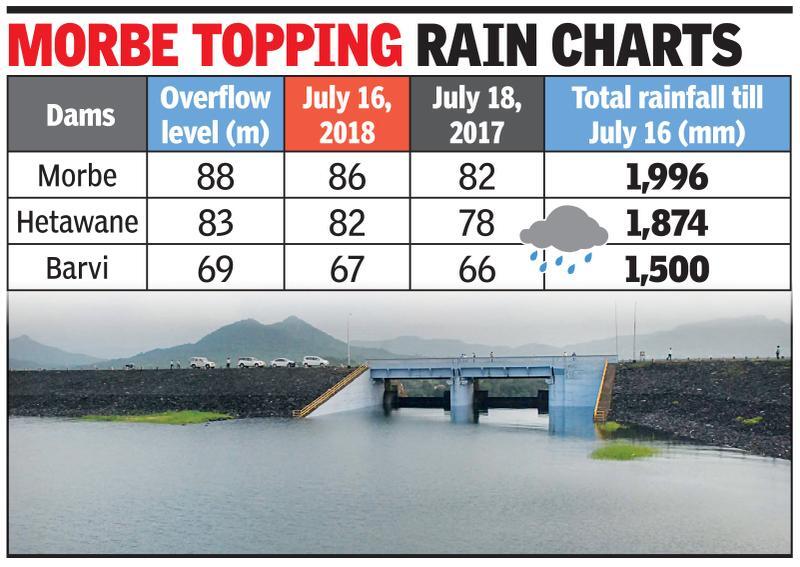 More than 6500 people in the valley in 76 villages may face submergence and this human misery should be avoided, MP stated. After Madhya Pradesh refused to discharge "additional water", Gujarat stopped generating power in RBPH. Now Gujarat has offered about Rs 250 crore to Madhya Pradesh for the loss of about 700 MW of power. The MP government said it wants the neighbouring state to pay an additional Rs 250 as "opportunity cost" as it will have to purchase costly power from the market". Minister for NVDA Surendra Singh Baghel said, "Gujarat wants to create a crisis in MP. But we will ensure that all rights of Madhya Pradesh are safeguarded. All the rights of the people in the Narmada valley, including those of farmers, will be protected." https://timesofindia.indiatimes.com/city/bhopal/gujarat-denying-700-mw-power-to-mp-daily/articleshow/69833122.cms            (18 June 2019)
Maharashtra Govt to move tribunal to stop Rs 287-cr loss to exchequer Facing the prospect of paying a sum of Rs 287 crore to a private contractor and getting quashed its crucial resolution of terminating the Balganga construction contract, the state govt will belatedly file an appeal before Raigad district court on Monday, challenging the ruling given by a Bombay High court-appointed Arbitration Tribunal in favour of a private firm. https://www.dailypioneer.com/2019/sunday-edition/maha-to-move-tribunal-to-stop-rs-287-crore-loss-to-exchequer.html   (16 June 2019)
Tamil Nadu AIADMK not to oppose Dam Safety bill in Parliament Ruling AIDMK not to oppose Dam Safety Bill in the Parliament, but to bring suitable amendments and appeal to centre. https://timesofindia.indiatimes.com/city/chennai/aiadmk-not-to-oppose-key-bills-in-parliament/articleshow/69832876.cms     (18 June 2019)
Kharif farmers of Kanyakumari vexed as dams yet to open shutters Farmers in Kanyakumari district who had sowed for kharif season are now keeping their fingers crossed as water from Pechiparai and Perunchani dams have not yet been released. Though the officials have sent proposals to release water from the dams, the farmers fear that the authorities won't be able to open the shutters of the dams as the water level in the dam is very low. After the rains flooded the district in August last, the district has received no rain. Farmers from Nallur, Thalakudi, Vellamadam and Nakalmadam have started sowing seeds and those from Villukuri, Paraseri, Sungankadai haven't begun irrigation yet. http://www.newindianexpress.com/states/tamil-nadu/2019/jun/21/kharif-farmers-of-kanniyakumari-vexed-as-dams-yet-to-open-shutters-1993137.html  (21 June 2019)
Allot more funds to preserve check dams: farmers Check dams on Noyyal River should be repaired and restored immediately, a group of farmers demanded at the farmer's grievance day meet held here on June 15. The river, which passes through four districts Coimbatore, Tirupur, Erode and Karur is the main source of water for drinking and agricultural purposes, a petition submitted by the farmers said.
Annual fund released for the maintenance of the dams was not adequate and has to be increased, the farmers said. "So far, there have been no separate funds for the preservation of the check dams. Under the Irrigated Agriculture Moderniasation Project, funds should be allotted for the work. Also, water hyacinth on the river and lakes nearby should be removed." https://timesofindia.indiatimes.com/city/coimbatore/allot-more-funds-to-preserve-check-dams-say-farmers/articleshowprint/69795813.cms  (15 June 2019) 
INTERLINKING OF RIVERS
Ken-Betwa river linking Experts warn of ecological disaster Himanshu Thakkar, coordinator of the South Asia Network on Dams, Rivers, and People, said this has become a political project that will cost both humans and the ecosystem. "Linking the Ken and Betwa rivers is not going to help Bundelkhand; in fact, it will result in an ecological disaster. As per the official minutes of the forest advisory meeting, the project will need about 46 lakh trees to be axed down; this will destroy the Panna tiger reserve. Also, the linking of these rivers will actually take water away from Bundelkhand," added Thakkar.
"The environment assessment done for this project was a complete fraud. Actually, all assessments done for this project are a scam. Ken river basin doesn't have sufficient water in the first place; so how can any be diverted to the Betwa river basin?" Thakkar further said, "Not just the Panna tiger reserve, but even the Ken Gharial Sanctuary will be affected due to this river interlinking project; human rehabilitation will emerge to be a bigger challenge."   https://www.firstpost.com/india/ken-betwa-river-link-project-boon-or-bane-parched-bundelkhand-residents-hopeful-but-experts-warn-of-ecological-disaster-6860331.html     (21 June 2019)
Unfortunately, MPs are ill informed about the project, as we can see from this discussion in the Parliament: https://www.business-standard.com/article/pti-stories/mps-urge-govt-to-expedite-ken-betwa-river-linking-project-119062101324_1.html      (21 June 2019)
IRRIGATION
Gujarat In last 5 years, state got over half the Central irrigation funds Gujarat has cornered the lion's share of central funds allocated for irrigation schemes in the last five years, according to a formal reply in the Rajya Sabha on Friday.
The State got central assistance worth ₹2,074 crore, or nearly 56 per cent of the total ₹3,772 crore spent for Command Area Development and Water Management (CADWM) between 2014-15 and 2018-19, said Agriculture Minister Narendra Singh Tomar in reply to questions from Congress MPs Amee Yajnik and Husain Dalwai. Besides, Gujarat received another ₹1,200 crore, which is nearly 12 per cent of the funds allotted for another scheme Pradhan Mantri Krishi Sinchayee Yojana (PMKSY) during the same period. The Centre sanctioned a total of ₹10,249 crore for the PMKSY scheme between 2014-15 and 2018-19. States which received more funds than Gujarat under the PMKSY scheme were Andhra Pradesh (₹1,674 crore), Karnataka (₹1,323 crore) and Maharashtra (₹1,313 crore). https://www.thehindubusinessline.com/economy/agri-business/in-last-5-years-gujarat-got-over-half-the-central-irrigation-funds/article28102150.ece                (21 June 2019)
RIVERS
West Bengal On the trail of the vanishing Rivers "But in the past 100 years, nearly 700 rivers have died in the delta of the Ganges [in Bengal], and the Padma and the Meghna [in Bangladesh]," says Anup Halder, a researcher on the rivers and other water bodies of Bengal. According to Bhowmick, 30,000 fishermen across 130 villages have been rendered jobless. Pabakhali village is in Nadia, 80 kilometres north of Calcutta. This is where the mighty Mathabhanga, a distributary of the Padma, bifurcates into the Churni and the Ichhamati. Legend has it that such was the force of the Mathabhanga once that its head (matha) split (bhanga) into two.
– Gaang-e gaang-e dekha hoy, kintu bon-e bon-e dekha hoy na. (Bengali saying, which broadly means that you can see two rivers together, but not two sisters.)
– In the 1945 Bengali novel, Ichhamati, Bibhutibhushan Bandyopadhyay described this river as "proof of divine artistry, with its banks so verdant, so irresistible to the birds." https://www.telegraphindia.com/states/west-bengal/on-the-trail-of-the-vanishing-waterways-of-bengal/cid/1692964   (23 June 2019)
National Ganga not cleaned; rivers need flow The Centre is committed to the cleaning up major rivers like Cauvery, Periyar and Narmada on the lines of its ambitious 'Namami Gange' programme for river Ganga, said President Ram Nath Kovind on June 20. Kovind said that the Central govt is fully committed to ensuring the uninterrupted flow of river Ganga and making it pollution-free. https://www.business-standard.com/article/news-ani/narmada-yamuna-mahanadi-etc-will-be-cleaned-on-lines-of-ganga-president-119062001086_1.html  (20 June 2019)
Himachal Pradesh Water quality in rivers poor In a bid to improve the water quality of the Sukhana, Markanda and Sirsa river stretches which figure in the 351 polluted stretches in the country, the State Pollution Control Board on June 22 kick-started a plantation drive at Baddi. In HP seven river stretches have been identified as "critically polluted", where BoD  was above the permissible limit. These rivers were Sukhana, Markanda, Sirsa and Ashwani, stretches of the Beas, Giri and Pabbar. https://www.tribuneindia.com/news/himachal/water-quality-in-rivers-poor-pollution-board-launches-plantation-campaign/791269.html  (22 June 2019)
Uttrakhand
Punjab Demand for new bridges on Ravi MP Sunny Deol has requested Minister Nitin Gadkari to release Rs. 132 crore, the already sanctioned funds for the construction of two strategic bridges on the Ravi. https://www.tribuneindia.com/news/punjab/release-rs-132-crore-for-bridge-construction-deol-to-gadkari/791659.html  (23 June 2019)
CAUVERY Tamil Nadu CM urges Centre to launch special project for Cauvery CM Edappadi K. Palaniswami on June 15, 2019 appealed to PM Modi to launch a special programme called "Nadanthai Vazhi Cauvery" on the lines of "Namami Gange" to clean and rejuvenate the river. The project cost would be Rs 7000 to Rs 10 000 crores. https://www.thehindu.com/news/national/tamil-nadu/cm-urges-centre-to-launch-special-project-for-cauvery/article27952484.ece        (16 June 2019)
"Nadanthai Vaazhi Cauvery" (Move on, and live long, [Oh] Cauvery). These words of Ilango Adigal in his classic, Silappadikaram, have been coming up repeatedly in public discourse over the centuries.
Nearly 50 years ago, eminent Tamil writer T. Janakiraman (1921-82) and veteran writer-journalist 'Chitti' P.G. Sundararajan (1910-2006) teamed up to write a travelogue, Nadanthay Vaazhi Kaveri, recapturing the ancient culture of the region, beginning from the point of origin in Talacauvery, Kodagu, Karnataka, to Poompuhar, the point of confluence with the sea.
On June 15, CM Edappadi K. Palaniswami pitched for a mega project aimed at rejuvenating the Cauvery and used the phrase to title this project, submitted to the PM. Estimated to cost ₹7,000 crore- ₹10,000 crore, the project has been mooted, drawing inspiration from the Ganga rejuvenation programme of the Central government.
The problem of pollution of the Cauvery river has been a concern for the Central and State governments for over 25 years. Several projects under the National River Conservation Plan (NRCP) and Jawaharlal Nehru National Urban Renewal Mission were taken up not just for the Cauvery and Vennar but also for Vaigai, Tamiraparani and Cooum, especially during 2000-2010. Around ₹970 crore was spent, of which the Centre's share under the NRCP alone was about ₹624 crore. STPs of about 161 MLD capacity were set up. Nine Tier II and III towns including Mayiladuthurai and Kumbakonam were covered.
Pushpavanam, a consumer activist and Tiruchi resident, says one would not have to dwell on the severity of pollution of the Cauvery system if one looked at the state of the Uyyankondan Canal and Korayaru, apart from tributaries and branches of the Cauvery in the delta. The project would yield benefits fully only when the government's other project of modernising the irrigation system of the river is implemented simultaneously. The authorities are also apparently proceeding in the same direction. The government has already prepared ₹17,600-crore Cauvery modernisation project, which has not yet been fully cleared by the Central government. Two years ago, the Union government gave its nod to the Grand Anicut canal sub-basin, one of the nine components of the project.

Ranganathan, general secretary of the Cauvery Delta Farmers' Welfare Association, points out that as there are flows in the river for a maximum of six or seven months, the problem of pollution is not insurmountable. He says the big issue with Cauvery now is illicit sand mining. This has lowered the level of the riverbed vis-a-vis that of canals and distribution channels, aggravating the long-standing problem of water not reaching the tail-end areas. Conscious of this aspect, a PWD official says the project has factored in such a component.
Cauvery: why it is so important to Tamil Nadu
Also called Dakshina Thondaradippodi

One of seven sacred rivers of the country

Regarded as intrinsic to Tamil society, culture and literature

References in mythological accounts on Agasthya, Pattinapalai of the Sangam era, Silappadikaram, Thondaradippodi, Azhwar's hymns to saint Thyagaraja's compositions Kalki's Ponniyin Selvan.

Principal source of water for the delta – Thanjavur, Tiruvarur, Nagapattinam districts and parts of Karur, Ariyalur and Cuddalore, Tiruchi and Cuddalore districts.

Covers 70% of canal irrigation

Takes care of irrigation requirements for at least 24.71 lakh acres

Ensures food security for the delta accounting for 40% of paddy production

Sustains livelihood for around three million farm workers in Thanjavur, Tiruvarur and Nagapattinam

Provides drinking water to the tune of 1,775 million litres a day to areas such as Ramanathapuram and parts of Madurai in the south, Vellore and Chennai (through New Veeranam Project) in the north, Dharmapuri in the west and Vedaranyam in the east. https://www.thehindu.com/news/national/tamil-nadu/cleaning-up-the-cauvery/article28112638.ece (23 June 2019)
GANGA मातृशक्ति ने थामी गंगा रक्षा की कमान, होगा आंदोलन गंगा की अविरलता और निर्मलता के लिए मातृसदन बीस वर्षों से संघर्षरत है। हरिद्वार की पवित्र भूमि पर गंगा की रक्षा के लिए मातृसदन के दो संत स्वामी निगमानंद और प्रख्यात वैज्ञानिक स्वामी ज्ञानस्परूप सानंद उर्फ प्रो. जीडी अग्रवाल अपने प्राणों की आहुति दे चुके हैं, लेकिन इसके बावजूद भी गंगा के प्रति शासन और प्रशासन की उदासीनता कम नहीं हुई। विभिन्न योजनाओं में करोड़ों रुपये व्यय करने के बाद भी गंगा में प्रदूषण कम नहीं हुआ।
केंद्र सरकार और एनएमसीजी द्वारा गंगा की रक्षा के लिए मातृसदन को दिए लिखित आश्वासन पर भी अभी तक अमल नहीं किया गया है। केंद्र सरकार और एनएमसीजी के इस रवैया से रुष्ठ होकर मातृसदन ने अब पहले से वृहद आंदोलन का बिगुल फूंक दिया है और इस बार मातृसदन के आंदोलन को देशभर में फैलाते हुए मातृशक्ति मातृसदन के आंदोलन की बागडोर संभालेंगी तथा आंदोलन को धार देने का काम करेंगी। इससे पूर्व गंगा की रक्षा हेतु मातृसदन को दिए आश्वासन को पूरा करने के लिए सरकार को दो माह का समय दिया गया है।      https://hindi.indiawaterportal.org/hunger-strike-for-ganga-by-women-matrisadan     (17 June 2019)
YAMUNA Delhi Will roping corporates help protect floodplains? To maintain the Yamuna floodplains, a pollution monitoring committee has floated the idea of bringing in business houses to conserve and protect it from encroachment. In exchange, these companies would get the right to advertise on the land. The DDA has been asked to explore the idea by the NGT monitoring committee.
The committee has already roped in INTACH to submit wetland development plans along the stretch for restoration. Besides, the DDA has been tasked with landscaping and developing nature-trails in the area on lines of the Yamuna Biodiversity Park, which could be utilised for public participation. https://www.hindustantimes.com/delhi-news/bring-in-corporates-to-protect-yamuna-floodplains-ngt-panel-recommends/story-0b1rsvR4CEtKCZmOhpP7gN.html  (19 June 2019)
Uttar Pradesh Barrage Project to beautify Taj Mahal stalled A proposal by the Uttar Pradesh government to construct a barrage across the Yamuna, a km and a half away from the Taj Mahal, is stuck between two expert committees of the Union Environment Ministry. Each committee, consisting of eminent experts, thinks that it's the other panel that should be taking a call on the future of the project, a perusal of the public records of meetings and discussions in the Ministry shows. 
A discussion on the scheme first began at the Union Environment Ministry on Oct 11 2018. A committee led by Satish Wate, former Director of the CSIR-National Environment Engineering Research Institute, ruled that the project ought to be evaluated by the Environment Appraisal Committee (River Valley and Hydro Electric Projects). This committee, on Feb27, held that the project did not involve hydropower generation or irrigation and therefore was better suited for another Environment Ministry committee — the one on infrastructure projects — and known as the EAC (Infrastructure Projects-2).
On May 27, as minutes of a meeting held by the EAC (Infrastructure Projects) show, committee members concluded that the project involved the development of a "conventional" barrage and "…the components in the proposal primarily fall under the jurisdiction of EAC looking after construction of dams/barrages/river valley projects, since they have experts from the relevant fields who can better appraise the proposal and suggests suitable environmental safeguards/mitigation measures."
Therefore, the committee recommended passing it back to the EAC (River Valley and HEP). No date has been set for the next meeting of the EAC (River Valley and HEP). https://www.thehindu.com/news/national/project-to-beautify-taj-mahal-stalled/article28119592.ece  (24 June 2019)
Haryana 5 industrial units get notice for water pollution The CPCB has issued notice to five industrial units in Bari and Sonepat industrial areas. The units' owners have been told to take immediate steps to stop the release of chemically polluted water from the units. The owners have been cautioned that if the necessary steps are not taken, the supply of electricity and water could be stopped. This action has been taken following some deficiencies in the samples of the released water during testing in the laboratory. There were complaints about the release of chemically polluted water in the open area as well as in the sub-soil water by the units located in these industrial areas. https://www.tribuneindia.com/news/haryana/5-industrial-units-get-notice-for-water-pollution/788413.html  (16 June 2019)
Other Hindi Reports on Yamuna Pollution in Haryana.
New bridge to come up over Yamuna The bridge will connect Haryana to Uttar Pradesh. for farmers of the Jathlana area as their agricultural land falls on the eastern bank of the Yamuna on the Uttar Pradesh side. It will be the third bridge over the Yamuna in Yamunanagar district. One bridge is at the Hathnikund barrage and the other is in Yamunanagar. https://www.tribuneindia.com/news/haryana/new-bridge-to-come-up-over-yamuna/791731.html  (23 June 2019)
Hindi Media clips on Yamuna river pollution and related issues. 
Over 50 houses along Yamuna in Gaughat Dhobi Gali, Mathura mysteriously develops cracks!
A similar incident of was reported in Vrindavan in July 2016 reportedly due to poor drainage system. https://vrindavantoday.com/cracks-houses-causing-terror-residents-imli-gali/   (14 July 2019)
FISH, FISHERIES, FISHER-FOLKS
Uttrakhand Maun mela (fishing fair) will be celebrated in Katapathar on Yamuna, Aglar river. 
Uttar Pradesh Mass fish death reported in Kitham Jheel, Agra which is fed by Yamuna water. Industrial and sewage pollution is being cited reason for this.
This fish turns gloomy when separated from its true lover FASCINATING FISH PARIS: The tiny Central American convict cichlid may only be a few centimetres long but it's a fish with a big heart. Researchers in France found that the tropical fish known to be a loyal and monogamous partner — suffers from heartache when separated from its lover. Even more heart-rending perhaps is that female cichlids, when paired with a male who is not their preferred partner, were shown in experiments to exhibit "pessimistic" behaviour: https://timesofindia.indiatimes.com/home/environment/flora-fauna/this-fish-turns-gloomy-when-separated-from-its-true-lover/articleshow/69819709.cms  (17 June 2019)
RIVERS BIODIVERSITY 
Media reports mention of Ghariyal breeding in Yamuna at Ithawa, Uttar Pradesh. But headlines are wrong suggesting it impact of river cleaning work. This had happened in 2011. The reason is Chambal and its tributaries are still in better condition keeping the river live and flowing.
SAND MINING
Madhya Pradesh Illegal sand mine caves in, 5 Barwani labourers killed Five labourers were killed when an illegal sand mine caved in on June 22 afternoon near Chhota Barda village on banks of Narmada river in Barwani district. Angry over the illegal mining, father of deceased Parasram, Mayaram said, "We will have to pay for the folly of a contractor, who is behind this illegal mining. I have lost my son and now my family will have to face tough situation."
Following the incident, villagers started protest against the incident demanding stern action against tractor driver. They even did not allow police to take bodies of the labourers for post mortem examination. "Mining of sand was being done illegally in the area for a long time. We had complained against it on several occasions, but no concrete action was taken," said a farmer Dayaram Yadav. Collector Tomar said that the sand mining was being done illegally on government land. Many cases of illegal mining and transportation of sand were registered in the area and they will continue to take stern action against the violators in future too. https://timesofindia.indiatimes.com/city/indore/illegal-sand-mine-caves-in-5-barwani-labourers-killed/articleshow/69908951.cms  (23 June 2019)
Forest ranger has narrow escape The driver of a tractor trolley – laden with sand illegally mined from the Chambal river – has attempted to crush a forest ranger in the vicinity of Badokhar village but fled after forest guards fired four rounds in the air, Forest Department sources said. https://www.pennews.net/madhya-pradesh/2019/02/03/forest-ranger-has-narrow-escape  (3 Feb. 2019)
Uttar Pradesh Reported thrashed for exposing illegal sand mining in Ganga. https://www.youtube.com/watch?v=Yhtk19ybgdY&feature=youtu.be
अवैध खनन की शिकायत पर कोखराज के अलावरपुर घाट पहुंचे तहसीलदार ने सुबह एक जेसीबी व तीन ट्रैक्टर सीज कर दिया। कार्रवाई से बिफरे बालू माफिया ने मुखबिरी के शक पर एक पत्रकार की पिटाई कर दी। उसका मोबाइल छीन लिया। पुलिस ने दो बालू माफिया को गिरफ्तार कर लिया है।
गंगा नदी के अलावरपुर घाट पर महीनों से बालू का अवैध खनन कराया जा रहा था। बताया जाता है कि इसमें स्थानीय पुलिस की भी भूमिका संदिग्ध थी। मामले में कोखराज इंस्पेक्टर अजीत कुमार पांडेय का कहना है कि अवैध खनन की एफआईआर राजस्व अफसर लिखाएंगे। पत्रकार की तहरीर पर भी प्राथमिकी दर्ज की जाएगी। आरोपियों को जेल भेजा जाएगा। https://www.amarujala.com/uttar-pradesh/kaushambi/police-arrest-two-sand-mafia  (20 June 2019)
Bundelkhand  Police Guard Ken River 24X7 Police in the region's Banda district, which is part of Uttar Pradesh, have mounted a round-the-clock-vigil on the Ken River, a lifeline for the district. Such vigilance has been made necessary by illegal sand mining that is rampant across the almost dry river.
A few days ago miners diverted the last remaining streams of water in the river to take out more sand. Water supply to the Banda town, already infrequent, was totally cut off. https://www.ndtv.com/india-news/uttar-pradesh-police-mount-24-hour-vigil-over-ken-river-as-illegal-miners-rob-banda-district-of-wate-2055078   (18 June 2019)
Another video report reveals threat of illegal sand mining to a bridge in Ajaygarh. It also candidly blames involvement of local administration and politicians.
Goa NIO to study sand mining impact on rivers The state government on June 20 decided to conduct a study to assess the environmental damage due to sand mining in Goa's rivers before allowing further sand extraction. The National Institute of Oceanography (NIO) has been selected for carrying out the impact assessment.  NIO, which will conducted the study phase-wise, will first assess the Mandovi, Zuari, Chapora and Tiracol. Based on the study, the state government will decide in which rivers to allow sand mining.
As per environmental clearance (EC) norms, the state has to conduct a study of rivers to assess the impact of sand mining activities, the officer said. With no such study having been carried out by the state government, NGOs had approached the high court seeking restriction on issuing of sand extraction permits, the officer said. https://timesofindia.indiatimes.com/city/goa/nio-to-study-sand-mining-impact-on-rivers/articleshow/69885669.cms   (21 June 2019)
Haryana Illegal bundhs & passages back, mining in Yamuna on Mining contractors have reportedly again constructed unauthorised bundhs and makeshift passages in Pobari, Gumthala and other villages of Yamunanagar district to undertake mining activities in the riverbed of the Yamuna. Illegal bundhs and makeshift passages are diverting the natural flow of the Yamuna.
Sources said illegal mining was being undertaken in the villages, causing huge environmental damage to flora and fauna in and around the riverbed. It was alleged that officials of various departments of the administration visited the area from time to time, but did not take action against violators.   https://www.tribuneindia.com/news/haryana/illegal-bundhs-passages-back-mining-in-yamuna-on/790204.html  (20 June 2019)
Uttrakhand Hindi Media report on illegal mining in Sukhro and Khoh rivers of Kotdwar, Pouri.
This slideshow requires JavaScript.
Himachal Pradesh Change of govt does no good for Swan river A survey on the Swan riverbed has revealed that despite ban, mechanical mining was going unabated at various places in Una and the Santoshgarh areas. Big machines are being used in the nefarious activity and sand is being exported to Punjab from border areas. Huge dumps of sand can be seen at various places along the Swan. Even as mechanical mining in riverbeds has been banned, many tippers and big truck can be seen carrying sand.
After coming to power, the present government had brought in several rules to curb illegal mining. Under these, the maximum fine for illegal mining has been increased from Rs 25,000 to Rs 5 lakh. However, not even a single offender has been fined up to Rs 5 lakh.
The Centre has spent more than Rs 1,000 crore on the channelisation of the Swan and illegal mining is threatening it. Moreover, the Swan is the lifeline of Una district as it recharges the groundwater through its wetlands. https://www.tribuneindia.com/news/himachal/illegal-mining-change-of-govt-does-no-good-for-swan-river/789414.html  (18 June 2019)
Odisha Riverside villagers up in arms against illegal sand miners Illegal sand mining is continuing unabated in several river beds of Kendrapada district and locals from riverside villages alleged a nexus among the officials and the sand mafia. Luna, Chitrotola, Mahanadi and other rivers in Kendrapara district are being plundered without any environmental clearance, they complained. 'Illicit sand mining is going on in the river Luna with powerful local mafia groups who employ agricultural labourers.
Unauthorised quarrying is currently on in about 30 places on the river beds of the district. Each day hundreds of tractors and trucks enter the village to carry sand worsening the condition of the village roads. Last year, the Special Task Force crime branch had summoned Kendrapara and Jajpur district officials regarding leasing out river beds for sand-mining to notorious gangster Usman Ali alias Tito and his associates. https://localwire.me/riverside-villagers-up-in-arms-against-illegal-sand-miners/  (12 June 2019)
Telangana Sand mining mafia unleashes terror in Narayanpet Thanks to lackadaisical attitude on the part of the Revenue and police officials, the sand mafia has once again embarked on the path of violence and attacking villagers and farmers if they raised their voice against illegal sand mining in Poosalapadu village under Marikal mandal in Narayanpet district.
According to Satyanarayan Reddy, a villager from Poosalapadu village, the illegal sand mining is being carried out with impunity from a rivulet that is passing by the village. This rampant sand mining has led to groundwater level in the village falling drastically and the bore wells and open wells drying up. Acute shortage of drinking water and water for irrigation has arisen. https://www.thehansindia.com/telangana/sand-mining-mafia-unleashes-terror-in-narayanpet-540039    (22 June 2019)
Andhra Pradesh Fresh orders issued for quarrying of sand in Kadapa district Following directions of the government the district administration has issued temporary circular related to the mining of sand from seven reaches which are having environmental pollution permission in the district. In this circular issued on June 19, collector CH. Harikiran has specified quarrying of sand is being permitted in the villages like Tanguturu-2 of Nandaluru mandal, Seshamambapuram of Rajampet, Paidikaluva village of Valluru, Samudrampalli village of Kondapuram, Kanneluru, Yeturu villages of Jammalamadugu, Machumarri village of Kondapuram mandal in the district. https://www.thehansindia.com/andhra-pradesh/fresh-orders-issued-for-quarrying-of-sand-in-kadapa-district-539253  (19 June 2019)
Maharashtra Drones set to check illegal sand mining After Godavari, Aurangabad district administration plans to employ drones to check illegal sand mining in Pune and Solapur districts. As per administration, it had impounded vehicles and collected Rs 2.81 crore in fines from people involved in illegal sand mining in both districts between April to June. Officials from the mining department said the sand extracted illegally from rivers was being mainly used for construction purposes. "However, the practice is destroying fragile eco-system in these rivers," an official said. According to the state government's 2018 sand mining policy, illegal extraction of sand is penalised with the stocks being seized and e-auctioned and the monies being deposited in the state treasury. https://timesofindia.indiatimes.com/city/pune/drones-set-to-check-illegal-sand-mining/articleshow/69908965.cms  (23 June 2019)
Tamil Nadu Truck driver held for illegal sand mining Trichy city police arrested a 23-year-old man on charges of indulging in illegal sand mining on the eastern side of the Kollidam river and seized a truck loaded with river sand near Srirangam on June 21.  Acting on a complaint from the irrigation inspector of river safety division of public works department (PWD), Ashok Kumar, the Srirangam police took action. https://timesofindia.indiatimes.com/city/trichy/truck-driver-held-for-illegal-sand-mining/articleshow/69909368.cms  (23 June 2019)  
Report Sand mafias silence journalists in India Forbidden Stories, an international consortium of 40 journalists publishing in 30 media organizations around the world, looked into the violent censorship and environmental damage left behind by these sand barons. This is part of the "Green Blood" series, a project pursuing stories of journalists who have been threatened, jailed or killed while investigating environmental issues. https://forbiddenstories.org/sand-mafias-silence-journalists-in-india/ 
WETLANDS, LAKES, WATER BODIES
Uttar Pradesh India backs Dhanauri for international wetland tag NCR region may get a second wetland of international importance in Dhanauri, Greater Noida, if India's proposal to declare the 100-ha wetland a Ramsar site of international importance gets accepted. On May 29, the environment ministry's national river conservation directorate wrote to the principal secretary of the Uttar Pradesh forest department, asking them to propose Dhanauri for Ramsar site tag.
The proposal is to be submitted through the Ramsar portal. Uttar Pradesh secretary, forests and wildlife, Sanjaya Singh, said, "We have received this communication from the ministry. It will be assessed by the official who specialises in wetlands. If the wetland does meet the criteria then we will proceed with submitting our proposal." https://www.hindustantimes.com/delhi-news/india-backs-dhanauri-for-international-wetland-tag/story-N02MMQgb5ambbRmybjZHkO.html  (6 June 2019)
Karnataka NGT panel on Bellandur-Varthur lakes rejuvenation The infamous Bellandur lake will be a model for lake rejuvenation in the country after 18-24 months, according to the NGT panel. It apprised the public about the future course of action to restore the Bellandur and its downstream Varthur lake. As reported earlier, the dewatering of the lakes has started and at the same time, the Bangalore Development Authority (BDA) has started the de-weeding and dredging process.
The Bangalore Water Supply and Sewerage Board (BWSSB) has also been tasked with stopping the ingress of sewage as the BDA has readied alternate channels on either side of Bellandur to transport the flow downstream. From next June, a sewage treatment plant (STP) is expected to be readied which will solve the problem of untreated sewage entering the water bodies. https://www.thenewsminute.com/article/want-create-unique-model-ngt-panel-bellandur-varthur-lakes-rejuvenation-104065  (22 June 2019)
Test silt from frothing lakes before donating: Farmers Farmers who are promised the silt from the Bellandur and Varthur lakes are concerned that it could be contaminated, and have asked authorities to ensure it is clean. Authorities expect to exhume as much as 6.60 million cubic metres of silt from the Bellandur Lake and 3.87 million cubic metres from Varthur. Sources said the silt could be used in 15,000 acres of farmland.
While BDA – in charge of carrying out the desilting of the two lakes — is unsure of what to do with the silt, talks are going on about dumping them in identified quarries. But the committee headed by former Lokayukta Justice Santosh Hegde to oversee the rejuvenation of the two lakes, confirmed that the silt would be distributed among the farmers after tests.
"In the past, the govt gave us silt on subsidised rates from one of the lakes, but people had health problems when the untested silt was used," said a farmer from Varthur. The Hegde panel has asked for an extension of the deadline to submit their report to the green tribunal. The panel had time until this month. After the NGT gives its nod, the planned rejuvenation works would begin. https://www.deccanherald.com/city/bengaluru-infrastructure/test-silt-from-frothing-lakes-before-donating-farmers-742070.html  (22 June 2019)  
Bellandur Lake's revival plan worries HAL officials An elaborate plan to rejuvenate the water body by May 2021 is ready, but the defence PSU Hindustan Aeronautics Ltd officials say it wasn't consulted when BDA drafted the action plan on the NGT's directive. Officials say HAL is a stakeholder in the water body and is affected by its fortunes. They feel a rejuvenated lake would mean an influx of avian guests at the water body, raising the threat of bird-hits for aircraft taking off or landing at the facility. HAL spokesman Gopal Sutar, however, sought to downplay his colleagues' concerns over the lake's rejuvenation; the water body is being cleaned, desilted and deweeded. https://timesofindia.indiatimes.com/city/bengaluru/bellandur-lakes-revival-plan-worries-hal-officials/articleshowprint/69881414.cms  (21 June 2019)  
Editorial Running Dry Indian Express edit mentions destruction of wetlands and other water bodies, but asks Jal Shakti Ministry to deal with it, which has no priority, perspective, track record or will to deal with the issue. The Edit has no real direction. https://indianexpress.com/article/opinion/editorials/chennai-water-crisis-monsoon-jal-shakti-ministry-5796065/  (24 June 2019)
WATER OPTIONS
Punjab Farmers slowly turn to treated wastewater for irrigation Farmers in Mohali, Bathinda and Phagwara districts are using treated sewage water for irrigation. Treated water irrigation has low operational and maintenance cost and reduces the burden on state exchequer on subsidy payments to power department for providing free electricity to tubewells.
The Soil and Water Conservation Department had launched this project under 'Utilisation of Treated Water from STPs for Irrigation' a few years back, and has been providing treated water over three dozen STPs to irrigate nearly 18,000 acres. Department sources said free power to run tubewells for irrigation and un-regulated ground water digging are major impediments in promoting such alternate, but highly useful projects.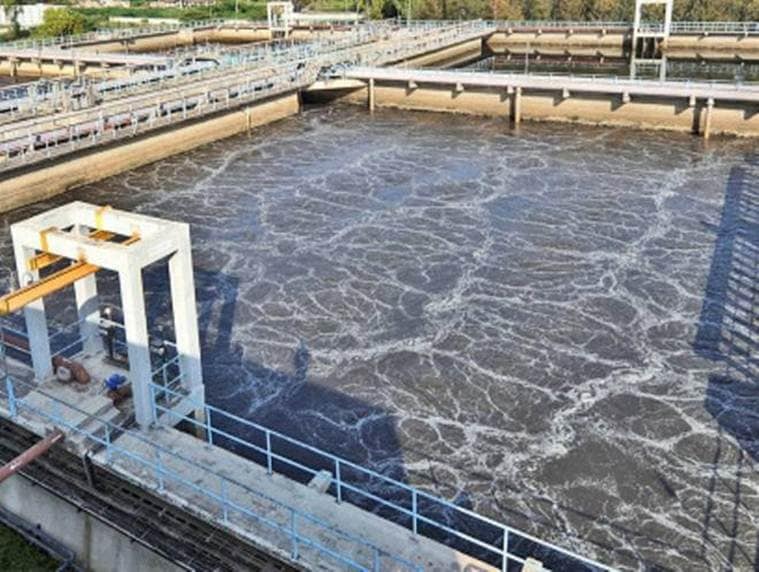 Under the scheme, the department sets up irrigation infrastructure from STPs by laying underground pipelines in fields, which are then handed over to Water User Associations to operate. "The department has been planning to create more irrigation facilities from STPs so that over 50,000 ha can be irrigated. Already, the department has submitted proposal under 'PMKSY-Har Khet Ko Pani' for irrigation infrastructure from STPs," said Dharminder Sharma, IFS, Chief Conservator of Soil Department, Punjab. https://indianexpress.com/article/india/punjab-farmers-slowly-turn-to-treated-wastewater-for-irrigation-5789641/  (20 June 2019)
Haryana धान छोड़ मक्का–अरहर उगाओ, हजारों की सब्सिडी पाओ  Pioneering scheme from Haryana govt.  हरियाणा में लगातार गिरते भूजल स्तर को लेकर प्रदेश सरकार पूरी तरह से चिंतित है। सूबे के 21 क्षेत्र तो डार्कजोन एरिया में हैं, जबकि कई क्षेत्र ऐसे हैं, जहां पानी का दोहन बहुत ज्यादा हो रहा है। यही हालात रहे तो ये क्षेत्र भी डार्क जोन एरिया में तब्दील हो जाएंगे।
हरियाणा सरकार ने किसान एवं कल्याण विभाग और सिंचाई विभाग के माध्यम से इस गिरते भूजल की वजह जाने का प्रयास किया तो विभागों की रिपोर्ट के बाद ये साफ हो गया है कि प्रदेश में लगातार बढ़ता धान का रकबा भूजल दोहन की सबसे बड़ी वजह है। इसके बाद सरकार ने अब इन विभागों के साथ मिलकर प्रदेश में पहली बार एक नई योजना तैयार की है। इसकी शुरुआत सरकार 21 में से 7 डार्क जोन एरिया से करेगी।  https://www.amarujala.com/chandigarh/haryana-government-s-big-decision-subsidy-to-farmers-who-not-farming-paddy   (22 May 2019)
Gujarat Experts begin work on groundwater management plan for farmers Experts belonging to Sardar Vallabhbhai National institute of Technology (SVNIT) and five other universities, including three of foreign countries, are studying the effects of climate change on agriculture in two villages of Sithan and Kanyasi in Surat district. It is a two-year project, sponsored by Ministry of Human Resource Development, to formulate a groundwater management plan to help farmers improve their crop yield.
MHRD had allocated Rs 58 lakh under promotion of academic and research collaboration scheme in April for the project titled 'securing water for agriculture and food sustainability: Developing trans-disciplinary approach to groundwater management.'
The water management plan and its importance will be explained to around 500 farmers of these two villages which should help them improve their crop yield. Water management plan will also restrict migration from the villages to cities because of improvement in drinking water provisions."  https://timesofindia.indiatimes.com/city/surat/experts-begin-work-on-groundwater-mgmt-plan-for-farmers/articleshow/69817673.cms  (17 June 2019)
RAINWATER harvesting system was key to survival of Vadnagar in Hash times, finds ASI research. https://www.hindustantimes.com/india-news/water-system-key-to-prosperity-in-ancient-vadnagar-in-harsh-climate-conditions-finds-asi/story-rlnGIeh758LYqDrOM5rYwK.html    (17 June 2019)
Madhya Pradesh Villagers Take Water Matters into Their Own Hands  Like every year, natives of the Dahra village that is situated in the Bundelkhand region are facing an acute water shortage after its only source – a public well- dried up. Natives of the nearby Bamnuda village, who are also dependent on the well, have been forced to look for alternatives as the diminished groundwater cannot be replenished beyond a level.
Volunteers of Manav Jivan Vikas Samiti (MJVS), Ekta Parishad and Bharat Rural Livelihood Foundation (BRLF) came forward to encourage locals to join hands and clean the village well. "With their collective effort and the pre-monsoon showers, the well now has water that is three feet water, enough to fulfil the needs of the locals," said Nirbhay Singh, Secretary of MJVS and senior volunteer of Ekta Parishad. Nandlal Singh, a volunteer from MJVS and a local resident, said that cleaning the well in Dahra village had restored the vital source. "We have also worked collectively to widen the pond in our village which will help us store water during the monsoon," he said.
Besides encouraging public participation, the volunteer organisations have also been helping the villages construct check dams to store rainwater during the monsoon season. "We encourage public participation as water bodies can't be conserved unless the public develops a sense of ownership towards them. Treating them as government projects won't help," said Nirbhay Singh adding that the organisations are also helping farmers engage in organic farming in Damoh. https://www.news18.com/news/india/faced-with-searing-heat-and-water-woes-bundelkhands-villagers-take-matters-into-their-own-hands-2191935.html  (18 June 2019)    
Uttar Pradesh 130 ponds to be revived to improve groundwater level  130 ponds will be revived in this district of Uttar Pradesh in order to improve the groundwater level, officials said on June 16. They added that the ponds had been identified and the work had started with respect to 87 such waterbodies in the district. According to Chief Development Officer Archana Verma, the work is going on with respect to 87 ponds in the Budhana area, which is the worst-hit in the district due to the low groundwater level. Saplings will also be planted on the boundary of these waterbodies. https://www.business-standard.com/article/pti-stories/130-ponds-to-be-revived-to-improve-groundwater-level-in-up-district-119061600140_1.html  (16 June 2019)
Noida Authority aims to mobilise public support for conversation of water during monsoon and revive wetlands in Sector 91, Sector 85, Gejha and Bakhtawarpur villages besides the two at the upcoming biodiversity park, a senior official said.  https://www.outlookindia.com/newsscroll/major-drive-to-revive-wetlands-ponds-in-noida/1560291  (23 June 2019)  
GROUNDWATER
Punjab CM to call all-party meeting over groundwater depletion CM Capt Amarinder Singh on June 21 reconstituted a Cabinet sub-committee to give recommendations for the Punjab Water Resources (Management and Regulation) Bill. The decision was taken at a high-level meeting of the Cabinet ministers, leaders, senior officers, water experts, scientists and representatives of the farmers' organisations and industry at Punjab Bhawan to discuss ways and means to resolve the alarming situation emerging out of fast depleting groundwater table across the state.
CM gave in-principal nod to set up a state water authority to ensure better management of water for domestic, agriculture, industry and other purposes. He also announced to form a committee under Additional Chief Secretary (Development) Viswajeet Khanna and PAU Vice Chancellor BS Dhillon to explore the possibility for a change in the existing cropping pattern, besides developing a viable scheme to motivate farmers to give up paddy sowing and switch over to other crops to save water.  https://www.tribuneindia.com/news/punjab/cm-to-call-all-party-meeting-over-groundwater-depletion/791150.html  (22 June 2019)
Crumbling canal system takes toll on groundwater This shows that Punjab's canals are in such poor condition that number of tubewells have gone up from 2.8 lakh in 1980 to 14.5 lakh now. The minors (suwas) and irrigation channels (Khaals) has been brought under cultivation and now Chief Engr is saying they have started the process to reclaim land of the irrigation department!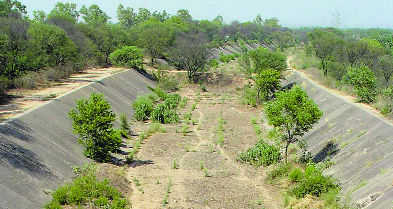 The farmers claimed that the canal system initiated by the British continued to work well till 1980s after which it started deteriorating. The farmers allege that instead of strengthening the system and digging more canal minors to connect more villages, the government let it collapse. https://www.tribuneindia.com/news/punjab/crumbling-canal-system-takes-toll-on-groundwater/790245.html  (19 June 2019)
Saving groundwater, one agricultural pump at a time  A scheme in Punjab delivers direct monetary benefit to farmers for using agricultural pumps more efficiently. The Department of Power (PSPL is the implementing agency), Govt of Punjab, is implementing the Paani Bachao Paise Kamao scheme at pilot stage currently, of the Direct Benefit Transfer for Electricity (DBTE) to agriculture consumers (farmers), with the objective of saving groundwater by reducing the time agricultural pumps drawing groundwater remain turned on. Under the scheme, farmers get monetary incentive to save electricity. An Implementation Assistance Consultant (IAC) group, comprising The Energy and Resources Institute (TERI), IT Power India (ITPI), and Punjab Agriculture University (PAU)-nodal agency), has been providing support in implementing the scheme.
– Under the pilot, the scheme is being implemented on six agriculture feeders. Of these, three feeders, namely Bambiwal-1 and Nawajipur in District Jalandhar and Dhanoya in District Hoshiarpur are under the purview of TERI. There are 567 total agricultural connections in these areas, of which 174 have been enrolled in the scheme so far. For electricity consumption measured from individual meters that is lower than the fixed allocation, the farmer will get Rs.4.00 per kWh. The electricity is supplied to farmers during day time. Excess consumption above the fixed allocation, however, would attract no charge. No bills are issued to the farmers and they are sent SMS about their savings bi-monthly and electricity consumption fortnightly. The incentive amount is transferred directly to their bank account. Farmers are encouraged to voluntarily enrol under the scheme, following which an Automated Meter Reading system is installed at their agriculture pump connection.    https://www.teriin.org/article/saving-punjabs-groundwater-one-agricultural-pump-time    (19 June 2019)
According to the state's own report on the underground water situation, about 79 percent area of the state is over-exploited. Of 138 blocks, 109 blocks are "over-exploited", two blocks are "critical" five blocks are "semi-critical" while only 22 blocks are in "safe" category.
At the time of the introduction of the Green Revolution in the mid-sixties, the number of tube wells increased from 50,000 to above 70,000 in the early eighties. It went up to about 10.70 lakh in 2001 and then 11.80 lakh in the year 2005-06. In the year 2012-13, there were approximately 12 lakh tube wells according to the 5th Minor Irrigation Census Report. The state now puts the number at 14 lakh. On average, there are 34 tube wells per sq. km of net sown area in Punjab.
The state policy of free power for agriculture in combination with central policy favorable to paddy cultivation has ended up in indiscriminate use of groundwater. As per a govt report, groundwater resources are likely to be used up by 2039. Thereafter, only annual replenishable resources will be available. https://indianexpress.com/article/explained/why-punjabs-groundwater-might-run-dry-by-2039-5794435/  (22 June 2019)
Haryana Paddy cultivation sucking water table dry? With paddy production jumping from 39.89 lakh tonnes in 2014 (is this figure correct?) to 45.16 lakh tonnes in 2018, the number of tubewells in the state also shot up from a few thousand to 8 lakh, resulting in overdrawing of groundwater. Haryana govt has declared 64 blocks as dark zones. Wells in these areas have dried up. In the past 42 years, the state has witnessed an average decline of 10.38 metres in its groundwater level. In last five years alone, the water table has fallen by 2.20 meters. In half of Haryana's 22 districts, the water table has dropped 1-6 metres. In the last two decades, the farmers have pumped out 74% of the groundwater. https://indianexpress.com/article/explained/explained-is-paddy-cultivation-sucking-haryanas-water-table-dry-5781850/  (15 June 2019) 
Tamil Nadu 22 districts now in red category In a month's time, three districts — Cuddalore, Thoothukudi and Tirunelveli — have recorded a decrease in groundwater levels and have been marked under the red category by the govt. With these three, the number of districts with a declining trend in groundwater levels has gone up to 22 since April.
From April till May 2019, the State ground and surface water resource centre recorded a dip of 0.45 metres, 0.83 metres and 0.43 metres in Thoothukudi, Tirunelveli and Cuddalore respectively. This is the first time since January 2018 that Thoothukudi and Tirunelveli see a dip in groundwater levels. Also, districts surrounding Chennai like Kancheepuram, Tiruvallur, Vellore and  Thiruvannamalai, continue to fare poorly. In a month's time, Kancheepuram and Thiruvannamalai saw a steep decline of 0.48 metres and 0.87 metres, respectively.
Failing groundwater levels in districts in the immediate vicinity to Chennai is mostly due to over-extraction by private tankers and water packaging companies. Repeated protests by residents and seizure of tankers by police, have surfaced in the last two months. http://www.newindianexpress.com/cities/chennai/2019/jun/16/22-districts-now-in-red-category-as-levels-of-groundwater-continue-to-plummet-1990789.html  (16 June 2019)
Groundwater level gained in Monsoon slipping back The average increase in water level in the district during last year (May 2018 to May 2019) has been around 3.37 metre below ground level (MBGL), say sources in the ground water division of the Public Works Department. Even parts of the Coimbatore city saw an increase in water table in the last one year – Town Hall from 10.12 to 9.80 MBGL, Uppilipalayam from 13.82 to 12 MBGL, Ganapathy from 8.20 to 8.10 MGBL and Rathinapuri from 13.80 to 11.50 MGBL. The only place where the water table went down was in Saravanampatti – from 22 to 24.75 MGBL.
This has largely to do with the excessive SW Monsoon rainfall the district received in 2018. As against the 50-year average of 210 mm, Coimbatore had received 303.5 mm. September 2018 saw the highest rainfall among the four SW Monsoon – 115.7 mm against the average 68 mm. But in the last five months, since the end of the North East Monsoon season, the water table has slipped but not reached the 2018 levels. https://www.thehindu.com/news/cities/Coimbatore/groundwater-level-goes-up-across-coimbatore-district/article28112051.ece  (22 June 2019)
Kerala Groundwater report sounds a note of caution A joint study of the State's groundwater resources conducted in 2017 by the Central Ground Water Board (CGWB) and the State Ground Water Department, after a gap of three years, has found that the net groundwater availability for the entire State is 5,211.75 million cubic metres (mcm).  The figure ranges from 186.14 mcm in Idukki district to 591.44 mcm in Palakkad district, according to V. Kunhambu, Regional Director, CGWB. This is against the net groundwater availability of 5,651 mcm assessed during the study conducted in 2013. A State-level committee has already approved the report. https://www.thehindu.com/news/national/kerala/groundwater-report-sounds-a-note-of-caution/article28089672.ece  (20 June 2019) 
URBAN WATER
Bengaluru Govt revives plan to draw water from Linganamakki dam State government has taken out from cold storage the B.N. Thyagaraja committee report, and told officials to prepare a DPR. The report, submitted in 2014, had suggested drawing 30 TMC of water from Linganamakki dam built across  Sharavathi river, around 400 km from Bengaluru.
In the initial phase we are in the plan of pumping 10 TMC, Deputy CM Dr G Parameshwar said. Replying to the question on the approximate cost, he said, "As per a rough estimate the project may need Rs 12,500 crore." He further clarified that farmers will not be affected as the water from Linganmakki is not used for irrigation, but only for hydro power. https://www.deccanchronicle.com/nation/current-affairs/210619/government-revives-plan-to-draw-water-from-linganamakki-dam.html  (21 June 2019)
Environmentalists and people of Malnad region have appealed to the government to drop the idea of drawing water from Linganamakki dam to meet the drinking water requirement of people in Bengaluru, 300 km away. People say the project is not feasible. They are not opposed to the idea of providing drinking water to Bengalureans. But the project is economically, socially and ecologically not feasible. The Bangalore Water Supply and Sewerage Board (BWSSB) must draw water from water bodies in and around Bengaluru, said environmentalist Keshava Korse. He urged the government to conduct an extensive study on the pros and cons of the project before going ahead.
Scientists from IISc, Bengaluru, have suggested a few Rs to meet the requirement of drinking water of Bengaluru. They are – Rejuvenate lakes, wetlands, recharge pits and micro watersheds, Retain lakes, wetlands and groundwater sources, Recycle, Reutilise through sewage disinfection, Reuse to meet domestic demands and be Responsible through sensible and good governance. https://www.deccanherald.com/state/top-karnataka-stories/plan-to-supply-linganamakki-water-to-bluru-senseless-740996.html    (17 June 2019)
If the proposal to supply nearly 34 TMC of water from Linganamakki reservoir in Shivamogga to Bengaluru for drinking water purposes is implemented, it can lead to a serious power crisis in the state, a power policy analyst has said.
Shankar Sharma said that the idea of taking such huge quantity of water over a distance of nearly 400 km of undulating terrain against an effective elevation of nearly 640 metres appears to be seriously flawed. "We have analysed the project with the help of technical support provided by the civil engineering department of an engineering college and have taken into consideration four different combinations of water supply pipes. The calculations indicate that there can be additional power burden on the state's grid ranging between 1,600 MW to 7,000 MW (depending on the size and the number of the water pipelines used)," he said.
Sharma also suggested simpler and alternative methods to provide more water to Bengaluru like plugging the massive leakages (nearly 45%) and adopting rainwater harvesting. "The Linganamakki reservoir, which has a storage capacity of nearly 151 TMC, was built only for the purpose of hydro-electricity generation.
Drawing 34 TMC of water from this reservoir will mean a loss of nearly 23% of the stored water capacity, which will also mean a loss of more than 3,600 million units of annual electricity to the grid, which would otherwise be available for generation of power in the project. In effect, this project will mean a net additional demand of more than 7,200 mega unit per year for the state's grid.
Since the project area falls under the Sharavasthi valley reserve, an ecologically sensitive area, implementation of the project would lead to massive damage to the environment. At least 80 to 100 feet of land in nearly 100 km in the forests will have to be dug to lay two or more sets of pipelines. https://timesofindia.indiatimes.com/city/mangaluru/power-crisis-can-worsen-if-water-is-drawn-from-linganamakki-dam-to-bengaluru-expert/articleshow/68338359.cms  (10 March 2019)
The state government's proposal to supply 18 tmcft of water from Tunga and Bhadra rivers to quench the thirst of Bengaluru city has also not gone down well with environmentalists, farmer leaders and water experts. The activists have questioned the decision, stating that the project is not ecologically viable.
According to them, Shivamogga and Bhadravati cities are already bearing the brunt of scanty rainfall despite these rivers flowing within the cities' limits. Activists have hinted that the decision is going to rake up another controversy, which may also take a political colour.
The proposal attracted a lot of flak from various quarters as rainfall has been depleting alarmingly, with all rivers and tributaries in the Malenadu region losing their old charm. Karnataka Rajya Ratha Sangha and Hasiru Sene state president KT Gangadhar told that inflow from the water sources of Malnad region, Tunga and Bhadra rivers, have been decreasing in November and December itself.  http://www.newindianexpress.com/states/karnataka/2019/jun/13/proposal-to-supply-water-to-bengaluru-draws-flak-1989478.html  (13 June 2019)
Meanwhile, River Sharavathi, the lifeline of Shivamogga, is running dry, igniting fears of a large-scale water crisis in the district. Data from the Karnataka Natural Disaster Monitoring Centre (KSNDMC) gives one a glimpse of the bleak future in store for Shivamogga if the rain fails: Inflow to the Linganamakki Dam has plummeted to zero. The sight of the parched river in Hosanagara, and other towns and villages in Shivamogga, has triggered panic among the locals.
The drying of the basins of the Sharavathi come close on the heels of the Tunga River running thin in many regions of Shivamogga. Residents in Hosanagara opined that the lack of pre-monsoon showers had aggravated the condition in the district.  KSNDMC data indicates that Hosanagara hobli registered 97% deficit rainfall in the month of May. Against an expected 110.1mm rainfall, Hosanagara has received a paltry 3.8mm rain in May.  https://timesofindia.indiatimes.com/city/mysuru/fears-of-a-major-crisis-grips-shivamogga-as-sharavathi-runs-dry/articleshow/69587894.cms  (31 May 2019)
Lessons from Bengaluru on how to reclaim our water bodies  With the "One Million Wells" project for his city, Vishwanath, Advisor, Biome Environmental Trust, says, "These water bodies are becoming the new public spaces. It's building new communities of joggers, birders, and ecologists. There are examples of wetland revival in Delhi and East Kolkata, stepwells are being revived in Jodhpur, and youngsters are stepping forward to clean up tanks and lakes in Salem and Mumbai's beaches. Water is our natural heritage and we should, collectively as a community, find ways to revive it." https://indianexpress.com/article/express-sunday-eye/building-blocks-reclaiming-water-bodies-urbanisation-5790596/  (23 June 2019)
Reviving open wells helped address water crisis Fetching water from a public tap close to her house in Sakaf Roza area in Ward 28 in Vijayapura, Megha Kapse (43) recalls a decade-old situation when she had to wait at least 10 to receive municipal water.
But in 2009, the situation changed for about 2,000 houses of the area when they started receiving water almost everyday, even when several wards in the city are facing drinking water problem even today. "Since 2009 we have not faced any water crisis even during harsh summers in last 10 years. I think it is the only ward of the city which gets water everyday despite having no 24 x 7 water connection from the government," she said. The source of this perennial water is two ancient open wells, which were till decade ago filled with filth and garbage. https://www.thehindu.com/news/national/karnataka/reviving-open-wells-helped-address-water-crisis/article28120266.ece  (24 June 2019)  
Madurai Forest clearance sought for building check dam in Theni The state government has submitted a proposal seeking forest clearance to construct a check dam across Vairavanar River inside Suranganar reserve forest in Theni forest division. 
Officials in the Periyar Vaigai Basin Circle in Madurai, told Express that this check dam was crucial for augmenting the Rs 1,020 crore new drinking water scheme for water-starving Madurai under Atal Mission for Rejuvenation and Urban Transformation. The government has already approved the scheme and an order was issued on May 23, 2018.
The corporation's plan is to draw 55 cusecs of continued water supply throughout the year from this check dam. However, construction of check dam does not come without a cost. As per the existing site conditions, during heavy rains, when water level reaches the brim of this check dam, it will outflank and submerge the adjacent patta and reserved forest areas. "The landowners in the area have raised objections, but necessary protection works are included in the project to address their concerns, like putting up protection walls on either side," the officials said.  The total cost of project is estimated to be Rs 14.78 crore. http://www.newindianexpress.com/states/tamil-nadu/2019/jun/20/forest-clearance-sought-for-building-check-dam-in-theni-1992681.html  (20 June 2019)
Chennai HC shocked over mall not having water connection Shocked that a huge shopping mall with 186 shops and a multiplex in Chennai had begun functioning without obtaining water and sewerage connection, the Madras High Court has said that no building should be put to use for commercial purpose without these two essential connections.
Justice G. Jayachandran dismissed a writ petition filed by a shopkeeper at VR Mall in Anna Nagar seeking trade licence despite the failure of the mall promoters to obtain water and sewerage connection. "Merely because the guidelines and rules of the [Greater Chennai] Corporation do not specifically mention that sewerage connection is a mandatory requirement for the issuance of trade licence, one cannot expect the court to direct the Corporation to issue trade license without water and sewerage connections," the judge observed. https://www.thehindu.com/news/cities/chennai/hc-shocked-over-mall-not-having-water-connection/article27952378.ece  (16 June 2019)
Madras HC also pulled up the state government on June 18 for not taking any precautionary steps to avert the water problem. It has also sought a report from the state government on the current status Chennai's water reservoirs.   https://www.hindustantimes.com/india-news/tamil-nadu-govt-mulls-tanker-trains-to-address-chennai-s-water-shortage/story-CQ4l0sajibG263EC2q8SUJ.html   (19 June 2019)
The court observed that some of the water bodies have been destroyed or reduced in size due to encroachment. "Encroachment is also said to be one of the causes of the reduction of storage capacity of lakes and water bodies. The PWD secretary who is vested with the custody of preserving the lakes is also directed to submit a detailed report of the steps taken for the removal of encroachment. The secretary is directed to issue a circular to all district collectors to submit details about the action taken for removal of encroachments in water bodies," the court said. The case has been posted for further hearing on June 26.   https://indianexpress.com/article/india/madras-high-court-pulls-up-tamil-nadu-govt-for-poor-handling-of-water-crisis-5787409/      (19 June 2019)
10 MLD water to be transported from Jolarpettai to Chennai for six months State govt has sanctioned funds to the tune of ₹65 crore for transporting 10 MLD drinking water from Jolarpettai to Chennai for six months. It thanked the Kerala government for its offer of 2 million litres of water and pointed out that it it would not be enough. It, however, would request the neighbouring State to give 2 MLD to Chennai.  https://www.thehindu.com/news/national/tamil-nadu/tamil-nadu-to-transport-10-mld-of-water-from-jolarpettai-to-chennai-for-six-weeks/article28099294.ece  (21 June 2019)
CM also said it would be good for the people of Chennai if the Kerala govet offered two million litre daily. The chief minister said his government had decided to transport ten million litre of drinking water daily from Jolarpet in Vellore district to Chennai. https://timesofindia.indiatimes.com/city/chennai/chennai-water-crisis-tamil-nadu-to-request-kerala-to-supply-two-million-litre-of-water-daily/articleshow/69889792.cms  (21 June 2019)
Mettur dam water being released to ease Chennai water crisis. https://www.livemint.com/news/india/mettur-dam-water-being-released-to-ease-chennai-water-crisis-cm-palaniswami-1560915057707.html  (19 June 2019)
Satellite images show its nearly bone-dry reservoirs in Chennai. https://edition.cnn.com/2019/06/20/world/chennai-satellite-images-reservoirs-water-crisis-trnd/index.html   (20 June 2019)
Discussion on INDIA TODAY TV on Chennai Water Crisis on June 20, 2019: https://www.indiatoday.in/programme/news-today/video/is-chennai-s-water-emergency-a-man-made-crisis-1553086-2019-06-20    (20 June 2019)
Chennai water problem has many serious dimensions.   https://indianexpress.com/article/india/water-crisis-in-tamil-nadu-clashes-erupt-in-chennai-it-firms-cut-down-operations-5783705/    (17 June 2019)
Groundwater levels low, 11 of 24 monitoring wells dry Report from Rain Centre has shown that 11 of the 24 monitoring wells are dry this June. Only one well had gone dry in June in 2016 and 2017. Rain Centre currently monitors 88 wells, chosen randomly and grouped into 24 clusters based on the location. "We created a grid of 1sqkm in the city and identified wells and monitor them every month," said Shekar Raghavan of Rain Centre.
The current situation is a result of water managers in the city, which had ample groundwater since rainwater harvesting structures were made mandatory in 2005, not bothering to revive, maintain or build more such structures, say activists. https://timesofindia.indiatimes.com/city/chennai/groundwater-levels-low-11-of-24-monitoring-wells-dry/articleshow/69866214.cms  (20 June 2019)
Grey water recycling catching up in city Officials of the Chennai Metrowater said sketches of grey water treatment systems had been included in the Tamil Nadu Combined Development and Building Rules, 2019. "We are encouraging people to segregate water used for bathing and washing and treat them for uses such as gardening and flushing. Residents would be able to save a minimum of 40 l of water daily."
Moreover, water from the air-conditioner unit can also be stored. It may be noted that the Metrowater has started process for the project to use treated wastewater for city supply. Treated waste water will be blended in two lakes and then drawn for supply.  https://www.thehindu.com/news/cities/chennai/grey-water-recycling-catching-up-in-the-city/article27903307.ece  (14 June 2019)
Tech companies in Chennai planning to shift to Kovai? Remember the time when a deluge hit the State's capital (December 2015) and the IT giants mulled shifting base to the city nestled in the lap of the verdant Western Ghats? Four years on, the shifting still is on cards, but owing to a polar opposite reason: water scarcity. Even as Chennai faces one of the worst water crisis in recent memory, the round-the-clock IT domain is likely to activate disaster recovery (DR) mode by deploying some of its workforce to Coimbatore. http://www.newindianexpress.com/states/tamil-nadu/2019/jun/21/tech-companies-in-chennai-planning-to-shift-to-kovai-1993138.html  (21 June 2019)   
Man attacks woman with knife over water dispute In a shocking incident, a 28-year-old woman was stabbed by her neighbour over a water-related dispute in Chennai. This is not the first incident of violence that has taken place in Tamil Nadu over water this summer. Earlier this month, 33-year-old social activist Anand Babu was beaten to death by a family of four after he objected to them drawing water in plastic barrels from an overhead tank. https://www.thenewsminute.com/article/man-attacks-woman-knife-over-water-dispute-chennai-arrested-103658  (15 June 2019)
Karnal City 'wastes' 2-cr litres of water daily As per the report of Ground Water Cell, the water table of Karnal block witnessed a fall of 12.87 metres in the last 44 years. The water table of Karnal block that was at a depth of 5.9 metres fell to 11.69 metres in June 2004 and to 18.77 metres in June 2018.
In Karnal city alone, excluding unauthorised colonies, residents are consuming around 7 crore litres of water per day against the demand of around 5 crore litres per day. There are a lot of illegal connections around the city too that draw huge amounts of water, leading to a sharp decline in the water table. https://www.tribuneindia.com/news/haryana/karnal-wastes-2-cr-litres-of-water-daily/790194.html  (20 June 2019)
Mohali Groundwater level hits all-time low CGWB officials say the groundwater level in the district has fallen by 6-7 feet over last two years alone due to the proliferation of real estate projects in the district. As per CGWB 2017 report, there are a total of 11,636 tubewells in Mohali district, classified according to the depth of the bore wells, with the maximum depth at 150 metres. A total of 3,589 tubewells are at the depth of 60 to 70 metres. As many as 1,553 tubewells are installed at a depth of 90 to 150 metres.
The CGWB report of 2017 shows that both, Derabassi and Kharar areas of the district, fall in the 'over exploited' category. The 2017 report mentions that though agriculture activities in Kharar have decreased over the years, there is commensurate increase in urbanisation and increasing demand of water from that sector. In 1988, the groundwater table of Mohali was at a depth of 17.7 feet; in 2016 it plunged to 68.8 feet. District Water and Soil Conservation officer Harjinder Singh said over two years, the net groundwater availability has reduced by around one-fifth.  https://indianexpress.com/article/cities/chandigarh/groundwater-level-hits-all-time-low-mohali-on-verge-of-facing-acute-water-crisis-5787633/  (19 June 2019)
Sangrur Monsoon round the corner, no funds for cleaning drains The Sangrur Drainage dept had sought Rs 11 Cr, but got Rs 1.61 Cr, the news is coming on the eve of the monsoon.   https://www.tribuneindia.com/news/punjab/monsoon-round-the-corner-no-funds-for-cleaning-drains/790251.html      (20 June 2019)
Gurgaon Residents Out On Streets In Protest Against Water Crisis People living in high-rises and gated residential societies in Gurgaon have been struggling to get something as basic as piped water supply for even an hour for the last few months. Piped water supply has been reducing every day and residents claim buying water from the tankers is expensive. On June 23, residents of DLF Phase 2 came out in protest against the water crisis. "Piped water supply comes barely for 20-30 minutes. Calling the tanker once costs Rs. 800-2,500. This summer has been the worst ever," said Sapna Sehrawat, a Gurgaon resident.
Another resident, Sanath Suri, said, "The weekly expenses on tankers can go as high as Rs. 7,000. In homes where there is only water connection to those living on the ground floor, those on the upper floors don't get enough water. The authorities also cut off electricity frequently and because of that we can't even switch on the motors to fill water," said Sapna Sehrawat, another resident. Residents in areas like DLF Phase 1-3 and Sectors 27 and 43 have been affected and forced to spend as much as Rs. 33,000 a month on water tankers. In areas like DLF Phase 1, recently a broken pipeline led to five days without a drop of water. https://www.ndtv.com/gurgaon-news/gurgaon-residents-out-on-streets-in-protest-against-water-crisis-2057882  (23 June 2019)
WATER POLLUTION
Study High concentration of plastic in Kodungaiyur groundwater A new study has found a high concentration of microplastics in groundwater in and around the Kodungaiyur dump yard.  The study, conducted by researchers from the University of Madras, says one of the major reasons for the problem is the rampant drilling of bore wells.
Researchers from Climate and Environmental Research Group (CERG) at the varsity studied drinking water samples collected within 10 km radius of the dump yard in Kodungaiyur, one of the largest in the city, maintained by the Corporation. They collected samples from 35 places around the dump yard and found surprisingly high concentration of microplastics.
Researchers say that in some samples, the concentration of microplastics was as high as 22 particles per 150 ml, while the acceptable levels are 2 particles per litre. "The numbers are a matter of grave concern," says M Jayaprakash, professor of Applied Geology at the University of Madras.  "It shows how polluted our groundwater has become." http://www.newindianexpress.com/cities/chennai/2019/jun/18/high-concentration-of-plastic-in-kodungaiyur-groundwater-finds-study-1991532.html  (18 June 2019)
WATER
What the new Jal Shakti Mantralaya should focus on A bit shocking to hear this from someone that one expects to know and understand the water sector much better: While the Niti Aayog had made a solid start at integrating the sub-sectors of water by creating an integrated water management index and ranking states on this basis, the creation of the new Jal Shakti Mantralaya is a big bang governance reform which will have a permanent and positive impact on integration in the water sector.
– His warning is generally correct: India is entering water crisis territory, with certain estimates indicating that water demand will exceed supply by a factor of two by 2030 if we continue with a business-as-usual approach. This has the potential of driving economic losses of an estimated 6 per cent of GDP by 2050, and potentially leading to a significant percentage of our population having limited or no access to drinking water. Recent satellite data has also shown that India's taps could run completely dry in the medium term, with cities like New Delhi, Bengaluru, Chennai and Hyderabad completely running out of groundwater… Lack of proper maintenance of existing infrastructure causes further losses of almost 40 per cent of piped water in urban areas. Treatment and reuse of greywater is almost non-existent. As a benchmark, Israel, another country facing severe water shortages, treats 100 per cent of its used water, and recycles 94 per cent of it, meeting more than half of its irrigation needs through this reused water.
– This though is way off the mark: Presently, India captures only eight per cent of its annual rainfall, among the lowest in the world.
– The Jal Shakti Mantralaya will also need to promote decentralised, but integrated, water resource management and service delivery, with a key focus on water conservation, source sustainability, storage and reuse wherever possible, by involving the communities themselves, as they are the primary stakeholders. https://indianexpress.com/article/opinion/columns/drinking-water-piped-water-jal-shakti-ministry-gajendra-singh-shekhawat-5785374/           (18 June 2019)
Central Funds to TN, Rajasthan, UP and Chhattisgarh   Funds alone wont help. We need change in governance and mindset of water resources establishment. https://www.news18.com/news/india/amid-rampant-water-crisis-modi-govt-likely-to-provide-central-funds-to-tn-rajasthan-up-and-chhattisgarh-2192135.html      (18 June 2019)
PM Modi writes to village heads to conserve rainwater, desilt ponds, build check dams.   https://timesofindia.indiatimes.com/india/pm-modi-writes-personal-letter-to-village-pradhans-on-saving-rainwater/articleshow/69798669.cm       (15 June 2019)
Report  ગુજરાતનાં શહેરોએ ચેન્નાઈના જળસંકટમાંથી શું શીખવું જોઈએ? BBC (Gujarati) interviews Himanshu Thakkar of SANDRP on lessons from Chennai for Gujarat: https://www.bbc.com/gujarati/india-48697513    (22 June 2019)
India confronts unprecedented water crisis Asia Times spoke with Himanshu Thakkar, coordinator of the SANDRP, who said that there is lack of sufficient understanding and effort to realize the situation and take steps. "Monsoon brings 70 to 80% water and state government should be in a position to use it. Chennai is facing such scarcity but the situation at the end of July 2018 was that all reservoirs were full but then they started to release water. This happened because the catchments have degraded and so the water that falls, quickly ends up in the river. We need a system to harvest rainwater, store it , recharge it, slow its pace."  https://www.asiatimes.com/2019/06/article/india-confronts-unprecedented-water-crisis/   (18 June 2019)
Struggle for water intensifies as taps run dry India uses more ground water than any other country, a problem successive governments have failed to tackle, said campaigner Himanshu Thakkar. "We use more groundwater than what China and the United States collectively use. Countries like the U.S. identify and protect their groundwater recharge zones. What have we done?" Thakkar said.  https://www.reuters.com/article/us-india-drought-water-feature/struggle-for-water-intensifies-as-taps-run-dry-in-india-idUSKCN1TM011  (21 June 2019)
A crisis that is slowly turning catastrophic This editorial in Live Mint on Water Crisis starts promisingly with mention of fine to Virat Khili in Gurugram and Marathwada turning to Tankerwada and also mentions encroachments on lakes and rivers. It ends with some important imperatives: "Agriculture would need to conserve water through drip irrigation and other methods. Groundwater replenishment will have to be done in mission mode. Rainwater harvesting must turn voluminous. For now, perhaps tanker gangs could be put out of business by state water supplies." But seems to lack vision or roadmap how do you achieve all that.  https://www.livemint.com/opinion/online-views/opinion-a-crisis-that-is-slowly-turning-catastrophic-1560962992627.html    (20 June 2019)
PM's promise of piped water to homes seems like irony Another editorial says that reckless deforestation and groundwater use, a lack of water conservation systems, callousness about water and ecology, all the result of wrongheaded policies, have brought India to this pass. The prime minister's recent promise of piped water to all homes by 2024 seems rather like irony at the moment.  https://www.telegraphindia.com/opinion/pm-s-promise-of-piped-water-to-homes-seems-like-irony/cid/1692615  (18 June 2019)
India 'doing little' to conserve water for off-season Otherwise good article is marred by mindless advocacy for more storages, implied to be achieved through big dams.   https://www.counterview.net/2019/06/riddled-with-rickety-management-india.html    (17 June 2019)
India's water crisis: The clock is ticking This indicates that there is a clear disconnect between water, society and economy. Currently, we are interested in laying large networks, constructing huge storage dams, fetching water from 150 kilometres and above, which involves a huge carbon footprint. We are valuing land more than water, neglecting our local water bodies, which have either gone dry or encroached.  As for our decision-makers, they need to re-think: Are we being sold dreams or realities?   https://www.downtoearth.org.in/blog/water/india-s-water-crisis-the-clock-is-ticking-65217     (21 June 2019)
Water woes Leaving aside some problematic statements (e.g. no rainfall last year or why cannot we build dams like Chine), this piece by former SC Judge and also former Madras HC CJ, raises some important issues of destruction of local water bodies, our inability of harvest rains, among others. The trouble is, there was no implementation mechanisms built in the judgements Justice Katju mentions. https://www.thehindu.com/opinion/op-ed/water-woes/article28077495.ece    (20 June 2019)
Also see, NDTV Hindi program on water crisis. https://www.youtube.com/watch?v=MqKhMwoMH5M&feature=youtu.be   (20 June 2019)
Madhya Pradesh Govt working on Right to Water Act For the implementation of the act, a seminar is being organised in Bhopal's Minto Hall on June 24. People from across the country including Water Minister Rajender Singh and law expert Sanjay Upadhyaya are being called to attend the seminar.
Earlier this month, CM Kamal Nath had asked the authorities to draft a legislation on Right to Water aiming at ensuring adequate water for every person in the urban areas. He had also contended that the Right to Water Act will be instrumental in ensuring requisite quantity of water to urban citizen. He said this while reviewing the future plans of Urban Development Department. https://www.indiatoday.in/india/story/55-litres-of-water-per-person-per-day-madhya-pradesh-to-enact-right-to-water-act-1554399-2019-06-23   (23 June 2019) 
Gujarat Site of a popular hot water spring, but Tuwa village has not a drop to drink   Important information here is that the people displaced by the Panam dam four decades ago do not have access to potable water. Khari faliya, which lies east of the hot water spring and the river, is a settlement developed after people from Mahisagar district were rehabilitated during the Panam Dam project over 40 years ago. The settlement was built up over uninhabited land around 1 km from the hot water spring. However, even after these many years, the struggle for potable water continues. Two years ago, pipelines were installed to help the villagers draw water from a Narmada canal built eight kilometres away in Moti Kathdi, but the three water collection points in the village have no water supply. She says the Khari river (a tributary of Mahi) lies around half a kilometre from here, but the water is not fit for direct consumption.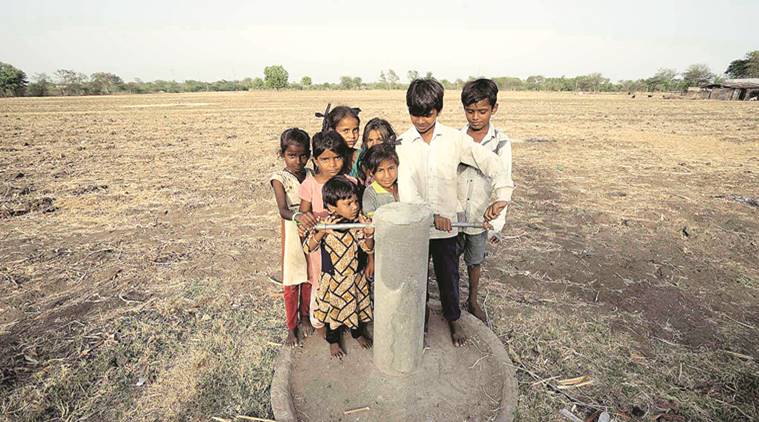 – On the other side of the river, close to the holy hot springs site, lies another neighbourhood of the same village, Kandachpura. Cattle-herders who migrated from Kutch during the great famine of 1900 live here. Six years ago, a Narmada water pipeline reached their village, but the water supply is not constant.    https://indianexpress.com/article/cities/ahmedabad/gujarat-site-of-a-popular-hot-water-spring-but-tuwa-village-has-not-a-drop-to-drink-5782620/     (16 June 2019)
DELHI WATER
Dried up lake near Saket could see revival A dried-up Satpula lake in the heart of South Delhi's Khirki village could get a new lease of life, with the Delhi Jal Board (DJB) being given a no-objection certificate by the capital's development authority to revive it.
A Jal Board official added, "The whole purpose of rejuvenation is recharging groundwater. At present, there is a gap of about 150 to 190 MGD (million gallons per day) of groundwater in Delhi." More than 1,000 kilolitres of water per day (KLD) will be pumped out from a drain running adjacent to the location to fill a depth of about 2 metres of the lake. The DJB estimates 15% of this water would percolate into the ground.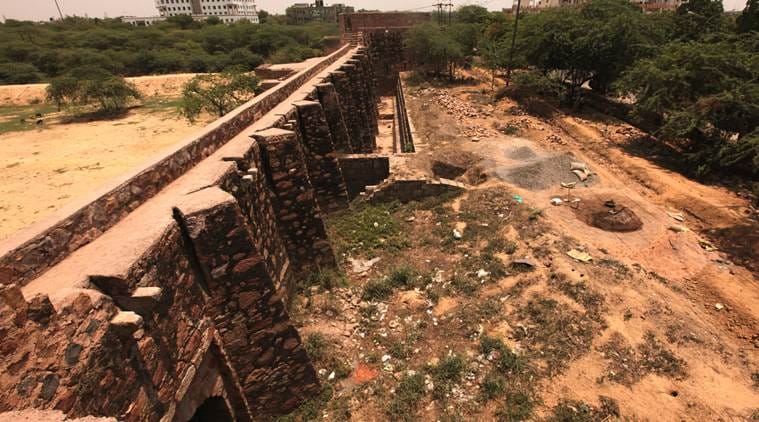 The DJB is currently waiting to receive a map demarcating the lake area, and will issue tenders for the project in around 10 days. The entire project will take around eight months to complete. The Jal Board is also considering rejuvenating 17 other lakes in the capital, including the Hauz Khas lake, which are owned and controlled by the DDA. This is in addition to 259 water bodies being rejuvenated by the DJB and the state Irrigation & Flood Control Department. https://indianexpress.com/article/cities/delhi/dried-up-lake-near-saket-could-see-revival-as-jal-board-gets-go-ahead-5795141/  (23 June 2019)
24×7 water supply pilot project reveals challenges The DJB first discussed the ambitious idea of continuous water supply in 2009 and started a pilot project, in a partnership with Suez Group, in January 2013, aiming at providing 24×7 water to every consumer in Malviya Nagar and Vasant Vihar. According to officials, the deadline for completing the work was December 2014.
Around six and a half years later, the pilot project has covered only around 800 houses in two small pockets — Navjeevan Vihar and Geetanjali Enclave — in Malviya Nagar and 450 houses in West End Colony of Vasant Vihar, according to senior engineer Virender Kumar, who heads the project.
The entire work relates to covering 50,000 connections in Malviya Nagar and 8,000 in Vasant Vihar, he said. The pilot project got delayed due to lack of permission from land-owning agencies, including the municipal corporations, the Delhi Development Authority and the Forest Department, Virender Kumar claimed.
The pilot project is stuck because the utility does not have enough water to ensure 24×7 supply in the entire project area. "In the project area, we are getting around 65 million gallons of water per day (MLD) against 80 MLD required to ensure continuous supply. Currently, 24×7 water supply is available only in these three small pockets," Virender Kumar said. "We cannot draw water from the quota of neighbouring areas as that would be unfair. People start asking questions — why they are getting three hours of supply while others get water 24×7," he said. https://www.firstpost.com/india/delhis-ambitious-24×7-water-supply-scheme-may-turn-out-to-be-pipe-dream-as-pilot-project-reveals-challenges-6867251.html  (23 June 2019)  
MONSOON
IMD All India Weather Warning Bulletin IMD heavy rainfall warning for the next five days:    http://www.imd.gov.in/pages/allindiawxwarningbulletin.php     (20 June 2019)
Cyclone Vayu  Saurashtra farmers get a headstart Most districts of Saurashtra (except Surendranagar) have benefited from rains due to Cyclone Vayu coming at opportune time.    https://indianexpress.com/article/india/early-showers-saurashtra-farmers-get-a-headstart-from-cyclone-vayu-5789278/      (20 June 2019)
Pre-monsoon showers elude region, Punjab worst-hit Pre-monsoon rains in Punjab this year are deficient by 76 per cent so far, making it worst-hit state in the region and among top three across the country where rains have been sorely lacking. Punjab has received a total of 4.6 mm rainfall from June 1 to June 17 against the normal of 19.5 mm for this period, according to data compiled by the Met Department. The monsoon generally  arrives in the region around June 30.
The deficiency is higher than Punjab in UP and Vidarbha region in central India. While eastern and western UP are witnessing a shortfall of 82 per cent and 78 per cent, respectively, Vidarbha has a shortfall of 88 per cent. J&K has a surplus of 70 per cent. Rains are deficient by 63 per cent in Haryana and 41 per cent in Himachal. Rajasthan too is witnessing a shortfall.
Of the 22 districts in Punjab, three — Mansa, Tarn Taran and SAS Nagar — have received no rain so far, according to the IMD. In six other districts, including Ferozepur, Moga, Barnala, Sangrur, Patiala and Fatehgarh Sahib, the shortfall is above 90 per cent. Faridkot, with a deficiency of 29 per cent, is the least affected.
In Himachal except Kullu and Lahaul-Spiti, all other districts are rain deficient. Shortfall is above 90 pc. In Una, Hamirpur, Solan and Sirmaur districts, it is above 80 per cent. Kinnaur and Lahaul-Spiti have received surplus rain. The situation is marginally better in Haryana where Sirsa, Hisar and Mahendragarh districts have received "above average" rain. Sonepat is sole district not to have received rain so far. Rohtak, Yamunanagar and Kaithal, rain deficiency is 96-99 pc; in Gurugram and Panipat 90 pc. https://www.tribuneindia.com/news/punjab/pre-monsoon-showers-elude-region-punjab-worst-hit/789367.html  (18 June 2019)
FLOOD
Odisha State comes up with a flood atlas, aided by satellite imagery Odisha has come out with a unique flood hazard atlas on the basis of historic flood inundation captured through satellite imagery over the period from 2001 to 2018, which is expected to help the State manage floods more efficiently. The National Remote Sensing Centre (NRSC) of ISRO, Hyderabad had taken the study on flood hazard zonation for Odisha. The atlas was released by CM Naveen Patnaik at the State-level Natural Calamity Meeting here on June 22.
Vast areas of the State are inundated when there is flooding every year in major rivers, namely, the Mahanadi, Brahmani, Baitarani, Subarnarekha and Rushikulya. Some of the rivers like, the Vamsadhara and Budhabalanga, also cause flash floods due to instant run-off from their hilly catchments.
According to Bishnupada Sethi, Managing Director, State Disaster Management Authority (SDMA), damages due to floods are caused mainly by the Mahanadi, the Brahmani and the Baitarani, which have a common delta where floodwaters intermingle, and, when in spate simultaneously, wreak considerable havoc.
The entire coastal belt is prone to storm surges, which is usually accompanied by heavy rainfall, thus making the estuary region vulnerable to both storm surges and river flooding. Few districts in the western and southern part of Odisha are prone to flash floods, he pointed out.
The NRSC analysis says about 8.96% (13.96 lakh hectares) of land in Odisha was affected by floods during 2001-2018. Out of total flood-affected area (13.96 lakh hectares), about 2.81 lakh hectares of land falls under high (inundated seven-nine times) to very high (inundated 10-14 times) flood hazard categories.
Eight out of 30 districts such as Bhadrak, Kendrapara, Jagatsinghapur, Balasore, Puri, Jajpur, Khordha and Cuttack districts are more flood-affected districts. As high as 77% of Bhadrak and 70% of the Kendrapara district have been categorised as flood hazard. https://www.thehindu.com/news/national/other-states/odisha-comes-up-with-a-flood-atlas-aided-by-satellite-imagery/article28111800.ece  (22 June 2019)
DAMS FLOOD – ASSAM Flood-Affected People Yet To Get Compensation From NEEPCO It has been almost a year since hundreds of villages of Golaghat were inundated after the Dhansiri River crossed its danger level following incessant rain in the upstream areas and the opening of radial gates of Doyang hydroelectric project in Wokha district of Nagaland. According to the Assam State Disaster Management Authority, 87,300 persons had been affected and 7,086 hectares of land in Golaghat district were under water.
People living downstream of the dam also accused NEEPCO of deliberately keeping the water level high so that there was more electricity generation. After almost a year since this man-made disaster by NEEPCO caused heart-rending damage to the people living downstream, no compensation has been offered to the flood-affected families so far. The local persons of the affected area expressed strong resentment over the issue and ask the government to act in this matter. The deprived affected persons are also seeking help from social organizations to raise their voice again over the issue. https://www.sentinelassam.com/news/flood-affected-people-yet-to-get-compensation-from-neepco/  (23 June 2019)
Assam Floods Flood affects three districts Three districts, Dhemaji, Lakhimpur and Jorhat in Assam have been affected by floods, according to Assam State Disaster Management Authority (ASDMA). A total of 565 people have been victims of the calamity till June 17. Five villages/localities in Dhemaji, one in Lakhimpur and two in Jorhat have been marked as flood affected areas by ASDMA. The worst situation has been reported in Jonai area of Dhemaji district, with 310 people affected.  Additionally, a total of 366 animals have also been affected by the flood.  https://www.guwahatiplus.com/daily-news/flood-affects-three-districts-in-assam  (17 June 2019)
After floods, life out of gear in Guwahati Incessant rain since June 13 night flooded large parts of the city bringing life to a near standstill on June 14 morning. Familiar sights of people wading through water completed the picture of misery in the run-up to the monsoon. The Met office said flood-threat was looming large over the state and parts of the northeast where the Southwest monsoon has made a significant advancement in the last 24 hours. https://timesofindia.indiatimes.com/city/guwahati/floods-after-night-long-rain-throw-life-out-of-gear-in-guwahati/articleshow/69799469.cms  (15 June 2019)
Kerala Emergency-action-plan for 21 dams ready Power Minister MM Mani, during the ongoing Assembly session, announced that the Central Water Commission (CWC) has approved the Emergency Action Plan (EAP) for 21 dams in the state. The EAP for three more dams will soon be approved by the CWC, the Indian government's technical body for water resources. These dams come under the Kerala State Electricity Board (KSEB). The EAP is a voluminous document, which the KSEB officials say, will be difficult for the people in panchayats to fully comprehend. "Hence, we are trying to bring out a condensed version of the EAP, summarising various alerts, the floodplains and the evacuation plan," says Bibin. https://www.thenewsminute.com/article/emergency-action-plan-21-dams-kerala-ready-here-s-all-you-need-know-103742                    (16 June 2019)
DROUGHT
Maharashtra Can Jalyukt Shivar Abhiyan Prevent Drought? Neha Bhabhade,  Joy et al on Maharashtra's flagship Jalyukta Shivar Abhiyaan for drought proofing Maharashtra: Despite intensive implementation of the Jalyukt Shivar Abhiyan, many districts of Maharashtra are reeling under severe drought. This raises questions over the usefulness of the JSA in drought-proofing, especially in the way it is being implemented. https://www.epw.in/journal/2019/25/commentary/can-jalyukt-shivar-abhiyan.html  (22 June 2019)
No water in Pune reservoirs, no rains in sight As on June 18, the cumulative stock in four dams which provide water to the city — Khadakwasla, Panshet, Temghar and Varasgaon — stands at 2.72 TMC. Last year during the same period, the water level in the four dams was 3.07 TMC. Last year, monsoon had arrived by this time of the month, however, this year, no rain is compounding the severe water crisis, according to the state irrigation department.
As far as Pune region is concerned, it has only 6.35% of live water stock as against 17.42% on the same day last year. The issue may aggregate further with the administration mandated to release 0.58 TMC of water from the existing water stock from Khadakwasla dam during the Wari procession on June 26-27 to meet water demands of Warkaris (pilgrims). https://www.hindustantimes.com/pune-news/crisis-looms-over-pune-no-water-in-reservoirs-no-rains-in-sight/story-K8a6Jb6ltHPF1ulsg1nQSM.html  (19 June 2019) 
Sad story from BEED in Maharashra, 40 km from Jayakwadi dam, struggling for water. https://indianexpress.com/article/india/not-a-drop-maharshtra-zero-rabi-crop-bone-dry-wells-serial-hunger-strikes-in-despair-5789437/    (20 June 2019)
As many as 4,500 of the 12,021 suicide cases occurred after the Devendra Fadnavis government's loan waiver scheme was rolled out in June 2017, data tabled in the Maharashtra legislative assembly testified. https://www.ndtv.com/india-news/how-bad-is-maharashtra-farmer-crisis-8-suicides-every-day-for-4-years-2057964  (23 June 2019)
Karnataka Water level in dams dips to 14% of capacity Data shows only 114 thousand million cubic feet (tmcft) of live storage is available in 13 major reservoirs. The figure is just about 14% of the total storage capacity of 825 tmcft. According to KSNDMC, the water level in three dams, Ghataprabha (1%), Tungabhadra (2%) and Malaprabha (3%), has literally hit rock bottom.
KSNDMC director GS Srinivasa Reddy said the present picture is a complete contrast of the previous year's situation, when some of the reservoirs were full.  Among the 13 reservoirs, only Supa and Narayanapura have comparatively good live storage at 30%. Even in dams of the Cauvery basin, the levels are between 10% and 14%. https://timesofindia.indiatimes.com/city/bengaluru/water-level-in-dams-dips-to-14-of-capacity-hits-rock-bottom-in-3/articleshow/69833052.cms  (18 June 2019)
Opinion Cities made drought proof, farmers left to die Devindar Sharma makes important point here. https://www.deccanherald.com/specials/sunday-spotlight/cities-drought-proofed-farms-and-farmers-left-to-die-742224.html  (23 June 2019)
DISASTER
Sikkim Cloudburst: Teesta water levels recede After Jammu & Kashmir, Uttrakhand; 3rd cloud burst incident of monsoon season 2019 in Indian Himalaya state reported from North Sikkim.
– It forced cloudburst Teesta-III hydropower project management to release 600 cumecs of water from the Chungthang dam on June 17. As per reports NHPC Guest House located near Dickchu bridge has been washed away. Similarly, the Mantam foot suspension bridge has collapsed in Upper Dzongu. As an aftermath, Sakyong-Pentong, Bay and some other  villages of Upper Dzongu have been totally cut off. https://www.eastmojo.com/sikkim/2019/06/18/sikkim-cloudburst-teesta-water-levels-recede-but-alert-still-on  (18 June 2019)
Himachal Pradesh On June 13 a cloud burst has also struck Janghi village in Chamba district. https://www.amarujala.com/photo-gallery/shimla/many-houses-damaged-due-to-cloudburst-in-janghi-in-chamba-himachal  (13 June 2019)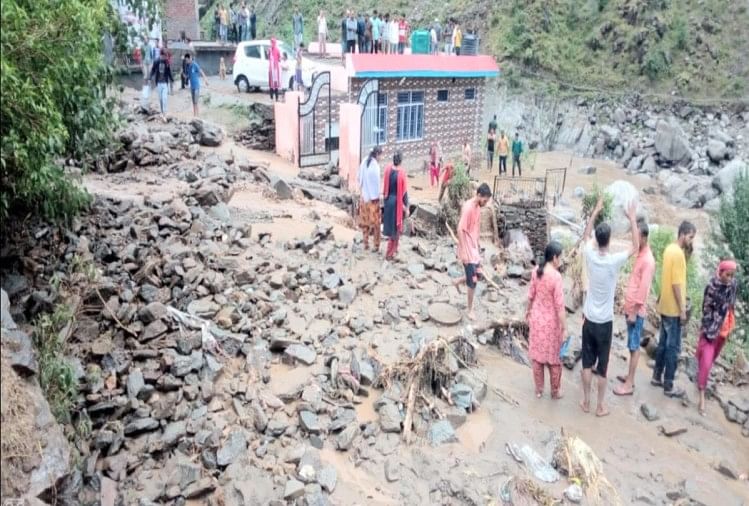 CLIMATE CHANGE
Study Spy satellites reveal Himalayan glaciers losing ground to climate change A new study by Columbia University's Earth Institute finds the glaciers have been losing 20 vertical inches of ice per year since 2000, double the rate of the late 20th century. To put that into perspective, the recent amount of ice lost each year is enough to fill 3.2 million Olympic-size swimming pools and more than enough to supply drinking water to every person on Earth for longer than a lifetime.
To reach these conclusions, lead author Joshua Maurer and his team took a unique approach. They analyzed 40 years of satellite images of 650 glaciers spanning 1,200 miles across India, China, Nepal and Bhutan. Much of the 20th-century data came from images taken by U.S. spy satellites. The researchers then created a system to automatically turn these images into 3D models in order to measure the changing elevations of glaciers over time. They then compared these images with more recent data from newer satellites to determine ice volume changes.
– Another recent study estimates that water flowing down the mountains each year from 2000 to 2016 was 1.6 times greater because of excess melting.  As a result, meltwater lakes are swelling rapidly behind natural dams. These are threatening downstream communities with potentially destructive "glacial lake outburst floods." In Pakistan alone, the U.N. estimates 7.1 million people are at risk. https://www.cbsnews.com/news/spy-satellites-reveal-himalayan-glaciers-lost-toclimate-change/   (19 June 2019)
Here, we provide an internally consistent dataset of glacier mass change across the Himalayan range over approximately the past 40 years. We use recent advances in digital elevation model (DEM) extraction methods from declassified KH-9 Hexagon film and ASTER stereo imagery to quantify ice loss trends for 650 of the largest glaciers during 1975–2000 and 2000–2016. All aspects of the analysis presented here only use glaciers with data available during both time intervals unless specified otherwise. We investigate glaciers along a 2000-km transect from Spiti Lahaul to Bhutan (75°E to 93°E), which includes glaciers that accumulate snow primarily during winter (western Himalayas) and during the summer monsoon (eastern Himalayas), but excludes complications of surging glaciers in the Karakoram and Kunlun regions where many glaciers appear to be anomalously stable or advancing. Our compilation includes glaciers comprising approximately 34% of the total glacierized area in the region, which represents roughly 55% of the total ice volume based on recent ice thickness estimates. This diverse dataset adequately captures the statistical distribution of large (>3 km2) glaciers, thus providing the first spatially robust analysis of glacier change spanning four decades in the Himalayas. We extract DEMs from declassified KH-9 Hexagon images for the 650 glaciers, compile a corresponding set of modern ASTER DEMs, fit a robust linear regression through every 30-m pixel of the time series of elevations, sum the resulting elevation changes for each glacier, divide by the corresponding areas, and translate the volume changes to mass using a density conversion factor of 850 ± 60 kg m−3 (see Materials and Methods).
Holistic understanding of Himalayan ecology wanted The Indian Himalayan Region, spanning 12 Indian states, has long been absent from the centre stage of Indian policy. Existing policy harps on the economic underdevelopment of the region or controlling insurgency while ignoring the fact that the root cause of some of these problems might lie in the mismanagement of the mountain ecosystem.  https://www.telegraphindia.com/opinion/wanted-a-holistic-understanding-of-himalayan-ecology/cid/1692811  (21 June 2019)
Interview Climate change will soon become critical Ravindranath, a climate scientist at the Centre for Sustainable Technologies of IISc is currently heading a study that will assess the impact of climate change across regions and sectors. His assessment, which is likely to be the bedrock that will inform climate-related policy, will be submitted to the Indian govt and the UN. In this interview by India Spend he spoke on the lack of climate data by district and the need to make these data more accessible to farmers, so they can be prepared for what is coming. https://www.indiaspend.com/expert-warns-climate-change-in-india-will-soon-become-critical/  (24 June 2019)
How India can cope with climate change effects Is this plain ignorance or dangerous co-option of another term to suit vested interests? The author here says ILR, involving building of 3000 big dams as climate change ADOPTION imperative! Wish he knew Adaptation is firstly for the vulnerable and that ILR will make them MORE and not less vulnerable. https://www.thehindubusinessline.com/opinion/how-india-can-cope-with-climate-change-effects/article28102395.ece     (21 June 2019)
We May Not Have Any Fish To Eat Very Soon 16-20% of ALL marine life could vanish by the end of the century if we cannot slow down or stop global warming. 5% for every degree C rise.   https://www.indiatimes.com/technology/science-and-future/if-we-don-t-stop-climate-change-now-we-may-not-have-any-fish-to-eat-very-soon-369346.html    (17 June 2019)
ENVIRONMENT
Investors accuse 22 Indian firms for hiding environmental impact A group of 88 investors have written to corporate giants such as Bharti Airtel, Reliance Industries and 20 others to disclose their impact on climate crisis, water shortages and deforestation. CDP, an environmental disclosure campaign platform, on behalf of 88 investors has written to 707 multinationals, including 22 Indian companies, spread across 13 sectors in 46 countries to disclose environmental impact information. WE NEED RIGOROUS EXERCISE ON THESE LINES ABOUT INDIAN COMPANIES FROM WITHIN INDIA.   https://www.downtoearth.org.in/news/climate-change/investors-accuse-22-indian-firms-for-hiding-environmental-impact-65180     (20 June 2019)
Bombay HC Chief Justice makes a point on environment protection, with a caricature   The image was that of a creature with a large head, detailed in pencil with several brain cells, small eyes, a long lose, short hands and legs drawn in blue ink. "You will need a large head…," said Chief Justice Nandrajog, to make room for numerous brain cells but small eyes that may rarely move away from the computer screen. For the same reason he said, "Because you will always type, you will have small hands but long fingers. Short legs because you will not walk." Explaining the creature's long snout intricately inked on paper, he said, "The air will be so toxic and you will need a nose like this and food will be in capsules so you will need only a small stomach." https://indianexpress.com/article/cities/mumbai/bombay-high-court-chief-justice-pradeep-nandrajog-environment-protection-caricature-5787477/       (19 June 2019)
Pradip Krishen: In Delhi lies a forest uprooted Is it too much to expect that a Forest Department respond appropriately to the character of a natural habitat in order to plant new species suitably? Why is it that some 170 years after we started training foresters, we still have a cadre that knows and cares so little about natural habitats?    https://www.ecologise.in/2019/06/18/pradip-krishen-in-delhi-lies-a-forest-uprooted/  (18 June 2019)
Greenhumour
SOUTH ASIA
Brahma Chellaney is possibly factually wrong and misleading here: "Indeed, no country in Asia is more vulnerable to China's re-engineering of trans-boundary flows than India because it alone receives — directly or via rivers that flow in through Nepal — nearly half of all river waters that leave Chinese-controlled territory."
– His thinking is so totally dam centric!! https://theprint.in/world/india-is-behind-in-the-water-wars-with-china-pakistan-it-must-get-its-act-together/253173/    (22 July 2019)
India-Bhutan Civil Society Groups for managing cross-border rivers Lack of a mechanism between India and Bhutan to address the downstream impact of crossborder rivers prompted several community-based organisations from the two countries issue "a call for action" to work together for eective management of the river risks. The declaration, named Kokrajhar Call for Action on Bhutan-India Civil Society Organisations' Partnership for Inclusive Water Governance was signed here on June 20 by at least 12 organisations, following a two-day-long consultation.
According to the NGOs, at least 56 rivers flow down through Bhutan to western Assam districts including Kokrajhar. People living in the downstream areas often express apprehension that release of excess water from the dams in Bhutan without proper warning resulted in floods and "unscientific mining" impacted their farming.
The efforts to unite the community level organisations to mutually address the concerns gained momentum in 2016 after flash floods in Bhutan's Sarpang district had literally wreaked havoc in downstream areas in Assam's Kokrajhar and Chirang districts. While floods le many homeless, excessive silt had turned large tracts of farmland ineligible for paddy cultivation. https://www.deccanherald.com/national/east-and-northeast/indo-bhutan-groups-for-managing-cross-border-rivers-742185.html  (22 June 2019)
Bhutan Mangdechhu is in the final stages of completion now, and we have requested another government-to-government mega-hydropower project on the Sankosh river, which may see some progress as well.
– the shift is probably to slow down the pace of [starting new projects]. During my tenure, I am targeting one mega-project, and if other current projects are completed, we might think of new ones.
– There hasn't been much progress (electricity Trade with Bangladesh) on that yet, but we are in discussions. But our immediate neighbour India has a huge market, and only when India's needs are met, or if there is a huge tariff difference we will be able to broaden our supply. https://www.thehindu.com/news/national/its-too-early-to-call-off-saarc-and-say-it-isnt-relevant-or-viable/article27957700.ece    (17 June 2019)
Many questions as Bhutan plans big dam with reservoir With more than 70% of its land area under forest cover – its Constitution mandates at least 67% of the area remain so – and a small population of about 800,000, Bhutan has not faced serious problems of displacing either human or wildlife populations for its hydropower projects. Nevertheless the two Punatsangchhu hydropower plants currently under construction have impacted the habitat of the white-bellied heron, and the Amochhu project will displace the the oldest indigenous people of the country. https://www.thethirdpole.net/en/2019/06/24/bhutan-prioritises-reservoir-hydropower/  (24 June 2019)
Nepal-Bangladesh Govts agree for joint investment in HEPs The decision was taken at the Energy Secretary level meeting between the two nations on June 21 which included the projects covered by the whitepaper issued by the previous meeting a year back.
The whitepaper issued by Nepal's Finance Ministry a year back had included 962 MW capacity holding Tamor reservoir, 800 MW Dudhkoshi project which has a reservoir, 725 MW Upper Arun, 450 MW Kimathanka Arun, 679 MW Lower Arun.
Likewise, Sunkoshi-II 1,110 MW, Sunkoshi-III 536 MW, Tamakoshi-V 101 MW, Khimti Shiwalaya 500 MW and Kokhajor Reservoir 111 MW also are included in the then issued whitepaper. The whitepaper had enlisted a total of 20 Hydropower projects.
In the latest round of meeting, the Energy secretaries also agreed to make a selection of the projects on the basis of potentiality and present it in next round of meeting with preparations over the technical aspects, the report further added. https://energy.economictimes.indiatimes.com/news/power/nepal-bangladesh-agree-for-joint-investment-in-hydropower-projects/69909929  (23 June 2019)
Nepal 11 Nepalese, 6 Chinese workers get trapped in HEP tunnel, rescued: Officials All 17 workers, including six Chinese, got trapped inside a tunnel of an under-construction hydropower project in Nepal following a landslide on June 20, 2019 have been rescued, officials said on Friday, June 21. The incident happened at the Rasuwagadhi Hydropower Project in Rasuwa district on the Nepal-China border.
– The workers got stuck inside the tunnel after the landslide that occurred along the path leading to the surge tank of the project at around 8:30 pm (local time) on Thursday. The entrance of the 4.18-km-long tunnel got blocked, trapping the workers inside, the police said.
– The Rasuwagadhi hydropower project is the largest among the four projects that are currently being developed by the subsidiaries of Chilime Hydropower Company, a private power developer in Nepal. The China International Water and Electric Corporation is the contractor for the civil work of the project, which is likely to become operational by February 2020.   https://www.outlookindia.com/newsscroll/11-nepalese-6-chinese-workers-get-trapped-in-hydropower-project-tunnel-in-nepal-rescued-officials/1559623  (21 June 2019)
Pakistan Cities Sinking in Baluchistan Province FRIGHTENING SITUATION IN BALUCHISTAN (PAK) cities are sinking due to excessive groundwater extraction: Local and American experts warn unchecked groundwater extraction in major urban centers in Pakistan's Baluchistan province has triggered the sinking of the land at a rate of 10 centimeters a year, causing cracks in buildings, roads, and agricultural fields since 2010. The land subsidence is occurring in numerous locations in northern parts of Baluchistan, including districts of Qilla Abdullah, Pishin, Mastung and the provincial capital of Quetta, the largest population center in the province. There are about a dozen locations in Quetta where cracks as long as four kilometers and more than 400 feet deep have appeared, rendering the land useless for agriculture and living. "We have already consumed 12,000 years of that fossil water," Prof Din Muhammad Kakar, Dept of Seismology, Univ of Baluchistan noted.
– In the next five to 10 years, he said, there will be no water available to the people in affected districts, including Quetta, and they will have to migrate from this region. The province has also suffered from frequent and prolonged droughts in recent years. "Through that machine we have got the data, which also indicate that these valleys are subsiding at the rate of 10 centimeters per year. The water table is also going down at the rate of three meters per year in these valleys," he noted.
– Kakar warned that another earthquake in the areas suffering from land subsidence could be much more devastating than the one that struck Quetta in 1935. That earthquake flattened almost the entire city with an estimated population of 60,000, killing 40,000 people. The current population of the Quetta valley officially stands at around 1.2 million.
– Professor Roger G. Bilham at the University of Colorado Bolder noted that the underground water currently being pumped has taken millions of years to accumulate, and is limited in volume. "Millions of years ago, when climates were wetter, many of these valleys sustained lakes. The lakes have long since gone," Bilham said. Experts say the underground reservoirs consist of sand and gravel layers with water contained in the spaces in between. When the water is pumped to the surface, they say, the sand grains pack together tighter and the thickness of the layer shrinks, and as a consequence, the surface sinks. The results are so extreme, they visible from space.   https://www.voanews.com/south-central-asia/cities-sinking-pakistans-baluchistan-province    (17 June 2019)
International Rivers The report has several mentions of dams and hydropower projects of India and neighbours (e.g. Nepal, Bhutan, Bangladesh) & their impacts on World Heritage Sites and Free flowing rivers. http://www.transrivers.org/pdf/2019HeritageDammedFinal.pdf 
CHINA
Deadly earthquake hits Sichuan province 6.0 magnitude earthquake struck near Yibin in Changning County, south-east of the provincial capital Chengdu, late on June 17, officials said. It was followed by several powerful aftershocks. Several major roads were damaged including the highway between Yibin city and Xuyong county, the official Xinhua news agency reported. Sichuan is regularly hit by earthquakes. In 2008 more than 87,000 people were killed in a 7.9 magnitude tremor 80km (50 miles) north-west of Chengdu. In 2017 a 7.0-magnitude quake also north of Chengdu killed more than 20 people.  https://www.bbc.com/news/world-asia-china-48675023  (18 June 2019)
ASIA
Indonesia 6.3-Magnitude Earthquake Rocks Papua Province A 6.3-magnitude earthquake hit Papua, in eastern Indonesia on June 20, United States seismologists said, but no tsunami warning was issued. The quake hit about 250 kilometres west of the town of Abepura in Papua province at 12:46 am local time, at a depth of 12 kilometres, according to the US Geological Survey. The quake was felt weakly in Abepura, but most people did not notice it.
Indonesia experiences frequent seismic and volcanic activity due to its position on the Pacific "Ring of Fire", where tectonic plates collide. Last year, a 7.5-magnitude quake and a subsequent tsunami in Palu on Sulawesi island killed more than 2,200 with a thousand more declared missing. On December 26, 2004, a 9.1-magnitude earthquake struck Aceh province, causing a tsunami and killing more than 170,000. https://www.news18.com/news/world/6-3-magnitude-earthquake-rocks-indonesias-papua-province-no-casualties-reported-2194971.html  (20 June 2019)
Japan Magnitude 6.7 earthquake shakes northwest  A powerful earthquake jolted northwestern Japan on June 18, causing minor injuries to 21 people and a brief evacuation of coastal homes until the risk of a tsunami passed. There were no reports of serious damage from the magnitude 6.7 quake. Minor sea level changes were detected by several coastal cities, but the tsunami warning was lifted after about 2 ½ hours.
Japan is one of the most earthquake and tsunami-prone areas in the world. On March 11, 2011, a magnitude 9.0 quake offshore caused a tsunami that triggered meltdowns at the Fukushima nuclear power plant. The quake and tsunami heavily damaged coastal neighborhoods and took more than 18,000 lives. https://www.indiatoday.in/world/story/earthquake-shakes-northwest-japan-injured-minor-damages-reported-1551648-2019-06-19  (19 June 2019)
THE REST OF THE WORLD
US Groundwater pumping has significantly reduced stream flows Abstract: Groundwater pumping has caused marked aquifer storage declines over the past century. In addition to threatening the viability of groundwater-dependent economic activities, storage losses reshape the hydrologic landscape, shifting groundwater surface water exchanges and surface water availability. A more comprehensive understanding of modern groundwater-depleted systems is needed as we strive for improved simulations and more efficient water resources management.
Here, we begin to address this gap by evaluating the impact of 100 years of groundwater declines across the continental United States on simulated watershed behavior. Subsurface storage losses reverberate throughout hydrologic systems, decreasing streamflow and evapotranspiration. Evapotranspiration declines are focused in water-limited periods and shallow groundwater regions. Streamflow losses are widespread and intensify along drainage networks, often occurring far from the point of groundwater abstraction.  https://phys.org/news/2019-06-groundwater-significantly-stream.html https://advances.sciencemag.org/content/5/6/eaav4574   (19 June 2019)
Officials: Rain, high reservoir releases to mean wet summer Normal releases from Gavins Dam might not be seen again until November, officials have said. Officials with the Corps' Omaha and Kansas City, Missouri, divisions acknowledged that the increased reservoir releases were hampering efforts to close scores of levees broken in March during historic flooding in the Missouri River Basin that caused significant damage in Nebraska, Iowa, Missouri and Kansas. Of the 47 levee breaks seen in Nebraska and Iowa, only seven have been closed, Krajewski said. In Kansas and Missouri, none of the 64 levee breaks have been repaired, Mike Dulin with the Corps' Kansas City division said.  https://www.washingtonpost.com/national/officials-rain-high-reservoir-releases-to-mean-wet-summer/2019/06/20/321f2e14-93a7-11e9-956a-88c291ab5c38_story.html    (20 June 2019)
Dam failure causes road collapse in Quinte West Canada (Ontario)'s Quinte West dam, run by Quebec-based Innergex Renewable Energy, malfunctioned on June 16, 2019 morning after a power outage. When the power went out, the dam's backup generators did not kick in, and its doors closed completely, causing water to flow over the dam and into Glen Miller, a region in Quinte West. Leading to uprooting of a road along the path of the river. The fault has since been resolved, but the damage has been done.  https://globalnews.ca/news/5398506/dam-failure-road-quinte-west/     (17 June 2019)
UK Non-disclosure of dam safety risks could prompt big investors to pull out Investors with a combined $12.5 trillion in assets, including the Swedish National Pension Funds and the Church of England, could review their stakes in resource companies that use storage dams if they do not release information to assess safety risks. The safety of dams used to store mining waste, known as tailings, gained prominence after the collapse of Vale's dam at Brumadinho in Brazil in January, which killed about 250 people.
Vale and other big listed miners are among more than 200 companies that have released data on dams in response to a request on behalf of 100 investors, the Church of England Pensions Board – one of them – said on June 17. Many other listed companies have not responded to the request, however, it said.
The Church of England Pensions Board and the Swedish AP Funds Council of Ethics are working with other ethical investors, and industry body the International Council on Mining and Metals (ICMM) to devise new standards for tailings dams. In a joint statement, John Howchin, secretary-general of the Council on Ethics of the Swedish National Pension Funds, said the investors would be "engaging robustly" with those who have not responded to the request for information. "Not disclosing is unacceptable and poses a very real risk to our investment," he said.
The Church of England pensions board said that 50% of the industry by market capitalisation had responded after it contacted more than 650 publicly listed companies in April, including oil and gas companies, asking them to disclose data on all of their dams. https://in.reuters.com/article/mining-regulations-tailings-idINKCN1TI1YO  (17 June 2019)
Drugs, plastics, flea killer: unseen threats to rivers Waterways look cleaner but levels of new pollutants are not being monitored. https://www.theguardian.com/environment/2018/mar/17/river-threats-drugs-plastics-chemicals-environment  (17 March 2018)
Compiled by SANDRP (ht.sandrp@gmail.com)
Also see: DRP News Bulletin 10 June 2019 & DRP News Bulletin 17 June 2019  
Follow us on: www.facebook.com/sandrp.in; https://twitter.com/Indian_Rivers