National Institute of Disaster Management, Ministry of Home Affairs, Govt of India invited Himanshu Thakkar, Coordinator of SANDRP,  to speak on the topic at IHC on Saturday. At the packed hall with participants that included members from Central Water Commission, National Disaster Management Authority, Embassies, Media and Civil Society,  the speaker explained how unwise and  unaccountable operation of dams, violating all norms, hugely contributed to the proportions of the Kerala flood disaster. Giving the example of Idukki dam, he showed, how if the dam was operated as per rule curve,  its contribution to the floods could have been reduced by over 50%. Similar is the story of other dams in Kerala.
Speaking on 'Reservoir Operation and Flood Risk Management' in the context of Kerala, Thakkar said that it was "not good enough" if authorities made the argument that outflows from dams equalled the inflow during floods. He put forth a strong case for how dams can be managed to moderate floods. He had said that rule curves, which determine how the dams are filled up during the monsoon period, should be put in place or updated.
Unfortunately the dams' operators in country are not following RULE CURVES: https://indianexpress.com/article/india/kerala-floods-dams-cannot-provide-relief-if-it-rains-like-this-in-kerala-again-says-cwc-director-5346761/  (9 Sept. 2018)
This is acknowledgement of a major fault of Kerala dams: They were full and did not follow rule curve.
In view of the state's experience, the CWC report recommended revisiting the 'rule curves' — strategic water level for planning operations of a dam — of all reservoirs.
A rule curve specifies storage or empty space to be maintained in a reservoir during different times of the year. Rule curves are derived by studying historical data. Though it helps in maintaining water levels, certain reports suggested that a tendency to keep back water for leaner seasons may have led to high reservoir levels. Kerala had, in fact, last seen such high intensity rainfall during a short duration of time in 1924.
Besides listing extreme weather events, the CWC is learned to have referred to other reasons including encroachment of flood plains and other activities in catchment areas behind the disastrous consequences of such intense rainfall. https://timesofindia.indiatimes.com/city/delhi/kerala-dams-were-full-up-even-before-rains-study/articleshow/65747072.cms  (10 Sept. 2018)
In this informative interview of Sharad Chandra, Director of Flood Forecast Monitoring at the CWC although, recommends that the reservoirs in the State be operated in a scientific manner but also says that reservoir operation may not have had much effect in attenuating the flood caused by intense unprecedented rainfall during August 2018 in Kerala. He further says that, untimely and sudden releases from the reservoirs in Kerala should not add to any flood situation in future.
These reservoirs need to be operated in a scientific manner following rule curve/operation manual. Inflow forecasting is helpful for this purpose. However, inflow forecast may be possible only based on quantitative rainfall forecast which so far is not available in Kerala's case. The State government/project authorities may thus be emptying/filling the reservoirs as per the rule curves/standard operating procedures (SOPs) finalised for specific projects.
On Kerala not having flood forecasting stations:- The CWC had written to State govts to suggest locations where the CWC would set up their flood forecasting stations. States such as Haryana, Karnataka, Andhra Pradesh, Jharkhand, Tamil Nadu, Odisha etc. had proposed the locations. Accordingly, 226 flood forecasting stations have been set up on various rivers of India. However, no proposal was received from Kerala. Hence there are no flood forecasting stations in Kerala maintained by the CWC. However, the commission has set up 22 flood monitoring stations in Kerala. https://www.thehindu.com/news/national/kerala/kerala-did-not-submit-proposal-for-setting-up-flood-forecasting-stations/article24905420.ece  ( 8 Sept. 2018)
A former dam management head of the KSEB has claimed the dams, in fact, helped to reduce the destruction. The report have lot of unsubstantiated claims, rather unsubstantiable claims. Totally WRONG and misleading. http://www.newindianexpress.com/states/kerala/2018/sep/10/ksebs-actions-reduced-destruction-says-former-dam-management-head-1869873.html  (10 Sept. 2018)
Surprisingly, KSEB authority has begun discussions regarding construction of a new hydroelectric power plant in Idukki dam to increase power production in state. The plans to make a new power plant is with the intention to control flood in future as the water in the dam can be utilised maximum.
This needs to be more considered move rather than reaction to the floods.  The news report has lot of inaccuracies. https://english.mathrubhumi.com/news/kerala/kseb-moves-to-set-up-new-power-plant-in-idukki-idukki-dam-1.3117510
Silt chokes reservoirs, robs them of storage capacity Large-scale deposits of silt caused by the recent floods have severely affected the storage capacity of many reservoirs, including the Idukki reservoir that has the highest dead storage level. Landslips added to the problems of Idukki as the desilting process had not been done there annually unlike in reservoirs located in hilly areas in developed countries.
As per a senior engineer of the Kerala State Electricity Board (KSEB), there were high chances of silt even making some reservoirs unworthy and an immediate survey should be done on the silt level in reservoirs, including Idukki, which has the largest catchment area in the State.
A study conducted earlier in the catchment area of Idukki dividing it into 8 zones showed that the Upputhara-Ayyappancoil stretch and Kulamavu area were highly prone to silt deposits due to large human habitations and loose soil.
"However, for nearly 10 years, no study on silting was undertaken," the official said adding a behavioural study on the dam should be conducted in the wake of the flooding that resulted with the opening of the vents of the Cheruthoni dam. Assessment of siltation of Kerala reservoirs is definitely required. https://www.thehindu.com/news/national/kerala/silt-chokes-reservoirs-robs-them-of-storage-capacity/article24857826.ece  (3 Sept. 2018)
Why Were the Floods in India's Kerala State so Deadly? TIME magazine, on the issue of Kerala floods, quotes SANDRP: "The rainfall was unusually high but if the dams were operated properly, the scale of the disaster could have been much less," says Himanshu Thakkar, a water activist and coordinator at SANDRP that works on issues related to water usage and water reservoirs. "The dams shouldn't have been full in the first place." http://time.com/5374239/india-kerala-flood-prevention/  (6 Sept. 2018)
What causes the flood INDEPENDENT inquiry into the management of reservoirs during Kerala floods is required, not just social audit or inquiry by MLAs. https://www.thehindu.com/todays-paper/tp-national/tp-kerala/what-caused-the-floods/article24859826.ece  (4 Sept. 2018)
In a joint press meeting, three former ministers in Kerala sought a judicial probe into the release of water from the dams. https://www.thenewsminute.com/article/poor-dam-management-caused-deluge-kerala-opposition-seeks-judicial-probe-87797  (4 Sept. 2018)
Green Tribunal steps in to conserve Ghats – The six Western Ghats States, including Kerala, have been restrained by the NGT from giving environmental clearance to activities that may adversely impact the eco-sensitive areas of the mountain ranges. The panel directed that the extent of Eco-Sensitive Zones of Western Ghats, which was notified by the Central government earlier, should not be reduced in view of the recent floods in Kerala.
This won't help much even if NGT were to be strict on this (which is itself unsure), since this is hugely watered down from WGEEP report guidelines. https://www.thehindu.com/todays-paper/tp-national/tp-andhrapradesh/ngt-steps-in-to-conserve-ghats/article24851023.ece  (3 Sept. 2018)
Idukki landslides purely a manmade disaster, say scientists studying the region Human settlement in landslide prone areas will not be encouraged henceforth in Idukki. The decision came after a study conducted by the US-based National Science Foundation (NSF) scientists found that Idukki saw a purely manmade disaster during the recent floods in Kerala.
The scientists also found that landslides in Munnar were manmade. On August 14, a big landslide destroyed the Munnar Arts College building. A report prepared in 2017 by Sajin Kumar and Thomas Oommen had pointed out that over 60% of Idukki district is landslide prone, which includes the land where the Munnar College is situated.
Major 19 landslides claimed 46 lives this year, and more than 1,000 acres of property was destroyed. Seven people are missing in the landslides and their bodies are yet to be recovered. Idukki witnessed 278 landslides and 1,800 mud slips this monsoon alone. Panniyarkutty, a village near Adimali, was completely wiped out by the landslides.
A team from the Geological Survey of India (GSI) is also studying the landslide-prone areas in Idukki. GSI officials told TNM that their colleagues have collected soil, water and rock samples from near Adimali and Munnar Arts College. The team will submit its report within a week to the State Disaster Management Authority and District Collector. https://www.thenewsminute.com/article/idukki-landslides-purely-manmade-disaster-say-scientists-studying-region-88056  (9 Sept. 2018)
We invited the floods by encroaching the riverbeds The people of Kerala have encroached the riverbed due to these human activities. Already global warming has increased the likelihood of floods and by reducing the number of days in which the rain falls. The recent floods have killed more than 300 people in Kerala because of this reduction in the flow of the free flowing rivers. The loss from the floods may be much more than the benefits from bridges, hydropower projects, irrigation and expansion of the residential areas. Therefore, the Govtshould take steps to preserve the riverbeds in entire country. https://gangatoday.com/en/articles/194-encroachment-on-kerala-rivers.html  (1 Sept. 2018)
Ensure effective management of dams: Centre For Budget Studies vice-chancellor J Letha A proactive approach for the effective monitoring of sophisticated climate technology, dam monitoring systems, and the application of radar facilities would have definitely mitigated the disastrous flood," said CUSAT vice-chancellor J Letha, while inaugurating the discussion on the 'Rebuilding of Kerala after the Devastating Flood' organised by Centre For Budget Studies at CUSAT. She said the effective management of dams should be ensured in future and it should be considered while planning the rebuilding of Kerala. http://www.newindianexpress.com/cities/kochi/2018/sep/08/ensure-effective-management-of-dams-centre-for-budget-studies-vice-chancellor-j-letha-1869027.html  (8 Sept. 2018)
How the floods have worsened Kuttanad's water pollution crisis
Kuttanad lies at the heart of the backwaters in Alappuzha district and is called the 'Rice Bowl of Kerala'. However, despite being rich in backwaters, the irony is that Kuttanad has always been a water-starved region. And the deluge has only added to the distress of the people here.

The problem is complex. While no adequate pipelines have been built for water distribution in Kuttanad, the existing ones are drenched and damaged, thanks to the clayey soil. This type of soil is peculiar to the Kuttanad region, one of the most low-lying regions in the country.

Houseboats have become the face of backwater tourism but has added to the woes of the people. With nearly 3,500 boats being operated on the backwaters of Kuttanad, the toilet waste left behind by the boats is mixing with the water.

Apart from the growth of tourism, the use of chemical fertilizers for agriculture as well as the waste being dumped in Kuttanad from the cities, and that from Sabarimala- have rendered public water bodies unusable.

Most of the people in Kuttanad had rainwater harvesting pits at their houses. The pits served as a source of water. But the floods devastated the rain pits, which led to the water getting contaminated. Now these pits also have to be rebuilt. https://www.thenewsminute.com/article/how-floods-have-worsened-kuttanads-water-pollution-crisis-88018 (8 Sept. 2018)
Bihar Flood threat looms large over Patna after water releases from Bansagar dam Flood threat loomed large over Patna district on Sept. 8 after the Madhya Pradesh govt released 3.55 lakh cusecs of water from Bansagar dam into Sone river that would increase the Ganga water level which is already flowing above the danger mark in Patna.
CWC Hydrograph of Bansagar and Gandhighat Patna (9 Sept. 2018) 
As per earlier information, the Madhya Pradesh government was supposed to release 5.25 lakh to 7.0 lakh cusecs of water from Bansagar into Sone river around 10 pm of 7 Sept, 2018. A Water Resource Development official explained that the water released from Bansagar dam takes two-three days in reaching Indrapuri barrage built across Sone river in Rohtas district. https://www.firstpost.com/india/flood-threat-looms-large-over-patna-after-madhya-pradesh-releases-water-from-bansagar-dam-officials-put-on-alert-5146381.html  (9 Sept. 2018)
Uttar Pradesh IAF rescues 14 people stranded on Jhansi island The Hindi report says that on Aug. 2 morning the gates of Rajghat and Matatila dams were opened causing flash flood in river Betwa affecting about 50 villages along the course downstream. The sudden rise in water level also trapped the villager in river islands on two location.
At Sukuwan-Dunkuwan (Kandhari Kalan) Lalitpur about 6 herders were trapped in an island and at Jhujhanpura village under Garotha tehsil, Jhasi 8 fishermen had to run to an island to save their lives from the sudden deluge in the river. https://www.livehindustan.com/uttar-pradesh/story-14-people-stranded-in-betwa-flood-army-rescued-from-helicopter-2154455.html  (3 Sept. 2018)
The 8 villagers had gone for fishing in Betwa release but got stranded in flash floods. https://timesofindia.indiatimes.com/city/kanpur/up-iaf-rescues-8-people-stranded-on-jhansi-island/articleshow/65648579.cms  (2 Sept. 2018)
Flood situation continues to remain grim in many parts It seems that sudden release of around 5 lakh cusecs from Matatila dam has flooded many villages in along Betwa river in Bundelkhand:
Bundelkhand and western part of the state is now facing the flood fury. After the release of 5 lakh, cusec water from Matatila dam Yamuna and Betwa rivers are in spate flooding many villages in Hamirpur district. http://www.newsonair.com/Main-News-Details.aspx?id=352446  (4 Sept. 2018)
More than a dozen districts have been flooded following heavy rainfall in Uttar Pradesh and the adjoining hilly regions over the past few days, as the toll went up to 325. More than 21 people were reported to have died over the last 48 hours in flood-related incidents, including drowning and wall collapse, across the state, including Shahjahanpur, Amethi and Auraiya districts. https://www.business-standard.com/article/current-affairs/up-flood-death-toll-hits-325-as-rainfall-intensifies-major-rivers-in-spate-118090300634_1.html  (3 Sept. 2018)
Water level in lower stretches of Ganga and Yamuna has increased significantly since last week following flash floods in Chambal, Betwa and Ken rivers: https://timesofindia.indiatimes.com/city/allahabad/ganga-rises-as-betwa-ken-swell-up-admin-on-alert/articleshow/65548448.cms  (26 Aug. 2018)
Ganga in spate in Kanpur following sharp rise in Ken, Betwa, Chamba, Pandu rivers: https://www.hindustantimes.com/india-news/up-floods-14-dead-as-rising-ganga-more-rains-play-havoc-in-kanpur-region/story-yEAbApYSDgYR1IMS6sLLPI.html  (6 Sept. 2018)
Rajasthan Panchna water release puts Rajasthan's Bharatpur village on high alert  Panchna dam with a storage capacity of 258.62 meter touched the danger mark of 257.20 meter following, which the Karauli water resources department opened 5 gates around 4 am on Sept. 6 morning, releasing around 8,000 cubic feet of water per second, to reduce the level of water in the dam.
Karauli district collector, Abhimanyu Kumar said water in the dam has exceeded its storage capacity due to rainfall and inflow from Gambheer river. The region has been battered by heavy rainfall for three consecutive days. All villages in Bharatpur, falling under sub-division Bayana and Rupwas, were put on high alert.  https://www.hindustantimes.com/jaipur/panchna-water-release-puts-rajasthan-s-bharatpur-village-on-high-alert/story-leVQBUxGf1tE3RB5t7SOgP.html  (7 Sept 2018)
Andhra Pradesh- Telangana Srisailam, Sagar projects brimming with water
The Srisailam and Nagarjuna Sagar (NSP) projects are brimming with water, with a storage of 205.23 tmcft (full capacity 215.81) and 300.84 tmcft (312.03) respectively due to copious rains in upper reaches of the River Krishna in Karnataka and Maharashtra. Officials and people have been alerted about the second spell of rains in the catchment area of the Krishna this month.

Prakasam, Nellore, Anantapur, Chittoor, Kurnool and Kadapa districts have 49% deficit rainfall but the overall actual rainfall received by the State so far was 365.10 mm against the normal 411.12 mm, said Water Resources Minister Devineni Umamaheswara Rao.

2,000 tmcft of the Godavari river water was emptied into the sea and 75 tmcft could be utilised. The storage levels in the Tungabhadra, Narayanpur and Almatti dams were nearly full.

Water Resources Minister Devineni Umamaheswara Rao said the second phase of Purushotthapatnam would be inaugurated in the second week of October. Steps were taken to store 12 to 20 tmcft in the Gandikota reservoir and it was targeted to provide 1 tmcft to the Avuku tunnel.

Up to 11,000 cusecs of water was being released every day to fill the reservoirs in the four Rayalaseema districts and nearly 8 tmcft of water in the Vamsadhara was tapped against 52 tmcft that flowed into the sea. A sum of ₹1,000 crore was being spent on the Vamsadhara Stage-II to store 4 to 5 tmcft.

The foundation stone would be laid for interlinking of the Godavari and Penna rivers and the Vaikunthapuram bridge in the first week of October. https://www.thehindu.com/news/national/andhra-pradesh/srisailam-nsp-brimming-with-water-uma/article24850569.ece  (3 Sept. 2018)
Assam Details of Aug. 2018 dam induced flood in Golaghat This details the flooding event of Assam in the last week of July 2018, when suddenly the calm Dhansiri river broke its flood level record at Numaligarh in Golaghat district. The earlier record – set on Sept 24, 1985 – had been 79.87 metres. This time it was 80.18 metres, and stayed above the previous high level for over 60 hours.
The flood in both Dhansiri and Doyang rivers was caused by the North Eastern Electric Power Corporation Limited (NEEPCO) opening all five gates of the 394-metre-tall dam of its 75 MW Doyang Hydroelectric Power Project following heavy rain in the Nagaland hills. The flooding killed five people and caused damage in Nagaland that has been estimated at Rs 800 crore (USD 113 million) by the state govt.https://www.thethirdpole.net/en/2018/09/03/early-warning-a-must-to-cope-with-floods/   (3 Sept. 2018)
MONSOON 2018
Rain deficit at 7%, but water level in reservoirs higher than last year Any reaction to this is welcome: "The rainfall has been deficient in north and eastern India, so reservoirs are expected to be lower than normal storage. But a key factor is that snowfall has also been low this year. The ground water use is also very large and unsustainable, as more water is getting used upstream, and demand is increasing which has decreased the river flow," said Himanshu Thakkar of SANDRP.
 "Though higher storage would be useful for sowing of Rabi crops, in long-term, it is not a good sign, as reservoirs are getting filled up, even when the rainfall is just marginally high and much before the end of the monsoon season. There is huge catchment degradation happening, so rainfall is quickly converting into surface water, especially in the Cauvery basin," said Thakkar. https://www.livemint.com/Politics/9j4kUjEGCsQCkEENxozxqJ/Rain-deficit-at-7-but-water-level-in-reservoirs-higher-tha.html  (7 Sept. 2018)
This website windy.com has interesting presentation of weather data! https://www.windy.com/?28.600,77.200,5
DROUGHT 2018
Maharashtra Jayakwadi, other dams show poor storage due to deficient monsoon Rainfed Kharif crops in Marathwada are likely to be in dire states with such poor rainfalls, practically no rainfall so far in Sept. Even storage situation is worse than last year. https://timesofindia.indiatimes.com/city/aurangabad/jayakwadi-other-dams-show-poor-storage-due-to-deficient-monsoon/articleshow/65745475.cms  (9 Sept. 2018) 
HYDRO POWER
MoEF EAC approves EC for Luhri stage-I project The Minutes of EAC meeting on River Valley Projects held on Aug 27, 2018. They have cleared everything, except deferring one project. They have given environmental clearance to the Luhri Stage I project on last flowing stretch of Sutlej river. The EAC seems to be blind to the reality of inadequate EIA or CIA, inadequate public consultations, non viability of large hydro or state of rivers or even optimality of the project. http://environmentclearance.nic.in/writereaddata/Form-1A/Minutes/07092018LQULR1LRFinalMoM17thEACHydro2782018f.pdf 
Odisha Govt plans ₹3K cr energy storage project Odisha govt, in collaboration with private sector, to set up USD 210 M, 600 MW Pump storage project in Upper Indravati basin as a battery storage project to store the solar power generated during day to use it at night. World Bank's Private Sector arm, International Finance Corporation to to process the bid selection procedure. https://www.livemint.com/Industry/XZjpG6vELONzP90qTESbpO/Odisha-plans-3000-crore-energy-storage-project.html  (4 Sept. 2018)
Himachal Pradesh 100-MW Tidong hydropower project in India acquired by Statkraft Statkraft has acquired the 100-MW Tidong hydropower project under construction in India, saying this is in line with the company's strategy to develop renewable energy generation. Tidong HEP, on the Tidong River in Himachal Pradesh, is about 60% complete. The company also says there is a possibility for further expansion of the site's capacity, which will be evaluated. Statkraft has 49% share in the 108-MW Malana and 192-MW Allain Duhangan hydro facilities. Tidong project is supported by IFC and ADB. https://www.hydroworld.com/articles/2018/09/100-mw-tidong-hydropower-project-in-india-acquired-by-statkraft.html  (9 April 2018)
Op-Ed Power companies going belly up Bharat Jhunjhunwala: Large numbers of thermal and hydroelectric power generation companies are facing bankruptcy. The main reason is that the demand for electricity is not growing as expected. The combined effect of killing of small businesses and shift to services is that the electricity consumption is not growing. It grew at 5.9 per cent in April-May 2017. This growth declined to 3.1 per cent in April-May 2018.
– This low growth in electricity consumption has led to the spot price of electricity remaining flat. According to data from the India Energy Exchange, the average price of electricity in 2017-18 was Rs 3.26 per unit. The thermal projects are viable at a price of Rs 5 to 6 per unit. Thus, they are no longer profitable and are going bankrupt. The cost of generation of electricity by thermal and hydro power plants is also high because of "padding" by the owners.
– The price of solar power in a recent auction in Madhya Pradesh was a meager Rs 1.58 per unit. The cost of thermal power is about Rs 5 per unit and hydropower is around Rs 8 per unit. Thus, purchasers prefer to buy power from the solar projects and not from thermal and hydro plants.
– Thus, the thermal and the hydro companies will continue to go bankrupt. How did we get here? The mischief was done by the Central Electricity Authority. This statutory body has published highly inflated forecasts of electricity demand for many years now. For 2003-04, for example, the CEA had forecast a demand of 467 trillion units in the year 2000. The actual demand in 2003-04 was only 362 Trillion units.
– The officers of the CEA make moolah only if new projects, especially hydro projects, are submitted for approval. In the pursuit of their moolah they have made exaggerated forecasts, and encouraged establishment of large numbers of thermal and hydro projects that are now going bankrupt.The government will do well not to bail out these projects and, in the process, throw more good money after bad. We should let these projects die and focus on the development of solar power generation which is much cheaper and suitable for our natural resources. http://www.thehansindia.com/posts/index/Editorial/2018-09-03/Power-cos-going-belly-up/409411  (3 Sept. 2018)
DAMS
Pancheshwar Dam Revised DPR for Pancheshwar dam sent to project development authority  A fresh, updated version of the second Detailed Project Report, prepared by WAPCOS, was sent last month to Pancheshwar development authority (PDA) which will now forward it to the Indian and Nepalese governments for approval, " a WAPCOS official at Pancheshwar site said on Sept 4, 2018. The previous version was submitted in June 2017.
– Currently, tunnels meant for geological studies are being dug at the dam site, Kulbhusan Thakur, an engineer working with WAPCOS at Pancheswar site in Champawat district of Uttarkhand said. We have to dig a 650-metre tunnel at Pancheshwar and 170 metre for thetunnel at Rupaligar, the WAPCOS engineer said. https://www.business-standard.com/article/pti-stories/revised-dpr-for-pancheshwar-dam-sent-to-project-development-authority-118090400608_1.html  (4 Sept. 2018)
Lakhwar Dam Govt revives controversial dam project A massive dam project on the Yamuna is being revived by the Indian government, despite concerns of environment and financial sustainability, and despite the case against the dam being in court.
The revival of the Lakhwar-Vyasi dam project in the Upper Yamuna basin in Uttarakhand has once again raised the question of the loyalty of the government towards its commitment of conservation of river basins. https://www.thethirdpole.net/en/2018/09/10/indian-government-revives-controversial-dam-project/  (10 Sept. 2018)
Maharashtra Water Level in Amravati dams This link has regular and updated information on water storage in dams of Amravati region in district wise. https://numerical.co.in/numerons/collection/59912ec71d6090dc136dc493  (7 Sept. 2018)
Op-Ed Its time to reengineer our dams K.A.S Mani:- Govts are not the only entities responsible for undertaking irrigation projects, although they might be the most accountable. The modicum of trust placed on the promoters of big dams is often loaded with compromises on the design, management, honesty of conduct and awareness of risks to downstream areas likely to be affected during heavy flooding. Power generation, irrigation and piped water supply remain the limited objectives of dams while flood management and ensuring ecological flow in river beds have been almost completely sidelined.
Environmental degradation is recognised as a small price to pay for economic growth and changes in the microclimate, impact to human lives, habitation, infrastructure and health are thought of as growing pains for larger gains. Governments continue to abuse knowledge-based institutions to compose favourable reports on environmental, social, rehabilitation safeguard norms and so clear various projects. The technical incompetence of regulatory agencies has become a matter of global ridicule.
Hostility to climate change projections led by the US has strengthened many Indian states to come out strongly against the negative impacts, to effectively bulldoze their way through new project approvals. Telangana, Andhra Pradesh and Karnataka have gone overboard with their contempt for climate risks, the environment and safety, in a way that it appears the tragedies in Kerala and Uttarakhand have taught them nothing.
Given the existence of a strong dam-construction lobby, the political significance of the cement and steel structures that prop up these structures is obvious. Opposition to new dams and the decommissioning of older ones is fought tooth and nail by all political groups. In light of this, we should consider reengineering ageing dams as well as make the designs for new ones more inclusive.  https://thewire.in/the-sciences/why-its-time-to-reengineer-our-dams  (10 Sept. 2018)
INTERLINKING OF RIVERS
Study The impact of the river linking project This study shows that India's massive civil engineering project, the National River Linking Project (NRLP), will not only reduce inflow of the northern rivers, but also significantly reduce the sediments deposited by the rivers in deltas. Fertile deltas will be under threat, with coastal erosion expected to threaten the land and livelihoods of local economies that support 160 million people. Important study of how silt flow in many rivers will reduced if Inter Linking of Rivers is taken up, there is of course no impact assessment about this. https://www.thehindu.com/opinion/op-ed/the-impact-of-the-river-linking-project/article24857371.ece  (4 Sept. 2018)
URBAN RIVERS
Pune CIDCO reject PCMC's demand of recycling, treating STP water Planning to tackle the water woes in city, the PCMC wants CIDCO to implement the project to use recycled water. CIDCO had earlier prepared a report with the help of a consultant to use STP recycled water for purposes such as industry, gardening, and vehicle cleaning. The project would co approximately Rs 192 crore and the PCMC wants CIDCO to implement the scheme now.
Two of the STPs are located in Khargar with collective capacity of 95 MLD, while one is located at Kamothe 85 MLD another STP is in Kalambili 50 MLD. CIDCO ahead o the formation of PCMC hasd planned to install a Teritiary treatment system to make use of the STP water.
As per report Taloja MIDC has requirement of 15 MLD. Around 10 MLD of tertiary treated water can be supplied to Golf course, Central Park, garages, major housing socieites having gardens, etc in Khaghar. So MIDC and Khargar node will save 25 MLD of water.
This is bad news for Pune rivers as CIDCO refuses to use recycled STP water, as proposed by PCMC. CIDCO wants PCMC to implement the tertiary treatment plant. https://timesofindia.indiatimes.com/city/navi-mumbai/cidco-rejects-pcmcs-demand-of-recycling-treating-stp-water/articleshow/65639777.cms  (1 Sept. 2018)
RIVERS
SANDRP Blog What ails Ganga: Why Namami Gange is spectacular failure This article reviews what the government has done for Ganga in recent years. https://sandrp.in/2018/09/04/what-ails-ganga-why-namami-gange-is-spectacular-failure/  (4 Sept. 2018)
Part 2 of Ganga article looks at what some official agencies have been saying about Ganga and government's rejuvenation efforts.  Please read and share.  https://sandrp.in/2018/09/05/is-there-hope-from-national-mission-for-clean-ganga-listen-to-official-agencies/  (5 Sept. 2018)
Ganga Protection Corps Govt is proposing armed force in the form of the Ganga Protection Corps (GPC) to impose strict measures that include higher fines and more jail time to those caught polluting the river.
According to the proposal, the GPC will fall under the jurisdiction of the Central government. Responsible for penalising anyone caught trying to pollute or damage the river, the armed force, while following the Code of Criminal Procedure, will take any offenders into custody and to the nearest police station.
Construction work that obstructs the river's flow,

Commercial fishing or aquaculture in the river or its tributaries,

Extraction of ground water for industrial or commercial use from land fronting the river or its tributaries, and

Discharging untreated or treated sewage into the river.
A fine of Rs 50,000 per day or a prison sentence for up to 5 years has been recommended for any person or municipal body that will take any steps resulting in the discharge of sewage or trade effluent into the river.
In addition, those caught practicing commercial fishing will be fined Rs 2 lakh or 2 years in prison or both. Construction of a permanent structure in the active floodplain will invite a sentence of 2 years in prison or Rs 5 lakh or both. https://www.timesnownews.com/mirror-now/in-focus/article/ganga-ganges-river-armed-force-fines-jail-term-pollution-protection-corps-rejuvenation-authority-national-council-draft-proposal/280273  (5 Sept. 2018)
With Parliamentary elections due, a new toy to show the people that govt is doing "something" about Ganga was due. So here it is. Please forget about all the earlier statements and promises about Ganga. https://indianexpress.com/article/india/new-ganga-clean-up-law-plans-armed-force-prison-terms-fines-nitin-gadkari-5340214/  (5 Sept. 2018)
This editorial in Indian Express rightly says about the new proposed law on Ganga: "Such reliance on punitive measures is a disturbing climbdown from the government's Namami Gange project in more ways than one… There is no reason for a law heavy on punitive measures to clean the Ganga."
It also mentions huge gap between words and actions, though unnecessarily diplomatically: "There has been very little, however, by way of giving effect to these plans to ensure people's participation. The Namami Gange website talks of awareness campaigns to curb pollution of the river. But it has nothing on the successes or failures of these projects. Namami Gange, in fact, has been dogged by the failing of other Ganga clean-up projects — the gap between intention and implementation." https://indianexpress.com/article/opinion/editorials/clean-ganga-mission-namami-gange-5341995/  (6 Sept. 2018)
In 2016, a panel headed by retired judge of the Allahabad High Court, Justice Girdhar Malviya, had submitted a draft Bill named 'The National River Ganga (Rejuvenation, Protection and Management) Bill, 2017'.
Subsequently, a four-member panel was set up by the govt to examine that and the ministry has circulated a Cabinet note which includes a revised version of that draft Bill. https://www.hindustantimes.com/india-news/bill-suggests-armed-force-for-protection-of-ganga-punitive-measures-for-polluters/story-8vY1MEyMdtIKEOuXuo4P6M.html  (5 Sept 2018)
Char Dham All Weather Road Project Larger NGT bench to hear plea challenging clearance The NGT Sept. 4 referred to a larger bench a petition challenging the environmental clearance to Char Dham highway project that aims to provide all-weather road connectivity to four holy towns of Uttarakhand. The project, which has an estimated cost of Rs 11,700 crore, will connect holy shrines of Gangotri, Yamunotri, Kedarnath and Badrinath.
A bench of Justices Jawad Rahim and S P Wangdi and expert member Nagin Nanda said that the matter should be heard by a larger bench. NGT Chairperson Justice Adarsh Kumar Goel posted the matter for hearing on Sept 6. https://www.indiatoday.in/india/story/char-dham-highway-project-larger-ngt-bench-to-hear-plea-challenging-clearance-1331979-2018-09-04  (4 Sept. 2018)
'ऑल वेदर रोड' के नाम पर गंगा का हो रहा सत्यानाश' This is based on Indo Asian News Service Release, on Ganga River: देश की सबसे विशाल व पवित्र माने जाने वाली नदी गंगा की हालत खस्ता है। चार धाम यात्रा के लिए बन रहा चार लेन वाला 'ऑल वेदर रोड' सिर्फ और सिर्फ आपदा को निमंत्रण है। उनका कहना है कि इसकी जरूरत किसको है, दरअसल 'ऑल वेदर रोड' के नाम पर पूरी गंगा घाटी का सत्यानाश हो रहा है। लाखों पेड़ बर्बाद हो रहे हैं, यह सिर्फ और सिर्फ आपदा को एक निमंत्रण है। यह कहना है प्रसिद्ध पर्यावरणविद व SANDRP संयोजक हिमांशु ठक्कर का। पर्यावरणविद हिमांशु ठक्कर ने कई जगहों पर गंगा नदी में पानी के सूखने पर आईएएनएस के साथ बातचीत में कहा, गंगा के सूखने के पीछे सबसे बड़ा कारण है जलग्रहण क्षमता की कमी, हमारे यहां जब बारिश होती है तो जलग्रहण में उसके पानी को रोकने, उसे जमा करने और उसका पुनर्भरण करने की क्षमता कम हो रही है। https://hindi.thequint.com/hot-news/onl-vedr-rodd-ke-naam-pr-gngaa-kaa-ho-rhaa-styaanaash  (3 Sept. 2018)
उन्होंने कहा, "इसके साथ ही वनों की कटाई, आद्र भूमि, स्थानीय जल निकायों में कमी की वजह से नदियों का पानी सूख रहा है। दूसरा कारण है कि बांधों और मोड़ों (डाइवर्जन) के कारण पानी पानी बड़े पैमाने पर मुड़ रहा है जिससे गंगा का बहाव कम हो रहा है। तीसरा कारण है भू-जल का जो प्रयोग हो रहा है तो उसके कारण भी गंगा नदी में पानी कम हो रहा है और चौथा कारण जलवायु परिवर्तन है, इसके कारण वाष्पीकरण और पानी का उपयोग दोनों ही बढ़ रहे हैं, जिसके कारण गंगा का पानी सूख रहा है।" http://www.samacharnama.com/gangas-annihilation-in-the-name-of-all-weather-road-know/   (3 Sept. 2018)
गंगा को बचाने के लिए क्या कदम उठाए जाएं, के सवाल पर हिमांशु ठक्कर ने कहा, "अगर गंगा को बचाना है तो हमें सबसे पहले यह देखना होगा कि किन-किन कारणों से गंगा पर गलत असर हो रहा है। दूसरा गंगा में जो प्रदूषण आ रहा है उसे बंद करना होगा। सरकार तो पिछले 30-35 साल से गंगा एक्शन प्लान के नाम पर गंगा को बचाने का प्रयास कर रही है लेकिन उसमें कुछ सफलता अभी तक हासिल नहीं हुई है। प्लान को सफल बनाने के लिए उन्हें पूरे नियमों को बदलना पड़ेगा। चाहे वह गंगा एक्शन प्लान हो या फिर नमामि गंगे दोनों को ही ठीक करना होगा।" https://www.socialpost.news/hindi/national/entire-ganges-annihilation-in-name-of-all-weather-road/  (3 Sept. 2018)
ठक्कर की मानें तो नदी के पानी की गुणवत्ता लगातार खराब हो रही है. जो चिंता का विषय है. यदि गुणवत्ता खराब होगी तो जो लोग नदी के पानी के ऊपर निर्भर हैं, चाहे खेती के लिए हों, उद्योग के लिए हों या फिर घरेलू उपयोग के लिए, उनके लिए बहुत बड़ा खतरा बना हुआ है और आगे के दिनों में यह खतरा और बढ़ता जाएगा।" http://hindi.eenaduindia.com/States/North/Uttarakhand/DehradunCity/2018/09/03215510/river-ganga-badly-affected-due-to-all-weather-road.vpf  (3 Sept. 2018)
ठक्कर के अनुसार, इसका मतलब यह है कि गंगा के पानी का निर्यात हो रहा है और उसकी सब्सिडी सरकार दे रही है, बासमती का भी निर्यात होता है और उस पर भी सरकार सब्सिडी देती है तो हमें अपनी फसल पद्धति बदलनी होगी, और इस तरह की फसलों को कैसे कम किया जाए यह देखना होगा और भू-जल स्तर के नियमन को बेहतर करना होगा। http://www.newsstate.com/india-news/ganga-is-one-of-the-endangered-river-in-this-world-says-wwf-pollution-flood-drought-article-61970.html  (3 Sept. 2018)
गंगा के सूखने का दूसरा बड़ा कारण बांधों और मोड़ों (डाइवर्जन) के कारण पानी बड़े पैमाने पर मुड़ रहा है, जिससे गंगा का बहाव कम हो रहा है, तीसरा कारण है भू-जल का जो प्रयोग हो रहा है उसके कारण भी गंगा नदी में पानी कम हो रहा है और चौथा कारण जलवायु परिवर्तन है, इसके कारण वाष्पीकरण और पानी का उपयोग दोनों ही बढ़ रहे हैं, जिसके कारण गंगा का पानी सूख रहा है।" https://www.navjivanindia.com/news/ganga-is-being-destroyed-in-the-name-of-all-weather-road-its-invitation-to-disaster  (3 Sept. 2018)  
ठक्कर ने कई जगहों पर गंगा नदी में पानी के सूखने पर आईएएनएस के साथ बातचीत में कहा, "गंगा के सूखने के पीछे सबसे बड़ा कारण है जलग्रहण क्षमता की कमी, हमारे यहां जब बारिश होती है तो जलग्रहण में उसके पानी को रोकने, उसे जमा करने और उसका पुनर्भरण करने की क्षमता कम हो रही है।"http://hindi.eenaduindia.com/States/North/Uttarakhand/DehradunCity/2018/09/03215510/river-ganga-badly-affected-due-to-all-weather-road.vpf
View video of MASSIVE BOULDER slide along Kapkot Tejam Road in Bageshwar district of Uttarakhand just before Aug 28, 2018. Result of some reckless road cutting? https://www.youtube.com/watch?v=PZkGCzTircY&feature=youtu.be  (28 Aug. 2018)
Uttar Pradesh 'Kali Nadi' Carries Diseases, Leaves Men Infertile 40 years back, what was a blessing for people across 1200 villages, has now turned into a curse. 'Kali Nadi' (black river), which starts from the Antwara, a district in Muzaffarnagar and ends at Kannauj, is now known as a cause of cancer, skin disease, heart failure, infertility and many such more deadly medical conditions. https://www.indiatimes.com/news/india/the-river-s-curse-kali-nadi-in-up-carries-diseases-in-its-stream-leaves-men-infertile-352469.html  (9 Sept. 2018)
Yamuna Lest we forget the historic Yamuna flood of 1978.  https://indianexpress.com/article/opinion/editorials/forty-years-ago-september-6-1978-delhi-floods-5341999/ (Indian Express, 6 Sept. 2018) 
SAND MINING
Madhya Pradesh Forest ranger mowed down in MP mining mafia's latest attack on officials A Deputy ranger Subedar Singh Kushwaha was crushed to death when he tried to stop a tractor laden with illegally-mined sand in Morena district on Sept. 7 morning, the latest in a series of attacks on officials trying to curb Madhya Pradesh's mining mafia. He was on duty at the forest department post near Ghirona temple in Morena, 480 km north of Bhopal, when the incident took place. Forest guards took him to the hospital but he had already died by then, the police officer said.
The mining mafia in Madhya Pradesh's Chambal region have often targeted police, forest or revenue officials who try to stand in their way.

In March this year, news channel journalist Sandeep Sharma, who reportedly exposed the nexus between police and the sand mining mafia in Chambal region, was run over by a dumper at Bhind district.

Last year, IAS officer Sonia Meena was threatened at gun point by illegal miners when, as a sub-divisional magistrate in Chhattarpur district, she made a bid to check illegal mining in Betwa river. Later, she faced a death threat and complained to chief secretary BP Singh.

In 2016, Narender Sharma, a forest guard who had tried to stop a tractor trolley, had already been run over by the vehicle. A year earlier, constable Dharmendra Chauhan was run over by another vehicle carrying illegally mined sand when he tried to stop it.

In March 2012, IPS officer Narendra Kumar was crushed to death by a tractor-trolley carrying illegally mined stone in Banmore in Morena when he tried to stop the vehicle. https://www.hindustantimes.com/india-news/forest-officer-crushed-to-death-while-trying-to-stop-tractor-with-illegally-mined-sand-in-mp/story-TRtxbmX6HQtkCGjp0ald8M.html (7 Sept. 2018)
A 35-year-old man was arrested early Sept for allegedly running over and killing the Forest Department officer, police said. Police managed to zero in on accused Devendra Gurjar after scouring the CCTV footage of the area, officials said.
Gurjar even opened fired at the police in an attempt to escape when they reached Dhanala village near here to nab him. He was eventually chased down and overpowered, Morena Superintendent of Police Amit Sanghi said.
Officials said sand mafia is active in the region and illegal mining on the Chambal riverbed was threatening the endangered gharial population there. It was damaging eggs laid in the sand by these gharials, a fish-eating species of the crocodile family, they added.
The Madhya Pradesh High Court, in the past, had directed the authorities to curb illegal sand mining. SP Sanghi said the Chambal riverbed was under the jurisdiction of the National Chambal Gharial Wildlife Sanctuary. https://www.outlookindia.com/newsscroll/illegal-sand-mining-tractor-driver-held-for-killing-mp-forest-officer/1379121  (8 Sept. 2018)
Uttar Pradesh Notice regarding Public Hearing on Oct. 5, about sand mining proposal in Yamuna River in Greater Noida. Public Notice by UPPCB regarding Environment Public Hearing of sand mining proposal at Belakalan village on Yamuna bank in Gautambudh Nagar. It will be held on 5 Oct. 2018.
Surprisingly instead of providing relevant documents among concerned citizens and villagers, it just informs that they are available at DM & Tehsil Sadar office, Gautambudh Nagar, MoEF regional office Lucknow, UPPCB office, Lucknow & Greater Noida etc.
As per the rule all the necessary documents are to be given to all concerned in the languages understood by them. https://epaper.jagran.com/ePaperArticle/04-sep-2018-edition-Delhi-City-page_9-3768-7189-4.html  (4 Sept. 2018)
Haryana Illegal mining caused breach in Yamuna canal Illegal sand mining is being cited as main reason behind breach in Western Yamuna Canal embankment at Karnal on Sept. 2 submerging ~2000 acre crop land belonging to adjoining 8 villages. http://epaper.bhaskar.com/detail/112586/09040152370101/cph/map/tabs-1/2018-09-04%2000:00:00/194/5/image/  (4 Sept. 2018)
There have been many instances in past where Govt mismanagement, corruption, carelessness has led to breaching of Yamuna canals & causing immense damage to farmers & villagers: https://sandrp.in/2015/04/17/yamuna-augmentation-canal-breach-man-made-disaster/  (17 April 2018)
Jammu & Kashmir Demand to lift ban on sand extraction from river bed Tractor trailer owners and drivers are demanding lifting of the ban on the extraction of sand and gravel from the Tawi river bed as they allege that carrying material from far-off sites for construction projects in the city is costing them dearly. In this regard, tractor trailer owners have been launching protests since the past two days to urge the authorities to come to their rescue as many have been rendered jobless.
The J&K High Court had 2 years ago imposed a ban to keep a check on the uncontrolled extraction of minerals from local rivers like the Tawi, the nullah near Sidhra bypass bridge, Jajjar nullah and Kattal Battal. Though the ban was imposed to save the Tawi riverbed on which four bridges are constructed, other sites of mining in the peripheries were not brought under the prohibition.
Sources in the department said despite the ban, unabated mining was a regular phenomenon which had not only been causing a huge loss to state exchequer but also damaging strategic bridges, causing soil erosion and impacting the course of the river. "Mining and extraction has always been controlled by a powerful lobby. Though the department makes regular attempts to keep a check on its activities, the lobby has a strong political influence,". https://www.tribuneindia.com/news/jammu-kashmir/demand-to-lift-ban-on-sand-extraction-from-river-bed/649341.html  (8 Sept. 2018)
Maharashtra Mangroves hacked by sand mining mafia, allege fishermen in Navi Mumbai Weeks after the state mangrove cell released a report highlighting a 133-hectare increase in the mangrove cover across 11 locations in the Mumbai Metropolitan Region (MMR), Navi Mumbai residents have alleged that five hectares of mangrove forests have been cleared illegally by the sand mining mafia.
A fishermen's group named Shree Ekvira Aai Pratishthan (SEAP) filed a complaint with the state's wetland grievance redressal committee and the Konkan commissioner on Thursday, alleging that over 1,000 mangrove trees were hacked and sand was being excavated illegally using suction pumps in an area near a creek between Khandeshwar and Mansarovar railway station. The state's wetland grievance committee said they had taken cognisance of the complaint. https://www.hindustantimes.com/mumbai-news/mangroves-hacked-by-sand-mining-mafia-allege-fishermen-in-navi-mumbai/story-EZDRObuVb0eaYsDUczDZlM.html  (8 Sept. 2018)
100 booked for illegal sand mining in Palghar  Police have booked around 100 people and seized 43 trucks for illegal extraction and transportation of sand from the Vaitarna riverbed.  The action followed a crackdown on members of the sand mafia operation in the district by the rural police on Sept. 7 night. Raids were carried out in keeping with the orders of courts which have banned extraction of sand from the river using pumps and their transportation, the said. Around 100 people, including truck owners and drivers, were booked under relevant sections of the IPC, the prevention of Damage to Public Property Act, the Environment (Protection) Rules and other relevant laws. District superintendent of police Gaurav Sing said 43 trucks laden with sand, on car and a JCB machine were seized during the crackdown.  https://timesofindia.indiatimes.com/city/thane/100-booked-for-illegal-sand-mining-in-palghar/articleshow/65743130.cms  (9 Sept. 2018) https://www.thehindu.com/todays-paper/tp-national/tp-mumbai/police-book-100-for-sand-mining-in-palghar/article24912368.ece  (10 Sept. 2018)
Tamil Nadu Sand mining resumes on dry Cauvery bed With a steep fall in the discharge of water from the Stanley Reservoir at Mettur, sand mining works on the dry bed of Cauvery at the govt sand quarry at Kunnipalayam village near Mohanur has resumed. The sand mining activities at the Public Works Department's sand quarry at Kunnipalayam in the district came to a grinding halt due to the floods in the river.
With water flow gradually coming down, the PWD authorities resumed the work of mining the river sand in Kunnipalayam village in Sarkar Manappalli village panchayat near Mohanur a few days ago. The people of Kunnipalayam and surrounding villages have already been opposing sand mining in the river and the setting up of the sand quarry. Following this, adequate police pickets have been posted in the area to maintain law and order, police sources said. https://www.thehindu.com/todays-paper/sand-mining-at-cauvery-quarry-resumes/article24887521.ece  (7 Sept. 2018)
3 fined for sand mining in Coimbatore Three persons were fined for alleged illegal mining of sand that was dug from the elephant proof trench near Periyanaickenpalayam range in Coimbatore forest division. The gang has also taken sand from a nearby patta-land belong to one Kanappan. They were presented before the district forest officer Venkatesan and were fined Rs 10,000 each. https://www.deccanchronicle.com/nation/crime/070918/three-fined-for-sand-mining-in-coimbatore.html  (7 Sept. 2018)
Kerala Riverbeds teem with sand miners Decades of rampant sand mining has rendered the Bharathapuzha river poor apology of its earlier self. However, the rain-induced floods re-deposited large quantities of sand in the river systems indicating a possibility of their revival. But seems like the greed of the sand mafias wont let the river live.
The river-fed areas targeted by the sand mafia after the floods are Shornur, Pattambi, Chalissery and Koppam regions of Palakkad district and Chamravattam and Thirur areas of Malappuram district. Apart from the Bharathapuzha, its feeders such as Gayathri, Kunthi, Karimpuzha and Kalpathy are also on the mafia's hit list.
As the water level started receding in the river, mafias allegedly teamed up with revenue and police officials and worked round-the-clock to steal away the mine of sand and other flood deposits. https://www.thehindu.com/todays-paper/tp-national/tp-kerala/riverbeds-teem-with-sand-miners/article24859794.ece  (4 Sept. 2018)
Andhra Pradesh CCTVs to curb illegal sand mining Following directions from the govt, the district administration has planned to arrange CCTV cameras at sand reaches to prevent violations. The district administration has taken this decision in view of 16 sand lorries and four earth movers ventured into mining violating all established norms in Vamsadhara river at Purusottapuram village in Sarubujjili mandal of Amudalavalasa Assembly segment on July 15 night.  This incident exposed the failure of mines, police, revenue and district administration in preventing illegal mining operations and ban on use of machines at sand reaches. http://www.thehansindia.com/posts/index/Andhra-Pradesh/2018-09-05/CCTVs-to-curb-illegal-sand-mining-/410035  (5 Sept. 2018)
The Andra Pradesh BJP unit alleged that the ruling and also opposition leaders involved in the sand mining scam. Party senior leader Somu Veeraju said that though the CM N Chandrababu Naidu claimed to have introduced the best sand policy, illegal mining of sand is unabated. BJP MLA Vishnu Kumar Raju alleged that Rs 1000 Crore worth scam was taken place in the last four years.  http://www.thehansindia.com/posts/index/Latest-News/2018-09-08/Ruling-and-Opposition-Involves-In-Sand-Mining-Scam–AP-BJP/410757  (8 Sept. 2018)
WETLANDS, LAKES, WATER BODIES
Odisha CDA warns against proposed water aerodrome on Chilika lake The Chilika Development Authority (CDA) has drafted a report recommending the state govt that the proposed water aerodrome over the lake will negatively impact the ecosystem and the surrounding human population, a report accessed by The Indian Express revealed.
CDA's report states that the water aerodrome is not advisable because the "cost involved from operation of sea plane seems to far outweigh the benefits" and the project is also not "legally… feasible".

The movement and sound of seaplanes will "seriously jeopardize" the habitat of Chilika's nearly one million avian visitors, which include 230 bird species and 97 migrants from the Arctic and Eurasian regions, the report states.

The report also states that the sound of seaplanes will affect breeding and navigation of the Irrawady dolphins, which have highly sensitive hearing. Chilika has the largest number of such dolphins in the world and is also one of two lagoons in the world that shelter them, the report states.

The report also lists the legal reasons against the project. Chilika is governed by provisions under Wetlands Conservation and Management Rules 2017, which prohibit its conversion into non-wetland uses. The birds and fish are also likely to hit the planes and risk the lives of passengers, the report says.

Chilika, the second largest brackish water lake in the world, covers Khurda, Puri and Ganjam districts. Situated at the mouth of the Daya River, Chilika is rich in biodiversity and a major tourist attraction in the state. https://indianexpress.com/article/india/odisha-chilika-development-authority-warns-against-aviation-ministrys-proposed-water-aerodrome-on-lake-5343778/ (6 Sept. 2018)
In a letter to the state govt, Chilika Development Authority's chief executive Sushanta Nanda said that the provisions of the Wetland Conservation and Managent Rules, 2017 prohibit conversion for non-wetland uses. Chilika lake is a designated wetland site of international importance under the Ramsar Convention. The proposal would also harm the livelihood of the local population, he said.

Nanda said the lake yields around 14000 tonnes of fish every year providing livelihood to 2 lakh fishermen from 158 primary fishing cooperative societies. The sound and vibration during take-off and landing is likely to adversely affect the breeding of the prized M Cephalus prawn, he added. https://www.hindustantimes.com/india-news/odisha-officials-advise-against-seaplane-service-in-chilika-lake-over-ecological-concerns/story-EHPUeeZBMXwqP1MNjU9uwK.html (6 Sept 2018)
Maharashtra Builder given water body, greens see red  The City and Industrial Development Corporation's (Cidco) controversial plan to award the 35.5-hectare project—the size of four Oval Maidans—to a builder has been challenged in the Bombay high court. Cidco is the planning authority for Navi Mumbai. Apart from environmental concerns, Cidco has tweaked its original 2002 plan for the golf course. The earlier proposal was to utilise about 34 hectares for an 18-hole course and another 1.5 hectares for residential buildings to make the project financially viable. But documents procured through the RTI Act reveal that in 2016, Cidco changed the agreement with builder Mistry Construction to increase the housing area to over 15 hectares while reducing the golf course to 20 hectares.  https://timesofindia.indiatimes.com/city/mumbai/builder-given-water-body-greens-see-red/articleshow/65727460.cms  (8 Sept. 2018)
NGT Wetlands plea disposed NGT disposes wetland plea seeking direction to the government to identify all wetlands within the state as per The Wetlands (Conservation and Management) Rules 2010. The petition had alleged that the Centre had violated sections of the Environment Protection Act 1986 by not taking necessary steps to protect and save the environment which was increasing the risk of losing the wetlands. The Centre is neither notifying wetlands in the country, nor coordinating actions of state governments and other authorities under the Act and the 2010 Rules to identify wetlands within states, it had said. The plea had said it is "abundantly clear" that there is no protection available to a large number of wetlands across the country since these are not listed and hence "losing precious wetlands in the country is very high".https://www.moneycontrol.com/news/business/real-estate/notification-for-identification-of-wetlands-issued-moef-tells-ngt-2921191.html  (5 Sept. 2018)
WATER OPTIONS
Uttar Pradesh Underground Taming of Floods for Irrigation Example of groundwater recharge efforts in Ramganga basin in Western Uttar Pradesh. A technique called Underground Taming of Floods for Irrigation, or UTFI, serves to overcome the spatial and temporal mismatch in water availability that is characteristic of recurrent flood/drought cycles.
Through targeted recharge of excess wet season flows into aquifers, water security is enhanced during dry spells and droughts, making water available for irrigation, which is a critical source of food and livelihoods in many regions. The technique is implemented at the community level and replicated across suitable locations within a river basin so as to mitigate floods more effectively, while also boosting groundwater reserves. http://gripp.iwmi.org/natural-infrastructure/water-retention-3/underground-taming-of-floods-for-irrigation-utfi-2/ 
GROUNDWATER
Maharashtra Groundwater Act: Deadline for sending suggestion extended to Sept 30 The deadline for sending in suggestions and objections for the soon-to-be-introduced Maharashtra Groundwater (Development and Management) Act, 2009, has been extended till September 30. The earlier deadline was August 31 and the one-month extension was announced on Sept. 5. Most of the suggestions received by the state govtin the past one month are from rural areas, the GSDA official said. https://indianexpress.com/article/cities/pune/maharashtra-groundwater-act-deadline-for-sending-suggestion-extended-to-september-30-5342279/  (6 Sept. 2018) 
With the time period to send in suggestions extended till September 30, citizens have given a range of submissions to protect the depleting groundwater sources in the state.

Citizen activists from the state have proposed a number of suggestions and objections for the soon-to-be-introduced Maharashtra Groundwater (Development and Management) Act.

Key suggestions include the formation of a groundwater department at every zilla parishad and urban local body, registration of groundwater sources, complaint logging mechanism and use of water meters, among others.

The suggestions put forth by the group focus on a more participatory approach in the protection, recharge, conservation, and sustainable use of groundwater and its sources.

The group also stated that capacity building and skill development among all concerned government agencies is essential to ensure implementation of rules. https://timesofindia.indiatimes.com/city/pune/citizens-take-part-in-process-to-chalk-out-groundwater-act/articleshow/65746335.cms (10 September 2018)
Tamil Nadu Govt rejects Centre's report on groundwater pollution in Thoothukudi The state govt has rejected a report by Centre on groundwater contamination in Thoothukudi, saying that the study was biased in favour of Vedanta's Sterlite Copper plant. Chief Secretary Girija Vaidyanathan wrote to the secretary of the Union Ministry of Water Resources requesting a withdrawal of the study conducted by the Central Ground Water Board.  The Tamil Nadu official's letter on Sept. 7 said the report could worsen the law and order situation in the district, which had just returned to normalcy. https://scroll.in/latest/893721/sterlite-row-tamil-nadu-rejects-centres-report-on-groundwater-pollution-in-thoothukudi  ( 9 Sept. 2018)
URBAN WATER
Punjab Canal water for 340 villages affected by arsenic, fluoride The state govtwill supply canal water to 340 of the 1,188 villages where arsenic and fluoride content in drinking water is high. The World Bank has, in principle, approved five projects worth Rs 378 crore for supply of drinking water to arsenic and fluoride-affected villages in Amritsar, Gurdaspur, Patiala and Fatehgarh Sahib districts.
Of the 1,188 arsenic and fluoride-affected habitations in the state, 777 are on the list of the Centre which will get 50 per cent funding for their treatment projects. The state govtis sending the proposal for aid for the remaining villages to the Centre.
World Bank approves 5 projects

1,188 villages have high content of arsenic and fluoride in drinking water

Rs 378 cr projects have been approved by the World Bank for supply of drinking water to arsenic and fluoride-affected villages in Amritsar, Gurdaspur, Patiala (2) and Fatehgarh Sahib

777 of 1,188 villages are on the list of Centre which will get 50 per cent funding for treatment projects

197 habitations in Patiala district have fluoride content & 237 habitations in Amritsar have been affected by arsenic https://www.tribuneindia.com/news/punjab/canal-water-for-340-villages-affected-by-arsenic-fluoride/646991.html (3 Sept. 2018)
Telangana 85% consumers say Water Board supply pure and safe: Survey Notwithstanding the brouhaha over the Nizamera water supply network in the city, almost 85% of consumers say okay to the water supplied by the Hyderabad Metropolitan Water Supply and Sewerage Board (HMWS&SB). They contend that the wter is pure and safe to sonsue, while 15% consumers depend on bottled water.
A total of 1200 households in 14 operation and maintenance divisions in GHMC and peripheral areas were part of the survey. The survey was taken up following complaints registered on HMWS&SB's call centre metro customer care which, in turn, asked HIS to undertake the mega study.
The water board has commissioned 40 reservoirs to supply Krishna river water to peripheral circles of GHMC. Once work is completed, the board is planning to commission the remaining 16 reservoirs in a couple of weeks. This could cheer the 60 lakh population of GHMC peripheral circles. https://timesofindia.indiatimes.com/city/hyderabad/85-consumers-say-hyderabad-water-board-supply-pure-and-safe-while-15-depend-on-bottled-water-survey/articleshow/65664686.cms  (4 Sept. 2018)
DELHI WATER
NGT forms panel on potable groundwater NGT constituted the committee to "monitor the situation for six months with a view to enhance the availability of groundwater by adopting suitable measures, check contamination and take a final call on the plans for proper utilisation of treated effluents".
"There is also an issue of encroachment of Delhi floodplains that leads to reducing groundwater recharge. Beyond suggesting sealing of borewells or handpumps, where water is contaminated, no suggestion has come forward for treating the contamination," NGT observed, while constituting the committee.

The monitoring committee will be headed by former Delhi HC Judge S.P. Garg. It will also have representatives from the CPCB, CGWB and jurisdictional SDM, the Bench said.

The committee has been asked to "take stock of all actions taken so far" and prepare a time-bound action plan to deal with the matter.

"The committee may prepare an action plan which shall have targets of ensuring compliance. The district magistrates of the concerned districts will be co-ordinators of their respective districts" the green panel also said. https://www.thehindu.com/news/cities/Delhi/ngt-forms-panel-on-potable-groundwater/article24859006.ece (4 Sept. 2018)
It had earlier directed the Delhi govt to act against unauthorised water extraction in the national capital.
The appalling picture of water supply in the capital had prompted the tribunal to seek the response of the city govt in the matter after taking suo motu cognisance of a media report that said "stinking and dirty" water was flowing through water supply lines and borewells were pumping out contaminated water. https://www.business-standard.com/article/pti-stories/ngt-forms-monitoring-committee-to-prepare-action-plan-on-groundwater-recharge-in-delhi-118090501082_1.html  (5 Sept. 2018) 
AGRICULTURE
Top soil erosion worrying, say experts While the impact of floods on human life and on standing crops is enumerated and studied, as in the case of recent floods in Adilabad and Kumram Bheem Asifabad, the phenomenon of loss of top soil is generally ignored.
According to researchers R.S. Reddy and others who studied soil erosion in the then Andhra Pradesh, quantification of soil loss is useful for extension and planning activities for undertaking control measures. https://www.thehindu.com/todays-paper/tp-national/tp-telangana/top-soil-erosion-worrying-say-experts/article24852173.ece  (3 Sept. 2018)
SOUTH ASIA
Study Global warming will increase water flow in India and other South Asian countries Mismanagement of the water flow will exacerbate floods, water logging and land erosion, experts say.
The South Asia region will see a 20%-30% increase in mean annual runoff for the period 2046-2075 relative to the study baseline period of 1976-2005, says Hongxing Zheng, corresponding author of the study published in August in the Journal of Hydrology: Regional Studies. The study was carried out by the Commonwealth Scientific and Industrial Research Organisation, Australia.
-"The percentage change in precipitation may amplify by 1.5%-2% in wet areas and by more than two per cent in dry areas," Hongxing said. "A spike in mean annual runoff of about 10% is projected for the Indus, Tibetan Plateau and Arakan Coast regions, and about 15% in the Ganges-Brahmaputra, Deccan Plateau and Ghats Coast regions," Hongxing said, adding that the spike will be over 20% in the Narmada-Tapti region and Sri Lanka. https://scroll.in/article/891147/global-warming-will-increase-water-flow-in-india-and-other-south-asian-countries-finds-a-study   (5 Sept. 2018)
India- Pakistan Pak allows inspection of Kotri barrage by India Pakistan will allow India to inspect  the Kotri barrage in lower Indus Basin, while India has allowed Pakistan inspection of various projects on Jhelum River, including Kishanganga HEP. These decisions were taken last week at the Permanent Indus Commission meeting in Lahore. Pakistan team to visit India in last week of Sept 2018, to be followed by Indian Team visit to Pakistan. Pak team would also visit Pakal Dul and Lower Kalnai projects. https://timesofindia.indiatimes.com/india/pak-allows-inspection-of-kotri-barrage-by-india-report/articleshow/65675122.cms   (4 Sept. 2018)
Pakistan Imran Khan Appeals To Pakistanis Living Abroad To Help Build Dams Terming water crisis as Pakistan's biggest challenge, PM Imran Khan on Sept 7 appealed to Pakistanis living abroad to donate towards building dams in the country. In a brief televised address to the nation, he urged those living in the United States and Europe, for donations to the dams fund set up by the Supreme Court. Warning of the rapid depletion in Pakistan's water resources, he said the country would face drought-like conditions by 2025 if immediate steps were not taken. He cited the example of Egypt, which he said had launched a similar drive to build dams using its own resources. https://www.ndtv.com/world-news/imran-khan-appeals-to-pakistanis-living-abroad-to-help-build-dams-1913200  (7 Aug. 2018)
Bangladesh Govt approves Delta Plan 2100 to tap BD's huge potentials The plan, prepared by the General Economics Division (GED) of the Planning Ministry, with assistance from the Dutch govt and the World Bank, is expected to boost the country's GDP growth by another 1.5 percent by 2030.
The short-term measures of the Plan will be implemented by 2030, while the mid-term ones by 2050 and the long-term ones by 2100. The govt will need $37 billion by 2030 for implementing the plan.

The minister mentioned that the Netherlands have been greatly benefitted through adopting such a plan as the country has been able to reclaim around 6,000 square kilometres of land in addition to its mainland.

Under the Plan, 80 projects have been selected for implementation. Sixty-five of the projects will be infrastructural ones while 15 others will be aimed at enhancing institutional capacity, efficiency and research. The required fund for the 80 projects will come from the government, Green Climate Fund, development partners, foreign direct investment and the private sector. http://www.unb.com.bd/category/Bangladesh/govt-approves-delta-plan-2100-to-tap-bds-huge-potentials/1222 (4 Sept. 2018)
Meanwhile a group of Bangladeshi researchers have decoded the genome sequence of the country's national fish, opening up a new horizon to unlock the mysteries of its lifecycle. It will also likely help reveal whether the fish can be domesticated, meaning if they could be cultivated in ponds or other waterbodies and thereby increase its production artificially. https://www.thedailystar.net/frontpage/news/hilsa-mystery-1630519  (7 Sept. 2018)
ASIA
Nature's whims cause water crises. Its infrastructure can stop them ADVOCACY FOR NATURE BASED SOLUTIONS:  Across Asia, man-made structures have stood powerless to avert tragedy after tragedy during 2018's rainy season. Worldwide water crises show no signs of slowing. It is time we paid more attention to nature's own engineering. At times, the best course may be to combine it intelligently with human invention. The time for relying solely on man-made infrastructure has past. We need to work with nature, if we are to temper its own extremes.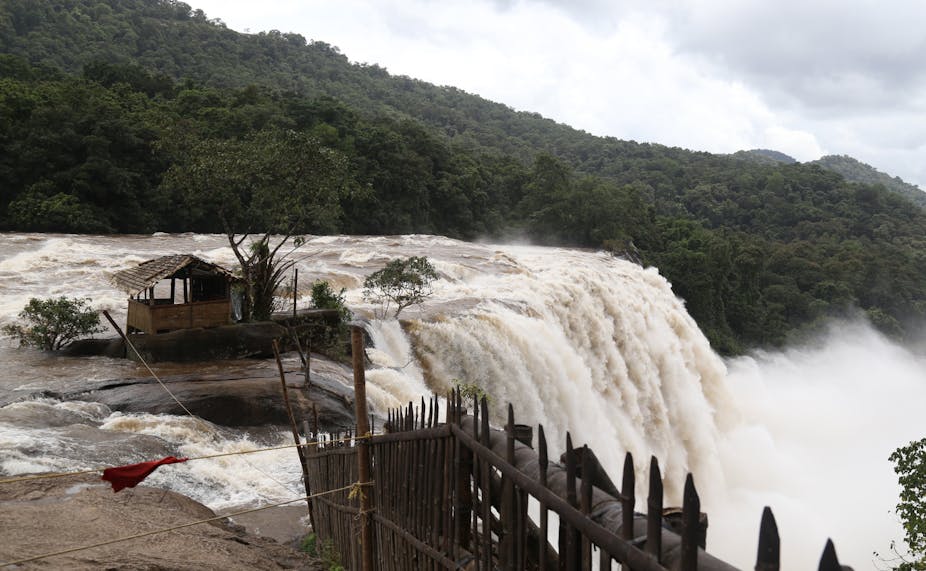 One example of a successful "green" infrastructure approach can be found in the town of Kitui in Kenya, situated 150 km east of Nairobi. The land in Kitui is semi-arid. In response to these challenges, and given the good geological conditions for constructing sand storage dams, the government has budgeted for 2,000 sand dams to be built by 2021. Sand dams are simple dams on seasonal smaller rivers that use naturally accumulated sand behind the dam wall to create a subsurface reservoir for water. Sand dams can store up to 10,000 cubic meters per year.
– The water these dams save can be abstracted throughout the dry season, avoiding problems found with standard dams such as evaporation losses, contamination from other sources and malaria. More water and soil moisture has become available for agriculture, increasing the irrigated crop area by 400%. Typically, the increase in income surpasses the construction and maintenance costs of sand dams. The dams are now spreading to Burkina Faso, Ethiopia, Tanzania and Uganda.
– The article also provides examples from India (Ramganga basin in Western UP) and Colombo, Sri Lanka. https://theconversation.com/natures-whims-cause-water-crises-its-infrastructure-can-stop-them-102413  (4 Sept. 2018)
Egypt Egyptian farmers hit as Nile Delta comes under threat For centuries, the banks of the Nile have been home to farms producing rice as well as cotton and wheat. But now water shortages, soil degradation and pollution have created a crisis that has undermined agriculture in the delta, which is struggling to support millions of impoverished farmers.
Compounding their problems, the river has become a focus of regional tensions since Ethiopia began to construct a $4.8bn hydropower project on the Blue Nile, the source of most of the water reaching Egypt. The Grand Ethiopian Renaissance Dam will be the largest of its kind in Africa and a linchpin of Ethiopia's ambitious plans for economic development. Cairo fears that its already strained water resources will decline further when the dam has been completed.
But the problems in the Nile Delta have been decades in the making. Rising sea levels in the Mediterranean have increased the salinity of underground water and the soil. Population growth has put more pressure on existing water resources, while the mass dumping of industrial waste in irrigation canals has polluted waterways. https://www.ft.com/content/b43bfd4a-a54c-11e8-8ecf-a7ae1beff35b  (4 Sept. 2018)
Iraq Forces open fire on third day of Basra clashes Residents in Iraq's second-largest city are particularly angry over pollution of the water supply, which, they allege, has hospitalised more than 20,000 people.  https://www.aljazeera.com/news/2018/09/iraqi-forces-open-fire-day-basra-clashes-180905162000641.html  (6 Sept. 2018) 
THE REST OF THE WORLD
Mexico Historic presidential decrees create hundreds of water reserves This is old report but interesting, though unclear what exactly water reserves mean in practical terms.The President of Mexico, Enrique Peña Nieto, has signed a series of landmark decrees establishing water reserves in nearly 300 river basins. The decrees will guarantee water supplies for the next 50 years for 45 million people, as well as some of the country's most biodiverse ecosystems and globally important wetland protected areas.
Combined with a handful of existing water reserves, the ten presidential decrees will protect the volume of water in almost half of Mexico's 756 river basins, representing 55 per cent of the country's surface water. The new water reserves will also improve the health and protection of 82 Natural Protected Areas, 64 Ramsar wetlands and Mexico's last free flowing rivers. http://wwf.panda.org/our_work/water/freshwater_news/?328874/Historic-presidential-decrees-creates-hundreds-of-water-reserves-in-Mexico  (5 June 2018)
North America More than 600 turn out for Snake River protest  
Movement in US to remove Snake river dams gathering momentum. http://www.spokesman.com/stories/2018/sep/09/more-than-600-turn-out-for-snake-river-protest-sat/   (8 Sept. 2018)
Research Polluted groundwater likely contaminated South Pacific Ocean coral reefs for decades According to this study, groundwater containing excess nitrogen from agricultural fertilizers likely contaminated coral reefs on the Cook Islands during the second half of the 20th century, continuing for years after fertilizer use stopped. The finding suggests human activities have long-lasting impacts on coral reef communities and could be contributing to their decline. https://phys.org/news/2018-09-polluted-groundwater-contaminated-south-pacific.html  (5 Sept. 2018)
CLIMATE CHANGE
Report Developed nations outsourcing pollution New York Times shows how developed economies like UK are exporting emissions by importing energy intensive products like steel, cement, they real emissions has not reduced, but INCREASED if the footprint of imports is taken into account. https://www.nytimes.com/2018/09/04/climate/outsourcing-carbon-emissions.html  (4 Sept. 2018)
Study Climate-induced changes in continental-scale soil macroporosity may intensify water cycle This study results indicate that soil macroporosity may be altered rapidly in response to climate change and that associated continental-scale changes in soil hydraulic properties may set up unexplored feedbacks between climate and the land surface and thus intensify the water cycle. https://www.nature.com/articles/s41586-018-0463-x   (5 Sept. 2018)
ENVIRONMENT
Goa Ex-Minister Pins Manohar Parrikar"Rs. 144,000 Crore" Mining Case Goa Foundation, an NGO, that approached the Supreme Court against the renewal of 88 mining leases, had filed a petition before the state Lokayukta accusing Mr Parsekar and govt  officers – former mines secretary Pawan Kumar Sain and current mines and geology department director Prasanna Acharya – of being involved in the illegal renewals.
The Supreme Court had in February this year quashed all 88 mining leases which were renewed from November 5, 2014 to January 12, 2015. In view of the Supreme Court order, the extraction of iron ore was stopped in Goa from March 16. Mr Parrikar was chief minister Goa from March 9, 2012 to November 8, 2014, after which he resigned to join the Union cabinet as the defence minister. Mr Parsekar then headed the state govt till March 14, 2017, when Manohar Parrikar again assumed the office, after the BJP-led coalition govt came to power following the Assembly elections. https://www.ndtv.com/india-news/former-goa-chief-minister-blames-manohar-parrikar-in-rs-144-000-crore-mining-case-1912935  (7 Sept. 2018)
Delhi Story Under Every Old, Big Tree EXCELLENT piece about celebrating Urban Ecology in Delhi: The NBCC's redevelopment drive in Delhi sought to disqualify its green cover as a fragmented, apathetic speckle on the face of a concrete jungle. But intimacy is the animating spirit of ecology, urban or otherwise.
The point that Delhi needs more trees has been historically well made, repeatedly, and through protest and petition both. It is the death of irony that the world's most polluted city should think of cutting mature trees that provide oxygen and relief from noise and dust. It also verges on the funny that this is being done with the excuse of planting more saplings, which will take decades to become trees, by which many of those protesting may well have shifted cities. The moot point really is of governance and fake news; for example, why are 11,000 trees being described as thorny shrubs or peripherals?
As planners figure that one out – in the face of surprising civilian and judicial action – one thing is clear: there really is a story under every old, big tree. https://thewire.in/environment/to-find-a-story-under-every-old-big-tree-even-in-delhi  (31 July 2018)
NGT Chief Justice AK Goel to re-hear 18 cases already reserved UNUSUAL, UNPRECEDENTED, NO REASON GIVEN: "This is unfortunate and should have never happened. This is also such a waste of judicial time. A bench can release a reserved judgment citing specific reasons. But not pronouncing judgment within a month, unless that is specified in the NGT rules, is not a reason," said Senior Advocate Rajeev Dhawan.
"I am not aware of any order of the Supreme Court which mandates that a case reserved for judgment should be released because the judgment could not be pronounced within a month of reserving a case," said advocate Ritwik Dutta, the lawyer in two cases that have been "released" for rehearing.
"This is unprecedented. Delay in delivering final judgments is not uncommon. So it is for the Tribunal to spell out why rehearing was necessary," said advocate Sanjay Upadhyay, the lawyer in three cases to be reheard. https://indianexpress.com/article/india/national-green-tribunal-chief-justice-ak-goel-to-re-hear-18-cases-already-reserved-5342173/  (6 Sept. 2018)
National Wildlife Action Plan 2017-31 You may download New National Wildlife Action Plan from WII website. http://wii.gov.in/nwap_2017_31 
Compiled SANDRP (ht.sandrp@gmail.com)
Please also see, DRP News Bulletin 3 Sept. 2018 & DRP News Bulletin 27 Aug. 2018
Follow us on www.facebook.com/sandrp.in; https://twitter.com/Indian_Rivers