While Indian Parliament has not met since March 2020, Civil Society Groups came together and held a Janta (people's) Parliament from Aug 16 to 21 Aug 2020, where citizens from across the country from all walks of life enthusiastically participated. On Aug 18 there was a three hour session on Environment issues (such a session is a rarity in Indian Parliament), as part of which, there was a presentation on Water related issues where SANDRP coordinator was invited to speak. Two water related resolutions were passed among others, by the Janta Parliament, one on Flood Management and another on Urban Water Management. See below for details.
For further details, see:
Resolutions:
http://vikalpsangam.org/article/janta-parliament-resolutions-passed-in-session-on-environment-18-august-2020/#.Xz6kvzVS_wo

Proceedings of the entire session:
https://www.youtube.com/watch?time_continue=38&v=iRuzHuH-o_k&feature=emb_logo
The state of water in India
• Water, Rivers in Covid and Lockdown times: We have all heard Prime Minister downwards during national lockdowns and even thereafter speak about the need for repeated and elaborate hand washing, among other steps to avoid Covid 19. But millions of people in cities and villages across the country do not have sufficient drinking water within their place of residence. Unfortunately, there was no mention of this reality by any of the govt persons during the last five months, nor how to cope with that reality. Union Water Resources Minister now claims (interview in Indian Express published on Aug 17, 2020) that on March 26, Prime Minister suggested to him to study the rivers during lock down and the MoWR studied it. We would like to see those studies in the public domain. Madam Speaker may direct Union Water Resources Ministry to share the same in public domain and also ask them to inform the house how the millions of people who do not have access to drinking water within their residential premises coped during the pandemic.
• Avoidable decisions during the pandemic One expected the government not to take any decisions during these five months where democratic decision making process was not possible. In spite of this reality, the government took a number of decisions of far reaching implications for which there was no immediate urgency and where democratic process was required. The EIA (Environment Impact Assessment) Notification is one of them, the 2020 draft involves further dilution of every aspect of the EIA process related to dams, rivers and other water related projects. Some other such decisions of the govt includ: The decision to push even economically unviable and hugely destructive Etalin Hydro Project in Dibang valley in Arunachal Pradesh through a compromised Forest Advisory Committee process, Reconstitution of the Expert Appraisal Committee for River Valley Projects through a completely non transparent process and selection of members that have Zero environment track record or poor track record, meetings of EAC and NBWL (National Board for Wildlife) where decisions about destructive dams like Lakhwar dam on Yamuna river among others were taken. This house may pass a resolution asking govt to review all such decisions.
• Floods in India in 2020 monsoon: Madam Speaker, the South West Monsoon 2020 has already brought more than our annual share of flood disaster. In spite of all the projects, expenditure and efforts, the annual flood prone area and flood damages have been going up. This year, already over a thousand people have died in monsoon related incidents. Assam has experienced at least three rounds of floods so far. Bihar has seen literally unprecedented water levels in Gandak, Burhi Gandak, Adhwara and Bagmati river basins. Kerala and Kodagu in Karnataka have seen landslides leading to deaths of large number of people. The dam water storage situation is such that another dam induced disaster could happen anytime in Krishna, Godavari, Cauvery and Tapi basins, among others, if we are not careful. As we discuss this, Godavari water levels are rising all across lower basin in Chhattisgarh, Telangana and Andhra Pradesh. The Prime Minister rightly took a Video Conference meeting on this issue on Aug 10, 2020 with Chief Ministers of six key flood affected states. Some of the key issues related to flood disasters this year includes the issues of wrong operation of Dams, breach of Embankments, other structural problems related to use of rivers and floodplains, Non-structural issues including flood forecasting, disaster prevention and disaster management. All of these involve action points that can help hugely reduce the flood disaster. I urge this house to pass a resolution today that urges government to take key actions to reduce flood disasters, including revision of the proposed Dam Safety Act, including operation of dams above 50 MCM live storage capacity in the DSA, legal stipulation for embankment maintenance and decision making and where necessary to decommission them and an independent institute for flood forecasting and flood management. These can go a long way in helping reduce flood disaster and damages.
• Urban Water Management, Rain and Floods This monsoon has again exposed how Rain Water is causing floods in cities and the same cities will cry for water a few months after monsoon. The floods are happening with increasing frequency and intensity in metros as we saw this year already in Mumbai and Hyderabad. We have already seen this year ferocious floods in Jaipur, Dehradun and Vadodara where there has been massive destruction of rivers and drainage. The Urban India's water footprint is relentlessly going up at increasing growth rates, but Urban India is operating in complete policy Vacuum. The Govt has a smart city program, but can any city be smart before it becomes water smart? I would like to propose a resolution here that asks the government to urgently formulate a NATIONAL URBAN WATER POLICY, by a committee of independent minded persons. The policy will guide cities how they can achieve maximum and possibly all use of the rainwater within the city, decentralised sewage treatment to ensure maximum recycling of the treated sewage within the city and thus not only reduce the disasters, but also increase water atmanirbhata of each city and reduce city water footprint. Madam Speaker, Thank you.
Himanshu Thakkar (ht.sandrp@gmail.com), SANDRP
TWO WATER RELATED RESOLUTIONS PASSED BY THE JANTA PARLIAMENT
1. SUBJECT: Improving Flood Management
Having regard to the fact that:
The flood prone area and flood damages per year has been going up, in spite of all the structural and non structural efforts, projects and expenditure for flood management.
There is no accountability or legal regime governing reservoir operation during flood season in India and there are increasing instances when reservoirs, due to wrong operations, have been increasing rather than decreasing the flood disaster impacts;
Most of the embankments have gone past their expiry dates and maximum damages happen when they breach and their breach frequency is going up;
The changing rainfall pattern is making floods more frequent, also increasing the intensity of floods, but our flood management is not responsive to that reality.
This House urges upon the Government to:
Bring operation of all reservoirs of live storage capacity over 50 Million Cubic Meters under the proposed Dam Safety Act with updating of rule curves & emergency action plans keeping in mind updated river cross sections and carrying capacity assessments in the downstream area; similarly, the annual embankments maintenance should be a legal requirement; draft dam safety act should also be amended to bring it under independent authority.;
Bring flood forecasting under an independent agency for flood management, whose mandate should include rivers, reservoirs and areas;
Ensure environmental clearance and hydrological impact assessment for any intervention in any river/ river basin;
Ensure an effective and transparent flood relief mechanism and timely disbursal of National Disaster Relief Fund and State Disaster Relief Fund;
At the end of each flood season, issue a report about what happened with respect to flood disasters, reservoirs, embankments and disaster management, through independent assessments that will also recommend fixing accountability.
2. SUBJECT: Improving Urban Water Management
Having regard to the fact that:
Urban water footprint is increasing and demand for more and more water from outside urban areas is increasing.
The entire urban water sector is operating in policy vacuum, the National Water Policy has little place for it, and the Smart City Program does not even define a water smart city;
The incidence of disastrous urban floods is increasing, with not only big metros but even smaller cities like Jaipur, Dehradun also facing catastrophic floods, most of them being human made disasters;
Urban areas need to consider rain as a resource and need to be fully geared to use it maximally to meet urban consumption needs.
This House urges upon the Government to:
Urgently bring out a National Urban Water Policy in a consultative way, driven by a committee of independent minded persons; this should also define a water smart city, including right to water and equitable water distribution, and steps like consumer accessible water flow metres in homes and offices;
The policy should drive towards use of the rain to the maximum possible extent within the city through rainwater harvesting, groundwater recharge (avoiding any pollution risk), local water storages, promotion of water recharging pavements, rooftops and campuses, ensuring decentralised sewage treatment and recycling;
Ensure that a city gets water from external sources only after exhausting all the local options mentioned above;
Enact legal measures for urban drainage and floodplain; and enable every city to have its flood forecasting and disaster management authority.
HYDRO POWER PROJECTS
SANDRP Blog Srisailam hydro project disaster of Aug 2020 In a fire disaster at Srisailam Left Bank Hydropower Project in Telangana on Krishna River that struck at 1030 pm on Aug 20, 2020, Nine people have died. This article, while providing some details of this tragedy, also gives some other instances where fire disasters have struck at other hydropower projects in India.
The biggest such incident happened at Russia in Aug 2009, the same that Srisailam experienced its biggest disaster, though of different kind on Oct 2. The underlying theme of such disasters is our total disinterest in learning any lessons from such disasters. Plz Read, Share. https://sandrp.in/2020/08/21/srisailam-hydro-project-disaster-of-aug-2020/ (21 Aug. 2020)
-All nine trapped inside a hydroelectric plant in Telangana's Srisailam after a fire broke out late Thursday night were killed, the officials said on Friday (Aug. 21). Of nine bodies recovered, three were identified as assistant engineers — Sundar Naik, Mohan Kumar and Fathima.
-CM K Chandrasekhar Rao ordered a comprehensive enquiry by Crime Investigation Department (CID) into the cause of the accident. Govind Singh, CID's additional director of police, has been appointed as the inquiry officer. Singh has been asked to submit a report at the earliest. https://www.hindustantimes.com/india-news/3-bodies-recovered-from-srisailam-power-plant-fire-mishap-6-still-trapped/story-a4SsxbJX2Dq4pLtnT3dcYO.html (21 Aug. 2020)
-The fire in the underground hydroelectric power station on the left bank of the Srisailam dam came after multiple red flags were raised about the poor maintenance of accompanying structures, including the structural integrity of the dam itself, on which the plant is built.
-A deepening plunge pool — created by erosion of the natural river bed downstream of the dam due to heavy spillage of flood waters — at a distance of about 100 metres from the spillway has been flagged as a potential threat to the dam's long-term safety, even as the cash-strapped state power utilities of both Telangana and Andhra Pradesh have done little over the years to address safety issues.
-The poor financial situation of utilities also typically translates into illegular maintenance and upkeep of other parts of the power plant. The foundation of the dam could be threatened if the plunging pool of over 150 feet were to erode in the direction of the dam – that would require the structure to be repaired and reinforced.
-The issue of the damage to the plunge pool and the downstream apron — layers of mesh grid covered with high-strength concrete — was flagged at the 39th meeting of the National Committee on Dam Safety (NCDS) in Bhubaneswar in February 2019. A panel of experts on dam safety is learnt to have expressed concern over "the erosion of plunge pool located opposite fourth to sixteenth blocks" on the natural course of the river, and entrusted the National Institute of Oceanography (NIO), Goa, with carrying out underwater videography. https://indianexpress.com/article/cities/hyderabad/telangana-powerhouse-fire-srisailam-dam-death-toll-6564812/ (22 Aug. 2020)
Kerala HC orders timely completion of hydroelectric projects Should High Court prescribe deadlines for project implementation? As per the report filed before the court, 84.08 per cent of 60MW Pallivasal extension scheme has been completed. Thottiyar HEP, a 40 MW project, is at 50 per cent now and can be completed by March 2021. Wanchiyam SHEP, which was allotted to private developer, has been transferred to KSIDC for implementation through private participation. Poringalkuthy SHEP (24MW) has reached 90.63% completion and is expected to finish by March 2021. Bhoothathankettu SHEP (24MW) will be completed by May 2021, with present progress at 92 per cent. Sengulam augmentation scheme (85MU) is 70.57 per cent complete and will be ready by March 2022. Upper Kallar SHEP (2MW) is 75 per cent complete, the report revealed.
– The Kerala High Court division bench directed that projects other than Wanchiyam should be completed in accordance with the time period prescribed in the report filed to the court. Regarding Wanchiyam project, the court directed KSIDC to consider the feasibility of the project and take a decision within six months. https://energy.economictimes.indiatimes.com/news/power/hydroelectric-projects-in-kerala-hc-orders-timely-completion/77604068  (18 Aug. 2020)
Jammu & Kashmir Doodhganga valley heading for a disaster
This trekking experience note writes about the environment impacts of the the 7.5 MW  Branwar Hydropower project. "Doodh Ganga also called Chatch Kull originates from the glaciers of Pir Panjaal around mount Shankar Bul Bul located at an altitude4500 metres. The so-called development has destroyed this great river. By changing its historical course for a small Hydropower Project we have simply murdered Doodh Ganga… When the 7.5 MW  Branwar Hydropower project was being constructed more than a decade back a lot of false promises were made with local villagers by political leaders and the Government. Villagers were told that they would get subsidized and 24 x 7 power supply, but that turned out to be only a hoax.
Power position in Branwar, Batwodder, Surasyar, Bonen, Neegu, Kutbal and adjoining villages is still bad. No new conductors or iron pylons were erected. Soon after little rainfall power supply is cut in the entire area. The private company who got the project on a 40 year lease only caused destruction of the environment. They uprooted hundreds of forest trees and wrecked the Doodh Ganga river. The meadow around Metch Khanain was dug with huge JCB's to create a canal for diverting Doodh Ganga waters and then huge Pipes were laid through Haijan meadow. Trucks and lorries went into deep jungle which was virgin until 2010 or 2011. The environmental impact is immense and it is a lesson for those people who say there is a lot of potential for creating new hydropower projects in J&K?" https://www.greaterkashmir.com/news/opinion/doodh-ganga-valley-heading-for-a-disaster/ (22 Aug. 2020)
MoEF Agenda of the Meeting Expert App Committee for River Valley Projects to be held on Aug 31 2020:
1. Jangi Thopan Powari Hydroelectric Project (804 MW), Tehsil Moorang, district Kinnaur, Himachal Pradesh by SJVN – For ToR
2. Satdharu Medium Irrigation Project in Dist Damoh, Madhya Pradesh, by WRD- For Env Clearance
3. Improvement of drainage path of Kalisindh river near Balinda Ghat for prevention of floods in Jhalawar town, dist Jhalawar, Rajasthan by WRD)– Applicability of EIA Notification, ToR
4. Shongtong-Karcham HEP in Dist Kinnaur by HP Power Corp Ltd.-For revalidation of the install capacity vis-à-vis Satluj River Basin Study
5. Discussion on Standard Environment Conditions and Standard Terms of Reference for River Valley Project. http://environmentclearance.nic.in/writereaddata/Form-1A/Agenda/21082020T31D6B9LAgenda2ndEAC.pdf
DAMS
Gujarat Bhadbhut project worries fisherfolks about Hilsa The Bhadbhut barrage on Narmada River where PM Modi was shown black flags in Oct 2017 by local fishermen for its likely impact on fishing patterns, notably those of hilsa. The Rs-4,167-crore Bhadbhut project in Bharuch, it is claimed, will solve freshwater problems in this region of Gujarat. The Gujarat government recently awarded the contract for the barrage to a joint venture of Dilip Buildcon Ltd & Hindustan Construction Company Ltd.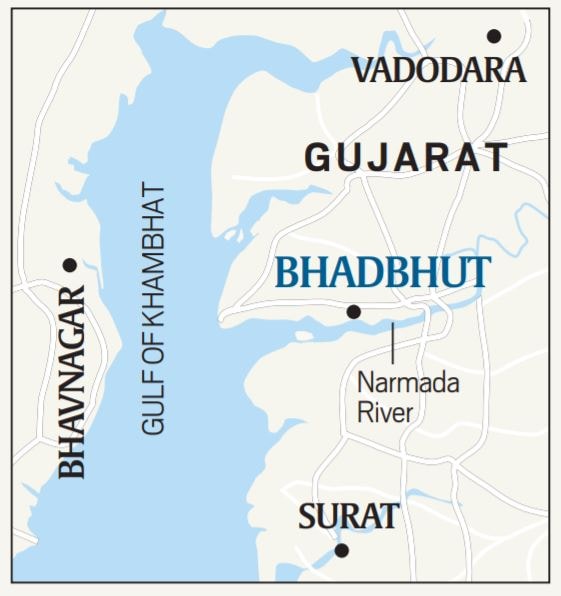 – It is planned to be a 1.7-km causeway-cum-weir barrage with 90 gates, across the river Narmada, 5 km from Bhadbhut village, and 25 km from the mouth of the river, where it flows into the Gulf of Khambhat. The barrage will stop most of the excess water flowing out of the Sardar Sarovar Dam from reaching the sea and thus create a "sweet water lake" of 600 mcm (million cubic metres) on the river. Embankments 22 km long will be made and will extend upstream towards Bharuch, from either side of the river. The sweet water from the reservoir will aim to meet the residential and industrial water requirements of Bharuch, Ankleshwar and Dahej.
– Once the barrage is built, it is expected to block Hilsa's natural entry. Fishermen in Bhadbhut village said that the hilsa catch between July and September every year has dropped to 10-15 fish a day from the earlier 50-100 a day. According to a study by CIFRI, fish production from the Narmada estuary has fallen from 15,889 tonnes in 2006-07 to just 1,618 tonnes in 2014-15. The hilsa catch during the same period has fallen to 419 tonnes from 5,180 tonnes. https://indianexpress.com/article/explained/barrage-across-narmada-promise-of-sweet-water-worries-about-hilsa-6558972/ (18 Aug. 2020)
Odisha HIRAKUD DAM RISKING COLLAPSE? It is no news that the over 60-year-old Hirakud Dam, built over the Mahanadi river, is in a dilapidated condition. Constructed between 1948 and 1956 as a national project, and later transferred to the Odisha government, the dam has developed cracks and is risking a collapse. The team is working to launch a satellite to monitor the Hirakud dam. https://yourstory.com/2020/08/team-vslv-picosat-satellites-hirakud-dam-isro-nasa (19 Aug. 2020)
INTERSTATE WATER DISPUTES
Sutlej Yamuna Link Dispute "Punjab Will Burn If Sutlej-Yamuna Canal Is Built": CM  The meeting today was held on the directions of the Supreme Court, which asked the two chief ministers last month to discuss the completion of the SYL canal. At the meeting, Mr Singh reiterated his demand for a tribunal to make a fresh time-bound assessment of the water availability, even as he sought complete share of water for his state from the total resource available, including from River Yamuna. He, however, said that he was ready to sit and discuss the issue with his Haryana counterpart. "Why would I not agree to give water if we had it," he said at the meeting. https://www.ndtv.com/india-news/amarinder-singh-to-centre-punjab-will-burn-if-sutlej-yamuna-canal-is-built-2281483  (18 Aug. 202)
The 44-year-old Sutlej Yamuna Link (SYL) water controversy was debated by the Haryana and Punjab CMs today (Aug. 18). This meeting is being organised on the directions of the Supreme Court. Both the CMs will join the meeting at 3:00 PM via video conferencing. Union Jal Shakti minister Gajendra Singh Shekhawat will also take part in the meeting as a mediatory. https://www.indiatoday.in/india/story/sutlej-yamuna-link-canal-meeting-1712360-2020-08-18 (18 Aug. 2020)
The meeting on 18 Aug, described by Amarinder Singh as 'positive and cordial', saw the two states sticking to their demands. The meeting did not reach a conclusion and the CMs of Punjab and Haryana will meet again in Chandigarh to discuss the issue, the date for which is yet to be decided.
Singh also reportedly stuck to his demand for a tribunal to make a fresh time-bound assessment of the water availability. "Why would I not agree to give water if we had it," he said, reported NDTV. He also warned that Pakistan was trying to foment trouble by reviving the separatist movement through the banned organisation, Sikhs for Justice, and that the water issue could further destabilise the state, according to PTI.
On the other hand, Khattar argued that the construction of the SYL and the availability of water are two different issues and must not be confused. Adding that Haryana was open for dialogue, Khattar emphasised that the canal should be built and that it should be of adequate capacity to allow Haryana to draw its legitimate share of water. Shekhawat suggested that the SYL could be completed while discussions on water sharing continue. https://www.thequint.com/explainers/explained-sutlej-yamuna-link-dispute-between-punjab-haryana (23 Aug. 2020)
Mekedatu Dam Tamil Nadu CM wanted the CWC and Cauvery Water Management Authority to reject the Mekdatu Dam proposal from Karnataka. "Similarly, Karnataka has been constructing an anicut across Penniyar river against the agreements in force. Tamil Nadu has filed a case before the Supreme Court and based on the courts order, negotiation committee meetings have been held by CWC.As there is no progress in these meetings, we have requested the government of India to form a Tribunal immediately. https://www.outlookindia.com/newsscroll/sanction-cauvery-rejuvenation-plan-tn-tells-centre/1918190 (18 Aug. 2020)
URBAN RIVERS
Bengaluru; Vrishabhavati BBMP begins work on Vrishabhavati retaining wall – Bruhat Bengaluru Mahanagara Palike (BBMP) has taken up  restoration of the retaining wall of Vrishabhavati river that had collapsed on June 25 after heavy rains lashed the city. A portion of the retaining wall of around 140 metres was washed away and the BBMP authorities took temporary measures to prevent further damage to the road by constructing temporary diversion bunds to facilitate the flow of water in the river.
– "The restoration work commenced a few days ago. The BBMP has approved the construction of the retaining wall at a cost of Rs 5 crore,'' said Shiva Prasad, BBMP executive engineer (Storm Water Drains – SWD). According to Prasad, the construction work is expected to be completed in six months. "We are strengthening (constructing) the retaining wall up to 250 metres. The height of the wall would be five-and a-half metres,'' the executive engineer said. https://bangaloremirror.indiatimes.com/bangalore/civic/bbmp-begins-work-on-vrishabhavati-retaining-wall/articleshow/77640810.cms (20 Aug. 2020)
Singh Nullah, Panchkula City ranks 56, residents lay blame on Singh Nullah, garbage mountain One of the major issues is the big nullah that runs between various sectors of the city. The contaminated water body has remained one of the major sources of pollution and nuisance, with people dumping their waste in it. A hefty budget was passed to clean it and develop it on the lines of Chandigarh's leisure valley.
-Another stone to add to the glory of the city is a man-made mountain of garbage that supplements the trans-ghaggar sectors not just in sight but in smell as well. The dumping ground of Panchkula has only ever been increasing in size as plans for remediation of its garbage are discussed in offices.
-Meanwhile, the residents of sectors next to it are given a deaf ear as they complain against it. A home to several rodents, rotting waste and fires that often breakout inside the dump during summers have failed to attract the attention of the officials.
-"The dumping ground has polluted our water, and reports by NGT and others confirm it, but nothing has been done so far. Stray animals, pests and rodents are our neighbours. No work is being done. I have written several letters to the government but no action has been taken. This was supposed to be temporary when it was built in 2008, but it has been 12 years. The rankings are far better than we deserve," says Mittal Bhagwan Das, General secretary of Sector 25.
-The dumping ground possesses four lakh tonnes of waste, which has to be exhumed and divided into wet, dry and other kinds of waste, after which it is to be treated separately. Almost 60 per cent cost of the project is being borne by the state. The NGT has, moreover, ordered the MC to get the work done by April 2021, but at the pace at which it's on-going, the work is set to miss the deadline by a mile. https://indianexpress.com/article/cities/chandigarh/pkula-ranks-56-residents-lay-blame-on-singh-nullah-garbage-mountain-6563653/ (21 Aug. 2020)
RIVERS
The great Indian river question: Three Bills threatening federalism The states are bound to oppose these bills. The Centre recently presented three Bills in Parliament: River Basin Management Bill, 2019, proposing 13 river basin authorities for various river basins; River Water Disputes Bill, 2019, proposing a dispute resolution committee (DRC); and Dam Safety Authority Bill, 2019, which shifts the states' rights and authority over rivers to the Centre.
– MK Ramesh, professor, National Law School of India University, Bengaluru, said the difficulties in resolution of interstate water conflicts have been used to push water into the Union List. There is no concrete evidence to show this is more effective than trusting the states, he said. https://www.downtoearth.org.in/news/water/the-great-indian-river-question-three-bills-threatening-federalism-72913 (19 Aug. 2020)
Assam Attempt to kill blowout in Baghjan oil well aborted Oil India Limited (OIL) on Wednesday (Aug. 19) said that an attempt was made to kill the fire in Baghjan oil well by injecting killing fluids but the operation had to be suspended due to rupture of a casing valve. "In the meanwhile, several other options like drilling of relief wells are being actively evaluated. The state government has again been requested to allot land for drilling relief wells," OIL said in a release.
– "A total of 2,756 families have been surveyed for assessment of damage for compensation till August 18 in Doomdooma and Tinsukia circle," it added.
– It further said: "Oil and Gas Production still continues to be affected due to forceful closure of few oil and gas wells connected to Baghjan EPS. Drilling and workover operation also continue to be affected at a few of the locations due to forceful closure of operation."
-A total of 30,677 metric tonnes of crude oil and 72.21 million metric St cubic metres of natural gas have been lost respectively as a result of protests/blockades/ bandhs in and around the Baghjan area since May 27 due to the blowout. https://energy.economictimes.indiatimes.com/news/oil-and-gas/attempt-to-kill-blowout-in-baghjan-oil-well-aborted-by-oil/77645812 (20 Aug. 2020)
GANGA Jal Shakti Union Water Resources Minister here makes a number of interesting statements, including:
– PM Modi told him on March 26 to study state of rivers during pandemic and MoWR had done that. Request him to make the studies public.
– The new water policy draft will be the final water policy of India!
– He seems disinclined about the Ganga Act, but also says it will happen in due course.
– Agrees Ganga is not yet clean and no deadline can be given! https://indianexpress.com/article/india/gajendra-singh-shekhawat-despite-covid-no-funds-crunch-for-jal-jeevan-will-meet-2024-target-by-all-means-6557626/ (17 Aug. 2020)
New law to make polluters pay? A draft of the proposed law is currently being vetted by multiple authorities before it will be sent for the Cabinet's approval, people familiar with the matter said.
-The proposed law will have a 'polluters-pay' approach, which means illegal factories will be shut down — many have already been closed– and permitted ones will be required to treat their sewage. Certain types of polluting factories will be banned from discharging any sewage into the river.
– However, the government is not in favour of imposing a wider "Pigouvian tax" on polluters affecting the Ganga, a second official said. Named after the English economist Arthur Pigou, a Pigouvan tax is a cost imposed on "externalities", or simply, pollution due to economic activities. https://www.hindustantimes.com/india-news/modi-govt-to-bring-new-law-to-keep-ganga-clean/story-XT0sNAofJAyBiUcF6STg8L.html (19 Aug. 2020)
Uttarakhand 'Passed Without our Consent or Scrutiny': Experts Slam Bhagirathi ZMP The contentious Zonal Master Plan (ZMP) of the Bhagirathi Eco-Sensitive Zone (BESZ) was approved by the MoEFCC last month. However, members of two expert committees – one appointed by the Supreme Court – have said the document neither has their consent, not could they scrutinise it. https://www.newsclick.in/Passed-Without-Consent-Scrutiny-Environment-Experts-Bhagirathi-Zonal-Master-Plan (22 Aug. 2020)
Independent expert members on a committee appointed by the NGT to prepare the Bhagirathi Eco-Sensitive Zone's ZMP and independent members of a panel formed to scrutinise the ZMP have written to the government saying they hadn't approved the final plan released in May.
-The members wrote to the Union water & forest ministries expressing their concerns over the plan released by the latter, saying they had concluded that the document was "flawed" and not in consonance with a 2012 notification of the project.
-One of the main concerns raised by the panel is that the ZMP was to be prepared specifically "in consultation with local people, particularly women". The Bhagirathi Eco-Sensitive Zone stretches from Gaumukh to Uttarkashi in Uttarakhand and covers an area of 4,179.56 square kilometres, including 88 villages.
-But the letter, written by nine independent members, a copy of which has been reviewed by Hindustan Times, stated the draft ZMP was not translated into Hindi and, as a result, was never put before the panchayats and villagers for their comments and suggestions before the final document was prepared. https://www.hindustantimes.com/india-news/locals-not-consulted-on-bhagirathi-plan-experts/story-aEK7o36cNOodOwfQGqdATK.html (24 Aug. 2020)
Also see, A River Story: How the Ganga Visited an Ageing Sage and her Sister Yamuna by Manoj Misra. https://turnslow.com/a-river-story-how-the-ganga-visited-an-ageing-sage-and-her-sister-yamuna/
SANDRP Blog Yamuna restoration & livelihoods of floodplain farmers can co-exist  Migrant workers and farmers are among the worst affected sections of population in the ongoing pandemic and restrictions including lockdown. With staggering increase in infections, spread and deaths on daily basis the crisis is far from over yet.
Amid all this, the Delhi Development Authority (DDA) has resumed eviction drive against farmers and migrant workers eking out livelihood through cultivation of vegetables and plants in nurseries on Yamuna floodplain in Delhi. https://sandrp.in/2020/08/21/yamuna-restoration-livelihoods-of-floodplain-farmers-can-co-exist/   (21 Aug. 2020)
YAMUNA Delhi This video shared few hours ago by a floodplain farmer shows that DDA has been running bulldozer over nurseries of migrants people living near CWG village on Yamuna bank. This is pandemic time. Marginal section of society is already suffering a lot. Amid this, DDA should not destroy the livelihood of river people. After all they are greatly contributing in keeping the floodplain and city green by raising medicinal, ornamental, flowery plants there. DDA also has restoration plans in form of biodiversity park development in which they can be employed as skilled and experienced workers. Crushing their livelihood under bulldozer in the time of global pandemic is criminal and inhuman all together. https://www.facebook.com/sandrp.in/posts/3701612873199692
While DDA has been ineffective in addressing encroachments, abuses of Yamuna riverbed, floodplain by DMRC, NHAI, PWD, DTC; it has started eviction drive against migrants nurseries workers, poor farmers living in Yamuna floodplain amid pandemic when they have already been affected a lot:
– Farmers affected by eviction drive said their livelihoods were already affected by the corona virus lockdown and are now facing further losses. Chain Singh (42), a farmer who lives on the floodplains with his family, said, "I have been here since my childhood, and there are about 400 farmers who grow crops and plants in nurseries here. They could have at least warned before bulldozing our crops. We don't know where to go now or what we will do."
-Bhim Singh Rawat of SANDRP, a collective working on water-related issues, said, "This is the time of a pandemic and the marginal section of the society is already suffering a lot… Crushing their livelihood under a bulldozer is criminal and inhuman," he said. https://indianexpress.com/article/cities/delhi/farmers-asked-to-vacate-encroached-land-ask-where-do-we-go-next-6560505/ (19 Aug. 2020)
The novel coronavirus-forced lockdown has had a positive impact in the Yamuna, with the river increasing its DO levels, a study carried out by researchers at University of Chicago's Tata Centre for Development have found.
The team of researchers used real-time monitoring of the river, comparing the data from February 12 to the readings from May and June, the latest of which was collected on June 5. Despite the improvement, team head at the Water-to-Cloud Project said the Yamuna was nowhere near where it should be — stating the DO levels should be around 4-5 mg/l at the least. The team also said it was possible that the improvement had been due to an increase in the flow of water, with more water being released at this time of the year. Earlier studies by the DPCC & CPCB have found an improvement in the quality of the river during the lockdown as compared to data from before. https://timesofindia.indiatimes.com/city/delhi/lockdown-high-yamuna-water-records-more-oxygen/articleshow/77698061.cms (23 Aug. 2020)
The water level of the Yamuna river in Delhi rose on August 22 following heavy rainfall in the region for the past several days.  https://timesofindia.indiatimes.com/videos/city/delhi/delhi-water-level-of-yamuna-rises-following-rains-over-past-several-days/videoshow/77696515.cms  (22 Aug. 2020)
Fish, Fisheries, Fisherfolks
SAND MINING
Jammu & Kashmir Illegal Riverbed Mining on RanbiAra in South Kashmir Goes on Unchecked The riverbed mining on Rambi Aara (Nallah) a tributary of the River Jhelum flowing through two south Kashmir districts Shopian and Pulwama is going on regularly.
According to the locals, although all the entry and exit points leading to this stream were closed by the local administration a few years ago, however one entry point at Lassipora village continues to remain open, providing a safe passage to the sand mafia. Due to the intensive extraction of sand and stones, the local agricultural land is rapidly sliding and flora and fauna continue to be damaged. https://kashmirunheard.org/2020/08/11/illegal-riverbed-mining-on-ranbiara-in-south-kashmir-goes-on-unchecked/ (11 Aug. 2020)
Sand mining threatens Kashmir's trout industry Fisheries experts from Kashmir have warned that unabated mineral extraction from the valley's rivers, streams and other water bodies poses a grave threat to its important fish industry.
-The Kashmir valley and its Himalayan rivers are famous for trout, Mahaseer and many other fish species, which support a thriving industry and tens of thousands of jobs in the former Indian state of Jammu and Kashmir. https://www.thethirdpole.net/hi/2020/08/18/sand-mining-threatens-kashmirs-trout-industry/ (18 Aug. 2020)
Punjab Mining operations shut in Punjab, yet no shortage of sand, gravel Legal mining is not allowed from the quarries in the state's riverbeds during the monsoon season. Most of the 'dry quarries' (quarries on farmers land), too, have become non-operational as environmental clearance is awaited. Of the 200 quarries in seven mining clusters, only 80 became functional in February after getting environmental clearance. But mining in these quarries is not allowed in the monsoon season (July-September).
Ideally, this should mean a shortage of sand and gravel in the state, but there is no shortage and the material is available easily from quarries in Pathankot, Ropar, Nawanshahr, Ludhiana and Moga. The five mining contractors, who have the contracts for extracting sand and gravel from seven clusters demarcated in the state, have alleged that illegal mining is rampant and is hurting their business. https://www.tribuneindia.com/news/punjab/mining-operations-shut-in-punjab-yet-no-shortage-of-sand-gravel-129883 (23 Aug. 2020)
WATER OPTIONS
Punjab Rain gun being used to irrigate paddy fields helps save 50% water in Sangrur DC Sangrur Ramvir said that this year direct sowing of rice (DSR) has been done on more than 21,000 hectares which is much better than last year's figures of 700 hectares. He added that by adopting the DSR method, the farmers could save around 20 percent of water and other input costs including labor as well. He added that if rain guns will be used to irrigate DSR fields, then the farmers would be able to save 50 percent water as compared to traditional cultivation of paddy. He said that a consolidated report of the outcomes of this trial will be sent to the government after the harvesting of the paddy from the fields for further expansion of this project.
-Meanwhile, chief agriculture officer Jaswinderpal Singh Grewal said that apart from saving water, the rain gun also helps to save electricity. He added that the input cost on urea fertilizer could also decrease as water thrown into the air by the rain gun also absorbs nitrogen from the environment and takes it to the roots of plants. He said that the artificial rain also washed plants regularly which also reduced the threat of pest attack on fields. https://timesofindia.indiatimes.com/city/ludhiana/punjab-rain-gun-being-used-to-irrigate-paddy-fields-helps-save-50-water-in-sangrur/articleshow/77693508.cms (22 Aug. 2020)
GROUNDWATER
Article by Parineeta Dandekar in Loksatta on Aug 22, 2020 on Groundwater lifeline.
https://www.loksatta.com/bara-gaoncha-pani-news/article-on-groundwater-lifeline-abn-97-2252244/  (22 Aug. 2020)
Study Equity over efficiency in groundwater policy Rationing electricity to check groundwater use reduces farm output, but the policy works because it reaches all farmers alike, says a new study. https://www.livemint.com/news/india/equity-over-efficiency-in-groundwater-policy-11597895284739.html (20 Aug. 2020)
URBAN WATER
Pune 90% leaks plugged, Temghar dam to store water at full capacity An irrigation department official on Wednesday (Aug 19, 2020) said the committee of experts monitoring the repair work of the leaking Temghar Dam's wall has given the go ahead to store water at 100% in the reservoir. The Temghar dam releases water into Khadakwasla, the water then flows to the city. The irrigation department has been carrying out repairs of the Temghar dam wall for four years after massive leaks were spotted. The official said about 90% leaks in the wall have so far been plugged. The irrigation department has planned to complete the rest of the repair work once the level in the dam drops in December. https://timesofindia.indiatimes.com/city/pune/90-leaks-plugged-temghar-to-store-water-at-full-capacity/articleshow/77643482.cms (20 Aug. 2020)
Anupam Kashyapi, head of weather, IMD, Pune told TOI that after Aug 12, the city got good rain for 8-10 days, continuously. The ghats and catchments of dams continued to get isolated heavy to very heavy rain, even extremely heavy rains, followed by isolated heavy rain from Aug 15-18.
-"There was another good spell during the first week of August when Pune dams got double to triple digit rains on a couple of days. A couple of low pressure systems have formed over the Bay of Bengal in August, which pushed up rain amounts received in Pune city and district significantly," he added. The four dams that supply water to the city are also nearing 100% storage. The total storage was 94.8% till Friday evening (Aug. 21). https://timesofindia.indiatimes.com/city/pune/city-gets-entire-monsoon-quota-with-bountiful-august-rains/articleshow/77684424.cms (22 Aug. 2020)
Hyderabad No good inflows at Osman, Himayat Sagars Heritage activists and experts say that this horrible situation is the result of illegal construction activity. Though there are ample rains in catchment areas like Vikarabad which received excess rainfall of 488.8 mm against a normal of 371.2 mm, the Osman Sagar has not received much water because most of the water is being used for irrigation purposes. The Musi river, which flows into the reservoir from Vikarabad district, is the major source of inflow into Osman Sagar.
-The HMWSS supplies about 462 MGD (million gallons per day) of water to Hyderabad every day, most of which is taken from the Krishna phase 1, 2 and 3 and Godavari phase 1 projects. The Osman Sagar and Himayat Sagar reservoirs put together, however, supplies only 40 MGD of water.
-Data from the Water Board's various rain gauge stations within and surrounding catchment areas suggests that the conversion of rainfall into inflows has decreased over the years, as the water received in the catchment areas is being impounded with check dams and is being used for raising crops in Vikarabad district and Tandur.
-Activists worry that this horrible situation is the result of illegal construction activity in these catchment areas of the lake but officials say that construction activity is allowed only as per rules of GO 111, which the state government passed years ago to protect the lake. https://www.thehansindia.com/telangana/hyderabad-no-good-inflows-yet-at-osman-himayat-sagars-640773 (21 Aug. 2020)
Delhi North corporation wants STP water for Naini Lake After several attempts to revive Naini Lake, including introduction of floating gardens, North Delhi Municipal Corporation has now started correspondence with Delhi Jal Board (DJB) for supplying water through its nearest STP. The move has come following directions from the monitoring committee constituted by the principal bench of NGT Feb. 2020. The official claimed that the regular supply of water was must to maintain the flora and fauna of the Naini Lake, which is spread over 6 acres and requires 7.2 million litres of water per day. DJB has, meanwhile, also laid out a revival plan through rejuvenation of dying lakes and other waterbodies. https://timesofindia.indiatimes.com/city/delhi/delhi-north-corporation-wants-stp-water-for-naini-lake/articleshow/77699839.cms (23 Aug. 2020)
WATER POLLUTION
Tamil Nadu Madras HC upholds closure of Sterlite The court, in its 815-page judgement, dismissed a batch of writ petitions from Vedanta and others challenging closure of the unit, which was at the centre of massive violent protests over pollution concerns.
– "We are inclined to accept the stand taken by the TNPCB to hold that the increase in the levels of TDS, chloride, sulphate and total hardness are all attributable to the petitioner's operation and therefore the order of closure cannot be stated to be on account of speculation," the verdict said. https://www.theweek.in/wire-updates/national/2020/08/18/lgm5-tn-hc-2nd-ld-sterlite.html (18 Aug. 2020)
Sterlite Copper's closure will deter violators: Experts -The 800-page high court order details several violations, including on disposal of copper slag, on effluents and heavy metals leaching into groundwater, solid waste management, and monitoring air quality. The court also censured the state government and the Tamil Nadu Pollution Control Board for failing to monitor waste disposal at the plant. "The regulator failed to do its job and on account of its default, the petitioner cannot be exonerated," the court said. https://www.livemint.com/companies/news/sterlite-copper-s-closure-will-deter-violators-experts-11597794936451.html (19 Aug. 2020)
Gujarat GPCB slaps penalty of Rs 1.36 cr on 5 industrial units in Vapi -The Gujarat Pollution Control Board (GPCB) has slapped a penalty of Rs 1.36 crore on five industrial units in Vapi over violation of environmental norms, according to an action taken report (ATR) submitted before the National Green Tribunal (NGT) on June 25.
-In November 2019, officials from the GPCB visited the paper mills at GIDC Vapi to determine air pollution. According to the ATR, Vapi region has 32 paper industries that generate plastic waste. The Gujarat Paper Mills Association in Vapi, in association with paper industries, sends plastic waste for co-processing to cement industries. However, the GPCB inspection revealed that five industrial units were burning this waste in the open. https://indianexpress.com/article/cities/ahmedabad/gpcb-slaps-penalty-of-rs-1-36-crore-on-five-industrial-units-in-vapi-6560529/ (19 Aug. 2020)
JJM/ RURAL WATER SUPPLY
Uttar Pradesh Israel model to manage water resources in Bundelkhand Government on Thursday (Aug. 20) signed an agreement with Israel to implement the latter's model for water management in the water-deficient region of Bundelkhand through a joint project. The India-Israel Bundelkhand water project will focus on integrated drip irrigation, reclamation of reservoirs, and augmentation of aquifer recharge, rainwater harvesting and advanced agriculture solutions. https://timesofindia.indiatimes.com/india/bundelkhand-in-up-to-use-israel-model-to-manage-its-water-resources-an-agreement-signed-for-new-project/articleshow/77656876.cms (20 Aug. 2020)
MONSOON 2020
IMD State, sub-division, district, river basin wise cumulative rainfall maps upto Aug 23, 2020
Study Rain extremities may increase in Warangal As part of the study titled 'assessment of water resources and crop yield under future climate scenarios: A case study in Warangal district of Telangana, India' published in Journal of Earth System Science, in March 2020, researchers studied the impact of climate change on the availability of water resources and crop yield of Warangal. From the model predictions, it was found that the maximum amount of rainfall may shift towards August from July and also the amount of rainfall in the month of August may increase in future scenarios. "Warangal has encroachments over ponds and in low-lying areas which has resulted in floods. There is need to have better weather estimations to deal with such events," said Dr Shashidhar Thatikonda, corresponding author of the research paper from IIT-H. https://timesofindia.indiatimes.com/city/hyderabad/rain-extremities-may-increase-in-warangal/articleshow/77610491.cms  (18 Aug. 2020)
Monsoon 2020 Highest monsoon rain of the season recorded last week The week of August 13 to 19 recorded 42% excess rain compared to the long period average (LPA) for the week, according to India Meteorological Department data. This is the highest rainfall received in a week during this monsoon.
-The average rainfall recorded during the August 13 to 16 week is 60.2mm, but the country recorded 85.7mm last week, with 93% excess rain over central India; 56% excess rain over south peninsula; 12% excess rain over northwest India and 23% deficiency over east and northeast India. LPA is the average monsoon rain recorded between 1951 and 2000.
-"All the classical monsoon components were being met. A low pressure area had formed over Bay of Bengal. The monsoon trough (line of low pressure) was south of its normal position (Ganganagar to Bay of Bengal). There were moist, strong south-westerly winds blowing over the north western region. In fact, within a week, we had two low pressure systems—one on August 13 and another on August 19. Monsoon conditions are very active now," said RK Jenamani, a senior scientist at national weather forecasting centre, IMD.
-This also shows that we may have an extended monsoon season this year. "Normally by the last week of August, rainfall reduces very gradually. But this time, the monsoon in July was very weak. It picked up in August, and as of today no monsoon model is showing any likelihood of a reduction in rainfall. A fresh low pressure area is forming over the Bay of Bengal around August 23, which will bring another round of excess rainfall," Jenamani added. https://www.hindustantimes.com/india-news/highest-monsoon-rain-of-the-season-recorded-last-week-imd/story-mqA2ADL1PZrSFveXoKiySI.html (21 Aug. 2020)
Delhi 11 days account for 80% of rain Keeping August 19 aside, just four days — August 13, July 19, July 5 and July 23 — account for almost half of the monsoon rain this year in the capital. And 19.4% of Delhi's total monsoon rainfall (till Tuesday, Aug. 19) happened on August 13. Once rainfall numbers for August 19 become available, the rainfall distribution might become even more skewed. https://www.hindustantimes.com/india-news/11-days-account-for-80-of-delhi-s-monsoon-rainfall-this-year/story-7J8PREKz57eGgR9JdRmvMK.html (20 Aug. 2020)
Uttarakhand 6% deficit rainfall so far in August Between August 1 and August 16, the Himalayan state has received 219.5mm rainfall against a normal of 233.7mm, registering a total departure of -6%, as per the data computed by the Met office. During this period, Bageshwar received the maximum rainfall of 594.9mm against the normal of 157.6mm, with 277% excess rainfall. It was followed by Chamoli, Pithoragarh and Udham Singh Nagar districts, which witnessed 26%, 25% and 8% surplus rainfall respectively.
-Barring these four districts, the remaining nine districts, including state capital Dehradun, experienced rain deficit. Uttarkashi and Pauri Garhwal top the list in this regard, having recorded 53% less than normal rainfall each, followed by Champawat district with 46% deficit, Rudraprayag (-30%), Tehri (-22%), Almora (-14%) and Dehradun (-12%).
-According to Bikram Singh, director, regional meteorological centre, uneven rain distribution is to blame for the overall rain deficit. "While some districts like Bageshwar received excess rains, others didn't get enough. As far as cumulative rainfall in the state is concerned, Uttarakhand is currently staring at a 13% rain deficit, having recorded 655.4mm rainfall against the normal 750.7mm between June 1 to August 12."
-Rains have been wreaking havoc in Uttarakhand from late May this year. Apart from the 49 people who have been reported dead in rain-related incidents, 18 have been injured and five continue to be missing. The maximum number of people (34) have perished in flash floods, followed by 12 in landslides and two in lightning strikes. https://timesofindia.indiatimes.com/city/dehradun/amid-widespread-damage-caused-by-downpour-uttarakhand-records-6-rain-deficit-in-august/articleshow/77597643.cms (18 Aug. 2020)
FLOOD 2020
SANDRP Blog Central India Heavy Downpour brings back nightmare memories of 2019 Chambal Scare: Twenty districts received heavy downpour in 48 hrs ending at 0830 hrs on Aug 23, bringing prospects of floods in Chambal, Narmada, Mahi and Betwa River Basins. https://sandrp.in/2020/08/23/central-india-heavy-downpour-brings-back-nightmare-memories-of-2019-chambal-scare/  (23 Aug. 2020)
Himachal Pradesh Rising water level in Pareechu river from China puts Himachal on alert The rising water level in the Pareechu river, which meanders through the mountains of China-occupied Tibetan Autonomous Region before entering India, has the Himachal Pradesh government on alert. Pareechu is a tributary of the Spiti river that merges with the Sutlej at Khab, a village in tribal Kinnaur district of the hill state.
-"Water in the river has been rising consistently due to clear weather in the mountains which has accelerated glacial melting. We are keeping a close watch but there is no immediate threat. We have apprised the state government," says Somesh Kumar, the executive engineer of the Central Water Commission.
-The Pareechu originates in India, meanders through the mountainous terrain in China-occupied Tibet and then merges into the Sutlej near Samdoh in Lahaul-Spiti district of Himachal Pradesh.
-A glacial lake was formed in 2004 after a landslide in the Tibetan Himalayas on the banks of the Pareechu, causing water to build up into an artificial lake spread over 200 hectares and 60 metres deep. The lake formed behind the landslide dam burst on June 26, 2005.
-Gushing waters washed away the strategic Hindustan-Tibet road and National Highway-22 at a number of places. It swept away 10 bridges and 11 ropeways. Fifteen bridges and eight roads and footbridges were damaged on the 10-km stretch of NH-22 between Wangtoo in Kinnaur and Samdoh in Lahaul-Spiti. No loss of life was reported as the army and civil authorities had evacuated 5,000 people along the Sutlej, anticipating the breach of the lake. The flooding had caused a loss of Rs 800 crore.
-After the 2005 flooding, India and China signed a protocol for sharing information on the water level from the Pareechu. The lakes in the catchment area of the Pareechu are regularly monitored by the Himachal government's State Centre in Climate Change (SCCC) by using satellite data. Last month, scientists had detected two landslides using satellite imagery but ruled out the possibility of flooding at that time. https://www.hindustantimes.com/cities/rising-water-level-in-pareechu-river-from-china-puts-himachal-pradesh-on-alert/story-3Jpt7rs1UxxFesXjcLwI3N.html (19 Aug. 2020)
Karnataka Grim flood scene in North Karnataka districts in Krishna and Cauvery basins. MALAPRABHA: Belagavi Deputy Commissioner MG Hiremath took stock of the situation in flood-prone villages on the banks of the Malaprabha. He visited Naviluteertha Dam in Saundatti taluk and collected information on inflow and outflow from the officials, instructed them to keep a watch on the water level round the clock, and also inform villagers about water to be released. Heavy discharge of water from the Malaprabha dam inundated 15 villages in Gadag district, and cut off connectivity between Hubballi and Vijayapura as NH-218 was flooded. Vehicles are now plying from Ron and Bagalkot roads to reach Vijayapura. The water level in these areas did not recede till Tuesday evening, and the situation is almost a replica of the 2019 floods. Water entered houses and fields in Konnur, Budihal, Vasan and other villages, submerging crops like guava, sugarcane, jowar and maize.
HEMAVATHY: Hemavathi reservoir near Gorur in Hassan district is almost full, and 19,000 cusecs of water is being discharged since Sunday evening. The quantity of water discharge could increase with the downpour continuing in catchment areas. The irrigation consultative committee meeting headed by District Minister Gopalaiah resolved to release water in right, left, Sriramadevara nala and upper canals for standing crops on 10,9671 hectares in parts of Hassan and Mandya districts. https://www.newindianexpress.com/states/karnataka/2020/aug/19/rain-continues-to-come-down-hard-a-repeat-of-2019-floods-2185408.html (19 Aug. 2020)
DAM FLOODS: Malaprabha water entered several villages namely Sunnala, Ulagoppa, Hampiholi, Avaradi, Munavalli in Ramadurga and Savadatti taluks in Belagavi district. Ramadurga-Surebana road has been closed as bridge has gone under water. Naviluteetha dam across Malaprabha has been releasing 26,864 cusecs of water, while inflow is at 37,383 cusecs. Incessant rain at Khanapur taluk resulted in the swelling of water in the river. https://timesofindia.indiatimes.com/city/hubballi/100-families-moved-to-relief-camps-as-flood-water-enters-villages-in-belagavi/articleshow/77599808.cms (18 Aug. 2020)
Andhra Pradesh With Godavari in spate 200 villages reel in flood Both West Godavari and East Godavari districts have been badly affected by the floods. Around 170 villages in East Godavari district (161 villages in 13 blocks apart from 12 more villages in Amalapuram area) of Andhra Pradesh were inundated in flood water of Godavari river, following discharge of nearly 19.06 lakh cusecs of water from Dowleshwaram barrage at Rajahmundry on Monday (Aug. 17) by 3 pm, which was the highest in the last seven years. At Rajahmundry, river ghats and sand ramps were completely inundated along with dredging machines and boats.
– All the seven revenue blocks including Kunavaram, Bhadrachalam (rural), V R Puram, Chintoor, Kukunoor, Velerupadu and Burgampahad which were delinked from Telangana and merged with AP in 2014 were inundated in the backwaters of Polavaram project in West Godavari district.
– At Prakasam barrage in Vijayawada, the authorities lifted all the 70 gates discharging 1.28 lakh cusecs of water, resulting in inundation of several villages downstream in Krishna district, officials said. https://www.hindustantimes.com/india-news/with-godavari-in-spate-200-villages-in-andhra-pradesh-reel-in-flood/story-Jzl5iEGbWhDcUUgyOcCXHI.html  (17 Aug. 2020)
Telangana 2 lakh acres of fields under water due to heavy rains As on Monday (Aug 17, 2020), the rains have inundated two lakh acres rain of agriculture fields in various parts of Telangana, leaving thousands of farmers in a state of shock. ​The floods have mostly affected paddy and cotton fields in the erstwhile districts of Karimnagar, Warangal, Khammam and Mahabubnagar. Over half the damage was reported from Warangal (Urban) and Warangal (Rural) districts, where around 1.15 lakh acres of agricultural fields were submerged. In Bhupalpally and Mulugu, inundation was reported in 10,000 acres and 27,000 acres respectively, whereas in Khammam and Kothagudem, more than 23,000 acres of fields have been flooded. The inundation will most likely have damaged green gram and groundnut crops that are in the harvesting stage. These are spread over 5,000 to 10,000 acres. https://www.newindianexpress.com/states/andhra-pradesh/2020/aug/18/two-lakh-acres-of-telangana-fields-under-water-due-to-heavy-rain-2184817.html (18 Aug. 2020)
Of the 26 crest gates of the dam, 14 were lifted on Sunday (Aug. 23) when water level touched 580 feet, the full reservoir storage level of the dam is 590 feet, reported Sakshi Post. The excess water is being let off into the Pulichintala project. On August 21 morning four of the gates were opened when Nagarjuna Sagar touched 583 feet. Hours later irrigation department officials opened 12 of the crest gates to keep up the water level from breaching the maximum storage level.
Since August 21 officials of Suryapet and Nalgonda district police, revenue authorities and municipality officials have also imposed Section 144 along the Krishna river bank and the Nagarjunasagar dam. Section 144 prohibits assembly of five or more people, holding of public meetings and is being used to prevent tourist activity.
Due to the incessant rains in Telangana, more than 3 lakh acres of crops have been submerged in water, the agriculture department said in its preliminary report. In the recent rains, Warangal rural district was the worst affected with over one lakh acre of crops suffering water inundation. https://www.thenewsminute.com/article/16-crest-gates-nagarjuna-sagar-dam-telangana-opened-due-strong-inflows-131424 (23 Aug. 2020)
Some useful information about Telangana dams here. https://telanganatoday.com/massive-inflows-into-telangana-projects-likely (21 Aug. 2020)
Maharashtra Nasik district administration has sounded an alert across the district after the water levels in various dams went up following good rainfall in August. -The Gangapur Dam, which is located upstream of the Nashik city and supplies drinking water, has 93% water in store. As per the reservoir operation plan, the WRD must maintain certain levels of water considering the copious rain in the catchment areas of the dams.
-If there are more heavy showers, the WRD will be compelled to release water. This could cause flooding in the low-lying areas along the river — most of them in Nashik city and in the twin village Saikheda and Chandori in Niphad taluka. https://timesofindia.indiatimes.com/city/nashik/district-admin-sounds-alert-after-dam-water-levels-increase/articleshow/77698481.cms (23 Aug. 2020)
Bihar Why Ganga has started bringing floods every year The author needs to read the Ganga Water Sharing agreement before writing on the subject. The article makes misinformed analysis. https://pledgetimes.com/why-ganga-has-started-bringing-floods-every-year/   (17 Aug. 2020)
Uttar Pradesh
URBAN FLOODS
Surat Ukai dam releases 1.5 lakh cusecs water Ukai dam authorities are creating Dam Induced Floods even in classical CWC parlance, since outflow is higher than inflow. https://timesofindia.indiatimes.com/city/surat/ukai-dam-releases-1-5-lakh-cusecs-water-in-tapi/articleshow/77641587.cms (20 Aug. 2020)
Gurugram Why did Golf Course Road flood? Agencies say caught by surprise Even as most arterial roads in the city witnessed waterlogging on Wednesday (Aug. 19), the condition of Golf Course Road took government bodies completely by surprise as the stretch had not appeared anywhere in the critical points list that they had prepared.
The developer, DLF, blamed the city's 'insufficient drainage infrastructure'. Till Thursday morning (Aug. 20), nearly 50 to 60 MLD water was pumped out of one of the seven underpasses on the road, in DLF Phase 1. Till the time this report was filed, one of them had not been cleared. Teams from the GMDA and DLF also visited the stretch to identify the cause of the problem.
A GMDA official, requesting anonymity, said that water from the expressway is routed to the Wazirabad dam through Hamilton Court Road. "There seems to be a fault in that connecting link. There was also something amiss with the drainage system of the expressway as water from most parts of the city was pumped out within four hours but it took much longer on Golf Course Road," he said.
Golf Course Road, built for nearly Rs 600 crore in one of the most upscale parts of the city, was unable to handle Wednesday's downpour, recorded at 95mm. The underpasses on the road, where many MNCs, malls, schools, residential complexes and government offices are located, saw 12-15 feet of waterlogging. https://timesofindia.indiatimes.com/city/gurgaon/why-did-golf-course-road-flood-agencies-say-caught-by-surprise/articleshow/77664319.cms (21 Aug. 2020)
GMDA on Friday (Aug. 21) constituted a seven-member expert committee to probe what caused the flooding at numerous spots in Gurugram. Named the Flood Protection Committee, the expert group is tasked with 'submitting a report regarding flooding caused in various parts of Gurugram city due to excessive rains on August 19 and 20.'
GMDA said the committee will comprise engineers from the GMDA, the municipal corporation gurugram (MCG), and a representative of private developer DLF. Their report is expected to be filed within the next seven days.  https://www.hindustantimes.com/gurugram/gmda-committee-to-submit-report-on-floods-within-a-week/story-uOGzZDTbwtsGgM1gIATX0L.html  (21 Aug. 2020)
-The map with this column shows natural drainage channels in the Gurugram region based on the 1971 Survey of India Map. There were hundreds of waterbodies linked to a continuous, overlapping series of bundhs, called the 'Badshahi Bunds', which were indigenous engineering structures.
-By storing water during monsoon, these not only prevented flooding but also recharged groundwater in this semi-arid region. Our ancestors understood this. For example, records clearly indicate that during the monsoon, Ghata lake occupied an area of more than 4 sqkm with water depth of up to 20 feet. According to records that are available, 118 bunds — large and small – existed in the Gurugram-Faridabad region. Most are forgotten names now.
-Modern city planning did not adequately understand or take into consideration the need to preserve and maintain natural drainage lines and lakes. We built our roads and city over these natural drainage lines rather than around them. Some of the roads are in fact built right over the drainage lines and that is why they get flooded within a few minutes of rain. Just 1sqkm of a typical city area generate more than 50,000 cubic metres of water if there is 100mm rainfall. https://timesofindia.indiatimes.com/city/gurgaon/gurgaon-roads-built-on-natural-drains-thats-why-they-flood-so-quickly/articleshow/77644850.cms (20 Aug. 2020)
As per figures released by the district administration, Gurgaon received 23 mm rainfall in the 24 hours ending 8.30 am Wednesday (Aug. 19), with another 95 mm between 8.30 am and 11 am. This, officials say, is "six to seven times" the usual amount of rain received by the city. As a point of comparison, in 2016, 52 mm rainfall wreaked havoc, leading to waterlogging in several parts and causing traffic jams that left several people stranded on the roads for more than six hours. https://indianexpress.com/article/explained/gurgaon-rainfall-waterlogging-weather-forecast-6562508/ (22 Aug. 2020)
Why is Gurugram becoming a sinking city? VS Kundu, CEO, Gurugram Metropolitan Development Authority, and Dikshu C Kukreja, Urban Planner, discuss. https://www.youtube.com/watch?v=0Byn9F-iq50 (20 Aug. 2020)
Hundreds of acres of farmland in Rawta, the last village in Delhi side of the Haryana border, lie submerged under dark-grey sewage and the stink hangs heavy in the area. The 5,000 residents are now wary of rains, because the malodorous mess flows from Gurugram to the village due to the absence of a boundary wall on the Najafgarh drain.
The problem has existed for 20 years, but the magnitude of the problem has just gone up. Earlier, around 120 acres of farmland was affected, but this year sewage has almost entered homes. "Out of 1,000 acres of village land, 70% is under water and almost 10% of the houses within the extended village boundaries have been inundated," claimed farmer Rajnish Phalswal.
Paras Tyagi, who runs the Centre for Youth Culture Law and Environment, an organisation working on issues related to Delhi's villages, revealed that waste water had been flowing into the farms at Rawta since early 2000, but the successive governments hadn't resolved this problem through the building of appropriate infrastructure. "This year, the problem has worsened perhaps due to the construction of several structures along the length of drain up to the Yamuna," said Tyagi. "After 1990, when the panchayat system was abolished in Delhi, it is painful to see that rural areas aren't able to access support from the state government because there's no local leadership."  https://timesofindia.indiatimes.com/city/delhi/joeled/articleshow/77684367.cms  (22 Aug. 2020)
Following Wednesday's (Aug. 19) heavy rain that lashed Gurgaon — 158 mm in 24 hours — water began seeping into homes in Rawta and a few other adjoining villages in Haryana and Delhi. Water levels continued to rise on Sunday (Aug. 23), according to residents. Fields closer to the drain were severely flooded, with two tractors almost completely submerged, they said. Farmers claimed they have disconnected electricity supply in fields closer to the drain as they are unable to access their fields for most part of the year.
"The fields are usually waterlogged around this time every year, and about 500 acres of land around the drain is submerged in water for all 12 months, but homes had not been affected until now," said Rajnish Phalswal, a resident. Farmers said there was no certainty when fields would dry again, with some estimating weeks or months, and claiming that it all depends on stopping the overflow from drains.
MP Parvesh said he has raised the issue in the past with the Chief Minister and Lt-Governor. He claimed the district magistrate had prepared a report according to which around Rs 60 crore was required to build an embankment to stop the overflow, but the Delhi government did not provide funds for it. Since the funds allotted to him is Rs 5 crore per year, he said he cannot assist.
An official from MLA Singh's office said efforts to create an embankment were made in 2015 but some villagers protested against it and work could not be completed. The official said Singh visited the village on Saturday (Aug. 23) and had a meeting with the residents. "Pumps are being set up to remove the water and work will also be undertaken to solve the problem," he said.
The problem faced by this village is a result of steps taken after the 1978 floods in Delhi when embankments were built along the Najafgarh drain to prevent the city from flooding in the future, as per an official of the Delhi Irrigation and Flood Control Department.
However, Rawta village lies in a 5.5-km stretch, along the 57-km-long drain, where the embankment was not built by the then Delhi administration. "The area was supposed to act as a balancing reservoir at the time of floods to prevent the population in dense areas of the city from getting affected. The area around Najafgarh lake is a low-lying area, and it was planned at the time that flood water would collect here and not proceed further," the official said.
In the long term, officials said the issue would only be solved by talks between Delhi and Haryana, and through the medium of the NGT, which is presently hearing a matter to determine if the Najafgarh lake is a wetland or a private land. "If the lake is found to be a wetland, then the land of the farmers in Rawta and other villages in Delhi and Haryana would be acquired by the government," the official said. https://indianexpress.com/article/cities/delhi/submerged-since-last-week-delhi-village-awaits-action-as-crops-suffer-6567122/ (24 Aug. 2020)
गुरुग्राम (Gurugram) के सीवर और बारिश के पानी से दिल्ली (Delhi) और हरियाणा (Haryana) के गांवों के सैकड़ों एकड़ खेत बरबाद हो रहे हैं. लेकिन इसके पीछे की असली वजह हमारा लालच है. दरअसल यहां कभी 7 किमी में फैली नजफगढ़ झील (Najafgarh Lake) होती थी लेकिन अब गुड़गांव की ज्यादातर जमीन पर बहुमंजिला इमारत खड़ी होने से झील सिकुड़ गई. सीवर और बारिश का पानी खेतों में आने लगा. दिल्ली हरियाणा ही नहीं यूपी में NTPC के नाले की वजह से बाढ़ आ गई. https://www.youtube.com/watch?v=WTEiQc2kT-I (21 Aug. 2020)
Dehradun Several areas including Covid Care Centre inside Dehradun Medical college was flooded following heavy rainfall on Aug. 15 night. While blocking of drainage is being cited as main reason behind water logging and flooding, it also appears that storm water drains, stream have been encroached by public, private facilities as the medical college in itself is built on the floodplain of a stream and have blocked another drain there. https://www.rajyasameeksha.com/uttarakhand/13372-water-filled-in-doon-hospital-after-rain (16 Aug. 2020)
Several areas including Covid Care Centre inside Dehradun Medical college was flooded following heavy rainfall on Aug. 15 night. While blocking of drainage is being cited as main reason behind water logging and flooding, it also appears that storm water drains, stream have been encroached by public, private facilities.  https://www.facebook.com/sandrp.in/posts/3701223876571925
This GIF image of 21 May 2005 and 8 May 2020 show that a Dehradun medical college different from that one flooded recently is built on the floodplain of a stream and have blocked another drain there.  https://www.facebook.com/sandrp.in/posts/3701230916571221
Chandigarh Sukhna floodgates opened after heavy rain Floodgates of the Sukhna Lake were opened at 3 am on Sunday morning (Aug. 23) after water levels touched the danger mark of 1,163 feet following heavy rain of around 80.1 mm from late Saturday night (Aug. 22), officials of the engineering wing of the UT administration confirmed.
Water overflowed on the bridge on Bapu Dham Colony in Sector 26, because of which traffic had to be stopped, reports said. Waterlogging was also reported on the bridge on Sukhna Choe, said Sanjeev Shukla, the general secretary of the Sector 26-E Resident Welfare Association (RWA).
Two of the lake's three floodgates were opened with no confirmation on when these would be closed. "The floodgates are still open and we don't have a particular target but we will bring down water levels from 1,163 feet," an engineering official said. Water levels had touched 1,161.7 feet two days ago on August 21 and crossed 1,160 feet on August 13.
Before this, on September 24, 2018, incessant rain in the catchment area had forced officials to open two flood gates of the lake. At the time, the gates were opened after a gap of 10 years. Before 2018, it was in 2008 that floodgates had to be opened when a similar situation was there.https://www.hindustantimes.com/cities/sukhna-floodgates-opened-after-heavy-rain-in-chandigarh/story-lUnIlGrrLiFrYRCvzdOZjK.html (23 Aug. 2020)
August witnessed 339 mm rainfall– the highest in 16 years. Due to heavy rains, the water level here has reached the danger mark. Officials said the neighbouring towns in Punjab and Haryana were informed in advance before opening the gates. Seeing the water level, panic gripped locals in areas close to the Sukhna Choe, which carries water to the Ghaggar.
According to a police official at the Baltana police post, water entered the post last night, creating panic among employees. Water also entered the MC park adjoining police post. Khuda Lahora colony residents had a tough time as water entered their houses while they were asleep at 1 am. Residents said about 80-100 were affected as water from Patiala Ki Rao choe entered inside kitchens and rooms. https://www.tribuneindia.com/news/chandigarh/sukhna-floodgates-opened-after-water-level-reaches-danger-mark-130247 (23 Aug. 2020)
Opinion Massive Road Network Is Drowning Indian Cities by Manoj Misra From a flooding point of view what is also important is the regular maintenance of these roads and road side drains so that monsoon period runoff from them does not get choked. But the proverbial 'too many cooks' syndrome acts here too for the road network in Delhi is being developed and maintained by NHAI, PWD, MCD, NDMC, Delhi Cantonment Board and DDA and it is thus easy to shift blame. And what is applicable to Delhi must apply to other cities too like Mumbai, Chennai, Bengaluru and Kolkata. High time, an expert technical audit of roads and their impact on urban flooding in our cities was carried out. https://thedialogue.co.in/article/dCWtmo6DgDX4ot99Rb7S  (22 Aug. 2020)
Study Rapid urban growth in Delhi hits recharge zones Around a third of urban land developed in Delhi between 2000 and 2015 fell in high recharge potential zones, thereby rendering the soil there impermeable to water and considerably reducing the groundwater recharge potential. The change in built-up covered area calculated in an on-going research project by World Resources Institute (WRI) India is an increase of 745 square kilometres within a 50-kilometre radius from the centre of the city, of which 33% are sited in high recharge zones.
The study defined high recharge zones as catchment areas of stormwater drains or parts of drainage channels, as well as low-lying vegetation areas. If 'medium' recharge zones are considered, around 90% of the development took place in the two crucial zones within 20km of the city centre, and 92% within 20-50km from the city centre.
Of the 10 most populous cities assessed in the study – Ahmedabad, Bengaluru, Chennai, Delhi, Hyderabad, Jaipur, Kolkata, Mumbai, Pune and Surat – the Karnataka capital fared the worst, recording nearly 75% of its development in high and very high recharge potential zones.
Overall, Delhi added 745 sq km of built-up area in the 15 years being reviewed. Of this, 590 sq km were in a 20-50 km radius from the city centre, representing an increase of 116% since 2000. In comparison, there was only a 22% increase within a 0-20km radius from the city centre. https://timesofindia.indiatimes.com/city/delhi/rapid-urban-growth-in-delhi-hits-recharge-zones/articleshow/77699468.cms  (23 Aug. 2020)
LANDSLIDES
Uttarakhand Recurring landslides -Several parts of Uttarakhand received 'very heavy to extremely heavy' rainfall on Saturday night (Aug. 15) resulting in recurring landslides and temporary closure of over 80 roads, including national highways. The Rishikesh-Badrinath national highway was blocked at Joshimath and near Baba Ashram. According to the state emergency operation centre (SEOC), 21 roads, mostly link roads, were blocked in Chamoli district.
-Kedarnath NH was also obstructed near Gaurikund, and efforts to open the highway were hindered by intermittent showers, the disaster management department said. In Pauri district, as many as 20 roads were blocked due to heavy rains. The Met department has predicted further rains especially in the Kumaon region. https://timesofindia.indiatimes.com/city/dehradun/recurring-landslides-lead-to-blocked-roads-across-state/articleshow/77578605.cms (17 Aug. 2020)
Landslide on Badrinath Highway. https://www.youtube.com/watch?v=5iANx5NCO6U&feature=youtu.be (23 Aug. 2020)
Landslide blocks Gangotri Highway. https://www.youtube.com/watch?v=SXkEym4kIBs (20 Aug. 2020)
The Durmi Taal in Nijmula valley of Chamoli mentioned in this Hindi news seems the Gohna lake area on Birahi Ganga a tributary of Alaknanda river where catastrophic event of landslide lake breach took place in Aug. 1894.
-Google earth search, maps also show Durmital as Gohna lake, if both lakes are same then the other information in the report such as the lake breached in 1971 floods and before that was one of attractive tourist place providing livelihood to locals through boating, is incorrect. https://www.rajyasameeksha.com/uttarakhand/13398-50-year-old-boat-found-in-chamoli-district (17 Aug. 2020)
Himachal Pradesh Multiple landslides at Kangra The area surrounding Kangra has been experiencing very heavy rain since Sunday night (Aug. 16) with Gaggal recording the maximum rainfall in Himachal Pradesh with 127 mm followed by Nagrota Surian with 71 mm, Guler with 62 mm and Jogindernagar with 56 mm.
-The heavy rains led to landslides that disrupted vehicular traffic as several roads were blocked. Debris due to heavy landslide in Shimla-Matour National Highway 88 near Samela Tunnel led to halting of vehicular traffic. Apart from this, Sameerpur-Kangra Link Road, Old Kangra Contact Road and Rajal-Nandrul-Kangra Road have also been closed due to damage to the roads. https://www.indiatoday.in/india/story/himachal-heavy-rains-multiple-landslides-in-kangra-2-jawans-killed-in-car-crash-1712316-2020-08-18 (18 Aug. 2020)
CLOUD BURSTS
Uttarakhand Uttarkashi villagers observe 'black day' to protest lack of relief, a year after Arakot cloudburst Villagers of Mori in Uttarkashi observed a 'Black Day' on Tuesday (Aug. 18), to mark the first anniversary of the Arakot cloudburst, which claimed over a dozen lives and caused widespread devastation in the region. The villagers expressed anger that even after a year, rehabilitation work was slow and basic facilities in the area were still lacking.
-The villagers assembled under the banner of Bangaan Sangharsh Samiti at Tikochi village, which was one of the three most affected villages, the others being Makuri and Arakot. At the meeting, the villagers paid tributes to the victims of the disaster and expressed their resentment against the government by wearing black armbands.
-They demanded that government departments involved in the disaster restoration works reveal details of money spent in their name, and also demanded waiver of agriculture loans and allotment of land to affected people. They also threatened to begin an intensive protest if the government failed to fulfill their demands within 10 days.
-Former gram pradhan of Chivan village, Upendra Singh Chauhan, said, "After the cloudburst, the state government launched a large-scale relief operation and assured to bring back normalcy at the earliest. However, soon after the initial relief operation was completed, government agencies stopped rehabilitation work and the government washed its hands off after distributing relief cheques worth a mere Rs 1,000-Rs 7,000." He added, "Basic facilities like roads, bridges, irrigation canals, water and electricity supply are still in poor shape. We feel we've simply been abandoned. https://timesofindia.indiatimes.com/city/dehradun/uttarkashi-villagers-observe-black-day-to-protest-lack-of-relief-a-year-after-arakot-cloudburst/articleshow/77619104.cms (19 Aug. 2020)
ENVIRONMENT
EIA Draft 2020 Jairam Ramesh on Draft EIA 2020
https://youtu.be/jSgxfKVt-Rk (17 Aug. 2020)
Karnataka Restoration project helping revive ecology, community livelihood  Jeddiah has been leading his team of 20 people into the reserved forests around Karnataka's Bandipur for the last 10 years. Their mission is to restore areas, degraded due to invasive species like Lantana camara and anthropogenic factors such as cattle grazing and fuelwood collection, back to biodiverse habitats. Jeddiah's is one of three community eco-development groups, comprising around 50 villagers, living at the edge of Bandipur Tiger Reserve. They are trained and supported by Junglescapes, a grassroots non-profit working on ecological restoration since 2008.  Working in collaboration with the forest department, these community groups have helped restore over 1,000 hectares of forests to healthy habitats for wildlife with a significant increase in diversity and abundance of flora and fauna. While the restoration benefits the indigenous community groups, biodiversity often gains more. At a conservative estimate at least 20 per cent of our forest ecosystems may need to be restored. Multiplying this by a factor of two to account for other ecosystems, we are looking at a restoration economy of almost a trillion rupees spread over the next 20 years. https://www.downtoearth.org.in/blog/forests/how-a-restoration-project-in-karnataka-helped-revive-ecology-community-livelihood-72901  (18 Aug. 2020)
Report Compensatory afforestation: 70% data with ministry incorrect: forest officer About 70 per cent data on compensatory afforestation was "incorrect or incomplete", according to a letter Inspector General of Forest, AK Mohanty. The letter, dated August 10, 2020, was sent to principal secretaries for forests of all states and Union territories. The data in question was for work done under the Compensatory Afforestation Fund Act, 2016 and uploaded on the ministry's e-Green portal.
– The letter stated: "It is being continuously observed that despite repeated requests from the Forest Survey of India (FSI), a significant percentage of data being uploaded, particularly the polygons, is either incorrect or incomplete. For example, only 30 per cent of the uploaded polygons have been found to be correct as of now."
– "This points to a bigger, systemic problem: Who are forests and afforestation programmes meant for? The primary stakeholders are local communities, because India's forests have co-evolved with human presence. So, these kind of centralised systems will never work unless they are complemented with local communities and both decide as well as monitor what happens to their forests," said Sharachchandra Lele. https://www.downtoearth.org.in/news/forests/compensatory-afforestation-70-data-with-ministry-incorrect-writes-top-forest-officer-72915 (19 Aug. 2020)
MoEF Ministry brings all regional offices under one roof, new set-up from Oct – MoEFCC has reorganized its regional and sub-regional offices in the country from 29 to 19. Now, all the offices will be under one roof and called as integrated regional offices (IROs) to be headed by deputy director general of forest (Dy DGF) called as regional officer. The IROs will start functioning from October 1. The issue was discussed at a meeting headed by director general of forests Sanjay Kumar on May 2. All regional environment ministry heads and NTCA, CZA, FSI and WCCB office in-charge working under MoEFCC attended.
-Now, the IROs will include offices of National Tiger Conservation Authority (NTCA), Central Zoo Authority (CZA), Forest Survey of India (FSI) and Wildlife Crime Control Bureau (WCCB). In Nagpur, NTCA regional office will also be merged with MoEFCC office.
– Though the decision has been taken in a bid to provide synergy and strength, and make regional offices more effective, there is still ambiguity about the notification as to whom the CZA, FSI, WCCB and NTCA officials report.
– "We have read the reorganization notification which is ambiguous. The mandate of NTCA is completely different and the conservation interests may not match with the regional empowered committees (RECs). We fear there should not be two power centres," said a section of NTCA officials. Pleading anonymity, they said NTCA has been constituted under provisions of Wildlife (Protection) Act, 1972. "Can regional officers under the new structure be authorized under WPA?" they asked. https://timesofindia.indiatimes.com/city/nagpur/environment-ministry-brings-all-regional-offices-under-one-roof-new-set-up-from-oct/articleshow/77600730.cms (18 Aug. 2020)
Tamil Nadu Geotextile tubes to be laid along Bommayarpalayam coast to check erosion and reclaim beach Fisheries Department will soon begin work on laying geotextile tubes filled with slurry (mixture of sand and water) as a shore protection measure to prevent beach erosion and reclaim the shoreline at Bommayarpalayam. The National Institute of Ocean Technology (NIOT), which has experience in laying geotextile tubes at Kadalur Periyakuppam in Chengalpattu district, has prepared a Detailed Project Report (DPR) for the Bommayarpalayam project.
-"Tenders for the project, costing ₹19 crore, have been opened and the contractor has been finalised. This project has already been proved successful and Bommayarpalayam will be the first pilot project to be taken up by the Fisheries Department in the State," a senior official said.
-Funds for the project have been sanctioned from the National Bank for Agriculture and Rural Development (NABARD). The Fisheries Department has already completed the Bathymetry survey and shared the details with NIOT. The alignment will be finalised by NIOT through GPS (Global Positioning System) and the offshore submerged dyke using geotextile tubes will laid at a distance of four metres from Chart Datum Level offshore. https://www.thehindu.com/news/national/tamil-nadu/geotextile-tubes-to-be-laid-along-bommayarpalayam-coast-to-check-erosion-and-reclaim-beach/article32411129.ece (21 Aug. 2020)
Goa NGT orders 46.11 sq km to be notified as private forest -The Goa Foundation had filed a petition in the NGT alleging that the state was dragging its feet on demarcating private forests in the state according to the directives of the Supreme Court. The NGT has directed the Goa government to finally notify an area of 46.11 square kilometres as 'private forest', bringing to close a more than two-decade old issue in which various committees were set up seeking to include or exclude plots as private forests in Goa.
-In an order issued on a petition filed by the Goa Foundation, the NGT bench of Justice Sheo Kumar Singh and Satyawan Singh Garbyal, expert member, directed that the "41.20 sq km area demarcated by Forest Department and 4.91 sq km identified by the Sharma Committee totalling 46.11 sq km be confirmed and accepted as private forest." "The Chief Secretary of State Government of Goa is directed to notify the same and make suitable entries in the Revenue records in accordance with rules immediately as soon as possible," the NGT said. https://www.hindustantimes.com/india-news/ngt-orders-46-11-sq-km-to-be-notified-as-private-forest-in-goa/story-JajZyriCQunMJ0lj2seRGI.html (20 Aug. 2020)
Uttarakhand Over 2.5k trees including British-era Sal forest to be cut for express way Of the 2,572 trees that are slated for felling, 1,622 (60% of the lot) are the 'Doon Sal' trees, according to details exclusively accessed by TOI. Experts say the British-era trees, some of them 100 to 120 years old, would be nearly impossible to regrow and regenerate as they have "reached their climax". Apart from the 2,572 trees that are listed, several smaller trees are also going to be chopped. Sources said that these trees aren't even counted as their diameters are less than 10 cm and girth not more than 31.4. Such trees are tagged "pole crop" and "not counted when marking of a tree is done for felling", said a source.
-The elevated expressway, which will cut the distance between Delhi and Dehradun from 272 km to 180 km, will cost around Rs 10,000 crore. The expressway will start from Akshardham in Delhi and culminate at Asharodi check post in Dehradun, connecting Delhi, Uttar Pradesh and Uttarakhand.
-Environmentalist Ravi Chopra, who is spearheading a Supreme Court-appointed Committee on the All-Weather Char Dham road project, said, "The slopes of the Shivalik ranges are extremely prone to erosion and therefore need a green cover to remain stable. Cutting the trees here and planting them "elsewhere" will not save these slopes. The instability of the slopes will become a critical issue."
-For the Char Dham road project alone, Uttarakhand has lost over 28,000 trees and is set to lose more. Experts say that the small Himalayan state has witnessed extensive fragmentation of wildlife due to deforestation of late. Scientists warn of devastating repercussions if the rampant tree felling continues. https://timesofindia.indiatimes.com/city/dehradun/over-2-5k-trees-including-british-era-sal-forest-to-be-cut-for-proposed-expressway-that-will-reduce-travel-time-between-delhi-doon/articleshow/77639969.cms (20 Aug. 2020)
'घसयारियों को मान दिलाने वाले त्रेपन नहीं रहे  
कुछ दिन पहले उत्‍तराखंड के ख्‍यात सामाजिक कार्यकर्ता त्रेपन सिंह चौहान हमसे सदा के लिए विदा हुए हैं। प्रस्‍तुत है, उनके साथी रहे सुरेश भाई के ये संस्‍मरण। हिमालय पर्वत की तरह अपने ही स्थान पर अडिग रहने वाले त्रेपन सिंह चौहान महिलाओं, किसानों, मजदूरों के हकों के लिये संघर्ष करते-करते तरूणाई के अंतिम छोर तक पहुंचने से पहले ही 13 अगस्त को दुनिया छोड़कर चले गये है। https://www.spsmedia.in/celebrity/trapans-singh-who-confess-shepherds-are-no-more/  (19 Aug. 2020)
GOVERNANCE
PPE, masks, gloves: Rising environment problem due to slowly piling COVID-19 waste -PPEs are vital in battling the COVID-19 crisis, but need to be disposed daily, especially by healthcare workers. This waste is slowly piling up an environmental crisis. Delhi is still lagging in the systematic collection and disposal of this waste, which further poses a risk to the health of sanitation workers. Delhibased waste management expert Swati Singh Sambyal points to the CPCB report that indicates only 70 per cent of this waste is going to the incinerators.
-"There is a still a gap of 30 per cent. Masks, gloves and PPEs have been found dumped outside the hospitals or even on the roads. There is no segregation happening at the household level. Waste collectors have to sort it, and in doing so are directly exposed to the potentially infected material. And the collectors reside in congested and densely populated places. In case they are asymptomatic or infected, they will pass the virus onto others." https://www.newindianexpress.com/cities/delhi/2020/jul/04/ppe-masks-gloves-rising-environment-problem-due-to-slowly-piling-covid-19-waste-2165086.html  (04 July 2020)
The Himalayan Cleanup (THC), an annual event organised by Integrated Mountain Initiative and Zero Waste Himalaya that takes place across the 12 Himalayan states on a single day, has revealed that plastics in the mountains has become all pervasive. THC 2018 revealed that 97 per cent of the trash collected was plastic; the results in 2019 were also similar. This exponential rise in plastic use can lead to irreversible damage to mountain ecosystems. https://www.downtoearth.org.in/blog/waste/plastic-crisis-in-the-mountains-will-extended-producer-responsibility-bring-in-change-72807 (13 Aug. 2020)
CLIMATE CHANGE
Study Receding glaciers in Nanda Devi region affecting lifestyle, agriculture The changes in glaciers in the Nanda Devi region of Central Himalayas in Uttarakhand in the last three decades have majorly affected the lifestyle, culture and agricultural practices of people living in nearby villages, says a study carried out by experts from major institutes including IIT Kanpur, Wadia Institute of Himalayan Geology (WIHG), Uttarakhand Space Application Centre (USAC) and HNB Garhwal Central University in Uttarakhand.
The research conducted on the 'changes in glaciers and associated drivers for the last three decades, Nanda Devi region, Central Himalayas' was done by studying the state of glaciers from 1980 till 2017 through extensive ground surveys and satellite imagery.
During the study, which started in 2002 and was completed in 2018 before getting published in a science journal last month, it was found that about 26 sqkm of the glaciated area of the Nanda Devi region was lost in 37 years which affected the people living in nearby areas. https://www.hindustantimes.com/india-news/receding-glaciers-in-nanda-devi-region-affecting-lifestyle-agriculture/story-YFrtdfy32boPQrIMyA7RCJ.html (23 Aug. 2020)
SOUTH ASIA
Nepal Dustin Paul Wilden, Chairman of ALAS Group, plans to meet with senior members from the Cabinet of NEPAL to discuss future PPP-related opportunities and investments. https://energy.economictimes.indiatimes.com/news/renewable/alas-group-and-pike-hydropower-sign-pact-for-development-of-projects-in-asia/77615815  (18 Aug. 2020)
Bangladesh 5,500 fish farmers suffer 50C loss due to floods in Gopalganj 5,500 fish farmers in Gopalganj district have suffered huge losses, estimated at around Tk50 crore, in this year's floods that washed away their ponds. After the floods washed away 6,681 ponds in the district, about 3,212 tons of fish from the ponds escaped into floodwaters, according to the Fisheries Department in the district. Fisheries Officer Biswajit Bairagi said the flood caused Tk50 crore worth of loss to the fish farms and Tk 6.79 crore of it is infrastructural damage. The loss also includes Tk3.47 crore worth of baby fish which were washed away by floodwaters. https://www.dhakatribune.com/bangladesh/nation/2020/08/18/floods-in-gopalganj-5-500-fish-farmers-incur-about-tk50cr-loss  (18 Aug. 2020)
Pakistan
CHINA
Sichuan hits biggest floods in 70 years Sichuan Province, which sits on the upper reaches of the Yangtze River, on Monday (Aug. 17) braced for some of the worst flooding n over 70 years, likely to bring the "No. 5 Flood" downstream to the Three Gorges Dam, 2-3 days after the No 4 flood. The peak of the No. 4 flood on the Yangtze River passed through the Three Gorges Reservoir at around 8 a.m. on the 15th. The water inflow reached 62,000 cubic meters per second, which was higher than the previous three floods this year. https://www.taiwannews.com.tw/en/news/3989041  (17 Aug. 2020)
By Aug. 14, Yangtze River Basin's monsoon season had lasted 64 days, the longest in the past 60 years, according to Chinese meteorological authorities. The fourth flood peak of the Yangtze River is expected to arrive at the Three Gorges Dam at 8 am in the morning of Aug.15, as torrential rains have ravaged the upper reaches of the Yangtze River in Sichuan Province since Aug. 10. Many cities in the province are inundated. In the worst-hit area, water has risen to the second floor. So far, about 100,000 residents have been affected by flooding in 14 rivers across the province.
– W level in Chongching river section immediately upstream of Three Gorges Dam has risen by 12 m within two days. The dam opened six spillway to discharge 41500 cumecs, with inflow of 47000 cumecs on Aug 14. https://www.theepochtimes.com/flooding-worsens-in-sichuan-adds-more-pressure-to-three-gorges-dam_3465731.html (18 Aug. 2020)
The peak of the Yangtze River's fifth flood of this year entered the Three Gorges Reservoir in central China's Hubei Province on August 19. The estimated maximum floodwater is 75,000 cubic meters per second, which marks the largest flood peak since the construction of the Three Gorges Dam.
– At 8:00 a.m. Beijing Time on Aug 20, 2020, the Three Gorges Reservoir saw an inflow of 75,000 cubic meters per second. Eleven sluice gates were opened on Thursday with a discharge flow of 49,400 cubic meters per second.
– The inflow peaks in first three floods on July 2, 19 and 26 were 53000, 54000 and 60000 cumecs respectively, outflow were 35500, 40000 amd 38000 cumecs respectively. https://news.cgtn.com/news/2020-08-20/China-s-Three-Gorges-Dam-ushers-in-largest-flood-peak–T6vmjnCdNe/index.html (20 Aug. 2020)
https://news.cgtn.com/news/2020-08-20/Live-Three-Gorges-Dam-discharges-its-largest-flood-peak-T6rjSFiqFG/index.html  (20 Aug. 2020)
THE REST OF THE WORLD
US Glen Canyon Dam tapped for emergency water releases to meet California power demands For the first time in nearly two decades, the federal government tapped Glen Canyon Dam for extra power generating capacity this weekend, triggering emergency water releases as heat waves persisted across the West.
As temperatures hit records in California, power providers turned to sources in Nevada, Utah and Arizona to cope with the surge in demand across its electrical grid.
The last time an emergency situation was invoked was in 2001, when California residents experienced major blackouts, cutting off electricity to more than 1 million people. https://www.azcentral.com/story/news/local/arizona-environment/2020/08/18/california-power-needs-spark-increase-water-flows-glen-canyon/3387376001/ (18 Aug. 2020)
Keeping the Klamath dams or removing the Klamath dams?
On Tuesday, August 18, Water Oceans, and Wildlife Subcommittee Chair Rep. Jared Huffman is hosting a virtual forum on four aging dams on the Klamath River owned by PacifiCorp and Warren Buffet's Berkshire Hathaway, which have made millions for PacifiCorp's shareholders, but to the detriment of native communities and cultures, and those who depend on the river's fish. https://www.youtube.com/watch?v=XJQwQGiEuQ8 (18 Aug. 2020)
Bug Flows! Aquatic insects lay and cement their eggs to rocks, vegetation and other materials near the river's edge. If flows are too variable, water levels may drop below where eggs are laid, causing them to dry out and die. https://www.usbr.gov/newsroom/newsrelease/detail.cfm (23 April 2020)
Australia Warragamba Dam: is western Sydney about to flood and would raising the dam wall help? Warragamba Dam sits on Sydney's outer western fringe, and is the city's main reservoir, supplying about 80% of its water. Built more than 60 years ago, it draws on six rivers in the Hawkesbury-Nepean catchment. It hit 100% capacity on Monday, having filled rapidly during heavy rain periods this year.
– Dam began spilling on Sunday, initially at a rate of 100m litres a day, lifting to about 4,000m litres a day on Monday and peaking at 9bn litres a day at midnight.
– Are parts of Sydney going to flood? It's possible, but not expected at this point. Experts say it would require a significant rain event to force a large uncontrolled spill that affected suburbs downriver. There have been significant spills before, in August 1998 and March 2012.
– In response to reporting by Guardian Australia and the Sydney Morning Herald about the proposal of increase dam height by 17 m, the NSW parliamentary committee examining the proposal will convene next week to scrutinise the leaked material.
– But Pittock said there were flaws in the government's analysis. In his submission to the inquiry, he said flood mitigation dams tended to help during small and medium-sized floods only and that there was "no configuration of the Warragamba Dam" that would prevent flooding in the Hawkesbury-Nepean Valley. On average, 45% of floodwaters that reached the valley came from other catchments that were not upstream of the dam. "There would still be people in harm's way," he told Guardian Australia. "Almost no matter how big you build a dam inevitably there will be a flood the dam cannot hold." https://www.theguardian.com/environment/2020/aug/19/warragamba-dam-is-western-sydney-about-to-flood-and-would-raising-the-dam-wall-help  (19 Aug. 2020)
Compiled by SANDRP (ht.sandrp@gmail.com)
Also see: DRP News Bulletin 17 Aug. 2020 & DRP News Bulletin 10 Aug. 2020
Follow us on: www.facebook.com/sandrp.in; https://twitter.com/Indian_Rivers