Anyone who cares for India, its people and their future and who even remotely understands environmental governance and democratic process will come to just one conclusion about the Draft EIA (Environment Impact Assessment) 2020: CANCEL IT.
We certainly need change in the current EIA process. The whole thing is a major fraud at every stage, from the exclusion from large number of activities from the scope of EIA process, to scoping to quality of EIA, to the track record of the EIA consultants, to the process of selection of EAC (Expert Appraisal Committee) and its functioning, to public hearing and consultation process, to the complete absence of capacity or even will to monitor and achieve compliance of the approved project, every step needs strengthening, from the current EIA process based on the 2006 notification.
But the Draft EIA 2020 takes the current EIA process in opposite direction: Weakening it every step of the way. So there is no doubt that the only real option before the govt is to CANCEL IT.
What we need is that the govt must set up a committee of independent persons, known for their independent track record (we can suggest such names if the govt is interested) and understanding of environmental governance. This committee should be tasked with reviewing the current EIA process and prepare a new Draft of EIA to strengthen it in every step. That new Draft then should be the basis of a consultation process, also to be conducted by the same committee.
Today, even if we were to send an elaborate critique of the Draft to MoEF, we all are absolutely sure, where it will go to: Dust bin. There is absolutely no credible process in place to inspire confidence that what is sent will be considered with any seriousness by a group of persons who understands environmental governance and its significance.
So the committee mentioned earlier should then in fact send the draft, translated into all the regional languages, to all the panchayats, requesting them to send their feedback through gram sabhas and ward sabhas. Videso can also be made in local languages explaining the significance of the EIA process & what is proposed in the Draft. The committee should then finalise the new EIA notification based on the feedback it receives.
We hope sanity prevails and this process will also be mandated by the judiciary. Improving ease of doing business is none of the business of MoEF. MoEF's business is environment protection and sooner it gets to that core task, better it would be.
SANDRP Resources on DRAFT EIA 2020:
Critique of Draft EIA 2020 by Himanshu Thakkar: https://sandrp.in/2020/05/19/draft-eia-2020-will-weaken-every-aspect-of-eia-process/
2. Critique of Draft EIA 2020 by Amruta Pradhan and Himanshu Thakkar https://sandrp.in/2020/06/23/draft-eia-notification-2020-dilutes-eia-process-encourages-violations/


A Marathi translation of this was published in Vanrai magazine in August 2020.


3. This video explains in simple terms the problems with the Draft EIA Notification 2020. The video is based on SANDRP critique of Draft EIA 2020. https://youtu.be/wzINXmOHRGI (English)
4. https://youtu.be/F7upciCPqZw (Hindi)


5. MARATHI: Parineeta Dandekar of SANDRP wrote two articles on the Draft EIA 2020:


A. नव्या ईआयए मसुद्याने काय साधणार? 'ईआयए', जनसुनवाई, पर्यावरणीय परवानगी या अत्यंत महत्त्वाच्या बाबी आहेत. https://www.loksatta.com/bara-gaoncha-pani-news/article-on-what-the-new-eia-draft-will-accomplish-abn-97-2212607/ on July 11, 2020 and
B. 'ईआए मसुदा' आणि आपण! https://www.loksatta.com/bara-gaoncha-pani-news/article-on-environmental-impact-assessment-draft-and-you-abn-97-2240018/ on Aug 8, 2020
Other relevant developments during past week:
Draft EIA 2020 75 youth groups in TN write to Centre In a hard-hitting letter, the youth groups have stated that the move to push the latest notification is 'irresponsible, reckless and insensitive' to the rights of young people and future generations who will inherit the environment. https://www.thenewsminute.com/article/abandon-draft-eia-2020-75-youth-groups-tn-write-centre-129939   (03 Aug. 2020)
Centre Modi Govt Wants Local Languages In NEP 2020, But Not In EIA 2020 In an appeal filed in the Supreme Court, the environment ministry claimed it cannot conduct public consultation for a proposed new law for environment clearance in regional languages as it could create hurdles in the government's regular functioning. https://www.huffingtonpost.in/entry/modi-govt-news-nep-2020-eia-2020_in_5f29d64ac5b6a34284c098ae   (05 Aug. 2020)
Karnataka HC Restrains Centre From Publishing Final EIA Notification Till Sep 7 A division bench of Chief Justice Abhay Oka and Justice Ashok S Kinagi took into account the fact that the draft the notification has been published on March 23, two days before the national lockdown was announced by the Central government and that during the lockdown and pandemic there were several constraints on individuals for filing objections to draft notification. https://www.livelaw.in/top-stories/eia-notification-2020-karnataka-hc-restrains-centre-from-publishing-final-notification-till-sep-7-160985   (05 Aug. 2020)
Tamil Nadu Madras HC tells Centre to respond to petition seeking stay on draft The Madras High Court, on Thursday (Aug. 6) issued a notice to the Government of India in a case that sought a stay on the Environmental Impact Assessment (EIA) notification 2020. The union government had released the draft EIA 2020 in March this year and invited public comments on it.
-The court was hearing a petition filed by a fishermen's welfare association which sought a stay. The petition said that it was not correct to seek public comments without releasing the draft document in regional languages. The petition sought a court order to direct the union government to release the draft in regional languages.
-A bench comprising Justices MM Sundresh and R Hemalatha pointed out that a similar case is pending in the Karnataka High Court and refused to order a stay on the draft. Further, the court posted the case to Friday for further hearing and ordered the central government to respond to the claims in the petition. https://www.thenewsminute.com/article/eia-2020-madras-hc-tells-centre-respond-petition-seeking-stay-draft-130161   (06 Aug. 2020)
Opinion 6 'Killer' Provisions that Make Draft EIA 2020 Anti-Environment The case here is that there are at least six 'killer' provisions that necessitate a complete withdrawal and redraw of the draft EIA 2020 Notification by an independent and representative 'expert committee' led preferably by a former Supreme Court Judge. https://thedialogue.co.in/article/rr2MHKH5Zu6io6M6OdQY   (06 Aug. 2020)
HYDRO POWER PROJECTS
Jammu & Kashmir CBI begins preliminary probe into Rs 9K cr hydro power project CBI has started preliminary enquiry into allotment of the Rs 9,000 crore hydro power project in J&K, allegedly done by flouting all central government guidelines governing such allotments, according to top sources. The proposed 1,540 MW Kiru hydro power project is to be completed in two stages, with stage one costing Rs 4,948.26 crore and stage two Rs 4,287.59 crore. The complaint being probed by the CBI alleged that the Chenab Valley Power Projects (CVPPL) allotted the project in grave violation of rules and guidelines, and was done under the influence of some top bureaucrats, top sources said. The CVPPL allotted the project for execution to a joint venture company.
– The CVPPL board of directors had cancelled the tender process with specific reasons. "A powerful lobby within the J&K administration forced the corporation for re-allotment of the cancelled tender after over-ruling resistance from within the board. A senior bureaucrat who recorded his dissenting note against re-allotment was transferred on January 3, 2020," said the complaint. After cancelling the tender process, the board had no legal authority to re-allot it and that too through a manual process, it has been alleged. "Even when the process of re-allotment of cancelled tender was marred by violations and irregularities, the authorities released a huge amount as mobilisation advance to the beneficiary company," says the complaint. The CBI has been requested in the complaint to seize records with regard to the tender evaluation and re-allotment to prevent those involved from tampering or destroying them. https://energy.economictimes.indiatimes.com/news/power/cbi-begins-preliminary-probe-into-rs-9000-cr-hydro-power-project-in-jk/77324115   (03 Aug. 2020)
A lot of confused misguided statements here on hydropower. https://science.thewire.in/environment/jammu-and-kashmir-article-370-abrogation-hydropower-boom-indus-water-treaty/   (07 Aug. 2020)
DAMS
India dammed Sanctuary Asia Cover story on Dams in India includes articles by SANDRP Coordinator and Associate Coordinator.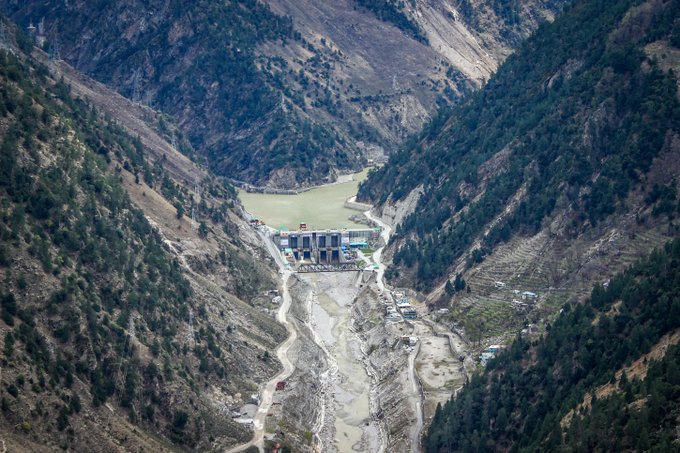 https://sanctuarynaturefoundation.org/article/india%2C-dammed   (Aug. 2020)
MoEF Minutes of the MoEF's  EAC meeting on River Valley Projects held on July 29, 2020: 00. Rayalseema Lift Irrigation Scheme referred to EAC by NGT: EAC decides the project does not require EC.
Proposed Brahmagavhan Lift Irrigation Scheme (10, 000 CCA) in Aurangabad District of Maharashtra by Minor Irrigation Division For TOR: APPROVED

Rammam HEP-III (3 x 40 MW) in dist Darjeeling Teh Darjeeling Pulbazar W Bengal by NTPC For ToR: APPROVED

Rongnichu HEP (115 MW) in Teh-Gangtok, Dist.- E Sikkim by Madhya Bharat Power Corp Ltd For Env Clearance: Deferred.

Sirkari Bhyol Rupsiabagar HEP (120 MW) in Pithoragarh Dist, Uttarakhand by UJVNL For ToR: APPROVED

Vishnugad Pipalkoti HEP (444 MW) in Chamoli dist, Uttarakhand by THDC For ToR: APPROVED

Sela Urthing HEP (202 MW), Nr Village Sela Pithoragarh Dist, Uttarakhand by UJVNLL For ToR: APPROVED

Sillahalla Pumped Storage HEP-I (4×250 MW), in dist Nilgiris, Tamil Nadu by TN Gen & Distribution Corp For ToR: APPROVED
http://environmentclearance.nic.in/writereaddata/Form-1A/Minutes/07082020V6OE5PKR1stEACMoM.pdf
INTERSTATE WATER DISPUTES
Krishna River Water Sharing Dispute KRMB missive to Telangana on Nagarjuna Sagar releases  The Krishna River Management Board (KRMB) has asked Telangana State to stop water releases through the Left Power House at Srisailam project. In a letter to Telangana Engineer in Chief (Irrigation) dated Monday (Aug. 3), the KRMB Member Secretary Harikesh Meena said that the cumulative inflows at Srisailam were 54.98 tmc from July 21 to 30. TS Genco has drawn 32.27 tmc. It is detrimental to drinking water requirements of drought-prone areas of Rayalaseema and Nellore, and fluoride-affected areas of Prakasam and Guntur districts in Andhra Pradesh, he said. Telangana has been asked to submit ATR.
– The depletion of water through power houses only for power generation was against the operational protocol for water use in Srisailam and Nagarjuna Sagar Project (NSP) as mentioned in the GO 69, dated 15.06.1996. Power generation at Power Houses at Srisailam should be done only if the reservoir level is +854 ft as per the GO 107 dated 28.09.2004 and water is released to Nagarjuna Sagar and Prakasam Barrage for irrigation requirements, the EnC pointed out. https://www.thehindu.com/news/national/andhra-pradesh/krmb-missive-to-telangana-on-nagarjuna-sagar-releases/article32262973.ece  (03 Aug. 2020)
The Telangana Govt has moved the Supreme Court seeking directions to Andhra Pradesh Government to stop the process of tenders for Rayalaseema Lift Irrigation Project (RLIP), one of the two components to divert about 8 tmc ft Krishna waters a day from Srisailam reservoir planned by A.P., in violation of the riparian rights of Telangana. https://www.thehindu.com/news/national/telangana/telangana-moves-supreme-court-on-krishna-water-diversion-plans-of-ap/article32274389.ece   (05 Aug. 2020)
Telangana Rashtra Samithi (TRS) working president and IT Minister KT Rama Rao on Sunday (Aug. 9) asserted that the State government will not compromise on Telangana's right to its legitimate share of the Krishna waters. To substantiate his claim, Rama Rao recalled that the State government had already filed a special leave petition in the Supreme Court to restrain Andhra Pradesh (AP) from calling for tenders to execute the Rayalaseema Lift Irrigation Scheme (RLIS) on the backwaters of the Srisailam Project.
Admitting that the government was soft on AP Chief Minister YS Jagan Mohan Reddy, Rama Rao, however, maintained that it would not be at the cost of Telangana's interests. "We have good relations with Andhra Pradesh. However, there would be no compromise when it comes to the rights of the State," he said. https://www.newindianexpress.com/states/telangana/2020/aug/10/telangana-government-will-not-compromise-on-states-share-in-krishna-water-dispute-ktr-2181436.html  (10 Aug. 2020)
Mahadayi River Water Dispute Centre orders salinity test of Mahadayi after Goa complains about Karnataka's projects The Ministry of Jal Shakti has asked the National Institute of Hydrology, Roorkee to take up the study of salinity of river Mahadayi in view of the concerns raised by the Goa government that Karnataka's Kalasa Banduri River Diversion project will adversely affect the availability of fresh water in the state.
-Sawant had written to Shekhawat in March expressing apprehensions about Karnataka's plan to fast track the Mahadayi project and had asked Shekhawat not to process any permissions until the matter was finally decided by the Supreme Court where it is now pending. "Karnataka may attempt to seek your approval for such diversion outside the basin relying upon the Award of the Mahadayi Water Disputes Tribunal dated 14.08.2018 In this regard. We wish to state that the Award dated 14.08.2018 is pending before the Hon. Supreme Court of India," Sawant said in his letter.
-Shekhawat has, however, declined to specifically assure Goa that no permissions will be processed. "The Government of Karnataka has recently submitted feasibility report of Kalasa Nala Diversion Scheme and Bhandura Nala Diversion Scheme to Central Water Commission (CWC), and these are under appraisal as per the existing CWC guidelines and as per the directions given in the Report cum decision of MWDT (Mahadayi Water Disputes Tribunal)," Shekhawat said.
-Quoting the Tribunal itself, Shekhawat said that "the upper riparian States of Karnataka and Maharashtra, though do require requisite clearances and approvals, as required by law and from the Central Government, and the Planning Commission (Now Niti Aayog), but they do not require any prior consent of the lower riparian State of Goa."
– But he agreed to share Karnataka's proposal with Goa since "any project proposed in the river basin for which no tribunal award or inter State agreement exists, will be circulated to the co-basin States by the Project Authority Central Water Commission (CWC)." https://www.hindustantimes.com/india-news/centre-orders-salinity-test-of-mahadayi-after-goa-complains-about-karnataka-s-projects/story-M2Kn47vxWuU1ieSsvDYhIN.html   (6 Aug. 2020)
RIVERS AS NATIONAL WATER WAYS
Himachal Pradesh Govt working on Tattapani-Kasol-Slappar waterway The Transport Department has decided to invite bids within 10 days for creating infrastructure at the Tattapani-Kasol-Slappar waterway with a tentative deadline of six months. The waterway is part of the larger plan of using water bodies as an alternative mode of transport with the backing of the Inland Waterways Authority of India. The plan was mooted way back in 2015. A couple of water bodies, including Chamera dam in Chamba and Govind Sagar in Bilaspur, have been identified as potential waterways. https://www.tribuneindia.com/news/himachal/soon-tattapani-kasol-slappar-waterway-to-be-a-reality-122632   (06 Aug. 2020)
URBAN RIVERS
Uttarakhand Asan river in Dehradun has been turned into dumping ground of solid waste.  https://www.facebook.com/sandrp.in/posts/3666423133385333  (08 Aug. 2020)
RIVERS
SANDRP Blog DDA visits Yamuna with SANDRP Delhi Yamuna Monitoring Committee, appointed by NGT had requested SANDRP to accompany the team of DDA officials to the Yamuna Flood Plains since SANDRP has been raising the issue of massive dumping of debris not only in the Yamuna floodplain but also on the river bed in complete violation of NGT orders.
The visit with DDA officials on Aug 4, 2020, as this report highlights, revealed a number of new issues and insights. It also showed with video evidence that the claim of DDA of removing over 4000 cubic Meters of debris following SANDRP exposure in Feb 2020 was wrong, they had only pushed the debris down to the riverbed and floodplain. The report provides several steps for way forward.  Plz Read and help us spread the word.  https://sandrp.in/2020/08/06/dda-visits-yamuna-with-sandrp/     (06 Aug. 2020)
DDA given time to submit report on debris dumping in riverbed -The committee, in a letter sent to DDA, said while it had gone with the facts presented to them by the authority in its final report submitted to NGT on June 29, 2020 – these appear to be inaccurate. The monitoring committee told NGT that it had gone by DDA's version, which is now belied. "A joint inspection was undertaken but YMC is still awaiting an official report," YMC said, asking for a comprehensive report to be sent.
-The panel said it was also awaiting details from Delhi Pollution Control Committee, after a team of DPCC officials and the complainant in this case had carried out a site inspection along the Yamuna floodplain. DPCC officials said violations were noted, however, a report is yet to be submitted to YMC.
-Bhim Singh Rawat, an activist and member of SANDRP, had shared images of the debris dumped along the floodplain, along with biomedical waste. https://timesofindia.indiatimes.com/city/delhi/delhi-development-authority-given-time-for-yamuna-report/articleshow/77406353.cms  (07 Aug. 2020)
Notable statement from DDA VC Anurag Jain: "An inspection was taken up by the DDA on July 29 and again on August 4. It was found that the debris had been lying after construction work undertaken by different agencies. The DDA took up the matter with the respective agencies and they have agreed on clearing it expeditiously. Also, a systemic change is being put in place so that it is not repeated in the future. Besides, adequate security personnel had already been deployed."  https://www.hindustantimes.com/delhi-news/ngt-committee-asks-dda-to-submit-report-on-dumping-in-floodplains/story-b1pSR4TUDM2ks0GleJujtO.html   (06 Aug. 2020)
YAMUNA Delhi Yamuna in need of revival, states will have to make do with less: Panel The recommendation, made by the Yamuna Monitoring Committee, appointed by the National Green Tribunal, is based on the need to revive the Yamuna by releasing more fresh water into it, which would help maintain a certain environmental flow for the river to sustain its functions throughout the year. https://indianexpress.com/article/cities/delhi/yamuna-in-need-of-revival-states-will-have-to-make-do-with-less-panel-6538032/   (04 Aug. 2020)
Detergent in Sewage Responsible for Toxic Foam in Yamuna: DPCC to NGT Panel  "The presence of dhobi ghats, direct release of sewage containing phosphate detergents, industrial effluent and the turbulence caused near the barrages have been found responsible for the presence of foam in the river, the DPCC told the Yamuna Monitoring Committee. The YMC, however, has asked the DPCC to furnish a detailed report within a week.
-"No detailed report on other quality parameters has been furnished. The YMC was expecting a much more comprehensive analysis; instead a serious matter has been disposed of with a terse finding that the presence of sodium tripolyphosphate in the detergents was responsible for the foam, it said in a letter to the DPCC. https://www.news18.com/news/india/detergent-in-sewage-responsible-for-toxic-foam-in-yamuna-dpcc-to-ngt-panel-2759501.html   (05 Aug. 2020)
-वास्तव में दिल्ली में यमुना को साफ करने के लिए करोड़ों रुपयों की योजनाओं की जरूरत नही है। लाॅकडाउन ने सरकार को प्रत्यक्ष तौर पर बता दिया था कि उद्योगों का कैमिकल वेस्ट और घरों से निकलने वाले सीवरेज का प्रबंधन करना ही एकमात्र उपाय है। साथ ही इस पानी को खेती व सिंचाई के लिए उपयोग में लाया जा सकता है। इसके अतिरिक्त यमुना किनारे से गरीब लोगों की झोंपड़ियों को हटाने पर बहुत जोर दिया जाता रहा था। बार बार इन्हीं को यमुना में प्रदूषण के लिए दोषी भी ठहराते थे, जबकि प्रदूषण का मुख्य स्रोत वे कभी नहीं रहे और एक वैकल्पिक सोच सरकार अपनाती तो उन्हें यमुना की सफाई में भागीदार भी बनाया जा सकता था। इसके स्थान पर जरूरी यह है कि नदी के आसपास रहने वाले लोगों की भागीदारी को प्राप्त किया जाए। यमुना की समग्र रूप से रक्षा के लिए इसे एक बहुत व्यापक जन-अभियान के रूप में चलाया जाए। https://hindi.indiawaterportal.org/content/delhi-mein-yamuna-nadi-mein-pradushan-ngt-sakht/content-type-page/1319335888   (07 Aug. 2020)
Uttar Pradesh Plan to regulate E-flow for polluted stretches of 6 rivers, govt tells Centre The state government has planned to regulate the E-flow for polluted stretches of Saryu, Hindon, Ramganga, Betwa, Ghaghara and Rapti rivers.  https://indianexpress.com/article/india/plan-to-regulate-e-flow-for-polluted-stretches-of-six-rivers-up-govt-tells-centre-6533478/   (01 Aug. 2020)
GANGA
RIVERS BIODIVERSITY
IWP When solving one problem triggers another -While scientists are skeptical on the effectiveness of using guppies for mosquito control, many recommend use of indigenous species of fish from their respective regions from genera like Aplocheilus and many small barbs (formerly known as Puntius spp.) as a better option instead of guppies.
-Besides, there are many other natural invertebrate native predators of mosquito larvae as well such as several species of aquatic bugs and beetles, odonate (dragonflies and damselflies) nymphs and crustaceans like tadpole shrimp (Triops sp.) crustaceans and their efficacy has also been studied. They could also be used as alternatives to guppies. Being local species, they are less aggressive and do not have a negative effect on the biodiversity of freshwater bodies. At the same time, concerted efforts to reduce pollution and eutrophication of water bodies need to be made on an urgent basis. https://www.indiawaterportal.org/articles/when-solving-one-problem-triggers-another  (06 Aug. 2020)
FISH, FISHERIES, FISHERFOLKS
West Bengal Hilsa haul dips to 25 year low So far Hilsa catch by 3500 Hilsa trawlers in 24 N Parganas and 12000 in 24 S Parganas since the season started officially on June 15 this years has been the lowest in 25 years so far. https://www.telegraphindia.com/west-bengal/coronavirus-outbreak-hilsa-haul-dips-to-25-year-low/cid/1788254  (05 Aug. 2020)
SAND MINING
Odisha BJP seeks CBI probe into illegal sand mining BJP district unit president Kandra Soren and Zilla Parishad president Sujata Murmu said due to nexus of the previous tehsildar, illegal sand mining flourished in Badasahi, Betnoti, Rashgobindpur, Moroda, Chitrada, Sarasahkana and Bangiriposi areas in the district. No step was taken by the administration to check the illegal sand and morrum lifting though attention of the Collector was drawn to the illegal practice, he said. https://www.newindianexpress.com/states/odisha/2020/aug/03/bjp-seeks-crime-branch-probe-into-illegal-sand-mining-in-odisha-2178425.html  (03 Aug. 2020)
WETLANDS, LAKES, WATER BODIES
Rajasthan Govt readies Sambhar lake plan Interesting to see there is involvement of HC, NGT, several districts, several depts, the plan is ready after a standing committee for the lake has approved it. Will it make a difference to the lake? (Could not locate soft copy of the story) https://www.pressreader.com/india/hindustan-times-jalandhar/20200808/282170768497244  (08 Aug. 2020) https://www.facebook.com/sandrp.in/posts/3665489150145398
Songs of lakes On the Songs of the Lakes. Gangamma, Goddess of water, and Maleraya, God of rains, respond to the requests of communities, to the needs of the fish and the trees, the grass and the cows, the fruit and the flowers. https://www.deccanherald.com/opinion/songs-of-the-lake-871208.html   (09 Aug. 2020)
WATER OPTIONS
Delhi For past more than one year, the youths of Narela have been making effort to revive Patoudi Johad a traditional water body. It has been filled brimfull with rainwater in past one year. Despite scanty rainfall in monsoon, the water filled in the pond in the month of April 2020 is still there. Aug. 08 Video.  https://www.facebook.com/sandrp.in/posts/3666469773380669
GROUNDWATER
Report Groundwater depletion Problem exists, is known, but this may sound a bit alarmist. https://eos.org/articles/indias-food-bowl-heads-toward-desertification   (30 July 2020)
URBAN WATER
Delhi Dharani Johad a traditional water body of Narela has been turned into a DTC bus depot. There are alternate sites available. Land is under revenue department, agency misusing it is DTC which also under Delhi govt. Despite that Delhi govt has not taken any initiative to restore the water body amid falling groundwater level in the area. (Aug. 8 video)  https://www.facebook.com/sandrp.in/posts/3666531636707816 
WATER POLLUTION
Haryana NGT orders closure of sugar, distillery units of Panipat mill Taking a serious note of environmental violations, the NGT ordered the closure of sugar and distillery units of the Panipat Cooperative Sugarmill until remedial measures are taken. The bench, headed by NGT chairperson Justice Adarsh Kumar Goel, observed, "There are serious environmental violations in the functioning of both units. The norms under the Water Act, Air Act and the Environment Protection Act are also not being followed, which amounts to criminal offences."
– The orders were based on the findings of a joint team, comprising officials of the Central Pollution Control Board and HSPCB. The joint team was formed by the NGT following complaints of pollution by the sugarmill's distillery and sugar units. Pradeep Ahlawat, managing director the sugarmill, said, "The order is about compliance and they (joint team) have suggested remedial measures to resume operations of the units."
– The sugar and distillery units were meeting fresh water requirements through a borewell, without obtaining a no-objection certificate from the Central Ground Water Authority. Pit for collecting treated effluent was overflowing. Press mud (sugarcane residue) and boiler ash was dumped in open. Excess bagasse (sugarcane residue) from the mill house was falling from a height resulting in air pollution. At the distillery unit, the housekeeping was poor and stagnant water was found at several places. https://www.hindustantimes.com/cities/violation-of-environment-norms-ngt-orders-closure-of-sugar-distillery-units-of-panipat-cooperation-sugarmill/story-nG8gmBGrsfEYWnP9KT6dcL.html  (01 Aug. 2020)
JJM/ RURAL WATER SUPPLY
Uttarakhand Dumping of road construction debris in streams, on hill slopes is quite rampant in state causing immense damages to farm lands, water sources. Rules say these debris must be taken to dumping zone but road builders are openly violating the norms. This is latest instance of such violations from Sahiya region, Dehradun. (Dainik Jagran, 08 Aug. 2020)  https://www.facebook.com/sandrp.in/posts/3666456083382038
MONSOON 2020
This slideshow requires JavaScript.
IMD state wise, sub-division wise, river basin wise cumulative rainfall maps. 
Tamil Nadu Poor storage level in dams upsets farmers Useful information about water storage in dams in Tirunelveli and Tenakasi districts in TN this monsoon and paddy cultivation. https://www.thehindu.com/news/cities/Madurai/paddy/article32270516.ece   (04 Aug. 2020)
North India Dams' levels below normal, monsoon in negative  The storage level in reservoirs in Himachal Pradesh is 13 % below the 10-year average while in Punjab, it is 24 % below the average, as per data by CWC on Aug 6. Rains in the first week of Aug seriously deficient in all three states.
-As far as monsoon this year is concerned, rains in Punjab and Haryana remained above the long-period average through June and July before slipping below par in August. In Himachal, monsoon remained deficient all through.
-According to the data by the India Meteorological Department for the period Aug 1 to 7, rains were deficient by 73 % in Haryana and by 70 % and 62 % in Punjab and Himachal Pradesh, respectively. https://www.tribuneindia.com/news/himachal/water-in-key-dams-lower-than-normal-monsoon-too-slips-into-negative-123398  (7 Aug. 2020)
FLOOD 2020
Maharashtra 5 dams overflow? Heavy rain pounded Kolhapur district in Pune division on Tuesday (Aug. 4) , which received more than 560 mm rainfall over a 24-hour period. Very heavy showers were recorded in Gaganbawda tehsil, and at least five dams in Kolhapur are overflowing due to the steadily rising water levels of the Panchganga, Warna and Bhogawati rivers. "Three water projects on the Panchganga and one each on the Bhogawati and Warna have gone under water. The Jambre earthen dam too is filled to capacity," said an official from the Kolhapur district administration. But names of the projects not given except Jambre. https://www.thehindu.com/news/states/downpour-in-kolhapur-five-dams-overflow/article32272507.ece   (05 Aug. 2020)
The Koyna dam has received 6 TMC water in just last 24 hours due to heavy showers in its catchment, an official said on Wednesday (Aug. 5). Located in the main mountain ranges of Sahyadri (or Western Ghats) in Satara dist the 105 TMC (thousand million cubic feet) capacity reservoir has been receiving extremely heavy showers from the morning of Aug 4.
– Mahabaleshwar (a hill station in Satara district) received 320 mm rainfall followed by Koynanagar and Navaja, which received more than 230 mm rainfall each. This resulted in the dam reservoir storage jumping from 56 TMC on Tuesday morning to 62 TMC.
– Last year, almost 12 TMC water was added in 24 hours due to heavy downpour in the dam's catchment areas, a record in itself. https://timesofindia.indiatimes.com/city/mumbai/water-in-maharashtras-koyna-dam-reservoir-up-by-6-tmc-due-to-heavy-showers/articleshow/77373233.cms   (5 Aug. 2020)
Kolhapur, one of the districts that faced Dam Floods last year, is again facing water levels above danger level. Radhanagari dam is 95% full, discharging just 1400 cusecs now. Koyna is releasing 2427 cusecs. https://www.indiatoday.in/india/story/maharashtra-panchganga-water-level-danger-mark-kolhapur-august-7-1708591-2020-08-07  (07 Aug. 2020)
Karnataka Govt opens Dams As Water Level Rises After Heavy Rain The state govt has opened the gates of a massive dam in Uttar Kannada dist to release water and avoid flooding the banks of the Kalinadi and Kadra rivers. Water from other dams has been released too.
The coastal districts of Uttara Kannada, Dakshina Kannada and Udupi have been badly hit, with the adjoining Kodagu district also bearing the brunt of heavy rains. Belgavi, which borders Maharashtra, and other northern districts are also badly affected. More heavy rains and thundershowers have been forecast. Several areas in Kodagu, the source of the Cauvery river, are flooded. Landslides have been reported from the Goa-Karnataka border. https://www.ndtv.com/karnataka-news/watch-karnataka-opens-massive-dam-as-water-level-rises-after-heavy-rain-2274999   (06 Aug. 2020)
Two people died in the Malnad region and another five reported missing. Rescuers were also searching for five people missing at Talacauvery, the origin of Cauvery river, where massive landslides and floods inundated villages on Wednesday night.
– EYE witness in Kerala: "I heard a deafening sound and came out of the two-room house. I saw a big portion of the mountain coming out with a heavy flow of water and slush. I ran outside but got into the swirl of waters," said Deepan, who was admitted at a hospital in Munnar.
– IITM's Roxy Mathew Koll: "Our analysis of rainfall data over the last 70 years, show a three-fold rise in extreme rains along the west coast and central India. This is because the monsoon winds over the Arabian Sea are now exhibiting large fluctuations, thanks to a warmer environment". https://www.hindustantimes.com/india-news/landslides-kill-17-bury-60-under-rubble-in-south-india/story-iNArm363bY5lie8mXxN10M.html  (08 Aug. 2020)
CWC officials, though anonymously, tell DTE: The state level dam authorities do not often follow the rule curve properly and start releasing water only during rainfall, a Central Water Commission (CWC) official from the Bengaluru division, who did not wish to be identified, told Down To Earth. https://www.downtoearth.org.in/news/climate-change/karnataka-staring-at-flood-like-situation-72697   (06 Aug. 2020)
The Napoklu site on Cauvery in Kodagu: The site crossed HFL just after 1700 on Aug 7 and reached a new HFL of 876.18 m, 38.5 cm above the old HFL of 875.795 m at 0700 hrs on Aug 8, and remained at that level till about 1200 hrs. It is now declining, but remains above HFL. https://www.facebook.com/sandrp.in/posts/3665452600149053
Kerala Shutters of three dams in Idukki opened Shutters of dams across the state, and especially in Idukki, have been opened considering the heavy rainfall forecast for this week.  https://www.thenewsminute.com/article/kerala-rains-shutters-four-dams-idukki-opened-129996  (04 Aug. 2020)
Kabini reservoir is filling up fast, level is already 2279.21 ft, against full level of 2284 ft. Heavy rains in Wayanad dist in Kerala, catchment of Kapila river that brings water to Kabini Mysore.  http://www.uniindia.com/~/flood-alert-sounded-as-water-level-in-kabini-reservoir-is-fast-reaching-full-level/States/news/2107399.html  (04 Aug. 2020)
Kerala asks Tamil Nadu to release Mullaperiyar dam water in a phased manner Kerala government Saturday (Aug. 8) asked the Tamil Nadu government to release water from Mullaperiyar through the tunnel to Vaigai Dam in a phased manner when the water level reaches 136 feet in view of the heavy rains received by the Idukki district. In a letter, Kerala Chief Secretary Vishwas Mehta asked his Tamil Nadu counterpart to inform the state government 24 hours prior to opening of the shutters.
"The state is receiving heavy rains especially in the Idukki district. The water level in the catchment area of Mullaperiyar has been steadily rising. The water level, which was at 116.20 feet on August 3 is up to 131.25 feet by 2 pm on August 7," Mehta said in his letter. He also pointed out that the Met office has issued a red alert for Saturday (Aug. 8) and Sunday (Aug. 9) in the district indicating extreme heavy rainfall and currently the inflow to the dam is 13,257 cusecs of water and the outflow through the tunnel is 1,650 cusecs.
The Kerala government also informed the neighbouring state that within the last 24 hours, Mullaperiyar Dam and Thekkady received 19.8 cm and 15.7 cm of rainfall respectively and the water level went up by seven feet during this period.
In the letter sent to Tamil Nadu Chief Secretary K Shanmughan, Mehta said as per information provided by the Executive Engineer of MI Division at Kattappana, the surplus shutters of Tamil Nadu-controlled Periyar dam was capable of releasing 1,22,000 cusecs water. "We know the extent of damage when 23,000 cusecs water were released in 2018. Hence, necessary steps should be taken to release water in a phased manner," he added. The water level at Mullaperiyar at 3 pm on Aug 8 was 134.5 ft. https://www.deccanchronicle.com/nation/current-affairs/080820/kerala-asks-tamil-nadu-to-release-mullaperiyar-dam-water-in-a-phased-m.html  (8 Aug. 2020)
In its preparations to face a flood situation, Pathanamthitta dist in Kerala planned to open the Pampa dam by Sunday noon (Aug. 9). District Collector PB Nooh informed people of the decision to open the dam on a Facebook Live, while ensuring people that as of now, there is no reason to worry. "The district is receiving moderate rainfall and the water level in Pampa dam is 983.5 m now. Normally, a red alert is issued when the level reaches 984.5m and the instruction to open the dam is given when it touches 985m," Nooh said.
"The reason we decided to open the dam in advance is to avoid a situation of having to open it in the midnight hours when the rain, if it goes on in the same strength, will increase the water level to the maximum capacity of the reservoir which is 986.33m," Nooh said. The six shutters of the dam will be opened by raising them up to two ft each. If the reservoir reaches its full level, the shutters will need to be raised by 6-8 ft. It is to avoid such a situation that the early opening of the dam is done, Nooh said. https://www.thenewsminute.com/article/kerala-rains-pampa-dam-pathanamthitta-be-opened-sunday-130380  (9 Aug. 2020)
Tamil Nadu Water inflow to Mettur dam 1 lakh cusecs As rains continue to lash the Cauvery catchment area in Karnataka, water inflow to Mettur dam in Tamil Nadu has doubled in less than a day, reaching one lakh cusecs on Sunday afternoon (Aug. 9). On Saturday, this was at 45,000 cusecs, seven-fold up from being just 6,000 cusecs on Thursday. At 8 am on Sunday, water level at Mettur dam stood at 75.83 ft against the maximum reservoir level (MRL) of 120 ft. Outflow from the dam is at 1,000 cusecs.  https://www.thenewsminute.com/article/water-inflow-tns-mettur-dam-doubles-less-24-hours-rises-1-lakh-cusecs-130376  (09 Aug. 2020)
Govt issues first flood warning to people around Mullaperiyar dam The warning was issued by the assistant engineer, Public Works Department, Kerala based on the water level in the dam at 8 pm on Friday (Aug. 7) at 132.6 ft as against the full reservoir level of 142 ft.
-The water level in the dam rose by 7 ft in a single day. The catchment received around 20 cms of rainfall in 24 hours ending on Friday (Aug. 7) morning, which led to a sharp spike in the inflow to the dam which touched 17,700 cusecs. The dam is over 90% full as of Saturday when compared with 39% level on Aug 1. https://www.thenewsminute.com/article/tn-issues-first-flood-warning-people-around-mullaperiyar-dam-130310   (08 Aug. 2020)
In Coimbatore district, the bridge constructed across river Gandhaiyaaru to connect Lingapuram with five other villages in Mettupalayam taluk was submerged on Saturday. This is the third year in succession that the bridge gets submerged during Monsoon. There is 2.5 ft water above the bridge, forcing residents to use coracles to cross the 300-m wide river.
Over 300 families residing in Gandhavayal, Mokkamedu, Alur, Melur and Ulliyur and over 450 acres of farmland have been cut off. Their only alternative route is through thick forest, said L K Thirumugam, a resident of Gandhavayal. The bridge remains submerged for five to six months in a year, said M Ammasaikutti, a farmer in Lingapuram. The bridge was constructed at a height of 110 feet in 2004 against the villagers' demand to increase the height by another 10ft to avoid flooding. https://timesofindia.indiatimes.com/city/chennai/mullaperiyar-dam-water-level-crosses-134-feet/articleshowprint/77441454.cms  (09 Aug. 2020)
Bhavani river rising, flood alert in Coimbatore Areas along the Bhavani river in Coimbatore dist are on alert following release of 22000 cusecs of water from Pillur Dam as the water level behind the dam reached 97 ft, with full reservoir level at 100 ft.
– The water level in the Siruvani dam, meanwhile, rose by 7.6ft to 24.1ft overnight after the area recorded 300mm rainfall. TN PWD decided to increase drawal of water from the dam from 63 to 100 MLD. https://timesofindia.indiatimes.com/city/coimbatore/flood-alert-sounded-along-bhavani-river/articleshow/77360326.cms   (05 Aug. 2020)
Bihar
Sikkim Kirateshwar Mahadev Temple bears the brunt of rising river levels Fascinating, and yet frightening Photos of muddy Rangeet river floods, worsened by two dams in the upstream, one of NHPC on Rangeet & another on tributary due to heavy rains since Wednesday (Aug 5, 2020) in Sikkim.https://www.eastmojo.com/sikkim/2020/08/06/in-photos-sikkims-kirateshwar-mahadev-temple-bears-the-brunt-of-rising-river-levels  (6 Aug. 2020)
URBAN FLOODS
WHY MUMBAI GETS INUNDATED SO FREQUENTLY On Wednesday (Aug. 5), large parts of south Mumbai were inundated after the island city reported its heaviest single-day downpour in August in 46 years with 293.8 mm of rainfall.
"The island city's drainage system is 140 years old, designed by the British. At that time, most of the island city was green. The drainage system was designed considering that 50 per cent of rainwater will be going through drains and the rest will percolate into the ground water. Now very few parts in south Mumbai are open but the underground drainage system has remained the same," Debi Goenka said. https://indianexpress.com/article/cities/mumbai/140-year-old-drainage-system-highest-rain-since-74-why-south-mumbai-flooded-6543260/  (7 Aug 2020)
LANDSLIDES
SANDRP Blog Landslides in Kodagu & Western Ghats: A critique of GSI report. In this guest blog Prof Putty of NIT Mysuru provides fascinating understanding of Western Ghats Geo  Hydrology, and explains the possible causes of frequent landslides. He analyses what is flawed in GSI reports about the Kodagu landslide in Aug 2018. https://sandrp.in/2020/08/08/landslides-in-kodagu-western-ghats-a-critique-of-gsi-report/  (8 Aug 2020)
Kerala 43 Dead In Landslide In Kerala After Heavy Rain, 15 Rescued DISASTER: Massive landslide in early hours of Friday, Aug 7, 2020 at Rajmalai, 25 km from Munnar in Idukki dist of Kerala, where 78 people stayed in Tea Estate workers colony. 23 are still missing. Forest officials were the first to reach the site, but six of the forest staff staying there are still missing. NDRF could reach only in the Friday evening. https://www.ndtv.com/india-news/landslide-in-keralas-munnar-area-hard-to-reach-due-to-heavy-rain-say-officials-2275628, https://www.thehindu.com/news/national/kerala/idukki-landslip-death-toll-rises/article32309595.ece (7-10 Aug. 2020)
https://www.ndtv.com/video/embed-player/?site=classic&id=556833&autostart=false&autoplay=0&pWidth=420&pHeight=315&category=embed
It was row of tea estate workers that got buried when a hill came down. Kerala govt said this was not in landslide prone area.  On Aug 8 last year, in Meppadi village in Wayanad dist. Faced similar tragic landslide. https://indianexpress.com/article/india/kerala-15-die-as-rain-triggers-landslide-6545044/   (8 Aug. 2020)
Heavy Rains, Landslides In Kannur, Malappuram Kerala is among the six states warned of potential floods by CWC. The state is simultaneously battling spikes in its Covid-19 cases.
-With the three deaths due to incidents of drowning, landslides and tree fall since Tuesday night, the toll since the onset of the four-month long southwest monsoon that set in the state on June 1 has risen to 31. Three fishermen are missing in Ernakulam after their boat capsized. https://www.huffingtonpost.in/entry/kerala-rains-alert-flood-warning-landslides_in_5f2bb709c5b64d7a55eee4c2   (06 Aug. 2020)
Karnataka 4 missing as landslide hits Talacauvery For the fourth day running, Kodagu (Coorg) in South Karnataka received heavy rainfall, disrupting normal life, with the district bracing for a flood-like situation. The IMD has issued red alert in several districts in Karnataka and said rainfall would continue for the next 4-5 days due to the formation of a low-pressure area in peninsular India.
-In the two years, Kodagu district has been crippled by floods and landslides during the monsoon season. 5 people were missing after a massive landslide in Talacauvery, the birthplace of River Cauvery near Bhagamandala area, was reported on Wednesday (Aug. 5) night. https://indianexpress.com/article/cities/bangalore/karnataka-rainfall-kodagu-landslide-floods-6542305/   (07 Aug. 2020)
Maharashtra  Kandivali landslide caught on camera; major tragedy averted In the video, the stones and mud can be seen falling as vehicles pass by on the highway. As soon as the incident took place, people standing at the edge of the divider, can be seen running to the opposite side. No one was injured. https://mumbaimirror.indiatimes.com/mumbai/other/watch-kandivali-landslide-caught-on-camera-major-tragedy-averted/articleshow/77344681.cms   (4 Aug 2020)
More information on landslide in Mumbai on Kandivali Malad Road: https://www.youtube.com/watch?v=OARRmdoQ-0s   (03 Aug. 2020)
Uttarakhand Frequent tectonic activities, climate change causing landslides in Pithoragarh, say experts At least 21 people have died in the hill district of Pithoragarh since April due to various natural tragedies including landslides caused by heavy rains. Over 60 villages in its Munsiyari area were cut off due to heavy rains last month.
– Pradeep Kumar assistant geologist, Pithoragarh district said, "The areas of Dharchula, Bangapani and Munsiyari which houses most of the affected villages come under earthquake-prone areas in the Himalayas. These areas suffer small earthquakes round the year because of which the soil becomes loose. And when heavy rains lash these areas, landslides happen leading to severe damage to property and life." https://www.hindustantimes.com/india-news/frequent-tectonic-activities-climate-change-causing-landslides-in-pithoragarh-say-experts/story-CVwNidq01STl9m765gDJjP.html  (06 Aug. 2020)
In Uttarkashi district, five villages of Mori block have been cut off since the past ten days after connecting bridges broke due to heavy rainfall. The five villages; Osla, Gangad, Pawani, Dhatmir and Srigad in Mori block are located about 220 km away from the dist headquarters. On Aug. 9, the Badrinath highway was also blocked after a landslide was triggered by rainfall at Lambagad region, a landslide-prone area. Till Sunday afternoon, 12 roads were blocked in Chamoli dist. https://www.hindustantimes.com/india-news/heavy-to-very-heavy-rain-likely-to-lash-uttarakhand-for-next-two-days-imd/story-2NsZ2Ikoxwk6pYvNq2KhdI.html  (9 Aug 2020)
CLOUD BURSTS
SANDRP Blog  उत्तराखंड: जब मेरे गांव में बादल फटा Great to see this account of the cloud burst first hand from the village Young man in Nandakani River Basin, Chamoli district, Uttarakhand. Plz Read, Share. https://bit.ly/2XjX7P2  (03 Aug. 2020)
ENERGY OPTIONS
Is India's First Round-the-Clock Renewable Energy Contract Really What it Claims to Be? As per norms, the terms of the power supply contract are made public in a Request for Selection (RfS) document. The round-the-clock (RTC) supply contract's RfS was announced in October 2019 for the supply of a blend of solar, wind power and energy storage systems. The RfS contained several terms that ensured that electricity supply companies (known as distribution companies or discoms). For example, discoms could demand power at any time in the day, and schedule for periods when it could receive electricity from the renewable power supplier. Starting 29 January 2020, the SECI issued five amendments to the RfS that deleted these conditions and diluted others.
–  The final result is that the RTC contract is neither round-the-clock nor does it guarantee schedulable power. It is at best, analysts say, a step towards a round-the-clock supply in the distant future. Energy storage technologies like batteries are nascent and expensive. At current costs of batteries, a complete RTC renewable supply would cost Rs 5-6 per unit, a rate too high for India's electricity distribution companies. https://science.thewire.in/environment/indias-first-round-the-clock-renewable-energy-contract/  (06 Aug. 2020)
GOVERNANCE
Outgoing CAG's Note The outgoing Comptroller and Auditor General of India Rajiv Mehrishi has submitted his parting report in his preface dated Aug 6, 2020 to the CAG's 2019-20 annual report card. Mehrishi in the preface says the report "is one in a series of reports prepared by the department annually, to convey to our stakeholders an overview of the significant activities of the department… In all a total of 118 Audit Reports were finalised during the year – 21 for tabling in the Parliament and 97 in the State Legislatures. Of these, 15 Reports were tabled in the Parliament and 70 Reports in the State Legislatures during the year." India certainly needs an independent and bold CAG.  (https://cag.gov.in/sites/default/files/performance_activity_report/PR201920.pdf, thanks to Himanshu Upadhyay for alerting us about this!)
CLIMATE CHANGE
Bhutan Climate change is melting glaciers and the danger is real "With global warming, glaciers are melting and our water resources are moving faster downstream. We call it a tsunami in the sky, that can come anytime," said Karma Drupchu, the national director of the country's National Center for Hydrology & Meteorology (NCHM). Analysis by NCHM has identified 2674 glacial lakes, of which 17 are categorised as potentially dangerous. Further accelerated melting of the country's 700 individual glaciers means more lakes are being formed and the dangers for the country's population and infrastructure is increasing.
– The last major event to crescendo towards populated areas was back in 1994 when Luggye Lake burst, vast amounts of floodwaters tore down the Pho Chhu River, bringing with it damaging debris, majorly affecting Richena village in Punakha. The 1994 flood killed 21 people and caused extensive damage to agricultural land, destroyed houses and wiped out fish stocks in the river. 25 years ago, there was no warning for villagers living along the river. The 1994 flood killed 21 people and caused extensive damage to agricultural land, destroyed houses and wiped out fish stocks in the river. Thorthormi Lake in the Lunana region is considered the most volatile glacial lake in Bhutan. The 1200 Mw Punatsangchu-I and 1020 Mw Punatsangchu-II are under construction downstream from Thorthormi Lake. https://www.channelnewsasia.com/news/asia/bhutan-climate-change-glacial-flood-tsunami-in-the-sky-12546148   (03 Aug. 2020)
Giant climate hot spot is robbing the West of its water  But global warming doesn't affect the planet uniformly, and 10 percent of it is already at 2C, The Post found. These hot spots offer a window into what will happen as more of the planet warms: In New Jersey and Rhode Island, a 2C world has weakened winter's bite; in Siberia, 10,000-year-old mammoths are being exposed by melting permafrost; and from Japan to Angola to Uruguay and Tasmania, changing ocean currents and warming water have decimated fisheries and underwater kelp forests.
– Much of the Colorado River's climate-induced decline — amounting to 1.5 billion tons of missing water — comes from the fact that the region's snowpack is shrinking and melting earlier.  https://www.washingtonpost.com/graphics/2020/national/climate-environment/climate-change-colorado-utah-hot-spot/   (07 Aug. 2020)
SOUTH ASIA
India-Pakistan WB says cannot mediate in Pakistan-India water dispute The World Bank has expressed its inability to take an independent decision on appointment of a neutral expert or court of arbitration for settlement of a long outstanding water dispute between Pakistan and India. The two countries will have to bilaterally choose one option, said Patchamuthu Illangovan, the World Bank's former Country Director of Pakistan, on completion of his five-year term in Islamabad.
– Mr Illango said Pakistan had made a request for appointment of a Court of Arbitration (COA) while India had sought a neutral expert to resolve their dispute on two hydroelectric projects. "There is no provision in the treaty for the World Bank to take an independent decision," he said when asked if the bank was shying away from its role even though it was part of the 1960 treaty and had been sitting on Pakistan's request for a COA for almost four years now. https://www.dawn.com/news/1573214/wb-says-cannot-mediate-in-pakistan-india-water-dispute  (08 Aug. 2020)
Nepal 10 people killed in Sindhupalchok landslides 8 people were killed while one person was injured after a landslide buried an under-construction covered hall at Melamchi Municipality in Sindhupalchok district early Monday (Aug 3, 2020). At least 24 incidents of landslides have been reported in the district since Sunday night, in which 300 families have been displaced, according to the District Disaster Management Committee. https://kathmandupost.com/province-no-3/2020/08/03/four-killed-and-four-missing-in-a-landslide-in-melamchi-sindhupalchok   (03 Aug. 2020)
CHINA
What the Potential Crisis on the Yangtze Means for China and World The Three Gorges Dam is only one of several dams built along the Yangtze. Although its reservoir is one of the largest, dams further upstream are often taller. The entire network needs to hold and release water in coordinated fashion in order to ensure that downstream reservoirs and overflow lakes are not overwhelmed all at once.
This is becoming a problem in 2020, because the entire Yangtze River basin, including rivers that feed the main Yangtze, have been subjected to an unprecedented series of massive rainstorms. As a result of the massive inflow of water, upstream dams are themselves under increasing stress, as flooding inundates their catchment areas. https://www.dailysignal.com/2020/08/04/what-the-potential-crisis-on-the-yangtze-means-for-china-and-the-world/   (04 Aug. 2020)
THE REST OF THE WORLD
US Contrary to appearances, barge not really stuck on Allegheny River dam in Natrona Interesting to see to what length the US Army Corps of Engrs go to ensure dam safety: They mounted a barge on the dam to divert water so that divers can go down to inspect the dam wall under water. https://triblive.com/local/valley-news-dispatch/contrary-to-appearances-barge-not-really-stuck-on-allegheny-river-dam-in-natrona/  (06 Aug. 2020)
NILE GERD dam talks resume to resolve years-long dispute Irrigation ministers of Egypt, Sudan and Ethiopia took part in Monday's (Aug 3, 2020) talks, which were held online amid the coronavirus pandemic. The virtual meeting was also attended by officials from the African Union and South Africa, the current chairman of the regional bloc, said Sudan's Irrigation Minister Yasir Abbas. Officials of US and EU were in attendance. The ministers will again meet on Aug 6.
– Key sticking points remain, including how much water Ethiopia will release downstream if a multi-year drought occurs and how the countries will resolve any future disputes. Egypt and Sudan have pushed for a binding agreement, which Ethiopia rejects as it insists on non-binding guidelines. https://www.aljazeera.com/amp/news/2020/08/nile-mega-dam-talks-resume-resolve-years-long-dispute-200803194315603.html   (03 Aug. 2020)
Egypt fears the $4bn project could lead to water shortages upstream, while Sudan said it is concerned about the dam's safety. https://www.aljazeera.com/news/2020/08/egypt-withdraw-latest-nile-dam-talks-consultations-200805055611960.html  (05 Aug. 2020)
Experts call for independent body to oversee new standard to prevent dam collapses at mines The chairman of the group behind a new standard designed to reduce the chance of deadly dam collapses on mine sites says an independent body should oversee the benchmark, rather than industry as mining companies would prefer.
– Bruno Oberle, an environment professor at L'Ecole Polytechnique Fédérale de Lausanne, agreed to chair an international review of tailings dams in April 2019 that was set up after a dam at the Córrego do Feijão mine in Brumadinho, Brazil killed 270 people.
– The new standards are designed to reduce the risk of further disasters by making mine operators properly plan to build and shut down dams, and have emergency plans in place for the local population if there is a breach. They also require companies to provide information about the dams, which collect waste slurry from mines, to a new central database and beef up their governance of the engineering process.
– In a paper designed to be circulated to the sponsors of the Global Tailings Review project – the United Nations Environment Programme, industry body the International Council of Mining and Metals, and the investor group the Principles for Responsible Investment – Oberle said he preferred an independent body to other options put forward to give the standards life.
– Reasons for creating an independent organisation included that it would "provide the standard with a certain autonomy from industry, reduce the risk (real or perceived) of industry capture and build trust and credibility with external stakeholders", he said in the paper. Another key participant in the review, the Unesco professor of marine science at the University of Sydney, Elaine Baker, said she would also prefer an independent body to oversee the new standard.
– She said a model for independent oversight already existed in the gold industry, where a code on the use of cyanide to leach the precious metal out of ore is overseen by the Washington-based International Cyanide Management Institute. "The industry wants to continue to self-regulate," she said. "They have been in a position of self-regulation all this time there's been a history of catastrophic dam failures in countries where you would think mine governance was pretty good, including Australia," she said. She said it was important that the standard included disclosure of how much it would cost to take a dam down once mining was over.
– As part of the code, mining companies will be required to contribute detailed information to a worldwide database of tailings dams, which Baker has helped set up. She said companies she asked for information about their dams had been surprised to find they did not have the information readily available. https://amp.theguardian.com/australia-news/2020/aug/06/experts-call-for-independent-body-to-oversee-new-standard-to-prevent-dam-collapses-at-mines   (06 Aug. 2020)
Compiled by SANDRP (ht.sandrp@gmail.com)
Also see: DRP News Bulletin 03 Aug. 2020 & DRP News Bulletin 27 July 2020
Follow us on: www.facebook.com/sandrp.in; https://twitter.com/Indian_Rivers