Following recent Punjab floods, the Punjab Chief Minister said that the state government would go for canalisation of rivers, as if that is going to help in managing or avoiding flood disaster. This proposal seems to come out from nowhere, but considering that the CM talked about funding by the World Bank and Asian Development Bank, either this is already under discussion or these institutes have proposed this to the Chief Minister. The Proposal seems blind to the impacts, costs, risks and wider implications of the canalisation of rivers.
To avoid duplication, the excellent report in MINT below provides detailed reasons why it is a disastrous Idea. The Indian Express report below is in fact a bad example of reporting, since it does not even mention the impacts, costs or risks of the canalisation proposal. And the report that follows these two from California in USA shows how there the work is ongoing to reverse the trend and bring more flood plains in connection with the rivers at a huge cost. Why do we have to repeat the blunders of others, as propagated by the World Bank and ADB and then pay the price in reversing the blunders?
A number of independent people have spoken why it is not a good idea to canalise rivers that Punjab CM talked about during recent floods. https://www.livemint.com/news/india/why-constructing-canals-is-not-the-solution-to-floods-in-punjab/amp-1566636597227.html   (24 Aug. 2019)
SHOCKING piece from Indian Express that explains nothing, does not show any understanding of the role of rivers and costs and risks of such canalisation projects. (https://indianexpress.com/article/explained/explained-why-punjab-needs-to-canalise-its-rivers-5936751/ Aug 26, 2019)
Reactivating our floodplains: A new way forward HOW TO REACTIVATE FLOODPLAINS: With some modest changes to infrastructure, farmland, wildlife refuges, and the flood bypasses can all be re-operated to mimic the ecosystem processes of the historic floodplains while continuing to provide vital flood protection for Sacramento and other parts of the Valley.  The panelists discussed how by spreading out and slowing down water across the landscape can provide multiple benefits year-round by allowing farmers to cultivate the land during the spring and summer, and provide habitat for fish and wildlife in the fall and winter months. $ 100 M has been allocated for this work in the Budget.
– The Sacramento Valley earlier was an incredible mosaic of wetland habitats with different kinds of marsh and emergent wetlands and riparian jungles along the rivers.  It really was one of the world's great wildlife landscapes where the wetlands really defined the valley. "It's not just every farm field – it's your backyard, the Safeway parking lot – really the entire human-built landscape is designed to push that water off the landscape as quickly as possible," Dr. Katz said.  "That fundamental alteration in the natural pattern, the natural process, the natural flow of how water flows across the landscape has had many unintended consequences."
– "This capacity to make food – those bugs make fish – that has been largely surgically taken out of the system.  Our levees and our drainage system creates food deserts of our rivers… One of the reasons for this is residence time.  The water in the river turns over every couple of seconds; in the canal, every half minute, but in the field, every couple of days." "Residence time of water is the time that it takes to actually build these important food webs and it is absolutely critical," he said.  "If you're rapidly pushing the water off the landscape, you don't have the residence time necessary to make bugs, to make fish, and to make a healthy system… residence times necessary to create functioning riverine aquatic food webs… food webs which are the fundamental functioning of resilience.  Resilience is about diversity."
– "The moment you let the river spread out onto its natural floodplain, you have this much larger surface to capture winter sunlight," he said.  "Whether it's summer or winter, the same thing needs to happen.  You need to spread the water out, you need to slow it down, and you need to mimic that natural flood regime… We can't be surprised if we reduce the floodplain surface by 95%, that we're reduced to some small fraction of the fish biomass.  That's the math that we've created."
– Sunlight can be trapped by vegetation on the floodplain and by floating algae, it can be turned into food by microbes and bacteria which is then eaten by zooplankton and bugs which make fish, which given a little time, makes bigger fish, which are healthy.  Making fish takes time; it doesn't happen instantaneously. https://mavensnotebook.com/2019/08/21/reactivating-our-floodplains-a-new-way-forward/  (21 Aug. 2019)
DAMS FLOOD PUNJAB Govt to take support of WB, ADB for canalising of rivers  After an aerial survey to assess the damage caused by flooding in Sultanpur Lodhi of Kapurthala and Jalandhar areas, the CM announced a project to realign river streams and courses besides strengthening and widening river embankments.
The CM also inspected the breach in Gidderpindi of Jalandhar, resulting from the release of excess water from the Bhakra dam. For the first time, the Bhakra, which normally filled to its permissible storage level of 1,680 feet by September, was overflowing in August, said the CM. https://www.news18.com/news/politics/punjab-to-take-support-of-world-bank-adb-for-canalising-of-rivers-2280167.html  (22 Aug. 2019)
Punjab, Haryana fail to tap surplus to recharge groundwater As water from Indian rivers flows into Pakistan and floods wreak havoc in the plains, the authorities managing dams and Punjab and Haryana governments are being criticised over their "lack of synergy and planning to deal with the surplus".
 "On one side, PM Modi speaks of water conservation and on the other, precious water from Indian rivers is being allowed to flow into Pakistan — not just now (during intense rain), but at the peak of summer. Why were billions of litres released from Bhakra, Pong and Ranjit Sagar reservoirs this summer, much of which went to Pakistan and against the proclamations of the government," said Himanshu Thakkar of the SANDRP. https://www.tribuneindia.com/news/nation/punjab-haryana-fail-to-tap-surplus-to-recharge-groundwater-experts/819831.html  (20 Aug. 2019)
The Punjab Government on Aug 25, 2019 sought stoppage of or reduction in the outflow from Bhakra dam as some breaches in the waterway downstream of Ropar headworks need to be plugged and the repair work can be carried out only if the water level is stopped/ reduced. BBMB has decided that outflow cannot be stopped, but decided to reduce the outflow from 19000 cusecs to 8300 cusecs. The water level of the dam currently is 1676.1 ft. Inflow is 45000 cusecs, outflow is 54000 cusecs, including 36000 cusecs from power houses. https://www.tribuneindia.com/news/punjab/bhakra-outflow-cut-to-8-300-cusecs/822849.html  (26 Aug. 2019)
The EDITORIAL in The Tribune on "PUNJAB FLOODED" lacks clarity. Only clear thing it says is that there was lack of coordination between BBMB and Punjab and control of BBMB for Punjab wont help, but sustained efforts will be required. That is clearly not good enough.  https://www.tribuneindia.com/news/editorials/punjab-flooded/822002.html  (24 Aug. 2019)
Example of how advance information and preparedness helped Nawanshahar district in Punjab to avoid flood disaster. https://indianexpress.com/article/cities/chandigarh/punjab-in-path-of-raging-sutlej-nawahshahr-wins-race-against-the-clock-and-how-5932828/   (24 Aug. 2019)
Debate on Bhakra role in floods Former chief engineer (irrigation) of Punjab Amarjit Singh Dullet said the BBMB could have handled the situation better. "They should not have filled up Bhakra dam by 1,680 feet and should have kept it 1,670 feet. I am not at the helm of affairs but this is what we used to do. Why do they now want to reduce it to 1,675 feet and not before? In view of the impending monsoon, 1,670 feet was a good level even if the BBMB wanted to watch the interest of other state. https://timesofindia.indiatimes.com/city/chandigarh/debate-over-bhakra-dam-spillway-rages-on/articleshow/70795731.cms  (23 Aug. 2019) 
Sources in the irrigation department said losses to the villages could have been avoided had BBMB stopped withdrawing water from Beas-Satluj Link (BSL) diversion to generate power at Dehar power house. From BSL, water is stored at Pandoh Dam in Mandi district of Himachal Pradesh and after power generation the water is sent to Bhakra Dam that directly releases it in the Satluj. In this way, around 9,000 cusecs of water from Beas river is released into the Sutlej on a daily basis.
– Flood had first hit the villages in Anandpur Sahib and Nurpur Bedi blocks of Ropar district on August 16 after the water was released from Bhakra Dam. It led to flooding in several villages of Ropar. On August 17, BBMB released 45,100 cusecs of water in the Sutlej. At the same time, the BSL diversion carried 8,365 cusec of water towards the Sutlej. According to sources, to clear the silt left behind after floods, BBMB stopped the BSL diversion on August 18 and 19 as part of flushing operations. However, when asked, top BBMB officials claimed that they had stopped BSL diversion following floods. The officials replied that predictions of IMD was incorrect and the heavy rainfall was beyond their expectations.  https://timesofindia.indiatimes.com/city/chandigarh/bbmb-could-have-reduced-water-in-satluj-by-altering-bsl/articleshow/70795703.cms  (23 Aug. 2019)
Senior SAD leader Prem Singh Chandumajra on Thursday accused the BBMB of "mismanaging" the release of excess water in the wake of recent heavy rainfall. The SAD leader said their party would approach the Punjab and Haryana High Court against the board and seek compensation for the extensive damage caused in several Punjab districts with the release of excess water into the Sutlej river. "The BBMB opened spillway gates to release excess water when the Sutlej and its tributaries were already swollen. It caused extensive damage in Punjab," said Chandumajra, adding that the BBMB should have taken appropriate steps when the Meteorological Department had warned it of heavy rainfall. https://www.tribuneindia.com/news/punjab/will-move-high-court-against-bbmb-chandumajra/821171.html  (22 Aug. 2019)
Very heavy rain over just three days – August 17 to 19 – Thousands of lives have been affected even as standing crop on over 1,00,000 acres of land has got submerged under over 4 feet (ft) of water.
– Just the rainfall between August 17 and 19 raised the water level in the dam by over 7 ft. It was 1674.82 ft before the rainfall started on August 17. It went to 1679.33 ft on August 18, and then 1681.25 feet on August 19, which was 1.25 ft above the maximum allowed limit.
– BLUNDERING EXPLAINED: FLOW RATES CANNOT BE ADDED, ONLY VOLUMES CAN BE, CUSECS IS MEASURE OF FLOW RATE AND HAS BEEN ADDED HERE: The Bhakhra dam received around 4.87 lakh cusecs in these three days and it released 1.85 lakh cusecs in the same period. It received 96,102 cusecs, 3.11 lakh cusecs and 80,000 cusecs on August 17, 18, and 19, respectively. While outflow was 53,000 cusecs, 55,000 cusecs and 77,300 cusecs, on August 17, 18 and 19, respectively. https://indianexpress.com/article/explained/explained-how-bhakra-dam-managed-recent-heavy-rainfall-5924233/   (21 Aug. 2019)
"Unprecedented rain on the intervening night of August 17 and 18 generated around 3,11,130 cusecs of inflow into the Bhakra dam, raising the water level up to 1,681.33 feet on August 19. This water inflow was more than that in 1988, when Punjab saw its worst floods," said BBMB Chairman Mr. D K Sharma. https://www.thehindu.com/news/national/other-states/bhakra-board-handled-floods-successfully/article29214803.ece  (21 Aug. 2019)
"The deflection experienced this time was among the highest such recorded instances due to the intense pressure of water," BBMB Chairman said.
– The gates of the spillway were initially opened only by three feet and thereafter by eight feet. In 1988, the gates had been opened up to 22 feet.
– Further IITs at Roorkee and Ropar had been roped in to identify areas along the reservoir's periphery that were prone to silt inflow and to assess the commercial exploitation of silt dredged from the reservoir bed. https://www.tribuneindia.com/news/nation/bhakra-water-level-to-be-reduced-by-5-ft/820722.html   (22 Aug. 2019)
In interviews, officials from the IMD described the rainfall on August 17-18th in Himachal Pradesh as an unprecedented Meteorological event. Regional Director Surinder Paul said the rainfall in Bilaspur, Una, hamirpur and Shimla districts of Himachal Pradesh were 252.5 mm, 147.7mm, 134.7mm and 104.8mm on August 18. These districts are right next to the Bhakra reservoir, implying that the surface run-off from these rains quickly flowed into the reservoir, raising its level without warning.  https://www.huffingtonpost.in/entry/punjab-himachal-floods-2019_in_5d5bfaade4b05f62fbd577f1   (22 Aug. 2019)
Alert After Release of Excess Water from Bhakra Dam An alert was sounded in several districts following the release of excess water from Bhakra dam through the spill gates after heavy rainfall in its catchment area on Aug. 17. BBMB authorities discharged 17,000 cusecs of excess water out of total release of 53,000 cusecs through the spill gates, an official said. The remaining 36,000 cusecs was released after its use for power generation, he added. The official said the situation is being monitored closely. https://www.news18.com/news/india/punjab-on-alert-after-release-of-excess-water-from-bhakra-dam-2273929.html  (17 Aug. 2019)
Bhakra level dips, no more water discharge for now After touching a 30-year-high on Aug. 18 morning, inflows into the reservoir at Bhakra Dam in Himachal Pradesh began to subside later in the day. The authorities then decided not to release additional water downstream for the time being. https://www.tribuneindia.com/news/punjab/bhakra-level-dips-no-more-water-discharge-for-now/819446.html  (19 Aug. 2019)
Discharge from Bhakra to be stepped up Following heavy rains in the region, the water released from the dam's sluice gates accounted for just about 10 per cent of the total water that had accumulated downstream and caused floods in the vicinity of the Sutlej in Punjab over the past couple of days.
"Once water from various sources downstream of the dam subsided, we decided to step up the controlled release from Bhakra to manage excess water and also to ensure a buffer for heavy inflow due in case of heavy rains in the catchment area over the next few days," the official said. https://www.tribuneindia.com/news/punjab/with-water-downstream-subsiding-discharge-from-bhakra-to-be-stepped-up/819774.html  (19 Aug. 2019)
BBMB decides against releasing more water BBMB chairman DK Sharma maintained that authorities will continue to release 19,000 cusecs of water from the flood gates. He said an increase in water level by one to two feet at the dam could be allowed beyond the optimum level of 1,680 feet.
He said floods in the Sutlej did not result from release of water at the Bhakra dam, but due to increased inflow of water from Swan river and Sirsa rivulet into Sutlej. He said the situation is being monitored on half hourly basis, adding that power generation at Pong dam and Dehar project had been stopped. However, keeping in view the dam's safety, sources say there is heavy inflow at the dam and BBMB authorities may have to release more water. https://www.hindustantimes.com/cities/bbmb-decides-against-releasing-more-water/story-IWsNoM4UY47Eu4cdJogD0N.html  (19 May 2019)
Flood alert in 8 districts A 'medium' flood alert has been issued in 250 villages of eight districts of Punjab (Ropar, Nawanshahr, Jalandhar, Kapurthala, Ludhiana, Tarn Taran, Moga and Ferozepur) with situation being grim in districts along Sutlej river in which 2.40 lakh cusecs water was released Aug. 18 from Ropar Headworks. A major portion of this heavy release came from half dozen local rivers, nullahs downstream falling between Nangal and Ropar. There are around 250 villages located in the low lying areas. Army has been requested to standby in all these districts. Also orders have been issued to close schools in the affected areas of some districts.
– On Aug. 18 total 2.40 lakh cusecs water was released from Ropar Headworks in river Sutlej, which included 55,000 cusecs of Bhakra dam, 58,750 cusecs of Sirsa river, 83,96 cusecs (this figure seems typo, one digit is missing, it seems) of Swan river, 14,778 cusecs of Budhki, 12,180 cusecs of Siswan, and 13,800 cusecs of Sagrao. This flow was, however, down by evening from 2.40 lakh cusecs to 1.89 lakh cusecs at 3 pm and 1.63 lakh cusecs at 6 pm.
– PONG: BBMB informed that on Aug. 18 the level of Pong Dam has gone up by around 7.31 feet since Saturday from 1364.59 feet on Saturday to 1371.90 feet on Sunday evening. Pong Dam on Beas river received maximum 2.10 lakh cusecs water in the past 24 hours. There was no discharge of water from Pong on Aug. 18 because the officials wanted to fill it as it has quite a good capacity. The maximum limit of dam is 1390 feet and still it has around a space of around 20 feet. Pong dam's level has gone up by 11.90 feet in past four days.
– BHAKRA: The situation in Bhakra dam is more grim where dam level has gone up by 5.38 feet in past 24 hours including around 3 feet up on Sunday itself. The level of dam is now 1680.11 feet against 1674. 75 feet yesterday. The highest limit of the dam is fixed at 1680 feet by officials and now the dam has opened all its flood gates upto 4 feet on Aug. 18. The inflow of the water in the dam was recorded 2.41 lakh cusecs in the morning and 1.42 lakh cusecs in the evening. The outflow remained between 53,000 to 55,000 cusecs during the day.
– RANJIT SAGAR DAM: Ranjit Sagar dam's level was recorded at 522.45 metres on Sunday evening while it was 519.85 metres on Saturday evening. The level of the dam has gone up by 2.6 metres. It has a safe limit of 527 metre and released only 20,088 cusecs water till 10 pm on Aug. 18. https://indianexpress.com/article/chandigarh/flood-alert-in-8-punjab-districts-more-rains-predicted-today-5915934/   (19 Aug. 2019)
Bhakra level 1681.23 ft. 77300 cusecs water released. https://timesofindia.indiatimes.com/city/chandigarh/flood-situation-remains-grim-as-bbmb-release-more-water/articleshow/70742002.cms   (19 Aug. 2019)
The next challenge for the BBMB is the next spell of rainfall predicted from August 23. The board officials said things were under control as the tough phase got over when the inflow into the dam touched 3.11 lakh cusecs on Sunday and water levels witnessed 4-foot rise in a day. Last time, it was in 1988 when 3.18 cusecs of water had flown into the reservoir, leading to flooding downstream of the dam. BBMB has another concern at hand of keeping the dam deflection angle under control. A senior board official said currently it is tiled by 1.12 inches due to a tremendous push because of the huge amount of water it is upholding upstream. https://www.hindustantimes.com/chandigarh/bhakra-level-crosses-critical-1-680-ft-mark-worries-mount/story-Rm8MC6YnwnyyHUogwZHKGN.html   (20 Aug. 2019)
"Though every effort was made to restrict the releases from Bhakra, however, considering the present level of 1681 feet and the heavy inflows to the tune of more than 1,00,000 lac cusecs coming into the reservoir, it has been decided to increase the release through spillway of Bhakra dam from 538 cumec (19,000 cusec) to 1161 cumec (41,000 cusec), in addition to the releases from turbines," the BBMB statement said on Aug 19, 2019. "This release from spillway will be about 14% of the total capacity of spillway."
The statement also said that the board had stopped generation of power from the Pong Dam "to minimize the flooding at Harike barrage". https://www.tribuneindia.com/news/punjab/with-water-downstream-subsiding-discharge-from-bhakra-to-be-stepped-up/819774.html  (19 Aug. 2019)
Bhakra dam level crosses permissible limit, more water released The water level in the Bhakra dam crossed its permissible limit of 1,680 feet on Aug. 19, prompting the authorities to increase the release of excess water through spillway gates to 41,000 cusecs, officials said. "Water level in the Bhakra reservoir was 1,681 feet at 10 am on Aug. 19 against the permissible storage level of 1,680 feet," an official said.
The water level at the dam, which usually gets filled to the capacity by September, crossed the permissible limits in the month of August for the first time. According to a BBMB official, the water inflow into the reservoir peaked at 3.11 lakh cusecs on Aug. 18 due to incessant rains in the past two-three days and it is almost near the level of 3.18 lakh cusecs that was witnessed during 1988 floods in Punjab. An official said the inflow had happened despite the diversion of 8,500 cusecs of water of the Beas river through Beas-Satluj link project into the Sutlej river.
With many people in Punjab blaming the flooding of the downstream areas because of the release of excess water from Bhakra, the dam authorities ruled out the allegation. In all the rivulets of Punjab having catchment area downstream of the Bhakra dam, there was heavy water inflow of around 2,00,000 cusecs, an official said. "It was due to heavy rainfall in Punjab areas and not due to any release (19,000 cusecs) of water from the Bhakra dam." https://economictimes.indiatimes.com/news/politics-and-nation/bhakra-dam-level-crosses-permissible-limit-more-water-released/articleshow/70740321.cms  (19 Aug. 2019)
'Had to release water from Bhakra dam due to unprecedented flow into reservoir' BBMB on Aug. 21 said it had to release large quantities of water from the Bhakra dam due to "unprecedented" high levels of flow into the reservoir from catchment areas owing to heavy rain — the highest in the last 40 years. This they said had also resulted in one of the highest levels of deflection in the structure of the dam itself.
Addressing a press conference flanked by senior officials of the board, BBMB Chairman D K Sharma said heavy rain on the intervening night of August 17 and 18 in catchment areas had generated 3.11 lakh cusecs of water for release into the Bhakra dam, and this water inflow was more than that of the 1988 floods in Punjab, which was the worst the state has seen till date.
The chairman said that an international tender had been floated to study the strength of the Bhakra dam and claimed that its present strength was 30 per cent more than what had been when it came up in 1964. He said the review is also being carried out in view of climate change and a dynamic and seismic analysis of the dam will be done.
On the question of silt deposits, DK Sharma said 24 per cent silt has been deposited in the dam since 1964. "We have asked IIT Roorkee to do a study on the utilisation of silt and tell us about its industrial use. This is an ongoing study and samples from 63 locations have been taken," he said. Sharma also said that IIT Ropar had been asked to do a study on the source of silt in catchment areas of the Sutlej so that the Himachal Pradesh government could be apprised for corrective measures. https://indianexpress.com/article/india/had-to-release-water-from-bhakra-dam-due-to-unprecedented-flow-into-reservoir-5926953/  (22 Aug. 2019)
Breach in embankment floods 57 villages With swollen Sutlej river breaching Dhussi Bandh at six spots in Jalandhar, water entered homes and fields in 57 villages in Jalandhar, Kapurthala and Ferozepur districts. While fields in all 57 villages were inundated, homes in over three dozen of them were under three to four feet water.
The breaches were reported to be 50 to 70 feet wide and took place at Bholewal Kadim, Meowal villages and two other points near Phillaur and at two places in Shahkot's Janian Chahal village and Gidderpindi Extension Bandh. Apart from the heavy discharge of water, weaknesses in the Dhussi Bandh were blamed for the breaches. In total, 31 villages of Phillaur, 18 of Shahkot (both in Jalandhar district), five of Kapurthala district and three in Ferozepur got affected. https://indianexpress.com/article/cities/chandigarh/punjab-floods-jalandhar-kapurthala-phillaur-shahkot-breach-57-villages-inundated-5918883/  (20 Aug. 2019)
CM on Aug, 25 demanded the immediate inclusion of his State among those identified for on-the-spot assessment of flood situation by an Inter-Ministerial Central Team (IMCT). The Centre has listed 11 States that the IMCT will assess for flood damage, but Punjab does not find mention in it even though it has witnessed large-scale flooding in many areas following unprecedented rain, read an official statement. https://www.thehindu.com/news/national/other-states/include-punjab-in-flood-situation-assessment-says-amarinder-singh/article29251643.ece  (26 Aug. 2019)
The Punjab govt on Aug. 19 declared the flood situation in the affected villages of the state as a natural calamity, with CM directing the Financial Commissioner, Revenue (FCR) to issue the necessary notification at the earliest. https://indianexpress.com/article/cities/chandigarh/captain-amarinder-singh-declares-natural-calamity-in-punjab-5918871/  (20 Aug. 2019)
Terming the deluge and the resulting flood situation in Punjab as "unprecedented", CM on Aug. 19 announced Rs 100 crore for emergency relief and rehabilitation measures and ordered a special 'girdawari' (crop loss assessment) as soon as the water level recedes. https://indianexpress.com/article/cities/chandigarh/punjab-unprecedented-says-cm-amarinder-releases-rs-100-crore-5918898/   (20 Aug. 2019)
In a first in 31 years, River Sutlej has recorded highest ever flow since 1988 and carrying 75,000 cusecs more water beyond its capacity of around 2 lakh cusecs. Sutlej recorded 2.75 lakh cusecs water flow on the intervening night of Aug. 17 and Aug. 18 at Phillaur, which is highest ever after 1988 floods.
On Aug. 19, the water flow in the river from Ropar had come down to 76,942 cusecs in the morning which reduced further to 54,526 cusecs at 7 pm. It was on September 9, 1988 that the river carried 4,55,411 cusecs of water leading to the worst ever floods in Punjab. https://indianexpress.com/article/cities/chandigarh/punjab-first-time-after-1988-floods-sutlej-carrying-more-than-its-capacity/  (20 Aug. 2019)
The inflow recorded on Aug. 21 was 69,511 cusecs, down from 91,000 cusecs Aug. 20. The water level was 1,860.82 ft against the permissible limit of 1,680 ft. There is a further capacity of four feet to cater to any eventuality resulting from freak weather. "We will continue to discharge water through the sluice gates till the level comes to 1,680 ft," a BBMB functionary said.  https://www.tribuneindia.com/news/nation/discharge-from-bhakra-to-continue/820176.html   (21 Aug. 2019)
2 new breaches worsened situation in Jalandhar, Kapurthala With two fresh breaches at Mandala Channa village, Lohian, in Jalandhar and Indessar village in Kapurthala, the flood crisis in the districts was aggravated.
With over 21 villages inundated in Lohian alone, there is no let-up in the severity of water flow. For the second consecutive night, more than 19,000 villagers are expected to spend night in the open. Over 30,000 acres in Jalandhar has been inundated. https://www.tribuneindia.com/news/punjab/2-new-breaches-worsen-situation-in-jalandhar-kapurthala/820673.html  (22 Aug. 2019)
Water continues to rise, so do fears Marooned in their houses by the swollen Sutlej, affected families at Janian Chahal, Chak Wadala and Gatti Peer Baksh villages in the district on Aug. 22 spent their fourth sleepless night stranded on rooftops, waiting for the water levels to recede. However, there was no respite in sight as water remained 8 to 10-ft deep at most places. https://www.tribuneindia.com/news/punjab/water-continues-to-rise-so-do-fears/820859.html  (22 Aug. 2019) 
Kaushalya Dam water level close to danger mark The water level of Kaushalya Dam and Ghaggar reached near their danger mark on late Aug. 18 night after it rained for many hours in Panchkula as well as Himachal Pradesh. While water in the Kaushalya Dam, which tops out at 478m, reached 477.40m, the Ghaggar river, with its danger level at 1.9m, was recorded at 1.8m on Aug. 17. Ghaggar will reach its danger mark once 20,000 cusec water is released and would flood the region if a total of 1.27 lakh cusecs of water is released, said Sumit, SDO, project sub-division. Deepak, SDE XEN (Irrigation), said they were keeping a check at water levels of Ghaggar as well as Kaushalya Dam.
The incessant rain in September last year had filled up not only the Kaushalya Dam reservoir up to the danger mark but also flooded other rivers flowing through the area. As the water crossed the dangerous level of 478 metre in the dam's reservoir on September 24, the sluice gates were opened to let it flow. The water had destroyed several hutments and parts of national highway (NH-22). Although only 1,500 cusec water was released from the dam, its full discharge capacity is more than double, at 32,400 cusec. https://indianexpress.com/article/chandigarh/kaushalya-dam-water-level-close-to-danger-mark-authorities-release-1000-cusec-water-every-hour-5918916/  (20 Aug. 2019)
Mohali DC writes to Panchkula counterpart not to release water from Kaushalya dam to Ghaggar river, but the same report mentions that the dam is full. What can Panchkula DC do if the dam is already full. Why is the dam full before the end of the monsoon is another question.: "the Kaushalya dam has a storage capacity of 478.10 metres and at present the maximum level is maintained. He added that about 1,200 cusecs of water was being released from the dam to maintain the level."  https://indianexpress.com/article/cities/chandigarh/dont-release-excess-water-into-ghaggar-mohali-dc-to-his-panchkula-counterpart-5922341/   (21 Aug. 2019)
HYDRO POWER PROJECTS
Arunachal Pradesh Taking rivers away from people This article does not paint NHPC is correct colours, but does say in the end: It is needless to say that the cultures and traditions – from birth to death – of the people worldwide are closely tied with the rivers. But the rivers are being taken away from the people by the hydropower developers. For them, people do not matter. The agitation against the Lower Subansiri project is continuing, it reports. https://arunachaltimes.in/index.php/2019/08/19/taking-rivers-away-from-people/  (19 Aug. 2019)
MoA signed between NHPC and Assam govt for implementation of SLHP This is likely to be seen as betrayal by the people of Assam. https://arunachaltimes.in/index.php/2019/08/24/moa-signed-between-nhpc-and-assam-govt-for-implementation-of-slhp/  (24 Aug. 2019)
Hydropower lobby, including govt officials (strangely wanting to remain anonymous even while towing govt line) is on overdrive. https://www.livemint.com/industry/energy/of-butterflies-cranes-macaques-and-india-s-hydropower-conundrum-1566633126097.html 
Another Pro Hydro media report. This  one confesses that NHPC started work on Lower Subansiri HEP in 2006 without signing necessary agreement with Assam, which has now been corrected. But this is unlikely to help quell the opposition among people of Assam. https://energy.economictimes.indiatimes.com/news/power/nhpc-likely-to-begin-construction-of-2-gw-lower-subansiri-hydro-plant-in-october/70835150  (26 Aug. 2019)
Manipur Khuga dam: Squandering Peoples' Resources, Land & Lives Jiten Yumnam of Manipur about issues related to Khuga dam: http://www.ifp.co.in/page/items/60604/khuga-dam-squandering-peoples-resources-land-lives  (20 Aug. 2019)
Jiten Yumnam of Manipur explains how the Dolaithabi Barrage project inaugurated by the PM in Jan 2019 is being protested by both upstream and downstream communities. https://www.ifp.co.in/page/items/60503/dolaithabi-barrage-an-emerging-failed-dam-of-manipur/   (15 Aug. 2019)
DAMS
Sardar Sarovar Dam Villagers Protest in Delhi Against Rising Levels, Rehabilitation Hundreds of people — mostly farmers, fishermen and workers — affected by the Sardar Sarovar Dam staged a protest in national capital demanding that the Narmada Control Authority (NCA) refuse permission to fill dam at its full reservoir level at 139m. The agitation at the Jantar Mantar was led by Narmada Bachao Andolan (NBA) volunteers.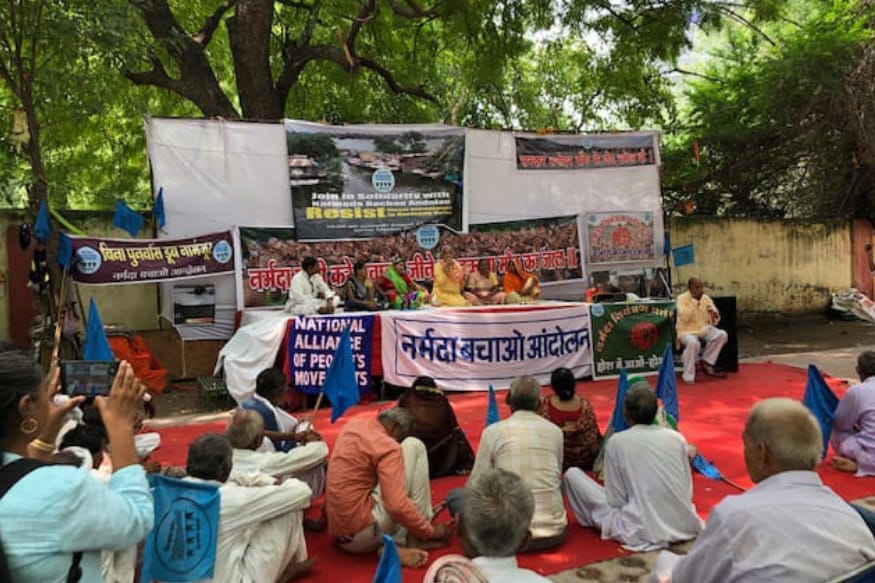 "We are not begging for compensation. We are demanding our rights and entitlements which the government is supposed to provide as decided by the Narmada Water Dispute Tribunal and reiterated by the Supreme Court. Various policies of the state government have also confirmed the same," said Devram Kanera, a senior activist. https://www.news18.com/news/india/sardar-sarovar-dam-hit-villagers-protest-in-delhi-against-rising-water-levels-inadequate-rehabilitation-2279075.html  (21 Aug. 2019)
Gujarat proposes to double speed of filling Sardar Sarovar Dam Taking the interstate dispute of sharing of Narmada water to a new level and showing haste to fill up the Sardar Sarovar Dam to the brim, Gujarat has urged the NCA to double the speed of water to fill the dam reservoir. NCA sources said that according to the dam safety manual, 30 cms of water should be filled in 48 hours but Gujarat wants it to be doubled- 60 cms in 48 hours. "An August 14 letter of the NCA received by MP on August 15 asking the authorities to attend the meeting of Sardar Sarovar reservoir regulation committee (SSRRC) on August 16", the sources said. Two officials of Sardar Sarovar Narmada Nigam Limited placed before the NCA a plan to double the speed of filling of water. MP minister says MP opposed Gujarat's proposal. https://timesofindia.indiatimes.com/city/bhopal/gujarat-proposes-to-double-speed-of-filling-sardar-sarovar-dam-water/articleshow/70744164.cms  (19 Aug. 2019)
INHUMAN face of Yogendra Alagh, is exposed, he is demanding and supporting filling up the reservoir even when thousands of people are not resettled and rehabilitated. All his pretensions of Humane face and critical of Gujarat govt have fallen off. https://indianexpress.com/article/opinion/columns/sardar-sarovar-narmada-project-gujarat-bjp-5921770/  (21 Aug. 2019)
On August 25, the backwater level rose to 133 metres, 6.5 metres above the danger mark, leaving thousands of trees, large chunk of agricultural land and human settlements in Nisarpur, about 180 kilometres from here, on the brink of going under, an senior official said. The village, two centuries old, has a population of around 10,000 and several of them have moist eyes as they see everything that was part of their lives start to fold up as the water level rises unrelentingly.  https://www.moneycontrol.com/news/india/sardar-sarovar-dam-water-level-rises-madhya-pradesh-village-set-to-vanish-4370201.html  (25 Aug. 2019)
Polavaram Dam Setback For Jagan Reddy After Court Stays Multi-Crore Polavaram Tenders Last month an eight-member government-constituted committee alleged problems in the tendering process and also said Navayuga had been paid Rs. 3,128 crore in violations of prescribed norms. The Polavaram irrigation scheme, a mega project on the Godavari River, is one of the most expensive ever undertaken by any state. Rs 58000 cr is the cost, this report says. https://www.ndtv.com/india-news/setback-for-jagan-reddy-after-court-stays-multi-crore-polavaram-tenders-2089022  (23 Aug. 2019)
The Andhra Pradesh high court on Aug. 20 admitted an urgent petition filed by Navayuga Engineering Company Limited challenging the Jagan Mohan Reddy government's move to terminate its contract for the Polavaram irrigation project, including the completion of hydro-power project and call for fresh tenders. The court heard the arguments from both the Hyderabad-based company and the state government and reserved its judgement.
– Meanwhile, the Union ministry of water resources is learnt to have called for a report from Polavaram Project Authority (PPA), which monitors the execution of project, on why the state government had called for fresh tenders for the project overruling the objections of the Centre. "The PPA will be submitting a report to the government within a week," an official familiar with the development said. https://www.hindustantimes.com/india-news/engineering-company-moves-andhra-hc-after-govt-scraps-polavaram-contract/story-71Jyj1mRu6zpvOr0vT68kL.html   (20 Aug. 2019)
Kaleshwaram Project Guests At Grand Opening Took Home Gifts Of Silver  When Kaleshwaram project was inaugurated the CMs of Andhra and Maharashtra, the Telangana ministers and other dignitaries all took silver gifts weighing 180 kgs  with them. Costing the state Rs 1.66 Crores. https://www.ndtv.com/telangana-news/guests-at-telangana-projects-grand-opening-took-home-gifts-of-silver-2089042  (22 Aug. 2019) 
INTERLINKING OF RIVERS
SANDRP Blog From thirsty Tribal areas to Industries: Travesty of Intrabasin Transfers in Maharashtra How Benign or INHUMAN are intrabasin transfer proposals? See this submission from Parineeta Dandekar to Expert Appraisal Committee of MoEF on Maharahstra's proposal for Damanganga-Upper Vaitarna-Godavari Link.
This particular project aims to take water from water scarce Tribal Mokhada region and transfer it to Sinnar, mainly for Industries. Displacing 4000 people, mainly tribals, destroying 442 acres of Forests and submerging 3000 acres of land in 8 villages. Plz Read, Share and Oppose.  https://sandrp.in/2019/08/20/from-thirsty-tribal-areas-to-industries-travesty-of-intrabasin-transfers-in-maharashtra/  (20 Aug. 2019)
The blog has also been published here. https://www.counterview.net/2019/08/river-interlinking-to-transfer-tribals.html 
Maharashtra Govt's river linking schemes ecologically harmful EXCELLENT PIECE BY KETAKI GHOGHE: The BJP-led government came to power in Maharashtra in October 2014 riding on the back of a multi-crore irrigation scam. CM Devendra Fadnavis had then not just promised the state that those found guilty in the scam would be punished but also that the state would turn away from non-performing large dams and lift irrigation schemes to more smaller water conservation projects. Five years later as the Fadnavis-led government heads into assembly polls to vie for a second stint in power, neither of these promises seem to have held any good.
– And, in a classic case of spending good money after bad, the BJP-led government is now banking on large and costly river linking projects as part of its vision 2024 to tackle the drought challenge in the state. The proposed link, Parineeta Dandekar argues, will take water from a water starved, malnourished tribal region to economically powerful region (Sinnar investment hub under Delhi Mumbai Industrial Corridor) and further inequalities. In doing so, it will also construct five dams in the ecologically sensitive western ghats and submerge 179 hectares of forests. https://www.hindustantimes.com/india-news/fadnavis-govt-s-river-linking-schemes-ecologically-harmful-say-experts-i-opinion/story-LRVOyaNdUzmniwyb2izHaJ.html  (22 Aug. 2019)
A strongly worded letter has been sent to principal secretary of water resources department (WRD) and other top bureaucrats by Aurangabad divisional commissioner Sunil Kendrekar, seeking diversion of complete water from upper Vaitarna dam into Godavari river basin for filling reservoirs in Marathwada having a total capacity of about 312 TMC. The letter also proposes construction of a pump house at Tansa-Vaitarna river intersection and divert 110 TMC of water to Godavari through middle Vaitarna and Darna dams. Similarly, construction of a pump house on the point of intersection of Bhalsa and Kali rivers would help diverting 25 TMC of water through Bhalsa-Darna or through Bhandardara dam into Godavari.
– In addition, Kendrekar has asked for a plan for preventing discharge of 52 TMC water from Godavari river basin to Telangana, apart from diversion of 40 TMC water for Marathwada region from Krishna-Bhima river basin. https://timesofindia.indiatimes.com/city/aurangabad/divn-commissioner-seeks-water-from-different-sources-to-godavari/articleshow/70811458.cms  (24 Aug. 2019)
Experts oppose Marathwada water grid project Expressing dismay at the state government's decision to kick off work on the water grid, a resolution adopted unanimously at last week's Marathwada Water Grid Parishad in Jalna says the demands of Marathwada's people for real change in water management remain unheeded. It says project consultant Mekorot, the Israeli national water company, has inadequate experience in the complicated subject of dam management in the state. "We have serious doubts about the need, practical feasibility and implementation of the water grid project," says the resolution, attached to the letter sent to the chief minister.
To be built by the Maharashtra Jeevan Pradhikaran, the first tenders of the Marathwada Water Grid are to be floated this week, covering a Rs 4,527 crore component of the Rs 16,000-crore project that aims to connect 11 major dams in eight districts through pipelines to allow water to be drawn from a water-surplus reservoir and pumped to water treatment plants and from there to talukas where there is a scarcity.
However, activists from the arid and drought-hit region have cited incomplete or suspended projects whose objective was to improve water availability in Marathwada to say the multi-crore pipeline project for drinking water fails to address a more basic problem of bringing water into the region. https://indianexpress.com/article/cities/mumbai/maharashtra-experts-write-to-cm-fadnavis-oppose-marathwada-water-grid-project-5918717/  (20 Aug. 2019)
INTERSTATE WATER DISPUTES
Telangana- Andhra Pradesh Work on Mallanasagar reservoir continuing despite HC stay, allege residents In spite of stay on work by Andhra High Court for the Mallanasagar Reservoir, part of the Kaleshwarm Project, the work continues, as this report illustrates with photos. Moreover, it says about earlier HC order: "Just earlier this week, the High Court had sentenced two government officials to imprisonment for two months and imposed a fine of Rs 2,000 each for contempt of its past orders, pertaining to the rehabilitation and resettlement of those displaced by the Mallanasagar irrigation project. The petitioners had alleged that their lands were acquired in violation of the Land Acquisition Act, 2013. They claimed that they were given only partial rehabilitation and didn't receive the full amount, which they were entitled to under the Act. After pronouncing its judgement, the court gave the state government six weeks to file an appeal in the case and stayed the sentence till then." https://www.thenewsminute.com/article/work-telanganas-mallanasagar-reservoir-continuing-despite-hc-stay-allege-residents-107802  (25 Aug. 2019)
URBAN RIVERS
SANDRP Blog Brewing Farmer Crisis in heavily polluted, frothing Byramangala Tank Region
Guest Blog by Nirmala Gowda of BET  on how Byramangala tank was breached recently without any consultation by the Cauvery Neervari Nigam Ltd around Bangalore and the consequences, all in the name of sewage management.   Plz Read, share and send feedback. https://sandrp.in/2019/08/24/brewing-farmer-crisis-in-heavily-polluted-frothing-byramangala-tank-region/  (24 Aug. 2019)
Mula-Mutha, Pune NGT team visit riverbed The five-member committee, appointed by the NGT, on Aug. 21 inspected encroachment in the Mula-Mutha river basin. A detailed report will be submitted to the NGT by this committee. A meeting of all the relevant government agencies will be convened soon to determine the policy on river encroachments and mines.
Pune and Pimpri-Chinchwad. Sarang Yadavadkar and Vivek Velankar, along with two other citizens, had filed a petition against NGT. A list of five places in the city and Pimpri was presented to the NGT at that time. Considering the serious situation in the river basin, the NGT had appointed a five-member committee to submit the report to them within six weeks. https://maharashtratimes.indiatimes.com/maharashtra/pune-news/monitoring-of-riverbed-river-ngt-members/articleshow/70777495.cms  (22 Aug. 2019)
Mutha River after the floods recede. No matter how polluted and perhaps stinking, urban rivers are a place for reflection and respite in a bustling city. Imagine the improved sense of well being if these sanctuaries were healthier and more inclusive. 
RIVERS
KRISHNA Andhra Pradesh "Amaravati not safe place for capital" Amaravati may not become Andhra Pradesh's new capital, Botsa Satyanarayana, Minister of Municipal Administration and Urban Development, hinted, pointing to the fact that large sections of the region were left flooded by heavy rain. "The Sivaramakrishna Committee pointed out that Amaravati is not a safe place for capital city. Many areas in the capital region are flood-prone, as you have been seeing," the minister said in Visakhapatnam on Aug. 20.
Botsa Satyanarayana's comments come a month after China-backed Asian Infrastructure Investment Bank and the World Bank dropped proposed loans worth $700 million. The World Bank had reportedly sought permission to conduct an independent investigation into complaints of irregularities like forced land acquisition. Concerns had also been raised over sanctioning of buildings on the floodplains of the Krishna River. In its risk assessment report, the World Bank had labelled the project "Category A", signifying it could have "significant adverse environmental impacts".
Ahead of Assembly polls in April, CM Jagan Reddy alleged the construction of the capital was riddled with massive corruption scams. He also alleged Mr Naidu was involved in the scams. Civil society groups like the NAPM and the Working Group on International Financial Institutions had welcomed the withdrawal of loans by the World Bank, saying there had been many violations. https://www.ndtv.com/andhra-pradesh-news/amaravati-not-safe-place-for-capital-says-andhra-minister-after-floods-2088144  (22 Aug. 2019)
Even while in opposition, Jagan Reddy kept saying at different fora that the capital did not require such a huge amount of land – 33,000 acres acquired by the TDP government.  Botsa Satyanarayana, also said that it wasn't financially viable in view of the local soil conditions. This statement is widely viewed as a clear hint at shifting the capital away from Amaravati. As if to prove the Botsa, heavy inflows in the Krishna river flooded a private bungalow built on the riverbed – the residence of former CM Naidu.
Construction work came to a grinding halt and a gloomy scenario is all pervasive with the World Bank and ADB backing out from lending. The Naidu govt incurred Rs 38,000 crore on building trunk roads and other infra facility in anticipation of aid to the tune of 715 million USD from these two lending agencies. A temporary secretariat was built with Rs 800 crore. A swanky building complex was constructed to house the High Court. https://www.thenewsminute.com/article/amaravati-s-fate-new-andhra-throwing-baby-out-bathwater-public-cost-107794  (25 Aug. 2019)
Centre Govt suggests spring rejuvenation program It is estimated that about nearly 200 million Indians, about 15 percent of the country's population, depend upon spring water from the Himalayas, Western Ghats, Eastern Ghats, Aravallis and other such mountain ranges for domestic and livelihood needs. These spring water sources, however, are facing the threat of drying up.
To address that, the Union Ministry of Jal Shakti Ministry has recently released a framework document that sets out a policy pathway to rejuvenate springs. The framework document notes that there is an urgent need to revive/regenerate springs – the source for drinking water, sanitation and irrigation among the Himalayan population – and to ensure sustainable and equitable uses of the augmented groundwater resources in these mountainous regions.  https://india.mongabay.com/2019/08/government-suggests-spring-rejuvenation-programme-for-water-security/  (22 Aug. 2019)
GANGA WII Presence of rare animal species found in Garhwal Himalayas Wildlife Institute of India (WII) have discovered, for the first time, evidence of the presence of certain animal species that were thought to have either gone extinct or were rarely found in the Garhwal Himalayas. In its fourth Annual Himalayan Seminar (AHS) WII institute said that "the presence of 8 mammals has been discovered, for the first time in Bhagirathi basin at an elevation between 459 meters to 6825 meters."
The 8 animal species include Tiger (Panthera tigris), Argali mountain sheep (Ovis ammon), Pallas's cat (Octocolobus manul), Tibetan woolly hare (Lepus oiostolus), Eurasian Lynx (Lynx lynx), Tibetan sand fox (Vulpes ferrilata), Woolly flying squirrel (Eupetaurus cinereus) and Asiatic wild dog (Cuon alpinus).  https://timesofindia.indiatimes.com/city/dehradun/presence-of-rare-animal-species-found-in-garhwal-himalayas/articleshow/70776408.cms  (22 Aug. 2019)
Dams, Climate Change threat to fish in Himalayan Rivers According to the scientists, the fish living in cold water would shift to higher reaches of the river in the summer so that they can survive in their comfort zone as the environment undergoes change because of Global warming.
Another research paper presented by Ms Aashna Sharma, Senior Research Fellow of WII finds, "due to the formation of dams on almost all  the Himalayan rivers, fresh water fish species are  unable to shift  in  the upper area during summer, because of which these water creatures are unable to save themselves in the summer season." the Dams so that such species can be saved from extinction. https://hillpost.in/2019/08/dams-climate-change-a-threat-to-snow-trout-fish-in-himalayan-rivers/112348/  (23 Aug. 2019)
YAMUNA Delhi Proposed landfill site on floodplain flooded The 42.7acre site at Ghonda Gujran, on which the East Delhi Municipal Corporation (EDMC) plans to build an 'Integrated Waste Management Facility,' is once again under the lens with activists alleging that the land is inundated with floodwaters.
Manoj Misra, convener of Yamuna Jiye Abhiyan, an NGO, on Aug. 22, sent letters to Delhi's lieutenant governor Anil Baijal and chief minister Arvind Kejriwal with videos and photographs of the site completely submerged under water and only a few trees and some power transmission towers visible. "We fail to understand how the DDA allotted this land to EDMC within the (Yamuna River) Zone O for garbage handling, and how the CPCB and NEERI declared the site suitable?" he said in the letter. https://www.hindustantimes.com/cities/land-flooded-activists-want-waste-management-project-at-ghonda-gujran-scrapped/story-jr42rmAcUmUTUs8wK81gSM.html  (23 Aug. 2019)
On March 20, DDA had sent a letter to EDMC informing that a 42.5-acre plot at Ghonda-Gujran Khadar near Wazirabad was available to it on a perpetual lease for a solid waste management processing and disposal facility. Environmentalists have been opposing both Ghonda-Gujran and Sonia Vihar locations due to their close proximity to the Yamuna floodplain. https://timesofindia.indiatimes.com/city/delhi/when-a-river-runs-through-waste-plant-site/articleshow/70794691.cms  (23 Aug. 2019)
Give specific timelines for cleaning of Yamuna: NGT The NGT has directed stakeholders to give specific schedule for cleaning the Yamuna, while noting that repeated timelines have not been adhered to in the last 30 years and pollution of the river was still continuing. The tribunal directed all authorities to submit timelines for the actions to be undertaken in terms of orders of the NGT and directed Additional Solicitor General Sanjay Jain, appearing for the Delhi government, to compile such information and suggest extended timeline wherever it has expired. The green panel had earlier said that failure of authorities is affecting life and health of citizens, and threatening the existence of a major river like Yamuna. https://www.moneycontrol.com/news/india/give-specific-timelines-for-cleaning-of-yamuna-ngt-4370241.html  (25 Aug. 2019)  
FISH, FISHERIES, FISHERFOLKS
New species of freshwater fish found Scientists of the Zoological Survey of India have discovered two new species of freshwater fish from the north-eastern and northern parts of the country. While Glyptothorax gopii, a new species of catfish was found in Mizoram's Kaladan river, Garra simbalbaraensis was found in Himachal Pradesh's Simbalbara river. Both fish, measuring less than seven centimetres, are hill stream fauna and are equipped with special morphological features to suit rapid water flow. https://www.thehindu.com/sci-tech/science/new-species-of-freshwater-fish-found/article29121424.ece  (17 Aug. 2019)
SAND MINING
Centre ISRO tech to end sand-mining, man-animal conflict: Javadekar Govt tends to put too much emphasize and reliance on technological solutions to curb illegal sand mining, while mafia apart even most of legal mine holders often indulge in excess and illegal excavation. Making dependent and local community a key stakeholders in monitoring the mining process and projects could prove far better and effective deterrence, but govt refrains from applying it. 
Plans are afoot to detect illegal sand-mining across the country with the help of ISRO satellites and also augment water and fodder in forest areas to prevent man-animal conflict, Union Environment and Forest Minister Prakash Javadekar said on August 24. "With the help of ISRO technology, we will know where the sand is deposited and the government could auction it, thereby the mafia is avoided and a sustainable sand-mining will be in place, he said in response to a question on sand-mining, which has become a major challenge. https://www.moneycontrol.com/news/science/isro-tech-to-end-sand-mining-man-animal-conflict-prakash-javadekar-4369041.html  (24 Aug. 2019)
Delhi NGT panel to probe sand mining in river DJB CEO has moved the NGT alleging illegal sand mining in the Yamuna, which has prompted the green panel to seek a report. A bench headed by NGT chairperson formed a committee to examine the issue and asked them to submit a report within a month. NGT stated that DPCC will be the nodal agency for coordination and compliance of the matter, directing that a copy of the order be sent to the DPCC, CPCB and district magistrate for compliance. https://timesofindia.indiatimes.com/city/delhi/ngt-panel-to-probe-sand-mining-in-river/articleshow/70731652.cms  (19 Aug. 2019)
Punjab  2 nabbed for illegal sand mining Two persons have been arrested for illegal sand mining at Mahal village, Amritsar on Aug. 22. The suspects were driving a tipper carrying the illegally excavated sand. A case under Section 379 of the IPC, Section 21 of the Mining and Mineral Act has been registered against them. The police also impounded the tipper bearing number PB-07-AF-5241. Further investigations are on to ascertain from where the sand was excavated in an illegal manner. https://www.tribuneindia.com/news/amritsar/two-nabbed-for-illegal-sand-mining/821854.html  (24 Aug. 2019)
WETLANDS, LAKES, WATER BODIES
Drying Lakes 26 minute discussion on INDIA'S DRYING LAKES, on India Science or Vigyan Prasar, Dept of S & T (Govt of India) program, anchored by Shalini Verma, the discussants include Shri Shashi Shekhar, former Secretary, Ministry of Water Resources and Himanshu Thakkar of SANDRP. It was telecast on DD National at 5.30 pm on Aug 23, 2019. https://www.indiascience.in/videos/drying-lakes
Gujarat Rohit Prajapati and other concerned citizens of Gujarat have sent a legal notice to Vadodara Municipal Corporation in violating the environmental norms in construction activities related to water bodies and held a press conference at 5 pm on Aug 19, 2019. Good to see this. PRESS CONFERENCE at 5.00 p.m., 19.08.2019
Subject: Legal Notice issued to VMC and its connection with recent floods
[…] Therefore, by giving this final legal notice to you according to orders, we are informing you that having committed crime by violating the Construction and Demolition Rules Section -15 of the Environment (Protection) Act – 1986; in this regard give explanation with clear reasons within 15 days. Otherwise, assuming that there is nothing to be said in this matter by you, according to legal provisions, legal actions will have to be taken against you and other responsible officers. Take note of this. – Legal Officer of Gujarat Pollution Control Board, Gandhinagar to Vadodara Municipal Corporation.
For information Rohit Prajapati © 9408986452 and Hitarth Pandya © 9879292932
For Concerned Citizens of Vadodara
Rohit Prajapati Neha Sarwate
Hitarth Pandya Deepa Gavali
Assam NGT seeks eco-sensitive zone tag for wetland Deepor Beel NGT has directed the Assam government to declare the area around Deepor Beel — a major wetland on the western edge of Guwahati — an eco-sensitive zone. Deepor Beel is an 'Important Bird Area' and a Ramsar Site, with a reserve forest nearby. Eco-sensitive zone entails declaring up to 10 km around a protected area a buffer zone and restricting industrial and other human activities.
The NGT, in its order on August 19, also directed the government to remove existing encroachment on the wetland, take steps to prohibit any further encroachment and manage a municipal solid waste dumping ground inside Deepor Beel's system. The order, based on a petition by environment activist Rohit Choudhury, has also sought an end to the "land utilisation character for a rail track alignment through three elephant corridors – Segunbari, Mikirpara and Matia". The track runs between the southern edge of Deepor Beel and the reserve forest. https://www.thehindu.com/news/national/national-green-tribunal-seeks-eco-sensitive-zone-tag-for-assam-wetland-deepor-beel/article29226299.ece  (23 Aug. 2019)
Tamil Nadu From 50 sq km to just three in 30 years: Chennai's Pallikaranai marsh is just about to vanish   Pallikaranai marshland has been encroached by central government buildings like MRTS, NIOT, Centre for Wind Energy, IT companies and residential complexes. In a new report, an amicus curiae appointed by the Madras High Court has found that more than 100 acres of land in the Pallikaranai marshland area has been encroached upon by the central government institutions, IT companies, and other residential buildings. The HC initiated the suo motu PIL after the Supreme Court directed all high courts in the country to safeguard wetlands. According to the report submitted by senior counsel P S Raman, the wetland, which had extended more than 50 sq km about 30 years ago, reduced to 5.99 sq km in 2007 and has further reduced to 3.17 sq km (793 acres) at present.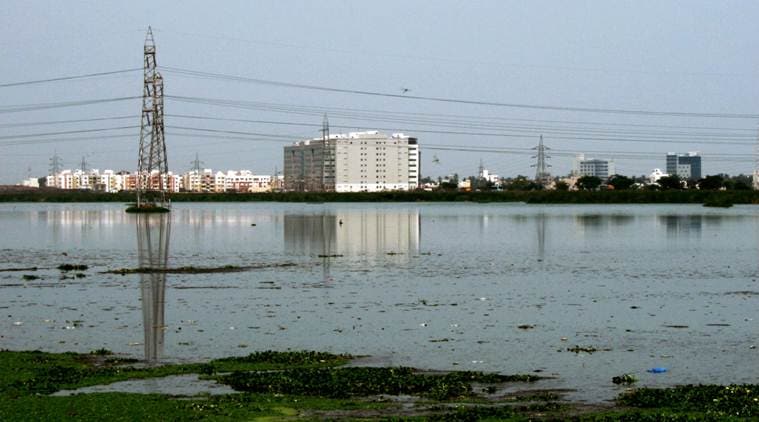 – Social activist Nithyanand Jayaraman said: "It's not just a few residential complexes, the entire industrial special sectors like ELCOT SEZ in Shollinganallur comes under the marshland. I welcome the line of inquiry taken by the Madras High Court, we hope that these encroachments will be removed; the encroachers punished and the water body is restored." https://indianexpress.com/article/cities/chennai/chennai-pallikaranai-marshland-report-madras-high-court-5919329/   (20 Aug. 2019)
Karnataka 'Corrupt planning led to loss of wetlands' Sandeep Anirudhan, founder of the volunteer driven community, Aikyam, says the wetlands are being encroached from Bellandur to Varthur. "Construction debris is being dumped and levelled on the wetlands. If you look at the satellite image of the area, the wetland has been marked and it shows almost 95 per cent of the area is encroached. There's even a tech park on it now. It's like daylight robbery," he says, adding that the wetlands are extremely crucial for the biodiversity as many migratory birds come to the lake and rest there. https://bangaloremirror.indiatimes.com/bangalore/civic/corrupt-planning-led-to-loss-of-wetlands/articleshow/70777110.cms  (22 Aug. 2019)
WATER OPTIONS
Gujarat Villagers built 21 check dams, provide lifeline to water starved Kawant Since January 2018, the villagers constructed 21 check dams in Bekhadiya village of Chhota Udepur's Kawant taluka, the last one (30 Ft deep) by 135 women from the villages and subsequently named Mahila Sarovar. A year on, migration has drastically decreased and harvests have more than doubled. Karsan got 920 (up from 200 earlier) kg of maize in the latest harvest.
– "The groundwater table depleted below 800 feet but this year the water levels have been raised to 150 feet and above. One of the three borewells is overflowing. When we were digging for the Mahila Sarovar, we found the first trace of water at 11 feet." said Geeta Rathwa (35) who was among the 135 women who worked on the check dam.
– Of the 21 check dams, nine are inter-linked, providing water to the eastern part of the village, and the water finally mixing with the Ashwin river. Other 12 are inter-linked, feeding the surplus water to the Heram river. Through every check dam, small canals have spread across the farms in the village providing water for them. With Chhota Udepur recording a 73% surplus rain and Kawant recording the maximum, all the 21 check dams are filled this year, contributing majorly to the replenishment of groundwater. https://indianexpress.com/article/india/gujarat-villagers-build-21-check-dams-provide-lifeline-to-water-starved-kawant/  (21 Aug. 2019)
Telangana As students map the weather, an Indian village bests its water woes Rainwater conservation efforts along with an automatic weather station at a local school has led to number of changes in Kothapally village in Telangana including the groundwater level coming up by 4 mts. https://www.reuters.com/article/us-india-weather-children/as-students-map-the-weather-an-indian-village-bests-its-water-woes-idUSKCN1VD0E7   (23 Aug. 2019)
Innovation Firm incubated at IIT-Kanpur harnesses tech for irrigation management Come November, farmers who get canal water for irrigating their fields in Telangana's Karimnagar (likely in 8000 acres) district may have a chance to try out something new to improve productivity of the winter rice crop. The irrigation department of the Telangana government has roped in Kritsnam Technologies, a firm incubated at the Indian Institute of Technology (IIT) Kanpur, to carry out a pilot project aimed at improving canal irrigation efficiency in the State. Called Irrigation Scheduling using real-time data on Water Availability and Requirement, or ISHWAR for short, could be a powerful tool that could improve the efficiency of India's notoriously poor canal water irrigation system management. Developed by a team of technopreneurs who graduated from or are studying at the IIT Kanpur, ISHWAR has already caught the attention of three major agriculture-dependent States – Telangana, Haryana and Uttar Pradesh. The idea is to link water suppliers and water users in a manner that enables the release of the right quantity of water at the right time. What ISHWAR would do is to calculate water requirement of each farm on a broad scale using weather and agronomic data collected in real time through satellites and ground-based measurements.
– Another Kritsnam project is called PANI or Provision of Advisory for Necessary Irrigation, which is being implemented on an experimental basis in many villages in Kanpur Rural district. The pilot PANI project is funded through$22,000 provided by the World Bank and is implemented with the help of IIT Kanpur, the University of Washington and GeoKno, another firm incubated at IIT Kanpur. Around 150 farmers are involved in the PANI project, commenced in November last year. https://www.thehindubusinessline.com/news/education/firm-incubated-at-iit-kanpur-harnesses-tech-for-irrigation-management/article29189441.ece#   (21 Aug. 2019)
GROUNDWATER
NITI Aayog Declining groundwater level a big challenge for India: Minister NITI Ayog released CWMI 2 report. "The declining groundwater level is a big challenge for India… time has come to conserve, reuse and use water judiciously.. The impacts that we are seeing due to climate change and due to which there is erratic and scanty rainfall it has come has a big challenge for us," the Union Water minister said. Niti Aayog Chief Executive Officer Amitabh Kant said "the important thing is that we are trying to bring in cooperative federalism on water through this very detailed study…the other big thing is that 19 out of 24 states have shown improvement in various areas of water." https://timesofindia.indiatimes.com/business/india-business/declining-groundwater-level-a-big-challenge-for-india-jal-shakti-minister/articleshow/70810143.cms  (23 Aug. 2019)
A nationwide survey of groundwater levels, it was found that out of the 6583 blocks, water was over-exploited in 1034. As many as 253 districts were in a critical situation while 600 blocks were in semi-critical situation. Centre has chalked out a plan to create 1.11 crore recharge points across the country at a cost of Rs 79,178 crore. It is expected to store 85 billion cubic metres of water over an area of over 9 lakh square kilometres. https://timesofindia.indiatimes.com/city/nagpur/min-strong-law-on-cards-to-tackle-water-disputes/articleshow/70811336.cms  (24 Aug. 2019)
Uttar Pradesh 'Look into plea on illegal extraction of groundwater'  NGT has directed the Central Ground Water Authority (CGWA) and the Uttar Pradesh Pollution Control Board (UPPCB) to look into a plea alleging illegal extraction of groundwater for two projects in Ghaziabad and Noida. The directions came when the NGT was hearing a plea moved by Mahakar Singh who had alleged illegal felling of trees and groundwater extraction without environmental clearance for the project of Wave City at Ghaziabad and High Tech City at Noida by real estate developers. https://www.thehindu.com/news/cities/Delhi/look-into-plea-on-illegal-extraction-of-groundwater/article29164946.ece  (20 Aug. 2019)
Tamil Nadu 'Neighbour sells groundwater leading to rapid depletion' Residents of Gandhi Nagar near Koundampalayam have alleged that one of their neighbours have been selling groundwater on a regular basis which led to rapid fall in the water table in the area. They submitted a petition with corporation commissioner J Sravan Kumar on Aug. 21. After receiving the petition, the commissioner assured to look into the issue. https://timesofindia.indiatimes.com/city/coimbatore/neighbour-sells-groundwater-leading-to-rapid-depletion-of-water-table/articleshow/70778128.cms  (22 Aug. 2019)
WATER
Editorial A game of chance This Indian Express Edit on Aug 19, 2019 some right things: "The right approach would be to take monsoon vagaries as a given, and plan accordingly. So long as the overall rainfall in the season isn't showing wild variations – there's no proof of that yet — it should be possible to harvest this water from above to the maximum extent. India has some 107 major reservoirs with over 166 billion cubic meters' active storage capacity… Harvesting of rainwater, whether in large reservoirs or farm ponds, and which can take place any time during the monsoon season, will give farmers greater flexibility in their cropping operations… With efficient rainwater storage and use, the monsoon's timing and schedule should matter even less." However, its advocacy for linking canals and going for large scale drip and sprinkler is not appropriate everywhere. Strangely, the edit does not even mention the biggest storage options: Groundwater aquifers and soil moisture. https://indianexpress.com/article/opinion/editorials/monsoon-rains-rainfall-irrigation-a-game-of-chance-5915533/   (19 Aug. 2019)
Centre Govt exploring new ways to curb farm water use The proposals under consideration include making drip irrigation mandatory for sugarcane, one of the two biggest water-guzzling crops, along with paddy. "On average, India gets around 5.2 kg of sugarcane with one cubic metre of water. This is better than the global average of 4.80 kg/m3. But South Africa produces up to 7.8 kg with the same quantity of water and Thailand gets between 5.8 and 6.5 kg/m3 of water," said an official.
– The government is likely to also formulate policies to shift a major chunk of rice cultivation out of Punjab and Haryana to rain-surplus regions of the country. [HOW?] Recently, Union minister for Jal Shakti, Gajendra Shekhawat had said, "Our studies say that to grow one kilogramme of paddy, we consume 5,600 litres of water whereas China produces the same amount of paddy with just 330-400 litres of water."
– Haryana has announced cash incentives and freebies for farmers who trade paddy cultivation for maize. Fifteen thousand farmers in the state has signed up for the programme this summer. https://www.hindustantimes.com/india-news/modi-government-exploring-new-ways-to-curb-farm-water-use/story-EOsEVlioX8XJWMvhhKjBvJ.html   (19 Aug. 2019)
Tamil Nadu Construct RWH structures or face action: Minister Rural and municipal minister S P Velumani on Aug. 19 asked people in the state to construct rainwater harvesting structures in their buildings within three months. The minister warned of action if people failed to construct the RWH structures within three months. He said all the apartment complexes in the city should set up recycling plants and those that do not have recycling plants would be issued notices within a week.
The minister held a review meeting on the inspection of RWH structures and the lake rejuvenation projects with officials of 14 corporations, 122 municipalities, 528 town panchayats 12,525 village panchayats in the state. He stated that RWH is very important and these RWH structures should be set up in private, commercial and government buildings within three months. At the meeting, 14 private companies and NGOs signed an MoU with the Greater Chennai Corporation to restore 34 lakes. The corporation plans to restore another 17 lakes under various other schemes.  https://timesofindia.indiatimes.com/city/chennai/construct-rainwater-harvesting-structures-within-three-months-or-face-action-tn-minister-says/articleshow/70737927.cms  (19 Aug. 2019) 
AGRICULTURE
India as a Reluctant Leader in Agroecological Research Prof Shambu Prasad on evolution of SRI knowledge. https://www.epw.in/journal/2019/34/technology-and-society/whose-knowledge-counts.html  (24 Aug. 2019)
Karnataka Farmer sprouts a new idea – grows paddy in paper cups  Ganiga (he was facing the problem of saline water coming to his farm from nearby prawn cultivation areas, not allowing normal paddy cultivation) put 50 grams of soil into a paper cup and dropped five to six paddy seeds, covering them with 50 grams of soil. He kept the paper cups in the open and rains caused the seeds to sprout and grow in 16 days. He then kept these cups in the field and the roots did not come in contact with the soil initially. However, as they grew, the paper cups started dissolving and the roots started spreading into the soil, able to handle the salinity in the water. Read more http://www.newindianexpress.com/states/karnataka/2019/aug/25/karnataka-farmer-sprouts-a-new-idea—grows-paddy-in-paper-cups-2023976.html  (25 Aug. 2019)
MONSOON 2019
This slideshow requires JavaScript.
Himachal Pradesh State breaks 70 years record, receives highest ever rainfall in last 24 hours IMD regional office on Aug. 19 said that Himachal recorded highest ever rainfall in last 24 hours by breaking the record of last 70 years. According to the IMD, rains across different places in the state will continue for the next 24 hours.
"Before this, extremely heavy rains were reported in August 2011 when Himachal Pradesh had recorded 74 mm of rains. But heavy downpour has broken the record the year. Naina Devi recorded the highest rainfall at 360 mm and Shimla recorded 153 mm of rainfall," he added. According to IMD, some districts have also received snowfall in the state. Lahaul and Spiti district and Keylong have recorded 3mm snowfall till now. https://www.livemint.com/news/india/himachal-pradesh-breaks-70-years-record-receives-highest-ever-rainfall-in-last-24-hours-1566195870934.html  (19 Aug. 2019) 
FLOOD 2019
National What is causing severe floods across India? Podcast on 2019 Floods so far in India, by SANDRP coordinator: https://www.moneycontrol.com/news/podcast/podcast-mission-paani-what-is-causing-severe-floods-across-india-4353571.html  (20 Aug. 2019)
Maharashtra नदी आजची आणि उद्याची Article (Marathi) by Parineeta Dandekar​ of SANDRP on River management in the context of floods.  https://www.loksatta.com/lokrang-news/heavy-rainfall-sangli-kolhapur-flood-krishna-river-flood-part-2-mpg-94-1952253/  (18 Aug. 2019)
Editorial Floods in north India: A man-made disaster GREAT to see such clear headed EDIT in Hindustan Times: The Delhi-Manali highway (Himachal Pradesh) and the Char Dham road (Uttarkhand). Both are being expanded for more vehicular traffic and tourists. In both cases, environmentalists and courts have raised red flags. In the case of the Himachal highway, they allege that the National Highway Authority of India is dumping construction debris into the river Beas, leading to floods. In the second case, the project will refurbish 900km of the damaged highways with two lanes, 12 bypass roads, 15 big flyovers, 101 small bridges, 3,596 culverts, and two tunnels. All these will be done blasting and cutting the mountains. Such large-scale development is taking in a place that has already seen a mega-disaster in 2013. In fact, the home ministry in 2013 had blamed deforestation, the building of roads and tunnels through mountains, construction of hydropower facilities, tourism-related construction in floodplains and hill slopes, as well as sand mining for it. Yet, we are going down that road again.
At a time when the central and state governments should put their minds together to assess the carrying capacity of the Himalayas vis a vis the ecosystem services (benefits that humans gain from the natural environment and properly functioning ecosystems) they provide, government planners are just doing the opposite – burdening an already fragile environment. https://www.hindustantimes.com/editorials/floods-in-north-india-a-man-made-disaster/story-hQDBJpxrXfzFGkkokfkIXI.html  (18 Aug. 2019)    
DAM FLOODS in Uttara Kannada: The district administration of Uttara Kannada will seek an inquiry report from the managing director of Karnataka Power Corporation Limited on untimely release of water from Kadra dam to Kali River, which caused flood in Kadra, Mallapur, Kaiga township, Hanakon, Kharge Jooga island, Kinnar, Siddar, Vailawada and many villages in Karwar taluk in the first week of August. 5,000 people from these villages were shifted to rehabilitation centres in Karwar and other villages. Half of the Kaiga township was inundated and employees of Kaiga Atomic Power Station had to use boats to reach the nuclear power plants.
– The district administration was not informed about the increasing inflow into Kadra dam and outflow into the river. Finally, DC Harish Kumar K, ZP CEO M Roshan and then SP Vinayak Patil camped in Kadra and took over the control of the dam due to the failure of dam officials. They managed the outflow of the dam for a couple of days.Deputy Commissioner Harish Kumar K said the district administration will write to KPCL MD seeking an inquiry on water released from dams to Kali river. http://www.newindianexpress.com/states/karnataka/2019/aug/24/karnataka-power-corporation-limited-in-dock-over-untimely-water-release-which-caused-floods-2023534.html  (24 Aug. 2019)
Yamuna Floods Even as Delhi faces the prospects of unprecedented floods, Delhi govt's "Flood Control Room" website provides details of three days back, when there were no floods: Why can it not give latest, hourly updated situation? How can it start tackling floods if this is not in public domain? http://dceast.delhigovt.nic.in/wps/wcm/connect/doit_irrigation/Irrigation+and+Flood+Control/Home/Flood+Control+Room/ 
First flood spell of 2019 reached Delhi today. Peak flood water passing through Palla. https://twitter.com/Indian_Rivers/status/1163863543705456641  (20 Aug. 2019)
9 of family airlifted in Karnal village Nine members of a family of Garhpur Tapu village in Karnal district, who were were stranded in flood water, were rescued by an Air Force helicopter at around 2:45 am on Aug. 19. The family's house was situated near the Yamuna which has swelled up due to incessant rain.  https://www.tribuneindia.com/news/haryana/9-of-family-airlifted-in-karnal-village-as-yamuna-swells/819738.html  (19 Aug. 2019)
8.24 lakh cusec water released from Hathinikund barrage on Aug. 18 would worsen the situation by Aug. 22. "Around 7.32 lakh cusec water is being released from Bariyapur, Lachura and Matatila dams," he added. https://timesofindia.indiatimes.com/city/allahabad/situation-grim-as-ganga-yamuna-near-danger-mark/articleshow/70743402.cms   (20 Aug. 2019)
Rajasthan Bisalpur Dam full, 2 gates opened On Aug. 19 evening, Tonk district collector opened two gates of Bisalpur Dam as its water level reached full capacity. However, the flow of water is less compared to 2016 when the authorities had to open 15 gates out of 18 which released nearly 2.76 lakh cusec metres of water per second. https://timesofindia.indiatimes.com/city/jaipur/bisalpur-dam-full-administration-opens-2-gates-to-release-water/articleshow/70745470.cms  (20 Aug. 2019)  
DISASTER
Uttrakhand New twist in mystery of Roopkund lake Nestled in the Indian Himalayas, some 16,500 feet above sea level, sits Roopkund Lake. One hundred and thirty feet wide, it is frozen for much of the year, a frosty pond in a lonely, snowbound valley. But on warmer days, it delivers a macabre performance, as hundreds of human skeletons, some with flesh still attached, emerge from what has become known as Skeleton Lake.
Who were these individuals, and what befell them? One leading idea was that they died simultaneously in a catastrophic event more than 1,000 years ago. An unpublished anthropological survey from several years ago studied five skeletons and estimated they were 1,200 years old.
But a new genetic analysis carried out by scientists in India, America and Germany has upended that theory. The study, which examined DNA from 38 remains, indicates that there wasn't just one mass dumping of the dead, but several, spread over a millennium.
The report, published Tuesday in Nature Communications, has led to a "far richer view into the possible histories of this site" than previous efforts provided, said Jennifer Raff, a geneticist and anthropologist at the University of Kansas who was not involved with the work. Researchers extracted DNA from the remains of dozens of skeletal samples, and managed to identify 23 males and 15 females. Based on populations living today, these individuals fit into three distinct genetic groups. Twenty-three, including males and females, had ancestries typical of contemporary South Asians; their remains were deposited at the lake between the 7th and 10th centuries, and not all at once.
Then, perhaps 1,000 years or so later, sometime between the 17th and 20th centuries, two more genetic groups suddenly appeared within the lake: one individual of East Asian-related ancestry and, curiously, 14 people of eastern Mediterranean ancestry. https://www.nytimes.com/2019/08/20/science/skeleton-lake-archaeology-roopkund.html  (20 Aug. 2019)
30 dead in Himachal, 12 in Uttrakhand The landslides and rain-related incidents have taken lives of 30 people so far in Himachal Pradesh. Similarly, the flood fury is continuing in the state of Uttarakhand, with rain-related incidents being continuously reported from the Mori block of the state's Uttarkashi district. The district has recorded 12 deaths so far, while 5 people are still missing. In the wake of heavy downpour in Uttarakhand, the river- Ganga in Haridwar has crossed its danger mark and is all flooded. https://www.skymetweather.com/content/weather-news-and-analysis/30-dead-in-himachal-12-in-uttarakhand-as-heavy-rains-continue-to-batter-the-states/  (20 Aug. 2019)
Karnataka The study by Prof TV Ramchandra et al of IISc about Kodagu district in Karnataka recommends a large number of measures to decrease the vulnerability of the district to the disasters. https://www.sciencedirect.com/science/article/pii/S2590061719300389  (14 Aug. 2019) 
DROUGHT
Study Bundelkhand likely to become water-scarce region by 2030 Bundelkhand, Uttar Pradesh's perennially parched region, may turn into a water-scarce region by the year 2030, leading to further migration of the agrarian population towards other cities and districts in search of livelihood if the current groundwater situation continues to prevail there, alerts says the 'Vision Document for Bundelkhand,' prepared jointly by the '2030 Water Resources Group' and Thinkthrough Consulting Pvt Ltd for the UP government as its resource partners.
– It claims rainfall has progressively decreased over the past decade leading to several droughts. "In the last 13 years there has been a drastic reduction in annual average rainfall in Bundelkhand by 40%, with 60% decline in rainfall in the last 5 years," the Vision Document points out.
– Quoting a study conducted by the Church's Auxiliary for Social Action (CASA) and Jan Kendrit Vikas Manch (a network of NGOs in Bundelkhand), the document says, the indiscriminate felling of trees, excessive chemical fertiliser use and soil erosion have also increasingly degraded the traditional water storage structures and conspicuously reduced the water storage capacity of the region. In addition, the rocky terrain consisting of granite and elevated slope of the region also acts as an impediment for effective ground water recharge during the monsoon.  https://www.hindustantimes.com/india-news/bundelkhand-likely-to-become-water-scarce-region-by-2030-study/story-sAwRyzAR8740BN043jjiqK.html   (19 Aug. 2019)
CLIMATE CHANGE
Climate change takes its toll on Western Ghats Jayashree Nandi writes about Kerala tragedy: V Nandakumar, a scientist from the National Centre for Earth Sciences who visited both sites to assess what could have led to the disasters, said: "Two structural streams were completely missing in Kavalappara; they were probably built upon. There was also a lot of pit making for rubber plantation. The soil couldn't contain and slowly slid away. In Puthumala, too, where the slope is nearly 2.5km long, I suspect there was something similar amiss which aggravated the slide."
– In Puthumala, a hamlet was washed away within minutes at around 4pm on August 8. "It was a beautiful village amid the tea plantations. The Gram Panchayat suspected that the area was landslide prone and asked villagers to evacuate the previous day. But some people stayed on. They were washed away. I have never seen such a horrifying tragedy," said Abdul Rasheed from Meppadi village, who has volunteered to serve tea and refreshments to rescue workers.
– The two worst-affected regions also received exceptionally high rainfall between August 8 and August 14, according to data with India Meteorological Department (IMD). Mallapuram received 500% more rainfall (594.3mm) than the normal of 99.1mm. Wayanad received 401% excess rains, getting 707.5mm against a normal of 141.1mm. https://www.hindustantimes.com/india-news/climate-change-takes-a-toll-on-western-ghats/story-WhFqwhJBTsbGXMLvUyR31M.html  (23 Aug. 2019) 
ENERGY OPTIONS
India isn't putting its money in renewables Despite a global commitment to increase the use of renewable energy and reduce polluting emissions, India allocated 63% lesser funds to alternative fuels as compared to coal-based power. Coal is the single largest source of global temperature increase and its burning releases harmful particulate matter.
In the 2019-'20 budget announced on July 5, the allocation for the Ministry of Coal stood at Rs 20,121 crore while the Ministry of New and Renewable Energy was granted Rs 12,353.81 crore. https://scroll.in/article/934375/when-it-comes-to-renewable-energy-india-isnt-putting-its-money-where-its-commitments-are  (21 Aug. 2019) 
ENVIRONMENT
Green Peace Coal-based power makes India top global SO2 emitter The Greenpeace study, released on Aug. 19, finds that Singrauli, Neyveli, Talcher, Jharsuguda, Korba, Kutch, Chennai, Visakhapatnam, Ramagundam and Raigarh are the major SO2 emission hotspots in India. The report noted that among the major emitters of SO2, China has been able to reduce emissions rapidly by dramatically improving emissions standards for its power plants and enforcing sulphur dioxide controls. https://timesofindia.indiatimes.com/india/coal-based-power-makes-india-top-global-so2-emitter-greenpeace/articleshow/70747055.cms  (20 Aug. 2019)  
Delhi Milk packet, shampoo sachet you throw are ending up in landfills With 90% of Delhi's plastic waste not being recycled, eliminating it could be an uphill task. Experts suggest an action plan be put in place for each item, beginning with multi-layered plastic that poses the biggest threat.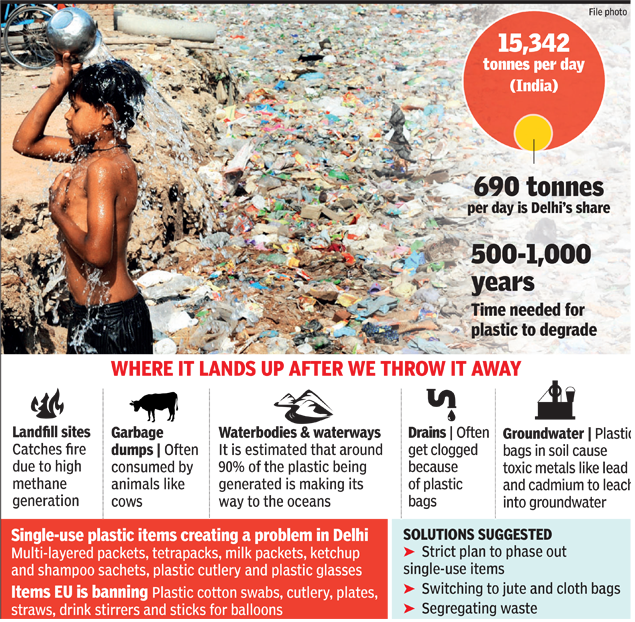 Delhi generates around 690 tonnes of plastic waste every day. A major component of this is single-use plastic, consisting of items like milk packets, tetrapaks, multi-layered packaging and ketchup or shampoo sachets. Only 10-15% of this is recycled in Delhi. In a 'garbage audit' carried out by the NGO recently, nearly 36% of the items found were milk packets, tetrapaks and cups with low recyclable value. https://timesofindia.indiatimes.com/city/delhi/that-milk-packet-shampoo-sachet-you-throw-are-ending-up-in-landfills/articleshow/70707508.cms  (17 Aug. 2019)
NGT refuses to modify order directing DCB to give Rs 20 cr Green Tribunal refused to modify its order by which it asked the Delhi Cantonment Board to contribute Rs 20 crore for clearing garbage dumps at Ghazipur, Bhalswa and Okhla landfill sites. A bench headed by NGT Chairperson Justice Adarsh Kumar Goel said there is no ground to modify the July 17 order, however, it added that the cantonment board is free to talk to the Chief Secretary for "any other appropriate arrangement".
The tribunal was hearing a plea filed by DCB seeking modification of its order directing it to contribute Rs 10 crore, Rs 5 crore and Rs 5 crore respectively towards the cost of clearing garbage dumps at Ghazipur, Bhalswa and Okhla in Delhi to control pollution. The tribunal had said that according to the provisions of the Solid Municipal Waste Rules, 2016, the primary responsibility to manage legacy waste and allied issues is of the municipal corporations. https://timesofindia.indiatimes.com/city/delhi/ngt-refuses-to-modify-order-directing-dcb-to-give-rs-20-crore-for-clearing-landfill-dumps/articleshow/70739330.cms  (19 Aug. 2019)
Tamil Nadu Ocean in Chennai bleeds blue Residents of Chennai were in for a surprise when beachgoers saw the waters of the Bay of Bengal turn blue and glowed magnificently, giving its waves a neon blue hue. While people were evidently amazed at the sight, ecologists have warned that the phenomena is actually a sign that the sea isn't faring too well.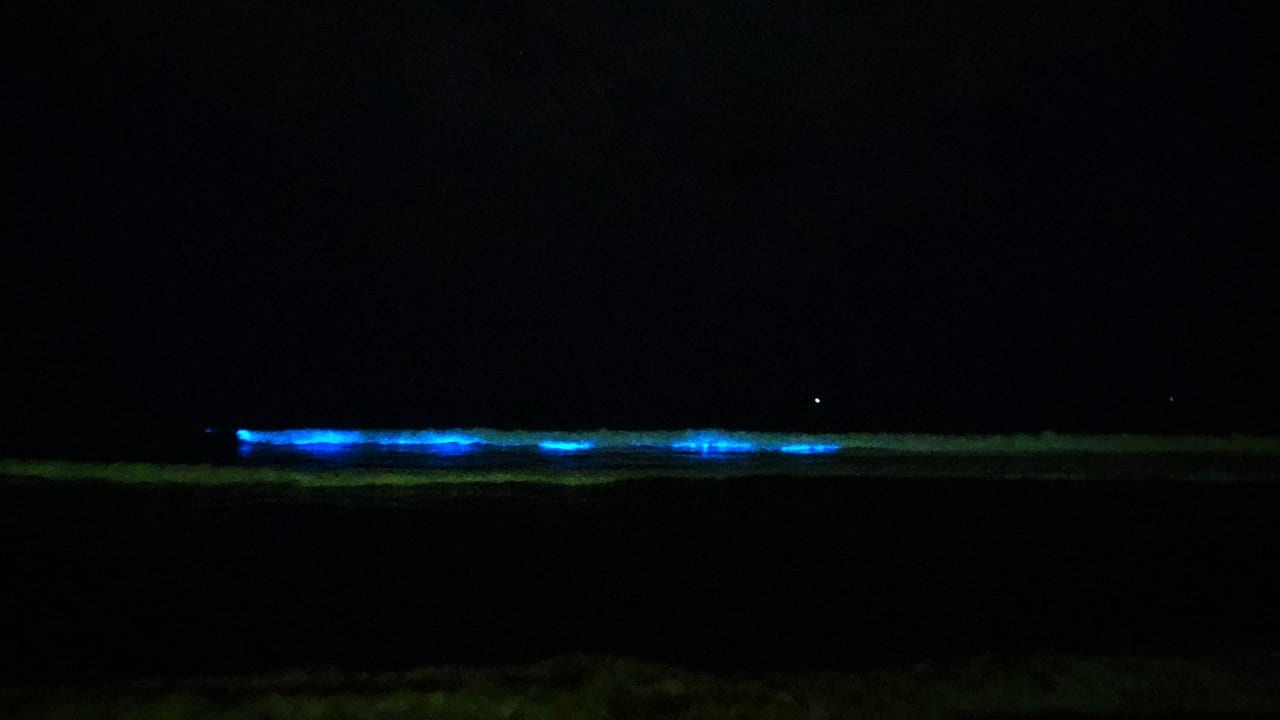 The glow comes from bioluminescence algae which are emissions that marine creatures are known as phytoplanktons (microscopic marine plants) produce. They are a part of the dinoflagellates species and the one causing all the chatter in Chennai is the Noctiluca scintillans bioluminescence algae. https://www.firstpost.com/tech/science/ocean-in-chennai-bleeds-blue-with-bioluminescence-algae-points-to-waters-poor-health-7194181.html  (21 Aug. 2019)
Report What would happen if Oceans get covered with plastic If plastic litter were to cover the ocean's surface, it can have ripple effects on marine ecosystems and affect the planet's climate system, scientists warn. That single-use plastics in oceans can affect coastal habitats, marine organisms and even seafood, is today well documented. But can small fragments of plastic bags and straws change large-scale oceanographic processes?
In a research note published in the journal Marine Pollution Bulletin, scientists argue that plastic fragments in the ocean have the potential to affect (among other things) solar radiation, or how light and heat travel in the ocean. The effect, the scientists suggested, could be local, changing a small part of the water column, or widespread, affecting climatic conditions. https://thewire.in/environment/what-would-happen-if-the-oceans-are-completely-covered-with-plastic  (23 Aug. 2019)  
National India ranks 177 out of 180 in Environmental Performance Index India continues to plummet on Environment Performance Index, remains at the bottom. https://www.thehindu.com/sci-tech/energy-and-environment/india-ranks-177-out-of-180-in-environmental-performance-index/article22513016.ece    (24 Jan. 2018) 
SOUTH ASIA
ICIMOD Hydropower development in HKH region: Issues, policies and opportunities Another attempt to push unviable hydropower projects in South Asia (India, Pakistan, Nepal and strangely Bangladesh, which does not have much hydropower potential, but may be a market for the hydropower) by ICIMOD, DFID and IDRC (Canada). The authors sound like lobbyists for hydropower projects, when they say that hydropower projects are not going forward due to "owing to inadequate infrastructure, technological constraints and lack of credible cooperation among the countries," when reality is that the projects have never considered social or environmental viability, and now even economic viability.
In spite of these serious issues, "the study urges these four countries to realize the untapped potential of hydropower production", this is the way the lobbyists function. This impression of lobbying gets further strengthened when the authors say: "The current hydropower supply has not been able to fulfil the electricity demand in the region", this is a strange statement as if there are no other electricity options! The study pushes for mythical "smart" hydropower projects, another evidence to show they are working more like lobbyists. https://www.sciencedirect.com/science/article/pii/S1364032119301431  (June 2019)
Strangely, IWP has published an uncritical article on this: https://www.indiawaterportal.org/articles/hydropower-himalayas-potential-and-risks
India Pakistan Excess Bhakra water released to Pakistan in Ferozepur; 52 border villages evacuated Could this water have been used to recharge the depleting aquifers of Punjab? Over 2.4 lakh cusec water was released from Ropar Headworks in Punjab; 70,000 cusec was released from Harikee Headworks, 61km away from Ferozepur. Seven of 30 gates of Hussainiwala Headworks in the district were opened to release excess water into Pakistan, to handle the flood-like situation here following the release of 3.4 lakh cubic feet per second (cusec) water from Harike Headworks, on Sunday. "We have opened gates at Hussainiwala. Excess water is being released to Pakistan, but if they stop the water flow through a bank and it comes back, areas of Jalalabad and Fazilka will be hit," an irrigation official, posted at the Hussianiwala Headworks, said. The common people are of course suffering. https://www.hindustantimes.com/cities/excess-bhakra-water-released-to-pak-in-ferozepur-52-border-villages-evacuated/story-kK39YLYGxqXcKnnQzZMKtI.html   (19 Aug. 2019)
India released 2 lakh cusecs of water into Pakistan India over the last seven days had approximately released over 2.25 lakh cusecs of water into Pakistan as a damage control measure to handle the flood-like situation in Punjab. The Indian government is likely to release more water over the next three days. Meanwhile, the BBMB has resorted to controlled water release from Bhakra Dam to handle one of the worst floods that have taken place in the last forty years. Earlier in May, for about five days 25,000 cusecs of water were released into Pakistan. "Excess water was released to Pakistan as gates at Hussainiwala were opened but if the neighbouring country stops water flow it comes back in Fazilka and Jalalabad areas,'' he said.
BBMB Chairman DK Sharma said, "In last few days about 2.25  lakh cusses of  additional water has been released from the Bhakra dam and of this  some 12,500 cusecs of water went to Rajasthan and rest of the water which went downstream due to the heavy rains and flooding in Punjab as water from rivulets also goes into the Sutluj and other rivers. Thus there was no way out one can stop this water as it had to go to Pakistan". http://www.newindianexpress.com/nation/2019/aug/21/india-released-2-lakh-cusecs-of-water-into-pakistan-to-control-floods-in-punjab-2022240.html  (21 Aug. 2019)
Pakistan opens headworks gates, 17 villages of Punjab's Ferozepur flooded As many as 17 villages of Punjab's border district Ferozepur were flooded after Pakistan opened headworks gates in its area on the Sutlej river, an official said on Aug. 22. Several villages of Ferozepur are already inundated because of the recent rains and breaches in embankments. Deputy commissioner, Ferozepur, Chander Gaind said the water released by leather tanneries in Pakistan's Kasur district into the river contained pollutants.
A few days back, Pakistan had accused India of releasing about 2,00,000 cusecs of water into the Sutlej river without any intimation, causing flood-like situation in various areas in the country. https://timesofindia.indiatimes.com/india/pakistan-opens-headworks-gates-17-villages-of-punjabs-ferozepur-flooded/articleshow/70787159.cms  (22 Aug. 2019) 
Pakistan accuses India of waging 'fifth-generation warfare' in Kashmir by using water as weapon The South China Morning Post report says: "Accusing India of waging "fifth-generation warfare", Pakistan on Aug. 19 said New Delhi had failed to inform it about the release of water from a (Sutlej) dam that could cause flooding across the border… Islamabad said the unexpected release of water into the River Sutlej that flows from India to Pakistan was part of an attempt by New Delhi to flout a long-standing treaty between the countries… An Indian government official familiar with the matter said release of water was a "routine exercise" during the monsoon season, and that the amounts involved did not require disclosure under the treaty between the two countries… "It was goodwill on our part that we used to share that information … those days are gone," the official said." https://www.scmp.com/news/asia/south-asia/article/3023486/pakistan-accuses-india-waging-fifth-generation-warfare-kashmir   (19 Aug. 2019)
Work Begun To Stop River Water Flowing Into Pak: Minister Even as water from India's share under INDUS treaty flows into Pakistan, the Union Water Resources Minister makes some vague statement about work started to stop this, not specifying what does he mean. In any case, can it be the TOP priority of his ministry, as he says?  https://indianexpress.com/article/india/work-to-stop-water-from-flowing-into-pakistan-has-started-govt-5921953/   (21 Aug. 2019)
This report says work on Shahpurkandi project started in Dec 2018 and as far as Ujh project is concerned, only the DPR is ready. For the second Ravi Beas link, even that does not seem the case. http://www.newindianexpress.com/nation/2019/aug/26/india-plans-in-earnest-to-stop-river-water-flow-to-pakistan-2024311.html  (26 Aug. 2019)
India Bhutan Bhutan dams unleashing havoc in downstream Assam It says: "But dams in Bhutan continue to be a nightmare downstream, having created havoc at regular intervals. In the last 10 years, over one lakh families were rendered homeless while more than one lakh hectares of farmland were devastated in the downstream districts of Baksa, Bongaigaon, Barpeta, Kokrajhar, Chirang and Nalbari."
– There are instances when unannounced release of water Kurichu dam by Bhutan jeopardized the lives of thousands of people downstream. The sudden surge of water release again caught Assam authorities off-guard. It so happens that during incessant rains, waters from the dam is released flow down to Assam. In July this year, there was a sudden rise in the water levels of the Beki river that washed away a part of the embankment at Panchmile, inundating the entire Manas National Park. Several flood-affected districts in lower Assam are on alert following the release of excess water from the dam of Kurichhu hydropower plant in Bhutan early on July 25 morning. In Barpeta district, the administration has sounded a red alert for people residing on the banks of the Beki and Pahumara rivers appealing them to move to higher and safer locations.
– In the build up to 2014 elections, Narendra Modi held a rally in Pasighat in the East Siang district of Arunachal Pradesh in February where he acknowledged peoples' concerns about large dams and committed to developing small hydropower instead. "I know citizens of the region are against large power projects," he had said. "I respect your sentiment. But hydropower can also be harnessed using smaller projects, while protecting the environment" Modi pretended. The central government has decided to build the (Dibang) project without any public consultation or study of the potential impacts in downstream Assam state. https://nenow.in/neighbour/bhutan-dams-unleashing-havoc-in-downstream-assam.html   (19 Aug. 2019)
The discussion on Sankosh project revolved around the implementing modality with the Bhutanese side pushing for an inter-governmental model with 70 percent loan and 30 grant.\ http://www.kuenselonline.com/moea-targets-hydropower-and-economic-diversification/  (23 Aug. 2019)
Also see, Anil Sasi once again works as advocate of (unviable and destructive) hydropower projects. https://indianexpress.com/article/india/india-bhutan-nhpc-projects-hydroelectric-power-plant-5918599/   (20 Aug. 2019)
From Kuensel, Bhutan newspaper
India Nepal Sedimentation in the Kosi can be a huge problem Thought provoking piece on Kosi on the eleven year anniversary of the Kosi disaster of Aug 18, 2008. Some quick thoughts:
–  This is indeed striking: "The study quoted above states that the total mass of sediments accumulated in the Koshi channel over the last 64 years, since the construction of the embankments, may be 408 million cubic metres on the Chatara-Birpur stretch. On the stretch between Birpur and Baltara, it is a staggering 1.08 billion cubic metres. As a consequence, the riverbed is significantly raised, making the river 'superelevated'. In some places, such as Kusaha, the riverbed has ended up being 2-3 metres higher than the adjoining floodplain! This 'superelevation' causes instability in the river, leading to breaches of the embankments and extensive flooding. It is striking that, since the construction of the embankments, most floods in the Koshi basin have occurred because of breaches in the embankments rather than overbank flooding."
– And: "It was found that most of these hotspots coincide with points where the embankment was breached recently. This clearly demonstrates the risks posed by the superelevated river to the people living under a false sense of security provided by the embankments."
– I would have loved to see the article mention what was the situation of sediment dynamics before building of embankments and will we ultimately explore that option too? https://kathmandupost.com/columns/2019/08/16/sedimentation-in-the-koshi-can-be-a-huge-problem   (16 Aug. 2019)
India's Ext Affairs Minister in Nepal External affairs minister S Jaishankar was on a two-day visit to Nepal to participate in the fifth Nepal-India joint commission meeting, which will involve detailed discussions on key issues, including flood management and forecasting on both sides. This year, at least 130 people have been killed in Bihar as 13 of the state's 30 districts were flooded by six rivers in spate, displacing nearly nine million residents. Jha said that the water discharge from Farakka barrage was also discussed by Bihar WR minister with Union Water Minister with the minister to address Bihar concerns over the state of River Ganga in its stretch. https://www.hindustantimes.com/india-news/bihar-pins-hope-on-foreign-minister-jaishankar-s-nepal-visit-for-relief-from-flood-woes/story-mnw8WNrruoywx01kFZqpxL.html  (22 aug. 2019)
Bangladesh Interesting video report on Dhaka rivers.  
ASIA
Laos Assessing Responsibility for Xe Pian-Xe Namnoy Dam Collapse One year after the tragic collapse of an auxiliary dam of the Xe Pian-Xe Namnoy Hydropower Project in Laos, close to 5,000 people made homeless by the disaster remain in temporary camps, surviving hand to mouth on meager rations and daily allowances and without adequate compensation or redress. Reckless Endangerment, a report released by International Rivers and Inclusive Development International, identifies those responsible for the disaster, and calls on them to take immediate action to provide restitution for loss and harm. https://www.internationalrivers.org/resources/report-reckless-endangerment-assessing-responsibility-for-the-xe-pian-xe-namnoy-dam   (23 July 2019) 
THE REST OF THE WORLD
International Rivers Hydropower's Dangerous Bid To Re-cast Itself As 'Green' International Rivers is rallying attention to a narrow public comment period for the Climate Bonds Initiative, that could open the flood gates for public and private finance to flow to hydropower projects that are anything but "climate-friendly." Michael Simon, wrote for the International Buisness Times on big hydro's move to secure climate finance.  https://www.ibtimes.com/hydropowers-dangerous-bid-re-cast-itself-green-2793069   (18 May 2019)
Australia Lessons water reform offers in science, politics and sustainable watersheds Illuminating article about how the Murray Darling Basin Plan to allocate water for environment in Australia, the experience so far in executing, monitoring and regulating that plan so far. From 2007 till 2018. Key conclusion: "Perhaps the greatest lesson offered by the Murray-Darling Basin is that, even if science wins the day in the legislative process, it is just the first step on the long path to a sustainable outcome. For one, executing and monitoring a new water resource management plan can be unfathomably complex, especially at the scale of an entire river basin. More than that, those advocating sound science must exert ongoing pressure to protect a legislative achievement and hold policy-makers accountable for failing to deliver on it. As the Murray-Darling Basin case shows, those benefiting most from over-extraction of water will continue to fight to weaken any reform effort. An alert and engaged public is necessary to protect the interests of the environment." https://waterinthewest.stanford.edu/news-events/news-insights/lessons-australias-water-reform-offers-science-politics-and-sustainable  (21 Aug. 2019)
US Mississippi river diversions: driving land gain or land loss? River diversions have not created or maintained land, but resulted in more land loss, according to a new paper in the peer-reviewed science journal Restoration Ecology. LSU Boyd Professor R. Eugene Turner and his LSU co-authors Erick Swenson and Michael Layne, and Dr. Yu Mo, University of Maryland, used satellite imagery to study the differences between the percent land before and after a river diversion was opened. The scientists analyzed two large river diversions over the span of decades in Louisiana using two different kinds of satellite imagery analyses. They tested for differences between the percent land before and after the diversion was opened and compared them to adjacent reference areas. The results demonstrated an increased land loss in both areas. https://phys.org/news/2019-08-mississippi-river-diversions-gain-loss.html  (16 Aug. 2019)
Study Cross-border water planning key: report warns Efforts to share rivers, lakes and aquifers that cross national boundaries are falling short, raising a growing risk of conflict as global water supplies run low, researchers warned on Aug. 22. Fewer than one in three of the world's transboundary rivers and lake basins and just nine of the 350 aquifers that straddle more than one country have cross-border management systems in place, according to a new index by the Economist Intelligence Unit. With more than half the world's population likely to live in water-scarce areas by 2050 and 40 percent dependent on transboundary water, that is a growing threat, said Matus Samel, a public policy consultant with the Economist Intelligence Unit.
Instead, they found water scarcity was becoming a "very urgent" issue, he said. "It surprised me personally the urgency of some of the situation some of these basins are facing." Population growth, climate change, economic and agricultural expansion and deforestation are all placing greater pressures on the world's limited supplies of water, scientists say.
The report suggests national leaders make water security a priority now, link water policy to other national policies, from agriculture to trade, and put in place water-sharing institutions early. The index has yet to examine many hotspots, from the Nile River and Lake Chad in Africa to the Indus river system in India and Pakistan, but Samel said it would be expanded in coming years. https://indianexpress.com/article/world/more-deals-less-conflict-cross-border-water-planning-key-report-warns-5925693/  (22 Aug. 2019) 
Report Sand mining 'violence is at its worst in India, Kenya and Gambia' Sand is the material which shapes our modern world – from concrete buildings, asphalt roads, even glass windows and silicon chips in our laptops and smartphones, they all depend on this crucial ingredient. As demand has rocketed, sand has become an increasingly lucrative commodity. Vince Beiser is the author of 'The World in Grain: The Story of Sand and How it Transformed Civilization' https://www.bbc.co.uk/sounds/play/p07kkj7p  
WHO Microplastics in potable water within safe limkt WHO has called on researchers to conduct a more in-depth evaluation into microplastics and the potential impact on human health. The organisation has also urged a crackdown in plastic pollution to benefit the environment and reduce human exposure to microplastics. The report said that irrespective of human health risks caused by microplastics in drinking-water "measures should be taken by policymakers and the public to better manage plastics and reduce the use of plastics where possible".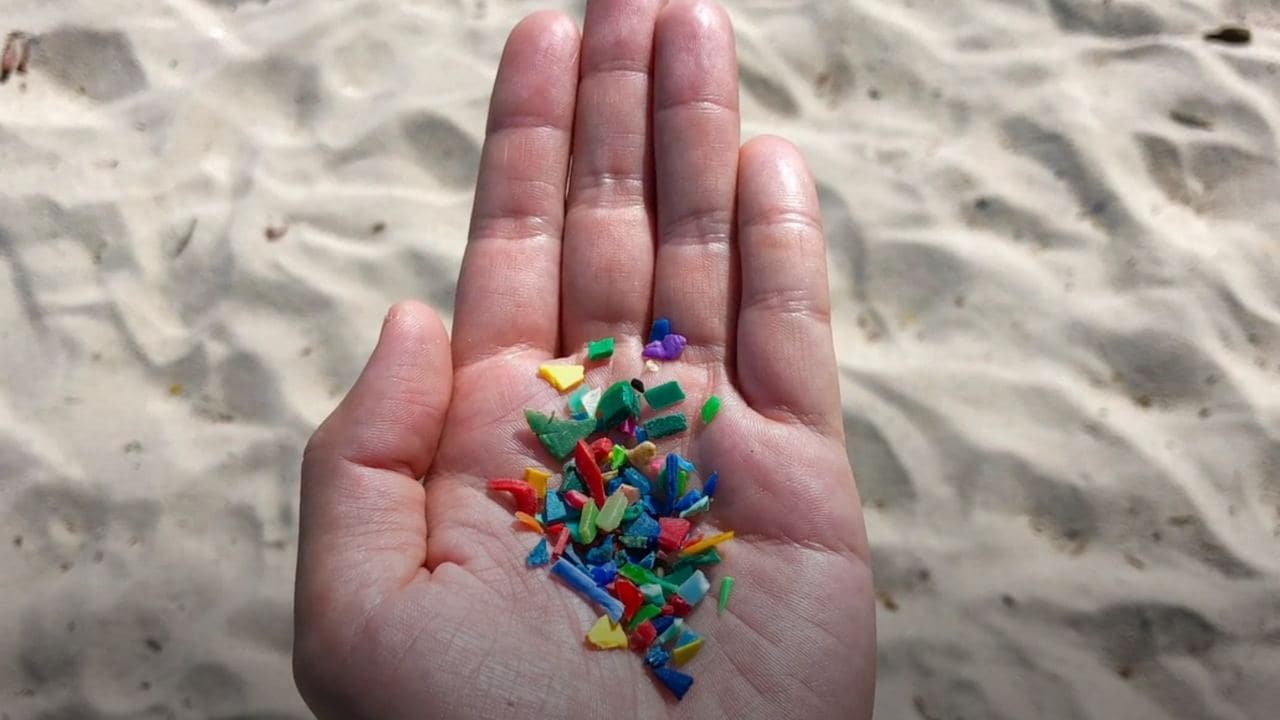 WHO said that microplastics larger than 150 micrometres are not likely to be absorbed by the human body but said the chance of absorbing very small microplastic particles, including nano-sized plastics, could be higher, although it said data is limited. The report warns of other dangers ahead: if plastic emissions in the environment continue at the current rate, microplastics could present widespread risks for aquatic ecosystems in a century, which could in turn increase human exposure. https://www.firstpost.com/tech/science/microplastics-in-drinking-water-is-not-yet-dangerous-for-human-beings-says-who-7205501.html  (22 Aug. 2019)
Compiled by SANDRP (ht.sandrp@gmail.com)
Also see: DRP News Bulletin 19 Aug. 2019 & DRP News Bulletin 12 Aug. 2019  
Follow us on: www.facebook.com/sandrp.in; https://twitter.com/Indian_Rivers