Above: Tribal women fetch water from a well which was supplied by the government tankers at a village in Mokhada, April 2019. This is the "Surplus" region which is supposed to transfer water to Sinnar as per the Damanganga-Upper Vaitarna-Godavari Link. Photo: PTI
Maharashtra Government is aggressively pushing Intrastate River water transfers from West flowing rivers into Godavari and Tapi Basins. Chief Minister Devendra Fadnavis has tried to package these transfers as "Diverting water from Konkan to Drought Affected Marathwada". This can be an eye candy for majority population, if we do not look at the details of these destructive projects.
One of the first projects coming for Stage I Environmental Clearance is about transferring water from Damanganga and Upper Vaiatarna Basins into Kadve Dam in Godavari Basin and from there to Dev Nadi in Sinnar, to provide water to Sinnar. The project, costing Rs 2700 Crores, will displace more than 4000 people, mainly tribals, submerge 8 villages and 1230 hectares of land, 179 hectares of Forest and possibly parts of Tansa Sanctuary.
What it means in reality is that tribal region of Damanganga and  Mokhada, which is ridden with chronic water scarcity, infant mortality and malnutrition is now suddenly a "Surplus" region which will have 4 dams to transfer water to Sinnar region, a prosperous region with double cultivation, thermal power plants, MIDC and notified Delhi Mumbai Industrial corridor. This summer, Mokhada block almost exclusively depended on water tankers. Locals say that absence of irrigation facilities is the main reason behind abject poverty of this region.
Most of the water from this region: Drinking and Irrigation water of Tribals will go to Industries in Sinnar! 
This Project, the Damanganga-Vaitarna-Godavari Link demonstrates the inherent issues with Interbasin Transfers or Intra Basin Transfers. Each project has to be looked at case by case basis. This project should not receive Stage I Environmental Clearance.
SANDRP's submission to the Expert Appraisal Committee, MoEF is below, it was sent to EAC before the meeting. If you agree, please send this or similar submissions to the MoEF and EAC, even if the EAC meeting may have been held on Aug 20, 2019, the submissions will remain relevant.
~
To,                                                                                                                                                     
The Chairperson and Members,                                                                                         
Expert Appraisal Committee: River Valley and Hydroelectric Projects,                 
MoEF and CC, New Delhi
Subject: Damanganga–Vaitarna-Godavari Intrastate Link project for TOR (Terms of Reference) by M/s Executive Engineer, Nandpur, Madhyameshwar Project Division
Respected Chairperson and Members of the EAC,
We see that the project "Damanganga–Vaitarna-Godavari Intrastate Link" will be discussed in the the upcoming EAC meeting dated 20th Aug 2019 for reconsideration of ToRs. We strongly request you not to grant ToRs for the environmentally destructive, socially damaging and economically unviable project for the following reasons:
Form 1 hides the fact about Cumulative Impacts
The Project should not be granted TORs because it hides one of the most crucial issues: Cumulative Impacts of Diversion Project on the society and ecology of the donor region. Maharashtra Government has planned and even implemented several Intra-basin links in the Damanganga and Vaitarna Basin to divert water into Godavari and Tapi Basins[i]. One such project is also being discussed by the EAC in the current Meeting itself (Damnaganga (Ekdare)- Godavari Link Project). However, Section 9.4 on Cumulative Impacts states "No Cumulative Impacts".
This is wanton hiding of crucial information which will have far reaching impacts of the region. This itself is a ground for rejecting TORs for the project.
Diverting water from a poverty ridden, water starved and malnourished tribal region to economically powerful region, furthering inequality
The project plans to divert water away from the Damanganga and Upper Vaitarna Basins which are home to majority tribal populations. SANDRP has visited this region while studying the erstwhile Par Tapi Narmada and Damanganga Pinjal Links as well as Godavari Diversion projects.
There is a huge resentment in the minds of local people and leaders about diverting water away from this region. The leaders and Former MLAs of the region passionately believe that "assured water holds the key to the development of this region. They tell us "Even educational institutions will not come to our region if we cannot ensure water". [ii]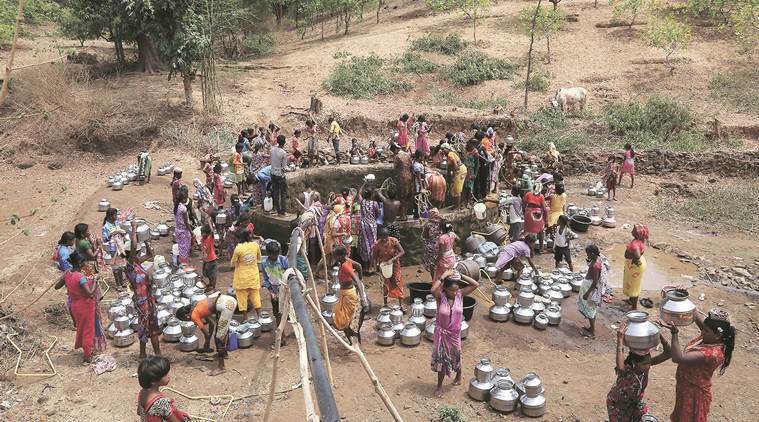 Water siatution in "Surplus" Mokhada region Photo: Express photo: Prashant Nadkar
The current projects cumulatively plan to divert ALL the supposedly surplus water of the Damanganga basin into Godavari basin, which already is already urbanized, industrialised and prosperous. The paltry allocations made for the supposedly "Surplus" region from where the water will be diverted are too less and do not take the local development needs and aspirations into consideration. In any case, it is a fair demand of the locals to "Firstly" satisfy the local needs and only after these are satisfactorily met, discuss any diversions.
Of the 5 dams proposed under this project, 4 dams fall in the Palghar district, in Mokhada Block. In this summer, nearly entire Mokhada Tehsil which has exceptionally high rates of malnutrition, was supplied drinking water with tankers. "34 tankers of 12,000 litres each, supply water to 46,650 residents across 28 villages and 77 hamlets in the region."[iii]
Palghar District in which Mokhada falls along with other tribals blocks has one the highest child mortality and malnutrition rates in the State. And one of the important reasons is lack of irrigation facilities. [iv] According to organizations working on Mother and child health in Mokhada Block, "We had gone to Mokhada after reading reports of deaths due to malnutrition. But what we heard was not about malnutrition, but most of them, 57%, said that lack of drinking water and irrigation facilities was the main issue behind the poverty".- Anjali Kanitkar, Board of Directors, Aarohan an NGO working on Rural Health"
The project is so strongly opposed locally that 4 months back, 5 villages and several hamlets of Mokhada put up a huge protest rally and asked questions to their candidates if they will oppose this project. [v]
In such a situation, even proposing any "diversion" projects in the region is entirely unacceptable and goes against the principle of our country being a Welfare State.
There are several in depth reports which document the water scarcity and malnutrition in this "surplus" region.[vi] This also goes on to prove that water availability and access to people has nothing to do with NWDA's (National Water Development Agency: the institution tasked with doing all the studies related to Inter Linking of Rivers in India) labels of a "Surplus" or a "Deficit" basin.
In principle, Damanganga Vaitarna Godavari Link ends up being a project diverting water from a water scarce, poverty ridden region to prosperous Notified "Delhi Mumbai Industrial Corridor" region.
This is unacceptable and will be strongly protested and we request the EAC to not consider this project for TOR Clearance and lay down a right precedence.
Industrial Water Use in Beneficiary Region given priority over drinking and Irrigation Use in donor region
Of the diverted water, maximum water will go for Industrial Water Use (73 MCM for Industries). The donor region, in the meantime does not have assured drinking water supply or Irrigation.
This is diversion of Drinking and Irrigation Water to Industrial Use and against State Water Policy of Maharashtra and National Water Policy of India.
The beneficiary region has several inspiring river rejuvenation initiatives
The project plans to bring 196.73 MCM into Dev Nadi of Sinnar, purportedly stating that this is for drinking water and irrigation needs.
Several initiatives are being undertaken to rejuvenate Dev Nadi and use it effectively for Irrigation and drinking water needs of Sinnar. These are widely reported in the press. One such initiative is Yuva Mitra which has developed a highly successful Diversion Based Irrigation System and Integrated Livelihood project on Dev Nadi.[vii] In addition, Maharashtra Government's Flagship Program: Jalyukt Shivar was implemented so effectively in Sinnar that it led to increase in groundwater levels and the Water Conservation Minister even said that the State should follow Sinnar's Model.[viii]
In this situation, where the region is trying to become water sufficient, there is no justification for brining in water from a far flung region, displacing more than 4000 people, mainly tribal and submerging 8 villages and 1230 hectares of land, 179 hectares of Forest, possibly parts of Tansa Sanctuary.
No Justification for diverting water to Sinnar
Sinnar MIDC or the notified Delhi Mumbai Industrial Corridor has not demonstrated that it has exhausted all the possible options of water use available to its disposal. The absence of such demonstration and when local people have been working on such alternatives should be sufficient reason not to sanction such inter basin water transfer which will have deep ramifications of ecology and society of the donor region and the state.
Major Impact on Eco sensitive Region of Western Ghats
All of the 5 Dam sites fall in Ecological Sensitive Areas of the western Ghats. Majority region falls under "dense and fairly dense forests". Udhare Dam on Gargai River will possibly involve parts of the Tansa Sanctuary. The ecological Loss of submerging 179 hectares of forest or the destruction of the rivers and river dependent livelihoods are not accounted for anywhere in the Cost Benefit Analysis of the project, based on which it has applied for TOR Clearance.
Clearly, the project does not deserve TOR Clearance by the EAC of the MoEF&CC or the MoEF&CC as it profoundly affected the Environment as well as Climate change adaptation capabilities of the region.
The existing Diversion Projects in the Godavari Basin, which involve lifting of water have proved to be failures
Water Resources Department of Maharashtra has already worked on several transfers from West Ward basins into Godavari Basin. Most of them have been resounding failures, with languishing projects, local protests due to displacement and cracks due to blasting, extreme increase in project costs and wrong calculations of water availability. These need to be independently reviewed before clearing more such projects. SANDRP's report on these projects, based on site visits and analyses of Government Documents, can be found here: https://sandrp.in/2014/05/19/interbasin-diversion-dams-in-western-ghats-unknown-impacts-and-uncertain-benefits/.
Looking at the points raised above, we urge the EAC not to grant TOR clearance to Damanganga-Vaitarna-Godavari project, which is being pushed keeping only narrow and short term political gains in mind. The project will submerge over 3000 hectares of land, 179 hectares of Western Ghat Forests and displace over 4000 tribals, who need help and assistance.
We are sure the EAC will not grant TORs to such a project.
Thanking you,
                                                                                                                                  Yours Sincerely,
                                                                                                                           Parineeta Dandekar
                                                                      South Asia Network on Dams, Rivers and People