Southwest Monsoon provides about 75% of our water and yet we have not learnt how to manage that rain water, without creating avoidable flood disasters, without using submergence as weapon to displace people as is being attempted in case of Sardar Sarovar Project in Gujarat, without allowing water to flow to Pakistan, which is against all the rhetoric of the top most government persons and without the needless push for more big dams or interlilnking rivers or such mega centralised projects and programs? If we go through this week's DRP News Update, it does not seem like we have. All the contrary elements are there for all to see.
It is certainly possible to manage the rain better so that more of it is available beyond the monsoon in a decentralised manner, as decentralised as the rainfall itself. The elements of it all well known:  harvest rain where it falls, recharge groundwater, create local water systems, desilt existing such systems, protect wetlands, forests, increase soil's capacity to hold moisture through increasing carbon/ organic conent of the soils (we know how this can be achieved), use the created large reservoirs judiciously, ensure all the dams in a basin are filled up simultaneously and not sequentially, ensure water flow in the river for maximum period as that will also help recharge groundwater, reduce deforestation in the catchments, increase forest area in the catchments where possible, protect local water systems everywhere including Urban areas, protect flood plains and ensure rivers have capacity to carry floods that it is required to carry, have better and more accurate rainfall forecasts (including riverbasin wise/ sub basin wise forecasts), coordinated actions across river basins and states. There is some minor improvements here and there as we see in this bulltin, but no major change.
It's more optimal rain water management that will help better water security, sustainable water availability, food production, livelihoods and agricultural security, among others. What is the road map to learn this and learn fast? There is no immediate light to the end of the tunnel.
Maharashtra In Marathwada, govt plans Rs 16,000-crore grid for piped water Called the Marathwada Water Grid, the first tenders are to be floated in a week, covering a Rs 4,527-crore component of the Rs 16,000-crore project. Marathwada region of central India has now been promised a network of giant pipelines running thousands of kilometres to connect the region's 11 major reservoirs, punctuated by water treatment plants and pumping stations, to provide piped drinking water to every village household three years from now. The project proposes to connect 11 major dams in Marathwada through pipelines ranging from 1.6 m to 2.4 m in diameter. A primary loop will connect the reservoirs to enable pumping water from water surplus dams to areas serviced by reservoirs with low storage levels.
– Concessionaires for each package will lay the primary pipelines for bulk water from the reservoirs, the secondary grid of pipelines for treated water, and water treatment plants. For Aurangabad alone, the project foresees 192 km of primary pipelines and 490 km of secondary pipelines. In Jalna, pipelines for bulk water will run 132 km and 293 km for treated water. Four treatment plants in Aurangabad will process 396 million litres daily (MLD), and three plants in Jalna will process 149 MLD. Together, the anticipated cost for the 1,108 km of pipelines and seven treatment plants is estimated to be Rs 4,500 crore.
– Israel's national water supply company, Mekorot, which has in recent years emerged as a sectoral expert for water-scarce regions, is drawing up detailed reports on the anticipated demand district-wise for the region in 2050 for drinking water, animals, irrigation and industry. MJP's Rs 16,000-crore project will have to be matched by an almost equal investment by the state's water supply department to build a much more dense and complicated tertiary network of pipelines reaching villages and homes. Without those, the project will stay incomplete. Also, under the Hybrid Annuity Model, following prequalification and vetting of designs, the bidder quoting the lowest Net Present Value (NPV) for construction and operations for 15 years will be selected. The concessionaire raises 60 per cent of the project cost via debt and equity, while the government pays the remaining in tranches. A budgeted revenue support from the government for the concessionaire over 15 years will be required. https://indianexpress.com/article/india/maharahstra-in-marathwada-govt-plans-rs-16000-crore-grid-for-piped-water-5911652/  (17 Aug. 2019)
Sardar Sarovar Dam Gujarat insistence to fill Narmada dam inhuman: MP Madhya Pradesh has termed "inhuman" Gujarat's refusal to open the Sardar Sarovar dam gates to release more water and stop displacement of people in Narmada valley in Madhya Pradesh and its insistence to fill the dam further to full reservoir level(FRL) height 138.68 meters in the coming days. The dam height has crossed the historic level of 131 meters bringing large scale displacement of people and death of two villagers in Badwani district earlier this week. The MP minister said, "it was a national loss when Gujrat stopped producing power. It again is a national loss when it is releasing water into sea." Though Gujrat claimed it would follow the dam safety manual and fill 0.30 meter every in 48 hours to take the water to the FRL, MP is apprehensive because of its "past experience". Surendra Singh Baghel, the minister said, "this is clear that Gujarat is adamant because there is government of other political party in MP." https://timesofindia.indiatimes.com/city/bhopal/gujarats-insistence-to-fill-the-sardar-sarovar-inhuman-mp/articleshow/70705618.cms   (16 Aug. 2019)
Odisha 'State would get floods due to Polavaram dam' Recent waterlogging and slow drainage of floodwaters in Motu tehsil of Malkangiri district hints at the vagaries this region would face after completion of the Polavaram project in adjoining Andhra Pradesh, alleged anti-Polavaram organisations and leaders of Odisha. According to Malkangiri district residents, this year the Saveri river overflowed and flooded large areas of Motu and Kalimela tehsils. The region was similarly flooded in 1986 and 2006. However, then the floodwaters had receded in a day or two after the rain stopped. But this year the water has not receded even after a week. The CPI(M)'s Odisha unit, peasants' organisation All India Kisan Mazdoor Sabha and the People's Forum Against Polavaram have blamed the flood on the Polavaram project. https://www.thehindu.com/news/national/other-states/odisha-would-get-floods-due-to-polavaram-dam/article29037586.ece  (13 Aug. 2019)
Damanganga-Pinjal link Project to link rivers divided Maharashtra, Gujarat On July 31, Maharashtra walked out of two river interlinking projects with Gujarat, citing an impasse over the water-sharing arrangement. The central government had earlier identified these projects as priority links. Maharashtra has now announced that it would develop the Damanganga-Pinjal link on its own, along with four intrastate links.
The issue was the compensation for the water contributed from the Maharashtra catchments for the PTN link. About 15.32 thousand million cubic (TMC) feet water from the Jheri reservoir was proposed to be diverted to Gujarat. But wary of the political opposition to the diversion of the water, the Devendra Fadnavis government demanded that Gujarat should release the same amount of water from the Ukai dam. Gujarat was initially open to the idea, but resistance from the local tribal population led to a controversy.
In the Gujarat Assembly election in 2017, the BJP's tally in water-scarce Saurashtra came down from 35 to 23 seats, which the party's leadership in the state attributed to discontent over water shortages. In 2018, Gujarat conveyed its unwillingness to meet Maharashtra's condition. With Opposition leaders accusing him of "selling the state's interest to Gujarat", the impasse resulting in time and cost overruns, Fadnavis decided to opt out. https://indianexpress.com/article/explained/how-a-project-to-link-rivers-has-divided-bjp-ruled-maharashtra-gujarat-5899867/  (13 Aug. 2019)
Krishna Godavari Link Andhra CM Jagan writes to Centre, seeks aid In a letter to Union Minister for Jal Shakti Gajendra Singh Shekhawat on Aug. 14, the Andhra CM stressed providing required funds for the scheme. Jagan said it was proposed to supplement about 480 TMC (thousand million cubic feet) of Godavari waters to Krishna river reservoirs by diverting at the rate of four TMC per day from Godavari river to Srisailam and Nagarjunasagar for 120 days.
The proposed scheme for diversion of Godavari water to Srisailam and Nagarjuna Sagar reservoirs can be taken up through suitable agreements between Andhra Pradesh and Telangana for mutual benefit of both states, he wrote.
Jagan wrote that with the proposed raising of the crest level of Almatti dam from 519.6 meters to 524.256 meters, the storage capacity will increase by another 100 TMC and the inflows into Srisailam reservoir will further get reduced. He said that as there is availability of surplus flows in Godavari, there is immediate need to explore ways to divert water from Godavari basin to Krishna basin. https://www.thenewsminute.com/article/andhra-cm-jagan-writes-centre-seeks-aid-linking-krishna-and-godavari-107242  (15 Aug. 2019)
Kaleshwaram LIP Pump house begins operation Lakshmipur pump house, a key component of Kaleshwaram Lift Irrigation Project (KLIP) has successfully commenced operations in Telangana, it was announced on Aug. 12. Telangana CM K. Chandrashekar Rao was expected to formally inaugurate this colossal pump house on Aug. 14. Billed as the world's largest multi-stage lift irrigation project, Kaleshwaram was formally inaugurated in June. When fully operational, the Rs 80,000 crore project will lift two thousand million cubic (TMC) feet of water per day to a height of half-a-kilometre. https://economictimes.indiatimes.com/news/politics-and-nation/worlds-largest-water-pump-house-begins-operation-in-telangana/articleshow/70642459.cms  (12 Aug. 2019)
Madhya Pradesh, Maharashtra Amid rain, Inter-State Water Dispute Brews After a delayed start and more than a month into the monsoons (as of the second week of August), the deficient rainfall in central India has precipitated a precarious situation in two districts in particular. Nagpur, the home district of CM Devendra Fadnavis in Maharashtra, and Chhindwara, the home district of CM Kamal Nath in Madhya Pradesh, are fighting over their share of water from the Pench river. https://thewire.in/environment/nagpur-chhindwara-totladoh-machagora-monsoon-water-shortage  (13 Aug. 2019)
YAMUNA Op-Ed Removing sand from riverbed for water storage project, not sustainable idea Prof Vikram Soni Delhi government has been overzealous in announcing that they would create a medley of lakes on the floodplain to trap monsoon floodwaters. Since the floodplain is already a porous sandy aquifer and absorbs most of the floodwater, such an intrusion may not be optimal. The floodplain itself is like an invisible underground lake.
I would like to suggest that organic agriculture, for example, planting of food forest or fruit forests on the floodplain, would be a better option than carving out lakes, where vast quantities of sand would have to be transported out affecting the wetland ecology of the floodplains — very much akin to sand mining, . Furthermore, in any case, the floodplains are designated as a protected Zone O in the master plan and declared a biodiversity zone. Also, open lakes would lose a very large amount of water — nearly 3 metres depth of water — in a year from evaporation.
Further, villages are routing their sewage into nearby depressions on the floodplains and contaminating this vital resource. If this is not stopped forthwith, the floodplain will terminally lose quality water.
Also, the Delhi government had earlier announced a scheme of creating 70 more borewells and Ranney wells in this area .This would exceed the maximum withdrawal that is sustainable and bring the groundwater levels in the floodplain down to below the river water levels in the lean season, allowing gravity flow from the polluted river into the unpolluted floodplain.
Noida had a sustainable and perennial water source from its Yamuna floodplain aquifer, which provided it with good quality water for over 30 years till about four years ago. It was thoughtlessly over-exploited and with sand mining on the banks of the Yamuna on one side and the Hindon on the other, polluted water entered, terminally destroying the aquifer. This is permanent loss of a vital water resource for future generations. https://www.hindustantimes.com/cities/delhi-s-invisible-treasure-the-yamuna-palla-floodplains/story-OVhK3teZlyJliYoLaXxSfL.html  (13 Aug. 2019)
RWH necessary to meet city's water needs: DJB to HC In an affidavit placed before a bench of Chief Justice D N Patel and Justice C Hari Shankar, the Delhi Jal Board (DJB) has said that the current water requirement of the national capital was 1,140 million gallons per day (MGD), of which 935 MGD came from groundwater and sources like raw water from the Yamuna river.  By 2021, the city's demand for water would increase to 1,380 MGD and with groundwater sources in Delhi already over-stressed, there was a need to explore alternate means like rainwater harvesting (RWH) to meet the capital's requirements, the DJB has told the court. The DJB's suggestions came in a PIL initiated by the court on its own after coming across news reports on alleged failure of the Delhi government and other public authorities to check the depleting groundwater levels in the national capital. https://www.thehansindia.com/news/national/rainwater-harvesting-necessary-to-meet-citys-water-needs-delhi-jal-board-555641  (17 Aug. 2019)
Kerala The vanishing act of paddy fields, wetlands in Kozhikode The step-by-step filling of small patches of paddy fields and wetlands is hardly secret business at Kakkodi and Thannerpanthal on the city outskirts, which witnessed inundated roads and waterlogged houses during last year's floods. Though checking squads exposed some of the illegal attempts during the post-flood inspections, the regularisation option gave many of them an easy walkover. There are still a few awaiting their turn to regularise unauthorised constructions.
A research report by the Centre for Water Resources Development and Management (CWRDM) states that 17 of the 100 major wetlands identified in northern Kerala districts face threat from excess landfilling, discharge of effluents and human encroachment. The large acres of wetlands at Kottuli, Eranhikkal and Mavoor regions are on the list of such locations in Kozhikode district. Conversion of Paddy Land and Wetland Act are not effectively enforced in the case of influential persons or organisations.
Environmental activists in the city point out that there has been no let-up in the illegal attempts to fill paddy fields and wetlands despite their direct impact having been felt during the floods last year. Surviving wetlands are often destroyed by stormwater run-off, garbage and sediments from urban areas, which will double the impact of a possible deluge in the future, they add. https://www.thehindu.com/news/cities/kozhikode/the-vanishing-act-of-paddy-fields-wetlands-in-kozhikode/article28628864.ece  (21 July 2019)  
Punjab Paddy, tube wells and depleting groundwater put water resources under strain The intensive groundwater extraction in the last five decades through installation of shallow tube wells is reflected in tube well numbers — which have increased by almost 200% in 35 years, from six lakh in the 1980s to 14.76 lakh in 2017-18. Also, the area under rice cultivation has increased from 11.83 lakh hectares in 1980 to 28.86 lakh hectares in 2017-18. On an average, there are 34 tube wells per sq. km of net sown area in Punjab (2015-16).
According to the Draft Dynamic Ground Water Estimation Report-2017, 109 blocks out of the 138 blocks taken for its study were "over-exploited", two blocks were "critical" and five blocks were "semi-critical" while 20 blocks are in "safe" category. The water table was declining in nearly 80% of the area of the State. The report also said that while the annual replenishable groundwater resource in Punjab was about 17.5 million acre-ft (MAF), the annual draft (extraction) was 29 MAF, implying that the extraction rate outstripped availability by quite a few notches.
"If this trend continues, it will adversely affect the agricultural economy of the State and it is apprehended that irrigated area may decrease by up to 15% in the year 2025. Further, in the coming 20 years, supply from about 60% of top aquifers may be jeopardised. There will be an increase in the cost of raising crops, placing an increased financial burden on farmers and the government. A shortage in water supply could also act as a deterrent when it comes to investment in industries requiring water. Around 30 million residents of the Punjab region may face a collapse in agricultural output," says S.K. Saluja, Superintending Engineer, Directorate of Ground Water Management.  https://www.thehindu.com/news/national/other-states/paddy-tube-wells-and-depleting-groundwater/article29112950.ece  (17 Aug. 2019)
Surat Water that could have quenched thirst of 65 lakh goes waste Saying that water released downstream from Ukai dam is going waste in sea is waste of water is problematic statement. In last five monsoons, cumulatively 3,263 MCM of water which could have been stored or harvested from Tapi river alone has gone waste. This year too, nearly 1,700 MCM of water has already flown into the sea in absence of any system to harvest it. Currently, there is no mechanism to store or harvest the rain water in Surat district. If this water is put to proper use, there would be 50% decrease in demand of water, say experts.
The direct discharge of water from dams like Ukai generally results in all water going down the sea without serving any purpose, but if this water is released or diverted from canals, it will reach each village connected to canal. A two-year study and experiment with recharge of groundwater by creating village ponds and diverting discharged water is going on in Surat district. In Surat city, following an example of The Netherlands, municipal corporation has started a project to create water plazas to store water. https://timesofindia.indiatimes.com/city/surat/water-that-could-have-quenched-thirst-of-65-lakh-goes-waste/articleshow/70682786.cms   (15 Aug. 2019)
Op-Ed India's water problem, a simple solution Mihir Shah is clear here: "Allied to this paradigm shift in farming, we need to democratise water. Water, by its very nature, is a shared resource, which can only be nourished through participatory governance. Whether it is our rivers or India's most important resource — groundwater — we can protect them only if we recognise the integral inter-connectedness of catchment areas, rivers and rural and urban aquifers. Here again, there are countless examples all over India where stakeholders have come together to form democratic associations to manage their shared resource collectively, equitably and sustainably.
It is now for the government to take the necessary steps to learn from these pioneers and upscale their efforts through a respectful partnership with the primary custodians. This might be the hard part as governments tend not to find it easy to either respect, listen to or learn from practitioners on the ground. But, as a people, we have no choice left in the matter." https://indianexpress.com/article/opinion/columns/lets-draw-lines-in-water-crisis-farmer-deaths-drought-5905972/  (15 Aug. 2019)
URBAN FLOODS
Vadodara  Activists and citizens had raised alarm about floods, but in vain Rohit Prajapati and others have raised this issue in the past too. https://timesofindia.indiatimes.com/city/vadodara/activists-and-citizens-had-raised-alarm-about-floods-but-in-vain/articleshow/70650545.cms  (15 Aug. 2019)
Surat Parts of city still flooded The inflow of rain water into the Ukai dam's reservoir has reduced significantly from 1.94 lakh cusecs on August 12 to 49,000 cusecs on Wednesday. This brought the water level in the dam to the rule level of 335 feet, 10 feet below the danger level of 345 feet, but authorities continue to discharge 1.44 lakh cusecs of water into the Tapi river, which has resulted in waterlogging in various low-lying areas of Surat city. As the river water began flooding the city, the authorities shut the gates of the sewage lines that drain waste water into the Tapi river, to prevent the water from the swollen river from entering into the city. With this, water remained stagnant in the flooded areas in the city, and when normal rainfall resumed, localities such as Mora Bhagal, Kadar Shah Naal and Singhangpur became nearly submerged on Sunday, Monday and Tuesday. Officials of the Surat Municipal Corporation had to pump the water back into the Tapi river to clear these areas.
– With heavy rainfall in the upper catchment areas located in these states since the first week of August, the water level in the dam rose from 279 feet on July 26, crossing the rule level of 335 feet and reaching 337 feet on August 13 and 335.56 feet on Wednesday evening. https://indianexpress.com/article/india/parts-of-surat-still-flooded-as-rain-discharge-from-ukai-dam-continue-5906387/  (15 Aug. 2019)
Kadar Shah Ni Naal, a low-lying area in Nanpura, was recently inundated by four feet of water, making it difficult for residents to move out of their houses. The floodwaters had entered their houses and remained there for almost three days from Friday. The floods were not caused by Tapi River, but rain and sewage after Surat Municipal Corporation (SMC) authorities decided to close the flood gates. https://timesofindia.indiatimes.com/city/surat/a-locality-in-city-where-sewage-with-rainwater-caused-flash-floods/articleshow/70666751.cms   (14 Aug. 2019)
HYDRO POWER PROJECTS
Himachal Pradesh Energy production at Nathpa Jhakri, Rampur HEPs suspended due to rise in silt Electricity production in Nathpa Jhakri dam which is country's biggest underground hydroelectric project on Sutlej's tributary Bhaba Khad river was suspended on Aug. 18 due to rise in silt in the river. Along with the 1500 MW project, operations in the 412 MW Rampur project in Shimla district were also shut down after silt level increased in the river owing to heavy rainfall. The amount of silt in Sutlej has crossed 8000 parts per million (ppm) in the Nathpa Jhakri dam in Kinnaur district. https://www.livemint.com/news/india/india-s-biggest-underground-hydroelectric-project-suspended-due-to-rise-in-silt-1566116596080.html  (18 Aug. 2019)
Himdhara Hydropower projects ruining lives in the Himalayas While most of this research has highlighted that the cascade of hydropower projects stops the free flow of rivers, the issues of environmental hazards and risks that accompany the construction of hydropower have not been highlighted enough. The Hidden Cost of Hydropower: environmental hazards and risks of tunnelling, excavation and construction in Run of the River Hydropower Projects in Himachal Pradesh, a recent report compiled by Himdhara, an Environment Research and Action Collective, addresses this gap.
For the last decade, Himdhara has been tracking and documenting the impacts of construction of hydropower projects in Himachal Pradesh, the highest producer of hydropower in the country today, with installed capacity of over 10,500 MW. The report is a compilation of some primary and secondary evidences of the impacts triggered by construction of tunnels and other underground components for hydropower projects in the state. First and foremost, it is clear that building hydropower projects in the Himalayas is a due to the existing geological and ecological vulnerability of the mountain range itself. https://www.thethirdpole.net/en/2019/08/13/hydropower-projects-ruing-lives-in-the-himalayas/  (13 Aug. 2019)
Agenda of the EAC meeting of River Valley Projects, to be held on Aug 20, 2019:
Bokang Bailing Hydroelectric Project (200 MW) at Pithoragarh, Uttarakhand by THDC-For fresh ToR

Kaleswaram Lift Irrigation Scheme near Kannepally village, Mahadevpur Mandal, Jayashankar Bhoopalpally district, Telangana – For reconsideration of Env Clearance

Damanganga (Ekdare)-Godavari intrastate link project at Nashik district, Maharashtra by For Fresh ToR

Damanganga–Vaitarna-Godavari Intrastate Link project by M/s Exec Engr, Nandpur, Madhyameshwar Project Division, Thane dist- For ToR

Renuka Dam Project (40 MW) in dist Sirmaur Himachal Pradesh by HP Power Corp-For extension of validity of EC

Munjri Irrigation Project in Sheopur district of Madhya Pradesh For ToR

Banda Major Irrigation Project (CCA: 80,000 ha) in Sagar dist Madhya Pradesh For Environmental Clearance

Parbati (Rinsi) major Irrigation Project in Rajgarh dist, Madhya Pradesh For Environmental Clearance. http://environmentclearance.nic.in/writereaddata/Form-1A/Agenda/090820198731ZQB7Final26thAgendaRIV.pdf
NHPC CMD is trying to push unviable hydropower sector, but this wont help. https://www.financialexpress.com/economy/india-will-have-to-double-hydropower-capacity-in-a-decade-says-nhpc-cmd-balraj-joshi/1674971/  (14 Aug. 2019)
DAMS
Sardar Sarovar Dam Don't allow water levels in Narmada dam to reach beyond 127 metres: NBA to Modi In an open letter to PM Modi, the Narmada Bachao Andolan (NBA) has alleged that even though resettlement of 244 villages and one town is pending, and 32,000 families are still residing in the submergence area of ​​the Sardar Sarovar dam, the rehabilitation of oustees remains incomplete. https://www.counterview.in/2019/08/dont-allow-water-levels-in-narmada-dam.html  (14 Aug. 2019)
Hydropower station becomes operational Power generation from Riverbed Powerhouse (RBPH) at the Sardar Sarovar dam on Narmada river started after a gap of two years, with the release of water from the dam following good rainfall in the catchment areas, an official said on Aug. 11.  The power plant became functional on Aug. 10. The total installed capacity of the project is 1200 MW. Similarly, the hydro power project on Ukai dam, constructed across the Tapi river also became operational on Aug. 10 after a gap of four years, the official said. https://energy.economictimes.indiatimes.com/news/renewable/hydropower-station-at-sardar-sarovar-dam-becomes-operational/70643880  (12 Aug. 2019)
Water level in rises to 132 meter For the first time the water level in the Sardar Sarovar Narmada dam has crossed the 132 meter mark and was flowing at 132.09 meters. The state which has deficit rainfall so far has also received 705 mm of rains which is nearly 86% of its annual rainfall of 816 mm.
The Sardar Sarovar Narmada dam presently has a water level of 132.09 meters, while the gross storage is 7408.90 million cubic meters (MCM), which was 3735.46 MCM at the same point in 2018. The SSNL Dam has 3673.44 MCM more water as compared to 2018. https://timesofindia.indiatimes.com/city/ahmedabad/gujarats-narmada-dam-crosses-132-meter-water-level/articleshow/70695984.cms  (16 Aug. 2019)
Polavaram Dam Reverse tender notification to be released on Aug 17 Andhra government has decided to call for the reverse tender for the Polavaram project on August 17. The tenders for Rs 5,070 crore, which includes the remaining works of headworks, and hydel project. The Polavaram authority has warned the government that the reverse tender will result in delay and project cost escalation. The authority has suggested the government to conduct a thorough study over the reverse tender process. However, the government has decided to go for reverse tender of the project. The tender notification will be released on Saturday (August 17). https://www.thehansindia.com/andhra-pradesh/polavaram-reverse-tendering-notification-to-releases-on-aug-17-555058  (15 Aug. 2019)
Punjab High alert after heavy rain forecast CM Captain Amarinder Singh on Friday night ordered a high alert across the state, after the India Meteorological Department (IMD) issued a forecast of heavy rainfall in the state in the next two days.
On Aug. 16, the Bhakra Beas Management Board (BBMB) opened all the four flood gates of the Bhakra Dam to flush out excess water, which increased water level in rivers in the state, news agency ANI quoted officials as saying. The step was taken after the level of the water reservoir reached 1,674 feet, just below its maximum capacity of 1682 feet.
According to reports, the authorities had asked people living near Sutlej river and low-lying areas of Jalandhar district to remain on alert after 55,000 cusecs water was released from Bhakra dam. 50,000 cusecs of water was released from Bhakra dam as excess water had to be released from the reservoir following the unrelenting rains in the hilly regions of Uttarakhand and Himachal Pradesh occurring throughout Aug. 16. https://zeenews.india.com/india/high-alert-in-punjab-over-heavy-rain-forecast-imd-issues-warning-for-himachal-2227866.html  (17 Aug. 2019)
INTERLINKING OF RIVERS
Telangana to get additional 575 TMC of Godavari water from next June CM K Chandrashekar Rao stated that Telangana would get an additional 575 TMC of water from next June onwards. He stated that projects on Godavari and Krishna rivers are being expedited on priority basis. https://thehansindia.com/telangana/ts-to-get-additional-575-tmc-of-godavari-water-from-next-june-555014   (15 Aug. 2019)
INTERSTATE WATER DISPUTES
Report Can single tribunal resolve water disputes With growing water scarcity, fights over rivers will only get uglier between states. Fifty years after the first tribunals were established, resolution of river-sharing conflicts has not become any easier. Besides the disputes being looked into by tribunals, there are conflicts like the one between Tamil Nadu and Kerala over the Mullaperiyar dam and the Polavaram issue.
The Centre will have to win the trust of states as a nonpartisan mediator to avoid future disputes reaching the tribunal or, worse, clogging an already overworked judicial system. But despite its best efforts, it may not have much success. https://economictimes.indiatimes.com/news/politics-and-nation/can-a-single-tribunal-resolve-water-disputes-between-states/printarticle/70716606.cms  (18 Aug. 2019)  
RIVERS AS NATIONAL WATER WAYS
Bihar Move to start dredging work at Ganga riverbed Taking note of the excessive silt deposits at the riverbed of the Ganga basin between Pirpainty (Bhagalpur) and Munger, the Inland Waterways Authority of India (IWAI) has initiated steps for dredging of the riverbed in order to increase the depth of the Ganga at Bhagalpur. The riverbed where dredging work has been initiated is part of Ganga-Bhagirathi-Hooghly river waterways system between Haldia (West Bengal) and Allahabad (Uttar Pradesh) via Sahebganj (Jharkhand), Bhagalpur and Patna. It is known as National Waterway (NW) number 1.
Dredging of riverbed and removal of silts would also minimise the chances of floods, sources said, adding water supply by the Bhagalpur Municipal Corporation (BMC) that taps water from the Ganga and supply to the city denizens after purifying it in the intake wells will also become smooth after dredging and return of the water flow to its original course.
Citing a survey conducted by IWAI, sources said problem of low water depth in the Ganga multiplies in summer season. "At least 30-35 feet of silt deposits on the riverbed not only hinders the plying of ships/water vessels, but also causes danger to Gangetic dolphins and aquatic fauna," they said. https://timesofindia.indiatimes.com/city/patna/move-to-start-dredging-work-at-ganga-riverbed/articleshow/70610529.cms  (10 Aug. 2019)
IRRIGATION
Telangana Farmers protest demanding water to last Ayacut under Jurala project Even though there is huge flow of flood waters from Jurala project downstream into the Krishna River, the irrigation authorities have failed to release water to the canals that supply irrigation waters to fields coming under the Jurala project ayacut. Incensed over this, the farmers from various villages of Chinnambavi mandal in Wanaparthy district approached the Jurala Project Irrigation Office on Aug. 16 and staged a protest against the officials for failing to release the canal water to the last ayacut of Jurala project.
However, Sridhar, Executive Engineer of Jurala project observed that water was already released into the main canals and it would take some more time to reach the sub-canals and for the water to reach the last mile, it might take some more time. He informed the farmers that there was no need to worry as they have adequate water and would release it to all farmers under the Jurala project. https://www.thehansindia.com/telangana/farmers-protest-demanding-water-to-last-ayacut-under-jurala-project-in-wanaparthy-555487   (16 Aug. 2019)
URBAN RIVERS
Maharashtra Govt seeks to allow redevelopment within floodline of Indrayani river In a move that is bound to have significant ramifications on the eco-system of Indrayani river, the Maharashtra government has decided to allow redevelopment of authorised structures within the floodline of the river, provided certain conditions are met.
The decision was taken on August 5, at a time when several parts of the state, including Pune and Pimpri-Chinchwad, were grappling with flood-like conditions caused by heavy rain and overflowing rivers. The river passes through Pimpri-Chinchwad.
A proposed provision in Pune district's regional plan allows redevelopment of structures within the prohibited zone near Indrayani. According to the modification, authorised properties located on the river bank and within the blue flood line can now be redeveloped, but only if the building's plinth is higher than 0.45 metres above the red flood line, and if the project receives a no-objection Certificate from the Irrigation department. https://indianexpress.com/article/cities/pune/maharashtra-redevelopment-floodline-of-indrayani-river-5903195/  (14 Aug. 2019)
Buddha Nala, Ludhiana A river turned into a nala "Enough is enough. This time it will be a fight to the finish," says Gurpreet Singh Chandbaja, a leader of the Naroa Punjab Manch (NPM) and president of Bhai Kanhaiyaji Cancer Prevention Society. The NPM is an initiative by citizens from Ludhiana and the scores of villages that lie on the banks of the Sutlej river in Malwa region of Punjab.
"For the past 40 years, the poison spewed by the Buddha Nullah has brought death and disease to our people. They are dying of cancer. Our crop yields have reduced and our livestock develop maladies that even the vets are unable to identify," he says. Of late, the matter has been taken up by the NGT, which has directed the Punjab Pollution Control Board (PPCB) and other related departments to come up with a permanent solution, instead of wasting `2 crore and more every year on 'temporary' cleaning.
A delegation of the Naroa Punjab Manch along with the Tapvan Trust from Rajasthan — the river water affects nine Rajasthan districts which border Punjab — met Union Minister of Jal Shakti Gajendra Singh Chauhan on June 20. Among other measures, they have demanded completion of Common Effluent Treatment Plants (CETP) and upgradation of Sewage STPs. The minister has assured all help to them — like many others in the past.  https://www.civilsocietyonline.com/environment/buddha-nullah-a-river-from-hell/
RIVERS
Book Review Spiritualism can redeem our dying rivers The challenge is to convert individual love and compassion for water into collective consciousness for preserving our rivers. The author's hope that by combining individual efforts something much larger can be achieved is already a reality in Punjab. Efforts by Sikh Saint Balbir Singh Seechewal have restored Kali Bein, the 160-km long tributary of river Beas, to its pristine glory. The rivulet has also been cleaned somearound a dozen times in the last two decades. It remains an isolated case of empathy and compassion, to which McAnally's philosophical basis can be the replicating catalyst. https://www.thehindubusinessline.com/opinion/books/the-soul-of-water/article28988633.ece  (12 July 2019)
Op-Ed The river must flow Ascribing legal rights to rivers helps counter pollution, may revive water bodies. https://indianexpress.com/article/opinion/columns/the-river-must-flow-ganga-yamuna-conservation-5906050/  (15 Aug. 2019)
Odisha NGT pulls up PCB for going soft on polluting unit NGT has pulled up Odisha State Pollution Control Board (OSPCB) for failing to act on a complaint that steelmaker Visa Steel is discharging untreated effluents into a stream. The pollution board "failed to exercise its statutory responsibilities as a regulator", the NGT said in an order issued last week, adding that the board's erring officials could face a fine and disciplinary action if they don't act against the company.
Visa Steel's plant in Kalinganagar, Odisha could face action including temporary closure, criminal prosecution or compensation for environmental damage, one which the green tribunal said works as "a deterrent making non-compliance to be non-profitable", according to the order. The steelmaker had been accused of dumping untreated effluents into a stream behind its plant by a local environment group, Kalinganagar Paribesh Surakhya Samiti. All the toxic effluents end up in the Brahmani river.  https://economictimes.indiatimes.com/news/politics-and-nation/ngt-pulls-up-odisha-pollution-board-for-going-soft-on-polluting-unit/articleshow/70707088.cms  (16 Aug. 2019)
Andhra Pradesh Uranium mining polluting groundwater in Kadapa villages, scientists warn A group of retired scientists from top research institutions in the country along with environmentalists from AP, Telangana and Odisha have cautioned the AP Pollution Control Board about contamination of groundwater in several villages around the Uranium Corporation of India Limited (UCIL) in Kadapa.
Scientists found fault with APPCB in a strongly worded letter written to its member secretary and IAS official Vivek Yadav. They said three villages — Mabbuchintalapalli, KK Kotala and Kanumalavaripalli of Vemula Mandal — in Kadapa were the worst hit.
"They use thousands of tonnes of sodium carbonate. They have violated conditions of environmental clearance. The villages around the pond where the chemical sludge is seeping into the groundwater has been affected," said K Babu Rao, a retired senior scientist from the Indian Institute of Chemical Technology. https://timesofindia.indiatimes.com/city/hyderabad/uranium-mining-polluting-groundwater-in-kadapa-villages-scientists-warn-ap/articleshow/70595696.cms   (9 Aug. 2019)
Stop uranium mining in Nallamala, forum urges Centre, State With the slogan of 'Stop Mining in Nallamala,' the Joint Forum for People's Democratic Rights protested at the Collectorate on Aug. 11 morning. The forum is a face organisation of numerous progressive organisations, members of which have all voiced their concern. They said that the uranium mining in the forests would inevitably damage the delicate ecology of the region, and claimed that Chenchu tribes of the region would be immediately affected.
Bhargava, general secretary of Progressive Organisation of People, said that Chenchus are some of the most ancient tribes in India and that the mining would have a grave impact on them. He said that the mining would affect Krishna river, polluting the water and later the villages around it. Jana Vignaana Vedika founding member V. Brahma Reddy, who has been a vocal critic of the Central government's decision, gave the example of Chhattisgarh and alleged that chemical processing and the waste management of uranium in Chhattisgarh is being done improperly. "If mining is allowed in Nallamala, I do not think it will be any different than that of Chhattisgarh," he said.
Elaborating on the toxic waste, he said that the waste is generally buried inside the earth. However, he alleged that as the government is doing a sub-par job at management and the waste is exposed to human beings and ecology. "The rains in Nallamala will inevitably end up in Krishna river. If any of the waste washes down into the river, it will pollute the river to a large extent," he said.
Talking about the use of uranium in the country, he claimed that only 3% of power in the country is provided by uranium and questioned the reason behind mining more uranium. He said that the government should spend money on research and development of renewable energy, such as solar, to provide for public needs. https://www.thehindu.com/news/national/andhra-pradesh/stop-uranium-mining-in-nallamala-forum-urges-centre-state/article28985063.ece  (11 Aug. 2019)
Uranium mining in Nalgonda another threat to tigers in Telangana Union ministry of environment and forest (MoEF) has granted environmental clearance to the state government's move to mine uranium in the reserve forests of Nagarjunasagar wildlife management division in Nalgonda district. But the move could become a flashpoint among tribals, environmental activists and the government as the division falls within the Amrabad Tiger Reserve (ATR).
While the Uranium Corporation of India Limited (UCIL) has begun acquiring land for the mining project, tribals in Amrabad are getting ready to intensify protests against the proposed mining which they said would harm the tiger reserve. A document titled 'Telangana Mineral Resources and Initiatives' released by the department of mines and geology of Telangana government confirmed the threat posed to ATR.
Accordingly, UCIL filed an application for grant of mining lease in an extent of 542 hectares after getting the clearance from MoEF. Sources said the genesis of the mining project was a letter (dated June 19, 2019) written by deputy inspector general of forests Naresh Kumar to principal secretary for environment and forest, Telangana, seeking permission for conducting a survey and exploration of uranium in 83 square kilometres in Nidgundi reserve forest of Nagarjunasagar wildlife management division and 76 square km in two blocks in ATR by the Atomic Minerals Directorate for exploration and research. Sources said an in-principle approval was given then by the government. https://timesofindia.indiatimes.com/city/hyderabad/uranium-mining-in-nalgonda-another-threat-to-tigers-in-t/articleshowprint/70707850.cms  (17 Aug. 2019)  
NARMADA Gujarat CM inaugurates River Rafting in Narmada river at Khalwani near Kevadiya, using the constant release of 600 cusecs of water from the dam for environmental flows.  https://timesofindia.indiatimes.com/city/vadodara/now-enjoy-river-rafting-on-narmada-throughout-the-year/articleshow/70719393.cms   (18 Aug. 2019)
GANGA Char Dham SC orders committee to review ecological aspects of Chardham project The Supreme Court has ordered the setting up of an independent committee take a view on whether the Centre's ambitious 900 kilometre, ₹12,000 crore ambitious Char Dham project to improve road network connecting pilgrimage spots in Uttarakhand, needs to be "revised" to minimise its ecological damage.
The project proposes the widening of single lane roads into double lanes by up to 10 metres, developing highways in Uttarakhand and thereby improving access to the Char Dham (four shrines) — Yamunotri, Gangotri, Badrinath and Kedar Nath. It has also evoked widespread concern among environmentalists, and has been challenged in the courts.
The Chopra committee is expected to make assessments and give recommendations to the Road Transport Ministry within four months, the SC said. The Committee would consider the "cumulative and independent impact" of the Char Dham project on the Himalayan ecology. It also had the prerogative to "give directions" to conduct environment impact assessments by the project proponents or the Ministry of Road Transport and Highways. https://www.thehindu.com/news/national/supreme-court-orders-committee-to-review-ecological-aspects-of-chardham-project/article29121551.ece  (17 Aug. 2019)
Efforts on to designate Ganga as part of UNESCO's international heritage Senior lawyer and Amicus Curiae in Re-Ganga Pollution case at Allahabad high court Arun Kumar Gupta, who is pushing for this status for the holy river, led a small two-member delegation and has presented a formal memorandum in this regard to the UNESCO's New Delhi director Eric Falt in the national capital. During the meeting, Gupta was accompanied by Vibhas Chandra, a researcher from Mahatma Gandhi Chitrakoot Gramoday University, Chitrakoot.
The Amicus Curiae also shared that new research reveals that despite pollution, the water of the Ganga still possesses medicinal qualities so much so that some microbiologists are working to develop a new anti-microbial compound with the help of Ganga water. Gupta has been fighting for the river in various courts and has obtained nearly 80 orders in the cause of the Ganga. https://www.hindustantimes.com/cities/ganga-on-unesco-s-international-heritage-list/story-JCZsGnj5DIUIjyxj0B21OI.html  (9 Aug. 2019)
YAMUNA Untapped drains, under-used STPs continue to pollute Hindon, Yamuna rivers So officials admit that nothing but only and purely effluents are flowing in Hindon river. STPs have also failed miserably. Wish govt to wake up to this reality also. Pollution in the river has affected lakhs of villagers and contaminated groundwater in the area apart from polluting Yamuna river endlessly:-  Ghaziabad city houses 8 of the 10 functional but under-utilised STPs, located over the river stretch from Saharanpur to Ghaziabad. At 43%, the STPs are running well below their installed capacity, whereas 29 of 31 drains over the stretch remain untapped by STPs while only two are partially tapped, according to the Uttar Pradesh pollution control board's (UPPCB) 'Action plan for restoration of polluted stretch of river Hindon'. As a result, the river gets treated discharge of 224 MLD of sewage and untreated discharge of about 371 MLD, largely due to the misspent installed STPs, as well as untapped drains. The river, according to official statistics, gets a total discharge of 674 MLD out of which sewage discharge is about 595 MLD while industrial discharge is about 78 MLD.https://www.hindustantimes.com/noida/untapped-drains-under-used-stps-continue-to-pollute-hindon-yamuna-rivers/story-L65Pao3YOiPOEYYawjlR5O.html  (16 Aug. 2019)
RIVERS BIODIVERSITY
Tamil Nadu Becomes 5th Indian State to Declare a State Butterfly Tamil Nadu has recently declared Tamil Yeoman (Cirrochroa thais) as its state butterfly to symbolise its rich natural and cultural heritage, in a move aimed at boosting the conservation efforts of the attractive insects. This is the latest addition to Tamil Nadu's existing symbols from the natural world – palmyra as the state tree, gloriosa lily as the state flower, emerald dove as the state bird, jackfruit as the state fruit and Nilgiri tahr as the state animal.
Endemic to the biodiversity hotspot of Western Ghats, Tamil Yeoman is usually seen at the foothills and moist evergreen forests of the state's mountainous regions. Known to have a straight flight with few wing beats and long glide, the butterfly is actively spotted in forest streams too. https://thewire.in/environment/tamil-nadu-state-butterfly-tamil-yeoman  (12 Aug. 2019)
FISH, FISHERIES, FISHERFOLKS
Kerala Aliens fish in state rivers With the floods that have once again occurred in some parts of Kerala over the past few days, there is indeed a chance that exotics held in captive facilities have moved into nearby natural waters once again, according to Raghavan.
"But the flood situation is still grim and fishing in rivers has not resumed," he says. "Once it does, we can get information on new occurrence records again." The team plans to begin this work once again from next week to obtain more information on alien fish species that this year's floods may have released into Kerala's water systems. https://www.firstpost.com/tech/science/monstrous-alien-fish-spotted-in-the-rivers-of-kerala-after-the-states-2018-floods-7174731.html  (16 Aug. 2019)
Informative piece on how exotic, invasive fish species pose threat to native species, river eco-system and India lacking rules including no national policy to deal with the serious issue:- But the larger problem of aliens turning invasive is not restricted to Kerala's waters alone. Several fish introduced legally in India for aquaculture such as tilapia are thriving in many water bodies across the country. So are many illegally-introduced species (such as the red-bellied pacu and African catfish), which do not figure in the list of 92 species permitted to be imported into the country as per the guidelines laid down by the Department of Animal Husbandry, Dairying and Fisheries. There are news reports of alligator gar sightings from waterbodies in the states of Maharashtra, Odisha, West Bengal, Telangana and Andhra Pradesh.
While existing laws such as the Wildlife Protection Act of 1972 and the Environment Protection Act of 1986 have included provisions for managing invasive species as do some prevailing quarantine acts, there is no national policy to deal with these species, pointed out Kumar. "There is no clear cut policy to handle invasive species in India, not to speak about a dedicated institution to foresee invasive species management, despite being part of international commitments such as the Convention on Biological Diversity," he adds.
Indeed, stronger quarantine laws to completely restrict any foreign fish species from deliberate introductions hereafter are important, agreed ATREE's Kelkar. Clear definitions of when a species is invasive in the real sense and causes ecosystem- and fisheries-level impacts are also crucial, he said. A change in perspective could be key too. "For the police and customs staff checking on biological quarantines, fish are fish. This has to change, as we try to control truly invasive populations," added Kelkar. https://thewire.in/environment/enormous-alien-fish-spotted-in-keralas-rivers-after-2018-floods  (17 Aug. 2019)
Telangana Fish seedlings released in various water bodies Minister Talasani Srinivas Yadav has released fish seedlings into Koil Sagar of Kaleshwaram project and another minister Indrakaran Reddy released them into Swarna project. Speaking on the occasion, the ministers said that the fish seedlings will be released in all the water bodies across the state in a fortnight. With the heavy inflow in the water bodies, the government has decided to release the fish seedlings and around 24,953 water bodies were identified to release the fish seedlings worth Rs 52 crore. Meanwhile, Panchayat Raj minister Errabelli Dayakar Rao released it in the Madikonda lake and Pedda Pendyala lake in Station Ghanpur. https://www.thehansindia.com/telangana/fish-seedlings-released-in-various-water-bodies-in-telangana-555400  (16 Aug. 2019)
As per another news report on same issues authorities has released 1.50 lakh fish seedlings in Madikonda tank and 1.57 lakh seedlings in Pedda Pendyala. In a related development, Animal Husbandry Minister Talasani Srinivas Yadav has released fish seedlings in Godavari river near Kaleshwaram in Jayashankar Bhupalpally district. Speaking on the occasion, the Minister said that plans are afoot to release 50 lakh fish seedlings and 12 lakh prawn seed in Jayashankar Bhupalpally district as it likely to benefit 546 fishermen families living on the banks of Godavari river. https://www.thehansindia.com/telangana/warangal-fish-seedlings-released-in-water-bodies–555490    (16 Aug. 2019)
SAND MINING
Manipur Govt to issue permits for sand and stone mining An emergency meeting chaired by CM N. Biren Singh was held on July 31 discuss issues prevailing in the state following a total ban imposed by the High Court of Manipur on unauthorized mining of sand and stone in all the rivers. Left with no alternative, quarry workers and transporters banned the supplies of sand and stones for all government and private construction, besides the import of sand from outside the state. The quarry workers and transporters have also imposed a 14-hour statewide bandh on Thursday from 4 am to 6pm. The aggrieved workers and transporters have been demanding alternative sites to continue with their mining activities.
Subsequently, in meeting, the CM reportedly instructed deputy commissioners to immediately inform the district Environmental Impact Assessment (EIA) authority to take assistance from the Water Resources Department. The High Court had issued the ban in response to a PIL filed by Thoubal River Conservation Committee, a civil body seeking the court's intervention to stop the exploitation of the Thoubal river and control pollution, which was increasing at an alarming rate. https://indianexpress.com/article/north-east-india/manipur/manipur-government-to-issue-permits-for-mining-sand-stone-5867489/  (31 July 2019)  
Punjab Majri villagers demand closure of legal stone crushers too Residents of villages falling in Majri block are demanding closure of even legal stone crushers in the area. The residents of Kubaheri, Mianpur Changar and Dulwan-Khaddri villages have been sitting on an indefinite protest against illegal sand mining in the area which entered day 12 on Aug. 11.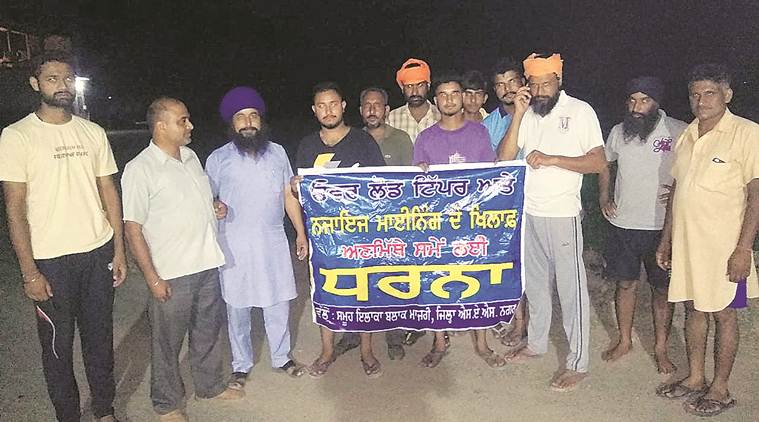 The protesting residents allege that the gravel was being dug up from the fields in their villages. The villagers were keeping a vigil in the area and did not allow the tipper trucks to operate. At present, as many as 22 stone crushers are operating in the area which process gravel. The district administration sealed 10 crushers last week after it was found that the crushers were being run without taking any permission from the district administration and the mining department. https://indianexpress.com/article/cities/lucknow/illegal-sand-mining-majri-villagers-demand-closure-of-legal-stone-crushers-too-5898327/  (12 Aug. 2019)
Andhra Pradesh Sand mining goes unabated in Thungabhadra Indiscriminate sand mining has been going on in Tungabhadra river. To restrict the illegal sand mining the district administration has identified some sand reaches in the district – two reaches at C Belagal, two each at Gonegandla and Holagunda mandals. Excavation of sand was also permitted at Nandikotkur, but due to water flooding the reach was closed. The sand from these reaches has to be used for the construction of individual houses and the beneficiary has to obtain permission from the Revenue or Mining department.
Illegal sand mining is taking on high scale at Tungabhadra river during night hours. People of Panchlingala, Ulchala, Nidzur and other villages are excavating sand and dumping at some secrete places. Later, the sand is being supplied to assignees. It is alleged that the police are being bribed to carry on illegal sand mining. It is also learnt that the sand is being transported in the district and also places in Telangana. Restricting sand mining by the state government has become advantage to the sand traders. Panchalingala village has become hub for the transportation of sand. https://www.thehansindia.com/andhra-pradesh/sand-mining-goes-unabated-in-thungabhadra-554144  (11 Aug. 2019)
Curbs on illegal sand mining in AP hits Bengaluru builders As per the report, due to curb in illegal mining in Andhra, Karnataka and surrounding areas have been reeling under severe shortage of sand, 0.3 MT of imported sand from Malaysia has piled up at Mangaluru and Krishnapatnam ports. The neighbouring state faces a shortage of 2-3 MT of sand, with the demand close to 33 MT, sources said.
Several construction companies temporarily stopped works following poor availability of sand in Bengaluru, a builder from Kengeri area said. In fact, quality sand will be available from reaches closer to riverbeds of Anantapur which has huge demand in Bengaluru city that had poor sources of sand in Karnataka. https://www.deccanchronicle.com/nation/current-affairs/160819/curbs-on-illegal-sand-mining-in-ap-hits-bengaluru-builders.html  (16 Aug. 2019)
Tamil Nadu NTK cadres protest against illegal sand mining Condemning inaction by the Tuticorin district administration on illegal sand mining at Keelnatukurichi, Naam Tamilar Katchi (NTK) tied black flags at many places in Ettayapuram taluk on Aug. 15. Tuticorin north unit NTK representatives said their repeated petitions to revenue officials did not yield any results, due to which they organised the black flag protest.
Police rushed to the villages and cleared the flags. NTK Tuticorin north district president Pandi said that more than 200 truckloads of sand is mined from Keelnatukurichi village everyday and repeated petitioning to the district collector, revenue officials and mines and minerals department officials to stop the menace went in vain. He said that on Aug. 13 they had warned of a black flag protest if action was not taken before Aug. 15. https://timesofindia.indiatimes.com/city/madurai/ntk-cadres-protest-against-illegal-sand-mining/articleshow/70693828.cms  (16 Aug. 2019)  
WETLANDS, LAKES, WATER BODIES
Goa 550 wetlands identified in Goa, to be protected NGT gives 3 more months to State Wetlands Authority to inventorize wetlands in the state measuring less than area of 5 hectares. 3 Dec. 2019 is next date of hearing. Around 5.8% of Goa's total area of 3792 sq km is covered by wetlands, while wetlands cover 4.7% of India's total area. Goa has identified 550 wetlands, spread across a total area of 213.8 sq km, and is still in the process of identifying more. In an affidavit filed before NGT, the government informed that after its constitution, Goa state wetland authority (GSWA) has discussed this information during its meeting on August 3, 2016. https://timesofindia.indiatimes.com/city/goa/550-wetlands-identified-in-goa-to-be-protected/articleshow/70635021.cms  (12 Aug. 2019)
Maharashtra Activists claim Panje is wetland, share proof Two environmentalists on Aug. 15 shared with the HC-appointed panel unverified coordinates and codes of areas across the 213-hectare Panje area, overlapping with the zones identified in the National Wetland Atlas: Maharashtra State 2011.
Kharghar resident Naresh Singh from NGO Abhivyakti said that officials from the forest department themselves had shared three coordinates of intertidal mudflats, mangroves and salt pans matching with coordinates of Panje. "Since Panje is spread across a large area, the panel may have missed out on different types of wetlands. The whole inventory, which is public, only has a few coordinates for large spaces whereas wetlands can have multiple coordinates. The inventory needs to be updated," he said.  https://www.hindustantimes.com/mumbai-news/activists-claim-panje-is-wetland-share-proof/story-7tNAD7TmtwJcztg0gAzhUK.html  (9 Aug. 2019)
₹27-lakh plan for polluted Vithalwadi lake near Thane  Every year, Kalyan-Dombivli Municipal Corporation (KDMC) cleans the lake in Vithalwadi. But, often is soon back to being filthy as residents use the water body as a dumping ground. Unable to maintain it themselves, KDMC has appointed a contractor for the regular cleaning and maintenance of the lake. KDMC commissioner Govind Bodke said, "We have appointed a contractor who will ensure the lake is maintained and cleaned regularly. We will pay ₹27 lakh to the contractor for three years." The contractor has to ensure no one dumps garbage in the lake.
The beautified lake was inaugurated in August 2015. The civic body spent ₹53 lakh to beautify the lake. The lake has a pathway on both sides and a fountain with attractive lighting. Within a few months of the inauguration, the fountain and lights stopped working. Gradually, pollution levels started increasing as filth and garbage were dumped into it. Within a few months, the lake started getting polluted. Although immersion in the lake has stopped, it is cleaned every year before the festival. https://www.hindustantimes.com/cities/27-lakh-plan-polluted-vithalwadi-lake-near-thane-to-be-maintained-by-contractor/story-KBNzwYP4JnfqJuyLbZrjuJ.html  (17 Aug. 2019)
Tamil Nadu Planting of saplings in Kotagiri's last remaining wetland criticised A government initiative to plant saplings of exotic tree species in a wetland in Kotagiri has drawn criticism from local residents and conservationists. They want the district administration to intervene and remove the saplings before any irreversible damage is done to the last remaining wetland within Kotagiri town.
The Kotagiri town panchayat on Aug. 14 organised the mass planting of more than 600 saplings in the wetland, known as Rifle Range in Kotagiri, under the Jal Sakthi Abhiyan campaign. It invited various local organisations who had expressed their opposition to the planting drive, to take part in the event.
Conservationists said that the trees that were primarily planted in the wetland were ornamental varieties such as the yellow bauhinia, or trees not native to the landscape, like podocarpus neriifolius and magnolia champaca, along with other exotic flora. They feared that the trees could lead to irreversible damage to the biodiversity in the wetland, impact the hydrology and lead to the spread of invasive species in Rifle Range, which was already facing enormous pressure from the human inhabitations that lived around it. https://www.thehindu.com/news/cities/Coimbatore/planting-of-saplings-in-kotagiris-last-remaining-wetland-criticised/article29113495.ece  (16 Aug. 2019)
West Bengal New green study ordered for flyover via wetlands Prodded by the state secretariat, Hidco is engaging a consulting agency to prepare an EIA report and an environment management plan (EMP) to minimise the impact on East Kolkata Wetlands (EKW) when the proposed flyover, which would connect EM Bypass with New Town, is built following one of the new alignments suggested by RITES. The agency has suggested three new options. Among them, the fourth has been recommended as it is likely to have minimum impact on the wetlands.
According to officials, the new EIA and EMP reports will be considered as additional and supplement those prepared by JU's School of Water Resources Engineering earlier. The consulting agency, which will be engaged by the first week of August, will prepare and submit the reports within two months. https://timesofindia.indiatimes.com/city/kolkata/new-green-study-ordered-for-flyover-via-wetlands/articleshow/70311590.cms  (21 July 2019)
GROUNDWATER
Study Groundwater policies behind added air pollution in northwest India  A measure to conserve groundwater in northwestern India is causing added air pollution in the region already beset by haze and smog, according to a study that used time-series satellite data from NASA. The study, published in the journal Nature Sustainability, reveals how water-use policies require farmers to transplant rice later in the year, which in turn delays harvests and concentrates agricultural burnings of crop residues in November, a month when breezes stagnate, leading to increased air pollution. https://economictimes.indiatimes.com/news/politics-and-nation/groundwater-policies-behind-added-air-pollution-in-northwest-india-study/articleshow/70463627.cms  (31 July 2019)
Report Solar Pumps Are Still Pumps, Pose Risk to Groundwater The Centre's recently unveiled Pradhan Mantri Kisan Urja Suraksha Evum Utthan Mahaabhiyan (PM KUSUM) sets a target of 1.75 million off-grid solar pumps and one million on-grid ones; it also sets out to install 10 GW of small solar power plants. The Maharashtra government alone has set itself a target of one lakh solar pumps, and offers farmers 95% subsidy. However, the deeper the groundwater sinks, the higher the horsepower of the pump required, and more expensive the pumping of water will become. https://www.newsclick.in/Solar-Pumps-Still-Pumps-Pose-Risk-Groundwater  (13 Aug. 2019)
Uttar Pradesh Ghaziabad stares at severe crisis in 5-6 yrs The govt's yet to-be-released report on 'dynamic groundwater resources assessment, 2017', Ghaziabad district features among the list of at least eight districts where groundwater extraction is above 100% vis a vis the total annual groundwater recharge. Districts with more than 100% groundwater extraction are Agra (107.50%), Amroha (104.50%), Firozabad (111.39), Gautam Budh Nagar (109.66%), Ghaziabad (128.36%), Hapur (107.34%), Saharanpur (119.9%) and Shamli (109.265).
"The situation will worsen further as heavy concretisation is taking place along roadsides and even in residential areas because of which rainwater is not seeping into the ground. Further, non-functional rainwater harvesting units in buildings are a major cause of worry. Illegal boring for sale of groundwater is prevalent in many areas. Residents in most localities cannot draw water without the help of submersible/motor pumps," said Akash Vashishtha, a city-based environmentalist. https://www.hindustantimes.com/cities/groundwater-depleting-fast-ghaziabad-stares-at-severe-crisis-in-5-6-years/story-8H4TeuUjdtnTEjdp4LvF7J.html  (14 Aug. 2019)
Haryana 100 abandoned tubewells to be used for groundwater recharge in 50 villages On August 28 and 29, the agriculture and horticulture department will conduct a water conservation drive in 50 villages of the district. More than 100 abandoned borewells will be used for groundwater recharge. https://www.hindustantimes.com/cities/100-abandoned-tubewells-to-be-used-for-groundwater-recharge-in-50-villages/story-pV6d5IEPUzHYSVI2DDuq9L.html  (9 Aug. 2019)
URBAN WATER
Bengaluru Documenting Bengaluru's water journey Showcasing history of Bengaluru's water networks and featuring technology from a bygone era, the Bangalore Water Supply and Sewerage Board (BWSSB) is building a water museum and heritage park to educate the citizens about the importance of water conservation. This "one-of -a-kind museum" will be located at the old BWSSB facility on 18th Cross Road, Malleswaram.
Certain parts of the facility, which were built in 1896, will be renovated to retain and preserve history. According to B.M. Manjunath, Public Relations Officer, BWSSB, the board has called for tenders and will begin construction in three or four months. The project will be completed by mid-2020 and will cost an estimated ₹9 crore. https://www.thehindu.com/news/cities/bangalore/documenting-the-citys-water-journey/article29036766.ece  (13 Aug. 2019)
Chennai Sewage, drinking water a deadly mix in George Town Residents of Chinnathambi Street in George Town get Metrowater's drinking water supply every alternate day. But these 65 buildings on the street cannot use the water as it has been contaminated by sewage leaking into these pipelines. They have been getting contaminated drinking water supply for the past six months, said S Riyaz, who lives in the area.
A similar problem was faced by residents of Kandhappachetty Street a few months ago. Their issue was resolved after months of struggle. L Joseph, a resident said they have to spend about 5,000- 10,000 every month on water because of this issue. "We have a public tap outside where we can pump and check if the water supply is clean or contaminated. On rare occasions, the water is clean. https://timesofindia.indiatimes.com/city/chennai/sewage-drinking-water-a-deadly-mix-in-george-town/articleshow/70720724.cms  (18 Aug. 2019)  
Pimpri-Chinchwad PCMC water cut plan irks residents Pimpri-Chinchwad Municipal Corporation (PCMC) has decided to implement water cuts once again. The decision has been taken despite the fact that Pavana river has ample water and Pavana dam is filled to capacity. The river and the dam are the two main sources of water for Pimpri-Chinchwad. This time, the PCMC decided to introduce water cuts once a week. Civic officials said from Aug. 19, the city will be divided into seven zones and each zone will face water cuts once a week.
"We are forced to implement water cuts to ensure equal distribution of water," Joint City Engineer Makrand Nikam told The Indian Express. "This will help us ensure supply to areas which otherwise face water shortage". The decision has drawn fire from local residents, activists and even the civic Standing Committee, which accused the PCMC administration of trying to create "artificial water shortage". https://indianexpress.com/article/cities/pune/river-overflowing-and-dam-full-but-water-cuts-back-in-pimpri-5913813/  (18 Aug. 2019)
WATER POLLUTION
Punjab NGT panel orders third-party water quality tests in Fazilka A panel constituted by the NGT has directed the Punjab Pollution Control Board (PPCB) to get third-party water quality assessment done in Fazilka district by the Thapar Institute of Engineering and Technology. Fazilka deputy commissioner Manpreet Singh Chhatwal, who was appointed nodal officer by NGT, said the Patiala-based institute will be engaged for a transparent laboratory examination of samples. He said PPCB will start taking samples from Aug. 13 from more than 40 identified spots near the India-Pakistan border in Fazilka district.
"The board has been asked to take samples from tubewells, handpumps, drains carrying sewage and water supply system of the local body. We expect to get laboratory test reports from the institute in a week's time and the panel' report will be submitted to the NGT by August 25," said Chhatwal. Chhatwal said the committee comprising officials from PCPCB, Punjab Water Supply and Sewerage Board, state agriculture department and the local bodies department has visited drains to check the quality of water. https://www.hindustantimes.com/cities/ngt-panel-orders-third-party-water-quality-tests-in-fazilka/story-oN26gk8kPxQ8IcIn1Id9VO.html  (13 Aug. 2019)
WATER
A Jan Andolan for water This article from Secretary, Govt of India for Drinking water and sanitation makes are tall claims: To call for Jan Andolan, sitting in a ministry that is known to be completely non transparent, unaccountable and non participatory, is a bit disingenuous, to say the least.
– It says: "At a policy level, therefore, the stage has been set to deliver integrated water management solutions." There is no change in policy as far as one can see. The clubbing of two ministries, without even integration between the two cannot set the stage by itself, can it?
– It says: "Proposed Jal Jeevan Mission will be a decentralised, community-managed and sustainable water management scheme." That is saying a lot. But MoWR and CWC are known to hate anything decentralised and community managed.
–  It says: "The proposed Jal Jeevan Mission will make source sustainability measures mandatory prior to pumping and distributing water to households." We have yet to see any credible move in that direction. The source sustainability will also involve regulating groundwater use at the aquifer level and we have neither mapped aquifers, nor created any legal or institutional set up to achieve such regulation.
– It says: "However, water is an ideal sector for the applicability of the principle of subsidiarity — the idea that a central authority should have a subsidiary function, performing only those tasks which cannot be performed effectively at a more immediate or local level." Absolutely, but not sure if Swajal or WASMO are any good examples where this is achieved.
– It says: "Adopting this principle, the Jal Jeevan Mission's first preference will be to have single village ground water-based schemes, wherever sufficient quantity and good quality of groundwater exists. These schemes would be managed by the community itself through the setting up of a village water and sanitation committee, a sub-committee of the gram panchayat." Yes, but the groundwater is also used by farmers for irrigation. How will source sustainability be achieved without they being part of the management. Moreover, just formation of the committee wont achieve this. A lot more will have to be done.
– It says: "It is, therefore, planned to include a mandatory provision under the Jal Jeevan Mission for the effective channeling and treatment of household waste water (known as grey water), through appropriate and low cost drainage and treatment systems. Once appropriately treated, the grey water can be used for both recharge of groundwater as well as for irrigation purposes." Welcome, but we have to wait and see how they achieve that. The earlier Swatch Bharat Abhiyaan largely neglected what will happen once the soak pits are filled and some of them are now entering the drinking water sources and streams through honey sucker tankers.  https://indianexpress.com/article/opinion/columns/a-jan-andolan-for-water-ministry-of-jal-shakti-groundwater-in-india-5911248/  (17 Aug. 2019)
This is strange VOICE OF THE NATION, where a non existent project, whose proposal is so destructive (Ken Betwa link) is paraded as successful example! https://thevoiceofnation.com/2019/08/16/are-humans-solely-responsible-for-flood-and-drought-catastrophe-in-bihar/  (16 Aug. 2019)  
Tamil Nadu Man held for posting false info about water scheme Shocking. Does this imply one cannot have critical views about what govt does? The city police on Aug. 16 arrested a 31-year-old man for posting a message on his facebook page that had false information about the 24×7 drinking water supply project. Based on a complaint by P Gopalakrishnan, team leader, project monitoring committee for 24×7 drinking water supply, the Ukkadam police arrested K A Abdul Razaq, 31, of Karumbukadai. He is now lodged in the Coimbatore central prison.
Gopalakrishnan said in his complaint lodged on August 10 that some people were posting unwanted messages against the drinking water project on their facebook pages from July, 2018. Such messages were instigating the general public against the project. https://timesofindia.indiatimes.com/city/coimbatore/man-held-for-posting-false-info-about-water-scheme/articleshow/70708149.cms  (17 Aug. 2019)
MONSOON 2019
This slideshow requires JavaScript.
ISciences.com forecast: Through September indicates that many parts of India will return to normal water conditions. However, in the south, moderate to severe deficits are forecast in southern Karnataka and in neighboring Kerala and Tamil Nadu. A small pocket of extreme deficit is forecast in the center of Odisha. In the west, primarily moderate surpluses are expected in Gujarat and western Maharashtra along with a few inland pockets. Moderate surpluses are also forecast around Hyderabad, and severe to exceptional surpluses in Jammu and Kashmir in the far north.
– Through to March 2020: India can expect intense surpluses in Jammu and Kashmir, and primarily moderate surpluses in Gujarat and north of Mumbai. Surpluses are forecast for Bangladesh and will be exceptional north of Dhaka; moderate surpluses are forecast across the northern border in Meghalaya, India. Surpluses are also forecast along the Gandaki River in central Nepal leading into India, and in Bhutan, where anomalies will be intense in the west. Deficits are forecast in central India at the intersection of Maharashtra, Madhya Pradesh, Chhattisgarh, and Andhra Pradesh, as well as western Odisha. Farther south in Tamil Nadu and Kerala, moderate to exceptional deficits are forecast, and moderate deficits in Karnataka. Moderate deficits are also forecast in a pocket of northern India in northernmost Uttar Pradesh. https://www.isciences.com/blog/2019/07/15/south-asia-water-deficits-in-india-forecast-to-diminish    (15 Aug. 2019)
IMD starts forecast of water volume in river basins In a bid to ensure effective reservoir management, the IMD, Pune, has started issuing water level forecasts for all river basins in India from August 1. The experts at IMD, Pune, are now making use of real-time rainfall data from its own network of rain gauges to issue forecasts for water levels in river basins in India from August 1. Under this new application, all 25 river basins and 101 sub-river basins earmarked by the CWC will be covered. CWC identifies river basins for Indus, Mahi, Narmada, Ganga, Krishna, Mahanadi, Cauvery, Tapi, Sabarmati and Godavari. The step is an attempt to ensure effective dam management. https://indianexpress.com/article/cities/pune/imd-starts-forecast-of-water-volume-in-river-basins-5906665/  (16 Aug. 2019)
Study 3 IITs study 100 years of Indian monsoon Three Indian Institute of Technology (IITs) — Chennai, Bombay and Mandi — have data mined over 100 years of the Indian monsoon, to find some interesting observations that can have impact on agriculture and water resources.
India's Southwest monsoon rainfall exhibits a periodicity of 2.85 years, during which it tends to switch between 'strong and weak monsoon years'. This 2.85 year period is termed as the 'triennial oscillation'. In determining the quantum of rainfall that occurs during the monsoon period between June-September 30, the triennial oscillation along with the global climate phenomena such as El Nio Southern Oscillation (ENSO) that recurs in a 3-5 year period play crucial role, according to Sarita Azad of the IIT, Mandi.
In another recent study on monsoons, researches from the IIT Chennai and IIT Bombay who also analysed rainfall pattern data of the last 100 years found some interesting changes. "Our study shows that the amount of rains has decreased in river basins with surplus water, and has increased in basins with deficit water," said Sachin Gunthe of the IIT Madras.
Similarly, the study made a significant observation that contradicted the traditional notion of dry areas becoming drier and wet ones becoming wetter in response to climate change. The geographic variations of extremes in rainfall occurs due to convection: the movement of moisture laden hot air upwards, followed by cooling at higher altitudes and shedding of the moisture as rain. https://www.thehindubusinessline.com/economy/agri-business/three-iits-study-100-years-of-indian-monsoon/article28938534.ece  (9 Aug. 2019)   
IPCC Study Irrigation could be delaying monsoon "Irrigation in India occurs prior to the start of the monsoon season and the resulting land cooling decreases the land-sea temperature contrast. This can delay the onset of the monsoon and decrease its intensity," the report said, quoting studies carried out in the past. https://www.thehindubusinessline.com/economy/agri-business/irrigation-could-be-delaying-monsoon-in-india-cautions-ipcc-study/article28988517.ece#  (12 Aug. 2019)
India gets above-average monsoon rains for 3rd straight week India received 45% more rainfall than the 50-year average in the week to August 14, data from the India Meteorological Department (IMD) showed on Wednesday. Overall, India has received 1% more rainfall than average since the start of the monsoon season on June 1. https://www.moneycontrol.com/news/business/economy/india-gets-above-average-monsoon-rains-for-third-straight-week-imd-4337531.html  (14 Aug. 2019)
Abnormal Monsoon After a rainfall deficit in June, the August 3 to 7 period was among the wettest in a century in Karnataka. The Karnataka state received an average rainfall of 224 mm against the normal downpour of 59 mm.
In Kerala's Wayanad district, the departure from normal rainfall was 400% between August 8 and 14 while Malappuram received 500% more rain than usual in the same period. In Maharashtra, Mumbai saw its wettest July in 100 years while other districts such as Dhule in the north received 500% more rain in the week ending August 14. https://economictimes.indiatimes.com/news/politics-and-nation/monsoon-mayhem-how-should-india-deal-with-this-new-normal/articleshow/70717602.cms  (18 Aug. 2019)  
Reservoir levels – West well stocked with water, South is short Among the 4 states that have experienced extremely heavy rainfall this month, the status of water stored in their reservoirs is vastly different. Nationwide, the 103 reservoirs monitored by the Central Water Commission (CWC) had stored 76.845 billion cubic metres (BCM) by August 8, or 47 per cent of their live storage capacity. This was below last year's storage at this stage (97 per cent) as well as the 10-year average (97 per cent). https://indianexpress.com/article/explained/west-well-stocked-with-water-south-is-short-india-rains-monsoon-floods-5902993/  (14 Aug. 2019)
Maharashtra In monsoon-deficit Marathwada, water level in Jayakwadi dam crosses 90% mark Even as Marathwada continues to face an overall monsoon deficit of over 20 per cent, water storage levels in the region's largest dam Jayakwadi in Paithan taluka crossed 90 per cent — a first in two years. By 3 pm on Aug. 13, the Nath Sagar reservoir at the Jayakwadi dam was 90.86 per cent full, owing mainly to the continuing overflow of east-flowing waters from Nashik.
While the water level in the reservoir crossed 50 per cent just a week ago, going from one-third to half full overnight as Nath Sagar received more than 2 lakh cusec from the upstream dams on the Godavari, inflow slowed down considerably over the past two days as river water level upstream receded alongside the break in the rain.
An official at the Water Resources Department said water is being released in a controlled manner through the barrages downstream, after water was released earlier to flow into the Majalgaon dam in Beed district, which is among seven major dams in the region that are now at dead storage. Some of these dams are witnessing record low levels on account of continued drawing of water from dead storage through the long hydrological drought stretching from October-November 2018 until the arrival of the 2019 south-west monsoon. https://indianexpress.com/article/india/in-monsoon-deficit-marathwada-water-level-in-jayakwadi-dam-5902956/  (14 Aug. 2019)
FLOOD 2019
DAMS FLOODS MAHARASHTRA, KARNATAKA Big dams cause for flooding in Kolhapur, Sangli: SANDRP  In a report published on Monday, SANDRAP said though rainfall in Kolhapur, Sangli and Satara exceeded the average precipitation by 70 per cent, 60 per cent and 78 per cent respectively, it wasn't unprecedented. The situation could have been easily managed and authorities should have averted the disaster. The report pointed out that heavy spells of rain were distributed over eight days and preceded by a warning.
However, in the same period, the dams started releasing water in large quantities, which played a major role in creating the disaster. The irrigation department's likely defence will be that the dams were full, and they had no option but to release water. But then one must ask why the dams were full when monsoon is just halfway through and the IMD has predicted much heavier rainfall in the second half of the season, the report said.  https://mumbaimirror.indiatimes.com/mumbai/other/big-dams-cause-for-flooding-in-kolhapur-sangli-report/articleshow/70650831.cms  (13 Aug. 2019)
The report says that if these dams had started releasing water from July 25, they would have had sufficient space during the first week of August when the districts received heavy rainfall and that would have helped reduce the floods. The dams, that were supposed to help moderate the flood situation, instead ended up exacerbating it.
Similarly, delaying the release of water from the Hidkal dam in Belagavi district of Karnataka had a huge influence on worsening the flood situation as operators waited for the dam to be almost full. This, despite the IMD giving a monsoon forecast at least five days in advance. "Till August 5, the release was a paltry 2,400 cusecs. As soon as the dam was full, the water releases went up to 29,429 cusecs on August 6, which then kept climbing up to 100,945 cusecs on August 9. Then, excess release started on August 6, coinciding with the flood peak," the report stated. https://www.downtoearth.org.in/news/water/rains-apart-blame-the-dams-for-maharashtra-karnataka-floods-report-66172  (14 Aug. 2019)
'Dam management rules violated' Himanshu Thakkar of SANDRP points out, "With the Ghataprabha, Malaprabha and Alamatti dams, the data clearly shows that the operators violated the rule curve." A rule curve defines the procedure on how dam operators must approve filling up the reservoirs. "The dams have to be filled up in different stages and at different points of time. The division should be such that by the end of the monsoon, the dams must either reach full reservoir limit, or must be nearly full. Of course, if the rainfall is low, it is not possible to reach full storage capacity. But if it rains, the dams cannot be close to full before the monsoon ends," he explains. https://www.thenewsminute.com/article/better-dam-management-could-north-karnataka-floods-have-been-mitigated-107166   (13 Aug. 2019)
Himanshu Thakkar of SANDRP interviewed by THE WEATHER channel. https://weather.com/en-IN/india/monsoon/news/2019-08-13-dam-maharashtra-karnataka-krishna-basin-flood-august-2019  (13 Aug. 2019)
Here is NDTV report based on SANDRP Analysis. https://www.ndtv.com/india-news/maharashtra-flood-devastation-could-have-been-avoided-say-experts-2085347  (15 Aug. 2019)
Prof Madhav Gadgil: The reasons for floods mentioned in the SANDRP report are completely true. While I have not read the complete report, the points that mention the fact as to why the dams were full when monsoon is just about halfway through and IMD (India Meteorological Department) has predicted much higher rainfall in the remaining part of the monsoon, is a very valid question to ask. This clearly exposes the mismanagement. If the authorities would have been alert and learned about the possible situations, we could have avoided the causalities caused due to the floods. https://www.hindustantimes.com/cities/mismanagement-in-release-of-water-responsible-for-floods-madhav-gadgil/story-sIblytJqbQNKasxU6egY1L.html  (13 Aug. 2019)
This is possibly one of the impacts of SANDRP work: Pune divisional commissioner Deepak Mhaisekar has said that in view of the devastating floods in Sangli and Kolhapur districts after release of water from dams in the Krishna river basin, steps are being taken to regularly monitor the release of water from the dams. "A committee, which will include chief engineer of the state irrigation department and other officials, is being constituted to regularly monitor the release of water from the dams," he said. He acknowledged that such a mechanism was not in place, but would be followed henceforth.
– Mhaisekar's comments are significant in view of adverse comments from water experts that it was the unregulated release of water from dams such as the Koyna, Warna and Radhanagari which led to the floods in Sangli and Kolhapur districts.
– This report than goes on to mention SANDRP analysis.
– PB Shelar, executive engineer of Khadakwasla division of the irrigation department, said, "The report which claims that mismanagement in releasing the water from various dams resulted in floods is partially correct. While it is true that water should be released judiciously, there are situations when the discharge of water has to be increased significantly." https://www.hindustantimes.com/cities/govt-setting-up-committee-for-judicious-release-of-water-from-dams-says-top-official/story-QahSFSlLQfTPcslS5W2cMM.htm (12 Aug. 2019)
The committee, comprising water management experts as well as officials from the state water resources department and the India Meteorological Department, has been tasked to conduct a detailed study and submit a report.
– "The current weather forecast method does not provide real-time data on how much it would actually rain," said Water Resources Minister Girish Mahajan. At present, IMD only forecasts that rainfall would either be low, moderate to intense and doesn't spell out the quantum.
– According to the preliminary report received by the government, high and intense rainfall in catchment areas on led to flood in western Maharashtra. The report stated that while rainfall in Sangli was 605 per cent more than the average, the figure was 415 per cent for Kolhapur and 524 per cent for Satara. The report also stated that dams in Maharashtra — 3,267 in all — or across India are essentially meant for water storage. They are not designed for flood management. https://indianexpress.com/article/cities/mumbai/maharashtra-govt-mulls-satellite-mapping-of-major-dams-panel-to-study-changing-weather-patterns-5911464/  (17 Aug. 2019)
DAMS FLOODS IN KRISHNA BASIN Andhra Pradesh For Krishna river, it's always October The highest flood level discharge ever recorded at Prakasam Barrage was on October 5, 2009, when 10.94 lakh cusecs overflowed the mud bank on either side of the river, marooning villages downstream, breaching Oleru drain and flooding Repalle town. The gushing waters entered the rooms of the AP Tourism resort and Punnami Berm Park at Bhavanipuram. The depth over the crest level of Prakasam Barrage was also the highest ever at 23.73 feet.
The maximum flood discharges observed during the last hundred years show that the only time they ever crossed the 10-lakh cusec-mark, was again on October 7, 1903. It was yet again in October 1964 that 9.87 lakh cusecs of flood discharge wreaked havoc downstream the barrage. Since then, flood banks totalling a length of 364 km on either side of the river have been strengthened. After 1964, the flood discharges never crossed 9 lakh cusecs, until the massive flood on October 5, 2009.
Since 2000, floods have been intermittent and it was only four times during the last 20 years, that the maximum flood discharges crossed 5 lakh cusecs, indicating the effects of climate change. On September 21, 2005, the barrage witnessed a flood discharge of 7.40 lakh cusecs, followed by 5.56 lakh cusecs in August 2006 and 5.56 lakh cusecs in September 2007.
After the massive flood in October 2009, the flood discharges at the barrage have not crossed the 5-lakh cusec-mark, and during the last five years, the maximum flood discharge was witnessed in September 2016, when 1.39 lakh cusecs flowed over the barrage. https://www.thehindu.com/news/national/andhra-pradesh/for-krishna-river-its-always-october/article29099344.ece  (15 Aug. 2019)
Lack of regulated dam water discharge blamed for Karnataka floods The tussle between Karnataka and Maharashtra over sharing of dam waters has taken its toll on people living in the Krishna basin. According to Karnataka, Maharashtra's stand against releasing water in May and June, a massive discharge of water during the monsoon and failure to make judicious use of its dam waters are causing floods of this magnitude in the Krishna river basin, affecting the districts of Belagavi, Bagalkot, Raichur, Yadgir and Vijayapura. And Karnataka continues to grapple with the disaster time and again, instead of finding a lasting solution.
A decades-old demand for shifting of all flood-prone villages from the Krishna banks in North Karnataka, and increasing the height of about 25 low-lying bridges and roads has been put on the backburner. At least 500 villages in the basin and 1.5 lakh hectares of land have been badly flooded this time and irrigation experts say these are the worst-ever floods in Karnataka in 45 years. Some experts say the floods would not have been so severe had Maharashtra coordinated with Karnataka on the release of its dam waters, with the onset of the monsoon. http://www.newindianexpress.com/states/karnataka/2019/aug/12/man-made-disaster-lack-of-regulated-dam-water-discharge-blamed-for-karnataka-floods-2017710.html  (12 Aug. 2019)
Karnataka Outflow from Lal Bahadur Shastri dam highest so far The heavy outflow of water from the Lal Bahadur Shastri dam in Almatti has created a new record with the highest quantum being discharged so far. According to the officials of Krishna Bhagya Jal Nigam Ltd., in the last 13 days, over 442 tmcft of water has been discharged from the dam. While the total storage capacity is 123.08 tmcft, the water which has been discharged is three times that of the full storage capacity of the dam. In 2005, the outflow was at the rate of 4.75 lakh cusecs and in 2009 it was 3.75 lakh cusecs.
According to officials, from the day of construction of the dam, this is the first time that such a huge quantum of water has been discharged within a short duration. The reason for the huge inflow and equal outflow is the incessant rain lashing the Western Ghats in Maharashtra, which is the primary sources of water for the dam. Though the dam is yet to be filled to its brim as around 1.2 metres is still left, the officials are still releasing water as a huge quantum is entering the dam every day. The dam has been receiving water at the rate of 5 lakh to 6 lakh cusecs every day. Meanwhile, officials are hoping that the inflow will soon start reducing significantly with reduction in rainfall. https://www.thehindu.com/news/national/karnataka/outflow-from-lal-bahadur-shastri-dam-highest-so-far/article29096080.ece  (15 Aug. 2019)
Almatti receives record flow, leaves villages awash Incessant rain in the Western Ghats and the catchment areas of Krishna basin has resulted in an all-time record inflow and outflow–6.25 and 5.35 lakh cusecs respectively — to the Lal Bahadur Shastri Water Reservoir, popularly known as the Almatti Dam, on Aug. 10. As a result, three districts, Vijayapura, Yadgir and Raichur, have been put on highest alert, with more villages getting inundated.
The 6.25 and 5.35 lakh cusecs inflow and outflow, has broken the previous record of 4.5 lakh inflow and outflow, recorded in 2005. More than 50 villages have been completely flooded due to the consequent verflow of Krishna and Ghataprabha rivers. The Krishna and Ghataprabha rivers confluence at Bagalkote before flowing to Almatti Dam. The inflow to dam is from the two major rivers of North Karnataka.  The Ghataprabha was overflowing as more than 1.5 lakh cusecs is being discharged from Hidkal Dam of Gokak.  
According to the Almatti Dam officials, "The reservoir has never witnessed such a huge inflow and outflow since the dam was opened. The previous record was 4.5 lakh cusecs inflow and outflow respectively reported in 2005. After 14 years, the reservoir has received this amount of water for the first time. As inflow is increasing by the hour, the reservoir now has 88 tmcft against the maximum storage capacity of 123 tmcft."
With the discharge of 5.35 lakh cusecs to Narayanpura reservoir at least eight villages of Muddibehal taluk are completely submerged. Narayanpura has also received record inflow and outflow on Aug. 10 as the authorities discharged 6,17,500 cusec which has inflow of 6,20,000 cusecs. The discharge of water from Narayanpura has flooded 16 more villages where the district administration of Yadgir has successfully rehabilitated all the villages without reporting any casualties. The Kudalasangama temple has also flooded. http://www.newindianexpress.com/states/karnataka/2019/aug/11/karnataka-floods-almatti-receives-record-flow-leaves-villages-awash-2017260.html  (11 Aug. 2019)
Deadliest floods  Disaster management authorities have confirmed that 62 persons have died since August 1, making it one of the deadliest floods in the State since 2009. Apart from this, 14 people are missing. Disaster management authorities increased crop loss-affected areas by over 66,000 hectares to 5.35 lakh hectares, while the number of houses damaged has touched 71,000 now. These figures are likely to increase as flood waters recede and assessment reports come in. While over 40,000 persons have returned home from relief camps, the 943 operational camps continue to harbour around 3.5 lakh people. https://www.thehindu.com/news/national/karnataka/last-fortnight-has-seen-one-of-the-deadliest-floods-in-state/article29103806.ece  (15 Aug. 2019)
Search for six missing people continues It has been seven days since a massive landslide occurred in Kodagu's Thora village, and search operations are still on for six people are still feared to be under the rubble. The landslide occurred on August 9 between 10:30 am and 11 am and wiped out houses, trees and acres of coffee plants. 10 residents of the village were reported missing, of which four have been found dead. https://www.thenewsminute.com/article/week-after-landslide-kodagu-village-search-six-missing-people-continues-107339  (16 Aug. 2019)  
Over 1 lakh ha coffee plantations damaged in Kodagu The exact extent of damage to the standing crop is yet to be assessed, but according to initial estimates of the Kodagu district administration, 1,02,034 hectares of coffee estates have been damaged. The crop loss is pegged at ₹51.85 crore. The growers had already suffered huge losses in last year's deluge, and planters were hoping for a recovery this year. Kodagu and Chikkamagaluru planters say they need at least 10 years to redevelop the plantations, and in some cases, it may take more than that.
According to the Coffee Board, the coffee-growing areas in Karnataka — Kodagu, Chikkamagaluru, and Hassan districts — had excessive rainfall of 46% to 98% from January to September last year. In Kodagu alone, the crop loss was estimated at 25,020 tonnes. The crop loss in Chikkamagaluru and Hassan districts has been estimated at 17,250 tonnes and 5,980 tonnes, respectively. The statistics are based on the crop loss assessment conducted by the board after last year's calamity.  https://www.thehindu.com/news/national/karnataka/over-1-lakh-hectares-of-coffee-plantations-damaged-in-kodagu/article29103764.ece  (15 Aug. 2019)
Crocodile climbs onto a roof to escape rising floodwaters In a video, the reptile can be seen resting on a roof completely surrounded by water in Belgaum. A crocodile climbed onto the roof of a house in flood-affected Raybag taluk in Belgaum, Karnataka. In footage recorded by ANI the reptile can be seen on the corrugated roof of a completely submerged structure. https://scroll.in/video/933596/watch-in-karnataka-a-crocodile-climbs-onto-a-roof-to-escape-rising-floodwaters  (12 Aug. 2019)
Birds swept away at Ranganathittu sanctuary The swelling of Cauvery river has become a cause for concern for migratory and Indian birds at Ranganathittu Bird Sanctuary in Srirangapatna, with hundreds of nests and fledglings being washed away in the last 24 hours. The Irrigation Department lifted the sluice gates of the Krishnaraja Sagar (KRS) upstream on Aug. 10 following a significant rise in water inflow.
Turbulence in the Cauvery has caused damage to the islands at the sanctuary, according to officials of the Forest Department. Almost all the 34 islands were submerged. According to them, many birds nesting on or between rocks, on the grounds, and on branches near the water flow have been washed away. Some trees have also been uprooted and swept away. Meanwhile, according to officials, several hundreds of local and migratory birds at many places — along the Cauvery river course between Ranganathittu and Gaganachukki waterfalls — are also bearing the brunt of the swollen Cauvery. https://www.thehindu.com/news/national/karnataka/karnataka-floods-birds-swept-away-at-ranganathittu-sanctuary/article28985942.ece  (12 Aug. 2019)
Dam waters flood Hampi, Srirangapatna Several monuments in the heritage site of Hampi were submerged as Tungabhadra dam logged a record discharge of 3 lakh cusecs due to heavy inflow. Outflow from KRS dam left the historical town of Srirangapatna and the bird sanctuary at Ranganathittu, near Mysuru, under water.  https://timesofindia.indiatimes.com/city/bengaluru/dam-waters-flood-hampi-srirangapatna-toll-hits-41/articleshow/70636252.cms  (12 Aug. 2019)
Rumour of Tungabhadra dam breach creates panic among villagers downstream A few villages at Gangavathi taluk of Koppal district, the downstream of Tungabhadra Reservoir, were panic-stricken at daybreak on Aug. 13 after a rumour of a dam breach spread like a wildfire. People were found running in perplexity, leaving everything behind at Kadebagilu, Anegondi, Chikkarampur, Hanumanahalli and other villages. A few of them who were stronger than the others climbed the nearby hills and hillocks in desperation to take shelter at the top.
A small breach in the Left Bank High Level Canal (LBHLC) caused by the slip of its gate and resultant gushing out of about 250 cusecs water against the canal's capacity of 50 cusecs and flooding the nearby Pampavana was, in fact, the source for the dam-breach rumour. https://www.thehindu.com/news/national/karnataka/rumour-of-tungabhadra-dam-breach-creates-panic-among-villagers-downstream/article29064176.ece  (13 Aug. 2019)
Telangana Man swept away in water after gates of Nagarjuna Sagar Project lifted A man who visited the Nagarjuna Sagar Project on Aug. 12 was swept away after the water gushed out from the gates. The officials have opened all the gates of the project due to heavy inflow. He was identified as a native of Zaheerabad mandal of Sangareddy district. https://www.thehansindia.com/telangana/man-swept-away-in-water-after-gates-of-nagarjuna-sagar-project-lifted-554232   (12 Aug. 2019)
According to the flood bulletin of the Nagarjunasagar project released at 6 p.m. (Aug 12, 2019, the recorded inflow was 7,66,080 cusecs (earlier it reached a high of 9.6 lakh cusecs) and outflow 3,67,580 cusecs. Water level was 567 feet against its full reservoir level 590 feet, the project was holding 247 tmc ft out of the its total capacity of 312 tmc ft. All 26 gates have been opened (for the first time since 2009 floods) on Aug 11, 2019. https://www.thehindu.com/news/national/telangana/all-gates-of-nagarjunasagar-lifted/article29036673.ece  (12 Aug. 2019)
While 14 gates were operated on the Pulichintala, all the gates of Nagarjunasagar project remained open. On Friday, at 6 p.m., Sagar's water level read 585.70 feet against its FRL of 590 feet and 299.45 tmc against 312.05 full water capacity. At the same time, water at Pulichintala stood at 169.52 feet, 5.48 feet short of its FRL and filling 37.68 tmc ft of water of the full water capacity of 45.77 tmc. https://www.thehindu.com/news/national/telangana/sagar-pulichintala-near-frls/article29113541.ece  (16 Aug. 2019)
According to the State Disaster Management Authority, as of 6pm on Aug. 16, Srisailam dam in Kurnool district has touched 91.6% of its total storage capacity, with water levels at 197 TMC against its actual capacity of 215 TMCs. The outflow of 8.06 lakh cusecs is more than the inflow of 8.19 lakh cusecs at Srisailam.
– Nagrjunasagar dam is nearly full to the brim with 96% storage on Friday. According to SDMA, the present capacity of the Nagarjuna Sagar is 299.74 TMC against its total capacity of 312.05 TMC. Meanwhile, Pulichintala dam which is at 82.9% of its total storage capacity, had an inflow of 7.37 lakh cusecs against an outflow of 8 lakh cusecs of water. https://www.thenewsminute.com/article/andhra-3-districts-alert-second-level-warning-continues-prakasam-barrage-107343  (16 Aug. 2019)
All 70 gates of the Prakasam Barrage that lies across the Krishna river in Vijayawada were opened on Aug. 13, after it witnessed heavy inflow from upstream. As a precautionary measure, an alert has been sounded in Krishna and Guntur districts and officials identified and evacuated people in low-lying areas along the course of the river downstream. Officials said that the inflow of water into the barrage, from the Pulichintala reservoir located upstream, was more than 4.5 lakh cusecs. https://www.thenewsminute.com/article/all-70-gates-vijayawadas-prakasam-barrage-opened-alert-issued-107181  (14 Aug. 2019)
Tamil Nadu Heavy inflows take Mettur water level to 108.4 ft. After receiving copious flow in the last five days, the inflow in the Stanley reservoir at Mettur dropped to 35,000 cusecs on Aug. 14. The inflow, which stood at 60,000 cusecs at 6 a.m., started reducing, and was at 35,000 cusecs in the evening. At 4 p.m., the water level stood at 108.40 ft., against its full reservoir level of 120 ft., while the storage was 76.157 tmcft., against its capacity of 93.470 tmcft.
Meanwhile, revenue officials continued to monitor the flow of water at Pannavadi, Sethukuli, Ariyur and Neruppur villages, all located upstream of Mettur, as fishermen were warned against venturing into the river. Officials said people were continuously warned against entering the river and were asked to be cautious, as inflow might increase in the coming days.
With the Central Water Commission issuing warning over release of water in Cauvery from dams in Karnataka, district administrations of Erode, Namakkal and Salem continued to warn people along the river, and in other low-lying areas, against venturing into the river. https://www.thehindu.com/news/national/tamil-nadu/heavy-inflows-take-mettur-water-level-to-1084-ft/article29096214.ece  (15 Aug. 2019)
DAM FLOODs GOA Goa's worst floods after Maharashtra opened nearly-full Tillari dam The recent floods in North Goa, one of the worst in over two decades, was due to release of surplus water from the Tillari dam by Maharashtra as it had reached its maximum capacity. The continuous rain, beginning early August, in the upper and lower catchment areas of the Tillari dam saw the reservoir level reach 112m. With a storage capacity of 113.2m, the water resources department of Maharashtra had but no choice to release the surplus water, sources said. "Until last year, the quantity of water released was far lesser to cause any submergence of villages in Goa. The situation occurred this time because of the heavy rainfall received during a concentrated period of time," a WRD official from Goa told TOI.
On the Goa side of the border, Mashe Gawas of Pernem said, "Water from Tillari river and its tributaries began overflowing, flooding the Sal-Ibrampur bridge." The effects of the release were felt even in Bicholim. "For the first time in my life I had witnessed water entering into houses, temples and causing tremendous losses to the agriculture and horticultural crops," said Mahesh Raul. "The release of surplus water from Tillari had created inconveniences to us. 15 years ago we were affected by flood but during this time intensity of flood was heavy and losses too suffered were enormous." https://timesofindia.indiatimes.com/city/goa/goas-worst-floods-after-mahaopened-nearly-full-tillari-damgoas-worst-floods-as-maha-released-tillari-water-after-dam-was-almost-full/articleshow/70635685.cms  (12 Aug. 2019)
Kerala Floods man made disaster Discussion on Kerala floods-Landslides INDIA TODAY TV in Rajdeep Sardesai news program on 13 Aug, See:
<iframe alt="Flood fury: Are landslides in Kerala a man-made disaster?" title="Flood fury: Are landslides in Kerala a man-made disaster?" class="multy-video-iframe" scrolling="no" allowfullscreen="" frameborder="0″ width="648″ height="500″ src="https://www.indiatoday.in/video/news-today/embed/MTU4MDU0NQ==&#8221; />
 The segment on Kerala floods start at 26:32. The discussion starts at 32.30, with Rajdeep Sardesai says "joining me are two of the country's foremost experts". It included Sunita Narain of CSE and SANDRP coordinator. https://www.indiatoday.in/programme/news-today/video/flood-fury-are-landslides-in-kerala-a-man-made-disaster-1580545-2019-08-13  (13 Aug. 2019)
Lessons after the Kerala's great deluge The need of the hour is for a review and revision of building bye-laws for urban and rural areas in accordance with bettering environmental sustainability. In 2017, a judgment of the High Court of Kerala mandating the inclusion of a clause in building rules, and which said that 'natural drains and streams shall not be obstructed by this development/building permit', has yet to come into effect. Further, the Kerala Conservation of Paddy Land and Wetland Act, 2008 — it has immense potential to preserve such land as natural watershed buffers — has suffered too many dilutions even as rampant reclamation of paddy lands continues. The absence of a databank on paddy lands and wetlands as mandated by the law, has only exacerbated the issue.
There are, however, cities and regions the world over that deal most successfully with heavier precipitation in much less favourable topography than Kerala's. The dire need is for watershed-based master planning and development legislated guidelines for each major river basin, especially those that impact densely populated settlements. Primarily, such master plans should focus on these areas.
First, there must be a demarcation of ecologically sensitive zones using existing village survey maps and public participation. There must be clear land use plan for these zones specifying flood plains, protected forest areas, agricultural and plantation zones, with details of the types of crops, building usages permitted and the density of buildings permitted. Second, to compensate owners in non-buildable areas, there must be strategies such as Transfer of Development Rights to buildable zones in cities.
Third, the master plan should focus on permitting only ecologically sensitive building strategies for these areas by proposing new construction techniques. Controlled development can be proposed using building height rules, floor area ratio control, and restrictions on cutting and filling natural land. Fourth, strategies to make sure that all infrastructure projects are carried out in a scientific manner with strict scrutiny must be specified. This should include roads built on difficult terrain and all public infrastructure projects in wetlands and the High Ranges.
Such an intensive and sensitive hydrology-driven master plan requires very specialised expertise and experience which may not be readily available in our homegrown available pool of resources. The State should not shy away from acquiring the most appropriate skills to implement this urgently given the massive damage to life and property it now faces both in the short and long term. A complete overhaul of processes to hire technical expertise which allows access to necessary skills, and with a long-term vision of capacity building of local agencies, is the way forward.
Furthermore, post-disaster management of land and geography needs imaginative actions by the authorities and people in order to reverse the damage already done. The floods in 2018 brought high levels of silt from the highlands, reducing river depths and narrowing river mouths. A year later, this silt has not been cleared, reducing the carrying capacity of rivers. Serious strategies are required by the government and the people to reclaim groundwater percolation and flood plains. Legal processes and bye-laws need revisions. The water footprint needs to be reinstated, and the relationship with water resources rebuilt. This may be the only way we can face a future of changing weather patterns. https://www.thehindu.com/opinion/op-ed/lessons-after-the-great-deluge/article29103413.ece  (16 Aug. 2019)
CWC readies library of inundation scenarios The Central Water Commission (CWC) has developed a library of possible inundation scenarios in the Periyar river to help the Kerala government manage large-scale floods in the future. The scenarios have been generated for readily picking up the most likely one corresponding to the water level of the flood predicted for any point on the river, Sharad Chandra, CWC's Director of Flood Forecast Monitoring, told The Hindu in an email interview. Mr. Chandra said the model had been validated by successfully simulating the river flow data as observed at Neeleswaram on the Periyar for past 35 years, including the flood events of 2018.
– "Further, the feasibility of providing conventional gauge-to-gauge correlation-based Statistical Level Forecast for Kumbidi on the Bharathapuzha, Neeleswaram on the Periyar, and Malakkara on the Pampa has also been studied," he said. "However, there is scope of refinement to availability of historical data of reservoir outflow/inflow, river/reservoir bathymetry (measurement of depth of water in oceans, seas, or lakes) at finer resolution, high-resolution terrain topography, and finer spatial and temporal resolution of rainfall data," he added. https://www.thehindu.com/news/national/kerala/cwc-readies-library-of-inundation-scenarios/article29039704.ece   (13 Aug. 2019)
Madhya Pradesh Flood gates of Bhopal's Kailasot dam set to open For the first time in three years, flood gates of Bhopal's Kaliasot dam, are set to open after heavy rainfall in Madhya Pradesh state capital. The dam gets much of its water after nearby Upper Lake sluice gates are opened. According to Madhya Pradesh water resources department (MPWRD) officials, Kaliasot dam flood gates may open as early as 6pm on Aug. 15.
In the last three weeks, Bhopal has received 60% more rainfall than normal. Met department has warned of another two days of rainfall in the city. It is for the fourth time this monsoon season that Upper sluice gates have been opened. The outflow has increased water levels in nearby filled Kaliasot Dam. It would be for the first time since 2016, that the dam would be full to capacity. Water from the dam is utilised for irrigation purpose. https://timesofindia.indiatimes.com/city/bhopal/flood-gates-of-bhopals-kailasot-dam-set-to-open/articleshow/70689838.cms  (15 Aug. 2019)
CWC hydrograph shows River Chambal at Manderial in Karauli Dist Rajasthan is risng rapidly due to very heavy rain in its catchment. https://twitter.com/CWCOfficial_FF/status/1162244905722208257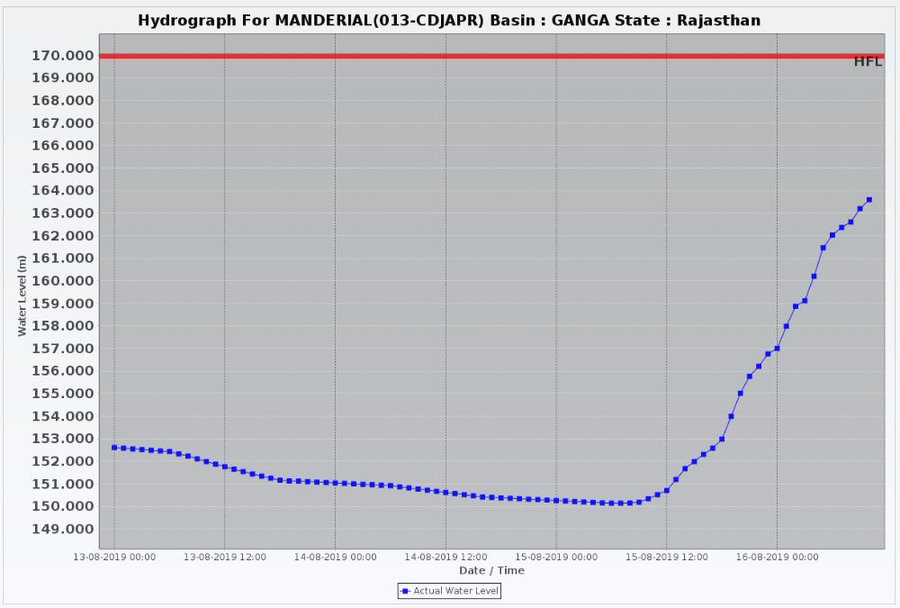 Odisha 20 Gates of Hirakud Dam Opened to Release Excess Water Twenty of the 64 sluice gates of Hirakud Dam were opened on Aug. 15 to release excess water a day after one gate was opened on Aug. 14 for a few hours to discharge the first flood waters of the season. Huge volume of water was not released from Hirakud on Aug. 14 in view of the flood situation downstream.
The water-level of Hirakud stood 621.85 feet against the full storage capacity of 630 ft at 6 pm, while inflow at the dam was 1,95,020 cusecs and outflow 3,31,956 cusecs, Special Relief Commissioner's (SRC) office said. Discharge of water at Khairmal was 2,86,500 cusec, while it was 3,75,625 cusec at Barmul and 6,62,000 cusec at Munduli in Cuttack, it said.
The water level of Mahanadi river stood at 25.75 metre at Naraj and 10.95 metre at Alipingal at 6 pm, much below the danger levels of 26.41 metre and 11.76 metre respectively at these two places, it said. The situation in west Odisha returned to normalcy after heavy rainfall and flash floods crippled life three days ago, affecting over 2.96 people 1951 villages and 9 urban areas of 39 blocks spread over 11 districts, officials said. https://www.news18.com/news/india/incessant-rains-continue-in-odisha-20-gates-of-hirakud-dam-opened-to-release-excess-water-2271847.html  (15 Aug. 2019)
Hirakud dam to release water today (Aug 14, 2019) into flooded river downstream of the dam. http://www.newindianexpress.com/states/odisha/2019/aug/13/hirakud-dam-to-release-water-on-august-14-2018149.html  (13 Aug. 2019)
Bihar Floods show why India, Nepal need to get their act together The delay of sharing weather-related information is alarming because every time Nepal has received heavy rains, Bihar has recorded flash floods. Between July 7 and 13, heavy rainfall in Bihar caused flash floods in six districts. People started picking up their lives as the intensity of rainfall reduced by July 14. But suddenly, the authorities of Koshi Barrage, located on the Kosi river just before it enters India, opened the floodgates. Though heavy rains in the state stopped by July 17, some 12 districts were declared flood-hit.
The delay of information sharing is alarming because every time Nepal has received heavy rains, Bihar has recorded flash floods. "In the recent past, this happened in 2008, 2011, 2013, 2015 and 2017," says Narayan Gyawali of Lutheran World Relief (LWR) foundation, a non-profit that runs a community-based project in India and Nepal on early flood warning systems.
The two countries have a circuitous communication channel that means the information is either critically delayed or unclear, and of little use to most riverbank communities in down-stream Bihar. This is when the Nepal government has a dedicated Water and Energy Commission Secretariat for trans-boundary water issues, established way back in 1981. Both the countries have also constituted a Joint Committee on Inundation and Flood Management. https://www.downtoearth.org.in/news/climate-change/communication-gap-bihar-floods-show-why-india-nepal-need-to-get-their-act-together-65961  (13 Aug. 2019)
YAMUNA FLOODS 7.87 lakh cusecs at 4 pm, 8.14 lakh cusecs at 5 pm, 8.28 lakh cusecs at 6 pm, (as per unofficial reports) released from Hathnikund barrage into Yamuna on Sunday, Aug 18, 2019, with rising trend. This is highest ever water release in the history of Hathnikund barrage, we understand. The pace of increase has also been very fast. The impact of this in Delhi will be felt in next 3-4 days, the flood level will certainly be much higher than what has been in the last few years. https://www.ndtv.com/delhi-news/yamuna-nears-warning-level-flood-alert-for-delhi-low-lying-areas-to-be-vacated-2086860 
Water levels of Yamuna rose dangerously at Hathnikund barrage in Yamunanagar on Aug. 18 setting off alarm bells of the swollen river waters reaching Delhi within hours.  
Water levels at the barrage went from 2.56 lakh cusecs at 8 am to 5.93 lakh cusecs by 12 pm, a dangerous rise that prompted authorities to issue a warning asking people to stay away from river banks. Administration fears that the rising water levels could soon reach the national capital. Additionally, Yamuna waters would swell as it reaches the national capital because of the number of rivulets that join the river from Haryana as well as Uttar Pradesh.  https://www.tribuneindia.com/news/haryana/as-yamuna-swells-in-haryana-authorities-fear-flood-situation-in-delhi/819301.html  (18 Aug. 2019)
– First small flood spell in Yamuna this season after 1 lakh 40 thousands cusec water was released in river on 14 Aug. 2019 around 4PM. https://www.business-standard.com/multimedia/video-gallery/general/water-level-in-yamuna-increases-after-water-released-from-hathnikund-barrage-89306.htm   (16 Aug. 2019)
River Yamuna at Paonta in Sirmaur Dist Himachal Pradesh is likely to cross HFL and flow in Extreme Flood Situation by noon today. This will increase the flow at Hathnikund Barrage heavily. https://twitter.com/CWCOfficial_FF/status/1162970302088769536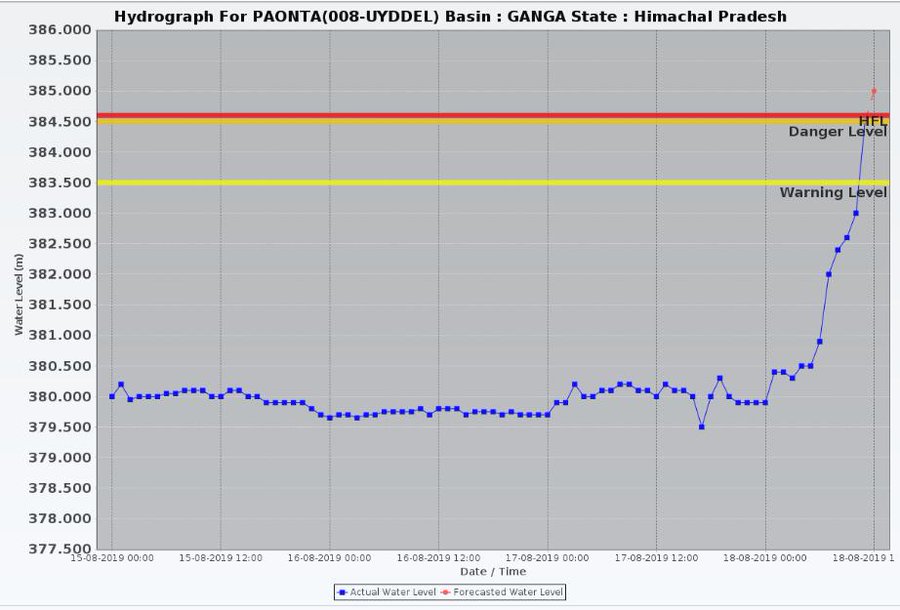 BBMB Bhakra water released The floodgates of the Bhakra Dam were opened on Aug 16 afternoon, releasing 19,000 cusecs of water, after the reservoir touched the 1,674-foot mark amid forecast of heavy rain in the catchment area of the Sutlej, said the Bhakra Beas Management Board. The reservoir's storage capacity is 1,680 feet and can accommodate 1,685 feet of water. With 36,000 cusecs already being released through turbines for power generation, the discharge of additional 19,000 cusecs through spillway gates means the total volume of water to be released downstream is 55,000 cusecs. Dam Chief Engineer AK Aggarwal at Nangal said the reservoir water level rose rapidly and touched the 1,673-foot mark at 6 am.
– The increase in water flow in the Swan, emanating from neighbouring Una district in HP and merging with the Sutlej near Anandpur Sahib, may cause flooding in the area. https://www.tribuneindia.com/news/punjab/reservoir-to-brim-bhakra-water-released/818475.html  (17 Aug. 2019)
The last time the Bhakra gates were opened were in Aug 2010. Good to see this: "The water level in the reservoir is 6 feet below the maximum filling capacity of 1,680 feet. It is dangerous do go beyond that level, especially during the monsoon, with a month to go for closure of the filling season. But there is no reason to panic as the BBMB has developed a system to quantify rainfall in the catchment of the river on which the dam is built," said BBMB chairman DK Sharma. https://www.hindustantimes.com/chandigarh/bhakra-floodgates-opened-alert-sounded-in-villages-along-sutlej/story-ETEbWp97T2IhJBnBUcv0dM.html  (17 Aug. 2019)
With heavy rains forecast in the region and the Bhakra Dam reservoir in Himachal Pradesh nearing its peak storage capacity, more water than usual is expected to be released from the dam. Due to rising water levels in the Sutlej and its associated canals, there have been reports of some villages being inundated.
The water level recorded at Bhakra was 1,675 feet on Aug. 18 against the permissible level of 1,680 feet. Inflow into the Bhakra reservoir was 60,000 cusecs, while the outflow 53,000 cusecs. The dam's sluice gates were opened on Aug. 17 and will remain so till Bhakra Beas Management Board (BBMB) officials assess that water would not rise above the upper mark.
Himachal, J&K:- Heavy rains disrupted normal life in Kathua, Reasi and Udhampur districts of Jammu region, causing damage to houses and roads besides affecting traffic on Jammu-Srinagar highway for several hours. In Kathua, 14 nomadic families got trapped in flash floods in Ujh river near Rajbagh and Pandori area. They were evacuated by the police an SDRF team. https://www.tribuneindia.com/news/nation/punjab-on-alert-as-more-bhakra-water-on-way/818918.html  (18 Aug. 2019)
Residents of several villages along the banks of the Sutlej have to face floods almost every year since August 2010, when a 1000-ft stretch of a bundh at Lodhipur village was washed away. The then Dy CM Sukhbir Badal had visited the site and promised to repair it, but to no avail. the Sutlej water flooded fields of nearly a dozen villages. The water entered the fields from the damaged part of a bandh near Lodhipur.  https://www.tribuneindia.com/news/punjab/flood-alert-as-sutlej-water-enters-villages/819020.html   (18 Aug. 2019)
Breach in Naggal earthen dam, Mohali Naggal dam gives way, triggers flash floods At least 15 head of cattle, six houses and four bridges were washed away in flash floods that hit several villages, including Chhoti Naggal, Badi Naggal, Parol and Mirzapur, and nearby areas following a major breach in the Naggal earthen dam on Aug. 18 morning.
Most of the residents of Chhoti Naggal, Badi Naggal and Mirzapur villages suffered losses worth several lakhs. These three villages have also been cut off following collapse of bridges connecting these to other parts of the district. Roads in the area were damaged due to flash flood fury. However, no loss of life was reported from the area.. https://www.tribuneindia.com/news/chandigarh/naggal-dam-gives-way-triggers-flash-floods/819555.html  (19 Aug. 2019)
National 10 बरस में बाढ़ से 24 हजार मौतें, उत्तराखंड बाढ़ का सबसे बड़ा भुक्तभोगी देश की पहली बाढ़ नीति 3 सितंबर, 1954 को बनी थी। करीब 64 बरस गुजर रहे हैं। इस बीच राज ने नदियों से रिश्ता कभी बनाया नहीं और समाज का तालमेल ज्यादा दिन टिका नहीं। 1953 से लेकर 2017 तक 107,487  लोग इस बाढ़ में समा गए। जानकर हैरानी होगी कि बाढ़ मृतकों की करीब एक चौथाई संख्या बीते दस वर्षों की है। करीब 25 हजार लोग 2008 से 2019 तक बाढ़ और वर्षा के दौरान घटने वाली आपदाओं की वजह से मारे गए। इनमें 23,297 मृतक सिर्फ 15 राज्यों से हैं। बाढ़ आपदा के कारण सर्वाधिक मृतकों की संख्या गंगा के पहाड़ी और मैदानी राज्यों में है। बाढ़ के भुक्तभोगियों में शीर्ष पर उत्तराखंड है इसके बाद उत्तर प्रदेश, पश्चिम बंगाल और बिहार का नाम शामिल है। यह बाढ़ के विकराल होते जाने की पक्की निशानी है या कुछ और?
केंद्रीय जल आयोग की एक रिपोर्ट के मुताबिक 1953 से लेकर 2011 तक के बाढ़ के नुकसान का आकलन यह दर्शाता है कि जिंदगियों के नुकसान के आधार पर सर्वाधिक तबाही वाले वर्षों में 1977 सबसे ऊपर है। 1977 में 11,316 लोगों की मृत्यु बाढ़ की वजह से हुई थी। यह बाढ़ लगातार बड़ी संख्या में जान लेती रही। 1978 में 3,396 लोगों की मृत्यु हुई। 1979 में 3,637 लोगों की मृत्यु बाढ़ में हुई। इसके करीब एक दशक बाद 1988 में बाढ़ ने 4,252 जिंदगियां छीन लीं। फिर करीब दो दशक बाद  2007 में 3,389 लोगों की जिदंगी बाढ़ में नेस्तानाबूद हो गई। यह सर्वाधिक मौत वाले वर्षों के आंकड़ों की सूची यही खत्म नहीं होती। बेहद अल्पविराम के बाद 2013 में उत्तराखंड में भीषण बाढ़ आई। इस बाढ़ में सरकारी आंकड़े के मुताबिक 3,547 लोगों की मृत्यु हुई। यह बीते चार दशकों की सबसे भीषण बाढ़ में एक थी। मृत्यु के यह आंकड़े उन मासूम लोगों के हैं जो शासन की अनीतियों के शिकार हुए।  https://www.downtoearth.org.in/hindistory/24-thousands-death-in-last-ten-years-due-to-flood-66157  (14 Aug. 2019)  
CWC Flood Situation Summary 17 Aug. 2019 http://cwc.gov.in/sites/default/files/cfcr-cwcdfb-17082019.pdf 
Daily Flood Situation Report cum Advisories 16-08-2019 http://cwc.gov.in/sites/default/files/dfsrca16082019.pdf
ET Op-Ed  Include flood control in Dam Safety Bill The widespread havoc caused by floods nationwide points to the pressing need for structural, non-structural and institutional measures to mitigate flooding and landslides. In this context, the skirting of flood control by the Dam Safety Bill, 2019, now passed by the Lok Sabha, is striking.
The fact is that dams, reservoirs and other water storage systems, both natural and man-made, are an effective means for reducing flood peaks. Reservoirs can indeed provide a long-term solution to the problem of flooding. Their effectiveness in moderating floods downstream would, of course, depend on the capacity available for absorbing the flood runoff. Note that the National Water Policy 2002 did recommend a clear-cut provision for 'adequate flood cushion' in water storage projects nationwide, and further that flood control be given 'overriding consideration' when it comes to reservoir operations. After all, if reservoirs are filled up at the beginning of the monsoon season to meet demands for irrigation, hydropower or industrial supply, a large quantity of water might suddenly need to be released mid-season, potentially causing largely preventable flooding downstream. And, yet, the Dam Safety Bill appears to lack specific scope for flood prevention.
– Of late, Maharashtra and Karnataka reportedly failed to coordinate release of water from the Almatti dam, on the Krishna, which appears to have raised flooding levels. Hence the need for a National Dam Safety Authority, with flood control very much under its purview. In tandem, we do need more effective floodplain zoning norms, especially in fragile ecosystems like the Western Ghats, better resource allocation for drainage channel improvement in rivers, and sustainable measures to prevent riparian soil erosion.   https://economictimes.indiatimes.com/blogs/et-editorials/include-flood-control-in-dam-safety-bill/  (16 Aug. 2019)
DISASTER
Uttrakhand 3 killed, 22 go missing as heavy rain lashes Three people were killed and 22 went missing as heavy rain lashed Uttarakhand on Aug. 18, razing houses to ground and uprooting trees in the state. Cloudbursts in Mori block of Uttarkashi district late on Saturday night flooded the tributaries of the Yamuna river which wreaked havoc in Arakot, Sanel, Makudi and Tikochi villages, flattening a number of houses. One woman was killed in Makudi village of the district, while seven went missing as a dozen houses were flattened in the hamlet. Another body was recovered in Sanel, where five people went missing. Ten more persons were reported missing in Arakot village, according to the state Emergency Operation Centre (SEOC) here.
Chardham yatra routes are also blocked by the debris of landslides at various points affecting the yatra partially, the SEOC said. The Rishikesh-Badrinath National Highway was blocked at Lambagad and Tangri, Kedarnath highway at Banswada and Jamu Nursery, Gangotri NH at Harshil, Badeti and Helgugad and Yamunotri highway at Dabarkot, it said. Landslide on Kailash-Mansarovar route has also affected the pilgrimage with devotees being moved to safe places, it added.
A heavy boulder fell on the landslide prone Dhapa village of Munsiyari sub-division of Pithoragarh district that received 93 mm of rain in 12 hours, prompting the administration to shift 10 families residing in the village to safe places.  According to the district disaster management office, the road to Munsiyari from Jauljibi is closed due to rains for the last 12 hours. https://www.tribuneindia.com/news/nation/3-killed-22-go-missing-as-heavy-rain-lashes-uttarakhand/819323.html  (18 Aug. 2019)
माकुड़ी में फटा बादल, पांच के मरने की खबर, यमुना और टौंस घाटी में बारिश का कहर उत्तरकाशी जिले के मोरी विकासखंड के आराकोट क्षेत्र में बारिश ने जमकर तांडव मचाया है। अब तक की जानकारी के अनुसार आराकोट और माकुड़ी गांव में भारी बारिश के दौरान बरसाती नाले उफान पर आ गए। माकुड़ी गांव में भूस्खलन में पांच लोगों दफन होने की खबर आ रही है। आधा दर्जन से अधिक गांव के लोग जंगल की ओर सुरक्षित स्थानों की तरफ गए। गावों में अब तक राहत दल नहीं पहुंच पाया।
आरोकोट क्षेत्र के ग्राम माकुड़ी में बादल फटने से कुछ लोगों के दबे होने की सूचना, टीकोची का आधा बाजार बहने और कुछ लोगों के भी बहने की सूचना है। साथ ही आरोकोट बाजार से भी तीन लोगों के बहने की सूचना है। लगातार हो रही बारिश से पव्वर नदी और टौंस नदी अत्यधिक उफान पर हैं। अत्यधिक पानी बढ़ने से आरोकोट बाजार और त्युणी बाजार खाली करवा दिये गये हैं। दुचाणु में भी बादल फटने की सूचना है। बारिश अभी भी जारी है, जिस कारण बचाव दलों को वंहा पहुंचना मुश्किल हो रहा है। https://www.pahadsamachar.com/2019/08/Makudi-torn-in-cloud-five-of-death-of-news-Yamuna-and-Tons-Valley-in-the-rain-havoc.html  (18 Aug. 2019)
अब तक मिली सूचनाओं के मोरी विकासखंड में सबसे ज्यादा नुकसान हुआ है। यहां पब्बर नदी उफान पर है। गांव मौंडा, खकवाड़ी, चिवां, गोकुल ग्राम और माकुड़ी में मकान गिर जाने के कारण 5 से 7 लोग मलबे में दब गये हैं और कुछ लोगों का पता नही चल पाया है। टिकोची बाजार भूस्खलन की चपेट में आ गया और वहां खड़ी गाड़ियां बह गई हैं या भूस्खलन से आये मलबे में दब गई हैं। यहां का प्राइमरी स्कूल भी बह गया है। मुख्य पुल बह गया है। लोग बाजार छोड़कर सुरक्षित स्थानों की ओर जा रहे हैं। प्रशासन की ओर से अभी तक कोई मदद नहीं पहुंची है। लोग अपना घर छोड़कर पहाड़ की ओर जा रहे हैं, लेकिन यहां भी भूस्खलन की संभावनाएं बनी हुई हैं। अफरा-तफरी की स्थिति में कई लोगों को चोटें आ गई हैं।
बंगाण क्षेत्र में भी अफरा-तफरी की स्थिति बनी हुई है। लगातार बारिश व गदेेरों में पानी बढ़ जाने से जन-जीवन अस्त-व्यस्त हो गया है। बंगाण क्षेत्र की छोटी-छोटी पांच पुलिया बह गई हैं, जिससे लोग एक-दूसरे से संपर्क नहीं कर पा रहे हैं। धरासू-गंगोत्री राजमार्ग चुंगी-बड़ेथी के पास रात से पत्थर गिर रहे है। जोशियाड़ा और मनेरा के बीच गंगोत्री हाईवे का एक बड़ा हिस्सा बह गया है और यहां आवाजाही बंद है।
टौंस नदी का जलस्तर बढ़ने से देहरादून जिले का त्यूणी बाजार भी खतरे की जद में आ गया है और लोग सुरक्षित स्थानों पर जा रहे हैं। यहां हेलीपैड भी पानी में डूब गया है। कैम्पटी-यमुनोत्री राजमार्ग भूस्खलन के बाद बाधित है। मोरी विकासखंड के आराकोट में भी भारी तबाही की सूचना है। यहां दो अध्यापकों सहित कुछ अन्य लोगों के लापता होने की सूचना है। फिलहाल आराकोट बाजार को खाली कर दिया गया है और लोग सुरक्षित स्थानों पर चले गये हैं। विकासखंड मुख्यालय मोरी में भी नदी में उफान के कारण कई दुकाने और घर खतरे की जद में आ गये हैं। मोरी में भी लोग सुरक्षित स्थानों की ओर जा रहे हैं।  https://www.downtoearth.org.in/hindistory/cloudburst-again-in-uttarakhad-66212  (18 Aug. 2019)
दर्जनों घर और स्कूल उत्तरकाशी में बह गए! उत्तराखंड के पहाड़ी इलाकों में लगातार हो रही बारिश से ऊपरी और मैदानी इलाकों में तबाही का मंजर साफ देखा जा सकता है। आज सुबह जब उत्तरकाशी के मोरी ब्लाक के आराकोट-डगोली, माकुरी गांव में नाले उफान आया तो अपने साथ दर्जनों घरों ओर स्कूल को बहा ले गया। तबाही का मंजर इतना खतरनाक था कि जिसने भी उस मंजर को देखा उन गांव वालों की रूह कांप गई। लोग अपने घरों को छोड़कर ऊंचे स्थान पर पहुंच गए।
भूस्खलन और भारी तबाही से ना केवल घरों को नुकसान हुआ है बल्कि सेब के बागों को भारी नुकसान की खबर है। गांव में भी बाढ़ के कहर से 2- 3 लोगों के लापता होने की सूचना है। मौके पर जिलाधिकारी आशीष चौहान ने ना केवल sdrf को भेजा है बल्कि खुद भी घटनास्थल के लिए रवाना हो गए हैं। गांव के लिए मुसीबत इसलिए भी बड़ी है क्योंकि पहाड़ों से आए अचानक पानी ने गांव के घरों को दोनों ओर से घेर लिया है। बताया जा रहा है कि कई लोगों के लापता होने के साथ-साथ कई लोग अभी भी गांव के बीचो बीच फंसे हुए हैं। फिलहाल इस क्षेत्र में बारिश अभी भी मूसलाधार जारी है। https://www.lokjantoday.com/%E0%A4%A6%E0%A4%B0%E0%A5%8D%E0%A4%9C%E0%A4%A8%E0%A5%8B%E0%A4%82-%E0%A4%98%E0%A4%B0-%E0%A4%94%E0%A4%B0-%E0%A4%B8%E0%A5%8D%E0%A4%95%E0%A5%82%E0%A4%B2-%E0%A4%89%E0%A4%A4%E0%A5%8D%E0%A4%A4%E0%A4%B0/  (18 Aug. 2019)
Cloudburst washes away home A woman and her nine-month-old daughter were killed in a cloudburst and one person was swept away as a flooded rivulet inundated two houses in Chamoli district in the early hours of Aug. 12. Roopa Devi, 35, and her toddler daughter were killed as her house was washed away by the flood. The video of the incident, showing a house in Vikas Khand Ghat in Chamoli district's Lankhi village being swept away by a flash flood, was posted by news agency ANI. Local residents and state disaster response force (SDRF) team reached the spot and conducted rescue operations. https://www.news18.com/news/india/video-shows-houses-being-washed-away-due-to-cloudburst-in-uttarakhand-toddler-among-3-dead-2267371.html  (12 Aug. 2019)
Cloudburst: 4 killed in Chamoli, Tehri Four people were killed in a cloudburst in Chamoli and Tehri districts in separate rain-related incidents on Aug. 8. Two women were washed away in a flash flood in Faldiya village of Dewal block in Chamoli late on Aug. 8 night. The deceased were identified as Pushpa Devi and Jyoti. Twelve houses in the village were also damaged by the downpour.
Meanwhile, two more people lost their lives in Ghansali tehsil of Tehri district on the same night. A woman was also injured in Kulethi village in Kirti Nagar area of Tehri. In addition to the human casualties, livestock-related losses were also reported in the above incidents. https://weather.com/en-IN/india/monsoon/news/2019-08-09-uttarakhand-cloudburst-four-killed-in-chamoli-tehri-districts  (9 Aug. 2019)
Himachal Pradesh Cloudburst triggers flash floods in Kinnaur There was an alarming rise in the water level of the Sutlej river and its tributaries on Aug. 9 due to flash floods triggered by a cloudburst in Kinnaur district.  The cloudburst occurred at three places—Kannam, Morang and Tangling Nullah—washing away the Poorvani-Tangling bridge and another bridge on Ribba Nullah. The Hindustan-Tibet National Highway (No 5) has been blocked at two places and the area also witnessed landslides. Some orchards were also damaged in Kannam area.
The developments forced the shut-down of hydropower projects—the 1500 MW Nathpa-Jhakri, 1,000 MW Karchham- Wangtoo, 412 MW Rampur and 300 MW Baspa hydel projects —due to the sudden increase in the silt level. The gates of the dams were also opened. The silt level at Khab at confluence of Sutlej and Spiti was 8305 and 1270 ppm (particles per million) while the silt level increased to 16,000 ppm at Nathpa Dam. The power generation has now resumed at Nathpa while other projects would resume generation after the ppm was below 5,000, project sources said. https://www.tribuneindia.com/news/himachal/cloudburst-triggers-flash-floods-in-kinnaur-district/815434.html  (9 Aug. 2019)
पालमपुर के ऊपरी क्षेत्र में बादल फटा पालमपुर में धौलाधार की ऊपरी क्षेत्र में बादल फटने की घटना घटी है। जिसके चलते नदियां नाले ऊफान पर है। बता दें कि न्यूगल, बनेर खड्डों में बाढ़ आने के कारण प्रशासन ने अलर्ट जारी कर दिया है। पालमपुर की न्यूगल खडड व बनेर खडड में आई बाढ़ ने भारी हानि पहुंचाई है न्यूगल खडड का पानी एक बार फिर सौरभ वन विहार में जा घुसा। वहीं चामुंडा नंदीकेश्वर धाम के साथ बहती बनेर खड्ड उफान पर आने के कारण मंदिर के साथ कई क्षेत्र जलमग्न हो गए। खडड के विकराल रूप धरने के कारण पानी ने मंदिर के शमशान घाट तक को डुबो दिया। 
यह वही श्मशान घाट है जहां प्रतिदिन शवदाह के जाने की परंपरा है। बता दें कि शनिवार तड़के ही जैसे ही श्रद्धालुओं ने मंदिर परिसर का रुख किया। वैसे ही जोरदार आवाज के साथ खड्ड में पानी बहने लगा और बड़ी-बड़ी चट्टानें पानी के साथ बहकर आई। ऐसे में खडड के आसपास के श्रद्धालुओं को तत्काल सुरक्षित स्थानों पर भेज दिया गया। इन दिनों श्री चामुंडा नंदीकेश्वर मंदिर धाम के सौंदर्य करण का कार्य किया जा रहा है। उधर बनेर में आई भारी बाढ़ के कारण पर बने हाइडल प्रोजेक्ट को फिलहाल बंद कर दिया गया है। बताया जा रहा है कि रात भर तेज बारिश का क्रम क्षेत्र में जारी रहा। मौसम विज्ञान विभाग ने पहले ही 17 अगस्त को भारी से अति भारी बारिश की आशंका जताई थी। https://m.himachal.punjabkesari.in/himachal-pradesh/news/upper-area-1040155?amp#referrer=https%3A%2F%2Fwww.google.com&amp_tf=From%20%251%24s   (17 Aug. 2019)
– Landslide Dam formed on  Jabbar khad a tributory of Chakki khad which feeds Beas river in Himachal Pradesh. Coordinate of landslide dam site at Danni is 32*22'4.91″ 75*56'56.12″.  https://twitter.com/CWCOfficial_FF/status/1163109335356071936 
With the situation owing to the heavy rain already alarming in Kangra district, the Meteorological department has issued a warning of very heavy rain in six districts of the state over the next two days. The administration in Kangra, Chamba, Hamirpur, Bilaspur, Una and Mandi has been put on alert. The Met department has issued a warning of very heavy rain on Aug. 18 in Shimla, Solan, Mandi and Kangra districts. https://www.tribuneindia.com/news/himachal/warning-of-heavy-rain-in-himachal-pradesh-puts-6-districts-on-alert/818854.html  (17 Aug. 2019)
Heavy Rain Triggers Landslides, Several Roads Blocked Heavy rainfall on Aug. 17 night triggered landslides at several places in Himachal Pradesh, blocking a large number of roads. On Aug. 18 morning, NH-5 was blocked for few hours in Kinnaur district. The landslide disrupted road traffic and caused a heavy jam. Besides, NH-3 between Manali and Kullu was also partially damaged due to the landslide in the morning. https://www.ndtv.com/india-news/heavy-rain-triggers-landslides-in-himachal-pradesh-several-roads-blocked-2086685  (18 July 2019)
Heavy rain ravages Kangra, Kullu, Chamba Heavy rain across the state during the last 24 hours wreaked havoc, triggering landslides and disrupting vehicular movement on 323 routes, with Kangra, Kullu and Chamba being the worst affected districts. As a precautionary measure, the Kangra district administration announced the closure of all educational institutions today. Most rivers were in spate and streets in Nurpur, Palampur and Dharamsala in Kangra were submerged.
The water level in most dams was close to the danger mark. The level in the BBMB, Talwara, was measured at 1363.40 feet, the BBMB, Pandoh, 2,920 feet, NTPC Kol Dam 636.79 feet, BBMB, Nangal, 1,674.54 feet and Larji Dam, Kullu, at 968.60 metre.
A total of 175 lives have been lost since July 1 to August 17, including those due to accident, drowning and house collapse. The PWD and Irrigation Department have suffered a loss of Rs 290.64 crore and Rs 167.82 crore. The total loss has been pegged at Rs 474.37 crore. https://www.tribuneindia.com/news/himachal/heavy-rain-ravages-kangra-kullu-chamba/819162.html  (18 July 2019) 
9 dead as heavy rain wreaks havoc Incessant rain accompanied by strong winds wreaked havoc in different parts of Himachal Pradesh during the last 36 hours, killing at least nine and causing widespread damage to roads and buildings. Hundreds of travellers remained stranded after rain triggered landslides and snapped road links. National highways Shimla-Mandi, Kalka Shimla and Chandigarh-Manali and Chamba-Pathankot have seen landslides since it began raining. A swollen Beas as flooded the Chandigarh-Manali highway near Dwada.  
As a precaution, excess water was released from the Satluj Jal Vidyut Nigam Ltd's (SJVNL) 1,500 MW Nathpa Jhakri plant — India's largest hydro project in Kinnaur district, which led to flooding in the Satluj river, he said. Meanwhile, an official said the gates of the Pandoh and the Nathpa Jhakri dams are being opened as the water level in the Beas and Sutlej rivers is very high. The Nathpa Jhakri hydroelectric station is also being shut down due to the increasing silt content in the Sutlej river, he said. https://www.tribuneindia.com/news/himachal/9-dead-as-heavy-rain-wreaks-havoc-in-himachal/819283.html  (18 Aug. 2019) 
Jammu & Kashmir Heavy rain pounds Jammu region, brings life to halt Heavy rainfall on Aug. 17 disrupted life across the Jammu region, causing damage to several houses and roads besides affecting traffic on the Jammu-Srinagar national highway for several hours. According to official reports, overnight rainfall brought normal life to a complete halt in Kathua, Reasi and Udhampur districts. In Kathua, landslides shut many roads while several nomadic families got trapped in flash floods. Several areas were waterlogged, causing losses to household items and shops in the main Kathua market.
According to reports, the link road connecting the upcoming Kathua Medical College with the national highway got washed away due to flash floods in a rivulet while a bus ferrying passengers also got trapped along the Jammu-Pathankot national highway near the Hatli Morh area due to waterlogging. All passengers were, however, safely evacuated.
Meanwhile, the rainfall also caused floods in Ujh river, causing losses to crops in the lower Rajbagh area. Fourteen nomadic families, which got trapped in the flash floods in the Ujh near the Rajbagh and Pandori areas, were evacuated by the police along with the help of a team of the State Disaster Response Fund (SDRF). https://www.tribuneindia.com/news/jammu-kashmir/heavy-rain-pounds-jammu-region-brings-life-to-halt/819100.html  (18 Aug. 2019)
5 killed as cloud burst hits AJK's Jhelum valley 5 people were washed away in a flash flood triggered by a cloud burst in Muzaffarabad's Jhelum valley on Aug. 9.  According to Muzaffarabad police, three women and two children were among the dead. At least 24 people died in July after a flood tore into a village in Neelum valley. At least 50 houses were destroyed in the Leswa village.  https://www.samaa.tv/news/local/2019/08/five-killed-as-cloud-burst-hits-ajks-jhelum-valley/  (9 Aug. 2019) 
ENERGY OPTIONS
Op-Ed A reality check on India's renewable energy capacity By Shouvik Chakraborty  China is way ahead of India in its expansion. Over the 2014-17 period, China's addition to its renewable energy capacity (207.2 GW) was nearly six times India's (33.3 GW). Over the same period, China increased its installed capacity in solar energy by 105.5 GW, while India increased its capacity by only 14.3 GW — a mere one-seventh of the former. Advanced economies like the U.S. and Japan installed almost twice the amount of solar capacity over this period compared to India.
Despite the reduction in costs due to global technological advancement in the field of renewable energy, India has been unable to reap these benefits to their full extent. Further, the recent imposition of safeguard duty on imported solar photovoltaic cells, and the ongoing depreciation of the Indian rupee vis-à-vis the U.S. dollar, have only lessened some of these cost advantages. If the government is concerned enough about the deteriorating environment, there is an immediate need to spend more on the research and development of these renewable energy sources.
One of the primary objectives for advocating the use of renewable energy sources is to limit, and finally eliminate, the use of fossil fuels, especially coal. But, according to Reuters, India's annual coal demand rose by 9.1% to nearly one billion tonnes during the year ending March 2019. Coal features among the top five imports of India, with total imports rising from 166.9 million tonnes in 2013-14 to 235.24 million tonnes in 2018-19. https://www.thehindu.com/opinion/op-ed/a-reality-check-on-indias-renewable-energy-capacity/article29094764.ece  (15 Aug. 2019)
ENVIRONMENT
Op-Ed Envisioning Ladakh's future as UT– Ahsish Kothari of Kalpavriksh raises some genuine concerns and valid points in this Op-Ed:- Being home to enormous mineral reserves and tourism sites, Ladakh could easily find itself getting exploited by commercial interests even more once its economy is opened. This would only put greater pressure on its already fragile ecosystem, and consequently impact the mores of its pastoral and agricultural communities that are dependent on it. The region has already been facing environmental issues due to landslips, soil erosion, accumulation of solid waste, disturbances to its wildlife population and diversion of commons for development projects.
– However, the J&K government's financial and administrative ability to scale such activities up was extremely limited. The Central government, not constrained by such fetters, may press ahead with more hydropower, mining and road construction programmes, making sensitive areas more vulnerable.
– The third danger to the region will possibly come from an increased presence of the armed forces. Given the importance the present government attaches to threats, real and perceived, coming from China and Pakistan, the likelihood of more personnel getting stationed is high. Thousands of hectares of pasture land have already been occupied by the forces, with disruptive consequences for wildlife and local communities. The Army is yet to give us an accurate figure on how much of the region's land has been diverted for use by its personnel.
– Ladakh has had its own Autonomous Hill Development Council for more than two decades. However, during a study trip in March this year, we learned from political functionaries, activists and civil society members that there was, on the ground, no true autonomy. Decisions were mostly made from Srinagar and, to some extent, New Delhi. https://www.thehindu.com/opinion/op-ed/envisioning-ladakhs-future-as-ut/article29094930.ece   (15 Aug. 2019)
National Rules eased for clearance of projects near buffer zone In a move that is likely to weaken the protection offered to wildlife sanctuaries and national parks, the Union environment ministry has tweaked the procedure for environmental clearances of developmental activities in the buffer zone, an area that is supposed to reinforce conservation of protected areas.
An office memorandum (OM) on August 8, 2019, published on the environment ministry website, said that projects outside the boundary of the notified eco-sensitive zone (ESZ) of a sanctuary or national park but within 10 km radius of the park will not need prior clearance from the National Board for Wildlife (NBWL).
Such proposals will now get environmental clearance from the ministry's expert appraisal committee (EAC), which will ensure "appropriate conservation measures in the form of recommendations will be made," the memorandum said. It nullifies previous OMs dated February 27, 2007 and December 2, 2009, which made the NBWL's approval mandatory for projects within a 10 km radius of the park.
Projects located within the notified ESZ will require the NBWL's nod, which can be applied for together with the initial "terms of reference" application. Mining will be prohibited within the notified ESZ or within only one km from the boundary of the park, whichever is higher according to the new OM.
But in many states, protected areas do not have an ESZ of 10 km as specified by the Supreme Court. Some have a buffer zone of a few hundred metres to one-km radius, while other states still have not notified an ESZ. In cases where the ESZ notification is in the draft stage, a nod from NBWL is needed and can be applied for along with environmental clearance.  https://www.hindustantimes.com/india-news/rules-easedfor-clearance-of-projects-near-buffer-zone/story-l9ojrWY7BHZD4UudxKzUiJ.html  (17 Aug. 2019)
Biodiversity Act: A jungle of confusion India is one of the few countries around the world that enacted a legislation to protect, sustainably use and share the benefits of use of biological resources present in the country — The Biological Diversity Act (2002). Seventeen years of implementation have provided the country with enough experience on how to implement the Act, as well as how not to interpret certain provisions.
One key component of the Act is to devise ways and means to seek benefits from the commercial utilisation of biological resources and the associated traditional knowledge pertaining to the use of such resources. Guidelines for such access and benefit sharing (ABS) were issued in 2014. However, the interpretation of these Guidelines during implementation has been severely problematic. This has resulted in a large number of litigations before the courts, including the NGT.
In the absence of any case law and experience in interpreting the provisions of the Act and its Rules (issued in 2004) along with the Guidelines, the courts in India are also finding it difficult to deal with litigations, resulting in a state of confusion and concern among those wishing to commercially utilise the resources and secure economic benefits. https://www.thehindubusinessline.com/opinion/columns/biodiversity-act-a-jungle-of-confusion/article29112025.ece  (17 Aug. 2019)
Does Delhi's land pooling plan give owners a better deal than similar schemes in other cities? How can urban land be developed in a way that benefits both land owners and the government? Delhi is hoping to answer this question with its new land pooling policy that was notified by the Centre in October 2018. Rather than the government acquiring the land, the policy envisions the state acting as a facilitator between landowners and the private sector. But will it work?
Despite this, as interest in the idea of land pooling slowly gathers steam, residents of these villages pointed to gaps in the policy, even as experts raised concerns about its environmental and social impact. https://scroll.in/article/930826/does-delhis-plan-for-land-pooling-give-owners-a-better-deal-than-schemes-in-other-cities-do  (19 Aug. 2019)
CPCB 20 more cities added to 'polluted' list The Central Pollution Control Board (CPCB) has added 20 more cities from eight states to the list of polluted cities which do not meet the National Ambient Air Quality Standards and, therefore, require focussed attention on multiple fronts to deal with the hazards of dirty air. These additions, including eight from Andhra Pradesh and six from West Bengal, have expanded the list of non-attainment cities (NACs) from 102 to 122 where different agencies are expected to take air pollution abatement measures under a dedicated action plan for each of them.
Though the previous list contained all major cities including Delhi, Mumbai, Lucknow, Kolkata, Bengaluru, Chandigarh, Ahmedabad, Jaipur, Patna and Hyderabad, the additional 20 are those which remained outside the ambit of the NACs despite being severely polluted. Analysis of high pollution levels in many NACs, including Delhi, Varanasi, Lucknow, Kanpur, Jaipur, Mumbai, Kolkata and Ahmedabad, showed that these cities will continue to remain polluted even if the target of reducing 20-30% of PM10 and PM2.5 concentrations is achieved in the next five years.
The additional 20 cities are Anantapur, Chittoor, Eluru, Kadapa, Ongole, Rajahmundry, Srikakulam and Vizianagaram in Andhra Pradesh; Vadodara in Gujarat; Thane in Maharashtra; Kalinga Nagar in Odisha; Trichy in Tamil Nadu; Sangareddy in Telangana; Dehradun in Uttarakhand; and Asansol, Barrackpore, Durgapur, Haldia, Howrah and Raniganj in West Bengal. https://timesofindia.indiatimes.com/home/environment/pollution/20-more-cities-added-to-cpcbs-polluted-list/articleshow/70721767.cms  (18 Aug. 2019)
SOUTH ASIA
India-Bhutan PM Modi inaugurates Mangdechhu HEP PM Modi on Aug. 17 inaugurated the Mangdechhu hydroelectric power plant, one of the major projects under Bhutan's initiative to generate 10,000 MW hydropower by 2020 with the Indian government's support. The Rs 4,500-crore hydroelectric plant, touted as a Bhutan-India friendship project, is a 720MW run-of-river power plant built on the Mangdechhu River in Trongsa Dzongkhag district of central Bhutan. It was developed by the Mangdechhu Hydroelectric Project Authority (MHPA), which was jointly constituted by the Indian and the Bhutanese governments.
The Mangdechhu project is funded by India through a 70 per cent loan and a 30 per cent grant. It is estimated to generate 2,923 GWh of electricity. Most of the electricity generated by the Mangdechhu hydropower project will meet the energy requirements of Bhutan and the surplus electricity will be exported to India. https://www.moneycontrol.com/news/trends/current-affairs-trends/pm-modi-inaugurates-mangdechhu-hydroelectric-power-plant-in-bhutan-4344941.html  (17 Aug. 2019)
With the inaugural of 720MW Mangdechhu Hydroelectric Plant and opening of official discussion on the Sunkosh, the biggest project targeted, Indian Prime Minister Narendra Modi's visit is in a way commemorating five decades of hydropower cooperation between Bhutan and India. Sunkosh, which has the potential to generate over 2,500MW of power is the priority for the government currently. Discussions during PM Modi's visit will revolve around the modality of implementation and financing.  http://www.kuenselonline.com/pm-modis-visit-marks-five-decades-of-hydropower-cooperation/  (16 Aug. 2019)  
Nepal Five years on, under-construction bridge over Trishuli River not completed Construction of the bridge over Trishuli River, which started about five years ago, has not been completed even after the extension of deadline. The bridge will link Keurini in Belkotgadhi Municipality-5 of Nuwakot district with Phosretar in Galchhi Rural Municipality-1 of Dhading district. Deadline for the construction work was extended to August 17, 2019, after the contractor company could not complete the work by the targeted July 14, 2017.
Himdung and Thokar Company, and Sapana and Nagarjun Construction JV had entered into the contract to build the bridge. Construction work carried out by the company owned by Nepali Congress lawmaker Bahadur Singh Lama was disrupted after a heavy storm blew away the frameset to be concreted. However, local Ramesh Dhungana said the bridge frame collapsed due to substandard materials used by the contractor in the construction work and added that such irregularities were carried out with the help of political influence and power. The motorable bridge is part of the road that would connect the headquarters of both the districts. https://thehimalayantimes.com/nepal/five-years-on-under-construction-bridge-over-trishuli-river-not-completed/  (17 Aug. 2019)
Bangladesh 'Stop illegal sand lifting from Jamuna river' Several hundred inhabitants of all ages from villages under three unions of Tangail yesterday formed two separate human chains in protest at unauthorised sand lifting from the Jamuna river. At noon, men, women and children from seven villages — Alipur, Bhoirbari, Singuli, Char Poulee, Khakchhara, Beltia and Afzalpur — under Gohaliabari and Durgapur unions in Kalihati upazila formed a human chain for an hour along the Jamuna riverbank in Alipur area of Gohaliabari union.
About the same time, the second human chain was formed alongside the river in Kakua union of Tangail Sadar upazila by residents of the union. Holding out placards and banners, many inscribed with messages such as "we will lay down our lives, but will not give away the sand", the villagers demanded putting a stop to indiscriminate sand-lifting that has been causing erosion of the riverbanks.
Speakers during the events said the erosion of Jamuna has worsened over the past few years and a vast swathe of croplands and numerous dwellings were devoured by the river as sand lifting with powerful dredgers have been going on unabated by those with vested interests. They demanded the higher authorities take immediate action against the sand lifters and urged the prime minister to take stern action against negligent government officials concerned.   https://www.thedailystar.net/country/news/stop-illegal-sand-lifting-jamuna-river-1786579  (18 Aug. 2019)
Pakistan 42 People Killed in Heavy Monsoon Rains Flood Karachi Heavy monsoon rains have wreaked havoc in Pakistan's biggest metropolis Karachi, killing at least 42 people and triggering flash floods in several parts of the city, officials said on Aug. 14. In the second monsoon spell, incessant rains have been lashing the city since Aug. 11 claiming at least 24 lives with 46 others injured in rain-related accidents, police officials said.
According to government officials, a total of 28 people have died in the southern Sindh province since Saturday. At least 42 people have lost their lives in rain-related incidents since the monsoon rains started in the last week of July, they said.The met office has recorded over 158-mm of rainfall in Karachi and at some places even as high as 200-mm. https://www.news18.com/news/india/42-people-killed-in-heavy-monsoon-rains-flood-karachi-2270581.html  (14 Aug. 2019)  
ASIA
Thailand Drought reveals lost temple as reservoir dries up A nationwide drought in Thailand has brought water levels to record lows at a reservoir in Lopburi province, exposing a long-submerged Buddhist temple. The Wat Nong Bua Yai Buddhist temple in central Thailand had been under water for nearly 20 years since the nearby Pasak Cholasit dam was built to form a reservoir.  https://www.scmp.com/video/asia/3021769/drought-reveals-lost-temple-central-thailand-reservoir-dries  (7 Aug. 2019)
CLIMATE CHANGE
जलवायु बदलाव के दौर में पहाड़ी इलाकों में परंपरागत खेती की पुनः वापिसी हुई है। जैव विविधता और पर्यावरण का संरक्षण, महिला सशक्तीकरण हुआ है। http://vikalpsangam.org/article/%E0%A4%AE%E0%A4%B9%E0%A4%B2-%E0%A4%95%E0%A4%B8%E0%A4%A8-%E0%A4%95-%E0%A4%AA%E0%A4%B9%E0%A4%A1-%E0%A4%96%E0%A4%A4-in-hindi/#.XVIpvvkzZNA  (13 Aug. 2019)
Iceland Builds First Monument In Memory Of Glacier Lost To Climate Change Iceland on honours the passing of Okjokull, its first glacier lost to climate change, as scientists warn that some 400 others on the subarctic island risk the same fate. A bronze plaque will be unveiled in a ceremony starting around 1400 GMT to mark Okjokull — which translates to "Ok glacier" — in the west of Iceland, in the presence of local researchers and their peers at Rice University in the United States, who initiated the project.
This will be the first monument to a glacier lost to climate change anywhere in the world. Iceland loses about 11 billion tonnes of ice per year, and scientists fear all of the island country's 400-plus glaciers will be gone by 2200, according to Howe and her Rice University colleague Dominic Boyer. https://www.ndtv.com/world-news/iceland-to-build-memorial-for-okjokull-glacier-the-first-it-lost-to-climate-change-2086616  (18 Aug. 2019)
Arctic sea ice loaded with microplastics Arctic Ocean sea ice IS riddled with microplastics, extracted by scientists from deep inside an ice block that likely drifted southward past Greenland into Canada's increasingly navigable Northwest Passage between the Atlantic and Pacific Oceans.
"We didn't expect this amount of plastic, we were shocked," said University of Rhode Island ice expert Alessandra D'Angelo, one of a dozen scientists collecting and analysing data during an 18-day expedition aboard the Swedish icebreaker Oden. "There is so much of it, and of every kind—beads, filaments, nylons," she told AFP from Greenland, days after completing the voyage.
Plastic particles have recently been found inside fish in the deepest recesses of the ocean, called the Mariana Trench, and blanketing the most pristine snows in the Pyrenees mountains between France and Spain. In the last two decades, the world has produced as much plastic as during the rest of history, and the industry is set to grow by four percent a year until 2025, according to a recent report by Grand View Research. https://phys.org/news/2019-08-arctic-sea-ice-microplastics.html  (16 Aug. 2019)
THE REST OF THE WORLD
Australia Sydney's Water Supply Falling At Record Rate Due To Drought Australia's biggest city Sydney is running down its water supply at the fastest rate on record with dams expected to fall below half maximum capacity due to the worst drought on record, the government said on Aug. 16. Warragamba Dam, the city's main water supply, was sitting at 51.4% capacity, down 17.8% in a year and little more than half its level just two years earlier.
The amount of water flowing into the dam was just 10% of what it was a year ago, according to the New South Wales (NSW) state regulator WaterNSW. The total water level in Sydney's 11 dams was 50.1%, forcing authorities to introduced water restrictions in recent months. At the current rate of decline, discounting rainfall, Sydney dams would only have enough water reserves for another two years, according to figures provided by WaterNSW. https://www.ndtv.com/world-news/sydneys-water-supply-falling-at-record-rate-due-to-drought-2085892  (16 Aug. 2019) 
US Seldom Seen: A Poignant Look Back at Glen Canyon Before the Dam Fascinating scenes of Glen Canyon, before it was submerged. https://e360.yale.edu/features/seldom-seen-a-poignant-look-back-at-glen-canyon-before-the-dam   (15 Aug. 2019)
Report To better manage groundwater, first understand it Natalie Parletta talks to an Australian scientist about the dangers of over-exploiting an important resource. https://cosmosmagazine.com/earth-sciences/to-better-manage-groundwater-first-understand-it  (29 July 2019)
Compiled by SANDRP (ht.sandrp@gmail.com)
Also see: DRP News Bulletin 12 Aug. 2019 & DRP News Bulletin 05 Aug. 2019
Follow us on: www.facebook.com/sandrp.in; https://twitter.com/Indian_Rivers