Prime Minister Shri Narendra Modi, has possibly inadvertently, started a debate that really needs to be honestly looked at: ARE BIG DAMS ATM MACHINES FOR POLITICIANS? He may have raised the issue only in the context of Polavaram Dam and Andhra Government, but the question is equally valid for all big dams across the country. Including for Sardar Sarovar Dam, as Andhra Water Resource Minister has possibly only rhetorically asked.
As analysis by SANDRP and others including by numerous CAG reports have shown, dams are not adding to Net National Irrigated area since over 25 years. They in fact worsen the groundwater recharge and sustainability situation, directly and indirectly. And groundwater remains our water lifeline since several decades and will remain so.  And yet, thousands of crores get spent on big dam every year, while such resources are not available for sustenance of groundwater, India's water lifeline. This election, we wont have that honest debate, since both the initiator and responder are not particularly serious about it. Nor the media seems to have the stomach for such a debate. WHEN WILL WE HAVE AN HONEST DEBATE THAT WILL ANSWER THIS QUESTION: ARE DAMS ATM MACHINES FOR POLITICIANS?
Polavaram An ATM": PM's Dig At Naidu Launching a vitriolic attack on CM N Chandrababu Naidu for 'treating' Polavaram as an ATM, leading to escalation of its cost, the PM on April 1said that the Centre had till now given Rs 7,000 crore for the project. http://www.newindianexpress.com/states/andhra-pradesh/2019/apr/02/polavaram-an-atm-for-babu-bhallala-pm-1959137.html
He also said that NDA govt declared Polavaram as national project and have given Andhra Pradesh govt Rs. 7000 crore, keeping in view the importance of the project. But, Chandrababu Naidu has used the project for their corruption. He further commented that U-turn Babu has been using Polavaram as his ATM and backstabbing the farmers and people here. https://www.ndtv.com/india-news/lok-sabha-election-2019-pm-modi-to-address-rallies-in-maharashtra-and-andhra-pradesh-today-2015728  (2 April 2019)
Taking exception to Modi's allegation that he was using Polavaram as an ATM to draw money, Naidu said, "ATMs have no money and Polavaram too is starved of money. The Centre is yet to reimburse Rs 4,500 crore we spent in spite of the financial crisis. They have rendered the Polavaram project into a defunct ATM. Naidu, however, said, "Polavaram is indeed an ATM – Any Time Water for the State." http://www.newindianexpress.com/states/andhra-pradesh/2019/apr/02/polavaram-a-defunct-atm-says-cm-naidu-1959138.html  (2 April 2019)
Taking serious objection to PM Modi comparing the Polavaram project to an ATM for Andhra Pradesh, Minister for Water Resources Devineni Umamaheswara Rao asked if Mr. Modi used the Sardar Sarovar Dam across the Narmada River at Kevadiya also as an ATM. https://www.thehindu.com/news/national/andhra-pradesh/was-sardar-sarovar-dam-also-an-atm/article26715184.ece   (3 April 2019)
HYDRO POWER PROJECTS
Media need to question BMMB  In this report TRIBUNE reports that BBMB generated higher than target, but did not bother to check that BBMB stations generated 6.52% below the generation in 2017-18. https://www.tribuneindia.com/news/punjab/bbmb-exceeds-target/751799.html  (1 April 2019)
DAMS
Farakka Dam Gate cracked, water flowing to Bangladesh Gate number 23 of Farakka barrage got cracked and then broken on the night of April 6, 2019, and water is flowing uncontrollably to Bangladesh. The Farakka barrage is maintained by Union Ministry of Water Resources and the General Manager has assured this will be repaired in a week.
This will have impact on Ganga water level upstream too and also impact the waterways. https://www.prabhatkhabar.com/news/calcutta/farakka-barrage-23-number-gate-broken-bangladesh-water-drift-haldia-allahabad-waterway-crisis-west-bengal/1269692.html   (7 March 2019)
INTERLINKING OF RIVERS
Andhra Pradesh Penna, Godavari rivers linking becomes CM's pole plank While asserting his govt's commitment over interlinking of all rivers in the state, TDP National president N. Chandra Babu Naidu has said that people of Kadapa are going to conduct farming operations with Godavari waters as government is going ahead for interlinking Penna river with Godavari very soon. https://www.thehansindia.com/andhra-pradesh/tdp-president-n-chandrababu-naidu-addressing-public-meeting-in-badvel-assembly-segment-on-sunday-514882  (24 March 2019) 
Tamil Nadu ILR in election politics The project is back in the news as the DMK has declared its mission to inter link the rivers of the country. The Dravida party has waxed eloquence on the project in its 2019 manifesto and has assured the people of Tamil Nadu that it would give top priority to it. The Congress manifesto is silent at the ILR. However, Karti Chidambaram, the Congress candidate from Sivaganga in Tamil Nadu, assured the voters in Sivaganga that he would  take steps to interlink the rivers to bring water to the parched regions. https://www.dailypioneer.com/2019/india/karti-contradicts-rahul.html   (8 April 2019)
IRRIGATION
Maharashtra BJP making tall claims on wrong projects Big irrigation projects are the main poll issue in the Vidarbha region, which has 10 Lok Sabha constituencies, with the ruling BJP-Shiv Sena highlighting the steps it has taken for the sector and how "corruption" under the previous Congress-NCP government had led to its neglect. "The government has focused on higher allocations for Vidarbha and Marathwada regions to address the long-pending irrigation backlog to make farming sustainable. The reforms have yielded positive results," CM Fadnavis said. "In the last four years, the drought-hit districts in Vidarbha and Marathwada have received allocations of Rs 38,000 crore. It includes Rs 10,800 crore from the Centre for 26 irrigation projects".
– According to the BJP, the "irrigation backlog" was 2,57,518 hectares in 2009-10, 2,23,705 ha in 2013-14. In 2017-18, the "backlog" was 1,80,538 hectares. The BJP claimed that in the last four years the government has brought 43,167 hectares of this "backlog" under irrigation, adding that the government plans to wipe out the "irrigation backlog" in the Vidarbha region by 2022.
– Water Resources Minister Girish Mahajan said, "The total expenditure on irrigation projects in the last four years across the state has been Rs 30,406 crore. In all, 225 projects were shortlisted, of which 118 projects have been completed creating an additional water storage capacity of 1,628 million cubic metres. In the last four years, 7.5 lakh hectares have been brought under irrigation." A senior official in the ministry said, "Of the 118 projects, 64 are in the Vidarbha region. These projects were executed by the Vidarbha Irrigation Development Corporation (VIDC)." https://indianexpress.com/elections/in-vidarbha-irrigation-sector-politics-takes-centrestage-5659512/      (5 April 2019)
Another instance of wrong election issue: Push for Gargai Dam Pinjal Dam. https://www.dnaindia.com/mumbai/report-close-the-tap-mumbai-s-water-stock-dips-to-27-2736453  (5 April 2019)
URBAN RIVERS
Ulhas River, Mumbai Activists raise red flag over pollution of Ulhas river Environmentalists, who have been waging a long battle for restoration of Ulhas river, have alleged that due to contamination in the drinking water zone of the Ulhas river, citizens of Ulhasnagar and nearby cities have been getting drinking water contaminated with sewage.
As per sources, at Ambarnath, where the water is diverted to the STP, the chamber remains broken and instead of the water flowing to the STP, it enters the river directly. The Situation at Khemani Nullah, Ulhasnagar, too is not very different with the facility to divert sewage into the sump were inadequate causing seepage into the river. In 2017, the SC had made the chief secretary of Maharashtra give the undertaking to disburse Rs 100 cr for restoration of Ulhas and Waldhuni rivers, while hearing the Ulhas river pollution matter. https://www.dnaindia.com/mumbai/report-activists-raise-red-flag-over-pollution-of-ulhas-river-2730858  (19 March 2019)
Sabarmati, Ahmadabad Authoritarian Governance & Water The conclusion of this academic paper on Sabarmati River Front Development Project is interesting: In this perspective, I contend that Ahmedabad, and Gujarati society at large, may in the longer run be able to develop an original and effective environmental movement, drawing on the experience of the Narmada Bachao Andolan and struggling against specific issues of the "model state", thus crossing geographical scales and bridging the urban with the rural. This could only happen if or when influential individuals and groups look critically at the current governing coalition and start taking action. Ahmedabad and Gujarat could then contribute to a political ecology debate "beyond the West". http://siba-ese.unisalento.it/index.php/paco/article/view/20225/17193  (15 Nov. 2018)
STPs can turn E Coli into superbug In samples collected from Sabarmati river, two lakes and three effluent treatment plants, researchers find microorganisms to be drug resistant.  "We found that pollution, whether in a lake or at a point of sewage discharge into a river, induced multi-drug anti-microbial resistance in collected samples of E Coli bacteria possibly transforming it into what is known as a superbug," Manish Kumar, assistant professor of Earth Sciences at the IIT, Gandhinagar. Though most strains of E Coli do not cause any diseases, some of them can cause severe diarrhoea, pneumonia, urinary tract infection (UTI), cholecystitis and neo-natal meningitis. https://www.downtoearth.org.in/news/water/sewage-treatment-plants-can-turn-e-coli-into-superbug-63830  (4 April 2019)
RIVERS
Opinion Prof Dinesh Misra on why rivers are missing in political discourse during general election year despite looming drought:-
He sums up that temporary band-aid measures are working as hindrances in looking for long term, sustainable solutions in keeping our rivers, living and flowing.   http://epaper.livehindustan.com/imageview_27530_73600016_4_1_08-04-2019_i_10.pagezoomsinwindows.php
Uttrakhand rivers quench the thirst of millions while its residents face water shortage Uttarakhand has vast water resources and is a lifeline for millions of people living in downstream areas. However, many areas in the state are facing a water shortage. The hill state is going to polls in the first phase of the 2019 Lok Sabha elections on April 11. In some constituencies, voters, dissatisfied with authorities for failing to provide water facilities, aim to register their protests, by boycotting the elections. A 2018 NITI Aayog report had held that approximately 50 percent of the mountain springs in the Indian Himalayan region, which includes Uttarakhand, are drying up. It is significant because most of the drinking water supply in the mountainous parts of Uttarakhand is spring-based. https://india.mongabay.com/2019/04/uttarakhands-rivers-quench-the-thirst-of-millions-while-its-residents-face-water-shortage/ (8 April 2019)
Rajasthan Pay Rs 30 crore to board for Luni river pollution: NGT to government Holding the government responsible for all the environmental devastation caused to Luni river by the textile industries in and around Balotra town, NGT has directed the state government to pay an interim compensation of Rs 30 crore to the State Pollution Control Board (SPCB) within a month.
Besides, the state government has also been directed to submit a performance guarantee of Rs 10 crore in a month so that the government appeared committed to the compliance of the directions by the NGT. With these directions, the NGT has sought a detailed step by step and time-bound action plan from the government after getting it approved by the pollution control board.
The decision was taken on the basis of a report by an expert committee in February. The court also observed that the treatment plants set up to treat the industrial effluent had not been functioning on desired parameters, which has caused this untreated water making its way directly into the river. The tribunal has directed to submit the project report in two weeks while the interim compliance report in a month's time and has listed the matter for next hearing on April 8. https://timesofindia.indiatimes.com/city/jodhpur/pay-rs-30cr-to-board-for-luni-river-pollution-ngt-to-govt/articleshow/68311029.cms  (8 March 2019)
Kerala For Flowing Rivers: A Prelude Dr. Manju Vasudevan, River Research Centre A red moon rose above a tranquil river in Arangali village in Kerala. People had begun trickling in to the sand banks for an event called "The Song, the River and the Full Moon." These sand banks in the lower catchment of the Chalakudy River in Kerala are testimony to the struggles of the local community against years of illegal sand mining. It was not incidental that Arangali's sand banks were chosen for the music gathering: to celebrate the river and its free flow. And perhaps also to remind us that there is hope when people come together for protecting all that is withering away on this living planet. https://www.internationalrivers.org/blogs/1201/for-flowing-rivers-a-prelude  (1 April 2019)
GANGA Uttar Pradesh Kumbh's over, now God save the Ganga Ganga, which was touted as clean during Kumbh, has black water gushing down at one its ghats in Kanpur. It is effluent coming from tanneries, which were shut during the pilgrimage held in Prayagraj (earlier known as Allahabad) from January 15 to March 4. Environmentalists believe that tanneries might work extra to make up for the lost time. Moreover, domestic sewage has also started falling into the Ganga.
Kanpur generates 430 MLDs of domestic sewage and it has 2 STPs and one CETP. The 2 STPs have a combined capacity to treat 135 MLD of sewage. 4 new STPs came up recently that have a combined capacity to treat 310 MLDs of sewage. "Around 27 MLD of sewage and 9 MLD of tannery effluents are treated in the CETP. So, it is believed that discharge from the tanneries is only 9 MLD because there's no record of this volume," said Jaiswal. https://www.downtoearth.org.in/news/water/kumbh-s-over-now-god-save-the-ganga-63750  (29 March 2019)
Pollution 'time bomb' ticking for Ganga despite ODF  In Uttar Pradesh, a major focus state for cleaning Ganga, 80 per cent of the septic tanks are connected to open drains, which ultimately open into rivers. The UP Action Plan for 2017-2020 says that the state's cities have 80 per cent toilet coverage. But most of them don't have sewage system, including many towns and cities along Ganga.
CSE estimates that in cities like Allahabad, Varanasi and Kanpur, hardly 25 per cent of faecal sludge generated is collected for safe disposal. For example, in Varanasi, 246 kilolitres of faecal sludge is generated every day, but only 30 kilolitres is collected for safe disposal.
Along the main stem of Ganga river there are 30 million toilets with tanks. This doesn't necessarily mean that all of them are under safe faecal sludge disposal and management. "It is a reality that most are dependent on on-site containment of our faecal sludge. The need is to make this reality safe by ensuring proper sewage management," says Rohilla.
In 2017, India had declared a national policy on faecal sludge and septage management. Under this policy, every state is supposed to adopt a faecal sludge septage management action plan. https://www.downtoearth.org.in/news/waste/pollution-time-bomb-ticking-for-ganga-despite-odf-63790  (3 April 2019)
Study Antibiotic resistant bacteria found in river water A new study, done by researchers from the BHU, has found presence of antibiotic as well as metal resistant bacteria in river Ganga. "Varanasi region receives over 309.8 MLD of treated and untreated domestic waste daily by various point and non-point sources, which may be contributing to accumulation of resistant genes in the environment," explained Suresh Kumar Dubey, author of the study.
Residues of antibiotics reach water bodies through waste discharged from households, drug manufacturing units, hospitals and poultry industry where antibiotics are used in feed. These antibiotics in water lead to evolution of bacteria that are resistant to antibiotics, which then grow in numbers and spread in the environment. The situation could pose a danger to human health as infection with such kind of resistant bacteria could become untreatable. https://www.thehindubusinessline.com/news/science/antibiotic-resistant-bacteria-found-in-river-water/article26570260.ece  (18 March 2019)   
West Bengal State treats only 49% waste water before dumping it West Bengal treats only 49 per cent of the waste water before dumping it in the Ganga, the NGT has said while directing the state government to submit quarterly report on the issue of solid waste management. The green panel noted that about 90 per cent of municipal solid waste generated in Bengal is being dumped in the open every day in violation of statutory pollution laws.
West Bengal generates 1,311 MLD of waste water. There are 34 STPs with a total installed capacity of 457 MLD, while their actual utilisation is only 214 MLD, which is only 49 per cent. The tribunal was hearing a petition seeking compliance of the Solid Waste Management Rules, 2016.  https://economictimes.indiatimes.com/news/environment/pollution/west-bengal-treats-only-49-waste-water-before-dumping-it-in-ganga-ngt/articleshow/68708894.cms  (3 April 2019)
Uttarakhand HC dismisses clean Ganga, Yamuna PIL Nainital HC on March 6 while hearing a PIL related to cleanliness of the Ganga and Yamuna rivers, asked the state government to ensure that "the rivers are kept sufficiently clean so that people are able to conduct religious rituals properly using the rivers' water."
The state government in its affidavit to the HC had submitted that STPs had been built at multiple locations to keep the rivers clean. Notably, Ganga and Yamuna have their origins in Gangotri and Yamunotri respectively in Uttarkashi district. Ajay Veer Pundir, amicus curiae in the case, told that the court "dismissed the PIL after issuing directions to the state government regarding ensuring cleanliness of the two rivers." https://timesofindia.indiatimes.com/city/dehradun/keep-ganga-yamuna-sufficiently-clean-so-that-rituals-can-be-performed-using-their-water-hc-to-state/articleshow/68293556.cms  (7 March 2019)
HC stays construction of park, artificial lake in Kotdwar The Uttarakhand HC on March 25 put a stay on the construction of a park and an artificial lake in Kotdwar in Pauri district after a plea cited that it was blocking the flow of Malini river. A PIL filed by Kishan Negi, a Kotdwar resident, stated that if the construction work is allowed to carry on, it may block the river's flow and lead to floods during monsoons.
The project was commissioned under the Swachh Bharat Abhiyaan by the state government for beautification of the area. The petition also cited the Environment (Protection) Act, 1986 and guidelines set by the NGT which state that non-forest activity cannot take place in any river catchment area. https://timesofindia.indiatimes.com/city/dehradun/hc-stays-construction-of-park-artificial-lake-in-kotdwar/articleshow/68567733.cms  (26 March 2019)
Bihar Nobody cares for s drying rivers in poll season Environmentalists are shocked over the drying rivers of Bihar failing to get the attention of political parties even during election time. According to officials, there were once some 600 river streams in Bihar which nursed its human population. But now, most of them have either dried up or are on the brink of losing their existence.
River experts said in the past, these river streams had not only boosted the economy of the region but also recharged ground water. But today, the scene is very pathetic on the ground. The perennial river streams have now become seasonal, with a majority of them getting dry once the rainy season is over.
According to them, there are over 100 rivers such as Lakhandei, Noon, Balan, Kadane, Sakari, Tilaiya, Dhadhar, Chhoti Bagmati, Saura and Falgu which are virtually on the brink of death. Of them, the Falgu river which flows through the Hindu pilgrim town of Gaya, especially deserves mention. More than 2 millions Hindus descend on this pilgrim town every year to offer oblations to the wandering souls of the ancestors. But the river now stinks with sewage water. https://www.downtoearth.org.in/news/general-elections-2019/nobody-cares-for-bihar-s-drying-rivers-in-poll-season-63793  (2 April 2019)
Farmers along the Ganga are unhappy– Agrarian distress continues to trouble farmers along the Ganga in Bihar. They feel that while the government is taking steps to clean the river, they suffer from the threat of drought and floods every year.
-"My land was submerged in the Ganga and now I work as a farm labourer because we do not have any land left. We used to take sand from the river and sell it for construction, but the government has made it illegal. I have no land and no source of income. We only want a steady source of income," said Sita Devi, 35, a landless labourer in Hajipur.
-"I have around 100 banana trees along the Ganga. My biggest concern is that part of my crop is destroyed by flood water during rainy season every year. The government does not give us compensation. We do not expect help from any political party," said Shambhu Mahto, 40, a banana farmer who also works as a rickshaw puller in Hajipur town.  https://www.livemint.com/elections/lok-sabha-elections/why-farmers-along-the-ganga-are-unhappy-1554312513603.html  (3 April 2019)
New bridge over troubled Kosi raises flood risk New bridge over Kosi River in Bihar could worsen the flood threat due to the Kosi River. https://www.thethirdpole.net/en/2019/04/04/new-bridge-over-troubled-kosi-raises-flood-risk/    (4 April 2019)
YAMUNA Delhi-Haryana Water Row DJB urges HC to supervise water supply from Haryana The DJB has urged the HC that the Centre be asked to supervise water supply from Haryana to the national capital, saying any reduction in Wazirabad reservoir water level would hit important areas where residences of the President, Prime Minister and judges are located.
Citing the coming lean season, the DJB has contended that "an imminent water crisis is likely to hit New Delhi in the next few weeks owing to the failure of state of Haryana to supply water as required pursuant to orders of the SC".
The DJB has further claimed that Haryana has about 22,000 cusecs of water available to it from all sources, but still it was reluctant to supply the 120 cusecs required to keep the Wazirabad reservoir full at all times during the lean season till the end of June or till the monsoon arrives.
The DJB has also sought directions from the court for immediate takeover of the canal and channel systems supplying water to river Yamuna, either by the Central Government or a neutral central body. Haryana has to release 719 cusecs of water per day into Munak canal and 330 cusecs per day in Delhi Sub-Branch Canal, according to the undertaking and earlier court orders.  https://www.thehindu.com/news/cities/Delhi/ask-centre-to-supervise-water-supply-from-haryana-djb-urges-hc/article26751675.ece   (6 April 2019)
Uttrakhand Hindi report dated 25 March showing stone quarrying happening even in upper reaches of the river. 
Haryana NGT orders action against polluting distillery Update on distillery polluting Yamuna case:- Following CPCB and SPCB report on violation of environmental norms by a Karnal-based distillery; NGT has directed the Haryana government to take action against "erring officials". https://www.thehindu.com/todays-paper/tp-national/tp-otherstates/ngt-orders-action-against-polluting-distillery/article26716530.ece  (3 April 2019)
Delhi Ghonda Gujran waste plant will poison Yamuna Protests against the proposed integrated waste management facility at Ghonda Gujran in north-east Delhi gathered momentum on March 28 with experts and activists saying it could spell disaster as the land falls under the 'O' zone and leachate from the facility could destroy the aquifers present in the river's flood plains.
On March 25, the DDA had allocated the 42.5-acre plot in Ghonda Gujran to the EDMC for the proposed facility. Experts have demanded a roll-back of the decision. Even though a principal committee appointed by the NGT had rejected the proposal in Sept 2017, the CPCB in 2018 gave it a go-ahead saying "a portion of Ghonda Gujran (approximately 50 acres) could be allotted to the EDMC because it is in a 'no-flood zone'". https://www.hindustantimes.com/delhi-news/ghonda-gujran-waste-plant-will-poison-yamuna-experts/story-nNMyWqotAOfl9slLC88AkM.html  (29 March 2019)
Water to Cloud Project Boat ride can tell how polluted India's major rivers are The boat ride is part of the Water-to Cloud project developed by researchers at the Tata Centre for Development (TCD), University of Chicago in collaboration with International Innovation corps.
The aim of the project, the scientists said, is to provide a holistic water quality monitoring platform and pinpoint the hotspots of pollution in major Indian water bodies, including the Ganga and Yamuna and important lakes, using sensors that send real time data to a hand-held device in the form of easily readable maps.
According to Priyank Hirani, Water-to-Cloud programme manager, current methods of river water quality monitoring in India rely heavily on lab measurement, which is time-intensive and expensive and is done on a per sample basis. Moreover, lab analyses from point measurements may not always give a holistic picture of the health of rivers as they are dynamic ecosystems and require continuous monitoring, he added. The researchers said the plan is to collect more data before consolidating it into a report which will be submitted to the Pollution Control Board and other organisations. https://www.business-standard.com/article/pti-stories/boat-ride-can-tell-how-polluted-india-s-major-rivers-are-119040200643_1.html  (2 April 2019)
Boat ride reveals Yamuna pollution The "Water-to-Cloud" tech uses sensors attached to the boat. When the system traverses the riverine course, the sensors send real-time readings to a hand-held device that allows researchers to analyse the spots along the river where the pollution is highest.
For over two decades now, the concentration of pollutants in the Yamuna has been steadily rising, with no decrease in the industrial and sewage discharge into the river despite preventive measures taken various agencies. The new technology developed by the University of Chicago's Tata Centre for Development can pin-point where the pollutants are entering the river.  https://timesofindia.indiatimes.com/city/delhi/how-dirty-is-yamuna-a-boat-ride-tells-you/articleshow/68678516.cms  (2 April 2019)
There has been no significant improvement in the quality of the water in the Yamuna since 2017. That was the year when when researchers first began the "Water-to-Cloud" project to gather data on the water. The only improvement the researchers noticed was on days when additional water was released into the river from Hathni Kund barrage, which increased the flow and improved the dissolved oxygen (DO) level.
The data gathered in Delhi since 2017 shows a small drains contributing to high pollution levels near Chandni Chowk and Majnu ka Tila. The Najafgarh drain also has a serious effect on water quality. https://timesofindia.indiatimes.com/city/delhi/water-quality-hasnt-improved-in-two-years/articleshow/68678594.cms  (2 April 2019) 
Samples from Kondli drain taken to check pollution level A joint team of officials from the CPCB and government agencies in Noida and Delhi, along with resident volunteers, collected samples from the Kondli drain on April 2 to check pollution levels in the drain.
The NGT, in February, had directed a joint team of Delhi and Noida to prepare an action plan to check pollution in Kondli drain, which merges with the Yamuna in Noida, and file an action-taken report within two months. https://www.hindustantimes.com/noida/on-ngt-order-team-takes-samples-from-kondli-drain-to-check-pollution-level/story-NZ7lIAoQW4SGhTNH7ChdTK.html  (3 April 2019)
Night herons are back at Yamuna park Yamuna Biodiversity Park (YBP) has become lively with black-crowned night herons. It is during this time of the year the birds breed and the heronry becomes lively with the calls of the nestlings and adults.
Experts said that even though black-crowned night herons had almost vanished from the Yamuna floodplains long ago, possibly due to the loss of habitat and the river's rising pollution levels, they have started setting up colonies over the past few years and have been breeding in the YBP. Now, their population is growing every year.
Park authorities are elated that even the intermediate egrets have started breeding this year, indicating that all is well with the park's wetland ecosystem. In 2016, park authorities spotted around 2,000 nests, which shot up to at least 2,500 in 2017. This year, scientists are expecting around 5,000 nests in the park. https://www.hindustantimes.com/delhi-news/night-herons-are-back-at-yamuna-park-experts-say-it-s-a-positive-sign/story-joPkHirTuLonRQCj5LINkM.html  (7 April 2019)
Uttar Pradesh Kairana 'exodus' nobody is talking about Drying Yamuna river forces fishermen, riverbed farmers migration towards Ganga river: -Scores of villages in Kairana constituency are facing exodus due to drying Yamuna River.
– These villages are dominated by Mallah community which has been traditionally involved in riverbed farming along Yamuna delta in the region, growing fruits and vegetables.
– "With Yamuna River becoming shallower by each passing day, most of the villagers were forced to relocate to Ganga delta region to take up farming. We have been raising the issue of releasing water in Yamuna through Hathinikund barrage, but to no avail," said Mohammed Saleem, a local farmer of Ramda village.
– "Yes, there has been a migration in our village, but not due to any persecution. All have left because nothing was left here," Saleem said, adding: "BJP only talks about Ganga, Yamuna is nobody's concern."
– The families return to their villages with the onset of monsoon and leave as it withdraws. The rest ten months are spent far from the villages along the Ganga where they live in makeshift tents.
– Another pressing concern haunting the farmers is mining along the riverbed. "Mining reduces water holding capacity of the river, and currents bring water into fields," said Munnawar, another farmer.
– According to an estimate, there are more than 20,000 eligible voters in these villages, and most of them would not be able to cast vote as they are away from their homes. https://timesofindia.indiatimes.com/elections/lok-sabha-elections-2019/uttar-pradesh/news/the-kairana-exodus-nobody-is-talking-about/articleshow/68694826.cms  (3 April 2019)
– While Yamuna river is drying in Panipat, Haryana, it faces flash flood spell in Vrindavan some 250 km downstream. The source of water is reported to be Hindon river. But from where water is put in Hindon and why water release was made is unknown.
– The move has hit hard the floodplain farmers in Vrindavan.
Water level drops in Yamuna, 2 dozen localities reel under water scarcity As the maximum temperature of Agra reached a sweltering 40 degrees Celcius on April 7, the water level of Yamuna dropped close to its minimum level of 480 feet at Jeevani Mandi water works station. With treatment plants not getting sufficient supply of raw water, around two dozen localities in Agra suffered from water scarcity on Sunday.
According to a senior Jal Sansthan official, water treatment plants are not working properly due to the poor quality of raw water. In case the water level decreases any further, motor pumps will stop lifting raw water to the intake well and major parts of the city will suffer water crises.
On April 7, water level of the Yamuna at Jeevani Mandi was recorded at 481 feet. Since the last two days, the water level hasn't crossed 482 feet. The canal through which raw water is supplied was filled with sand. The Jal Sansthan is yet to deploy an excavator to remove it.
Agra needs at least 1800 cusec water per day from Gokul Barrage on Yamuna, but with increasing temperature and the subsequent demand for water, the water level has decreased. On an average, only 1000 cusec water is being discharged in the river since the last two weeks. https://timesofindia.indiatimes.com/city/agra/water-level-drops-in-yamuna-2-dozen-localities-reel-under-water-scarcity/articleshow/68767950.cms  (7 April 2019)
Hindon River NGT slams govt; demands Rs 5 crore bond A four-judge bench of the National Green Tribunal has asked the Uttar Pradesh government to furnish a Rs 5 crore compliance bond for failure of the state authorities to redress deadly health hazards faced by residents in villages lying along the Hindon river.
The NGT four-judge bench noted that 71 persons had died of cancer and more than 47 had been rendered bed ridden over the last two years in Gangnauli village in Baghpat district alone. There have been numerous cases of liver cancer and other ailments caused due to consumption of water.
Approximately 50 lakh people live in 154 affected villages along the Hindon River (comprising its tributaries Kali and Krishna rivers), in a broader area across predominantly Jat districts of western Uttar Pradesh- Muzaffarnagar, Shamli, Baghpart, Meerut, Ghaziabad and Gautam Budh Nagar. https://www.nationalheraldindia.com/india/ngt-slams-yogi-govt-for-failure-to-provide-clean-water-in-154-jat-villages-in-western-up-demands-rs-5-crore-bond-lok-sabha-elections-bjp  (17 March 2019)
RIVER BIODIVERSITY
Gujarat Vulnerable smooth-coated otters face poaching threat  The vulnerable smooth-coated otters that had made a comeback in central and south Gujarat in past one decade are now facing serious threat from poachers in Hansot taluka of Bharuch.
– Poaching activity of the otters was unearthed by the city-based Gujarat Ecology Society (GES) that had rediscovered them in 2016. While it was believed that the local prawn farm owners and fishermen were killing the otters to protect their harvests, investigation conducted by GES with the support of Wildlife Trust of India and Stop Poaching Fund revealed that a gang led by a Haryana man has been targeting the otters since 2011 for its water-resistant skin. The skin is smuggled to Nepal, Myanmar, China and Bhutan as it is used for making jackets, hats, mufflers and traditional skirts worn by women in China. "The poachers trick locals by saying that otters are used for making medicines for arthritis and energy pills," said Akshit Suthar, who is working with the GES.
– The villages in which the water bodies are targeted the most are Sisodra, Sunav, Bolav, Parvat, Jetpor, Ankalva, Vansoli, Kanta Sayan, Vamleshwar, Motvan and Hajat. Suthar said that as per an estimate at least 50 otters have been poached since 2011. The gang of poachers has used clutch wire snares and traps for trapping the otters. "When the otter comes out of the water body, it grooms itself by rolling on floor to dry its fur. During that grooming activity they get trapped," Suthar said. https://timesofindia.indiatimes.com/city/vadodara/vulnerable-smooth-coated-otters-face-poaching-threat/articleshow/68661685.cms   (1 April 2019)
CAUVERY The hump-backed mahseer is now 'critically endangered' The hump-backed mahseer—a large freshwater fish also called the tiger of the water and found only in the Cauvery river basin (including Kerala's Pambar, Kabini and Bhavani rivers)—is now "Critically Endangered": more threatened than the tiger is, as per the International Union for Conservation of Nature's Red List of Threatened Species. The fish is one of the 229 species added to the Red List last November; this update also reveals that the threat status of 12 other Indian species, including great hornbills, has increased. https://www.thehindu.com/sci-tech/energy-and-environment/the-hump-backed-mahseer-critically-endangered/article26653559.ece   (27 March 2019)  
BRAHMAPUTRALocals catch fish weighing 73-kg in Barpeta Huge seemingly Garua fish caught from Brahmaputra River in Barpeta district's Senimari. It reportedly weighed 73 kg & was sold at Rs 500 per kg. https://www.pratidintime.com/watch-what-a-huge-fish-caught-in-barpeta/  (28 March 2019)
– Similarly, in July 2017, a giant catfish, probably the biggest catfish ever found in Himalayan rivers, weighing ~125kg was caught in Ramganga river near Corbett national park in Uttarakhand. https://www.hindustantimes.com/india-news/what-s-for-dinner-in-this-uttarakhand-village-a-125kg-monster-catfish/story-fFBKcSU2Vq7FdCxipMfl3K.html  (26 July 2019)
FISH, FISHERIES, FISHERFOLKS
DMF PR 040419 NGT Asks Govt of India to Submit Report on Its Efforts to Contain Pollution from Bangladesh & Directs the West Bengal govt to Submit Explanation Regarding Alleged Dumping of Garbage
NGT, in its order dt. 2nd April 2019, has observed  "that discharge of untreated effluents from Bangladesh is also one of the major cause of the pollution of River Churni and it will have to be taken care by Ministry of External Affairs, Government of India and Ministry of Environment, Forest and Climate Change, if at all." Further, NGT has directed the West Bengal State Government "to address the matter to the Ministry of External Affairs, Government of India and Ministry of Environment, Forest and Climate Change shall pursue the matter with the Ministry of External Affairs, Government of India and take necessary steps in this regard to help the West Bengal Government to make the State pollution free in this regard. NGT has also directed the Ministry of External Affairs, Government of India to submit a report in the matter.
 Advocates Ms. Sharon Mathew with Ms. Kanika Sood of LIFE representing the Mathabhanga-Churni Restoration Committee affiliated with Dakshinbanga Matsyajibi Forum (DMF) had submitted to the NGT that Ranaghat Municipality was continuing  garbage dumping in and by the side of river Churni. They had submitted a number of photos taken by activists as evidence. On this the NGT directed Mr. Anchintya Kumar Banerjee, Advocate and learned Counsel for Ranaghat Municipality to submit a report regarding the allegation made with photographs showing dumping of garbage and if the allegation was true, state the steps taken to remove the same and disposal of the same within a period of one month from 2nd April 2019.
DMF thanks LIFE for its steadfast efforts in pursuing the Mathabhanga-Churni pollution eradication case in NGT and requests all, including the fisher people, concerned citizens and activists to put up a relentless struggle till the Mathabhanga-Churni rivers are made pollution free. http://www.indiaenvironmentportal.org.in/content/462775/order-of-the-national-green-tribunal-regarding-churni-river-pollution-due-to-discharge-of-untreated-effluents-west-bengal-02042019/  (2 April 2019)
SAND MINING
Andhra Pradesh NGT imposes Rs 100-cr penalty on govt over illegal sand mining The NGT has slapped an interim penalty of Rs 100 crore on the government for inaction to prevent illegal sand mining in the state. A bench, headed by NGT Chairperson Justice Adarsh Kumar Goel, directed the chief secretary of Andhra Pradesh to forthwith prohibit all unregulated sand mining. The green panel said it is the duty of the government to provide complete protection to the natural resources as a trustee of the public at large.
The tribunal directed the state government to deposit Rs 100 crore 'environment compensation' with the CPCB within a month. It also constituted a committee comprising CPCB, MoEF&CC, National Institute of Mines, Dhanbad, IIT Roorkee and Madras School of Economics to undertake environment damage assessment within three months and furnish a report to this Tribunal. The tribunal's direction came on a plea filed by Andhra Pradesh resident Anumolu Gandhi, alleging illegal sand mining was causing damage to Krishna, Godavari rivers and their tributaries in the state.  https://indianexpress.com/article/india/andhra-pradesh-illegal-sand-mining-national-green-tribunal-5663692/  (7 April 2019)
Illegal sand mining rampant in district: PCB Irregularities in sand mining in Krishna and Guntur districts came to the fore in the joint inspections by Central and State pollution control boards. As per the directions of the NGT, which was responding to the petition filed by one Anumolu Gandhi and three others regarding illegal sand mining near the CM's residence in Undavalli, the AP PCB and CPCB had carried out inspections on January 17 and 18, and submitted a report to the tribunal. 
As per the report the inspections were carried out at Penumaka, Venkatapalem, Uddandarayunipalem, Lingayapalem and Rayapudi of Guntur district, and Surayapalem, Guntupalli and Ibrahimpatnam in Krishna. All of the places mentioned above are within 15 km distance of the CM's residence. 
In accordance with the free sand policy of the State government, collectors of both Krishna and Guntur districts had permitted desiltation for extraction of river sand; permission for extraction of a total of 24,55,333 tonnes of sand in Guntur and 9 lakh tonnes in Krishna was granted. 
It was found that sand was being dug from a depth of 25 feet; 34,650 tonnes per day was being mechanically extracted and transported in 2,500 trucks and tractors every day throughout the year. During the inspection, the officials discovered that the excavation at the river bank in Lingayapalem was being done without permission; unpaved ramps and narrow roads resulted in dust emissions during movement of vehicles. http://www.newindianexpress.com/cities/vijayawada/2019/apr/06/illegal-sand-mining-rampant-in-district-pcb-1960885.html  (6 April 2019)
Karnataka Illegal sand extraction affects clam collection The illegal sand extraction in River Nethravathi, including at 'Kudru' areas in Ullal, have taken a toll on traditional fishing carried out by many families. The families were eking out a livelihood by catching clam (locally called maruvai) in Kudru in Ullal. Illegal sand extraction has severely affected livelihood of families as clams and fish are not available in the river for a year now.
The reduction in catch had led to livelihood crisis and uncertainty, adding to the woes of clam collectors. The families alleged that the intensified illegal sand mining in the region had resulted in fish famine and disappearance of clams in the area. https://www.deccanherald.com/illegal-sand-extraction-affects-clam-collection-723916.html  (18 March 2019)    
Blaming govt policy, Udupi lorry owner plead for mercy killing Katpady Lorry Owners Association secretary Raghavendra has appealed for euthanasia (mercy killing) for him and his family members, after facing severe problems after District Administration ordered sand ban. "I have struggled a lot and tried to overcome this problem. But day by day the situation is getting worse and I am facing financial issues," he said. Raghavendra said he had 4 tippers and 12 workers who were dependent on him. Now he has one tipper and is sitting jobless.
"The district administration has created artificial sand shortage. I have borrowed bank loan of Rs 7 lac for tipper and Rs 12 lacs for purchasing land. Hence, I am supposed to pay around Rs 30,000 to bank every month. I have managed to repay loans so far by mortgaging ornaments and survived with the help of friends. But, I do not have capacity to face this situation anymore," he alleged.  https://www.daijiworld.com/news/newsDisplay.aspx?newsID=573250   (25 March 2019)
Kerala Greens come to rescue of Olive ridley turtles Overcoming the challenges posed by the August deluge, heatwave and other impediments (sand mining), environmentalists and local people have incubated and released 226 hatchlings of endangered Olive ridley turtle to sea at Thottappally coast.
The Thottappally coast is one of the prime locations for egg-laying turtles in the State.  Mr. Jayamohan said the floods and sea erosion had eroded around seven acres of the coast that used to be the main nesting sites of Olive ridleys. Other than the mineral sand-mining at the Thottappally harbour, the move to extract mineral sand from the Thottappally estuary will further adversely impact the nesting of turtles, the environmentalists warned. https://www.thehindu.com/news/national/kerala/greens-come-to-rescue-of-olive-ridley-turtles/article26747320.ece  (5 April 2019)
Tamil Nadu Parties, protesters give a clean burial to illegal sand mining Illegal sand mining was singled out as the root cause of water scarcity and protests have been raging for years over it, but come elections, the issue figures nowhere in party manifestos or speeches of leaders. In fact, it is not just the political parties which have pushed the issue of illegal sand mining to the backburner, even the protesters seem to have forgotten it. Both the AIADMK and DMK have consciously left out the issue from their election manifesto.
Ever since the Madurai bench of Madras HC clamped a ban on sand mining and quarries across Cauvery, Kollidam, Thamirabarani, Palar and Amaravathi rivers were shut in August 2018, illegal mining has been thriving with the support of influential people. The anti-social elements now target small rivers in the area as is evident from the cases registered in Trichy region in the past seven months. Curiously enough, the farmers' associations and activists who had staged protests against the illegal sand mining saying it led to depletion of ground water are now silent.
Tamilaga Vivasayigal Sangam district president M P Chinnadurai pointed out the failure of the farmers' associations to rake up the issue during the election. "Our focus is restricted to agriculture loan waiver. The sand mining issue should have been on top of our demands," he said adding that the mysterious disappearance of environmental activist S Mugilan also may have prevented others from taking up the issue. https://timesofindia.indiatimes.com/city/trichy/parties-protesters-give-a-clean-burial-to-illegal-sand-mining/articleshow/68730429.cms  (5 April 2019)
Madhya Pradesh Illegal mining continues in Chambal sanctuary  The decimation of natural habitat in the process of illegal sand mining on the banks of Chambal river is the primary source of their distress. Understanding the threat caused by illegal sand mining to the sensitive gharials and other flora and fauna in the region, the SC had banned it. However, it has been almost 13 years after the ban, illegal mining continues to be more rampant in the Gwalior-Chambal area.
To confirm the ongoing illegal mining, The Logical Indian contacted forest officials of the area. One of the officials under anonymity confirmed that illegal mining has been continuing on both the sides, i.e. Uttar Pradesh and Madhya Pradesh sides of the river. However, he said illegal mining activities on both sides have come to a halt due to the upcoming elections. It is very likely that the mining will restore after the elections are done. https://thelogicalindian.com/news/illegal-sand-mining-chambal-gharial/  (26 March 2019)
Illegal sand mining flourishing in Gwalior Illegal sand mining continues to be rampant in the Gwalior- Chambal area, with the sand mafia getting bolder and audacious by the day. Despite tell-tale signs of tractors criss-crossing the banks of the rivers in the division and trucks laden with illegal sand thundering on the highways the administration seems to be helpless and clueless to check the illegal activity. It looks like neither the District Administration nor the Police have the guts to take on the sand mafia.
Places like Morena, Bhind, Bhitarwar, Datia and Dabra continue to be hotspots of this illegal mining.  There are unconfirmed reports that most of the illegal mining in the Gwalior- Chambal Division is being done with the connivance of the police and the mining department. The fact that the sand mafia is able to ferry sand in hundreds of trucks everyday lends some credence to those reports. If the sand mafia is being shielded by the mining officials, police and the district administration for petty shares from the illegal business, it is a sad state of affairs. https://www.dailypioneer.com/2019/state-editions/illegal-sand-mining-flourishing-in-gwalior.html  (14 March 2019)  
Haryana 2 cases of illegal mining registered in Naraingarh The Ambala district police on the complaints of assistant mining officers have registered two separate cases of illegal mining in Dera village and Badoli village in the district. Based on the complaint, the Naraingarh police have registered a case against the two accused under Section 21 (4) (A) of the Mines and Minerals (Regulation of Development) Act and Section 188 (disobedience to order duly promulgated by public servant) of the Indian Penal Code.
In the second case, the illegal miners indulged into a quarrel with the mining officials and obstructed them from government work. The incident took place on March 28 when mining guards Roshan Lal and Jaspal Singh were inspecting a spot where the accused were mining sand from Begna river in Badoli village limits. When the officials attempted to note down the chassis and engine number of the tractor, they indulged in a quarrel with the officials and tore their uniforms. All the three accused threatened the mining officials and then escaped the spot along with tractor and machine. https://timesofindia.indiatimes.com/city/gurgaon/two-cases-of-illegal-mining-registered-in-naraingarh/articleshow/68730019.cms  (5 April 2019)
5 booked for illegal sand mining Police have registered a case against five persons for their alleged involvement in illegal extraction and transportation of sand from Begna river in Ambala district. District mining officials had carried out an inspection of river Begna on April 5 where they spotted five tractors that were being loaded with illegally mined sand. Following the complaint, Shahzadpur police have booked all the five accused under Section 21(3) and 21(4) of the Mines and Minerals (Regulation of Development) Act to start the investigation. https://timesofindia.indiatimes.com/city/gurgaon/ambala-5-booked-for-illegal-sand-mining/articleshow/68756038.cms  (6 April 2019)
WETLANDS, LAKES, WATER BODIES
SANDRP Blog Wetlands Overview 2019: North India – No Land for Wetlands As part of annual exercise, SANDRP is presenting overview on the status of wetlands over past one year. The overview focuses on incidents of abuse and threats to wetlands across the country.
The report also highlights the details of central and state governments' initiatives and administration actions taken aiming at wetlands protection. Apart from this, there is attempt to throw some light on judicial intervention and ongoing court cases regarding wetlands conservation. https://sandrp.in/2019/04/06/wetlands-overview-2019-north-india-no-land-for-wetlands/    (4 April 2019)
Kerala Greens warn of large scale paddy, wetland reclamation during election Environmentalists are apprehensive that unscrupulous elements may exploit the official machinery's preoccupation with elections to engage in rampant violation of the Kerala Conservation of Paddy Land and Wetland Act.
A recent attempt to illegally fill the paddy fields at Edachira near Kakkanad is seen as an early indication of such a trend, though it was foiled after the police crime-stopper was alerted at the instance of the District Collector.
"Over the years, the election period has witnessed rampant illegal filling of paddy fields and wetlands. Police intervention is the only effective deterrent to check it," environmental activist and lawyer Harish Vasudevan, whose social media post had alerted the district administration to the Edachira incident, told The Hindu. https://www.thehindu.com/news/cities/Kochi/greens-warn-of-large-scale-paddy-wetland-reclamation-during-election/article26580425.ece   (19 March 2019)
Tamil Nadu Chennai waterbodies on death row Field report finds 3 main problems of sewage inflow, encroachments and garbage dumping reason behind rapid degradation of 8 lakes in South East Chennai. http://www.newindianexpress.com/cities/chennai/2019/apr/03/chennais-waterbodies-on-death-row-1959849.html  (3 April 2019)
WATER OPTIONS
Kerala Rooftops That Recharge 4.5 Lakh Wells: How Kerala's Thrissur Solved Its Water Scarcity!  Nonetheless, the Mazhapolima programme has shown us the blueprint of how activists, communities, and governments can innovate to address the vagaries of climate change, thus protecting even traditionally heavy rainfall regions from undue water scarcity. https://www.thebetterindia.com/178186/kerala-rainwater-harvesting-recharge-well-thrissur-india/  (5 April 2019)
Delhi  Floating 'purification islands' fix water pollution in Rajokri lake DJB initiative of introducing "purification islands" to soak up pollutants and purify the water in Rajokri lake has reportedly shown positive results. Ankit Srivastava, advisor to DJB, explained that the 2×2-metre rafts have a framework of PVC pipes lined with geo-netting to support the plants like cyperus and canna. "A mix of different hormone-treated plants is used on each float to increase the nutrient uptake," he said.
Each raft costs around Rs10,000, including maintenance for a year. Around two dozen such islands have been introduced and DJB plans to have 60 ultimately. The NEERI created the framework for the floats, but vendors are now manufacturing it. A similar experiment is being carried out at the Hauz Khas lake, where algal bloom has turned the water green. https://timesofindia.indiatimes.com/city/delhi/floating-islands-find-fix-to-water-pollution/articleshow/68713165.cms  (4 April 2019)
Uttar Pradesh 26-yr-old engineer brings 10 ponds back to life Ramveer Tanwar, who has a BTech in mechanical engineering, recently quit his job with a multinational to focus on a cause dear to him — saving ponds. "Water conservation is a more significant career for me than sitting in an AC office," says Greater Noida's resident water crusader, who has been instrumental in reviving 10 village ponds in the last five years. Greater Noida, part of Gautam Buddh Nagar district, is home to hundreds of smaller ponds have been neglected — until now.
A farmer's son, Tanwar grew up in Greater Noida's water bodies. The bigger ones, like the 60-acre Surajpur wetland, are protected by forest conservation rules, but Dadha village, an area that has witnessed water shortages time and again. He noticed how small water bodies, around which community life traditionally revolves in the rural hinterland of Uttar Pradesh, were often treated as garbage dumps. "I grew up seeing this mistreatment of water bodies, even when we were facing droughts," he says. https://timesofindia.indiatimes.com/india/26-yr-old-engineer-brings-10-ponds-back-to-life/articleshow/68759278.cms  (7 April 2019)
Tamil Nadu WRD launches ₹1-crore pilot project to store rainwater – Funded by the Japan International Cooperation Agency (JICA), the ₹1-crore project involves the construction of a massive underground tank with a capacity to store nearly six lakh litres of rainwater at the State Ground and Surface Water Resources Data Centre, Taramani. The project was formally handed over at an event in the city on March 26.
– Aqua Palace, a technology that uses plastic components, was adopted for the project to maximise storage? https://www.thehindu.com/news/cities/chennai/wrd-launches-1-crore-pilot-project-to-store-rainwater/article26647453.ece   (27 March 2019)
GROUNDWATER
Study Usable groundwater depleting in east India despite increasing rainfall A study that examined the status of the stock of groundwater available for extraction across the country revealed that Assam has lost the maximum amount of usable groundwater stock (between 2003 to 2015) in India.
"Assam and east India which were considered 'water-affluent' are experiencing loss in usable groundwater volume at a rate faster than it can be replenished," lead researcher Abhijit Mukherjee of Indian Institute of Technology, Kharagpur said. The study combined borehole data from Central Ground Water Board, rainfall data and satellite data from NASA's Gravity Recovery and Climate Experiment (GRACE), a pair of satellites launched in 2002.
It showed Assam lost two percent of the groundwater stock (up to a maximum aquifer depth of 300 metres) that could have been used. https://india.mongabay.com/2019/03/usable-groundwater-depleting-in-assam-despite-increasing-rainfall-finds-a-study/     (27 March 2019)
Punjab Situation grim so act before it is too late: CGWB –  With no corrective measures being taken to recharge groundwater or boost crop diversification to check groundwater depletion in Punjab, the Central Ground Water Board (CGWB) has again reminded the deputy commissioners of various districts to initiate action against those violating the ban on tubewell boring in the notified areas.
– Anoop Nagar, regional director of CGWB, said as per the reports available with the CWGB, the annual replenishable groundwater resource in Punjab was 22.53 billion cubic metres (BCM) and the net annual groundwater availability was 20.32 BCM. However, the annual ground water withdrawal was 34.88 BCM, putting 110 blocks in Punjab in over exploited zones, four in critical and two in semi-critical zones.
– Meanwhile, highly-placed sources in the state government said last year, the state government in consultation with the experts of Punjab Agriculture University (PAU) had extended the date of paddy plantation by five days, which had saved enough groundwater that can meet the domestic and industrial needs of the entire state for over two-and-a-half years.
– Sources said this year also, the government was planning to extend the paddy plantation date by another five days for which agricultural experts were being consulted. They said as monsoons reach this part of the country during the end of June, extending of dates for paddy plantation can cut down over withdrawal of groundwater. https://timesofindia.indiatimes.com/city/ludhiana/groundwater-situation-grim-so-act-before-its-too-late-cgwb/articleshow/68651055.cms  (31 March 2019)
Maharashtra New rules for groundwater extraction The Groundwater Survey and Development Agency (GSDA) is likely to implement the draft Maharashtra Groundwater (Development and Management) Rules, 2018, once the model code of conduct is lifted.
– A major rule in the draft is the registration of wells. "The state groundwater authority will publish a notice mentioning the calendar and procedure for registration of all the wells in the state, using print and electronic media, directing all the owners of wells in the notified and non-notified areas to register their wells. Every owner, within 180 days from the date of the publication of the notice, will have to apply to the district authority or the designated officer for registration of the well," a GSDA official added.
– Another mandatory provision says the state government, in consultation with the groundwater authority, will levy and collect an annual cess through the revenue department on the extraction of groundwater for agricultural or industrial use from the existing deep wells in non-notified areas. The cess will be two times the cess levied by Maharashtra Water Resources Regulatory Authority. https://timesofindia.indiatimes.com/city/pune/new-rules-for-groundwater-extraction/articleshow/68661533.cms  (1 April 2019)
URBAN WATER
Karnataka Supreme Court lifts stay on KC Valley project The Supreme Court on April 5 lifted its stay on the government's ambitious scheme to pump secondary treated water from the STPs of Bengaluru city to minor irrigation tanks situated in the arid districts of Kolar and Chikkaballapur. A bench of Chief Justice Ranjan Gogoi and Justices Deepak Gupta and Sanjiv Khanna noted submission by the Bangalore Water Supply and Sewerage Board (BWSSB) and the Karnataka Pollution Control Board, that the water was not meant for drinking purpose but intended to recharge the groundwater.
– After vacating its stay order of January 7, the top court asked R Anjaneya Reddy, president of Shashwatha Neeravari Horata Samithi, represented by advocate Prashant Bhushan, to approach the high court. The court disposed of the special leave petition even as Bhushan claimed test reports of the water showed higher level of pollutants. The top court had earlier suspended the operation of the interim order issued on Sept 28, 2018 by the HC, which refused to stay the scheme.
A writ was filed in the high court. The state government had claimed the petition was "motivated and malafide and filed at the behest of downstream users of water at Bellandur lake." The K&C valley and H&N Valley projects, being implemented by the government, envisaged pumping of 210 MLD of secondary treated water or reclaimed water from Nagavara, Hennur and Horamavu STPs to Amani Gopal Krishna Kere and onwards to fill 65 tanks in Bengaluru rural and urban and Chikkaballapur districts. https://www.deccanherald.com/state/supreme-court-lifts-stay-on-kc-valley-project-727223.html      (5 April 2019)
Mumbai Why the city is water-deficient? A misguided water policy, rapid unfettered urbanisation, lack of vision and a growth model characterized by indiscriminate greed is killing Mumbai and depriving the city of its basic right to quench its thirst. The 1.2 crore residents of the megapolis currently face a 10 percent water cut, effective since November 15, 2018. http://citizenmatters.in/mumbai-water-cuts-dams-lakes-rainwater-harvesting-10978  (6 April 2019)
Excellent video of Mumbai Pani Haqq Samiti work of YUVA friends  (1 Feb. 2019)
WATER
Report Under NDA, rural drinking water takes a back seat Since 2014, the NDA has cut funding for rural drinking water and focused more on sanitation, leaving millions without access to safe and assured water. https://www.livemint.com/politics/policy/under-nda-rural-drinking-water-takes-a-back-seat-1554649311653.html  (8 April 2019)
Coal Ministry Strange claim; water from coal mines benefits 7 lakh people?? Coal industry makes a strange claim that it is quenching thirst of 6.61 lakh beneficiaries in 498 villages across six coal-bearing states. According to coal ministry data, some 610 Million cubic metre water is pumped out annually from the mines of Coal India. It is claimed that CIL mines supply 48.4 MCM water for domestic use and 59.9 MCM water for irrigating 2,060 ha during 2017-18. No figures are given as to how many people and how much land is deprived of water by CIL. https://energy.economictimes.indiatimes.com/news/coal/water-from-coal-mines-benefits-7-lakh-people/68680208   (2 April 2019)
Corruption in WB Projects Nod for probe into WB funded project About violations  and corruption in USD 1 Billion World Bank funded drinking water project in UP, Bihar, Jharkhand and Assam. https://indianexpress.com/article/india/adivasi-residents-complain-inspection-panel-finds-anomalies-nod-for-probe-into-world-bank-funded-project-in-jharkhand-5657583/   (4 April 2019)
Bihar Villagers drinking water from ponds due to acute crisis Chanwadi village in Banka district of Bihar is going through an acute water crisis forcing the residents to drink water from dirty ponds. Comprising a population of around 800 people, the villagers do not have access to potable water. The village comes under the constituency of RJD, MP Jai Prakash Narayan Yadav.
"There are no government facilities and people are falling sick after drinking dirty water. There is not a single hand pump or well in the village. The government has not fulfilled any of its promises," said Sheila Devi, a resident. "Politicians seek votes at the time of elections but never come back to fulfil their promises. Humans and animals drink the same water in our village," added another dweller Sarju Pujhar. https://www.timesnownews.com/mirror-now/civic-issues/article/bihar-villagers-drinking-water-from-ponds-due-to-acute-crisis/395538  (6 April 2019) 
Report Could special ATMs solve the lack of clean drinking water? The key message here is not that water ATM is a solution (it is not) but what state the people who are doing the greatest service by recycling solid waste at such huge personal risk and cost and how difficult it is for them to get bare minimum quantity of clean water.  https://www.taiwannews.com.tw/en/news/3672508       (3 April 2019)
AGRICULTURE
Gujarat Court orders power firm to compensate farmer for crop failure  In a rare consumer dispute, a court has ordered a power company to compensate a farmer for crop failure after the company could not restore disrupted electricity connection. The Consumer Dispute Redressal Forum in Rajkot has directed the state-run Paschim Gujarat Vij Company Ltd (PGVCL) to pay Rs 50,000 with 7% interest to one Lalit Patel, whose farm is near Rajkot town in Saurashtra. The electricity company has also been ordered to pay Patel Rs 3,000 towards compensation for mental agony suffered by the farmer and expenditure borne by him on litigation. https://energy.economictimes.indiatimes.com/news/power/court-orders-power-firm-to-compensate-farmer-for-crop-failure/68680995   (2 April 2019)
MONSOON
Skymet forecasts below normal Southwest Monsoon in 2019 Private weather forecasting service, SKYMET has predicted on April 3, 2019 that monsoon rainfall will be 93% or 7% below Normal. 
– It predicts 77% (of Long Period Average) rainfall in June, 91% in July, 102% in Aug and 99% in September.
– Coastal Andhra, Odisha and Chhattisgarh are likely to get normal rains throughout the monsoon. https://www.skymetweather.com/content/weather-news-and-analysis/southwest-monsoon-forecast-2019-skymet-forecasts-below-normal-monsoon-at-93-percent-of-lpa/  (3 April 2019)
Mild El Niño may hamper monsoon  More Bad news for India SW Monsoon 2019. El Nino could extend beyond spring (March-May 2019, 80% chance) to Summer (June-Sept 2019, 60% chance), as per Climate Prediction Centre of NOAA of USA. This could mean the monsoon could be worse than what Skymet has predicted.
– Raghu Murtugudde of University of Maryland, College Park, US, said though an El Nino event did appear very possible, a clearer picture would emerge only in subsequent weeks. He said if the sub-surface warming in the equatorial Pacific Ocean was not neutralised by an easterly wind event, it was likely that current forecasts would hold. "If instead a westerly wind event occurs, it will greatly strengthen chances of an El Niño. That would not be good news for Indian monsoon then," he said. https://indianexpress.com/article/india/mild-el-nino-may-hamper-monsoon/  (4 April 2019)
-"The Pacific Ocean has become strongly warmer than average. The model projections call for 80% chance of El Nino during March-May, dropping to 60% for June to August," said Jatin Singh, managing director of Skymet.
– "This means, it is going to be a devolving El Nino year, though retaining threshold values all through the season. Thus, monsoon 2019 is likely to be below normal." The emergence of a strong El Nino triggered back-to-back droughts in 2014 and 2015.
– Skyment's forecast come a day before the Reserve Bank of India was set to announce its first interest rate decision for the fiscal year 2019-20. Most analysts expected it to cut repo rate by 25 basis points amid subdued inflation. But the central bank's inflation outlook could also be upset by the risk of sharply higher food prices if the monsoon season rains disappoint. https://www.livemint.com/news/india/skymet-says-monsoon-likely-to-be-below-normal-1554279122701.html  (3 April 2019)
FLOOD
DAMS FLOOD KERALA Floods man-made says Amicus Curiae: Demands judicial investigation The court appointed Amicus Curiae has submitted a report to the Kerala High Court, which says that the devastating floods last year in Kerala was caused by mismanagement in the opening of dams.The amicus curiae has demanded a judicial probe into the matter. One hopes the court takes right decision. https://national.janamtv.com/kerala-floods-man-made-says-amicus-curiae-demands-judicial-investigation-6865/  (3 April 2019)
Report of the Amicus Curie in the Kerala High Court on petition regarding the Kerala flood disaster of Aug 2018 quotes SANDRP report published in EPW: https://www.livelaw.in/news-updates/kerala-floods-extreme-rainfall-major-cause-need-expert-body-to-enquire-role-of-dams-reports-amicus-curiae-to-hc-read-report-144042  
The Amicus Curie Report also refers to SANDRP report: https://www.livelaw.in/pdf_upload/pdf_upload-359651.pdf
Meanwhile, State Power Minister, MM Mani April 2 evaded questions when journalists sought his reaction on the report. A visibly angry Mani told reporters: "I have nothing to say on this… you clear out from here… If I ask you people to go out, you should get out from here."  https://www.huffingtonpost.in/entry/lapses-in-dam-management-worsened-kerala-floods-amicus-curiae-report_in_5ca4adeee4b079824025445f    (4 April 2019)
Kerala Opposition leader Ramesh Chennithala demanded that CM Pinarayi Vijayan own up the responsibility for the disaster. The government had denied the opposition's allegations so far about the disaster being man-made, Ramesh said in a statement. BJP state president, P S Sreedharan Pillai demanded the resignation of Vijayan in the wake of the adverse report. Meanwhile, State Power Minister, M M Mani who was visibly angry, evaded questions on April 2, 2019 when journalists sought his reaction on the report, and asked them to get out.    https://www.deccanherald.com/national/kerala-floods-a-result-of-poor-dam-management-726781.html       (3 April 2019) 
DROUGHT
Report Centre not even acknowledging looming drought  About 42% of India's land area is facing drought, with 6% exceptionally dry – four times the spatial extent of drought last year, according to data for the week ending March 26, 2019, from the Drought Early Warning System, or DEWS, a real-time drought monitoring platform. Andhra Pradesh, Bihar, Gujarat, Jharkhand, Karnataka, Maharashtra, parts of the North East, Rajasthan, Tamil Nadu and Telangana are the worst hit. These states are home to 500 million people, almost 40% of the country's population.
– Big water projects do not reap any benefits, Himanshu Thakkar, of SANDRP, told IndiaSpend. "Big government projects like irrigation projects, river linking projects, big hydro and other such mega projects are examples of schemes and programmes that are not helpful," he said, adding that these in fact worsen groundwater depletion. https://scroll.in/article/918797/more-than-40-of-india-is-reeling-under-drought-but-the-centre-may-not-even-acknowledge-it      (4 April 2019)
Gujarat Water Crisis dries  up Thol, Nalsarovar Ahmedabad, a World Heritage City, also boasts of two famous bird-watching sites — Thol Wildlife Sanctuary and Nalsarovar, the only Ramsar site in Gujarat. Blame it on the poor rains or non-release of Narmada water, both the lakes which are top tourist attractions in the state, currently present a gloomy picture.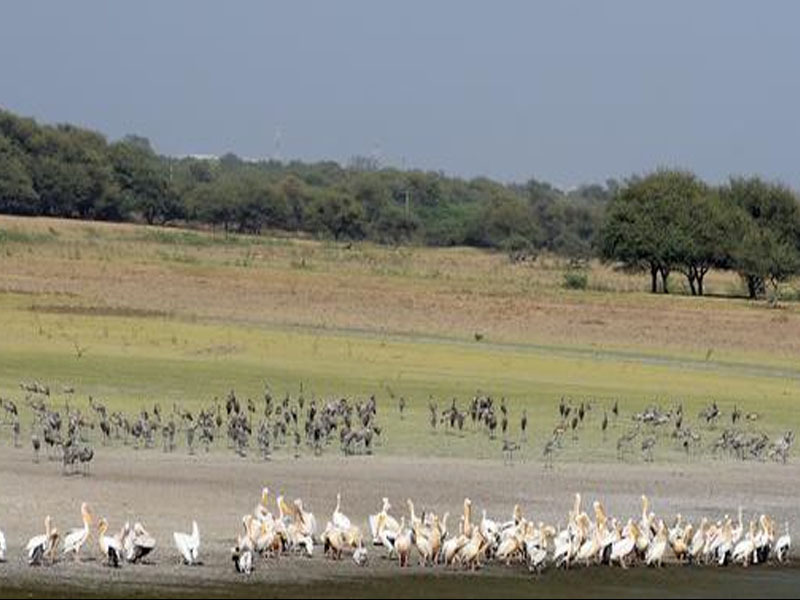 While the Nalsarovar is completely dried up since December last year, Thol has a couple of puddles of water left, and according to forest officials, these patches too will disappear by the April-end. https://timesofindia.indiatimes.com/city/ahmedabad/thol-nalsarovar-in-deep-waters/articleshow/68695149.cms  (3 April 2019)
Leaving the Kutch Grasslands, in Search of Grass  The Banni grassland was once among Asia's finest grasslands, with nearly 200 varieties of vegetation by some counts. The grassland has degraded over the years, owing largely to an invasion by an alien woody species – prosposis juliflora, known locally as gando baval.
The species was introduced in Kutch in the 1960s, with the objective of keeping in check the ingression of the salt marsh desert – the white Rann. The unintended consequence of the intervention has been the degradation of the Banni grassland. In 1989, the area under grasslands was estimated to be 1,42,000 ha, which reduced to 63,000 ha in 2009. The grasslands' productivity has dropped by 84.5%, from 4,000 kg per ha in the 1960s to 620 kg per ha in the 1990s. In 2018, though, there was barely any monsoon rain in Banni – an area of over 2,500 square km.
– According to Remya Mohan, the district collector of Kutch, the drought is the worst in over 30 years. "It is comparable to the drought between 1985 and 1987." Pankaj Joshi of Sahjeevan argues that the kind of migration that we have seen in the current season is exceptional. "This year the drought has been exceptional. The Maldharis haven't migrated like this for over two decades." The Maldharis in Kutch have found a way to monetise the invasive prosopis juliflora by converting it to charcoal. https://thewire.in/rights/gujarat-drought-kutch-grasslands-migration         (28 March 2019)
1 man to balance water supply between 6 drought-fit Kutch villages  There is Drama here with happy ending! Like the rest of Kutch, Lakhpat too is suffering from one of the worst droughts in over 30 years. The scarcity is particularly severe in Lakhpat. It received only 12 millimetres of rainfall in the southwest monsoon of 2018 – 3% of its 30-year average.
Water is pumped from Dayapar, the administrative centre of Lakhpat about 15 km from Midhiyari, and collected in the tanks located there. From there, the pipeline goes further and supplies water to six villages spread in the region. Settlements in Kutch, and particularly in Lakhpat – the most remote and sparsely populated taluka of the massive district – are located at a considerable distance from each other. https://thewire.in/rights/gujarat-drought-kutch-water-pipelines        (4 April 2019)
Gujarat Govt, You Promised Canal Water & Now Send Cops to Stop Us?
Farmers in Nanagoria in Maliya in Surendranagar agitate for Narmada waters. https://www.thequint.com/my-report/dry-canal-surendranagar-gujarat-election-2019    (5 April 2019)
EXCELLENT video in Gujarati by BBC about The Statue of Unity, VIKAS in the name of Narmada Project by Gujarat's famous stand up comedian Manan Desai. Plz Watch and share.    https://www.youtube.com/watch?time_continue=26&v=-EoSEqoYvC0 
VMC seeks more Narmada water The Vadodara Municipal Corporation (VMC) has sought more water from the Narmada project for the Ajwa reservoir. The demand was made after the discharge of water into the reservoir from a Narmada branch canal was discontinued on April 1. In the meantime, the VMC is also looking to complete work on the project to draw water from the dead storage of the reservoir. It can draw around 38MLD water using this infrastructure. https://timesofindia.indiatimes.com/city/vadodara/vmc-seeks-more-narmada-water/articleshow/68712104.cms  (4 April 2019)
The hindi report reveals that ponds and wells have dried up in Kotda Sangani village of Rajkot in Sourashtra and village women facing great difficulties in searching for water as a result the wells are being filled by tanker water.
This seems not the first time when wells are being filled by tankers. In 2016, same happened in Raipur the capital of Chhattisgarh.
40 साल में पहली बार दर्जनों कुएं सूखे, टैंकर से भरा जा रहा पानी राजधानी में भूजल का लगतार गिरता स्तर अलार्मिंग स्थिति में पहुंच गया है। इसका अंदाजा ब्राम्हण पारा में कुओं की स्थिति से लगाया जा सकता है। हालत यह है कि कभी लबालब रहने वाले यहां के दर्जनों कुएं भी सूख गए हैं। कुओं की प्यास बुझाने के लिए टैंकर बुलाने की नौबत आ गई है। ब्राम्हण पारा शहर का वह इलाका है,जहां हर चौथे घर में एक कुआं है। यहां के कुएं पिछले चार दशक से इलाके के बांशिदों की प्यास बुझा रहे हैं। ब्राम्हण पारा को कभी पानी के लिए टैंकर और सरकारी नल पर निर्भर नहीं होना पड़ा था, लेकिन 40 सालों में पहली बार ऐसा हो रहा है, जब कुएं को तर करने के लिए टैंकर बुलाने पड़ रहे हैं। https://naidunia.jagran.com/chhattisgarh/raipur-for-the-first-time-in-40-years-dozens-of-dried-wells-tankers-being-filled-with-water-735738  (7 May 2016)
In 2013 also, wells were filled with tanker water in Raipur.
गर्मी से सूखे कुएं, टैंकर से भरा जा रहा है पानी छत्तीसगढ़ में भीषण गर्मी का असर पानी पर भी दिख रहा है। भूजल स्तर गिरने से कई इलाकों में तरह-तरह के उपाए किए जा रहे हैं। प्रदेश के पलारी नगर पंचायत में लोगों को पानी की समस्या से निजात दिलाने के लिए सभी शासकीय कुओं में टैंकर से प्रतिदिन पानी डाला जा रहा है। बताया जाता है कि नगर में कुल जमा 15 वार्ड हैं, जिनमें लगभग 15,000 लोग रहते हैं। https://hindi.news18.com/news/city-khabrain/%E0%A4%9B%E0%A4%A4%E0%A5%8D%E0%A4%A4%E0%A5%80%E0%A4%B8%E0%A4%97%E0%A4%A2%E0%A4%BC-%E0%A4%97%E0%A4%B0%E0%A5%8D%E0%A4%AE%E0%A5%80-%E0%A4%B8%E0%A5%87-%E0%A4%B8%E0%A5%82%E0%A4%96%E0%A5%87-%E0%A4%95-185344.html  (26 May 2013)
Andhra Pradesh Losing Their Fields And All Hope, Andhra Farmers Turn Daily Wagers Detailed report by India Spend on impact of drought:- Coming after consecutive drought years, 2018 brought the worst drought in 20 years. The state government declared 347 mandals (blocks) drought-affected in nine of 13 districts. Further, the entire state received 32% deficient rainfall between June 2018 and April 2019, affecting the main kharif and rabi (October to March, or winter) crops.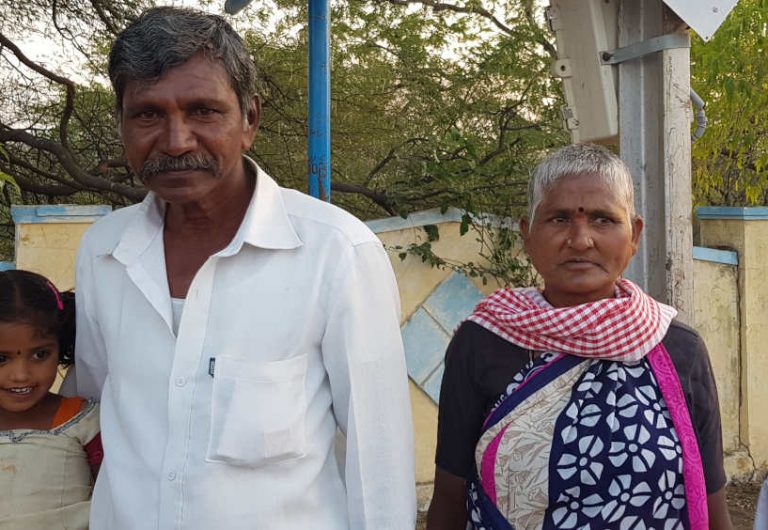 – Today, agriculture holds no hope for small or big farmers in western Andhra Pradesh. Recurring droughts and the absence of alternative employment opportunities have forced hundreds of thousands of small, marginal and landless farmers, mostly from the Scheduled Castes/Tribes and Backward Castes, to migrate in the post-kharif (July-August monsoon cropping season) period, around Dussehra in October every year. They go in search of daily-wage jobs in agriculture or construction, both within and outside the state. In 2018, about 700,000 farmers migrated from Anantapur and Kurnool districts, reported the New Indian Express. https://www.indiaspend.com/losing-their-fields-and-all-hope-andhra-farmers-turning-daily-wagers/  (6 April 2019)
Tamil Nadu Kallakurichi residents scramble for water as borewells go dry  – Kallakurichi residents are digging deep and coughing up more money to source water to meet their daily needs as the town and suburban areas face a severe water crisis. People suggested that removing silt from the Gomuki dam would improve storage of water during rainy reasons. It would partially solve the water crisis.
– The depleting water table coupled with gradual reduction in daily supply for Kallakurichi by Tamil Nadu Water Supply and Drainage Board from its Rishivandiyam-Manalurpettai Combined Drinking Water Supply Scheme was the main cause for the present crisis, said a municipal employee.
– As per the scheme of things, the Kallakurichi region was supposed to receive 29.25 lakh litres of water a day to meet household and commercial requirements. The daily supply from the scheme had reduced to 5 to 6 lakh litres a day. And if there was a technical snag in pumping or power outage, supply to the region would be completely disrupted. https://www.thehindu.com/news/national/tamil-nadu/kallakurichi-residents-scramble-for-water-as-borewells-go-dry/article26705744.ece  (1 April 2019)
Chennai to get 500 million cubic feet of water from Mettur The State government has decided to provide the city with an extra supply of around 500 mcft of Cauvery water, a portion of which was released from the Mettur dam on Sunday night, and is expected to reach Veeranam tank in Cuddalore in 10-12 days.
With just less than 700 mcft of water left in all four reservoirs of the city, supply of Cauvery water comes at a crucial time as the city is slipping into a severe drought situation. http://www.newindianexpress.com/cities/chennai/2019/apr/02/chennai-to-get-500-million-cubic-feet-of-water-from-mettur-1959010.html   (2 April 2019)
Karnataka RO water plants summon tankers as borewells in Bengaluru go dry Continuous fall in groundwater table turns many of BBMB's RO plants defunct. Out of the 503 RO plants run by Bruhat Bengaluru Mahanagara Palike (BBMP), several of them, clustered in areas in the northern and eastern parts of the city, are currently facing reduced or negligible water supply, and are having to rely on private tankers for water supply.
– Each plant is handed over to a private operator by BBMP through a tender process. In areas where most borewells have dried up, the private operators are having to buy water from private tankers for a higher rate. Privately-run RO plants are also facing the same issues. Of the 503 RO plants run by BBMP, at least 24 have been lying defunct and have been under repairs for about six months. http://www.newindianexpress.com/cities/bengaluru/2019/apr/02/ro-water-plants-summon-tankers-as-borewells-in-bengaluru-go-dry-1959315.html  (2 April 2019)
Water shortage haunts pockets of Bengaluru Urban district With temperature on the rise, around 120 villages and several areas of Benglauru Urban district are facing acute water shortage and the condition is likely to worsen over the next two months.
With groundwater table plummeting below 1,000ft, residents are digging beyond 1,200ft in search of water. According to officials, Bengaluru Urban district has around 4,434 borewells, dug by the zilla panchayat, to meet water needs in times of crisis. However, 1,355 of them have dried up.
The entire Anekal taluk is affected due to depleting groundwater resources. An official said that of the 230 borewells dug during 2018-19, 29 have already run dry. "We have planned to dig around 75 new borewells in affected areas. As Anekal taluk is the worst hit, we have decided to earmark Rs 50 lakh to dig new borewells here. For the other taluks, Rs 25 lakh each has been sanctioned," he added.
Meanwhile, those digging illegal borewells may not get three-phase power connection from Bescom as permission from the mines and geology department is mandatory before undertaking any borewell digging. https://timesofindia.indiatimes.com/city/bengaluru/water-shortage-haunts-pockets-of-bluru-urban-dist/articleshow/68768873.cms  (8 April 2019)
Maharashtra 90% drought in Marathwada, 100% apathy, claim villagers While state govt started declaring drought in November 2018, almost five months later, villagers said relief measures are yet to reach them.
– Drought was declared in 20,000 villages across 26 districts. Eight districts of Marathwada are among the worst hit. Here, more than 90% of the villages — 7,765 of 8,534 villages — have been hit. In five districts, every village is reeling under drought, according to govt figures.
– As part of relief measures, the govt promised water tankers and setting up cattle camps. But, residents allege tankers don't arrive, as revenue officials have marked many dry wells as live water sources. https://www.hindustantimes.com/mumbai-news/90-drought-in-marathwada-100-apathy-claim-villagers/story-dMTmZERpB3ryjlV1qU4cUM.html   (2 April 2019)
Shiv Sena corporator Amardeep Rode was on March 31 hacked to death allegedly by two of his friends following a scuffle over water in Parbhani district, police said. https://timesofindia.indiatimes.com/city/aurangabad/shiv-sena-corporator-killed-by-duo-over-water-dispute-in-maharashtras-parbhani/articleshow/68657004.cms  (31 March 2019)
Research Drought not reason behind Bengal famine The 1943 Bengal famine, which resulted in the death of over three million Indians, was a direct result of then British Prime Minister Winston Churchill's policies and not drought. A group of Indian and American researchers have found this, which has been published in a journal, Geophysical Research Letters. The researchers used weather data to simulate the amount of moisture present in the soil during six major Indian famines between 1873 and 1943.
The researchers found that the first five famines, i.e 1873-'74, 1876, 1877, 1896-'97, and 1899 were results of drought, not at the heights of the Bengal famine in 1943 when the rain levels were above average. Congress MP Shashi Tharoor in a famous speech at Oxford in 2015 said, "This is a man the British would have us hail as an apostle of freedom and democracy when he has as much blood on his hands as some of the worst genocidal dictators of the 20th century." https://thelogicalindian.com/awareness/winston-churchill-bengal-famine/   (1 April 2019)
Opinion A drought could test the next government  – No matter which political party stakes claim to form a new national government on 23 May, it seems like the weather might pose an immediate test of its administrative competence.
– Any serious shortfall in rainfall in the early phase of the monsoon would have a ripple effect on the rest of India's economy. In many ways, a scenario similar to 2014, when the Narendra Modi government raised alarm bells over a drought that hit 330 million Indians, may play out after the 2019 Lok Sabha elections as well.
– India's monsoon prediction remains a hit-and-miss affair. Senior government officials openly admit that the India Meteorological Department's main forecast, which comes out in early May, is wildly off the mark three out of 10 times.
– Ultimately, India's economic output will achieve stability only if it is able to escape the vagaries of the monsoon. That cannot happen without improvements in prediction and mitigation.
– In any case, the Indian monsoon has a well-documented 30-year cycle of wet and dry periods. The next dry spell, expected to last till 2049, begins in 2020. Even the ongoing wet 30-year period has had an exceedingly high number of drought years, possibly on account of climate change. https://www.livemint.com/opinion/online-views/opinion-a-drought-could-test-the-next-government-1554311764347.html  (3 April 2019)
National  Growing impatience of farmers This article says the distressed and  angry farmers will decide the results of next elections. https://www.usnews.com/news/best-countries/articles/2019-04-03/indias-farmers-losing-patience-with-government-promises-for-relief   (3 April 2019) 
RENEWABLE ENERGY
Renewable energy capacity addition tumbles 49% during Apr-Feb period   Due to lack of policy clarity, Renewable energy capacity addition tumbled 49 per cent during April-February period of FY 19 to 6000 Mw compared with 11,800 Mw added in the same period of 2017-18, data sourced from the Ministry of New & Renewable Energy (MNRE) showed. Solar photovoltaic generation costs have gone up by 6 per cent since the introduction of GST. Paradoxically, GST has resulted in pulling down the cost of thermal power generation by 1.6 per cent.     https://www.business-standard.com/article/economy-policy/renewable-energy-capacity-addition-tumbles-49-during-apr-feb-period-119040400790_1.html        (4 April 2019)
8,000 Mw solar bids worth Rs 40,000 crore cancelled in FY'19, irks investors  Even the so called solar success of Modi govt is also in limbo due to lack of policy clarity and arbitrary cancellations of bids.   https://energy.economictimes.indiatimes.com/news/renewable/8000-mw-solar-bids-worth-rs-40000-crore-cancelled-in-fy19-irks-investors/68725096      (4 April 2019)
SOUTH ASIA
Can South Asian rivers be 'regional public goods'? A multi-sectoral and multilateral approach to South Asia's rivers could provide sustainable development, but it needs to include those already marginalised by a narrow development path. https://www.thethirdpole.net/en/2019/04/03/can-south-asian-rivers-be-regional-public-goods/  (3 April 2019) 
'Indo-Nepal effort needed to prevent Ganges Basin fish from losing genetic variability'  "This was the third time the summit happened, organised by the Nepal River Conservation Trust. Each edition was centred around a river. In 2017, it was the Kosi in eastern Nepal. In 2018, the Trishuli in Central Nepal. And this time, the summit was held at the banks of the Karnali river in western Nepal," said Lockett.   https://www.downtoearth.org.in/news/wildlife-&-biodiversity/amp/-indo-nepal-effort-needed-to-prevent-ganges-basin-fish-from-losing-genetic-variability–63795            (2 April 2019)
Bhutan 1125 Mw Dorjilung HEP put on back burner According to magazine The Bhutanese, the trilateral 1,125 MW Dorjilung project involving Bangaldesh, Bhutan and India is put in the backburner. New Delhi, which is a major stakeholder in the project, is yet to give it's nod to the project. The Dorjilung project is important because, it is the first time that a third country is keen on investing in Bhutan's hydropower sector and purchasing power. The project is likely to see an investment of US$1.25 billion from Bangladesh. https://www.orfonline.org/research/south-asia-weekly-report-volume-xii-issue-13-49443/  (2 April 2019)    
IWT Better synergy saved 0.674 mn acre-feet of India's share of Indus water from flowing to Pak This claim needs to be verified, how was this achieved, which small streams they are talking about and if there was a plan made in this regard.     https://www.business-standard.com/article/pti-stories/better-synergy-saved-0-674-mn-acre-feet-of-india-s-share-of-indus-water-from-flowing-to-pak-119040301065_1.html  (3 April 2019)
How climate change has affected the river in the past The series of articles on INDUS PAST, PRESENT and Future is interesting, though not providing any fresh insights so far. https://www.firstpost.com/india/amid-calls-for-indus-geopolitical-weaponising-a-reminder-of-how-climate-change-has-affected-the-river-in-the-past-6367121.html   (4 April 2019)
Pakistan Rs 10 bn collected through crowdfunding for dams project A crowdfunding initiative launched by cash-strapped Pakistan to collect $14 billion needed for the construction of two mega dams has mopped up Pakistani Rupees 10 billion since it was launched in Sept. 2018. The money is for the 4,500 MW Diamer-Bhasha dam in Khyber Pakhtunkhwa province and Gilgit-Baltistan and the 800 MW Mohmand Dam to be built on the Swat River in the Manda area, Geo reported. https://www.outlookindia.com/website/story/world-news-pakistanis-collect-rs-10-bn-through-crowdfunding-for-dams-project-imran-khan-says-thank-you/326946   (12 March 2019)
More revenue for AJK, as Centre hikes water charges Pakistan's Federal Minister for Water Resources Faisal Vawda has said the government has increased the water usage charges that go to the Azad Jammu and Kashmir (AJK) from 25 paisa per unit to Re1.10 per unit –on par with other provinces- a raise that would generate an income of Rs11 billion for the region.
The Net Hydle Profit (NHP) for other provinces was increased by the previous government in 2016. However, it was not increased for the AJK. the increased rates would also apply to power generation from the Mangla Dam, Neelum-Jhelum Hydro­power Project and hydropower projects to be undertaken in future.  This article says the distressed and angry farmers will decide the results of next elections.  https://tribune.com.pk/story/1943104/1-revenue-ajk-centre-hikes-water-charges/  (4 April 2019)
Nepal China to build 679MW Lower Arun hydel Chinese state-owned company, Power China, has announced during the Nepal Investment Summit on March 30, 2019 that it will construct the 679 MW Lower Arun hydropower project in Nepal. The company will also build the 102MW capacity Upper Trishuli II hydropower project. It has already built the 50MW Upper Marshyangdi hydropower project. The Indian government had proposed to construct the Lower Arun hydropower project in February but at a reduced capacity of 400 MW. https://thehimalayantimes.com/business/power-china-to-build-679mw-lower-arun-hydel/  (31 March 2019)
7 point declaration issued to stop illegal extraction of RBM from Karnali River A declaration was issued in Chisapani of Kailali district on Tuesday to stop illegal mining of riverbed materials and to develop the wildlife-friendly environment. Issuing the declaration, the Nepal Forum of Environmental Journalists (Nefej) during the round table conference expressed its commitment to scientifically manage the extraction of pebbles, sand and gravel.
The round table conference had decided to give priority to the indigenous communities like Raji, Sonahi and Badi among others and to protect their occupation, language and culture, and had also decided to formulate policy according to the same. http://www.hakahakionline.com/en/8496/seven-point-declaration-issued-to-stop-illegal-extraction-of-riverbed-materials-from-karnali-river/  (28 March 2019)
Bangladesh Dredging of rivers The Bangladesh Inland Water Transport Authority has reclaimed about 1,000 acres of fallow land with dredge spoil, while 915 km of waterways have been made navigable, it is claimed. BIWTA also claims that hundreds of poor farmers have become self-reliant by cultivating fish, ducks, cattle and doing other water-dependent businesses, as water is now available round the year. According to BIWTA, poor farmers are cultivating fruits like water melon, vegetables and rice on reclaimed lands. The project, in the first phase, is being implemented for 24 important inland rivers under the 'capital dredging on 53 important inland rivers' programme, which started in 2012 and is scheduled to be completed in 2021. The BIWTA has already spent Tk 936 crore out of a total Tk 1,923 crore, Saidur Rahman, additional chief engineer (Dredging) of BIWTA said.
– Regarding the dredging work of the protocol routes between Bangladesh and India, the BIWTA official said, "The survey work of 285 km of the Ashuganj-Jokiganj route of Kushiara River and 178 km of Sirajganj-Doikhawa route of the river Brahmaputra has been completed." The dredging work of these protocol routes will begin soon, Rahman said in reply to a query. http://www.theindependentbd.com/post/193773  (31 March 2019)
Halda River pollution getting worse A recent report by the Department of Environment (DoE) states that the discharge of industrial effluents into the Halda River is causing depletion of fish stocks. Halda River is vitally important because we are told that it is the only place in the country where naturally-laid carp eggs can be gathered for hatching.
Unfortunately, DoE's probe has found that a number of industries are directly responsible for polluting the river. This probe was conducted back in 2017 and two years on, we find that no effective steps have been taken to take the polluters to task.
With some 18 canals connected to the Halda River, the pollution has spread and despite being armed with detailed laboratory tests, we cannot understand what is holding up authorities from acting to save the river from destruction. Although many industries in the area have claimed that they use effluent treatment plant (ETP), our reporters have found that there are some industries that are not using them. https://www.thedailystar.net/editorial/news/halda-river-pollution-getting-worse-1718881  (23 March 2019)
Surma choked with garbage The Surma river in Sylhet is on the verge of becoming another Buriganga, environmentalists fear. Although the local office of the DoE claims that indicators regarding the river's health were acceptable, people living by it are saying that the water is so polluted that some are suffering from skin and stomach diseases. https://www.thedailystar.net/backpage/news/surma-choked-garbage-1722706  (31 March 2019)
ASIA
IRAN FLOODS Hit With 3rd Major Flood in 2 Weeks  The authorities on April 1, 2019 ordered the immediate evacuation of flood-stricken cities in western Iran as rivers burst banks, dams overflowed and vast areas were cut off from communication. The highest level of alert was declared in Lorestan Province with four or five cities "completely critical," state television reported from Khorramabad, the provincial capital. "In Khorramabad the water has risen by as much as three meters in parts," the television broadcast said, with reports elsewhere of areas "completely submerged with residents stranded on their rooftops."
– The authorities said the cities of Pol-e-Dokhtar and Mamulan were already half submerged, with one fatality reported in Mamulan. Every village in the vicinity of the two cities had been surrounded by floodwaters, while all five dams in Lorestan had reached capacity and four of them were overflowing.
– This is the third major flood to hit Iran in the past two weeks after heavy rainfalls in the mostly arid country, which had endured a prolonged drought until this year. The first flood struck the northeast of the country on March 19 and the second hit the west and southwest on March 25, with a combined reported death toll of 45 people. There was no immediate respite from the latest flooding, again striking the west and southwest, following heavy rain that was forecast to continue into March 25. https://www.nytimes.com/2019/04/01/world/middleeast/iran-flood.html   (1 April 2019)
https://www.bbc.com/news/av/embed/p074khbn/47700031
BBC video of unprecedented Iran Floods says 60 people are killed, thousands of cattle have died. https://www.bbc.com/news/av/world-middle-east-47700031/iran-flood-dozens-killed-and-homes-damaged-after-heavy-rain     (25 March 2019)
Mesopotamia Seminar on water managementThe Mesopotamian Water Forum is an alternative civil society forum for water, an open space to give voice to those who are marginalized and excluded from the discussion about water management in the Mesopotamian region. It will be held from 6-8 April 2019 at the University of Sulaimani in Sulaymaniyah, Kurdistan Region of Iraq, and will involve civil society actors from the entire region of Mesopotamia within the states of Iraq, Iran, Turkey, Syria. The Mesopotamian Water Forum is based on the social forum model, and is part of the global world social forum process. The idea of the forum was launched during a joint meeting of Save the Tigris Campaign in the city of Sulaymaniyah, Kurdistan Region if Iraq, in April 2017.
The preliminary program of the first International Mesopotamian Water Forum:
Day 1: Opening and plenary discussions
Day 2: Self-organized workshops by participating organizations
Day 3: Plenary workshops conclusions and final declaration https://www.savethetigris.org/international-mesopotamian-water-forum/
THE REST OF THE WORLD
USA MIDWEST floods: Record March runoff surges into Missouri River reservoirs; corps to take public comment Rain and abrupt snowmelt led to March runoff that was almost four times the average, according to John Remus, chief of the Army Corps of Engineers' Missouri River Basin Water Management Division. The runoff between the Fort Randall and Gavins Point Dams in South Dakota was almost twice that of the previous record for March. The corps has significantly increased its forecast for runoff this year and expects to be sending larger-than-normal amounts of water down the Missouri River for the next several months, possibly even as late as November. The agency is projecting that runoff will be 151 percent of normal.
– The two northernmost reservoirs, behind Montana's Fort Peck Dam and North Dakota's Garrison Dam, rose more than 3 feet and 5 feet, respectively. But the reservoirs behind Oahe and Fort Randall Dams are near their capacity to absorb runoff, rising almost 8 feet and more than 16 feet in March, respectively.
– The corps will host six public meetings next week to take comment on the operation of the dams and reservoirs. These meetings are an annual occurrence and were scheduled before this year's flooding. Because the corps expects a large turnout for the meetings, some of the venues have been changed. Anyone planning to attend should double-check locations and times. http://kwbe.com/featured-news/flood-notes-record-march-runoff-surges-into-missouri-river-reservoirs-corps-to-take-public-comment/  (6 April 2019)
What California must learn from the Midwest floods In the wake of the US Midwest destruction, a group of scientists published the lessons learned to help protect families and livelihoods. Among the conclusions, which are equally relevant for India too:
– A changing climate must be considered in flood planning.
– Engineering cannot provide protection from the most extreme floods.
– We must act proactively to prevent damage, rather than simply waiting to respond to emergencies.
– Building on floodplains greatly increases risk.
– Floodplains can do triple duty by protecting communities from flood, replenishing over-tapped aquifers and enhancing river ecosystems.  https://calmatters.org/articles/commentary/california-flooding/  (1 April 2019)
Corps of Engineers took rare steps during flooding Yet on the night of March 14, when historic and previously unimaginable flooding washed down the Niobrara River into Lewis and Clark Lake, the limitations of Gavins Point Dam became apparent. It holds back less than 1 percent of the water in the six reservoirs. It's not even Nebraska's largest lake — it's about one-fourth the size of Lake McConaughy. Instead, Gavins Point's main purpose is to smooth out widely fluctuating discharges from the much larger hydroelectric dam immediately upstream. About 30 percent of the space behind Gavins Point Dam is set aside for flood control.
– Only four of the six reservoirs are designed to impound significant runoff. As luck would have it, the record-shattering runoff from this historic storm occurred downstream of those four. So when the Niobrara dumped its floodwater into Lewis and Clark Lake — on the peak day of flooding, 31 times the river's average March flow was pouring into the lake — the Corps of Engineers had few options but to open the floodgates. The timing couldn't have been worse: Downstream, the Platte River was pouring even more water into the Missouri River (the largest single source of floodwaters entering the Missouri), which was swelling to record levels. South of the Platte, levees were overtopped, broken or weakened. Low-lying neighborhoods, businesses and cropland flooded.
– Years ago, flood control was the corps' top priority, but changing conditions, including extreme drought and continued ecological degradation, led to numerous lawsuits by interest groups and political wrangling among states. In 2004, a federal judge ordered the corps to do more for threatened and endangered species. Subsequent flooding set the stage for another lawsuit, this time a victorious one by landowners who blamed the corps for damage to their property. (The controversial spring pulses undertaken to help endangered and threatened species haven't been done since 2009 and were removed from the corps' guidebook in 2018.) https://www.omaha.com/news/metro/with-little-flood-storage-at-gavins-point-u-s-army/article_e828ab99-a292-5ecc-9529-c94d36aae670.html  (2 April 2019)
Could computers provide short-term warnings of the world's worst floods? Many U.S. residents could be surprised to find water at their doors because of shortcomings in the floodplain maps that U.S. agencies use to identify at-risk areas, says Oliver Wing, a graduate student in flood risk science at the University of Bristol in the United Kingdom. The maps suggest 13 million Americans could get hit by a once-in-a-century flood—but the real number is likely more than 40 million, if the maps are updated using high-resolution topographic data.
– FEMA (Federal Emergency Management Agency) use techniques that are quite dated. Their hands are tied, because they are congressionally mandated to build maps in this way. They build flood maps from the ground up for each river basin based on a very expensive, engineering-grade flood model. That would be very good if it was made recently and used up-to-date methods. But in many cases, they just don't have the resources to do that.
– There's been something of a revolution in our ability to build flood models in the past 5 years. We've gone from building models at really small scales to models of entire continents. From a global perspective, it's really exciting because it allows us to build models in areas where there's simply no data available. The revolution was driven by better terrain data, advances in our ability to process and apply existing data, and computational speed-up owing to better hardware and algorithms. The principal and most critical data set in building a flood model is having an accurate map of the Earth's surface [elevation].
– Unfortunately, there's been a real lack of investment in terrain data sets globally. Currently, the data set that we use for global flood modeling is based on the Shuttle Radar Topography Mission [SRTM]. This is a 20-year-old, radar-based data set. It's full of errors that have quite literally taken 20 years to iron out. There's been a whole load of research in order to render SRTM usable in flood models. A new scientific field emerged in processing that specific terrain data set. It is still far behind what we have in most of the U.S. and indeed most parts of Western Europe, where we have laser altimeter data available.
– An actual projection of where water's going to go in real time is something that is not done very often. And that's because it's quite a computation-intensive thing to do. The new models are fast and accurate enough to really provide information in real time. We can actually give a view of what the flood extent might be in 3 days' time, 1 day time, and that information is going to be invaluable. It's in its infancy at the moment, but the model framework now exists to allow that to happen. We can produce flood maps for any recurrence interval, spanning the range from incredibly frequent flooding that has a 20% chance of occurring in a given year, all the way to low-probability, huge-magnitude flooding that would be a one-in-a-1000-year event.
– One of the nice things about our model is that every year that we have new observations, we can run the model again and have an updated estimate and visualization of what the 100-year flood event looks like. Because the 100-year event today will look very different to what one looked like 10 years ago, simply because we have more data points. https://www.sciencemag.org/news/2019/03/could-computers-provide-short-term-warnings-world-s-worst-floods   (29 March 2019)
Research  Microplastic Polluting Rivers and Seas Across the Globe  Microplastic pollution knows no boundaries. The contaminants have been found in the U.K.'s lake and rivers, in U.S. groundwater, along the Yangtze river in China and on the coast of Spain, according to new studies.
Less than 5 mm in size, the minuscule pieces of plastic often shed from larger, disintegrating pieces of pollution and are blamed for the spread of plastic waste into the food chain. In 2018, microplastics were found in human stool for the first time, with researchers estimating that half of the world's population could have microplastic in their systems.
Despite this, the research on the abundance and effects of microplastics is just beginning.  Study co-author John Scott, says 6.3 billion metric tons of plastic have been produced since the 1940s, with 79% of that now in landfills or discarded. "Even if we quit plastics cold turkey today, we will still deal with this issue for years because plastic never really goes away," Scott said. "To me, it is such a weird concept that these materials are intended for single use, yet they are designed to last forever." http://fortune.com/2019/03/07/microplastic-pollution-global-problem/  (7 March 2019)
UN Report Better sewage treatment critical for human health and ecosystems The volume of sewage in the world is set to rise in line with population growth. Furthermore, the growth in global wealth means our wastewater, including sewage, contains increasing amounts of dangerous chemicals, toxic substances and the debris associated with modern consumer lifestyles.
Sewage contains plastic particles, microbial pollutants and traces of medications that can threaten water and food security, and human health. The problem is particularly acute in densely populated areas which lack treatment facilities.
Over 80 % of the world's wastewater—and over 95 % in some least developed countries—is released to the environment without treatment; 2.4 billion people still do not have access to improved sanitation. Only 26 % of urban and 34 per cent of rural sanitation and wastewater services effectively prevent human contact with excreta along the entire sanitation chain and can therefore be considered safely managed. https://www.unenvironment.org/news-and-stories/story/better-sewage-treatment-critical-human-health-and-ecosystems  (5 April 2019)
CLIMATE CHANGE
Hydropower: don't waste climate money on more dams Philip Fearnside responds to Mike Muller's claims on hydropower projects. https://www.nature.com/articles/d41586-019-01057-1        (2 April 2019)
Decoding the Atmospheric River  Atmospheric rivers are "long and narrow corridors of intense water vapor transport," said Francina Dominguez, a hydroclimatologist at the University of Illinois. The term originated in the early 1990s, when meteorologists Reginald Newell and Yong Zhu published a study in the journal Geophysical Research Letters describing their discovery of tropospheric rivers — regions in the troposphere where water vapor accumulates and persists for days at a time.
Atmospheric rivers can be hundreds of miles wide and over a thousand miles long, and the amount of water in the form of vapor that flows through them is comparable to the largest land rivers in the world. These sky-based rivers typically form over oceans, when large cold fronts move from west to east, Dominguez said. Strong jets of wind moving away from the Equator form ahead of the cold front, and transport moist air in the atmospheric river.
Atmospheric rivers are responsible for most of the heavy rainfall in the western United States, and that's where much of the research on them has been conducted. There, atmospheric rivers can cause flooding, damage to property and deaths.
Atmospheric rivers are a global phenomenon. They appear in both the Northern and Southern hemispheres, extending from tropical or subtropical regions to the middle latitudes more than 30 degrees north or south of the equator. For reference, the tropics of Cancer and Capricorn are about 23 degrees north and south, respectively.
Other areas affected by atmospheric rivers include Chile, Australia, South Africa and western Europe. An estimated 90 percent of moisture in the air at these midlatitudes comes from atmospheric rivers, Dominguez said. That means that atmospheric rivers play a key role in distributing water vapor around the world.
In a warming world, the amount of moisture in the air is certain to increase. "For now, what we know is, the models are showing that atmospheric rivers will transport more water," Dominguez said. But that moisture won't necessarily translate neatly to precipitation, she said. The amount of precipitation, where it will fall and how often it will fall, are all relatively uncertain. For example, the path of most storms is likely to be pushed poleward in both hemispheres, Dominguez said, because the tropics will expand in a warmer climate. https://www.livescience.com/65101-atmospheric-river.html  (28 March 2019)
Let nature heal climate and biodiversity crises  The restoration of natural forests and coasts can simultaneously tackle climate change and the annihilation of wildlife but is being worryingly overlooked, an international group of campaigners have said. https://www.theguardian.com/environment/2019/apr/03/let-nature-heal-climate-and-biodiversity-crises-say-campaigners  (3 April 2019)
DISASTER
Tsangpo gorge: a first analysis of landslides triggered by the 2017 Ms=6.9 Milin earthquake  Dave Petley on the landslides in the Tsangpo (Siang) Valley following a shallow earthquake of 6.9 magnitude in Nov 2017.
– On 18th November 2017 a shallow Ms=6.9 earthquake struck the Tsangpo Gorge area of Tibet. The earthquake had triggered large numbers of landslides along the Tsangpo Gorge.  Some of these were valley blocking, although fortunately the blockages proved to be short-lived. 
– A paper (Hu et al. 2019)  in the journal Landslides provides an analysis of the landslides triggered by the earthquake, based on mapping from satellite imagery. The authors mapped 766 coseismic landslides, with a total volume of about 31 million cubic metres.  The authors note that mapping with satellite imagery means that many of the smallest landslides will not be identified. The authors note that the landslide distribution was dominated by the presence of the deeply-incised, V-shaped gorge rather than proximity to the fault (which is the case elsewhere).  Thus, in this case, topography has been the controlling factor in landslide development.
– In total, nine valley-blocking landslides developed in the earthquake, although only three lakes formed within the Tsangpo Gorge.  These breached within a few days.
– They also highlight increased risk of glacial debris flow events in the area.  On 17th October 2018 such an event occurred downstream from the earthquake-affected area at Sedongpu.  This event, which blocked the Tsangpo to a depth of 80 metres, had a volume of about 33 million cubic metres according to Hu et al. (2019). Ten days later a further glacial debris flow occurred at the same site. https://blogs.agu.org/landslideblog/2019/04/02/tsangpo-gorge-1/   (2 April 2019)
ENVIRONMENT
Delhi NGT directs committee to submit report on Bhalswa landfill site The NGT has directed a committee to submit a report on Bhalswa landfill site after a plea claimed unscientific capping there. The plea also alleged that bio-mining and bio-remediation is not being done as per the Solid Waste Management Rules, 2016. A court has directed the committee comprising an official from the CPCB and Dr G K Pandey, former expert member of the tribunal, to submit the report in two months.
"The CPCB will be the nodal agency for the purpose. The Committee may interact with the municipal corporation concerned or other authorities and evaluate the proposed action and furnish a report within two months by email," the bench said. The matter is listed for next hearing on July 17. https://www.outlookindia.com/newsscroll/ngt-directs-committee-to-submit-report-on-bhalswa-landfill-site/1510012  (5 April 2019)
Report The Business of Biodiversity Yet another shocking instance of dilution of environment norms recommended by MoEF itself, that too AFTER the declaration of elections. On March 18, 2019, the MoEF directed the National Biodiversity Authority (NBA) to consider granting ex-post facto approval to user/accessor companies, institutes or individuals accessing Indian bio-resources or related knowledge for commercial utilisation or intellectual property.  https://www.dnaindia.com/analysis/column-the-business-of-biodiversity-2735464      (2 April 2019)
Opinion NGT: A Paper Tiger? Over the years, the NGT has had limited impact due to plain indifference by the parties concerned or the apex court staying or even overruling its orders. The enforcement of the Tribunal's rulings is not mandatory and therein lies the drawback. This is how some of its rulings have had limited impact. Whether the NGT rulings will be overruled by the apex court or whether the guilty choose to look away, the wheels of environmental justice will hopefully continue to roll steadily, even if slowly. http://www.indialegallive.com/did-you-know-facts-about-news/perspective-news/national-green-tribunal-a-paper-tiger-62805  (6 April 2019)
Blog N.D. Jayal: did not get his due in environmental history For NDJ, the priority was always to give back to the society from which he had drawn. It was with this spirit that he trained me in 1990-92. He also taught me another important life lesson – I didn't need to have a gruff voice to roar. https://gopi-warrier.blogspot.com/2019/03/nd-jayal-gentle-tiger-who-did-not-get.html     (30 March 2019)
General Election 2019 This poll season the environment focus of parties is foggy at best BJP of course has very poor track record on environment issues. The solar initiative went forward in last five years entirely since it fit into their economics and climate change context. Even there, they did not push roof top solar with the sincerity required. https://indianexpress.com/elections/lok-sabha-elections-narendra-modi-rahul-gandhi-bjp-congress-manifesto-pollution-environment-5651539/     (1 April 2019)
Compiled by SANDRP (ht.sandrp@gmail.com)
Also see: DRP News Bulletin 1 April 2019 & DRP News Bulletin 25 March 2019  
Follow us on: www.facebook.com/sandrp.in; https://twitter.com/Indian_Rivers