A report of groundwater pollution in Luna village accessed by Paryavaran Suraksha Samiti (PSS) has once again pointed to the alarming rate of groundwater contamination in the industrial belt in Padra in Vadodara. The report accessed through RTI found that that the Chemical Oxygen Demand (COD) level in groundwater was an alarming 2225mg/I and 27222mg/I in October and December 2018.
It should be noted that even in treated effluent water the accepted levels of COD is 250 mg/I. For ground water the level should be nil. The report was a result of joint investigation carried out by the Gujarat Pollution Control Board (GPCB), Paryavaran Suraksha Samiti (PSS), Farmers Action Group (FAG) and affected farmers in October and December 2018.
– It further found that the TDS (Total Dissolved Solids) was 10172 mg/l and 11188 mg/l while the BOD (Biological Oxygen Demand) was 198 mg/l and 72 mg/l (26.12.2018) respectively for the two months. The accepted limit of TDS and BOD even in treated effluent water is 5000 mg/I and 100 mg/I. In ground water the accepted limit for TDS and BOD is 300mg/I and 2 mg/I respectively. Rohit Prajapati of Paryavaran Suraksha Samiti said that the issue was first raised in the year 1999.
– SHOWS ABJECT FAILURE OF GUJARAT POLLUTION CONTROL BOARD AND GUJARAT GOVT. SINCE THIS MATTER IS DECADE OLD AS GPCB ITSELF SAYS, IT ALSO INDICTS MODI RULE IN GUJARAT. https://www.dnaindia.com/ahmedabad/report-gujarat-pollution-control-board-joint-report-found-groundwater-worse-than-treated-effluent-2730850  (19 March 2019)
The level of groundwater contamination was determined twice – first in October last through a joint investigation carried out by PSS and the GPCB and later in December through a joint investigation by PSS, GPCB, the Farmers Action Group (FAG), the affected farmers and Huntsman International India (P) Limited at two borewells located inside the factory premises. The findings of the reports were collected under the RTI Act on March 11.
PSS has issued notices to all officials — from PM, Gujarat CM to secretary, nodal officers of Environment ministry, chairman and member secretaries of pollution control boards for "having failed to act against the polluting industries" despite complaints and representations by the NGO and villagers .  https://timesofindia.indiatimes.com/city/vadodara/groundwater-in-padra-worse-than-industrial-waste/articleshow/68472073.cms  (19 March 2019) 
More details of the same issue here: https://www.counterview.net/2019/03/gujarat-model-industrial-effluents.html  (19 March 2019)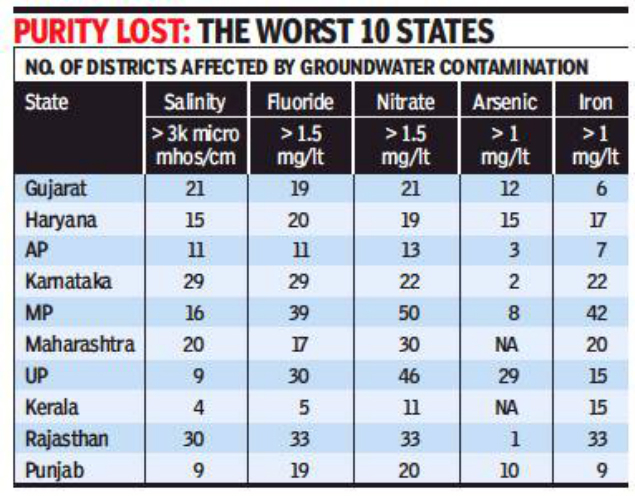 About 12 Gujarat districts have reported high arsenic and six districts have reported high iron content. The same report also suggests that Gujarat has consumed 68% of its groundwater resources already and that the rise in these chemical contaminants is partially because of this reason.  https://timesofindia.indiatimes.com/city/ahmedabad/chemicals-fouling-gujarats-groundwater/articleshow/63456874.cms  (26 March 2019) 
In a related development, the NGT has ordered closure and registration of cases against 124 industrial units which are polluting the Kali, Krishna and Hindon rivers in six districts of western UP. NGT directed the UP chief secretary to personally look into the issue of availability of potable water to the affected inhabitants of Saharanpur, Muzaffarnagar, Shamli, Meerut, Bagpath and Ghaziabad districts.
UP govt was asked to pay Rs 5 crore as performance guarantee money. The green panel also asked the chief secretory to provide requisite logistics to the committee, headed by Justice SU Khan (retd) with representatives of the CPCB and the Environment Ministry, so that the committee can oversee the implementation of the action plan to restore the rivers to their original condition. Advocate Gaurav Kumar Bansal appeared for the petitioner NGO Doaba Paryavaran Samiti in the case. https://www.ndtv.com/india-news/national-green-tribunal-asks-up-government-to-submit-rs-5-crore-over-river-pollution-failure-2008940 (17 March 2019)
HYDRO POWER PROJECTS
Arunachal Pradesh SC asks NGT to review its decision on lower Subansiri expert committee related orders  The application had opposed the NGT orders in Nov and Dec 2018 rejecting the objections to the members of three members of the expert committee on grounds on conflict of interest. Lawyer for Applicant Tularam Gogoi, Anitha Shenoy pointed out that all the three members of the expert committee had in the past either worked for, or were associated with organizations which had a recommendatory role and furnished views in regard to the Subansiri Lower Project.
– According to the lawyer, Prabhas Pande had retired in 2011 as the Additional Director General of Geological Survey of India, which has been involved in investigations related to the Subansiri Lower project from its inception, including during Pande's term. Similarly, another member, PM Scott is currently the Chief Engineer of the Brahmaputra and Barak Basin, Central Water Commission (CWC), Shillong. "The CWC has also been integrally involved in conceiving and reviewing the Subansiri Lower project right since the inception," contended Shenoy. She further said that the profile of ID Gupta showed that since 1979, he has been working with the Central Water and Power Research Station in Pune, which has been involved in the design process of the Subansiri Lower at various stages since its inception. Shenoy went on to show the NGT's order, arguing that the pertinent applications were summarily rejected by the NGT without specifying any reasons.
– At this, the bench held: "We find considerable merit in the submissions which have been urged on behalf of the appellant by Ms Anitha Shenoy, learned counsel, that neither the earlier order dated 19 November, 2018 nor the impugned order dated 14 December, 2018 contains any reasons for rejecting the objection to the independence of the members of the Committee." The Court then said that it would be appropriate and proper if the objections raised by Gogoi are "reconsidered" by the Tribunal and a speaking order is passed. "While we are not inclined to impede or interdict the work of the Committee in the meantime, any steps taken would abide by the result of the objections, which are permitted to be raised by the appellant before the Tribunal," it directed. The bench, accordingly set aside the impugned order of the Tribunal, and asked it to re-examine the objections on merits. https://www.news18.com/news/india/indias-largest-hydel-project-sc-asks-green-tribunal-to-decide-objections-against-expert-committee-members-2074311.html   (22 March 2019)
Uttrakhand Govt shelves HEP plans on BESZ for now The state govt has, for now, shelved its plans to build small hydropower projects in the fragile Bhagirathi Eco-Sensitive Zone (BESZ) created to protect River Ganga's most pristine stretch between Gaumukh and Uttarkashi town. In a March 6 meeting at the environment ministry, the Uttarakhand govt stated that as there was no consensus among members drafting zonal master plan of the BESZ on hydropower projects, the state govt has decided to restrict hydropower projects up to 2 MW.
"Govt of Uttarakhand decided to honour the provisions of BESZ notification and also to reiterate its commitment to conserve and maintain the ecology and sanctity of holy river Bhagirathi, by restricting hydro-electric project up to two megawatt, sacrificing the investment potential of around Rs 739.96 crores and the sunk cost of about Rs 90.16 crores," the minutes of the meeting showed. https://www.dnaindia.com/india/report-uttarakhand-shelves-hydropower-plans-on-eco-sensitive-bhagirathi-2731851   (22 March 2019)
Centre Power Ministry seeks enforcement of tariff rationalisation for HEPs The Power Ministry has also notified the Hydropower Purchase Obligation as a separate entity within the Non-Solar Renewable Purchase Obligation. This obligation will cover all large hydro power projects commissioned after March 8, 2019. The untied capacity (capacity without PPAs) of already commissioned projects will be able to avail this benefit. https://www.thehindubusinessline.com/economy/power-ministry-seeks-enforcement-of-tariff-rationalisation-for-hydropower-projects/article26568658.ece  (18 March 2019)
National India is set to become a leader in Pumped Hydro Storage Some 2.6 GW of PHS are already operational with another 3.1 GW under construction. Proposals for another 8.9 GW are on the drawing board. The article says the sector ideally requiring at least US$20 bn of new investment in the coming decade. However, there are enormous social (and environmental) costs and absence of a strong price and policy signal for producers and consumers.
– India recently amended its 'hybrid wind-solar with storage' policy to clarify that any form of storage – not just batteries – could be used in hybrid projects, including PHS, compressed air and flywheels. Then, in March 2019 India's Ministry of Power proposed electricity rule changes to incentivise electricity supply at times of peak demand, a key pricing signal needed to underpin financial bankability of storage projects. Both govt initiatives look very promising. https://energy.economictimes.indiatimes.com/energy-speak/how-india-is-set-to-become-a-leader-in-pumped-hydro-storage/3484   (21 March 2019)
DAMS
Omkareshwar Dam Oustees SC ask MP govt to provide cultivable land  The SC has ordered Madhya Pradesh govt to provide cultivable land to the oustees of the Omkareshwar dam project within three months. The relocated ones also have a choice of preferring 15% interest on the rehabilitation package. The three member bench headed by Chief Justice Ranjan Gogoi gave the decision on March 13 on a petition filed by Narmada Bachao Andolan.
MP High Court had ordered to provide land to the persons affected by dam in 2008 but state govt appealed in the apex court. The Grievance Redressal Authority too had said that norms related to rehabilitation policy were not followed in rehabilitation of 2300 applicants. More than 700 applicants had returned the compensation amount demanding land in return but govt showed land to about 200 dislocated persons only and that land too was barren. https://www.freepressjournal.in/bhopal/bhopal-provide-cultivable-land-to-omkareshwar-dam-oustees-says-supreme-court/1485646  (20 March 2019)
Polavaram Dam Telangana making fresh bid to stall polavaram: MinisterThe state should have done this long back. Telangana, which gave full consent for the Polavaram project at the time of bifurcation, approached the SC to stop its progress, Minister for Water Resources Devineni Umamaheswara Rao said on March 18, 2019.
It filed "original suit" (petition) on February 23 praying the SC to declare that A.P. "has no right to Polavaram Project without undertaking an assessment of probable maximum flood (PMF) at Polavaram Dam and study of the backwater and other effects in Telangana State." https://www.thehindu.com/news/national/telangana/telangana-making-fresh-bid-to-stall-polavaram-devineni-uma/article26575721.ece  (19 March 2019)
INTERSTATE WATER DISPUTES
Krishna river water sharing dispute Karnataka set to choke Krishna flows into TS, AP The Telugu states of Andhra Pradesh and Telangana could face further water shortages in Krishna basin, following UKP III recently getting environmental clearance, allowing Karnataka to increase UKP height from 519 to 524 m and increasing water use from 173 to 303 TMC ft. The additional 130 TMC includes 105 TMC of flood flow and 25 TMC at 65% dependability.
Even through Brajesh Kumar Tribunal had rejected Telugu states' objections to UKP III, the states could have raised objections since Brajesh Kumar Tribunal is not yet  implemented and there are petitions pending in SC. But neither of the states have taken interest. https://www.thehindu.com/news/national/telangana/karnataka-set-to-choke-krishna-flows-into-ts-ap/article26562006.ece    (17 March 2019)
IRRIGATION
Gujarat Swimmer dies trying to repair Narmada canal siphon door A 43 year old swimmer died while repairing the door of the syphon on Narmada canal where it crosses Sabarmati river. Only independent investigation can reveal if there was negligence on the part of SSNNL. https://ahmedabadmirror.indiatimes.com/ahmedabad/others/swimmer-dies-trying-to-repair-narmada-canal-siphon-door/articleshow/68471638.cms  (19 March 2019)
Farmers defer march after assurance on releasing water  Farmers in Bhavnagar district postponed protests after irrigation authorities assured that efforts will be made to release water. Farmers said they will wait until next Thursday (March 28). And if water is not released, they will stage a rasta roko for an indefinite period. Farmers of Talaja, Mahuva, Palitana and Ghogha villages have been demanding water from Shetrunji dam in Palitana district. https://www.dnaindia.com/ahmedabad/report-gujarat-farmers-defer-march-after-assurance-on-releasing-water-2732146  (23 March 2019)
Govt mismanagement of irrigation Revealing analysis of state of irrigation. With the Narmada and Sardar Sarovar dam, the irrigation potential that had to be created, of 18,45,655 hectares, is still languishing at 6,40,000 hectares in 2017-18. This, after almost 17 years of the Narmada water flowing in the main canal. The canal network remains unfinished and the most important component of the canal network, the sub-minor canals, are at a mere 53.5% as per the NCA Annual Report of 2016-17.
Most importantly, the irrigation water that was to have been provided by the Narmada canal has not, in fact, been provided. Much obfuscation is undertaken in the official reporting, apparently to hide more than to reveal. https://thewire.in/agriculture/govt-mismanagement-is-coming-in-the-way-of-irrigation-water-for-gujarats-farmers  (20 March 2019)
Same report is published here. https://www.counterview.net/2019/03/gujarat-government-bravado-and-slow.html   (18 March 2019)
Sauni scheme aimed at misleading voters Congress seem to get courage to criticise Gujarat govt's track record on water management, including SAUNI scheme. https://www.dnaindia.com/ahmedabad/report-sauni-scheme-aimed-at-misleading-voters-congress-2730531   (18 March 2019)
LOCAL WATER SYSTEMS
Kerala Greens urge authorities to call off new dam projects Environmental organisations in Kozhikode district have urged the authorities to revoke plans to construct more dams in the State in the name of water and river conservation activities.
Participating in events organised to mark World Water Day on Friday, they pointed out that dams would block the natural flow of water and appealed to govt agencies to stick to eco-friendly and conventional methods of check dam construction to conserve water.
A public gathering, which was addressed by leaders of the Kerala River protection Committee in the city, pointed out that the State govt had last year given approval for the construction of 52 dams. If implemented, it would prevent the natural flow of rivers, they observed. https://www.thehindu.com/news/cities/kozhikode/greens-urge-authorities-to-call-off-new-dam-projects/article26614851.ece  (23 March 2019)
Before this local authorities planned to construct over 200 temporary check dams at different locations in the district to conserve water. The revenue department in association with the panchayats even started the preparatory work for addressing drought situation in the district. Directions regarding the measures to be taken to reduce the intensity of drought have been issued to panchayats and departments of irrigation and water authority. https://timesofindia.indiatimes.com/city/kozhikode/check-dam-construction-to-start-in-kozhikode/articleshow/68461241.cms  (18 March 2019)
Telangana Check dams to get recharge shafts The Telangana govt has decided to upscale the practise of constructing recharge shafts in the existing check dams at a cost of ₹70 crore following successful adaptation of a pilot project attempted in an aquifer falling between two drought prone mandals of Chandur and Marriguda in Nalgonda district.
The work — 'Users Centered Aquifer Level Groundwater Management Pilot' — undertaken as part of World Bank funded Nagarjunasagar left bank canal network repair project and completed last year, was actually taken up in an area outside the canal network. The ₹2,100 crore Water Sector Improvement Project Telangana State (WSIPTS) for modernising the canal network to benefit two lakh farmers of Nalgonda, Khammam and Suryapet. https://www.thehindu.com/news/national/telangana/check-dams-to-get-recharge-shafts/article26562199.ece   (18 March 2019)
URBAN RIVERS
Kham River, Aurangabad Drainage, effluent from Auranagabad flows into Jayakwadi A large amount of untreated sewerage and effluent is flowing from the city through the River Kham into the Jayakwadi reservoir. The Aurangabad city pumps 156 MLD water from Jayakwadi, purifies it at water treatment plant at Pharola. The water is then supplied to the entire city as drinking water.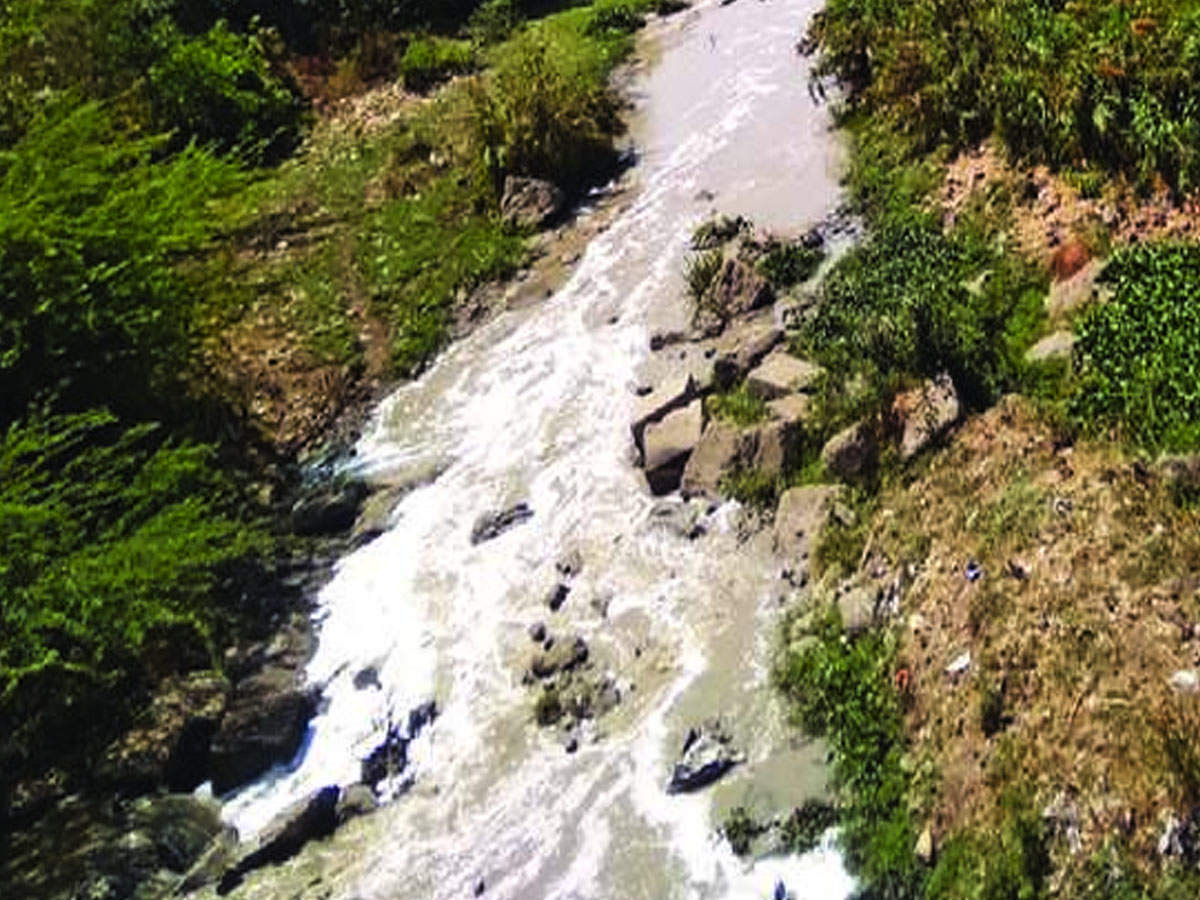 When asked about the issue, Aurangabad Municipal Corporation (AMC) city engineer Sakharam Panzade said that the sewage from Waluj and effluent from industries in Waluj MIDC is polluting the water. An MIDC official said that similar to all industrial estates in the state, a central effluent treatment (CETP) has been set up at Waluj MIDC. "We have provided the treatment facility but if some industries do not connect to the CETP, we cannot keep a check on it and since it is a vast industrial estate. https://timesofindia.indiatimes.com/city/aurangabad/drainage-effluent-from-city-flows-into-jayakwadi/articleshow/68471818.cms  (18 March 2019)
RIVERS
Opinion If India's rivers had right Shrishtee Bajpai and Ashish Kothari argue in favour of RIGHTS FOR RIVERS in India, asking why it should not be election issue. https://thewire.in/environment/river-rights-ganga-environment  (19 March 2019)
Review D'Souza on Bhattacharyya, 'Empire & Ecology in Bengal Delta: Making of Calcutta' Its very illuminating. Some samples: "the British administration's standard tool kit, made up of colonial cartography and legal terminologies, Bhattacharya affirms, often entirely failed to come to grips with the Bengal delta's ecological realities as a "mobile landscape"".
– This unanimous and determined call for cutting off the city from its "watery hinterlands," in Bhattacharyya's estimate, actually sought to mask a radical ecological rupture by which land and water were meant to be split into distinct and separable entities, instead of being acknowledged as ecologically entwined domains and integral to Bengal's deltaic environments.
– But the British could not intelligibly make sense of the delta's "inscrutable tidal swamps". Put differently, Bhattacharyya concludes, clearly indicated that no "common geographical" understanding of the delta could be achieved given that "what is silt today is swamp tomorrow, and perhaps headed for the bottom of the Bay of Bengal in the future".
– Bhattacharya insightfully makes the case for a closer scrutiny of a range of cultural forms that continue to animate the Bengal delta's social worlds, such as local folk songs, oral performances, and pictorial and textual presentations of Mangalkavya poems, which describe land and water as a continuum rather than as relations of separation. The Manasamangal paintings of riverbanks, for example, celebrate river-land confluences where trade, commerce, worship, gods, goddesses, humans, fish, and vegetation are woven into "inseparable and interdependent ways"  https://networks.h-net.org/node/15526/reviews/3893748/dsouza-bhattacharyya-empire-and-ecology-bengal-delta-making-calcutta  ( March 2019)
CAUVERY Unprecedented low flow in Cauvery river at Kodagu IN KODAGU CAUVERY RIVER FLOW HAS COME DOWN TO RECORD LOW THIS YEAR BEFORE SPECULATED TIME:- River Harangi too is drying up rapidly and there is a shortage of drinking water for the people and cattle.
– Last year, as the Cauvery had dried up completely, there was a scarcity of drinking water and the Mahshir fish in Kaveri Nisargadhama was released to Harangi river by the Fisheries Department.
– A similar situation had occurred in 2012 when River Cauvery almost dried up. The water which was stagnant in various locations in the course of the river was drawn using pump sets to cater to the needs of the people. The same method was followed by the water board last year. https://www.deccanherald.com/declining-water-level-in-river-cauvery-raises-serious-concern-723627.html  (16 March 2019)
Harsh summer makes water scarce in Cauvery birthplace Wells, Borewells, Streams, Rivulets, Rivers, Surface and groundwater sources all drying up in Kodagu:
– The coffee crop at Thithimathi and Devarapura have dried up. The water-level in open wells and borewells have reduced drastically.
– The Keerehole water body has disappeared in Kirugooru area and cattle are seen grazing on the banks of Keerehole. Ponnampete is also facing acute shortage of water. Without water, pepper vines too have started drying up in the region. Many lakes in Nagarahole Rajiv Gandhi National Park have also dried up.
– The Lakshmanatheertha river which takes its birth in Brahmagiri hilly range had inundated paddy fields and coffee estates at Balele, Nittooru in Gonikoppa during the rainy season. The river has now dried up. The water in Irpu waterfalls is not flowing to Srimangala which is situated 10-km away. https://www.deccanherald.com/harsh-summer-makes-water-scarce-in-birthplace-of-cauvery-723769.html  (17 March 2019)
Grants sought for the conservation of River Cauvery Cauvery Nadi Swachhata Andolana Samithi members have urged CM H D Kumaraswamy to take special steps and release grants for the conservation of River Cauvery. The Samithi's members also submitted a memorandum in this regard.
They said that the govt should initiate steps for the preservation of River Cauvery which is the lifeline of Kodagu district. A separate law should be brought into effect for the protection of rivers in the state, they urged him. The Samithi activists alleged that industry effluents and other waste are being directly released into the river. Also, the river banks have been encroached upon at many places. https://www.deccanherald.com/grants-sought-conservation-721231.html  (2 March 2019)  
Inflow into Mettur reservoir comes down The inflow into Mettur reservoir came down to 16 cusecs on March 18, from 109 cusecs in the last couple of days. The inflow came down since there was no rain in the catchment areas of the Cauvery river. The water level in the reservoir stood at 65.64 feet on March 18. "We were releasing 1,000 cusecs of water from the dam for drinking water purpose," said a PWD official.  https://timesofindia.indiatimes.com/city/salem/inflow-into-mettur-reservoir-comes-down/articleshow/68463599.cms  (18 March 2019)
https://www.facebook.com/sachin.kalbhor.399/videos/2381739088536856/ 
GANGA Report Sorry state of Ganga downstream of Farakka The Ganga is facing constant exploitation in Murshidabad and Malda districts of West Bengal downstream of the Farakka barrage; it has put the river's survival at stake. https://indiaclimatedialogue.net/2019/03/25/multimedia-sorry-state-of-ganga-beyond-farakka/  (25 March 2019)
 YAMUNA Delhi Half of operational STPs don't meet water quality standards Delhi has 41 STPs out of these 33 are operational but about 16 of them are not meeting the permissible water quality standard reveals a CPCB report. The report, prepared with data from December 16, 2018-January 28, 2019, from 33 STPs run by the DJB, was submitted to the two-member Yamuna pollution monitoring panel set up by the NGT in Feb. 2018.  
At present, the cost of setting up a STP — which meets the latest water quality standard — is at least R 8 crore – R 10 crore. The panel has asked them to submit a report on corrective measures taken or proposed, including a timeline to set things right. https://www.hindustantimes.com/delhi-news/half-of-operational-sewage-treatment-plants-don-t-meet-water-quality-standards-report/story-fZrifCjSLOIgdJsPRlac8L.html  (21 March 2019)
FISH, FISHERIES, FISHERFOLKS
Research Fish in Cauvery face the risk of extinction A combination of factors, including extreme weather events stemming from climate change, habitat fragmentation and unregulated fishing, has placed many of the endemic fish species in the river Cauvery, which flows through Karnataka, Kerala, Puducherry and Tamil Nadu, at the risk of extinction, researchers say.
The fish at risk include the various mahseer species found in the river, including the giant hump-backed mahseer (Tor remadevii), which can grow up to 1.5 metres in length and weigh 55 kilograms. It is considered one of the 20 mega fish of the world. https://www.hindustantimes.com/india-news/fish-in-cauvery-face-the-risk-of-extinction/story-gb0BdnxH2mZMHyQICwXwTK.html  (2 March 2019)
Himachal Pradesh Muck dumping kills trout fish in Manali A farmer from Kullu district has suffered a loss of Rs20 lakh as the dumping of muck in the Pakhnoj nullah of Haripur under Manali subdivision has killed trout fish in his farm. The victim, Khushal Gupta, said the PWD, Kullu, was constructing a new bridge over the nullah and the work had been given to a private company. He said the muck was being dumped into the nullah. https://www.tribuneindia.com/news/himachal/muck-dumping-kills-trout-fish-in-manali/744656.html  (17 March 2019)
Report क्या आप जानते हैं मछुआरें कौन है Dipak Dholakia writes about fisher people: मछुआरे हमारे समाज के हाशिये पर हैं. आम जनता को न तो इनसे कोई सरोकार है, न उनके बारे में कोई जानकारी. ऐसे में यह उचित होगा कि हम यह जानें कि मछली पालन क्या है और मछुआरों की ज़िंदगी क्या है. https://www.thecitizen.in/index.php/hi/NewsDetail/index/9/16467/kya-aap-jante-hai-machuaare-kon-hai   (13 March 2019)
SAND MINING
Madhya Pradesh Mafia takes to Narmada river to evade police  In a new trend on the banks of the Narmada river, the sand mafia is using jetties and boats to not just extract sand, but also transport it across districts. The new water transport route has become a convenient alternative to road transport that is often dangerous and expensive. The stretch of the Narmada river passing through Dhar, Harda, Dewas, Sehore, and Narsinghpur district is witness to this new method that is far away from any policing or gang conflict.
After extraction, the sand is then pumped into the boat and transported to collection centres. At these collection spots, which may even be inter-district borders, tractors ferry the sand to godowns, markets or even directly to construction sites. In case the authorities spot them, they divert the boat towards the other side of the river. Police can't give chase because they neither have the boats nor the training to handle the turbulent waters of the Narmada. https://www.firstpost.com/india/illegal-sand-mining-in-madhya-pradesh-mafia-takes-to-narmada-river-to-evade-police-as-politicos-play-blame-game-6273521.html  (16 March 2019)
Gujarat Sand mining racket busted An illegal sand mining racket was busted and 105 tonne sand and equipment worth crores of rupees were seized by the police following a raid on the bank of the river Und in Jodiya taluka of Jamnagar on March 19. Though no person was arrested, the police seized 14 dumper trucks (eight filled with sand), two tractors and an earthmover from the bank of river Und on the outskirts of village Badanpar.
Jodiya police sub-inspector J C Gohil said that the illegal mining was going on since past three months and they had received several complaints over the period from locals. "Since the natural resources in Bhadar river had depleted, the racketeers had targeted Und river where no lease has been given for mining till date," said Gohil. https://timesofindia.indiatimes.com/city/rajkot/sand-mining-racket-busted/articleshow/68488701.cms  (20 March 2019)
WETLANDS, LAKES, WATER BODIES
Chandigarh Sukhna declared wetland 3 decades ago, HC told In a status report placed before the Punjab and Haryana High Court, it was stated that the UT Administrator, vide a notification dated July 6, 1988, had declared the area of Sukhna Lake as "wetland". The report came more than six months after the Chandigarh Administration told the High Court about its move to declare Sukhna Lake a wetland. https://www.tribuneindia.com/news/chandigarh/sukhna-was-declared-wetland-3-decades-ago-hc-told/745252.html  (19 March 2019)
Tamil Nadu Need to protect hill wetlands A team of researchers from Chennai-based Care Earth Trust is now studying waterbodies in elevated areas, one of the first places of water capture in the hydrological cycle, as part of a major effort to conserve them for sustainability in future.
Started three years ago in the marshes of Dindigul district's Kodaikanal in the Western Ghats, the location of the study has moved to the Nilgiris, said Avanthika Bhaskar of the Trust. Preliminary research has reiterated that wetlands in the hills are the key to sustaining biodiversity, especially herbaceous plants, birds and mammals.  https://timesofindia.indiatimes.com/city/chennai/need-to-protect-hill-wetlands-today-tosave-water-for-future/articleshow/68514932.cms  (22 March 2019)  
Maharashtra Mumbai: wetlands destroyed in name of development In Uran, Navi Mumbai, more than 9,000 mangroves have been destroyed to make way for buildings. Even though the officials are aware of the fact that the city will flood if there are no mangroves, they seem to be undeterred in their spirits. https://www.timesnownews.com/mirror-now/in-focus/article/mumbai-environmental-crime-of-highest-magnitude-wetlands-destroyed-in-the-name-of-development/387157  (22 March 2019)
WATER OPTIONS
WORLD WATER DAY 2019 Positive Stories from India SANDRP COMPILATION OF POSITIVE WATER STORIES FROM INDIA IN LAST ONE YEAR. PLZ READ AND SHARE. https://sandrp.in/2019/03/22/world-water-day-2019-positive-stories-from-india/   (22 March 2019)
Also see, Positive Water Actions by Farmers, Govts Part 2 of WWD 2019 Blog from SANDRP. https://sandrp.in/2019/03/22/world-water-day-2019-positive-water-actions-by-farmers-governments/  (22 March 2019)
Arun Tiwari also writes पर पानी संजोना कब मना है ? भूलें नहीं कि दुष्प्रभाव की इस अधिकता का असल कारक मानव खुद है। अतः प्रकृति को दोष देना बेकार है। समाधान स्वयं हम मानवों को ही खोजने होंगे। संकट साझा है, तो समाधान भी साझे से ही निकलेगा। जिनके बीच सहज साझा संभव नहीं होता, संकट में उनके बीच भी साझे की संभावना बन जाती है। आइये, यह संभावना बनाये। जो खुद कर सकते हों, हम करें। http://panipost.in/2019/03/22/है-अंधेरी-रात-पर-दीवा-जलान/  (22 March 2019)
Also spread the words about Winning Photos on Gender and Water Integrity https://www.waterintegritynetwork.net/2019/03/22/photo-competition-2019-winning-photos/  (22 March 2019)
India Water Portal Solar Pump solves irrigation water problem By Rahul Banerji and Dheeraj Kumar Gupta The unconfined aquifer in Chak Haji does not have enough water for providing irrigation through shallow borewells and ponds for three cropping seasons to all the agricultural land. So, the confined aquifer has been tapped through deep borewells to extend and diversify agriculture in the village. Six irrigation systems consisting of 5HP submersible water pumps in borewells have been installed. They tap into the confined aquifer powered by solar photovoltaic panels of 5 KWp and cater to a command area of about 12 ha and 100 farmers each through an underground pipeline that is about 300 m long.
– The study clearly shows that all these objectives have been met and the pilot has a very high internal rate of return and tax revenue potential. Therefore, the policy can be adopted on a large scale because of its excellent economic efficiency, environmental sustainability and equity features, not only in Bihar but in the entire Ganga, Brahmaputra and Meghna basin which has similar characteristics as that of Samastipur. The water users had two main complaints to make regarding the operation of the system. First, the last mile connectivity from the pipeline to the farms through collapsible pipes causes a considerable loss of water, time and energy. Second, vegetable cultivation often requires water in the evenings and this is not possible as the solar pump system cannot operate in the evenings. https://www.indiawaterportal.org/articles/solar-pumps-solve-irrigation-trouble   (19 March 2019)
Number crunching helps farmers manage water Another IWP report is from Kumbharwadi in Ahmednagar district of Maharashtra. Between 1998 and 2002, a Watershed Organisation Trust, initiated a work related to rainwater harvesting and soil conservation. Villagers dug trenches and ponds, built farm bunds and planted trees, leading to groundwater recharge.
Around 40 bore wells came up to fetch groundwater, farm area doubled to reach 330 hectares and sugarcane and wheat replaced millets and pulses. Everything seemed perfect except that the water was not endless. https://www.indiawaterportal.org/articles/number-crunching-helps-farmers-manage-water  (23 March 2019)
KUSUM scheme for solar uptake by farmers Over 20 million grid-connected agriculture water pumps installed in the country consume 17 per cent of the total annual electricity consumption.
Over 20 million grid-connected agriculture water pumps (10 m are diesel run) installed in the country consume 17 per cent of the total annual electricity consumption.
– The solar pump scheme has three major components. Under component A, the govt plans to establish 10,000 Mw of decentralized ground or stilt mounted grid-connected solar or other renewable energy based power plants. Component B includes installation of 17.50 lakh standalone solar agricultural pumps while component C deals with solarisation of 10 Lakh grid-connected agriculture pumps.
– The components A and C will be implemented initially on pilot mode for 1,000 Mw capacity and 1 lakh grid-connected agriculture pumps, respectively. Component B will be implemented in a full-fledged manner with total central support of Rs 19,036 crore.
– After successful implementation of the pilot project of components A and C, they will be scaled up with necessary modifications based on the learning from the pilot phase with total central support of Rs 15,385 crore. All the three components of the scheme aim to add solar capacity of 25,750 Mw by 2022 with total central financial support of Rs 34,422 crore. https://energy.economictimes.indiatimes.com/news/renewable/kusum-scheme-for-solar-uptake-by-farmers-a-fineprint/68514675  (22 March 2019)
MNRE warns public against fake websites under KUSUM scheme KUSUM was approved for farmers for installation of solar pumps and grid-connected solar power plants. Administrative approval for the scheme has been issued by the MNRE on 8 March 2019. Distribution companies and state nodal agencies will be implementing this scheme for which the detailed guidelines will be issued shortly. https://energy.economictimes.indiatimes.com/news/renewable/mnre-warns-public-against-fake-websites-under-kusum-scheme/68463348   (19 March 2019)
Report Borewell restoration helping farmers This report is out how and when borewell recharging can be successful and sustainable. https://thewire.in/agriculture/how-borewell-restoration-is-helping-farmers-repay-their-loans (18 March 2019)
Opinion Small Water Storage Not Mega-Dams Serve Poor Farmers Better  The author quotes well known environmental expert Patrick McCully. https://www.eurasiareview.com/19032019-small-water-storage-not-mega-dams-serve-poor-farmers-better-oped/   (19 March 2019)
GROUNDWATER
Haryana Fluoride content in Gurugram's groundwater rose by 17% since 2016 Data accessed by the district public health engineering department (PHED) has revealed that the level of fluoride in Gurugram's groundwater rose by a staggering 17 per cent between 2016 and 2018 from 4.7 mg to 5.5 mg per litres.
The GSI in 2015 published a survey stating that several parts of the state of Haryana such as Faridabad, Hisar, Gurugram, Mahendargarh, and Rewari had fluoride content as high as 7 to 8 mg/litre. VK Joshi, former Director of the Geological Survey of India in 2015 wrote, "Daily ingestion of just 2 milligram (mg) of fluoride could result in crippling skeletal fluorosis after 40 years." https://www.timesnownews.com/mirror-now/civic-issues/article/haryana-gurugram-gurgaon-phed-groundwater-flouride-nitrates-lead-dental-fluorosis-oral-health-problems/385848  (20 March 2019)
Industrial pollutants surging cancer cases in villages near Sonipat People staying in the industrial periphery of Sonipat district's Saboli, Nathupur, Kundli, Akbarpur Barota Safiabad and Sersa are not only breathing deadly air but also paying heavily for polluted water due to industrial waste.
The industrial belt has several plastic, rubber and polyester factories of medium and large scale which is directly affecting normalcy along with the deteriorating environment. People of these villages are battling with air and water-borne diseases among which skin infection and cancer are most common. https://www.business-standard.com/article/news-ani/industrial-pollutants-surging-cancer-cases-in-villages-near-sonipat-119020300111_1.html  (3 Feb. 2019)
Maharashtra Act to prevent misuse of groundwater one step closer to reality The state govt has reportedly accepted many of the rules and regulations suggested under the proposed Maharashtra Groundwater (Development and Management) Act. A draft of the Act, with proposals put together by a team of geologists from the city-based Groundwater Survey and Development Agency (GSDA), was shared with various govt departments such as finance and water resources, as well as the state pollution control board, among others, in November 2018.
After analysing the proposals, the ministries had also given their suggestions for the draft Act. The Act was supposed to be implemented last year but saw several delays. The state government's nod to most of the regulations is a crucial step forward, said GSDA officials. https://indianexpress.com/article/india/maharashtra-act-to-prevent-misuse-of-groundwater-one-step-closer-to-reality-5639283/  (23 March 2019)
Hyderabad NGRI has solution to recharge groundwater Instead of conducting token events to commemorate World Water Day (March 22), the Central and state governments would do well to take a serious look at a solution to groundwater depletion offered by the Hyderabad-based National Geophysical Research Institute (NGRI).
In just three years, the institute helped raise groundwater levels by 215 ft in three villages at Choutuppal in Yadadri district. Between 2014 and 2017, the Center for Economic and Social Studies (CESS) found that the average groundwater-level depth in these regions shot up from 300 ft to 85 ft. http://www.newindianexpress.com/states/telangana/2019/mar/22/ngri-has-solution-to-recharge-groundwater-but-will-govt-heed-1954249.html  (22 March 2019)
Tamil Nadu TDS level of groundwater highin south Madurai A study by the Centre for Urban Water Resources at DHAN Foundation has indicated alarming levels of TDS in groundwater in certain parts of Madurai, particularly in the southern parts of the city.
The findings of the study showed the TDS levels in Vellakkal, Avaniapuram, Chintamani and nearby areas to be in the range of 2,000 mg per litre to 5,000 mg per litre. The acceptable range of TDS for drinking water is 500 mg per litre. The chloride level in these areas were also found to be correspondingly high.. https://www.thehindu.com/news/cities/Madurai/tds-level-of-groundwater-high-in-south-madurai-says-study/article26601203.ece  (22 March 2019)    
Rajasthan Mining depleting groundwater in Alwar Illegal mining in the Aravalli Hills has destroyed hillocks, brought prosperity to locals and depleted the groundwater table. https://www.downtoearth.org.in/news/mining/world-water-day-how-mining-is-depleting-groundwater-in-rajasthan-s-alwar-63684  (22 March 2019)
Opinion DMK's manifesto worth engaging with Nityanand Jayaraman finds DMK manifesto in Tamil Nadu worth engaging with on environment issues, not AIADMK:  https://www.thenewsminute.com/article/environmentally-dmks-manifesto-worth-engaging-aiadmk-s-falls-flat-98701  (21 March 2019)   
Editorial An ostrich mentality will only increase our water woes HT Editorial based on Water Aid report:-  24 per cent of all India's water use is extracted ground water. India draws out more groundwater than any other in the world more than that of China and the US combined. Because of this, the rate of groundwater depletion has increased by 23% between 2000 and 2010.
– India is the third largest exporter of virtual water 12% per cent of the global total. In 2014-15, the country exported 37.2 lakh tonnes of basmati, using around 10 trillion litres of water. This means India virtually exported 10 trillion litres of water. Replacing such crops with less water-intensive ones will mean a huge saving of water. https://www.hindustantimes.com/editorials/an-ostrich-mentality-will-only-increase-our-water-woes/story-WFWVr5Ky0dpvayY6zxN39J.html  (22 March 2019)
The report says a lot about groundwater, and how a country ranked 120 out of 122 exports water by way of water intensive products. https://timesofindia.indiatimes.com/india/report-expresses-concern-over-rate-of-groundwater-depletion-in-india/articleshow/68479925.cms   (19 March 2019)
In 2015, Indian govt committed to the UN Sustainable Development Goal 6, which promises that by 2030 everyone will have access to clean water, decent sanitation and good hygiene. The human right to water must take priority ahead of other competing demands. https://www.ndtv.com/india-news/groundwater-depletion-in-india-major-concern-warns-report-2009947  (19 March 2019)
Noting that one kg of wheat required an average 1,654 litres of water, the report said 1 kg of rice requires an average 2,800 litres of water. "So, just for rice, a family of four consumes approximately 84,600 litres of virtual water in a month," it said. https://www.indiatimes.com/news/india/groundwater-is-depleting-quickly-in-india-and-no-political-party-has-it-on-their-poll-agenda-363959.html  (19 March 2019)
India is leaving its poor farmers behind Unrestricted use of water pumps – of which India has the most in the world – is driving water beyond the reach of the poor, while policy prescriptions ignore the causes of India's water crisis, Joydeep Gupta argues. https://www.thethirdpole.net/en/2019/03/22/india-is-leaving-its-poor-farmers-behind/  (22 March 2019)   
URBAN WATER
Chennai Depletion of lake, rivers plunge Chennai into water crisis The rise of a parallel water economy and the depletion of wells, lakes and rivers have plunged capital into a crisis.
Research by the Centre for Climate Change team headed by professor emeritus A Ramachandran at the Anna University has mapped the reduction of agricultural land by 24% and wetlands by 33% in Chennai over the last decade. https://www.hindustantimes.com/india-news/how-chennai-lost-its-water/story-K7eIcUXPLODMsC4nR1GqOI.html  (25 March 2019)  
Nagpur Cement roads will deplete city's groundwater reserves – Findings of a study done by students of Matru Sewa Sangh (MSS) Institute of Social Work, Bajaj Nagar, about the impact of cement roads on Nagpur's green cover and water table.
– Cement roads would deplete city's groundwater reserves in a big way as they would prevent percolation of rainwater. The civic body has not created pits for plantation while the existing trees face the risk of choking. Also, accidents would increase due to skidding of vehicles on cement roads. https://timesofindia.indiatimes.com/city/nagpur/cement-roads-will-deplete-citys-groundwater-reserves-study/articleshow/68442895.cms  (17 March 2019)
Kochi Depletion of groundwater levels a cause for concern As summer intensifies, the city has started facing shortage in drinking water supply.  Water shortage has forced many residents' associations to issue warnings asking people to use water judiciously. Receding groundwater levels have also added to the woes of citizens.
Residents depending on water supplied by tanker trucks have also raised concern about the quality of water being supplied. Meanwhile, tanker truck operators said that they have noticed receding water levels in wells and other water sources. https://timesofindia.indiatimes.com/city/kochi/depletion-of-groundwater-levels-a-cause-for-concern/articleshow/68455738.cms  (18 March 2019)
Report Poor people's right to water cut off by thirsty exports, unequal supply  This underlines that poor still do not have access to water even as we export billions of litres of water. https://www.eco-business.com/news/poor-peoples-right-to-water-cut-off-by-thirsty-exports-unequal-supply/  (20 March 2019)
WATER POLLUTION
Report Water quality risk from PVC pipes, but govt seems disinterested In May 2017, India's apex environment court, the NGT, said in its judgment that in view of "the potential adverse health effects due to presence of lead in water flowing through PVC pipes", action be taken "expeditiously".
It directed the environment ministry to set standards for the use of lead in PVC pipes within four months from May 2017, and come up with a phase-out plan. The response from the government, though, was far from expeditious. Almost two years on, there are no standards in place, and no plan to phase out the use of the heavy metal. https://theprint.in/india/lead-in-pvc-pipes-is-poisoning-indias-drinking-water-but-govts-done-nothing-in-2-years/207444/  (19 March 2019)
A 2017 investigation by Reuters found that lead exposure affects kids in communities across the country — not just in high-profile cities like Flint, Michigan. https://www.brookings.edu/blog/up-front/2017/06/01/new-evidence-that-lead-exposure-increases-crime/  (1 June 2017)
Karnataka NGT fines Adani group Rs 5 cr for Udupi power plant, cancels its extension plans In a big win for residents of Yellur village and other surrounding areas in Karnataka's Udupi district, the National Green Tribunal (NGT) cancelled the environmental clearance given to Adani to expand its power plant in the area. Moreover, taking cognisance of the findings of an expert committee appointed by the NGT itself, Adani was fined Rs 5 crore as per the 'polluters pay' principle under Section 20 of the National Green Tribunal Act, 2010. The residents of the area have been complaining for years about the ill-effects on public health and decreasing agricultural yield due to the Udupi Power Corporation Ltd. The company has to pay the fine amount to the Central Pollution Control Board as an "interim environmental compensation" within one month. Moreover, Rs 1 lakh has to be paid by Adani to the petitioner in the case, Balakrishna Shetty, the executive president of Janajagruthi Samithi.
– A 2012 report by a team of six scientists led by Professor TV Ramachandra said mismanagement of the environment was evident from the contamination of water (surface and ground), soil and air, apart from the impaired functional aspects of the biotic elements. https://www.thenewsminute.com/article/ngt-fines-adani-group-rs-5-cr-udupi-power-plant-cancels-its-extension-plans-98471  (17 March 2019)
WATER
Study The Himalayas staring at a grim water future The Himalayan region in four South Asian nations, India, Pakistan, Bangladesh, and Nepal, which is home to about 100 million people, has witnessed rapid urbanisation over the past few decades.
A study now stresses that rapid urbanisation in the region, driven mainly by tourism, is threatening water security in the area which will only be exacerbated by climate change. The researchers argue that unless a long-term and mountain specific strategy is devised, millions living in the region would face a severe water crisis. https://india.mongabay.com/2019/03/the-himalayas-are-staring-at-a-grim-water-future-says-study/  (22 March 2019)
EPW Article Transitioning to Sustainable Development Goals for Water  Large infrastructure projects threatening ecosystems and livelihoods by diverting water and depriving rural populations of access to water are being promoted in the name of drinking water provisioning. Implementation and monitoring efforts have barely made any progress on Sustainable Development Goals that involve recognising trade-offs and synergies. https://www.epw.in/journal/2019/11/commentary/transitioning-sustainable-development-goals-water.html  (11 March 2019)
Report Helping India manage complex water resources India is among the world's most water-stressed countries. In 1950, India had 3,000–4,000 cubic meters of water per person. Today, this has fallen to around 1,000 cubic meters, largely due to population growth. China, by contrast, has twice the amount of water per person- about 2,000 cubic meters. http://www.worldbank.org/en/news/feature/2019/03/22/helping-india-manage-its-complex-water-resources   (22 March 2019)
DELHI WATER
Unique method of protest worked For eight months, Tarun Bhalla had been wading through a 'sewage lake' to reach his office. His employees visited local elected officials, but nothing changed. Bhalla, 39, who had taken to wearing gumboots to work – both out of helplessness and as a "visual protest"- decided to take matters into his own problem-solving hands.  https://timesofindia.indiatimes.com/city/delhi/robotics-engineer-now-delhis-swachh-poster-boy/articleshow/68543368.cms  (24 March 2018)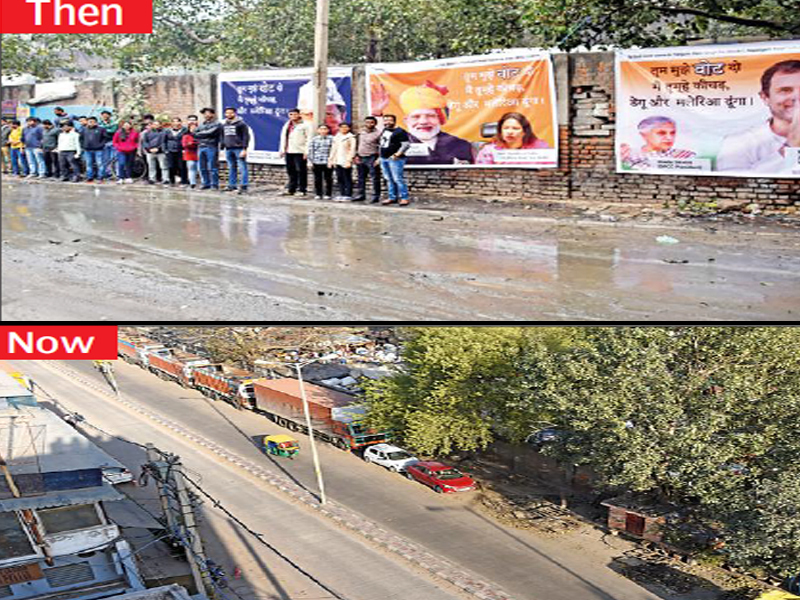 AGRICULTURE
Opinion Review farming methods to tackle water crisis By Devinder Sharma The time is ripe for Punjab to move away from intensive farming, which has triggered massive environmental degradation. The impending ecological disaster will not be addressed by changing the cropping pattern. The state should initiate agro-ecological methods of farming for the marginal and small farmers, to begin with. https://www.tribuneindia.com/news/comment/review-farming-methods-to-tackle-water-crisis/742815.html  (14 March 2019)
DROUGHT
Telangana Agri ops hit as levels groundwater shrink In Siddipet, drought like situation is prevailing in the kharif season due to depleted ground waters. The farmers are leaving their fields and looking for alternatives. As a result, labourers are looking towards works in employment guarantee scheme, as agriculture jobs have declined.
Under this employment guarantee scheme several works which are useful for the farmers have been taken up apart from increasing ground water levels, rain water harvesting, repairing ponds and other water sources. Especially tanks, fishponds and farm ponds are being dug.  https://www.thehansindia.com/telangana/agri-ops-hit-as-levels-groundwater-shrink-513159  (18 March 2019)
Village spends ₹ 2.4 lakh a month on drinking water According to the villagers, there are about 24 borewells for public use and many of them are on the verge of drying up. Atmakur has a population of about 5,000 with 1,000 houses. Many of them cannot afford to buy drinking water every day. So, they are forced to be content and compromise with whatever water is available while others buy water in cans.
"There is a grave drinking water problem in the village and we are not getting Mission Bhagiratha water yet. Though there are 24 borewells in the village many of them have already dried up and some are yielding very little water. Not everyone is in a position to purchase water. Every day, about 400 water bubble top cans are being sold in the village," admitted a local public representative on condition of anonymity. The rest is simple math. Each bubble top can costs ₹ 20 and 400 bottles add up to ₹ 8,000 per day and ₹ 2.4 lakh per month! https://www.thehindu.com/news/national/telangana/this-village-spends-24-lakh-a-month-on-drinking-water/article26584377.ece  (20 March 2019)
Zaheerabad staring at severe water scarcity  With just one month into the summer season, the Zaheerabad town is going to face water scarcity problems, according to the Municipal Commissioner Vikram Simha Reddy. The Municipal Commissioner had visited Manjira River on March 20 and raised alarm over the drastic fall in the water levels. https://www.thehansindia.com/telangana/zaheerabad-staring-at-severe-water-scarcity-514177  (22 March 2019)
Groundwater fast drying up in city Despite excessive rainfall in 2017-18, the city received only 1,123 mm of rain, nearly 44 % higher than the normal rate that is 750-800 mm, yet the groundwater levels are far from satisfactory and depleting levels continues to be at an alarming state.
The water experts say that rapid growth of colonies with 95 per cent of concretisation leaving minimal space for gardens or lawns and a huge populace drawing groundwater without replenishing it are the main reasons.
Hyderabad is a hard rock land, and that is the reason only 10-20 percent of rainwater reaches the ground and rest washes away. The present population in Hyderabad is 9.7 million and by 2025 it might be 11.65 million and demand of the ground water will be double. https://www.thehansindia.com/telangana/groundwater-fast-drying-up-in-city-513840  (20 March 2019)
Karnataka Govt asks Maharashtra to release 4 TMC to meet potable water needs Water Resource Minister DK Shivakumar on March 21 wrote to Maharashtra CM requesting him to release 2 TMC water from the Koyna Dam to the Krishna river and 2 TMC water from Ujjani Dam to the Bhadra river in Karnataka to help with drinking water requirements in north Karnataka.
The minister further stated that the early onset of summer this year has resulted in the higher temperatures in these districts, causing shortage of drinking water. Karnataka State Natural Disaster Monitoring Centre (KSNDMC) had also said that the rain received between September 1, 2017 and February 20, 2018 was 40-60%  less than what was expected, which has led to severe water scarcity. https://www.thenewsminute.com/article/release-4-tmc-drinking-water-ktaka-dk-shivakumar-writes-maharashtra-cm-98710  (21 March 2019)
In a separate development Income Tax Department is in the process of confiscating benami properties estimated to be worth Rs 75 crore. During the raids on the minister, unaccounted wealth to the tune of Rs 429.32 crore has also been detected.
Addressing a press meet, Balakrishna B R, principal chief commissioner of Income Tax and director general (Investigation), Karnataka and Goa region, said that prosecution of the "Cabinet minister in Karnataka government" would be launched soon. https://www.deccanherald.com/state/top-karnataka-stories/i-t-dept-to-seize-minister-s-assets-worth-rs-75-cr-724776.html  (24 March 2019)
'Water marshals' will track tankers A team of 11 members has been formed by the Bruhat Bengaluru Mahanagara Palike (BBMP) to keep a check on private water tankers that are charging exorbitant amounts from residents.
In a joint meeting of BBMP and Bangalore Water Supply and Sewerage Board (BWSSB) on March 16, it was decided that not only will the water marshals keep an eye on the private tankers, but BWSSB will also provide water for free to BBMP tankers that supply to areas facing water shortage. But private tankers too will be allowed to supply water to areas with shortages. BBMP is also open to authorising and registering private tankers with them so that they are recognised and charge a fixed amount.  https://bangaloremirror.indiatimes.com/bangalore/civic/water-marshals-will-track-tankers/articleshow/68470854.cms  (19 March 2019)
Maharashtra The ambitious water project that failed  Drought has been declared in the western Indian state of Maharashtra, despite an ambitious govt scheme to replenish ground water supplies. So what went wrong? BBC Marathi investigates. https://www.bbc.com/news/world-asia-india-46341433   (19 March 2019)
Tamil Nadu Drought worse than 2017 likely this year  As per the data by the State Ground and Surface Water Resources Data Centre, water levels in 19 of the 32 districts in the state are in the red category. Moreover, groundwater levels in Tiruvallur, Kancheepuram and Vellore have dropped by an average of one metre from January.
Although the water levels were not recorded for Chennai, the decreasing water levels in neighbouring districts directly affects Chennai's drinking water sources and people have to rely on private water tankers for drinking water. According to officials, though cyclone Gaja brought moderate rainfall to the southern districts, groundwater levels went up only marginally due to lack of water retaining structures. http://www.newindianexpress.com/states/tamil-nadu/2019/mar/11/drought-worse-than-2017-likely-this-year-groundwater-dips-by-1-metre-in-3-districts-1949460.html  (11 March 2019)
SOUTH ASIA
Indus Water Treaty SHOULD INDIA REVISIT THE INDUS TREATY? This article by well known lawyer Mohan Katarki confines its examination to the questions of the legality of the termination of the Indus Water treaty in international law and its injurious impact on the ground.
– The important point is that the physical impact arising from the unilateral termination by the upper State is not even skin deep, because, by knocking out a water treaty, the natural flow of water by gravity cannot be stopped automatically. A water treaty is not like a water tap where the water will stop when you turn it off. The termination of treaty, therefore, has no meaning at all on the ground because the river water will continue to be drawn to Pakistan by gravity, regardless of a treaty or otherwise.
– However, India has an arguable case for the revision of the treaty (as distinguished from a unilateral termination or withdrawal) by bilateral discussion. The doctrine of Ribus sic stantibus has been crystallised as "Fundamental Change of Circumstances" in Article 62 of the Vienna Convention on Law of Treaties (VCLT). However, the VCLT which came into force in 1980 has no application to the Indus treaty entered which into in 1960. The revisitation of the treaty, therefore must not be ignored if one has regard for the shortages in India in meeting its legitimate needs, the declining basin yield or quantum of water in the basin, threat of climate change, occurrence of sedimentation in Pakistan, etc.
– But, a look into any basic map would suggest that the streams, Chandra and Bhaga, which are the tributaries of Chenab (part of the Western Rivers) can be connected to the Eastern Rivers, which have fallen to the share of India. The Chandra river transverses about 115 km before the confluence and similarly, the Bhaga river transverses through narrow gorges a distance of 60 km before the confluence. These tributaries can be linked across the mountain by tunnels to the Eastern Rivers, namely Ravi, Beas and Satluj. The link is likely to transfer about 3 to 4 MAF of water. If this quantity becomes available, India can use 2 to 3 MAF and part with 1 MAF to Pakistan to wet its part of the Ravi as a succour to Lahore. http://www.kashmirtimes.com/newsdet.aspx?q=88908  (18 March 2019)
Nepal Climate risk to hydropower investment In a normal winter, northern India and Nepal get 3-4 westerly disturbances. This year there were 12 frontal systems dumping snow and rain across Nepal. Kathmandu Valley and surrounding mountains had snowfall twice within a month and received 90mm of rain on the night of 26 February alone — the heaviest ever recorded, and almost five times higher than the monthly average. Rains in other parts of Nepal were three times higher than the winter average. Earlier lighter snowfalls in Kathmandu were in 1946 and 2007.
– Madan Lal Shrestha is Nepal's leading climate scientist and says the trend is worrying: "The westerly systems seem to be shifting southward and bringing these anomalies." https://www.nepalitimes.com/opinion/climate-risk-to-hydropower-investment/   (12 March 2019)
Bangladesh Hilsa fish production doubles during last decade The production of the Hilsa or Ilish fish has doubled in Bangladesh during the last one decade since 2008-09 from 3 lakh Tonnes to 6 lakh tonnes last year. https://nenow.in/north-east-news/hilsa-fish-production-doubles-during-last-decade-in-bangladesh.html  (17 March 2019)
CHINA
230,000 DIED IN A DAM COLLAPSE THAT CHINA KEPT SECRET FOR YEARS IN WORLD'S DEADLIEST EVER DAM DISASTER, in CHINA, due to heavy rains brought by Storm Nina during Aug 5-8, 1975, BANQIAO Dam breached, after some 65 dams collapsed in the same area, leading to mind bogging 230 000 DEATHS. China kept that disaster under wraps for years. This article provides some key details. https://www.ozy.com/flashback/230000-died-in-a-dam-collapse-that-china-kept-secret-for-years/91699  (17 Feb. 2019)
https://www.voanews.com/embed/player/0/4550530.html?type=video
THE REST OF THE WORLD
Report on MID WEST FLOODS & DAMS FLOODS When a river swells – The ongoing disaster unfolding in the Midwest also has revitalized the long-running debate over whether to continue to try to control rivers or to make more room for them to swell. "What should happen is we need to have real discussions about rebuilding versus, in some cases, unbuilding," Rob Moore, a senior policy analyst at the Natural Resources Defense Council and a flood insurance expert said. "How do we help people move out of these areas that are prone to this type of flooding and that are going to be more vulnerable to these types of events as climate change gets worse?"
– "The water has to go somewhere," said John Barry, author of "Rising Tide," which recounts the story of the 1927 Mississippi River flood. "And what creates a problem or benefit right in front of you is going to have a counterbalancing problem or benefit somewhere else." Nicholas Pinter, a professor of geology and flood researcher at the University of California at Davis, said the current flooding in the Midwest presents both success stories and failures of levees.
– On Thursday (March 21) in Missouri, Mike Parson (R) became the latest governor to declare a state of emergency, following Iowa, Wisconsin and Nebraska, where 96 cities, 79 counties and four tribal areas had made similar declarations.
– Even as floodwaters continue to rise, the National Oceanic and Atmospheric Administration warned Thursday that a devastating spring lies ahead. "We expect the flooding to get worse and become more widespread," Mary Erikson, deputy director of NOAA's National Weather Service, told reporters. "The stage is set for record flooding now through May." Erikson said the flooding "could be worse than anything we have seen in recent years," including the devastating floods in 1993 and 2011, considered among the worst in U.S. history.
– Because of river levels that are already high, hefty snowpack in the Northern Plains and above-normal soil moisture, "conditions are primed" for more flooding, said Edward Clark, director of NOAA's National Weather Center. "This is potentially an unprecedented flood season," he said.
– According to the National Committee on Levee Safety, approximately 85 percent of the 14,685 miles of levees in the National Levee Database are operated by local sponsors, not the Corps of Engineers. And that database accounts for only a portion of the estimated 100,000 miles of levees across the United States, most of which are not part of any federal program. In 2017, the American Society of Civil Engineers gave the nation's levees a "D" grade, saying that "as development continues to encroach in floodplains along rivers and coastal areas, an estimated $80 billion is needed in the next 10 years to maintain and improve" aging levee infrastructure.
– "We need new strategies, including giving rivers room and moving people out of harm's way," Bob Irvin, president of American Rivers, a conservation group, said in a statement.
– When the water surged to historic heights in 1993, federal officials told Illinois farmer Jeff Lorton not to continue sandbagging the levee that protected his 3,000 hogs. He saved his livestock, but his farm and others nearby flooded, reducing the impact downstream. During severe floods in 2011, the Corps blew open a two-mile stretch of levee in Missouri, sacrificing some 130,000 acres of farmland to save more densely populated parts of Illinois. For Pinter, such episodes under­score a mantra in his field. "There are two types of levees," he said. "Those that have failed and those that will fail."  https://www.washingtonpost.com/national/health-science/when-a-river-swells-are-levees-the-best-way-to-deal-with-it/2019/03/21/bd7d2e3e-4c0d-11e9-9663-00ac73f49662_story.html  (21 March 2019)
– The flood has already broken three records upstream, according to National Weather Service officials. This includes at Plattsmouth, Nebraska City and Brownville in Nebraska. A Corps of Engineers official said it was the largest inflow and largest volume of water into the Gavins Point pool from the Niobrara River area for the past 120 years. http://wyandottedaily.com/missouri-river-now-expected-to-crest-on-saturday-night-in-kc/   (22 March 2019)
'It's Probably Over for Us' Farmers over the world have stories that sound strangely similar these days. "There's not many farms left like this, and it's probably over for us too, now," said Anthony Ruzicka, whose alfalfa and corn fields were filled with giant ice chunks. "Financially, how do you recover from something like this?"
"It's going to affect them for years," Ms. Sucha said. "You're not going to be able to sleep at night because you've got so much loss." "You've got a generation of young farmers on the verge of leaving; you've got a lot of mental health stress out there — and that was before the storm," said Roger Johnson, president of the National Farmers Union. "You just pile this on top." https://www.nytimes.com/2019/03/18/us/nebraska-floods.html  (18 March 2019)
How did it cause so much flooding? The devastating effect came mainly from what the rain fell upon: a snow-covered region that was unable to absorb much of the blow.
"A lot of it stems from the fall flooding in September and October," said Mindy Beerends, a senior meteorologist at the Des Moines office of the National Weather Service. "The soil was saturated in the fall."
That moisture stayed in the ground all winter, deep-frozen, while snow piled up on top of it, she said — and then, "on Wednesday and Thursday, warm air moved in, and we got rain, and the snow melted."
"The higher-than-average precipitation, combined with warm temperatures, snowmelt and the frozen ground, was a perfect storm for flooding," Ms. Beerends added. "The ingredients were in place."
The flat, frozen land, unable to soak in much of the water, spread it fast and furious, the way liquid would spread across a tiled floor. And the runoff quickly filled many rivers and streams to overflowing.
"The ground was like concrete," said Kevin Low, a hydrologist at the service's Missouri Basin River Forecast Center. "In January, temperatures took a nose dive and we've had deeply frozen ground all the way south into Missouri." https://www.nytimes.com/2019/03/18/us/flood-facts.html  (18 March 2019)
Flood Damage High From Lack of Warning Exasperated local officials told Iowa Gov. Kim Reynolds on Monday about lost farms and businesses due to flooding, ongoing river breaches, the need for higher levees and their concern about a lack of information from the U.S. Army Corps of Engineers. Flooding over the weekend in the Missouri River Basin quickly became more destructive than flooding the region faced in the spring and summer of 2011. Levees that held back the river eight years ago collapsed and were undermined by heavy water coming from multiple rivers. Levee breaches and topping continue down into northwest Missouri, as well.
– The river topped a sandbag wall in Hamburg, Iowa, early Monday (March 18, 2019) and had flooded every other Iowa river community up to Council Bluffs. By Sunday evening, the entire town of Pacific Junction, Iowa had to be evacuated just west of Iowa's bluffs, and the entire town was flooded Monday morning. The Army Corps of Engineers reported at least 20 levees south of Omaha on the Missouri River were topped or breached in Nebraska, Iowa and Missouri. At least five other Corps levees in Missouri were at risk of breach or topping.
– Carol Vinton, chairwoman of the Mills County Board of Supervisors, told Reynolds on Monday she was frustrated there wasn't more forewarning about the possible risks of such flooding in early March. Just over a week ago, most of the region was facing freezing temperatures and standing snow that quickly turned into a flood risk.
– Larry Hurst, director of Mills County (Iowa) Emergency Management, pointed out the cascade of events from the Spencer Dam failure along the Niobrara River that pressured the Corps of Engineers to increase water releases at Gavins Point Dam on Thursday night into Friday. "The Corps need to be more open with emergency management," Hurst said. "We have to have it, and that's the main point I hear from this side of the state from emergency management is we need better communication from that federal agency."
– Beyond the Corps' control, though, was the inflow from the Platte River into the Missouri River. Where they join, the Missouri River was moving 350,000 cubic feet per second. https://www.ocj.com/2019/03/flood-damage-high-from-lack-of-warning/   (19 March 2019)
Stockyards Expressway closed due to flooding  The Holt County Sheriff has announced an evacuation from the Exide Technology Plant in Forest City as flooding concerns intensify in the region. In St. Joseph, the latest forecast now calls for a river crest of 30.1 feet late Friday (March 22) or early Saturday, which would be the second-highest level on record after 1993. In Holt County, Presiding Commissioner Tom Bullock told Missouri Farm Bureau that every flood that hits the area seems to be record. "Basically, all the levees around here are busted," he said, "and we haven't even gotten into the wet time of our season. Usually the river runs high in May and June."
– Craig, Missouri, was flooded following multiple levee failures in Holt County. The Missouri State Highway Patrol worked throughout the night on water rescues in the Craig area, with four people rescued from homes and three retrieved from a boat that ran out of fuel. The National Weather Service is forecasting high flows from melting snowpack in the coming weeks on the Big Sioux, Vermillion, and James Rivers in eastern South Dakota. These conditions will result in a significant portion of the melted snowpack becoming direct runoff into smaller streams, and eventually, into the Missouri River. http://www.newspressnow.com/news/local_news/st-joseph-braces-for-floodwaters-as-craig-is-swamped/article_69bde05d-d25e-57ad-9d3a-24126dbae2cc.html  (21 March 2019)
Senator Grassley criticizes Corps of Engineers for handling of water releases  Leaders of water-inundated towns in southwest Iowa are blaming the U.S. Army Corps of Engineers for blundering decisions that may have contributed to the region's widespread flooding.
– Iowa Senator Chuck Grassley says he "absolutely" will call for an inquiry into the Corps' actions, like ordering the town of Hamburg to remove reinforcements from a levee which protected the town in the 2011 floods. "When a town was trying to help themselves and then have to take protection down and then get flooded like they have now, where it's probably worse than it was in 2011," Grassley says, "we have to have a complete review of the manual that governs all that."
– The Corps is also being criticized for having radically boosted releases recently from Gavins Point Dam upriver on the Missouri River and for now vowing to cut back the flow when the damage is already done. Critics say it's far too little, too late."Now that this flooding is taking place, to have the Corps say that some of the dams, that they're going to shut down releases right now as the flooding is happening, not being on top of it ahead of time, trying to anticipate things," Grassley says. "It's ridiculous." https://www.radioiowa.com/2019/03/19/senator-grassley-criticizes-corps-of-engineers-for-handling-of-water-releases/   (19 March 2019)
Fascinating satellite images from NASA of US MIDWEST FLOODS during last one week in Missouri and Mississippi river basins.  https://earthobservatory.nasa.gov/images/144691/historic-floods-inundate-nebraska   (19 March 2019)
FASCINATING story of how Mr Remus of Army Corps of Engineers  balanced between flood control and dams safety recently in USA's Missouri Basin when it was hit by BOMB  CYCLONE with clear climate change signature, which as Remus says, it was not equipped to handle.
– To save Gavins Point, he ordered its spillways opened. At its peak, 100,000 cubic feet of water per second, the same as Niagara Falls, poured into a river already surging toward record heights. "We filled up our bucket, and the spigot kept running," Mr. Remus said.
– "Scientists say that, in the Missouri Basin, we'll be spending more time at each end of the spectrum — longer and more severe floods, longer and more severe droughts," Mr. Remus said. And this year, he had "nothing but bad options."
– Mr. Remus's stewardship of the river is guided by a 432-page document, the Master Manual, which lays out the eight congressionally authorized purposes he must balance. They are flood control, river navigation, hydroelectric power, irrigation, water supply, water quality, recreation (such as fishing or boating), and the preservation of endangered species.
– One problem with that: The Master Manual does not explicitly tell Mr. Remus which is more important. Thus the eight purposes exist in a near constant state of tension. "You can't say that you serve all of them equally," Mr. Remus said. The word he clings to is "balance." But when extreme flooding looms, he said, "the balance goes away." Then, all that matters is flood control.
– DISPLACED PEOPLE: Faith Spotted Eagle, a 70-year-old tribal elder and activist from the Yankton Sioux Reservation in South Dakota, said she remembers as a child having to leave her family's home in the village of White Swan, now beneath 140 feet of water at the bottom of Lake Francis Case, a reservoir created by the Fort Randall Dam. The Yankton never consented to their land being submerged. In 2002 the tribe was paid $23 million for the 2,851 acres that were affected in the 1950s, and is still fighting for compensation for hundreds of additional acres it says have since been eroded away. "It's all loss, loss, loss," she said.
– 2011 FLOODS PROVIDED AN OPPORTUNITY To Mr. Remus, 2011's destructive flood represented a rare opportunity to rethink the Missouri River levee system to accommodate more floodwater. The easiest way to do that would be to move levees away from the river, making the flood plain bigger. He took his argument to the local board that oversaw the destroyed levee. Faced with the costs of rebuilding their levee practically from scratch, he reasoned, they might be willing to move it back. Leo Ettleman, 64, was at those meetings and said he remembers saying, "John, we can't afford it," to which he says Mr. Remus replied: "Can you afford floods?" https://www.nytimes.com/2019/03/21/climate/missouri-river-flooding-dams-climate.html   (21 March 2019)
More flooding risk in US this spring. https://www.nytimes.com/2019/03/21/climate/climate-change-flooding.html  (21 March 2019)
From the archives: Corps warned about 2011 flooding As Missouri basin in Mid west USA and the larger Mississippi basin face big floods now and await more in coming months, this fascinating article provides BLOW BY BLOW details of what happened in 2011. https://www.argusleader.com/story/news/2019/03/22/sioux-falls-argus-leader-big-sioux-river-missouri-river-2011-flood/3245108002/  (22 March 2019)
Going behind the scenes at TVA's River Forecast Center  Tennessee Valley Authority management of 49 dams and rivers in the basin. James Everett manages the Tennessee River Valley inside TVA's River Forecast Center in Knoxville. It's staffed around the clock, 365 days a year, monitoring weather conditions and forecasts and constantly watching and adjusting the Tennessee River system. The team manages a 49-dam, integrated river system to provide flood-damage reduction, navigation, hydroelectric power, water quality, water supply and recreation. "Hour by hour decisions are made about how much water to release, how high lake levels are going to get, rainfall amounts," Everett explained.
– "We essentially go to zero flow. So we shut flows down from these reservoirs, slow down that flow of water into the Tennessee River," Everett is candid. http://www.waff.com/2019/03/20/going-behind-scenes-tvas-river-forecast-center/     (20 March 2019)
Cyclone Idai Over 1,000 feared dead in Mozambique  More than 1,000 people were feared dead in Mozambique four days after a cyclone slammed into the country, submerging entire villages and leaving bodies floating in the floodwaters, the nation's president said.
– Cyclone Idai could prove to be the deadliest storm in generations to hit the impoverished southeast African country of 30 million people.
– Mozambique is a long, narrow country with a 2,400-kilometer (1,500-mile) coastline along the Indian Ocean. It is prone to cyclones and tropical storms this time of year.
In 2000, Mozambique was hit by severe flooding caused by weeks of heavy rain, a disaster made much worse when a cyclone hit. Approximately 700 people were killed in what was regarded as the worst flooding in 50 years. https://indianexpress.com/article/world/over-1000-feared-dead-after-cyclone-idai-slams-into-mozambique-5633084/ (20 March 2019)
Role of climate change? "While Cyclone Idai is the seventh such major storm of the Indian Ocean season – more than double the average for this time of year – the long-term trend does not support the idea that these type of events are now more frequent.
"The interesting thing for the area is that the frequency of tropical cyclones has decreased ever so slightly over the last 70 years," said Dr Jennifer Fitchett from the University of the Witwatersrand in South Africa who has studied the question.
"Instead, we are getting a much higher frequency of high-intensity storms."
Climate change is also changing a number of factors in the background that are contributing to making the impact of these storms worse.
"There is absolutely no doubt that when there is a tropical cyclone like this, then because of climate change the rainfall intensities are higher," said Dr Friederike Otto, from the University of Oxford, who has carried a number of studies looking at the influence of warming on specific events.
"And also because of sea-level rise, the resulting flooding is more intense than it would be without human-induced climate change."
According to researchers, about seven different ocean or atmospheric conditions are required for cyclone formation and normally only a couple of these occur. However, because of climate change, more and more of these conditions are coinciding with each other and that's why these big storms happen very quickly.
Whatever arguments about the impacts of climate change on tropical cyclones, the damage caused in Mozambique has much more to do with the vulnerability of people on the ground than rising temperatures.
"If you look at North America, they are experiencing Category 5 cyclones quite regularly now, and they don't experience the level of damage that Mozambique is seeing," said Dr Fitchett.   https://www.bbc.com/news/science-environment-47638588  (20 March 2019)
ZIMBABWE FLOODS Floods Flash Update More than 100 deaths have been reported, more than 200 people have been injured and over 200 are still reported missing. Marowanyati Dam in Murambinda has overflowed, raising water levels in Mwerahari River. People living along the river have been advised to be on high alert. https://reliefweb.int/report/zimbabwe/zimbabwe-floods-flash-update-no-3-19-march-2019   (19 March 2019)
FLOODS IN SOUTHERN AFRICA, INCLUDING DAM FLOODS: Death toll from cyclone surpasses 500 in southern Africa A week after Cyclone Idai lashed southern Africa, flooding still raged as torrential rains caused a dam to overflow in Zimbabwe, threatening riverside populations. The confirmed death toll in Zimbabwe, neighboring Mozambique and Malawi surpassed 500 on Thursday, with hundreds more feared dead in towns and villages that were completely submerged. Some 65,000 people had been saved by rescue workers who plucked them from rooftops and trees, and 182,000 had been affected by the flooding.
– There was "alarming news" that the Marowanyati dam in Zimbabwe was hit by heavy rains overnight, putting populations in the region at risk. https://www.apnews.com/c70e66f90fc441de9842fefde29bf82d  (22 March 2019)
US Measuring impact of drought on groundwater resources from space – ASU scientists has been using the latest space technology, combined with ground measurements, to assess the health of one of the nation's most important sources of underground water, a large aquifer system located in California's San Joaquin Valley.
– The results of the recent study, which is a follow up to their 2018 published research on the 2007-2010 drought in California's Central Valley, show an alarming loss of ground water each year of the 2012-2105 drought and, more importantly, an overall permanent loss of storage capacity in the San Joaquin Valley aquifer.
– While this research specifically focused on California, the researchers plan to continue this type of data analysis to measure aquifers health in the southwestern United states and around the world. https://www.sciencedaily.com/releases/2019/03/190320102007.htm   (19 March 2019)
Power Companies Refute Findings An estimated 91% coal power plants that submitted groundwater monitoring data as required by the Environmental Protection Agency's (EPA's) 2015 Coal Combustion Residuals (CCR) rule have unsafe levels of one or more contaminants, a collaborative analysis of the monitoring data by several environmental groups suggests. https://www.powermag.com/power-companies-refute-findings-of-widespread-coal-plant-groundwater-contamination/  (7 March 2019)
Australia Toxic mine water contaminating creek system in far north Queensland A mothballed mine in far north Queensland is leaching toxic water from a new 'seepage' point into neighbouring waterways, according to the State Government. It said the new leak was coming from a massive disused pit full of contaminated water at the Baal Gammon copper mine that sits next to a creek near the township of Watsonville, south west of Cairns.
Testing by the environment department found heavy metals including arsenic and cadmium in the seep water that was discovered after heavy rain hit the area in late January. Locals are being warned not to use the water downstream in Jamie Creek for drinking or cooking. https://www.abc.net.au/news/2019-03-19/baal-gammon-mine-leaking-contaminated-water/10914440  (19 March 2019)
Yarra River's environmental health at risk The Yarra River's environmental health is being put at risk due to litter, pollution and invasive species, with nearly 180 tonnes of rubbish being collected from the river system over a four-year period, a report has warned.
Victoria's Commissioner for Environmental Sustainability rated the river's health as "poor" in 18 out of 25 environmental indicators in its first State of the Yarra report, which provides a comprehensive assessment of the baseline health of the ecosystem. https://www.abc.net.au/news/2019-03-20/yarra-river-environmental-health-at-risk-due-to-pollution/10922346  (21 March 2019)
UK Help us protect the Goodwin Sands from destruction by dredging The Goodwins, as they are known locally, are a 10-mile long sandbank lying three miles off the East Kent coast and stretching between Sandwich and St Margaret's Bay. They are recommended for designation as a Marine Conservation Zone (rMCZ) full of vulnerable ecosystems and are the UK's most important underwater archaeological area as well as the largest maritime graveyard in UK waters, possibly in the world.  https://www.crowdjustice.com/case/help-us-save-the-goodwin-sands/  (19 March 2019)
CLIMATE CHANGE
US A Soggy Outlook For Area Farmers? According to Colorado state climatologist Becky Bollinger, "This is the wettest winter for the entire United States in the past 124 years (of recorded data)". The May-July forecast calls for an increased chance of above-average precipitation for much of the region, along with prospects for below-normal temperatures. Based on the National Weather Service (NWS) forecast, the prospects look good for continued flooding for the next several days and even weeks, according to hydrologist Jim Noel with the Ohio River Forecast Center.
During the next five days, the upper Missouri River basin can expect another round of flooding of rivers and streams. The current plan is to begin releases from Fort Randall Dam on Saturday. Travel time from Fort Randall Dam to Gavins Point Dam is about 1.5 days. The Corps is also seeking to reduce the impact of high inflows from the James, Vermillion and Big Sioux rivers downstream of Gavins Point, the final dam on the mainstem system. The Missouri River basin looks as if it could see a rapid melt starting next week, according to the NWS forecast. https://www.yankton.net/community/article_f9c18b22-4c50-11e9-a4f1-d7b9d4df1fed.html  (21 March 2019)   
ENVIRONMENT
National NGT pulls up Ministry for not furnishing proper data The NGT has pulled up the MoEF for not furnishing proper data on monitoring mechanism for compliance of conditions of environment clearance granted by the Ministry. A Bench headed by NGT Chairperson Justice Adarsh Kumar Goel directed a senior official of MoEF to appear before the tribunal on April 29. https://www.thehindu.com/news/national/other-states/ngt-pulls-up-ministry-for-not-furnishing-proper-data/article26573714.ece  (19 March 2019)
Forest Rights Act Centre drafts stricter alternative to Colonial-era Indian Forest Act, 1927  The Union govt proposes an even more draconian forest law to replace the colonial-era Indian Forest Act, 1927. Including forest officers to use firearms with high immunity. Override over Forest Rights Act and legalising commercial plantations. https://www.business-standard.com/article/economy-policy/centre-drafts-stricter-alternative-to-colonial-era-indian-forest-act-1927-119032001071_1.html  (21 March 2019)
Disempowering gram sabhas On Feb 26, while most of us were caught up in news about Balakhot, the govt also carried out a strike on gram sabhas of Adivasis and forestdwellers. Chitrangada Choudhury column on how this move damages our forests, and our democracy. https://www.thehindu.com/opinion/op-ed/disempowering-gram-sabhas/article26583768.ece   (20 March 2019)
Centre's nod for mining in 170,000 hectares of forest in Chhattisgarh The MoEF has given environmental clearance for open cast coal mining in Parsa in Chhattisgarh's dense Hasdeo Arand forests, in a decision that could have far-reaching consequences for forest cover conservation in India.
Hasdeo Arand is one of the largest contiguous stretches of very dense forest in central India, spanning about 170,000 hectares. Parsa is one of the 30 coal blocks in Hasdeo Arand and is owned by the Rajasthan Rajya Vidyut Utpadan Nigam Ltd (RVUNL). https://www.hindustantimes.com/india-news/centre-s-nod-for-mining-in-170khectares-of-forest/story-F60Pb7W8ybegHntaQ9YBwK.html  (21 March 2019)
Documents reveal Modi and Javadekar's war on environment This post by Huffington Post shows how the PM himself pushed dilution of environmental laws that courts or Parliamentary panels shot down. https://www.huffingtonpost.in/entry/documents-reveal-modi-and-javadekars-war-on-indias-environment_in_5c97cba3e4b0a6329e180367  (25 March 2019)
Compiled by SANDRP (ht.sandrp@gmail.com)
Also see: DRP News Bulletin 18 March 2019 & DRP News Bulletin 11 March 2019
Follow us on: www.facebook.com/sandrp.in; https://twitter.com/Indian_Rivers