Wetlands are critical part of hydrological systems. They provide multiple ecological services to people living in proximal areas. The invisible contribution of wetlands in saturating aquifers and checking groundwater depletion is essential given the growing water scarcity. Additionally, wetlands are home to a variety of plants and animals species making them fully functional and self-sustaining eco-system. Despite the environmental significance and associated support services, wetlands have been subjected to degradation for past many decades.
As part of annual exercise, SANDRP is presenting overview on the status of wetlands over past one year. The overview focuses on incidents of abuse and threats to wetlands across the country. The report also highlights the details of central and state governments' initiatives and administration actions taken aiming at wetlands protection. Apart from this, there is attempt to throw some light on judicial intervention and ongoing court cases regarding wetlands conservation.
North India: State Wise Account of Wetlands Related Developments
UTTAR PRADESH
Govt to preserve 1.23 lakh wetlands State Wetland Authority (SWA) has identified 1.23 lakh wetlands across the state for conservation and protection. Of the 1.23 lakh wetlands, 26,000 water bodies are spread over 2.5 ha each and 97,000 are smaller than that. The order to preserve and protect wetlands was issued by principal secretary, forest, Kalpana Awasthi and SWA chief executive officer Vibhash Ranjan during a video conferencing with senior forest officials on Feb. 13. Ranjan, who is also chief conservator of forest of Gorakhpur forest zone, said the plan was primarily aimed at increasing the fast depleting groundwater in almost every part of UP.
The govt has, meanwhile, entrusted forest officials with the task to file a 25-point comprehensive field report on the status of the identified wetlands and their supporting features for further action. According to Ranjan, at present, Ramgarh Tal in Gorkahpur— spread over 749 ha — is the only notified wetland in the country. In the first phase, SWA will focus primarily on wetlands stretched over 2.5 ha in 10 districts, six in the Ganga basin and four in eastern UP, which have maximum number of wetlands lined up for conservation. As per Field director, Pilibhit tiger reserve, H Rajamohan SWA has identified a total of 303 wetlands spread over 2.5 ha or above in Pilibhit district through satellite imagining and remote sensing. https://timesofindia.indiatimes.com/city/bareilly/up-to-preserve-1-23-lakh-wetlands-to-replenish-fast-depleting-groundwater/articleshow/67999107.cms (14 Feb. 2019)
Wetland authority to ban summer paddy cultivation  Raising concern over depleting groundwater, UP SWA has decided to ban the cultivation of summer paddy that survives only on the groundwater. According to an estimate of the state agriculture department, summer paddy — the transplantation of which has already been started — is produced in around 3.5 lakh ha in more than 20 districts of western UP stretched up to the Tarai region. The decision was taken by SWA chief executive officer Vibhash Ranjan on World Water Day.
– "The cropping pattern in the state needs to be brought under regulation in phased-manner, and to begin with we will motivate the farmers not to grow summer paddy. As the crop is transplanted in March for harvesting in June, before the arrival of monsoon, the irrigation of this crop contributes to rapid depletion of groundwater," said Ranjan. "The protection and conservation of 1.23 lakh wetlands will not succeed unless there is a ban on the production of summer paddy," Ranjan explained.
– Director of agriculture in Lucknow Soraj Singh said, "An authentic record of this crop is not available, as summer paddy is not a permitted crop." According to an estimation of the Pilibhit agriculture department, summer paddy is sown in around 25,000 ha every year. "According to scientifically collected data by agriculturist, 1.6 kg of summer paddy needs around 2,000 litres of groundwater. With reported production of 80 to 85 quintals per ha in Pilibhit district, the total cultivated area of 25,000 ha need 266 crore litres of ground water every year", said Dr SS Dhaka, senior scientist, Sardar Vallabhbhai Patel University of Agriculture and Technology in Meerut. Ravindra Kumar, former plant physiology scientist at International Rice Research Institute in the Philippines, told TOI, "Around 45% of the total groundwater used in the irrigation of summer paddy, evaporates in the atmosphere, 35% transpires, 5 to 7% lost through runoff and merely 13 to 20% of the total water percolates down to the soil." https://timesofindia.indiatimes.com/city/bareilly/wetland-authority-to-ban-summer-paddy-cultivation-to-save-groundwater/articleshowprint/68569392.cms     (26 March 2019)
Surajpur lake: NGT declares Surajpur as wetland NGT has granted wetland status to Surajpur, which was earlier termed as a reserved forest. This legal acknowledgement formally brings into effect all wetland conservation and management rules to protect the 60 ha low lying area within the 308 ha reserve forest in Surajpur.
The Surajpur wetland had become part of an ambitious project by the Akhilesh Yadav Govt. in 2014 when it was included in a 2000 acre eco-park plan to develop eco-tourism in the district. The wetland is destination for migratory birds from Asia and Europe during the migratory season. The wetland has been home to 186 species of birds from 44 families of this 102 species are resident, 53 are winter migrants and 28 species are summer migrants. 
An NGT bench headed by Justice Raghuvendra Singh Rathod and  expert member Satyawan Singh Garbyal issued the order on Sept 14, 2018, which was uploaded on Sept. 17. However, the court has still not granted wetland status to some other low-lying areas pointed out in the same petition in 2016 by environmentalists. https://timesofindia.indiatimes.com/city/noida/surajpur-a-wetland-cant-allow-constructions-says-ngt/articleshow/65849088.cms  (18 Sept. 2018)
Even though Surajpur has been granted wetland status, at least six marshes in its vicinity are slowly falling prey to pollution and waste dumping. Environmentalists have called for urgent measures to save these low-lying areas that typically remain water logged at all times. https://timesofindia.indiatimes.com/city/noida/six-marshes-around-surajpur-wetland-fall-prey-to-pollution-trash-dumping/articleshow/65878631.cms  (20 Sept. 2018)
Activists now plan to move the Supreme Court against the NGT's decision to not designate six low-lying areas in Surajpur as wetlands. While deciding the case related to the preservation of Surajpur wetland, the NGT also took up the status of six other low-lying areas in the vicinity that the applicant had claimed were wetlands. Activist Vikrant Tongad had filed the case in the NGT, and had marked six areas near the Surajpur wetland, saying that these were part of the wetland's connection channel.
However, according to the response from the State govt, these do not fulfil the criteria of wetland, as specified under the Wetlands Rules, 2017. The NGT ruling came even as the district administration has recently initiated the identification of wetlands that are over 2.5 ha in area. Officials have also said strict action will be taken against those found encroaching on wetlands. According to officials, there are 783 wetlands in the district, of which 41 are of over 2.5 ha in size. The department will prepare a management plan for wetlands and a list of activities that will be regulated and permitted in the notified area and its zone of influence. https://www.hindustantimes.com/noida/conservationists-will-move-sc-for-protecting-six-more-wetlands/story-W7T5fBap7YvAyhVB56GaRO.html  (20 Sept. 2018)
SC notice to Centre, UP on plea against NGT order refusing to declare areas close to Surajpur as wetland The Supreme Court has sought responses from the Centre and the Uttar Pradesh govt on a plea challenging the NGT's order which refused to declare the low lying areas in and around Surajpur reserve forest in Gautam Budh Nagar as protected wetlands.
The top court was hearing a plea filed by environment activist Vikrant Kumar Tongad against Sept. 14, 2018 order of NGT which had disposed of his plea seeking declaration of area in and around Surajpur reserve forest in Gautam Buddh Nagar as protected wetlands on the ground that there is no revenue record corroborating the fact that other six low lying areas are wet land. In his plea in the apex court, Tongad said that the tribunal has failed to take note that he placed on record map prepared by Space Application Centre, Indian Space Research Organisation which mapped around 2,01,503 wetlands in the country. https://www.outlookindia.com/newsscroll/sc-notice-to-centre-up-on-plea-against-ngt-order-refusing-to-declare-surajpur-as-wetland/1482361 (20 Feb. 2019)
Despite pollution impacting water table levels, the number of migratory birds at the wetlands has spiked from 1,920 birds of 31 species in 2017-18 to 3,034 birds of over 40 species in 2018-19. https://indianexpress.com/article/cities/delhi/new-migratory-bird-joins-ever-increasing-flock-at-surajpur-wetlands-5570971/ (6 Feb. 2019)
Surajpur Wetland: Minister promises to protect Surajpur wetland The Gautam Budh Nagar forest department observed World Wetlands Day at the Surajpur wetland and bird sanctuary. State excise minister Jai Pratap Singh, who is in charge of Gautam Budh Nagar district, took part in the event and said that the government will take necessary steps to protect the wetlands, which play a pivotal role in groundwater recharge. The forest department will set up a drinking water facility for visitors at the bird sanctuary. It will develop facilities for visitors at the Surajpur wetland and bird sanctuary and is also planning to charge a fee from the visitors. https://www.hindustantimes.com/noida/g-noida-minister-promises-to-protect-surajpur-wetland/story-AirXr1t7cbGY2BcCgxJmiK.html (2 Feb. 2018)
DELHI  
Bringing Delhi's dying lakes back Delhi Govt hires WAPCOS to make detailed plans for each of the 200 big and small waterbodies and village ponds after studying them on parameters like depth, drainage network in surrounding areas, siltation of the lake bed, etc. Experts said there were 607 active large waterbodies in 1991, but now there are only 480 with more and more either drying out or getting encroached every year. This is also contributing to Delhi's water crisis. Out of the 480 waterbodies, most are located in west Delhi, the remaining spread out in south, southwest & north. https://timesofindia.indiatimes.com/city/delhi/bringing-citys-dying-lakes-back-to-life-may-be-a-3-idea-dream/articleshow/65140947.cms  (26 July 2018)
Govt's mega plan for lake revival DJB on Dec 24, 2018 approved Rs. 453 crore to recharge and rejuvenate 159 lakes in the national capital and create to lakes. The Delhi Jal Board said over 350 acres in the national capital will be covered by water bodies, which would be able to hold 135 million gallons of water and help recharge groundwater. DJB also approved Rs 77 cr for creating two mega lakes in Rohini and Nilothi. https://www.ndtv.com/delhi-news/delhi-city-of-lakes-arvind-kejriwals-mega-plan-sets-sail-1967633 (25 Dec. 2018)
This covers 159 lakes, first 10 to be covered in four months. Small lakes will be fed by treated waste water with BOD around 10 ppm from decentralised STPs. A pilot project at Rajkori is already a success. The total area of all the lakes will be 350 acres, with capacity to hold 1581 million litres of water. The lakes would have floating plants, mechanised aeration as appropriate. https://indianexpress.com/article/cities/delhi/delhi-159-dying-lakes-to-get-fresh-lease-of-life-as-jal-board-begins-ambitious-rs-376-crore-project-5508352/  (25 Dec. 2018)
DJB to focus on decentralized STPs DJB has approved a policy for enforcing decentralised waste water treatment systems. DJB will now give 90% rebate on sewer charges for those using such plants for water recycling. DJB also approved appointment of WAPCOS as the consultant for rejuvenating 12 waterbodies, commissioning of study for utilisation of 456 MGD water from STPs, and sewer and water lines under the sewerage master plan 2031.
However, the Badshapur drain, drain number 6 carrying industrial effluents from Panipat industrial area and drain number 8 in Haryana will continue to create obstacles in the Yamuna cleaning project. https://timesofindia.indiatimes.com/city/delhi/djb-focuses-on-decentralised-stps/articleshow/65536538.cms  (25 Aug. 2018)
Delhi Govt's water body revival project brings dead pond alive The pond in Rajokri, on the ridge near the Gurugram border,  underwent a total transformation after it was selected as a pilot project for  a decentralised mini-sewage treatment system. https://www.youtube.com/watch?v=2G1UTmC_w1w  (27 Dec. 2018)
Govt proposes to set up body to protect wetlands The Delhi govt's environment department proposes to set up a wetland development authority — a body to look after the preservation and revival of water bodies in the national Capital. Several ponds, johars, baolis and lakes in the city have either been encroached or been turned into dump yards. Currently, the responsibility of preserving and restoring wetlands in the city lies with several agencies, including the DJB, DDA, PWD and the municipal corporations. The environment and forest department is preparing a proposal, which will be introduced before the cabinet. https://www.hindustantimes.com/delhi-news/environment-department-proposes-to-set-up-body-to-protect-delhi-s-wetlands/story-YDXcuteCEZotg7oOJzTVnL.html  (4 Jan. 2019)
Hauz Khas Lake: use artificial wetlands Tarun Sebastian Nanda, a civil and environmental engineer has taken up a project of cleaning the Hauz Khas lake in Delhi by using artificially constructed wetlands. These wetlands act as biofilters and are far easier to maintain than mechanical treatment plants. https://www.youtube.com/watch?v=PZJB7WIfRNw (9 May 2018)
In the floating wetlands, plants are grown on a mat built with wire mesh, drainage pipes and used water bottles. The miniature floating wetlands will naturally purify the water by eradicating algae and absorbing nitrates, phosphates and other metals.
The lake, originally spread over 125 acres, was 600m x 700m x 4m and its capacity at the end of every monsoon was reported to be 0.8 mcum. The lake has shrunk in size to 15 acres with a depth of 1 to 2.5 m. The porous rock bed and the resultant seepage and evaporation result in the lake drying up quickly. The lake needs to be regularly replenished as a result. The state of the lake can be attributed to siltation, encroachment of stormwater channels and lakebed and the change in the characteristics of the urbanising catchment.
The quality of water available to replenish the lake is also deteriorating due to the conversion of natural stormwater channels into sewage disposal drains and the dumping of urban wastewaters into natural ecosystems. The lake complex was included within an urban district park under the Delhi Master Plan of 1961. The last time the lake became full was after the floods of 1964, but it again fell into neglect and went dry for the next 40 years. Filling it with stormwater would have meant bringing in the polluted waters that flowed into the stormwater drains. https://www.indiawaterportal.org/articles/islands-float-delhi-lake  (8 March 2018)
Purana Qila Lake: Concretizing bed to affect its recharge capacity The Archaeological Survey (ASI) of India, following a NGT order, started restoring the moat lake at Purana Qila and outsourced the work to the National Building Construction Corporation (NBCC). The agencies was also considering lining or concretising the base of the lake and fill it up with water from Okhla STP to ensure that there is water all year round. But, the plan would inhibit groundwater recharge in a water-scarce city like Delhi.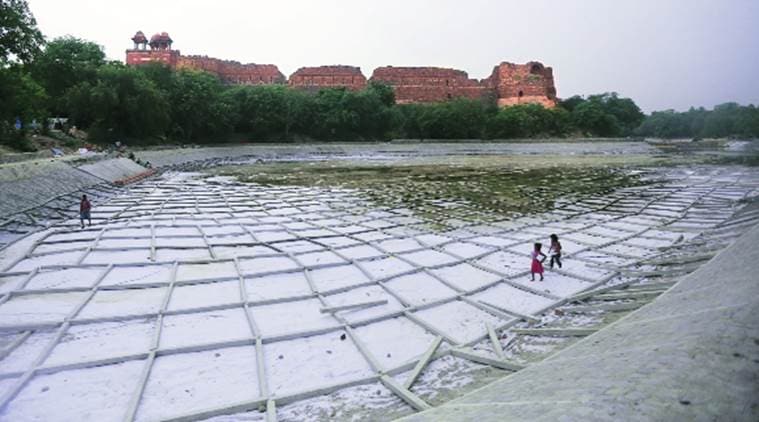 IS THIS REVIVAL??
Regarding the issue, Yamuna Jiye Abhiyan had written to the LG and the CM about how it would inhibit groundwater recharge. As per Manu Bhatnagar, head, natural heritage division of INTACH, moat lake can recharge about 10 MLD. He also said that in simple terms, the recharge potential of the moat — 2 hectares in size — was enough to sustain the water needs of 30,000 people over a year. https://timesofindia.indiatimes.com/city/delhi/purana-qila-lake-may-lose-recharge-capacity/articleshow/64655047.cms (20 June 2018)
Neela Hauz lake: Reviving lake using constructed wetlands Neela Hauz lake that's spread over 10 acres used to serve as the biggest water body in south Delhi but rapid urbanisation turned it into a dump.
But thanks to hard work of four years by Environmental Management of Degraded Ecosystems (CEMDE), Delhi University that the lake is treating lakhs of litres of water on daily basis that too through natural processes and in a cost effective manner. https://www.downtoearth.org.in/video/water/reviving-delhi-lake-using-constructed-wetlands-62759   (9 Jan. 2019)
Barapullah drain: Urban forest developed at marshland of sewage The initiative is the second part of the Union government's Department of Biotechnology (DBT) and Delhi Development Authority (DDA)'s project to clean the Barapullah drain. A total of 2,281 native saplings of 44 different species have been planted in this piece of land over the past six months. The tiny forest is open to the public and the two departments plan to cover the entire patch spread across 750 sq metres with saplings. The 12.5 km-long Barapullah drain carries a huge amount of domestic sewage & is responsible for about 30% of the pollution in Yamuna. https://www.hindustantimes.com/delhi-news/marshland-of-sewage-near-barapullah-drain-turns-into-urban-forest/story-wgMC6dwE4uGpDUxEz1S6ZN.html (6 Feb. 2019)
Bawana: Delhi govt planning 16 'natural STPs' to treat sewage entering Yamuna Buoyed by the success of a 'natural sewage treatment plant (STP)', the state government is planning at least 16 more such units to treat sewage flowing into the Yamuna. The natural STP is at the heart of Bawana industrial area was installed in July 2018. It uses natural material such as pebbles and aquatic plants to clean sewage flowing through the Ghoga drain that starts from the Ghoga village and joins the Bawana escape drain. At least 10 lakh litres of sewage is treated every day this way. https://www.hindustantimes.com/delhi-news/delhi-government-planning-16-natural-stps-to-treat-sewage-entering-yamuna/story-KDuI10gvC2A0kqkm7wWkoO.html  (12 Feb. 2019)
This report has some more information on waterbodies being revived by the govt. using Constructed Wetlands System. https://www.thehindubusinessline.com/blink/know/step-by-step-drop-by-drop/article26148061.ece   (1 Feb. 2019)
Tikri Khurd Lake: Decide if it is wetland: NGT The green tribunal has directed the Wetlands Authority of Delhi to hold a meeting and decide within a month whether the Tikri Khurd lake in Narela is a wetland. "If any steps are required to be taken for making the Wetland Authority fully functional, such steps may be taken by the Delhi chief secretary. Even if it is found that the area in question is not technically a wetland, the lake is required to be preserved as a water body.
"Wetlands Authority may co-opt DDA as a member of the Wetland Authority under Rule 5 (3) of the rules so that the effective joint decision can be taken to resolve the dispute whether the area falls within the jurisdiction of DDA or Delhi government," the bench said.
The tribunal also directed the CPCB to ascertain whether the National Wetlands Authority is functioning at the central level and Wetland Authorities at all the states or Union Territories. "If not, their functioning be required to be operational within one month. Such authorities may identify wetland and water bodies and take further steps for their protection. A status report in the matter be furnished before the next date" the NGT bench said.
The tribunal also rapped the DDA over its submission that the Tikri Khurd Lake did not exist in the records and said,"We may only comment that stand of the DDA does not show commitment for conserving water body and merely focusses on technicalities and shifting responsibility which attitude is not consistent with Articles 48A and 51-A (g) of the Constitution, expected from a public body." https://www.outlookindia.com/newsscroll/decide-whether-tikri-khurd-lake-in-narela-is-wetland-ngt/1506982  (1 April 2019)
NCR
Shrinking wetlands keep migratory birds away The grasslands, pastures and wetlands were shrinking at an alarming rate keeping the migratory birds away from NCR, found Wetlands Internationals survey.  https://timesofindia.indiatimes.com/city/noida/smog-and-shrinking-wetlands-keep-migratory-birds-away-from-noida/articleshow/62541023.cms (18 Jan 2018)
JAMMU & KASHMIR
Kashmir Valley was a huge lake Kalhana, the author of the earliest recorded history of Kashmir, Rajtarangni, states that the valley of Kashmir was a huge lake called Satisar. The Lake was drained through the Varmul gorge by Kashyap Reshi after killing the demon Jalodbhava guarding the outlet. The draining of the Lake reclaimed the present valley of Kashmir.
The geological findings especially the presence of Karewas (geological formations of sedimentary clay) throughout the valley confirm this mythological belief. For thousands of years Kashmiris had the privilege of having the last remnants of Satisar as Wular, Manasbal, Dal, and Nageen. These water bodies were our living heritage from the times immemorial. In fact, as per the findings at Burzhom and many other similar places, the human civilisation in Kashmir started on the banks of these water bodies right from the Neolithic age. https://countercurrents.org/2018/06/14/the-vanishing-water-bodies-of-kashmir/ (14 June 2018)
After 114 years Govt to get new act for protection of fisheries The Legislative Council on Feb 6, 2018 passed "a Bill to provide for the protection, conservation and development of fisheries in the state and for matters connected therewith or incidental thereto". It replaces the Jammu and Kashmir Fisheries Act of 1903.  https://timesofindia.indiatimes.com/india/after-114-years-jk-to-get-new-act-for-protection-of-fisheries/articleshow/62808782.cms   (6 Feb. 2018)
Govt initiated notified wetlands demarcation As per statement by Minister for Forests, Choudhary Lal Singh in state assembly, the state govt has initiated demarcation of all notified wetlands of the state. He also said that during 2017-18, the Union government has approved an amount of Rs 59 lakh under for survey and demarcation, surveillance, habitat development, awareness for Hokersar wetland.  http://www.greaterkashmir.com/news/kashmir/jammu-and-kashmir-govt-has-initiated-demarcation-of-all-notified-wetlands/275062.html (8 Feb. 2018)
Dwindling Srinagar Wetlands In and around Srinagar, some 22 wetlands have been converted into residential colonies during the last 50 years, the Assembly's Committee on Environment noted in a report tabled during the budget session.
– The committee, chaired by CPM MLA Mohammad Yousuf Tarigami, recommended that the government prioritise de-siltation of Srinagar water-bodies besides Wullar Lake, which serves as an outlet in the eventuality of a flood in Srinagar. During the floods of 2014, "it is a fact that the Wullar Lake did not allow the water to enter… because of the massive siltation in it," it said.
– The committee recommended that the Flood and Irrigation Department restore the storage capacity of these wetlands, besides removing encroachments.
– "The dredging and de-silting presently being done would not yield any results till the encroachment problem is not addressed".
– The report quotes an expert that the committee consulted stating that "the concerned department was fully aware about the likelihood of occurrence of flood in 2014 or 2015 as reflected from the reports prepared by the department [Irrigation and Flood Control] from 2005 to 2010. The documents collected through RTI Act and has been made part of the Public Interest Litigation (PIL) No 08 of 2017 filed in the High Court (HC)".
– The report said the department "had also pointed out that it had spent crores and crores of rupees just to protect the encroachments but did not dredge out the Flood Spill Channel area which was worst hit by the floods of 2014".
– The largest wetland in the state, Hokersar, is yet to recover from the environmental impacts of the floods of 2014, which raised its bed by about 2 feet due to accumulation of silt.
– J&K has 3,600 water-bodies and wetlands and environmental experts suggest most are shrinking or hit by encroachment.
– Shakeel Romshoo said wetlands are being treated as wastelands and used for construction whenever land is needed. "Nature has created a lot many wetlands on the left and right of Jhelum which over time have converted to paddy lands or colonies," he said. http://indianexpress.com/article/india/jk-report-srinagar-wetlands-dwindling-assembly-panel-calls-for-remedial-steps-mehbooba-mufti-5112434/ (27 March 2018)
Has Kashmir wronged its water bodies? The massive urban expansion in Srinagar and some major towns of Kashmir is also consuming the region's wetlands. More than 50 percent of water bodies in Srinagar and its suburbs have been lost during the past century. Over the same period, the area of Srinagar grew 23 times and population 12 times. https://india.mongabay.com/2018/05/29/has-kashmir-wronged-its-water-bodies/ (29 May 2018)
No one interested in protecting wetlands and environment In Aug 2018, the govt uploaded the draft format of its first State Environment Policy on its website for comments, but most of the govt offices did not respond for months showing insensitivity towards environmental issues. The report also reveals that even the concerned public representative were ignorant to the importance of wetlands in the state.
The mayor of Srinagar, Junaid Mattu had said at a press conference: "We will strike a balance between development and ecology but that doesn't mean putting a chastity belt around the city… what are wetlands for? Watching birds?"
Most of the comments to SEP were made by the civil society groups. Due to their sustained efforts the HC had ordered demarcation of wetlands area in the state. But the officials were facing a lot of hurdles in executing the order as the people encroaching the wetlands were disrupting the process. https://india.mongabay.com/2018/12/jks-draft-environment-policy-neglects-wetlands-gets-short-shrift-from-authorities/  (12 Dec. 2018) 
DAL LAKE: Lotus stages come back The Lotus and its stems were abundantly available in local vegetable markets after a gap of three years. The stems locally known as nadru were wiped out in the Sept 2014 floods. Many farmers in Dal Lake were working to bring the vegetation back as it is expensive but much loved delicacy in Kashmir. http://indiaclimatedialogue.net/2018/01/24/lotus-stages-comeback-kashmirs-dal-lake/ (24 Jan. 2018)
Army begins clean-up ops About 6 sq km out of total lake area of 25.76 sq km (Catchment: 350 sq km) of Dal lake is covered with lilies. Following efforts over last six months, about 1.5 sq km is freed for lilies and now 100 jawans of army have launched operation clean up.  https://www.tribuneindia.com/news/jammu-kashmir/to-save-dal-army-begins-clean-up-ops/700486.html   (19 Dec. 2018)
Dal Lake facing a slow death by sewage Over the years, both state and Central govt leaders have made umpteen promises and allocated hundreds of crores to clean up the Dal Lake. In a nutshell, these are the main problems that successive governments have tried and failed to address. In 2016, research by Dr Shakil Ahmad Romshoo, head of the Earth Sciences Department at University of Kashmir, found that 32 percent of the Dal Lake faced severe degradation, 48 percent medium degradation and 20 percent of the lake's water was relatively clean.
Various studies have pointed out that the lake faces multiple pressures from unplanned urbanisation, high population growth and nutrient load due to intensive agriculture that act as fertilisers for weed to grow in abundance. Experts say one of the main reasons for the deterioration of the lake's condition is the dumping of huge amounts of untreated waste.
"At least 44.2 MLD of sewage goes into the Dal Lake every day," said Tariq Ahmad Patloo, a houseboat owner. "Around 5 million litres of waste is generated from the inhabitants of the lake, while only 0.8 percent sewage is generated from houseboats. Why are only we (houseboat owners) blamed for the deterioration?" According to a report by the Jammu and Kashmir State Pollution Control Board, Srinagar generates 201 MLD sewage but has the capacity to treat only 53.8 MLD. "Disposal of untreated sewage into the Dal Lake and Jhelum river is one of the main reasons for the degradation of the quality of the water," the report said.
The govt has also failed to upgrade the technology of the 3 STP around the lake, as recommended by scientists from the National Environmental Engineering Research Institute and promised by the govt in 2014. "We use old technology at STPs, which do not treat the sewage properly," admitted an official of the Lakes and Waterways Development Authority. Over 50,000 people live on the Dal Lake, including houseboat owners, vegetable growers, and fisherfolk. Tourism, agriculture, and fishing form the backbone of the economy on the lake, and these are the activities that are facing the heat.
In 2007, the Jammu and Kashmir govt began a Rs 416-crore project to depopulate the lake and rehabilitate these families at a site called Rakh-I-Arth Bemina on the outskirts of Srinagar. It was meant to be developed with infrastructure like housing, roads, water supply, electricity, drainage, sewerage and other community facilities for the displaced. The project was supposed to be completed in three years, but even till 2018, authorities managed to allot only 2,600 of the proposed 10,500 plots. These exclude the fisherfolk families that were rehabilitated to Habak. Most of them are now involved in casual labour or drive taxis, while some sold the land they were given and went back to live around the lake to continue doing what they did before.
Over the past 16 years, numerous high-sounding lake-cleaning and preservation projects were launched, and over Rs 800 crore were spent on these but with no visible signs of effective implementation on the ground. For instance, a National Lake Conservation Programme was launched in 2005 at a cost of Rs 298.76 crore. The PM's Reconstruction Programme' was launched in 2010 to acquire land and structures on the Dal and Nigeen lakes for Rs 356 crore. https://www.firstpost.com/india/dal-lake-in-distress-kashmirs-iconic-attraction-is-facing-a-slow-death-by-sewage-as-politicians-look-the-other-way-6143141.html (25 Feb. 2019)
Wular Lake in danger One of the country's largest fresh water lakes, Wular, located in the northern part of Kashmir, is struggling to survive as it battles against dumping of sewage and garbage, leading to its slow death.
Wular was once the main source of fresh water and livelihood for many families in Bandipora and Sopore areas of North Kashmir. It was famous for producing high-quality fish and water chestnuts. However, over the past century, the lake has shrunk by 45% – from about 158 sqkm in 1911 to 87 sqkm in 2007; with only 24 sqkm of open water.
Water from the lake was drained by the government to plant willow trees, used to make cricket bats, boxes, firewood and other commercial products. Although this move created jobs for many, it also began the process of destroying the livelihoods of families dependent on the lake.  https://www.newsclick.in/water-bodies-kashmir-are-danger  (11 Nov. 2018) 
Mansar Lake: govt plans to relocate carp fish The wildlife department is working on a plan to relocate carp fish from Mansar Lake, one of the biggest freshwater lake in the Shivalik mountains that is facing an unprecedented threat to its existence. The lake, at the elevation of 600 m in Samba district, nearly 60 km from Jammu, is already under pressure due to human intervention and uncontrolled influx of sewage and chemical pollutants in the water, slowly killing the Ramsar-listed site.
Carp fish, not native to the lake, was introduced about two decades back after thousands of indigenous freshwater species died due to a mysterious disease. As fishing is prohibited due to religious reasons, the number of fish has increased to an alarming level beyond the capacity of the water body to sustain the aquatic life.
Villagers have great reverence for the water body considered as the abode of Shehsnag, a mythical creature mentioned in the ancient Hindu texts. Sources said the wildlife department was looking for alternative sites, especially dams and ponds, to relocate the fish to ease pressure. Experts have expressed concerns that the alien species had proved nemesis to the native aquatic life. https://www.tribuneindia.com/news/jammu-kashmir/to-save-mansar-lake-govt-plans-to-relocate-carp-fish/644200.html  (29 Aug. 2018)
Gharana: ~5000 migratory birds flock Located about 30 km from Jammu, Gharana is surrounded by wetlands of Makwal, Kukdian, Abdullian and Pargwal where more than 170 resident and migratory bird species flock during the winter – making it a treat for bird watchers.
During a meeting to review the status of Gharana wetland conservation reserve Commissioner Secretary, state Forest Department, Manoj Kumar Dwivedi, stressed on prioritising the conservation and management issues like sewage disposal by setting up STP, monitoring and ensuring optimum water level in the wetland. He also stressed on desilting and selective deweeding for boosting eco-tourism in the area and generating livelihood opportunities for the communities and stakeholders.
Gharana, located along the Central Asian Flyway, is a notified wetland conservation reserve under the Jammu and Kashmir Wildlife Protection Act, 1978. It has international recognition as one of the Important Bird Areas (IBAs) in the world, declared by BirdLife International (UK) and BNHS. http://www.newindianexpress.com/nation/2018/dec/09/around-5000-migratory-birds-flock-in-gharana-wetland-in-jammu-1909282.html (9 Dec. 2018)
Govt orders speeding up of land acquisition Jammu and Kashmir's governor-led administration has directed the deputy commissioner of Jammu to expedite the land acquisition process for Gharana Wetland Conservation Reserve along the International Border (IB) on the outskirts of the city.
The direction was passed by Vijay Kumar, advisor to governor, at a meeting convened to discuss the land acquisition with revenue officers and those from the forest and wildlife protection department.
Gharana Wetland Conservation Reserve in R S Pura was notified in 1981 and is home to more than 170 species of birds like bar-headed geese, gadwalls, common teals, purple swamp hens, Indian moor hens, black-winged stilts, cormorants, egrets and green shanks. During winter, the wetland is visited by thousands of migratory birds from Central Asia and some of the species visiting the wetland are endangered.  https://www.outlookindia.com/newsscroll/jk-govt-orders-speeding-up-of-land-acquisition-for-gharana-wetland/1476074 (10 Feb. 2019)
JUDICIAL ACTIONS HC notice to MoEF on state wetland authority While taking suo motu cognizance of the Supreme Court's (SC) instructions on an issue regarding preservation and protection of wetlands, the J&K HC issued notice to the MoEF&CC to inform the court on the issue of the constitution of a state wetland authority.
Amicus Curiae Nadeem Qadri informed court that till date, nothing has been done by the J&K state government in this connection. Court was further informed that as per the atlas of the state prepared by the department of Ecology and Remote Sensing, there are 1,230 wetlands identified in Kashmir Province, but only four have been identified under the Ramsar Convention sites. Qadri pleaded before court that there is not a single department or even nodal department in the whole government to oversee the implementation of rules.
Giving reference to Rule 5 read with Environmental Protection Act, Qadri pleaded that it is necessary that there should be a state wetland authority for the management and protection of wetlands. https://kashmirreader.com/2018/08/29/hc-notice-to-environment-ministry-on-state-wetland-authority/  (29 Aug. 2018)
Narkara: HC order to Protect High Court while hearing a PIL filed by Environment Policy Group has directed the govt to maintain status quo at Narkara area and demarcate the wetland area. The PIL was filed against the coming up of IIT campus on the Narkara wetland. The Rakhs and Farms department, custodian of the Narkara wetland  has not done much  in this direction till date. Narkara  wetland has shrunk to 261 hectare in 2010 from  342 hectare  in 1971.  The government agencies have no revenue records of the waterbody.    https://greaterkashmir.com/news/opinion/protect-the-narkara-wetland/306958.html  (21 Dec. 2018)
Exchequer owes Dal Lake expert committee Rs 35 lakh J&K HC (CJ) has through an order on Sept 18, 2018, appointed a high level committee, prescribing fees for its members, including Rs 1 lakh per person per meeting for physical meeting, Rs 50 000 for electronic consultation and Rs 5 lakhs for reading and preparation charges. The committee met 4 times, Rs 35 lakh is due to them, but there is no budget for this with the Lakes and waterways development authority of J&K. Rs 400 crores have been spent on Dal Lake in last 15 years. https://indianexpress.com/article/india/jk-exchequer-owes-dal-lake-expert-committee-rs-35-lakh-5456376/  (21 Nov. 2018)
Rs 759 cr over 16 yrs failed to revive Dal Lake Dal Lake the 'jewel in the crown of Kashmir' today, has become a victim of political, social and economic neglect. Over the last thirty years, the lake has been deteriorating at a rapid rate.
– According to a reply submitted by the state govt to the J&K HC on Sept. 18,  Rs 759 crores have been spent on the lake since the year 2002, but the plight of the lake continues to become poorer by the day.
– A number of restoration plans by national and international agencies documented over decades — the Srinagar Master Plan of 1971, Lake Area Master Plan by Stein (1972), Enex consortium Report (1978), Dal Lake Development report by Riddle (1985), ODA (1989), Project report under NCLP (1997) and Project Report of AHEC Roorkee (2000) — have been toyed with, but there has been little improvement in the lake environment.
– Unchecked encroachments through human interventions, and inefficient sewage treatment plants (STPs) played a huge role in the deterioration of the lake. But experts also refer to several infrastructure projects that have been detrimental to the health of the lake.
– While Dal has always caught the public eye, the reality is that Kashmir's other major lakes such as Anchar, Wular, Gilsar, Khushalsar and Nageen are also in pitiable condition, owing to unchecked pollution and encroachment. The restoration of Dal Lake is particularly important for it holds the key to their future as well. http://citizenmatters.in/why-rs-759-crore-over-16-years-has-failed-to-revive-srinagars-iconic-dal-lake-9019  (28 Nov. 2018)
Last year also, SANDRP has presented detailed overview on wetlands in Jammu & Kashmir which can be seen here. Siltation, Encroachment & Pollution Choke Jammu & Kashmir Wetlands in 2017
HIMACHAL PRADESH  
Message on World wetlands day CM Jai Ram Thakur has exhorted people to participate in conserving and restoring the wide variety of wetlands in Himachal Pradesh which are "not just biodiversity treasures but also a source of livelihood for the local community".
There are three main wetland sites in Himachal Pradesh — Pong Dam in Kangra (a Ramsar Site), Renuka in Sirmaur (in danger due to the proposed Renuka Dam) and Chandra Taal in Lahaul and Spiti. The Ramsar wetland is visited by a number of migratory birds from Siberia, Central Asia, Russia and trans- Himalayan region of Tibet. The number of winged guests this year dropped to 1.1 lakh from 1.27 lakh in 2017. http://www.thehindu.com/todays-paper/tp-national/thakur-exhorts-people-to-conserve-restore-wetlands/article22640641.ece (3 Feb. 2018)
Dharamshala's Dal Lake dries up again Located 1,775 metre above sea level amid thick cedar forest, the lake that once had crystal clear water is dying a slow death. The lake has gradually lost its water storage capacity due to rapid silting and continuous seepage. This has further affected the flora and fauna in the catchment areas.
The problem of silting and seepage first appeared in mid-2000s. The local administration started desilting and restoration work in 2008 but it instead aggravated the problem as the lake completely dried up. Later, a restoration project worth Rs 70 lakh was approved to plug the leakage and carry out desilting. Till now, an estimated amount of Rs 40 lakh have been spent on renovation, but all the efforts to restore the lake have gone waste. https://www.hindustantimes.com/india-news/as-winter-sets-in-dharamshala-s-dal-lake-dries-up-again/story-eG1Ku3jsKusXpcr9gpBPcJ.html  (19 Oct. 2018) 
UTTRAKHAND
NAINITAL: Water rationing  In early Jan. 2018, rationing of water supply in the town — which was first started in the summer of 2015 — was implemented for the first time in winter to help check declining water levels of the lake. The irrigation department had justified the rationing by saying that "water levels of the lake were dipping at a speed of 1.25 inches per day."
With the new initiative, the irrigation department hoped to limit the fall to 0.5 inch a day and bring down the consumption to 12.5 MLD. If rationing is not done now, the water level in the lake will touch 'zero' mark (normal level) in February itself, said the official. 'Zero' mark is usually reached in March-end or the first week of April. The measurement scale installed at the southern end of the water body, known as Tallitaal was 6 ft above the 'zero' mark on Jan. 14.
In 2012, a petition was filed in the high court seeking a direction to make Nainital an 'eco-sensitive zone' and to conserve Sukhtaal area which contributes nearly 40% of the lake recharges. However, the petition has been withdrawn by the petitioner recently. https://timesofindia.indiatimes.com/city/dehradun/-in-a-first-water-rationing-in-nainital-this-winter/articleshow/62356619.cms (3 Jan. 2018)
Dip in Lake level swells water worry  In 2017, the water levels of the lake had dipped to unprecedented 18-feet below zero mark leading to alarm bells ringing. In Jan. 2018, the lake water level has started falling again due to scanty to almost no rainfall in winter. On Jan. 14, the water level was at around four feet above the zero mark, revealing that it dropped by 7 feet from what it was during the monsoons.
There is little hope of replenishment for the next few months. The project manager of Lake Development Authority (LDA), CM Sah, said, that the water level might go down further as the tubewells dug around the lake draw water from its catchment area. https://www.hindustantimes.com/dehradun/after-monsoon-cheers-dip-in-lake-level-swells-nainital-water-worries/story-STgIJ2XovND3gd1HeRguzM.html (14 Jan. 2018)
SC stays construction ban around lakes The Nainital HC in November 2016 had imposed a blanket ban on any construction within 2 km from major lakes in Nainital.  On Jan 22, 2018, the Supreme Court has stayed Uttarakhand HC's order banning any construction within a radius of 2 km from major lakes in Nainital, including Naini lake.  https://timesofindia.indiatimes.com/city/dehradun/sc-stays-construction-ban-near-naini-and-other-lakes/articleshow/62624414.cms (24 Jan. 2018)
Lake based water supply cut On the basis of recommendations made in a preliminary survey conducted by experts from Indian Institute of Technology, Roorkee, National Institute of Hydrology, Roorkee and Indian Institute of Soil and Water Conservation, Dehradun, the Uttarakhand irrigation department has decided to curtail supply of water from Naini lake from 14 MLD to 8 MLD to save the lake.
Among the other medium and long-term solutions recommendations was to revive natural water sources near the lake so that the burden on the lake could be reduced. Scientists have also initiated geological mapping of 42 out of 72 canals which are connected with the lake. They also mapped the Sukhatal area of the town which is said to be a recharge zone for the lake and contributes more than 40% recharge for the lake. https://timesofindia.indiatimes.com/city/dehradun/to-safeguard-naini-lake-water-supply-from-lake-to-nainital-town-to-be-cut-by-almost-half/articleshow/62973204.cms (19 Feb. 2018)
Water level In the history of Nainital lake, the last two years have been the most hostile. In the year 2016, the water level of the lake had reached zero on February 16, whereas in the year 2017 the water level of the lake reached zero on February 12. Nainital lake's water level is 1.42 feet on March 25 2018. If we leave 2016 and 2017, the lowest level in March is the lowest in the last four decades. https://www.livehindustan.com/uttarakhand/haldwani/story-water-level-of-nainital-lake-decreased-to-1-42-feet-1870973.html (26 March 2018) 
Threat remains In June 2018, the water retention in Naini Lake was at an all time low as construction debris, pollutants and solid waste continued choking the reservoir's bed.
– The population in the hill station, spread over 11.73 sq kms, has swelled from 7,589 in 1881 to 41,377, according to 2011 census. A floating population of 10,000 to 15,000 tourists reach the city during summer. The number of buildings in Nainital, most of them on slopes, has increased from 520 in 1901-02 to over 7,000 at present, including over 150 hotels and resorts.
– Add to it the drying up of its most important source of recharge — Sukhatal —and other factors such as climate change, comparative warming up of the Himalayas, and increasing stress of more people dependent on it. This is symptomatic of what is happening in other Himalayan lakes in the state, such as Bhimtal and Khurpatal.
– All these Himalayan water bodies are wetlands but the state govt has not yet notified them. The builder mafia is taking advantage of this fact and have gone ahead with construction on the lake beds and on the lakes' shore. https://www.hindustantimes.com/dehradun/in-giving-life-to-nainital-its-lifeline-is-dying/story-3d0rT41aFxUZ0wbCz2rI9K.html (11 June 2018)
'Houseful' banners greet tourists Nainital has 12 parking lots with combined capacity to accommodate nearly 2000 four-wheelers. The town has been witnessing an influx of 3,000 to 4,000 tourist vehicles every day. On weekend the number go exponentially up. On June 10 nearly 6000 vehicles came out of the town. https://www.hindustantimes.com/dehradun/nainital-houseful-banners-greet-tourists-with-vehicles-in-uttarakhand-hill-station/story-8Blk1nfJofoz6lyTfrWqbJ.html (12 June 2018)
Road along lake caves in In August month, a part of the lower mall road in Nainital caved in due to negligence from authorities.
The cracks had started to appear in the road since last year. However, due to negligence and lackadaisical approach of the authorities, a part of the lower mall road caved in and submerged in the lake. Fortunately, no vehicles were passing by the road when the road caved in. https://www.ibtimes.co.in/watch-part-nainitals-mall-road-caves-gets-submerged-into-lake-778241  (19 Aug. 2018)
Lake water withdrawal limit cut to 8 MLD Amid apprehensions that water level may plummet and create a deficit in the Nainital Lake, especially during the summers, the district administration has decided to further curtail the withdrawal limit from the lake to 8 MLD. From 18 MLD until a few years ago to 12-13 MLD this summer, the administration has been cutting down the daily withdrawal limit from the lake, the lifeline of Nainital. 
Over the years, Nainital Lake turning shallower with decreasing depth:
– Over the last century, the lake's depth has roughly gone down by 10-15 m.
– As per available records, it was 27 m in British era. 
– Kumaun University's study found the maximum depth to be around 23.7 m in 1976-77.
– GSI report recorded depth at 25 m in 1979.
– Irrigation Dept. reported it to be 17.25 m in 2016.
– As per officials of the irrigation dept, the average depth of the lake at present is 9-10 m.
– The kidney-shaped Nainital Lake, surrounded by hills, is situated at an elevation of 1,938 metres, with a width of 360 m and a length of 1,442 m at present. In 1839, a British sugar trader named P Barron is said to have stumbled upon this Himalayan lake while he was lost in the hills and was trying to find his way back. https://www.hindustantimes.com/india-news/nainital-lake-water-withdrawal-limit-cut-to-8-million-litres-per-day/story-G58u9Ad5NKTH5NEhlz7GnI.html  (7 Nov. 2018)
DODITAL LAKE: Appeal to save As per Mallika Bhanot of Ganga Ahvahan the lake area falls in ESZ, the incident reported is violation of ESZ norms. If the norms were followed, strict monitoring could check and rectify this. Uttarakhand govt's obsession of opposing the ESZ notification is causing all this damage.  http://indianexpress.com/article/express-sunday-eye/save-me-a-lake-5067701/ (18 Feb. 2018)
Save Himalayan wetlands The Himalayan wetlands are under threat due to unregulated urbanisation and unsustainable tourism. Urgent attention at the policy level is the need of the hour. http://www.indiawaterportal.org/articles/unique-himalayan-wetlands  (3 Nov. 2018)
SANDRP has also presented overview of Nainital lake for year 2017. The Report can be seen here. Uttarakhand Wetlands 2017: Nainital Lake Needs Urgent Attention  
CHANDIGARH
MYSTERY OF SUKHNA LAKE AS WETLAND This case, pushed by Punjab and Haryana High Court at least since Dec 2017, as narrated below, seems more like mystery in which in the end, it turns out it is already Wetland since 1988! Will the HC take any action for this wild goose chase?
HC seeks status report on illegal construction The Punjab & Haryana High Court has directed Punjab to file a status report on illegal construction in Kansal village. A status report has also been called on the flow of dirty water into the Sukhna from Kaimbwala. http://www.tribuneindia.com/news/chandigarh/hc-seeks-status-report-on-illegal-construction-in-sukhna-vicinity/547267.html (21 Feb. 2018)
Water level dropping Sukhna lake water level has fallen 4.5 ft in last 5 months from 1,161. 90 ft on Sept 31 2017 to 1,157.35 ft on March 20, 2018. Experts say the water-holding capacity of the lake has also reduced by 66% due to siltation. (21 March 2018) http://www.tribuneindia.com/news/chandigarh/sukhna-water-level-drops/561181.html
HC stays demolition in catchment The Punjab and Haryana HC Feb. 6, 2019 applied brakes to the JCBs in the Sukhna Lake's catchment area. As the "Save Sukhna" case came up for hearing before a Division Bench of the High Court, almost all parties to the PIL agreed to put a stop to demolition of constructions carried out in the catchment area in alleged violation of the judicial orders.
The resolve against demolition was in sync with amicus curiae Tanu Bedi's stand of sending JCBs back during the court commissioner's visit to the catchment area. The Division Bench of the HC, in May 2012, had directed the states of Punjab and Haryana, along with the Chandigarh Administration, to not just stop construction activity in the lake's catchment area, but also to demolish without notice any construction being carried out against the HC mandate. The Court, in its order dated March 14, 2011, had also issued directions for restoring the lake to its former glory. https://www.tribuneindia.com/news/chandigarh/-says-no-to-demolition-in-sukhna-catchment/724532.html (6 Feb. 2019)
Also see 2017 overview of SANDRP on Sukhna lake here. Chandigarh Wetlands Review 2017: Sukhna Lake Facing Multiple Problems
PUNJAB
Wildlife Dept to relist wetlands Wildlife Department is carrying out a project to relist all small and major wetlands (ponds, water bodies, marshes and lakes with noticeable biodiversity). The state got a State Wetland Authority in March 2018. By March 2019, the region will see a fresh report on its small & big wetlands. https://www.tribuneindia.com/news/jalandhar/wildlife-dept-to-relist-wetlands-in-region/699667.html (17 Dec. 2018)
Punjab has prepared action plan for wetlands The Punjab Govt has told the High Court that it has prepared an action plan for the preservation of wetlands in the state and the same was in the process of being implemented. As a suo motu case against the Union of India and another respondent came up for resumed hearing, the HC also called for a "fresh status report" on progress made for the implementation of the action plan.
A Division Bench of Chief Justice Krishna Murari and Justice Arun Palli also took on record a status report filed by the state. The Bench asserted that it had been brought to its notice that the validity of the Wetlands (Conservation and Maintenance) Rules, 2017, was under challenge before the apex court. The Bench added that it deemed it appropriate to await the outcome of the proceedings pending before the SC before directing the listing of the matter after three months.
Taking up a related petition alleging unauthorised constructions in and around the Harike wildlife sanctuary in Punjab, the HC had earlier put the Union Ministry of Environment and Forests and Punjab on notice. https://www.tribuneindia.com/news/punjab/state-has-prepared-action-plan-for-wetlands-hc-told/714284.html (16 Jan. 2019)
Govt to declare Shalla Pattan Wetlands protected area Govt has decided to declare 50 acre Shalla Pattan wetlands as protected area for critically endangered species common crane. The state govt will compensate farmers to keep their crops fallow for the winter months to restore the natural ecosystem of the wetland when common cranes descend here in good number. This marshland or swamp area of floodplain of river Beas provided conducive atmosphere for the survival of waterfowls. According to wildlife officials, the habitat of the area was severely impacted with the efforts of irrigation department to drain of waterlogging from the area and make it dry to bring it under agriculture expansion.
It was in 2007 that the presence of over 1000 common cranes with their juveniles along with Bar headed geese and sarus cranes at Shalla Pattan had drawn attention of wildlife lovers. This is the last refuge for them in the whole of Punjab. As per the statistics of the Punjab wildlife department, the number of sarus crane too came down over the years from thousand plus in 2007 to 596 in 2018 and mere 493 in January 2019 at Shalla Pattan because of tempering with existing habitat. https://timesofindia.indiatimes.com/city/chandigarh/punjab-govt-to-declare-shalla-pattan-wetlands-protected-area-for-conservation-of-common-crane/articleshow/68037283.cms (17 Feb. 2019)
Govt approves Kanjli wetland as Kali Bein Conservation Reserve The govt has decided to declare Kanjli wetland as Kali Bein Conservation Reserve for protection of many flora and fauna species which are facing survival battle in this habitat. Kali Bein feeds the Kanjli wetland which once used to be the habitat of ghariyal, critically endangered species. The state govt has already introduced ghariyal in Harike water system which is ecologically quite similar to Kanjli. The wildlife department is now considering Kanjli wetland as alternative site for reintroduction of ghariyal in near future. https://timesofindia.indiatimes.com/city/chandigarh/punjab-cm-approves-kanjli-wetland-as-kali-bein-conservation-reserve/articleshow/68037235.cms (17 Feb. 2019)
Eco-friendly water storage project 'falls prey' to politics This is strange situation in this dark zone area in Moga district where diversion of storm water to nearby ponds is being objected to. Nihalsinghwala town, situated 45 km from the Moga district headquarters, is facing the problem of waterlogging in the ongoing monsoon. Even the main market gets inundated in the absence of any effective drainage system. Local people allege that in the mandi area, the drainage had been clogged by a few residents living on the other side, claiming that if the water flows out of the mandi, it would enter their houses.  https://www.tribuneindia.com/news/punjab/eco-friendly-water-storage-project-falls-prey-to-politics/643358.html  (27 Aug. 2018)
The previous overview on wetlands in Punjab by SANDRP can be seen here. Punjab Wetlands 2017: Ramsar Sites Under Severe Threats
HARYANA
Gurugram ponds filled with sewage, could 'contaminate groundwater'  Once source of potable water 9 ponds in Gurugram are now filled with sewage & solid waste rendering them unfit for human use & contaminating groundwater. This clearly shows how much importance the authorities attach to these natural water bodies. https://timesofindia.indiatimes.com/city/gurgaon/nine-city-ponds-filled-with-sewage-could-contaminate-groundwater/articleshow/62515115.cms (16 Jan. 2018)
Gurugram lost 389 water bodies in 60 years Gurgaon has lost as many as 389 water bodies in the past 60 years, a study has revealed. The study report by the district administration, has been submitted to the NGT. While the NGT on Jan 22 directed the Haryana government to protect all existing water bodies under the government ownership, the study came up with some interesting observations.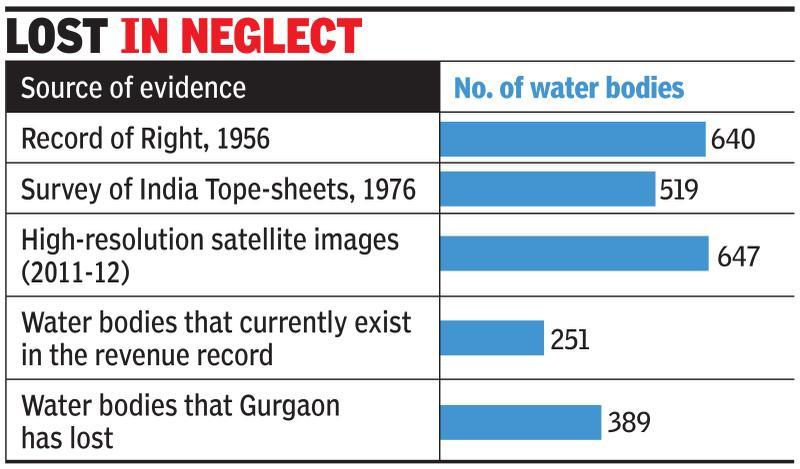 According to the study, there were 640 water bodies as per revenue records of 1956. However, 251 water bodies exist as per the current revenue records. The study also found that 253 out of 291 villages have water bodies in the Gurgaon district. https://timesofindia.indiatimes.com/city/gurgaon/gurgaon-lost-389-water-bodies-in-60yrs-study/articleshow/62610956.cms (26 Jan. 2018)
Gurugram's water bodies revival plans still on paper ToI field report shows blatant encroachment and abuse of water bodies in Gurugram. In 2016, MCG conducted a study of 120 water bodies in the city, and selected 12 of them to revive within a span of six months, on the basis of feasibility, catchment area and practicality. It was the latest of several such promises made by the govt in the past five years, from ones to remove encroachment from the water bodies and their catchment, to their revival. However, all these plans remain on paper.
Catchment areas of lakes in Ghata, Jharsa and Badshapur have been encroached upon by land mafia and public infrastructure projects, while religious places, community halls and illegal colonies have come up on the lakes in Choma and Carterpuri. Meanwhile, the authorities have allowed private players to carry out fish farming in Basai lake.
Sirhaul village, which once had two ponds, now has none. A community centre has been developed on one of them, while a park has been developed on part of the other. In Sikanderpur, a community centre has come up on the bed of the pond, while a govt school and a temple have come up on the beds of ponds in Mulahera and Carterpuri. According to an RTI response by block development officers, 9 water bodies are now fed only by sewage. https://timesofindia.indiatimes.com/city/gurgaon/gurugrams-water-bodies-dry-up-but-revival-plans-still-on-paper/articleshow/64580905.cms  (14 June 2018)
NGT orders Govt to give unique ID to 123 water bodies in Aravali  The Green Tribunal has ordered the state govt to restore 123 water bodies in Gurugram and Faridabad districts as they are main sources of groundwater recharge. The state govt has been directed to assign a unique identification number to each water body within three months. The Gurugram Metropolitan Development Authority has also been asked to identify other water bodies and retrieve them. https://www.moneycontrol.com/news/india/give-unique-id-to-123-water-bodies-in-haryana-ngt-2753251.html   (24 July 2018) 
SC orders all post-'92 bluildings in Aravali's Kant Enclave in lake catchment razed The court set a deadline of Dec.-end to clear the land by demolishing all structures. It also imposed a fine of Rs 5 crore on the company which claimed to have invested Rs 50 crore in developing the area. In view of large-scale environmental degradation in the Aravali and Shivalik hills, the state govt in August 1992 declared the area as forest land under the Punjab Land Preservation Act.
The SC came down heavily on the Haryana govt for turning a blind eye to the ecological degradation of the Aravali hills over the years and "conniving" with real estate developers to allow them to exploit the protected zones for commercial gains.
Kant enclave is spread over 425 acres with over 1,650 residential plots and open space of 153 acres in the form of green belts, parks and roads. It is only 6km from the Delhi border and near Badkal and Surajkund lakes with the Aravali hills as a backdrop. As litigation lingered for years and the court granted interim relief, buyers kept purchasing residential plots and some of them even constructed houses. The state govt said 33 multi-storey buildings have been constructed and 291 plots, including three commercial ones, were sold.  https://timesofindia.indiatimes.com/city/delhi/sc-orders-all-post-92-bldgs-in-aravalis-kant-enclave-razed/articleshow/65777420.cms  (12 Sept. 2018)
Commercial fish farming in natural wetlands an emerging threats to water birds Nearly 100 birds have died in the wetlands of Rohtak and Jhajjar in the last two months after getting entangled in nylon nets installed by fisheries contractors to prevent the birds from preying on fish being cultivated in these aqua farms. There are over 130 freshwater bodies, which include ponds, in Rohtak and Jhajjar. Around 50% of them have been covered with nylon nets. In Dighal, three out of 10 ponds have been covered with nets. Dighal has been identified as an "important bird area" by BNHS, and around 263 bird species, which include both migrant and resident birds, can be found here. https://timesofindia.indiatimes.com/city/gurgaon/as-fisheries-business-booms-wetlands-are-turning-into-death-traps-for-birds/articleshow/63035903.cms (23 Feb. 2018)
Fish farm nets kill purple heron at Basai wetland In June 2018, a purple heron, a wading bird that nests around wetlands, died in the Basai marshes earlier this week allegedly after getting entangled in nets put up by illegal fish farming units — the incident coming to light about two weeks after a black-necked stork was spotted with its beak stuck in a plastic ring in the area. https://timesofindia.indiatimes.com/city/gurgaon/fish-farm-nets-kill-purple-heron-at-basai-wetland/articleshow/64704732.cms   (23 June 2018)
Assess damage to waterbodies due to inaction by authorities: NGT The NGT has directed a joint committee comprising members from the CPCB and others to determine the extent of damage caused due to inaction on the part of Gurugram authorities pertaining to contamination of water due to leachate discharge.
The Bench further directed the Commissioner of the Gurugram Municipal Corporation to file an action plan within one week including preventive and remedial steps to be taken. The Bench also observed that the setting up of solid waste processing facility, which was to be set up within two years from 2016, had not been implemented. https://www.thehindu.com/news/cities/Delhi/assess-damage-to-waterbodies-due-to-inaction-by-authorities-says-ngt/article26489932.ece (11 March 2019)
BASAI: Notify as wetland, birders write to state govt In Dec 2017, the birding enthusiasts wrote to the state wetland authority appealing it to notify Basai as a wetland, as per NGT appeal on Dec 14. http://www.hindustantimes.com/gurgaon/notify-basai-as-wetland-birders-write-to-state-govt/story-RebB31uzOxcEYZg7zjs1PP.html (30 Dec. 2017)
Delhi NGO moves NGT against waste dumping at Basai site The construction and demolition waste plant proposed in Basai has now hit another hurdle after Delhi-based NGO Delhi Bird Foundation submitted an application with the NGT stating that waste was being dumped at the Basai site without the requisite permission. https://timesofindia.indiatimes.com/city/gurgaon/delhi-ngo-moves-ngt-against-waste-dumping-at-basai-site/articleshow/64046834.cms  (6 May 2018)  
Following the plea, the NGT asked the Haryana govt to file its response by May 11. The Bench headed by judicial member Raghuvendra S. Rathore, on May 3, granted the State govt time to file its response to the notices that were issued. https://www.thehindu.com/news/cities/Delhi/waste-being-dumped-in-basai-wetland-plea/article23806919.ece  (8 May 2018)
According to the plea, the project proponent had the environmental clearance for the plant but it lacked requisite approvals from the Haryana state pollution control board as per the C&D Waste Management Rules, 2016. Advocates Ritwick Dutta and Rahul Choudhary, appearing for the NGO, sought an immediate stay on the dumping of waste at the site citing environmental concerns. The bench, however, sought the reply of the state and the project proponent on the issue.
The tribunal had in January lifted its stay on the construction of a waste treatment plant in the catchment area of the Basai wetland at Gurgaon in Haryana after perusing the revenue records and noting that the land in question had not been identified as a wetland by the Haryana govt. https://www.financialexpress.com/india-news/basai-wetland-ngt-directs-haryana-to-reply-on-plea-against-waste-dumping-in-wetland-area/1158400/  (7 May 2018)
NGT refuses a stay on Basai waste plant The NGT refused to stay the construction of a waste recycling plant in Basai wetland, in response to an application alleging that MCG doesn't have requisite approvals under the C&D waste management rules, 2016.
"We are of the considered opinion that no further order for purposes of clarification or for any other purpose is required," said a bench headed by Justice Raghuvendra S Rathore after the petitioner demanded an immediate stay on alleged dumping of waste near the waste treatment plant.
Sudhir Chauhan, senior town planer (MCG), said, "We are transporting material for the development of the site. We are building pavement at the site and not merely dumping waste." The next hearing of the case was scheduled for May 30. https://timesofindia.indiatimes.com/city/gurgaon/ngt-refuses-a-stay-on-basai-waste-plant/articleshow/64250062.cms  (21 May 2019)  
Plastic bomb The dumping of thousands of used bottles has created a giant mound of plastic waste on the fringes of the Basai wetland in Gurugram, not far from the controversial plant to treat construction and demolition waste that has drawn strong protests from environmental activists. Mixed waste is being dumped at the site both by official agencies and private players, activists and local residents said. As per birders, over 300 species of birds are spotted at the Basai wetland every year.
An NGT stay on the construction of the C&D plant was vacated in January 2018. The court, however, directed MCG to ensure construction work starts only after requisite permissions are obtained from all departments in line with the Construction and Demolition Waste Management Rules, 2016. The plant is expected to treat over 500 tonnes of C&D waste a day. https://timesofindia.indiatimes.com/city/gurgaon/plastic-bomb-at-gurgaon-wetland/articleshow/64514402.cms (9 June 2018)
Firm told to clear plastic waste from Basai wetland in 24 hours Officials of the MCG on June 10 ordered a plastic bottle manufacturer to clear the waste it has dumped near the water body in the Basai wetland within 24 hours.
Environmentalists were alleging that the plastic was harming birds. On June 7, a black-necked stork was spotted with a plastic bottle cap around its beak. Since then, the birders were trying to catch the bird and free it but have been unable to do so.
The MCG officials conducted a spot check, after a complaint was forwarded by the SDM on the behest of the Haryana SPCB. Officials said the stack of plastic waste on the 1,000 square yard plot is around seven feet high and is taller than its boundary wall. https://www.hindustantimes.com/gurugram/firm-told-to-clear-plastic-waste-from-basai-wetland-in-24-hours/story-ldciNw9blAoMvvnFgOJtlL.html  (11 June 2018)
But, a month after a massive dump of plastic waste was cleared from the ecologically sensitive Basai wetland, dumping has resumed, alarming birders, environmentalists and local residents. Local residents alleged that trucks started dumping waste at a plastic bottle manufacturing and recycling plant and the unit was working for the past two days.
An MCG official, requesting anonymity, said, "This unit has not been given permission to function. It is unauthorised. Such units are required to take licence from MCG, the department of industries, the labour commission and other bodies." Environmentalists alleged it was a "clear case of corruption" as the unit has restarted despite being shut down a month ago. https://www.hindustantimes.com/gurugram/plastic-waste-dumping-resumes-in-gurugram-s-basai-wetland-environmentalists-allege-corruption/story-6eZSM6hTbbqqkBO4VTUTPP.html  (9 July 2019)
Stork with beak shut by plastic ring finally rescued In June a black necked stork whose beak was sealed shut by a plastic ring and whose plight captivated social media was rescued. It was first seen and photographed at Basai wetland in Gurgaon. The stork, classified as "near threatened," became the latest international symbol of harm that global plastic waste is doing to wildlife.
Basai is considered key wetland habitat for birds, fish and other wildlife but it is not an officially protected wetland. Although it attracts thousands of migratory and other birds such as storks, flamingos and herons, the area has been used as a dumping ground by a bottling company and for other trash, birders said. https://www.ndtv.com/delhi-news/gurgaon-stork-with-beak-shut-by-plastic-ring-finally-rescued-near-delhi-1867119  (13 June 2018)
As per another report, plastic waste is one of the biggest contributors to degradation of urban wetlands. According to a 2015 report by the CPCB, India produces 25,940 tonnes of plastic waste every day. Delhi alone contributes 700 tonnes per day, the highest among all cities. And it is always the wetlands – water bodies, ponds, rivers, natural drains – which suffer as they are invariably turned into dumping grounds for urban waste. https://www.outlookindia.com/website/story/the-stork-has-delivered-a-message-save-the-wetlands/312538 (15 June 2018)
Ironically, on World Environment Day on June 5, PM Modi had called for an end to single-use plastic. https://www.dailyo.in/variety/stork-with-plastic-around-its-beak-basai-wetland-gurgaon-waste-dumping-pollution/story/1/24805.html (11 June 2018)
Squatters cleared from waste plant site in Basai The MCG on Sept. 20 demolished encroachments on 4,000 square yards of land in Basai village, around the site of an upcoming C&D waste processing plant.Environmentalists, particularly bird watchers, however, alleged that the C&D waste plant would pose a threat to the neighbouring ecosystem of the Basai water body, which attracts several species of migratory and residential birds, and is a hot spot on the Central Asian Flyway — a route taken by migratory birds travelling from Europe to Asia during the winter — along with Sultanpur National Park and the Najafgarh jheel.
The move to clear encroachments comes more than six months after the NGT had vacated a stay order on the C&D waste plant, which has been contracted to a private agency by the MCG. https://www.hindustantimes.com/gurugram/squatters-cleared-from-waste-plant-site-in-basai/story-FiUu2xzi5YvtZE2Pk9NfYJ.html  (21 Sept. 2018)
Govt told to explain if Basai could be notified as wetland NGT in Dec. 2018 disposed of a petition seeking a stay on the construction of a C&D waste treatment plant at Basai and demanding that Basai be notified as wetland.
The NGT, however, has directed the govt to submit its reply to the applicant as well as the tribunal within a month, explaining whether Basai could be notified as wetland under the Wetland Rules, 2017. The tribunal also said that the applicant could approach it anytime in case of non-compliance of the order.
The birders welcomed the NGT's direction, and said the state government would now have to submit enough evidence to deny a wetland status to Basai. "Till now, the Haryana government never made any attempt to identify Basai as a wetland. NGT has opened doors for us the directly approach the state government in this regard. Also, the tribunal has given us an option to approach it anytime if the government doesn't follow the directive. I hope the government will comply with the directions and declare Basai a wetland," said Pankaj Gupta, one of the petitioners.
MCG officials, on the other hand, termed it a major relief as it would not hinder the work on the C&D waste plant at Basai. "It is clear from the revenue records that there is no wetland in and around Basai. It has already been established. However, we will follow the NGT directions and file all reports within the given timeframe," said an MCG official. https://timesofindia.indiatimes.com/city/gurgaon/govt-told-to-explain-if-basai-could-be-notified-as-wetland/articleshow/67169782.cms  (20 Dec. 2018)
Govt must save Basai With rapid development and urbanisation, village fields have been 'plotted', morphed into apartment blocks, and five of the six ponds have been paved over. In May 2017, the Municipal Corporation of Gurugram delivered a death blow to Basai, when it starting constructing a waste-processing plant, repurposing the land for non-wetland purposes.  The Delhi Bird Foundation has taken the matter to the NGT but the MCG claims that Basai is just a "piece of barren land where a few birds occasionally roost… there will be no loss of flora or fauna by setting up the plant there."
– The NGT has asked the petitioners to approach the Haryana govt to declare Basai as a wetland but the govt has not recognized it as a wetlands. Forest minister Rao Narbir Singh in 2018, when urged to declare Basai a wetland, said it would be "difficult" due to the high prices of real estate in Basai. https://www.hindustantimes.com/gurugram/government-must-save-basai-wetland-to-keep-gurugram-liveable-save-ecosystem/story-PupKjqRDsAx2TL7mdwbQgP.html (29 Jan. 2019)
Najafgarh, Basai: Birders revive call for wetland tag Birders across Delhi and NCR have renewed their demand for the need to give status of wetland to both Najafgarh and Basai Jheel basins, after a 'near threatened' Black-necked Stork was spotted with a rubber ring entangled around its beak — part of the garbage that is indiscriminately dumped in these water bodies, in which the bird had evidently foraged for food.
Two years ago, during a hearing of a case in the NGT, the Haryana govt had agreed to give the Najafgarh basin area wetland status. As per the new Wetland Rules 2016, it's the sole responsibility of the state govt to declare wetlands in a state.
In 2016, the Haryana govt started the process and submitted a 'brief document' on Najafgarh Jheel to the MoEF&CC. For Basai, on the other hand, the state govt has always denied giving wetland status. As per revenue records and the Master Plan, land in Basai is marked for public utility (as Sector 100 and 110) and as agricultural land.
"There has been no effort by the Haryana govt to take a decision and declare Basai and Najafgarh as wetlands, despite the fact that the state govt has sole authority to take the decision. In its document on wetlands, the Haryana govt has, in fact, listed only 51 wetlands, which is quite shocking.
As per Wetland Inland Atlas of the MoEF&CC, there are 44 wetlands in Gurugram alone. How can the entire state have just 51?," said Pankaj Gupta of Delhi Bird Foundation, "Basai is a big wetland spread over 900 acres till now. Even today, one can find water in it in peak summers." https://timesofindia.indiatimes.com/city/gurgaon/birders-revive-call-for-wetland-tag-on-najafgarh-basai/articleshow/64579616.cms (14 June 2018)
Najafgarh Lake: to reclaim marsh land, minister proposes to create bund The Haryana govt may be backtracking from its commitment to declare the Najafgarh lake and its influence area a wetland. State forest minister Rao Narbir Singh rolled out a proposal to build a bund on a portion of the marshes to reclaim land belonging to local farmers submerged under spillage from the eponymous lake and drain.
In 2016, the govt had submitted a brief to the NGT and MoEF committing to notify Najafgarh lake and the surrounding marshes — which lie on the Haryana-Delhi border, giving both states jurisdiction — as a wetland. The document requests the Union ministry to notify 300 acres in Kherki Majra and Dhankot near the lake as a wetland. A 5 sq km area remains underwater perennially, turning the surroundings of the lake into a wetland that is now known for a rich avian ecosystem.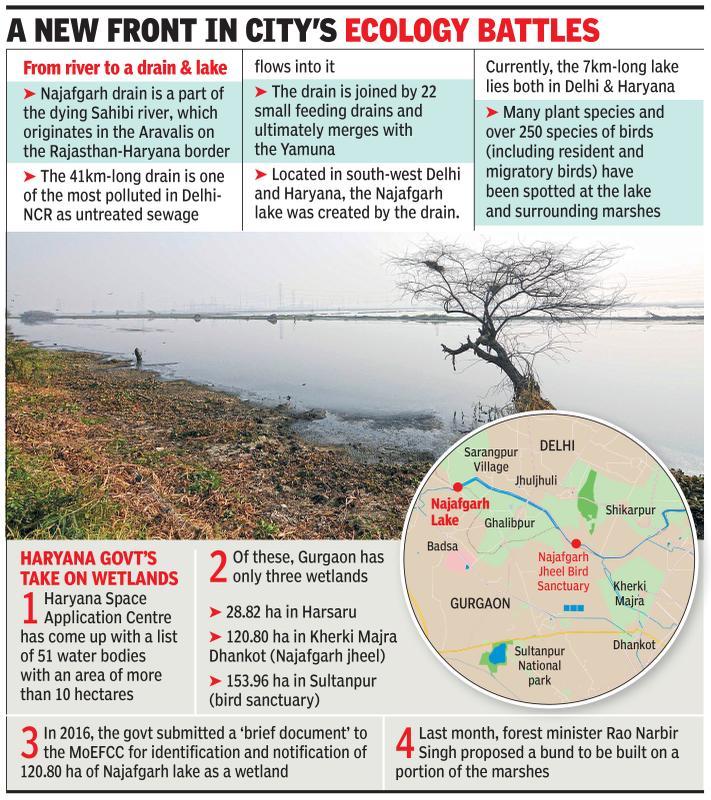 The 7km-long Najafgarh lake and the drain are the only outlets for floodwater from Gurugran, which is already battling a flooding problem hugely disproportionate with the rainfall it receives. The lake and surrounding marshes are also an important habitat for many plant species and over 280 bird species, including greater flamingos, sarus cranes and greater white pelicans.
According to local farmers, around 5,500 acres of land in eight villages — Dharampur, Momdheri, Daultabad, Kherki Majra, Dhankot, Chandu, Budhera and Makrola — remain flooded most of the year, preventing them from farming on it. Last week, the minister said if farmers sell 94 acres of their land to the govt at market price, a bund could be built on it to prevent the area from flooding. https://timesofindia.indiatimes.com/city/gurgaon/najafgarh-lake-to-be-dammed-alarm-bells-ring-for-wetland-flooding-prone-city/articleshow/67373464.cms  (4 Jan. 2019)
50% dip in winged visitors at Najafgarh The migratory bird count at Najafgarh jheel and drain fell nearly 50% compared with the same period last year, the Asian Waterbird Census 2019 has revealed. The census, on for a week, will end on Jan. 17 at Sultanpur National Park. AWC is the largest waterbird census in Asia and is done with the help of Wetlands International. https://timesofindia.indiatimes.com/city/delhi/climate-change-50-dip-in-winged-visitors-at-najafgarh/articleshow/67563780.cms (17 Jan. 2019)
Surajkund Lake: Check dam key to survival falling to land sharks A 150-year-old check dam in Anangpur of Faridabad, which has been supplying water to Surajkund lake for decades, has now been encroached upon by the land mafia. The dam is spread over 150 metres and its catchment area covers over 7 km. The land mafia has taken over both these areas which fall under Section 4 & 5 of Punjab Preservation Land Act (PLPA). The land use of the plots in the area has also been changed in the revenue records to facilitate transfer to individuals. https://timesofindia.indiatimes.com/city/gurgaon/dam-key-to-surajkund-lakes-survival-falling-to-land-sharks/articleshow/62762241.cms (2 Feb. 2018)
Also see, Haryana Wetlands Review 2017: Urbanization Taking Over Basai Wetland
SUMMARY It is clear that the wetlands in seven states of Jammu & Kashmir, Himachal Pradesh, Uttarakhand, Punjab, Haryana, Uttar Pradesh, Delhi and Chandigarh Union Territory in North India continue to suffer due to government inactions and public non-involvement. However, the most positive actions for wetland protection in this review comes out from Uttar Pradesh in first place and Delhi in second place.
In Uttar Pradesh, it was NGT which declared Surajpur as a wetlands. However it refused to declare the adjoining low lying areas in and around Surajpur reserve forest in Gautam Budh Nagar as protected wetlands. As a result about six marshes in its vicinity are slowly falling prey to pollution and waste dumping. For this, the NGT order has been challenged in apex court.
SWA identifying over 1.23 lakh wetlands across the state for conservation and protection is positive outcome from the state. Similarly, SWA move to ban groundwater fed paddy crop during summer is highly appreciable.
In Delhi, the revival of Hauz Khas lake, Neela Hauz lake, Rajkori water body which are also treating waste water efficiently though natural processes like CWS in Bawana are very encouraging developments.
Round the year, the Delhi govt. kept taking of reviving water bodies and even setting up of SWA, but not much has moved in this direction. The cementing of Purana Qila lakebed has set a bad precedent which would surely invite boomerang effect in future.
In Jammu & Kashmir there has been no improvement in the condition of famous lakes and wetlands including Dal, Wular, Narkara and Gharana. Report reveals crores being spent on cleaning and restoration of these wetlands but nothing positive has turned out so far.
The govt departments and public representative appear insensitive towards the cause of wetlands. Though, following Aug 2017 HC order, the state govt initiated wetlands area demarcation drive but it has met with protests by encroachers. The state govt has neither constituted nor it looks interested in SWA as prescribed by the Wetlands Rules 2017. The matter has reached the HC, which has summoned Union Ministry of Environment for clarification. Farmers' efforts in revival of Lotus stems in Dal lake after three years is only positive story from the valley.
Himachal Pradesh Govt. seems doing better for the state wetlands. On World Wetlands Day 2018, the CM appealed to people to contribute in the protection of lakes in the state. The govt has also formed SWA, which has a separate website for the purpose.
In Uttarakhand the Nainital lake continued to face the degradation and development pressure. Like previous years, the lake level dropped in 2018 also. In a first, water rationing was started in the hill station. It is also revealed that the depth of the lake has decreased by 10-15 metres over a century. The city is also facing influx of tourists during summer vacation way more than the its capacity. Through reports and online searches it appears that the state govt has not set up SWA.
It is worth mentioning that in the context of climate change the lakes and wetlands in all three north Indian Himalayan states have special significance in providing water security and protection against nature's wrath. They feed the small streams and in turn help big rivers keep flowing. It is ironic that all the govts in hilly states are proactive in exploiting the recreational value of the lakes through tourism but inactive when it comes to their conservation.
In plains, talking of Chandigarh, it was no less than a circus between administration and court over the issue of official Wetland tag to the Sukhna lake. For almost two years, the HC kept asking administration on when it was going to declare Sukhna a wetland, and all through, the administration kept saying that it was going to declare Sukhna a wetland very soon, or by next month.
Finally it tried to get rid of any action by saying that the lake was already declared a wetland three decades ago in 1988. It is not known what turn the case would be taking in future, but on the request of Amicus Curie, the HC has stopped its demolition drive against encroachments in Sukhna catchment. The HC should hold the officials concerned for contempt of court for misleading the court for so long.
On, positive note, the Chandigarh Administration has claimed to have set up a wetland authority but it does not have a website providing any relevant information on wetlands in the UT. It is also worrying the pace of catchment degeneration of lake is going up, as a result the lake is getting silted up easily.
The check dams constructed to augment water supply in the lake also don't seem of any help. Similarly, in spite of the view of Local MLA Kanwar Sandhu to link Patiala ki Choe with the lake does not seem thoughtful move.
The Punjab govt has taken some wetlands friendly steps. The forest dept. has started counting the wetlands in the state again. The govt also decided to declare 50 acre of land at Shalla Pattan wetlands as protected area for critically endangered species common crane by compensating farmers to keep land fallow for the winter months.
It has also planned to declare Kanjli wetland as Kali Bein Conservation Reserve for protection of biodiversity of the area. However the govt has so far not formed the SWA. The website of Forest Department also has no information on the status of wetlands in the state.
In Haryana, Najafgah lake, Basai wetlands and other scores of water bodies are at the receiving end of govt. apathy. The condition is particularly alarming in Gurugram which has lost over 380 water bodies in past 60 years. Many water bodies in the state are being filled with solid waste and sewage water while the revival plan is just limited to papers. The green tribunal is repeatedly calling the shots but so far it has failed to make any difference.
The commercial fishing in village ponds has become a menace for water birds which are dying after getting entangled in the thread trap laid over water bodies to keep them away. Over hundred birds death were reported in Rohtak alone in the month of Feb. 2018.
The issue of Basai wetlands remained unresolved. Concerned have pleaded the state govt. to declare it a wetlands however the govt. has not budged. The green tribunal though has revoked stay over C&D plant but asked it to go ahead with construction work only after obtaining all requisite permissions. In Dec. 2018, it has also disposed off the Delhi Birds Foundation petition asking it to reapproach state govt. on the issue. 
Meanwhile, a new threat of plastic waste has made the issue worse. The matter was amplified in June 2018, when a plastic ring locked the beak of black necked stork spotted at the wetlands. Indeed, plastic waste is emerging as silent killer of water bodies.
It is shocking that the govt. is more interested in real estate development at the cost of Najafgrah wetlands. The bund proposal by the state forest minister is only an example of govt.'s apathy towards wetlands. Moreover, the govt has so far failed to form SWA.
Compiled by Bhim Singh Rawat (bhim.sandrp@gmail.com)
End Notes:-
You may also like to see, wetlands overview done by SANDRP in 2018. 
North India Wetlands Review 2017: Callous Governments
North East Wetlands Review 2017: "Remove Ithai Barrage on Loktak Lake"
East India Wetlands Review 2017: West Bengal Bent On Destroying World's Largest Natural Sewage Treatment Plant
Maharashtra Wetlands Review 2017: Destruction Despite Legal Intervention  
Gujarat, Madhya Pradesh, Rajasthan, Goa Wetlands Review 2017: No Protection Here
Karnataka Wetlands Review 2017: Bellandur Lake Remains On Fire
South India Wetlands Review 2017: Wetlands Critical In Changing Climate
India Wetlands Review 2017: Important Court Decisions