As joint monitoring report by Paryavaran Surakhsha Samiti (PSS) and Gujarat Pollution Control Board (GPCB) shows, Sabarmati is severely polluted river, downstream of Ahmedabad and is practically a dead river. Upstream of Ahmedabad, the once perennial river has no water of its own and is stealing the Narmada water meant for drought prone areas.
This incidentally is supposed to be model river rejuvenation as told to SANDRP coordinator on a television channel by no less than Executive Director (Technical) of National Mission on Clean Ganga. In fact posters during the 2014 Parliamentary elections in Varanasi, where Mr Modi fought from, said exactly that. So is the National Ganga river going down that path? Narmada itself is in same situation downstream of the dam in Gujarat as another report here shows. Gujarat model has many examples to show, it seems. 
Gujarat Sabarmati for 120 km stretch is dead  Great work by PSS and others. Several civil society organisations led by PSS, Vadodara, in close coordination with the GPCB have released reports' on joint investigations by pollution levels in the Sabarmati river, finding their condition disastrous.
The reports note that Sabarmati river in the Ahmedabad City stretch, beyond the much- publicised riverfront, is dry, though within the riverfront project stretch it is brimming with stagnant water. In the last 120 kilometres, before meeting the Arabian Sea, carrying effluents from industries from Naroda, Odhav Vatva, Narol and sewerage from Ahmedabad city.
– On March 12, 2019, regional officers Tushar Shah and Nehalben Ajmera of the Gujarat Pollution Control Board (GPCB), Rohit Prajapati and Krishnakant of the PSS, social activist Mudita Vidrohi of Ahmedabad, Gujarat High Court lawyer Subodh Parmar conducted a joint investigation.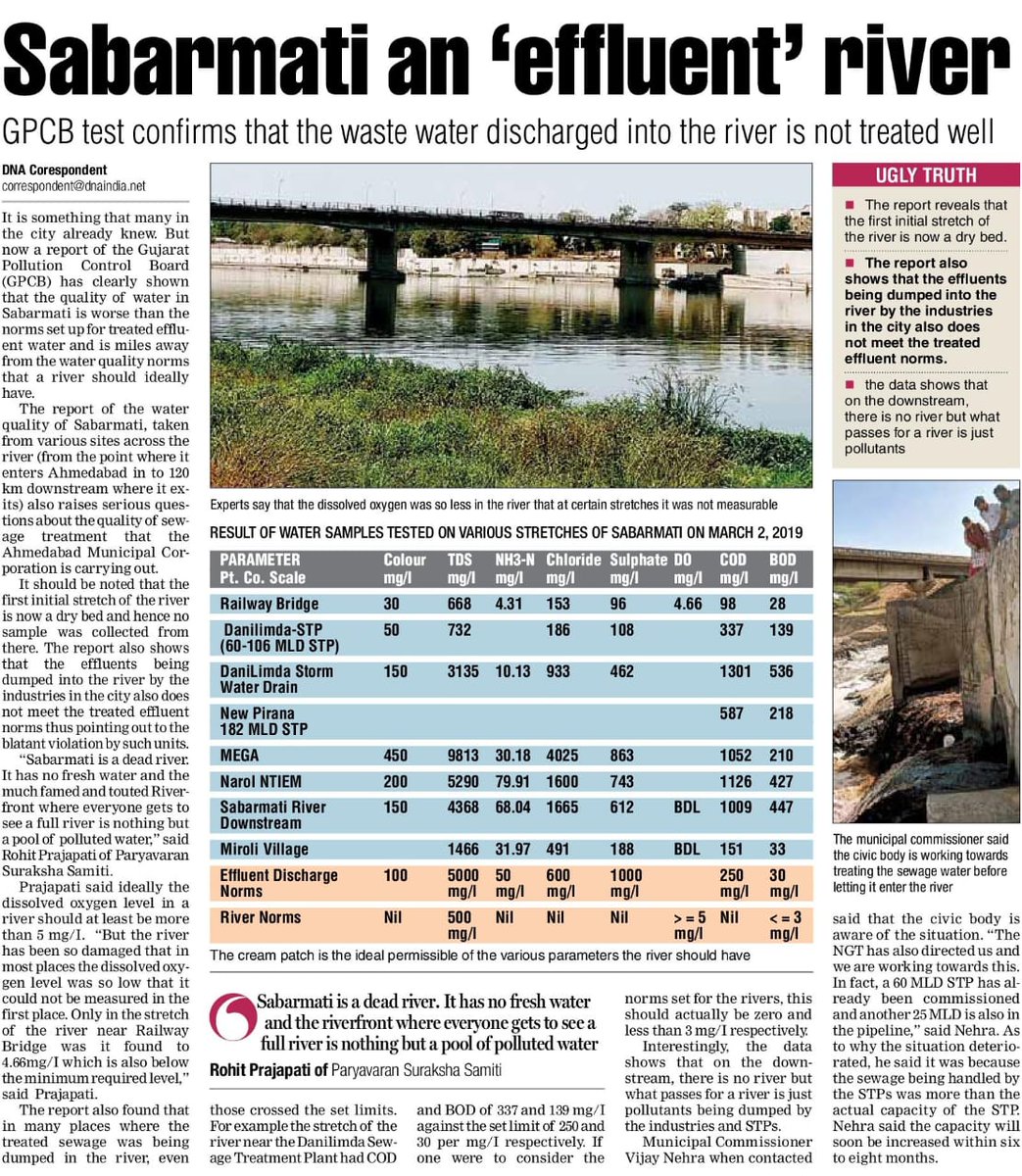 This was conducted in the context of implementation of the order, dated February 22, 2017 of the Supreme Court in the Writ Petition (Civil) No 375 of 2012 (PSS & Anr V/s Union of India & Ors) about the status of industrial effluent and sewerage discharge into the Sabarmati River stretch of Ahmedabad district.   https://www.counterview.net/2019/03/sabarmati-for120-km-stretch-is-dead.html  (27 March 2019)
As per latest development the shares of SRF slipped over 5 per cent to Rs 2,281.25 on the BSE in early morning trade after GPCB directed the company to close the operations of its industrial plant at Dahej in Gujarat due to alleged non—compliance with the Water (Prevention and Control of Pollution) Act, 1974. https://www.business-standard.com/article/markets/srf-slips-5-as-gujarat-pollution-board-orders-shutdown-of-dahej-plant-119040100150_1.html (1 April 2019) 
More Reports On Rivers From The Week
CAUVERY Shrinking area and decreasing farm productivity in Kaveri delta EXCELLENT REPORT ON CAUVERY: The delta of river Kaveri, which is the agricultural backbone of south India, has shrunk by 20 percent because of diversion of land for non-agricultural purposes and climate change. The region witnessed an increase in the wasteland area since 1971, according to experts. Upstream dams trap silt and do not let it flow into the delta. Water-intensive agriculture and industrial practices are adding to the problem. The farmers of the delta are taking the issues into the national election discussions.
– According to him, the delta region is shrinking fast with cultivable lands increasingly deteriorating into wastelands. To substantiate his claim, Vimal Nathan quoted findings of a study by S. Janakarajan, a retired faculty member with the Madras Institute of Development Studies (MIDS). According to Janakarajan, the delta region witnessed a 13-fold increase in wastelands since 1971.
– Even the available water remains extremely contaminated causing irreparable damage to both soil and agriculture. Chemical factories located in the close vicinity of the Stanley Reservoir in Mettur have been identified as major polluters of the river. Mass fish mortality is reported from the delta region regularly. In the downstream region, tens of small- and medium-scale chemical industries continue to discharge their effluents through natural drains and engineered canals into the Kaveri. A water-guzzling coal-fired thermal power plant at Mettur is also contributing to the present sorry state of affairs in Kaveri. The plant has permission to draw 184 million litres per day (MLD) of river water. Coal ash from the plant is often dumped up on a hill, from where it finds its way back to the river.
– River Bhavani, a major tributary of the Kaveri joins it in Erode. It brings with it effluents from dyeing industries, leather tanneries and pulp and paper mills – large scale water-users and heavier polluters. Further south, the industrial town of Salem discharges about 35 MLD of untreated sewage into the Kaveri through the Thirumanimuthar rivulet.
– Interestingly, there is a considerable increase of mangrove cover in the region. "You may feel happy about the increase of mangrove cover. But it reflects a grave reality. Mangrove cover is increasing due to seawater ingress in the coastal areas. Available data indicate that the mangrove cover has gone up nearly 14 times since 1971," said Vimalnathan. Due to seawater ingress, the coastal portion of the delta region is witnessing a substantial rise in shrimp farming, which is detrimental to agricultural practice.
– While the delta is facing decrease in sediment deposit, the Mettur dam is facing water storage problems due to siltation. Built in 1934, the dam used to have a storage capacity of 2708.8 million cubic metres (MCM). By 2004, this was reduced to 1994.2 MCM. Besides, data reveal that its capacity had reduced further to 1,889 MCM in 2015. With the union government having initiated a massive hydrocarbon extraction project in the delta region, unmindful of the environmental and livelihood concerns, farmers are turning hopeless of a better tomorrow.
– During this election season the farmers of Kaveri delta are making another attempt to reach their issues to the national leaders. If the statement by National South-India River Linking Agriculturalists Association leader P. Ayyakannu is anything to go by, the firebrand farmers' leader from Kaveri delta region will contest in Varanasi Lok Sabha constituency in Uttar Pradesh, where Prime Minister Narendra Modi is seeking public mandate for the second consecutive time. According to Ayyakannu, 110 other farmers from the drought-hit delta region will also contest against the Prime Minister in Varanasi, stressing the need for governmental support to make farming activities profitable. Meanwhile, the federation of farmers' associations in the delta has extended its support to the DMK-led opposition alliance in which Congress and left parties are partners. The support is based on the assurance from the alliance that it would declare the entire Kaveri delta region as a protected agricultural zone, a long pending demand of farmers. https://india.mongabay.com/2019/04/shrinking-area-and-decreasing-farm-productivity-in-kaveri-delta/  (1 April 2019)
NARMADA 43 साल में पहली बार मार्च में सबसे कम हुआ नर्मदा का जलस्तर   Narmada water level at Harda in Madhya Pradesh at its lowest since 1977.
Its been falling each year since 2015: 2015 261.610 मी.; 2016 260.900 मी.; 2017 260.950 मी.; 2018 260.500 मी.; 2019 260.370 मी. https://www.bhaskar.com/mp/ratlam/news/mp-news-narmada-water-level-the-lowest-in-march-the-lowest-in-43-years-water-conservation-in-harda-044113-4214675.html   (28 March 2019)
GANGA Bihar Sorry state of Ganga downstream of Farakka  One of the worst stretches is in Murshidabad district of West Bengal, where the Ganga's biodiversity is being affected by constant human intervention. Many blame the Farakka barrage for the pathetic condition of the river. Ganga has an average annual discharge of 11,811 cumecs at Farakka.
Since 1975, the Farakka barrage diverts an average discharge of 1,046 cumecs from the Ganga into the Hooghly River, towards Kolkata, through a 38 km feeder canal. The discharge of hot water from Farakka Super Thermal Power Station of NTPC at Dhuliyan in Murshidabad has been causing fluctuations in the water level and temperature, posing a danger to the aquatic life surviving on it. https://indiaclimatedialogue.net/2019/03/25/multimedia-sorry-state-of-ganga-beyond-farakka/    (25 March 2019)
YAMUNA Haryana Distillery under CPCB's scanner for polluting Yamuna The Central Pollution Control Board has issued show-cause notice to a distillery operating in Karnal, Haryana over untreated effluents being dumped in the river. A joint inspection by the apex pollution control board along with CSIR NEERI had revealed the foul quality of the effluents being discharged in the Yamuna. The joint team has also concluded that the water quality of river Yamuna deteriorates after downstream of Yamunanagar and Panipat which shows that ditch drain and drain no. 2 are the substantial point source of
According to the notice, it is thereby evident that the unit is non-complying to zero liquid discharge (ZLD) condition and has discharged partially treated effluent to ditch drain that ultimately deteriorates water quality of river Yamuna. The joint inspection was done to assess and identify the probable source of pollution of the river, in compliance with directions of an NGT appointed panel. https://timesofindia.indiatimes.com/city/delhi/haryana-distillery-under-cpcbs-scanner-for-polluting-yamuna/articleshow/68570380.cms  (26 March 2019)
Uttar Pradesh NGT directs UP authorities to act against river water pollution The NGT has directed the UP PCB and authorities concerned to take immediate steps to control pollution of Noida's storm water drains, which join Yamuna and Hindon rivers and make them congestion free. The NGT also said that in view of seriousness of violations affecting public health at large, the New Okhla Industrial Development Authority CEO may remain present in person with the compliance affidavit on July 5. https://www.thehansindia.com/news/national/ngt-directs-up-authorities-to-act-against-river-water-pollution–516250  (29 March 2019)
Delhi DDA Okays Dumping Site on Yamuna Floodplain Shocking DDA allocated a 42.5 acre plot to EDMC to dump its mixed waste on Yamuna floodplain area. https://thewire.in/environment/delhis-dda-okays-dumping-site-on-yamuna-floodplain  (28 March 2019)
Report Drying Himalayan springs a severe crisis Wonderful interview with Dr. Aditi Mukherji.
"While it is comparatively easy to understand what the problems are, the solutions are not easy; they have to be very context-specific. Secondly, solutions are rarely technical in nature. Yes, technology does play a role but that is only one side of the story. The other side of the story is really the right policy and institutional environment. The third thing is that successful solutions almost always derive through community participation and stakeholder engagement. Very rarely do top-down solutions work. For instance, proposals like the interlinking of rivers bring in more problems in their wake than they solve. On the other hand, solutions that come from a community perspective—for example, rejuvenation of springs—where communities are using some of their knowledge and coming together to do something collectively, works."
– "Springs are basically groundwater. Degradation of forests actually has been one of the main reasons for springs drying up, along with schemes like hydropower and construction of roads. These activities disturb the underlying geology. If you have a small aquifer and blasting work is going on, then the aquifer can get compacted and all the water can rush out at one go and the spring would dry."
– "I could not over-emphasize how important this (inventory of springs) would be. There are purely guess-based estimates by experts going around that we have between two-four million springs in the Indian Himalaya alone. While making a complete inventory of these is not an easy task, what I want to underline is that it is possible… The Central Ground Water Board, which does a reasonably good assessment of India's groundwater, never looked at the mountains because their definition said land with a slope of over 20 degrees is not considered suitable for groundwater. This definition has just been revised, so there will actually be assessment of groundwater in the Himalaya."
– "But when it comes to groundwater, this approach is not enough, as due to folds and faults in mountain geology, particularly in the Himalayas, water that falls on one side of the mountain can easily penetrate through the rock layers and emerge on the other side of the mountain as springs, if the underlying water-bearing rocks dip that way. So, very often, the recharge area of a spring on one side of the mountain can be on another side of the same mountain—and this calls for a valley-to-valley approach where water conservation work may need to be undertaken from one valley to the next and treat both sides of the hill/mountain. This calls for a paradigm shift away from a watershed to a springshed approach."
– "How climate change impacts the global hydrological cycle and one of the parts of the storyline is also that while the impacts are global and regional, the solutions have to be local." https://www.livemint.com/mint-lounge/features/water-expert-aditi-mukherji-india-s-drying-himalayan-springs-is-a-severe-crisis-1553847119018.html    (29 March 2019)
Opinion Brahmaputra as a new model of democracy and development WOW: Shiv Vishvanathan on Brahmaputra River: It is crucial to understand the link between time and the river because I am not past, present or future. I am each of them and all of them simultaneously… I am Tsangpo, Narichu, Tanjoo Khampa, Tamyak, Sangchen, Chimbo, Siang Dihang, Shyama, Sema, Singla, Tilao Taluk… The river was nature's first novel feeding on folklore and myth… One of the biggest problems a river faces is not the people who live by it but those who study it… Explorers never understand a river; they only measure it. For them a river is not a labyrinth, a mystery, it is a puzzle which must be solved if I am to be left at peace.
Orientalism, at least, left behind a sense of mystique while geography turned the river into an anatomy class, skeletal, vertebral and a trifle prosaic. Geography fails as an attempt to sanitize myth; a river must be allowed to retain its riddles. A sense of the elusive is important for civilization. A river needs to flow unimpeded, without the punctuation marks of pollution and progress. The Brahmaputra has to offer a new model of democracy and development… I the Brahmaputra, embody the polysemy of diversity. I am my 57 tributaries in the north bank and 33 on the south… Any river is a metaphor, I offer myself as a metaphor for India. In my differences I am.  https://www.telegraphindia.com/opinion/the-brahmaputra-as-a-new-model-of-democracy-and-development/cid/1687260#.XJh3R07cwq0.facebook  (22 March 2019)
Study Low soil moisture posing threat in most river basins At least half of 16 river basins have been found to be low in soil across India, says a study. https://www.downtoearth.org.in/news/environment/low-soil-moisture-posing-threat-in-most-river-basins-63752      (29 March 2019) 
URBAN RIVERS 
HYDRO POWER PROJECTS
Arunachal Pradesh Anti-dam monk opts out of poll contest for 'greater green cause' Lama Lobsang Gyatso of Tawanghas decided not to contest the State Assembly elections against CM Pema Khandu in Greater Green good, as he said, since Save Mon Region Federation has decided to support Congress candidate Thupten Khunpen. https://www.thehindu.com/news/national/other-states/anti-dam-monk-opts-out-of-poll-contest-for-greater-green-cause/article26647237.ece  ( 27 March 2019)
Study Pumped hydro storage needs $20 billion investment in India  Tapping into the Pump Storage Hydro sector's potential needs at least $20 billion investments annually, says a research by the Institute for Energy Economics & Financial Analysis (IEEFA). Development of PHS, though, comes with a caveat- the attendant problems like enormous social costs and the absence of a strong policy signal for producers and consumers.
– Globally, PHS is technology for storing electricity at times of high generation and or low demand which can then be released into peak demand periods. There is some 140 GW of PHS capacity installed globally providing over 95 per cent of global electricity storage capacity. PHS has a round trip efficiency of 70-80 per cent (meaning 20-30 per cent of electricity is lost), depending upon the distance and gradient separating upper and lower reservoirs. It is designed to time-shift electricity to periods of peak demand so that power is stored when it is least expensive and then used during peak demand when prices are highest.   https://www.business-standard.com/article/companies/pumped-hydro-storage-needs-20-billion-investment-in-india-study-119032800423_1.html  (28 March 2019)
Industry Norway's Statkraft eyes hydropower projects in India STRANGE kind of report on Hydropower sector. The reporter insists that the Statkraft move is following India's new Hydropower incentives announced on March 8, even when the report contains a quote from the company saying its in place before that. Its also clear that Statekraft is possibly looking for distressed assets like the Tidong HEP they acquired earlier in 2018. Lastly, buried at the end is the announcement of break up between Tata Power and Statekraft, strangely without even asking why that happened. https://www.livemint.com/industry/energy/norway-s-statkraft-eyes-hydropower-projects-in-india-1553716487749.html     (28March 2019)
DAMS
Sardar Sarovar Dam Narmada dream been oversold by Gujarat politicians  DOWN TO EARTH wakes up from slumber? "But now it appears that the dream was oversold"!! https://www.downtoearth.org.in/news/general-elections-2019/has-the-narmada-dream-been-oversold-by-gujarat-politicians–63716      (26March 2019)
Polavaram Dam Telangana approaches SC to stop work WHY is Telangana doing it now when it knew this all along? Election show baazi? The government on March 26, 2019, again raised objections to the Indira Sagar Polavaram Irrigation project and has approached the Supreme Court to put the work on hold. Expressing concern over submergence of land and displacement of people in the state, the Telangana government has appealed to the court to review the environmental impact assessment (EIA) of the project located in Andhra Pradesh as the clearance was obtained in 2005. https://www.downtoearth.org.in/news/water/telangana-approaches-supreme-court-to-stop-work-on-polavaram-63748    (28 March 2019)
Dams also create INTER DISTRICT CONFLICT Lok Sabha elections: Deve Gowda woos voters to whom he denied Hemavathi water Former PM HD Deve Gowda will contest from Tumakuru: He will be counting on the votes of people to whom he as Hassan MP earlier had allegedly denied Hemavathi river water for decades, even as he faces a raging rebellion from within the Congress-JD(S) coalition. Hemavathi, a tributary of the Cauvery, has a reservoir in Gorur, Hassan, and is the main source of water for Hassan, Tumakuru and Mandya districts. Tumakuru and Mandya districts are entitled to 24tmcft and 6tmcft of water, respectively, from Gorur reservoir, which can store 36tmcft of water. The remaining 6tmcft of water is Hassan's share. Tumakuru and Mandya get water from Hemavathi through two canals, the Tumakuru Branch Canal and Nagamangala Branch Canal, but people from the two districts allege that leaders of Hassan have never let water flow in the canals. https://timesofindia.indiatimes.com/city/bengaluru/lok-sabha-elections-deve-gowda-woos-voters-to-whom-he-denied-hemavathi-water-in-tumakuru/articleshow/68571971.cms     (26March 2019)
Maharashtra Nine more Yavatmal villages to boycott polls  Close on heels of the decision taken by Dabhadi village in Arni tehsil of Yavatmal to abstain from voting in the Lok Sabha elections, nine villages in Mahagaon tehsil have also decided to boycott polling scheduled on April 11. In a joint meeting on March 27, the villagers of Ejani, Pohandul, Tivarang, Chikhali, Malkapur, Bhosa, Dahisavli, Dhanoda and Wadhnath took the decision to draw the attention of the district administration towards their long pending demand of releasing water from Veni dam of Pus Project for agriculture purpose.
– "We have not got water since 2013 from Veni dam. Our rabbi crops are being destroyed for want of water every year," said ZP member Vilas Bhusar. "The canal of 50km and its tail stretching 12km are made of mud. Due to substandard work, water from the canal percolates and gets wasted," said former ZP Member Panjabrao Khadkekar, who chaired the meeting. https://timesofindia.indiatimes.com/city/nagpur/nine-more-yavatmal-villages-to-boycott-polls/articleshowprint/68621803.cms  (29 March 2019)
INTERLINKING OF RIVERS
Ken Betwa Link सुप्रीम कोर्ट की कमेटी तय करेगी पन्ना के बाघों का भविष्य  About CEC team visiting Panna Tiger Reserve on March 28, 2019. https://pannastories.blogspot.com/2019/03/blog-post_26.html    (26 March 2019)
'River linking project a conspiracy to deny Bundelkhand Ken water   Indeed the Ken Betwa Project will not only destroy the Panna Tiger Reserve, but Bundelkhand and facilitate export of water to areas outside Bundelkhand. https://timesofindia.indiatimes.com/city/bhopal/river-linking-project-a-conspiracy-to-deny-bundelkhand-of-ken-river-water/articleshow/68629990.cms    (29 March 2019)
Villagers face eviction near Panna forest reserve  The residents of Rampura, a small village in the buffer zone of the Panna Tiger Reserve in Madhya Pradesh, have been asked to move. But, they say, with no allocation of alternative land, where will they go? Possibly 25 such villages are going to be asked to move so that govt can include this buffer zone land in the PTR in compensation for the submergence due to the proposed Ken Betwa Project. https://www.villagesquare.in/2019/03/29/villagers-face-eviction-near-panna-forest-reserve/        (29 March 2019)
सेंटर इम्पावर्ड कमेटी को सामाजिक कार्यकर्ता ने दिया सुझाव  केन बेतवा लिंक परियोजना बनाते समय यूपी के बांदा जिले में इस परियोजना के दुष्परिणामों का अध्ययन किसी ने नहीं किया। एक दिन पूर्व सुप्रीम कोर्ट द्वारा गठित सेंटर इम्पावर्ड कमेटी ने पन्ना का दौरा किया तो सामाजिक कार्यकर्ता पुष्पेंद्र भाई ने कमेटी के सामने 14 बिन्दुओं पर सुझाव दिए। यह कमेटी पन्ना परिवर्तन मंच की याचिका के बाद गठित हुई है।
सीइसी को दिए सुझावों में अपना तालाब अभियान के संयोजक पुष्पेंद्र भाई ने बताया कि केन नदी बांदा की जीवन रेखा है। इस पर लाखों लोग निर्भर है। खेती किसानी के अलावा पानी संकट जिले में बढ़ जाएगा क्योकि गर्मियों में अभी कई जगह नदी दम तोड़ देती है। ऊपर बांध बनने से नदी की जलधारा अवरुद्ध होगी। यहां बांदा के किसानों व इस पर आश्रित लोगों पर पड़ने वाले प्रभावों के बारे में अध्यन नहीं किया गया है।
केन घड़ियाल अभ्यारण बरियारपुर में नकारात्मक असर पड़ेगा। योजना में यहां लाभ हानि के बारे में जानकारी नहीं की गई है। वन एवं वन्य जीव के लिए ली जाने वाली एनओसी को तत्काल निरस्त किया जाना चाहिए। पन्ना टाइगर रिजर्व भूमि का हस्तांतरण गलत है। कमेटी को बताया कि इस इलाके में किसानों के लिए उपयुक्त तालाब है और लागत भी बांध से पानी देने की तुलना में बेहद कम है। 14 बिन्दुओं को सुनने के बाद कमेटी के चेयरमैन ने कहा कि इन बिन्दुओं पर विचार के लिए उत्तर प्रदेश सरकार के सामने मजबूती से अपना पक्ष रखे। http://epaper.livehindustan.com/textview_14354_136303834_4_1_5_31-03-2019_41_1.html  (31 March 2019)
Godavari Cauvery Link CM wooes voters with link promise Tamil Nadu CM Edappadi K Palaniswami promised on March 29 that the Godavari and Cauvery rivers would be linked at a cost of Rs 60,000 crore to solve the water crisis faced by the delta districts in the state. Furthermore, the CM said that a team of retired engineers are studying ways to conserve water that flows into the sea, and that the government will ensure that all water bodies are desilted and maintained properly to prevent water from wastefully draining into the Bay of Bengal.  In January, Union Minister Nitin Gadkari announced that the detailed project report was ready, and cabinet approval would be obtained. https://www.thenewsminute.com/article/godavari-cauvery-rivers-will-be-linked-cost-rs-60k-cr-tn-cm-s-poll-pitch-99233  (31 March 2019)
INTERSTATE WATER DISPUTES
Krishna River Water Dispute Srisailam-nsp to be drained below  mddl  The KRMB allotted 29 tmc of water to Telangana and 17.5 tmc of water to AP in its three-member committee meeting on March 11.  The allocations were based on the gross storage available in both the projects, which was put at 51.71 tmc. Srisailam MDDL is 834 ft, water level is already down to 825 ft. Nagarjunsagar MDDL is 510 ft, water level is already at 517 ft on March 28, and the water level is going to go down below MDDL at NSP too.   https://telanganatoday.com/srisailam-nsp-drained-mddl      (31 March 2019)
IRRIGATION
IRRIGATION SCAM IN TELENGANA SC notice to Telangana, BHEL on alleged irrigation scam  The Supreme Court on March 25 issued a notice to Telangana, BHEL and others on a petition alleging a huge scam of Rs 35,000 crore in the Palamuru Ranga Reddy Lift Irrigation Project. A bench of justices S A Bobde and Sanjiv Khanna also sought a response from the CBI on a petition filed by former MLA of Andhra Pradesh Dr Nagam Janardan Reddy. The petitioner, represented by advocate Prashant Bhushan, alleged a loot of several thousand crores in the tender relating to the electro-mechanical equipment manufactured by the BHEL in the lift-irrigation project. He sought a CBI investigation in the matter.
– there was a massive scam in Telangana where state government and BHEL have connived to benefit private parties causing a huge loss to the public exchequer. The petitioner challenged the validity of the judgment and final order passed on December 3, 2018 by the Andhra Pradesh and Telangana High Court, dismissing his plea for probe. The Telangana government has undertaken the Palamuru Rangareddy Lift Irrigation Scheme (PRRLIS), which has four stages of pumping stations in a total of 18 packages to lift a large volume of water from the Srisailam Reservoir on Krishna river passing through Mahbubnagar district.   https://www.deccanherald.com/national/south/sc-notice-to-telangana-bhel-on-alleged-irrigation-scam-725085.html      (25March 2019)
Andhra Pradesh Walmart Foundation backs IDEI irrigation project to raise incomes for 10,000 farmers  Walmart? Why? Ten thousand smallholder farmers in Andhra are set to benefit from introduction of sustainable irrigation products and practices. https://www.deccanchronicle.com/business/companies/280319/walmart-foundation-backs-idei-irrigation-project-to-raise-incomes-for.html  (28 March 2019)
Odisha Irrigation key to fighting poverty in Kandhamal Groundwater recharge in Kandhamal's undulating terrain and pumps to lift water are needed to break the nexus between lack of irrigation and poverty in this seriously underdeveloped area. https://www.villagesquare.in/2019/03/25/irrigation-key-to-fighting-poverty-in-kandhamal/  (25 March 2019)  
FISH, FISHERIES, FISHERFOLKS
DMF PR on March 29, 2019: In a Press Conference at the Press Club of India, New Delhi on 29th March 2019 the National Platform for Small Scale Fish Workers (I) demanded that the small and traditional fishing communities should have inalienable right over water bodies. Details of the PR are here. https://www.facebook.com/sandrp.in/posts/2540240726003585?__tn__=K-R
SAND MINING
Rajasthan 4 labourers killed during illegal mining operations in Bundi Four labourers, including a woman, have died after a sand dune collapsed on them during illegal sand mining operations in Rajasthan's Bundi district, police said March 27. The incident occurred in Chambal Crocodile Sanctuary near Sunagar village on March 26 evening, SHO, Keshoraipatan Police Station, Abhishek Pareek said.
The police have lodged a case of culpable homicide against the contractor, identified as Pappu Gujjar, who had employed the labourers for the illegal operation, the officer added. The deceased were identified as Ramkumar Bairwa, Suresh Bairwa, Dhankanwar Bairwa and Mahavir Dhobi, all residents of Chandrasel village, he said. The bodies were recovered on Tuesday and were handed over to the respective families after postmortem on Wednesday morning, Pareek said. http://www.newindianexpress.com/nation/2019/mar/27/four-labourers-killed-during-illegal-sand-mining-operations-in-bundi-1956638.html (27 March 2019)
Bundelkhand After Ken, sand mining threat to Dhasan river After Ken, illegal sand mining is posing threat to another river in drought-prone Bundelkhand. Excessive mining is taking place in Dhasan river in Nowgaon tehsil where heavy machines are playing havoc with its ghats and disrupting its flow.
No wonder, with water crisis looming large, the local villagers are up-in-arms against the sand mining in Dhasan. After the villagers saw heavy machines damaging the ghats and mounds of sand at many places that block the river flow, the irate villagers even pelted stones in protest. The region is already facing water crisis which is likely to deepen further.
People in Alipura village were stunned on March 26 when they found heavy machines being deployed to dig out the sand. "Heavy machines were operating near the ghats and damaging them. The jugaad pandoobis were sucking the sand after which we pelted stones at the people operating them", said a villager.
Though the district administration is tight-lipped over the issue, sources said that a four hectare mine, which was earlier in the possession of Alipura panchayat, has been leased out to four miners for four years. "But the problem starts when they start digging out a larger area and damage the river. They should not be allowed to damage the ghats and block the river flow", sources said.
Dhasan, a 365km-long tributary of Betwa river, originates from Raisen district of Madhya Pradesh. Ken, which is another important river of Bundelkhand, is already facing serious threat from the mining mafia. The river flow has been blocked by building illegal bridges over the shallow patches of the river in Panna and Chattarpur districts. https://timesofindia.indiatimes.com/city/bhopal/after-ken-sand-mining-threat-to-dhasan-river/articleshow/68650532.cms  (31 March 2019)
Karnataka HC ratifies govt move for only 53 sand permits  The HC has upheld the decision of the district administration on limiting the issue of sand extraction permits in sandbars identified in the Nethravathi and Phalguni CRZ areas. The government took this step to protect traditional sand extractors and also preserve the environment.  Questioning the district-level sand monitoring committee's decision to restrict the number of permits to 53 based on the permit holders' details of 2011-12, Abdul Majeed and Abdul Gafoor, residentsof Kannur on the outskirts of Mangaluru had filed a writ in the High Court. https://www.deccanherald.com/state/mangaluru/hc-ratifies-govt-move-for-only-53-sand-permits-725382.html       (27 March 2019)
Tamil Nadu Act against officials for allowing illegal sand mining: HC  The judges observed that indiscriminate mining was being carried out in Sitharevu village illegally as no permission for mining had been granted by any authority. Even though the petitioner had sent representations, no action was taken by the officials. The judges further observed that it was clear that there was deliberate failure and negligence on the part of the officials who connived with the mining operators and helped them loot the natural wealth on the foothills of Western Ghats which was a prohibited area. https://timesofindia.indiatimes.com/city/madurai/act-against-officials-for-allowing-illegal-sand-mining-hc/articleshow/68553720.cms  (25 March 2019)
HC gets tough on sand mining, seeks report from officials Important hearing and directions by Madras HC regarding illegal sand mining in Tamil Nadu: – The judges wanted to know about the provisions invoked against illegal mining and transporting sand while registering the FIR, and asked how money had been collected as fine for such activity in the last 10 years. They asked if the fine was levied or cost of the minerals was recovered. The court said a report on the action taken should be submitted to it at the next hearing on April 21.
– The judges then directed the government to collect Rs 75 lakh from the officials for allowing illegal mining in unapproved areas in Sitharevu village in Attur area of Dindigul district. Stating that the case pertaining to the district was only the tip of the iceberg, the judges said illegal mining of sand and blue metal had become a regular feature in Tamil Nadu.
– The judges noted that though the court had directed the officials to slap the Goondas Act on the officials, it was not known whether the action was ever taken. They said the report submitted by the advocate commissioner indicated mining of lake sand had been done and about 10,000 cubic metres of gravel had been removed from the prohibited areas. Though the revenue inspector, village administrative office and tehsildar and the deputy tehsildar were supposed to act, they had not done so, the judges said. The photographs submitted by the petitioner also showed that illegal mining had been done on a large scale, they said, posting the matter for further hearing next month. https://www.outlookindia.com/newsscroll/hc-gets-tough-on-sand-mining-seeks-report-from-officials/1501825  (23 March 2019)
Punjab 4 held for sand mining in Fazilka Four persons have been arrested on the charge of illegal sand mining in the border village Mohar Khiva, Bhiwani, of Fazilka district. The accused have been arrested on the basis of a complaint lodged by a senior Army official.
Police sources said Major Dhruv Shri Das lodged a complaint with the Sadar police, Fazilka, that four persons were involved in excavating sand near the seepage drain in the area. Notably, another person was booked for illegal sand mining on the complaint of another Army official three days ago. https://www.tribuneindia.com/news/punjab/four-held-for-sand-mining-in-fazilka/746890.html  (23 March 2019)
WETLANDS, LAKES, WATER BODIES
Uttar Pradesh Wetland authority to ban summer paddy cultivation  Raising concern over depleting groundwater, UP State Wetland Authority (SWA) has decided to ban the cultivation of summer paddy that survives only on the groundwater. According to an estimate of the state agriculture department, summer paddy — the transplantation of which has already been started — is produced in around 3.5 lakh hectares in more than 20 districts of western UP stretched up to the Tarai region. The decision was taken by SWA chief executive officer Vibhash Ranjan on World Water Day.
– "The cropping pattern in the state needs to be brought under regulation in phased-manner, and to begin with we will motivate the farmers not to grow summer paddy. As the crop is transplanted in March for harvesting in June, before the arrival of monsoon, the irrigation of this crop contributes to rapid depletion of groundwater," said Ranjan. "The protection and conservation of 26,000 wetlands having area 2.5 hectare or above and 97,000 water bodies of smaller size, a project undertaken by SWA to recharge groundwater, will not succeed unless there is a ban on the production of summer paddy," Ranjan explained.
– Director of agriculture in Lucknow Soraj Singh said, "An authentic record of this crop is not available, as summer paddy is not a permitted crop." According to an estimation of the Pilibhit agriculture department, summer paddy is sown in around 25,000 hectares every year. "According to scientifically collected data by agriculturist, 1.6 kg of summer paddy needs around 2,000 litres of groundwater. With reported production of 80 to 85 quintals per hectare in Pilibhit district, the total cultivated area of 25,000 hectares need 266 crore litres of ground water every year", said Dr SS Dhaka, senior scientist, Sardar Vallabhbhai Patel University of Agriculture and Technology in Meerut. Ravindra Kumar, former plant physiology scientist at International Rice Research Institute in the Philippines, told TOI, "Around 45% of the total groundwater used in the irrigation of summer paddy, evaporates in the atmosphere, 35% transpires, 5 to 7% lost through runoff and merely 13 to 20% of the total water percolates down to the soil." https://timesofindia.indiatimes.com/city/bareilly/wetland-authority-to-ban-summer-paddy-cultivation-to-save-groundwater/articleshowprint/68569392.cms           (26 March 2019)
Maharashtra 15 villages at risk of flooding in Uran wetlands this monsoon  There are recurrent cases of mangrove and wetland destruction in Uran since June 2018. The Panje wetland in Uran dried up after Cidco blocked off tidal water in September 2018. Following complaints, the government body opened flood protection gates to restore the wetlands. 15 villages may be inundated, affecting 70,000 people. CIDCO has said it will shut down sluice gates at Panje and Karanje six times a month during the monsoon to prevent tidal ingress. However, villagers and environmentalists allege flooding in the area is caused by construction debris that was dumped in tidal areas and disrupted the flow of water. https://www.hindustantimes.com/mumbai-news/15-villages-at-risk-of-flooding-in-uran-wetlands-this-monsoon-report/story-03uMYV0GPqJ28nnPFWH3kI.html   (26 March 2019)
Tamil Nadu Importance of Ennore Creek, Kattupalli, Policat  Ennore Creek, Kattupalli island and Lake Pulicat are extremely important for Chennai's water security and flood protection. Twenty Chennai youngsters, plan to cycle from Ennore (Kattukuppam) to Pulicat on 31 March, 2019, on a rally for water. They shall be stopping at enroute in fishing villages and express solidarity to struggle of fishing communities. For more information, contact: Nityanand Jayaraman (9444082401), For Save Ennore Creek Campaign. https://dc.icsf.net/en/component/dcnews/articledetail/13501.html     (29 March 2019)
Pulicat lake bar mouth to be dredged  The Fisheries Department has called for tenders to undertake dredging and desilting of the Pulicat lake estuary. This is a temporary solution to remove tonnes of silt that is blocking the movement of seawater into and out of the brackish water lake in Tiruvallur district. Fishermen from villages including Annamalaicheri, Korakuppam, Pasiyavaram, Thoniravu, Madhakuppam, Andikuppam and Kottakuppam depend on the lake for their livelihood.  https://www.thehindu.com/news/cities/chennai/pulicat-lake-bar-mouth-to-be-dredged/article26668647.ece    (29 March 2019)
Haryana Assess damage to waterbodies due to inaction by authorities:NGT  Important NGT order two weeks ago about water bodies in Gurugram: https://www.thehindu.com/news/cities/Delhi/assess-damage-to-waterbodies-due-to-inaction-by-authorities-says-ngt/article26489932.ece  (11 March 2019)
Delhi Decide whether Tikri Khurd lake in Narela is wetland: NGT The green tribunal has directed the Wetlands Authority of Delhi to hold a meeting and decide within a month whether the Tikri Khurd lake in Narela here is a wetland. "If any steps are required to be taken for making the Wetland Authority fully functional, such steps may be taken by the Delhi chief secretary. Even if it is found that the area in question is not technically a wetland, the lake is required to be preserved as a water body.
"Wetlands Authority may co-opt DDA as a member of the Wetland Authority under Rule 5 (3) of the rules so that the effective joint decision can be taken to resolve the dispute whether the area falls within the jurisdiction of DDA or Delhi government," the bench said.
The tribunal also directed the CPCB to ascertain whether the National Wetlands Authority is functioning at the central level and Wetland Authorities at all the states or Union Territories. "If not, their functioning be required to be operational within one month. Such authorities may identify wetland and water bodies and take further steps for their protection. A status report in the matter be furnished before the next date," the bench, also comprising Justice K Ramakrishnan and expert member Nagin Nanda, said.
The tribunal also rapped the DDA over its submission that the Tikri Khurd Lake did not exist in the records and said," We may only comment that stand of the DDA does not show commitment for conserving water body and merely focusses on technicalities and shifting responsibility which attitude is not consistent with Articles 48A and 51-A (g) of the Constitution, expected from a public body." https://www.outlookindia.com/newsscroll/decide-whether-tikri-khurd-lake-in-narela-is-wetland-ngt/1506982  (1 April 2019)
WATER OPTIONS
Kerala A campaign to watch out for the 'water mafia' The Floating Conference on a boat, organised by the Green Care Mission as part of its week-long water literacy programme in connection with World Water Day, was notable for its stress on the need for water literacy to maintain the quantity and quality of water we use in our daily lives.
The floating conference took off from the Green Carpet campus through the Iruvazhinji river that later joins the Chaliyar. Around 50 people from different walks of life, from the length and breadth of the State, came together at the conference and spoke about how they had been doing their bit for the environment. Actor Banna Chennamangallur was the moderator. https://www.thehindu.com/news/national/kerala/a-campaign-to-watch-out-for-the-water-mafia/article26690075.ece  (30 March 2019)
GROUNDWATER
Study Usable groundwater depleting in east India despite increasing rainfall  A study estimating total usable groundwater storage in India reveals high rates of depletion of groundwater storage in north-east India (Assam), despite an increase in rainfall. Researchers warn of impending droughts and famines in flood-prone Assam linked to the overexploitation of groundwater for irrigation. https://india.mongabay.com/2019/03/usable-groundwater-depleting-in-assam-despite-increasing-rainfall-finds-a-study/   (27 March 2019)
Report Number crunching helps farmers manage water   In villages where the system still worked, farmers had either organized themselves into cooperative credit societies or had continued commitment from the NGOs even after the project period. The study also found that farmers were more cautious and followed rules in villages where groundwater levels were low whereas negligence crept in at places with abundant groundwater.
"Groundwater management and budgeting is a good concept but there are always farmers who don't want to follow rules and maximise use of borewells," says C. Bakkareddy, program manager with WASSAN, one of the implementing non-profits under APFAMGS. "The only check for them is a strong village institute but that's not always possible. Government regulations should supplement the social rules to make the idea work." https://www.indiawaterportal.org/articles/number-crunching-helps-farmers-manage-water      (23 March 2019)
Haryana Over 400 Panipat dyeing units extract groundwater illegally An RTI query has brought out that only four dyeing units out of about 400 have a no-objection certificate (NOC) from the Central Ground Water Authority (CGWA) to extract groundwater. The extraction of groundwater by legal and illegal dyeing units is about 70 MLD. The 300 dyeing units in Sector 29 part-II extract the most: more than 40 MLD.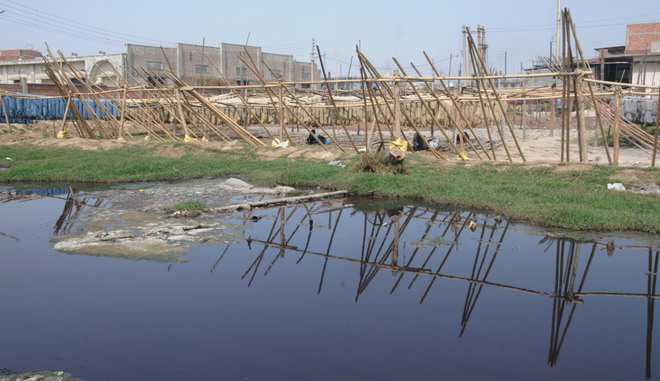 The dyeing units which are extracting groundwater have not installed flow meters in their industries. They have not even installed any system for the recharge of groundwater," said a senior official of the Haryana State PCB. https://www.tribuneindia.com/news/haryana/over-400-panipat-dyeing-units-extract-groundwater-illegally/747950.html  (25 March 2019)
Maharashtra Groundwater table depleted in half of state in January The data from the Groundwater Survey and Development Agency (GSDA) mean the water table in 50% or 178 talukas (of the 353 monitored by the GSDA) in the state during January 2019 plunged below than the average levels for the month in the past five years.
– In January 2018, nearly 10,300 villages showed groundwater depletion by more than one metre. This January, the number has increased to 12,609 villages.
An official from GSDA said all these 12,609 villages had recorded over 20% or more rainfall deficit in monsoon last year. There are approximately 44,000 villages in Maharashtra.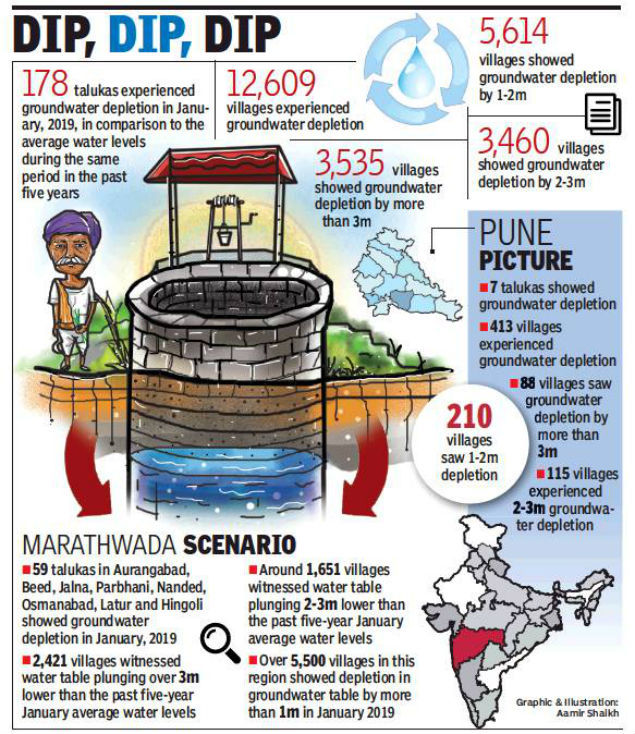 – Over 3,500 villages in the state have registered a dip in the groundwater table by over 3 metres in January 2019 in comparison to the average January levels of the past five years. The GSDA monitors water levels through 3,920 observation dug wells, covering the entire state, in 1,535 watersheds.
– Meanwhile, the live storage of 14 of the 17 reservoirs monitored by the CWC in Maharashtra has plunged below the average stock of the past 10 years as well as that in the same period last year. The storage in the state dams is 35% less than the average storage of the past 10 years, a recent report of the commission stated. The CWC monitors 17 dams in the state including Khadakwasla, Jayakwadi, Pench, Girna and Upper Vaitarana. https://timesofindia.indiatimes.com/city/pune/groundwater-table-depleted-in-half-of-maharashtra-in-jan/articleshow/68542070.cms  (24 March 2019)
Hyderabad GHMC borewell supplies polluted water Newly dug borewell 3 days ago poured chemical-laden water in Quhbullapur area showing status of groundwater pollution. The officials, who never bothered to look into the repeated plaints on water pollution, were in for a surprise when a new dug out borewell in municipal office started dispensing polluted water!
There are many chemical factories operating in the industrial area. The government decided to shift them to faraway places. But nothing has been done so far and chemical plants are working with impunity before, and allegedly dumping chemical effluent in residential localities. Residents allege that even effluent treatment plant here also dispose huge chemical wastages. They appeal authorities to take appropriate action and save people and environment. https://www.thehansindia.com/news/cities/hyderabad/ghmc-borewell-supplies-polluted-water-516525  (29 March 2019)
Gujarat Groundwater in Padra worse than industrial waste! Environment activists are seeing red over the deteriorating quality of groundwater in Luna village of Padra taluka considered to be Gujarat's 'vegetable bowl'.
According to PSS, the groundwater pollution in Luna has reached to alarming levels as it has crossed even the limit of discharge norms of industrial effluent. PSS has issued notices to all officials — from PM, Gujarat CM to secretary, nodal officers of Environment ministry, chairman and member secretaries of pollution control boards for "having failed to act against the polluting industries" despite complaints and representations by the NGO and villagers .  https://timesofindia.indiatimes.com/city/vadodara/groundwater-in-padra-worse-than-industrial-waste/articleshow/68472073.cms  (19 March 2019)
West Bengal Govt fails to address arsenic threats West Bengal accounts for 1.04 crore out of India's 1.48 crore population harmed by arsenic. https://www.firstpost.com/india/silent-killer-arsenic-slowly-poisoning-crores-of-people-in-west-bengal-as-successive-govts-fail-to-address-issue-6346371.html    (28 March 2019)
URBAN WATER
Get ready for another chronic water shortage this summer  Very informative piece by Indulekha Arvind on reasons behind growing water scarcity in metro cities of Bengaluru, Chennai, Mumbai, Delhi and efforts being made by respective govts to avoid the crisis.
Clearly treating and reusing waste water, recycling and rainwater harvesting are far better options than investing in expensive, unsustainable projects like desalination plant (Chennai), Cauvery water (Bengaluru), Gagai dam (Mumbai). Most important is focusing more on demand side management.
Also, the groundwater rate depletion is alarming particularly in Delhi. National Geophysical Research Institute director Virendra Tiwari, who has been studying dwindling groundwater resources for years, says areas in and around Delhi have been losing 30 to 32 cubic km of groundwater every year. "This is the largest rate of groundwater loss in any similar region on Earth," he says, echoing what he had written in a 2009 paper. https://economictimes.indiatimes.com/news/politics-and-nation/get-ready-for-another-chronic-water-shortage-this-summer/articleshow/68540324.cms  (25 March 2019)
Survey Drinking water and pollution among top ten priorities for the urban Indian voter    Agriculture and drinking water are among top ten priorities for voters all over India, way above defence and terrorism issues, according to a survey by the Association for Democratic Reforms. https://india.mongabay.com/2019/03/drinking-water-and-pollution-among-top-ten-priorities-for-the-urban-indian-voter/  (28 March 2019)
WATER POLLUTION
Gujarat Where is Narmada water sample test report? Activists have questioned the extreme secrecy surrounding the sample test report of the Narmada water. It should be noted that the water in the Sardar Sarovar Dam reservoir had turned black and water supply to 138 villages in Narmada and Chhota Udepur district had been discontinued in the beginning of February.
While preliminary report of the sample by Gujarat Water Supply and Sewage Board (GWSSB) had indicated presence of sulphide in the water, the authorities had later said that that the water had high level of bacteria but met all other parameters.
"We have written to the department to show us the report of the samples. If the reports are fine why is the secrecy around it. Moreover, the department within two days restored the water supply with the warning that the people should take adequate precaution because it had high level of bacteria,"said Mahesh Pandya of PSS at a press conference.
Panday an environmental activist also alleged that the GWSSB has also happily embraced the permissible limit for different parameters for drinking water instead of the standard limit. "Under the standards for drinking water issued by the Centre, the standard limit for total dissolved solids is 500 mg/I but the permissible limit is 2000 mg/I. But what the board has not clarified is that the permissible limit can be only accepted in absence of any alternative source and that too subject to some conditions," said Pandya. He said the government was thus relying on the permissible limit for drinking water and washing its hands of providing quality water to the people.
He said that the government claims that Narmada waters reach 9083 villages and 166 cities serving 4 crore people of the state. "Then it is surprising that water in the reservoir, when found to have high bacterial content, is released for drinking purpose with just a warning from the state. The state expects the users to take remedial measures and instead of doing it themselves," said Hemantkumar Shah, an economist professor. https://www.dnaindia.com/ahmedabad/report-where-is-narmada-water-sample-test-report-2733319  (26 March 2019)
Narmada water remains contaminated, govt "changed norms" to declare it fit to drink  The government has changed the minimum acceptable standard of drinking water from 500 milligrams per liter of TDS to 2,000 milligrams, risking the health of crores of people of Gujarat. Pointing out that the permissible limit for water has been changed in "10 of the 13 norms", members of Save Democracy Movement of Gujarat said, "The total hardness has been increased from 200 to 600… all the standards for water, color, turbidity, calcium, magnesium, chloride, sulfate, fluoride and alkalinity etc. have been revised upwards, in some cases for up to 200 per cent, while in other cases by 400 per cent." Suggesting that this has been done against the backdrop of Narmada waters getting contaminated. https://www.counterview.in/2019/03/narmada-water-remains-contaminated.html  (25 March 2019)    
WATER
Report The water we don't touch may be leaving us drier  The daily norm set by India for water use (3000 Litres per capita per day) is 150 litres per person daily in cities and 55 litres per person daily in villages. So, the average daily water footprint of an Indian is 20 times the per capita use in cities and more than 50 times that of villages.
– In 2014-15, India shipped 37.2 lakh tonnes of basmati rice that used 10 trillion water. https://timesofindia.indiatimes.com/home/environment/the-water-we-dont-touch-may-be-leaving-us-drier/articleshow/68573289.cms     (26 March 2019)
Opinion Incorporating principles of circulation economy in JalYukt Shivar  On one hand, the official data released by GoM and work of Paani Foundation of reaching 5462 villages from 40 districts shows that the project has been successful in reducing water shortages in Maharashtra. On the other hand, there are studies which show that the project is unsustainable due to unscientific implementation, undue reliance on machinery, lack of transparency and public participation, and inappropriate selection of geographical locations.
In order to make this scheme sustainable, there is a dire need of incorporating principles of circulation economy in the basic structure of the scheme. Through the principles of reducing the wastage, recycling and reusing water resources GoM's JalYukt Shivar scheme can be an example of sustainable water management practices. https://myvoice.opindia.com/2019/03/towards-water-sustainability-incorporating-principles-of-circulation-economy-in-jalyukt-shivar/  (23 March 2019)
Opinion No politician talking about looming water crisis  The lack of data on water availability, water usage, cost of supply, etc, in the public domain has hampered the stakeholders understanding the gravity of the situation and find sustainable solutions on the basis of informed choices and opportunities.   https://www.moneycontrol.com/news/india/opinion-india-is-staring-at-a-water-crisis-and-no-politician-is-talking-about-it-3723311.html    (29 March 2019)
Odisha Villages still drink contaminated water from pits  A large section of the rural populace of Keonjhar district in Odisha is struggling for access to a basic survival need.    https://www.firstpost.com/india/seven-decades-after-independence-many-in-odishas-villages-still-drink-contaminated-water-from-pits-6337931.html  (27 March 2019)
Telangana Deadline lapses but water still scarce
The 22 house habitation of the Particularly Vulnerable Tribal Group of Kolams in Indervelli mandal of Adilabad district, part of Adilabad (ST) Lok Sabha constituency, is among those that are yet to receive clean and safe drinking water through taps under the Telangana State Drinking Water Grid, or Mission Bhagiratha, though the deadline set by the State Government for completing the work lapsed on March 31. https://www.thehindu.com/todays-paper/tp-national/tp-telangana/deadline-lapses-but-water-still-scarce/article26697879.ece  (1 April 2019)
AGRICULTURE
Maharashtra This Woman Farmer Is Leading The Way For Marginal Farmers  On World Water Day, it is worth sharing the story of Mangala Maruti Waghmare, who is technically a marginal farmer (practicing agriculture in less than 5 acres) in possession of only half an acre land in Latur district. But with as little land as it is, she has been able to earn enough to support her son's B Tech education, with a family of six members to manage. https://www.youthkiawaaz.com/2019/03/this-woman-farmer-is-leading-the-way-for-minimal-farmers/  (24 March 2019)
DROUGHT
The following maps from IMD shows the rainfall in India during March 2019: Sub division wise, state wise and river basin wise. Normal rainfall during the month at all India level is supposed to be 30.9 mm, but actual rainfall was 41% below normal, at 18.3 mm.
SUB DIVISIONS: Only one subdivision (Gangetic W Bengal) had excess rainfall at 42% above normal, while 7 other subdivisions had normal rainfall, 14 had below normal rainfall, 12 had large deficit (above 60% deficit) and two subdivisions (Gujarat, Konkan & Goa) had no rain at all.
STATES: Only W Bengal had excess rainfall among all the states in India. Six had normal rainfall, 13 had below normal, 12 large deficit and 4 had NO RAIN.
RIVER BASIN WISE: The map seems to show anomalies with respect to the subdivision wise and state wise rainfall figures.
IMD Rainfall Maps For March 2019
Gujarat 'We Fear Drought More Than War,' Say Border Villagers WE SHOULD BE CONCERNED ABOUT DROUGHT IN THESE BORDER AREAS: Mota is among the last villages before the international border in western Kutch. Jaloya is about 35 km from the international border in north Gujarat's Banaskantha district.
Both districts are going through one of the worst droughts in recent history. Kutch has received only 26% of its 30-year annual average rainfall, while Banaskantha has received 33%. The talukas – administrative subdivisions – within which the two villages are located have fared even worse. Mota is located in Bhuj taluka, which has received 22% of its 30-year average rainfall. Suigam taluka, which contains Jaloya, has received only 10% of its average.
– Rabari told the TV crew that he wasn't. "We fear drought more than war. War has to be fought by the army, not us. The drought has to be fought by us," he told The Wire, standing in his parched field which resembled a desert. It also narrates how the PM Crop Insurance scheme is a COMPLETE FAILURE here. https://thewire.in/rights/gujarat-border-drought-water-crisis  (25 March 2019)
As per one more report by Kabir Agarwal, The Wire, The drought in Gujarat has driven a large number of Maldharis to migrate with their cattle. https://thewire.in/rights/gujarat-drought-kutch-grasslands-migration  (28 March 2019)
For Kutch, this year has turned out to be the worst since 1985-88, when the district faced three successive years of severe drought.
– In the Eastern part of Kutch —- the Vagad region, including Rapar taluka — two dams in the region, Fatehgarh and Suvi, have been given water through the Narmada canal with over 85 per cent filling, but agriculture and allied animal husbandry gets no share. Says Ashok Mehta, a prominent citizen and editor of the magazine Kutch Shruti: "Kutch has been meted out unfair treatment when it comes to water allocation from Narmada and creating canal infrastructure under the Sardar Sarovar project. https://www.thehindubusinessline.com/economy/agri-business/in-kutch-history-has-a-habit-of-repeating-itself/article26666799.ece    (28 March 2019)
Maharashtra Power supply to be cut/controlled to stop water stealing The district administration has announced that water for drinking purpose would be released from Ozharkhed dam for the villages in Dindori, Niphad and Chandwad talukas from April 1 morning.  While 430 million cubic feet (mcft) water from Ozarkhed dam will be released through the left bank canal, 200 mcft will be released into the Palkhed dam.
"The water is only for drinking purpose. Anyone using the water for other purposes would face action," said Ramdas Khedkar, resident deputy collector, Nashik. The district administration has ordered all measures to prevent theft of water from the canal. The power shut down has been ordered in the areas near canals to ensure the water cannot be lifted using three-phase power pumps. The villagers along the canal will receive single phase power so that their daily routine is not disturbed. https://timesofindia.indiatimes.com/city/nashik/admin-to-release-water-from-ozarkhed-dam-today/articleshow/68660172.cms  (1 April 2019)
Telangana Farmers' prospects dwindle in erstwhile Karimnagar The prevailing heat wave conditions and depleting groundwater level have led to standing crops withering away in various parts of the erstwhile Karimnagar district, causing farmers to worry over their prospects.
They took up large-scale cultivation of paddy given the availability of water in SRSP and LMD reservoirs. But the government could not provide water to the command areas owing to reduced water levels in the reservoirs in the later days. Though the government released the available water, it did not reach the tail-end farmers as it was pilfered by farmers in the upper region.
The other irrigation sources such as wells and bore-wells were insufficient to protect the standing crops. Though the farmers resorted to deepening their wells spending a huge amount, they failed to get enough water for their entire crop area. As of now, each farmer has lost ₹25,000 per acre for cultivating paddy. https://www.thehindu.com/news/cities/Hyderabad/farmers-prospects-dwindle-in-erstwhile-karimnagar/article26695337.ece  (31 March 2019)
ENERGY OPTIONS
100% rural electrification is not enough The connection challenge may have been met, but the supply challenge remains. To improve the quality of life and to aid economic activities, it is essential to ensure affordable, reliable electricity supply. This has largely been neglected in the rush to reach household connection and village electrification milestones. Supply is managed by cash-strapped distribution companies which have no financial incentive to supply to the rural poor. https://www.thehindubusinessline.com/opinion/100-rural-electrification-is-not-enough/article26645721.ece  (26 March 2019) 
SOUTH ASIA
India Nepal SBI commits Rs 6,560 crore to power project  Three banks, including the State Bank of India (SBI), committed over Rs 7,800 crore as a loan for Nepal's biggest hydropower project, during the two-day Nepal Investment Summit which concluded here on March 30, 2019. The 900 MW Arun-III Hydroelectric Project, in Sankhuwasabha district in eastern Nepal, is being undertaken by Indian company SJVN. SBI committed Rs 6,560 crore, the Everest Bank committed Rs 812.61 crores, while the Nabil Bank committed Rs 487.58 crores as a loan for the project, totalling Rs 7,859 crore. https://www.malaysiasun.com/news/260194704/sbi-commits-rs-6560-crore-to-nepal-power-project    (31March 2019)
India-to-work-as-transit-hub-for-nepals-power-export-to-third-countries India has said it would allow Nepal to use its power transmission backbone to export electricity to countries like Bangladesh and Myanmar, in a major boost to foreign investors who express concerns about lack of access to foreign markets for energy produced. Sanoj Kumar Jha, secretary of the Central Electricity Regulatory Commission told the Nepal Investment Summit in Kathmandu on March 29,2019. https://thehimalayantimes.com/business/india-to-work-as-transit-hub-for-nepals-power-export-to-third-countries/    (30 March 2019)
Pakistan The Ongoing Struggle on the Indus  Auwm Gurmani from Pakistan explains the struggles of the Sindh Fisherman. http://pakistanmonthlyreview.com/indus.html  (2 Feb. 2019)
ASIA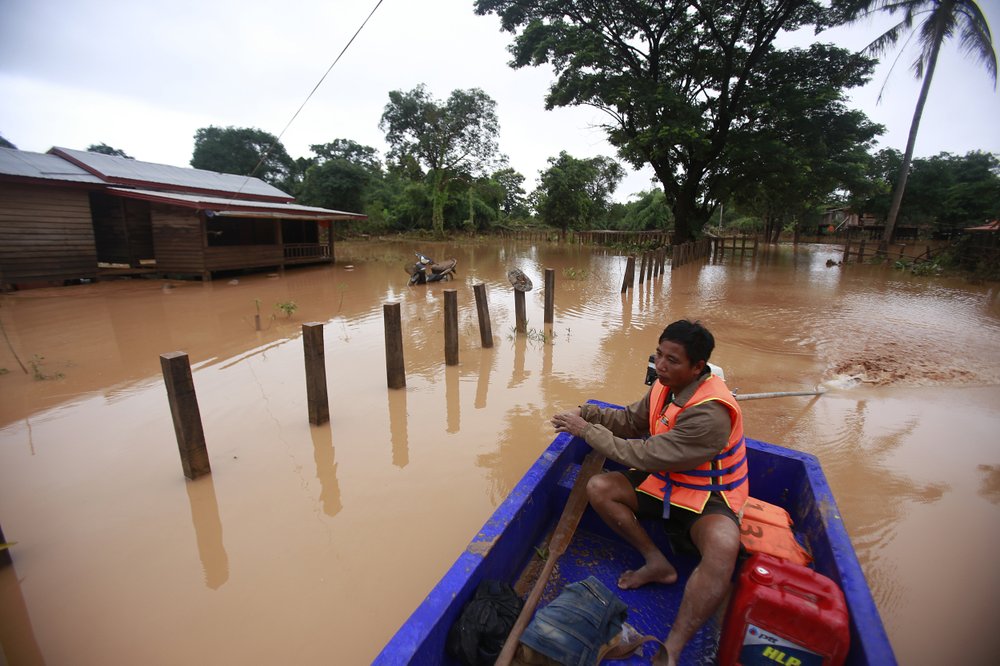 Laos Dam Disaster Outlook grim for victims of Laos dam collapse U.N. expert on human rights says hundreds of people displaced by the collapse of a dam in Laos face bleak prospects for recovering their homes and livelihoods.   https://apnews.com/981554a1012b475788e4f039b8f173d4  (29 March 2019)
THE REST OF THE WORLD
SANDRP Blog Western Japan floods 2018: Hiroshima and the Summer of the Deluge  Guest blog by Aparna Datar on Hiroshima floods of Western Japan in 2018. She travelled to the flooded villages and communities before writing this, thanks to Prof Moe Nakazora of Hiroshima University.
Plz read and share about this unprecedented flood in Hiroshima. The trainline that was not affected by the earlier historic Hiroshima incident facing atom bomb was destroyed in this incident, as the photo shows.  https://sandrp.in/2019/03/28/western-japan-floods-2018-hiroshima-and-the-summer-of-the-deluge/  (28 March 2019)
US MIDWEST FLOOD 2019 Northwest Missouri farmer weighs in on the Flood of 2019, 'This is the very worst'   Flows from the Gavins Point dam (has been increased to 30 000 cusecs on March 26) affect river levels in downstream communities such as Omaha; Plattsmouth, Nebraska; Hamburg, Iowa; and St. Joseph, Missouri.
– What a farmer felt: https://www.stltoday.com/news/local/columns/tony-messenger/messenger-northwest-missouri-farmer-weighs-in-on-the-flood-of/article_bff89902-df1e-5afd-8739-a093055b3e2f.html      (26 March 2019)
As reservoirs fill, Corps of Engineers juggles Missouri River flood woes Said John Remus, the chief of the Corps' Missouri River Basin Water Management Division in Omaha, the situation puts the Corps in a delicate position of trying to clear room in reservoirs while not imperiling already hard-hit communities in Iowa, Nebraska, Missouri and Kansas that have endured one bout of flooding this spring. Officials had hoped to delay stepped up increases at Gavins Point until after the crest from the Big Sioux River had already made it into the Missouri River, but, Remus added, "We're not going to be able to do that entirely." Gavins Point releases increased to 27,000 cusecs on Monday (March 25). They were forecasted to go to 36,000 CFS by Thursday, but they could also go higher.
– The Corps still has 85 percent of its capacity to handle snowmelt, but that was down by 10 percent in just one week. Water was flowing into Lake Oahe at 98,000 CFS Monday while releases were at 3,500 CFS.
– Gavins Point release changes take two to three days to reach Omaha, three to four days to reach Nebraska City and four to five days to reach Kansas City. https://www.argusleader.com/story/news/2019/03/25/reservoirs-fill-corps-engineers-juggles-missouri-river-flood-woes/3272754002/  (25 March 2019)
Climate forecast offers little comfort  Using data from the U.S. Historical Climatology Network, I have shown that from 1951 to 2013, mean precipitation for the United States increased by 1.6 percent per decade. In the Midwest, however, it rose by about 2.1 percent per decade, and winter precipitation increased by 3.7 percent per decade. About half of this growth was caused by more frequent storms, and the other half can be attributed to an increase in storms' intensity. From 1951 through 2013, my study found that light and moderate precipitation across the Midwest increased by about 1 percent per decade, while heavy precipitation increased by 4.4 percent per decade.
– A 2015 study that examined discharge data from 774 U.S. Geological Survey stream gauge stations across the Midwest from 1962 through 2011 found that 34 percent of the stations showed significant increases in the frequency of flood events. The most pronounced increase occurred in springtime for floods associated with snowmelt, rain falling on frozen ground and rain-on-snow events. What was once a 100-year flood can be expected to occur on average every 50 years…
– NOAA earlier this month forecast that the historic floods will be followed by more rain and flooding this spring. Current flood waters are expected to remain for months.  https://theconversation.com/for-a-flooded-midwest-climate-forecasts-offer-little-comfort-114140     (29 March 2019)
'Breaches Everywhere': Flooding Bursts Midwest Levees  Hundreds of miles of levees in the Midwest have been overwhelmed by the floods, leaving "Swiss cheese" infrastructure and reigniting a flood control debate.
– Last year, landowners from four Midwestern states won a lawsuit against the Army Corps of Engineers, the lawsuit claimed the repeated floods amounted to a seizure of their property. According to the US Army Corps of Engineers, which oversees infrastructure on the Missouri River and some of its tributaries, at least 62 levees had been breached or overtopped in the Midwest in March, and hundreds of miles of levees had sustained damage.
– In the early 20th century, the Army Corps of Engineers and towns along the Mississippi River followed a "levees only" policy that meant building higher and higher walls, leaving the river no way to release its power. That strategy failed spectacularly in the Great Flood of 1927, which inundated 27,000 square miles and displaced one million people. In the aftermath, officials built a more complex Mississippi River system that included a network of spillways and flood ways, as well as other tools, along with the levees.
– As water recedes, at least for the moment, and the conversation shifts to recovery, many in the river bottom said they planned to stay and rebuild, hopeful that policies might change. Others said these levee breaks were probably their last.  https://www.nytimes.com/2019/03/31/us/midwest-floods-levees.html        (31 March 2019)
Quinn Dam: Barrier breached with warning of 'uncontrollable release of large amounts of water'  The Quinn Dam in South Dakota, Missouri Basin, USA appears to be severely damaged. The Rapid City Pennington County Emergency Management agency released a statement on March 26 afternoon reading, "Quinn Dam appears to be falling." "Large amounts of water may be uncontrollably released soon," the statement read. "Anyone downstream should seek higher ground."
– "Our folks on the scene Pennington County Highway observed what appears to be a hole three feet by four feet that was continuing to grow. As they were on scene it was changing in size," Alexa White, deputy director for Penning County Emergency Management said, adding, "We do expect a complete failure at some point today.   https://www.independent.co.uk/news/world/americas/quinn-dam-flash-floods-warning-latest-dakota-a8840816.html  
A large piece of the Quinn Dam was washed away March 26 morning leading Pennington County officials to temporarily close a section of Highway 14 and give evacuation orders to downstream residents. Later in the day, however, Pennington County Emergency Management said on social media that after evaluating damage to the dam there was no immediate danger to nearby residents. "An engineering assessment is currently underway to evaluate the breach reported this morning," the officials said in a tweet. "Officials are confident the normal drainage, culverts and area floodplain can handle the anticipated outflow."  https://rapidcityjournal.com/news/local/quinn-dam-no-longer-considered-an-immediate-threat-to-public/article_e2fff723-f8ab-5014-bc2f-3247948f32b6.html        (26 March 2019)
Louisiana's Disappearing Coast  FASCINATING REPORT ABOUT UNFOLDING TRAGEDY IN MISSISSIPPI DELTA: "I do not know much about gods; but I think that the river is a strong brown god," T. S. Eliot wrote. The "strong brown god" assembled the Louisiana Gulf Coast out of bits and pieces of Illinois and Iowa and Minnesota and Missouri and Arkansas and Kentucky. In southern Louisiana, to borrow from Bob Dylan, any place that is "not busy being born is busy dying."
– Attempts to harness the Mississippi River have led to a land-loss crisis in Louisiana. The state loses a football field's worth of land every hour and a half. A huge public-works project, aimed at correcting for the unintended consequences of previous interventions, is getting under way.
– A variety of factors are driving the "land-loss crisis," as it's come to be called. But the essential one is a marvel of engineering. Thousands of miles of levees, flood walls, and revetments have been erected to manage the Mississippi. As the Army Corps of Engineers once boasted, "We harnessed it, straightened it, regularized it, shackled it." This vast system, built to keep southern Louisiana dry, is the very reason the region is disintegrating, coming apart like an old shoe.
– But if control is the problem it must also, by the logic of the Anthropocene, be the solution. And so a huge new public-works project is getting under way—this one aimed not at flood control so much as at controlled flooding. Ten pharaonic structures are planned. The furthest along of these is slated for Plaquemines Parish. It will feature enough concrete and riprap to pave Greenwich Village and, when operating at full capacity, will, by flow, be the twelfth-largest river in the country.
– With each failure, the levees (they started building them following 1719 submergence of New Orleans, a year after it was set up by the French Colonialists, by 1730 there were 50 miles long, built mostly by african slaves) were improved—built higher and wider and longer. By the War of 1812, they ran along the river for more than a hundred and fifty miles.
– When the Mississippi bursts through its levees, be they natural or man-made, the opening is called a crevasse. A crevasse-induced flood in 1735 inundated practically all of New Orleans. Sauvé's Crevasse opened on the east bank of the Mississippi in May, 1849. In 1858, forty-five crevasses opened up in Louisiana's levees; in 1874, forty-three; in 1882, two hundred and eighty-four. In what's become known as the Great Flood of 1927, two hundred and twenty-six crevasses were reported. Joseph Ransdell, Louisiana's senior U.S. senator at the time, called the Flood Control Act of 1928 the most important piece of water-related legislation "since the world began."
– C.P.R.A.'s (Coastal Protection and Restoration Authority, next to Centre for River Studies in Lousiana) "bold" scheme for saving Plaquemines is to rehabilitate the crevasse for the post-crevasse era. The agency's master plan calls for punching eight giant holes through the levees on the Mississippi and two more through those on its main distributary, the Atchafalaya. The openings will be gated and channelized, and the channels will themselves be leveed. C.P.R.A. likes to characterize the effort as a form of restoration, a way to reëstablish natural processes. And that's true, but only in the sense that trucking salmon upstream, or using planes to train whooping cranes to migrate, is natural.
– The first artificial crevasse scheduled to be built is a USD 1.4 B project known as the Mid-Barataria Sediment Diversion. The diversion will be six hundred feet wide and thirty feet deep. It will start on the west bank of the Mississippi, some thirty-five miles upriver of Buras, then, in evident defiance of hydrology, run in a perfectly straight line due west for two and a half miles, to Barataria Bay. When it's operating at maximum capacity, 75000 cusecs water will flow through it. Nothing quite like it has ever been attempted before.
– Mississippi – Atchafalaya mess: Near this spot, some five hundred years ago, the Mississippi went on a bender, creating a kind of hydrological as well as nomenclatural hair ball. The meander took the Mississippi so far west that it ran into the Atchafalaya, at that time a distributary of a different river, the Red, which itself was a Mississippi tributary. The Atchafalaya is a good deal shorter and steeper than the last few hundred miles of the Mississippi, and the tangle presented the water in the larger river with a choice. It could follow its old path to the Gulf, via the Bird's Foot, or it could switch routes and take the faster path offered by the Atchafalaya. Until the mid-eighteen-hundreds, an enormous logjam on the Atchafalaya, which was dense enough to walk across, complicated this choice. But once the jam was removed—by, among other means, nitroglycerin—more and more water began flowing out of the main stem of the Mississippi. As the flow on the Atchafalaya increased, it widened and deepened. (Mentions John McPhee's classic piece "Atchafalaya," a morality tale of a darkly comic cast in 1987)
– "In 1900, about ten per cent of the Red River and the Mississippi put together was going down the Atchafalaya," Harvey explained. "In 1930, you had about twenty per cent. By 1950, you had thirty per cent. We still do the seventy-thirty division." This was the trend line that prompted the Corps to step in. "From here down to the mouth of the Mississippi is about three hundred and fifteen miles," Harvey at Army Corps' Old River Control said. "And from here to the mouth of Atchafalaya is about a hundred and forty miles. So it's about half the distance. So the river wants to go this way. But if that happens . . ." His voice trailed off.
– In the ordinary course of events, the Atchafalaya would have kept widening and deepening until, eventually, it captured the lower Mississippi entirely. This would have left New Orleans low and dry and rendered the industries that had grown up along the river—the refineries, the grain elevators, the container ports, and the petrochemical plants—essentially worthless. Such an eventuality was thought to be unthinkable, and so, in the nineteen-fifties, the Corps stepped in. It dammed the former meander, known as Old River, and dug two huge, gated channels. The river's choice would now be dictated for it, its flow maintained as if it were forever the Eisenhower era.
– Subsidence: A recent study that relied on satellite data found some sections of New Orleans dropping by almost half a foot per decade. "That's one of the fastest rates on Earth," Kolker noted. "Pumping is a big part of the issue, It accelerates subsidence, so it becomes a positive-feedback loop."
– the new effort begins with a planet remade, and spirals back on itself—not so much the control of nature as the control of (the control of) nature. A Mississippi that's been harnessed, straightened, regularized, and shackled can still exert a godlike force; it's no longer exactly a river, though. https://www.newyorker.com/magazine/2019/04/01/louisianas-disappearing-coast           (1 April 2019)
Study Consequences of groundwater depletion to agriculture A new Council of Agricultural Science and Technology, or CAST, paper examines the causes and consequences of groundwater depletion throughout the U.S. with a focus on how this will affect agriculture—the largest sector of groundwater use.
The paper, "Aquifer Depletion and Potential Impacts on Long-term Irrigated Agricultural Productivity," was co-authored by Dr. John Tracy, Texas A&M University's Texas Water Resources Institute director, College Station. https://phys.org/news/2019-03-consequences-groundwater-depletion-agriculture.html  (25 March 2019)
Full Paper on the above subject: http://www.cast-science.org/file.cfm/media/products/digitalproducts/CAST_IP63_Aquifer_Depletion_C4FAE917A6979.pdf
Brazil Sul Superior: another Vale tailings dam at risk of imminent collapse Dave Petley writes about another Brazil Tailing Dam on the verge of collapse. https://blogs.agu.org/landslideblog/2019/03/25/sul-superior-1/   (25 March 2019) 
CLIMATE CHANGE
Manipur A village with carbon positive tags Phayeng is a scheduled caste village of the Chakpa community in Imphal West district (Manipur) and its conservation efforts are mainly linked to the belief that the forest is a sacred grove, but the idea has changed over the years. It is using its lush community-managed forest to develop itself as India's first carbon-positive settlement.
Phayeng, which is surrounded by three densely forested hillocks with fruit trees at centre and a stream flowing through it, has been resurrected from the dry and denuded village it was in the 1970s and 80s through the sheer determination of its residents and funding under National Adaptation Fund for Climate Change. As part of the carbon-positive village project, Phayeng will receive a grant of ₹10 crore in phases to facilitate afforestation in the catchment of river Maklang that flows along the village. https://www.hindustantimes.com/india-news/a-village-with-carbon-positive-tag/story-i4aeAisAO4oLaIIEK21e8I.html  (1 April 2019)
Iran Floods And Climate Change  The World Meteorological Organisation's report for 2018 climate says that during 2018, extreme weather events impacted roughly 62 million people, of whom 2 million were displaced from their homes. In the words of the WMO report, "The physical signs and socio-economic impacts of climate change are accelerating, as record  greenhouse gas concentrations drive global temperatures towards increasingly dangerous levels."
– BBC video on IRAN floods in March 2019: https://countercurrents.org/2019/03/31/floods-in-iran-and-climate-change     (31 March 2019)
ENVIRONMENT
Haryana NGT Slaps Rs. 10 Cr Fine On Gurgaon Builders NGT bench noted that consent to establish and operate has not been obtained by the builders in Sushant Lok 2 and 3, as required under the Water (Prevention and Control of Pollution) Act, 1974. It also held that since neither environmental clearance nor consent to establish and operate has been taken under the Water Act, the builders will have to furnish performance guarantee of Rs. 5 crores to the satisfaction of the CPCB within a month, undertaking to comply with the statutory norms within three months. The tribunal further said it was surprised that in spite of the report submitted about five months ago showing violation of law, no action has been taken by the statutory authorities, particularly the Haryana State Pollution Control Board.
– NGT has asked Haryana SPCB to submit an action taken report in three months: "Let the Haryana State PCB now take appropriate preventive and remedial action, including prosecution, recovery of damages and compliance of requirement of proper waste management, installation of rain water harvesting system, ground water recharge system, stopping of illegally operating DG sets and closing illegally operating swimming pools, in accordance with the applicable statutory scheme." https://www.ndtv.com/india-news/green-tribunal-slaps-rs-10-crore-fine-on-gurgaon-builders-for-damaging-environment-2014428   (28 March 2019)
Goa SC suspends EC for Mopa Airport The Environmental Clearance granted for the construction of a new airport at Mopa in Goa has been suspended by the Supreme Court. The EC will remain suspended until the Expert Appraisal Committee (EAC) revisits the recommendations made by it for the grant of an EC, including the conditions which it had formulated.
EAC shall carry out the above exercise within a period of one month from the date of receipt of today's judgment by the Supreme Court. The judgment was delivered by a Bench of Justices DY Chandrachud and Hemant Gupta paints a pretty grim picture of the manner in which various statutory bodies conducted itself to sanction the Environment Clearance for the Mopa Airport. https://barandbench.com/new-airport-goa-supreme-court-mopa-environment-clearance/    (30 March 2019) 
Compiled by SANDRP (ht.sandrp@gmail.com)
Also see: DRP News Bulletin 25 March 2019 & DRP News Bulletin 18 March 2019  
Follow us on: www.facebook.com/sandrp.in; https://twitter.com/Indian_Rivers