Unless immediate corrective action is taken, the NGT which has till recently served as an institution to provide environmental justice, will increasingly become an institution to perpetuate environmental injustice. If this is to happen, it will be a sad day for both India's environment and democracy; writes Ritwick Dutta.
– Last few months have seen a massive decline in public confidence in the NGT. The first wake-up call was in July when the new chairperson of the NGT commented that around 50% of the petitions before the tribunal were filed by "blackmailers". Nothing could be more distressing because this comes from an institution that was created to protect the rights of the people. Recently, the decision of the chairperson of NGT to rehear 18 cases, which were reserved for judgment, has raised concerns about both propriety as well as legality.
– The NGT, over the last two months, seems to have evolved four approaches to deal with litigations. First, dispose of existing cases. Second, form committees, comprising mostly people who were responsible for the problem, and outsource even adjudicatory functions. Third, refuse to entertain matters on the ground that the govt has approved the project or other hyper-technical grounds. And finally, rehear cases which were earlier reserved for judgment.
– One is not expecting the NGT to always give judgments in favour of those who approach it for protecting the environment. Rather, the cause for concern is the general reluctance of the tribunal to hear matters on merit, to consider the decision of the govt as virtually sacrosanct and submissions of project proponents as cast in stone. It must not be forgotten that the NGT is not a special tribunal, but a specialised tribunal set up to adjudicate on complex environmental issues through the use of both judicial and technical expertise.
– The decision of the tribunal must reflect the consideration of issues on merit, even if the final decision is to dismiss the appeal and application. Unfortunately, a series of orders were passed disposing of or refusing to hear appeals without consideration on the merits. An example is the appeal filed against the second airport in Mopa, Goa, where the locals opposed the project on grounds of social and environmental impact. The project entails the felling of more than 55,000 trees, loss of tiger habitats and destruction of water sources. This appeal was disposed of with directions to construct additional rainwater harvesting structures. Another appeal against a bio-ethanol plant in the No Development Zone of Kaziranga National Park, Assam, was dismissed on the ground that the appellants were a few days late.https://www.hindustantimes.com/analysis/india-cannot-afford-to-have-a-weak-tribunal-to-adjudicate-on-environmental-issues/story-uF6f6gHmn1DUCIEimPvwMP.html  (21 Sept. 2018)
– Last week, Rajeev Suri of India Legal has raised the same issue: In keeping with his belief that most cases are being filed by blackmailers, Justice Adarsh Kumar Goel, the new Chairperson of the NGT, has been following the three D rule; Dismiss, Dispose, Disburse. The Chairperson is also known for his previous association with the ruling party and strong RSS leanings.
– Indeed, of great disquiet is the Govt's role in subverting the Green Tribunals judicial independence; earlier it was the Chief Justice's prerogative to recommend a judge for the post of the Chairperson. However, by way of the Finance Act 2017 the Government surreptitiously slipped in the provision of that the Chairperson's appointment and remuneration would be made by the MoEF, hence making the post subservient to the ministry. Under the new process, the NGT Chairperson is recommended by a five-member search-cum-selection committee led by the Chief Justice of India. Four out of five members of the committee would be recommended by the MoEF. By this change in policy, the Government has achieved an executive takeover of the Green Tribunal.
– With Justice Goel being appointed as Chairperson to the Tribunal on the very same day, and within hours of his retirement from the Supreme Court on July 6, there is absolutely no doubt why the Chairperson's post which had been kept vacant for a period of 7 months following Justice Swatanter Kumar's retirement in December 2010. The New Chairperson is known for his previous association with the ruling party and strong RSS leanings.
– The Green Court had been causing deep discomfiture to business interests as Environment Clearances which earlier passed lax scrutiny, were now being challenged at every stage by civil society. Government instrumentalities were being hauled over coal for their cavalier attitude towards the environment, looked towards the political dispensation for succour. However, on account of the NGT's judicial interventions, political mandarins were prevented from resorting to their arbitrary ways. With the Tribunal becoming an impediment in the fast track 'Development' agenda, lobbies engaged in backroom machinations to restrict the powers of the Tribunal.
– With the New Chairperson stating with the first few days of his appointment: "Earlier, we used to issue notices. But now we are not issuing notices and disposing of the cases," it is quite obvious that the insidious designs of the lobbies have succeeded. The once vibrant Tribunal has been put in reverse gear; cases under adjudication now are being disposed without even a fig leaf of hearing, matters bringing to light egregious damage to the environment are being disposed of in a most cavalier manner.
– Another retrogressive step taken by the Chairperson has been passing an order that requires the Petitioner to approach the Respondent for a reply and file the same with the Petition at the time of admission. The order states: "Before approaching this Tribunal, such persons must normally approach the concerned authorities and give them at least 15 days to respond. Such authorities must give their response either to the individual concerned or put the same on the website at the earliest. If the person approaches the Tribunal, the response received must also must be mentioned in the Application filed before the Tribunal".
– The Tribunal, besides imposing a rider of obtaining a response from the Respondent Ministry, has also seen a flurry of creation of Committees and transferring the monitoring of cases to such committees created, effectively absolving itself from monitoring responsibilities. Monitoring Committees have been created for both the Ganga and Yamuna cleaning matters, which essentially is a huge retrogressive step, as over the last 20 years the cleaning administration has passed through a plethora of adjudicatory bodies and finally came to rest with the NGT. Now with the NGT handing it to another committee, matters will once again languish whilst the Rivers will continue in its death throes. https://www.ecologise.in/2018/09/10/the-national-green-tribunal-is-not-so-green-anymore/   (10 Sept. 2018)
In the first week of Sept. In an unusual move, at least 18 key cases already heard and reserved for judgment by different benches of the NGT will now be re-heard by the bench of NGT chairperson Adarsh Kumar Goel.
These cases include petitions challenging the environmental clearance to the Rs 11,700-crore Char Dham highway project in Uttarakhand and selection of experts for a committee formed to resolve conflicting recommendations on the 2,000-MW Lower Subansiri hydel project on the Arunachal Pradesh-Assam border.
Re-hearing a case is not common. As per practice, after a bench reserves judgment, it may seek further hearing if circumstances call for it or refer it to another bench for re-hearing only in the event of unavailability of a member of the bench due to death, recusal or retirement. https://indianexpress.com/article/india/national-green-tribunal-chief-justice-ak-goel-to-re-hear-18-cases-already-reserved-5342173/  (6 Sept. 2018)
FLOOD 2018
SANDRP Article on Kerala Floods EPW by Himanshu Thakkar ABSTRACT During the July–August 2018 floods in Kerala, basic norms were violated in the management of dams, which, if operated prudently, could have alleviated the magnitude of the disaster. In this context, a strategy for the management of dams to mitigate similar disasters has been outlined. https://www.epw.in/journal/2018/38/commentary/role-dams-keralas-flood-disaster.html  (22 Sept. 2018)
A Director in CWC forcefully argues why CWC & CGWB needs to be reformed urgently and questions the critique that opposes the restructuring: "the critique has conveniently served the purpose of vested interests that are complacent and benefiting from the institutional structure of these organisations." https://www.epw.in/journal/2018/38/discussion/thwarting-water-sector-reforms.html  (22 Sept. 2018)
One more study by SP Ravi, K J Joy, Neha Bhadbhade finds that CWC report is wrong in denying a link between dam releases, reservoir levels and the floods. The findings in CWC report come in the wake of increasing criticism about reservoir operations and management prior to and during the August 15-17 floods. The CWC seems to have brought out the report in a real hurry. Probably that's why the report carries a picture of a flooded Srinagar on its cover! https://www.thehindubusinessline.com/opinion/dams-did-exacerbate-keralas-floods/article24988070.ece  (19 Sept. 2018)
Another study says that a combination of four factors led to extreme flooding across Kerala. Above normal seasonal (May-August) rainfall, extreme rainfall events occurring almost across the State during the season, over 90% reservoir storage even before the onset of extreme rainfall events, and finally, the unprecedented extreme rainfall in the catchment areas of major reservoirs in the State led to the disaster. https://www.thehindu.com/news/national/kerala/kerala-floods-iit-professor-four-major-factors-for-disaster/article25021967.ece  (23 Sept. 2018)
Rahul Banerjee in his blogs Anarkali writes that we can ignore the imperative of augmenting artificial and natural recharge only at our peril. https://anar-kali.blogspot.com/2018/09/water-water-everywhere.html?spref=fb  (21 Sept. 2018)
Meanwhile many green activists have been asserting that it is a warning cum distress call by nature and that if we do not listen at least now, history will repeat itself. https://timesofindia.indiatimes.com/city/kochi/rebuild-kerala-start-with-a-green-slate/articleshow/65911714.cms  (23 Sept. 2018)
Dam Floods Assam How the Doyang HEP Flooded Assam & Nagaland Video report on how wrong operation of Doyang dam, Nagaland flooded villages downstream in Assam: https://www.youtube.com/watch?v=G6N27EfSHdU  (22 Aug. 2018)
Karnataka The Kodagu landslides David Petley blog with planet Labs images of before and after event of Kodagu landslides in Aug 2018.  On 15th to 17th August, the Kodagu area of Karnataka in SW India suffered exceptional monsoon rainfall, inducing floods and landslides.  Reports suggest that over 200 m fell per day on three successive days.  There were many fatalities and a high level of damage was inflicted.  There has been considerable controversy in India as to the cause of the Kodagu landslides, with suggestions ranging from environmental degradation, release of water from a network of dams and even a previous earthquake.  A team has been established to examine the causes; it will be interesting to see what they find. https://blogs.agu.org/landslideblog/2018/09/19/kodagu-landslides-1/  (19 Sept. 2018)
Jammu & Kashmir Flood Prevention Not Preparedness! Recently there has been lot of reporting about declaring Srinagar a "Smart City". There is no point in declaring Srinagar as a "Smart City" or improving its roads by flyovers and so on. The first thing is to secure it against the disastrous floods which may be visiting us off and on. There cannot be more pathetic and tragic fact than a couple of day's rain being unwelcome in Kashmir which has always survived on rain! The rain used to be considered as a blessing but now it is a nightmare! https://countercurrents.org/2018/09/20/kashmir-flood-prevention-not-preparedness/  (20 Sept. 2018)
National Addressing soil loss Soil degradation due to flooding is a serious concern. While roads and houses will be rebuilt, and crop losses compensated partially through insurance, the gradual loss of soil productivity can have a lasting impact on the local economy. A 2014 review of soil degradation in India by multiple institutions shows that an estimated 14 million hectares suffer soil degradation due to flooding annually.
The impact of floods on soil was also studied in detail following the 2009 floods in North Karnataka. Researchers from the National Bureau of Soil Survey and Land Use Planning (NBSS&LUP) and other institutes estimate that 13 flood-hit districts lost 287 million tonnes of top soil and soil nutrients across 10.75 million hectares of farmland.
Under market prices, the replacement of nutrients such as nitrates, phosphates and iron would have cost ₹1,625 crore, while another ₹853 crore would have been spent on replenishing organic material lost. To recover and replace would take a "considerable" amount of time, and a steadfast programme of recovery, they noted. Nine years later, there is no comprehensive scheme for recovery, and the effect of the floods is still visible on the ground. https://www.thehindu.com/opinion/op-ed/addressing-soil-loss/article24866061.ece  (5 Sept. 2018)
DROUGHT 2018
Maharashtra 17 districts under threat of water scarcity Drought threat looming over 17 districts due to deficient rainfall and excess use of water for sugarcane cultivation, officials said. Most parts of Marathwada received average rainfall this monsoon and the water stock in the region stands at just 28.81 per cent, according to figures of the water resources department.
The Jayakwadi dam, considered lifeline of Marathwada, has around 45.88 per cent water stock as of Tuesday, compared to 87.63 per cent the same day last year. As per official figures, the Manjara dam in Beed has 1.80 per cent water stock as compared to 88.04 per cent last year, while the Majalgaon dam in the same district has completely dried up. It had 60.48 per cent stock last year.
Out of 9 major dams in the Marathwada region, two have dried up and there is an average 28.81 per cent water stock in the other dams. In the Amravati division of western Vidarbha, there is an average water stock of 57.37 per cent in dams, while in the Nagpur division in east Vidarbha, it is 50.02 per cent.  https://economictimes.indiatimes.com/news/politics-and-nation/17-maharashtra-districts-under-threat-of-water-scarcity/articleshow/65870516.cms  (19 Sept. 2018)
Gujarat Drought relief work to start in 14 talukas of 3 districts Drought relief work to start in 14 Talukas of three districts (Kutch, Patan and Banaskantha) from Oct 1.
– CM Vijay Rupani on Sept 21, 2018 said that drought relief works would begin from October 1 in 14 talukas of Kutch, Patan and Banaskantha districts. These talukas have been declared "scarcity hit" after getting deficient rain, less than 125 mm, during the current monsoon. "In these talukas, drinking water will be provided through tankers while subsidised cattle fodder will be made available to farmers and cattle breeders," Rupani said.
– Gujarat is staring at water scarcity as it has received just 73.87 per cent of rainfall this monsoon, a Gujarat govt release had stated on Sept 20. It had informed that Kutch had received just 26.51 per cent of average rainfall so far, while north Gujarat got 42.93 per cent, central Gujarat 66.83 per cent, Saurashtra 72.20 per cent and south Gujarat got the highest of 94.79 per cent. https://www.business-standard.com/article/pti-stories/drought-relief-work-to-start-in-14-talukas-of-3-guj-districts-118092101058_1.html  (21 Sept. 2018)
MONSOON 2018
IMD Cumulative Rainfall Map – 1 June to 23 Sept. 2018 a departure of -9 per cent.
IMD Depression over southwest Madhya Pradesh & neighbourhood According to IMD PR on Sept 22, the remnant low pressure area from the depression that started its journey from coastal south Odisha a couple of days back, along with a western disturbance from NW India will collectively bring VERY HEAVY to EXTREMELY HEAVY rainfall in parts of Himachal, Uttarakhand, Punjab, East Rajasthan during 23-25 Sept. http://www.imd.gov.in/pages/press_release_view.php?ff=20180922_pr_327  (22 Sept. 2018)
Also see maps from IMD for Sept. 22 with hazard areas marked in red.
Odisha Impact of Cyclone Daye The state has witnessed an average rainfall of 49.6 mm in the last 24 hours. While a whooping 403mm rainfaill was recorded in Korukonda block of the district during last 24hours, the Sadar block of Malkangiri also recorded 265.4mm rainfall during the same period. Three other blocks of the district such as Mathili, Kalimela and Kudumulgumma also received over 100mm rainfall during this period.
– Many people living in the low lying areas of the districts including Korukonda, Poteru, MV 3 and Kudumulgumma were left marooned in submerged areas. There was also report of landslide in Chitrakonda area. Several low-lying areas in the district are still remained cut off as water is flowing over major roads.
– With water level of major rivers on rise, the district collectors and departments concerned have been asked to closely monitor the situation and keep the administrative machinery prepared to meet any exigency arising out of the situation, he said. Mohapatra, however, said the water level of all major rivers except Jalaka is below danger-mark. http://www.newindianexpress.com/states/odisha/2018/sep/21/cyclone-daye-heavy-rains-hit-odisha-malkangiri-worst-hit-1875287.html  (21 Sept. 2018)
Also see, Cyclone Daye: Heavy downpour in parts of Odisha, Andhra. https://timesofindia.indiatimes.com/city/visakhapatnam/cyclonic-storm-daye-crosses-coast-in-odisha-to-affect-bengal-andhra-coasts/articleshow/65894654.cms  (21 Aug. 2018)
Parts of Malkangiri town in Odisha have been flooded following heavy rainfall caused due to cyclonic storm #Daye. https://twitter.com/ANI/status/1043015209843998720
Odisha: Two shutters of Upper Kolab dam in Koraput have been opened today following a rise in the water level. #CycloneDaye has caused rainfall in parts of the state. https://twitter.com/TOICitiesNews/status/1043014090778599424
Hydrographs showing River Burhabalang and Baitarni swelling with flood water post Dayi cyclone in Odisha:
Punjab First time since 2011, state to receive a normal monsoon With Saturday's rain, the state has so far recorded 393.9 mm rainfall this season and till the fourth week of September, 468.1 mm is expected. The state was 16 per cent deficient, but according to the Chandigarh Meteorological Centre, the entire gap is likely to be filled with the current spell. The state had last witnessed a normal rainfall in 2011. At that time, it was 7 per cent above normal.
Meanwhile, farmers have said that the current spell of rain will prove harmful for paddy. In Malwa, cotton farmers are a worried lot, apprehending crop loss due to incessant rain. Agriculture experts have advised the farmers not to irrigate their fields in view of the rainfall, as it increases the threat of flattening of crops, if strong winds accompany the rainfall. In Patiala, the district administration is keeping a close watch on the water level in the Ghaggar. https://m.tribuneindia.com/article/monsoon-normal-in-punjab-after-7-years/657428/amp   (22 Sept. 2018)
Himachal Pradesh Heavy Rain, Snow, 20 Rescued From Rohtang Pass The govt has ordered closure of all schools in three districts on Sept. 24 after rain and snowfall lashed many areas of the state. The Met Office has forecast heavy rains and snowfall in the upper hills till Sept. 24. At least 20 stranded people have been rescued from Rohtang pass after heavy snowfall. https://www.ndtv.com/india-news/heavy-rain-snow-in-himachal-20-rescued-from-rohtang-pass-1920978  (23 Sept. 2018)
HYDRO POWER
Jammu & Kashmir Traders oppose joint venture on Ratle hydropower project The J&K Socio-Economic Coordination Committee an amalgam of 27 civil society and trade bodies, on Sept 19, 2018 objected to the announcement of a joint venture on the Ratle Hydroelectric Power Project in the recent State Administrative Council meeting. https://www.tribuneindia.com/news/jammu-kashmir/traders-oppose-joint-venture-on-ratle-hydropower-project/655655.html  (20 Sept. 2018)
DAMS
SANDRP Blog Overview of CWC Flood Monitoring Sites in India  Based on the overview of the CWC Flood Forecast website. There are 885 sites in India comprising of 185 Level Forecast, 597 Level Monitoring and 103 Level Forecast Sites. Out of 885 sites 10 Level Forecast, 76 Level Monitoring and 23 Inflow Forecasting Sites are inactive.
Maximum number of sites among all regions are in East India with 222 sites, South India 214 sites and West India 173 sites. North India has 144 sites and North East India has 128 sites.
Out of 103 Inflow forecast sites, 23 sites which is almost 23 per cent are inactive. Most of the Inflow Monitoring sites have incomplete hydrographs. Similarly 15 per cent of Level Monitoring sites and 6 per cent of Level Forecast sites are inactive. In several states, names of sites and districts are repeated with slight change in spellings. Similarly the HFL data and date is mission for many sites. https://sandrp.in/2018/09/18/india-overview-of-cwc-flood-monitoring-sites/  (18 Sept. 2018)
Lakhwar Dam In the Wake of Kerala Floods, the Jury Is Still out on the Dams' Guilt by Neha Sinha, While we are still struggling to understand the environmental impact of dams, it is ironic that approvals for the Lakhwar dam on the Yamuna actually pre-date the Environmental Impact Notification Act itself. "Dams in India don't have rule curves. We can't carry forward without [them nor] adaptive management that responds to changing scenarios," says Himanshu Thakkar, an expert on dams at the SANDRP the keynote speaker at the event.
As India is faced with natural disasters, and as climate science points to increasing uncertainty in rainfall frequency as well as volume, precaution is certainly called for. The Lakhwar dam needs an environmental impact assessment, rule curves, public consultation and updated hydrological data before it can be considered. Old solutions to old problems require, at the very least, a new, more scientific outlook. https://thewire.in/environment/in-the-wake-of-kerala-floods-the-jury-is-still-out-on-the-dams-guilt  (19 Sept. 2018)
Meanwhile Haryana Govt has also given NOC to Kishau dam project. As per officials the report the construction of the Kishau dam would help Haryana get 709 cusecs of water for drinking irrigation purposes. As per 1994 MoU, Haryana's share in Kishau dam is 709 cusec water out of the live storage capacity of 1324 MCM. https://timesofindia.indiatimes.com/city/chandigarh/haryana-cm-manohar-lal-khattar-gives-noc-for-dams-construction/articleshow/65914611.cms  (22 Sept. 2018)
Himachal Pradesh Koldam lagya This Beautiful song is about pain of People Displaced by NTPC's Koldam Hydro Project in Bilaspur District. https://www.youtube.com/watch?v=Hp7-4OPo_6o  (16 July 2016)
Centre Dam Safety Project gets more funds, extension, but impact on ground not yet visible The govt has approved a 65% hike, and extended by two years, a project to improve the stability and working of dams in 11 States. The Cabinet Committee on Economic Affairs (CCEA), chaired by PM Modi, approved the Dam Rehabilitation Improvement Project (DRIP) project on Sept. 19.
Out of the ₹3,466 crore cleared, ₹2,628 crore would be funded by the World Bank and ₹747 crore by the States and Implementing Agencies (IAs), and the balance ₹91 crore by the CWC.
Originally, the total cost of DRIP was ₹2,100 crore with the States expected to fund ₹1,968 crore and the Centre ₹132 crore. Initially, the six-year project commenced on April 18, 2012, with a scheduled closing on June 30, 2018. This has now been extended to June 2020.
Kerala, which saw devastating floods and questions raised on the management of its dams, will see 16 of the reservoirs managed by its Water Resources Department and 12 by that State's Electricity Department, get funded under the DRIP programme to the tune of ₹ 514 crore. https://www.thehindu.com/news/national/cabinet-clears-3466-cr-dam-improvement-project/article24988032.ece  (19 Sept. 2018)
https://timesofindia.indiatimes.com/india/project-to-improve-dam-safety-gets-more-funding-deadline-extension/articleshow/65876817.cms  (20 Sept. 2018)
BBMB Key positions remain vacant as  govt drags its feet On Sept 20, Minister for Local Govt Navjot Singh Sidhu raised the matter at a cabinet meeting, prompting questions from CM  Amarinder Singh. Singh was informed that the interests of the Punjab govt were not represented in the BBMB, with the post of Member (Power) laying vacant since May 31 this year.
The post of member (Irrigation), meant to be filled by the Haryana govt, is also vacant. Sources at BBMB have claimed that while both the state governments have sent in their recommendations of three officials for each of the post to the Dept of Personnel and Training (DoPT), the central govt is yet to make a decision."  https://www.huffingtonpost.in/2018/09/21/punjab-govt-to-fill-vacancies-on-bhakra-board-after-huffpost-reported-that-rajasthan-got-extra-water_a_23534540/  (21 Sept. 2018)
Sardar Sarovar Dam Oustees continue to struggle and protest for the fair compensation and just rehabilitation: http://www.vicharnewslivetv.in/2018/09/blog-post_634.html  (17 Sept. 2018)
IRRIGATION
Madhya Pradesh FAC clears MP Irrigation Projects 1. Proposal for diversion of 79.912 ha. of Forest Land for construction of Kaith Medium Irrigation Project in favour of Water Resources Department, Sagar District.
Proposal for diversion of 252.754 ha of forest land for in favour of water resource department for construction of Judi Medium Irrigation Project under the Chhattarpur and Damoh District in the State Govt. of MP.

Proposal for diversion of 148.75 ha of Forest Land in favour of Water Resources Department, Khandwa for construction of Bham (Rajgarh) Medium Lift Irrigation Project, in Khandwa district. http://forestsclearance.nic.in/writereaddata/FAC_Minutes/91118124512101Minutes_17_09_2018.PDF (30 Aug. 2018)
URBAN RIVERS
Urban Rivers: A tributary of Sukhna Choe, Chandigarh. The river is severely polluted. It's bed is encroached. Banks have become dump and segregation yard of solid waste which is finding its way in the river also. Sukhna Choe is a tributary of Ghaggar River. Many local people residing here for years even don't know the name of this stream.
RIVERS
Report New CPCB report on river pollution does not reveal the true picture The national obsession with 'cleaning' of rivers will land us only at its water quality assessment. Unfortunately, other key threats to rivers as an ecological entity are ignored. https://www.hindustantimes.com/analysis/the-new-cpcb-report-on-river-pollution-does-not-reveal-the-true-extent-of-damage/story-AUzsr8jhbUWAUvFSgFY78M.html  (21 Sept. 2018)
GANGA The Gap In Ganga Cleanup Watch discussion on NATIONAL GANGA MISSION at 8-9 pm tonight on NDTV 24X7's We The People Program, featuring a Senior Supreme Court Lawyer (Sanjay Parikh), a wild life activist and former member of NWBL/ Uttarakhand SBWL (Prerna Bindra), an NMCG (govt) representative, a TERI representative, SANDRP Coordinator (Himanshu Thakkar), a Sankat Mochan Abhiyan person from Varanasi and Tannery industry person from Kanpur. Share and send comments. https://www.ndtv.com/video/news/we-the-people/we-the-people-the-gap-in-ganga-cleanup-494664  (23 Sept. 2018)
Highway project poses grave danger to Himalayas: a multimedia report by Hridayesh Joshi The Char Dham highway project to connect four Hindu shrines has become contentious, with local residents and environmentalists saying that it endangers the fragile mountain ecosystem.
EYE OPENING video on disaster that Chardham Road is bringing and how it will be permanent disaster for Uttarakhand. Unfortunately, NGT or Courts are not taking any decision on patent illegalities involved.  http://indiaclimatedialogue.net/2018/09/24/highway-project-poses-grave-danger-to-garhwal-himalayas/   (24 Sept. 2018)
Ganges runs out of water In the last three decades, the groundwater input to the Ganges River in India has declined by 50 percent during the summer, a new study has found, leading to the river losing water during those dry months.
– The dwindling of the river's water flow could severely affect the availability of water for surface water irrigation, with potential declines in food production in the future.
– The low river flows could also prevent effective dilution of pollutants in the Ganges, which is already one of the most contaminated trans boundary rivers in the world, the researchers say.  https://news.mongabay.com/2018/09/as-indias-ganges-runs-out-of-water-a-potential-food-shortage-looms/  (17 Sept. 2018)
Swami Sanand A Sage On A Fast Unto Death To Save 'Sacred' River Will the Govt act on the wise advice of Puri Shankaracharya and Swami Sanand? Or will Ganga-ji have to wait for another forty years as Swami Sanand's Tapasya is insufficient? https://swarajyamag.com/blogs/for-the-sake-of-ganga-octogenarian-scientist-turned-sage-sits-on-a-fast-unto-death-to-save-sacred-river  (21 Sept. 2018)
Some Hindu priests in Varanasi, have objected to the luxury cruises: https://www.theguardian.com/world/2018/sep/16/varanasi-priests-warn-ganges-luxury-cruises-contaminate-river-india  (16 Sept. 2018)
SAND MINING
Goa Flying squad, ban do little to curb sand mining in Tiracol Despite the govt having recently constituted a patrol-cum flying-squad to monitor and crack down on illegal sand mining, a large number of canoes were seen extracting hundreds of cubic metres of sand on Sept. 16 in the Tiracol river, from the mouth till the border touching Patradevi in Maharashtra.
Unofficial estimates suggest extraction in the Tiracol river constitutes about 35% of the total sand extracted from rivers across the state. https://timesofindia.indiatimes.com/city/goa/flying-squad-ban-do-little-to-curb-sand-mining-in-tiracol/articleshow/65825804.cms  (16 Sept. 2018)
Uttrakhand उभरते रेत का दरिया उत्तराखण्ड के पहाड़ों से निकलनेवाली छोटी बड़ी सैकड़ों नदियां आज जिस तेजी के साथ सूखने लगी है, इस वजह से पहाड़ की ज़िन्दगी पर एक बड़ा ग्रहण लगता दिख रहा है। नदियों का इस तरह सूखना उत्तराखण्ड वासियों के लिए शुभ संकेत नहीं है। अगर इसी तेजी से नदियां सूखती रही तो लोगों को पानी के एक बड़े काल का सामना करना पड़ सकता है। एक रिपोर्ट: https://www.youtube.com/watch?v=bbcsCNw5SMs&feature=youtu.be  (20 Sept. 2018)
WETLANDS, LAKES, WATER BODIES
Uttar Pradesh NGT declares Surajpur as wetland NGT has granted wetland status to Surajpur, which was earlier termed as a reserved forest. This legal acknowledgement formally brings into effect all wetland conservation and management rules to protect the 60 ha low lying area within the 308 ha reserve forest in Surajpur.
The Surajpur wetland had become part of an ambitious project by the Akhilesh Yadav Govt. in 2014 when it was included in a 2000 ace eco-park plan to develop eco-tourism in the district. The wetland is destination for migratory birds from Asia and Europe during the migratory season. The wetland has been home to 186 species of birds from 44 families of this 102 species are resident, 53 are winter migrants and 28 species are summer migrants. 
An NGT bench headed by Justice Raghuvendra Singh Rathod and  expert member Satyawan Singh Garbyal issued the order on September 14, which was uploaded on Sept. 17. However, the court has still not granted wetland status to some other low-lying areas pointed out in the same petition in 2016 by environmentalists. https://timesofindia.indiatimes.com/city/noida/surajpur-a-wetland-cant-allow-constructions-says-ngt/articleshow/65849088.cms  (18 Sept. 2018)
Even though Surajpur has been granted wetland status, at granted wetland status, at least six marshes in its vicinity are slowly falling prey to pollution and waste dumping. Environmentalists have called for urgent measures to save these low-lying areas that typically remain water logged at all times. https://timesofindia.indiatimes.com/city/noida/six-marshes-around-surajpur-wetland-fall-prey-to-pollution-trash-dumping/articleshow/65878631.cms  (20 Sept. 2018)
Activists now plan to move the Supreme Court against the NGT's decision to not designate six low-lying areas in Surajpur as wetlands. While deciding the case related to the preservation of Surajpur wetland, the NGT also took up the status of six other low-lying areas in the vicinity that the applicant had claimed were wetlands.
Activist Vikrant Tongad had filed the case in the NGT, and had marked six areas near the Surajpur wetland, claiming that these were part of the wetland's connection channel.
However, according to the response from the State govt, these do not fulfil the criteria of wetland, as specified under the Wetlands Rules, 2017. The NGT ruling came even as the district administration has recently initiated the identification of wetlands that are over 2.5 hectares in area.
Officials have also said strict action will be taken against those found encroaching on wetlands. According to officials, there are 783 wetlands in the district, of which 41 are of over 2.5 hectares in size. The department will prepare a management plan for wetlands and a list of activities that will be regulated and permitted in the notified area and its zone of influence. https://www.hindustantimes.com/noida/conservationists-will-move-sc-for-protecting-six-more-wetlands/story-W7T5fBap7YvAyhVB56GaRO.html  (20 Sept. 2018)
Gujarat Govt. mum over status of water bodies For almost two and half years now the Union ministry of water resources has been sending repeated reminders to the Gujarat Govt seeking a list of lakes and water bodies and their current status. But no paper has moved in the relevant dept in Gujarat. In 2005 Gujarat Govt had notified 44138 lakes following a PIL. First letter from Union MoWR came on Feb 26, 2016. https://timesofindia.indiatimes.com/city/ahmedabad/gujarat-govt-mum-over-status-of-water-bodies/articleshow/65834733.cms  (17 Sept. 2018)
Maharashtra Bombay HC orders total freeze on mangrove destruction The Bombay HC on Sept. 17 ordered a "total freeze" on the destruction of mangroves in the state. The court said that the destruction of mangroves across the state cannot be permitted for any use unless the court finds it necessary for the public good.
The court said that any destruction of mangroves will invoke legal action against the violators. In October 2005, the HC had passed an interim order and banned destruction of mangroves and dumping of debris on the mangroves land. The court said that a 50m buffer zone should be created around mangrove land in which no construction activity or dumping of debris should be permitted.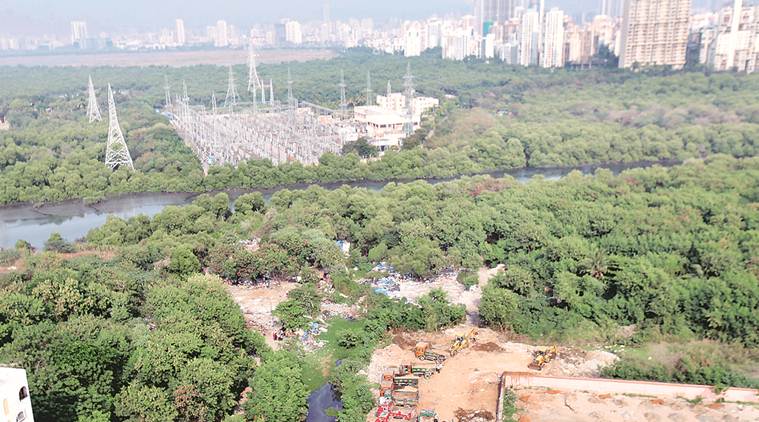 The court also directed the state to identify all the private mangrove land as protected or, reserved forest area in accordance with the Indian Forests Act, 1927, and accordingly, transfer such areas to the jurisdiction of the state forest department. The court further directed the state govt to constitute, a committee for the protection and preservation of mangroves, within a month. https://indianexpress.com/article/cities/mumbai/high-court-orders-total-freeze-on-mangrove-destruction-5361452/  (18 Sept. 2018)
WATER OPTIONS
Gujarat In managing water, Surat takes the lead
Surat is currently selling 40 MLD tertiary treated sewage to industries, this will go up to 115 MLD by March 2019. Water is sold at the rate of Rs 23 per KL. https://www.thehindu.com/news/national/other-states/in-managing-water-surat-takes-lead/article24962211.ece  (16 Sept. 2018)
Sikkim Spring rejuvenation scheme is helping villages tide over summer water shortage Informative report by Nidhi Jamwal on Dhara Vikas group that involves villagers in reviving springs and streams that provide drinking water to over 80% of the state's rural households. https://scroll.in/article/892748/in-sikkim-a-spring-rejuvenation-scheme-is-helping-villages-tide-over-summer-water-shortage  (20 Sept. 2018)
Jharkhand Farm ponds improve lives of Singhbhum women Constructed to ensure water security for cultivators, farm ponds have also helped rural women by reducing their daily treks to fetch water for domestic needs, and improving their personal health and hygiene.  https://www.villagesquare.in/2018/09/21/farm-ponds-improve-lives-of-singhbhum-women/  (21 Sept. 2018)
Uttarakhand Sacred groves, the water wizards  A study finds that water from sacred groves conforms to all WHO standards of potability and is of better quality than water from surrounding areas. http://www.indiawaterportal.org/articles/sacred-groves-water-wizards-uttarakhand  (17 Sept. 2018)
GROUNDWATER
Punjab HC rejects Govt's status report on groundwater Rejecting the Punjab government's latest status report on steps being taken for preservation of groundwater in the state, the Punjab and Haryana HC has directed the director of the local govt dept to appear in person on Oct 23, the next date of hearing. The HC, in 2013, had issued directions to the govt to ensure that that only surface or treated water is used for construction works in the state. The case in the HC has been going on since 2013 and originally was for the purpose of enforcement of various notifications issued by the CGWB for the purpose of preserving the ground water resources in the state. https://indianexpress.com/article/cities/chandigarh/hc-rejects-punjabs-status-report-on-groundwater-5369205/  (22 Sept. 2018)
Tamil Nadu NGT Panel Inspects Sterlite Unit, Conducts Public Hearing An expert committee, set up by the NGT to decide on Vedanta's plea challenging closure of its Sterlite copper plant, sept. 23 inspected the unit here and held a public hearing. The hearing was marked by some tense moments as a group of people attempted to assault another group which sought re-opening of the unit. However, police intervened and restored order. After the session, the committee headed by former Meghalaya High Court Chief Justice Tarun Agrawal, said majority of the representations were for closure of the unit. https://www.news18.com/news/india/ngt-panel-inspects-sterlite-unit-in-tamil-nadu-conducts-public-hearing-1886509.html  (23 Sept. 2018)
WATER POLLUTION
Kerala Rural Community at Receiving End of Temple Town's Sewage  Chakkamkandam is a village in the backwaters near Guruvayur, the renowned temple town in Kerala's Thrissur district. With nearly 40 million people visiting the temple every year, the Sreekrishna Temple in Guruvayur is the fourth largest temple in terms of number of visitors.
Hundreds of hotels, restaurants, service apartments and resorts cater to the needs of the visitors. Chakkamkandam is at the receiving end of the influx, with the villagers being affected by the sewage from the commercial establishments, and with no reprieve in sight. https://thewire.in/environment/rural-community-at-receiving-end-of-kerala-temple-towns-sewage  (17 Sept. 2018)
Maharashtra Pollution board submits proposal for 600 additional staff Over 5,000 samples of river water, sewage and other wastes being sent for analysis every month at the Maharashtra Pollution Control Board's (MPCB) eight labs, the system is now reeling under the increasing workload. MPCB has submitted a proposal to the state to add 600 personnel to the existing strength of 837 staffers.
Even the NGT, in a recent order, had observed that technical and scientific manpower with MPCB was far from satisfactory. In a case related to water pollution in the Mula Mutha river, the NGT (Western Bench) had said that the water quality parameters were far from satisfactory and the MPCB should implement the monitoring protocol at least four times a year. https://indianexpress.com/article/cities/pune/pune-with-increasing-workload-pollution-board-submits-proposal-for-600-additional-staff-5369379/  (22 Sept. 2018)
Karnataka 24% areas in Bengaluru receive hard water high in inorganic minerals A recent survey conducted across 1423 homes in Bengaluru reveals that about 24% households receive water with a hardness level above the ideal limit of 200 mg/l. While 49% of these samples were from borewell, 26% was corporation water.  The survey, conducted by Brita, a German water filtration systems provider that is about to launch in India, also indicates that areas like Vasanthnagar, Marathahalli and Banaswadi too have TDS and hardness over the permissible levels of 500 and 200 mg / l respectively. Areas like Nayandahalli, Yeshwanthpur and Bellandur have high levels of nitrate, fluoride and iron.  https://economictimes.indiatimes.com/news/politics-and-nation/24-areas-in-bengaluru-receive-hard-water-high-in-inorganic-minerals-it-hubs-bellandur-whitefield-on-the-list-survey/articleshow/65911319.cms  (22 Sept. 2018)
AGRICULTURE
National 7% dip in sown area for jowar, bajra, ragi, small millet  Though the acreage of all kharif crops together in 2018 crossed last year's mark, credit of higher sown area went to increase in the acreage of rice 2%, oilseeds 3% and sugarcane 4%.
"Sugarcane is preferred over alternative crops because of higher returns. The commission for Agricultural Costs a& Prices (CACP) in its latest report noted that sugarcane reported 245% returns over paddy plus wheat and 252% over cotton plus wheat" says Sudhir Panwar, president of Kisan Jagriti Manch.
India has written to the food and Agriculture Organisation (FAO) of the United Nation's, asking it to declare 2019 as 'International year of Millets' in order to create awareness among consumers and farmers due to its nutritional value and climate-resilient properties. https://timesofindia.indiatimes.com/india/farmers-prefer-water-guzzlers-sugarcane-and-paddy-over-climate-resilient-nutri-cereals-7-dip-in-sown-area-for-jowar-bajra-ragi-small-millet/articleshow/65815917.cms  (15 Sept. 2018)
SOUTH ASIA
Pakistan Sindhi Activists Call Construction Of Dam On Indus River "Illegal" A side-event titled "Construction of Dam – denial of life to Sindhi People" was held during the ongoing 39th Session of UN Human Rights Council in Geneva on Sept. 19. Sindhi political activists have strongly opposed the construction of Kalabagh Dam on the Indus River, calling it "illegal, unethical and immoral attempt" by Pakistan to deny life to the Sindhi people.
Lakhu Luhana, Secretary-General of World Sindhi Congress, said, "Already, there are a number of dams and canals that have been built against the international laws, conventions and even agreements. So, they are violating all of that. They built these dams and canals and as a result of that, it's not just hundreds and thousands, the lives of millions of people have been affected".
"Forget about the water for agriculture, you don't get water even for drinking and that's a grave situation. The ecological habitats of millions of years have destroyed and then the sea intrusion. The sea has taken over since 1956; and 3.5 million acres of land, along with 157 recorded settled villages are lost," he added. The Sindhis believe that Kalabagh Dam would mean a death warrant for Sindh province which cannot be accepted under any compulsion. https://www.ndtv.com/world-news/sindhi-activists-call-construction-of-dam-on-indus-river-illegal-1919315  (21 Sept. 2018)
Nepal नेपाल-चीन के बीच सेती बांध का क़रार रद्द, पंचेश्वर के लिए क्या हैं इसके सबक़? चीन की सरकारी कम्पनी थ्री गॉर्ज कॉरपोरेशन ने 'वैस्ट सेती हाइड्रो पावर प्रोजेक्ट परियोजना से अपने हाथ इसलिए पीछे खींचे हैं क्योंकि उसे लग रहा था कि वेस्ट सेती परियोजना अव्यावहारिक है और इसके चलते विस्थापन और पुनर्वास में भारी खर्चा होना था. जिससे यह परियोजना कॉस्ट इफैक्टिव नहीं रह जाएगी. ठीक यही सवाल पंचेश्वर बाँध को लेकर विशेषज्ञ भी उठा रहे हैं लेकिन क्या यह बात यहाँ सुनी जाएगी? सत्तारूढ़ भाजपा नेताओं द्वारा, प्रधानमंत्री मोदी के इस पैट प्रोजेक्ट के लिए दिए जा रहे लुभावने आश्वासनों के बावजूद, कम से कम पंचेश्वर बाँध के प्रभावित क्षेत्र की जनता को सतर्क हो जाना चाहिए. https://www.kafaltree.com/west-seti-dam-project-agreement-scraped-between-nepal-and-china/  (21 Sept. 2018)
Merry Go Round continues: Nepal Cabinet again decides to handover 1200 MW, USD 3 Billion Budhi Gandaki Hydropower project to Chinese firm. The question is, who will buy the power? China? https://indianexpress.com/article/world/nepal-restores-cancelled-mega-hydropower-contract-with-china-firm-5370949/  (24 Sept. 2018)
Bangladesh Sand mining destroys over 50 houses in Habiganj Illegal sand mining, from the stream of a tea garden in Habiganj's Chunarughat upazila, has led to the collapse of more than 50 houses. Hundreds of people have been affected.
 The remaining houses of the Chaklapunji tea garden are also at the risk of collapse, locals said. Furthermore, mining led to the collapse of a bridge, snapping communication lines and causing untold suffering to the garden workers. https://www.dhakatribune.com/bangladesh/nation/2018/09/06/sand-mining-destroys-over-50-houses-in-habiganj  (6 Sept. 2018)
A Country Underwater, a Culture on the Move Some breath-taking photos, videos and shattering facts about Bangladeshis and their relations with rivers, waters and climate. https://www.nrdc.org/onearth/bangladesh-country-underwater-culture-move   (13 Sept. 2018)
ASIA
Asia's deltas are sinking due to sand mining GREAT to see this focus on how sand mining and dams are also leading to sinking of deltas, something SANDRP wrote long back. This also quotes SANDRP on sand mining. https://www.reuters.com/article/us-india-sandmining-water/as-sand-mining-grows-asias-deltas-are-sinking-water-experts-warn-idUSKCN1M1244  (21 Sept. 2018)
Philippines Cebu landslide: should mining be banned? by Dave Petely The death toll from the Cebu landslide continues to rise – latest reports suggest that 45 bodies have been recovered to date, with a further 34 people still missing, giving a likely final toll of 89 people.  This comes on top of a confirmed toll of 95 people killed in landslides in the Cordillera region of the Philippines as a result of the recent typhoon.  Most of those people were miners.  https://blogs.agu.org/landslideblog/2018/09/24/cebu-landslide-1/  (24 Sept. 2018)
THE REST OF THE WORLD
California Bill to allow citizen oversight of Oroville Dam signed into law VERY INTERESTING DEVELOPMENT IN USA ON DAMS: A bill that will allow citizen oversight of the Oroville Dam and the public safety issues that come along with it, was signed into law this week by Governor Jerry Brown. Governor Brown signed into law Senator Jim Nielsen's legislation to create the Citizens Advisory Commission for Oroville Dam. The measure empowers residents to be involved in public safety issues relating to the dam. "The failure of the Oroville Dam spillway impacted hundreds of thousands of lives," said Senator Jim Nielsen. "Citizens must have a voice in the public safety and maintenance of the dam; they must feel safe living near the tallest dam in the country."
– Senate Bill 955, co-authored by Assemblyman James Gallagher and Senator Bob Hertzberg, would create a 19-member Citizens Advisory Commission for Oroville Dam to provide local residents and state officials a forum to meet and discuss maintenance, findings, reports, and upcoming and ongoing issues. https://krcrtv.com/news/butte-county/bill-to-allow-citizen-oversight-of-oroville-dam-signed-into-law  (20 Sept. 2018)
Texas How 1 Houston Suburb Ended Up in a Reservoir Citizens are registering legal cases against the govt because it allowed planning & construction in areas that were vulnerable to flooding as per the records. https://www.nytimes.com/interactive/2018/03/22/us/houston-harvey-flooding-reservoir.html  (22 March 2018)
Italy DAM casualty of Hurricane Florence, breaching a dam wall containing Coal Ash of Duke Energy Plant Duke Energy said Sept 21, 2018 that a dam containing a large lake at Wilmington power plant has been breached by floodwaters from Florence, and it is possible coal ash from an adjacent dump is flowing into the Cape Fear River.
Duke spokeswoman Paige Sheehan said that floodwaters continue to overtop an earthen dike at the north side of Sutton Lake, a 1,100-acre reservoir at the L.V. Sutton Power Station. That water has caused several breaches in the dam on the south end of the lake, which is flowing back into the river. https://abc11.com/4303232/  (21 Sept. 2018)
South Africa DAM FLOODS kill people in Ghana The flooding caused by the spillage of the Bagre dam in neighboring Burkina Faso has also displaced thousands of people. https://africafeeds.com/2018/09/21/floods-in-ghana-kill-34-displace-thousands/  (23 Sept. 2018)
Bulgaria Dams threaten the environment Fascinating video of how Bulgaria's rivers and those who depend on the river are suffering due to hydropower projects. https://www.dw.com/en/bulgarian-dams-threaten-the-environment/av-45525017  (20 Sept. 2018)
US Mississippi River Change Animation based on the Geological Investigation of the Alluvial Valley of the Lower Mississippi River by Harold N. Fisk.  For reference, this map isn't an attempt to make conclusions, but to attempt to activate some of the data represented in 2-D format in the report.  http://www.hiddenhydrology.org/projects/other/mississippi-river-change/ 
CLIMATE CHANGE
Study The World Needs More Swamps to Fight Climate Change Scientists widely recognize that wetlands are extremely efficient at pulling carbon dioxide out of the atmosphere and converting it into living plants and carbon-rich soil. As part of a transdisciplinary team of 9 wetland and climate scientists, we published a paper earlier this year that documents the multiple climate benefits provided by all types of wetlands, and their need for protection. https://thewire.in/environment/world-needs-more-swamps-to-fight-climate-change  (20 Sept. 2018)
ENVIRONMENT
MoEF MINUTES OF MEETING OF FOREST ADVISORY COMMITTEE 30THAUGUST 2018 MIND BLOWING DECISION OF FOREST ADVISORY COMMITTEE. The Minutes say: "State govt has submitted the cost benefit analysis as per latest guidelines issued by MoEF&CC . From the perusal of the analysis it is observed that the ecological Cost of the project is more than the benefit expected to be drawn from the construction of the project. State govt shall clarify why it wishes to implement the project which has more ecological loss than the benefit it envisages to draw from the construction of the project."
AND YET FAC RUBBER STAMPS ITS APPROVAL. What signal is it sending? Does not matter what is the proposal.
Incidentally this was the proposal: "roposal for diversion of 48.83 ha of forest land under Forest (Conservation) Act, 1980 in Rajnandgaon Circle, Rajnandgaon for construction of Markatola Tank in favour of Water Resources Department, Rajnandgaon in Rajnandgaon District in the State of Chhattisgarh." See Minutes page 11: http://forestsclearance.nic.in/writereaddata/FAC_Minutes/91118124512101Minutes_17_09_2018.PDF  (30 Aug. 2018)
Meanwhile, the MoEF has proposed to allow research organisations and accredited agencies to monitor if companies are complying with environmental conditions.
The process obligates the project proponent to file a six-monthly compliance report, and regional offices of the Ministry are supposed to check whether industries are complying with these norms. "However, these offices are frequently understaffed; therefore, to ensure that the rules are complied with, we propose to have institutions like the IITs and accredited expert organisations conduct the compliance monitoring," C.K. Mishra, Secretary of the MoEF.
Independent observers describe the proposal as a "big shift" in how projects are appraised. " It is a big shift, but one that is outsourcing the monitoring to scientific institutions [some of them are already doing EIAs]. The core issue of the affected people being kept out of the monitoring and compliance paperwork is embedded in this proposal," said Kanchi Kohli, an environmental researcher with the CPR. https://www.thehindu.com/sci-tech/energy-and-environment/now-outsourced-eco-impact-checks/article25009818.ece  (21 Sept. 2018)
Aravali Mountain Range Shrinking Aravalis opened giant gateway for dust pollution in Delhi-NCR Despite their life-sustaining and life-conserving qualities, the Aravalis and their tropical dry-deciduous forests have gained very little attention. And that's because degradation of these hills — the range has shrunk by 40% over the last four decades, from 10,462 square kilometres in 1972-75 to 6,116 sqkm today — has always been viewed as an issue localised to a few districts of south Haryana, even though it affects the entire Indo-Gangetic plain, including Delhi-NCR, parts of Punjab, and as far as western Uttar Pradesh.
The Aravali range functions as a check on the movement of sand from the Thar Desert to Delhi-NCR, Haryana and western UP. Besides playing a key role in recharging aquifers and conserving soil, it also curbs wind velocity and evaporation to ensure sufficient rainfall in the region. Moreover, it helps prevent floods and the worst effects of climate change in the Great Indian Desert, by acting as a barrier to rain-bearing winds heading towards the deserts of Rajasthan.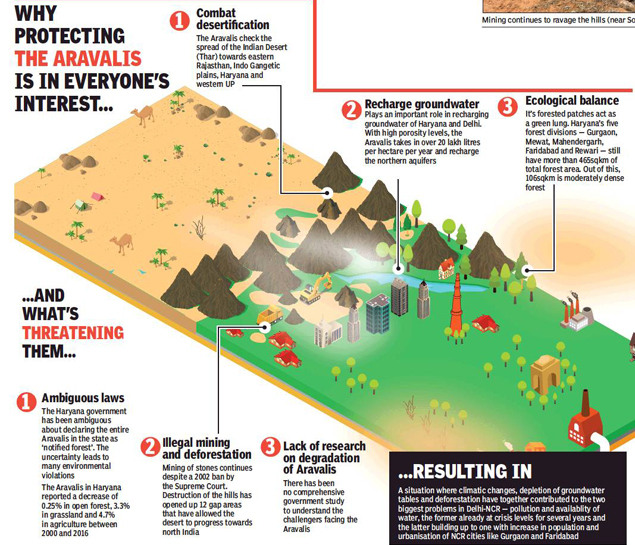 In 1992, the Aravali ranges in Gurgaon and Alwar (Rajasthan) were notified as an ecologically sensitive area by the National Capital Region Planning Board. However, successive governments in Haryana have failed to give these hills the status of 'notified forest'. Besides, refusal to grant 'deemed forest' status, exclusion of the entire range in the ambit of NCZ (natural conservation zone), and failure to enforce the Tree Act (in force in Delhi to protect the Ridge, a part of the Aravalis), have contributed to the fragile state of the range. https://timesofindia.indiatimes.com/city/gurgaon/how-shrinking-aravalis-opened-giant-gateway-for-dust-pollution-in-delhi-ncr/articleshow/65816163.cms  (15 Sept. 2018)
Haryana Govt panels pave way for reduction of protected Aravalis District-level committees formed by the Haryana govt for a fresh survey of areas demarcated as natural conservation zones (NCZ) have recommended exclusion of some land parcels owned by private parties from its purview.
Several other areas in different parts of South Haryana, including 1,200 hectares of "bhood" (Aravali foothills) land, could also be excluded from the "confirmed" and "yet to decided" categories of NCZ, effectively bringing down the area that has legal protection from construction activity.
The forest department has, however, opposed the move and recommended that status quo be maintained. It may be noted that the Supreme Court had earlier this week pulled up the state for allowing construction on Aravali land at Kant Enclave in Faridabad and ordered demolition of all buildings built after 1992 by the end of this year. The court, while passing this order, had also observed that the constructions at Kant Enclave had done irreversible damage to the Aravalis. https://timesofindia.indiatimes.com/city/gurgaon/panels-pave-way-for-reduction-of-protected-land-in-aravalis/articleshow/65801889.cms  (14 Sept. 2018)
Uttar Pradesh NGT  Quashes  UP Govt's Tree Cutting Permit Exemption Notification  Holding that felling of trees indiscriminately, even in the absence of state Tree Protection Act, is in violation of Article 21 of the Constitution, the NGT has quashed the Uttar Pradesh government's notification exempting exempting all but five species of trees from the purview of seeking prior permission for felling.
The applicant had claimed that the notification had been issued by the govt to encourage sawmills across the state and that it would adversely affect the environment, water bodies, water tables and would worsen the already-polluted air conditions in cities like Kanpur, Agra, Lucknow and parts of the National Capital Region. https://www.livelaw.in/indiscriminate-cutting-of-trees-violates-art-21-exemption-clauses-only-in-exceptional-situations-holds-ngt-while-quashing-up-govts-tree-cutting-permit-exemption-notification-read-order/  (22 Sept. 2018)
Uttrakhand सरकार द्वारा खुले में शौच से मुक्ति की घोषणा गलत: कैग कैग की रिपोर्ट में कहा गया है कि व्यक्तिगत घरेलू शौचालय के निर्माण के संबंध में आंकड़ों की विश्वसनीयता भी संदिग्ध थी. जांच में पाया गया कि 22 दिसंबर 2016 को खुले में शौच से मुक्त घोषित किए गए अल्मोड़ा जिले की 241 ग्राम पंचायतों को 5,672 शौचालयों के निर्माण हेतु चार दिन बाद यानि 26 दिसंबर, 2016 से तीन जनवरी, 2017 के बीच दो करोड़ रूपये की धनराशि जारी की गई. कैग का कहना है कि इससे यह पता चलता है कि जिला अल्मोड़ा घोषणा के समय दिसंबर 2016 में खुले में शौच से मुक्त नहीं हुआ था. परिवारों को विभिन्न योजनाओं के दायरे में लिया गया जबकि शेष 144 परिवार स्वयं के संसाधनों से लाभान्वित हुए.  http://thewirehindi.com/58344/open-defecation-fee-uttrakhand-announcement-was-wrong-says-cag-report/  (23 Sept. 2018)
Study Microbe-based monitoring to conserve Sundarbans Researchers are looking at changes in microbial community structure and stability in the Sundarbans estuaries to track changes in freshwater flow that could have implications for sustainability of fisheries. They have set up the Sundarbans Biological Observatory Time Series (SBOTS) that maps data monthly to pinpoint trends in the health of the Sundarbans ecosystem. https://india.mongabay.com/2018/09/18/microbe-based-monitoring-to-conserve-sundarbans/  (18 Sept. 2018)
Compiled by SANDRP (ht.sandrp@gmail.com)
Also See; DRP News Bulletin 17 Sept. 2018 & DRP News Bulletin 10 Sept. 2018
Follow us on: www.facebook.com/sandrp.in; https://twitter.com/Indian_Rivers