(Feature Image: Cover page of World Bank report titled What the Future Has in Store: A New Paradigm for Water Storage)
On the occasion of World Water Day 2023, the United Nation will be organizing a conference (March 22-24) in New York, USA. In its latest report the World Bank has also raised concern over decline in fresh water storages and underlined the need of a new approach for integration of built and natural water storages as a measure to adapt to climate change related water challenges and better management of water resources.
There is no doubt that large parts of the world are facing water scarcity and insecurity from existing and looming threats both from man made reasons and changing climates. Given the omnipresent & increasing shortages of cumulative storage capacity and adverse impacts of built water storages especially big reservoirs and dams; it is time global bodies like UN, World Bank, policy makers and governments at large must focus on conservation and replenishment of natural water storages, which are far better, cost effective options available to address and mitigate ever increasing and evolving climatic threats on human water security and sources.
The natural water storages in the form of forests, hills, grasslands, local water systems, rivers, wetlands, soil moisture, underground aquifers etc. are essential components of hydrology. As part of larger water cycles, they naturally absorb, harvest, store, recharge and replenish the rainwater and have been catering to human consumption to the largest extent. Protection of forests, hills, grasslands is prerequisite to supply flows in rivers, wetlands, local water bodies and aquifers. At the same time, the carbon rich soil can store moisture in large amounts. Similarly, the revival and management of local water bodies, floodplains & riverbeds can provide security against floods and droughts.
It is worth pointing out here that there is no credible assessment either on the current status of these natural water storages, their actual contribution in meeting water supply requirements or effective steps being taken for their protection at global, regional, national, river basin or local level. Will it be too much to expect the global leaders and policy makers at the UN Conference to initiate required dialogues, programs and plans for assessment, conservation and replenishment of natural water storages?
Below we have listed a few relevant reports on the issue from this week.
Effective groundwater system recharge need of the hour Venkatesh Dutta The flow in the Gomti river has declined by nearly 50% in the last fifty years. The river has become seasonal at several places. Many of its tributaries have dried up. The river-bed in upper catchments has been severely affected by intensive farming and encroachments. The Gomti is one of the important tributaries of the Ganga river.
The Ganga basin is the world's largest hotspot for groundwater exploitation, accounting for one-fourth of global groundwater exploitation alone. Currently, only 42% of the basin has water levels above 5-metre. This decline has caused wetlands to dry up and rivers to flow intermittently. While we have a solid understanding of extracting water from rivers, our knowledge of returning water to them is incomplete. It is crucial to have a comprehensive understanding of the entire watershed system of a river. https://www.pressreader.com/india/hindustan-times-lucknow/20230314/282157885474510 (15 March 2023)
Bengaluru 'Million Wells' campaign aims to recharge city's gw Biome Environmental Trust is a local civil society organisation that has been at the forefront of urban groundwater management for 13 years. They have been active as a community collective advocating for sustainable water management for much longer, since 2002. The Million Wells Campaign has integrated their traditional knowledge and skills into the process of open well revival. Many well-diggers now have a deep understanding of recharge wells and rainwater harvesting and are able to play an important role in shallow aquifer revival. Consequently, the livelihoods — and self-worth — of many well-diggers have been restored. The well-diggers have renewed pride in their work, as they reap the benefits of their renewed economic and social capital.
Perhaps, the most needed aspect of modern urban water education the world over is an appreciation of the shallow aquifer. Dr Kulkarni adds, "If the revival of the shallow aquifer is carefully curated, it can have tremendous impact from flood and drought mitigation, to improving water security in urban India, and responding to the water quality issues that cities often grapple with.". https://bengaluru.citizenmatters.in/biome-million-wells-campaign-bengaluru-aquifers-groundwater-citizens-90762 (10 Oct. 2022)
Karnataka Increase in capacity of 1,335 waterbodies The water-holding capacity of close to 1,335 water bodies across the state has increased by a total of 89.73 lakh cubic metres in the last year owing to development work by the Rural Development and Panchayat Raj (RDPR) department under the Amrit Sarovar Mission. According to data, 5,752 water bodies, including lakes and ponds have been identified for rejuvenation and work at 4,047 sites has started. "We have already completed work at 1,335 sites and apart from rejuvenation work, 57,962 water conservation works like construction of trenches and bunds were also taken up. This has helped improve the groundwater levels drastically," Shilpa Nag, commissioner, Rural Development (MGNREGS) told DH.
While the project aims at water conservation, it will also play a crucial role in preventing floods and preventing encroachments, the officials said. "With the development of these lakes, rainwater can be efficiently stored. This will eventually prevent flooding. Additionally, the water stored in these lakes can be used for irrigation, domestic use, and other purposes, ensuring that water is available even during dry seasons," a senior official from the RDPR department said. https://www.deccanherald.com/state/top-karnataka-stories/capacity-of-1335-water-bodies-in-karnataka-rises-sharply-1201483.html (19 March 2023)
Pune Vetal Tekdi is water recharge point Dr Himanshu Kulkarni Based on a detailed study of these aquifers, the most conducive recharge areas for Pune's aquifer systems have been identified. Incidentally, aquifers in Pune provide both, water supplies that supplement and complement civic supplies, and also constitute various amounts of underground stocks of water providing a connection between various other elements of various ecosystems. Protection and restoration of existing natural recharge zones that are related to each of the 28 aquifers, including those within the ridge lines in the Pune city become imperative. Any infrastructure development that is counter-intuitive to the security of aquifers, whether it is in the form of disrupting groundwater flows and stocks, will need to be avoided. https://punemirror.com/pune/others/touch-me-not-vetal-tekdi-is-water-recharge-point/cid1679252243.htm (20 March 2023)
Hyderabad Bansilalpet stepwell: Ravaged, reimagined, then revived ..after almost four decades, a revival plan was chalked out by The Rainwater Project, a social enterprise focusing on sustainable water management. In mid-2022, the revival and restoration of the stepwell began with the Telangana Urban Development Department as a partner. Tonnes of garbage were removed — revealing the six-stage stepwell descending 50 feet into the ground. The restored stepwell was finally opened to the public on December 5, 2022. Today the stepwell is beautifully landscaped and the complex contains a café, amphithere and three galleries narrating the history of the stepwell and details of its restoration. The galleries also demonstrates the importance of water conservation. Gallery 1 is centred around a model of the stepwell and the walls contain photos of the stepwell before and after restoration. Gallery 2 focuses on water conservation. Groundwater and rainwater are the sources of replenishment for the well, which has a capacity of over 20 lakh litres. https://www.telegraphindia.com/my-kolkata/places/hyderabads-bansilalpet-stepwell-ravaged-reimagined-then-revived/cid/1922205 (13 March 2023)
Chennai Need of integrated water management system to prevent floods; drought In an interview with Citizen Matters Chennai, Dr S Janakarajan, the President of the South Asia Consortium for Interdisciplinary Water Resources Studies (SaciWATERs), Hyderabad and former Professor and Director at Madras Institute of Development Studies (MIDS), unpacks the issues with water management in Chennai that has led to both flooding and drought and suggests better ways to handle the city's water resources. https://chennai.citizenmatters.in/water-crisis-chennai-2015-floods-2019-day-zero-reservoirs-cmwssb-gcc-67218 (15 March 2023)
IWP How to restore degraded pond ecosystem In this paper titled 'Current Status of Ponds in India: A Framework for Restoration, Policies and Circular Economy' the authors holistically examined the legal challenges (policies) and key anthropogenic and environmental pressures responsible for pond degradation in India. The country is strongly dedicated to attaining SDG and circular economy through aquatic ecosystem conservation and restoration. Considerable efforts are required at the administration level to recognize the contribution of pond ecosystem services in attaining global environmental goals and targets. https://www.indiawaterportal.org/articles/how-restore-indias-degraded-pond-ecosystem (11 March 2023)
Evil effects of deforestation D. Balasubramanian Himalayan States of J&K, Uttarakhand, and Himachal have about 21,000, 24,000 and 16,000 sq km of forest area, respectively. Yet, the government of India has removed a significant fraction of trees in order to build underpass and overpass highways in these regions. Likewise, Goa has about 2,219 sqkm forestation. Yet, the government there has cut trees with the idea of connecting Mumbai to Goa by a four-lane highway. Around 31,000 trees are being cut by local authorities. Likewise, the NHAI is set to start the expansion of the 45-km stretch of NH163, from two to four lanes. Towards this, they want to destroy 9,000 banyan trees in Chevella Mandal in Telangana. https://www.thehindu.com/sci-tech/the-evil-effects-of-deforestation/article66603977.ece (11 March 2023)
Bihar सप्तकोसी हाइ डैम परियोजना का दूसरा सच यह भी है कि मौजूदा आकलन के हिसाब से इससे तकरीबन 190 वर्ग किमी भूमि के जलमग्न होने की संभावना है और इसकी वजह से 75 हजार से अधिक नेपाली लोगों को विस्थापित होना है.
पटना में 23-24 फरवरी को राज्य में कोसी नदी के किनारे और दोनों तटबंधों के बीच बसे लोग एकजुट होते हैं. इस जुटान में सुपौल जिले के मन्नाटोला खोखनाहा के रामचंद्र यादव का गांव कोसी नदी के दोनों तटबंधों के बीच है और नदी के कटाव की वजह से उनका घर सात बार इसकी धारा में विलीन हो चुका है. मगर वे इतनी परेशानी झेलने के बाद भी कोसी हाइ डैम के पक्ष में नजर नहीं आते. वे कहते हैं, "कोसी में पानी आता है तो हमारे खेतों की मुफ्त में सिंचाई हो जाती है, उसके सिल्ट से हमारे खेत बिना खाद के उपजाऊ रहते हैं. इसलिए हमको कोसी का पानी भी चाहिए और गाद भी. बांध बनेगा तो हमारे इलाके में सिल्ट आना बंद हो जाएगा. हमें तो परेशानी कोसी की बाढ़ के अनियंत्रित होने से है, और इसकी वजह नदी के तटबंध हैं."
कोसी नदी का लंबे समय से अध्ययन करने वाले जानकार दिनेश कुमार मिश्र कहते हैं, "जिस जगह बांध बनाए जाने का प्रस्ताव है, वहां से नीचे भी कोसी नदी का लगभग 14 हजार वर्ग किमी का जलग्रहण क्षेत्र है. ऐसे में बांध इस जलग्रहण क्षेत्र में आने वाली बाढ़ से कैसे बचाव करेगा. दूसरी बात बांध का जीवन काल तो अत्यधिक सिल्ट की वजह से 37 से 40 साल ही होता है. फिर इसे कैसे स्थाई समाधान कह सकते हैं. जब यह बांध सिल्ट से भर जाएगा फिर क्या करेंगे." https://www.aajtak.in/india-today-hindi/special-report/story/bandh-se-mitega-bihar-ka-shok-1649673-2023-03-06 (06 March 2023)
Report Unfortunately, the article as usual talks about building storages without considering the storage options that includes soil moisture, decentralised storages and the aquifers, which provide huge potential that needs to be exhausted and optimum utilisation of existing big storages achieved before going for new big built storages. https://energy.economictimes.indiatimes.com/news/renewable/why-water-storage-is-a-vital-tool-in-south-asias-climate-change-strategy/98621559 (14 March 2023)
HYDRO POWER PROJECTS
Arunachal Pradesh Disquiet over dam across Dibang There is concern in downstream Assam that debris from upstream construction activity and landslides will "elevate riverbeds." Contrary to claims that the DMP will prevent floods, the damming of the Brahmaputra could make downstream areas in Assam and Bangladesh more vulnerable to flooding.
– However, proponents of the DMP, including ministers and officials in New Delhi and Arunachal Pradesh as well as India's powerful big dam lobby, systematically chipped at the resistance to the project. The consent of tribal protestors was "manufactured" through terrorizing them; they were branded 'Maoist' and their resistance was broken. The government has steamrolled objections and issues of concern raised by activists and experts to give the DMP the green signal. Whether the decision will reignite protests remains to be seen. https://thediplomat.com/2023/03/disquiet-over-indias-dam-across-the-dibang/ (14 March 2023)
Himachal Pradesh Govt brings bill to impose water cess on hydropower generation The Himachal Pradesh government on March 14, 2023 tabled a bill, proposing imposition of water cess on hydropower generation in the state, in the Vidhan Sabha. The bill is expected to draw a sharp reaction from Punjab as the Bhakra Beas Management Board (BBMB) and Punjab State Power Corporation Limited's (PSPCL) hydro projects in the hill state will also come under its purview.
– The bill will repeal the Himachal Pradesh water cess on hydropower generation ordinance, promulgated by the governor on February 15, 2023. Introducing the bill, deputy chief minister Mukesh Agnihotri said it has been brought on the lines of Uttarakhand and Jammu and Kashmir where water cess has already been imposed. Some people had moved the court against the bill in Uttarakhand and J&K, but the courts rejected their pleas, said Agnihotri, adding that the main purpose of the bill is to generate revenue.
– The water cess will be applicable for all 172 hydel projects (Capacity 10991 MW) whether under BBMB or NTPC, said Agnihotri, adding that the government aims to mop up ₹4,000 crore from it. The bill provides for setting up the state commission for water cess to discharge the functions under the Act and entails an annual expenditure of ₹23 crore. The commission headed by the chief secretary would not have more than four members, who would have a tenure of three years, subject to the maximum age limit of 65 years.
– According to the bill, hydroelectric projects with head up to 30 metre will have to pay 10 paise per cubic metre cess; those with head above 30 metre and up to 60 metre will have to pay 25 paise; projects with head between 60 and 90 metres will have to pay 35 paise as cess and those with head above 90 metre will have to pay 50 paise per cubic metre cess. https://www.hindustantimes.com/cities/chandigarh-news/hp-brings-bill-to-impose-water-cess-on-hydropower-generation-101678821292466.html (15 March 2023)
Punjab AAP govt has condemned the HP move to levy water cess on hydropower projects, since now Punjab/ BBMB projects like Bhakra, Pong, Ranjit Sagar etc will have to pay this amount to HP. https://www.hindustantimes.com/cities/chandigarh-news/aap-condemns-himachal-pradesh-govt-s-proposal-of-water-cess-on-hydropower-generation-101678899127092.html (15 March 2023)
Joshimath Disaster Three months on, still no prefabricated houses or plans for Joshimath https://www.theweek.in/news/india/2023/03/14/three-months-on-still-no-prefabricated-houses-or-plans-for-joshimath.html (14 March 2023)
Ranjit Kumar Sinha, Secretary, Disaster Management, said on March 11 that after the Mishra Committee report in 1976, "major investigation, master plan or mitigation measures" were missing in Joshimath. said roads were built and widened without any consideration for water channels, while huge colonies and Army bases were allowed to come up in the region. He said the lines between man-made and natural disasters had blurred and before thinking about development, the dynamics of mountains and hills should be considered. Mr. Sinha was speaking before a panel of experts on the topic 'Disaster Mitigation and Resilience' on the second day of the National Platform for Disaster Risk Reduction Conference (NPDRR) in Delhi.
– "What happened in Joshimath? Land subsidence, first reported by the Mishra committee report in 1976. What have we done after that? Any major investigation, master plan or mitigation measure? We were missing many points. We have built and widened roads without any consideration for slope or water channels, we have allowed heavy vehicles to ply, allowed people to construct multi-storeyed houses and huge colonies, allowed Army and ITBP [Indo Tibetan Border Police] to construct big base. These are necessary but we should have done something for Joshimath as a whole. There was no investigation but now the investigation is being done," Mr. Sinha said. He said the gaps in regulations and guidelines should be plugged so that people are made responsible for their acts. – "There is no institutional framework for exchange of ideas… landslide mitigation requires serious attention," he stated, adding that landslides are a major concern in hilly areas. "The Ministry of Mines had submitted a proposal for a landslide management centre but the proposal has been rejected. Uttarakhand is coming up with a landslide management centre," he concluded.  https://www.thehindu.com/sci-tech/energy-and-environment/lines-between-natural-and-man-made-disasters-blurred-uttarakhand-disaster-management-secretary/article66607506.ece  (11 March 2023)
Jharkhand College dropout builds bamboo hydelplant Hailing from Bayang village in Ramgarh district, Kedar Prasad Mahto claimed to have developed the 5 KVA mini-hydel plant last year on a small village river with investment of ₹ 3 lakh from his pocket. The power is being used to illuminate a village temple and streets at no cost, he said. He said that his mini plant is capable of generating 30 to 40 KVA power but he is not generating full capacity power. Mahto constructed the plant with bamboo sticks and installed a self-made turbine and generator in his mini hydel plant.
A team of officials from NABARD recently visited the mini hydel power plant developed by the village youth to study the feasibility of its replication. Upendra Kumar, Deputy Development Manager of NBARD, said, "We are studying the feasibility of such micro hydel plant. We are evaluating if this micro hydel plant would be viable in providing power to village farmers for cultivation. Both technical and financial aspects of it are being reviewed." During the visit of NABARD team, officials were informed that Mahto could set up a 2MW capacity hydel plant at an estimated cost of ₹ 2 crore. https://www.ndtv.com/india-news/jharkhand-college-dropout-builds-bamboo-hydel-plant-officials-interested-3857736 (13 March 2023)
Centre Use hydropower units optimally at peak hours Interesting: Ministry of Power has told states to use hydropower projects optimally during peaking hours during Apr May this year. One implication of this is that this is clearly not happening, something SANDRP has been saying for long. Power Minister said this at a meeting with states on March 9, 2023. CEA expects peak demand of 229 GW in Apr compared to 211 GW last year. https://economictimes.indiatimes.com/industry/energy/power/use-hydropower-units-optimally-at-peak-hours-power-ministry/articleshow/98640648.cms (14 March 2023)
Report Future of water-intensive green hydrogen ironically lies in water-scarce regions India currently consumes 6 million tonnes of grey hydrogen (hydrogen produced with natural gas, using low-carbon technologies). However, if India were to produce the same amount of green hydrogen, it would require anywhere between 132-192 million tonnes of water for the 6 million tonnes of green hydrogen, estimates a report by OMI, depending on if the renewable energy used is sourced from wind energy (22 litre per KG of Green Hydrogen) and Solar energy (32 litre) This amount is around 10% of Delhi's annual water requirement.
– A report by the International Energy Agency claims that it needs nine litres of water for every kilogram of green hydrogen produced.
– "While we are deliberating on different aspects of green hydrogen from funding to plans of cutting down the cost of the production, we are not discussing the issue of water requirement needed to achieve the target production," said Rohit Pathania, lead-energy, and mobility at OMI Foundation.
– Admitting 'water' as a challenge in the production of green hydrogen in its National Hydrogen Mission roadmap, the Ministry of New and Renewable Energy has identified municipal and industrial wastewater as its feedstock wherever feasible. However, as water is a state subject, it has urged the states to identify the right resource to promote green hydrogen. https://scroll.in/article/1045088/in-india-the-future-of-water-intensive-green-hydrogen-ironically-lies-in-water-scarce-regions (14 March 2023)
MoEF Agenda of the EAC on River Valley Com, to be held on March 27-28, 2023:
1. Sonbhadra Off-Stream Closed Loop Pumped Storage Project (1200 MW) in 453.11 Ha located at Village Bahera, Tehsil Robertsganj, District Sonbhadra (Uttar Pradesh) by Sri Siddharth Infratech & Services (I) Pvt Ltd– Terms of Reference
2. Greenko TN-01Off-Stream Closed Loop Pumped Storage Project (1200 MW) in 547.22 Ha at village Tirumalaikuppam, Taluk Ambur, Dist Tirupathur (Tamil Nadu) by Greenko Energies Pvt Ltd for TOR
3. Cerulean-II Off-Stream Closed Loop Pumped Storage project (640 MW) in 444.78 Ha at village Regulguda, Manikapatar & Sarkepally, Tehsil Wankidi & Kagaznagar, Dist Komaram Bheem (Telangana) by Cerulean Energy Solutions Pvt Ltd – Terms of Reference
4. Semaliya-II Off-Stream Closed Loop Pumped Storage Project (1200 MW) in 701.58 Ha located at Village Khera, Tehsil Begun, Dist Chittorgarh (Rajasthan) by Semaliya Energy Pvt Ltd – Terms of Reference
5. Astha Telangana Off-Stream Closed Loop Pumped Storage Project (600 MW), in 419.43 Ha located at Village Mailaram, Dist Nizamabad (Telangana) by Astha Green Energy Ventures India Pvt Ltd – Reconsideration for Terms of Reference
6. Upper Indravati Pumped Storage Project 600 MW (4×150 MW) in 164 Ha located at Village Mukhiguda, Kalahandi Dist (Odisha) by Odisha Hydro Power Corp Ltd- Terms of Reference
7. Astha UP Off-Stream Closed Loop Pumped Storage project (640 MW) in 316.63 Ha located at Village Katra and Sansarpur, Tehsil Lalgang and Koraon, Dist Mirzapur and Prayagraj (Uttar Pradesh) by M/s Astha Green Energy Ventures India Pvt. Ltd – Terms of Reference
8. Rewa Off-Stream Closed Loop Pumped Storage Project (600 MW) in 449.47 Ha at Village Dhakara No.2, Tehsil Teonthar, District Rewa (Madhya Pradesh) by Sasa Stone Pvt Ltd : Terms of Reference
9. Sirohi Pumped Storage Project (640 MW) in 311.99 Ha at Village Chhibagaon, Tehsil Shivgang, Dist Sirohi (Rajasthan) by M/s Sasa Stone Pvt Ltd- Terms of Reference
10. MP Off-Stream Closed Loop Pumped Storage Project (600 MW) in 438.36 Ha at Village Bhasuda, Tehsil Ajaigarh, Dist Panna (Madhya Pradesh) by Rithwik Projects Pvt Ltd – Terms of Reference
11. Kolhapur Off-Stream Closed Loop Pumped Storage Project (1200 MW) in 390.95 Ha located at Village Dhamapura, Kanu BK, Tehsil Chandgad, Dist Kolhapur (Maharashtra) by Rithwik Projects Pvt Ltd-Terms of Reference https://environmentclearance.nic.in/writereaddata/Form-1A/Agenda/_17032023M62EYN32.pdf
DAMS
Research Global Dam Tracker: A database of more than 35,000 dams Abstract The Global Dam Tracker (GDAT) contains 35,000 dams with cross-validated geo-coordinates, satellite-derived catchment areas, and detailed attribute information. Combining GDAT with fine-scaled satellite data spanning three decades, we demonstrate how GDAT improves upon existing databases to enable the inter-temporal analysis of the costs and benefits of dam construction on a global scale.
Our findings show that over the past three decades, dams have contributed to a dramatic increase in global surface water coverage, especially in developing countries in Asia and South America. This is an important step toward a more systematic understanding of the worldwide impact of dams on local communities. By filling in the data gap, GDAT would help inform a more sustainable and equitable approach to energy access and economic development.
The GDAT database could be used for a systematic and global analysis of the impact of dams on local communities. As the urgency of climate change calls for a transition from fossil fuels, hydropower could usher in a cleaner and more sustainable energy system as mandated by SDG 7. But these benefits should be weighed against the negative social, geopolitical, and environmental costs. Therefore, a global dam database that improves our understanding of the net impact of dams is crucial for informing a more sustainable and equitable approach to economic development. https://www.nature.com/articles/s41597-023-02008-2 (23 Feb. 2023)
Polavaram Project PM urged to help complete project as per APRA with Central funds Dr K.V.P. Ramachandra Rao has written a letter to PM Narendra Modi to bring to the latter's notice about the plight of Polavaram national irrigation project.
– He stated that Polavaram was declared as a National Project by Union Government in 2014 with a stipulation that Union Government shall take over the Project and execute and complete it by 2018 in public interest. But unfortunately, the responsibility of construction was renounced by the Union Government and handed over it to the State. As a result, the project, which is to be completed by 2018, is already delayed by five years.
– The main ECRF Dam was required to be provided with a cut off wall of plastic concrete diaphragm wall. The diaphragm was declared to be completed in all respects in 2018 June itself by the then government.
– "I understand that the State Government is not in a position to provide funds for Land Acquisition, Rehabilitation and Resettlement works costing approximately to a tune of Rs.30,000 Crore between MDDL of 140 feet and FRL of 150 feet and hence not taking up the R&R works. Union Government, which is constitutionally obligated under Section 90 of A.P.Reorganization Act, to provide entire funds for construction of the Project including funds for LA, R&R, is compelling the State to restrict level of project to MDDL level of 140 feet to avoid R&R expenditure." https://www.therahnuma.com/kvp-urges-modi-to-help-complete-polavaram-project-as-per-apra-with-central-funds/ (13 March 2023)
Sardar Sarovar Project 'Incomplete canal: Gujarat's share of Narmada may drop' The state government has failed to complete the canal network under the Sardar Sarovar Narmada project in time and this delay could result in a reduction of its share of water from the Narmada dam, Congress MLA from Vadgam Jignesh Mevani said in the Gujarat assembly on March 13, 2023. Speaking on the demands for the Sardar Sarovar Narmada Nigam Limited (SSNNL), Mevani said there was 'monumental mismanagement' by the government in completing the canal network. Narmada water was to irrigate 18 lakh hectares, but has reached fields for just 50% of this area and 10 lakh farmers in the state are still waiting for Narmada water for irrigation. In 2024, the NWDT award can be reviewed and re-allocate the Narmada waters if necessary. Mevani also called upon the state to provide water to tribal people who gave their land for the project. He also said that lot of water is being used for unplanned purposes.
– THe Gujarat Narmada minister said: The government supplies drinking water to seven municipal corporations, 199 municipalities and 11,777 villages from the Narmada project. Patel also gave details of allocations for smaller projects of SSNNL and said that in 2022, when the Narmada dam overflowed, 1.35 million acre-feet of water was used to fill 957 lakes in North Gujarat and 196 lakes and 71 dams in Saurashtra. https://timesofindia.indiatimes.com/city/ahmedabad/incomplete-canal-gujarats-share-of-narmada-may-drop/articleshow/98618677.cms (14 March 2023)
16k crore spent on Sauni project: Govt The Gujarat government stated in the assembly on March 12, 2023 that Rs 16,148 crore has been spent so far on the Saurashtra Narmada Avtaran Irrigation (Sauni) project, which was launched in June 2013. The government said Rs 18,563 crore has already been sanctioned for the project. The minister for water resources stated, "Since the demand has been increasing for more areas to be covered under the project, there is a possibility that the amount spent on the project will increase in the future." The project was envisioned to divert additional water from the Sardar Sarovar dam to about 100 dams of Saurashtra by laying pipelines between these dams and the Narmada main canal. https://timesofindia.indiatimes.com/city/ahmedabad/16k-crore-spent-on-sauni-project-says-state-govt/articleshow/98619907.cms (14 March 2023)
Govt spent Rs 13 cr on failed seaplane service The government revealed this in the state Assembly during the ongoing Budget Session on Thursday (March 16). The project, which ran into turbulence soon after the launch, was inaugurated by PM Modi in the run up to 2020 Assembly bypolls. Even after the launch, the service, which was claimed to be India's first, remained erratic and was finally discontinued.
The government said that the seaplane was launched on October 31, 2020 at a cost of Rs 13,15,06,737. It said that the service was no longer available. The government cited several reasons behind the cessation of the service, adding that "due to the aircraft having [been] registered abroad, there were difficulties in maintenance and operating cost was also higher." The written reply stated that the service was closed on April 10, 2021. Last week, during the session, the government informed the House that it wanted to restart the service but didn't specify the dates. https://www.deccanherald.com/national/west/gujarat-govt-spent-rs-13-crore-on-failed-seaplane-service-between-ahmedabad-and-kevadia-1200823.html (16 March 2023) The government admitted in the House that the service was halted because foreign-registered aircraft made operation and maintenance difficult. https://www.newindianexpress.com/nation/2023/mar/17/after-volte-face-and-spending-rs-13-crores-gujarat-ends-seaplane-service-2556862.html (17 March 2023)
Seaplane for Statue of Unity to cost hundreds of crocodiles their home. https://timesofindia.indiatimes.com/city/vadodara/seaplane-for-statue-of-unity-to-cost-hundreds-of-crocodiles-their-home/articleshow/67688159.cms (25 Jan. 2019)
Maharashtra Experts oppose govt plans of solar power plant at Jayakwadi Experts and Environment groups have opposed the Mah govt plan for a floating solar power project at Jayakwadi Dam. The 341.05 sq km reservoir is a bird sanctuary with 234 species of birds. https://energy.economictimes.indiatimes.com/news/renewable/experts-oppose-govt-plans-of-solar-power-plant-at-jayakwadi/98598114 (14 March 2023)
Tamil Nadu WRD to expedite rehabilitation work at Mayanur barrage The barrage-cum-road across the Cauvery river was commissioned about seven years. More importantly, the barrage constructed at an estimate of ₹234-crore is being projected as the fountainhead of the ambitious Cauvery-Gundar river-linking project in the State. The bund on the northern bank of the Cauvery river at the barrage suffered a breach in August 2018. The strong erosion, caused by the strong water current and abnormal rise in the water level, kept the WRD, then PWD officials on tenterhook for a few days. Within an hour, the erosion had widened by over 100 metre, uprooting about 60 coconut trees on the embankment. Round-the-clock work by the officials, who sourced tonnes of boulders from Karur, Thottiam, Namakkal and other areas, checked the erosion and prevented a major breach.
As a follow-up measure, the WRD began a rehabilitation project at an estimate of ₹1.85 crore a few months ago. Though the work began in May 2022, the project was perceived to have progressed at a snail's pace due to the early opening of the Mettur dam for irrigation. The continuous flow of water in the Cauvery river for more than eight months checked the progress of the work. With the closure of the Mettur dam, the officials have resumed the rehabilitation work. https://www.thehindu.com/news/cities/Tiruchirapalli/wrd-to-expedite-rehabilitation-work-at-mayanur-barrage/article66486057.ece (08 Feb. 2023)
Govt to raise storage capacity of Poondi Reservoir The government plans to raise the Poondi reservoir's water level to 5.2 thousand million cubic feet from the present 3.3 thousand million cubic feet. The move comes after the recommendation of the Thiruppuzhagh committee constituted by the state government to conduct a study on flood mitigation strategies in the state in November 2021 following the massive floods of 2015 and then in 2021. https://weather.com/en-IN/india/news/news/2023-03-15-tamil-nadu-to-raise-storage-capacity-of-poondi-reservoir (14 March 2023)
Kaleshwaram MoJS faulted for statement in Parliament on national project issue Vice Chairman of the Telangana State Planning Board (TSPB) B. Vinod Kumar has charged Union Minister of State for Jal Shakti Bishweswar Tudu with making a false statement in Parliament and misleading the people of the country in the matter of national project status to Kaleshwaram by stating that the State government had never requested such status to the project. Mr. Vinod Kumar said in a statement issued here on Saturday (March 18) demanded that he change the statement made on the floor of Parliament and apologise for making a false statement or the Bharat Rashtra Samithi (BRS) would move a privilege motion against the Minister.
Mr. Vinod Kumar said that as Lok Sabha member from Karimnagar he had requested PM Narendra Modi from the floor of Parliament on July 20, 2018 to accord national status to either of the two major irrigation projects taken up by the Telangana Government — Kaleshwaram across Godavari and Palamuru-Rangareddy across Krishna. He asked the MoS verify this from Parliament records so that facts could come out before people. While responding to his request, the then Minister of Water Resources (now Jal Shakti) Nitin Gadkari stated that it was the Centre's policy not to accord national status to any irrigation project in the country from then on. https://www.thehindu.com/news/national/telangana/mos-jal-shakti-faulted-for-statement-in-parliament-on-national-project-issue/article66636035.ece (18 March 2023) He also recalled that the Central Water Commission (CWC) accorded approval to the Upper Bhadra Project of Karnataka, a BJP-ruled State when KWDT-II award was stayed by the Supreme Court in 2013. The CWC accorded clearances to Upper Bhadra Project and the Central government also accorded national project status for a project when the whole matter was sub judice, he pointed out. https://www.newindianexpress.com/states/telangana/2023/mar/18/harish-calls-out-centres-blatant-lie-on-nation-project-status-for-klis-2557153.html (18 March 2023) https://www.siasat.com/telangana-vs-centre-again-now-on-the-kaleshwaram-project-2549330/ (17 March 2023)
INTERSTATE WATER DISPUTES
SYL Canal construction may raise law & order problems: Centre There appears to be no immediate solution to the vexed Sutlej-Yamuna Link (SYL) Canal issue as the Punjab Government has refused to construct its part of the canal even as the Haryana government insisted on construction of the canal in terms of the 2002 verdict of the Supreme Court. In a report filed in the top court, the Centre said, "Further in 2016, Punjab had already de-notified the land acquired for construction of SYL and returned it to farmers. Therefore, construction of SYL now may raise law and order problems."
The Union Jal Shakti Ministry's report has been filed in response to the top court's September 6, 2022 order seeking a status report on the progress made in the meeting of CMs and senior bureaucrats of Punjab and Haryana on construction of SYL Canal. "Even after the best efforts by the centre, there has been no agreement on the issue of construction of SYL among the two states in the meeting. However, both states agreed to discuss a workable solution on the issue in future," the report stated. However, the Ministry of Jal Shakti said it was making all efforts to bring the states together for an amicable solution. https://www.tribuneindia.com/news/punjab/syl-canal-construction-now-may-raise-law-and-order-problems-centres-report-in-sc-489239 (19 March 2023)
IRRIGATION
PIB Details of Central funding for state irrigation projects. https://pib.gov.in/PressReleasePage.aspx?PRID=1906489 (13 March 2023)
Jammu & Kashmir Likely shortage of irrigation water The inadequate snowfall in winter has created an impression among the experts that there can be irrigation water crisis this year. Last year also there was shortage of irrigation water in several areas. The paddy fields could not get the water in time and the paddy saplings were damaged. https://www.greaterkashmir.com/todays-paper/editorial-page/likely-shortage-of-irrigation-water (16 March 2023)
URBAN RIVERS
Mula-Mutha; Pune Municipal Corporation to cut 5294 trees for Riverfront development without even public consultation as required under Pune Tree Act. PMC claims transplantation of 2694 trees, but environmentalists oppose.
– Environmentalist Sarang Yadwadkar said, "On page number 139, section 4.4 of DPR on the RFD project, the PMC has mentioned that no trees will be harmed in the process. But it seems that they are going back on their word. They are now on the way to destroy thousands of trees for this project." https://punemirror.com/pune/cover-story/playing-with-nature/cid1678998500.htm? (17 March 2023) The environmentalists and activists have expressed their concern and are opposing the plan, citing that such a move would be cruel and tantamount to playing with nature. The activists have also highlighted the risks of transplanting trees, which have a low survival rate. https://www.punekarnews.in/pune-pmcs-plan-to-chop-thousands-of-trees-for-riverfront-development-project-draws-criticism/ (17 March 2023)
Bengaluru Letter dated March 14 2023 from Paani.Earth on the first anniversary of their launch. "It has been a year since we launched this exclusive platform for rivers of the Cauvery Basin… This year we have lots to do. Besides mapping the lakes of Anekal Taluk, and Bengaluru Rural District, we are already building the pollution narrative of the Arkavathi River Basin (including Vrishabhavathi River & Byramanagal Tank) and polluted river stretches of the Cauvery Basin. Additionally, we are exploring Google Earth Engine (GEE) as part of IIT Tirupathi's NAV-I-GEE research program. We hope this engagement might help us understand the use of GEE for generating reliable datapoints on rivers/lakes of the Cauvery Basin." https://paani.earth/the-first-letter/
Chennai Buckingham Canal restoration: 1200 families could get evicted The government plans to rehabilitate these families in tenements constructed by the Tamil Nadu Urban Habitat Development Board. The restoration of the canal is not without challenges, particularly in terms of funding and the utilities of the Mass Rapid Transit System (MRTS), which pass along the canal. Officials are exploring funding options, including public-private partnerships and international lending agencies. The pillars of the MRTS will remain in the canal, but other structures could be under the scanner.
The WRD is studying several successful restoration projects in other states, such as the Dravyavathi River Restoration Project in Rajasthan, the Restoration of Taladanda Main Canal in Odisha, and the Sabarmati River Front Development in Gujarat. Additionally, proposals to plug sewage outfalls in the canal area are also under consideration, although this has been a challenge in the past.
Stormwater drains with outfalls in the proposed project area will be allowed to drain during the rainy season, but during the dry season, they will be diverted to STPs run by the metro water. This move comes after a proposal to create an inland waterway in the Buckingham Canal was abandoned in 2016 by the Inland Waterways Authority of India (IWAI). The IWAI concluded that the cost required for dismantling existing structures, constructing replacement structures, developing waterways, and constructing terminals did not match the potential cargo in the stretch and was therefore not financially viable. The project was also complicated by the MRTS pillars on the canal and the construction of MRTS stations. https://www.newindianexpress.com/cities/chennai/2023/mar/17/buckingham-canal-restoration-1200-families-could-get-evicted-2556824.html (17 March 2023) Buckingham eviction drive to begin in April. https://www.dtnext.in/city/2023/03/19/buckingham-eviction-drive-to-begin-in-april (20 March 2023)
Gomti; Lucknow More polluted than before Speaking to TOI, Dutta highlighted the four major reasons contributing to the increase in pollution levels: decline in water level; discharge of effluents in the Gomti; indiscriminate growth of water hyacinth, and obstructions in flow. Dutta, who is professor of environmental science at Babasaheb Bhim Rao Ambedkar University, explained that pollutant concentration has increased due to water level decline following widespread extraction of groundwater, and less recharge of the underground water table that has resulted in drying of 22 of the 26 tributaries of the Gomti.
Besides, he said, only 438 MLD out of 761 MLD of sewage waste produced is treated, while the remaining flows directly into the river. Apart from that water hyacinth causes decline in the level of dissolved oxygen. Also, concrete riverfront caused deterioration in water quality because it has been made after removing natural clay and mud banks that acted like filters. https://timesofindia.indiatimes.com/city/lucknow/more-polluted-than-before-gomti-a-dead-river-for-flora/articleshow/98618588.cms (14 March 2023)
Subernarekha; Jamshedpur Algae blooms on river, pose threat While the Kharkai river is literally turning into sewage starch, river Subernarekha is on the verge of becoming so. Subernarekha, the lifeline river of Singhbhum is once again facing the problem of algal bloom. Floating algae on the surface of the river could be found in different stretches of the river between Domuhani in Sonari and Ghatshila, which is 45 Kms away from Jamshedpur. Due to stagnant water the green-colour algae is fast spreading in the 10 Km stretch of the river from Domuhani to Jai Prakash Narayan Setu (or Mango bridge), Bhuiyandih ghat and beyond that in downstream Subernarekha up to Ghatshila, close to Bengal border. In fact algal blooming started in the first week of March, the summer month. Environmentalists said if measures are not taken to prevent its spread, it might pose a risk to aquatic life. https://avenuemail.in/jamshedpur-algae-blooms-on-river-subernarekha-pose-threat/ (16 March 2023)
RIVERS
West Bengal Villagers discover gold from river Villagers from Birbhum district have found gold in the riverbed of Bansloi, situated in remote areas of Ghat of Murarui in Parkandi. "It is believed that the suspected gold coins from Maheshpur Rajbari, located in borders adjacent to Jharkhand, most of which were later submerged in the waters of the Subarnarekha River. From that Rajbari, this gold can come to the Banslai River via the Suvarnarekha River. However, this is purely speculation," said Professor Bidyut Patar, History Department of Biswabharati University. "Taking cognizance of history and popular belief, the river is meant to reveal the lost history of past civilizations," he added.The Bansloi River is a tributary of the Bhagirathi. It originates on Bans Hill in Sahebganj in Chota Nagpur Plateau, Jharkhand. The demography around the river, which swells during monsoons, is predominantly tribal. https://www.indiatoday.in/india/story/villagers-discover-gold-from-river-in-west-bengal-birbhum-2347920-2023-03-17 (17 March 2023)
GANGA Uttar Pradesh Take steps to revive small rivers Chief secretary DS Mishra took a meeting of the State Ganga Committee on Thursday (March 16) and directed officials to focus on the rejuvenation of small rivers. It was informed in the meeting that the government has spent Rs 139.55 crore in reviving 75 rivers with a combined length of 3,149 km. This includes the Gomti, Varuna, Hindon, Kali and Ramganga. Nearly 70 lakh saplings have been planted along these rivers while 1,281 drains have been revived. For conservation of biodiversity and water, six sites have been selected in the first phase. These are Kherki Hemraj in Bijnore, Bijnore Barrage, Katiya in Muzaffarnagar, Gandhi Ghat in Narora, Jalalpur in Kaushambi and Dhaka in Varanasi.
The CS was informed that there are 113 STPs functional in the state while 52 STPs with a capacity of 1,004.15 MLD are under progress. Under Namami Gange, 56 STPs have been approved out of which 28 have been completed and work is taking place on 17. Tendering is on for 11 projects. Once they are complete, 1,852.10 MLD capacity will be added to the state's existing capacity. Meanwhile, Wildlife Institute of India has been given the task of carrying out research on the Ganga Basin. Efforts are also being made to preserve the Gangetic Dolphin. https://timesofindia.indiatimes.com/city/lucknow/take-steps-to-revive-small-rivers-says-cs/articleshow/98721258.cms (17 March 2023)
Muzaffarnagar Seers protest as Ganga water turn black due to contamination Seers in Muzaffarnagar's Shukratal (located 30 km from the district headquarters) staged a rotest by standing in the water of the Ganga river on March 11, 2023 claiming that the holy river's waters had turned black due to contamination. The discoloration of water was first witnessed three days ago, according to locals.
A team from UPPCB headed by the regional unit's assistant environmental engineer, Imran Ali, reached the spot and collected samples of the water for testing. "The contamination of the river was due to effluents released from factories in Laksar town in Uttarakhand. We have informed the concerned authorities there to conduct an investigation into the matter. A team is expected to arrive for further inspection," said Ali on March 12 2023. https://timesofindia.indiatimes.com/city/meerut/seers-in-ups-muzaffarnagar-protest-as-ganga-water-turns-black-due-to-contamination/articleshow/98595475.cms (15 March 2023) Mahakar Singh, general secretary of Shri Ganga Seva Samiti, and Veerpal Nirwal, the district panchayat president and co-convener of Namami Ganga, also joined the protests." https://weather.com/en-IN/india/pollution/news/2023-03-13-ganga-river-in-uttar-pradesh-shukratal-turns-black-due-to-pollution (13 March 2023)
Varanasi NGT seeks factual report on Tent City Project violating green norms The NGT was hearing a petition alleging the project on a 100-acre area on the riverbed of the Ganga, was detrimental to the flora and fauna and also resulted in untreated sewage going directly into the river. The petition alleged that the project was against the order prohibiting construction in the riverbed of the Ganga. A bench comprising chairperson Justice A K Goel said the allegations, if true, depicted serious violations of environmental norms. But before passing any order, it was necessary to seek a factual report from a seven-member joint committee of the national mission for clean Ganga (NMCG), MoEF&CC, CPCB, Chief Wild Life Warden and Irrigation and Water Resource Department of UP, SPCB and the district magistrate of Varanasi, the bench said.
"The committee may ascertain the legality of the project, impact of the project on the turtle wildlife sanctuary, river Ganga and integrity of the flood plain and mandate of Ganga order, 2016 and any other incidental issues like liquid and solid waste management, power supply and its sources," it said. The bench also said NMCG and the SPCB will jointly be the nodal agency for coordination and compliance and it will be open to the committee to conduct proceedings online or offline to undertake visits to the site and interact with concerned authorities and stakeholders. It further directed the committee to meet within a week and submit its report to the tribunal within two months. The matter has been posted for further proceedings on May 26. https://theprint.in/india/ngt-seeks-factual-report-over-plea-alleging-varanasi-tent-city-project-violating-green-norms/1455897/ ; https://www.livelaw.in/news-updates/ngt-committee-probe-environmental-violations-tent-city-project-varanasi-224158 (19 March 2023)
Prayagraj 10 pucca ghats to come up ahead of Mahakumbh Around ₹100 crore would be spent for constructing these ghats and the funds for the task will be provided by the NMCG, informed officials. "The consultant of NMCG visited the city on March 14 and inspected the sites on the banks of Ganga and Yamuna rivers on which the pucca ghats are to be constructed," said Mela Adhikari and vice-chairman of Prayagraj Development Authority (PDA), Arvind Kumar Chauhan. https://www.hindustantimes.com/cities/others/10-pucca-ghats-to-come-up-in-prayagraj-ahead-of-mahakumbh-101678993648409.html (17 March 2023) The construction of these ghats follows the approval of the state government. In the second meeting of the apex committee managing the Maha Kumbh, chief secretary Durga Shankar Mishra had instructed to hold talks with NMCG regarding the expenditure involved in the construction of these ghats and for this, a proposal along with DPR was sent to NMCG on behalf of Prayagraj Mela Authority. Accepting the proposal, NMCG had sent its team to visit these sites led by its consultant Kakoli Sikdar. https://timesofindia.indiatimes.com/city/allahabad/twin-rivers-to-get-10-pucca-ghats-before-maha-kumbh/articleshow/98720745.cms (17 March 2023)
West Bengal In an affidavit to the NGT, the Kolkata Port Trust has claimed that the dredging done by it has nothing to do with the erosion of West Bank river. It suggested that the erosion was possibly due to propagation of strong tidal bore. During equinoxes, when the moon exerts strong pull on the earth, it causes significant damage to the bank. https://indiashippingnews.com/smp-kolkata-dredging-not-a-reason-for-hooghly-bank-erosion/ (15 March 2023)
Kolkata Srijan Realty has launched its latest project – The Royal Ganges, located just 20 minutes from New Alipore. It is the city's longest riverfront project with maximum Ganga-facing apartments. https://www.prnewswire.com/in/news-releases/srijan-realty-launches-the-royal-ganges—kolkatas-longest-riverfront-project-301749516.html (17 Feb. 2023)
YAMUNA Delhi 1984 से 2023 तक दिल्ली में इतनी बदल गई यमुना यमुना जिए अभियान के कन्वीनर मनोज मिश्र बताते हैं कि कई सारे प्लान और अभिया नों के बाद भी यमुना पर कोई असर नहीं पड़ा. ऐसे में जरूरी है कि सभी मिलकर इसपर ध्यान दें और किसी एक विभाग को जिम्मेदारी सौंपी जाए. मनोज मिश्र कहते हैं, "लॉकडाउन अप्रैल 2020 में यमुना ने अपने आप खुद को स्वस्थ कर लिया था. ये इसलिए हुआ क्यों कि लोग अपने घरों में बंद थे, और इंडस्ट्रियल एक्टिविटी सारी बंद हो गई थी. मार्च आखिर में यमुना के कैचमेंट में अच्छी बारिश हुई, तो इससे हथिनी कुंड के नीचे पूरा पानी यमुना में ही बहा.
मनोज मिश्र कहते हैं कि, "ये कहना कि खेती की वजह से यमुना की ये हालत हुई है, ये सरासर गलत है. एनजीटी ने भी 'मैली से निर्मल यमुना ' केस में अपने 13 जनवरी 2015 के जजमेंट में कहा था कि आसपास के इलाकों में खेती तब तक वैध है जब तक आप खाने वाली चीजों की खेती कर रहे हैं. एनजीटी ने कभी किसानों को हटाने के लिए नहीं कहा था, लेकिन उन्होंने कहा था कि आप किसानों को ऐसी खेती करने से रोकिए. लेकिन पूरा जिम्मेदार इसका किसानों को ठहरना गलत है." "यमुना के लिए एनजीटी ने 2015 में सटीक रोडमैप बनाकर दिया था. अगर कोई एक्शन लेना है तो वो इंडस्ट्री से जीरो लिक्विड डिस्चार्ज होना चाहिए. दूसरा, अवैध इंडस्ट्रियल गतिविधियों को बंद करना होगा. तीसरा पानी के बहाव को सही करना. अगर कोरोना के समय में यह हो चुका है तो अब भी हो सकता है. एनजीटी का 2015 का जो जजमेंट मान लिया जाए तो यमुना या देश की किसी भी मरती हुई नदी को बचाया जा सकता है" https://www.gnttv.com/offbeat/story/international-day-of-action-for-rivers-yamuna-in-delhi-from-1984-to-2023-what-action-should-be-taken-526430-2023-03-14 (14 March 2023)
Parliament Considerable drop In aquatic life population As per studies conducted by Central Inland Fisheries Research Institute (CIFRI), there has been a considerable reduction in the population of aquatic life such as Indian major carps in Yamuna Jal Shakti Minister told the Rajya Sabha. Minister of State for Jal Shakti Bishweswar Tudu said CIFRI has been assigned to restore the population of the Indian major carps in the Ganga river basin, including the Yamuna river. During the year 2021-2022 alone, about 75 lakh fish fingerlings of Indian major carps species were released into the river system. https://www.ndtv.com/india-news/considerable-drop-in-aquatic-life-population-in-yamuna-parliament-told-3857673 (13 March 2023)
HC directs slum dwellers on floodplains to vacate in 3 days The Delhi High Court on March 15 2023 directed slum dwellers on the Yamuna floodplains to vacate their jhuggis within three days failing which they will have to pay ₹50,000 each to the DUSIB and the DDA shall proceed with the demolition. The court passed the order after being informed that a committee headed by the lieutenant governor has issued directions to clean river Yamuna in view of the January 9 directions of the NGT which took note of the pollution level. "Strict action may be permitted to be taken by police…the Deputy Commissioner of Police concerned of the area will render all support during the said action," the court said dismissing a plea by the residents. https://www.thehindu.com/news/cities/Delhi/delhi-hc-directs-slum-dwellers-on-yamuna-floodplains-to-vacate-in-three-days-or-face-demolition/article66623409.ece (15 March 2023)
The court, which on January 13 stayed the demolition of the jhuggis considering the 'harsh winter', says no 'further indulgence' will be granted to the residents. https://indianexpress.com/article/cities/delhi/vacate-yamuna-floodplains-within-3-days-delhi-hc-occupants-bela-estate-8498851/ (16 March 2023)
The demolition of eight shelters located close to the Yamuna near the Kashmere Gate ISBT, has once again put those who are homeless out on the streets, or in this case out on the floodplain. https://indianexpress.com/article/cities/delhi/eight-shelters-are-demolished-leaving-many-without-a-roof-in-yamuna-floodplains-8499828/ (16 March 2023)
While refusing to interfere with an order of a single judge of the high court pertaining to the eviction of a gaushala at Bhairon Marg, the Delhi High Court said that the Delhi government has made efforts to rehabilitate jhuggi dwellers "on paper", however, the "ground reality is far from desirable". https://indianexpress.com/article/cities/delhi/ground-reality-desirable-hc-delhi-government-efforts-rehabilitate-jhuggi-dwellers-8504509/ (18 March 2023)
Harsh Mander writes: Demolitions of homeless shelters in Delhi show a lack of compassion, and a disrespect for the Court. about 12 years ago, the Supreme Court had ordered the establishment of shelters for homeless people on the banks of the river. https://indianexpress.com/article/opinion/columns/harsh-mander-demolitions-of-homeless-shelters-in-delhi-supreme-court-8503969/ (18 March 2023)
Riverfront at Millennium depot L-G Saxena said that the Yamuna riverfront will be made on the lines of Ahmedabad's Sabarmati riverfront and that the planning is currently in the initial stage. A Yamuna riverfront is going to be developed in Delhi at the Millennium Depot, a bus depot near Nizamuddin, LG said on March 15, 2023. https://www.thehindu.com/news/cities/Delhi/yamuna-riverfront-to-be-developed-at-millennium-post-says-delhi-l-g/article66624510.ece (16 March 2023)
LG on Monday (March 06) inspected the ongoing work of cleaning the Yamuna river at Qudsiya Ghat and said the target is to rejuvenate the Delhi stretch of the river by June 30. Interacting with reporters, Saxena said a massive plantation drive will be started in Yamuna floodplains on March 21 the International Day of Forests. An artificial wetland system comprising root treatment plants, namely canna indica and vetirvar grass has been created to clean the sewage water coming through Qudsia Drain and riverine grasses have been planted to stabilise the banks of the drain, the statement said. https://theprint.in/india/lg-inspects-cleaning-of-yamuna-at-qudsiya-ghat-plantation-drive-to-be-launched-march-21/1423456/ (06 March 2023)
Lieutenant Governor VK Saxena, who chaired the third review meeting of NGT-constituted Yamuna cleaning committee at the Asita East biodiversity park on Tuesday (March 14), said the desilting of sewer lines has emerged as the biggest challenge in the river clean-up project. Saxena directed the DJB to expedite desilting 200km of trunk and peripheral sewer lines across Delhi, officials said. According to the targets fixed by the panel, desilting 90km of trunk sewer lines has to be completed by June, 2023, and the remaining 110km is expected to be cleaned by September, 2023.
An LG secretariat official said that Saxena also reviewed other projects like 100% treatment of sewage, trapping of all 242 drains, expansion of sewage network in unauthorised colonies and environment management of Najafgarh Jheel. "In case of the 40 decentralised STP system, the Delhi Development Authority has been directed to complete the land allotment by March while land matters pertaining to police will be taken up by the commissioner of police on next Monday," the report said. https://www.hindustantimes.com/cities/delhi-news/delhi-lg-directs-cleaning-of-200km-sewer-lines-at-yamuna-meet-101678817292209.html (14 March 2023)
Haryana NGT slaps ₹2-crore green fine on NHAI for violations The National Highways Authority of India (NHAI) has been told to pay environmental compensation of ₹2 crore for failing to comply with dust-control measures on the stretch from Mukarba chowk to Singhu border, on national highway 44, in Sonepat district. The NGT principal bench, headed by chairperson Adarsh Kumar Goel, has also directed the NHAI to take up a plantation drive while working on this stretch.
The applicant mentioned that 161 trees were cut in January 2021, though 1,760 trees were claimed to have been planted at Garhi Mandu, near Yamuna Bank, 26 km away from Khampur, which does not in any manner mitigate the dust generated by the project. About 100 four-wheelers, trucks and buses pass per minute on the highway and each vehicle generates about 404 gm of CO2 per mile (1.6 Km), meaning 252 gm of CO2 per vehicle per kilometer is generated, he added. https://www.hindustantimes.com/cities/chandigarh-news/haryana-ngt-slaps-rs-2-crore-green-fine-on-nhai-for-violations-on-nh44-101678391476077.html (10 March 2023)
Agra The holy Yamuna river in Braj Mandal (Agra, Mathura, Vrindavan) continues to run dry and polluted, and the promised start of a ferry service from Delhi to Agra for tourists that Union Minister Nitin Gadkiri promised, is nowhere in sight. An angry green activist Devashish Bhattacharya fumed furiously at the continued callous neglect of the holy Yamuna. "Not only UP CM Yogi Adityanath but PM Narendra Modi and Union Minister Nitin Gadkiri had also promised to take appropriate steps to rejuvenate and revive the ancient glory of Yamuna. Gadkiri on three different occasions had assured that ferries would bring tourists from Delhi to Agra and the Yamuna would be cleaned. But the ground reality continues to remain depressing."
Green activists point out that hundreds of dirty drains opening into the Yamuna in Vrindavan, Mathura and Agra continue to pollute the river making the water unfit for human consumption. Just behind the Taj Mahal, garbage dumps have appeared. The Mantola drain, opening into the Yamuna, brings in untreated sewage and toxic waste from slaughterhouses, chain industries, and electroplating units. In Mathura, the Masani drain discharges huge quantities of sewage and wastewater, without treatment. https://www.daijiworld.com/news/newsDisplay?newsID=1059657 (13 March 2023)
RIVERS BIODIVERSITY
Jammu & Kashmir First photographic record of Eurasian otter The first photographic record of an elusive semi-aquatic carnivorous mammal has indicated that not all is lost for a stream. A trio of scientists from the University of Jammu's Institute of Mountain Environment (IME) at Bhaderwah camera-trapped three Eurasian otters – two adults and one sub-adult – in the Neeru stream of the Chenab catchment. Apart from putting an end to doubts about the animal's presence in the upper Chenab catchment, their findings have confirmed that some stretches of the Neeru remain unpolluted. The Neeru is a tributary of the Chenab river.
"These stretches are away from human habitations and comprise of stony beds and narrow valleys that are virtually unsuitable for sand and gravel mining, providing some hope for the otter's survival," Neeraj Sharma, the corresponding author of the report on the Eurasian otter (Lutra lutra) told The Hindu. The species was reported to occur in Jammu and Kashmir in 2020 and its presence in the Indus river and its tributaries in Ladakh was confirmed through two earlier studies. The IME scientists followed these credible accounts and conducted extensive investigations that included a questionnaire survey and camera trapping.. https://www.thehindu.com/sci-tech/energy-and-environment/eurasian-otter-raises-hope-for-jk-stream/article66622706.ece (16 March 2023)
FISH, FISHERIES, FISHERFOLKS
Meghalaya Dead fish afloat Umiam river; poisoning suspected In a suspected case of river poisoning, several fish were found dead and floating on the Umiam river in Umktieh, Ri-Bhoi, on Friday (March 17) morning. The incident was brought to light by the youths of Umktieh Pyllun and members of the Khasi Students' Union, Umktieh unit. It may be noted that the village authority, along with the youths of Umktieh Pyllun, has time and again issued warnings against poisoning, netting and using explosive devices to catch fish from Umiam River. https://theshillongtimes.com/2023/03/18/dead-fish-afloat-umiam-river-poisoning-suspected/ (18 March 2023)
Tamil Nadu Fishermen lose 14-year battle to polluting power plant Fishermen Cuddalore district have lost a 14-year legal battle after the Supreme Court (SC) allowed the polluting 3,600 Mw coal-based power project of IL&FS Tamil Nadu Power Company Limited (ITPCL) to continue operating.
On February 17, a Bench comprising Justices MR Shah and CT Ravikumar ruled that since ITPCL's two units of 600 MW each, operating since September 2015 and April 2016, "supply power to approximately 40 lakh households" and are "situated in an energy deficit state, closing the power plants/units would adversely affect the state's power sector and "shall not be in the larger public interest".
However, the livelihood of fishing and farming communities in more than half-a-dozen villages in the proximity of the power plants has been in doldrums ever since commercial operations began in nearly eight years ago. It has been alleged that agricultural output and fish yield from the Bay of Bengal seacoast has declined substantially owing to the pollution caused by the power plants. https://www.newsclick.in/tamil-nadu-fishermen-lose-14-year-battle-polluting-power-plant (15 March 2023)
Appeal maintainable before NGT against corrigendum imposing additional conditions to EC The Supreme Court, recently, permitted M/s. IL&FS Tamil Nadu Power Company Limited to continue with its two power plants in the State subject to full compliance of the conditions mentioned in the Environmental Clearance as well as the corrigendum to it. A Bench comprising Justice MR Shah and Justice CT Ravikumar passed the order in pleas challenging two orders of the NGT – the first, upholding the validity of the Environmental Clearance (EC) granted to the company with direction to review and add additional conditions; the second, quashing the corrigendum adding conditions to the original EC issued to the company. While permitting the company to continue with the power plants, the Bench noted that Tamil Nadu is an energy deficit State and closing the power plants that supply power to about 40 lakhs households would not be in public interest. https://www.livelaw.in/top-stories/appeal-maintainable-before-ngt-against-corrigendum-imposing-additional-conditions-to-environmental-clearance-supreme-court-223896 (16 March 2023)
HC enjoys discretion to either entertain or not entertain writ petitions against NGT orders: Madras HC The Division Bench wrote, "The High Court under Article 226 has discretion either to entertain or not to entertain the writ petition. The High Court has imposed upon itself certain restrictions. When alternative effective remedy is available, the High Court would not normally exercise its writ jurisdiction." The availability of alternative remedy would not operate as a bar in at least four contingencies: When a writ petition had been filed for enforcement of fundamental rights, if there had been violation of principles of natural justice, if the proceedings under challenge were wholly without jurisdiction and when the vires of an Act had been challenged, the judges said.
In the present case, the principles of natural justice had not been followed by the NGT before framing the issues and hence the writ petition was being entertained, the judges said and observed that the promoters of the layout spread over 1,01,625 square metres near the coast had complied with all the requirements under the CRZ notification, 2011. https://www.thehindu.com/news/national/tamil-nadu/hc-enjoys-discretion-to-either-entertain-or-not-entertain-writ-petitions-against-ngt-orders-rules-division-bench/article66622346.ece (15 March 2023)
Maharashtra Fisherfolk of Hanuman Koliwada struggle without land or livelihood On February 7, 2023, 30 fishermen from Uran Koliwada were arrested for opposing work on the Uran bypass bridge. The grounds for the FIR against them was that the accused were causing "danger to the nation," as the project is of "national importance." While they were given bail, the arrests are emblematic of fisherfolk's fight to oppose the rampant and widespread destruction of their fishing areas by development far and wide.
Fishermen from Uran Koliwada have been protesting against various projects carried out by Jawaharlal Nehru Port Trust (JNPT), City and Industrial Development Corporation of Maharashtra (CIDCO), Navi Mumbai Special Economic Zone (NMSEZ) and other companies for several years. In a number of orders passed by the Bombay High Court and the National Green Tribunal, it has been held that the fisherfolk have a customary right to fish for a living in the creeks, in this case, the Uran Creek. These projects have detrimentally impacted the practice of such customary rights.
Due to the constant digging, dredging and piling by various JNPT projects, the coastal erosion, and ecology of the creek has been altered permanently. Fishing grounds are silted, fish spawning areas are becoming dead zones, carbon fertilisation due to untreated effluent has caused unwanted growth of algal blooms inviting birds, and fertile paddy fields are ingressed with salt making it impossible to cultivate crops. Augmenting geography and ecology has led to the Koli Community's loss of their traditional fishing practices. https://mumbai.citizenmatters.in/livelihood-a-missing-puzzle-in-the-incomplete-picture-of-fair-resettlement-at-uran-koliwada-47383 (15 March 2023)
Chandigarh Admin starts removing old, large fish from Sukhna Lake The Department of Animal Husbandry and Fisheries has started removing old and large fish from Sukhna Lake to maintain its ecological balance in consultation with the Forest Department, Chandigarh, and the Zoology Department of Panjab University. The activity of removing big fish from Sukhna Lake is carried out after recommendations of the Forest Department as unusual mortality was reported in the last rainy season. To further rejuvenate Sukhna Lake, new fish seed would be released in coming days in consultation with experts and new varieties of fishes will be reared, he said. https://www.tribuneindia.com/news/chandigarh/chandigarh-starts-removing-old-large-fish-from-sukhna-lake-487747 (14 March 2023) The lake is home to 30-odd species of fish, including Indian major carps and a few exotic carps. Every year the Fishery Department stocked Indian major carps, and exotic carps in the lake. In addition, fish from the surrounding areas are washed into the lake during floods. Experts say the trouble started after 1985 when the administration stopped auctioning of selective fishing rights in the lake. This resulted in aging of fish, which started living at the expense of the small fish, creating food and space problems for the younger breed. Environmentalists and experts have blamed the authorities concerned for this. https://www.tribuneindia.com/news/chandigarh/nod-to-selective-harvest-of-large-fish-in-chandigarhs-sukhna-lake-487356 (12 March 2023) To maintain ecological balance in Sukhna Lake, the UT Animal Husbandry and Fisheries Department removed nearly 65 quintals of large and old fish from the lake on March 14. On the first day, six species of large fish were removed. The activity, which is being conducted at night (8 pm to 6 am), will continue till March 22. https://www.tribuneindia.com/news/chandigarh/65-quintal-big-old-fish-taken-out-of-sukhna-488133 (15 March 2023)
SAND MINING
SANDRP Blog 2023: Riverbed Mining Deaths & Violence in WEST INDIA On the basis of analysis of media reports, there have been death of at least 23 people in sand mining related accidents and violence in West Indian states of Rajasthan, Madhya Pradesh, Maharashtra, Gujarat and Goa between April 2022 and February 2023. Maximum casualty (15) apart from injuries to 6 persons has occurred in 13 road accidents involving sand transporting vehicles followed by 4 deaths & 1 injury due to 3 mishaps at mining sites. Of all deaths 12 due to road accident by sand carrying vehicles have taken place in Maharashtra and MP followed by 2 in Rajasthan and 1 in Gujarat in this period. The region has also witnessed incidents of fatal attacks by illegal miners on common citizens, RTI activists for opposing illegal sand mining activities resulting in death of 3 persons and injuries to 5 others in the past 11 months. https://sandrp.in/2023/03/15/2023-riverbed-mining-deaths-violence-in-west-india/ (15 March 2023)
SANDRP (South Asia Network on Dams, Rivers and People), in its report published on April 22, said that as many as 416 people in India had died due to illegal sand mining alone within 16 months between December 2020 and March 2022, witnessing a sharp rise compared to 193 deaths reported between January 2019 and November 2020. The north zone, comprising Uttar Pradesh, Haryana, Punjab, Himachal Pradesh, Uttarakhand, Jammu and Kashmir, Delhi and Chandigarh accounted for a total of 153 deaths between December 2020 and March 2022. Of them, Uttar Pradesh figured at the top in the hall of shame compared to any other state in the country with 102 deaths. The combined figures, although not available currently, could shock the nation. https://www.news9live.com/opinion-blogs/illegal-sand-mining-mafia-continue-their-audacious-ways-under-authorities-nose-184925 (25 July 2022)
Sand mining in India has obliterated many lives. Activists, police officials and journalists who have probed local illegal sand mining issues have been killed. Looking at the body count, between January 2019 and November 2020, at least 193 people were killed in connection with illegal sand-mining, the SANDRP estimated in a 2021 report. And as it happens in such reports, these are mere indicative numbers.
At least 95 were drowned in the large pits that sand mining leaves behind on river beds. Workers have also perished in the process of mining. Children, playing by the riverside, have died in droves while getting sucked into treacherous sand pits. Another reason for such deaths is described as rash driving by trucks transporting the mined sand. Make no mistake the people behind the wheels would unhesitatingly run over a life if anyone dared to impede. And the level of punishment meted out to those responsible is minuscule. It is a tragic saga with no hope in sight. https://www.firstpost.com/opinion/driven-by-greed-audacious-sand-mafia-kills-with-impunity-10939571.html (21 July 2022)
Uttarakhand अवैध खनन रोकने के लिए हाईकोर्ट ने स्पेशल टास्क फोर्स का गठन कर मांगी रिपोर्ट नैनीताल हाईकोर्ट ने ऊधमसिंह नगर जिले की कोसी नदी में अवैध खनन के मामले में आदेश का अनुपालन नहीं करने पर दायर याचिका पर सुनवाई की। मुख्य न्यायाधीशन्यायमूर्ति विपिन सांघी व न्यायमूर्ति आलोक कुमार वर्मा की खंडपीठ ने राज्य सरकार को अवैध खनन को रोकने के लिए पूर्व में जारी दिशा-निर्देशों के तहत हर जिले में स्पेशल टास्क फोर्स का गठन कर दो सप्ताह के भीतर उसकी रिपोर्ट कोर्ट में पेश करने के सख्त निर्देश दिए हैं। इस कमेटी में हर ग्राम सभा के ग्राम प्रधान को भी शामिल करना होगा। कोर्ट ने रीवर ड्रेजिंग नीति के तहत कोसी नदी में निजी लोगों खनन के पट्टे जारी करने की विज्ञप्ति पर जनहित याचिका विचाराधीन होने तक कार्रवाई नहीं करने के सख्त निर्देश भी दिए। कोर्ट ने अगली सुनवाई के लिए छह अप्रैल की तिथि नियत की है।
गुरुवार (March 16) को मुख्य न्यायाधीश की अध्यक्षता वाली खंडपीठ में सुनवाई के दौरान सचिव खनन डॉ. पंकज कुमार पांडे व अन्य अधिकारी व्यक्तिगत रूप से कोर्ट में पेश हुए। ऊधमसिंह नगर निवासी रमेश लाल ने जनहित याचिका कर कहा है कि कोसी नदी में कई वर्षों से अवैध खनन का कार्य किया जा रहा है। कोर्ट ने 2019 में अवैध खनन रोकने के लिए स्पेशल टास्क फोर्स गठित करने के दिशा निर्देश जारी किए गए थे। अब तक टॉस्क फोर्स का गठन नहीं किया गया। याचिकाकर्ता का कहना है कोर्ट ने पूर्व में जो आदेश दिए थे, उनकी अवहेलना करते कोसी में फिर से अवैध खनन किया जा रहा है, इसलिए कोर्ट का आदेश पालन नहीं करने पर दोषी अधिकारियों के खिलाफ अवमानना की कार्रवाई की जाए। https://www.jagran.com/uttarakhand/nainital-nainital-news-hearing-to-stop-illegal-mining-high-court-constituted-a-special-task-force-and-sought-a-report-23358101.html (16 March 2023) https://www.amarujala.com/uttarakhand/nainital/illegal-mining-kosi-river-high-court-nainital-news-c-8-1-83796-2023-03-17?src=top-subnav (17 March 2023)
The High Court has summoned the response of the government for not complying with the earlier order in the case of illegal mining in the Kosi river of Udham Singh Nagar district. The court has given instructions to set up a special task force in every district under the guidelines issued earlier. It has been asked to present its report in the court in two weeks and the head of every gram sabha has also been included in the task force. https://india.postsen.com/local/amp/324672 (16 March 2023)
नैनीताल हाईकोर्ट ने ऊधमसिंह नगर में कोसी नदी में अवैध खनन के खिलाफ पूर्व के आदेश का पालन नहीं करने पर खनन सचिव को 16 मार्च को हाईकोर्ट में व्यक्तिगत रूप से हाजिर होने के आदेश दिए है। मुख्य न्यायाधीश विपिन सांघी एवं न्यायमूर्ति आलोक कुमार वर्मा की खंडपीठ के समक्ष मामले की सुनवाई हुई। https://www.amarujala.com/uttarakhand/nainital/high-court-illegal-mining-nainital-news-c-8-1-65236-2023-02-26 (26 Feb. 2023)
Gujarat 2.67 lakh metric tonnes of minerals stolen in Kutch "In reply to a question asked by me during the Question Hour, the government has admitted that 2.67 lakh metric tonne of mineral theft has happened outside the official lease area in Kutch in last two years," Mevani said during discussion on budgetary demands in the House. "When I asked what steps have been taken, the state government says no FIR or chargesheet has been filed, nor any arrests made. No person has been convicted. Only notices have been issued," he added.
AAP MLA Umesh Makwana too highlighted the mineral thefts happening in Gujarat."The mining mafia is behind the mineral thefts in Botad (his assembly constituency). Mostly sand and black traps are getting stolen. The officials of the geology and mining department are informed of this, but it seems they are hand in gloves with those stealing the minerals," Makwana alleged. The AAP MLA also claimed that cement major UltraTech Cement Ltd was involved in illegal mining of limestone in Surendranagar, Botad and Bhavnagar. "If these mines are mapped every three months, the state government will benefit from the royalty," he added. https://indianexpress.com/article/cities/gandhinagar/2-67-metric-tonnes-of-minerals-stolen-in-gujarat-says-mevani-8499696/ (15 March 2023)
Meghalaya Locals protest against illegal stone quarrying in Chokpot The protest rally was organised by two local bodies — the Budugre Village Environment Protection Committee and the Chokpot Area Vigilance Committee with the participation of the local people. According to the organisations, despite the villagers and the Nokma of Budugre not granting permission or NOC (no objection certificate) to allow the activity, the illegal quarrying has been continuing since a few years back. "The main reason as to why the people of the Budugre and adjoining villages are opposing it vehemently is that the place in which quarrying of stones is taking place lies near the Dareng river which is a source of drinking water for the people of almost 20 villages residing downstream. People depend on it for various other needs as well," they said. The organisations, along with the local people, fear that the illegal activity would not only degrade the forest of Budugre A'king but also bring a lot of difficulties to the people residing along Chokpot's Dareng river. https://theshillongtimes.com/2023/03/15/locals-protest-against-illegal-stone-quarrying-in-chokpot/ (15 March 2023)
Kerala Meenachil river is facing an existential crisis Meenachil river, the lifeline for those living in Kottayam district, is facing an unprecedented threat due to sand mining and destruction of banks to counter floods. However, altering the riverbanks without scientific studies and removing vegetation will have unforeseen effects on the habitat. Additionally, these activities are undertaken as per the Disaster Management Act, which eliminates the need for local authorities to seek permission from state bodies.
Kerala Protection of River Banks and Regulation of Removal of Sand Act was enacted to avoid such practices from happening in the future. As per the act, any activities, including sand mining in the water bodies, can be carried out based on the report compiled by an expert committee. However, the authorities are citing Disaster Management Act to carry out activities related to water bodies in the state. Here activities are carried out on the basis of the report compiled by an official. Authorities do not perform any scientific studies or seek an expert opinion before embarking on such activities.
Currently, the sand and waste residues in the river at Peroor area are removed based on an order issued by the Kottayam collector. However, no studies have proven the government's claim that sand and waste residues in rivers caused the 2018 flood. As per the regulations, one-fourth of the total width of the river on both sides should be left undisturbed, and mining should not be carried out here. However, the authorities are widely removing sand deposits adjoining the banks. Further, there is a huge possibility for the inflow of salt water into the river from Vembanad Lake. https://english.mathrubhumi.com/news/kerala/meenachil-river-is-facing-an-existential-crisis-1.8301213 (11 Feb. 2023)
SC setback for quarry owners seeking to overturn HC order The Supreme Court has made it clear that quarrying cannot be carried out on land assigned under title (pattaya land) for agriculture and housing. The Supreme Court was considering a petition filed by quarry owners against the order of the Kerala High Court that land assigned under the Land Assignment Rules (1964) for agriculture, housing and such other purposes should be used only for the stated purposes. https://www.onmanorama.com/news/kerala/2023/03/15/no-quarrying-on-pattaya-land-meant-for-agriculture-rules-supreme-court.html (15 March 2023)
Punjab Govt notifies mines for sale of sand exclusively to public As per the Punjab State Minor Mineral Policy, 2023, notified on Monday (March 13), the government has bifurcated mining sites into two classes — commercial mining sites (CMS) and public mining sites (PMS). While the CMS shall be grouped into distinct clusters, the PMS shall be standalone sites. As per the notification, each public mining site will be operated by the Department of Mining and Geology or any agency or official nominated by the department. On these sites only manual excavation of sand will be permitted. The excavated sand will not be used in commercial projects.
Apart from that, consumers will be permitted to arrange a vehicle and/or labour for the public mining sites for excavation of sand and its transportation. At public mining sites, sand will be sold at the pit-head price plus GST. The cost of excavation, loading and transportation of sand will be borne by the consumer at his own level. Use of any heavy machinery such as tipper or JCB is not allowed at any public mining site. If someone is found using heavy machinery he will tried for the offence of illegal mining. The purchaser from public mines will responsible for not using the material in any commercial project. If someone is found using material taken from public mine for commercial project, he/she will be liable to pay an amount equal to three times the pit head price of the sand recoverable from the developer. https://www.tribuneindia.com/news/punjab/government-notifies-mines-for-sale-of-sand-exclusively-to-public-488649 (17 March 2023)
Haryana Case lodged against illegal quarrying on Y'nagar village land The local Mines and Geology Department has detected a case of illegal mining at Nagli-32 village of the district. As many as 9,584 MT raw mining material (a mixture of boulder, gravel and sand) was allegedly extracted while carrying out the illegal activity on a piece of land in the village. According to information, a joint team of the Mining Department and the police, comprising Assistant Mining Engineer Rajesh Sangwan, Mining Inspector Aman and Bilaspur SHO Jagdish, conducted a surprise inspection at Nagli-32 village on March 14.
The team impounded a tipper and seized an earthmoving machine/loader involved in the illegal mining there. It also found that the owners of the tipper and the earthmoving machine were carrying out illegal mining allegedly in connivance with the landowners. "The team found that 9,584 MT raw mining material was extracted from about half an acre land by carrying out excavation up to a depth of 22 feet. The penalty amount of this illegally excavated mineral amounts to Rs 28,85,200 — including the price of the mineral i.e. Rs 23,96,000, royalty of Rs 4,79,200 and a fine of Rs 10,000," said the Assistant Mining Engineer. He said the mining quarry had been non-functional in the said area since April 2023. https://www.tribuneindia.com/news/haryana/case-lodged-against-illegal-quarrying-on-ynagar-village-land-489318 (19 March 2023)
DJB vice-chairman Saurabh Bharadwaj alleged on Tuesday (March 08) that the key reason for water shortage in Delhi was not the rising temperature but rampant illegal sand mining in the Yamuna on the Haryana side. Bharadwaj claimed that 32 points could be identified near the Tajewala barrage on the Haryana side on the Google map where illegal mining was on. https://timesofindia.indiatimes.com/city/delhi/water-crisis-in-delhi-saurabh-bharadwaj-blames-illegal-yamuna-sand-mining-in-haryana/articleshow/98487239.cms (08 March 2023)
Rajasthan Man mowed down for opposing sand mining in farm A 32-year-old man was run over by a tractor on Monday (March 13) night after he allegedly objected to illegal digging in his farm in Amet subdivision of Rajsamand district. Manish Paliwal was assaulted by the sand mafia when he had gone to give water to cattle and take care of his farm located at Chandrabhaga river in Amet. He saw some men carrying out illegal sand mining at his farm to which he objected. This led to a dispute and the men started assaulting him. The accused ran the tractor used for transporting sand over Paliwal. After the incident, the accused fled leaving the tractor on the spot. https://timesofindia.indiatimes.com/city/udaipur/man-mowed-down-for-opposing-sand-mining-in-farm/articleshow/98681122.cms (16 March 2023)
Madhya Pradesh बंद पड़ी पहाड़ की खदान में भरे पानी में डूबे तीन भाई–बहन, दो की मौत छतरपुर के ग्राम दिदवारा निवासी विक्रम चौरसिया की पत्नी शीतला रविवार (March 12) को अपने तीनों बच्चों में पुत्री 12 वर्षीय महिमा, पुत्र 10 वर्षीय राज और पुत्र आठ वर्षीय आर्यन के साथ खेत गई थी। विक्रम के बड़े भाई हरगोविंद ने बताया कि दिदवारा में एक पहाड़ की खदान छह माह से बंद पड़ी है। खदान में पत्थर निकालने से उसमें करीब सौ फीट गहराई पर पानी भरा हुआ है। यह खदान खेत के रास्ते में पड़ती है। दोपहर के समय शीतला तीनों बच्चों के साथ खेत की ओर जा रही थी, तभी बच्चे खदान से गुजरते समय आपस में खेलने लगे। इसी दौरान पैर फिसल जाने से तीनों गहरे पानी में जा गिरे। इधर मां खेत पर काम करने में व्यस्त हो गई। काफी देर तक जब बच्चे नहीं दिखे तो उसे आशंका हुई। वह उसी रास्ते वापस लौटी और बच्चों को खोजती रही। खदान के पास आने पर उसे अपने पुत्र पानी में छटपटाते दिखे। उसने आसपास लोगों को मदद के लिए आवाज लगाई।
हरगोविंद ने बताया कि तीनों बच्चों को पानी से बाहर निकाला गया और महोबा जिला अस्पताल लेकर आए। जहां पर महिमा और राज को डाक्टर ने मृत घोषित कर दिया। आर्यन को मेडिकल कालेज झांसी रेफर कर दिया गया है। ग्रामीणों ने बताया कि क्रशर संचालकों के साथ ग्रामीणों ने बैठक कर इस बंद पड़ी खदान में तारबाड़ी करने को कहा था, लेकिन उन्होंने तारबाड़ी नहीं कराई और आज भाई बहनो की मौत हो गई। इस घटना से ग्रामीणों में क्रशर संचालकों के खिलाफ नाराजगी है। महोबा कोतवाली प्रभारी उपेंद्र प्रताप सिंह ने बताया कि घटना मप्र की है। पीड़ित पक्ष से संबंधित थाने में तहरीर देने को कहा गया है। https://www.jagran.com/uttar-pradesh/mahoba-mahoba-news-three-brothers-and-sisters-drowned-in-water-filled-in-closed-mountain-mine-two-died-23353958.html ; https://www.amarujala.com/uttar-pradesh/mahoba/brother-and-sister-died-due-to-drowning-in-the-water-filled-in-the-mountain-mine-mahoba-news-c-12-1-119525-2023-03-12 (12 March 2023)
Himachal Pradesh When sand mining alters a river, flooding farmlands in Spiti Illegal extraction of sand in the Spiti valley of Himachal Pradesh is affecting the course of the Spiti river and in turn, people's lives. Over-extraction of sand can have dire impacts on river ecosystems. The Spiti river has changed course over the years due to illegal mining, inundating farmlands and leaving many people landless. This video story displays the transformation of the river through the years, while also narrating the plight of the residents affected, and their demand for a clarity in sand mining law, to save their lands. https://india.mongabay.com/2022/05/video-when-sand-mining-alters-a-river-flooding-farmlands-in-spiti/ (12 May 2022)
WETLANDS, LAKES, WATER BODIES
Tamil Nadu Realtors dump debris to 'reclaim' Pallikaranai Ramsar site Around 10 acres of the Pallikaranai marshland, that received the coveted title of a Ramsar Site in 2022, have become the dumping ground for tonnes of rubble and construction debris in the last couple of weeks. The laying of a 40-feet gravel road and construction of houses in patches is impinging upon the ecological balance of the wetland, which boasts of a multitude of bird and wildlife species.
Of the total 1,247.54 hectares falling under the Ramsar Site, only 698 hectares are protected and maintained by the forest department. As per the Ramsar Convention, no part of the wetland is supposed to be used for other purposes. https://www.newindianexpress.com/states/tamil-nadu/2023/mar/17/realtors-dump-debris-to-reclaim-chennais-pallikaranai-ramsar-site-2556798.html (17 March 2023)
Kerala 'Vembanand lake storage capacity down by 85%' The water retention capacity of Vembanad lake has got reduced by 85% in the past 120 years due to massive encroachment and destruction of its ecosystem, says a five-year comprehensive study report on Vembanad wetland system done by scientists at the Kerala University of Fisheries and Ocean Studies (Kufos). The report prepared by the Centre for Aquatic Resources Management and Conservation for the state government calls for a master plan to address the challenge of pollution, flooding and drought in the lake and associated areas and to revive the wetland system.
It said that the storage capacity decreased from 2,617.5 million cubic metres in 1900 to 387.87 million cubic metres in 2020. This sharp decline in water holding capacity of the lake is due to extensive reduction in area extent (43.5%) of the lake (from 365 sq km in 1900 to the present 206.30 sq km). In the business as-usual scenario, it is likely that large portions of the lake may disappear soon, the report said. Some of the key issues that need to be addressed are flash floods/ inundation, possible droughts, and ecological degradation.
Flash floods and inundation issues to a large extent can be mitigated by increasing the floodwater holding capacity of the lake. Improving the discharge ability of Thottappally Spillway and restoring the filtration efficiency of Kuttanad polders should be given priority, the report said. Plastic pollution in Vembanad lake is much higher than reported from most estuaries world over. There is a marked change in the geomorphology of the rivers in the Vembanad system and the inflow of floodwaters to the coastal belt is much higher than the combined outflow from Thottappally spillway and Cochin barmouth. The cross-sectional area of rivers draining to the lake has narrowed at several stretches due to large-scale encroachments of river banks and construction of bridges across the rivers. The current fish diversity is at 90 species which is a 40% decrease in diversity against the 150 species reported in 1980s. Two distinct fish assemblages were recorded on either side of the Thanneermukkom Barrage indicating a lack of, or reduced habitat connectivity. https://timesofindia.indiatimes.com/city/kochi/vembanand-lake-storage-capacity-down-by-85/articleshow/98766103.cms (19 March 2023)
Bihar Paradox of Kanwar wetlands: Fishermen want bigger lake, farmers a dry patch Bihar's only Ramsar site, Kanwar Lake is the source of livelihood for around 20,000 fishermen in 16 villages located on its banks. However, the depletion of this wetland due to manmade factors has dashed their hopes of a decent living, according to another fisherman Mallah Rajo Sahni (53). The local fishermen are fully dependent on the lake and do not own agricultural lands. They want the wetland to be as expansive as possible so that they will get a better catch. Ironically, there is another group whose interests lie in perpetual contradiction with that of the fishermen. They are the local farmers.
"Several mauzas (revenue villages) were included under the Kanwar Lake Bird Sanctuary, making farming in the notified areas illegal. A ban on land sale deteriorated our condition. We are unable to raise money even for marriages in our families," says Anmol Kumar Sharan of Manjhaul village. "It is okay to declare the place a wetland, but do it only where water is present. The rights of farmers should be restored on the rest of the land," Sharan demands.
Being part of the wetland complexes in the interfan of Burhi Gandak and Kosi rivers, the Kanwar wetland connects to the Gandak through a canal, now choking with silt. This has compromised the inflow-outflow mechanism to turn the wetland into a shallow marsh. Fishermen have repeatedly sought canal desiltation, but the state government has shown the least interest.
"Our emphasis is to maintain Kanwar Lake as a bird sanctuary. So there is no enthusiasm for fishing and other activities," claims the forest official, when asked about the department's activities to save the lake. Encroachments, illegal cultivation using fertilisers and chemicals, and other human activities have increased the nutrients in the water, leading to excess algal growth and decomposition that deprive oxygen to wetland flora. The inclusion of areas with human settlements under the protected zone has only added to the problem of pollution.
In 1986, the Bihar government declared Kanwar Lake as a protected area to prevent bird hunting. On June 20, 1989, 6,311 hectares were notified as a bird sanctuary. The process did not take into consideration the human settlements that dotted the area. Result: people became encroachers on their own lands. In fact, in 2019, the Bihar government heeded their demand when Bharat Jyoti, the then additional principal chief conservator of forests-cum-chief wildlife warden of Bihar, wrote to the then additional director general of forests (wildlife), and the then member secretary of the standing committee of the National Board for Wildlife, Ministry of Environment, Forest and Climate Change, seeking redrawing of the sanctuary area. https://101reporters.com/article/environment/The_paradox_of_Kanwar_wetlands_Fishermen_want_a_bigger_lake_farmers_a_dry_patch (24 Feb. 2023)
Jammu & Kashmir Admin undertakes mega project to rejuvenate wetlands Such reports are being routinely published in the media without any basic information on the mega projects. https://www.thehindu.com/news/national/other-states/jammu-and-kashmirs-admin-undertakes-mega-project-to-rejuvenate-local-wetlands/article66617963.ece (14 March 2023)
Telangana Govt yet to identify wetland to get Ramsar tag Telangana has yet to identify even one wetland to receive the Ramsar tag despite a State Wetland Authority (SWA) being established in 2019. According to the Wetlands Rules, 2017, the SWA is obligated to compile an exhaustive digital inventory within a year, a list of all wetlands in the state within three months of the rules' publication, and a list of wetlands that the government must notify. However, the state is yet to collect the data, as per a report submitted in 2020. "Not a single water body from Telangana has been covered under the National Plan for Conservation of Aquatic Eco-systems (NPCA) scheme of the Central government. Several lakes such as the Ameenpur lake can be potential sites, particularly now that the government of India has relaxed criteria for wetlands," argued P. Raghuveer, retired principal chief conservator of forests (PCCF). https://www.deccanchronicle.com/nation/in-other-news/020223/telangana-yet-to-identify-wetland-to-receive-ramsar-tag.html (03 Feb. 2023)
Maharashtra Navi Mumbai's thriving wetlands, turned barren During the COVID-19 lockdown, the wetland looked like a water body that offered shelter to flamingos. This year, however, the wetland looks like a parched land, and citizens say the number of flamingos arriving has been the lowest in the last three years. The wetland faces threats from landfilling and intensive fishing. It is also overcrowded because of spectators and birdwatchers. Landfilling, reclamation, and modifications for fishing may also displace the birds from this wetland and force them to go inland wetlands.
To know more about this, I spoke to Prabhu, a researcher from the Bombay Natural History Society (BNHS), who helped me understand the coastal ecology of Mumbai and the importance of conserving these wetlands."Due to excessive and unplanned development in the city, the mangroves cannot grow backwards. As a result, the new growth is moving forwards and encroaching on the mudflats and shrinking waterways. This interaction of coastal and urban ecosystems poses a great challenge and forces us to re-examine our traditional understanding of conservation. We cannot just sit back and let nature take its course. We have gone beyond that. We need active management," said Prabhu. https://www.thequint.com/my-report/flamingos-navi-mumbai-wetlands-tuned-into-barren-land#5 (15 March 2023)
Greens upset over rare wetland panel meet Irked by the Bombay high court-appointed mangrove and wetlands committees not holding their meetings regularly amid unending environmental destruction, green groups have written to the government that they would initiate contempt proceedings. The committees, mandated by the court, are supposed to meet at regular intervals to redress the grievances related to wetlands and to protect mangroves. Last year, the panels met just twice–once in January and then in June–and this year not a single meeting has taken place. Konkan Divisional Commissioner who is also the chairman of both the committees assured to hold the meeting shortly. https://timesofindia.indiatimes.com/city/navi-mumbai/greens-upset-over-rare-wetland-panel-meet/articleshow/98222772.cms (25 Feb. 2023)
GROUNDWATER
Punjab SPCB fines beverage factory Rs 99.71 lakh for Illegal gw extraction The penalty was imposed following a raid conducted by a team of the PPCB and other departments at the factory premises in the Timber market in Rajpura on March 18. The PPCB also directed the factory management to take immediate corrective measures to address the environmental issues and submit a compliance report within a stipulated time frame. The team discovered that the company had installed a borewell without the permission of the competent authority for the extraction of groundwater, the officials said. The borewell had a diameter of 6 inches and a depth of 350 feet. The factory's water consumption was recorded to be 2,33,975 kilolitres, they said. https://www.news18.com/india/punjab-pollution-control-board-fines-beverage-factory-rs-99-71-lakh-for-illegal-groundwater-extraction-7324429.html (18 March 2023)
Bihar Dipping groundwater cause of worry: Survey According to the Bihar Economic Survey (2022-23) some districts the ground water levels were at least 10 m below the ground in districts like Aurangabad, Nawada, Kaimur and Jamui during the pre-monsoon period in 2021.When asked Bihar Public Health Engineering Department Minister Lalit Kumar Yadav told PTI, "The matter is being examined by the department. We are planning a fresh study to find out the reasons behind the deterioration in water quality and preventive steps that can be taken to check it. "Measures to check decline in groundwater levels will also be discussed with other concerned departments of the state government," he said.
As of 2021, there are a total of 968 canals, 26 reservoirs and a large number of state tube wells in Bihar. "The water quality of river Ganga and its tributaries in Bihar indicate the presence of higher value of bacteriological population (total and faecal coliform). This is mainly due to discharges of sewage/domestic wastewater from cities located on the banks of the Ganga and its tributaries," it said. Out of 1,14,651 rural wards in Bihar, groundwater quality of 30,207 rural wards spread over 29 districts was found to be affected, the report said. The PHED of the state government has developed a quality monitoring protocol for testing water and sharing the test results with users to ensure that a surveillance system is in place, it added. https://www.hindustantimes.com/cities/patna-news/dipping-groundwater-cause-of-worry-in-bihar-districts-state-survey-101678620469450.html (12 March 2023)
Haryana 40 piezometers to measure gw level in Karnal Of the 40 piezometers, 18 would be installed under the Atal Bhujal Yojana in Karnal block only, which was in the dark zone. These meters, along with rain gauge instruments, were expected to be installed in April, said Navtej Singh, XEN, Irrigation and Water Resources Department. As a total of 22 piezometers would be installed under the National Hydrology (NH) project. Of these, 6 had been installed and work to install 2 in Balu and Guniana villages in the Nissing block was on in full swing, the XEN added. 7 such meters would be installed on the premises of government schools, for which they had sought no objection certificate (NoC) from the Education Department, he said. https://www.tribuneindia.com/news/haryana/in-karnal-district-40-piezometers-to-measure-groundwater-level-488378 (15 March 2023)
URBAN WATER
Bengaluru Lack of stormwater drain planning a risk factor for future floods Experts point out that unplanned development and rampant encroachments of stormwater drains (SWD) are one of the most important causes of floods in the city.
How the existing political economy enables "organised" encroachment that leads to flooding. There are also the issues of political economy and social inequity. Professor Malini Ranganathan, a scholar on environmental and climate justice, highlights three key issues – land, labour (and caste aspects), and infrastructure. In this article Why Bengaluru is not immune to floods: It's all about land (and money), Malini explains how the nexus between real estate developers, landowners, and various agents of the state leads to flooding. "Organised" encroachment of kharab lands is especially profitable: "Fill in a parcel of wetland, as so many dump trucks in Bengaluru have been doing on a daily basis, and suddenly you have a saleable piece of property". https://bengaluru.citizenmatters.in/lack-of-stormwater-drain-planning-108616 (17 March 2023)
As the drain goes Part- 3 Faulty execution in BBMP SWD works has led to floods. https://bengaluru.citizenmatters.in/faulty-execution-in-bbmp-swd-works-has-led-to-floods-109092 (20 March 2023)
BWSSB turns to latest STP technology to improve water quality The BWSSB has opted to implement the Integrated Fixed Film Activated Sludge in one of the STPs. While the traditional STP uses sludge activation systems, the IFAS encourages the growth of biomass, leading to more efficient treatment of organic and nitrogenous loads. The IFAS technology will be used in Yelahanka STP.
– In 2019, the NGT revised the standard for treated water for BOD in treated water from 20 milligrams per litre to 10 mg/l, COD and total nitrogen in treated water to 20 and 10 mg/l respectively. https://www.deccanherald.com/city/top-bengaluru-stories/bengaluru-bwssb-turns-to-latest-stp-technology-to-improve-water-quality-1200251.html (15 March 2023)
In the last month alone, multiple instances of water contamination have been reported across various neighborhoods. Sources in the Bangalore Water Supply and Sewerage Board (BWSSB) revealed that water samples from three different neighborhoods — BTM Layout, Sir MV Layout, and ISRO Layout — have been deemed unfit for consumption in the last month. BWSSB BWSSB officials said these are isolated incidents, blaming them on old pipes coupled with unplanned infrastructure projects. https://www.deccanherald.com/city/water-contamination-threat-looms-as-bengaluru-fights-to-stay-healthy-1199120.html (11 March 2023)
The SPCB has slapped a fine of Rs 87.18 lakh on SV Elegant Apartment in Kumbena Agrahara village for constructing several structures, including a swimming pool, by encroaching upon the buffer zone of a nala and "blocking the stream", stated a letter from the SPCB Environmental Officer for Mahadevapura. SPCB invoked the 'polluter pays' principle as per the direction of the NGT, which took up a case based on a petition by activist Paramesh V. The illegal structures were demolished last year. https://www.deccanherald.com/city/top-bengaluru-stories/ktaka-pollution-control-board-imposes-rs-87l-fine-on-apartment-for-encroaching-stormwater-drain-1200547.html (16 March 2023)
Statistics of SPCB had shown until January 2023 over 21 lakes had come under Class E category, waters of which can only be used for irrigation and industrial cooling. However, in March, the number came down from 21 to 13; lake activists said it is a sign of concern that there still are 13 lakes that have continuously come under class E as observed in the past four months. https://bangaloremirror.indiatimes.com/bangalore/civic/water-body-blow/articleshow/98712424.cms (17 March 2023)
Incessant sinking of borewells in Basaveshwaranagar has a few residents of the area at their wit's end. According to them, borewells are being dug by the area MLA, who refuses to stop even after the groundwater level has receded drastically. The latest addition in the series of borewells in the area is on the15th Main Road, in front of Lakshmi Nagar Shani Mahatma Temple. Local residents alleged that this is the third borewell on the same stretch, in close proximity to each other. Many are also worried that the borewell is next to a sanitary line, and may lead to aquifer contamination.
While borewells, local residents claimed, are being dug constantly in the area, recharge pits are the least of anyone's concern. Residents said the borewells in question are not approved by the Karnataka Groundwater Authority and BWSSB. Meanwhile, the ongoing work is impacting traffic flow as well. Moreover, it is mandatory to register existing borewells and drilling agencies with the Karnataka Groundwater Authority under Sections 12 and 13 of the Act. Moreover, all users (domestic or commercial) who extract and use groundwater in Karnataka come under the purview of the law. https://bangaloremirror.indiatimes.com/bangalore/cover-story/wellraiser/articleshow/98740911.cms (18 March 2023)
During Monday's (March 13) session, Bhuvanagiri MP Komatireddy Venkat Reddy, Mahboob Nagar MLA Manne Srinivas Reddy (both from Telangana), and Kadapa MP YS Avinash Reddy asked the Centre whether it has urged legislators and policy experts to ensure that EIA studies are conducted before giving green signal for urban development projects in the country. Haphazard urban development has ruined the 'garden city' of Bengaluru during the major spell of rain in September 2022, they said. Bengalureans also agree that it is high time governments prioritise the city's infrastructure to fix the mess. https://bangaloremirror.indiatimes.com/bangalore/civic/neighbours-question-crumbling-bengaluru-infrastructure/articleshow/98674743.cms (16 March 2023)
Waste-to-energy plants face several challenges in Bengaluru https://bengaluru.citizenmatters.in/waste-to-energy-plants-implementation-problems-104643 (13 March 2023)
Why do so many waste-to-energy plants fail? Pushkara S.V.: There are around 100 waste-to-energy projects around the country but only a handful of them are operational, thanks to various production and operation challenges. After from quality of waste, management and governance issues; the cost of generating power from waste is around Rs 7-8/unit, while the cost at which the States' electricity boards buy power from coal, hydroelectric, and solar power plants is around Rs 3-4/unit. While State electricity boards are considering purchasing power from newer renewable energy sources like waste-to-energy, the price of the power generated needs to halve.
Operating waste-to-energy projects also depends on parameters like the municipal collection efficiency, waste segregation, moisture content, and the operational efficiency of existing biodegradable-waste-processing plants. If these plants have operational woes (as is common), the nature of waste will change drastically to have high moisture content and low calorific value, which will compromise power generation. https://www.thehindu.com/sci-tech/energy-and-environment/explained-why-do-so-many-waste-to-energy-plants-fail/article66610994.ece (16 March 2023) India's municipalities have been collecting more than 95% of the waste generated in cities but the efficiency of waste-processing is 30-40% at best. Indian municipal solid waste consists of about 60% biodegradable material, 25% non-biodegradable material and 15% inert materials, like silt and stone. https://www.thehindu.com/sci-tech/energy-and-environment/explained-why-do-landfills-catch-fire-and-what-can-we-do-about-them/article66618251.ece (15 March 2023)
Hyderabad Toxic trash towers Where the Golconda Fort rises to a height at 608 metres above the sea level (MSL), the Jawaharnagar trash dump towers over it at 614 MSL. "The mountain is becoming higher and higher," says Ramesh, a former HCL employee, who has grown up in the area and remembers swimming and drinking the water of Dammaiguda lake. "Now, we are totally dependent on piped water. Borewell water is used only in toilets and for washing clothes. If we bathe with it, it triggers an allergic reaction," he says.
In Hyderabad, where heavy seasonal rainfall is the norm, the leachate doesn't stay within the constructed ponds but runs off into streams and lakes that are downstream poisoning the area triggering an alarm and calls for action. A 2021 study published in Applied NanoBioScience showed that the borewell water within the dumpyard and buffer zone had total dissolved solids at 3,956 mg/l while the norm is 500 mg/l, total hardness as calcium carbonate at 2,398 mg/l while the norm is 300 mg/l. Toxic lead was found at .26 mg/l while the upper limit, according to the Bureau of Indian Standards, is .05 mg/l. This off the charts toxicity in borewell water shows the role of contamination of groundwater due to leachate from the landfill.
In 2020, the GHMC was dumping between 5,500-6,000 metric tonnes of Municipal Solid Waste (MSW) at the site. Two years later, the civic body estimated that it has to process 7,000 metric tonnes per day. A 40% increase in garbage in just two years. This does not include the garbage that GHMC workers burn everyday at various locations in the city. It also does not include the waste generated by restaurants, slaughter houses and meat shops, which dump them in various locations of Musi river in the night and at other locations. https://www.thehindu.com/news/national/telangana/toxic-trash-towers-over-city/article66624707.ece (16 March 2023)
Kochi Rs100cr fine for Brahmapuram fire The tribunal ordered the Kochi corporation to pay the amount within a month. The tribunal has also sought action against those responsible for the mishap. It added that the NGT is not a mute spectator. The funds, to be paid to the state chief secretary, must be allocated towards firerelated projects. The fire that started on March 2 lasted at least till March 13. It had caused breathing troubles for the Kochi natives. The NGT initiated a suo motu case on the matter. The government argued that the High Court had already initiated a suo motu case on the same issue, making the involvement of the NGT unnecessary, but the bench disagreed. NGT clarified that it would not issue orders that contradict those of the High Court. State government had submitted a report on the https://english.mathrubhumi.com/news/kerala/national-green-tribunal-fines-kochi-corporation-rs-100-cr-for-brahmapuram-fire-1.8401668 (18 March 2023)
In view of the fire that recently broke out at the Brahmapuram waste dump, the Kerala High Court on Monday (March 13) lifted its stay on an order of the National Green Tribunal that had slapped a fine of ₹1 crore on the Cochin Municipal Corporation for its delay in setting up a waste treatment plant at the site in accordance with the Solid Waste Management Rules, 2016. https://www.barandbench.com/news/kerala-high-court-lifts-stay-ngt-order-fine-1-crore-cochin-corporation-brahmapuram-waste-dump (15 March 2023)
Though we can heave a sigh of relief that AQI values have improved (after rains), it is not good news when we consider the havoc the pollutants washed down will wreak on groundwater and other water sources, said Dr Anand Madhavan, assistant professor at Cusat's School of Environment Studies.
"Brahmapuram is an open dumpyard that is being called a treatment plant! And in the case of such places, one can't say that pollution happens just because of an incident like a fire. These open dumpyards are a constant source of pollutants. Every day, methane, carbon dioxide, carbon monoxide and other harmful greenhouse gases are released into the atmosphere. Then there is the issue of the toxic chemicals from the plastic waste leaching into the groundwater and water bodies," Dr Anand said. Ultimately, if a solution is not found to deal with the waste scientifically, the garbage that we dump at Brahmapuram will come back to haunt us, he added. https://www.newindianexpress.com/states/kerala/2023/mar/17/kochis-air-quality-gets-a-water-cleansing-2556745.html (17 March 2023)
With residents in and around Brahmapuram continuing to face the hazardous smoke from the fire at the waste dump yard, experts have called for an independent probe into the fiasco to unearth the cause of the blaze and find if there were any shortcomings. https://www.newindianexpress.com/states/kerala/2023/mar/13/kochis-brahmapuram-dump-yard-fire-an-environmental-disaster-2555515.html (13 March 2023)
The fire at Brahmapuram dumpyard has revealed several major lapses in the functioning of the plant. Amid all this, the Vigilance and Anti-Corruption Bureau (VACB) is yet to take up the quick verification (QV) ordered by the Muvattupuzha vigilance court last November into the contract granted by the Kochi corporation to the firm Star Construction for the operation and maintenance of the 250-tonne per day windrow composting plant. The court had asked the VACB (central range) to conduct the QV and file a report this January. However, the bureau is yet to begin it. https://www.newindianexpress.com/cities/kochi/2023/mar/13/deadline-over-vacb-sitting-on-court-ordered-probe-overbrahmapuram-dump-yard-blaze-in-kochi-2555519.html (13 March 2023)
Mumbai Water supply diversion leaves over 1 lakh Turbhe MIDC residents thirsty Touted as the 21st century city, Navi Mumbai, that prides itself in having abundant water supply unlike its neighbouring cities, has a population of over 1 lakh residents that has been suffering from irregular and acute shortage of water supply for months now, with the situation worsening in the past couple of months as summer picks up. Residents of Turbhe MIDC area particular those residing in Turbhe Store, Indira Nagar, Hanuman Nagar, Ganesh Nagar, Chuna Bhatti and nearby areas have been bearing the brunt of lack of adequate infrastructure provided by Navi Mumbai Municipal Corporation (NMMC) and the whims of MIDC, which has reportedly diverted water from the region to other areas.
NMMC executive engineer Manoj Patil said, "For some time now, MIDC has been diverting the water to other MIDC areas in Mira-Bhayender etc. While the other areas in the city like Digha and Airoli that get water from their pipeline as they are in the path, Turbhe doesn't get it." For a permanent solution of NMMC network in the area, he said, "It involves a lot of infrastructure cost. It can be taken up in the future if we get government grant." https://www.hindustantimes.com/cities/mumbai-news/water-supply-diversion-by-midc-leaves-over-1-lakh-turbhe-residents-thirsty-101679053856546.html (17 March 2023)
Gurugram Water purifying plant selling fake bottled water A water purifying plant in Palam Vihar, allegedly operating without valid licences and supplying bottled water under fake labels, was sealed on Wednesday (March 15), officials said. Further, the plant was allegedly drawing groundwater from an unauthorised borewell since the past year and a half and filtering it with a reverse osmosis (RO) purifier, officials said. The plant, which extracts and process about 500 litres of groundwater daily, supplied drinking water canisters to residential, commercial, and industrial units.
"The plant owner, Sukha Singh of Sirsa, was running the illegal RO plant since the past year and a half. The land was taken on a monthly rent of ₹15,000," the DSP said. "The units were found supplying drinking water bottles without any clearance or permission. They also had machines to seal bottles and thousands of printed labels," said Harish Kumar, inspector, CM's flying squad, Kumar said the plant was selling 20 litre bottles for ₹60-90 in residential, commercial and industrial areas. "They used to supply at least 700 bottles daily to consumers and their clientele included confectionary shops and establishments in upscale localities. The quality of water is never inspected at these units and they do not have any clearance to sell groundwater," he said. Police said the plant was also using a domestic electricity connection for commercial purposes.https://www.hindustantimes.com/cities/gurugram-news/water-purifying-plant-selling-fake-bottled-water-sealed-in-gurugram-s-palam-vihar-101678902807569.html (15 March 2023)
Delhi 2 former DJB officials sent to jail in money laundering case Special judge Ashwani Kumar Sarpal was hearing the case against Raj Kumar Sharma and Ramesh Chand Chaturvedi, who were sentenced to five years and four years imprisonment, respectively by a CBI court in December 2012 for misappropriating around Rs 47.76 lakh from the DJB and against whom the ED had registered a case in December 2009. The anti-money laundering agency, however, filed the complaint in the present court in March 2021 after a delay of more than 11 years and around four years after the accused completed their sentence in the CBI case.
"They have already undergone sentences of five and four years respectively in scheduled offences as well as have already spent the misappropriated or cheated money for their defence in the CBI case and other circumstances… so taking a lenient view, both the accused persons are hereby sentenced to undergo rigorous imprisonment of three years and also liable to pay a fine of Rs 5,000 each," the judge added.
The court also refused to adjust the sentence awarded and undergone in the CBI matter in the present complaint case. Sharma was working as a cashier in the west zone of the Delhi Jal Board, while Chaturvedi was the assistant meter reader in 2008. According to the prosecution, from February 2008 to December 2008, the duo entered into a conspiracy by falsifying and forging the record and then misappropriated or cheated DJB by not depositing around Rs 47.76 in the bank. https://timesofindia.indiatimes.com/city/delhi/2-former-delhi-jal-board-officials-sent-to-3-years-in-jail-in-money-laundering-case/articleshow/98772585.cms (19 March 2023)
Silchar Eviction drive going on to remove encroachments on drains in Ambicapatty. https://www.barakbulletin.com/en_US/eviction-in-ambicapatty-continues-as-administration-attempts-to-free-drains-from-encroachment/ (18 March 2023)
JJM/ RURAL WATER SUPPLY
NSSO 3 out of 4 rural homes without piped drinking water Less than a quarter of rural households and under two-thirds of urban ones in India reported having piped water for drinking in their houses or yard, according to a report just released by the National Statistical Office. About 21.3% of the rural households reported having no access to a latrine, exclusive or otherwise. The survey, called the Multiple Indicator Survey (MIS), was part of the 78th round of the National Sample Survey Organisation (NSSO). https://timesofindia.indiatimes.com/india/3-out-of-4-rural-homes-without-piped-drinking-water-nsso/articleshow/98643790.cms (15 March 2023)
Odisha Over 40% rural households lack access to potable water A survey done by an NGO in 15 of the 30 districts has found that over 40% of them lack access to safe drinking water. The data comes amid claims by the state government that it will provide clean drinking water to all its citizens by the end of next year. The study, conducted by Atmashakti Trust and its partners Odisha Shramajeebee Mancha and Mahila Shramajeebee Mancha between January and mid-February this year, found that out of the 9,37,152 households surveyed, 40.55% of them lacked access to safe drinking water.
"Despite implementing the JJM and state govt's Basudha scheme, safe drinking water continues to elude many rural areas in the state. Of the 32,960 tubewells/hand pumps surveyed, 12,481 (40.93%) were not functional, while 48.6% of the stand posts were defunct. The findings revealed that 56% of the villagers drank contaminated water," said Ruchi Kashyap, executive trustee of Atmashakti Trust. According to the Jal Jeevan Mission dashboard as of Tuesday (March 14), 58.4% of the 8.85 million rural households in Odisha have access to tap water at home.https://www.hindustantimes.com/cities/others/over-40-households-in-rural-odisha-don-t-have-access-to-potable-water-survey-101678852982997.html (15 March 2023)
Jammu & Kashmir Pesticides: A threat to drinking water sources Dr Raja Muzaffar Bhat: The aim of Jal Jeevan Mission is not merely ensuring tap water or laying of water pipelines. Its main focus has to be on supplying safe drinking water to people. However, we've failed to ensure a supply of safe and clean drinking water on ground. Not only are water sources infected with solid and liquid waste but they are also heavily polluted by pesticides which run into our streams, small rivers and other water sources. Additionally, excessive riverbed mining (RBM) is also polluting waters making it muddy. This infected and unhygienic water is lifted and supplied to people in many areas especially to the Srinagar civil lines by the PHE Jal Shakti Department.
The PHE department isn't to be blamed entirely as our govt officers are also turning a blind eye towards pollution of water bodies with pesticides and riverbed mining. The SPCB hasn't conducted any study to ascertain the impact of pesticides effluents on drinking water sources or other water bodies. The CPCB needs to take notice of it. It also needs to explore whether drainage of pesticides into rivers and lakes of Kashmir is a violation of the Hazardous Waste Management Rules 2016. https://kashmirobserver.net/2023/03/13/pesticides-a-threat-to-drinking-water-sources/ (13 March 2023)
WATER
IWP Remembering Minakshi Arora We are deeply saddened by the demise of Adv. Minakshi Arora on 6th March 2023. A water warrior to the core, Minakshi worked untiringly to bring water related issues to the forefront and will be missed badly. She was the founder and trustee of TREE (Trust for Research on Earth and Environment), a registered trust and a member of the Waterkeeper Alliance. She was integral to the Hindi Water Portal and led it for more than 14 years as a partner. She was instrumental in spreading awareness on water issues with Hindi speaking audiences for over a decade. https://www.indiawaterportal.org/articles/remembering-minakshi-arora-passionate-water-warrior (07 March 2023)
Maharashtra Deputy CM Fadanavis declares that the state is going to launch phase 2 of much criticised (including by CAG and people) contractor driven Jal Yukta Shivar project. https://www.thehindu.com/news/national/other-states/jalyuk-shivar-projects-second-phase-to-start-soon-in-maharashtra-devendra-fadnavis/article66610615.ece (13 March 2023)
Rajasthan CM approves Rs 362cr for drinking water supply project in Udaipur CM Ashok Gehlot has approved Rs 362.13 crore financial proposal for the project to provide drinking water in 367 villages of Udaipur district from the Som-Kamala-Amba dam, according to a statement issued on Friday (March 27). The financial approval was given in compliance with Gehlot's announcement in the 2023-24 Budget. https://www.business-standard.com/article/current-affairs/cm-gehlot-approves-rs- 362-cr-for-drinking-water-supply-project-in-udaipur-123031700973_1.html (17 March 2023)
Jammu & Kashmir Budgetary allocation to Jal Shakti Deptt enhanced by Rs 3191 Cr "For Jal Shakti Department, an allocation of Rs 7161 crore has been made under Capital Expenditure for 2023-24, which is Rs 3191 crore more than the previous year's budget allocation," reads an official document of the government. Officials said that the government has set implementation of Part-B of Jhelum Flood Management on top agenda for increasing the carrying capacity of the river. Under the PM's Development Package, an estimated Rs 1623 crore has been set aside for complete flood management of the River Jhelum and its tributaries-phase II (PMDP).
In 2020, the J&K administration accorded approval in principle to the comprehensive plan for flood management works on Jhelum-II. Accordingly, to enhance the carrying capacity of the River Jhelum from the then 31,000 cusecs to 60,000 cusecs, action was envisaged in two phases under PMDP.
"Sixty water supply schemes are likely to be completed during 2023 24, 100 percent Radio-Frequency Identification (RFID) based tanker service to be introduced in rural areas," the document read." It read that the construction of Tawi Barrage would be completed during 2023-24. "Timely desilting of irrigation canals and completion of Hokersar Wetland sluice gates for maintaining optimal water depth," the document read. https://www.greaterkashmir.com/todays-paper/front-page/budgetary-allocation-to-jal-shakti-deptt-enhanced-by-rs-3191-crore (19 March 2023)
AGRICULTURE
Agriculture feeling the effects of extreme weather events The symptoms are extreme weather events reported throughout the country. But the question is, what is our agrarian policy doing to counter it? Is the changing weather even reflected in our policy thinking? Climate-related crop damage is not even covered in the PM crop insurance scheme. https://thewire.in/agriculture/indias-agriculture-is-feeling-the-effects-of-extreme-weather-events (14 March 2023)
Punjab Heavy rain accompanied by strong winds in many parts of the state has added to woes of farmers. Agriculture experts said though light rain spell was beneficial at this stage, strong winds and heavy downpour would affect the "crop yield" and delay harvest by 10 days. Farmers said the untimely rain would also push prices of fodder up as water had got accumulated in the fields. https://www.tribuneindia.com/news/punjab/heavy-rain-strong-winds-damage-wheat-crop-affected-farmers-demand-relief-489251 (19 March 2023)
Telangana Many mango farmers in different districts in the State have suffered a double blow due to pest attacks, unseasonal rains and hailstorm this season. https://telanganatoday.com/mango-farmers-in-telangana-suffer-double-blow-due-to-pest-attacks-unseasonal-rains (19 March 2023)
Karnataka Bananas, cultivated on two-and-a-half acres of land were destroyed due to heavy rain that lashed Hoogyam village of Hanur taluk in Chamarajnagar district on Friday (March 17) afternoon. Rain, accompanied by hailstones, lashed various parts of the Bidar district on Friday (March 17). Janawad in the district recorded a rainfall of 38.50 mm. Incessant rain has destroyed raisins in Thikota in the Vijayapura district. https://www.deccanherald.com/state/mysuru/rain-destroys-banana-grape-crops-in-mysuru-1201153.html (17 March 2023)
Report Wineries adapting to warmer winters and erratic rain The delicate chemistry of grapes and the conditions they are grown in, is crucial in viticulture. This is a challenge to achieve in a tropical country like India. Erratic rainfall, sudden hot days, and receding summers pose a threat to this balance, and consequently, winemaking.
Multiple adaptations, including experimenting with heat and disease-tolerant varieties, migrating to cooler climatic conditions, and adopting new viticultural practices along with studying the micro and miso climate, are crucial to deal with the challenges of climate change. https://india.mongabay.com/2023/02/how-wineries-in-india-are-adapting-to-warmer-winters-and-erratic-rain/ (23 Feb. 2023)
Economic stability threatened by vanishing rainfall But as losses of forests and other nature disrupt those flows — and climate change brings more extreme and unpredictable rainfall on a hotter planet — water security is weakening in much of the world, experts say. That eroding water security poses a risk to everything from food supplies to hydropower production, a key source of low-carbon energy, the Global Commission on the Economics of Water warned in a report released on Friday (March 17).
Severe water scarcity – as seen today in the Horn of Africa after five failed rainy seasons – also has the potential to trigger political instability, conflict, displacement and migration, security analysts warn. The Global Commission report comes ahead of a key U.N. water conference next week – the first in five decades – aimed at charting a path to shore up declining global water security. https://indianexpress.com/article/explained/explained-climate/water-warning-economic-stability-vanishing-rainfall-8503886/ (18 March 2023)
MONSOON
Two global organisations have declared El Nino watch as there is a 50 per cent chance of the warm ocean water phenomenon associated with drought, heavy rains and floods across the world developing in the second half of the year. https://www.thehindubusinessline.com/economy/agri-business/2-global-weather-bodies-declare-el-nino-watch/article66618908.ece (14 March 2023)
Andhra Pradesh Climate change brings abundant groundwater to Anantapur Going by the extreme weather events witnessed in the last three years in the undivided Anantapur district, it is clear that they were part of the phenomenon called "Climate Change" as single spell of 50mm to over 100 mm rainfall was witnessed on four occasions.
If these extreme weather events led to some damage to standing agriculture crops and breach in some tanks, and flooding of others, the positive side has been the very beneficial rise in groundwater table in the district from 10.81 metres (below ground level) in February 2001 to 5.82 metres in February 2023. This tremendous increase has been witnessed for the first time in February 2002 (8.13 metres), but in the years in between the water table had been going down and had never come up beyond that. It went down even to 23.91 metres in February 2017, Groundwater Deputy Director K. Thippeswamy told The Hindu. https://www.thehindu.com/news/national/andhra-pradesh/climate-change-brings-abundant-groundwater-to-anantapur-with-photo/article66508985.ece (15 Feb. 2023)
FLOOD
Assam Infra growth, erratic rains shift farming practices Recurring floods, changing weather patterns, untimely rains and construction debris from roads, highways and bridges depositing in rivers and farmland, have impacted agriculture in the area, the main livelihood of the local Mising tribe. https://www.indiaspend.com/agriculture/in-assams-dhemaji-infrastructure-growth-erratic-rains-shift-farming-practices-856292 (13 March 2023)
Uttar Pradesh सोनभद्र: नाले में छह बहे, पांच का शव मिला सोनभद्र में रामपुर बरकोनिया थाना क्षेत्र के गढ़वान गांव से कुछ मजदूर शुक्रवार (March 17) को लकड़ी बीनने जंगल की ओर गए थे। देर शाम अचानक तेज आंधी के साथ बारिश और ओलावृष्टि शुरू हो गई। बारिश से बचने के लिए सभी गांव के पास स्थित पैना नाले में पत्थर की आड़ में छिप गए।
इसी दौरान पहाड़ों पर हुई तेज बारिश का पानी अचानक तेज बहाव के साथ नाले में आ गया। उफनाए नाले में सभी बहने लगे। दो मजदूरों ने तो खुद को किसी तरह बचा लिया, लेकिन दो बच्चे और चार महिलाएं बहाव की जद में आ गईं। शनिवार (March 18) सुबह सैकड़ों फीट नीचे कोन थाना क्षेत्र के चकरिया गांव के समीप बैतरा नाले में तीन महिला और एक बच्चे का शव मिला। https://www.amarujala.com/uttar-pradesh/sonebhadra/six-laborers-washed-away-in-strong-current-of-drain-after-rain-bodies-of-four-recovered-search-for-two-conti-2023-03-18?pageId=2 (18 March 2023)
DISASTERS
Threats of GLOFs "Rising temperatures in the past few years have put the ecologically fragile Himalayan zone at a very high risk. All the glaciers in the Himalayas are melting or in a state of retreat, with the rate of retreat varying across various climatological regions," says Dr Irfan Rashid, senior assistant professor, Department of Geo-informatics, University of Kashmir. "Kolahoi, the largest glacier of Kashmir valley's Jhelum basin, is one of the fastest retreating glaciers as temperatures rise due to global warming. Its snout is retreating 55 metres per year since 2008," adds the researcher. https://www.tribuneindia.com/news/features/faced-with-the-great-glacier-melt-487302 (13 March 2023)
LANDSLIDES
NRSC/ISRO Landslide Atlas Dave Petley on National Landslide Atlas of India from NRSC-ISRO. It provides maps of about 80,000 landslides that have been identified across India in the period between 1998 and 2022, with a particular emphasis on seasonal landslides triggered by the 2014 and 2017 monsoon seasons, as well as by the Sikkim earthquake. The Atlas has been compiled using imagery collected from a range of sensors, including the Indian satellites and international instruments and through the use of aerial photographs. One of the key results is a single map showing all of the identified landslides in India. The atlas also provides a very interesting assessment of macro-level socioeconomic risk exposure to landslides. https://blogs.agu.org/landslideblog/2023/03/13/atlas/ (13 March 2023)
Himachal Pradesh Frequency of landslides increasing The analysis has been undertaken by the HP State Disaster Management Authority. The study has identified 17,120 landslide prone sites across HP. Of these, 675 have been identified as posing higher levels of risk, and the report indicates an increasing trend with time. Interestingly it reports: High intensity rainfall coupled with cutting of hill slopes or rocks at the foothills are the main reason behind the significant number of landslides, experts say. Extensive cutting of hill slopes for construction and widening of roads, blasting for tunnels, hydro projects and mining are cited as reasons behind the increase in landslides, geological expert Prof Virender Singh Dhar said. https://economictimes.indiatimes.com/news/india/frequency-of-landslides-increasing-in-himachal-pradesh/articleshow/98578378.cms (12 March 2023)
ENVIRONMENT GOVERNANCE
Book Rview India's history of environmental laws and policies Beginning in the 1990s, the Indian Judiciary has, case by case, built a solid foundation of laws for the protection of the environment. In its third edition, the book "Environmental Law and Policy in India: Cases and Materials" by Shyam Divan and Armin Rosencranz, traces this journey of legislation from the 2000s to 2021, covering the Indian environmental legal system within the Constitution, the legislative process and the legal structure. The authors also track the changes in underlying principles that drove environmentally-sound judgements, with economic growth being a constant bugbear to decisions regarding sustainable development.
Environmental Law and Policy in India: Cases and Materials by Shyam Divan and Armin Rosencranz comprehensively covers the remarkable environmental adjudication process in the period of the 1990s, and frames it within India's environmental legislation history. In the broader framework, the book contextualises the Indian environmental legal system within the Constitution, the legislative process and the legal structure. This is the third edition of a book that has, over the decades become essential reference material for anybody interested in the Indian environment. The first edition was published in 1991 and the second edition in 2001. In addition to what has been covered in the earlier editions, this book covers legal developments from 2000 to the end of 2021. https://india.mongabay.com/2023/03/book-review-lawscape-behind-landmarks-indias-history-of-environmental-laws-and-policies/ (16 March 2023)
Supreme Court Can't have complete ban on development within ESZ There cannot be a complete ban on development within the eco-sensitive zones (ESZs) around wildlife sanctuaries and national parks, the Supreme Court has said. The court made the observation on Thursday (March 16) while reserving its order on applications seeking modification of its order in June last year directing protected forests to have ESZs of a minimum of one kilometre. https://www.hindustantimes.com/india-news/cant-have-complete-ban-on-development-within-eco-sensitive-zones-sc-101679029708215.html (17 March 2023)
Uttarakhand Tree felling, construction in Corbett did 'irreversible damage' A committee constituted by the NGT has found that forest officials "went out of their way" at every level to allow illegal constructions to come up within the Corbett Tiger Reserve — India's oldest tiger reserve. The NGT-appointed committee, in its observations published Monday (March 13), has asserted that the widespread felling of trees and illegal construction work have led to "extensive and irreversible damage to the pristine wildlife habitat" — and that corrupt forest and government officials are squarely to blame.
The joint committee's findings come more than a month after the Central Empowered Committee (CEC) — constituted by the Supreme Court in 2021 over 'illegal tree felling and construction activity' within the reserve — said former forest minister, Harak Singh Rawat, was "largely responsible for the mess". "It is clear that the officers of Corbett National Park had scant respect for acts, rules, regulations and guidelines and behaved in most irresponsible manner in the extant case," the NGT committee's report says. Last month, the apex court's CEC said that the illegal construction work is not just limited to one area within the reserve, but that it may be present in other areas too. https://theprint.in/india/tree-felling-construction-in-corbett-caused-irreversible-damage-ngt-panel-slams-forest-officials/1440377/ (13 March 2023)
MoEFCC directed the state government to reinstate Rajiv Bhartari as principal chief conservator of forests (head of forest force) of the Uttarakhand forest department on Thursday (March 16). Earlier this week, the ministry filed a report in the NGT listing over 10 senior officers along with the then-forest minister Hark Singh Rawat as those "responsible for the destruction of landscape and habitat of Corbett National Park." https://timesofindia.indiatimes.com/city/dehradun/ministry-directs-state-to-reinstate-ex-forest-force-head/articleshow/98721199.cms (17 March 2023)
Punjab 1 year of environmental protests The AAP government came face to face with the issueof pollution, climate change and others related to the environment during its first year in power. First, it had to take a Uturn on setting up a mega textile park in Mattewara area of Ludhiana. When people objected to the ecology and water of Satluj getting contaminated, the government had to bow down. Again, when people stood up against water contamination by a distillery in Zira area of Ferozepur district, the government initially gave no heed to people's demand and even went on to pay Rs 20 crore as fine imposed by high court, but later had to make the announcement of shutting down the distillery. The announcement is yet to be fulfilled, but it was made before the AAP government completed a year in power. https://timesofindia.indiatimes.com/city/chandigarh/no-change-on-ground-protests-still-on-in-punjab/articleshow/98747728.cms (18 March 2023)
CLIMATE CHANGE
Odisha 200 km coast to face erosion by 2050 The study titled "Quantitative assessment of the present and future potential threat of coastal erosion along the Odisha coast using geospatial tools and statistical techniques" identified the hotspots of erosion and sought corrective measures to deal with rapid coastal modifications.
Despite being a pro-gradation coast, coastal Odisha is slowly transforming into a hotspot of erosion. While maximum erosion was detected between Pentha and Satabhaya coast in Kendrapara apart from Boxipalli and Podampeta in Ganjam during the 1990-2020 period, it will aggravate further bringing areas along Chandrabhaga beach and Subarnarekha estuary, the assessment said. https://www.newindianexpress.com/states/odisha/2023/mar/13/200-km-odisha-coast-to-face-erosion-by-2050-2555570.html (13 March 2023)
SOUTH ASIA
India-Bangladesh 'Take Bangladesh into confidence on Teesta river projects' India should take Bangladesh into confidence before going ahead with hydel projects on the Teesta river as that would help in maintaining bilateral confidence, a leading water expert from Bangladesh said.
Continued disruption of the Teesta river because of canals and hydel projects on the Indian side could disturb its agricultural sector, potentially creating multiple levels of crisis for South Asia: Ainun Nishat. https://www.thehindu.com/news/national/india-should-take-bangladesh-into-confidence-on-teesta-river-projects-says-expert/article66623423.ece (16 March 2023)
India plans fresh Teesta hydropower projects The W Bengal government decided in principle to set up three hydropower projects in the Darjeeling hills. The Telegraph newspaper reported, quoting an unnamed W Bengal government official, that in-principle approval was given to the preparation of a detailed project report on the Teesta Low Dam Project (TLDP) I & II, on the Bara Rangeet river, which will have a combined capacity of 71MW. A similar approval has been given for a DPR on the Balason Hydroelectric Project worth 38MW on the Balason and Rangbhang rivers. Two new canals were being dug under the Teesta barrage project for withdrawing more water for irrigation in Jalpaiguri and Coach Bihar. https://www.newagebd.net/article/196748/india-plans-fresh-teesta-hydropower-projects-report (13 March 2023)
India-China Race to build damaging Himalayas They say the pace at which China and India are building infrastructure across the Himalayan region can significantly increase hazards and risks of natural disasters. Global warming is further destabilising the ecologically fragile region as rising temperatures continue to melt glaciers and permafrost (permanently frozen land). And this is where highways are being carved, railway tracks are being laid, tunnels are being drilled, dams and airstrips are being built on both the sides of the Himalayas.
– "So, basically you are bringing yourself closer and closer to the hazards" said Andreas Kaab, professor of physical geography and hydrology at Oslo University, who co-authored a major report on the cause of a devastating avalanche in Chamoli district of Uttarakhand state in 2021.
– While preparing a report on the incident, India's National Disaster Management Authority found that officials in the Chamoli district had not factored in climate and infrastructure related risks while making plans to deal with future disasters. https://www.bbc.com/news/world-asia-64753169 (13 March 2023)
Nepal Thousands of people at risk of being displaced by hydropower Dipak Gyawali, one of the top water experts in South Asia and Nepal's former minister of water resources, is of view that disasters are often created by 'bad development' practices. "Disasters are unfinished business of maldevelopment. What happens between disasters is more important than what happens after the disasters," he tells The Third Pole.
With the rivers going dry and springs drying up, Gyawali feels the recent Joshimath disaster in the Indian state of Uttarakhand is already being replicated in Nepal. "It's just that the authorities don't care. Nobody desires environmental studies in Nepal. It's limited to formalities." "The current scale of hydropower development in Nepal is absolute madness. Being self-reliant in energy is fine, but developing hydros just for future trade with other countries raises practical questions like 'Is it feasible? Is it realistic?'" Gyawali says. https://www.thethirdpole.net/en/livelihoods/thousands-of-people-at-risk-of-being-displaced-by-hydropower-central-nepal/ (15 March 2023)
CHINA
Relationship between GDP & fatal anthropogenic landslides
Dave Petley Following graph of China from Dave Petley blog, with bar chart giving number of fatal landslides per year from 2000 to 2020 and orange line giving GDP growth of China in the respective years provides amazing correlation. https://blogs.agu.org/landslideblog/2023/03/16/gdp-china/ (16 March 2023)
THE REST OF THE WORLD
Study Ranking Atmospheric Rivers A new study using NASA data shows that a recently developed rating system can provide a consistent global benchmark for tracking these "rivers in the sky." Research into atmospheric rivers has largely focused on the west coasts of North America and Europe. The new findings help expand our understanding of how these storms arise, evolve, and impact communities all over the world. In addition, the ratings could help meteorologists better warn people to plan for them.
The findings also revealed an increasing number of atmospheric river events around the world and across all ranks, with peak activity in mid-latitude oceans (temperate belts roughly between 30 and 60 degrees north and south). Additionally, the scientists detected an increase in atmospheric river frequency during strong El Niño years. A uniform scale can be useful for diagnosing atmospheric rivers in an era of instant communications, the scientists said. A key advantage is that the ratings minimize possible confusion when comparing the same meteorological phenomenon across languages and cultures. They noted this has not been the case for some more familiar weather events, such as tropical cyclones, which have been categorized using different thresholds in different regions.
Although the term "atmospheric river" was only coined in 1994, the storms' impacts were felt well before then. Scientists have estimated some 300 million people worldwide are at risk for flooding due to atmospheric rivers which, on average, transport quantities of water vapor more than double the flow of the Amazon River. A growing body of research is exploring how these storms play a critical role in shaping the global water cycle from the Andes to the Arctic, where moisture from atmospheric rivers has recently been found to melt and slow the seasonal recovery of sea ice. https://www.nasa.gov/feature/jpl/ranking-atmospheric-rivers-new-study-finds-world-of-potential (16 March 2023)
Mega dams killed Nile's ability to flush carcinogens In this study, the researchers evaluated the levels of heavy metal pollution along the two delta branches of the iconic river to identify their sources and explore the implications of damming on heavy metal concentration. The current levels of pollution also endanger millions of migratory birds that use the area as a stopover during their journey along the east African flyway, the researchers wrote.
They arrived at this conclusion after analysing eight heavy metals present in samples of sediment collected from the bottom of two branches of the river's delta. These samples were highly polluted, especially by toxic heavy metals such as cadmium, nickel, chromium, copper, lead and zinc.
Mega-dams built upstream disrupt the river's natural flow; sediments thus accumulated adversely affect its ability to flush contaminants out into the Mediterranean Sea, leaving toxins to build up in bottom sediment over time. Alarmingly, much of this contamination by heavy metals is irreversible. https://www.downtoearth.org.in/news/africa/death-of-the-nile-mega-dams-have-killed-the-river-s-ability-to-flush-carcinogens-slowly-killing-its-delta-88271 (16 March 2023)
USA Restore California's floodplains to capture more stormwater Restoring floodplains requires setting aside low-lying inland areas for water to accumulate away from homes and critical infrastructure. All that's missing in restoring floodplains is the will, and enough money to buy land, usually farmland that has become too costly to keep under cultivation. Gov. Gavin Newsom is touting his decision to use some of this year's overabundant rain to recharge groundwater. But he also cut most floodplain restoration funding from his proposed budget for the third straight year. https://www.latimes.com/opinion/story/2023-03-14/editorial-restore-californias-floodplains-to-capture-more-stormwater (14 March 2023)
UK River levels already at record low The monthly outlook from the UK Centre for Ecology and Hydrology warns that extended dry conditions are more likely than not and that rivers are already suffering. The report states: "River flows in February closely followed the rainfall pattern received, with normal to exceptionally low flows across the UK, with the exception of parts of the Scottish Highlands. Record-breaking low flows were recorded in the Trent, Warleggan and Annacloy, with exceptionally low flows seen across large parts of central and south-western England. River flows for March – and March, Apriland May as a whole – are likely to remain normal to below normal, with a high chance of exceptionally low flows in places." https://www.theguardian.com/environment/2023/mar/13/uk-river-levels-record-lows-forecast-dry-spring-water-companies (13 March 2023)
Report Free satellite data to monitor natural disasters, env. changes Traditionally, access to satellite data has been limited to researchers and professionals with expertise in remote sensing and image processing. However, the increasing availability of open-access data from government satellites such as Landsat and Sentinel, and free cloud-computing resources such as Amazon Web Services, Google Earth Engine and Microsoft Planetary Computer, have made it possible for just about anyone to gain insight into environmental changes underway.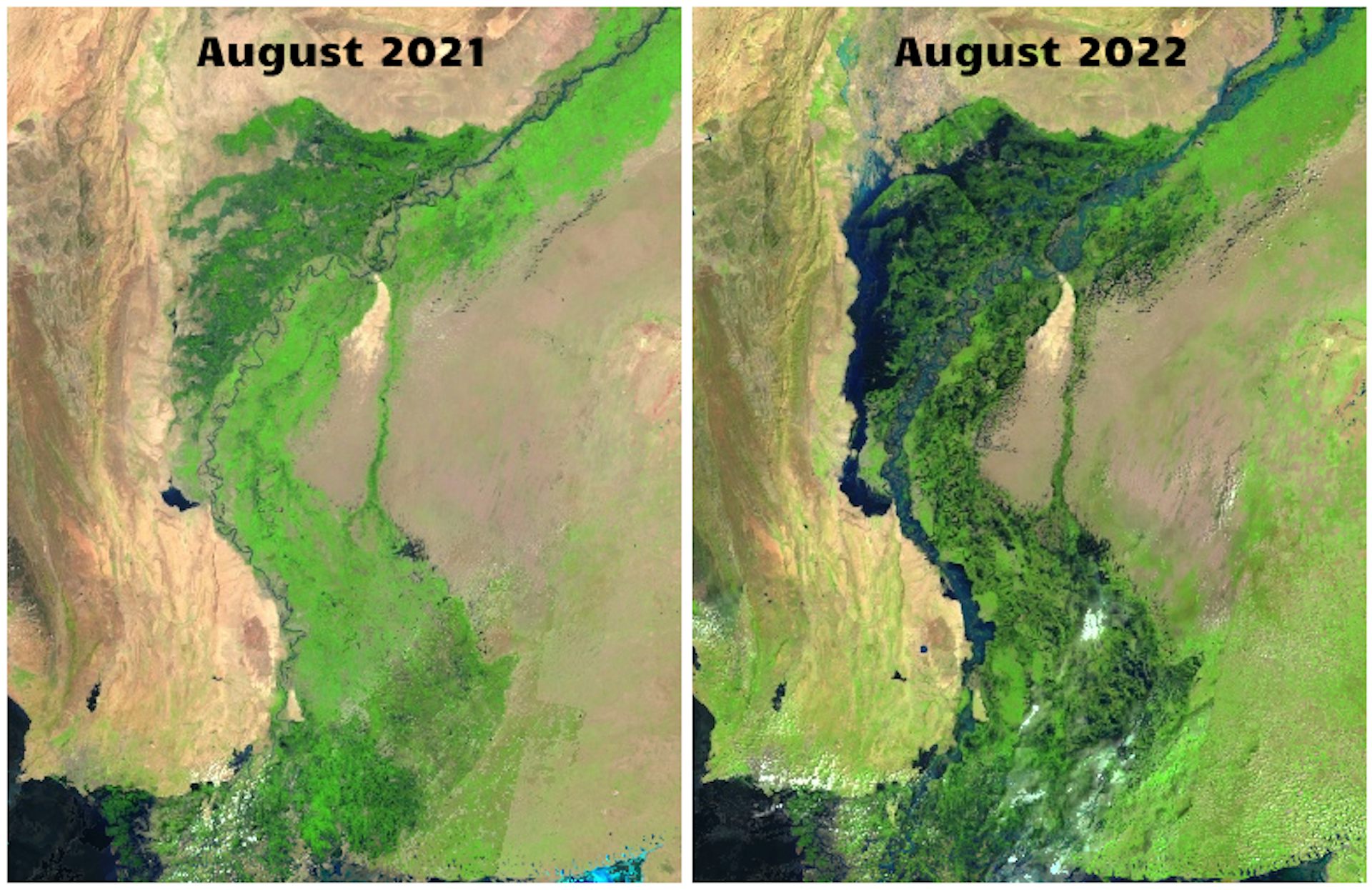 Environmental groups can monitor deforestation, the effects of climate change on ecosystems, and how other human activities like irrigation are shrinking bodies of water like Central Asia's Aral Sea. And disaster managers, aid groups, scientists and anyone interested can monitor natural disasters such as volcanic eruptions and wildfires. https://theconversation.com/how-to-use-free-satellite-data-to-monitor-natural-disasters-and-environmental-changes-198140 (14 March 2023)
Compiled by SANDRP (ht.sandrp@gmail.com)
Also see: DRP News Bulletin 13 March 2023 & DRP News Bulletin 06 March 2023
Follow us on: www.facebook.com/sandrp.in; https://twitter.com/Indian_Rivers