It's heartening to see at least three citizen efforts that media has brought to limelight this week, two in Odisha and one from the banks of Godavari river in Nasik. Besides being citizen efforts, one common theme is that all these initiatives is that they concern rivers. Great news to celebrate in this festival season, also when India Rivers Week is also conducting weekly Dialogues on River sand mining.
This week it is in South India, being led by Dr Jagdish Krishnaswamy of ATREE. Join the Dialogue to be held during 4-6 pm on Nov 7 2020, by registering at: https://docs.google.com/forms/d/e/1FAIpQLSfrgNr6Tb5BUbbmrX9BGI8xwXrhBQGsfRH9hK-paCariGyMQg/viewform
More info about India Rivers Week 2020: https://indiariversforum.org/indiariversweek2020/
Godavari, Nasik Man guarding Godavari against waste dumping for 5 years Man stands whole day beside Godavari to prevent people from dumping waste-filled plastic bags Chandra Kishore Patil from Indiranagar, Nashik mentioned that he has been living in a society near the river. With every passing year, the water becomes filthier as people dispose of their waste in the river after festivities. Five years ago, he decided to take a stand and have been stopping people from polluting the waterbody.
"I've been doing this every year for five years now. And will continue doing this till my health permits," Patil said. The accumulated waste then gets collected by the municipality and taken away to a separate dump yard.
"I stand beside the river from morning till 11 pm at night with a whistle and alert people not to throw garbage in the river. Many behave rudely with me, but I still pursue them not to do such things," Patil told HT. When asked how he deals with the resistance, he said that he fills bottles with the river water and asks the people to take a sip from it. When they refuse, he makes them aware of the severe pollution in the river. https://www.hindustantimes.com/it-s-viral/man-stands-whole-day-beside-godavari-to-prevent-people-from-dumping-waste-filed-plastic-bags/story-ZKgnQKl7IUCp2sYYNf6wPJ.html (01 Nov. 2020)
Odisha Migrants clear Rushikulya river mouth More than a hundred migrant labourers, who had returned to Odisha during the lockdown, joined hands with fellow villagers from around six villages of Ganjam to dig up 200 metres of the Rushikulya river mouth to drain out the water inundating agriculture land following torrential rains recently the influence of a low pressure system in the Bay of Bengal.
-Residents of villages like Puranabandha, Paliabandha, Sanagaon, Badagaon, Potagarh and Nuagoan under Ganjam block were struggling to drain out the water accumulated in their fields following heavy rains in the past two weeks as the river mouth, nearly 2km from their area, had become choked with silt.
-"With no outlet for release of the excess water, flooding had become commonplace in our area. Though we had lodged a complaint with the district administration to desilt the river mouth, there was no action taken. So we decided to dig up a new river mouth to discharge the rainwater ourselves," said Rabindra Sahu of Purunabandha. He said the migrant labourers who returned to the village during the lockdown extended a helping hand. "This motivated us to step up our efforts," he added. https://www.telegraphindia.com/india/migrants-in-river-mouth-battle-for-farmland/cid/1795699 (27 Oct. 2020)
Odisha Eco-crusaders clean up Devi river beach to bring back Olive Ridleys Astaranga beach near Devi river mouth is one of the three major nesting sites of the endangered Olive Ridley turtles in the State, but for the last few years the annual marine visitors have been giving it a miss due to filthy conditions coupled with the menace of mechanised fishing. However, things are set to change and hopes are high for the return of the guests from next season, thanks to the efforts of a group of six local youths.
They have undertaken a mission to clean up the Devi estuary and adjoining Astaranga beach and make them favourable for turtle nesting. The youths from Astaranga and nearby villages under the banner of Paryavaran Sanrakshan Abhiyan launched the drive 'Devi Kachchhap Kalyanam' on September 27.
Relentless in their endeavour, they pulled out over five tonnes (5,000 kg) of waste from the 18 km-long beach stretch in a month's time. The group leader and founder of the organisation Soumya Ranjan Biswal said, among the three Olive Ridley nesting sites, Devi is the least protected and is degrading day by day due to increasing pollution and mangrove deforestation.
Despite a ban on fishing during the nesting months, illegal mechanised fishing is rampant here which prohibits the Olive Ridleys from coming to the river mouth for mating and nesting. "Stopping mechanised fishing is not in our hands, so we thought of at least cleaning the beach for safe nesting and movement of the endangered turtles", he said. https://www.newindianexpress.com/good-news/2020/nov/01/these-six-eco-crusaders-clean-up-astaranga-beach-to-bring-back-olive-ridleys-2217873.html (01 Nov. 2020)
HYDRO POWER PROJECTS
Jammu & Kashmir Bumper-to-bumper hydro projects increases disaster risks in Kistwar Now the Indian government is building seven new hydropower dams on the Chenab and its tributaries in Kishtwar district, with a total capacity of 5,190 MW. Most of these projects have been fast-tracked as a result of the latest political developments in the region. But the human and environmental costs associated with these projects have largely missed public scrutiny. https://www.thethirdpole.net/2020/10/30/homes-nature-lost-for-seven-new-dams-in-kishtwar-jammu-kashmir/ (30 Oct. 2020)
Interesting that Union Power secretary visits NHPC's 690 MW Salal Power Station in Reasi district and emphasises timely completion and pump storage projects. https://www.uniindia.com/secretary-power-visits-reasi-s-salal-emphasises-on-time-bound-delivery-of-hydro-projects/north/news/2216393.html (29 Oct. 2020)
Arunachal Pradesh Patel Engineering bags order for stalled Subansiri HEP Contract for the balance work worth Rs 1565 Cr given for the controversial 2000 MW hydropower project to Patel Engineering. https://nenow.in/north-east-news/arunachal-pradesh/patel-engineering-bags-rs-1564-42-crore-order-to-build-subansiri-lower-hydroelectric-project-in-arunachal.html (27 Oct. 2020)
DAMS
SANDRP Blog Durgapur Barrage on Damodar Damaged again: Its Dam Safety under World Bank-AIIB projects Durgapur barrage on Damodar river in West Bengal suffered damage again late on Friday (Oct 30 ,2020) night with its gate no 31 suffering heavy damage, leading to major disruption of the domestic, industrial and irrigation water supply. Shockingly, the Dam Safety aspects of the 65-year-old barrage is under an ongoing World Bank and AIIB funded projects. Raising again questions about WB's credibility on Dam Safety issues. The damage incidentally occurred just a day after the CCEA headed by the Prime Minister signed a massive Rs 10211 Cr World Bank funded dam safety project. Plz Read, Share. https://sandrp.in/2020/11/01/durgapur-barrage-on-damodar-damaged-again-its-dam-safety-under-world-bank-aiib-projects/ (01 Nov. 2020)
Pancheshwar Dam Oli push Oli government wants to revive the Pancheshwar multi-purpose project on river Mahakali as well as other hydro-electric projects with India. There is still no agreement on DPR though. https://www.hindustantimes.com/india-news/army-chief-naravane-s-nepal-visit-to-break-ice-oli-wants-pancheswar-project-revived/story-kkWBelaPBetwXglRJZpAAM.html (1 Nov 2020)
Andhra Pradesh NGT restrains govt from taking up Rayalaseemaa lift scheme without EC The bench, which reserved the order in a petition filed by a Telangana farmer against the RLIS, on September 3, pronounced its judgement on Oct 29, 2020. NGT directed the Andhra Pradesh government to seek an Environmental Clearance (EC) before going ahead with the construction of the Rayalaseema Lift Scheme. The project envisages lifting water from 800 feet from the foreshore of the Srisailam reservoir as opposed to the original permission of lifting over 854 feet in order to provide water to the Rayalaseema region.
– SLAP FOR MOEF: The NGT rejected the Andhra Pradesh government and Ministry of Environment and Forests' claims that Pothireddypadu is not a new project, and that it is only meant for providing drinking water and not for irrigation, thereby not requiring an EC. The project envisages lifting water from 800 feet from the foreshore of the Srisailam reservoir as opposed to the original permission of lifting over 854 feet in order to provide water to the Rayalaseema region. https://www.newindianexpress.com/states/andhra-pradesh/2020/oct/30/ngt-restrains-andhra-pradesh-from-taking-up-rayalaseemaa-lift-scheme-without-ec-2216917.html (30 Oct. 2020)
This report provides details of damage to apron and plungepool of Srisailam dam. https://www.thehindu.com/news/national/andhra-pradesh/bolisetty-seeks-apology-from-anil-kumar-yadav/article32993773.ece (01 Nov. 2020)
DRIP Phase II, III approved The Cabinet Committee on Economic Affairs chaired by the Prime Minister Shri Narendra Modi has approved the Dam Rehabilitation andImprovement Project (DRIP) Phase II & Phase III with the financial assistance of the World Bank (WB), and Asian Infrastructure Investment Bank (AIIB) to improve the safety and operational performance of selected dams across the whole country, along with institutional strengthening with system wide management approach.
The project cost is Rs 10,211 crore. The Project will be implemented over a period of 10 years duration in two Phases, each of six years duration with two years overlapping from April, 2021 to March, 2031. The share of external funding is Rs 7,000 crore of the total project cost, and balance Rs 3,211 crore is to be borne by the concerned Implementing Agencies (IAs). The contribution of Central Government is Rs 1,024 crore as loan liability and Rs 285 crore as counter-part funding for Central Component.
It covers 736 dams, including 189 from Rajasthan and 167 from Maharashtra, 2 from BBMB among others. https://pib.gov.in/PressReleasePage.aspx?PRID=1668405 (29 Oct. 2020)
https://www.tribuneindia.com/news/nation/cabinet-approves-project-to-strengthen-dams-including-those-managed-by-bbmb-162881 (29 Oct. 2020)
The World Bank is to fund reservoir sedimentation study by CWC for 32 reservoirs of India. https://www.tribuneindia.com/news/nation/cwc-to-study-sediment-deposition-in-reservoirs-160705 (25 Oct. 2020)
INTERLINKING OF RIVERS
Madhya Pradesh Unesco stripes for Panna Biosphere Reserve Two days ago on Oct 29, 2020, the Unesco website announced: "Unesco's Man and the Biosphere (MAB) programme has included Panna in India and Fuvahmulahand Addu Atoll in the Maldives in World Network of Biosphere Reserves." https://timesofindia.indiatimes.com/city/bhopal/madhya-pradesh-unesco-stripes-for-panna-biosphere-reserve/articleshow/78963588.cms (31 Oct. 2020)
CHECK DAMS
Tamil Nadu Damaged check dams on Cooum to be rebuilt The Korattur check dam, with a regulator structure in Tiruvallur district across the unpolluted stretch of the Cooum, that was damaged during the 2015 floods, is set to be reconstructed. Built in 1879, one of the oldest storage structures in Jamin Korattur is vital in regulating excess flood water to the Chembarambakkam lake which is a drinking water source to the city.
The Water Resources Department (WRD) is set to float bids for the ₹32.45-crore project shortly and begin work in two months. Officials said a 50-metre portion of the checkdam was washed away in floods when the river carried 30,000 cusecs of water then. Another 50 to 60 metres of the structure was damaged during the floods. At present, a temporary embankment has been created in the river near Tiruninravur to divert surplus water to Chembarambakkam lake. Several problems, including funding, had delayed the project. https://www.thehindu.com/news/cities/chennai/damaged-check-dam-across-cooum-set-to-be-reconstructed/article32958758.ece (28 Oct. 2020)
IRRIGATION
Andhra Pradesh Drip irrigation loosing shine as govt holds funding Anantapur district, which used to be in the forefront in utilising the funds for drip irrigation and covering the large extent of land every year for the past three consecutive years in the country, might lose that distinction as the State government has not yet released funds for the purpose.
Even countrywide, Andhra Pradesh (7.17 lakh ha), which currently holds the second position after Karnataka (8.16 lakh ha) in covering largest area under micro irrigation, utilising the Pradhan Mantri Krishi Sinchayee Yojana (PMKSY) funds might go further down with Gujarat (7 lakh hectares) following A.P. For the 2020-21 financial year, the Ministry of Agriculture and Farmers' Welfare has provisioned ₹400 crore under the scheme for Andhra Pradesh.
No decision has been taken yet on the modalities of providing subsidy through the A.P. Micro Irrigation Project (APMIP) to 4,250 farmers, who have registered themselves to avail of the facility in 6,345 hectares. Close to ₹140 crore, last year's due, is yet to be released to 37 companies, who had supplied the material. The APMIP Anantapur on its part has completed the field verification also for 1,345 applicants. https://www.thehindu.com/news/national/andhra-pradesh/drip-irrigation-anantapur-likely-to-lose-its-distinction/article32958443.ece (28 Oct. 2020)
URBAN RIVERS
Sabarmati, Ahmadabad Riverfront to be extended by 5 km A bridge-cum-barrage which will connect areas like Motera and Sabarmati to the airport and store 15 days worth of water for Ahmedabad city and extension of the riverfront by 5km on both banks are some of the projects that were passed by the Sabarmati Riverfront Development Corporation (SRFDCL) on Oct 26, 2020. The barrage-cum-bridge will be built near the power station and will touch Sadar Bazaar Road on the other end.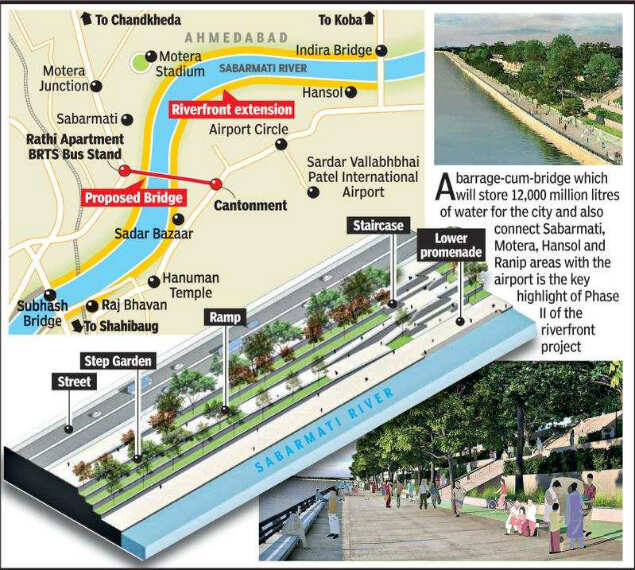 This will also create a reservoir holding some 12,000 million litres of water, about 15 days of water supply for the city. The barrage-cum-bridge was necessitated as water supply would be disrupted for 15 days because of repair work on the Narmada canal. Apart from these announcements, SRFDCL also cleared the design of a 5.2km extension of the riverfront on the western bank and a 5.8km extension of the eastern bank. The total length of the riverfront, both banks included, will now be 34km. https://timesofindia.indiatimes.com/city/ahmedabad/riverfront-to-be-extended-by-5km/articleshow/78880238.cms (27 Oct. 2020)
This report explains why the sea plane project inaugurated on Oct 31, 2020 is in violation of the laws. http://thewirehindi.com/139918/gujarat-aerodrome-sabarmati-statue-of-unity-clearance/; https://thewire.in/environment/gujarat-aerodrome-sabarmati-statue-of-unity-clearance (19 Sept. 2020)
Mumbai BMC fined Rs 34 cr for letting untreated sewage into sea The NGT has slapped a penalty of Rs 29.75 crore on the BMC for letting untreated effluents into water bodies. As compensation for environmental damage, the civic body has also been ordered to pay the Central Pollution Control Board Rs 4.25 crore a month for the 85 major outfalls that release effluents into water bodies until it enforces remedial measures.
If such measures are taken— through bioremediation, which uses microbes or bacteria to remove pollutants, or phytoremediation, which uses plants to clean up hazardous contaminants—the monthly fine would be reduced to Rs 5 lakh per outfall. The one-time fine has to be paid within 30 days. The city has seven sewage treatment plants (STPs) at Bhandup, Ghatkopar, Versova, Malad, Colaba, Worli and Bandra, but the infrastructure is around 17 years old.
The NGT passed the order recently while hearing a petition from D Stalin of NGO Vanshakti, filed through advocate Zaman Ali. Asserting that the ability to "enjoy pollution-free water and air" is protected by the fundamental right to life under Article 21 of the Constitution, the panel of Justice Sheo Kumar Singh and expert member Dr Satyawan Garbyal observed that of the 186 outfalls in the city, 85 major ones discharge untreated sewage directly into water bodies and only six of them are above the high tide line.
The BMC has been for over 15 years planning to add seven STPs along the coast, with the capacity to treat 1,700 MLD sewage, to its existing network. But cost escalations, poor response from bidders and allegations of rigging prompted the BMC earlier this year to scrap and twice re-float tenders worth. Rs 13,000 crore for five of them. https://mumbaimirror.indiatimes.com/mumbai/cover-story/bmc-fined-rs-34-cr-for-letting-untreated-sewage-into-the-sea/articleshow/78922643.cms (29 Oct. 2020)
The rivers in Mumbai are a source of livelihood, sustenance and a way of life of the people who live on its banks and around it. Rivers are slowly turning into sewers due to disposal of trash by Humans. One such example is that of the Versova creek that has been polluted as there are 12 inlets connecting to the creek coming from North Mumbai.
Rivers like Malad, Oshiwara, Mogra, Poisar etc that have been carrying a lot of harmful Industrial as well as domestic waste into the river. This has led to heavy pollution and an extreme loss of marine life in the creek. Fishermen living in the coastal part of Andheri can no more fish in the Versova creek for a living and the traditional method of fishing has been lost. https://mumbai.citizenmatters.in/video-there-are-no-fish-in-the-creeks-of-mumbai-what-this-means-to-the-city-21565 (29 Oct. 2020)
RIVERS
Parineeta Dandekar article (Marathi) on Source of Holy Rivers on Oct 31, 2020: https://www.loksatta.com/bara-gaoncha-pani-news/article-on-stories-of-the-source-of-the-holy-river-abn-97-2315908/ (31 Oct. 2020)
Jammu & Kashmir Muck dumping destroying Chenab, Devika In its recent order the National Green Tribunal (NGT) has once again lambasted the National Highways Authority of India (NHAI) and the company which is executing the road widening work on NH-44 around Ramban area. NGT pulled up NHAI and the executing agency for dumping large quantities of muck into the Chenab river as the work on the 4- laning of Udhampur – Banihal national highway (NH-44) is in progress for the last several years.
-NGT even directed the J&J Pollution Control Board (PCB) to take stringent measures in this regard as in past the PCB has shown a lukewarm attitude towards NHAI and the executing agency. NGT bench comprising chairperson Justice Adarsh Kumar Goel in his order said that J&K Pollution Control Board (PCB) may proceed with the recovery of compensation for the damage and initiate prosecution against the violators of environmental norms following the due process of law. The case has now been listed on March 31st 2021. https://www.dailyexcelsior.com/muck-dumping-destroying-chenab-devika/ (25 Oct. 2020)
Uttarakhand Centre asks govt to explore alternative land to expand airport Assistant Inspector General of Forests Sandeep Sharma, in a letter to the Uttarakhand Forest Department, said the area proposed for diversion is a 'High Conservation Value' area and will cause fragmentation of riverside forests situated between the existing runway and the river. "Out of the 87.0185 ha proposed area to be diverted, 47 ha area falls under MDF [moderately dense forest]. Therefore the State Govt, may explore alternatives for the proposal such as acquiring area lying north of existing runway," read the letter.
"…The entire proposed forest area for diversion falls within the Shivalik Elephant Reserve and elephant corridors within its 1 km radius. Moreover, the notified Kansora-Barkot Elephant Corridor is located within 5 km radius. The state government should consider avoiding these sensitive areas and explore alternative lands," it said. https://indianexpress.com/article/india/centre-to-uttarakhand-explore-alternative-land-to-expand-airport-6910713/ (31 Oct. 2020)
RIVER BIODIVERSITY
Underwater Whiskers by Swanand Patil While working on otters in Cauvery or Kaveri River originating from the foothills of Talakaveri, Kodagu, Karnataka, flowing through states of Karnataka and Tamil Nadu. The sharing of water of the Cauvery River has been the source of serious conflict between two states of Tamil Nadu and Karnataka. We observed fascinating behavior in otters apart from their usual daily rituals. The team's study was focused on understanding the influence of environmental factors on the activity of Smooth-coated Otters, which was observing the behavior of otter using direct sighting as well as camera trap videos and images.
Smooth-coated Otters or Neeru Nayi (Neeru = Water and Nayi = Dog, also called Water Dog or Paani ka Kutta) in Kannada are a local inhabitant of Cauvery River, backwaters of KRS dam and Ooty are places where Small-clawed Otters (Anoyx cinereus) are also found`. The river is habitat to local Indian Mugger or Indian Crocodile, numerous migrant birds as well as resident bird-like Lesser Fish- Eagle. https://www.saevus.in/underwater-whiskers/ (30 Oct. 2020)
Puputaka of the Ganges: How dolphins swam through history by Akashdeep Ashok In modern times, the Gangetic dolphin was first scientifically documented and christened Platanista gangetica by William Roxburgh, then superintendent of Calcutta Botanical Garden, in 1801. But in ancient India and our mythology, the susu, as the dolphin is referred to in northern India, always had a sacred place.
Called the 'Ganga puputaka' in Sanskrit, the dolphin is associated with the deity Ganga, who is depicted with her divine vehicle, the Makara – an animal with the head of a crocodile and tail of a dolphin in Brahmavaivarta Purana. Even in the Rig Veda, (verses 1.116.18–19), Jahnavi and river dolphin occur in two adjacent verses.
In the 3rd century BC, Maurya emperor Ashok the Great accorded the Gangetic dolphin a special status in his fifth pillar edict and barred the killing or hunting of the 'Ganga puputaka'. "King Devanampriya Priyadansin speaks thus. In Baburnama, which was published in 1598, the Gangetic dolphin has been referred to as Khokk Aabi (Persian for water hog). Babur, an avid swimmer, liked the Ganga and swam across it twice like he did to every river he faced during his expeditions. https://timesofindia.indiatimes.com/city/meerut/puputaka-of-the-ganges-how-dolphins-swam-through-history/articleshow/78624341.cms (13 Oct. 2020)
The rise of the Travancore tortoise by Janaki Lenin The Travancore tortoise may be a denizen of the wet forest, but it isn't just found anywhere in the jungle. It prefers the neighbourhood of brook beds, stream banks, and swamps. Since the slow plodding reptile can't outrun predators, it freezes in its tracks. The brown shell with black blotches tricks observers into seeing only dry leaves. It isn't a creature of the night, nor is it active by day. It emerges from hiding late in the afternoon when the dull light works to its advantage. The combination of locality, colour, and time shrouds the species from inquisitive eyes. https://www.thehindu.com/sci-tech/energy-and-environment/the-rise-of-the-travancore-tortoise/article32980924.ece (31 Oct. 2020)
Identical frog species discovered in the Eastern & Western Ghats by Aathira Perinchery Over the last decade alone, more than 100 frog species new to science have been discovered in India. One of them is the Kalinga cricket frog (Minervarya kalinga), a plain-looking brown amphibian that scientists discovered two years ago. What was special was that they had spotted it in the northern tracts of the Eastern Ghats, a hill range that has not seen as many frog discoveries as its western counterpart has.
Now the frog has popped up in the Western Ghats too, in Karnataka's Uttara Kannada district. That's more than 1,000 kilometres away from its eastern range. This proves that the Kalinga cricket frog may indeed be distributed across a larger area than what earlier, possibly incomplete surveys show. Since these frogs are also slightly larger than their eastern relatives, this could signify a new and morphologically distinct 'population' of frogs, postulate the scientists who made the discovery. https://india.mongabay.com/2020/10/frog-discovered-in-the-eastern-ghats-also-found-in-the-western-ghats-more-than-1000-km-away/ (27 Oct. 2020)
FISH, FISHERIES, FISHERFOLKS
Kerala A 100 million-year-old fish speciesThe discovery of a new family of fish is very rare. The dragon snakeheads have evaded scientists till now because they live in subterranean aquifers and come to the surface only after heavy flooding from rain.
-The closest relative of the family Aenigmachannidae is the Channidae, of which at least 50 species can be found in the streams and lakes of Asia and tropical Africa. According to molecular analyses, the two families split from each other 34 million to 109 million years ago.
-"This may indicate that Aenigmachanna is a Gondwanan lineage, which has survived break-up of the supercontinent, with India separating from Africa at around 120 million years ago," the researchers have said in the paper. https://indianexpress.com/article/explained/aenigmachanna-gollum-kerala-fish-lord-of-the-rings-6883999/ (26 Oct. 2020)
Punjab Subsidy for fish farming Forty per cent subsidies to women in the general category and 60 per cent subsidies to women in the Scheduled Caste/Tribe category will be provided for those applying for fish farming and promote the Blue Revolution under the Pradhan Mantri Matsya Sampada Yojana (PMMSY). To raise living standards of farmers, the Fisheries Development Agency, Kapurthala, said this declaration was as per the policy to promote diversification under the PM's aforesaid scheme.
Chief Officiating Officer HS Bawa said as per the Blue Revolution scheme, Rs 7 lakh expenditure has been estimated on a 2.5 acre fish pond, on which the government will provided 40 per cent subsidy. He said five training camps will be held from November 2 to 6 during which training will be provided to famers on facilities being given by the government to ensure maximum productivity on limited land under the RAS system and Bio flock systems. He said Fish Propagation Officer Baljit Singh can be contacted for more information. https://www.tribuneindia.com/news/jalandhar/kanjli-wetland-revival-163502 (31 Oct. 2020)
SAND MINING
IRW 2020 North India Sand Mining Dialogue on Oct 31 Panel included DURGA SHAKTI NAGPAL. Acted most fearlessly against dreaded illegal sand miners. In her very first posting in Greater Noida-UP in 2012-13 as SDM, she stood with the poor villagers who were getting displaced due to rapidly eroding river bank owing to rampant illegal mining. She was removed from Noida through a conspiracy which led to nationwide protests. Was reinstated due to national pressure. The High Court, the Supreme Court, the National Green Tribunal, supported her & even the Prime Minister had to reply. Noida episode is one bright spot in otherwise murky situation prevalent with corruption, criminalisation in sand mining. Durga will speak at IRW 2020 NZ Dialogue.
She then became household name across India, for fighting sand mining mafia. We need many more such officers. She will share her experience, speak her mind at this dialogue.
North Zone Sand Mining report makes a rather murky reading. Except this box (see below) about the episode when Durga Shakti Nagpal was SDM in Greater Noida in 2012-13.
Full North India Sand Mining Report of Oct 2020 from SANDRP is available here: https://indiariversforum.org/wp-content/uploads/2020/10/irw2020_northindiasandminingoverview_sandrp_oct20.pdf
More info about India Rivers Week 2020: https://indiariversforum.org/indiariversweek2020/
The dialogue video can be seen here. (Oct 31, 2020) https://fb.watch/1s-nobpTMa/
SANDRP Blog Odisha River Sand Overview 2020: Another mining ravaged state The rivers and people in Odisha has been suffering greatly from adverse impact of excessive riverbed mining. However the state government has been ineffective in governing sand mining. The developments during the past one year shows that the state is going to face the mining menace like other states. https://sandrp.in/2020/10/29/odisha-river-sand-overview-2020-another-mining-ravaged-state/ (29 Oct. 2020)
Riverbed mining 2020: East & North East India This compilation covers the Riverbed mining issue in remaining states of East and North East India in the past eighteen months. https://sandrp.in/2020/10/30/riverbed-mining-2020-east-north-east-india/ (30 Oct. 2020)
Bihar District Survey Report "quashed" and declared "void and a nullity" The NGT in its Oct. 14 order has held that District Survey Report (DSR) 2018 "cannot be considered as a final DSR and is only an Interim report. (b) The DSR 2019 incorporating the 14 Sand Ghats also cannot be considered as a final DSR and is hereby quashed." NGT has directed govt to undertake further exercise for preparation of a fresh DSR for the Banka district,".
The NGT further observed that as the DEIAA is not functioning. The NGT directed that "The DSR so prepared shall be submitted to the District Magistrate who shall verify the DSR only in respect of the relevant facts pertaining to the physical and geographical features of the district which shall be distinct from the scientific findings based on the parameters" prescribed in the Sustainable Sand Mining Management Guidelines (SSMMG), 2016.
It further directed "After such verification, the District Magistrate shall forward the DSR for examination and evaluation by the State Expert Appraisal Committee (SEAC)" having regarding to the fact that the State Environment Impact Assessment Authority (SEIAA) comprises of technical/scientific experts. It also directed that "The SEAC after appraisal of the report shall forward it to the SEIAA for consideration and approval if it meets all scientific/technical requirements."
It directed that "While preparing the DSR, the MoEF&CC Accredited Agency/Consultant shall scrupulously follow the procedure and the parameters laid down under the Sustainable Sand Mining Management Guidelines (SSMMG), and Enforcement and Monitoring Guidelines for Sand Mining (EMGSM), 2020 read in sync with each other."
Before this, on September 23 the NGT heard a petition of Pawan Kumar of Banka through Video Conferencing. The petitioner had prayed for proper sand mining in accordance with law and the regulatory framework including various decisions of the Tribunal, environmental laws, Notifications and Guidelines framed by the Central Government to safeguard the environment. The petition had contended that there has been in partial compliance of the EIA Notification, 2006, the SSMMG, 2016 and the directions of NGT in the case of Anjani Kumar v. State of U.P. (2017). http://www.biharwatch.in/2020/10/bihars-district-survey-report-on-sand.html (31 Oct. 2020)
Govt violated norms in mining auction NGT's latest order exposes the state government's violations of environmental norms and arbitrariness in auctioning the rights to mine riverine sand. Evidently, illegalities persist despite the crackdown; even the state administration has been found to be complicit in them. Hence on Oct. 14 NGT declared the auction as "void and a nullity", or in other words — illegal. "The action of the State is apparently unguided, whimsical and arbitrary," said the tribunal's 89 page order which goes on to list a litany of violations of environmental norms by the state government under the JDU and BJP coalition.
The violations in Banka district offer an insight into the lawlessness in the sand mining sector — an industry long-believed to be controlled by powerful, politically connected vested interests.
A sample: the government auctioned off the sand mines without first preparing a district survey report — as required by law. These reports are drafted, the green tribunal explained, not only for "exploitation of a mineral solely with the economic objective but also to ensure sustainable mining so that natural resources can be utilised in an environment friendly manner". But this was not visible in the case of the Banka district's electronic auction. In that instance, according to the green tribunal, the revenue of the state was the "sole criteria".
Worse, the government placed no limits on how much sand the firms could mine, making a mockery of the notion of sustainable mining. "No quantum of the mineable mineral has been prescribed thereby providing unlimited access for mining," the NGT order says. https://www.huffingtonpost.in/entry/bihar-nitish-kumar-national-green-tribunal-news_in_5f96e62ac5b6f0775235b1e5 (27 Oct. 2020)
The NGT order has highlighted violations of environmental norms and the arbitrary manner in which auction rights were granted by the state government. The auction for the district of Banka yielded Rs 130 crores for the government, while the statewide process for 24 districts collectively yielded around Rs 2700 crores for the state exchequer.
One of the prime reasons why the NGT junked the auction was because the two DSRs cited by the state government were not drafted in accordance with the SSMMG 2016. The 2018 DSR was additionally drafted in violation of the tribunal's order of September 13, 2018. The NGT order specified the importance of DSRs and said that the preparation of the reports was not a mere technicality or a formality to be completed prior to exploiting a resource but was necessary to ensure sustainable development.
The tribunal also rejected the Bihar government's claim that the administration had adopted a "studied scientific approach" for the preparation of the report and pointed out that the government had not prescribed any limits on how much sand the firms could mine and had, in effect, granted "unlimited access for mining" the tribunal said. "No quantum of the mineable mineral has been prescribed thereby providing unlimited access for mining," the NGT order said.
Furthering slamming the government's claims, the NGT said that the ghats had been auctioned "before being included in the DSR as claimed by the State rendering the stand of the State seriously questionable." Finally, the NGT's order directed that district survey reports be prepared again and that environmental clearance be sought for the same. https://science.thewire.in/environment/bihar-national-green-tribunal-sand-mining/ (28 Oct. 2020)
Kerala 'Despite stop memo, sand mining continues at Periyar' The alleged move to extract sand using machinery in the pretext of removing silt from the Periyar river near the regulator at Purappillikkavu has resulted in a row with the Kunnukara panchayat issuing a stop memo to the contractor. "We had issued the stop memo two weeks ago after we found that their work involving machinery was damaging the river banks which faced erosion. I came to know on Tuesday (Oct. 27) that the contractor has resumed work despite the stop memo," said Kunnukara panchayat president Francis Tharayil.
Panchayat authorities have maintained that their complaint was not regarding extraction of sand but residents have alleged that the contractor is engaged in mining sand in the name of desilting the regulator. According to residents, the contractor was using a pump to mine the sand close to the banks and this was posing severe risk to houses. Kunnukara panchayat president said as per rules, machinery could not be used to mine sand and stop memo was issued because of the violations. "We had also informed the irrigation department about this," he said. Permission for removing silt was given as the silt deposits after the 2018 floods were hampering the functioning of the regulator.
In May 2020, Piravom municipality had floated an e-tender to remove 'silt and sand' from a stretch of 7km of Muvattupuzha River from Nechoorkadavu to Kalamboor, riding on a directive by Ernakulam district collector under the provisions of the Disaster Management Act (DMA). The local body had fixed a base price of Rs 4.90 crore for removing 37,000 tonnes of sand and silt and the winning bid was for Rs 5.8 crore. The entire process ended in legal wrangles after the district administration denied them permission because sale of sand could not be permitted. According to environmental activists, provisions of the DMA are invoked for sand mining in the pretext of pre-monsoon cleaning, as it would be almost impossible to mine sand below the lean water flow during summer months, which is prohibited. https://timesofindia.indiatimes.com/city/kochi/kerala-despite-stop-memo-sand-mining-continues-at-periyar/articleshow/78906233.cms (28 Oct. 2020)
KSDMA justifies removal of sand from Pampa The Kerala State Disaster Management Authority (KSDMA) has justified the removal of sand from the Pampa river before the National Green Tribunal (NGT), claiming that the tribunal lacked the jurisdiction over the decisions taken under the provisions of the Disaster Management Act, 2005. NGT took suo motu notice of a report 'Forest dept. told to permit sand removal from Pampa' published in The Hindu on May 30, 2020.
– The Ministry of Environment, Forest and Climate Change had issued a notification on March 3 this year stating that dredging and desilting of dams, reservoirs, weirs, barrages, river, and canals for the purpose of its maintenance, upkeep, and disaster management did not require any prior environmental clearance, it said.
– The sand removal had snowballed into a controversy after the State Forest Department revoked an order issued by the District Collector, Pathanamthitta, permitting Kerala Clays and Ceramic Products, a public sector entity based in Kannur headed by a functionary of the CPI(M), to transport costly river sand from Triveni at Pampa.
– The KSDMA has now recommended the Forest Department to prepare a disaster management plan explaining the measures and funds for maintaining the depth and width of river channels within forest areas every year. It should ascertain the usable sand content in the deposited debris and utilise it for construction works connected to the Rebuild Kerala Initiative and major government projects. https://www.thehindu.com/news/national/kerala/ksdma-justifies-removal-of-sand-from-pampa/article32985409.ece (30 Oct. 2020)
Tamil Nadu HC seeks report on sand mining To ascertain whether sand mining was taking place in Kottakarai river in Ramanathapuram district, the Madurai Bench of the Madras High Court appointed an advocate commissioner to inspect the region. Hearing a PIL filed in this regard, a Division Bench of Justices N. Kirubakaran and B. Pugalendhi appointed advocate P. Ganapathi Subramanian as the advocate commissioner in the case. T
he court directed him to inspect the region and file a report after it was alleged that in the name of taking excess sand from a patta land nearby, sand was being excavated from Kottakarai river to a depth of five to ten feet. The court also directed Special Government Pleader J. Padmavathi Devi to get a report from the district authorities on the number of licences granted for quarrying 'savudu' and excess sand in the past five years. The case was adjourned to November 11. https://www.thehindu.com/news/cities/Madurai/hc-seeks-report-on-sand-mining/article32985261.ece (30 Oct. 2020)
Rajasthan Campaign against illegal mining resulted in 110 FIRs, says ACS This also shows the SC ban has not been successful in stopping illegal mining as the administration failed to implement it.
The campaign against illegal sand mining, transport and storage by the state mines department since October 15 resulted in the seizure of 41,241 tonnes of sand and 194 vehicles in addition to 110 FIRs being filed. Additional chief secretary of mines and petroleum department Subodh Agrawal said the campaign against illegal mining, transport and storage of sand jointly by the mines, revenue, forest, transport and police departments in 13 districts launched on October 15 under the direction of collectors will continue till October 31.
Aggarwal said as of October 25, 262 cases of illegal mining, transport and storage of sand have come up, 110 FIRs have been filed and an amount of over Rs 31 lakh has been recovered. He informed that along with confiscation of sand on the spot during the joint operations, 194 vehicle-machinery including poclain machine and tractors have been seized during the operations. Aggarwal said during the campaign, the highest number of 72 cases were reported from Bhilwara. The seizures from the district include 21,439 tonnes of gravel and 40 vehicles. In all, 44 cases have come to light in Jaipur leading to the seizure of 3,150 tonnes of sand and 42 vehicles. https://timesofindia.indiatimes.com/city/jaipur/campaign-against-illegal-sand-mining-resulted-in-110-firs-acs/articleshow/78880329.cms (27 Oct. 2020)
Haryana Mining firm booked for altering Yamuna river flow The police have registered a case against a mining company for allegedly trying to alter the natural flow of the Yamuna to undertake mining activities in MT Karhera village of Yamunanagar district. Some mining contractors build bundhs and diversions to lift sand from the riverbed, violating the directions issued by the NGT. https://www.tribuneindia.com/news/haryana/mining-firm-booked-for-altering-yamuna-river-flow-161304 (26 Oct. 2020)
This drone vidoe taken around Oct. 20 and the report shows how brazenly riverbed mining operations are going on in Yamuna Nagar in full violation of norms. https://youtu.be/5gf-2MEBy_M (29 Oct. 2020)
Govt to lease out mines where work was suspended Haryana government has planned to lease out stone and sand mines in the state that have no pending appeals and where mining activities were suspended or cancelled. "Besides, it is also going to lend a hand in pulling up the contractors and leaseholders who have not cleared the lease money for years," the mines and geology minister Mool Chand Sharma said during a review meeting, directing the officers to recover the payment of dues from the leaseholders.
The minister took a stock of the mining blocks which have been leased out or given on contract from November 2019 till now and the status of the mines opened during this time. "Several other important issues, including contracts and leases granted through auctions, lease granted through applications, stone crushers, mineral dealer licenses, short-term permits, illegal mining cases and vehicles seized during this time frame were discussed," the spokesperson said.
The minister was informed that during the current tenure of the state government, the department has received revenue of about Rs 574 crore from mining activities. This year alone, it has received a revenue of Rs 254 crore so far. Among others present in the meeting were principal secretary, mines and geology department, Anand Mohan Sharan, and director general, mines and geology, Amitabh Singh Dhillon. https://www.hindustantimes.com/chandigarh/haryana-to-lease-out-mines-where-work-was-suspended/story-ZuNcWrBaLTxUkw18KSxhKK.html (09 Sept. 2020)
Haryana to lease out cancelled stone, sand mines At a review meeting on Wednesday (Sept. 9), mines and geology minister Mool Chand Sharma said the decision would help people get the construction material at reasonable prices and also curtail illegal mining activities. Besides, the move would also help realise the lease money, which some contractors and leaseholders have not cleared for years.
While instructing senior officers of the department to initiate the process to lease out such mines, the minister said payment of dues from the leaseholders should be ensured. He also asked the officers to chalk out a plan so as to recover the department's money and fix responsibility in this regard.
Focussing on streamlining the functioning of the department, Sharma directed to expedite the process of recruitment of employees in the department and suggested to appoint contractual employees until permanent recruitments are made, so that the work of the department is not affected. https://timesofindia.indiatimes.com/city/chandigarh/haryana-to-lease-out-cancelled-stone-sand-mines/articleshow/78026876.cms (10 Sept. 2020)
Another report in Hindi Dainik Jagran Oct. 28 from Panipat highlights the fast declining water level in Yamuna river. UP and Haryana govt are in the process of allowing more riverbed mining leases. https://www.facebook.com/yamuna.jiye/posts/3906866845994340
सनोली में यमुना नदी पुल के पास नामोरा में नदी के अंदर अधिक गहराई से किए जा रहे रेत खनन के चलते बढ़ा, बाढ़ का खतरा https://public.app/s/xfTCz (Oct. 29)
गांव गोयला खुर्द के यमुना के पास गांव में नदी के अंदर अधिक गहराई से जेसीबी मशीनों से मिट्टी- रेत खनन से किसानों में रोष https://public.app/s/y4r8C (Oct. 29)
Uttar Pradesh In violation of norms miners continue to create cross sectional bunds on river Yamuna at Kairana. https://www.facebook.com/sandrp.in/posts/3945987038762273 (31 Oct. 2020)
Yamuna river is facing excessive sand mining operations in Kairana which is robbing it of flows and also damaging river eco-system. Local people & farmers are also affected and objecting to this but the concerned departments are paying no heed. https://www.facebook.com/yamuna.jiye/posts/3906871729327185 (Oct. 28)
This video from Kairana tehsil in Shamli district taken around Oct. 25 shows miners continue to invade riverbed there violating the environmental norms. The river has been monsoon deficit for two consecutive years. The minerals have not been replenished. Despite this, administration has allowed around three mine leases there. The river also form boundary with Haryana. The mining is happening on Haryana side at Mamor. The farmers of both states claim their rights on the riverbed land. Farmers of both side also suffering. A case filed regarding the issue in June 2020 is going on in Punjab and Haryana High Court. If mining is not stopped immediately the Yamuna river would be running dry before the end of Dec. 2020.
बालू कम्पनी ने बागैन नदी की जलधारा को रोक पुल बना कर भुसासी घाट में मानक की धज्जियां उड़ा कर बालू खनन का कार्य पोक लैंड मशीनों से कराया जा रहा है। यहां के बालू ठेकेदार नें पर्यावरण संरक्षण और नदी की जल धारा से बालू निकालने की एनओसी के बिना बंदूकों के साये में खनिज विभाग, राजस्व विभाग व पुलिस के संरक्षण में कार्य जारी करा दिया है। बतादें कि अभी किसी भी क्षेत्र में इसकी अनुमति नहीं है। ग्रामीणों का आरोप है कि बदौसा का पट्टा है और खनन भुसासी मौजे में धडल्ले से करा रहे हैं। http://www.arunodayautkarsh.in/newsdetails.aspx?news=155625 (07 Oct. 2020)
भोगनीपुर राजस्व विभाग के अधिकारियों व कर्मचारियों ने बुधवार (Oct. 7) रात मांवर गांव के पास सेंगुर नदी के किनारे छापा मारकर नदी से अवैध रूप से बजरी खनन कर रही एक पोकलैंड मशीन व दो डंपर को पकड़ लिया। टीम को देखकर खनन कर रहे लोग मौका पाकर वहां से भाग निकले। अवैध खनन करने वालों के खिलाफ थाने में तहरीर दी गई है। https://www.jagran.com/uttar-pradesh/kanpur-dehat-pokeland-and-two-dumpers-caught-while-mining-illegal-gravel-in-sengur-river-20854913.html (08 Oct. 2020)
फतेहपुर में मौरंग खदान में विवाद, फायरिंग फतेहपुर के खागा में घाटों में खनन से पहले शुक्रवार (Oct. 23) सुबह दो खदान संचालकों के बीच गोलियां चल गई। दोनों ओर से कई राउंड फायरिंग की गई। पुलिस मौके पर पहुंची। दोनों पक्षों को थाने लेकर आई। राजस्व अधिकारियों के सामने रास्ते की पैमाइश कराने के बाद रास्ता बनाने की बात पर समझौता कराया।-दोनों पक्ष कई दिनों से रास्ते का निर्माण करा रहे हैं। पुलिस के सामने एक दूसरे पर आरोप प्रत्यारोप लगाया है। धाता थाना क्षेत्र में यमुना किनारे दो मौरंग खदानें अगल-बगल संचालन होना है। खदान चालू करने के लिए संचालकों के गुर्गे रास्ते बना रहें है। https://www.amarujala.com/uttar-pradesh/kanpur/up-two-factions-dispute-over-morang-mine-in-fatehpur-firing-for-demonstration-of-strength (24 Oct. 2020)
Also see सेंगुर नदी में अवैध बजरी खनन करते पोकलैंड व दो डंपर पकड़े https://www.jagran.com/uttar-pradesh/kanpur-dehat-pokeland-and-two-dumpers-caught-while-mining-illegal-gravel-in-sengur-river-20854913.html (08 Oct. 2020)
Uttarakhand Illegal mining is rampant in US Nagar Khatima, Sitarganj, Kichha, Bazpur and Kashipur are the main areas where illegal mining is witnessed throughout the year. People involved in illegal mining extract sand, stones and clay in abundance and mint money, leaving the area prone to flood and soil erosion in rainy season, said an official.
The mining mafia is so powerful that sometimes when police or forest officials of the area concerned conduct raids, illegal mining operators don't hesitate to attack them. They snatch dumpers, trucks and tractor trolleys if the police or forest officials seize them, said an official. https://www.hindustantimes.com/dehradun/crackdown-on-illegal-mining-in-uttarakhand-strict-curbs-on-mining-in-us-nagar/story-LcdM1tIRJ5pSZaZTMBeNDM.html (27 Oct. 2020)
WETLANDS, LAKES, WATER BODIES
Bihar Largest oxbow lake in Asia is dying Kanwar lake, in the state of Bihar in eastern India, was formed thousands of years ago by the meandering of the Gandak river. Over the past 20 years the protected area and bird sanctuary has shrunk rapidly – but not because of climate change.
-In 1984, Kanwar lake covered almost 6,786 hectares, a study led by Ashok Ghosh, a scientist and then chairman of the Bihar State Pollution Control Board, found. By 2004 it had shrunk to 6,044 ha and 2,032 ha in 2012.
-Ghosh's research found that the wetland is diminishing due to mismanagement, encroachment and deliberate attempts to dry the lake. As the water has retreated, the land left behind has been occupied by agriculture, housing settlements and a brick factory. https://scroll.in/article/976816/the-slow-disappearance-of-a-lake-in-bihar-has-pitted-two-castes-against-each-other (27 Oct. 2020)
Telangana Untreated waste killing 416 lakes The government has identified 416 lakes as polluted and found that the major cause of their pollution is untreated sewage, municipal waste, including plastic, and construction waste being discharged into these. The State generates 2,453 MLD (million litres per day) of sewage but has the capacity to treat only 858 MLD at its sewage treatment plants (STPs). the State government has taken up restoration works in 279 of the 416 polluted lakes under Mission Kakatiya. Also, the construction of 98 STPs, with a total capacity of 1,629.4 MLD, has been envisaged to bridge the gap of 1,595 MLD between the sewage generated and treated. This would require Rs 6,994 crore.
– Telangana generates 8,993 TPD (tonnes per day) of solid waste and the gap between the generated and treated waste is 2,493 TPD. The government has identified 46,531 ponds and lakes, and sanctioned the restoration of 27,625 water bodies under Mission Kakatiya programme, it informed the CPCB. So far, restoration work has been completed in 21,436 water bodies and is underway in 6,195.
– Of the 25 States and six Union Territories that have submitted their reports to the CPCB, the total identified water bodies across India, including lakes, ponds and tanks, are 4,13,911. Of these, 1,32,080 have been selected for restoration and 40,543 are currently being restored. https://www.newindianexpress.com/states/telangana/2020/oct/31/untreated-waste-killing-416-lakes-in-telangana-2217270.html (31 Oct. 2020)
Uttar Pradesh सात महीने बीत गए लेकिन न तालाब पहचाने गए और न ही बनी कार्ययोजना उत्तर प्रदेश में नदियों, तालाब और जलाशयों की स्थिति के बारे में कोई ठोस जानकारी और योजना अभी तक नहीं तैयार हो सकी है। नेशनल ग्रीन ट्रिब्यूनल (एनजीटी) के 25 फरवरी, 2020 के आदेश के मुताबिक उत्तर प्रदेश समेत देशभर के राज्यों को वाटर बॉडीज की पहचान और उसके प्रबंधन, संरक्षण को लेकर राज्य को 30 जुलाई, 2020 तक जिला स्तरीय योजना तैयार करनी थी। वहीं, जिलाधिकारियों की ओर से समय से जवाब न दाखिल करने के लिए केंद्रीय प्रदूषण नियंत्रण बोर्ड (सीपीसीबी) को 30 जुलाई, 2020 के बाद से प्रत्येक महीने एक लाख रुपये के हिसाब से जुर्माना वसूलने को भी कहा गया था। लेकिन यह सब कुछ अभी तक नहीं हो पाया। न ही राज्यों में जलाशयों की स्थिति रिपोर्ट और योजनाएं तैयार हुईं न ही सीपीसीबी ने राज्यों को देरी के कारण जुर्माने के संबंध में कोई पत्र ही लिखा है।
एनजीटी के जरिए गठित दो सदस्यीय निगरानी समिति ने 01 अक्तूबर, 2020 अपनी रिपोर्ट में उत्तर प्रदेश सरकार के धीमें कामकाज पर सवाल उठाया गया है। इस समिति के चेयरमैन जस्टिस एसवीएस राठौर हैं। समिति ने अपनी टिप्पणी और सिफारिश में कहा है कि केंद्रीय प्रदूषण नियंत्रण बोर्ड को जवाब देना चाहिए कि आखिर उनकी ओर से उन प्राधिकरणों और अधिकारियों को एक लाख रुपये जुर्माने देने के लिए आदेश क्यों नहीं दिया गया। हालांकि एनजीटी ने कोविड-19 के दौरान लंबे लॉकडाउन राज्य और सीपीसीबी को स्थिति रिपोर्ट और जवाब दाखिल करने के ले 31 अक्तूबर तक की मोहलत दी है। https://www.downtoearth.org.in/hindistory/river/river-projects/up-seven-months-have-passed-but-neither-the-ponds-nor-the-action-plan-made-73682 (06 Oct. 2020)
Punjab Kanjli Wetland revival A detailed plan is being devised by the district administration to revive Kanjli Wetland yet again as a tourist spot. A meeting in this regard was held at the Deputy Commissioner Office on October 28. While the basic infrastructure at the wetland will be upgraded, a 'detailed project report' on the wetland has been ordered within a week to promote activities and various spaces to revive tourism. These shall include boating, walk ways and restaurant, among other amenities. https://www.tribuneindia.com/news/jalandhar/kanjli-wetland-revival-163502 (31 Oct. 2020)
GROUNDWATER
Punjab Underground pipes offer ray of hope amid water crisis Punjab now has a network of 20,000 km of Underground Pipeline System (UGPS). It covers two lakh tubewells in 5.13 lakh hectares, reaching more than 2.50 lakh farmers. The result is that not only a lot of water is saved but the annual power bill has also gone down by Rs 637 crore. The net beneficiary is the farmer.
"Under UGPS, 15-25% water, 15-20% power and the proportionate labour is saved. As UGPS replaces the open, 'kacha' channels in the fields, about 1% of the total land is also saved which can be brought under cultivation," says Chief Conservator Soil and Water Conservation, Dharminder Sharma.
He says given the alarming water table situation, there is a need to scale up the implementation of the programme in the next ten years. With 95% of the cultivated area already under irrigation with water-guzzling paddy in about 60% of the area, the potential of promoting UGPS is more in the non-paddy growing area of 15.53 lakh hectares falling in Faridkot, Hoshiarpur, Muktsar, Bathinda and Mansa districts.
The need for UGPS and other innovative water conservation techniques has become even more relevant: more than 70% of the area meets its irrigation demand from underground water. The number of tubewells has gone up to 15 lakh. Experts from the Central Ground Water Board have pointed to the massive rate of fall in subsoil water by 51 cm per year. "By laying underground pipes for irrigation in which 90% subsidy is given to a group of farmers and 50% to individual farmers, it also helps in improving the production as well as socio-economic uplift of the farmers,'' says Sharma. https://www.newindianexpress.com/good-news/2020/sep/27/for-farmers-in-punjab-underground-pipes-offer-ray-of-hope-amid-water-crisis-2202291.html (27 Sept. 2020)
West Bengal Arsenic-laced water kills over one million in India's Ganga basin Arsenic contamination was first reported in West Bengal in the early 1980s. The National Human Rights Commission has taken note of the matter and even issued orders to the government to intervene but the situation remains the same. While multiple NGOs have been trying to draw the government's attention to the issue, the administrative machinery remains largely apathetic, leaving the rural belt with no option but to consume toxic water.
According to India's National Health Profile 2019 (NHP), 17 districts of Uttar Pradesh, 11 districts of Bihar and 9 districts of West Bengal have a high levels of arsenic in water. However, research by the IVF shows that the problem is much worse. Working with the National Human Rights Commission, they found that 22 districts of Uttar Pradesh, 15 districts of Bihar and 10 districts of West Bengal have excess arsenic in water.
The level of arsenic in Ballia, Uttar Pradesh, Bhojpur and Buxar in Bihar and Murshidabad in West Bengal has reached 3,000 parts per billion (ppb), 300 times of the WHO permissible limit of 10 ppb, while the normal range in other districts and villages is between 300 and 1,000 ppb, IVF data noted. Shriprakash Pande, a resident of Govindpur village in UP's Ballia district, said that 40-45 people in his village have died from drinking arsenic-contaminated water and about 15 people have liver cancer. https://www.thethirdpole.net/2020/10/27/arsenic-laced-water-kills-over-one-million-in-indias-ganga-basin/ (27 Oct. 2020)
Telangana Chemical content high in groundwater in 2 districts: NGRI Groundwater quality in neighbouring districts of Wanaparthy and Mahbubnagar is very poor. On top of this, chemical content in the water is above acceptable limits of Bureau of Indian Standards (BIS) for consumption.
In a study done by the National Geophysical Research Institute (NGRI), 32% of samples had poor to very poor water quality index and fluoride, chloride, nitrate, sulphate, sodium and calcium were in excess quantity for drinking purpose. Researchers carried out a comprehensive study of 58 groundwater samples in Wanaparthy watershed are and the water quality index showed that 67% of the area has excellent to good water.
NGRI director VM Tiwari told TOI that they have been conducting groundwater quality studies across the country. "The study conducted at Wanaparthy watershed covered parts of Wanaparthy and Mahbubnagar districts for water quality assessment based on hydrogeochemical characterisation, WQI and GIS techniques," he said. https://timesofindia.indiatimes.com/city/hyderabad/chemical-content-high-in-groundwater-in-2-dists-ngri/articleshow/78628817.cms (13 Oct. 2020)
URBAN WATER
Delhi Water quality of river deteriorates Level of water pollution increased as people continue to dump solid waste in and around the Yamuna River. Residents nearby the river are complaining about the poor quality water. "We have a great fear, we don't want any other health issues because of water," said a resident. Even vegetable growers are facing troubles in farming. https://timesofindia.indiatimes.com/videos/city/delhi/water-quality-of-yamuna-river-deteriorates-delhiites-face-problem/videoshow/78957935.cms (30 Oct. 2020)
DJB asks UP to expedite work on canal The DJB has asked authorities in Uttar Pradesh to finish maintenance of the Upper Ganga Canal as soon as possible, as festive season increases water demand in the city. The Ganga canal is closed every year from October- November for 15 days to a month for maintenance work. This year, it has been shut since October 15. "UP authorities provided us 100-150 MGD of temporary supply via the canal Friday (Oct. 30), based on which the two plants were able to resume 70% operations…," a DJB official said. They resumed full operations Saturday (Oct. 31) evening.
Supply from the canal is crucial for two DJB water treatment plants at Sonia Vihar and Bhagirathi, having a total capacity of 250 million gallons per day (MGD), officials said. These plants had to be shut for several hours after 11 am Thursday (Oct. 29) as ammonia level in raw Yamuna water flowing into Delhi from Haryana rose to 3 ppm against the acceptable limit of 0.5 ppm, DJB officials said. Ammonia level was brought down to 1.7 ppm by Friday (Oct. 30). https://indianexpress.com/article/cities/delhi/delhis-water-supply-hit-djb-asks-up-to-expedite-work-on-canal-6911879/ (01 Nov. 2020)
NEERI can provide solutions to amonia problem: DG CSIR Shekhar C Mande said there is a rise in ammonia levels in Yamuna before the winter season. "This is going on since 20-25 years. Before the winter season, there is a spike in ammonia levels. Much of it can be ascribed to industrial and domestic waste and industrial waste is dominant. In any case, common effluent treatment plants are not very effective in removing ammonia," Mande told ANI.
The safe level is assumed to be below 0.5 ppm. "The Yamuna river water coming from Haryana to Delhi had spiked levels of ammonia and reached 3 ppm (parts per million). Because of this, two major water treatment plants had to be shut. This affected water supply in few parts of north, north-west and south Delhi," Chaddha said. https://www.devdiscourse.com/article/headlines/1291371-long-term-solution-needed-to-deal-with-rise-in-amonia-levels-in-yamuna-csir-dg (30 Oct. 2020)
Chennai RWH plan for Kovalam basin The Greater Chennai Corporation (GCC), through the Integrated Stormwater Drain (ISWD) project of the Kovalam Basin, plans to prevent flooding and save rainwater which would go waste into the sea.
In a press meeting organised at the Ripon Building on Oct. 27, Corporation Commissioner G. Prakash said as per a study done by the civic body for executing the ISWD project in the Kovalam Basin (divided into three packages of M1, M2 and M3), more than 86% portion of the M3 package located on the East Coast Road (ECR) side are occupied by concrete buildings and vacant lands. Areas such as Kottivakkam, Palavakkam, Neelankarai, Injambakkam, Sholinganallur, Kanathur and Uthandi have seen rapid housing development.
He said: "Of the total rainwater harvesting capacity calculated in the M3 package in the areas being 1,137 hectares, it has been found out that houses and plots occupy 980 hectares. Although these localities are located in sandy terrain, in the December 2015 floods several localities suffered severe flooding." The flooding in 2015 showed that more than 60% of the rainwater of 470 million litres flowed into the sea with only 305 million litres percolating into the ground, out of total 775 million litres of rainwater realised.
However, the M3 package of the Kovalam basin would be using German technology of installing eco blocks and percolation pits for harvesting rainwater by which more than 325 million litres of rainwater would be harvested. The Kovalam basin ISWD project involving 360 km is proposed to be executed at a cost of ₹1,243.15 crore. While the M1 and M2 packages would see ISWD being constructed in Perungudi, Pallikaranai, Injambakkam, and Madipakkam, under the M3 package ISWD would be built for 52 km at a cost of ₹270 crore. The civic body would very soon appoint a project management consultant for monitoring and executing the work. https://www.thehindu.com/news/cities/chennai/rainwater-harvesting-plan-for-kovalam-basin/article32958714.ece (28 Oct. 2020)
Combined water storage in reservoirs up to 5808 mcft A senior PWD official said the Andhra Pradesh authorities had reduced the release of water over the past week, mainly due to rain in Tamil Nadu and for irrigation purposes in that state. So far, AP has released 2.2 tmcft (thousand million cubic feet). The release of water, flowing into the Poondi reservoir at 450 cusecs (cubic feet per second), is expected to go up by November-end. Water is diverted to Chembarambakkam reservoir since a few days ago.
On Oct. 28, Cholavaram had 118 mcft, Red Hills 2,020 mcft and Chembarambakkam 2,147 mcft. With the rainy season having begun, the reservoirs are expected to get more water and Metrowater can continue piped supply till next summer, he added. https://timesofindia.indiatimes.com/city/chennai/water-levels-in-chennais-reservoirs-up-combined-storage-5808-mcft/articleshow/78924692.cms (29 Oct. 2020)
Bengaluru Sankey Tank overflows, 6 lakes full With heavy rain lashing the city for the past few days, at least seven lakes are full, spreading cheer among stakeholders. While Sankey Tank overflowed on Oct. 20 night, Hulimavu, Halagevaderahalli, Ullal, Arekere, Rachenahalli and Sarakki lakes were brimming. Mohan Krishna, chief engineer (lakes), BBMP, said most of the other water bodies are also filled to 90% capacity. "There are no incidents like last year. All lakes are filled with fresh water, which will recharge the groundwater table. It's been over five years since something like this has happened at Sankey Tank," he added. https://timesofindia.indiatimes.com/city/bengaluru/sankey-tank-overflows-6-lakes-full/articleshow/78795923.cms (22 Oct. 2020)
Tariff hike on Cauvery water may not get nod The proposal of the Bangalore Water Supply and Sewerage Board (BWSSB) to automatically hike the tariff on Cauvery water supplied across the city whenever it is unable to meet its operational costs is unlikely to be approved. The state government is of the view that the public, already reeling under reduced income and financial losses due to the Covid-19 pandemic, should not be burdened further, said a senior government official.
On the proposal waiting for approval for long, the official said, "At least 50 per cent of Bengalureans are suffering from some form of economic stress at present. We think that this is not the right time for any additional burden." He said that the Centre has, in fact, recommended such utility tariff hikes, but the state wants to show some leniency to its citizens.
BWSSB had requested the state government in June to allow it to hike the water tariff to meet its operational costs. Asked about it, a senior BWSSB official said, "We have submitted our request to the government. We are waiting for the green signal." He added that it has been six years since the water tariff hiked. "Power bills are frequently revised. Whenever it is increased, our operational costs shoot up as we pump water to the city from a distance of over 90 km. Sewage Treatment Plants too consume a lot of power," he said.
Of the monthly revenues of Rs 100-110 crore, the board spends up to Rs 65 crore in paying the present power bills and arrears. "Apart from Bescom, Mysuru's Cescom too needs to be paid as water is pumped from Mandya district," the official said. There is a revenue shortfall of nearly Rs 20 crore per month. "At least to sustain our operations, the water tariff needs to be increased. Even a 10 per cent hike will help us enormously. We want permission to hike our tariff on our own whenever our operational costs go up," he stressed. https://www.newindianexpress.com/cities/bengaluru/2020/oct/31/tariff-hike-on-cauvery-watermay-not-get-nod-2217404.html (31 Oct. 2020)
The stink of death in Bellandur Lake An unbearable stench from the diversion channel at Bellandur Lake has compelled the residents of the area to seek the help of NGT Monitoring Committee members. Residents complain that the NGT's committee had turned a blind eye and a deaf ear for over a year, delaying the shifting of the silt.
Residents also questioned the NGT Monitoring Committee's members on the delay in shifting the silt to the designated place from Bellandur Lake. "For more than a year, piles of dug-up silt and weed have been lying in the lake. During the monsoon season, it dissolved and formed silt again, wasting a year's worth of time and resources. The weed is rotting and adding to the stench. The NGT should have an end-to-end implementation plan. The quarry where the silt has to be dumped is still not ready,'' said Sonali Singh, a resident of Bellandur.
On Friday (Oct. 30) evening, the Monitoring Committee members U V Singh and Professor T V Ramachandra, accompanied by engineers from Bangalore Development Authority (BDA) and BWSSB, visited different locations of the Bellandur Lake to determine the cause of the foul odour emanating from the diversion channel. Finding dead fish, garbage and weeds at the waste weir near Bellandur, U V Singh directed the BDA engineers to engage workers to keep the waste weir clean. https://bangaloremirror.indiatimes.com/bangalore/others/the-stink-of-death-in-bellandur-lake/articleshow/78962246.cms (31 Oct. 2020)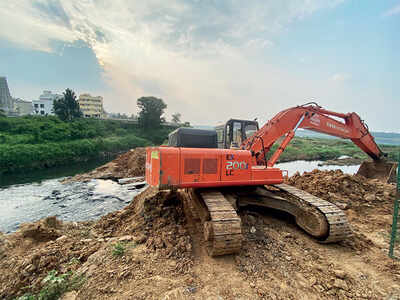 NGT team's visit hurries up Bellandur Lake clean-up Residents of Bellandur invited NGT Monitoring Committee Members UV Singh and Prof TV Ramachandra to visit the diversion channel at Bellandur Lake on Friday (Oct. 30) to investigate into the source of a bad odour in the area.
Residents of apartments nearby have been suffering during the last week due to the stench from the lake and the diversion channel that carries sewage from upstream areas. During the visit, Singh and Prof Ramachandra saw a lot of dead fish and weeds at the waste weir. They directed the BDA engineer to take measures to clean up the area. With the BDA engineer promptly fixing the problem, residents are happy. Sonali Singh, a resident of Bellandur, said the residents appreciated the NGT Monitoring Committee members for visiting the lake despite it being a holiday (Eid Milad). https://bangaloremirror.indiatimes.com/bangalore/civic/ngt-teams-visit-hurries-up-bellandur-lake-clean-up/articleshow/78989651.cms (02 Nov. 2020)
Also see 66 year old Bengalurean develops low cost RWH system, has not purchased water for 6 years https://www.thebetterindia.com/240601/how-to-build-a-rainwater-harvesting-system-at-home-cheap-bore-water-bills-low-cost-diy-bengaluru-ros174/ (27 Oct. 2020)
JJM/ RURAL WATER SUPPLY
Bihar I-T raids on contractors linked to Nal Jal water project I-T department officials on Thursday (Oct. 29) searched the office and residential premises of Lalan Kumar and his brother Suman Kumar in Bhagalpur, Patna, Nalanda and Purnia. In Patna, similar searches were carried out in the offices of Ganadhipati Constructions Pvt Ltd and Nalanda Engicon Pvt Ltd. Apart from cash amounting to Rs50 lakh, documents related to investments were also seized during the operation, which stated at 7am and continued till late Thursday (Oct. 29) night, authoritative sources said. They said similar search operations were carried out against people engaged in stone quarrying in Gaya and its adjoining areas. https://timesofindia.indiatimes.com/city/patna/row-over-i-t-raids-on-contractors-linked-to-nitishs-water-project/articleshow/78961024.cms (31 Oct. 2020)
आयकर विभाग ने पटना के प्रमुख चार ठेकेदारों की फर्मों पर एक साथ रेड डाली. आयकर विभाग की छापेमारी में इनके ठिकानों से 75 करोड़ की अघोषित आय का खुलासा हुआ है, तो वहीं नल-जल योजना से संबंधित एक ठेकेदार के यहां से 2.28 करोड़ का कैश बरामद किया गया है.
-आयकर विभाग ने शुक्रवार (Oct. 30) को पटना, हिलसा, कटिहार और भागलपुर में प्रमुख चार ठेकेदारों के यहां एक साथ छापेमारी की. चारों ठेकेदारों के यहां की गई छापेमारी में 75 करोड़ की अघोषित आय का खुलासा हुआ है. इनमें से दो ठेकेदार ऐसे हैं, जो नल-जल योजना से सं​बंधित हैं. इनमें से एक ठेकेदार के ठिकाने से आयकर विभाग की टीम को 2.28 करोड़ का कैश बरामद हुआ है. https://www.aajtak.in/elections/bihar-assembly-elections/story/bihar-patna-cash-of-228-crore-received-from-the-contractor-of-nal-jal-yojana-tstb-1154525-2020-10-31 (31 Oct. 2020)
AGRICULTURE
Telangana 80% orchids sold in India are imported from Thailand. Some Telangana farmers are trying to change that. Grown in artificial cocopeat-charcoal soil and poly houses. https://www.thebetterindia.com/240644/india-orchid-how-to-grow-business-flower-cultivation-import-industrialist-horticulture-department-telangana-ros174/ (27 Oct. 2020)
ISMA initiates campaign to increase sugar consumption! Mills in India are eyeing increased consumption as a way to cut the nation's chronic oversupply, which stems partly from the favorable incentives provided to growers in politically powerful rural areas. High production costs mean the country finds it hard to sell sugar on the global market without subsidies.
To push forward their initiative, the mills have begun an online campaign to boost domestic demand, involving workshops and webinars, where everyone from nutritionists and endocrinologists, to public health experts and medical practitioners will share their expertise and knowledge.
Consumption in India has stagnated at 19 kilograms per capita per year compared with a global average of 23 kilograms as social media campaigns saying the cane-based sweetener is unhealthy discourage people from eating it, according to the association. Per capita consumption growth between 2000 and 2016 was among the lowest in the world, it said.
India, also the world's second-biggest producer, exported a record 5.65 million tons in 2019-20, with the help of these subsidies, which are opposed by Australia, Brazil and Guatemala. Mills are aiming to ship 6 million tons in 2020-21 with production expected to rise 13% after good rains boosted planting. https://www.livemint.com/news/india/world-s-largest-consumer-of-sugar-wants-its-people-to-eat-more-11604274288908.html (02 Nov. 2020)
MONSOON 2020
Languages and Imaginations of Monsoon Rains below the Eastern Himalaya Mirza Zulfiqar Rahman on how the monsoon rains in the Eastern Himalayan region have influenced the local communities. https://aushimalaya.net/2020/10/29/the-languages-and-imaginations-of-monsoon-rains-below-the-eastern-himalaya/ (29 Oct. 2020)
FLOOD 2020
Bihar The Kosi conundrum A three-part series on Kosi a river in disequilibrium by Kanak Mani Dixit.
Even as 3,500 km of levees have been built in Bihar for flood protection, the flood-prone area has quadrupled to 6.8 million hectares. Even though the original plan was to protect 214,000 ha from annual floods, approximately 426,000 ha has been lost to waterlogging due to the Kosi embankments alone. Says the South Asia Network on Dams, Rivers and People, "The real crisis of Northeast Bihar is not floods but drainage."
In a 2006 paper titled Kosi: A Review of Flood Genesis and Attempts to Solve this Problem, officials of India's Central Water Commission AK Jha and DP Mathuria stated: "The engineering approach has proved to be far too insufficient in its objectives … and soon the embankments would be ineffective to control the Kosi floods. It would thus be naïve to embark upon finding of this menace through structural measures." The attempt at "taming the Kosi" was nothing more than playing dangerously with nature and adding to human misery. https://scroll.in/article/976754/river-in-disequilibrium-how-engineering-attempts-to-tame-the-kosi-have-only-added-to-human-misery (26 Oct. 2020)
Nothing seems to have changed in Patna's thinking in a quarter century since. India is planning to construct a most profligate white elephant, but there does not exist a politician in Bihar or the larger India who will ask the right questions. The only voice that has been steadfast against the high dam is that of the activists of the Barh Mukti Andolan umbrella group, which understands the folly of the embankments from a scientific and social justice standpoint.
While the narrative set by the dam builders commands the mainstream media, activists and scholars on the ground as well as groups such as South Asia Network on Dams, Rivers and People or SANDRP continue to challenge the Kosi follies – the existing embankments and the planned high dam.
-According to SANDRP, even Indian government reports show that "the highest proposed high dam" would silt up in less than four decades, what with 90 million cubic meters of sediment being trapped every year behind the high dam. In a 2008 press release titled 'Kosi High Dam will only bring great disasters', and aimed at both the Indian and Nepali public, the group warned of the unmanageable cost of the Saptakosi High Dam – set at (Indian) Rs 40,000 crore at the time, but cost escalations are bound to take you past the Rs 50,000 crore mark over the minimum two decades required to complete the project.
-What we have, on the one side, is the relentless and lethal rise of the Kosi riverbed that must be understood in other than real time, and the annual shoring up of the embankments. On the other side, is the obvious folly and unworkability of the Saptakosi High Dam that is presented as the only panacea? Between these two extremes, the policy-makers in Patna, Delhi and Kathmandu must lift their head up from the Kosi sand and address the alternatives. https://scroll.in/article/976756/the-ill-conceived-push-for-a-high-dam-to-curb-kosi-flooding-is-a-litmus-test-for-democracy-in-india (27 Oct. 2020)
Key message from Kanak Mani Dixit on Kosi floods, proposals of dams and ILR: "It would behoove the scientists of South Asia to focus their energies on preserving river ecology as a means to protect the communities on the ground, rather than be wowed by expensive, diversionary "river engineering" that has already lost its lustre."
– "While the Farakka Barrage has not succeeded in its ostensive job of diverted water to "flush" the distributary of Hooghly, it has impacted the ecology of West Bengal, pauperised the downstream region of Bangladesh, and is stuck with the same sediment buildup as with the Kosi levees. With such technocratic incompetency there for all to see, the hydrocracy should have felt a measure of humility, but it has not." https://scroll.in/article/976757/in-flood-prone-kosi-basin-planners-must-ignore-ineffective-high-dams-and-seek-sustainable-solutions (29 Oct. 2020)
URBAN FLOODS
Where's the roadmap to prevent the next Hyderabad-like flood? SANDRP coordinator's article on URBAN FLOODS in India in the context of Hyderabad and Bangalore floods recently. https://citizenmatters.in/preventing-urban-floods-the-real-problem-and-solution-22015 (28 Oct. 2020)
Hyderabad FTL of most of lakes not demarcated Among the reasons for the October flooding is the rampant encroachment on the banks of most of the 3,132 lakes, of which many have disappeared, in the Hyderabad-Secunderabad area. Such constructions have obstructed the natural flow of rainwater, leading to breaches and, consequently, the floods. Hyderabad Metropolitan Development Authority (HDMA) rules prohibit building and development activity on the bed of water bodies. This, however, has been flouted. An ambitious plan, drawn up by HMDA over six years ago, to demarcate the 'full tank level' (FTL) of water bodies—the highest level to which water can be stored—in the urban agglomeration has remained largely on paper. The FTL of only 224 lakes was firmed up and the boundaries notified. https://www.indiatoday.in/india-today-insight/story/flood-havoc-wrecks-hyderabad-s-global-city-aspirations-1735316-2020-10-26 (20 Oct. 2020)
Local mechanic open Fox Sagar lake jammed sluice gate It may be recalled that the sluice gate of Fox Sagar Lake was successfully opened by a local automobile mechanic, Mohammad Khadeer, after engineers and officials in charge were unable to unlock the vents for over a week. The gate was last opened almost two decades ago, after which it remained jammed with debris, rocks and plastic. A big rock was stuck exactly where the wheels of the sluice gate were supposed to rotate. After the technical staff failed to remove the rock, Khadeer stepped in on the request of local councillor Ravi.
-Khadeer said he realised that it was not an engineering issue, rather, debris from the lake had got stuck at multiple levels of the four sluice gates. "I and a couple of boys from my shop, tried to understand which part of the gate could or could not be worked around, since it is a very old structure. It took us over four hours to cut through layers of tarpaulin, fabric, debris, plastic, loose rocks and boulders," he added. https://www.thehansindia.com/telangana/hyderabad-nala-drains-excess-water-from-fox-sagar-lake-653505 (29 Oct. 2020)
Water to be drained from Shukursagar Civic officials have created a channel to drain water from the Shukursagar lake that has flooded homes in Osman Nagar, Shaheen Nagar, Sauf Colony and parts of Renukapur, but it is draining at very slow pace. According to the estimate of the civic body, 281 houses are under water. But the local residents say that about 1,000 families are affected due to the flooding. https://www.thehindu.com/news/cities/Hyderabad/water-to-be-drained-from-shukursagar/article32986427.ece (30 Oct. 2020)
Ocean of concrete turning streets into rivers after heavy rains In its publications and press releases, the Telangana government has taken great pride in highlighting the fact that it has added 129.55 million sq. ft of built-up space over the past five years in the 625-sq-km Greater Hyderabad Municipal Corporation area.
As per the annual report of the Municipal Administration and Urban Development Department 2019-20, the total commercial built-up area in Hyderabad increased by 50.7 million sq.ft between 2010 and 2014. Between 2015 and 2019, it increased by 100.44 million sq.ft. The municipality expects an addition of another 60 million sq.ft in the coming years.
In the five years since 2015, Hyderabad added 392.14 million sq ft of built-up residential area. In addition, roads and other common facilities were added.
Much of the built-up space was the result of land-use changes that came from flattening hillocks and filling up low-lying areas, streams and tanks. This altered the manner in which rainfall in the city is stored on and runs off the land surface. The increased concretisation of the city and building in natural storage areas that allowed water to percolate into the ground has vastly increased the load on the drainage network. As this network becomes increasingly overburdened, streets turn into streams with heavy rains. https://scroll.in/article/977145/an-ocean-of-concrete-is-washing-across-hyderabad-turning-its-streets-into-rivers-after-heavy-rains (30 Oct. 2020)
Chennai Rain paralyses normal life While Nungambakkam received 133.4mm rain till 8.30am and Meenambakkam got 53.8mm, this was the highest amount of rain the city has received in a single day in October since the 161.9mm recorded on October 18, 2014.
Among the key reasons of flooding leading to hellish conditions for Chennai and its suburbs were building "plans and with no regard to water flows, and without anticipating extreme weather events" on the part of planners, builders, administrators and even common people and Chennai Corporation and Chennai Metropolitan Development Authority. Illegal constructions, rampant tree cutting and discarded plastic washed into rivers are another bane of the big cities, Chennai being no exception.
Media reports have highlighted how Cooum River, Adyar River and Buckingham Canal – serving as the main rain water drain for the city – have seen encroachments. The economic cost of the deluge cannot be overemphasised. In 2015, the Assocham put the financial loss due to record-breaking rainfall in Chennai and several parts of Tamil Nadu at Rs 15,000 crore.
Chennai being one of the cities where per capita greenhouse gas emission falls in the higher category, an IIT-M research concluded in June 2020 that rise in carbon emission may lead to extreme rainfall in Chennai, adding, the area affected is likely to expand. https://timesofindia.indiatimes.com/city/chennai/chennai-weather-why-rain-paralyses-normal-life-how-to-mitigate-disasters/articleshow/78932707.cms (29 Oct. 2020)
ENVIRONMENT
EIA 2020 Need to update EIA norms for preserving biodiversity E A S Sarma: Perhaps, MEFCC should consider how countries like Singapore are addressing the urgent concerns about the environment and biodiversity and revisit its own EIA approach, rather than diluting the norms to accommodate "ease of doing business". MEFCC should remain fully committed to the statutory obligation cast upon it in Article 48A of the Constitution and discharge it as its primary responsibility in addressing the environmental impacts of projects. https://countercurrents.org/2020/10/need-to-update-eia-norms-for-preserving-biodiversity/ (26 Oct. 2020)
Western Ghats Infra projects destroying Western ghats Despite the frequency of environmental catastrophes, Karnataka plans to undertake large infrastructure projects in eco-sensitive regions of the Western Ghats. These projects are dictated by business interests rather than sound ecological knowledge. The levelling of hills and cutting down of trees for projects, will aggravate the present environmental crisis, deplete water resources, escalate the existing agricultural crisis and displace local communities. https://www.downtoearth.org.in/blog/wildlife-and-biodiversity/writing-on-the-wall-infrastructure-projects-are-destroying-western-ghats-73967 (27 Oct. 2020)
Chennai Living amid industrial badlands-The international discourse on the climate crisis makes it appear as though apocalypse is around the corner, in the not-so-distant future. This hides the fact that entire sub-populations – of indigenous people, communities of colour, and Dalits and OBCs – within countries and cities are living in a disaster already. https://carboncopy.info/unfit-for-habitation-living-amid-chennais-industrial-badlands/ (29 Oct. 2020)
Delhi Waste-to-Energy plants add to pollution woes Waste-to Energy plants burn 5,000 tonnes of Delhi's solid waste daily. Burning of unsegregated wastes leads to toxic emissions, low energy output. Emissions from the plants are adding to heavily polluted ambient air. https://www.scidev.net/asia-pacific/environment/feature/waste-to-energy-plants-add-to-delhi-s-pollution-woes.html (20 Oct. 2020)
Pune HC allows PMC to take garbage to Phursungi, Uruli Devachi In a major relief to Pune Municipal Corporation (PMC), the Bombay HC on Friday (Oct. 30) allowed it access to the dumping sites at Phursungi and Uruli Devachi, though on an undertaking that it will stick to biomining and not take in unprocessed garbage. This comes 70 days after the civic body's trucks were barred from the place by protesting villagers, leaving the city grappling with garbage piling on its streets and sorting ramps.
It may be recalled that in March MPCB restrained PMC from the dumping at Phursungi and Uruli Devachi after its officers noticed that the civic body was taking in unprocessed garbage, in violation of earlier orders of both SC (in 2011) and NGT (in 2019), banning open dumping of waste in the landfill area. It was also observed that leachate treatment was not adequate and huge quantity of leachate was flowing untreated into the nullah. https://indianexpress.com/article/india/centre-to-uttarakhand-explore-alternative-land-to-expand-airport-6910713/ (31 Oct. 2020)
SOUTH ASIA
Pakistan Can RWH solve flooding problem Lawrence Road, a concrete tank was installed underground in nearby Bagh-e-Jinnah park. New drains were laid in the surrounding roads to channel water into the storage tank. The system can store 6.4 million litres of water, which will be used to water the parks and surrounding areas. The project's catchment area spans over 25 acres – home to around 30,000 people, with roads used by more than 40,000 motorists every day. It cost PKR 150 million (USD 920,000) and is estimated to save PKR 23 million (USD 140,000) per year from flood damage. https://www.thethirdpole.net/2020/10/15/can-rainwater-harvesting-fix-pakistans-urban-flooding-problem/ (15 Oct. 2020)
ASIA
Vietnam Worst floods in decades -More than 100 people are dead and thousands of homes have been submerged in some of Vietnam's most severe floods in decades, with authorities warning that more bad weather is to come. The death toll from weeks of flooding and landslides in central Vietnam has risen to 111, with 22 people still missing, Reuters reported Wednesday (Oct. 21). "These devastating floods are some of the worst we have seen in decades," Nguyen Thi Xuan Thu, the president of Vietnam's Red Cross Society, said in a statement Tuesday.
-More than 7,200 hectares of food crops have been submerged and damaged, and more than 691,000 cattle and poultry have been killed or swept away in flood water, according to the state-run Vietnam News Agency (VNA). Sixteen national highways and 161,880 meters of local roads in four provinces have also been damaged. https://edition.cnn.com/2020/10/21/asia/vietnam-floods-weather-intl-hnk/index.html (21 Oct. 2020)
Cambodia Floods put spotlight on risk of trading lakes for land -The crisis has turned the spotlight on the destruction of wetlands and lakes surrounding Phnom Penh that provide a natural flood barrier. PM Hun Sen last week rejected criticism that the filling in of lakes played a role in the disaster, which he characterized as the "natural" result of too much rain.
-Observers, however, say poor planning and government's disregard of water management in the city's expansion have exacerbated the problem. Since 2003, developers of satellite cities and gated housing communities have filled more than 60% of the city's lakes and more than 40% of its major wetland areas, according to a report by rights group Sahmakum Teang Tnaut.
-The most high-profile case has been that of Boeung Kak, once the municipality's largest lake, where thousands were forcibly evicted from their waterside communities after the site was granted to a private company led by a powerful politician in 2007 and then pumped full of sand.
-The trend has continued. Plans to develop some 1,500 hectares of wetlands south of the city into a massive mixed residential and commercial zone known as ING City are proceeding, with a third already filled in. In a study of the project's impact in June, STT found it could leave more than 1 million people vulnerable to increased flooding. The area receives nearly 70% of the city's rainwater and wastewater, and serves as a natural filtration system for runoff and sewage before it enters river systems.
-Marc Goichot, a freshwater systems expert focused on Asia at the World Wildlife Fund, said it was "convenient" to "blame the sky" and focus just on climate change, but governments needed to take responsibility for the impact of land use change within flood plains. "We are creating the conditions that expose us to more disasters," Goichot said. "We call them natural disasters, but they are man-made." https://asia.nikkei.com/Economy/Natural-disasters/Cambodia-floods-put-spotlight-on-risk-of-trading-lakes-for-land (26 Oct. 2020)
THE REST OF THE WORLD
Report 5 reasons to rethink the future of dams The tide has shifted on dams. Once a monument to our engineering prowess, there's now widespread acknowledgment that dam-building comes with a long list of harms. Some of those can be reversed, as shown by the 1,200 dam removals in the past 20 years and 1600 since 1912.
– A collaborative effort to look at the whole Penobscot River basin in Maine resulted in the removal of multiple dams and the retrofitting of others. The end result was more than 2,000 miles of river opened up for salmon and other fish species and an improvement in hydropower generation. In California an effort to remove more than 80 small dams in the Cleveland National Forest is expected to benefit native aquatic species throughout the watershed, including endangered Southern California steelhead. https://therevelator.org/rethinking-dams/ (28 Oct. 2020)
US DAMS Aging dams present hazards to communities Two new studies analyze the role of state dam safety regulations and policies that incentivize—or disincentivize—dam owners to remove aging dams. They find that a lack of funding and information for dam owners, in combination with many dams falling through the regulatory cracks, is often a barrier to removal. In a new pair of reports, researchers at Resources for the Future examine the national extent of dam removal and how it may fit into the wider scope of dam regulation. For dams that are regulated, enforcement mainly relies on voluntary compliance by dam owners and not financial penalties or legal action.
– "But we identified some states with practices in place that bring removal to the forefront more often," Walls said. "We feel some of these practices could be adopted more widely. Our research shows that it is often more cost-effective to remove a dam entirely rather than repair it, especially if the dam no longer serves a useful purpose." https://yubanet.com/enviro/aging-dams-present-hazards-to-communities-removal-rather-than-repair-often-provides-a-cost-effective-option/ (22 Oct. 2020)
The second report, "Aligning Dam Removal and Dam Safety: Comparing Policies and Institutions Across States", analyzes case studies of specific state-level dam safety programs and what could be done to improve the effectiveness of such programs. https://www.rff.org/publications/reports/aligning-dam-removal-and-dam-safety/ (22 Oct. 2020)
The first report, "Dams and Dam Removal in the United States", uses nationwide data to paint a picture of the size, age, purpose and ownership type of dams across the United States. https://www.rff.org/publications/reports/dams-and-dam-removals-united-states/ (22 Oct. 2020)
Compiled by SANDRP (ht.sandrp@gmail.com)
Also see: DRP News Bulletin 26 Oct. 2020 & DRP News Bulletin 19 Oct. 2020
Follow us on: www.facebook.com/sandrp.in; https://twitter.com/Indian_Rivers